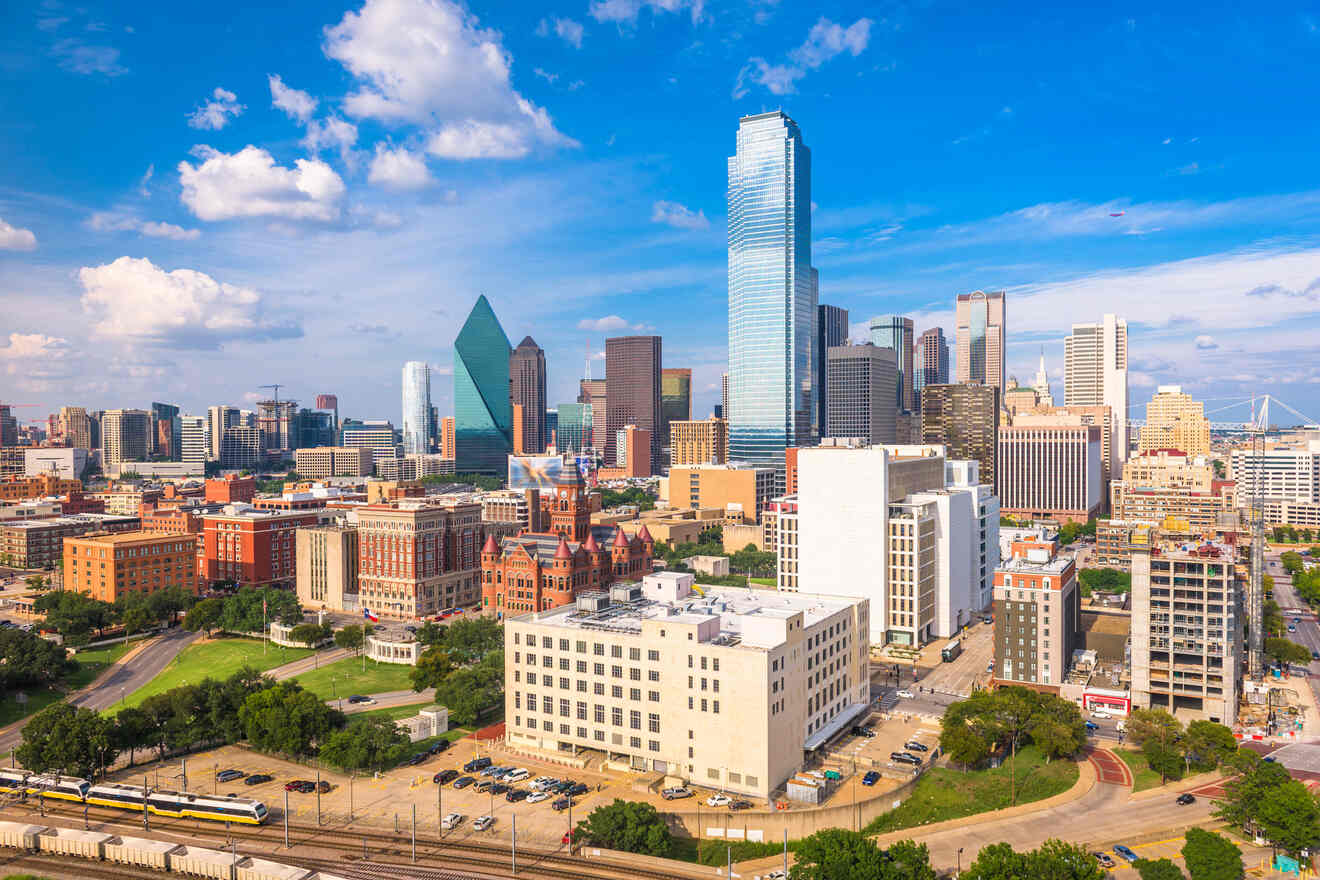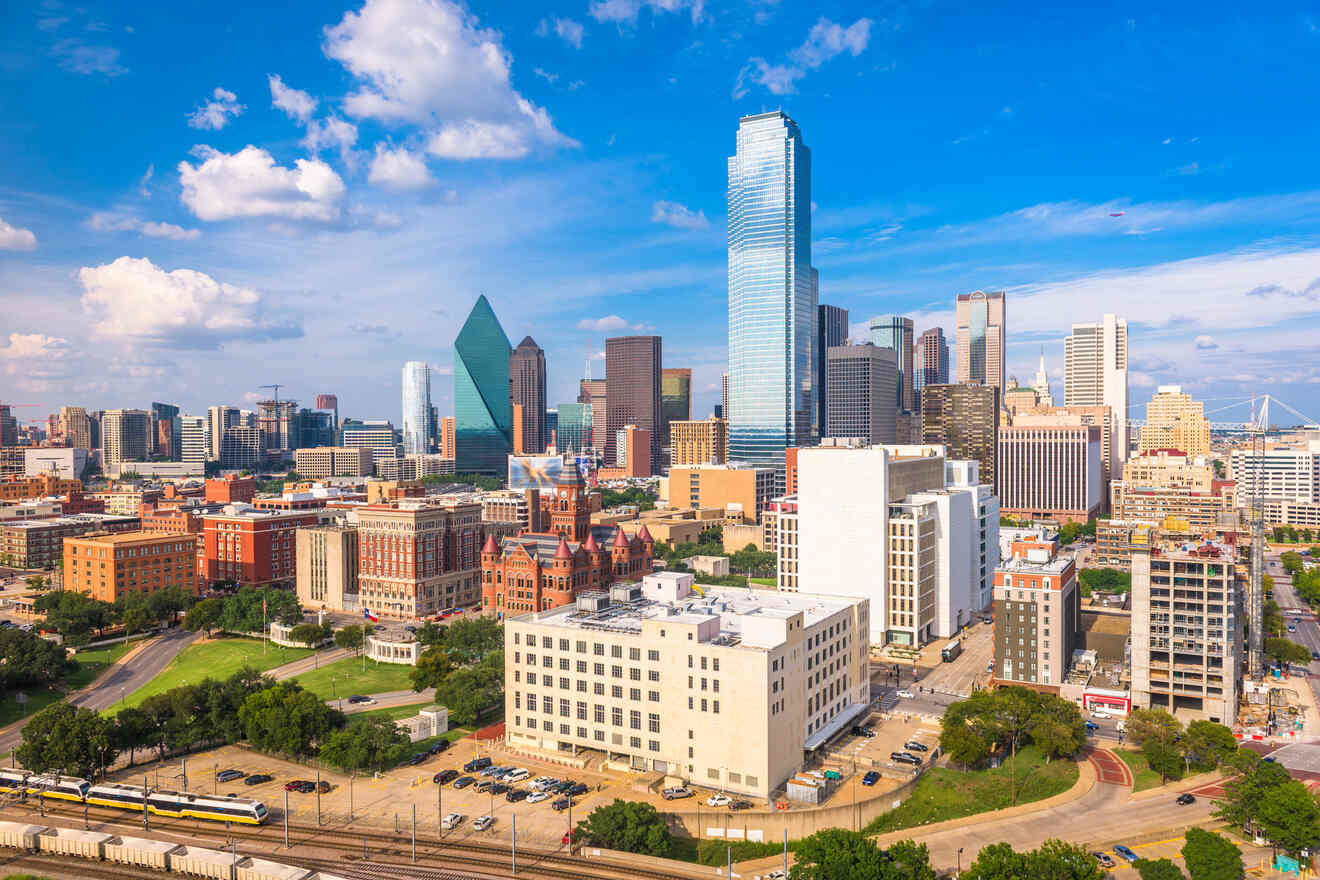 When they say "everything is bigger in Texas", they certainly include Dallas in their references. Located in Northern Texas, Dallas is a large, cosmopolitan, busy, and ever-growing city. Owing to its robust economy, which was initially fueled by the booming oil industry in East Texas, Dallas became a center for corporate America. Dozens of rocketing downtown skyscrapers rise above the level plains, while all types of neighborhoods and suburban commercial centers surround the city center.
Don't let the suits and office buildings put you off though, there are plenty of important sites to see for tourists! Head to the Sixth Floor Museum to visit the site where President John F. Kennedy was assassinated, and make sure to travel to the vibrant Arts District, where you will find countless museums that celebrate art and culture from all over the world.
In this article, I will present the best hotels, areas, and neighborhoods where to stay in Dallas for each type of visitor. I have covered five of the most appealing areas to stay in and also have included different accommodation options, from budget hostels to Airbnb apartments and luxury Dallas hotels with a pool. Whether you are on vacation or traveling for business purposes, I have got you covered so let's go!
NOTE: While Dallas, Fort Worth, and their surrounding areas are often thought of as the same city, this post will only cover Dallas. Fort Worth is actually a city in its own right and has its own unique history.
If you are in a hurry
Below you can find some interesting and comfortable hotel options for your next trip to Dallas, all of them located in Downtown Dallas:
Here is a map to help you see where all the different areas I will be talking about are located in Dallas.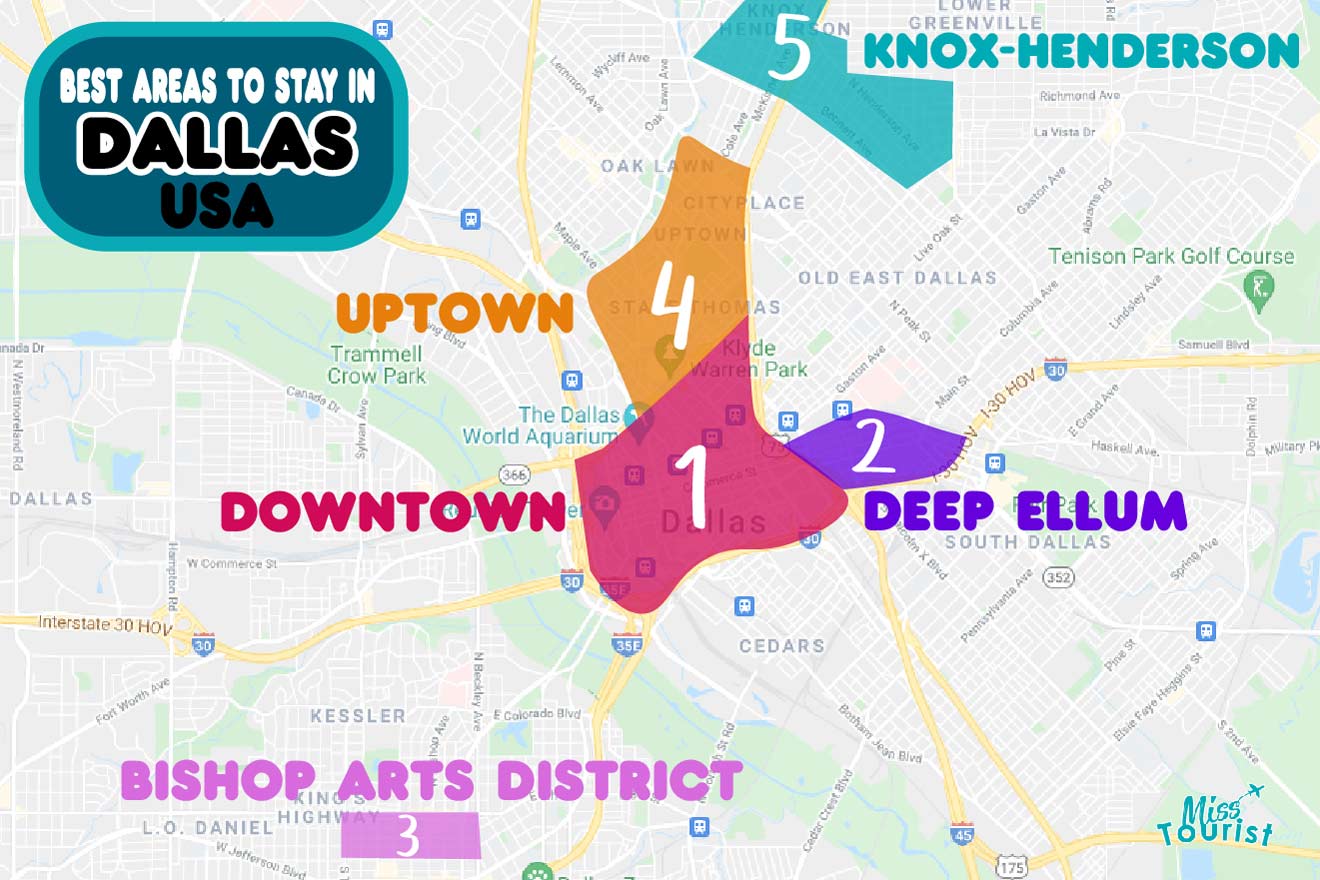 1. Dallas Downtown – where to stay for first time travelers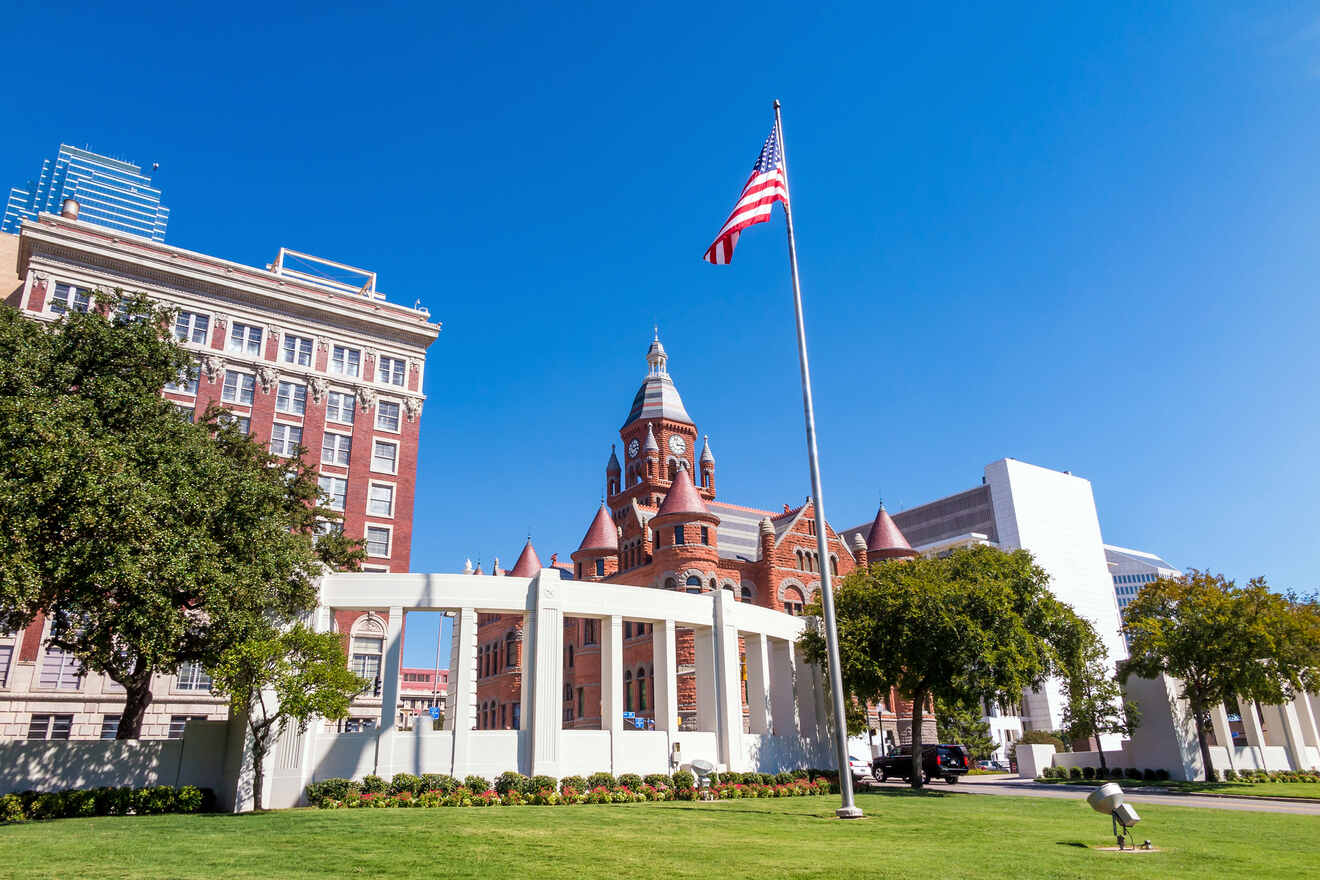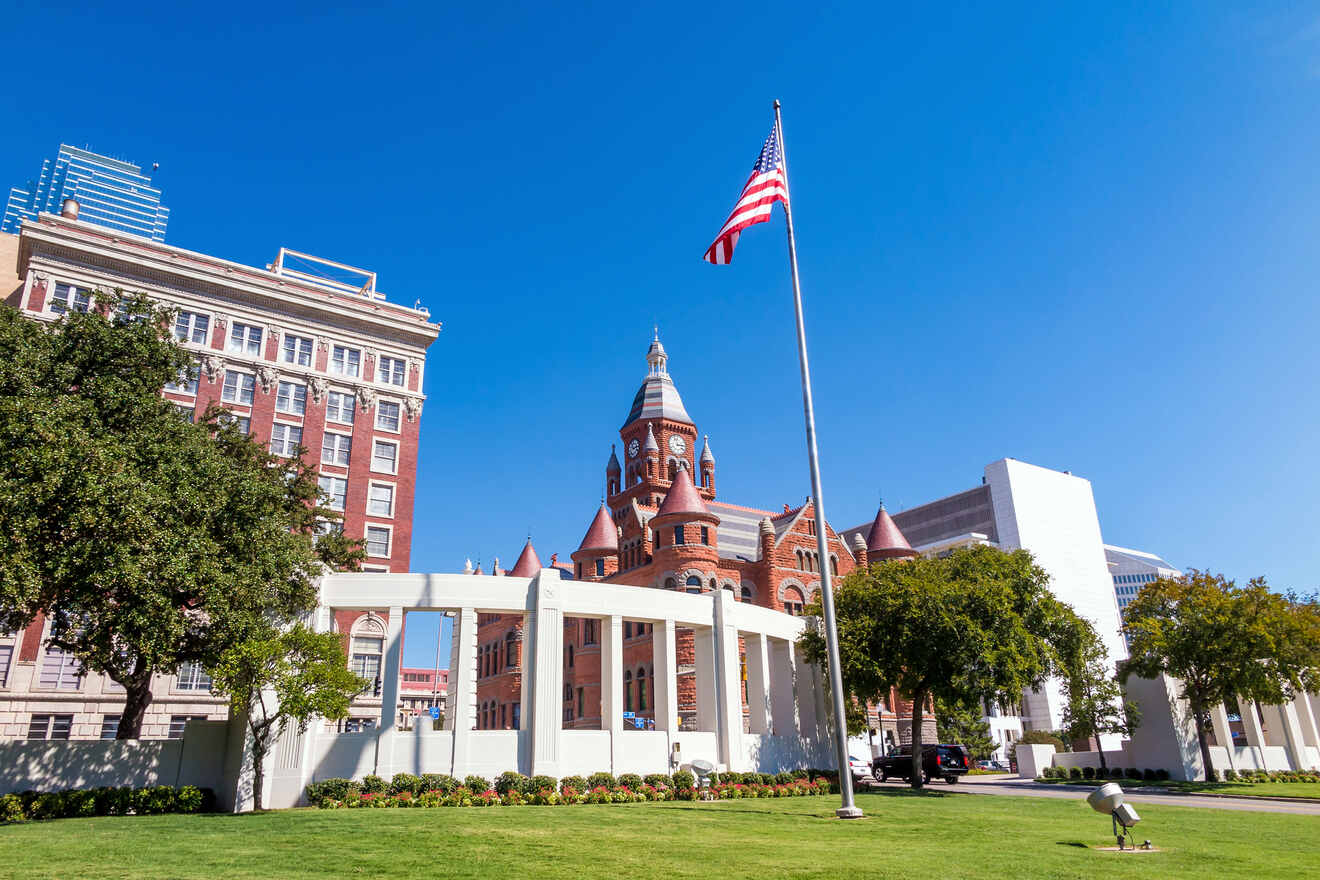 Downtown Dallas is the best place to stay if you want to be within walking distance to the city's main attractions and is a convenient 20-minute drive from the Dallas Fort Worth International Airport. As the oldest area of the city, Downtown Dallas's historic buildings stand in great contrast to the modern-day skyscrapers.
Most of the city's major tourist attractions are found in or very close to the Downtown area, such as the site of John F. Kennedy's assassination and The Sixth Floor Museum in Dealey Plaza Reunion Tower, the Dallas Holocaust Museum, and the Dallas World Aquarium.
Downtown Dallas is not all about history though, it really has something for everyone! In its own Arts District (different from the Bishop Arts District I will be talking about later), you will find a cultural hub that's home to the Dallas Museum of Art. If you are looking to shop or searching for some fine restaurants and bars, you can find them all in the Main Street District entertainment area of Dallas Downtown.
If you're looking to capture the essence of the entire city within one small snapshot, the heart of Downtown is the place to be, and of course, there are some great accommodation options to choose from. Here are your top 4.
Luxury hotel
This elegant hotel has really thought of everything to make your stay in Dallas the best it can be. Relax in the rooftop outdoor pool and pool bar, plus, forget about walking with the hotel's private car service available within a 3-mile radius. Enjoy the french details and dark colors in every aspect of this grand hotel. The ballroom, bar, and lounge are sure to make you feel like you're on a movie set! This grand Dallas Hotel is also right in the heart of downtown
Other accommodation options in Dallas Downtown
mid-range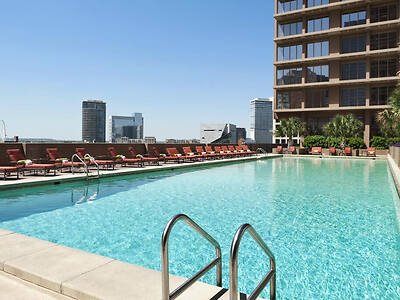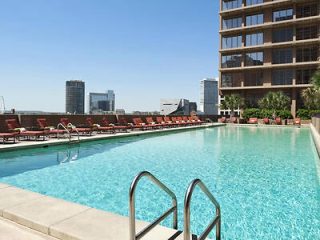 Peaceful 4 star hotel with great amenities, including a gorgeous rooftop garden and outdoor pool
budget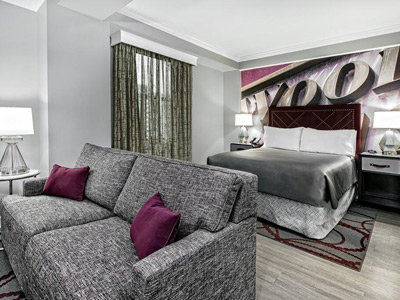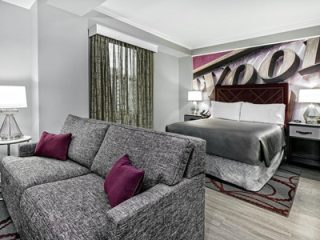 A beautifully restored historic building tuned hotel in Dallas Downtown, includes breakfast
airbnb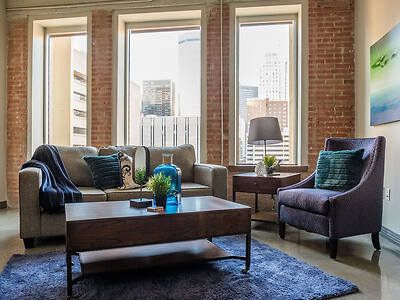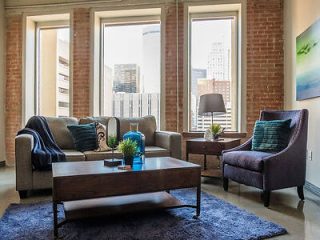 Fully equipped 1 bedroom apartment in a gorgeous historic building featuring exposed brick and original maple
Things to do in Downtown Dallas
2. Deep Ellum – where to stay in Dallas for live music lovers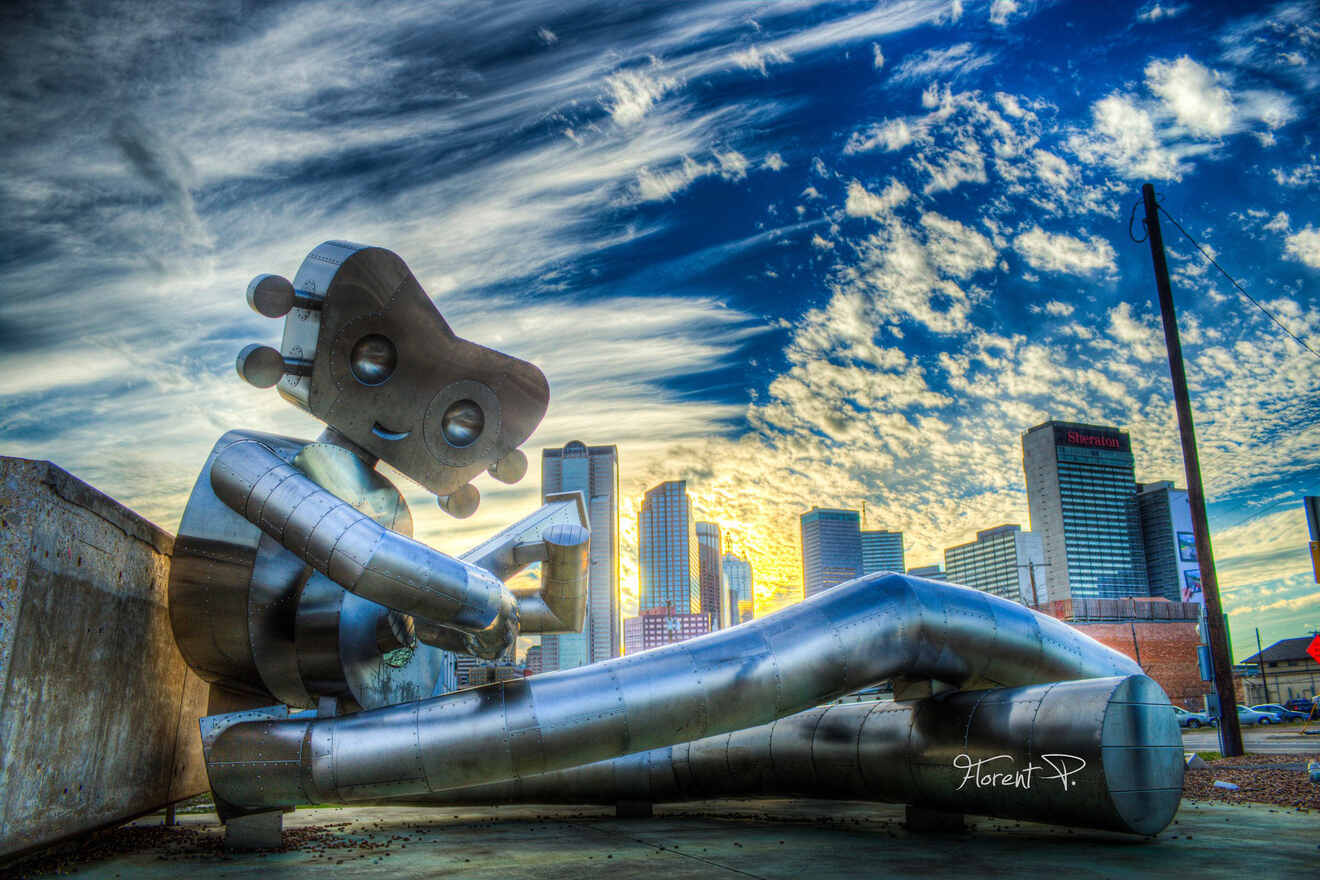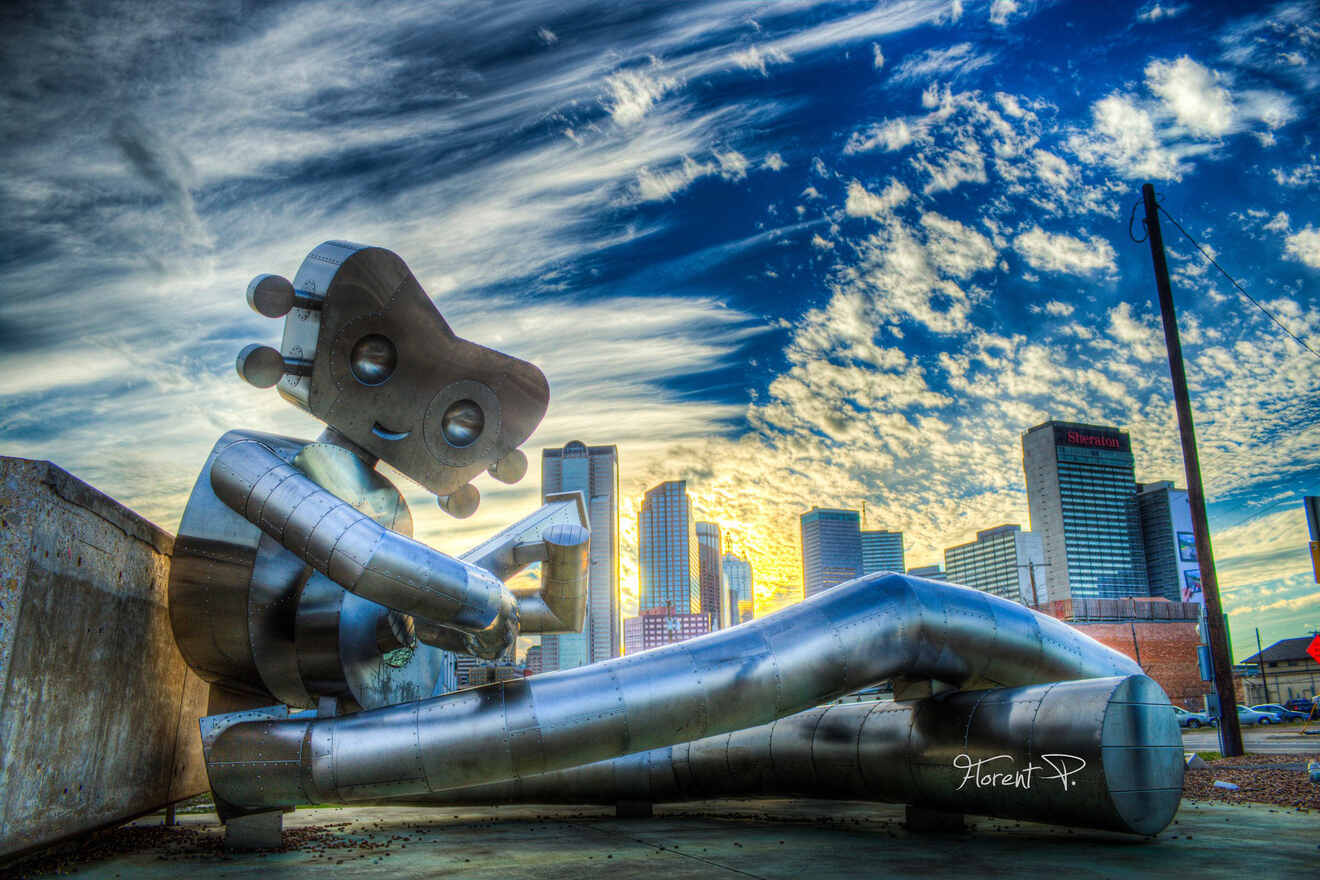 Located a 5 minute drive East of Downtown Dallas, Deep Ellum has been the home of blues and jazz music since the 1920s. Nowadays, this lively and vibrant neighborhood is still a hub for entertainment and live music of all varieties, making it a perfect getaway for music lovers who are looking to rock out all night long.
Deep Ellum is also known for its intricate street art and quirky galleries. Housing various festivals every year, in Deep Ellum, you can truly feel the sense of creativity throughout the area. Experience the art scene for yourself at Kettle Art. Fashion and lifestyle photographers particularly love using Deep Ellum as a backdrop. So why not step in and take the chance to capture some artistic pics yourself?
Deep Ellum is also your first destination if you are looking for affordable places to stay in Dallas. The neighborhood houses the best hostels in the city and generally gets you the most for your money.
Luxury hotel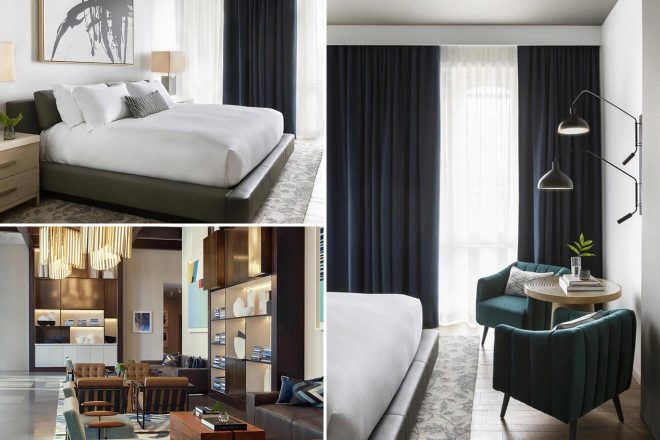 Among the best hotels Dallas offers in Deep Ellum, this luxurious hotel offers beautiful and spacious rooms and suites. The location of the hotel is excellent and not far from the center, with plenty of restaurants and bars within walking distance. The 24-hour reception desk will help with your every need, and the in-house restaurant is also a strong point. The hotel offers delicious food, and a daily buffet breakfast is available at the hotel
Other accommodation options in Deep Ellum
Mid-range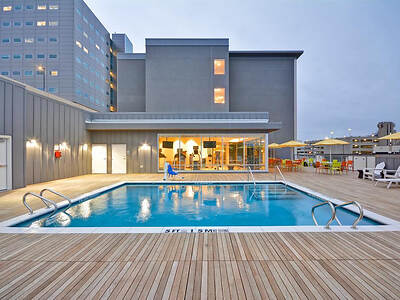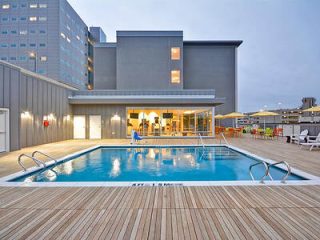 A pet-friendly hotel with a small-town family feeling and an in-house swimming pool
budget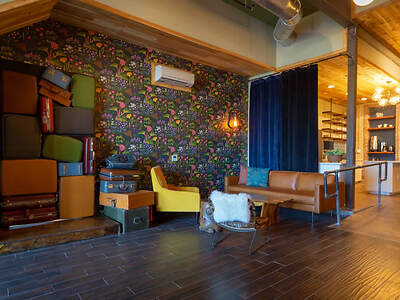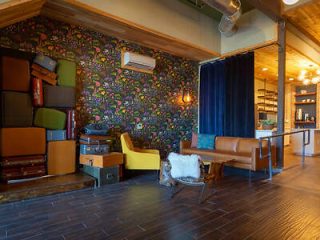 Most affordable budget accommodation with a fantastic location which also offers family rooms
airbnb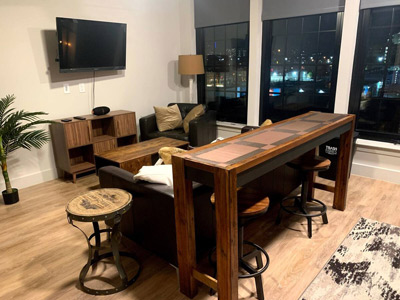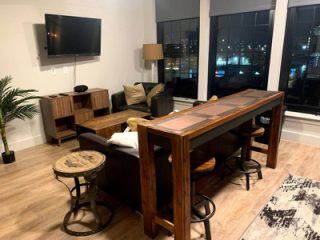 Very stylish apartment with amazing views and close to the center with free parking available upon request
Things to do in Deep Ellum
3. Bishop Arts District – the most trendy place to stay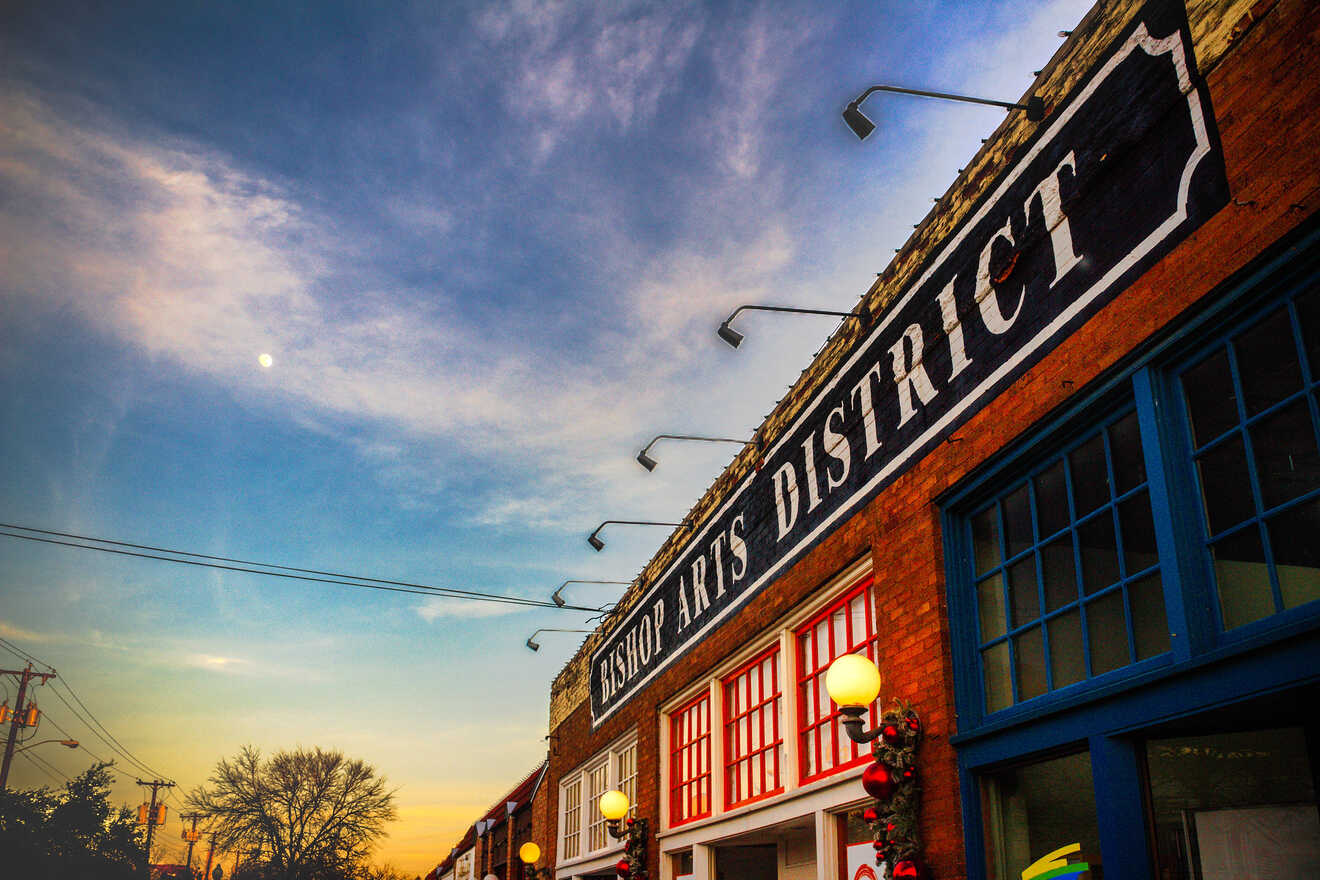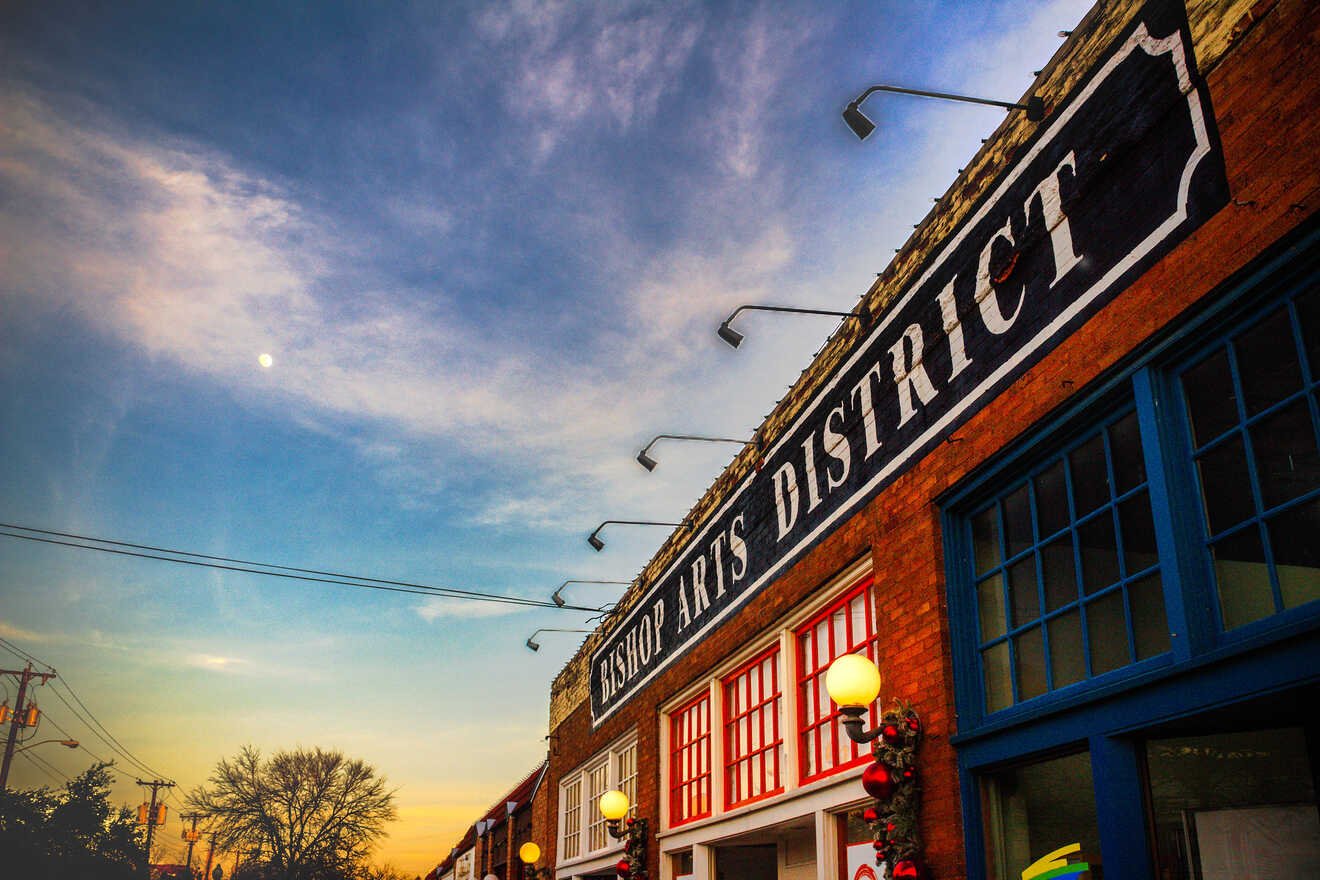 This small neighborhood is located just 10 minutes drive south of Downtown Dallas and is known for its diverse nightlife, chic fashion stores, and colorful mural art. Although the neighborhood represents just a small fraction of the city, it is a great destination with lots of entertaining options.
The Bishop Arts District is an excellent destination for travelers who love vibrant social life and lively cultural scenes. Plenty of entertainment options, shopping, and dining venues, as well as diverse nightlife, await you if you choose to stay in this area. Dining services vary from Texas-style barbeque to Vietnamese pho, while cocktail bars with a laid-back style will serve you some of the best cocktails in town, and not to forget the house-brewed cider.
The neighborhood houses several areas for performing arts and creative culture. Think speakeasies, old-style movie theatres, and thrift stores galore. This would definitely be the coolest neighborhood to stay in Dallas, and I cannot think of anything you wouldn't like here.
Luxury hotel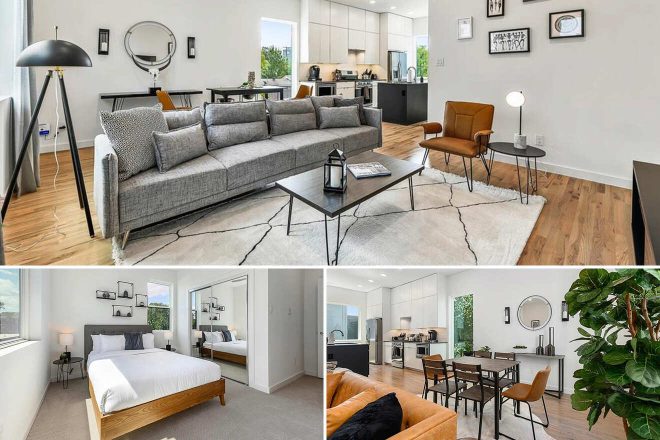 A beautiful modern apartment with very comfortable, spacious rooms and a fully equipped kitchen. This Dallas hotel has a great central position within the neighborhood, is very close to the best restaurants and shops, and even has a private 2 car garage! Perfect if you are looking for a luxurious home away from home in Dallas, Tx
Other accommodation options in Bishop Arts District
mid-range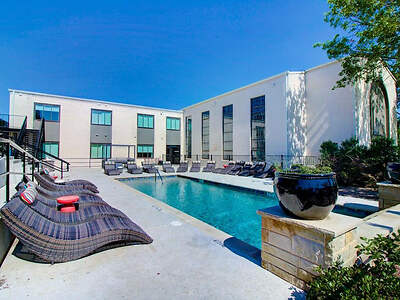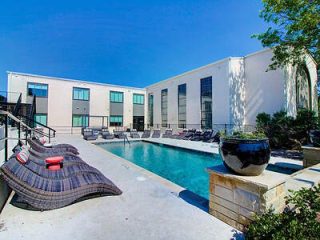 Boutique hotel with an outdoor swimming pool. Rooms provide a fantastic city view and have free Wi-Fi
budget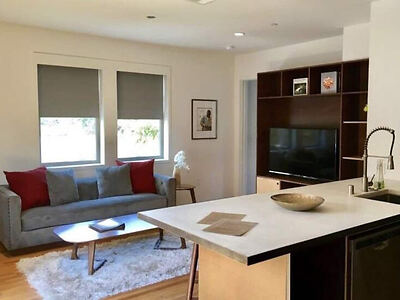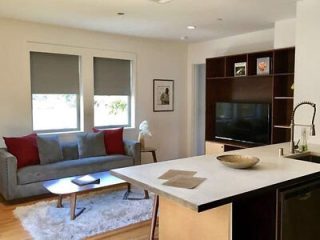 Entire apartments located in the center of the neighborhood – perfect budget rooms
airbnb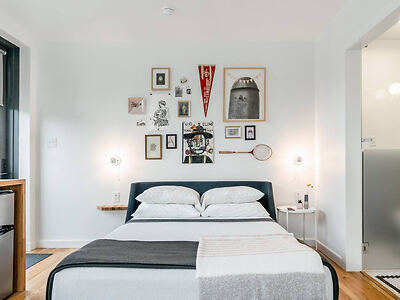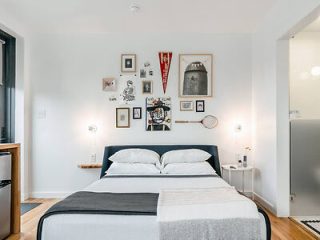 Spacious suites like this are not easy to find in the area. Offers free parking
Things to do in Bishop Arts District
4. Uptown – where to stay in Dallas for families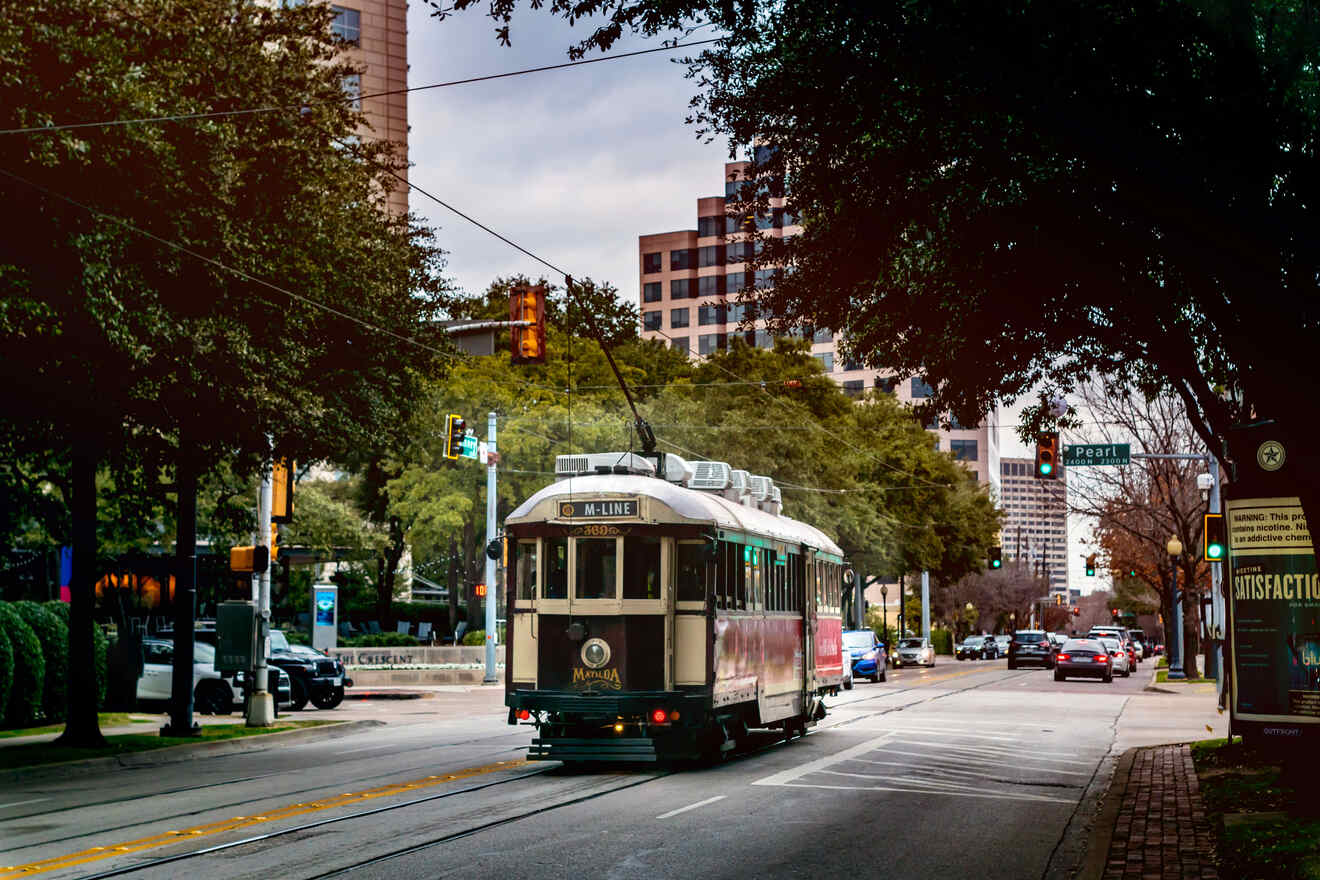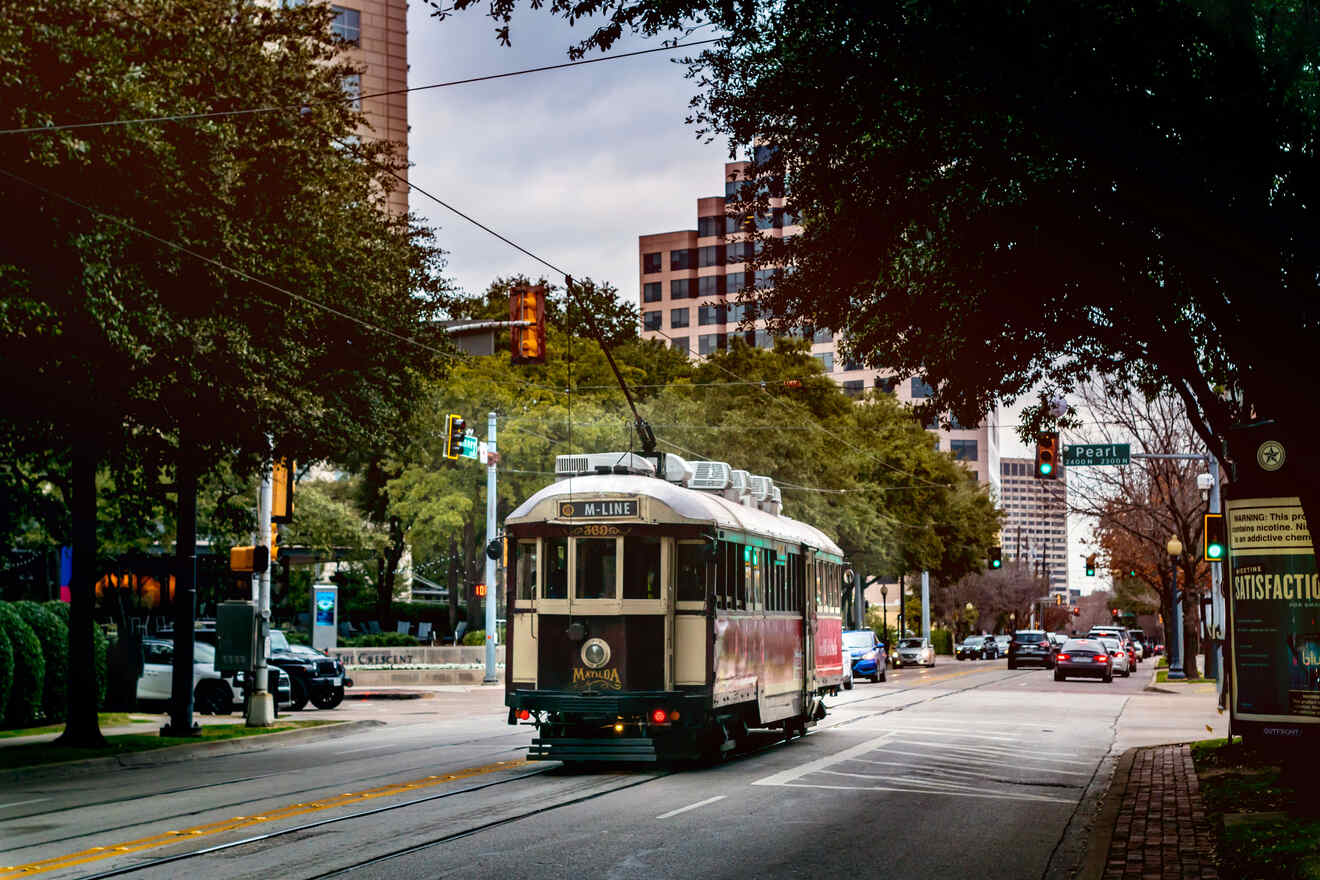 Uptown Dallas is a very old neighborhood and safe area to stay in Dallas, just 5 minutes drive north of the city center, featuring tree-lined streets, stylish Victorian mansions, and shopping and entertaining centers for the upper classes. If you are searching for a calm area to stay in Dallas, Uptown easily matches your expectations. Uptown Dallas is among the quietest areas in the city and the perfect option for families. 
McKinney Avenue, the central street in Uptown, is packed with restaurants, bars, and boutiques selling high-end fashion wear, and you will see lots of young professionals dominating the daily scene here. For travelers who do not want to drive while in Dallas, a trolley car connects Uptown with the center of Dallas, making it easy (and fun) to get around.
Hotels here are on the more luxurious side of the scale, but you can also find a few cheaper boutique hotels like the ones below.
Luxury hotel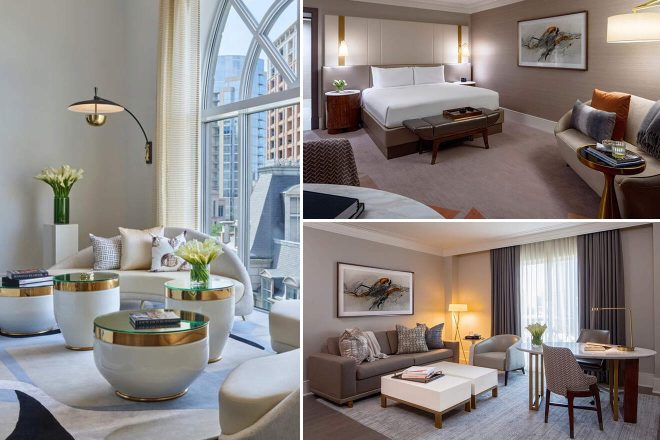 This 5-star hotel is centered around an incredible outdoor garden where you can relax beneath the trees or take a dip in the outdoor pool. Make sure to have an appointment at the super luxurious spa onsite and enjoy your huge luxurious room to the max with the gorgeous french doors that open to your own private balcony. Everything about this hotel boasts extreme elegance and ultimate relaxation!
Other accommodation options in Uptown Dallas
mid-range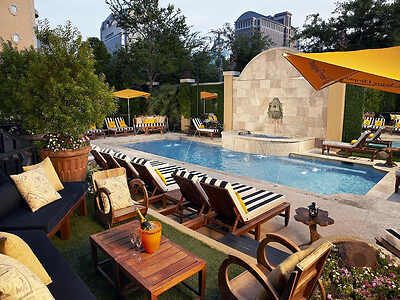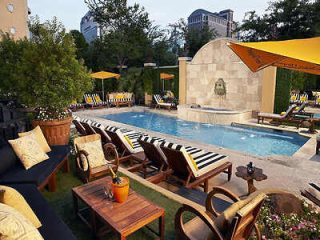 Unique hotel with Mediterranean decor with fine dining, pool, and fitness center on-site
budget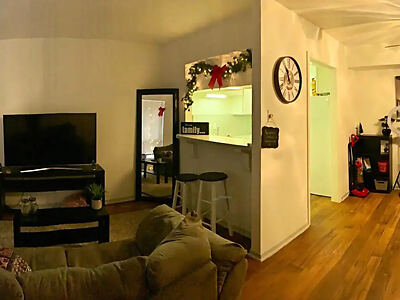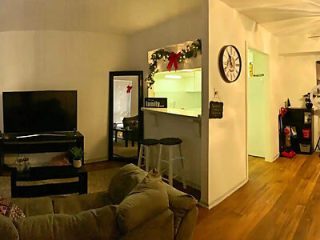 Private room in a shared house with considerate hosts and parking available
airbnb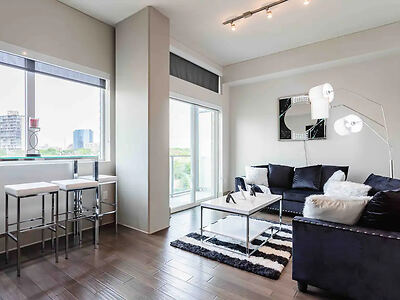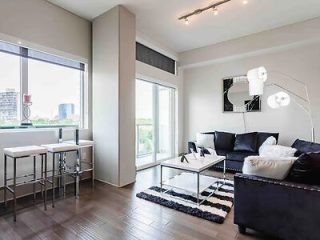 Deluxe, modern condo with shared infinity pool and outdoor fire pits and club rooms
Things to do in Uptown Dallas
5. Knox-Henderson – cool neighborhood in Dallas for nightlife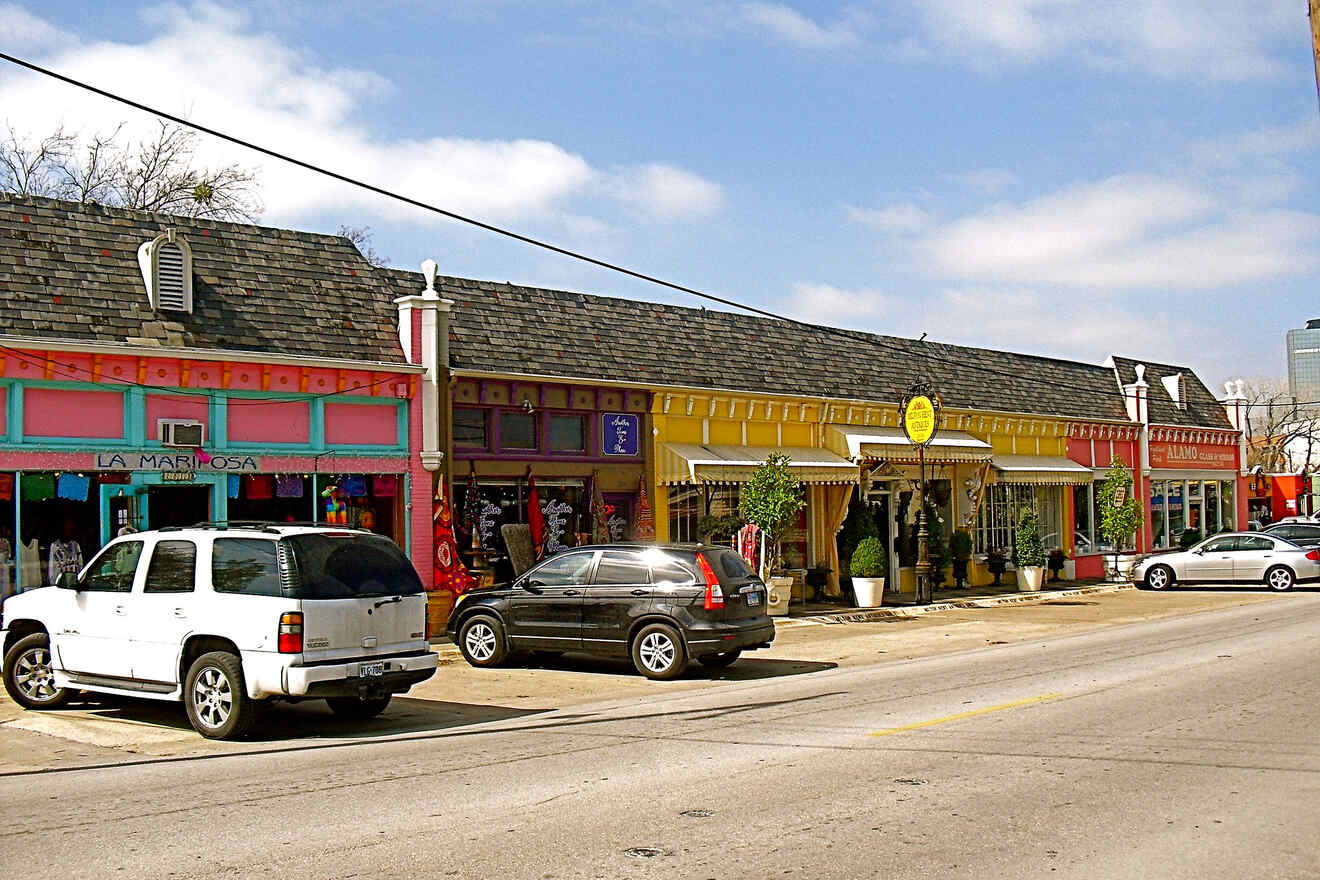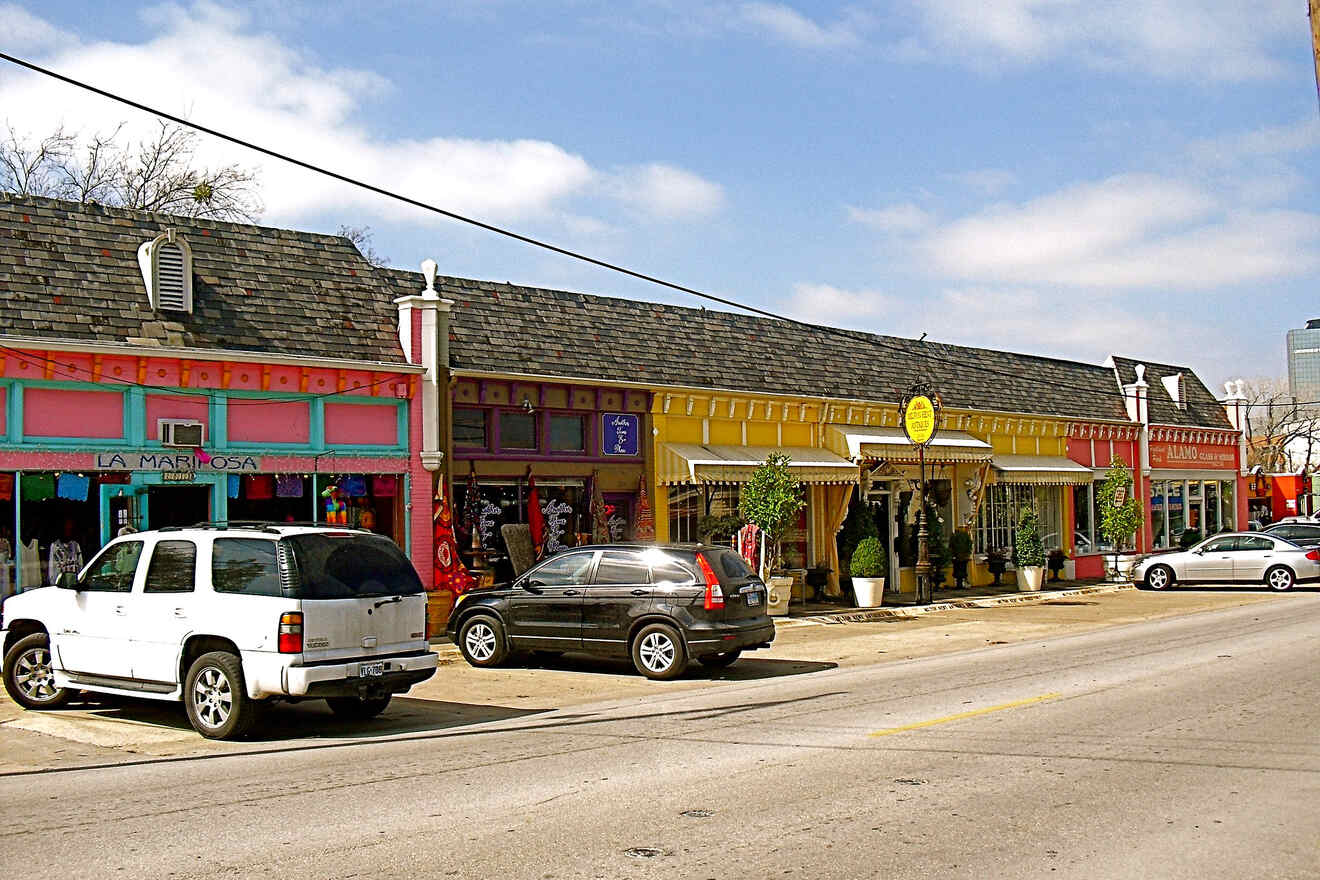 Dubbed as Dallas' most vibrant nightlife area, this neighborhood is full of Tex-Mex restaurants, pubs, and late-night cafes. The neighborhood is located just north of Uptown, around a 10-minute drive from downtown. It is named after the two main roads, Knox Street and North Henderson Avenue. This part of the city manages to preserve a cozy vibe, despite being close to the city center and is packed with bars, eateries, and shops in all directions.
The biggest attraction yet of this part of the city is the pedestrian-friendly character of the area.
Knox-Henderson has been considered the closest to a European street that Dallas City offers the visitors who choose to stay in this area. Along Knox-Henderson's west runs The Katy Trail, a former railroad turned into a jogging and cycling route, very popular among the ones who like spending time outdoors.
This part of the city doesn't contain many hotels but is a great place to find modern and spacious apartments on Airbnb. If you think that a private condo might be more your style, check out my post on the best Airbnbs in Dallas for more options in other neighborhoods.
Luxury hotel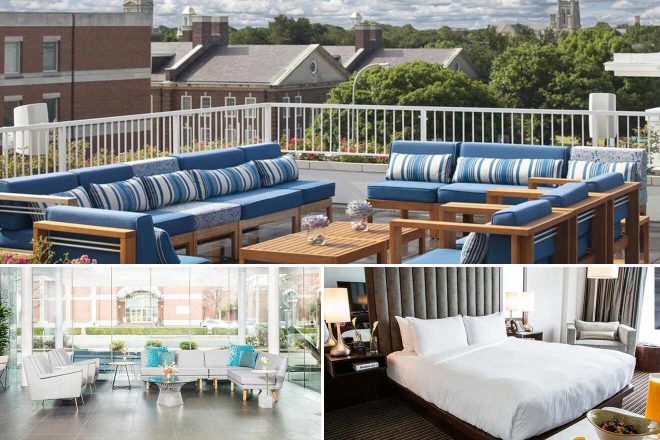 This deluxe boutique hotel features modern designs, contrasting colors, and gorgeous large windows looking out over the city. Make sure to join the evening wine reception in the lobby and make use of the gorgeous outdoor patio. Take a dip in the seasonal swimming pool, work out at the onsite gym and dine at the delicious on-site restaurant during your relaxing stay
Other options in Knox-Henderson
MID-RANGE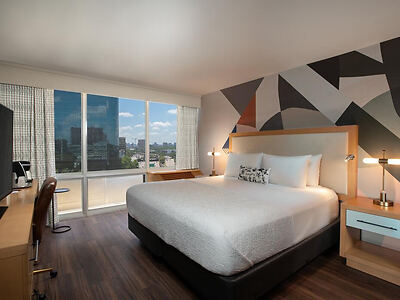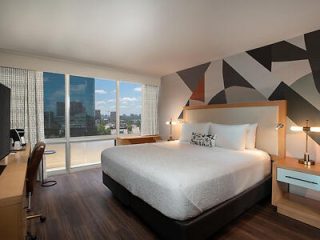 Beautiful modern rooms featuring funky geometric murals and sleek furniture with a pool and restaurant
BUDGET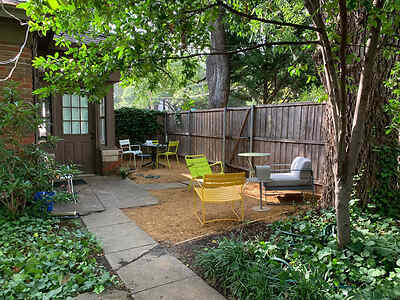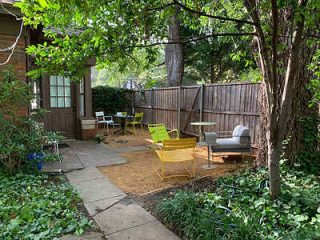 Homey garage apartment on a beautiful tree-filled property close to the shops and restaurants of Knox
AIRBNB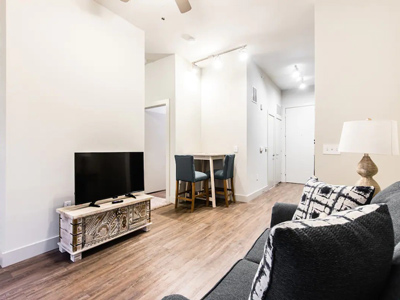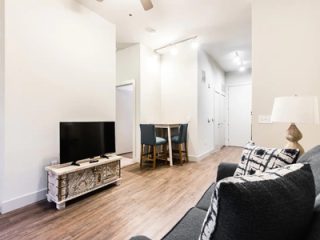 This is a lovely apartment and a perfect stay for 1-2 people. People who travel for work especially love this place
Top things to do in Knox-Henderson:
| | |
| --- | --- |
| 👑 Luxury price: | $250 |
| 💵 Mid-range hotel: | $140 |
| 🛏️ Budget: | $100 |
| 🏠 Airbnb: | $130 |
| 💰 Accommodation prices: | Medium |
| 📍 Best Area: | Downtown Dallas |
| 🛎️ Best luxury hotel: | Cambria Hotel |
| 👛 Best budget hotel: | Deep Ellum Hostel |
Frequently asked questions about Dallas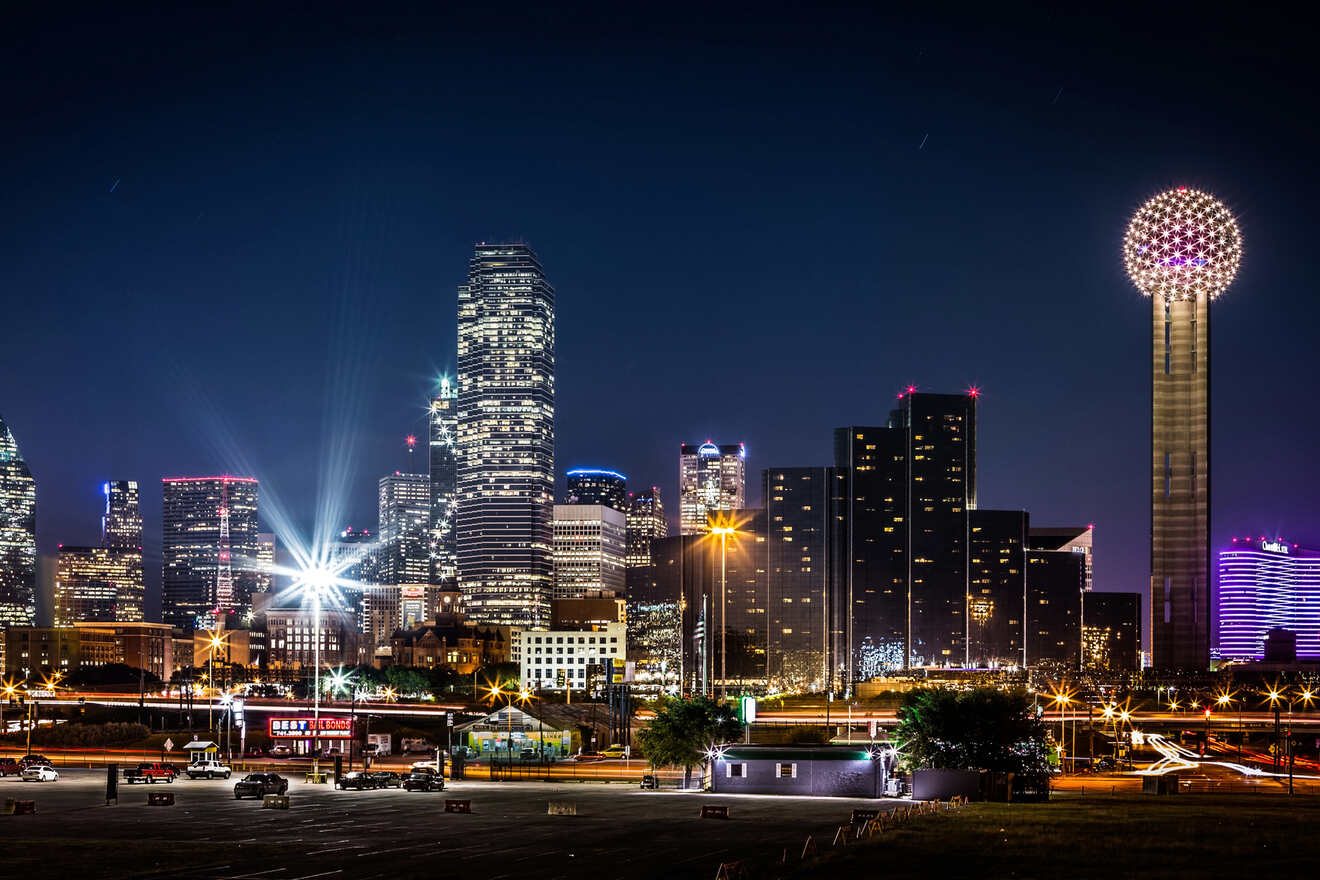 🌇 What is the best area to stay in Dallas?
Downtown is a great location to choose for those who will travel to Dallas for the first time as it's in the center of all the attractions and has a wide range of hotel rooms to choose from budget to luxury. 
👎 What is the bad side of Dallas?
Dallas is considered one of the safest cities in the United States, so there aren't necessarily any "bad sides." Southern Dallas has slightly higher crime rates than the center but nothing to be overly concerned about. 
📸 Where should I go in downtown Dallas?
📅 What is the best area to stay in Dallas for a weekend getaway?
The best area to stay in Dallas for a weekend getaway is Uptown, known for its vibrant nightlife, trendy restaurants. Some great accommodation options here are the Hotel Crescent Court and the Hotel ZaZa Dallas.
❌ What are some areas to avoid in Dallas?
It's advisable to steer clear of South Dallas and certain parts of Oak Cliff.
Conclusion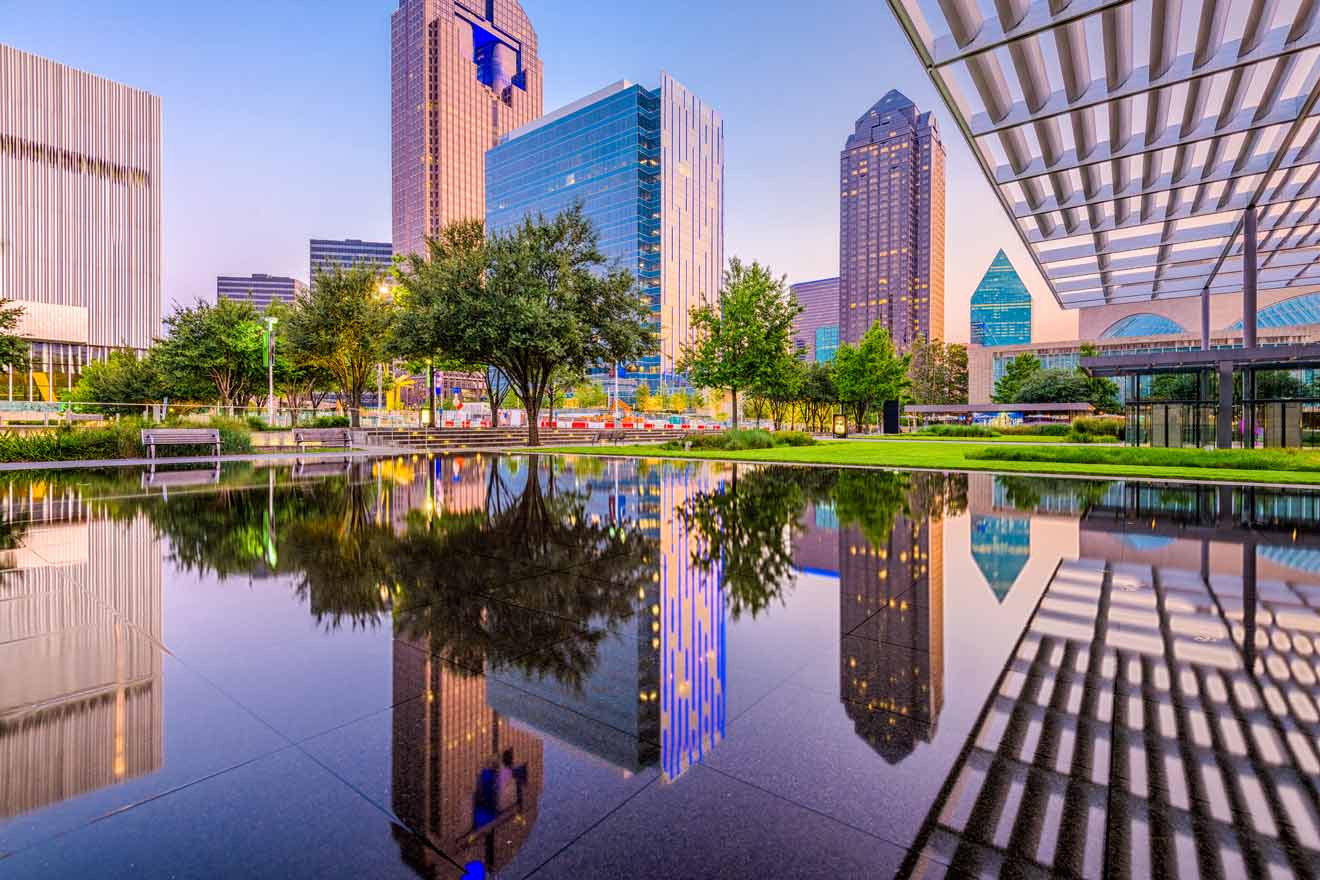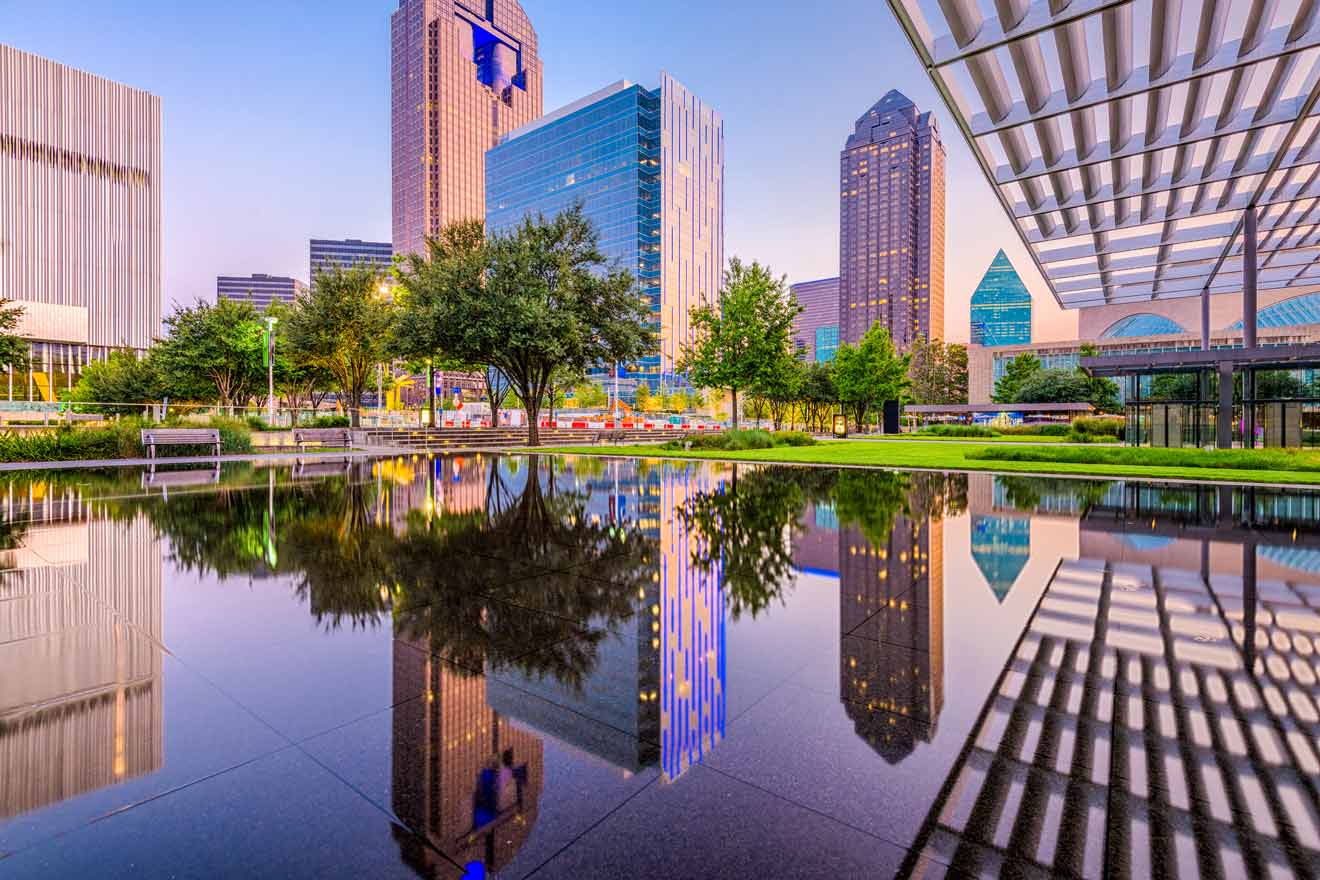 I hope you enjoyed reading my post on where to stay in Dallas, Texas. I've covered the best areas to stay in Dallas for travelers of all types and the best hotels and other accommodation options for different budgets. The best area to stay in Dallas for first-time travelers is Downtown Dallas with its long list of attractions, but make sure to book early as the best hotels sell out quickly!
If you still need help making a decision, here are my top recommendations:
If you are traveling to Dallas, I would suggest planning ahead and booking at least 6-months in advance as these places are quite popular and sell out fast. While you're at it, I highly recommend you explore some more of Texas and the United States and maybe even stay in one of these magical Texas Treehouses!
If you have any thoughts, tips, or questions about traveling to Dallas or a particular hotel, feel free to leave them in the comments, and I will gladly respond.
Have a great trip,
Kate
---
Pin it for later!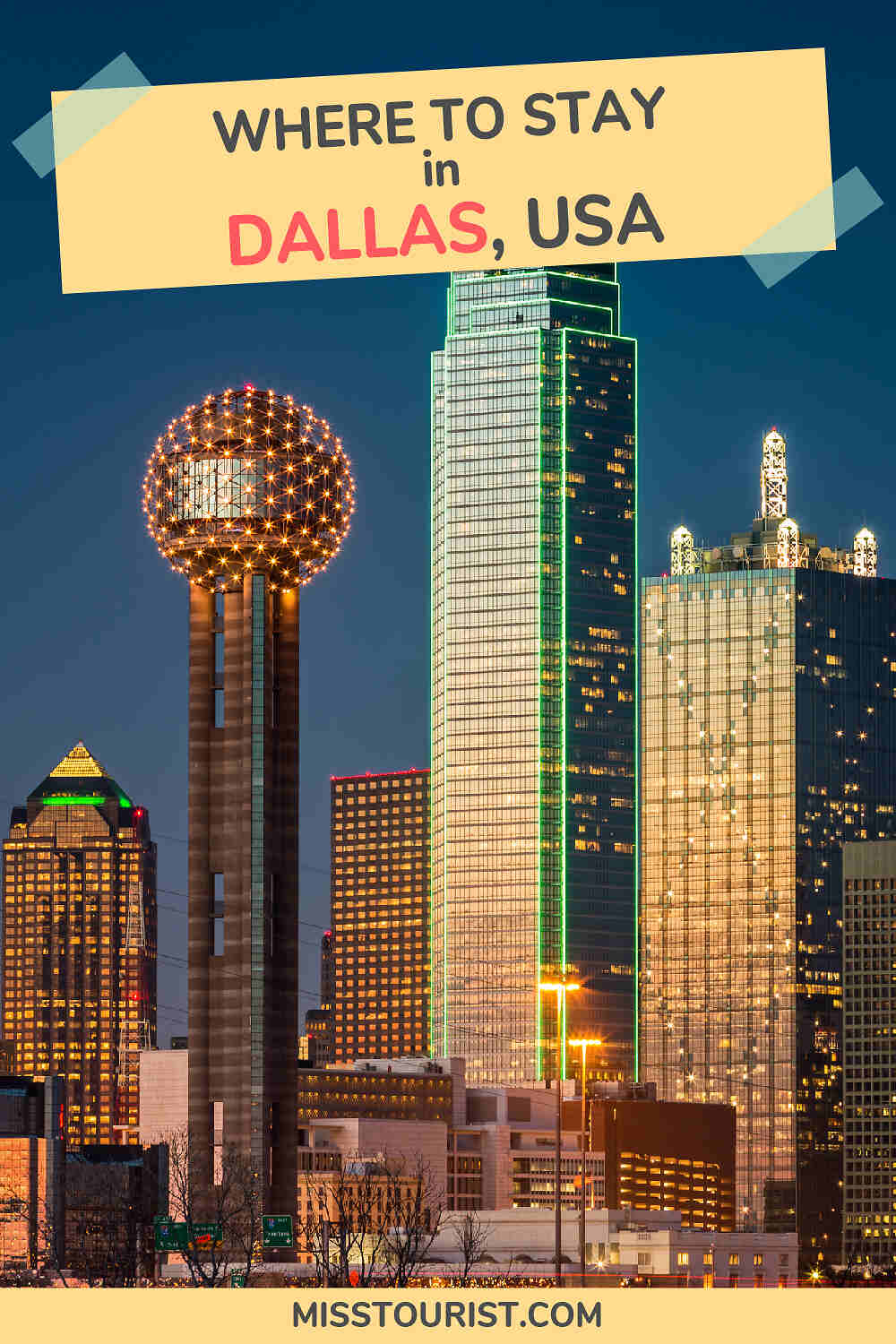 Pin it for later!