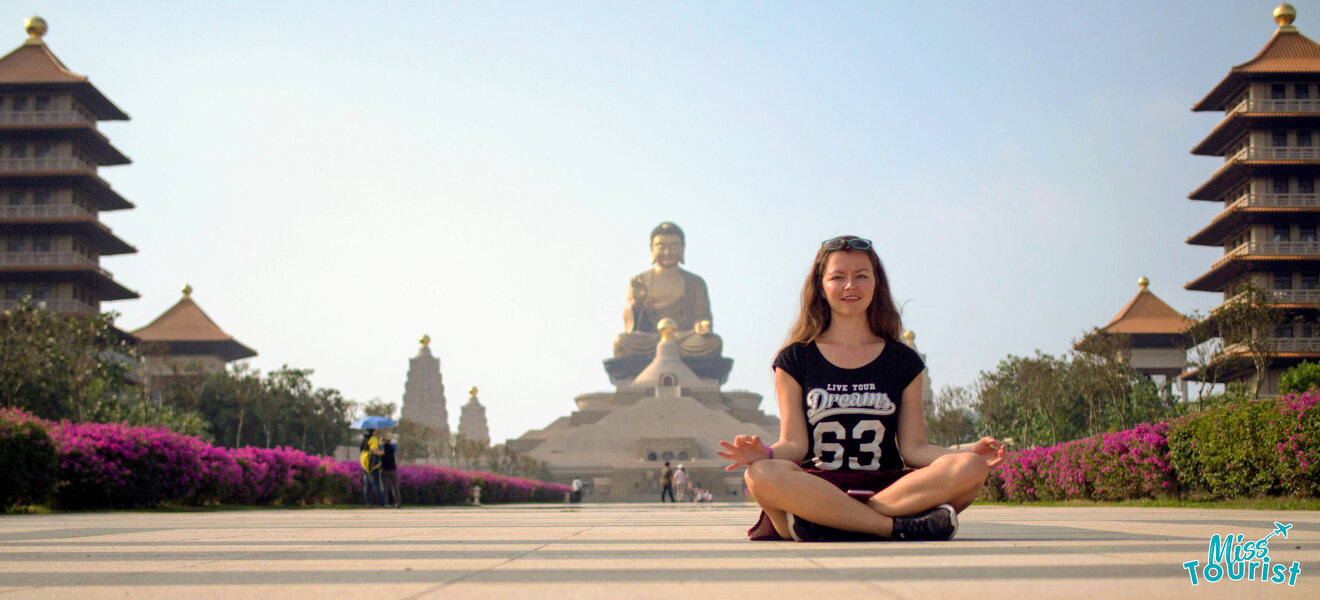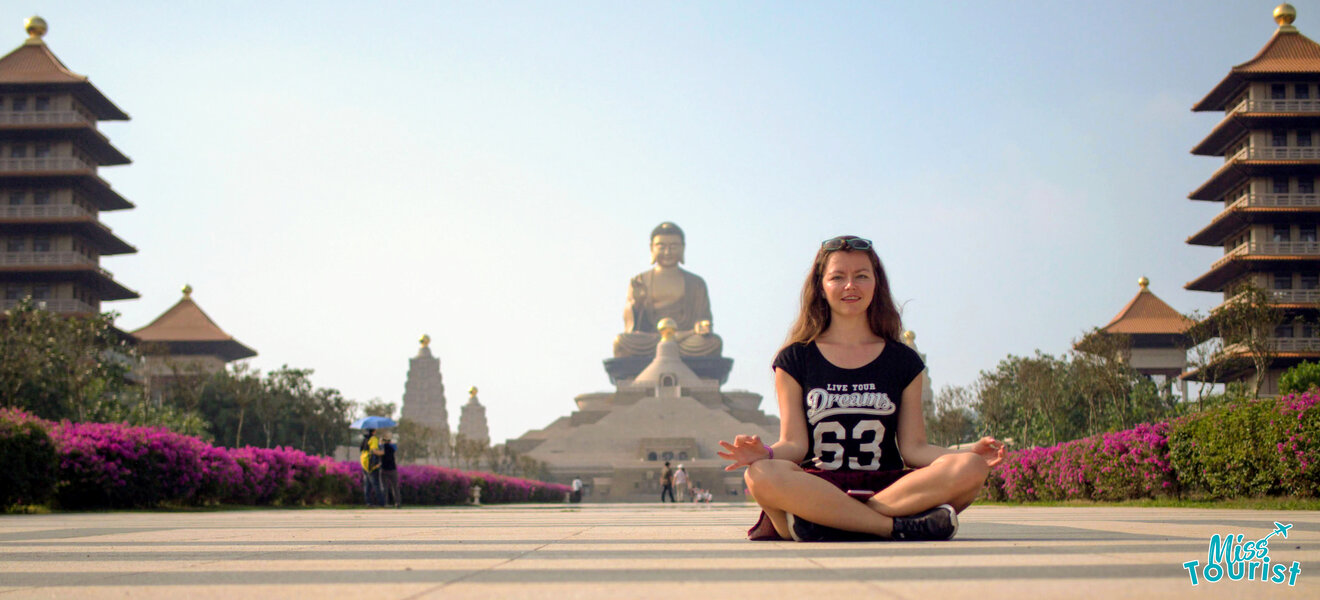 Often overlooked in favor of Taiwan's capital Taipei, the dynamic second city, Kaohsiung (pronounced "cow-shung") also known as the Harbor Capital, lies in the Southwest of the country. Behaving as Taipei's laidback, cool sister, the minute you land in Kaohsiung you'll be enjoying the vibes too much to leave!
Apart from the multitude of fun things to get up to in Kaohsiung city itself, you're also in a great location to do some fantastic day trips, and with Taiwan's famously efficient public transport system, you'll be exploring in no time.
So, let's get started. Here's everything you need to know about the best things to do in Kaohsiung and the things you absolutely shouldn't miss.
1. Reverse your bad luck at Lotus Lake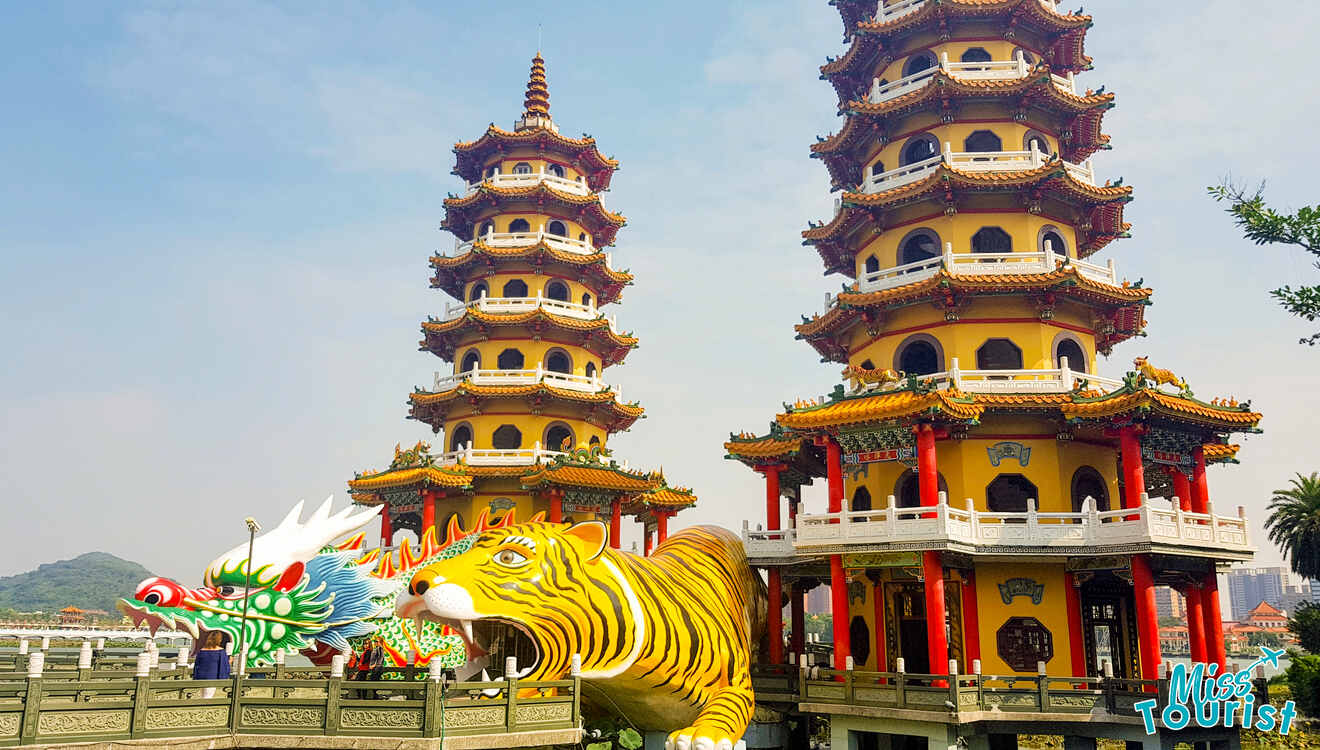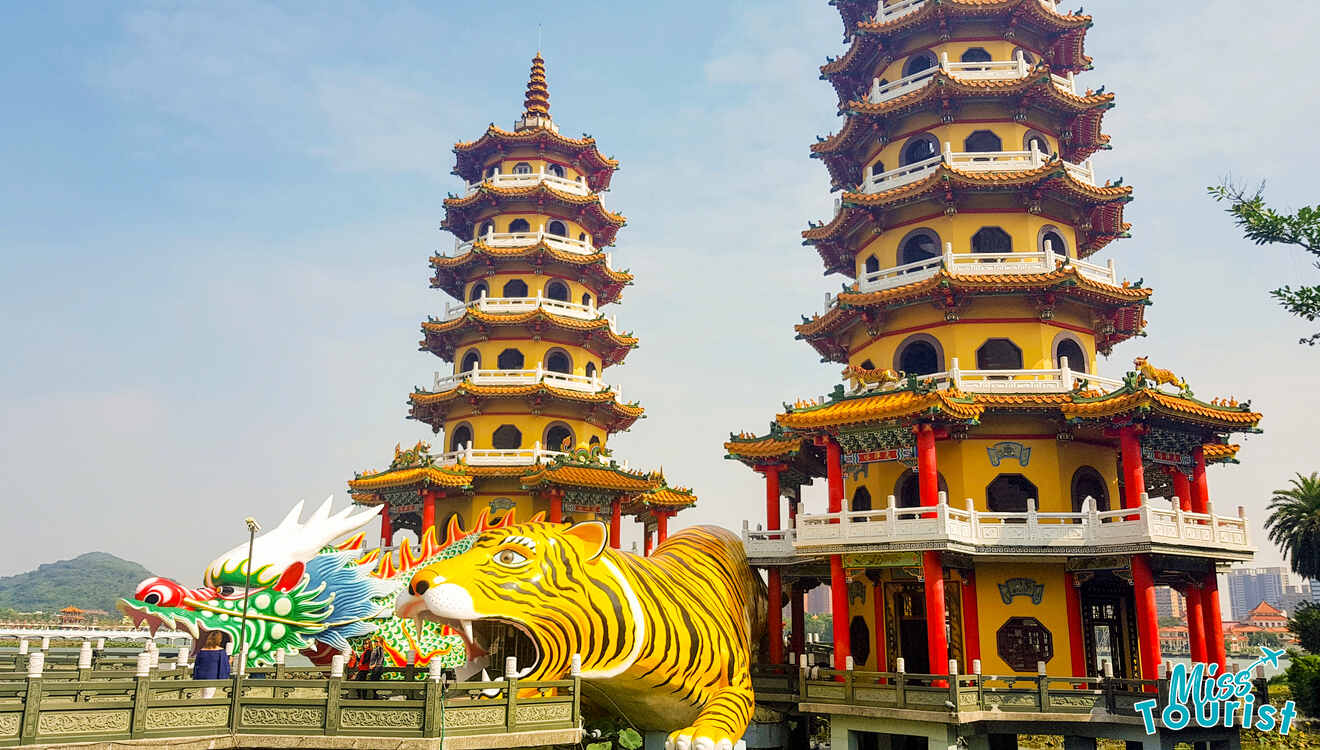 If there's one thing that's recognizable about Kaohsiung, it's the giant dragon and tiger pagodas that sit on the bridge. While I was momentarily confused by the people running at top speed through the dragon's mouth, there's a very good reason and you'll soon find yourself doing it too!
Traditionally, if you run into the dragon's mouth and exit through the tiger's then you'll find your fortune being reserved and all of your bad luck becoming good.
So, if you've had a few things go wrong recently, you'd best get your running shoes on and join in with this wonderfully local custom.
When you've tired yourself out and your luck is well and truly reversed, you'll be happy to find the plethora of cafes dotted right around Lotus Lake. You can either make your way around the whole perimeter of the lake, which will take about 2-3 hours or enjoy the view with a nice drink.
Aside, from the Tiger and Dragon Pagoda you'll also find some gorgeous pavilions to explore.
It's nice and easy to get to Lotus Lake, just take the KRT to R15 Ecological District and leave from exit 2. Then you'll need to take a short bus (either 51 or 3) for around 20 minutes to Lotus Lake.
2. Fo Guang Shan Monastery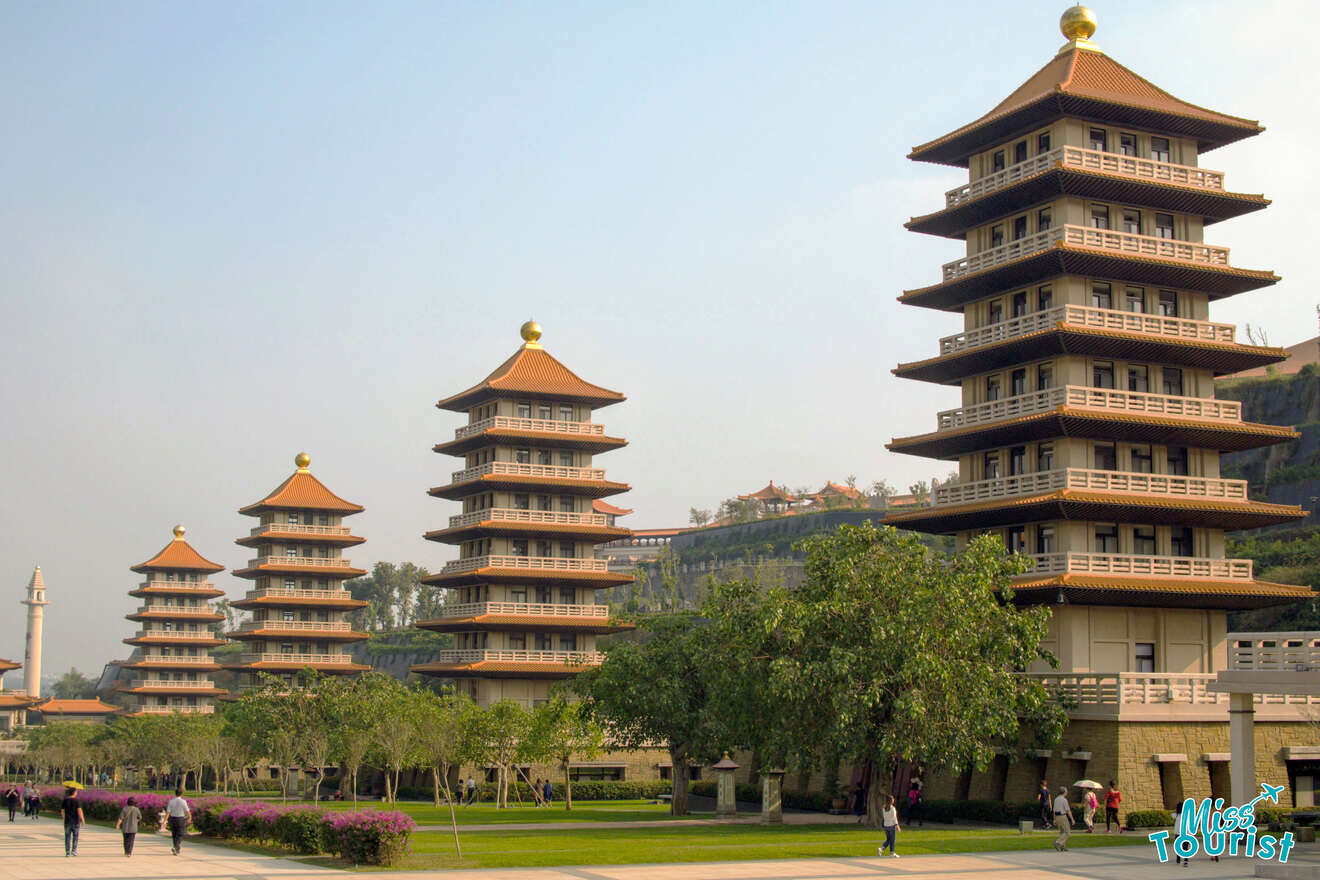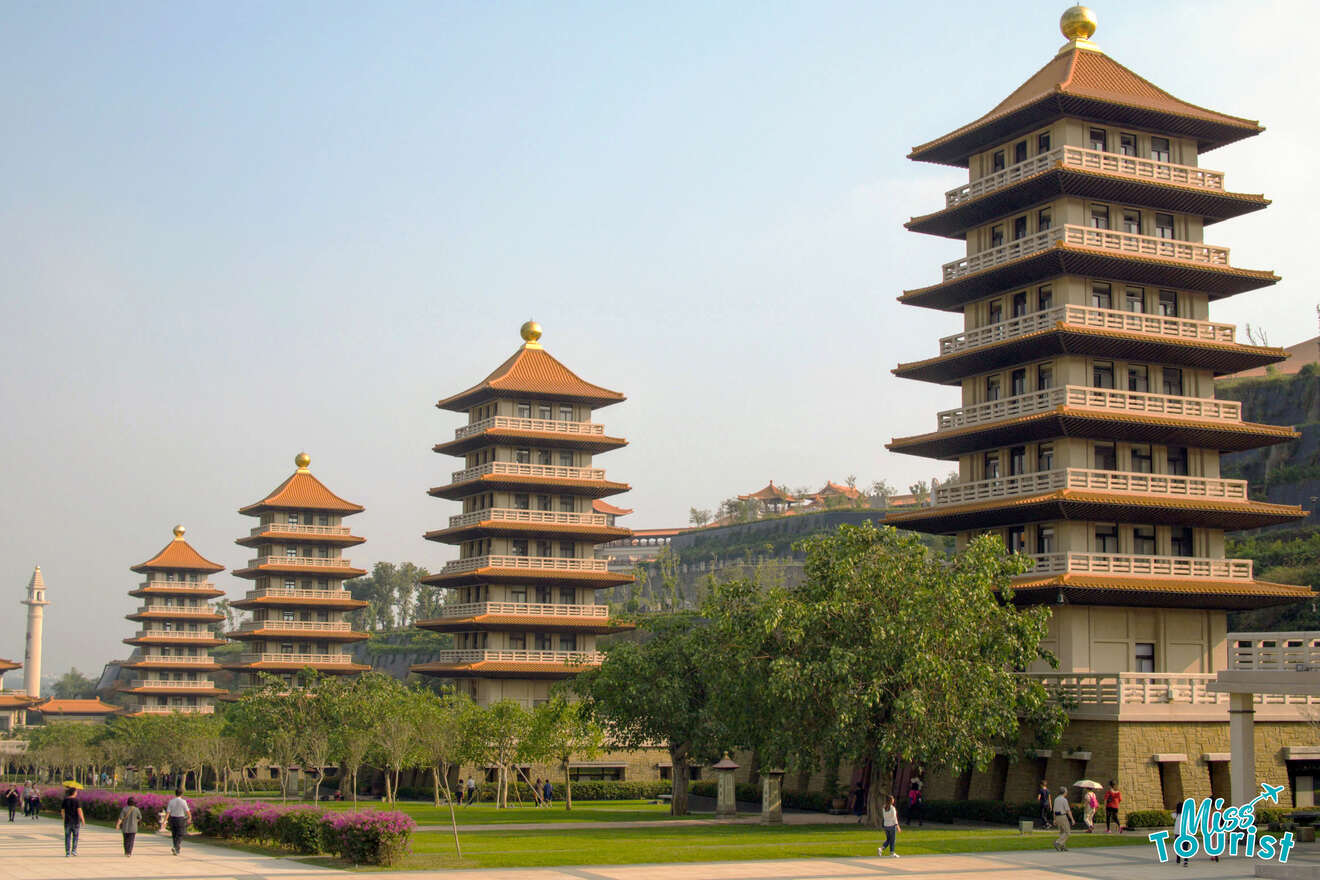 For a slice of peace and tranquility, with breathtaking views, Fo Guang Shan (often dubbed Buddha's Kingdom), is a must.
It's the largest Buddhist temple in Taiwan and stretches over fifty hectares impressing all who visit due to its mix of delicate pagodas and giant Buddha statue.
All of this grandeur sits atop a lake overlooking Gaoping River.
There's plenty to see here, and you'll need anything from a few hours to a full day depending on how much you want to wander around. You might even catch a festival here depending on the time of year.
You'll need around forty minutes total to get here but it's an easy bus ride from Zuoying Station, just take exit one and you'll find the bus stop right there. You'll need the NT15 bus to Fo Guang Shan Monastery from there (20 mins).
3. Sail down the Love River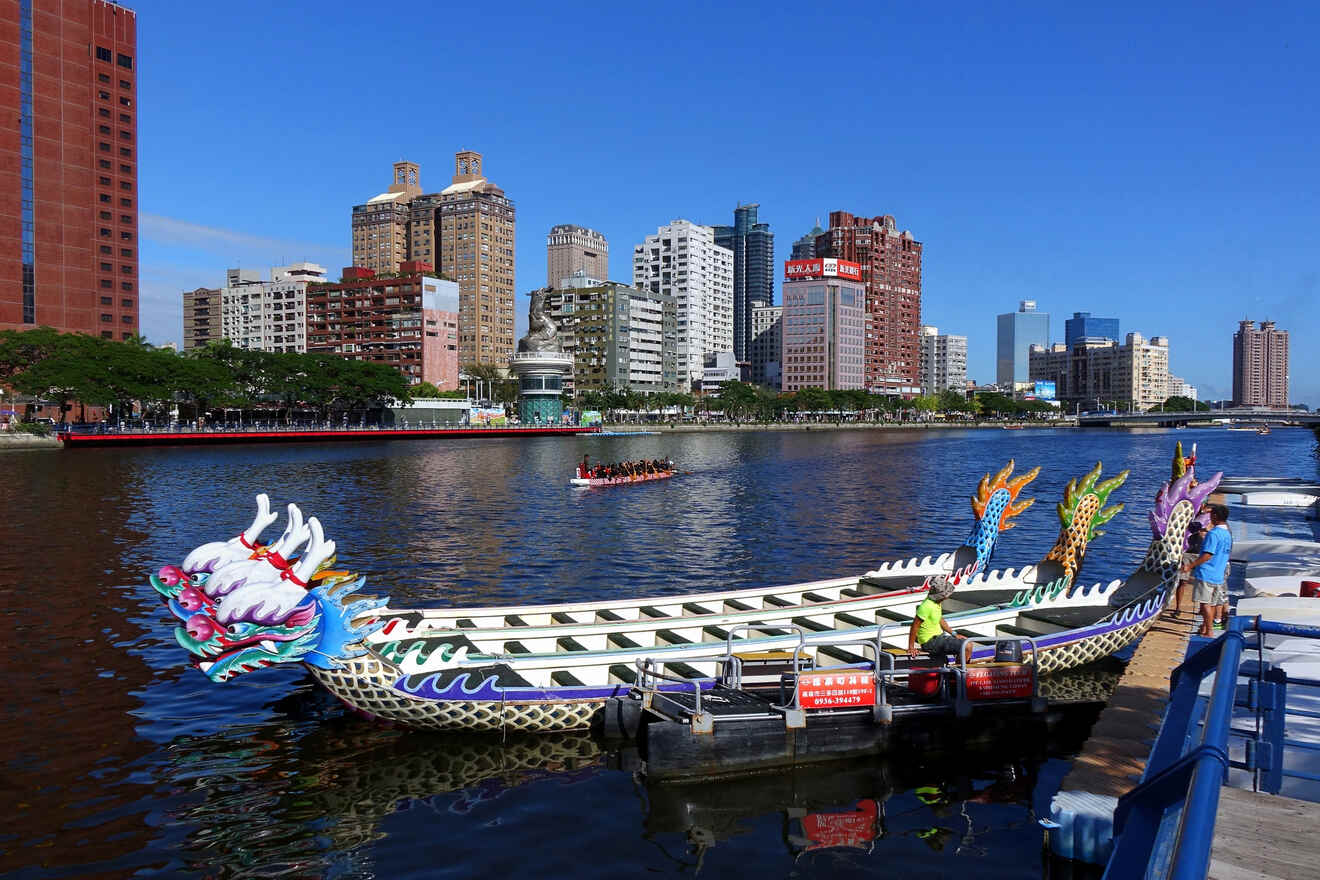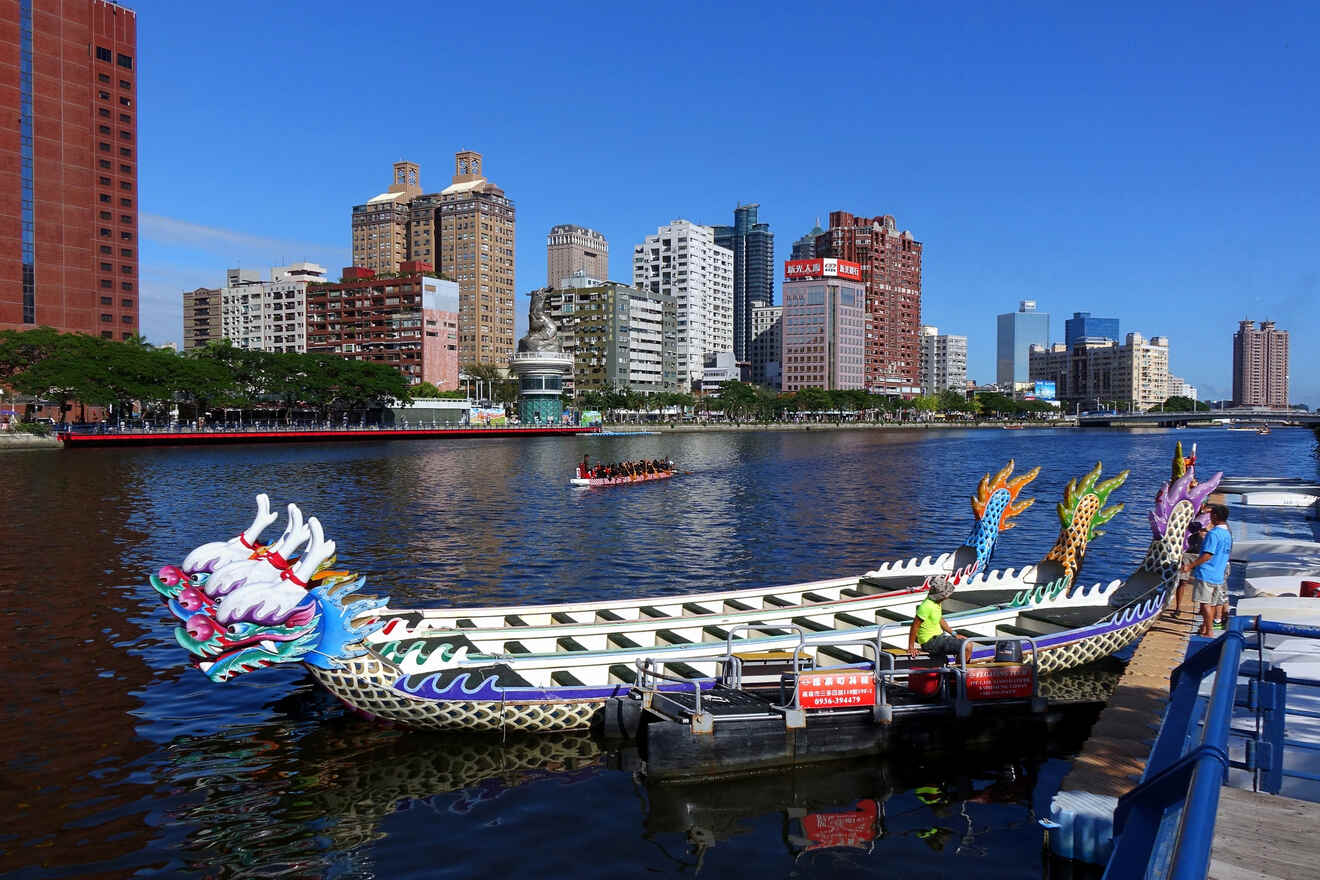 It isn't only in Venice you can take a romantic gondola ride, Love River (Ai He) is every bit as dazzling and far cheaper at NT200!
Sail past Kaohsiung's skyscrapers and neon charm while enjoying live music from the shore. And don't think you have to have a romantic partner with you to enjoy this fine display, practice a bit of self-love, like I did, and take yourself.
It's a really relaxed area and you'll see other people enjoy boat rides with friends, or alone, sailing under the colorful bridges which frame the river. You'll sail right through the city to the port so it's a really nice way to sit and see Kaohsiung from a new angle. If you don't fancy going on the water, the river is just as pleasant to walk along with a bubble tea!
4. Unleash your inner photographer at Pier-2 Art Center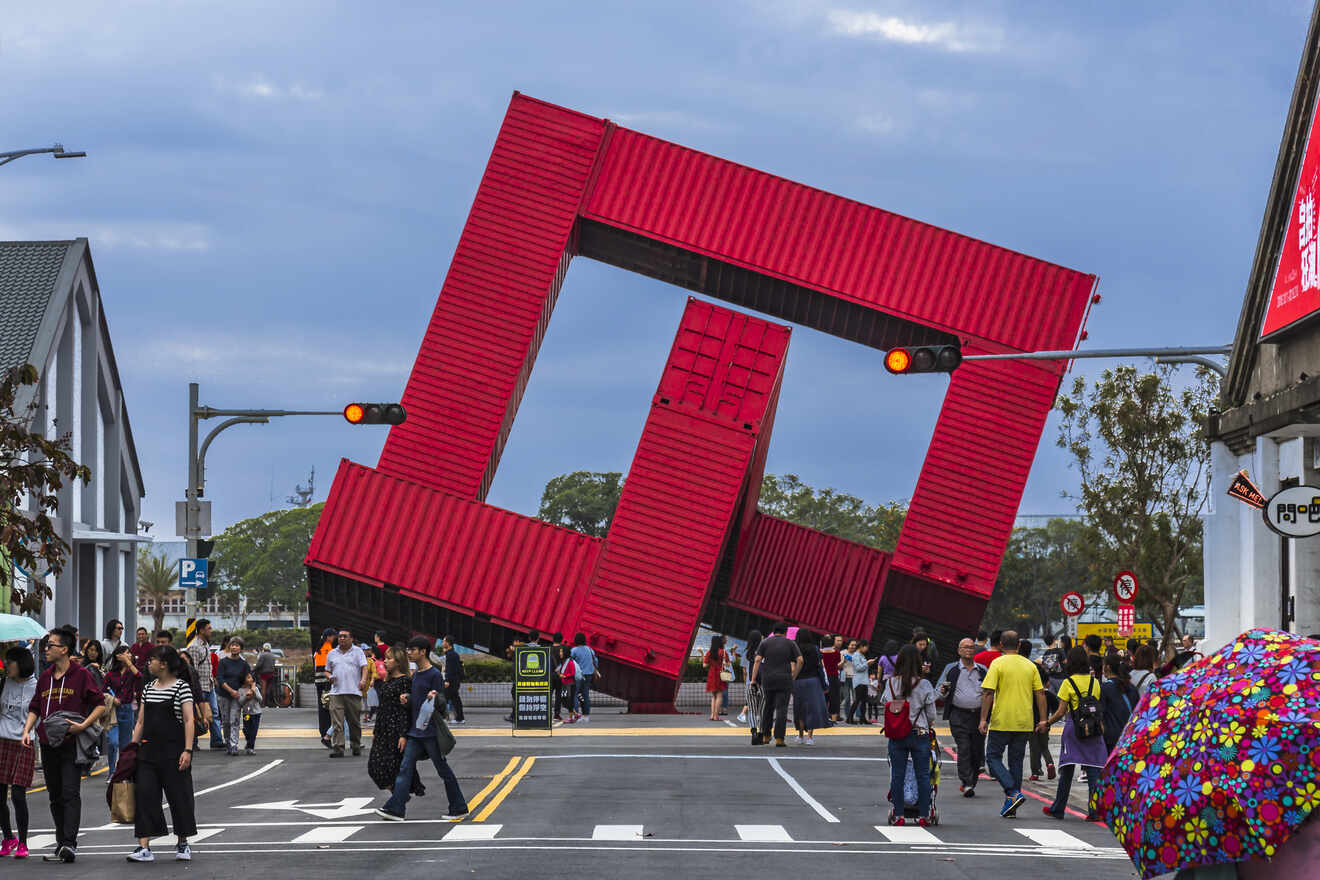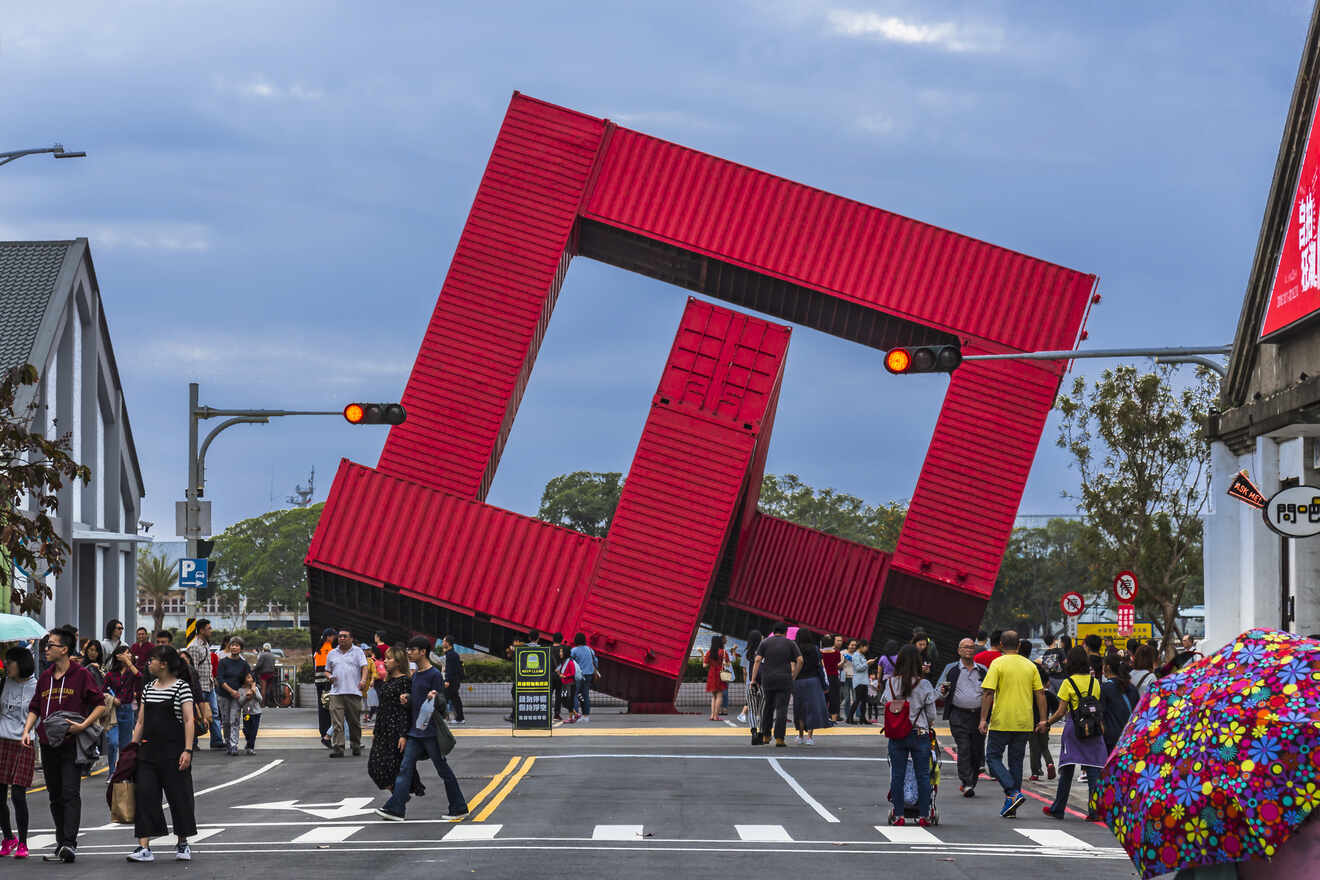 There's a great tradition around the world right now where abandoned spaces get turned into awesome art venues by local creatives, and Kaohsiung is no different. One of the must-visit places in the city, the Pier 2 Art Center is a collection of once-abandoned warehouses that now showcase the talents of artists in the city.
It's known as the most colorful district in Kaohsiung for a reason, think incredible street art, bizarre structures, and optical illusions that are perfect for quirky photos.
Pier-2 is also in a lovely location as, aside from strolling the artwork, you can relax in one of the cafes and enjoy the ocean view. Pier-2 throws lots of events throughout the year so make sure you keep up on their website.
To get there, take the KRT to Yanchengpu Station, take exit 1 and walk for 5 minutes until you reach the pier.
5. Get lost in Kaohsiung's night markets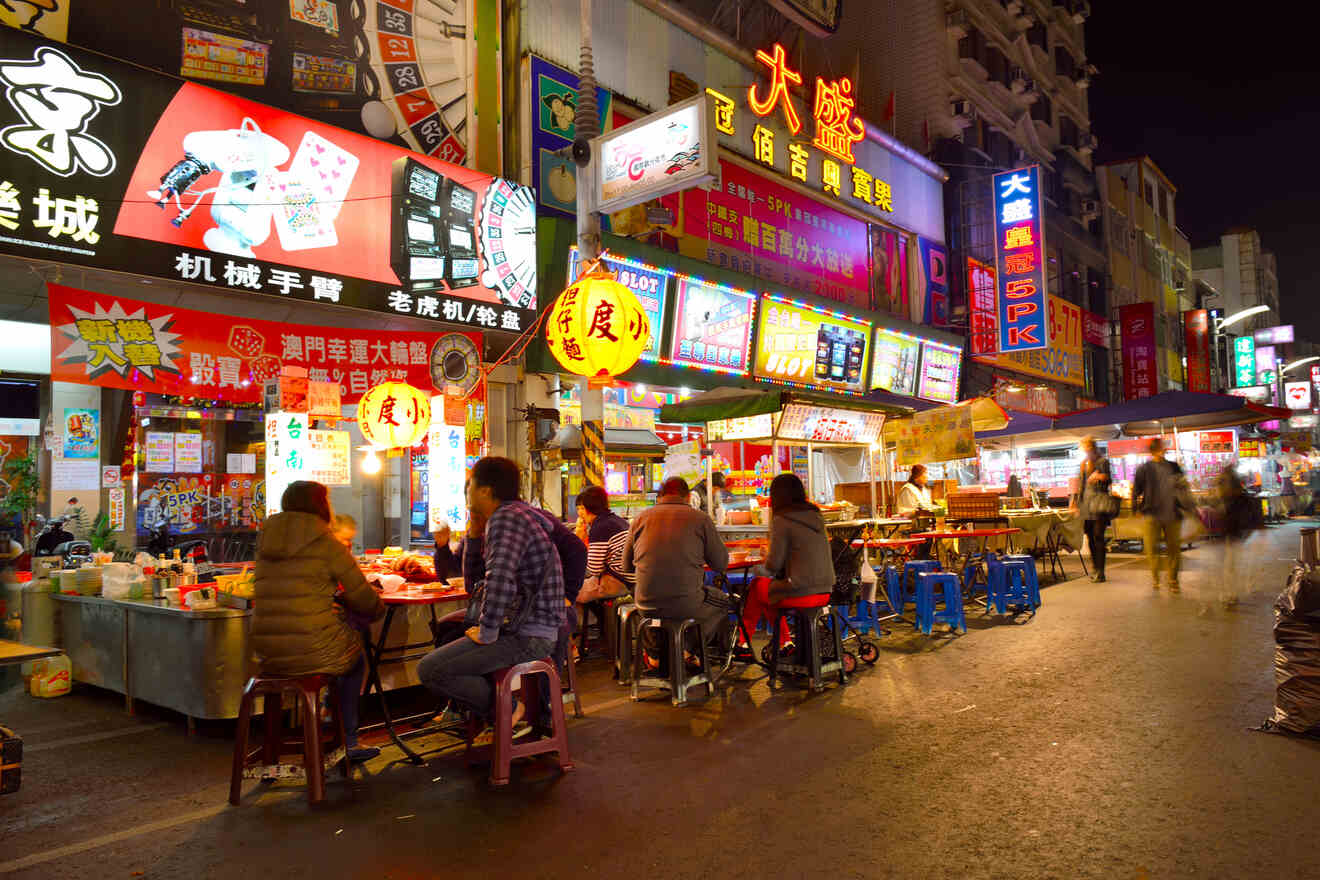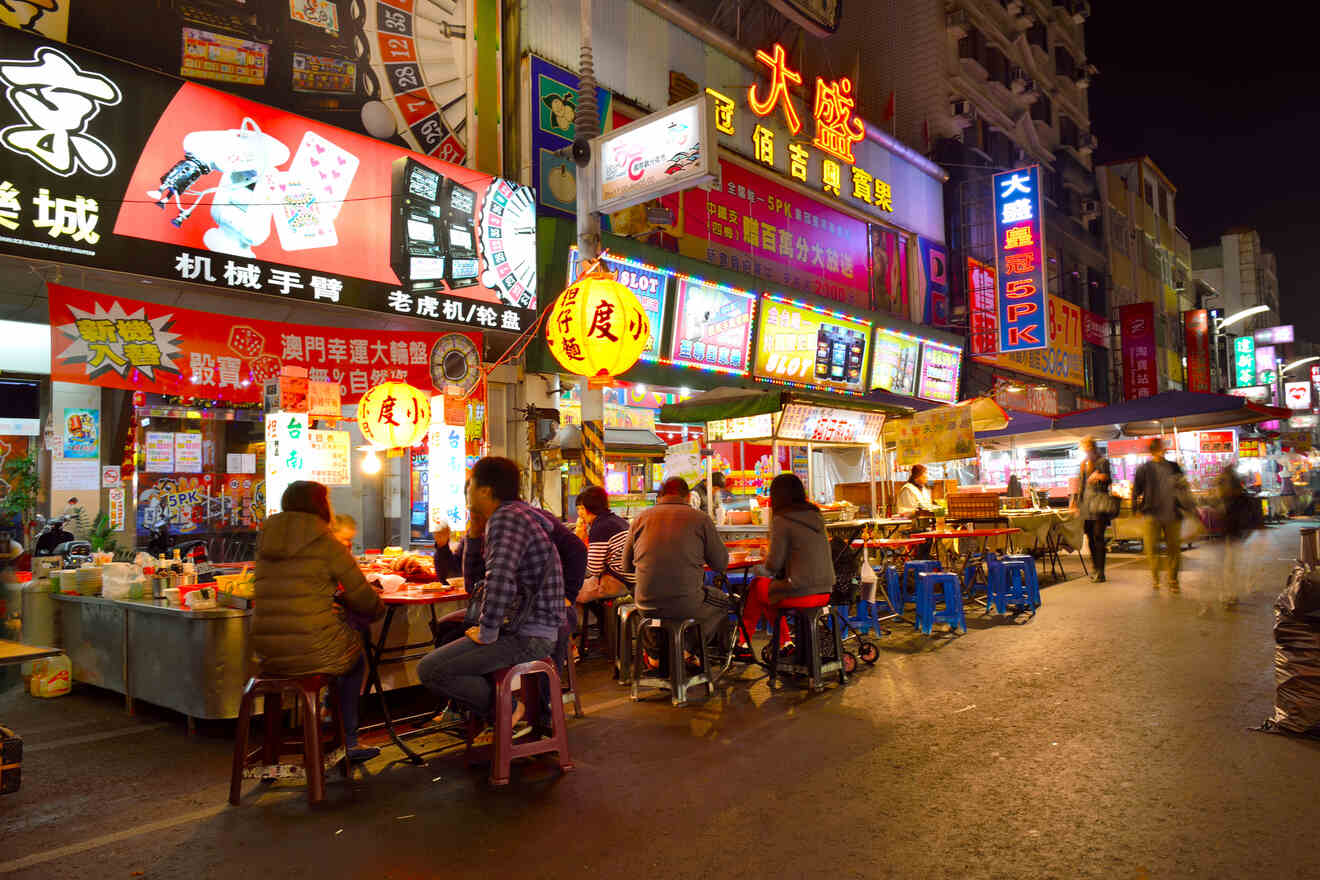 A trip to the night market usually involves eating a lot of street food at cheap prices! It's one of the best ways to try Taiwanese food as you'll find almost all of it here, don't do what I did on my first night and spend all of your time eating fried chicken neglecting the rest. Some other markets will specialize in clothes and everyday items meaning they're a great place to find a bargain.
There are two major night markets in Kaohsiung that are popular with both locals and visitors:
1) Ruifeng Night Market
Generally most people's favorite, it's closed off to cars meaning you can relax and just enjoy the stalls. Ruifeng is the largest market in Kaohsiung and you'll find a never-ending selection of food, bubble tea and games to play. If you want your quintessential night market experience, this is it.
You'll find it in the north of the city, to get there take the MRT to R14 and exit via the San Min School exit. You'll find the market just ahead of you.
2) Liuhe Night Market
Similar to Ruifeng, Liuhe Market is also a must-visit if you want to sample delicious Taiwanese food in authentic surroundings. It's in the center of Kaohsiung making it a convenient location for snacking at the end of a busy day. A famous spot within this market is the Papaya Milk cart which has been visited by countless celebrities, something they're very proud of since the pictures are stuck all over the outside of the cart. Despite the hype, the milk is delicious and I'd highly recommend it!
To get there take the MRT to R10 and take exit 11 – Liuhe Night Market.
6. Devour a Taiwanese Breakfast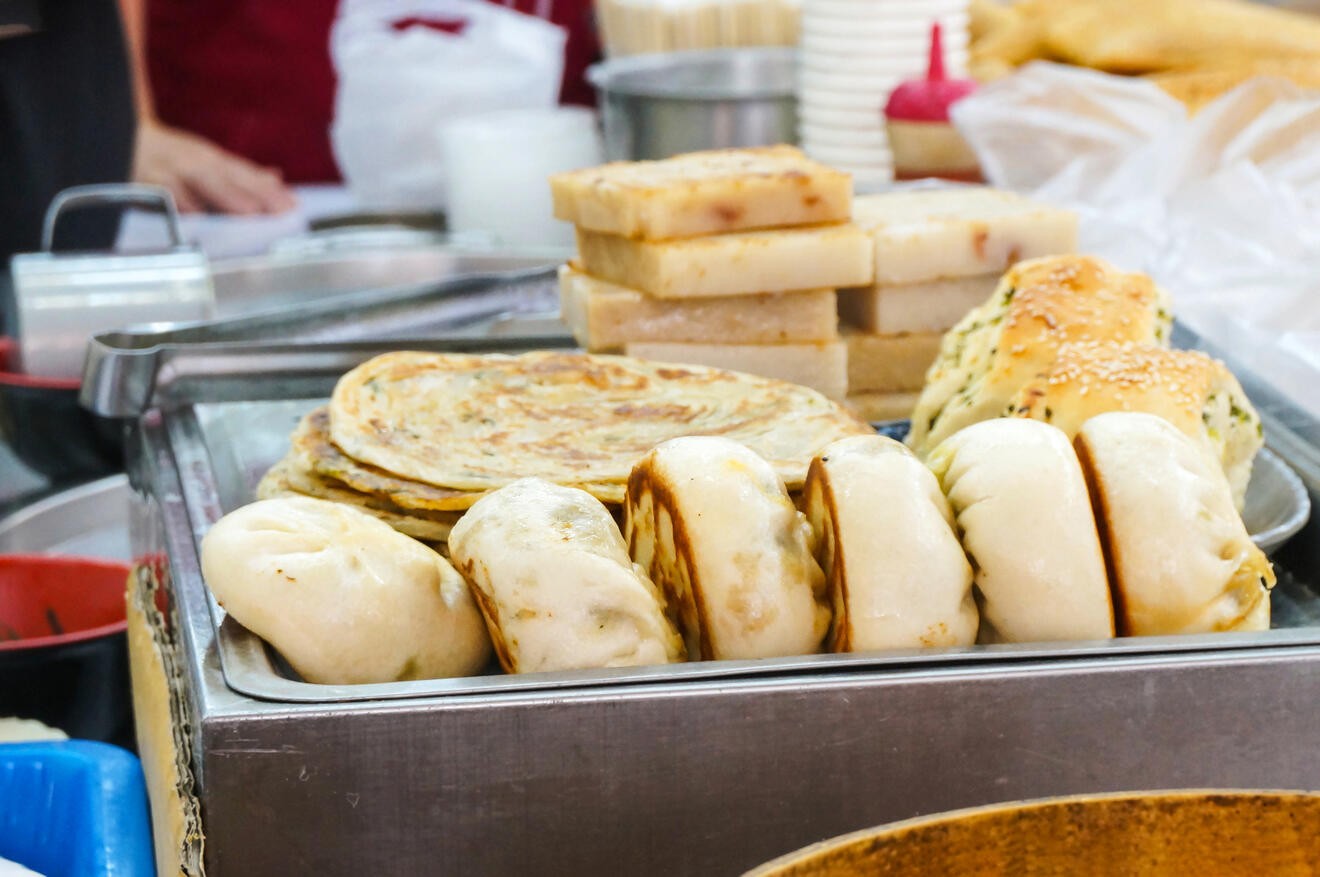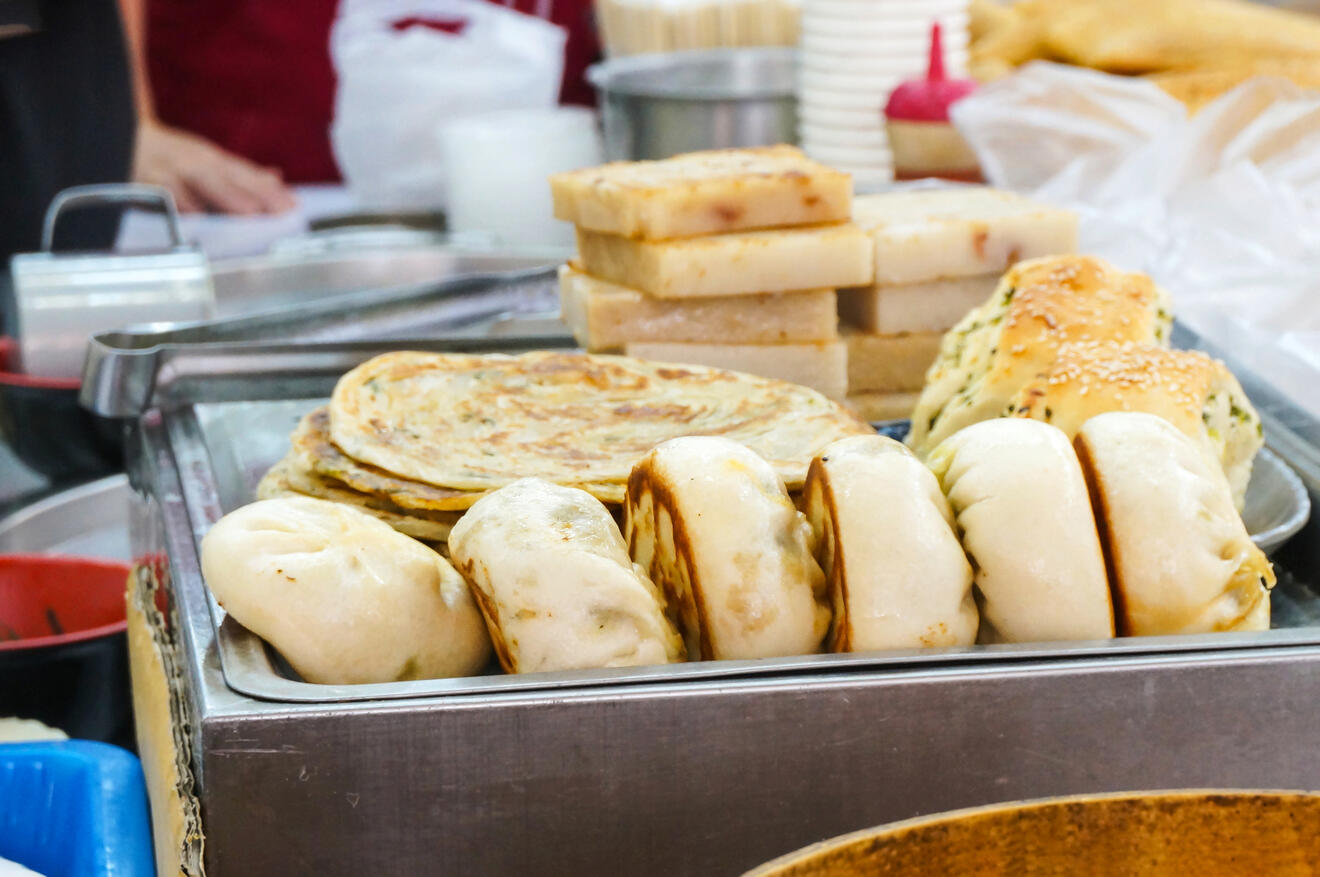 Taiwan is famous for its breakfasts so you'll find local breakfast spots all over the country with massive lines of people waiting outside. Don't worry, the queues move fast and no one is kept hungry for long.
Dishes include steamed dumplings, various fried breads with delicious vegetable and meat fillings, and lots of soy milk. This dedinigly isn't a light breakfast and will keep you going long past lunch.
One of the best spots in Kaohsiung is Xinglongju near the City Council MRT station.
7. Check out the 85 Sky Tower Observation Deck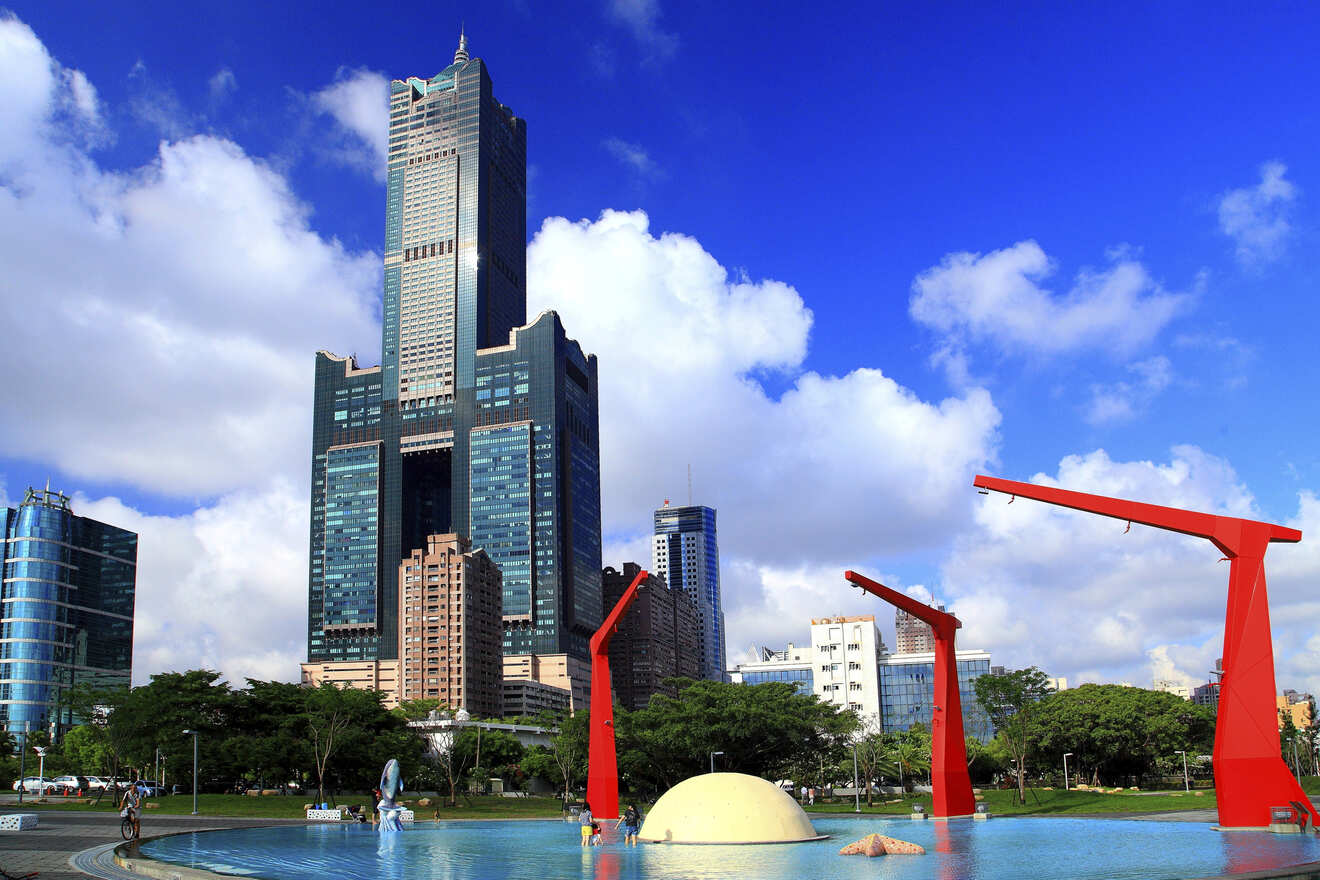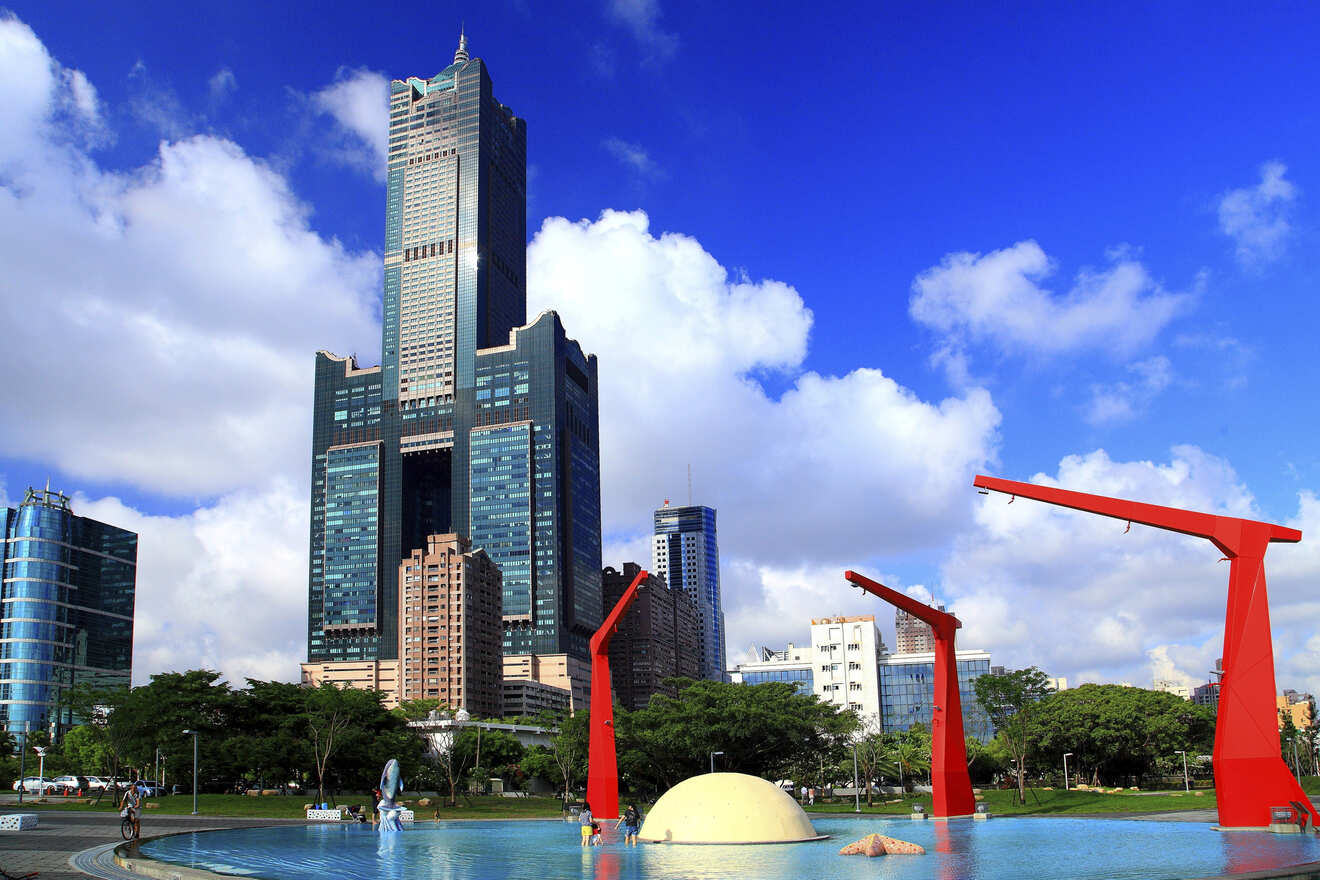 Yes, once you've been up one tall building you feel like you've been up them all but if you'd love an epic 360-degree shot of Kaosiung's dynamic harbor and city view then the Sky Tower (on the 75th floor of Kaohsiung Tower) is where you need to go.
The elevator to the top is also one of the fastest in the world so that's an experience in itself. You'll also find a cafe inside, as well as local art displayed on the walls.
You can reach the Sky Tower by taking the red line on the MRT to the R8 Sanduo Shopping District station.
8. Visit Dream Mall's rooftop theme park
Dream Mall is actually the largest shopping mall in East Asia so if you fancy a bit of shopping, this is a great place to go!
Yes, there really is a rooftop theme park and aside from that you can also take a trip on Kaohsiung's giant Ferris wheel which is 160 foot tall and is another way to get insanely great views of the city.
Apart from the ferris wheel, you'll mostly find arcade games to enjoy.
9. Marvel at Formosa Boulevard MRT Station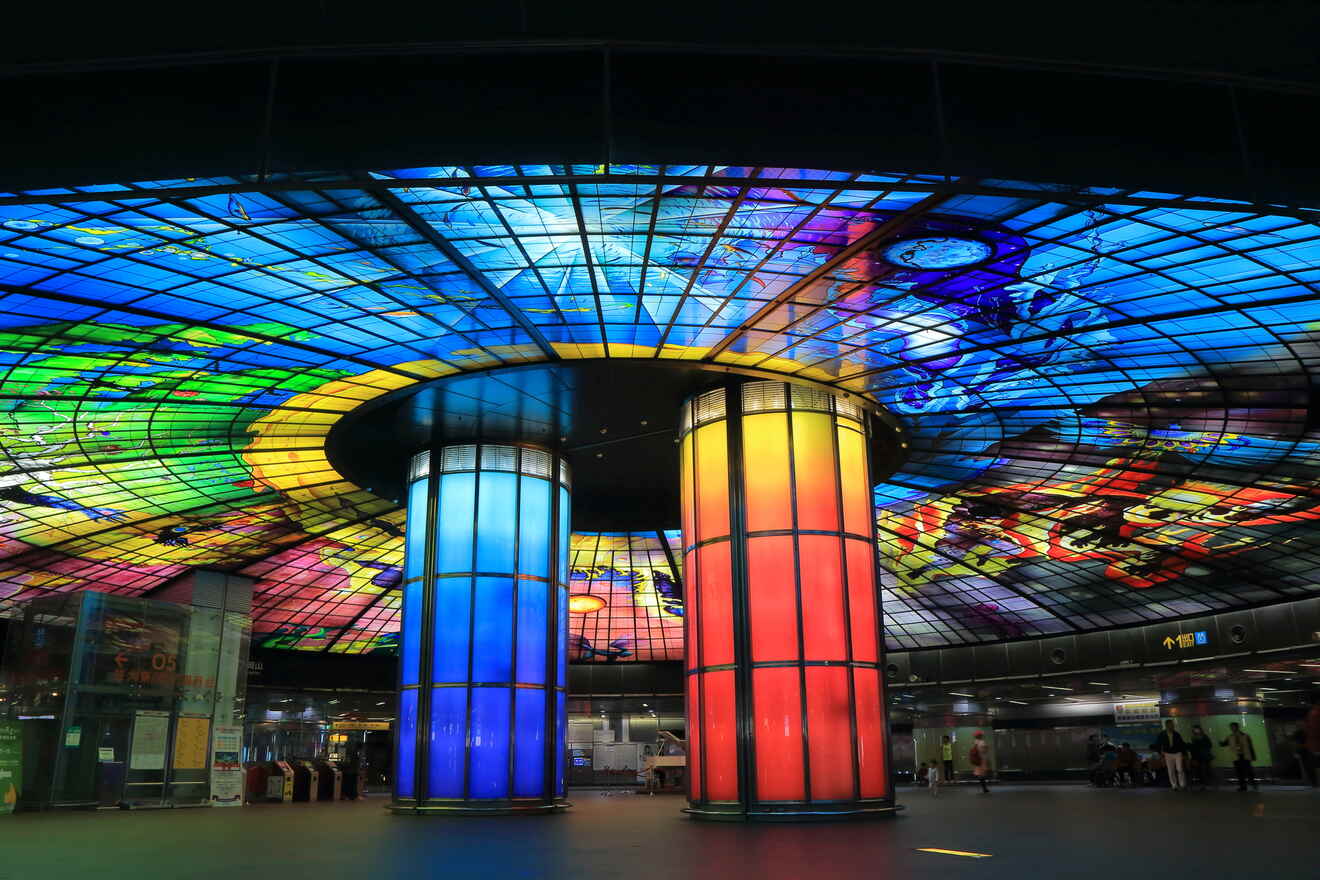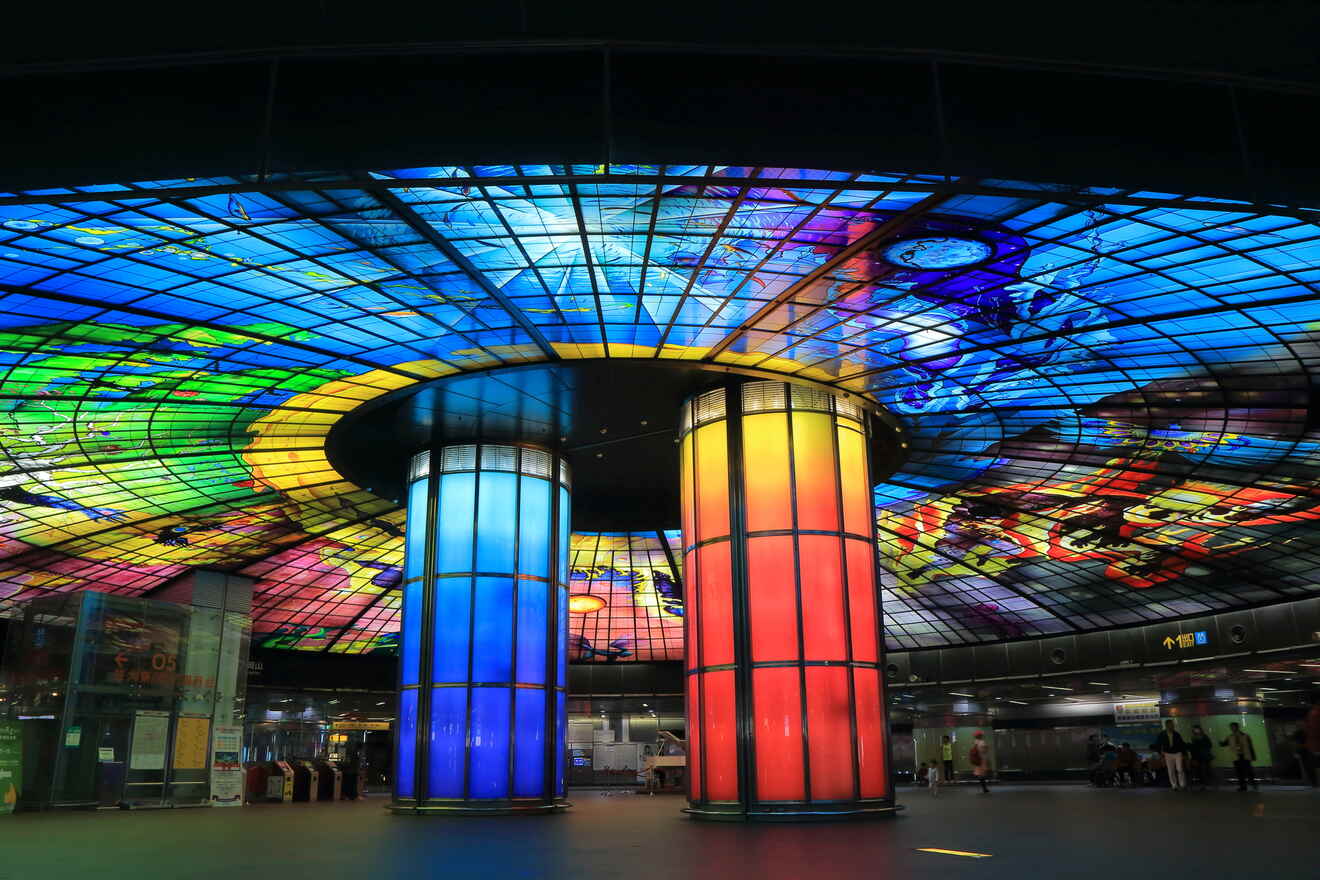 Yes, it's just a metro station but there's a reason people are alighting at this particular stop with cameras in hand!
Known as one of 'the most beautiful subway stations in the world', the giant glass dome made of 4,500 coloured panels!
The panels were created by the Italian designer Narcissus Quagliata. It's definitely worth hopping off to take a look if you're passing through.
| | |
| --- | --- |
| 🚶🏽‍♂️Best free activity: | Lotus Lake |
| 🚣‍♀️ Best outdoor activity: | Love River Cruise |
| 🌃 Top Night Market: | Ruifeng Night Market |
| 🥟 Must try food: | Taiwanese breakfast |
| 🎨 For Art Lovers: | Pier-2 Art Center |
| 👧 Best attraction for kids: | Dream Mall Theme Park |
| ✈️Cost of traveling: | Low |
| 📅 How many days: | 3-5 |
BONUS: 3 Amazing Day trips from Kaohsiung
Kaosiung boasts a number of exciting day trips and if you have more than 2 days in the city I'd highly recommend trying at least one of these day trips.
1. Cijin Island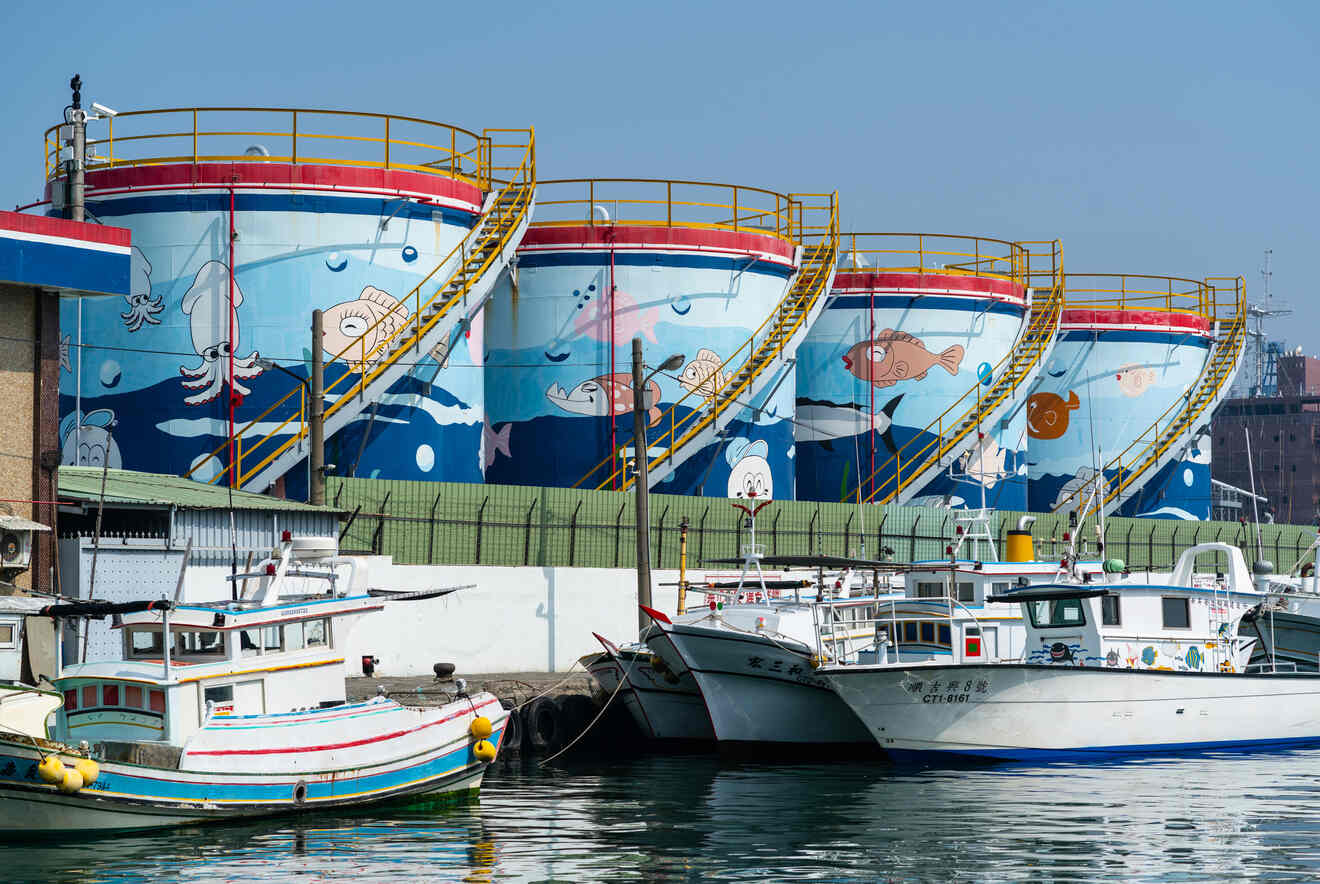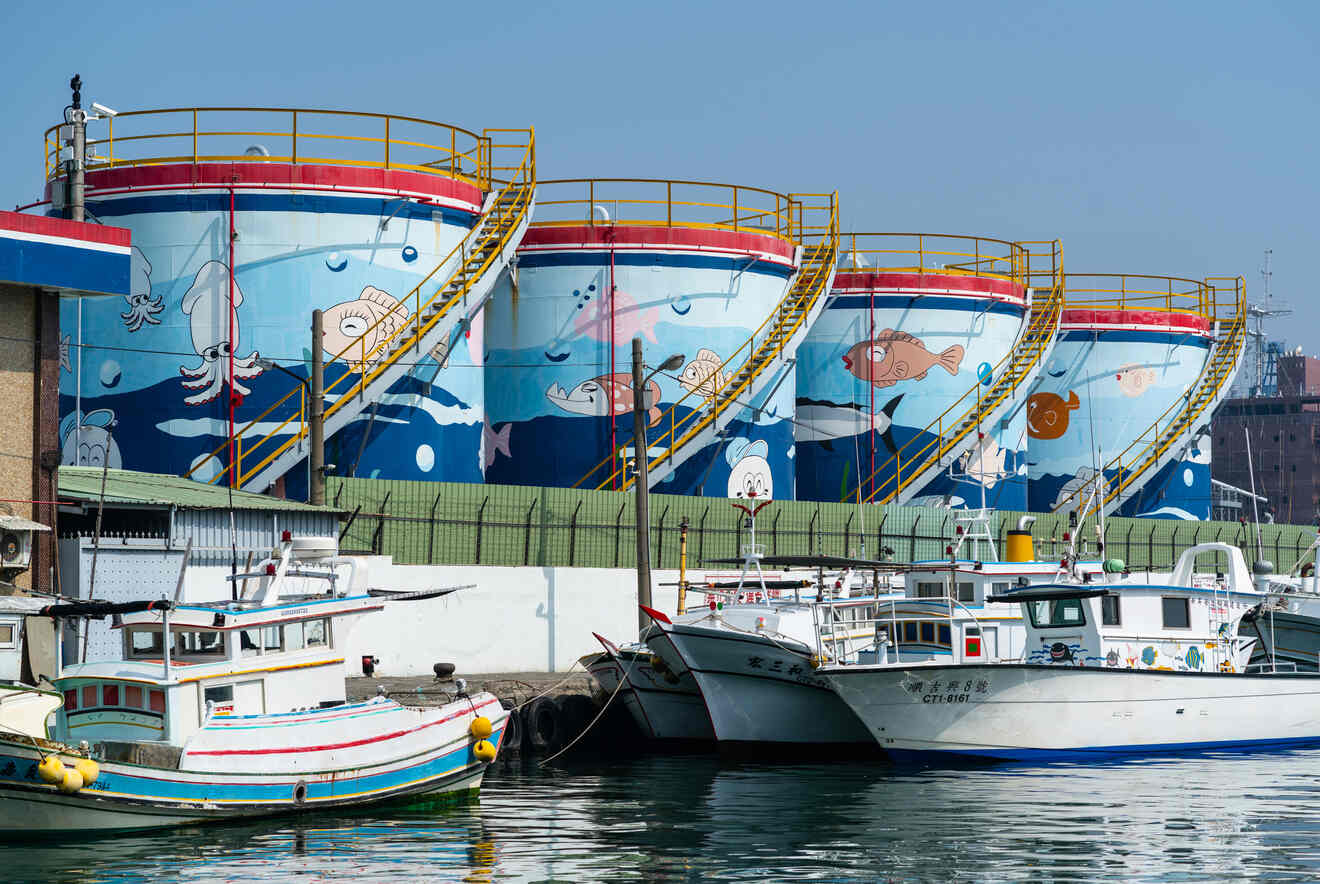 Considering that Cijin Island is, in fact, part of Kaohsiung, it's a pretty easy day trip. And you'll find that this happens a lot in Taiwan, with public travel routes being so good and cities being located so close to natural landmarks and places to explore that don't require too much time and exploration.
Cijin is a long and slender island floating just off the coast of the city itself. You'll find it just beyond the harbor of Kaohsiung and it takes a 15 min ferry ride to get to Cijin Island. Specifically, take the MRT to Sizihwan Station and walk to the harbor, then get on the Cijin Island Ferry.
Once there, you'll find Kaohsiung's oldest temple. Known as Tianhou Temple, this is a taoist temple of traditional Chinese religion. The story goes that a typhoon swept a Chinese fisherman all the way to the south coast of Taiwan, and he returned to China to gather more people for a second trip to the island and there they built the taoist temple.
You'll also find a lighthouse originally built by the British, then occupied and modified by the Japanese. Today, it's a popular tourist attraction. Whatever you do, don't miss the iconic Rainbow Church, a multi-coloured art structure sitting above the sea where you can take some of the best photos in the city!
2. Tainan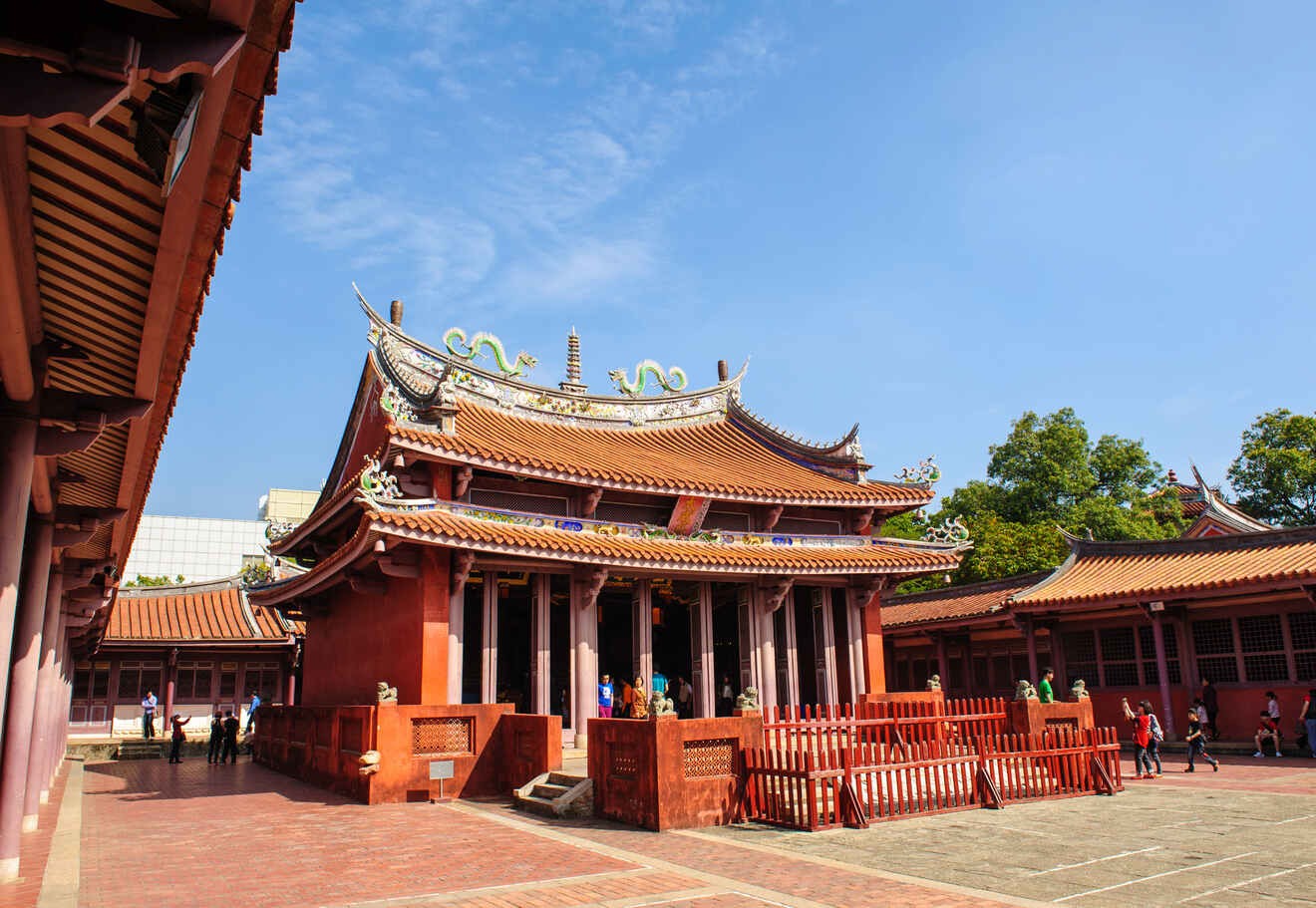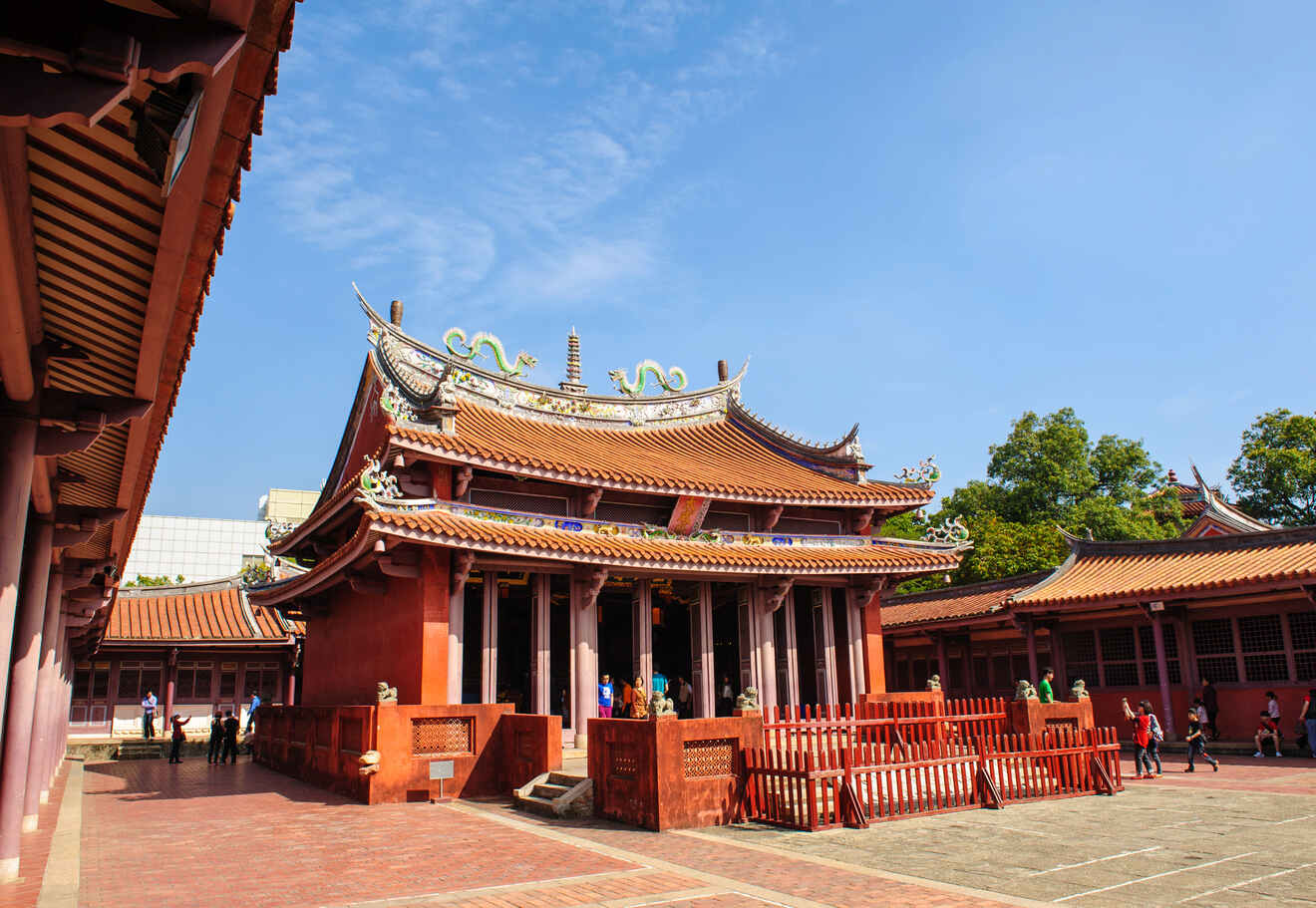 Did you know that Taiwan's other three major cities – Taipei, Taichung, and Tainan – each simply translate to 'North of Taiwan', 'Middle of Taiwan', and 'South of Taiwan'?
Tainan is a very short trip from Kaohsiung, making it an ideal day trip from the coastal city.
Tainan is easily one of Taiwan's most historically and traditionally beautiful cities. This is thanks to the fact that it's Taiwan's oldest city, and its abundance of museums, temples, colonial forts, and even more temples.
Two of Tainan's best temples include:
Grand Matsu Temple – Grand Matsu Temple is massive, awe-inspiring, and was once not a temple but a palatial home to the last king of the Ming dynasty.
Confucius Temple – The Confucian Temple was the first of its kind in Taiwan, built in 1666 and also serving as a Confucian school – as they traditionally do.
Beyond the temples, there are also forts and towers which were originally built by Dutch colonists. Tainan also has some of the best food in all of Taiwan, and considering how good Taiwanese food already is, that's an impressive claim. But no less true. This is mostly due to the abundance of street food in Tainan, which blends traditional Chinese, Taiwanese, and Japanese cooking styles to create a taste explosion.
To get from Kaohsiung to Tainan, you can take the bus or the train. Both the bus and train station in Kaohsiung are next to each other, and both are easy to navigate. By train, it couldn't be simpler: head to Kaohsiung Railway Station, hop on a train bound for Tainan Railway Station, and your whole journey will take about 45 minutes.
3. Kenting National Park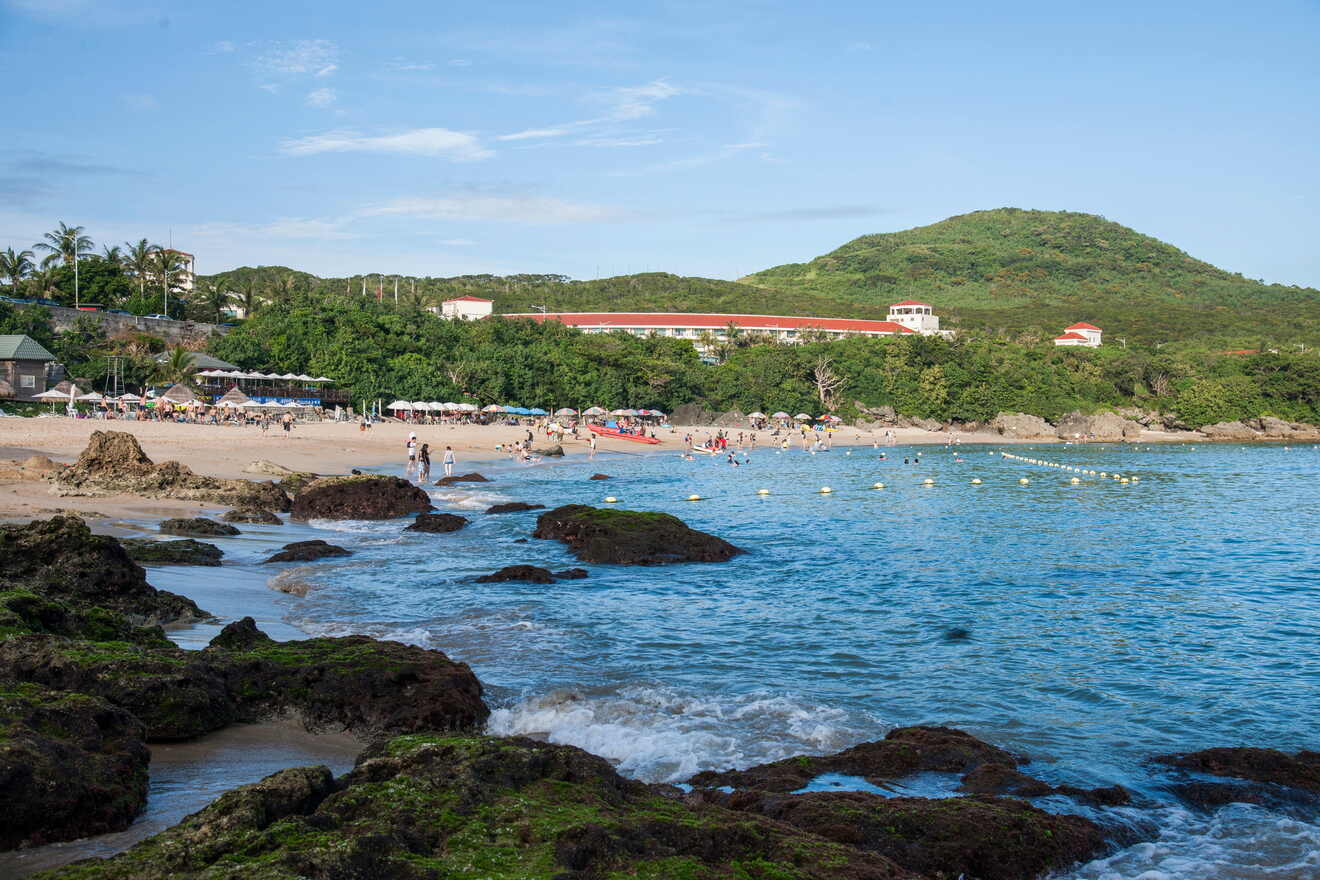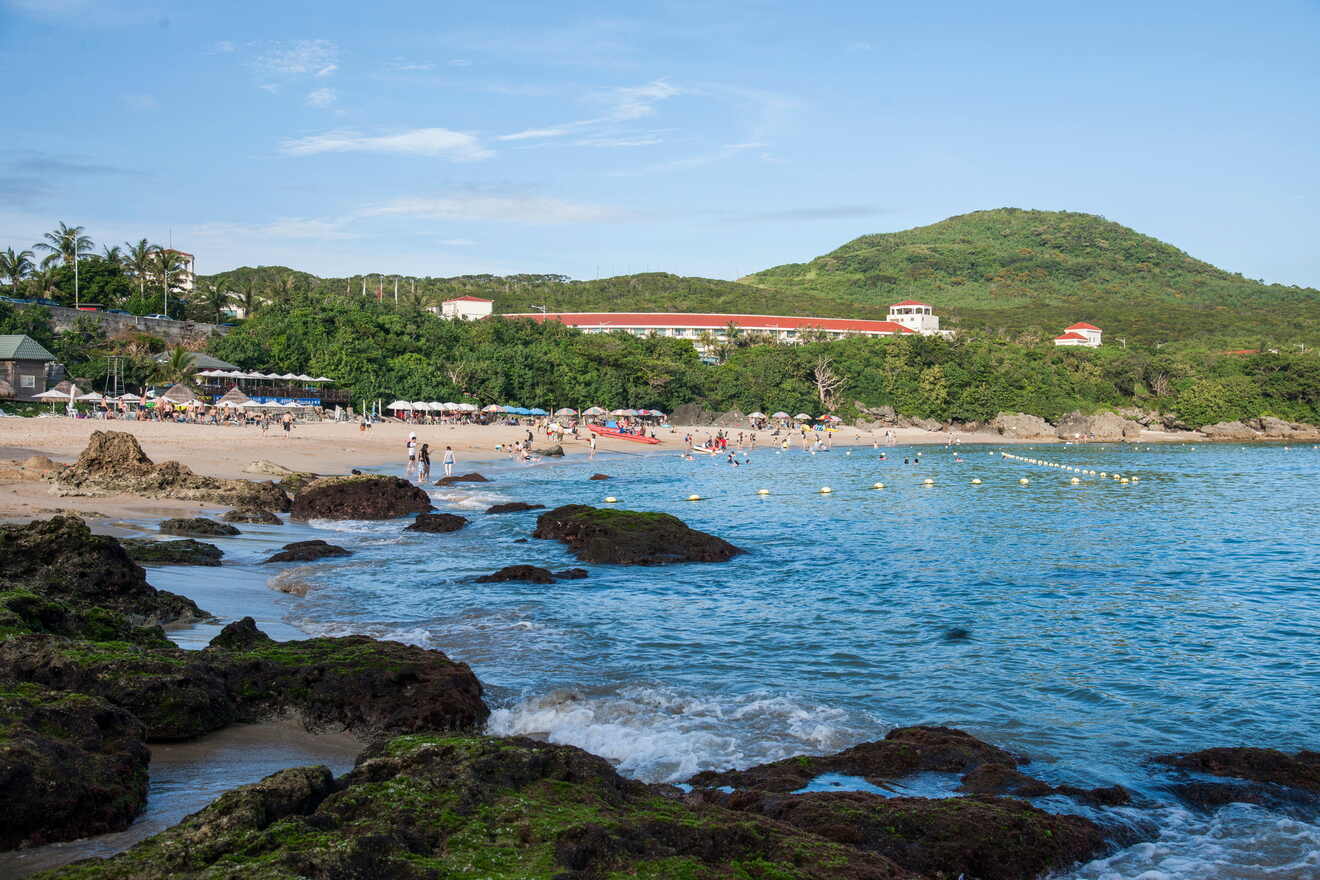 If you prefer your day trips to be serene, relaxing, and beautiful, rather than bustling and exciting, you need to head to Kenting National Park. It's on the south coast of Taiwan, at the very bottom tip of the island – as far south as you can go.
Once you arrive at Kenting National Park, you'll find more to do than simply take in the landscape. Although, that alone is enough of a reason to go. Kenting is made up of forests, cliffs, and beaches around the southern tip of Taiwan's coastline. But there is also the historic Hengchun Town, which is where you will first arrive and is a great place to try some local food. If you're there late you'll want to explore the night markets – which are every bit as wonderful as the other markets across Taiwan.
From Hengchun Town, you can explore the park at your leisure, heading to the coast and to Longluan Lake. The best way to see all of the park quickly is by renting a scooter when you arrive at the bus station. It's a hilly place with incredible views of the forests on one side and the endless ocean on the other.
PRO TIP: If you have time, don't miss the JiaLeShui Rock Formations on the beach. It's known as the 'playground of the sea gods' and is just stunning!
The easiest way to get there is by bus, not train. The trains are more complicated and take quite a few hours. A bus only takes 2.5 hours and leaves from Kaohsiung Main Station
Useful/practical Information about Kaohsiung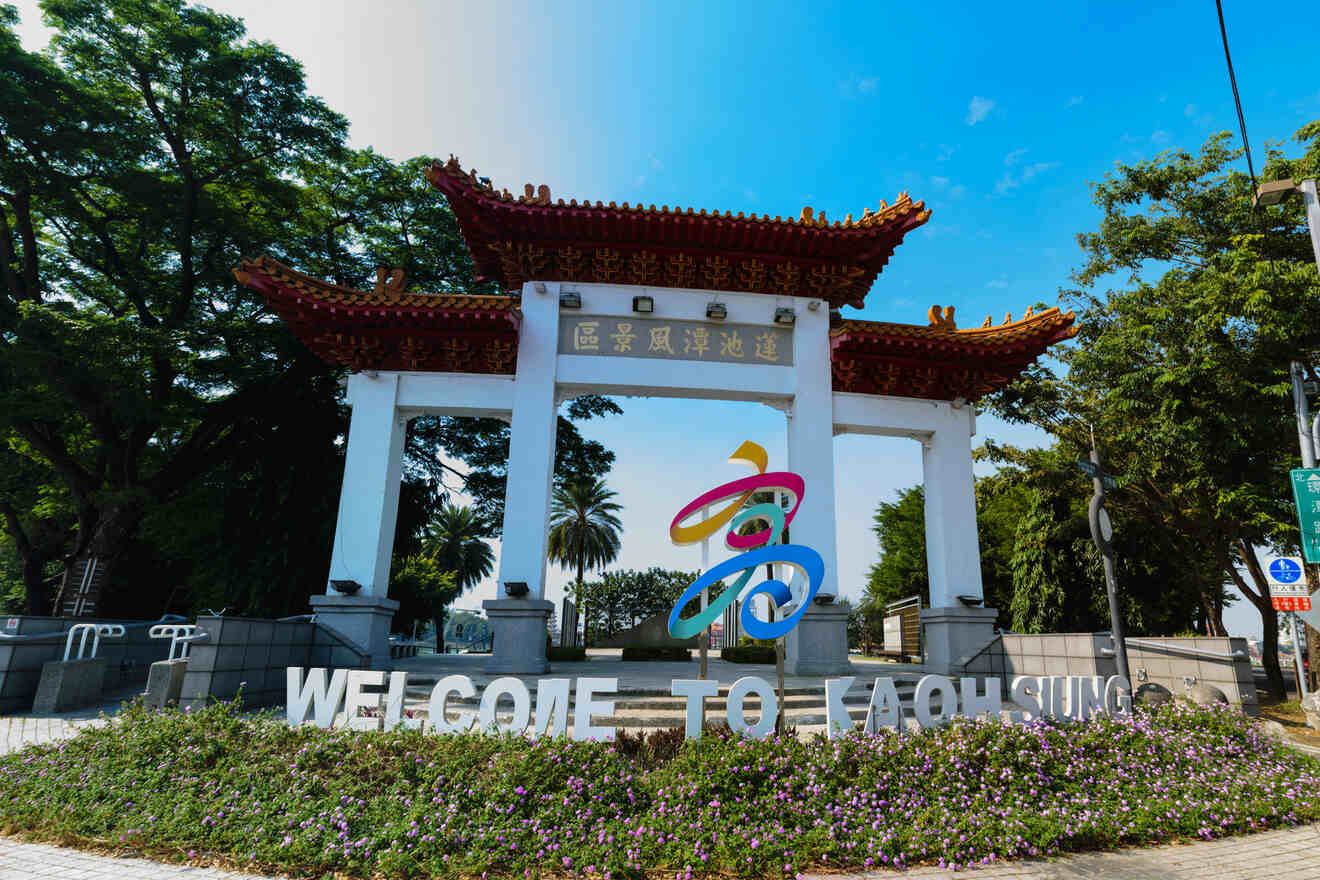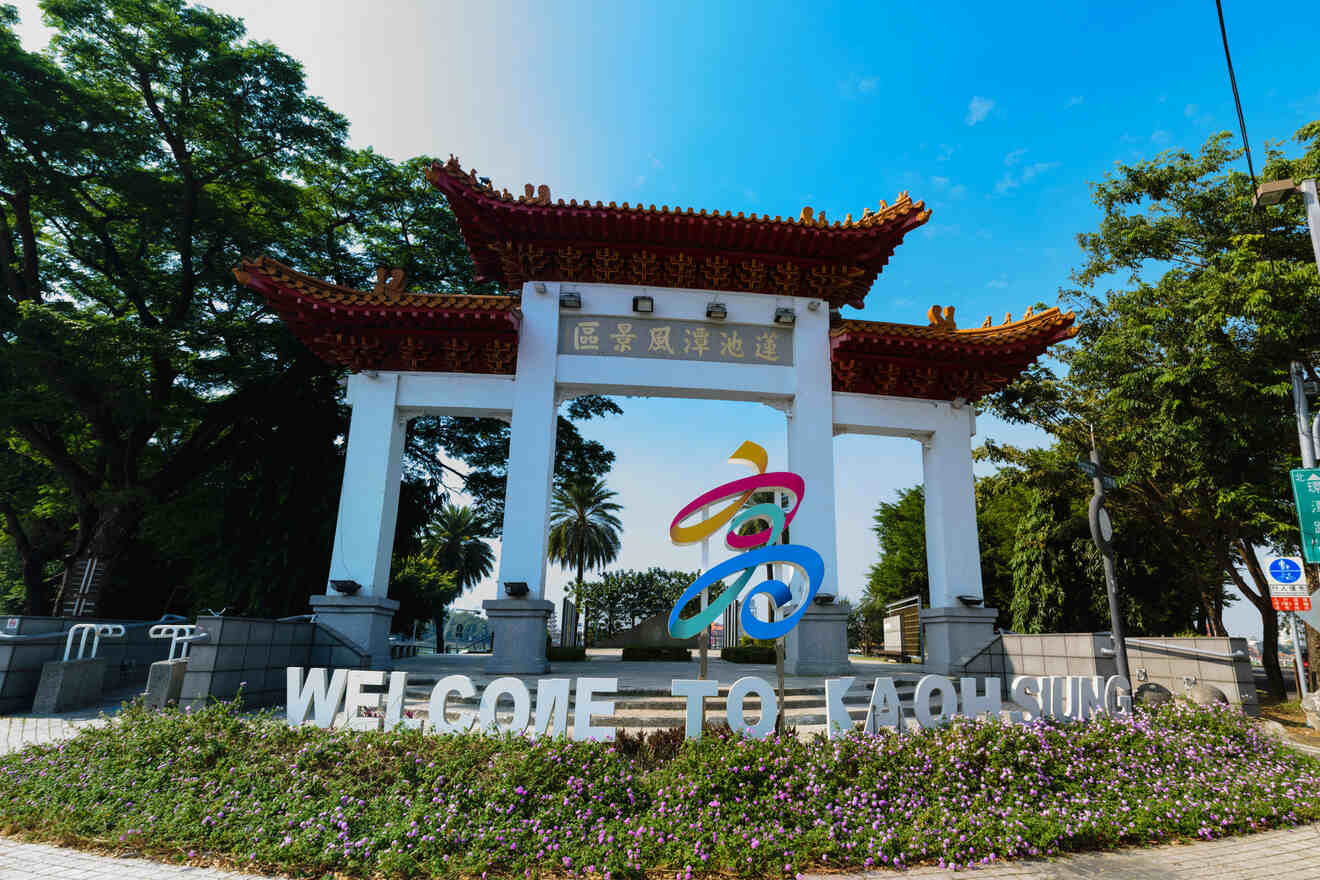 Much like the rest of Taiwan, Kaohsiung benefits from a simple to use and extensive transport system. High-speed rail, metro systems, and well-planned bus routes make getting to and from Kaohsiung a relaxing experience.
How to get to Kaohsiung from Taipei
By train
If you're flying into Taipei and wanting to head down to Kaohsiung from Taiwan's capital in the north, the best and easiest way is by train. The total distance is 360km and takes only 2 hours. You can book tickets, check fares and times on this website.
By bus
If you'd like to take the highway bus to Kaosiung from Taipei, the cheapest but longest time, you can book tickets online. Their site is not the most user friendly in the world to be honest, but it should take a bit less than 4 hours, so I highly recommend train over the bus.
From the airport
If you're flying into Kaohsiung itself, you'll still arrive at the airport at the southern edge of the city. Getting into the heart of Kaohsiung is easy: simply take the MRT red line which is heading in the direction of Gangshan Station. Ride the rails for six stops, which should take 10-15 minutes, and get off at Central Park Station, which will land you right in the middle of Kaohsiung. From there, it's simple to get wherever you want to go, whether that be sightseeing, a restaurant, or your hotel. Central Park Station is right in the middle of it all.
Hotel recommendations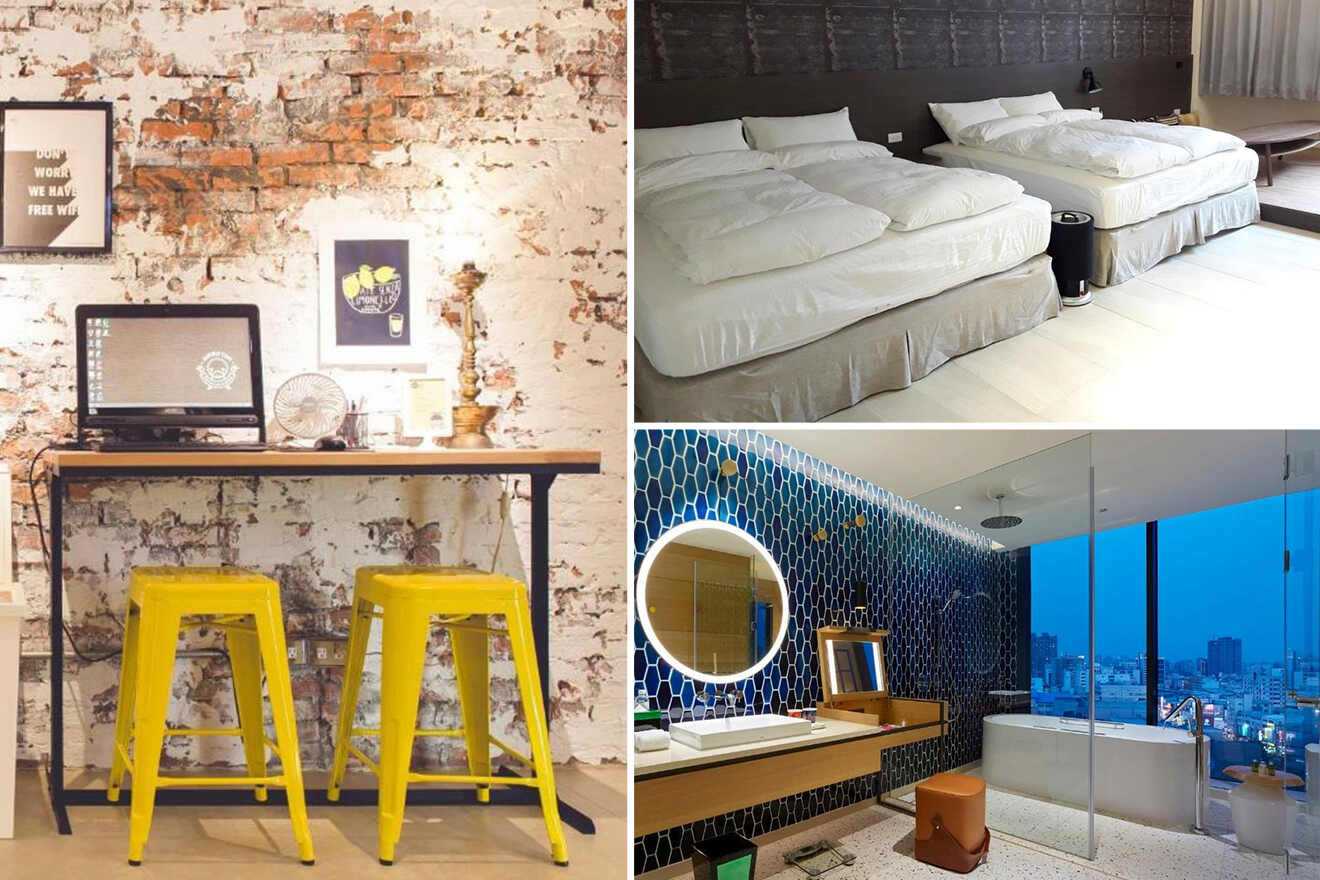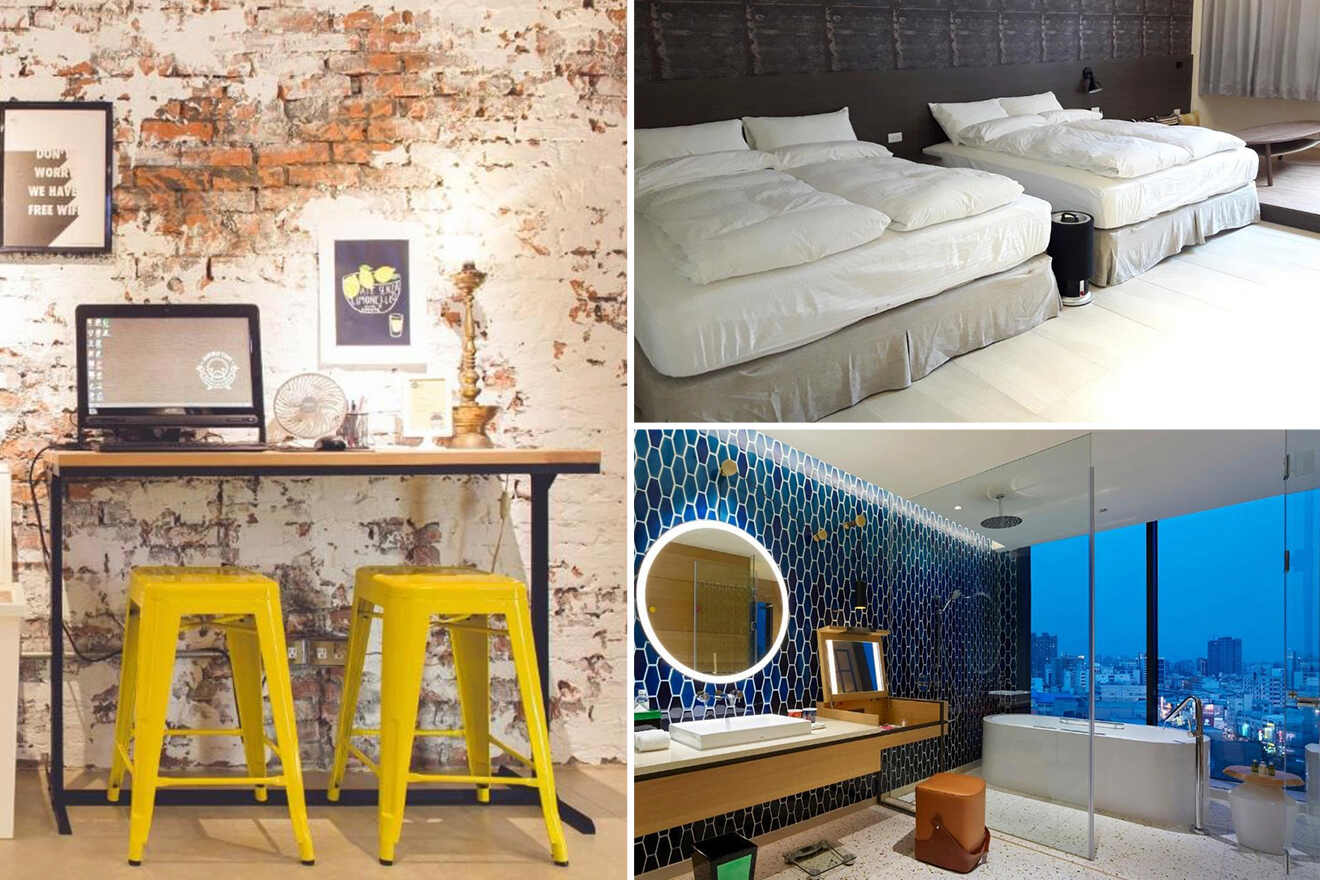 Choosing where to stay in Kaohsiung can be a challenge but luckily, it's a city blessed with excellent transport links so wherever you're based you won't be far from the action.
Here are some of my favorite hotels to suit all budgets:
UPDATE: We have just finished a dedicated post on accommodation in Kaohsiung, check it out!
Luxury – Hotel Indigo Kaohsiung
The city view from the rooftop terrace of this hotel is just breathtaking! Conveniently located near Kaohsiung Central Park station, this luxurious hotel has a super modern design and clean rooms with private bathrooms. Make sure to get a cocktail and catch a sunset on that stunning rooftop!
Mid-range – Ahiruyah Guesthouse
This is a pleasant guesthouse with a lovely aesthetic in a sweet and friendly neighborhood. With an average cost of $30 for a bed or a room, it's a good deal. That's especially considering how modern, well-decorated, and full of light and charm the place is. It's a highly recommended place to stay for couples, small groups, or solo travellers. There's nothing to dislike about this charming hostel.
Budget – KLA B&B
If you're looking to save as much cash as possible on your trip, there are shared rooms available. You can opt for rooms of different sizes with a range of bed numbers and sizes depending on your needs. It's also in a good location that won't keep you up at night with noise and distractions, so you can go on with your trip after getting some good rest.
PRO TIP: If your hotel doesn't let you store luggage or you're staying in an Airbnb, Lalalocker is a wonderful Taiwanese website that helps you find places to store your luggage wherever you are in the country.
Some great restaurants in the city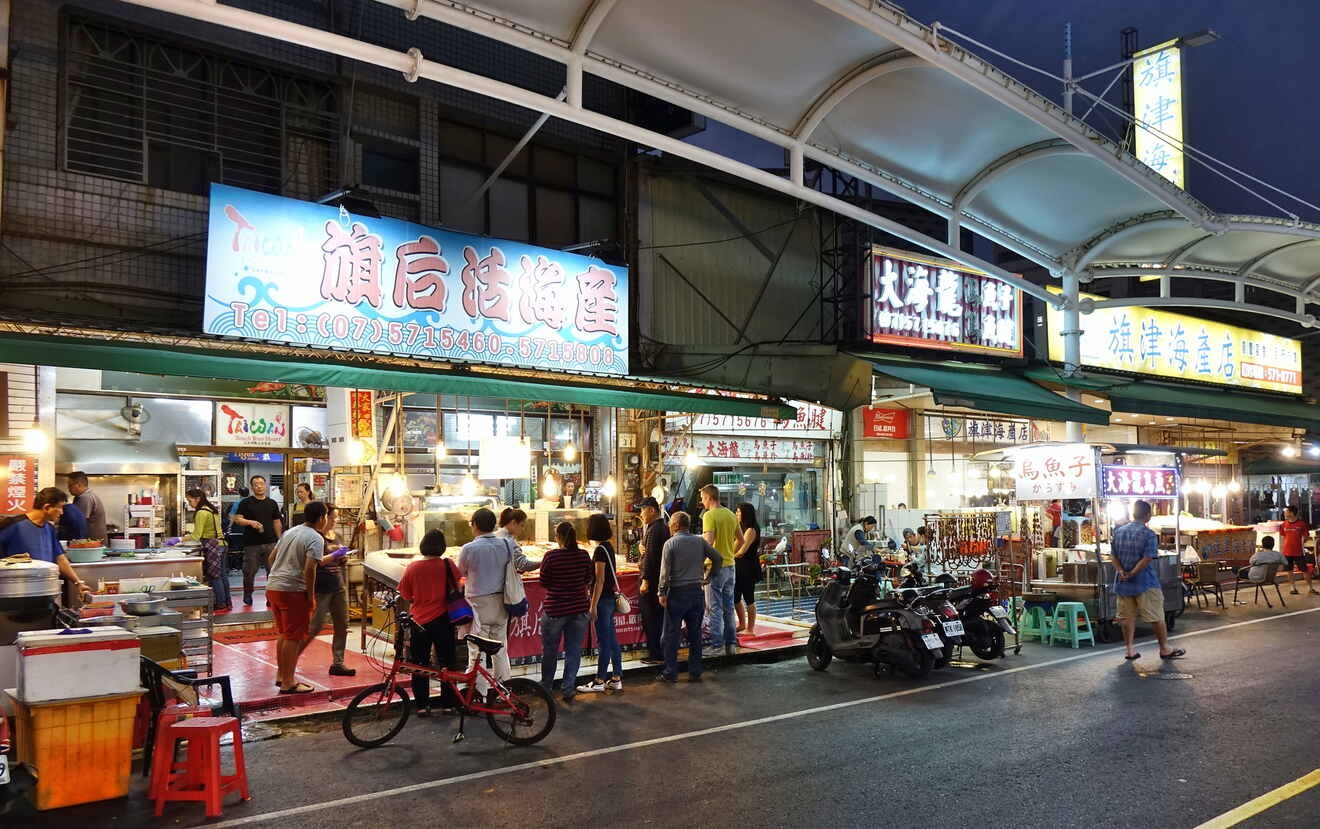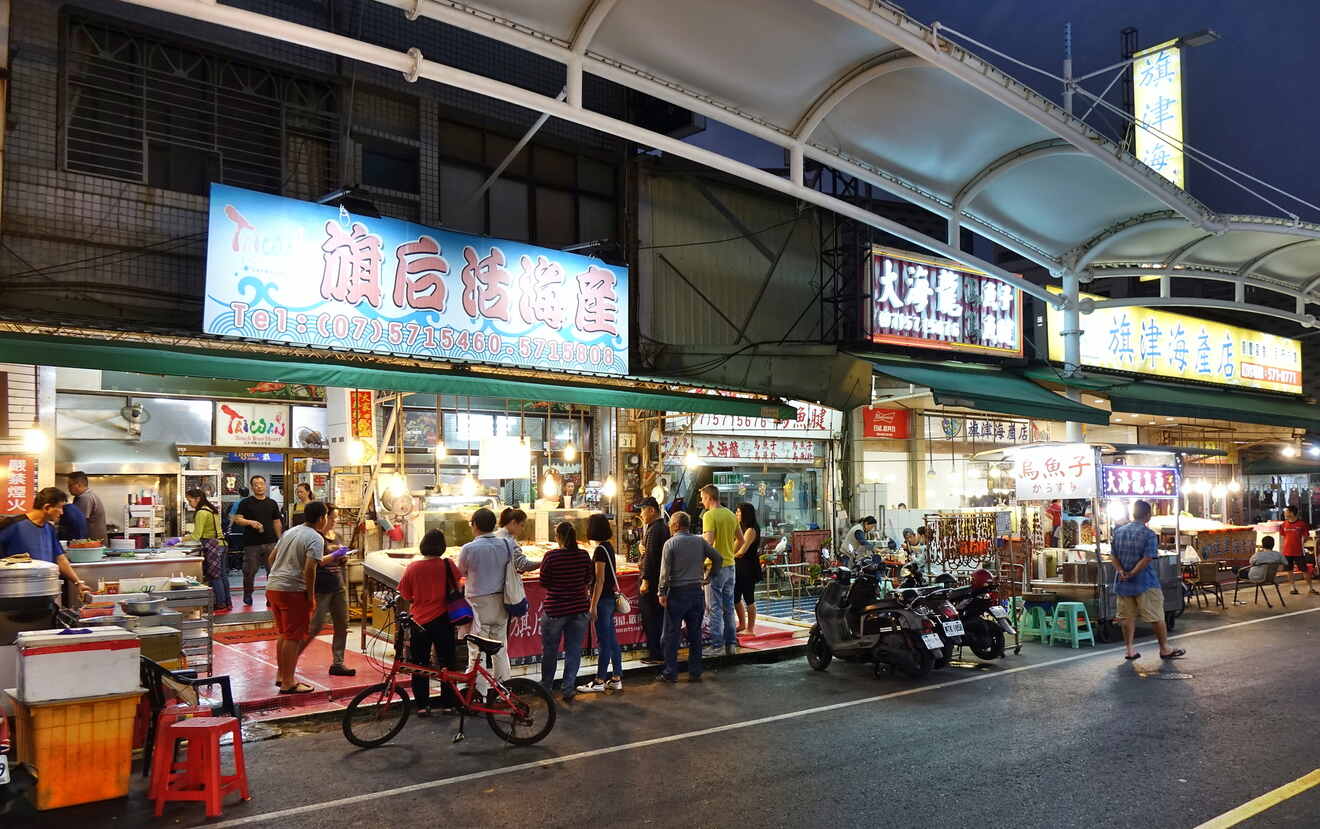 One of the most important things to note about all of Taiwan is that its food culture is incredible. I, along with many others who have explored Taiwan, will happily support the statement that Taiwan combines all of the best foods from cultures across Asia!
SIM cards
You can easily pick up a SIM Card at the airport or the main train station, failing that you'll find that most 7/11 convenience stores also carry them and you may even find a better deal. The main provider is Chunghwa Telecom and you can expect to pay less than $10 (US) for around 4GB of data and an allowance of local and international calls over a 5 or 7 day period.
Frequently Asked Questions about Kaohsiung City
🤔 What is Kaohsiung city known for?
Kaohsiung City is known for its famous river and all the attractions that come along with it. Take a cruise and enjoy the surrounding maritime area!
🐉 What are some unique things to do in Kaohsiung City?
Go hunting for street art, find the quirky sculptures dotted around the city, and eat unusual ice cream at CornerCone.
🌃 What are the best things to do at night in Kaohsiung?
Enjoy a drink at Kaohsiung sky bar, take a night cruise on the Gushan Ferry, see the sunset at Sizihwan Bay, and see views from above on the Kaohsiung Eye.
🏖️ Does Kaohsiung have a beach?
Yes! Cijin Beach is a great place to cool off in Kaohsiung. Simply head to the port and grab a 15 min ferry over to Cijin Island!
Conclusion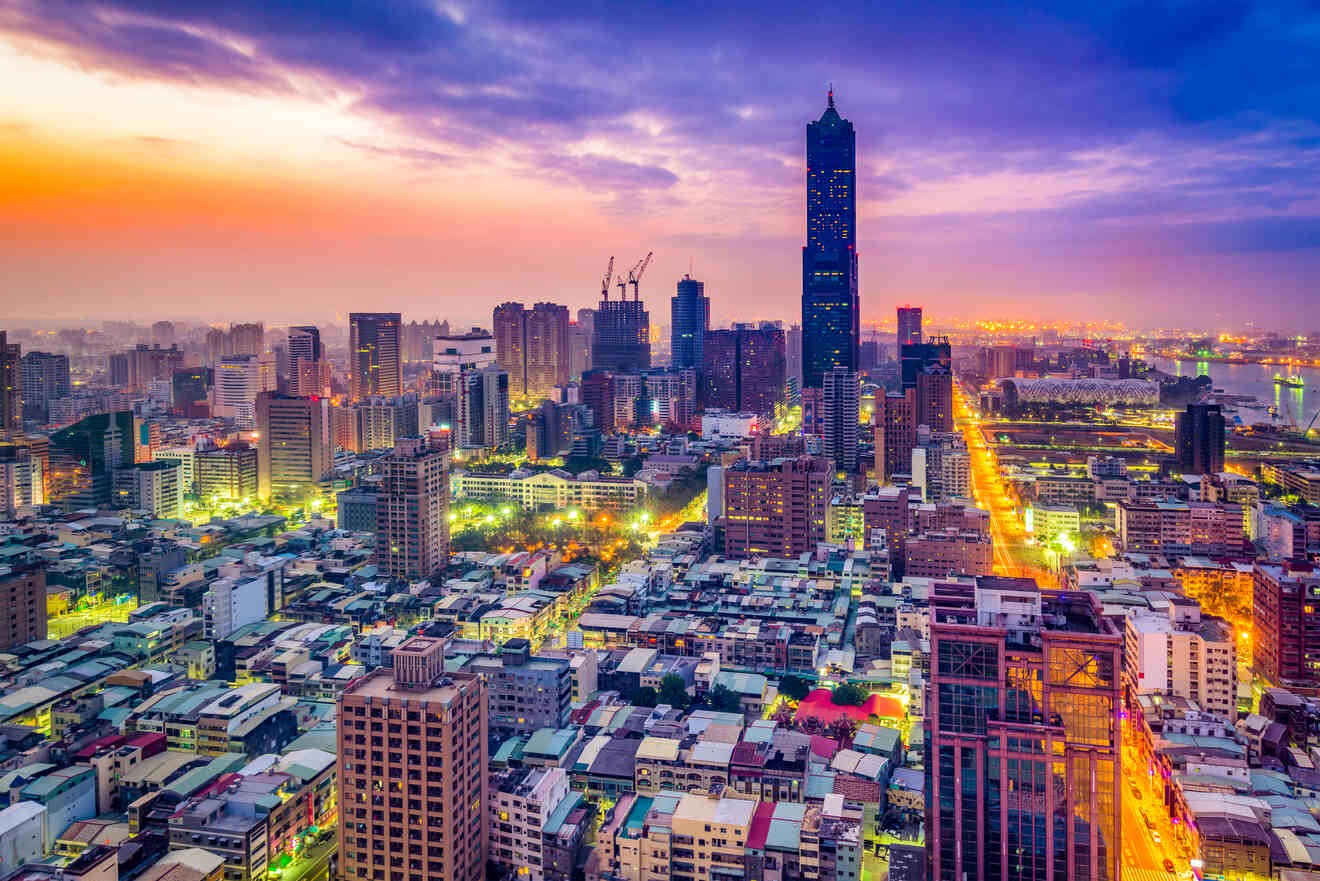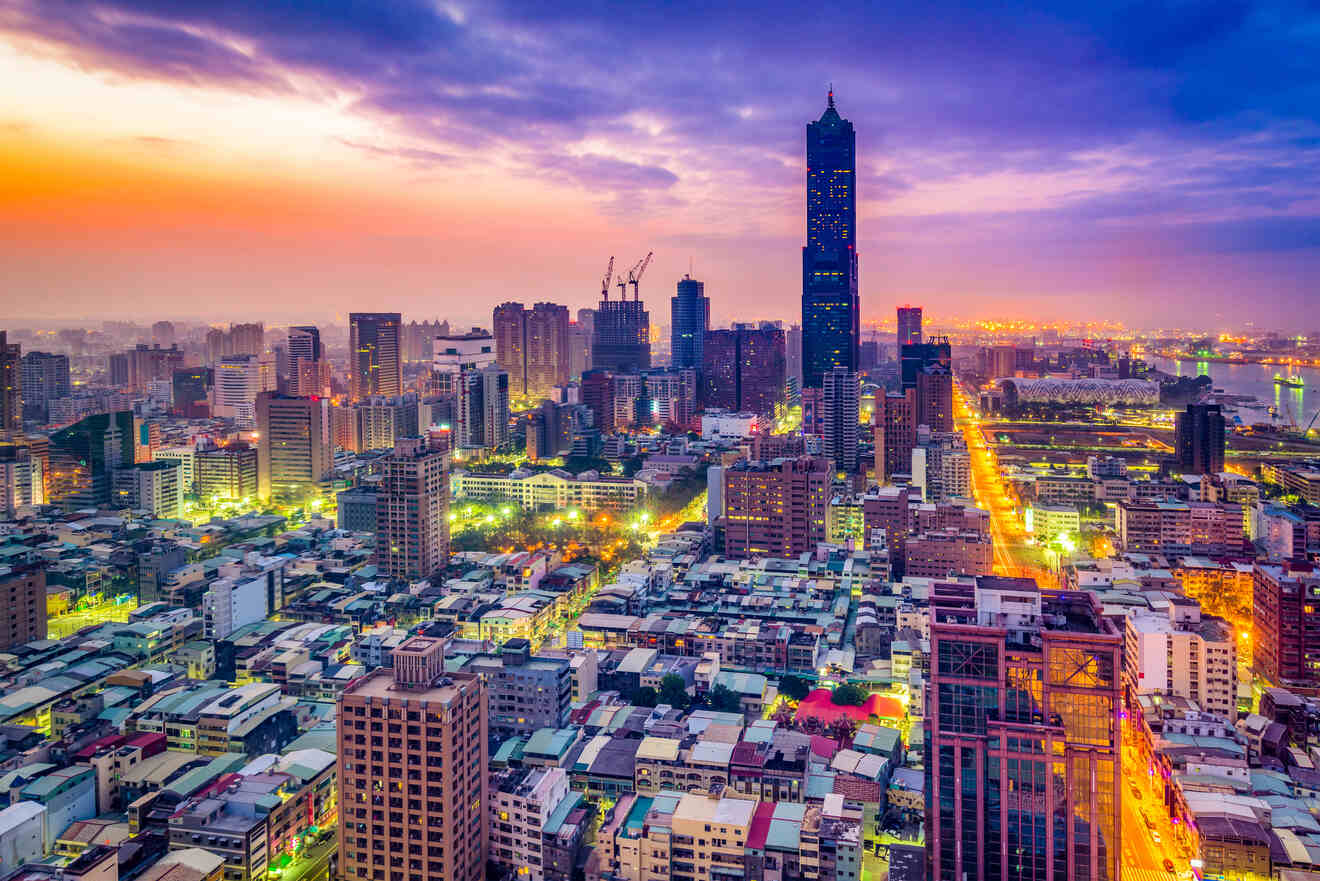 Kaohsiung is overflowing with fantastic things to do, from day trips north to Tainan and south to Kenting National Park to a range of cuisines
Kaohsiung is a place of layers, with more to love the longer you stay, which is why I can't wait to go back.
Thanks for reading, and I hope you discover all the magic of Kaohsiung for yourself during your stay!
Have an unforgettable time in Kaohsiung and if you have any questions or comments let me know below and I'll get back to you!
Yulia
---
Pin it for later!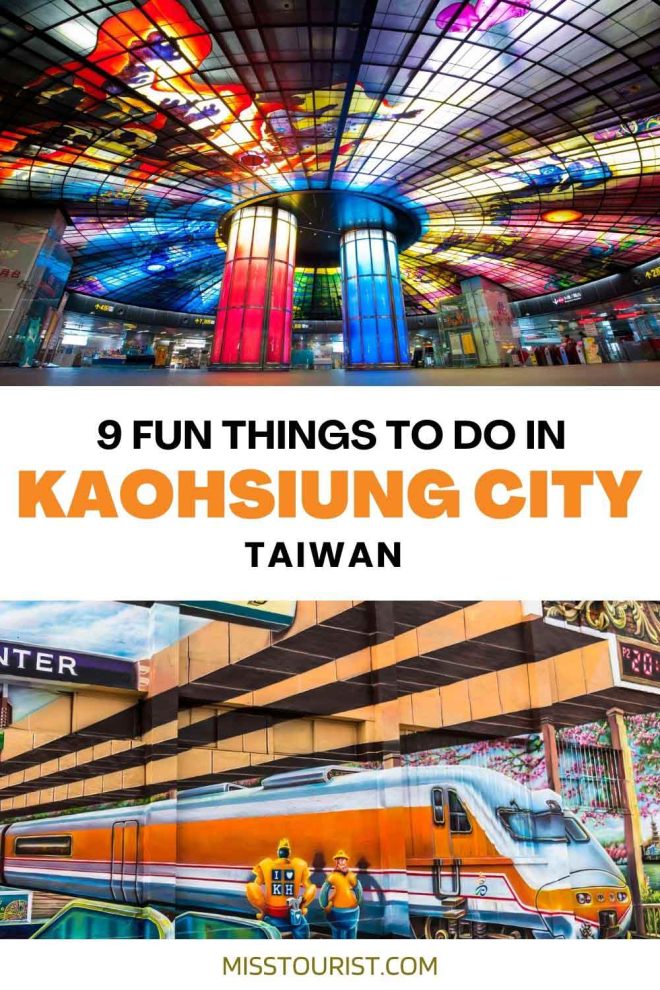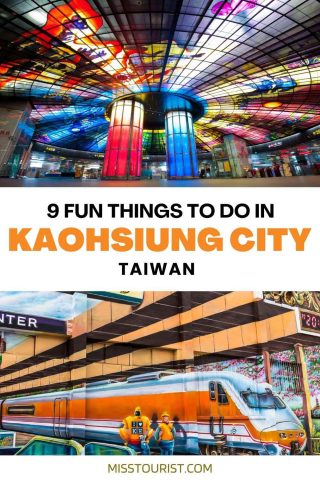 Pin it for later!