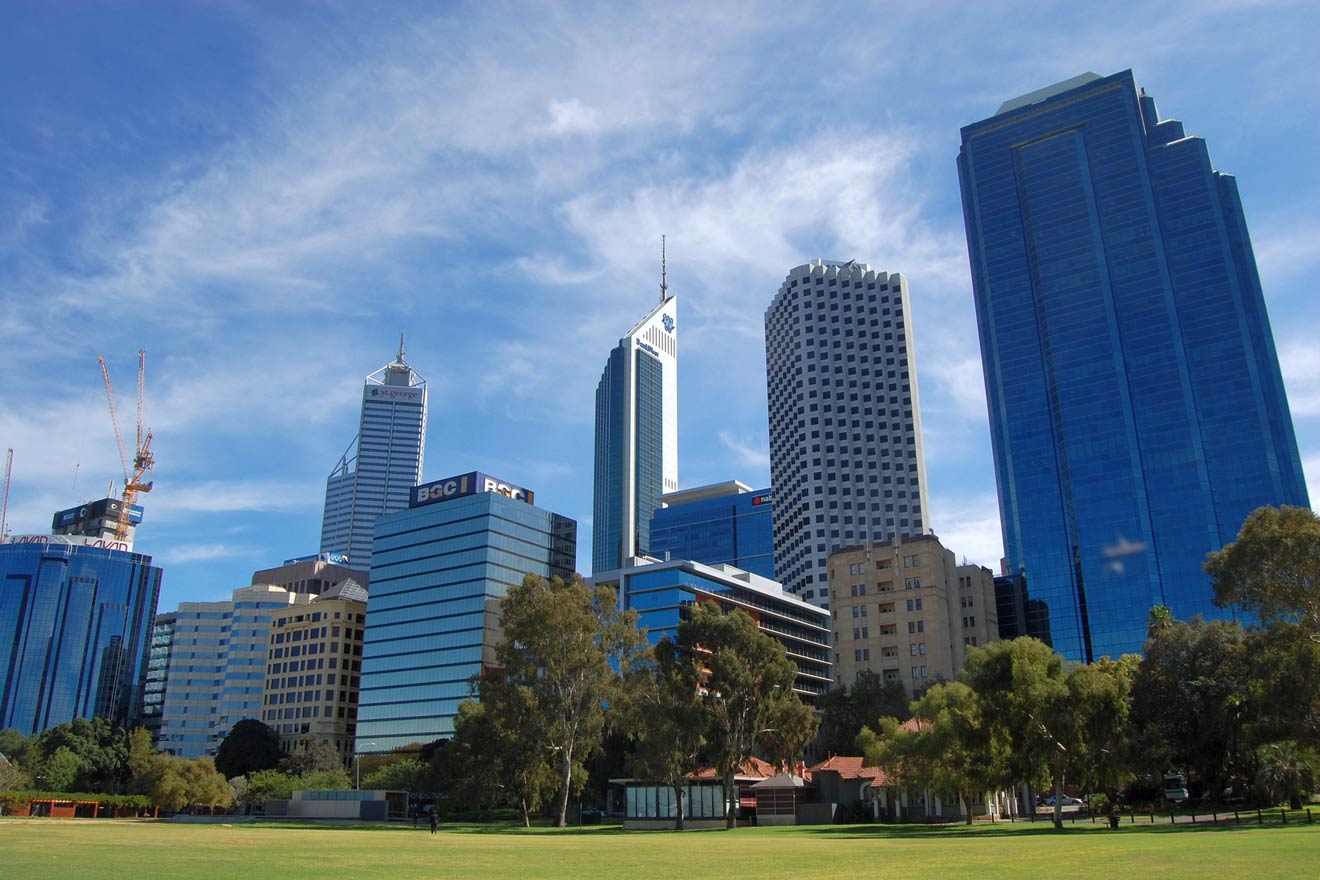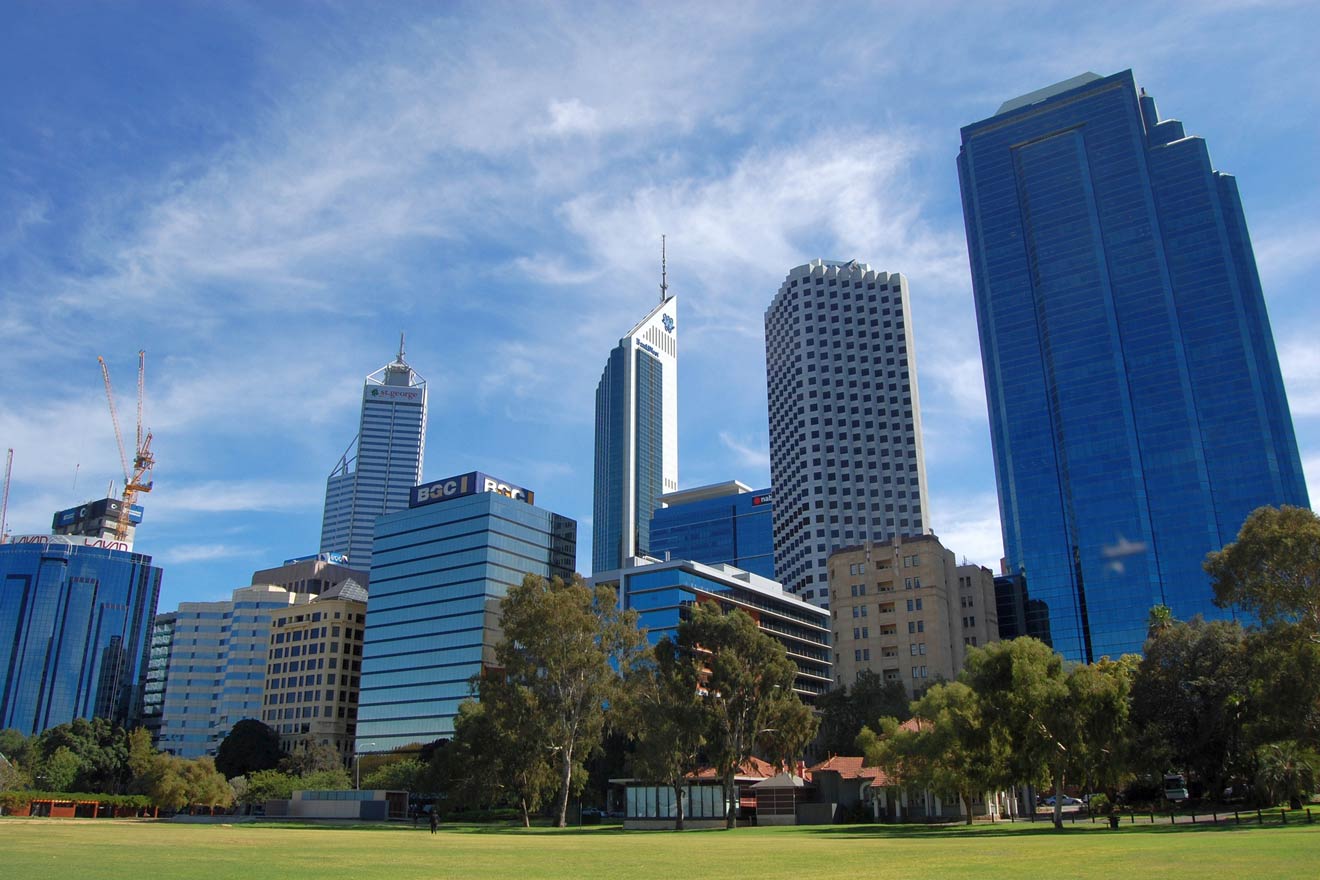 Planning a trip to Perth, Western Australia? Not sure which Airbnb rentals in Perth are the best? Well, look no further as I've already put together a list of the most popular Airbnb Perth vacation rentals.
Western Australia has some of the most dynamic cities with plenty of attractions to visit and sights to see, so it's no wonder that Perth is among the top destinations for interstate and overseas travelers. Tucked away on the incredible coast of Western Australia, Perth has so much to offer beyond gorgeous beaches.
From natural wonders, friendly locals, plenty of shopping opportunities and an array of bustling restaurants and cafes, Perth is becoming more than just a place to soak up some sunshine.
My list below covers a careful selection of the best Perth Airbnb rentals to help you plan out your holiday without all the hassle. These Airbnb Perth rentals include options for every type of budget and travel style, so I am sure you will find loads of ideas on where to stay in Perth.
Perth is inviting you to relax, taste some delicious food and admire the beautiful scenery over the Swan River. You should really check out these Airbnb rentals in Perth for your next Western Australia experience.
In a hurry: Top Airbnbs in Perth
Here are the most popular Airbnb hotspots in Perth, all located in the city center and sorted by price. You couldn't get much closer to the center than these Airbnb accommodation options.
luxury hotel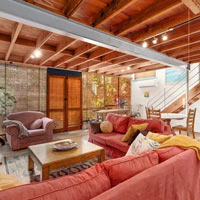 UNIQUE LOFT
Luxury apartment in the center
mid-range hotel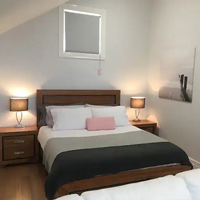 Studio Apartment
Mid-price apartment in the center
budget hotel
Top 10 Airbnbs in Perth
Here are my favorite picks of the 11 best Airbnb accommodation options in Perth to help those planning a travel escape from the city. All sorted by price and reviews, these beautifully decorated Airbnb suggestions guarantee an enjoyable holiday in Western Australia. I already calculated the final price that you will receive for your stay, by adding up the additional fees (like cleaning fee and service fee) so you know what to expect.
1. Unique loft-style CBD apartment – perfect for families
Price: US$214
Bedrooms: 2
Guest: 6
This three-level loft apartment is perfect for a family vacation or anyone seeking a unique CBD experience. It offers extremely spacious living spaces with floor-to-ceiling windows on all levels overlooking the beautiful indoor courtyard!
Families with kids will love this place even more as the place is with high chairs and child's dinnerware. There's also a room full of toys and books your kids will surely love. And if you don't want to be disturbed while working, the top floor's open-plan loft space work area is yours!
Visitor review: "Great location in downtown Perth, very close to several bakeries and the waterfront. Beautiful apartment and plenty of space for us! – Eve
2. Fantastic home in the center of the city – for shopping and dining
Location: Perth CBD
Price: from AUD$220 per night
Bedrooms: 2
Guests: 6
Super clean, cosy and nice accommodation, located close to the city, but in a quiet neighborhood. The host will make sure that guests have all the available amenities required to use. He will also provide very clear travel instructions so you will not have problems finding this comfy Airbnb in Perth. The Airbnb features two baths that will make your stay even more convenient!
Visitor review: "Perfect location, quick responses, amenities were amazing, super clean and inviting space. Will definitely be staying again. Greatest stay I could ask for, for my birthday weekend!" – Jasmin
3. Heritage home in the heart of the city – for central Perth location
Location: Perth CBD
Price: from AUD$220 per night
Bedrooms: 3
Guests: 6
A mix of historical charm and modern urban style with a variety of artwork throughout, this Airbnb house is located right in the heart of the city. Just like it's shown and advertised on the pictures, this Perth Airbnb is an excellent spot to start exploring everything that Perth City has to offer. It's an ideal accommodation for families and groups looking for spacious rentals in Perth with a comfy bed, and spot on bath.
Visitor review: "This is one of the most unique homes I've stayed in. Marcus' artistic and creative interests add to a relaxing and fun vibe throughout his home. Location is outstanding for all you want to do in and around Perth. Marcus is a very responsive host providing loads of tips before arrival and available to answer questions during your stay." – Allison
4. Kloppers Cottage – great option for relaxation
Price: US$205
Bedrooms: 1
Guest: 3
This unique place is made from recycled bricks, steel railway beams, and repurposed telegraph poles. The place is very quiet; it's hard to believe it's close to Fremantle's best dining and drinking venues.
If you're visiting during summer, this is one of the best places as it's made of bricks, so it stays cool in the summer. Overall, this cottage is an ideal getaway for couples, small families, or even solo travelers looking for a private, tranquil space to stay.
Visitor review: "Great little spot in the heart of Fremantle, walking distance to all the main attractions. Everything you could need". – Jane
5. Studio Apartment – best for solo travelers
Price: US$110
Bedrooms: 1
Guest: 2
This studio apartment is light, bright, and stylish, making it perfect for solo travelers and those traveling for business. Despite its small size, this apartment is fully equipped to meet all your needs and be in an excellent location. For privacy, you have your own entrance and private parking. Overall, a great studio unit at an even greater price!
Visitor review: "Beautiful apartment with everything you need for a relaxing weekend! The bath was definitely my favourite! Thank you so much, Annie and Andy!" – Hollie
6. The Scarborough Apartment – convenient for a group of friends
Location: Scarborough
Price: from AUD$120 per night
Bedrooms: 1
Guests: 2
Within walking distance to restaurants, cafes and local shops, this modern Airbnb apartment with 1 bedroom has everything you need for a comfortable holiday in Perth. Centrally located and well-connected with bus routes to Scarborough Beach (one of the most popular beaches here) yet in a peaceful setting that allows you to relax and enjoy. Guests will also have access to a small swimming pool and free parking. You will not be disappointed if you travel to this totally private, cool Airbnb!
Visitor review: Had a great stay at Serena's place! Super stylish and spacious areas which were great for my needs. The private courtyard which gets the morning sun was a personal favourite for morning coffee and reading. Local amenities are just a 2 min drive or a short walk. Within the space itself I had everything I needed and then some. Would happily stay again. Thanks so much and I'll be in touch :)" – Rob
7. Quirky Loft with Bushland Views
Price: US$75
Bedrooms: 1
Guest: 3
Far from your typical closet-sized and boring hotel room design, I present one quirky apartment that will surely pique your creativity. The interior is one of a kind, well thought off, and bursting with functionalities.
The loft's living area is perfect for lazy days or reading. Beside it is a kitchen with a garden view. You will also have your private patio surrounded by plants. And if that's not enough, a large bushland area is accessible from the house for someone who loves to bushwalk or ride bikes.
Visitor review: "Well equipped and nicely presented unit. Host is very easy to deal with. Short drive from Fremantle and lots of local beaches." – Tania
8. Perfect studio close to the beach – best for couples
Location: Cottesloe
Price: from AUD$90 per night
Bedroom: 1
Guests: 2
Escape from the hustle and bustle of Perth CBD and stay close to Cottesloe beach, the most popular beach for swimming, snorkelling and surfing. Within walking distance to the Swan River and Cottesloe Beach, this Perth Airbnb studio apartment is located in a peaceful, newly renovated courtyard setting, perfect for BBQ and outdoor dining. Very close to the train line that can get you anywhere!
Visitor review: "Perth Australia is one of the most beautiful destinations and Megan's studio is perfect. The bed was cozy, the lighting spectacular and so many lovely intimate locations to walk too. Her recommendations were thoughtful and fun. Her book collection is intriguing. The space is wonderful and well thought out. Enjoy!" – Lisa
9. A secluded guesthouse close to the Swan Valley – best for privacy
Location: Swan View
Price: from AUD$80 per night
Bedrooms: 1
Guests: 2
Boasting a near-perfect rating, this Airbnb invites you to book a week-long holiday in Perth, Australia. Explore the idyllic hills of the Swan Valley, with vineyards, natural beauty and activities or entertaining yourself with table tennis, darts or soccer tables at this private Airbnb little guesthouse at Swan View. If you are looking for something different than a beach retreat, this is the place to go. The wildlife and animals will really make it worth it!
Visitor review: Amazing place, super welcoming hosts, beautiful space, garden, and area, very clean, very cosy, had such an amazing time, hoping to be back soon 🙂 Thank you for the lovely teas and treats in the kitchen! Favorite Airbnb stay ever!"- Dina
10. Quirky and comfortable loft
Location: Hamilton Hill
Price: from AUD$170 per night
Bedrooms: 1
Guests: 3
An exceptional little loft set within a quiet setting with well thought out decorations that will make you feel homey and cosy. The loft area up the ladder will be your favourite hideaway as it is perfect for reading a book or admiring the beautiful bush lands. Cute space with everything you need and just a short drive to the main hotspots. Short or long stay – this place is a total beauty!
Visitor review: "Stunning beautiful place to unwind with an amazing feel to it, hand down the best air BNB yet, hospitality was out standing with beautiful touches though the home to make it feel super comfortable." – Guy
BONUS: 5 Unusual Airbnbs in and around Perth
If you are looking for an unusual experience around Perth, choosing the right one may be challenging. Perth has some really unique places to offer, and after searching a multitude of accommodation options, I've handpicked the best of the best Airbnb rentals in Perth.
From treehouses, to heritage train carriages, here is my selection of Airbnb stays, all sorted by price and distance from the city, for the most memorable holiday. Just bear in mind that this accommodation can be a bit further away from the city, but if you are after the quieter side of Perth, you will certainly love these Perth Airbnbs. And lucky for you – I've done all the research including how long it will take you by car from the city center.
1. Blue Peter Penthouse
Location: North Coogee (30 min from Perth)
Price: from AUD$400 per night
Bedrooms: 1
Get ready for one of a kind Airbnb experience! This absolutely wonderful Airbnb penthouse invites you to unwind in serenity and admire the calming and breathtaking ocean views from the outstanding spa. The photos simply don't do the justice – you will feel like you are in absolute paradise! The house is stunning, both inside and outside so you wouldn't even fault a thing. This is one of the best places to stay in Australia and you will definitely be making a trip back here.
Visitor review: "Our stay was an absolute delight in celebration of a special occasion. Sparkling clean, incredible amenity and a balcony from our wildest dreams. We cannot wait to return again next year!" – Eric
2. Farmstay in Swan Valley
Location: Cottesloe (15 min from Perth)
Price: from AUD$300 per night
Bedrooms: 3
Guests: 6
Poplars Farmstay is a cozy, self-contained house situated in the Swan Valley wine region, only 35 minutes from Perth. During your holiday at this Airbnb Perth you may experience harvesting, pruning and general farm work. With plenty of facilities for children, it makes the best Airbnb around Perth for families with small children or small groups. Unwind with a glass of wine and admire an idyllic scenery while the kids play around the farmhouse with llamas and emus.
Visitor review: "We have come back to Poplars a few times now and every time we are blown away by the house, the property and the idyllic setting. Karina is a very thoughtful host as the house is superclean and has everything you need to make your stay comfortable and stress free. Our latest stay included a day trip into the valley and being so close gave us extra time to spend at the fabulous wineries." – Deb
3. Quiet train carriage
Location: Mundaring (40 min from Perth)
Price: from AUD$240 per night
Bedrooms: 1
Guests: 2
Unwind in a luxurious, beautifully decorated train carriage for the most unique Airbnb experience. Featuring a lounge, a dining and kitchen space, and a bedroom with separate slipper bath, it offers all the desirable amenities. Step back in time beside the luxurious 19 th century fireplace, or spend a lazy afternoon with your loved one. Perfect place for a romantic, peaceful and relaxing getaway, just half an hour drive from Perth!
4. Chalet-style Building with unique views
Location: Roleystone (45 min from Perth)
Price: from AUD$120 per night
Bedrooms: 3
Guests: 6
A comfortable and homely two-storey chalet that features a spa bath with magnificent views over Canning Valley. Start your day with a coffee on the dreamy balcony or sip yourself an afternoon wine on the spacious veranda while appreciating the splendour of the surrounding gardens. The house is only a short trip from the city, but feels like you are somewhere rural. The cherry on the top would be the friendly possums who might eventually sneak out at night. Experience the magic of a truly wonderful treehouse escape!
Visitor review: Lovely chalet in beautiful surroundings. We enjoyed a relaxing stay there and were lucky enough to feed a friendly possum, which my kids loved! Patrick is a great host who has a lot of local knowledge. We had a great time exploring the Roley pools located nearby too. -Gemma
5. Little Creek Yurt
Location: Jarrahdale (50 min from Perth)
Price: from AUD$100 per night
Bedrooms: 1
Guests: 2
Overlooking a creek line of large, native tree ferns, this private, little yurt is suitable for 2 guests. Set within a bush setting of granite rocks, and lots of shade trees, it makes the perfect shady cool spot in the summer. Ideal for a tranquil meditation retreat or a romantic hideaway – all you will hear is the bird's song and trickling water from the creek. And just an hour drive from Perth!
Visitor review: The setup is excellent, very accurate to the description. It's an oasis in the hills of Perth. If you love camping and nature without the hassles, then this my friend is where you need to be! – Simon
Top 4 Airbnb experiences in Perth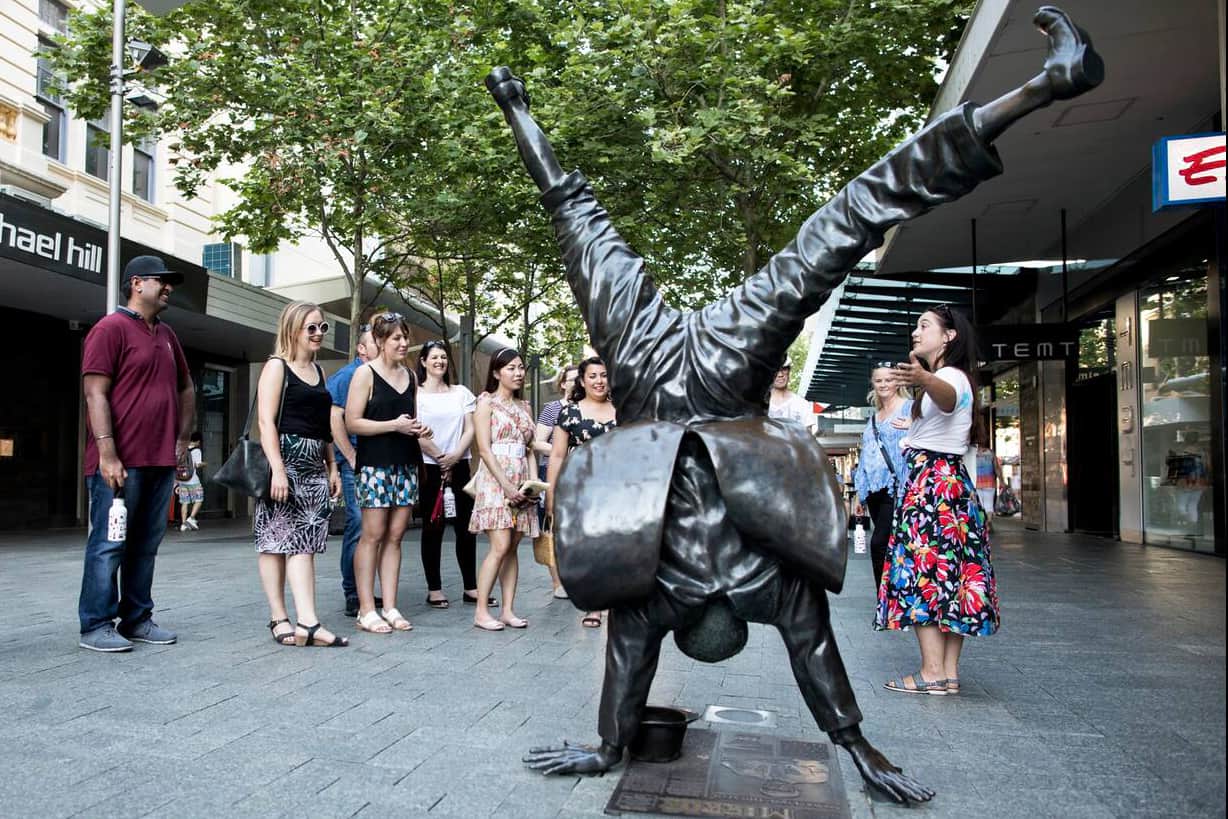 Since you are already browsing the Airbnb website, why not take a look into some of the best Airbnb experiences offered by the locals? I have hand picked the most interesting ones for you below:
P.S. If you want to know more about some top things to do in Perth or about best day trips from Perth, we have just the posts for that!
Conclusion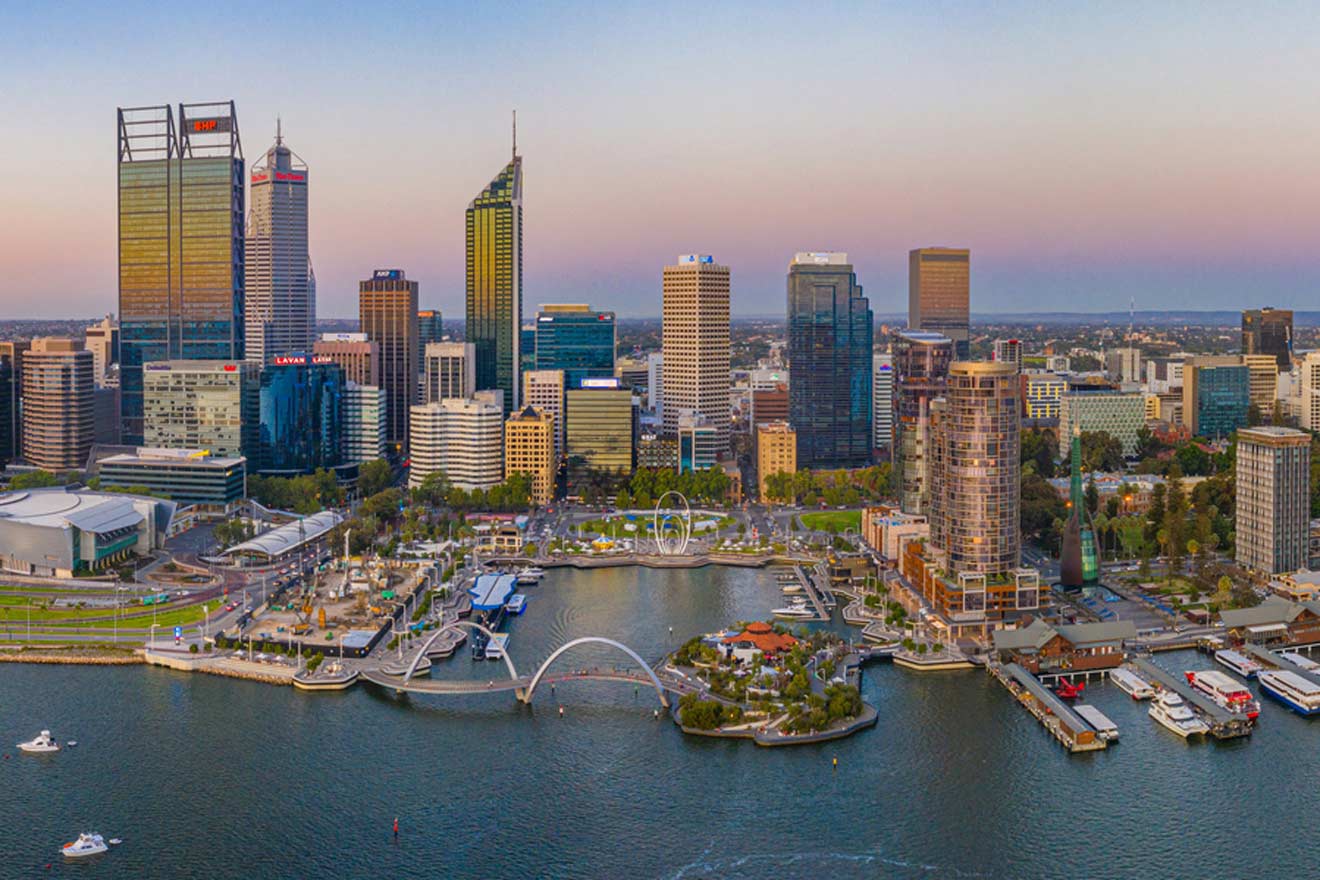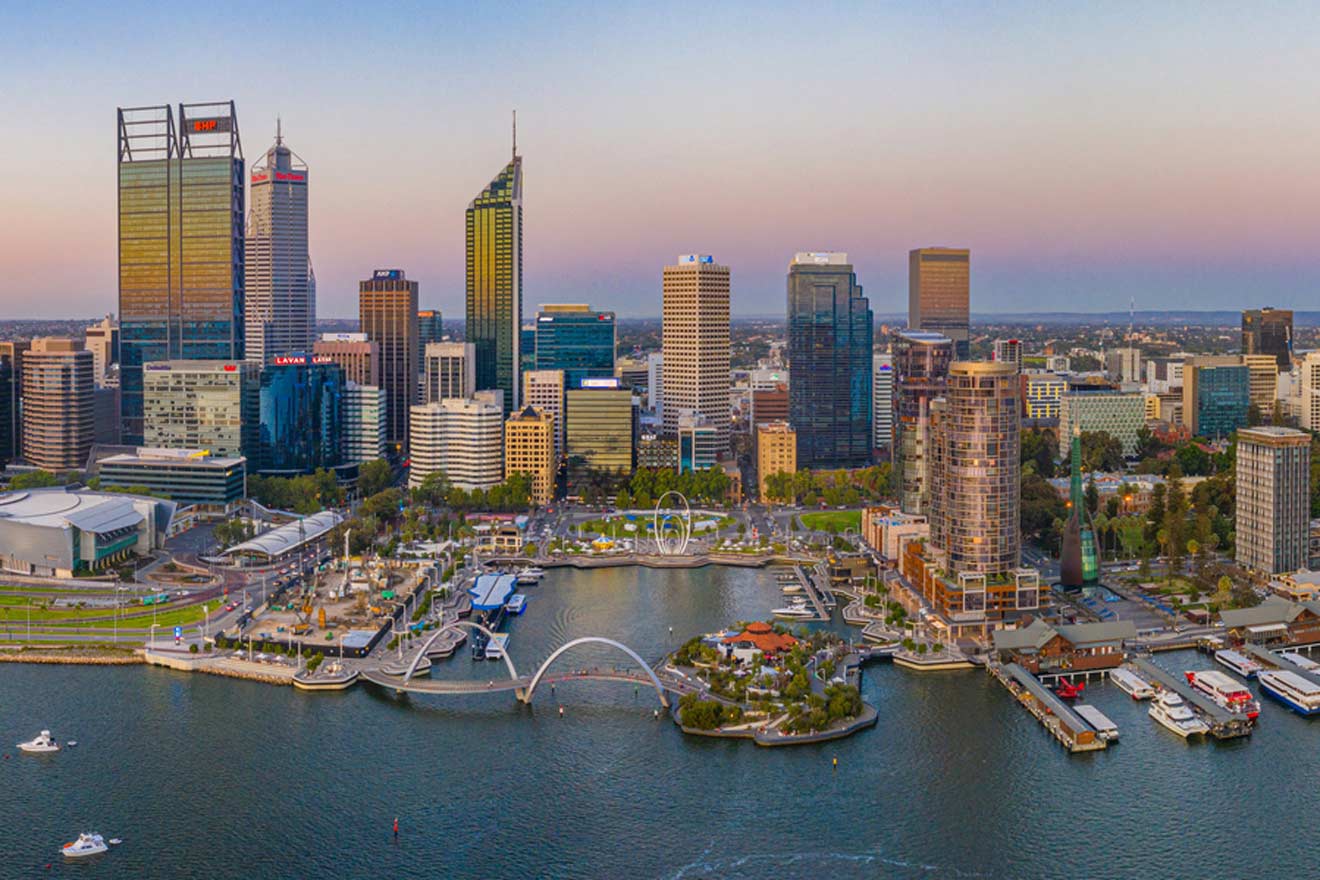 It seems like Perth has all the essentials for an ideal holiday – some of the most spectacular beaches, magnificent ocean views, abundance of nightlife, relaxing city parks, alfresco dining, sea adventures and so much more. Moreover, if you are planning a road trip around Western Australia, here is a great itinerary that will make you certain you don't miss a thing on your trip!
Whether you are looking for a single room, a comfy and spacious house or an urban apartment, check out my list of the best Airbnbs. Regardless of your travel style and budget, I assure you that you will find the perfect holiday rental for your escape to the sunny capital. Airbnb is full of wonderful places to stay and this article just showcases the best of the best Airbnb homes.
From places to reconnect with your loved ones to places where you can enjoy breathtaking scenery views, my list of Airbnbs is full of magical, hidden gems. If you've already stayed in one of these holiday rentals, please share your Airbnb experience in the comments below.
Safe travels and have a relaxing holiday!
Yulia