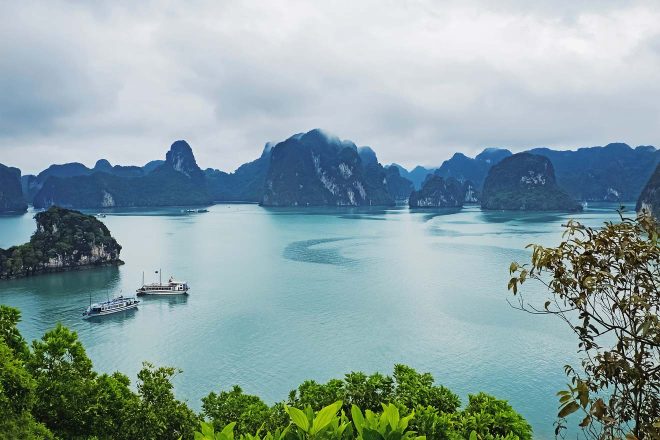 If you are reading this because you are either heading to Ha Long Bay or thinking about it, you are in the right place! This UNESCO heritage listed site is one of the natural wonders of the world and a must-see during your Vietnam visit!
Ha Long Bay, or the "Descending Dragon" (which is what the name means in Vietnamese) consists of a bay made up of around 1,600 limestone islands. One of the most touristy spots in Vietnam, this stunning natural landmark has even been used as a set for James Bond movies as well!
Wondering what's the location of Ha Long Bay? Check out this Vietnam map showing where Ha Long Bay is located: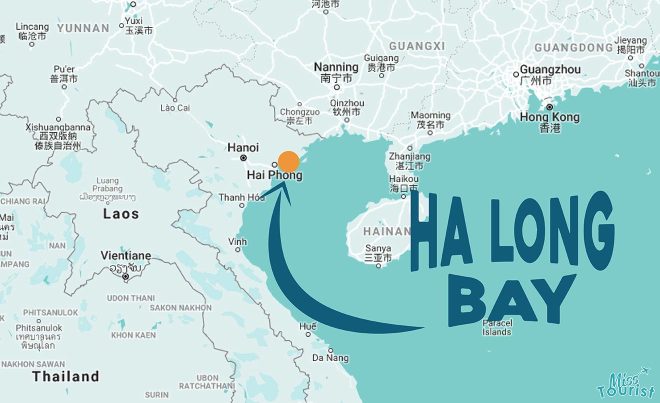 If you want to cruise Ha Long Bay, you must know it can be a bit confusing for first timers and there are definitely an overwhelming number of tours to choose from that will drive even the most experienced traveler crazy!
That's why I have decided to write this post for you, so you don't have to do a crazy amount of research! In this article I will be talking about my own experience in Ha Long Bay, what to look for on a tour depending on your expectations and the best types of tours that you can choose from!
So, keep reading if you want me to walk you through the best way to travel Ha Long Bay!
My experience taking a tour in Ha Long Bay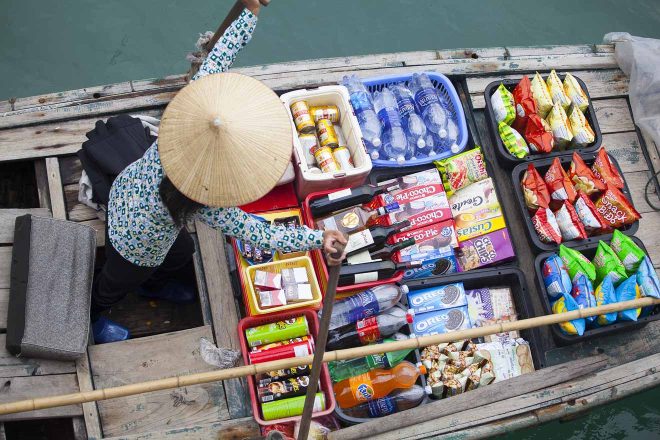 My experience in Ha Long Bay was one of the highlights of my trip to Vietnam!
I truly felt like a real explorer which is what I was looking for during my trip! However, there were some down sides and I have written them here so you can learn from my mistakes!
I stayed on Cat Ba Island because a friend of mine was living there at the time so I got to explore that island a bit better. In terms of exploring the Bay, I only had 1 day to check out the area so I booked my 1-day cruise through my accommodation provider on Cat Ba Island. I chose them because my friend had done a couple of tours and she recommended this one!
Fast facts about my tour:
Duration: 1 Day
What we saw: Dau Go and Titov Islands, and some cool sites along the way including Chopstick Rock! We also saw a couple of fishing villages.
What we did: The tour was very similar to many of the tours being offered with the chance to kayak, swim in the beautiful Bay waters, hike on an island, enjoy a cave and admire the sights from the boat while having a buffet lunch. Sounds good, right?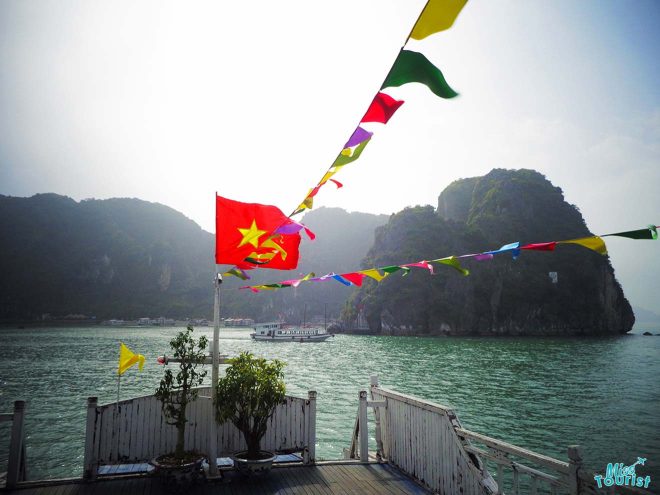 All in all, even though I was happy with it, I honestly wish I had done more research beforehand! There were several activities that were described in the voucher that we didn't end up doing (keep reading to check out my whole story). That's why I recommend booking your Ha Long Bay tour online because it's much more reliable!
Keep in mind that all of the tours are pretty standard and offer very similar experiences, and even though our tour started earlier than most as we were already in Ha Long Bay, we did finish a bit earlier as well. So, this is how your itinerary will look like in most cases:
At 8 AM, the company picked us up from our accommodation in Cat Ba in a van and took us to the very hectic dock. From there, we were given some passes and were introduced to our tour guide, an adventurous Swedish volunteer that took us to what would be our boat. The cruise was beautiful and the boat was made out of antique dark wood which gave it a bit of a romantic vibe!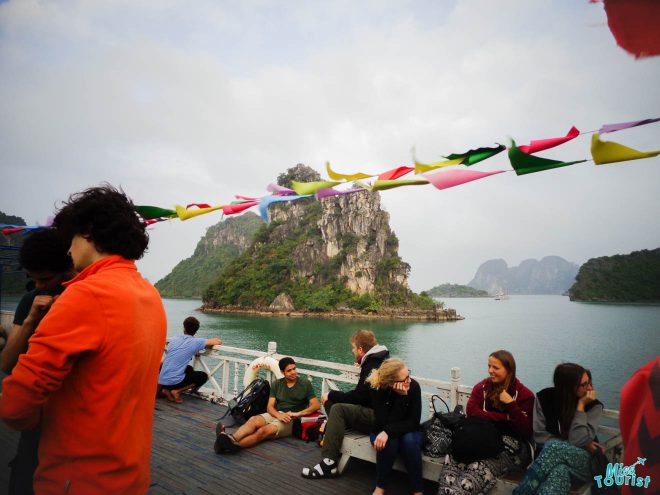 While cruising around Ha Long Bay, we were taken through the most beautiful Bay spots such as Dau Go and Titov Islands, and saw some cool sites on the way, including Chopstick Rock! (below I will explain about the most popular and beautiful places to explore!)
From the boat, we were able to spot fishing villages and so many islands that we lost count. We kayaked, jumped from the boat, swam in the water, crawled through a cave, hiked and had a great buffet lunch!
Overall, it was still a good experience as we didn't do much planning and we had kept our expectations low because of this. However, the communication was terrible as we were never told any history about the area nor the itinerary, the order of the activities or what was happening next! Moreover, we realized that plenty of activities that we were meant to do, we didn't end up doing! For example, we didn't snorkel or visit a fishing village. It was quite disappointing!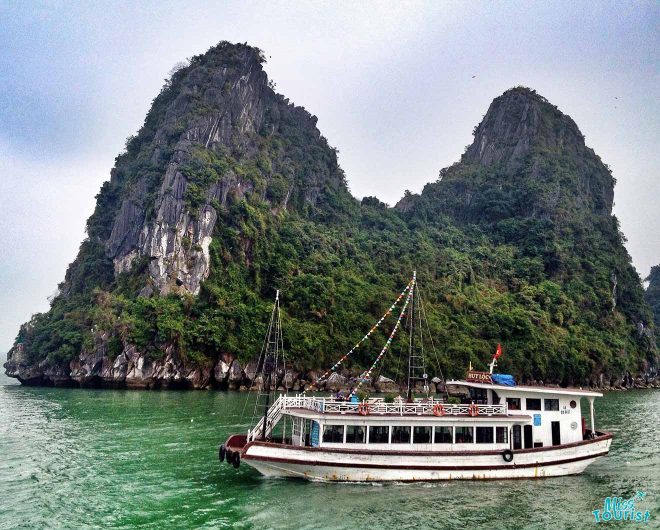 Another downside to this tour was that the activities organized were a little reckless and somewhat dangerous. For instance, we did a hike that was, in my opinion, quite risky. Even though we loved it, there were many travelers that had to give up halfway; even some parents with children were not advised of the dangers of this hike beforehand.
On the other hand, if you book this kind of tour online and some activities don't end up being held, at least you will be able to hold the tour company accountable as your payments are processed online and the list of activities is perfectly described! Also, choosing based on reviews, you will hardly end up in a situation like this, so, learn from my mistakes!
PRO TIP: This is a reality when booking your tour with many of the providers that you'll find in the Vietnamese travel agencies. So, my tip is for you to book your tour online from a trustworthy tour company like GetYourguide and Viator – those are big companies I can vouch for!
All of the tours I will describe throughout this post are trustworthy and are backed with lots of great reviews from happy customers.
Types of tours & tour recommendations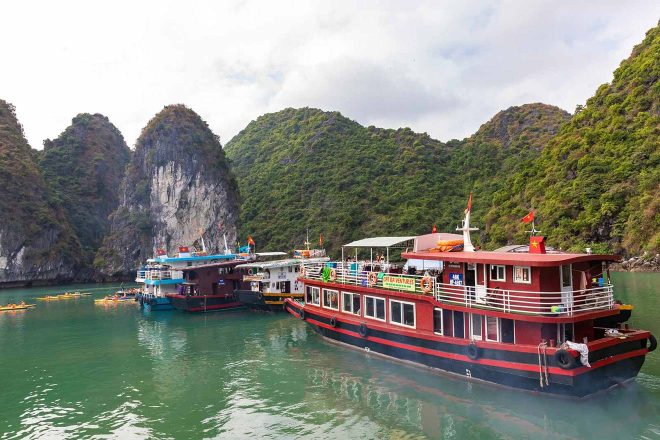 We are now reaching the core of this article! Below, I am going to explain the types of tours being offered and I am going to show you my personal favorite.
When deciding on your Ha Long Bay tour, in general you can choose from 1-, 2- or 3-day tours. You can also opt for basic tours or luxury tours if you wish. If there is something that I love, it is to find a good tour at a fair price with great reviews, and we've got plenty of those down below!
This is what you should be expecting when booking a tour:
Fast facts about a typical Ha Long Bay tour:
Duration: 1 to 3 days
Departing point: Hanoi
Must visit: Titov Island, Dau Go, Thien Cung Caves, Luong Caves, Surprising Caves, Dau Be Island, Soi Sim Island, Cat Ba Island.
Activities: kayaking, swimming, hiking, visiting caves, fishing, cooking classes, etc.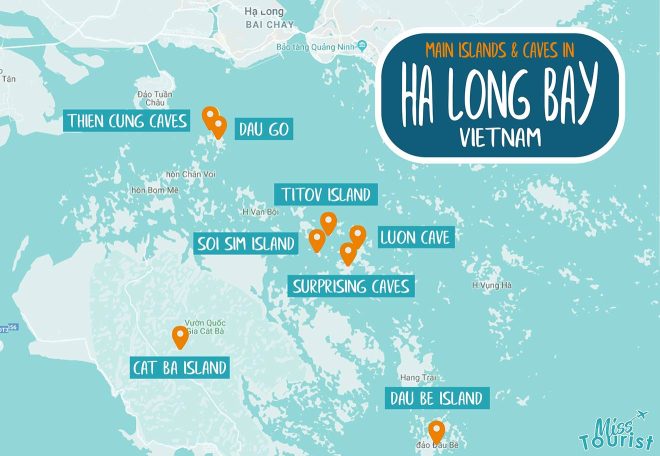 PRO TIP: Beware of agencies that sell super cheap Ha Long Bay day trips! At the end of the day, you have no idea what you are buying and, in many cases, most of the activities described do not happen! That's why I am a big believer in booking your tours online where you can see the reviews from other travelers and carefully check what you are buying.
Without further ado, here are the best tours hand-picked by me for Ha Long Bay tours and my Ha Long Bay cruise recommendations!
1. One-day tours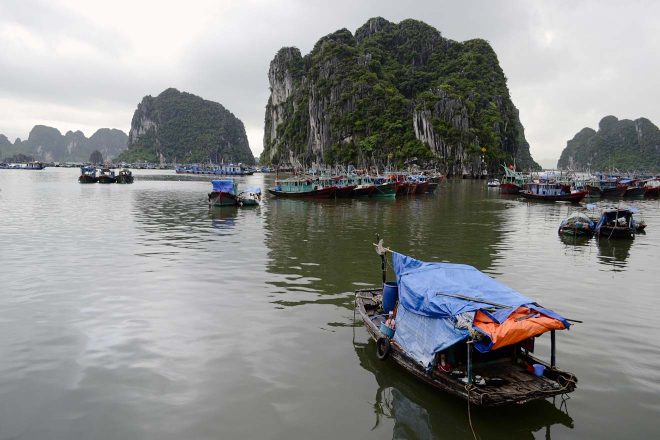 For those that don't have a lot of time, it is totally feasible to take a 1 day Ha Long Bay tour from Hanoi! Actually, it is one of the most popular day trips! You would definitely have a big day ahead and you will have a good night's sleep after this trip, but you will be sure that you have taken advantage of the whole day!
Bear in mind that the drive might take up to three hours each way from Hanoi, so if you have a little more time, you might want to check my sections below on two-day tours!
Here are all the day tour variations: (all of the tours below are a great value and at a very similar price to the ones offered in the very tempting Hanoian travel agencies):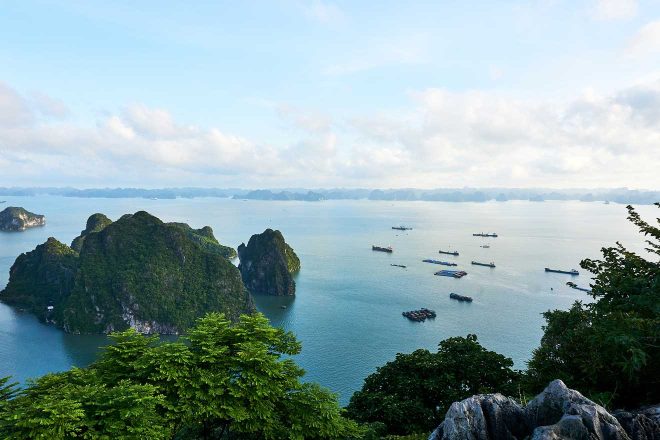 1.1 Day Tour with Thien Cung Cave included
On this Full Day Ha Long Bay Tour, at 8am you will get picked up at your hotel and you will head on a journey to get on board the traditional Dragonfly cruise for a day exploring the Red River Delta and Ha Long Bay!
You can watch the Vietnamese farmers working in the rice fields by the delta and admire the beautiful bay, get in a kayak and have a go at rowing around this natural wonder! You will also get to see the Thien Cung Cave, one of the most impressive caves in the Bay. Finally, if you are a seafood lover, this is your tour as there is a local seafood lunch included in the price!
PRICE: US $32
1.2 Day Tour with Cooking Class Demonstration
Alternatively, you can book this other Full Day Tour of Ha Long Bay; it is one of my personal favorites as it is quite off the beaten path! You will get to visit Cat Ba National Park and kayak through the beautiful waters of the Bay!
You get to soak in the beauty of Ha Long Bay on a more modern cruise while you enjoy a spring roll cooking demonstration! Also, the booking website is super informative in terms of the schedule of the activities so everything is crystal clear beforehand!
PRICE: US $50
2. Luxury day tours from Hanoi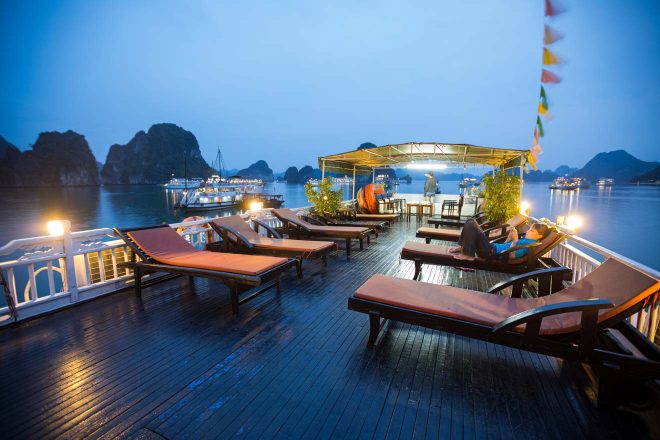 If you are in a little bit of a rush but still don't want to give up on luxury and would love to have a comfortable, nice day trip, you are in the right place! Luxury tours are usually more sophisticated cruises, with delicious fine dining lunches and often times they include bamboo boat rides as well!
Below you can check out the best Ha Long Bay luxury cruises from Hanoi that I have found for you to enjoy!
2.1 Luxury Day Tour with Surprise and Luon Cave Visit included
You can book this Luxurious Ha Long Bay one day tour on a modern, high-speed cruise! First, you will be taken to Ha Long Bay on a spacious and comfortable shuttle van. Once you get on the cruise you can enjoy a welcome drink and you will visit Surprise and Luon Caves but not before feasting on a Vietnamese lunch and kayaking your way through the bay if that is your thing!
PRICE: US $72
2.2 Luxury Day Tour with Titov Island Visit included
There is no better way to tour Ha Long Bay than on this Full day tour from Hanoi where you will get on board a sophisticated cruise ship to visit Titov Island and go kayaking and exploring a surprising cave. Make sure you prepare your camera as these are such beautiful places to visit in Ha Long Bay! People that book this tour love the attentive tour guides and the wide selection of food on the menu!
PRICE: US $79
2.3 Helicopter tour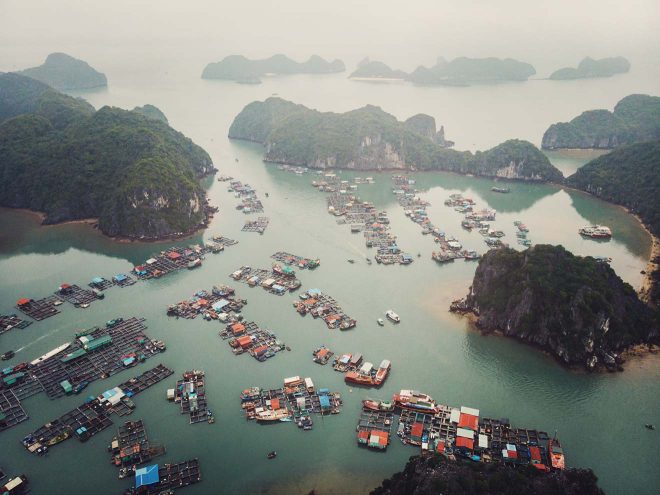 If you only have one day and you'd like to see the beauty of this place from above or maybe you get seasick but you don't want to miss Ha Long Bay, you can book this helicopter tour where you can choose the length of your ride and have a once in a lifetime experience in a once in a lifetime visit!
PRICE: from US $122 to $385
3. Overnight tours from Hanoi (2 days/1 night)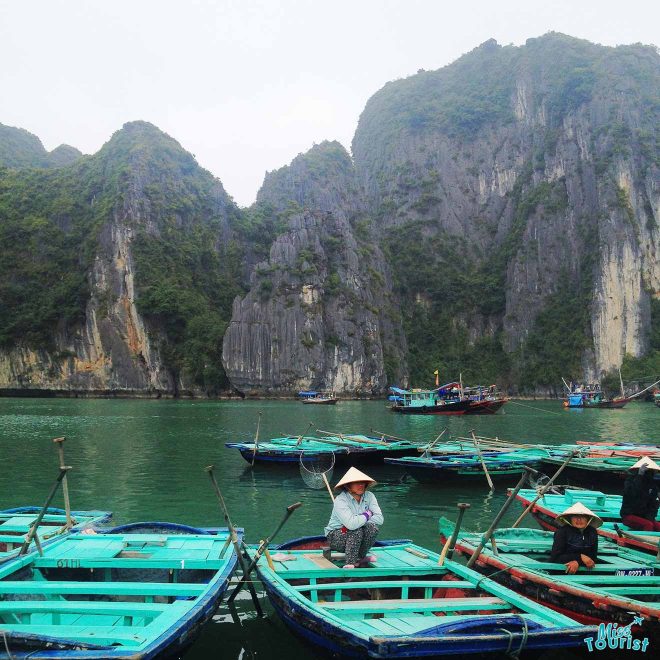 My advice is, if you can afford it, book an overnight tour! You will be able to enjoy both the sunrise and sunset from the boat and you will get to sleep at a UNESCO world heritage site! How many times in our lives can we say we did that?
Apart from this, travelling from Ha Long Bay to Hanoi can be quite exhausting in just a day. It is a 2.5-hour trip and if you take the day tour you won't have time to explore the bay as much as on these overnight tours! You will also be able to enjoy a little bit more privacy as you can head to your room anytime! Any other sleepy heads around here or is it just me!?
3.1 Overnight Tour with Cooking Class included
Another option is to check out this great Ha Long Bay overnight cruise where you can choose from a wide variety of rooms! That just shows you how prepared they are!
You will be able to swim, snorkel and kayak around the most beautiful spots in the bay, have fun at a sunset viewing party and learn about pearl cultivating at a fishing village and pearl farm! Last but not least, you'll go back home knowing how to make the best Vietnamese dishes as they've got a cooking class included on the tour. Yum!
PRICE: US $161
3.2 Overnight Tour with Fishing included
In lieu of the previous one, have a look at this 2-day, 1-night tour from Hanoi and hop on a cruise that will take you touring around Titov Island, Luon Cave and Surprising Cave, the biggest cave of them all!
You can also check out all the funny shaped rocks such as Fighting Cock Island and Stone Dog! You can spend the day doing some of their organized activities which include fishing, kayaking or even karaoke at night! Don't worry, you have a cozy cabin to crash in when you get tired!
PRICE: US $93
4. Overnight luxury tours from Hanoi (2 days/1 night)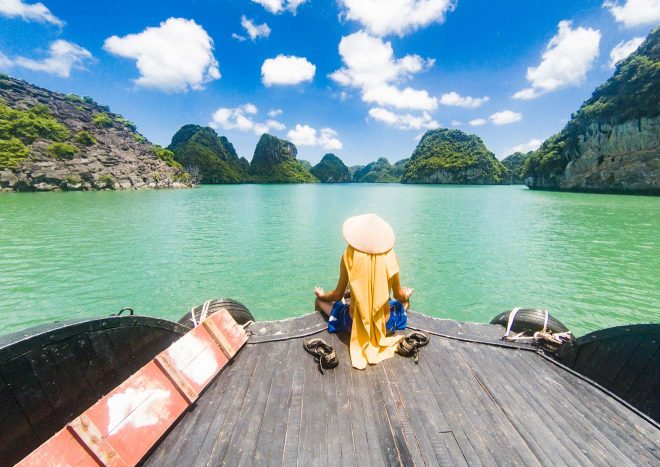 And my ultimate recommendation for your Ha Long Bay trip is to take an overnight luxury tour. Yes, you read that right! If there is a time to treat yourself during your Vietnamese trip it is on the Ha Long Bay leg!
Keep reading to find out the most luxurious Ha Long Bay boat tours:
4.1 Luxury Overnight Tour with Squid Fishing included
Check out this Overnight Luxury Ha Long Tour where you will get to enjoy all the Ha Long Bay activities from one of the best cruise ships available! There's a great balance of luxury and hands-on on this Ha Long Bay Cruise, as you will be able to enjoy a romantic dinner followed up by squid fishing and star-gazing! Such a unique experience and probably the best Ha Long Bay Cruise!
PRICE: US $209 per person
4.2 Luxury Overnight Tour with Tai Chi and Tea Ceremony included
Otherwise, you can book this 5 star Ha Long Bay cruise! Enjoy the Titanesque rooms and the fabulous deck, all while you chill and admire this world heritage landscape! For those with a more competitive side, you can join in the tour's own version of Vietnamese Master Chef in a cooking contest among the guests! Definitely, a perfect tour for those looking to comfortably relax after busy days in the city!
PRICE: US $332 for a single room, US $370 for a double room
5.3-day tours from Hanoi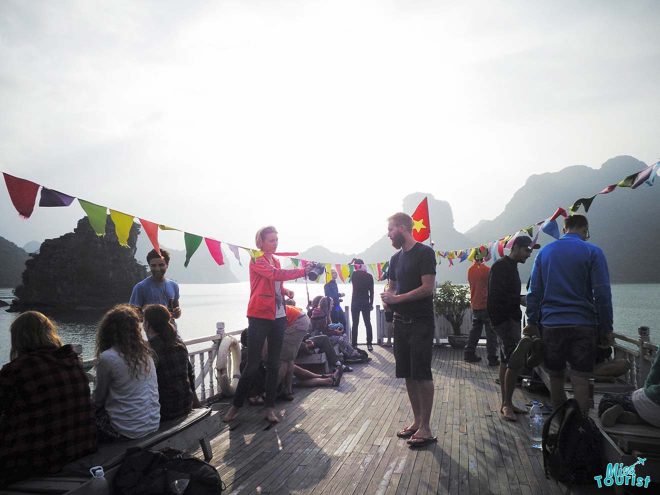 Did you know that you can even stay three days around Ha Long Bay? Of course! If you'd like to check out every bit of this area and not miss out on any gems you can book a 3-day tour or even a 4-day tour!
These tours are where you get to experience life on the boat, make friends and enjoy the bay like a local, with the boat being your little fishing village!
5.1 3-Day Tour from Hanoi with La Han Bay Visit included
If you just can't have enough, book this 3-day Ha Long Bay tour. During the three days you'll be able to kayak and admire La Han and Ha Long Bay while chilling on the boat, hanging out with the friendly crew and eating your way through this paradise on earth!
PRICE: US $298
5.2 3-Day Tour from Hanoi with Hotel in Hanoi included
This 3-day tour of Ha Long Bay includes an overnight stay in Hanoi, with your choice of a hotel from their list of options! This way you can get to know Hanoi and will get picked up and taken to the luxury cruise that will be your home during the next few days! Enjoy cooking classes and fruit carving on this sophisticated boat while you soak in all the beauty of the Bay! By the way, you can extend it to 4 days!
PRICE: US $284 for a single room, US $323 for a double room
5.3 3-day Private Tour
If you want to experience the beauty of this natural wonder with your significant other on a cruise where you will be having the best seafood of your life, you can book this private tour of Ha Long Bay! Having the tour guide to yourself is literally my dream and the best way to learn about a place. It also includes one hotel night in Hanoi and a street food walking tour, two for the price of one!
PRICE: US $396
BONUS: How to choose the best tour for your trip?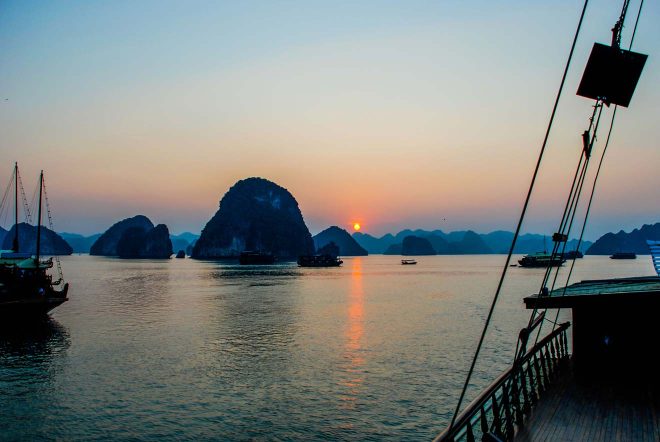 There are two things you have to keep in mind if you want to choose the tour that suits your needs the most: the types of activities included in the tour and the number of days that you want to spend at the bay!
Have a read below in order to learn about the most common activities (+ some special ones) that you will be enjoying on your trip and the best advice on how long should you stay at Ha Long Bay if you want to make the most of your experience!
1) By the types of activities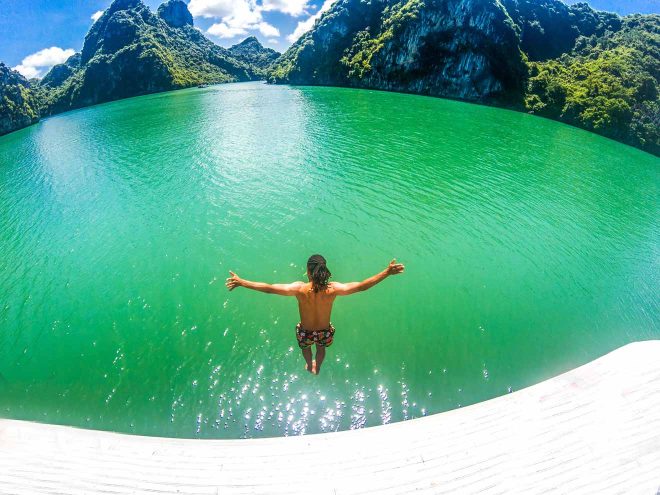 Depending on your style of traveling, you might be looking for one thing or another regarding the different activities on your Ha Long Bay trip. You are in luck, because there are tours with activities for all types of travelers, from honeymooners to older travelers, and even backpackers!
The key is to choose your tour carefully and make sure that the activities planned are activities that you are going to enjoy. This way you will most likely find like-minded individuals travelling on the same cruise as you!
Okay, so what to do in Ha Long Bay? There are literally countless things to do in Ha Long Bay! Some of the activities that are usually offered during these Ha Long Bay Cruises are the following:
Swimming – Usually when you reach a certain island, it is going to be necessary for you to swim to that island! It is extra fun if you jump from the boat and plunge in the beautiful Ha Long Bay waters!
Kayaking – One of the most popular activities in Ha Long Bay is kayaking! There are so many caves to kayak through and even lakes within the islands! This way you can explore the landscape from another perspective, become one with nature and have a little bit of independence.
Caving – Some tours offer caving activities as well but only if tides allow it. My tour did some caving where we had to kneel down and crawl through a very narrow cave if we wanted to reach a secret beach! However, my friend went on the same tour another day and this wasn't possible as the tide was too high and the cave was flooded!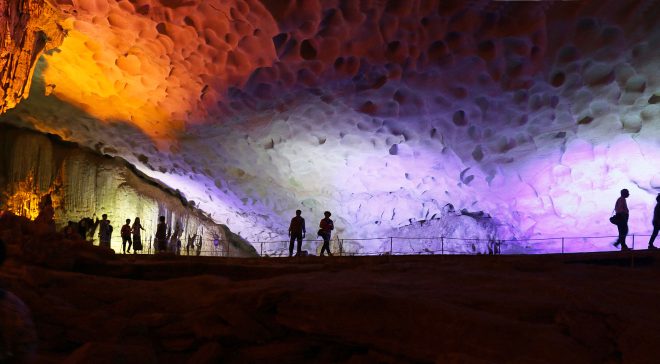 Hiking – If you are a bit wary of spending three days on a boat, fear not! Many tours take you to some Ha Long Bay islands where hiking is one of the main activities! Most of these islands are quite mountainous which means most of them have summits with beautiful viewpoints! So make sure you carry your sneakers as these limestone mountains are not easy to handle. The view is always worth it though!
Cooking Classes – Usually found on the fanciest of cruises, it is one of my favorite activities! I love adventure tours but sometimes you need to relax a little with a bit of down time. Cooking classes are a perfect way to do this, and it's something that you will take home forever!
NOTE: Most of the time (if not all) you can choose whether you want to participate or not in these activities. If you are not comfortable with caving, for instance, you won't have to do it! So fear not if your partner is a bit less adventurous as there is usually the possibility of just relaxing on a beach or on the boat.
2) By the amount of days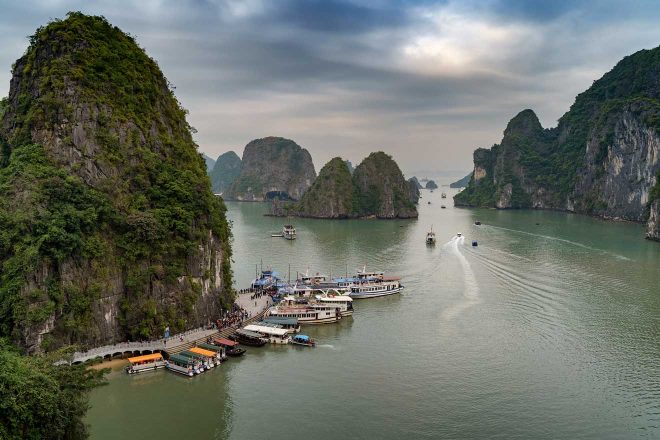 A Ha Long Bay cruise usually goes from 1 to 3 days. Depending on your budget and what you are looking for you can choose to stay longer.
If you are on a tight budget and you are looking for a nice experience, my advice for you is to go on a Ha Long Bay day tour instead. You will be able to do lots of activities, and the only difference from the overnight tour is that you won't be sleeping on the boat and there's a bit of a commute from Hanoi to Ha Long Bay!
CAUTION: Even if it sounds good, you might not want to go on an overnight cruise that is strangely cheap. They usually are inexpensive for a reason! These cruises are usually quite dirty and full of drunk backpackers, not that there's anything wrong with that… Just a heads up!
My advice for those who can afford it would be to splurge on a tour that is a bit more expensive or luxurious. Why? Because you don't want to spend a night on a dirty and dodgy boat where food is questionable and people are noisy!
Can I do it by myself without a tour?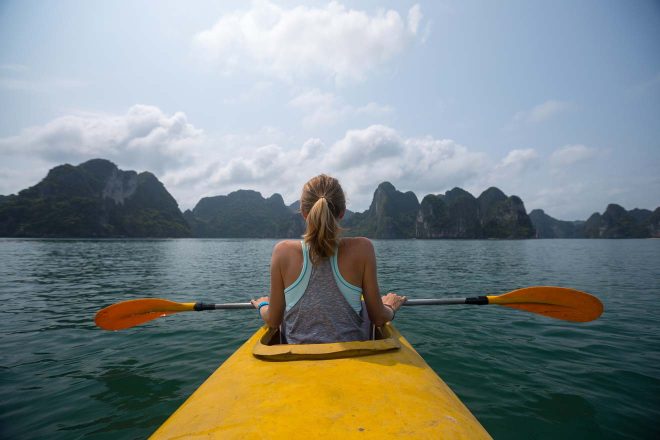 Even though doing it by yourself is not the most popular option when getting to Ha Long Bay, it is definitely a possibility, and one that seems to be preferred by those travelling on a budget. However, this is something that I do not recommend at all (even for those on a budget) so keep reading if you want to know why!
To get there from Hanoi, you can get a bus towards Ha Long City from the Gia Lam bus station in Hanoi. This should cost you around VND 150,000 (US $6.50) if you buy it directly at the bus station. But, how far is Ha Long Bay from Hanoi? These buses take from 3 to 4 hours. Bear in mind that you will most likely have to spend a night in Ha Long City.
These buses are known to either drop you off at Bai Chay directly, or a few kilometres before, so you would have to take a taxi costing around VND 30,000 (US $1.30) in order to get to Bai Chay.
You can also get a transfer from Hanoi to Ha Long Bay, that can also be booked for the return trip. This is a great alternative to having to get a long and maybe not-so-safe bus on your own!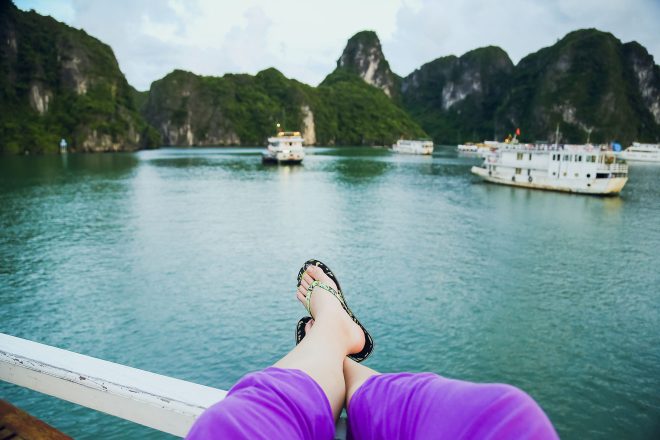 Once in Bai Chay, head to the Tourist Wharf where most of the boats leave from. Once there, you will be able to book your tour. Expect to pay around VND 300,000 (US $13) for a tour, although it all depends on your bargaining skills and luck, so prices can differ quite a lot!
CAUTION: On these tours, you will have to haggle and there is a high chance that many of the activities that are being offered won't actually end up happening. Unlike the tours that you book online where the tour operator is held accountable, if you buy a ticket on the spot, no one can be held accountable for any problem and there won't be much you can do about it!
UPDATE: Yulia, the founder of this site, actually took the trip by herself some years ago and she also reports back that her experience was not really pleasant – the "official" prices written on the board stop being official all of a sudden and got more expensive, people forget their English and you really need to negotiate.
Moreover, if you don't manage to gather a group of people beforehand, you might have to wait for the Hanoi group to arrive and join their boat so you might not leave until around midday!
For all these reasons, I personally do not recommend this way of travelling through Ha Long Bay!
Other useful information about Ha Long Bay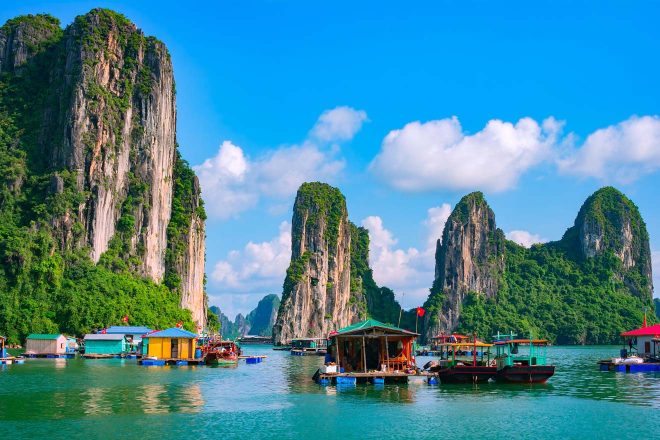 If you keep reading you will find a short description of each important island and cave in Ha Long Bay so you can navigate this article better. Don't forget to have a read of the Legend of Ha Long Bay down below-the best story to entertain your travel mates!
Islands and Caves in Ha Long Bay
As we mentioned earlier, Ha Long Bay is comprised of around 1,600 limestone islands. Most of them are uninhabitable and unwalkable, however, some of them are great for you to explore and even stay at!
In this section, I have included some extra information so you know how to interpret what your tour operator is offering you, such as what each island is like and what you should be expecting when you visit it.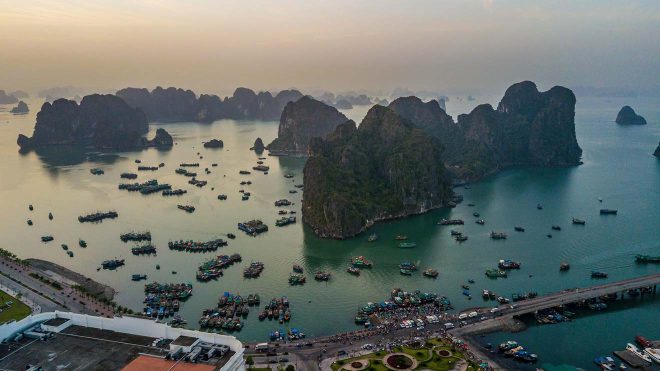 Tuan Chau Island – will most likely be the place where you get your cruise. Even though Tuan Chau Island is not the picture-perfect island in Ha Long Bay, it is worth mentioning as it is an important stopover for travelers going on a Ha Long Bay Boat Cruise. It used to be Ho Chi Minh's favorite vacation spot and one of the most important guard posts in Vietnam! It has hotels for all budgets and you can enjoy their artificial beach or walk around the marina!
Titov Island – It was named after the Russian Astronaut, Gherman Stepanivich Titov, the first person to spend a whole day in space in 1961! Titov Island is visited by hundreds of tourists daily because this island's summit is one of the most popular in all Ha Long Bay! A photographer's delight, the peak of the island gives you one of the best Ha Long Bay panoramic views!
Dau Go Island – It holds the most famous cave called Thien Cung Cave or Heaven Cave. A massive cave with plenty of stalagmites and stalactites, it is one of the most famous spots on 1-day itineraries.
Bo Hon Island – One of the most spectacular islands in the bay, in my opinion, Bo Hon Island is lush, green and full of all types of flora and fauna! If you keep quiet, you might be able to spot monkeys, deer and chamois that inhabit this island! You can also explore other different Ha Long Bay caves, such as Luon Cave and Surprising Cave, two of the most famous caves in Ha Long Bay, and it's no wonder-they're stunning!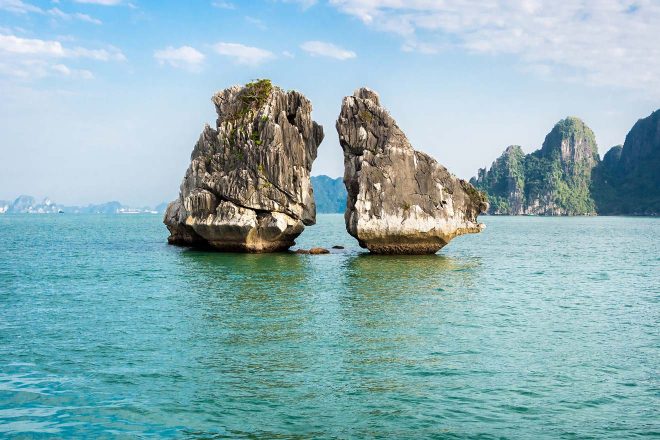 Kissing Rocks & Chopstick Rock – The fact that there are 1,600 islands in Ha Long Bay, most of them with funny shapes, means on your visit to Ha Long Bay, you might be lucky enough to see the famous kissing rocks, which are actually two little rock islands that appear like they are kissing! Also, keep your eyes out for Chopstick Rock, a tall and thin little rock island in the shape of a chopstick, duh!
Dau Be Island – A great spot for those interested in wildlife, this Ha Long Bay island is famous for Ba Ham Lake, which consists of 6 ocean basins connected by a cave that makes it the most beautiful kayaking spot when it is low tide! It is also great for swimming and diving as it has beautiful coral and quite deep grottoes! Make sure you keep an eye out for monkeys and flying squirrels!
Soi Sim Island – Just 500m away from Titov Island, Soi Sim Island is famous for being one of the best islands in the bay to relax at. Named after a Vietnamese berry tree found all over this island, travelers love enjoying its unspoiled beaches and white sandbanks, while swimming and kayaking around. If you have time and feel active, make sure you hike to the top of its hill to admire the great view!
Cat Ba Island – The largest island in Ha Long Bay, Cat Ba Island will not leave you indifferent. Even though its beaches are not its strongest point, the national park is astonishing and you can even try to spot the Cat Ba Langur, an endangered white-headed langur that you will only find on this island!
The Legend behind Ha Long Bay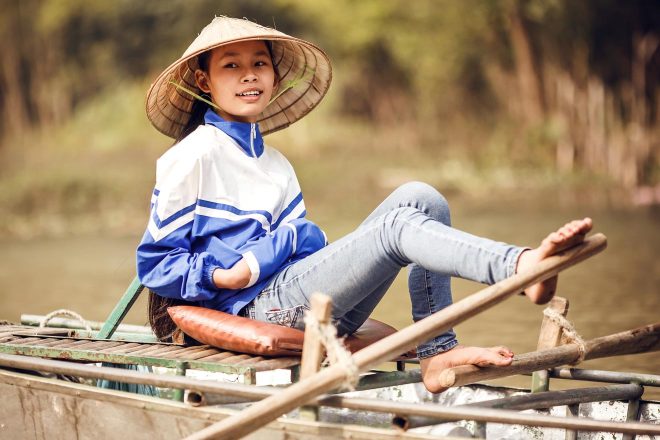 Ha Long Bay means "descending dragon". Vietnamese people believe that dragons are their ancestors!
Legend says that back when Vietnam was first formed, it was about to be invaded by its neighbors when the emperor, fearing that this invasion would go through, asked the gods to help him fight against these people.
The gods helped the emperor by sending Mother dragon and her children, along with the Vietnamese army, to fight the invaders. In a blaze of fire, the enemies of Vietnam were defeated and the dragons dropped their teeth along the bay in the shape of emeralds, helping the Vietnamese create a barrier against future enemies, forming the 1,600 islands.
There are two endings to this story: one says the dragons decided to stay in the bay, and they descended in the water which would explain why Ha Long Bay means descending dragon. However, the other ending of this story says the dragons turned themselves into humans and taught the Vietnamese how to thrive and survive in this beautiful land.
You can choose to believe either one (or neither if you're such a party pooper!) but both of these endings would mean that dragons are still wandering among us!
All in all, is Ha Long Bay worth visiting?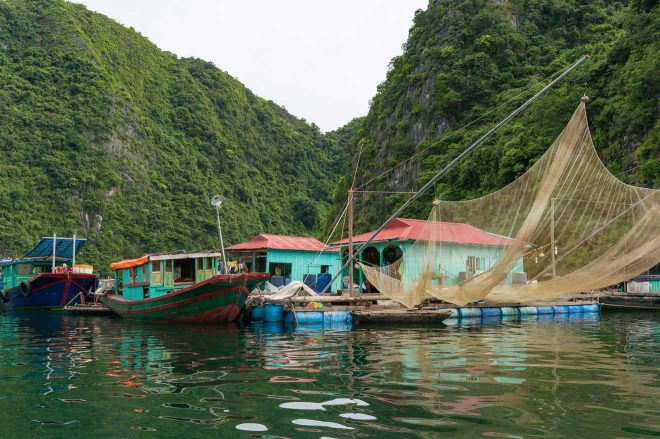 Being one of the most touristy spots in Vietnam, this is a question that pops into everyone's mind when they think about visiting a tourist destination of this scale. So is it worth visiting?
Some of the most recurring thoughts are: Is it overrated? Is it packed with tourists? How big is the environmental impact? And while all of these are completely rational questions, the answer to the big question, in my opinion would be, yes, it is worth it!
To me, Ha Long Bay is not overrated at all and the number of tourists doesn't really affect the experience nor spoil the landscape. My biggest concern would be the environmental impact, but what can you do about it?
For instance, you can choose a conscientious tour provider such as the ones explained above. Many of them have decided to ditch single use plastics as it can affect their primary source of survival which is keeping Ha Long Bay thriving!
Regardless of if you have chosen a conscientious tour provider or not, you should always behave respectfully: do not throw any rubbish in the water (that includes cigarette butts!) and watch out for those plastic bottles that you leave on deck because they'll end up falling in the water!
---
Conclusion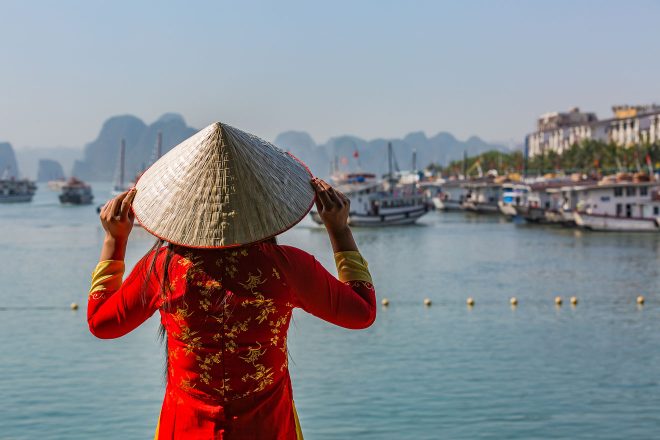 Thank you for reading this Ha Long Bay post!
I hope that now you have a clearer idea of what to expect and how to make the most of your Ha Long Bay trip!
Hopefully, you have even found your match in one of the recommended tours above. They really are the best of the best out there! This really is one of the finest day trips from Hanoi and one of the top things to do while in Vietnam.
Let me know if you have any thoughts or questions in the comments below; I love hearing from my readers!
Happy Travels!
Arantxa
---
Pin it for later!
Pin it for later!