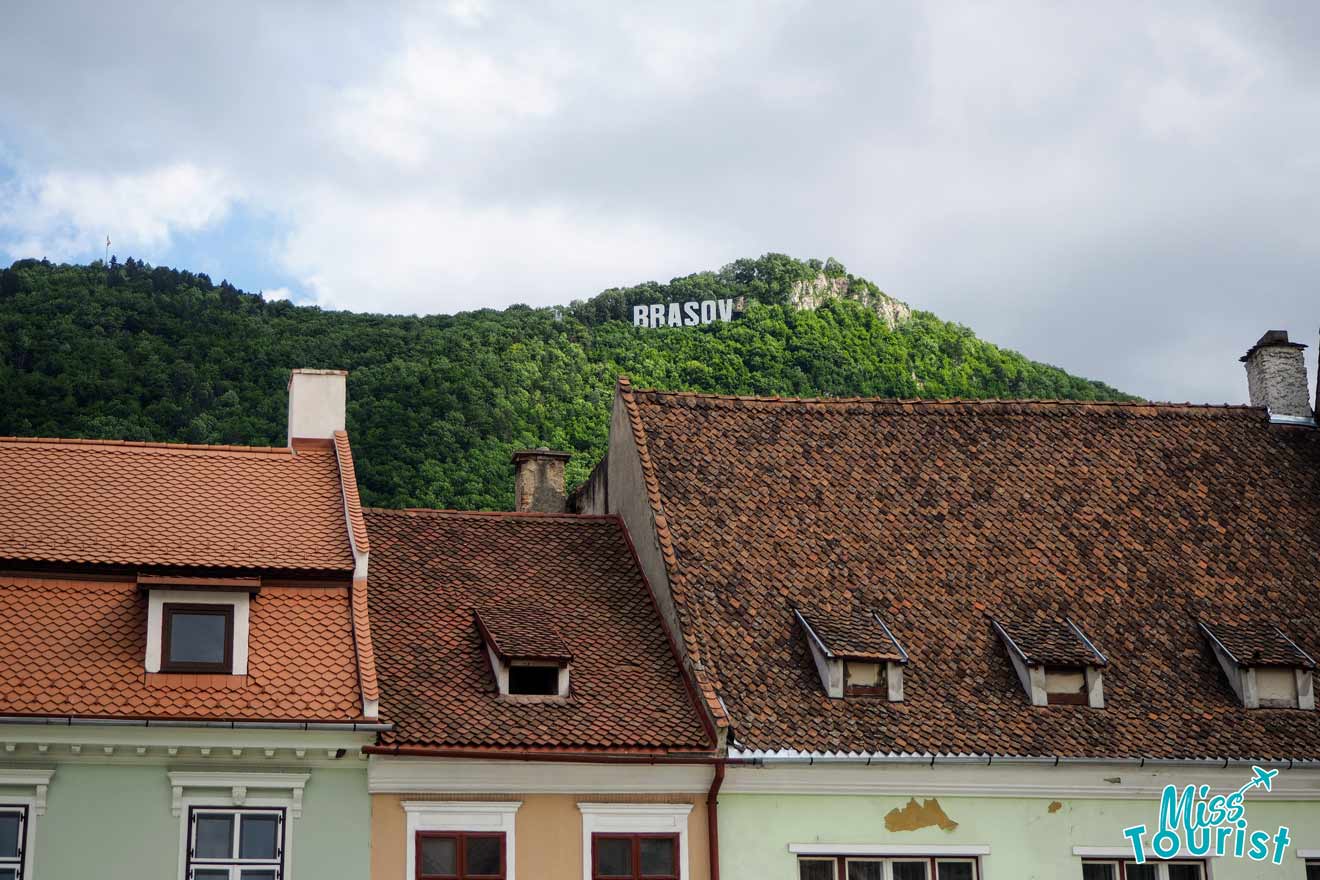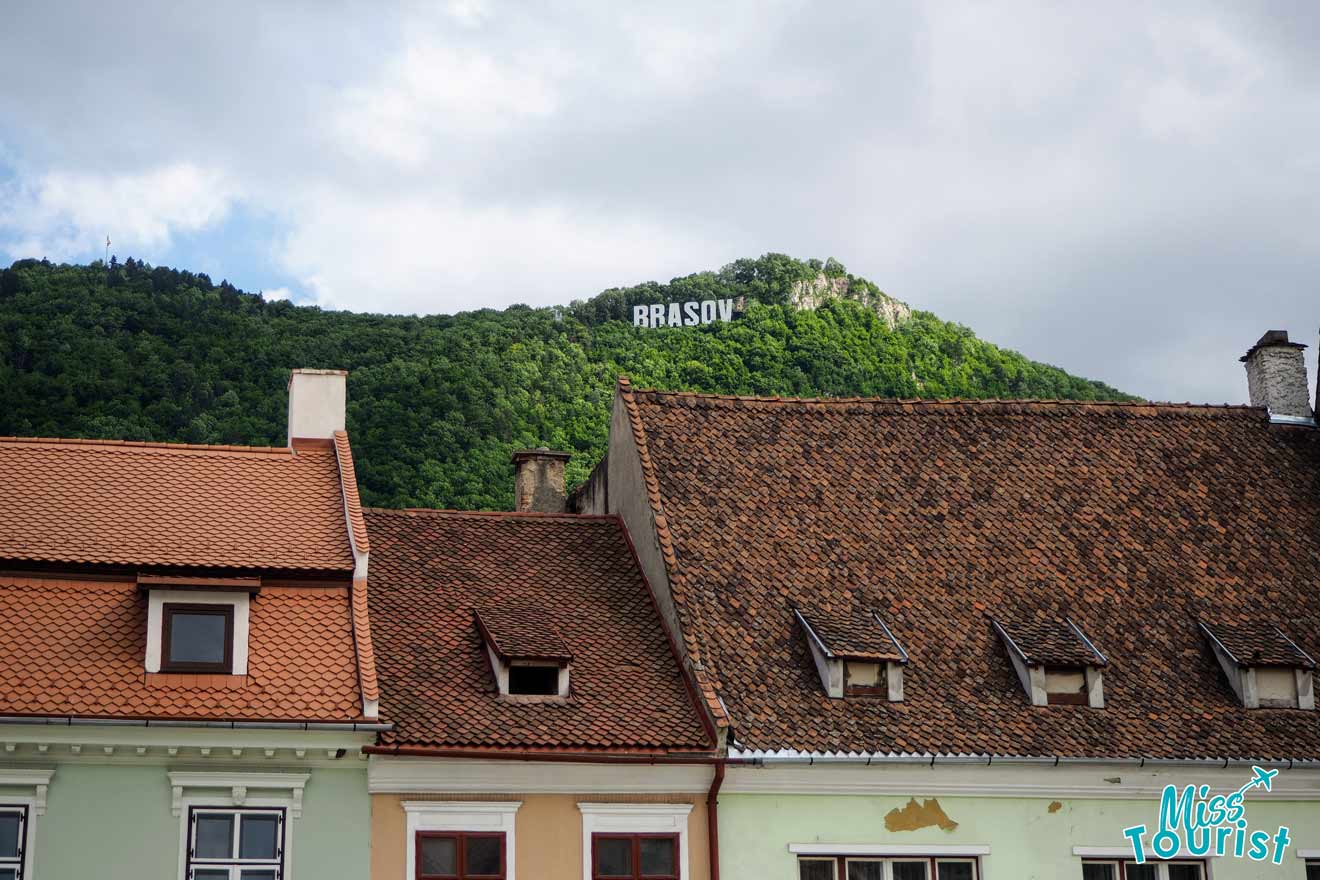 Transylvania's jewel, Brasov, is a town in Romania that you'll fall in love with during your trip. Its history, charm, and the fact that's surrounded by the Carpathian Mountains make the city one of the most visited places in the country.
In this post, I'll point you to the best things to do in Brasov, Romania. But that's not it. I also added a section with the best hotels in the city and some practical information on how to get to Brasov from Bucharest, the capital.
I am Romanian and I've been visiting the city since I was little and to be honest, I never get bored of it!
The fresh mountain air and the incredible architecture transport me to another world. I'm curious to know how you'll feel about Brasov (let me know in the comments)! Until now, I've only heard great things about Brasov.
Ready to visit Dracula's Castle and eat delicious Romanian food?
Let's go!
1. Visit the Black Church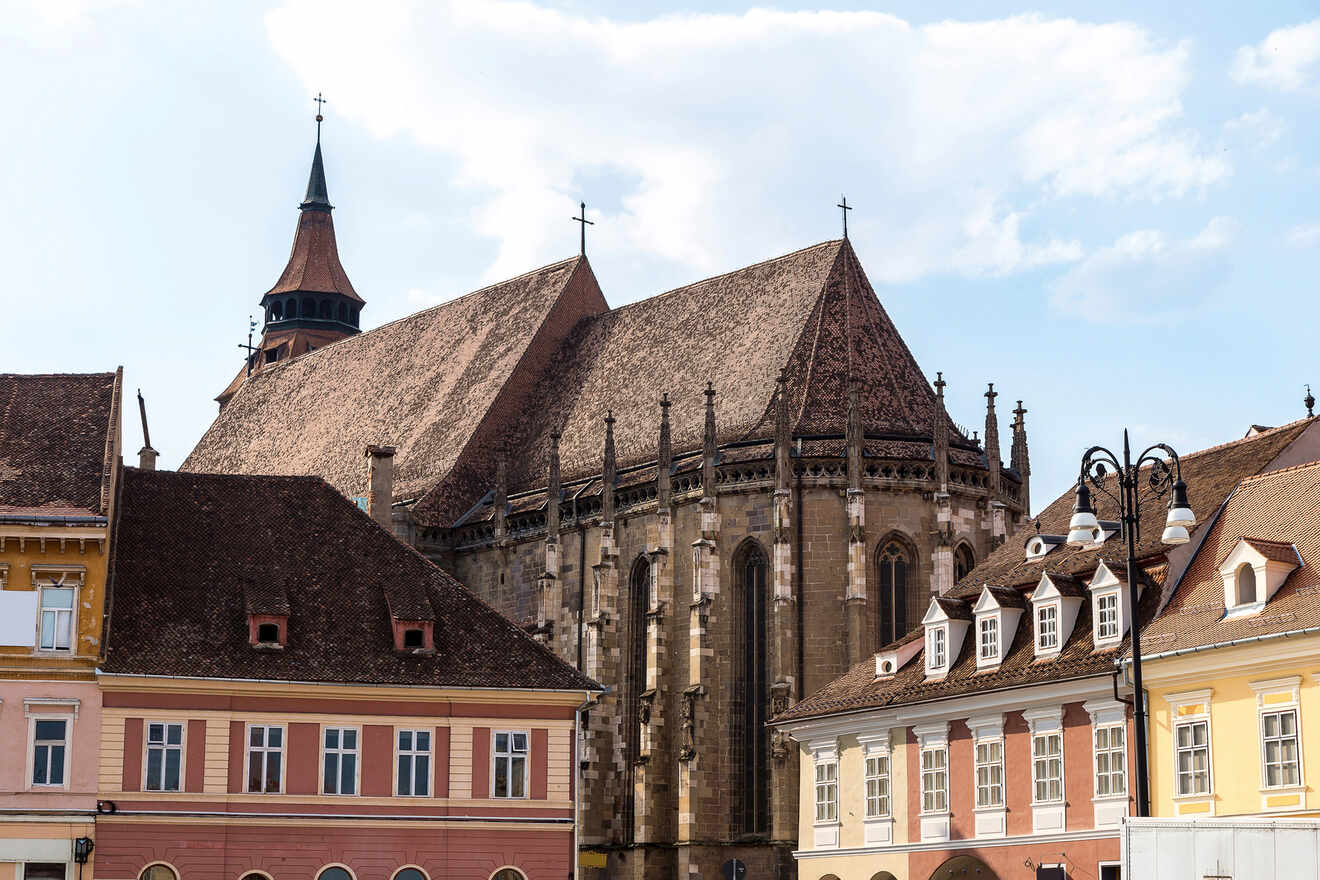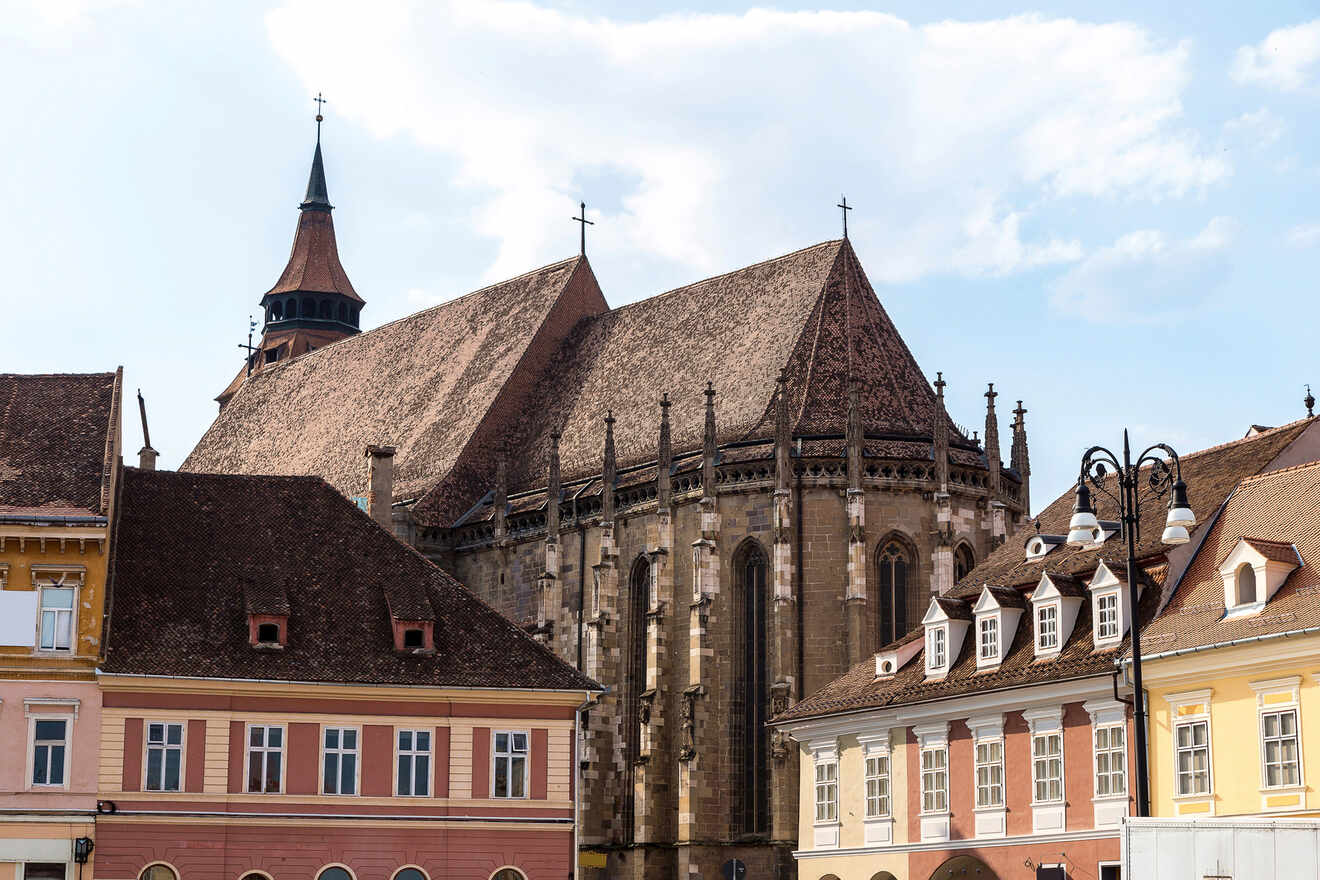 Ready to fall in love with one of my favorite cities in Transylvania, Romania?
Brasov is like a history book filled with pages from the past, and there's no better place to start your trip than with a visit to the famous Black Church, the largest Gothic Church in Eastern Europe.
I was so young when I first saw the Black Church (Biserica Neagra) for the first time, but I vividly remember its grandeur. It was built in the 1380s but finished almost 100 years later because of the Ottoman attacks.
The Black Church got this name after a huge fire in 1689 threatened to destroy the whole town (many buildings were partly ruined from this). Losing the roof and most of its interiors in the fire, the walls of this gothic building were mostly black after the incident and that's why people named it like this!
Its gothic style is incredible, but I highly recommend going inside and spending some time admiring the mechanical organ and the collection of Oriental carpets!
The Black Church is set in the beautiful Old Town, where you'll also find Piata Sfatului (Council Square), the main square in the city.
PRICE: US$3
2. Enjoy Council Square in the Old Town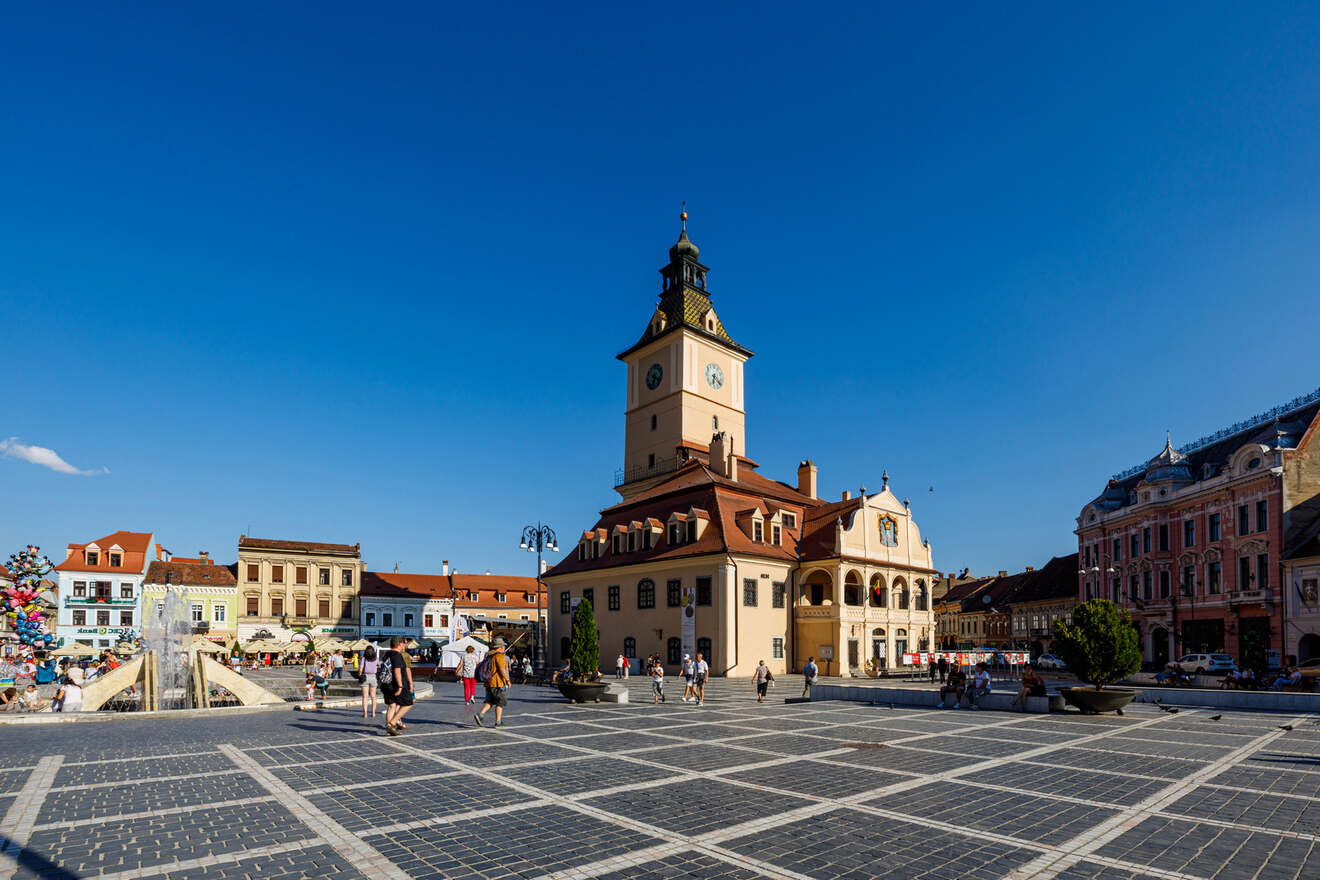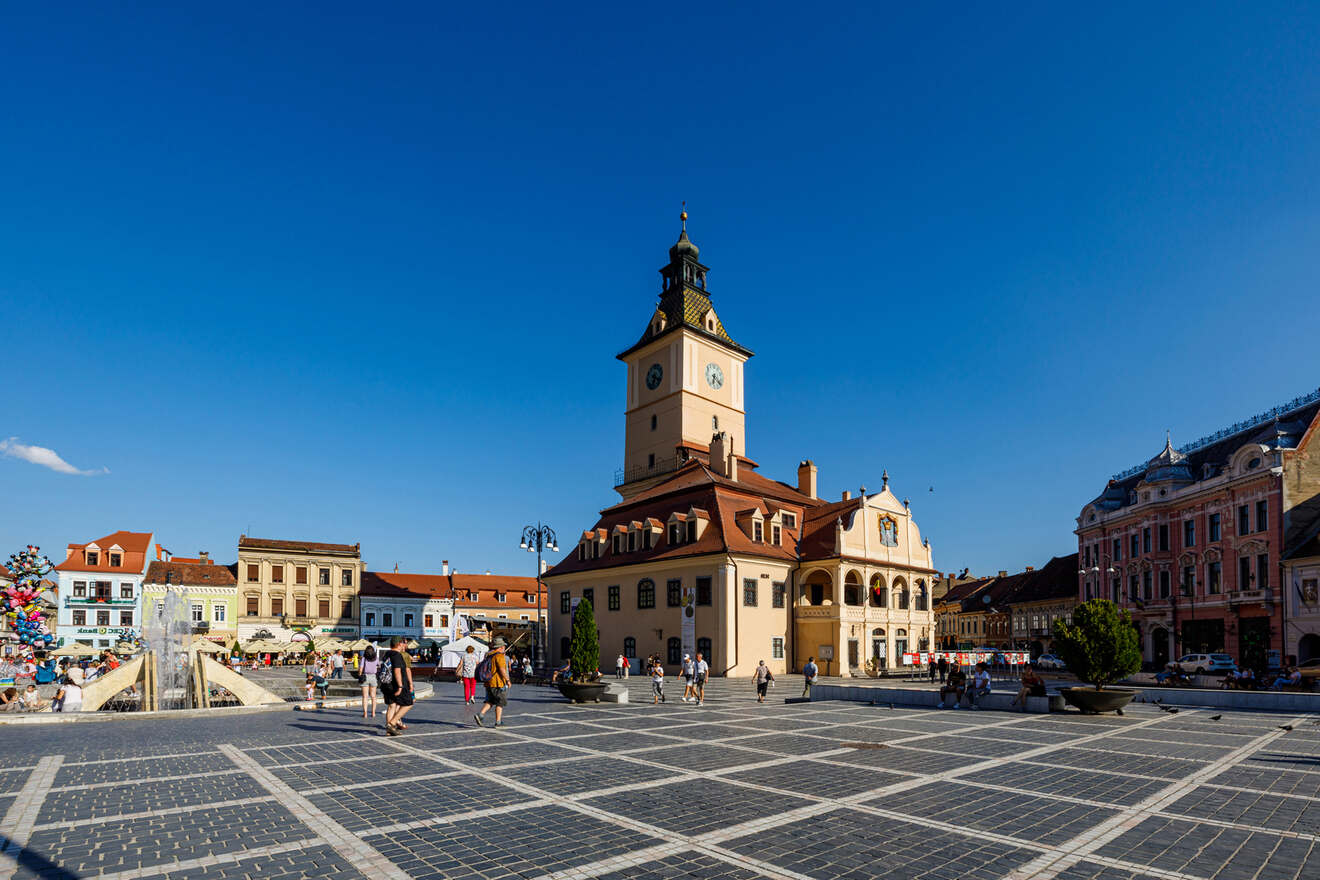 What's great about the Brasov Old Town is that no matter how crowded it gets, there's always this tranquility that reigns over (I blame the fresh mountain air)!
Of course the architecture is breathtaking, colorful medieval houses that you don't get the chance to see every day, plus the unique Council House (the Town Hall) built in 1420, which is set right in the middle of Council Square.
Council Square is now filled with cafes, restaurants, and souvenir shops, but back in the 1300s, this is where you'd find all the markets.
NOTE: If you're traveling during Christmas time you will still get to experience a little of the past here as the square hosts the annual Christmas Market. It's so wonderful, you shouldn't miss the chance to drink a nice cup of mulled wine!
My favorite thing to do in the Council Square (after raiding all the shops) is to sit on one of the terraces and do some people watching! It never gets old! I recommend Casa Hirscher restaurant because the drinks and the Romanian food are delicious!
3. Admire the city views from Tampa Mountain
One of the main things tourists notice when they arrive in Brasov, Romania, is the big Brasov sign, high on the mountain in Hollywood-style The landmark is set on Mount Tampa, which you can visit!
Yep! You can either hike to the top or take the cable car, whatever works best for you. Here are some directions for either option:
Hiking up Mount Tampa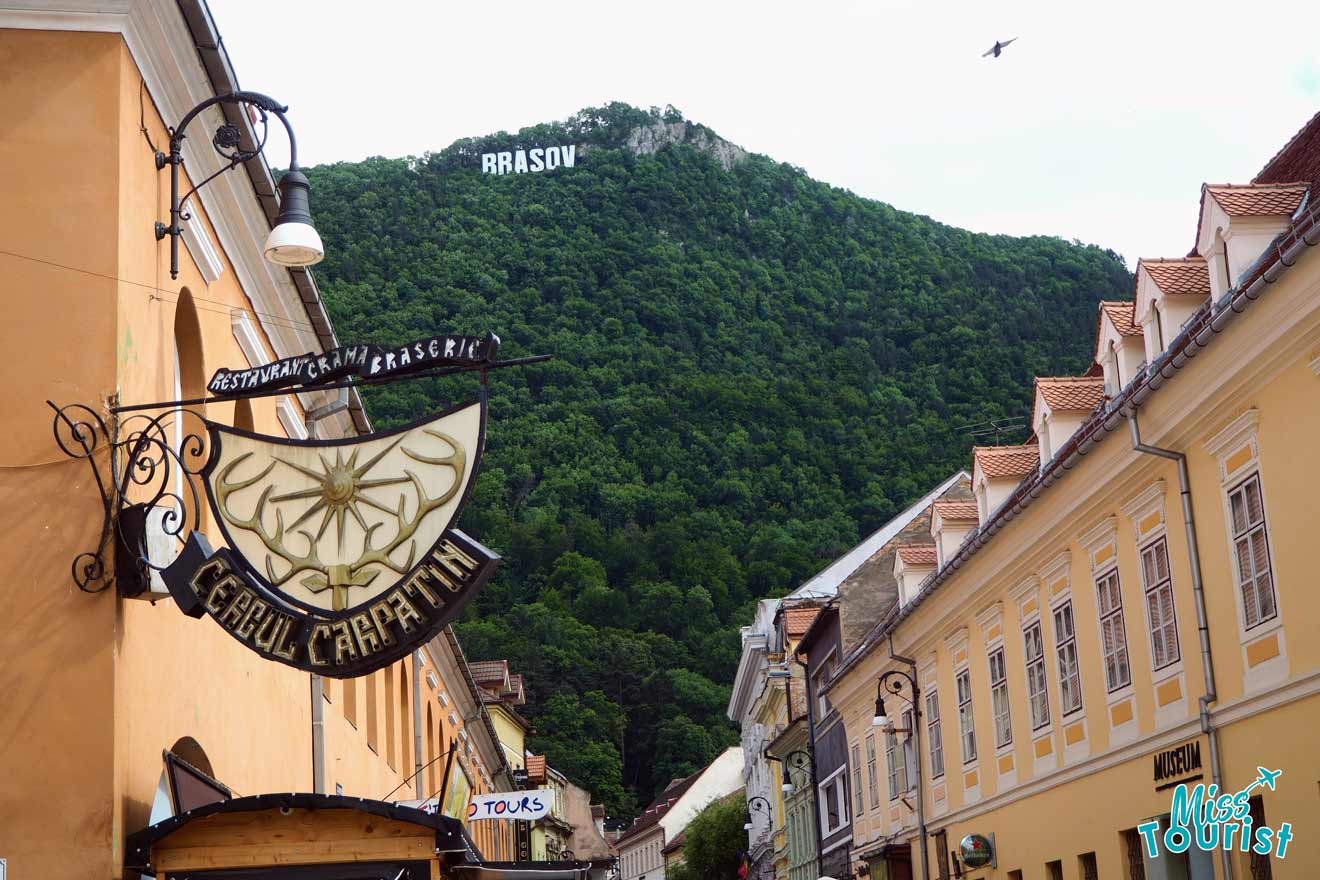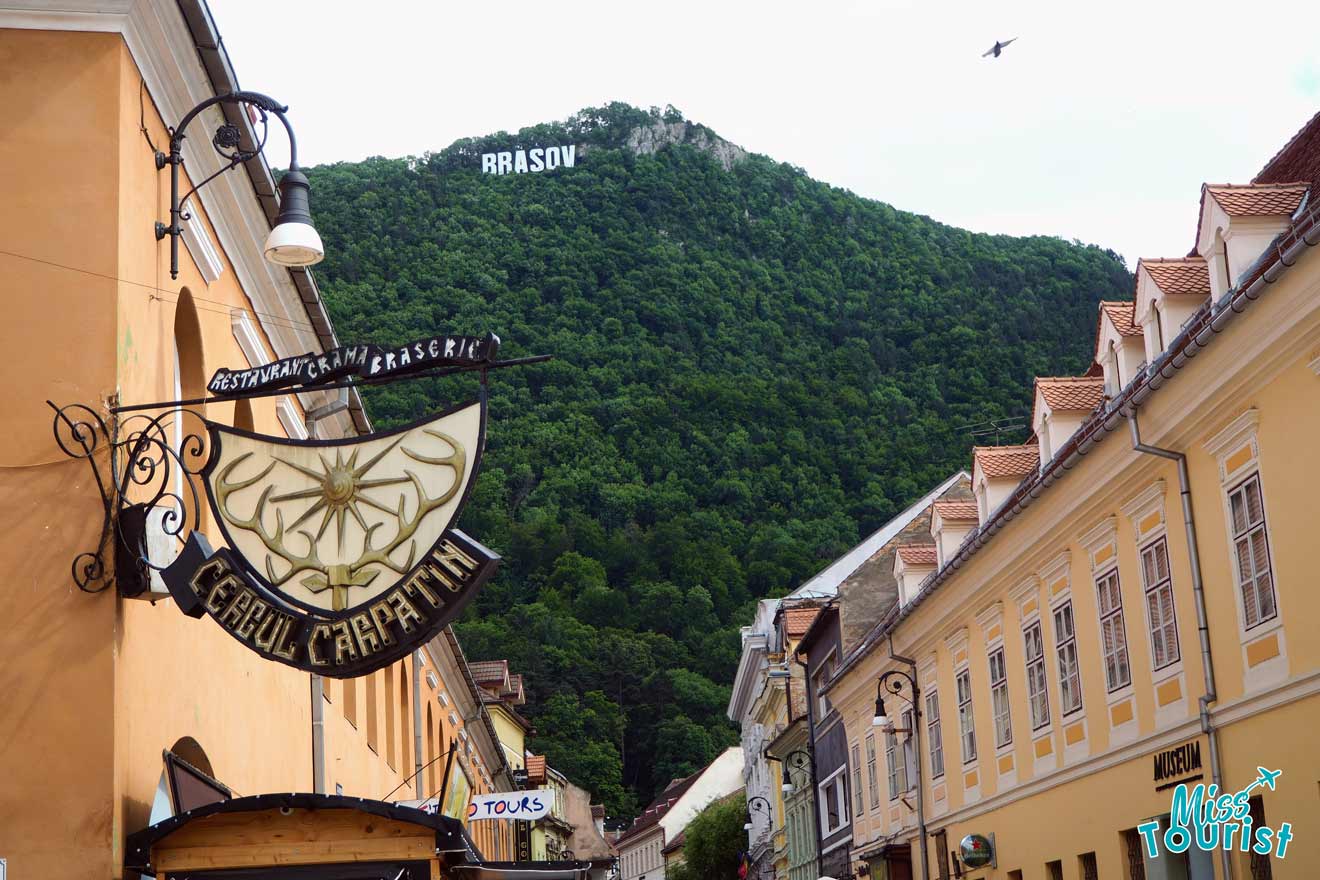 If you want to hike, you can start from the Old Town and Council Square. You'll have to walk for approximately 10 minutes in the direction of the big Brasov sign and reach Tampa Mountain Cable Car station, the hiking trail starts nearby this spot.
The hike isn't super hard although it is pretty steep, so definitely wear some suitable shoes and clothes.
It will take around 1 hour to get to the top, but the views and the whole walk through the forest are so worth it! Plus, it's free, so you'll be sparing a few bucks too!
NOTE: Stick to the laid-out path and don't venture off, as Brasov is famous for its MANY bear encounters. (Although if you want to see bears, you can take a tour for that!)
Once you get near the Brasov sign, you can stop for a small break and admire the scenery. But don't think that's it! If you continue on the rocky path behind the sign, you'll get to an even more amazing look-out spot. From there you'll be able to see the whole town, it's so worth it!
Mount Tampa cable car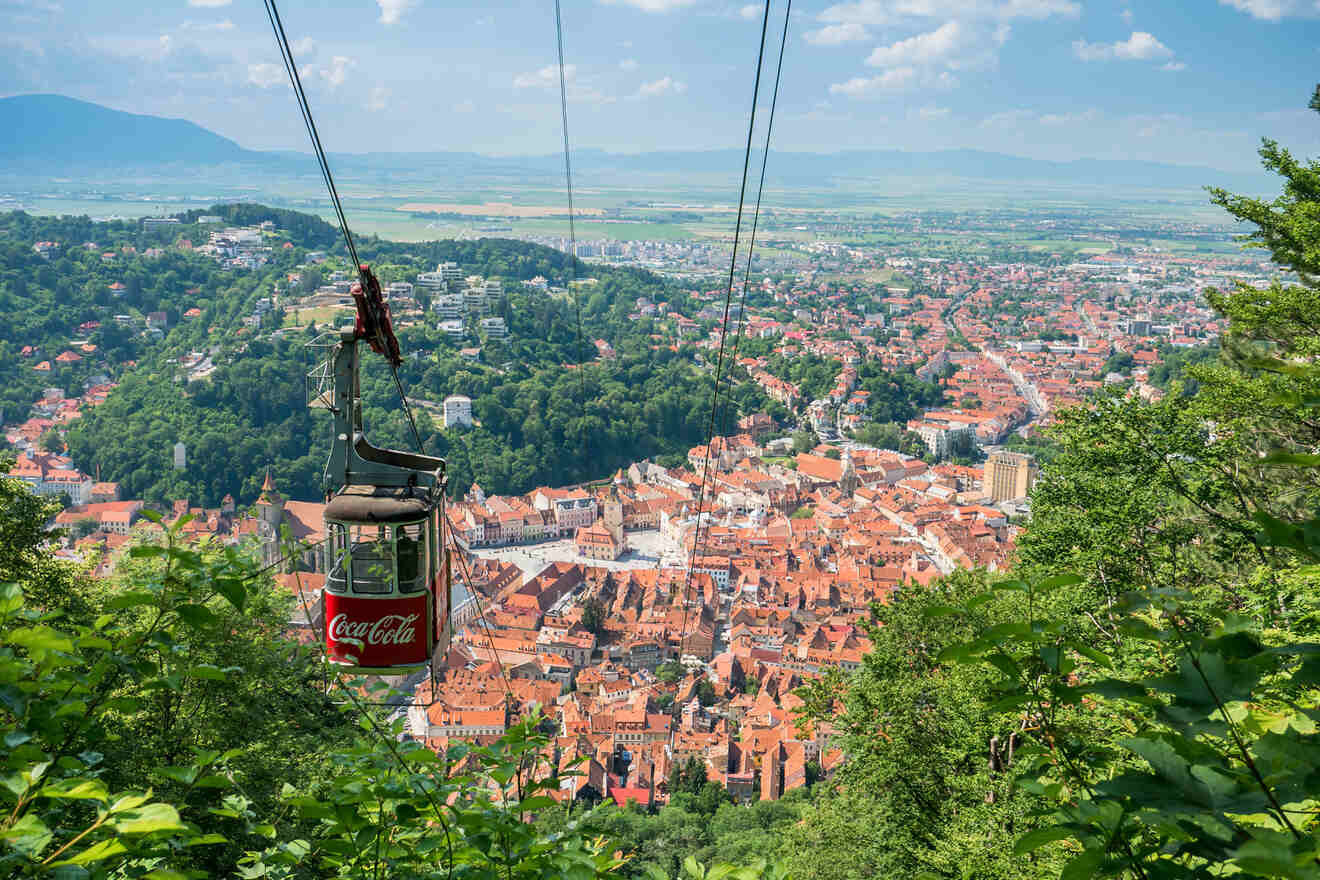 For anyone who doesn't feel like hiking or maybe the weather isn't appropriate for that, there's another way… Taking the cable car up to Tampa Mountain!
From the Old Town and Council Square, walk 10 minutes to Aleea Tiberiu Brediceanu. Right nearby, you'll find the Tampa Hill Cable Car station.
It takes around 5 minutes to reach the top of Tampa Hill, and the views are amazing.
NOTE: If you're traveling during wintertime, the cable car might not work if there are heavy snowstorms
PRICE: US$4
4. Climb up to see the Black Tower & White Tower
Brasov, Romania has such a fascinating history, but I don't want to give you too many spoilers and ruin all the fun! But you might've heard that the town was built to protect the land from any attacks back in medieval times.
Luckily some of those towers, medieval walls, and lookouts were preserved until now! Visiting the Black Tower and White Tower (or even just 1 if you don't have the time) is one of the best things to do in Brasov!
If you're planning on just visiting 1 of them, I recommend the White Tower. Its medieval aspect is definitely stronger than the Black one but as for the views, both towers offer great scenery!
The Black Tower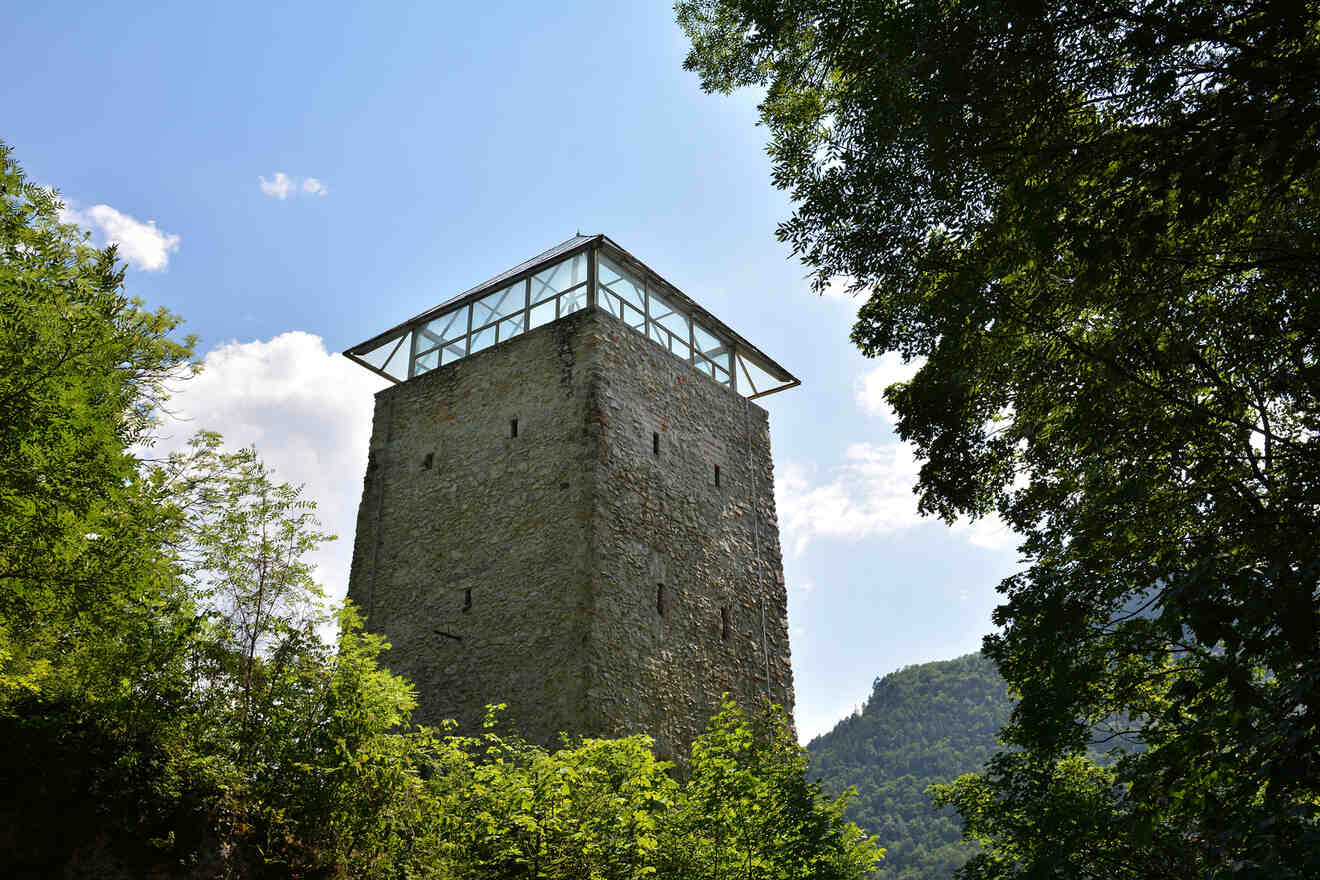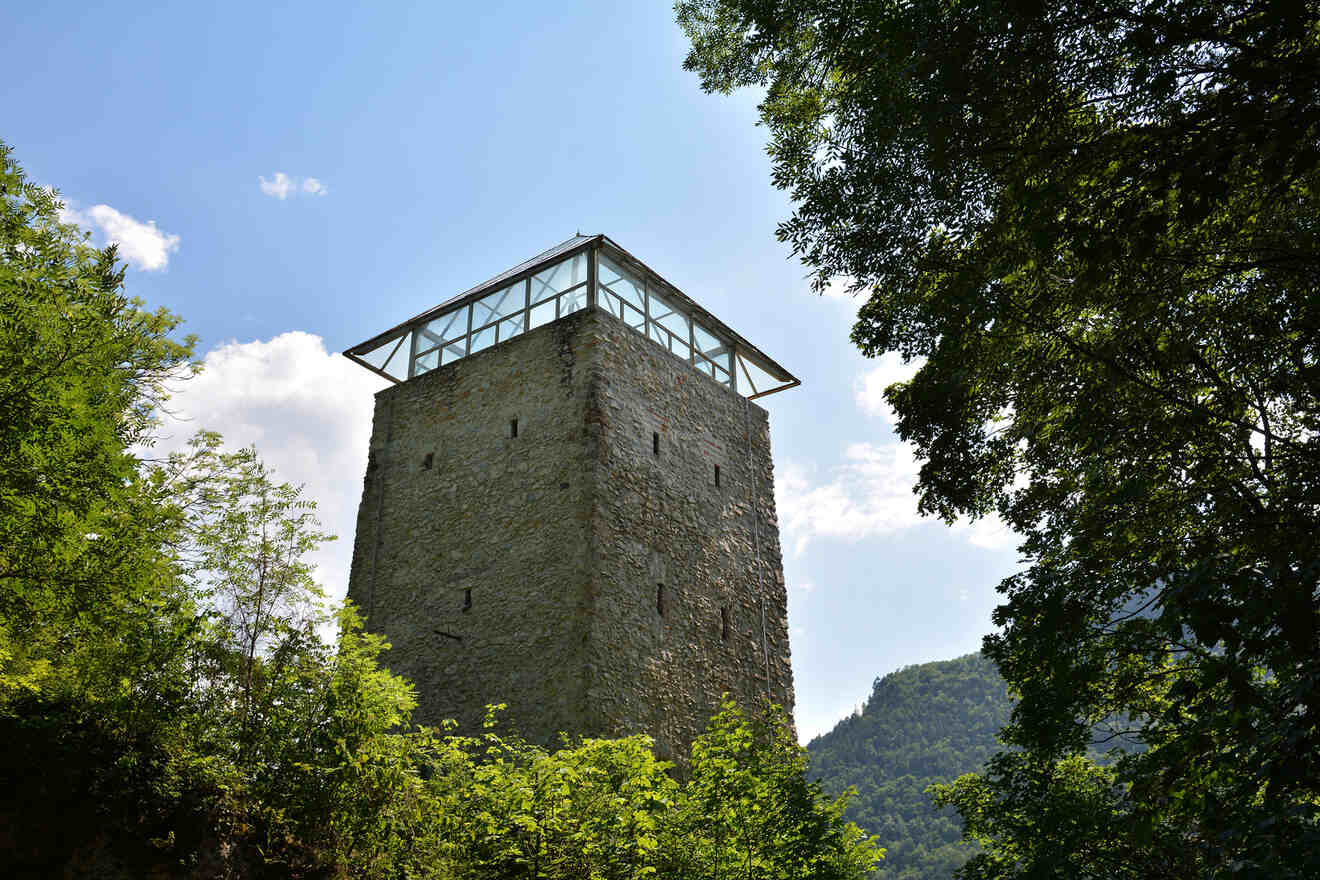 Don't be surprised when you arrive here and see that this tower is not black! It was built in the 15th century as a lookout tower outside the city walls.
Its name comes from an incident in 1559 when lightning struck the tower and turned it black. The name stuck and people still call it that way, even though it is no longer that color.
Over the years, the Black Tower, which is set only a short walk away from the Council Square, was renovated, and now it has a white exterior and a beautiful glass roof. They even have a small exhibition of artifacts inside!
NOTE: The Black Tower is closed on Mondays.
PRICE: US$1.50
The White Tower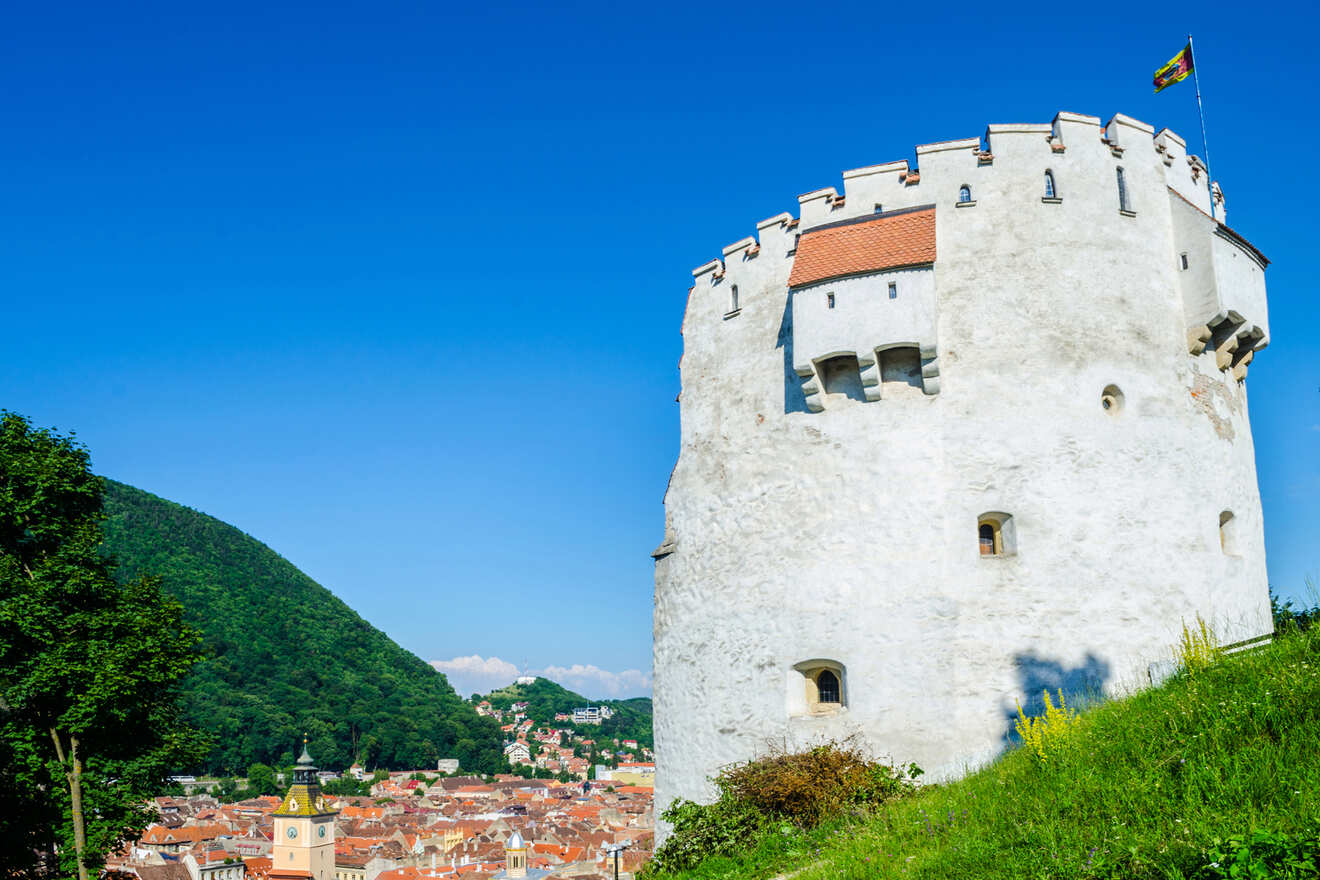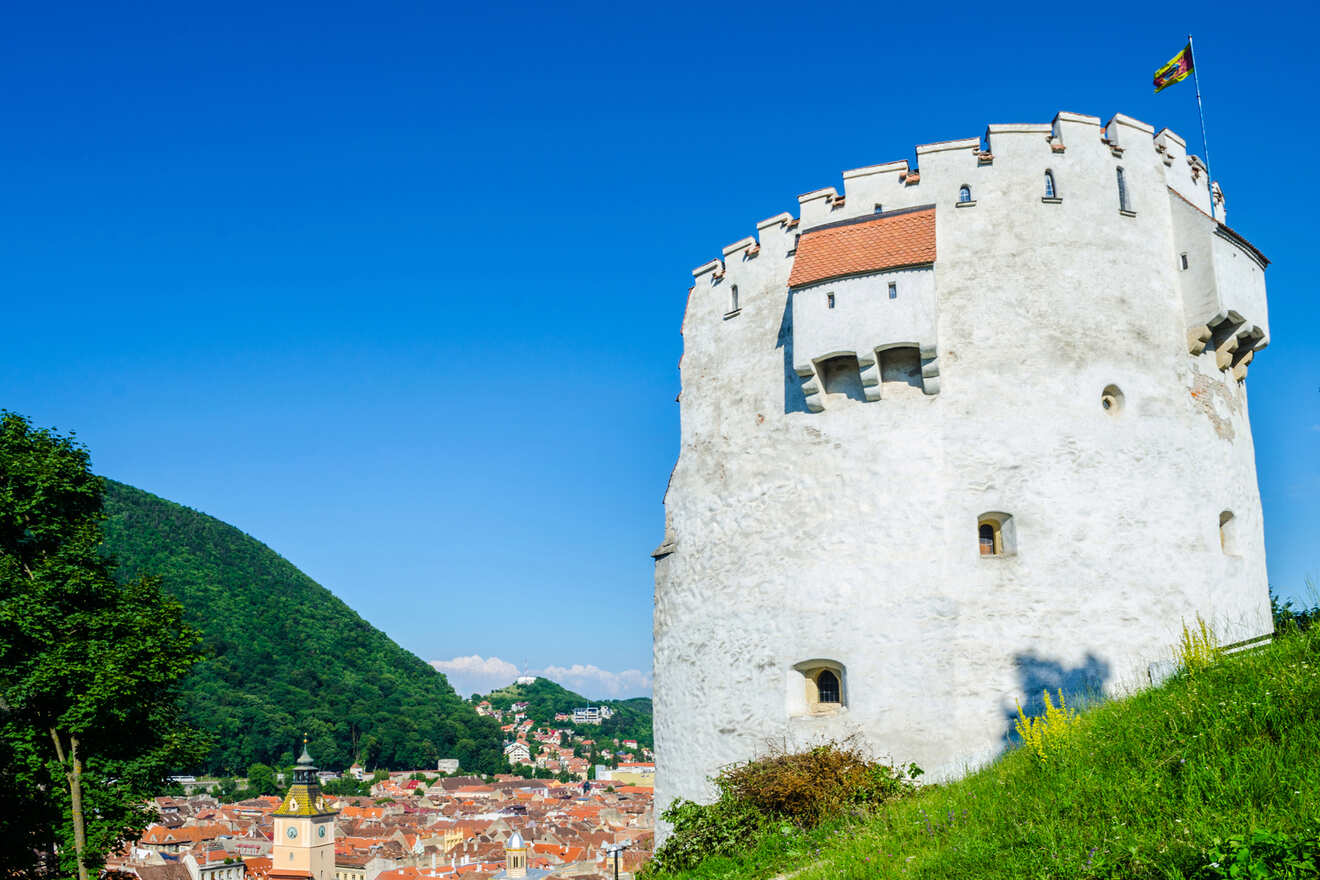 There's no surprise here, this tower is actually white!
The White Tower was also built to protect the city between 1460 and 1494. It was the highest fortification in Brasov, and it was fully renovated back in 2006. The White Tower even hosts exhibitions with artifacts from the Brasov County Museum.
The 2 towers are only 5 minutes away from each other so if you can visit them on the same day!
NOTE: The White Tower is closed on Mondays
PRICE: US$1.50
5. Take a picture on one of the narrowest streets in Europe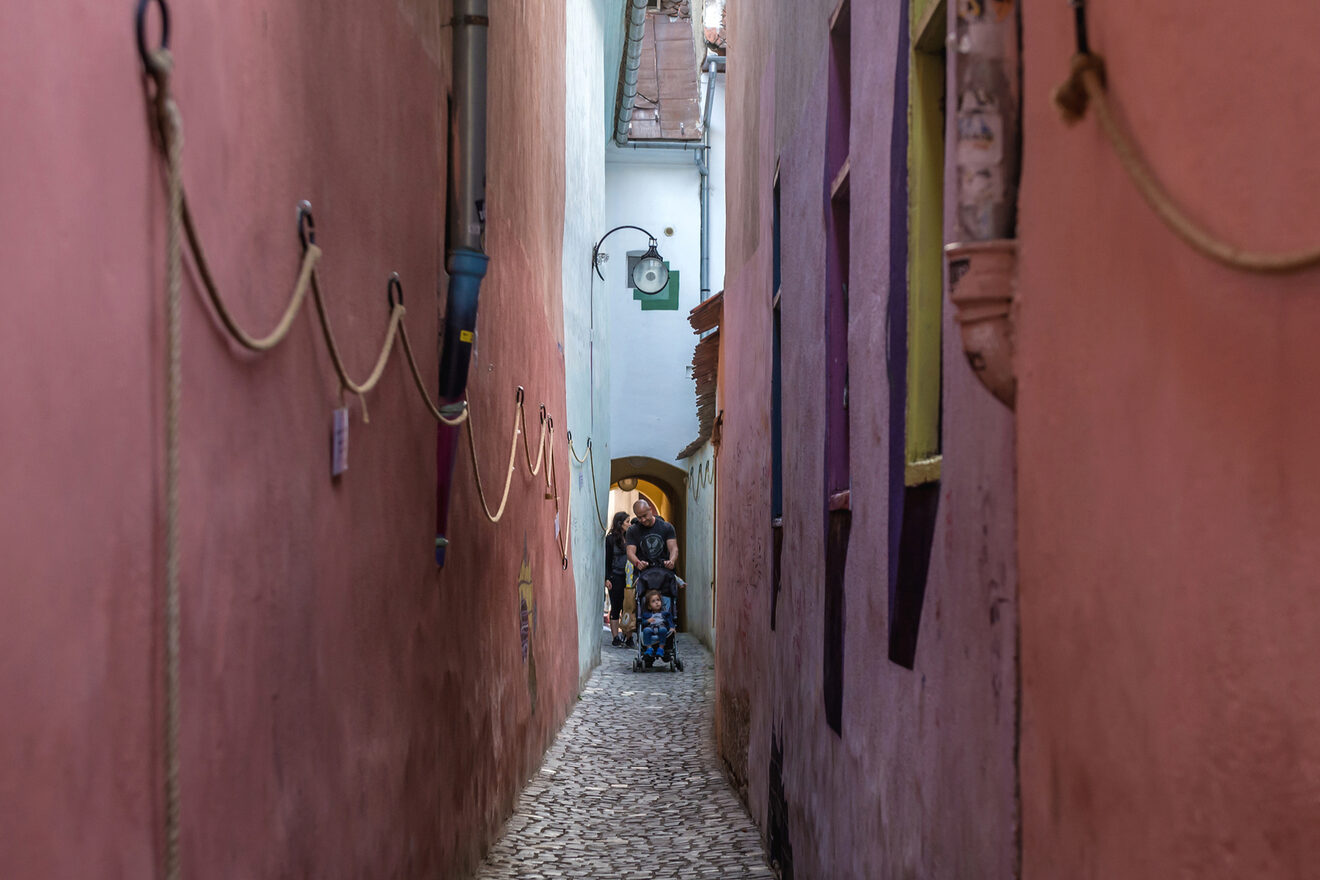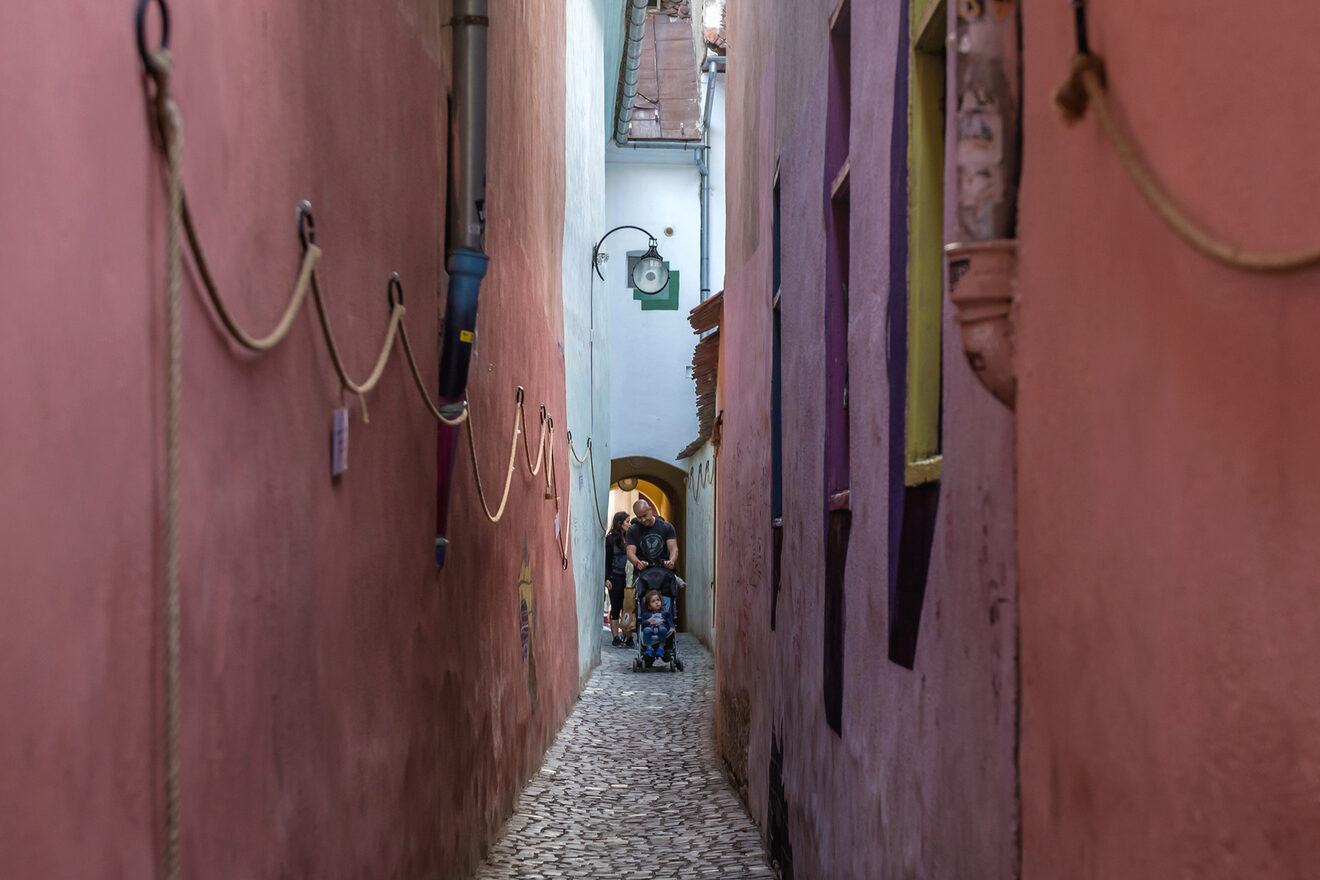 One of my favorite things to do in Brasov, Romania is strolling down Strada Sforii (Rope Street), which is thought to be the 3rd narrowest street in the world!
Built-in medieval times by the fire brigades who wanted to reach the Old Town super fast in case of any disasters, the road is one of the best places for sightseeing in Brasov!
Rope Street has a minimum width of 111 cm (44 inches), and it measures 80 meters (260 feet) long. When you walk on it, you'll be able to touch both sides of the walls!
6. Learn new things at the First Romanian School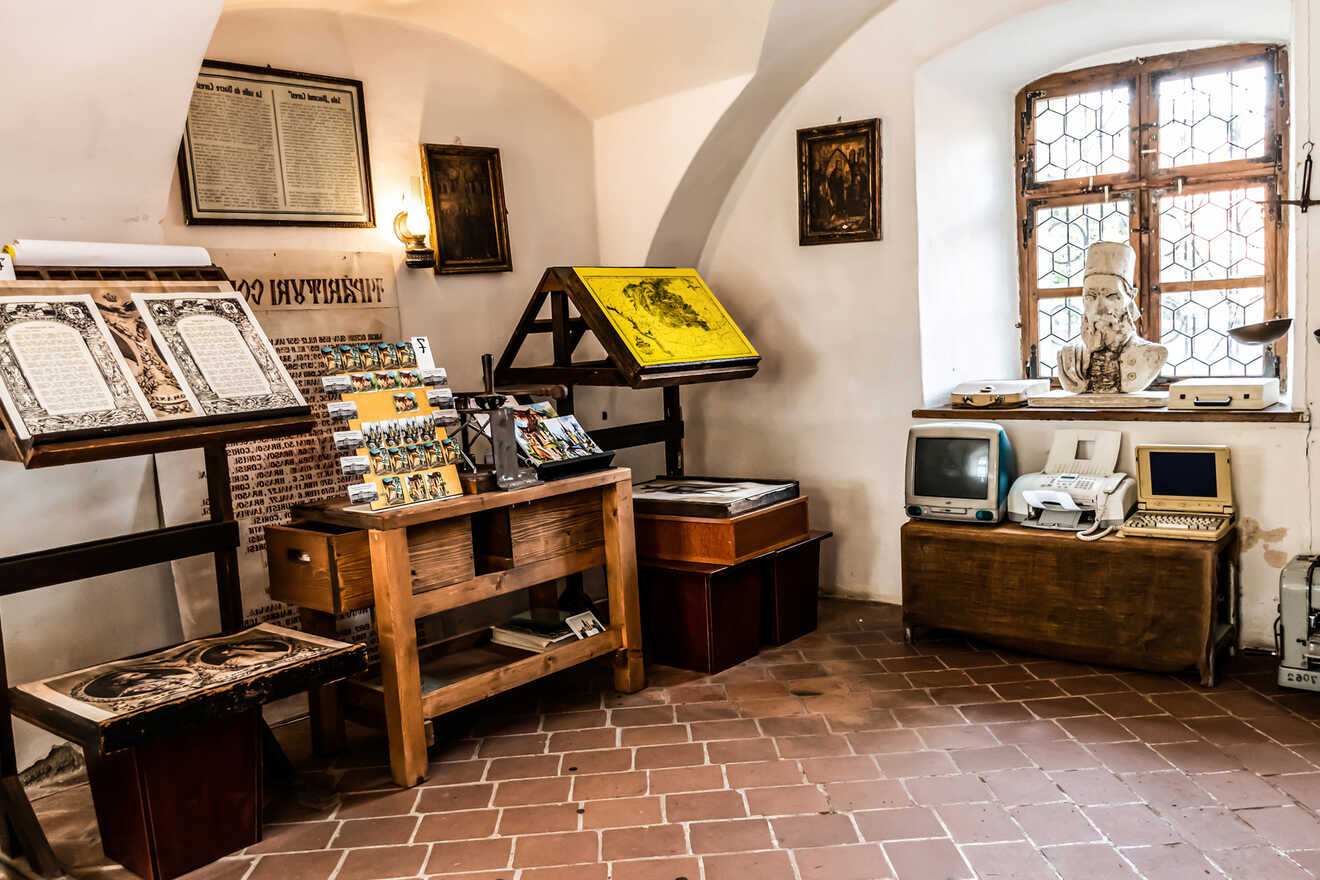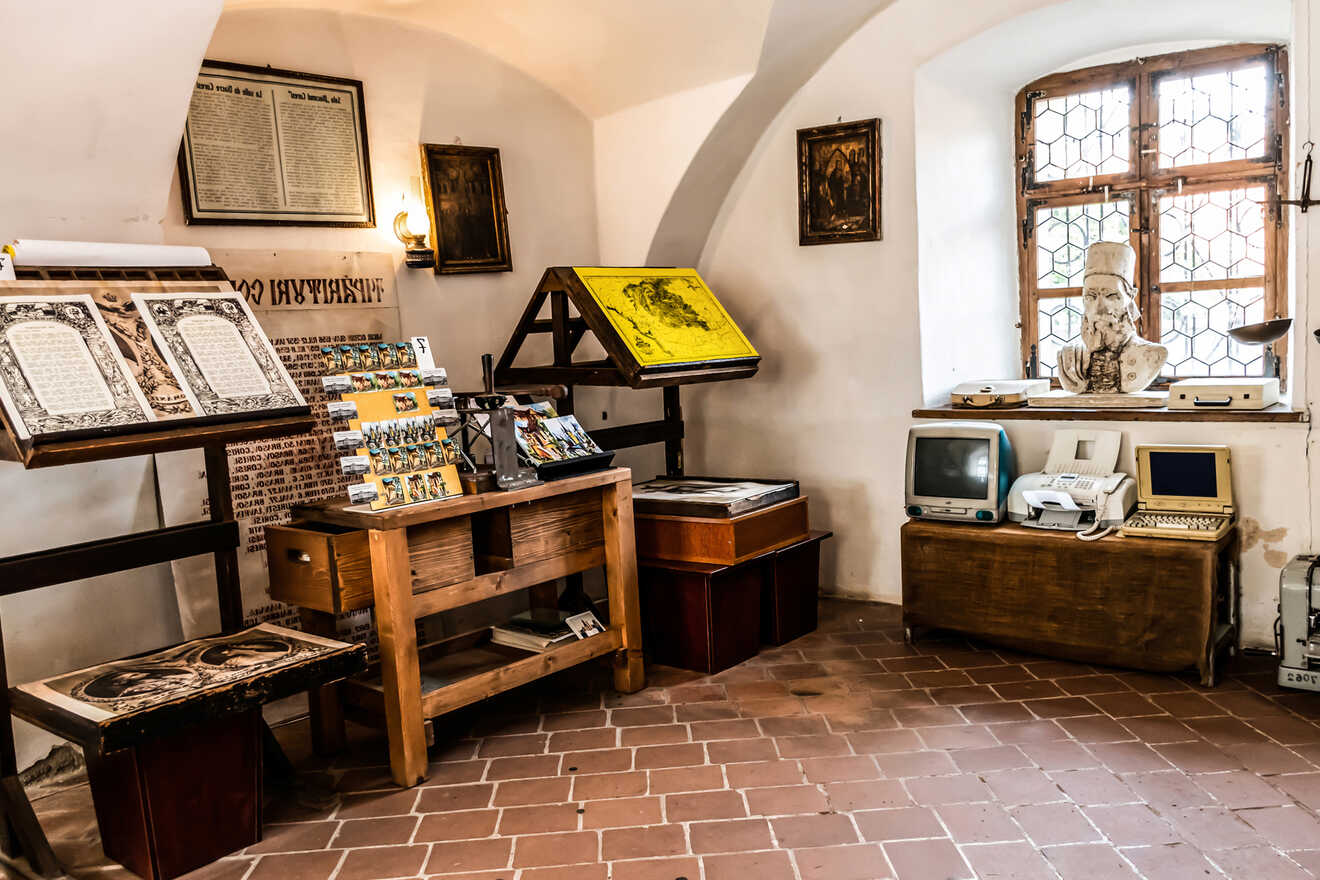 This place is super important for Romanian culture!
The First Romanian School Museum is set on the grounds of the 16th-century St Nicholas Orthodox Church, and it's the first school where they taught Romanian language courses!
Now the First Romanian School serves as a museum, and it has so many exciting things to see including the first Romanian Printing Press and the First Romanian Bible!
I love this place, and it's a paradise for anyone who's into history or just wants to learn more about Romanian culture.
Besides the printing press, there are also tons of books and historical documents and you'll be able to see them all!
PRICE: US$4
7. Pass through the beautiful Catherine's Gate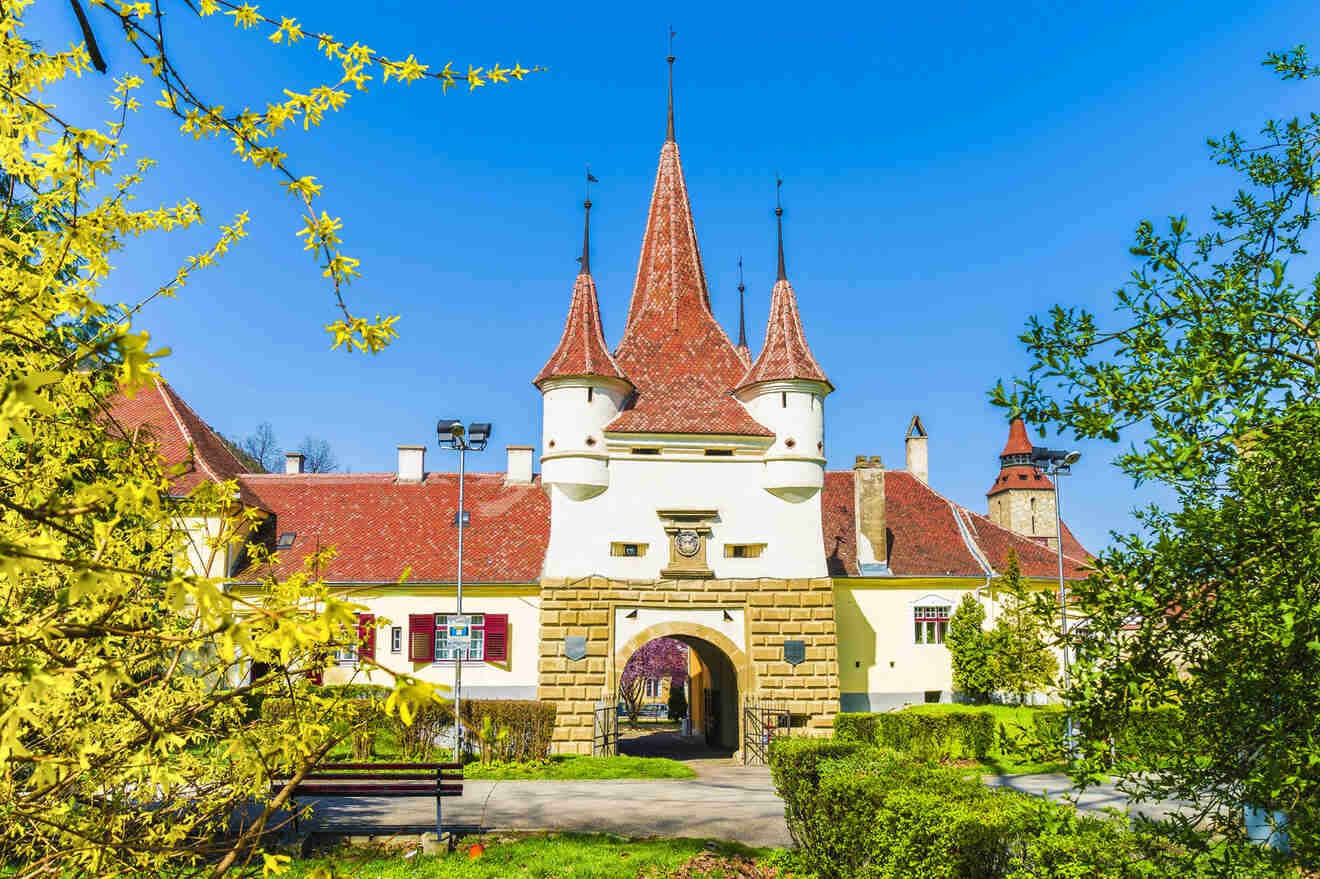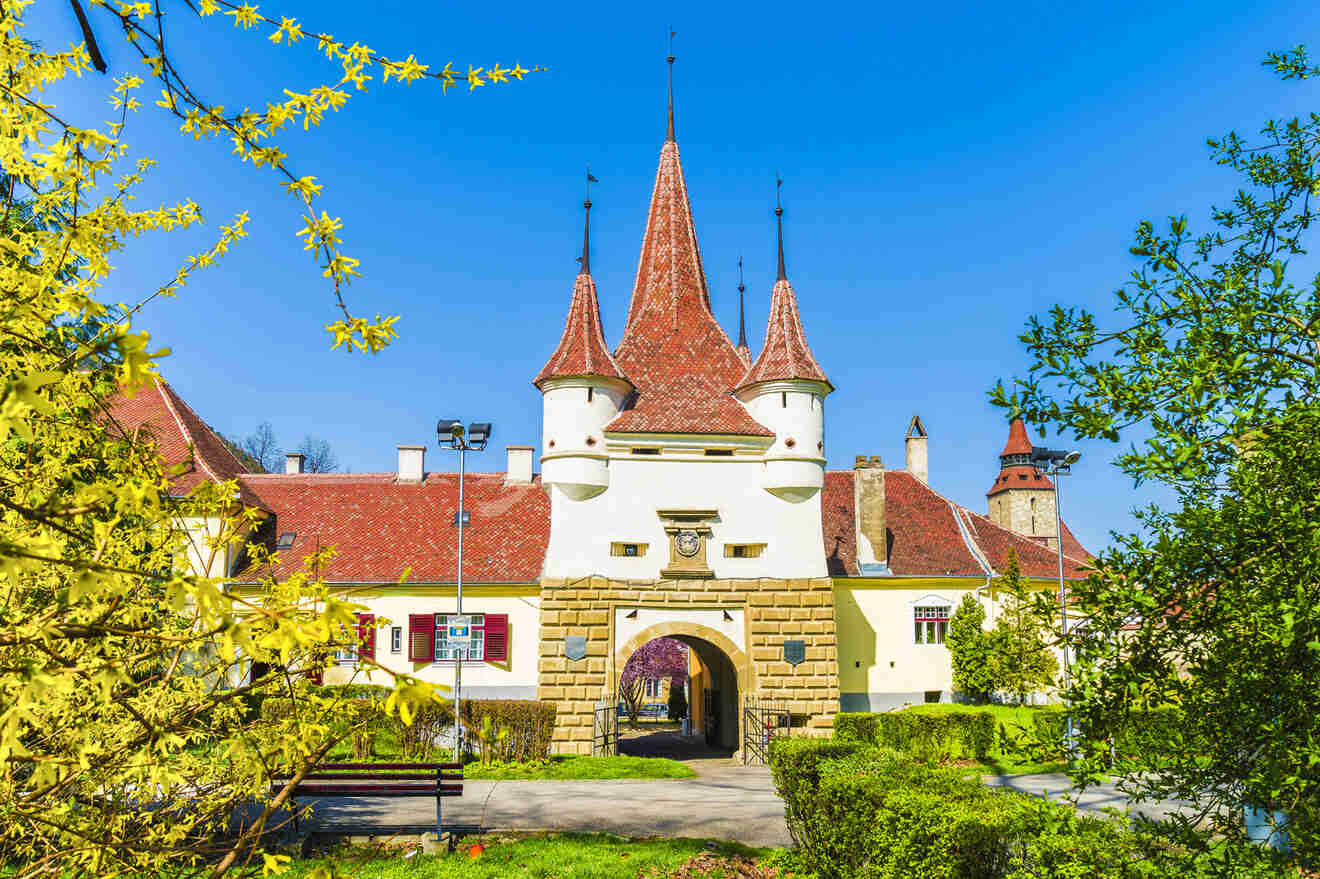 As you've probably noticed, most of the Brasov tourist attractions include something old or medieval! But trust me, they're so worth it that you'll wonder where you can find more!
Catherine's Gate is set right outside the Old Town, and it looks straight out of a fable! It holds great importance for the locals as it is the only surviving gate from medieval Brasov.
When the Saxons ruled over the city, Romanians didn't own any property inside the citadel. They were only allowed to go inside the citadel at specific times after paying a fee at Catherine's Gate.
Nowadays, people come here to admire the architecture of this unique gate, the Brasov coat of arms, and pass-through (while taking a picture of course)!
8. Admire the Beth Israel Synagogue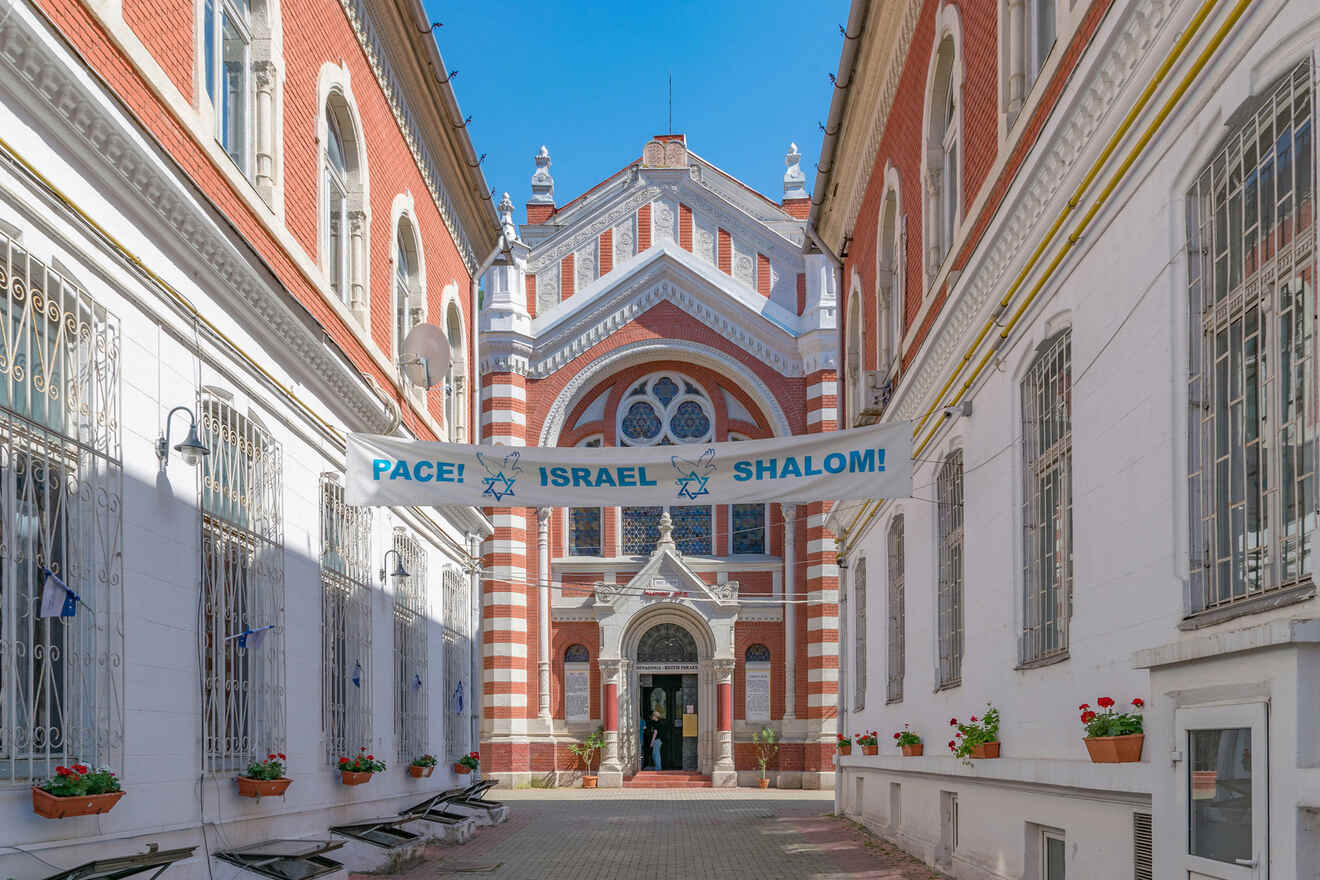 Architecture enthusiasts I guess it's your lucky trip because you'll get to admire so many unique buildings while you're visiting Brasov, Romania, like the Black Church and this beautiful Neolog Synagogue.
Set in the Old Town, the Neolog Synagogue was built between 1899 and 1901 when the first families of Jewish people came to live in Brasov.
The synagogue has a neo-Gothic style with Moorish characteristics and stained glass windows, which makes it stand out from afar between the old houses of the city center.
Once you go in, you can enjoy the calm atmosphere and continue to observe the impressive details in the design of this unique building!
PRICE: US$1
9. Go skiing or hiking in Poiana Brasov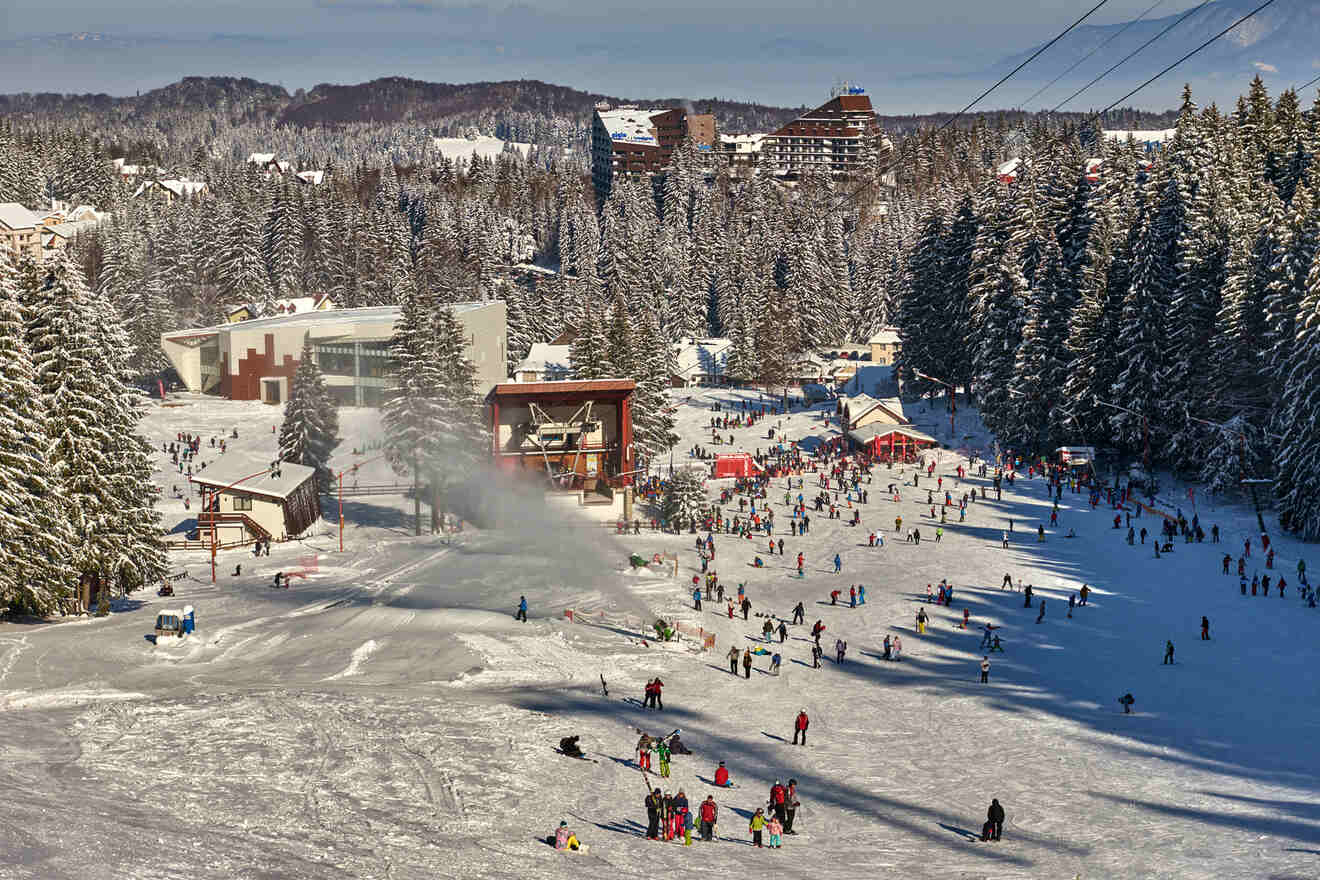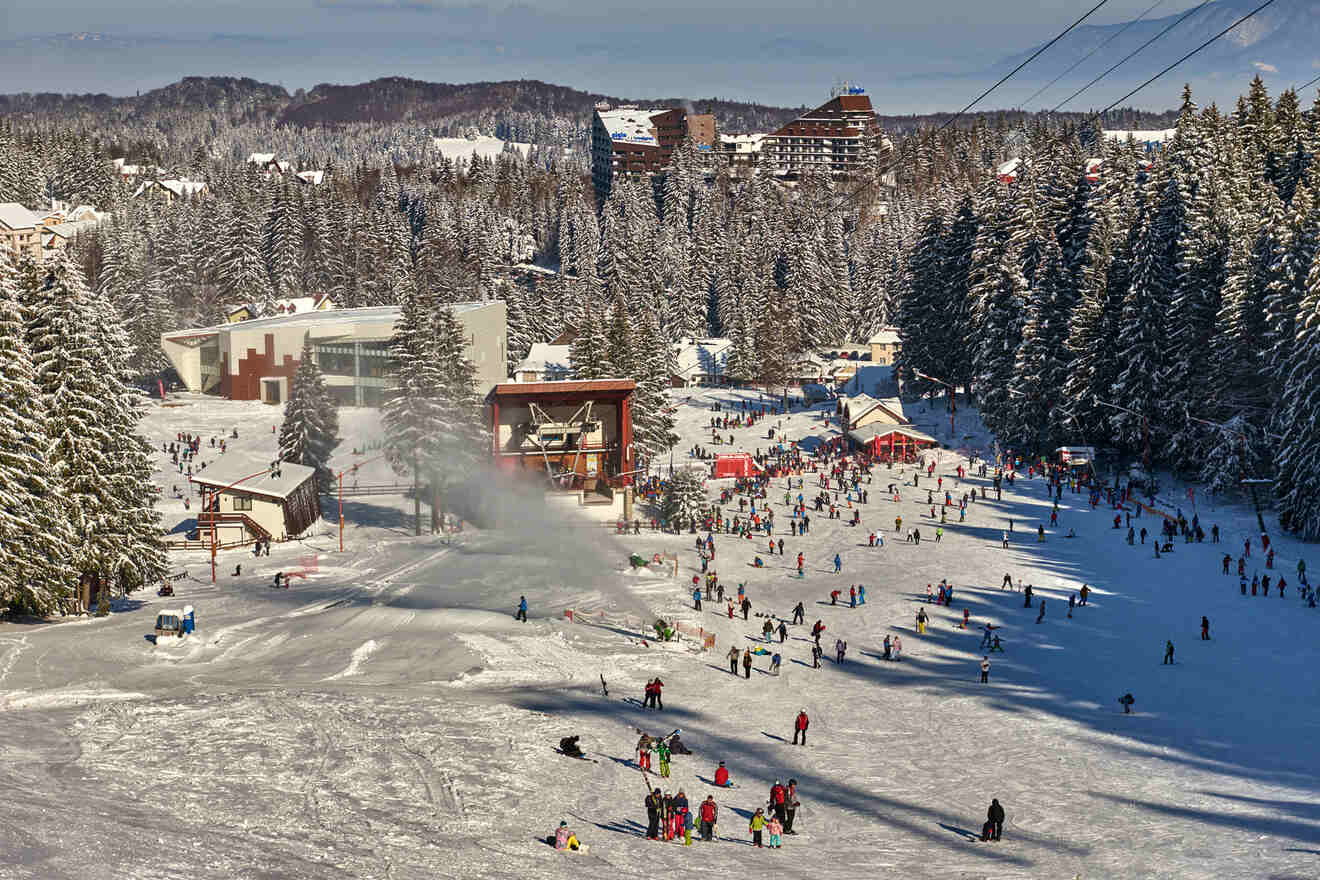 Interesting history, and delicious food, what else is missing from this list of things to do in Brasov? I know: skiing or hiking in Poiana Brasov, an area, just a 20-minute drive away from the Old Town!
From December until late February, Poiana Brasov is the place to be for anyone who likes winter sports. During this time, we all get in a car, train, or bus and head here for some fun days of skiing and snowboarding!
It's not only us Romanians who love this place though. People from everywhere come to hit the slopes and have a good time. So if you're planning a trip during wintertime and you're into winter sports, don't spend all your days at the Brasov Christmas Market, get in a car and visit Poiana!
You'll find everything you need for your ski trip here, from renting equipment to ski schools in case you need some lessons. Interski, R&J Ski School, and Eden Ski & Snowboard School are some of the best schools!
However, if you're not visiting Brasov, Romania during the ski season, I would still recommend going to Poiana Brasov, especially if you're into outdoor activities. There are plenty of hiking trails around and you can even hike all the way back to the Brasov Sign I mentioned earlier!
They also have some theme parks like Alpin Magic Land and even a paintball center at Outdoor Adventure Brasov if you're looking for some fun activities for the little ones!
10. Things to do in Brasov with kids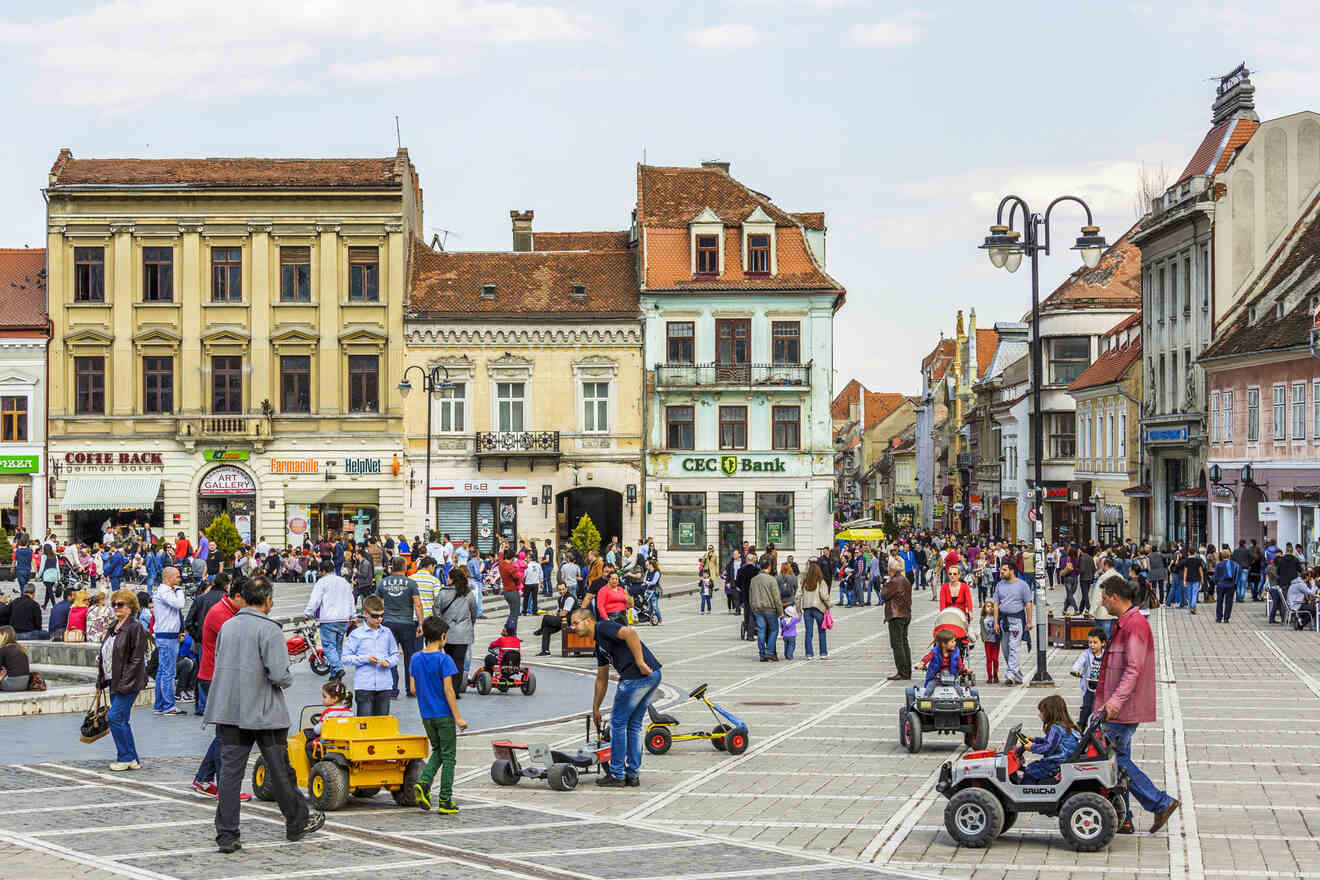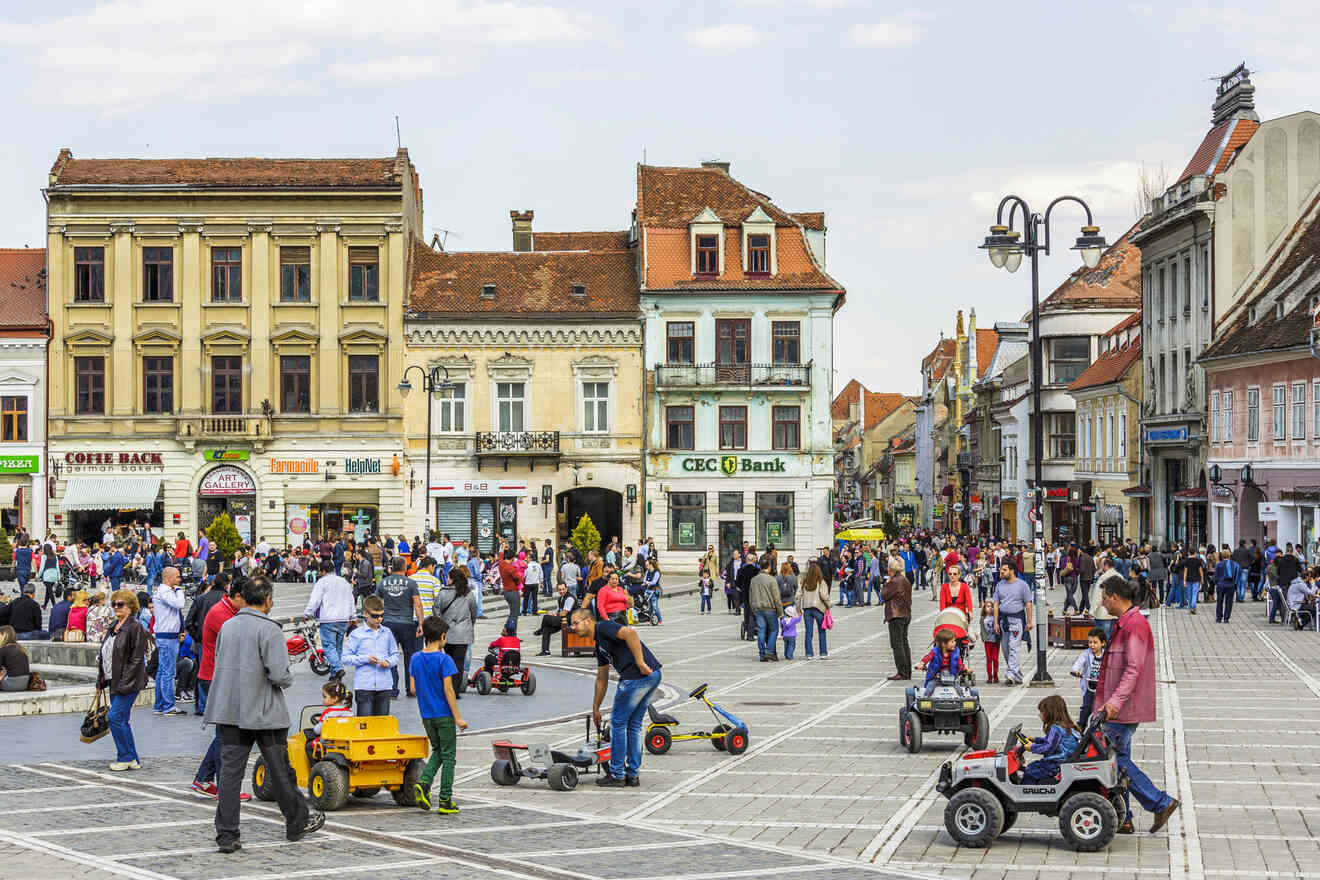 There are so many fun attractions for the little ones in this lively city! I'm sure at one point, they'll have enough of the stories about Medieval Brasov and the Black Church, and they'll crave some good old fun! And I've got 2 places that I'm sure they'll love!
10.1 Parc Aventura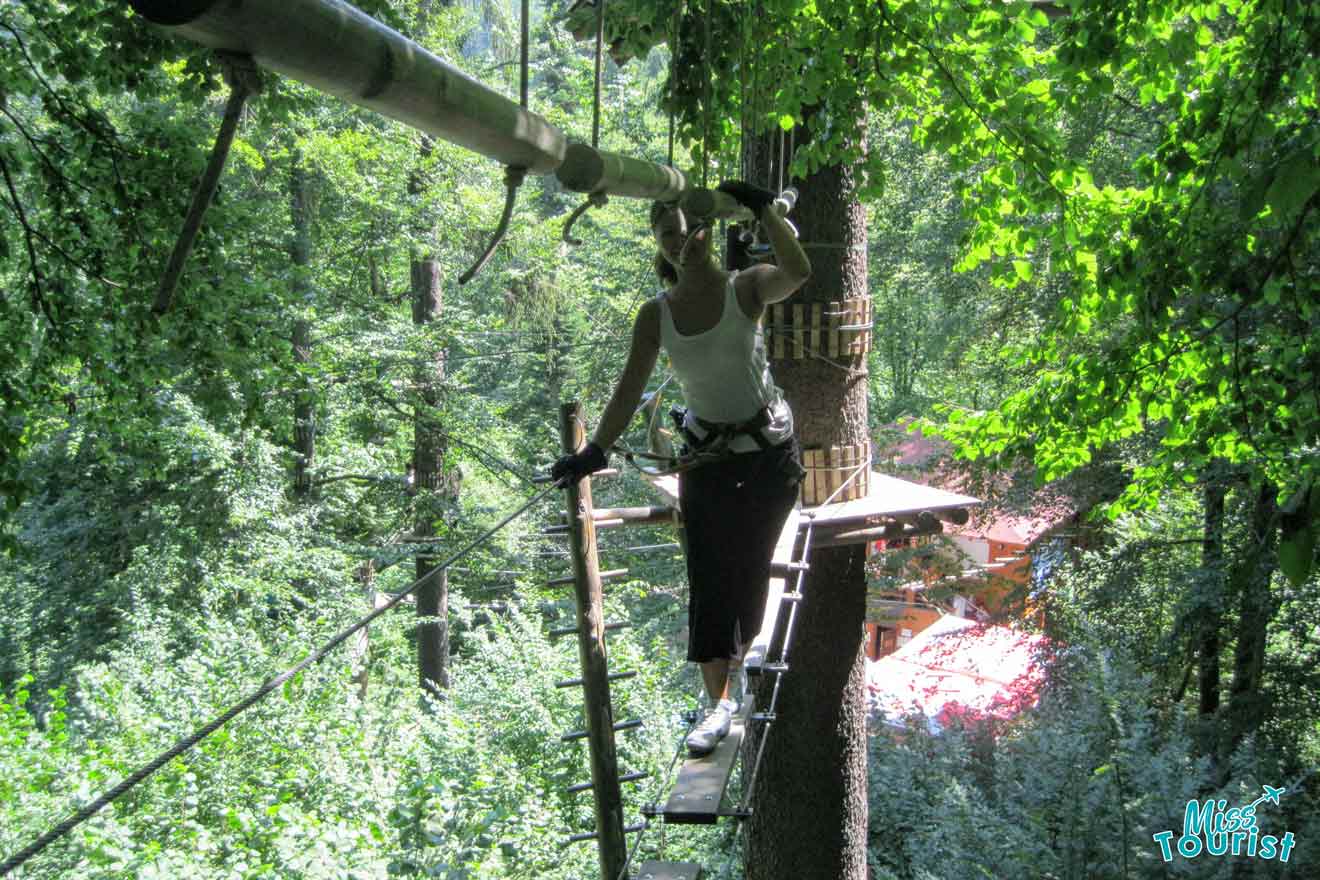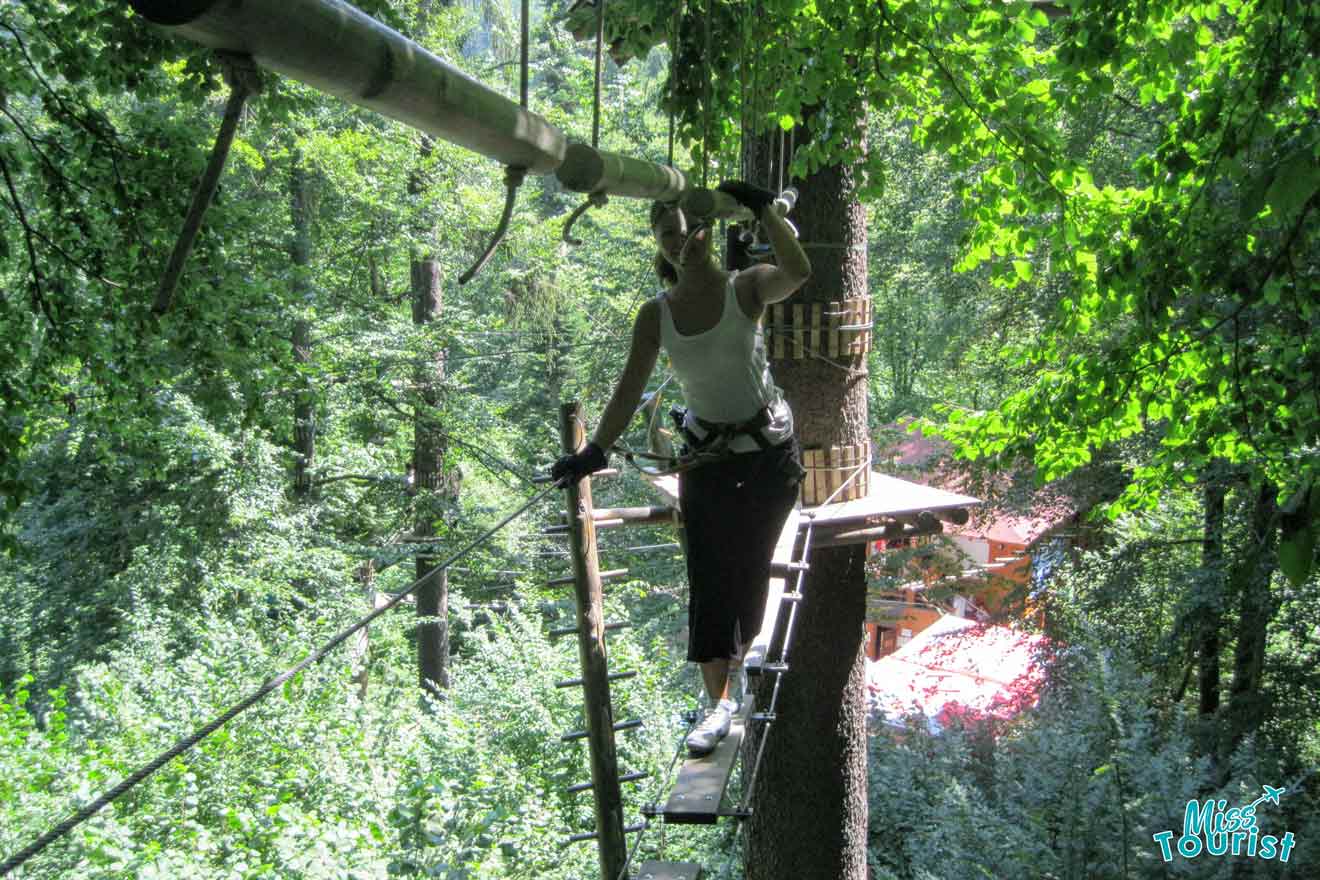 Are you into outdoor sports and adrenaline? Then Parc Aventura is the place to be!
Get ready to climb, zip-line, and even see your kids going off-road. This high ropes adventure park really has it all and you could spend countless hours/days here!
What's great is that you can choose different routes depending on the difficulty level. And that's not it, they also offer bike tours and interactive virtual games!
NOTE: If you're planning on spending a whole day here, you don't have to worry about food as they have a food truck on-site
PRICE: Adults – US$20, Kids (4-11y) – US$17
10.2 Brasov Zoo
Ready to see over 100 species of cute animals? This Zoo in Brasov is so big that you'll need at least a few hours here!
And guess what, they also have a Planetarium on-site, where you can watch tons of shows and dive into the mysteries of our Universe!
NOTE: The zoo is closed on Mondays
PRICE: Adults – US$5, Kids – US$2.50
BONUS: 2 Amazing castle day trips from Brasov
Who hasn't heard stories about Dracula's Castle or the stunning Peles Castle, the former home of the Romanian Royal family? Chances are you've read about them before, if not while planning your trip to Brasov, Romania.
Luckily these places are pretty close to the city, and it would be a shame not to visit them! So here are the best day trips from Brasov that you really shouldn't miss out on during your stay!
1. Bran Castle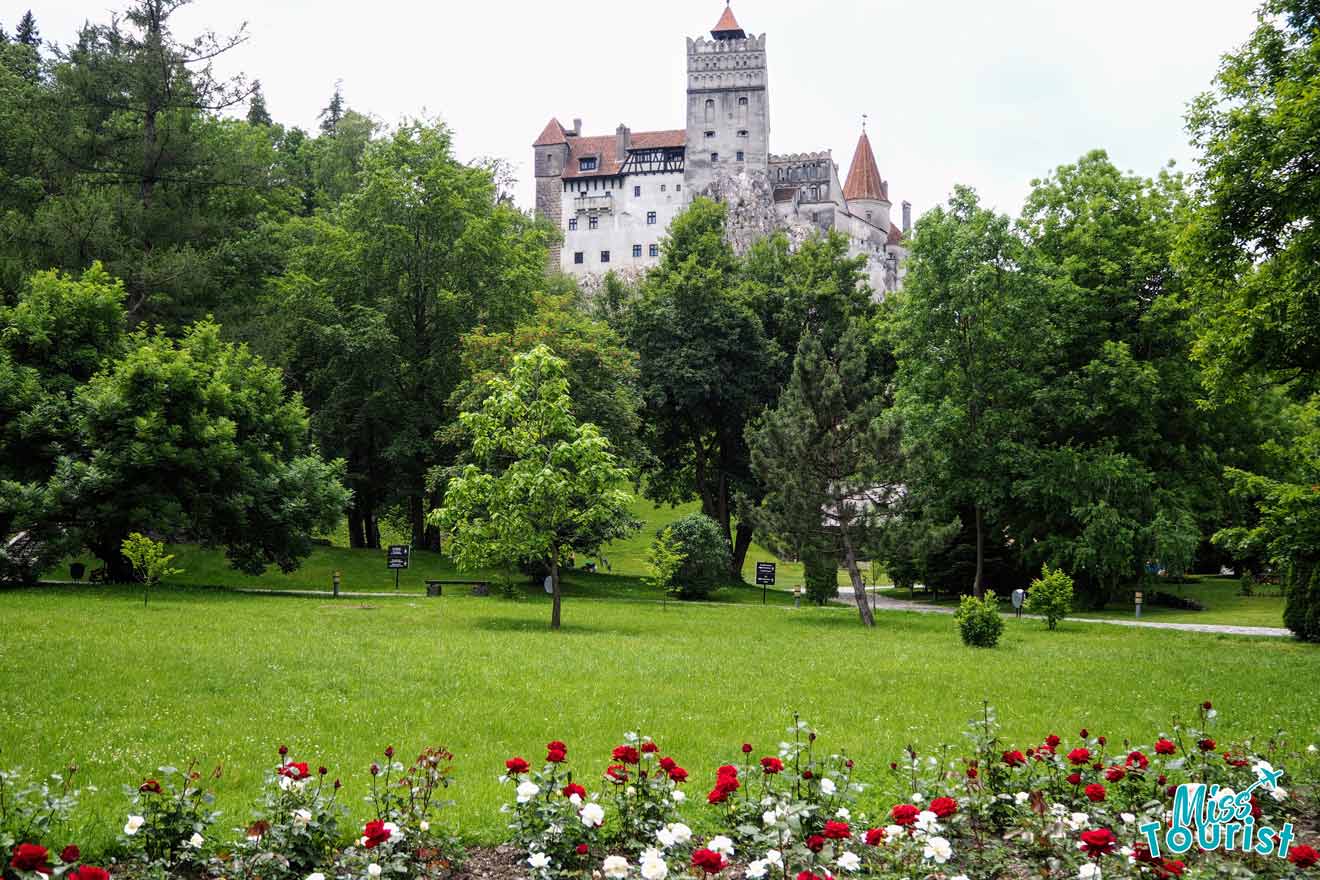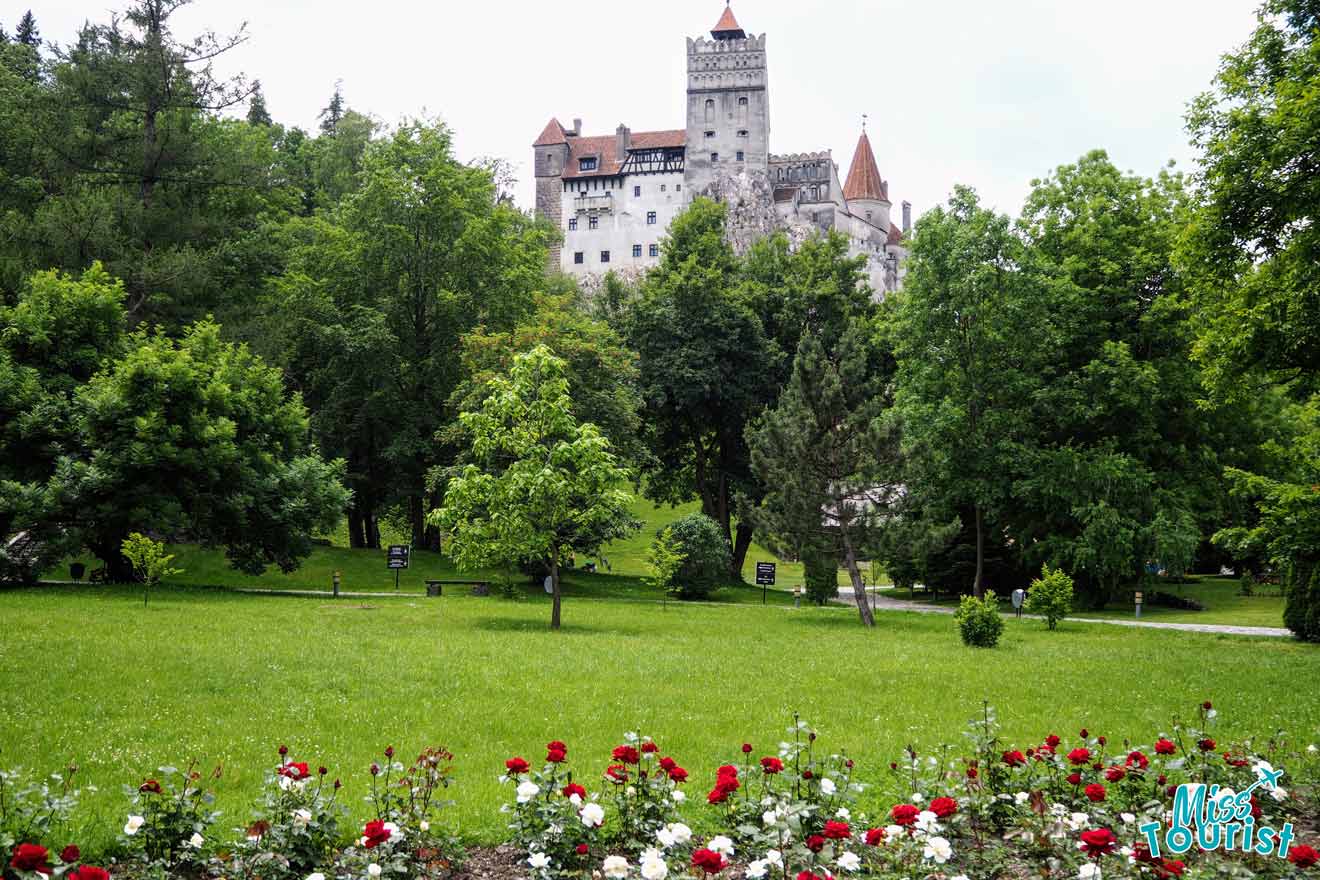 One of the most famous castles in Romania, also known as Dracula's Castle, this place which is set in Bran commune is filled with tourists all year round!
The last time I went here, I was pretty young, and I've got to say that although most stories about Dracula and his connection to the castle aren't true, I still got the chills while I was here.
If you're one who loves spooky experiences then I recommend visiting the castle on a night tour!
Bran Castle was used as a Royal residence however, its fame is mainly due to the fact that people think Count Dracula, a fictional character from Bram Stoker's Gothic horror novel (often confused with Vlad the Impaler, a Walachian Prince), has a connection with this place. In reality that's not the case, the author was indeed inspired by the place, but that was merely it!
Even though its fame may be a bit misleading, Bran Castle is still one of the most popular tourist attractions in Translyvania, so make sure to buy your ticket in advance to skip the long lines!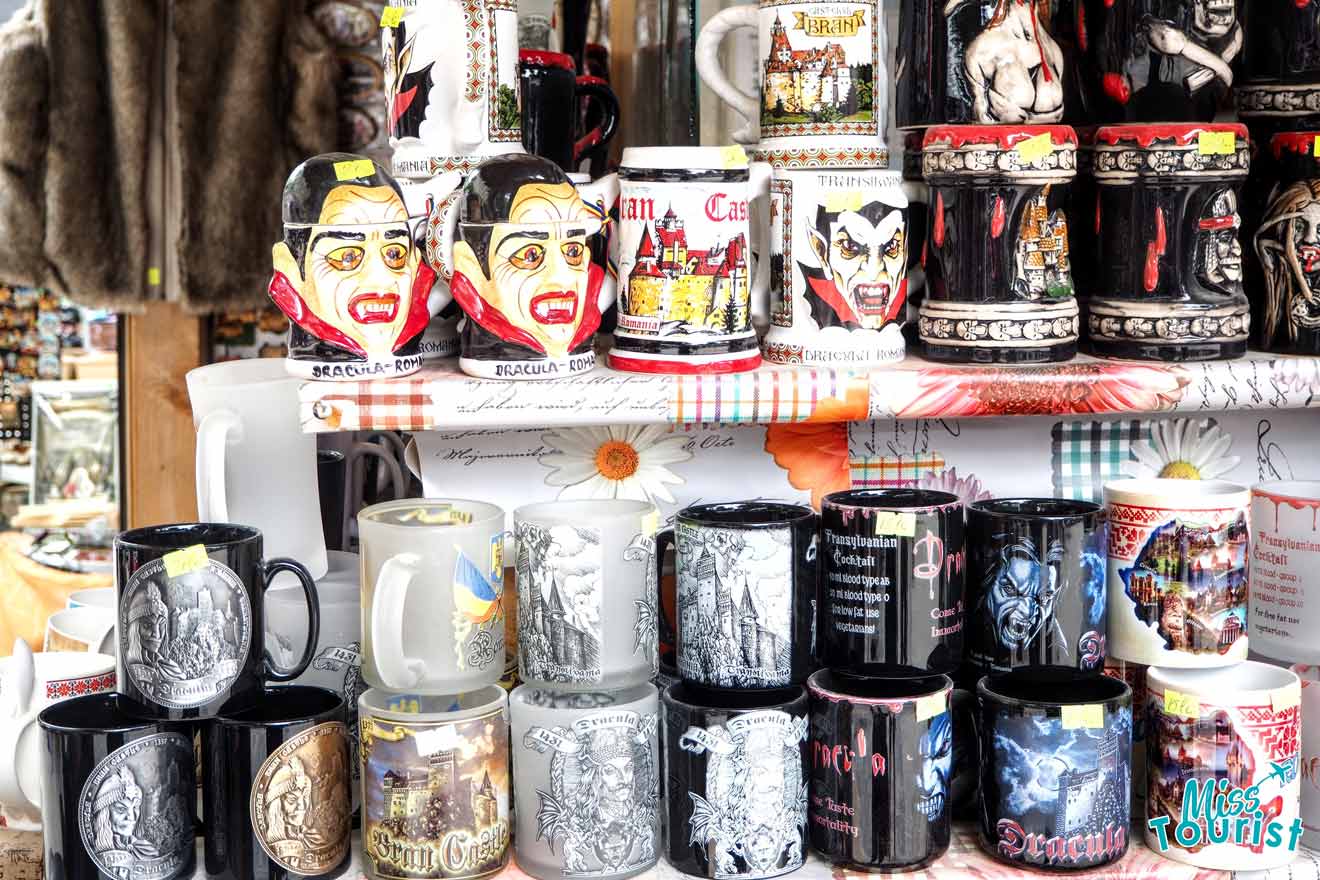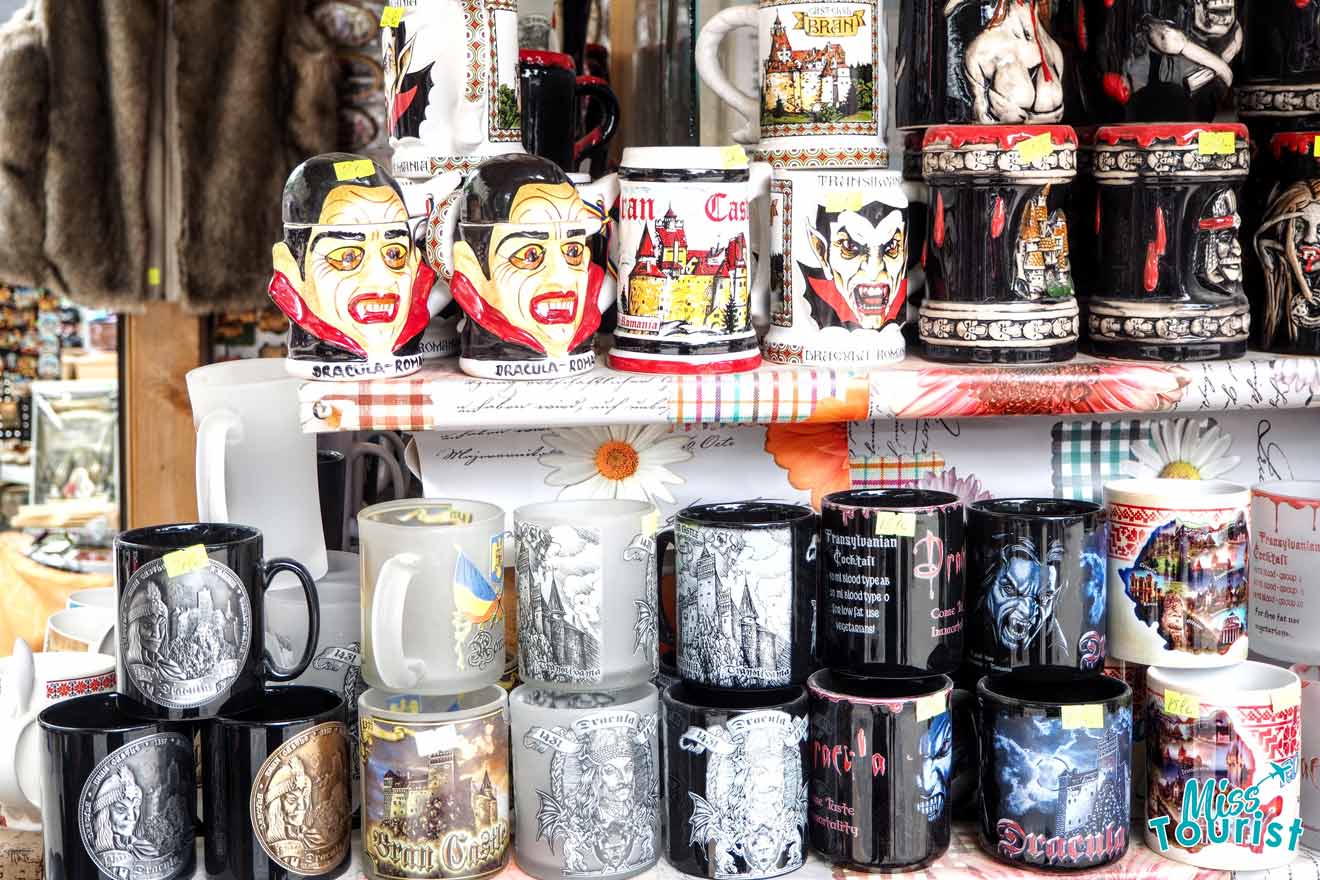 Getting there:
By bus – The cheapest way to visit Bran Castle is by taking the bus. Take an Uber for 15 mins to Autogara 2 Transbus Codreanu, the take bus in direction to Bran commune. The journey takes around 50 min, and a ticket costs US$2
NOTE: Make sure you have some cash with you as you might need it to pay for the bus tickets.
By car – The easiest way to get to Bran Castle during your day trip is by renting a car. It will take you around 40 minutes to get there, and the rental prices start from around US$40 per day.
On a tour – If you prefer not to drive or take the bus, you can visit the beautiful Bran Castle during a day trip tour from Brasov for around $65 per person including your entrance ticket.
PRICE: Adults – US$10, Kids (from 7 years old) – US$2
2. Peles Castle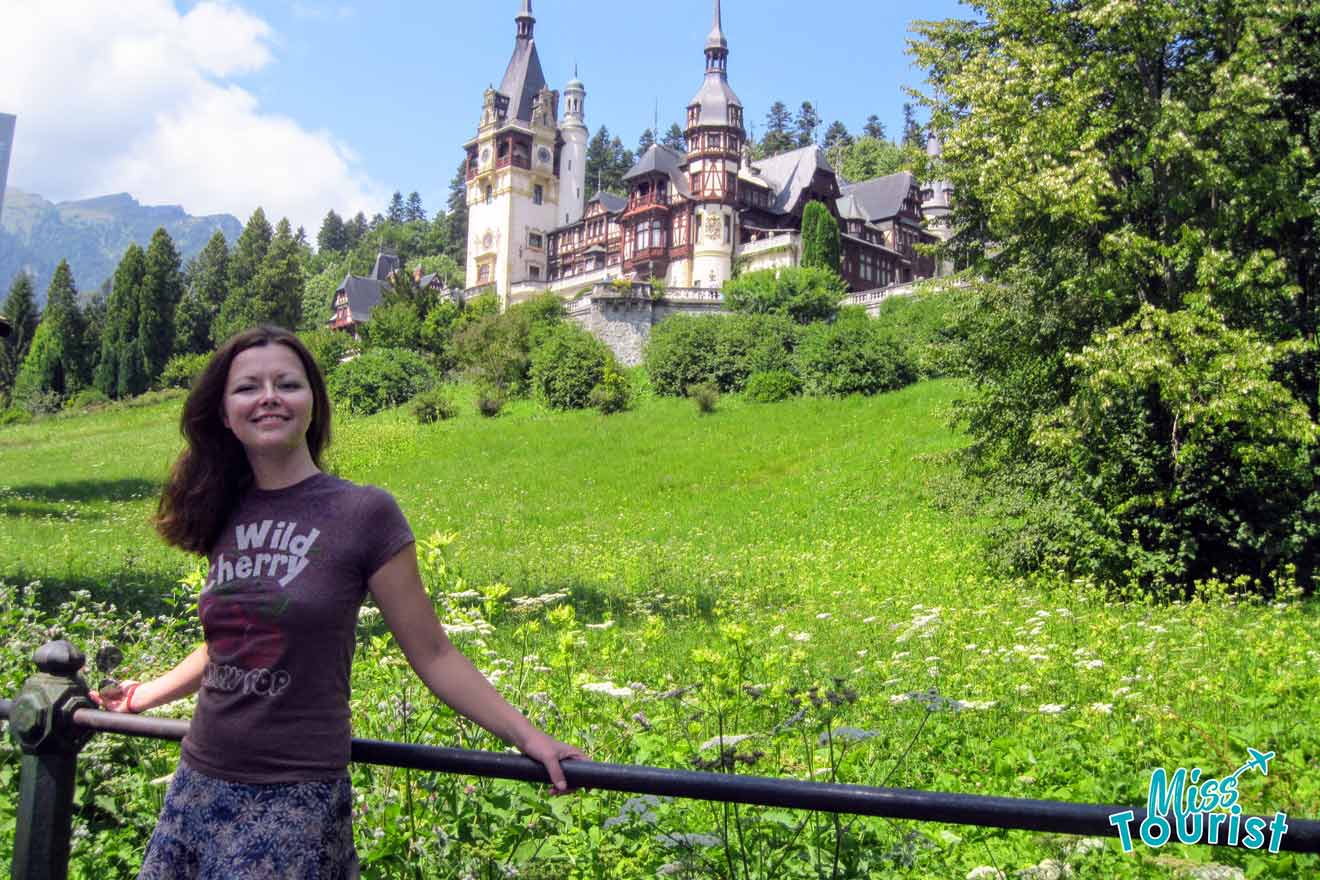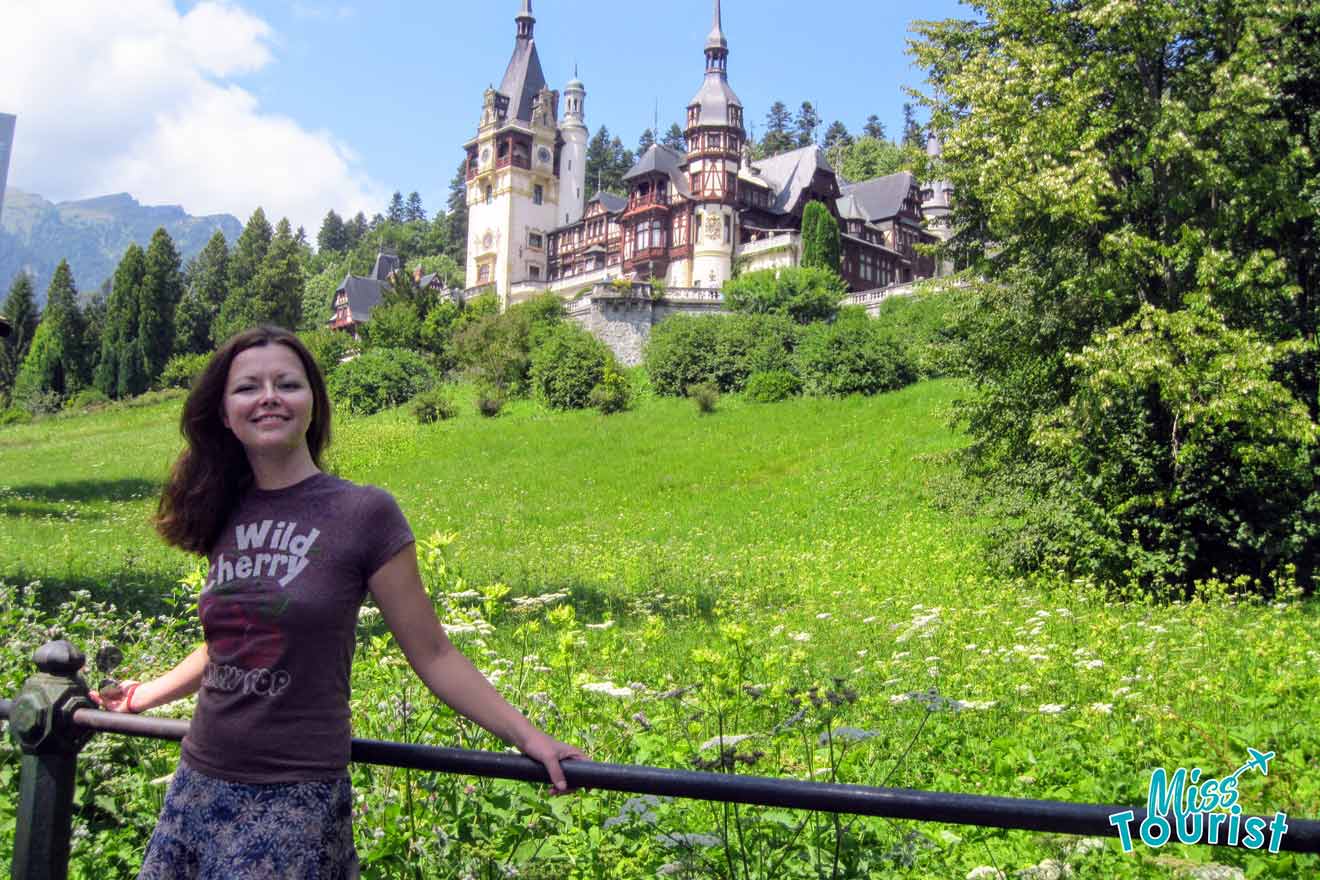 Although Bran Castle is probably the most popular place for tourists, I've got to admit that I actually prefer Peles. It's such a beautiful piece of architecture!
I've been here numerous times, and it never ceases to amaze me. The furniture, its grandeur, everything is stunning.
Surrounded by the Carpathian Mountains, the Neo-Renaissance Castle was built during the reign of King Carol I, and it took around 10 years to be completed.
Peles Castle, which is set in Sinaia town, was the former residence of the Romanian Royal Family, and it hosts one of the largest weapon collections in the world!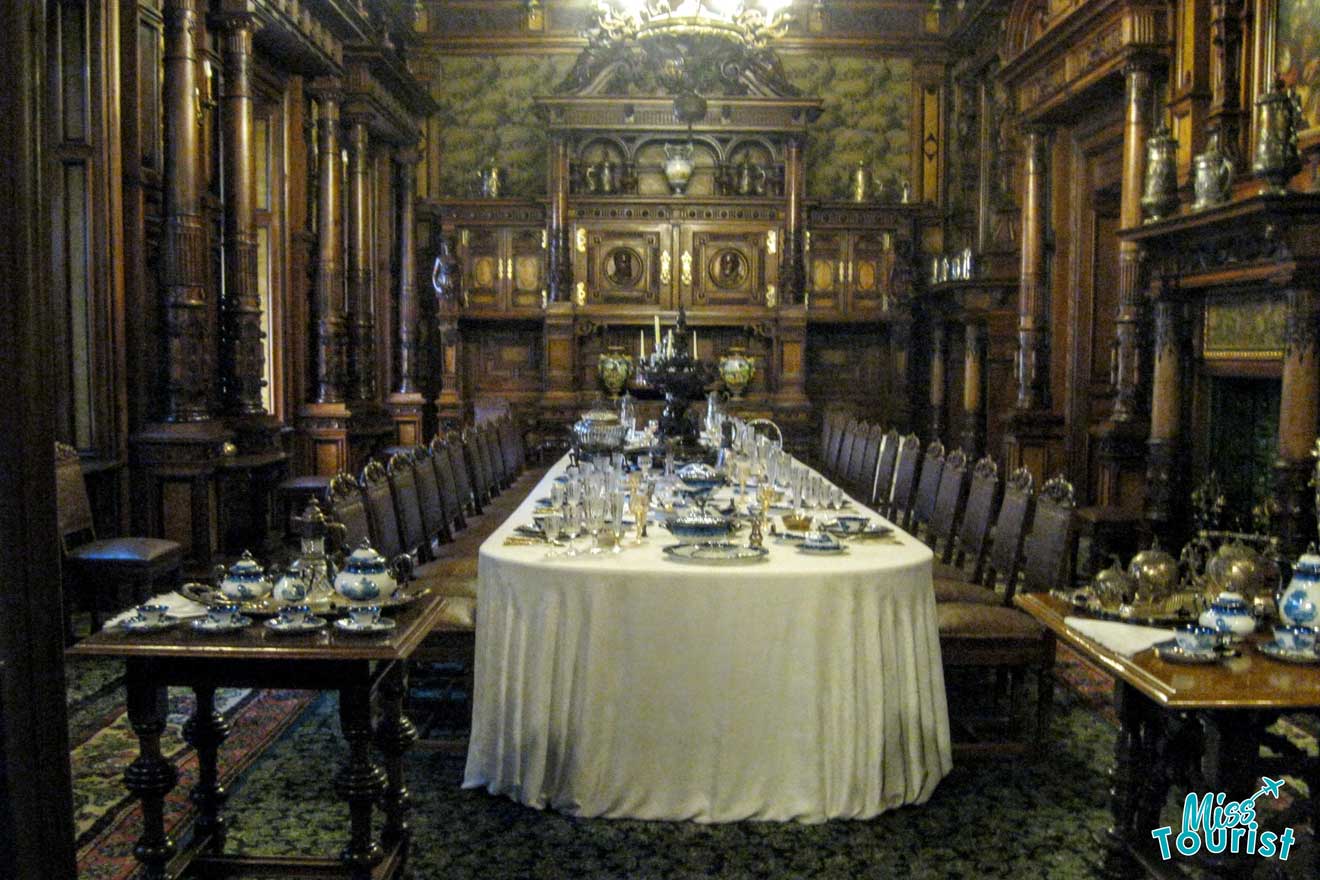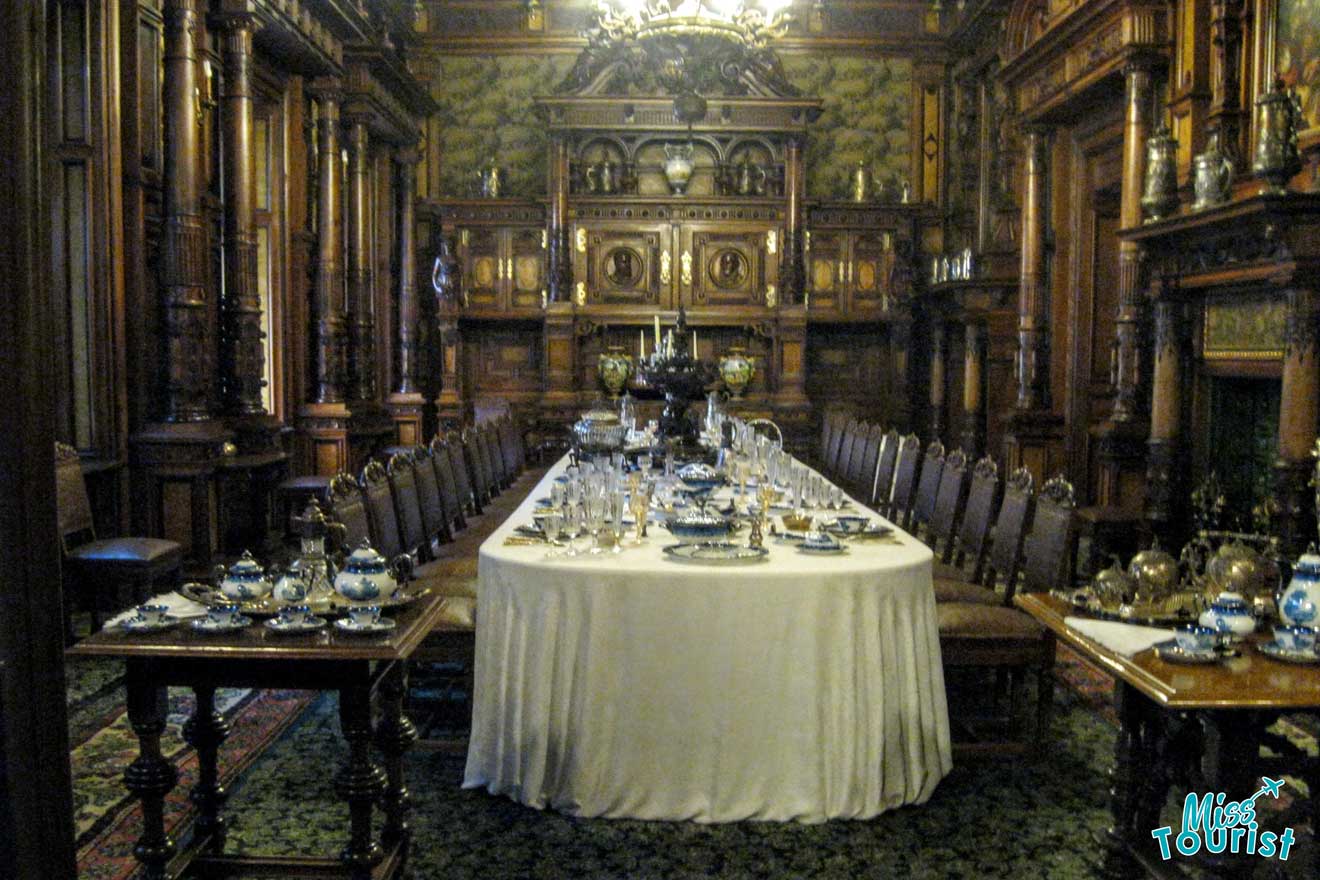 Getting there:
By bus – From Brasov Train Station, get on a train to Sinania, the journey should last around 1 hour, and the ticket costs US$3. From Sinaia Station walk 5 minutes to Policlinica Gară, take the local T2 bus to Economat station. Get off there and then walk for about 9 minutes to Peles Castle.
NOTE: Make sure you have some cash with you as you might need it to pay for the bus tickets. Also, make sure you're paying attention during the train and bus trip to how long you have until getting off because they usually don't announce the stoppings.
By car – If you've got the money and don't mind driving here, then I recommend renting a car to visit Peles Castle. It will take you 1 hour to get there and it costs around US$40 per day.
On a Tour – Make things easier for you, you can visit Peles Castle on a day trip tour from Brasov for around $70 per person (excluding the entrance fee).
PRICE: Adults – US$10, Kids – US$2.70
Where to stay in Brasov
We've just finished the first part of this post with all the best things to do and I'm super happy you decided to stick until now because I've prepared an awesome list with the best places to stay in Brasov, Romania!
Most of them are set near all the big Brasov attractions so you don't have to walk for too long to see Piata Sfatului (Council Square) or Rope Street!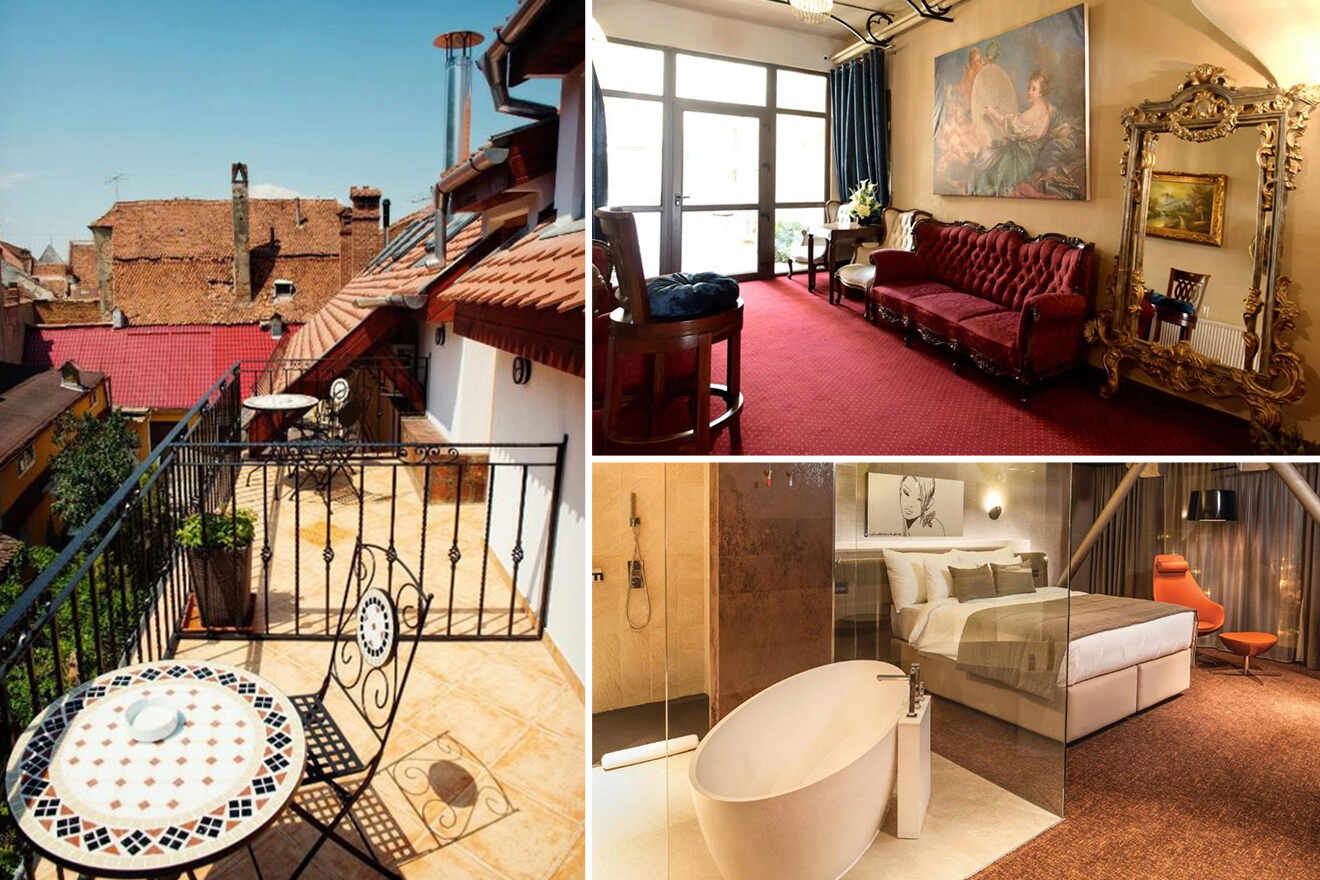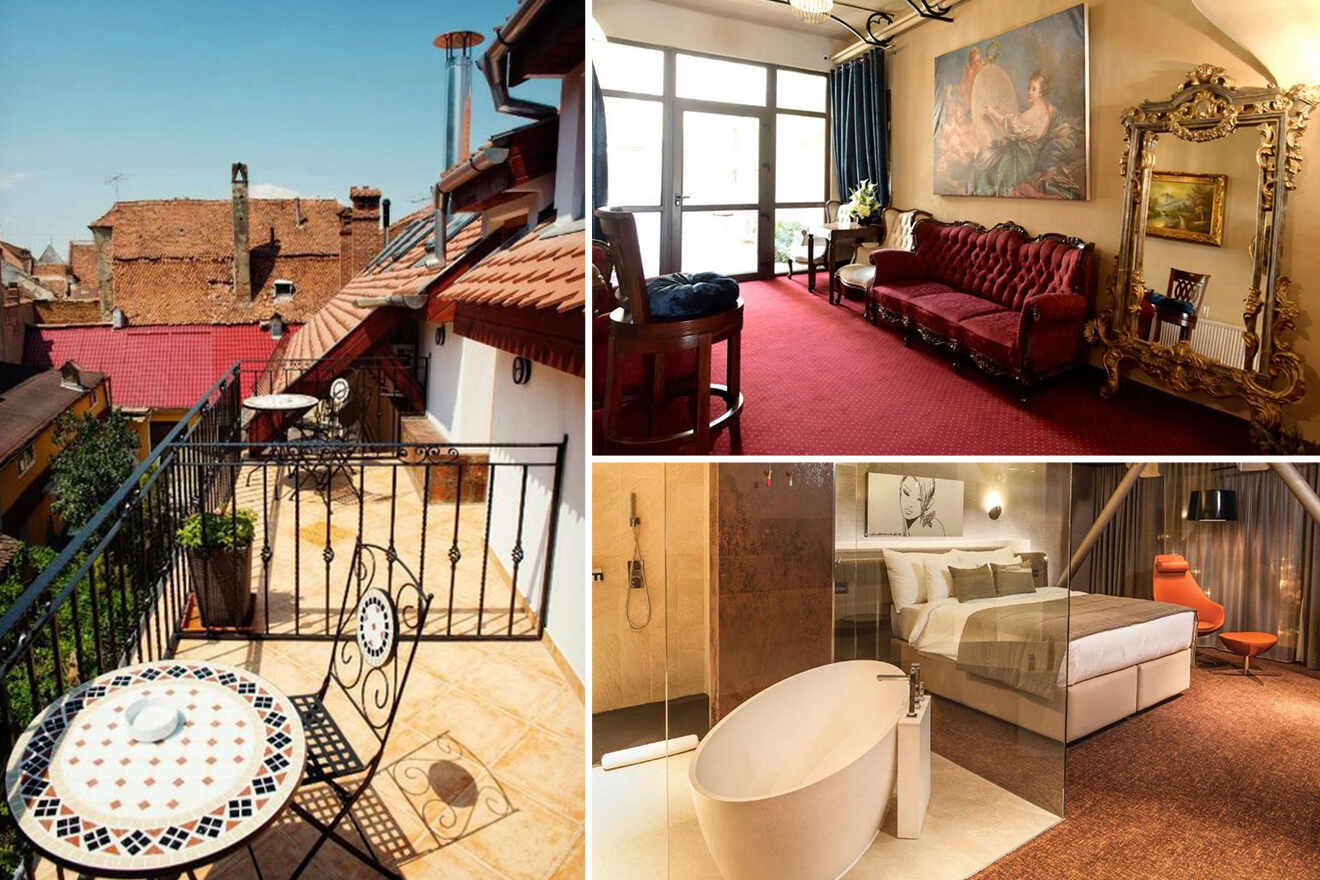 Luxury (US$200 and up)
Kronwell – Elegant rooms featuring modern elements and beige aesthetics, plus a fancy bathtub! I love this hotel! Set 2 miles away from Piata Sfatului, the accommodation also has a spa center and an indoor pool. Start your day with some room service, or head down to eat at the restaurant!
Hotel Aro Palace – Located less than 1 mile away from Saint Nicholas Church and the Council Square, this hotel offers car hire and has many amenities including a pool and a spa center. The rooms are decorated with warm colors and feature great city views!
Mid Range (US$80 – US$150)
Safrano Palace – How cool is the vintage vibe of this hotel? Set right in the heart of the city near the Black Church, the accommodation features spacious rooms with a flat-screen tv. Order some breakfast and enjoy it on the terrace!
Casa Wagner – Enjoy the views of Tampa Hill from this hotel that's located in a building from 1477, less than a mile away from St. Nicholas Orthodox Church! Decorated with locally crafted furniture and antique elements, the accommodation has a restaurant and a terrace.
Budget (up to US$80)
Casa Chitic – Beautifully-decorated rooms with unique elements and private bathrooms. The Council House is just a short walk away, and the accommodation even has a terrace with amazing views of the city. Grab a quick breakfast here and get ready to explore Brasov!
Barrique Chamber – I love the wooden elements of this place! The guesthouse is super comfortable and it's equipped with all the facilities you need including a coffee maker in the rooms and some suites with a balcony.
Practical info
We'll wrap up this post with some additional information that I'm sure will help you with planning your trip!
How to get to Brasov from Bucharest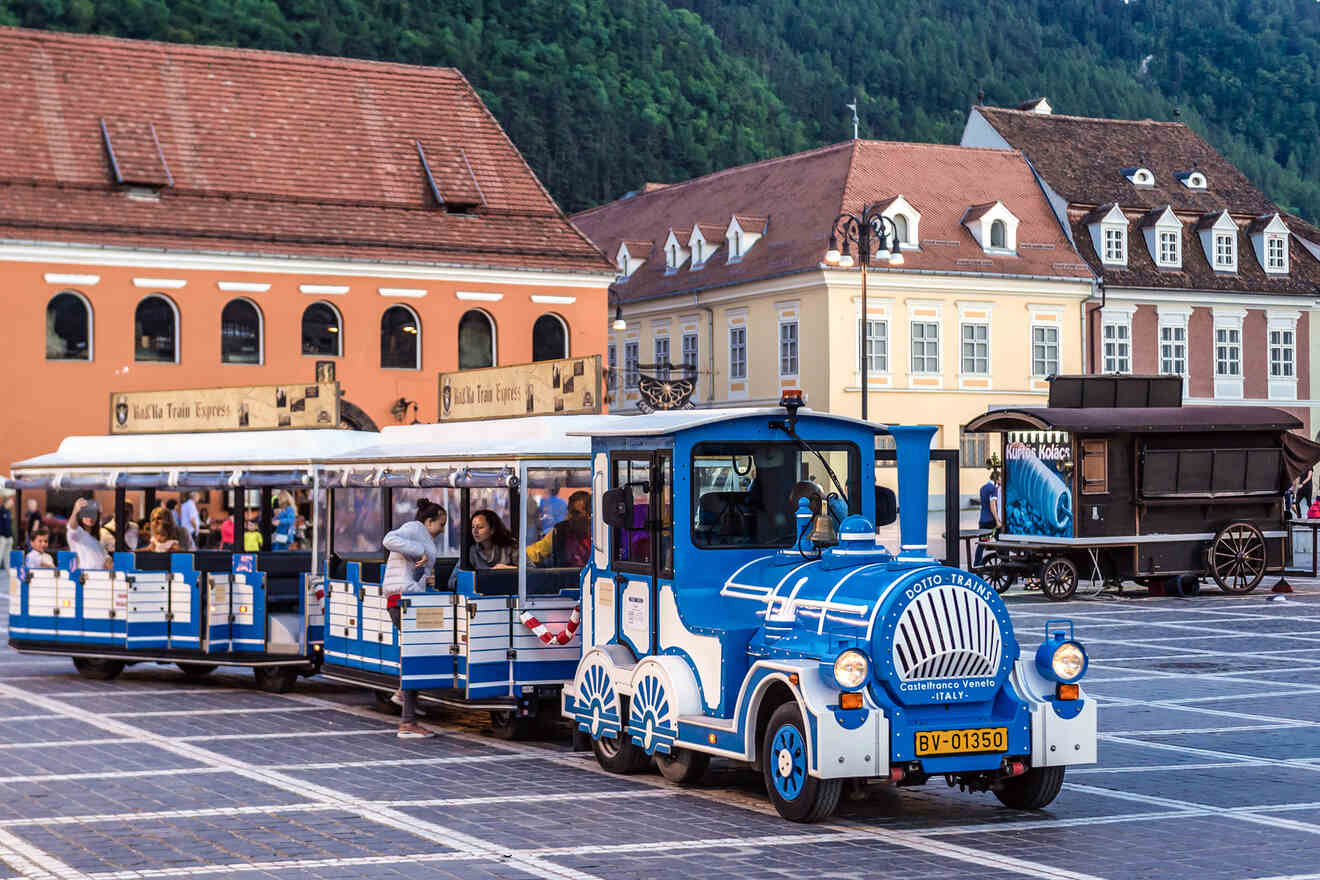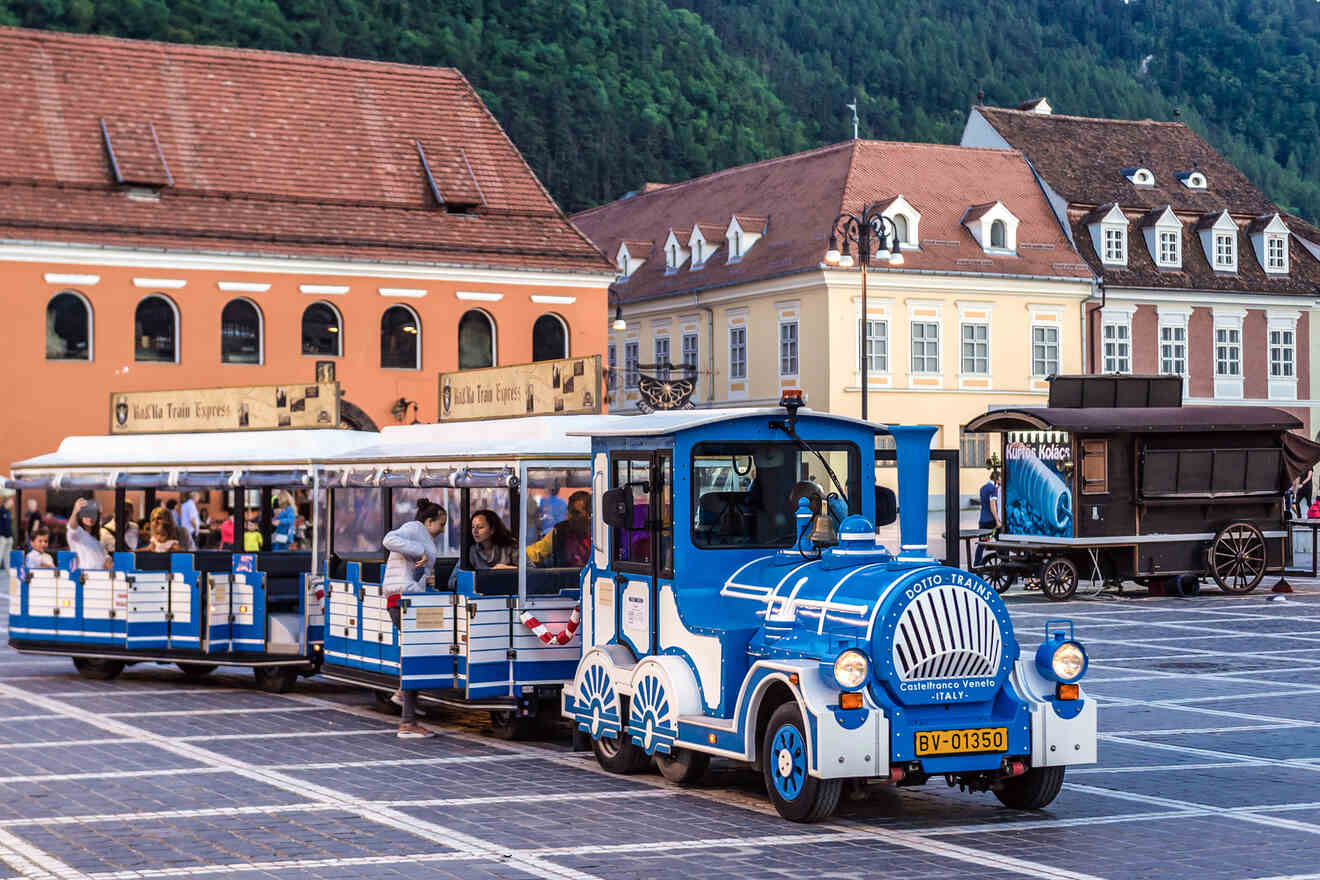 Below you'll find all the ways to get to Brasov, from Bucharest, the capital city, where most people usually come from.
By Car
This is for sure the most comfortable way to travel from Bucharest to Brasov. Use a car rental service, and you'll get there in ~3 h. Rental cars start from around US$40 per day.
PRO TIP: If you visit Brasov, Romania, during high season and you're traveling from Bucharest to Basov during the weekend, I recommend leaving as early as you can. Everyone leaves the capital to enjoy the fresh mountain air, and it gets super busy on the highway!
By Train
A cheaper way to travel to Brasov is by train from the North Railway Station (this may be even easier because you'll avoid all the traffic). The journey will take around 2h and 30 min, and the ticket will cost US$10
PRO TIP: Buy your train ticket online from their website to avoid the long lines
Where to eat in Brasov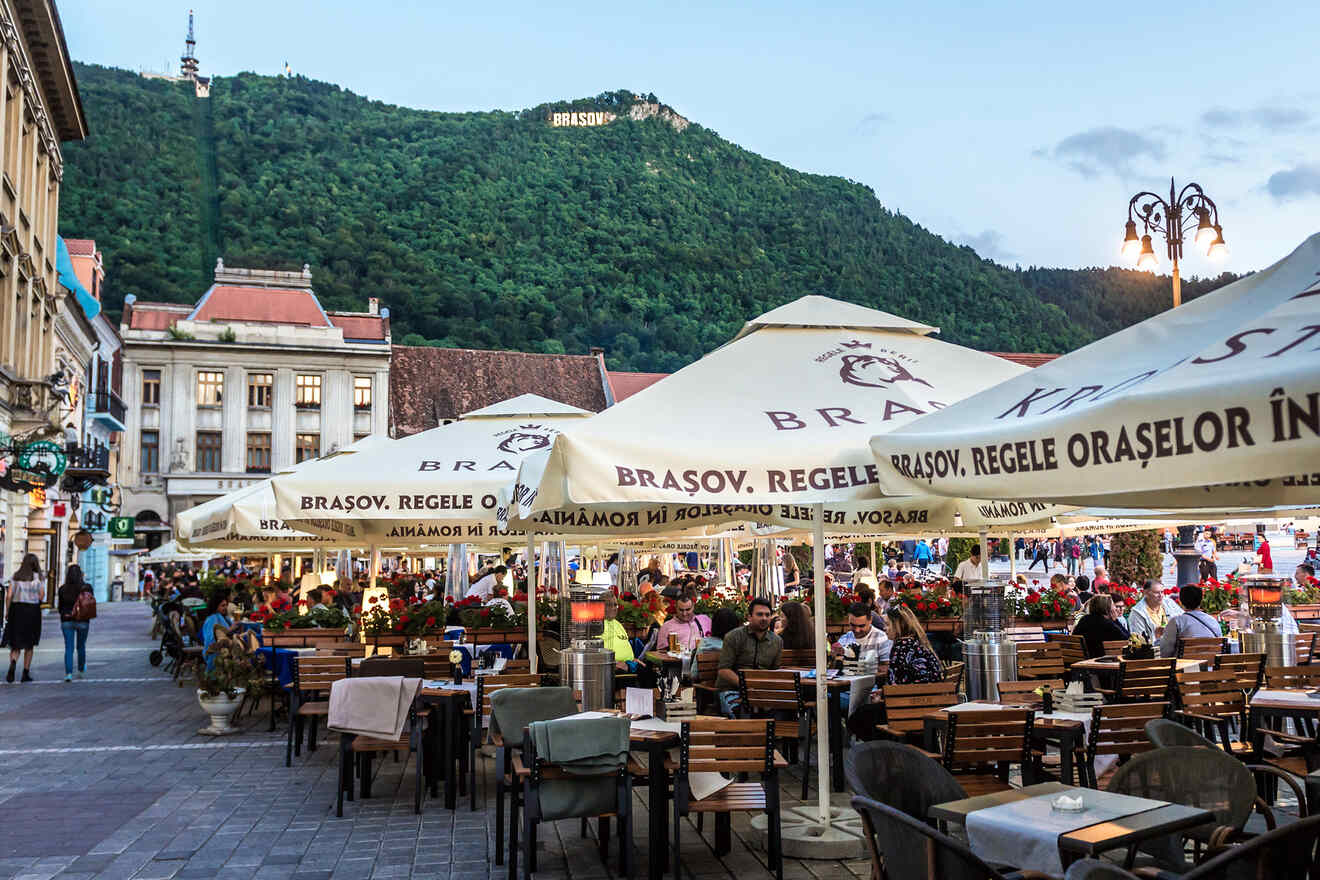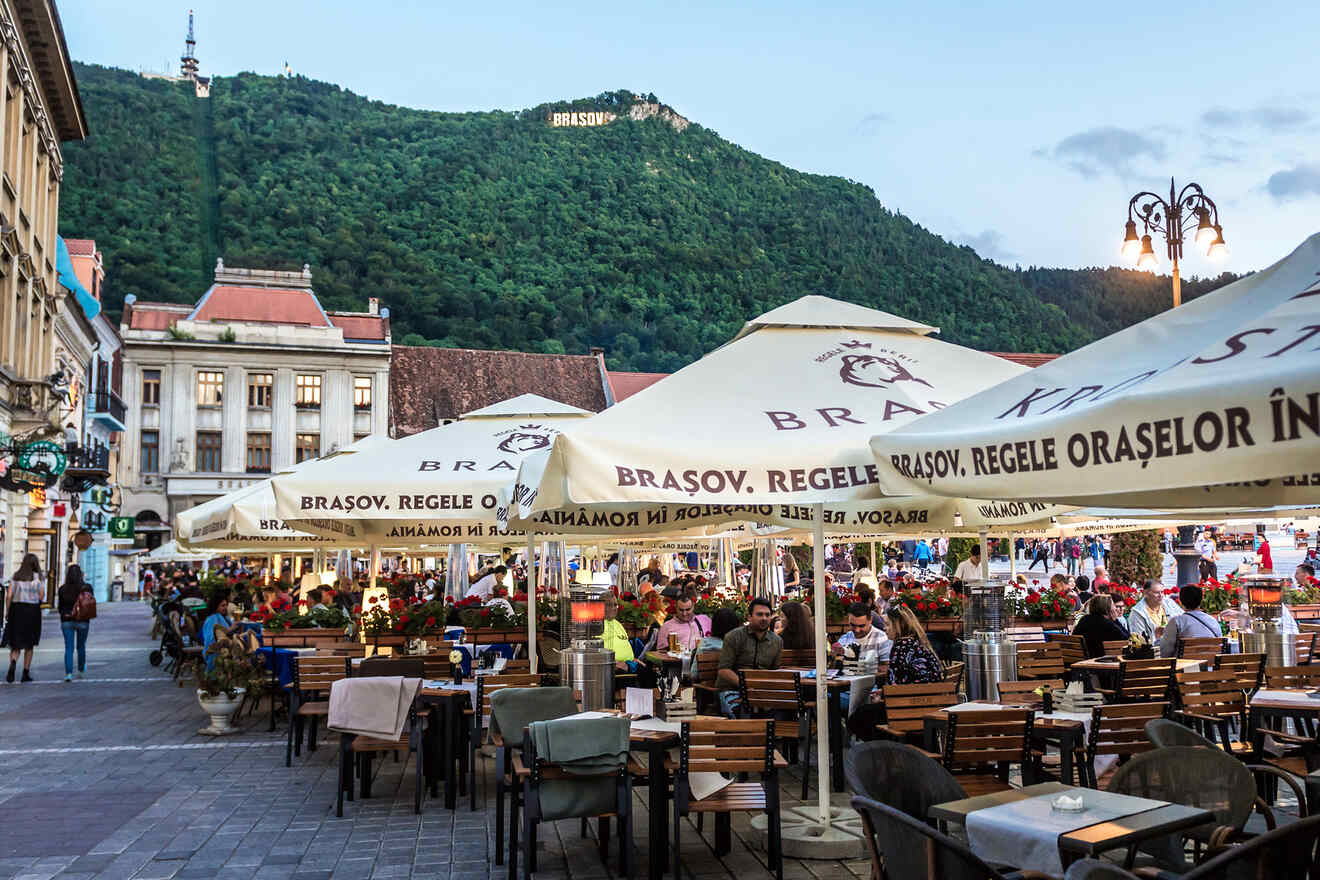 Romanian food is simply delicious. I know I'm being biased but honestly, you're going to love the food here, especially if you eat meat!
Brasov is a great place to try traditional food as there are many restaurants that specialize in serving amazing dishes!
So here's a list of my favorite places to eat in Brasov:
Frequently asked questions about things to do in Brasov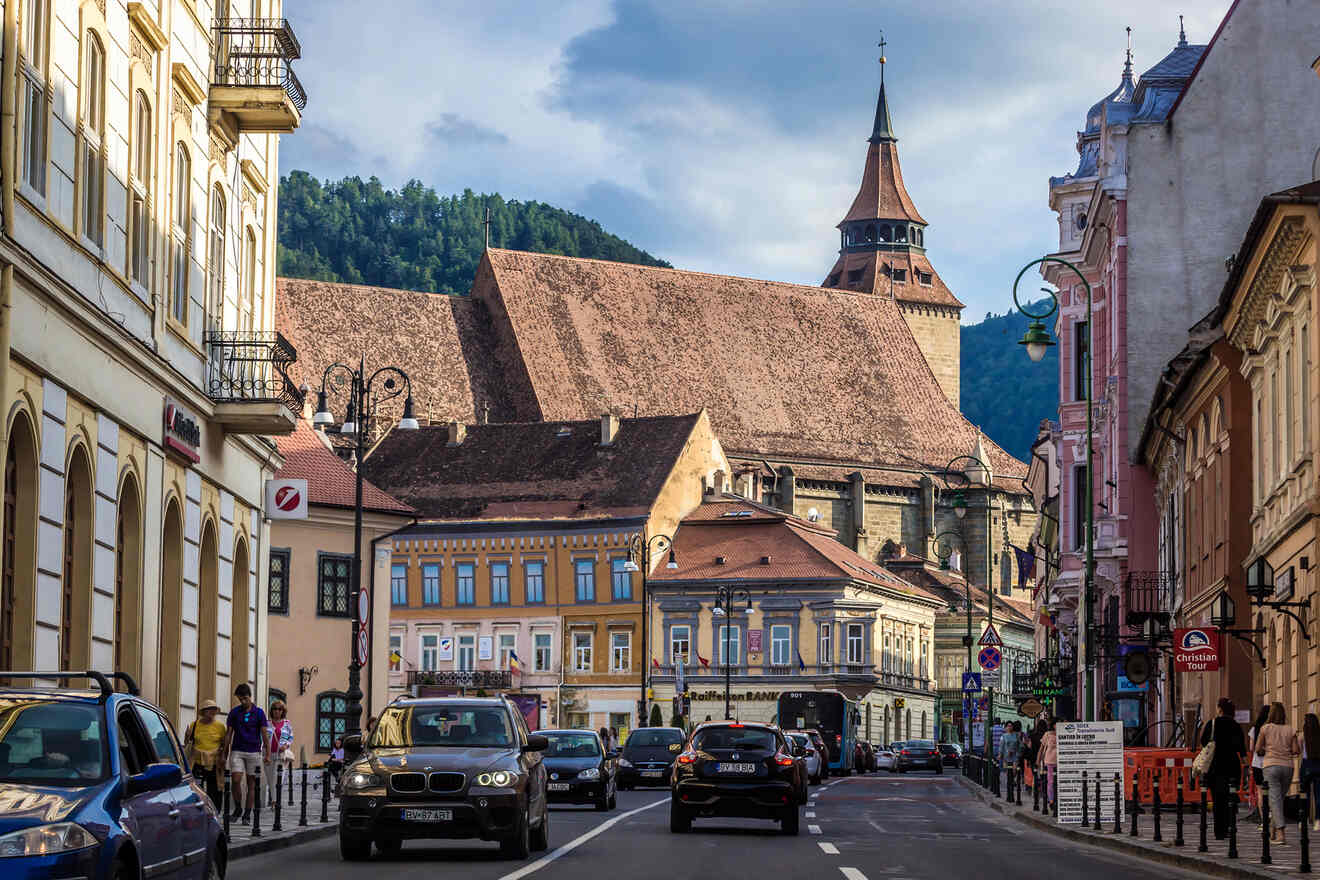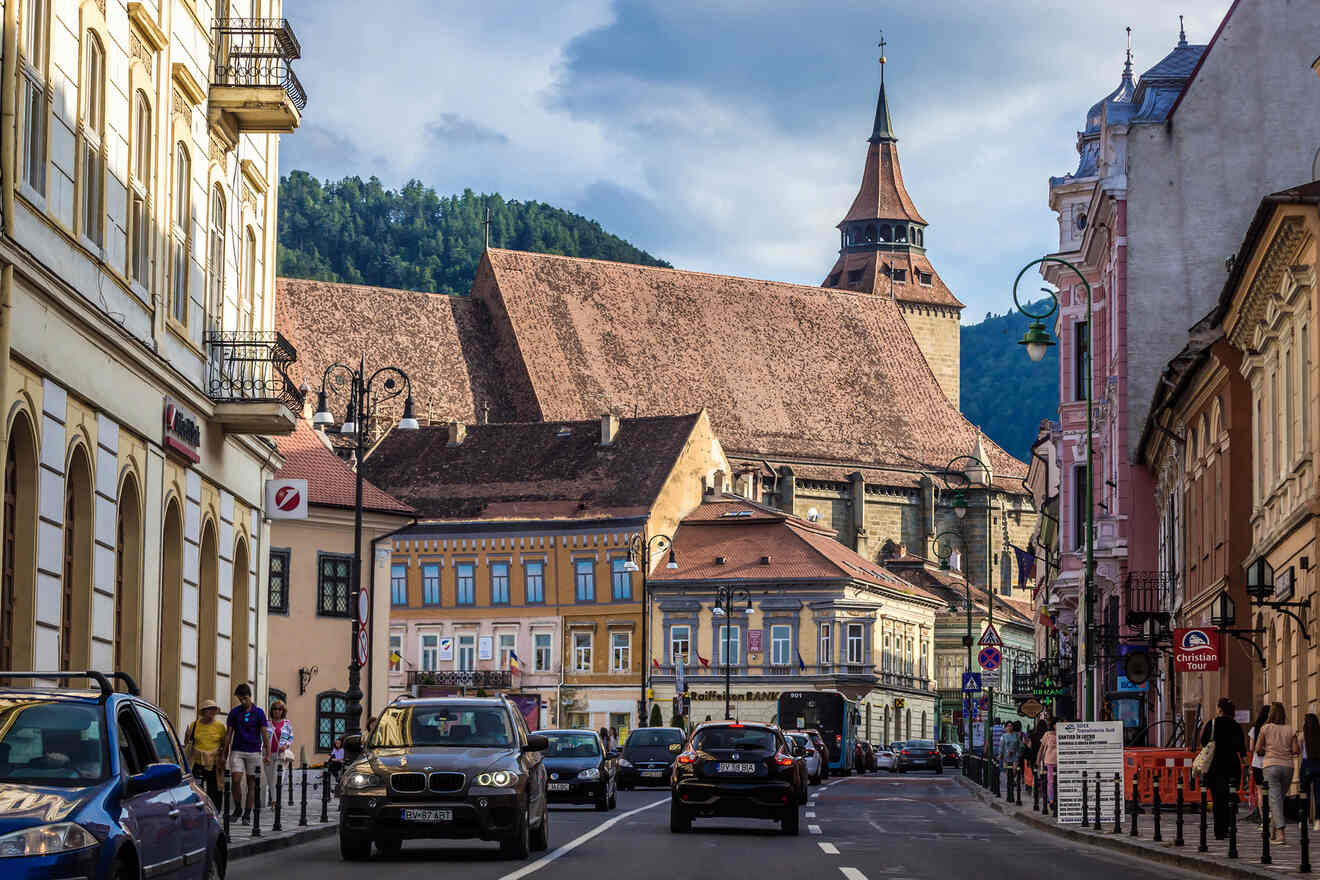 🤔 Is Brasov worth visiting?
Yes! Brasov is one of the best places to visit in Transylvania. It has so many attractions like the beautiful main square, Brasov Fortress, and the famous Black Church! Plus the food here is delicious! 
📅 How many days do you need in Brasov?
Although my tourists come to Brasov, Romania as a day trip from Bucharest, I recommend spending at least 3 days here so you can see all the attractions. 
⛪ What is Brasov known for?
Brasov, Romania, is mainly known for its medieval buildings, the beautiful Black Church, one of the most impressive Gothic Churches in Eastern Europe, and its beautiful mountainous landscapes. 
🎿 Which are the best things to do in Brasov during wintertime?
The best things to do in Romania, and Brasov in winter are skiing and snowboarding. Poiana Brasov is a famous resort area where tons of locals and tourists come between December to February. 
Conclusion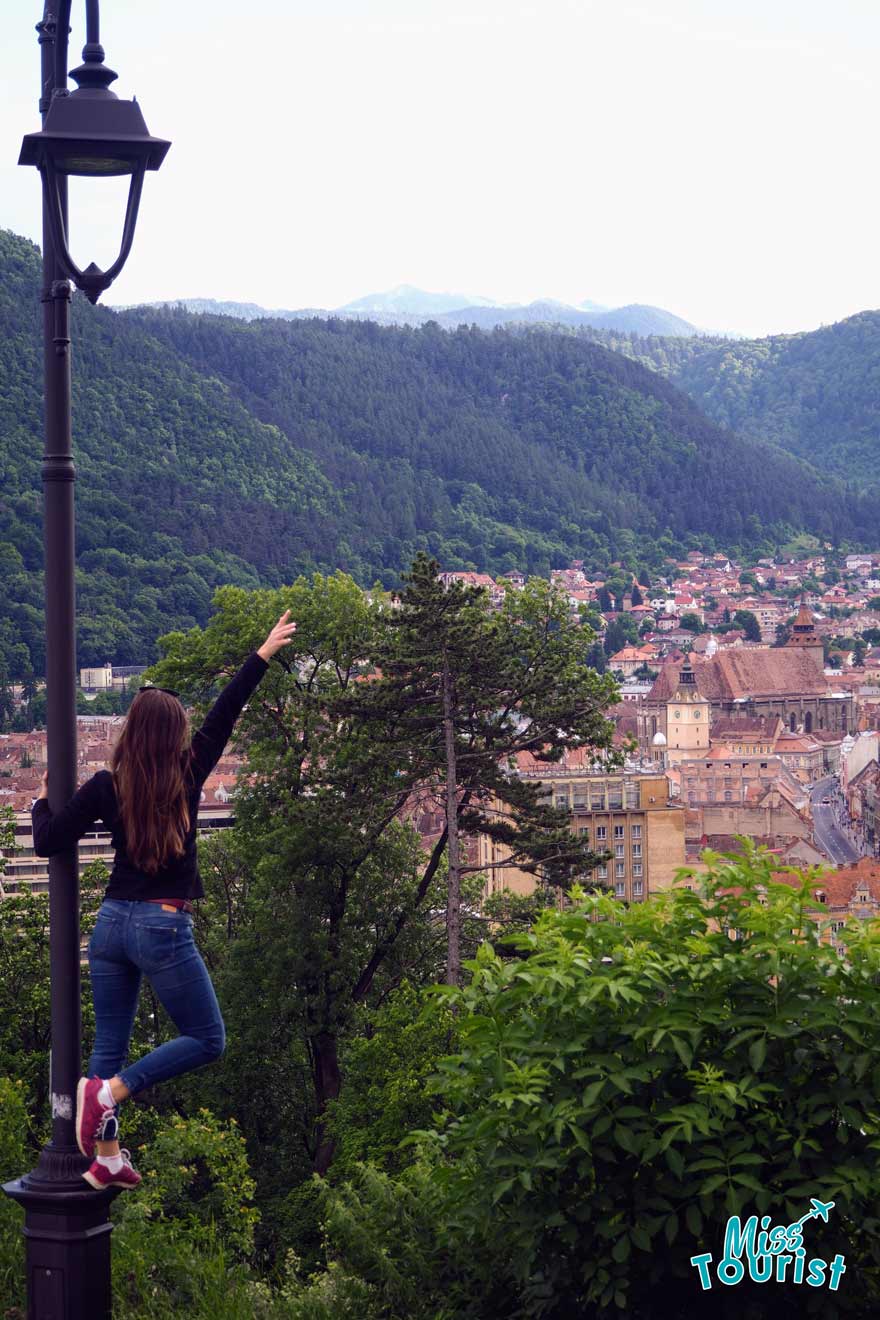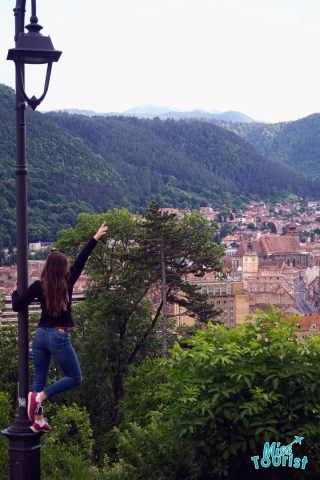 What a destination! Honestly, I feel like getting on a train to visit Brasov again! It's such a magical city!
I hope this post with the best things to do in Brasov, Romania helped you plan your trip and decide which attraction to check out first or what day trip you want to go on.
Besides all that information, I've also added a few great places where to stay in Romania, Brasov plus some practical information on how to get to Brasov from Bucharest, the capital city.
I think you'll have a wonderful time visiting Romania, Brasov and maybe other towns in Transylvania like Cluj Napoca or Sighisoara.
If you do have questions or perhaps some other suggestions for fun things to try in Brasov, leave me a comment below, and I'll answer it ASAP!
Distractie placuta (Have Fun),
Victoria
---
Pin it for later!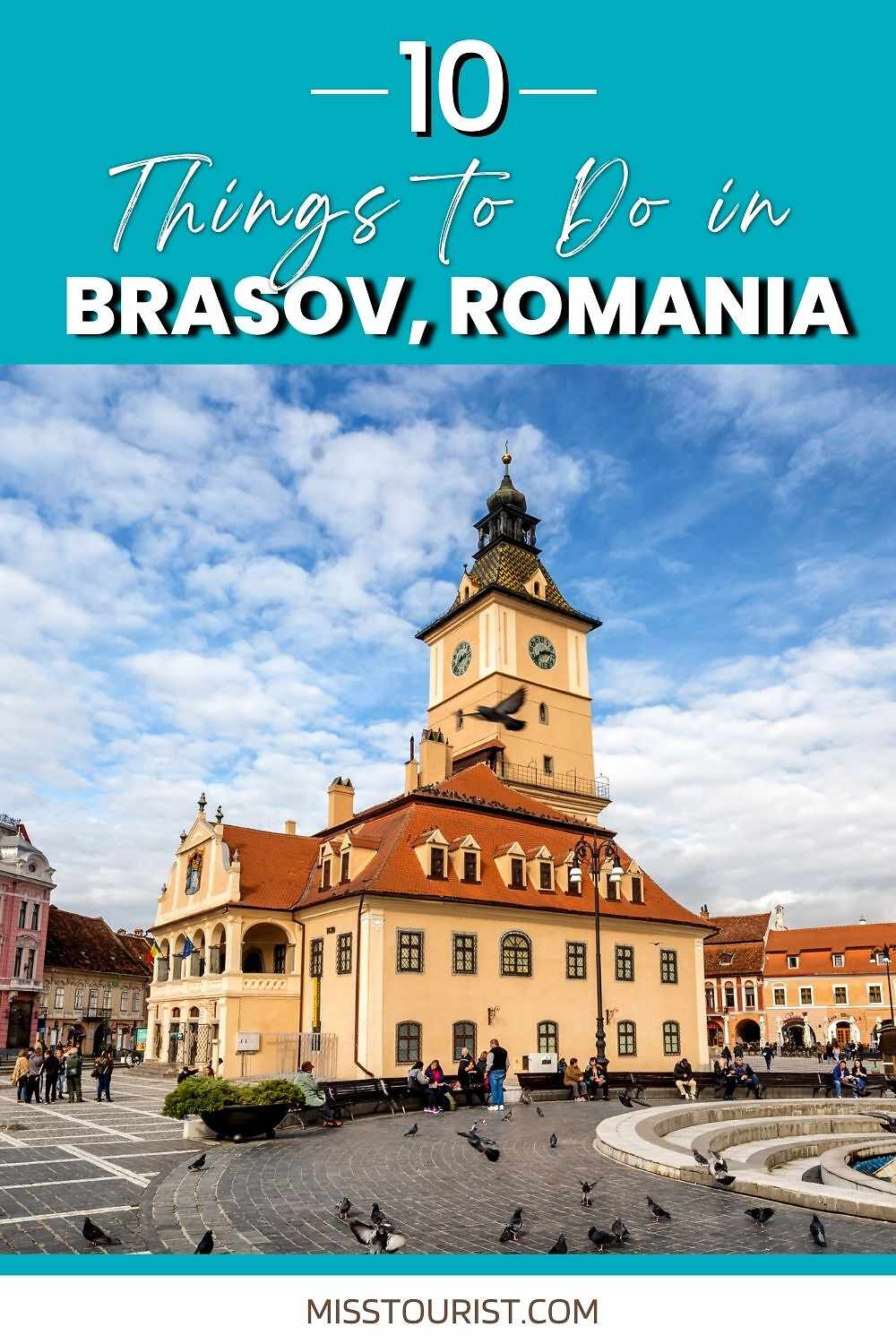 Pin it for later!