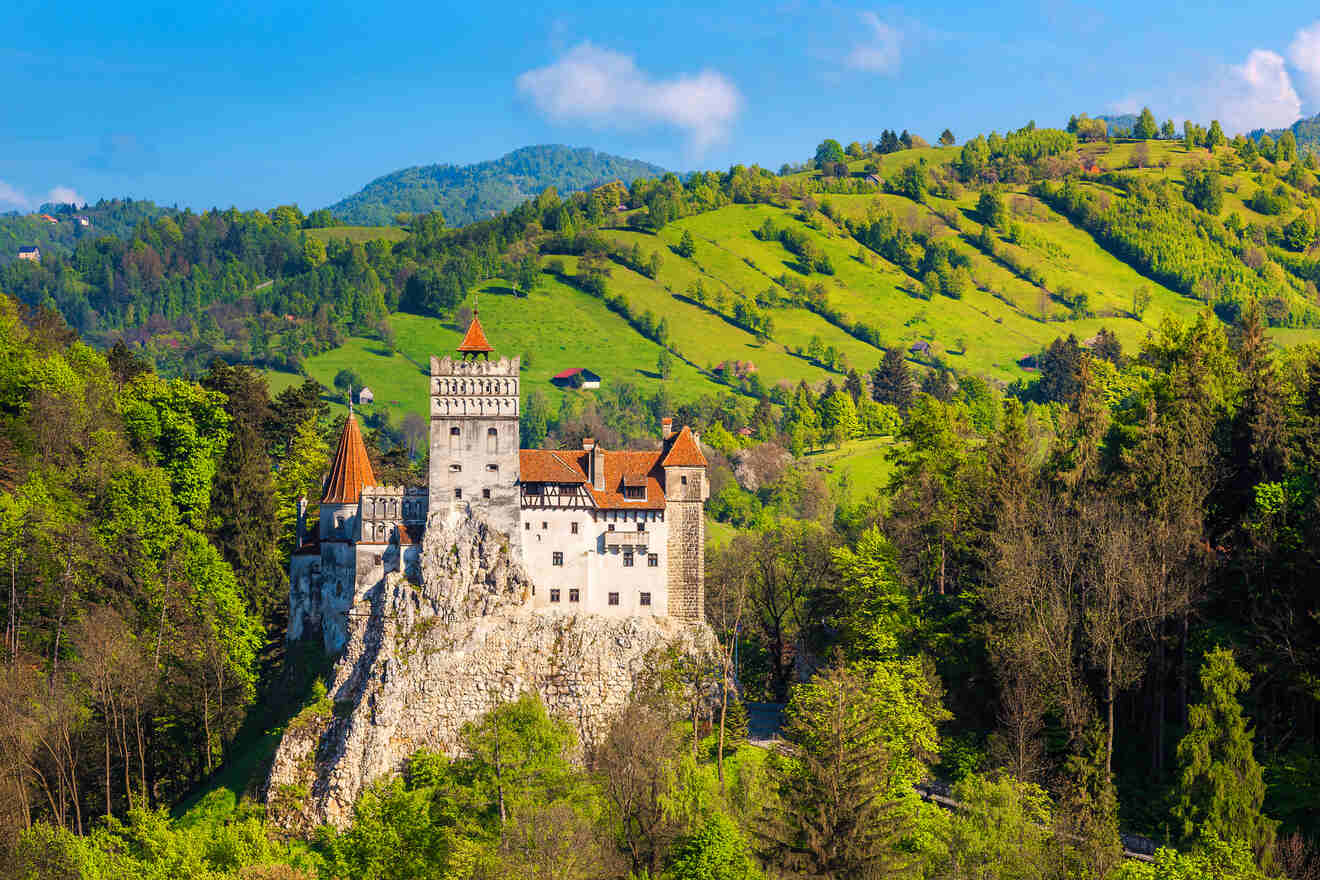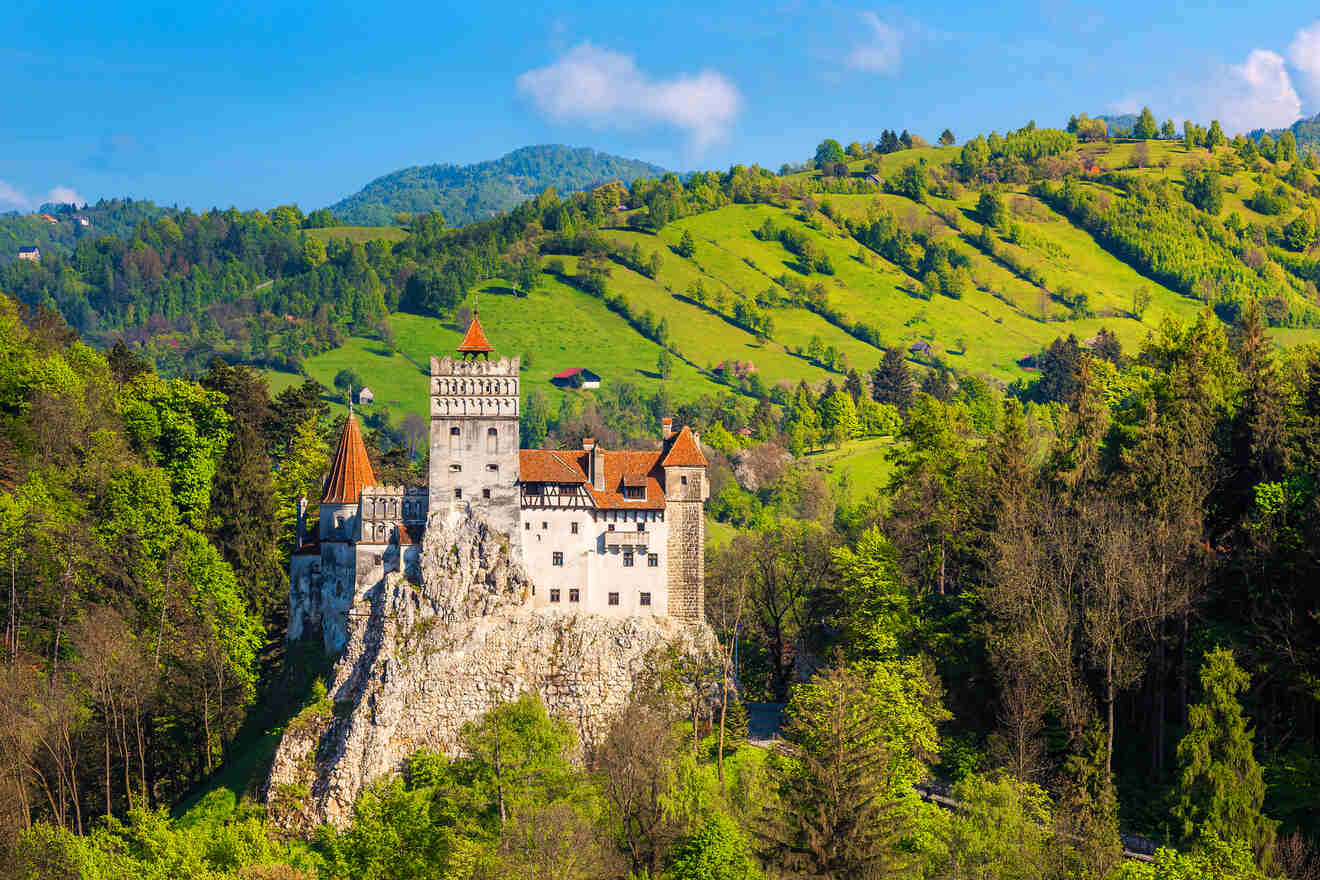 I've been lucky enough to explore Transylvania's magical lands ever since I was a little girl! This region in Romania (my home country) is so rich in culture, history, and unique natural areas that you'll want to spend a few weeks here!
Transylvania is quite big and so many towns are worth visiting. I'm going to run you through the best ones so you can easily make your itinerary based on your interests. As well as provide you with the best Transylvania hotels, listed from most to least expensive so you can easily decide which is the best for you.
If you're planning a trip here, you've come to the right place!
The best city to stay in Transylvania is Brasov. It has many attractions, mountains, and a ski resort or two! But there are 5 more towns that may be of interest to you that I will talk about; Cluj, Sibiu, Sighisoara, Alba Iulia, and Targu Mures.
Transylvania may be big but trust me when I tell you that it's packed with tourists, no matter the season! So I highly recommend booking your accommodations in advance to make sure you don't miss out.
Let's start!
If you are in a hurry
If you want to book your Transylvania hotels right now, there's no reason to wait. Quickly browse through this list of the best accommodations in Brasov:
Here's a map of all the areas that I will be talking about in this post:
1. Brasov – where to stay in Transylvania for the first time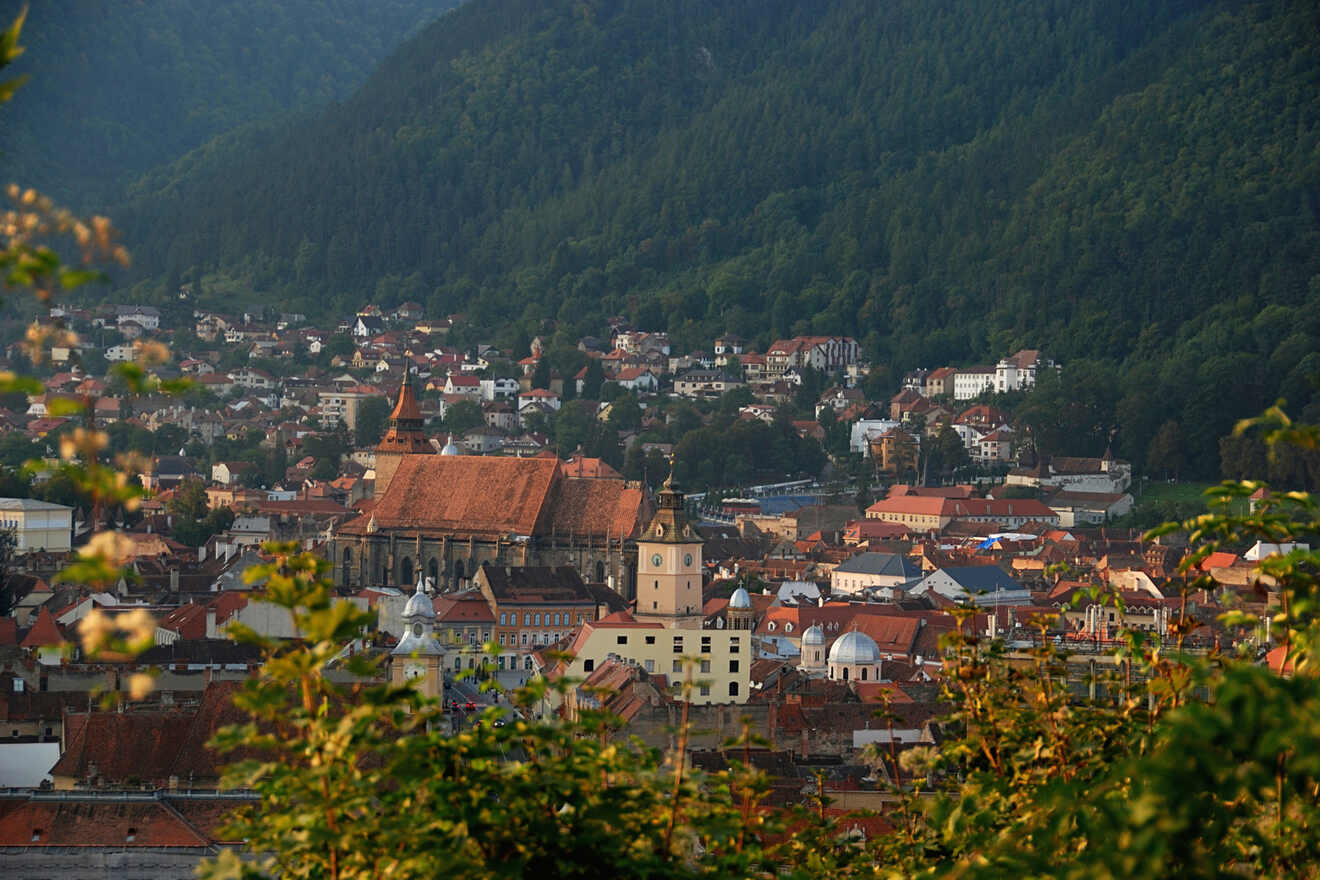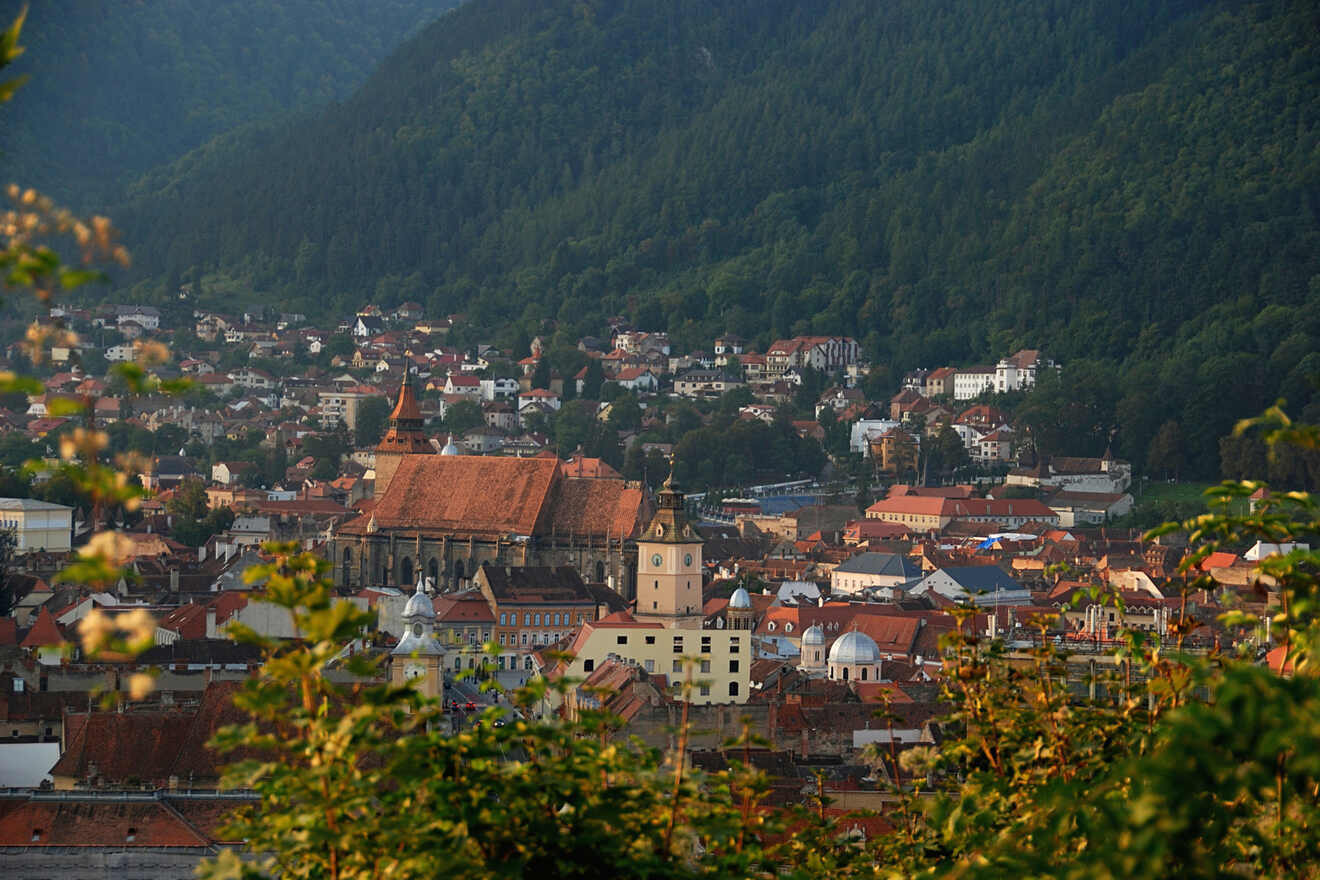 I've been to Brasov so many times and yet, during each visit I discover something new about it or another breathtaking location!
This city is one of the biggest ones in the Transylvania region, and it's also where most Romanians (especially people from Bucharest) come to relax and enjoy some fresh air. Why?
Well, it's close to the capital city and it has so many fantastic attractions like the Black Church and the Council Square. Plus a handful of castles and fortress that you shouldn't miss!
Bran Castle (also known as Dracula's Castle), Peles Castle, and Rasnov Fortress are some iconic spots in Brasov that you should visit! But it's not just the castles that bring tourists here.
The town is surrounded by mountains and, during wintertime, Brasov becomes a hotspot for ski and snowboard lovers! This place has all you need for a fantastic holiday.
Of course, the hotels don't disappoint either! Whether you prefer something modern in the city center or maybe a nice cabin between the mountains, Brasov's got it all! Just keep in mind that the city is pretty busy (no matter the season) so I highly recommend booking in advance.
Other accommodation options in Brasov
Teleferic Grand Hotel: As I mentioned already, Brasov is super popular among tourists and all the hotels above are located in the main city. In case you are looking for a luxury stay amongst the mountains, here is a great option in the Poiana Brasov ski area!
Relax in the spa center and heated indoor pool after a day spent skiing at Teleferic Grand Hotel. The property offers free parking and it has an excellent hotel rating. It sits just 50 m from the cable ski lift.
Things to do in Brasov
Visit the beautiful Black Church
Explore The Council Square
Go on a tour of Bran Castle and Rasnov Fortress
Hit the slopes in Poiana Brasov Ski Resort
Learn new things at the First Romanian School Museum
Take the cable car to admire the city views from Mt Tampa
2. Cluj Napoca – trendiest Transylvania hotels for nightlife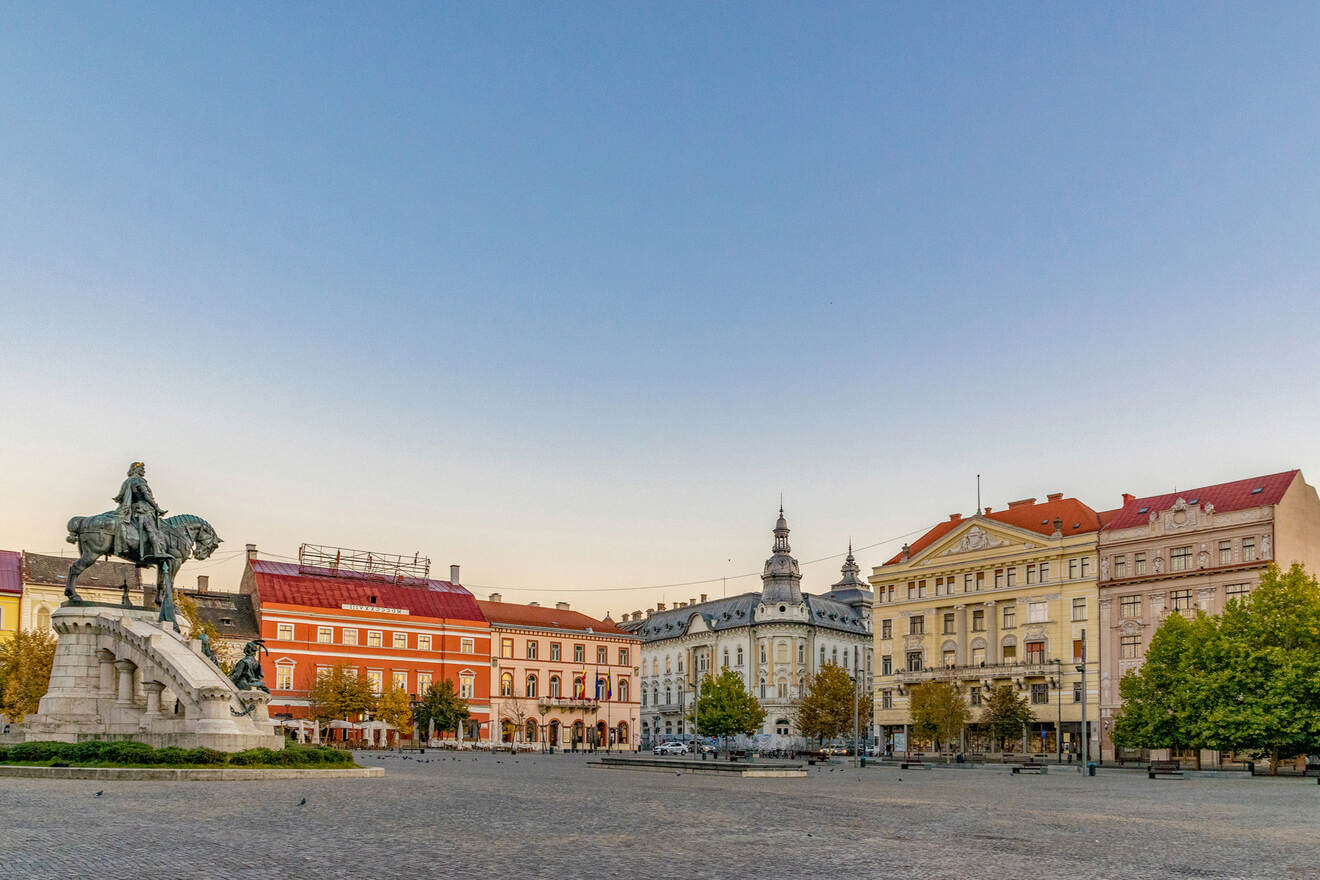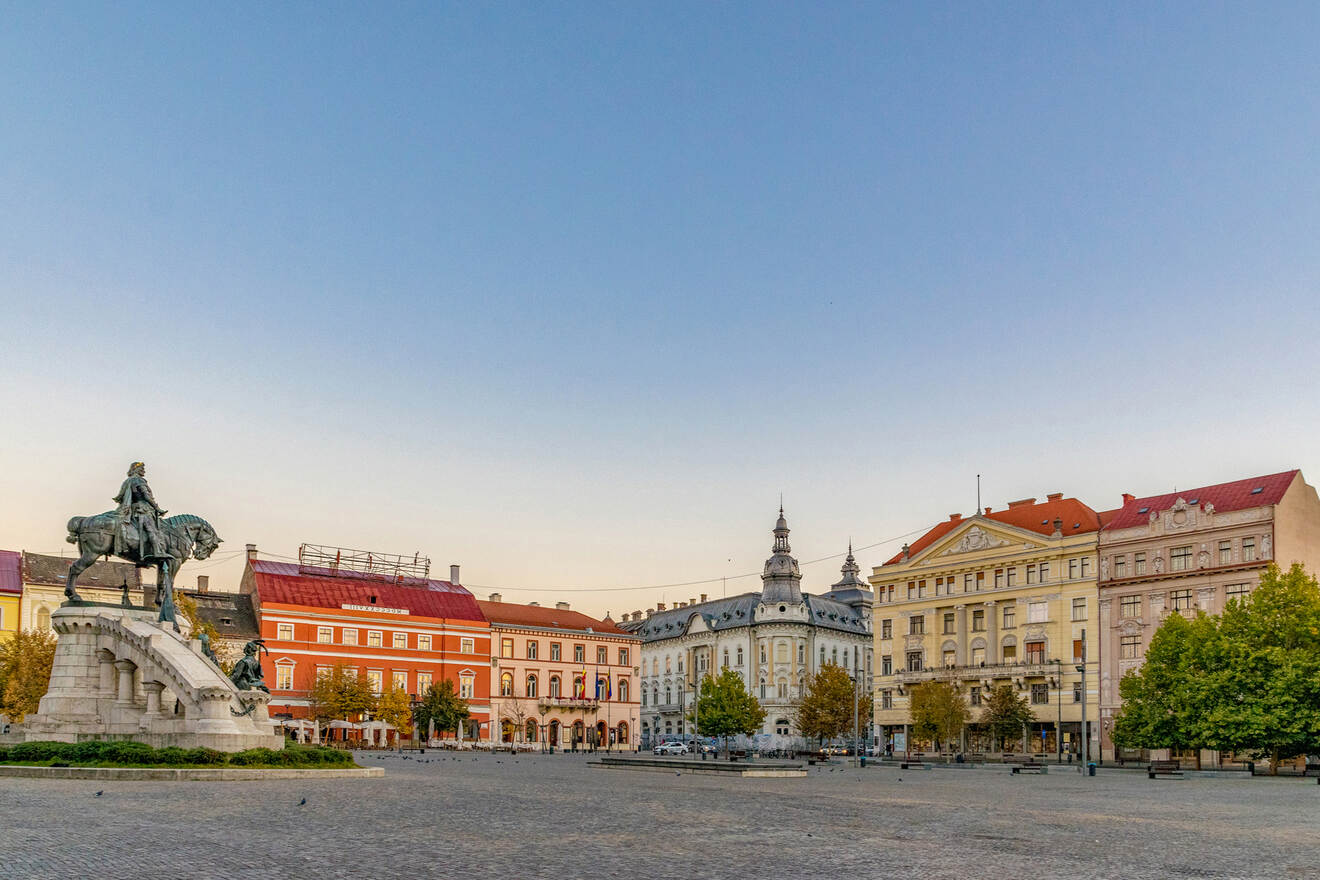 This university city has become a hotspot in the last few years! Firstly because it's filled with nightclubs, fabulous restaurants, and cafes, but secondly because many music festivals are held here during the summer.
Cluj Napoca is a great place for party lovers and people who want to discover Romania's clubbing scene (which is pretty amazing)! But it's not just that. I've got many friends who moved to Cluj and have fallen in love with it.
It's not as busy as Bucharest (although it's pretty big), the atmosphere is more chilled, and the locals are also super nice! There are many cultural and touristic sites just like in Brasov, plus the food is super yummy!
The botanic garden, Cetățuia Park and Unirii Park are just some places you should check out here. And when you're getting hungry, I recommend going for lunch at Samsara Foodhouse, a great plant-based restaurant. Speaking of food, if you're visiting Bucharest, Romania's capital, make sure to check out my latest post on the best restaurants in the city!
Cluj also has many cool accommodations, from luxury hotels with on-site restaurants to lovely cabins in nature. So let's check out the ones with a great hotel rating:
Other accommodation options in Cluj Napoca
Things to do in Cluj Napoca
Go for a walk in the Central Park Simion Bărnuțiu
Enjoy an afternoon in the Botanical Garden
Party all night at Midi Club
Admire the city views from Cetatuia Park
Go on a medieval tour of the city
Check out the cafes in Unirii Square
See the cool artwork at the Cluj Napoca Art Museum
3. Sibiu – where to stay in Transylvania for culture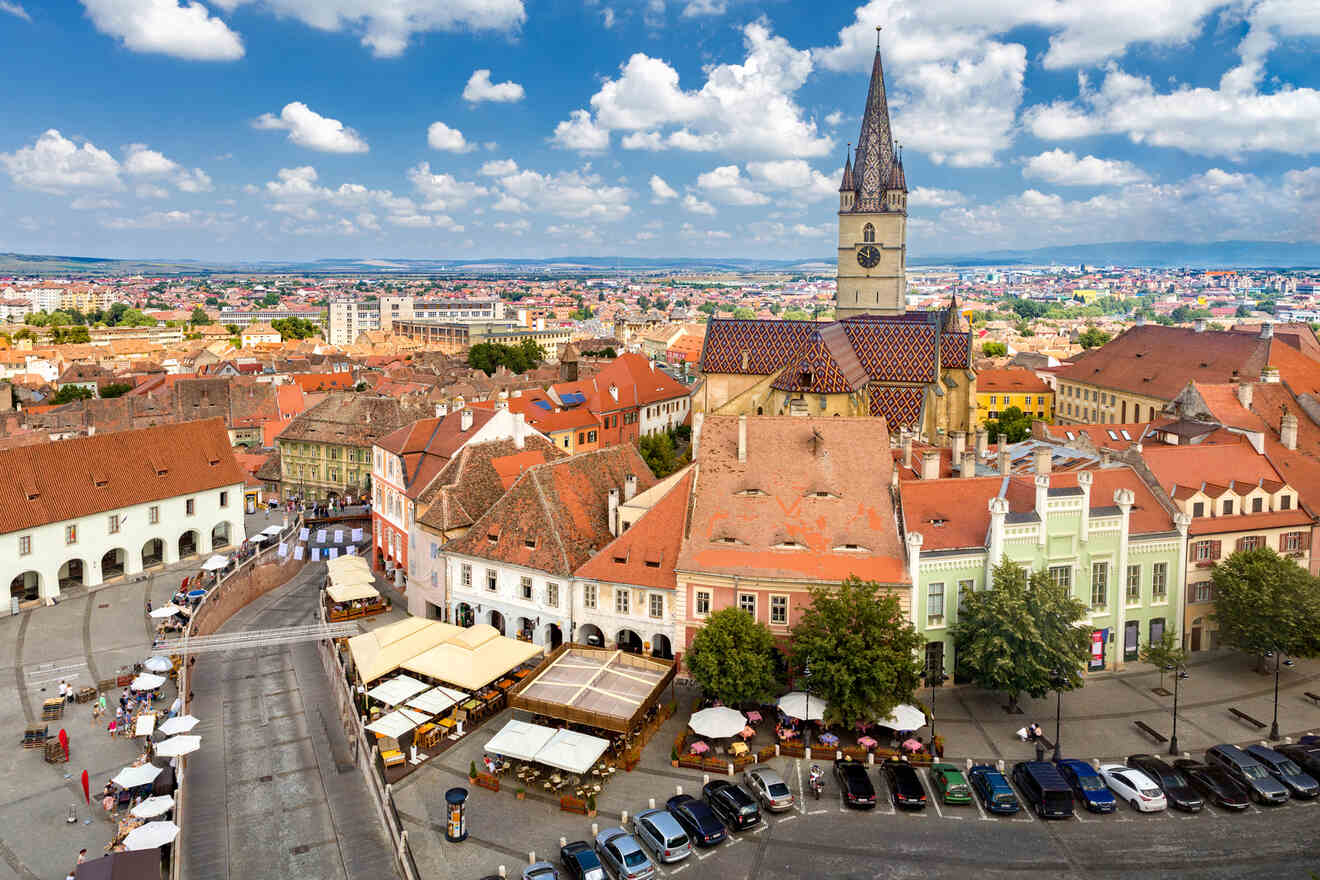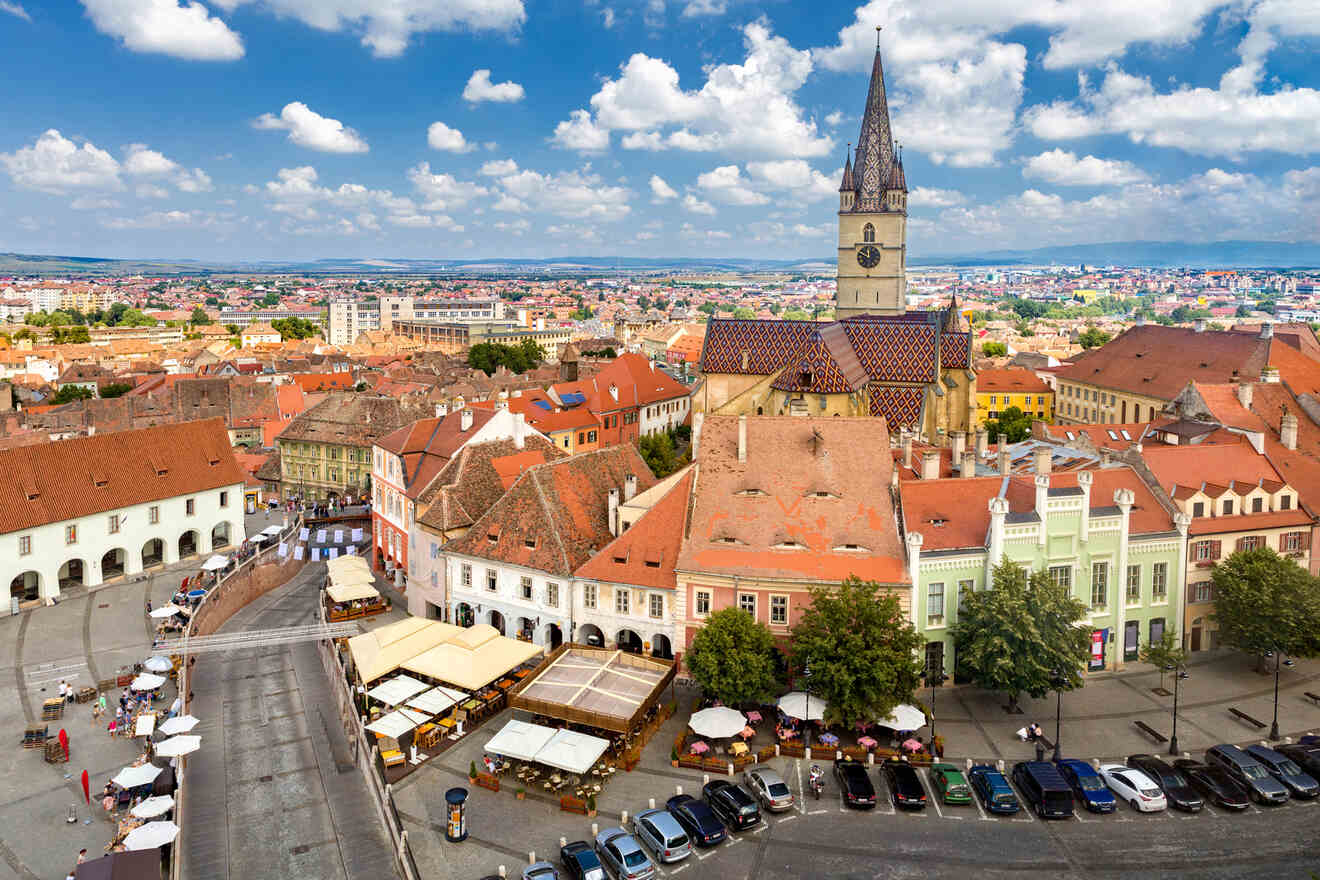 Sibiu it's much smaller than Brasov and Cluj, and it sits approximately 2 hours away from those cities. However, what the town lacks in size, it makes up in the number of attractions and the vibe in general.
Although Sibiu is pretty touristic as well, it's not really as busy as the other 2 towns, so if you're looking for a place where you can escape the crowds, I think you'll like it here!
The 12th-century city serves as one of Transylvania's cultural hubs, and the historical buildings will make you fall in love with it. Its medieval center is filled with colorful houses (super instagrammable) and cool public squares.
Pro Tip: Sibiu is split into the upper and lower town and the 2 are connected by narrow staircases (definitely pack comfortable shoes).
If you want to learn more about Transylvania's culture, then I think Sibiu is the right fit for you! You'll find many old churches and museums that tell its story. The open-air Astra National Museum Complex and the Council Tower are just 2 sites that you shouldn't miss.
Hotels in Transylvania, Sibiu are also amazing, and many of them are even located in historic buildings themselves. I've listed the ones with a great hotel rating below, let's have a look:
Other accommodation options in Sibiu
Things to do in Sibiu
4. Sighisoara – the best place to stay for history lovers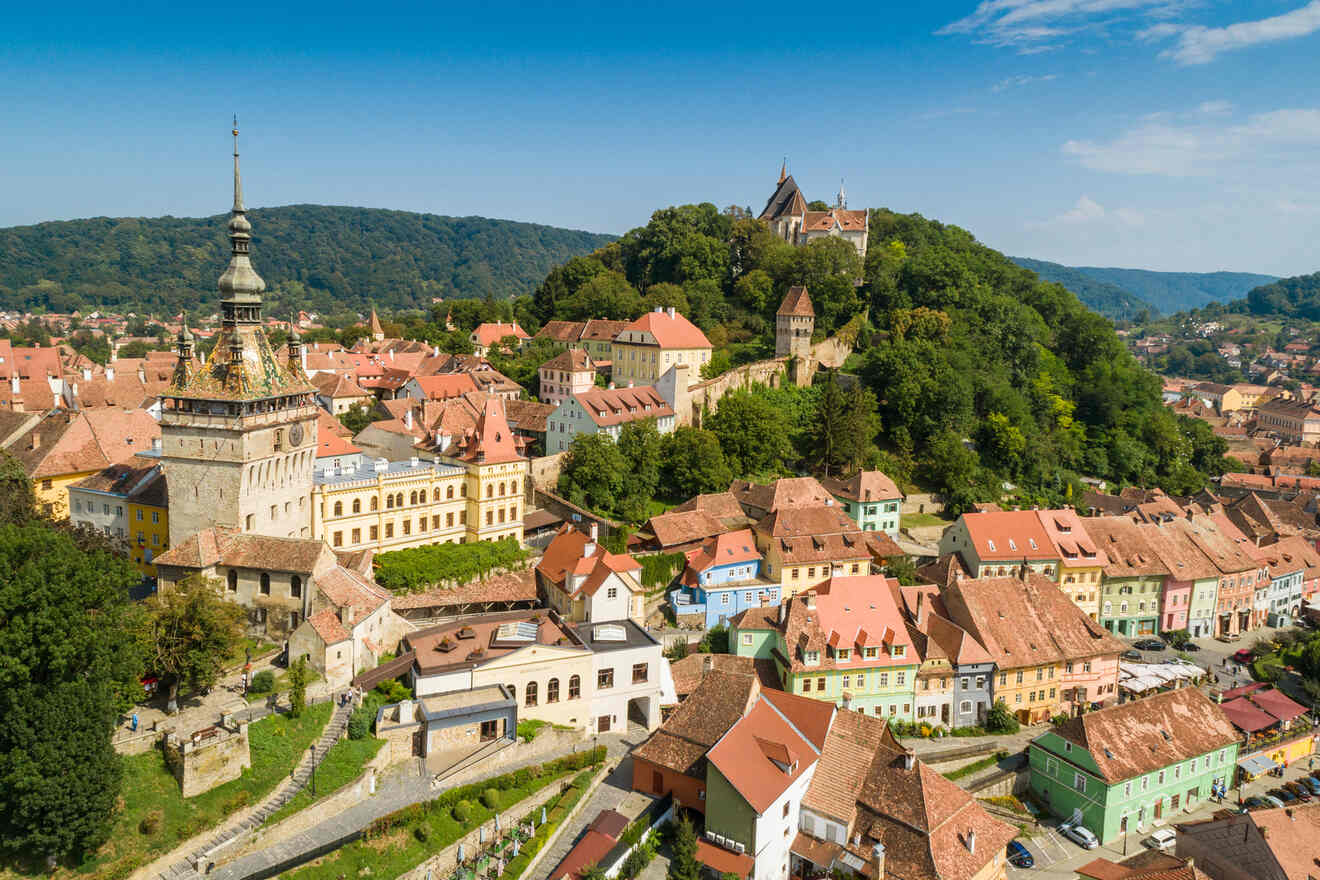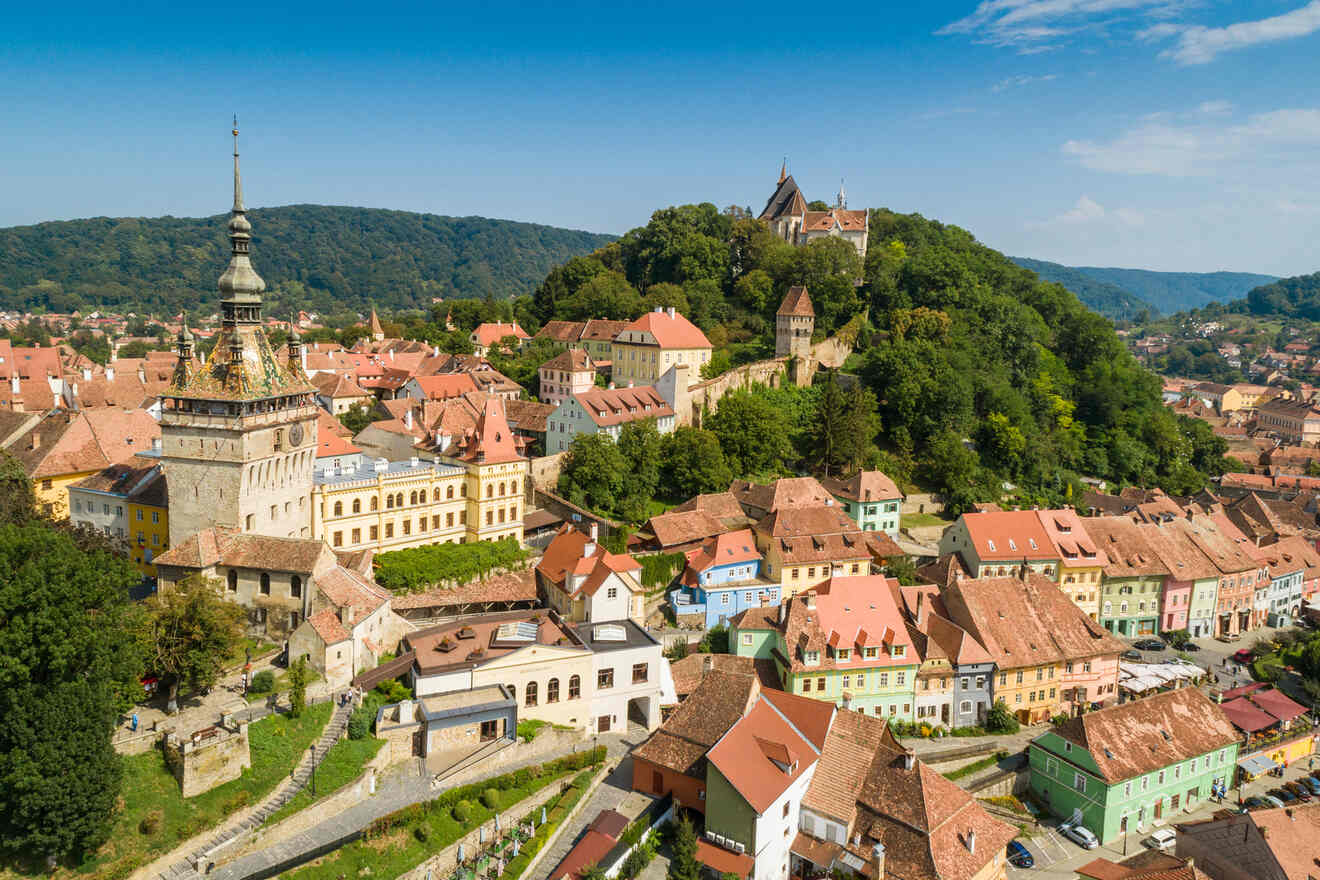 Situated between Cluj and Brasov, this Transylvanian city stole the hearts of many tourists! Especially those who like history! The magical town dates back to the 12th century, and its buildings look as if they're from another era!
You'll want to explore the cobblestone streets all day and check out every boutique store! It's been a while since I visited Sighisoara but I can still remember vividly the feeling I got in this city as if I had traveled back in time.
Just like Sibiu, Sighisoara is relatively small, but it definitely has many (many!) attractions that you'll want to visit!
The Citadel will probably be the first one on the list. It's located in the city's historic center, a UNESCO World Heritage Site that was built in the 12th century by Saxon settlers.
Sighisoara is also the birthplace of the famous voivode of Wallachia: Vlad the Impaler, also known as Vlad Dracula (many of you might've heard of him)!
Other accommodation options in Sighisoara
Things to do in Sighisoara
Explore Sighisoara Citadel, a UNESCO site
See the unique 14th century Clock Tower
Visit the Klosterkirche Church
Go on a private tour of Sighisoara's Old Town
Climb the Covered Stairway
Check out the Vlad Dracul House
5. Alba Iulia – where to stay in Transylvania for relaxation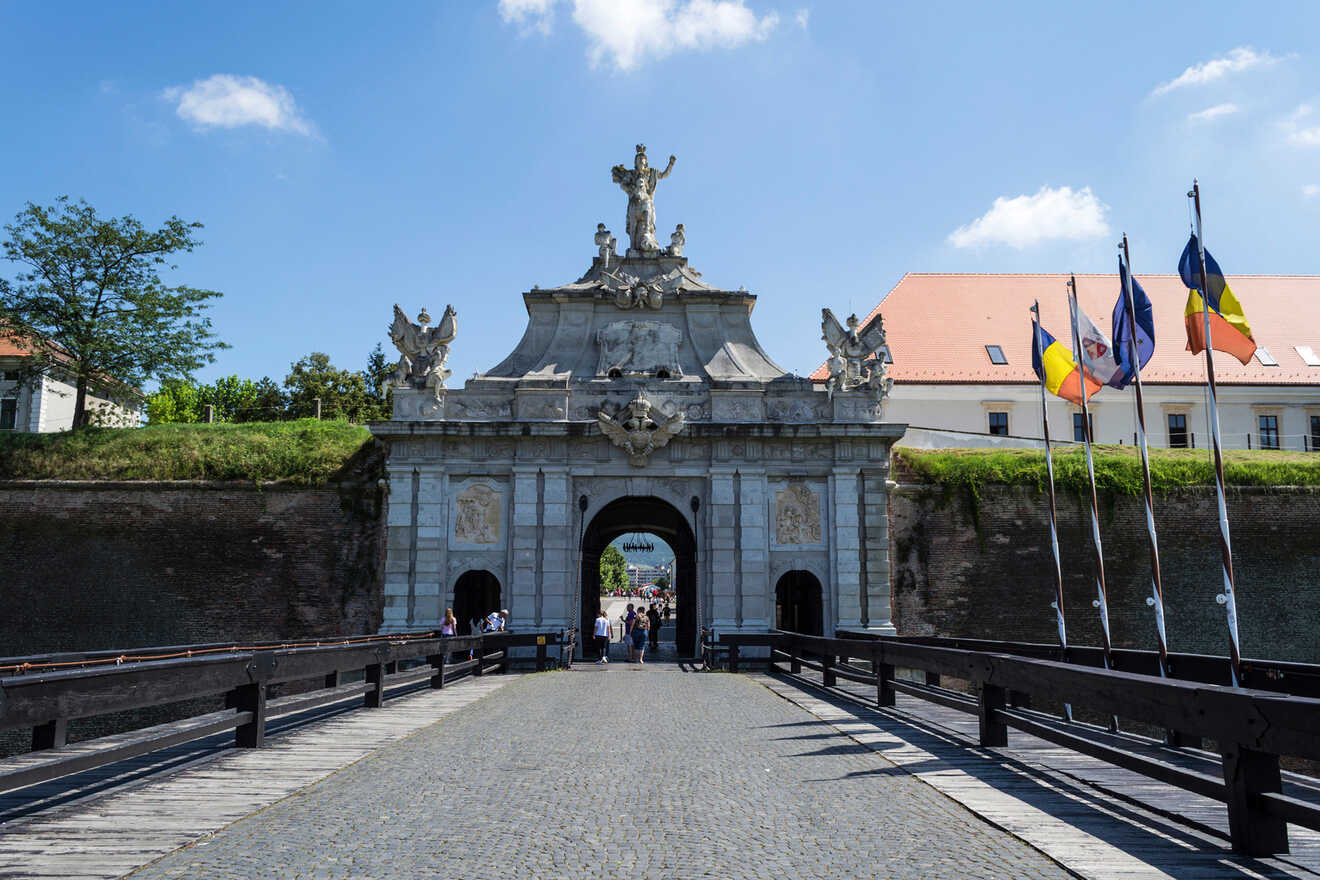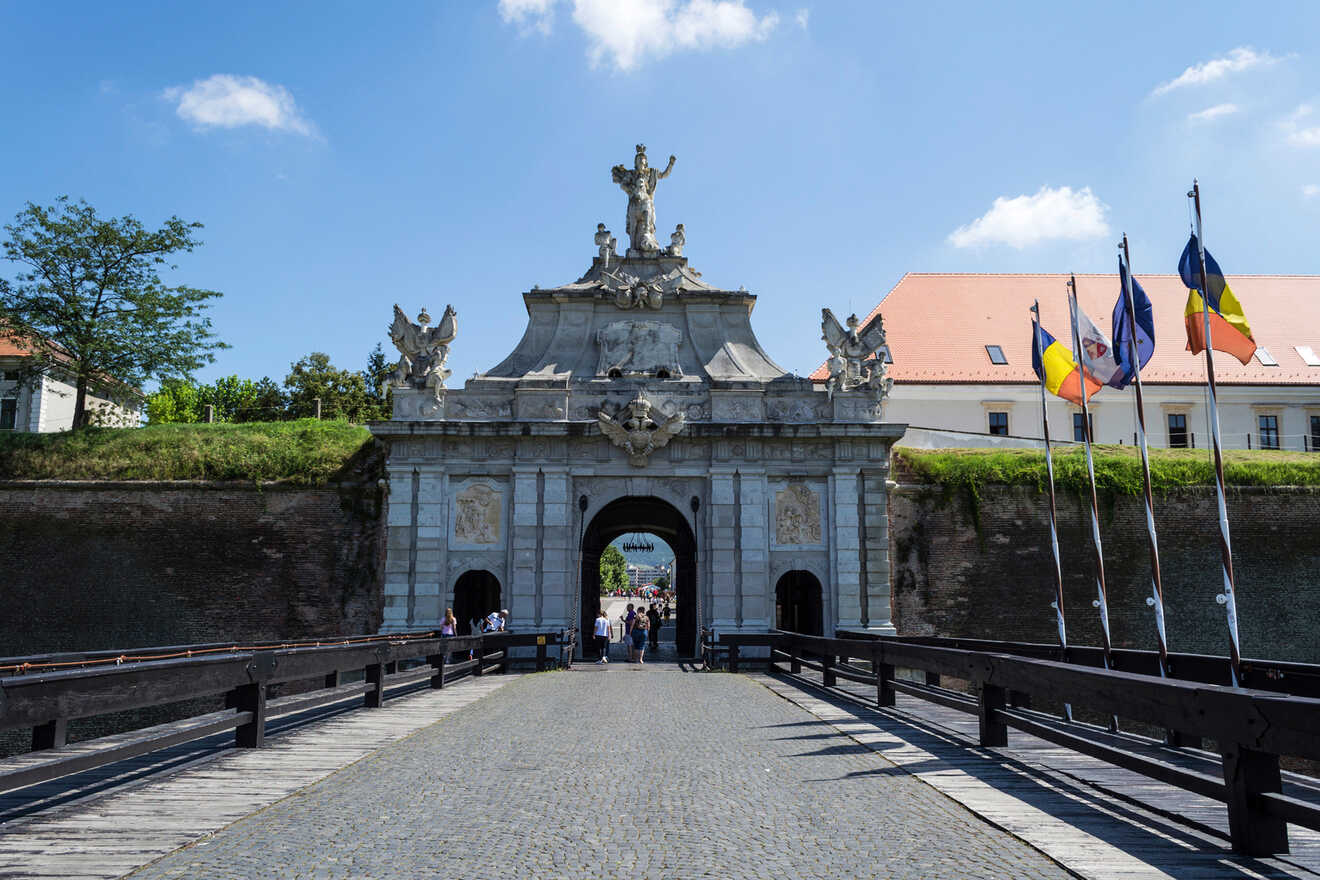 This city is one of the oldest settlements in the country! It's a great place to visit for tourists who don't want to run from one attraction to another but prefer to relax during their holiday.
Alba Iulia is pretty chill, and you can get a feeling of how the locals live as it's not such a tourist place and is less crowded than some of the other cities.
You will find some pretty iconic attractions though like the Alba Carolina Citadel, which is Romania's largest citadel and super impressive.
Take a few hours to explore the town and visit its historical attractions (I think history lovers will have the time of their lives in Transylvania). Some cool spots are the National Museum of the Union and the Roman-Catholic Saint Michel Catedral.
Other accommodation options in Alba Iulia
Things to do in Alba Iulia
Explore the Alba-Carolina Citadel
Learn new things at The National Museum of the Union
Admire the architecture of Saint Michael Cathedral
Catch a sunset near the Horea, Closca, and Crisan Obelisk
Visit the Reunification Cathedral
Go for a walk on the Three Fortifications Route
6. Targu Mures – best place to stay in Transylvania for families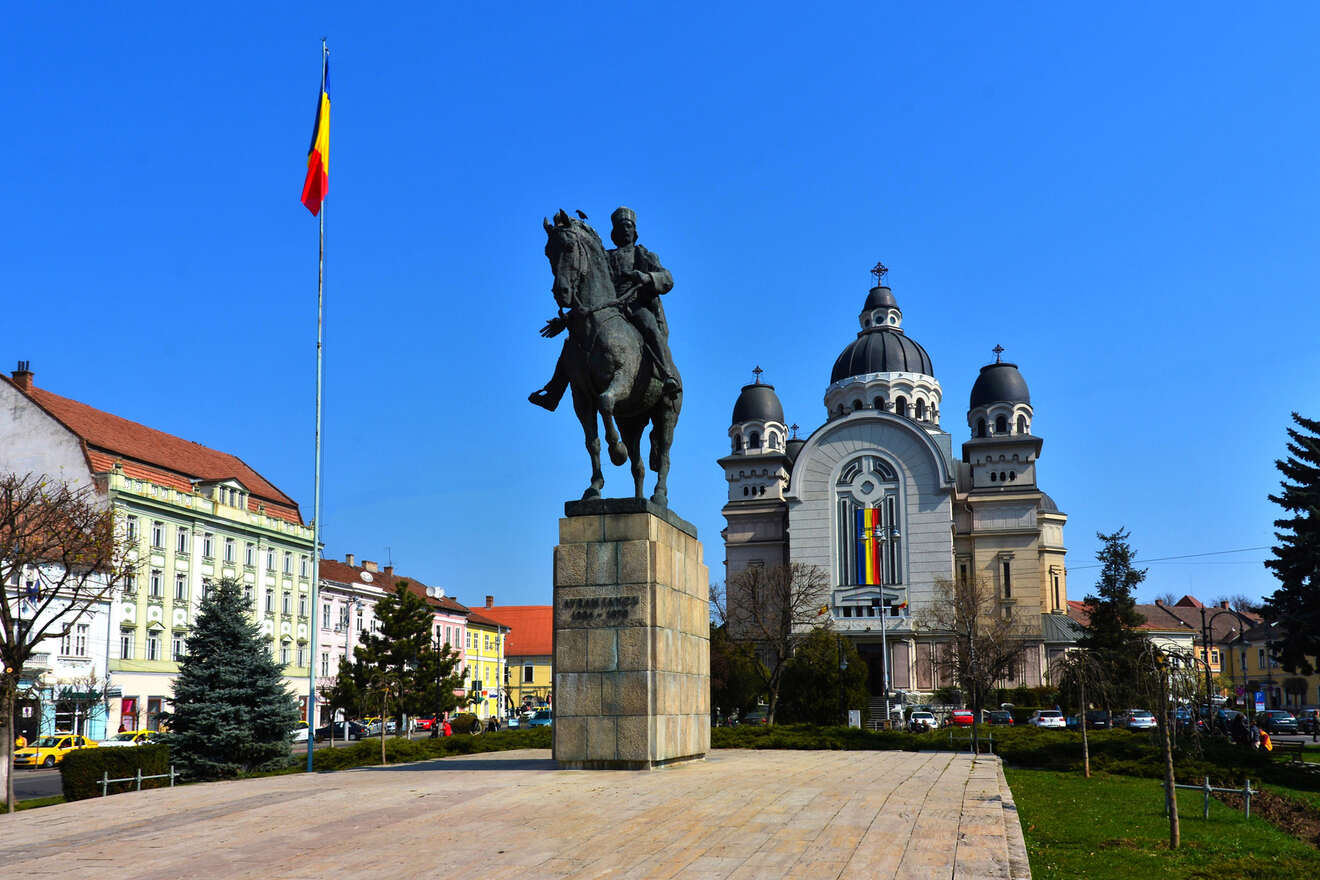 Lying on the banks of the Mures River, this city may be the least visited place in Transylvania. Why? I don't know because it's pretty awesome!
Targu Mures is great for families as it's a bit quieter than the other towns in the region and it also has attractions that will probably entertain not only the little ones but also the parents!
Room prices are lower here, although that doesn't mean the hotel rating is anything less than amazing. We'll talk about that in a few minutes but first, let's see what fun things you should do here with the kids! I'll start with the main attraction: the Targu Mures Zoo!
The park is pretty big so you might spend a few hours here! But make sure you have time to see the other places like the Targu Mures Palace of Culture and the Fortress, a relatively big complex with a church.
Other accommodation options in Targu Mures
Things to do in Targu Mures
Spend a fun day with the kids at the Targu Mures Zoo
Join a walking tour in Targu Mures
Learn new things at the Palace of Culture
Go for a hike around Vârful Pălăria Neamțului
Visit the Targu Mures Fortress
Go for a walk in Corneşti Park
BONUS: Best hotels with a castle view in Transylvania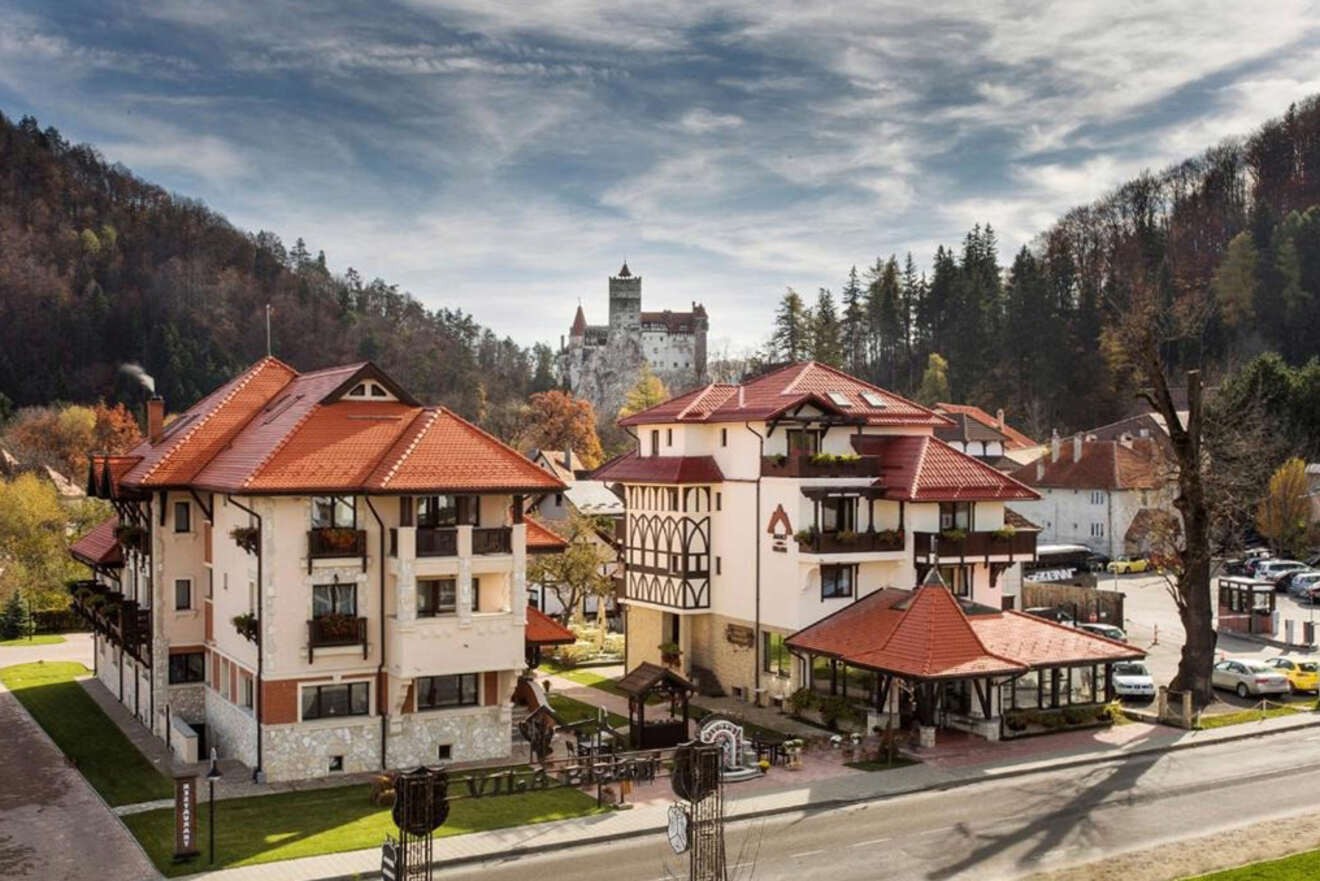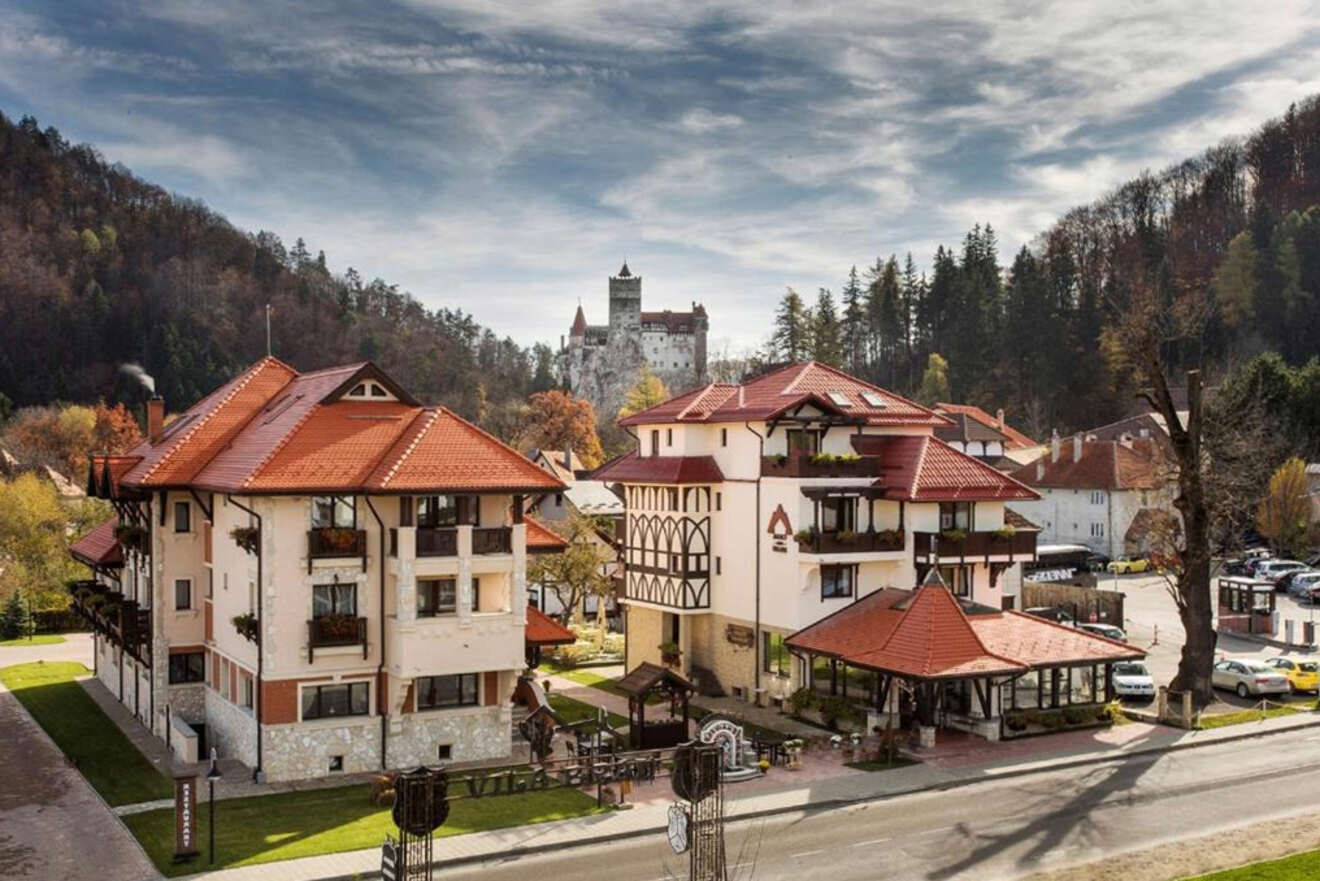 Transylvania has so many impressive castles that you'll probably want to visit all of them! And you should, they're so worth it!
Unfortunately, there aren't any hotels located inside castles in Transylvania but if you're hoping to stay nearby one of these historical estates, check out the list below. It has the top places with a castle view (and a great hotel rating) in Transylvania!
Let's check them out:
Luxury (US$180 and up)
Conacul Törzburg – Wake up to a view of Bran Castle in this unique hotel! I like the architecture of the building and how they mixed both old and modern elements. Conacul Törzburg features accommodation with a restaurant, luggage storage space, and rooms with bed linen and a private bathroom.
Complex La Turnuri – This place used to be the Royal Guard Office of Peles Castle, and it sits directly opposite the beautiful castle! The hotel offers unique views, and it has rooms with luggage storage space plus guests will have access to free private parking.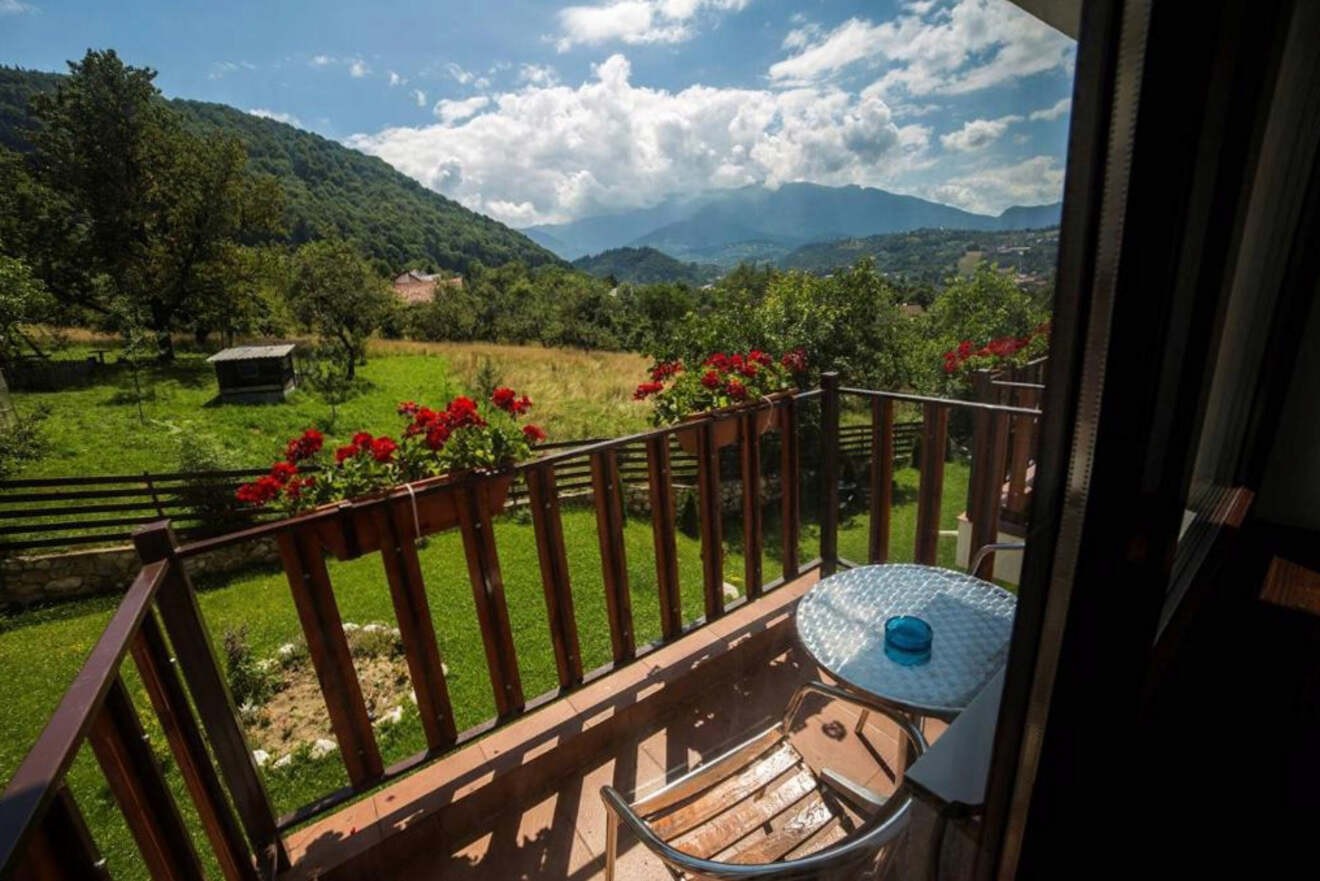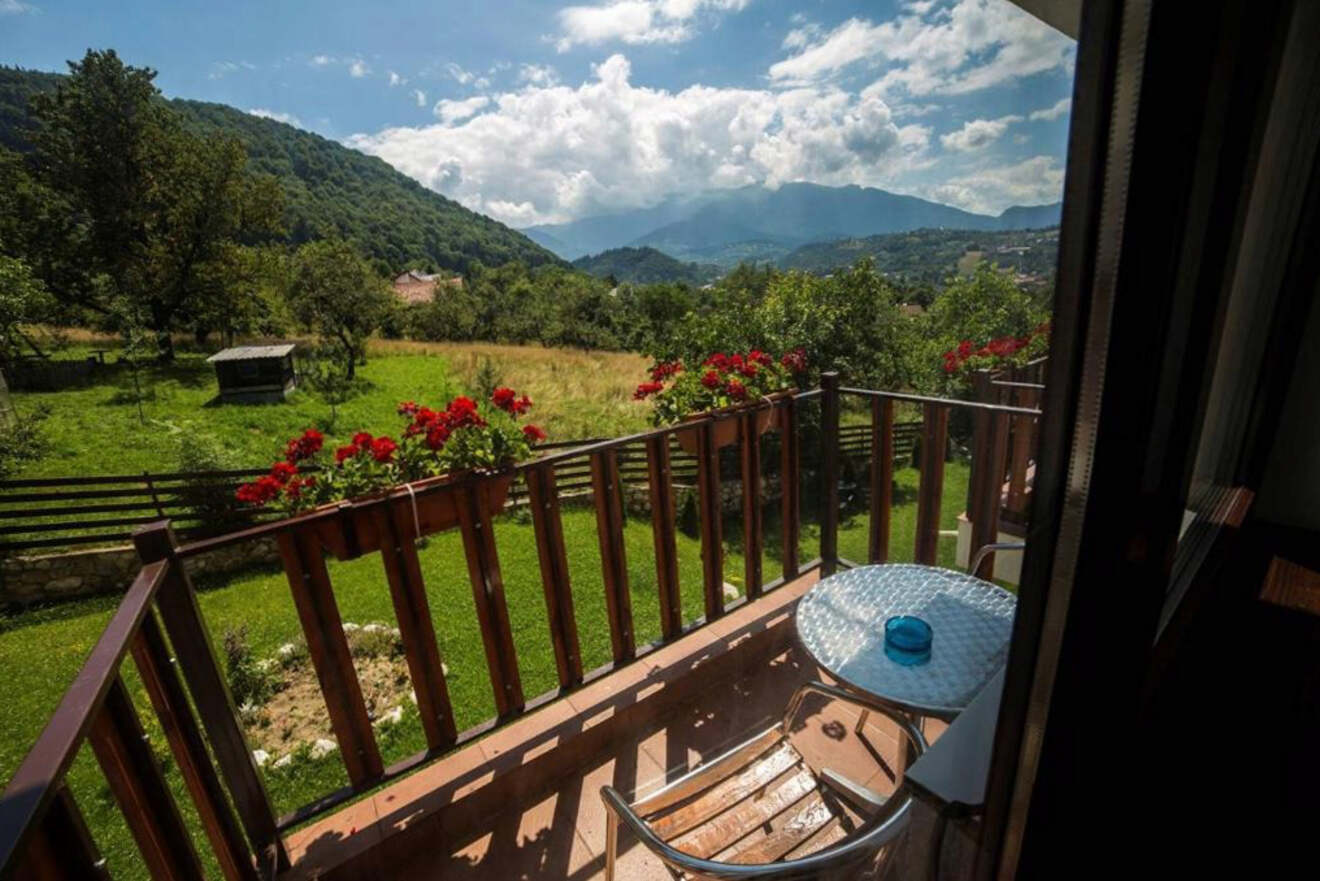 Mid Range (US$110 – US$160)
Casa Din Bran – I love the decor of this boutique hotel that offers views of Bran Castle. The accommodation is only 5 minutes away from the estate, and it has a restaurant and a terrace.
Budget (up to US$100)
Transylvania Inn – Admire the views of Bran Castle while sipping your coffee on the terrace at this hotel that has rooms with bed linen and a balcony. Free wifi is available in the entire hotel.
Frequently asked questions about Transylvania Hotels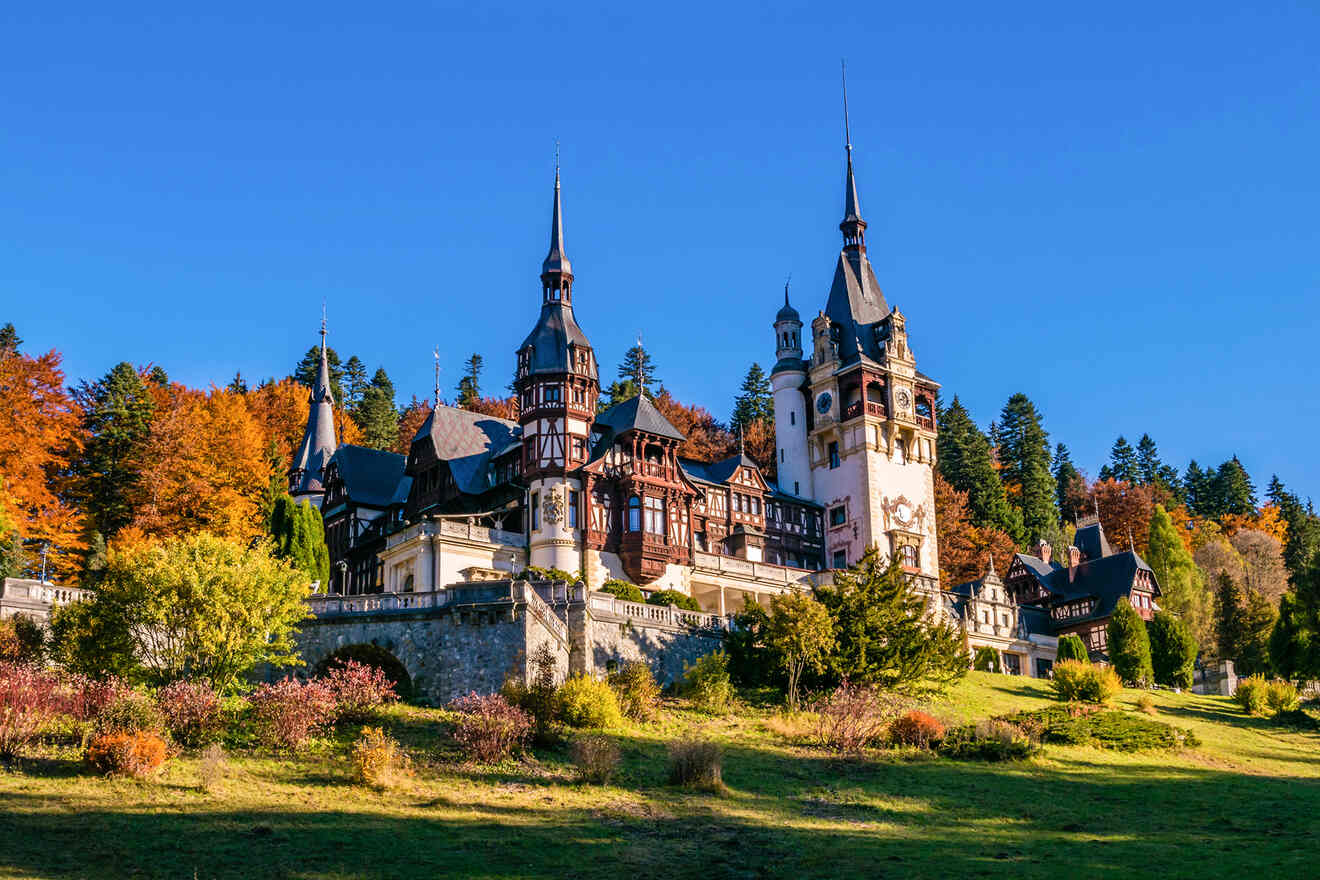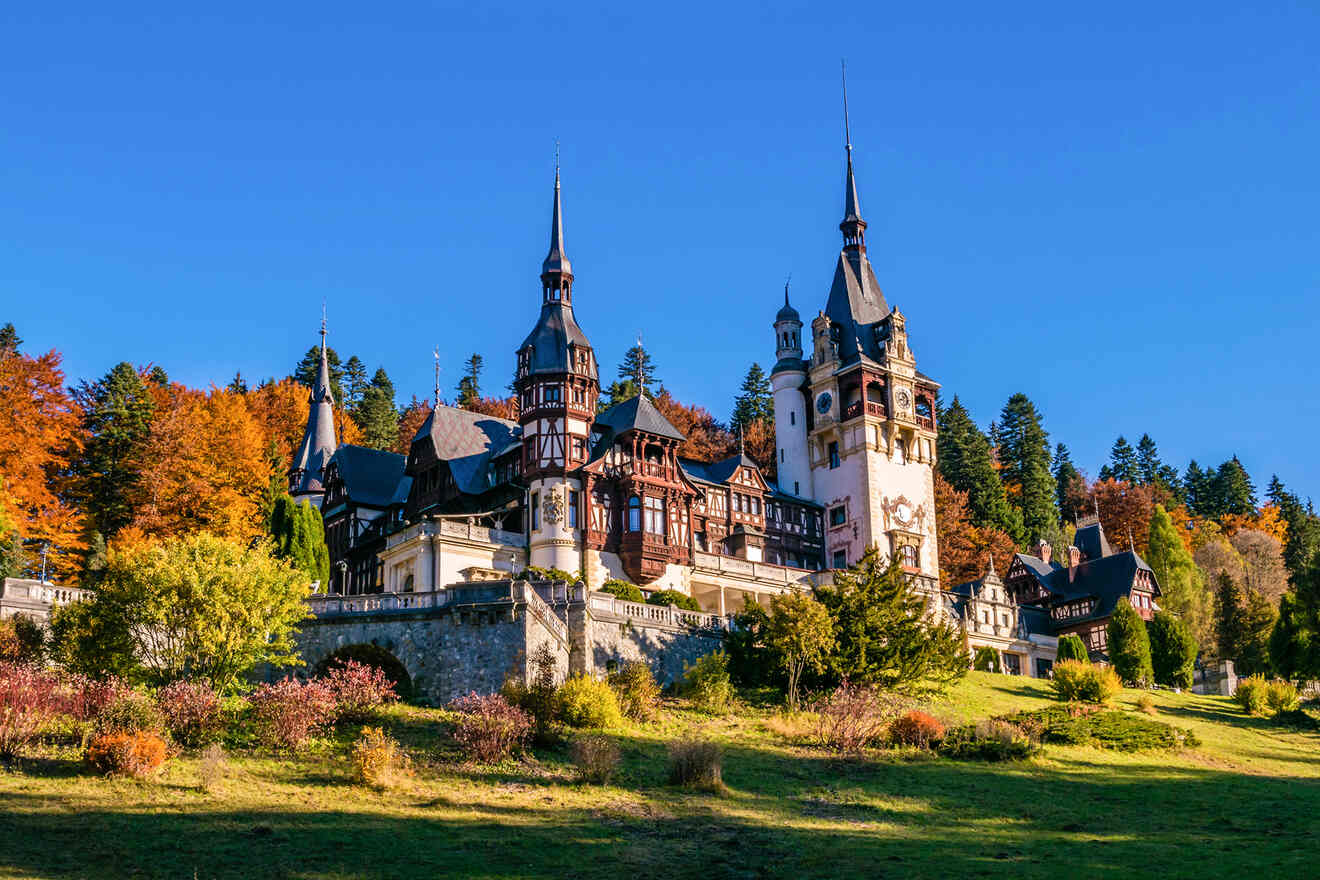 Conclusion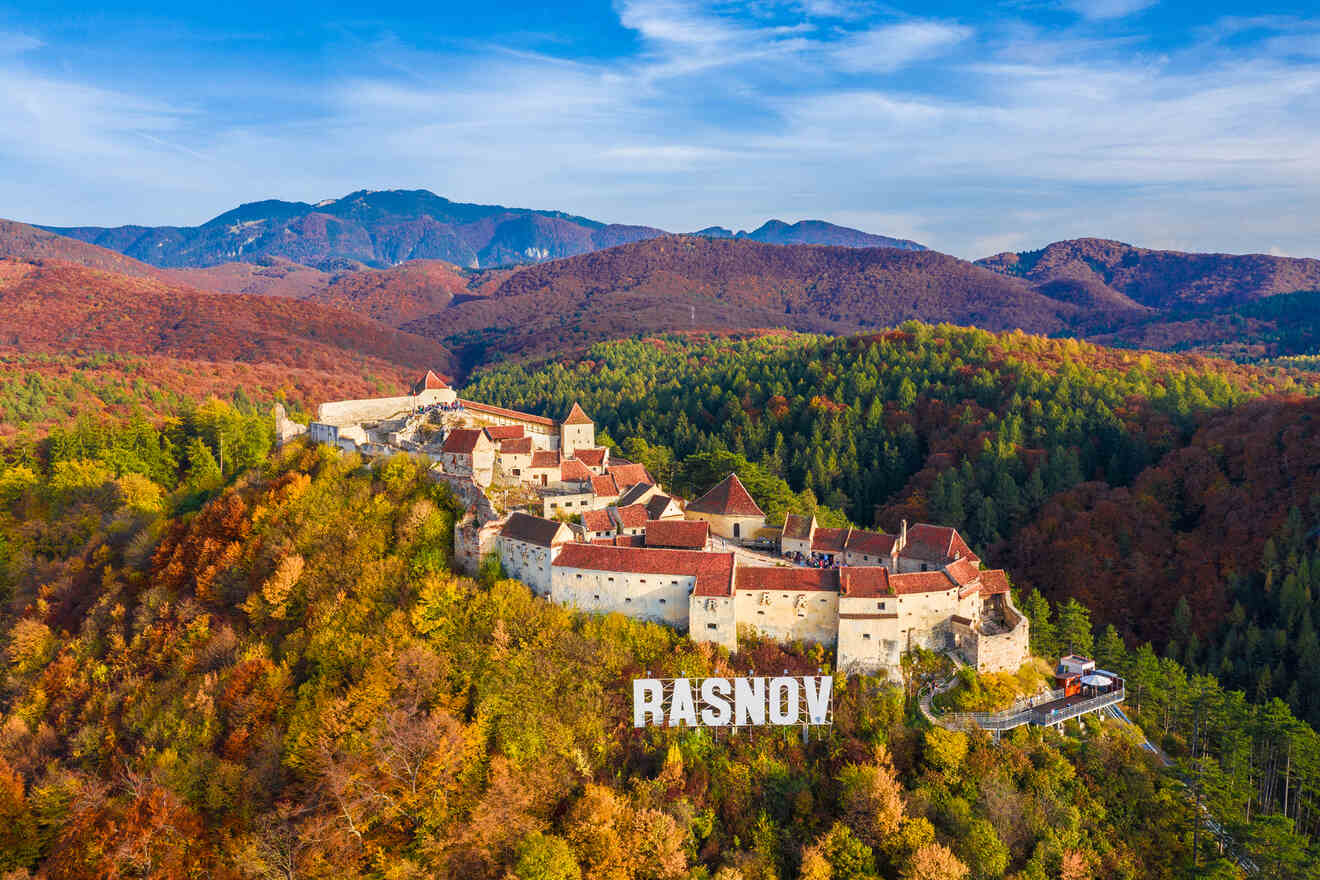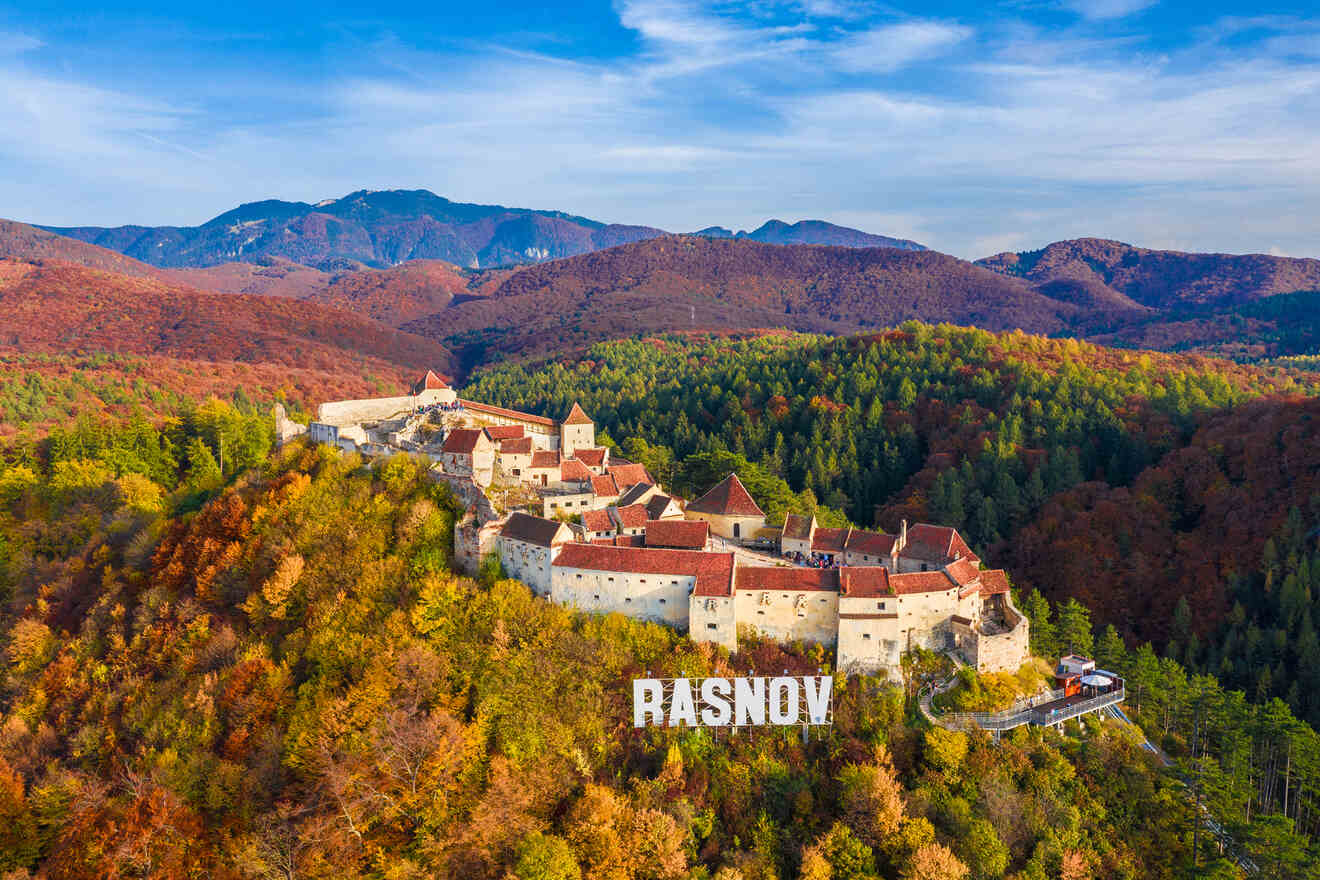 Wow, I've been to Transylvania a few times but it never ceases to surprise me!
Okay, dear traveler, I'm happy if you've made it here! To quickly recap everything we've touched on today: in the first part of the post, you have a super detailed guide with the best areas and Transylvania hotels.
As you scroll down you'll also find a bonus section with other cool accommodation lists in the region!
I know there are so many amazing options in this article so here are my top 2 favorite ones, both located in Brasov:
Kronwell – An accommodation with a great hotel rating that has a hot tub and an a la carte restaurant
Safrano Palace – A boutique hotel which offers delightful spa services
Remember that each accommodation has a great hotel rating and most likely they'll sell out in a second! I highly recommend booking them in advance. Transylvania may be a big region, but it's always filled with tourists.
This is where my part ends, now it's up to book your hotel in advance and get ready to go! Enjoy your trip to Transylvania, visit the beautiful Bran Castle, check out the Poiana Brasov ski resort and go hiking! You'll love it here!
If you have any other questions or any other cool hotel lists suggestions, leave me a comment below, and I'll make sure to answer them as quickly as possible!
Safe Travels,
Victoria