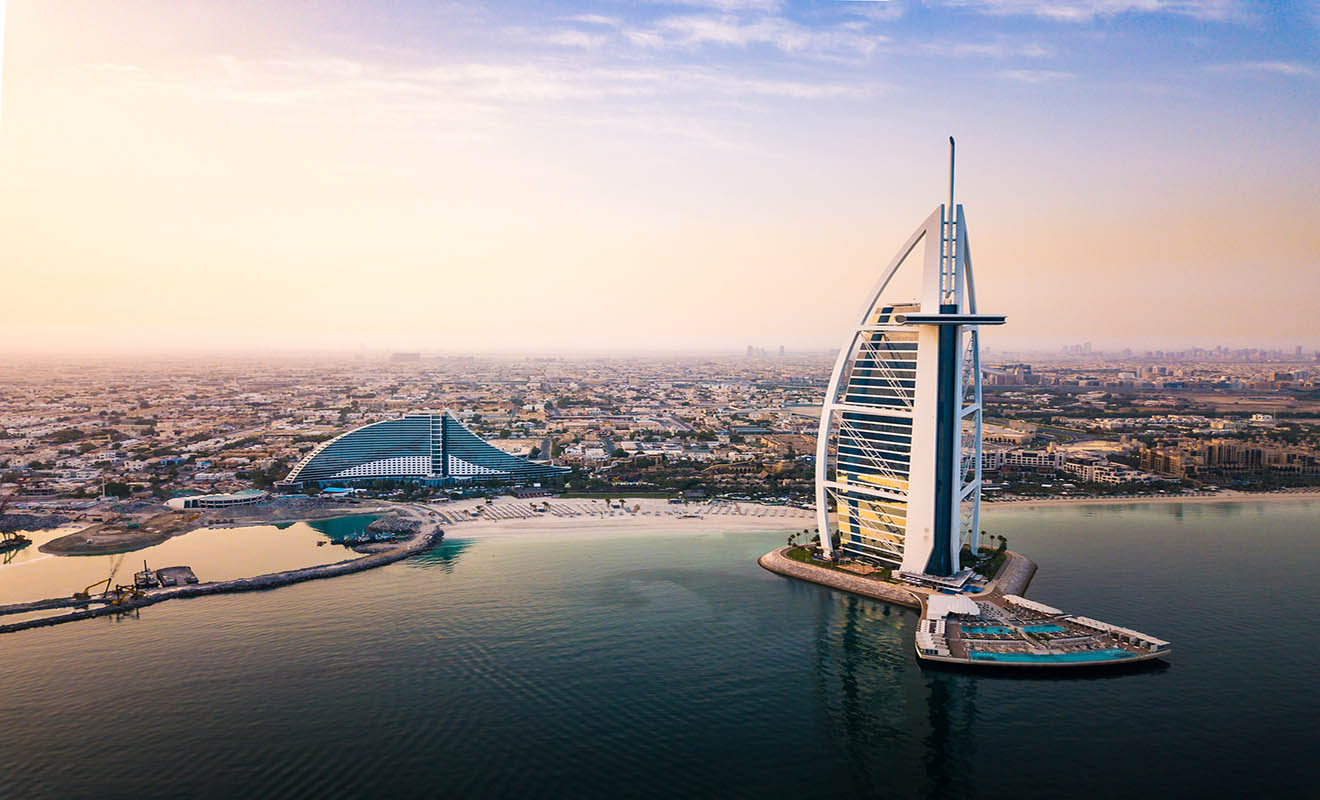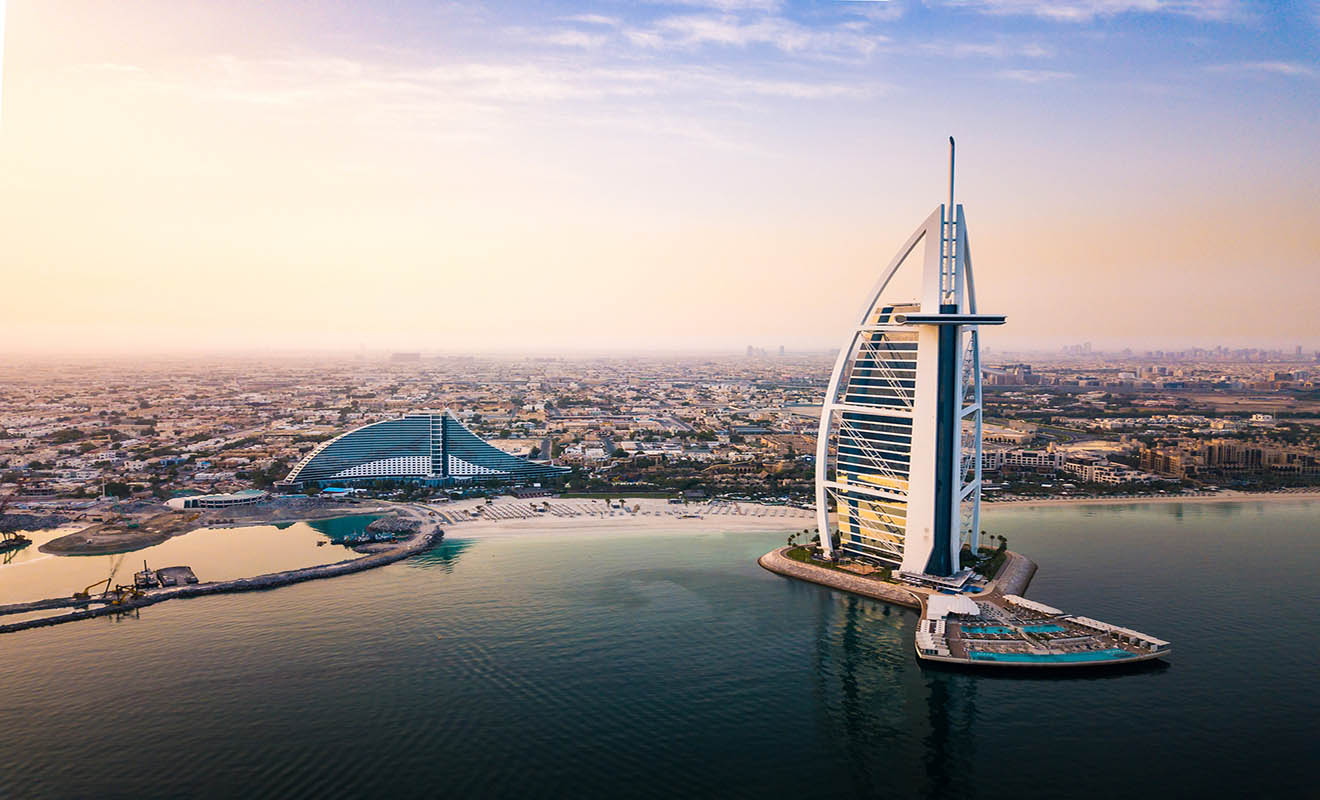 If you have decided to visit Dubai, the most populated city in the third richest country on earth (the United Arab Emirates), I hope you are ready for it, because Dubai couldn't be more ready for you!
The itinerary I'll be talking about contains all the unmissable things to do in Dubai for 5 days, but it can just as easily be used for a 2, 3 or 4-day plan. Whatever number of days you have there, I assure you – you'll always have something to do!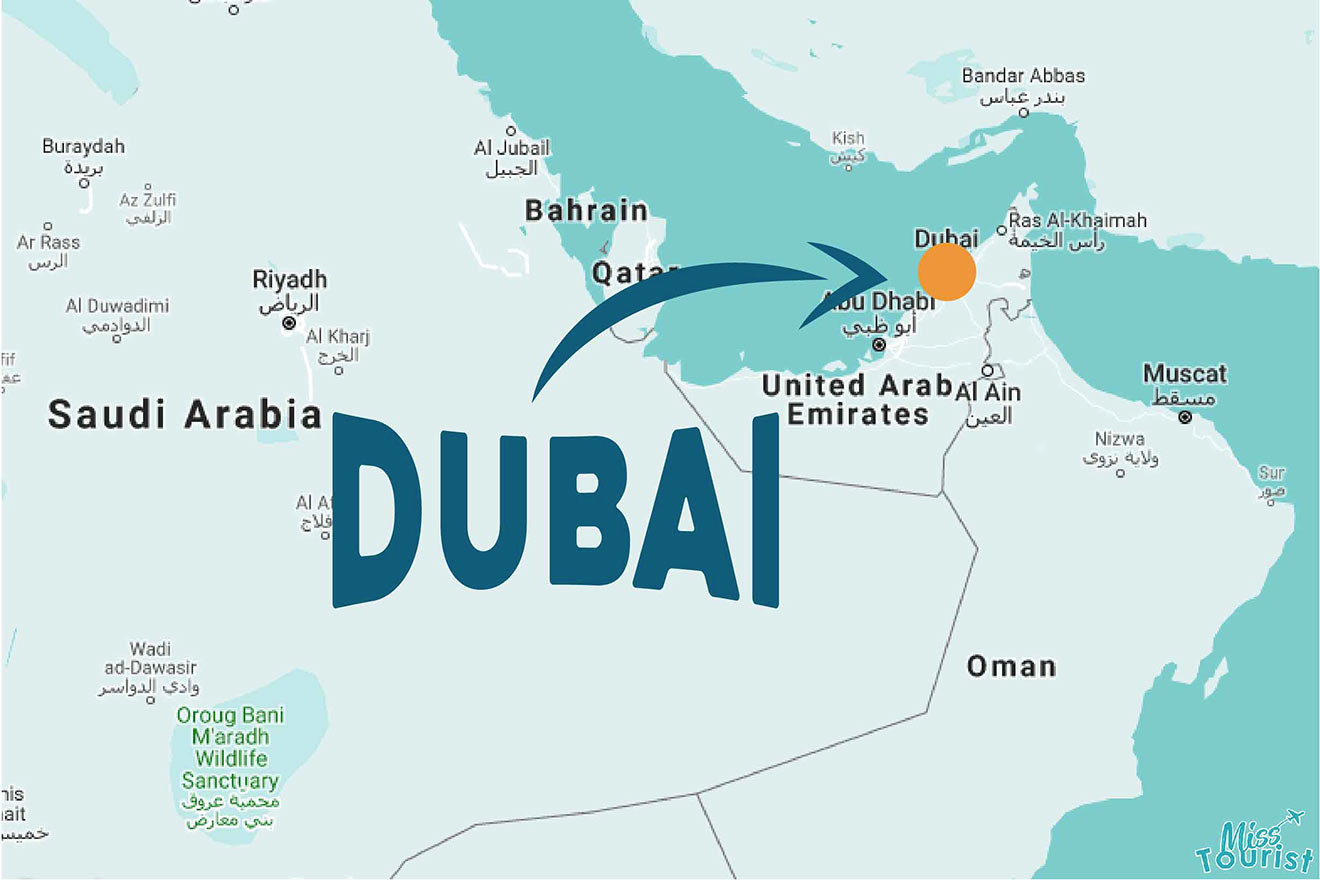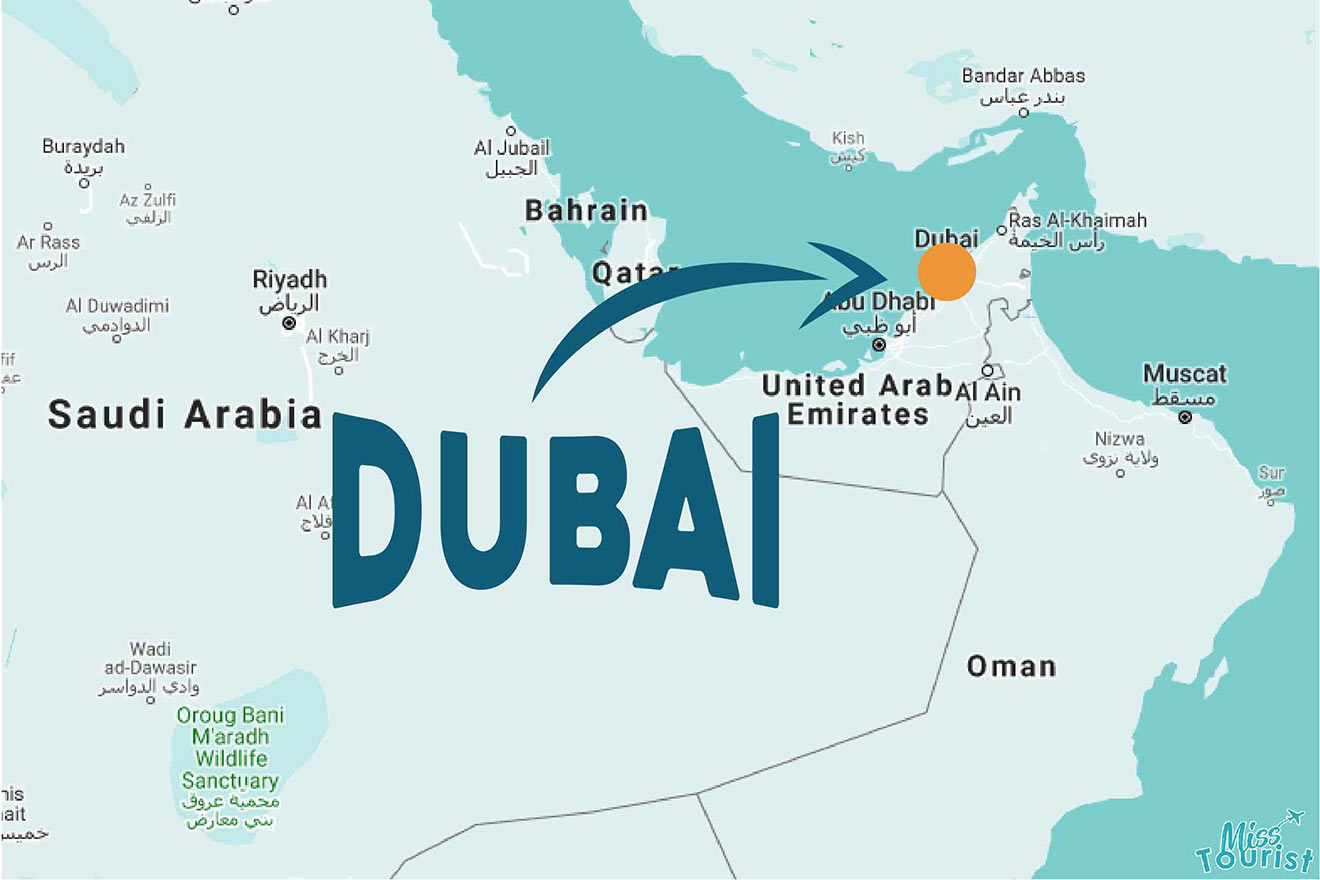 In this itinerary I tried to include experiences and activities that are geographically located close to each other so you enjoy both old and new Dubai, but feel free to move it around and maybe add some time in between if you want a more relaxed vacation in this city.
Let's go!
Day 1 – New Dubai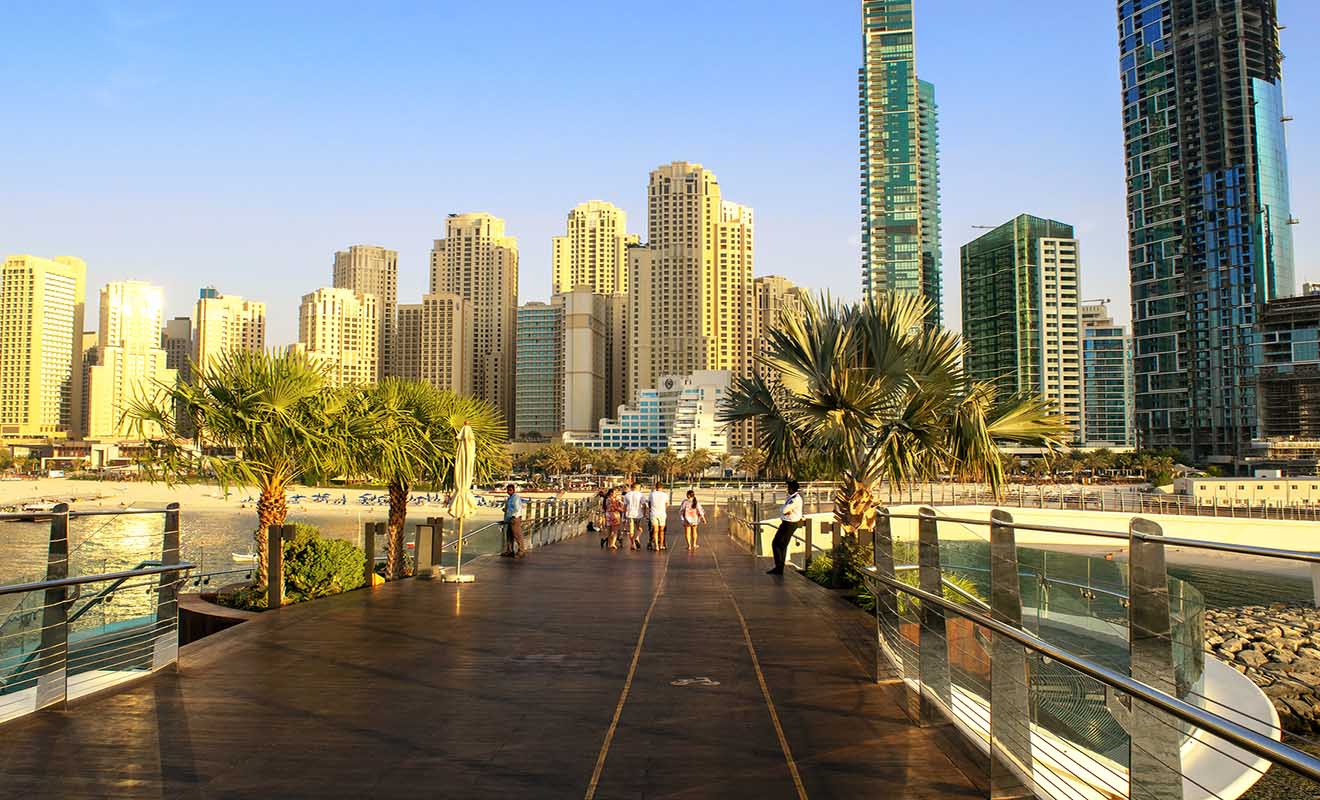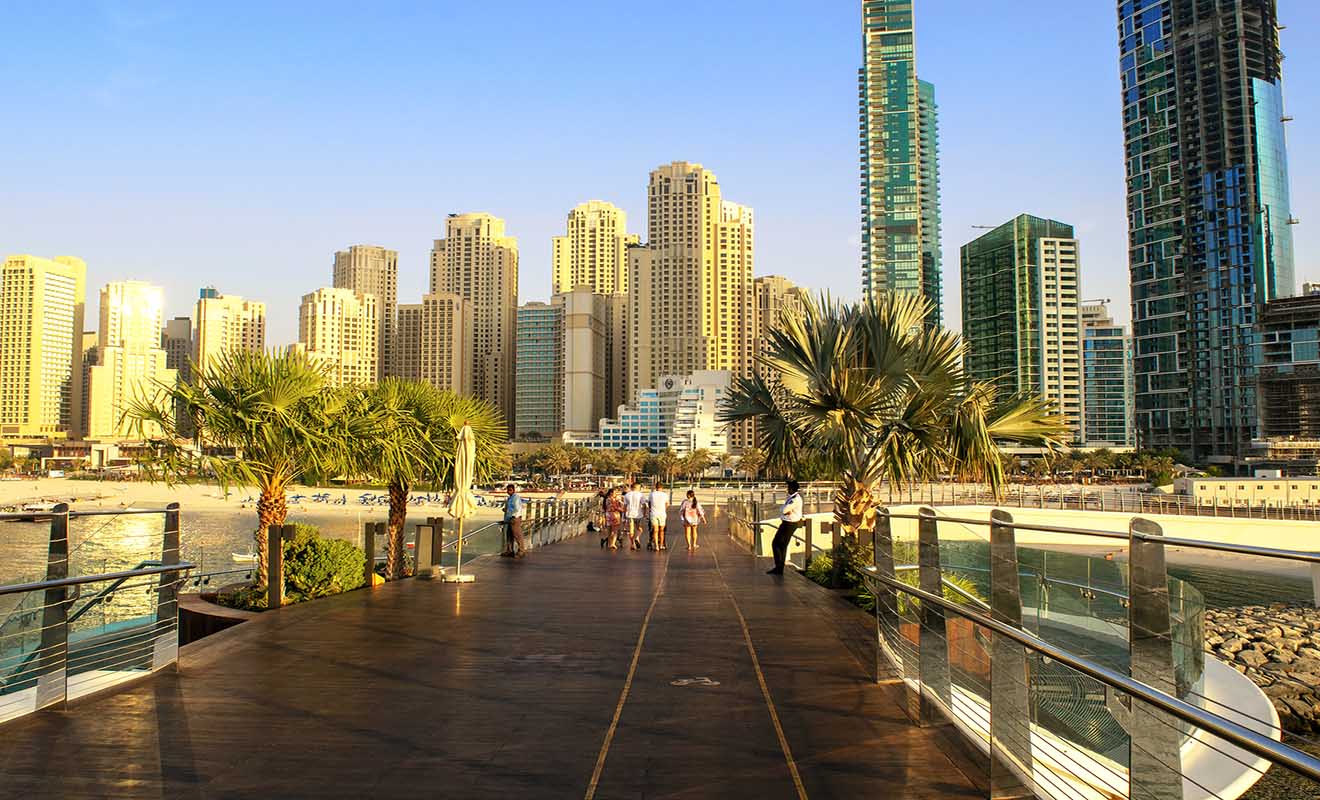 1.1 Relax on Kite Beach or Jumeirah Beach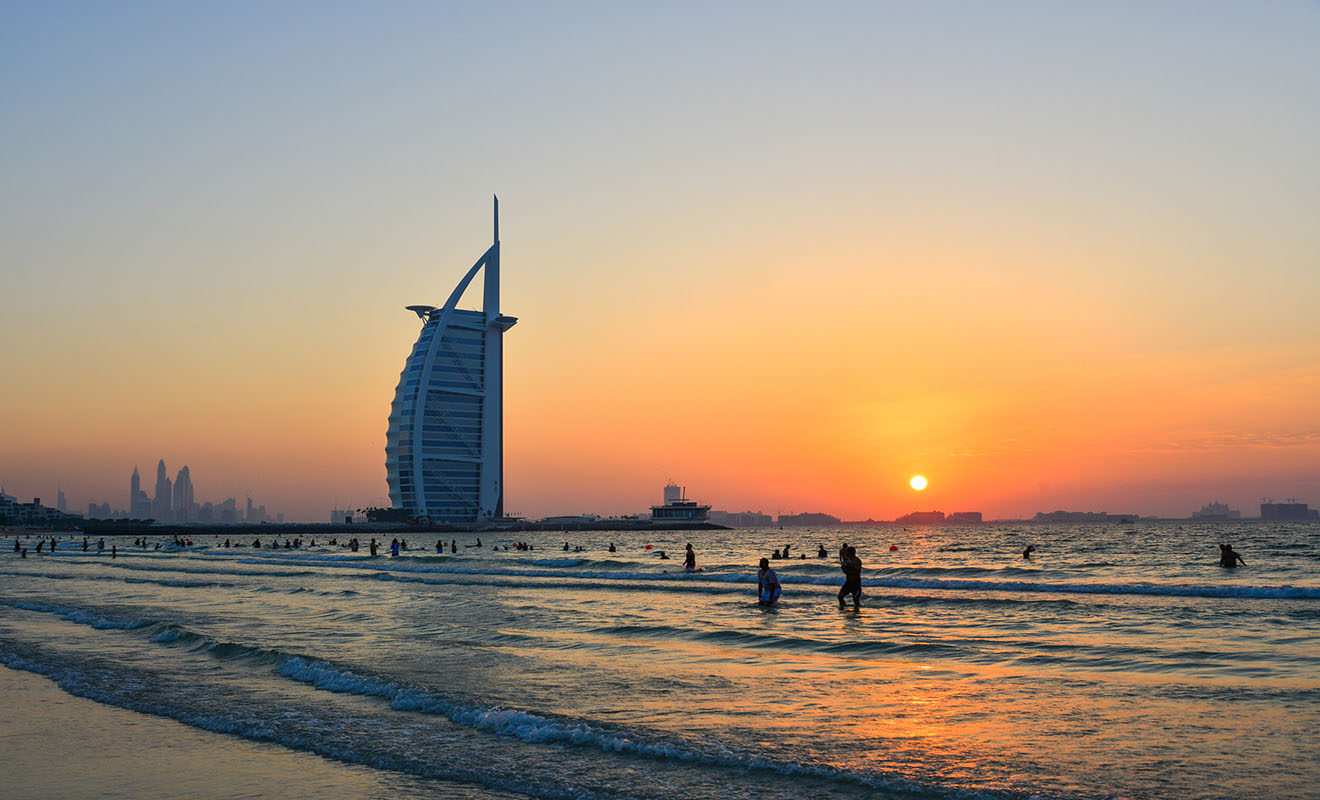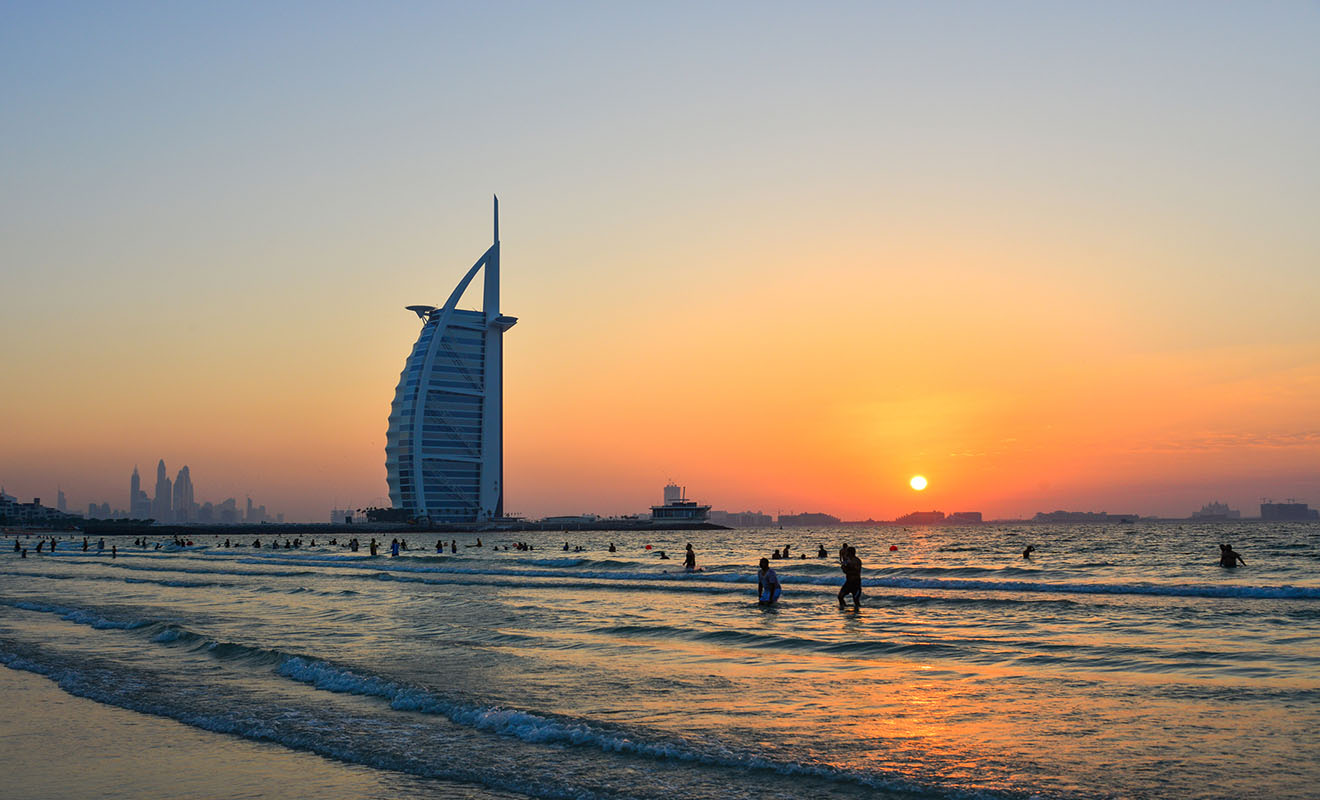 Do you want to enjoy the sun with a wonderful view of Burj Al Arab? I know the right places!
Kite Beach is a public beach where you can bring your own umbrella and towel, but if you forget, you can always rent them on the spot for around AED 100 (US $27) for an umbrella and two chairs. Plus, this beach offers a great view of Burj Al Arab!
You can also head to Jumeirah Beach, a super popular beach which is free and public. By the way, there's also a great view of Burj Al Arab from there, so don't forget to bring your camera for the perfect photo!
1.2. Visit the Dubai Mall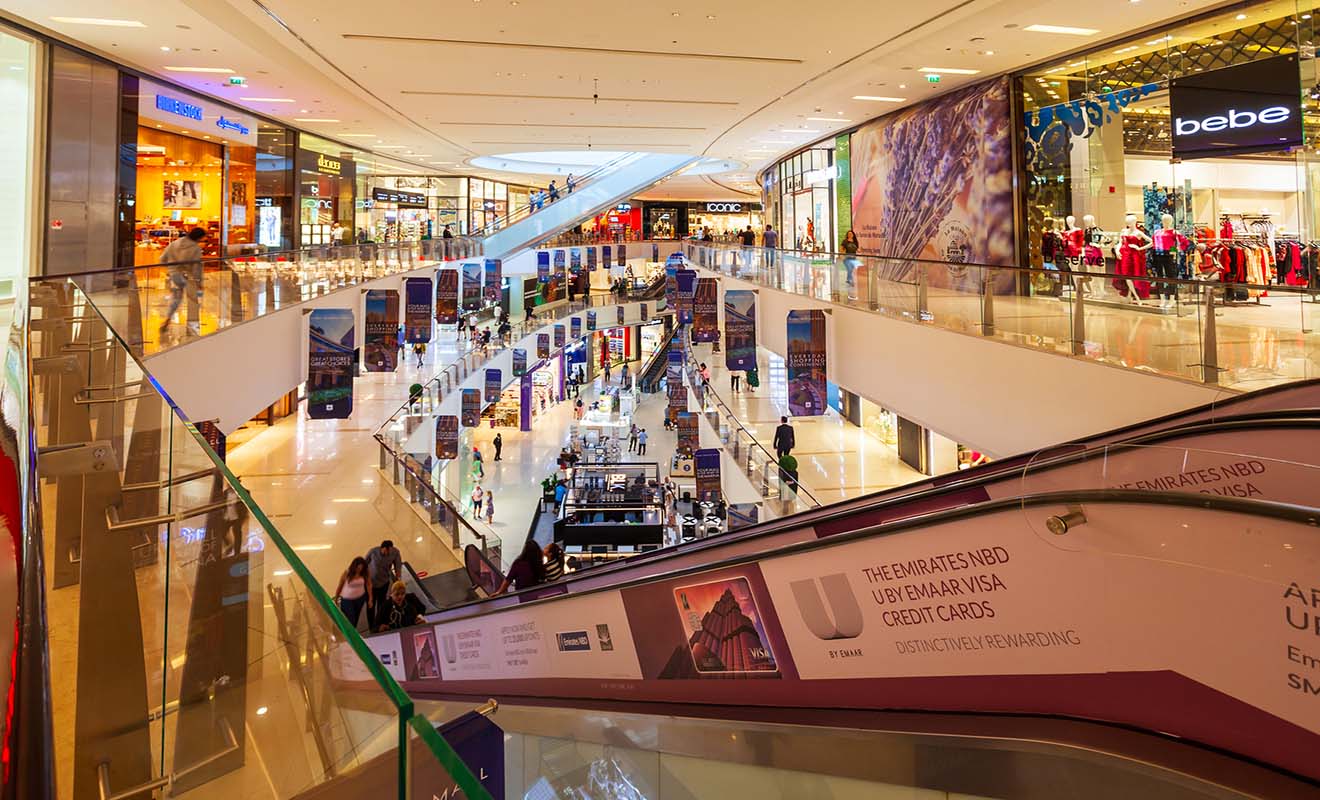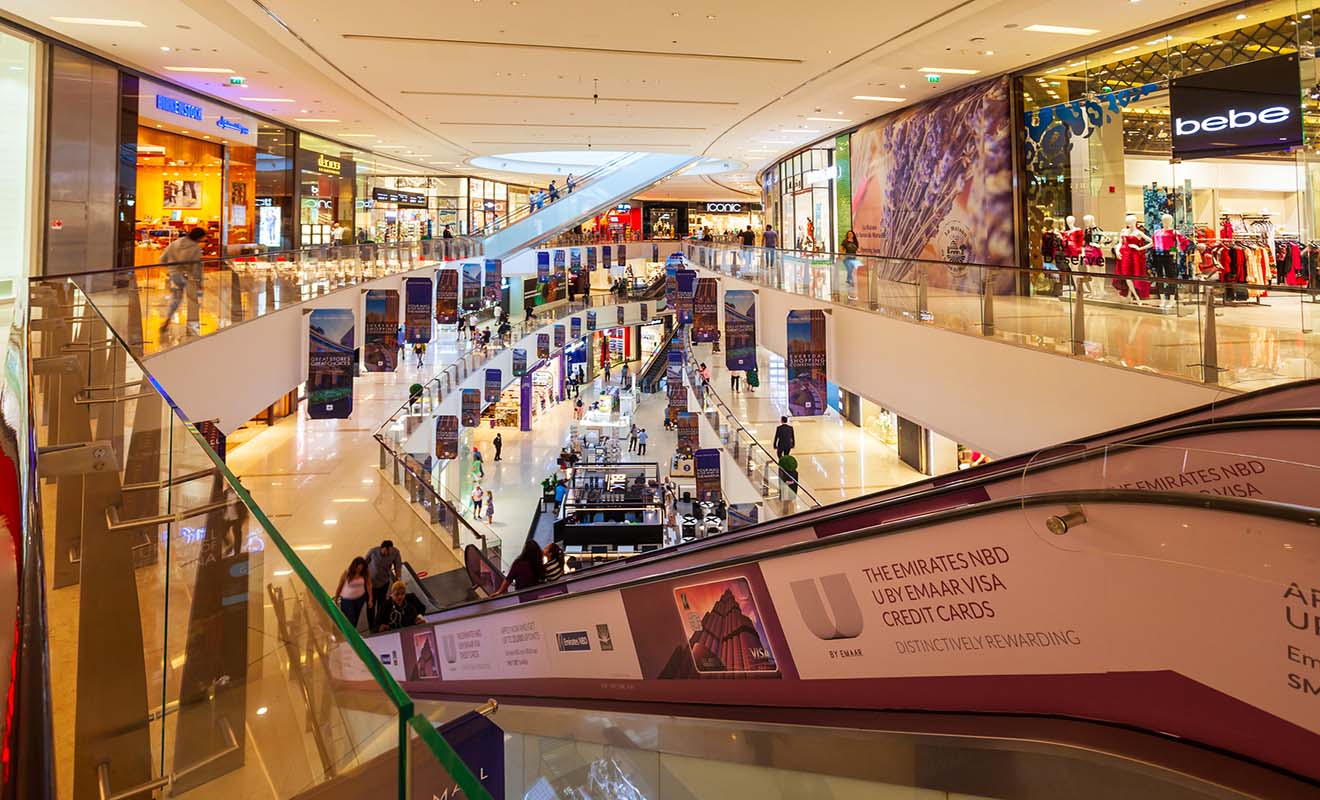 One of the most famous Dubai attractions is the Dubai Mall, located in downtown Dubai.
Dubai Mall is the biggest mall in the world and it has more than 80 million visitors per year!
This is because the Dubai Mall is not just any mall! Because of its humongous size, there are plenty of things to do and events going on there all year round, as well as restaurants and shops.
By the way, you can check out my post on Things to do in Dubai with kids where I have a whole section on what to do with them at the mall. Spoiler – so many cool things!
VR Park – Go on and challenge your senses and experience this Virtual Reality theme park. The price is US$ 16 for a discounted ticket or US $41 for a skip-the-line ticket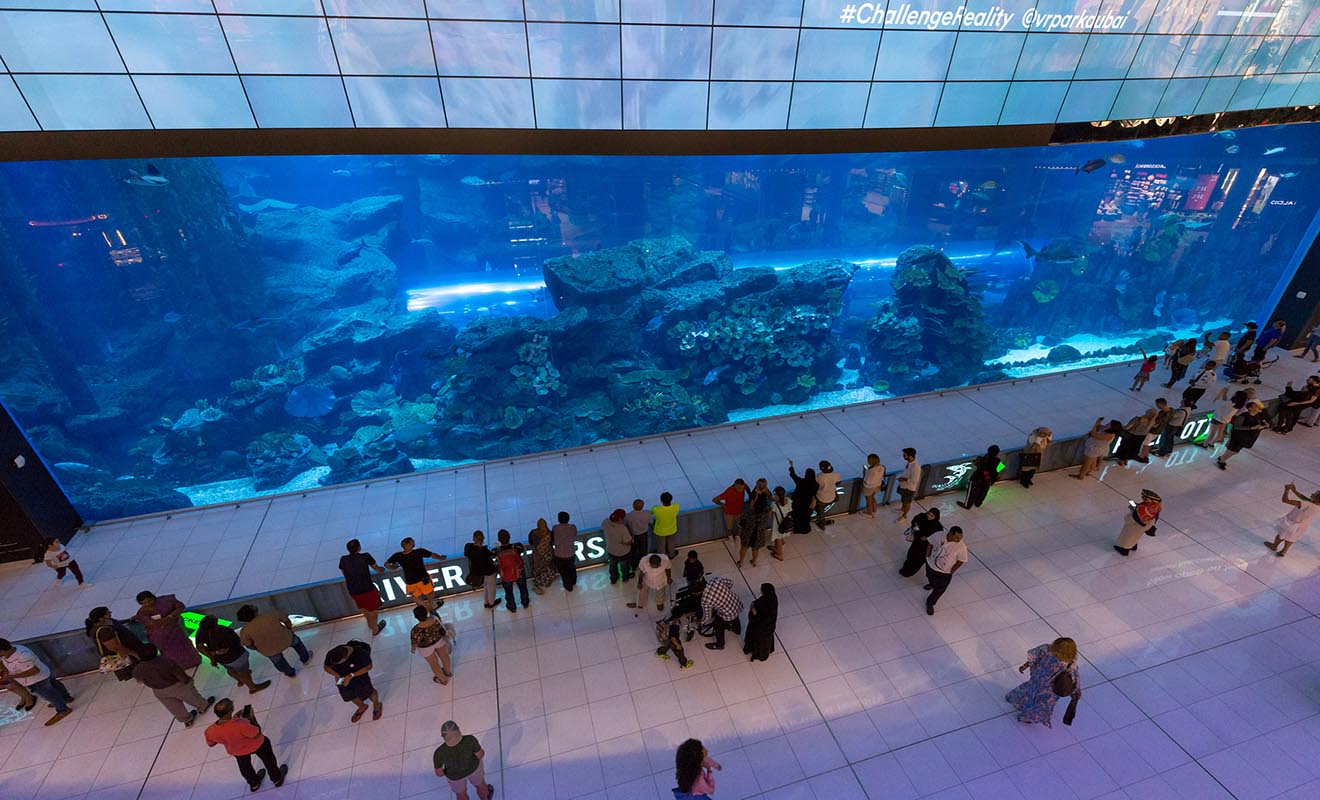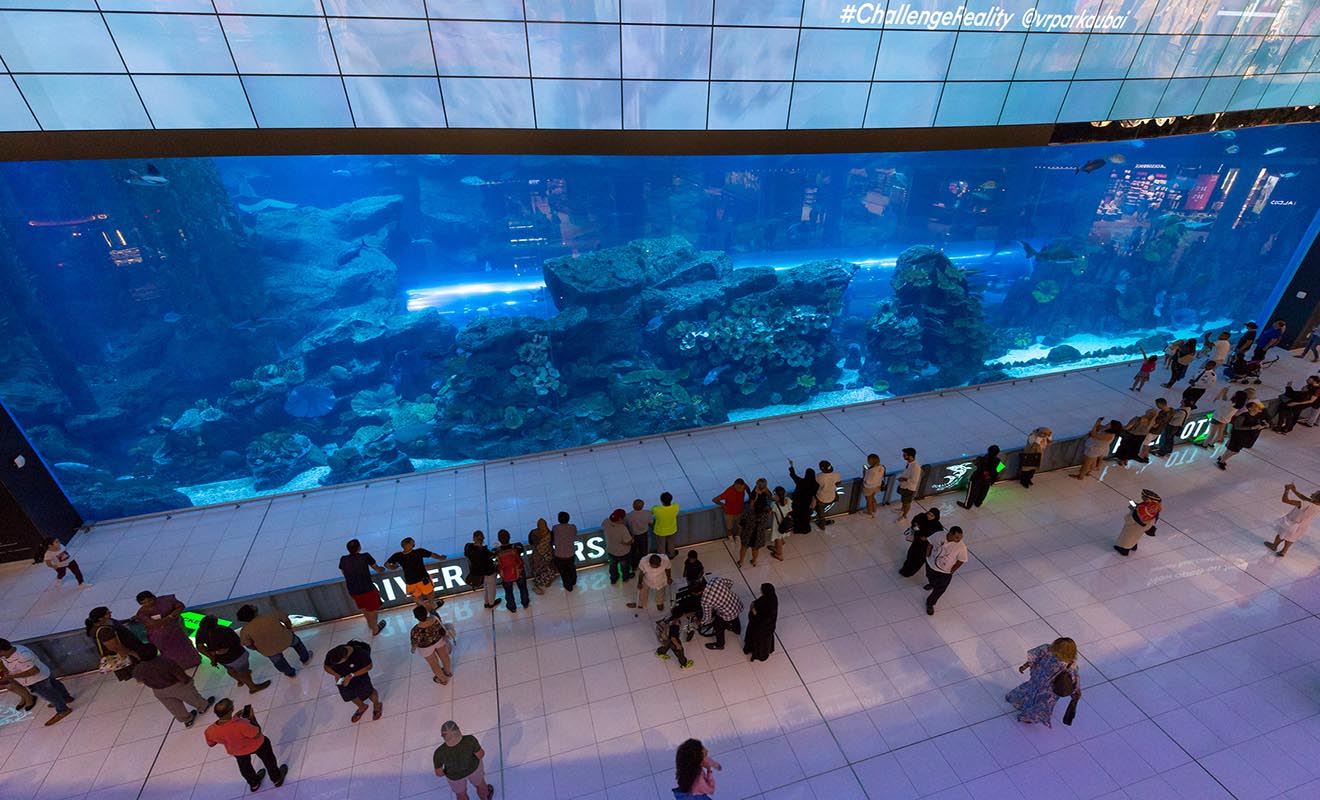 Aquarium and Underwater Zoo – Located on the ground floor; you can see over 140 species of fish there, including sharks (they have 300 sharks!), rays and more! The ticket is US$47 (weekdays) and US$61 (weekends) for the Explorer experience, but I found discounted tickets for $US27 here!
Dubai Mall sculptures – From the Human Waterfall to the skeleton of a 155 million year old dinosaur called the DubaiDino.
1.3. Explore Burj Khalifa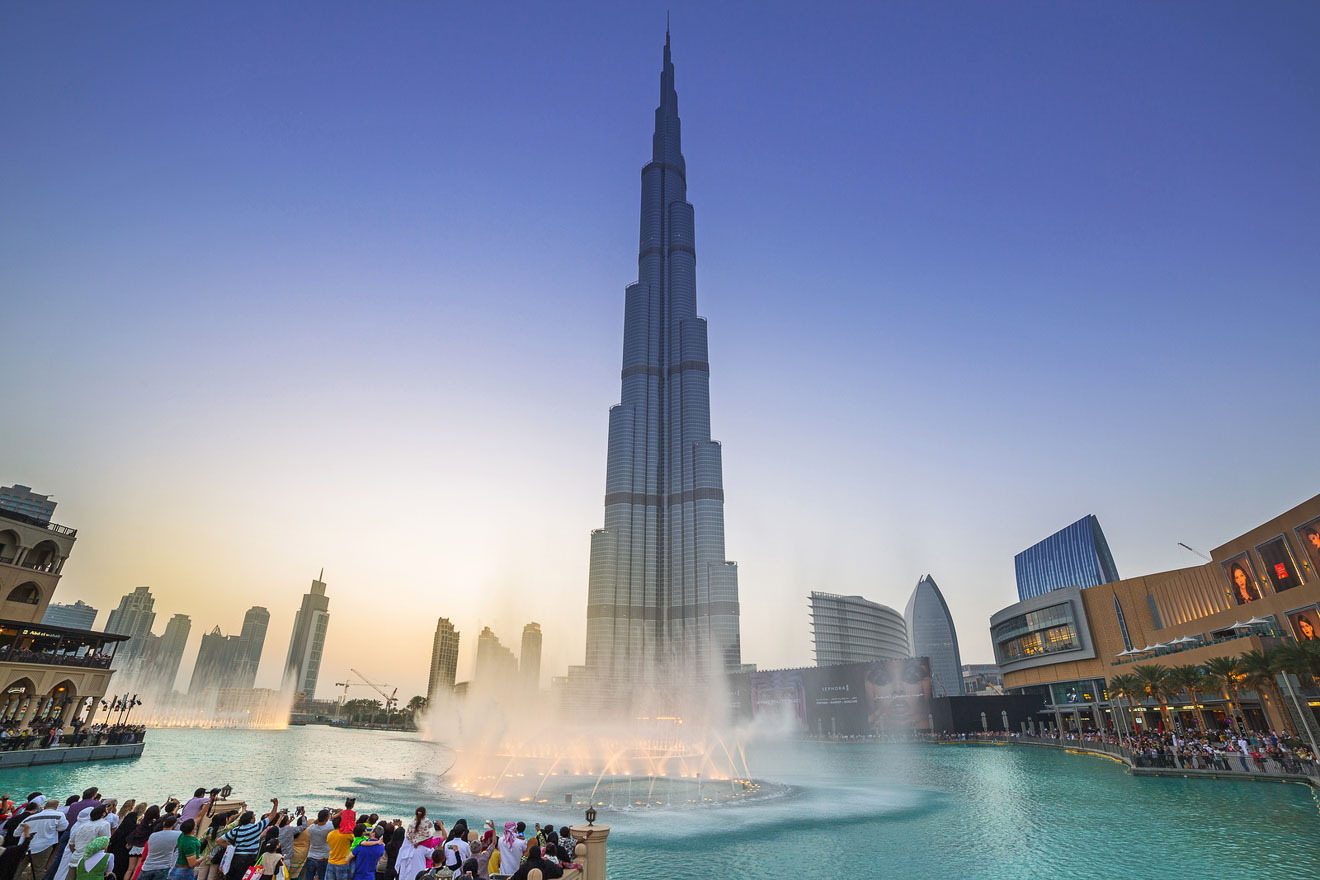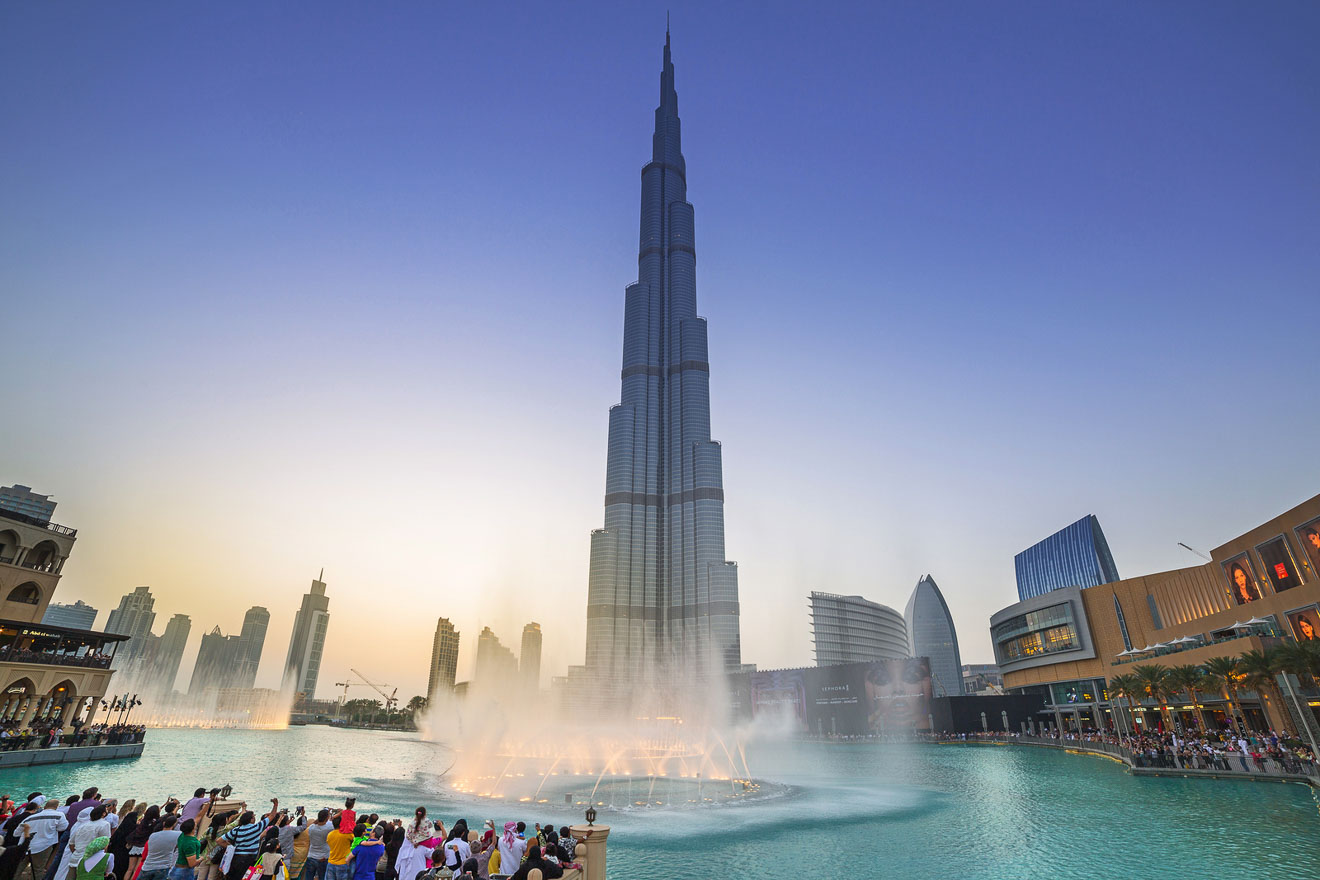 There is no way that you go to Dubai city and not go up the Burj Khalifa to admire the entire Downtown Dubai and the areas nearby!
Not only is it the tallest building on the planet, it's got 5 more world records such as having the elevator that travels the longest distance as well as having the highest observation deck in the world!
I have written a whole article about getting tickets for the Burj Khalifa as the price varies depending on what type of experience you will be having and I want to help you make the right choice.
PRICE: US $60 for At the Top tickets (124th and 125th levels) or US $119 for At the Top Sky tickets (124th,125th and 148th level), both for prime times.
EXTRA: Stop by Dubai Frame for a great picture opportunity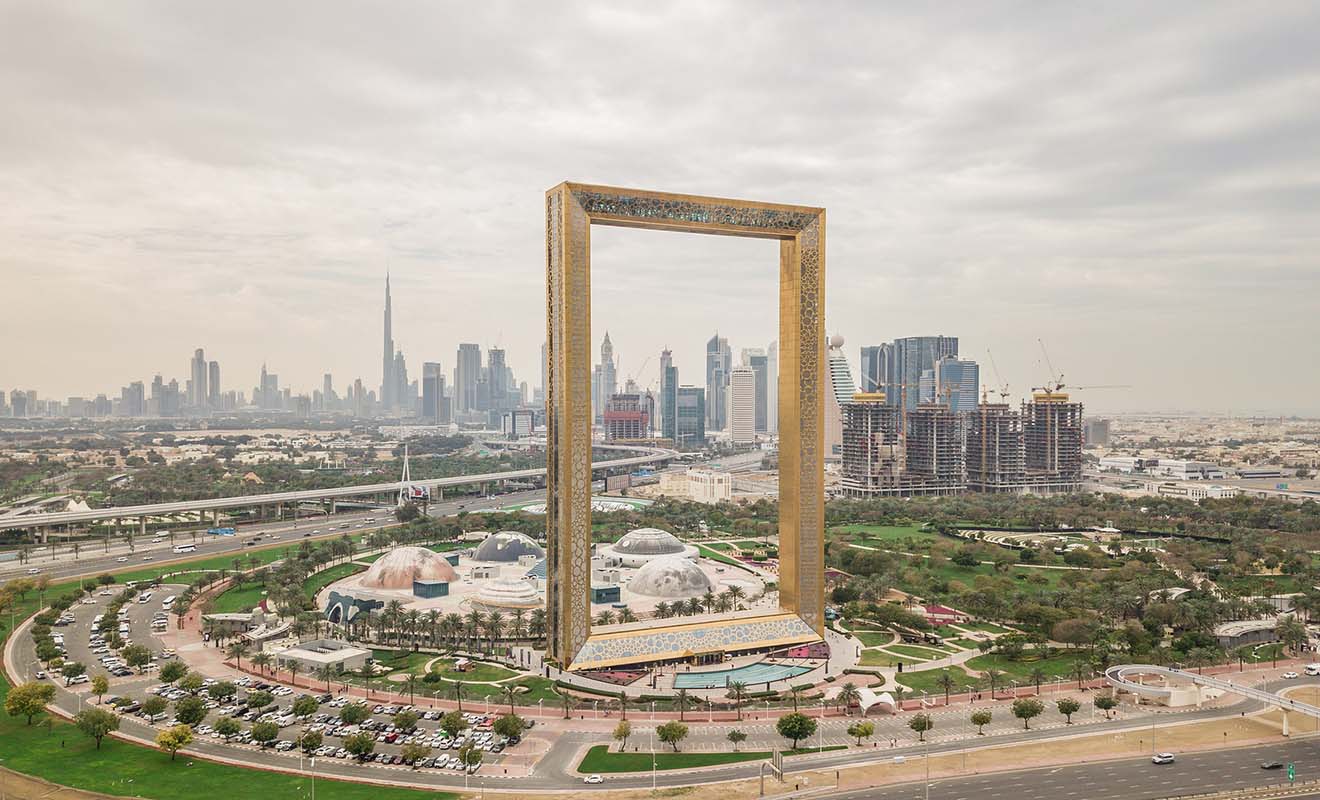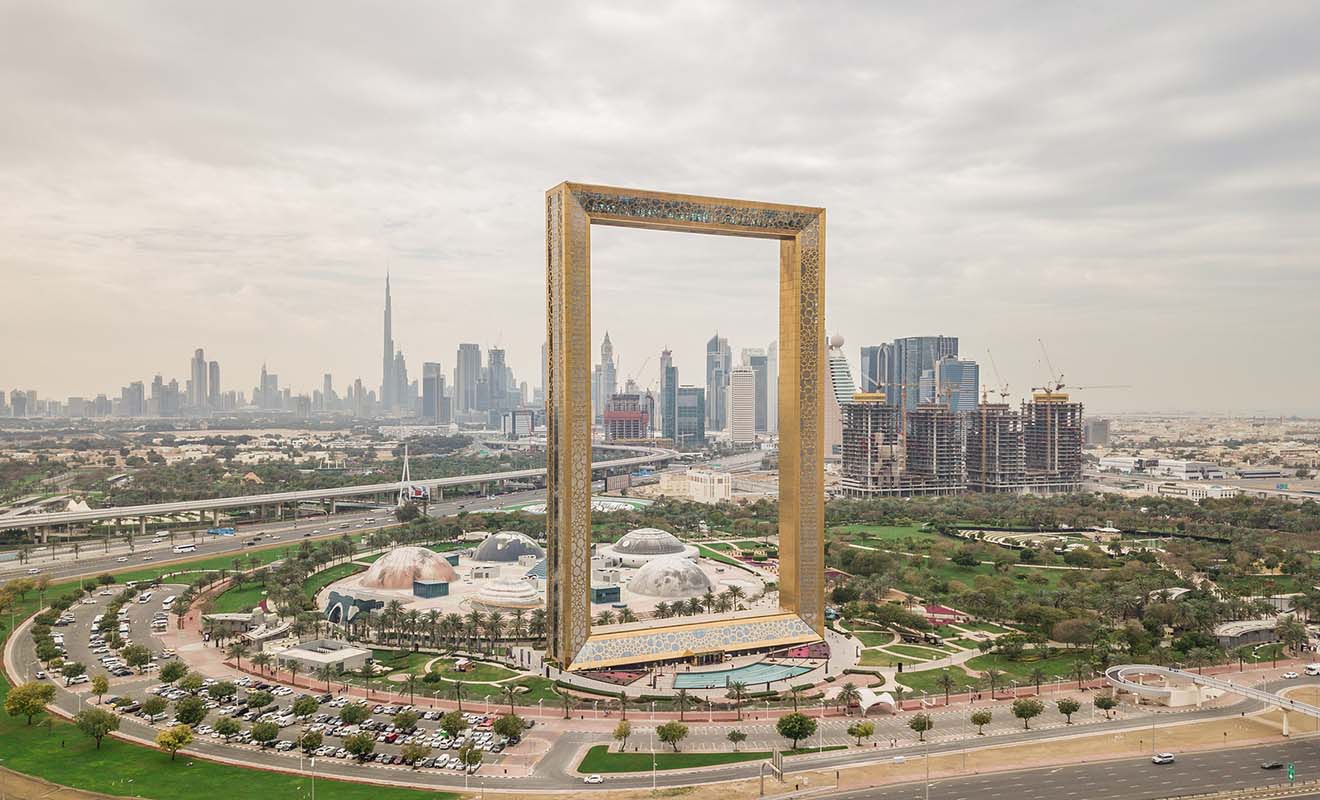 This humongous statue stands at 150m high and 90m wide and it is located in Zabeel Park in Downtown Dubai. You can always take a picture from afar for free, but most people want to check out the views by getting tickets to enter the Dubai Frame and even climb it!
PRICE: AED 50 (US$13.6) or US $16 for the skip-the-line ticket – includes getting up and seeing the view + a visit to the museum as well.
1.4. Marvel at the Fountain show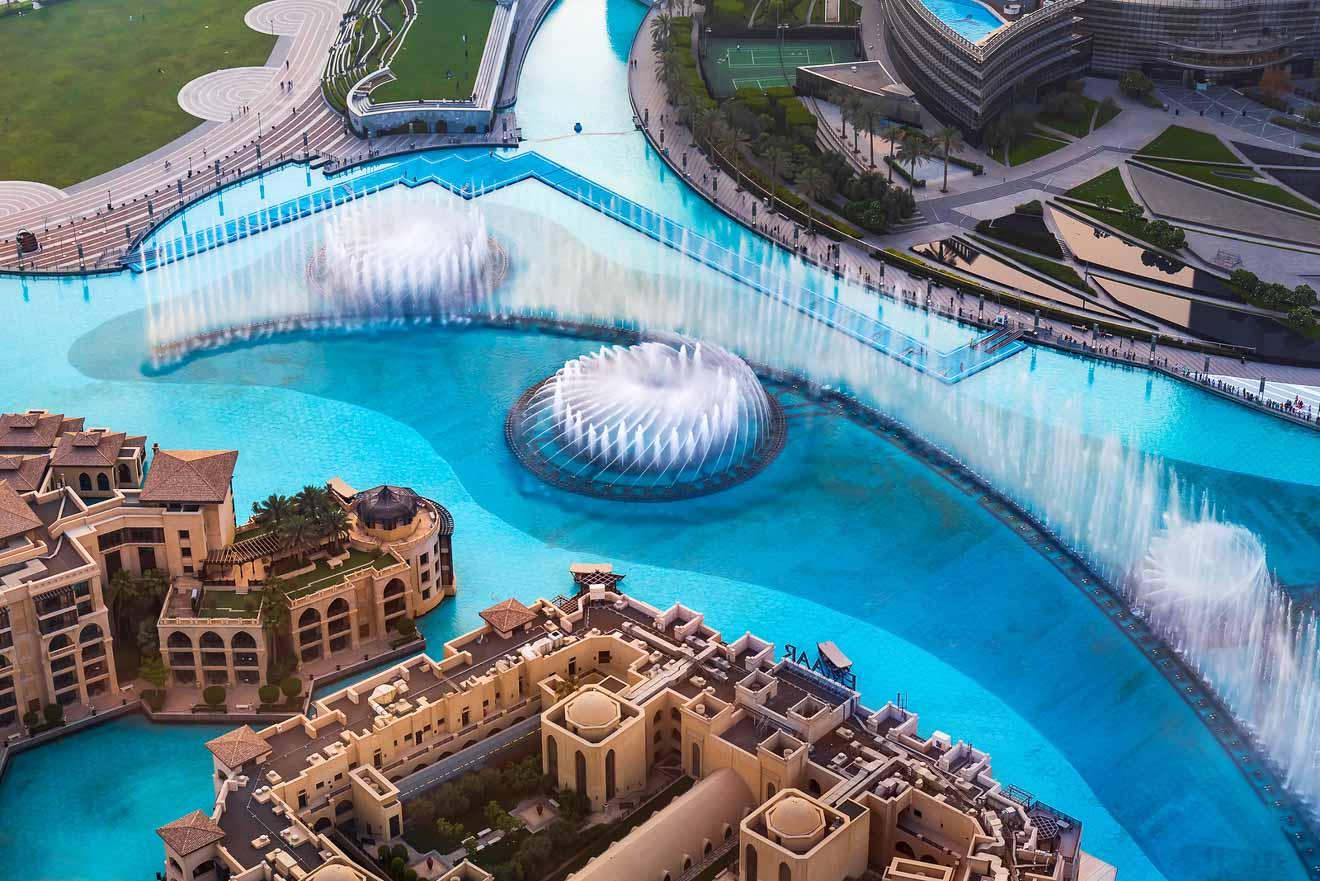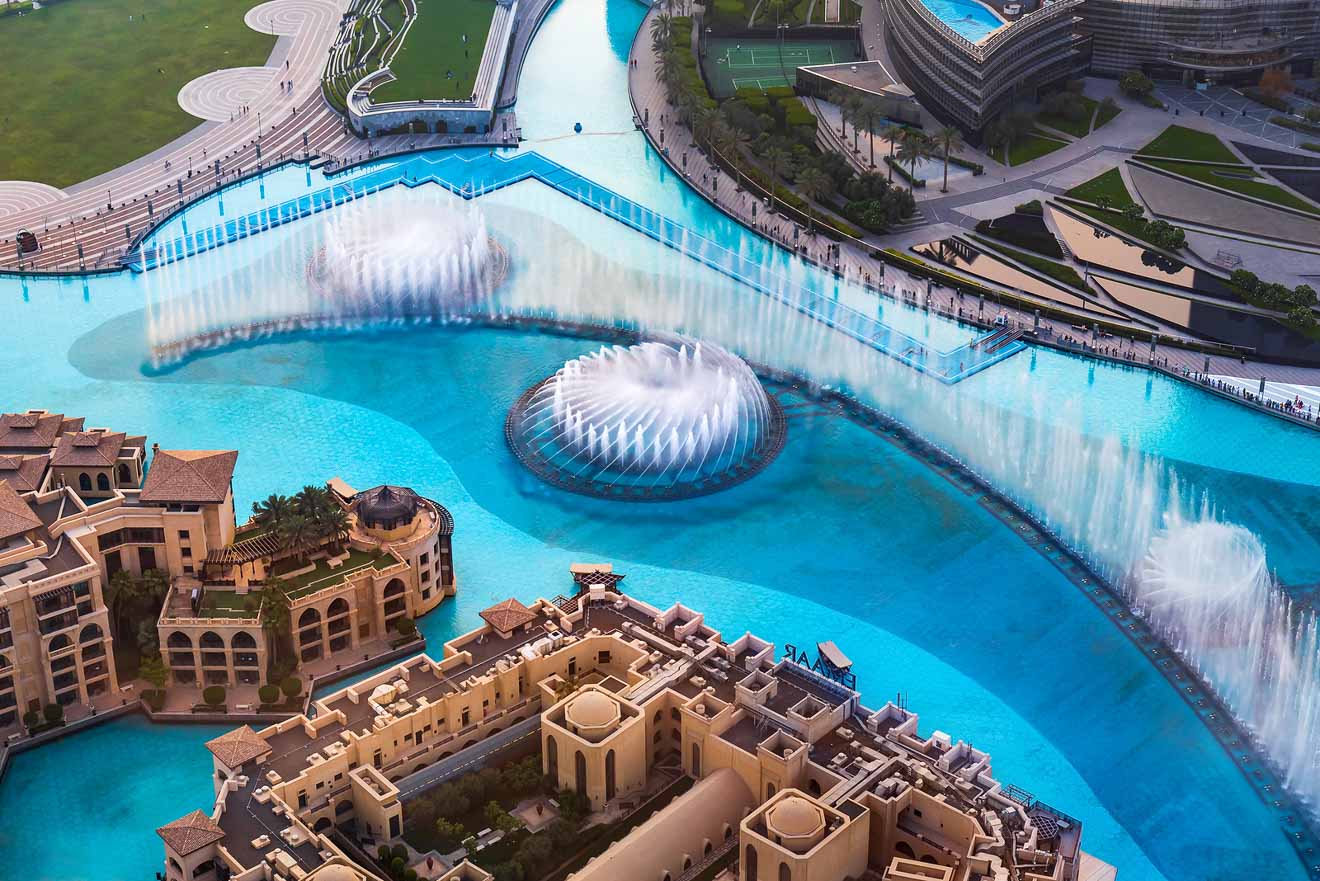 Right in front of the mall in Downtown Dubai you can find the Dubai Fountain, which is very similar to the Fountain at the Petronas Towers in Kuala Lumpur or the one at Marina Bay Sands in Singapore. So if you are wondering what to see in Dubai at night, know that this fountain offers a free light show as well! Evening shows start at 6 pm and are every half hour until 11 pm. Check the schedule here.
Alternatively, if you'd like to be driven around Dubai Fountain on a traditional boat, you can book a 30-minute cruise; make sure you head there in time to collect your tickets from the ticket counter because Dubai Mall is massive!
PRO TIP: If you'd like to enjoy the show without being crushed by the crowds and while you're sipping a cocktail, you can book a table at one of the restaurants in downtown Dubai nearby – Serrafina or Abd El Wahab Restaurant. Make sure that you mention a table with a view when you make your booking at the restaurants and book in advance! We just arrived 15-20 minutes before the show and took a spot with a view, but it got completely full 5 minutes before the show started.
Alternatively, you can also enjoy this "Cocktails under the stars" experience on the Lounge of Burj Khalifa on Level 152!
1.5. Check out souk Al Bahar in the evening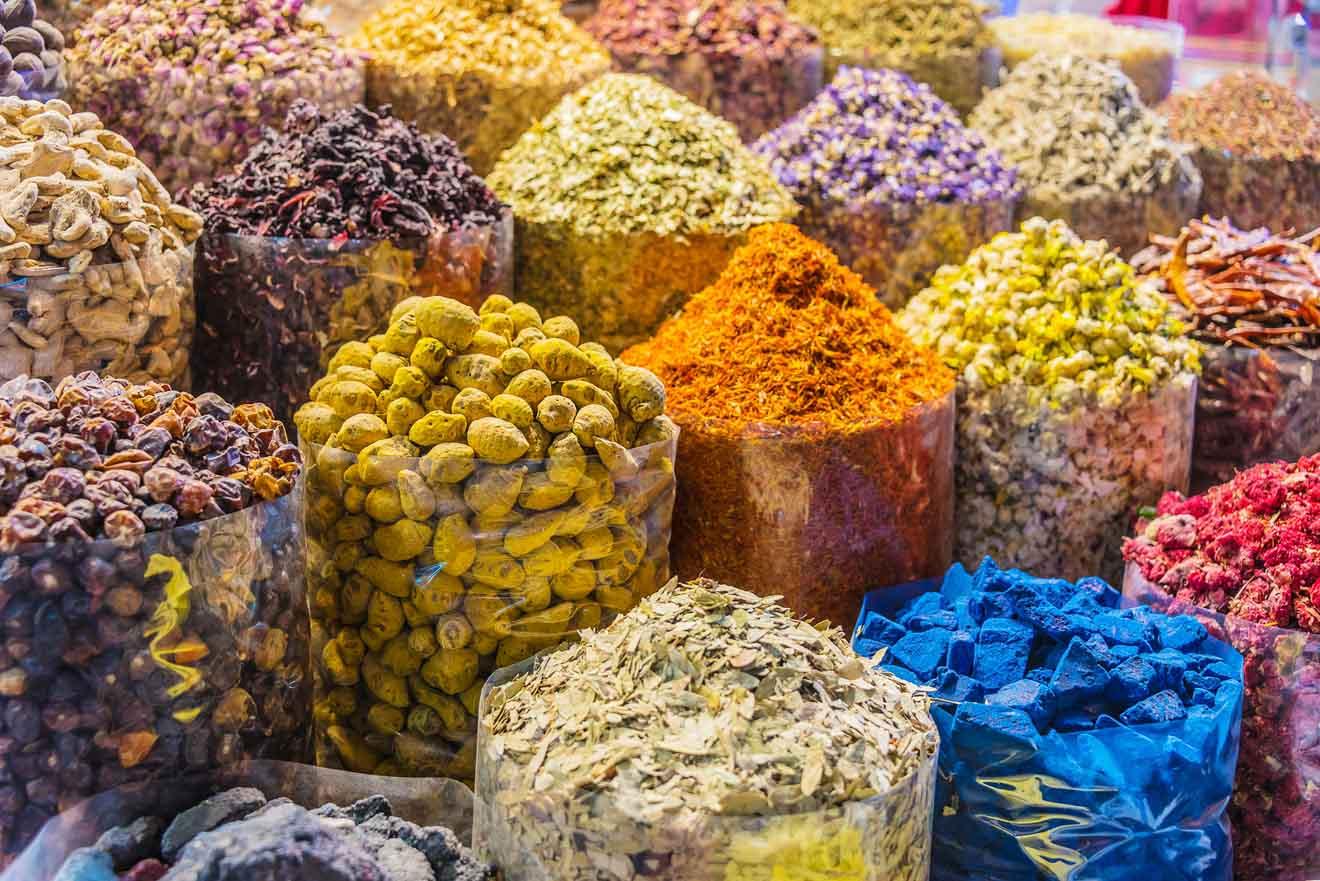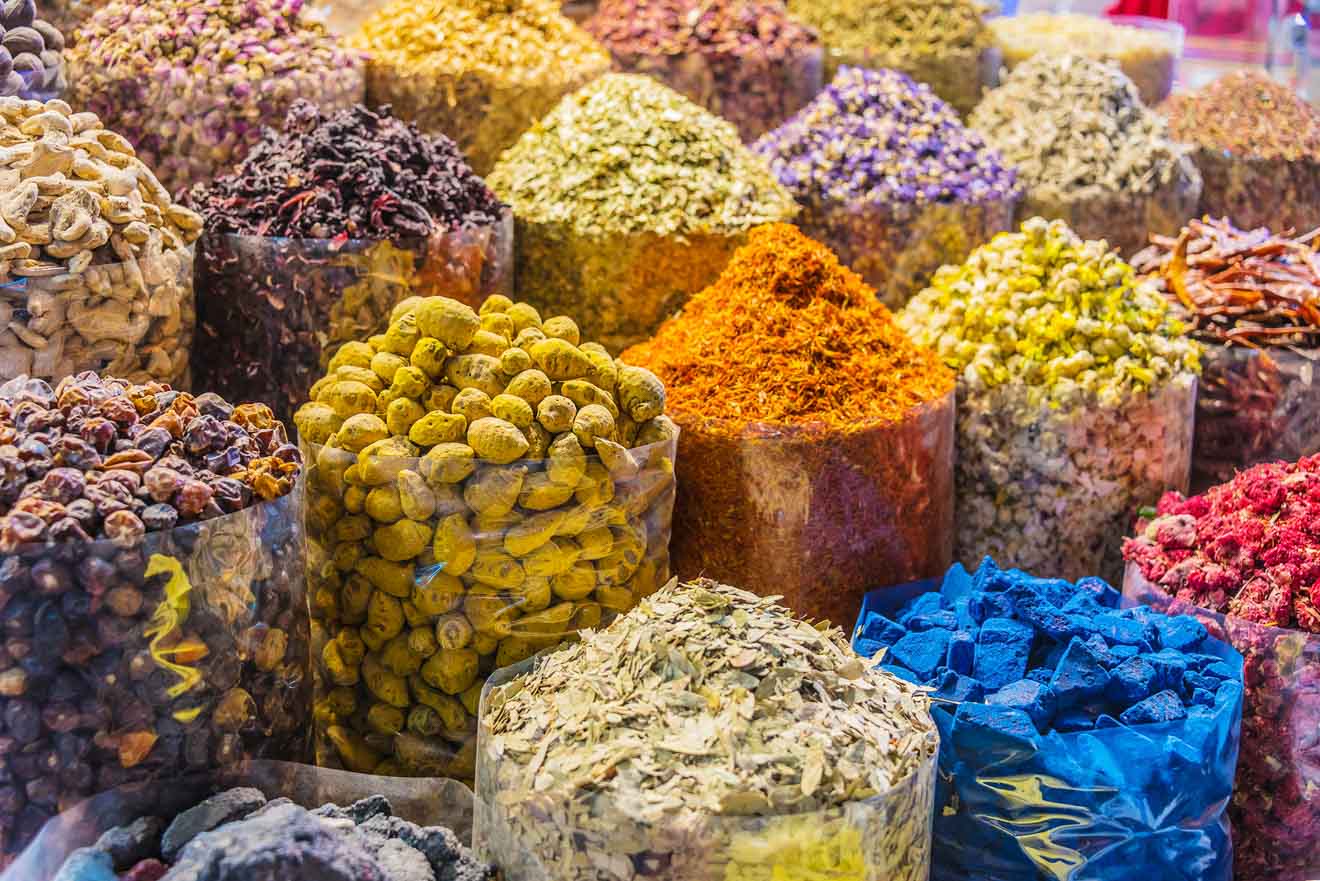 Before or after watching the night fountain show, you can head to souk Al Bahar, which is right in front of it!
It is a beautiful venue where you can shop for souvenirs or enjoy the restaurants and bars – the perfect spot to chill after a day of sightseeing.
PRICE: Free
Day 2 – Old Dubai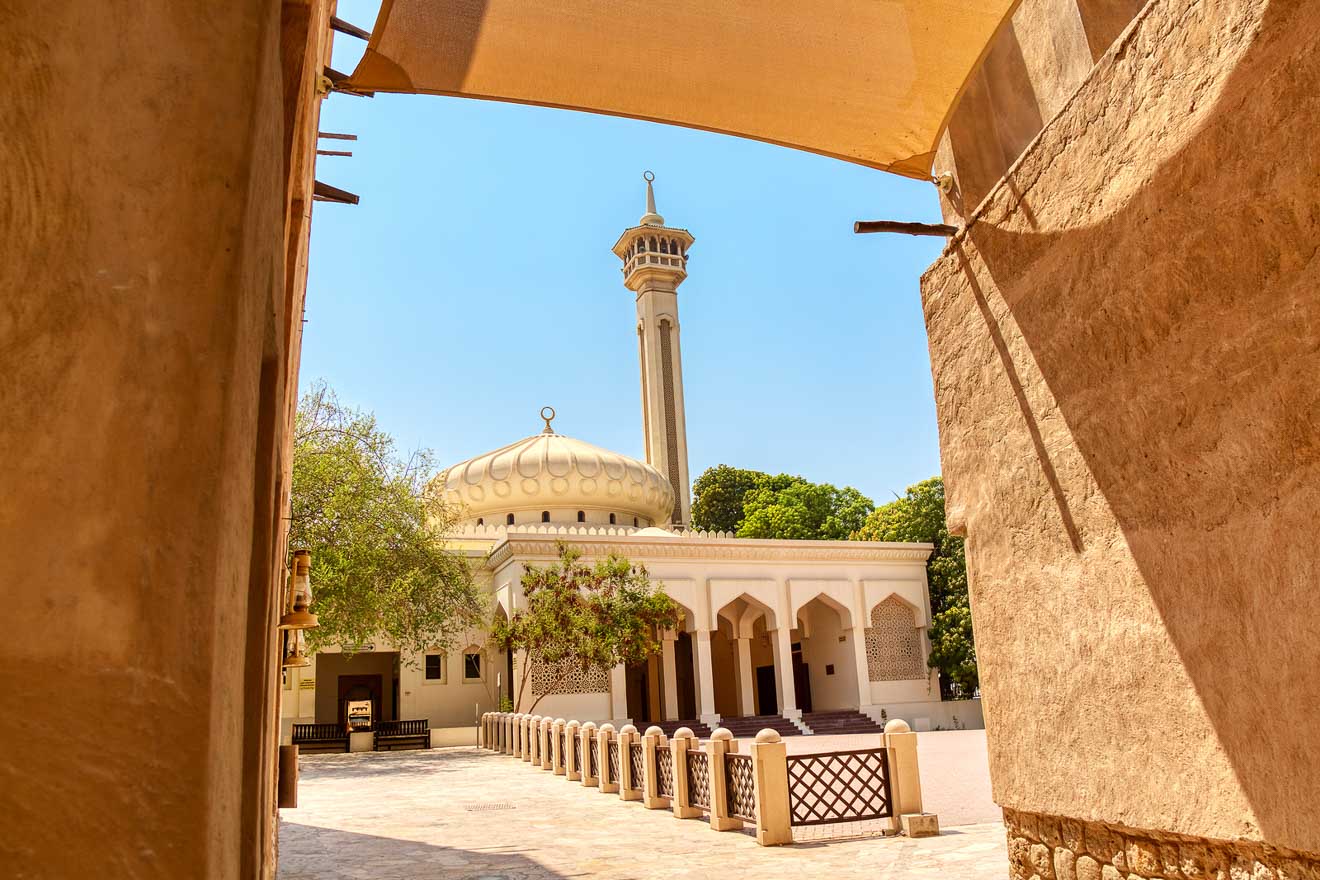 2.1. Explore the Al Fahidi historic neighborhood and Deira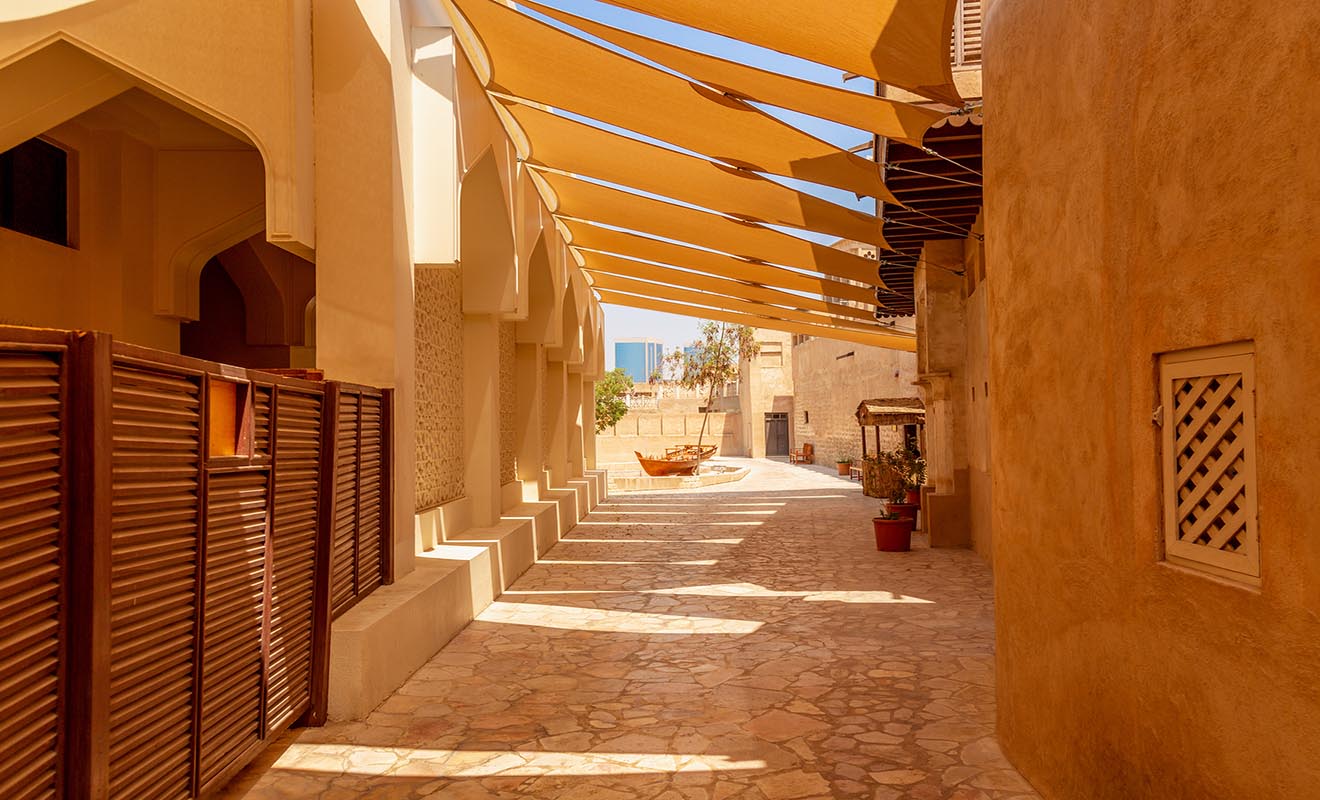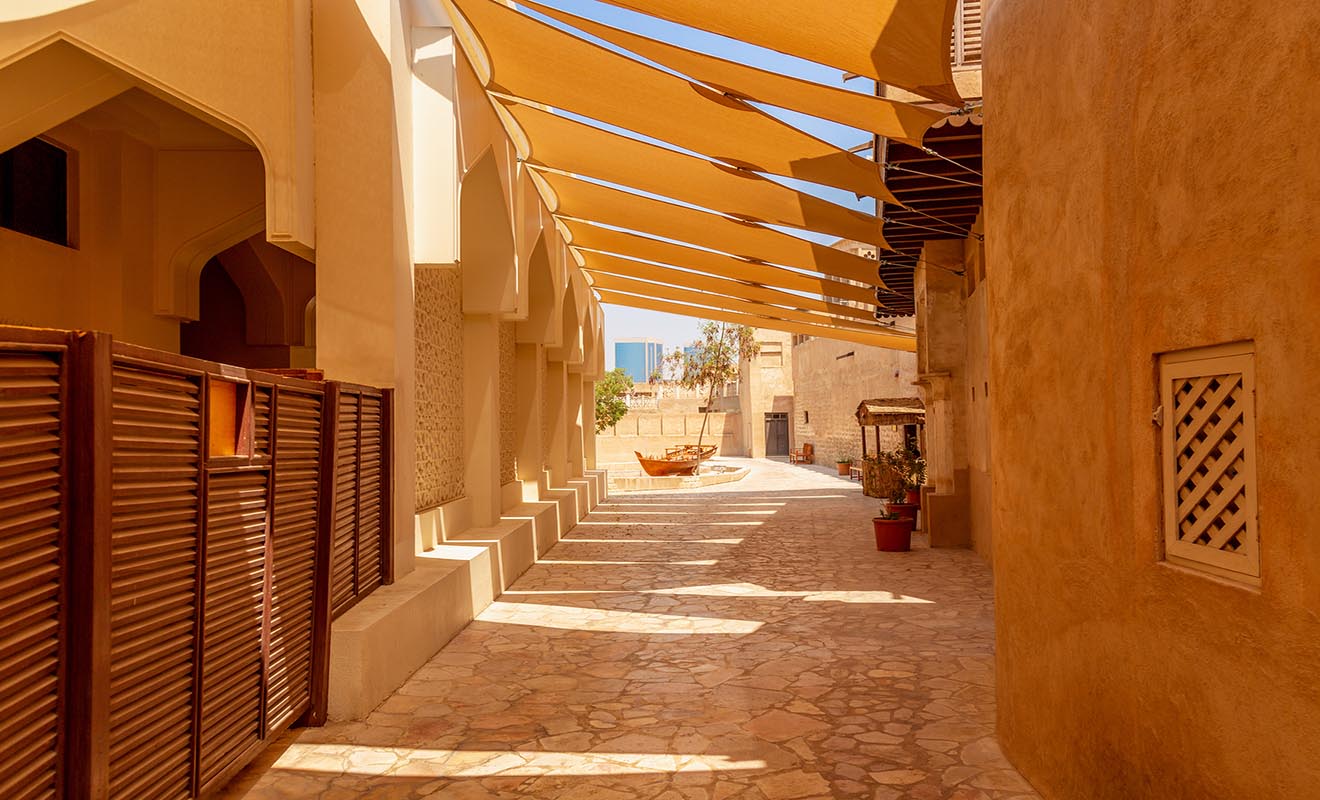 There is nothing that I love more than walking around the city's old town! In this case, that would be the Al Fahidi historic neighborhood – one of the best places to visit in Dubai if you ask me!
On the other side of the Dubai Creek, right in front of the Al Fahidi neighborhood, you can find the commercial neighborhood of Deira and its souks (traditional Arabic markets). It's one of the most interesting things to see in Dubai!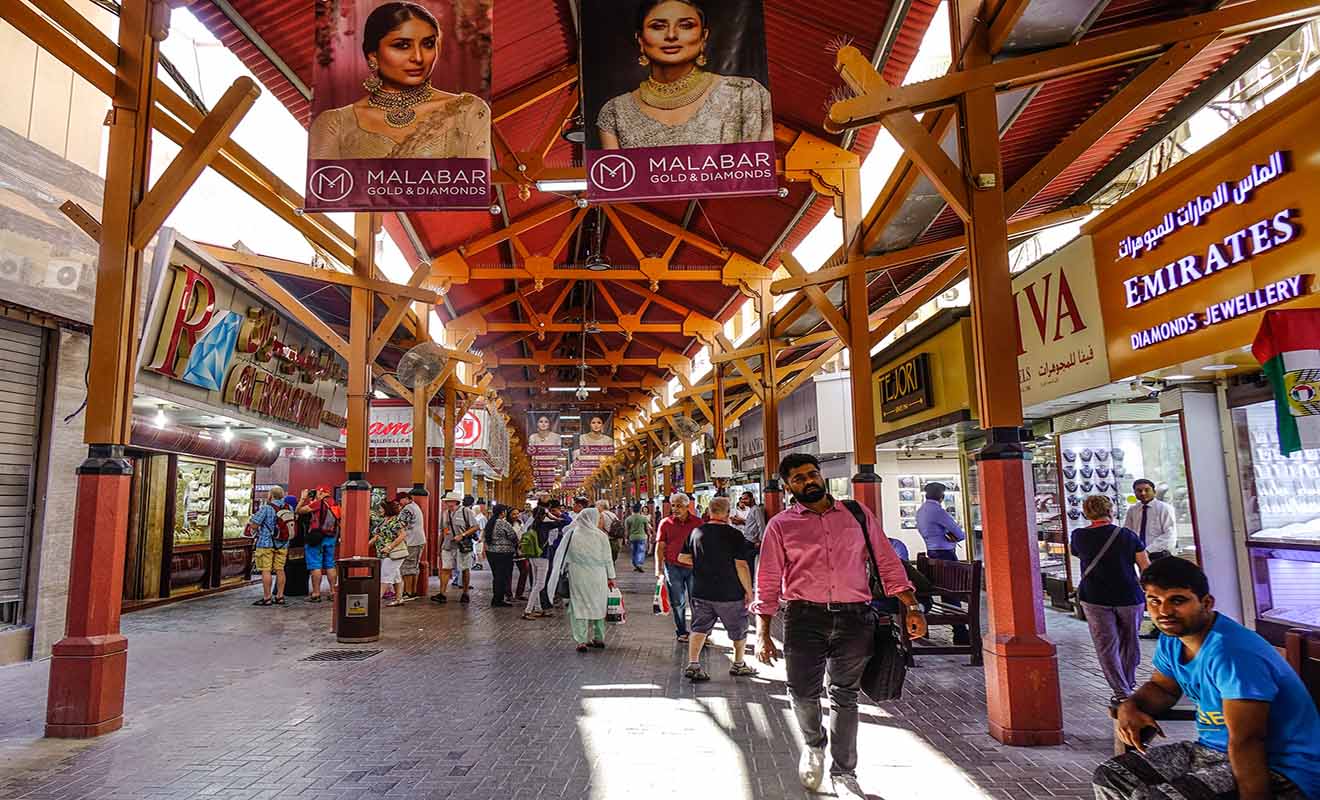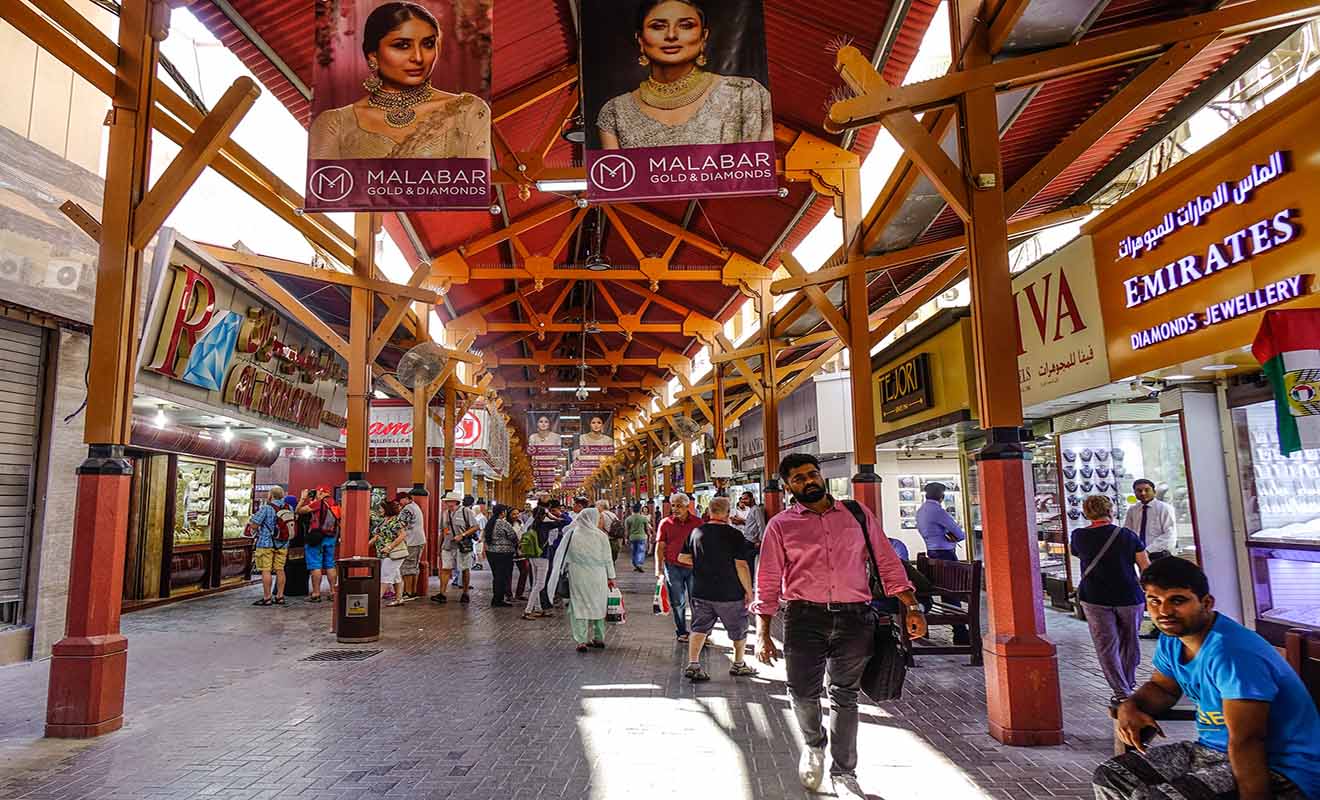 Now, the most popular are the Dubai gold souk and the Dubai spice souk, just a few blocks away from each other. If you want to enjoy these with an organized tour, I recommend this 4-hour walking tour.
FUN FACT: If you add up the weights of all the gold from the gold souk, you will end up with more than 10,000kg of gold. Sounds crazy, right?
2.2. Navigate the Dubai Creek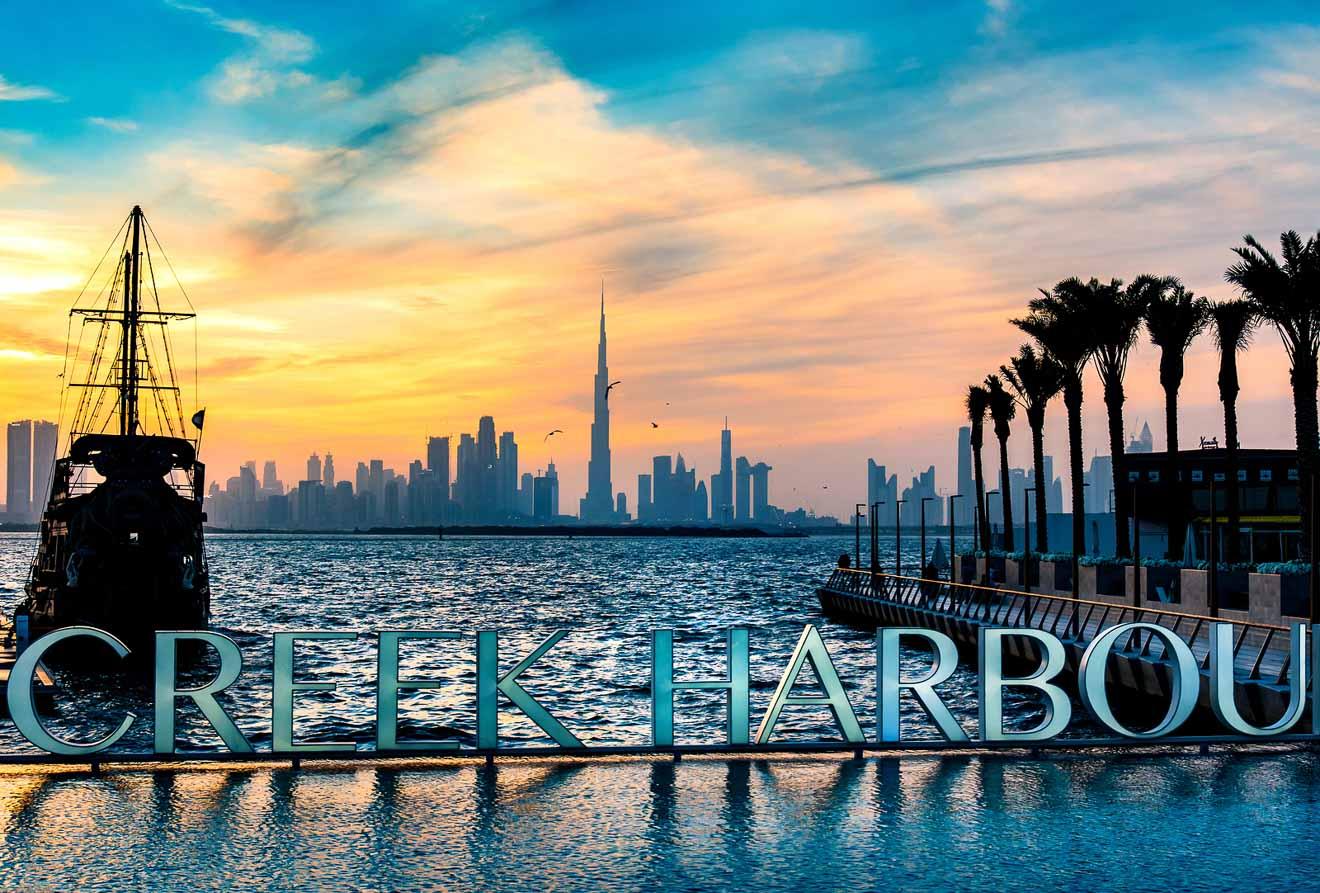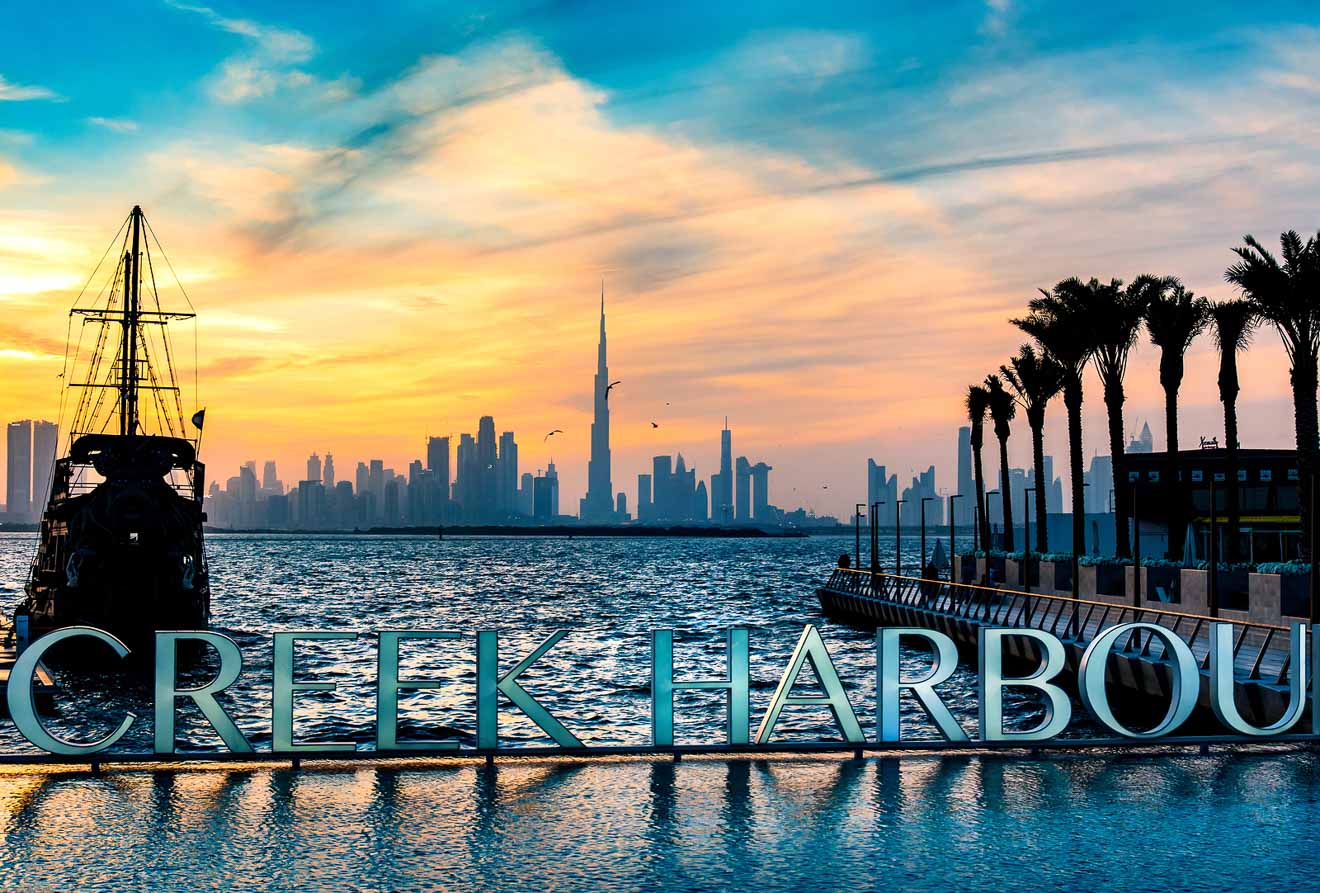 The Dubai Creek is a salt water creek that used to be called the Zara River by the Greeks and traveled on with a dhow. A dhow is a typical ship from the Arabian region used by locals for years in order to cross the creek and navigate the city.
You can get a public Abra ride here for AED 1 (US$0.30) to take you across the creek so you can experience the local way of life, plus avoid the traffic!
FUN FACT: The Dubai Creek Tower is currently under construction. It will be finished in 2021 (the earliest) and it will be the tallest building in the world, at a height of 828 meters!
2.3. Hop on a boat cruise (dhow cruise)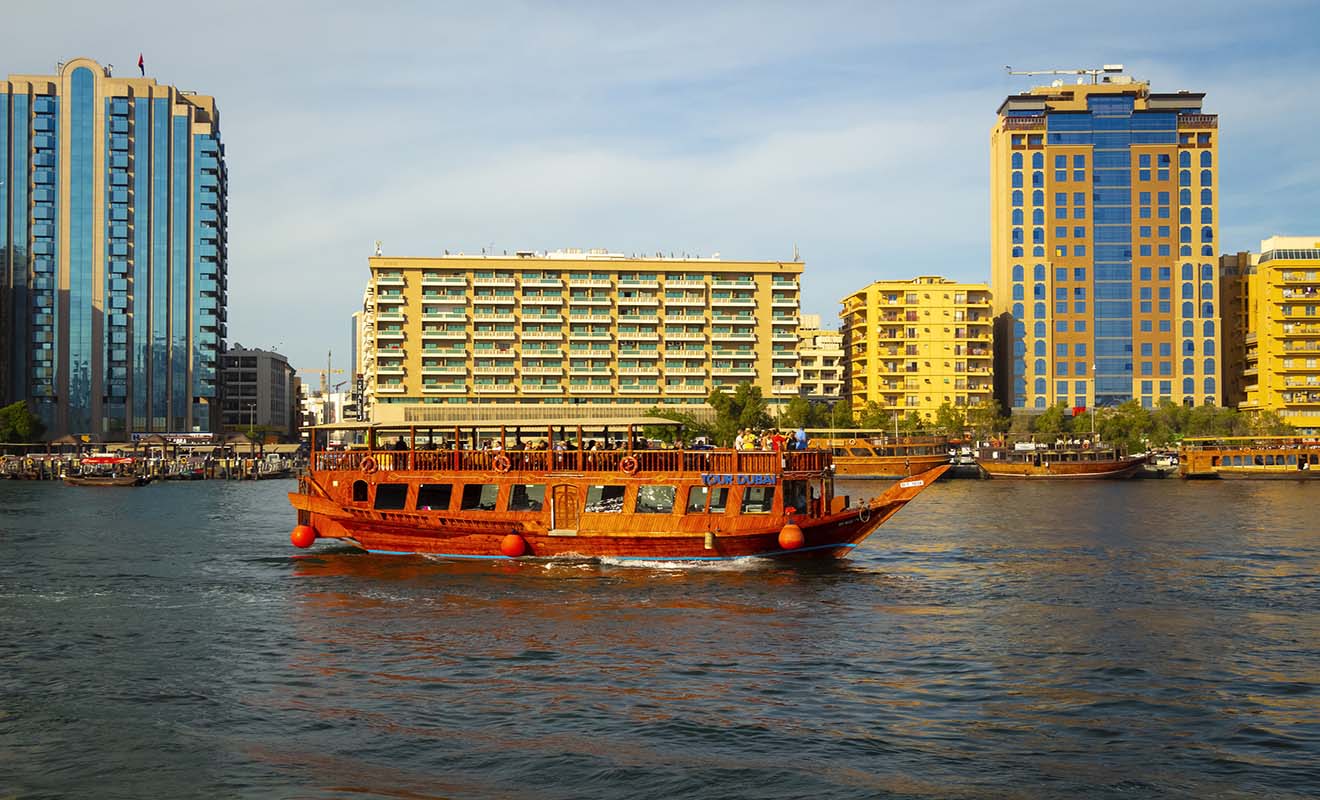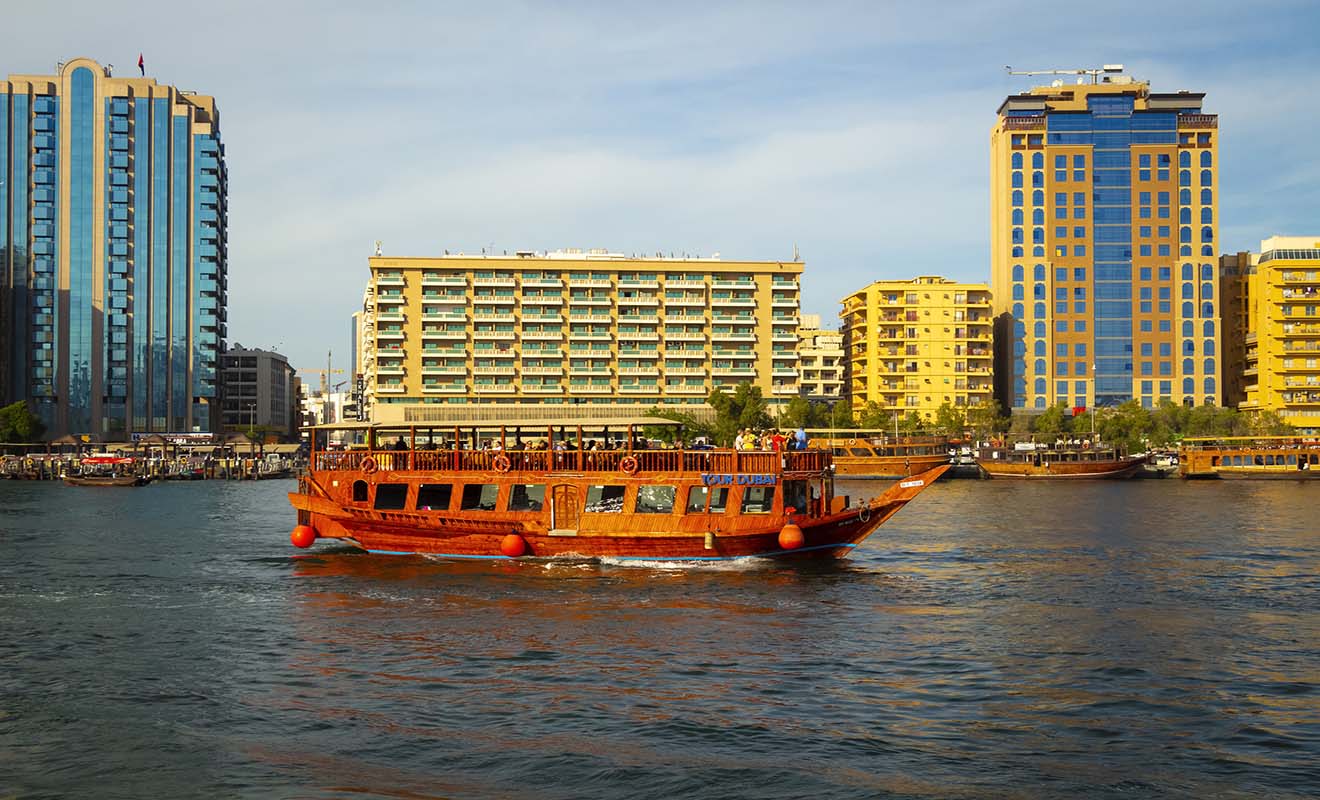 One of the most popular activities is taking a dhow cruise along the Dubai creek.
For instance, you can book a Dhow Cruise such as this 1 hour sightseeing cruise through the Dubai Marina where you'll admire places such as Atlantis or The Palm Jumeirah, all with a couple of drinks in hand!
Alternatively, you can have dinner while exploring the magical water of Dubai on this 2h luxurious dinner cruise through the Dubai Creek.
PRICE: US $15 for the sightseeing cruise. US $30 for the dinner cruise (without transfers)
2.4. Enjoy a desert safari tour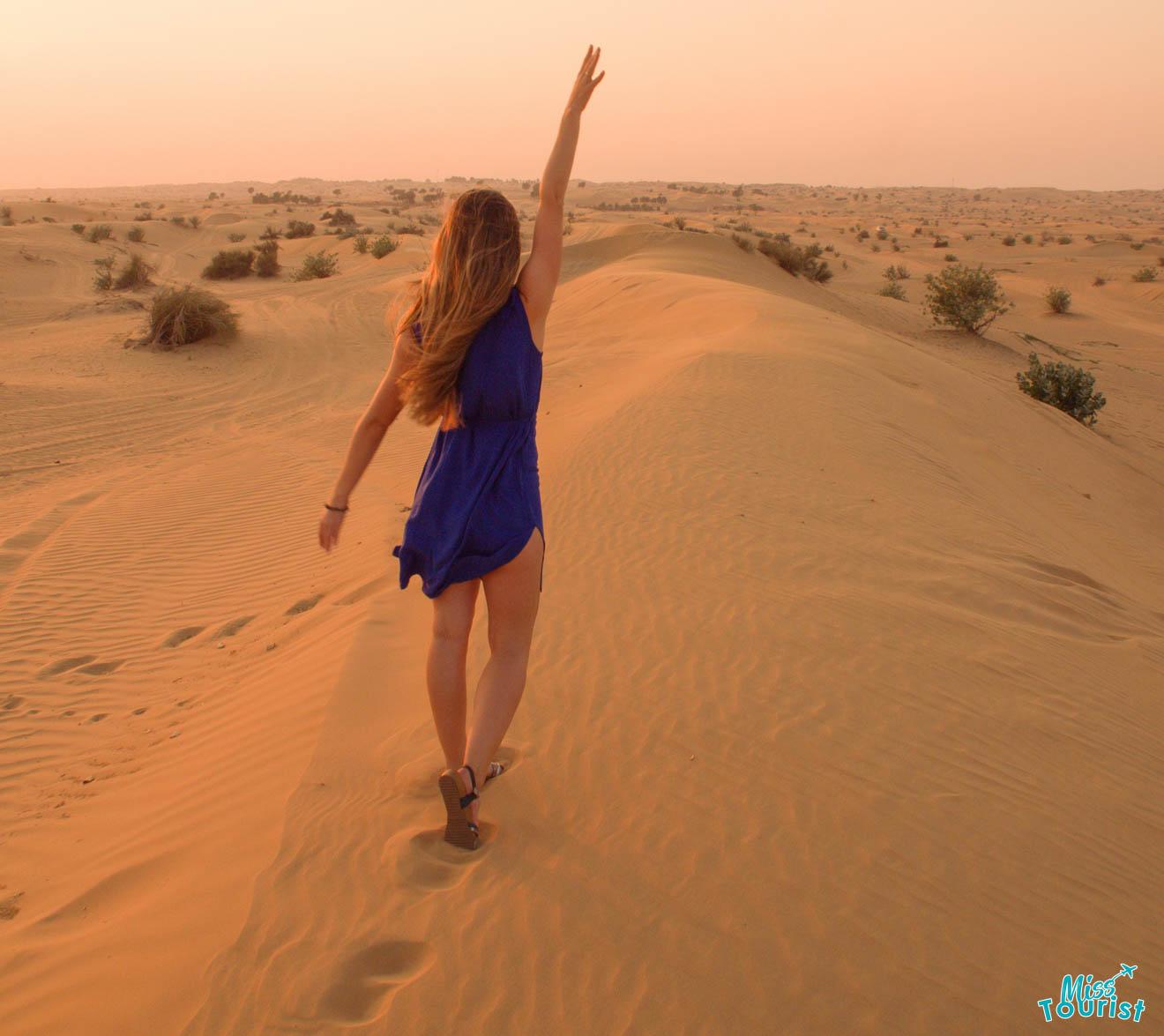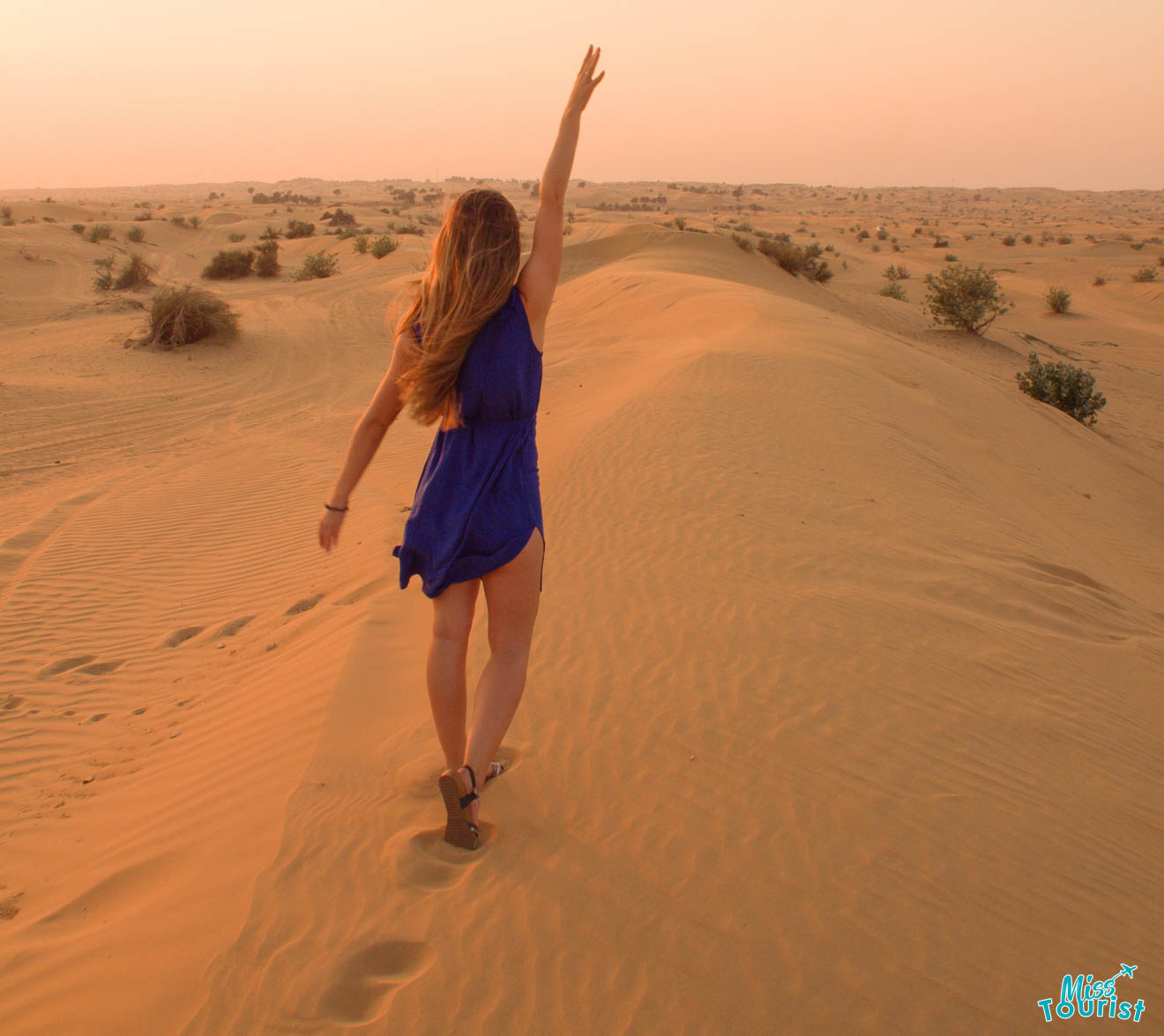 How can you even think about going to this city without visiting the romantic and magical desert of the Emirates? It's definitely one of the unmissable Dubai excursions out there!
For an authentic Arabian vibe, you can book an evening Desert Safari in Dubai where you'll be driven around the dunes and have a great barbecue while watching traditional performances.
Alternatively, you can choose this Premium Desert Tour where you can choose if you want to do some dune bashing on extremely high or normal dunes, enjoy a belly dance show and get a henna tattoo as well!
PRO TIP: Yes, it is also possible to go on your own! The only thing is that you would need a whole day to do so. In order to do it, you can rent a 4Wheel Drive and stock up on water, food and supplies and maybe some shisha and picnic mats! There are several spots where you can enjoy a great view such as Liwa or Al Qudra.
PRO TIP 2: If you go on your own, I recommend doing it between November and March, otherwise it will be too hot.
Day 3 – Palm Dubai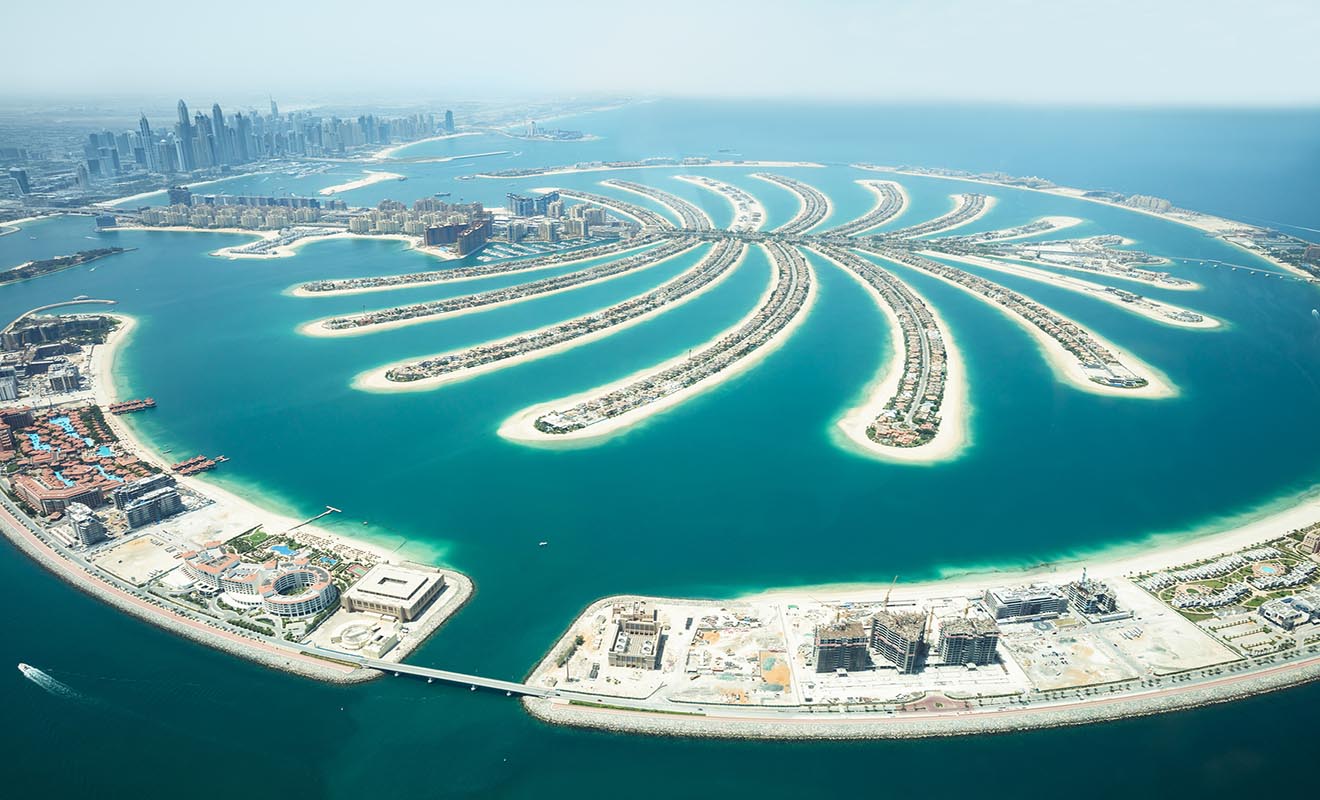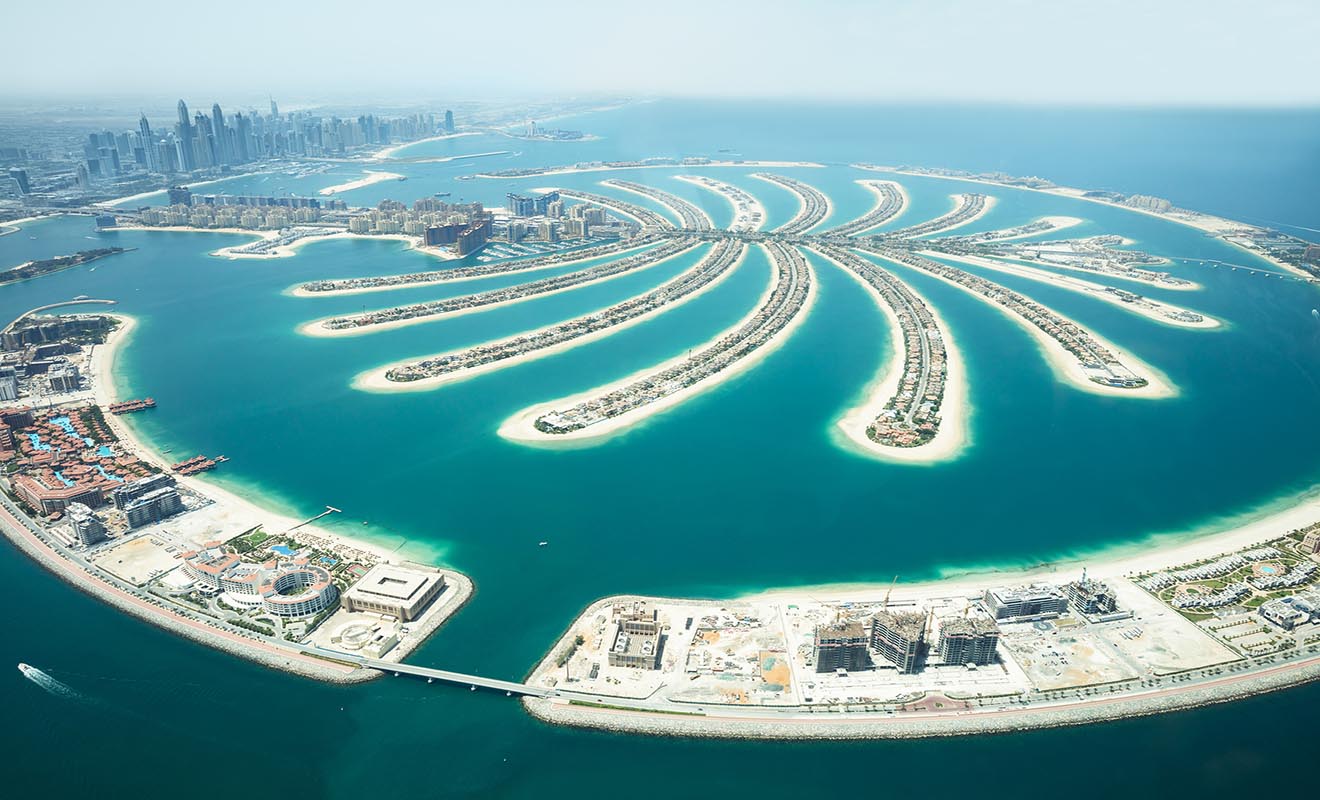 The third day of this itinerary in the city is all about exploring the famous Palm Jumeirah Dubai! The Palm Jumeirah is a man-made archipelago in the shape of a 5-kilometer long palm tree, home to many upscale hotels and attractions in the city.
The chances are high that you will be staying in this artificial archipelago, but if you are not, you can book this jet ski or speedboat tour!
3.1. Chill at the Atlantis – Imperial Beach Club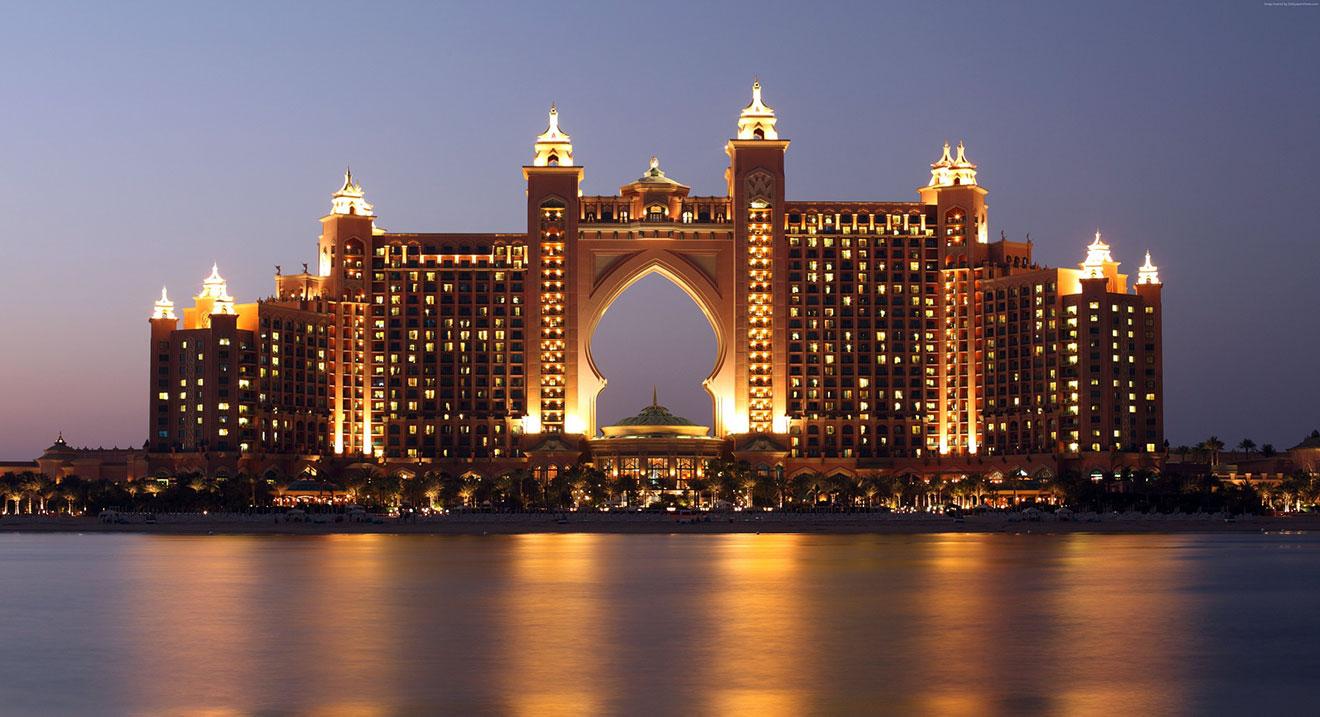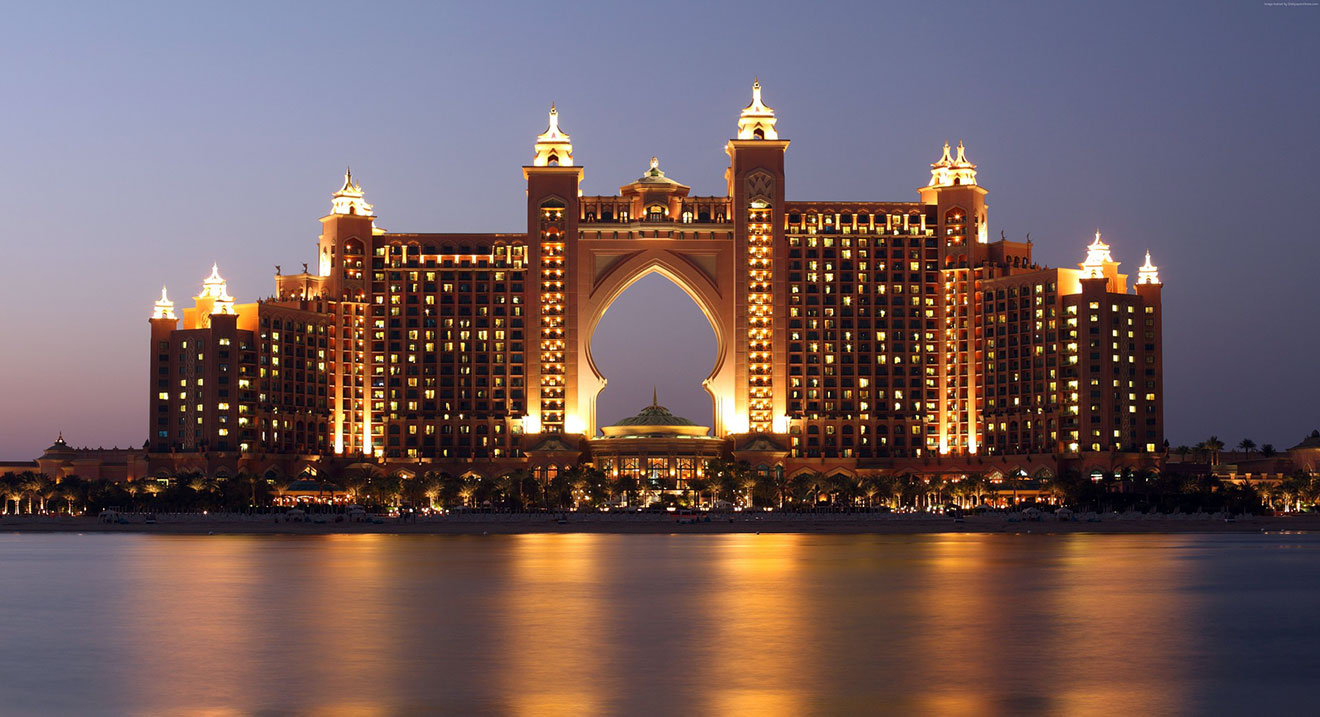 The Atlantis is a stunning and gigantic hotel on Palm Jumeirah that looks like it's just come out of the Aladdin movie, size 100!
This hotel has an amazing beach club called the Imperial Beach Club where you can enjoy some drinks while admiring the waves of the Persian Gulf.
PRO TIP: If you are a sport-lover, you can out the running track along the Palm Jumeirah beach and grab a bite to eat at one of the food stalls and restaurants.
3.2 Get wet at Aquaventure Waterpark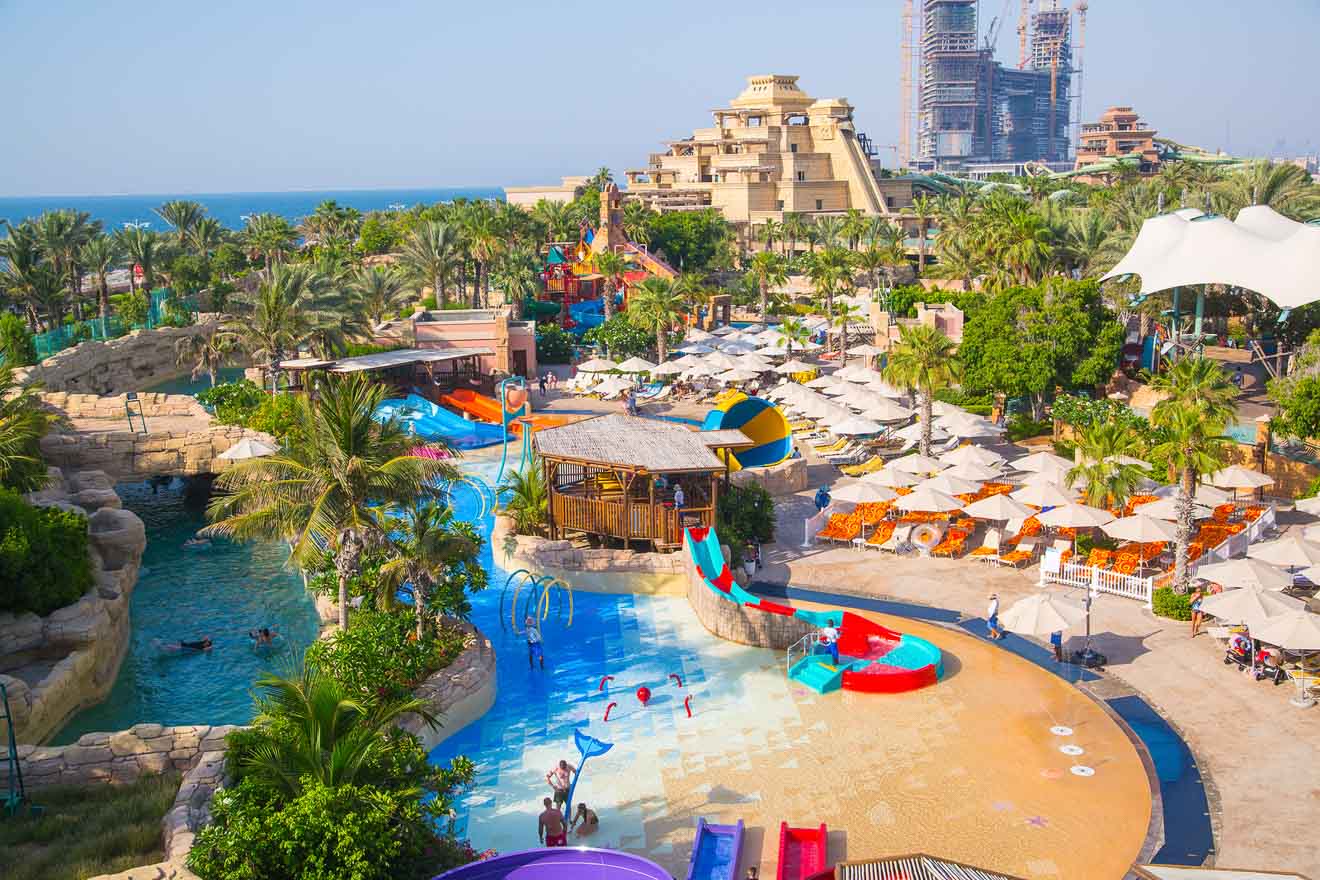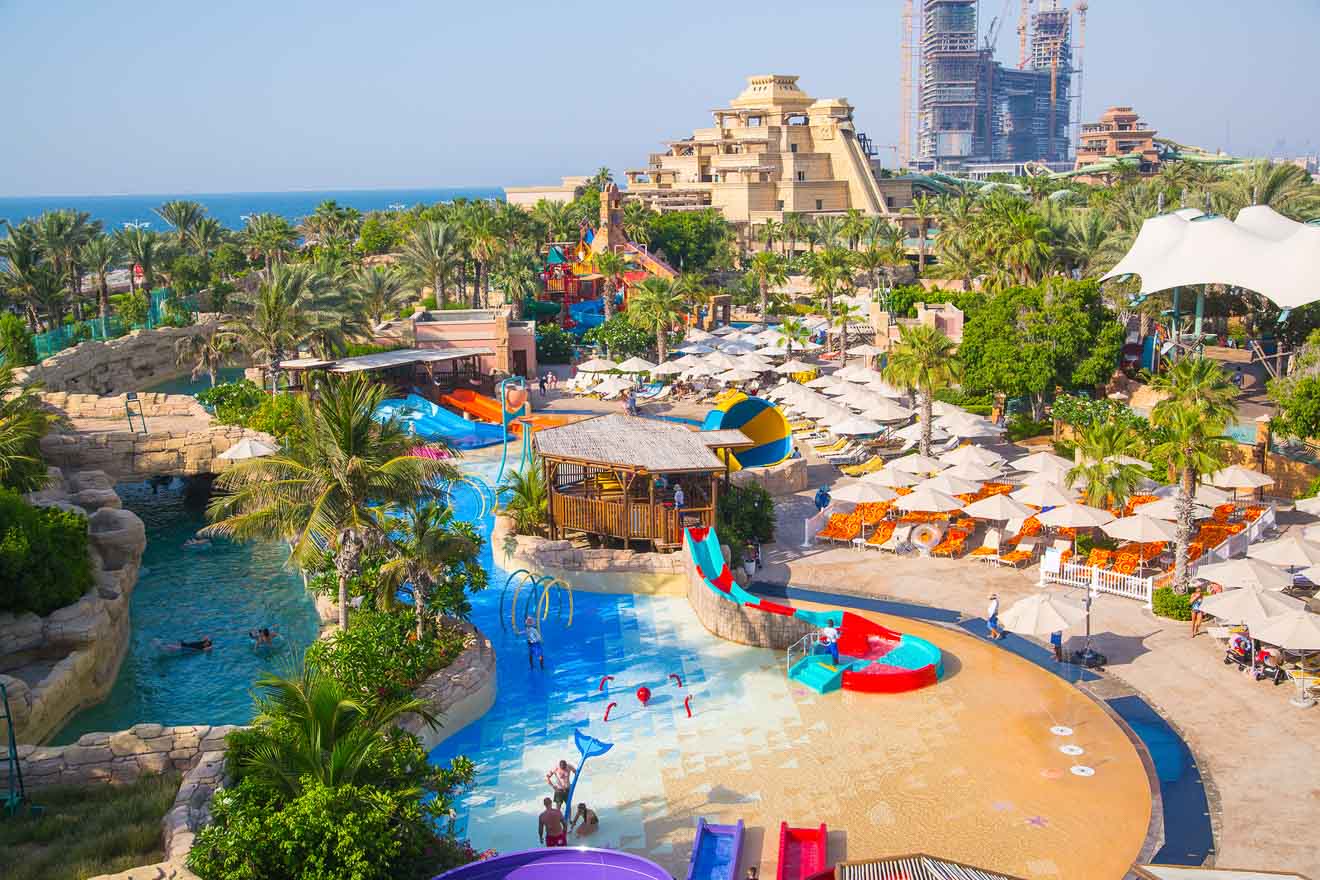 If you are looking for a place to get away from the heat, Aquaventure Waterpark is IT! With more than 30 slides and attractions, the only con about this theme park is that you might need more than a day to enjoy them all!
PRICE: US$90 on the official site but I have found a better price for just US$79 that gives you access to all attractions plus the Lost Chambers Aquarium that I will talk about below!
3.3 Learn about sea life at The Lost Chambers Aquarium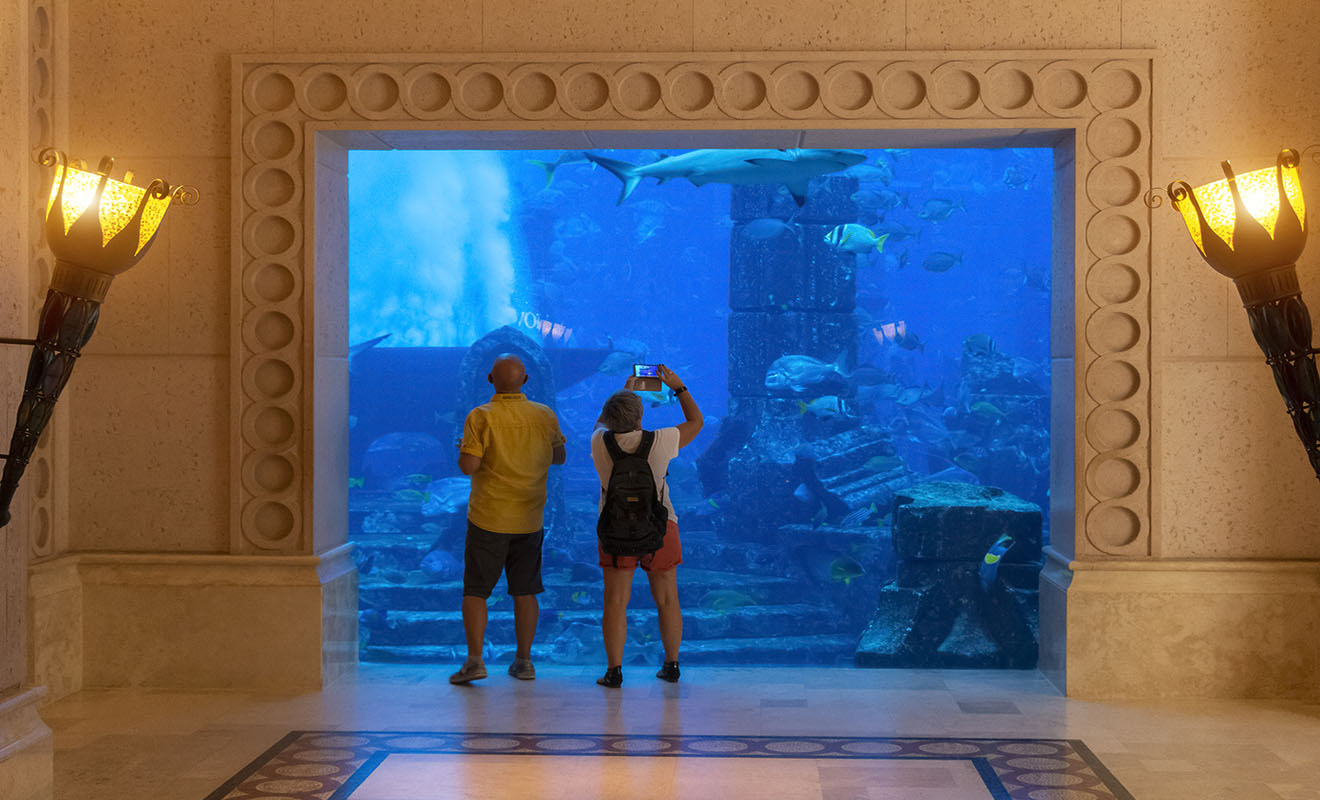 If you are interested in sea life then you might want to consider the Lost Chambers Aquarium in Atlantis.
Even though we would all prefer to admire sea animals in the wild, sometimes aquariums fill educational purposes for the little ones of the family. The Lost Chambers Aquarium hosts more than 21 exhibits and 65,000 marine animals in a reenactment of what the lost city of Atlantis would be like!
PRICE: AED 330 (US$90) on the official site but you can find a better price at just US$79.
EXTRA: See Dubai from up high
If you'd like to experience Dubai from a WHOLE other perspective, why not face your fears and book this skydiving experience over the Palm Jumeirah?
60 seconds of freefall from over 13,000 feet will likely make Dubai a once in a lifetime trip!
Alternatively, for those of you who want the same view but without feeling like you're having a near-death experience, I have found an amazing helicopter tour over the Palm!
Day 4 – Spectacular Dubai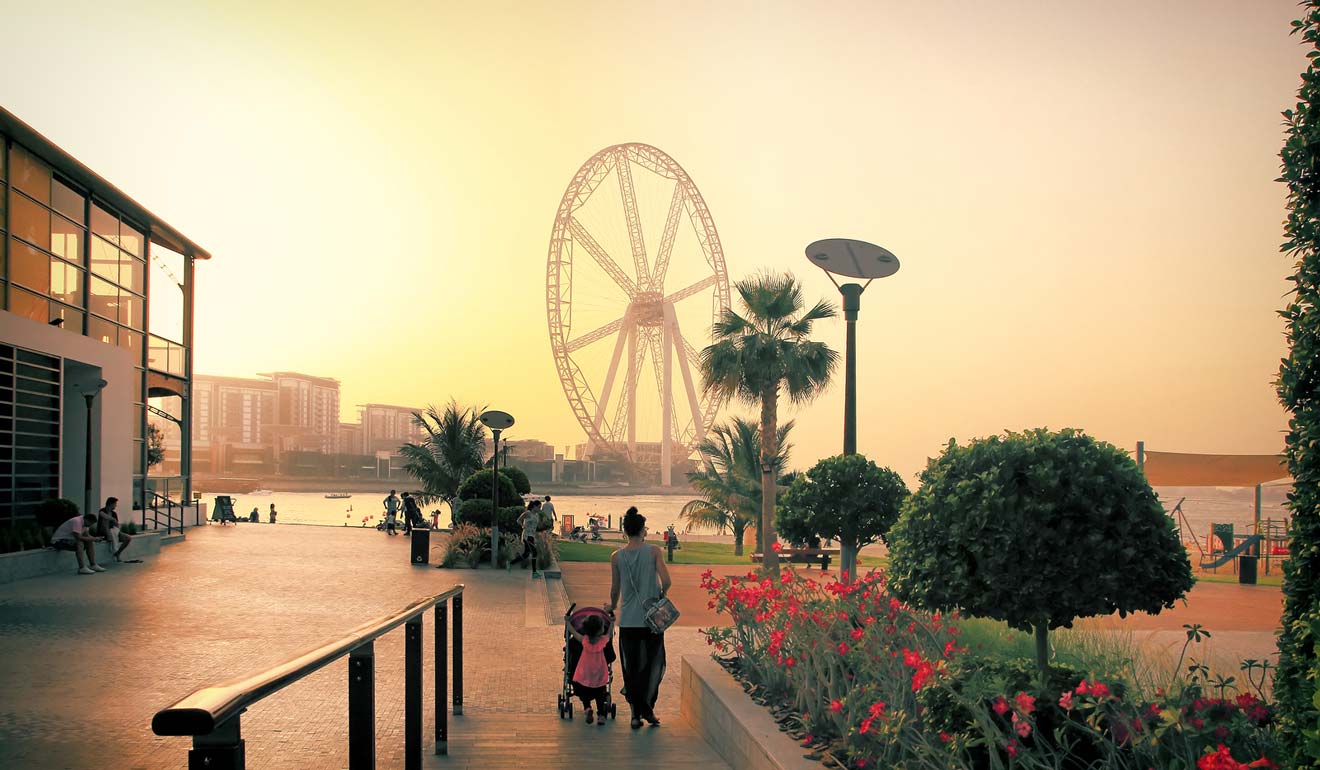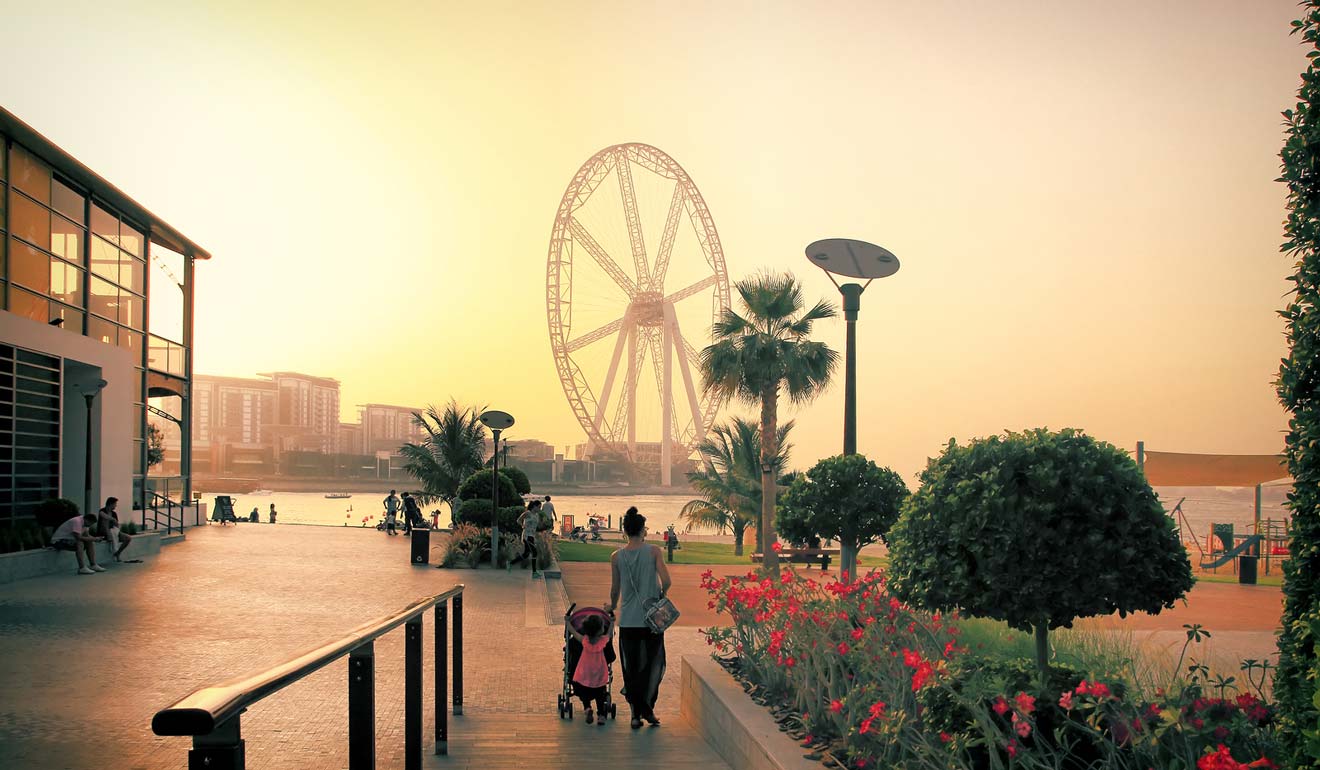 4.1 Wander around Dubai Miracle Garden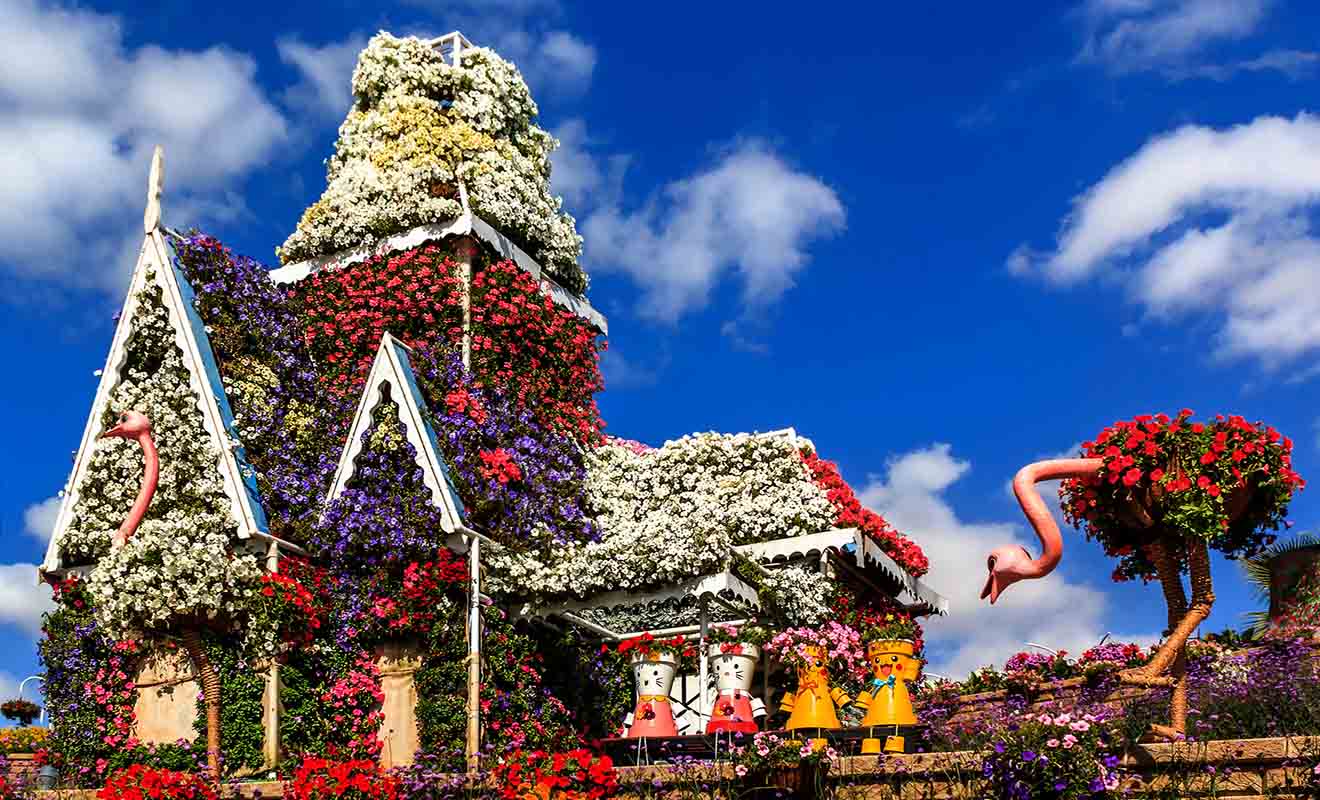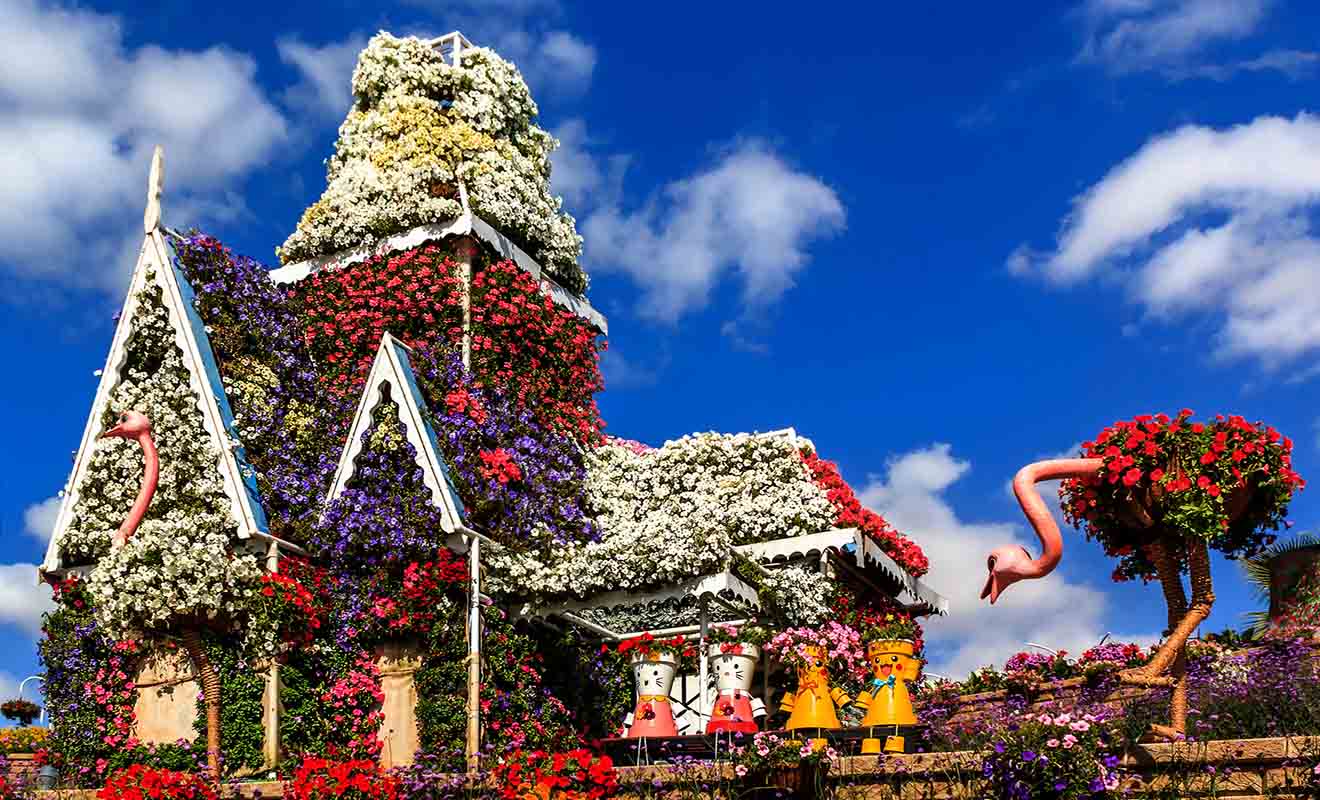 If you thought that wonderland was just a fairytale, it's because you haven't heard of the Dubai Miracle Garden until now; it's one of Dubai's best places!
The Dubai Miracle Garden is a flower garden that occupies more than 72,000 square meters. It is the world's largest flower garden with more than 50 million types of flowers!
The garden is divided by sections such as The Lake or a Disney Avenue with a floral castle and even a Giant Mickey Mouse! Make sure to bring your camera with you!
I recommend taking this flora and fauna tour that will take you straight to the most famous sights.
PRICE: 55 AED (US$15)
4.2 Take a walk through the Dubai Marina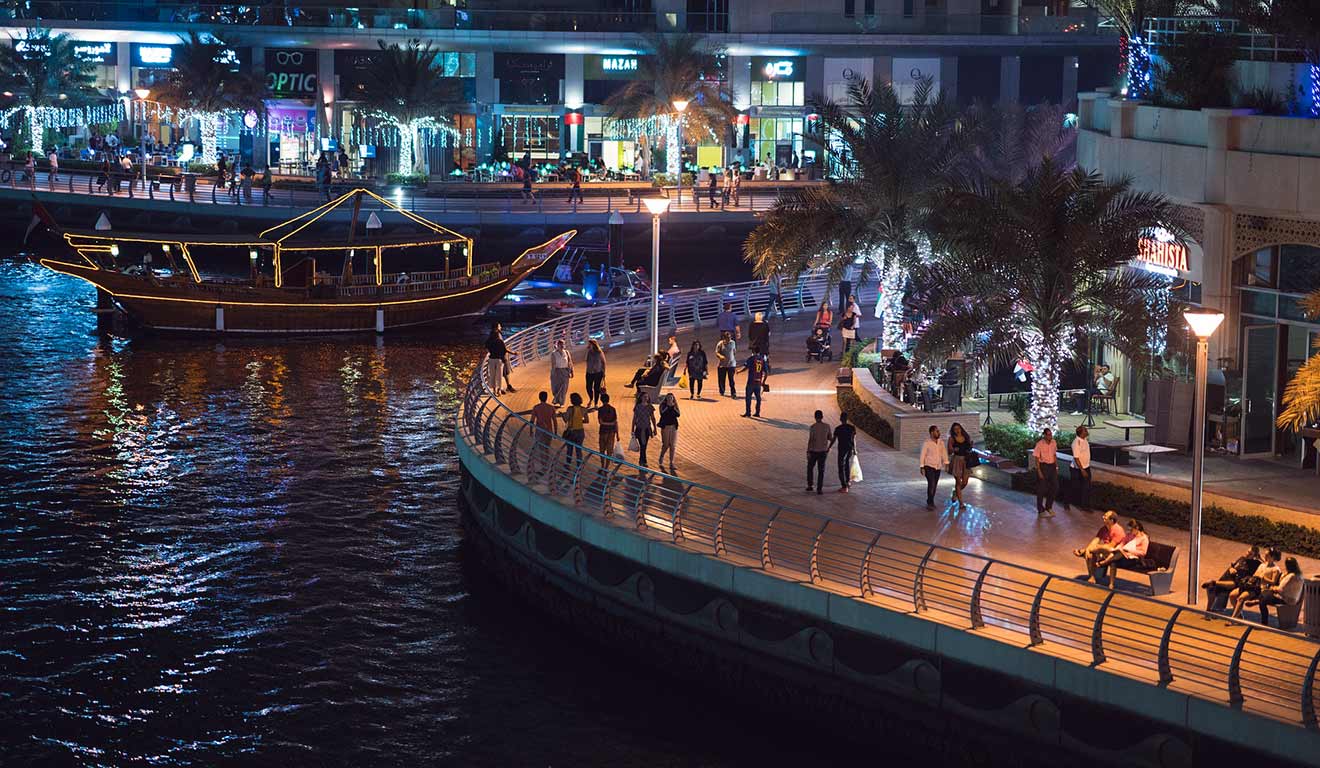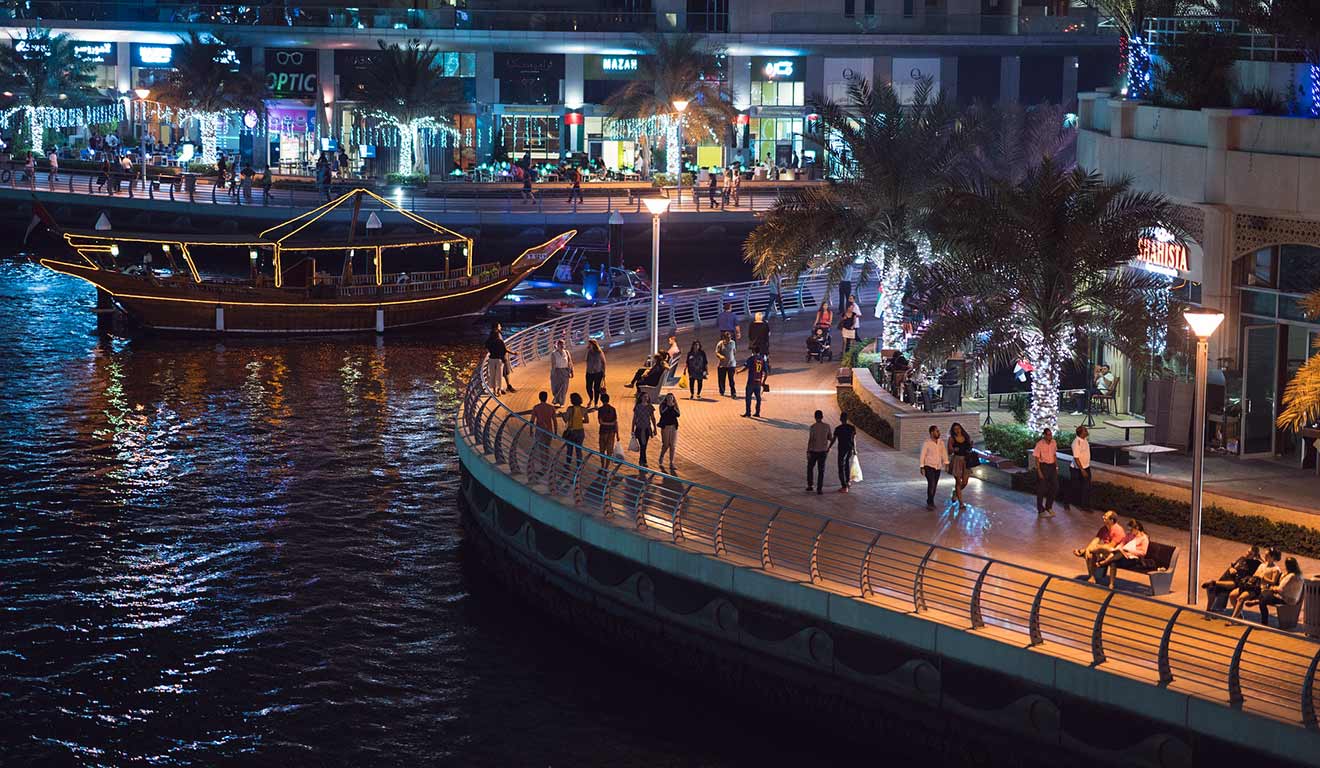 Last but not least, the Dubai Marina is a place that, in case you haven't seen it yet, is a must visit during your Dubai holidays!
When a country is mostly desert, you only have one choice: artificially-made water structures and developments. One of them is the Dubai Marina, which is an artificial 3 km water canal built along the gulf shoreline. It is home to more than 50,000 people and has some of the highest buildings in the world!
My recommendation is taking a Dhow Cruise during which you can enjoy the view on water from a traditional boat or this luxury dinner cruise where you'll have an exotic dinner with some live music (probably the most romantic out of the best things to do in Dubai at night!) or even a 1.5h zipline experience across the marina for the water thrill seekers!
4.3 Try skiing in Dubai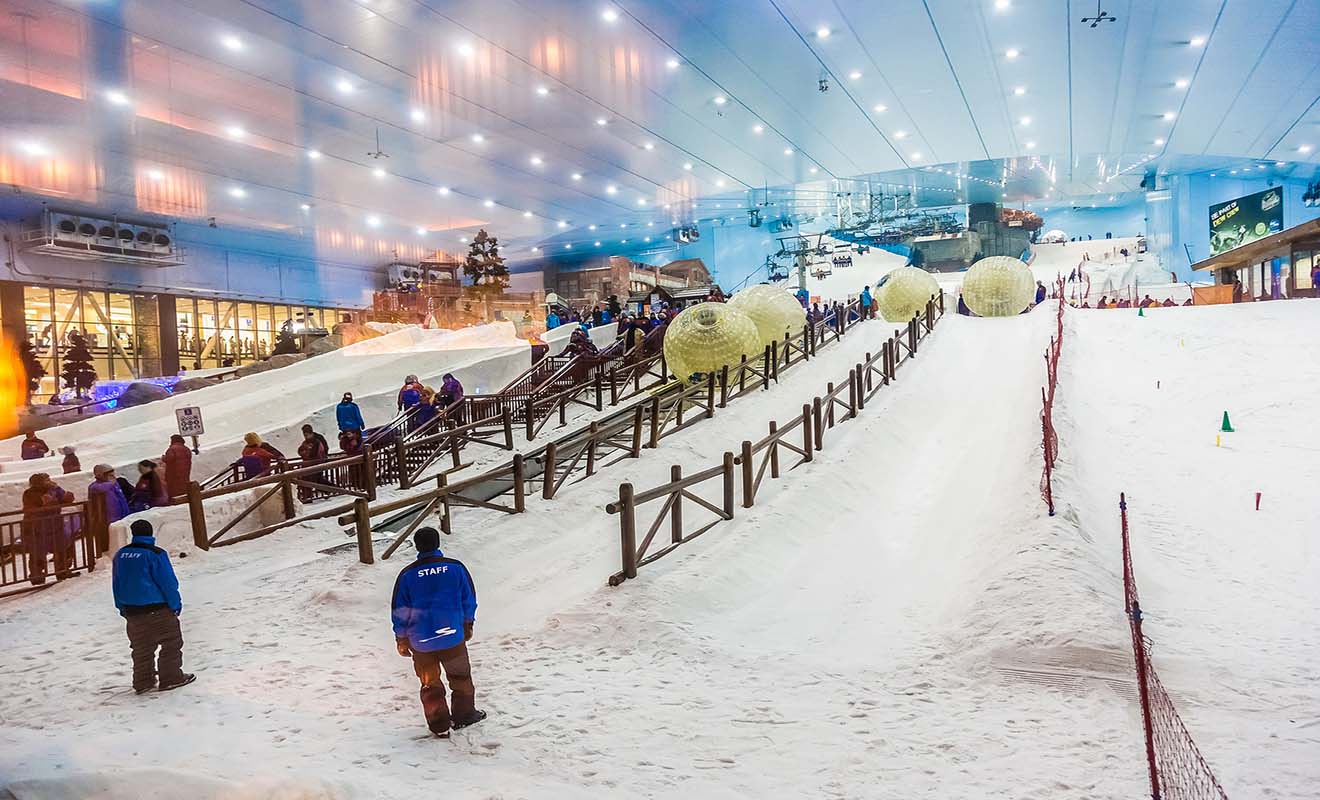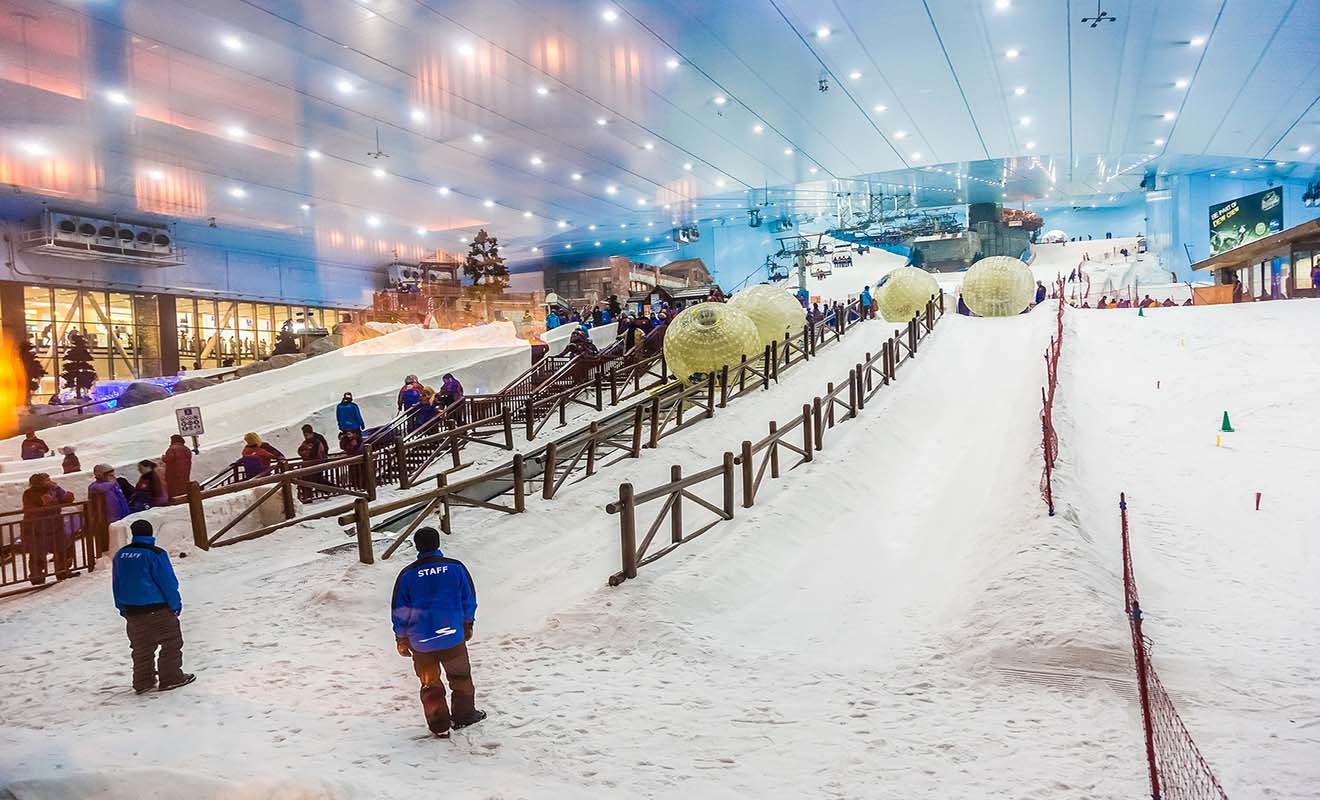 On a whole different note, a favorite of locals is the first indoor ski resort in the Middle East: Ski Dubai!
Yep, you won't be skiing outdoor, but indoors! Whether you are a pro skier, snowboarder or you just like to have fun bobsledding, this ski resort is for every type of sports enthusiast! With an 85 m high mountain and 5 slopes of 400 m length, you are definitely going to enjoy this unique activity in the city!
If you have never skied before, don't worry, you can book a discovery lesson package for AED 340 (US $92).
PRICE: AED 190 (US $52) for a single pass. The entry includes access to all the amenities in the ski resort such as sleds, bumper cars and even an ice cave. What's more important, it includes outfit rental as well!
4.4 Watch the authentic La Perle Show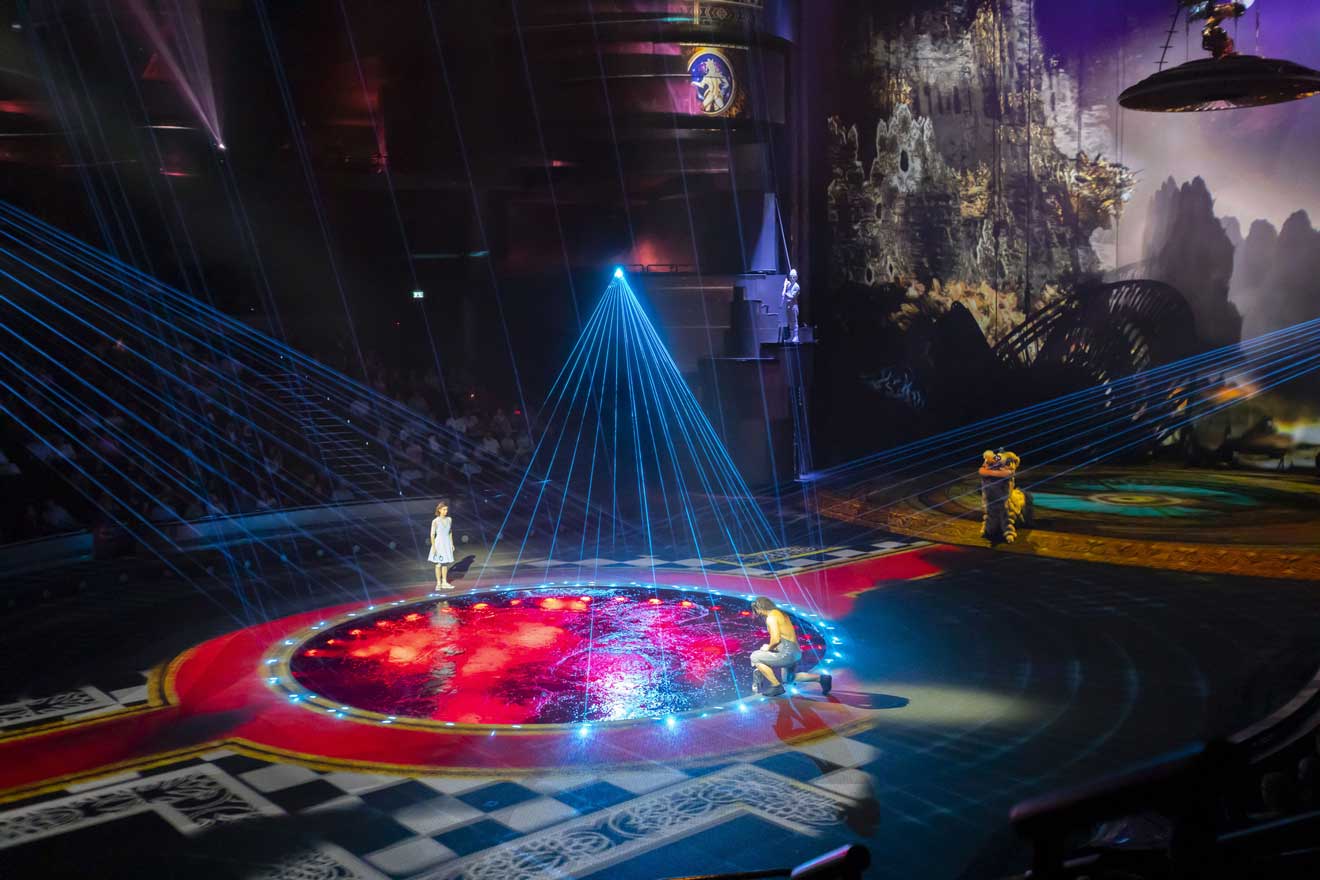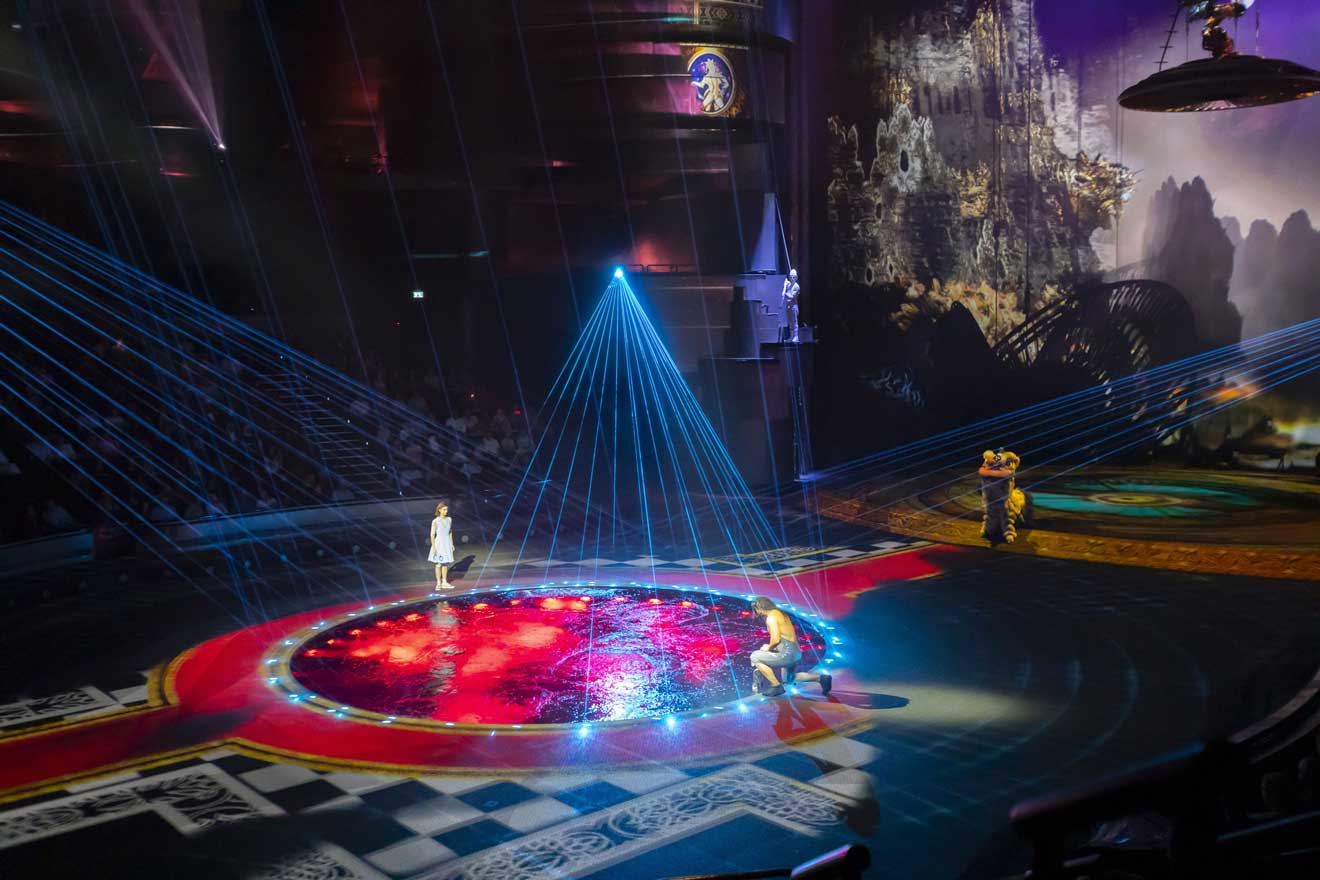 The first Dubai permanent dance and acrobatic show is La Perle by Dragone. An artistic and cultural performance influenced by Arabic culture, it's Dubai's very own "Cirque du Soleil"!
With more than 65 international performers you will see things like motorbikes defying gravity by riding inside a sphere; it's honestly a one-of-a-kind-show! These shows are usually held in the evening and you can find the schedule on their official website.
PRICE: from AED 260 or US$70 from the official website, but you can get bronze tickets for a bit cheaper here.
Day 5 – Fun Dubai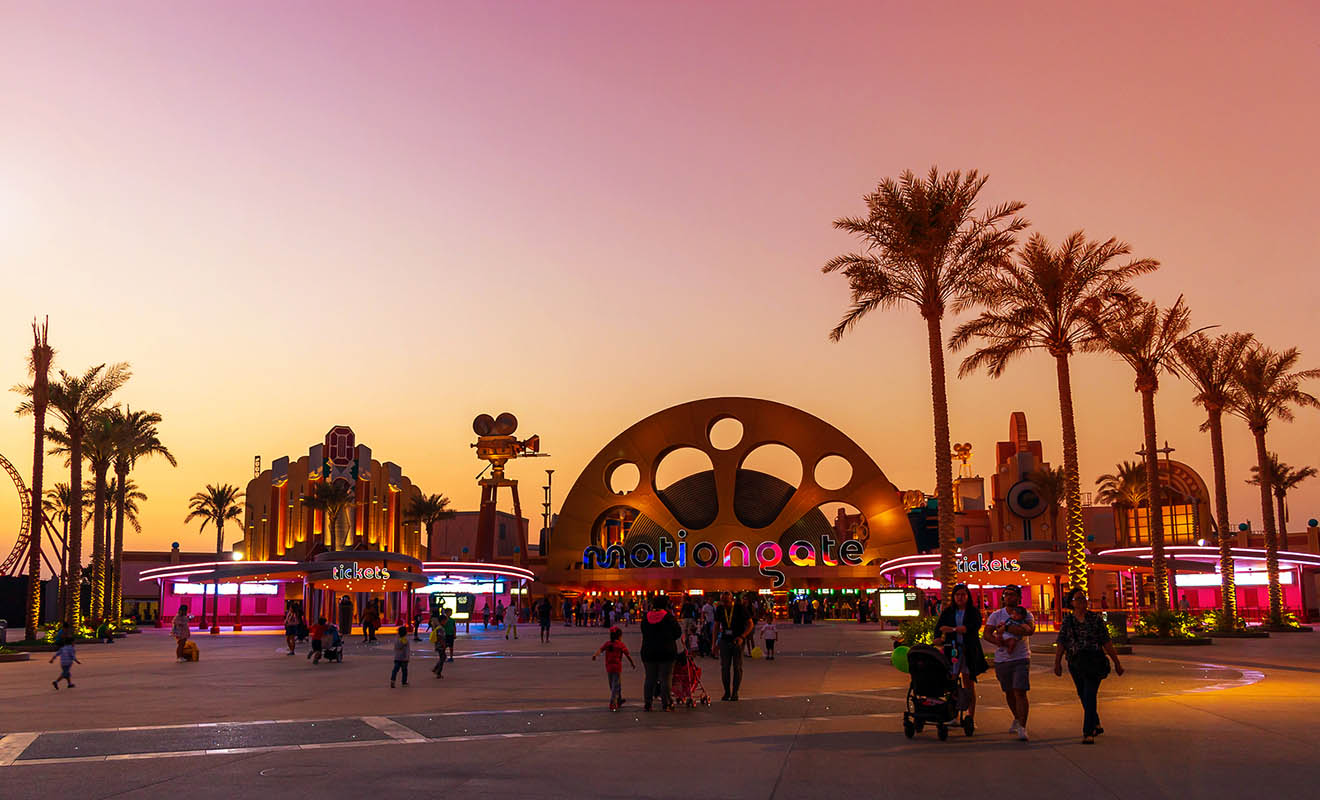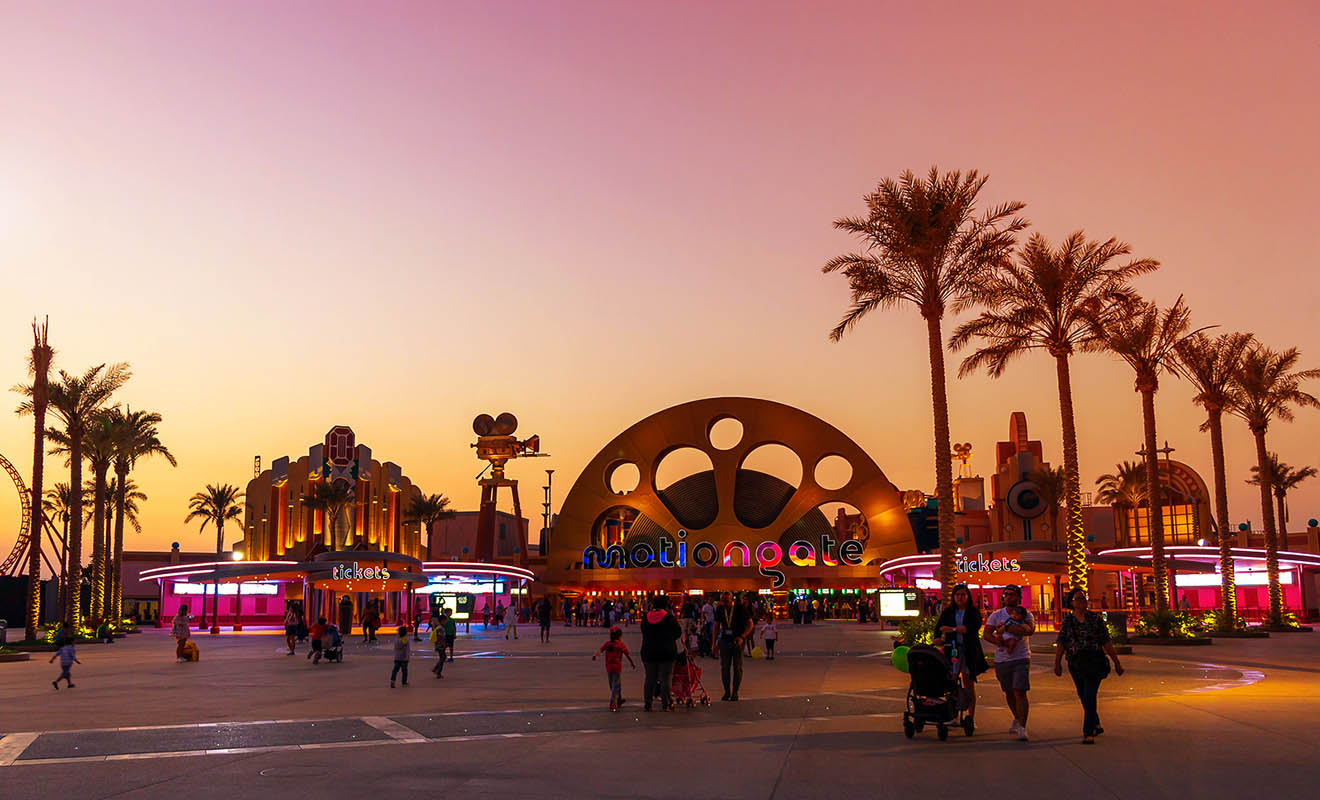 This day is all about amusement parks and I recommend you spend the whole day there, it's definitely worth it! The following attractions are located in the Dubai Parks & Resort Precinct which means that you can technically visit all of them in a day (if you wake up early enough), as they are literally just a walk away from each other!
5.1. IMG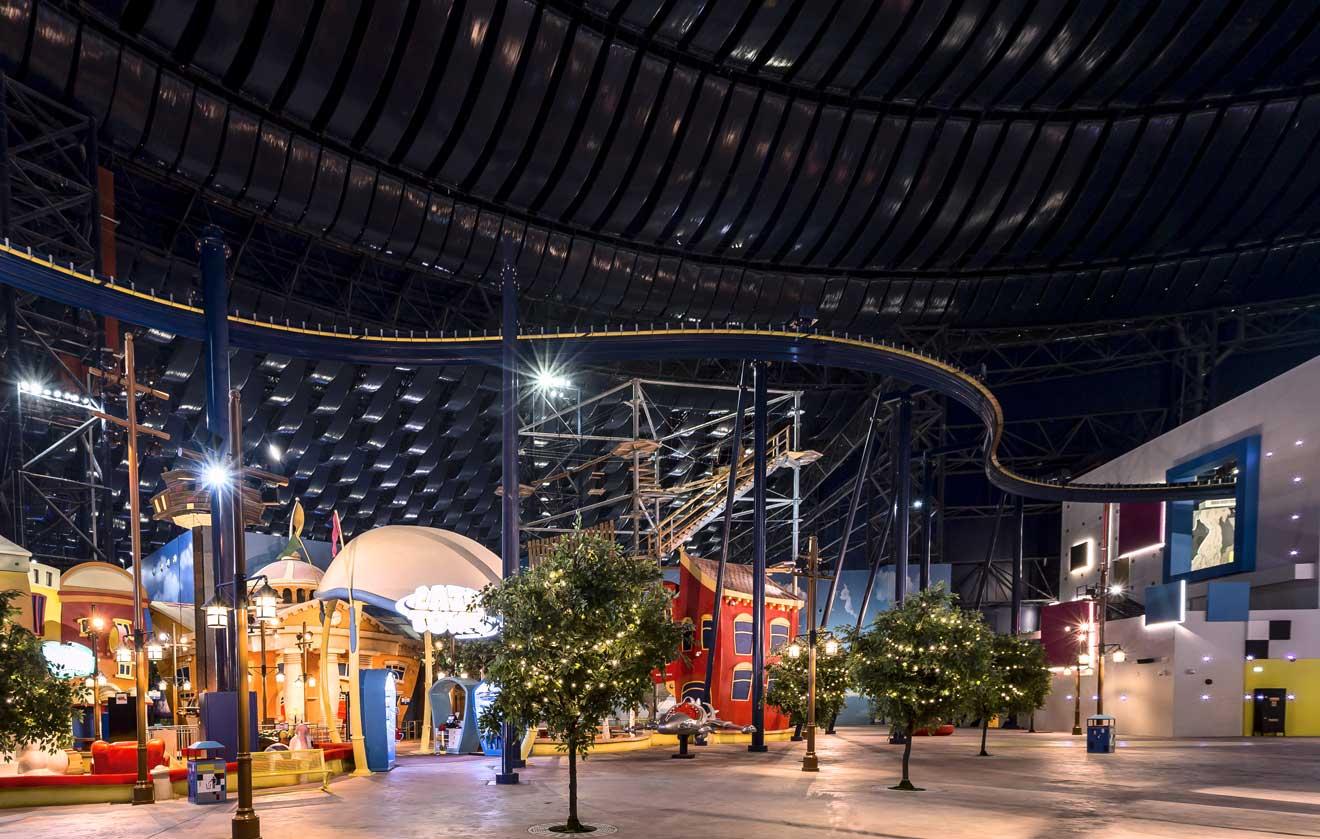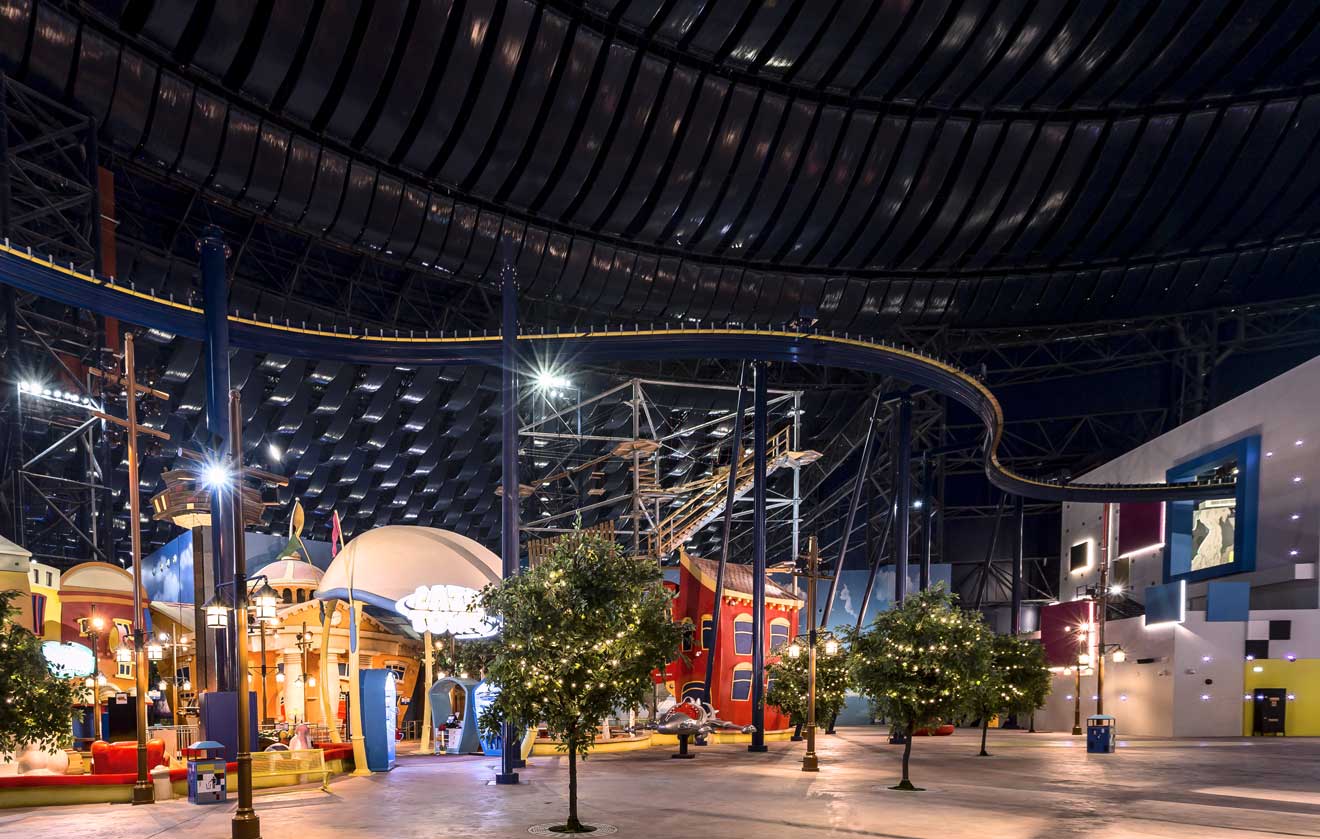 Whether you are travelling by yourself, with family or with a group of friends, I assure you, you'll be able to enjoy all the Marvel or Cartoon Network themed rides at the IMG Worlds of Adventure! You can check out their rides section here.
PRICE: AED 299 or US$81 on the official website but I found this discounted ticket at US$47!
5.2 MotionGate Dubai
Motiongate (also known as Dubai's very own Hollywood) is probably one of the most fun kids activities in Dubai!
This place features rides based on the best children's movies ever made, like Madagascar, Shrek and the Smurfs!
PRICE: AED 275 or US$75 from the official website, but you can check these tickets at US $43.60!
5.3 Legoland Amusement & Water Park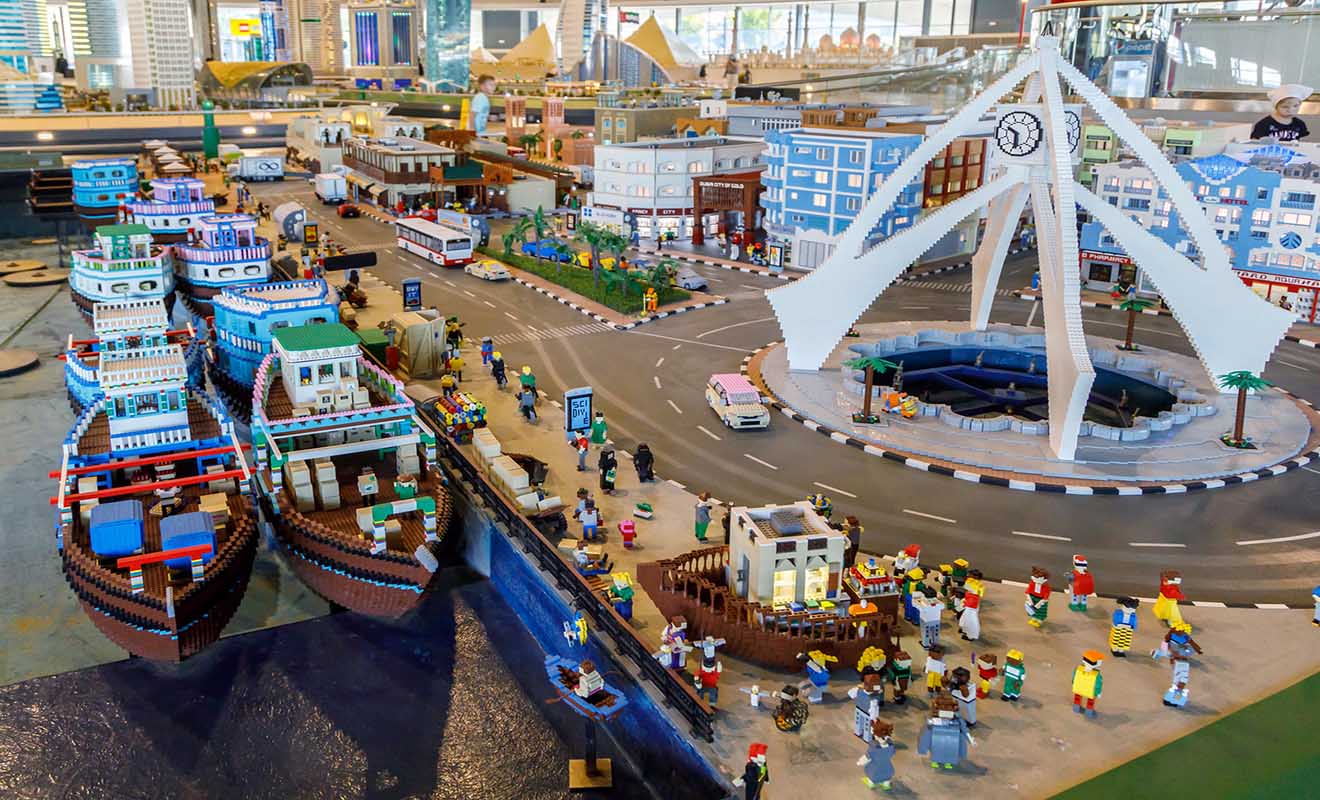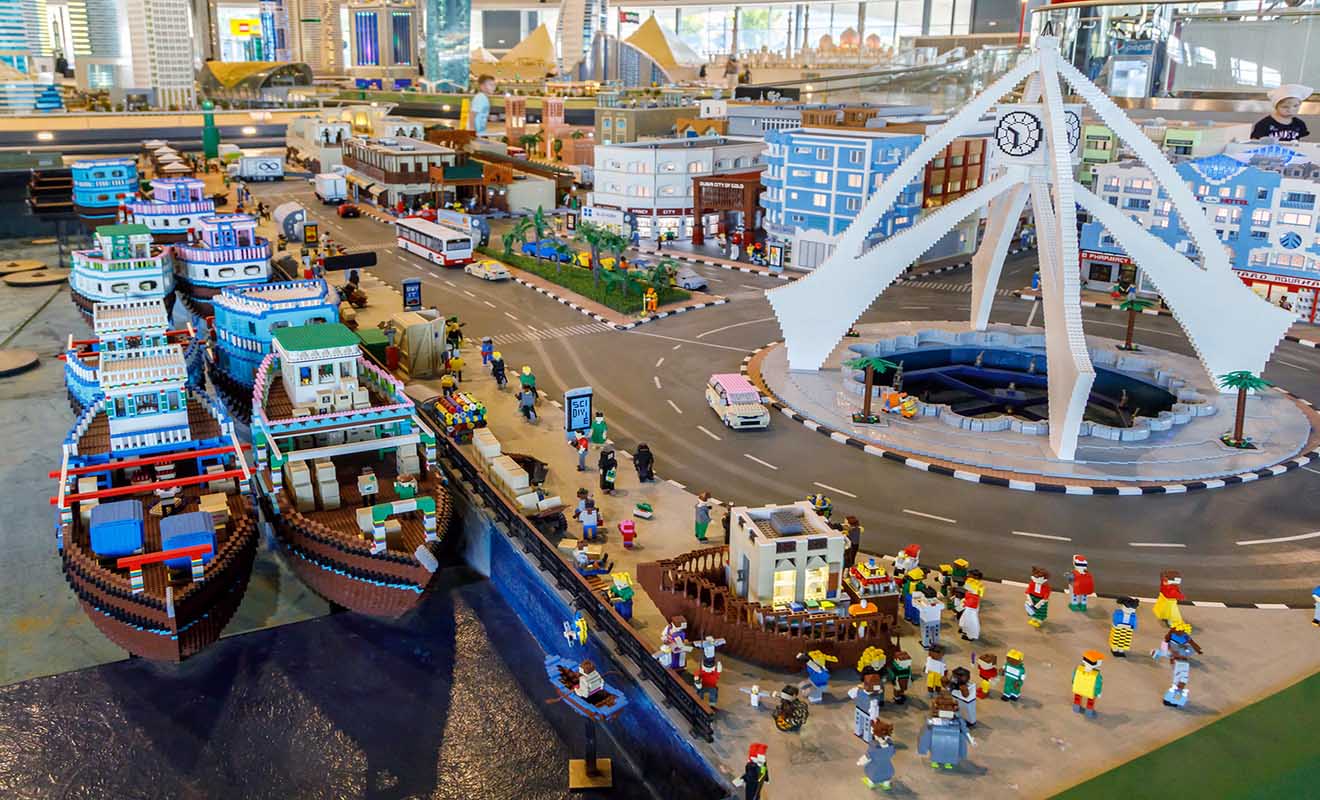 If you want to see some awesome attractions, you have to head to Legoland in Dubai. In my opinion, it is definitely one of the top things to do in Dubai!
I think that you already know what Legoland is, but in case you don't – Legoland is a theme park and water park focused on real life Lego constructions!
NOTE: For those a bit concerned about safety, don't worry! The rides are completely safe and (thankfully!) not actually made from little lego pieces!
PRICE: AED 275 or US$75 from the official website, however, I found this ticket at just US $43.60!
5.4. Bollywood Park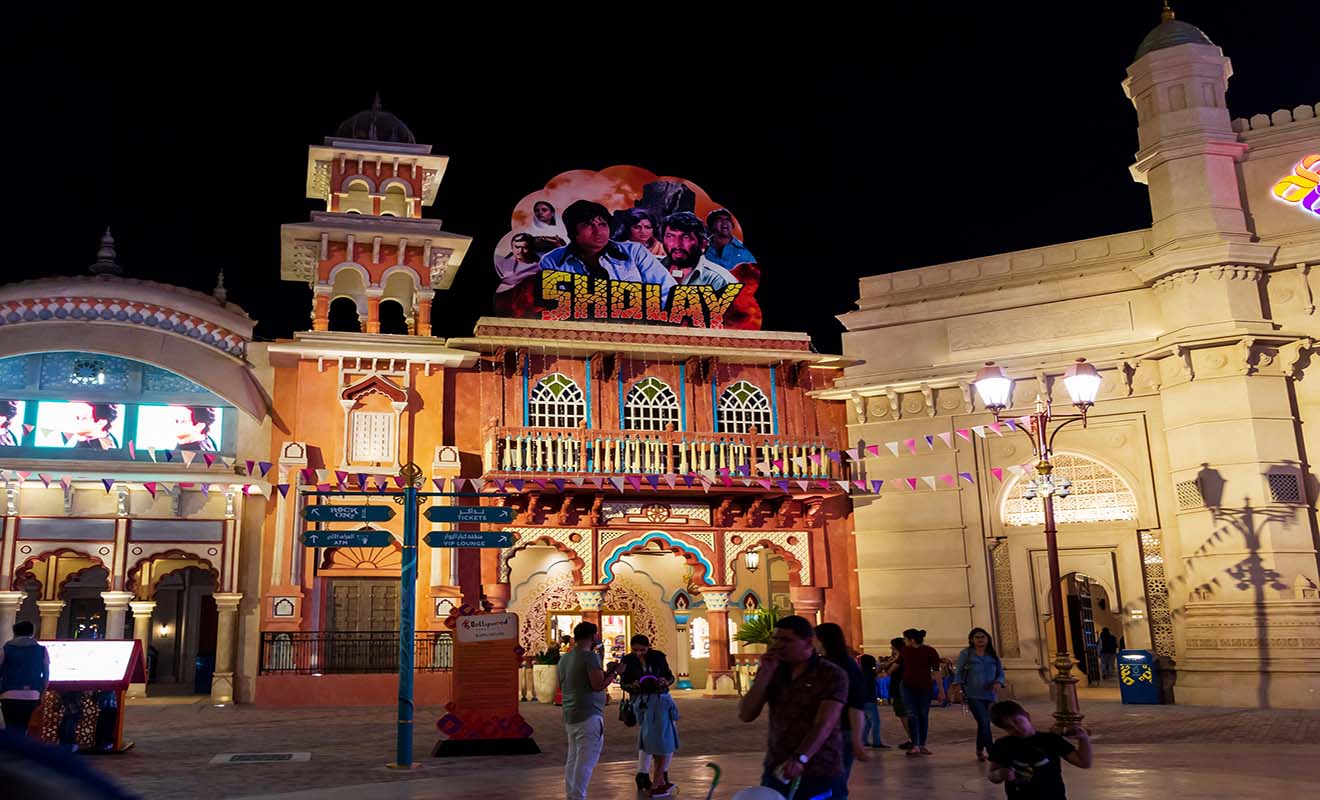 Did you know that there's a big influence of Indian culture in Dubai? Now you do!
Proof of this is that Dubai has its very own Bollywood, a theme park dedicated to this traditional Indian dance and its whole universe!
PRICE: Official price starts at AED 175 or US$47.65 on their website, but I found discounted tickets at US$27!
PRO TIP: If you want to stretch the day and you wake up early enough, you can even go to two attraction parks on the same day (there is just a 10 min walk between each theme park so it's completely doable) – check out these 2 parks in 1 day passes for US $58.
Finally, if you don't have much time for all the parks, you can stay at the on-site Polynesian-style hotel Lapita in order to not waste any fun time while in Dubai!
Day 6 – Departure day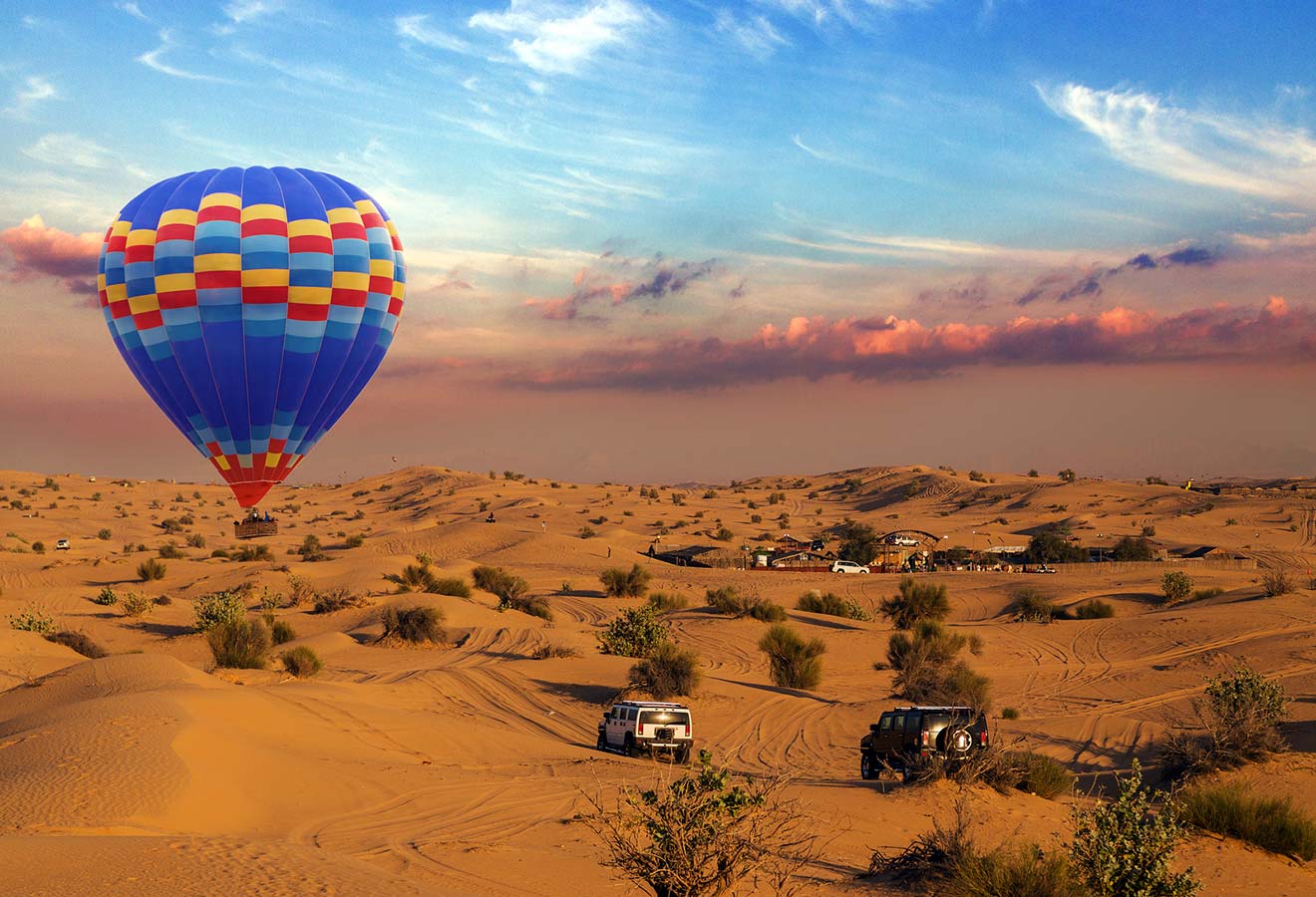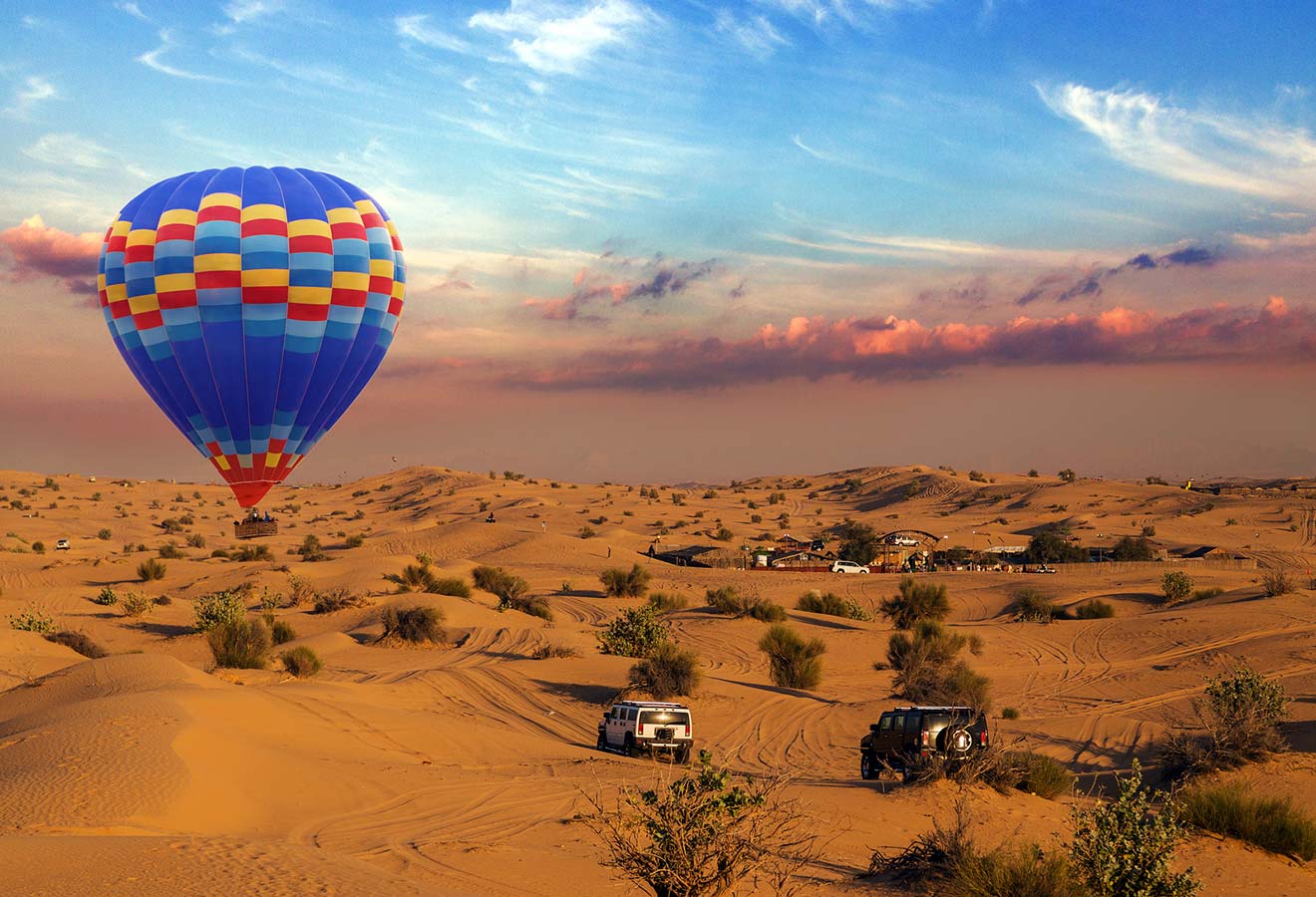 It is sadly the day of your departure and your adventure in this magical land is over… or is it?
In case you're wondering what to do in Dubai on your last day, you can book this 5-hour hot air balloon ride. This is a very early morning adventure – you'll be picked up at 4am and you'll be back in the town center at 9am, so I'd say you can definitely fit this into your schedule!
In this unique experience you can admire the views of the desert and the city! By the way, you can read more about the hot air balloon tour in my Top Dubai tours article.
PRICE: US$326
| | |
| --- | --- |
| 🤩 Range of activities: | Large |
| 👪 Family-friendly score: | Great |
| 🎡 Best kids activity: | Waterparks |
| 🌇 Famous attraction: | Burj Khalifa |
| 🚶🏽‍♂️ Best free activity: | Fountain show |
| 🌱 Best green space: | Dubai Miracle Garden |
| 🐪 Top outdoor activity: | Desert Safari |
| 🎈 Top paid attraction: | Hot air balloon ride |
| ☀️ Best time to go: | November – February |
| 📅 How many days: | 5-7 |
| 🚕 Average taxi price: | $10 |
| 🍽️ Dinner for 2: | $35 |
| 💵 Avg hotel PRICE: | $150 |
| ✈️ Cost of traveling: | Medium |
---
Conclusion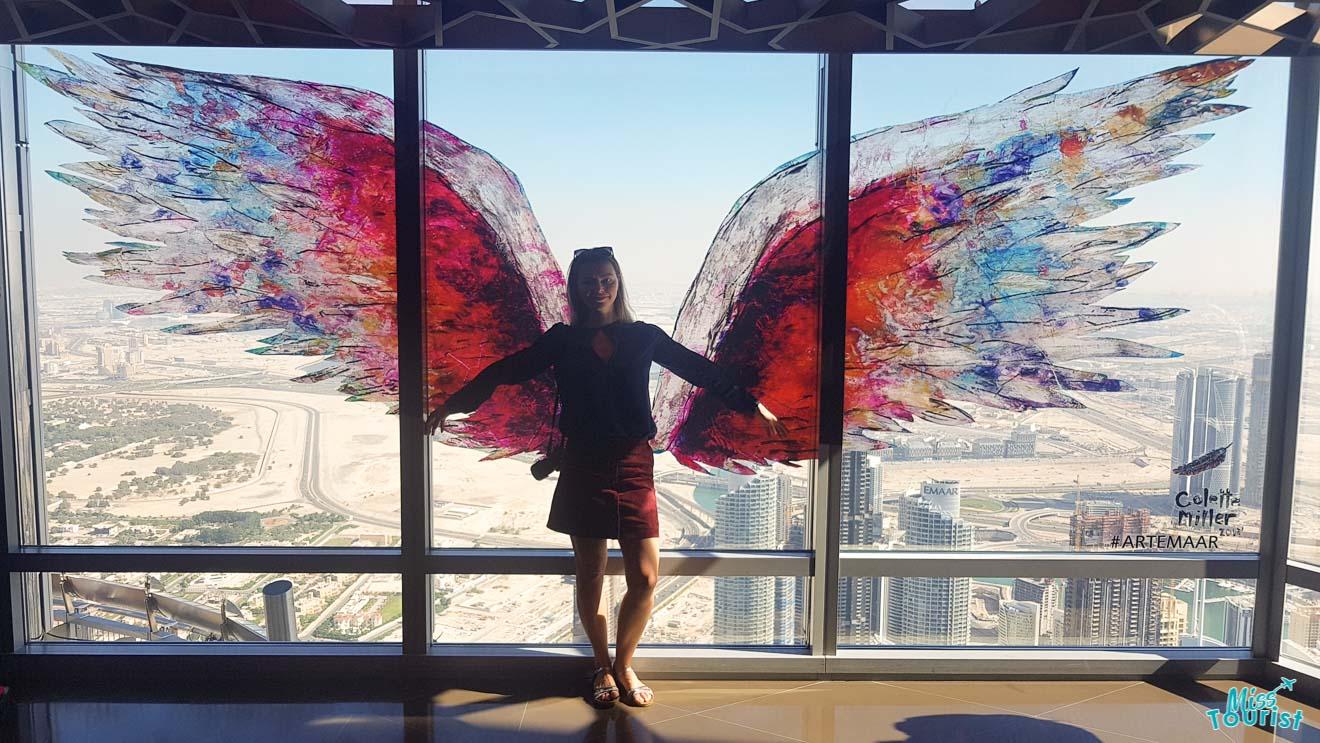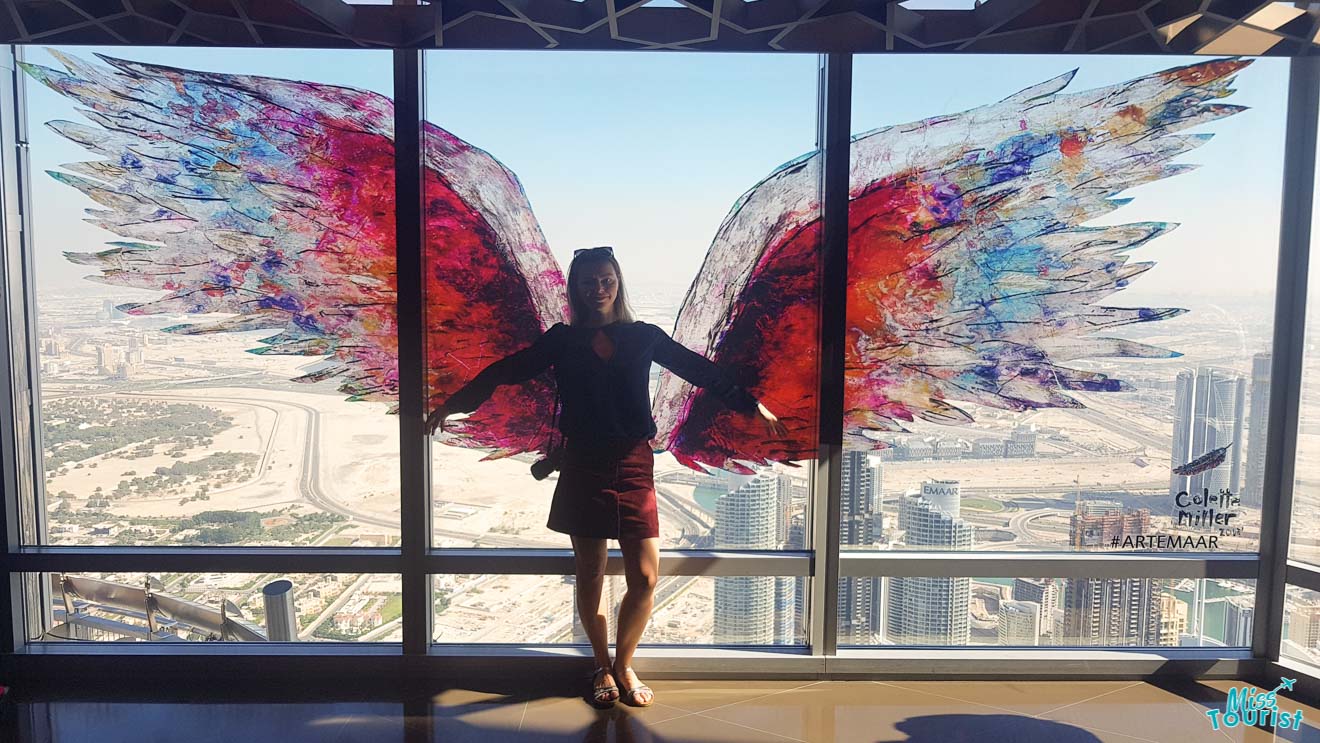 I hope you liked my suggested Dubai itinerary and travel guide! I have tried to make it as useful as possible and with as many details as I could so you can have an amazing trip, while also enjoying both old and new Dubai!
In this article I have talked about topics such as Dubai must see spots and unforgettable activities. If you have any questions, let me know in the comments below.
Happy travels,
Yulia
---
Pin it for later!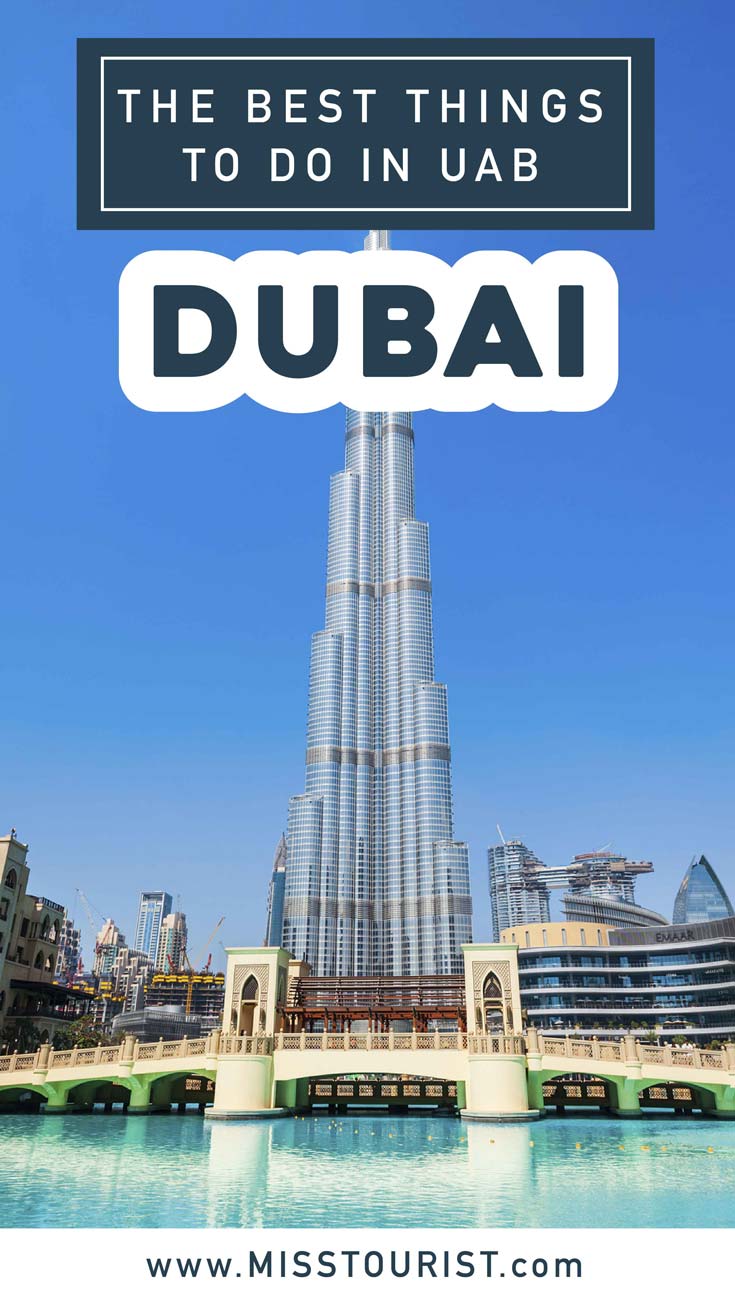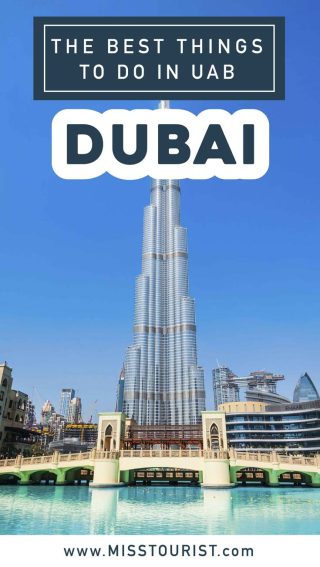 Pin it for later!