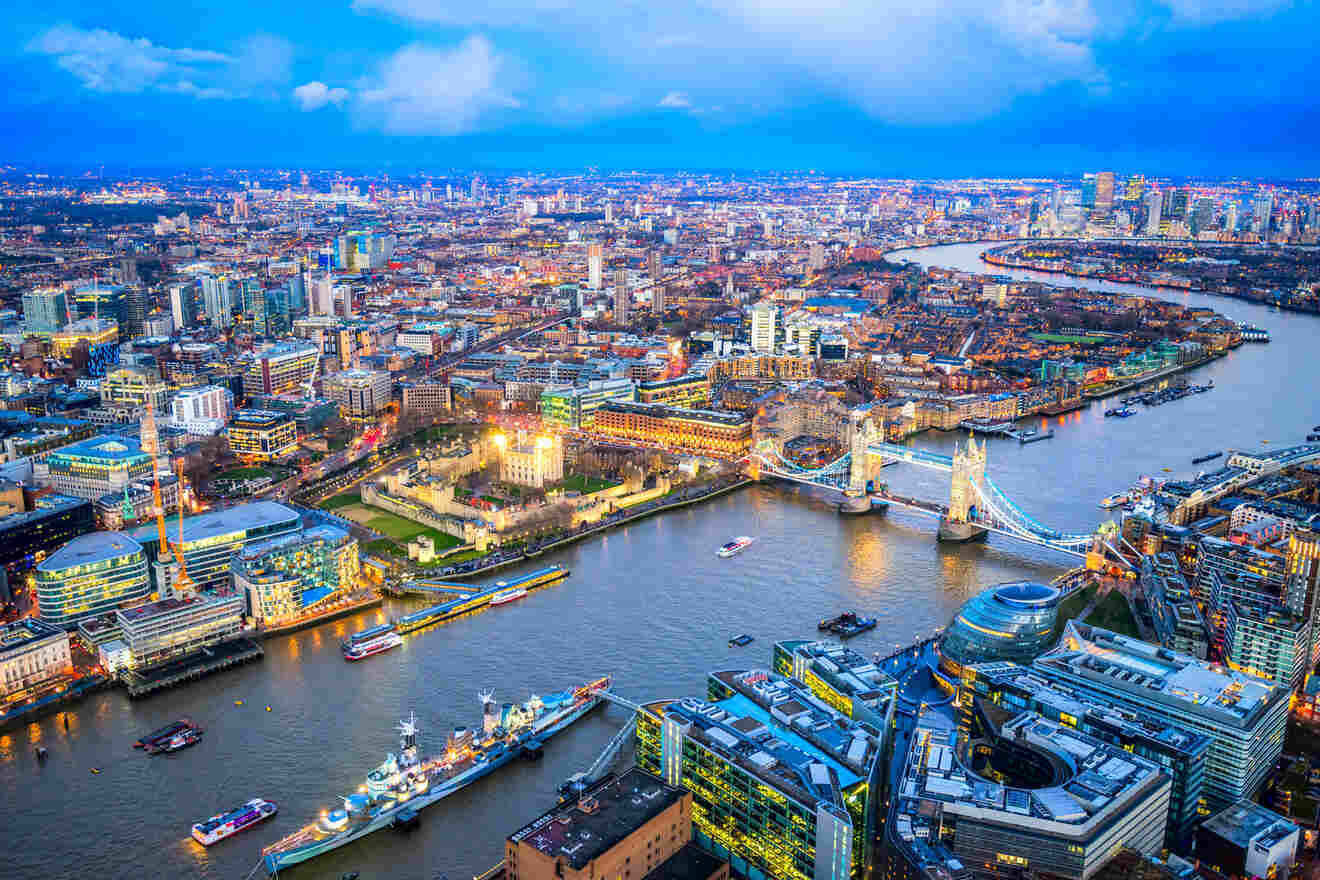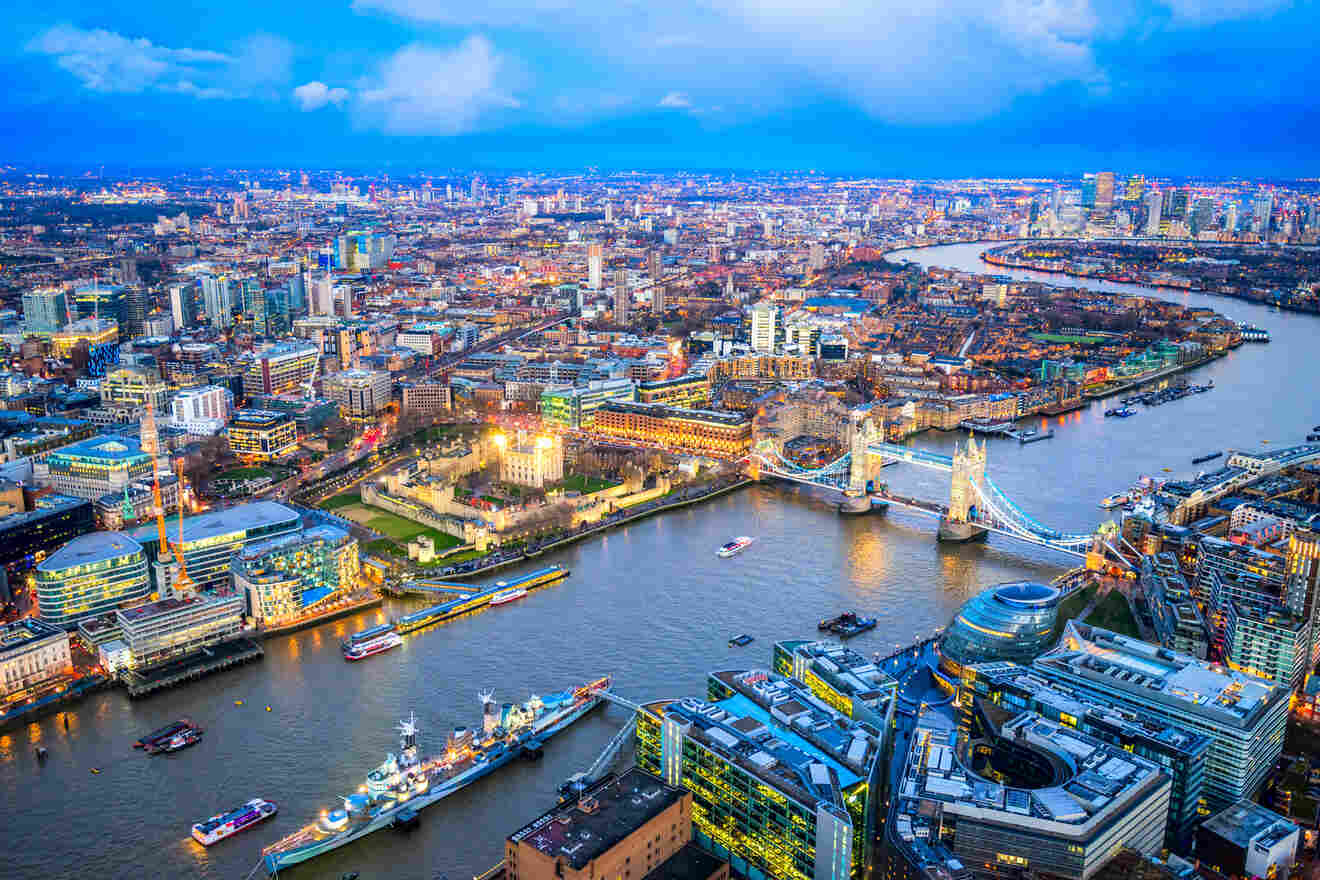 Is there a chance to get tired of London? I think not! This city is home to some incredible attractions, hotels, and an atmosphere that will make you fall in love with the city (like I did)!
If you're looking for the best hotels with views in London then you've landed on the right page! I got to know the city really well while living there so I made a list of the top London hotels with a view and ordered them from the most to least expensive.
As you know, London hotels are iconic and there are so many that I've decided to add an extra bonus with the most popular boutique hotels in the city!
You'll probably assume that with so many options there's no need to hurry, but trust me, these hotels in London with a view sell out so fast. That's why I recommend booking your favorite in advance!
Let's go, London is waiting for us!
If you are in a hurry
Don't have time to read the whole post? I've prepared a short list of the best London hotels with a view:
Luxury (£1000 and up)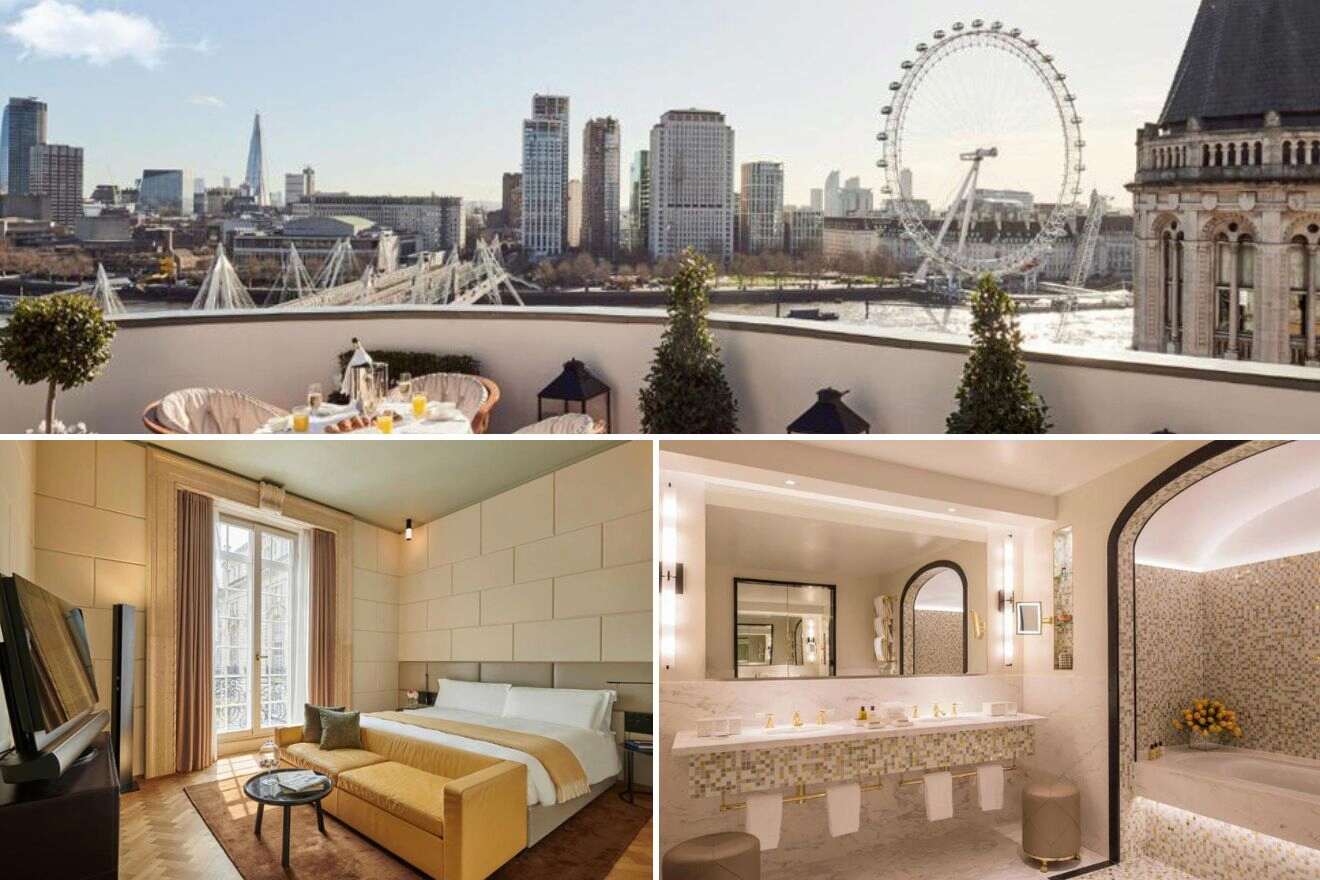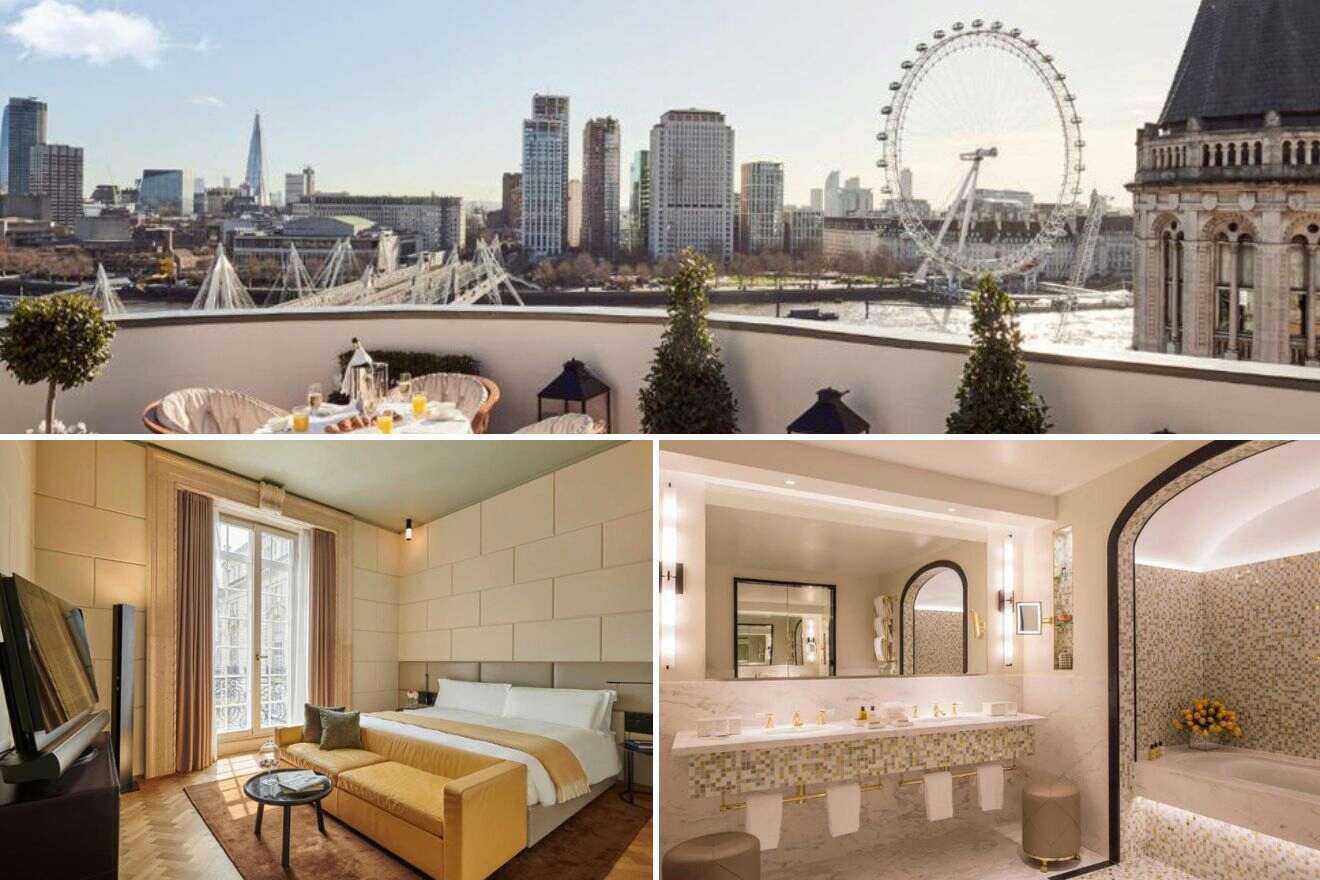 Corinthia Hotel – Breakfast with a view of the London Eye and the Shard! Yes, please! This fabulous hotel dates back to the 1880s and it's set just a short walk away from Trafalgar Square! Its modern rooms have elegant decor and marble bathrooms. When you're not exploring Central London enjoy some treatments at their luxurious spa and a yummy dinner at the on-site restaurant.
Four Seasons Hotel – Featuring spectacular views of the Tower of London from its outdoor terrace, this luxurious hotel is set in the City of London near attractions like St. Paul's Cathedral and the Royal Victoria Dock, and it offers 2 on-site restaurants! Their spacious rooms are beautifully decorated and come with a marble bathroom. And just wait until you see their steam room and the French restaurant, you'll never want to leave!
Hotel Café Royal – A true London landmark! You'll love the hotel's location, right on Regent's Street, one of the most famous avenues in the city! The 5-star hotel offers great street views, and it has a one-of-a-kind spa and 3 restaurants with super special decor! The elegant hotel rooms come with large windows that overlook Regent Street! Don't forget to book your hotel fast, these rooms will surely sell out fast!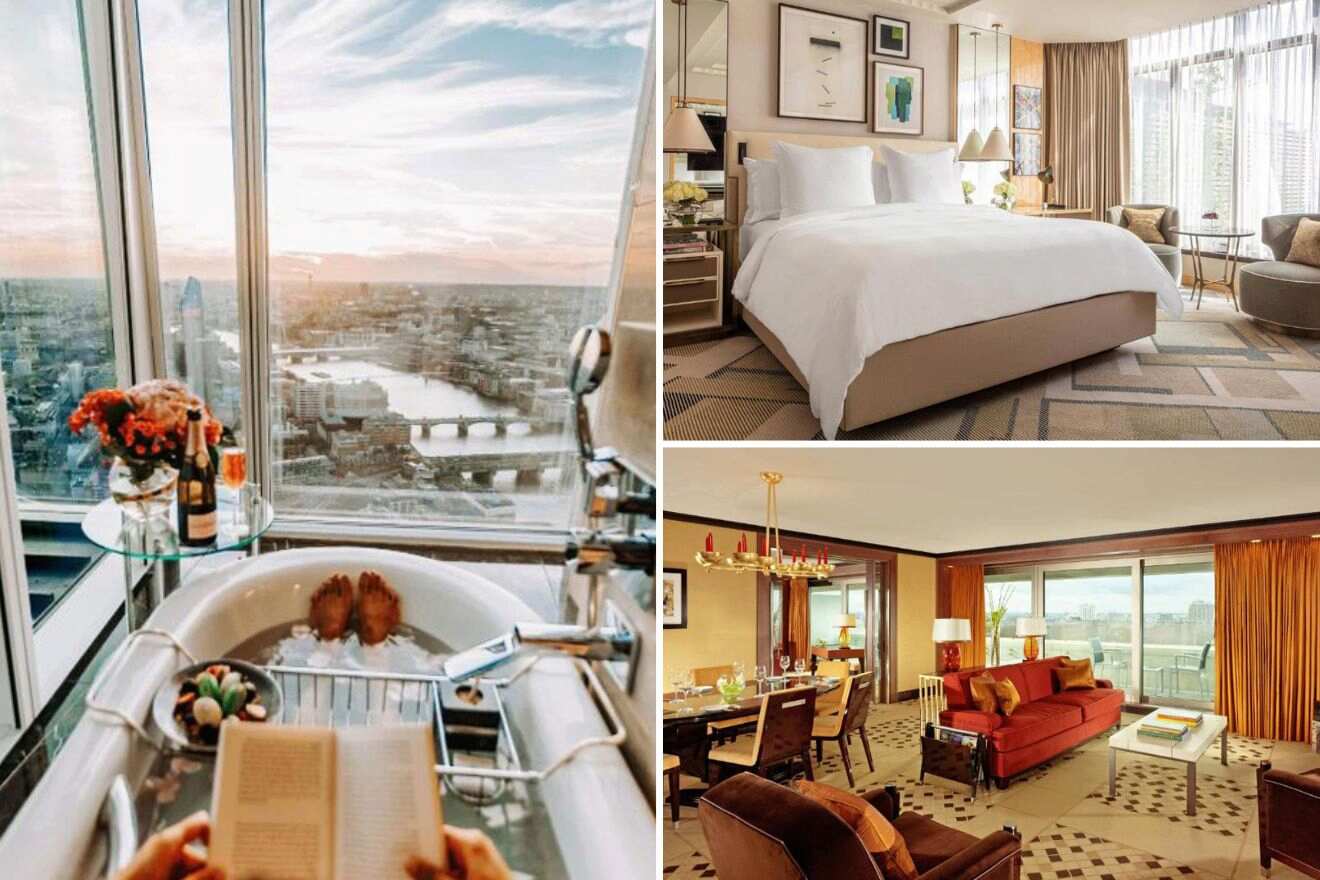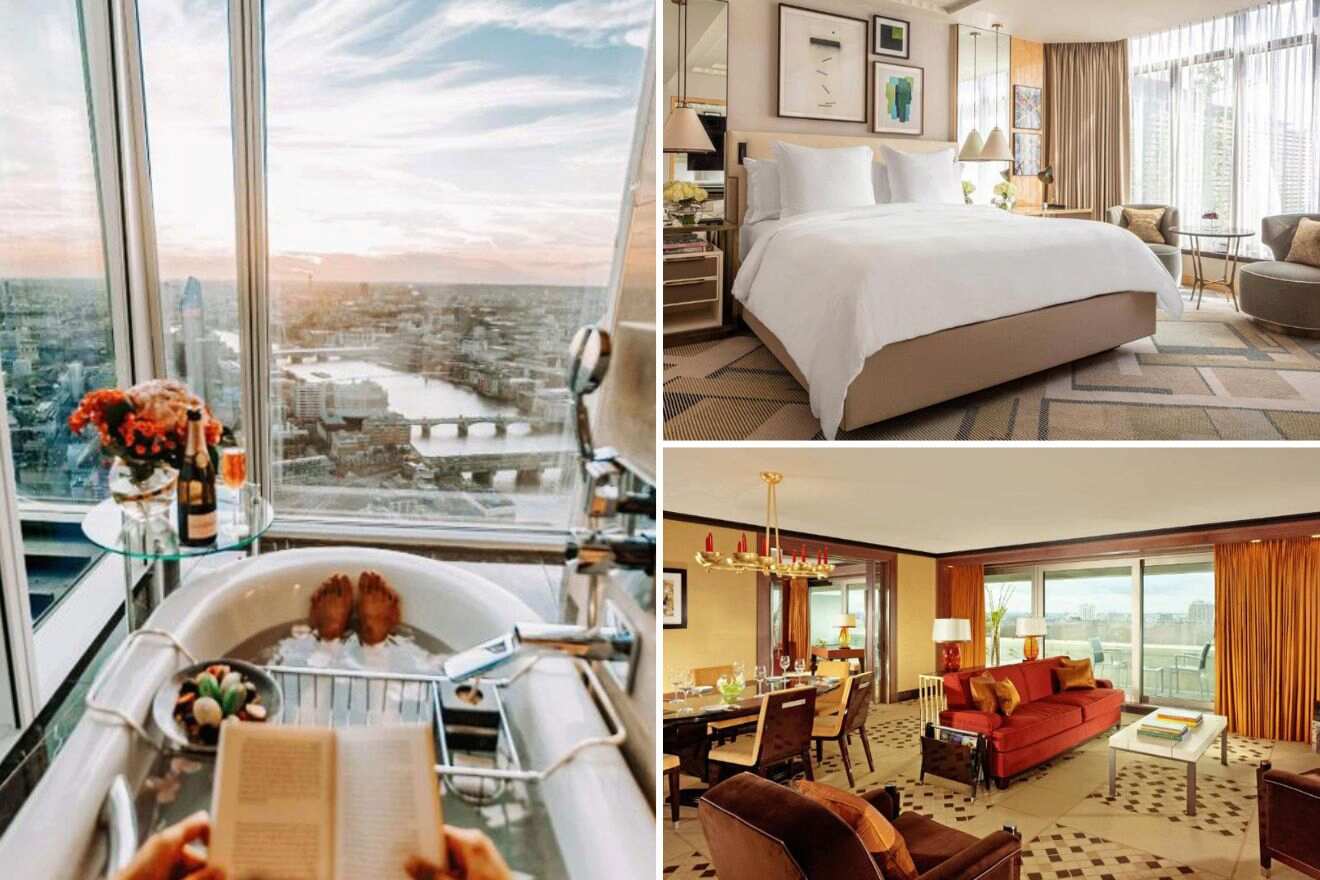 45 Park Lane – Wake up to a stunning view of Hyde Park at this London hotel that has an indoor swimming pool, family rooms, and a spa center with steam rooms. Enjoy a yummy breakfast at the restaurant on-site and then head out to visit London Eye, Leicester Square, or Buckingham Palace! Or you can chill at the hotel's library with a nice cup of tea and biscuits!
Four Seasons Hotel Park Lake – Enjoy a long massage with a view of Hyde Park at the spa center at one of the best luxury hotels in the city that's set near the Buckingham Palace Gardens. Featuring rooms with contemporary decor and picturesque views, this accommodation also offers a spa where you can relax when you're not exploring this fabulous city, a gym, and a restaurant that has an Italian-inspired menu!
Shangri-La The Shard – Located inside the monumental and world-famous building The Shard! The rooms have ceiling-to-floor windows overlooking Tower Bridge and the whole City of London, as well as marble-clad bathrooms with underfloor heating. The stunning views will follow you everywhere you go inside the hotel including the spa, the indoor pool, and the restaurants where you can enjoy a fancy afternoon tea!
Mid Range (from £400 to £800)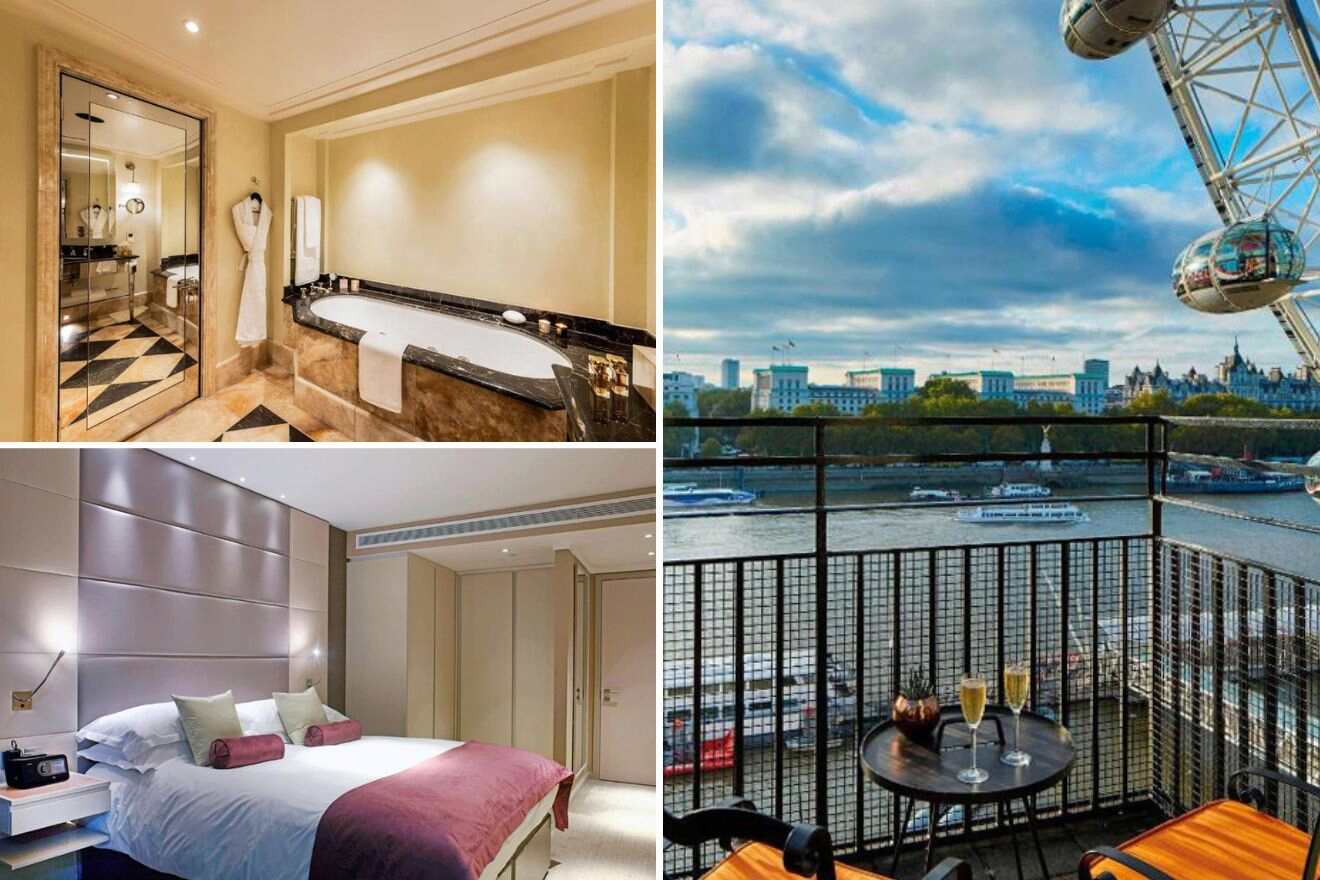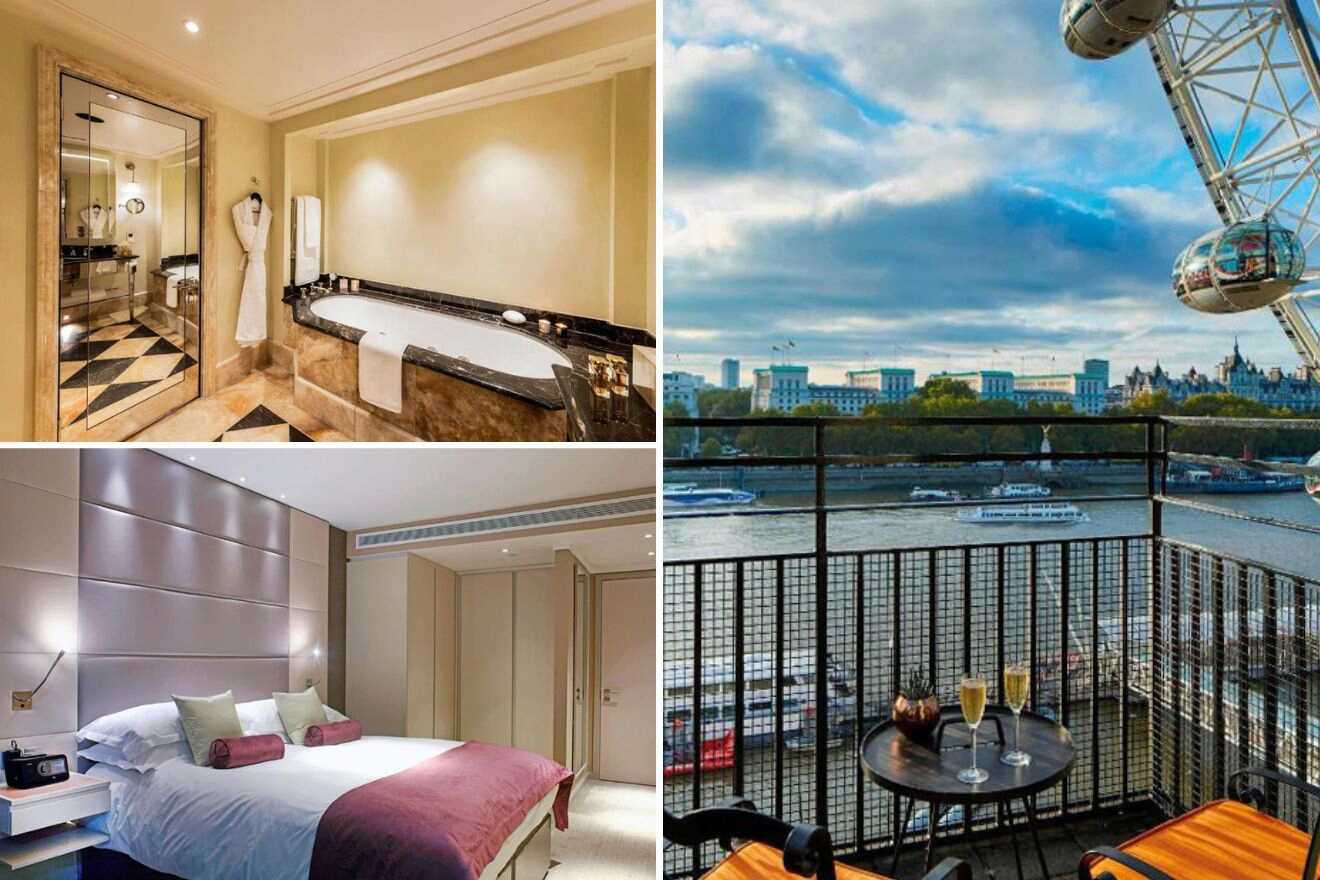 London Marriott Hotel County Hall – Say hello to old Big Ben, to River Thames, and to the London Eye from the windows of your fabulous rooms while staying at this London hotel! The accommodation is set near the South Bank and it has simple yet elegant decor and fantastic facilities like an indoor pool, a spa center and a restaurant which also has river views! With such a great location and stunning views, this 5-star hotel is surely a keeper!
Cheval Three Quays – Enjoy your cup of coffee or tea along with some stunning views of the Tower of London! Now that's a good way to start your day! This amazing hotel is set only a short drive from London City Airport and Canary Wharf. It has spacious apartments which are super bright and have all the facilities you need: an open-plan kitchen, flat-screen TV, an iPod dock, and more.
L'oscar London – Gotta love a place that has a super stylish design, an interesting past (this place was once the headquarters of a Baptist Church), and some amazing views! You're going to love its elegant rooms that have large windows and a flat-screen TV. Set in the Camden area, not too far from many of London's landmarks, the accommodation is perfect for your stay!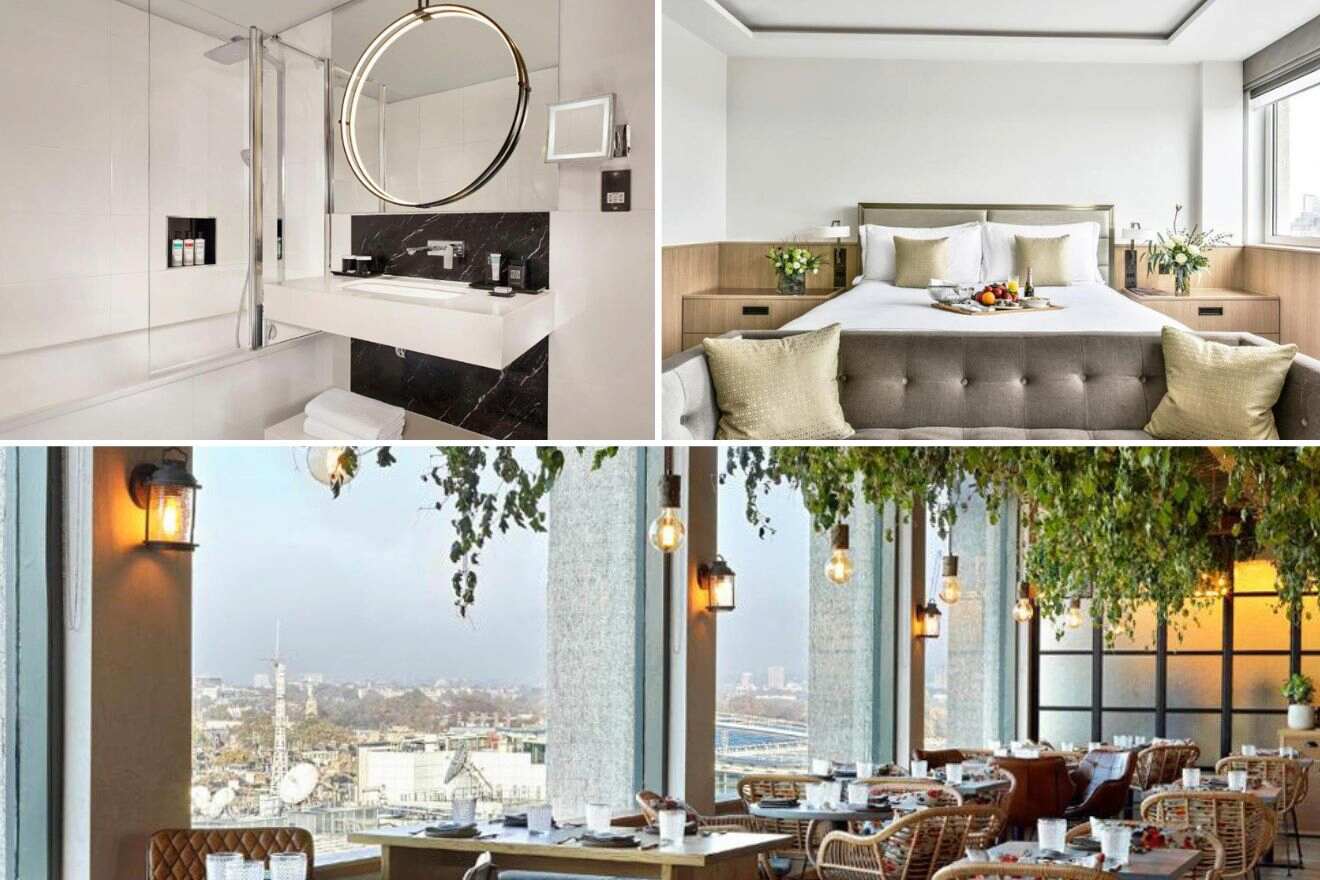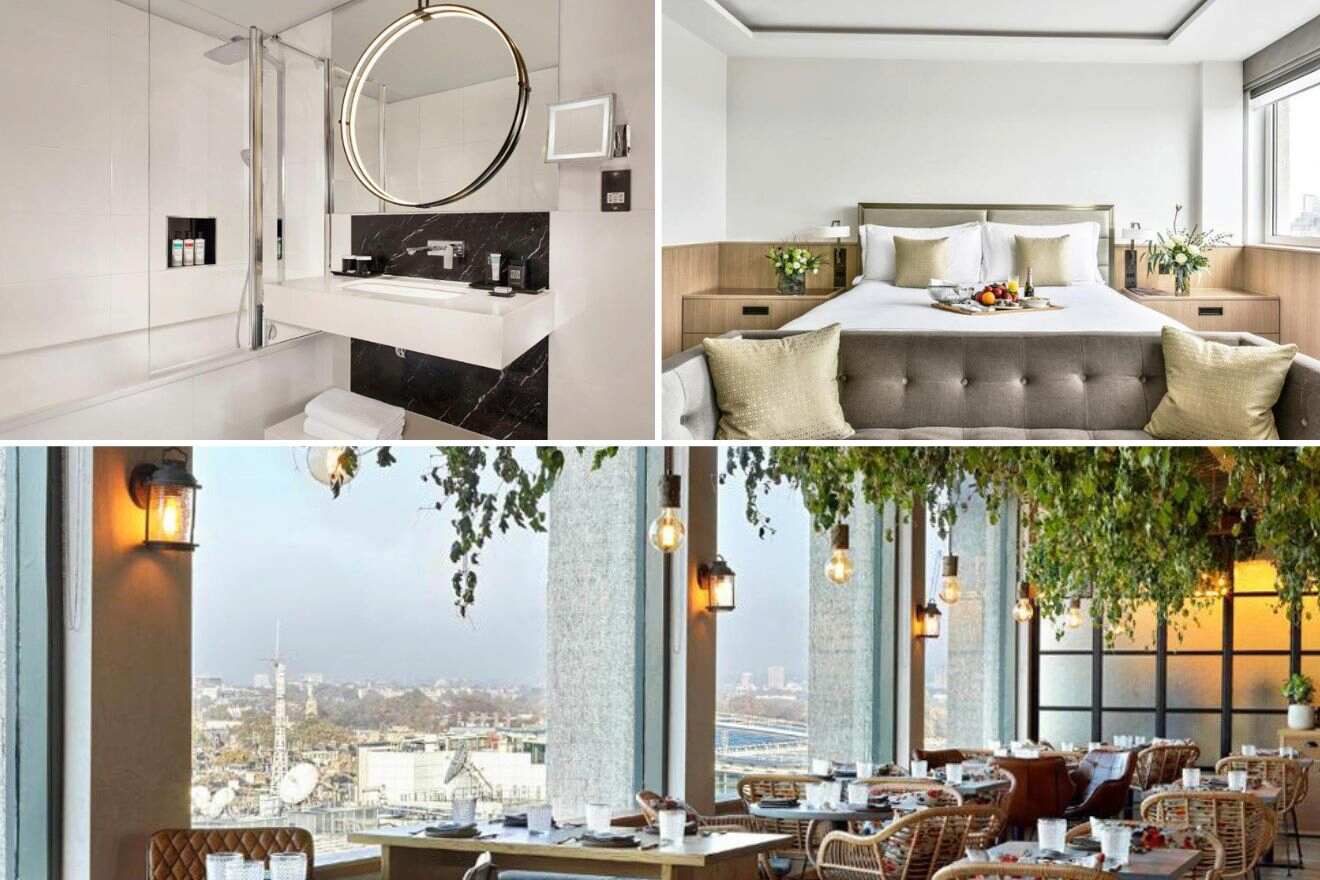 Treehouse Hotel – If you love plants and all things green then this London hotel in the West End is surely for you! Its rooms feature panoramic views of the City of London as does its restaurant where you'll feel as if you've entered a greenhouse. The 4-star hotel is set only a 5 min walk away from Oxford Street and it has a restaurant, a bar, and an outdoor terrace where you can enjoy some drinks and more incredible views!
Royal Lancaster – This incredible 5-star hotel is set right next to Hyde Park and only a short walk away from Paddington Underground Station and Lancaster Gate Tube Station. It offers some incredible views of the famous London Skyline. The accommodation has a simple yet lovely decor made with soft, brown colors, and 2 amazing award-winning restaurants (yum)!
Montcalm East – Enjoy the views of London's skyline from the comfort of your own bed while staying at this amazing hotel! The accommodation has a quirky design and bright rooms with large diagonal windows. Start your morning with a yummy breakfast and then head to the spa or for a swim in the indoor pool. You can also rent bicycles from the hotel if you want to explore Canary Wharf and other areas!
Budget (up to £400)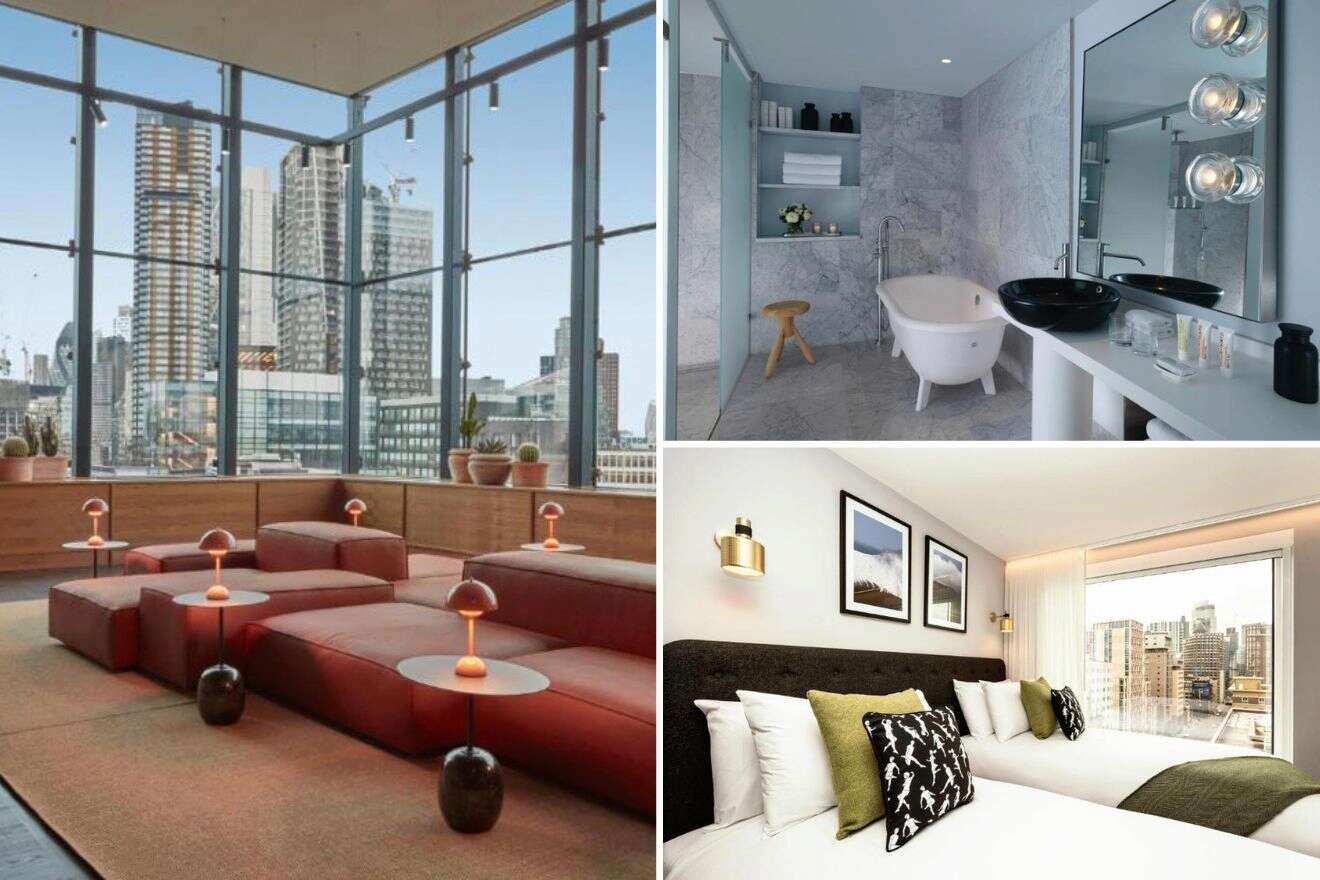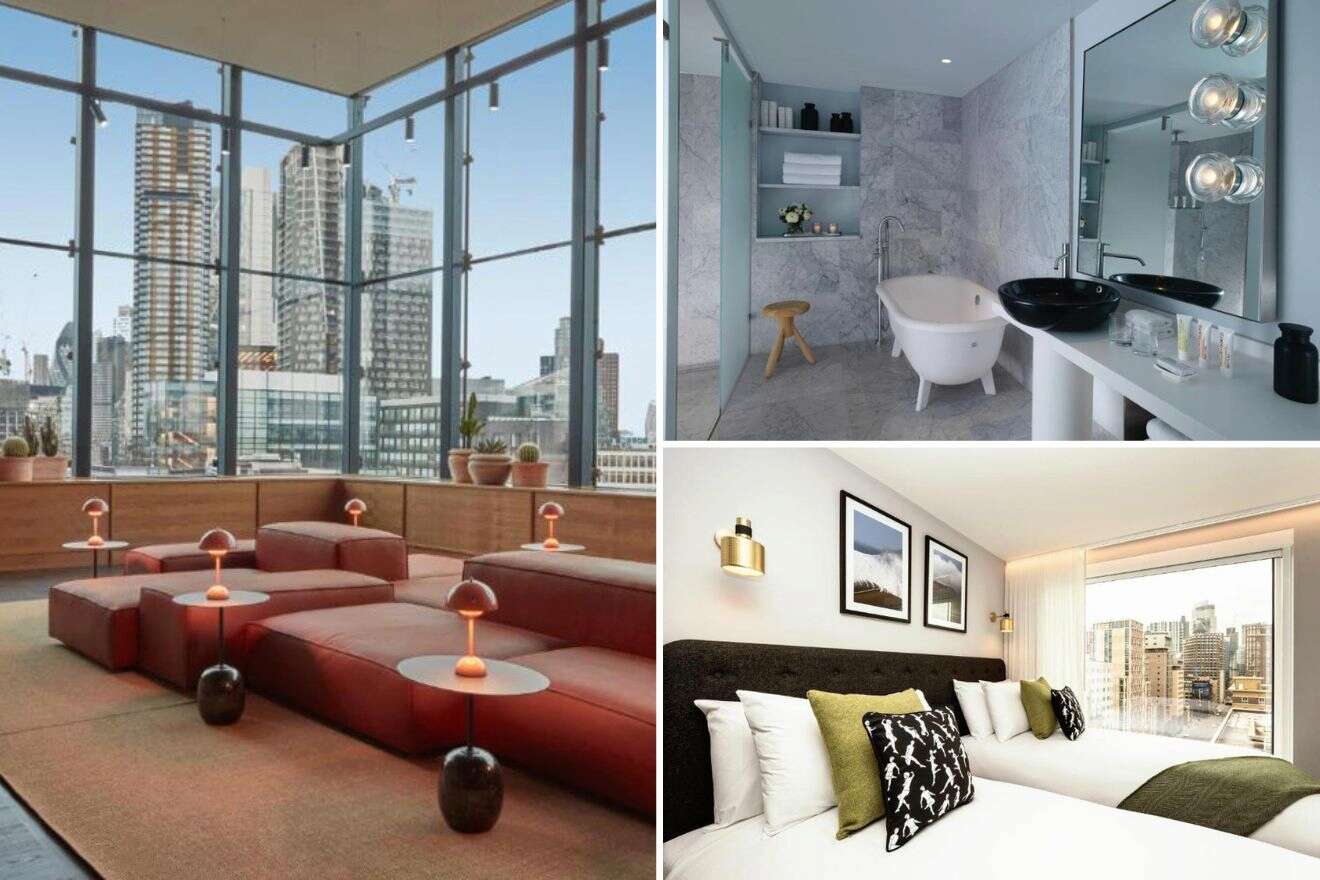 One Hundred – Set in Shoreditch East London, near Liverpool Street, this cool hotel offers an amazing view of the London Skyline! Featuring modern decor combined with vintage aesthetics, this accommodation will become one of your favorite places in town. After a day of visiting the city's attractions like the Tower of London, Richmond Park, and the London Eye, you can enjoy a drink and a bite at the rooftop bar!
Sea Containers London – Located on the banks of the Thames River only minutes away from places like Tate Modern and London Bridge, this hotel has some incredible facilities like a rooftop bar and an agua spa. The rooms are decorated by an award-winning designer and feature bespoke furniture! Right near the hotel, you'll find a great place to grab dinner called OXO Tower Restaurant which serves modern European dishes!
Wilde Aparthotels – Enjoy your coffee in bed while admiring the incredible city views from your fabulous room that has a flat-screen TV, a kitchenette, and a private bathroom. Later you can head downstairs and enjoy their buffet breakfast and then rent some bicycles from the hotel and explore the city! River Thames, Chelsea Riverside Brasserie, and other incredible attractions and restaurants are waiting for you!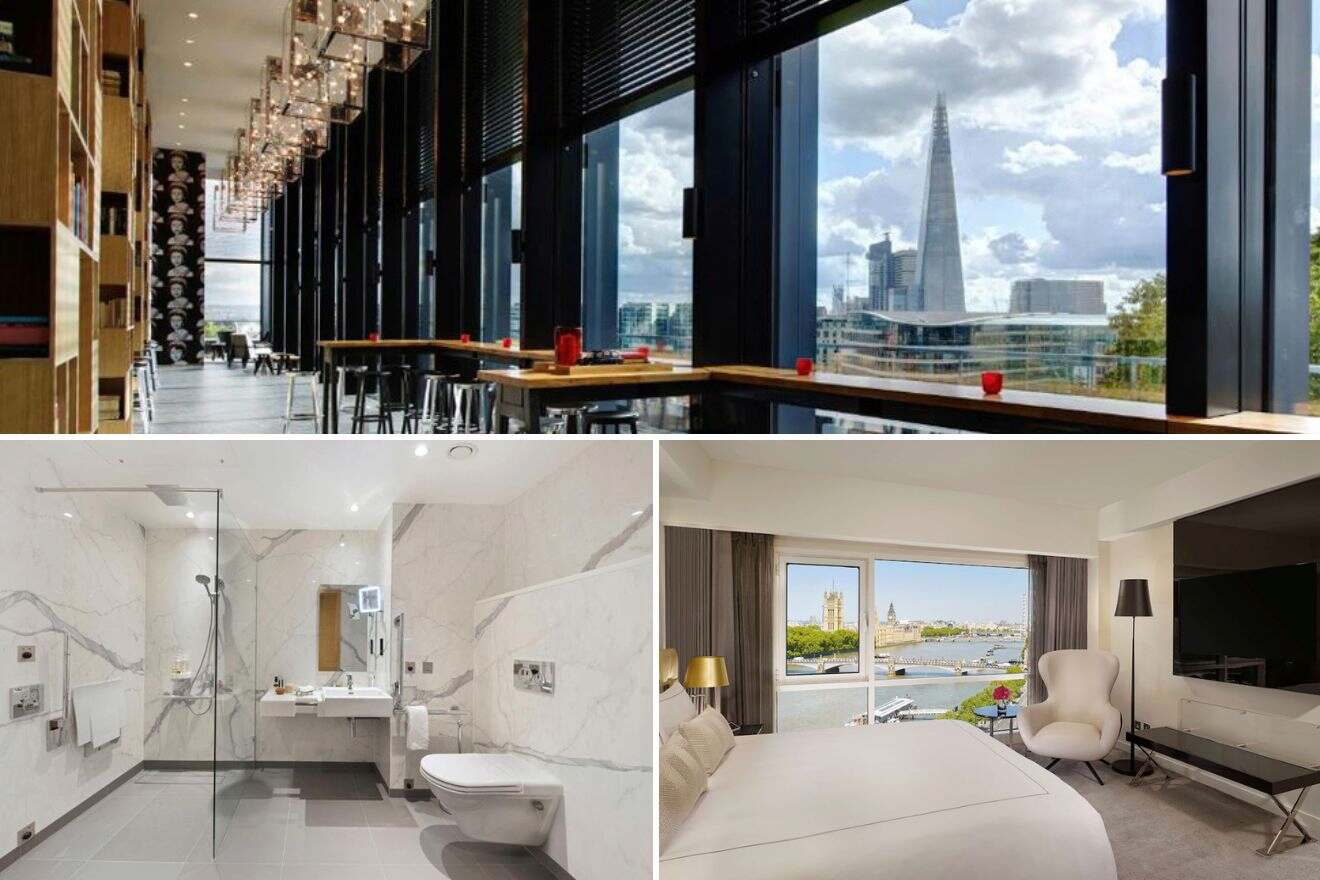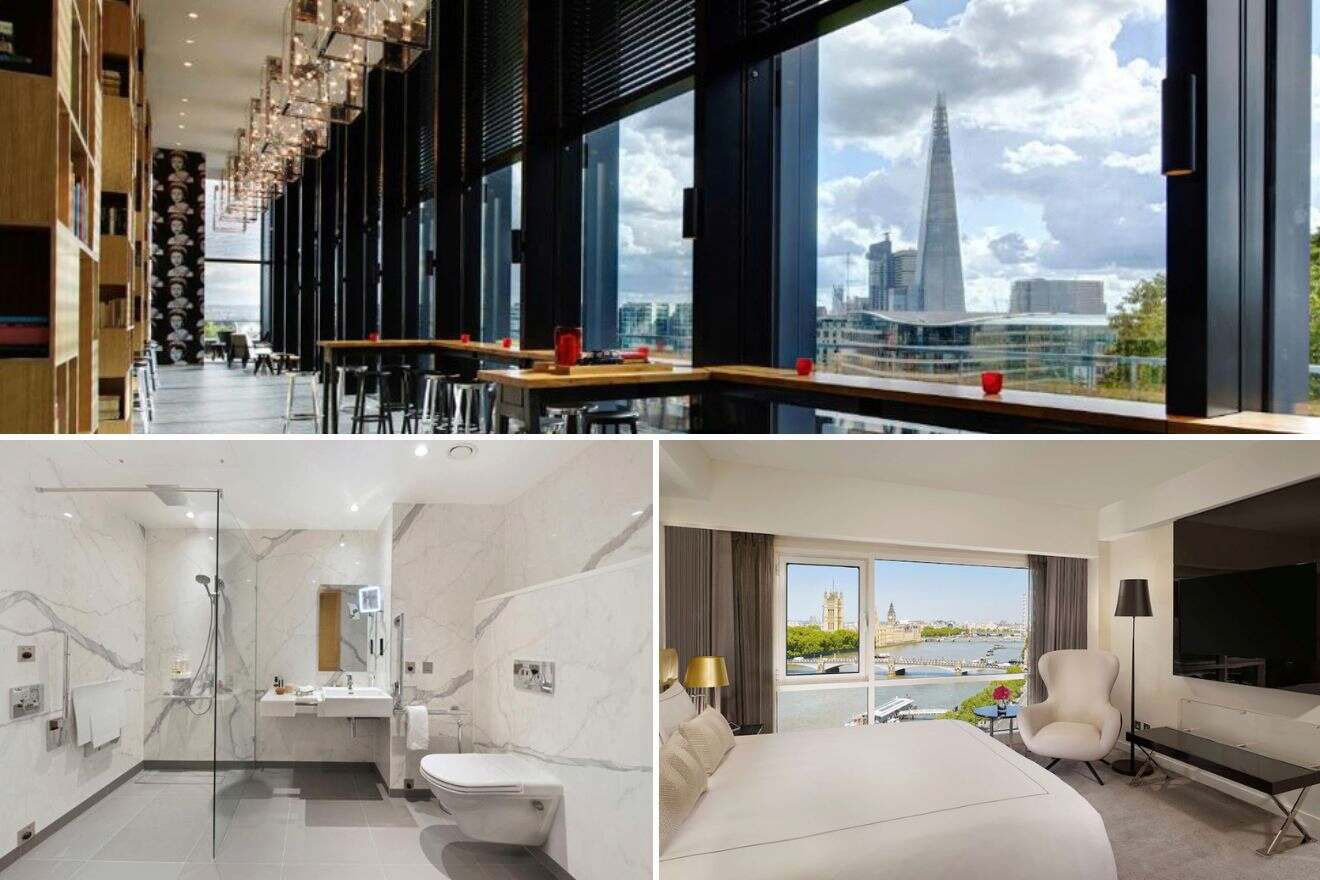 Tower Suites by Blue Orchid – You should definitely get a room with a view of the Tower of Bridge, that way you can wake up every morning and admire the beautiful monument! Welcome to one of the best hotels with a view in London that has spacious suites! Set right near the River Thames and Tower Hill underground station the accommodation also offers a full buffet breakfast in the morning and a spa.
CitizenM Tower of London – Modern, spacious, and with some incredible views of the River Thames, the Tower of London, and Tower Bridge from its floor-to-ceiling windows! This accommodation has big rooms, equipped with all the facilities you need and a restaurant where you can grab something delicious to eat! Their spa is spread out over 4 floors and it includes a private spa suite, a vitality pool, and other incredible facilities!
Plaza on the River – What a place! You're going to love the rooms with floor-to-ceiling windows that offer views of Westminster and Big Ben! The suites are also super spacious and come with a kitchen and a flat-screen TV. You'll also find a large food court, a fitness center, and a bar where you can grab something to drink after a day of visiting places like the London Eye and Hyde Park!
Check the Rates for Your Dates
BONUS: Most popular boutique hotels in London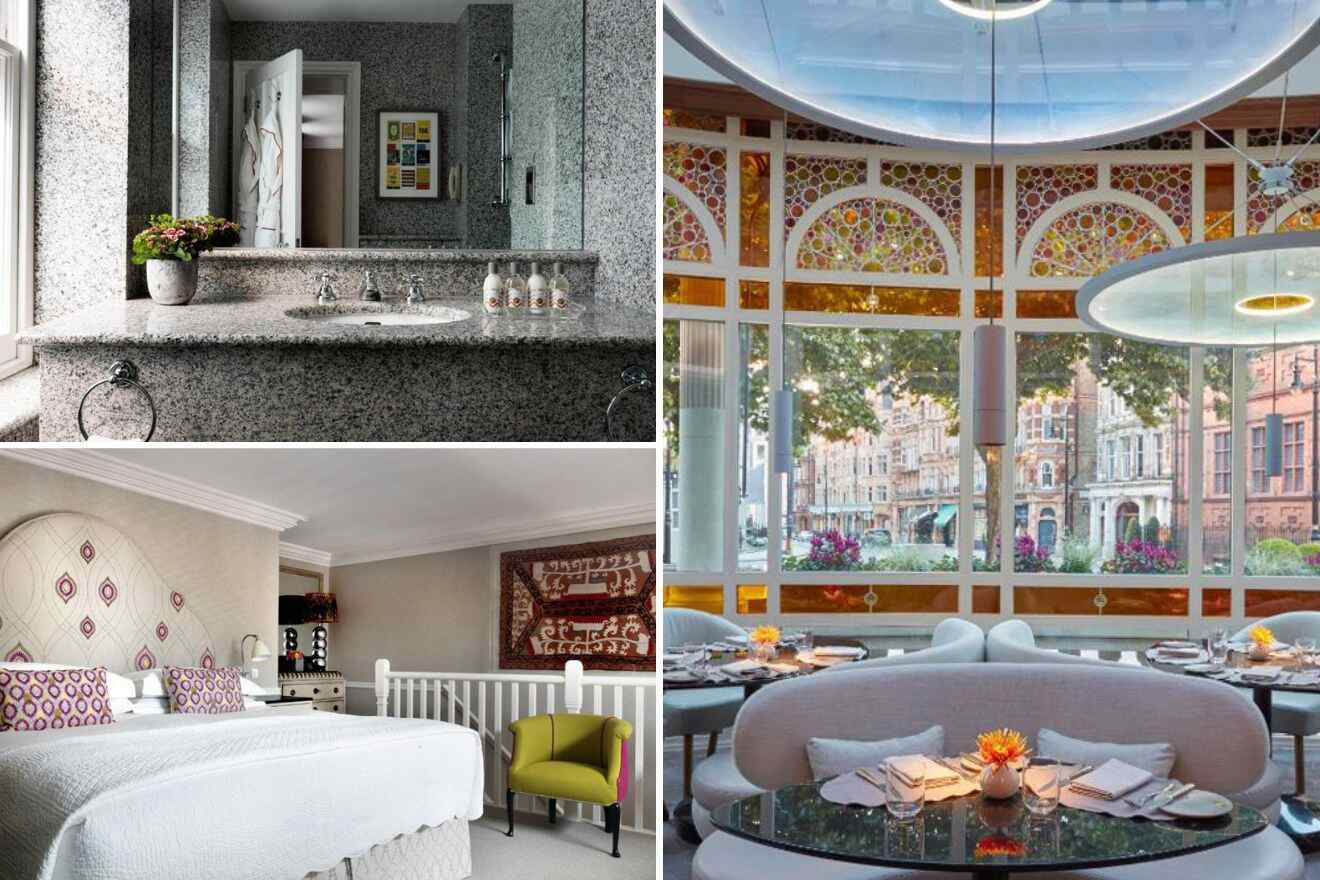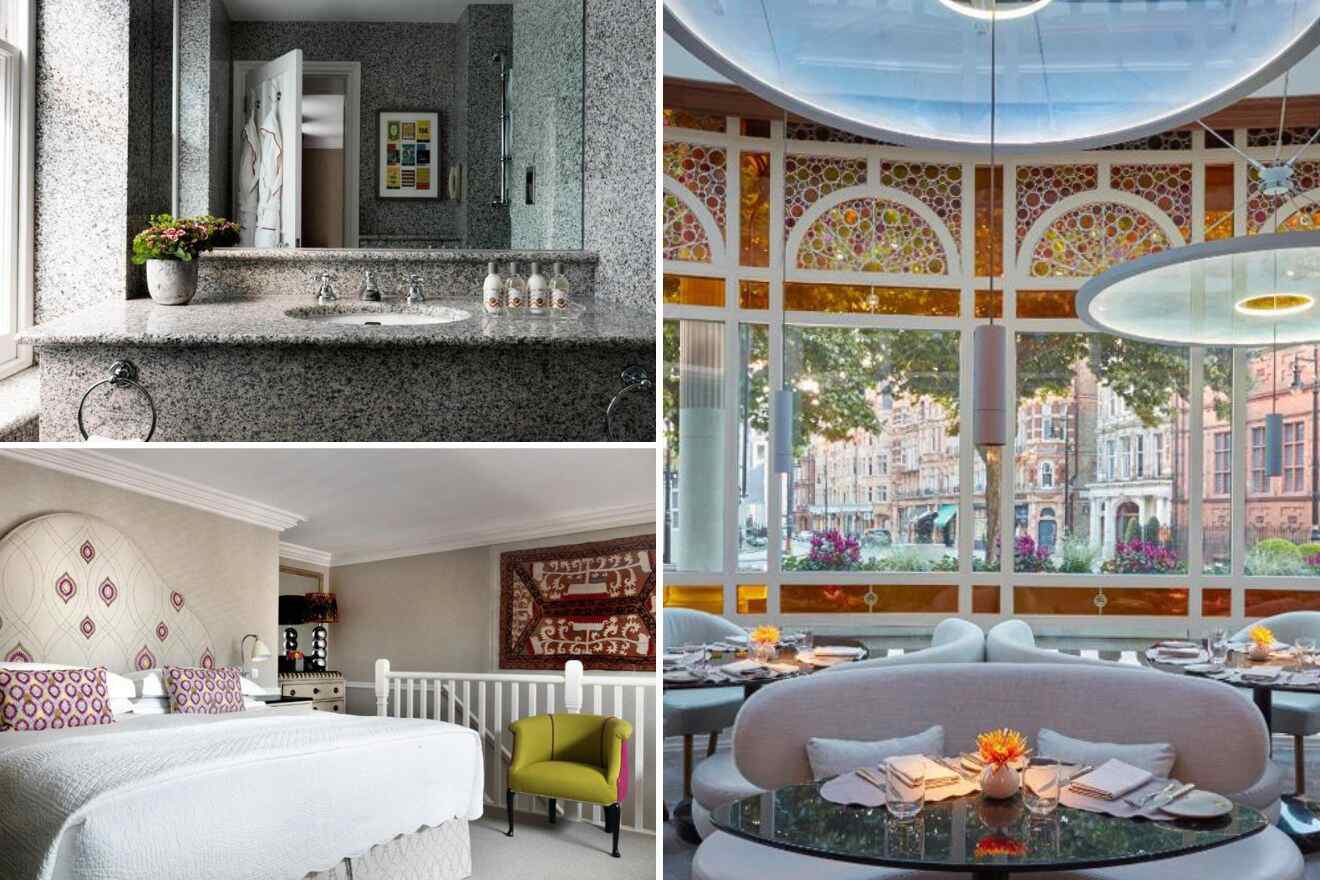 Now that we've seen the best London hotels with a view that will make you want to come back again and again, I thought I'd also offer you a list with some incredible accommodations that are super unique and stylish!
I've already listed them from most to least expensive, and the prices start from £500 to £1500:
The Connaught – Set in the fabulous Mayfair area in central London, near Green Park, this incredible hotel offers Michelin-star dining and super fancy decor that you're going to love! The iconic hotel has such a decadent vibe and some incredible facilities like a holistic spa center and an indoor swimming pool.
Covent Garden Hotel – Such a stylish London hotel! Each room is individually decorated with unique furnishings and vintage pieces which will make you feel as if you've landed in a British period drama! The accommodation is set in Covent Garden, in London's West End and it comes with a wood-paneled drawing room, a bar, and a brasserie.
Number Sixteen – Another beautifully decorated hotel that's located not too far from Hyde Park. The Victorian property has a lovely terrace overlooking the garden where you can enjoy your afternoon tea and rooms which have such incredible designs completed with luxurious fabrics and furnishings.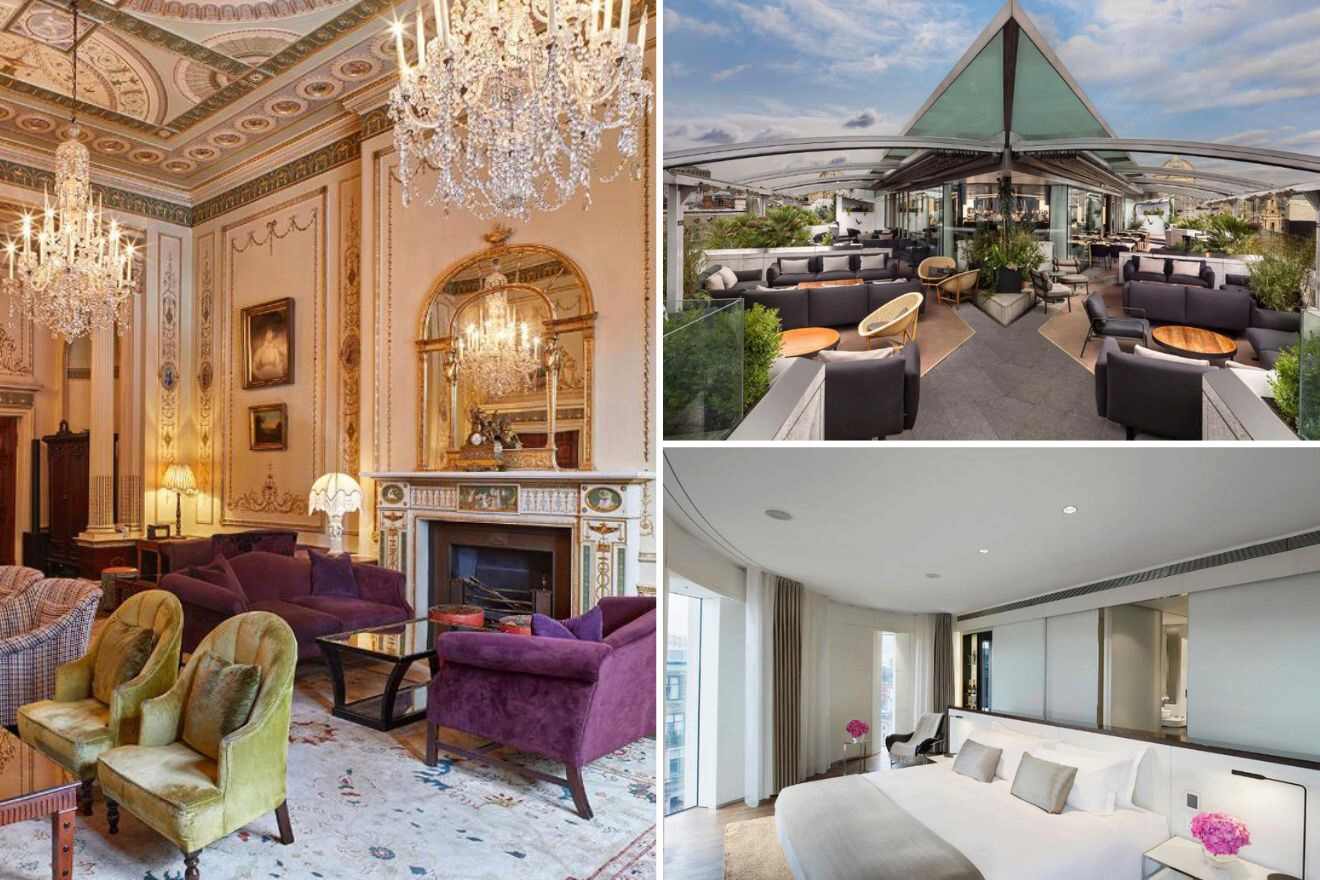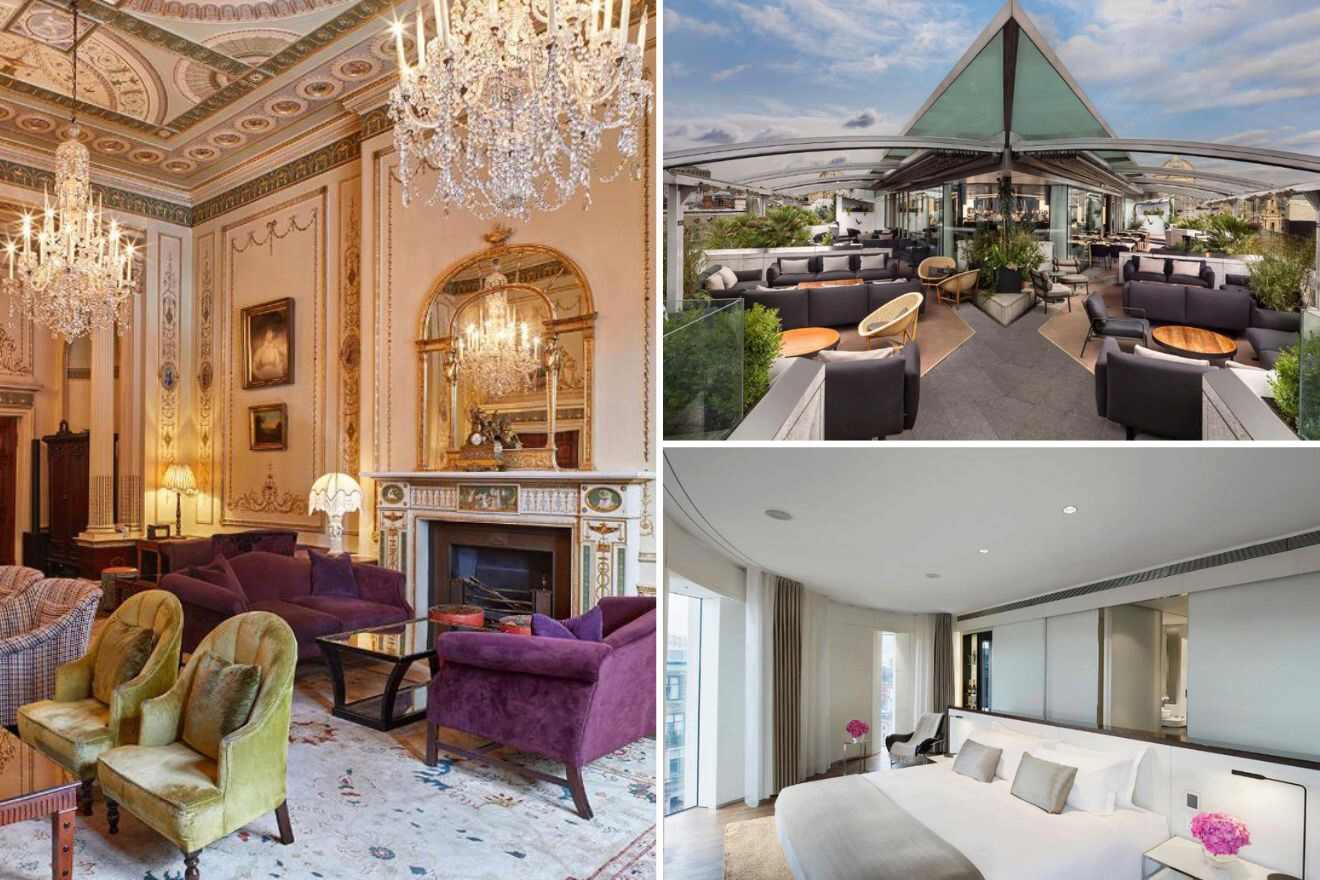 Home House Portman Square – History lovers you're going to love this five-star hotel! Its elegant decor, the atmosphere, and literally every little thing will make you want to move here! The accommodation features colorful wallpapers, antique furniture, a terrace, and a sauna.,
ME London by Melia – End your day of exploring London at the hotel's rooftop terrace with a yummy cocktail or a glass of wine! This hotel, which is only minutes away from the Thames River, has a contemporary design, international fine dining, and rooms with floor-to-ceiling windows.
FAQs about hotels with views in London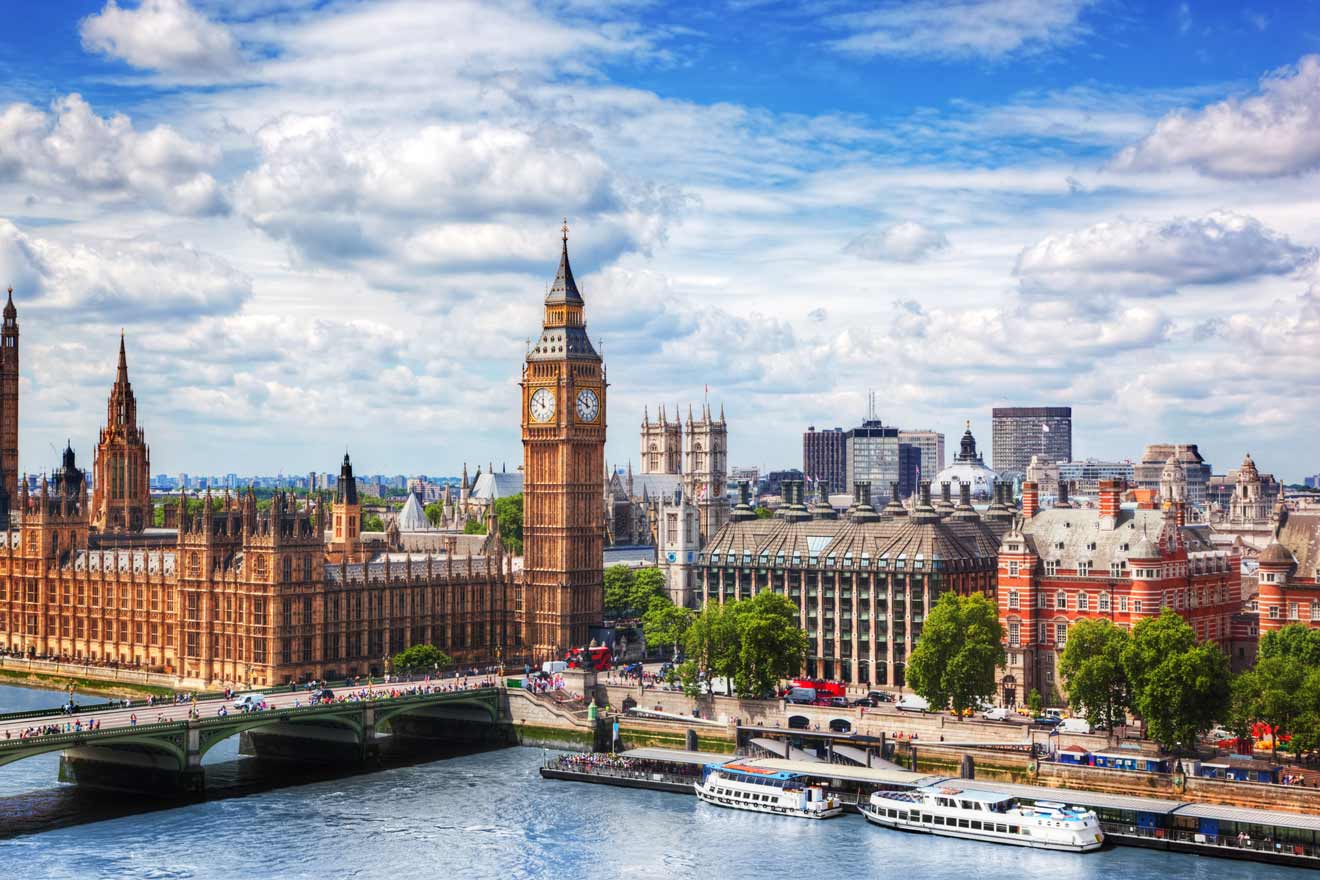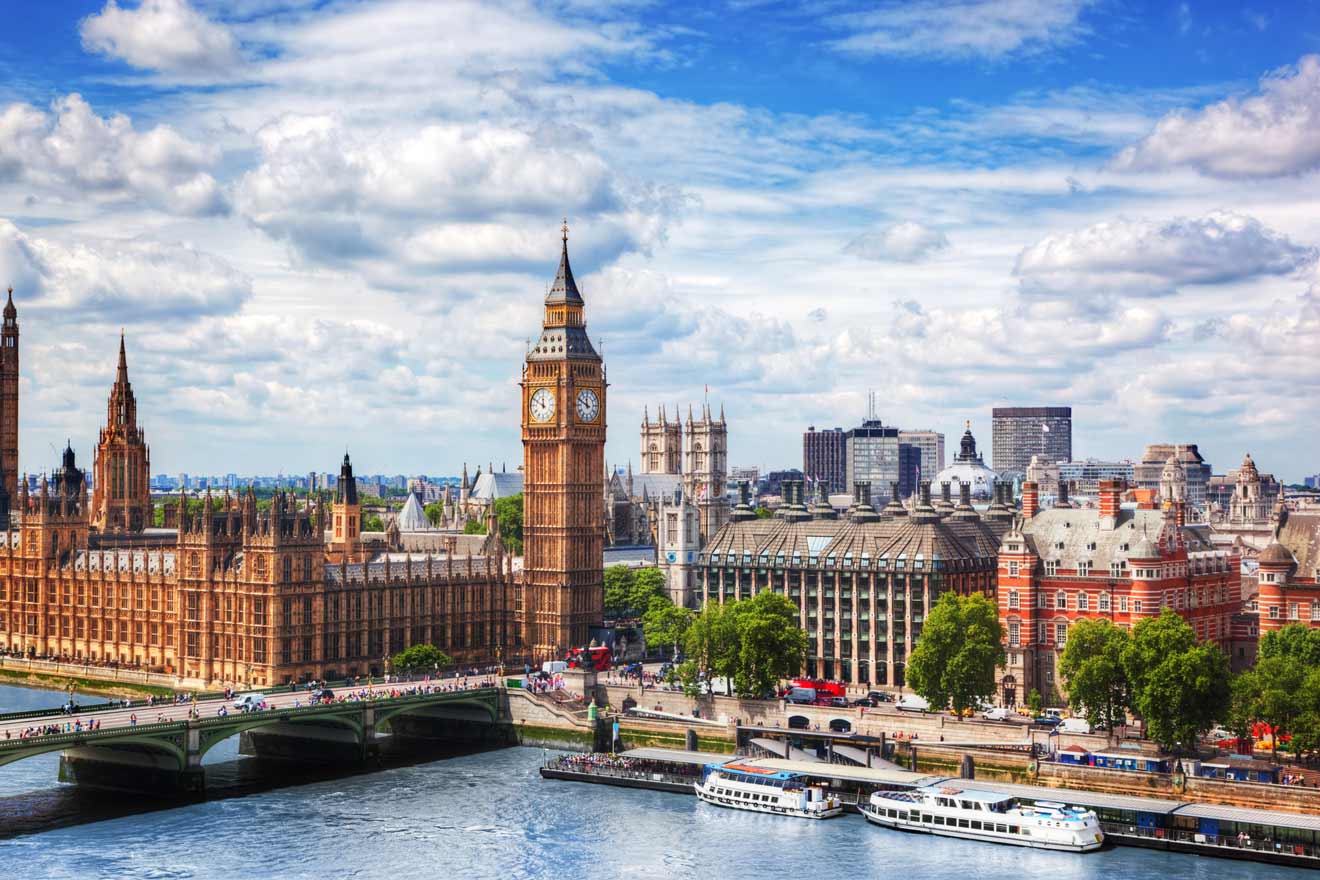 Conclusion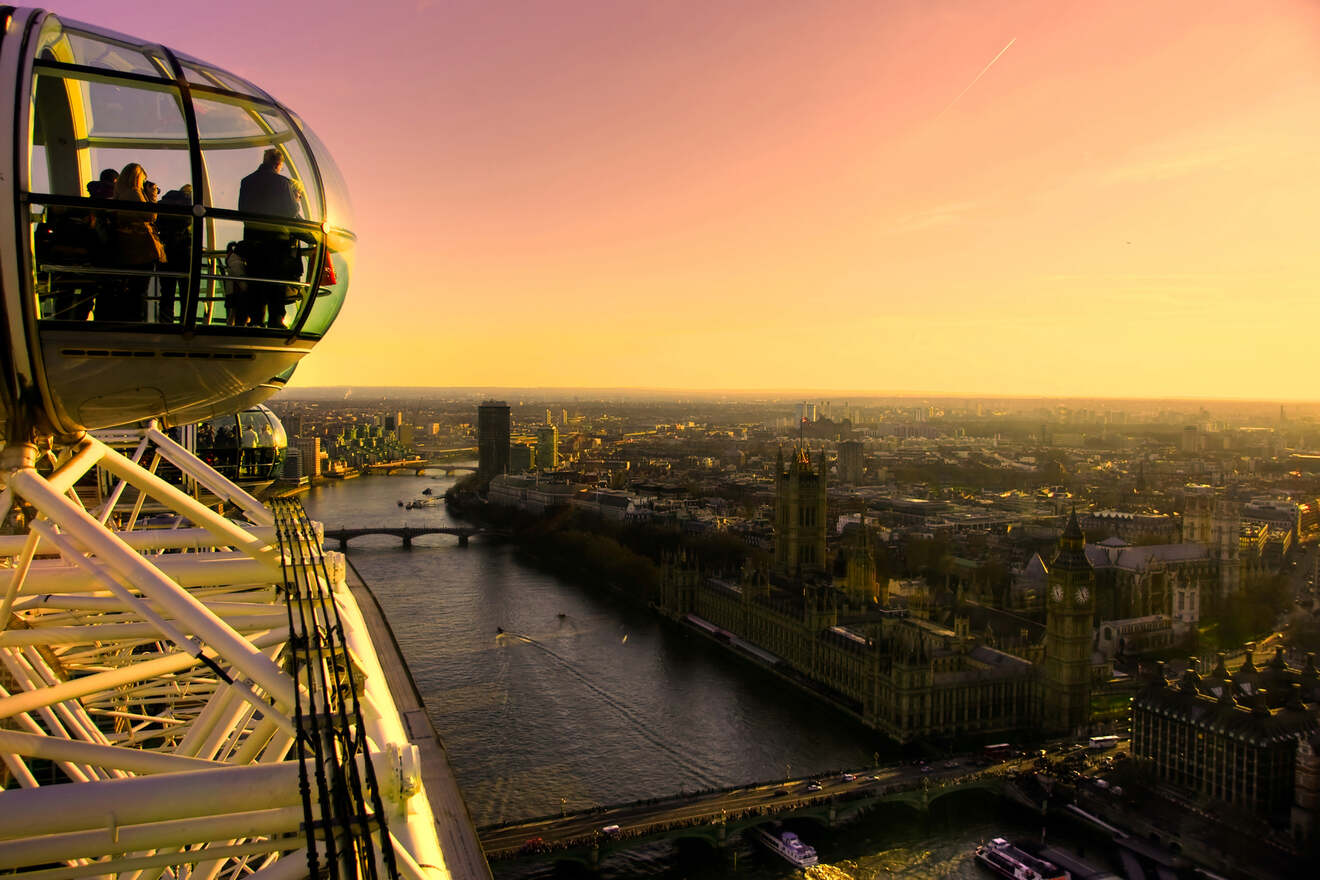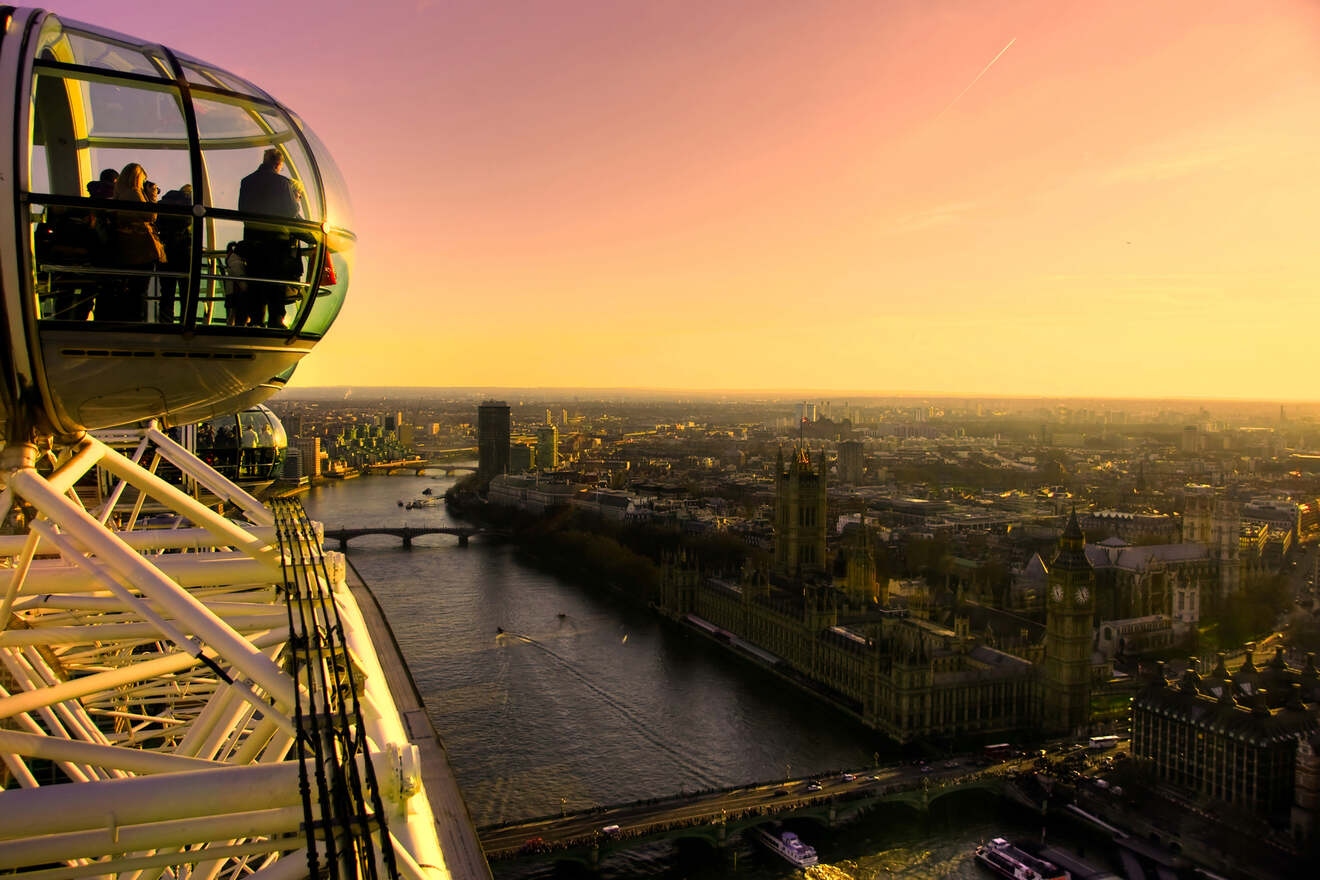 Nothing can beat the London charm, and if this is your first time there, I'm sure you'll feel the same when you come back!
Now that we've seen the best hotels with views in London and a bonus with the most popular boutique London hotels I think you're more than ready to start planning your trip!
I always recommend to all our readers to book their hotels in advance! And I advise you the same, especially since London gets many visitors all year round!
Before we wrap up I wanted to leave you with my 2 favorite London hotels, in case you need a bit of inspiration:
Corinthia Hotel – One of the best London hotels with a view that's set near Trafalgar Square and has a rooftop terrace, a spa, and a bar where you can listen to live music
London Marriott Hotel County Hall – Book the river view room at this hotel that's set near South Bank and that has a swimming pool
I know I've included all the details about the best London hotels with a view, however, if I happened to miss anything, just drop me a comment below and I'll make sure to answer it as quickly as possible!
Safe travels,
Victoria
---
Pin it for later!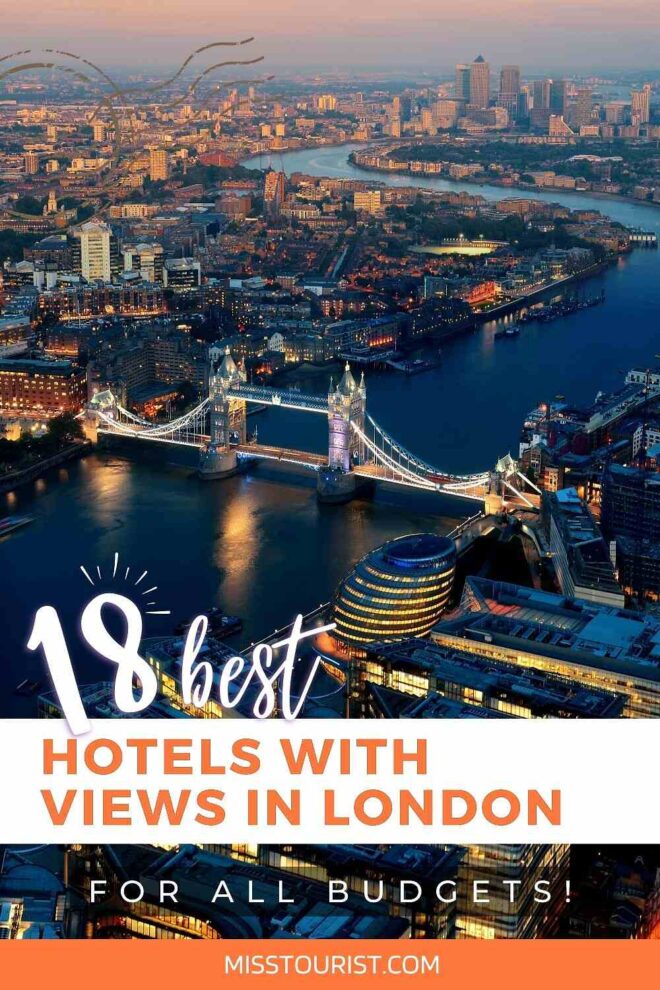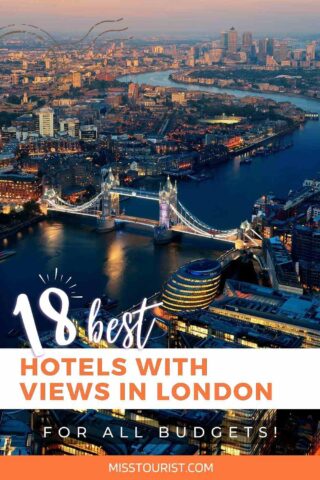 Pin it for later!