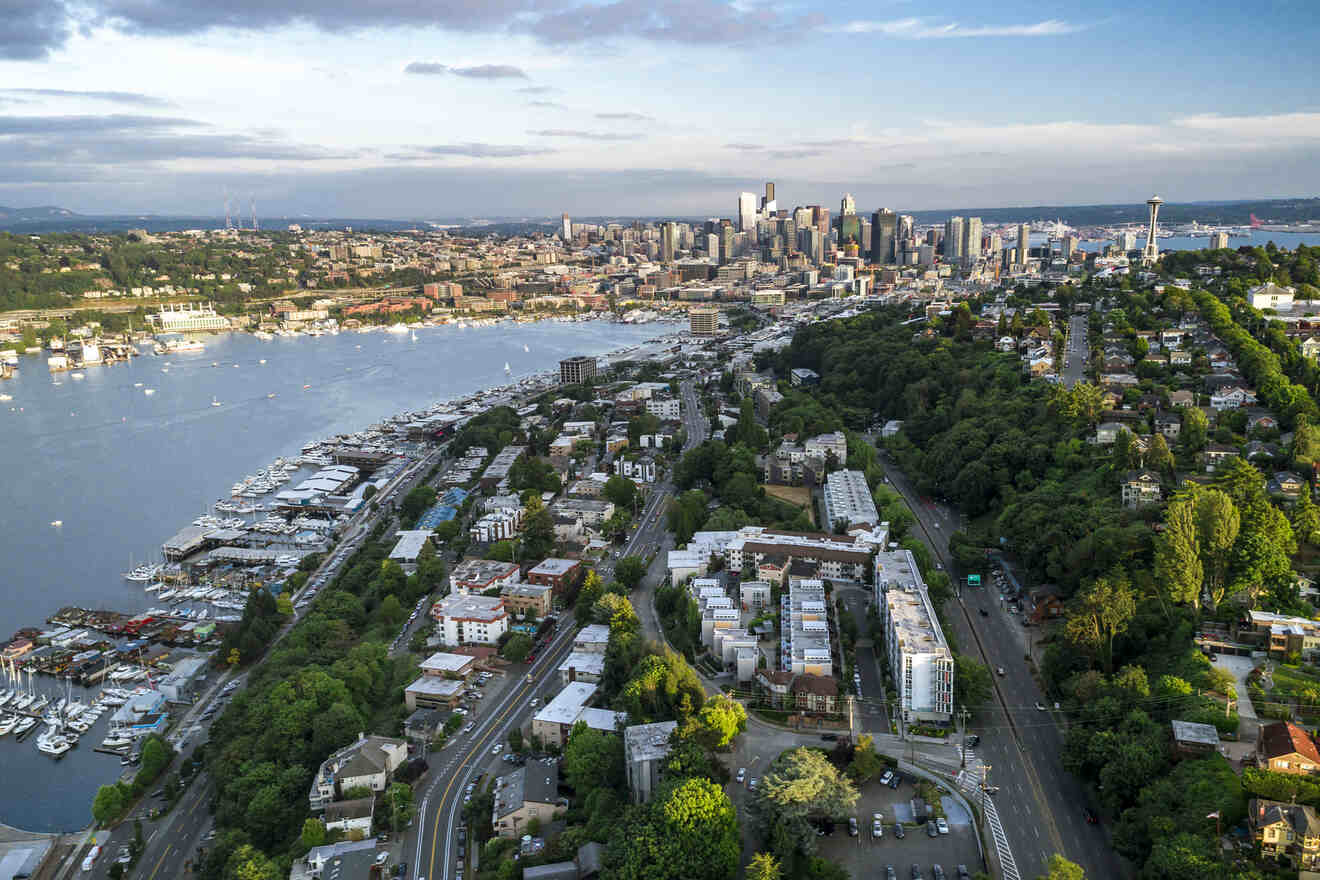 If you found yourself visiting the Emerald City, then there is no doubt that the Seattle helicopter tour is one of the must-do experiences!
Sure, walking and bus tours are great, and all that, but nothing can compare to the amazing sights one can see from a helicopter tour. It's an experience that is both adrenaline-fueling at the moment and an amazing memory for the future.
So I decided to make you a short but sweet list of the helicopter rides you might want to take when you find yourself in the Seattle area. Each one is definitely worth both time and money. I also wrote a bonus of other awesome tours in Seattle you should take to enrich your experience and make your vacation unforgettable.
As always, I'd like to remind you that all the tours you find in this article are definitely very popular and tend to fill out quickly, so my advice to you is not to risk it and book your tours well in advance!
Let's start!
If you are in a hurry
Here are the top ghost tours in New Orleans:
1. Soar over Seattle's landmarks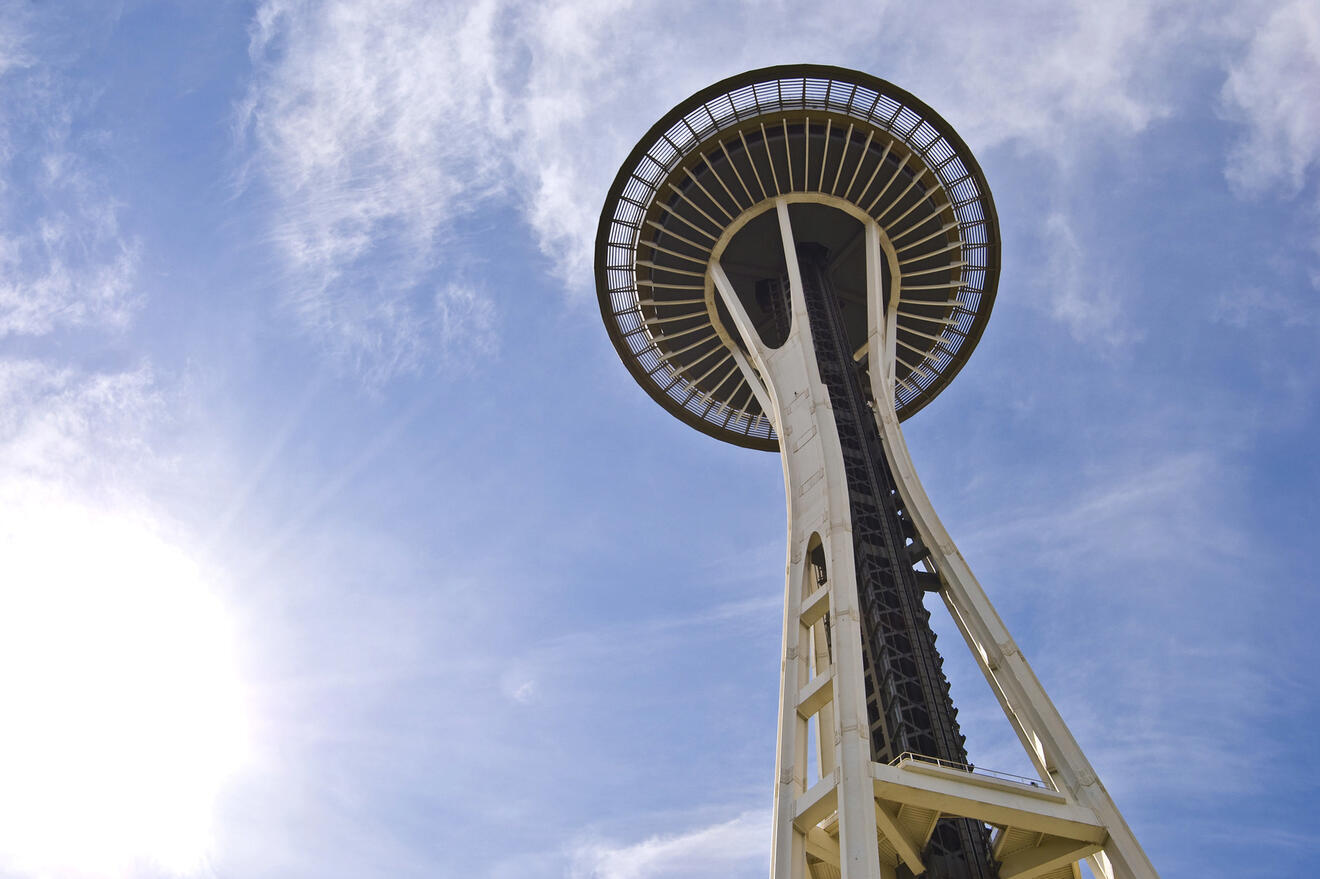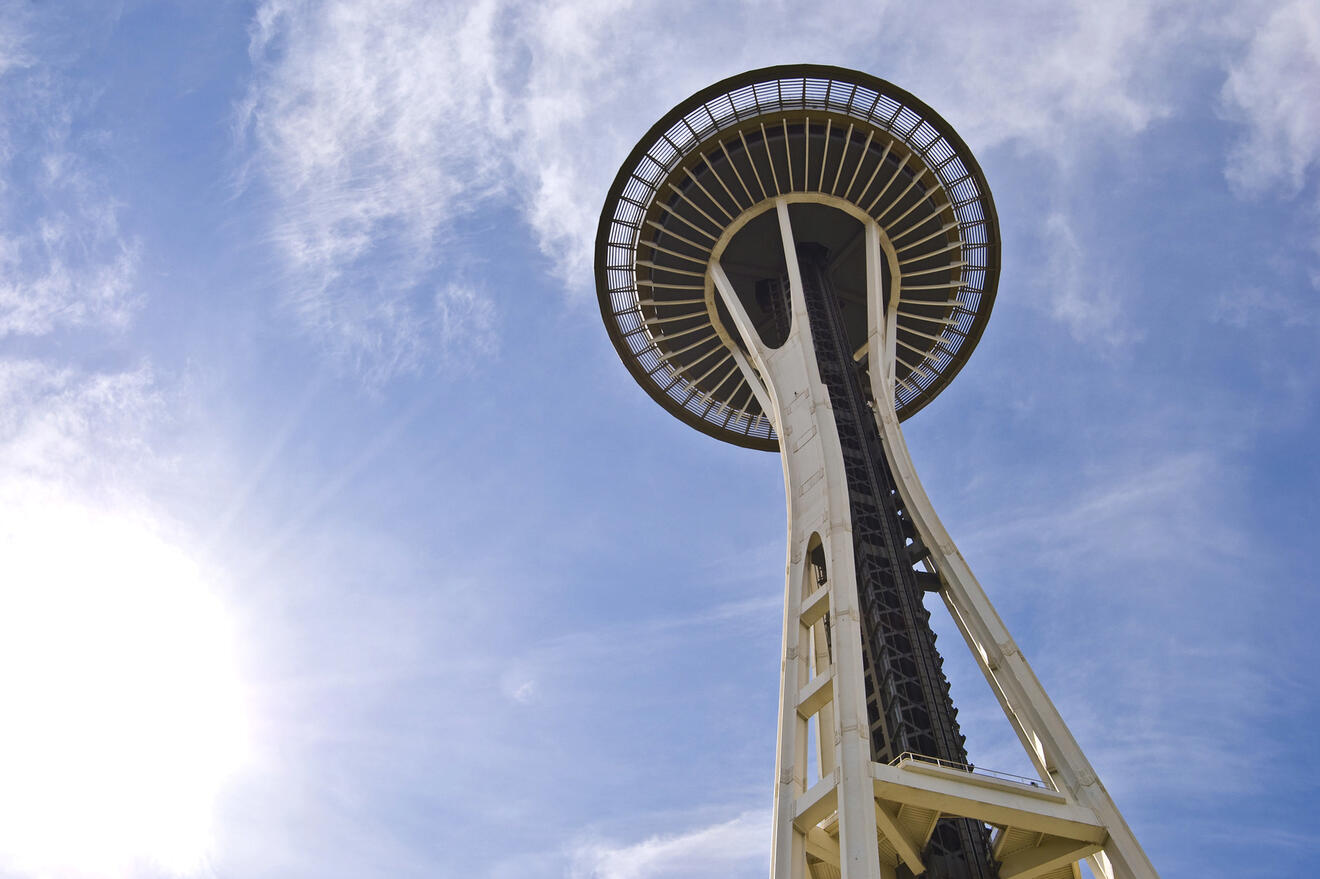 Duration: 20 min
Price: from US$120
Why you should take it: the most popular helicopter tour with amazing reviews
It's not an accident this great tour is the most popular one among travelers. Experience something extraordinary during a 20-minute airborne adventure over Seattle. Perfect for first-time visitors, this tour soars above the city's renowned landmarks, such as the Space Needle, Ballard district, and Lake Washington.
With live narration from the expert pilot through noise-canceling headphones to enlighten you on all you are seeing, it promises to be an unforgettable occasion! What's more, with just 5 people per group, it's incredibly intimate, too, so you can share this unique experience only with the chosen ones. There are multiple departure times throughout the day, so it's very convenient even for busy travelers who have already planned every little detail about their itinerary!
In case the weather isn't favorable, you'll be able to reschedule your flight or get a full refund, so there is nothing to lose here, only to gain!
2. See Seattle's surrounding area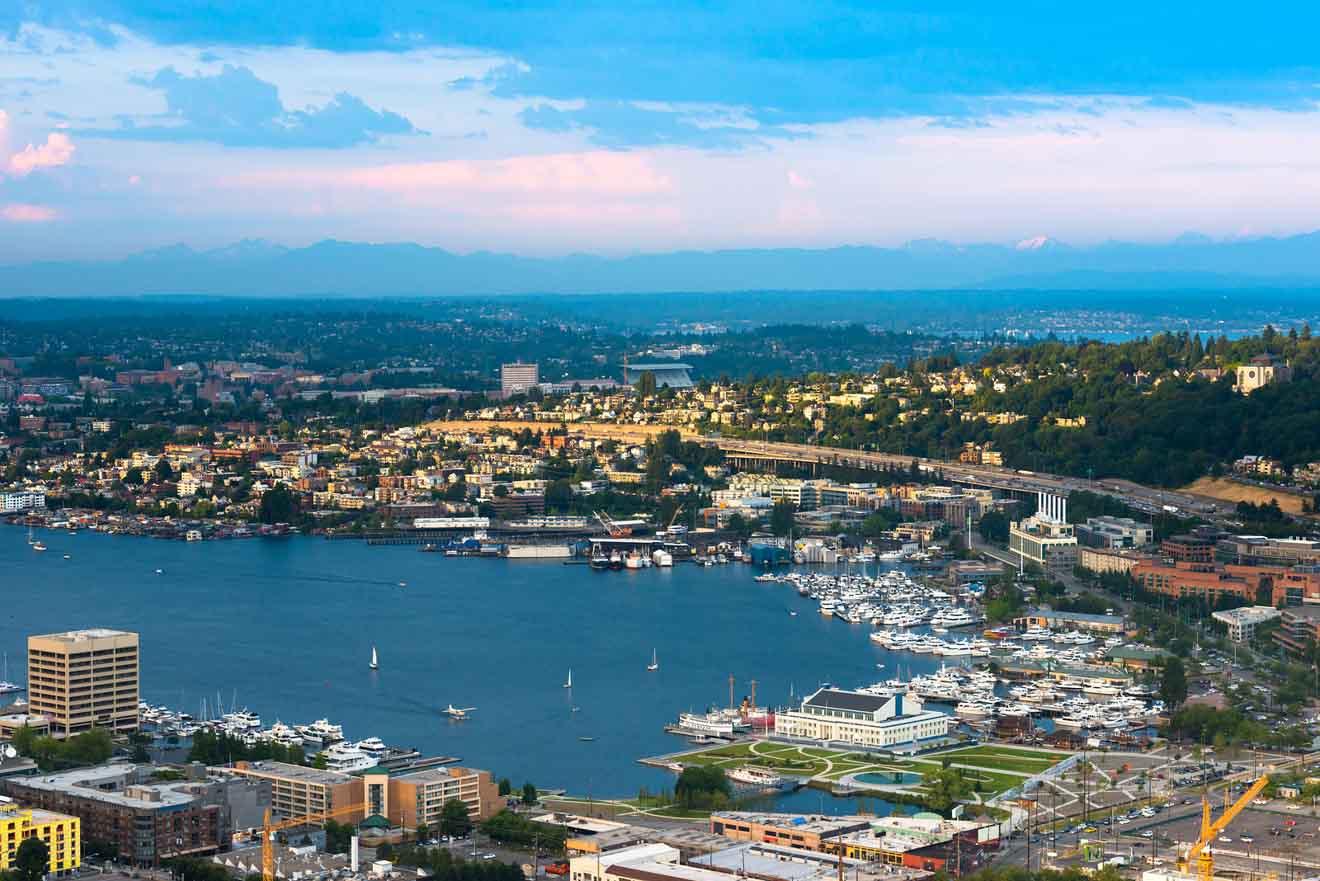 Duration: 20 min
Price: from US$100
Why you should take it: many different viewpoints
Go ahead and take an illuminating tour of Seattle and the surrounding area in an all-new way!
Your headsets will filter out airplane noise so you can hear all about these icons, like the Space Needle, the University of Washington, Lake Union, and Lake Washington. And if it's a clear day – bonus: Mt. Rainier's jaw-dropping snowcap will be yours to behold! Soar above hills with unique terrains plus plenty of waterways complemented by marvelous architecture.
What's also awesome is that you'll get to check out the active volcano from above and witness Seattle's spectacular landscape firsthand as your pilot narrates along the way. It'll be over before you know it! This amazing plane expedition has a limit of 3 people. The duration of the flight might be short, but you'll get an all-encompassing experience. You'll return to your unique hotel in Seattle with magnificent natural sights and sounds fresh on your mind!
3. Enjoy Pacific Northwest views from the sky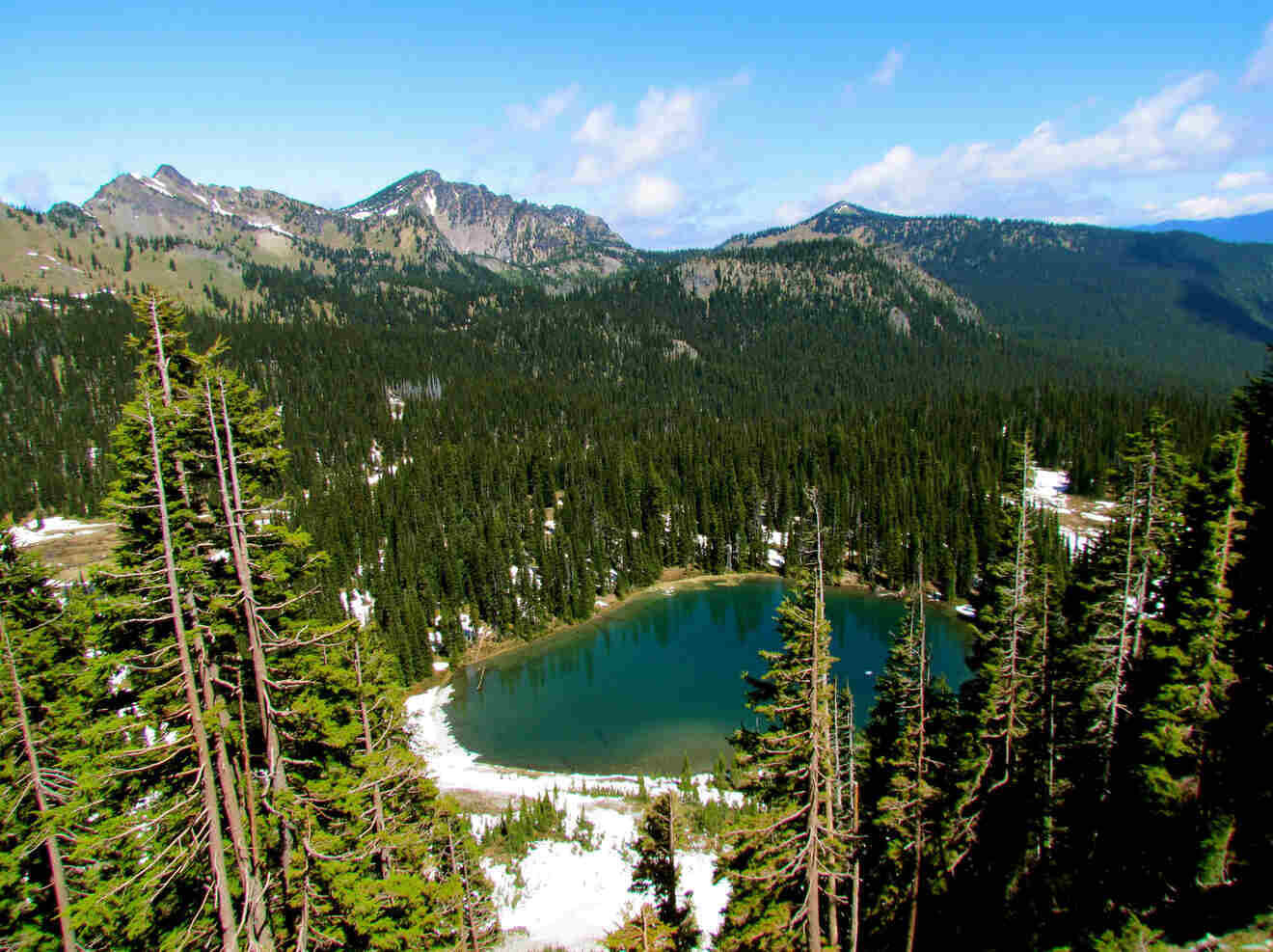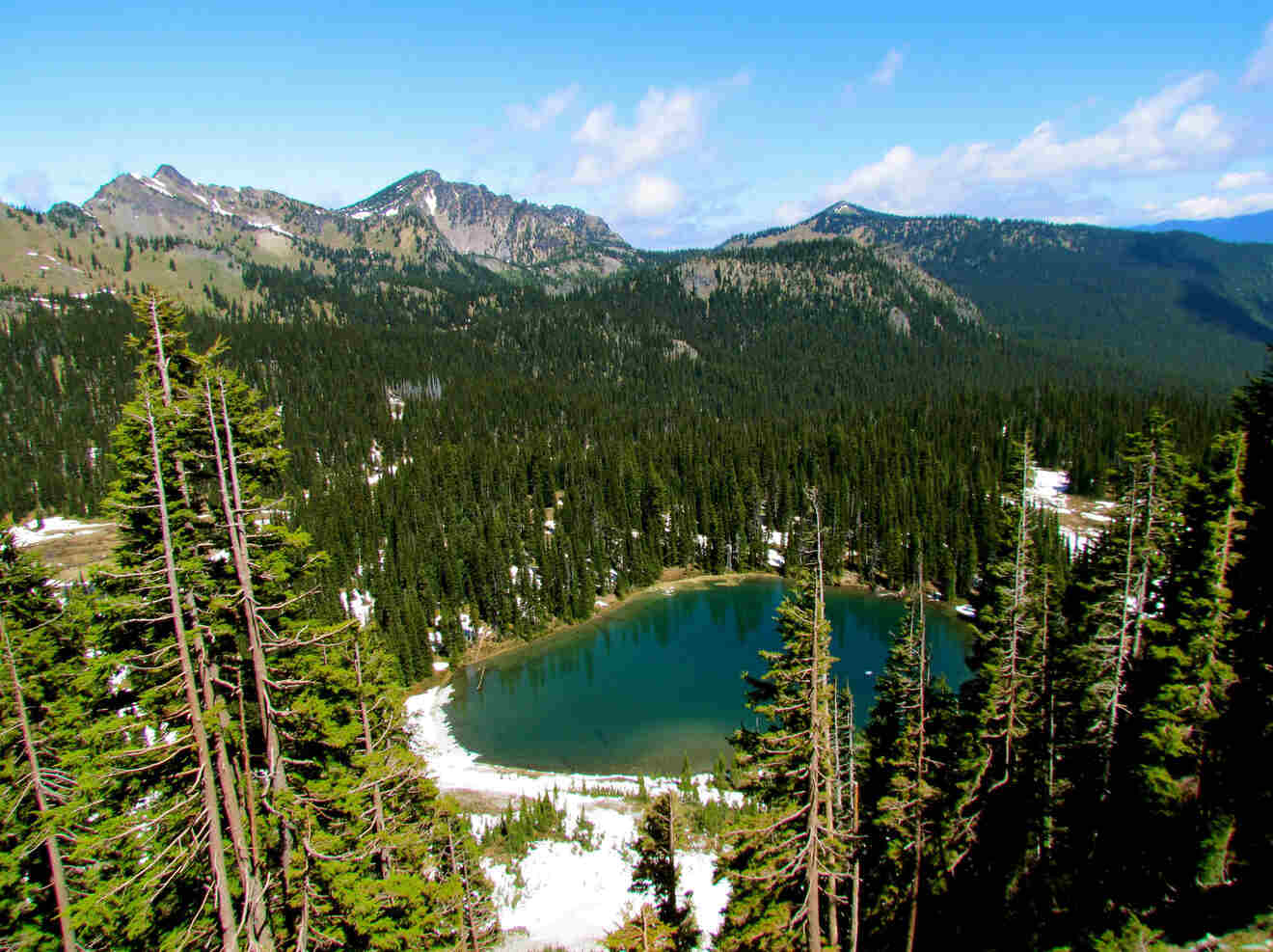 Duration: 90 min
Price: from US$325
Why you should take it: explore the wilderness and land in the water
My dear nature lovers, I'm sure this helicopter tour is a perfect match for you!
During this 90 min flight, you'll get to experience an aerial glimpse of the majestic Pacific Northwest and its wilderness! This seaplane tour features unparalleled views of Mount Rainier's extraordinary West face, glaciers, and snowfields, all narrated by a knowledgeable pilot who will fill you in on all the historic sights.
But that's not all! You'll take off and land directly on the water, making this a truly sensational journey. It ends with quite a blast of adrenaline, making it hard to forget and a good memory to tell to your friends and family back home. To make sure you don't miss a word from your pilot's narration, comfortable noise-canceling headphones are provided.
This activity is reserved for a maximum of 5 travelers and has multiple scheduled flight times you can choose from.
4. Take an east and west side helicopter ride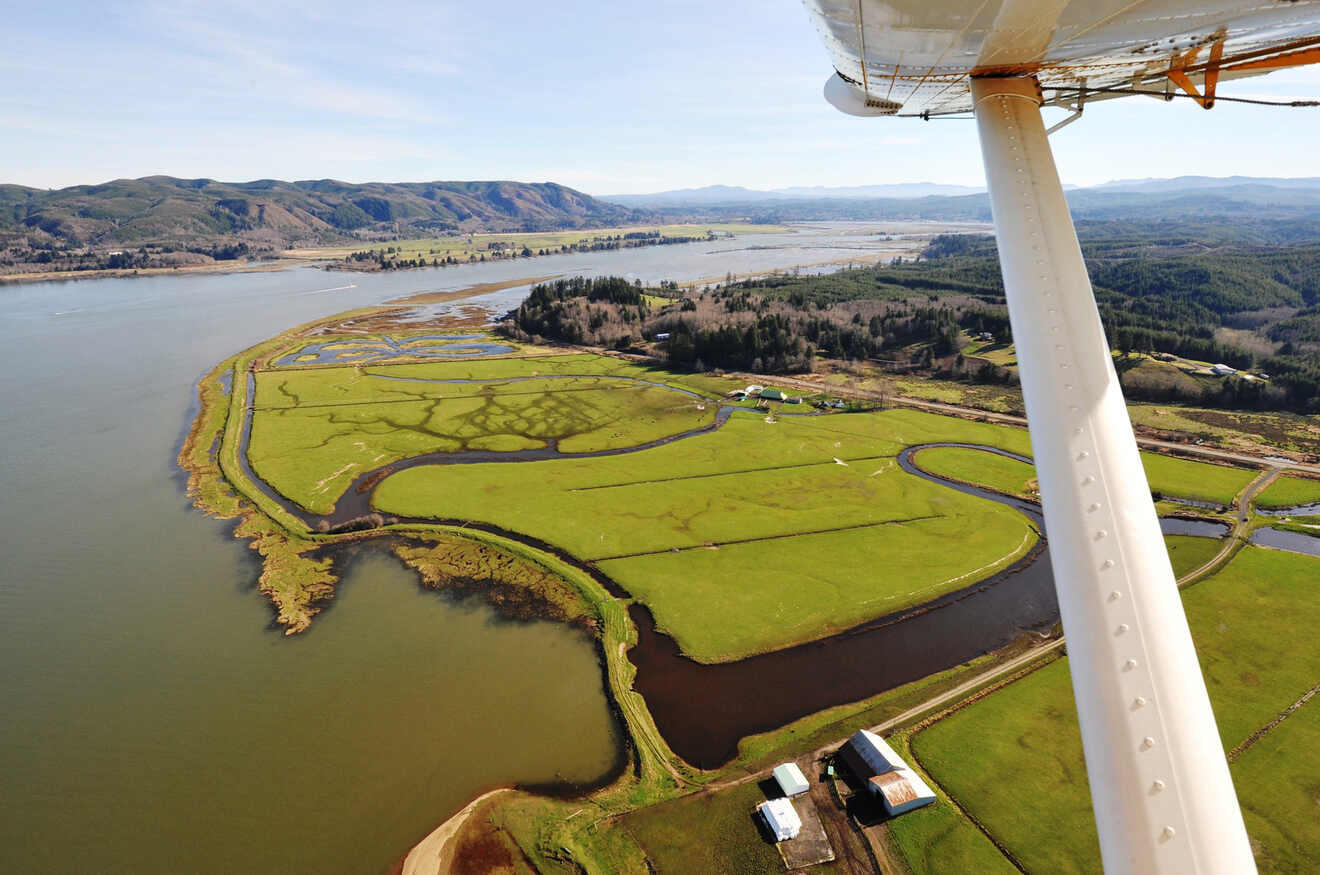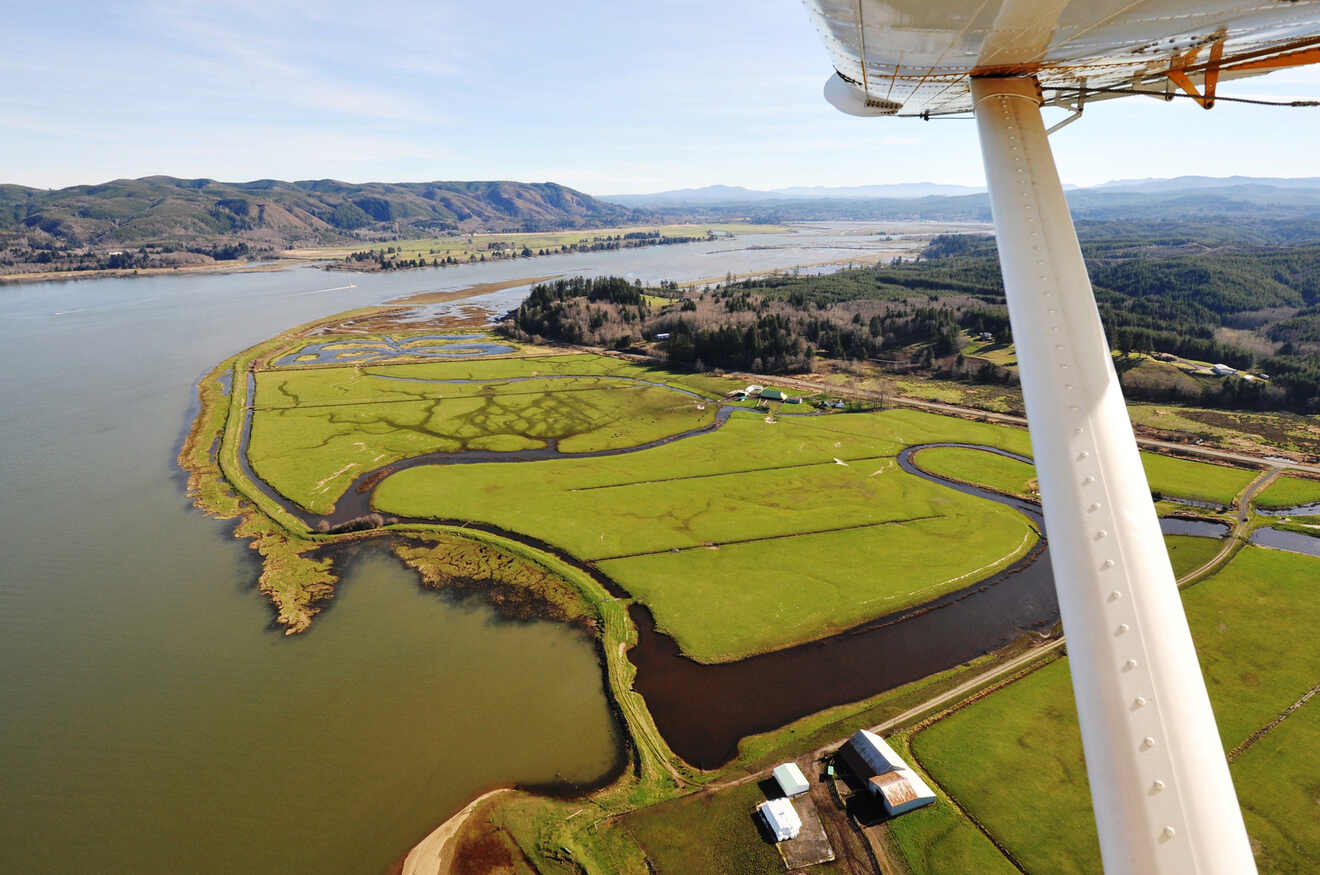 Duration: 30 min
Price: from US$250
Why you should take it: a great combination of East and West aerial views
Let this tour take you on an amazing journey through the air and witness all the breathtaking wonders that both the east and westside have to offer!
This 30-min flight kicks off with an awe-inspiring view of the VMAC, where the Seattle Seahawks put on a show. Then, the helicopter will transport you to Downtown Bellevue's incredible skyline.
Exciting energy pulses through the streets of downtown Seattle as your journey continues over to Century Link Stadium and T-Mobile Park, home to the Seattle Seahawks and Mariners. Finally, you're gonna pay an aerial visit to Puget Sound – a picturesque paradise of glimmering seas, lush isles, and imposing mountains. Grab your cameras and make sure to capture each landmark you pass by, as it's not an everyday opportunity to witness them.
5. Go on a Western Washington expedition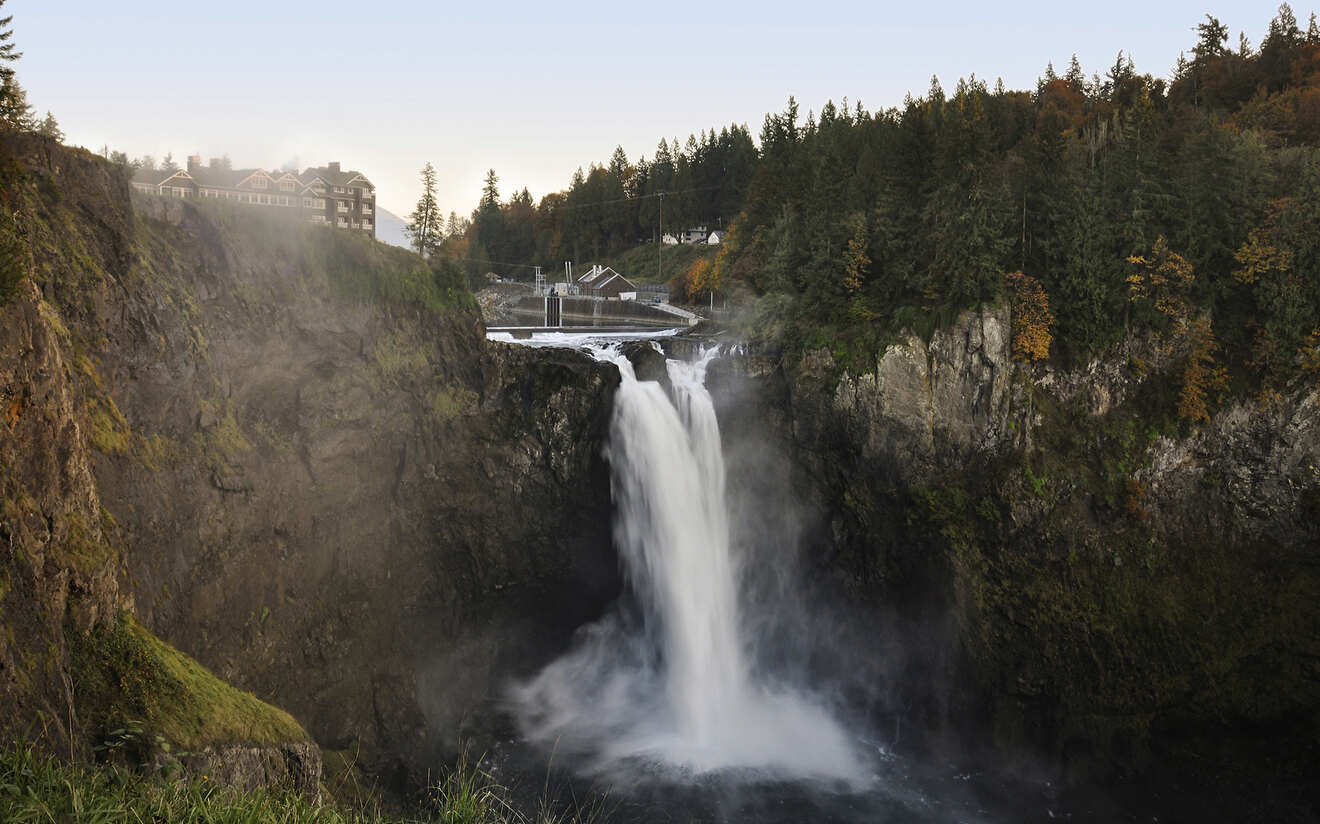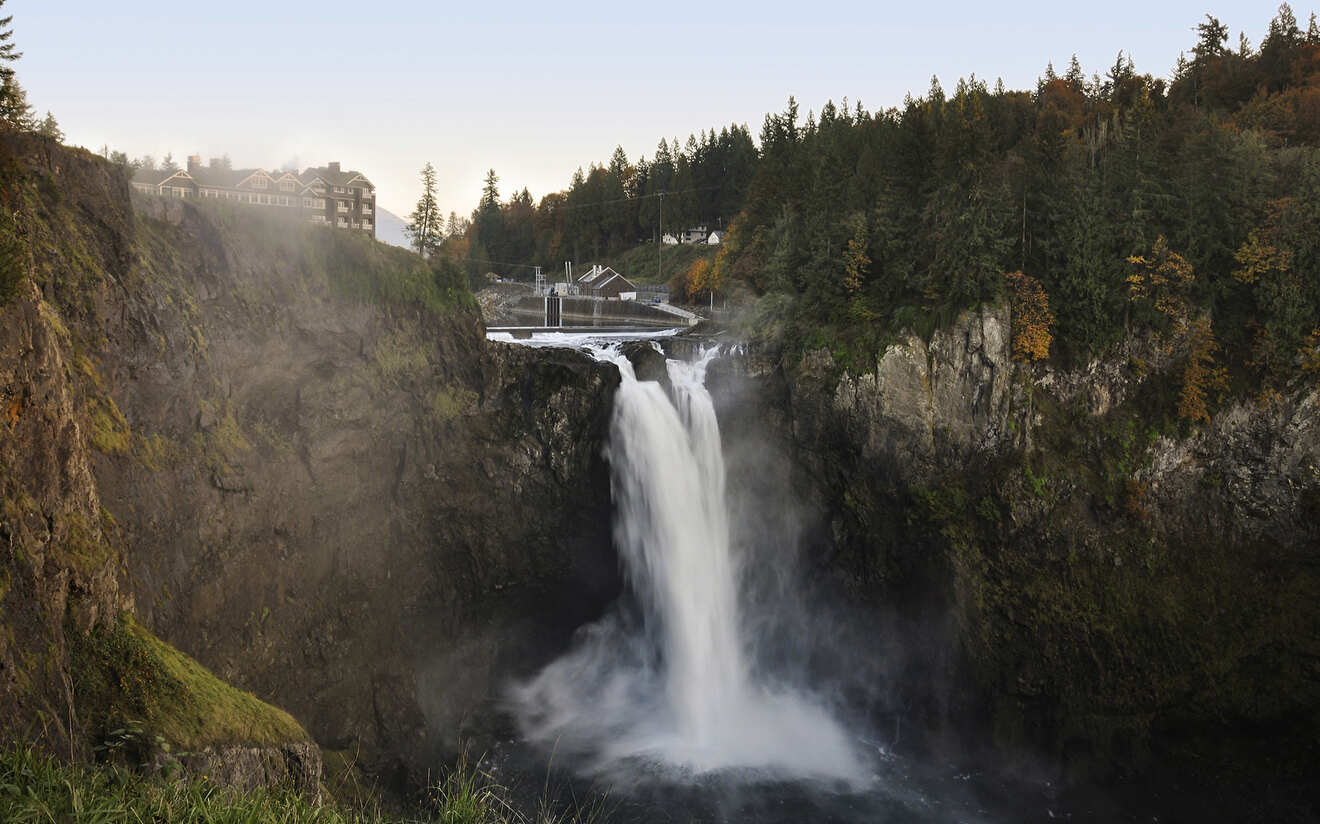 Duration: 42 min
Price: from US$300
Why you should take it: explore Western Washington's natural wonders
Are you interested in embarking on an aerial journey and experiencing the bewitching magic of Western Washington? The whole ride will last for about 40 minutes, but let me tell you, the number of natural wonders you'll see will be unbelievable!
Soar over the treetops of Tiger Mountain and be mesmerized by the captivating beauty of its lush greens cascading beneath you. It will be an adrenaline-filled experience as you witness all its wildness from above.
Get ready to be captivated as you're transported to the breathtaking Cougar Mountain! Picture yourself traversing through an incredible landscape of astounding beauty, soaking up every majestic sunrise, marveling at the secret pathways that weave through lush foliage, and discovering an amazing bounty of natural fauna.
Last but not least, you'll get to experience Snoqualmie Falls.
6. Snap amazing photos from the aerial vistas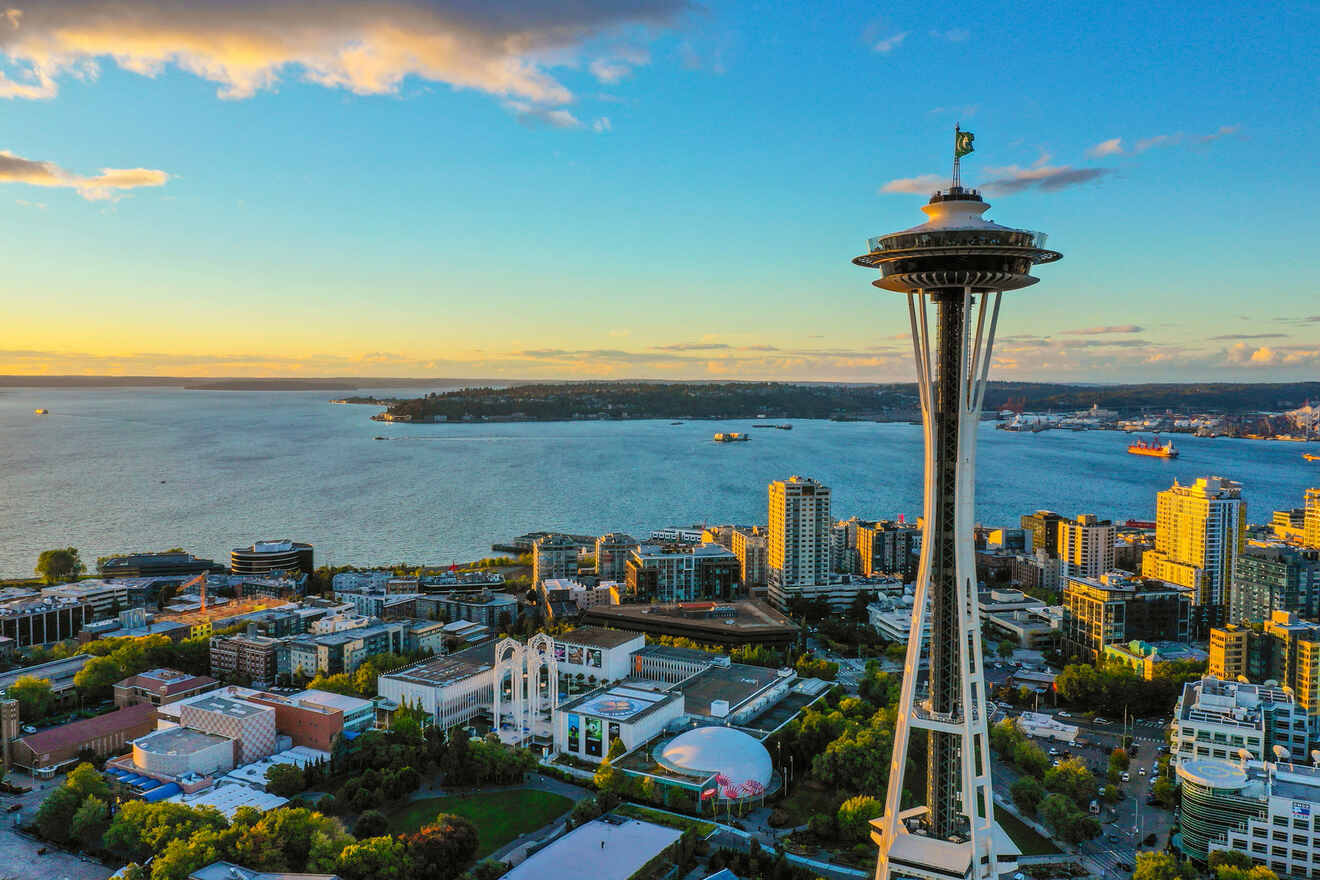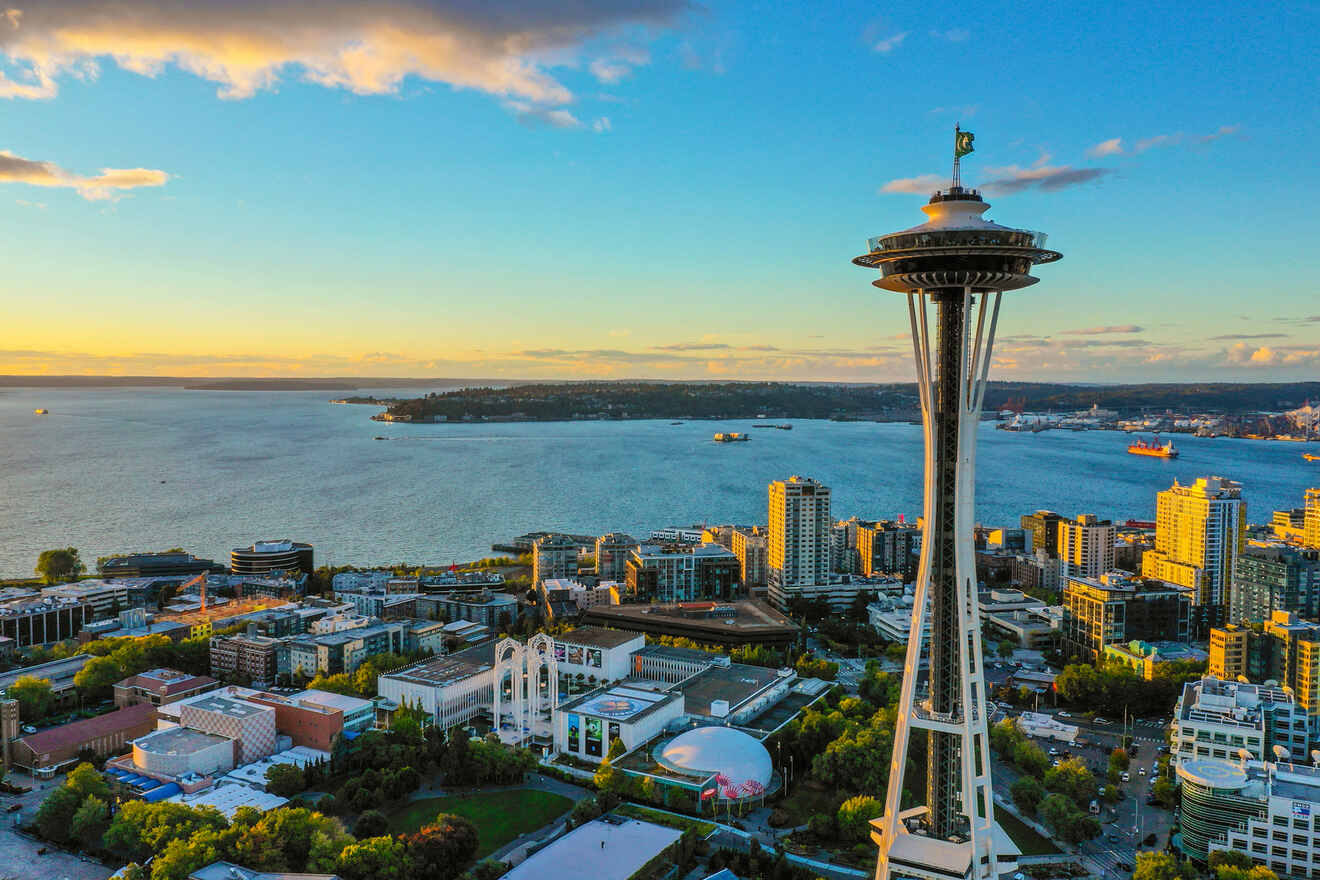 Duration: from 60 min
Price: from US$2,000
Why you should take it: photography helicopter tour
In case you're a photographer who wants to take some amazing shots, or if you're simply a travel blogger who wants to invest money in snapping photos that will make you stand out from the competition, then I have a perfect solution for you!
Soar to those unique shots you've been dreaming of! From the tranquil waters of Lake Washington to the majestic peaks of the mountains – discover a whole new perspective with this helicopter tour dedicated especially to photography!
When you plan an aerial photography or videography mission with this tour company, you have sole use of the whole airplane. And you also have total freedom to decide when to take off, how long to stay up, and where your journey will go.
One thing to keep in mind, tho, is that you'll need your own photography/videography equipment as this tour company doesn't provide it!
BONUS: Seattle tours
If you already choose which helicopter tour is the best for you, why not make your vacation even more memorable by taking one of the most popular tours Seattle has to offer?! Here are my recommendations: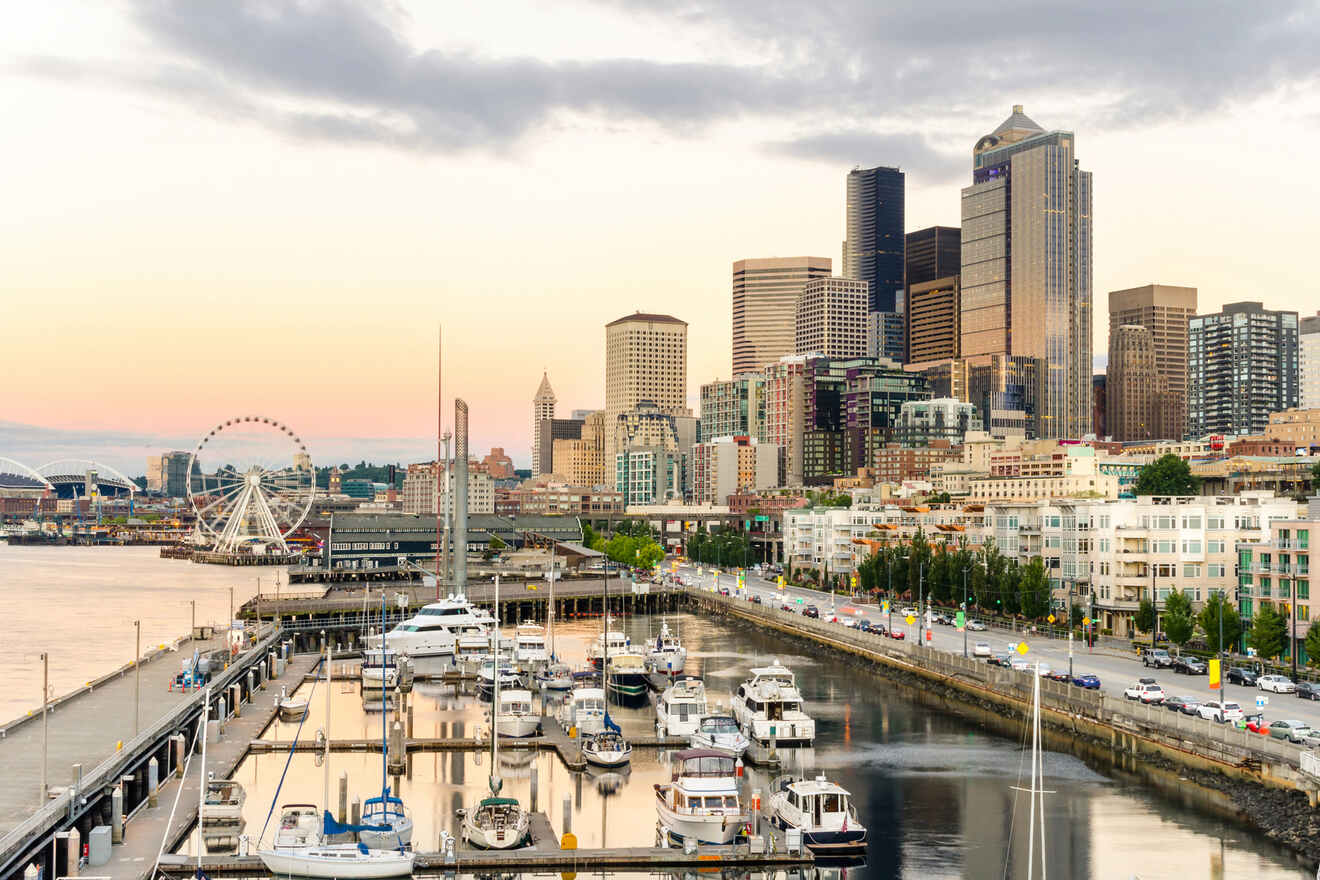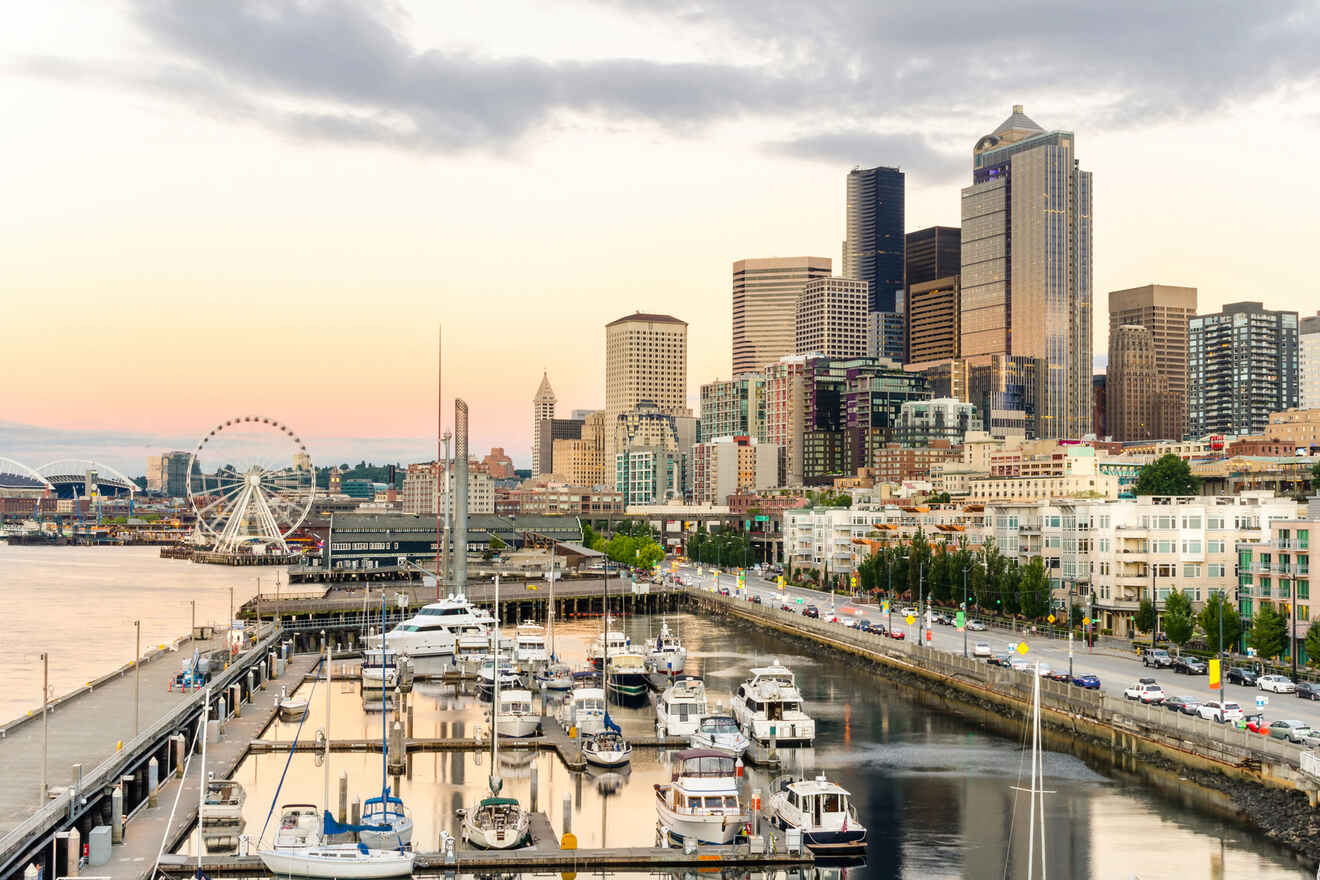 Join a Pioneer Square tour – With this tour, you'll explore the Pioneer Square neighborhood with a personal guide. Stroll through the streets and uncover underground pathways built over a century ago. Learn about the events that transformed it from an Indigenous settlement into a bustling metropolis. Get insider advice as you compare what "old Seattle" used to look like compared to today.
Go on a tasty food tour – Savor the flavors with this 2-hour chef-guided tour at Seattle's world-famous Pike Place Market. It's both a culinary and cultural experience! You'll be immersed in the tasty atmosphere as you uncover all of its secret gems. Your guide will make sure you get personalized attention throughout for an insider's view of the market's sights, flavors, and dishes.
Cruise through Seattle – Embark on a narrated cruise and explore the vibrant beauty of Seattle from the waters of Elliot Bay and Seattle Harbor! You'll get a marine educational experience while you're cruising. You can also get to know one of the world's largest shipping terminals or just sit back, and savor a snack onboard.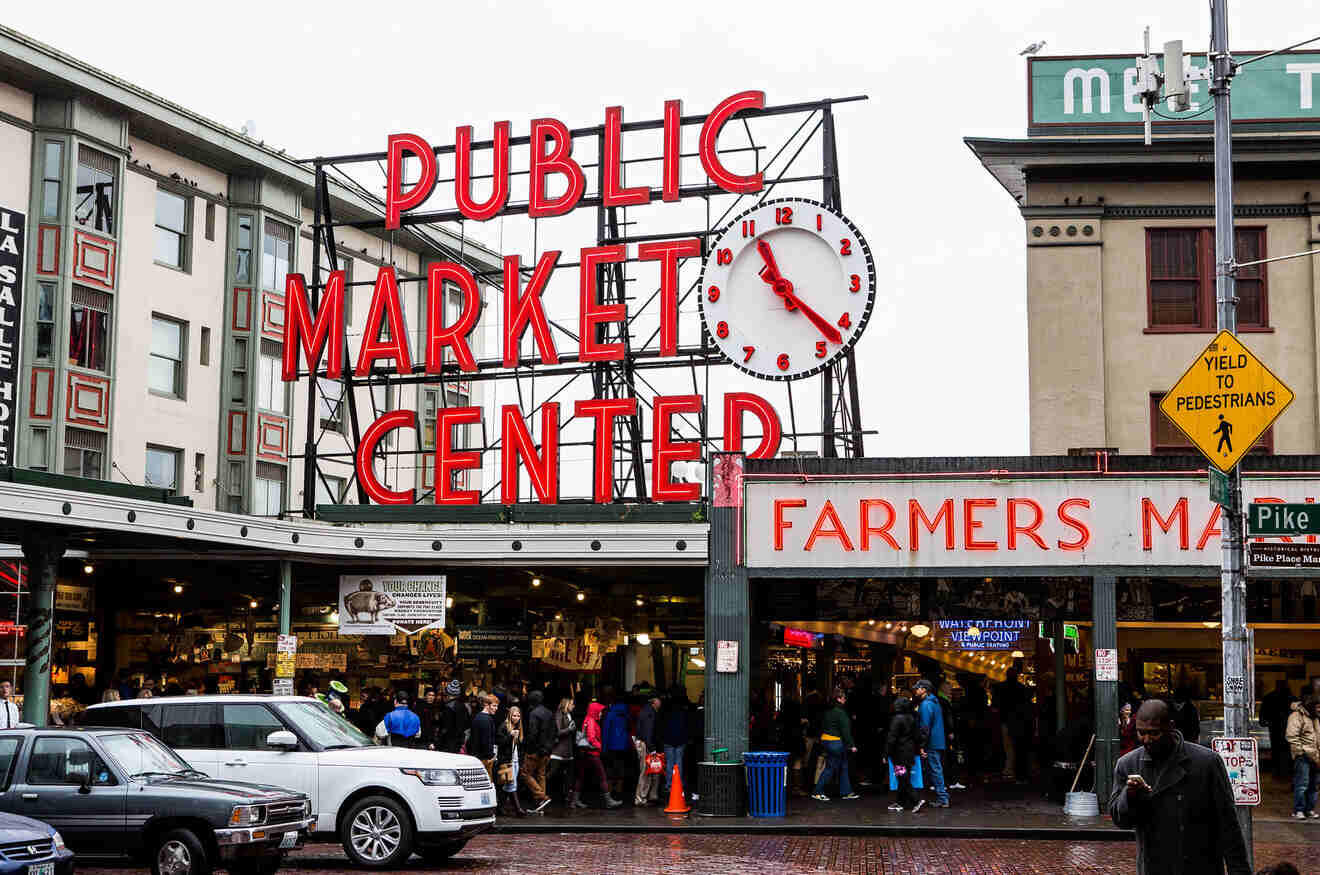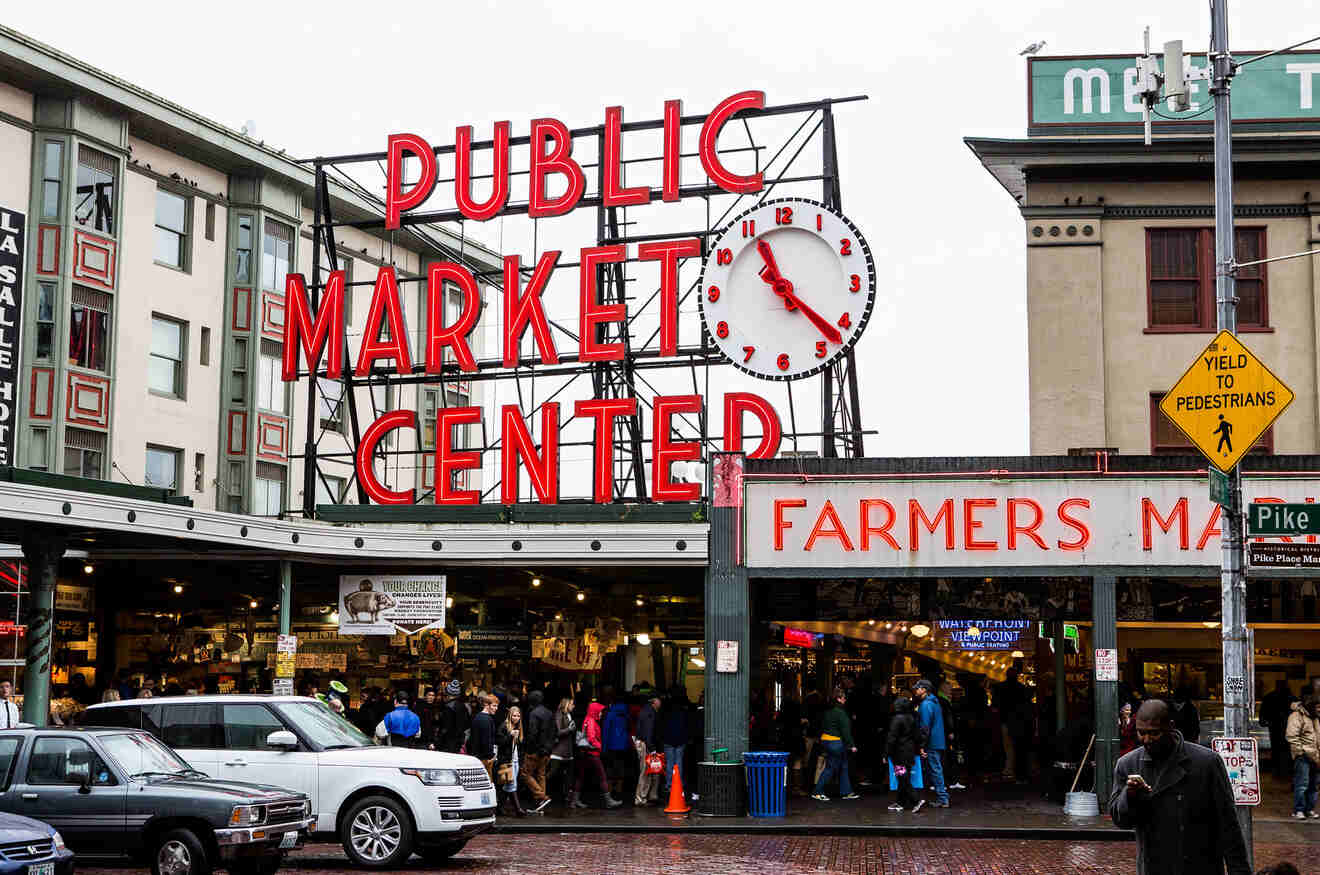 See the city's landmarks – Enjoy a personalized 3-hour tour discovering the best of Seattle! With pickup and drop-off included, you'll explore top sites such as Pike Place Market, the Central Waterfront, the Space Needle, and the locally sculpted Fremont Troll. And with only a max of 15 people per tour, you'll get an intimate adventure led by an expert guide.
Embark on a ghost tour – Explore the other side on an eerie ghost tour in 3 of Seattle's spookiest bars, and get ready for a theatrically-inspired adventure that'll leave you shivering the night away! Unearth ghastly tales of hauntings and horrors not found in any guidebook. Your costumed guide will show you around while in an intimate group of 10!
Paddle your way through Seattle – Grab your helmet and hop on the bike – it's time for an epic half-day cycling tour of Seattle. With a small group of only 12 adventurous sightseers, you'll surely find the perfect gear match when embarking on this journey! Plus, travel easily down protected bike lanes and interurban trails to explore some of Seattle's hotspots like the Ballard Locks, Olympic Sculpture Park, Fremont, and Queen Anne neighborhoods.
FAQs about Seattle helicopter tours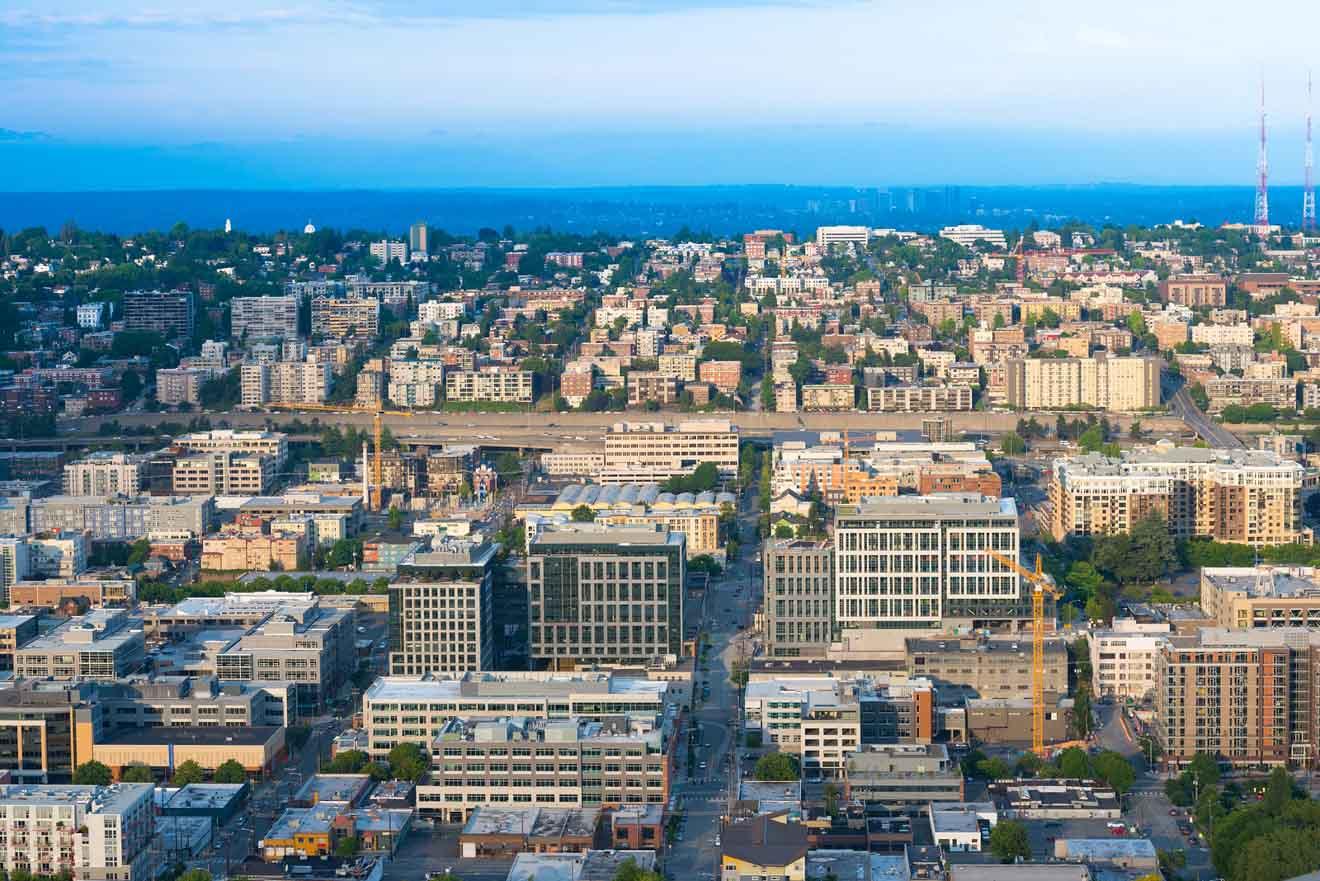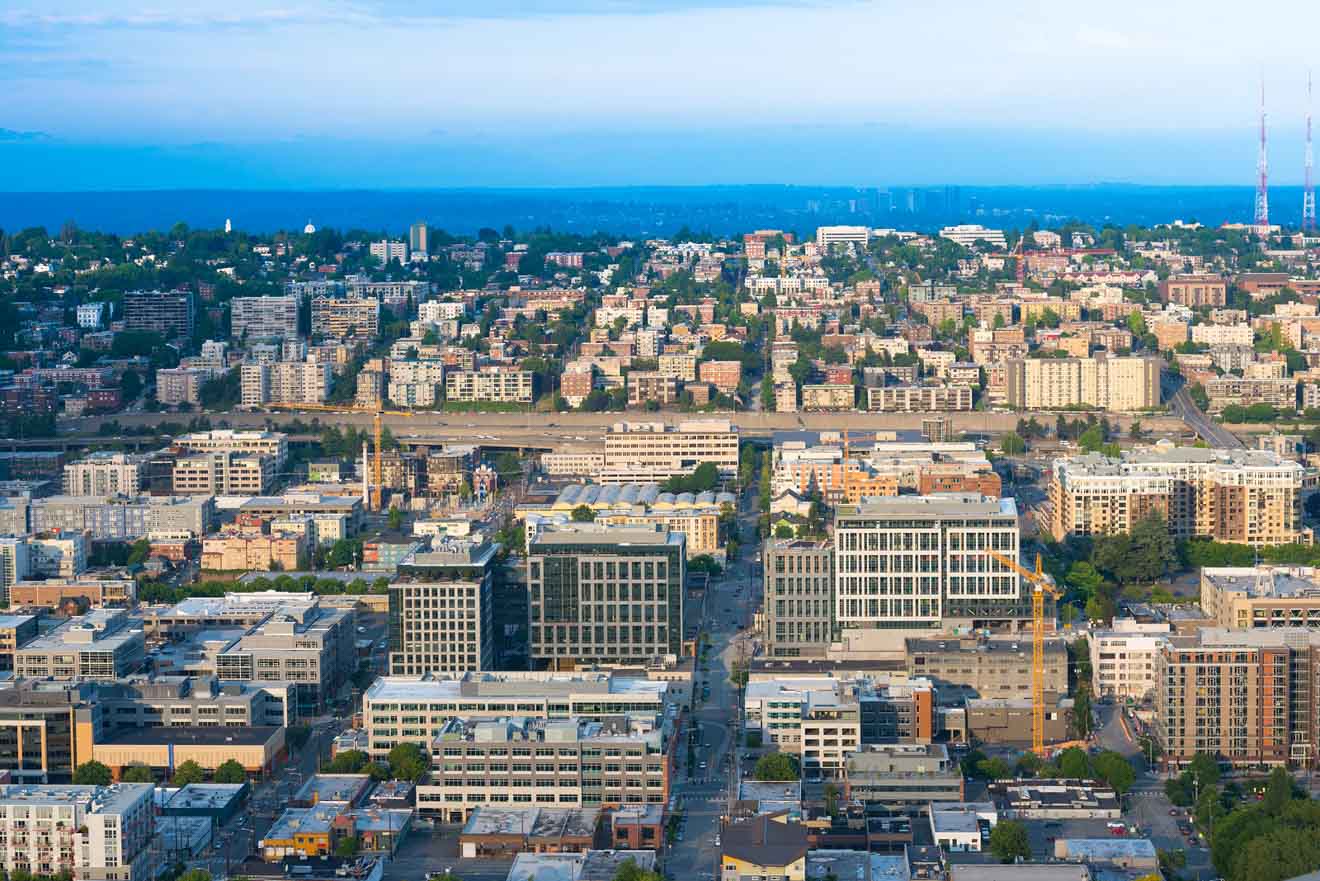 📍 Are Seattle helicopter tours worth the money?
Absolutely. Travelers score helicopter tours very highly, and it's one of the most popular choices. You can check out Seattle's landmark helicopter tour, which has amazing reviews.
📅 What months are best to visit Seattle?
The best months to visit Seattle are generally considered to be July, August, and September. It's when the weather is the best for outdoor activities.
⌛ How long is a good helicopter tour in Seattle?
Most helicopter tours last for about 20 minutes; however, if you're interested in an in-depth exploration, you can opt for the Pacific Northwest helicopter tour, which lasts 90 minutes.
🚁 Is a helicopter ride risky?
Generally, helicopter tours are considered to be safe. However, it's very important to listen to your pilot's instructions to avoid any misfortunes.
Conclusion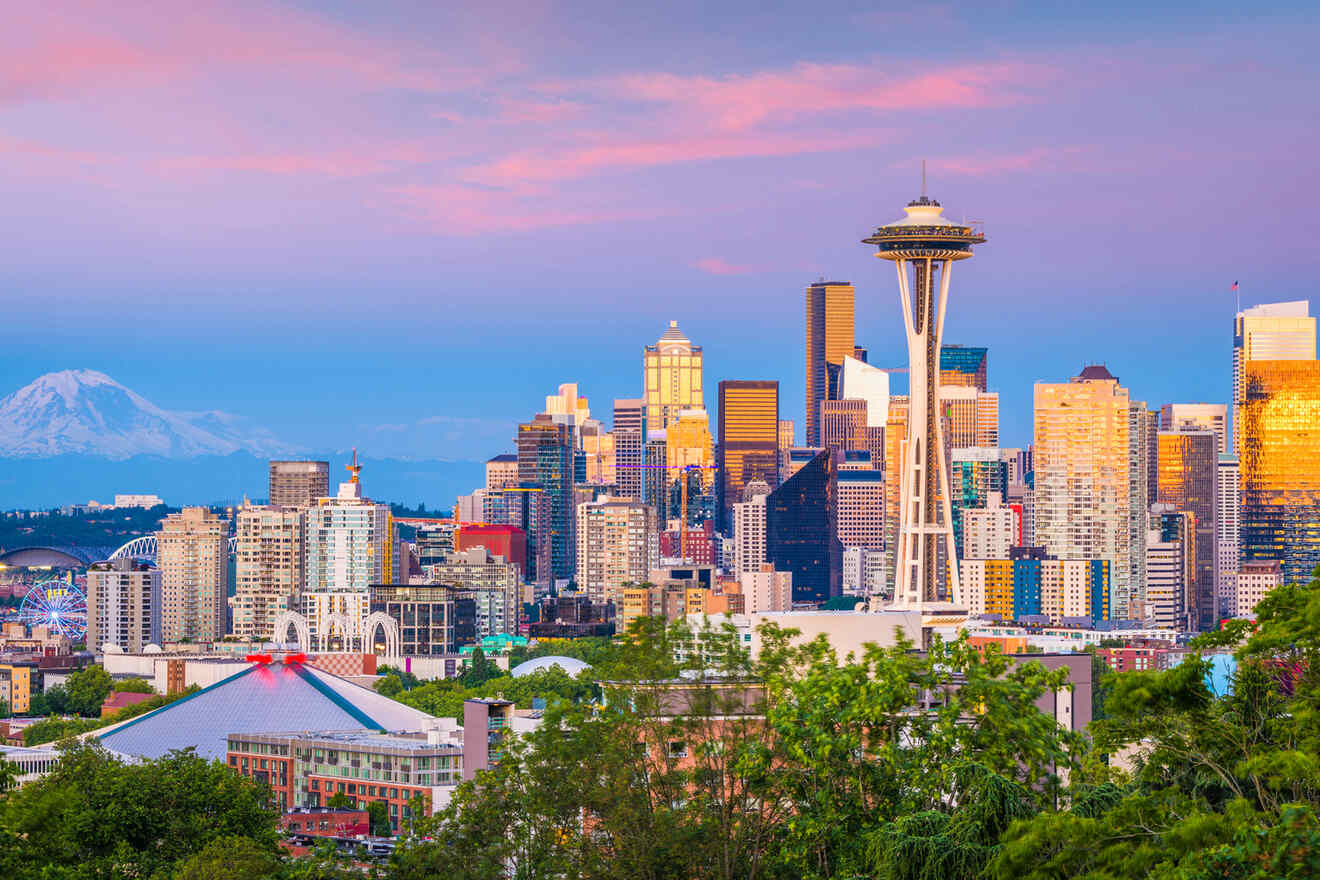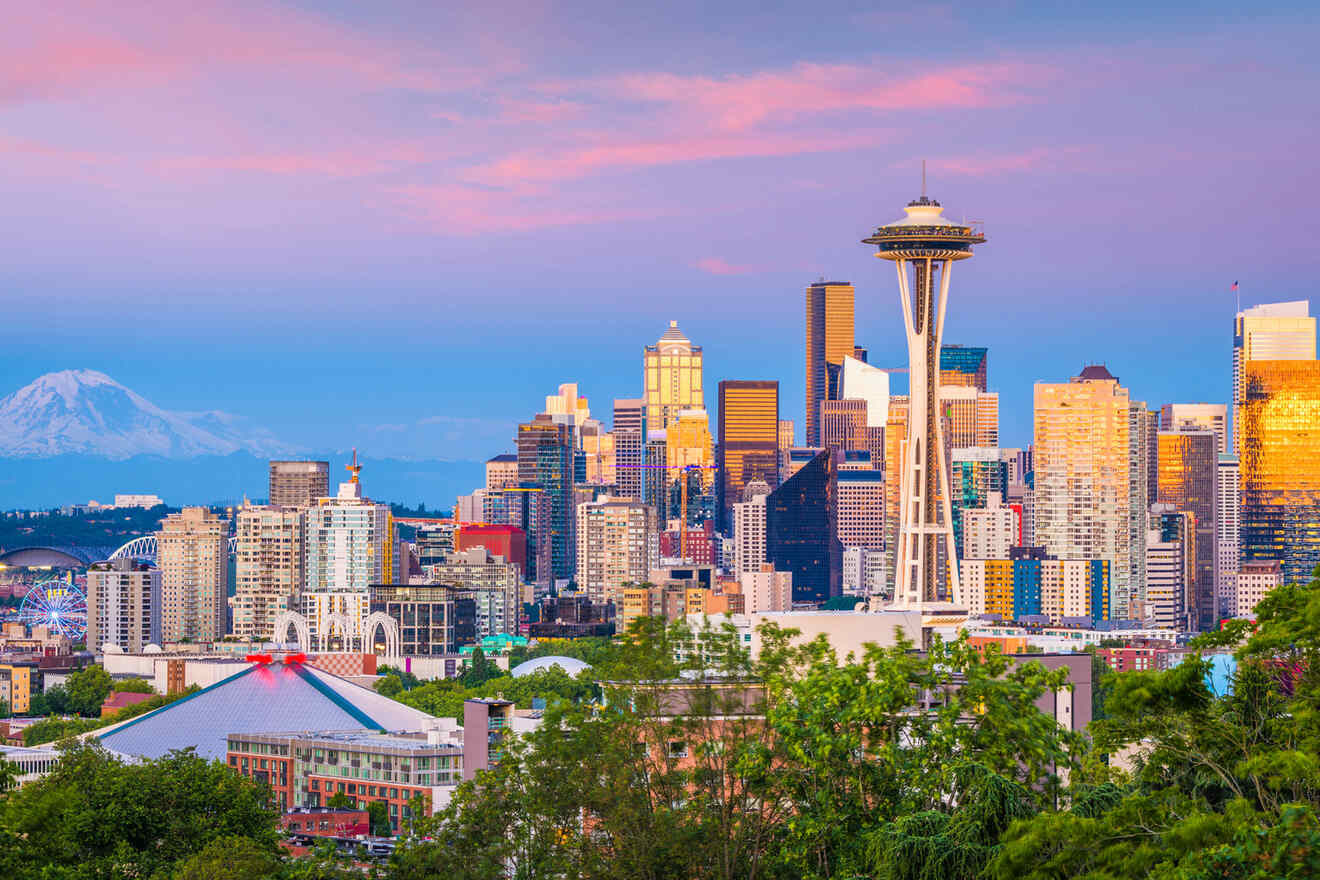 There you have it, my dear adrenaline junkie! Now you can choose the perfect Seattle helicopter tour that fits your needs.
You can opt for a classic landmark ride or go beyond that and explore some wildness along the way, too. Or maybe you want to go all in and join a photography tour. Whatever your choice may be, I'm sure you won't be disappointed. Don't forget to check out some of the tours from the bonus section as well!
One thing you should always remember is that it's important to plan well and play it safe, so it's recommended that you book your tours in advance!
And if you have already experienced a Seattle helicopter ride and want to share your impressions from the tour or want to ask some questions maybe, you're free to do so in the comments below!
Happy flying,
Angelina
---
Pin it for later!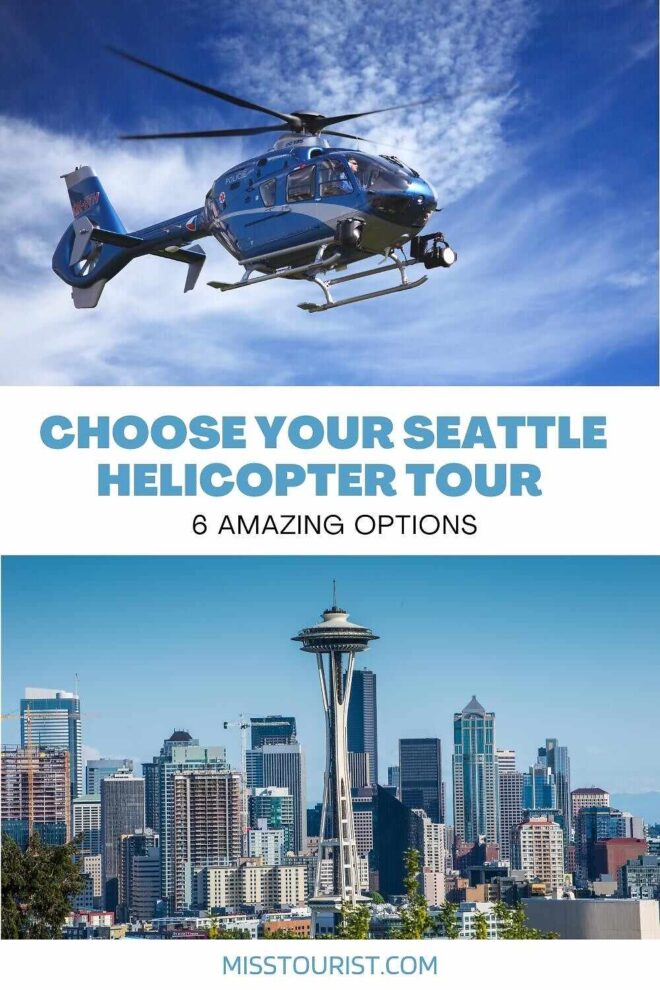 Pin it for later!