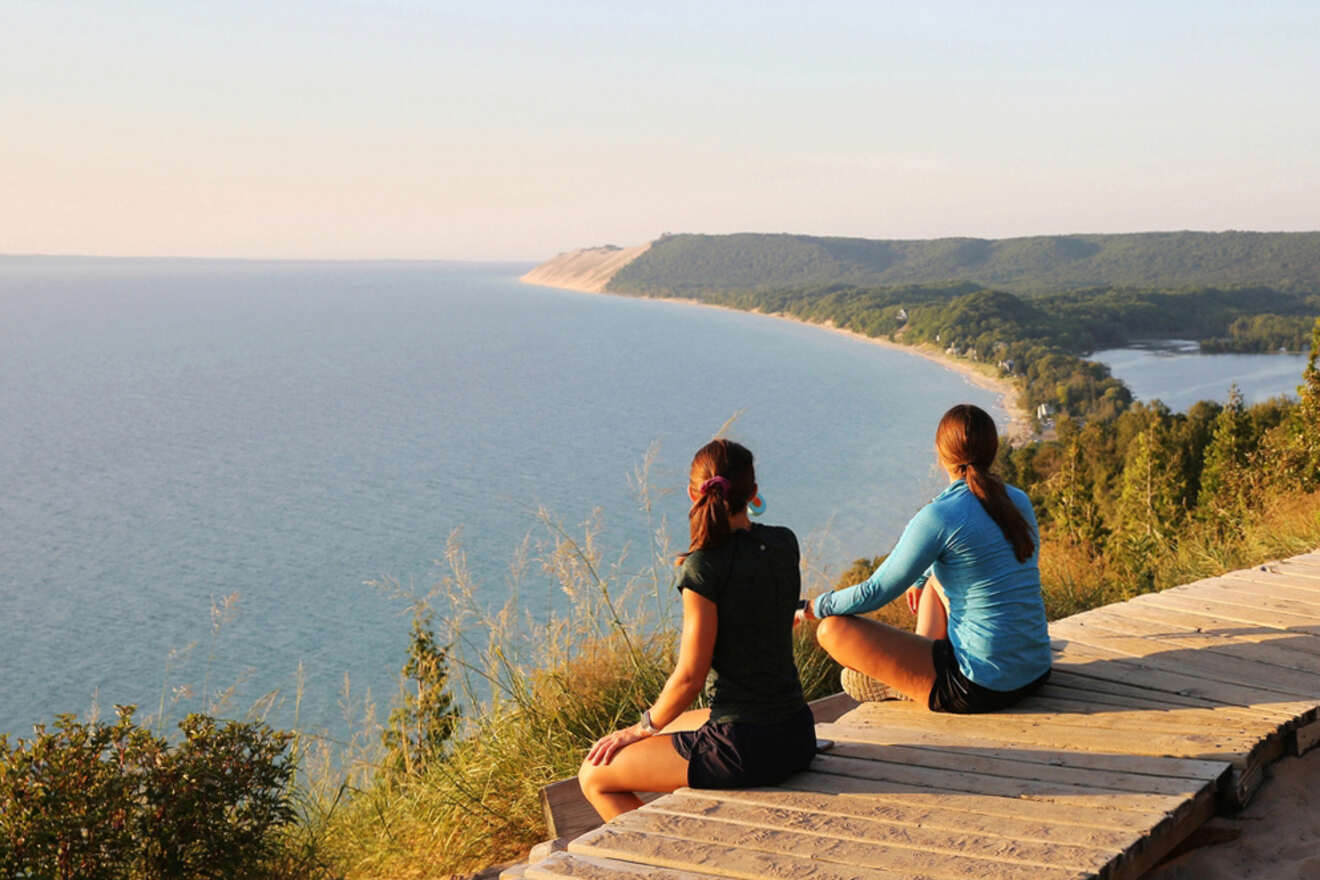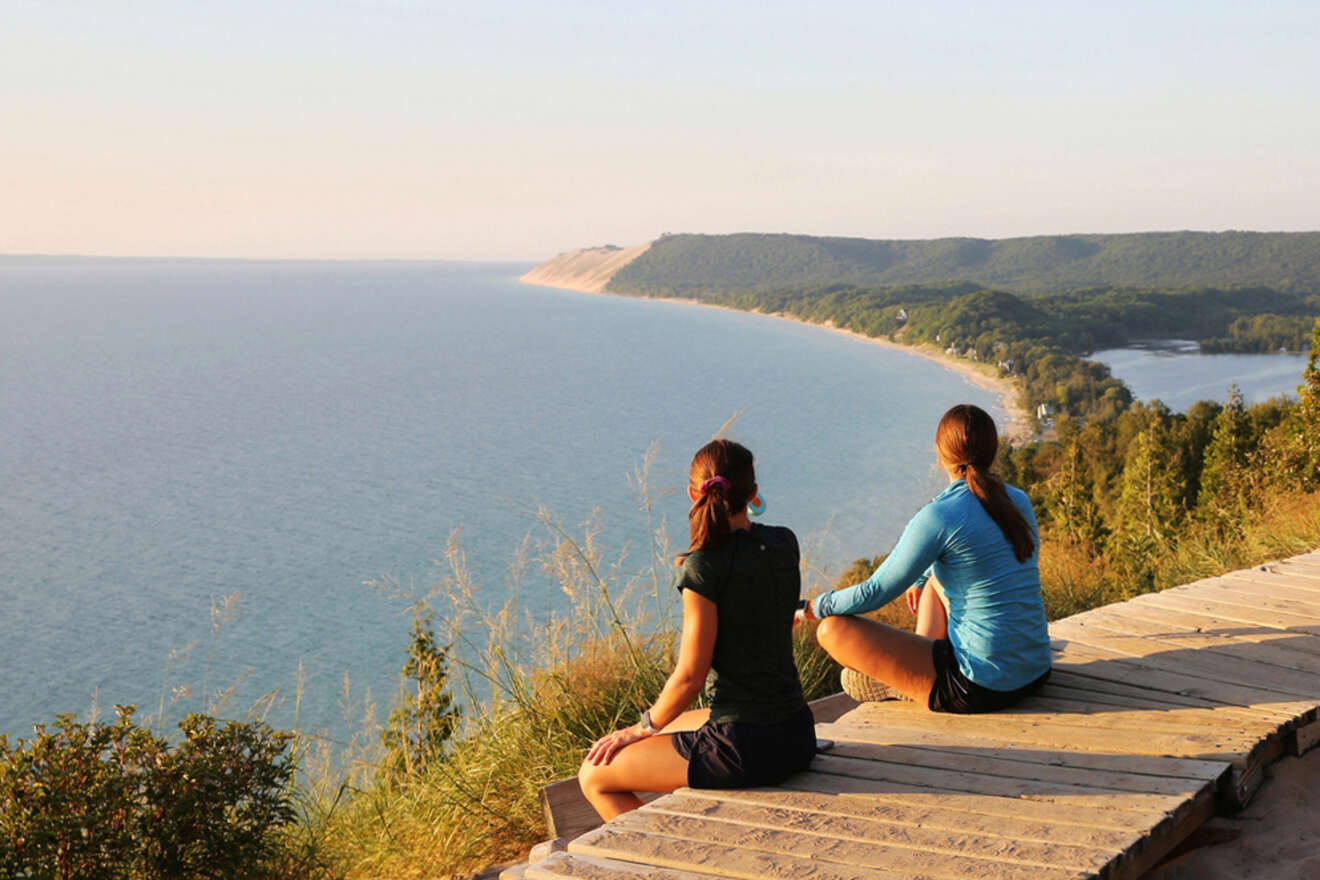 Are you looking for a special place to go on vacation next? What about visiting the majestic Sleeping Bear Dunes surrounded by Lake Michigan in Maple City? I highly recommend seeing this special place full of history and legends, and of course, I am here to recommend some amazing hotels near Sleeping Bear Dunes, so you can make this trip even more memorable for you and your fellow travelers!
The way this post is arranged is starting with the most luxurious hotels first, but let me tell you, from start to finish, all the hotels in this list are to die for, super dreamy! There are so many options for all tastes and budgets, so you will find one that checks all the boxes for your preferences!
Sleeping Bear Dunes is a very special place, and it attracts people from all around the world, so if you want to stay in the hotel room of your dreams, you have to book it in advance! You don't want to end up without a room!
Without further ado, let's check out the hotels!
If you are in a hurry
If you don't have the time to go through the entire post, here are the top 3 hotels near Sleeping Bear Dunes so you can click and book!
To help you understand the location of the hotels better, here you have a map with all the accommodations' locations!
1. The Leland Lodge – a stay in Leland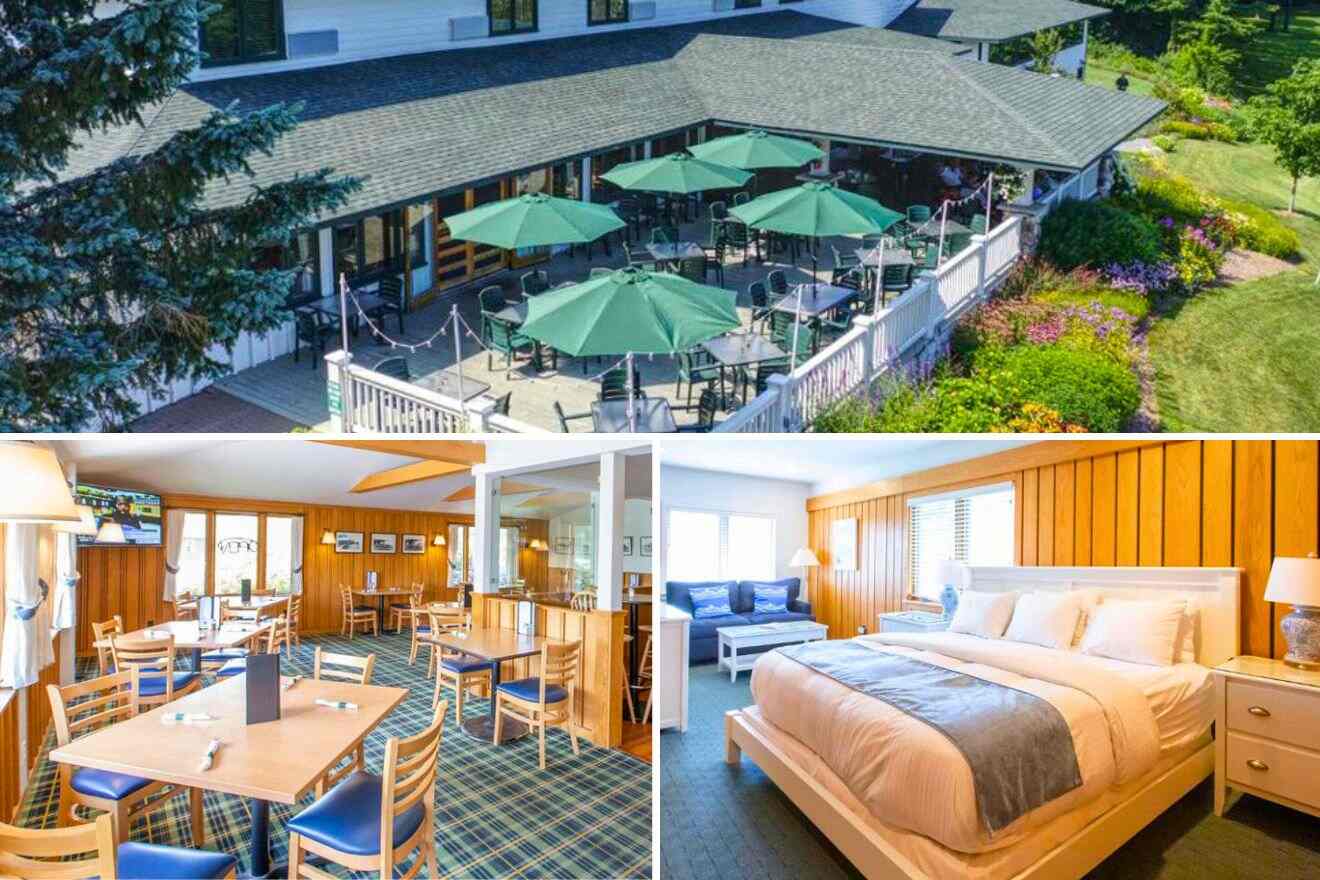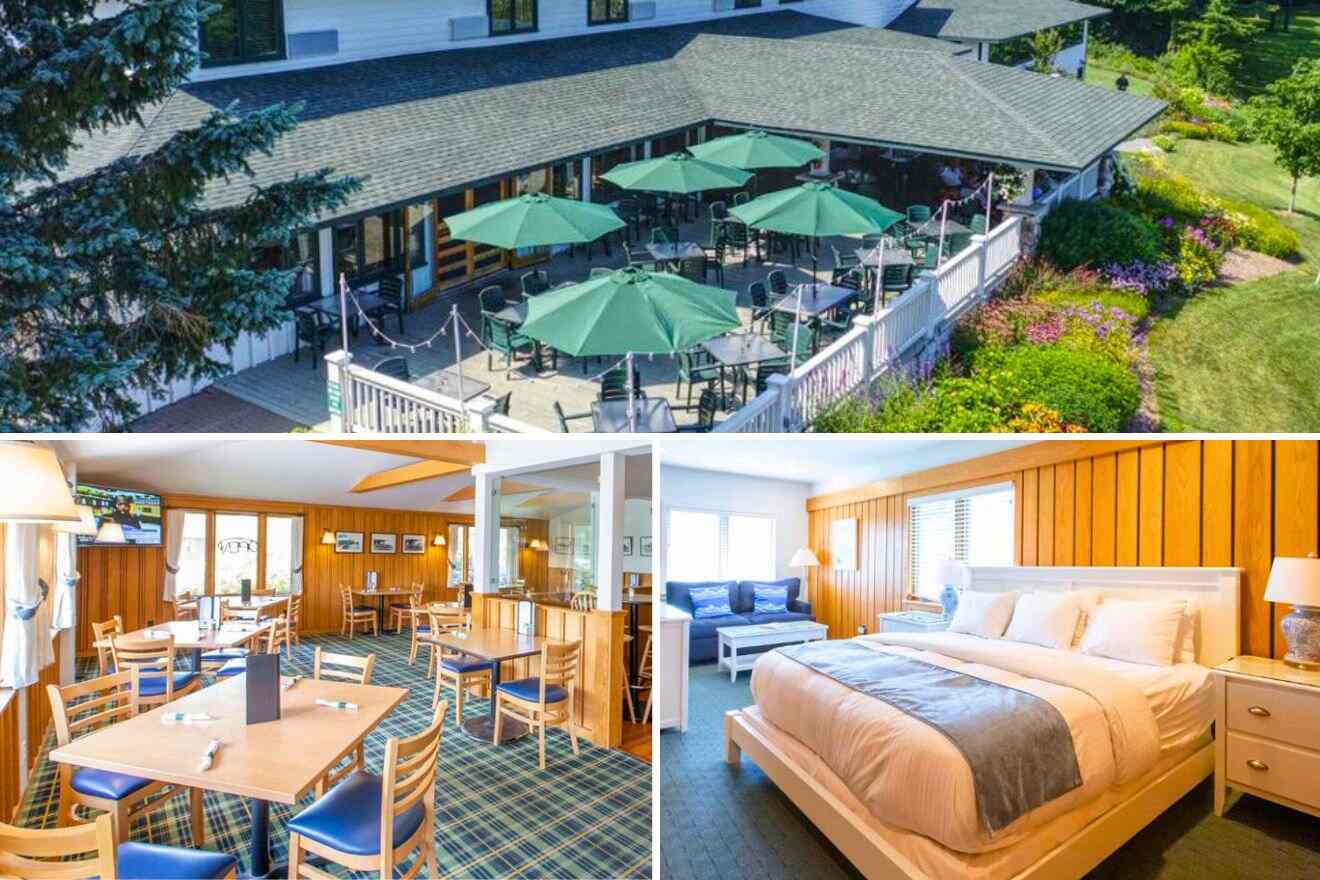 This classic little hotel is located only 22 miles (35 km) away from Sleeping Bear Dunes National Lakeshore, a 20-minute drive to Glen Arbor, and only a 40-minute drive to Traverse City! Not only is the location amazing, but the amenities of this hotel will literally make you feel so taken care of before heading to your big adventure in Sleeping Bear Dunes! If you fancy a weekend getaway in Traverse City, check out our incredible guide to the best hotels!
The hotel has a beautiful garden open to all guests, a terrace with a view where you can enjoy an amazing meal, and 2 onsite restaurants serving American food with vegetarian and vegan options! They offer a bicycle rental service for an extra fee, and sometimes there are live music performances on site, which are so much fun! The biggest rooms can host up to 4 guests.
2. Whaleback Inn – cozy cabin style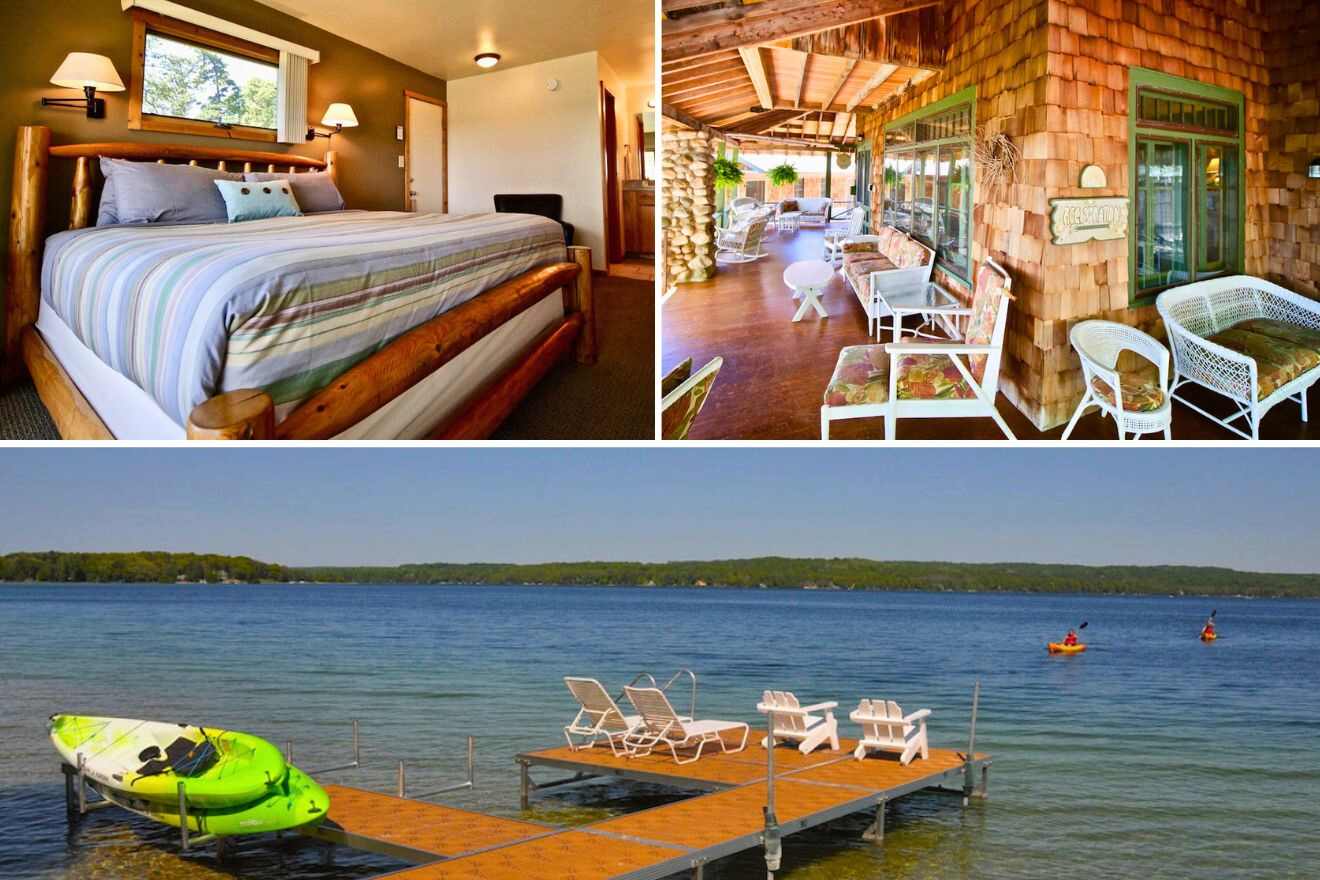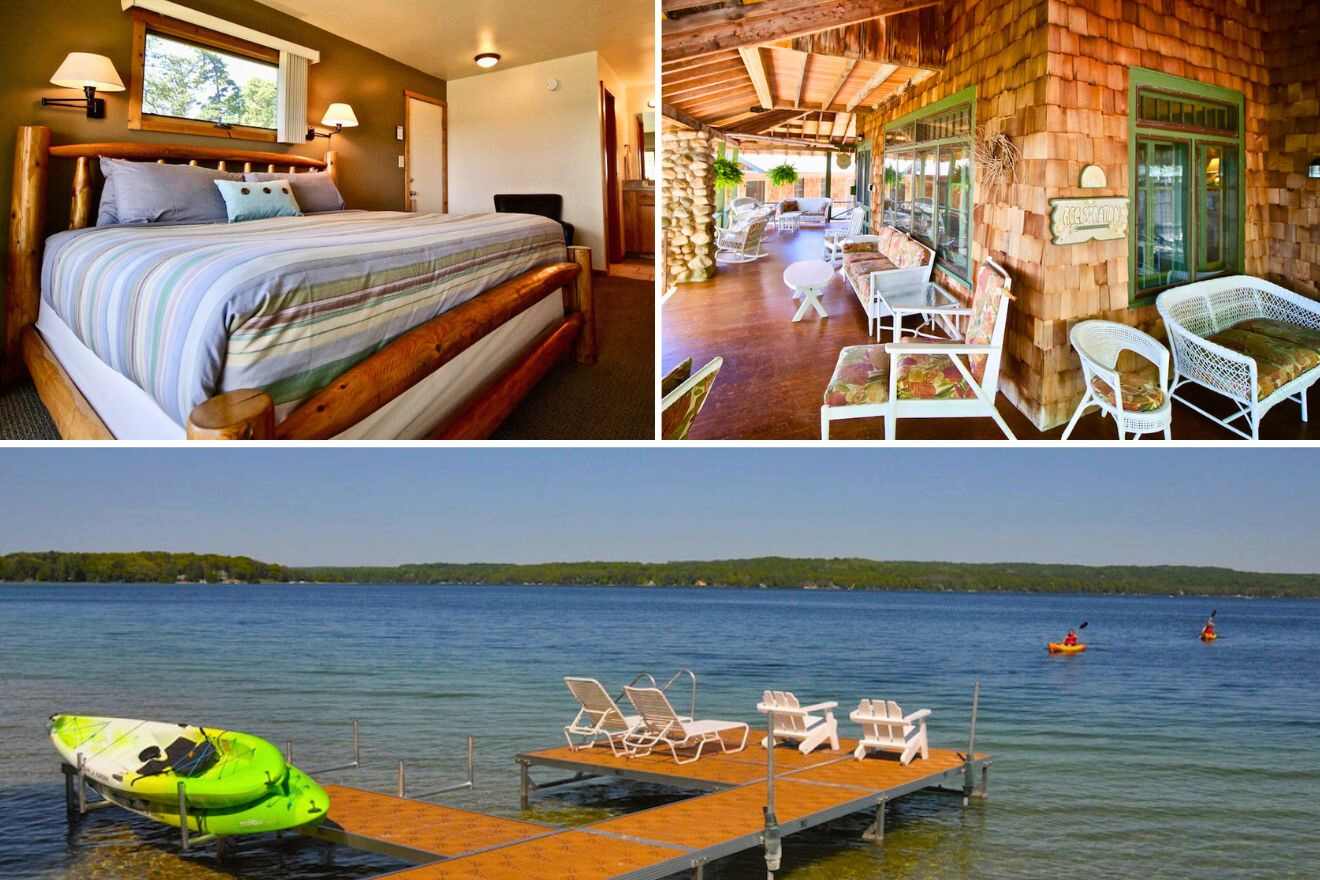 How cute is this accommodation? It looks so cozy and homey, and it's the perfect place to spend some days while visiting Sleeping Bear Dunes, which are only 20 miles (30 km) away from the property, just like the beautiful big Glen Lake. The hotel is located in Leland, Michigan, right by the waterfront, so the views from it are simply stunning; on top of that, Van's Beach is only a 3-minute car drive away!
If you are traveling by car, this hotel offers free parking to all of their guests, the rooms are super cozy, and most guests were amazed about how clean they were! Rooms like the cottage suite have their own fully equipped kitchen and can host up to 4 guests, perfect for big groups!
3. Bayshore Resort – by the beachfront!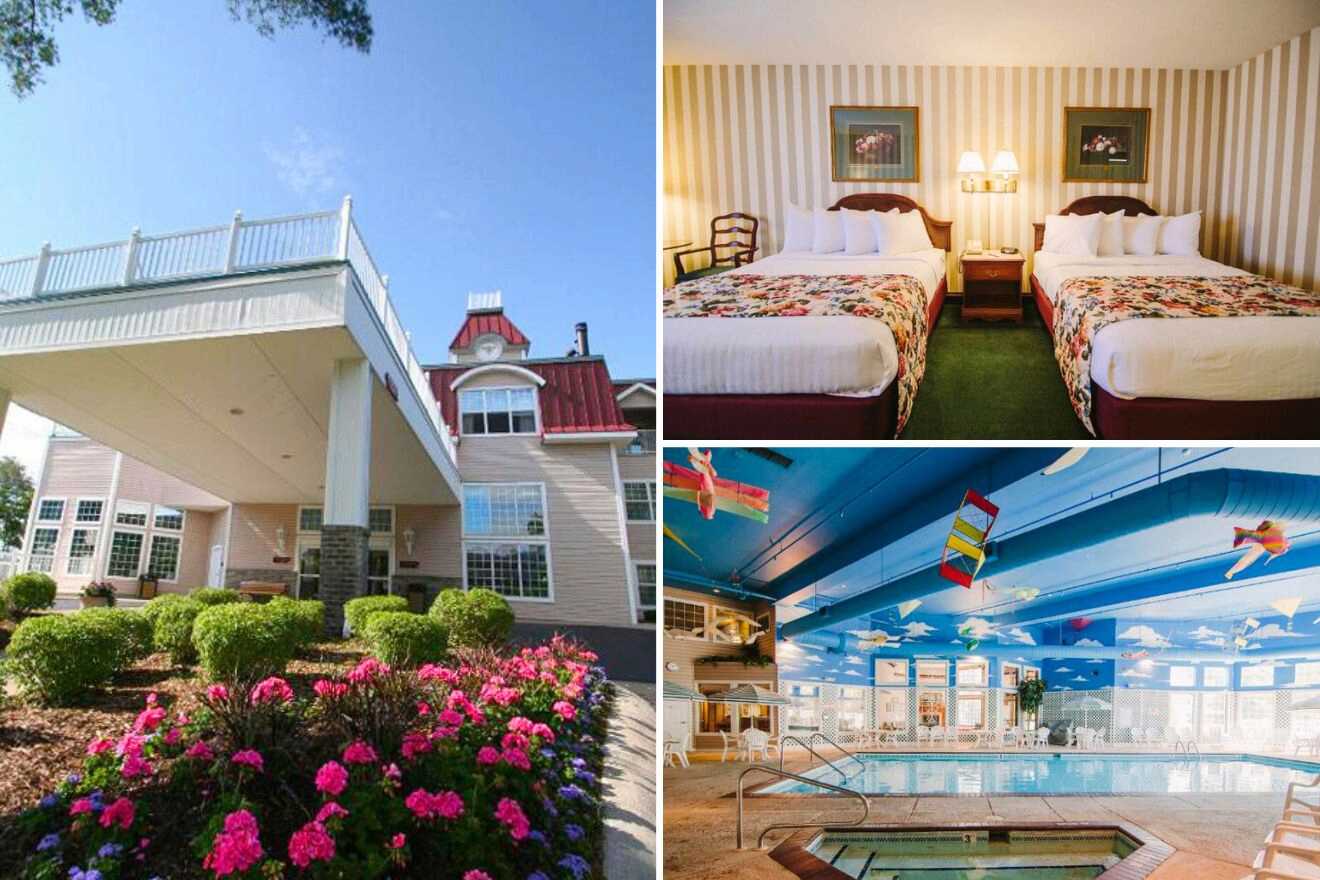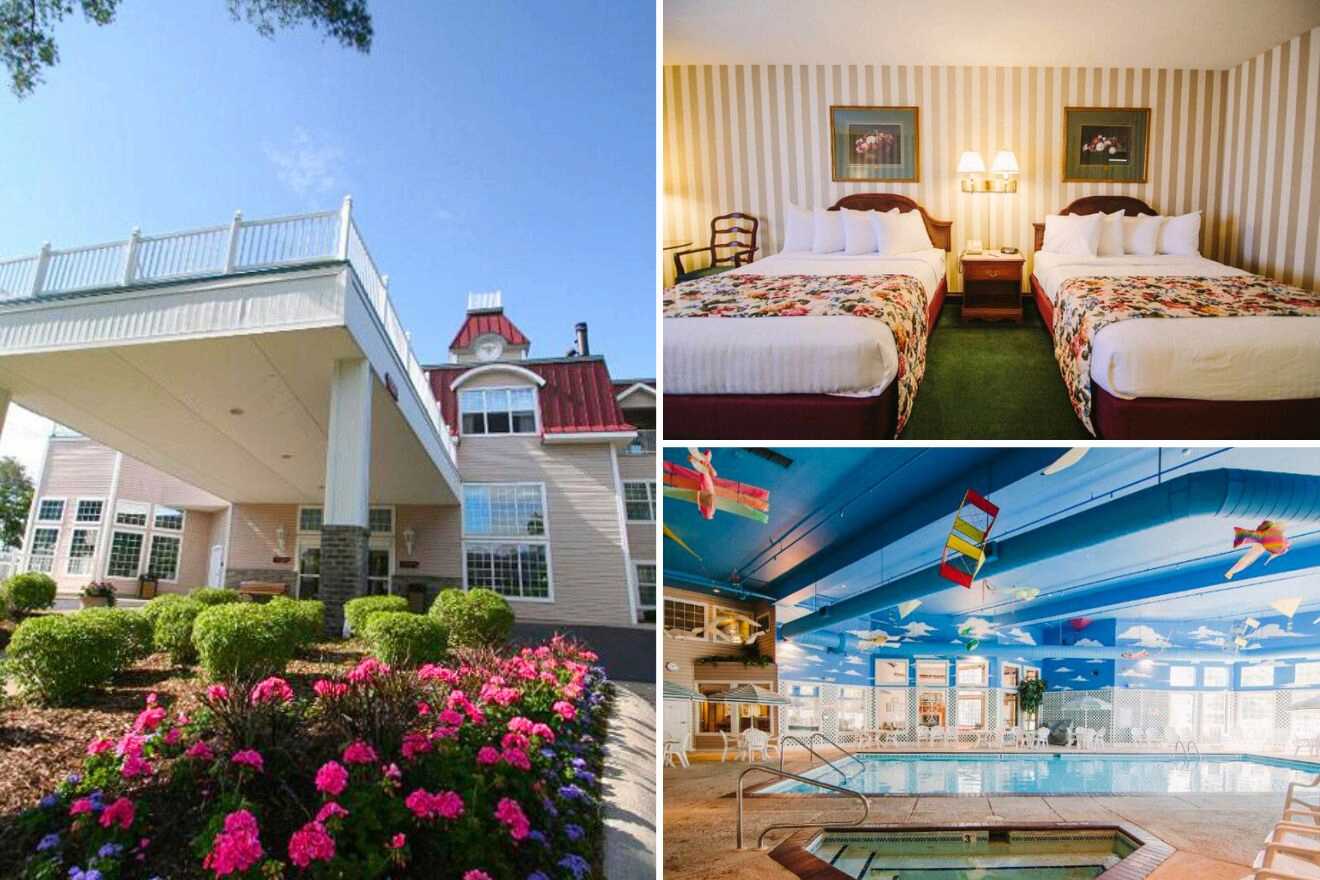 Wow! The decoration looks so inviting and cozy; I want to live there! The beachfront location with a private beach area is just amazing! On top of that, the hotel is located in Traverse City, so I hope you are ready to spend a night out discovering cool restaurants and bars in the area! Sleeping Bear Dunes is 29 miles (45km) away.
The hotel facilities are just dreamy; there is an indoor pool and a jacuzzi with a seating area, perfect for spending some leisure time, a fitness center so you keep those workouts going even on vacation, and the most amazing staff ready to help you out with anything you need! The rooms are spacious and comfortable, and some of them come with a bathtub and stunning bay view!
4. Empire Lakeshore Inn – for a homey feel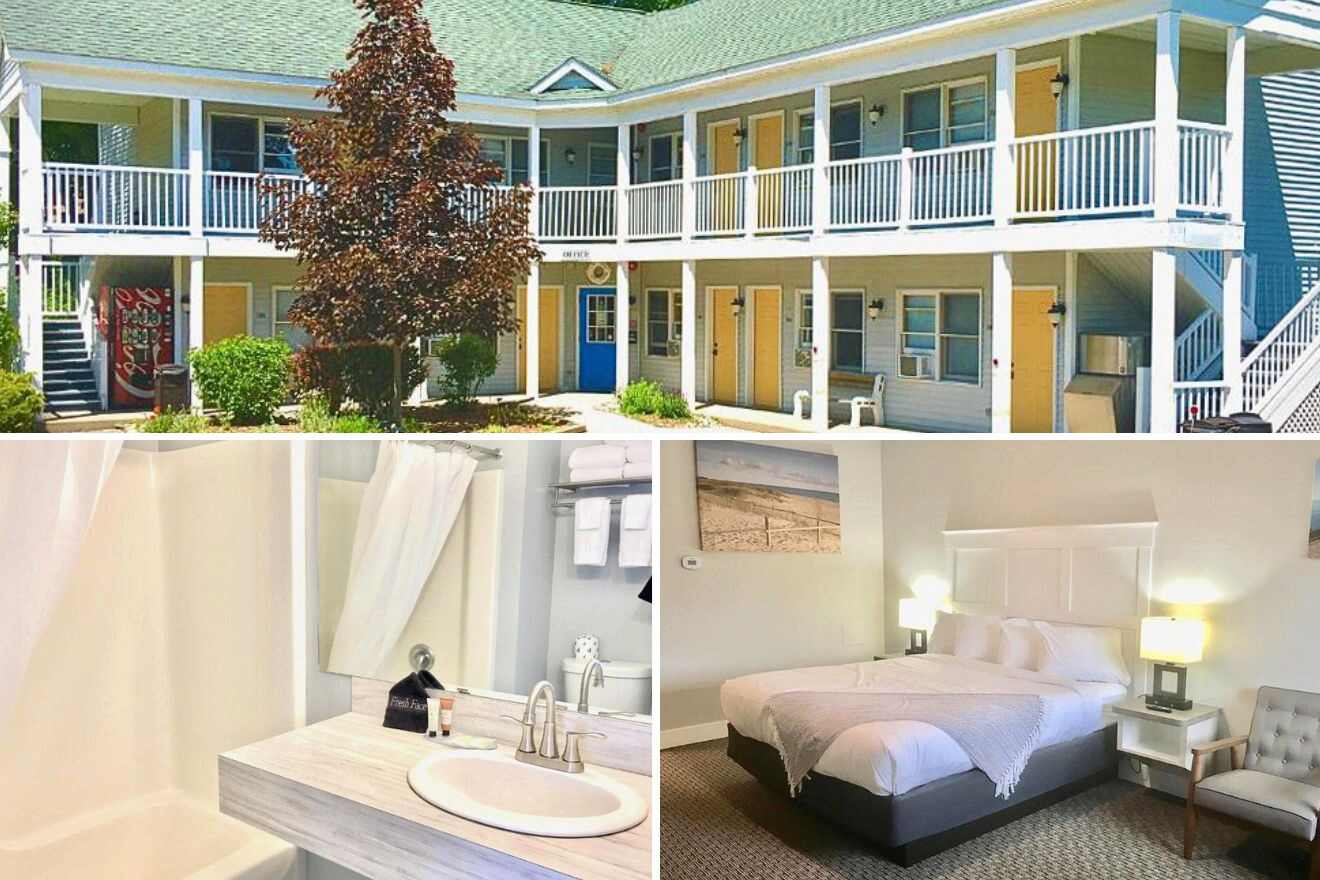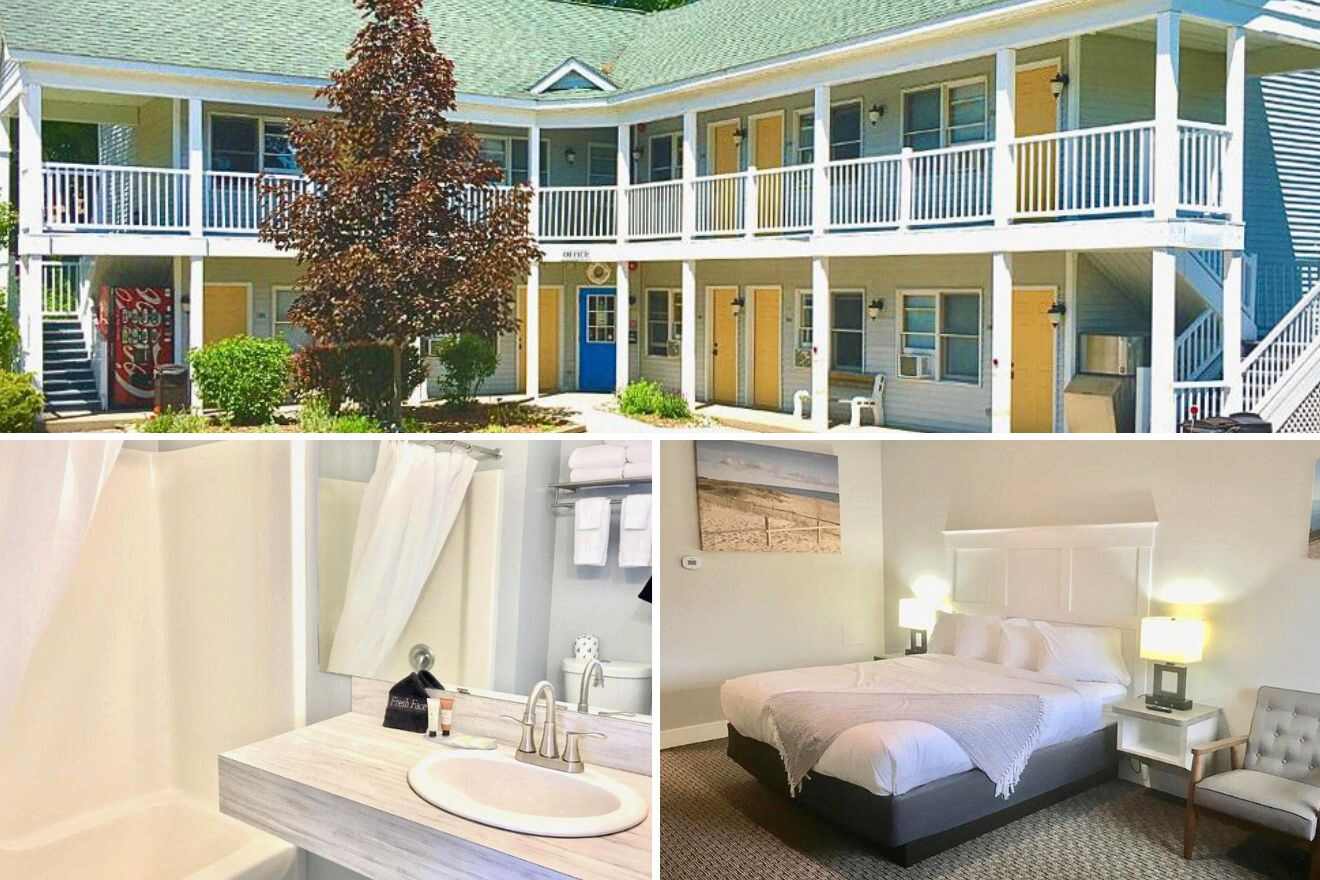 What a homey hotel! Located in Empire, this hotel has easy access to Sleeping Bear Dunes, which are only 6 miles (9 km) away (when you are there I recommend a quick visit to Hart Visitor Center when you are there to discover all the outdoor activities in the park!) and Crystal Lake is only a 30-minute drive away! So you better be ready for a scenic drive to all of these amazing spots!
The hotel offers free parking to all the guests, and there's nothing better than not having to worry about the parking situation, am I right?! The hotel rooms come with air conditioning, complimentary Wi-Fi to stay in touch with the world, a flat-screen TV, and a mini fridge to keep your snacks and drinks cool!
5. Crystal Mountain – for an adventurous stay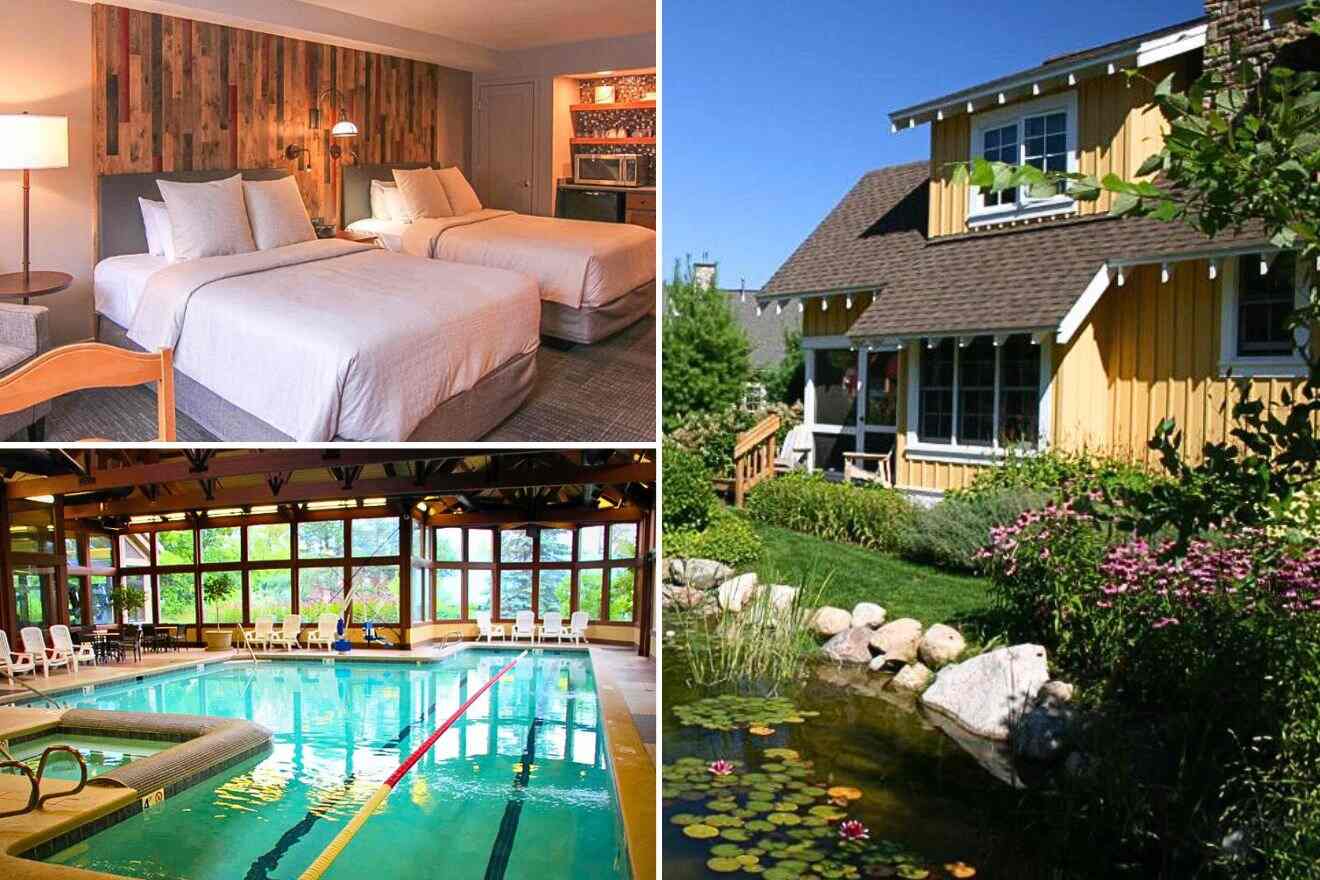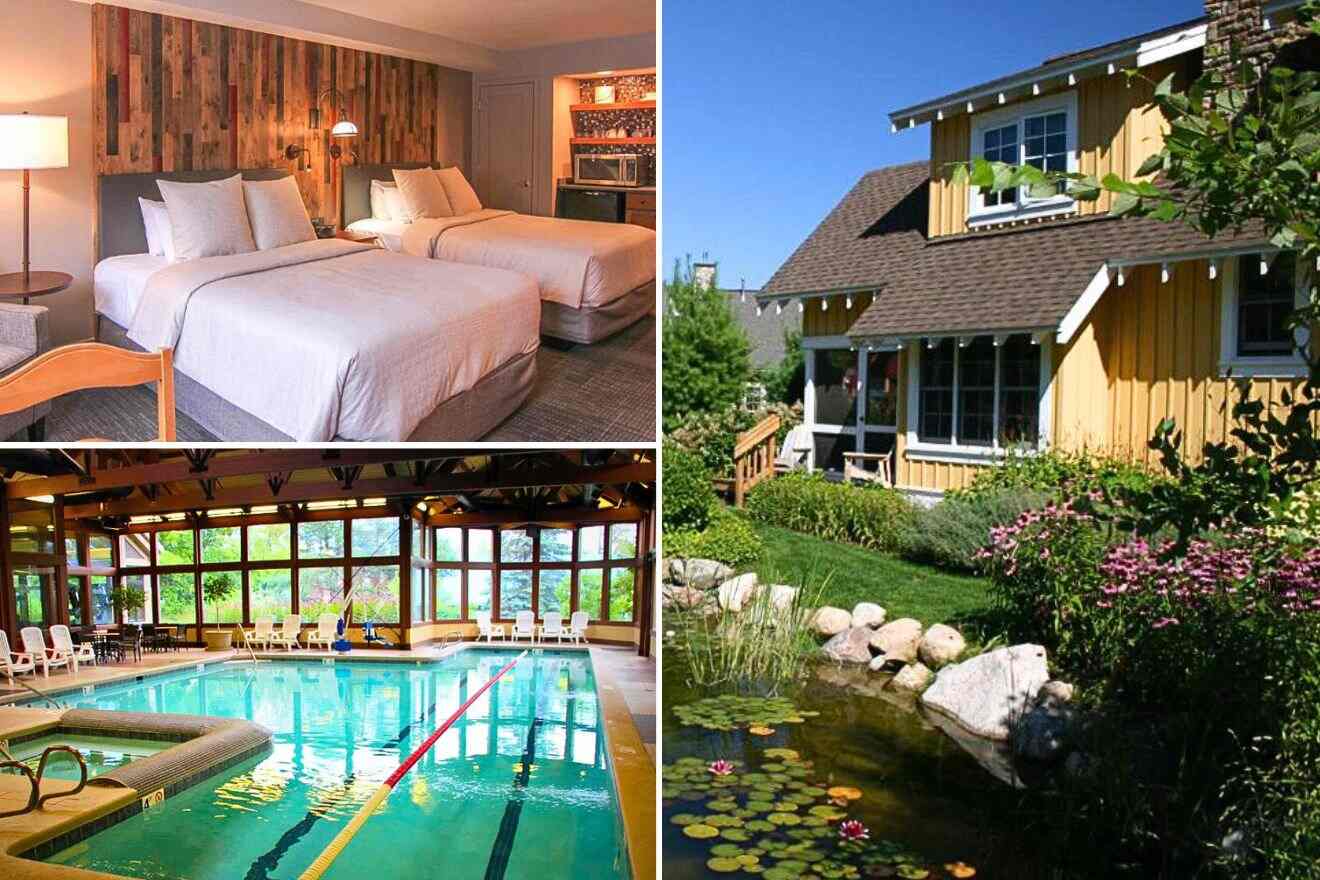 I don't know where to start! What a beautiful location to stay in during your vacation, situated in Thompsonville and 30 miles (48 km) away from Sleeping Bear Dunes, this hotel has everything you could wish for. For a nourishing vacation in the wilderness, you could go hiking, skiing, cycling, and much more in the surrounding areas, making it perfect for families with kids and nature lovers!
The hotel has a tennis court in the facilities, and you can rent the tennis equipment there; there is a golf course 2 miles (3 km) away, and an indoor heated pool and outdoor pool open in the summer season! If you travel with a big family or friend group, I recommend the townhouse, which hosts 12 guests!
6. Tru By Hilton – discover Traverse City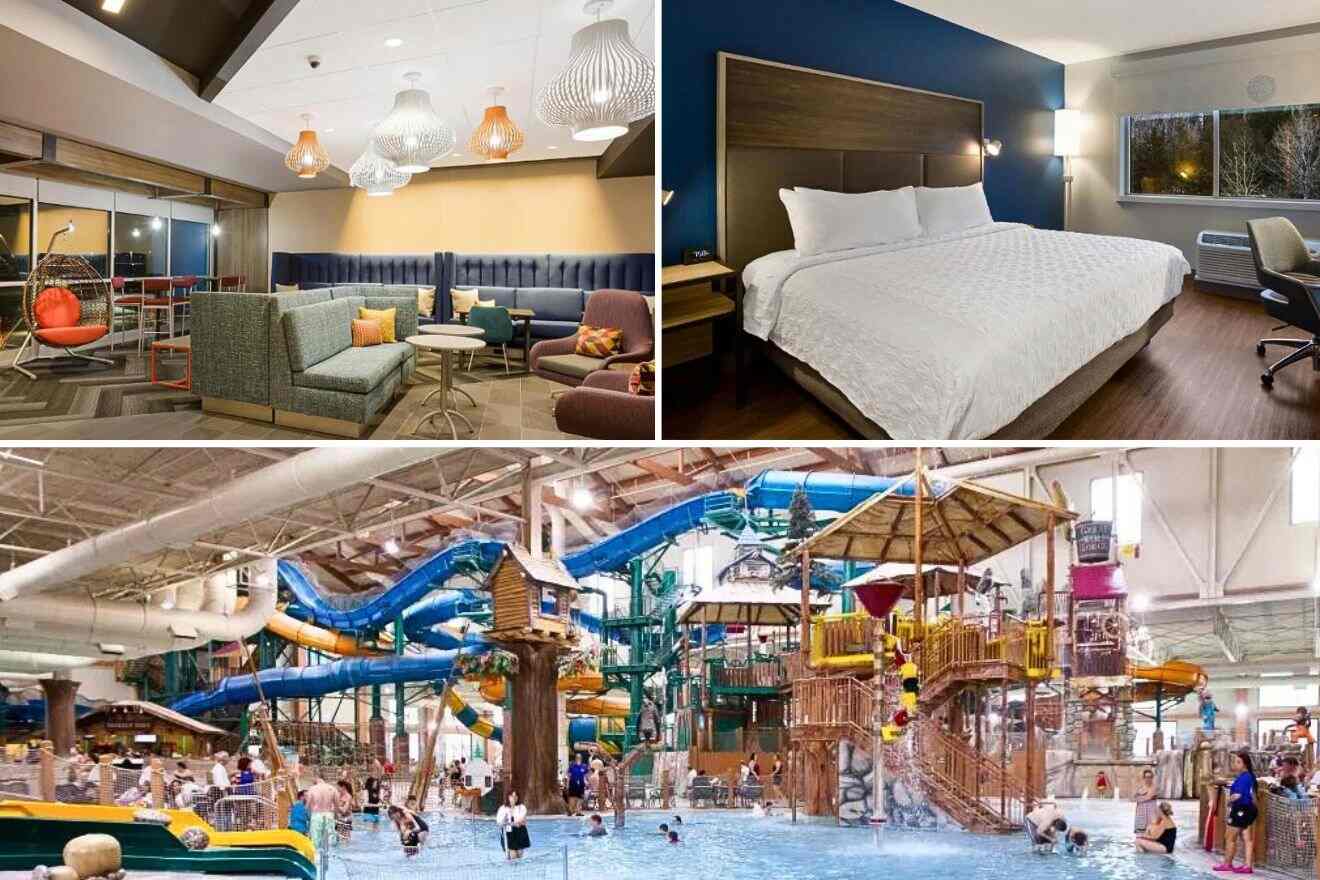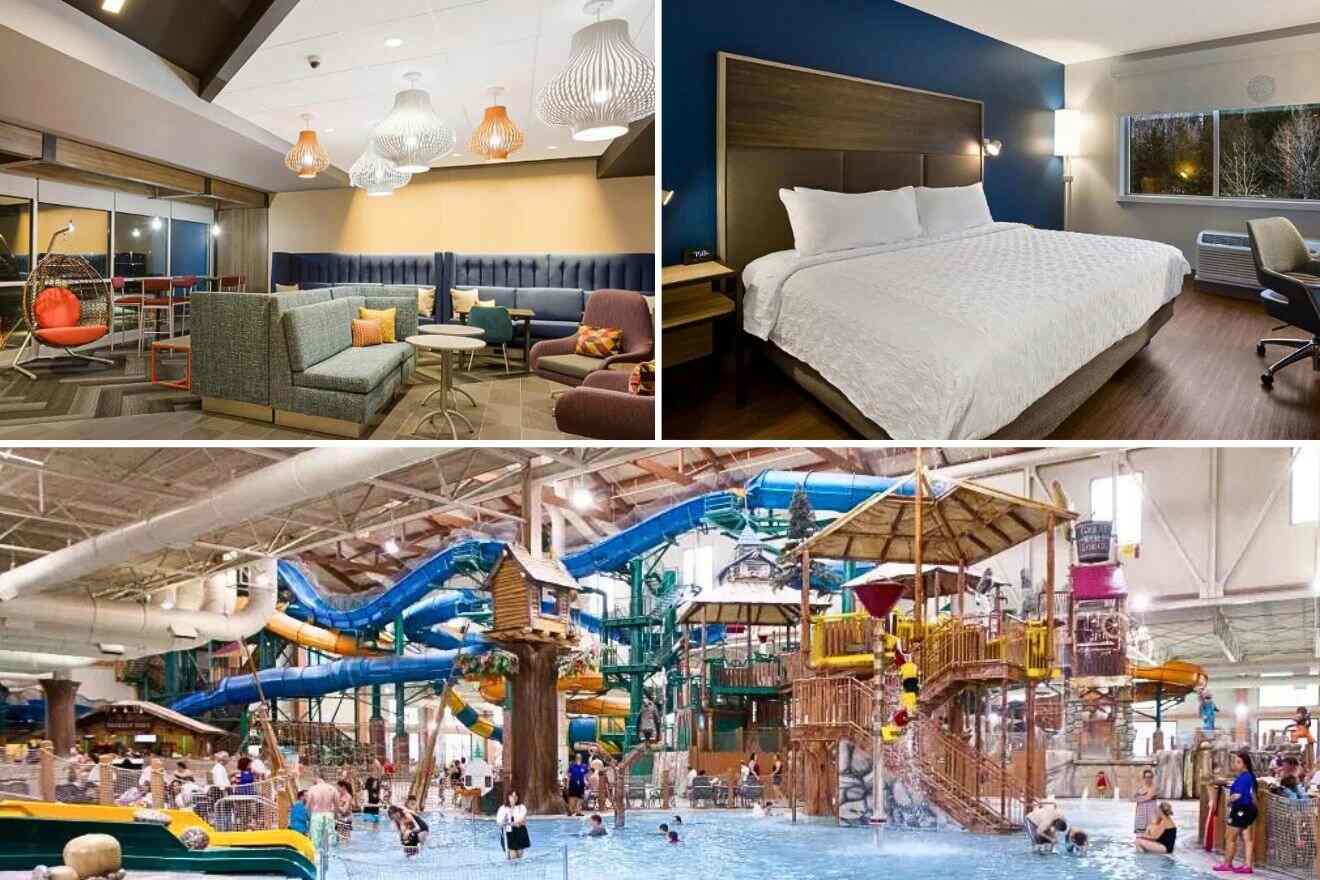 This hotel is super modern and classic, located in one of the best cities in the area, Traverse City, and is ideal for all of those who want to spend a pleasant and easy time on their vacation. Sleeping Bear Dunes is only 30 miles (48 km) away from the hotel, and I highly recommend visiting nearby cities on your way to the dunes, such as Leland and Empire!
The property has literally everything you could wish for, a complimentary breakfast which honestly is such a plus when you are traveling, and a fitness center! All the rooms come with a flat-screen TV with cable channels and air conditioning. Their rooms can host from 2 to 4 guests, and they offer mobility and hearing-accessible rooms!
7. Hotel Frankfort & Restaurant – for a vintage vacay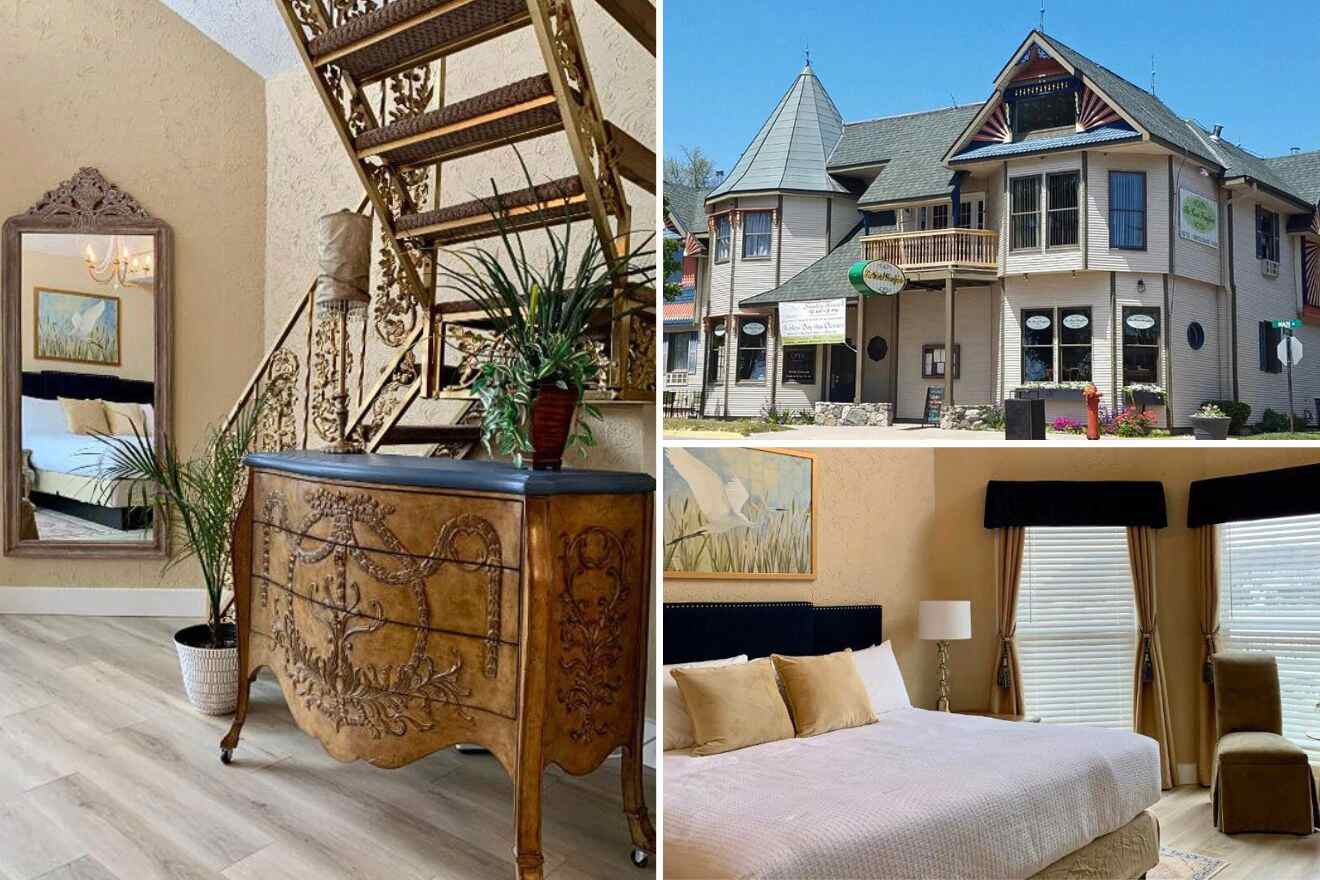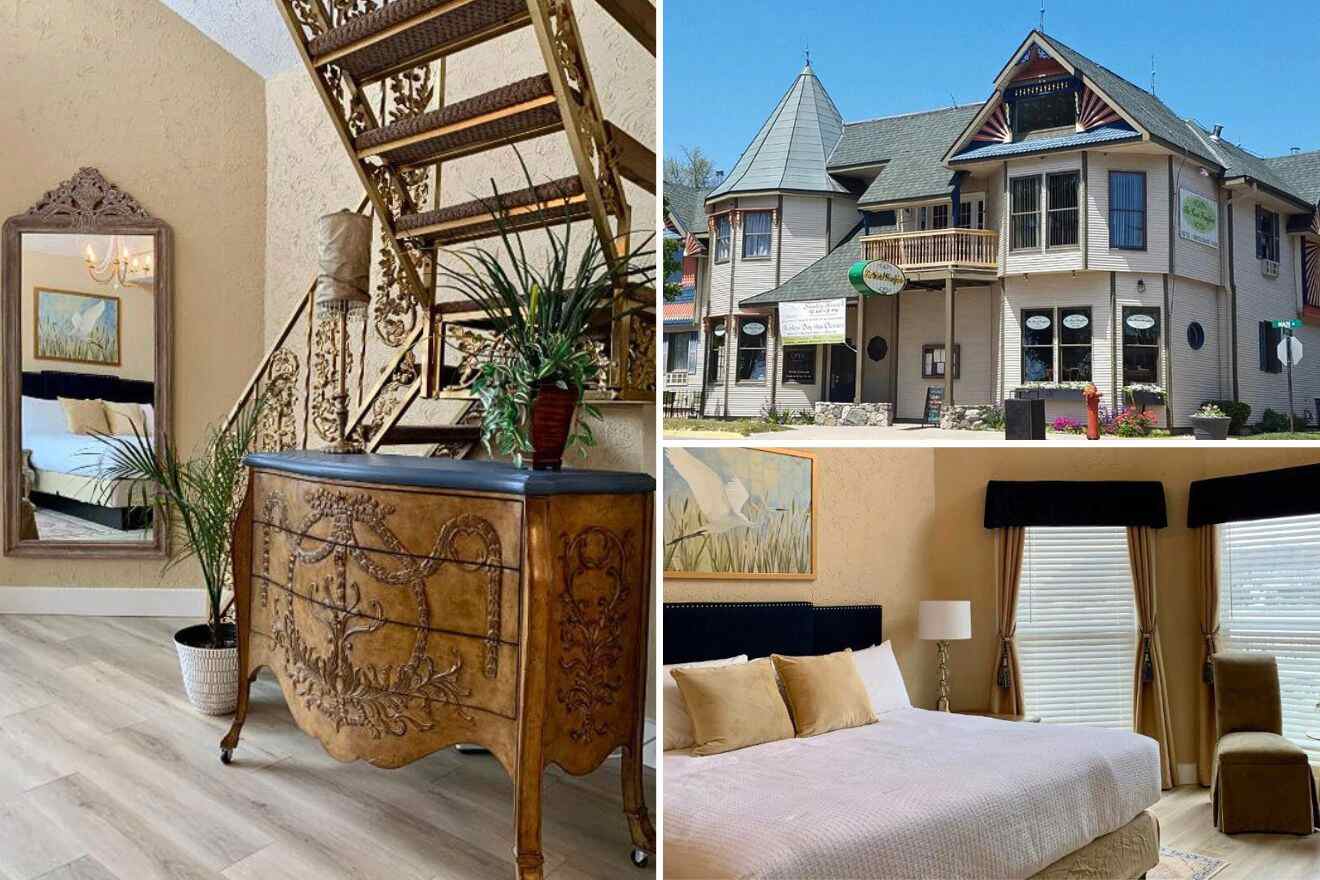 I am obsessed with this hotel! The style is impeccable, it has a nice old-fashioned look, and the furniture is just beautiful, with retro armchairs and hardwood chests of drawers and coffee tables. All the rooms have their own theme, and the designs are covering every single detail; you will feel like you are in a different world! There is an onsite bar and restaurant, so there is no need to go out there to find the best spot for a good treat!
The hotel is located in Frankfort, and Frankfort public beach is only a few steps away; Betsie River is also a 2-minute walk away, and Sleeping Bear Dunes is 27 miles (43 km) away! This accommodation will set you up for the most beautiful lake views in Michigan!
8. Baymont by Wyndham Beulah – for a convenient location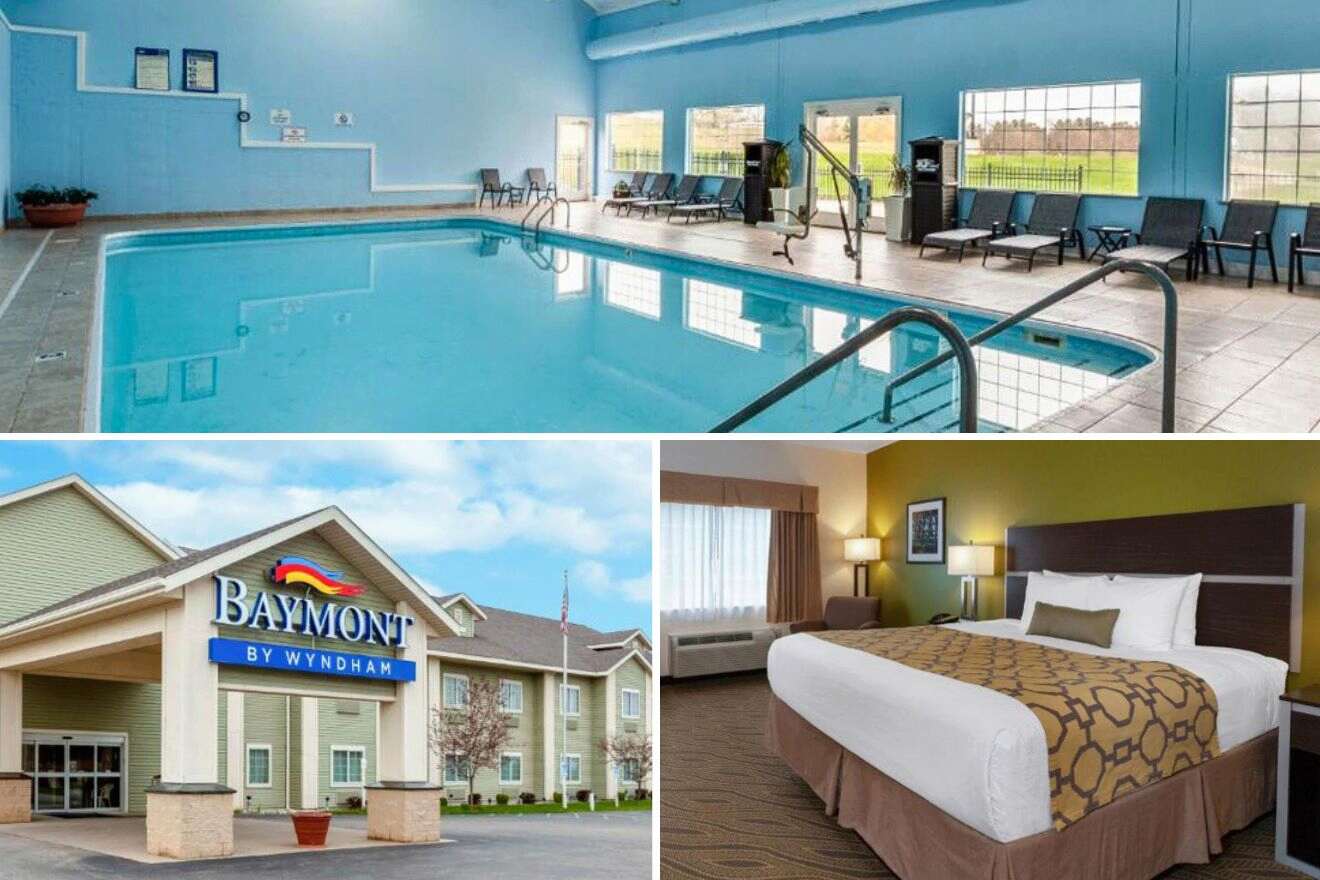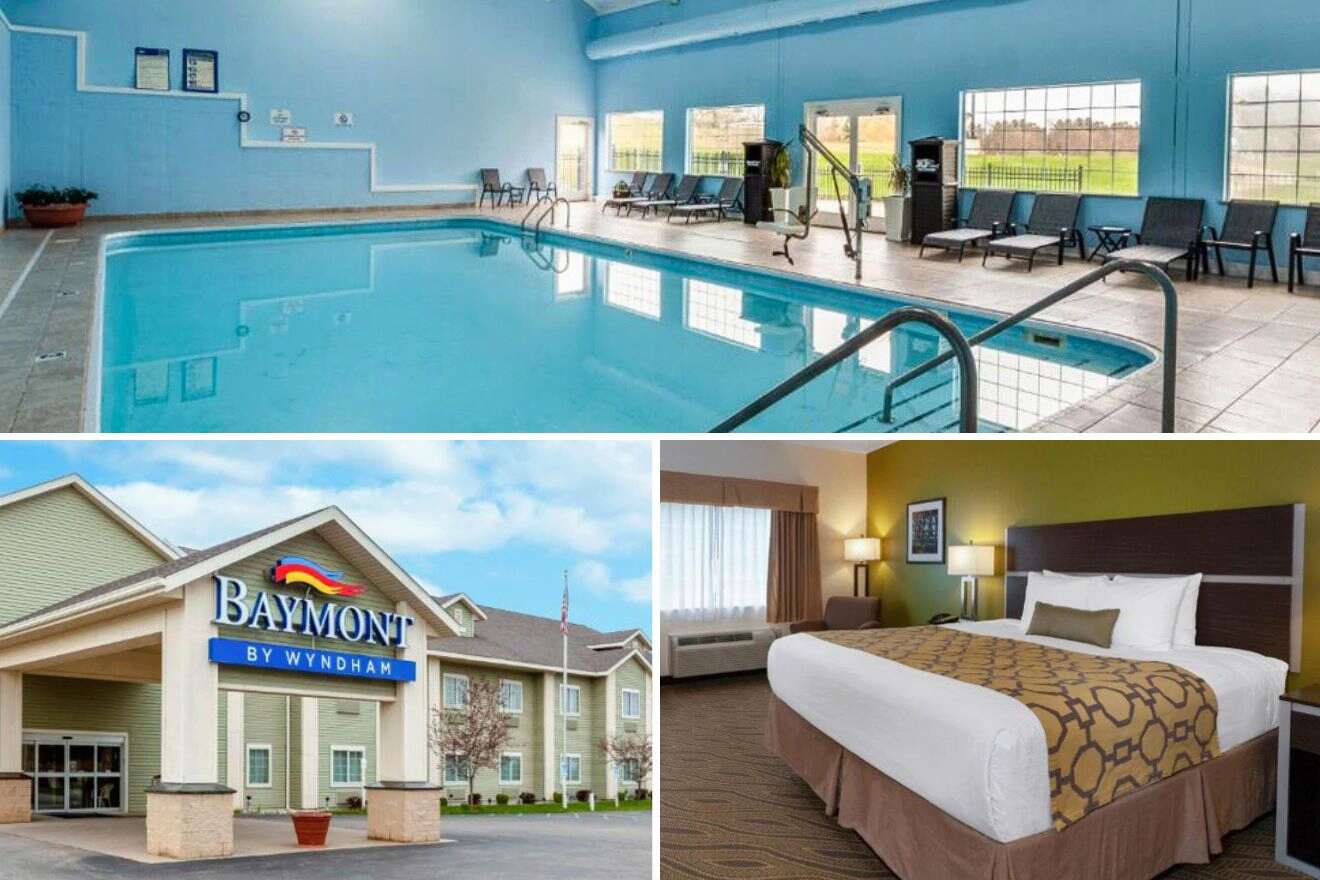 This hotel is located in the beautiful town of Beulah, and one of the perks of this hotel is the proximity to stunning landscapes, natural areas, and beautiful lakes, such as Crystal Lake, and beautiful Sleeping Bear Dunes is 20 miles (32 km) away from the property! On top of all of these, there is a golf club only a 3-minute drive away!
This property has great amenities that will make your life an easy breeze, for example, complimentary breakfast; nothing better than waking up and having fresh coffee and a fresh bagel! There is also an indoor pool which is open all year round, so you can swim either in the winter or summer time; the accommodation offers family rooms with coffee and tea makers, what a plus!
9. Chimney Corners Resort – for nature lovers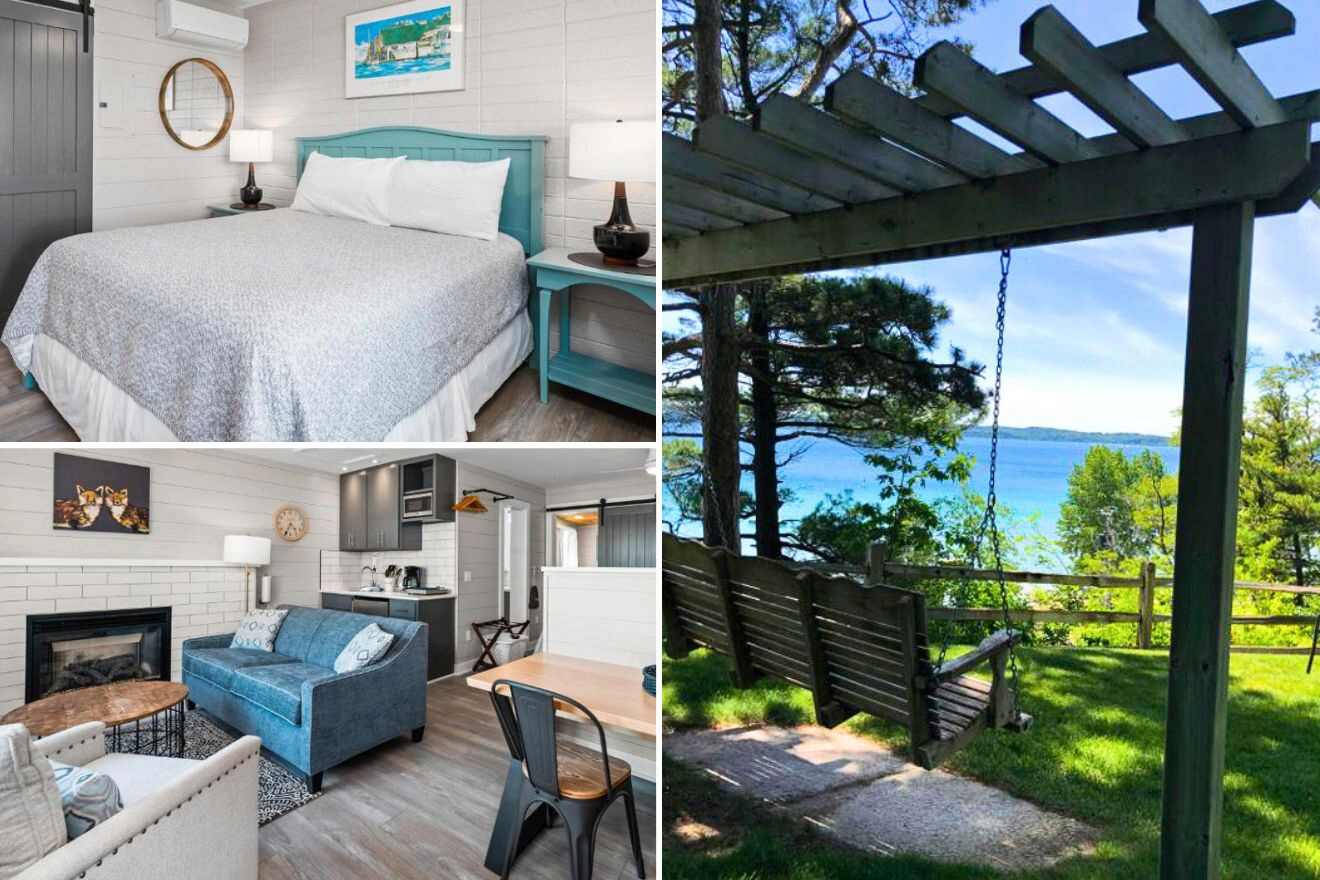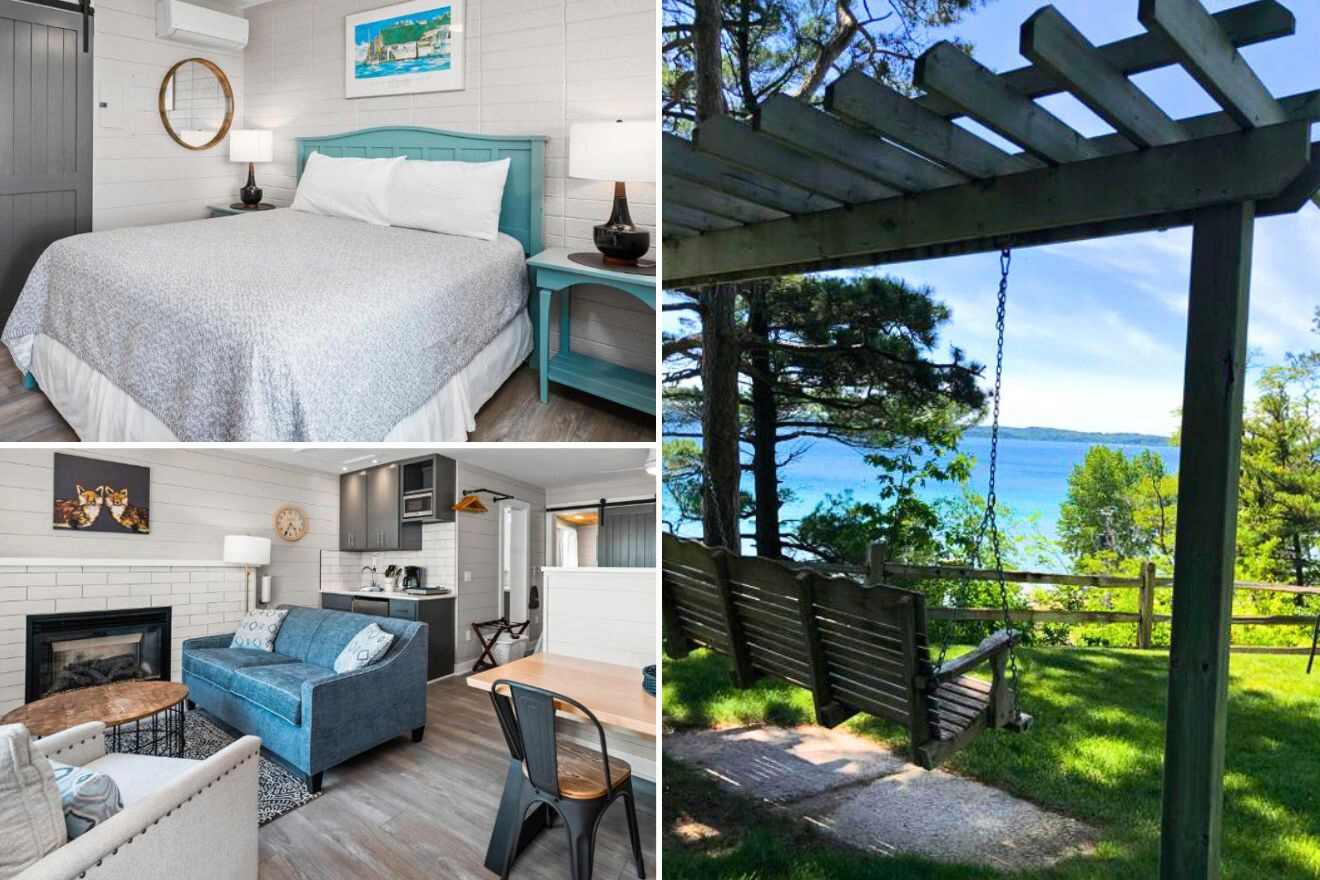 I am in awe! Genuinely, this hotel looks like a piece of paradise fallen from heaven! The beautiful natural scenery surrounding the hotel is simply majestic, you have the beach with pristine blue waters, and you have thick luscious woods on the other side. Whether you want to spend time swimming or hiking, you are all covered. The property is located in Frankfort, just 21 miles (33 km) away from the stunning Sleeping Bear Dunes.
The resort has an onsite restaurant and bar serving vegetarian options, an onsite tennis court with tennis equipment rental, and a spa center offering yoga classes! They offer comfortable apartments, most of them with fully equipped kitchens and fantastic views. The apartment's decor and design are truly flawless, minimalistic, and modern! *Chef Kiss*
10. The Sylvan Inn – enjoy Glen Arbor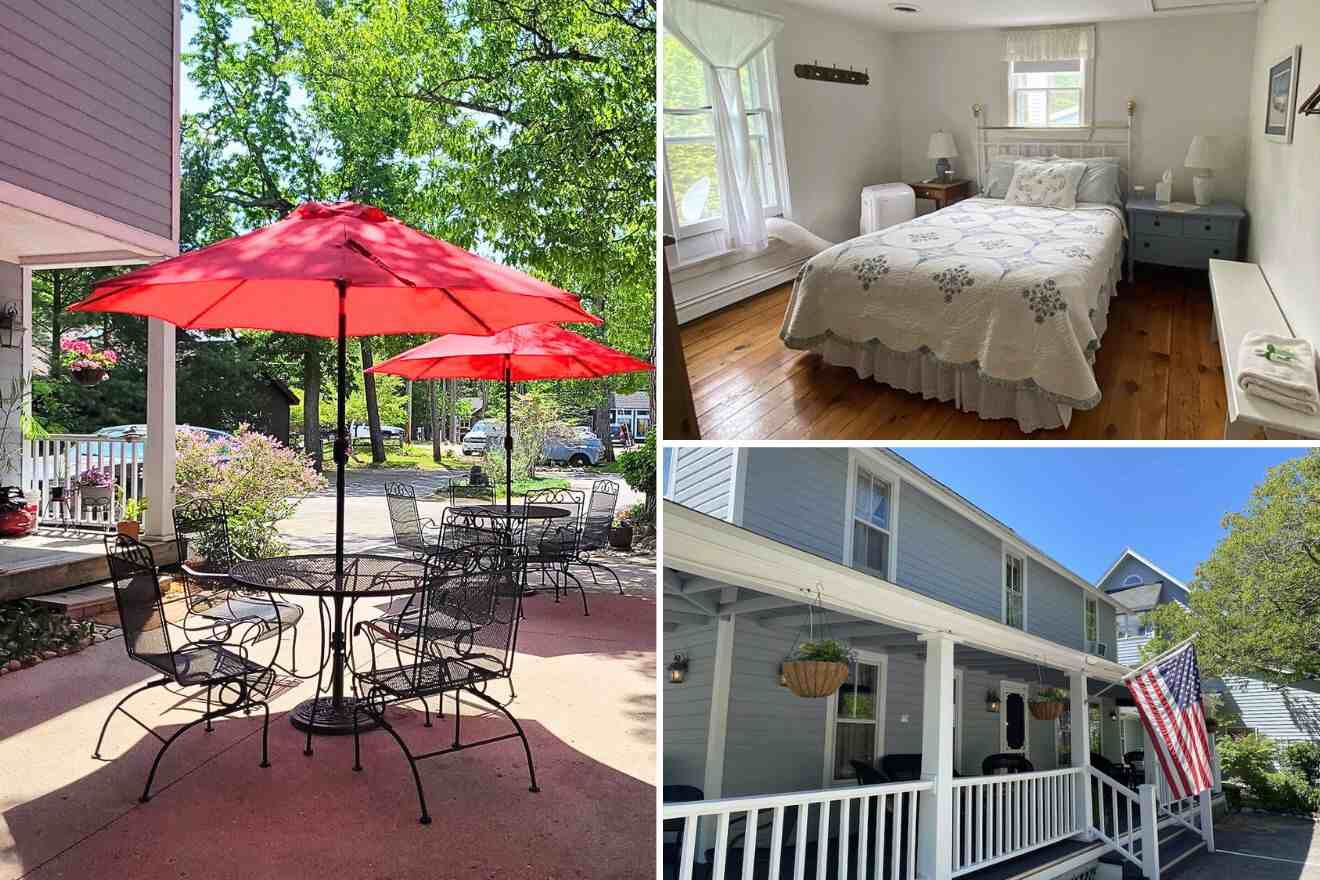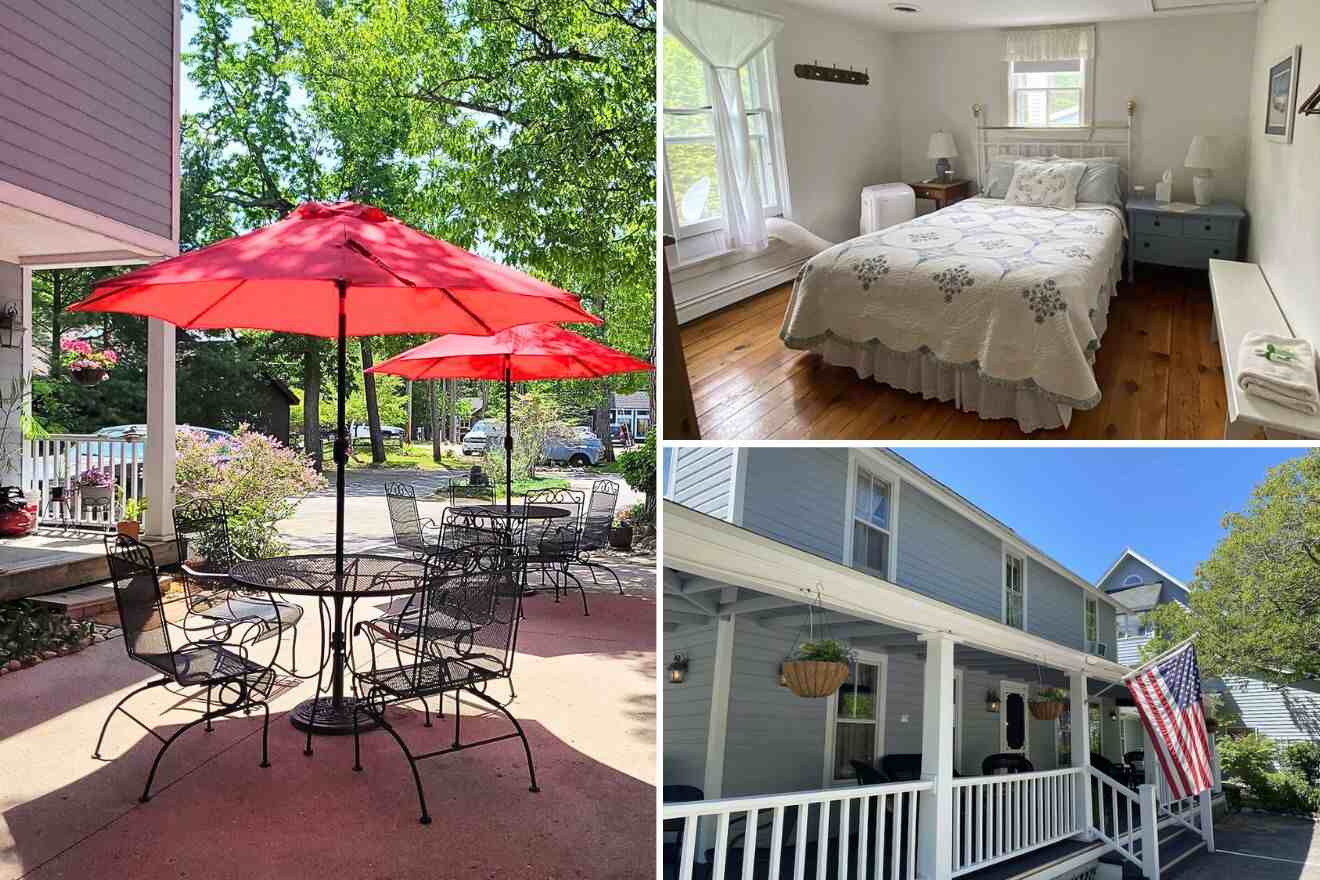 This is such a cute boutique hotel! The rooms and common spaces have an old-school vibe, with Victorian and Queen Anne style furniture, such as wooden carved beds and drawers, and beautiful wallpaper. The property offers a complimentary breakfast each morning to all the guests, and there is a bicycle rental service to explore the area in style!
One of the cool things about this accommodation is its ideal location in the beautiful Glen Arbor, just a short drive away (around 10 minutes) from Sleeping Bear Dunes, and has many other natural attractions nearby! Their biggest room (the studio) can host up to 4 guests and has its own private kitchenette, perfect for a homemade snack!
11. Cedar Ridge Cabins – for a heartwarming stay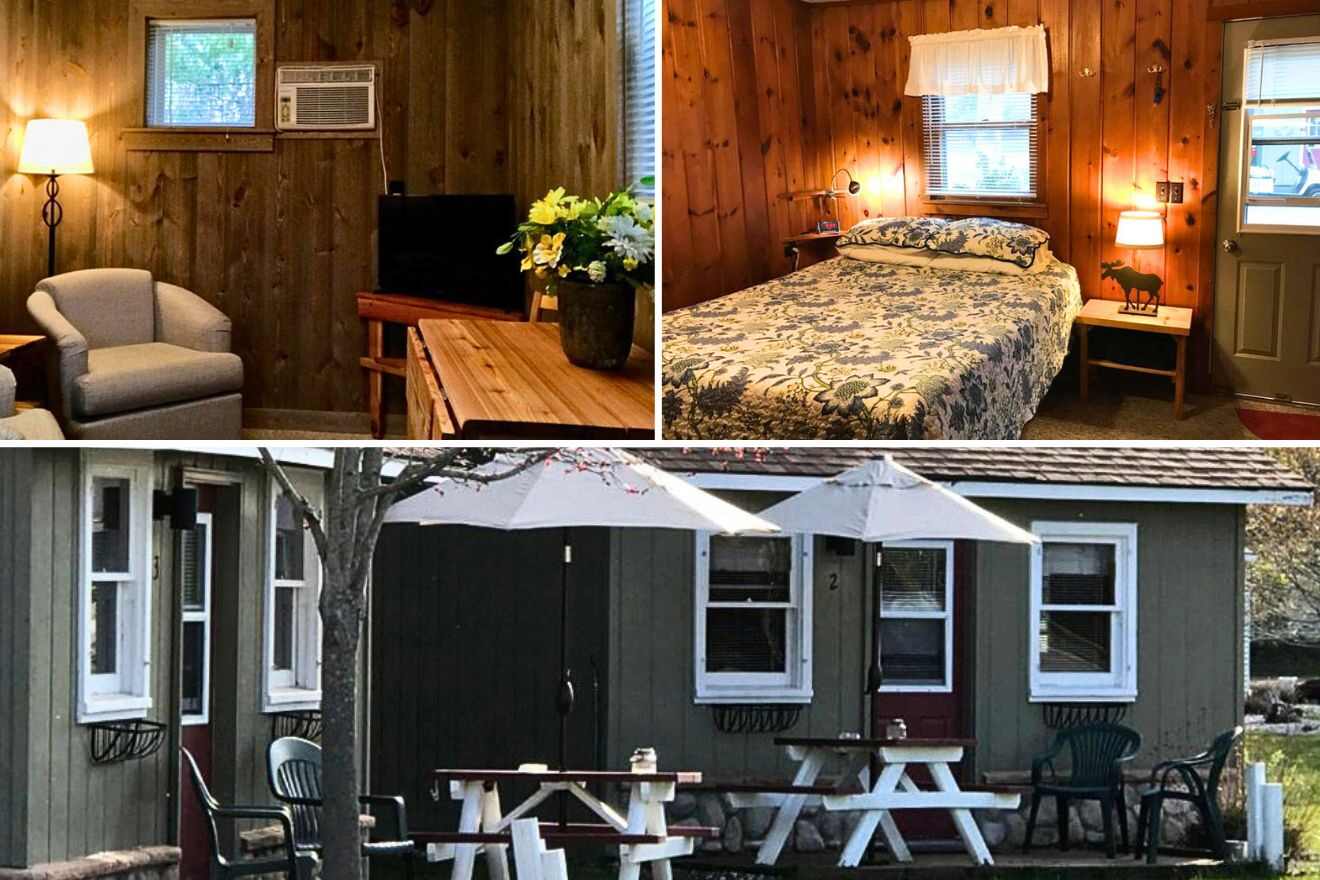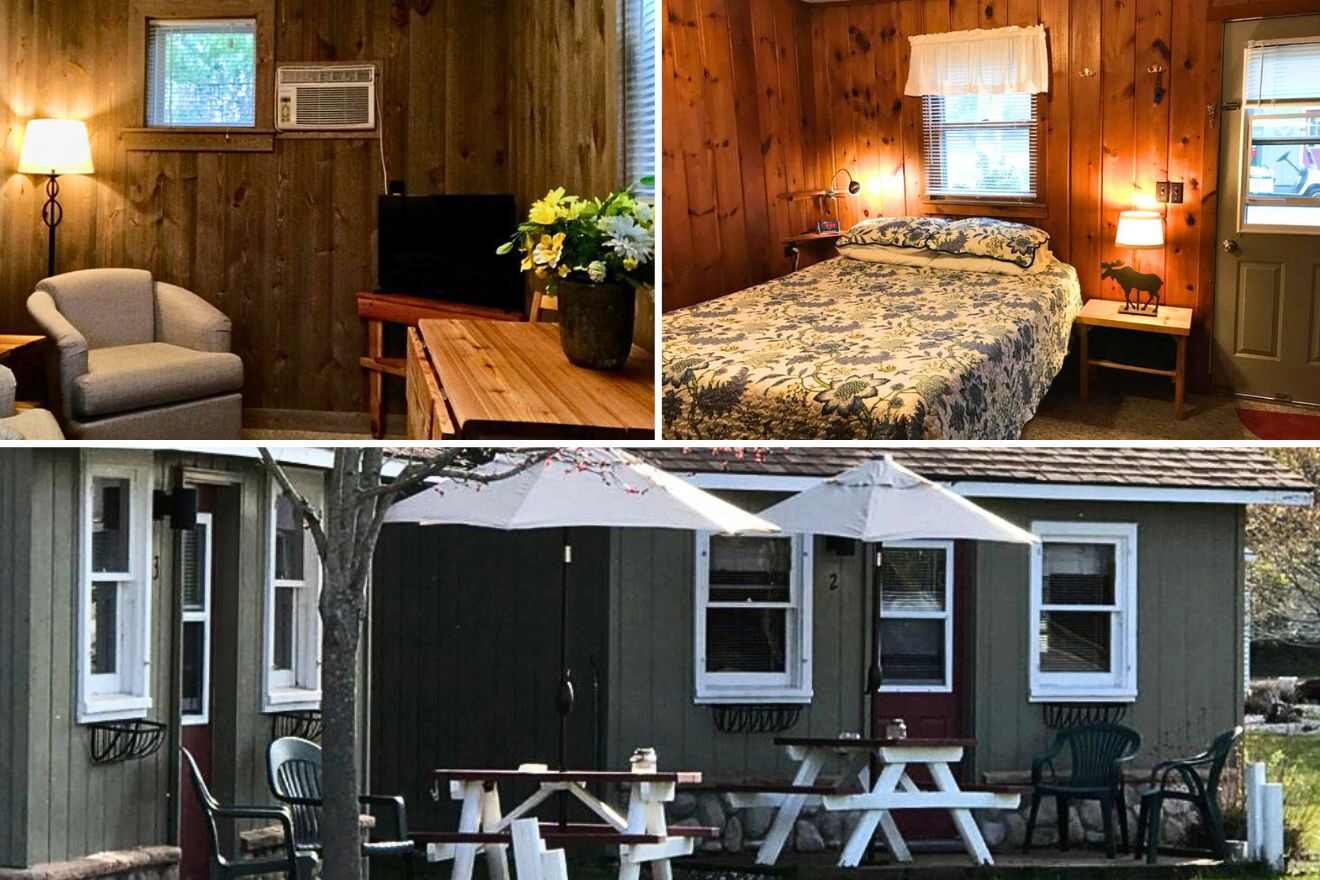 Oh, I love these cabins! Such a cute and cozy atmosphere in this property located in Honor, just 18 miles (28 km) away from the amazing Sleeping Bear Dunes! One thing I love about the cabins is the way it is arranged, which gives a sense of community with the other guests! There is a common garden area with tables, a sandpit with toys, and a bonfire, which makes it perfect for socializing with other guests, and making friends along the way!
I highly recommend staying in their deluxe rooms, which come with their own wet bar, which is super convenient in case you want to prepare some food in the cabin. There is a grill in the facilities, so have a delicious meal under the sun!
12. Fountain Point – discover Suttons Bay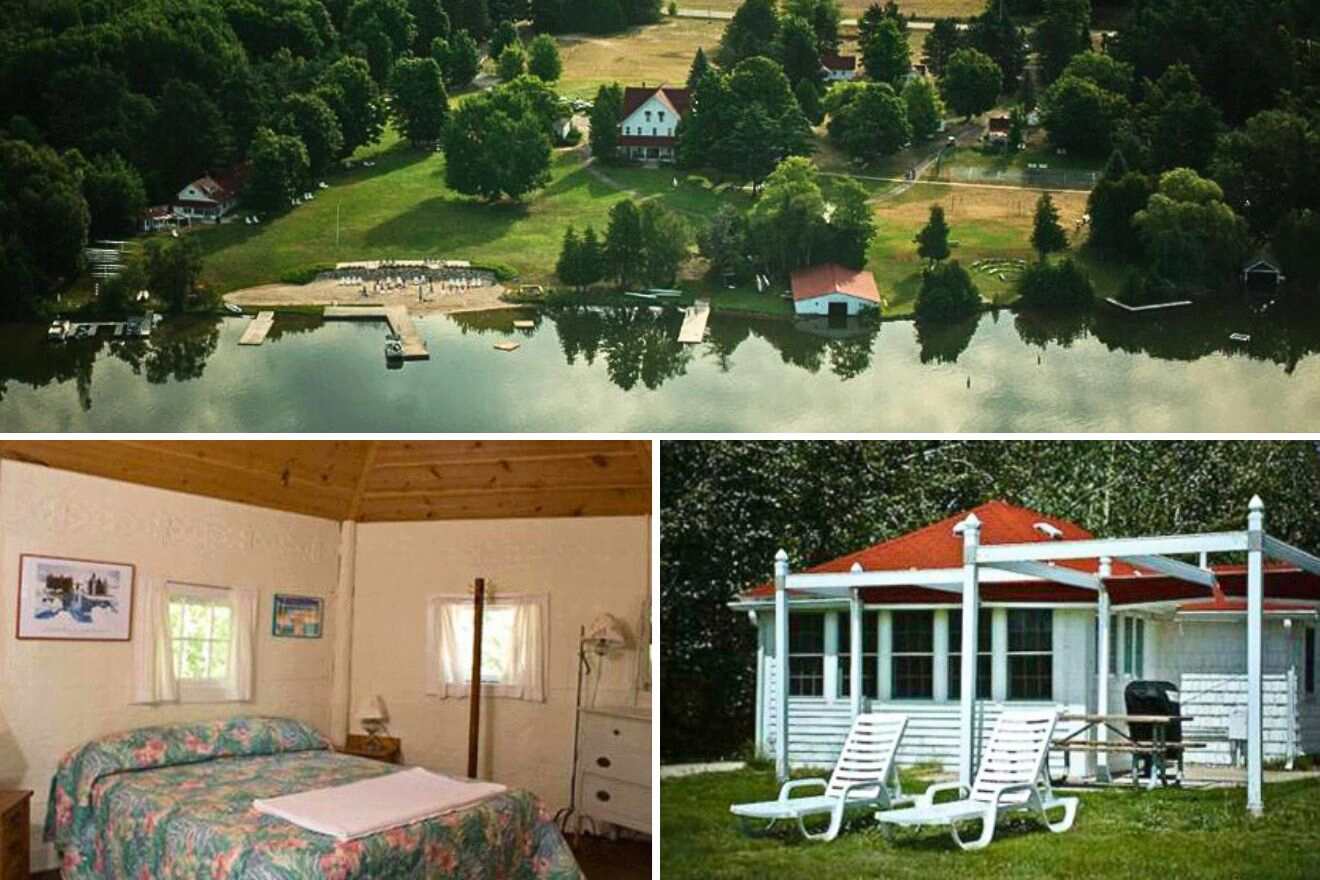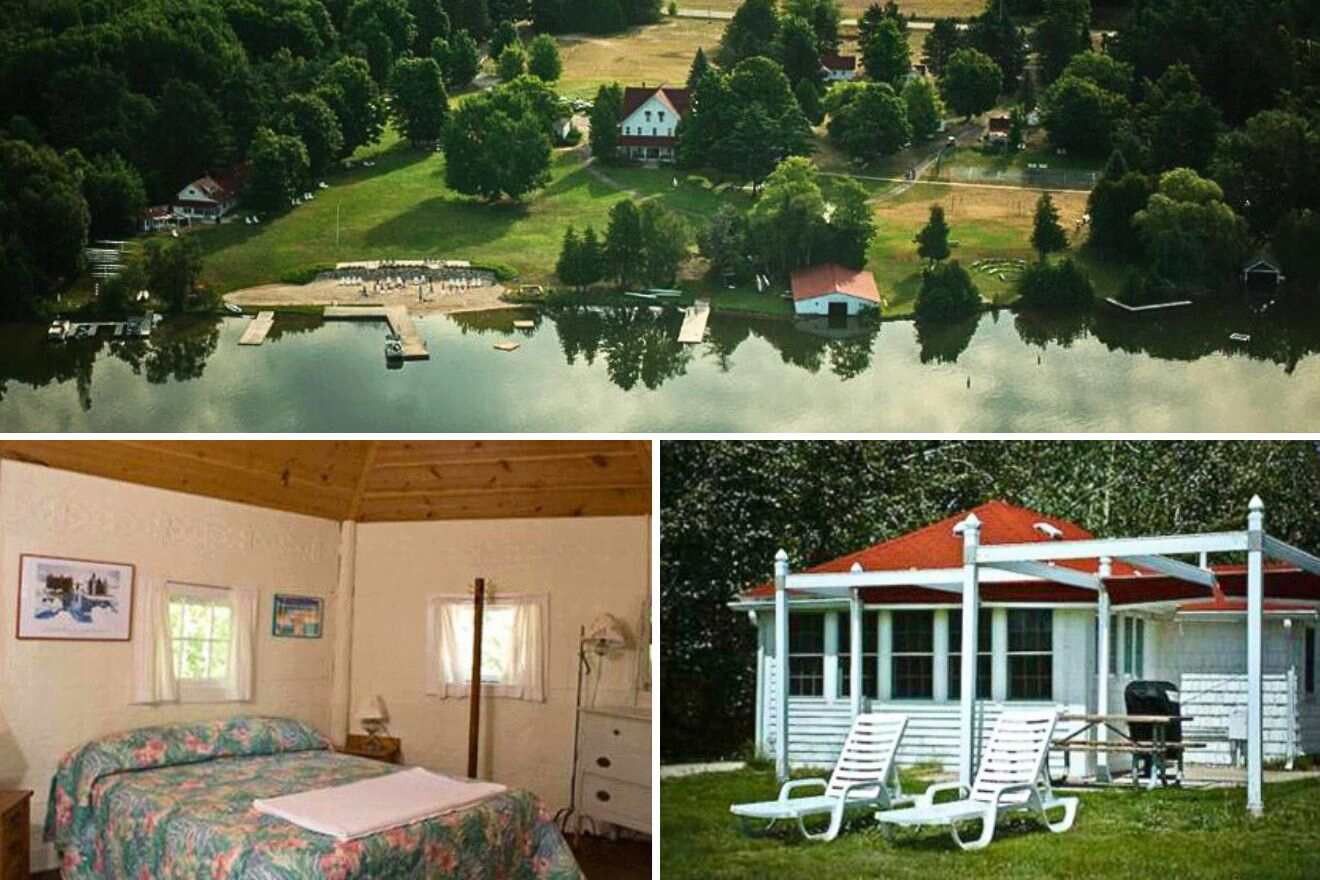 What about staying in a hotel full of history? This hotel was passed from generation to generation, and you can see the history in every piece of furniture and in its immense charm! The property offers a free breakfast to all of the guests, and there is a varied range of rooms and bungalows that will suit any of your needs; there are options for big groups, small groups, with kitchen or without – you choose!
This property is located in Suttons Bay, only 24 miles (38 km) away from Sleeping Bear Dunes, and is just steps away from a beautiful beach with crystal-clear waters. The location is definitely calling to have a romantic picnic with a beautiful view!
13. Leelanau Sands Casino & Lodge – for fun times!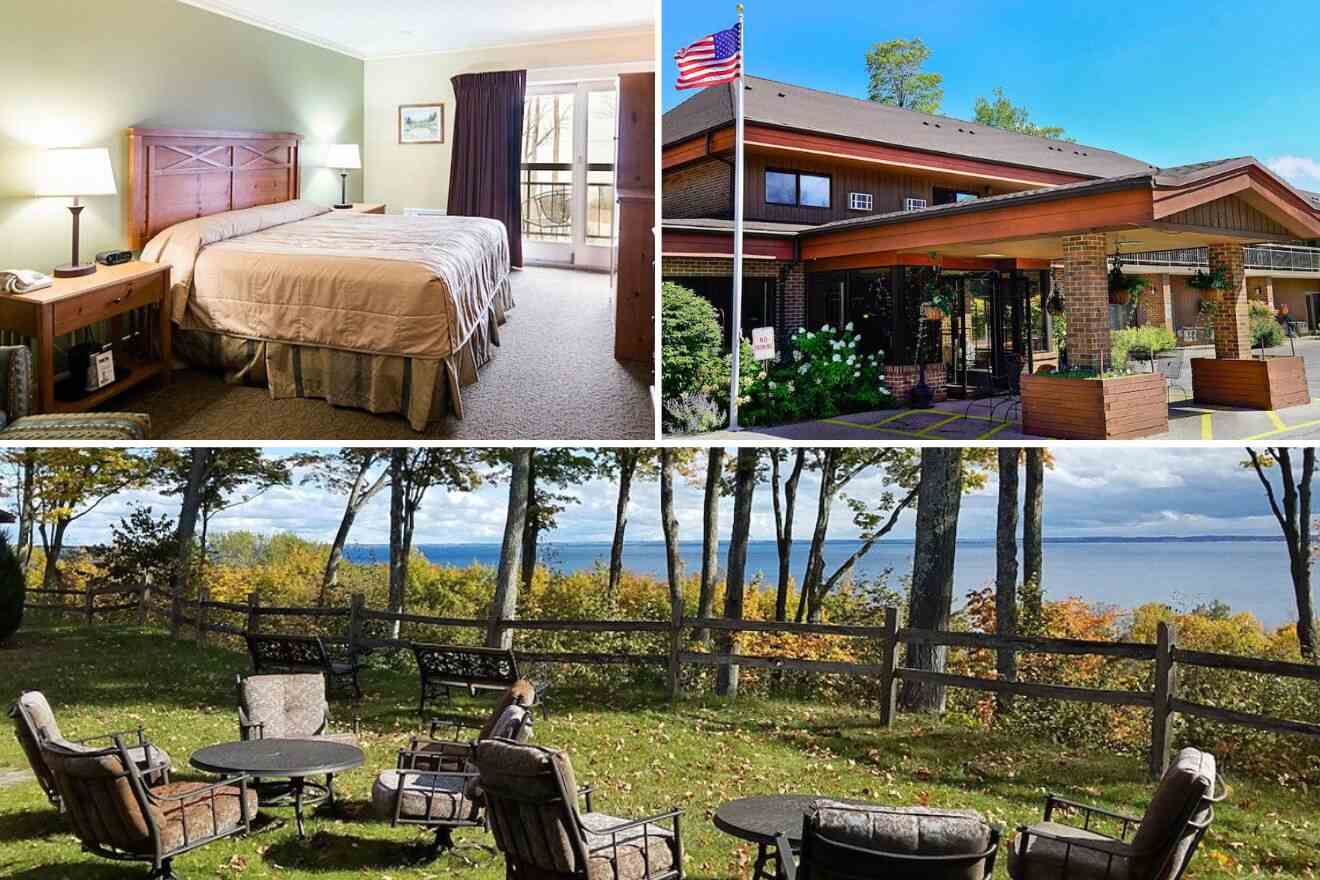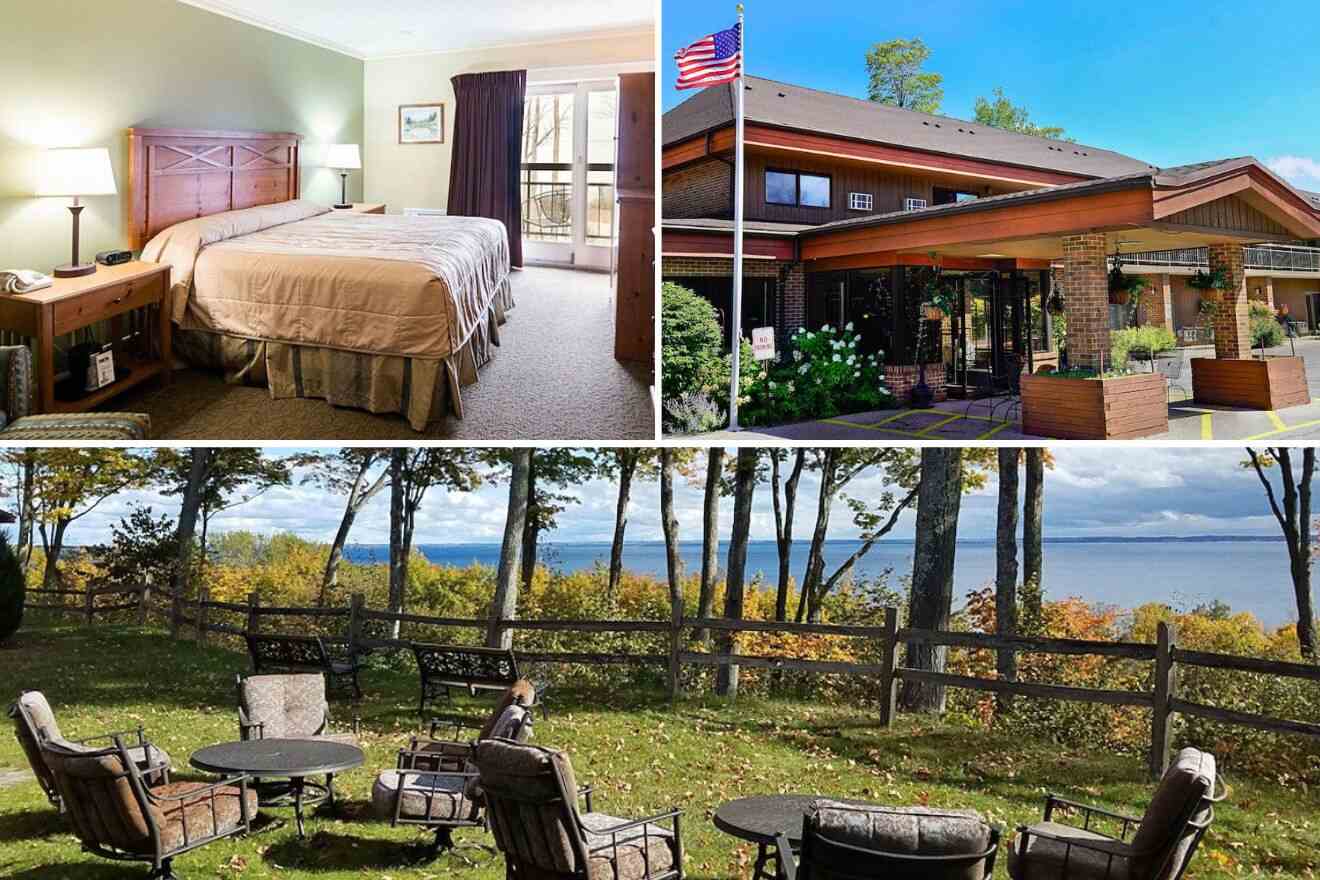 Wow! This hotel has its own casino! Their Cedar Room has plenty of slot machines for all the guests, gaming tables, and even bingo! It also has a beautiful garden with chairs with a stunning view of the ocean, which is simply perfect for relaxing with a glass of wine after a long day spent in nature! So either if you want relaxation or fun, this property has your back!
The rooms are traditional and come with all the amenities you could possibly wish for; some of the rooms come with a balcony and a fantastic view of the bay! The accommodation is located in Suttons Bay, and Sleeping Bear Dunes are located 30 miles (48 km) away from the property!
14. Betsie Riverside Resort – to connect with nature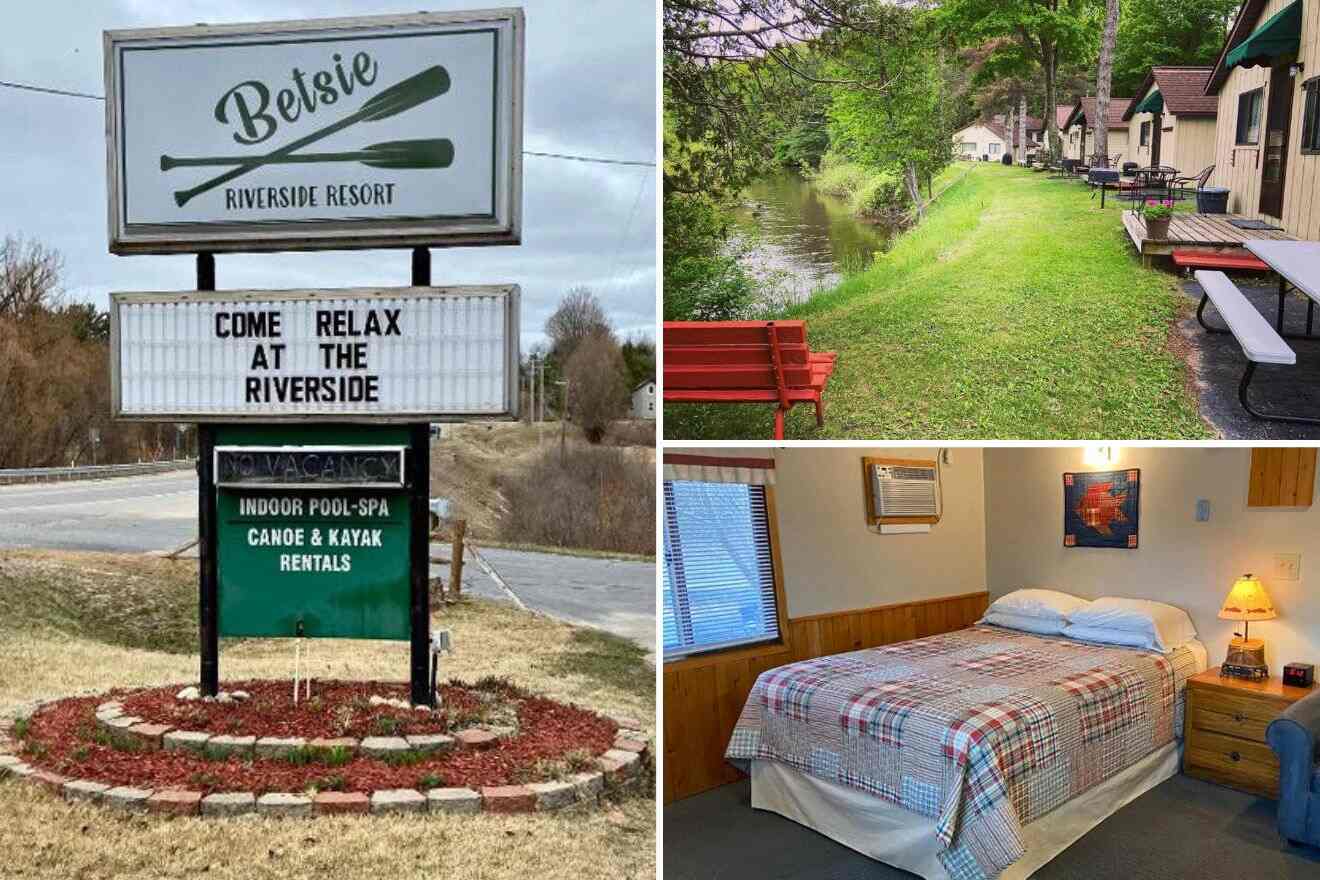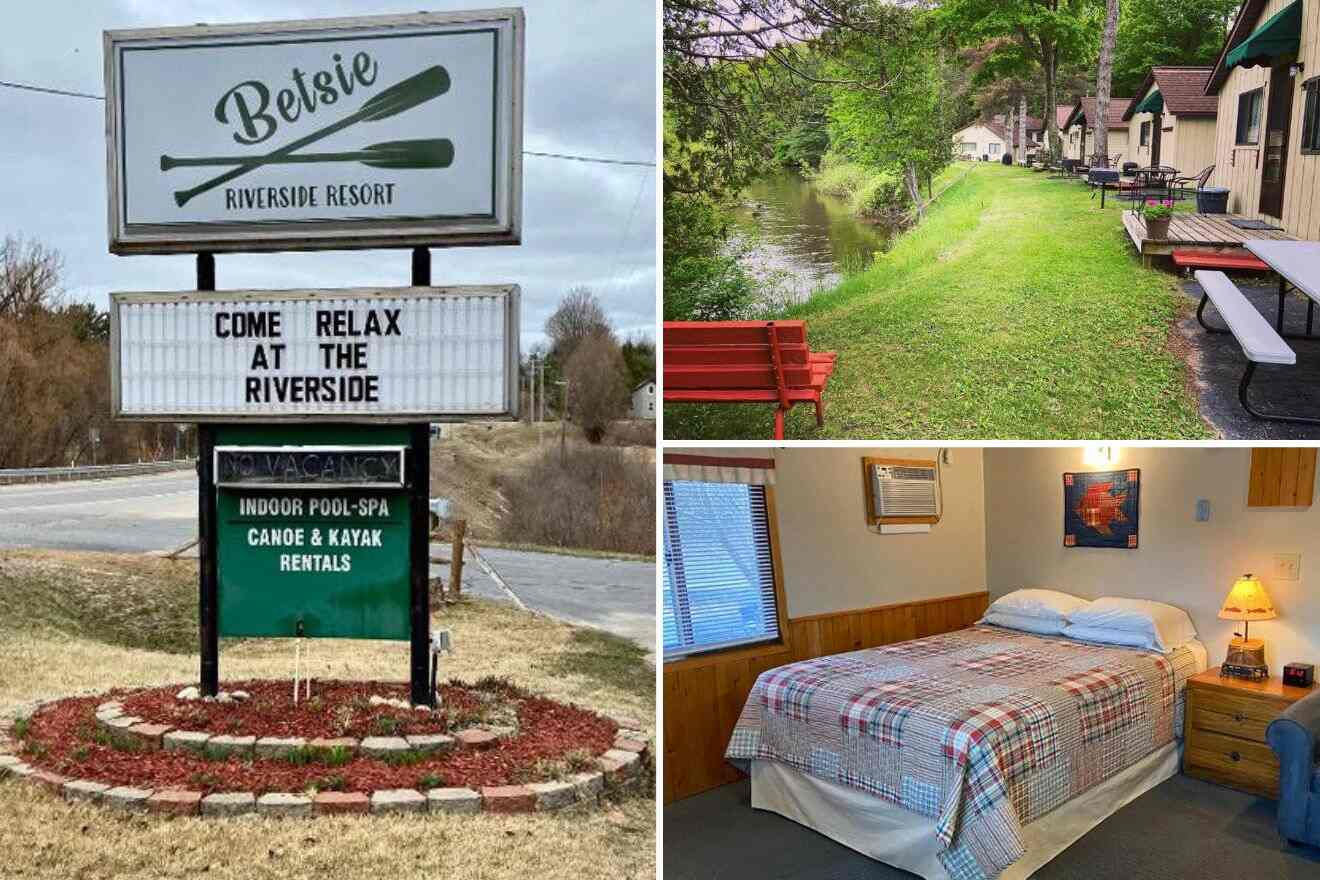 Oh my god! This place is perfect for a real adventure in the wilderness! The location is simply ideal; situated in Benzonia, just 23 miles (37 km) away from Sleeping Bear Dunes, and right by the river, this hotel offers neverending possibilities to spend time in nature. Whether you like hiking, swimming in the river, or going paddleboarding, you will find an activity to spend your days under Michigan's warm sun!
All the accommodations in this property have their own kitchen; imagine waking up and preparing the most delicious breakfast to eat with a fantastic view of the woods! Unbeatable! If you are traveling with big groups, I recommend rooms with 3 or 4 rooms that can host up to 10 guests!
15. Sylvan Inn Bed & Breakfast – scenic landscape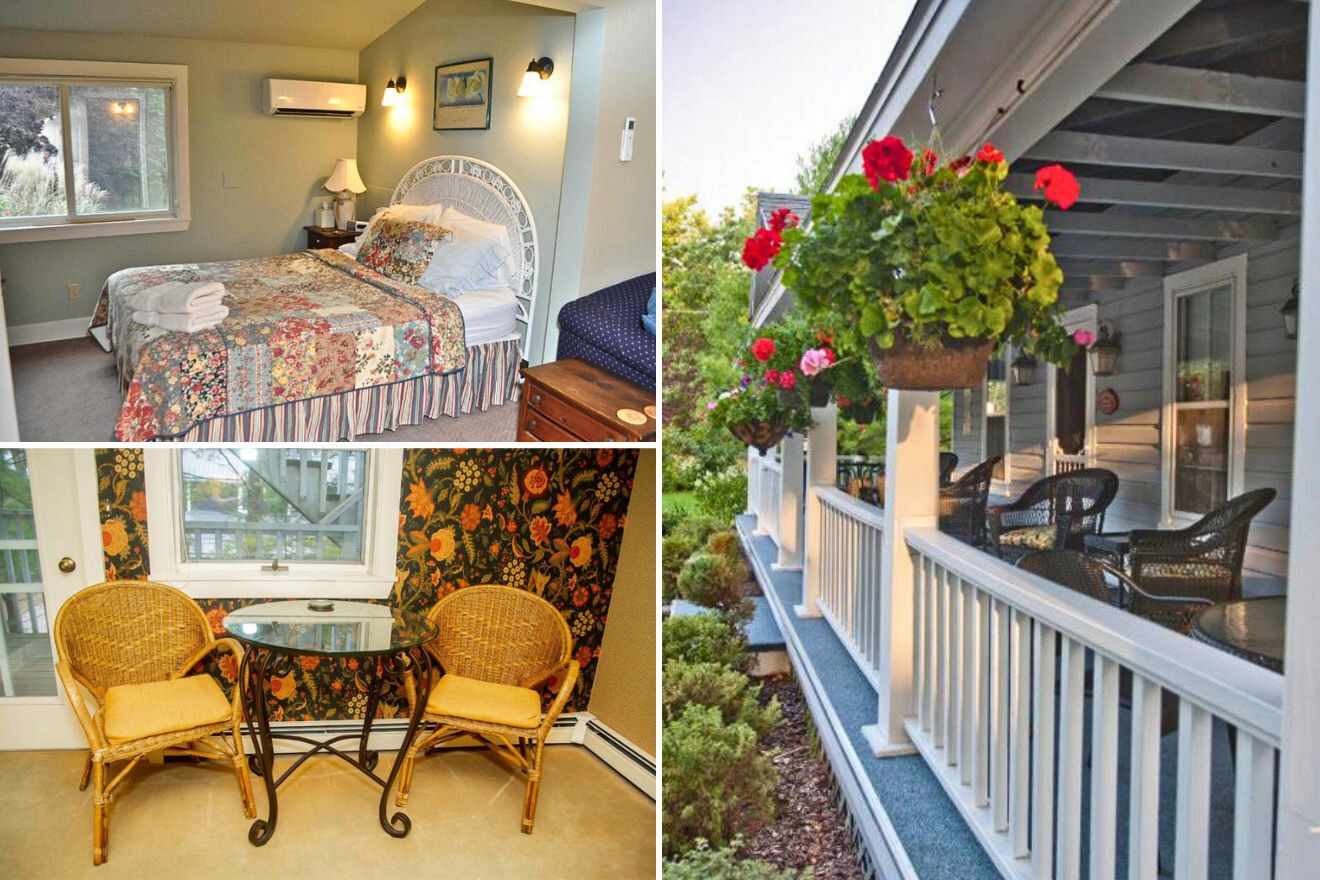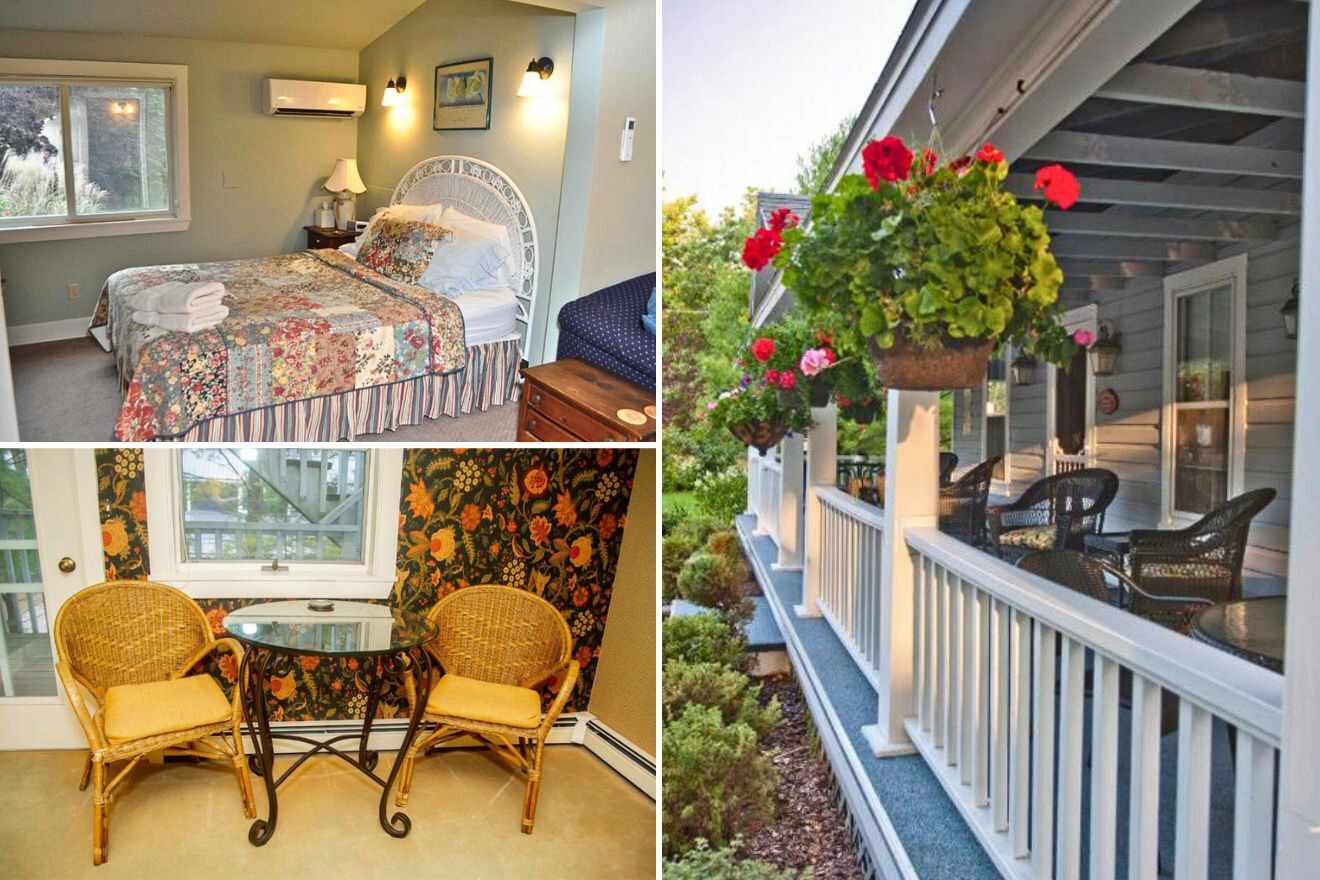 Did I tell you I love Victorian-style accommodations? Well, here is one of them; I love all the beautiful antique furniture pieces in the bedrooms and common spaces, the wallpapers are simply a piece of art, and everything is being kept in an impeccable state! The rooms are a complete dream and will make you feel like you are part of a romantic novel! Some of the rooms have a private bathroom and some a shared one, so keep that in mind when booking!
The location of the bed and breakfast cannot be better, located in Glen Arbor, and with beautiful lake access that will make you feel like a writer when you walk alongside it! The amazing Sleeping Bear Dunes are only a 5-minute car drive away!
16. Northport Inn Boutique – waterfront hotel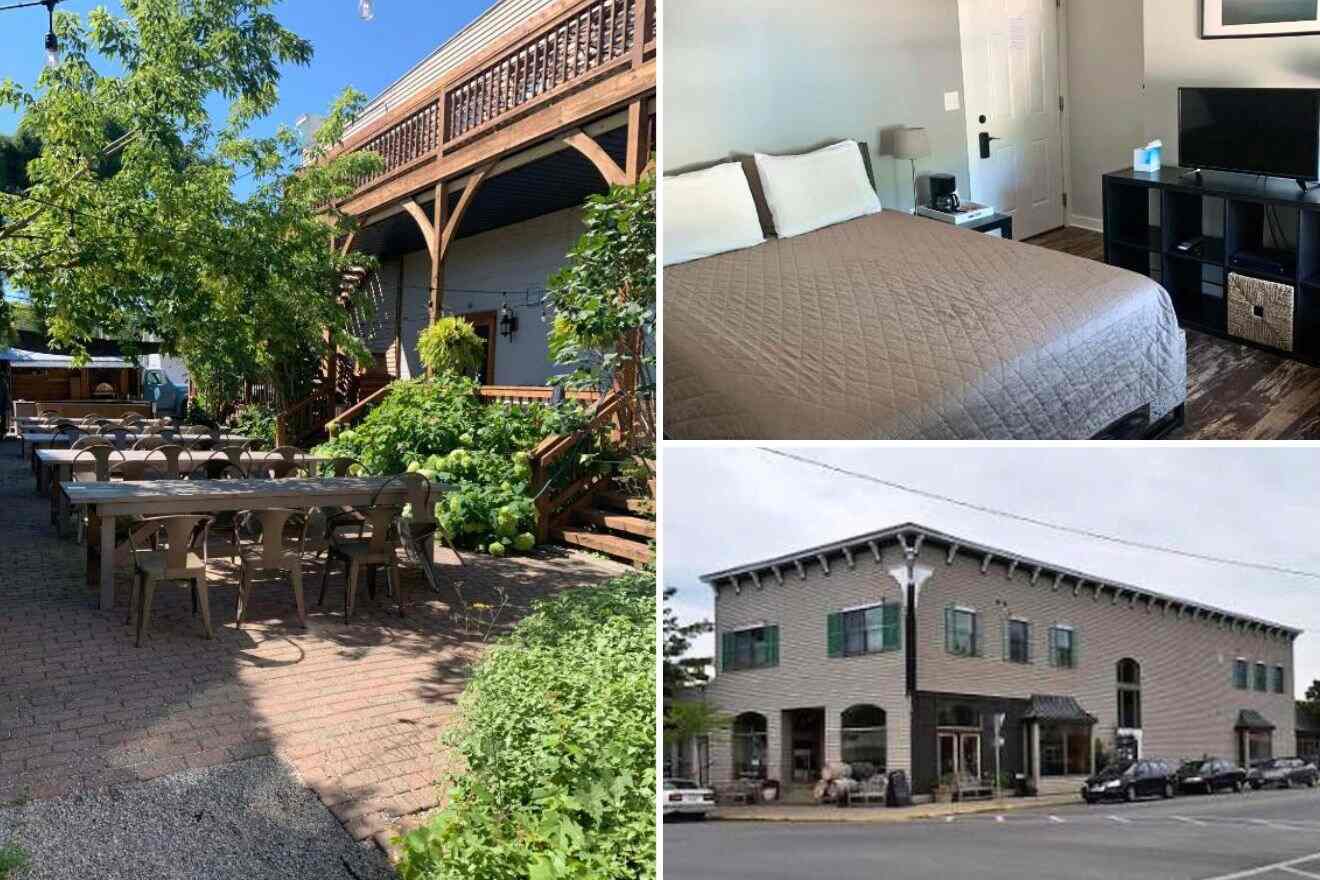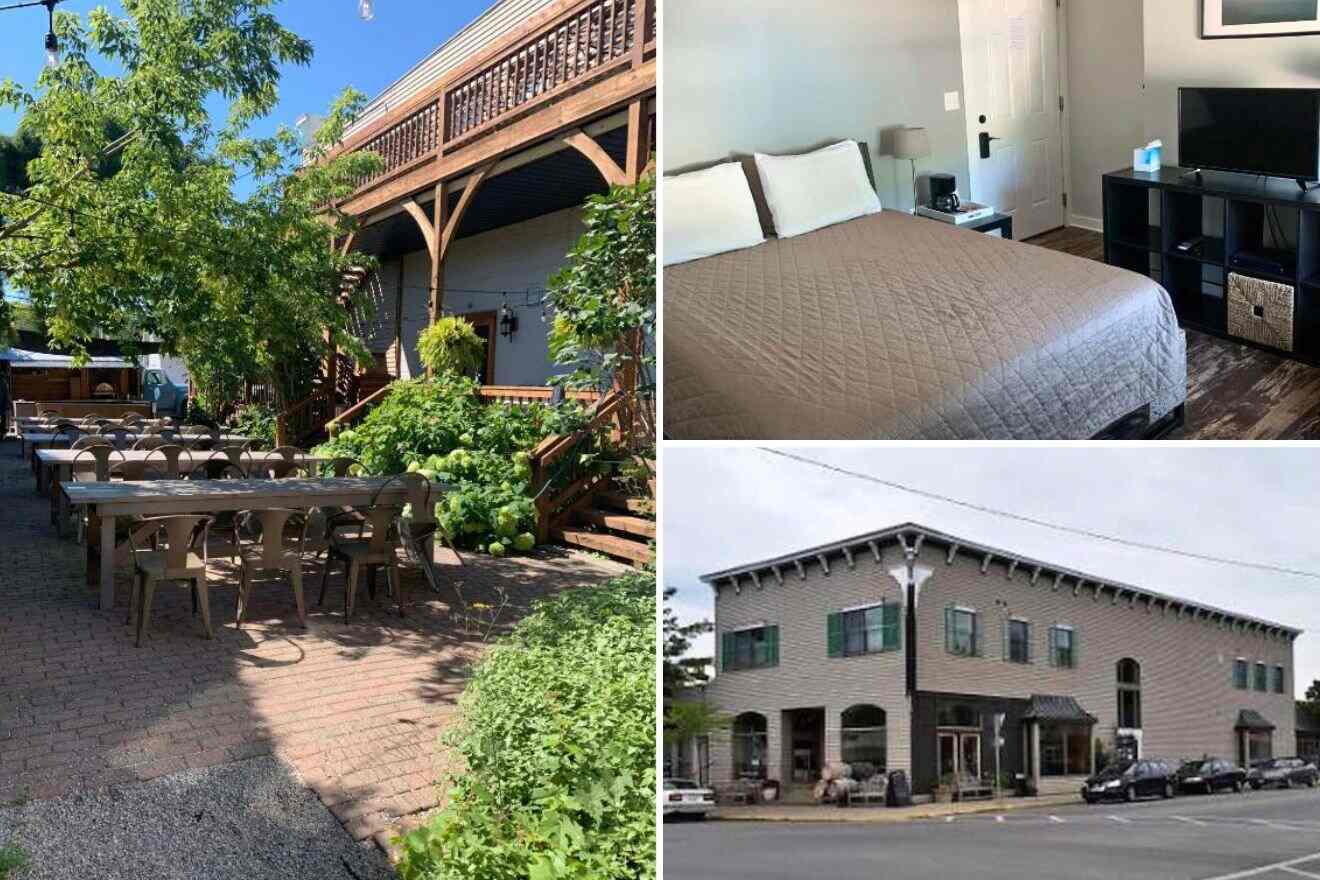 This little hotel looks super modern and cozy, it is located in Northport, so when you walk around the waterfront, you will see many beautiful sailing boats roaming around the clear blue water under beautiful sunny skies! The Sleeping Bear Dunes are 33 miles (45 km) from the property.
If you are traveling by car, you can make use of the hotel's complimentary parking; there is a huge fitness center on the property, and the rooms come with a mini fridge which is more than useful when you need to keep your snacks cold! This property is great for couples or solo travelers!
FAQs about hotels near Sleeping Bear Dunes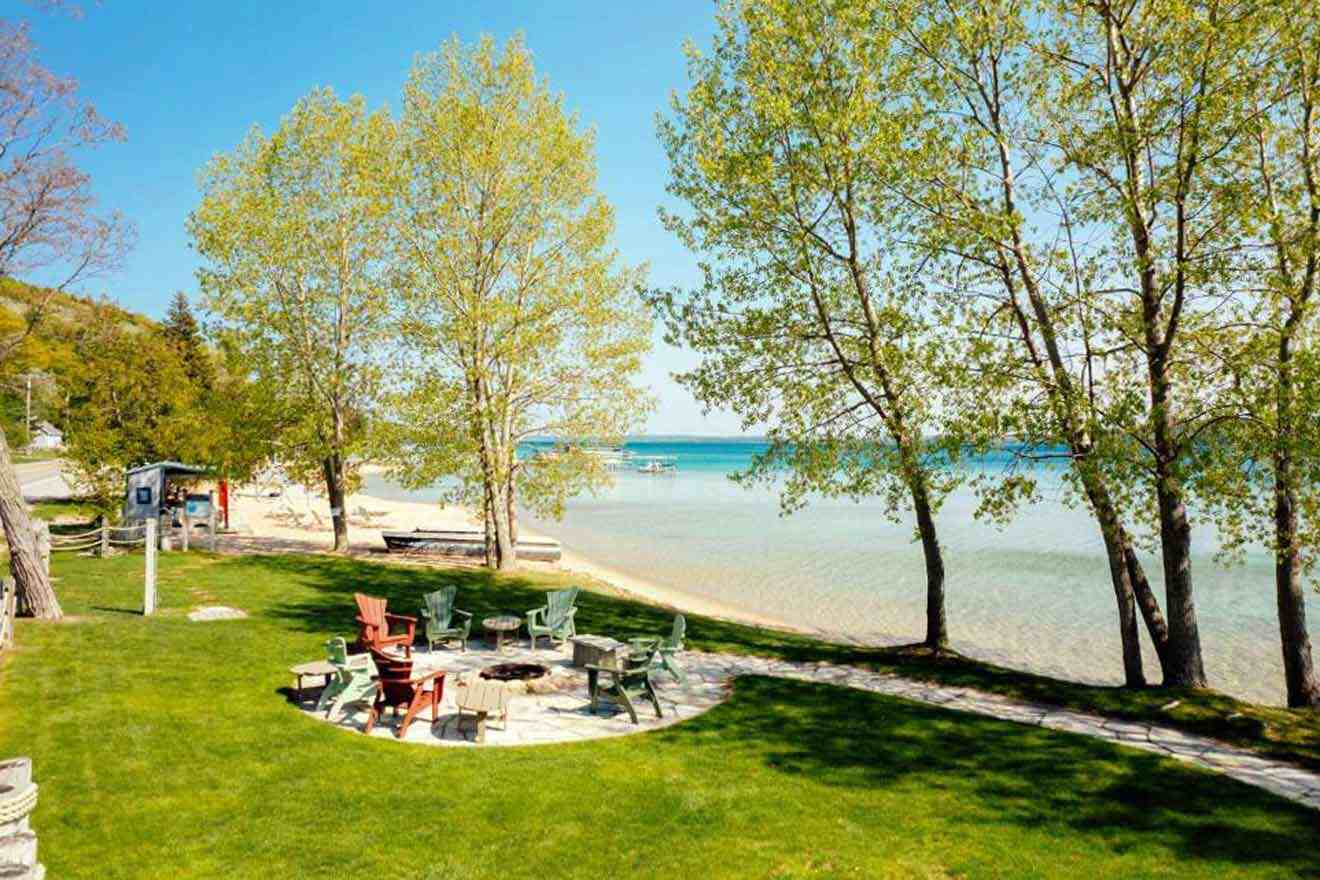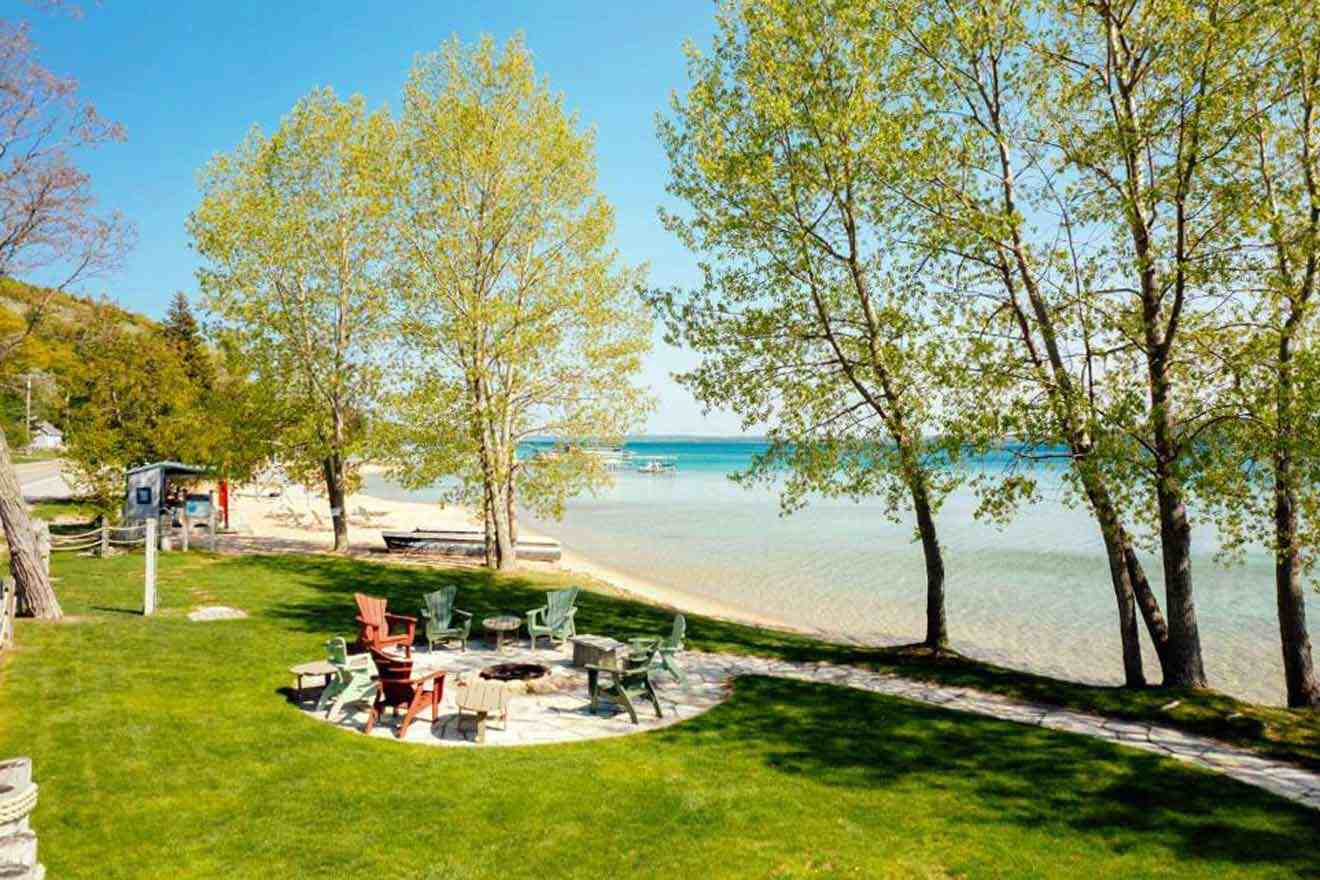 Conclusion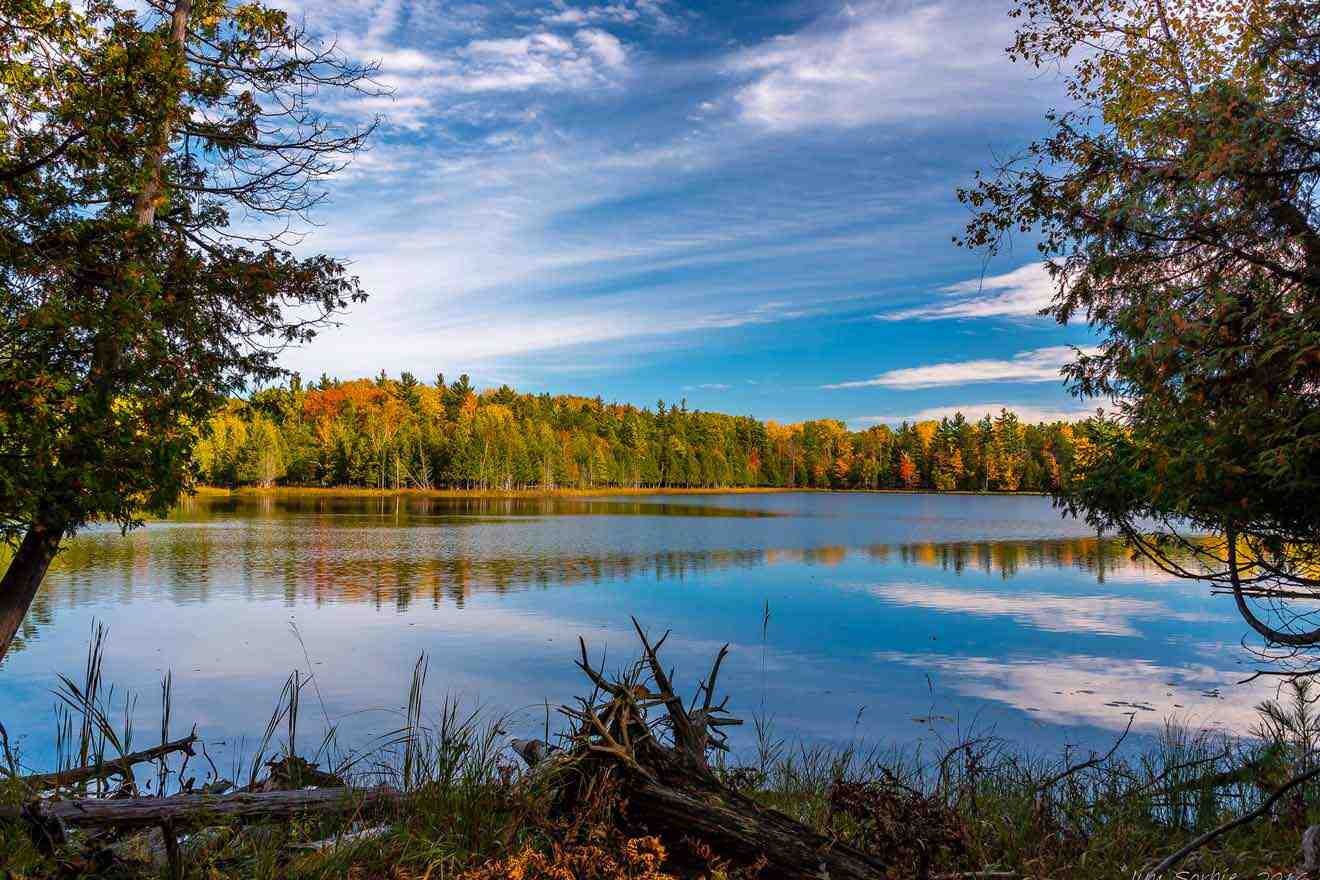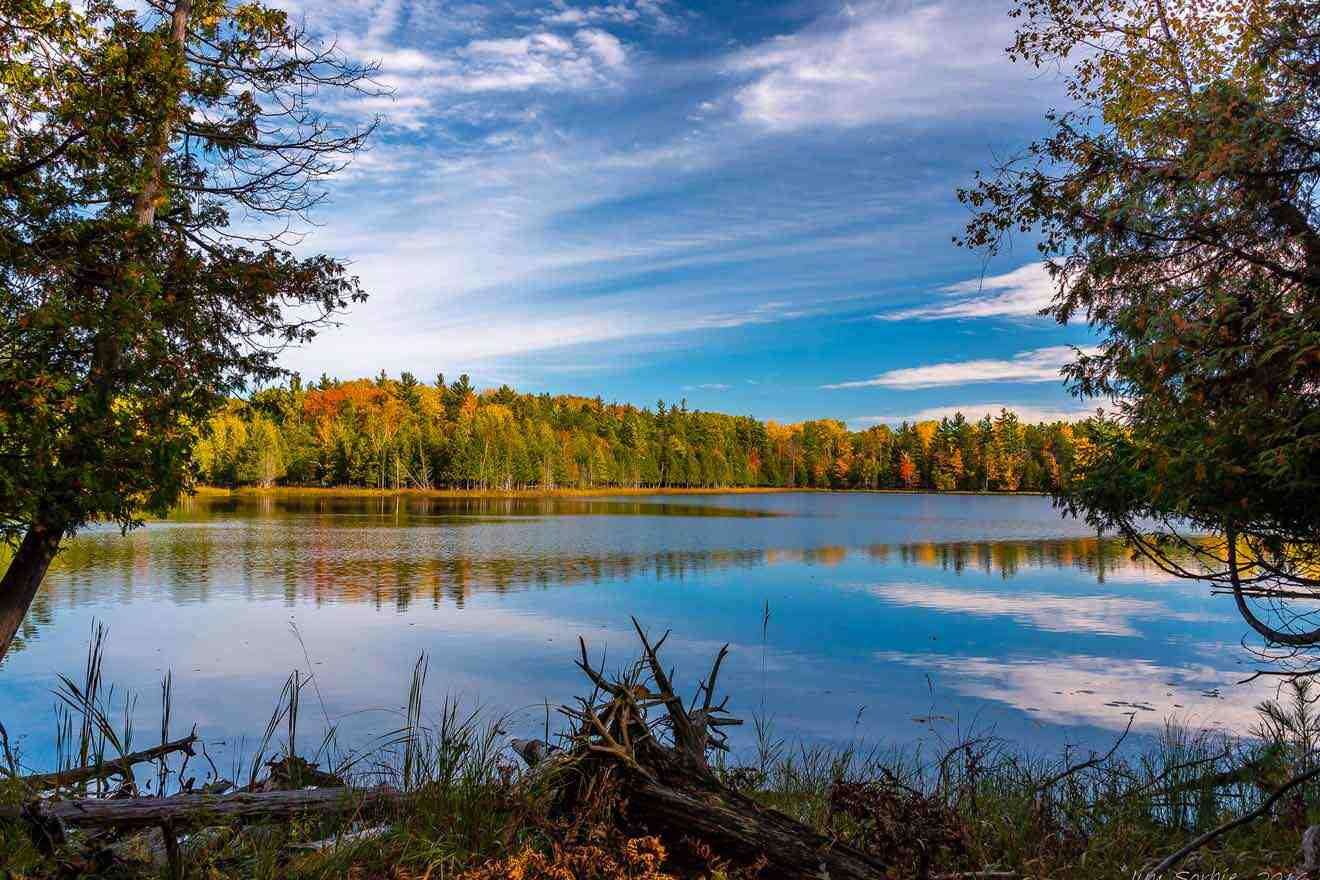 That is a wrap for today, my lovely people! Those were some amazing hotels near Sleeping Bear Dunes! I am super happy you are visiting such an amazing spot in the world, and I am even more happy you have fantastic options of all sizes, budgets, and colors for accommodation, so whatever you choose, you will be making the right choice!
Honestly, all the hotels are simply amazing, and I would be more than happy to stay in any of these, but if I have to name my 2 top favorites, I would go with:
Chimney Corners Resort – I love the surroundings of this hotel; the beach, the woods, and the decoration are simply tasteful!
Sylvan Inn Bed and Breakfast – You knew I was gonna choose the Victorian-style hotel! There are 2 in this post, but definitely, this is my favorite!
Which of these hotels near Sleeping Bear Dunes is your favorite? Have you ever stayed in any of these? Drop me a comment if you have!
Let me know if you have any questions in the comments, and right after go and book the hotel of your dreams! this destination and these hotels are super popular, and they get booked super quickly!
Until the next adventure,
Daniela
---
Pin it for later!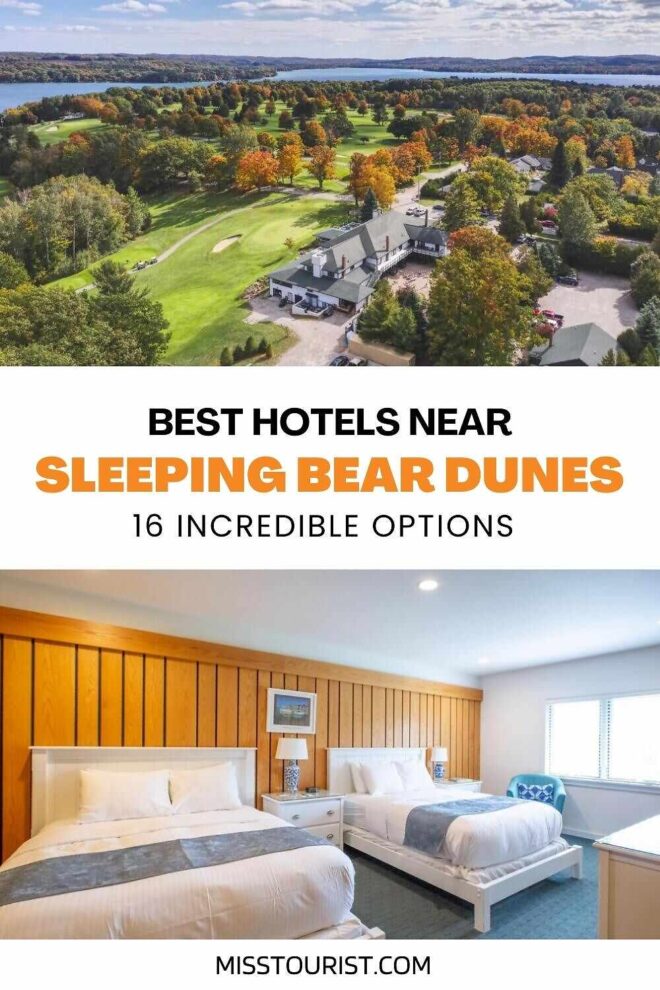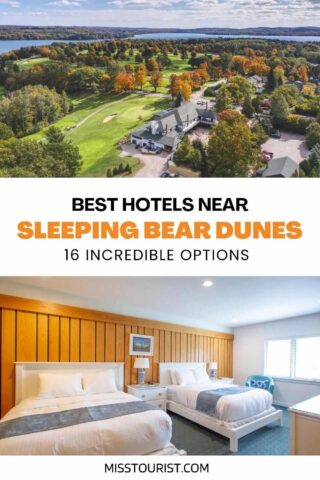 Pin it for later!