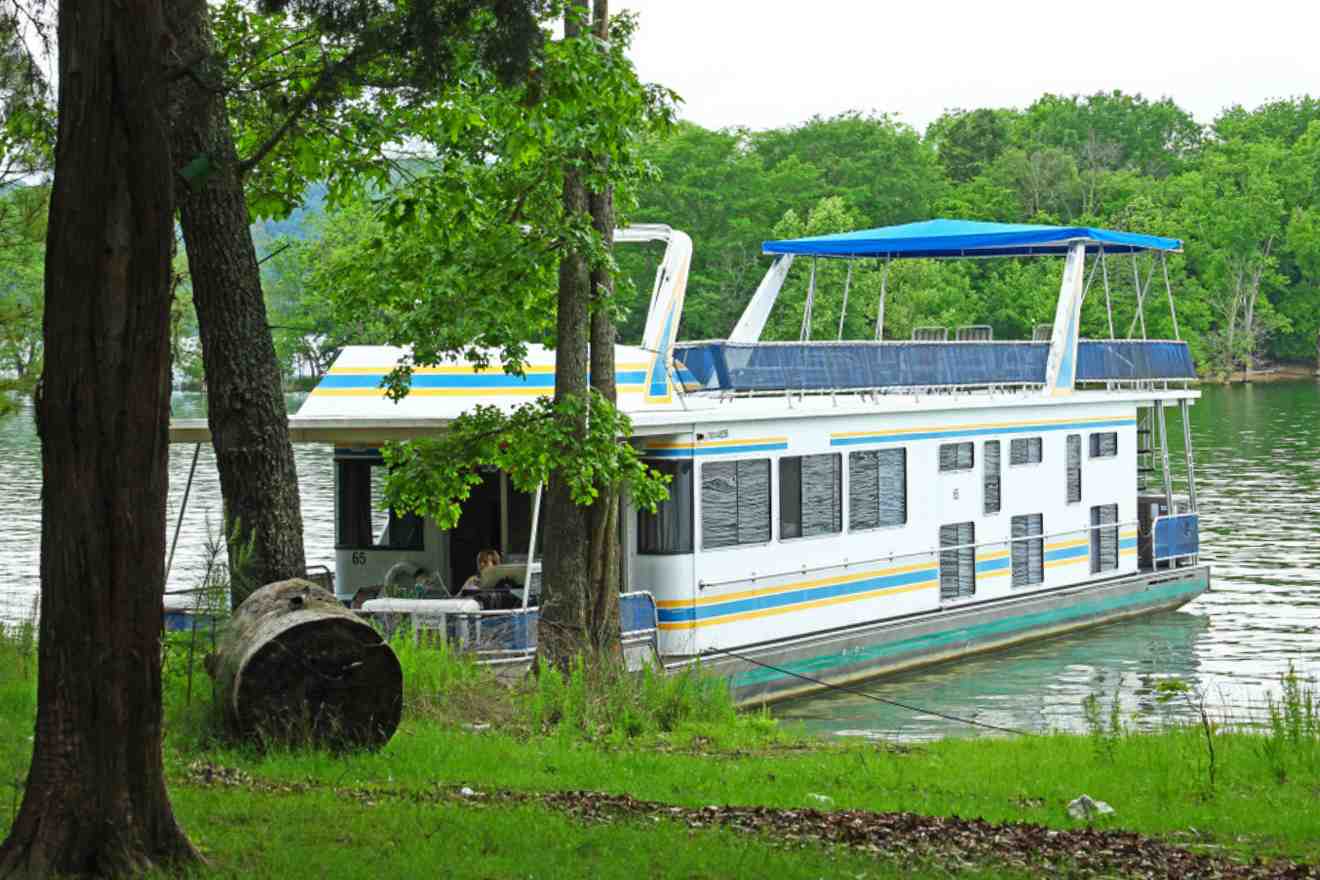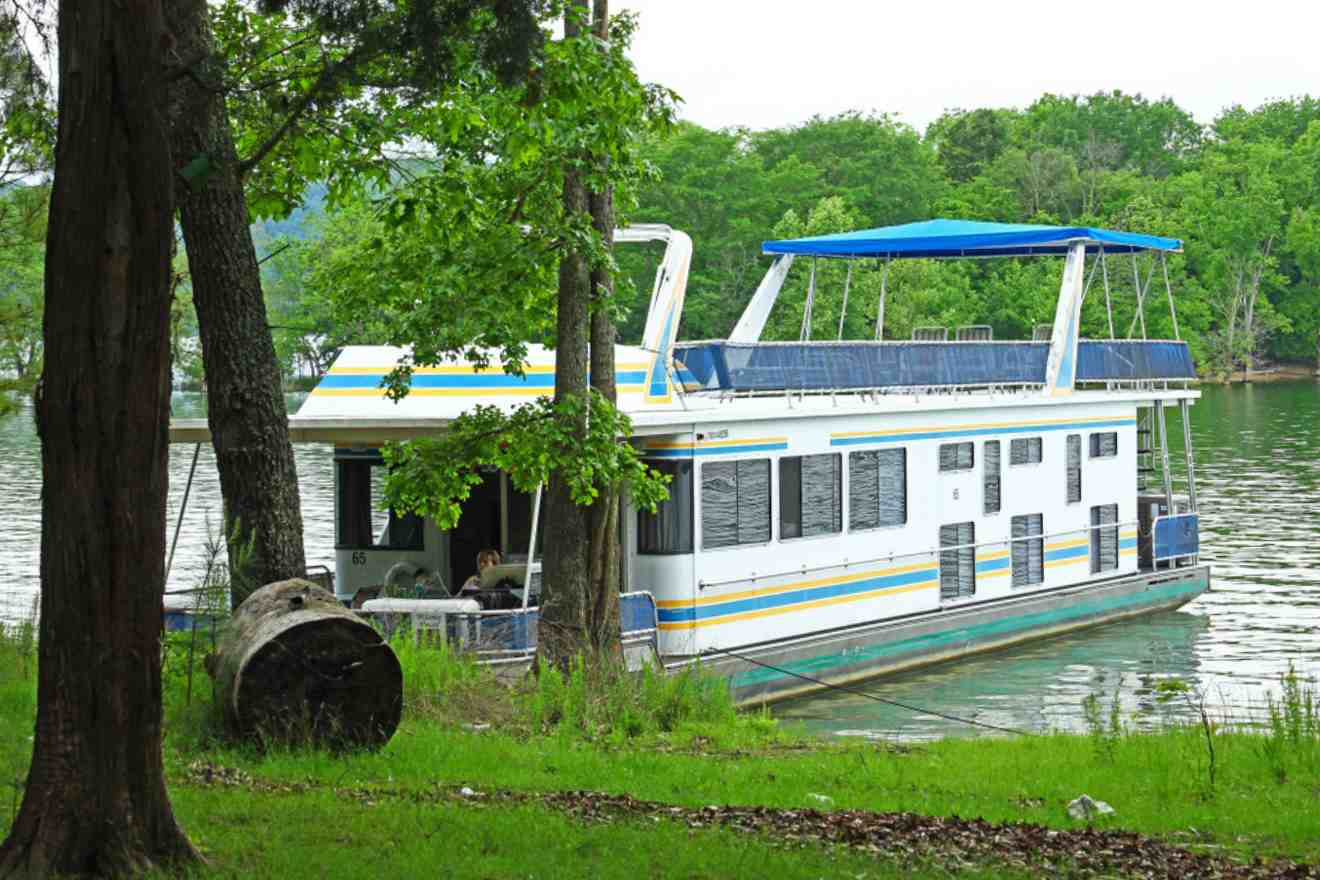 Can you hear that? Nature's calling! And if you want to answer that call, then come along with me, as today, we'll discover some unbelievable floating houses in Tennessee!
If you've had enough hotel rooms, then check out this list of the best houseboat rentals in Tennessee! I've looked on the web and found some incredible places which I ordered from most to least spacious so you can quickly pick the one you love!
And since we're talking about such a big state with many incredible accommodations, I've also added a short bonus with some great houses with a lake view.
I would definitely recommend making your reservation in advance and preparing for your visit, as these houseboats are some of the best ones and most likely will sell out super fast.
Ay, Captain, we're ready to embark on this trip!
If you are in a hurry
No worries if you can't make it through the whole post. I've made this short list of the best-floating houses in Tennessee so you can quickly find your favorite:
Check out the map below if you need a bit of guidance finding the location of each houseboat rental in Tennessee:
1. Norris Lake Floating Home – for a relaxing trip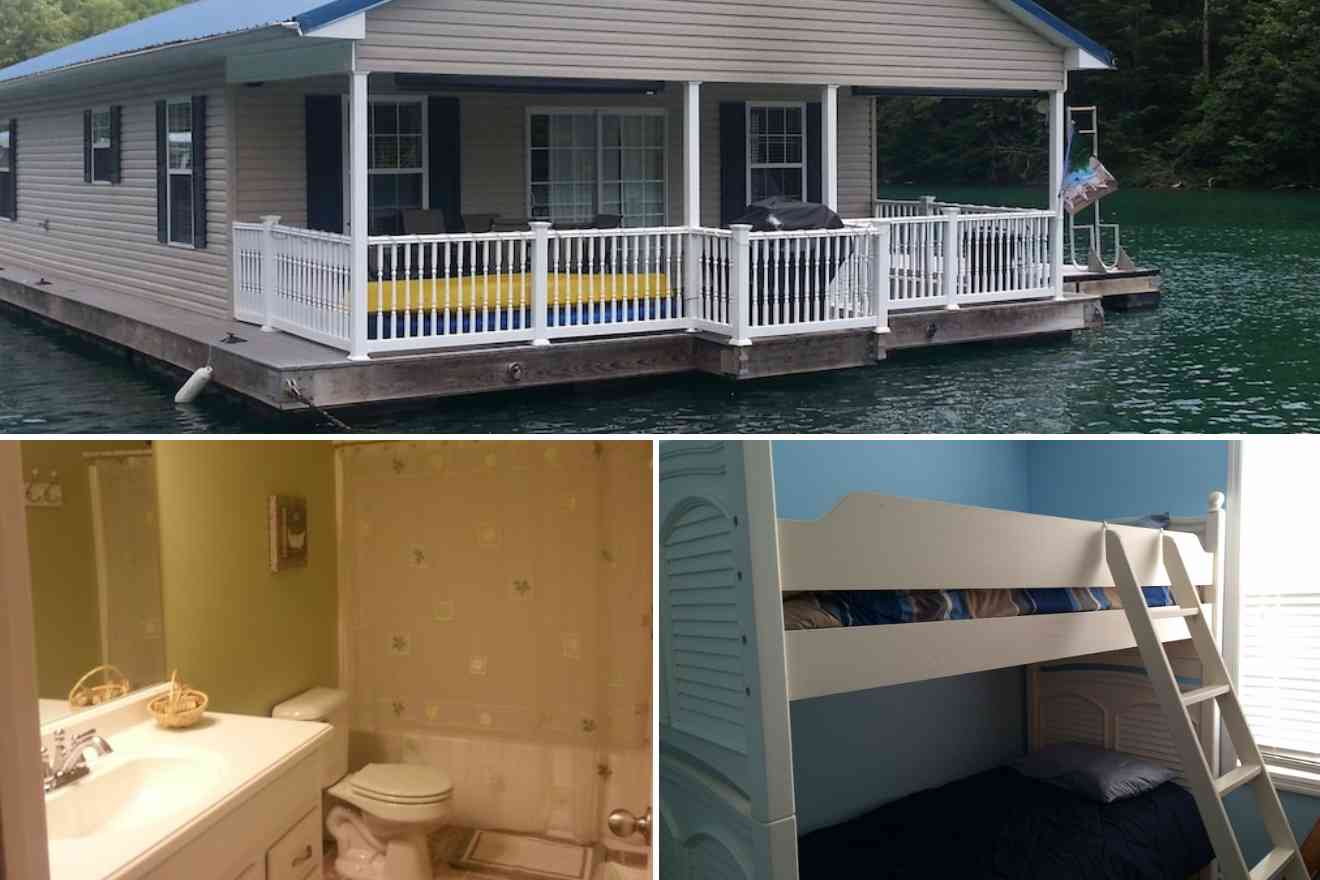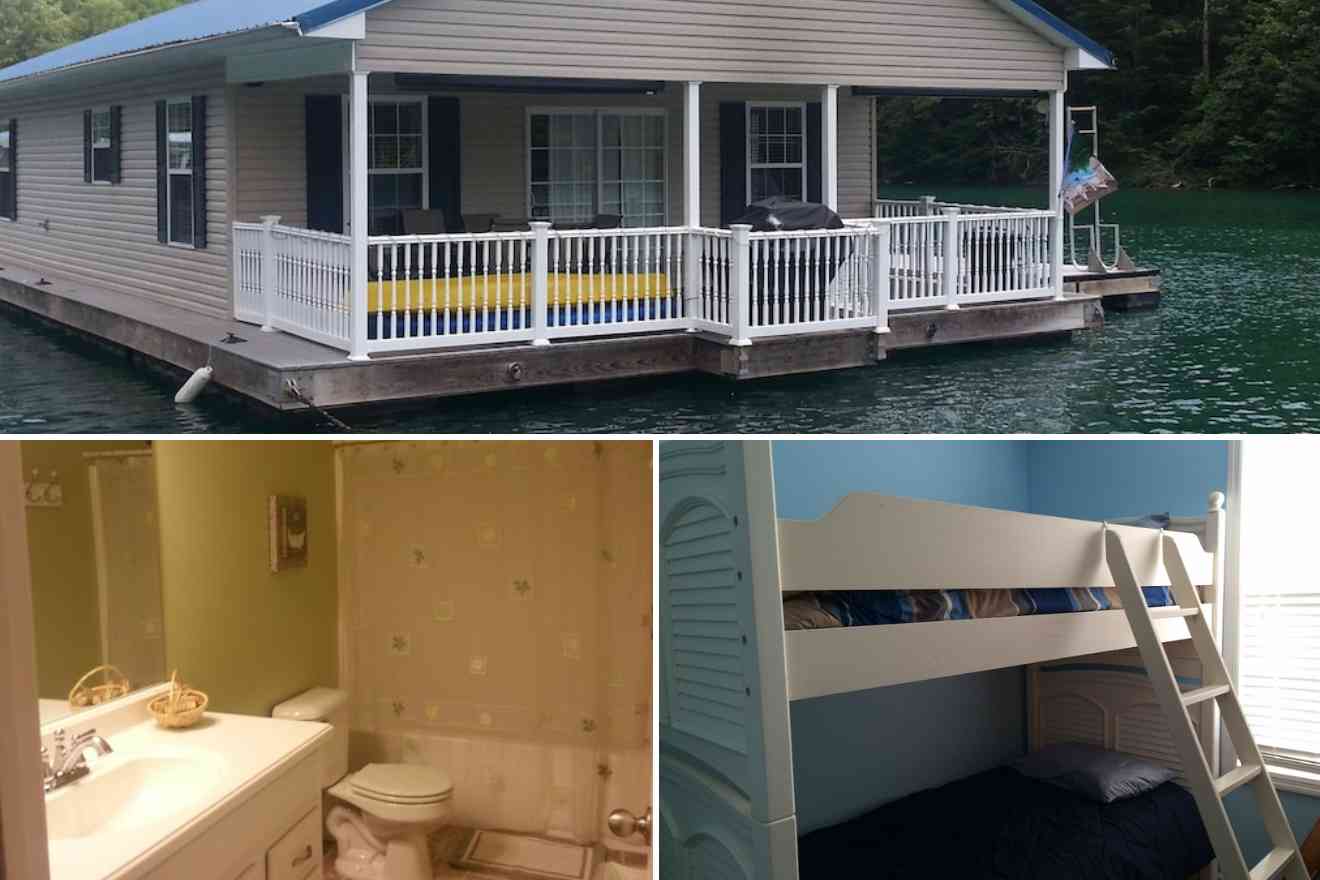 Set on the scenic Norris Lake at Whitman Hollow Marina, this beautiful floating house has space for 10 guests and all the amenities you need for a relaxing and fun stay! Wake up to a beautiful sight and enjoy your coffee on the porch while admiring the view.
The accommodation offers easy access to a swim deck so you can jump from your bed straight into the water and have a great time! You'll find lots of facilities here, including air-conditioning, free Wi-Fi, a full kitchen and a TV. Guests can also use the kayak and explore the lake during the vacation.
2. Knoxville Luxury Boat – a modern place with cool decor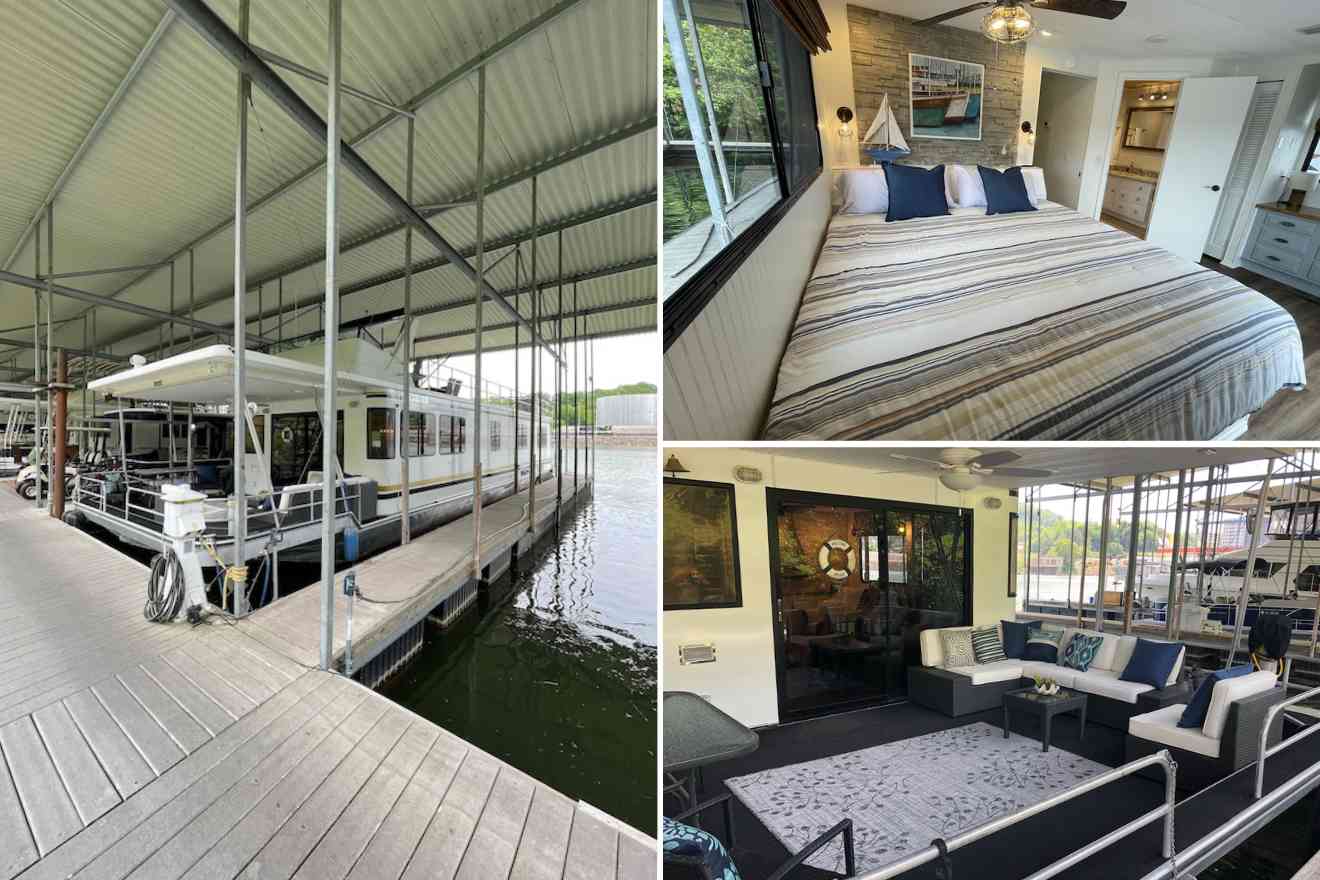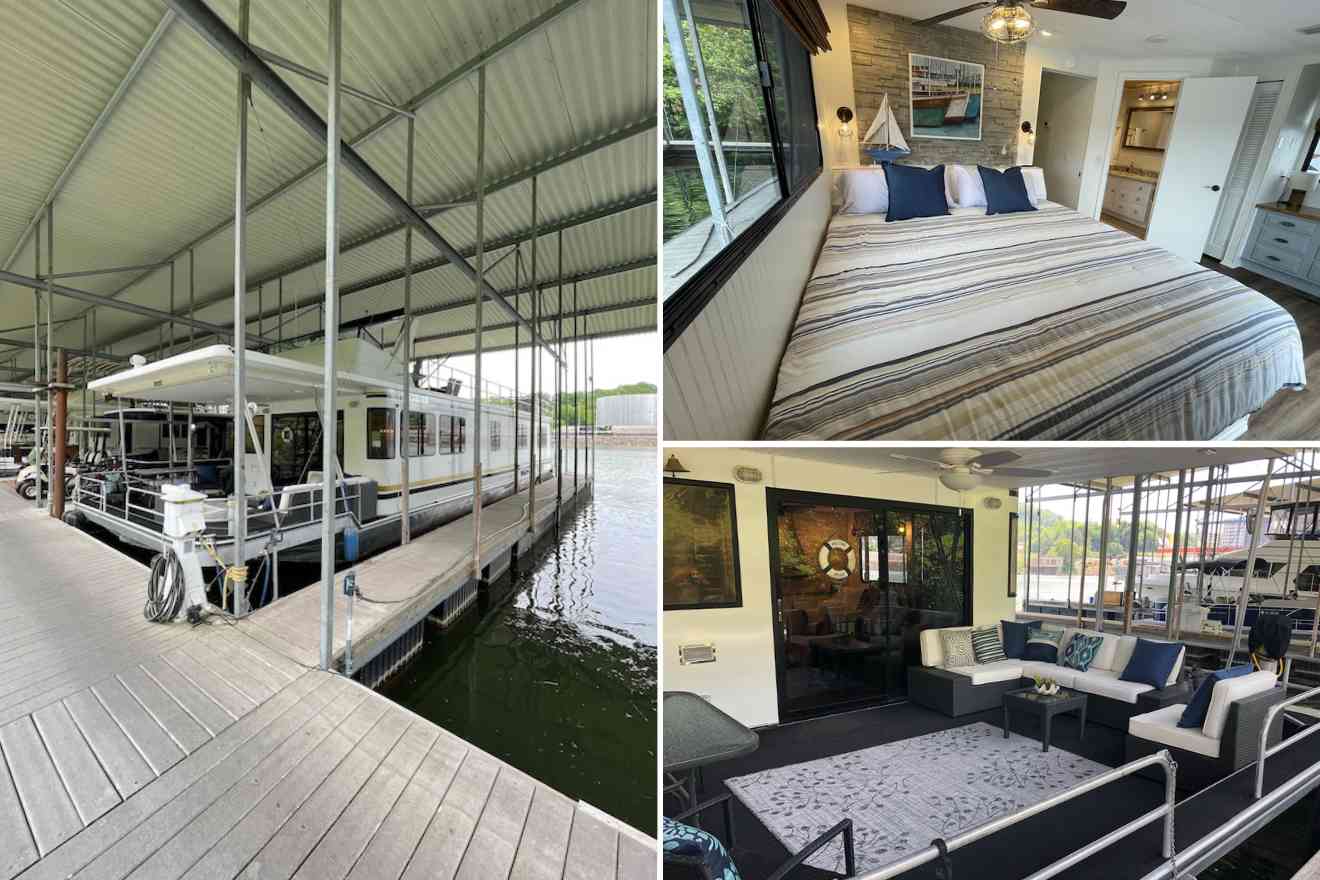 This beautifully renovated houseboat, with a great location in Knoxville at Volunteer Landing Marina, is perfect for your vacation! With space for 10 guests, the accommodation features lovely decor that will make you feel right at home and lots of amenities that will help in making your trip as relaxing as possible!
I'm sure you're going to love the rooftop deck, which is the perfect place to spend your morning or night, admiring the breathtaking views or enjoying your meals with your friends and family. The houseboat comes with a full kitchen, a dining room, and even some games for kids.
3. Whitman Hollow Marina – a secluded spot with great views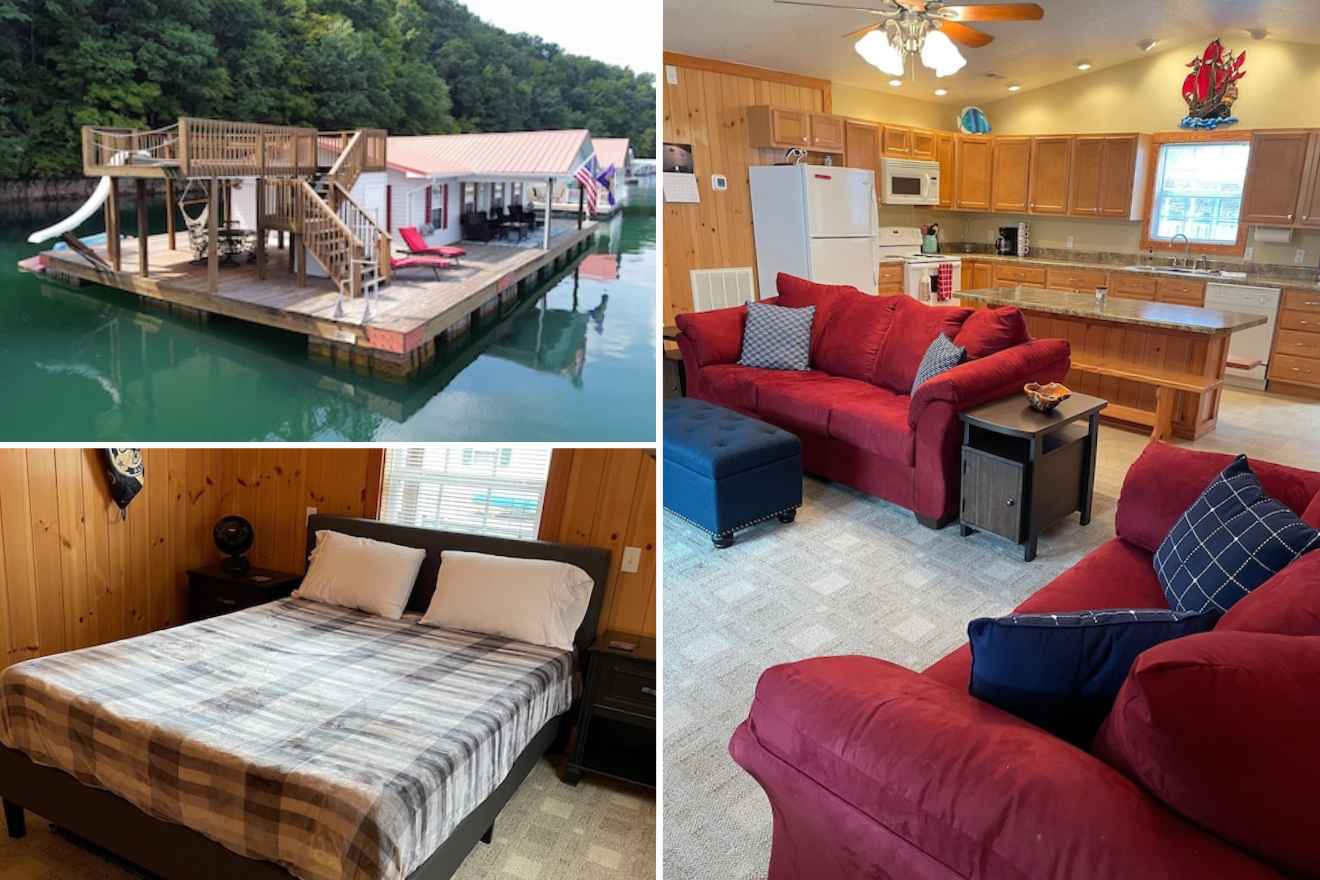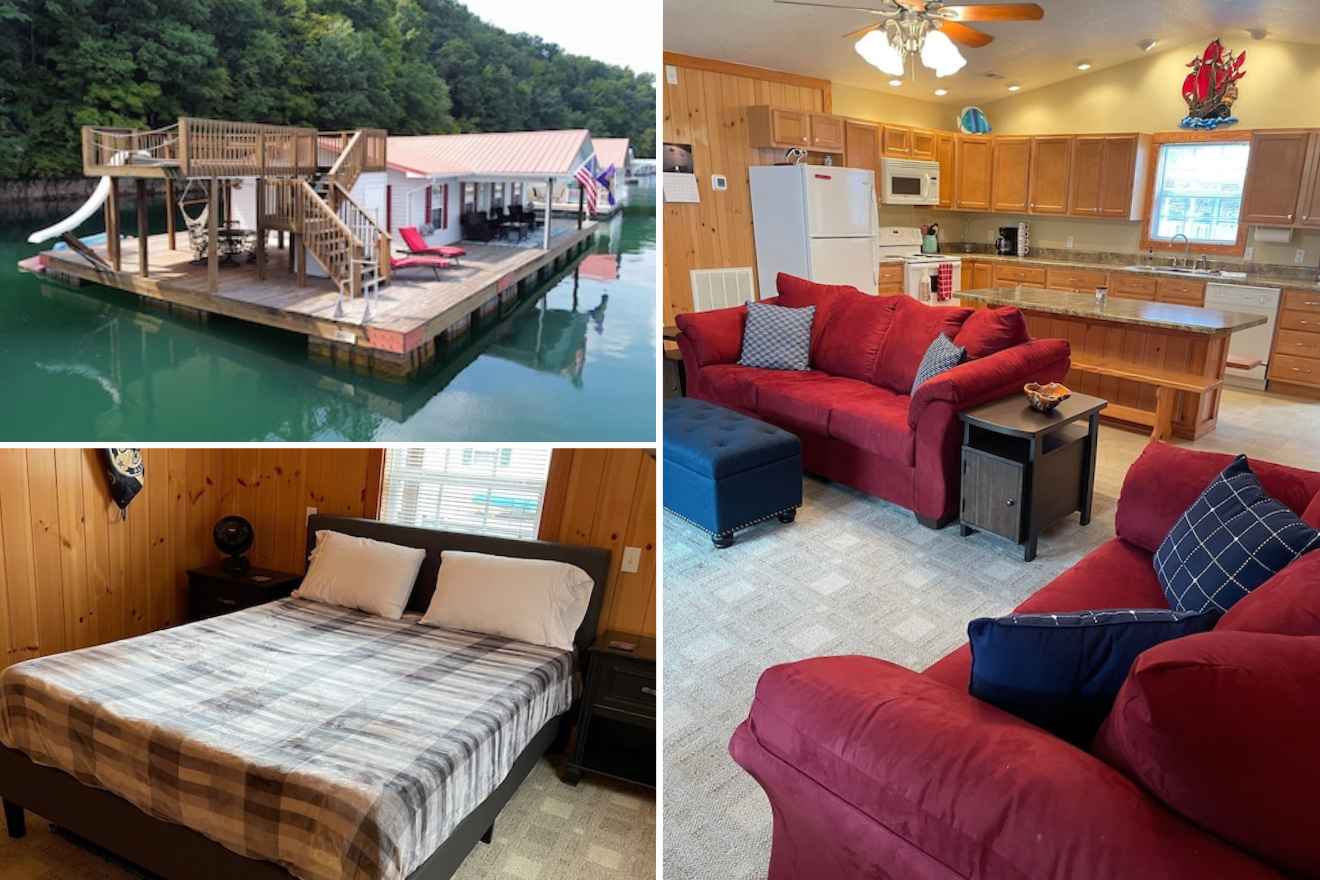 Ready for a vacation filled with fun activities and water activities? Then you'll need a proper houseboat with a great location! This one, which is set at Whitman Hollow Marina, has room for 10 guests, and you can only access it by boat. Which makes it perfect for anyone who wants a really secluded place.
You can start your days with a quick swim in the lake to wake up and then maybe relax on the top deck and get your daily dose of vitamin D! The houseboat has many amenities, including air conditioning, a complete kitchen, free Wi-Fi, and a washing machine.
4. Campbell County Houseboat – a great place for families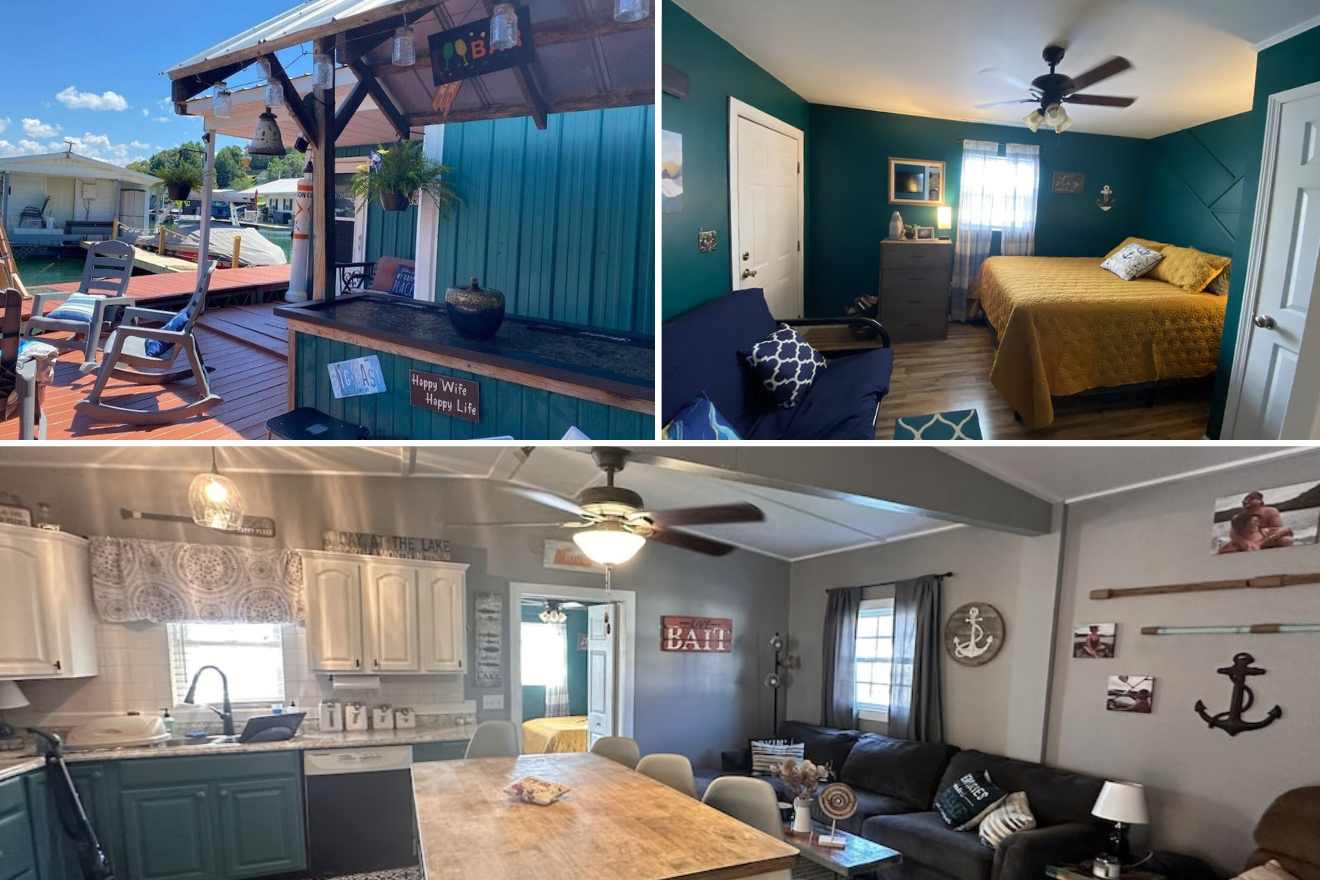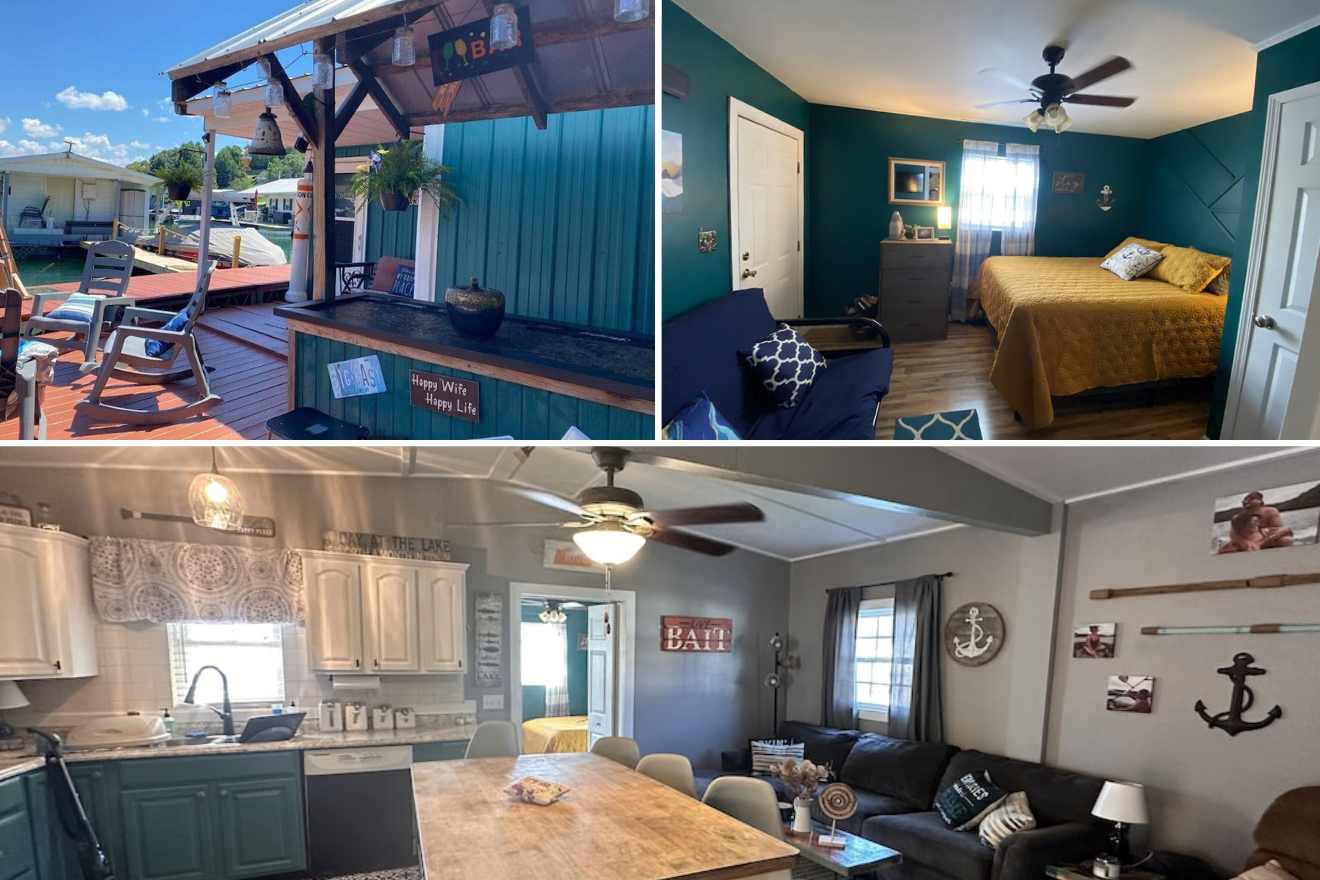 Who's excited to explore Norris Lake and have fun swimming and kayaking? If that's you, then check out this fabulous houseboat! With space for 9 guests, the accommodation offers a great location, a water slide so you can jump right in for a swim and a complete kitchen.
When you're not out and about, enjoy some relaxing time on the outdoor patio by catching up on some reading or just chilling in the sun. At night you can even light up the fire pit and sit with your friends and family around it! Don't forget to book your houseboats in Tennessee early because they'll definitely sell out fast!
5. Norris Lake Floating House – a fully-equipped place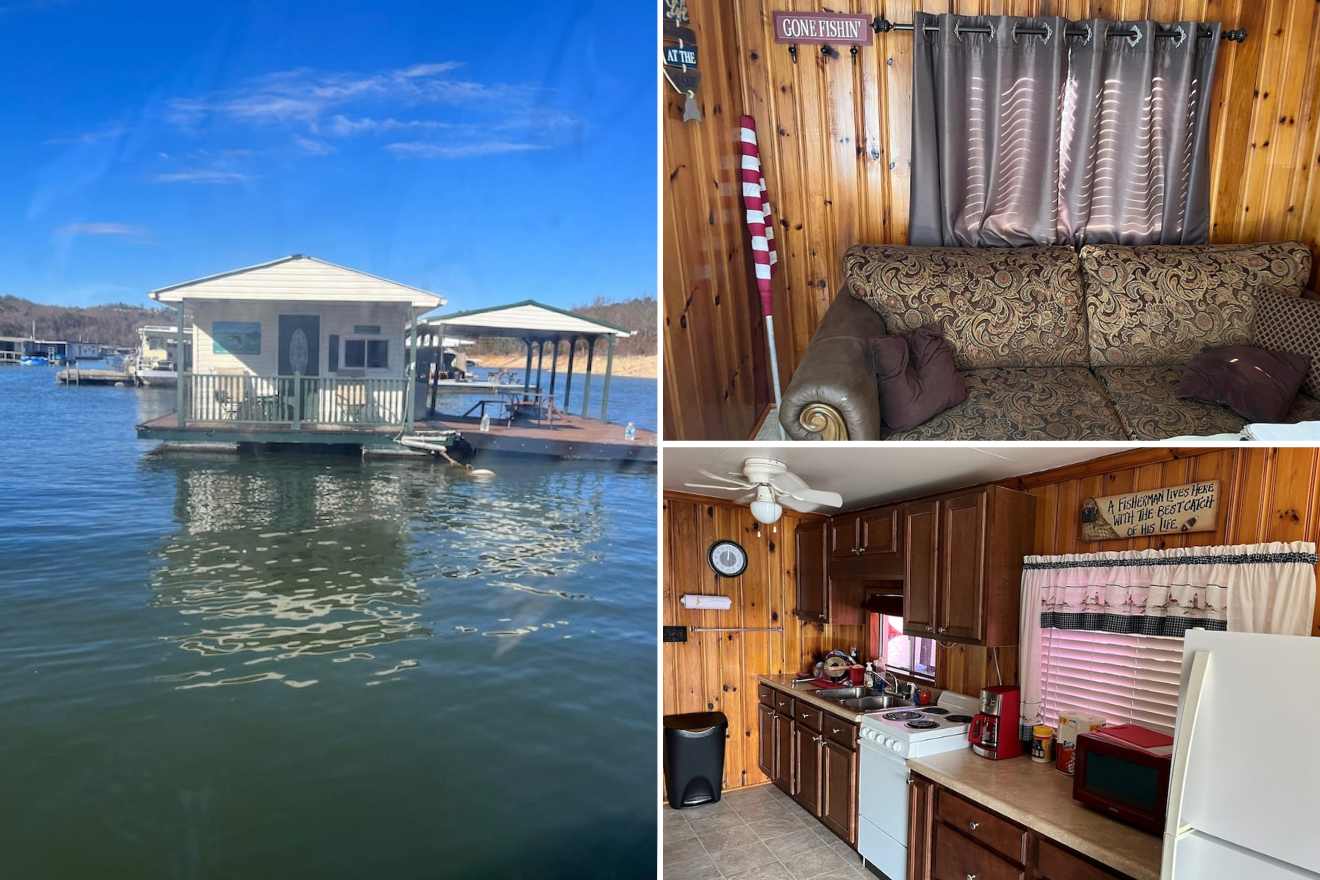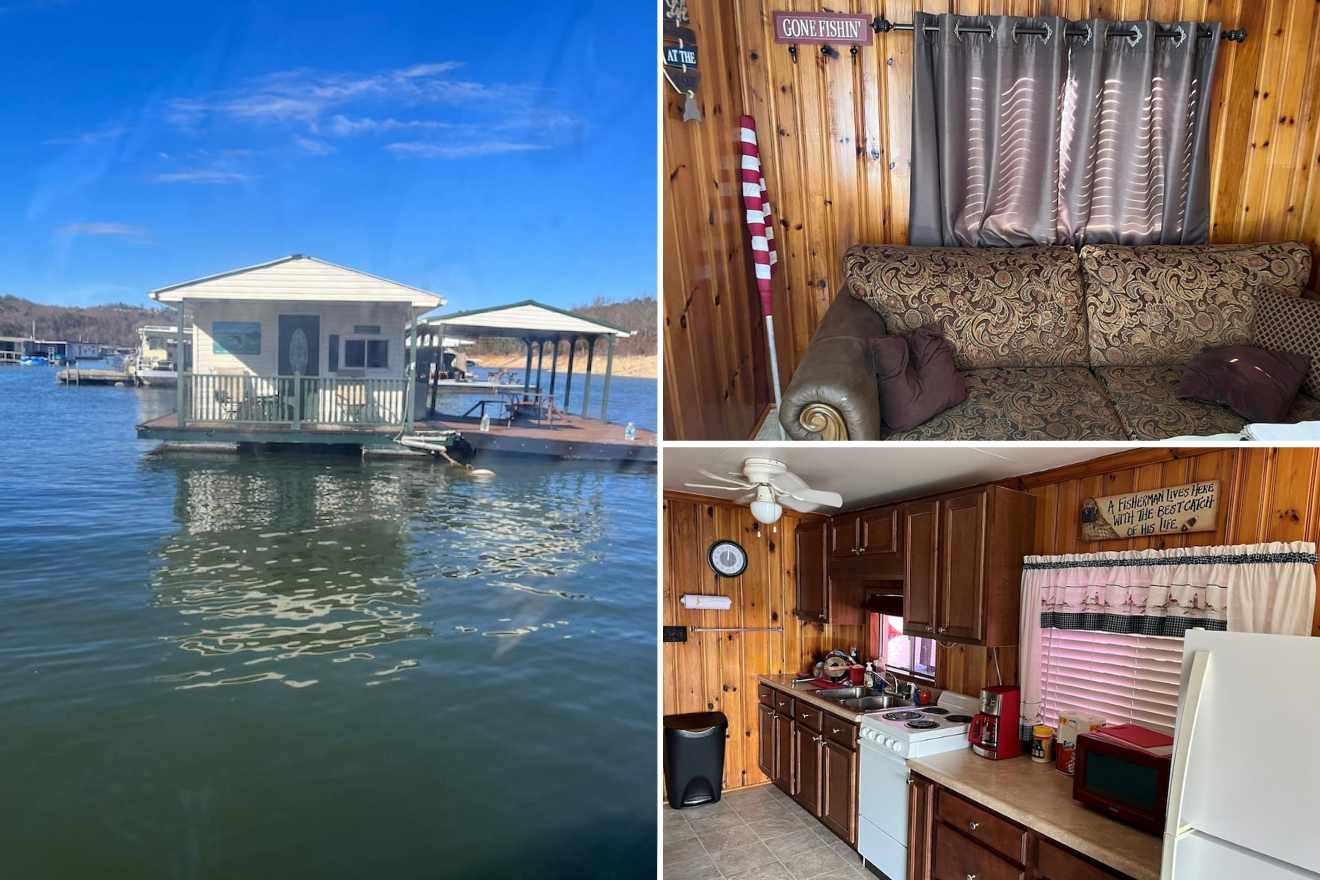 This accommodation has a great location on Norris Lake at Cedar Grove Marina and lots of space (for around 8 guests). You'll find everything that you need for your vacation, including a small kitchen, free Wi-Fi, and a bathroom.
Guests can also bring their own boat and dock right at the house, or you can rent a boat from the marina if you want to go on some fun adventures. Otherwise, you can always chill on the dock and enjoy that perfect Tennessee sun!
6. Sweet Abi Mae – for nature lovers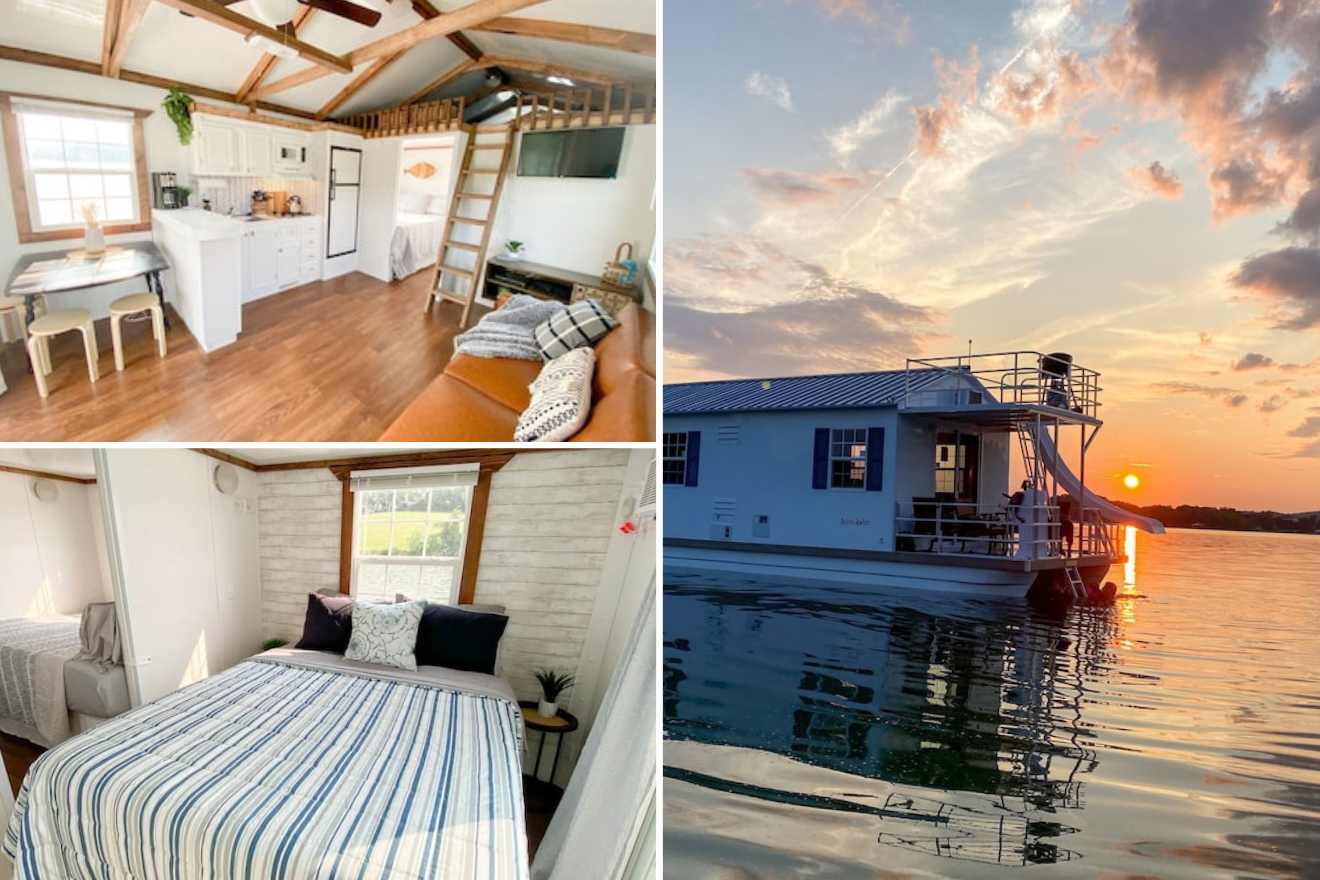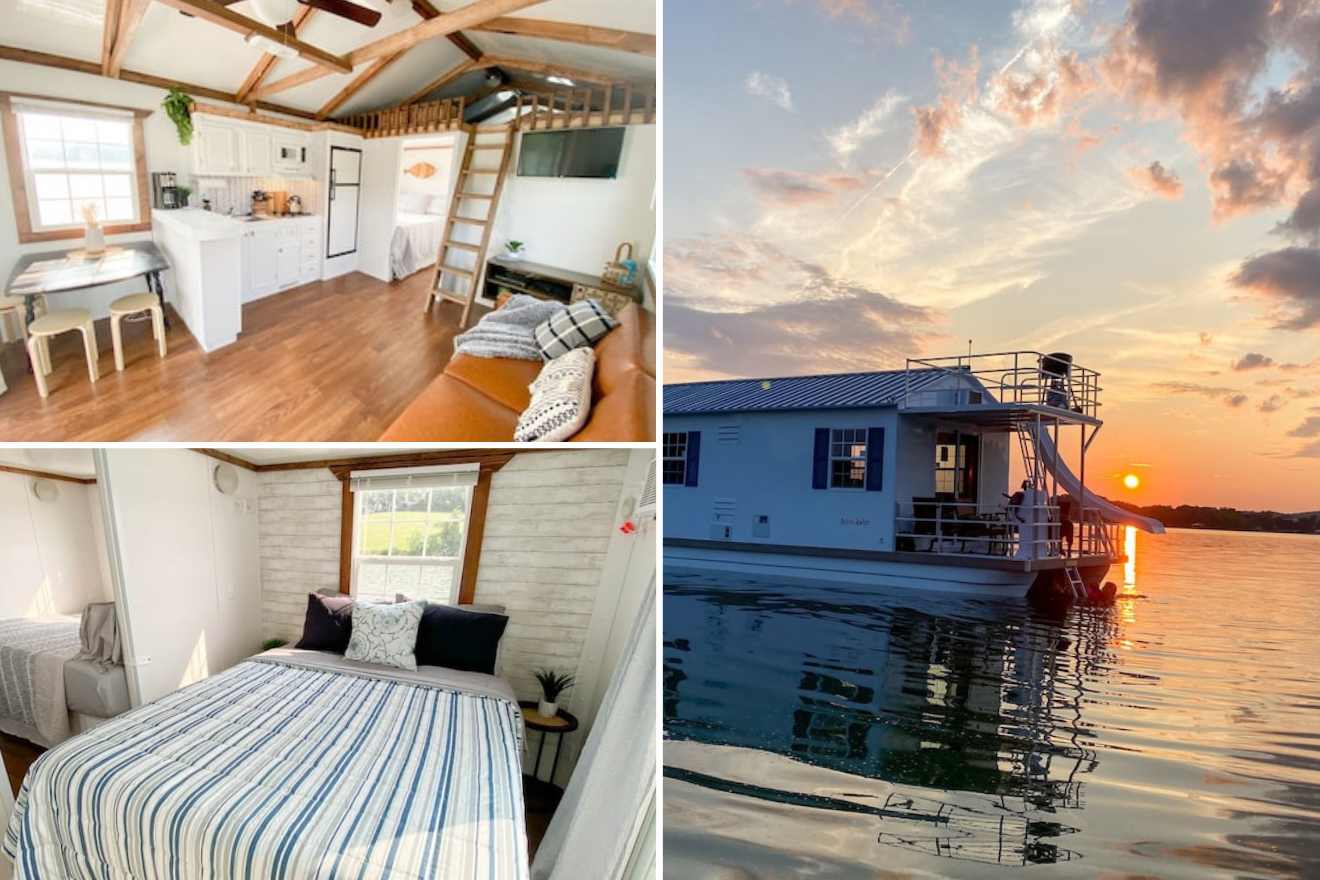 Scenic sunrise on the river and quiet mornings are the perks (among many others) of staying in a houseboat! I hope you're ready to have a great time in Knoxville because I've found the perfect spot! This cruising houseboat has room for 7 guests, and it comes with a kitchen, a living room, and a waterfront location.
I'm sure you'll also love the decor of this place. It's super modern but so cozy at the same time that you'll never want to leave. End your days with a nice long swim in the river, and definitely go on that water slide!
7. 41 Foot Boat on the Tennessee River – for a fun trip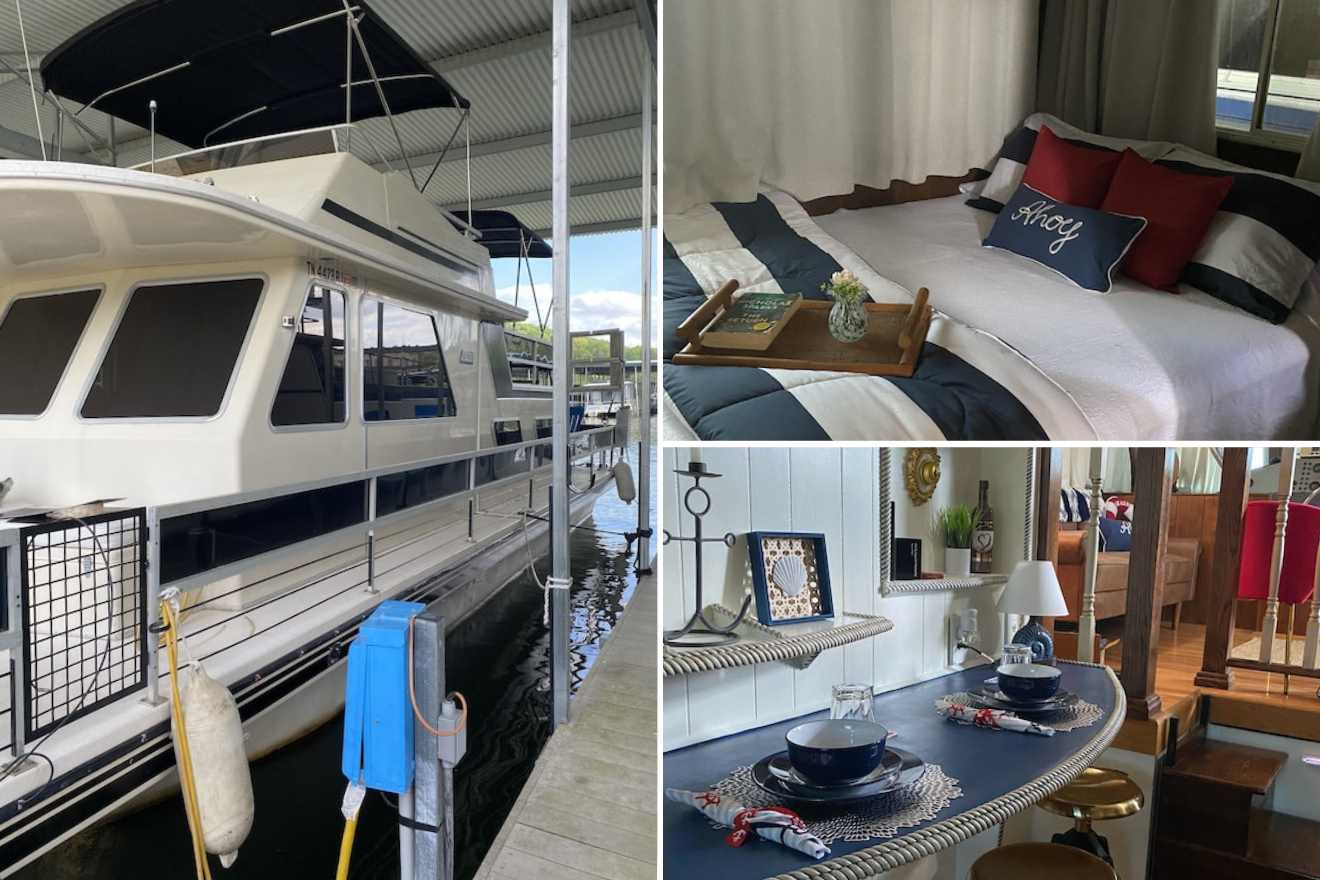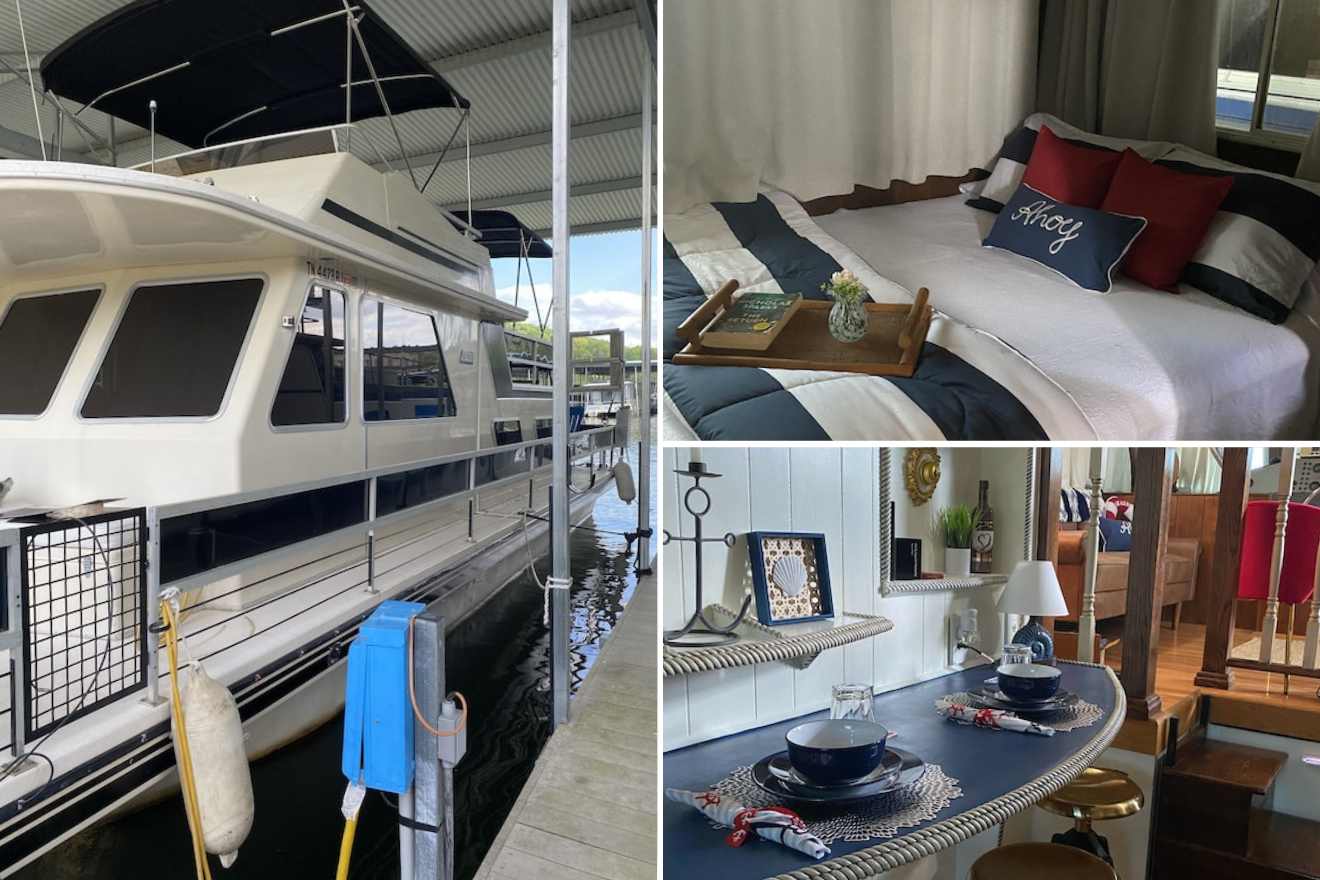 Located in Guild, TN, this house is perfect for a family or group of 6 friends. It has a simple yet cozy decor and, of course, a kitchen where you can prepare your meals and a living room. The houseboat is also packed with all the essentials like free Wi-Fi, air conditioning, a TV, and some games in case you get a bit bored.
Although with the number of water sports that you've got access to, I'm sure that's impossible! Plus, there's even an outdoor communal swimming pool that the guests can use. At night you can relax by the outdoor fire pit and plan tomorrow's activities!
8. Knoxville 70′ Houseboat – for vintage lovers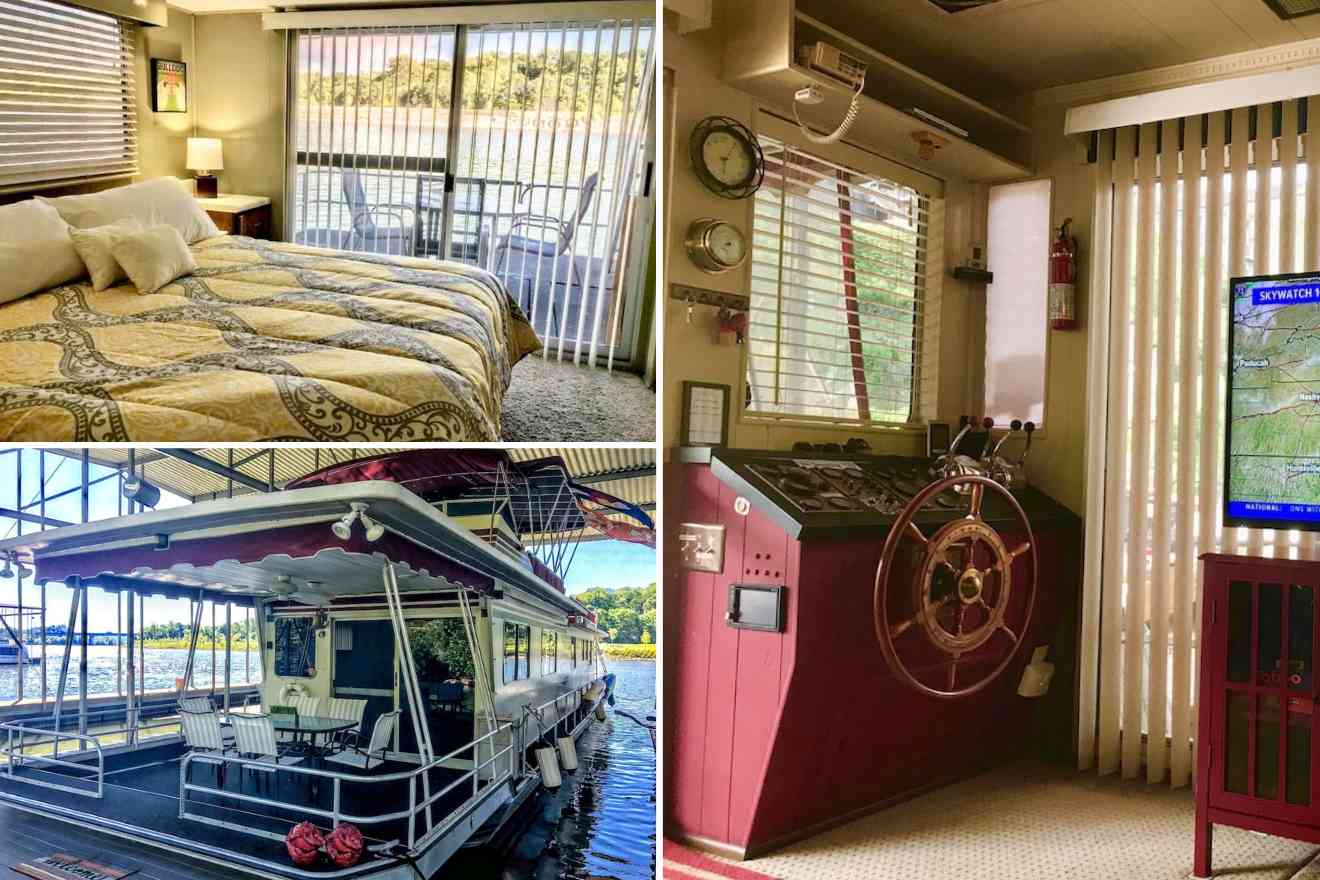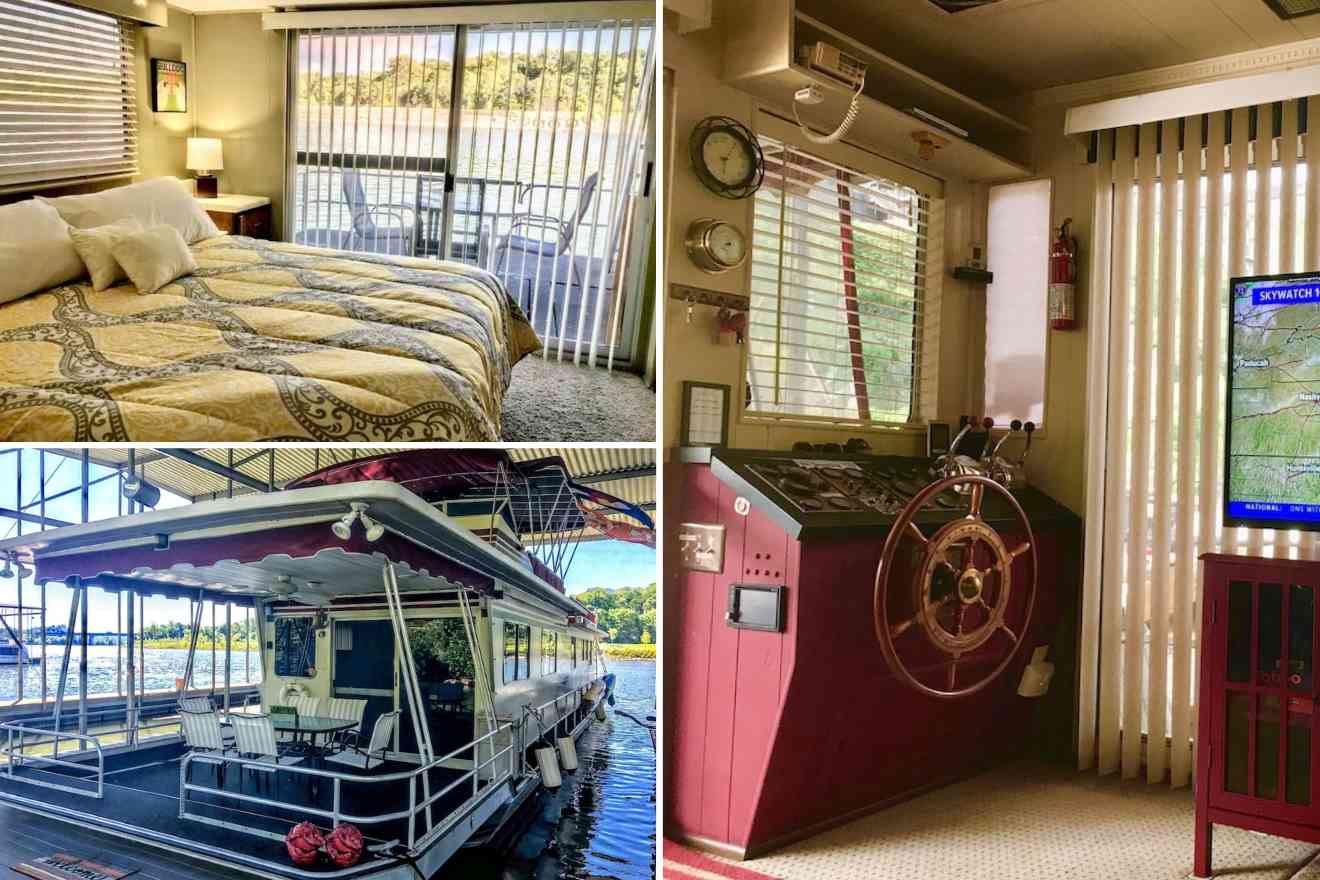 Docked in the peaceful Volunteer Landing Marina in Knoxville, this houseboat offers some lovely views of the Tennessee River! With enough space for 6 guests and a great location just steps away from a restaurant, this place is surely a keeper!
You also get your own kitchen if you want to spare some bucks and cook for yourself, and other facilities like free Wi-Fi, air conditioning, and games (including some for the little ones). As you probably know, there are lots of activities in the area, like fishing, but you'll find that the houseboat also offers 2 kayaks, bicycles, and even a boat to rent out!
9. Vintage Yacht – for water sport enthusiasts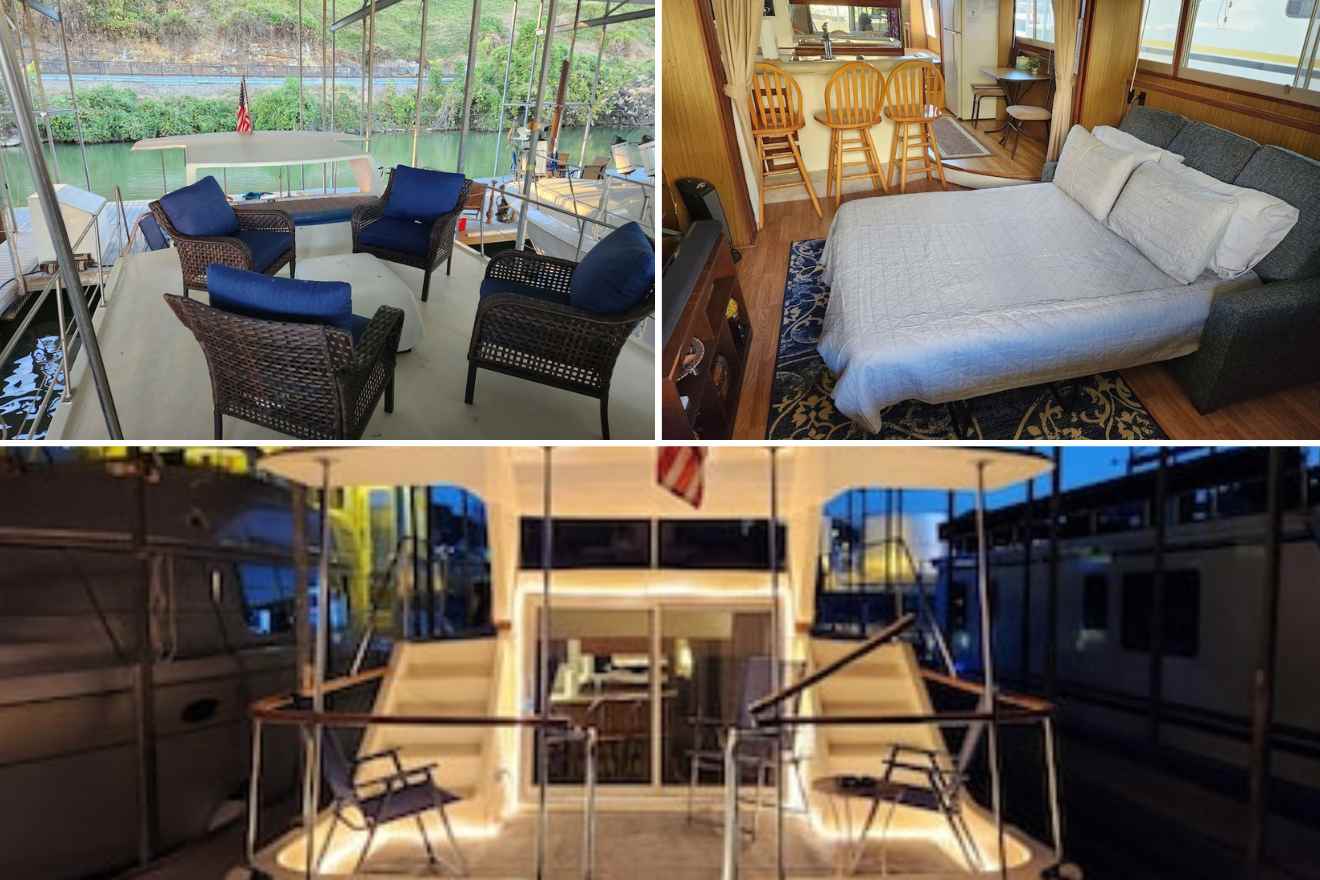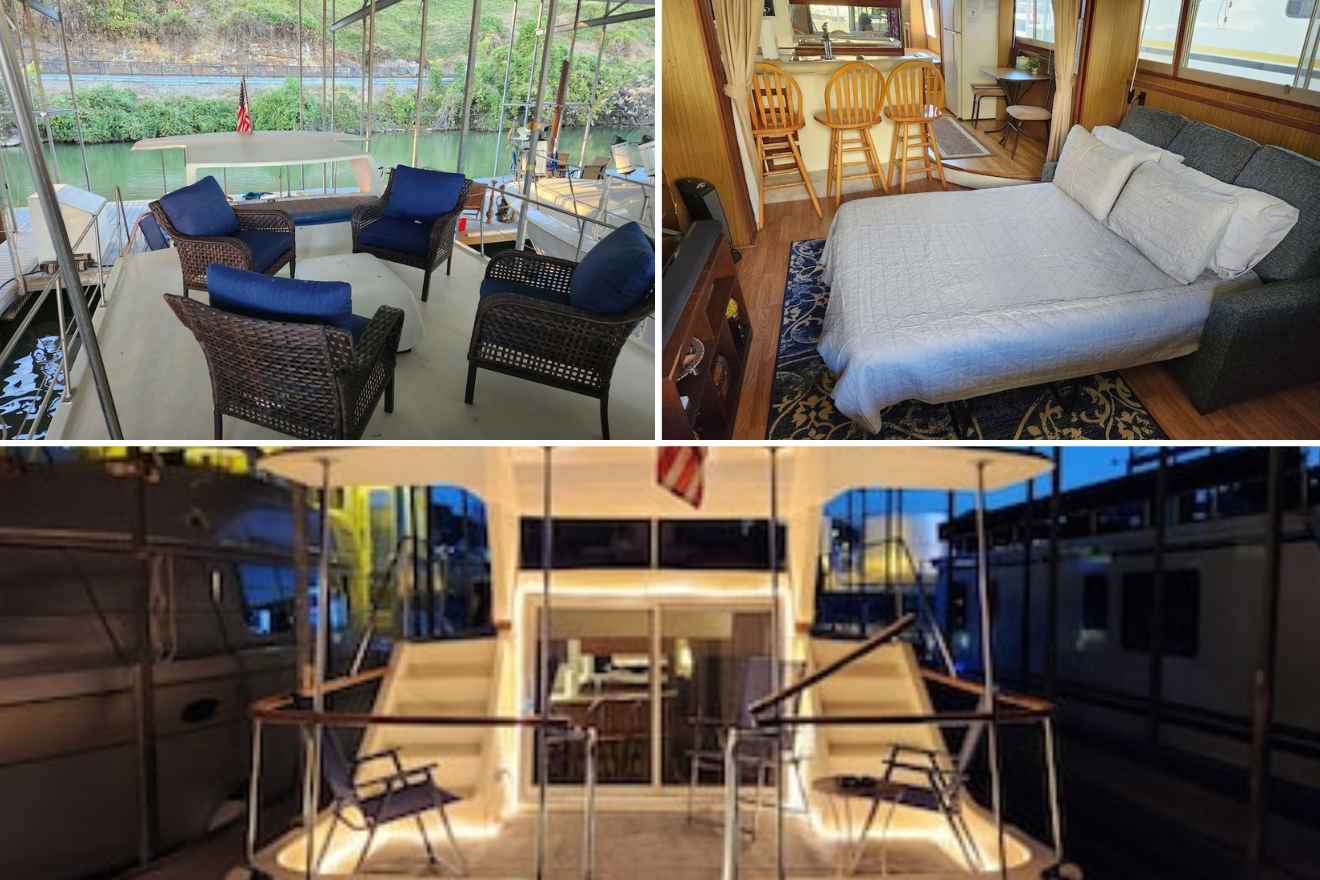 Say hello to this refurbished 1970s yacht that's located at Volunteer Landing Marina, just minutes away from Downtown Knoxville. The accommodation has room for 6 people, and it features a kitchen, a living room, and a smart TV.
The houseboat has a simple yet cozy decor, the usual dock with a seating area where you can enjoy your meals or relax when you're not out and about trying some of the water sports in the nearby area.
10. Tennessee River Boat – has a great location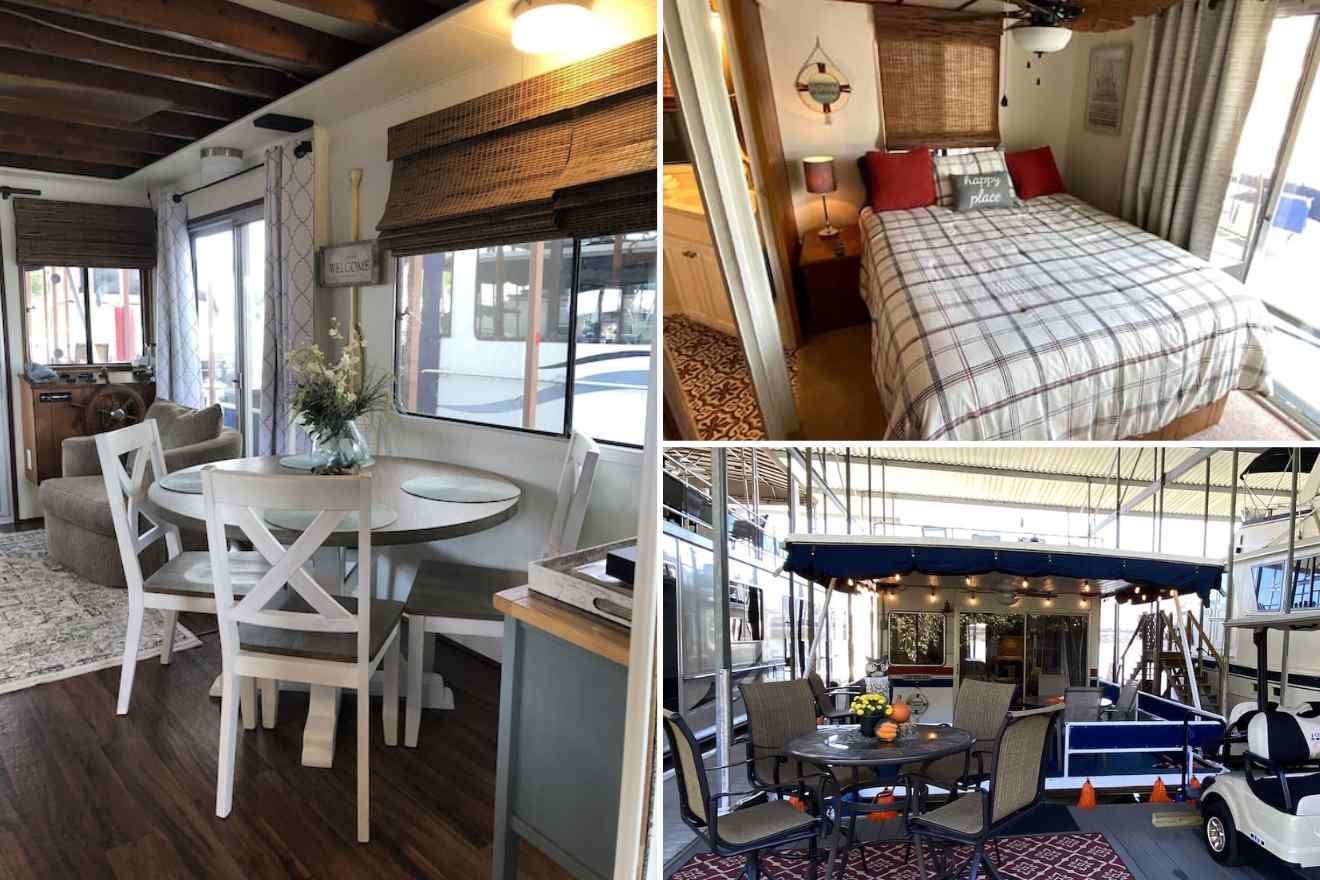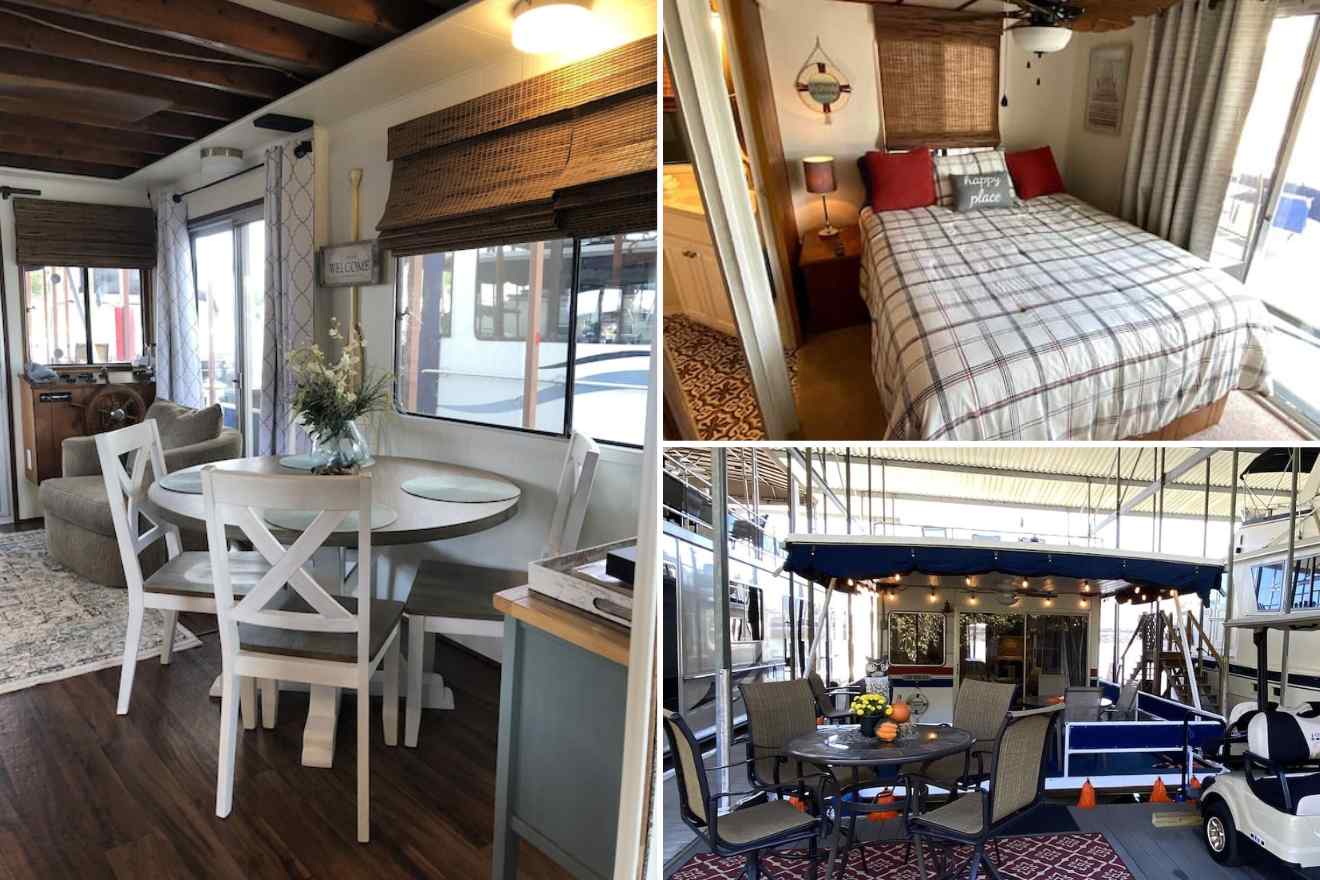 Sit back, relax, and enjoy your coffee (or glass of wine) on the deck of this gorgeous houseboat that has a great location at Volunteer Landing Marina on the Tennessee River! With space for 5 guests, the accommodation has beautiful decor and facilities like a TV, a DVD player, a fully equipped kitchen, and some games or books for kids.
Whether you're coming with your family or a group of friends, you'll find so many things to do here, from fishing to sailing and jet skiing! And if you're craving sometime in the city, then head to downtown Knoxville, TN, for some shopping!
11. La Follette – a pet-friendly place with great views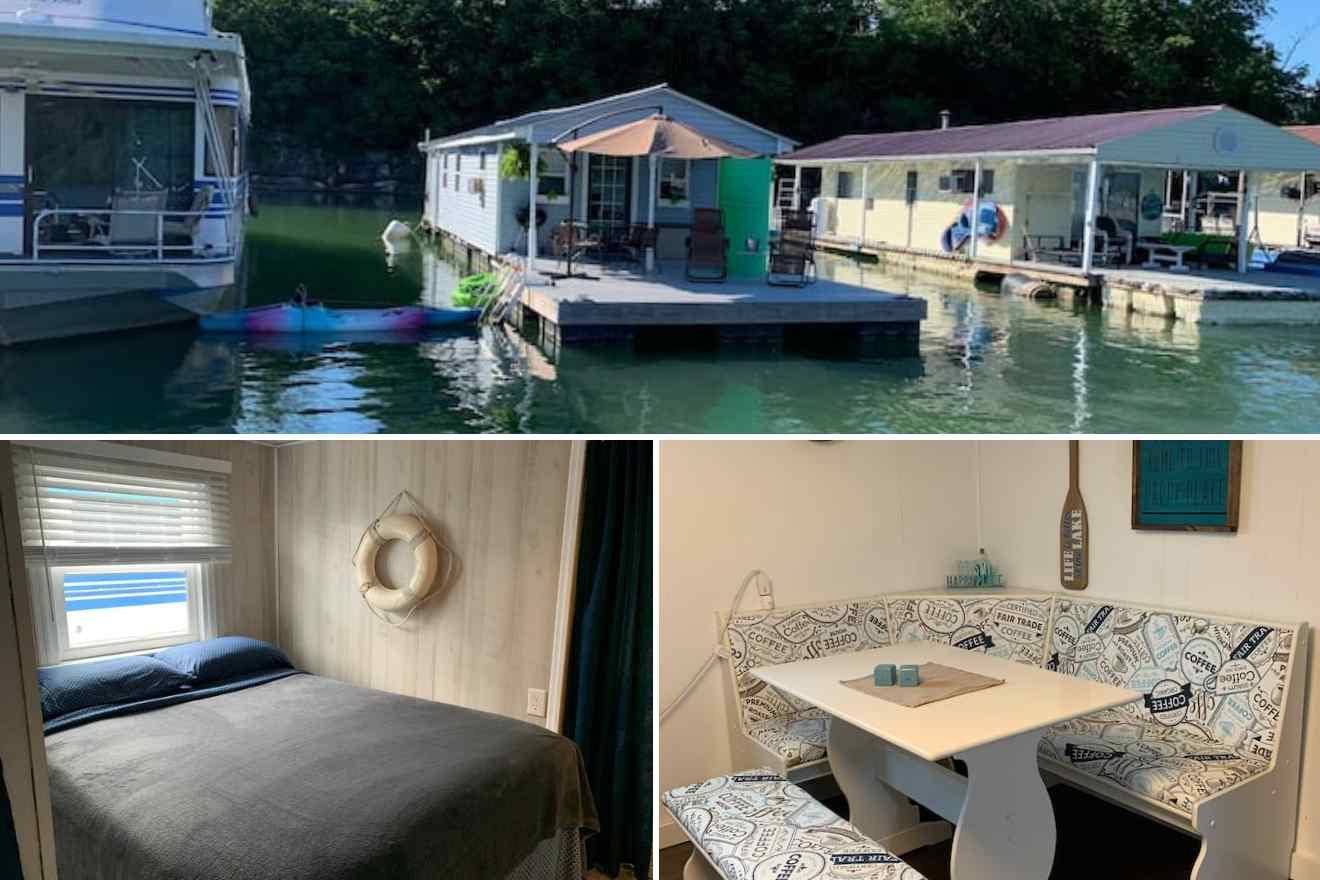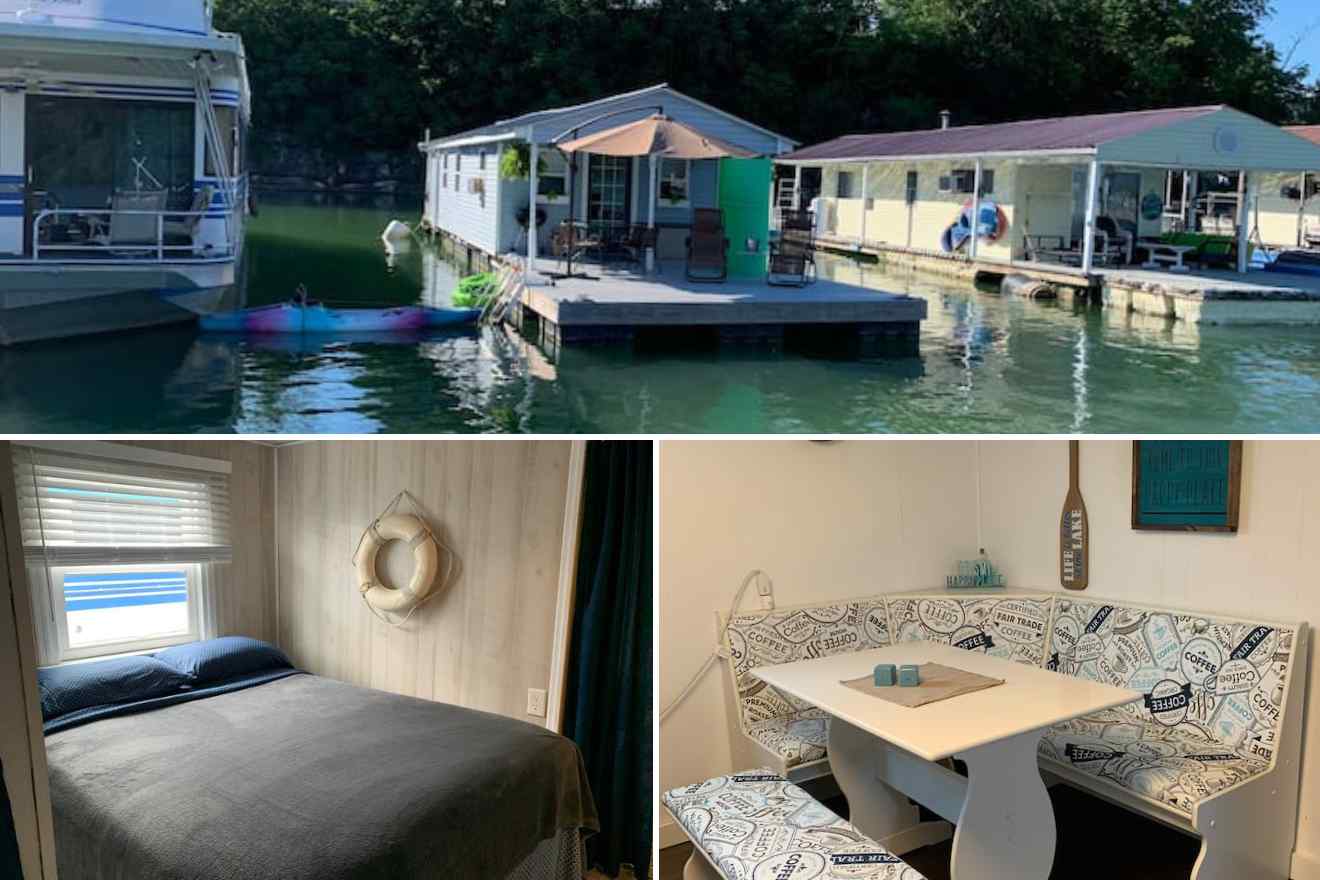 Floating houses are the new and improved hotels, am I right? These places offer such a great location on a lake or river and some incredible views! Just like this place that has room for 5 people, a kitchen, and allows guests to bring their animal friends too!
Every morning you can enjoy your coffee on the dock while admiring the river views. There's also an outdoor dining area with an umbrella. During your stay here you can go swimming and sunbathing!
12. Douglas Lake Boat – a stylish place with a hot tub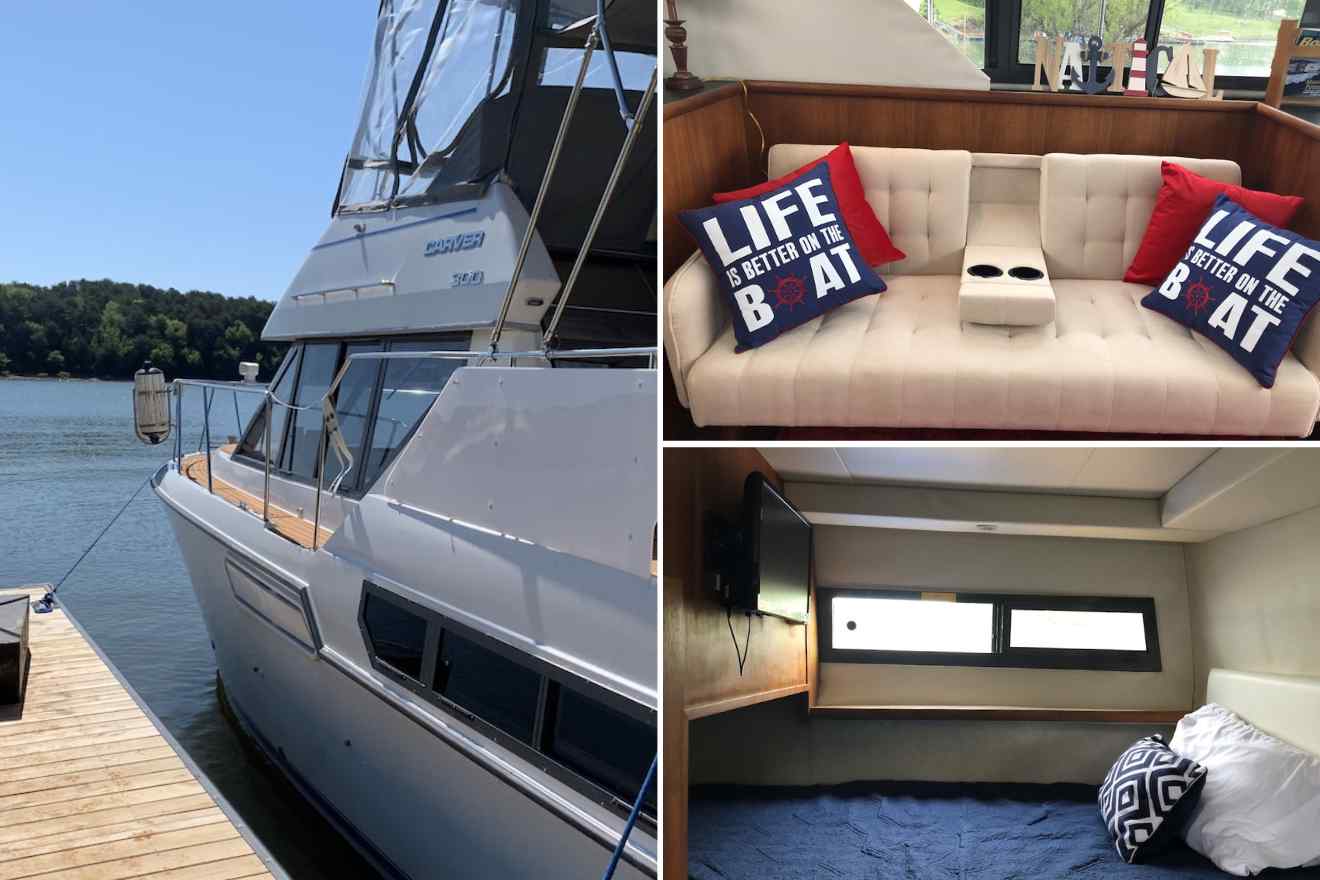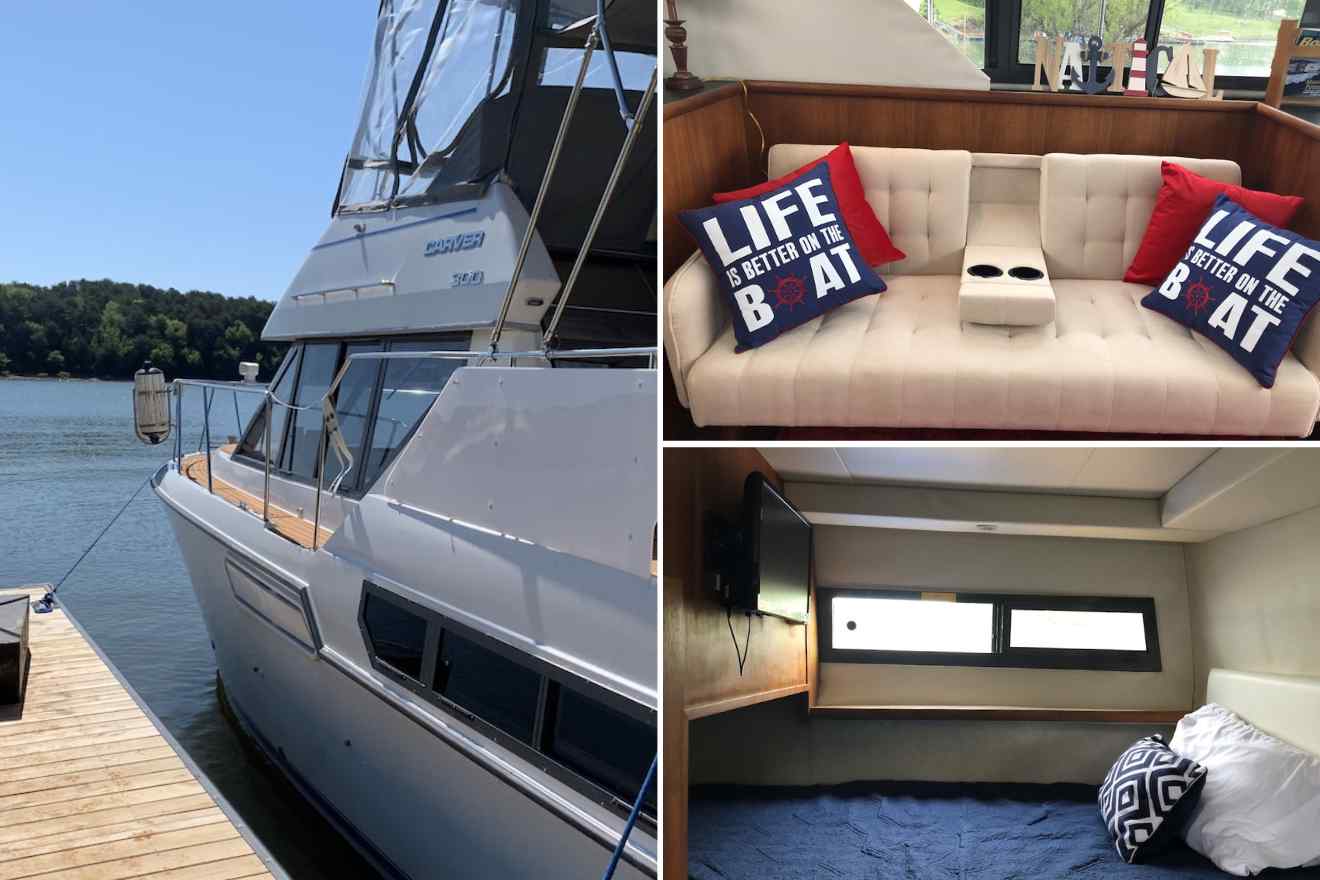 Looking for a modern houseboat to spend your trip in Tennessee? Then check out this one set on Douglas Lake that has space for 4 guests, a kitchenette, and a dining area. When you're not out and about exploring this beautiful area, you can relax in the hot tub.
Or go kayaking, as you can use the ones on-site! There is plenty to do, but if you just want some time off, to disconnect and just admire those stunning views, put on your swimsuit and go for a nice long swim in the lake (there's even a water slide so you can "slide" straight in).
13. Hixson Leisure Boat – for a peaceful trip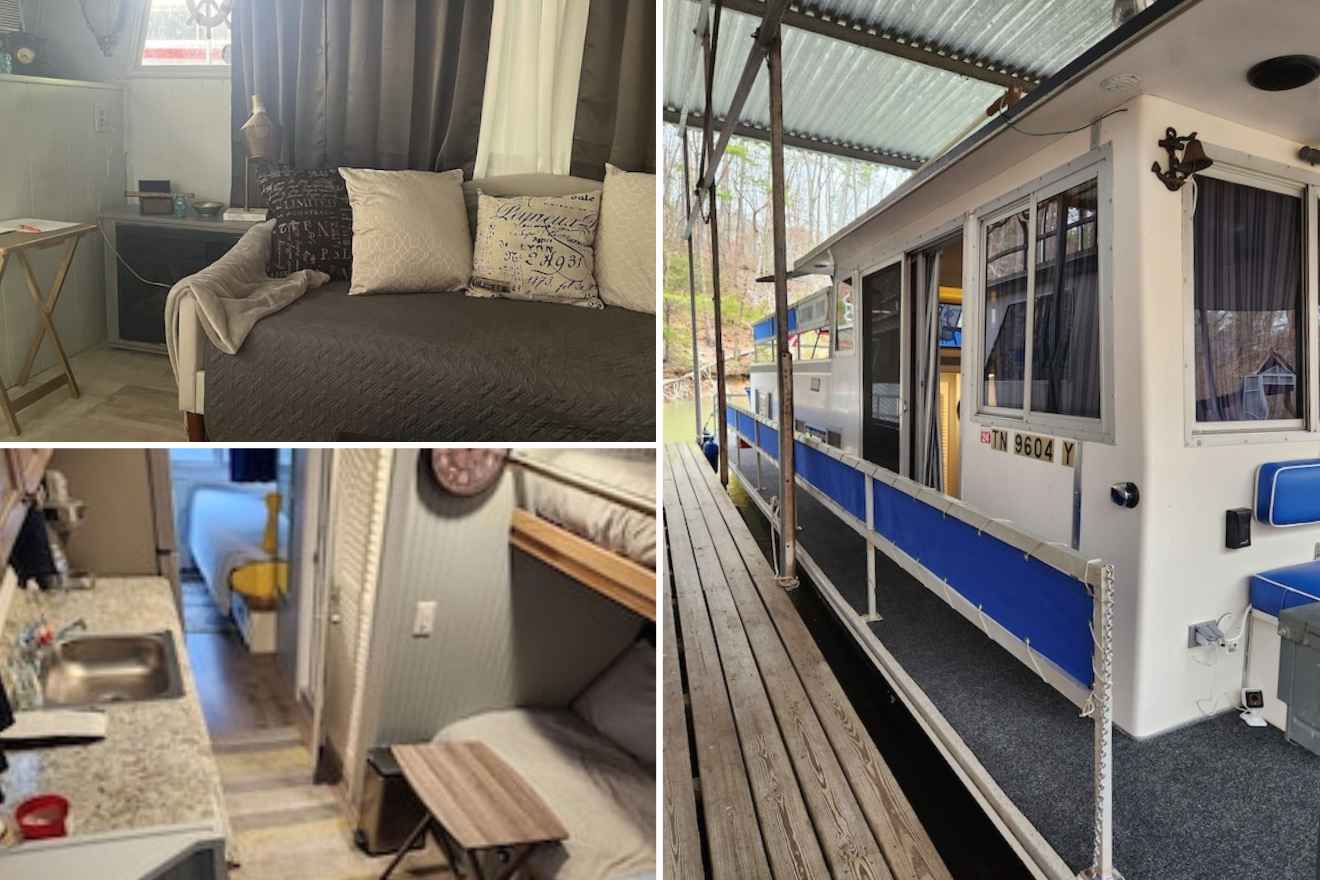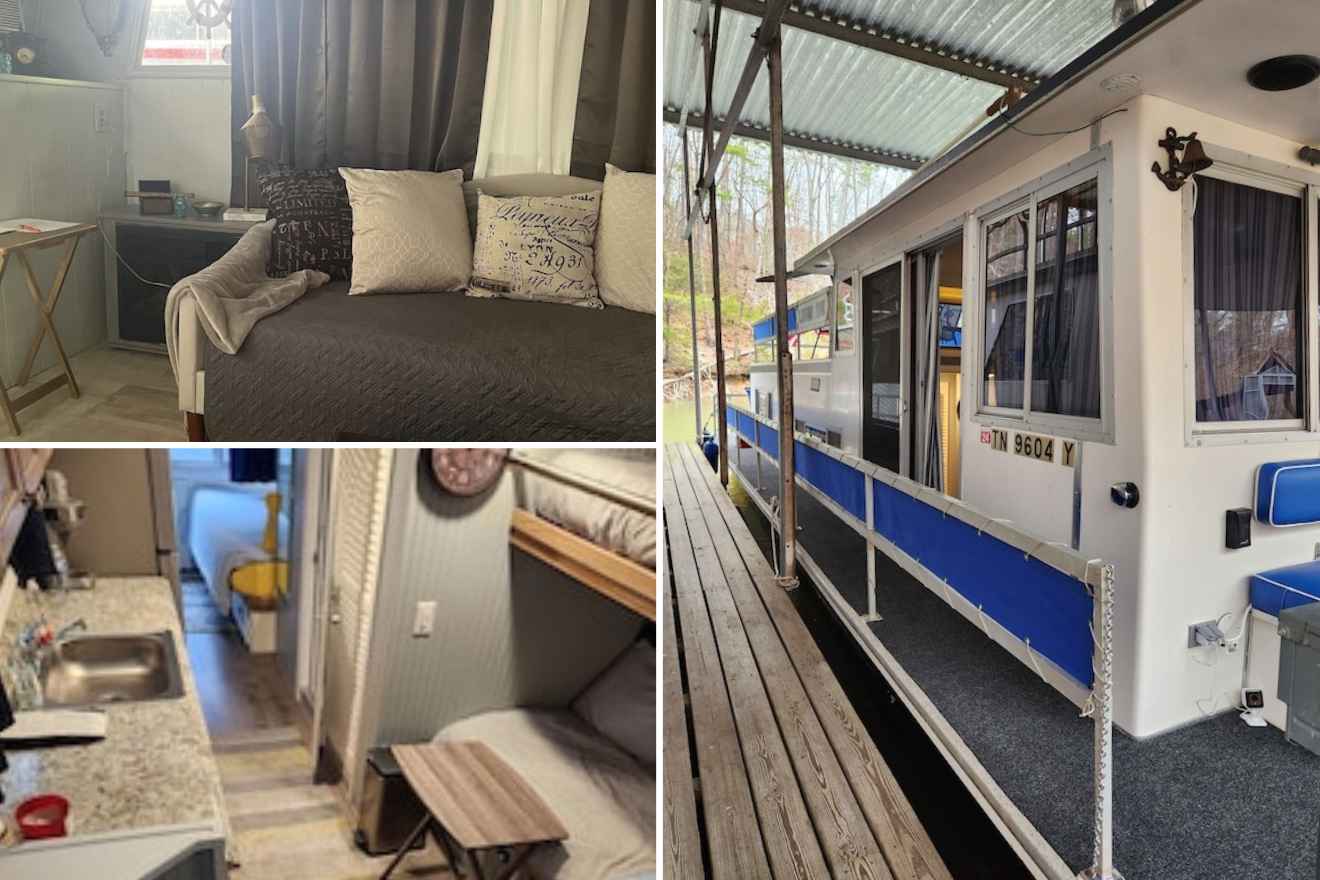 Need a break from everything and everyone and just spend some time in complete tranquility and peacefulness? Then check out this cool houseboat in Hixson, which is perfect for 2 guests, and it has a great location!
Although small, the accommodation has all you need for your stay, including a kitchen, a bathroom, and a TV. During the day, you can enjoy the sun on the deck, which has a seating area, or go on an adventure to explore the surrounding area.
14. Lake Norris Retreat – great for families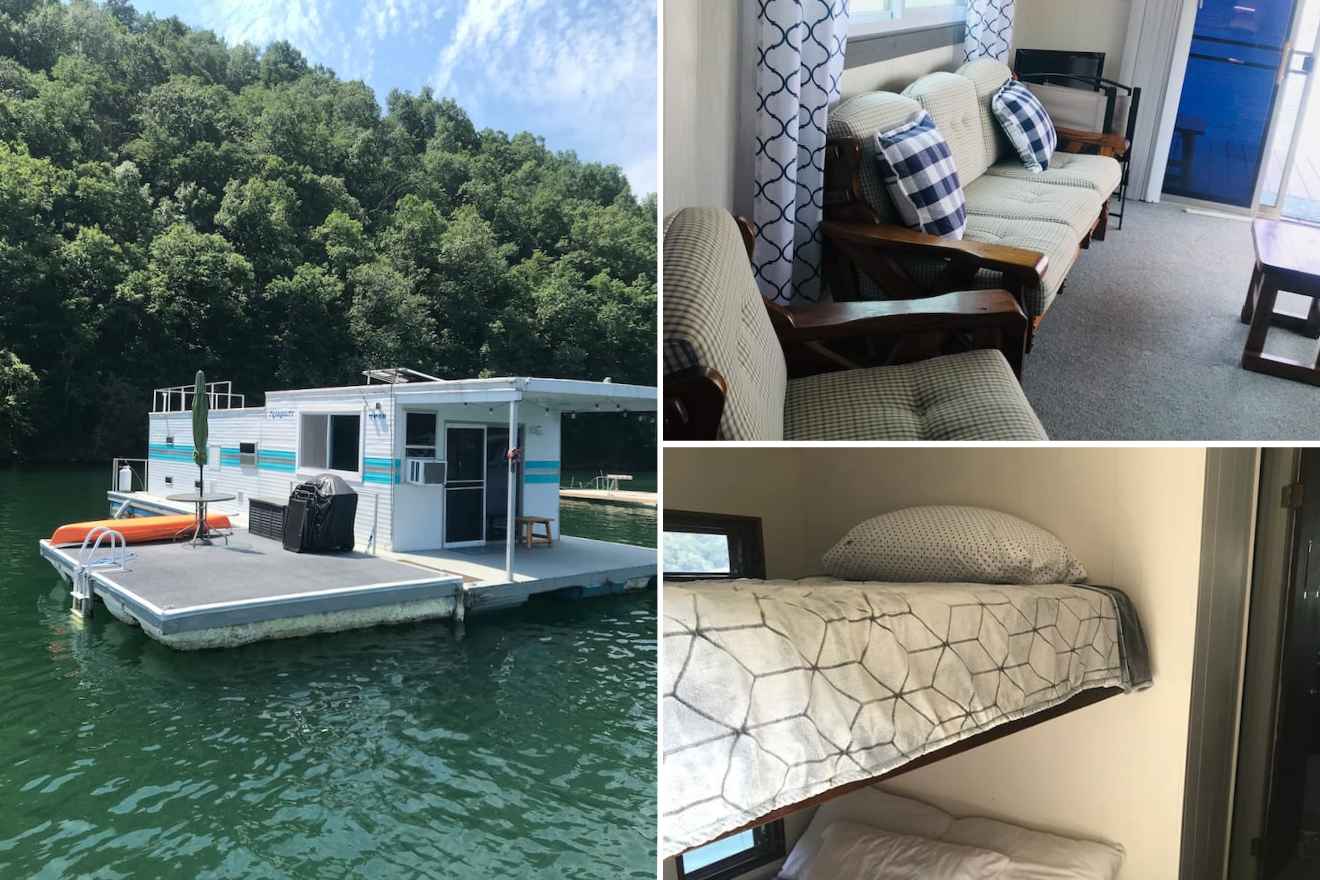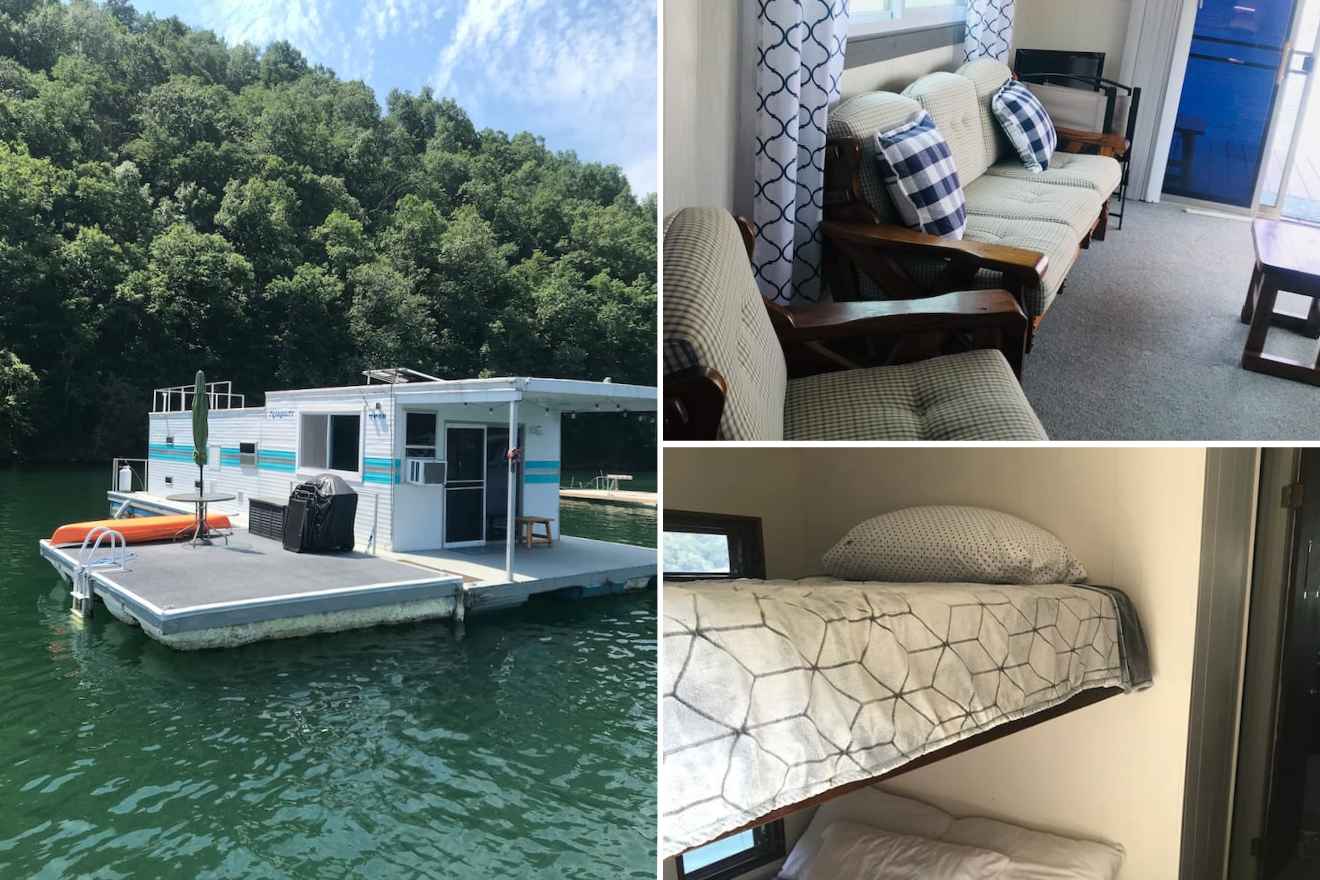 Planning a family getaway? Then I've got just the right location for you! This great houseboat on Lake Norris at Hickory Star Marina is super comfortable, and it offers a kitchen, free parking, and a beautiful sight! With room for 4 people, the accommodation is only accessible by boat.
With a barbecue free to use and an outdoor dining area, the houseboat offers the perfect setting for your outing with the kids, and they even have some board games, which will come in handy when you've got nothing else to do! There are also kayaks on-site which guests can use.
BONUS: Best VRBOs with a river view in Tennessee
I know I've offered you a lot of options, but I thought also to have a backup plan for anyone who maybe missed all the good options or who didn't really find the one place that has it all!
That's why I thought to make a bonus section with the best vacation rentals in Tennessee that have a river view! I also ordered them from most to least expensive, and the prices start from US$300 to US$500: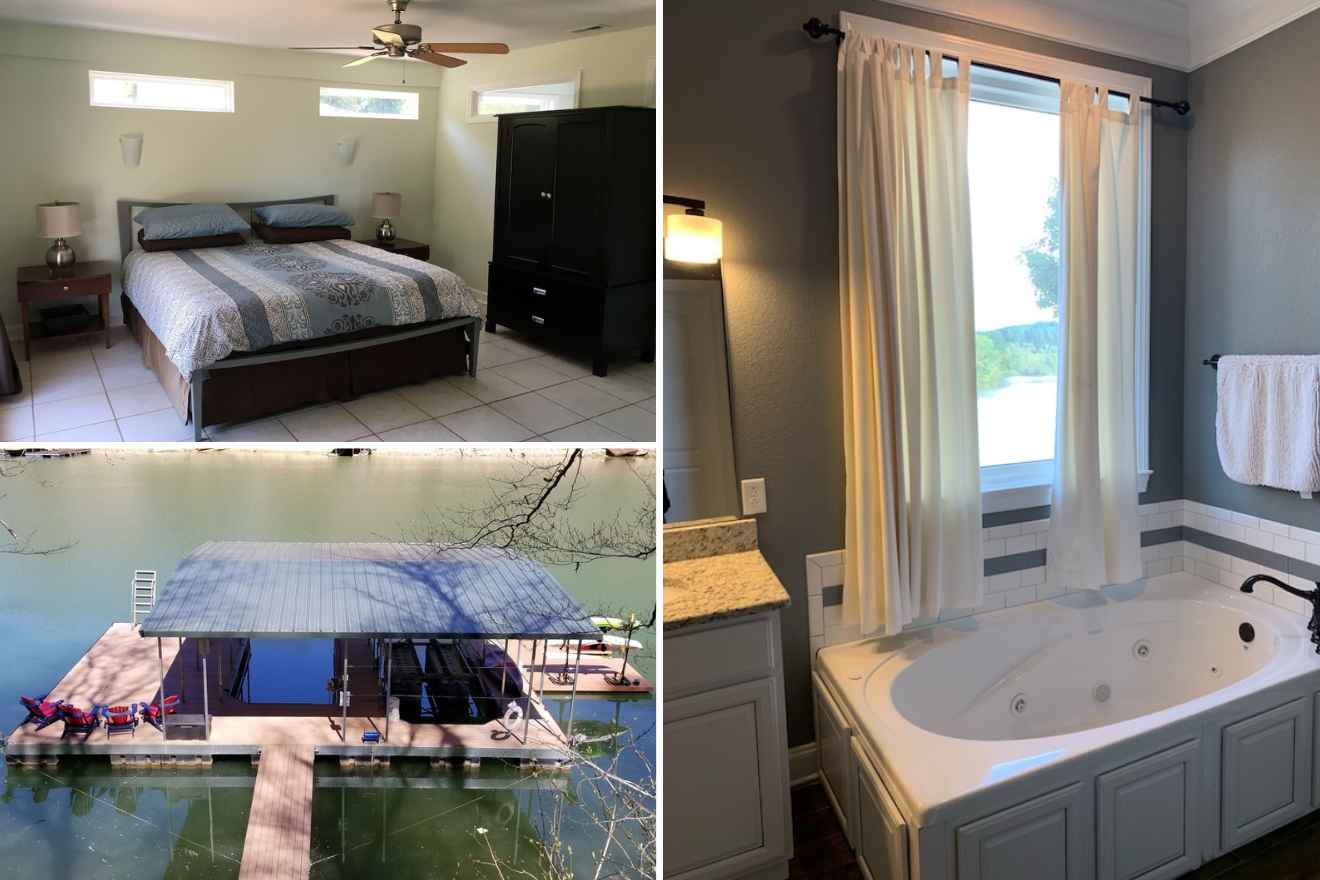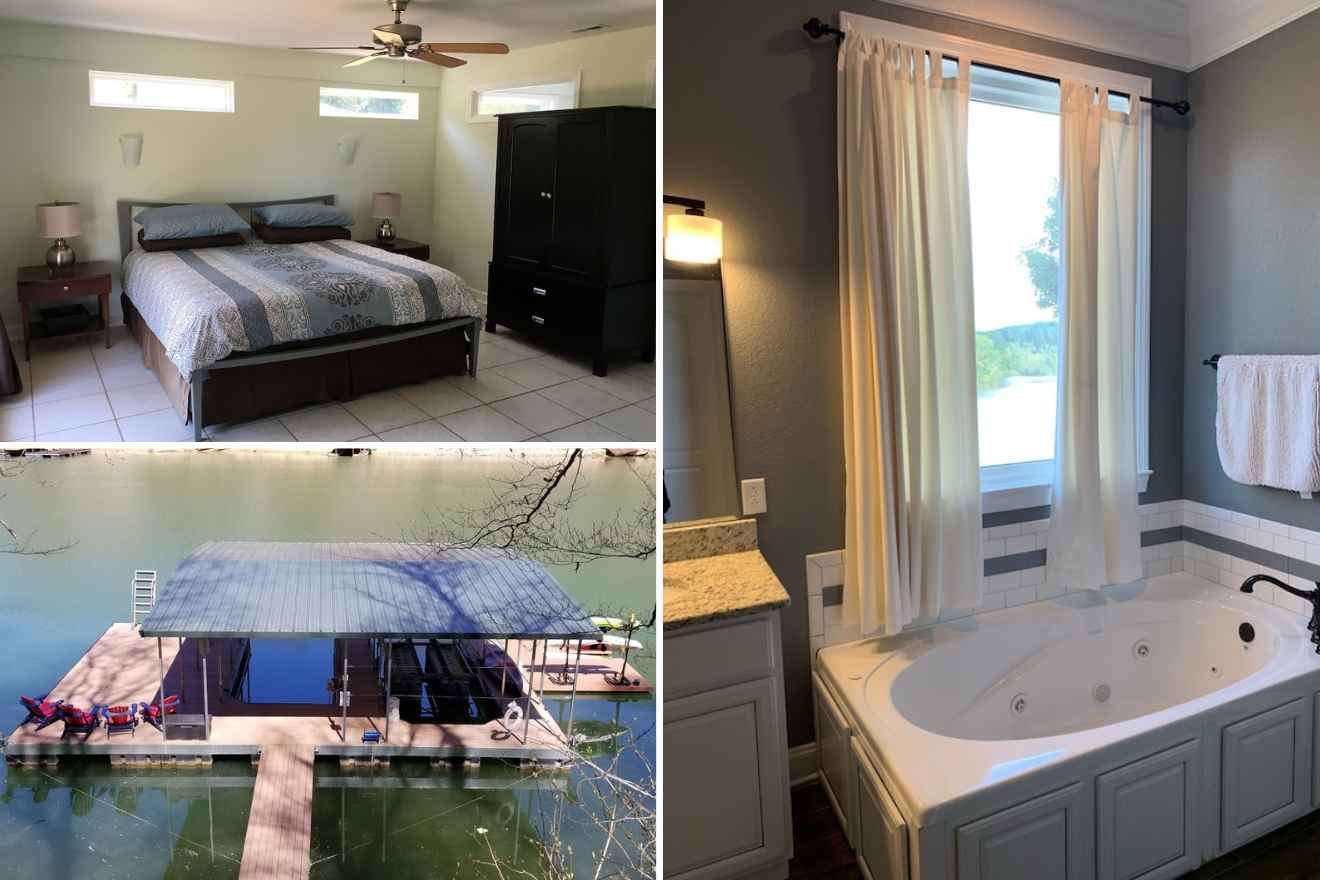 Georgetown Lake House – What a place! This gorgeous home has such stunning decor (simple but super chic) and a breathtaking river view! With room for 20 guests, the accommodation is located in Georgetown, and it offers a private dock and a kayak. You'll also find a game room and a DVD player.
Big Creek Home – Enjoy your coffee alongside the stunning river view at this fabulous home that has room for 15 people and lots of facilities, including a kitchen, a DVD player, and a ping pong table.
Chickamauga Lake House – Looking for a modern home? Then check out this one set on the Chickamauga Lake that has space for 12 people, an outdoor fire pit, a game room, and amazing views, of course.
FAQs about Houseboat Rentals in Tennessee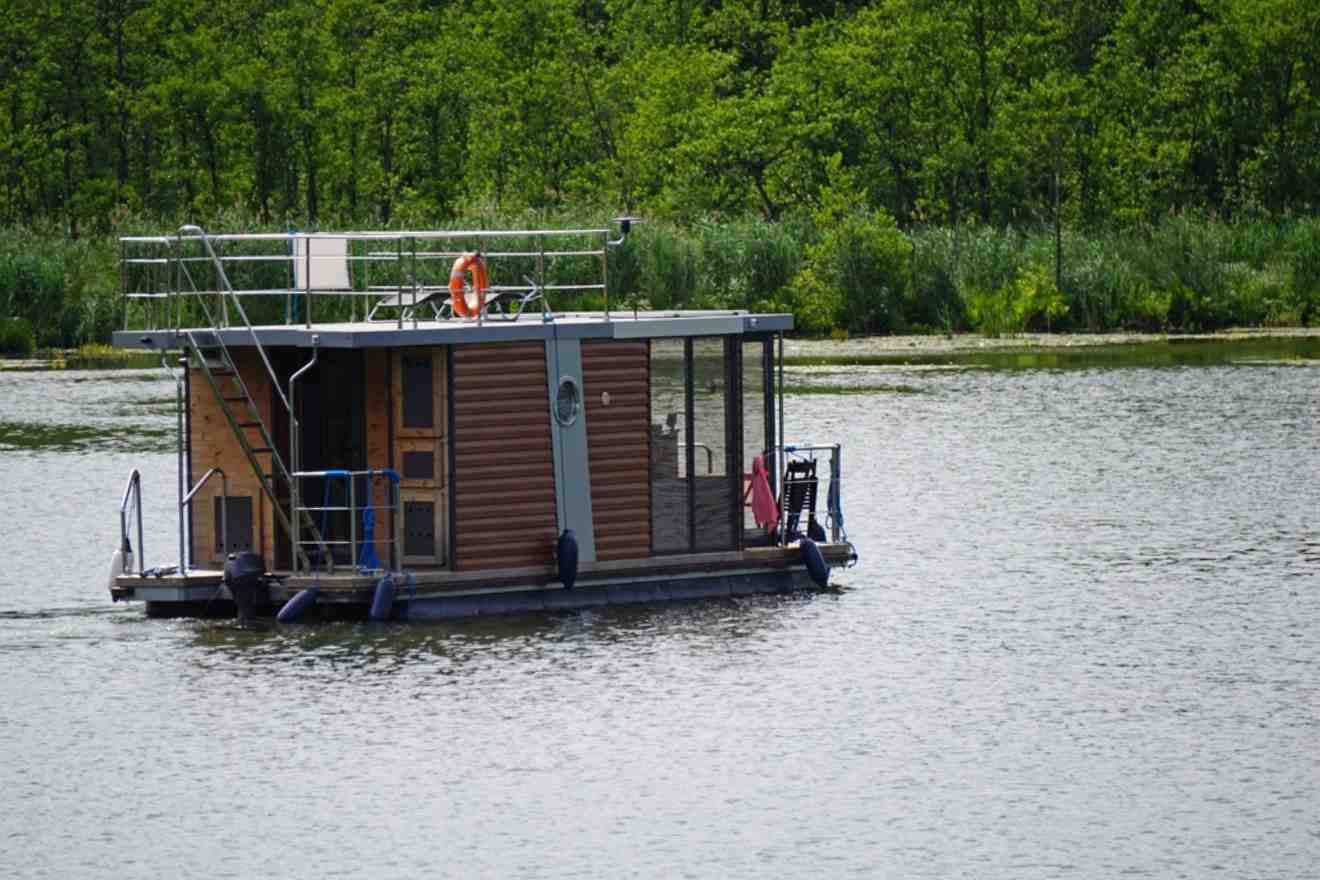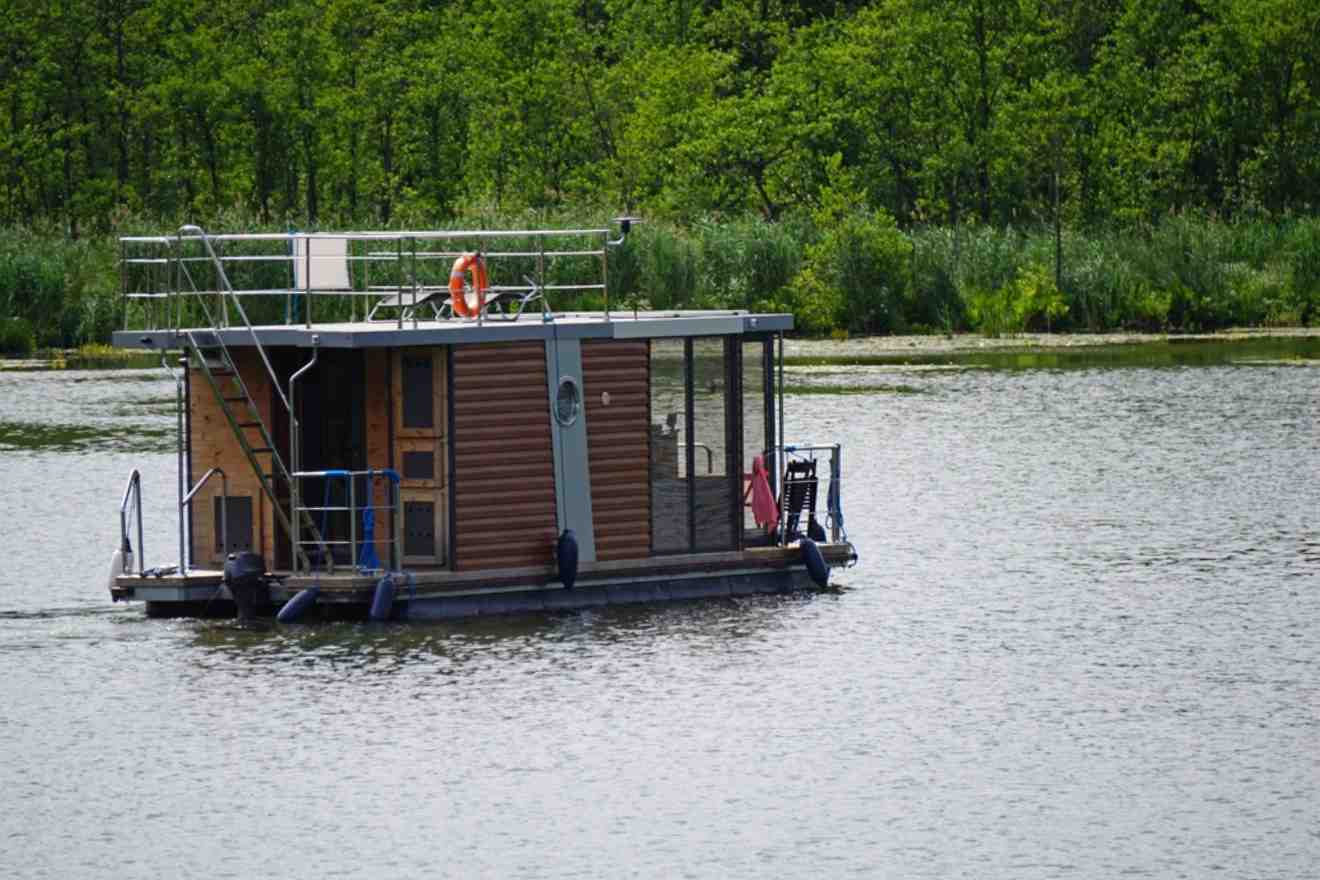 💰 How much does it cost to rent a boat in Tennessee?
It depends on how many people you're renting the houseboat for, but a small one costs around US$100, a medium one costs around US$250, and a large one around US$300.
🛥️ Which are the best houseboats in Tennessee?
🤔 Does Lake of the Ozarks allow houseboats?
Yes, houseboats are allowed on Lake of the Ozarks.
👪 Which is the best houseboat rental for families in Tennessee?
Conclusion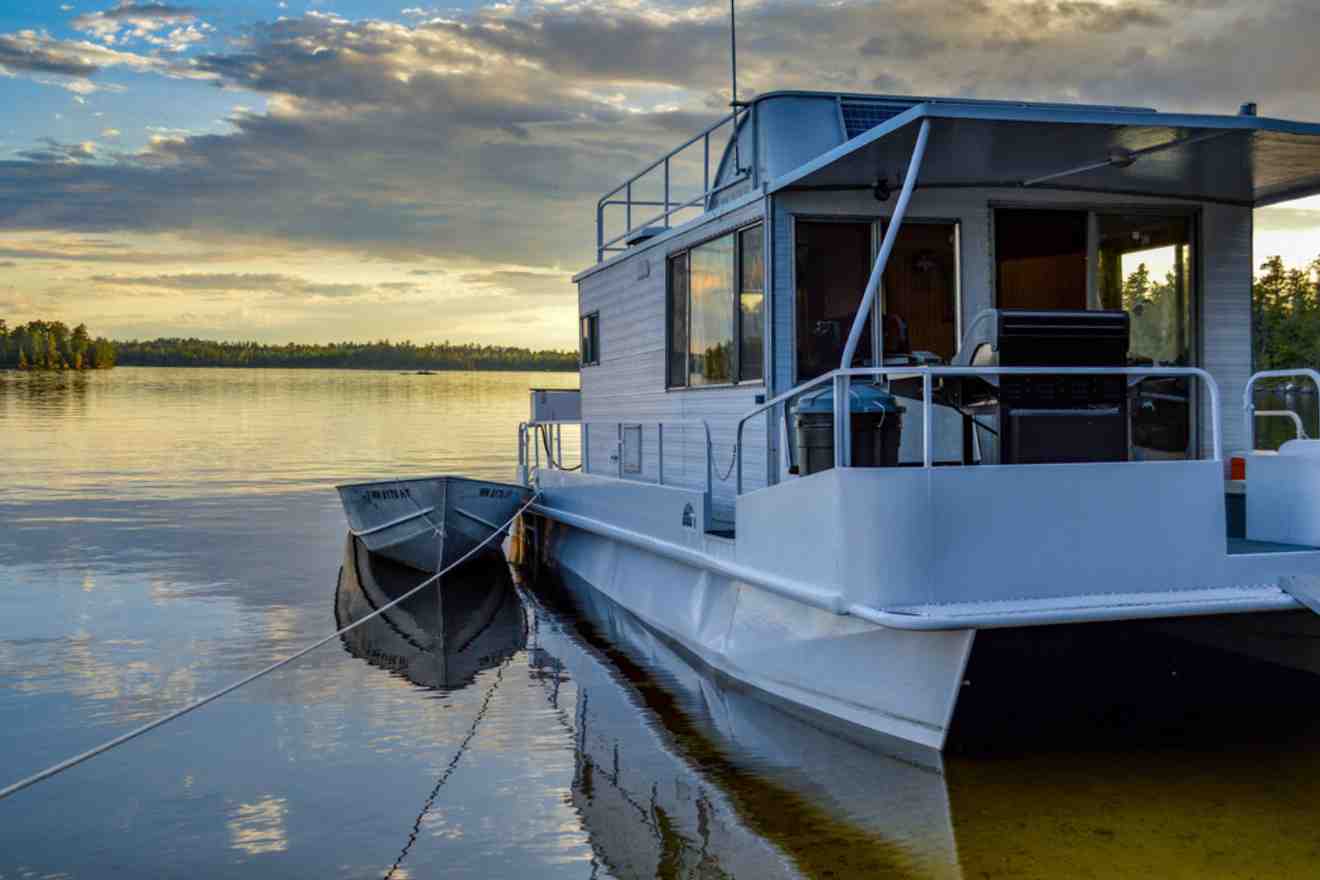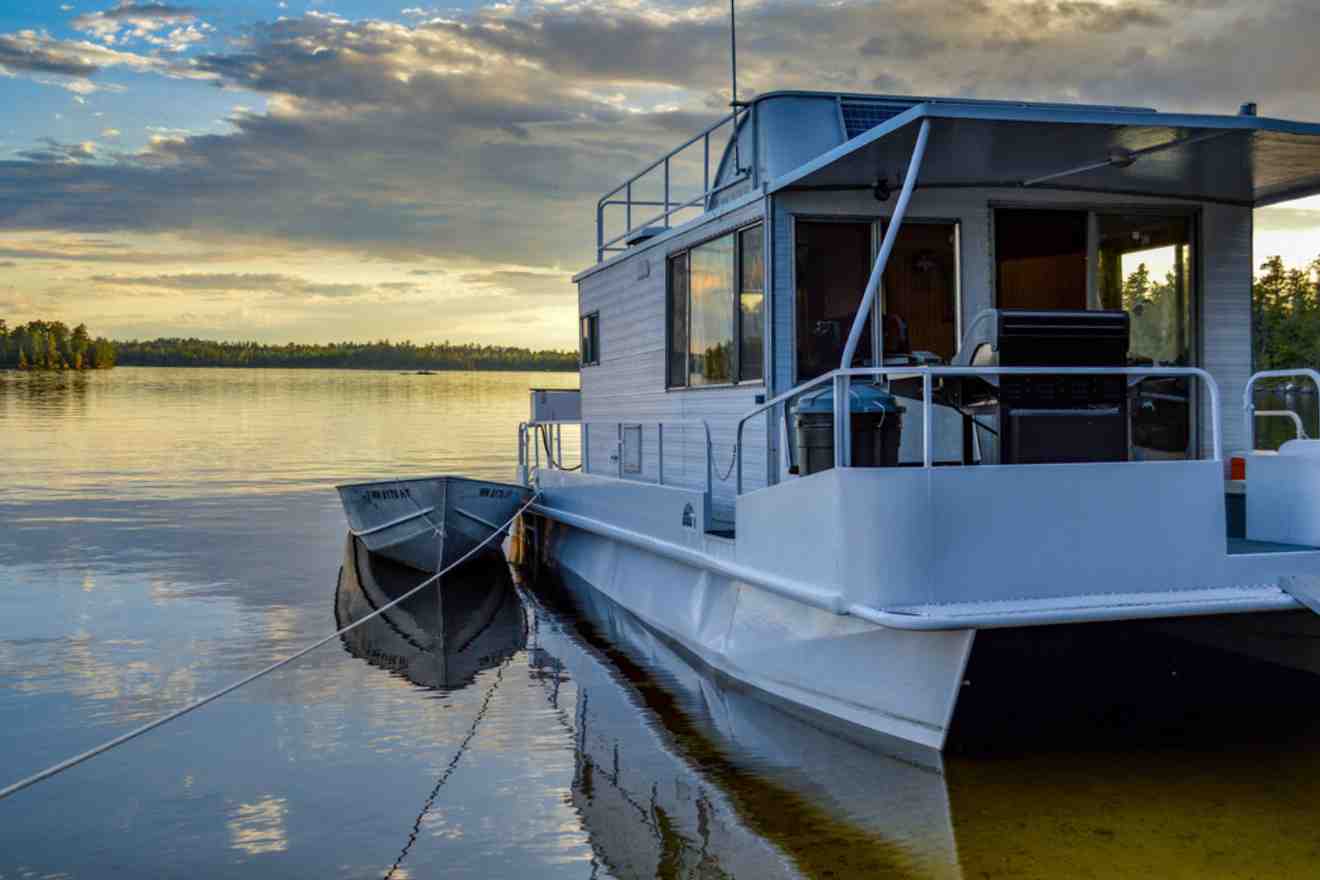 Gotta love the Tennessee vibe!
And now that we've gone through the best houseboat rentals in Tennessee, plus a bonus with some great homes with lake views, you're more than ready to start planning your trip.
Just don't forget to book your accommodation in advance, otherwise, you may have to wait a long time until finding the perfect place for you!
Before we wrap up, I wanted to offer you my top 2 favorite places here! I'm sure this may help my indecisive readers who still don't know which accommodation to pick:
Norris Lake Floating Home – This spacious houseboat is set on Norris Lake at Whitman Hollow Marina, and it offers a deck with outdoor furniture and a kayak
Knoxville Luxury Home – Set near Volunteer Landing Marina this houseboat has beautiful decor and some games
There you go!
I'm saying goodbye (but just for now)! As you know, I'm always around for further questions! All you've got to do is leave me a comment below, and I'll answer as soon as I can.
Safe travels,
Victoria
---
Pin it for later!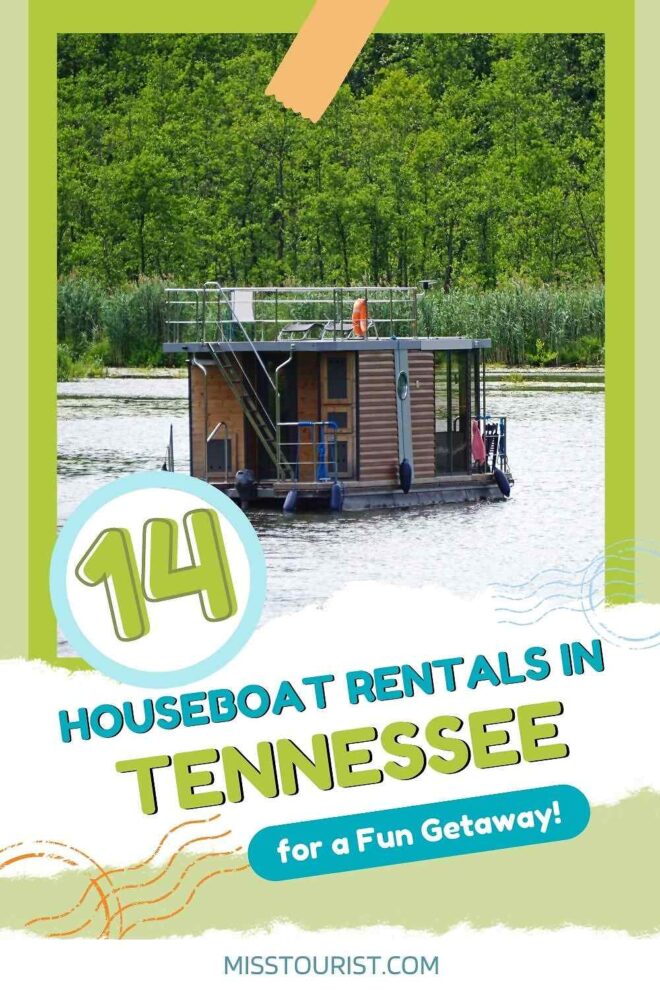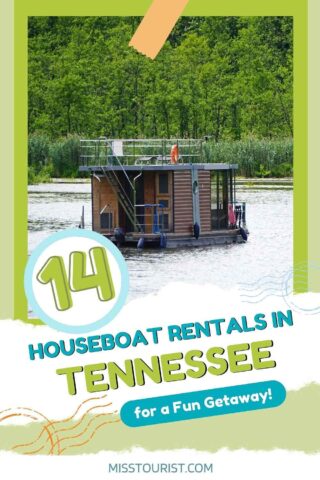 Pin it for later!