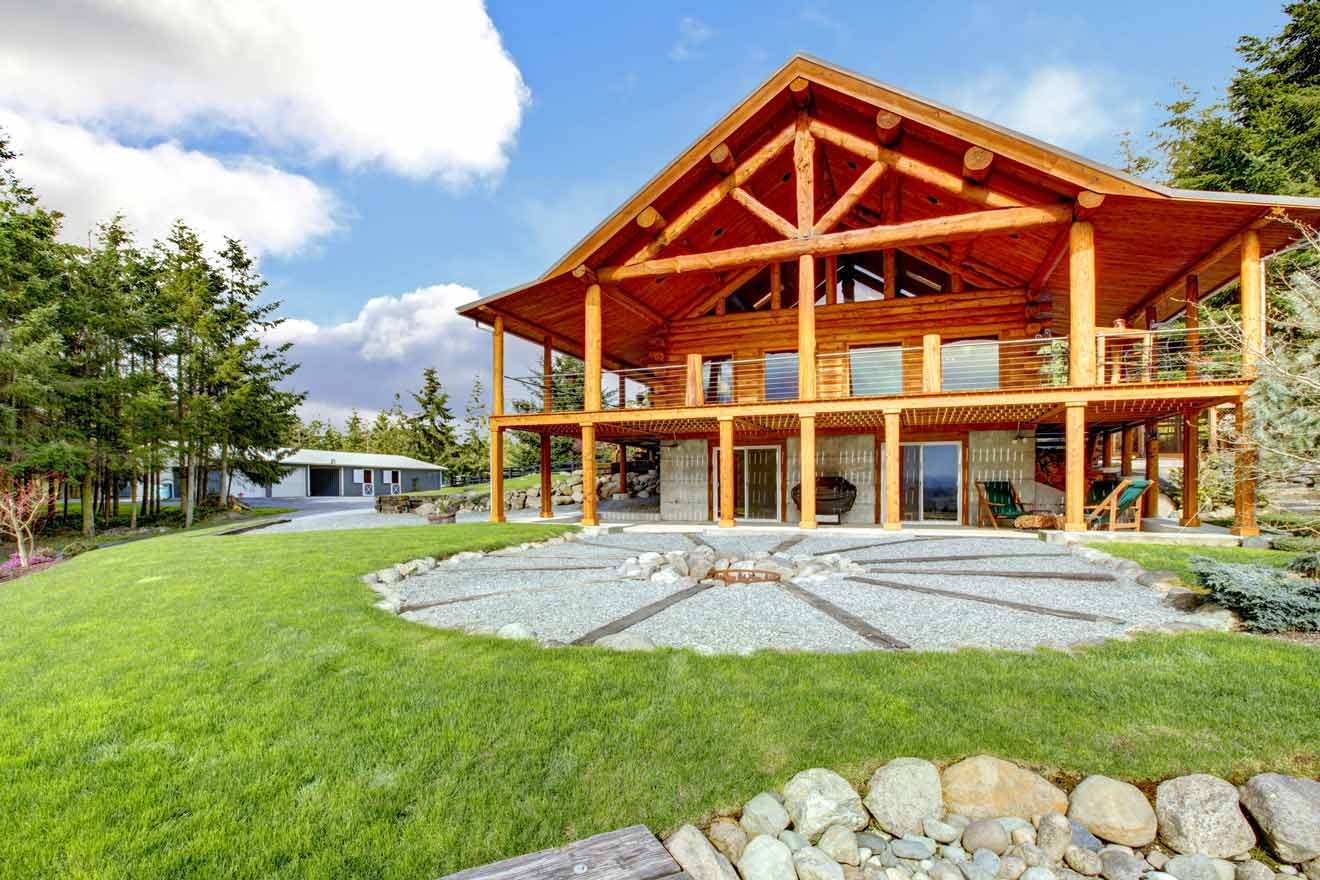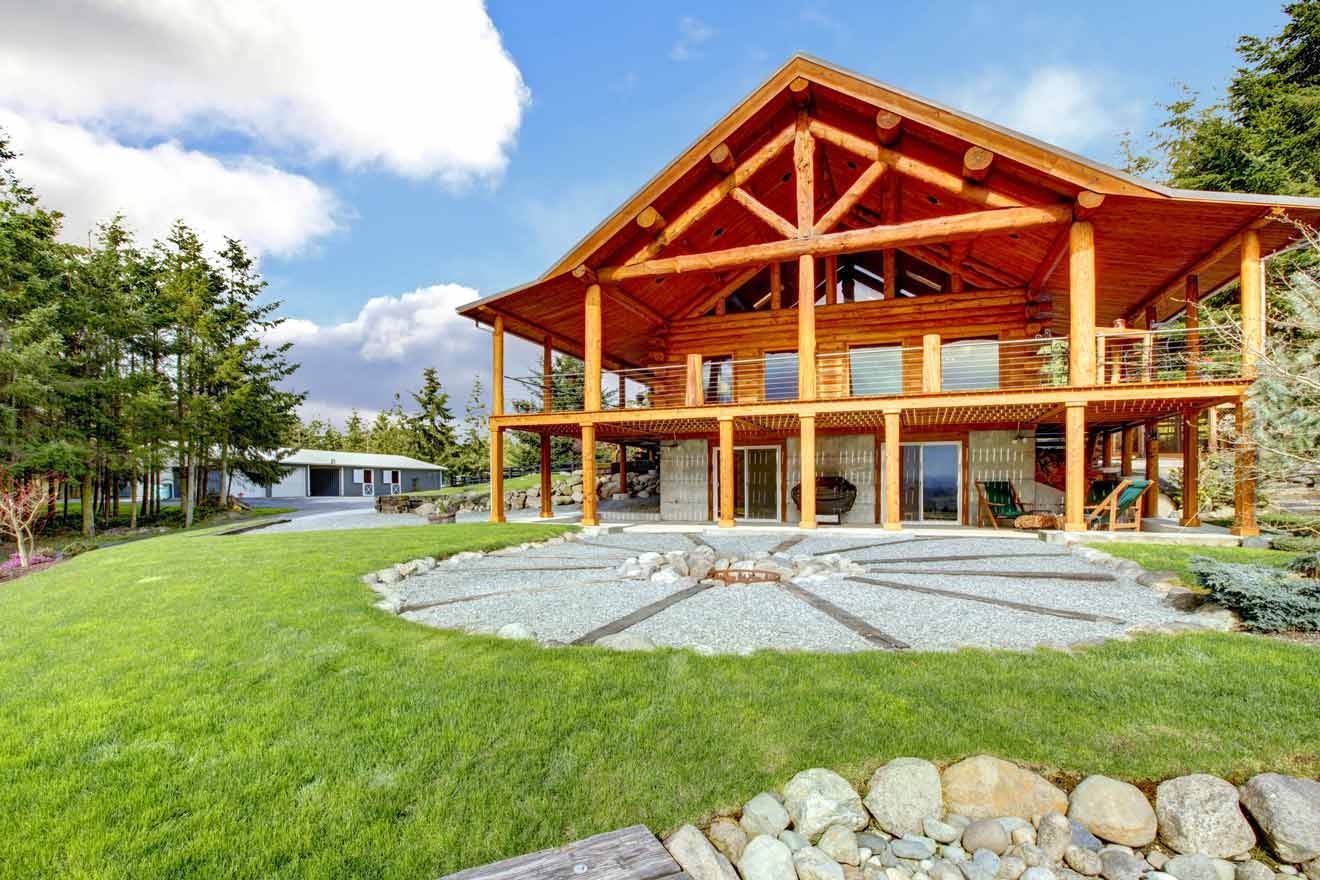 Looking for the best Cabins in Nashville, Tennessee's music city, where you can enjoy your own privacy surrounded by a peaceful and scenic setting?
Well, you came to the right place! In this travel guide, I have already collected the best
Nashville Cabin rentals offering access to Downtown Nashville, its most popular attractions, and to charming hiking trails nestled in nature!
I divided all the beautiful accommodations by cabin capacity: large, medium, and small cabins, so you can look directly into a specific section depending on how many people you're going on vacation with. Note that prices can change dramatically from a small but luxury cabin to a large but limited-facility cabin.
The only thing you have to remember is to book your favorite cabin at least some months in advance, so you can make sure you reserve yourself a spot, and maybe find some good deals.
And now, let's start exploring all the best cabins in Nashville together!
If you are in a hurry
If you don't have time to read the whole post, check out this quick list of the best cabin rentals, divided by capacity:
Large Cabins (sleeps 7+ people)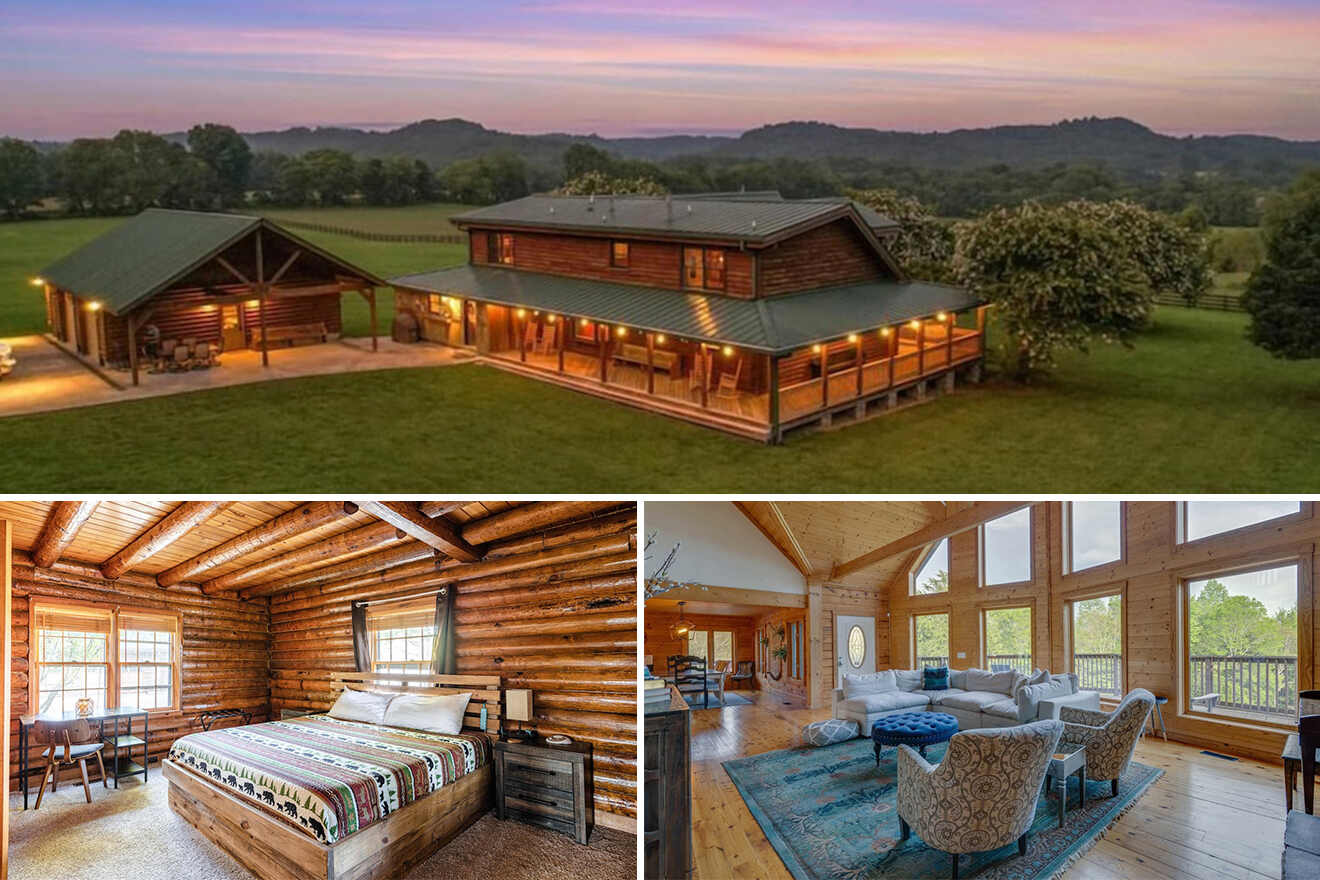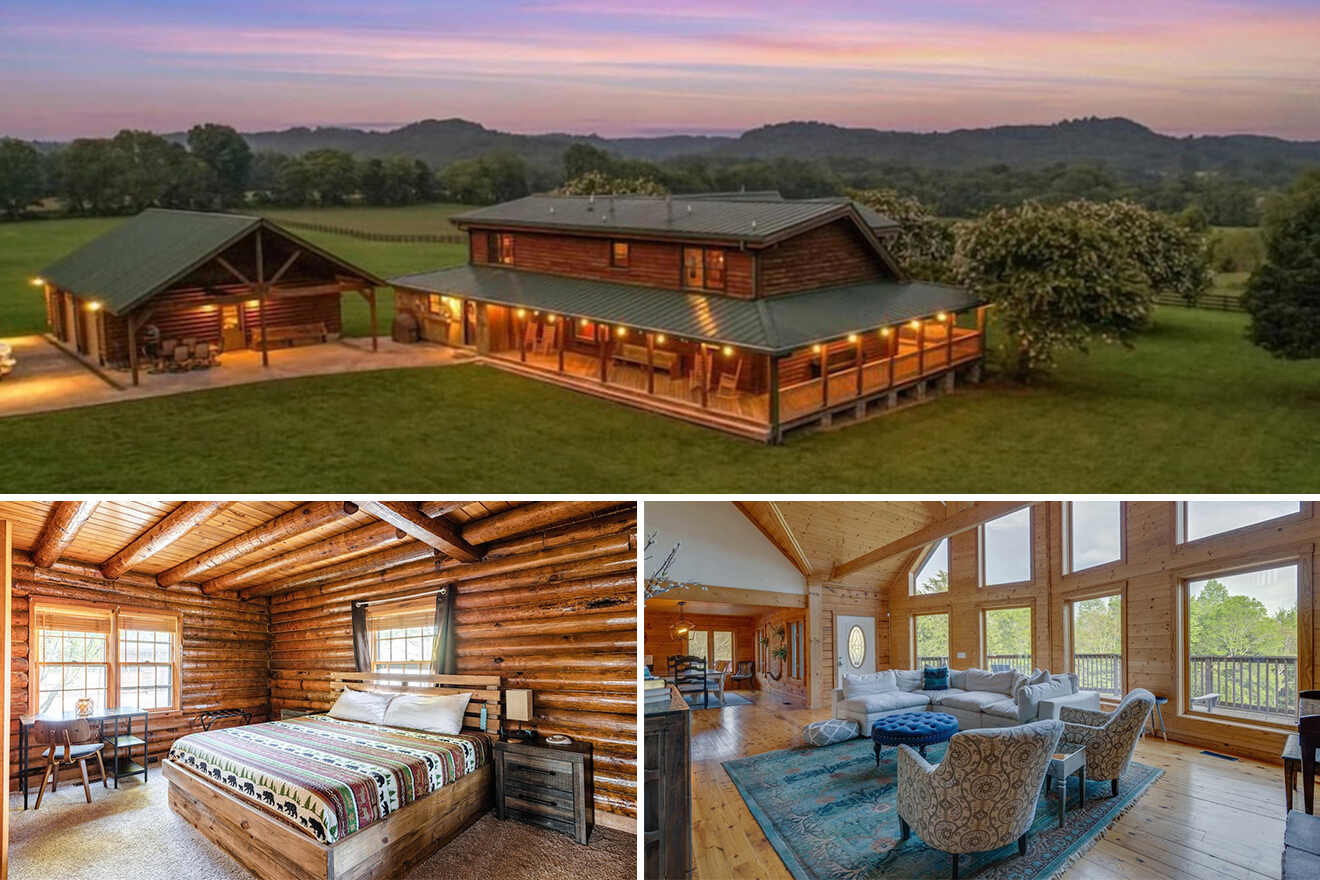 Secluded 18-Acres Cabin – This stunning cabin, nestled in Middle Tennessee in the charming rolling hills of Franklin, at a short drive from downtown Nashville, is perfect for making memories with your friends or large family, hosting up to 16 people (in 5 bedrooms). The place is so cool, featuring a wood-burning fireplace and fire pit, a game room, a swimming pool, and a hot tub… no wonder why it is often used as a retreat for local songwriters!
Welcome to 'The Getaway' – If you want to spend a relaxing holiday completely nestled in nature, this log cabin is for you – one of Nashville's finest retreats! The accommodation sits on a private property of 50 acres and features a large fishing pond right on the front porch, a gourmet kitchen, spacious areas to dine together, and incredible games rooms. A great place for both small & large gatherings, offering 4 bedrooms for up to 16 people.
Quiet Log Cabin – This log cabin has a great location if you want to be near Nashville attractions (like Music Row and Broadway) and, at the same time, surrounded by a quiet and relaxing setting. This large gated home, for up to 12 people, lies in Tennessee Countryside and offers a big patio and deck, a private swimming pool and a hot tub for relaxation, a fire pit, a fully stocked kitchen, private parking, A/C, and free Wi-Fi.
Premier Leipers Fork Log Cabin Property – Looking for a place to connect with nature and disconnect from everything else? Then this log house is for you; located within walking distance from the Natchez Trace Parkway and offering scenic views, bike trails, and cool activities like horseback riding. This historic property features 4 spacious bedrooms for up to 8 people, and great amenities like a huge, fully-equipped kitchen.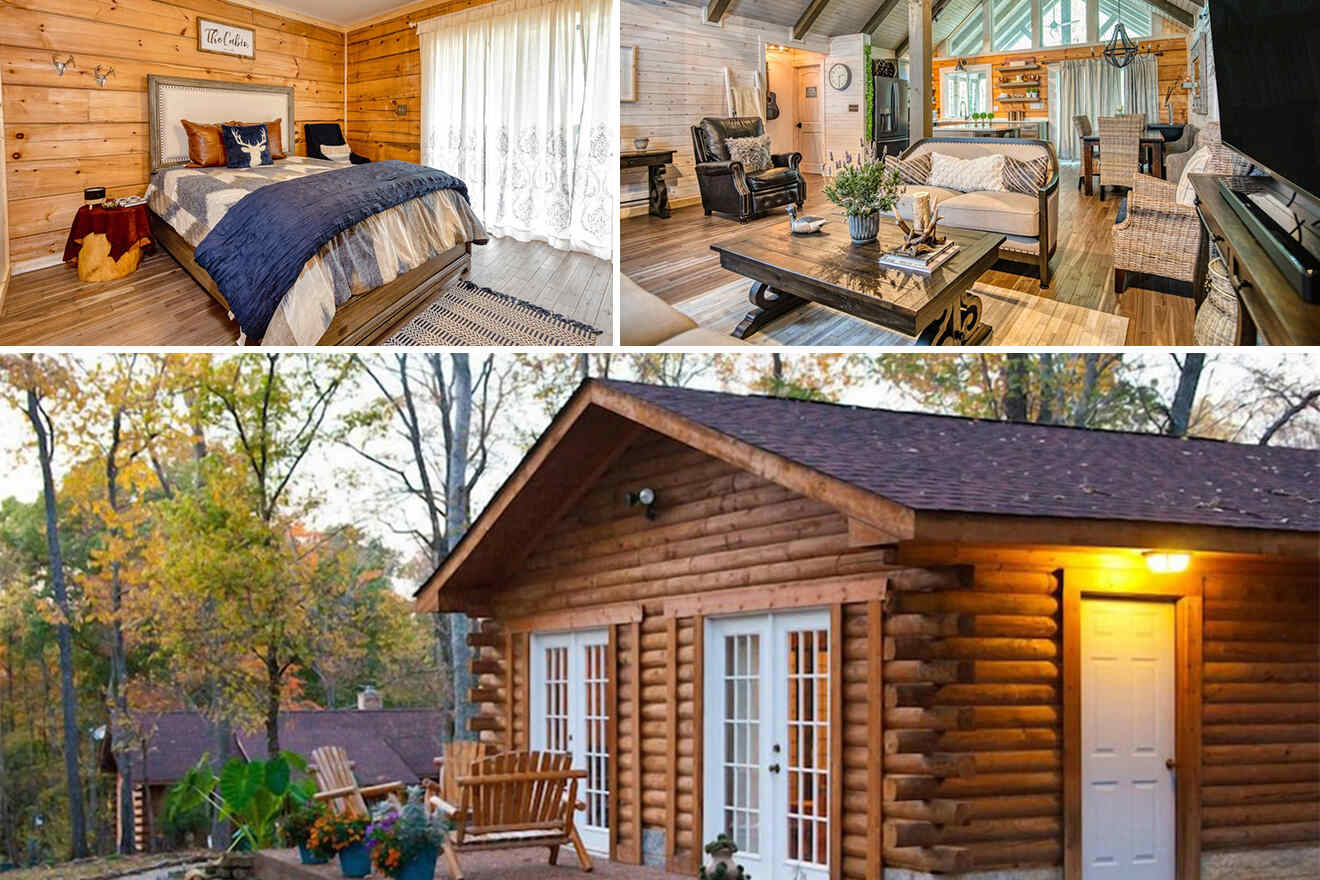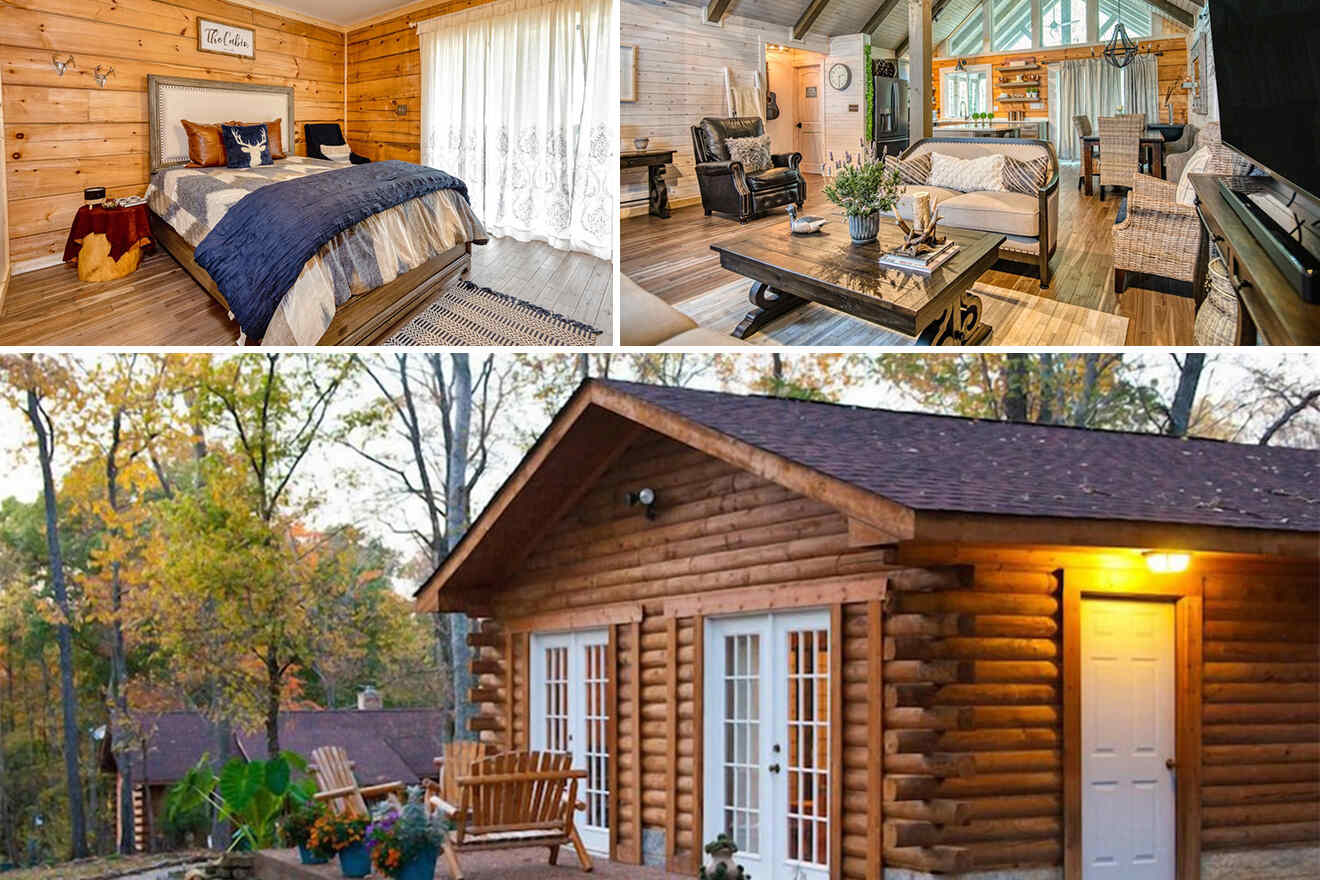 Come Away Cabin, a Luxury Retreat – Escape the city and experience modern luxury at this stunning, three-bedroom cabin nestled in Nashville's countryside, hosting up to 8 people. The property is so beautiful, featuring modern decor with special touches like rocking chairs, hide rugs, leather recliners, and cool amenities like a pizza oven and two 75-inch 4K TVs. But the best thing is that you'll be welcomed with a bottle of delicious wine… completely free!
Slayden House on Old Hickory Lake – This charming chalet is located on the Old Hickory Lake, about 25 miles from Nashville, and features 2 bedrooms hosting up to 8 people. Here you will be entertained the whole day, swimming and fishing in the lake water, playing with your beloved ones at the air hockey table, or just sitting on the porch trying to spot the wildlife: deer, wild turkeys, peacocks, and squirrels – perfect for animal lovers!
Nicely Appointed Cabin in Scenic Setting – Check out this modern, spacious, and cozy cabin nestled in a beautiful forest-like setting with wooded walking trails. The property has everything you need to feel at home: a fully equipped kitchen, a cable TV, a fire pit, a washer and dryer, an ironing board, and 2 comfortably carpeted bedrooms for up to 7 people. Perfect for family vacations and romantic getaways.
Medium Cabins (sleeps 5-6 people)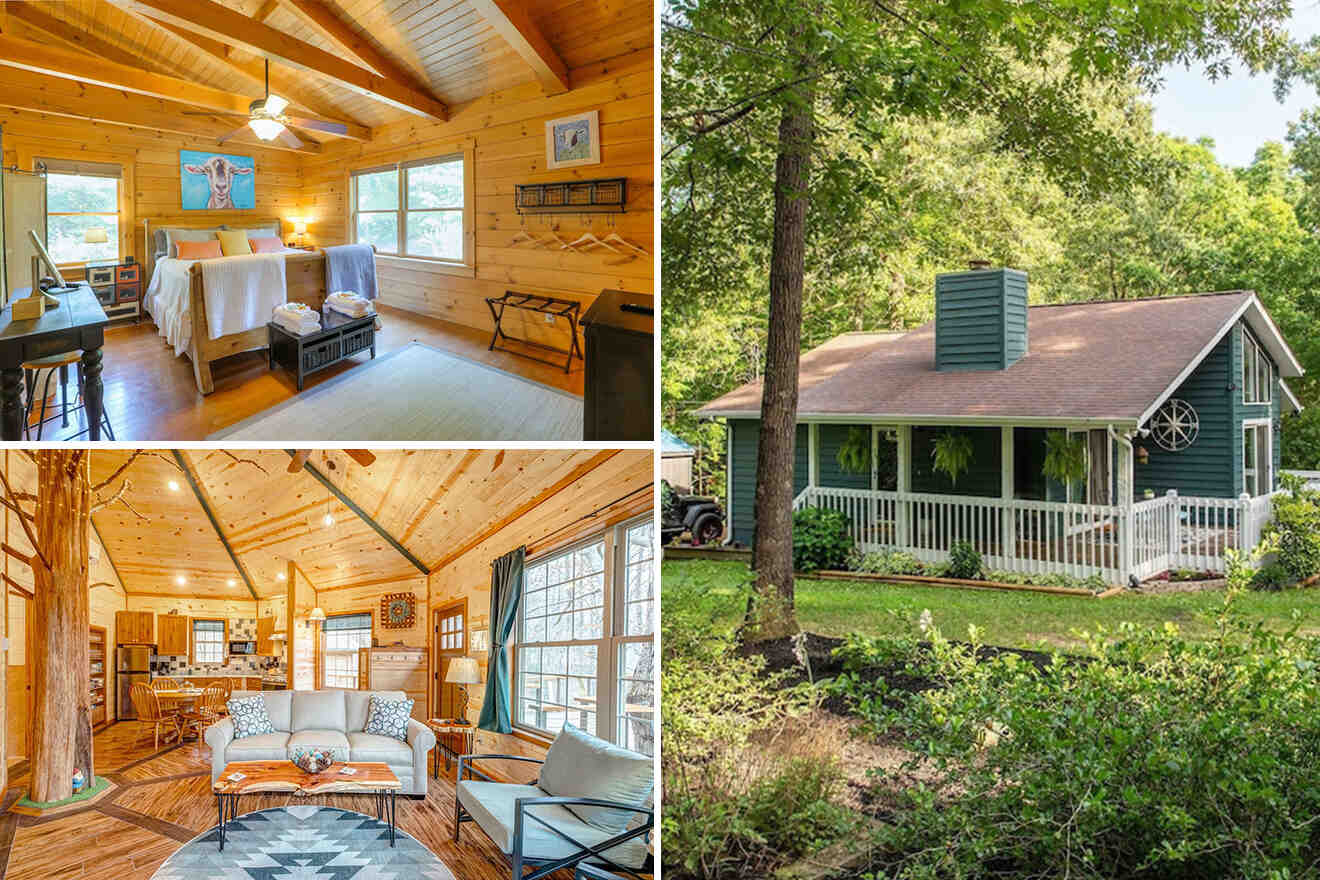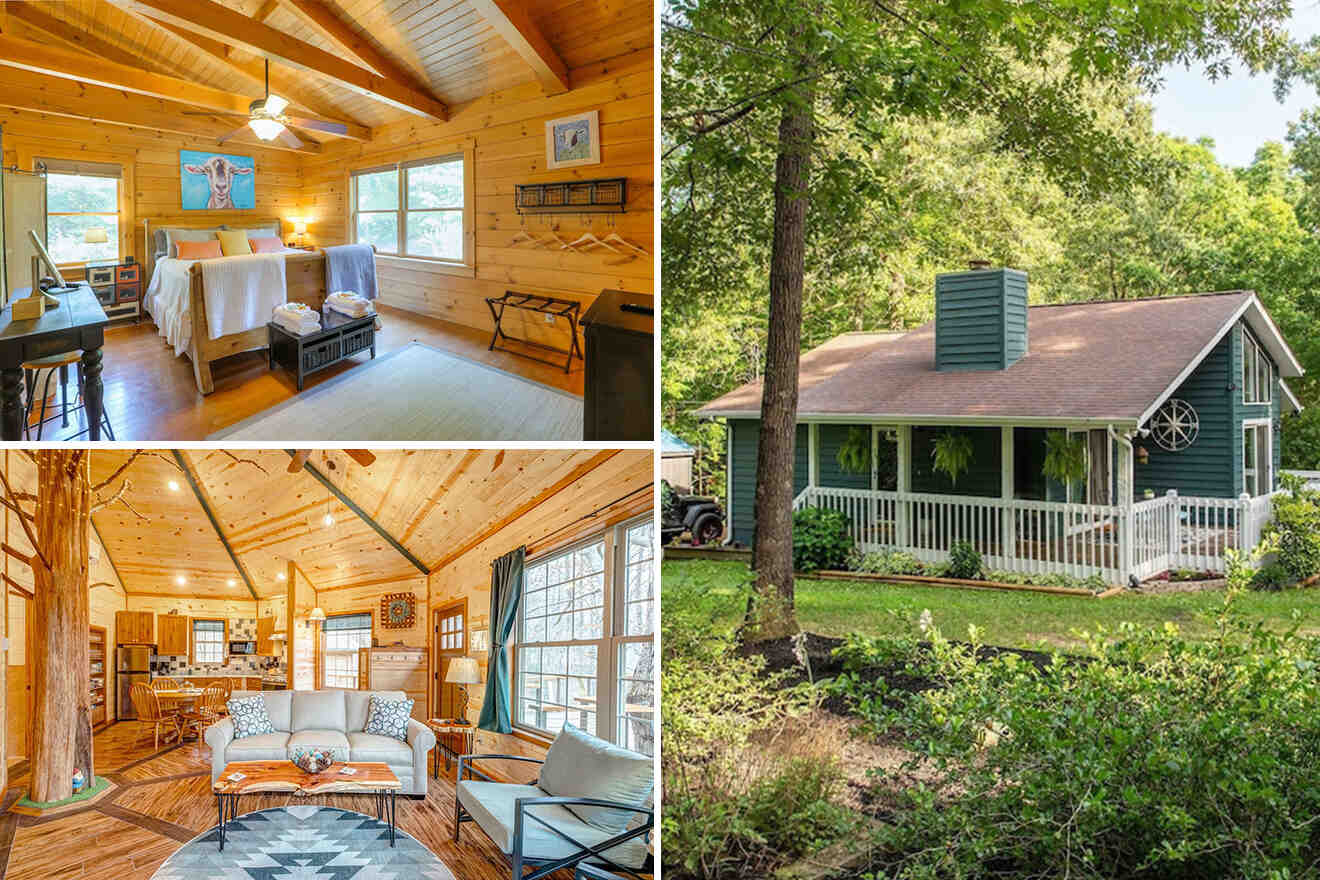 Cheerful 3-bedroom Cabin in the Trees – This lovely cottage surrounded by trees is pet-friendly, so it's perfect if you want to bring your four-legged friend with you. It has a great location in Kingston Springs, at only a 30 minutes drive from downtown Nashville! You will enjoy some great modern amenities, like a porch, a gas fire pit, a cool games room, and a fully-stocked kitchen, perfect for groups and families of 6 people.
Cozy Cabin 2 br/1 ba – Nestled in a beautiful natural setting near Nashville (precisely 30 mins from it), this cozy cabin hosts 3 bedrooms and 6 people, the perfect escape for couples and/or the whole family! Spend your days exploring the walking trails at the 2.5 wooded acres surrounding the property, spotting the beautiful wildlife, and enjoying the nights stargazing by the fire pit outside… How magical is this?
Luxury Treehouse Getaway – Located on 11 private acres of land, just 20 minutes north of Nashville, TN, this luxury treehouse is the perfect getaway from the busy city life, hosting 2 bedrooms for up to 6 people. Here you will chill on the private deck, with an outdoor shower, while listening to the music of nature, cooking your favorite meals in the fully-equipped kitchen, or observing the beautiful wildlife of the area.
Billy Goat Hill Cabin – Located on a private gated 62-acre property 45 min driving from Nashville, this cabin (hosting up to 6 people) is just magical, with direct access to Old Hickory Lake. Here you will have breakfast with fresh eggs picked from your organic garden, and spend your days chilling with pygmy goats, relaxing in the hot tub, or going camping, hiking, kayaking, and fishing at the lake… there's no chance you will get bored!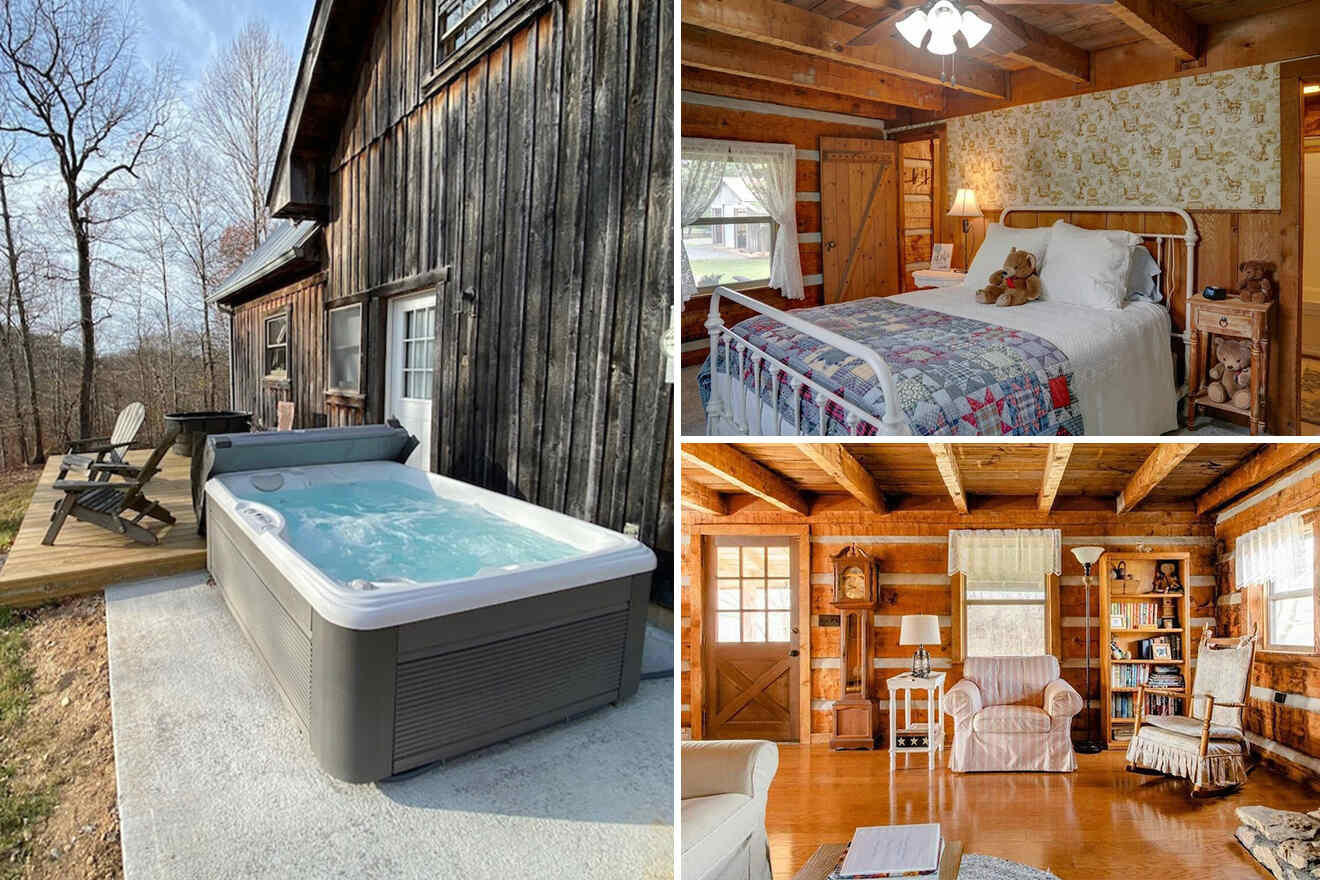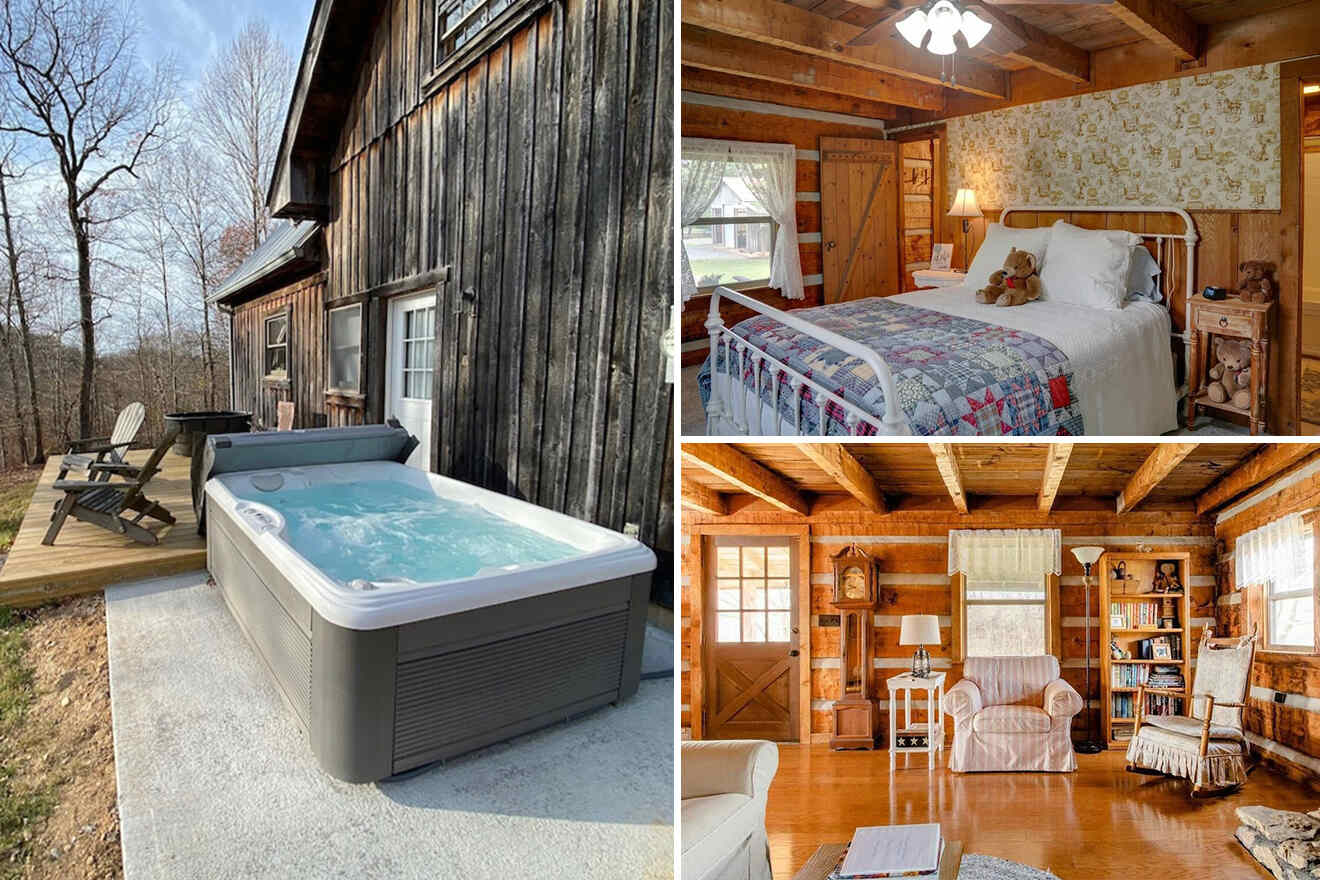 The Cabin at Roney Creek Farm – This farm is located on a 15-acre private gated property at just 35 minutes north of downtown Nashville, so you can enjoy the best of both worlds (city and country). Here you will have all the comforts you need: a large open living area with a stone gas fireplace for chilly, cozy evenings, a full kitchen with everything you'll need for home-cooked meals, and 2 spacious rooms for up to 6 people.
Love Shack – Nestled in the Big East Fork Conservation Easement woods, Nashville, this secluded cabin offers 2 bedrooms for up to 6 people, and it is the perfect place for a quiet getaway far from the stress of city life. Here, you will have everything you need for a holiday full of comforts: A/C, a private patio and garden, a fully-equipped kitchen, and access to hiking trails, small waterfalls, lakes, ponds, meadows, and woods right in the surroundings!
Secluded Cabin 3Bed/3Bath – This lovely cabin has one of the best locations in Tennessee, at only 15 minutes drive from both the Nashville and the Kentucky Border. The property hosts a maximum of 6 people and combines a rustic feel with modern amenities, like central air conditioning, a fully-equipped kitchen, and a separate dining room with antique furniture and stained glass windows… check it out, you'll love it!
Small Cabins (sleeps up to 4 people)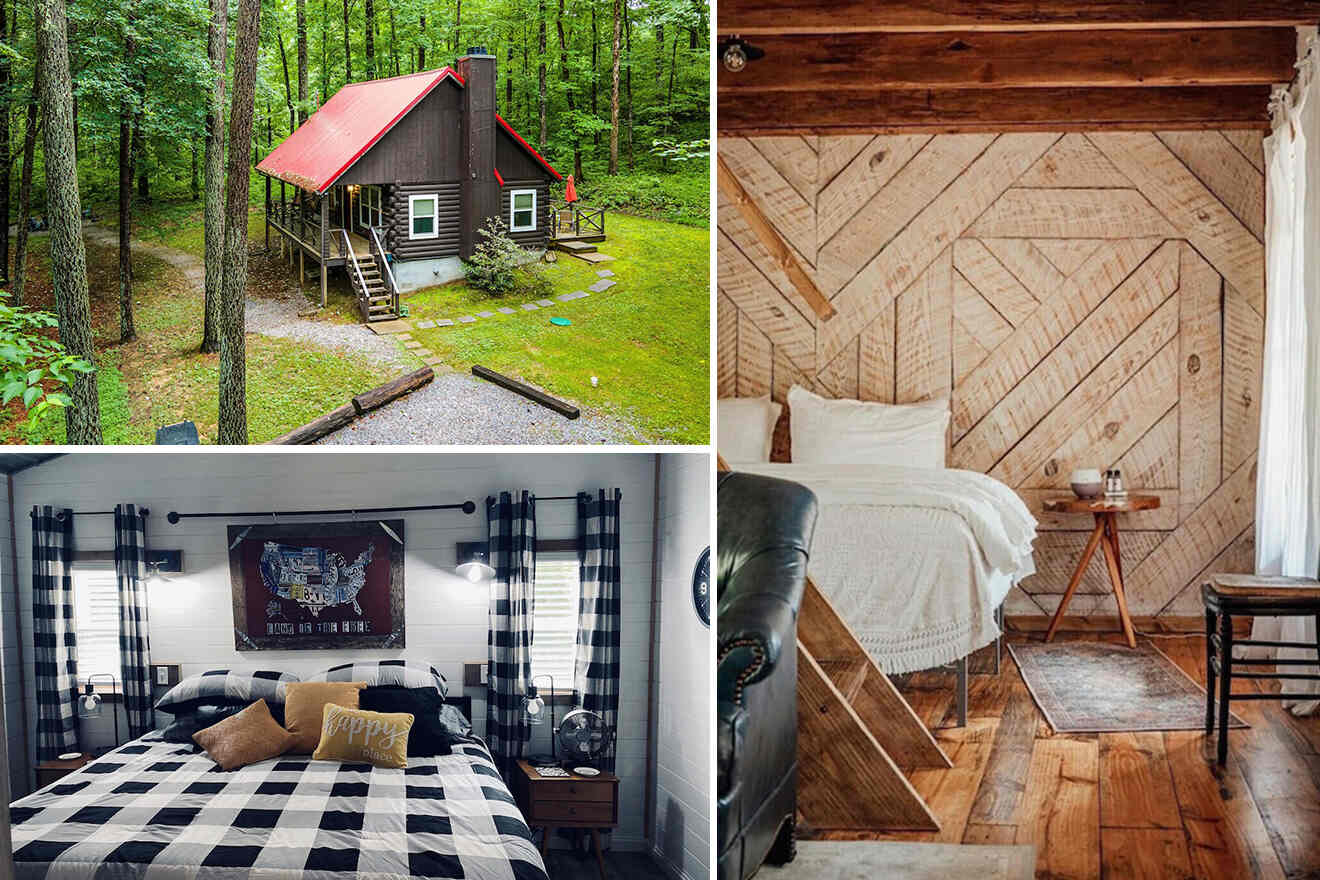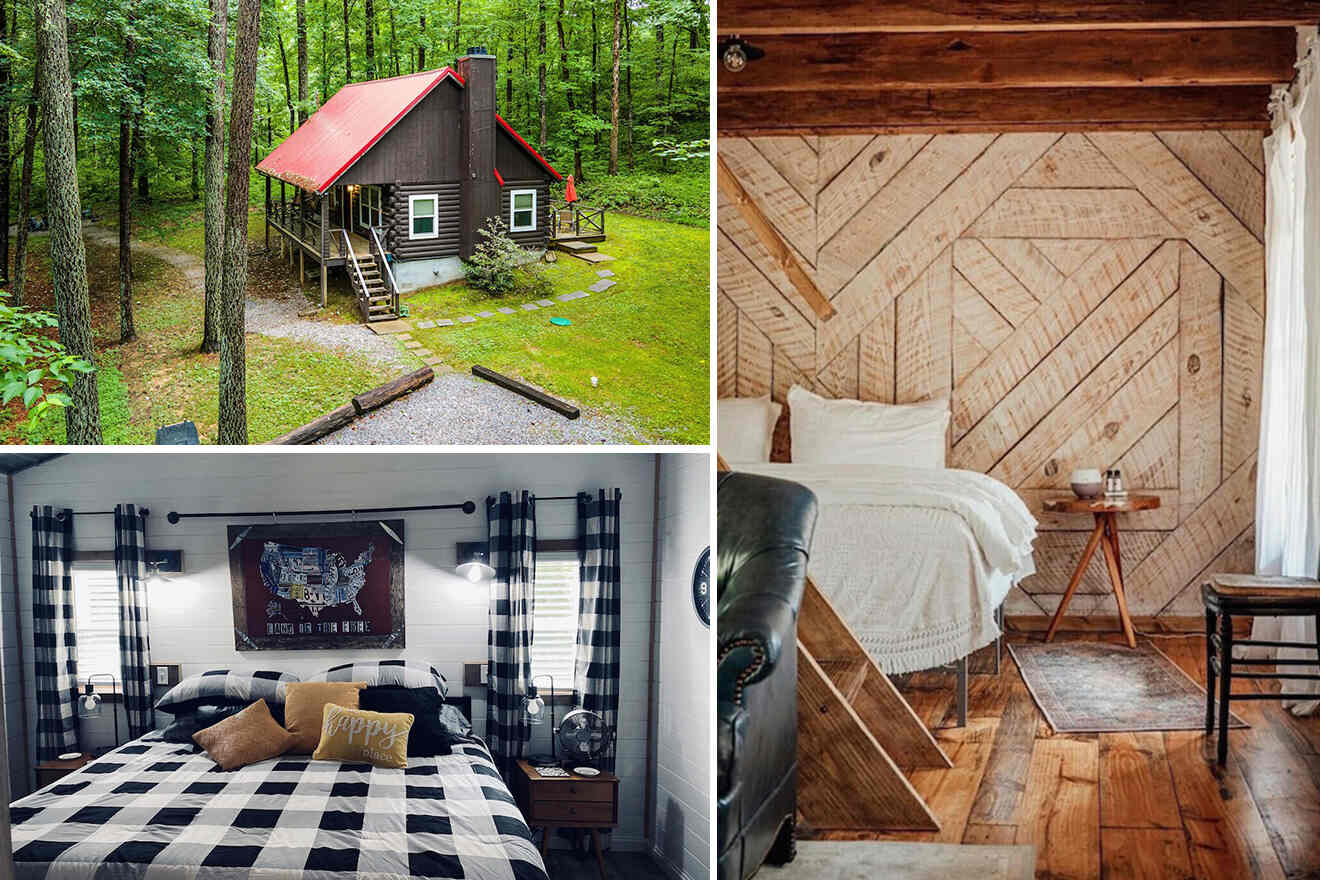 Artist's Cabin Nature Retreat – Looking for a cool place to enjoy nature, and breathe fresh air that is not a Nashville boutique hotel? Then check out this lovely little cabin nestled in the enchanting Tennessee woods, only half an hour away from downtown Nashville, hosting 2 bedrooms for up to 4 people. Here you will cook your breakfast in the fully-equipped kitchen (fresh eggs offered by the host!), and spend the day exploring the surrounding wood.
Coco's Cabin #3 – This Nashville cabin hosts up to 4 people, and has literally everything you need for a holiday full of comforts! Some examples? Here you will find an open floor plan, a fully-equipped kitchen, an eat-in bar area, a separate living room, a beautiful bathroom with a large shower with sliding glass doors, a fireplace, and an outside deck facing the private woods – perfect for reading your favorite book, and enjoying some peace!
Red Roof Cabin – This cozy little cabin (hosting up to 3 people) is located in a rural neighborhood, 35 minutes away from downtown Nashville, and is surrounded by trees, wildlife, and natural streams – perfect for a relaxing experience in nature! Here you can cook your favorite meals in the kitchen, savor them on the private patio, and sit around the fire pit outside gazing at the stars at night.
Historic Log Cabin, Dreamy Loft Suite – This renovated historic log cabin, dating back to the Civil War Era, has a great location at only 30 mins to downtown Nashville, and a very short drive from local restaurants and shops. The property hosts 1 loft honeymoon suite for up to 3 people, and offers a fully-equipped kitchen, a separate living/dining room to enjoy your favorite meals, and a deck overlooking tree acreage… check it out!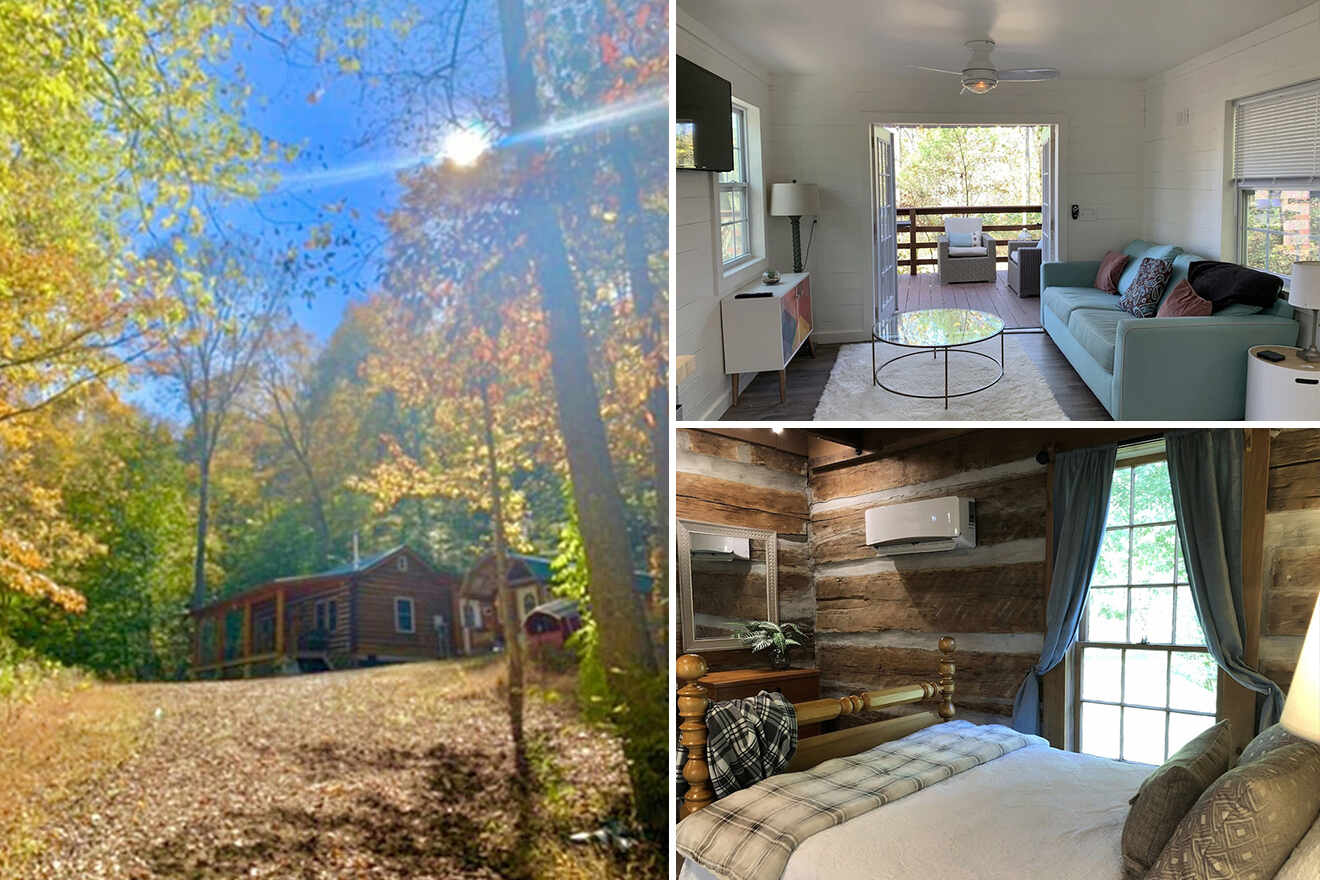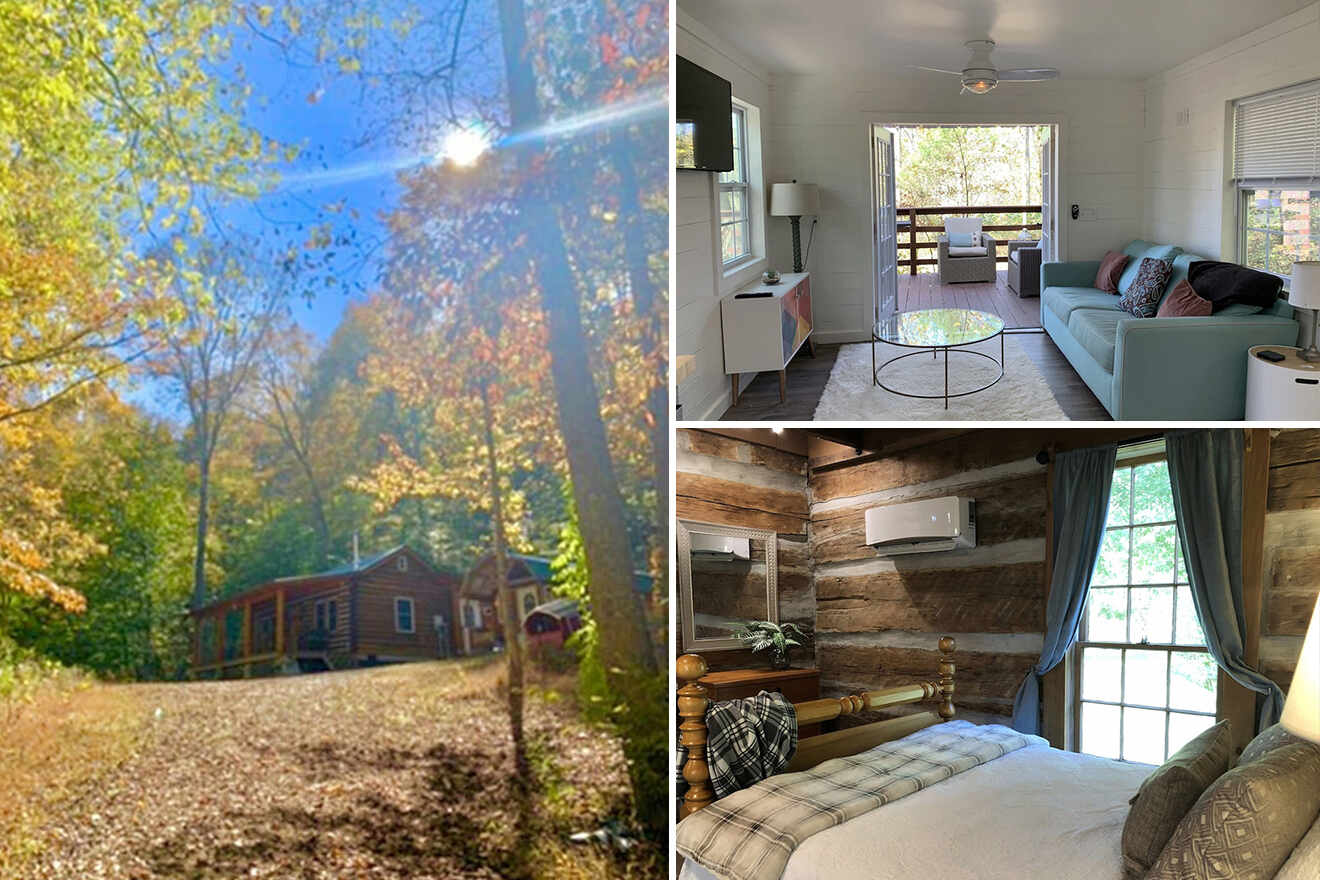 "The Cabin " @NatchezHideaway – Check out this private rustic log cabin situated among some of the most beautiful rolling hills and valleys Tennessee has to offer that you can enjoy directly from the patio. At only 40 minutes driving from Downtown Nashville, the property hosts 1 room, perfect for couples or small families of 3 people, and it is pet-friendly, so you can bring your four-legged friend with you!
Pecan Valley Cabin in the Woods – If you want to enjoy full relaxation and serenity during your holiday in Nashville, this Pecan Valley Cabin is for you. Nestled in the beautiful Nashville woods and located only 15 minutes from the heart of Nashville, the property is ideal for 2 people but can accommodate up to 4 with a pull-out sofa in the living room… Just the perfect stay for a romantic getaway or for a songwriter's retreat!
Unplugged Cabin Close to Town – Built in 1790, this historic cabin has been renovated into a studio apartment for 2 people, perfect for a romantic getaway with your special one. The property offers many cool facilities like a fire pit and a tranquil garden, but the best thing is its location on 5 acres with creek access, at only 20 minutes driving from downtown Nashville, and 5 minutes from the nearest grocery and shopping center.
FAQs about cabin rentals in Nashville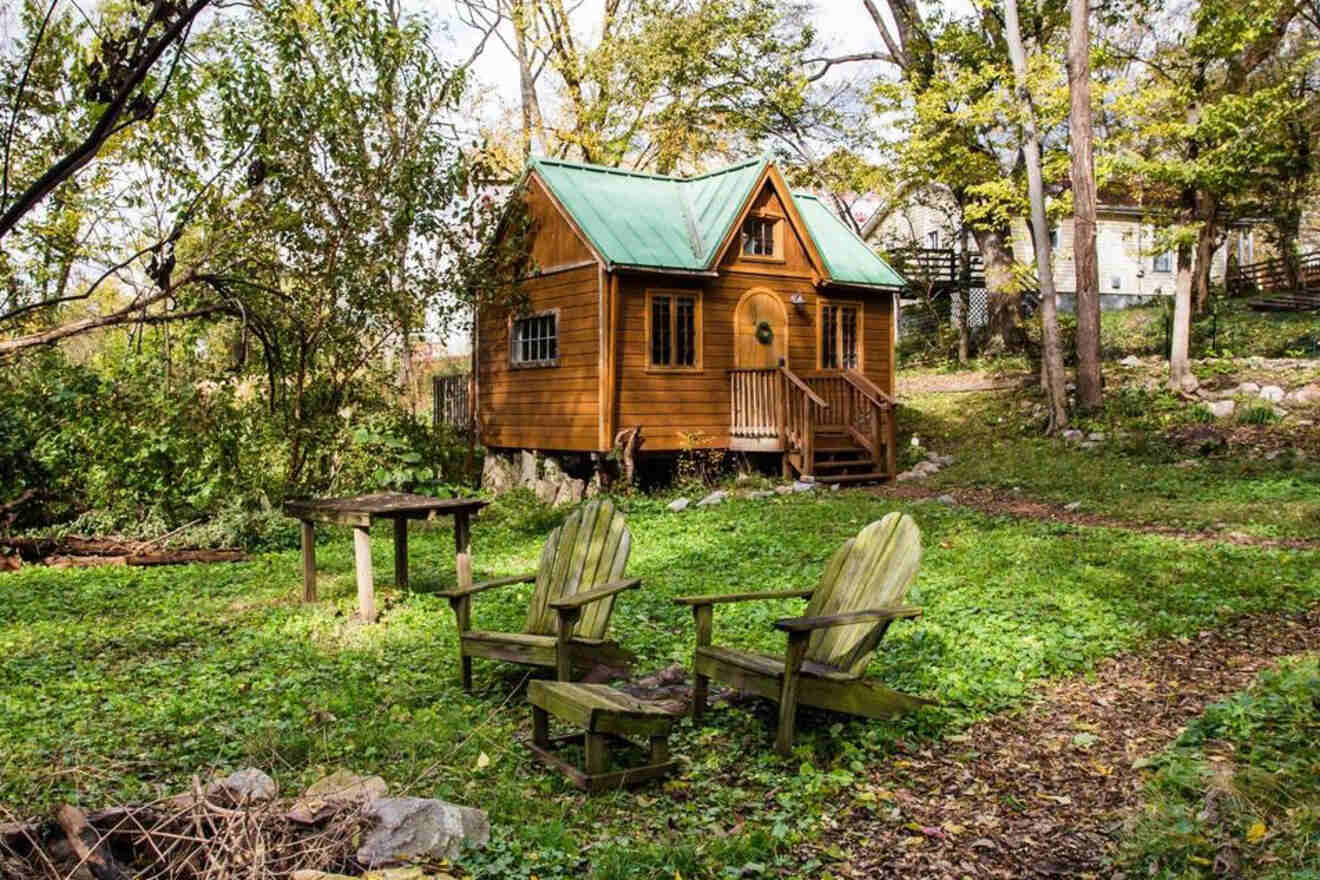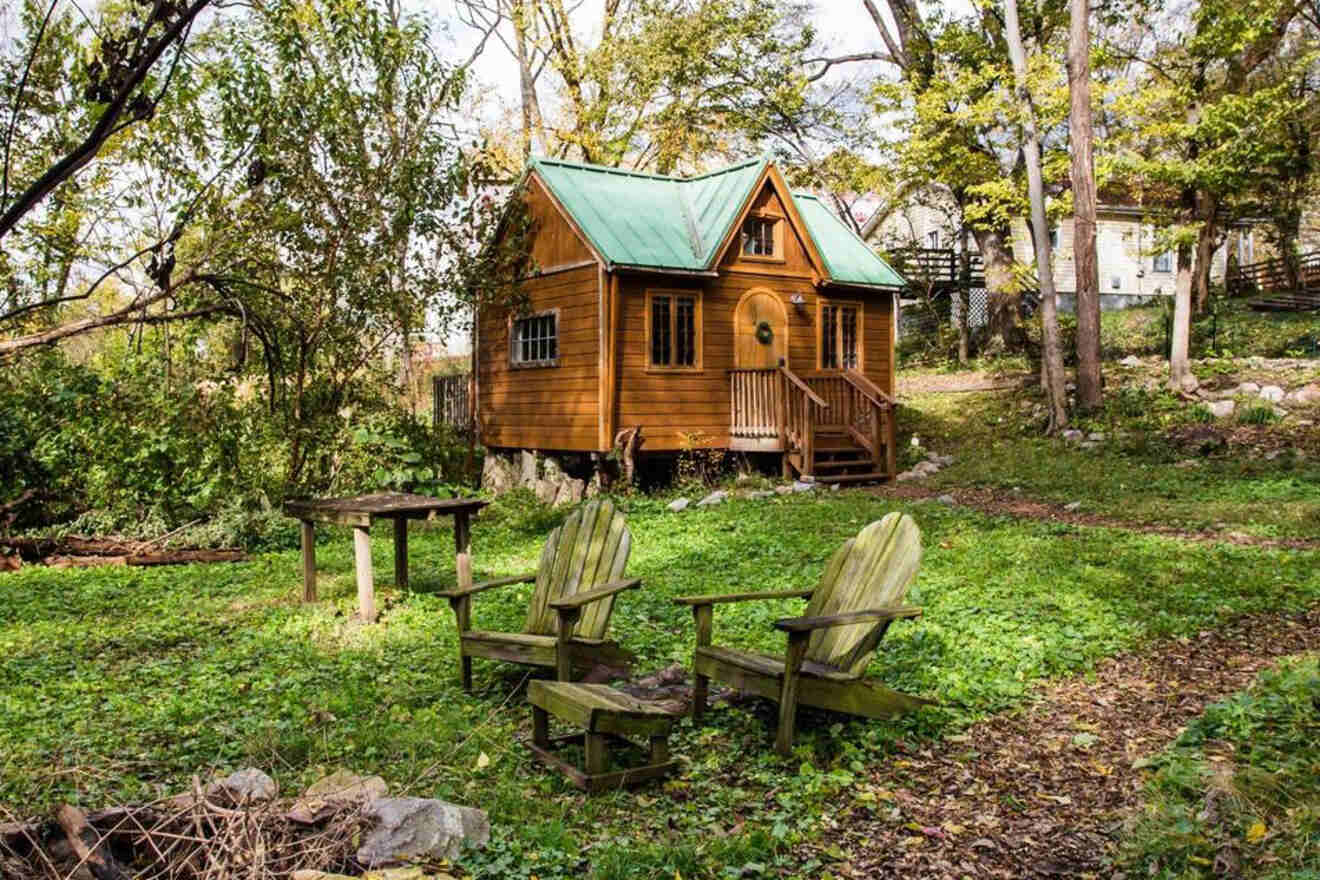 Conclusion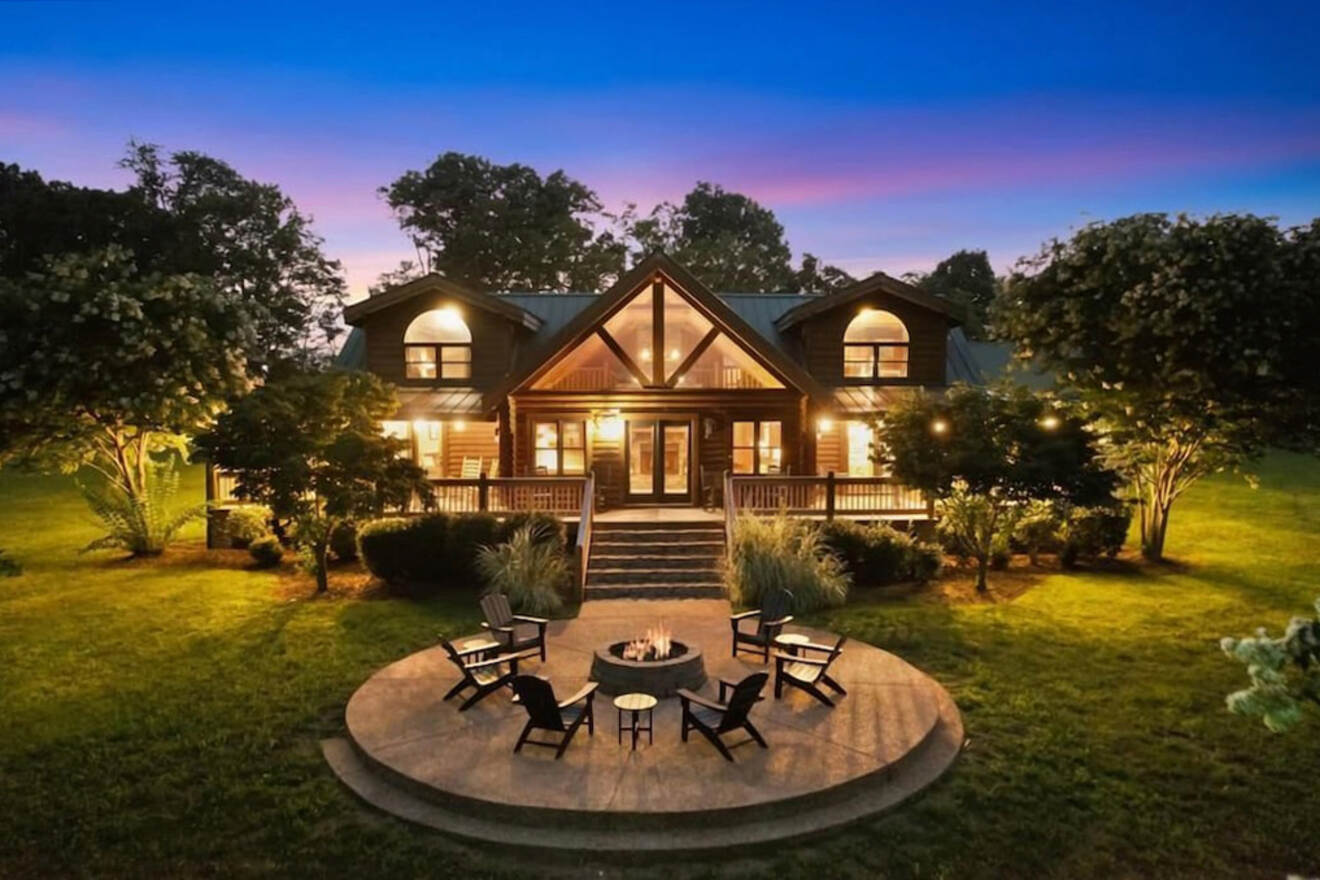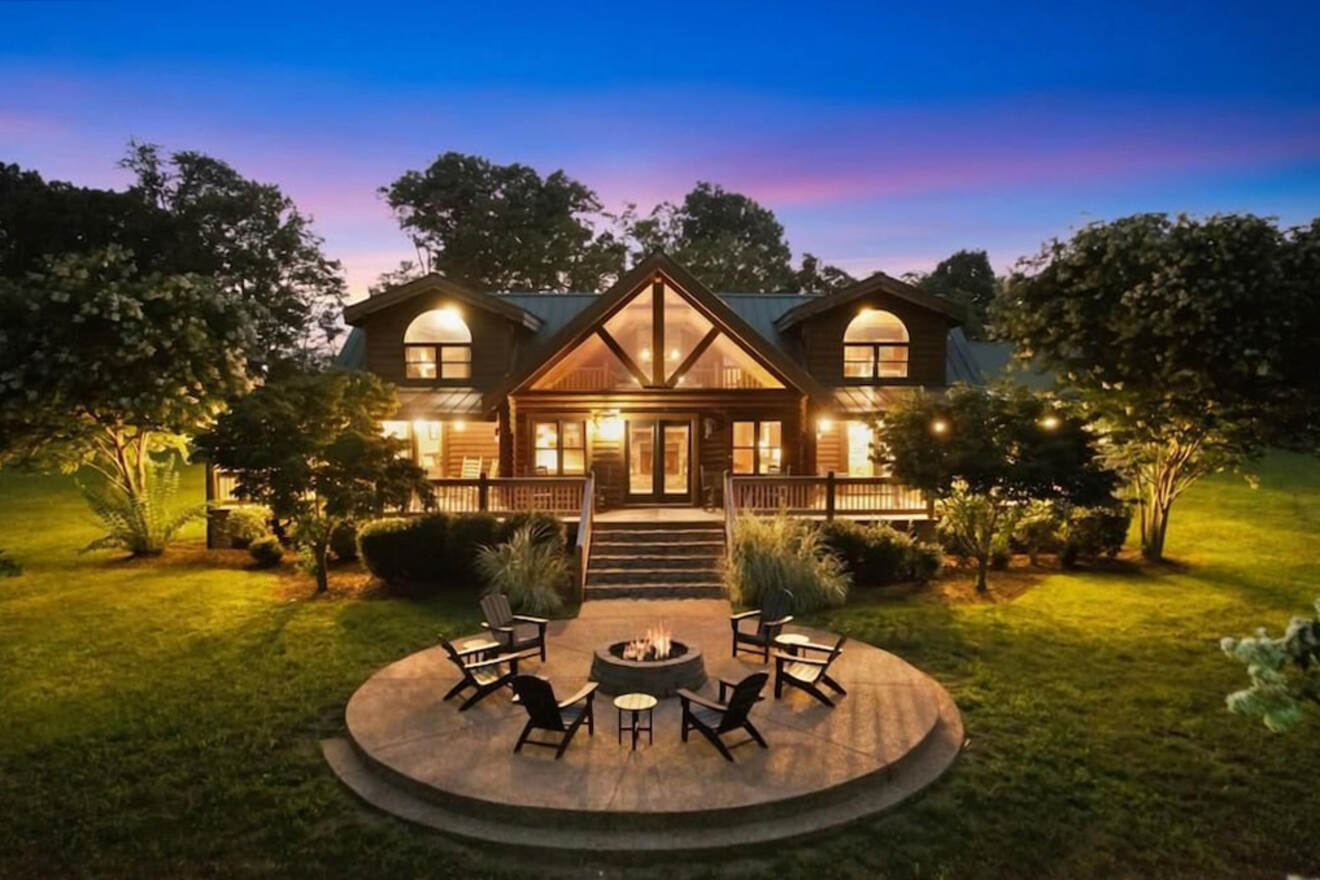 Here we are at the end of this extensive guide about the best Nashville Cabin rentals where we saw cabins of different capacities – large, medium, and small, accommodating 4 to 16 people. Whether you are staying with your family, as a couple, or a large group of friends, there is a great option for everyone here!
So, which cabin have you chosen for your next holiday? If you're still undecided, I cannot blame you, we went through so many good options! So let me help you a little more with my 2 absolute favorites:
Quiet Log Cabin – This quiet log house is ideal for large groups of up to 12 people, and features a swimming pool and hot tub, perfect to enjoy full relaxation!
"The Cabin" at Natchez Hideaway – A private rustic retreat located among gorgeous rolling hills and valleys, perfect for couples, or small families of 3 people.
If you like them as much as I do, remember to book them immediately, or at least a few months in advance, to save your spot, and maybe find some good deals.
And if you have any questions for me, or you want to recommend other great cabins in Nashville, don't hesitate to share them in the comments below… I'm looking forward to reading them all!
Have an amazing Nashville trip!
Elena
---
Pin it for later!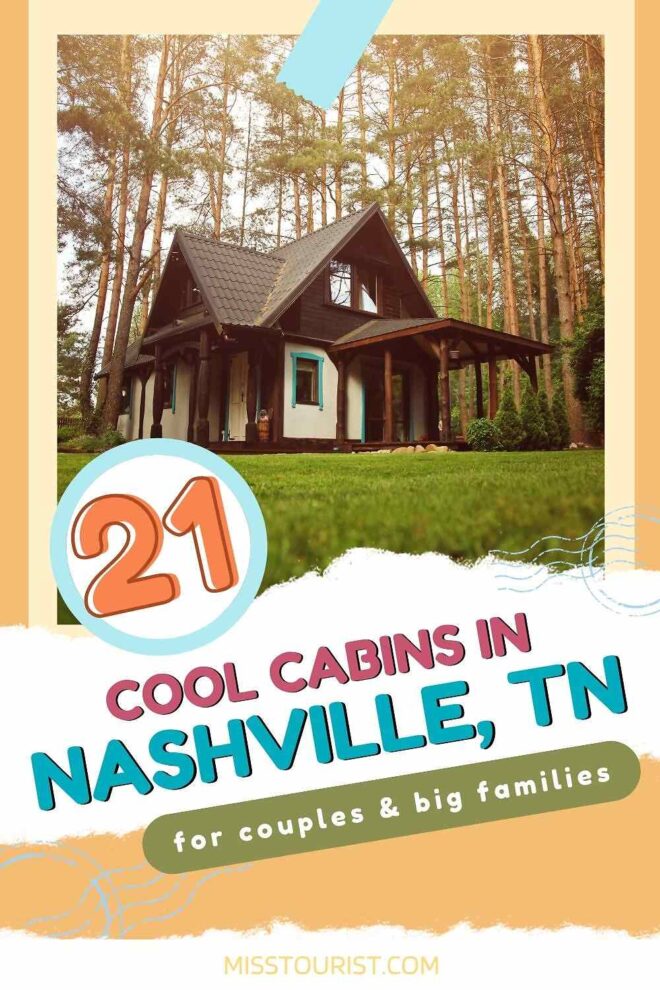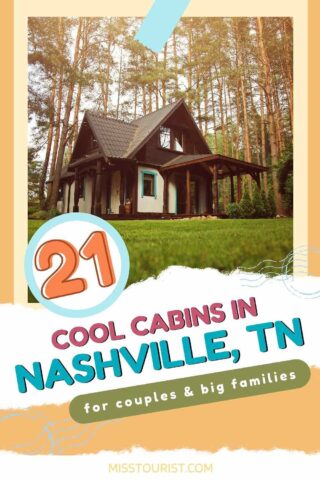 Pin it for later!