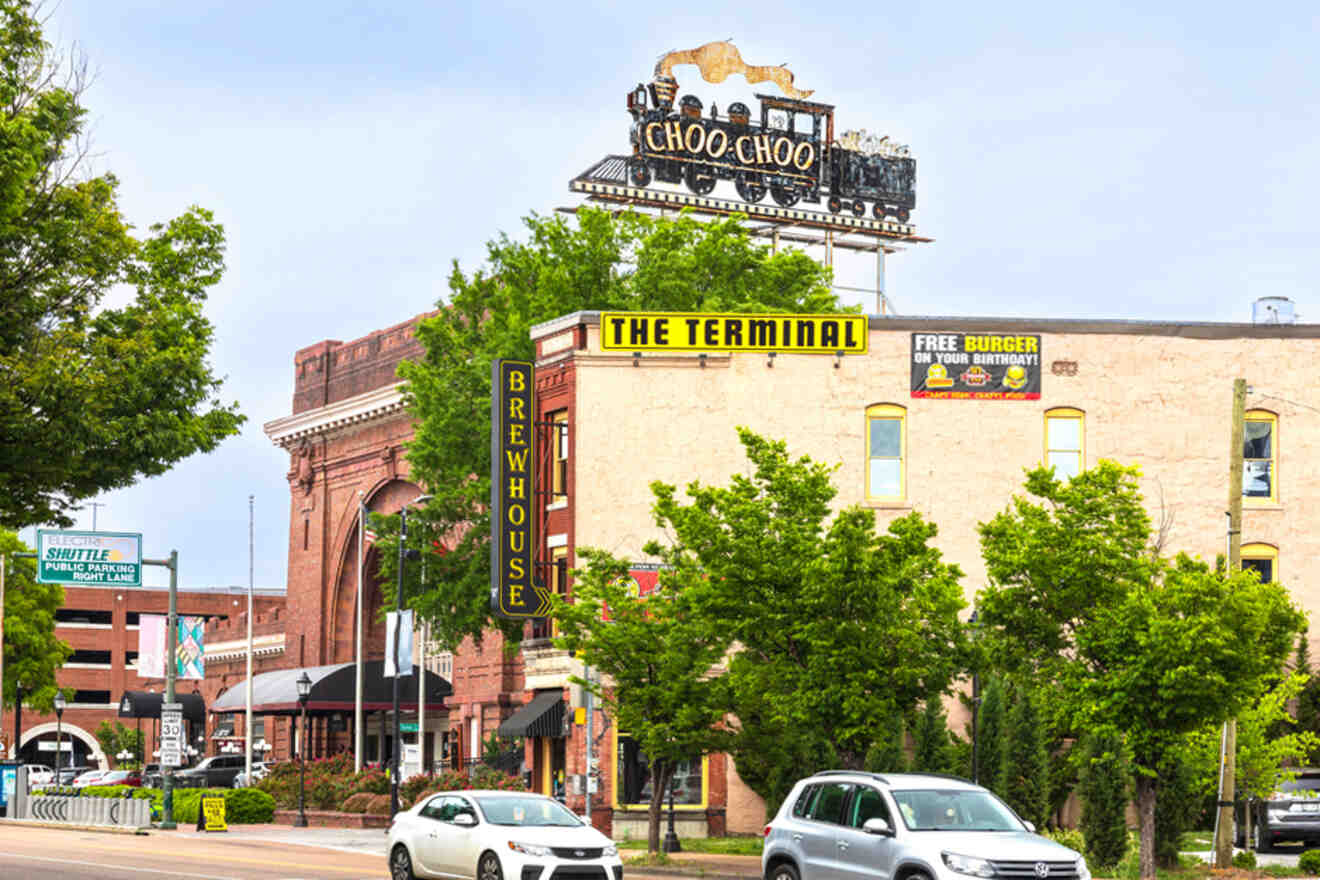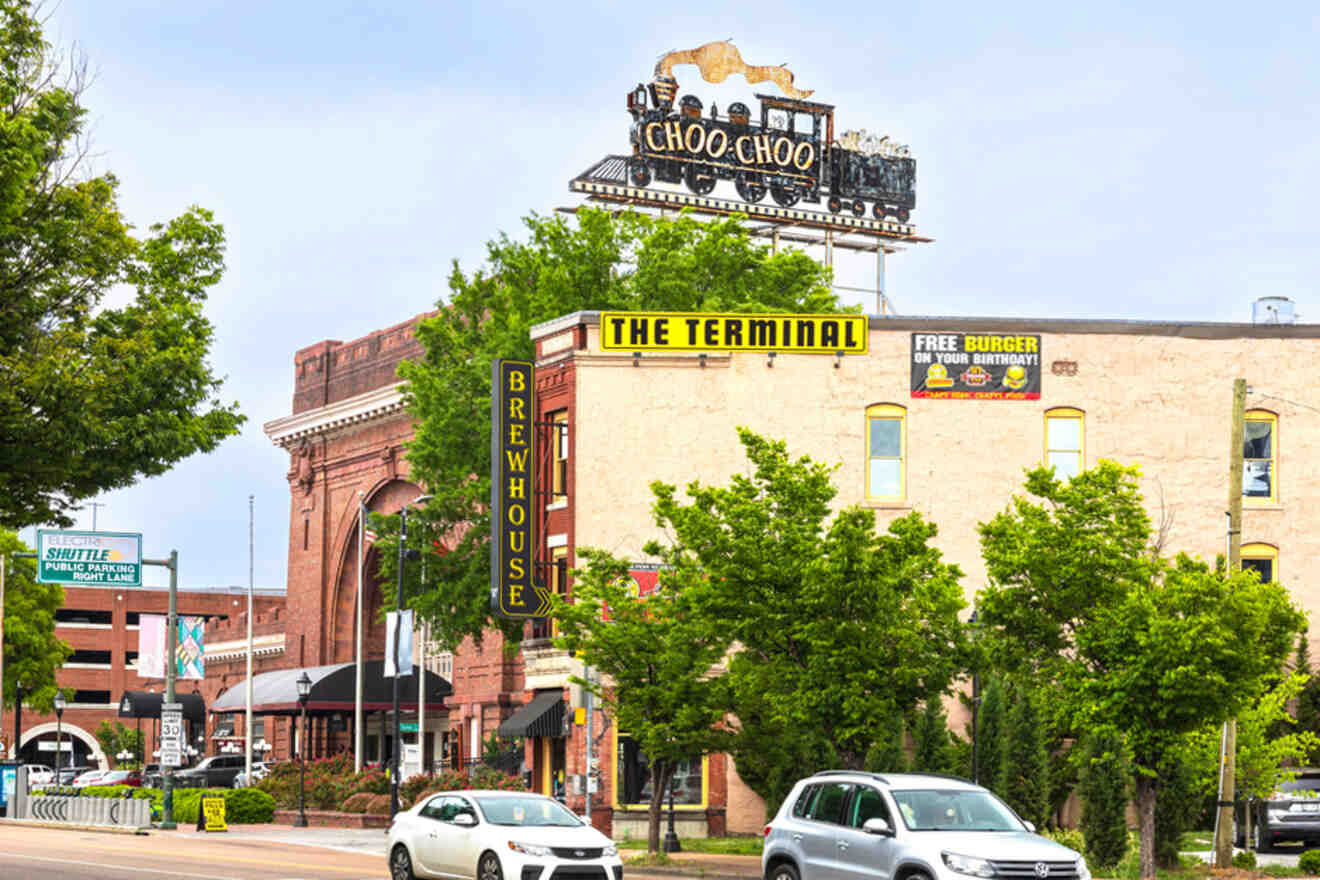 Tennessee is the kind of place where you'll find it all! Nature, great city life, and a bunch of attractions! If you're headed there for your next trip, then hop right on!
In this post, you'll find the most unique places to stay in TN! I've made it my sole mission to find the most incredible hotels which I ordered from most to least expensive. That way, you can easily pick the one you love!
I know we're talking about the whole state here, but I highly recommend booking your vacation rentals early. These are some of the most special accommodations, and they will surely sell out months in advance.
Right then!
Put your cowboy boots on, and let's go!
If you are in a hurry
Don't worry if you don't have the time to go through the whole post! Just have a look at the list below:
Since we're talking about the whole state, I decided to make a map with all the Tennessee hotels so you can visualize the locations:
1. Big Cypress Lodge – for a fun trip in Memphis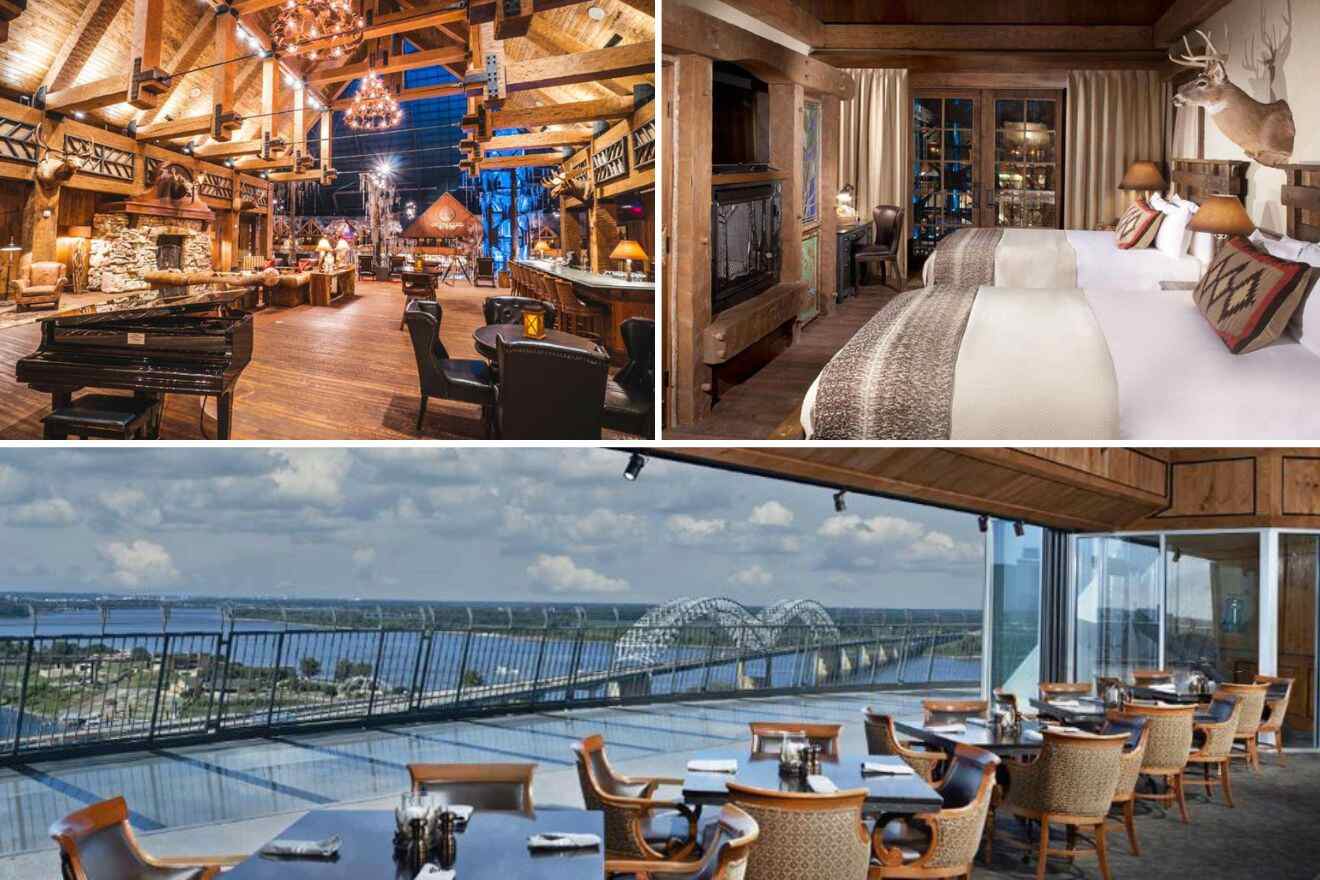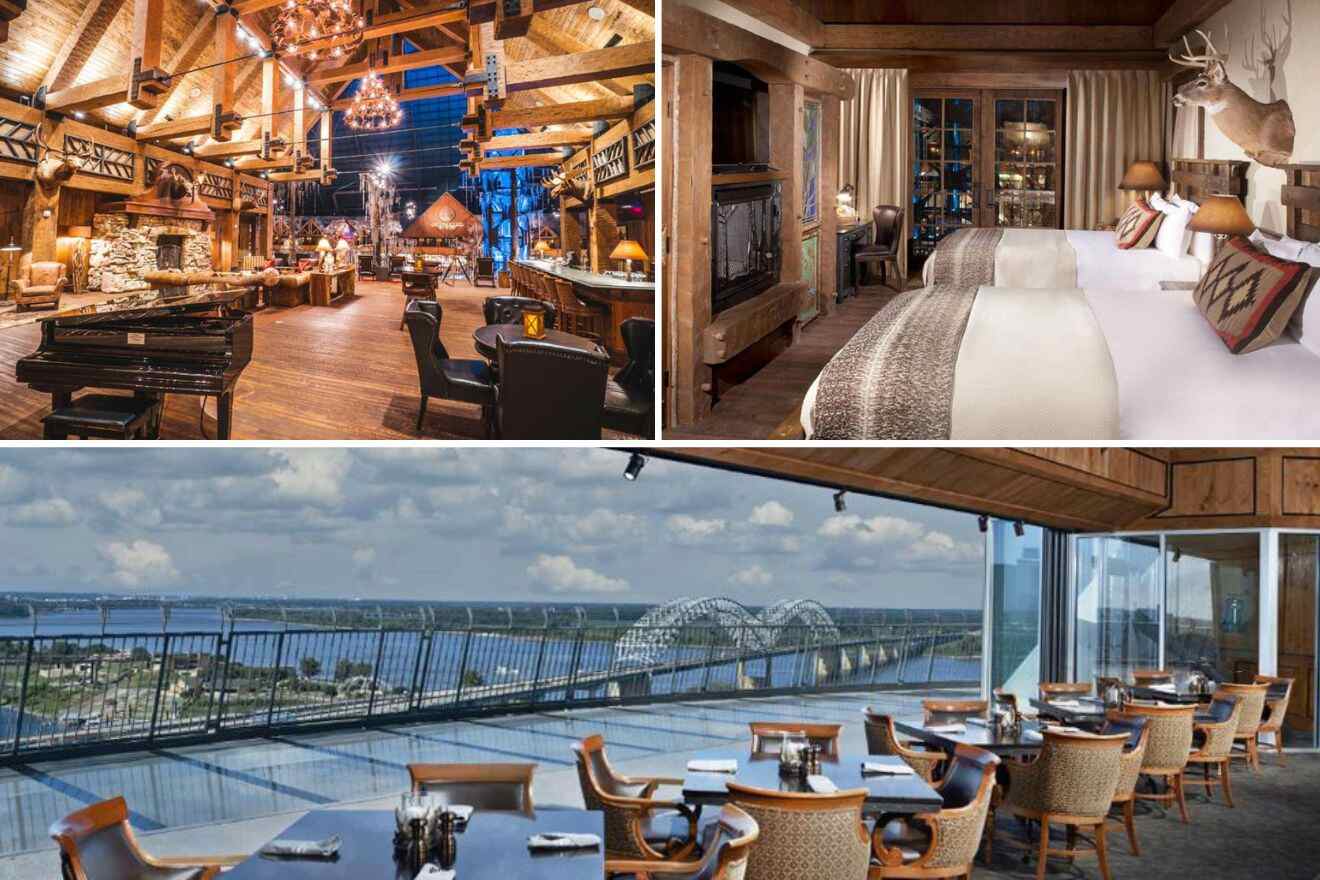 If you love a rustic design, then this place in Memphis is surely for you! Set within the iconic Memphis Pyramid, this accommodation is perfect for your next trip as it features so many fun outdoor activities that cater to all family members! Plus, it's conveniently located just a 30 min walk away from downtown Memphis.
Here guests can relax at the spa center, go bowling, and eat delicious food at their 2 restaurants on-site. Some of their activities include archery, tours, and playing billiards. After a day filled with so much fun, get a glass of wine and admire the views of the Mississippi River by the hotel!
2. Gaylord Opryland Resort – great for families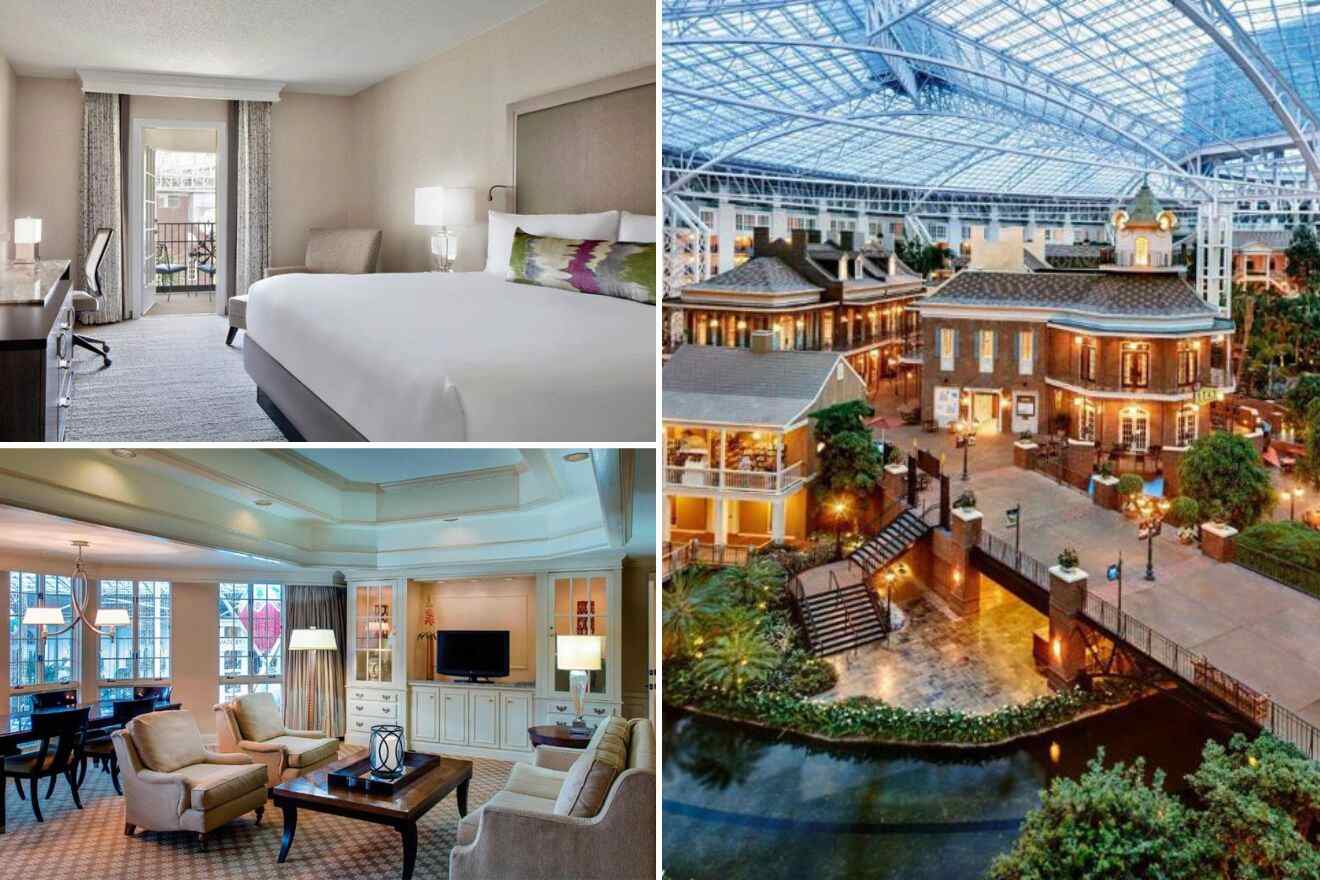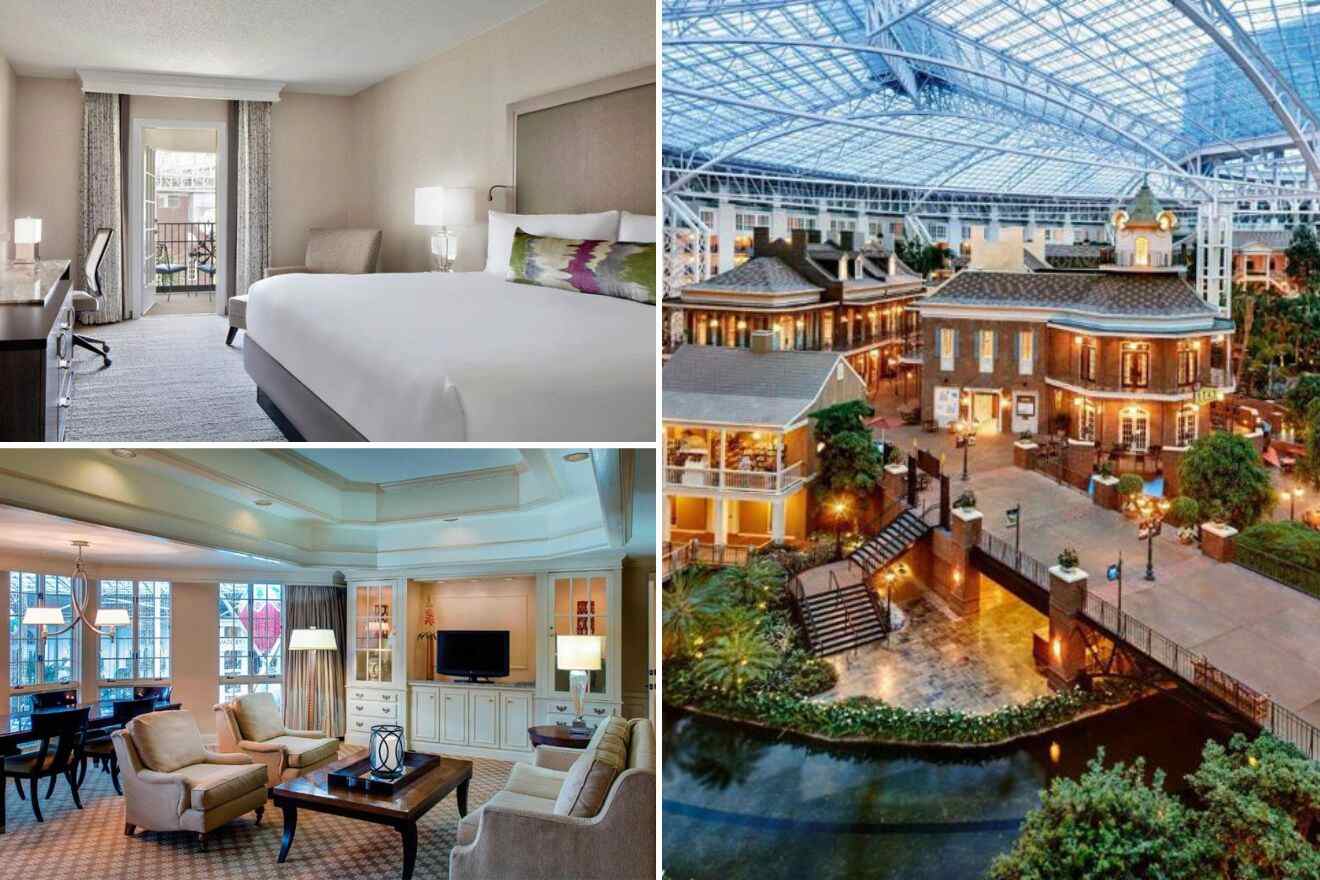 Your Tennessee getaway will be unforgettable, especially after staying at this hotel in Nashville, which is located just a short walk away from the Grand Ole Opry and features a glass atrium, and is surrounded by indoor gardens! What a dream! The accommodation has no more and no less than 15 restaurants, 4 bars, and a few shops as well.
Their rooms are simple yet modern, and some come with a private balcony and a queen-sized bed. Everyone is invited to spend as much time at the spa, relaxing and enjoying all the messages and the hot tub! They also have a water park here and offer bikes to rent out, which are perfect for exploring the city!
3. Belle Air Mansion and Inn – for vintage lovers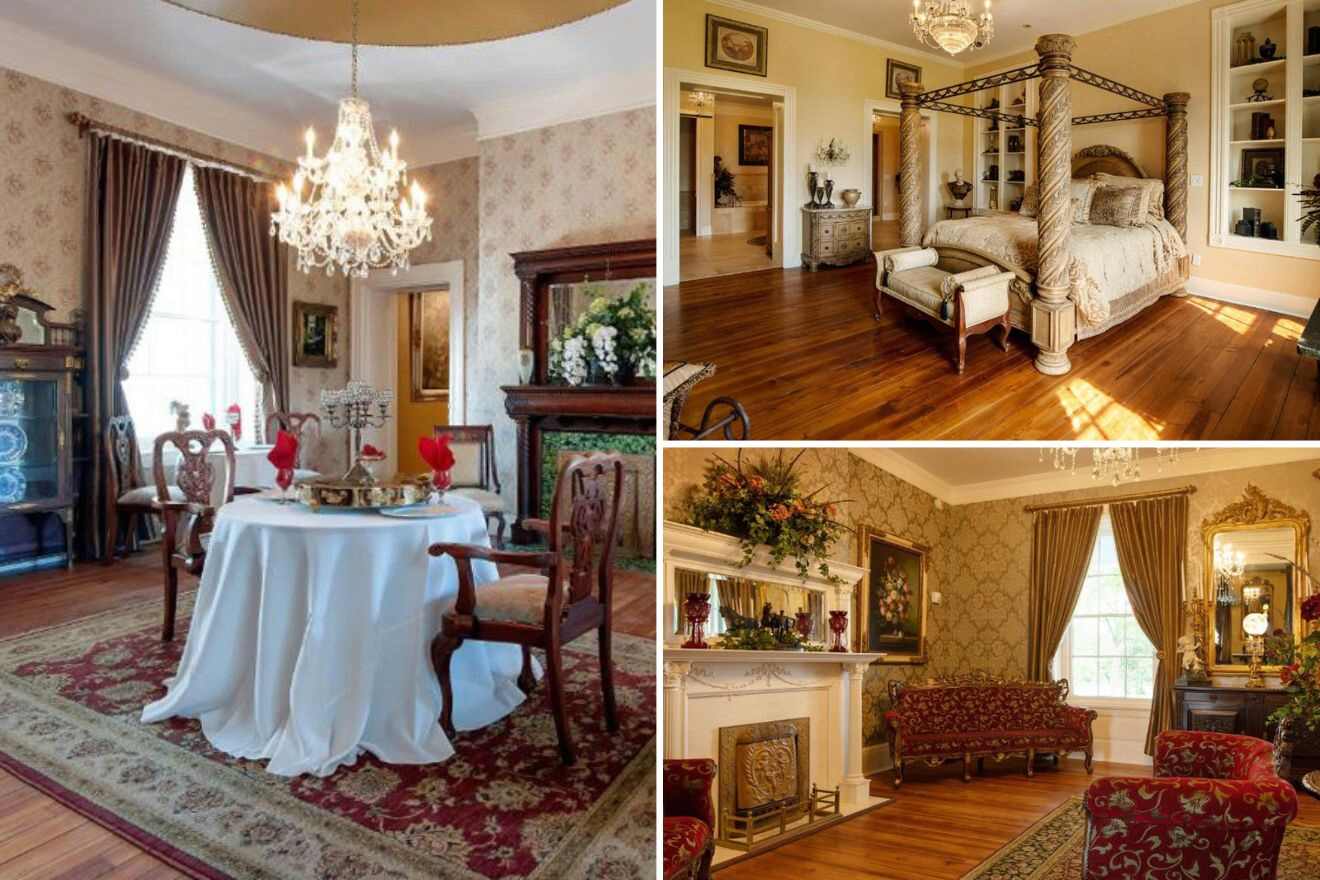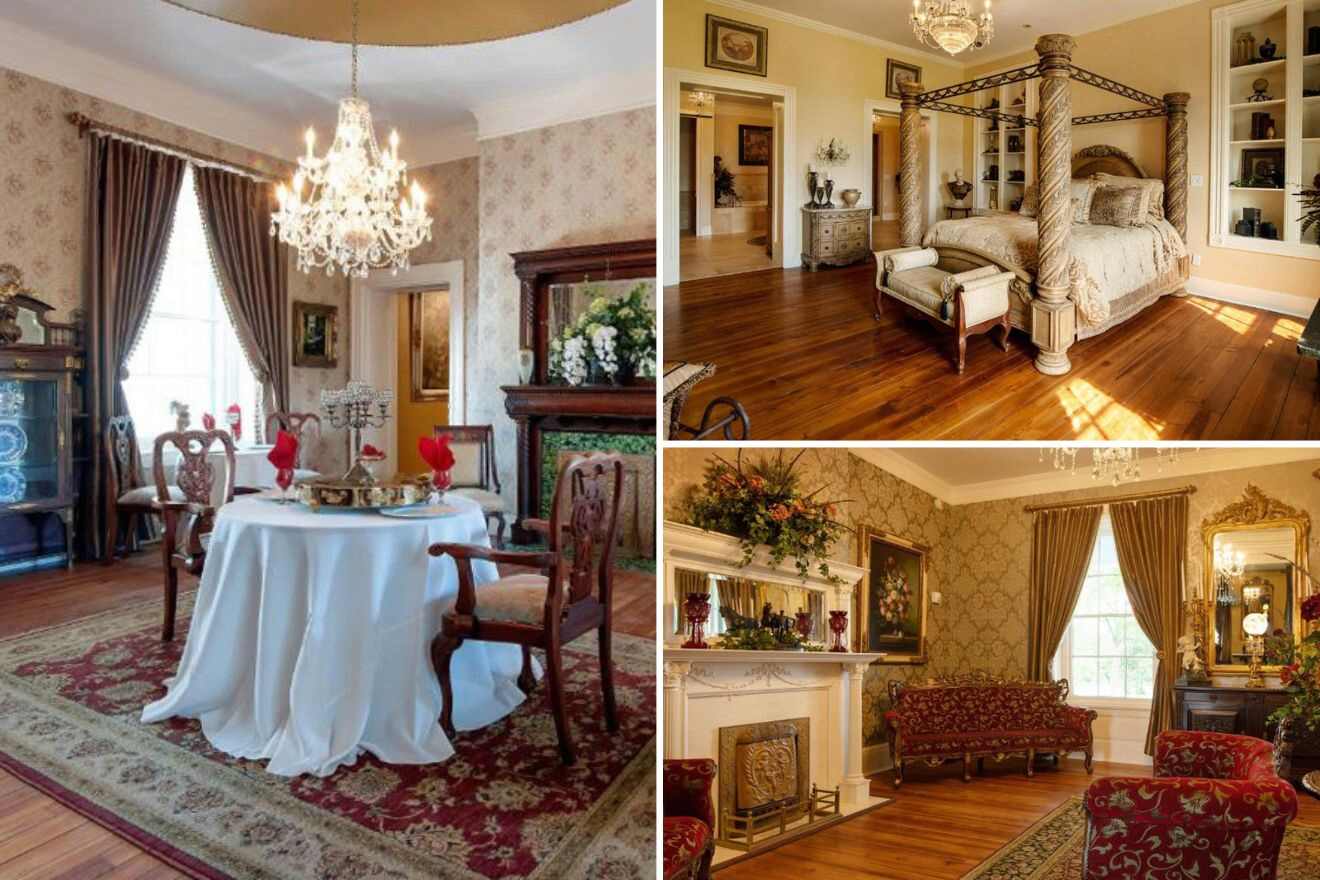 Looking for a pet-friendly place to stay in the Nashville area? Well, then, I might've found the perfect one for you! This incredible inn is so elegant, has antique furnishings, and its exteriors will make you feel as if you've landed in an old American movie!
The accommodation has spacious rooms with a seating area, a flat-screen TV, and high-speed internet. Some even come with a patio where you can enjoy your morning coffee. Each morning you can enjoy a yummy breakfast at the accommodation and head out to explore the nearby attractions or play some golf, as there's one just 3 km (2 miles) away).
4. The Dive Motel and Swim Club – a great place with a hot tub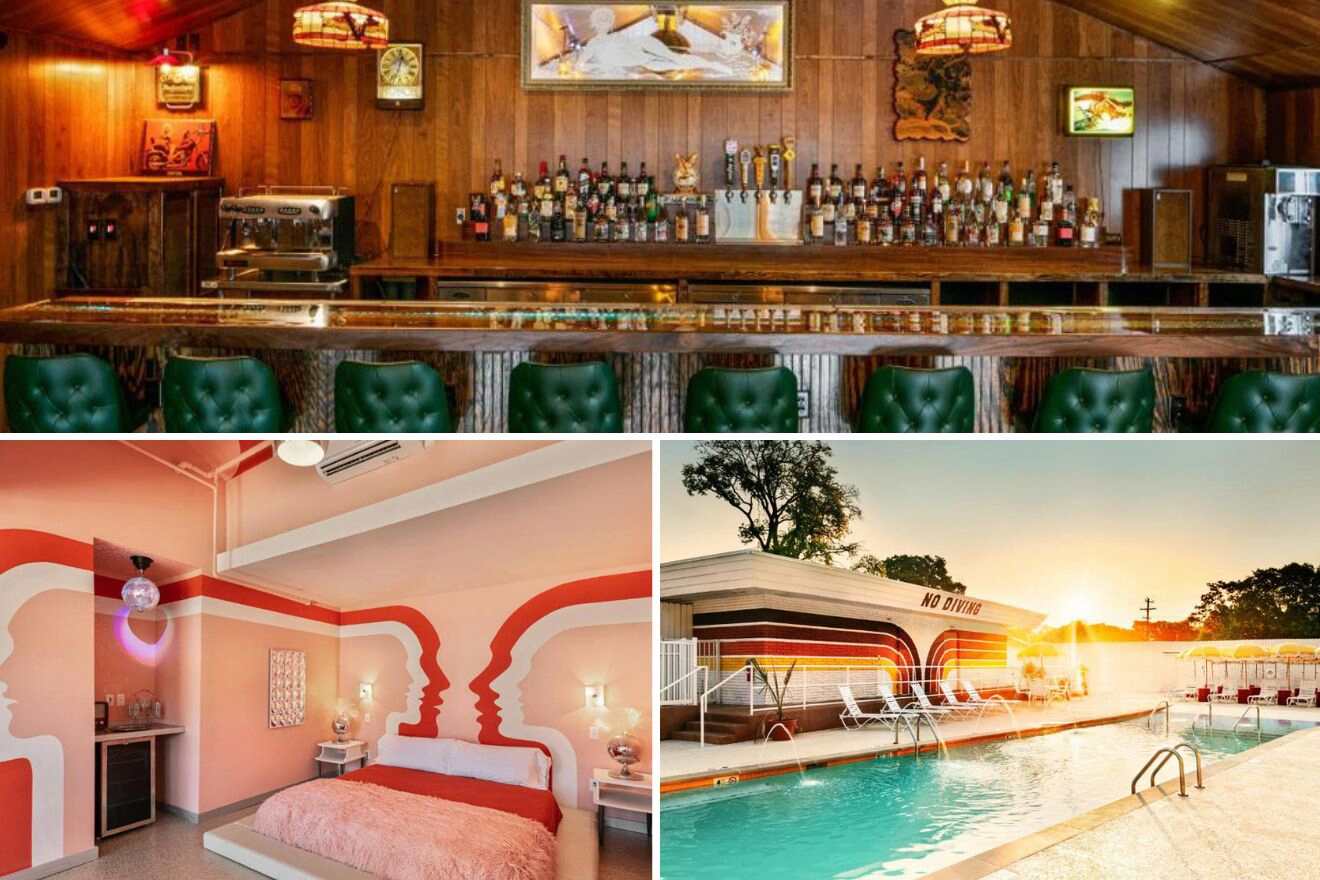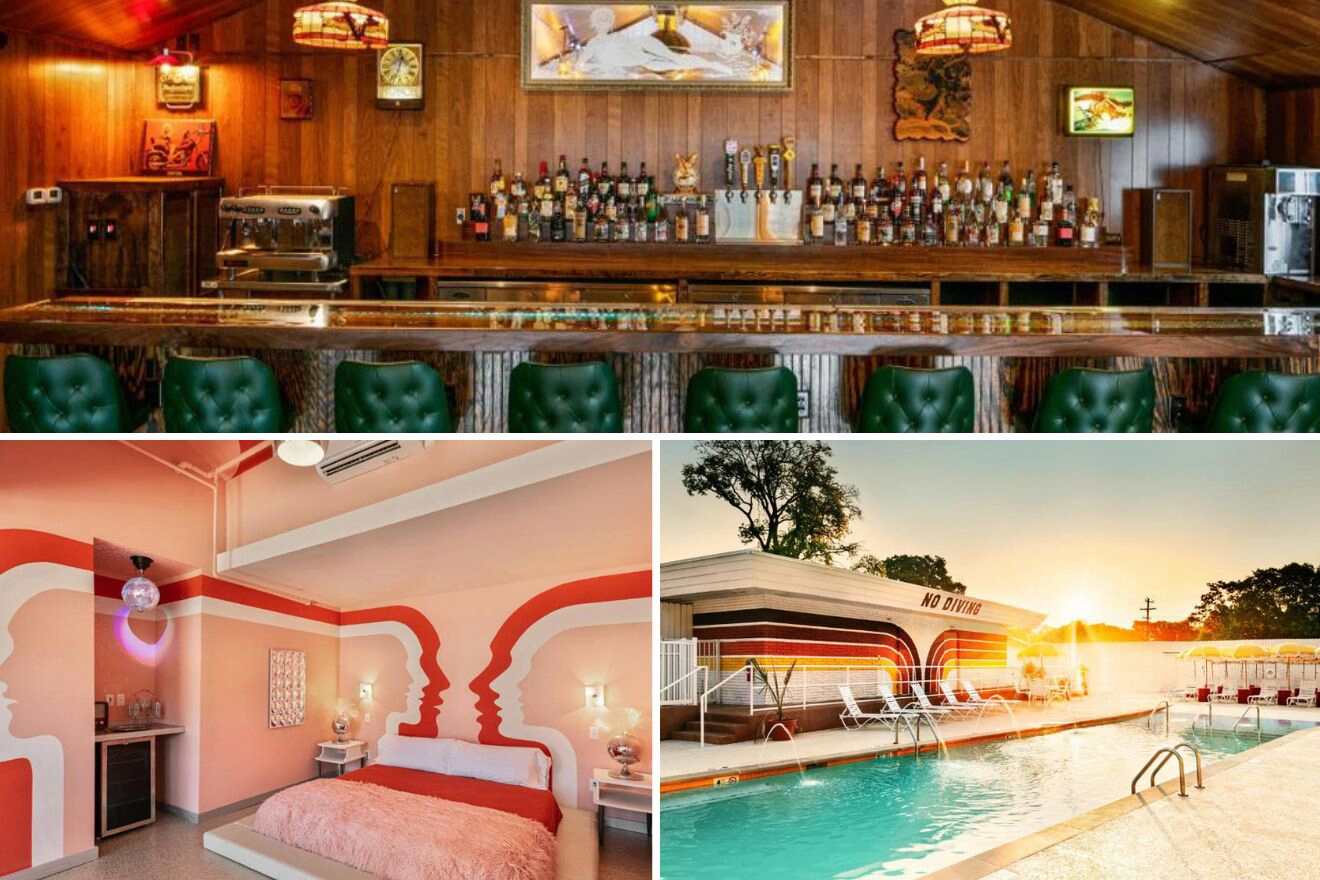 Well, you can definitely find tons of boutique hotels to stay in Nashville! Whether you're coming with the whole family or your friends, you're going to love this place! Each room has a unique decor made with the most amazing colors, and they have these 60s-inspired aesthetics, which I'm sure some of you will love!
The accommodation still has a bit of that rustic Tennessee vibe but mostly in its bar area and restaurant. During the hot sunny days, you can chill by the outdoor swimming pool, hang in the sauna or relax in the private hot tub after a day of visiting the nearby attractions in downtown Nashville.
5. Ancient Lore Village – for fairytale lovers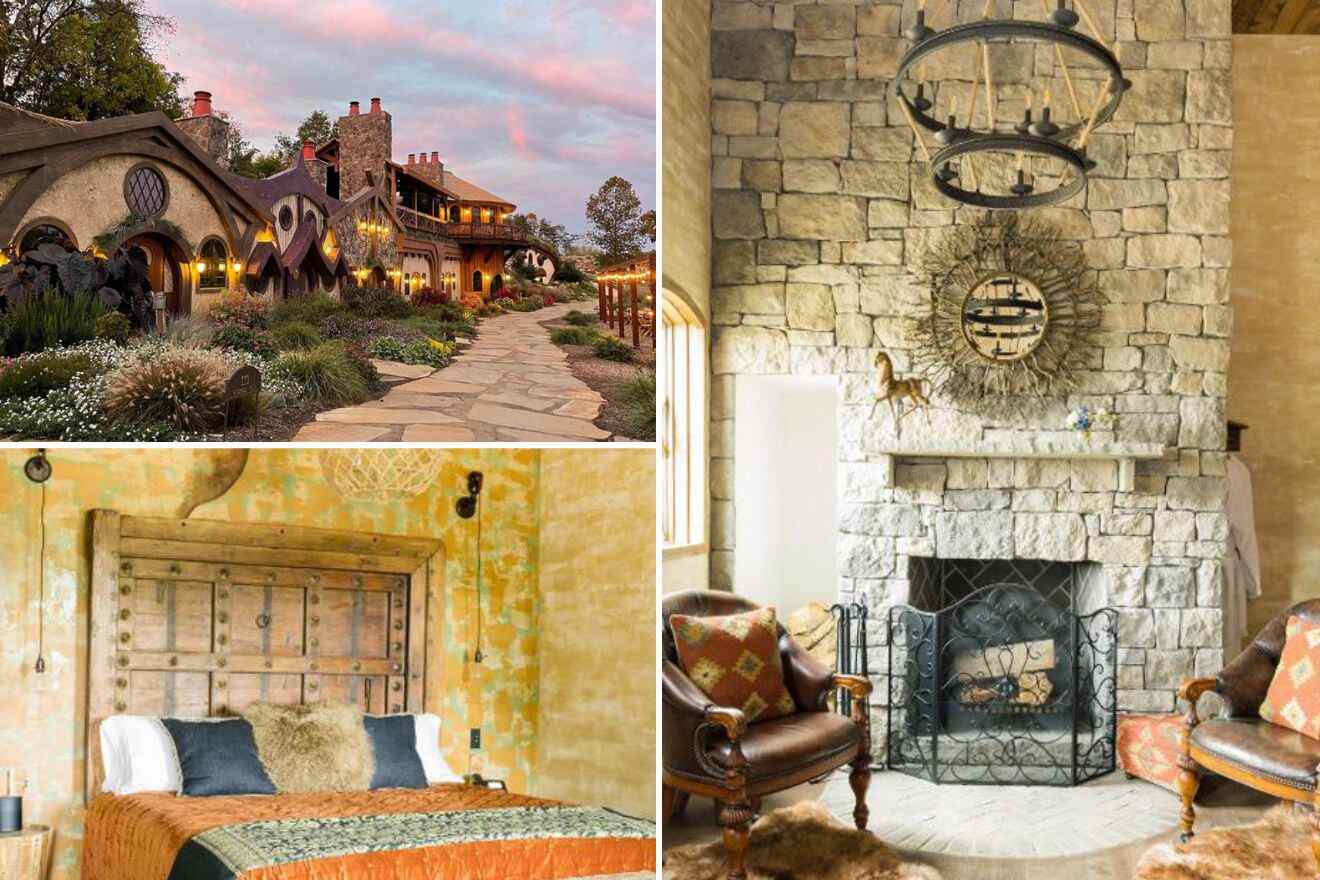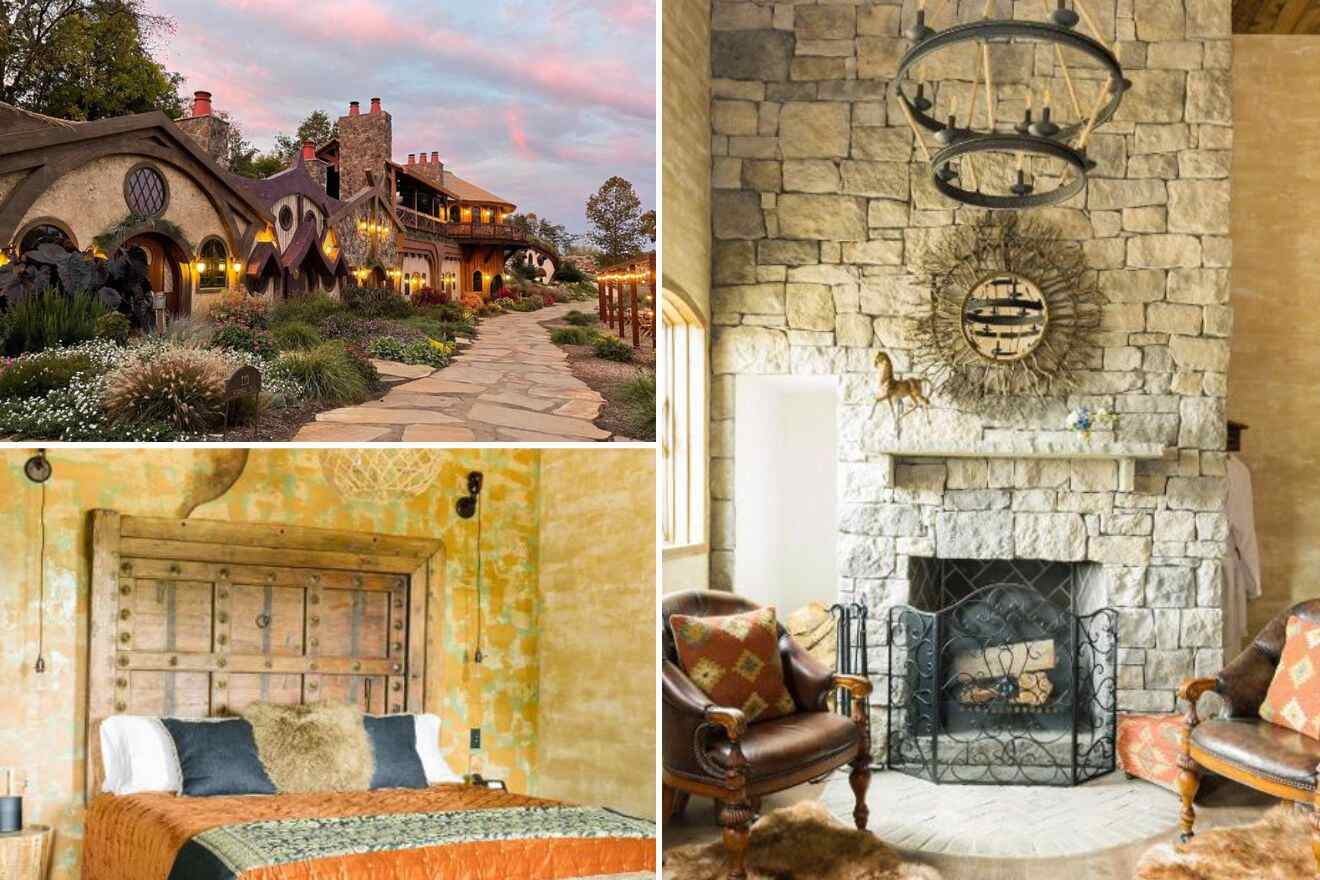 Your hobbit-inspired-house dreams are now a reality! This is for sure one of the most unique hotels I've seen, and it kind of looks like something out of Middle Earth! Set in Knoxville, these cute little houses will make you feel as if you've landed in some fairytale book or movie!
Each unique cabin is beautifully furnished with unique pieces which create a super cozy vibe! And they have a small kitchen and a fireplace where you can warm up, get a blanket, and enjoy a cup of tea (or wine). Some rooms even have mountain views, too! During your stay, you can go on walking tours, enjoy some live music performances and go hiking.
6. The Russell – a cool TN hotel in a former church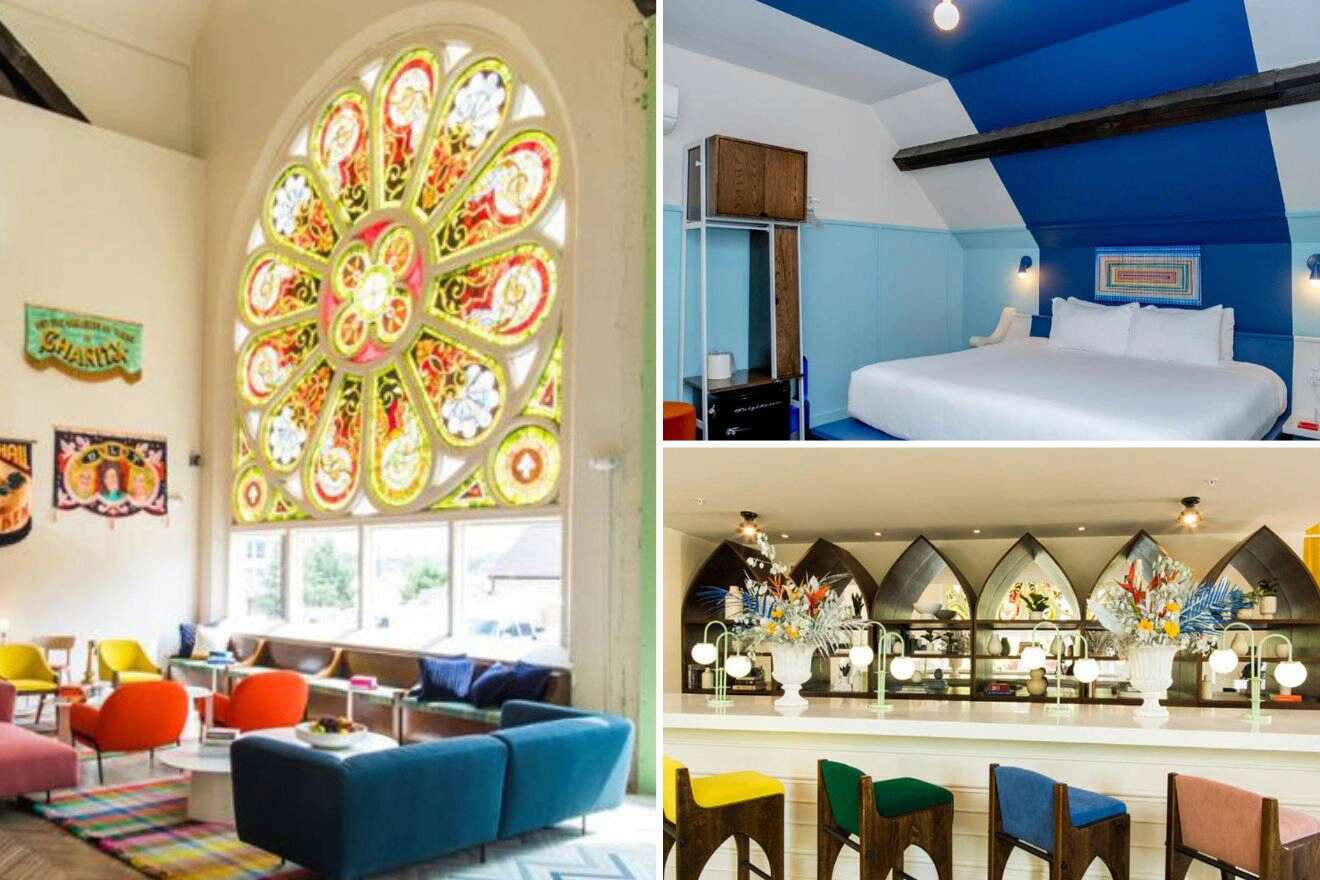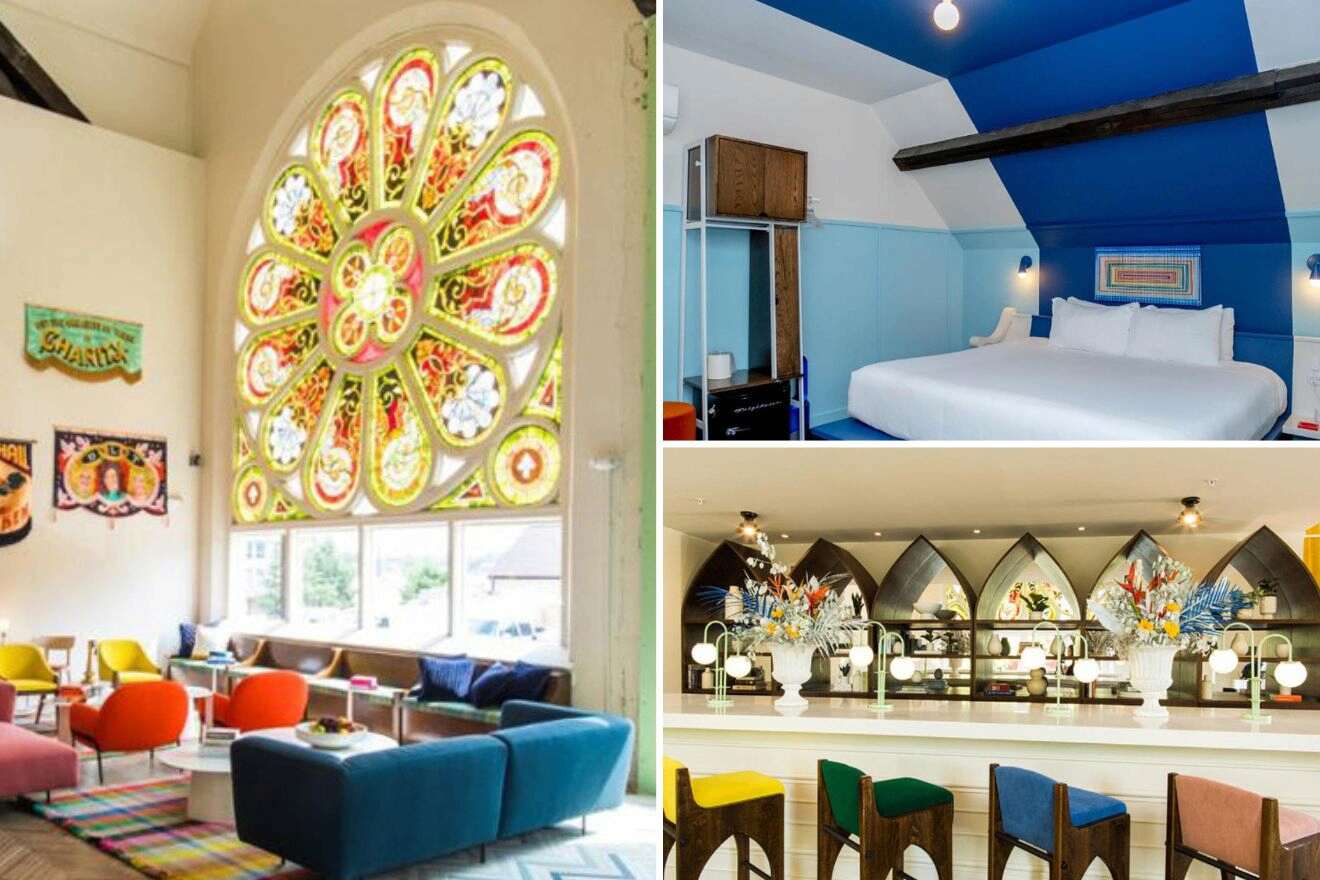 This East Nashville boutique hotel has such interesting decor! Set in a former church from the 1900s, the unique hotel has stained glass windows, uniquely-shaped mirrors, and lots of other cool features like all the vibrant colors that I'll let you discover on your own! It really is a super cool place to stay in Nashville, and it offers a spacious interior and rooms with a private bathroom!
You'll also be happy to know that part of your money is donated to local homeless shelters! The hotel is set only a 30 min walk away from the downtown area, which means you'll be close enough to all the top attractions! I recommend booking your hotels in Tennessee in advance, as these are the best hotels in the state, and they will sell out fast!
7. Graduate Nashville – colorful hotel with a view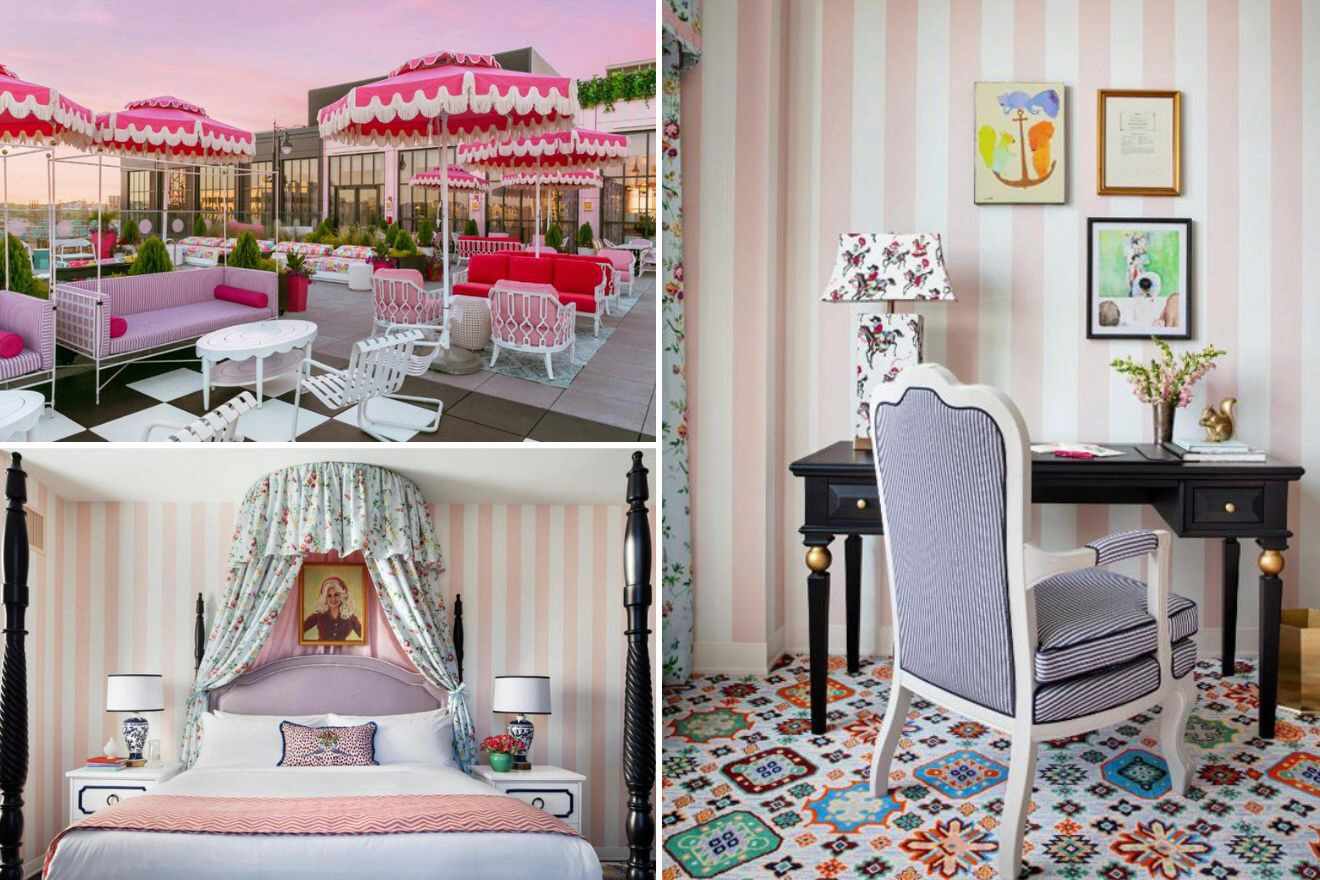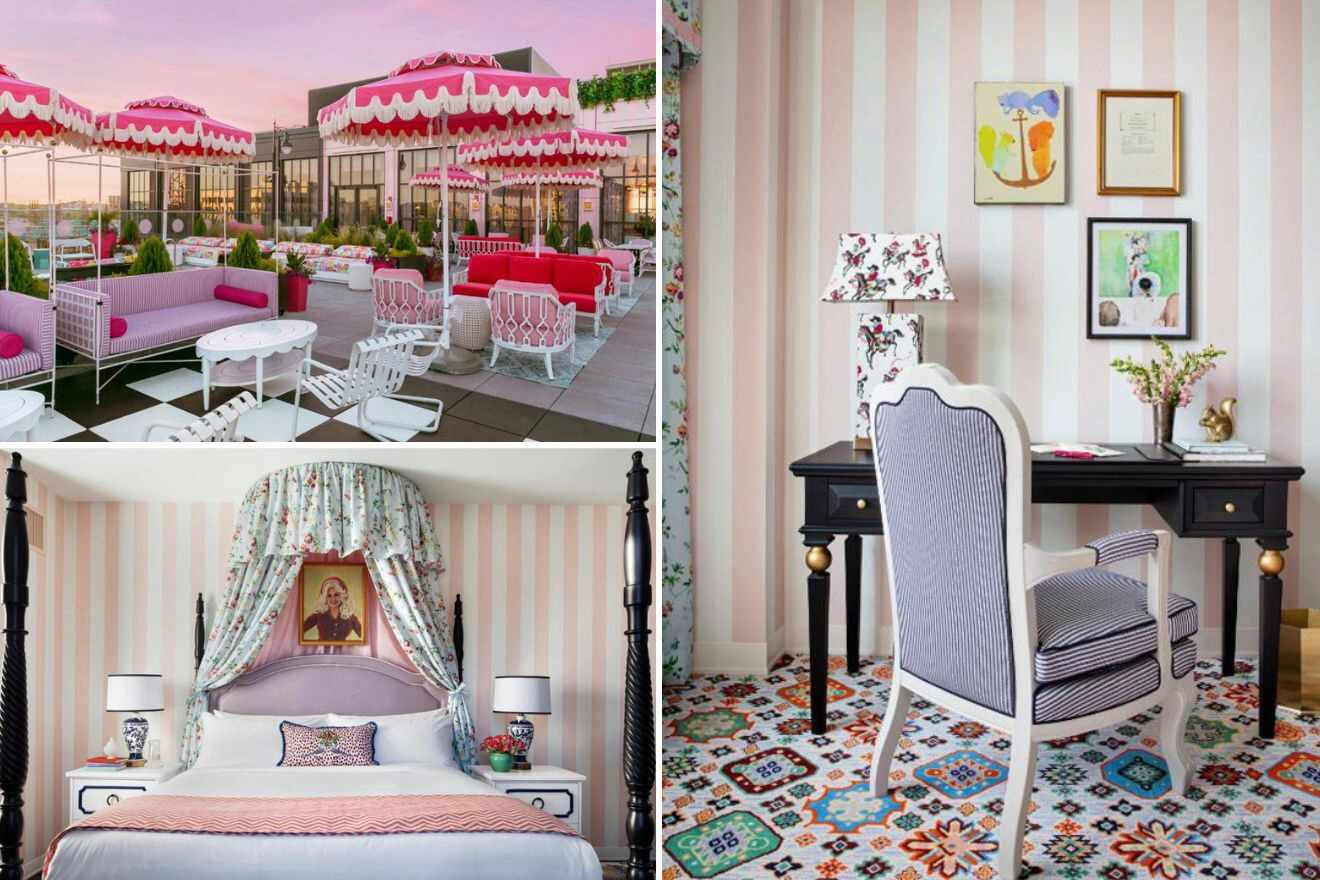 What a charming boutique hotel in Nashville! This fantastic accommodation has one of the coolest designs I've ever seen! So many colors and a twisted vintage style that I'm sure many of you will love.
Their multiple rooms come with the cutest beds, wallpapers, and paintings. During your holiday, you can swim in the pool and hit the fitness center, and I would definitely recommend grabbing dinner at the rooftop bar and restaurant, where you can admire the stunning city views! You'll also be within walking distance of downtown Nashville and attractions like the Country Music Hall of Fame and the Music City Center.
8. Peabody Memphis – for a relaxing Memphis getaway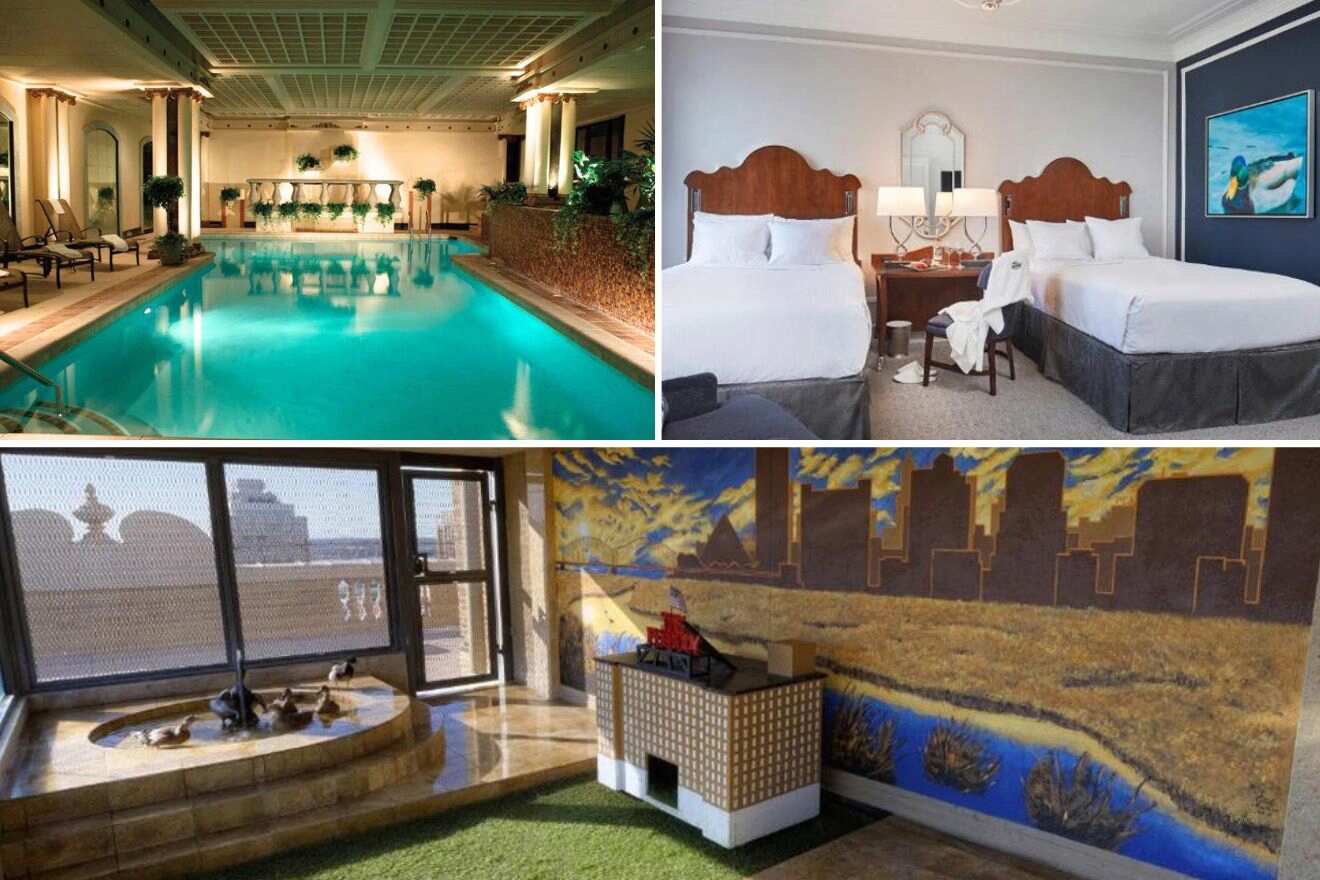 If you love things done the old-school way, then definitely book a room here during your holiday in Memphis! The hotel is famous for celebrating the Southern tradition, and you can definitely feel and see that in all the furnishings and in the atmosphere!
The accommodation offers the perfect location right in downtown Memphis near Beale Street and lots of amazing amenities! That includes fine dining options, an indoor pool, a fitness center, and a full-service spa where you can relax after a long day of walking up and down this amazing city! Each room comes with a flat-screen TV, a seating area, and a private bathroom.
9. Under Canvas Great Smoky Mountains – for nature lovers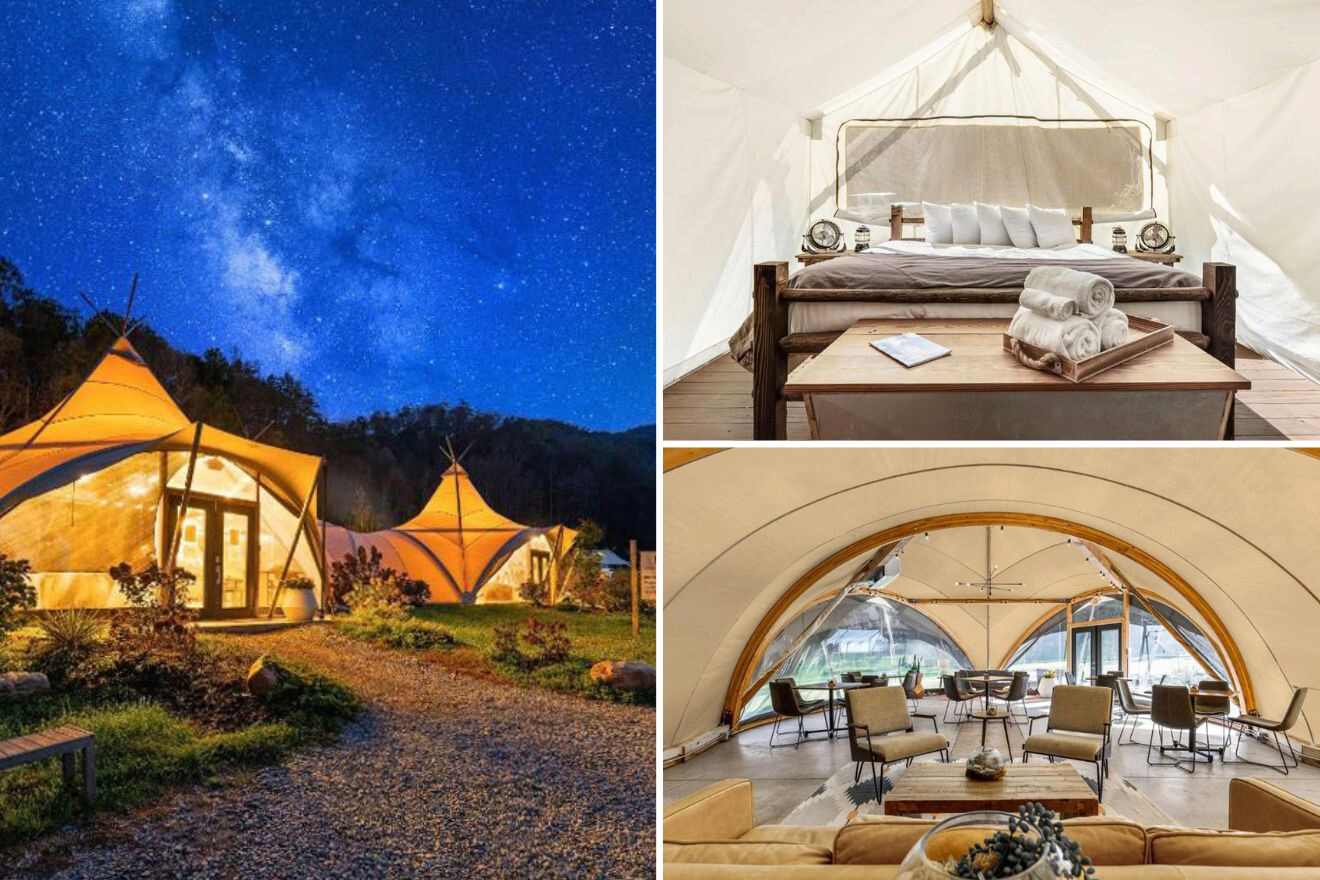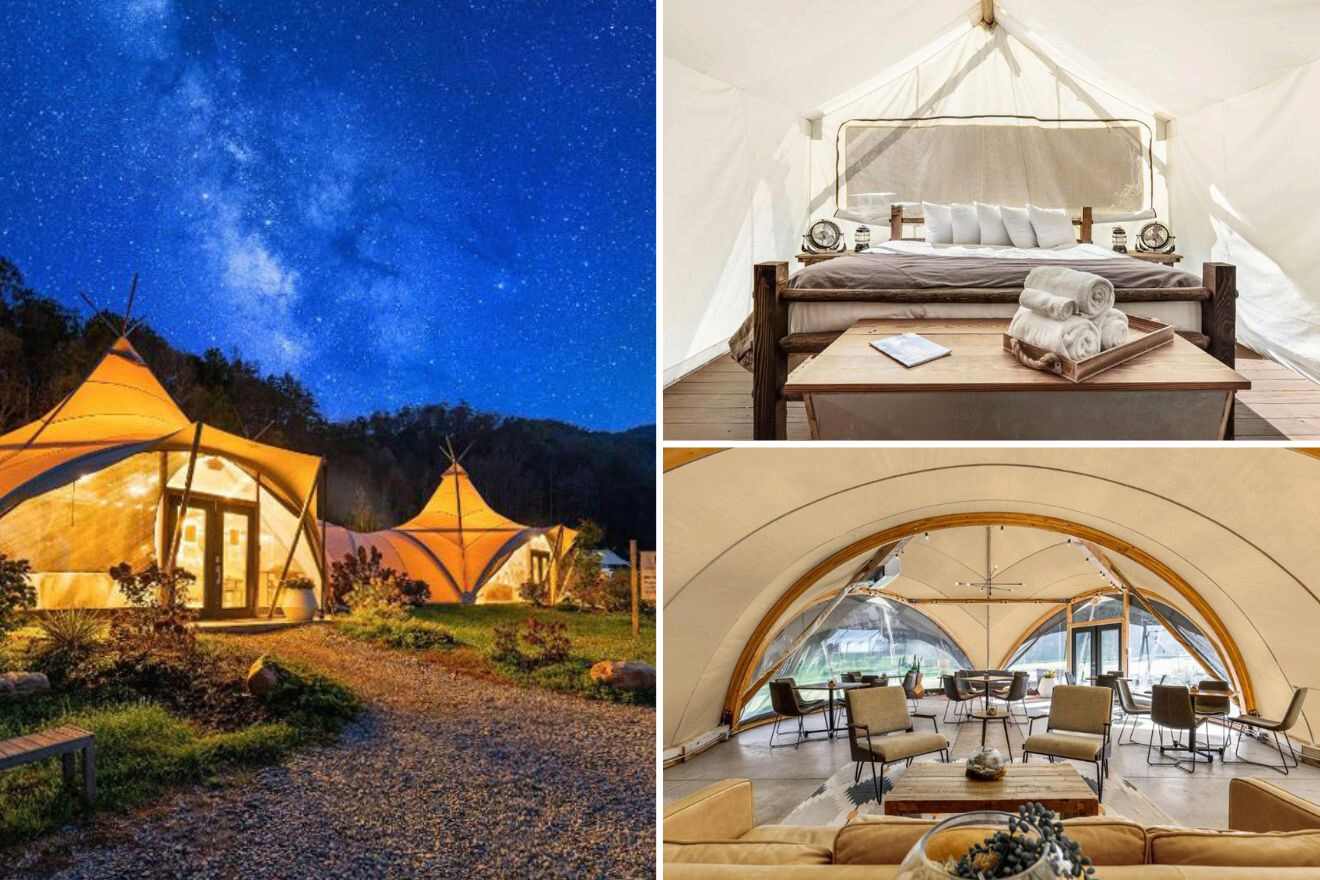 Nature lovers, I've just found the perfect getaway spot for you! Whether you're planning a romantic weekend or a fun outing with your friends, this unique hotel set in Pigeon Forge, not too far from the Great Smoky Mountains National Park and the Fast Tracks Amusement Park, will become your favorite place ever!
Wake up in your luxurious tent that has a private bathroom and enjoy the fresh mountain air (which is absolutely heavenly in the morning)! Afterward, you can head for breakfast in the dining hall! As you'll be surrounded by the mountains, you can engage in so many fun activities like hiking, zip lining, fishing, and rafting. At night you can gather up by the fire pit and enjoy a drink with your travel buddies!
10. Olde Mill Inn Bed & Breakfast – for a tranquil holiday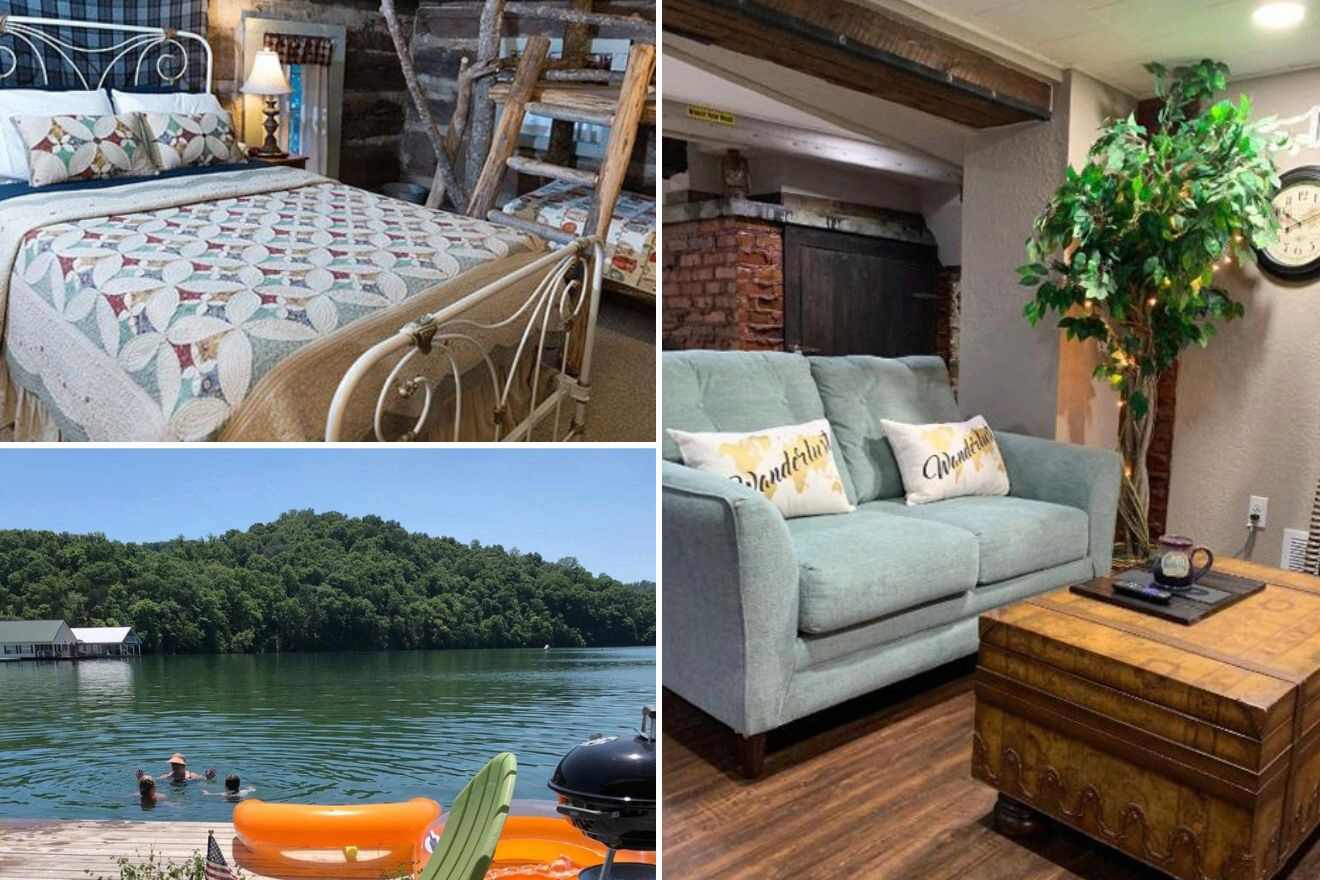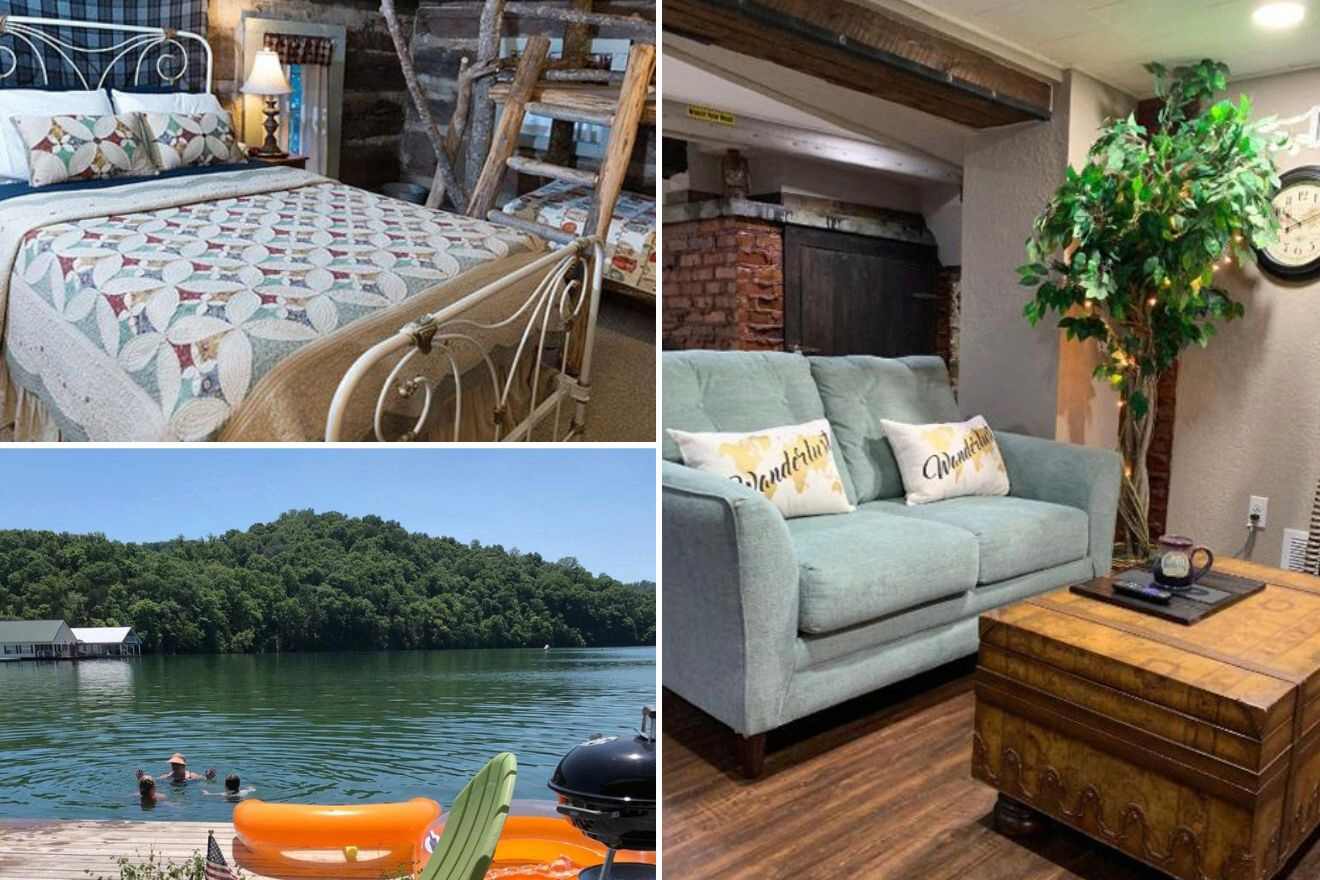 If you've read any of my posts, you probably know that I'm a big fan of American inns! Especially the ones that have vintage furnishings, and this Cumberland Gap hotel has some fabulous 4-poster beds, plus many other amazing features and amenities.
Most of the rooms also come with a full bathroom and a balcony where you can admire the beautiful mountain views. You can start your morning with a yummy breakfast at the inn and then head out to explore the great outdoors, as there are lots of hiking trails around the accommodation.
11. Chattanooga Choo Choo – for music enthusiasts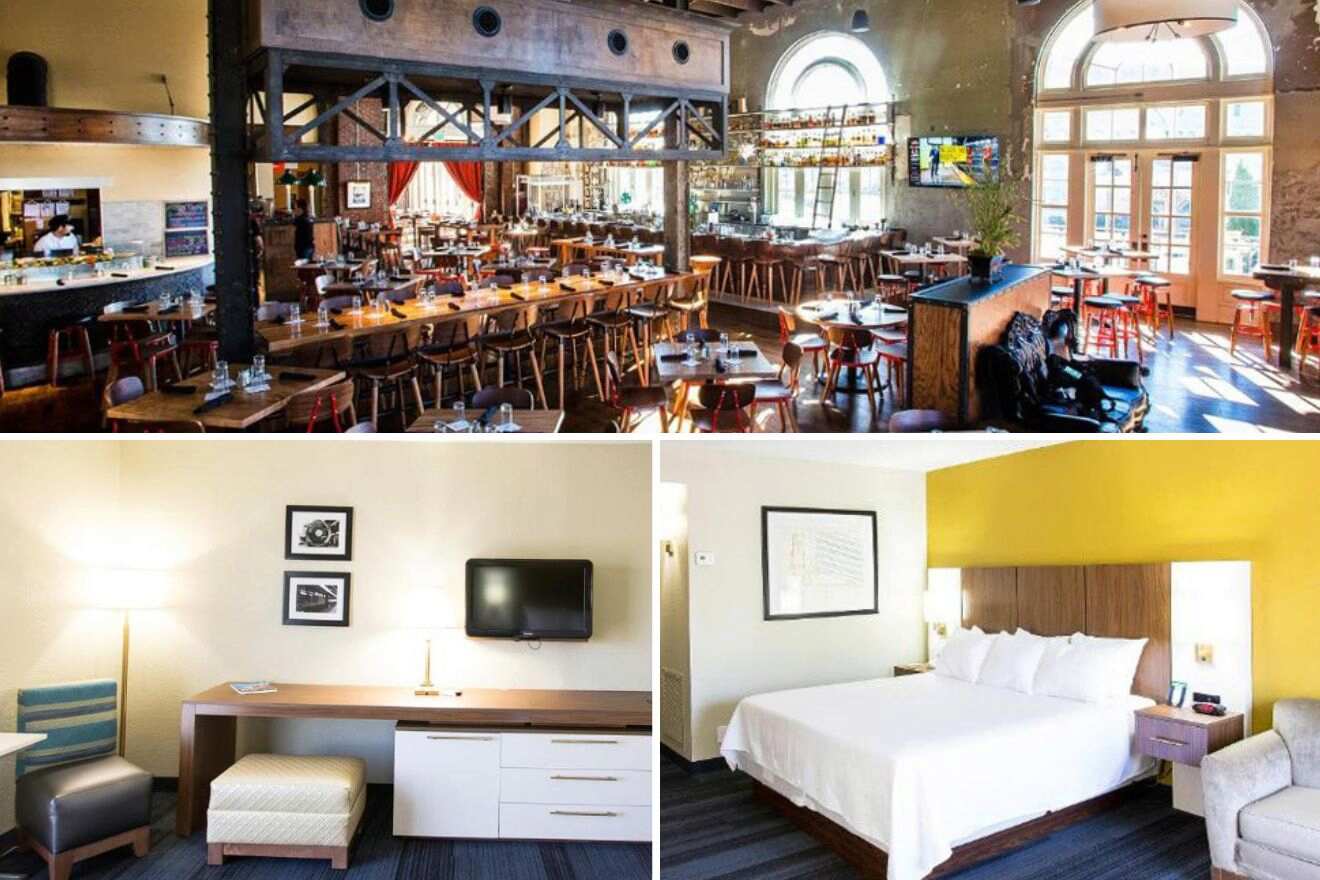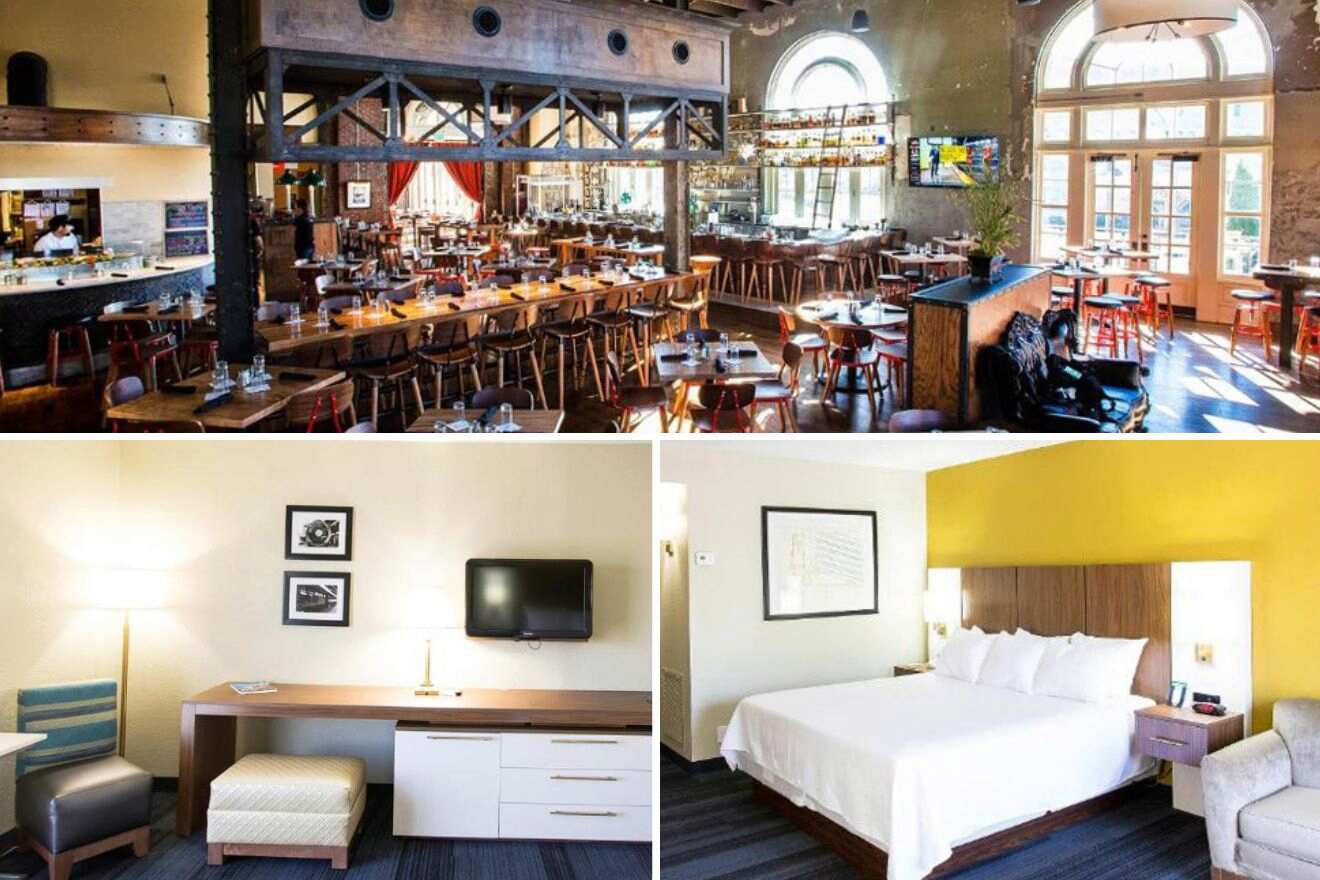 You're going to love this boutique hotel that is basically set in a former train station! Set just minutes away from downtown Chattanooga and a 15 min drive from Lookout Mountain, this accommodation offers on-site dining, retail shops, rose gardens, and so many other things!
This whole complex is really one you don't want to miss during your stay in Tennessee! Their rooms are equipped with air conditioning, free Wi-Fi, and a private bathroom. Make sure you catch one of their live events or music performances while you're here! Maybe you'll be lucky enough to see a stand-up show!
12. Blue Mountain Mist Country Inn – for outdoor enthusiasts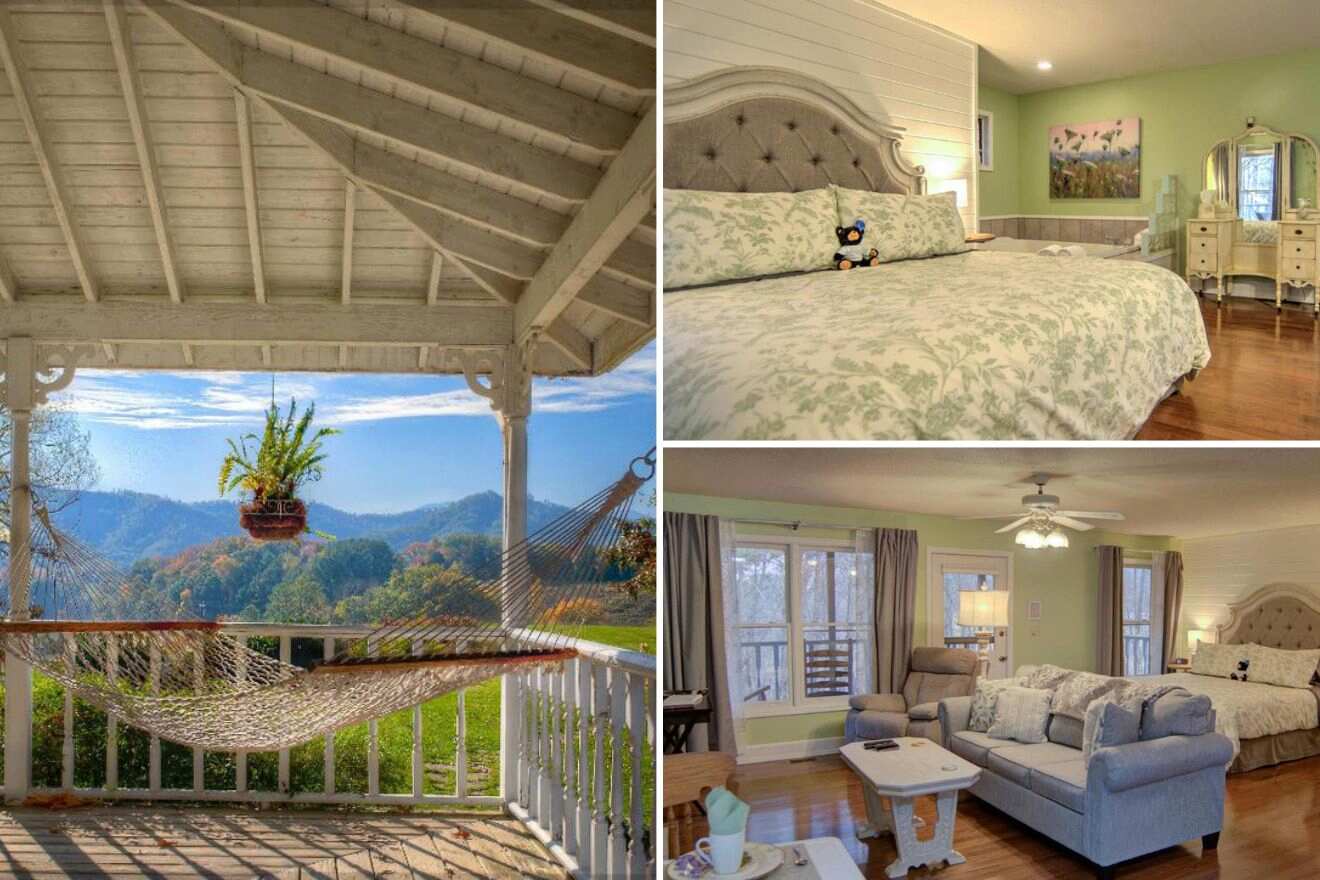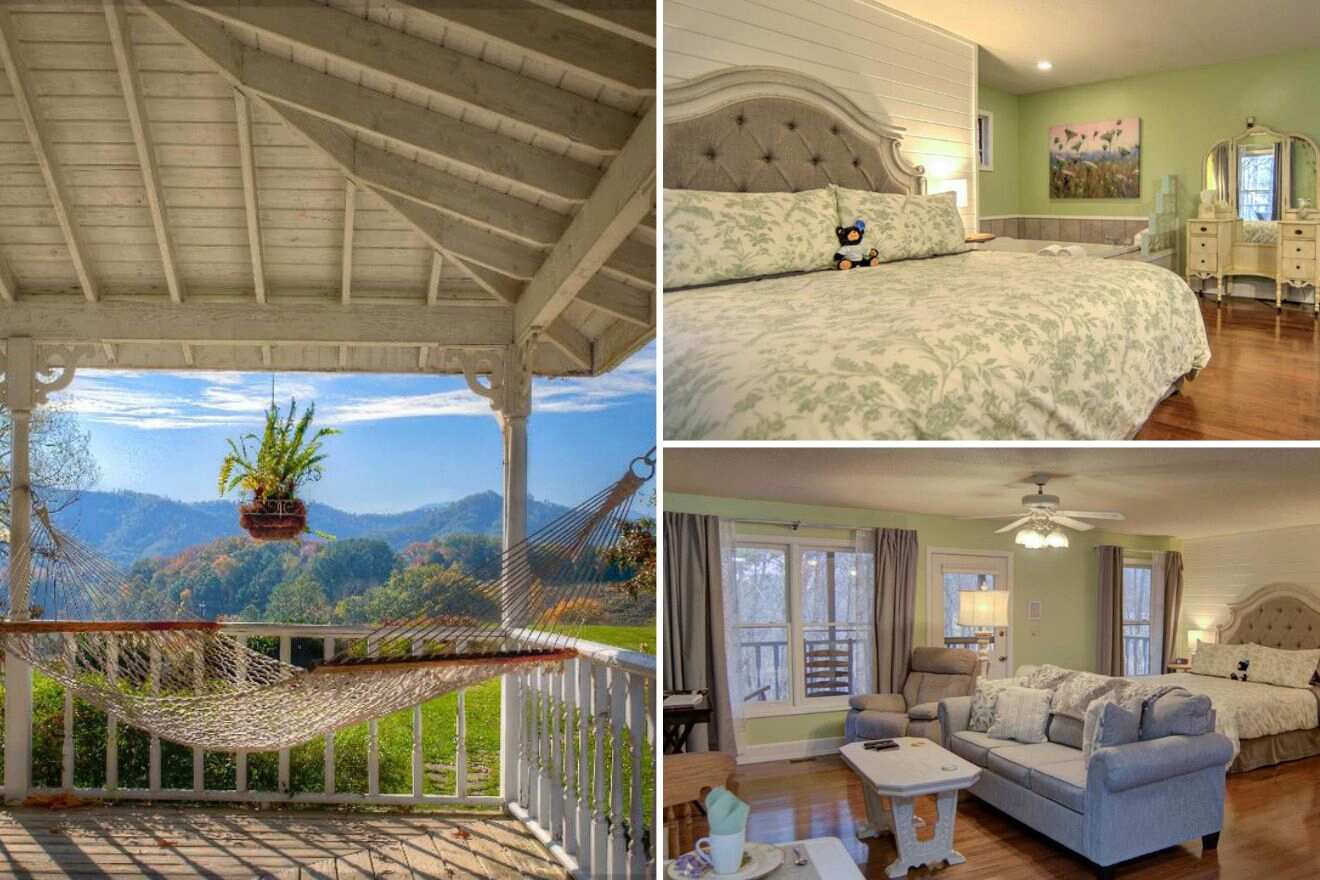 Oh my, what a magical place! If you're eager to escape the big city and embark on a quiet getaway somewhere in Tennessee, then definitely check out this hotel! Ideally located between the rolling hills, this super cozy accommodation in Pigeon Forge has everything you need for your stay and it's located only 10 min away from Dolly Parton's stampede!
Each morning you can enjoy your coffee in the little gazebo while admiring the stunning views and breathing in that misty air that is so yummy! Then you can head inside for a delicious breakfast that will set you off for the day. During the day you can go on walking tours and of course, spend a few hours at their spa!
13. The Sewanee Inn – the most homely TN hotel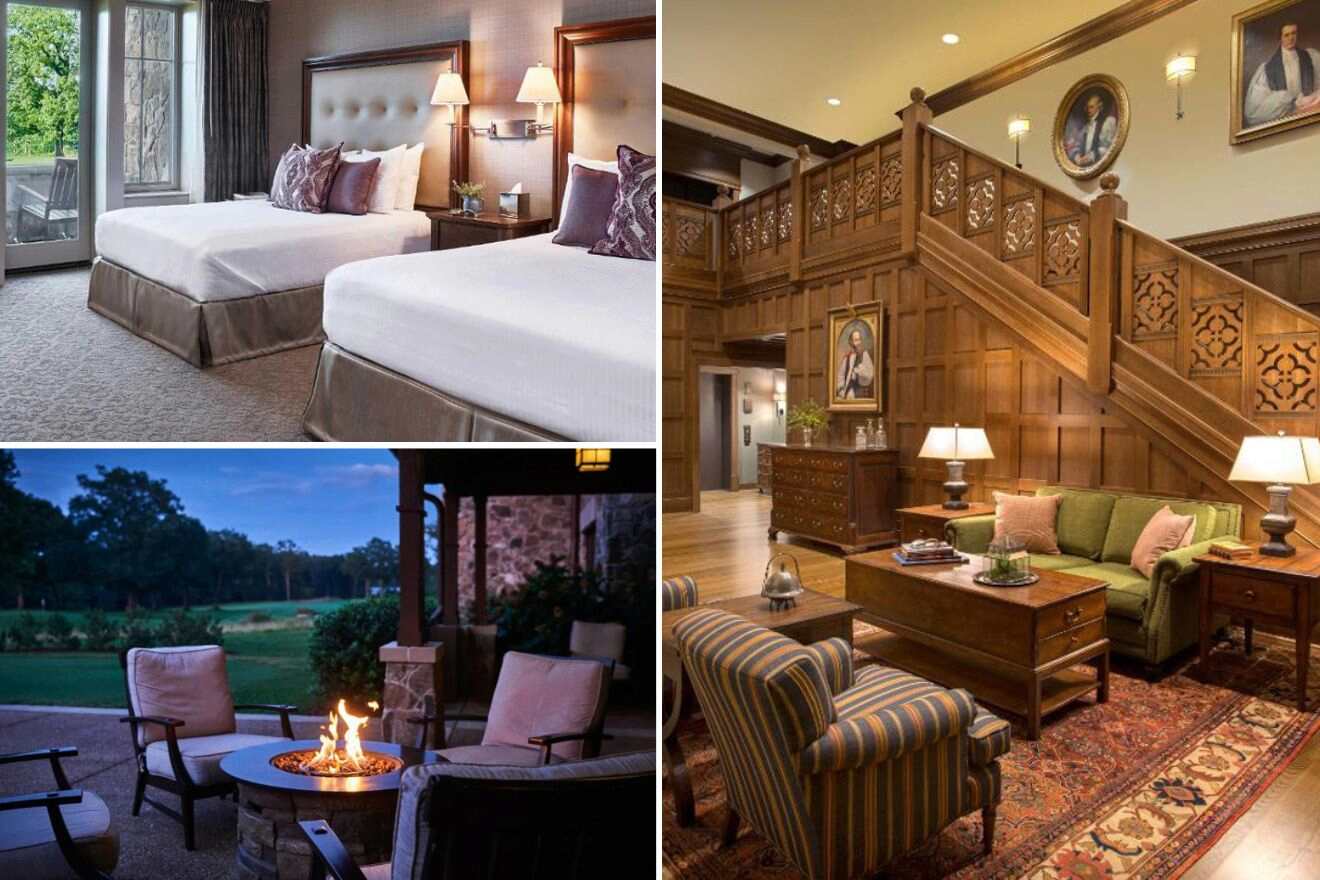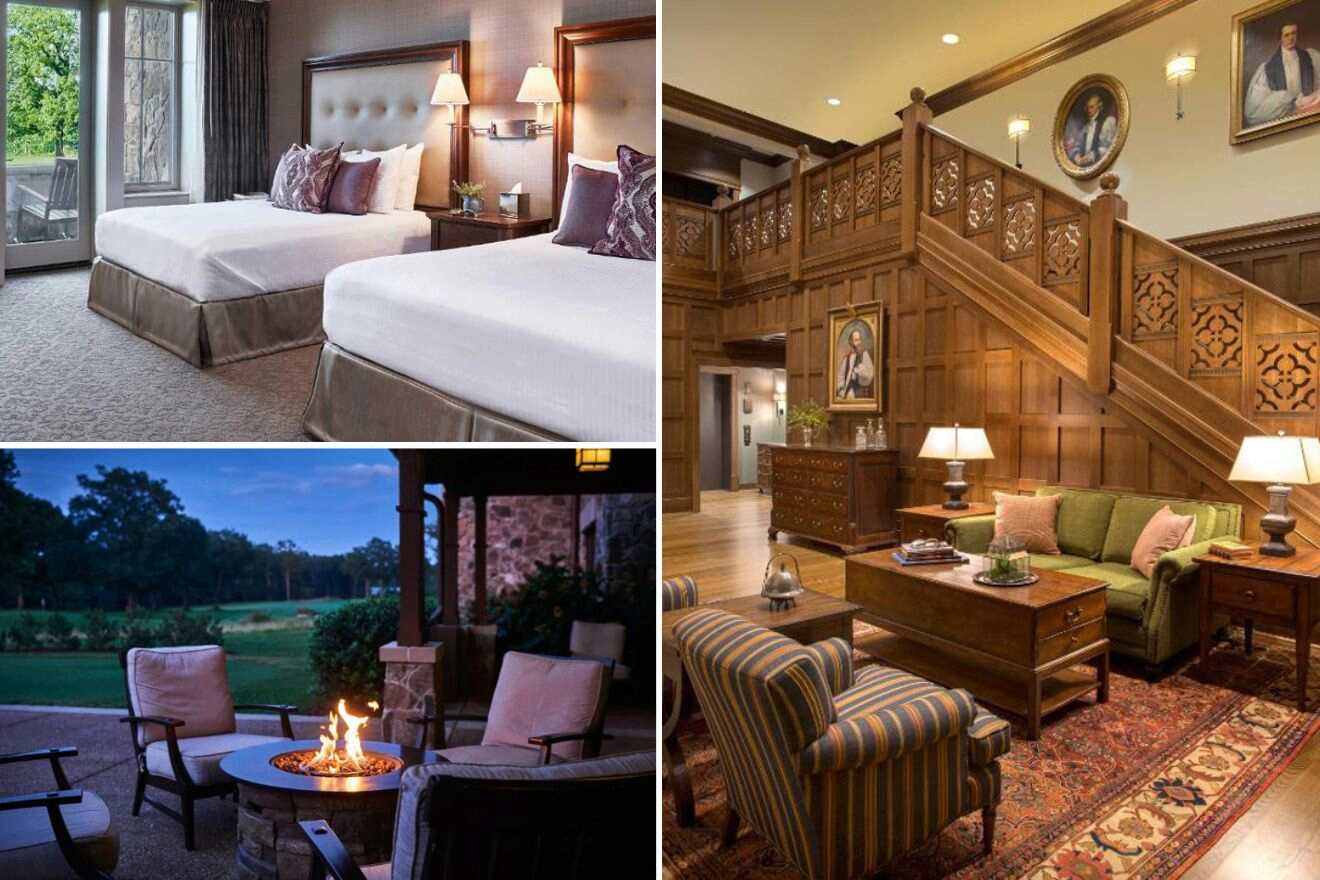 Another amazing place in Tennessee! This time we're in Sewanee, and this beautiful hotel has such an elegant design and an amazing atmosphere that will make you feel right at home! The accommodation comes with a restaurant, a bar and a terrace where you can relax and enjoy the sun!
All the rooms have lots of space and all the facilities you need like a private bathroom, a flat-screen TV, and coffee-making facilities. Some even come with a stunning view of the golf course. Right near the hotel, you'll find the Sewanee Golf and Tennis Club.
FAQs about unique places to stay in TN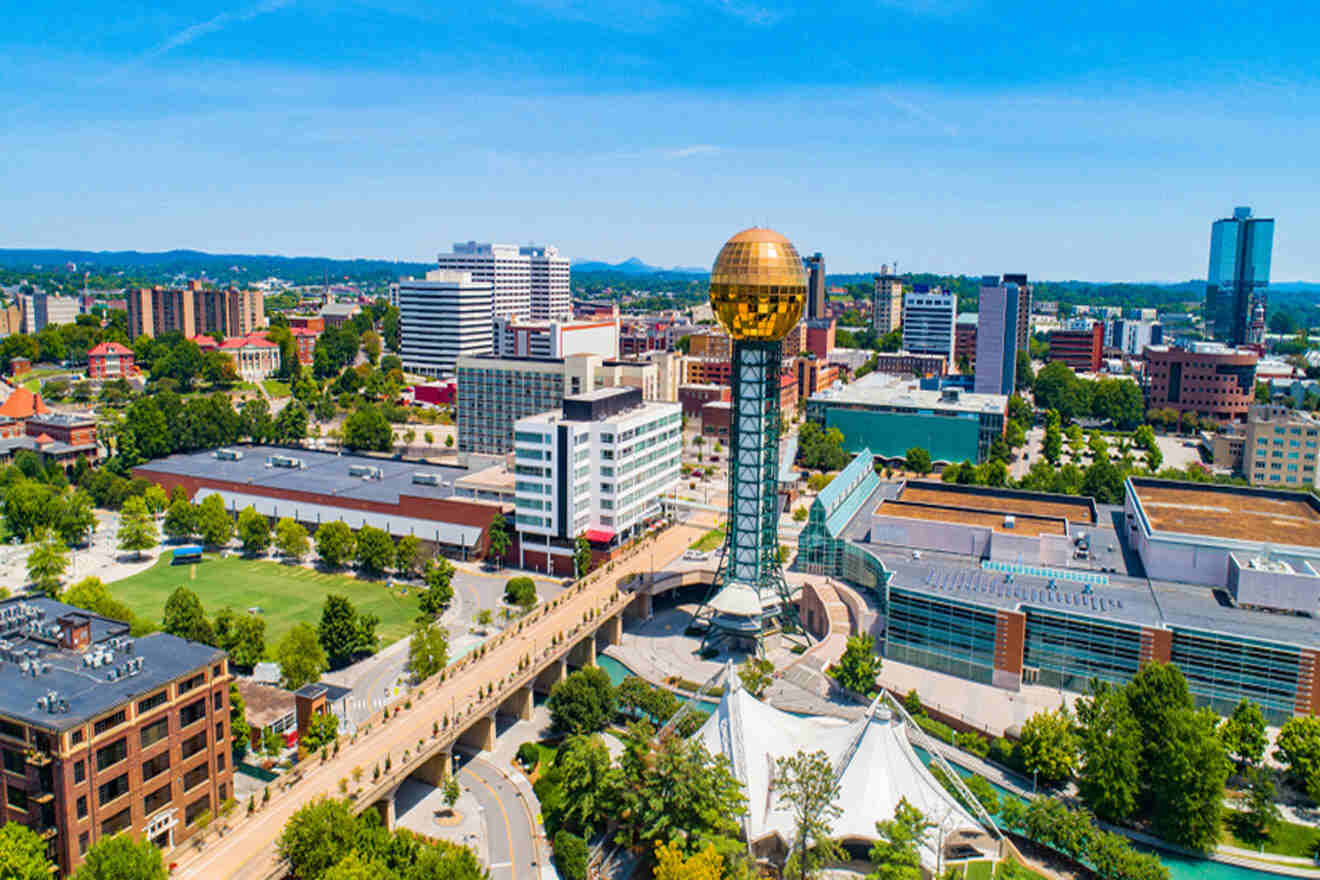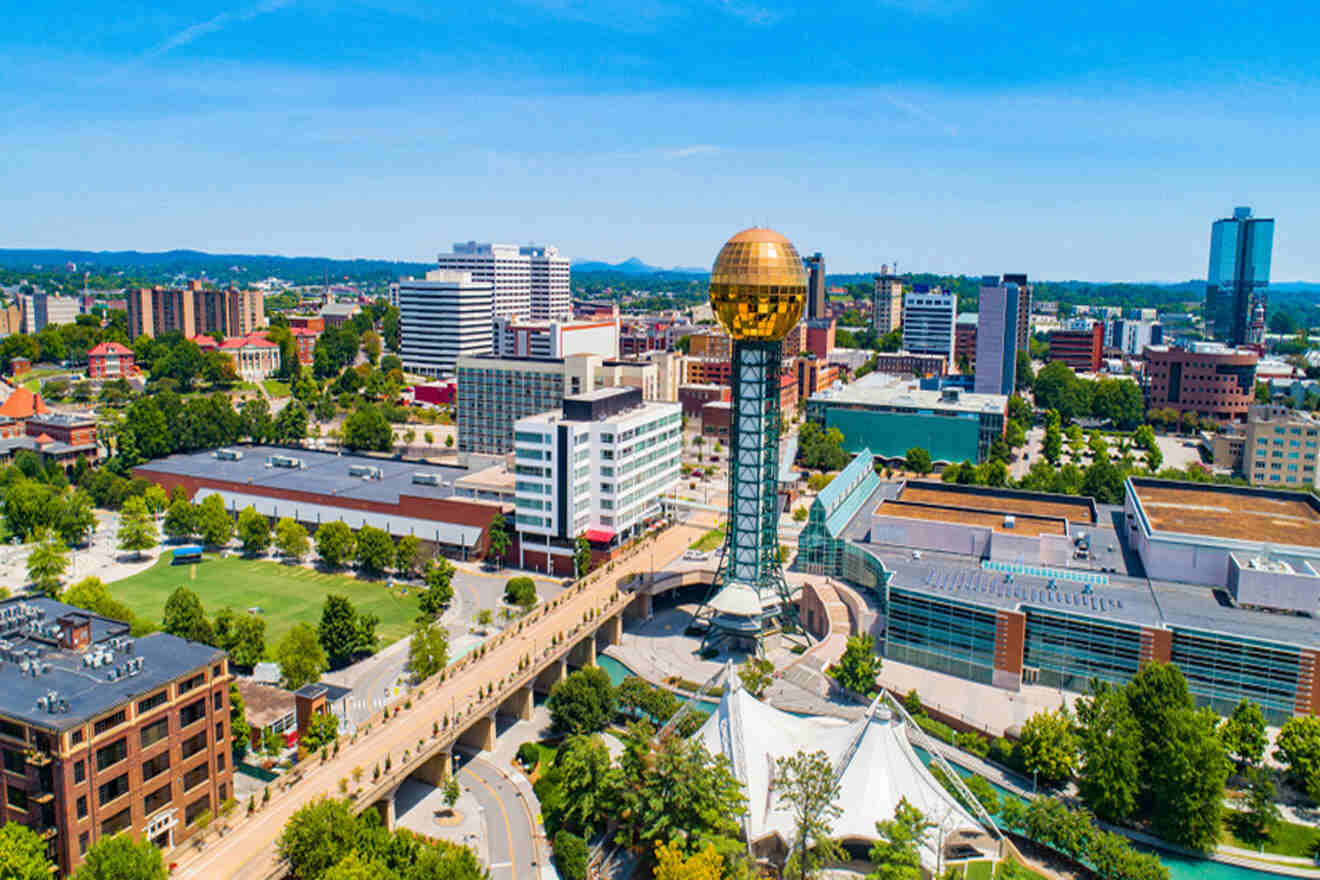 Conclusion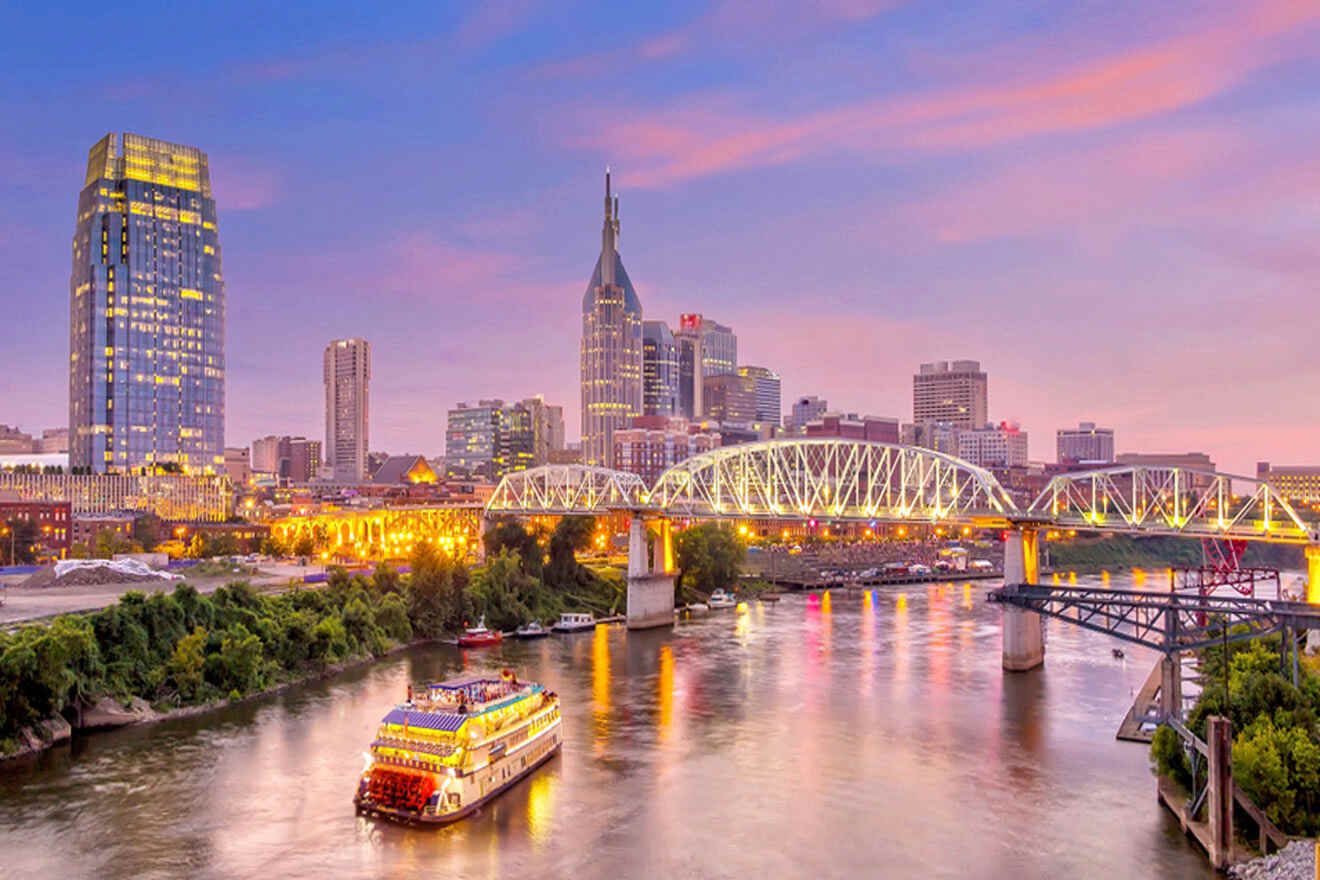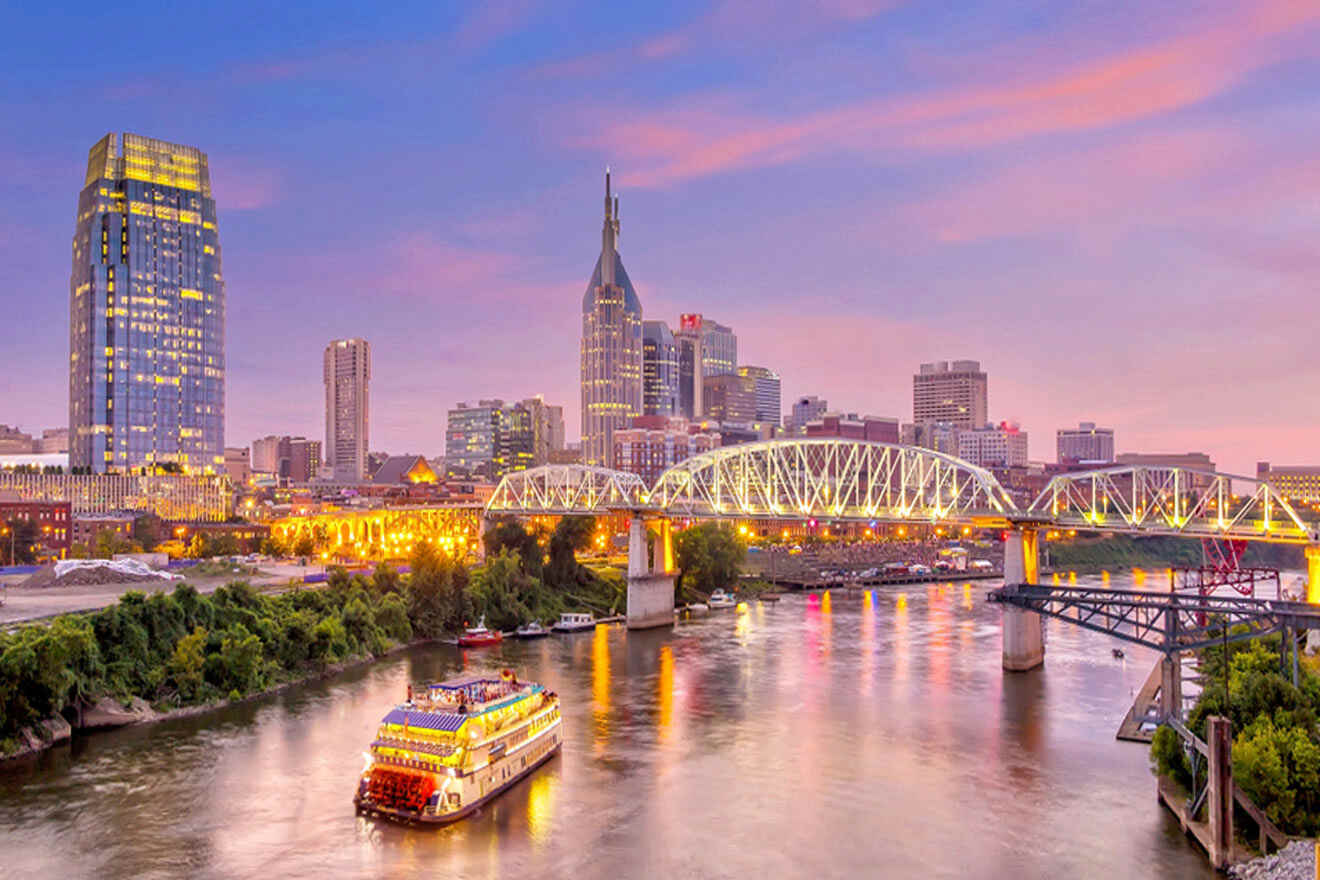 How incredible are all these unique places to stay in Tennessee?
Whether you prefer to stay somewhere near the Smoky Mountains National Park or in Nashville, I'm sure this list of Tennessee hotels will come in super handy!
As I mentioned, it is super important to book your hotels early, as these are some of the top ones in the state and most likely will disappear pretty fast!
Since we're talking about hotels, I thought I'd offer you my 2 favorite places to stay in Tennessee! Maybe it'll help you pick one if you're still in doubt:
Ancient Lore Village – Live your hobbit house dream in these amazing accommodations that have unique furnishings and a great location.
Under Canvas Great Smoky Mountains – The perfect accommodation in Pigeon Forge for nature lovers that offers luxurious tents and breakfast.
Here you have it!
I hope you enjoyed reading this post as much as I enjoyed writing it! But if I've left any questions unanswered, you can always drop me a comment below, and I'll make sure to answer it as soon as I can!
Safe travels,
Victoria
---
Pin it for later!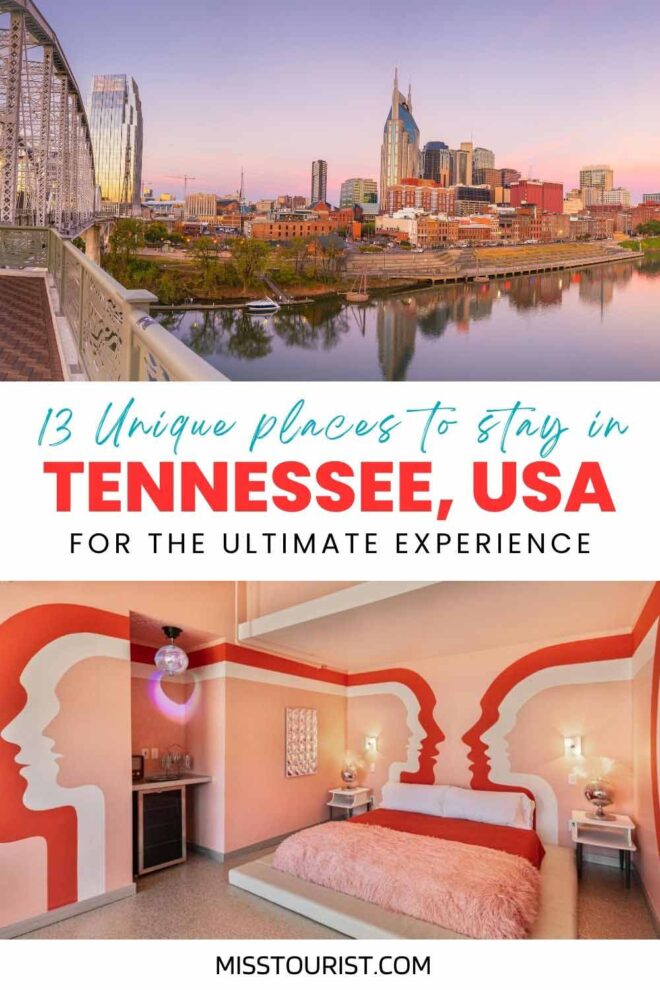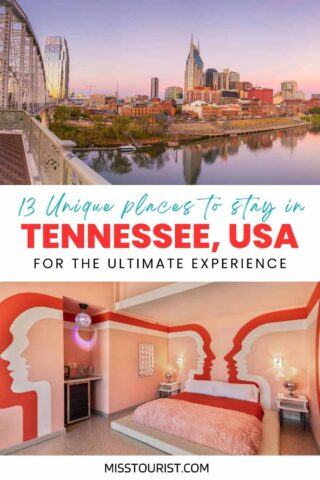 Pin it for later!