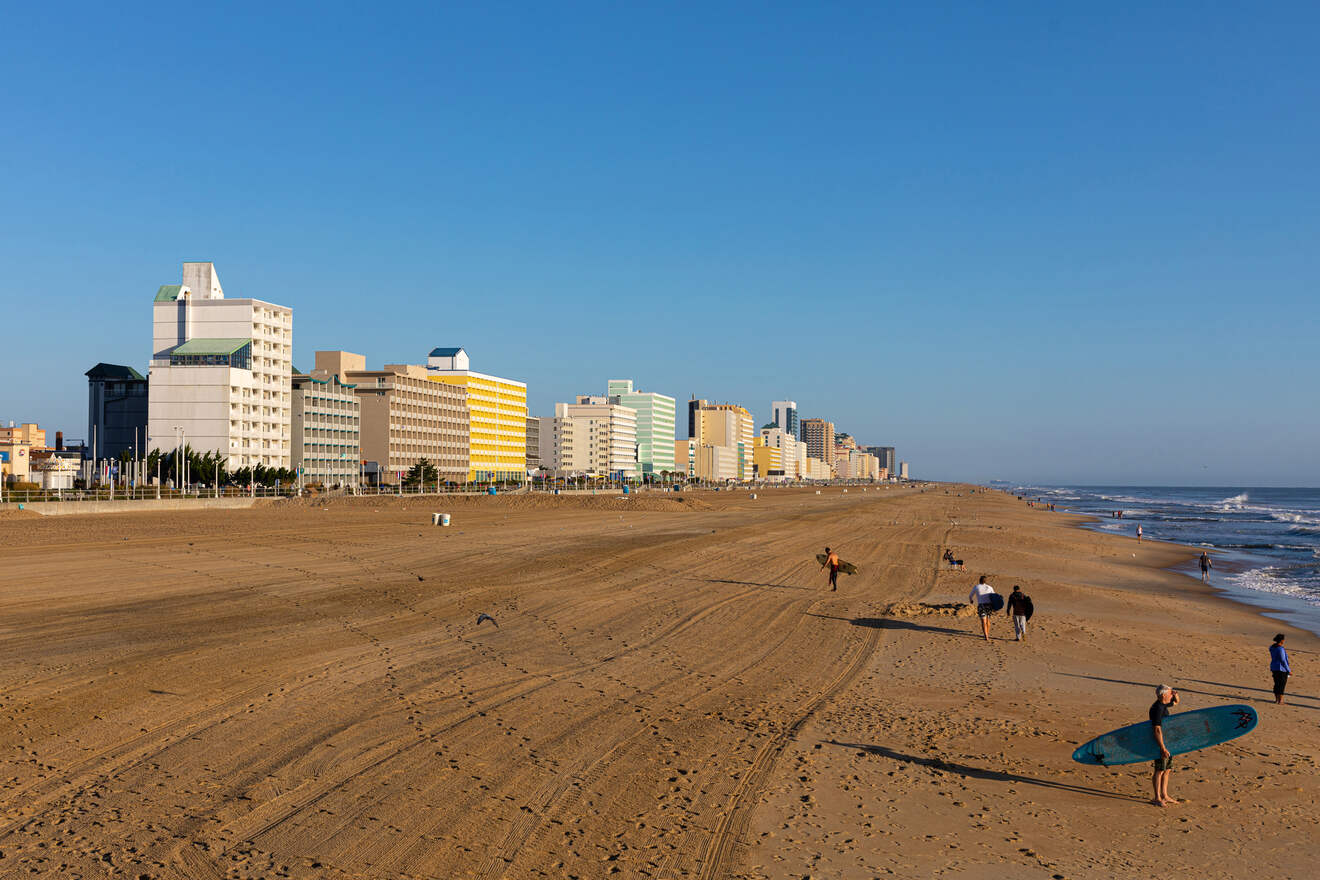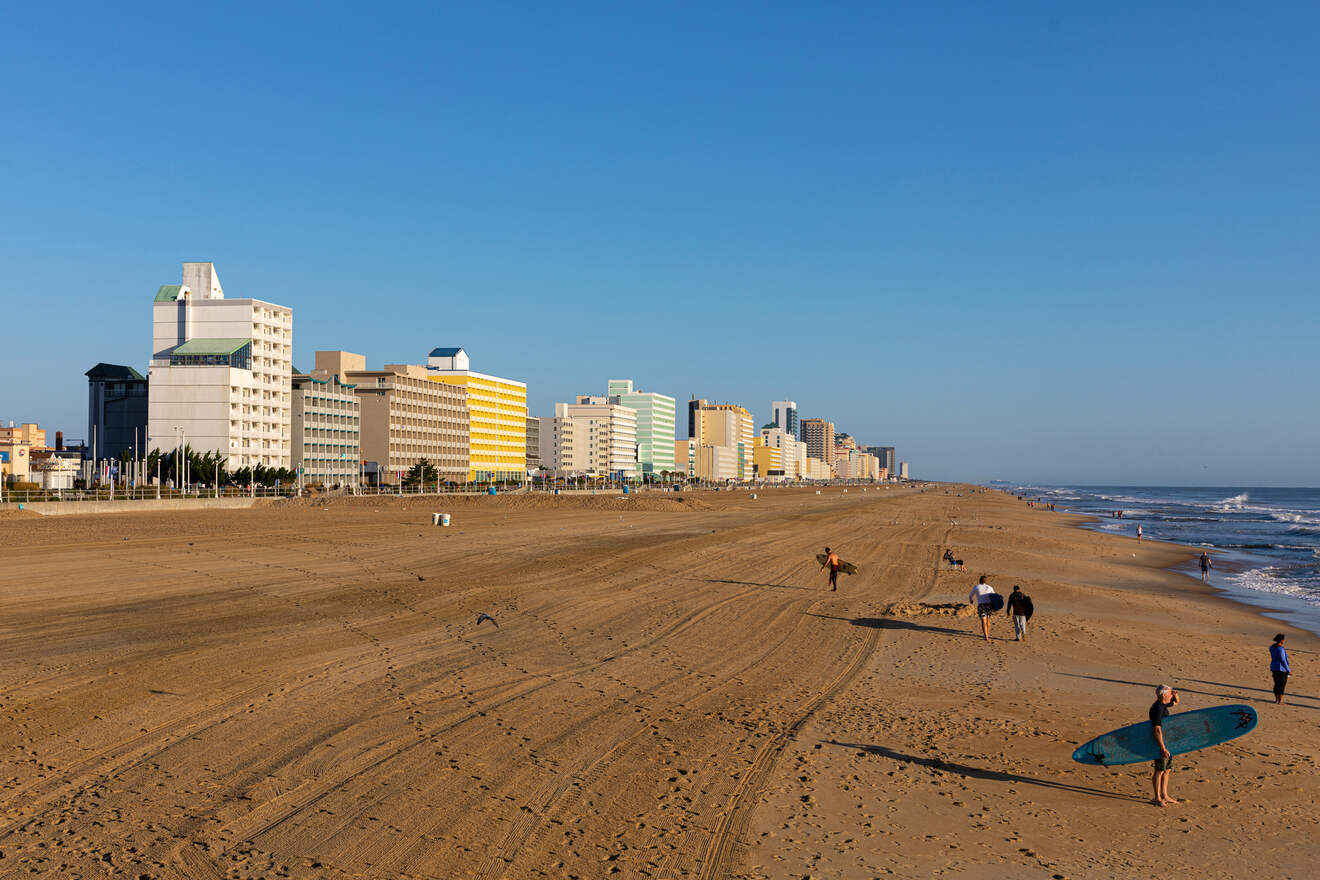 Thinking of booking a holiday to Virginia Beach? Well, you've come to the right place because I'm ready to tell you all you need about this vibrant town that's located on the southeastern coast of the state! And while you may think that this city is all about the beach and the ocean, let me tell you something, it's so much more than that!
This unique area has tons of wildlife in its 2 state parks and it's situated near the calm waters of the Chesapeake Bay where dolphins love to play! And let's not forget about the amazing hotels which offer countless services like complimentary breakfast and spa treatments.
Since it's such a popular holiday destination, you'll have to book super in advance if you want to get the best ones that have ocean views! So in this post, I will help you find the best areas where to stay in Virginia Beach, the top hotels, and point you to the coolest things to do here so you have no excuses!
So let's go, the beach is calling us!
If you are in a hurry
If you want to book now, there's no reason to wait! Quickly browse this list with the best hotels to stay in Virginia Beach
Here's a map that will help you visualize all the areas that I will be talking about in this post:
1. North Boardwalk – where to stay in Virginia Beach for first-timers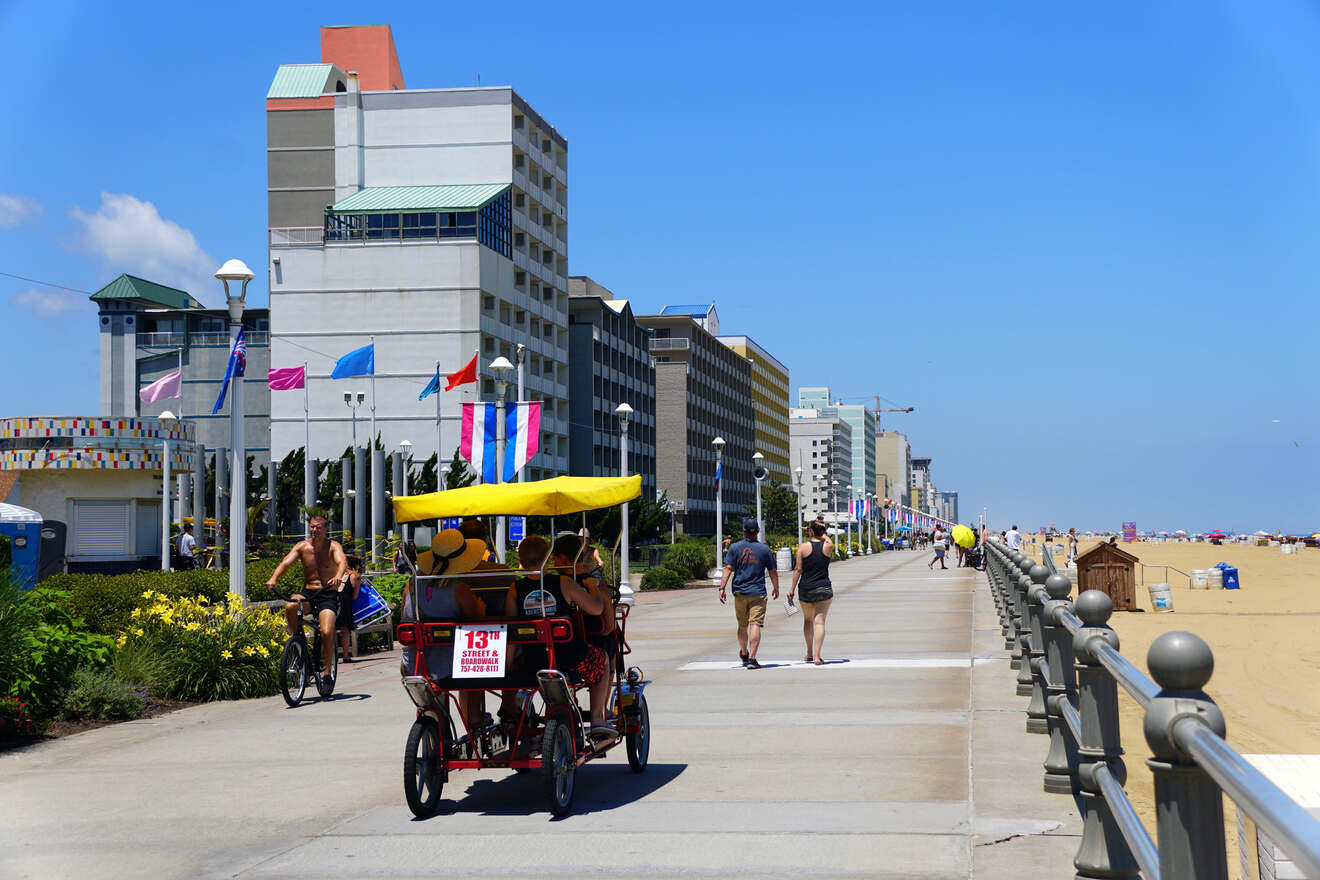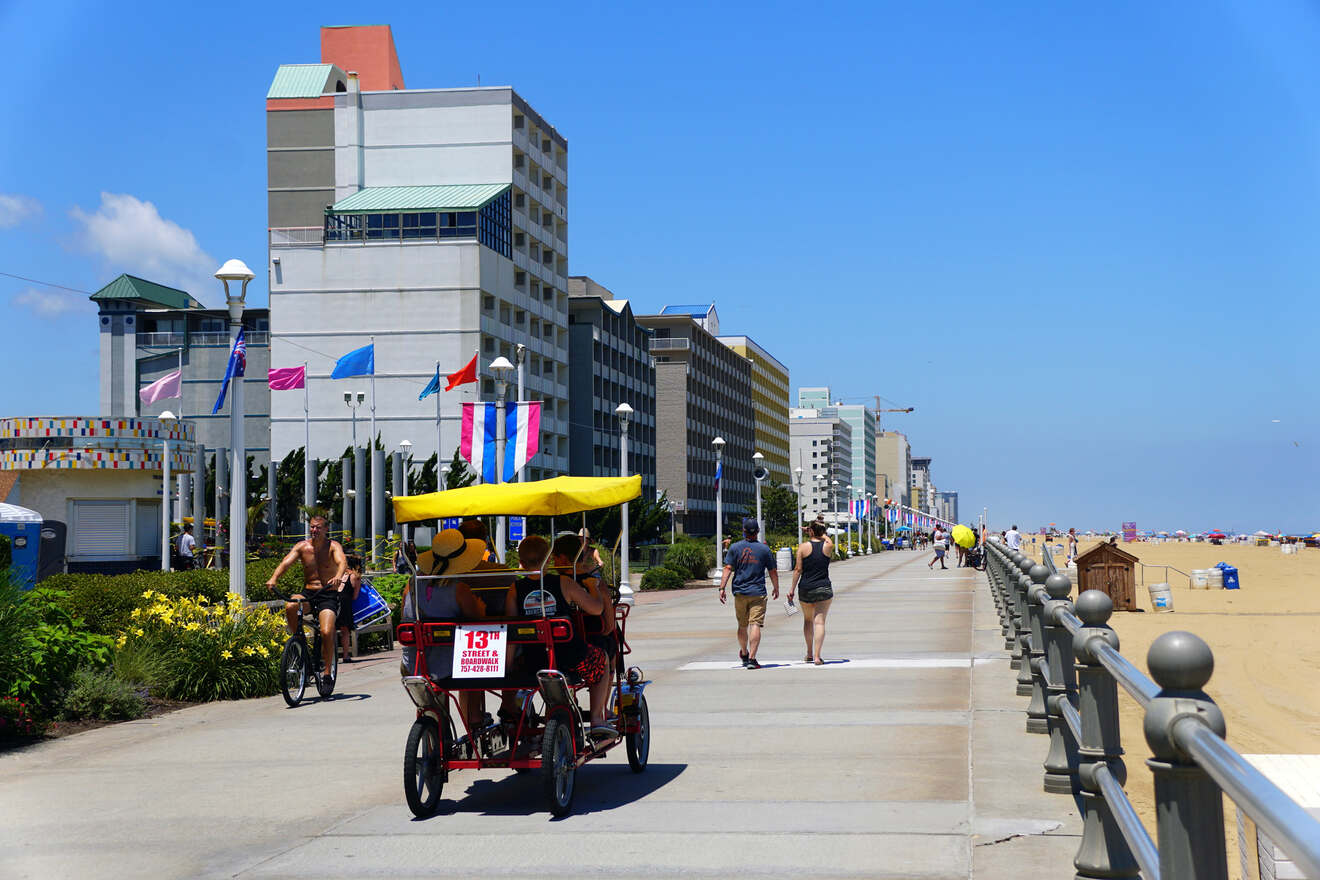 Coastal towns are the perfect holiday destination! You've got all the facilities you need, plus the Atlantic Ocean within walking distance from pretty much every good hotel in the city! The north end of the Virginia Beach Boardwalk is the best place to stay in town if you visit for the first time!
The area is super vibrant, filled with tourists and locals looking to enjoy the beach life! You'll find several restaurants that serve some delicious local seafood as well as bars and coffee shops where you can refill your batteries after spending the whole day swimming or exploring the First Landing State Park.
I love being close to the beach! The sun and ocean are like medicine for one's soul, and they put you in a good mood no matter what worries or troubles you have! But if you find yourself missing city life, you can always visit Richmond, the capital city of Virginia less than a 2-hour drive away!
I highly recommend booking your hotels in advance here, although the city is big everyone will want to stay right near the beach and have rooms with ocean views!
Luxury hotel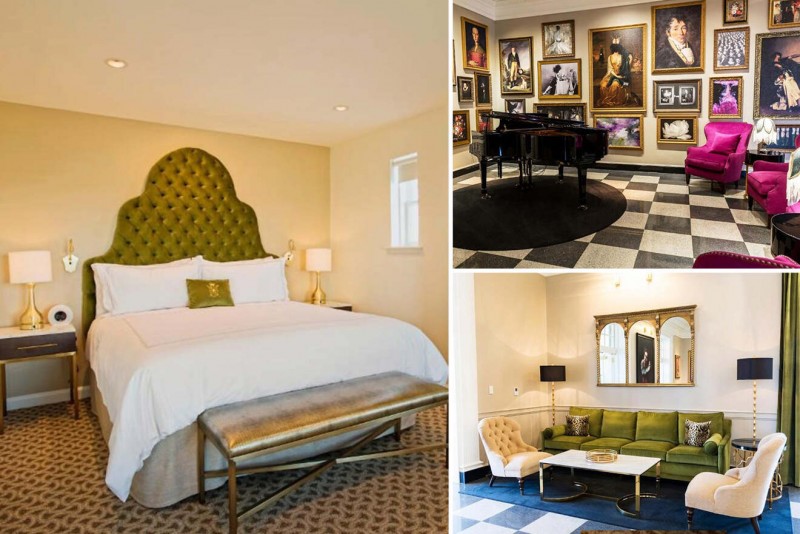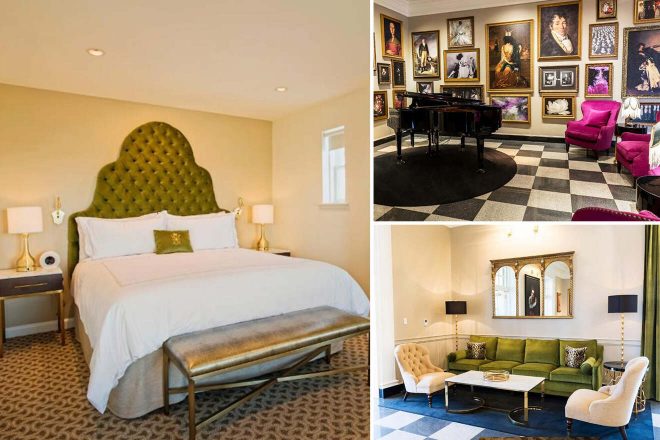 Are you looking for a hotel that offers its guests a luxury experience? You've come to the right place! Centrally located, this accommodation has an on-site restaurant and free wifi. Spend your days relaxing in the hot tub or by the indoor pool, or enjoy a nice workout in the fitness center!
Other accommodation options in North Boardwalk
Mid-Range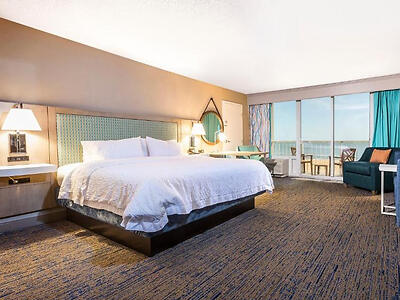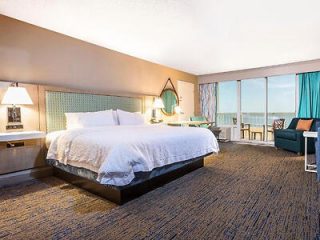 Enjoy the oceanfront view from the comfort of your rooms in this modern hotel with an on-site restaurant
Budget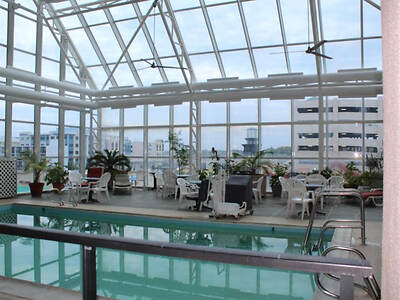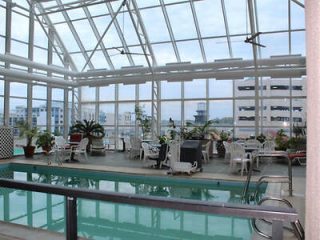 A nice budget hotel that offers an ocean view, a heated indoor pool, and a fitness center
Airbnb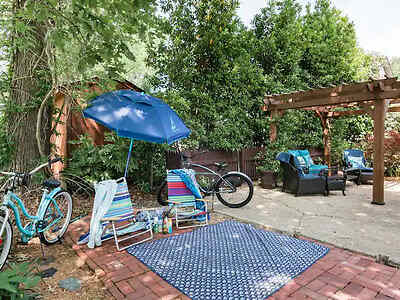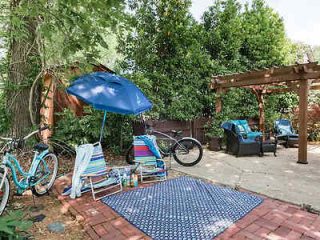 Sunbathe on the loungers in the backyard of this house that has a cool design, free wi-fi, and a kitchen
As I told you, all the hotels sell out super fast, so if you're looking for more accommodations in the North part of the Virginia Beach Boardwalk, here are some great extra options:
Things to do in North Boardwalk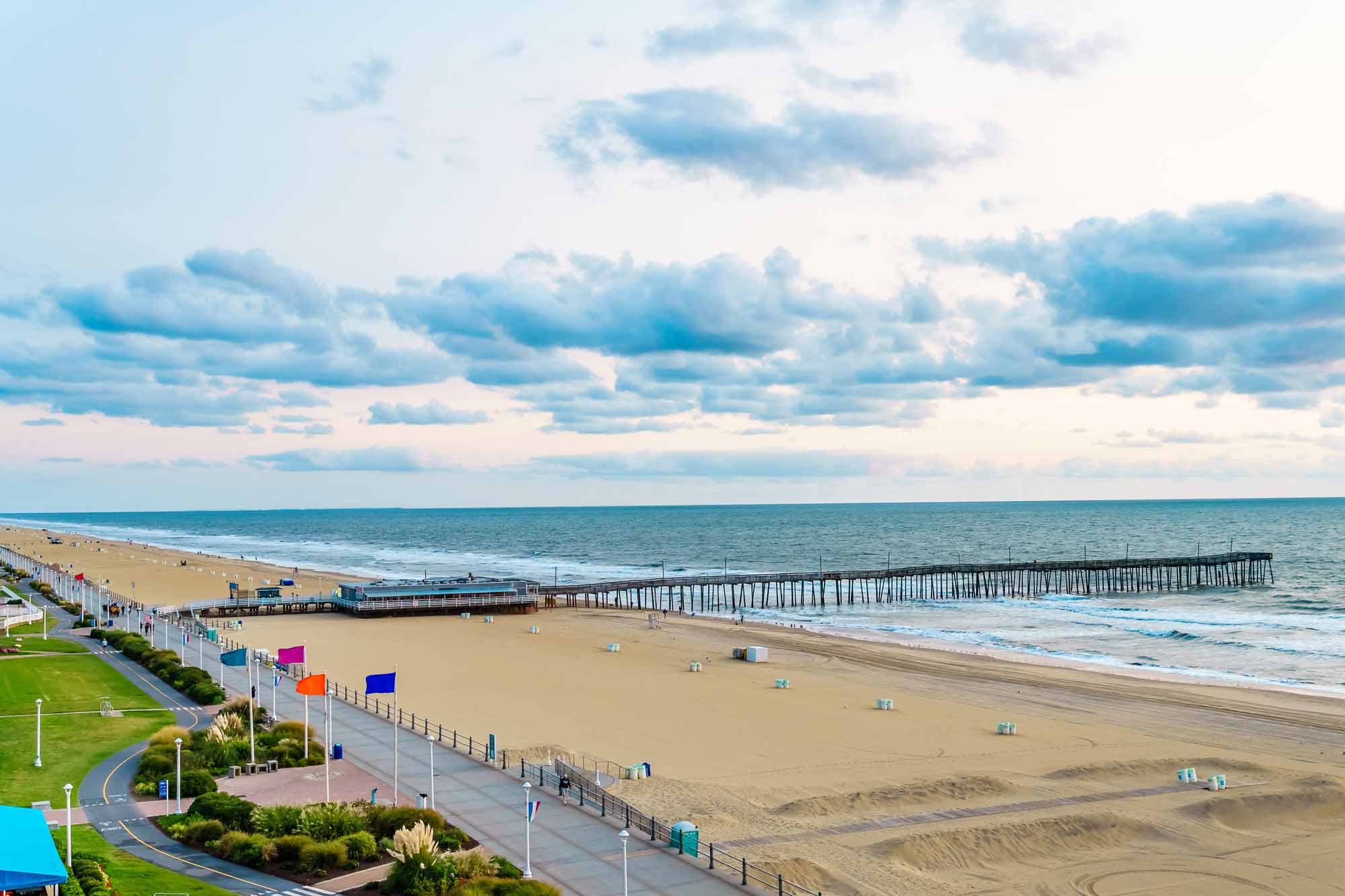 Head to the beach and enjoy the ocean views
Learn new things about Virginia Beach at the Naval Aviation Monument Park
Check out the Virginia Beach Surf & Rescue Museum in the north end
Explore the hiking trails in the First Landing State Park
Snap a picture of the Neptune Statue and check if there are any live events in Neptune's Park
2. South Boardwalk – best place in Virginia Beach for families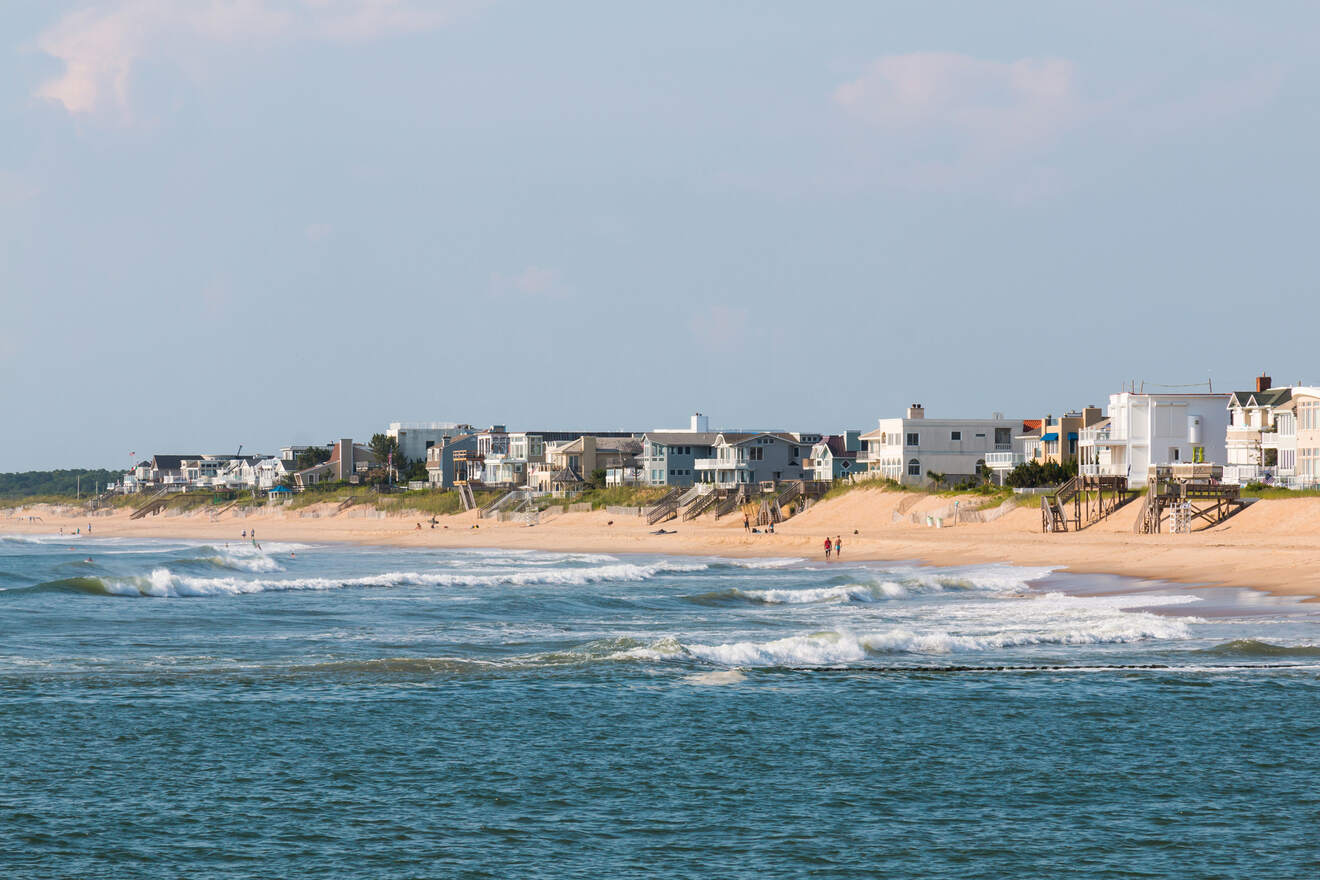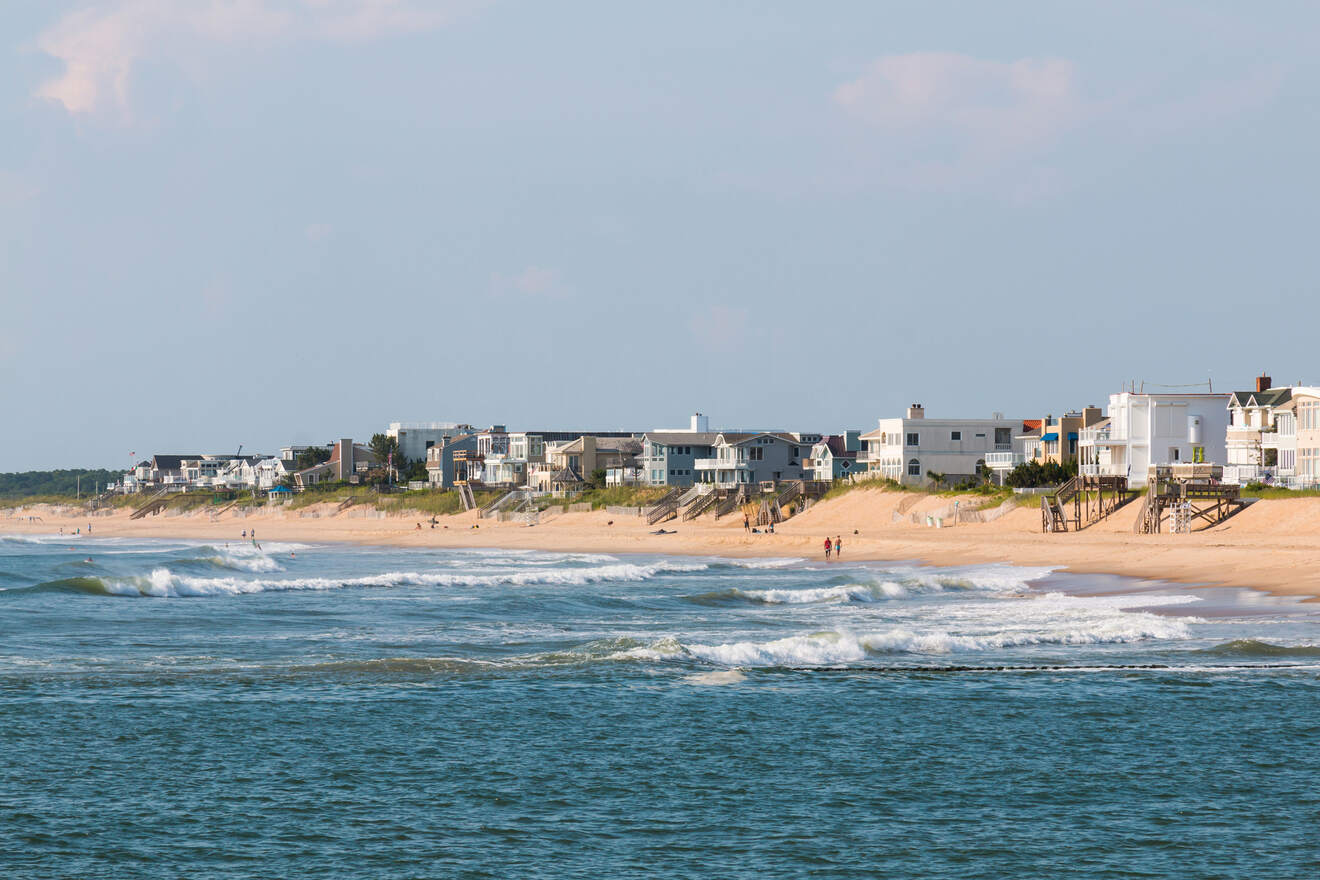 The southern end of the Virginia Beach Boardwalk is more tranquil, you'll still find several restaurants, bars, and coffee shops, but it's not as crazy and crowded as the North Boardwalk. So if you're looking where to stay in Virginia Beach with the whole family, then I highly recommend this area!
I'm sure the kids will want to spend all their time at the beach, but if you convince them to leave, you'll be pleasantly surprised when you see how many more attractions you'll find on the South Virginia Beach Boardwalk!
The Virginia Aquarium and the Atlantic Fun Park are 2 of the coolest places here, you'll probably need a few hours to check all the cool rides in the park, but you and the kids will love every minute of it! There's also the Nightmare Mansion haunted house for those of you who are brave enough to visit!
And I've left the best at the end! Does anyone fancy going on a tour where you can watch the dolphins? Virginia Beach is famous for this kind of activity, and I highly recommend it, you never forget an encounter with these beautiful animals! It's so magical!
Let's see which are the best hotels on the South Virginia Beach Boardwalk!
Luxury hotel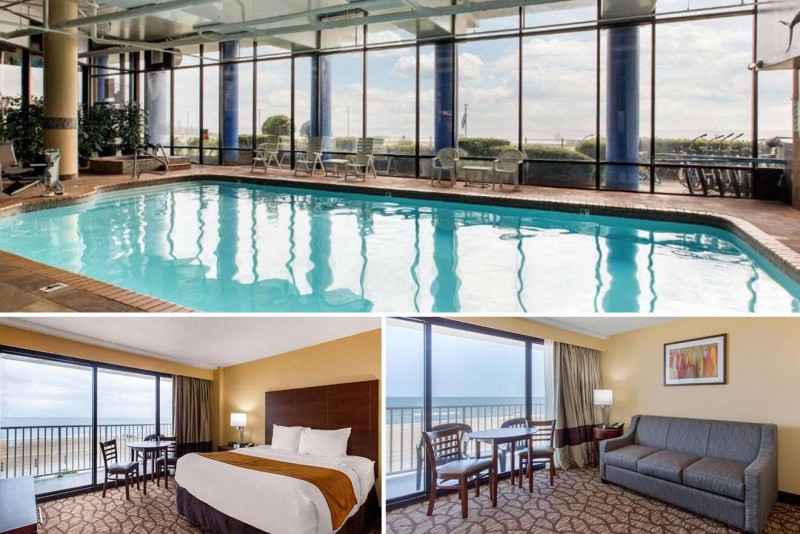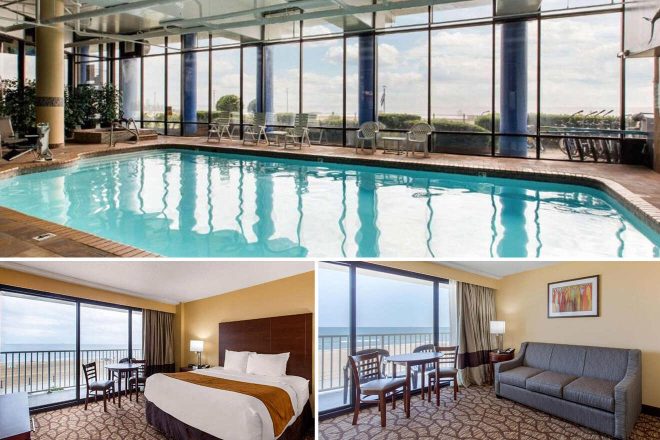 Located right in front of the beach on the southern end of the Virginia Beach Boardwalk, this luxury accommodation has peaceful private balconies. Head to the indoor pool for a relaxing afternoon during those rainy days or to the hot tub for a relaxing soak. Guests will also have access to a fitness center and receive a free breakfast so there's not much more to ask for here!
Other accommodation options in South Boardwalk
Mid-Range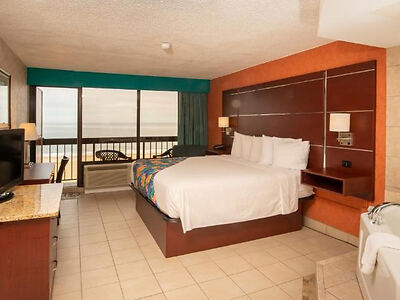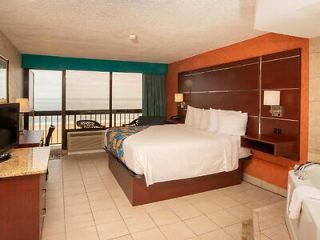 Enjoy your stay in Virginia Beach at this hotel that has a heated outdoor pool and rooms with a coffee maker
Budget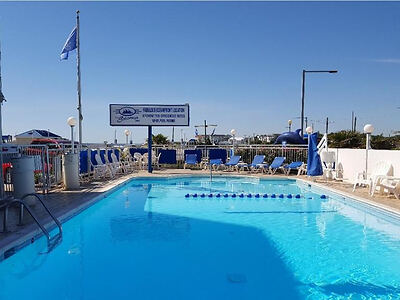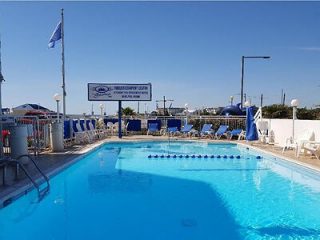 Drink your morning coffee and admire the ocean views on the private balcony of this hotel that has a pool
Airbnb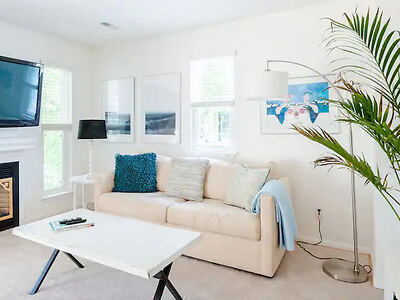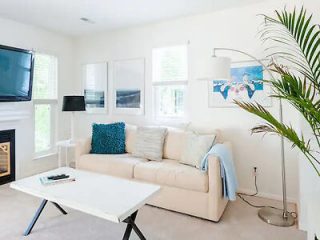 I love the little patio of this cool house that has a spacious room, a kitchen, and free wifi
We all know how fast the good hotels go, so here you have 3 more options to help you find your perfect accommodation, if you're looking for another budget choice, unfortunately, we're out of good options here but take a look at the cozy Airbnb!
Luxury: Four Points by Sheraton – Catch a beautiful beach sunset from the private balcony of your room at this luxurious hotel with a fitness center. The rooms are super spacious, and they have a flat-screen tv. And if you're not up for the beach today, you can always chill by the pool at the hotel.
Mid Range: DoubleTree by Hilton – Fancy a dinner with a view of the ocean at the restaurant of this great hotel that also offers live entertainment? The hotel is equipped with family rooms, a fitness center, and an indoor pool.
Airbnb: Cozy Apartment – Enjoy some relaxing time and watch the ducks in the backyard of this accommodation with a spacious room that offers free parking spots. The place also has a kitchen, and toys for the little ones.
Things to do in South Boardwalk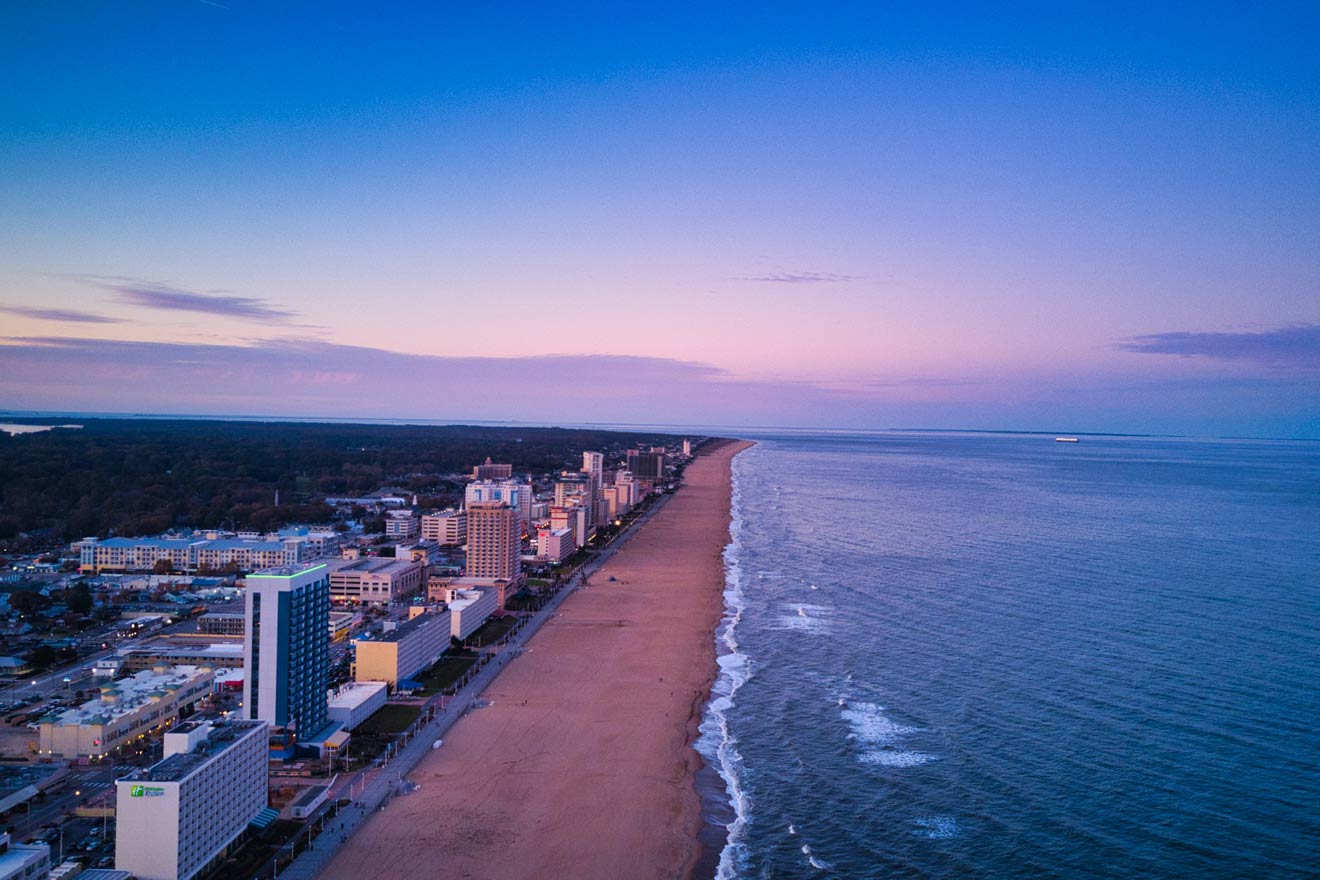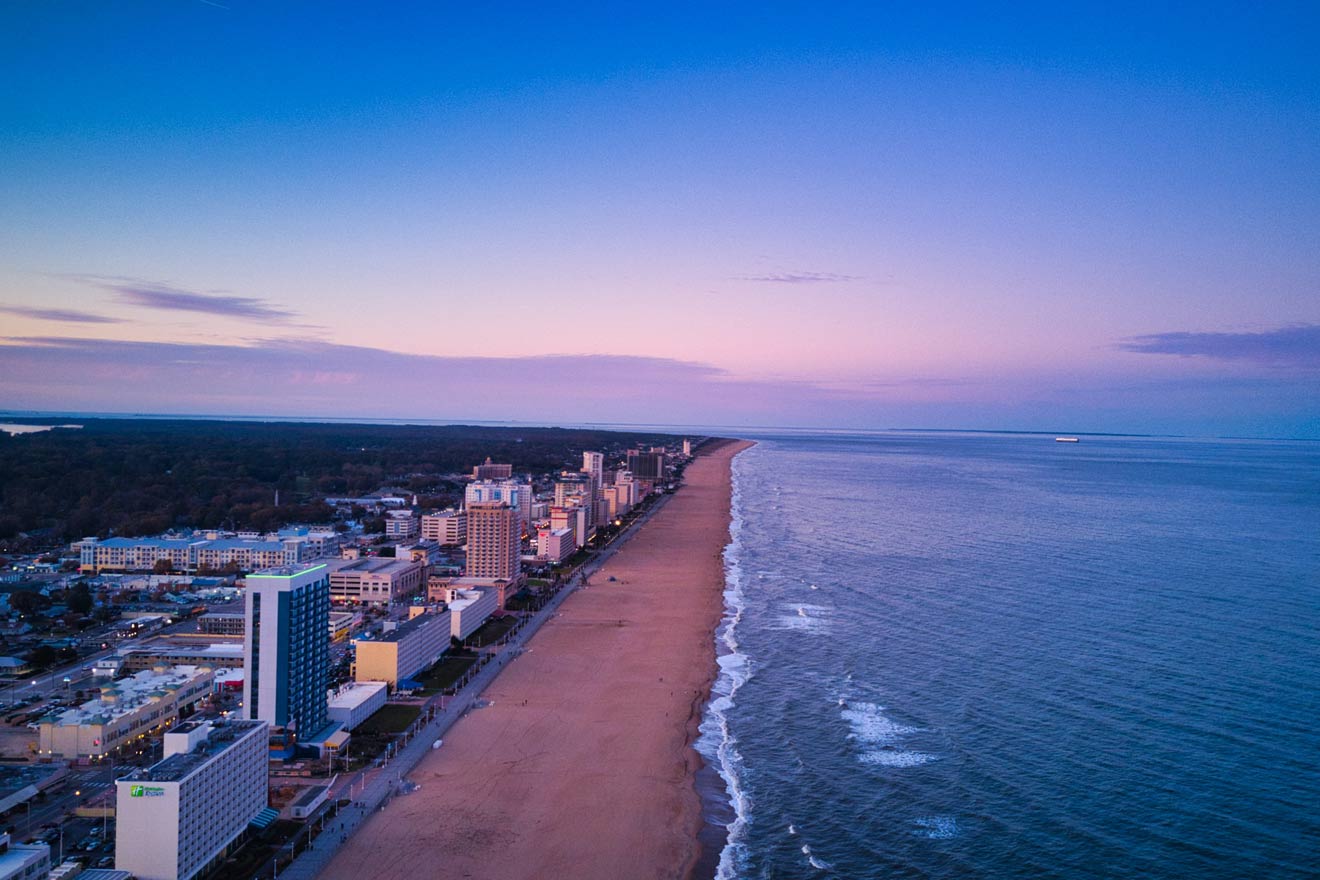 3. Town Center – where to stay for budget travelers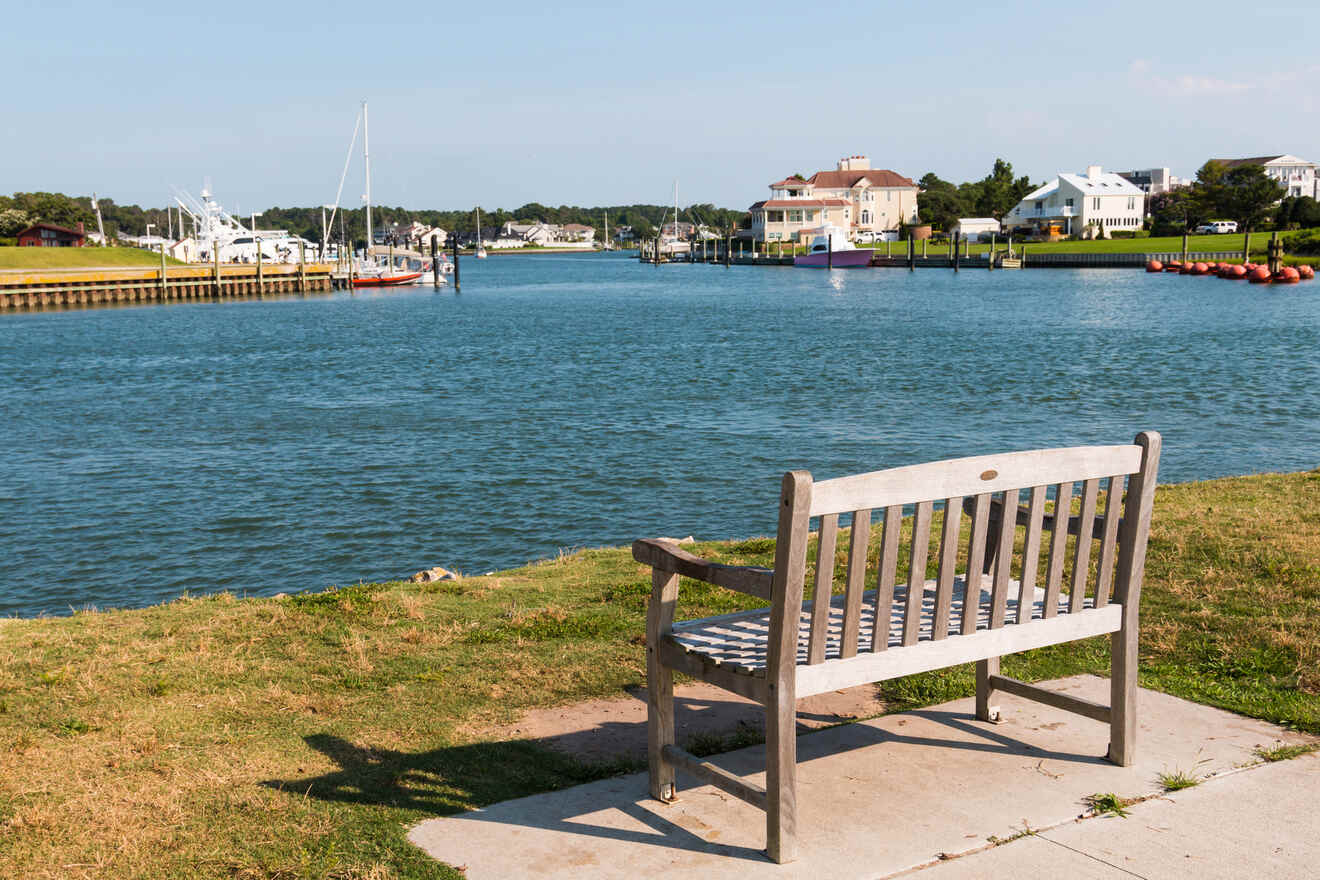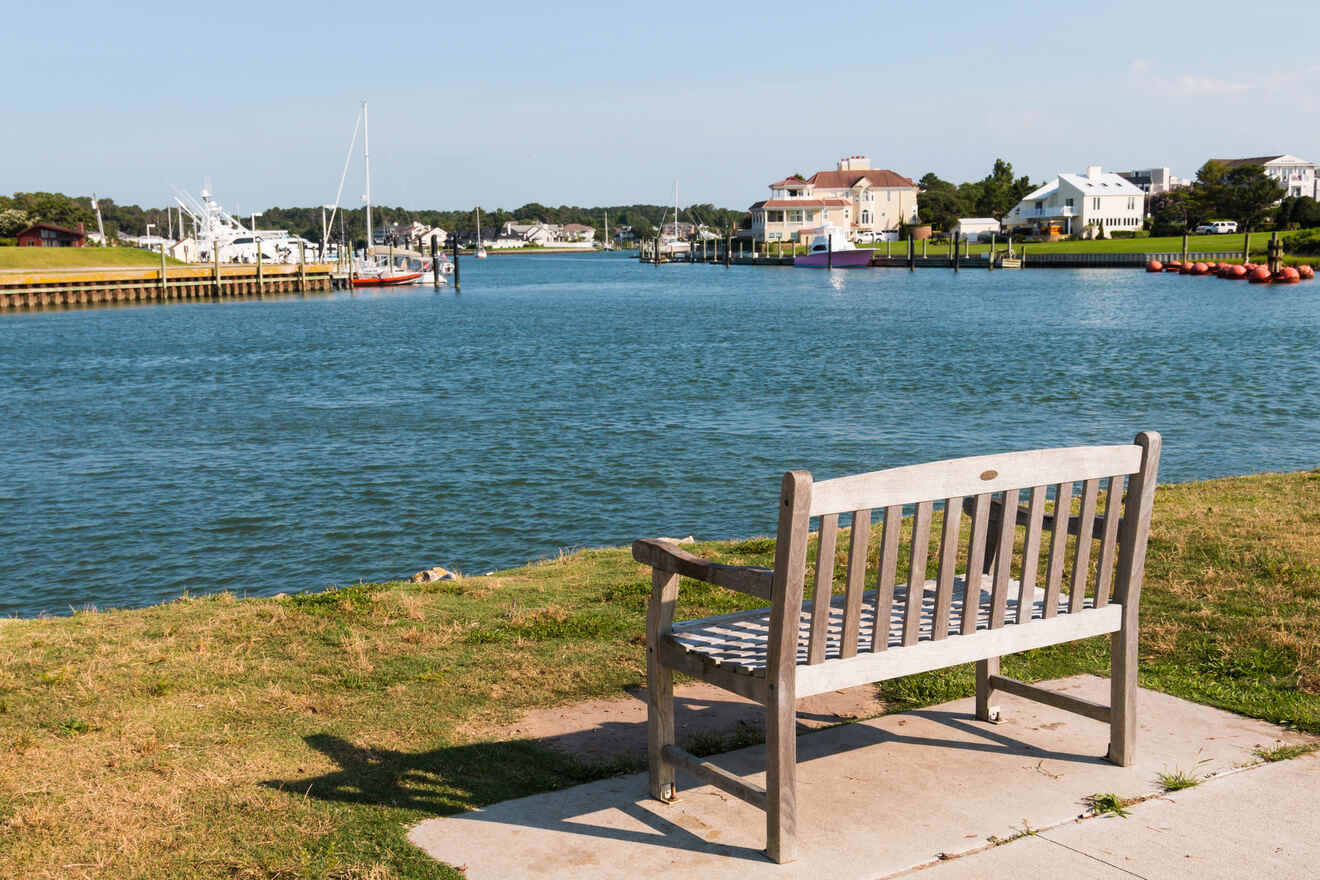 Don't worry if you don't have the budget to book a hotel located right on the Virginia Beach Boardwalk because you can always find accommodations in the Town Center. Although you're a bit further away from the ocean, you can still go there anytime you want by using public transport!
This is not your regular busy town center area! Of course, you'll have a bit with all the shops, restaurants and cafes, but you'll also find plenty of natural spots that will keep you occupied when you're too tired to make your way to the beach!
You'll find a wide range of activities here for adults as well as those of you traveling to Virginia Beach with their families. For example, Lake Trashmore is a lovely spot where you can spend some time away from the city noise! And the Kids Cove Playground is the perfect place to take your little travelers!
Luxury hotel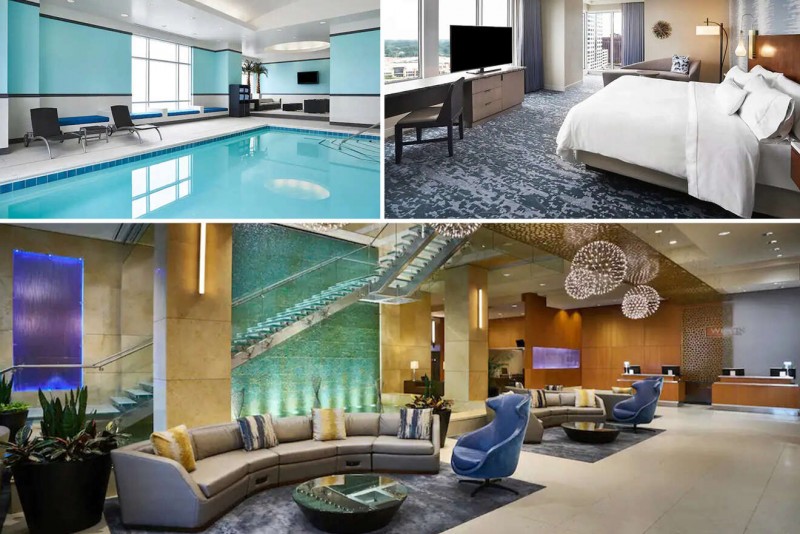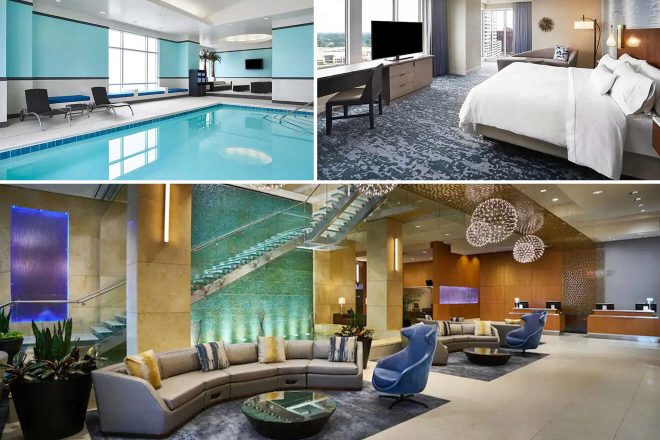 No time to get to the beach? Don't worry, I've got you! This hotel offers a large indoor pool that the guests can use, plus a fitness center. The rooms are spacious, and they have private bathrooms.
Other accommodation options in Town Center
Mid-Range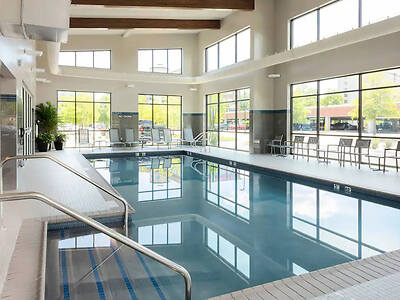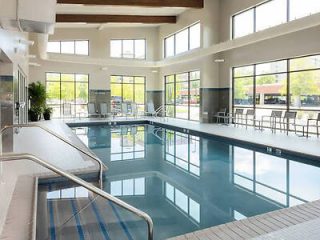 A nice hotel that has a terrace, a swimming pool and a lounge area where you can watch tv
Budget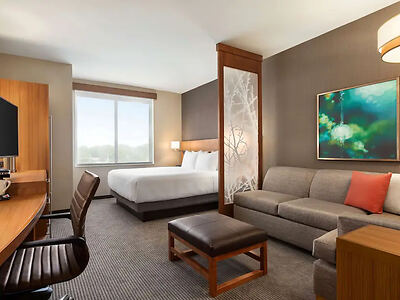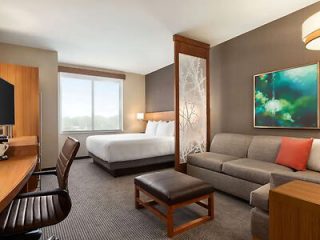 This pet-friendly budget hotel offers its guests free parking spots, plus a swimming pool and a fitness center
Airbnb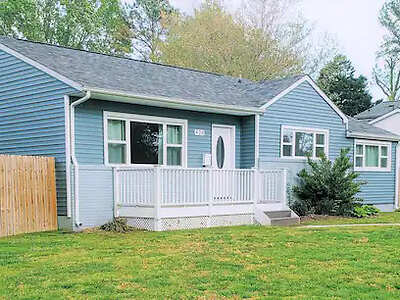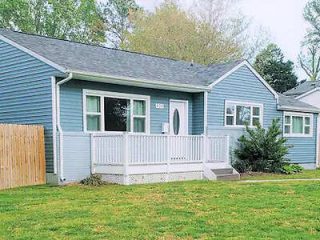 Chill on the patio of this nice house that has barbecue facilities, 4 rooms, and a kitchen
Things to do in Town Center
Visit the Francis Land House Museum
Make the children happy and take them to the Kids Playground Clove
Go on a trip to visit the nearby Norfolk Botanical Garden
Enjoy some peace and quiet near Lake Trashmore
Have dinner at Papa John's Pizza
BONUS: The best oceanfront hotels in Virginia Beach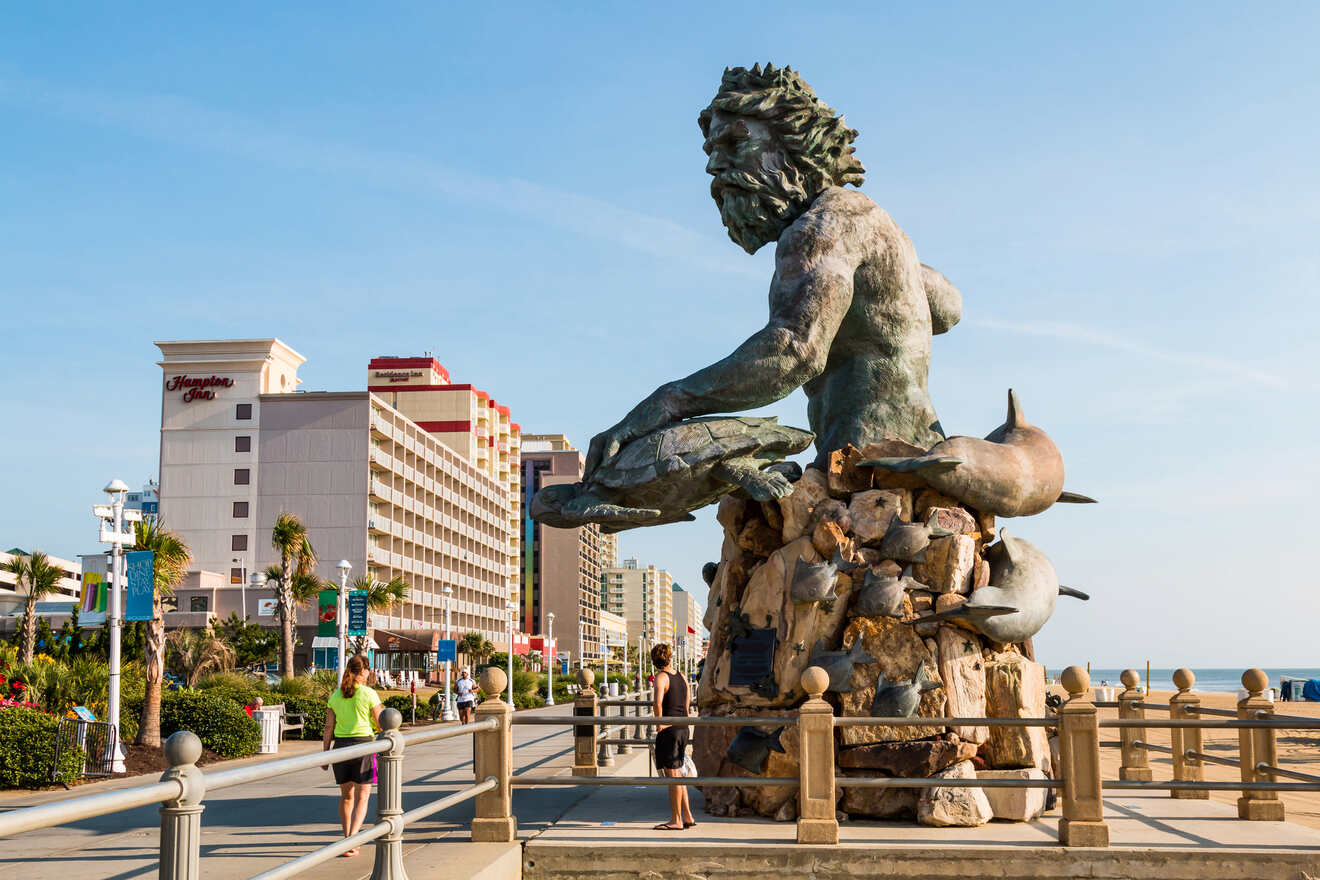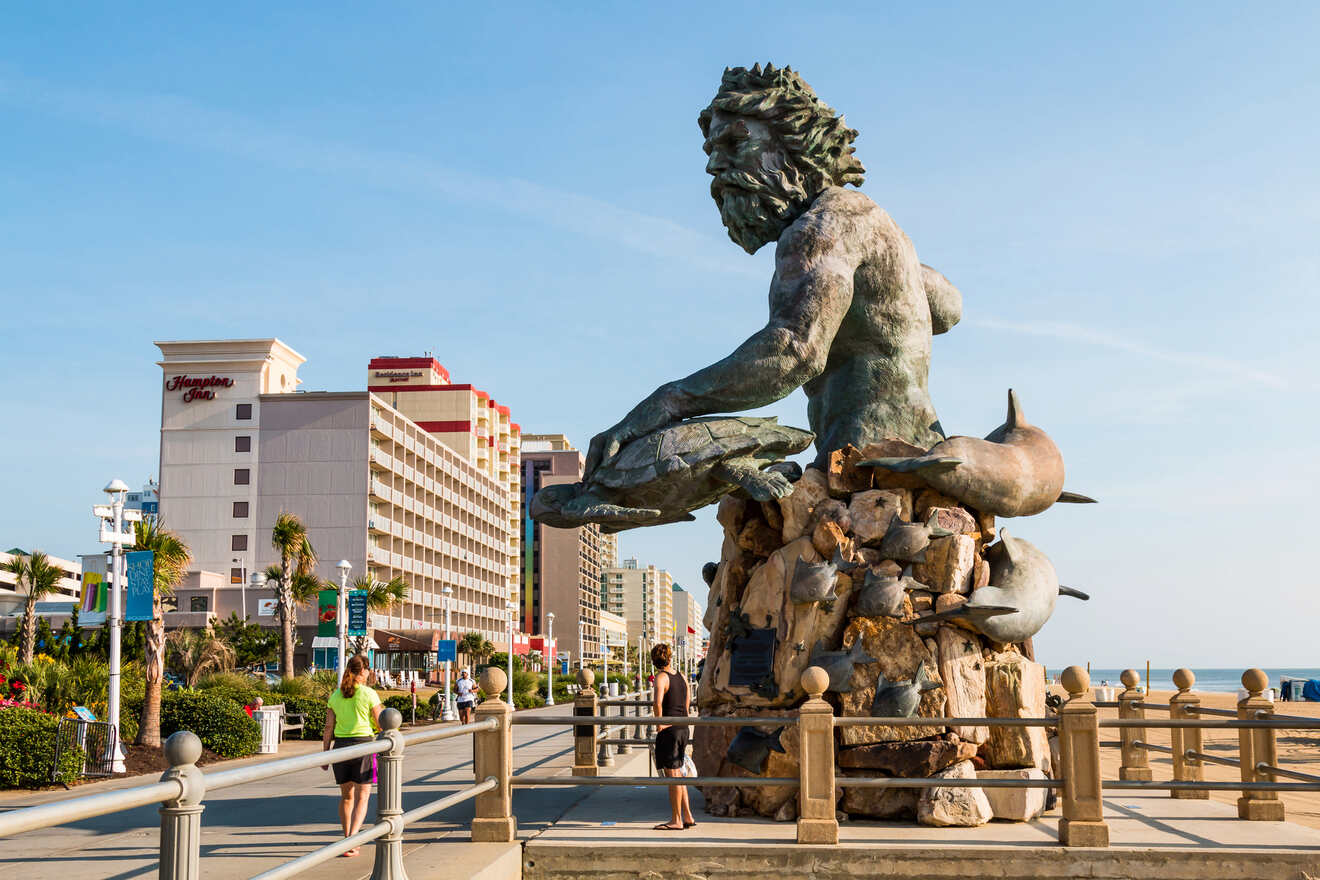 What's the point of traveling to a coastal town if you can't admire the sea views 24/7? I know many of you will be looking for hotels with the best view of the Atlantic ocean, so I thought it would be a good idea to list the best oceanfront hotels in Virginia Beach!
Luxury (US$300 and up)
Marriott Virginia Beach – What better way to start your day than with a sight of the ocean right from your bed! This luxury hotel is right near the beach, and the views are incredible! Even when you're at the pool, you'll feel like you're on the beach. The accommodation has a restaurant and a bar on-site.
Mid-range (US$200 – US$250)
Hyatt House Virginia Beach – A change of outfit, a 2-minute walk, and boom, you're on the beach! This hotel has everything you need, from a pet-friendly policy to a restaurant and a swimming pool!
Budget (up to US$160)
Econo Lodge Virginia Beach – Grab a coffee on the balcony of your room and enjoy the ocean air. There's nothing like it! Guests have access to bicycles on-site free of charge, so get yourself one and start exploring around!
Airbnb (US$120 and up)
Oceanfront Gem – I love the design of this apartment! It's perfect for a romantic getaway to Virginia Beach. Just look at how perfect the balcony is for a romantic dinner for 2! The accommodation also has a kitchen and a swimming pool so all your needs are covered.
Frequently asked questions about Virginia Beach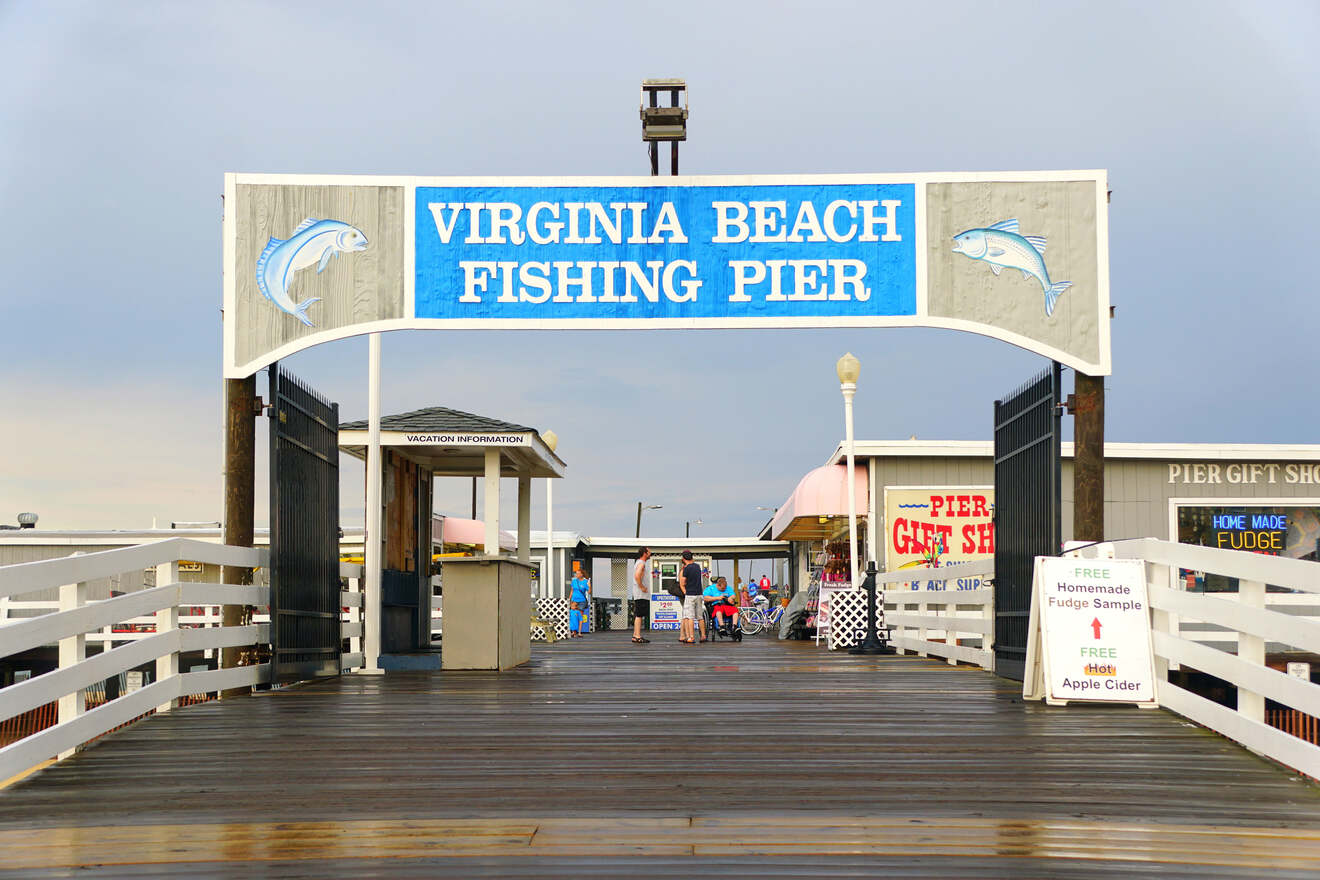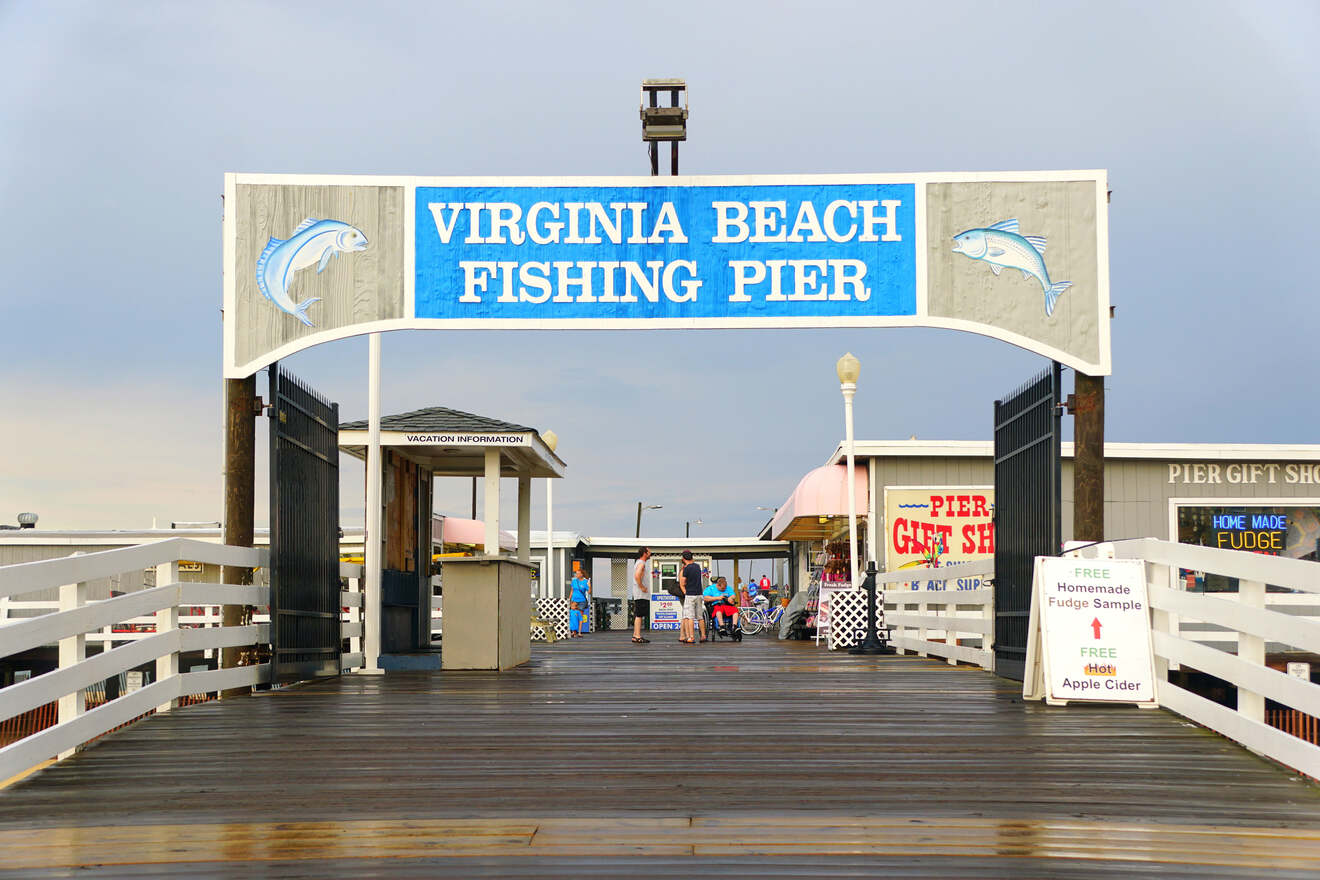 💯 What is the best area to stay in Virginia Beach?
North Boardwalk is the best area where to stay in Virginia Beach, it has a wide range of attractions for all types of travelers and amazing hotels like The Cavalier Virginia Beach that offer some spa services. 
🧭 Is North or South Virginia Beach better?
If you're traveling to Virginia Beach for the first time, I recommend staying in the North Boardwalk area at The Cavalier Virginia Beach. If you're traveling with your family, then I recommend the South Boardwalk area and staying at Coastal Hotel & Suites. 
❌ What are the bad areas of Virginia Beach?
You should avoid the Northwest and the Dam Neck Naval Station Air areas, as these 2 can be less safe for tourists. 
🌊 What are the best waterfront hotels in Virginia Beach?
👪 Which hotels in Virginia Beach are good for families?
🚗 What is the best Virginia Beach hotel with free parking?
Conclusion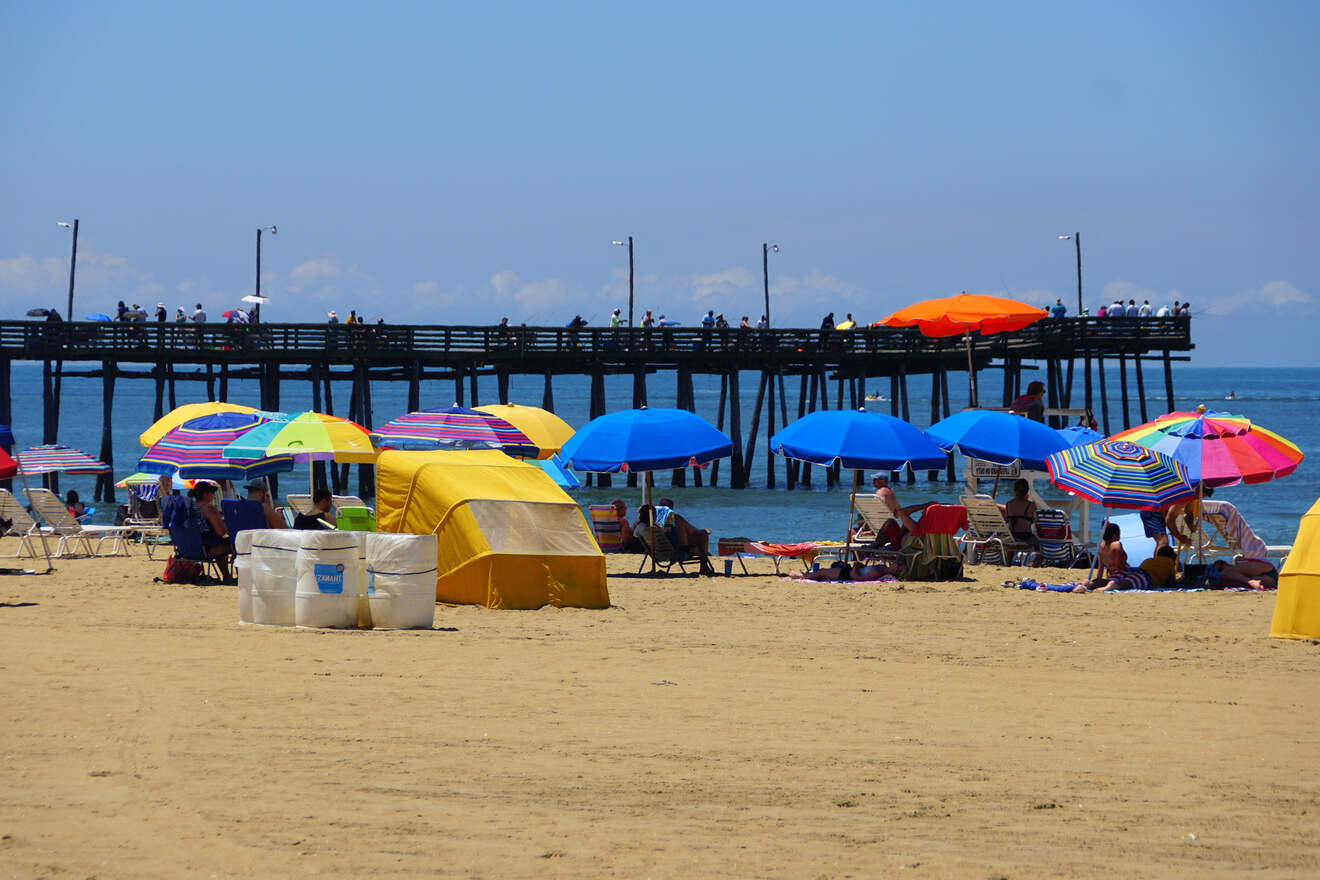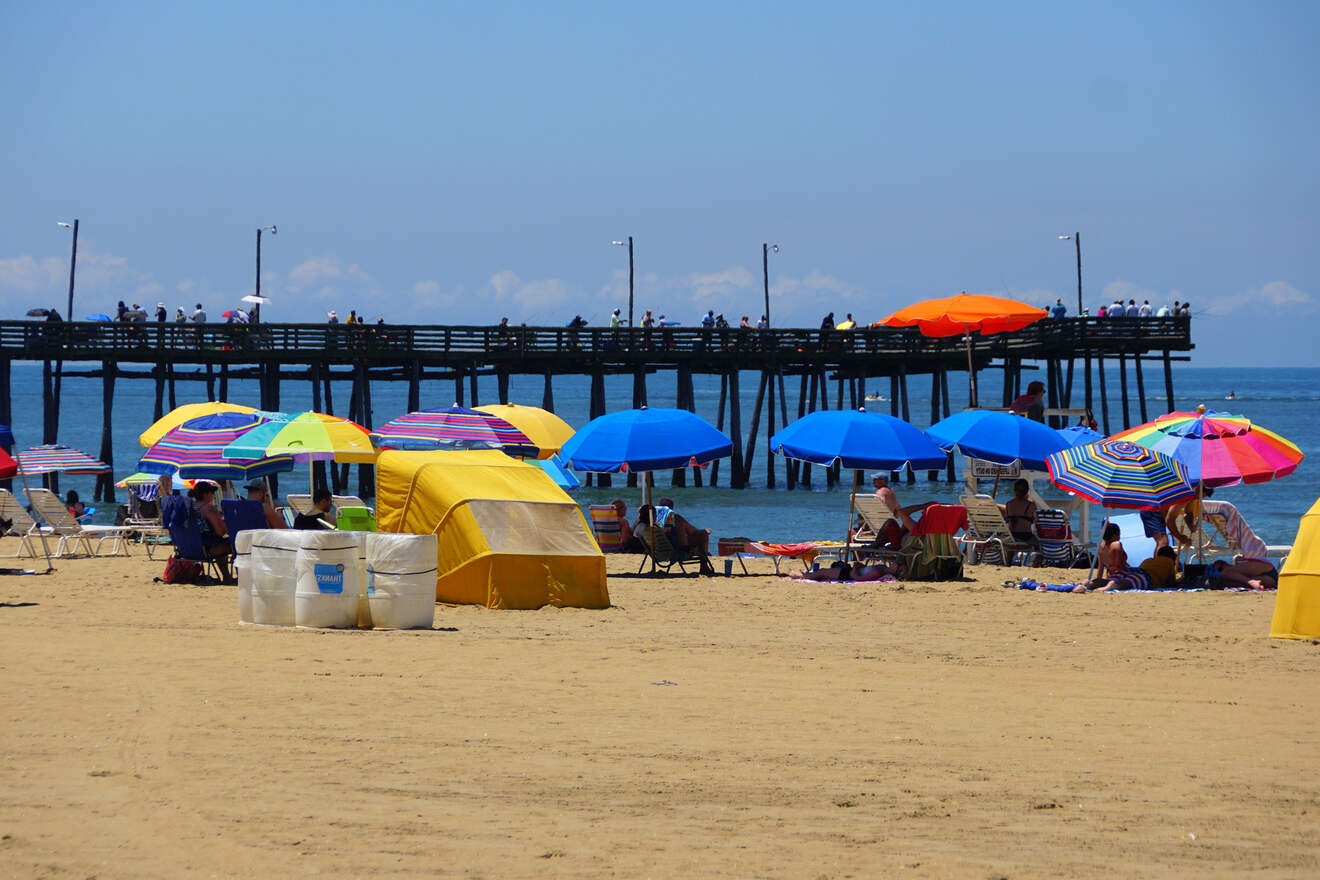 What a fun trip! As you can see, there are so many amazing things to see in this coastal town, and I hope this post helped you decide where to stay in Virginia Beach, and which one to choose, you might want one that offers a complimentary breakfast or spa services, so check their services thoroughly.
There are so many hotel options here, and I know how difficult it is to decide, so here are my top 2 favorite options:
Remember that Virginia Beach is a super famous location, so I highly recommend booking your hotels in advance to get the best deals, especially in summer!
Have lots of fun under the sun, enjoy the humid subtropical climate, and snap a picture of the Neptune Statue, it's a perfect memory! Leave me a comment below if you have any questions or suggestions for our readers!
Safe Travels,
Victoria