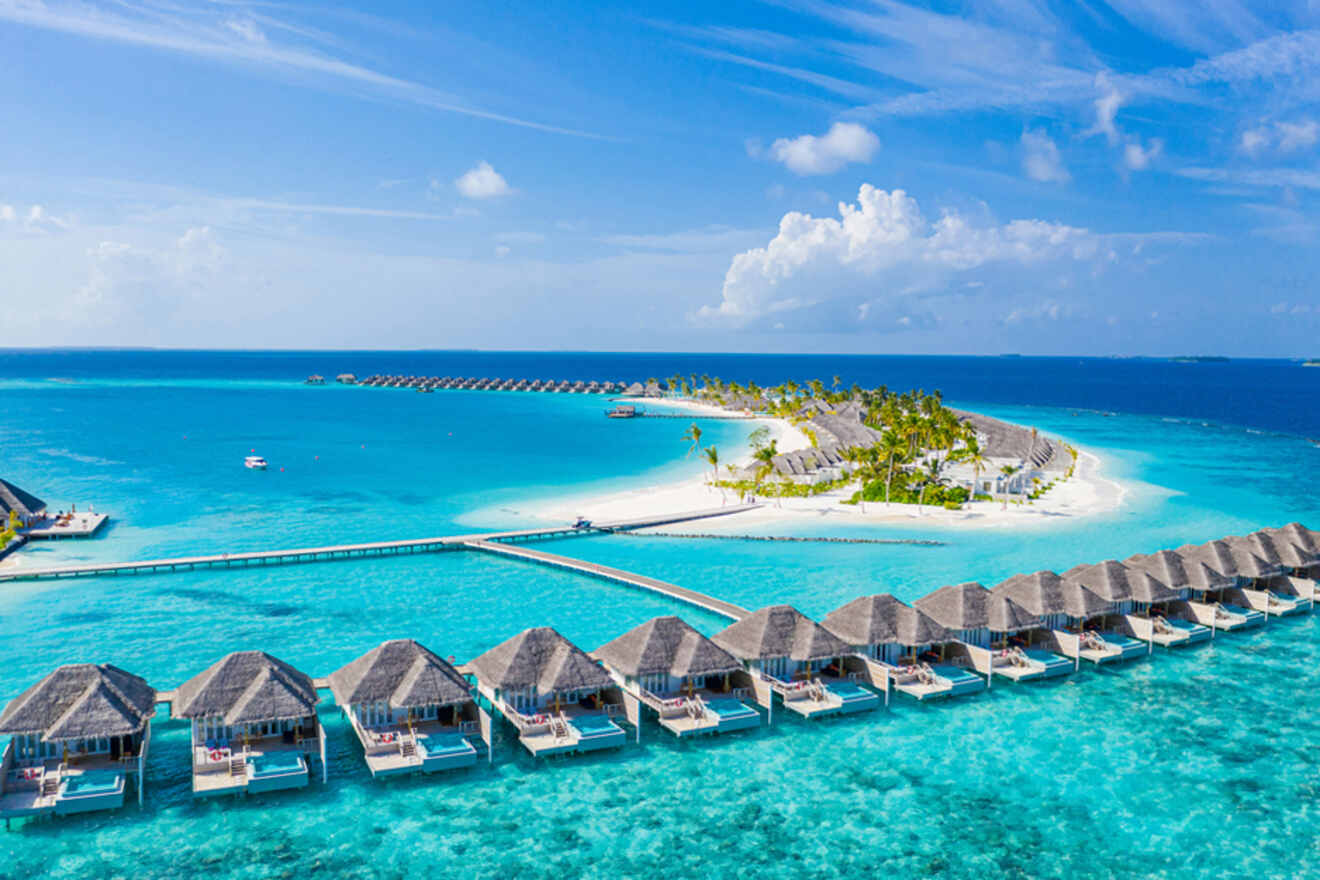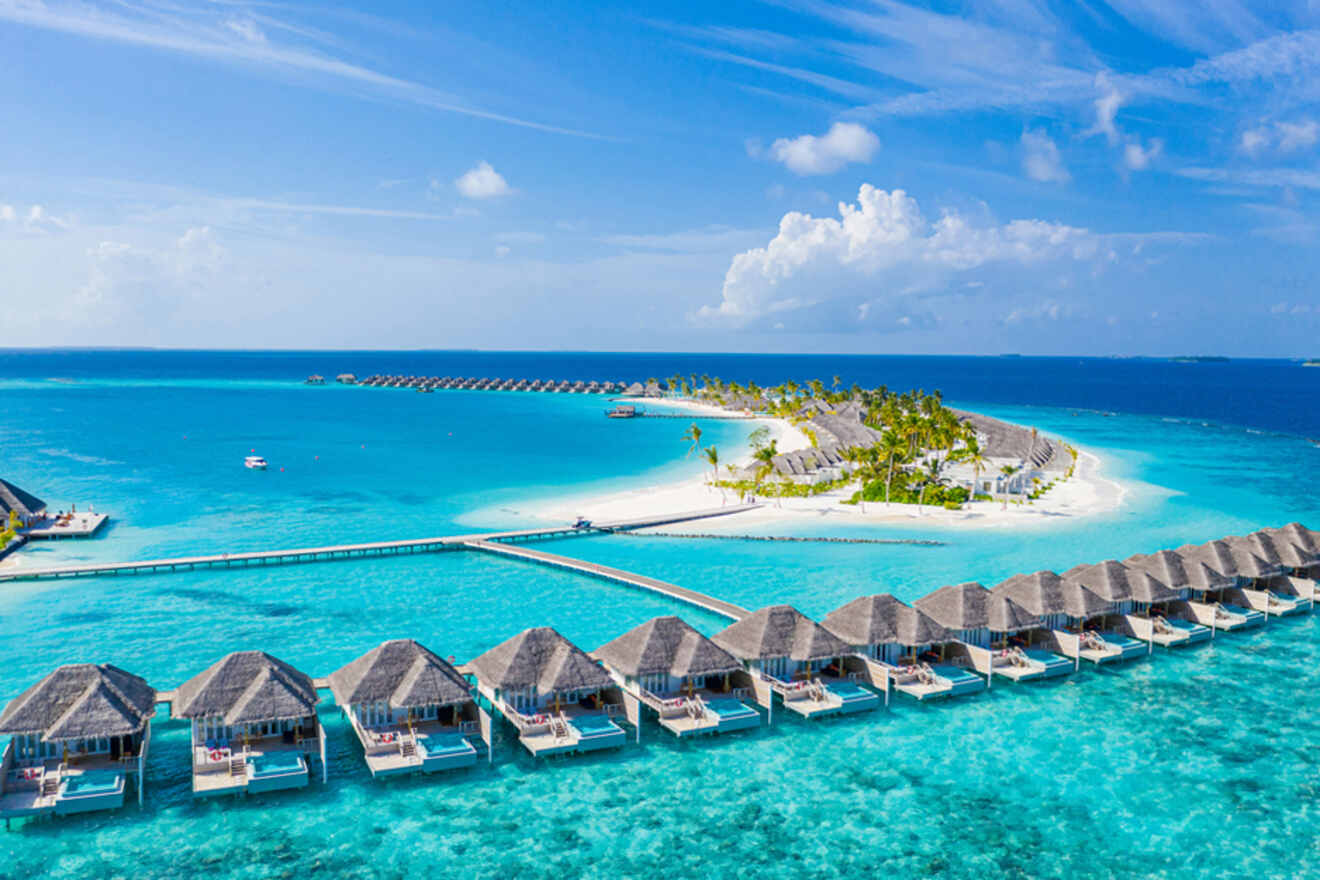 Ahh, Maldives, I hardly doubt there's anyone in the world who hasn't dreamed of going there. If you are one of the lucky travelers planning your dreamy vacation to these paradise islands, I have to say you won the Jackpot when you landed here.
I've searched for hours on the web and read through numerous reviews to compile this list of the top-rated 5-star resorts in Maldives that will grant you an unforgettable stay. How do I know? Well, they are all rated 9+ and have extraordinary amenities.
That being said, I ordered the luxury hotels from the most to the least expensive, and I considered the prices for the beginning of the peak season when they are a little less expensive (US$700+), but the weather is nice enough (off-season is monsoon season).
Even though there are plenty of top options, I advise you to book your favorite in advance not only to save your spot but also to get a better deal because the early bird gets the worm, right?
Now, let's go!
If you are in a hurry
Here for a sneak peek only? I got ya! These are the crème de la crème 5-star resorts in the Maldives that you'll fall in love with (and should book ASAP!)
1. JOALI Maldives – for a royal treatment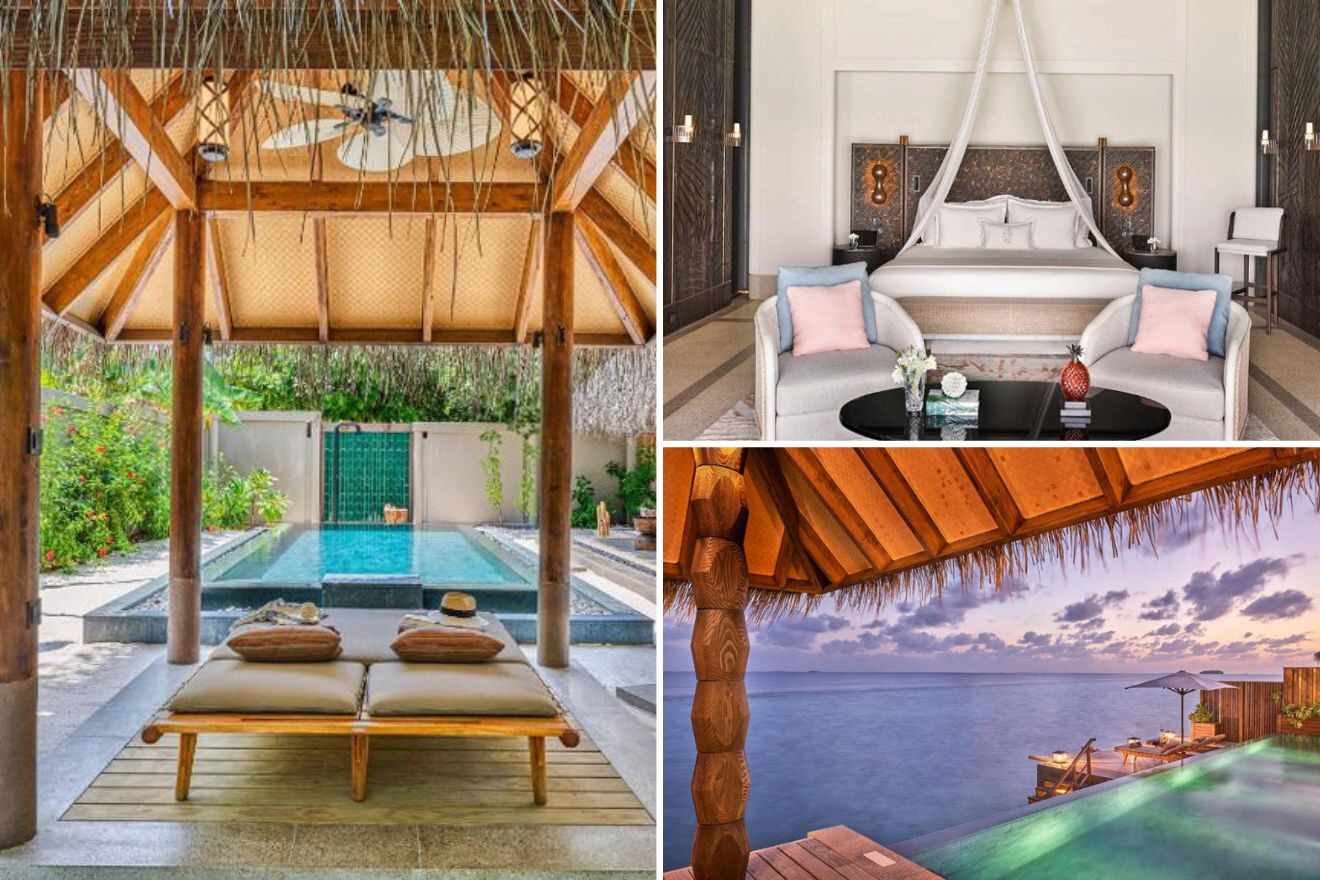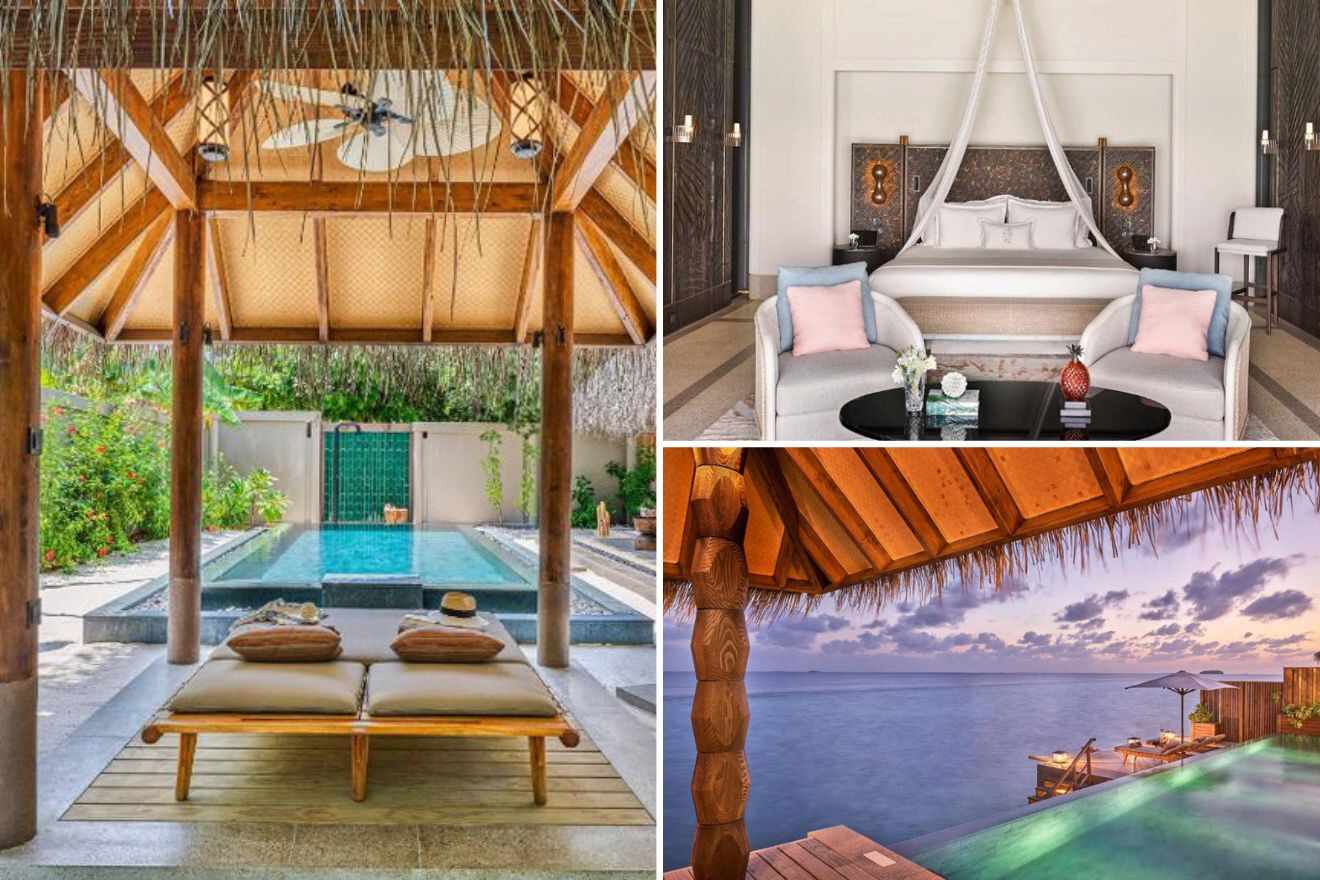 Have you ever wanted a taste of paradise where each one of your needs will be met? No need to wait longer – just book your over-water villa at JOALI and start your stay in paradise. This fabulous resort is located in Raa Atoll and has such luxury amenities you could only wish for, and I'm not only talking about comfy beds, mesmerizing views of the ocean, or private pools.
I am saying: underwater museum to learn about coral reefs, wakeboarding, chartered yachts, snorkeling with manta rays, and even getting to know the local communities. What about the choice of restaurants? South-East Asian, Chinese, Mediterranean, Gourmet, Italian, Japanese, whatever you feel like – everything is possible here!
2. Naladhu Private Island Maldives – the perfect holiday dream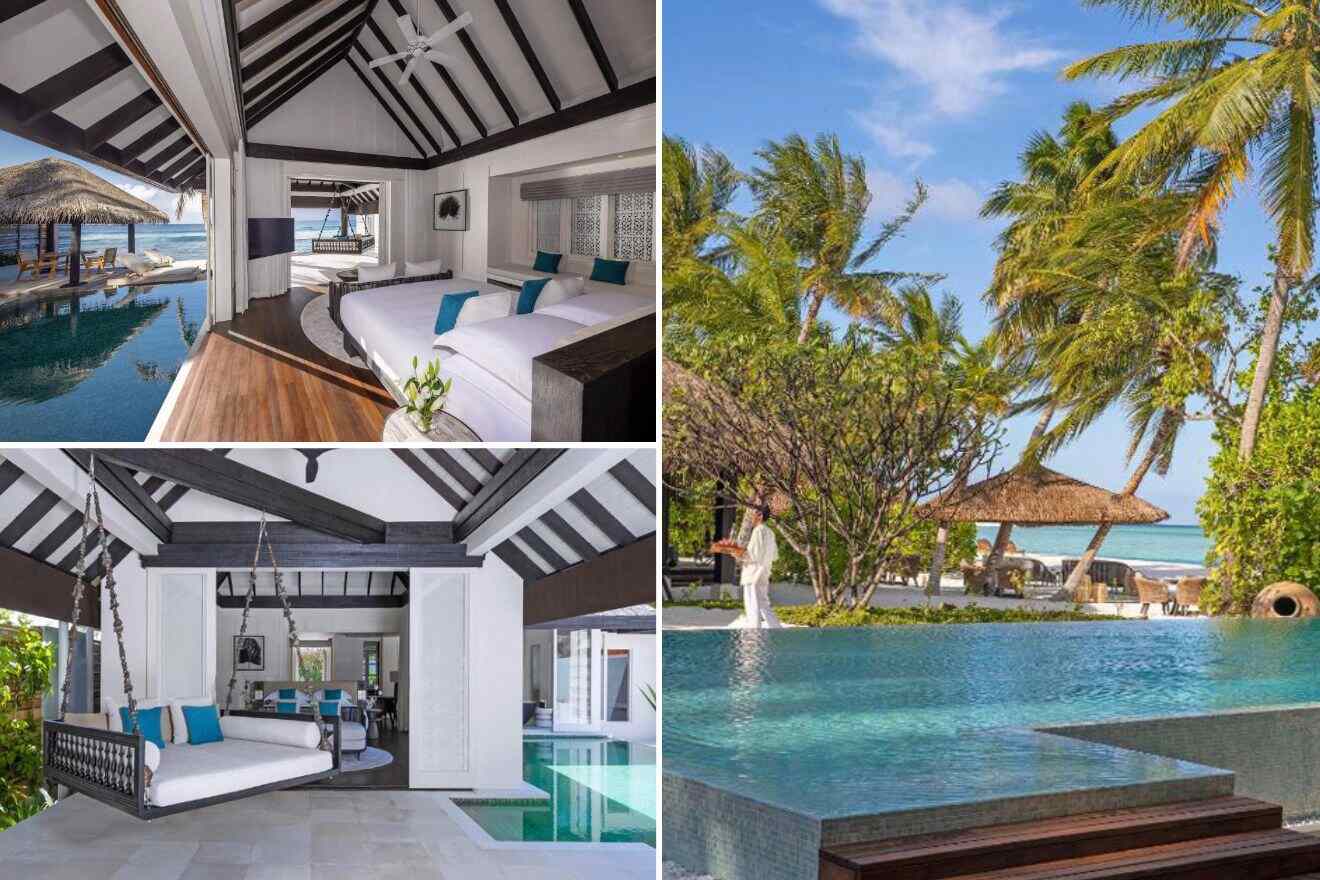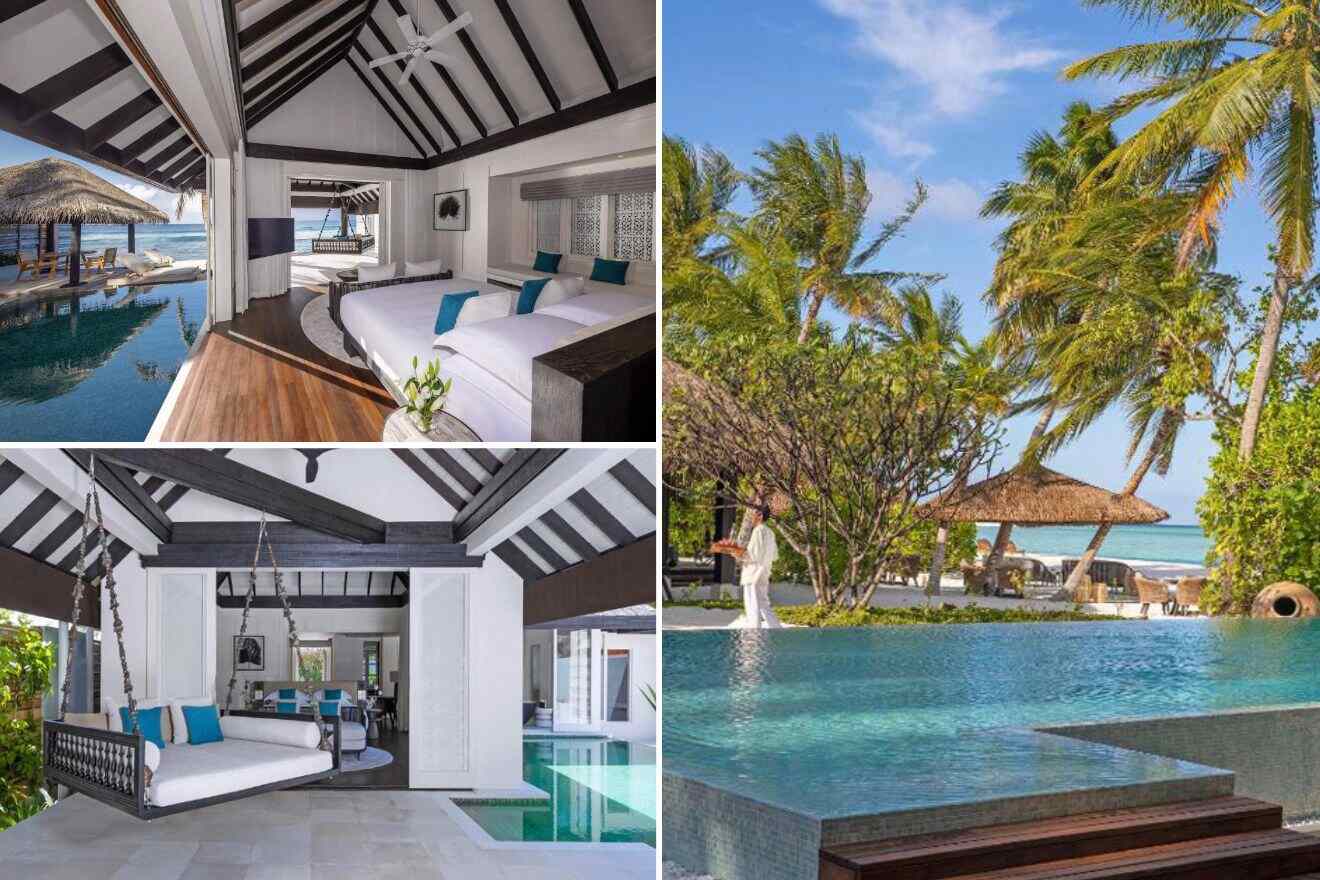 This luxury resort located a 35-minute speedboat drive away from Velana International Airport will provide you with everything you need for the perfect holiday dream. Imagine classic decor with colonial nuances, serene tranquility, and your own private pool overlooking the Indian Ocean.
At this private island resort, a personal butler will tailor your experience to your taste and ensure that everything you wish for will be fulfilled. Whether you're in the mood for swimming, snorkeling, diving, challenging your partner at the tennis courts, relaxing with spa treatments at the multiple on-site and off-site spas, or savoring the tasty food at the fine dining restaurants – this place will deliver it all!
3. Milaidhoo Maldives – with a private airport lounge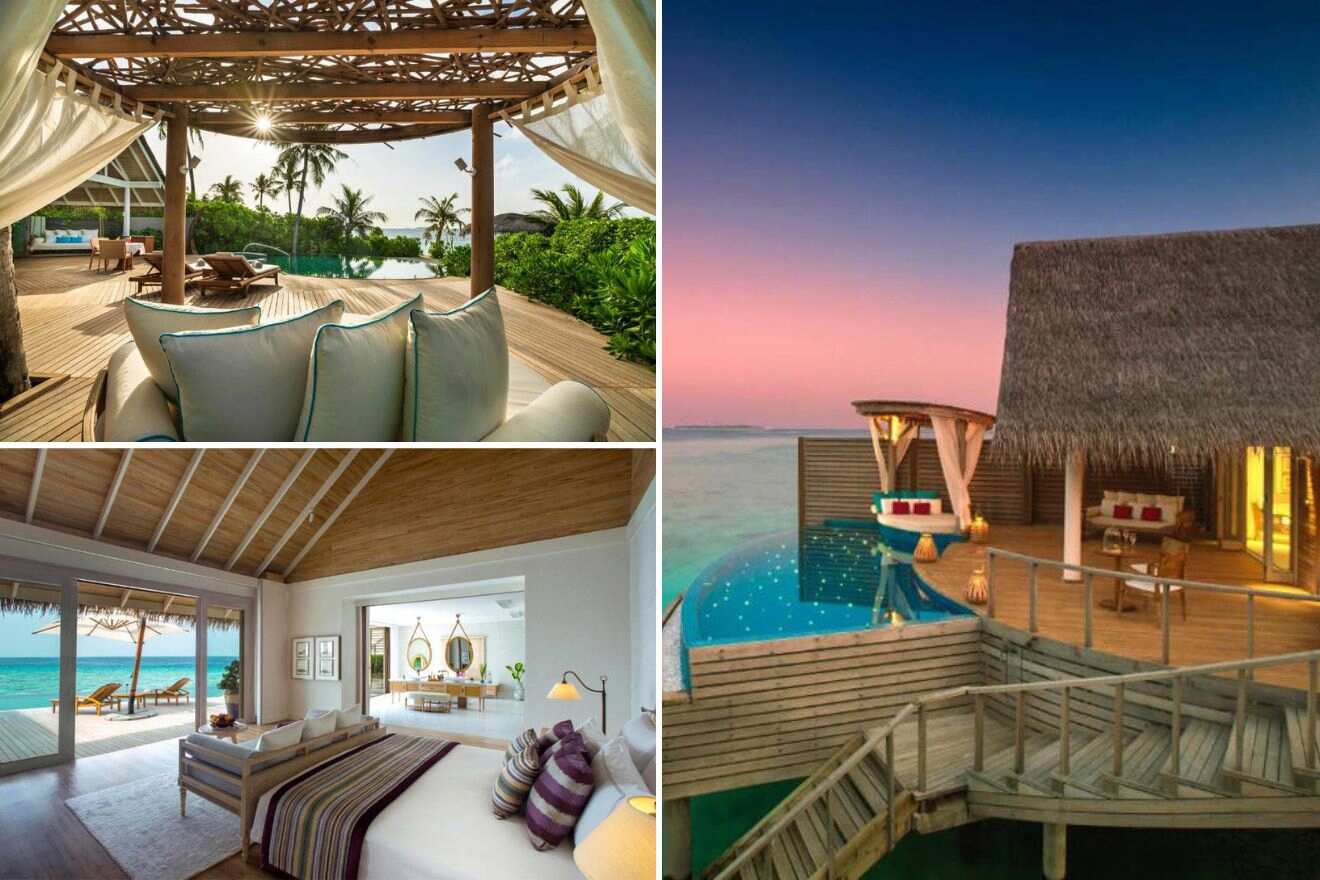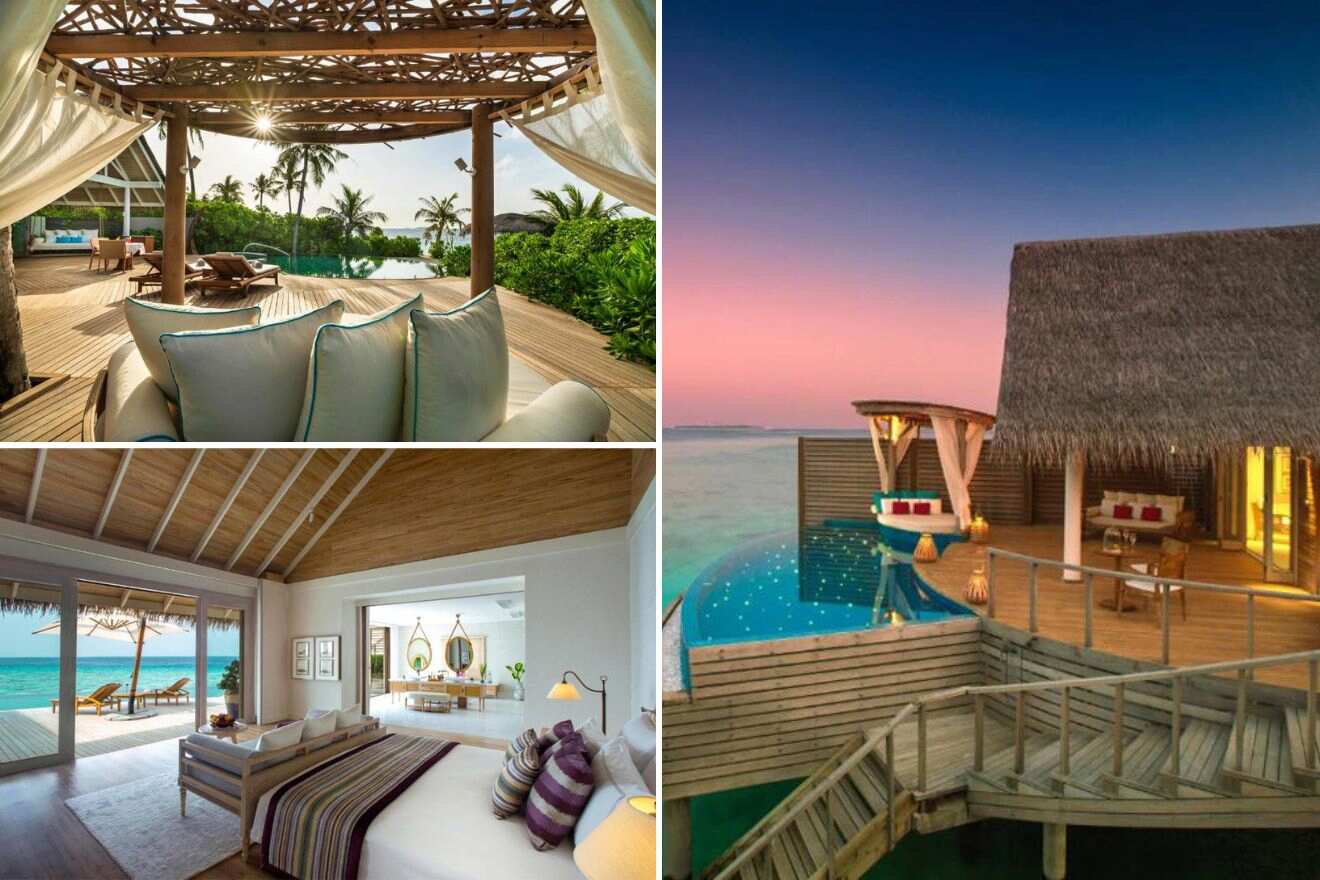 Located on the Milaidhoo island in the Maldives, this sophisticated resort is truly the ultimate Maldivian hospitality in practice. As soon as you step into their private airport lounge, a personal island host will greet you with a welcome gift and champagne. What a start!
Once you've settled in your private villa with a 180-degree view of the surrounding scenery and a private freshwater pool on the deck, you're ready to explore the surroundings. Powdery soft sand beach, 3 restaurants, 2 bars, a spa and wellness center, many chances to explore the protected coral reef through the dive center, or take a luxury catamaran and go whale-watching.
4. Huvafen Fushi – with an underwater spa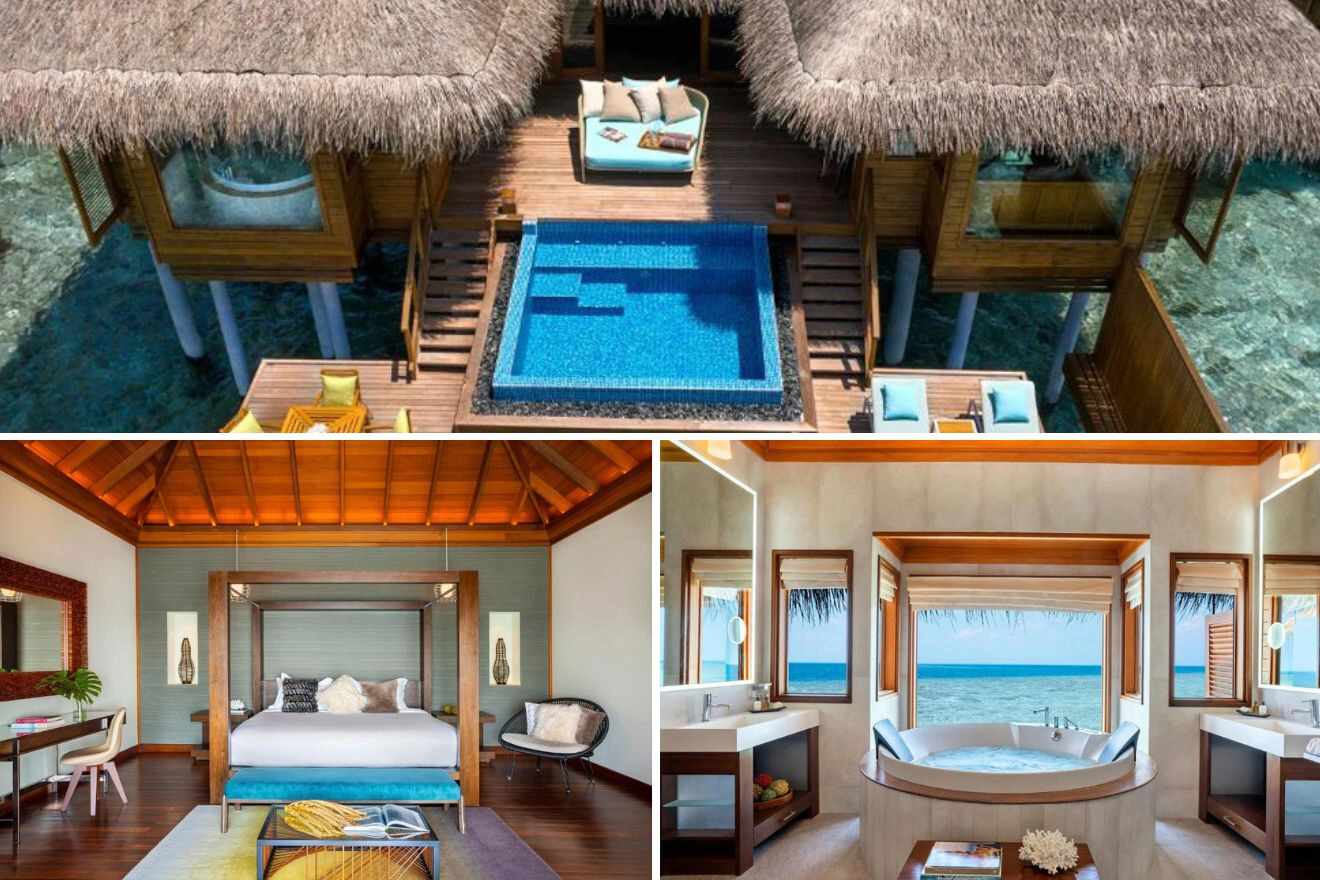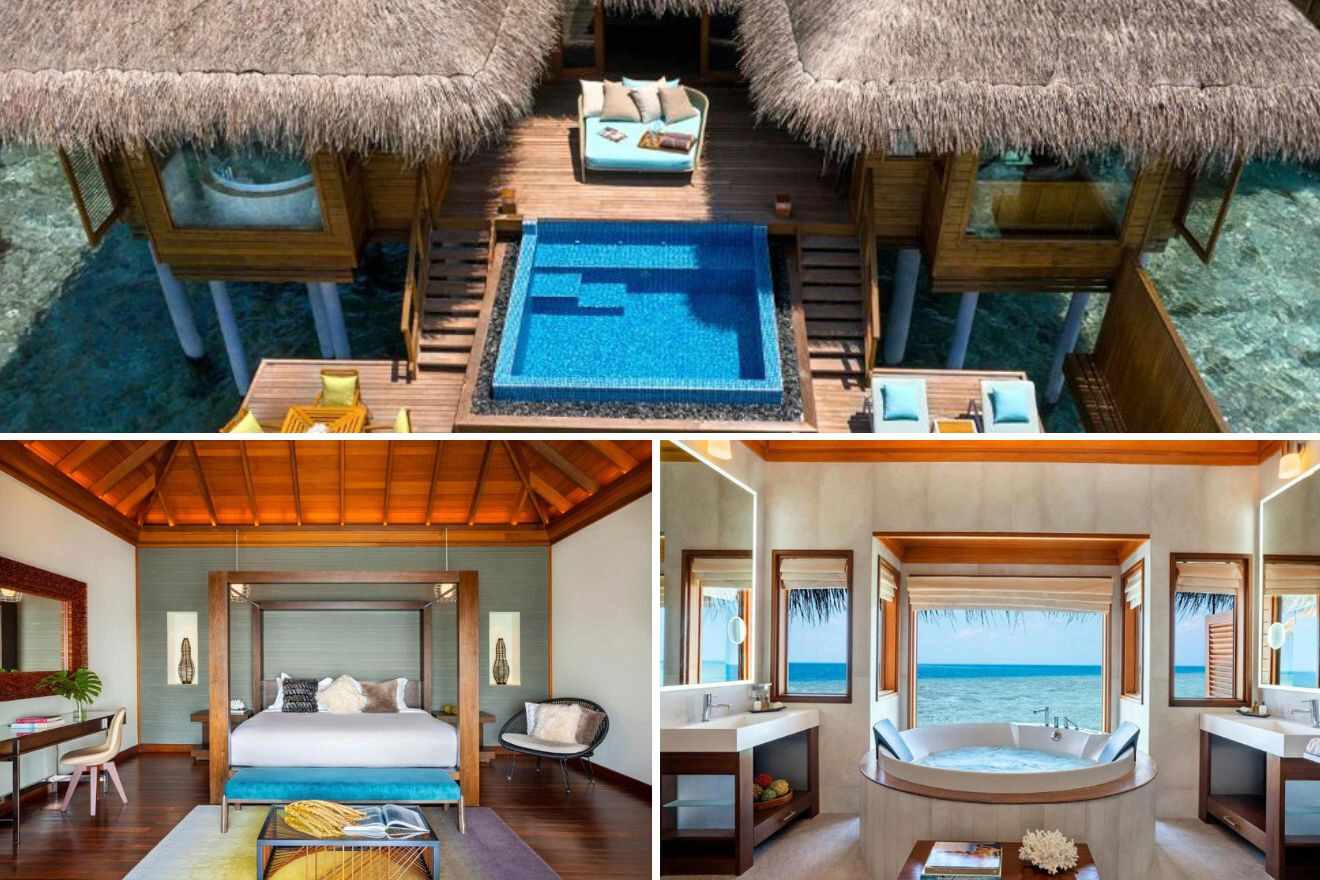 Are you ready for an extraordinary spa and wellness experience? I sure am! The absolutely stunning Huvafen Fushi is the only resort in the Maldives that has an underwater spa! Now talk about getting your body spoiled!
But wait, there's more! Wake up to the calming sounds of the surrounding nature in your private overwater bungalow with a pool, and treat your tummy to a delicious breakfast in your room. Then head out for a morning yoga or gym sesh, and get ready to experience heaven on Earth at this fab North Male Atoll resort. I am already jealous!
5. COMO Maalifushi – for a serene yoga experience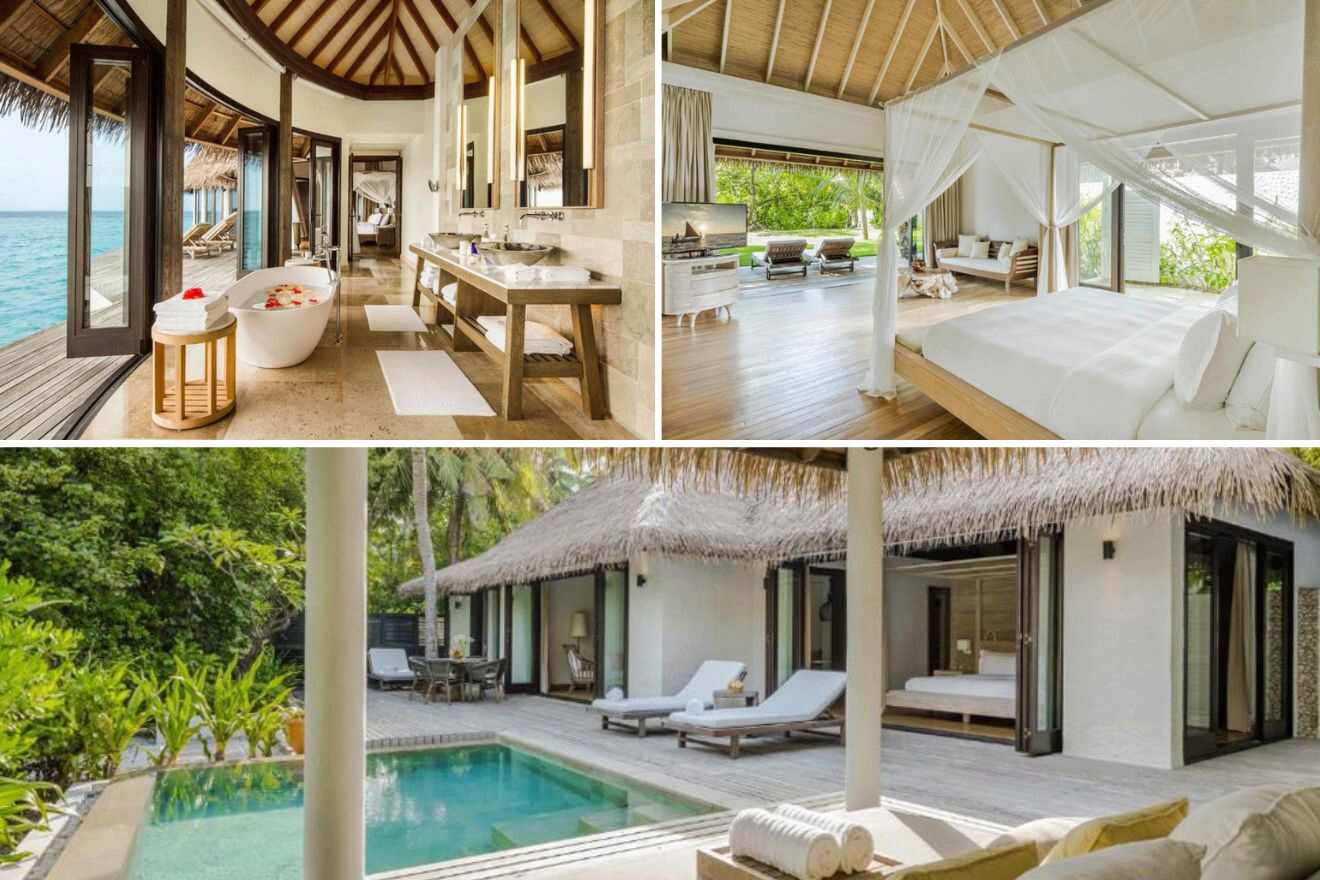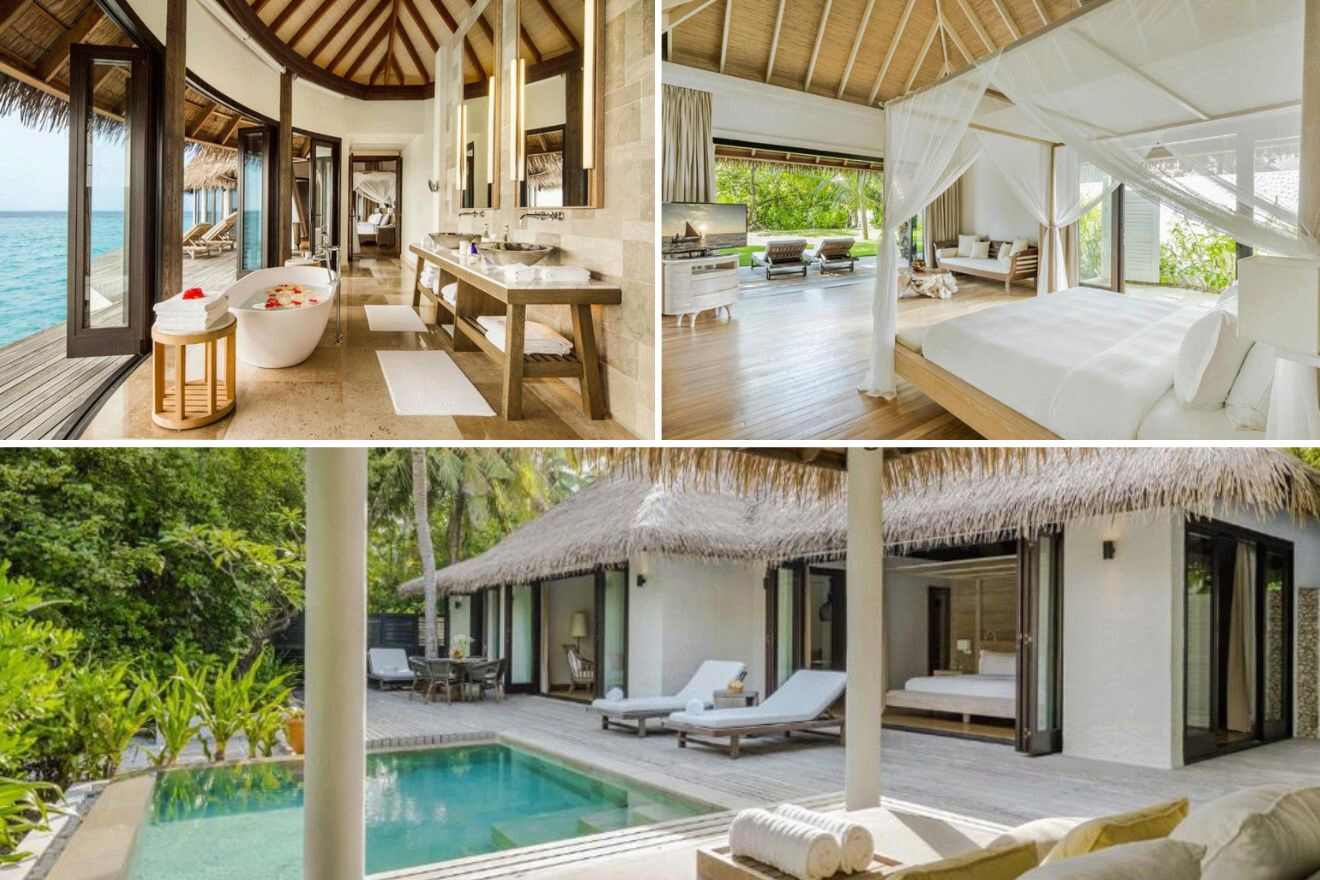 If a hotel can make you feel relaxed just by looking at the photos, imagine how you'd feel actually staying there. It has private villas with views of the magnificent Indian Ocean, and some even have their own private swimming pools. On top of it, this amazing 5-star resort is a 1-hour seaplane ride from Male International Airport, so even your trip there will be exciting.
I am sure yogis will appreciate the yoga retreat with Asian-based therapies, nutrition, and yoga. Couples will love spending the day at the infinity pool, while kids will fall in love with the kids club, but all of you will be astounded by the vast choice of water activities.
6. Vakkaru Maldives – extraordinary service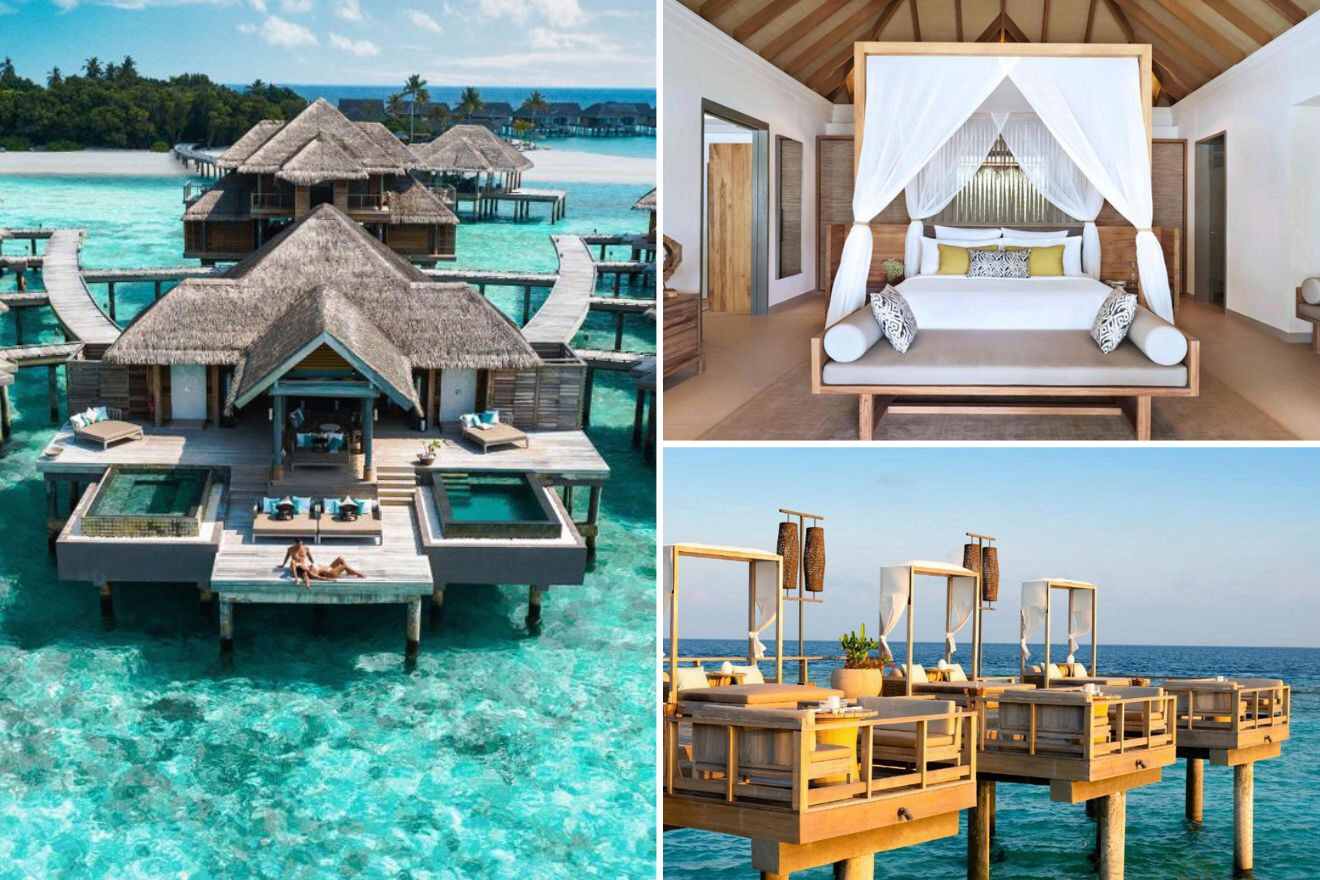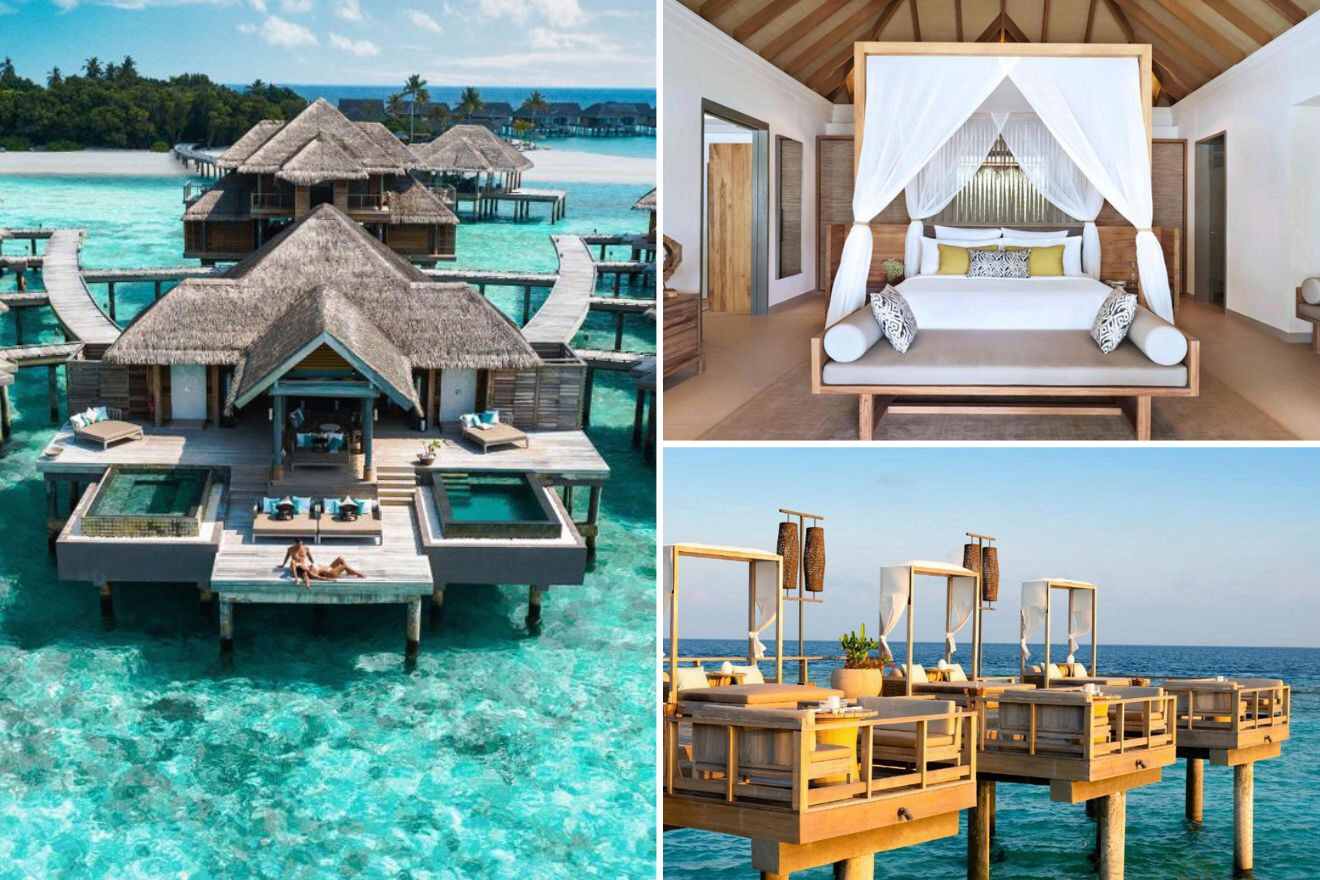 If you're up for an extraordinary vacation, then come to Vakkaru Resort in Baa Atoll. Its rustic charm, island vibes, fine-dining options, and world-class service cannot be overcome even by the best 5-star hotels on the globe.
Wake up to the most beautiful sunrise in the private over-water villas and order breakfast in bed. Head out to the over-water fitness center for an energy boost before you challenge yourself with water activities. Pamper yourself at the spa facility with ocean views, and then again, end your day with the most romantic sunset you've ever seen.
7. The St. Regis Maldives Vommuli Resort – for the water sports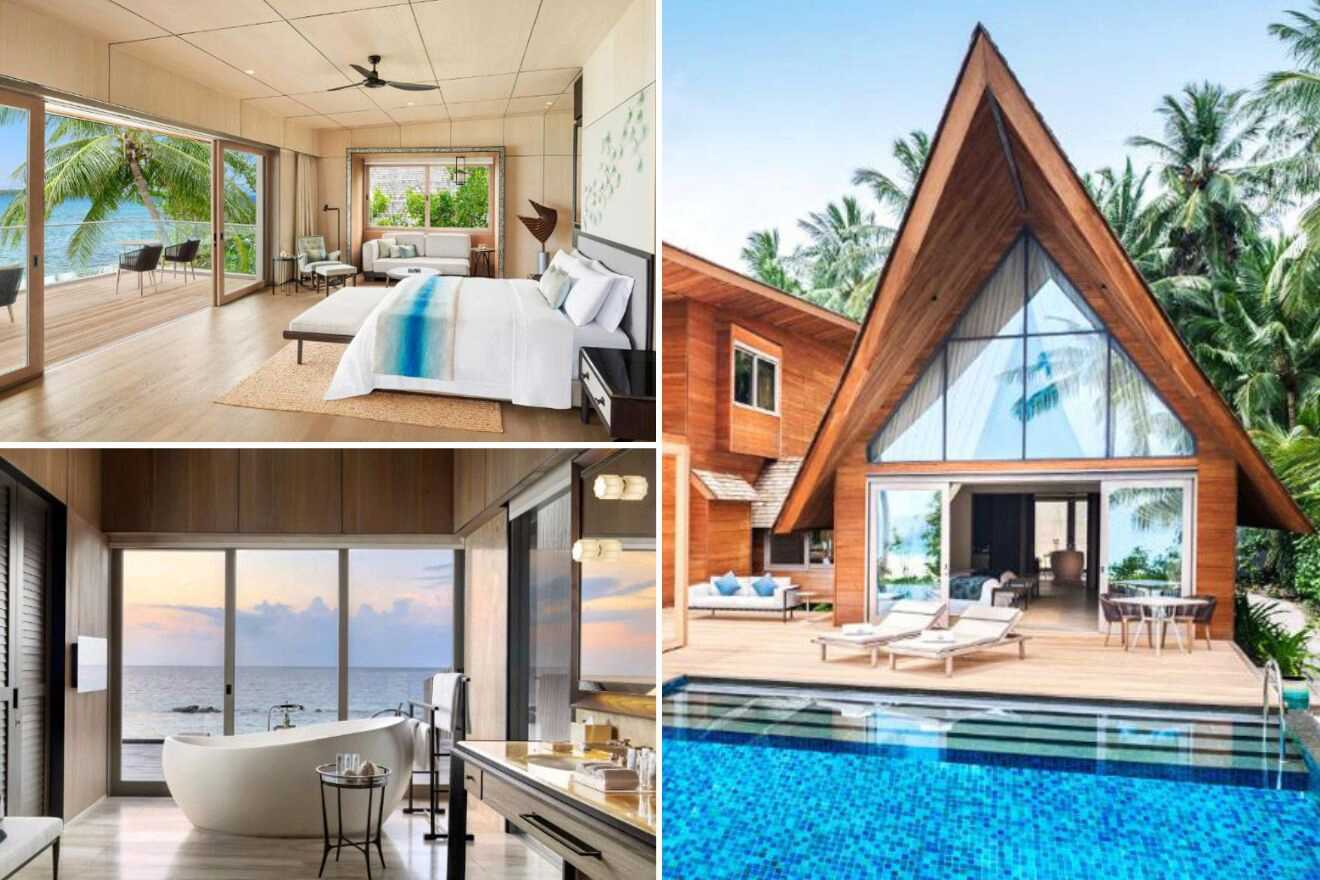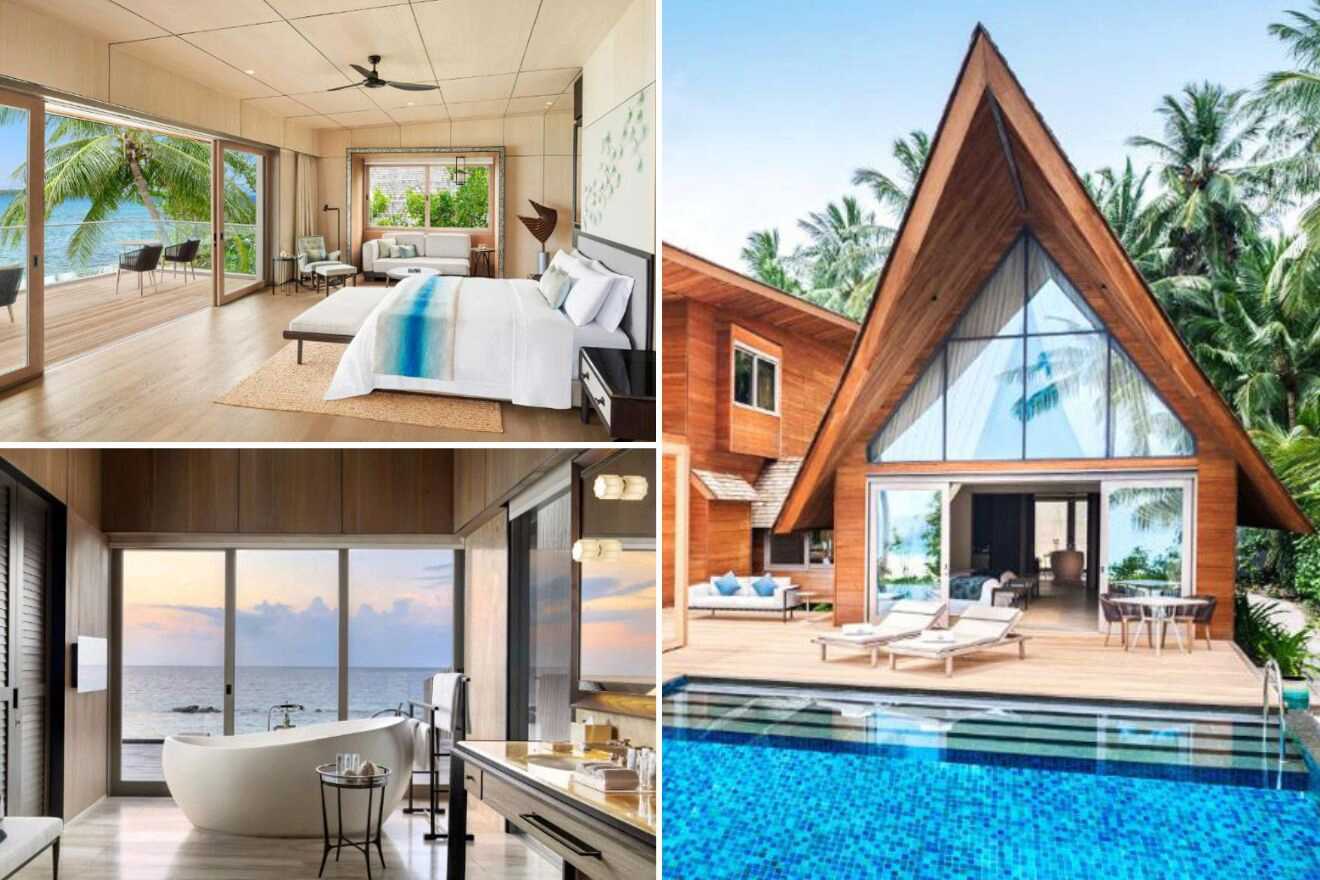 This lovely resort is located on the private island of Dhaalu Atoll, just a 45-minute seaplane ride from Velana International Airport. Upon arrival, you will be warmly welcomed by your personal butler, who will cater to each and every wish you have.
In terms of facilities, the resort offers a white sand beach, a swimming pool, tennis courts, and many fun water activities like jet skiing, sea bobbing, glass bottom kayaking, parasailing, and even renting a luxury yacht. But I personally love their choice of acupuncture, meditation, and anti-gravity yoga.
8. Siyam World Maldives – for a family stay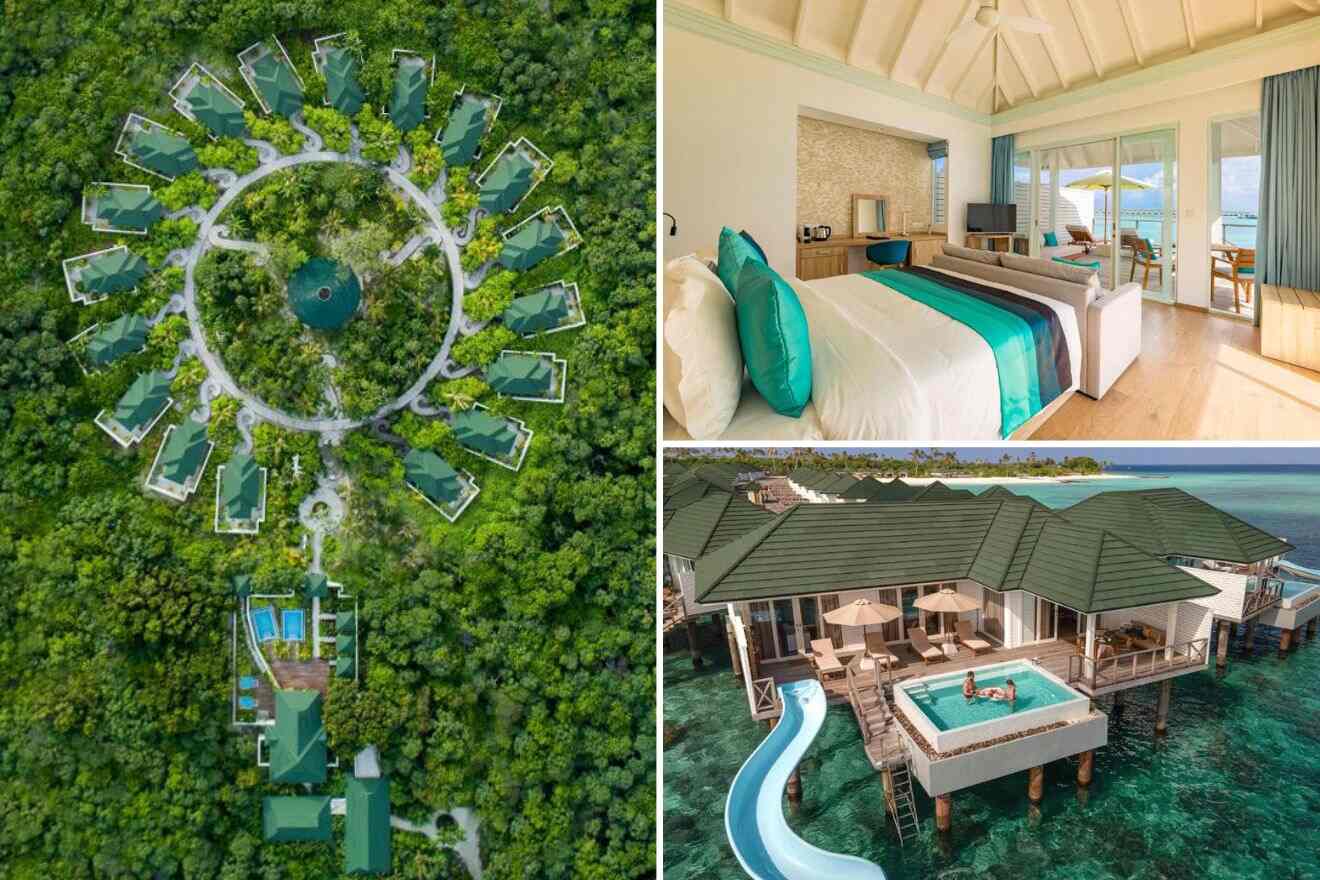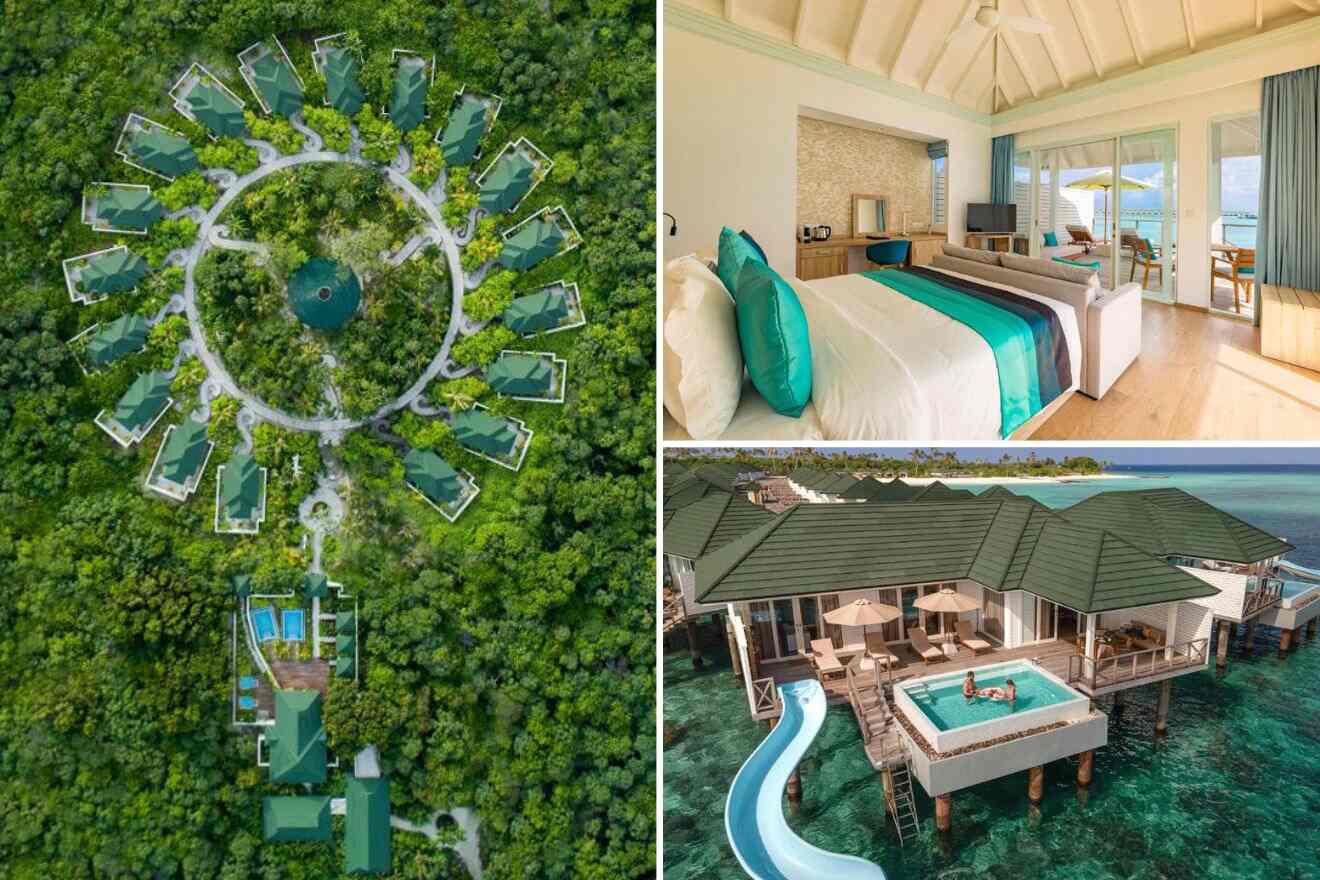 Want to make the ultimate vacation experience for your kids? Then stay in a spectacular over-water villa with a slide and terrace pool at Siyam World on the island of Dhigurah. If that's not enough, here's more: a Turtle Kids Village to keep your kids entertained and water activities like snorkeling and diving to get to know marine life.
Don't worry, parents, there's something for you, too, at this all-inclusive resort! Spend your day at the pristine white sand beach, or treat yourself to a romantic flower bath and a couples dinner at one of the on-site restaurants when your kids are asleep.
9. Madifushi Private Island – ultimate comfort & facilities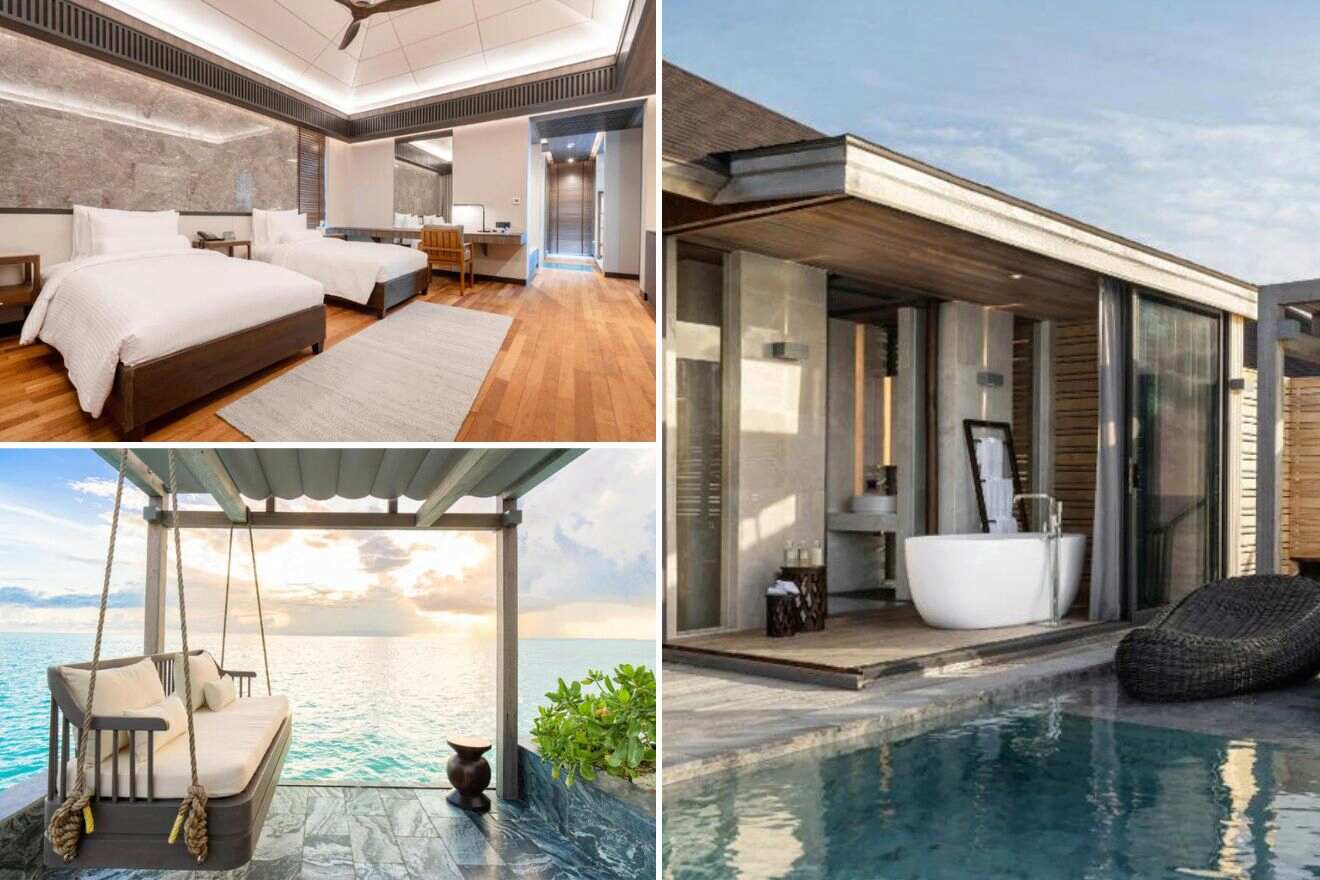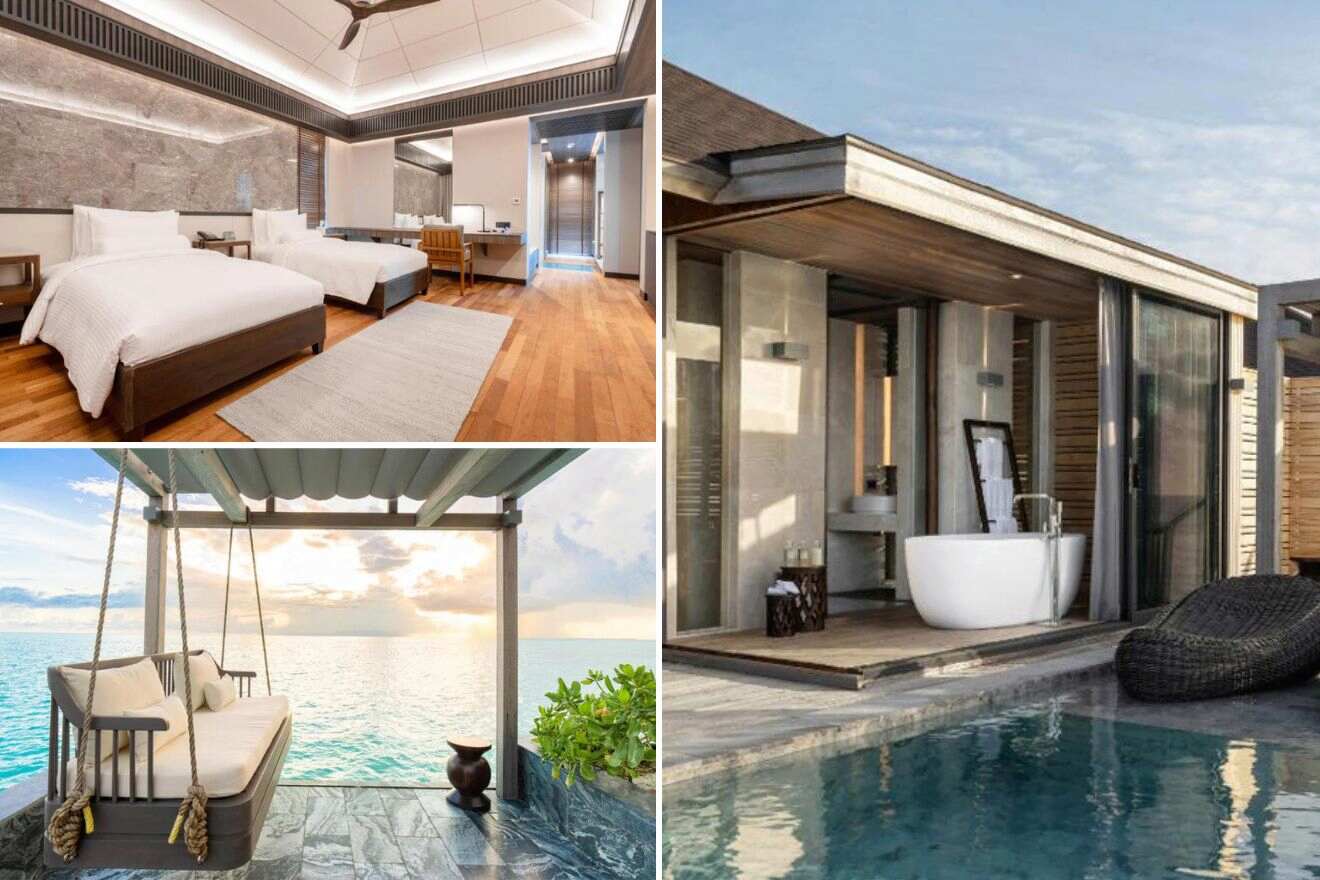 Located on Meemu Atoll, a private island within the Madifushi paradise destination, this 5-star hotel caters to luxury travelers who want the ultimate comfort and facilities. The rooms are spacious, with comfy beds, private bathrooms, and free Wi-Fi.
There is an outdoor swimming pool, a garden, and white sandy beaches where you can spend your days and nights enjoying the sweeping views of the Indian Ocean. When you feel like exploring, you can go canoeing or rent a bike.
10. Heritance Aarah – the best one for couples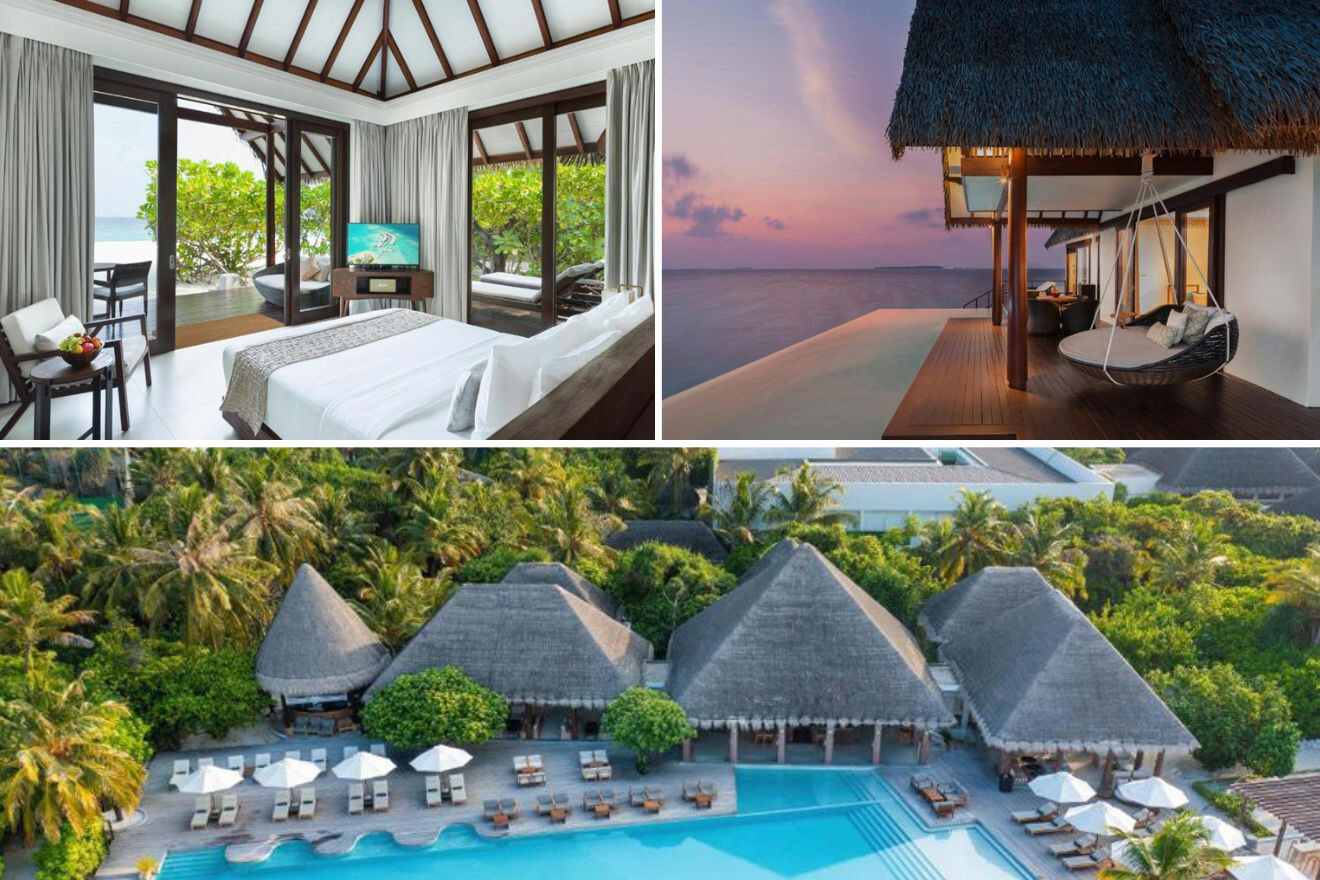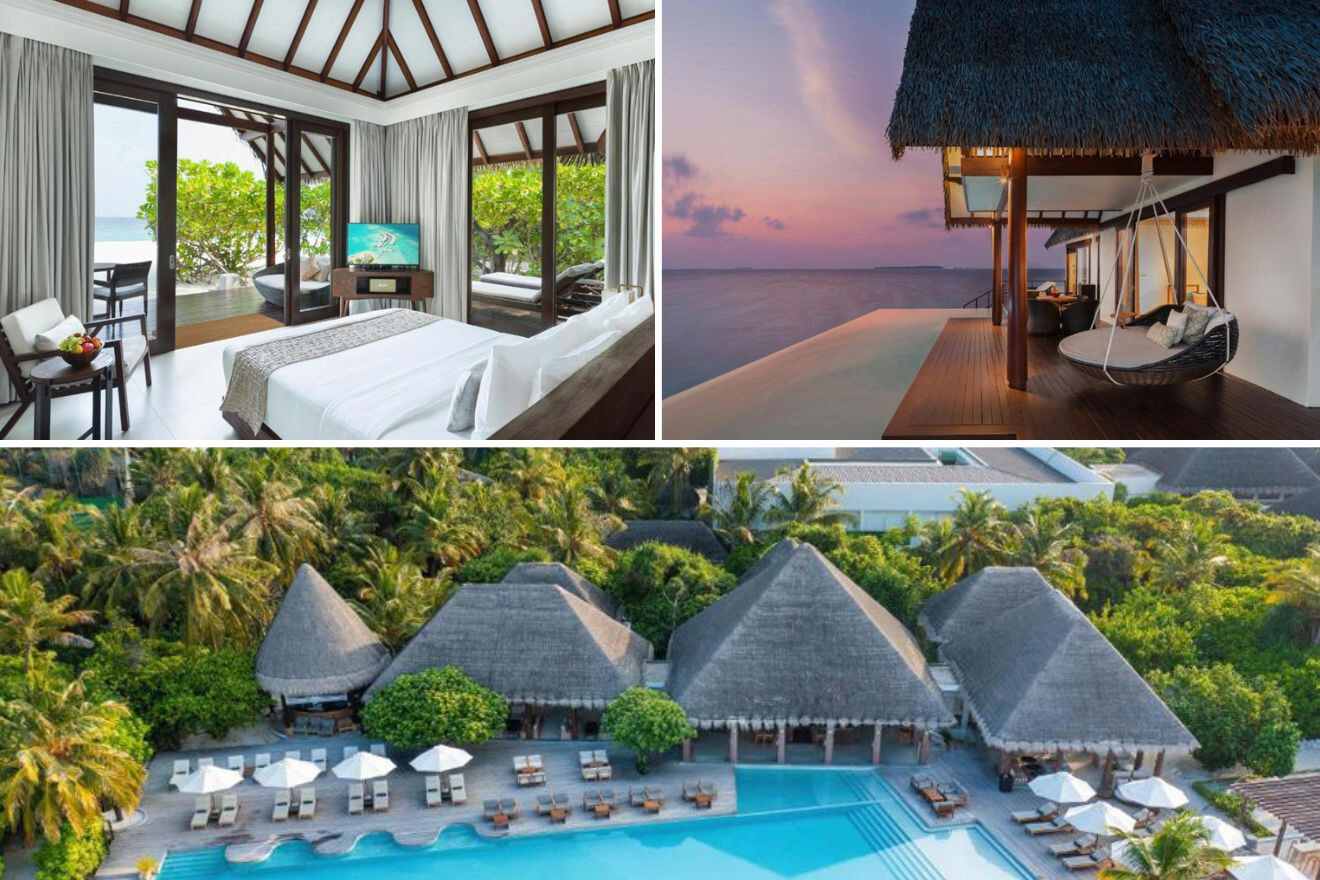 Located in Raa Atoll, Maldives, this all-inclusive resort offers sophisticated luxury at every corner and friendly staff that will make you come back. If you don't mind the splurge, I recommend staying at the overwater villas with views of the turquoise lagoons.
Couples will particularly love the romantic private dinners by the infinity pool, and sports fanatics will appreciate the fitness center to keep themselves energized. Hey food lovers, don't miss out on spoiling your taste buds at the on-site restaurant serving Middle Eastern cuisine!
11. Amilla Maldives Resort & Residences – a luxurious escape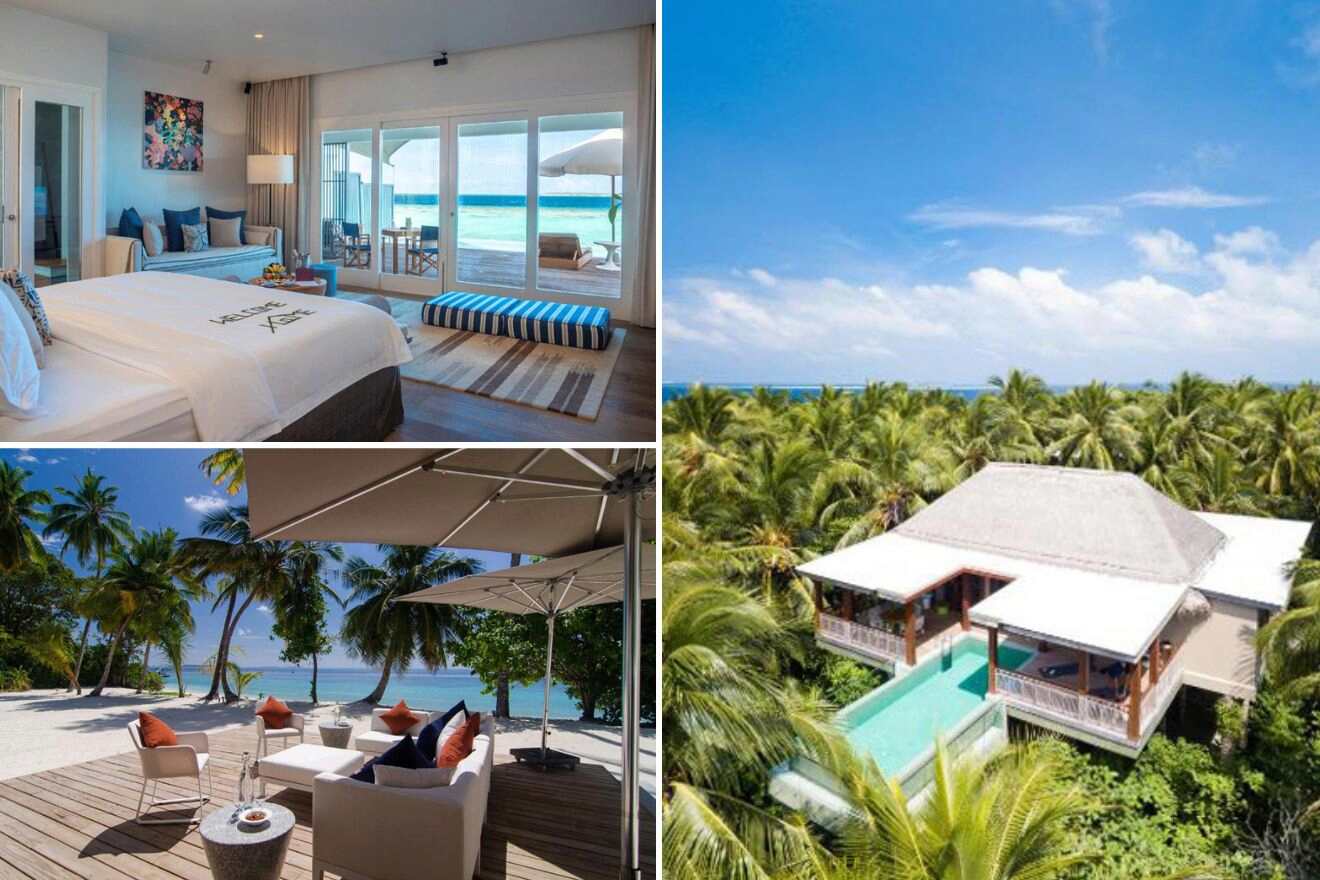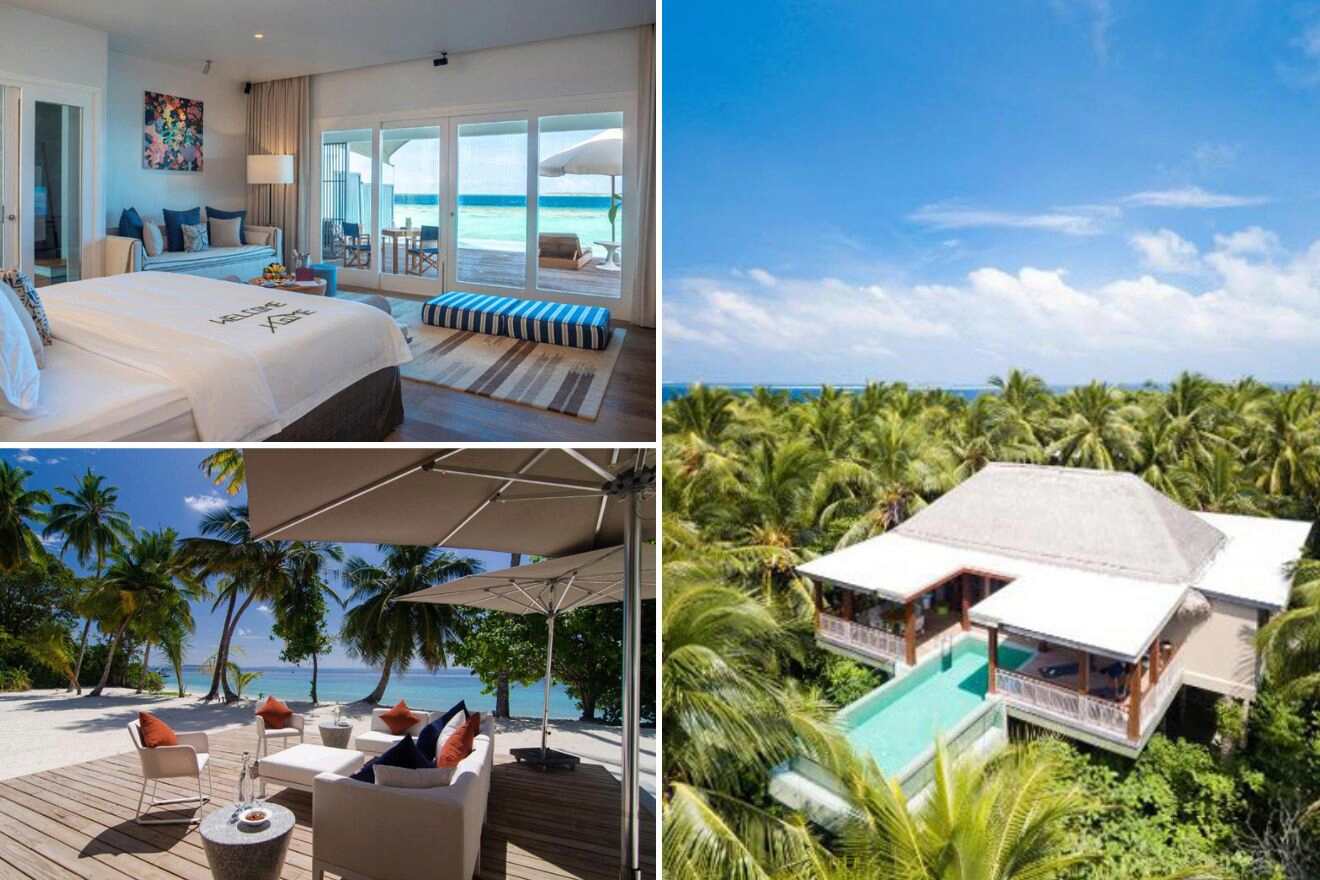 The remote island communities of Amilla Maldives Resort & Residences will make your stay an absolute dream. You will start your journey with a 30-minute seaplane ride from Male Airport to Baa Atoll, where the staff will welcome you warmly.
Spend your days taking advantage of everything that this fabulous resort features, from beach villas and overwater villas with private pools to scuba diving, snorkeling, playing tennis, or going on tours. Whatever you do, don't miss out on going to the signature Japanese izakaya with a spicy Latin touch – you will thank me later!
12. Emerald Maldives Resort & Spa – a Maldivian gem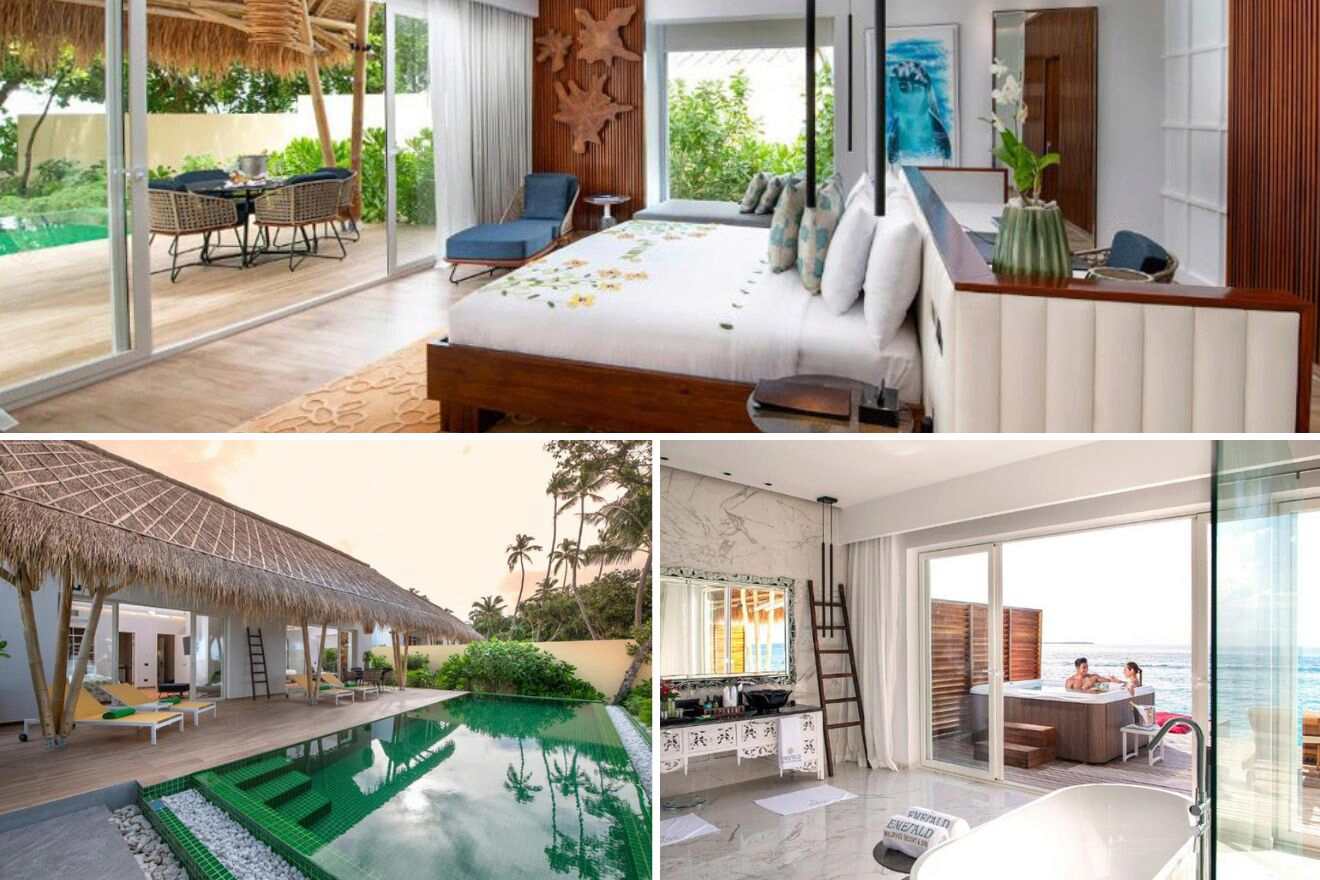 Discerning travelers know their accommodations well, so those among you will love this exclusive resort on the island of Fasmendhooin in Raa Atoll. You will start your day with a choice of continental, buffet, or full English or Irish breakfast and spend your days sunbathing on the private beach while looking at the calming turquoise ocean.
Soak in the pristine beauty of this gem among the luxury resorts in the Maldives, and stay in the luxurious villas with private plunge pools. But don't spend your days in your villa only. Book those fantastic water activities that will make your stay unforgettable!
13. Anantara Veli – for food lovers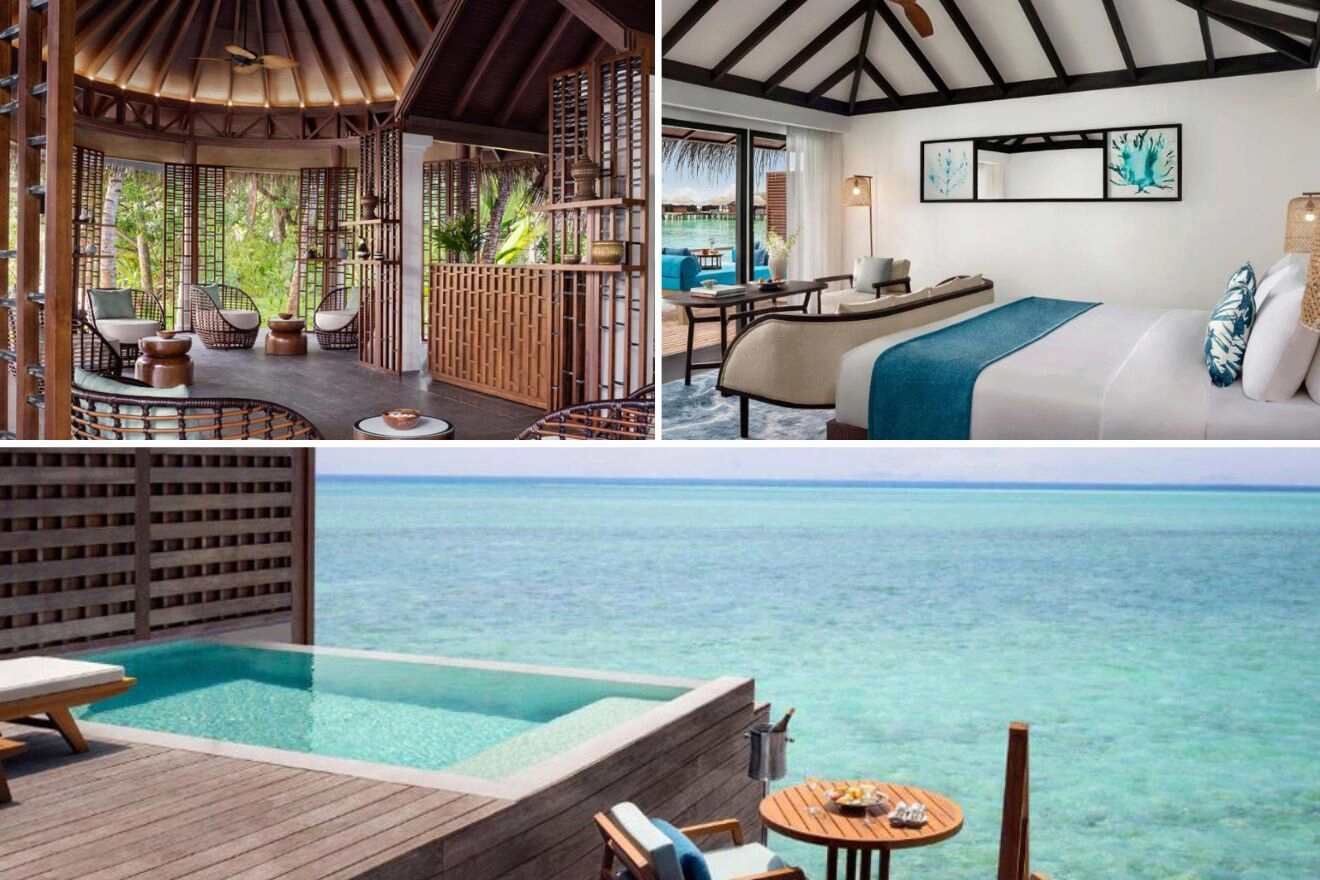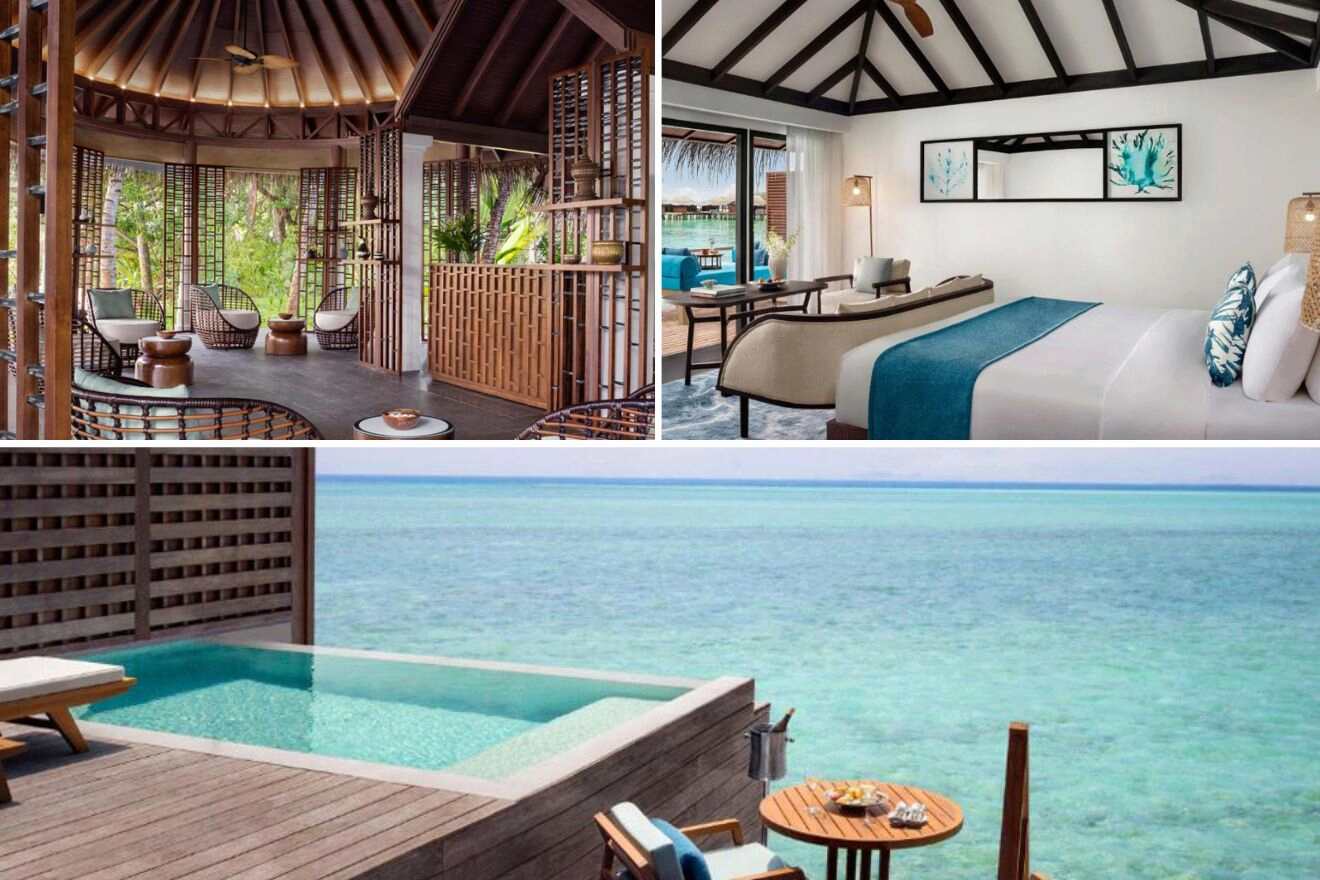 Who's up for a nice soaking bath with ocean views? You'll get this and so much more when you stay at the luxurious bungalows at Anantara Veli Resort in South Male Atoll. Let your worries wash away on the beautiful pristine beaches, revitalize your spirit at the natural sanctuary, and spoil your body and senses at the Balance Wellness Spa.
Awaken your taste buds at the gourmet dining room, savor the delicious Thai food, and check out the themed nights at 73 Degrees. The outdoor pools will always be around if you please, and if you're up for a challenge, go surfing on the waves of the Indian Ocean.
14. Anantara Dhigu – activities for every day & every taste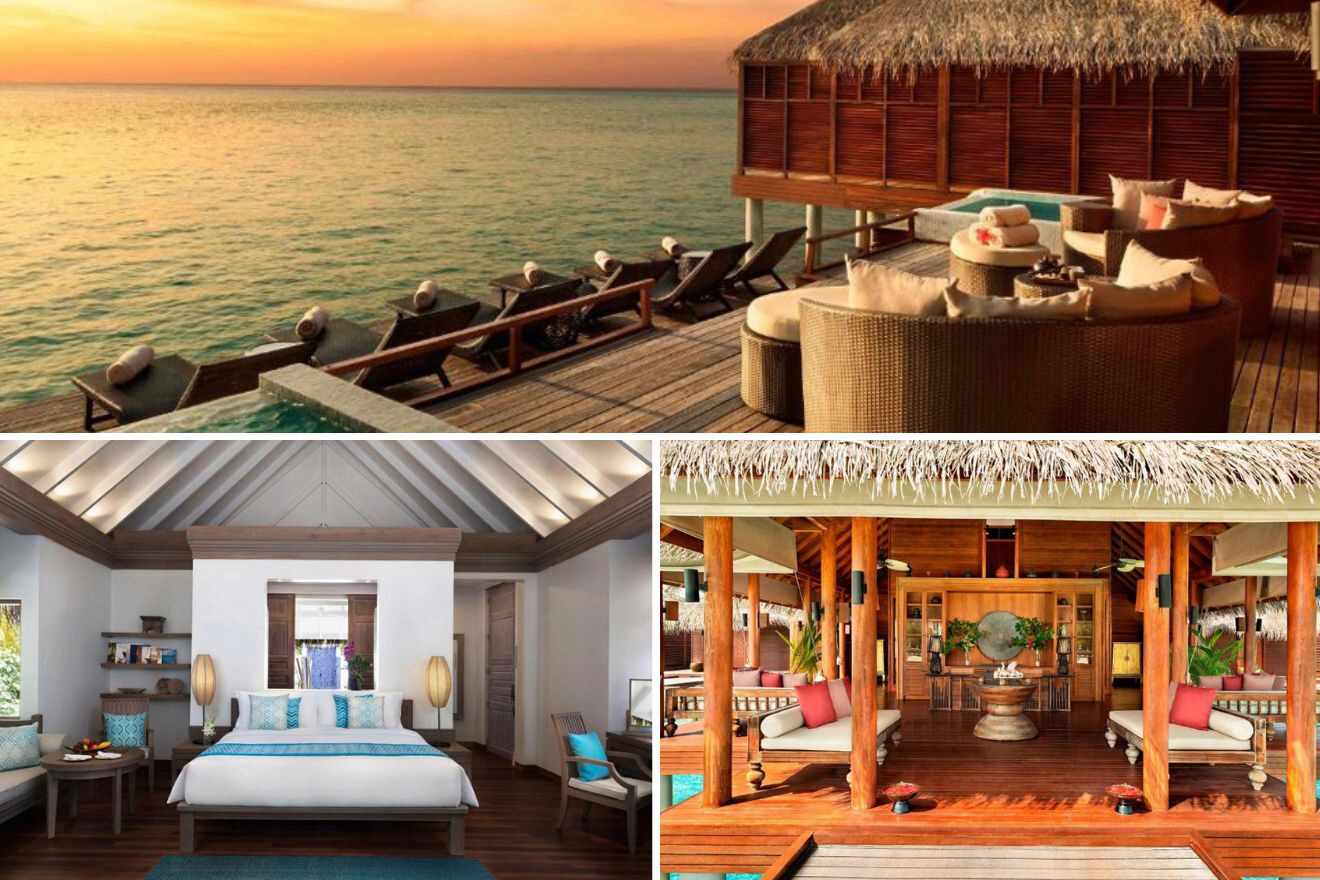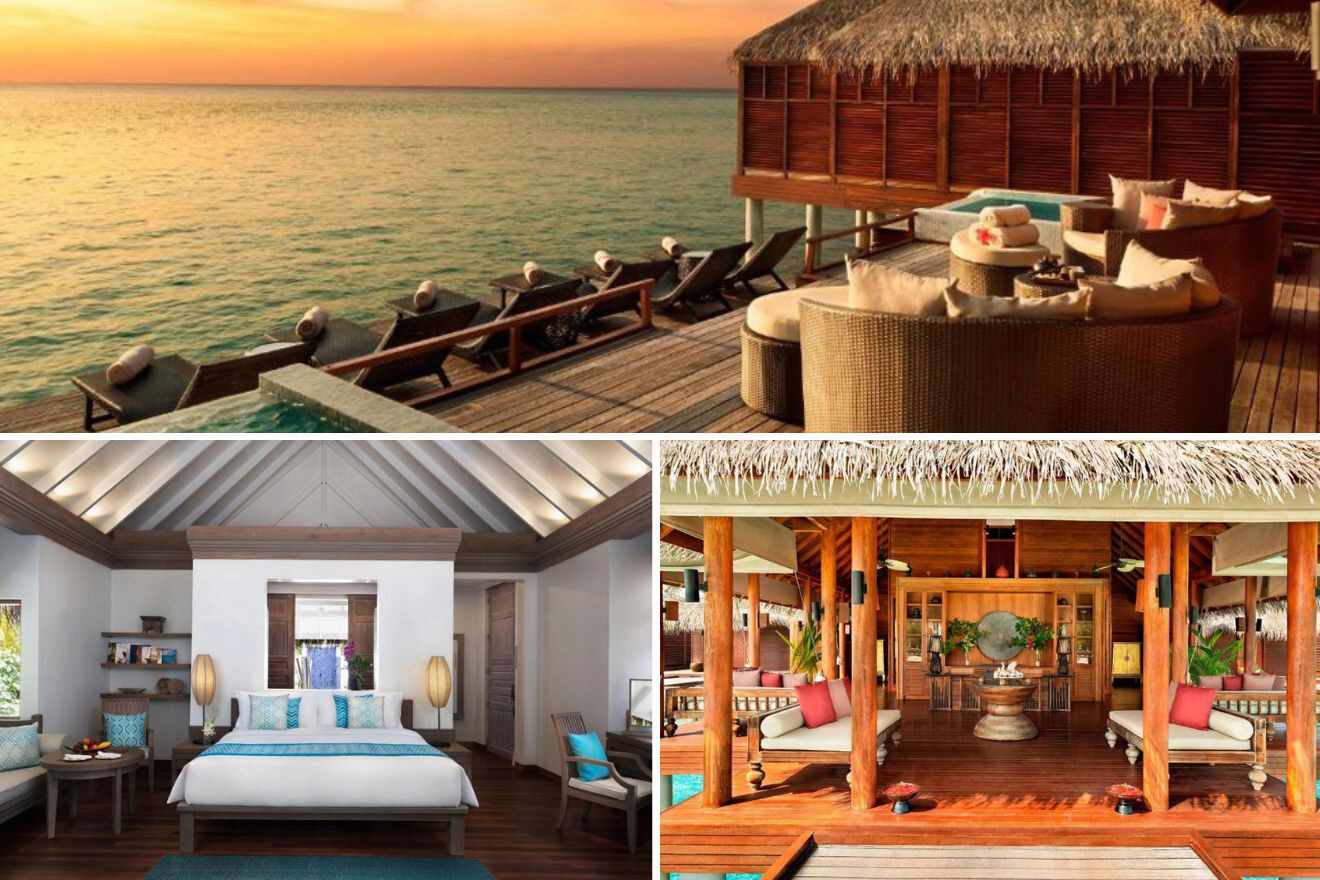 Sunset cruises, spa journeys, movie nights on the beach, and picnics on the tiny uninhabited beaches – this is what I call an ideal vacation. All this is real on the exclusive holiday destination in South Male Atoll at the Anantara Dhigu resort.
Restless spirits will fall in love with the overwater villas with expansive views of the ocean where they can spend their days and nights fully entertained. Whether it is scuba diving, surfing, deep sea fishing, or other water activities – there's something fun to do every day of your stay.
15. Sun Siyam Iru Fushi – fun for all ages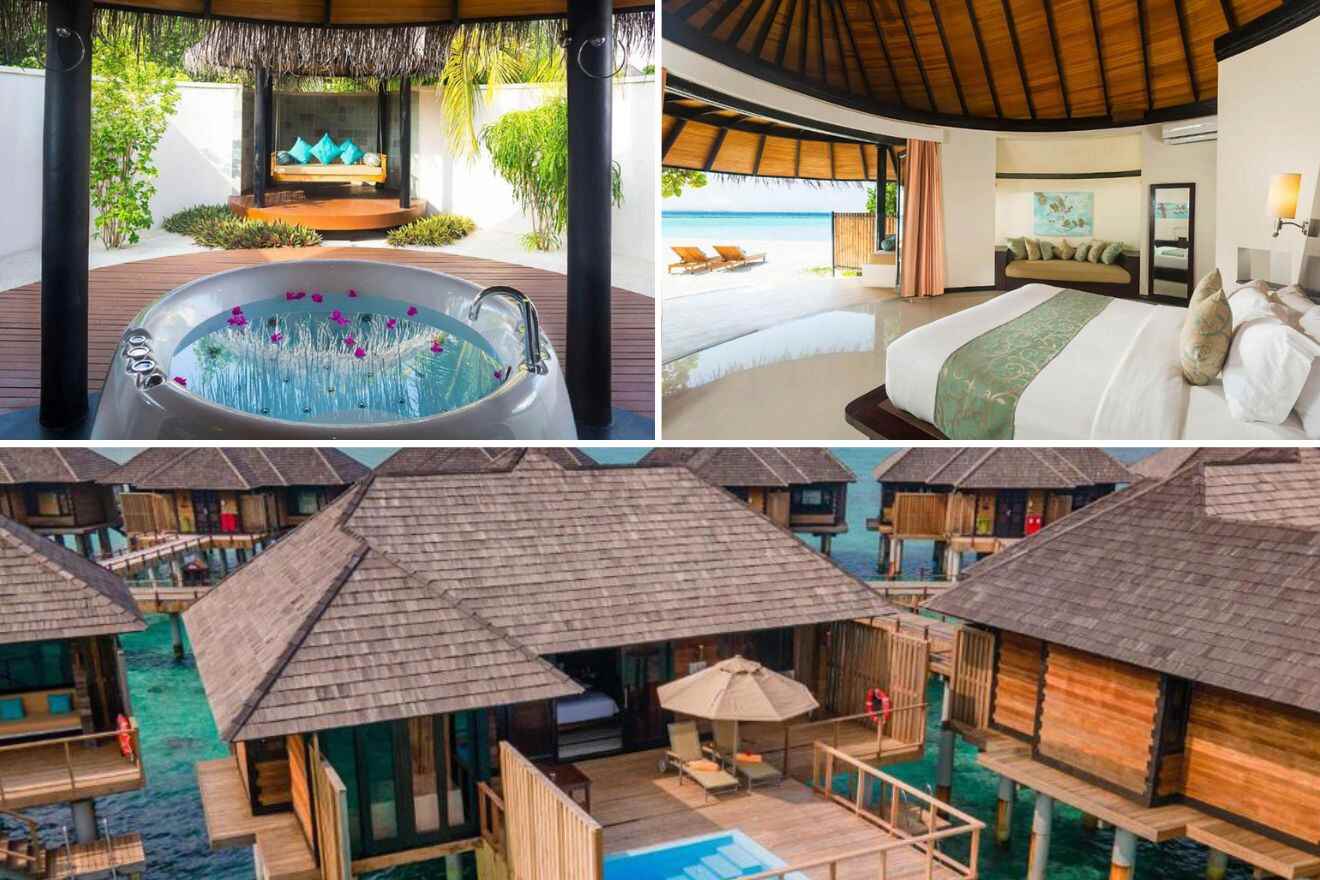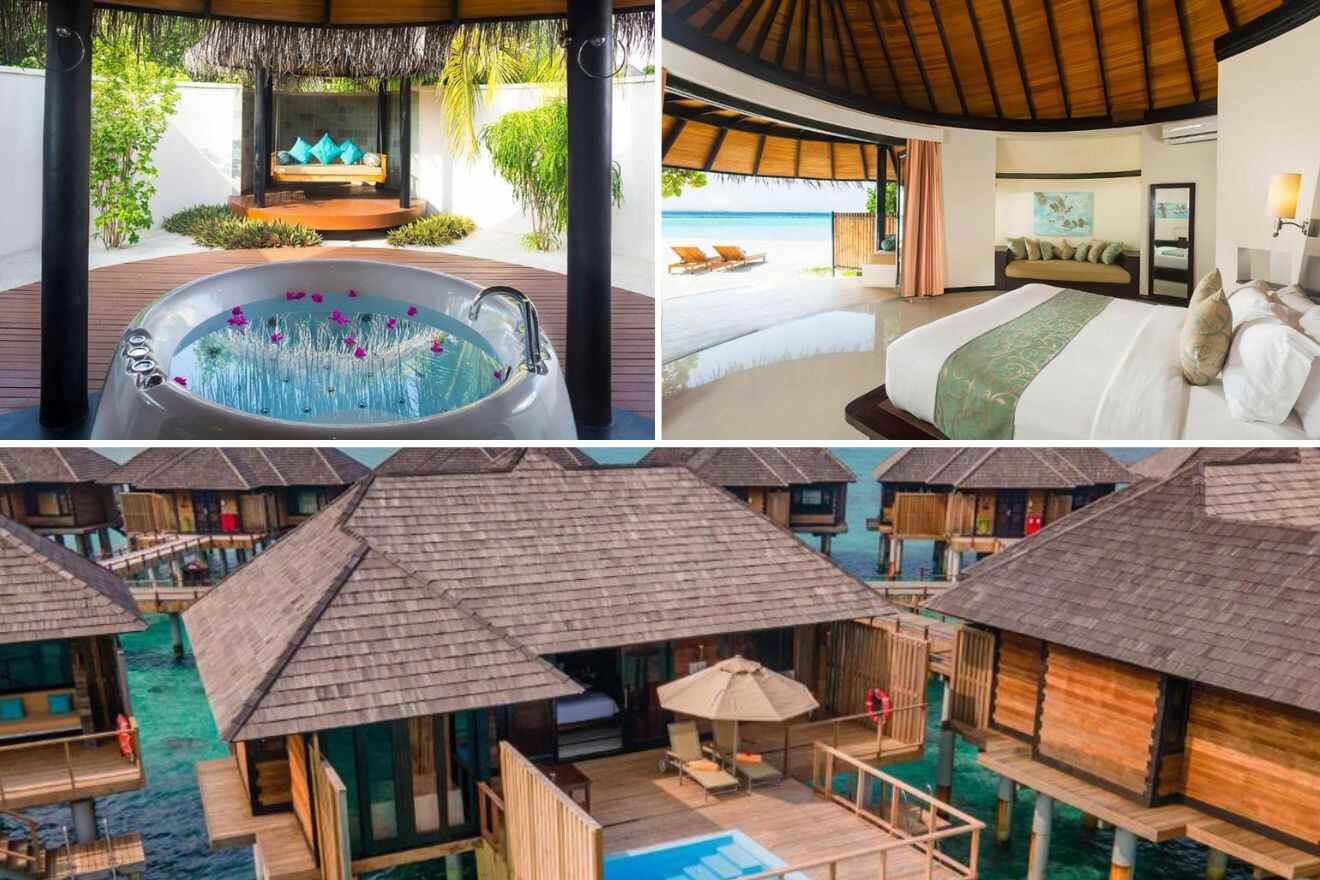 Turtle lovers gather! The Sun Siyam Iru Fushi resort on Noonu Atoll is well-known among travelers for its exceptional dive sites, where you are bound to see sea turtles and dolphins! When you are not out diving with these beautiful creatures or snorkeling at the lovely house reef (snorkeling equipment provided), you can still have fun at the resort.
Parents can have some adult time at the adults-only infinity pool while kids have the time of their lives at the family pool in lush tropical surroundings. And when you get tired from all the fun you had during the day, you won't get disappointed by your stay, either.
16. Constance Halaveli – an idyllic wedding spot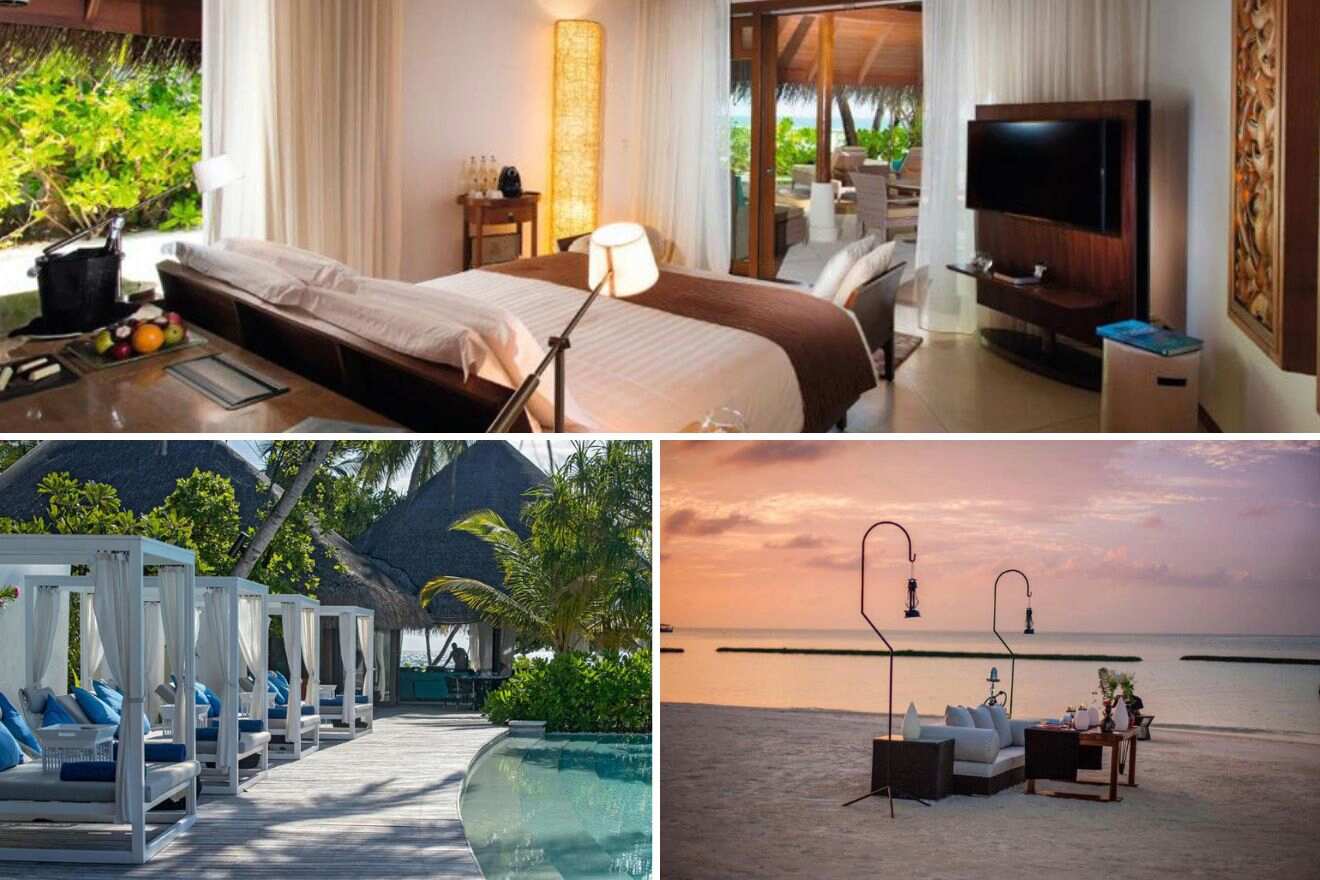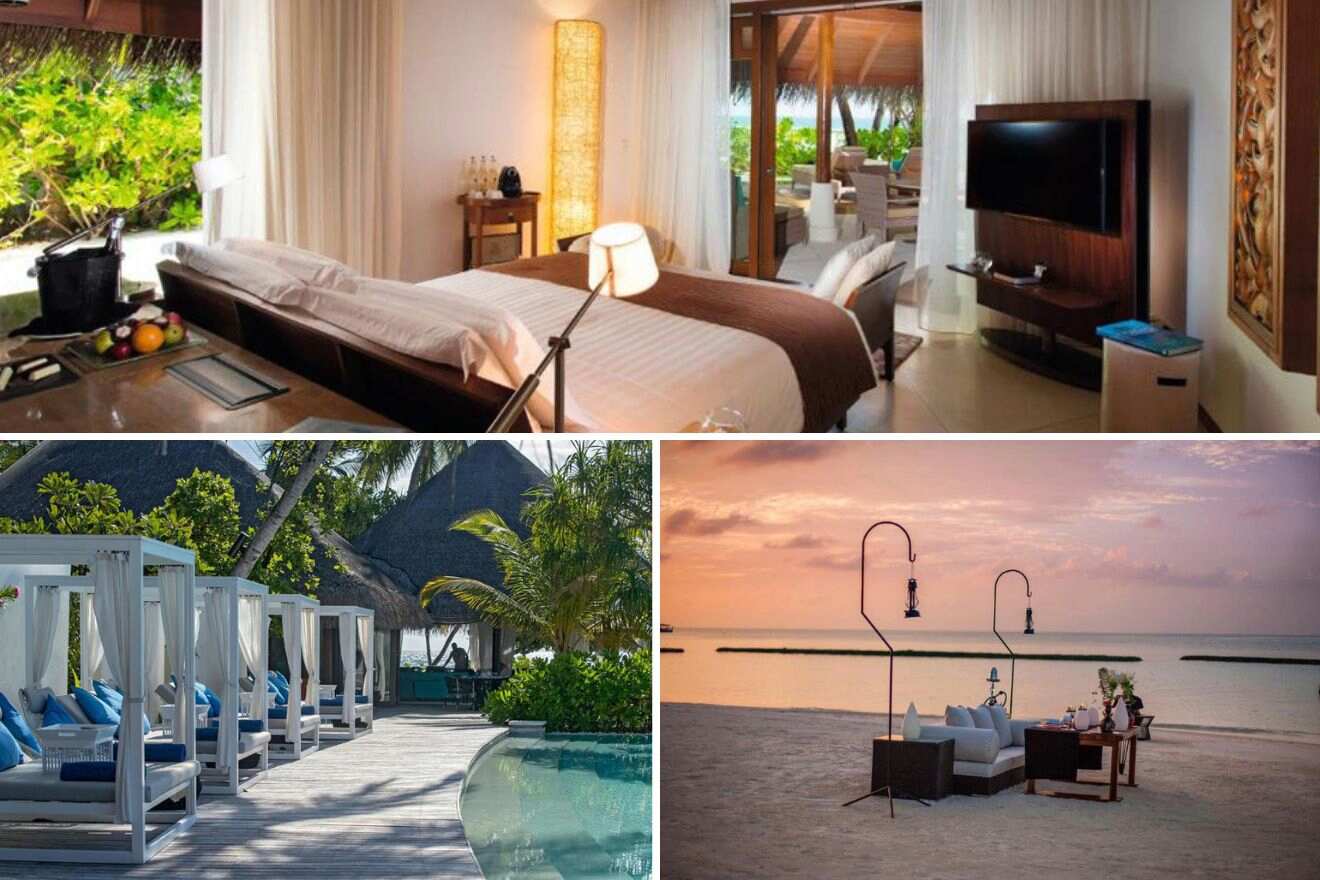 This one is a real gem among the hotels in the Maldives! The resort is located in Halaveli and is the perfect spot for a dream wedding. Just imagine saying "I do" on that white sandy beach overlooking the Indian Ocean with your loved ones around you!
But there's something for everyone, too! Spa and diving facilities, tennis courts, on-site restaurants, and whatnot. So, hurry up, and book your spot because these amazing resorts won't be free for too long!
17. Outrigger Resort – inspired by the local architecture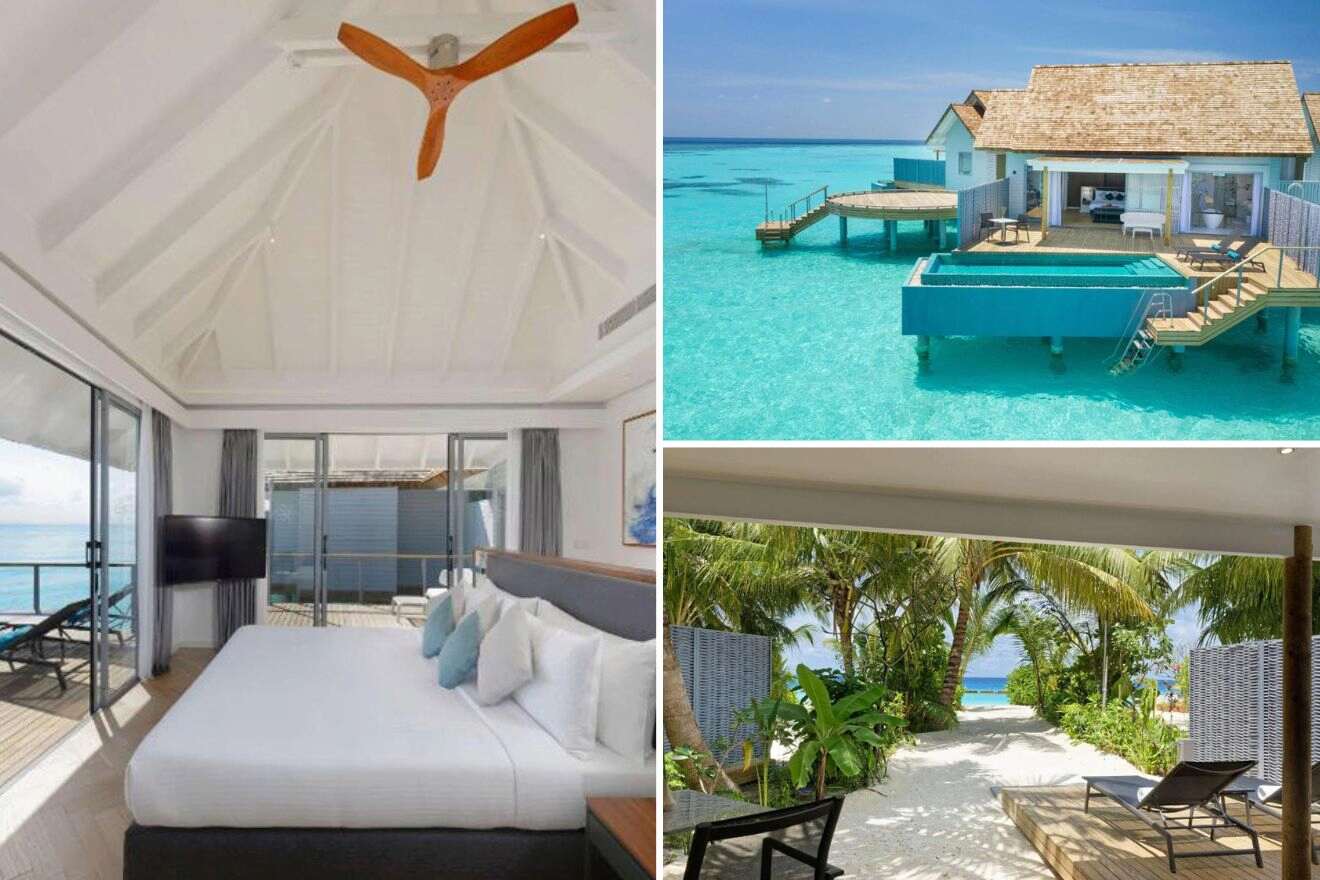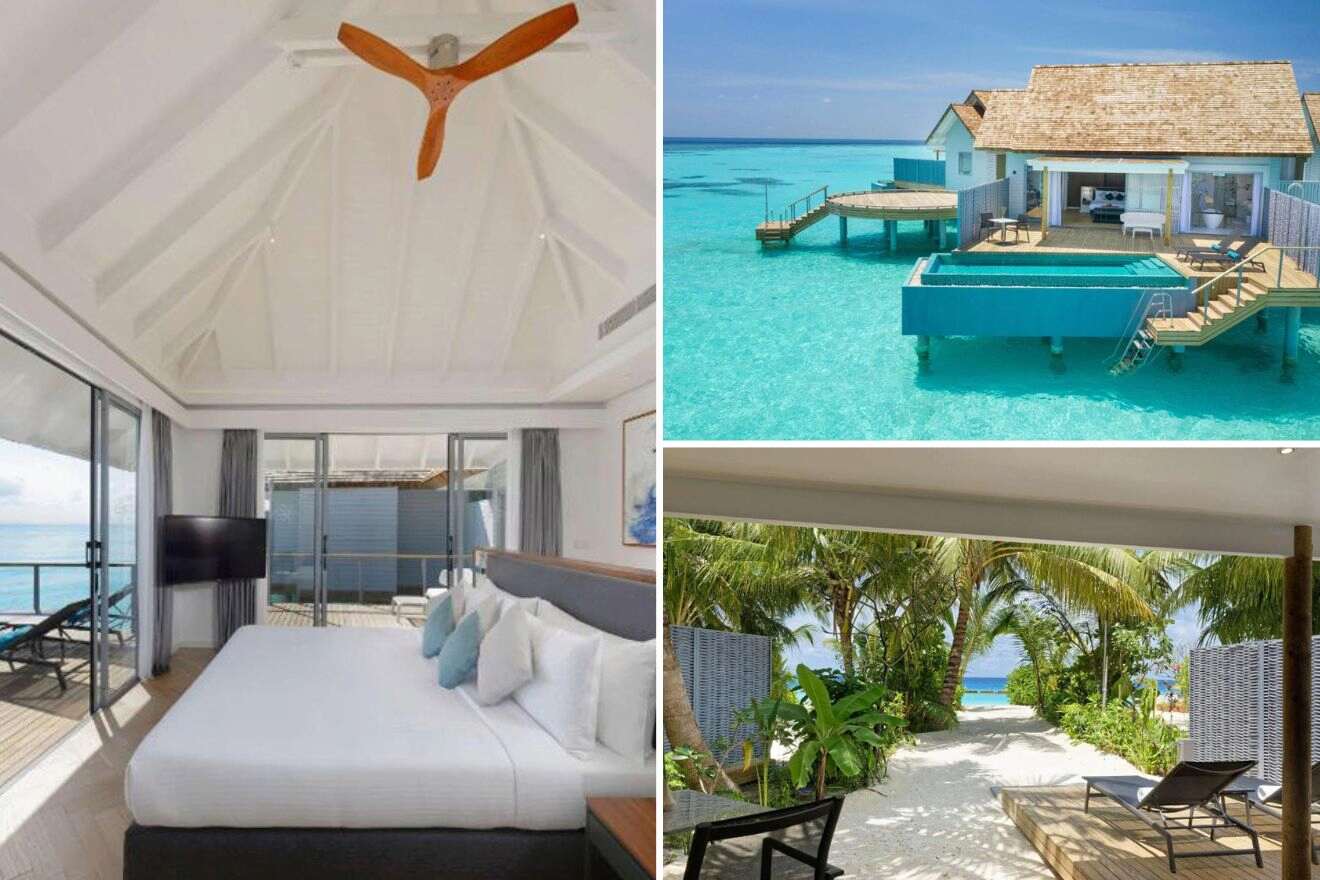 Located on Maafushivaru island, the guests describe this resort as literally faultless! The design of the thatched-roof villas was inspired by the local Maldivian architecture, but they are filled with contemporary amenities to make your stay as pleasant as possible.
The whole resort is nestled on a private stretch, and the whole island is just over 350 m (1,150 ft) in length. There is a house coral reef where guests can admire the colorful fish, and when you get hungry from all the exploration, there is an on-site restaurant to make your taste buds happy.
18. The Standard – with a glass-floored nightclub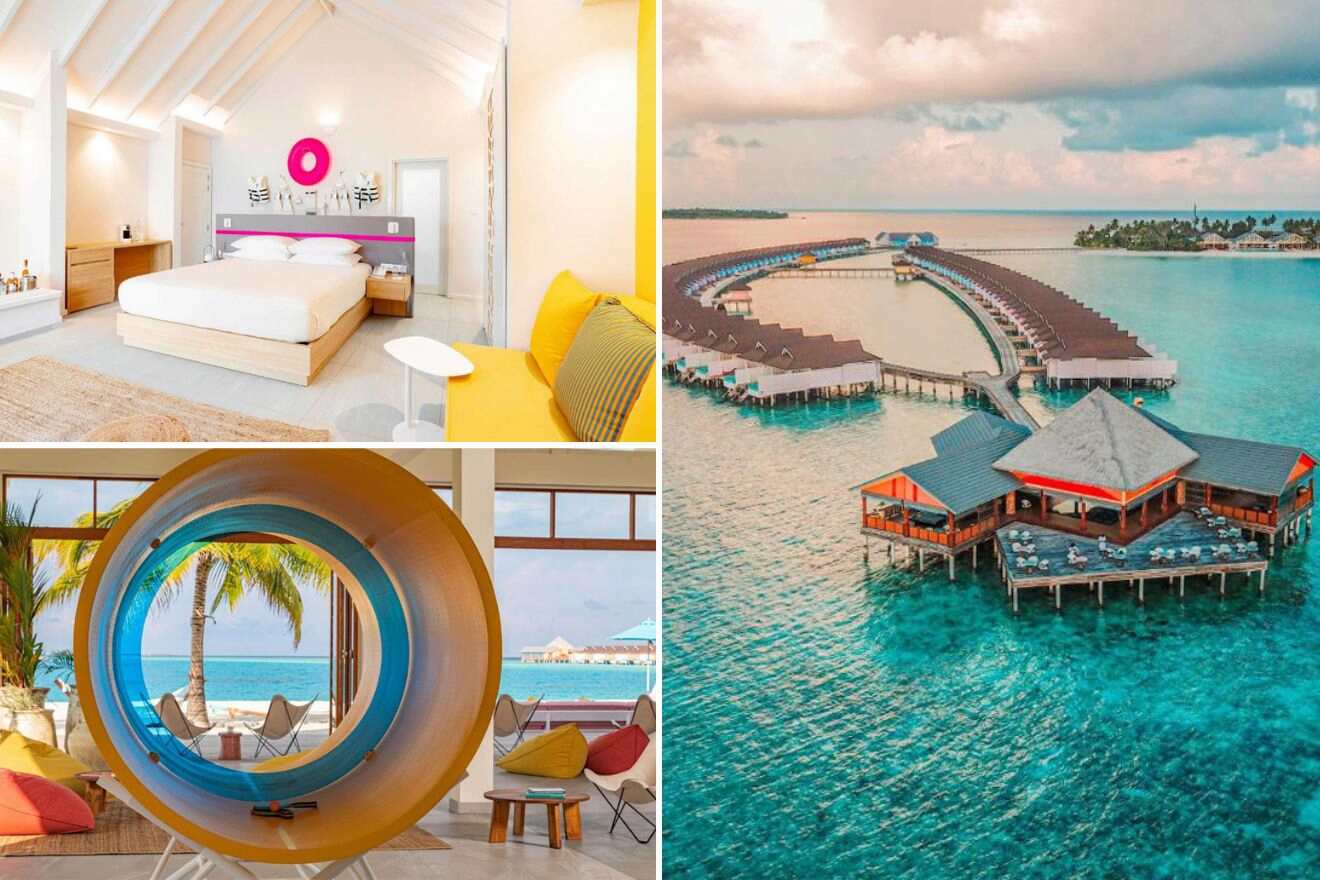 Resembling its name, this resort sets the standard for world-class service and amenities in the Maldives, and that means: all villas are equipped with a flat-screen satellite TV, disco bathtub, activity wall with snorkeling gear, comfy beds, and I'll let you reveal the rest yourself.
If you're worried about entertainment, you'll be glad to know that there are spa facilities, fine-dining and beach-dining options, and even an overwater glass-floored nightclub, Beru Bar.
19. Niyama Private Islands – with an underwater nightclub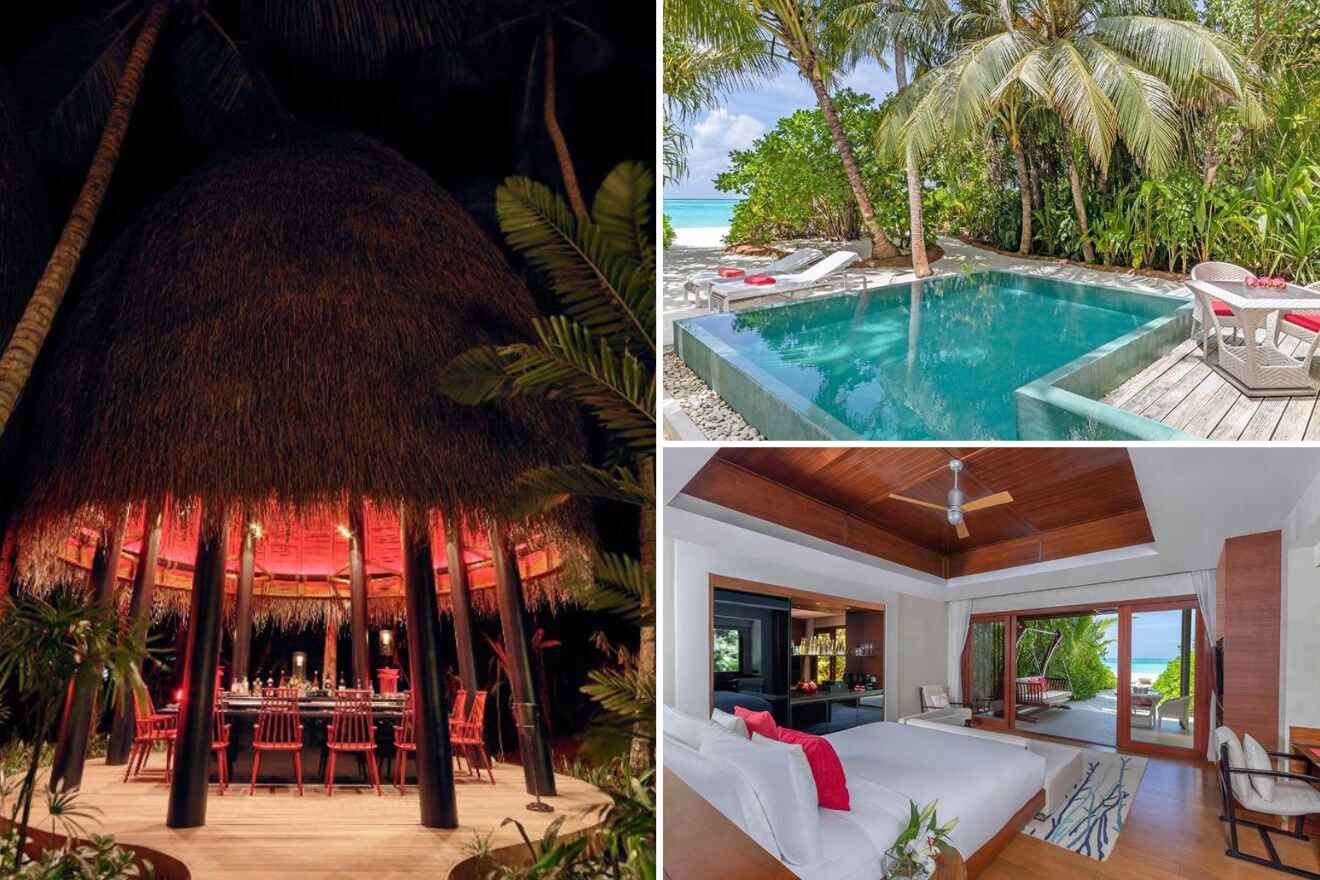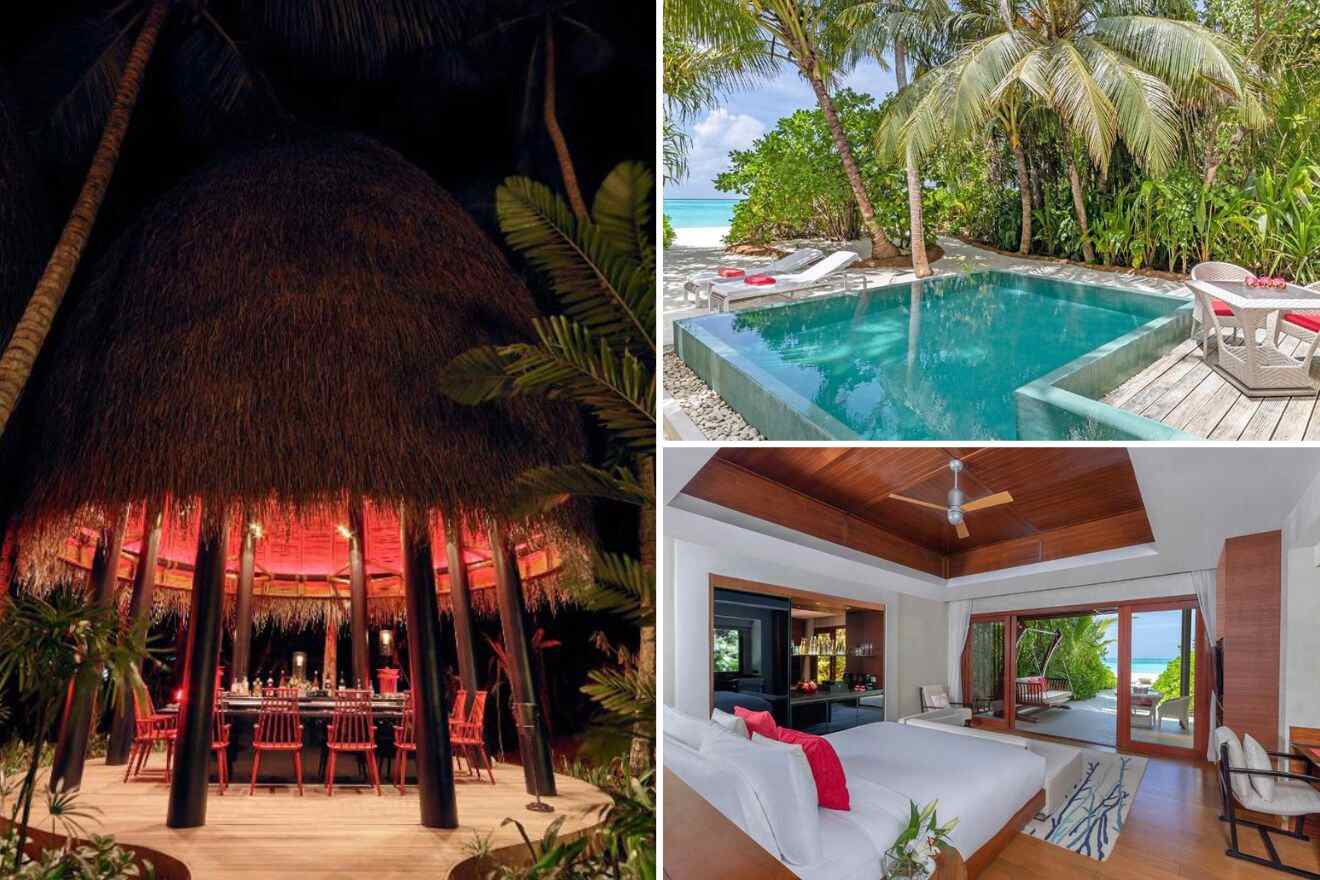 I am in absolute awe of this private island resort set on Dhaalu Atoll in the Maldives. It has spacious overwater villas where you can watch the sun rise and set in the Indian Ocean and sleep in the serene tranquility where your worries fade away.
Let's not forget the spa center where you can pamper yourself from dusk till dawn and the world's 1st underwater nightclub where you can party like never before. If that's not enough to convince you, there are also infinity pools, snorkeling with manta rays, movie nights on the beach, and literally everything your heart (or your wife) desires! 😉
FAQs about 5-star resorts in the Maldives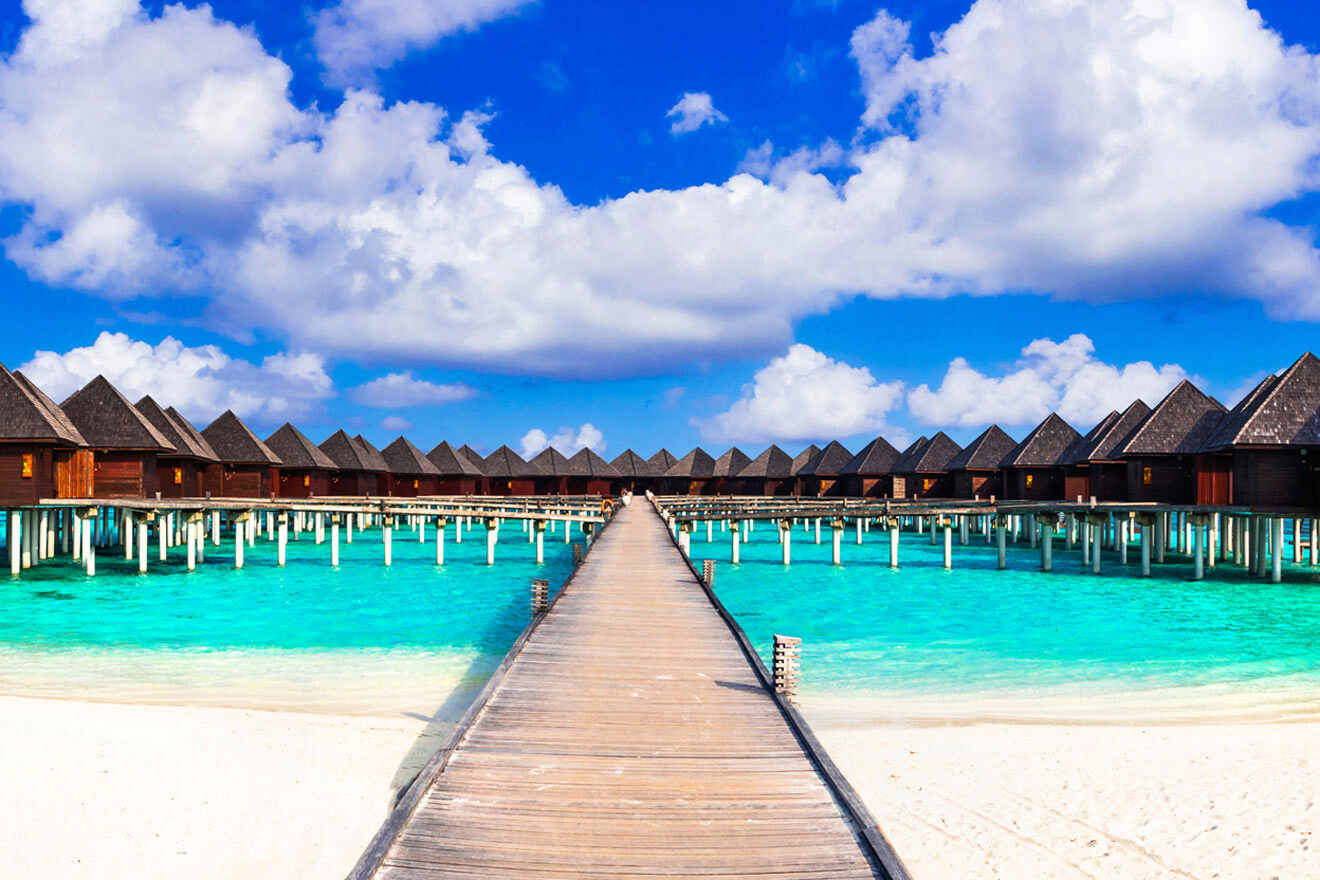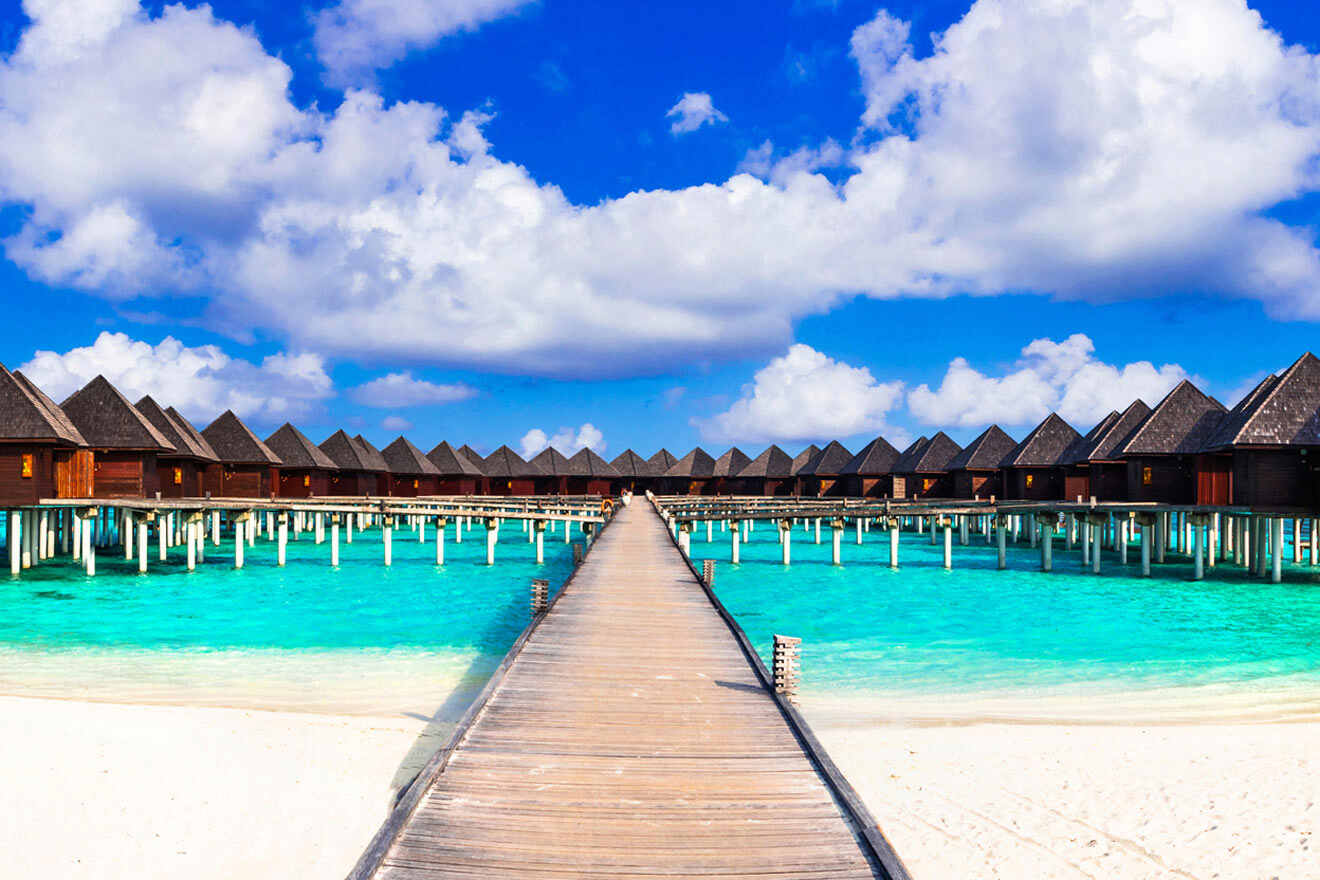 ⭐ What are the best 5-star all-inclusive resorts in the Maldives?
🛎️ What are the best 5-star hotels in Male City?
🤿 Which 5-star resort in the Maldives has an underwater restaurant?
💲 What is the average price per night in a 5-star hotel in the Maldives?
A 1-night stay for 2 people in a 5-star hotel in the Maldives can cost around US$1,000 during peak season, but it can get 2-3 times cheaper off-season.
Conclusion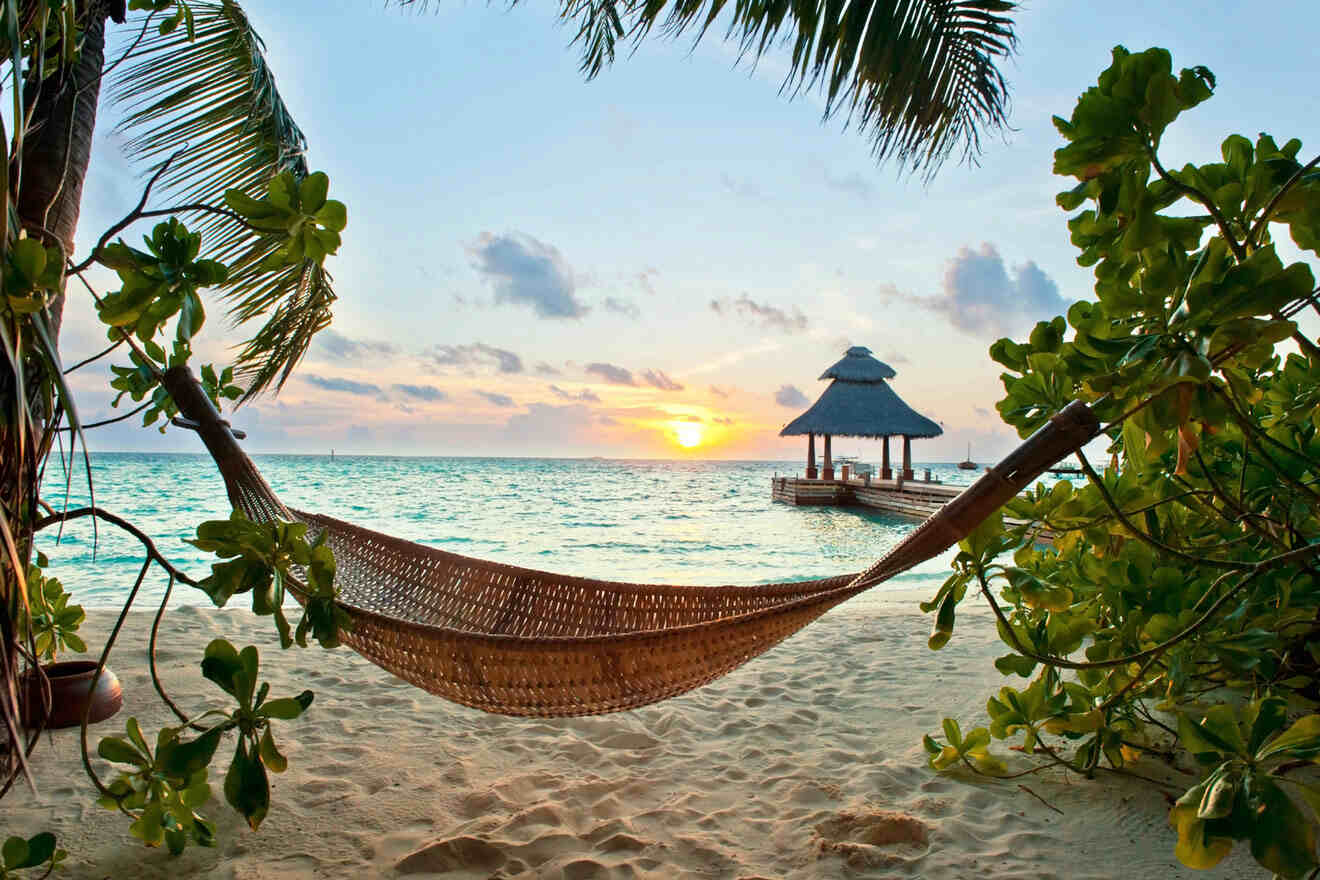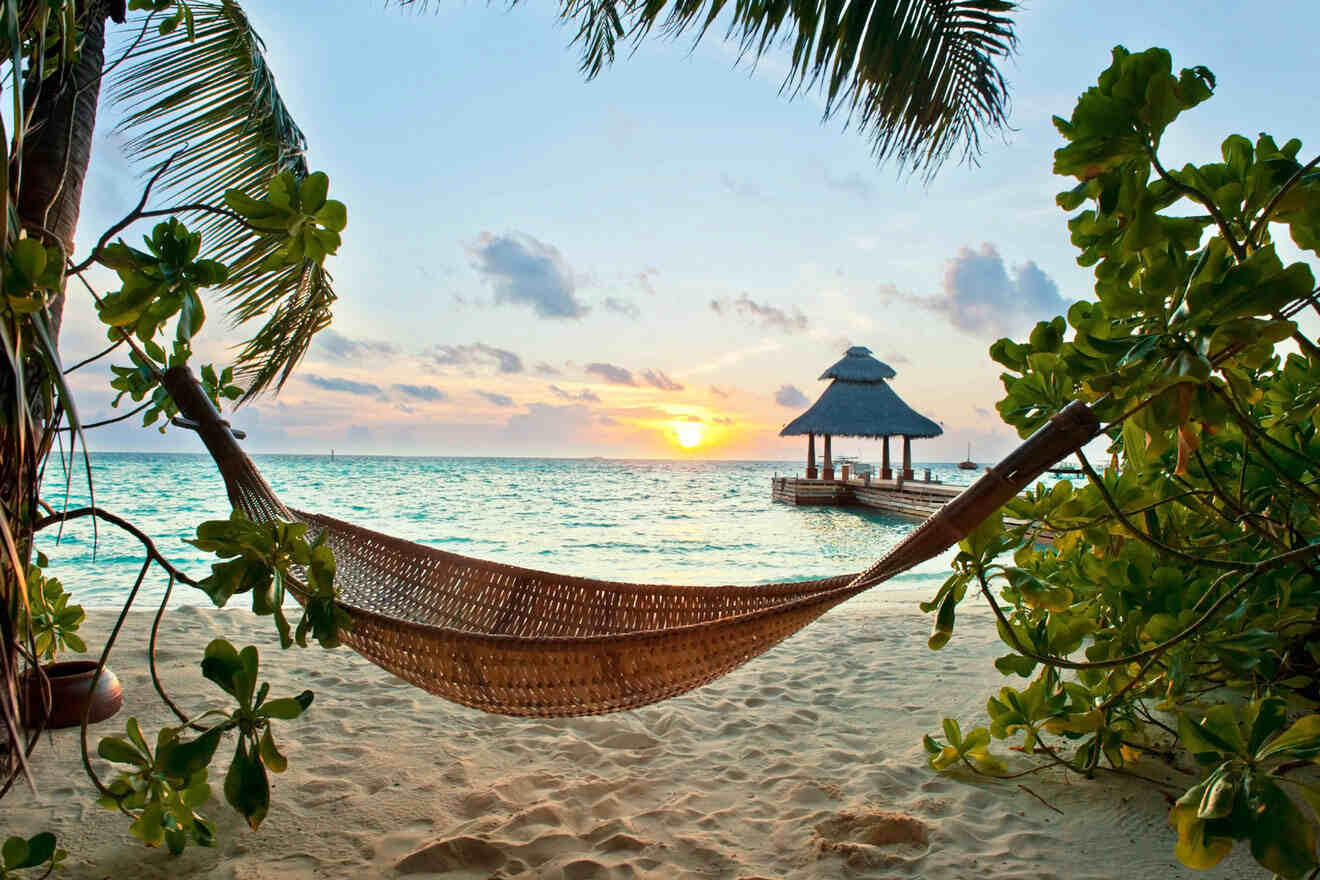 Wakey wakey, it's time to come back to reality ⏰ but don't despair, my dear travelers, this wakeup call is only to prompt you to hurry up and book your favorite 5-star resorts in the Maldives.
We went through a myriad of stunning accommodation options, so I can fully understand if you're still indecisive. It was hard for me to pick, too, but these 2 five-star resorts in the Maldives have absolutely won my heart:
JOALI – A definition of ultimate luxury, this resort will spoil you rotten with personal butler service and luxury amenities.
Niyama Private Islands – This one is by far my favorite for all the amenities, like a 24-hour spa, movie nights on the beach, and even an underwater nightclub.
Whether you go with any of my favorites or any other on the list, I am sure you won't get disappointed. All of these resorts specialize in hospitality, and they treat their guests like royals.
Again, don't forget to book your stay and share your experience with me in the comments below. I am so excited to find out how it all went!
Till next time,
Beti
---
Pin it for later!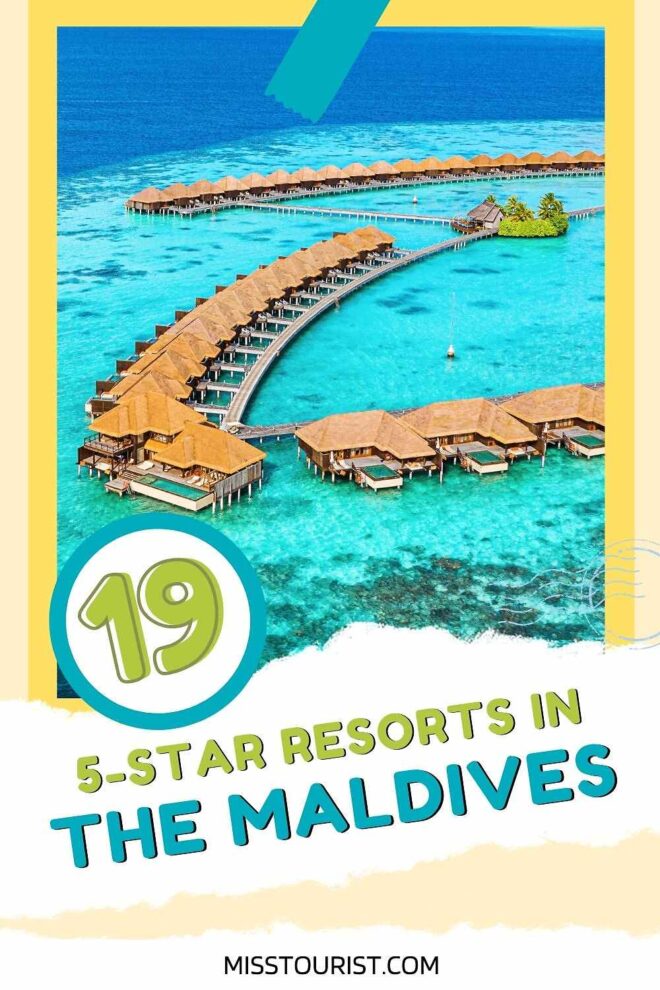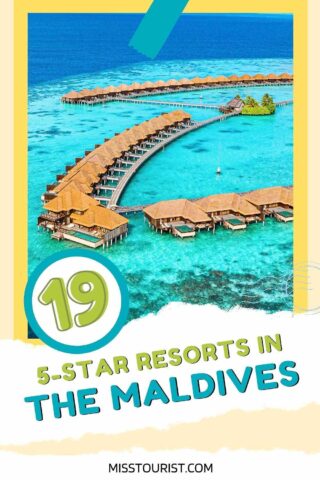 Pin it for later!