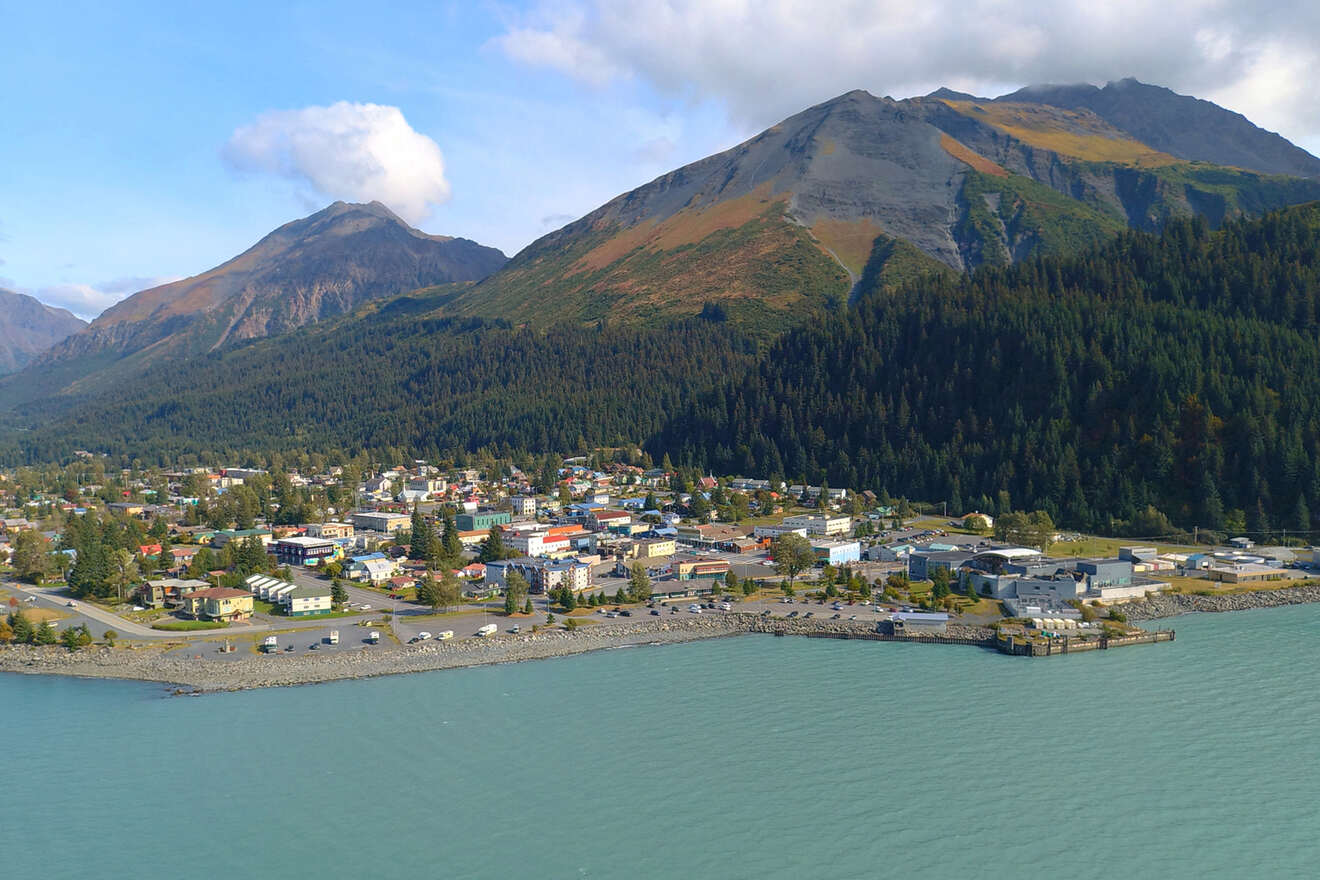 Alaska is a dream-like destination on the list of every tourist who wants to explore where the mountains meet the sea! Seward may be a small town, but it receives many tourists thanks to its attractions and easy access to Kenai Fjords National Park, that's why it's important to pick the right hotel for your stay!
The best place where to stay in Seward, Alaska, is Downtown. This is where you'll find the main attractions, best hotels, and many tour operators. But I couldn't let you go without adding more info for those of you who want something a little different.
In this detailed guide, you'll find 2 more areas perfect for outdoor lovers and marine life enthusiasts; Lowell Point and Seward Harbor, plus a bonus with some fabulous vacation rentals in town in case you're looking for a little more room or privacy.
Although Seward may look like a town that doesn't get many visitors, trust me, this place is packed with tourists. That's why I recommend booking your hotels in advance. Do it, and avoid the annoying process and high prices of last-minute booking!
Let's go, we've got lots to see!
If you are in a hurry
Ready to book right now? Good for you! Have a look at the shortlist below. It has the best hotels, all located Downtown:
To help you visualize all the areas where to stay in Seward, Alaska that I'll talk about in this post, I've made a handy map:
1. Downtown – best place to stay in Seward for the first time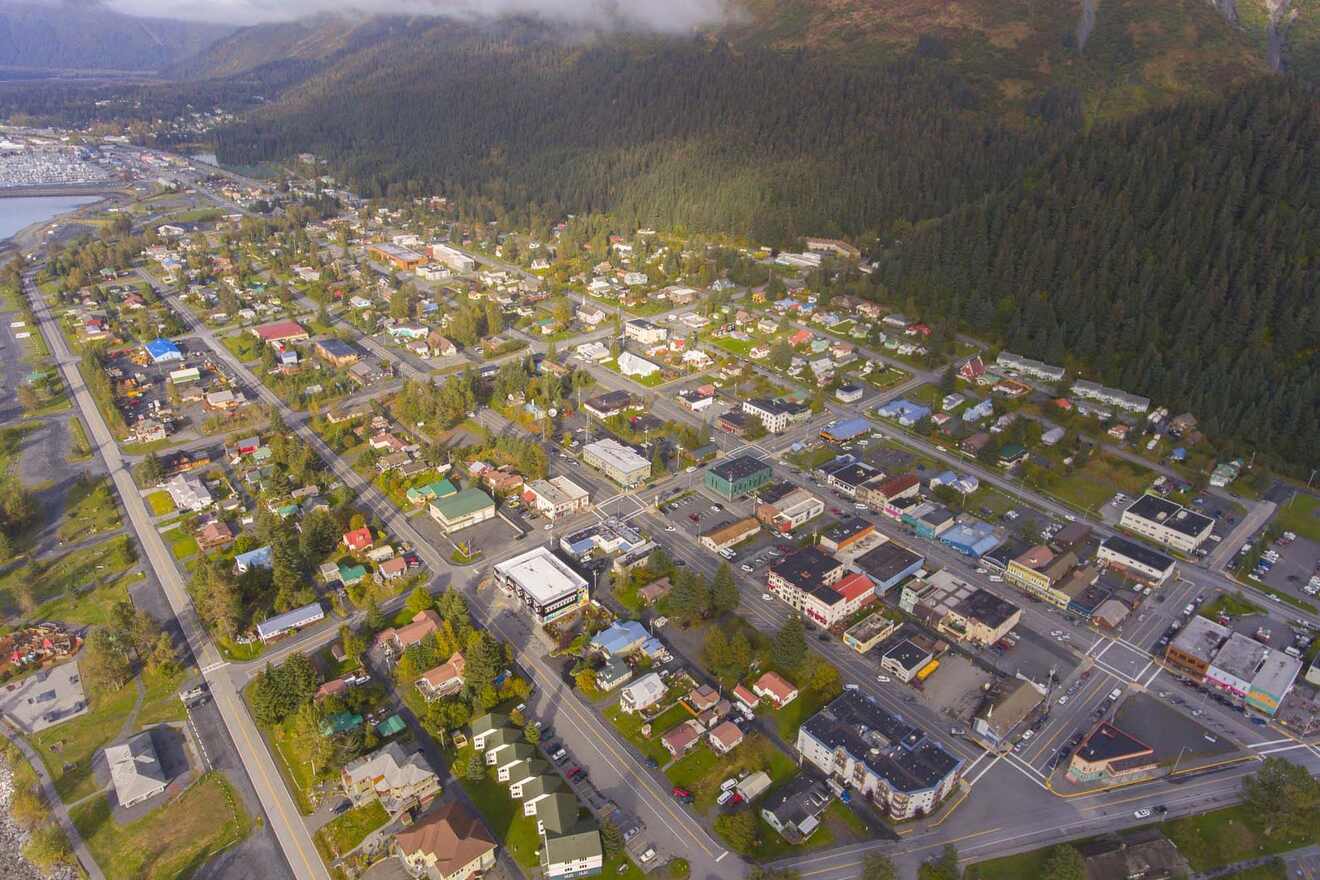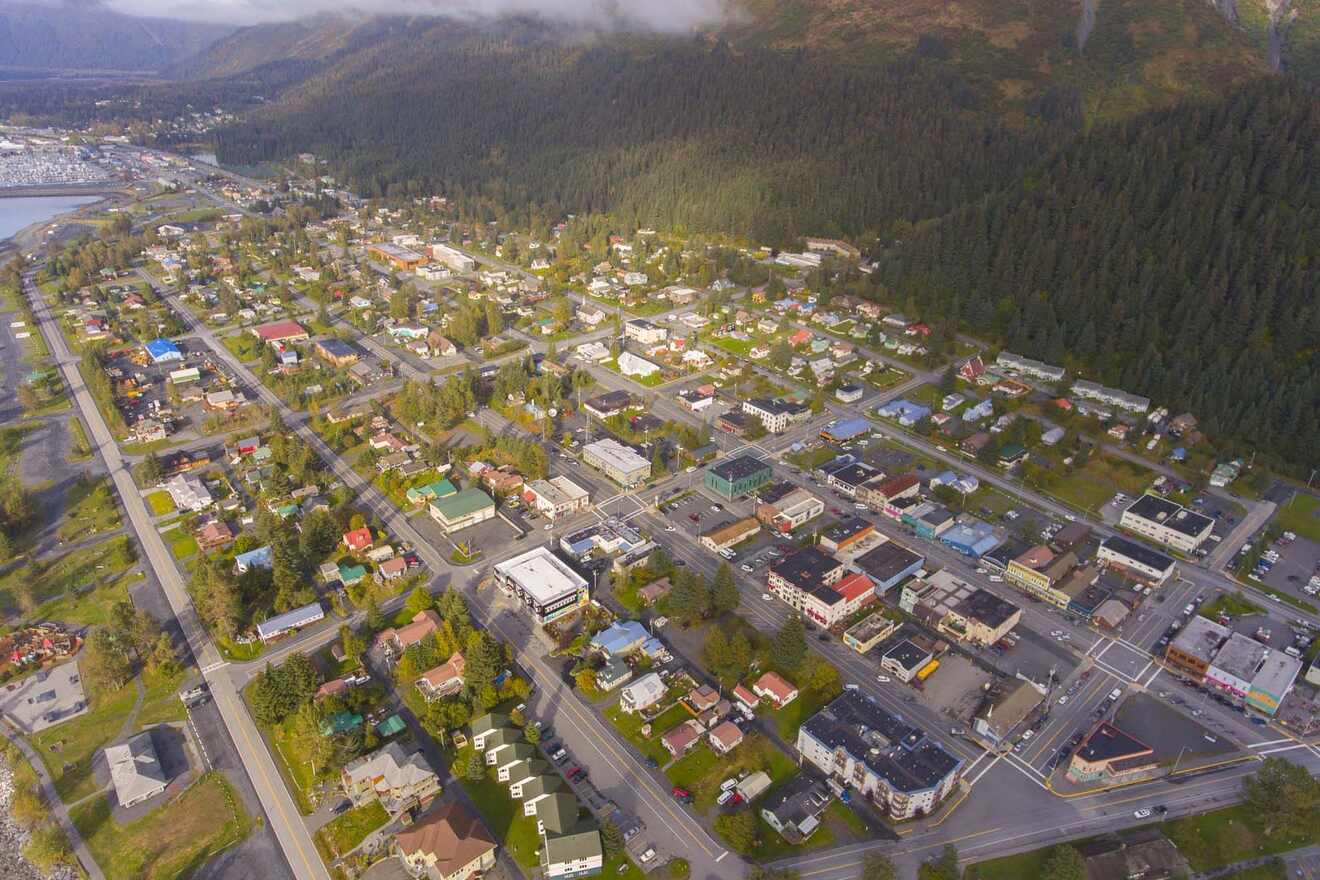 This scenic port town in Southern Alaska is a dream location for any avid hiker, outdoor enthusiast, and wildlife lover!
Seward may be small, but you know what they say "strong essences are kept in small bottles"! If you're visiting Seward for the first time, there's no better place than Downtown to look for hotels!
Why? Well, most attractions like the Alaska Sealife Center will be within walking distance from you! I also recommend this area to people who don't have a car and come by train from Anchorage.
Seward offers easy access to Kenai Fjords National Park, a beautiful place famous for its glaciers and abundant wildlife! But before you run to explore the hiking trails in Kenai Fjords National Park (btw there are some trails here as well, like Mt Marathon Trailhead), take a moment to check out all the Dowtown shops and walk around the Waterfront Park.
Although this small town may look untouched, tons of tourists come here every year as it's so well positioned. That's why I also recommend booking your hotels in advance.
And since this is the most popular area to stay in, I have added some more specialized sections below with extra options, specifically for anyone looking for family accommodation or hotels on the waterfront.
Luxury hotel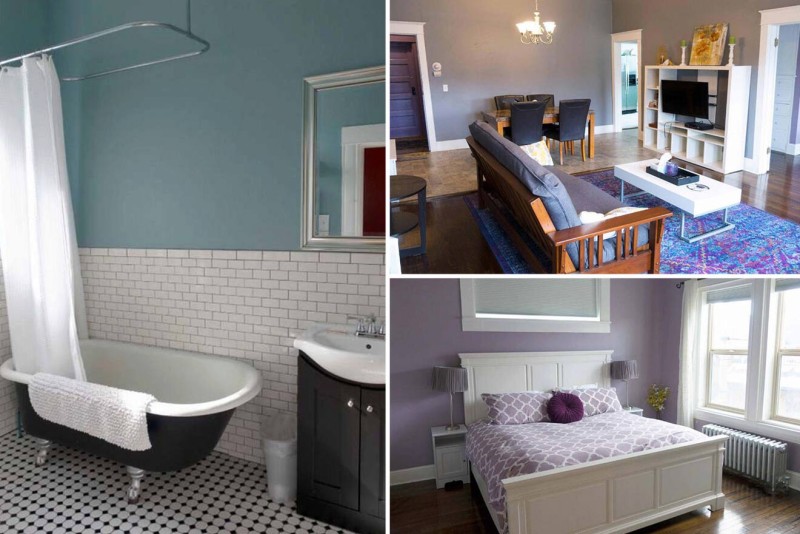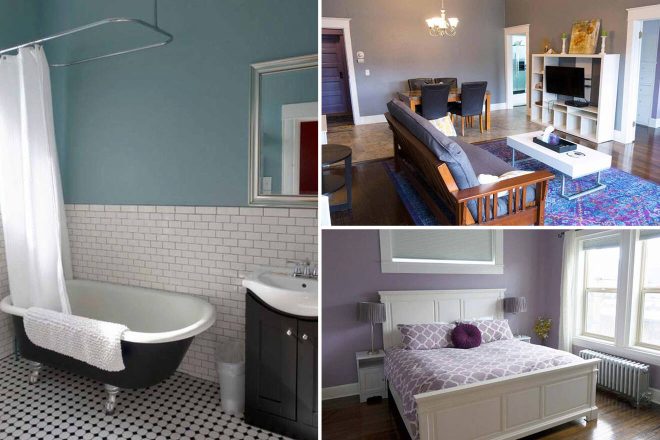 This super homie accommodation offers views of Resurrection Bay! Each room is incredibly spacious and comfortable so after a long day of hiking, you can relax with a long bath in your private bathroom. The accommodation is also centrally located and offers free parking so all your needs are met!
Other accommodation options in Downtown
Mid-Range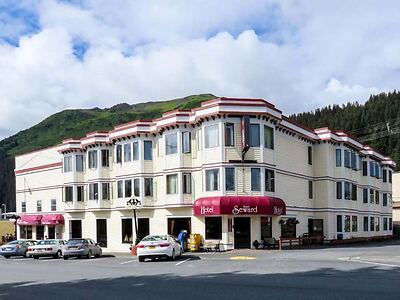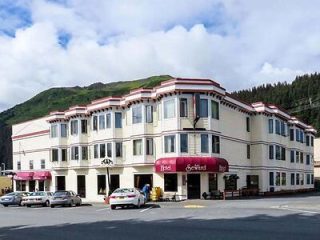 A nice and comfortable historic hotel with quirky decor, a restaurant, and a free shuttle
Budget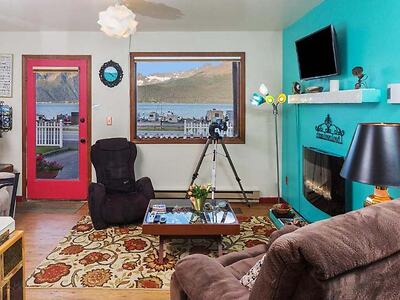 Chill in the comfortable rooms of this spacious holiday home with a great location and a garden
Airbnb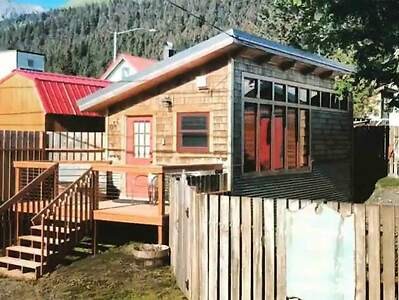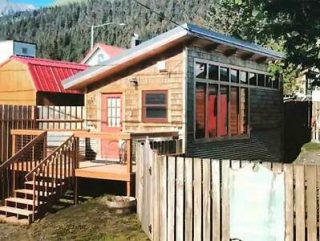 Warm-up in front of the fireplace at this cozy cottage with convenient amenities like free parking
1.1 Best family hotels in Downtown Seward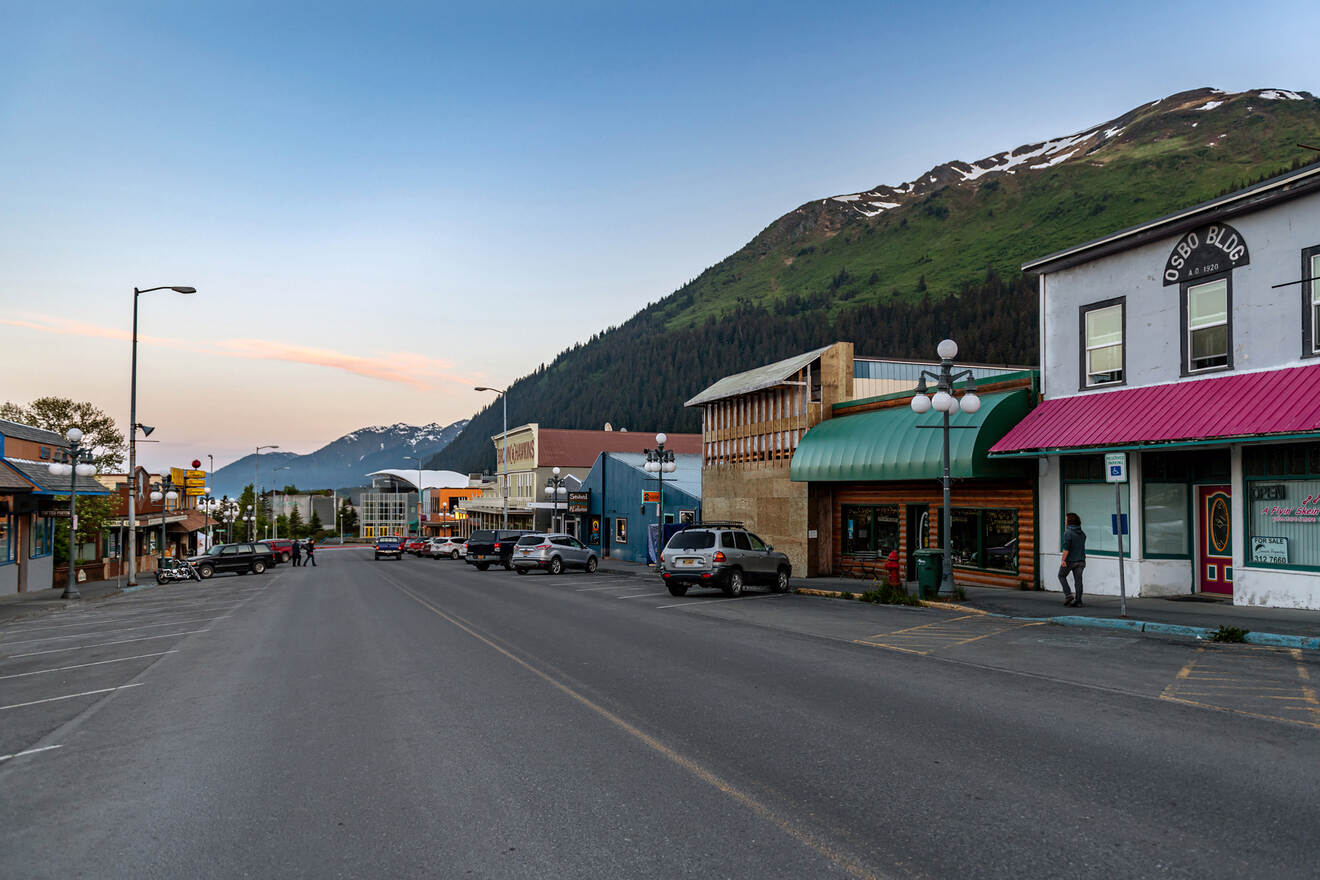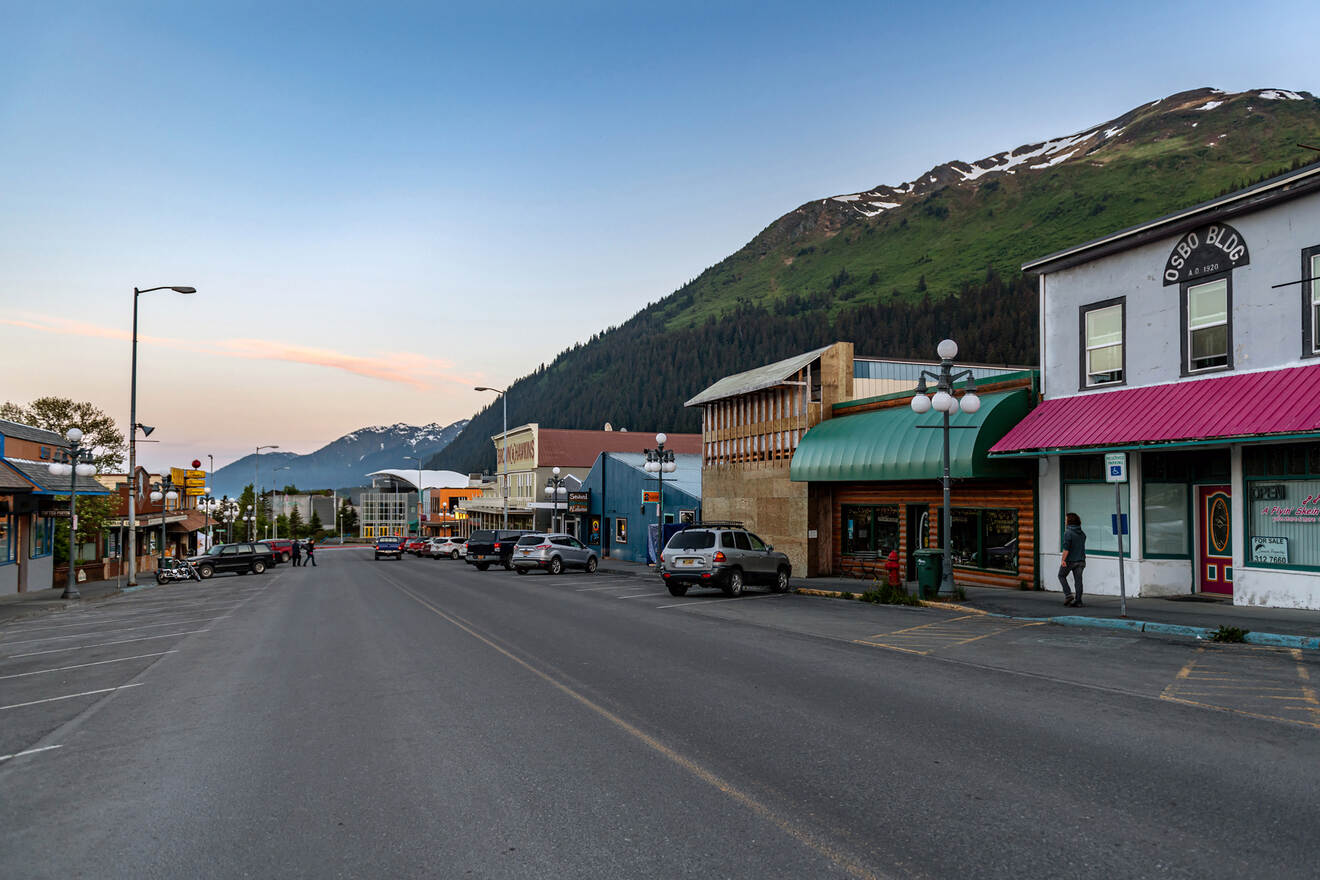 Seward is the perfect location for a family trip! Especially if you guys enjoy outdoor adventures and spending time in nature. I know that finding a place to stay with the little ones is hard. But fear not, I'm here to save the day and help you find the best family hotels in Downtown Seward!
Let's check them out:
Luxury hotel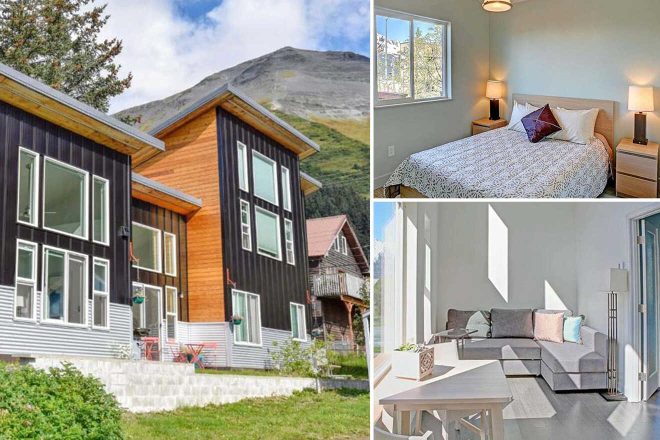 Wake up to the fresh mountain air at this accommodation that has the perfect location and some unique views! Grab a bite from the complimentary breakfast (they also offer kids meals) and then spend some time in the outdoor seating area. During the day you can play some board games with the little ones or go hiking together! 
Other accommodation options in Downtown
MID-RANGE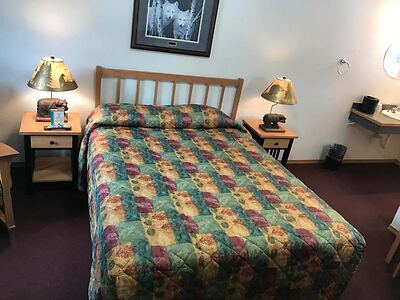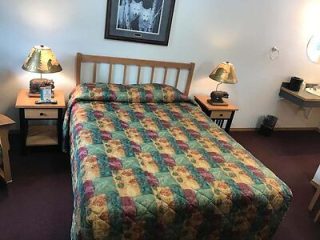 Get great family rooms at the best price in this homie inn that has a coffee maker and a private bathroom
BUDGTE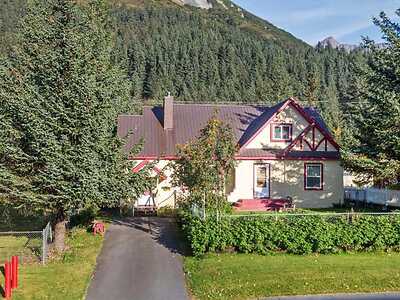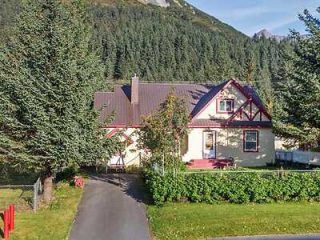 A cozy guesthouse that has spacious family rooms and offers fun kid-friendly activities like cycling  
AIRBNB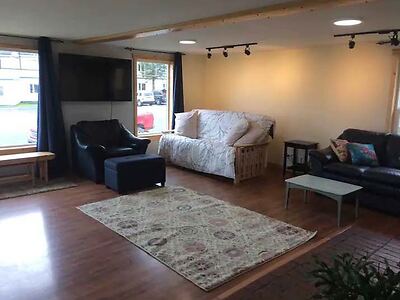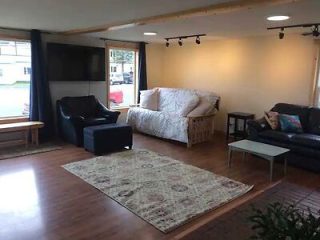 Spacious home near the beach perfect for families with a kitchen and a patio that overlooks the bay 
1.2 Best hotels near the waterfront in Downtown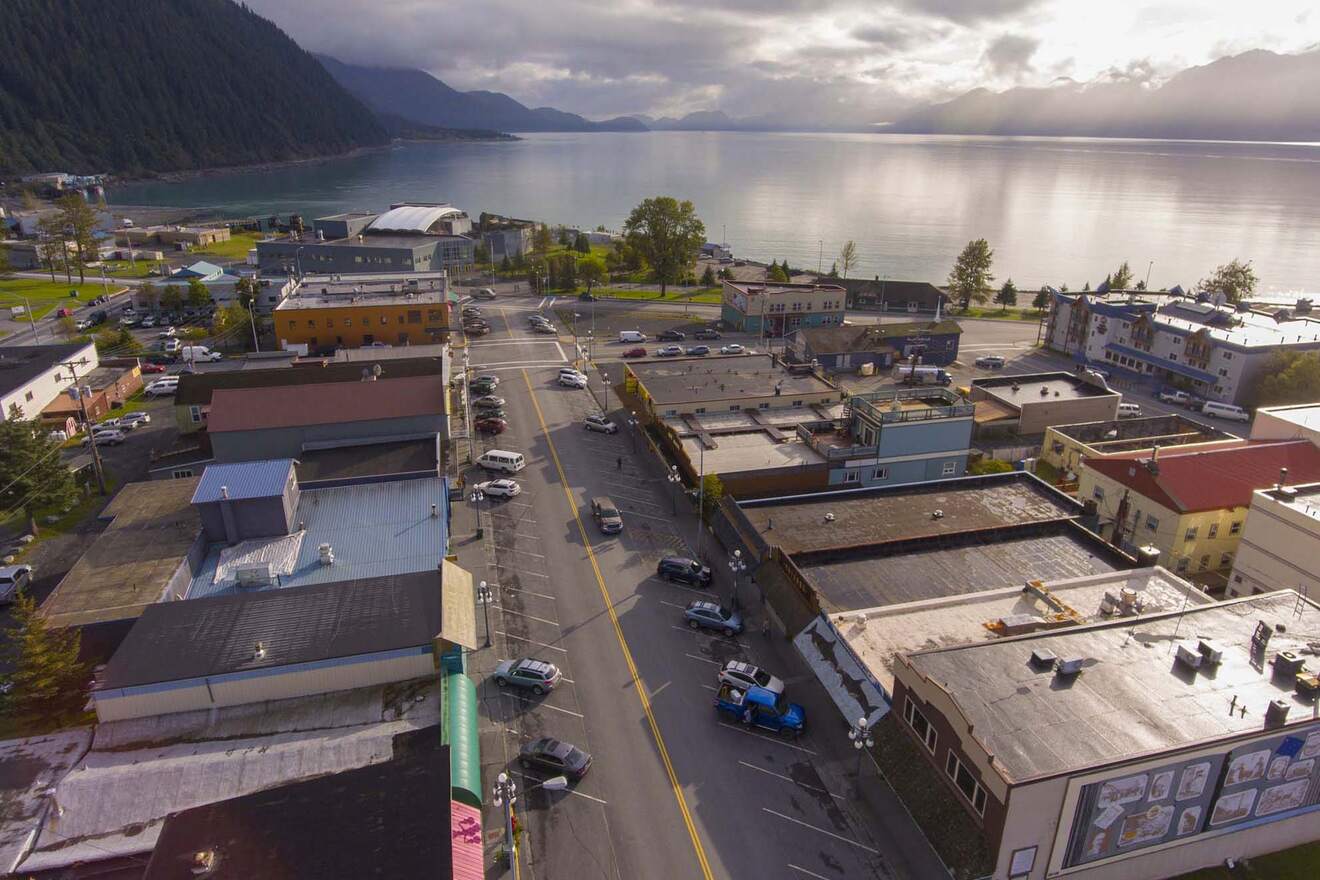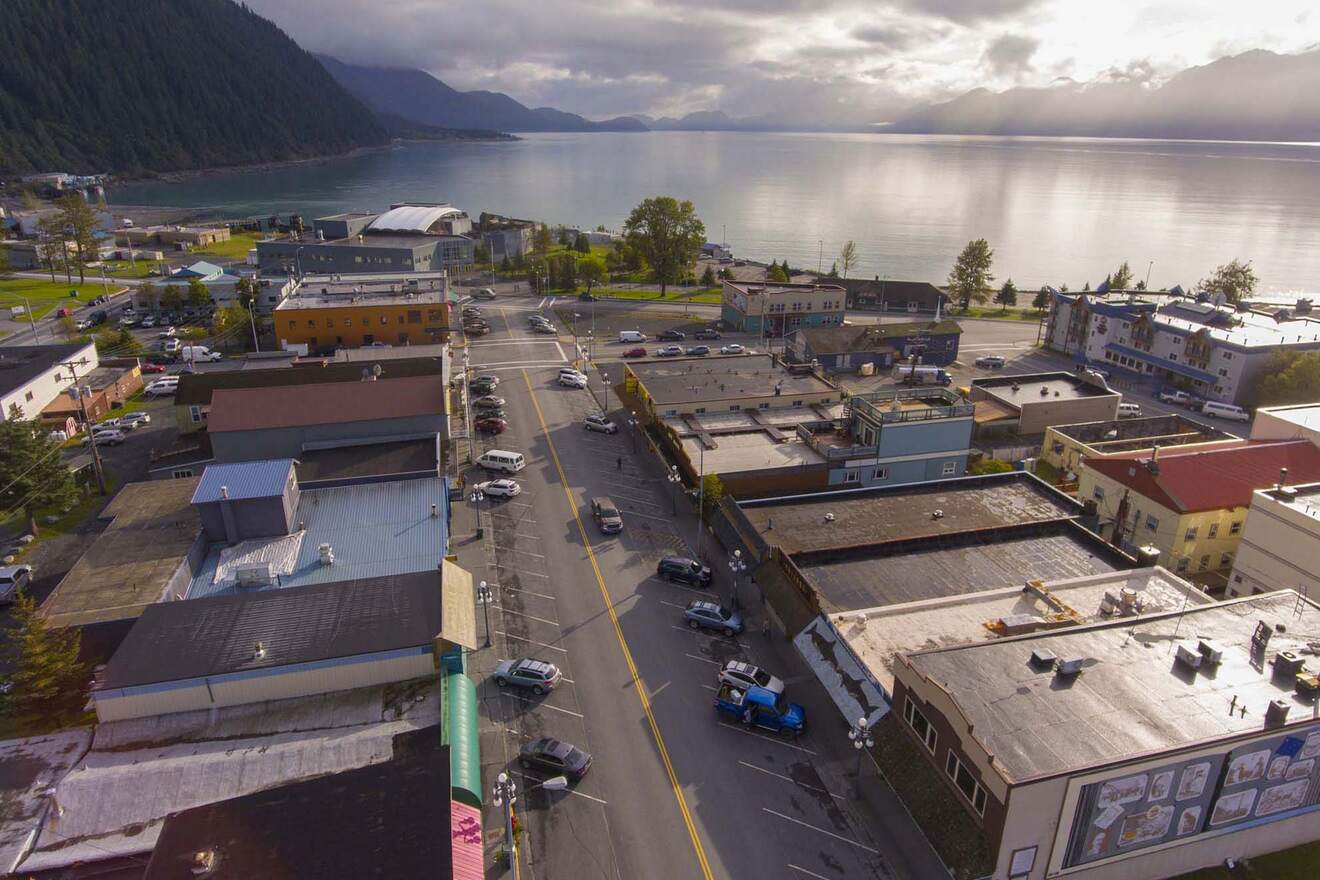 Downtown Seward is pretty big, and if you're a fan of staying as close as possible to the water then you're lucky!
There are tons of hotels near Waterfront Park and some of them even offer views of the Gulf of Alaska. If you resonate with this, have a look at the list below:
Luxury hotel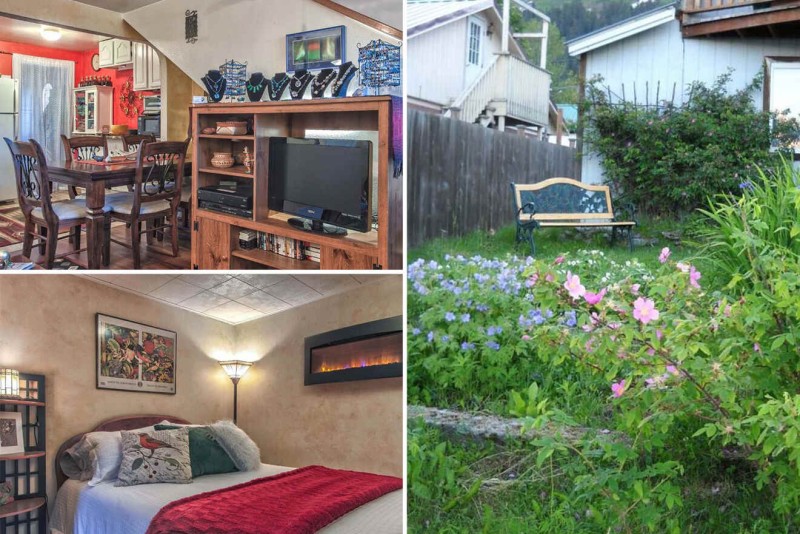 Start your day with a cup of coffee in the garden of this cozy accommodation in Seward, AK. You can enjoy your breakfast in your room with queen beds and a dining area but don't miss the chance to join a tour with the host who is a professional wildlife biologist! This adorable B&B also offers parking and a free shuttle bus.
Other accommodation options in Downtown
Mid-Range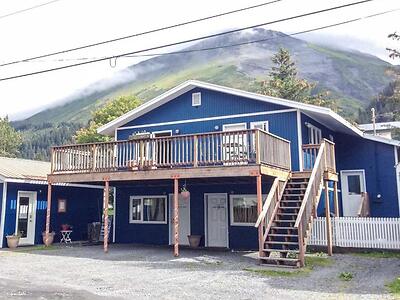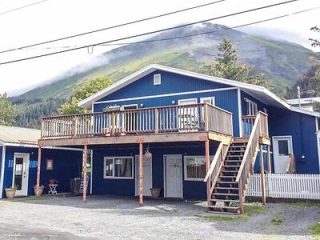 A bright and airy beachside motel with a garden with bbq facilities, perfect for a couples getaway
Budget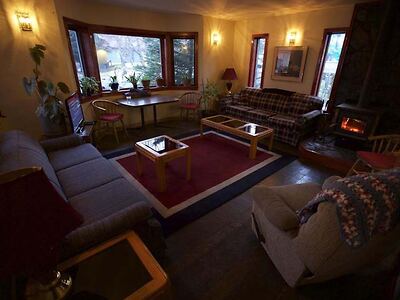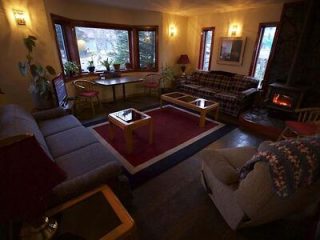 Cheap yet super comfortable place that has an outdoor fireplace, a garden, and a shared lounge area
Airbnb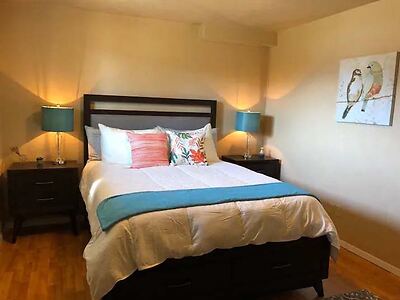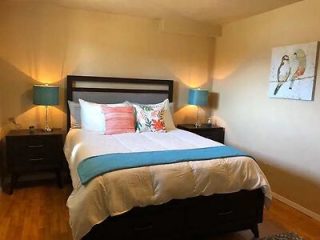 Cozy place near the beach that offers bay views, a shared patio with a seating area, and free wifi  
Things to do in Downtown
2. Lowell Point – where to stay in Seward, Alaska for the outdoors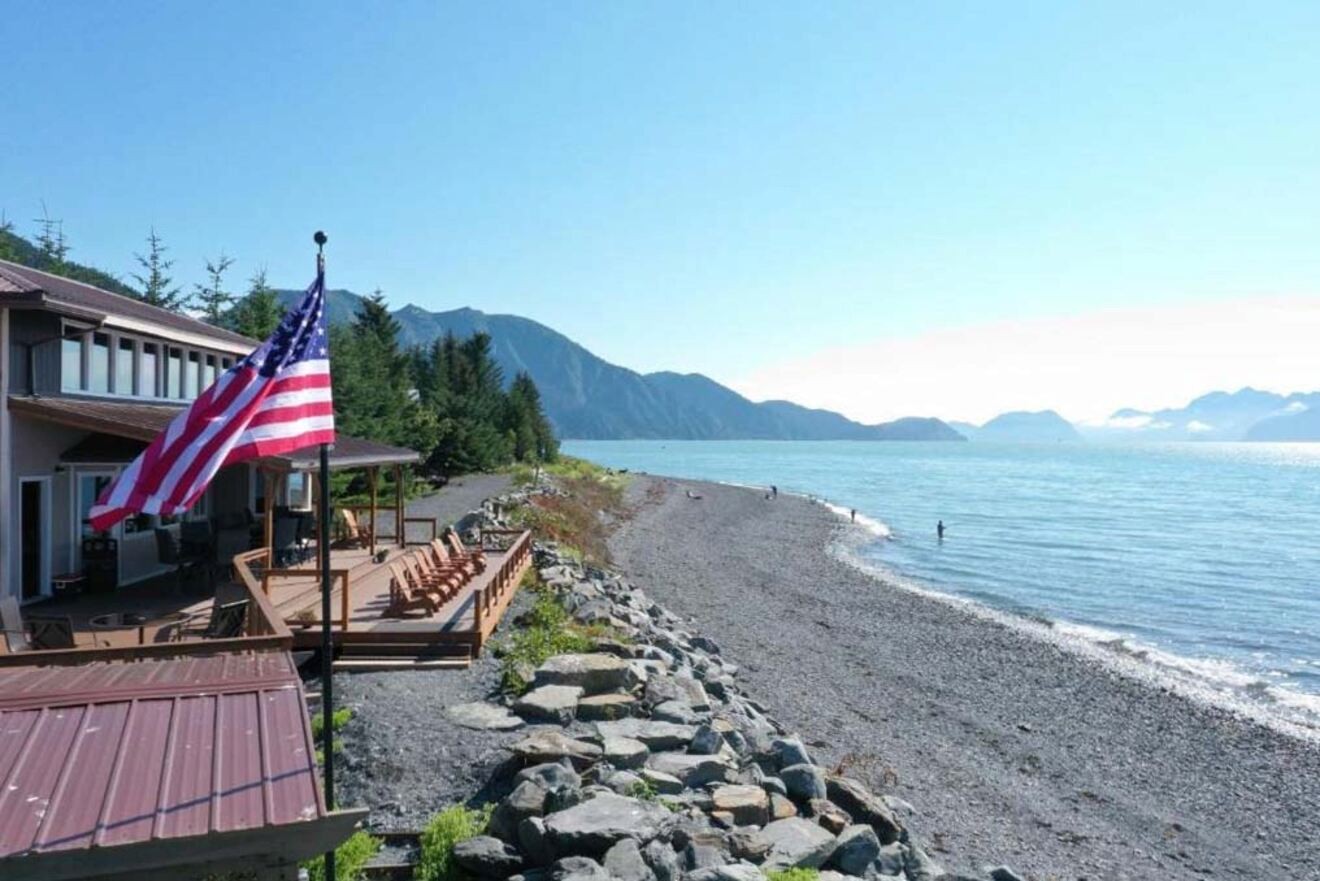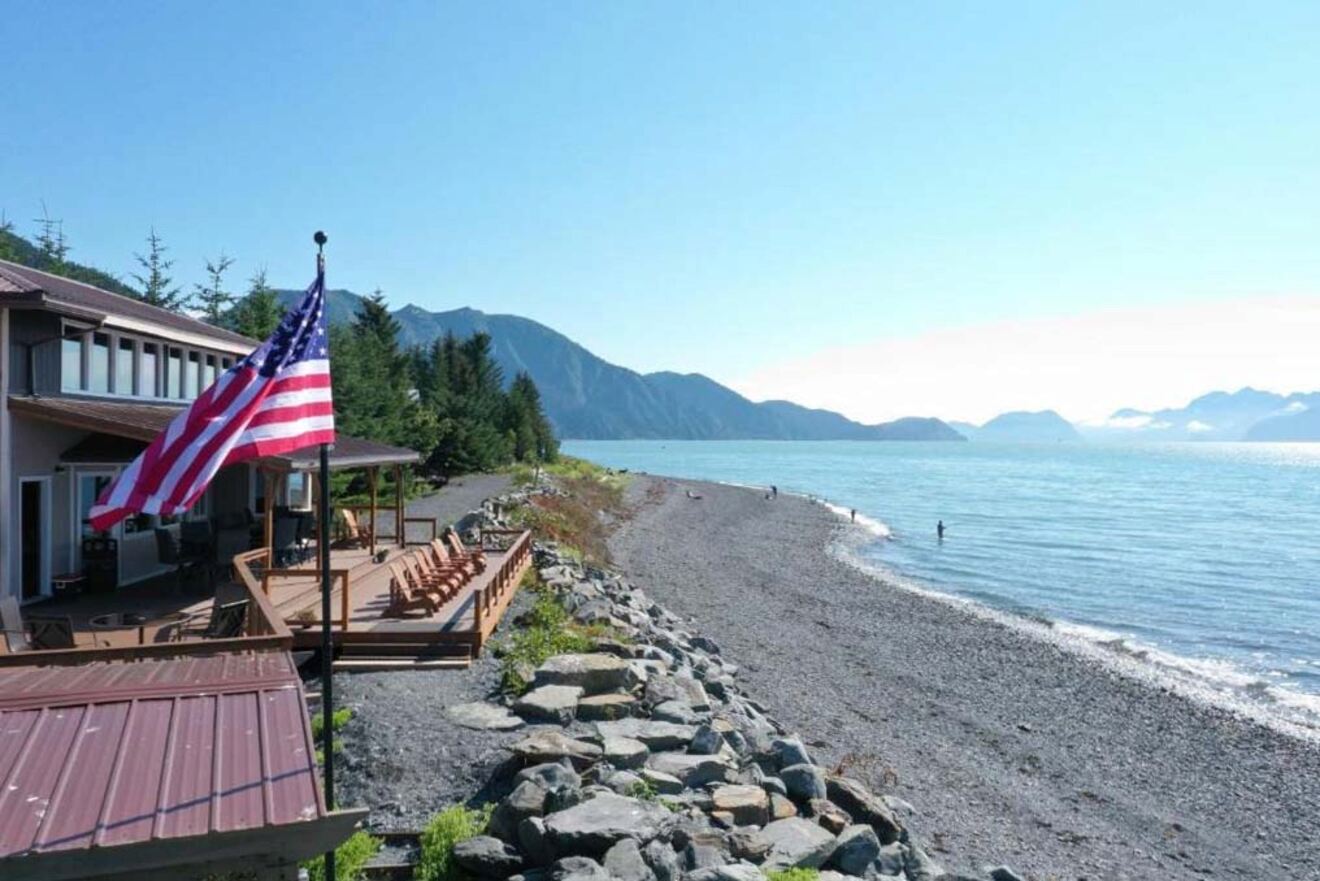 As I mentioned earlier, Seward is a paradise for hiking lovers and generally for people who love spending their days exploring the wildlife!
Right outside Seward, you'll find a small area called Lowell Point that's great for those who aren't interested in any of the "city activities" and want to discover as many hiking trails and unique spots in Alaska as possible!
This area is pretty chill, I mean, the whole town has a laid-back atmosphere, but Downtown is for sure a bit busier as most tourists book their hotels there.
If you're a fan of tranquility and not having too many people around you or other travelers, I think Lowell Point will be perfect for you!
Note that you'll probably need to head to Downtown Seward anytime you want to eat at a restaurant or go shopping but if you find an accommodation that's well equipped, you can cut back on eating out. Also, you will probably need to rent a car if you want to stay here as it is a bit more remote!
Luxury hotel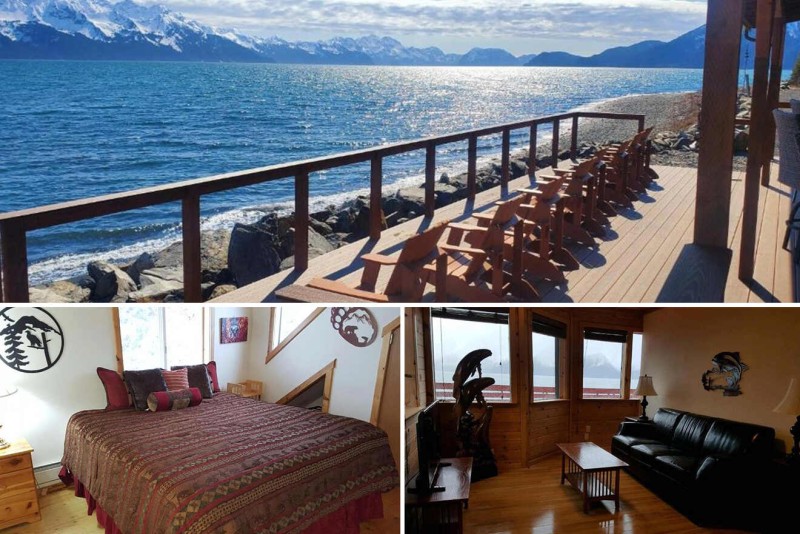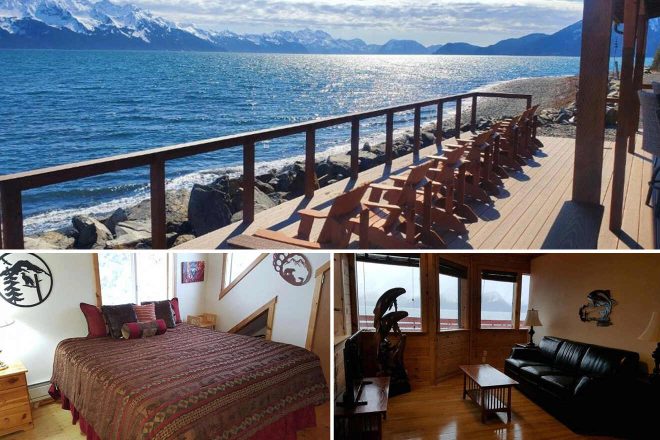 A great atmosphere, Resurrection Bay views, and nature! What can be better than that? Relax after a day of hiking in the comfy chairs on the large deck overlooking the golf and enjoy the location within walking distance of the beach. This cozy lodge even offers a garden and family rooms!
Other accommodation options in Lowell Point
Mid-Range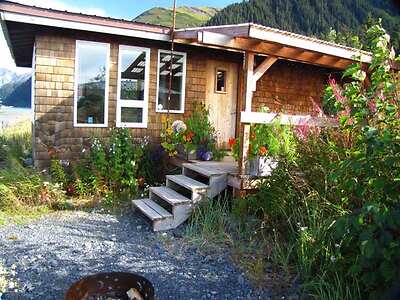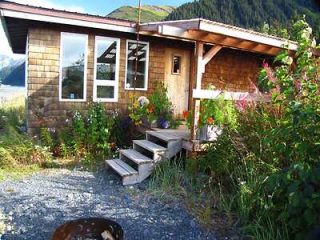 A rustic-style cabin with modern amenities that offers a private beach area, and nice rooms with a patio
Budget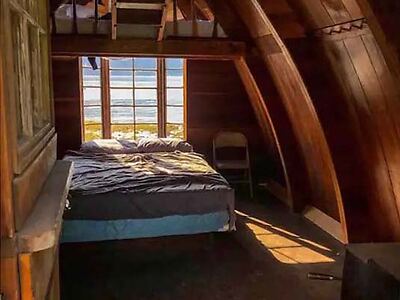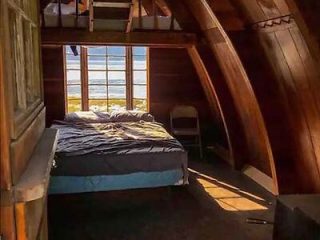 Cozy wooden cabin with a nice design that offers beach access and free parking
Airbnb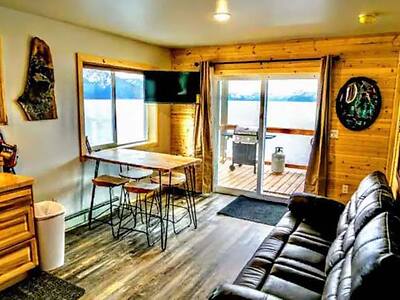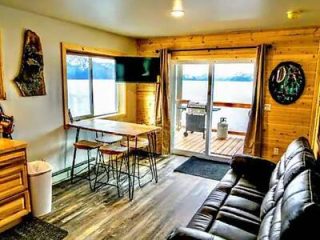 Spacious duplex with 3 great rooms, a kitchen, and a little terrace that has a seating area
Things to do in Lowell Point
3. Seward Harbor – best place to stay for marine life enthusiasts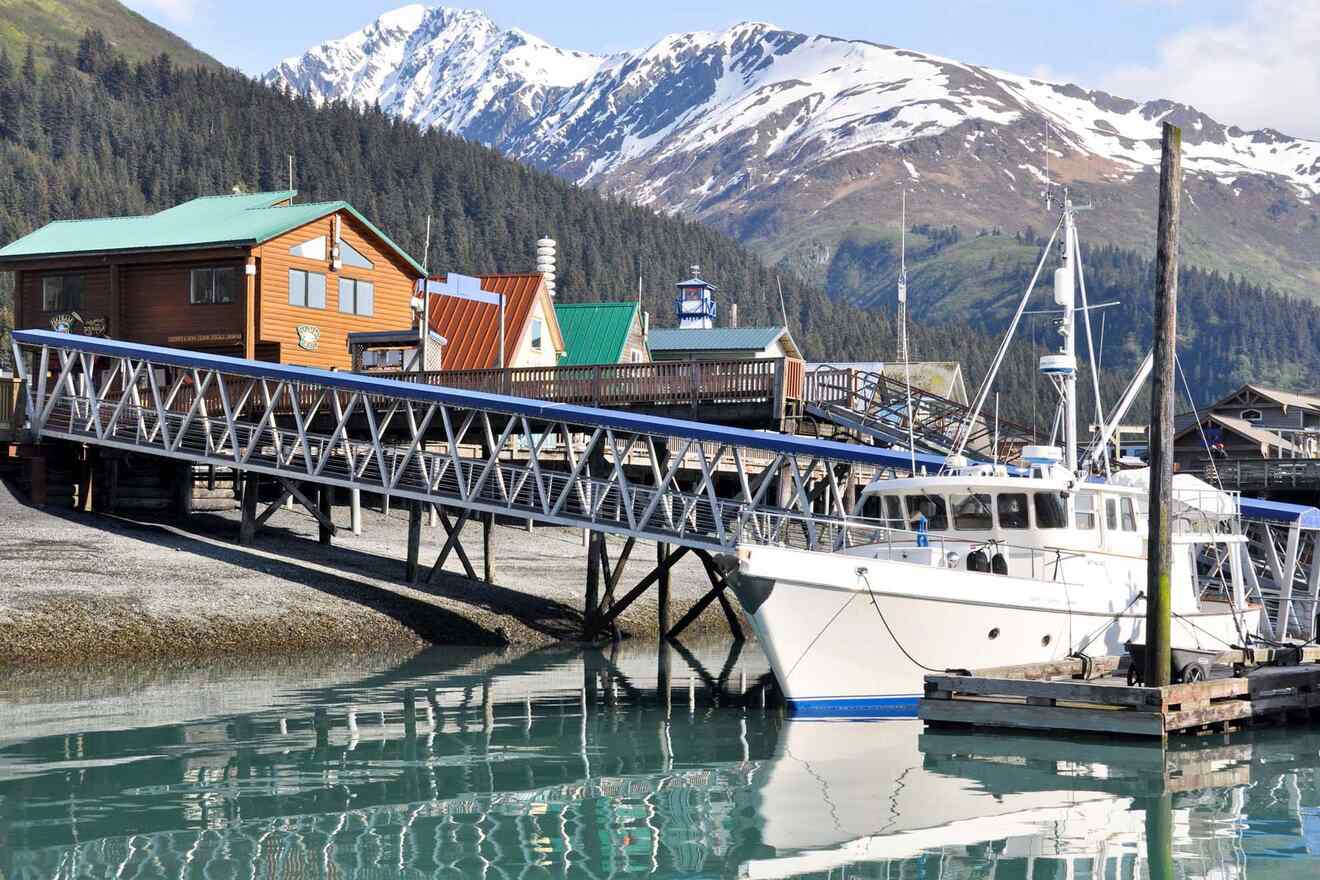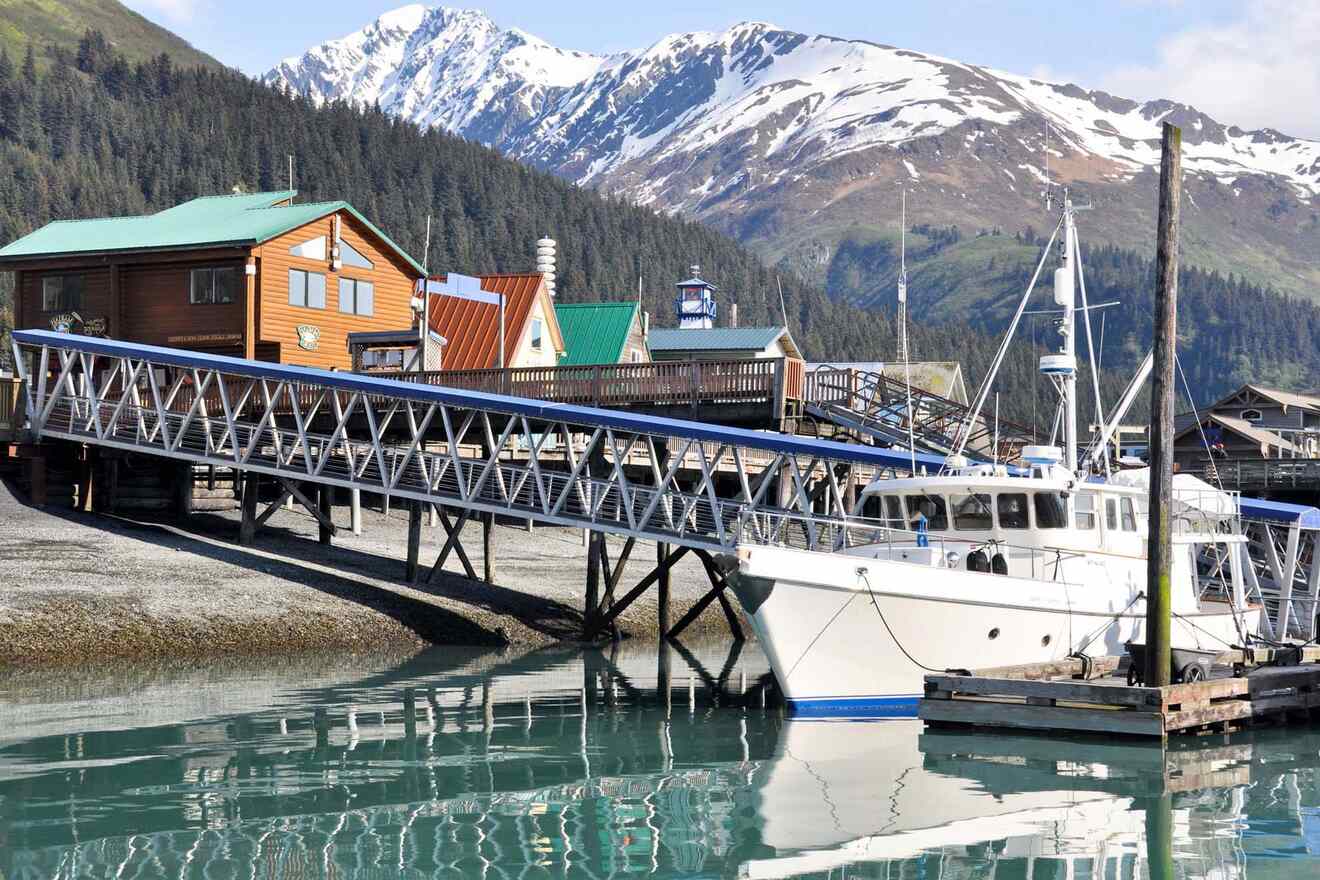 Can't stay too far away from the sea and boats? We've all felt that at some point but if you're an avid fan and looking for a place to stay during your Alaska trip, then look no further than Seward's small boat harbor!
Home to a handful of shops, tour companies, and restaurants, this area is a great place to stay in Seward as it offers many hotels and rustic cabins nestled around the harbor and Shearwater Cove with great views. This is also where you'll find the Kenai Fjords National Park Visitor Center, which offers super helpful information about the park.
I'm sure you'll be eager to spend as much time off the land as possible so you'll be happy to know that many wildlife cruises tours depart from Seward Harbor.
These tours are the best way to see Resurrection Bay! Plus, you'll get a glance at the dramatic fjords, glaciers, and the marine life of Kenai Fjords National Park. Before you leave, take a look at the list of things to do, and you'll find some excellent tours there.
Overall the Seward Harbor is a great location from where you can start your Alaskan adventure!
Luxury hotel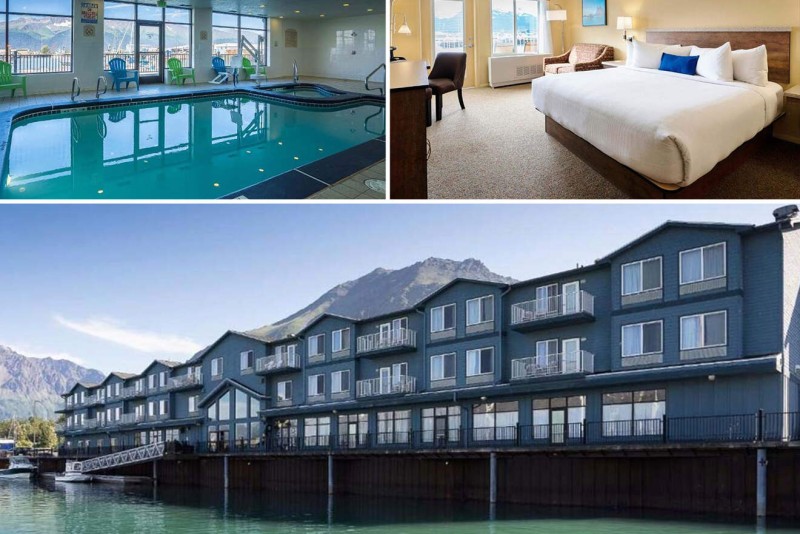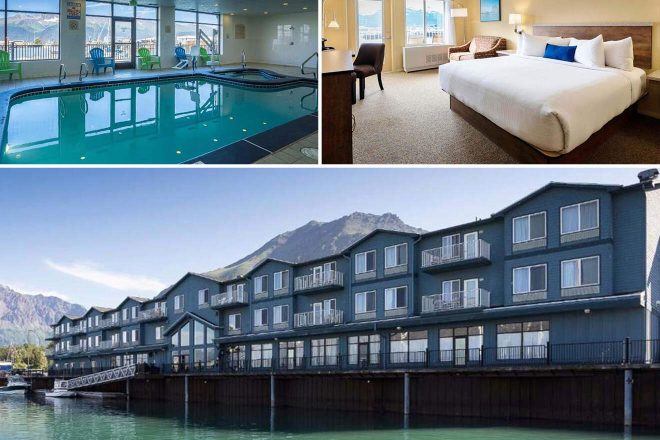 Tired after a day out on the sea? Then grab your swimsuit and head for a quick dip in the hot tub or in the indoor pool. Harbor 360 Hotel Seward offers great views of the Gulf, which you can admire from your rooms that have a king or two queen beds! 
Other accommodation options in Seward Harbor
mid-range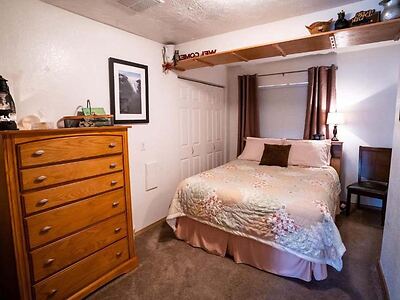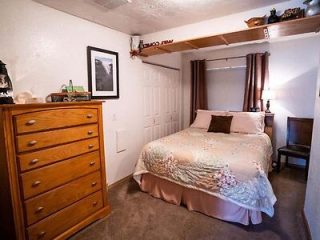 Only a 10-minute walk away from the beach, this homie lodge has private bathrooms and a sun terrace 
budget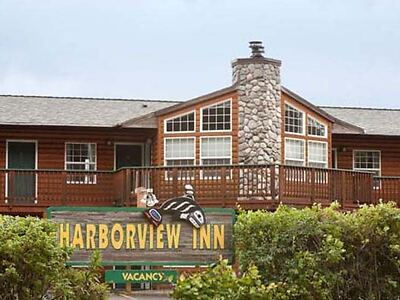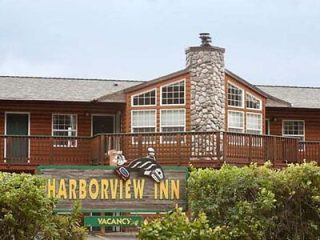 This inn may be cheap but it has great guest reviews! Their cozy rooms even have coffee makers 
airbnb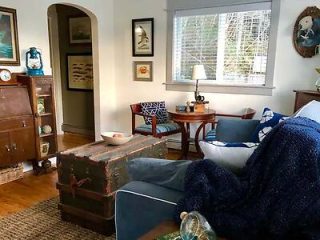 The great, spacious cottage where you can cook your own food and enjoy it on the private deck 
Seward small boat Harbor is such a wonderful area, and it has so many unique hotels that I couldn't let you leave without offering one more luxury option! Admire the mountain views each morning from your bed at this modern hotel. Gateway Hotel offers a continental breakfast so when the sun comes out, head to the terrace for your daily dose of vitamin D, then go hiking and explore Seward's small boat Harbor!
Things to do in Seward Harbor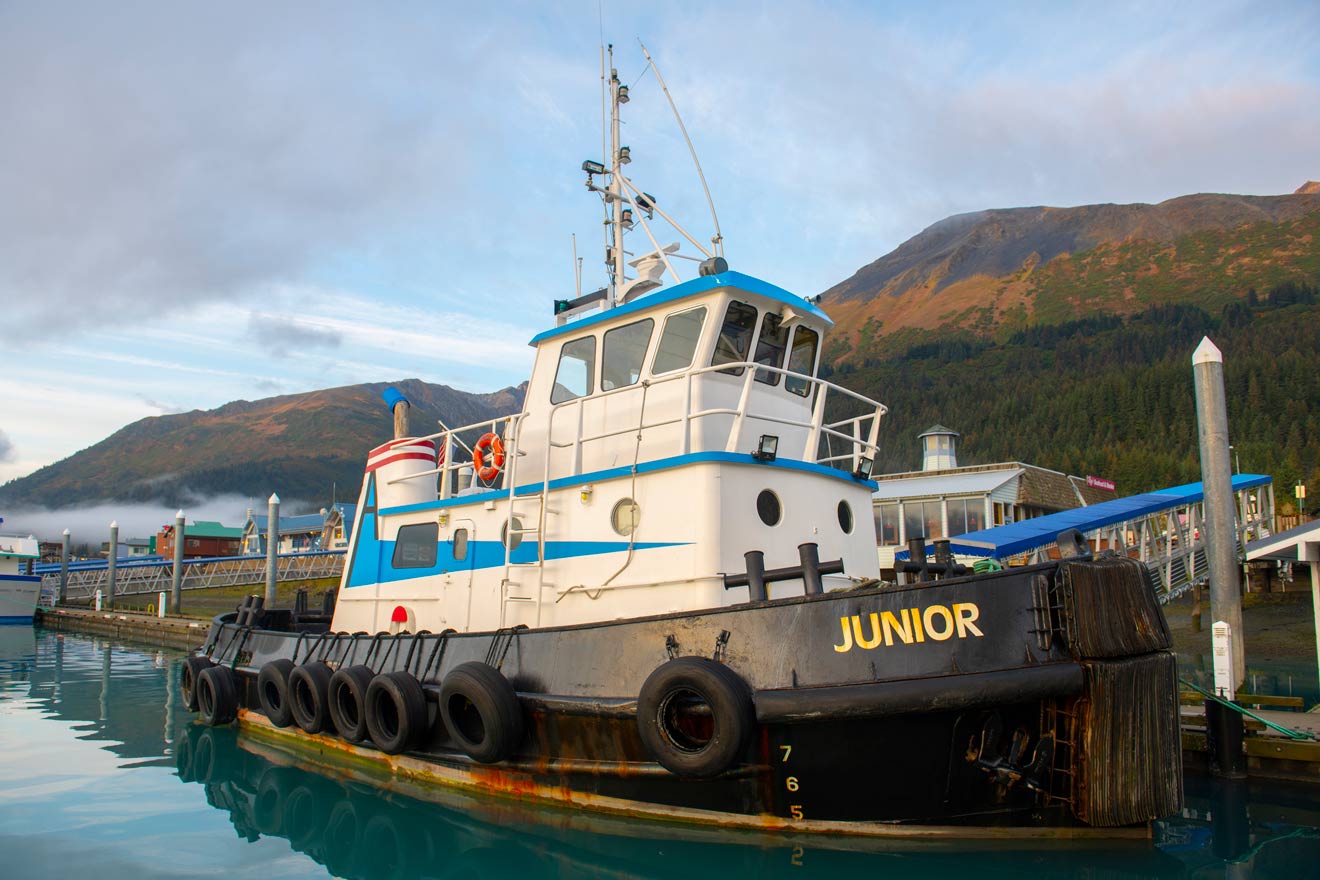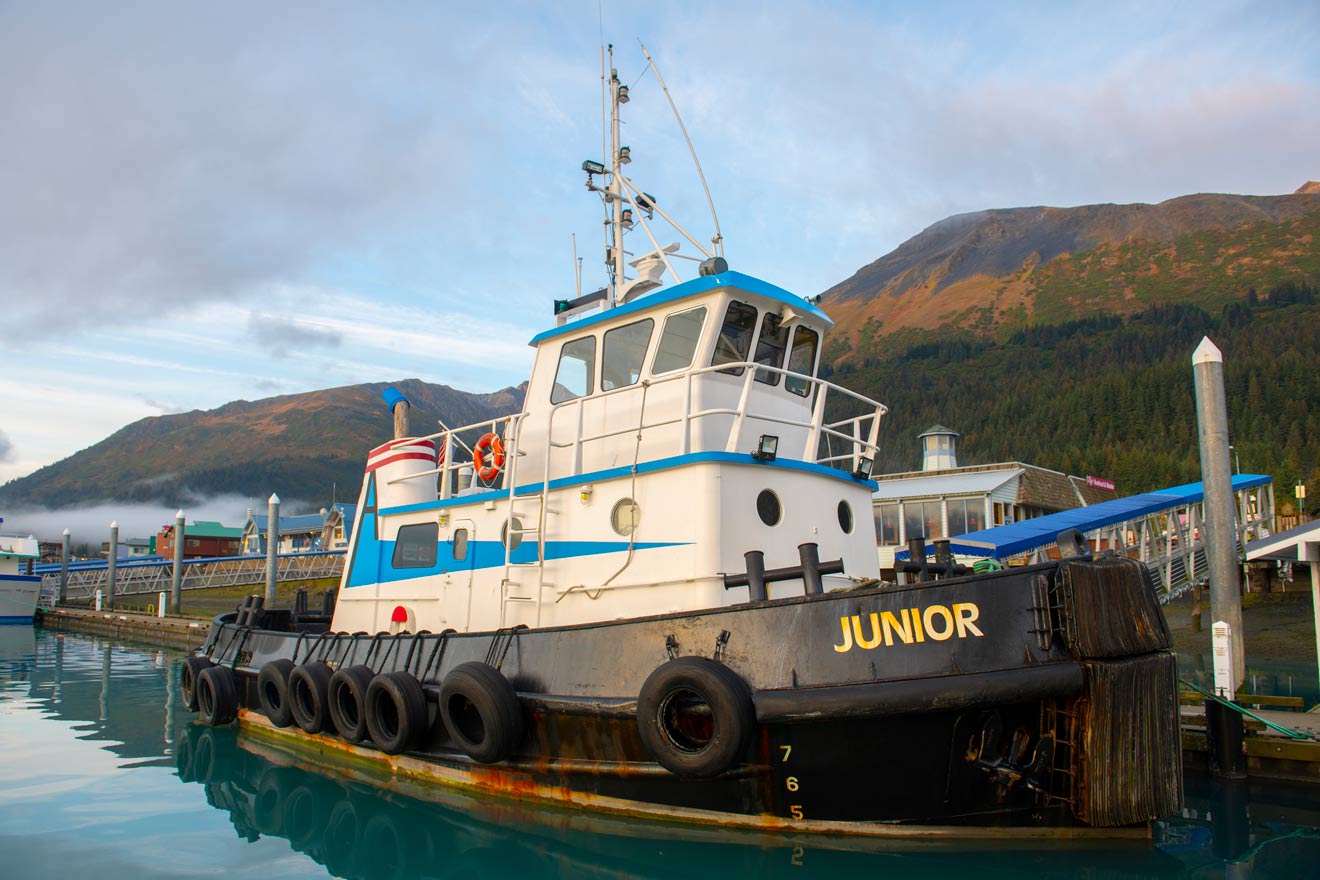 | | |
| --- | --- |
| 👑 Luxury price: | $200 |
| 💵 Mid Range: | $160 |
| 🛏️ Budget: | $140 |
| 🏠 Airbnb: | $250 |
| 💰 Accommodation prices: | Medium |
| 📍 Best area: | Downtown |
| 👪 Best area for families: | Downtown |
| 🛎️ Best luxury hotel: | Sauerdough Lodging |
| 💵 Best mid-range hotel: | Hotel Seward |
| 👛 Best budget hotel: | Alaska's Point of View |
BONUS: The top vacation rentals in Seward, Alaska
If the modern hotel type of accommodation isn't your piece of cake, don't worry, I totally get you!
When visiting a place like Seward you want a place to stay that fits the tone of the location. In this case, you may prefer something more like a cabin or chalet that offers easy access to nature.
If that's the case for you, then take a look below. I've added 3 more vacation rentals that fit that exact description!
All these places range in prices from US$155 – US$295 and are listed in order from most to least expensive: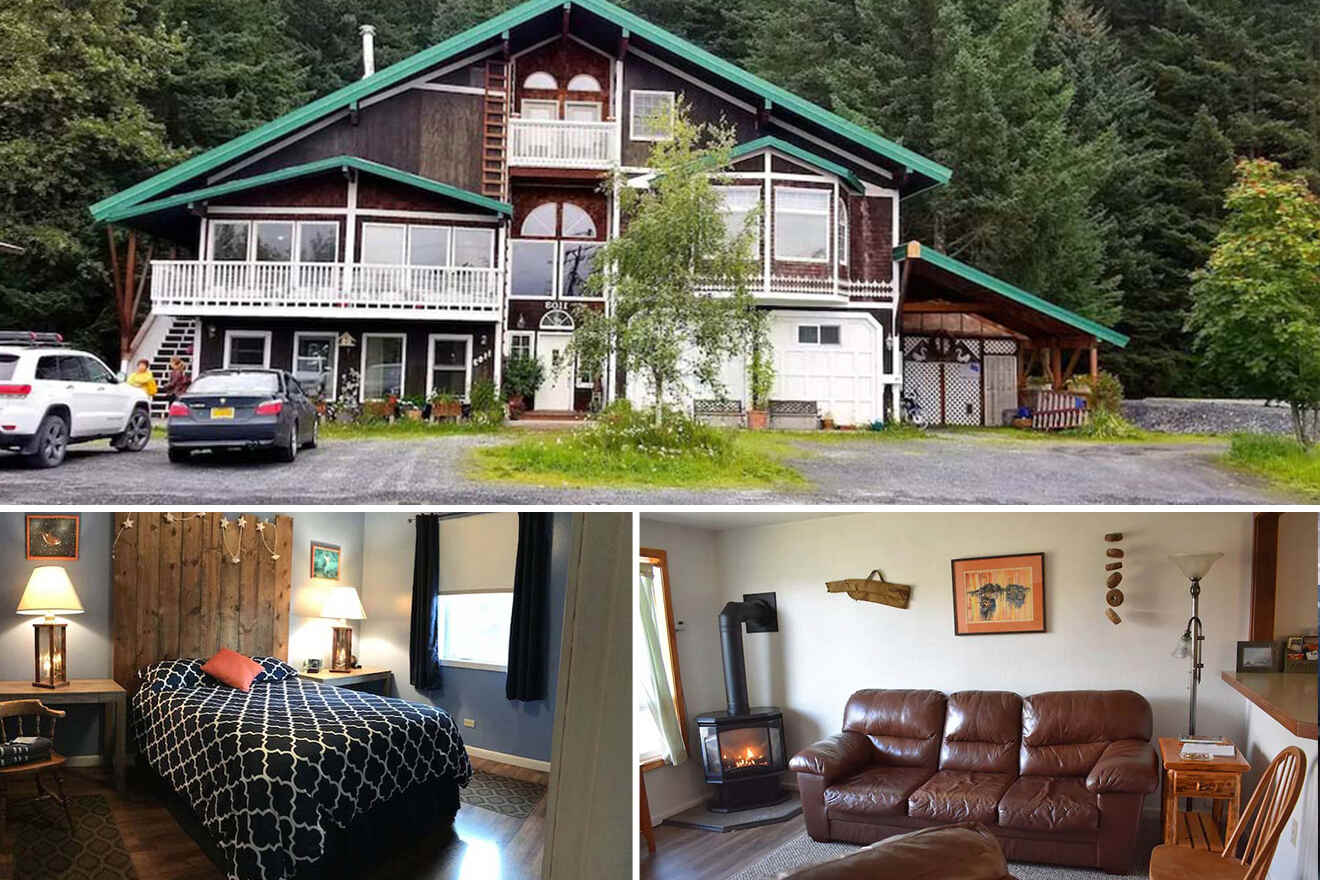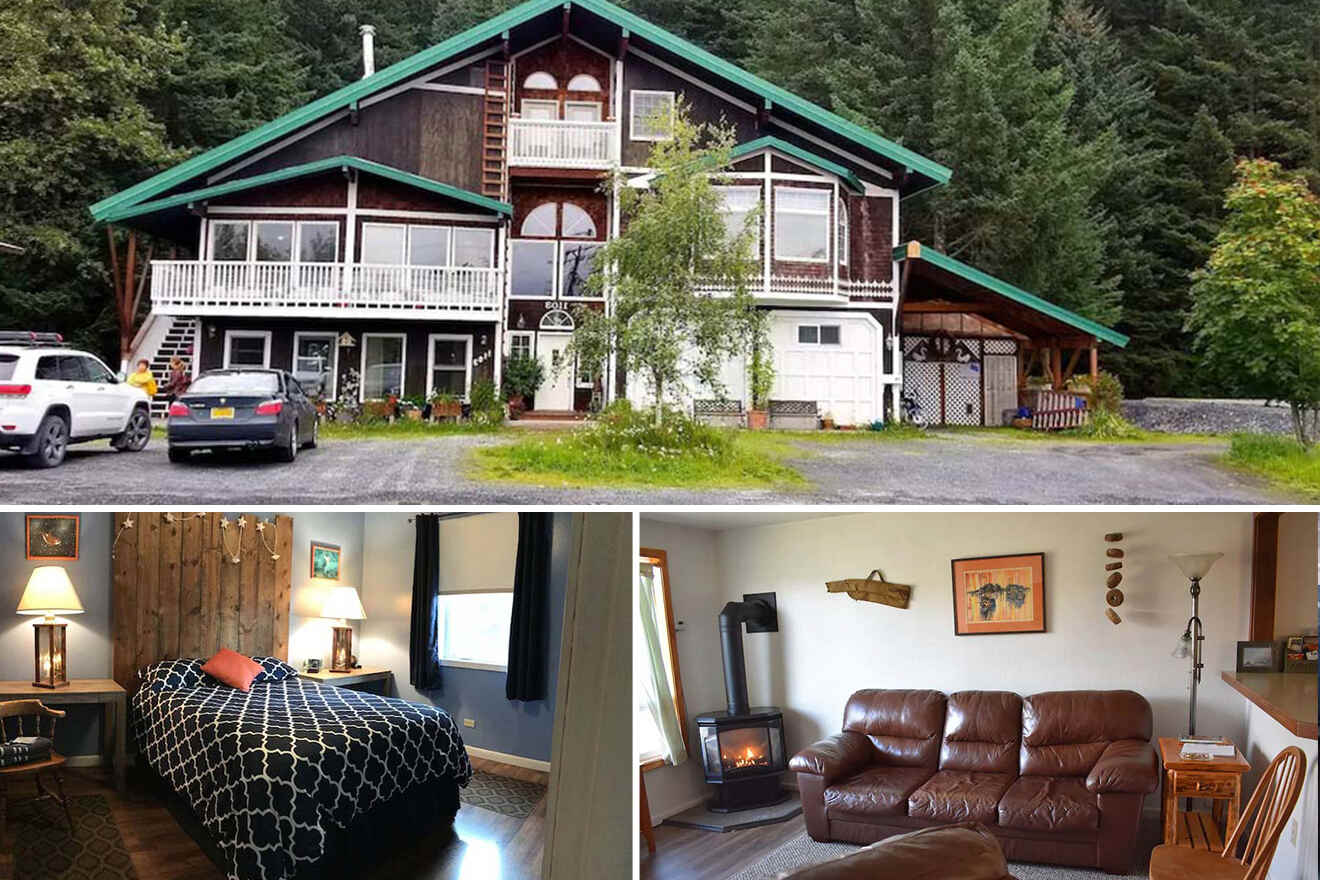 Frequently asked questions about lodging in Seward, AK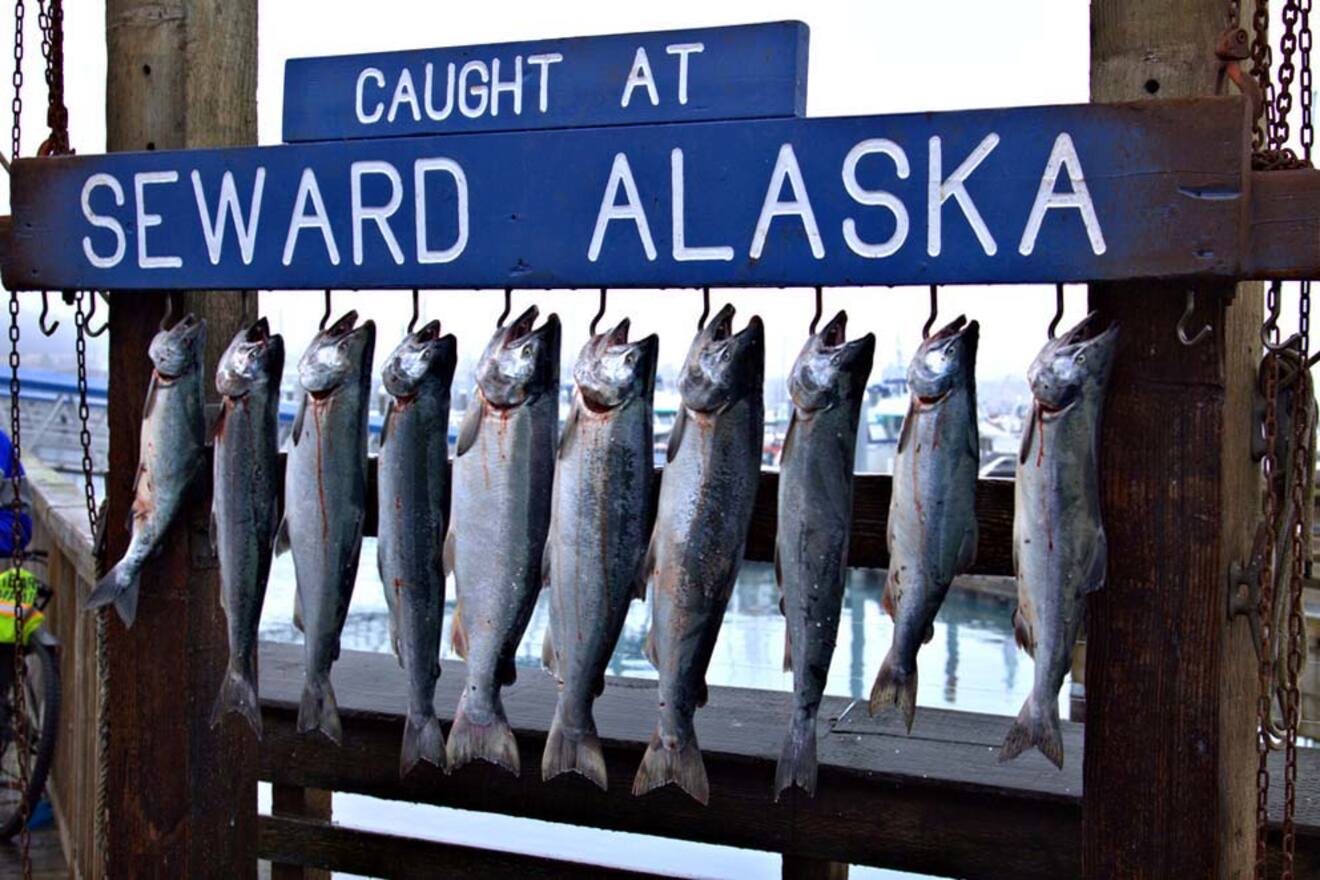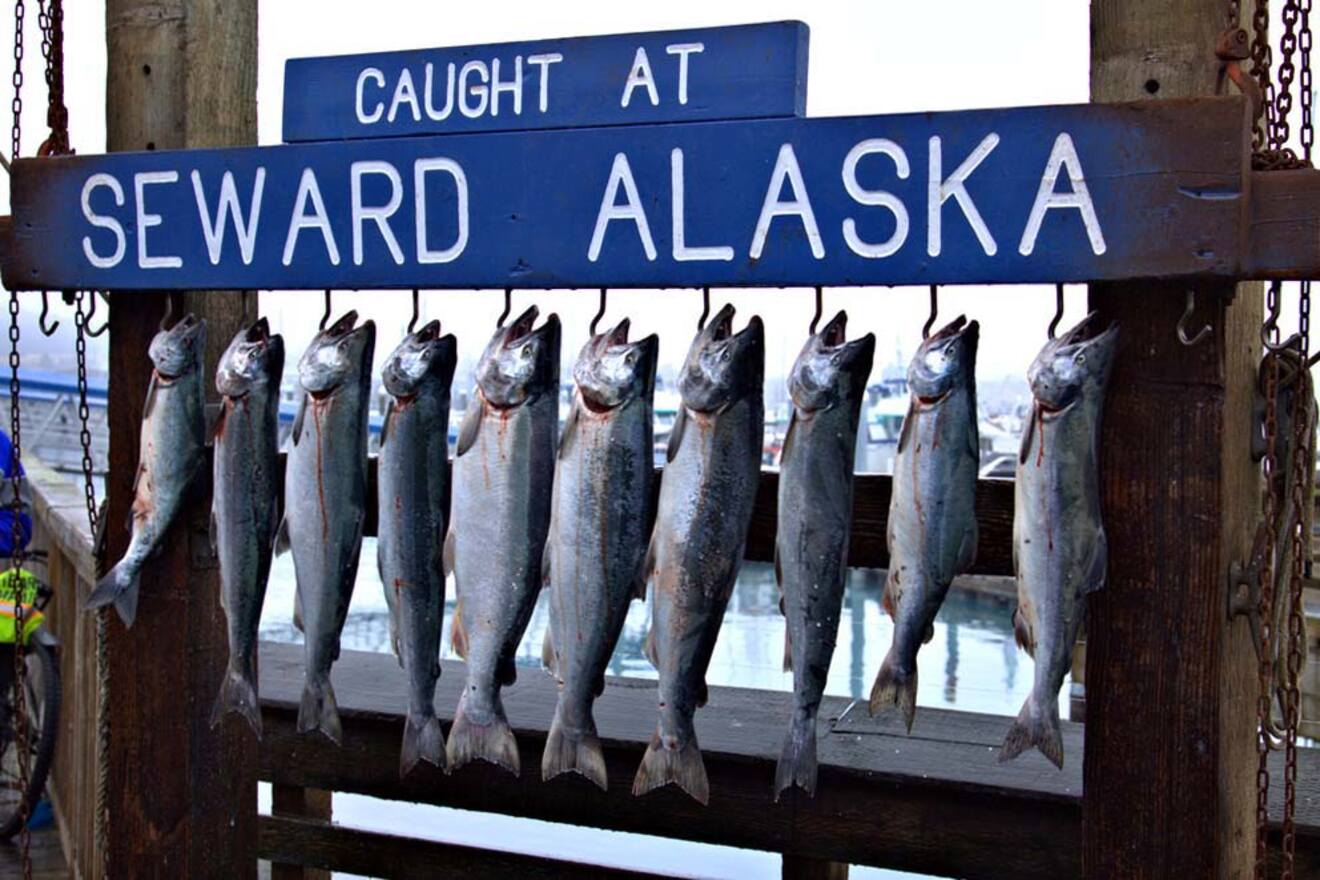 🏔️ Is it worth staying in Seward?
Yes, Seward is a great place in Alaska! The town offers many attractions plus easy access to one of the best places, Kenai Fjords National Park and by staying here you have more time to explore the park. 
🚗 Do you need a car in Seward, Alaska?
It's not mandatory to have a car when visiting Seward as there are plenty of tours available. But I recommend finding a hotel in the Downtown area as most restaurants, shops, and tour operators are located there. 
🚆 How long is the train from Anchorage to Seward?
The train ride with Alaska Railroad from Anchorage to Seward takes around 4 hours.
🛫 Where do you fly to get to Seward, Alaska?
Although Seward has its own airport, it's pretty tiny so most likely you'll fly into Anchorage and arrive at Ted Stevens International Airport. 
Conclusion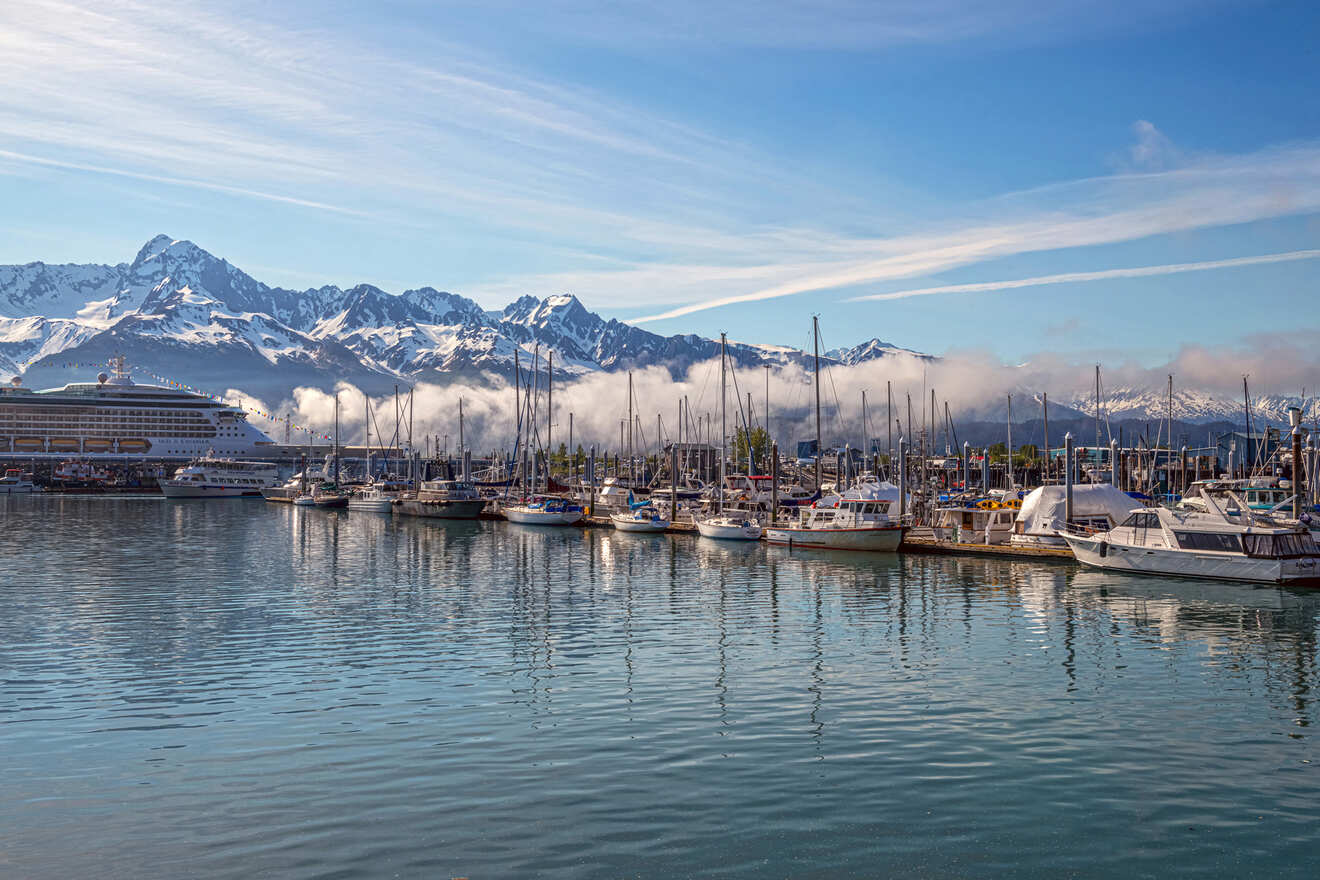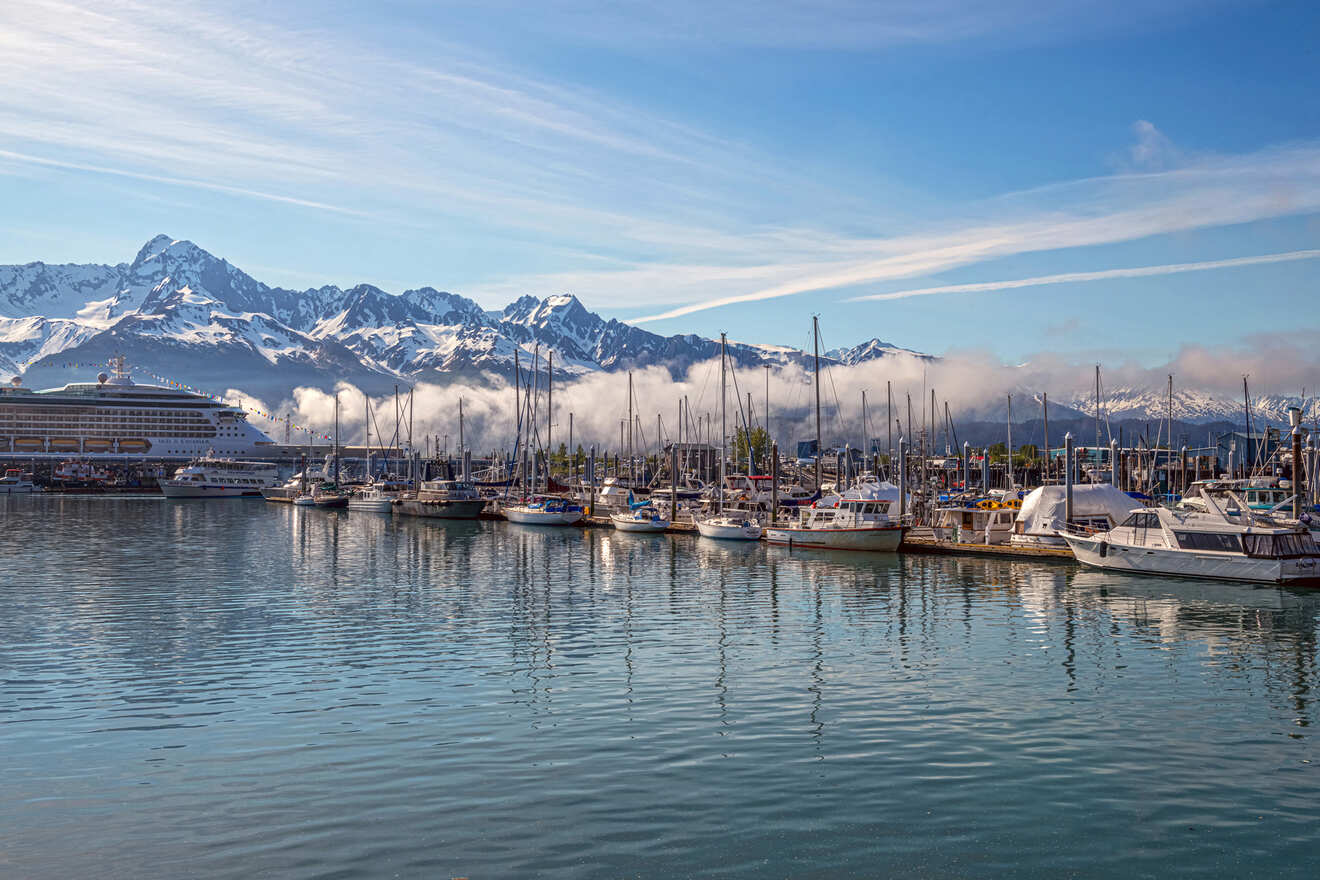 What a journey! Alaska sure is one of the most unique places that you could visit!
Now that we've finished our virtual journey let's do a short recap of all the things we talked about. You'll find the 3 main areas in this small town; Downtown, Lowell Point, and Seward Harbour, with the best hotels in each listed from most to least expensive.
We also went through a bonus section with some unique vacation rentals in Seward, that you shouldn't miss out on!
I know there are so many options in this article but trust me. That will help you make the best decision! In case you're having a hard time trying to decide, here are my top 2 favorite options, both located Downtown:
As I told you before, these hotels are some of the best ones in Seward, Alaska, and I highly recommend booking them in advance, especially if you don't want to be left only with rooms that have horrible guest reviews.
This was all I wanted to tell you today! I'm sure that after reading this post, you won't encounter any problems with finding the best hotel for you! So I wish you a wonderful trip (don't forget to take lots of pics)!
If you have any other questions or maybe some other suggestions for this Alaska trip, leave me a comment below, and I'll answer it as quickly as possible!
Safe Travels,
Victoria