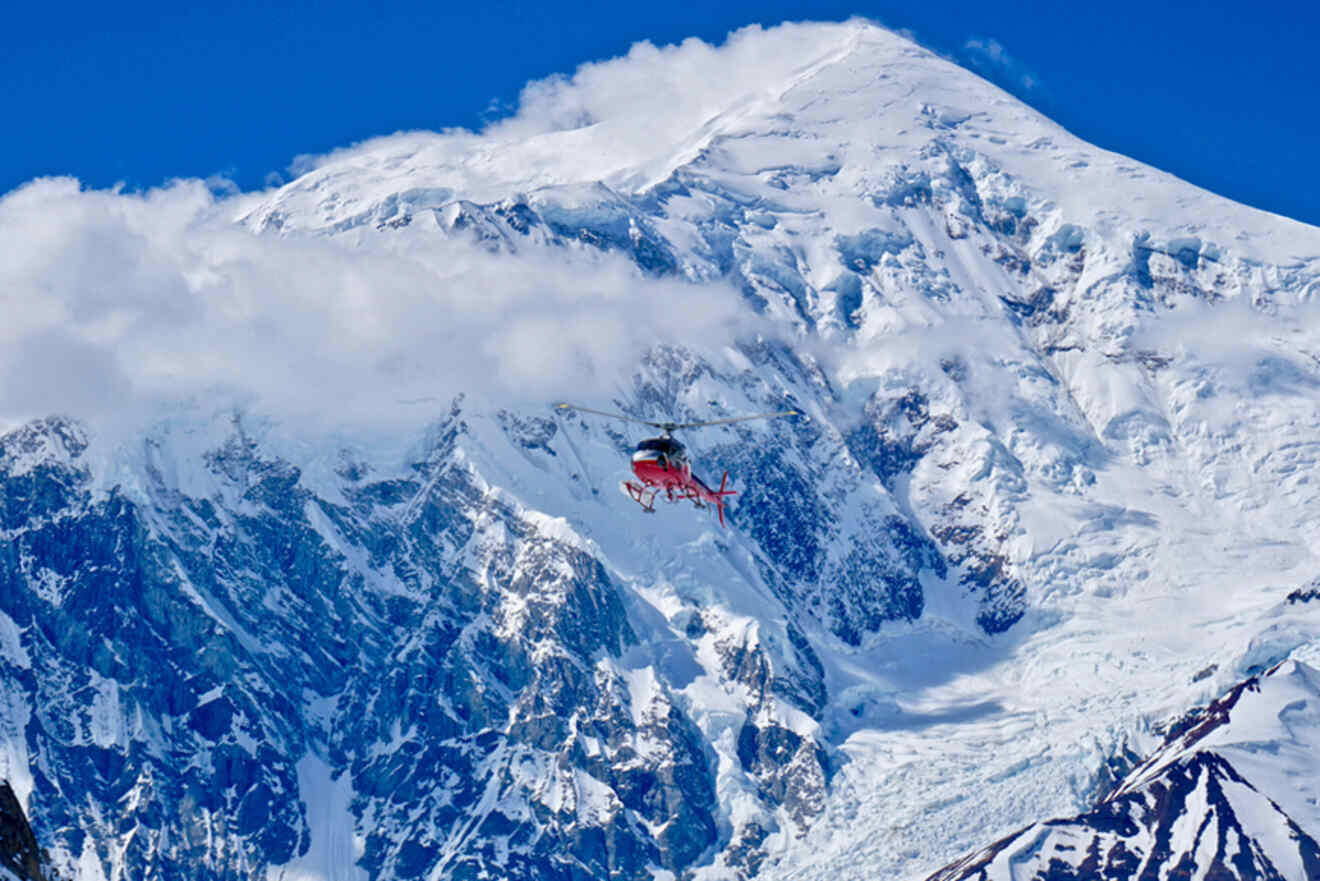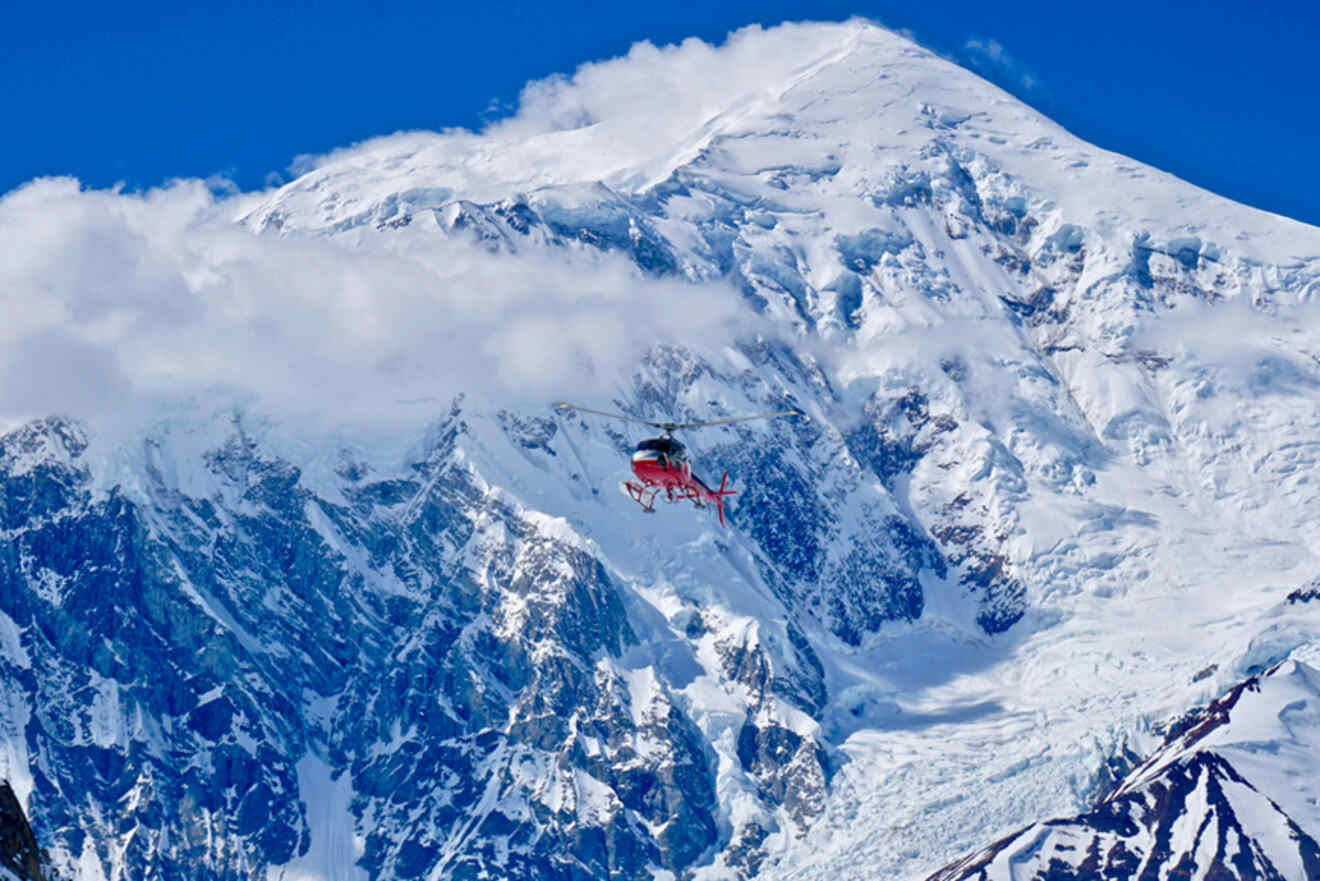 Attention all adventure lovers, amazing tours are in sight!
If you're looking for a truly unique experience that will leave you breathless, there's no better way to explore this majestic wilderness than with Denali helicopter tours. These tours can offer an exhilarating and awe-inspiring adventure and can take you to soar above some of the most incredible natural landscapes in the world.
To help you choose the best Denali helicopter tour for your needs and avoid all the hassle of having too many options to choose from, I've researched and reviewed some of the top options available. From short scenic flights to full-day expeditions, there's something for everyone here. I also added a little bonus of some different Denali tour options you can embark on while there.
Just remember, Denali helicopter tours are a must for all tourists, so they are quick to sell out, and there is a high probability you can miss out on this experience unless you book in advance.
Now, let's start our list of the best Denali helicopter adventures!
If you are in a hurry
Here are the top Denali helicopter tours that you don't want to miss out on:
1. Take a helicopter ride over Denali glacier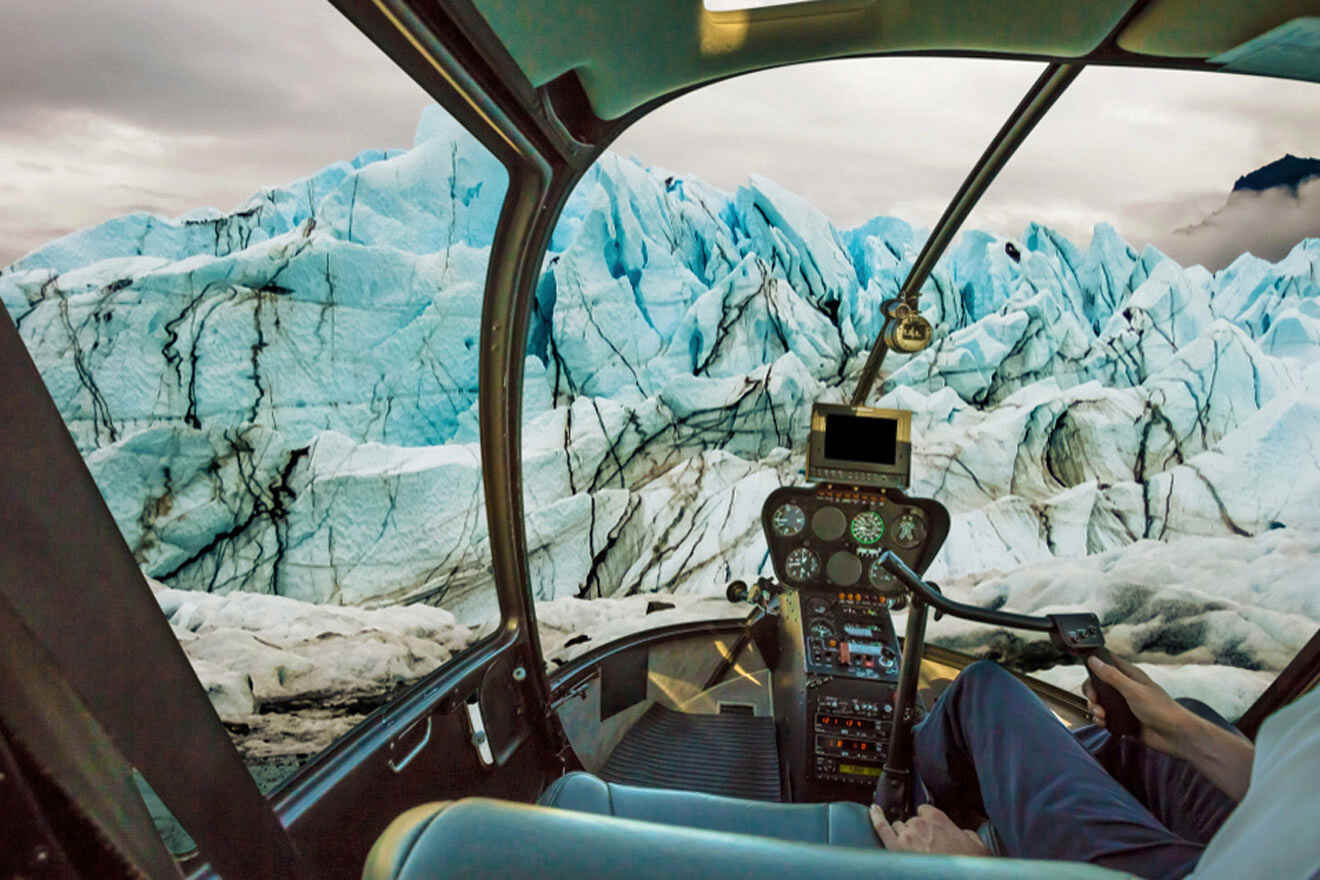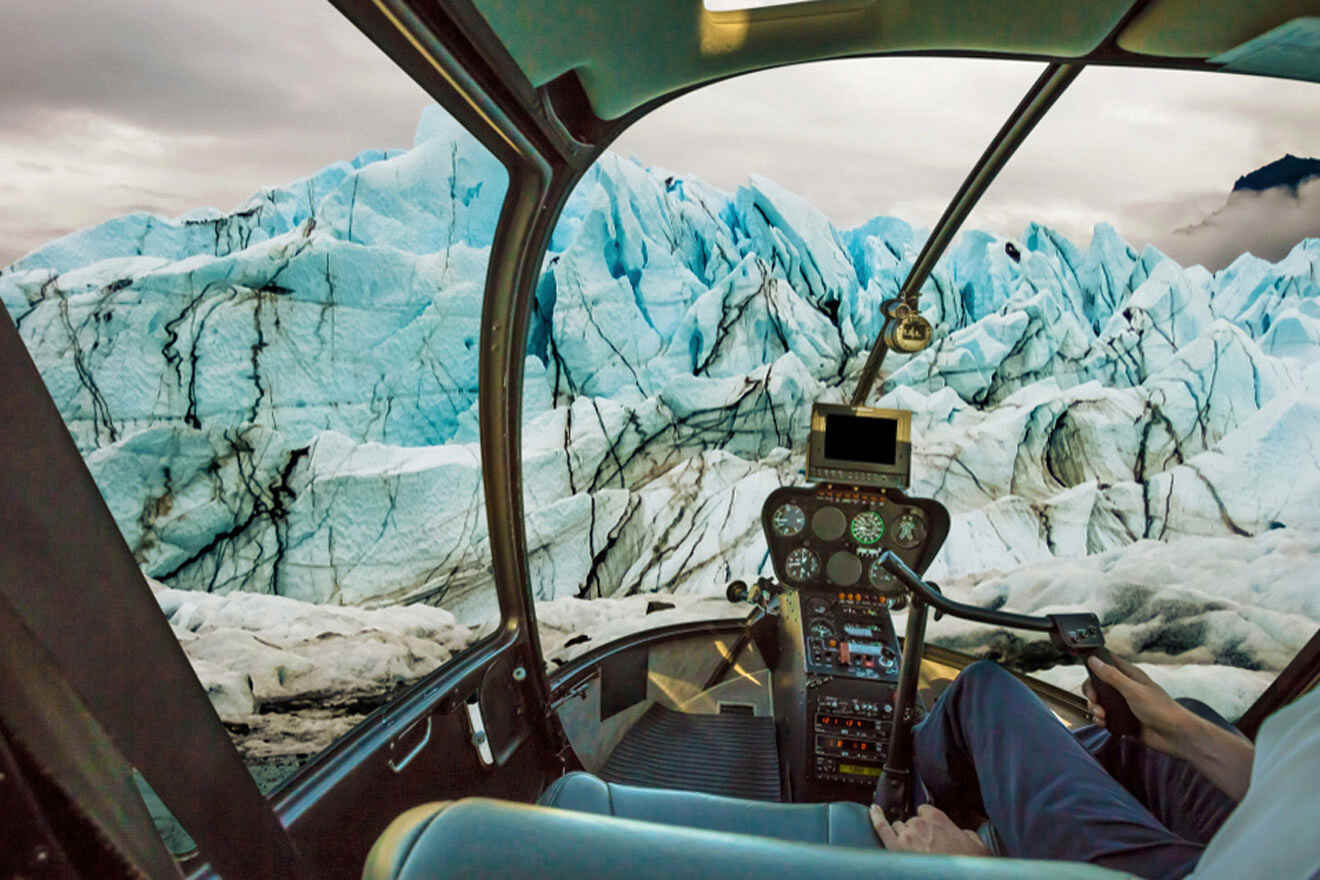 Duration: 1.5 hours
Price: from US$290
Why you should take it: the most popular tour
This small-group helicopter tour will take you on a flight over the Alaskan wilderness, where you can witness the scenic landscape of Denali from high up in the sky.
As you soar over rivers, valleys, and glaciers and their sights, you'll be accompanied by your expert Alaskan bush pilot, who will keep you entertained with live commentary, pointing out all the highlights along the way.
With pickup and drop-off included, all you need to do is show up with a strong sense of adventure and a camera to take photos and get ready to take off. The tour is capped at just 6 passengers, so you'll enjoy a truly exclusive and personalized flight experience.
You'll fly over the spectacular Ruth Amphitheater, Great Gorge, Tokositna, and Ruth Glaciers. And for the ultimate adrenaline rush, you'll even fly up to 6 miles (10 km) from the summit of Denali itself!
2. Explore the Denali National Park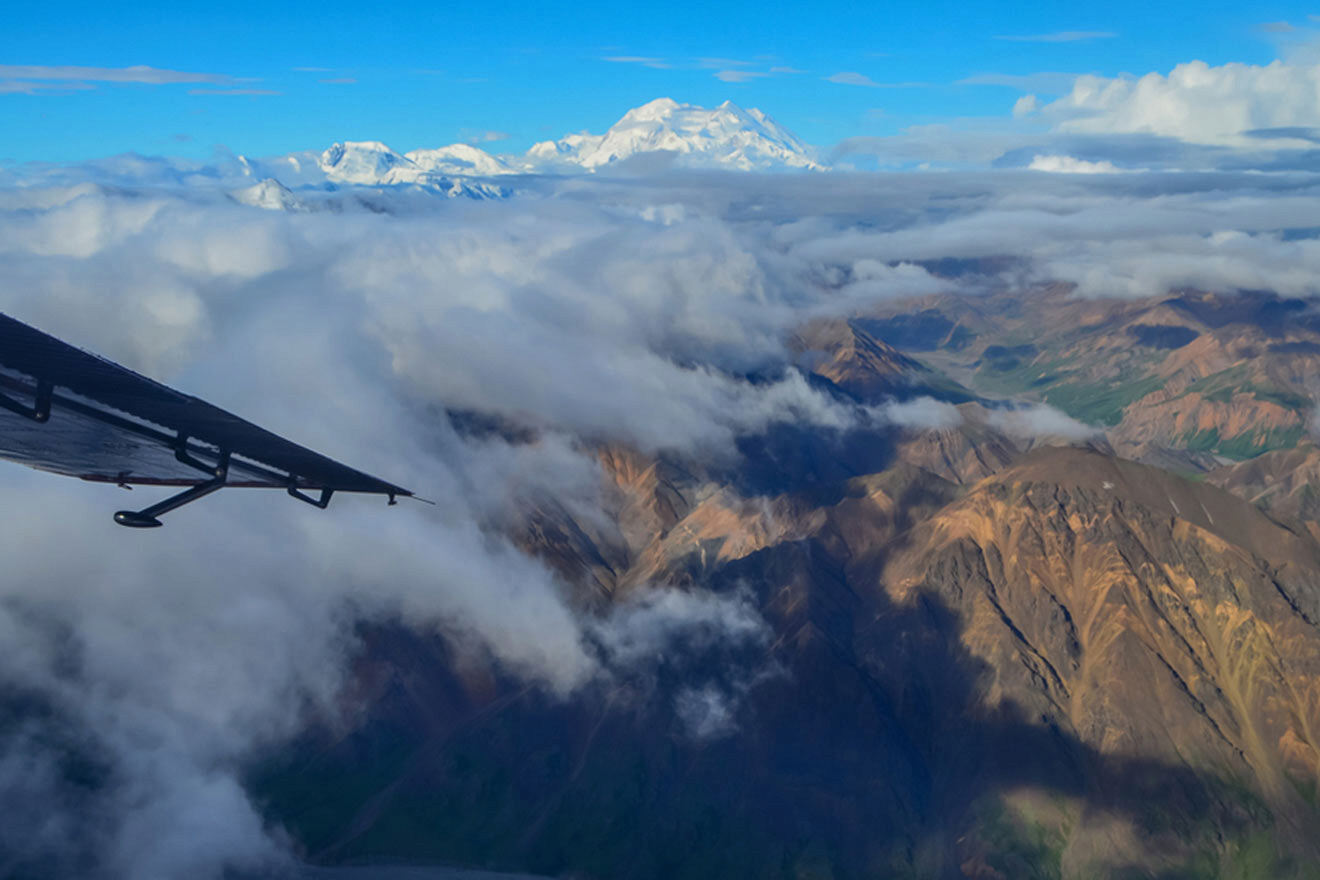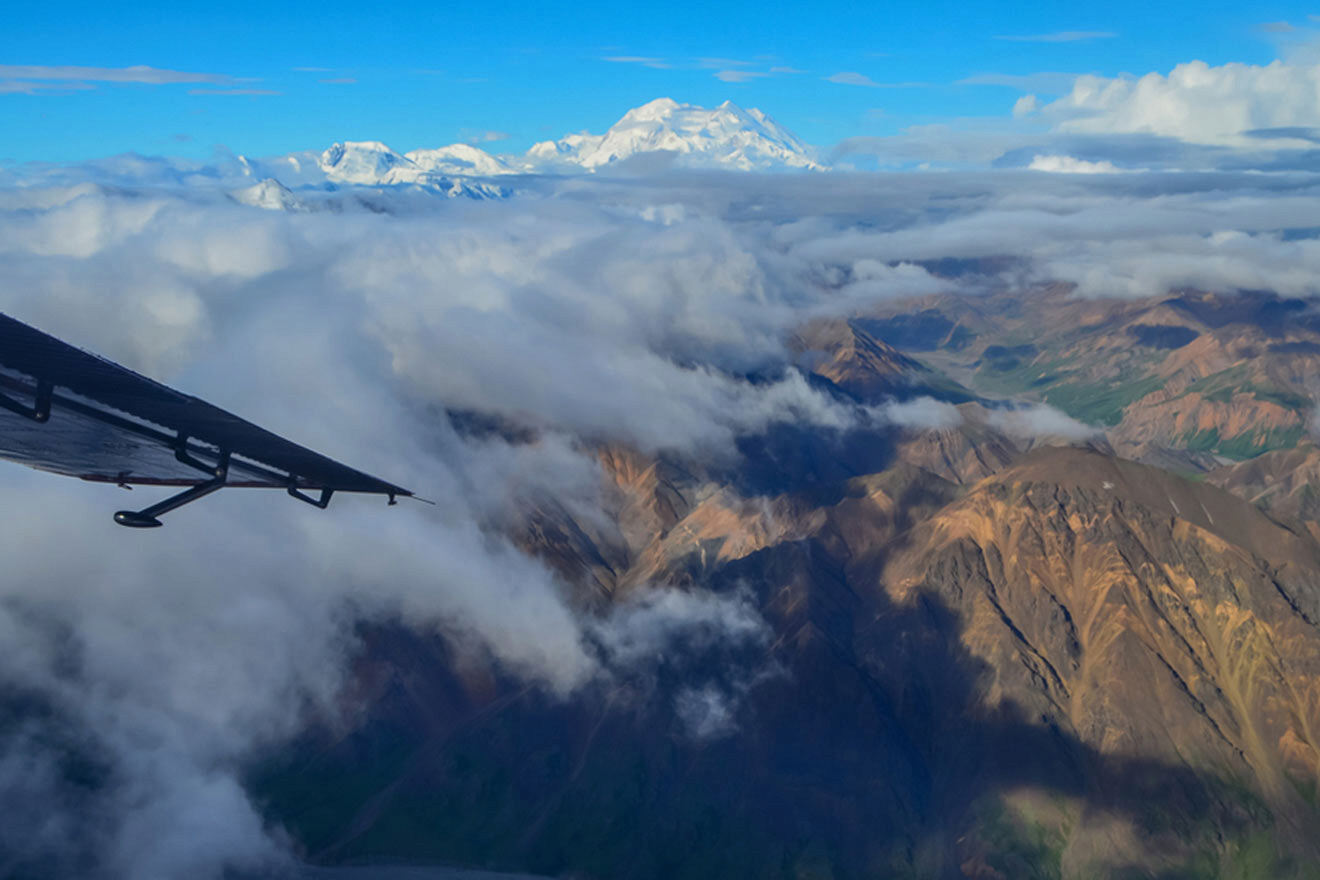 Duration: 1 hour
Price: from US$465
Why you should take it: incredible views of Denali mountains on a small aircraft
Hop on board a small aircraft and keep your eyes peeled for the majestic mountain peak. You'll get a comfortable seat by the window and headset to hear your expert guide's exciting commentary as you soar over snow-capped peaks, jagged ridgelines, and glacier-carved valleys of Denali National Park. You'll get within half a mile (1 km) of the mountain peak, giving you an incredible view that will take your breath away!
Tour operators take into consideration that you're busy, so they don't offer just one flight time but multiple time slots, so it's easy to fit this sightseeing tour into your schedule. You can make the most of your time in Denali National Park without sacrificing any other adventures on your bucket list, and it even provides round-trip transport from your hotel near Denali National Park.
3. See North America's tallest hills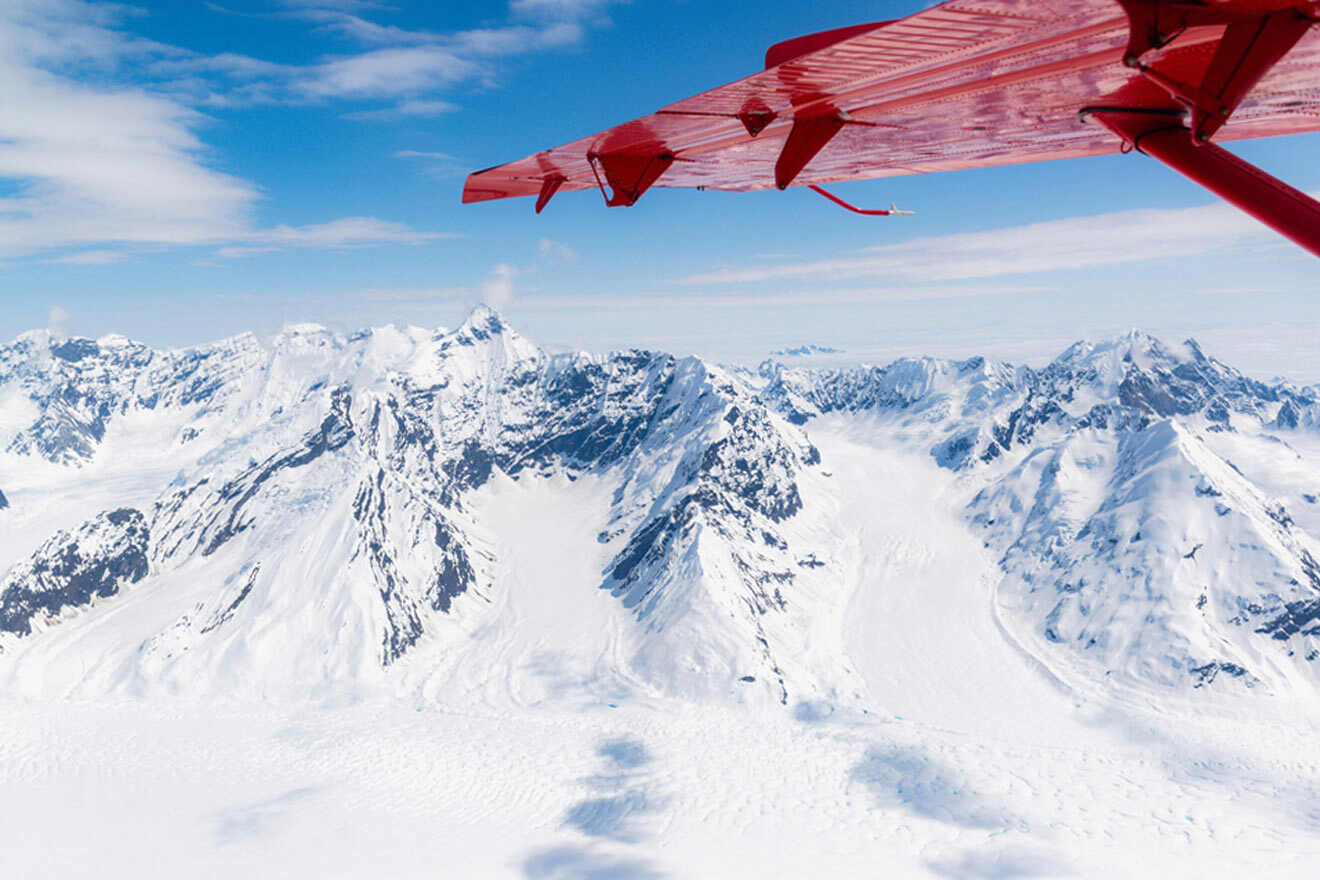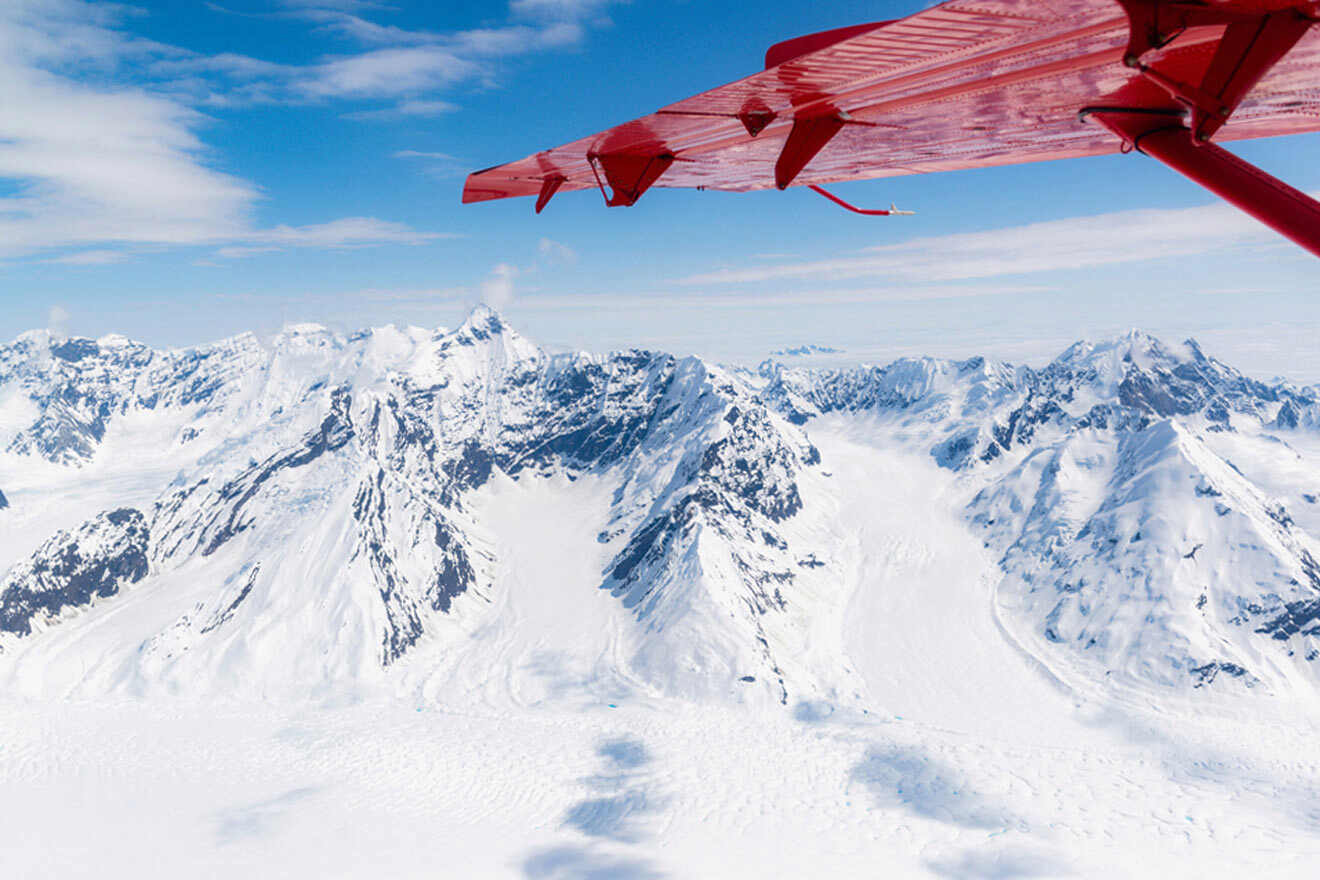 Duration: 1 to 1.5 hours
Price: from US$270
Why you should take it: explore Denali's Southside
Are you ready for an unforgettable excursion that will leave you in awe of the beauty of Alaska?
First, make your way to the cozy log cabin office at Talkeetna State Airport 45 minutes before your flight departs. Once you've checked in, it's time to board our ski-equipped aircraft and buckle up for the ride of your life.
Your pilot will provide fascinating commentary on the geological history and local wildlife, such as bears, moose, caribou, and Dall sheep, through your individual headset, adding an educational element to your adventure.
As you soar over Talkeetna and the Susitna Valley river systems, get ready to enter a breathtaking landscape of icefalls, glaciers, and snow peaks that will take your breath away. You'll be blown away by the awe-inspiring Great Gorge of the Ruth Glacier, one of the deepest gorges in the world!
4. Fly through the Alaska Range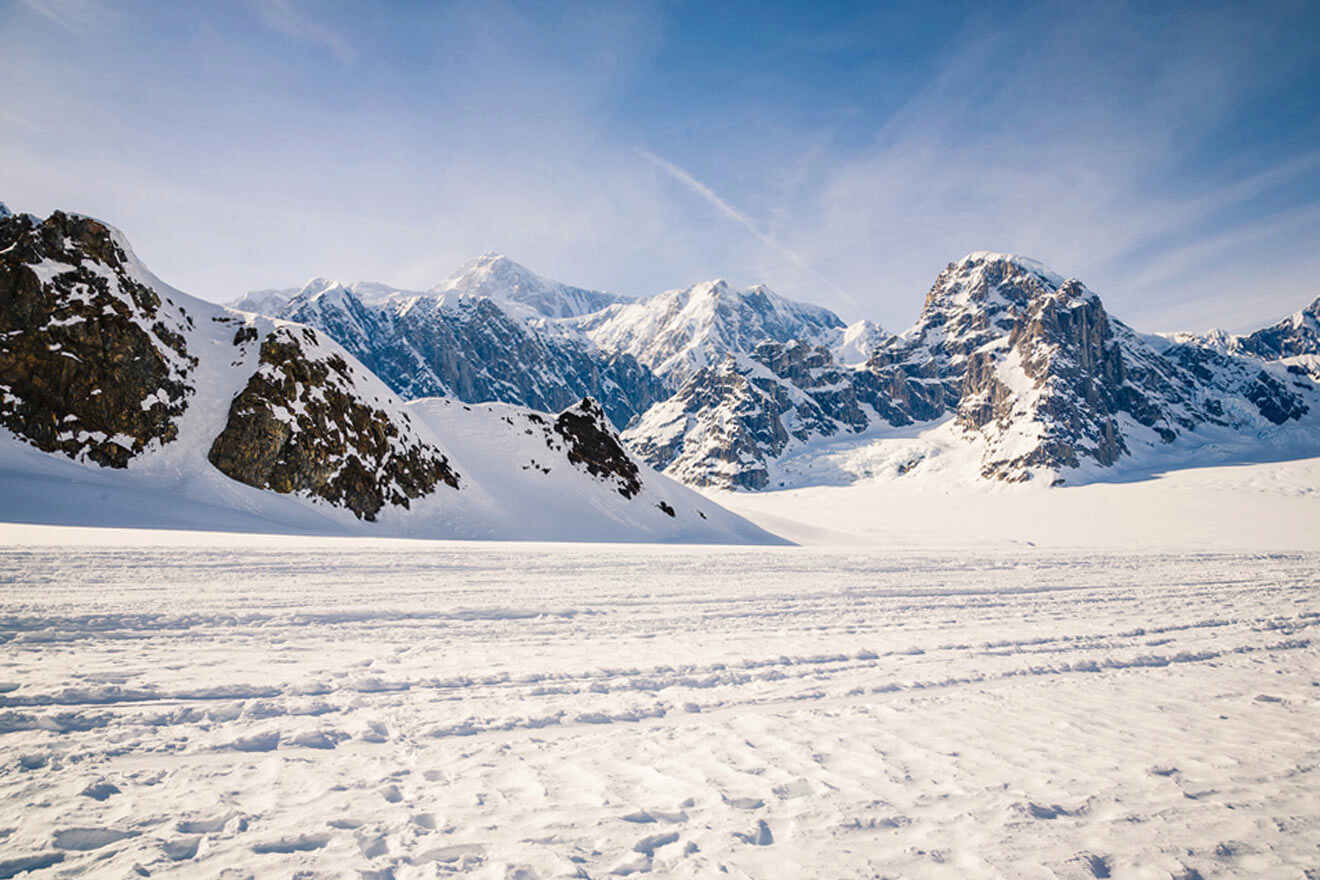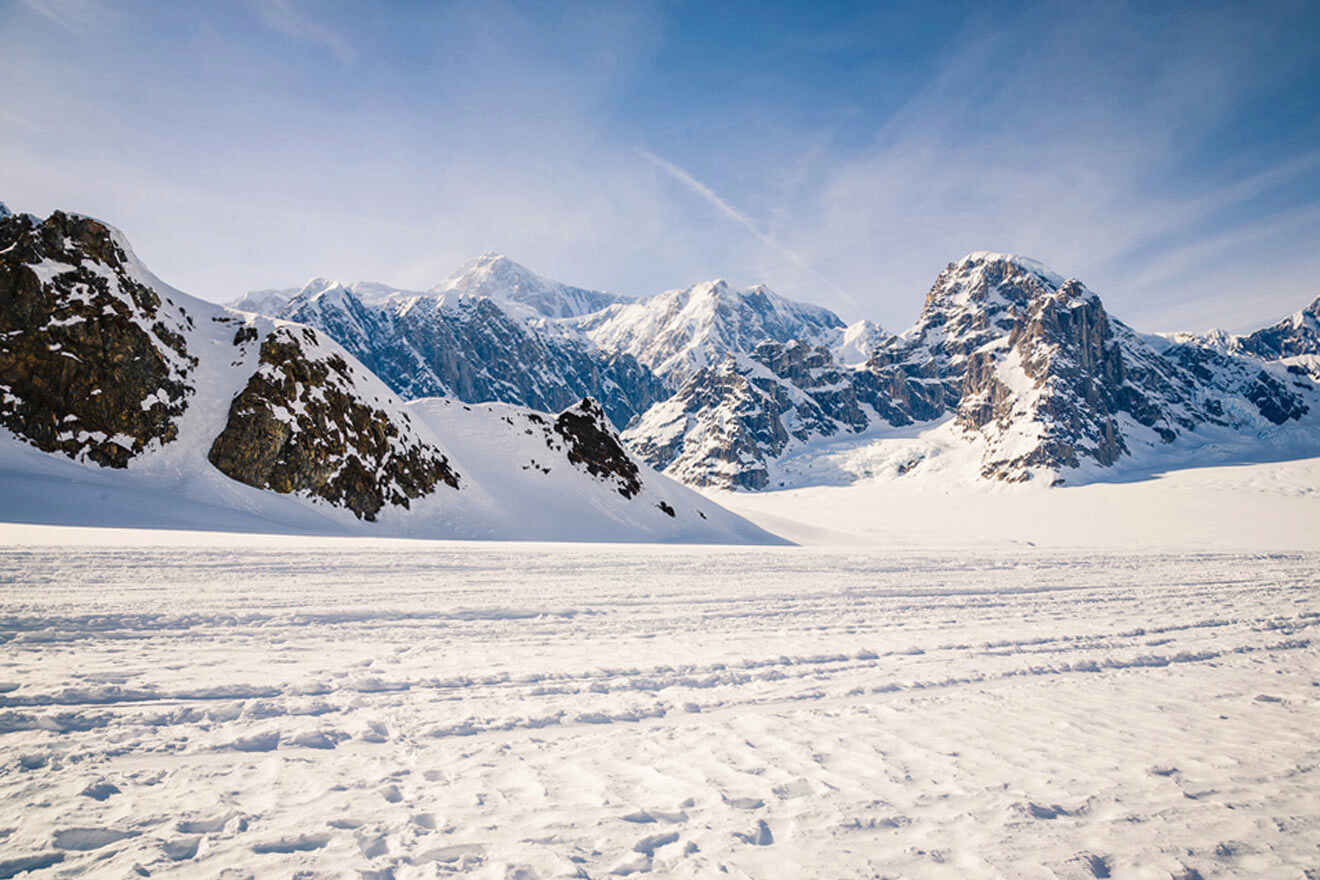 Duration: 1 hour
Price: from US$280
Why you should take it: choose between 3 different experiences
This is one of those incredible flightseeing tours that leaves each person in awe of the beauty of this rugged landscape!
You'll start your journey with a warm welcome and a cup of coffee, tea, or hot cocoa by the fireplace in the cozy lodge-style office, after which you'll follow your experienced bush pilot to the aircraft and take off. What's great about this tour is that you can customize your adventure and choose between 3 options.
The magnificent Flightseeing option in which you'll also see the Sheldon Amphitheater, Ruth Glacier, and the Great Gorge. With the Flyer option, you can explore the south side of the Alaska Range and see Mt. Foraker and Mt. Hunter, as well as fly over the winding Kahiltna Glacier. With the Grand option, you can enjoy a 1.5-hour tour that takes you on a complete circle of Denali by air.
5. Experience Denali Glacier landing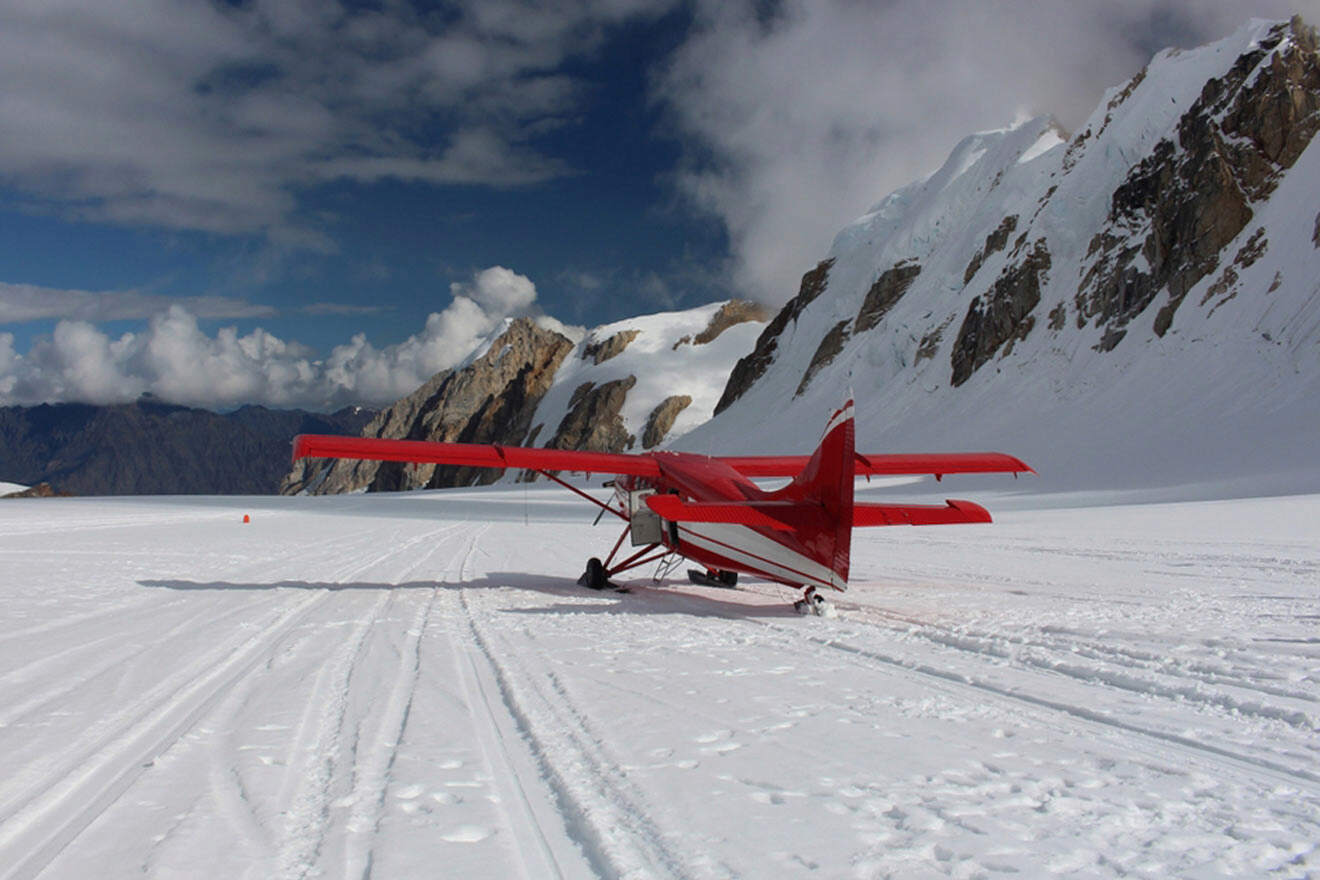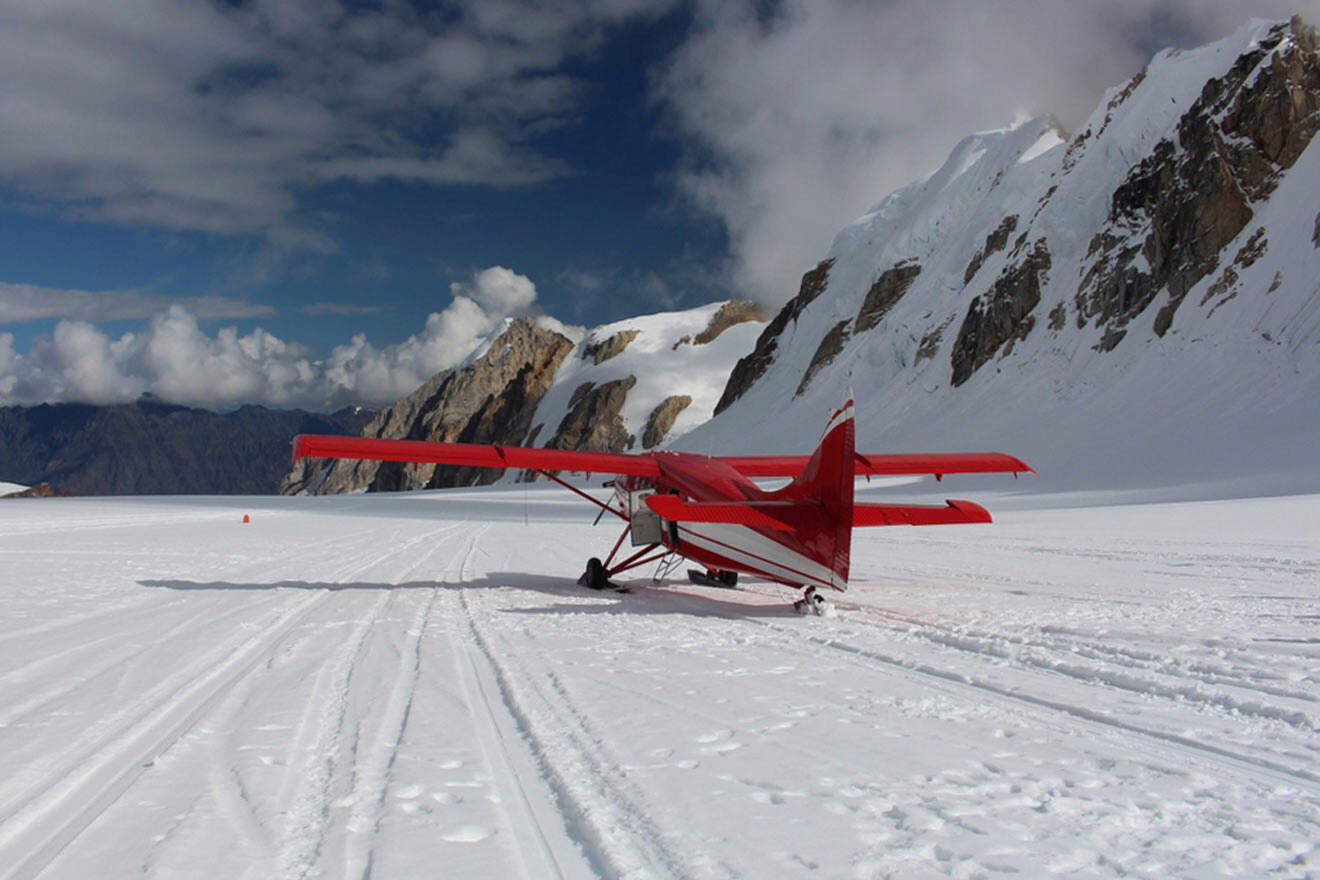 Duration: 1.5 to 2 hours
Price: from US$405
Why you should take it: stand on the Alaska Range peaks
This tour offers you a great additional opportunity to opt for a glacier landing where you can stand among the majestic peaks of the Alaska Range, play in the snow, and take photos. A glacier landing adds an extra 30 minutes to the total tour time, and before you take off, you'll receive a weather and safety briefing to ensure you're ready for the ride of your life.
And if you are short on time, with the Denali tundra express glacier lending option, you can take a short helicopter ride with Temsco Helicopters where you can explore the mountains just outside of Denali National Park or keep your eyes peeled for local wildlife down below.
6. Soak in the beauty of Alaska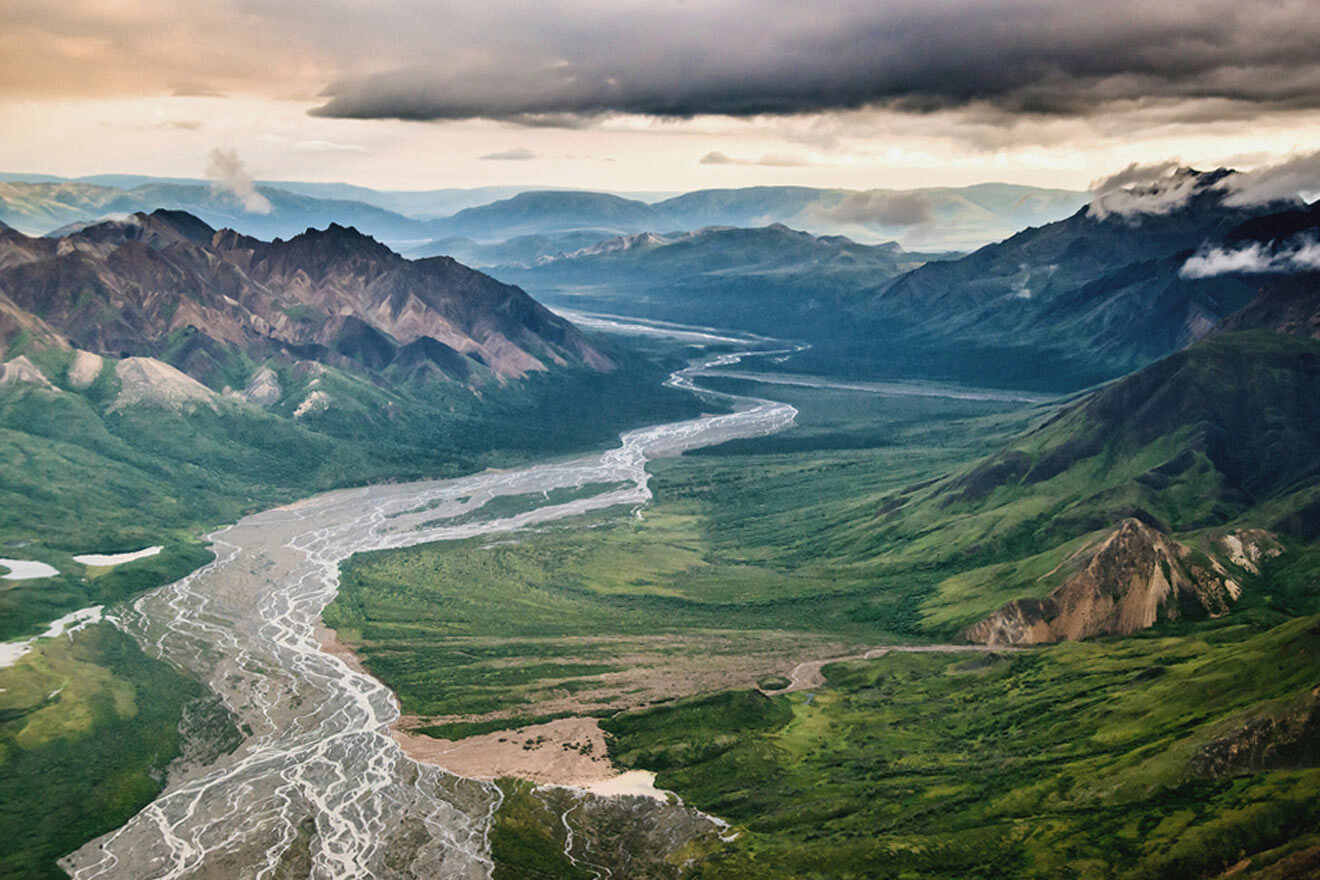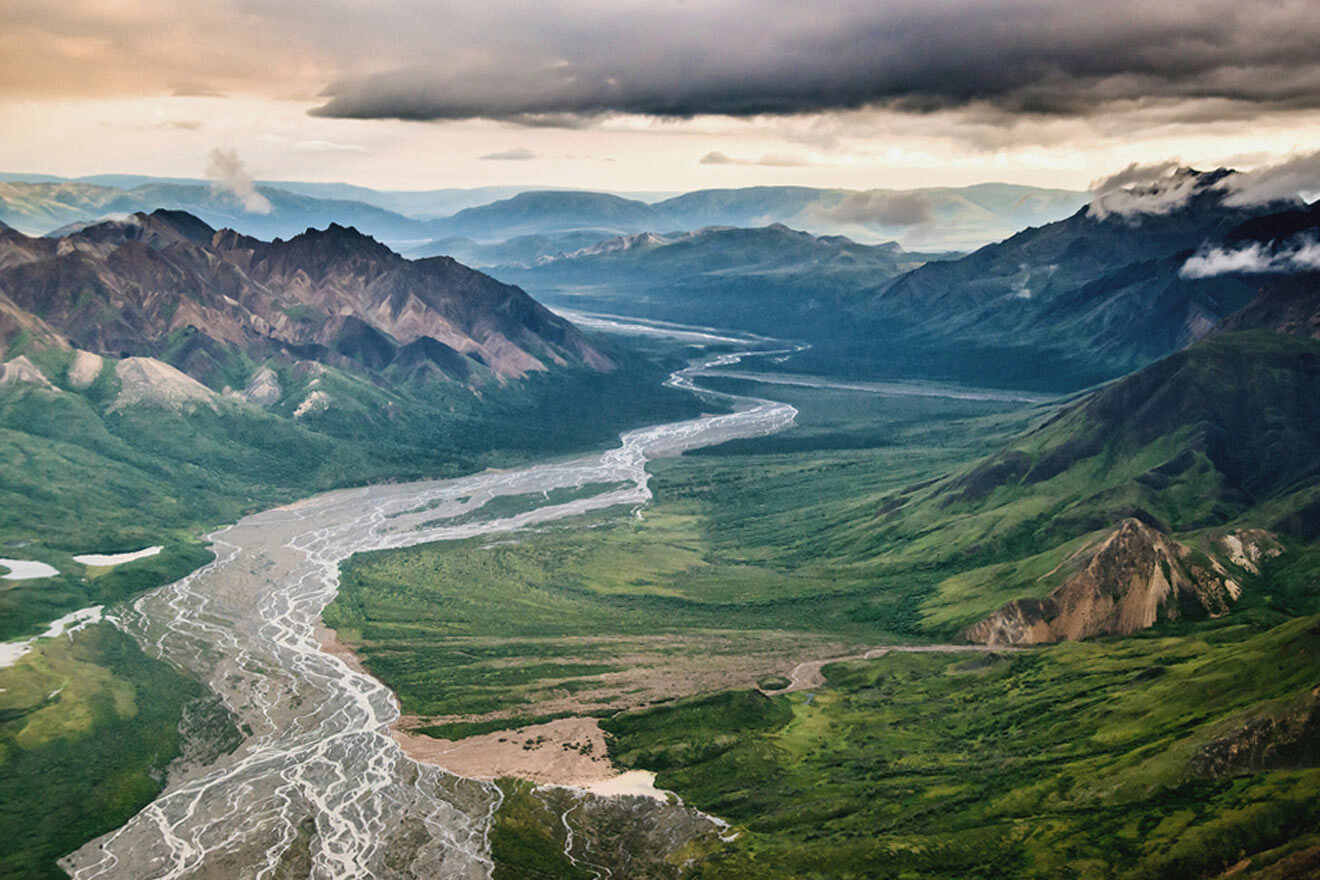 Duration: 1 hr 15 min to 1 hr 45 min
Price: from US$345
Why you should take it: fight over the east and west of Denali
For a full hour and 15 minutes, you'll wind in and around the Alaska Range's major peaks: Hunter, Foraker, and Denali, and follow massive glacier highways from above. You'll have a pilot by your side who will provide expert narration and additional educational experience.
As you soar above Denali National Park, you'll witness Kahiltna Glacier, the longest in the park, stretching an impressive 45 miles (72 km) with stunning ridges of earth and ice. This tour is perfect for those who want to soak in traditional Denali views while adding additional views from the east and west.
And the best part? The extra time in the air allows for greater flexibility in finding the best views of the day.
7. Hike to the new heights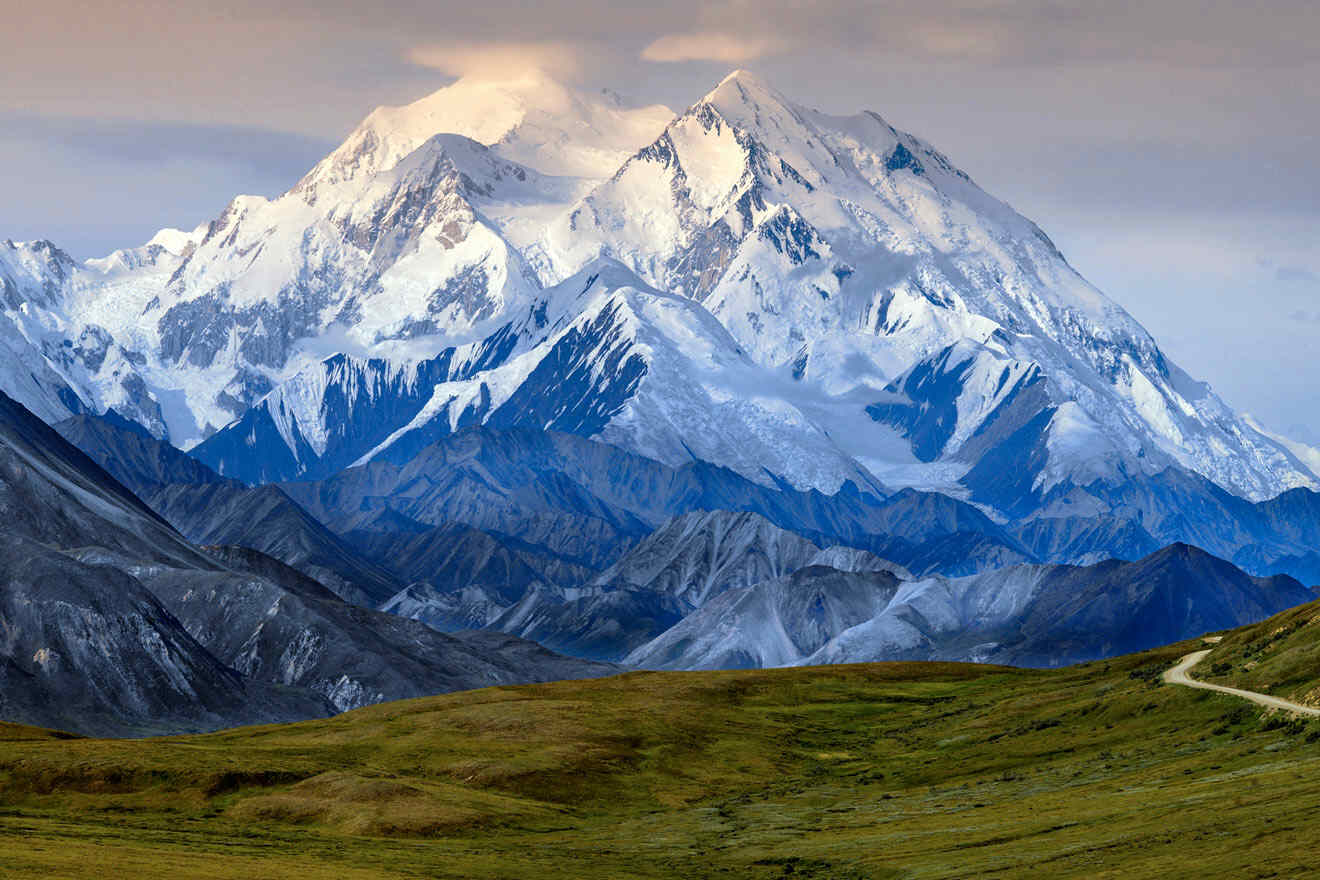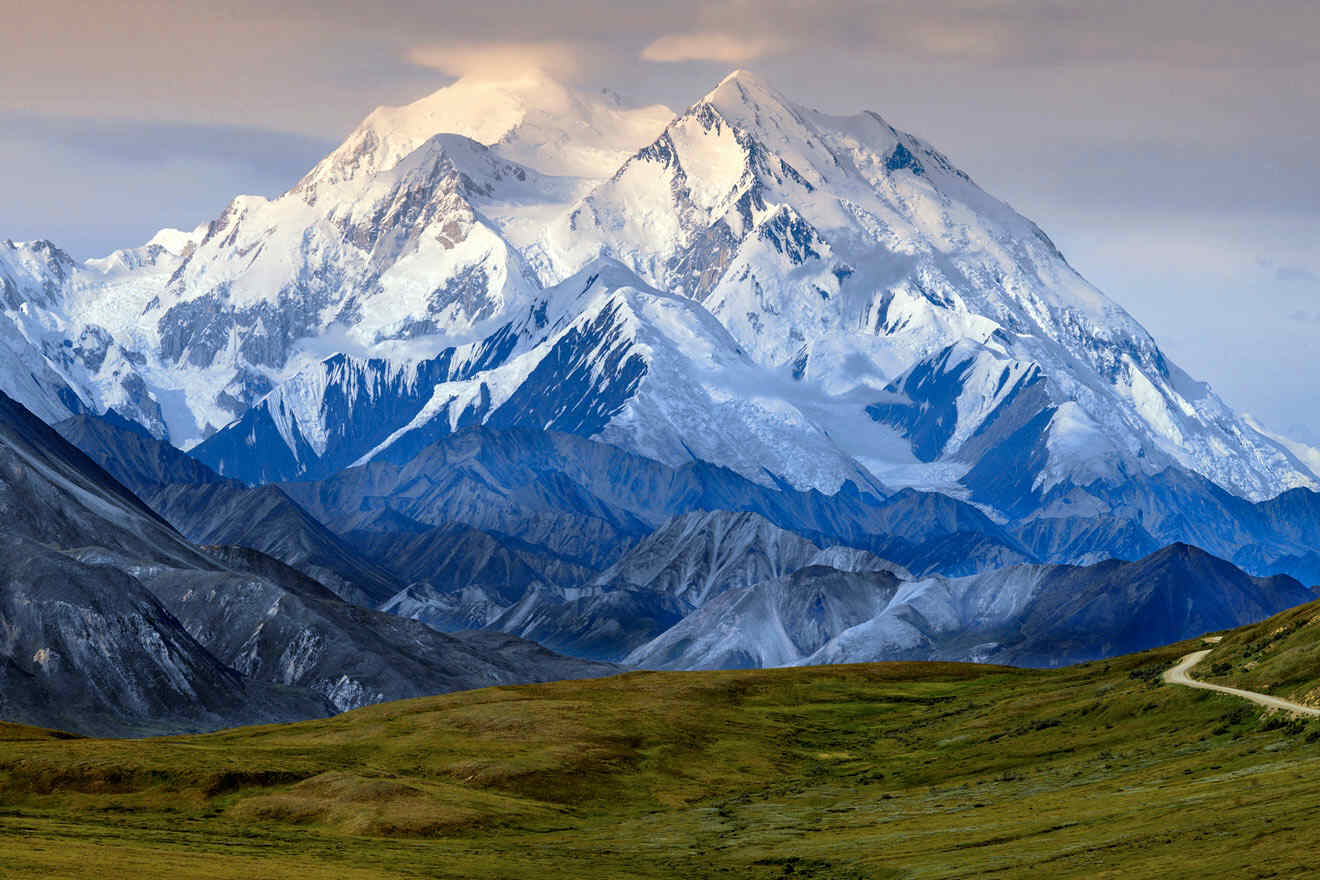 Duration: 5 hours
Price: from US$500
Why you should take it: it includes a hike and a snack
With this tour, you can be whisked away in one of Temsco's helicopters for a breathtaking 15-minute flight over the Alaskan wilderness and land in a private hiking area just outside the limits of Denali National Park, ready to embark on a soft-adventure hike with a knowledgeable guide by your side.
Take in sweeping views of Denali's rolling hills and tundra ridgelines as you trek above the treeline. You'll learn about different animal tracks, interpret flora and fauna, and keep your eyes peeled for bears, moose, and Dall sheep. This is a small group tour for up to 12 people, so you're guaranteed a personalized experience, and the snack is also included to charge your batteries.
One more advantage is that, unlike a bumpy plane ride, a helicopter tour is a smooth and comfortable way to experience the beauty of Alaska without any motion sickness.
BONUS: most popular Denali tours
Since visiting Denali is a one-of-a-kind adventure, it might be a good idea for you to investigate all the tour possibilities that this area offers. Here are some great suggestions:
Embark on a zipline tour – You'll enjoy incredible views of the boreal forest and Alaska Range as you navigate this exciting challenge. Soar over the treetops on this 3-hour zipline tour with expert guides to lead you along a course featuring 6 suspension bridges and 8 zip lines. Departures are available throughout the day, and complimentary hotel pickup and drop-off are included.
Take an ATV tour – With this tour, you can speed through stunning mountain scenery, reaching up to 25 mph (40 kph), with meal and hotel transportation included. Marvel at the views of Healy Valley from Black Diamond Peak and capture unforgettable photos. The tour is a great choice for couples, friends, and families, and it has the convenience of choosing your own departing time.
Walk around Alaska Range – This is a fully narrated walking tour limited to 7 people in Denali National Park. Your guide will be a certified naturalist, so this educational experience is a perfect choice for first-time visitors. The tour offers the morning, afternoon, or twilight hours depart times, so you can choose the one that fits your schedule.
FAQs about Denali helicopter tours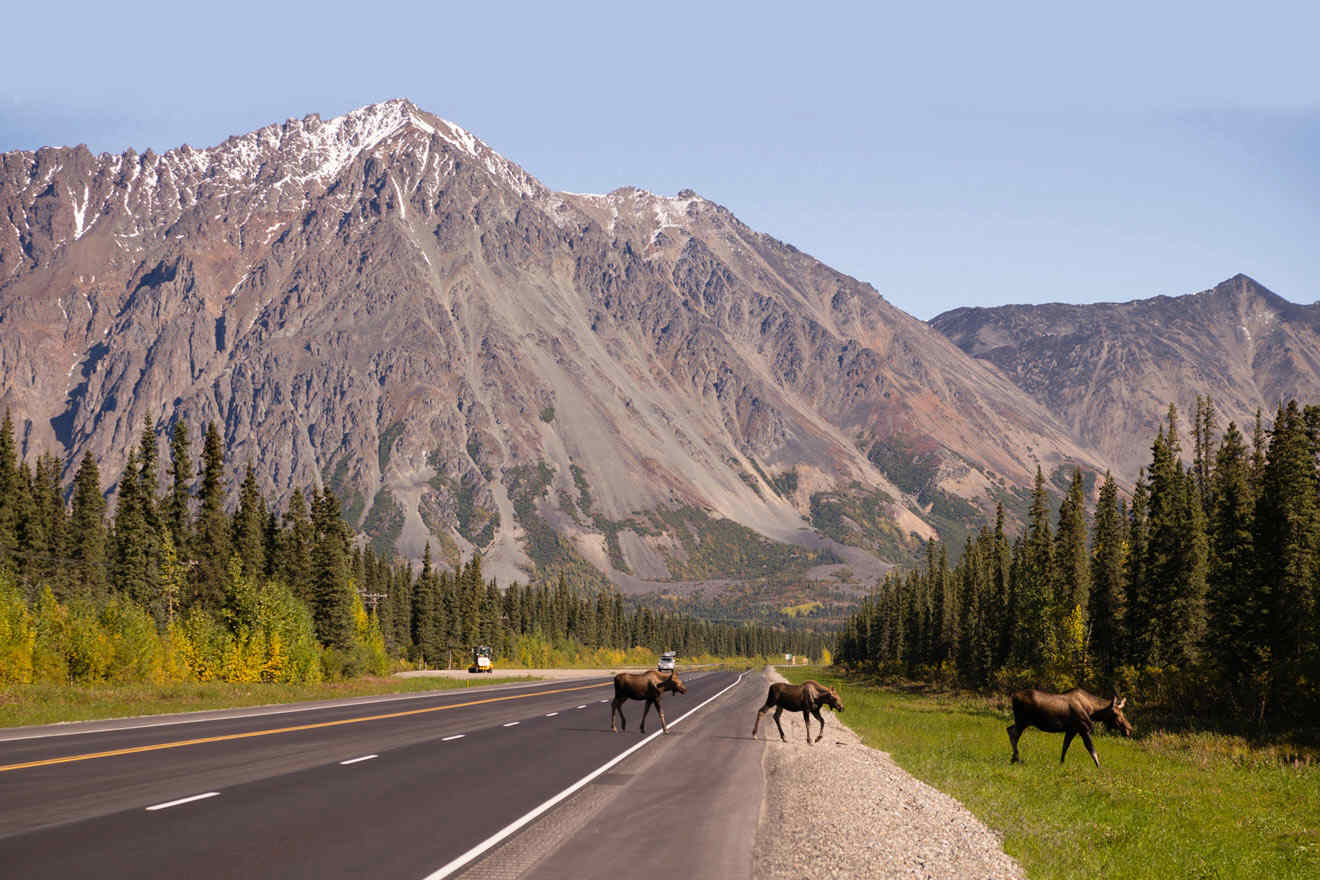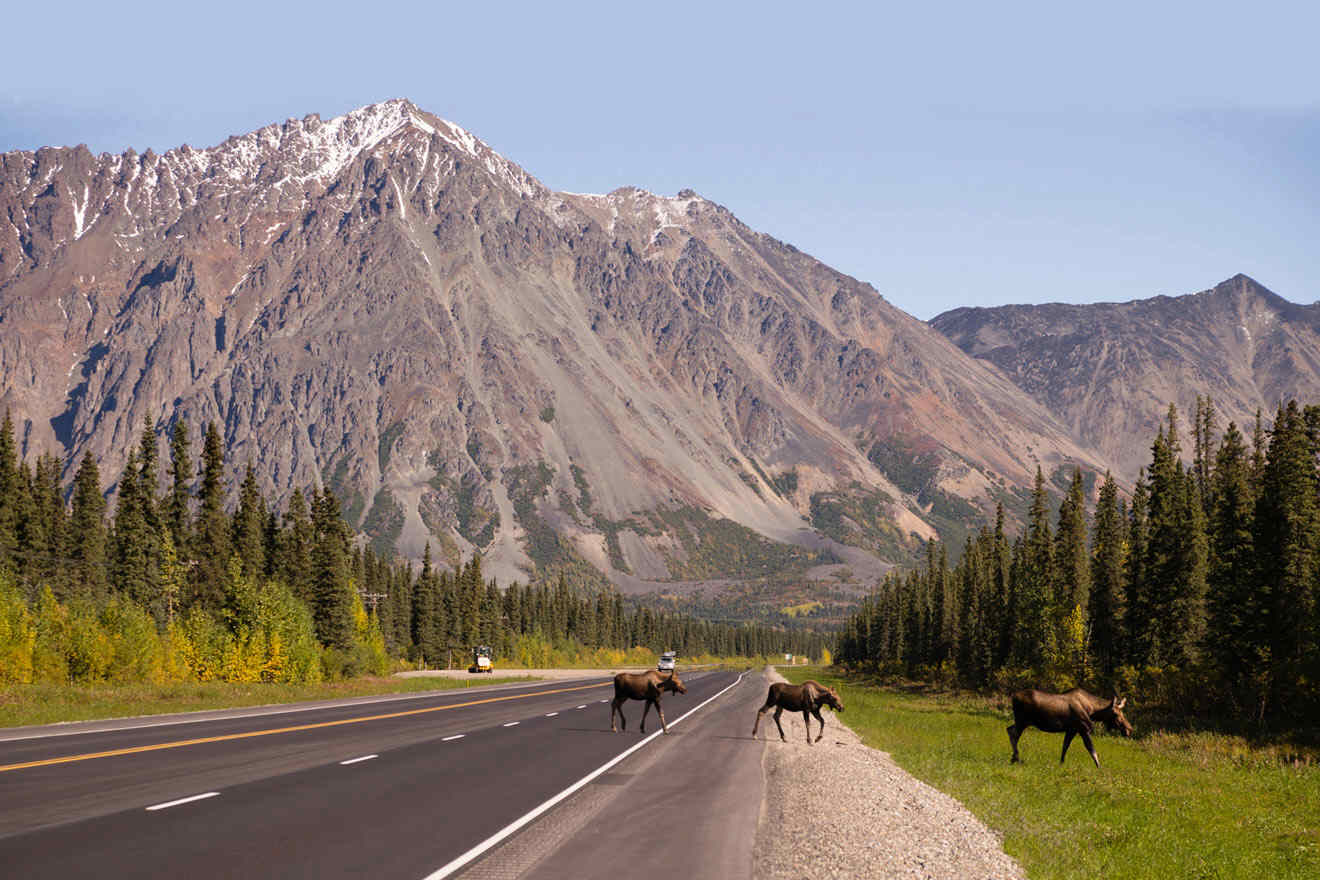 📍 Is flying over Denali worth it?
Yes, flying over Denali allows you to appreciate its breathtaking size and grandeur from a unique perspective, as well as enjoy stunning views of the surrounding landscape. You can take a Denali glacier helicopter tour to get a memorable experience.
🚁 Can a helicopter land on Denali?
A helicopter can't land on the summit of Denali. However, helicopters can land on certain areas of the mountain, such as the base camp or lower elevations of the mountain. This Denali Glacier landing tour can provide you with such an experience.
📅 What is the best month to see Denali?
The summer months of June, July, and August are the most popular times to visit Denali because of the mild weather and longer daylight hours. During this time, you can enjoy various activities like hiking, wildlife viewing, and ranger-led programs.
🆘 How safe is Denali?
Denali National Park is a relatively safe destination for visitors, but it's important to follow safety guidelines and be aware of potential hazards. One of the biggest risks in Denali is the wilderness itself.
Conclusion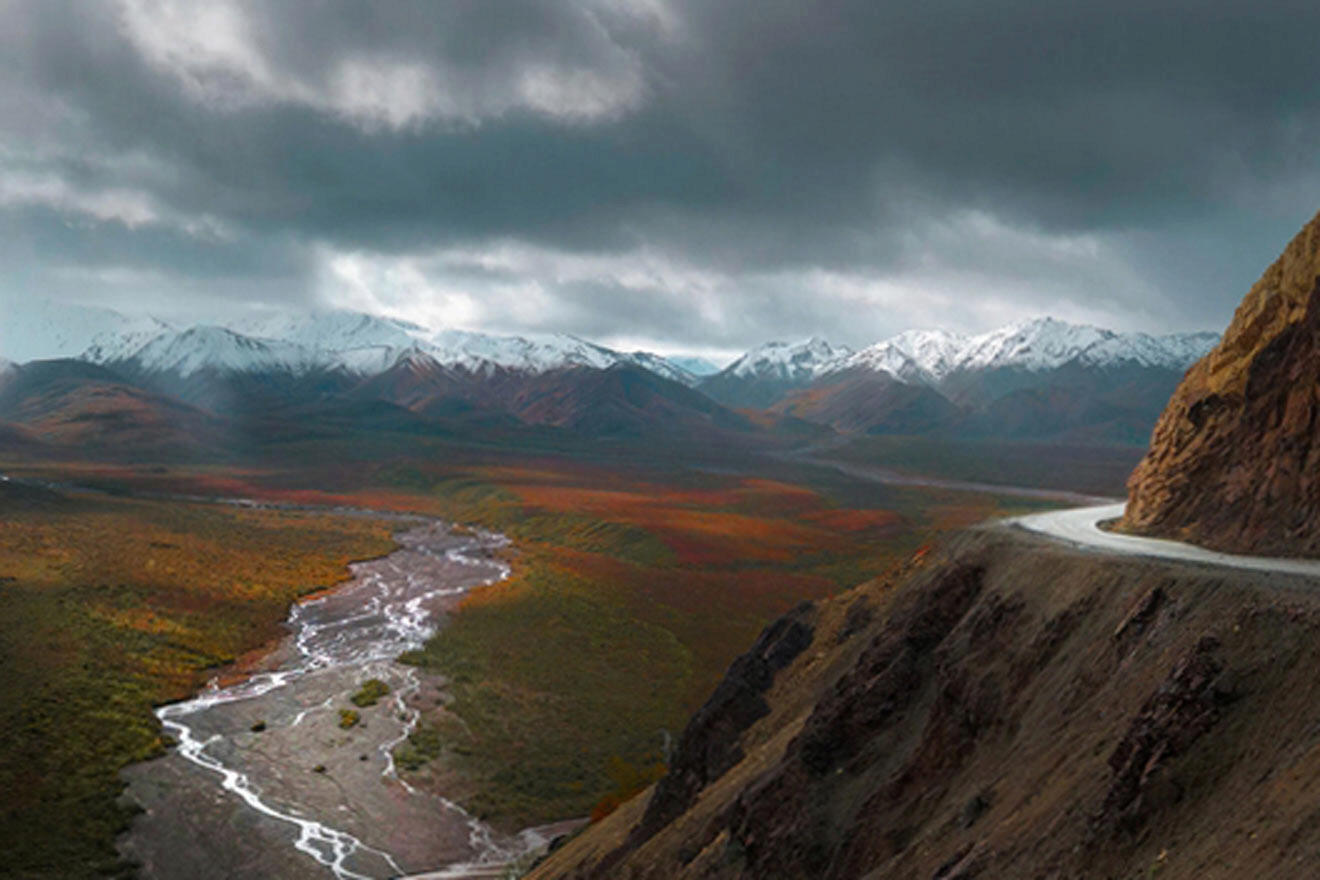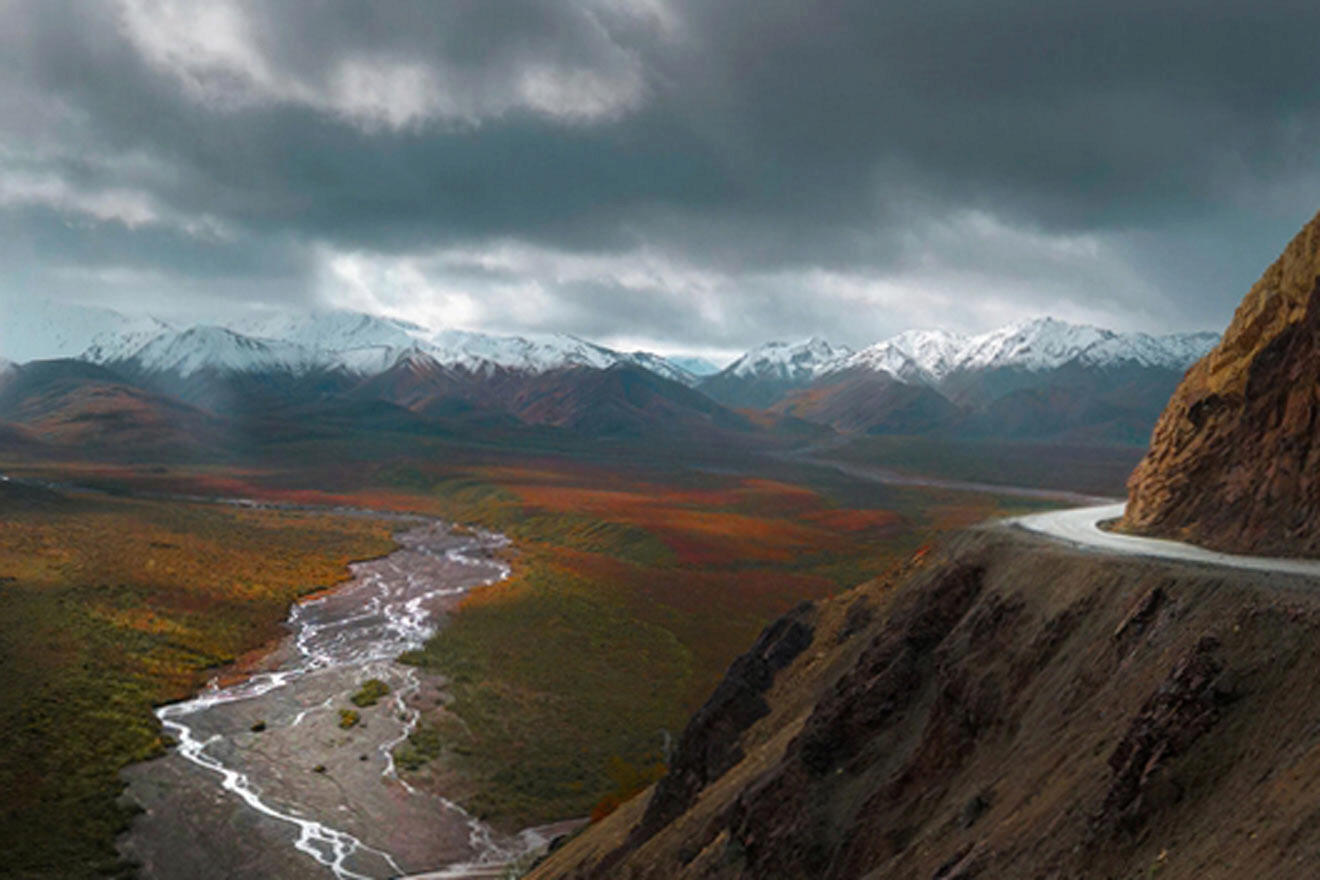 There you have it, folks, you've completed the list of the best Denali helicopter tours!
It's an experience you'll remember for a lifetime. You'll get to witness some of the most spectacular scenery that Alaska has to offer and all that from the comfort of your seat. The stunning glaciers, snow-capped peaks, and wildlife roaming in their natural habitat will leave you speechless and with a newfound appreciation for mother nature.
These tours aren't only a fun experience but an educational one as well. The pilots are experienced and knowledgeable, and they'll provide commentary throughout the flight and give you a deeper understanding of the landscape and wildlife. You can choose from a range of tours, each tailored to your preferences, whether it's a scenic flight, a glacier landing, or a combination of both.
Keep in mind how quickly these tours sell out, so don't forget to book in advance to secure your spot on the helicopter!
And if you have already experienced the helicopter adventure over Denali, I'd love to hear your thoughts as well as what you liked and disliked the most. So, don't be shy and leave a comment below!
Happy flying and sightseeing,
Angelina
---
Pin it for later!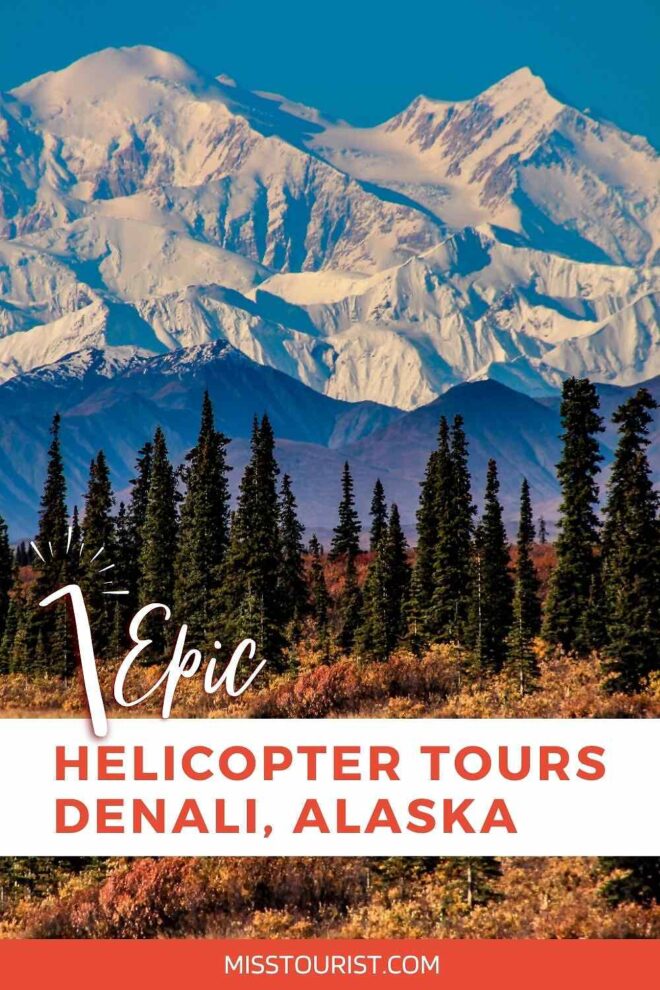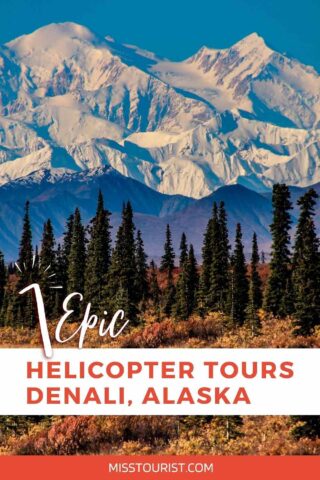 Pin it for later!