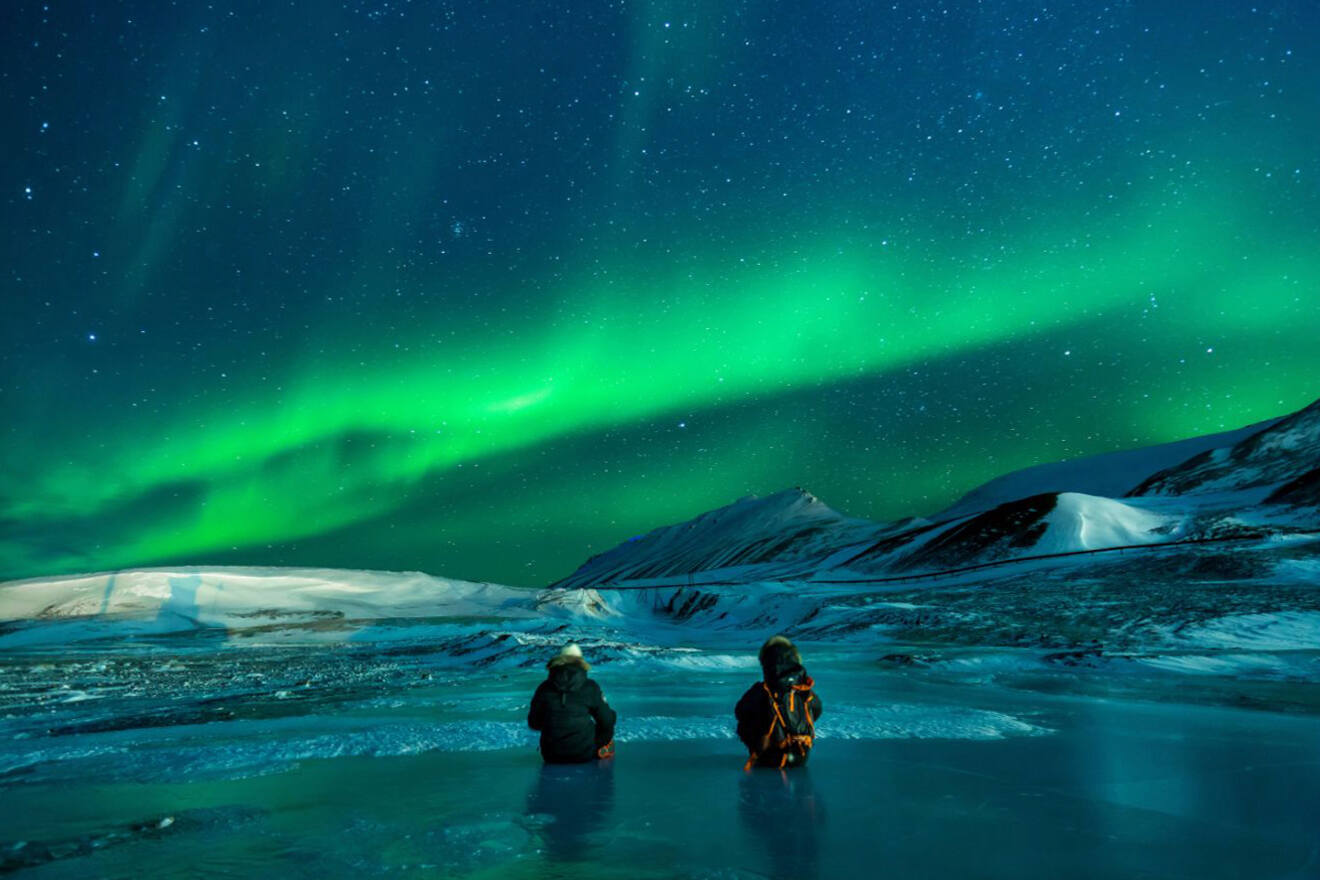 Get ready to be spellbound by the magic of the Aurora Borealis as I embark you on a journey that brims with adventure, discovery, and the celestial beauty of each Fairbanks Northern Lights tour!
Picture it: you, standing there in absolute wonder as vivid colors swirl around the sky above, making a majestic display. If you're yearning for an exciting adventure full of enthralling auroras, it can't really get better than that!
Many tour options can take you to see the magic of this sky phenomenon, and I'm here to help you choose the best one for your needs. I compiled the list of the top-tier and most popular options so you don't have to spend your precious time researching.
You'll find combo tours, night tours, and hot springs tours, all the most popular options for each traveler visiting this area.
If you are in a hurry
Here are the best Fairbanks Northern Lights tours that you absolutely don't want to miss out on:
1. Take a Northern lights viewing tour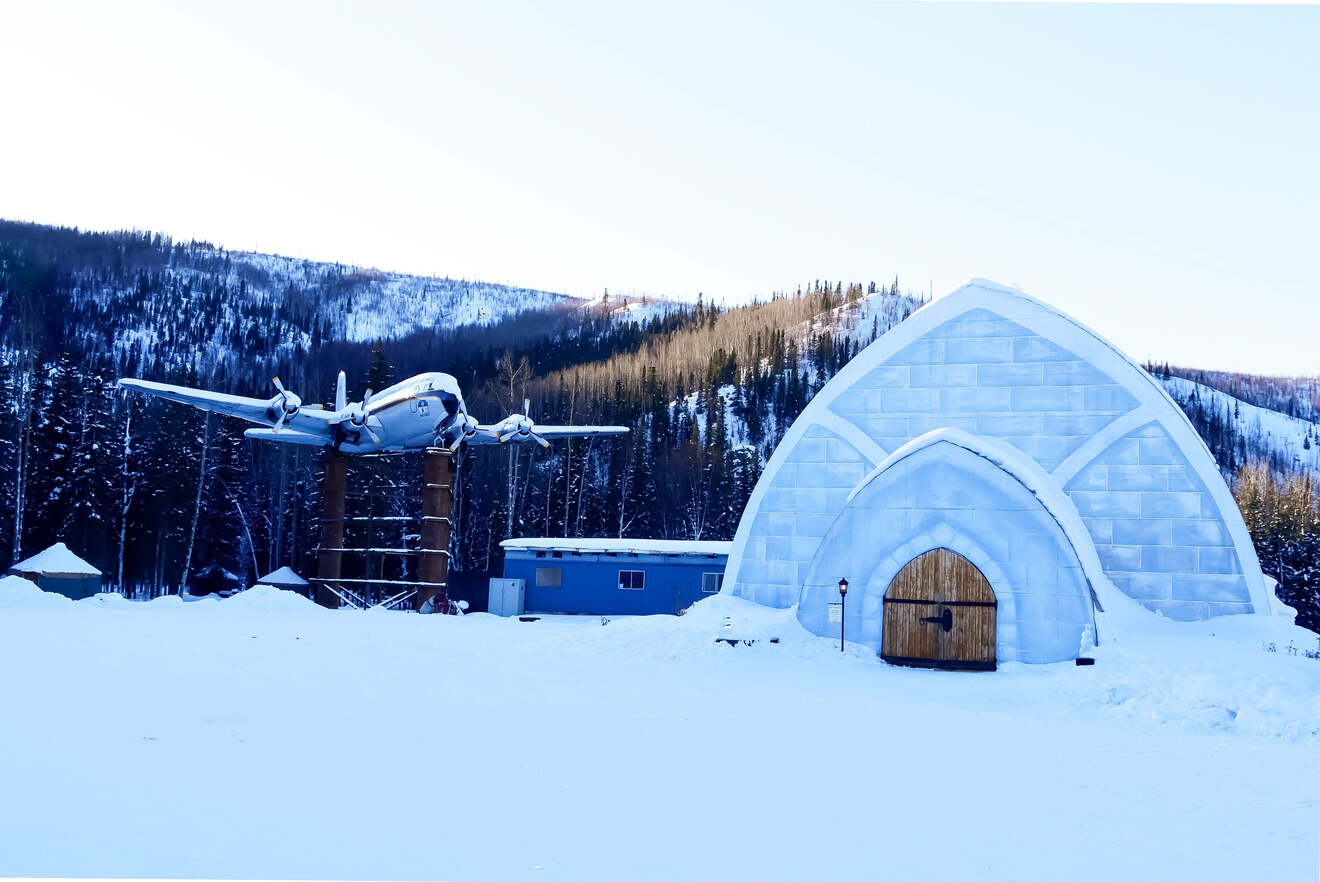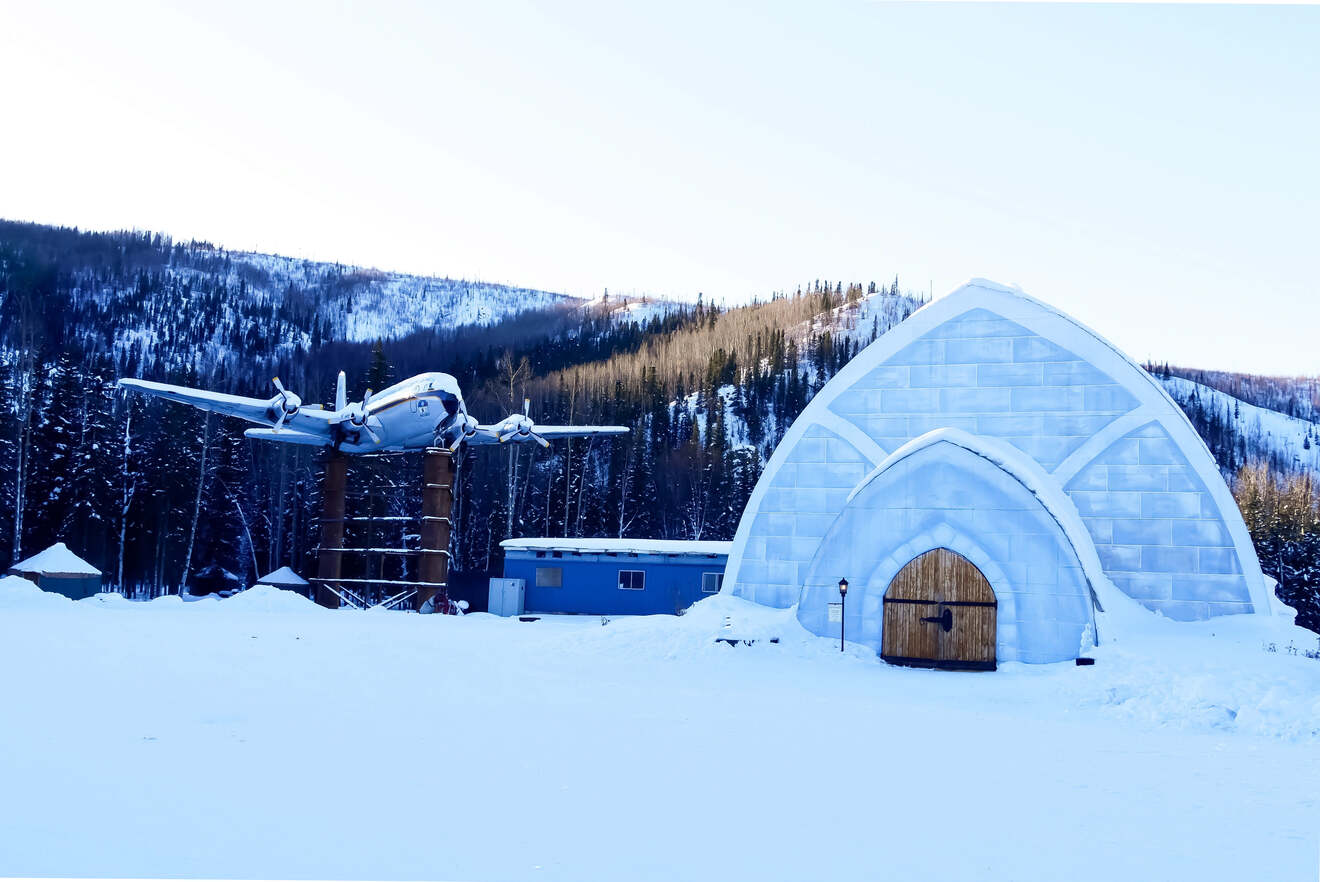 Duration: 10 hours
Price: from US$220
Why you should take it: the most popular Fairbanks aurora tour
Are you itching for a full-day adventure? Hop aboard and head on over to the Chena Hot Springs Resort, just outside of Fairbanks. It will be your time to completely relax, unwind, and feel totally revitalized.
This small-group tour is sure to be an absolutely incredible and rejuvenating adventure! You'll be dazzled by the sculptures at the Aurora Ice Museum, have a truly unique experience at the renowned hot springs, and spot the Northern Lights!
Not only will you enjoy round-trip transport from Fairbanks and North Pole hotels, but your guide will also help you find just the right spot to gaze upon these mystical sights. And you can satisfy your appetite with a snack or meal – hot drinks are extra.
Be sure to dress appropriately since it will be chilly weather outside! Don't forget to pack your swimsuits, towels, 2 quarters for the lockers, and a photo ID.
2. Explore the Arctic Circle on an Aurora Borealis tour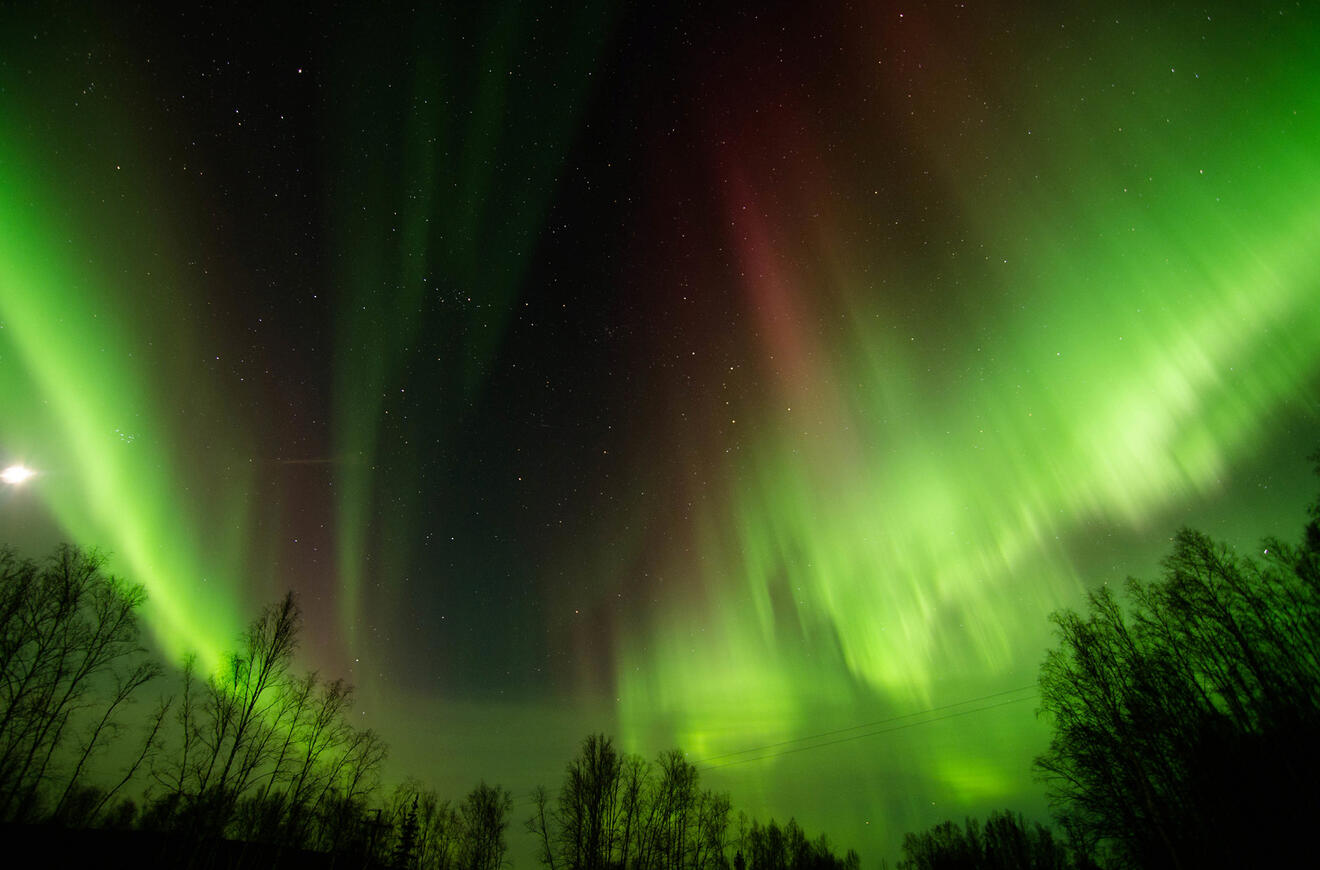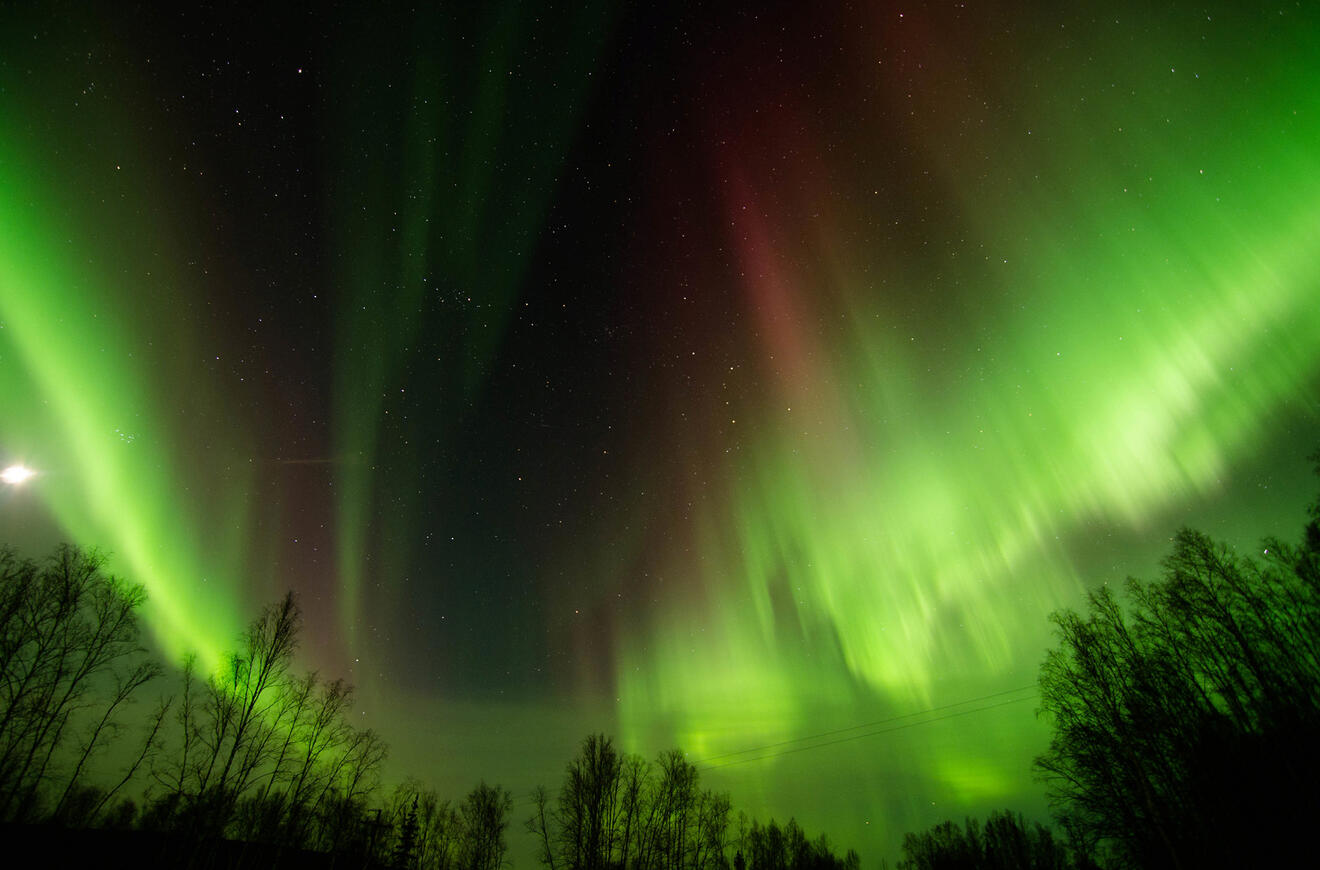 Duration: 14 hours
Price: from US$290
Why you should take it: guided tour to interior Alaska
Take a scenic 14-hour Alaska trip from Fairbanks to the Arctic Circle. You'll explore the Alaska Railroad, one of the most isolated roads in the world, and discover Alaskan wildlife like never before!
Enjoy hotel pickup in the afternoon and hit the road with your knowledgeable guide. There'll be plenty of chances to stretch your legs and snap photos, plus keep an eye out for furry friends like foxes, moose, and wolves. You'll get up close to Alaska's famed Trans-Alaska Pipeline too, and EL Patton Bridge. Savor sandwiches, excellent coffee & hot punch while breathing in nature's splendor!
Around midnight's the perfect time of night to start looking for the captivating Aurora activity! If you get lucky, your driver will pull over in a few choice spots like the Tolovana River and Wickersham Dome, so you can take in this spectacular Auroral oval and snap a perfect photograph.
3. Go Aurora viewing from downtown Fairbanks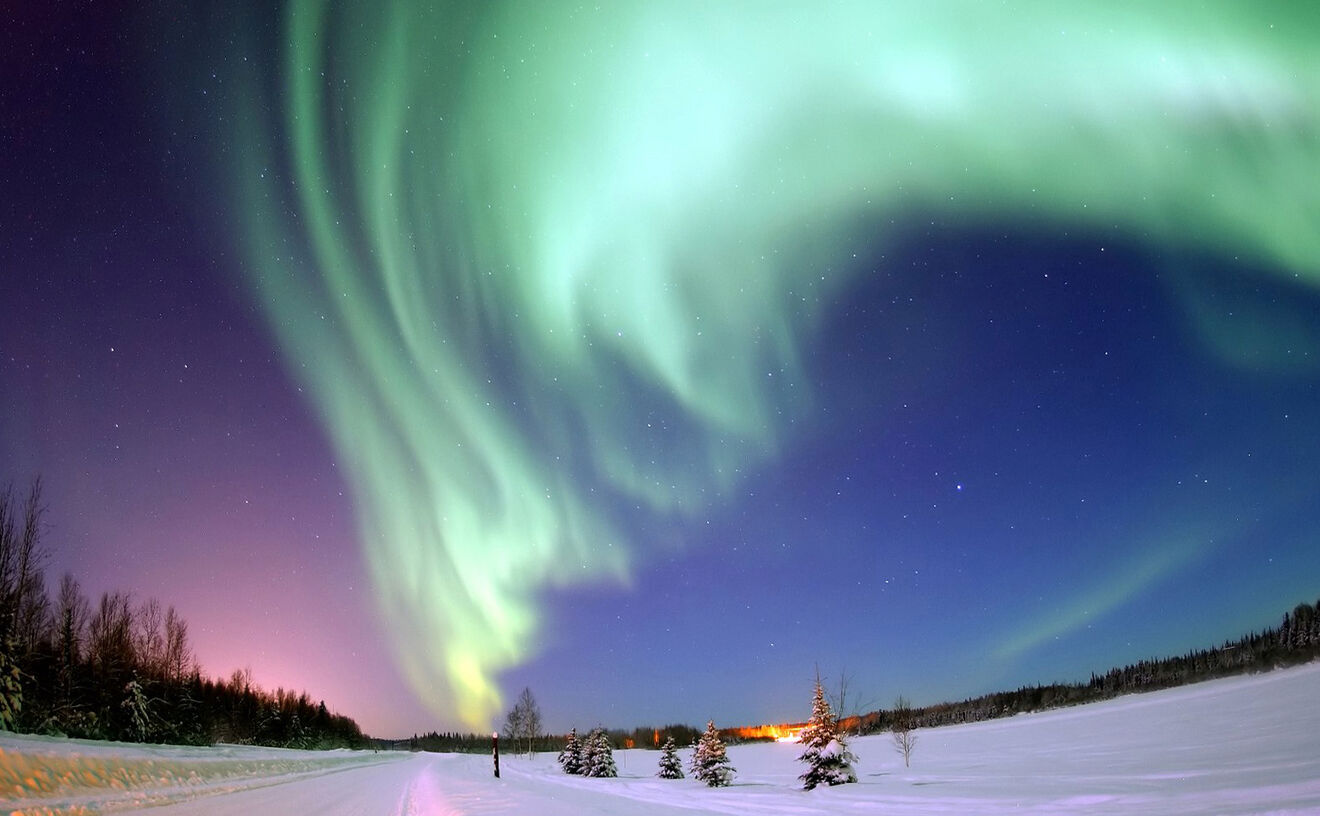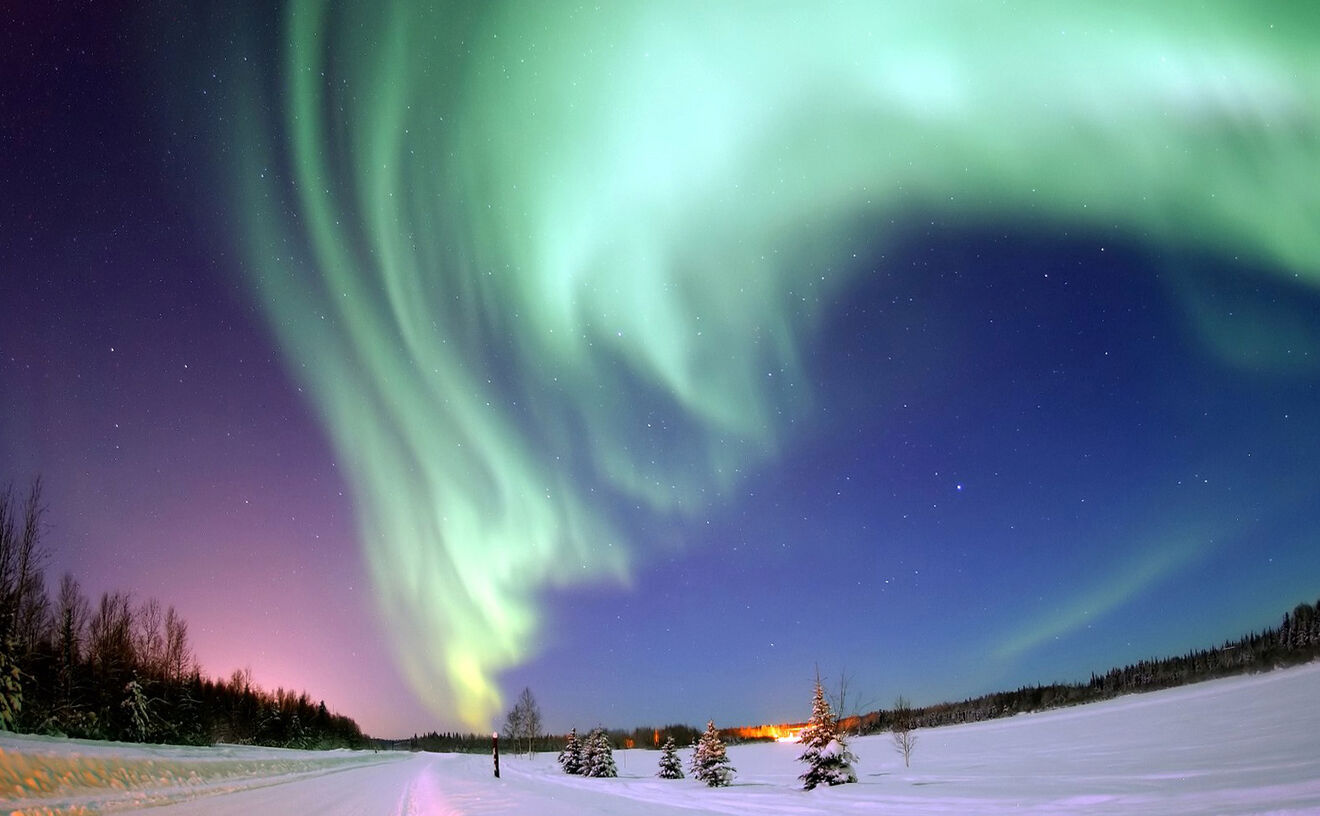 Duration: 3 hours
Price: from US$220
Why you should take it: photography tour, short tour
Join a small group of adventurers on an Aurora-chasing tour just outside of Fairbanks. You'll step into a cozy, heated van that will keep you warm during the winter months.
Your knowledgeable guide will give you all the tips you need to capture the breathtaking Aurora oval phenomenon on camera. Warm up around a campfire as you look to the sky and let your guide fill in some fascinating tidbits about these awe-inspiring wonders of nature. While you sip tea or coffee and feast on delicious reindeer hot dogs to stay warm, your guide will give each person in your group a souvenir photo!
Aurora spotting is possible any time from late August to mid-April – all you need is adequate darkness. So the tour operator recommends that you take Fairbanks Aurora tours between those months, just watch out for cloud cover and light pollution!
4. Chase Northern Lights in Murphy Dome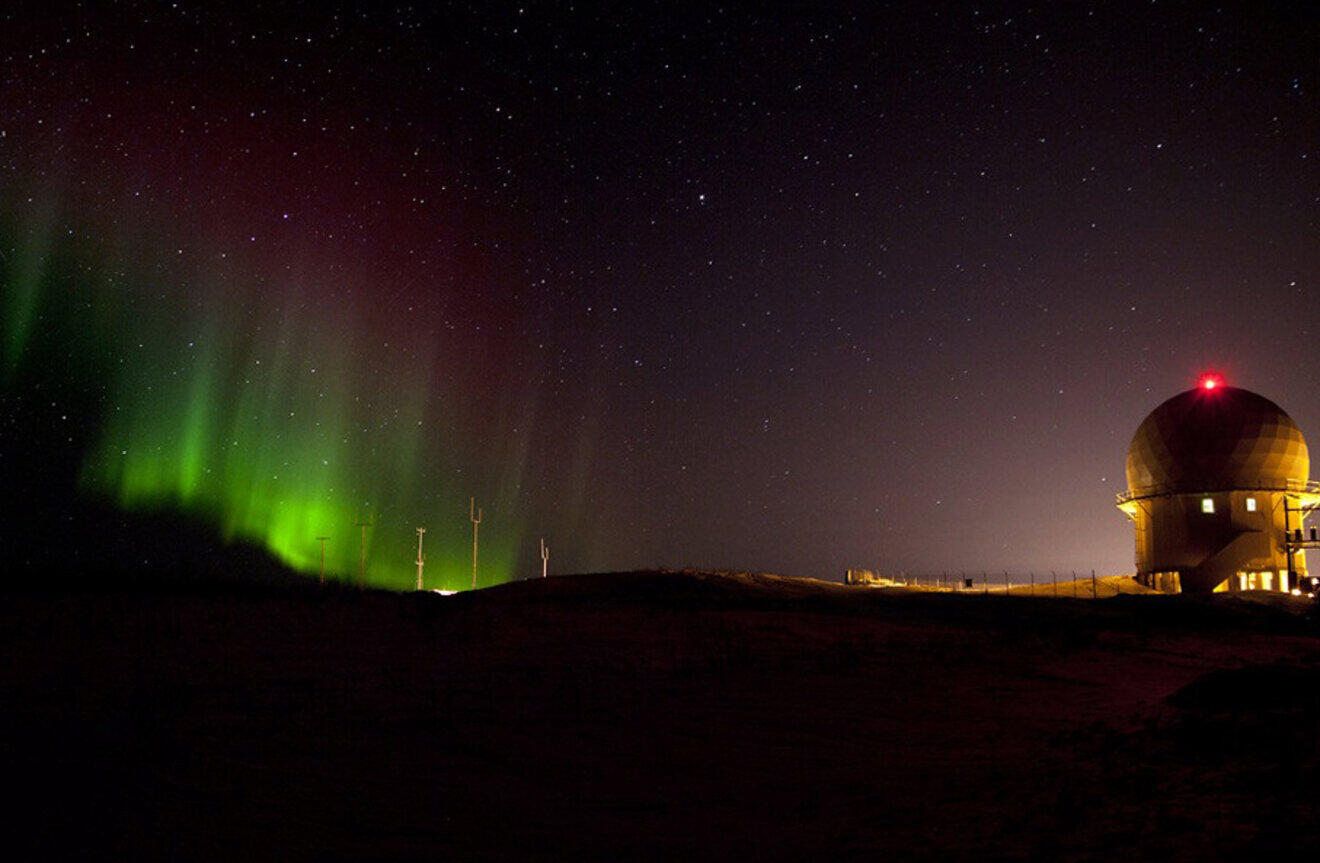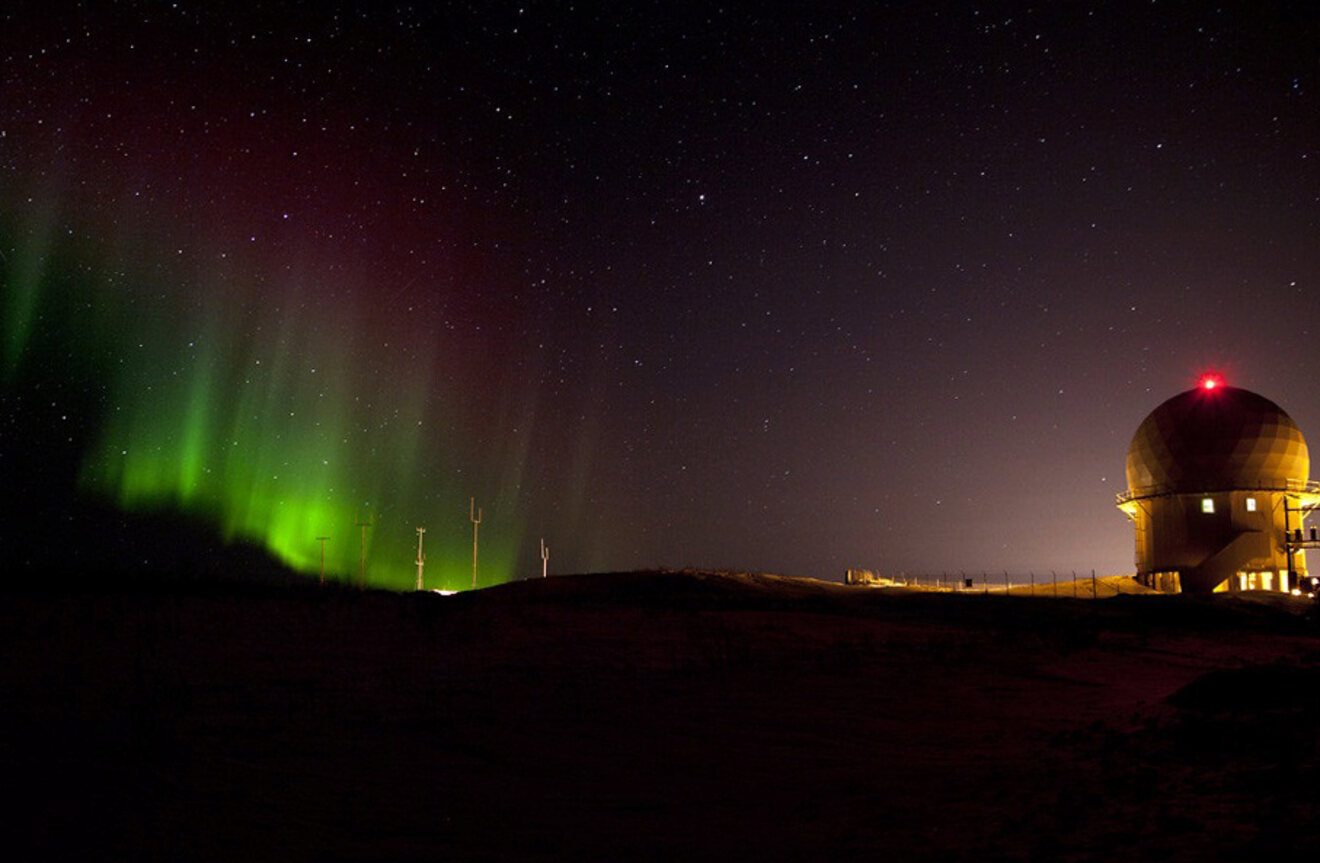 Duration: 5 hours
Price: from US$110
Why you should take it: see the aurora and visit Murphy Dome
Say goodbye to the city lights and hit the road as your comfortable van takes off from your Fairbanks hotel for Murphy Dome, just 20 mi (32 km) away. You won't want to miss this 2,930 ft (728 m) high former Air Force Station! Experience breathtakingly colorful Northern Lights dancing across Alaska's dark sky, so don't forget your camera.
As you wait for the magical show, sip a hot beverage and warm up with light snacks in the van while enjoying a heavenly view of the twinkling lights. When it's time to wrap things up, your guide will be ready to get you back to your Fairbanks hotel.
This tour has a maximum of 8 people, so it's perfect for more introverted people, and it's also only 5 hours long – neither too long nor too short. So it's both a convenient and popular choice among other travelers.
5. Enjoy ice fishing & Northern lights viewing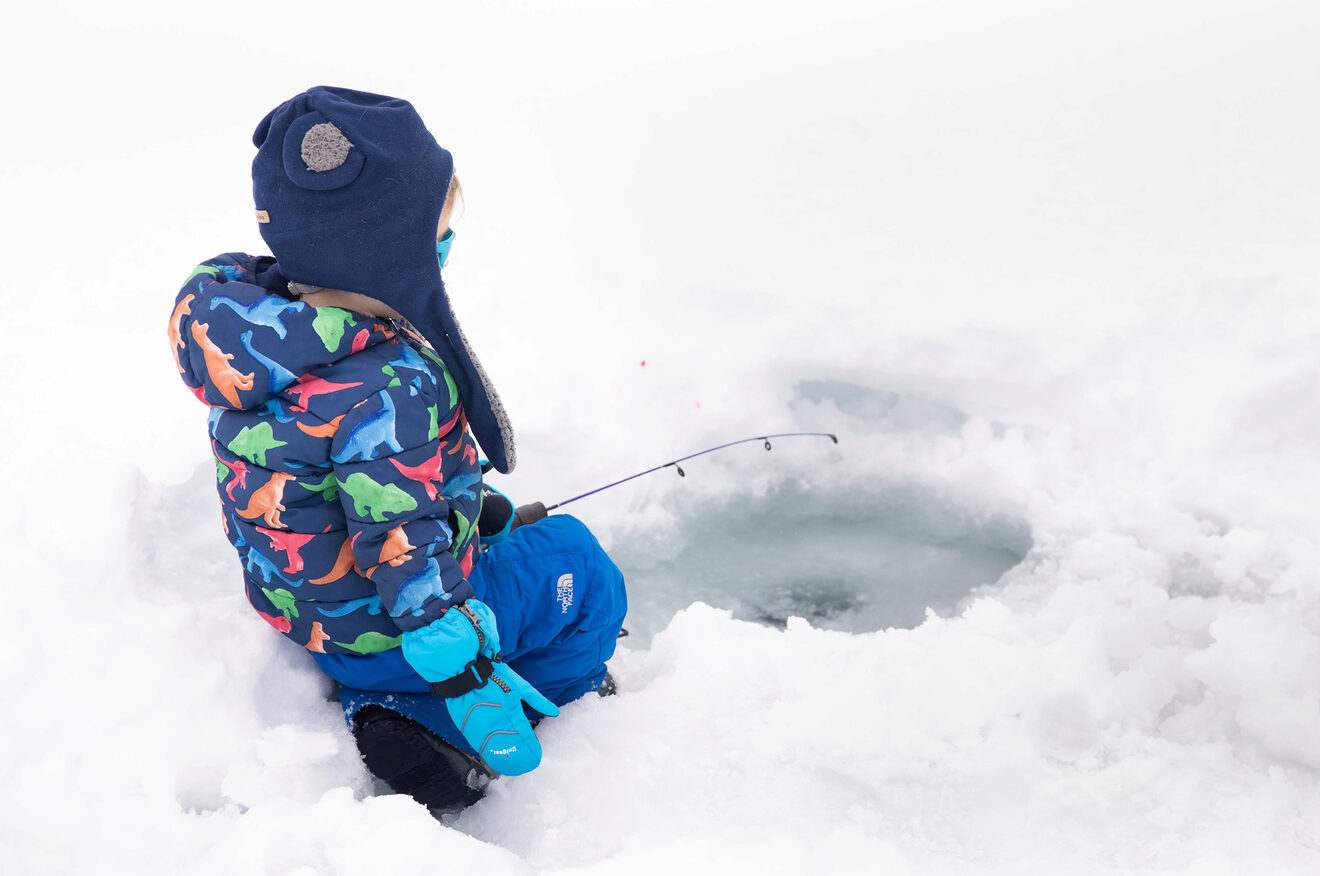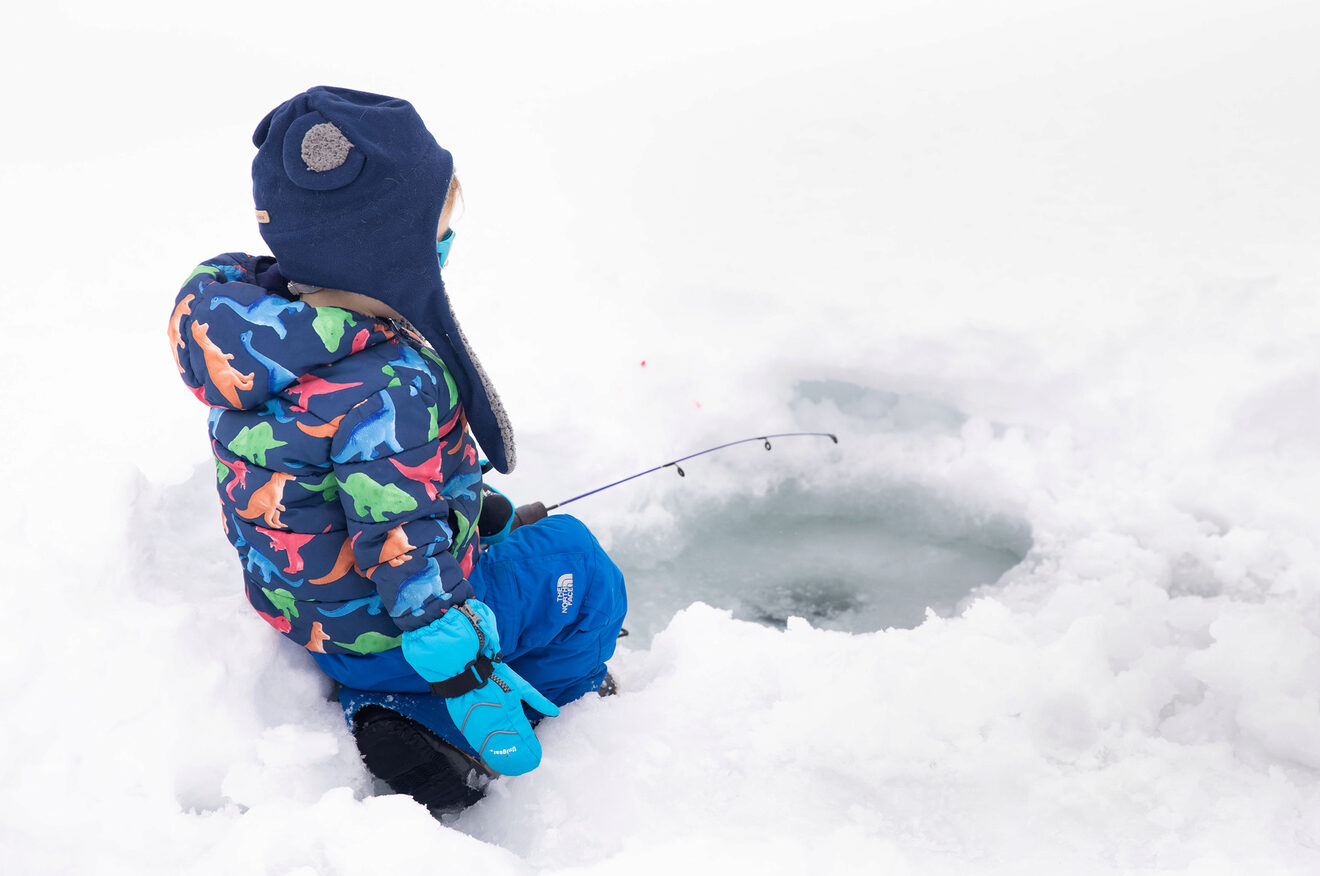 Duration: 5 hours
Price: from US$230
Why you should take it: great combo tour
Make your stay in Fairbanks unforgettable with a 5-hour journey for ice fishing and Aurora Borealis watching! Enjoy the serenity of a remote, dark area outside of the city, take part in some ice fishing, then refuel on hot cocoa and snacks like grilled freshly-caught fish or reindeer sausage buns while looking out for the stunning northern lights.
You won't get cold in a cozy lodge as you get ready to take part in this one-of-a-kind experience – gear, guide, and refreshments included!
To book this experience, you will need at least one more person with you, and the tour operator accepts a maximum of 14 travelers. Long nights in Alaska are perfect for Aurora viewing and even more when these best places for visiting include a fun activity such as ice fishing.
6. Try dog sledding and savor delicious food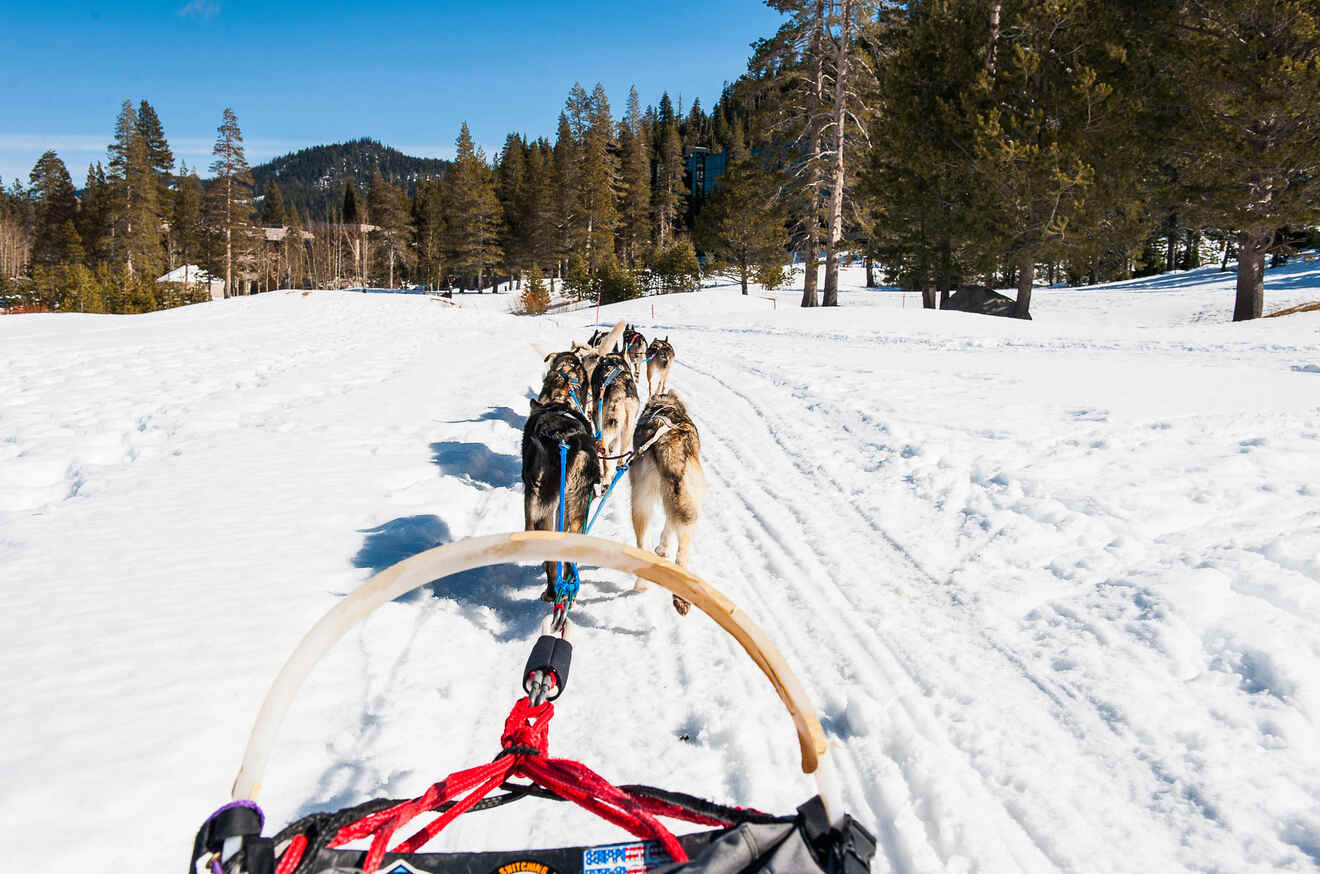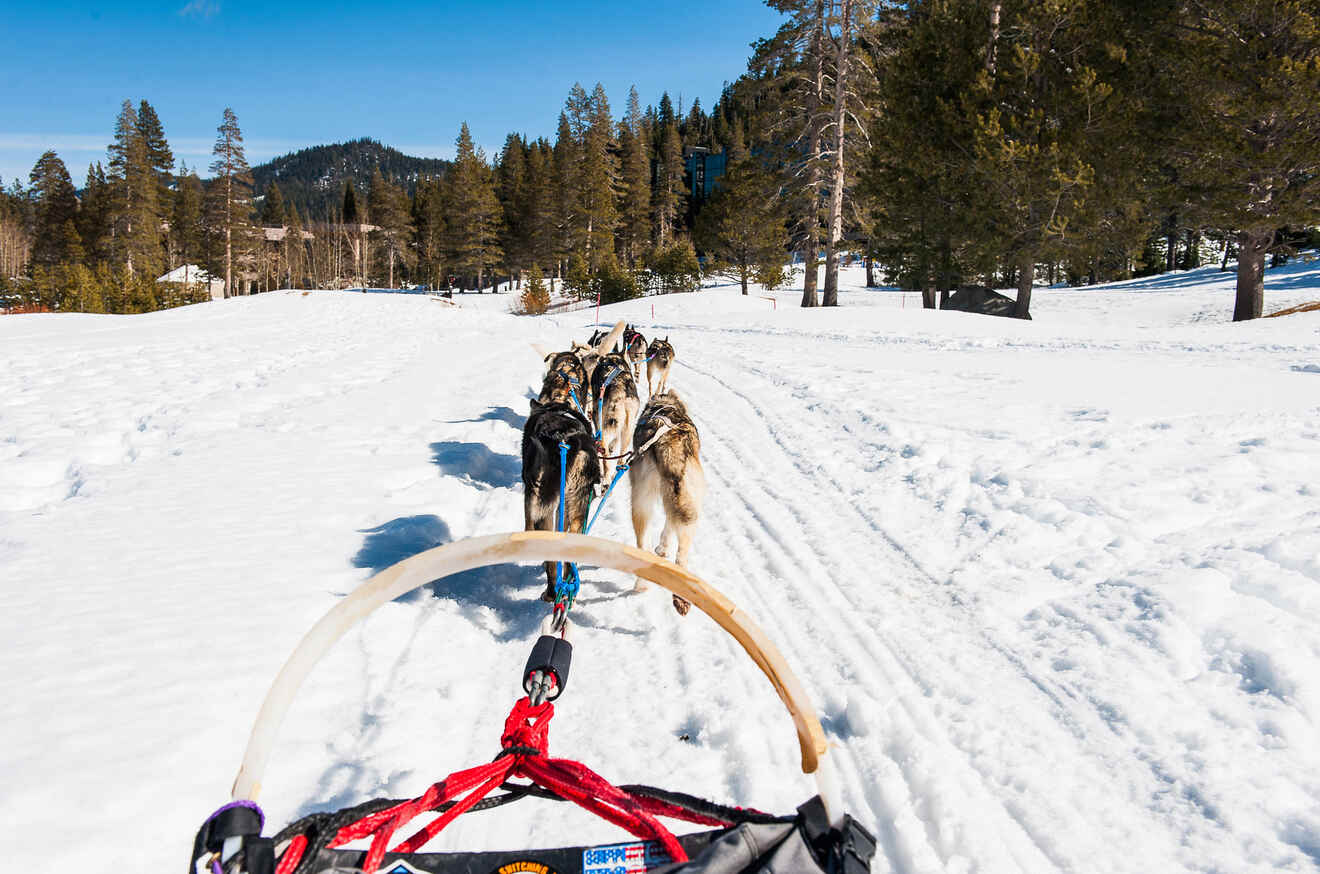 Duration: 6 hours
Price: from US$190
Why you should take it: diner and dog sledding adventure combined
Get ready to ride with a pack of happy hounds on an unforgettable tour that will leave you with memories to last! You'll take a wild sled run for an hour before settling in at an out-of-the-way cabin for a delicious home-cooked meal. Learn how it feels to lead your own furry team, and then get ready to be awestruck as you watch the breathtaking Aurora Borealis from the large north-facing windows.
Dog sledding will make you feel as though you can fly through the snow and its amazing scenery, and tasty food will fuel your batteries so you can be fully present when witnessing Northern Lights
Not to mention the convenient beginning of the tour with a pickup from your hotel so you don't have to worry about anything – you'll be taken care of, fed, and entertained!
7. Embark on a night tour to Chena Hot Springs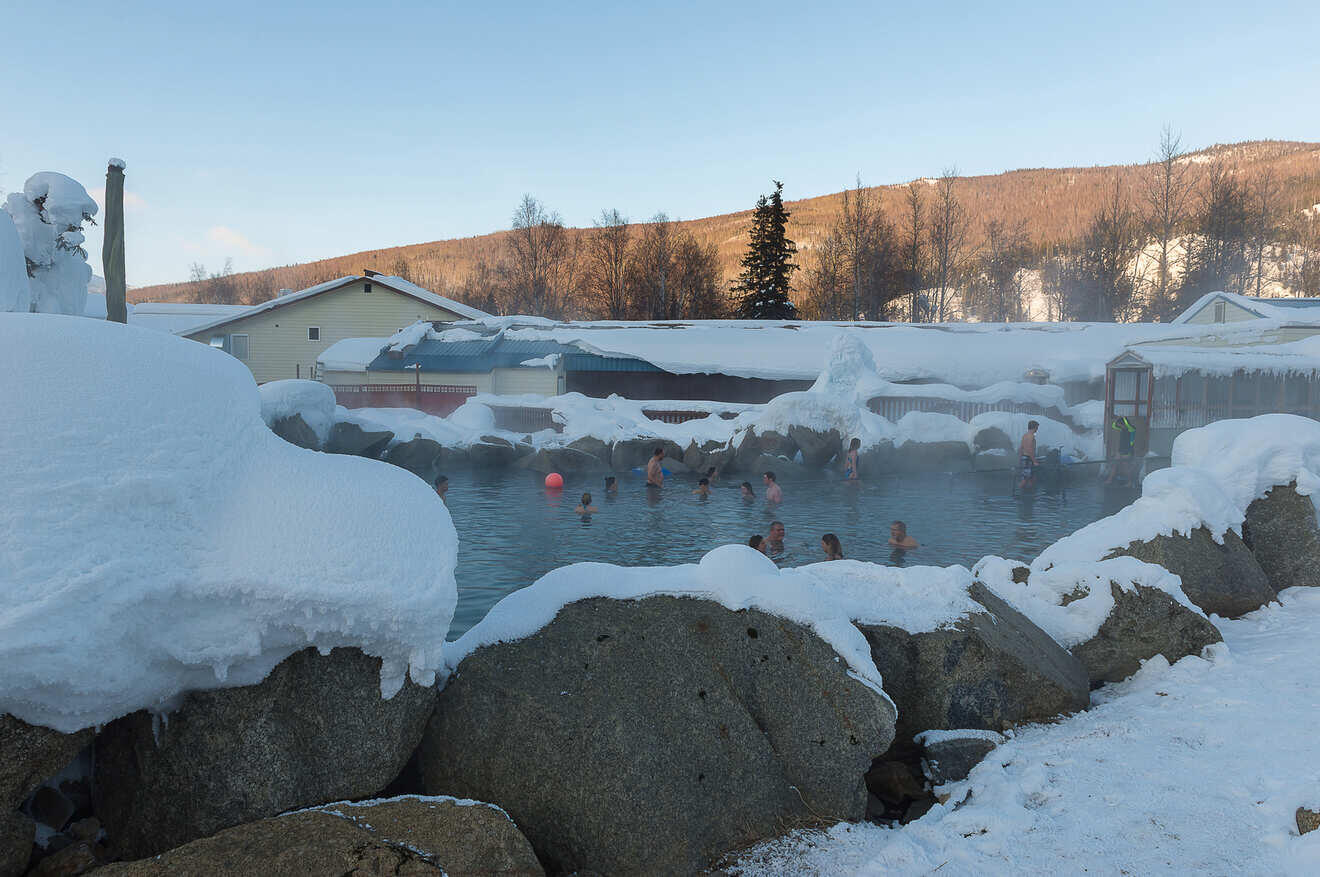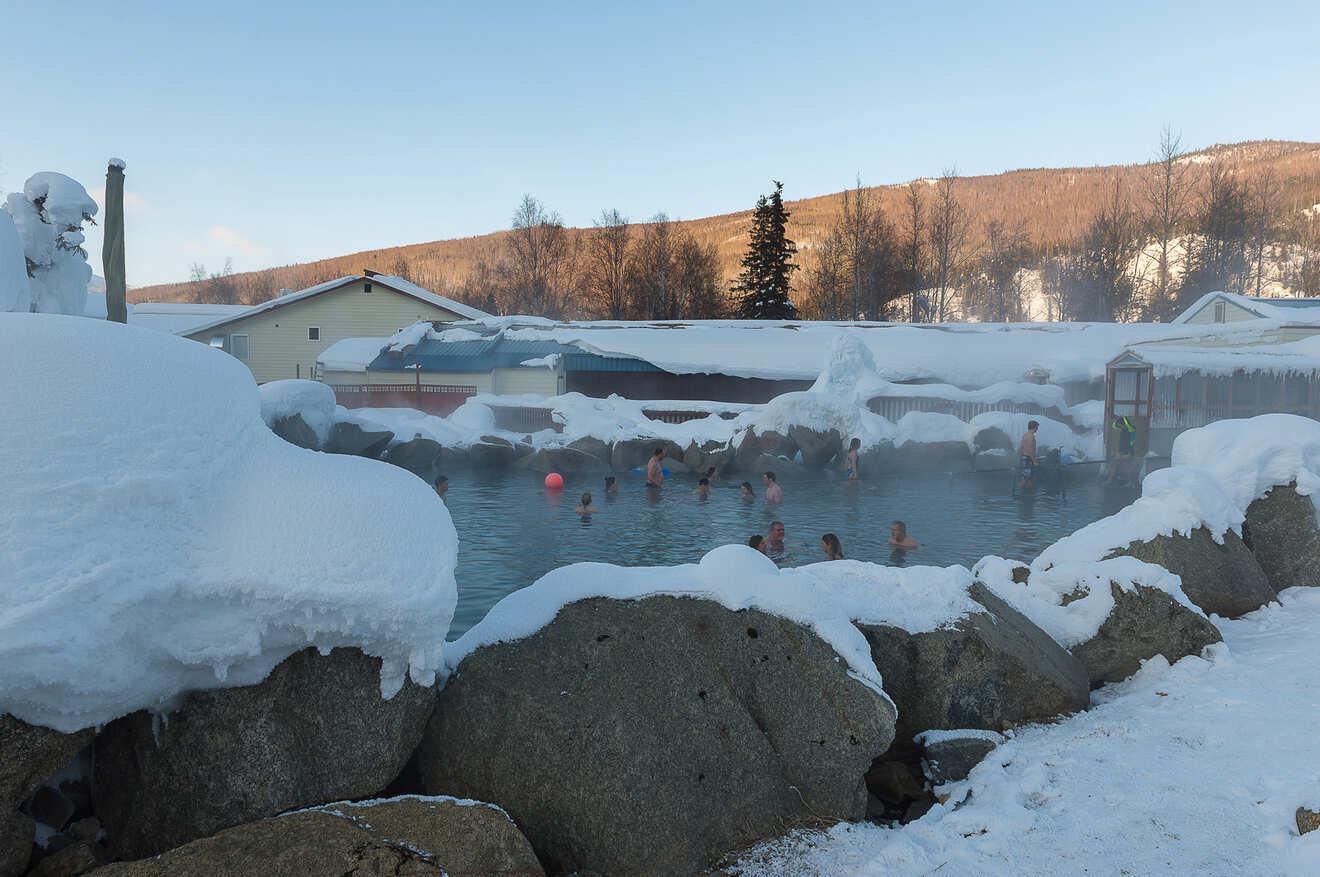 Duration: 11 hours
Price: from US$226
Why you should take it: nighttime combo adventure
Only 60 miles (c. 100 km) from Fairbanks, Chena Hot Springs Resort is the perfect place for a fun-filled day of relaxation, and since this is a night tour it's even more of a unique experience. Discover this historical location that natives and early miners found so long ago, and enjoy the mineral hot springs in a gorgeous natural setting!
Tour Fairbanks' Ice Museum, marvel at its hand-sculpted ice bar and chandeliers, and then slip into the soothing thermal pools of a charming resort. Finally, gear up for a spectacular midnight show of the Northern Lights – you're in one of the best spots to witness this natural phenomenon. With hotel transport from Fairbanks included, this night trip to Chena Hot Springs has it all: hot & cold combined with something simply marvelous!
This journey will take approximately 11 hours, and it's intended for a maximum of 12 travelers.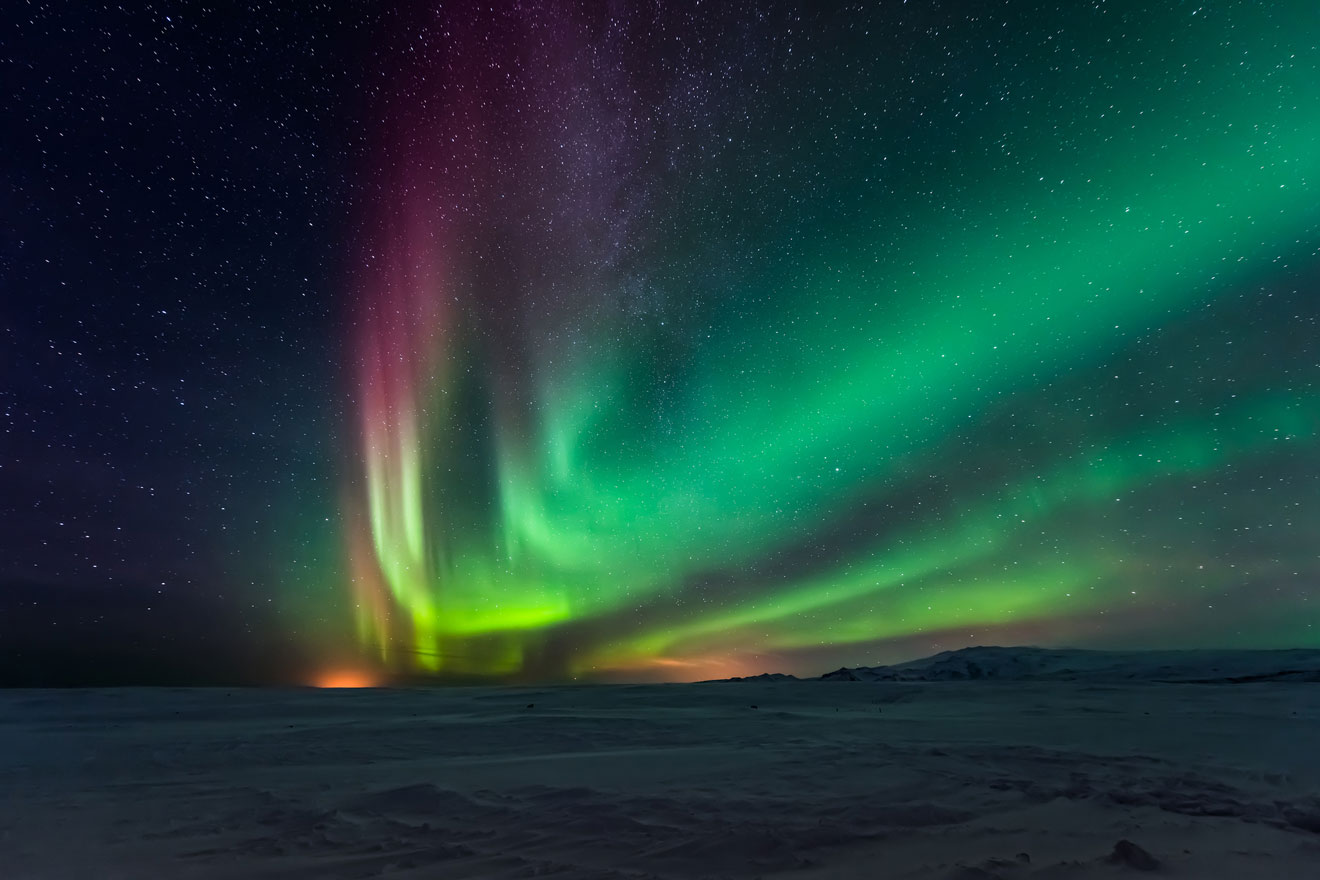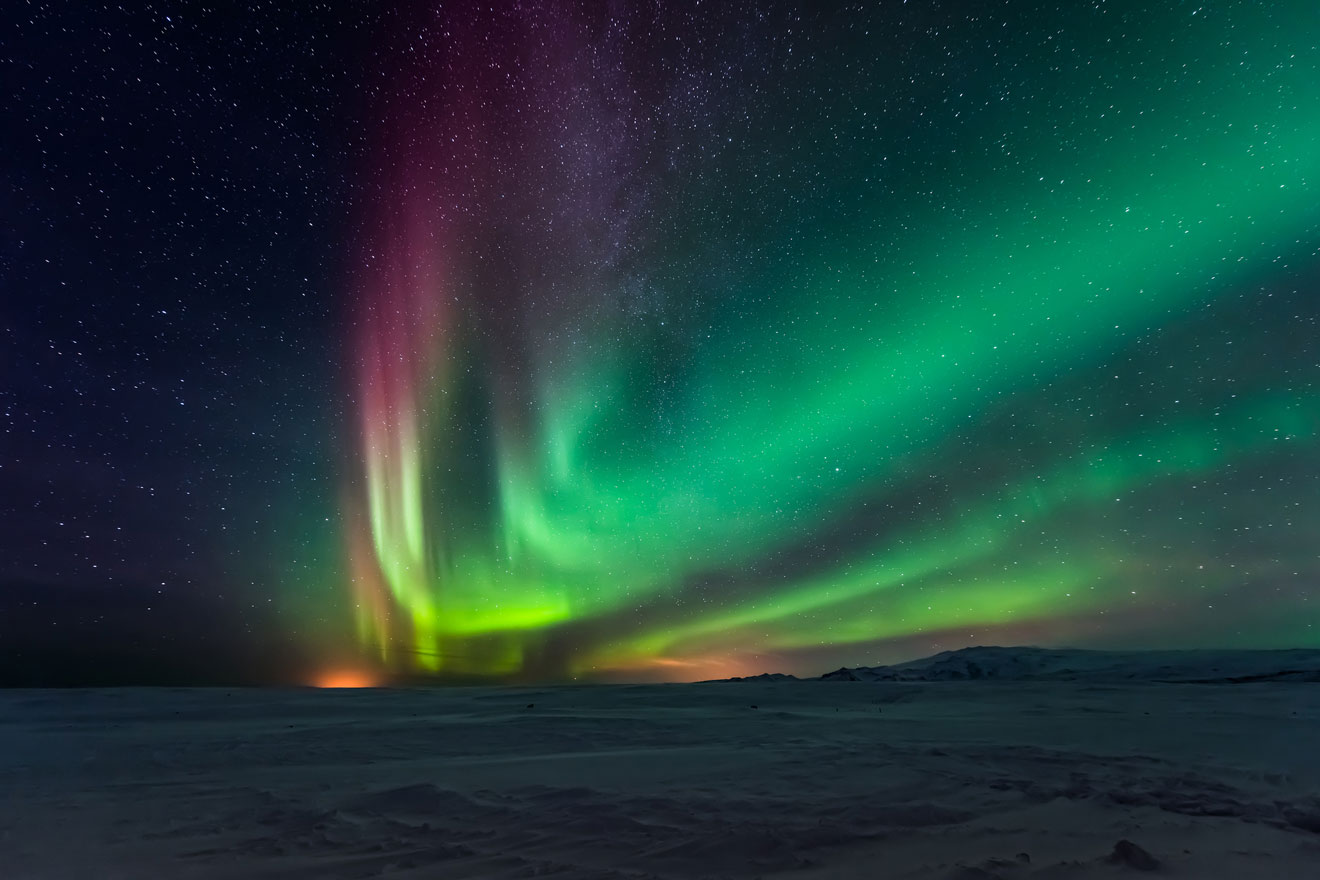 Duration: 9 hours
Price: from US$285
Why you should take it: small group and hidden spots tour
Take your cameras and get set to capture some stunning shots of the Northern Lights. With this small group tour, your guide will take you to secluded spots that you'd never find on your own, and then it's just a matter of settling in and waiting!
And don't worry about being chilly: snacks, coffee/tea, and water (and cozy lodgings) are all provided so you can relax in comfort while admiring the spectacle. No big crowds here, just intimate discovery – what better way to explore?
Plus, an expert will provide you with some useful tips and tricks on how to best capture those incredible photos so you can enrich your social media! If you don't have a professional camera, tour operators offer the possibility of renting one so you're sure to get the best possible shots of the Northern Lights.
9. Witness Northern Lights from Murphy Dome's Lodge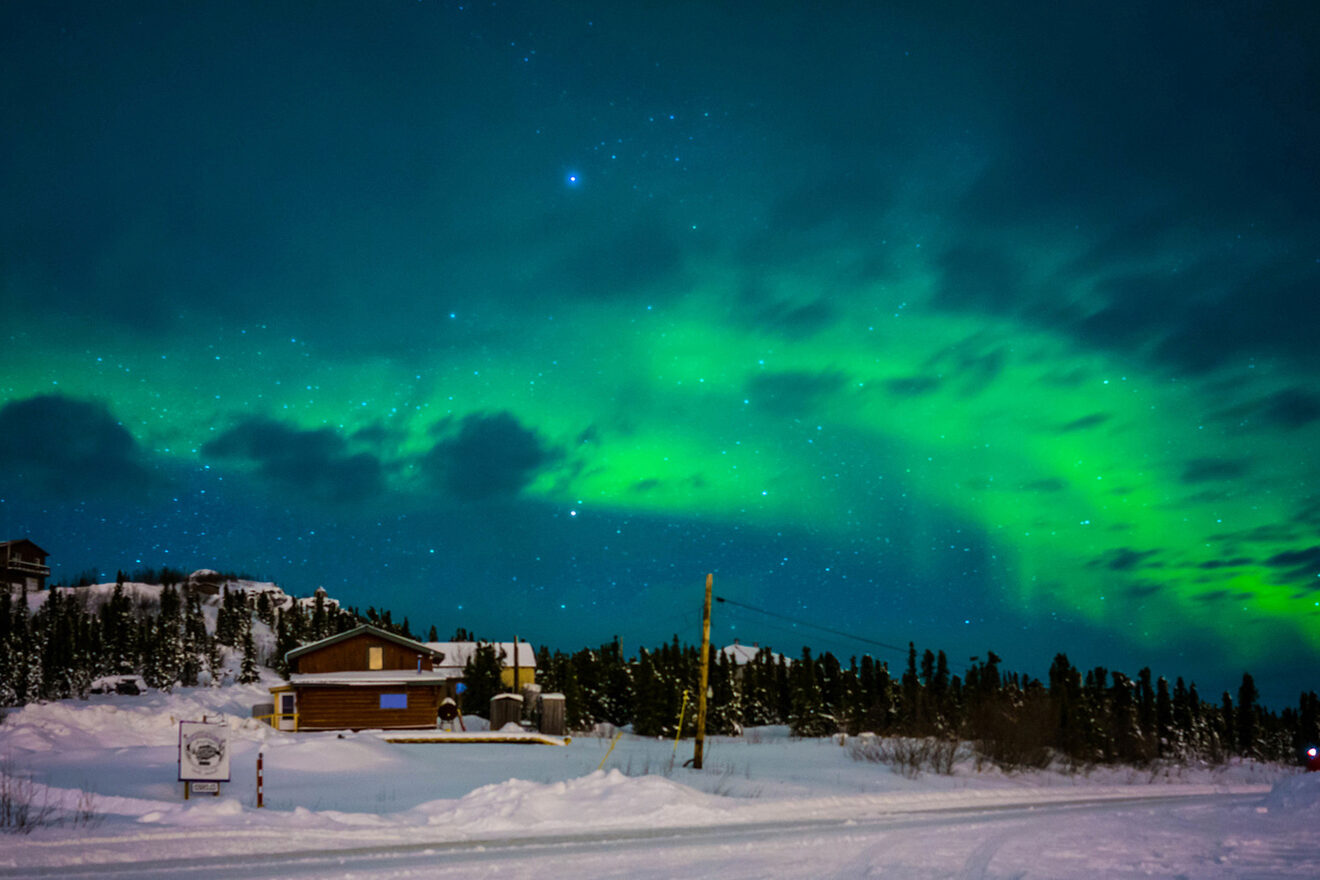 Duration: 5 hours
Price: from US$150
Why you should take it: comfortable lodge outside the city
Pickup from your Fairbanks hotel and a ride to one of the snazziest viewing lodges around? Yes, please!
On this Aurora-viewing adventure, you'll be swooped away to a perfectly secluded site for some stellar Northern Lights gazing. With no light pollution, nothing will stop you from soaking in Alaska's wintry sky in all its glory! Swirling above you and changing shapes with every second – it's hard not to get caught up in the breathtaking sights. Plus, your knowledgeable guide will bring the experience up several notches by teaching you all about why these twinkling beauties dance through the night sky. Whether it's a quick jaunt outside for some photo captures or basking in awe from the cozy lodge, either way – don't miss out on this tour!
10. Experience solo Aurora pointe adventure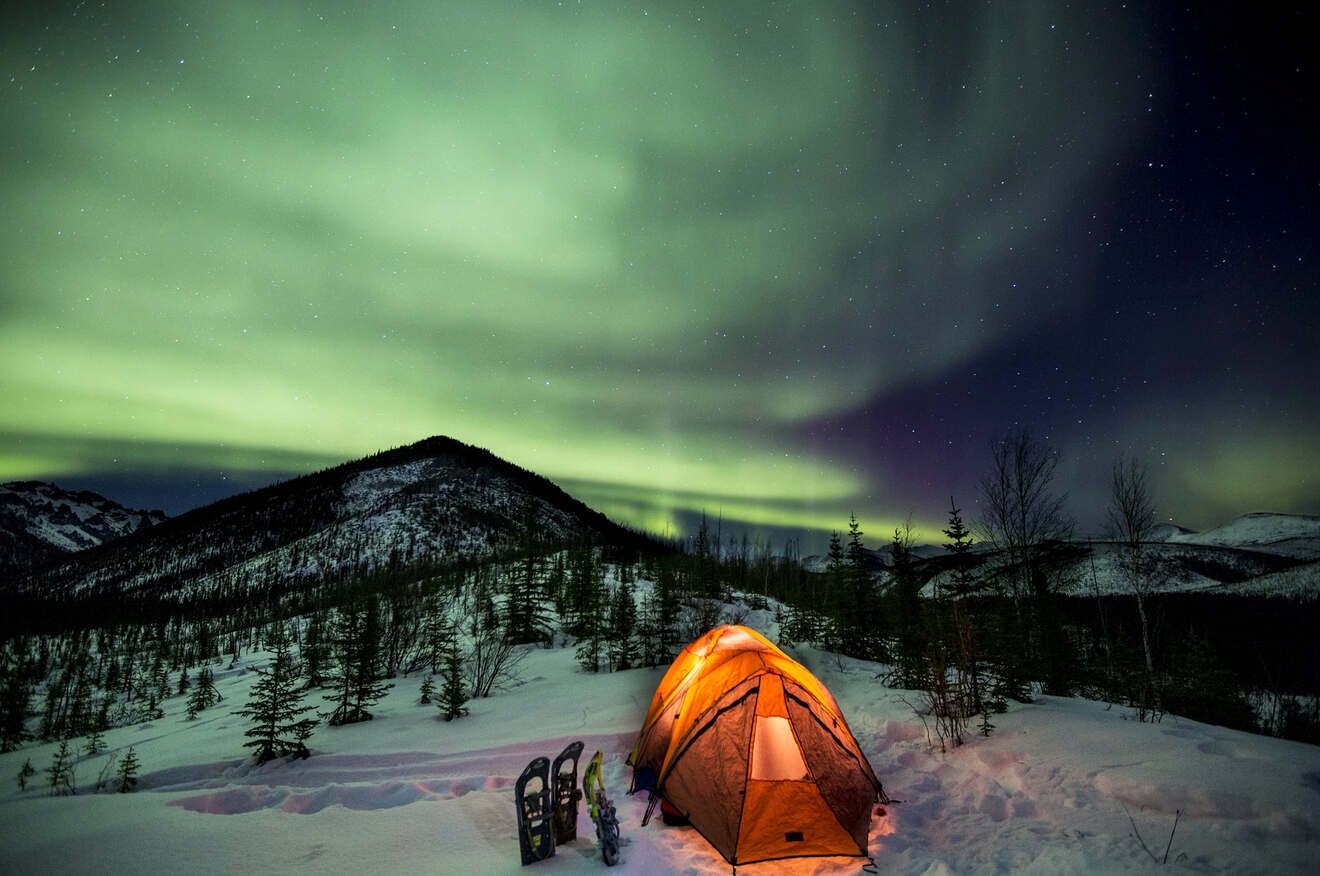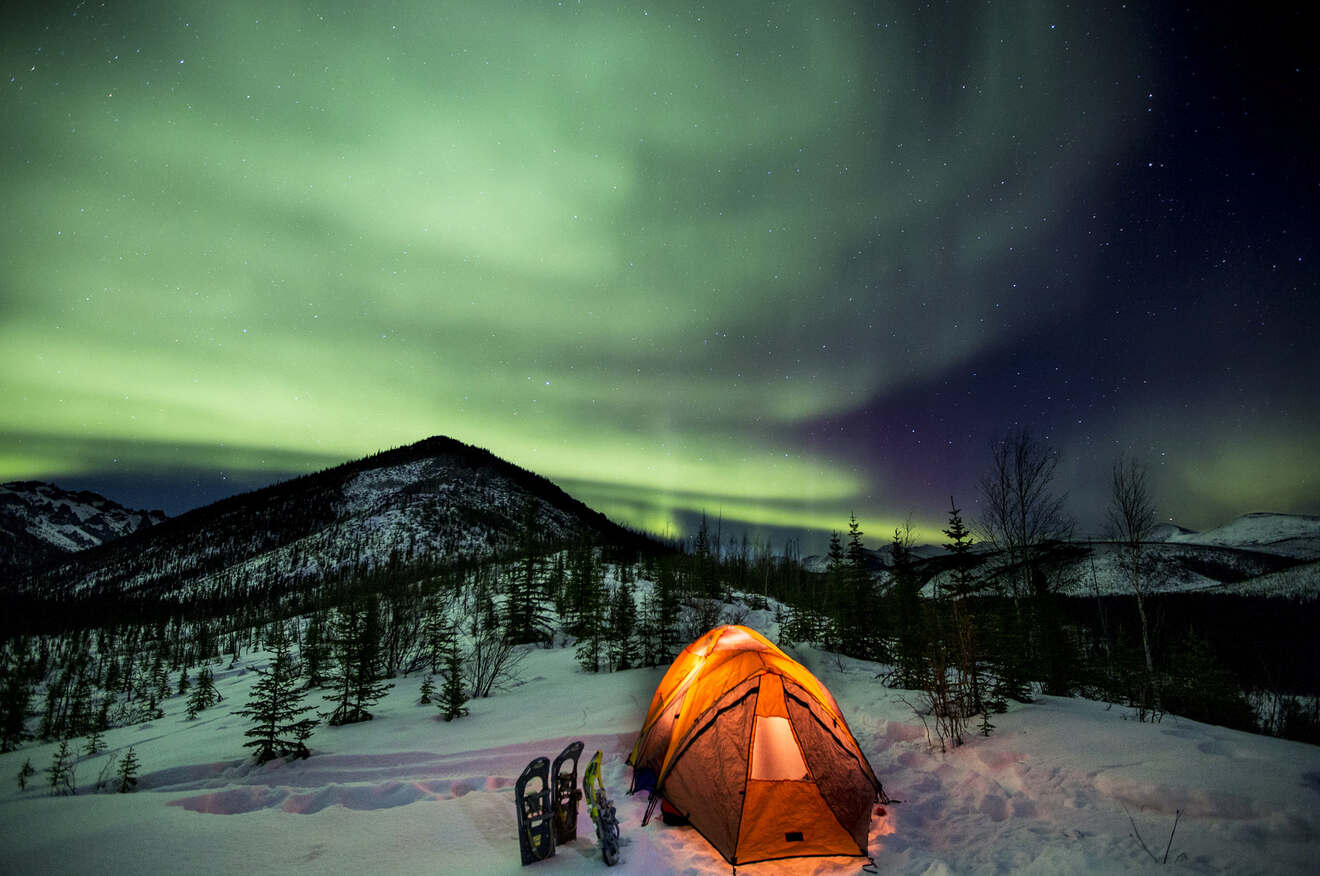 Duration: 9 hours
Price: from US$290
Why you should take it: tailored for solo travelers
A lot of the Northern Lights tours are tailored to groups of 2 or more people, which can be quite frustrating to solo travelers. But fear not, I've got a solution for this!
This tour offers a cozy, intimate spot to enjoy the awe-inspiring Aurora. It hosts groups of 10 or fewer solo travelers in the cedar log home situated in Delta Junction. Here you can enjoy the natural beauty Alaska has to offer without any light pollution. Plus, the tour provides transportation options, so you don't have to worry about those dark Alaskan winter roads. All of the amenities guarantee a comfortable viewing experience.
Even if weather conditions change while you're here, tour lodges have the ability to go mobile, so you won't miss out on witnessing this amazing phenomenon firsthand! It's the best place on earth to witness the Northern Lights' magic!
11. Taste Alaska Fare & admire Northern Lights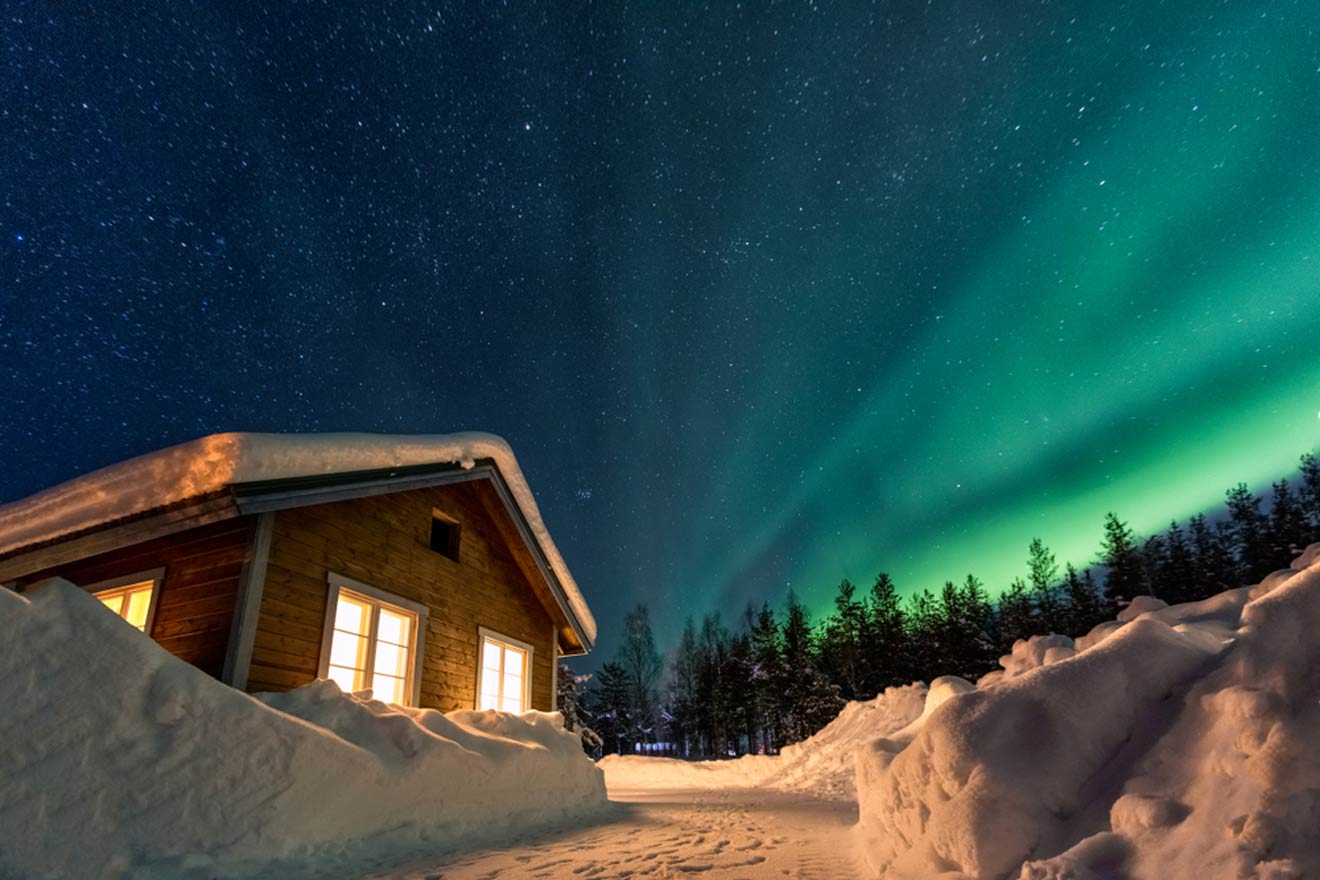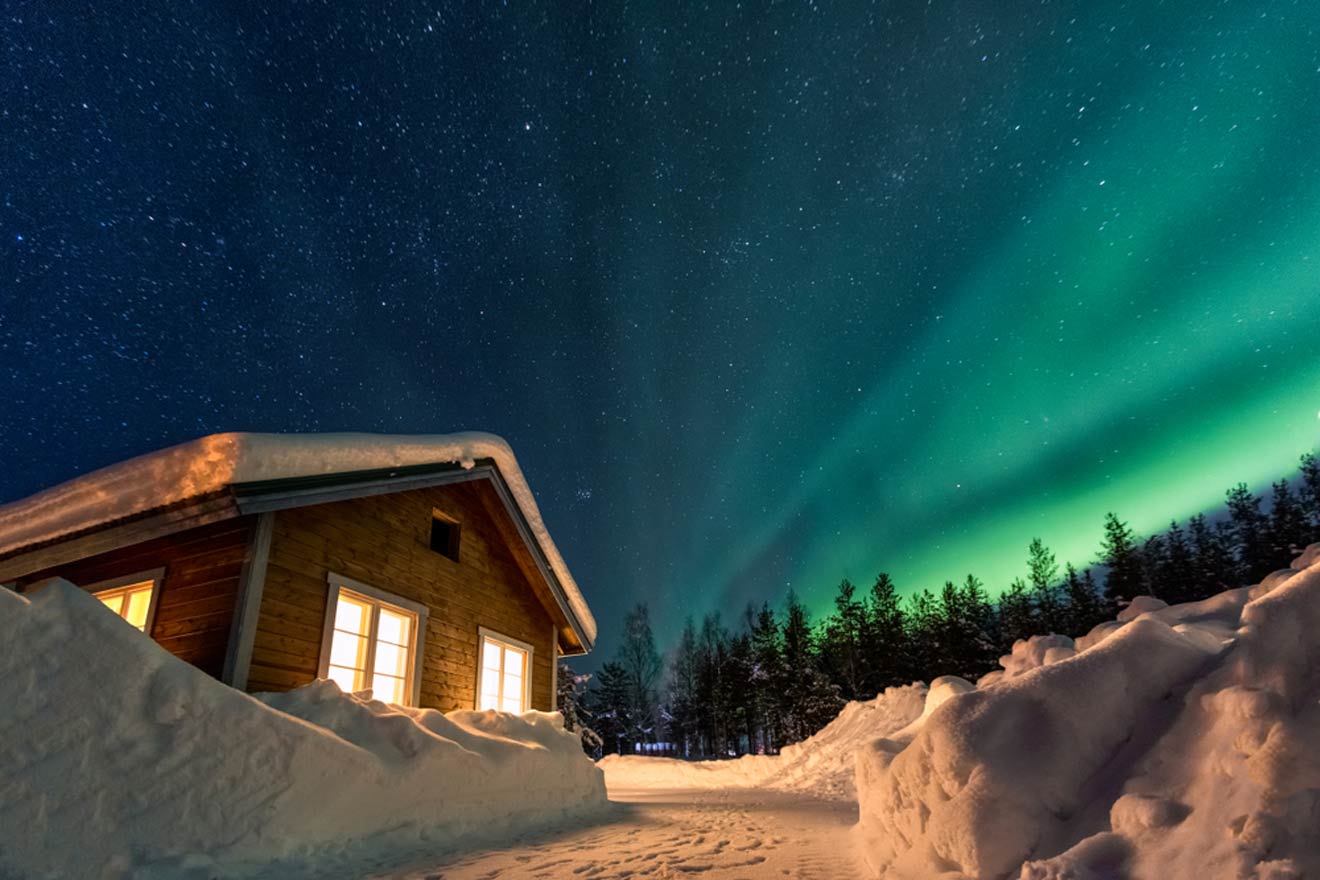 Duration: 5 hours
Price: from US$206
Why you should take it: see the aurora and savor cabin diner
This tour is your chance to see the Northern Lights and savor a romantic dinner in an Alaskan yurt tucked away from civilization! It doesn't get much better than that, am I right?
As you eagerly await the mesmerizing Aurora Borealis, you can take the time to engage in some lively conversations with your mates. You can share your Alaska travel tales and learn more about the Northern Lights. And if you're not in the mood for making friends, you can still use that time to learn some interesting facts from your tour guide.
This tour will immerse you in a 5-hour night of gastronomical delight from Fairbanks! Your driver will take you to an intimate off-the-grid Alaska cabin, where you can socialize and savor a scrumptious home-cooked meal (it's already included!). You can also sip on a warm beverage!
12. Spend 6 days in Alaska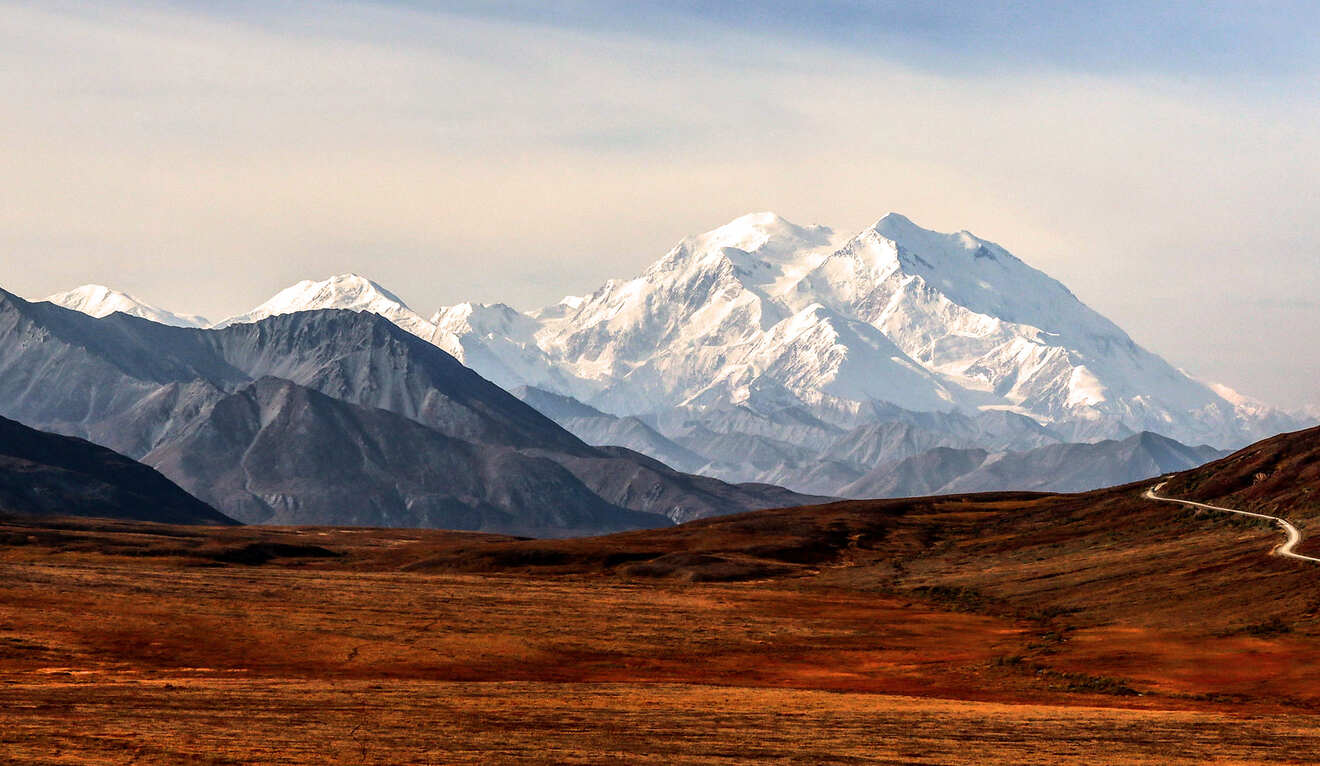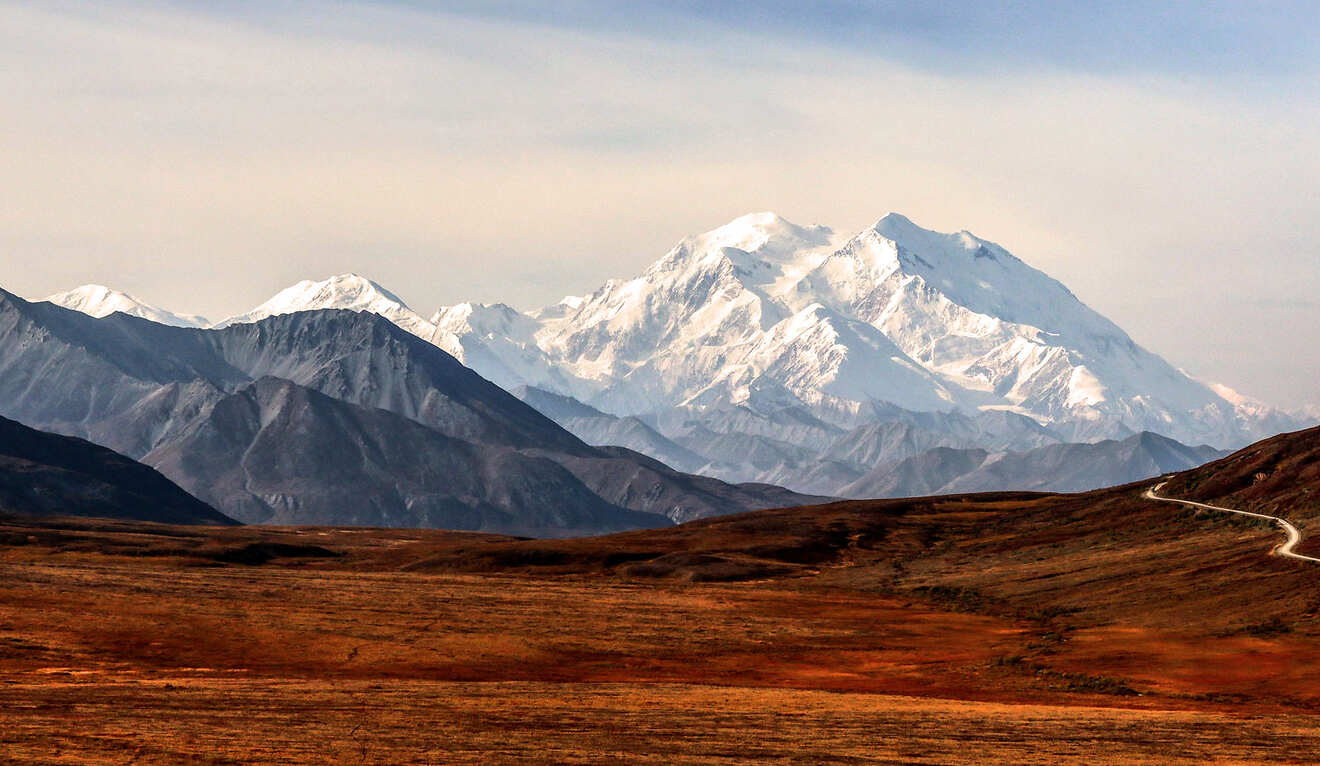 Duration: 6 days
Price: from US$3,800
Why you should take it: great multi-day tour package
If you think that short tours don't offer the in-depth experience you're searching for, fear not, I have a solution for you too! Grab your coat, mittens, and wooly hat, for this 6-day tour of Fairbanks, Alaska – the top spot for capturing the spectacular Northern Lights.
From Denali, North America's tallest mountain, to the awe-inspiring Aurora Borealis, you will surely have a ball! Enjoy fun activities and learn about the history of this frosty wonderland. You'll get to witness nature's magical show above as it winds an arc north of the breathtaking Alaska Range.
And if you're looking for more multi-day adventures, Borealis Basecamp tour packages can provide you with a multitude of great options that can fit anyone's taste and budget. They also offer additional activities, such as dog sledding and snow machining, as well as champagne and sunset activities!
13. Check out the Northern Lights at 2 different spots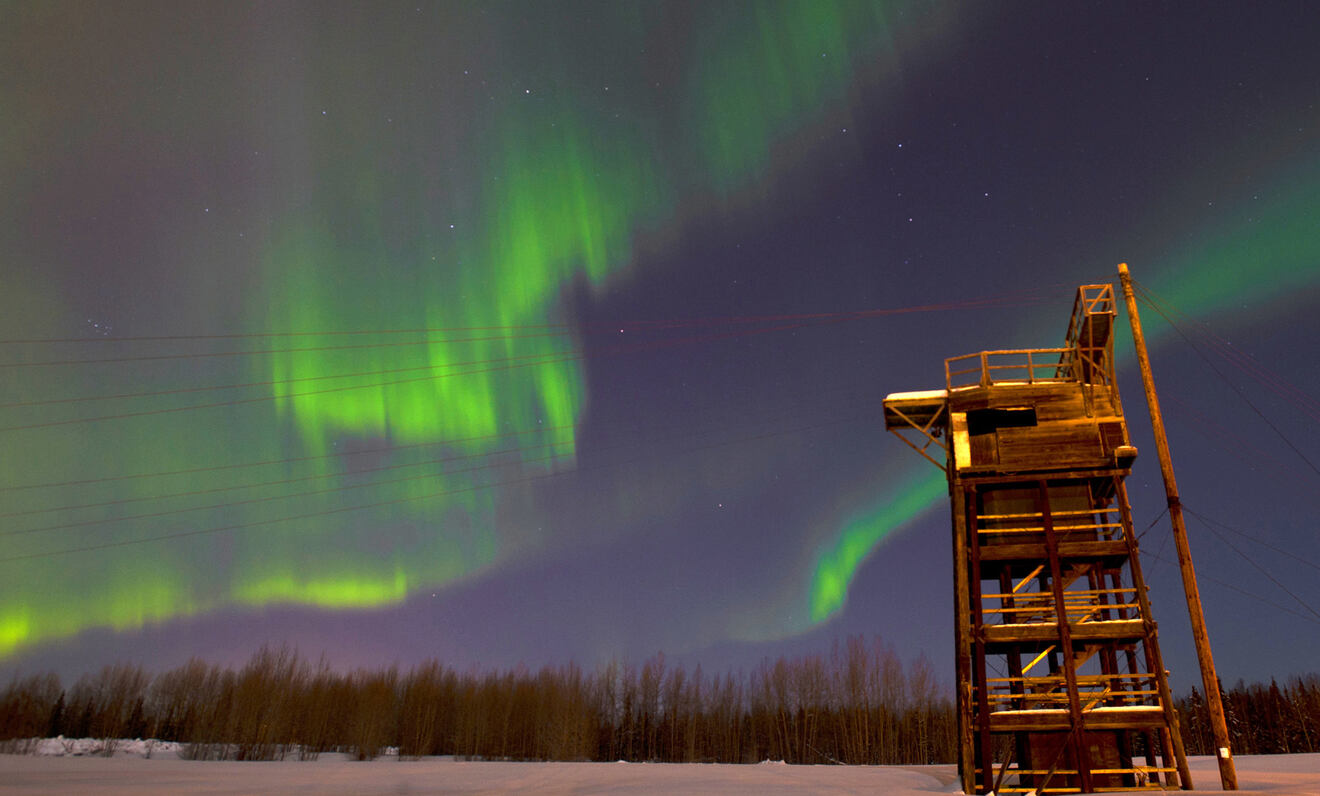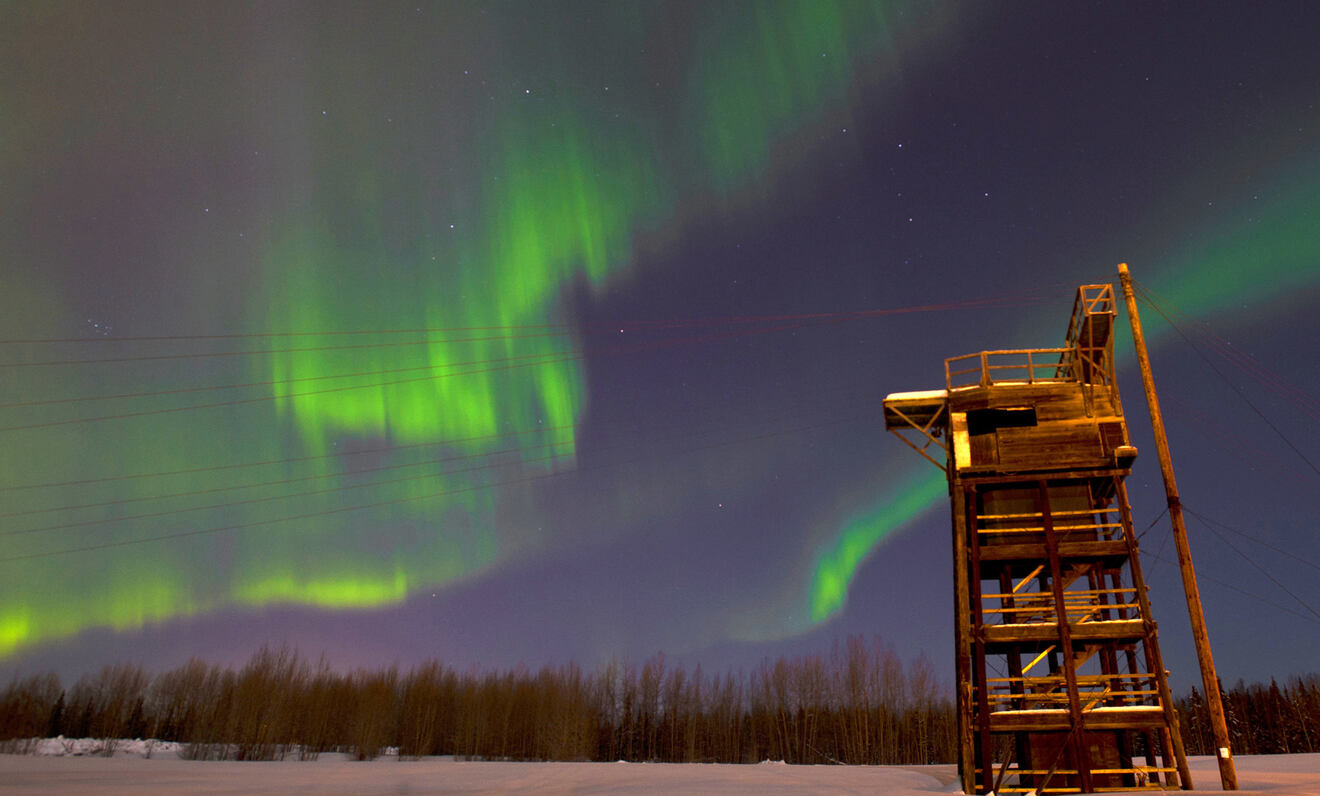 Duration: 3 hours
Price: from US$200
Why you should take it: suited for professional independent travelers and photographers
Gaze in awe at the spectacular natural wonder of the Northern Lights on this night tour from Fairbanks! On this small group adventure, you'll venture to spots like Cleary Summit and soak up the incredible sight of fluorescent colors swirling in the night sky.
Take pictures for keepsakes and gain insights about this natural phenomenon from your experienced guide. And with fewer people around, you'll get more personalized attention while enjoying the solar flares dance against the darkness above. The tour is only 3 hours long, so it's perfect for those short on time.
This tour doesn't offer help with camera and picture capturing, nor does it give beverages and food, so this tour is better suited for professional independent travelers and photographers who are already experienced and want to use this quick opportunity to capture beautiful sights without anyone's help or guidance.
FAQs about your Fairbanks northern lights tour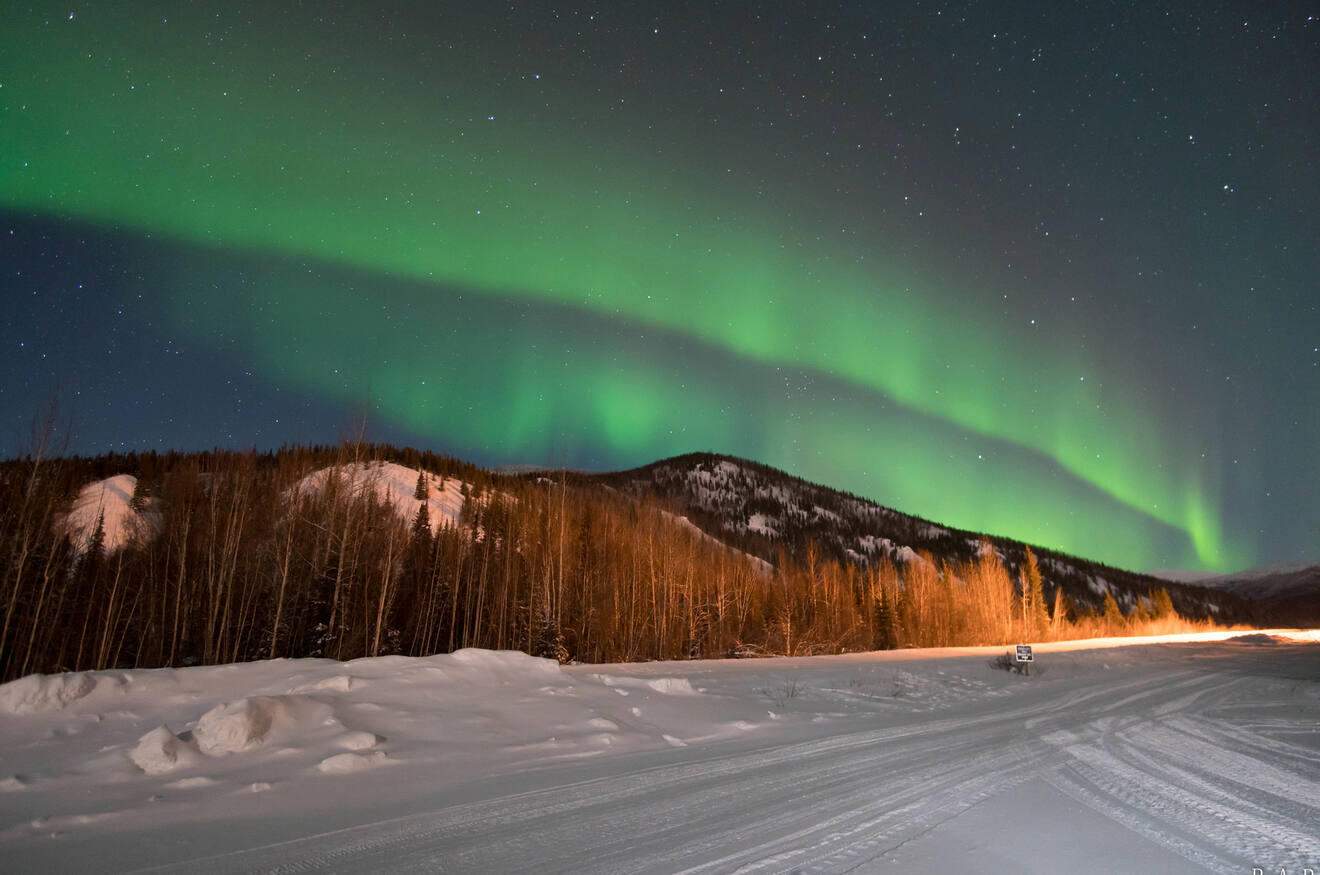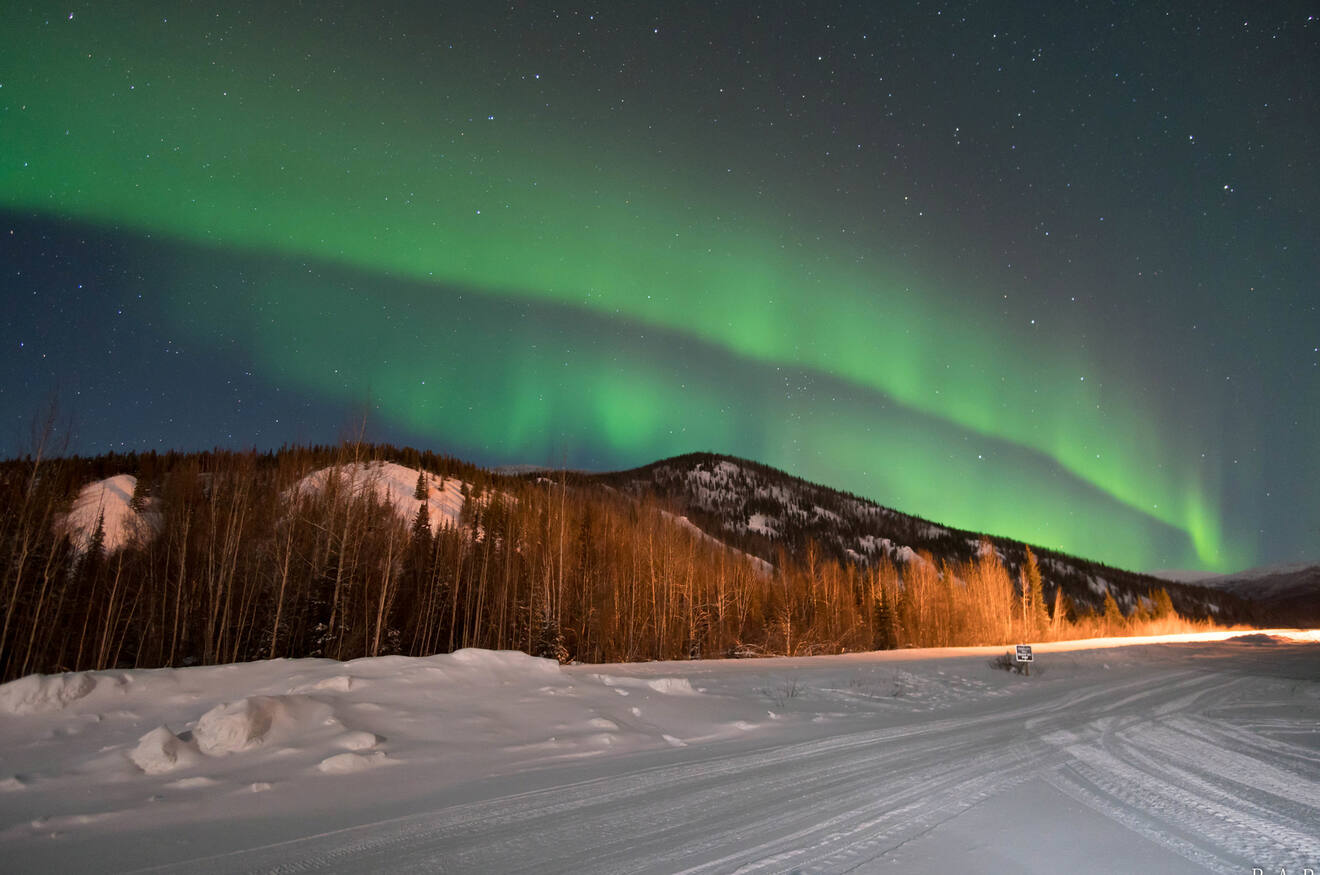 📍 Are Northern Lights tours worth it?
Absolutely! Northern Lights tours can be fantastic for witnessing the awe-inspiring beauty of the Aurora Borealis. I recommend taking the traveler's favorite and most popular tour: Northern Lights & Chena Hot Springs tour.
⌛ How many days do you need in Fairbanks to see the Northern Lights?
To increase your chances of seeing the Northern Lights in Fairbanks, I recommend planning a trip of at least 3 days. If you want a multi-day adventure dedicated solely to Northern Lights, then a 6-day Northern Lights tour is a perfect choice for you!
🧭 Do you need a tour to see the Northern Lights in Fairbanks?
📅 What is the best month to see the Northern Lights in Fairbanks, Alaska?
The best months to plan your adventure are typically from September or October to April. During this time, the chances of catching the mesmerizing dance of colors in the night sky are at their highest.
Conclusion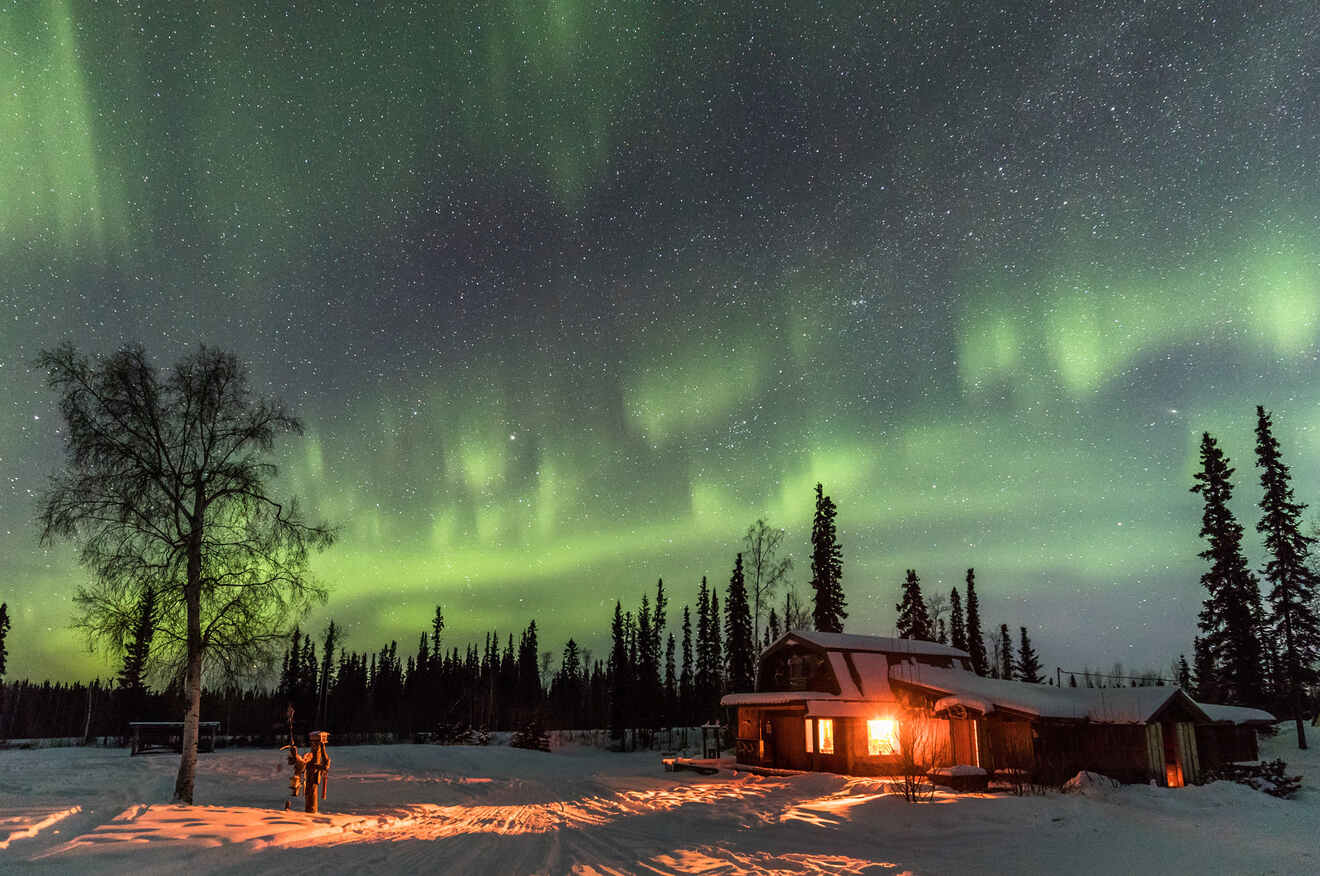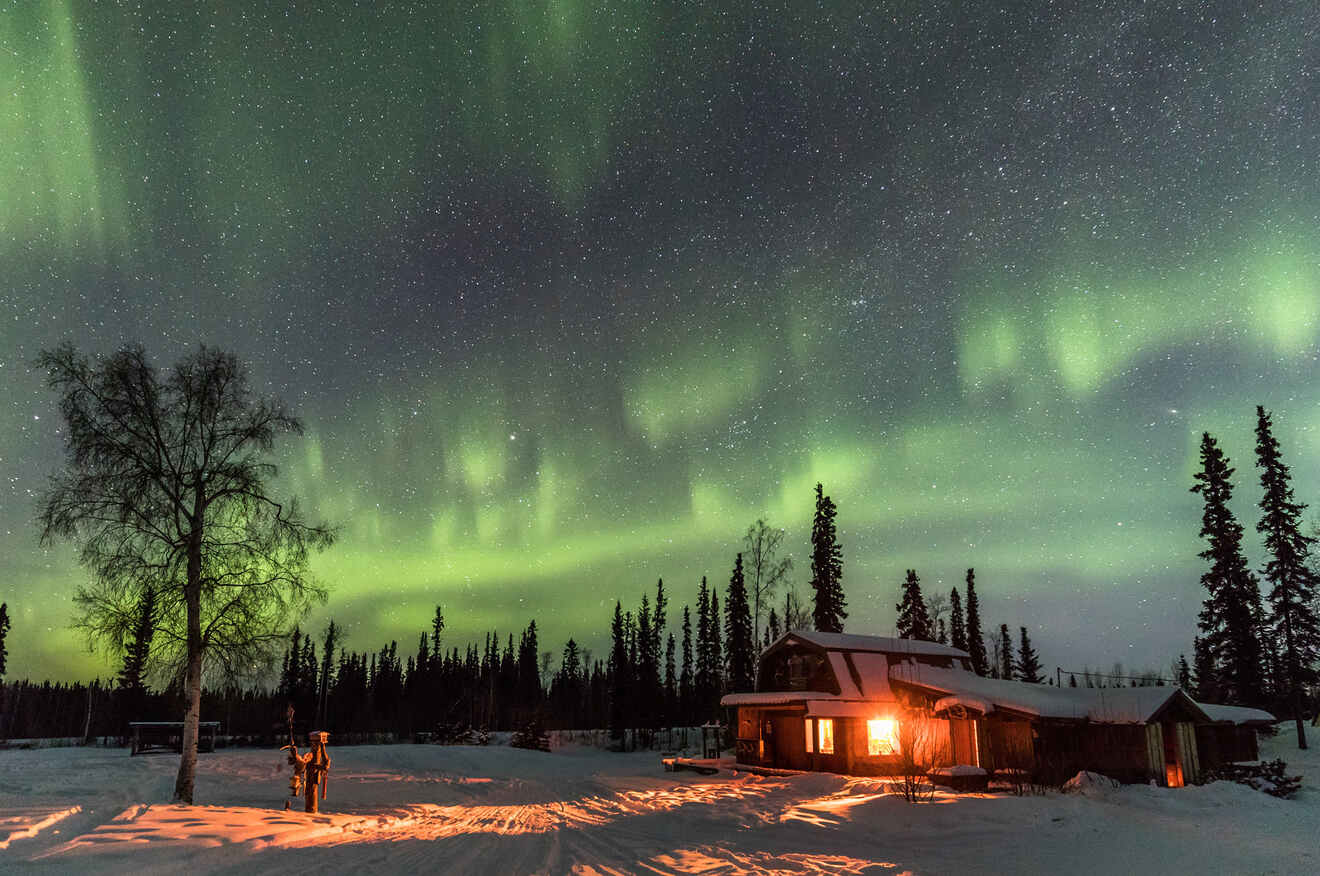 There you have it, my dear travelers! You investigated the best Fairbanks Northern Lights tour options!
Pack your sense of adventure and jump into a mesmerizing journey that'll knock your socks off. Veteran Aurora chasers or total novices, these tours are sure to take you to an enchanting world of celestial beauty.
You have a lot of options to choose from, each one with its unique features. Whichever you choose tho, I'm sure you'll have the time of your life!
If you're serious about having an exciting adventure, make sure you don't forget one important thing: always book your tours in advance!
And if you already witnessed the beauty of the Northern Lights, I'm dying to hear about your experience. Make sure to drop a comment below!
Happy Aurora hunting,
Angelina
---
Pin it for later!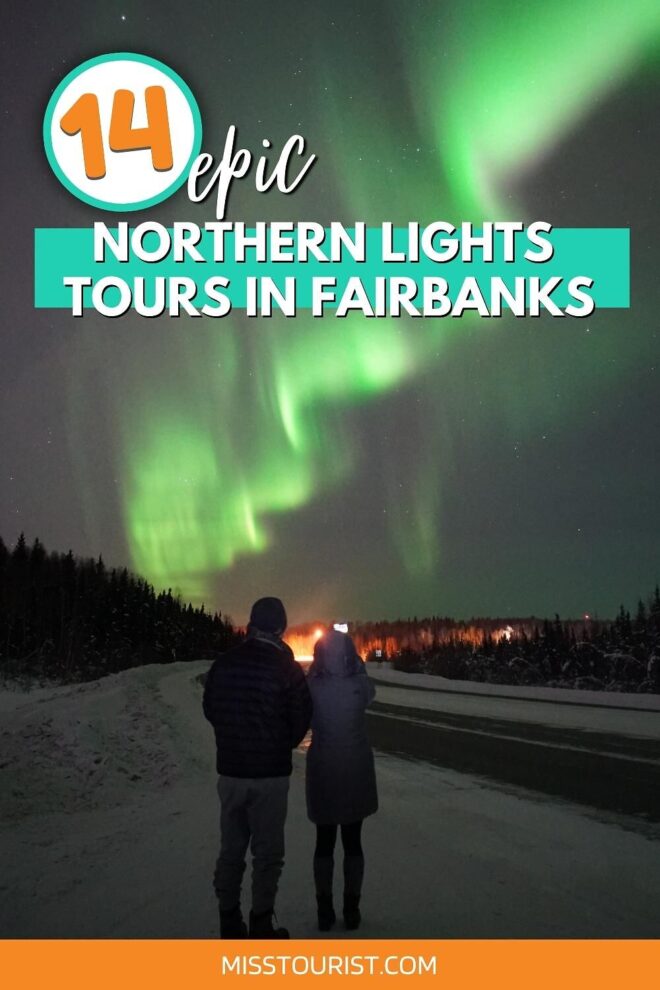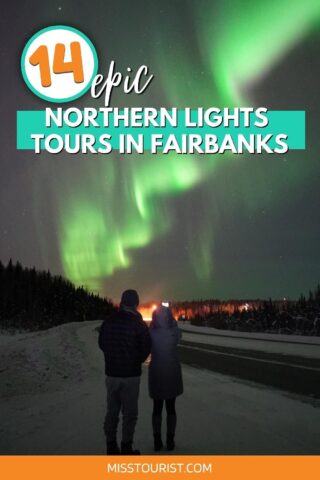 Pin it for later!