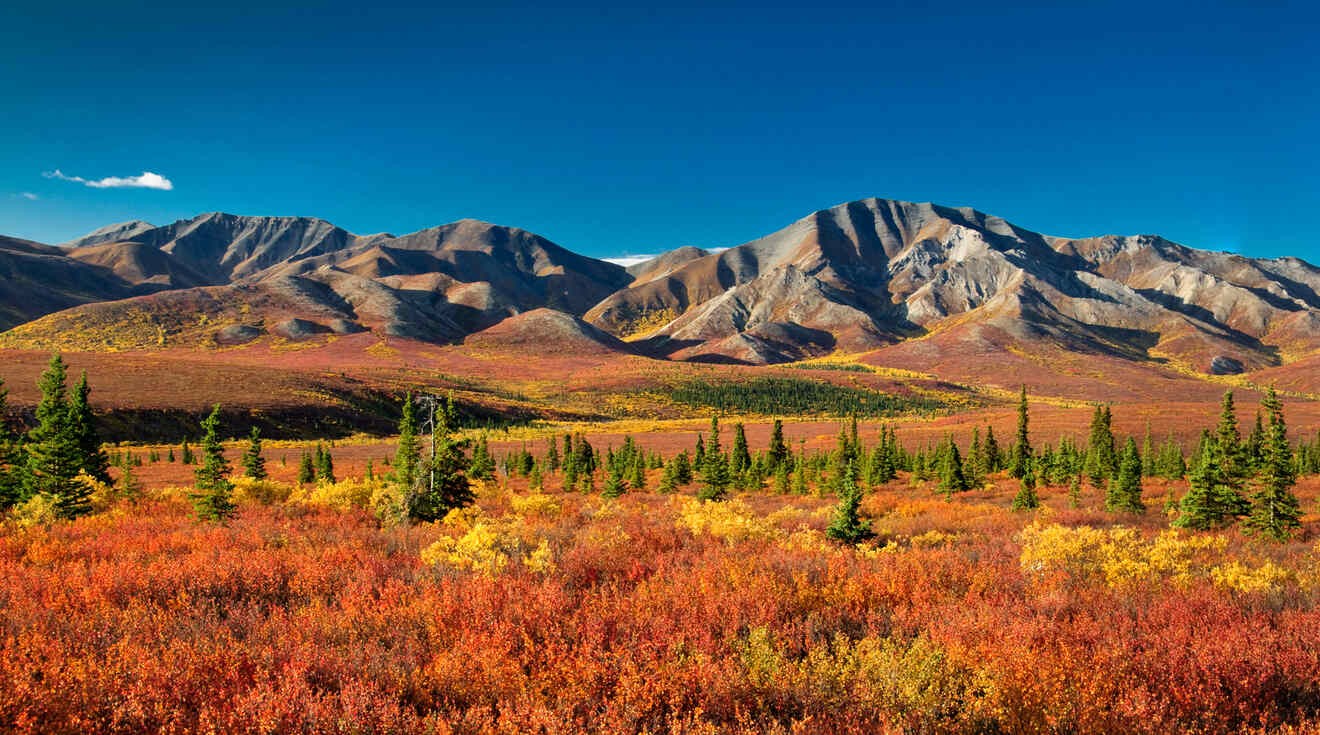 Set in the middle of nowhere, this world-famous national park attracts more and more visitors every year! Who wouldn't want to explore the pristine parkland, observe the magnificent wildlife (watch out for the grizzly bears), and admire Mount Denali, the highest peak in North America for hours?
You're probably packing your bags already, so we'll head straight to business:
In this post, you'll find a carefully curated list of the best places to stay in Denali. Usually, people who visit this national park find a hotel in the nearest towns. The accommodations inside the park are limited to campgrounds or lodges that generally sell out months in advance. But don't worry, if you want to stay inside the park, I have a bonus section that will help you.
Denali National Park has only 1 entrance, located at Mile 237 of Highway 3, also known as the George Parks Highway. The closest town to the entrance is Healy and my top choice for where to stay near Denali.
However, in the list below, you'll find 4 more places perfect for nature lovers, budget travelers, people who want to stay in a bigger city, or those who just want to relax. Plus stick around for the bonus sections if you are looking for some cool cabins to stay near the park!
Before we start, I should tell you that these are the best hotels around Denali and I highly recommend booking them in advance as the area is pretty secluded meaning options are limited and they sell out fast!
Let's hit the road!
If you are in a hurry
Want to book right now? Then browse through this shortlist of the best hotels, all located in Healy
Here's a map that will help you visualize all the areas to stay in Denali that I will be talking about in this post:
1. Healy – the best place to stay in Denali for the first time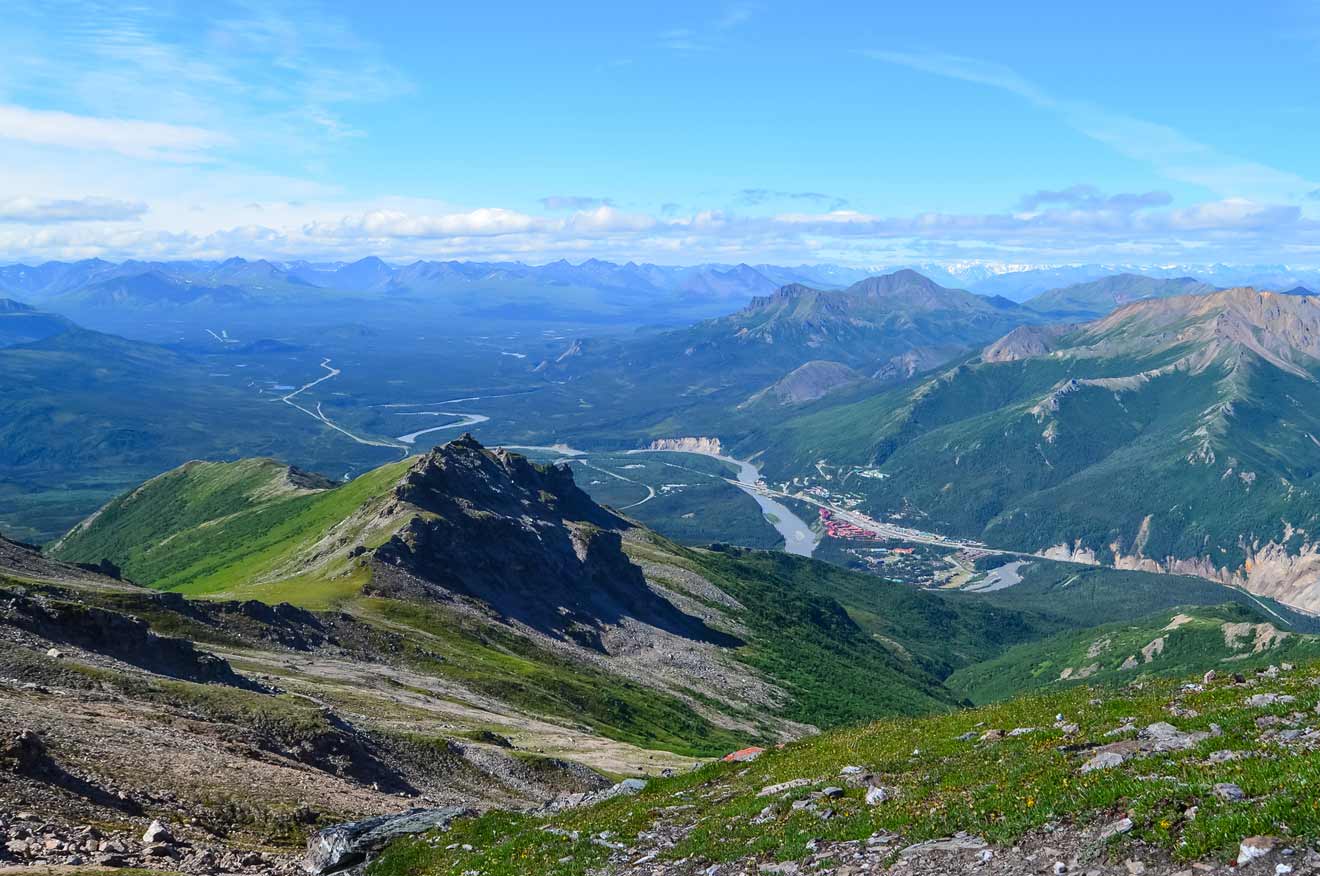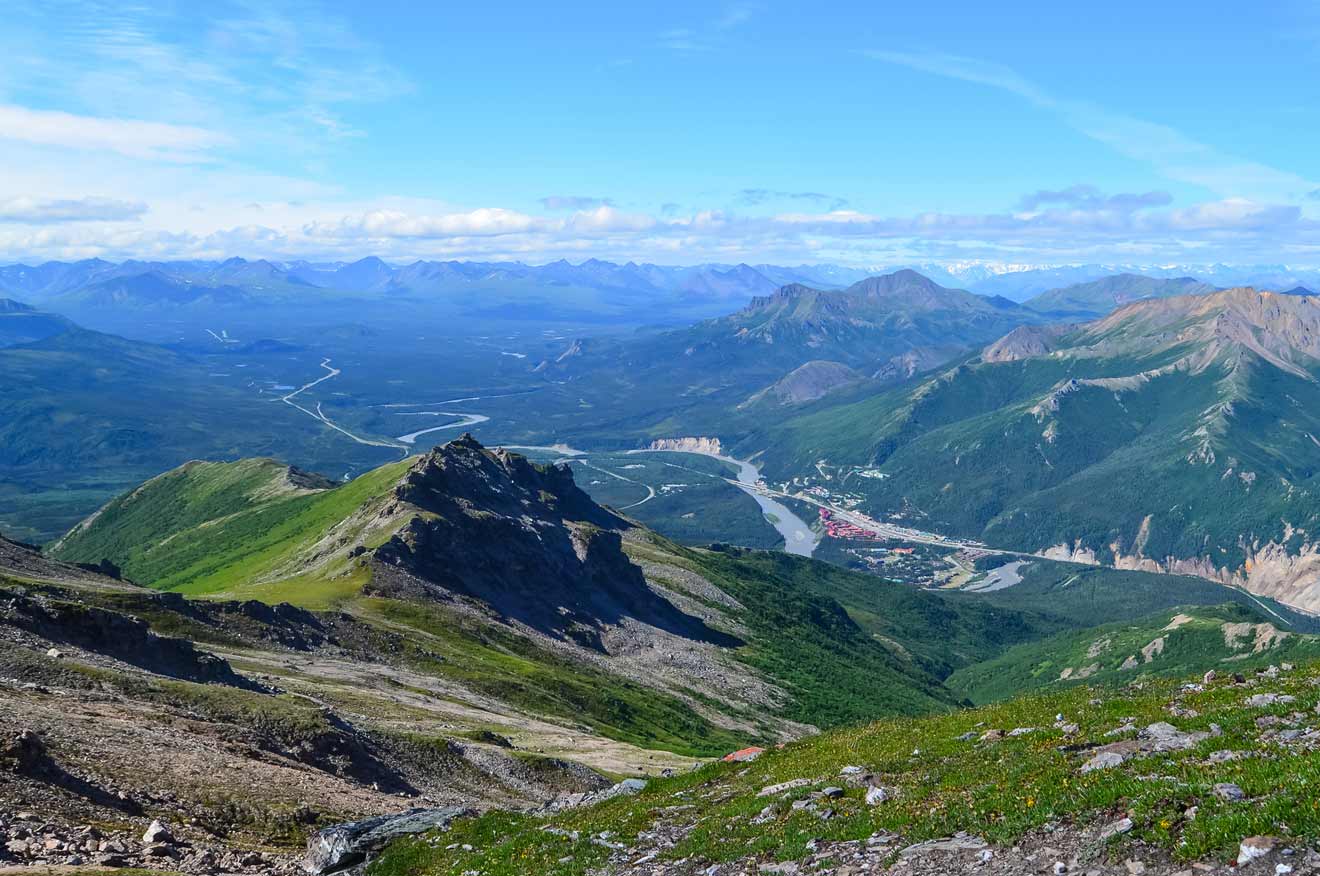 Denali National Park is the dream location for outdoor enthusiasts, right?
What can be better than exploring Denali, the tallest mountain in North America, and hiking around the Alaskan wilderness? It's the adventure of a lifetime!
If you're traveling for the first time, then I recommend finding a place to stay in Healy, a town that's located 12 miles (19 km) north of the park's only entrance!
Healy sits along the stunning Nenana River, and although it's small, it has all the facilities you need and offers easy access to Denali National Park.
I highly recommend booking your hotels in advance especially if you choose Healy, as it's a great location and it sits super close to the park entrance. Most tourists will look for places here, so hurry!
Not only is this small town a great base for exploring Denali National Park, but it also offers plenty of things to do. Before you head to visit the park, you can try whitewater rafting on the Nenana River or hike around Bison Gulch.
You'll also find plenty of restaurants and shops where you can stock up for your trip to Denali Park. And if you're looking for other incredible places to visit in Alaska, I recommend you check out Anchorage!
Other accommodation options in Healy
Things to do in Healy
Try whitewater rafting on the Nenana River
Hike around the Black Diamond Peak
Enjoy a delicious beer at 49th State Brewing
Go on a trip to explore Dora Peak
Have a cup of coffee at The Alaskan Coffee Bean
Take the kids to play at Mountains of Fun
2. Fairbanks – best place for an urban atmosphere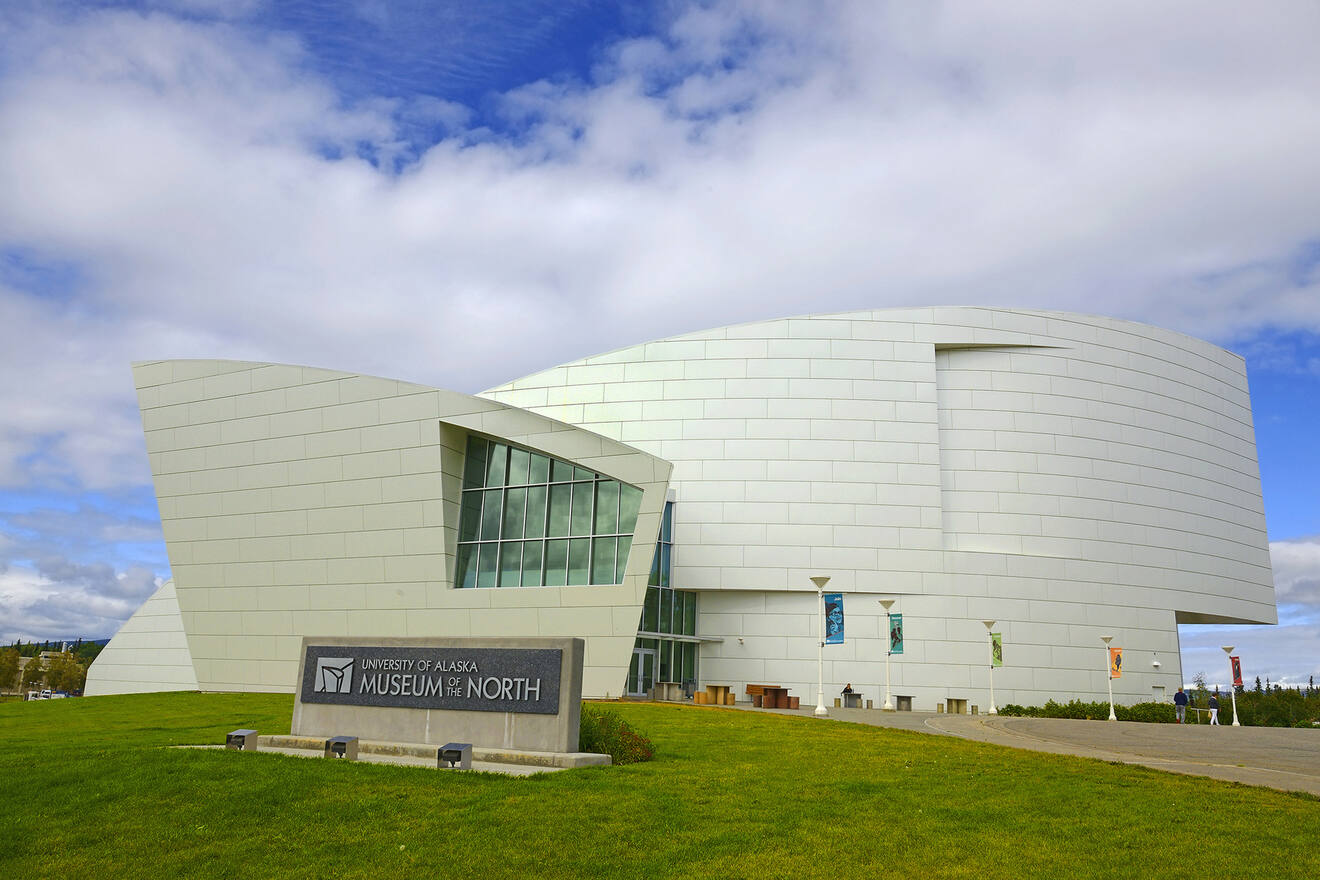 If small towns aren't really your piece of cake and you'd rather spend your time outside of Denali Park in a place that offers different types of places to visit like museums and attractions, then I think Fairbanks is the place for you!
Alaska's 2nd largest city sits 120 miles (190 km) north of Denali National Park's entrance, and it's perfect for those who also want to explore some historic sites, shop, and eat in the best restaurants!
Fear not, you'll also have easy access to the Alaskan wilderness, and you'll also learn a lot about the Alaska Native culture here.
Before you head to visit Denali Park, take a day or 2 to search for the best attractions in the city. You can start with the Museum of the North and Pioneer Park, both places are fantastic, and you'll find out so many cool things about Fairbanks.
We're still in Alaska, so we've got plenty of natural sites in the cities as well. One of the best ones is Creamer's Field Migratory Waterfowl Refuge. Here you'll spot so many cute birds (I'm sure the kids will love this one)!
Other accommodation options in Fairbanks
As you've noticed Fairbanks offers many comfortable accommodations and I'm sure many of you will want to stay in a city that provides all the amenities you'll need for your trip to Denali Park. So in case you've missed your chance at the accommodations from the list above or still haven't found the best hotel for you, here are 4 more: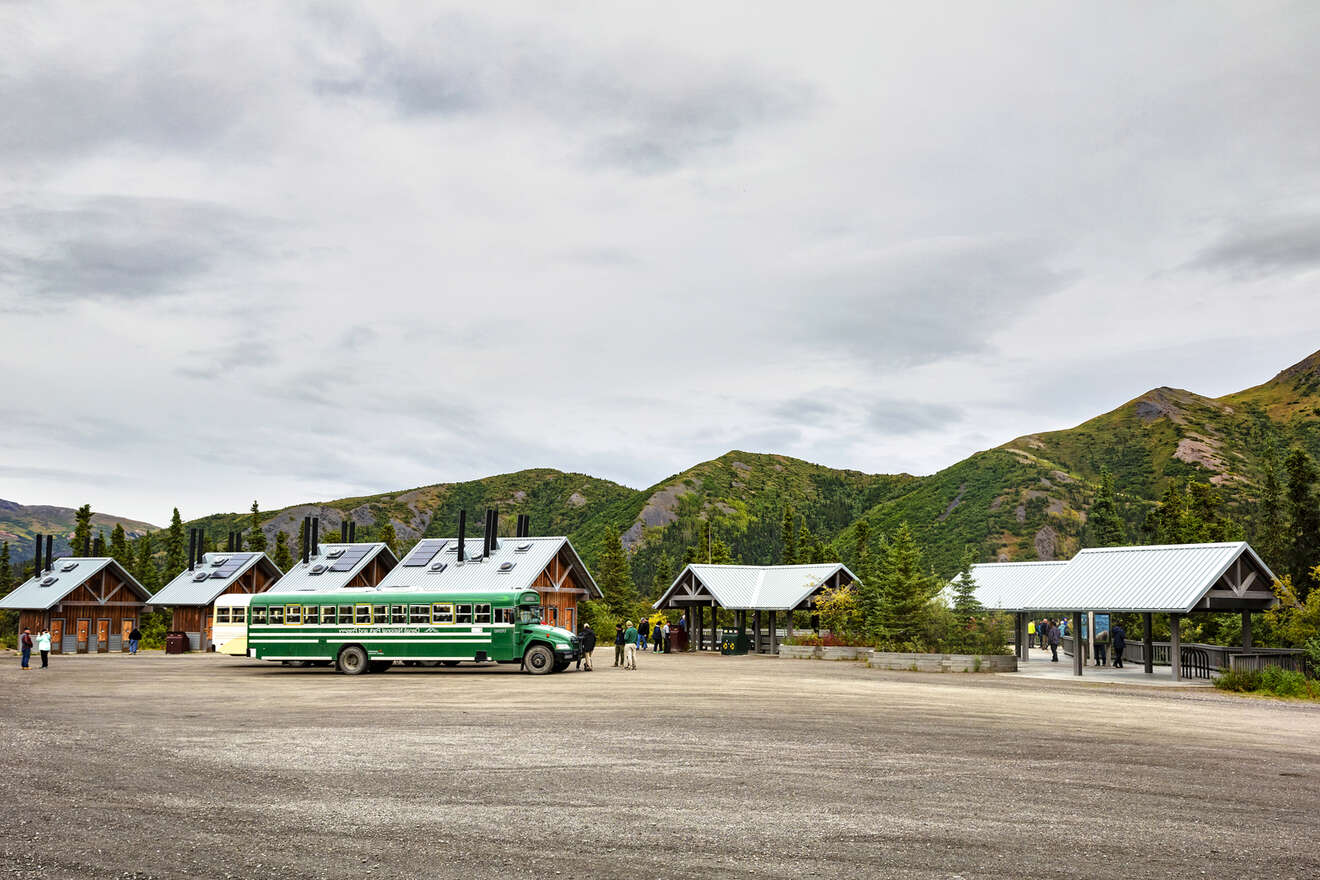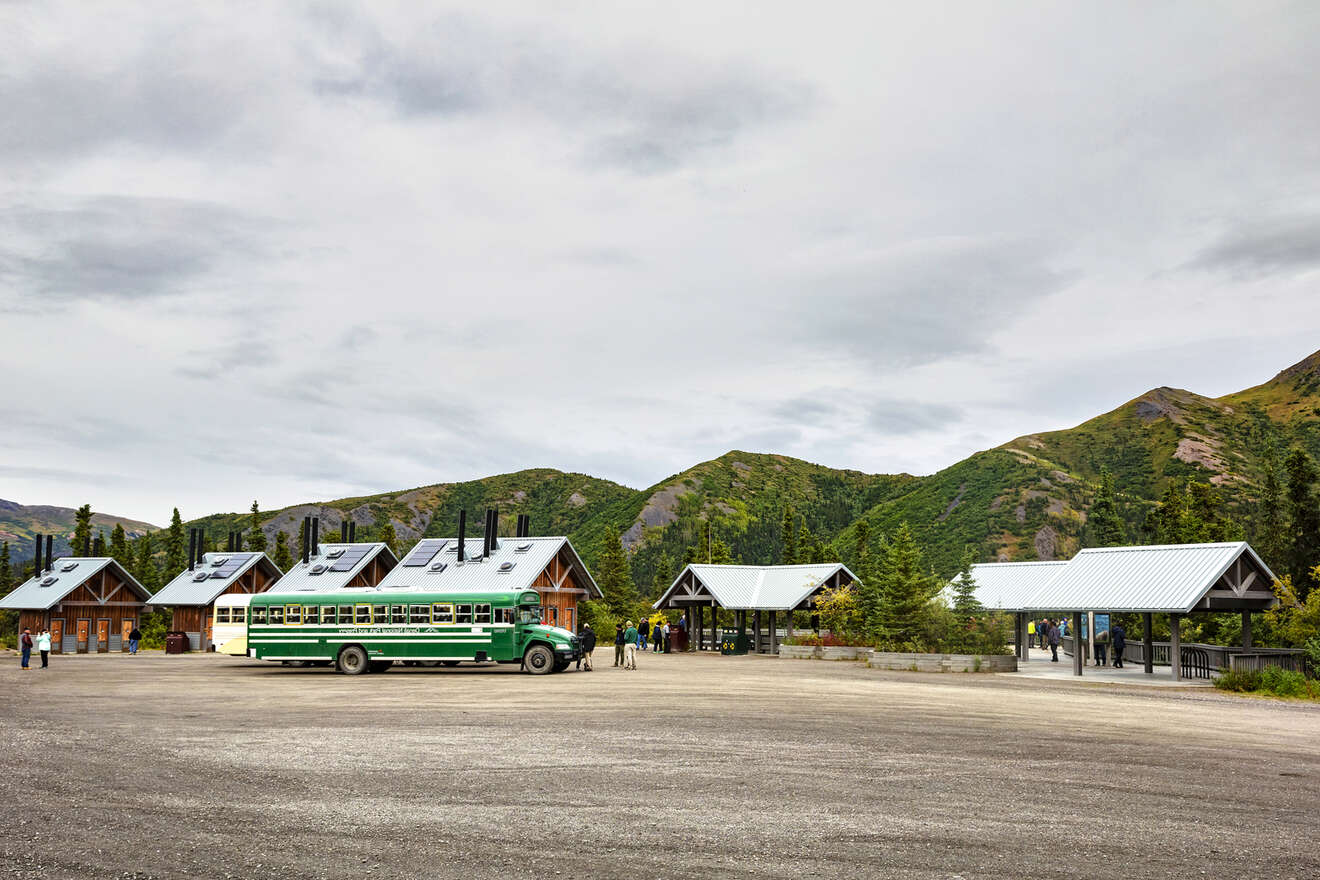 Things to do in Fairbanks
3. Talkeetna – best place to stay in Denali on a budget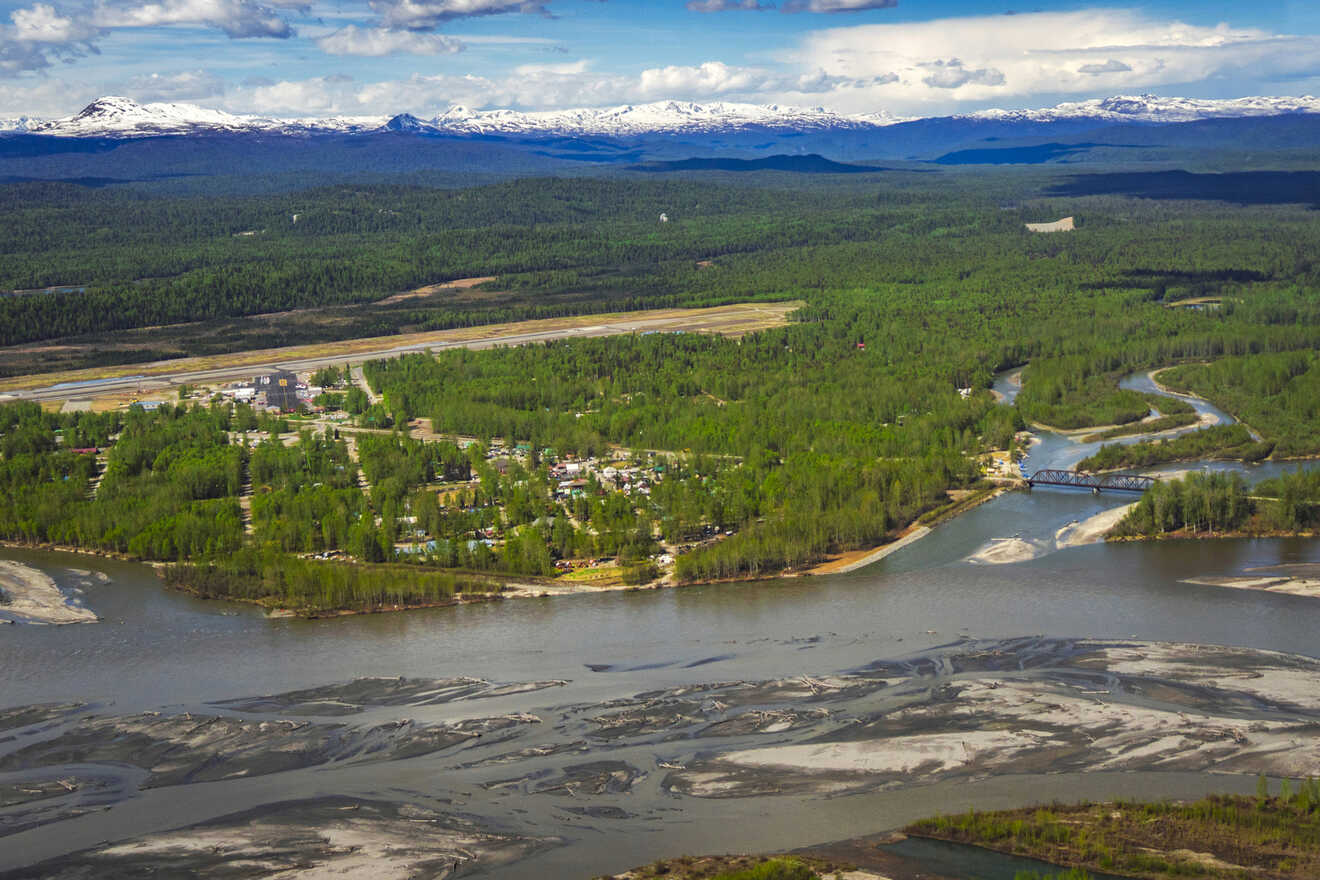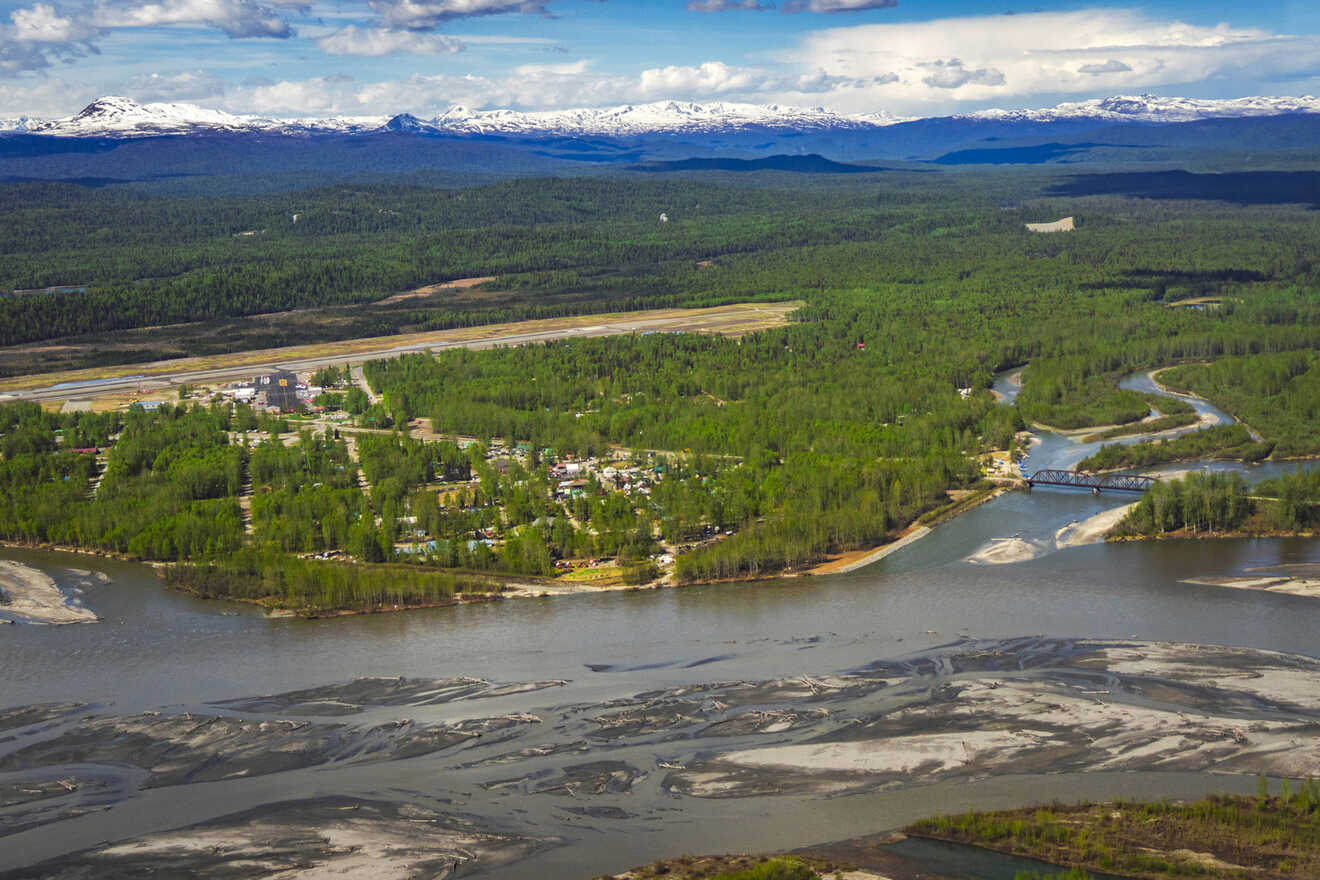 This town sits 150 miles (240 km) south of Denali National Park, and it's one of the best places to stay in Denali for people looking for affordable hotels! It's also located pretty close to Trapper Creek, only a 30-minute drive away.
Founded in the 20th century as a railroad town, Talkeetna is located at the confluence of 3 rivers. It offers plenty of things to do outdoors while you're not exploring Denali National Park.
The hiking areas near the lake are absolutely amazing. The views are like none other! There are plenty of those around so trust me when I tell you that you'll want to spend a lot of time here!
Back in the town area, you can visit the Historical Society, to learn more about the town's past and have a look at the restaurants and cafes around, you'll probably be famished after all the walking and hiking. Plus there are also a few cute shops from where you can buy souvenirs.
Talkeetna is full of life, and although it's a bit further away from Denali National Park, you'll find plenty of things to do here during your trip!
Other accommodation options in Talkeetna
Things to do in Talkeetna
Learn new things at the Talkeetna Historical Society
Go for a hike around the Chulitna River
Enjoy a day of fishing at Christiansen Lake
Have a drink at Denali Brewpub
Take a trip to Trapper Creek
Catch a sunset in Talkeetna Riverfront Park
Go on a zip line tour in Talkeetna
Check out Mountain High Pizza Pie and the other restaurants
4. Trapper Creek – where to stay in Denali for nature lovers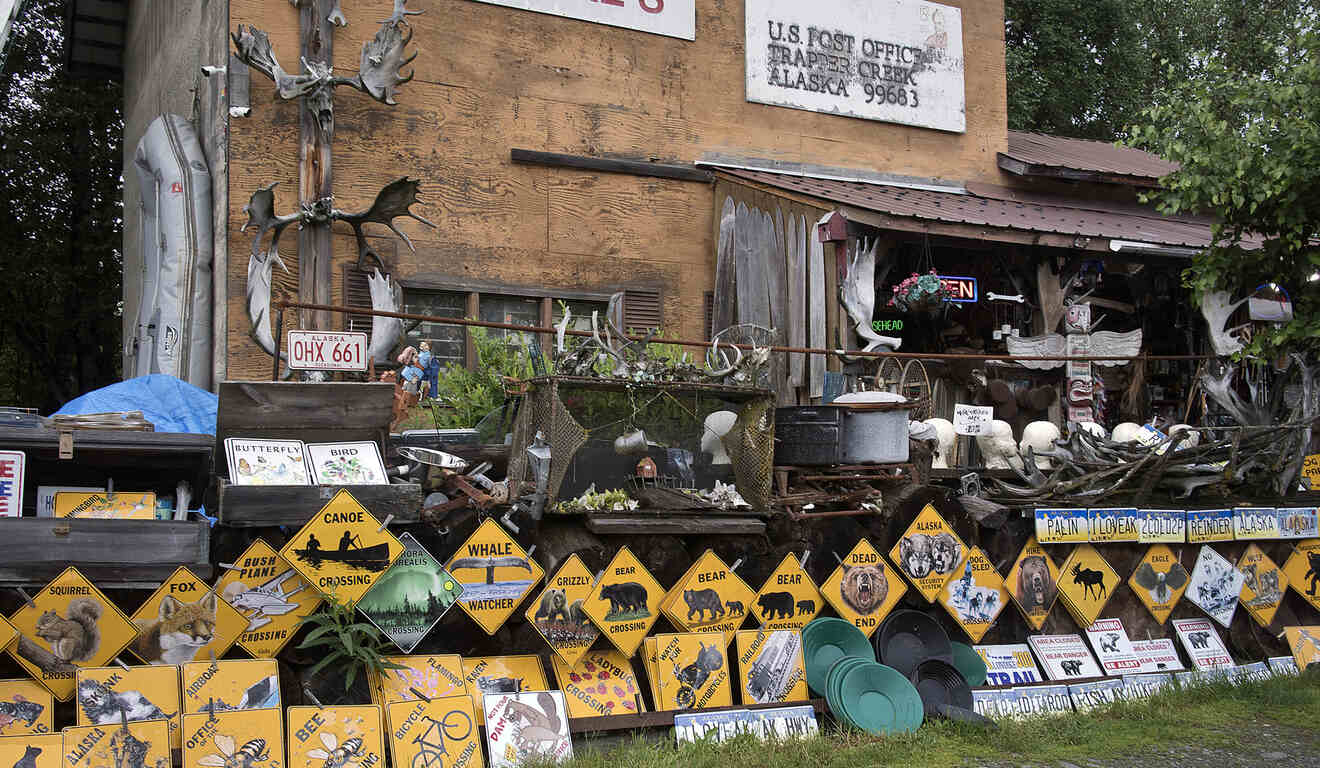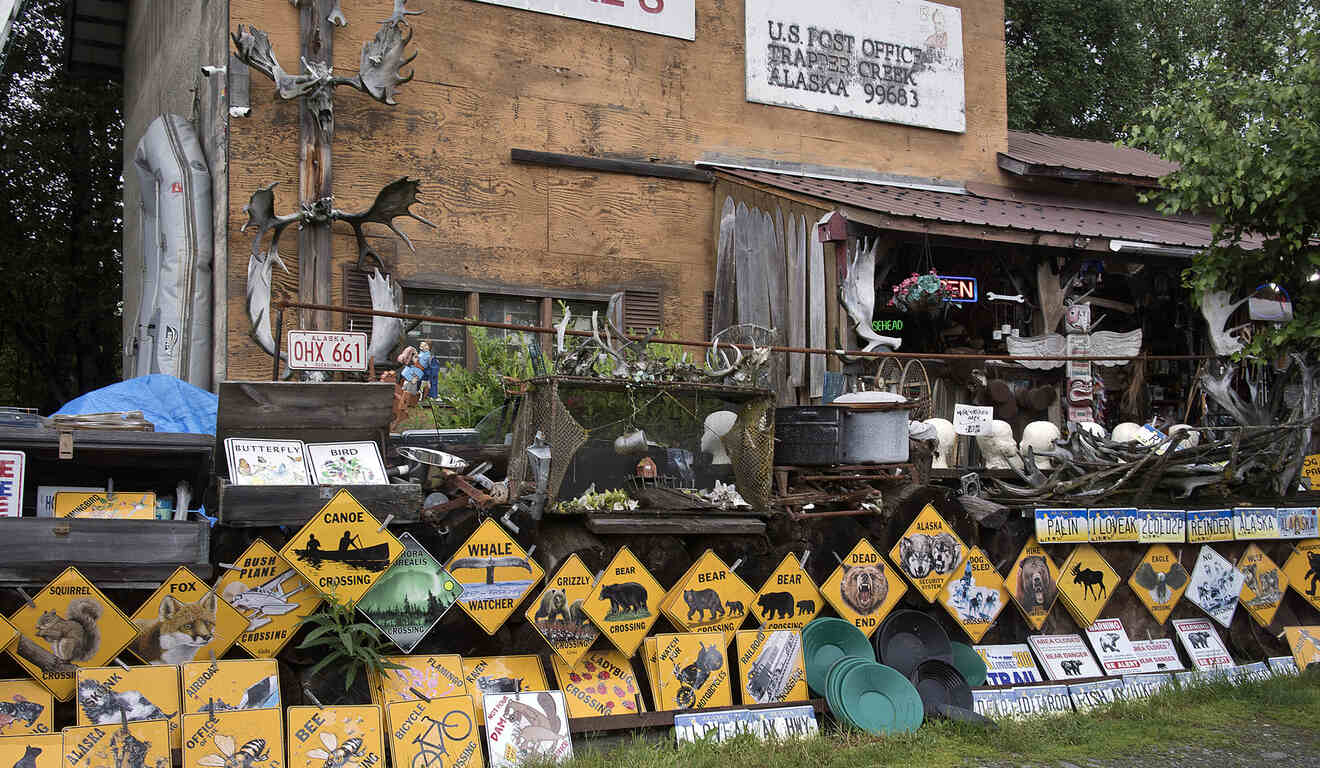 Located 120 miles (190 km) south of Denali National Park, Trapper Creek is one of the best places to stay in Denali! Why?
Well, the views of the tallest mountain in North America are pretty incredible! Also, Trapper Creek offers the most amazing natural surroundings. There are so many places to explore in the outdoors here that you won't know where to start.
Don't worry. I'll help you with that!
You should be camera-ready at all times during your stay in Trapper Creek because you'll want to take pics of Denali Mountain at every stop!
Grab your hiking shoes because you'll walk for hours! Trapper Creek is known for its pretty countryside and rivers. On some of them, like Susitna River, you can even rent kayaks and spend a few hours enjoying some peace and quiet!
There are a few restaurants in Trapper Creek as well, 20320 Alaskan Grill is probably the most popular one around, and it has a terrace where you can chill in the sun.
Now let's check out the accommodation in Trapper Creek. I'm sure you'll find your favorite on this list!
Other accommodation options in Trapper Creek
Things to do in Trapper Creek
Spend a few hours kayaking on Susitna River
Visit the beautiful Swan Lake in Trapper Creek
Explore the area around Scotty Lake in Trapper Creek
Have a delicious dinner at 20320 Alaskan Grill
Buy souvenirs from the Trapper Creek Wal Mikes gift shop
Stop at Denali Mountains View Pullout on Parks Highway to admire the views
5. Cantwell – where to stay in Denali for tranquility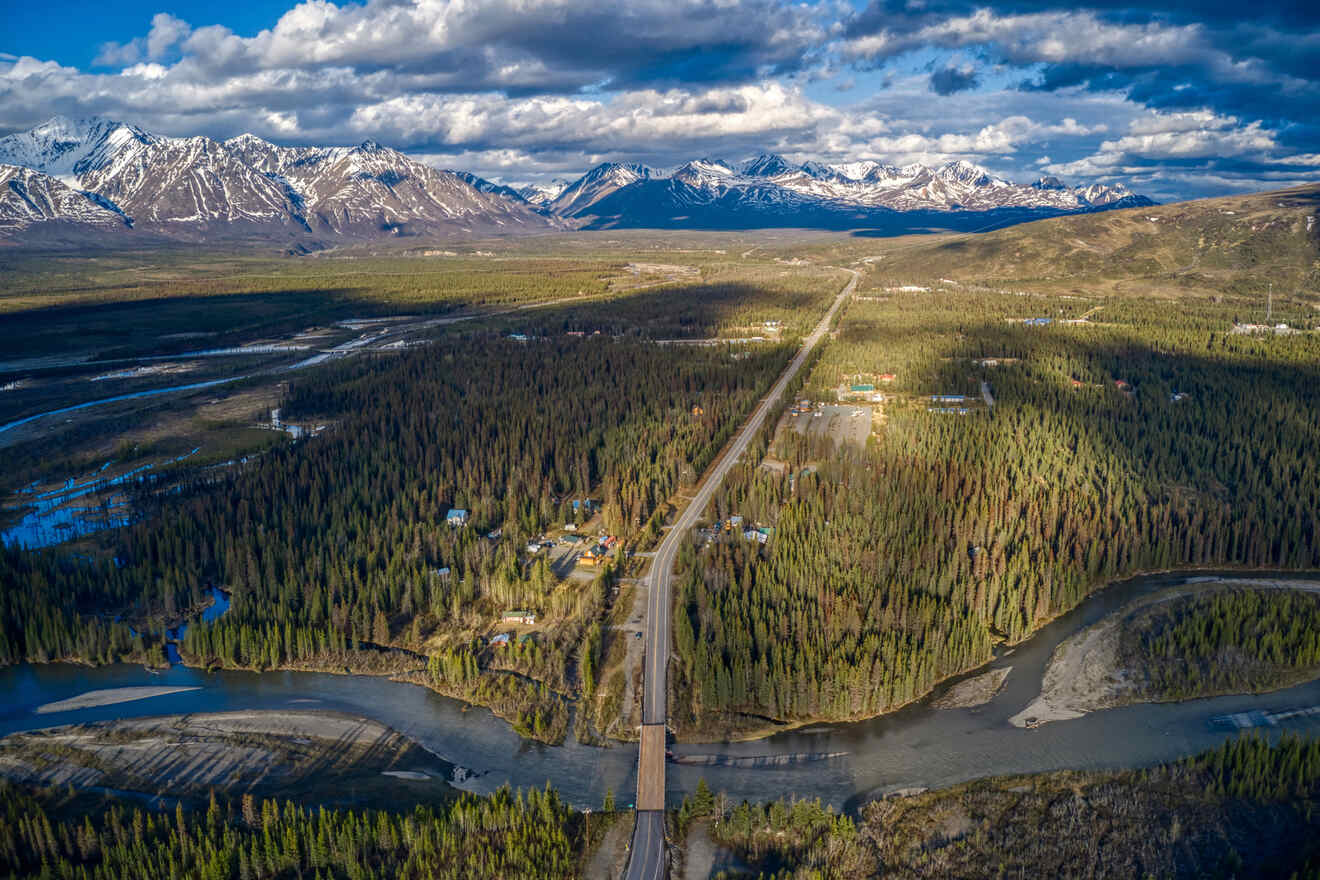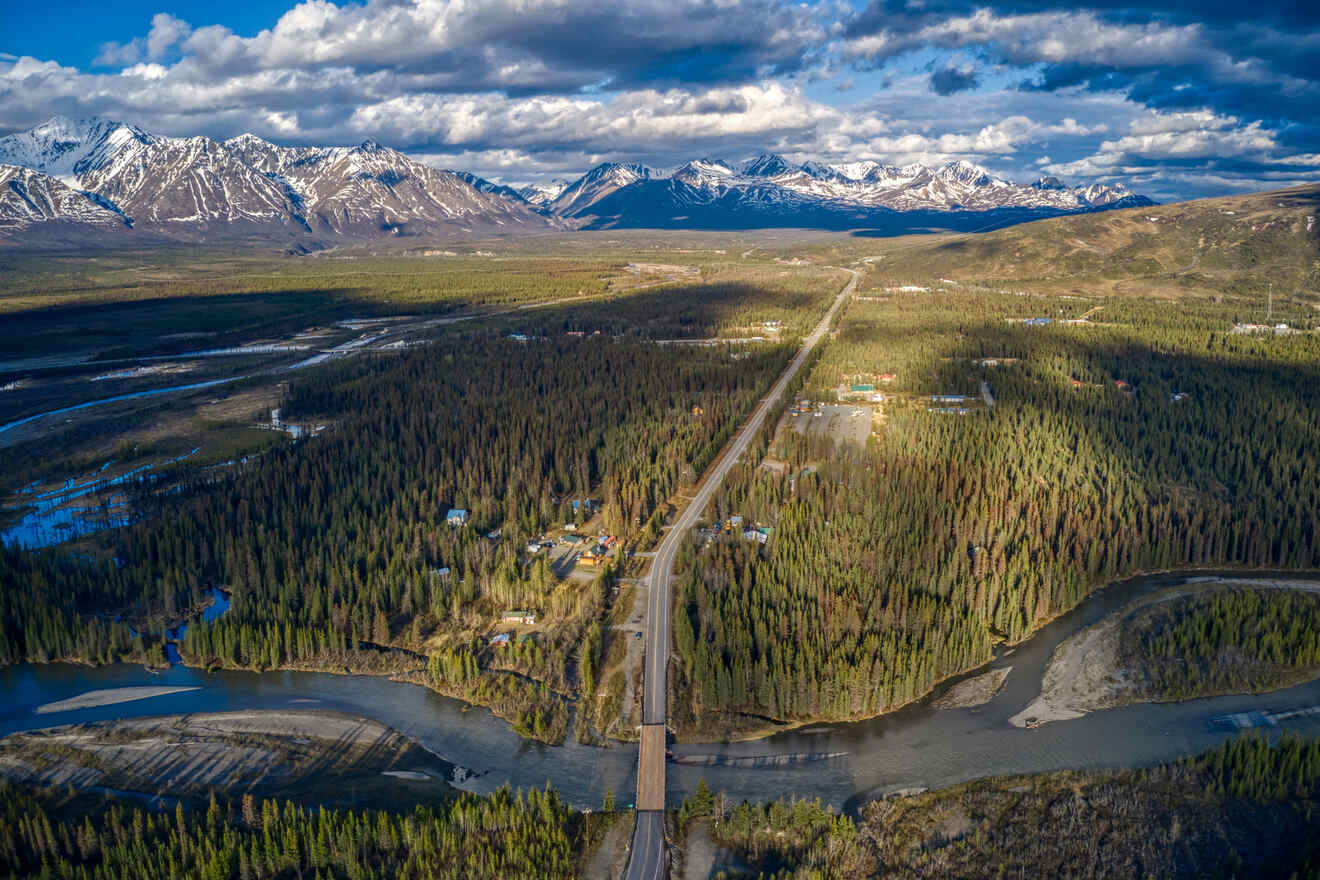 Located 30 miles (50 km) south of Denali National Park's entrance, Cantwell is a great town for people who seek to relax enjoy some peace and quiet during their trip!
Named after Cantwell River (the original name for Nenana River) this town was also established as a railroad community back in the 1920s (just like Talkeetna). Besides offering easy access to Denali Park, Cantwell also serves as a base for dog mushing (sled dog racing), fishing, and sightseeing tours.
There are so many scenic spots in Cantwell! You'll find most of them as you drive along Parks Highway on the way to the National Park. One of my favorites is the Pass Creek Scenic View. The mountain and river views are simply breathtaking.
Not too far from here, you will find Wildthingz Dog Mushing who organize different sled dog tours, which are super fun if you want to see as much of the area as possible, plus you'll learn so many things about dog mushing including what it takes to take care of the dogs.
Other accommodation options in Cantwell
Things to do in Cantwell
Go on tour with Wildthingz Dog Mushing
Stop at Pass Creek Scenic View
Hike from the Windy Creek Trailhead
Grab a bite at Jam Jam's Spot
Enjoy a sunset walk along the Cantwell Creek
Try fishing with Denali Angler
BONUS 1: Best lodges and cabins in Denali National Park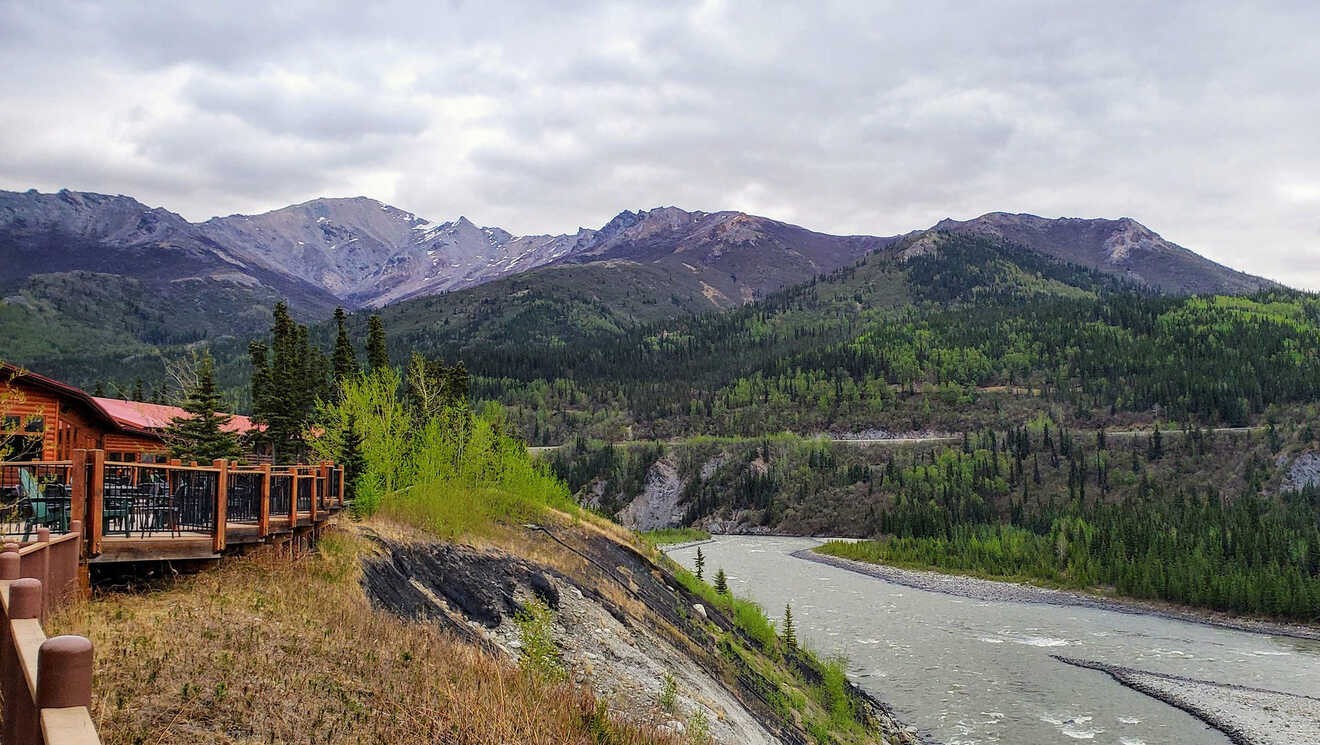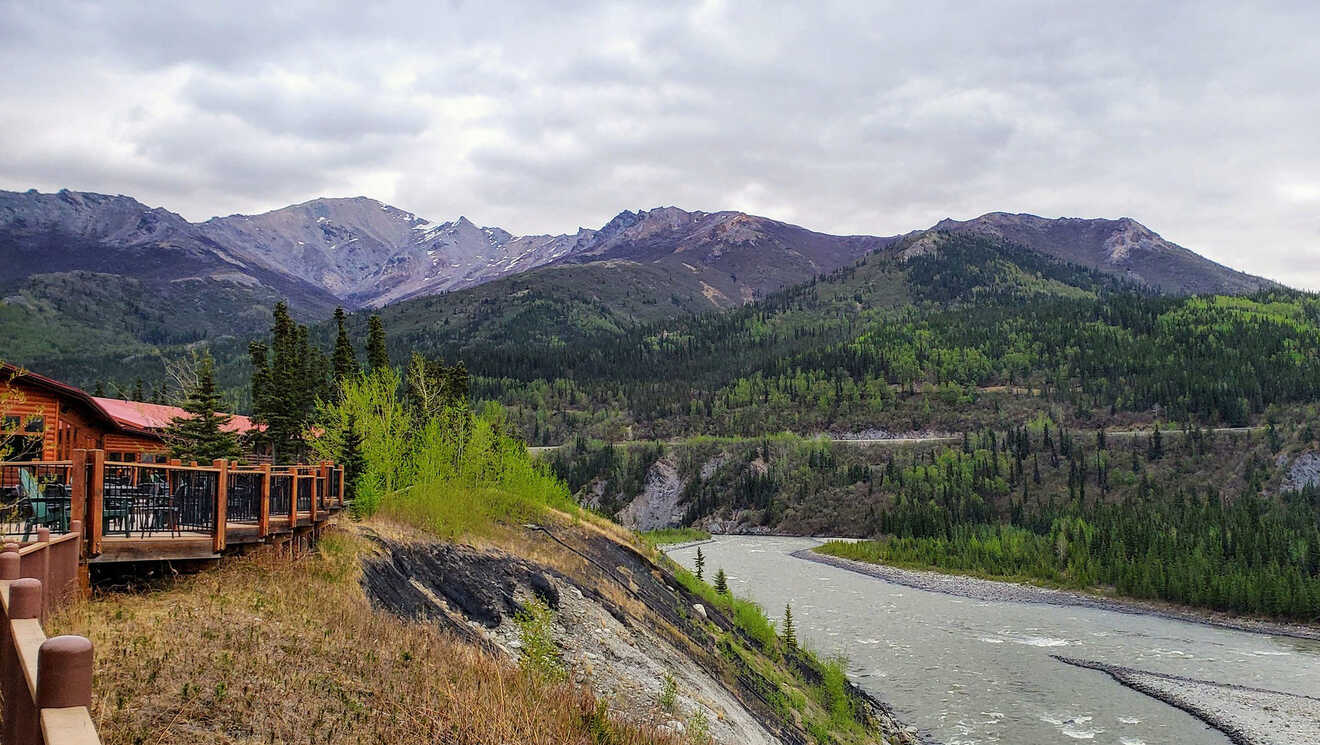 I don't know about you but I love lodges! I think they're one of the best options for accommodations when visiting places like Denali National Park or anywhere that has a bit of nature around.
Most of them are made of wood, have cute amenities like fireplaces, cozy lounge areas where you can meet other travelers and chill. If you're looking for some lodges where you can stay during your trip to Denali, have a look at the list below. It has the best ones!
1.1 Accommodations inside Denali National Park
If you really want to stay in the heart of the national park, you do have some options although most of them require flying in on a small plane or helicopter! They are pretty unique, and as you can see, there aren't many, so I highly recommend booking them months in advance if you choose this is the way to go.
All the lodges below inside Denali National Park have prices starting from US$500 to US$1500.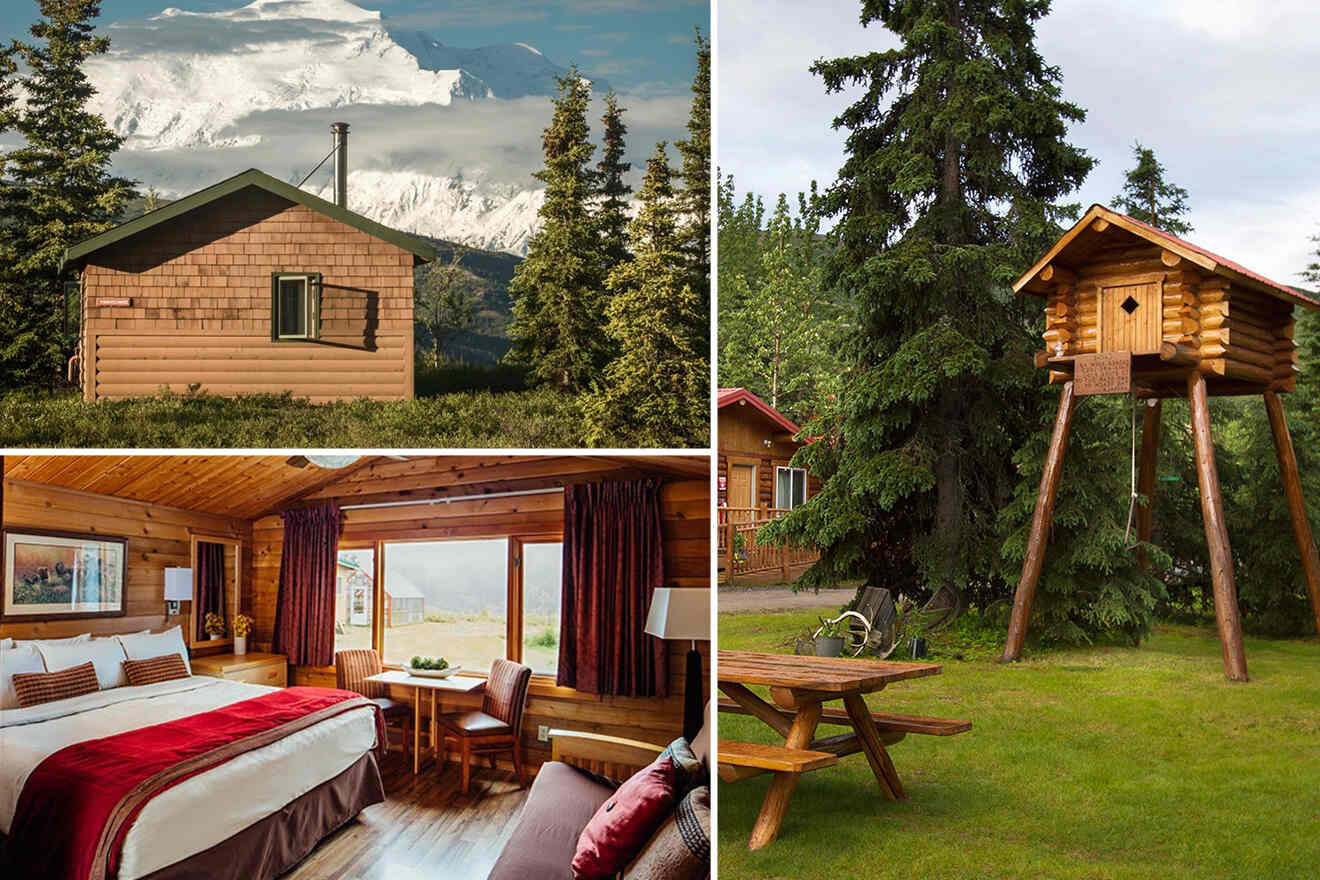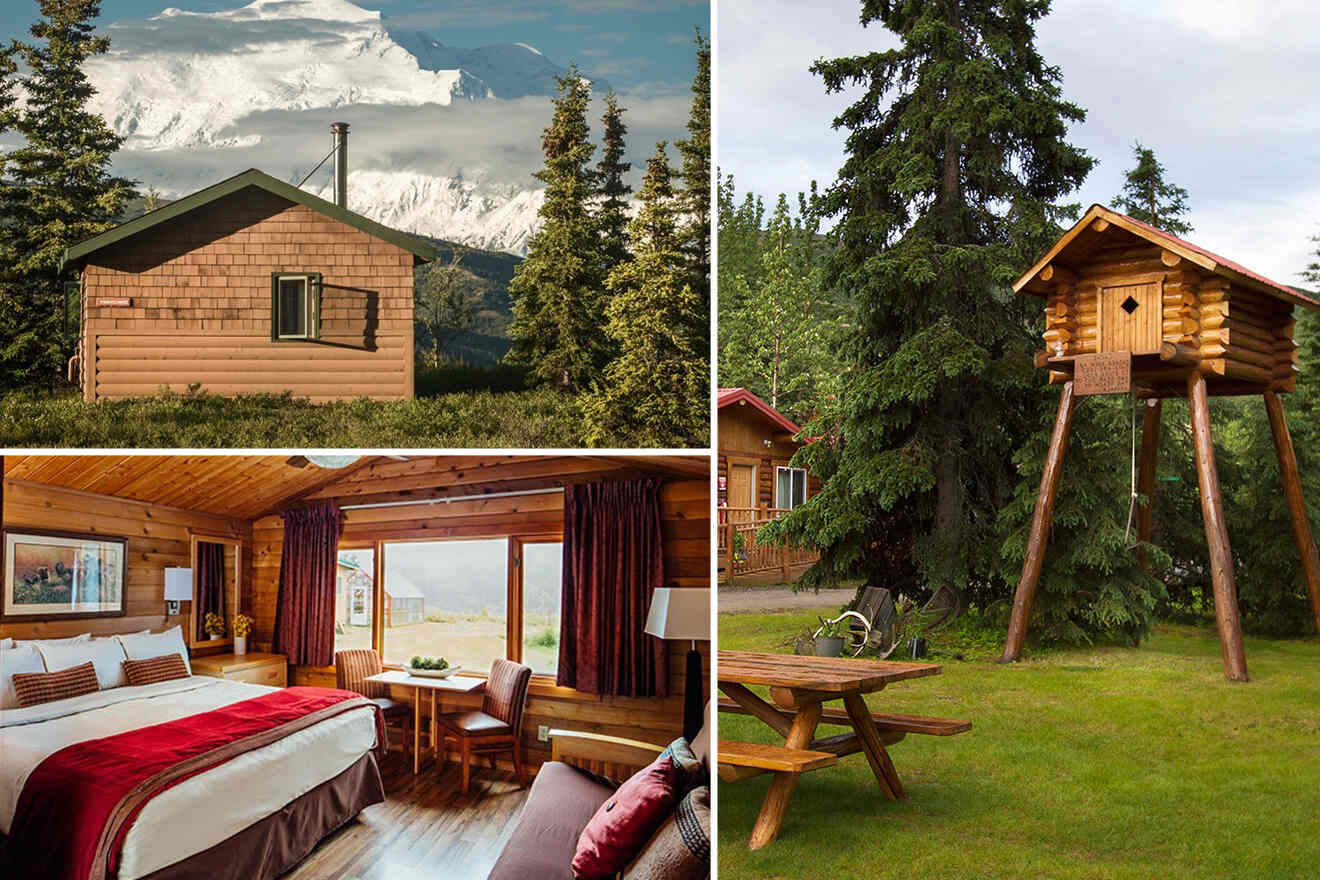 1.2 Best lodges near Denali National Park
For those of you who love the idea of staying in a lodge but don't quite have the budget to spend hundreds on one inside the park, this list has some unique lodges located near Denali Park for a fraction of the cost: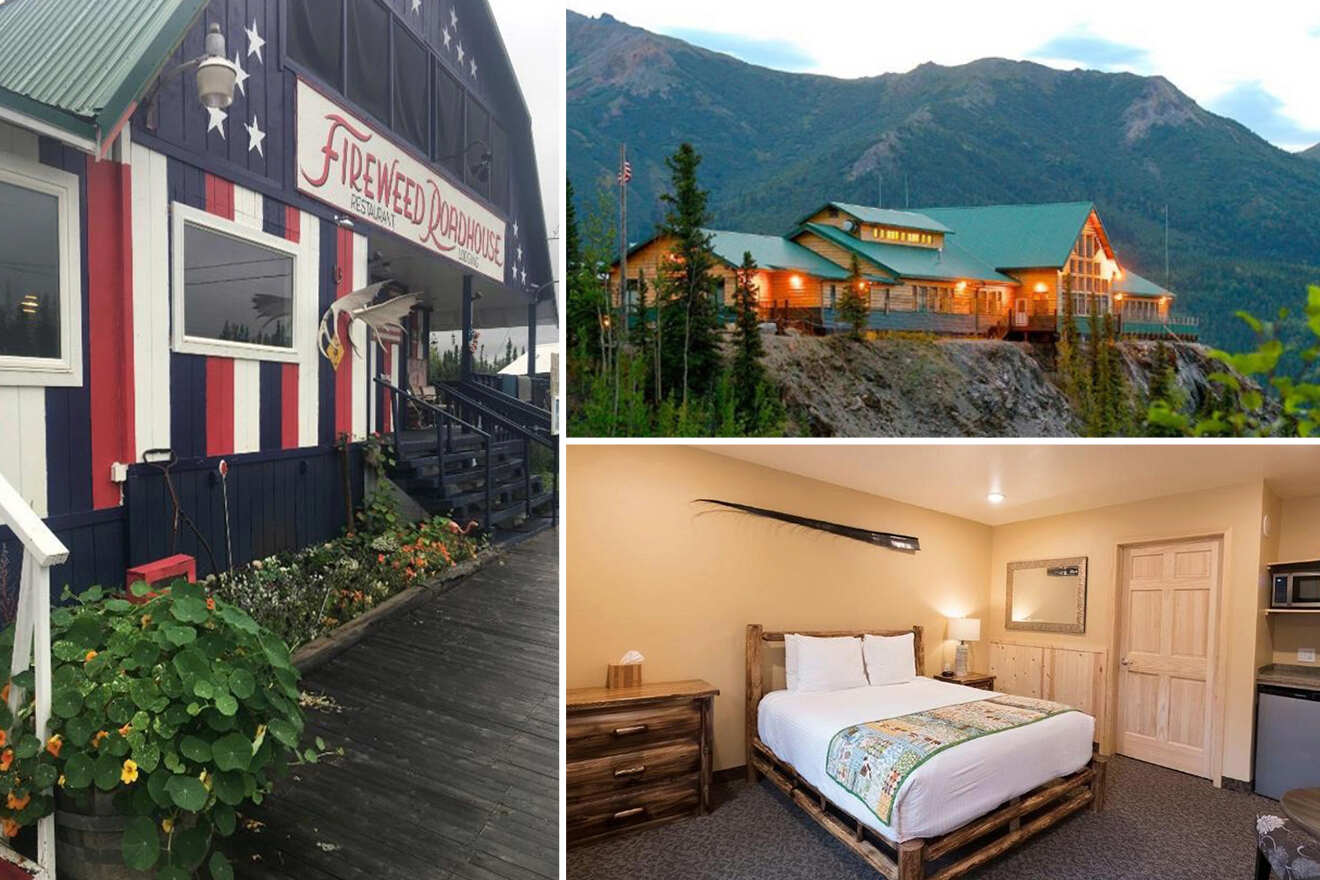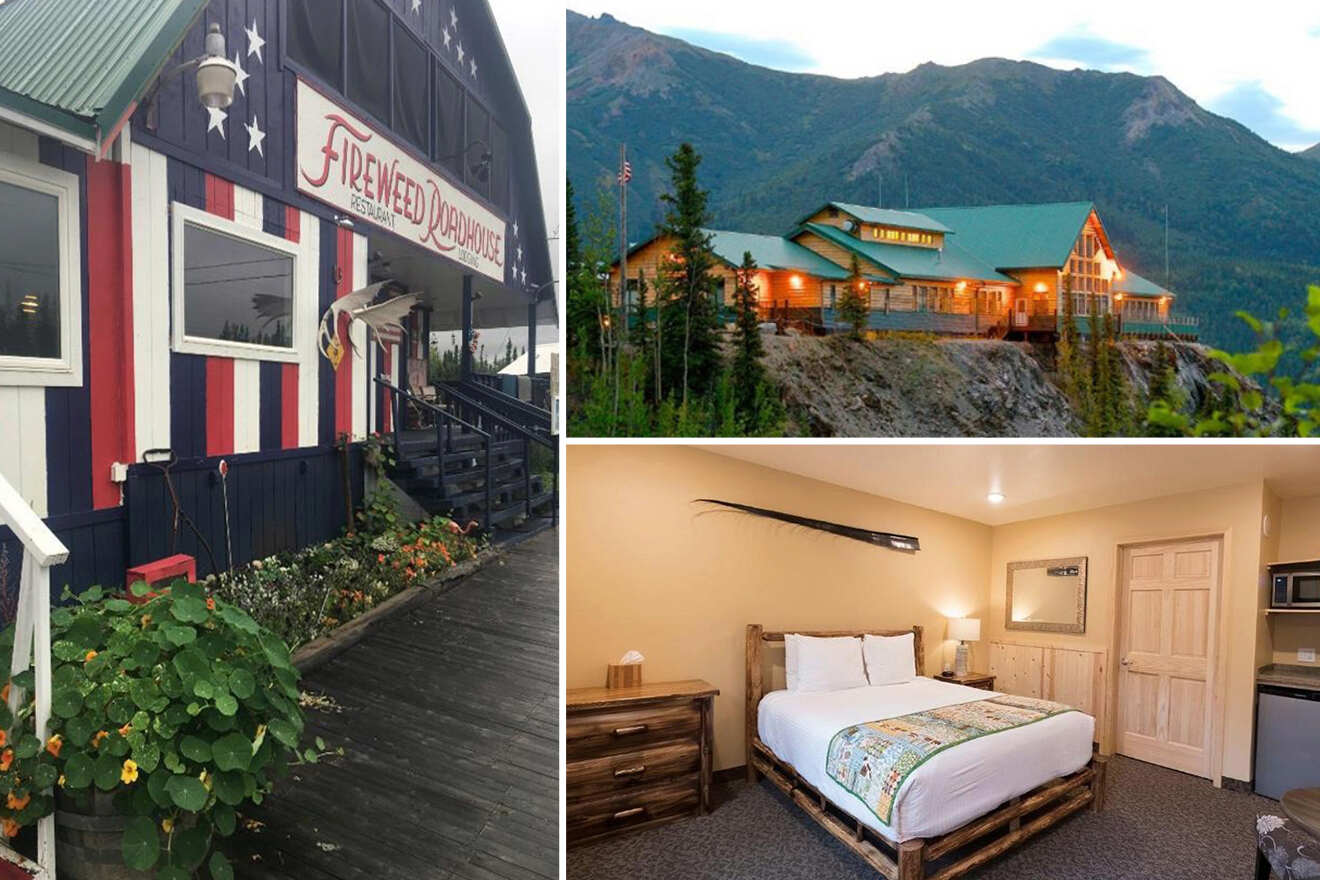 Luxury (US$270 and up)
Grande Denali Lodge – Just look at those panoramic views of Denali Canyon! This lodge is located in McKinley Park, just a 10-minute drive away from the park and it has a restaurant on-site and family rooms. After a long day of hiking and exploring around. At night you can get a cup of tea and sit comfortably by the fireplace!
McKinley Creekside – I'm loving those river views! Get up early to grab a chair near the creek and drink your morning coffee there. The accommodations is located 12 miles (20 km) away from Denali National Park, and it has family rooms and a few restaurants nearby, plus on-site dining. Gather up by the outdoor fireplace and enjoy the atmosphere!
Mid Range (US$180 – US$270)
Denali Fireside – A great lodge that sits in Talkeetna, just 150 miles (240 km) away from Denali National Park and not too far from Trapper Creek, that has free wifi and family rooms. Guests at the lodge can try different activities like hiking and fishing. There's also a picnic area and some board games for those who want to chill out for a few days and enjoy the fresh air!
Budget (up to US$120)
FireWeed RoadHouse – Feel at home at this comfortable lodge that sits along the Parks Highway, in Nenana, just a 1-hour drive away from Denali National Park. The accommodation has a few restaurants nearby but it also offers on-site dining and family rooms. During the day you can relax on the sun terrace or in the picnic area.
BONUS 2: Best VRBOs near Denali National Park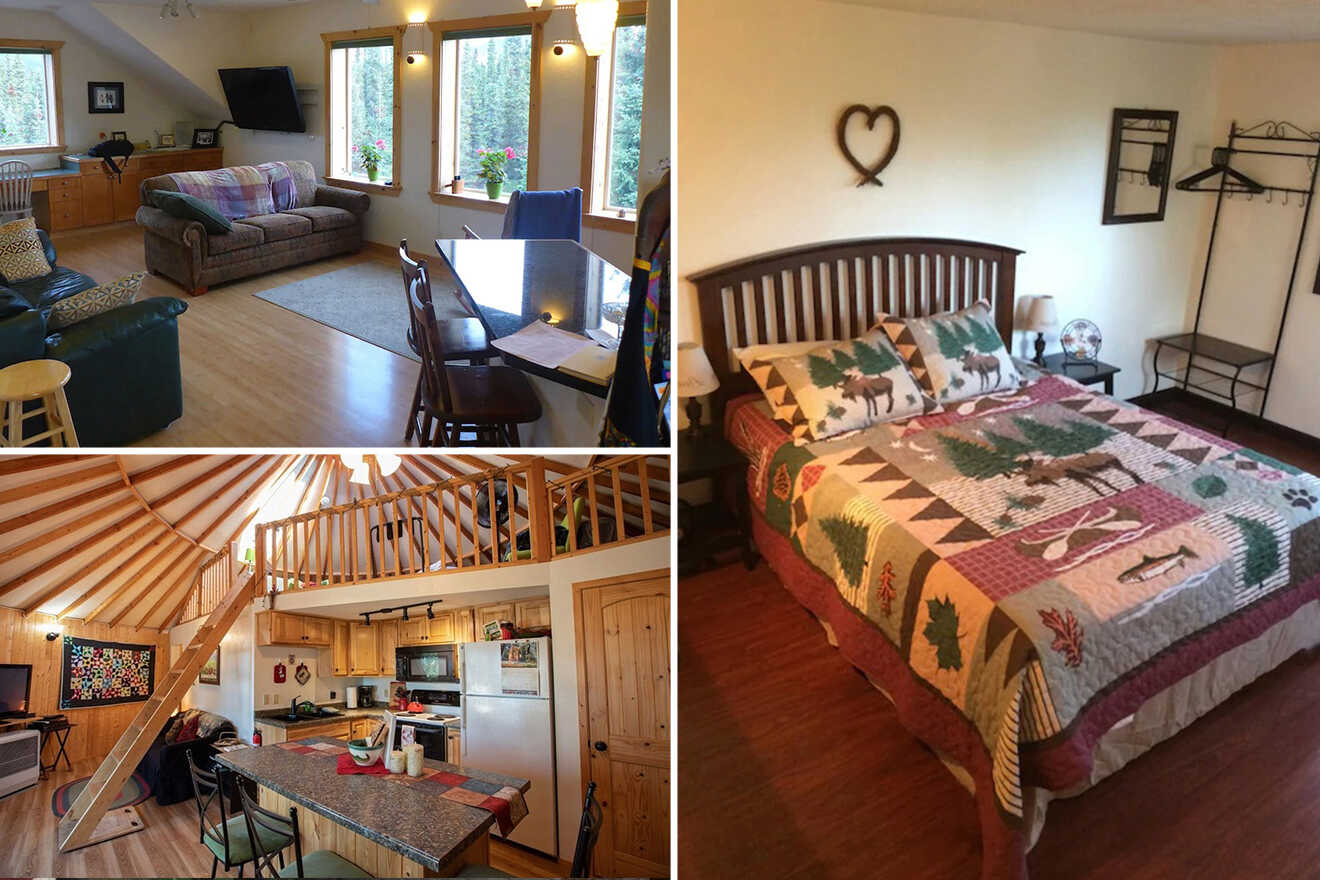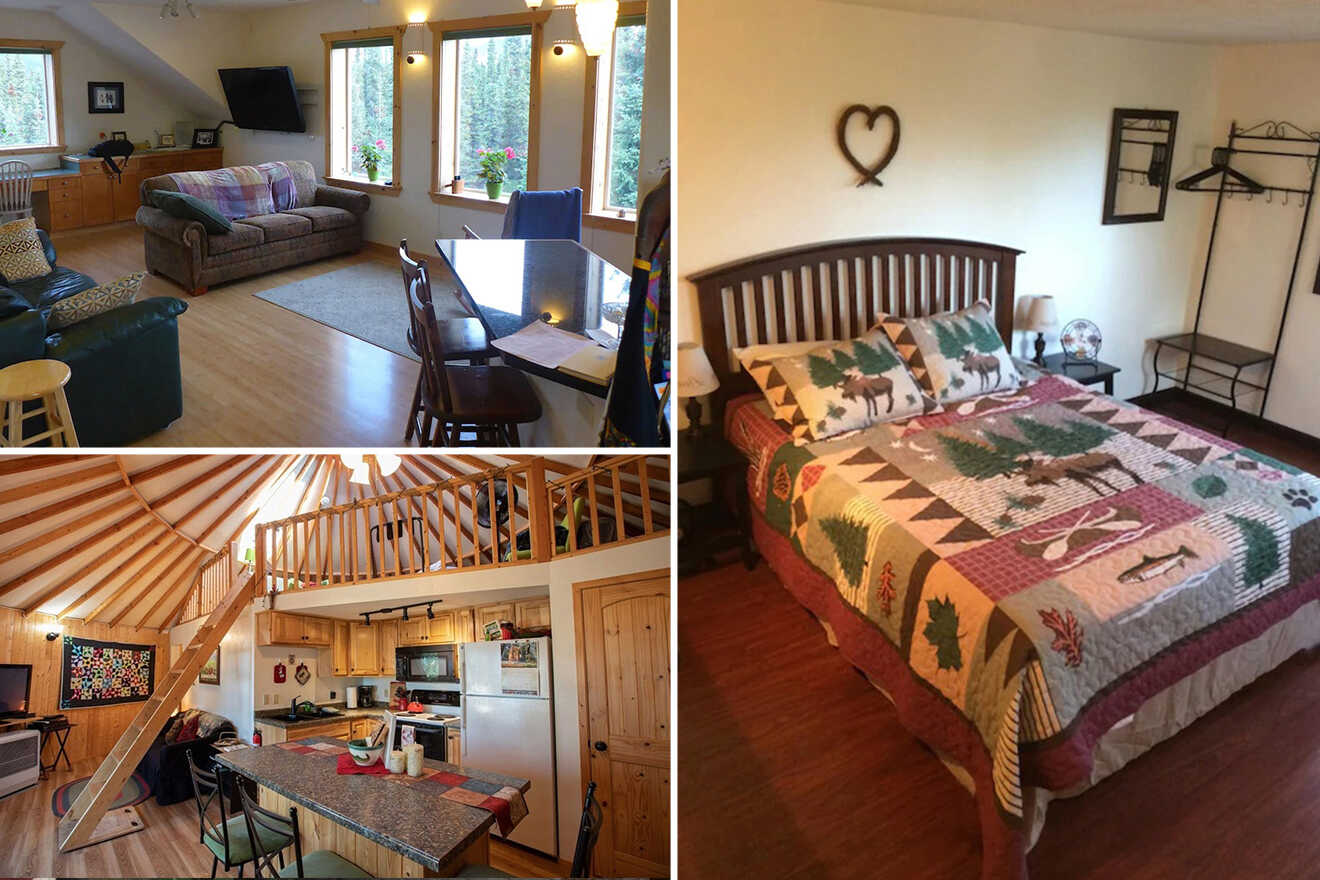 I know some of you won't go for the fancy hotels (even if it's the best hotel in the area). You'll probably want to stay at a cabin that's a bit secluded and surrounded mainly by nature with your family or friends. I'm the same!
When I go to places like Denali National Park I want to forget about urban life and feel as close to nature as possible! With that in mind, I decided to list the best cabins to stay in Denali! All of them are just a few miles away from the park so you can get there quickly!
Luxury (US$215 and up)
Alaskan Elegance – A cozy and comfortable home that sits in McKinley Park, less than 1 mile away from Denali National Park! The place can accommodate up to 4 people, and it has many amenities, including a kitchen and free wifi. Drink your morning coffee on the patio and admire those stunning views of Denali mountain!
The Aurora Yurt – How pretty is this yurt? Located in Fairbanks, 120 miles (190 km) away from Denali National Park, the accommodation has 3 rooms, perfect for 5 guests, and amenities that include a hot tub and free wifi. Disconnect from daily life and relax on the patio all day long!
Mid Range (US$120 – US$180)
Quiet Cabin – Looking for a secluded cabin where you can enjoy all the privacy you need during your Alaska trip? Then have a look at this cozy accommodation that's located in Healy, just 15 miles (24 km) away from Denali. Enjoy a quiet night in the lounge area after a day of exploring Denali National Park.
Frequently asked questions about hotels in Denali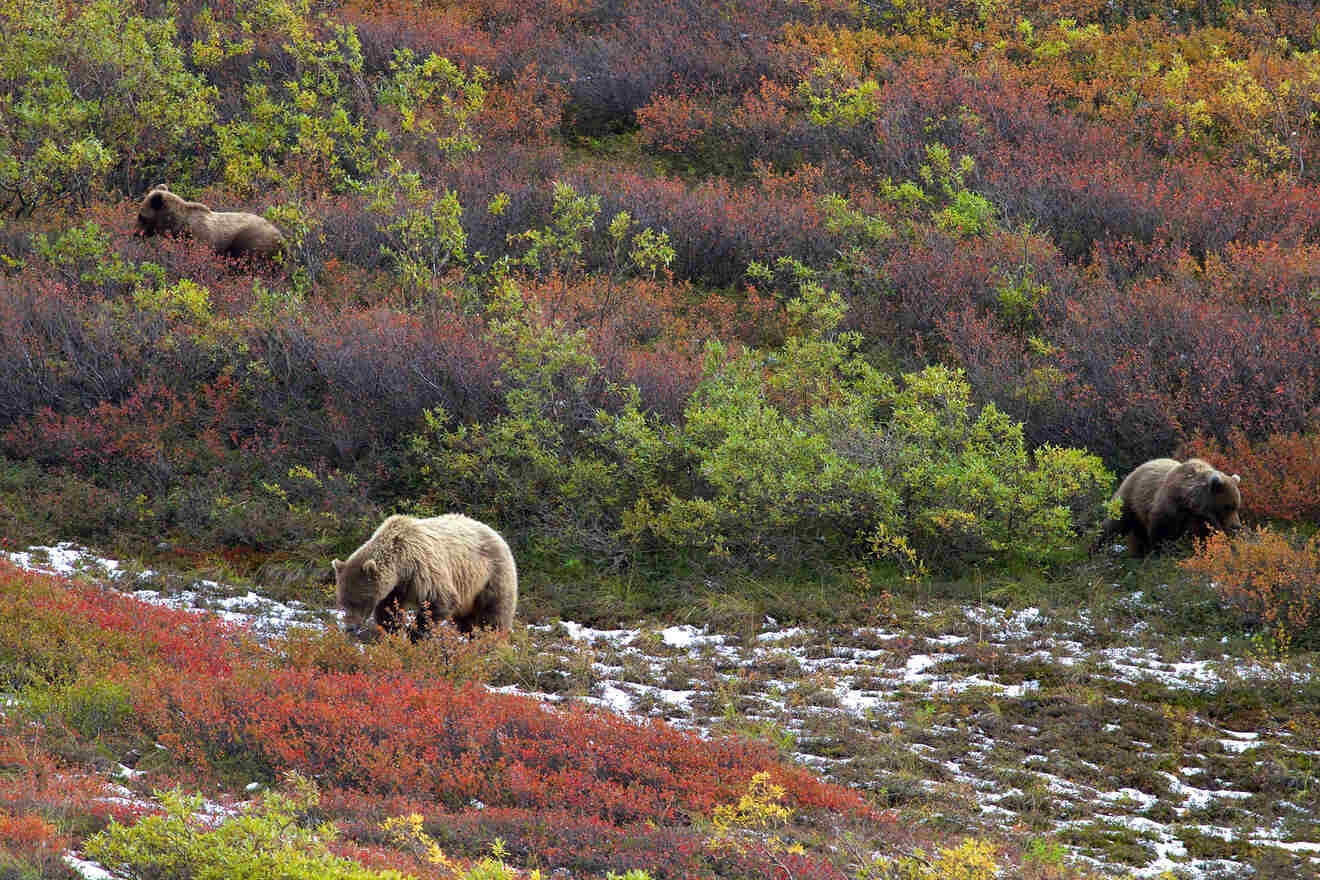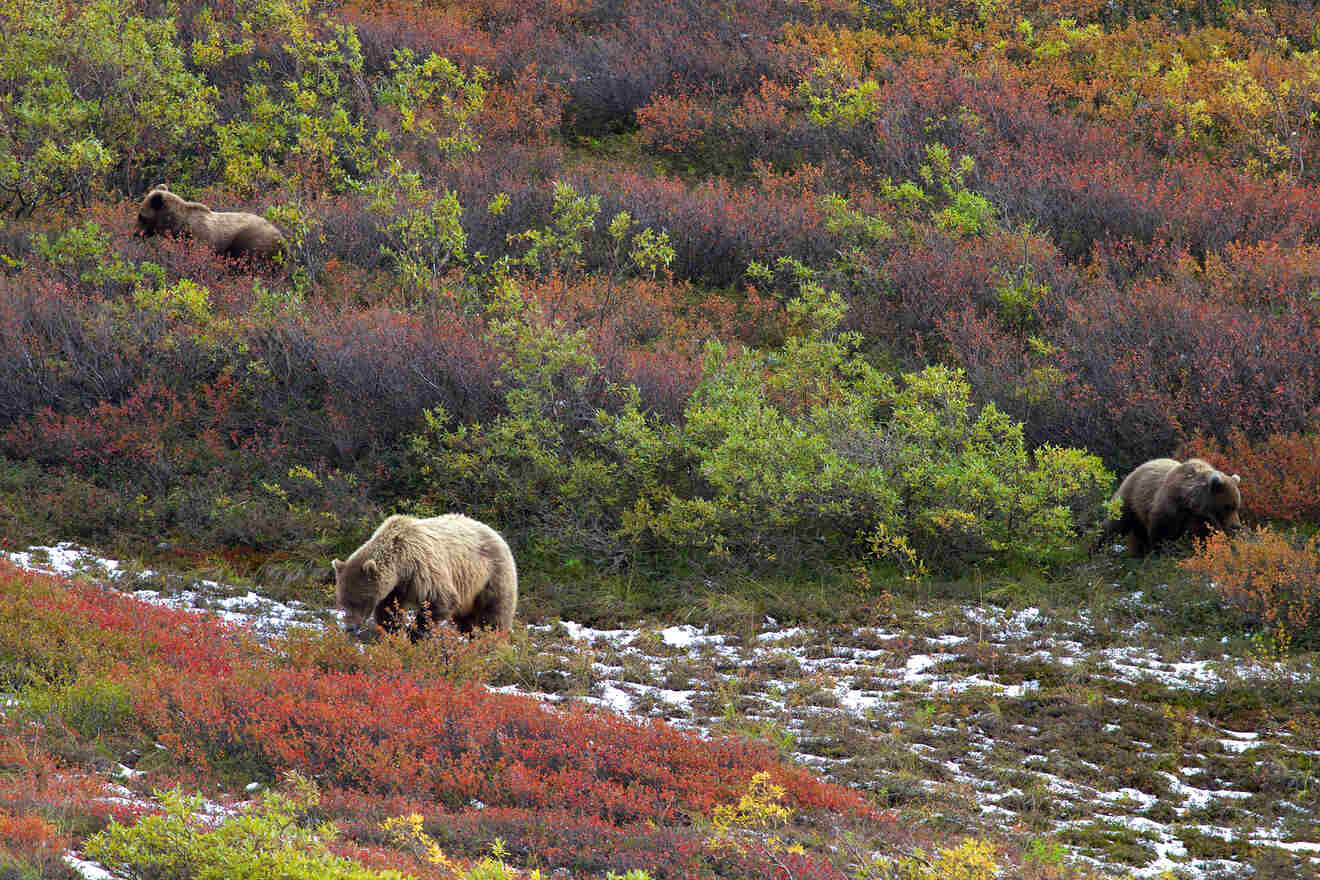 Conclusion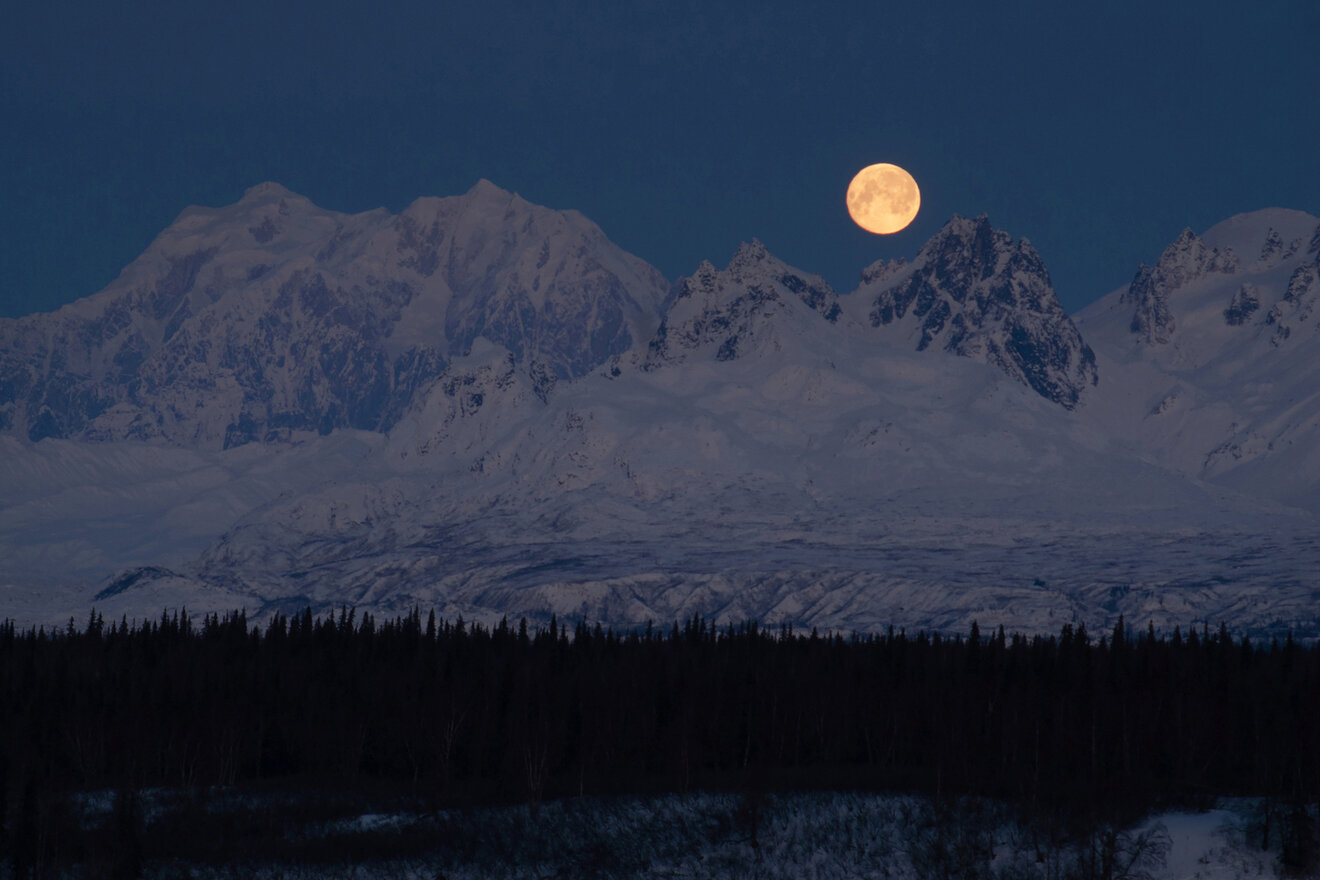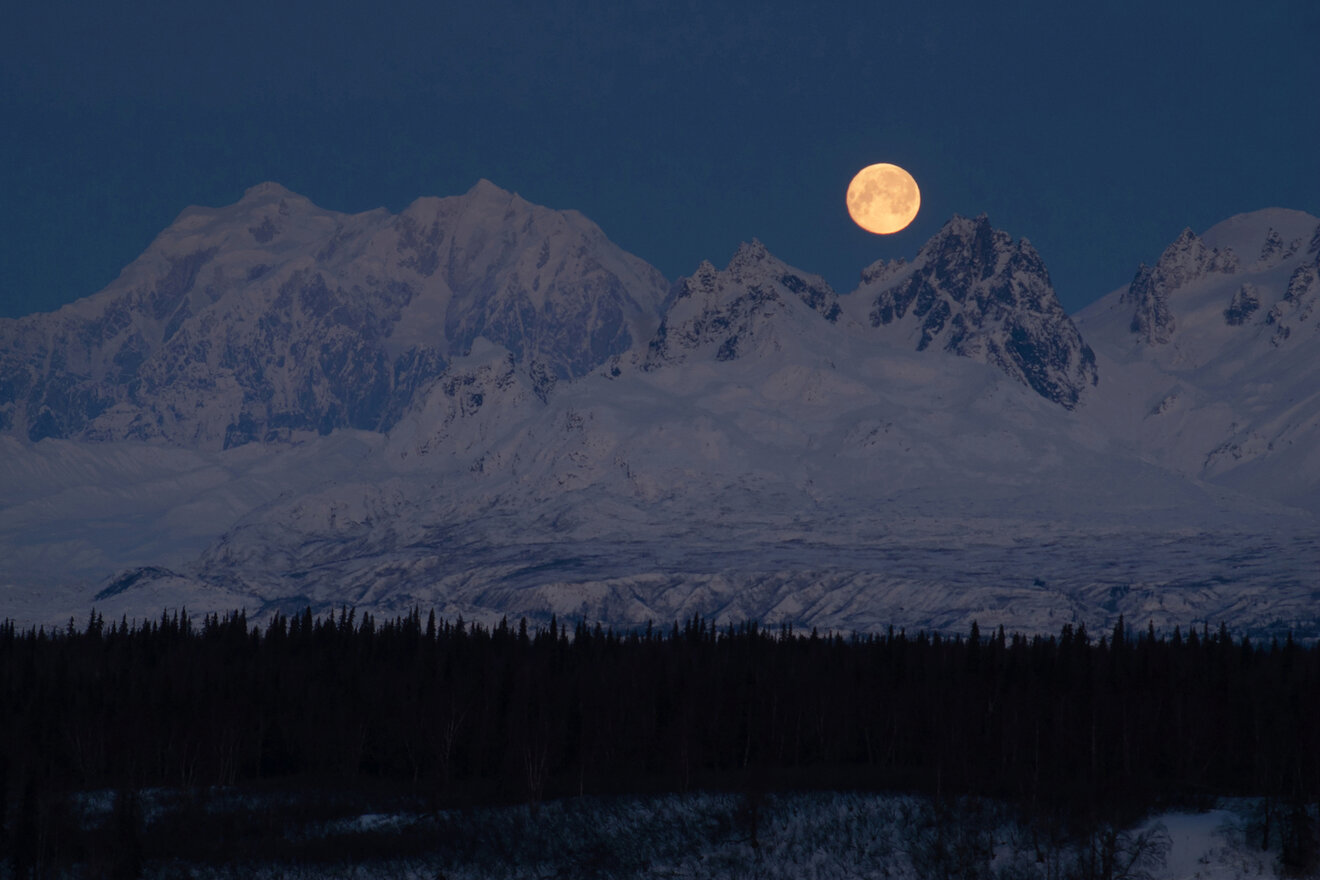 What a fun ride! Alaska sure has lots of surprises in store for you!
Let's quickly sum up what I've talked about in this post about the best places to stay in Denali:
In the first part of the post, you'll find the best towns to stay near the national park. As I told you, most travelers stay outside national parks as there's a broader range of hotels and restaurants. However, if you want to stay inside, you'll fund a list of the best lodges inside Denali in the bonus section, plus 2 more sections with the top VRBOs and cabins near the park.
So you've got lots of options to consider. In case you need some extra help, here are my 2 favorite hotels, both located in Healy:
Tri-Valley Cabins – The best hotel which offers access to a garden
Denali Park – A cozy motel that has family rooms and lots of restaurants nearby
Just remember that these are the best hotels nearby Denali (which is a pretty secluded area) and everyone will want to secure a room in one of these places. That's why I recommend booking your accommodation in advance and avoiding any inconveniences.
Enjoy your stay in Denali National Park! Explore around all day long, admire Mount McKinley, go hiking around the Nenana River, and eat at the best restaurants!
If you have any other questions about Denali, Trapper Creek, or anything else, leave me a comment below, and I'll answer them as quickly as possible!
Safe travels,
Victoria