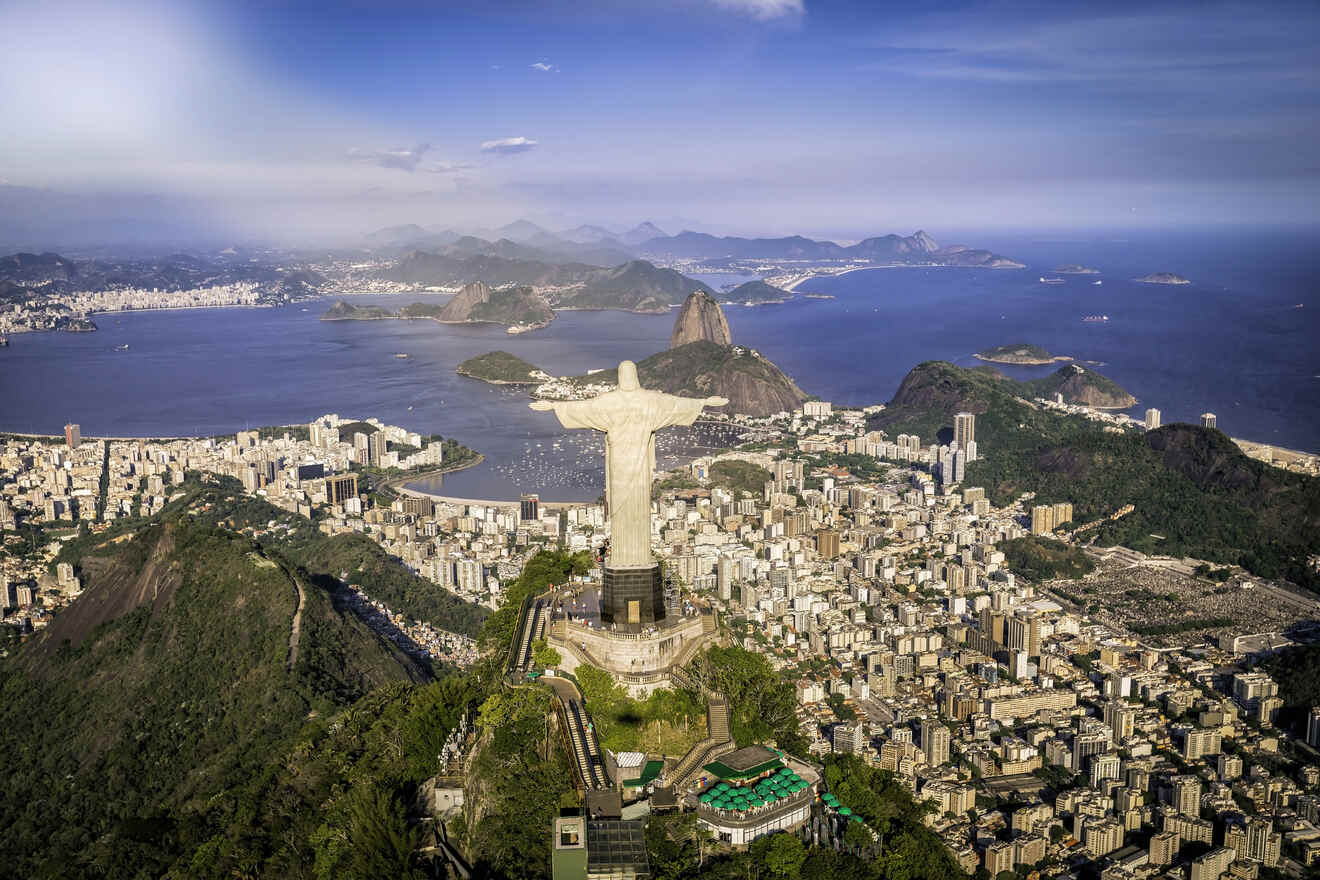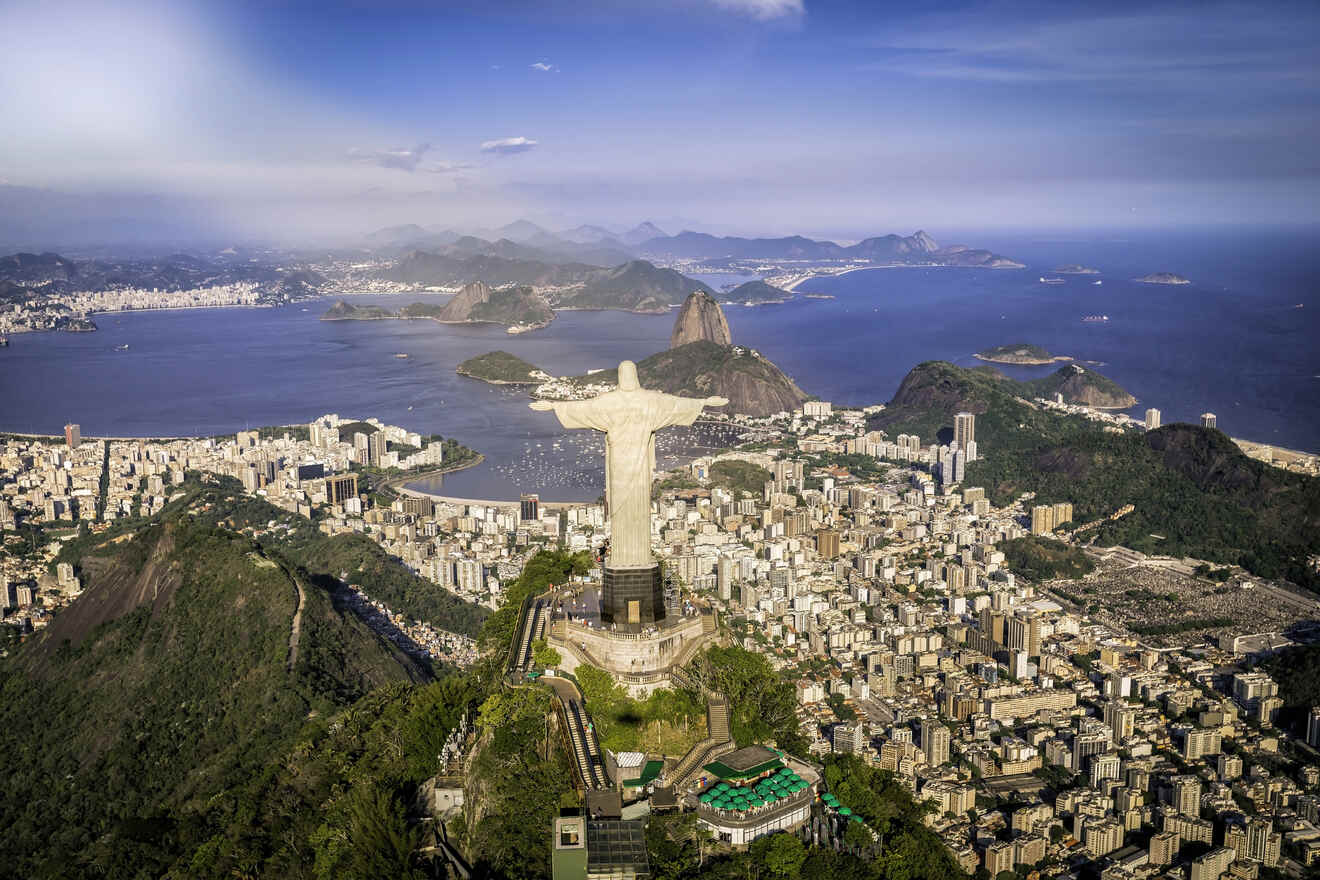 Oh, the world-famous Ipanema and Copacabana sandy beaches, street parties with samba dancers, epic nightlife, SugarLoaf Mountain, and an amazing food scene… Can a city have that many highlights?
If you see the Christ the Redeemer statue and start to descend for Rio de Janeiro, fasten your seatbelts, you are about to enter a dream destination of many travelers!
Thanks to the Rio Carnaval and its amazing landscapes, Rio de Janeiro is the most visited city in South America! This cosmopolitan city has everything to attract foodies, party animals, museum enthusiasts, and beach bums. That's why I don't know a single person who won't have a great time in Rio de Janeiro!
It is very crucial to decide where to stay in Rio de Janeiro as there are many unsafe neighborhoods in the city. In this blog post, I will tell you the 6 top areas with the activities that you can do in each and their best hotels which I handpicked especially for you.
As well as being a very popular travel destination, Rio de Janeiro is also the most expensive city in Brazil. That's why in order to secure your place and get better deals on hotels, do not forget to make a reservation in advance. Many of the hotels have a free cancelation, so don't worry if you change your mind!
So I guess you are ready to discover the colorful streets of Rio de Janeiro, let's start!
If you are in a hurry
Here are the best places to stay in Rio de Janeiro with hotels from luxury to budget. They are all conveniently located and have great reviews!
Here is a map about where to stay in Rio de Janeiro with the best 6 areas I will be talking about in this blog post so you can easily visualize them:
1. Copacabana – where to stay in Rio de Janeiro for the first time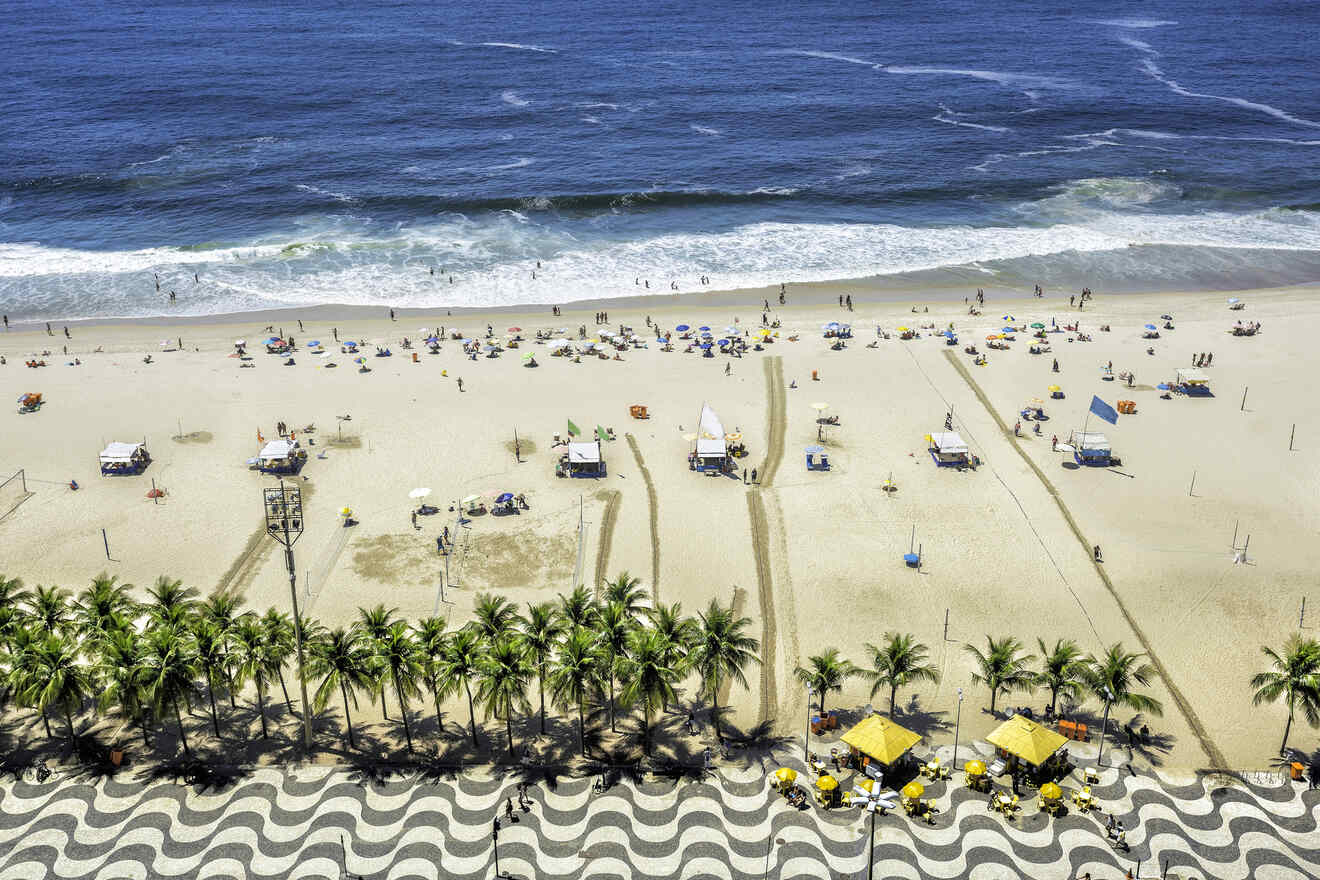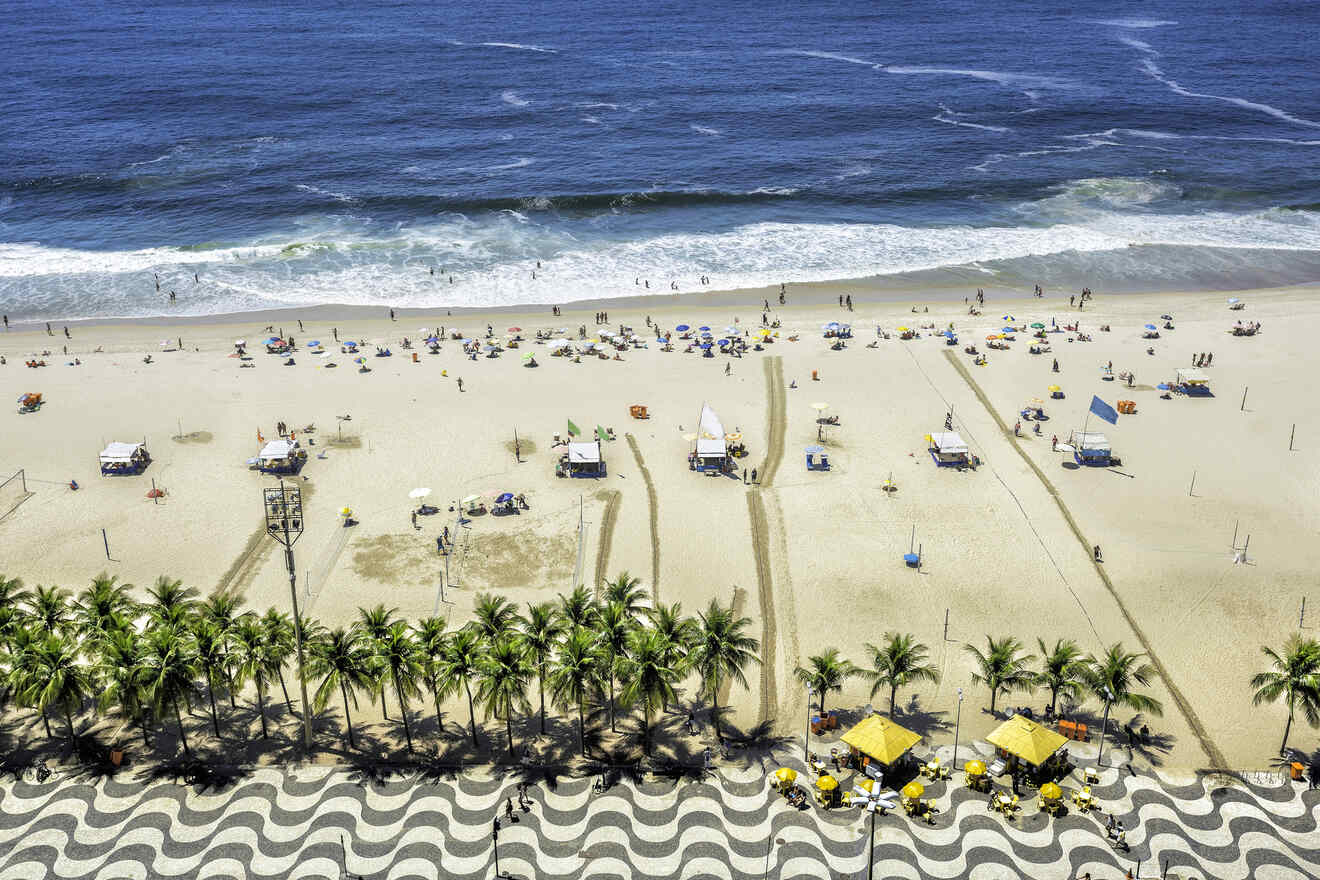 Copacabana is one of the most popular and quite possibly one of the coolest neighborhoods to stay in Rio de Janeiro. It is the area where you will best feel the soul of this marvelous city, that's why my pick for where to stay in Rio de Janeiro for the first time is definitely Copacabana!
In Copacabana, you will fall in love at first sight when you see the view of the famous Copacabana Beach surrounded by Sugar Loaf mountain which may give you serious Machu Picchu vibes. This neighborhood not only offers spectacular landscapes but also provides amazing Brazilian restaurants, colorful bars, and beautiful shops.
If you already have the Copacabana song in your head then you're on the right track. This area is as fun as the musical!
There are so many things to do in Rio de Janeiro so wake up early and start your day at Copacabana Beach, after spending some quality time relaxing on the sand, you can prise yourself away to see the main landmarks of the city. At night it is time to eat mouthwatering Brazilian dishes in the great local restaurants and party all night long!

Convinced? Great, now it's time to find the best place to stay in Copacabana Beach. I don't want you to miss these wonderful hotels that I picked for you so please do not forget to make your booking in advance!
Other accommodation options in Copacabana
Since this is the most popular area where to stay in Rio de Janeiro and the hotels I gave you above are the best of the best, they may book out quickly. For those of you like me who aren't quite so organized, here are some other great options in the Copacabana area:
Things to do in Copacabana
Spend time on the famous Copacabana Beach
Check the shops and bars at Avenue Nossa Senhora de Copacabana 
See ​​Copacabana Fort
Go to Parque Lage in nearby Lagoa for a stroll
Listen to live music at Bip Bip Bar
Go surfing at Arpoador Beach
Join a biking tour to discover neighborhoods of Rio de Janeiro
Go to the Hot-Air Balloon Sunset Tour at Barra da Tijuca
Take the cable car to the famous SugarLoaf Mountain to see Christ the Redeemer
2. Centro & Lapa – where to stay in Rio de Janeiro on a budget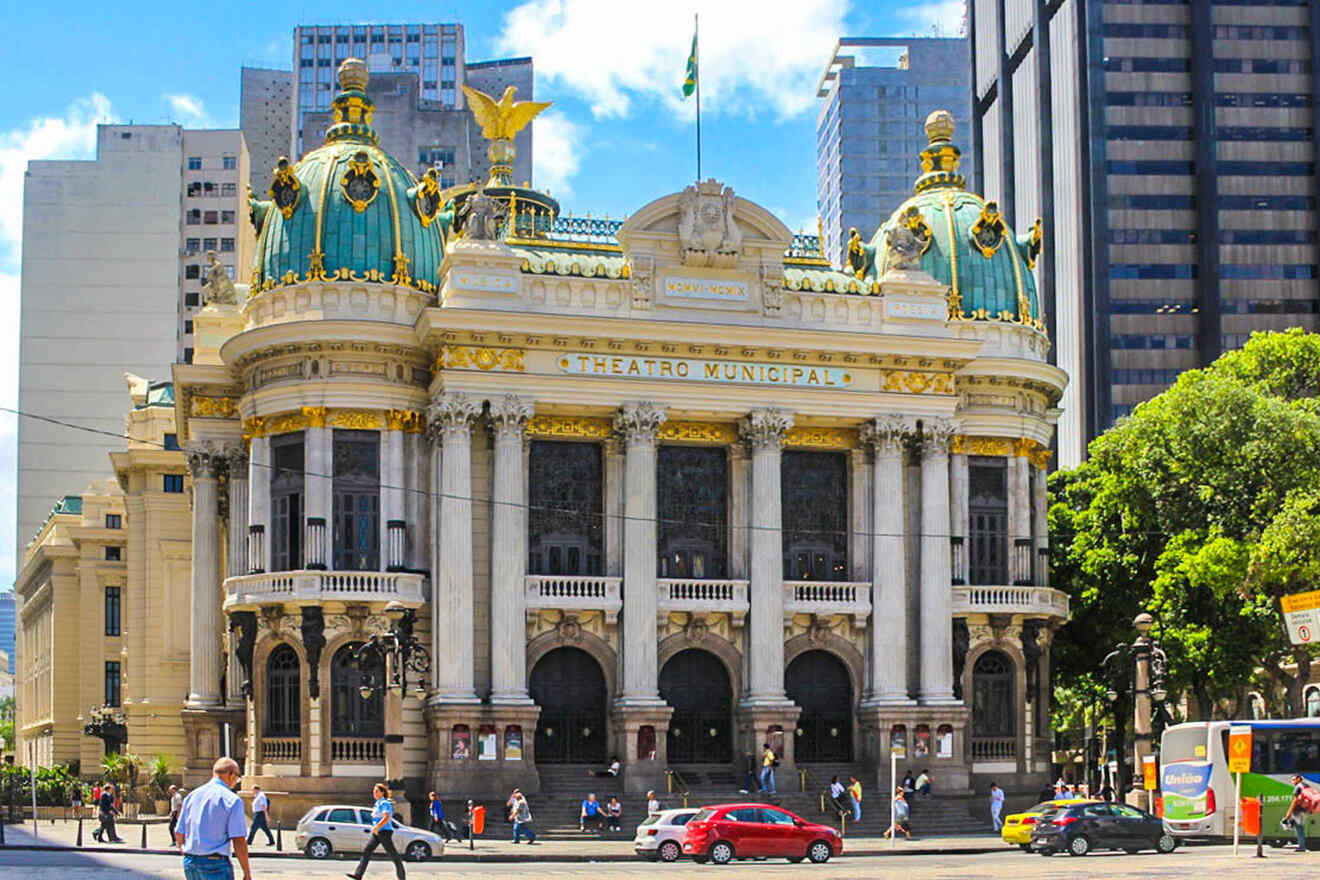 Located in the north of Rio de Janeiro, Centro is Rio's downtown area and even though it offers a lot of beautiful attractions you will be able to find relatively cheaper accommodations in this lively neighborhood.
Centro is Rio's center of business and history which offers a charming mix of modern and nostalgic parts of the city. Here you will find many great museums, beautiful buildings with colonial architecture, and lively nightlife. The best way to discover Centro is simply getting lost in the streets on foot, checking out beautiful cafes and shops and when it gets dark you have to be in the Lapa area of Centro to experience the cool nightlife!
Lapa is the most colorful part of Centro. It not only offers the best restaurants and trendy bars but also has many must see landmarks such as the iconic Escadaria Selarón Steps (your Instagram feed will love this!) and the Lapa Arches. Make sure to spend enough time to discover the streets of the beautiful Lapa area and try as much local food in the cool restaurants as you can!
I've always been a fan of neighborhoods like Centro that offer a bit of everything. If you also like this kind of place and don't want to spend a lot of money on accommodation, Cento is one of the best neighborhoods where to stay in Rio de Janeiro.
Before jumping into the best hotels in Centro I would like to remind you that in order to secure your place and get better deals do not forget to make a reservation in advance. And if you're planning on heading to Argentina, you better book one of the hotels in Buenos Aires too as it is another very popular city!
Other accommodation options in Centro
Things to do in Centro
See ballet or opera performance at Theatro Municipal do Rio de Janeiro
Visit the Museu Nacional de Belas Artes
Watch a soccer game at the famous football stadium The Maracanã
Visit Museum of Tomorrow to learn about environmental science
Go for a stroll at the Rio de Janeiro Zoological Gardens and ​​the Quinta da Boa Vista Park
Learn about history at the National Historical Museum
See the St Sebastian Metropolitan Cathedral and the Candelaria Church
Have fun dancing samba with live music at the Rio Scenarium
Take a boat trip to discover Rio de Janeiro
See the impressive Lapa Arches and check out the colorful nightlife and street parties of the Lapa area
3. Santa Teresa – a bohemian neighborhood to stay in Rio de Janeiro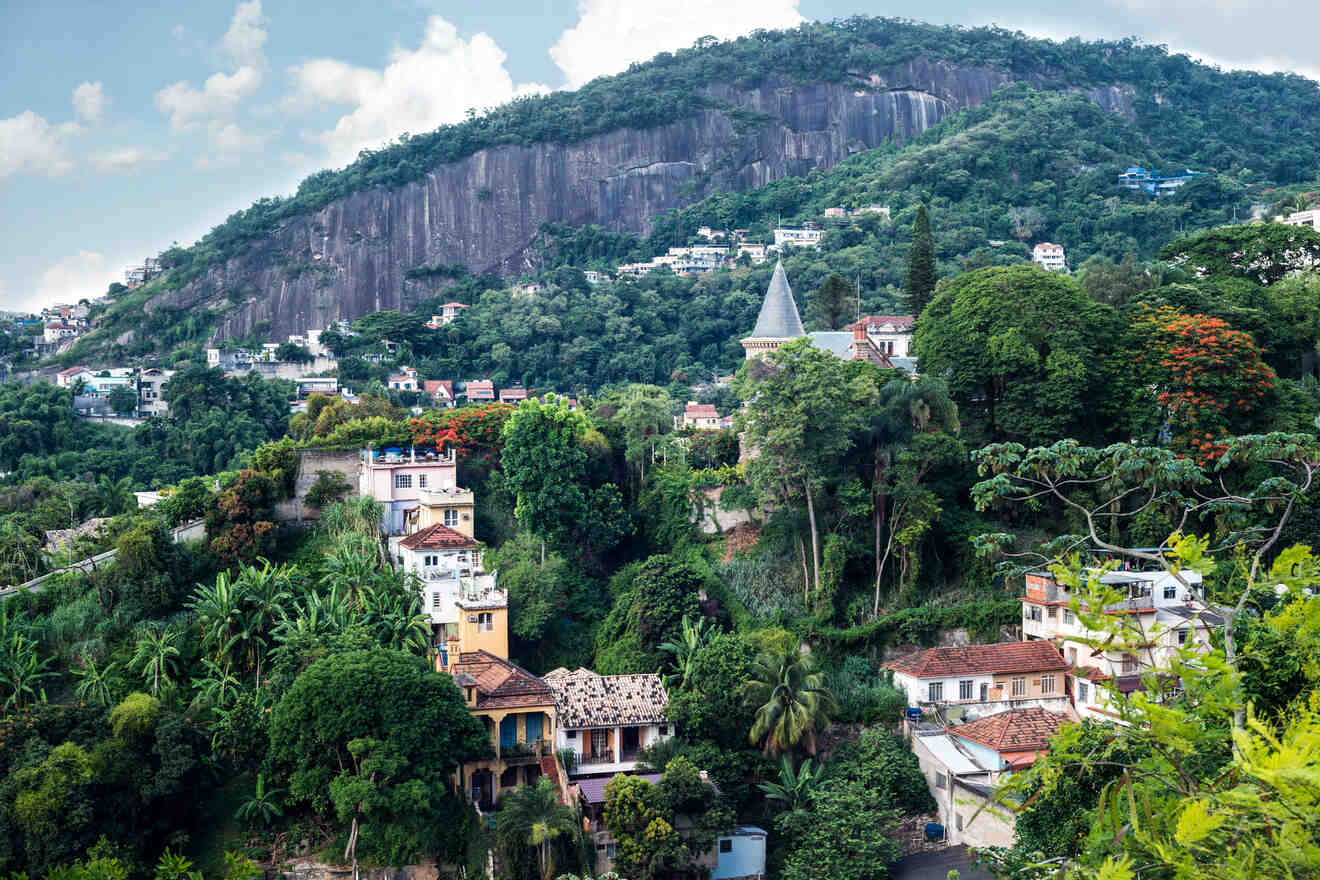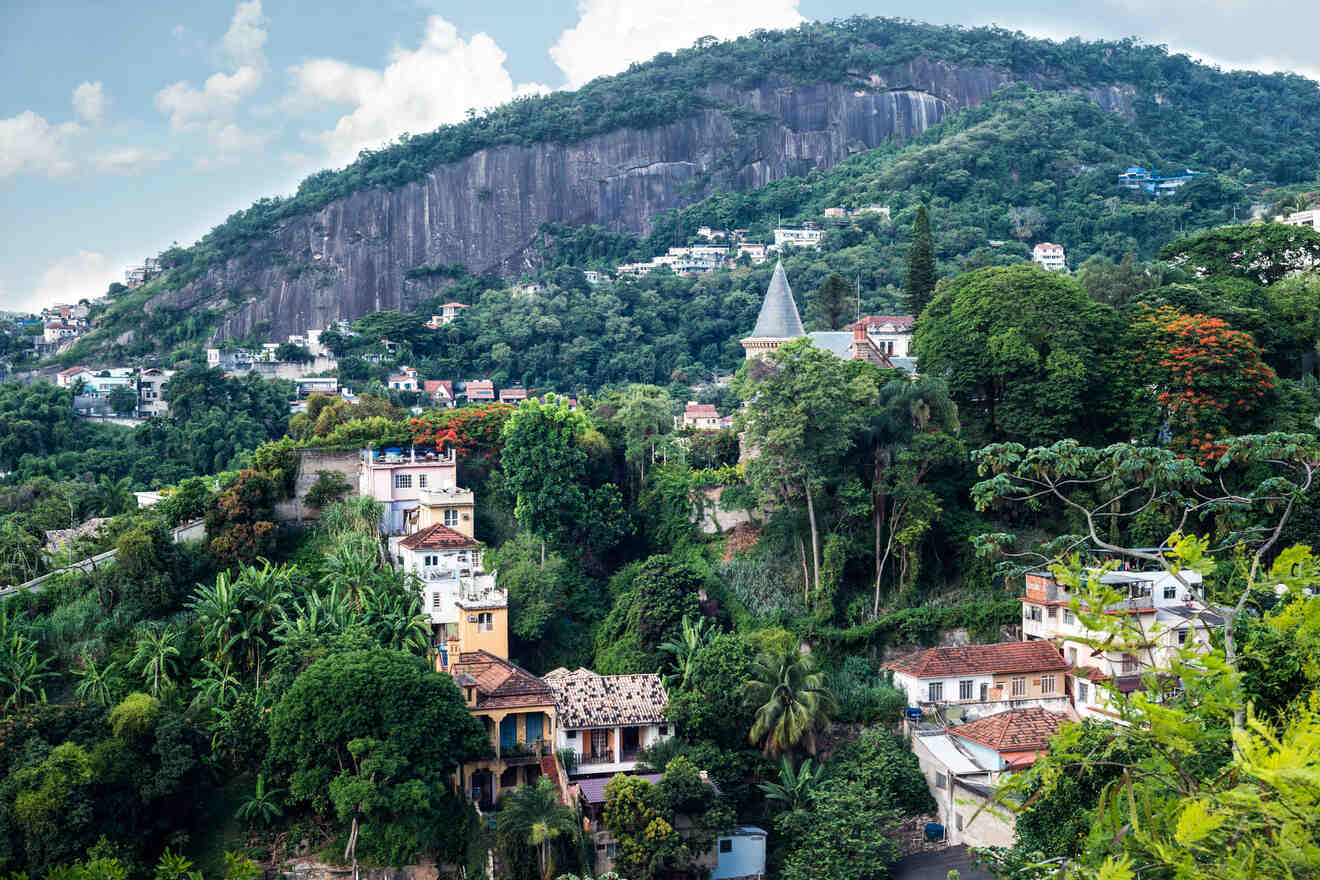 Santa Teresa is located 3 km (1 mi) northwest of Centro and has a bohemian vibe with its beautiful historic buildings and colorful trams. Here you will find cool cafes, art galleries, museums, and vibrant nightlife. It is a hilly area but that just means you can take the nostalgic trams and watch the beautiful city view from the viewpoints on top.
Even though Santa Teresa is a touristy area, it is one of the best neighborhoods to try local experiences. Start your day walking on the cobblestone streets, have a cafe in trendy cafes, and spend time in art galleries and designer shops. You will love the atmosphere of Santa Teresa!
For those who would like to stay in a bohemian area, here are my top picks where to stay in Rio de Janeiro:
Other accommodation options in Santa Teresa
Things to do in Santa Teresa
Take the oldest tram in Latin America to get around in Santa Teresa
Visit the Museu da Chácara do Céu
Have a drink and snacks at Armazém São Thiago
Visit an old mansion and cultural center, the Centro Cultural Municipal Parque das Ruínas
Check out the street art and see the colorful Escadaria Selarón (Lapa Steps) which has tiles from all around the world
Visit Museu do Bonde
See samba show on the streets at Mercado das Pulgas which takes place every first and third Saturday of the month from 8 pm to midnight
4. Ipanema Beach – where to stay in Rio de Janeiro for beaches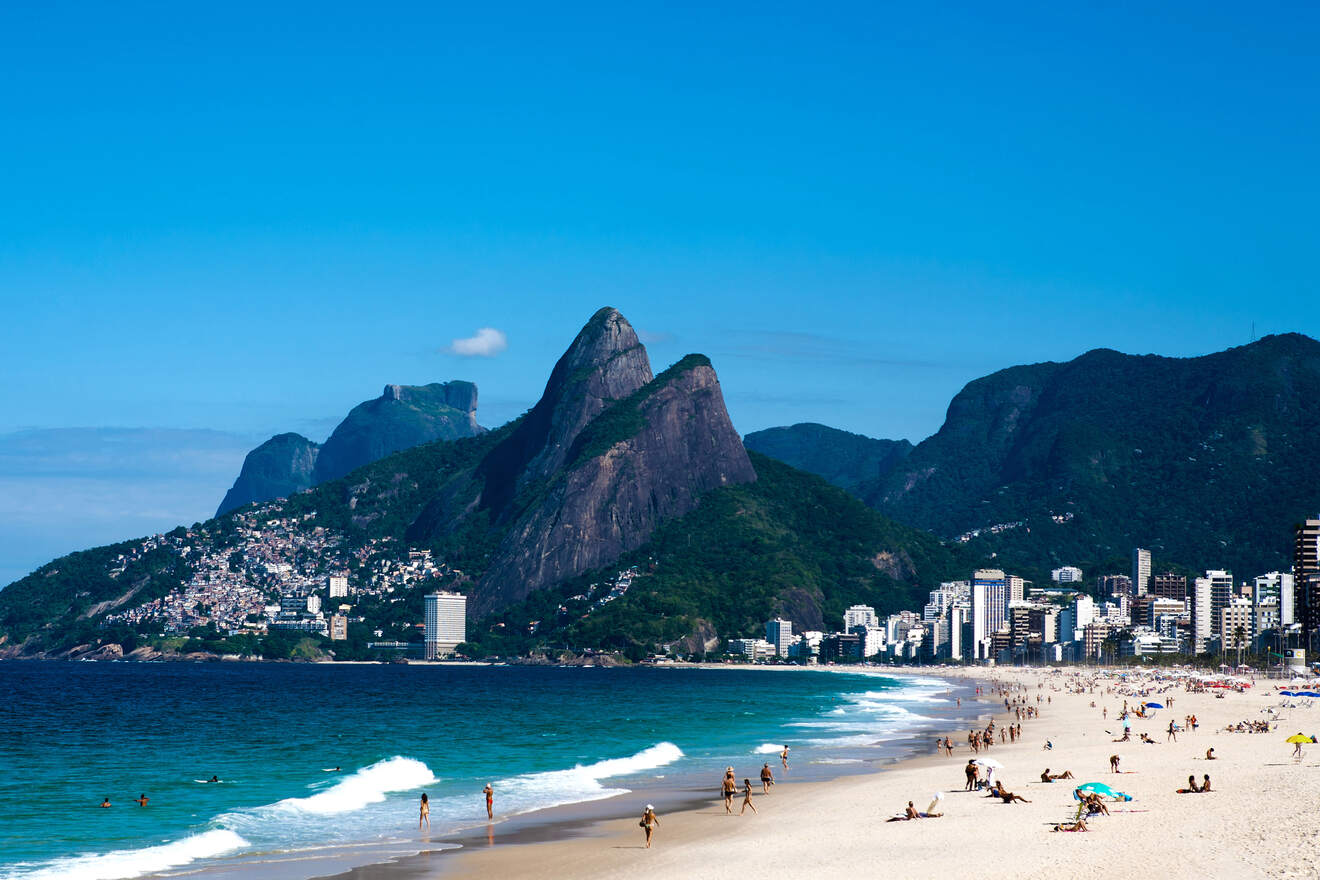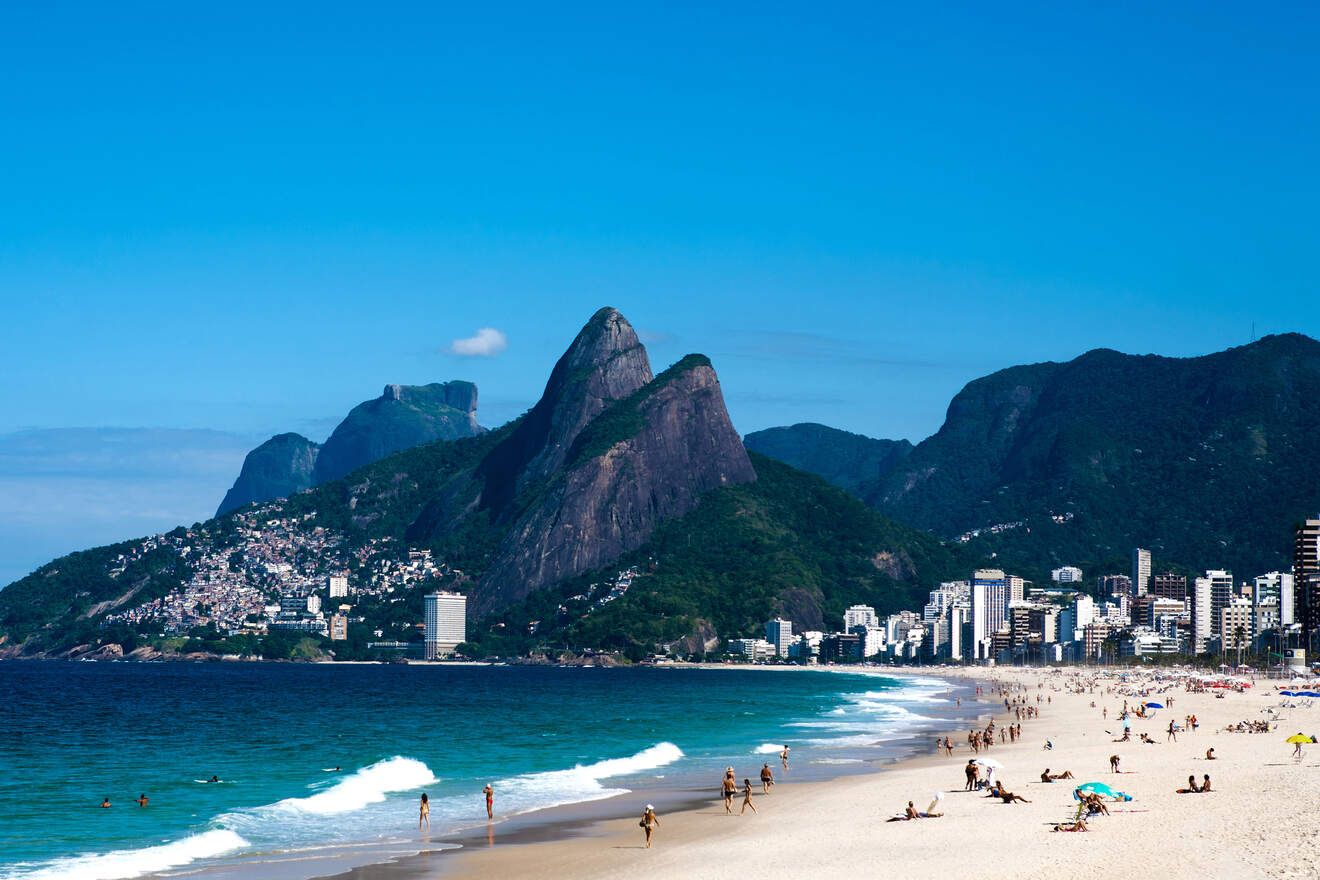 Located in the southern part of the city and just 3 km (1 mi) south of Copacabana, the worldwide famous Ipanema Beach will steal your heart! If you want to stay close to one of the best beaches in Rio de Janeiro which also has a glamorous and trendy vibe, Ipanema is my answer to where to stay in Rio de Janeiro for you.
If you are a beach bum you will enjoy spending a lot of time on Ipanema Beach, feeling the Brazilian atmosphere, and watching epic scenery. If you can manage to leave the sand, it is time to have a walk along the glamorous streets of Ipanema.
Pick a nice Brazilian restaurant and after a great dinner check out the nightlife scene in Ipanema. I have no doubt that you will have fun staying here so let me talk about the best places to stay in this upscale area.
Other accommodation options in Ipanema
Things to do in Ipanema
Chill, get a suntan, watch people at beautiful Ipanema Beach
Watch the sunset at Pedra do Arpoador
Go to a hippie market at Praça General Osório on Sunday
Have a nice Brazilian meal at Casa da Feijoada
Visit Oi Futuro (The Museum of Communications)
Taste delicious Brazilian wines and snacks at Canastra Bar
Take a Jiu-Jitsu lesson at the Brazilian Belt Academy
Join a guided tour to see Christ Redeemer and Sugar Loaf Mountain
5. Botafogo – one of the best places to stay for local experiences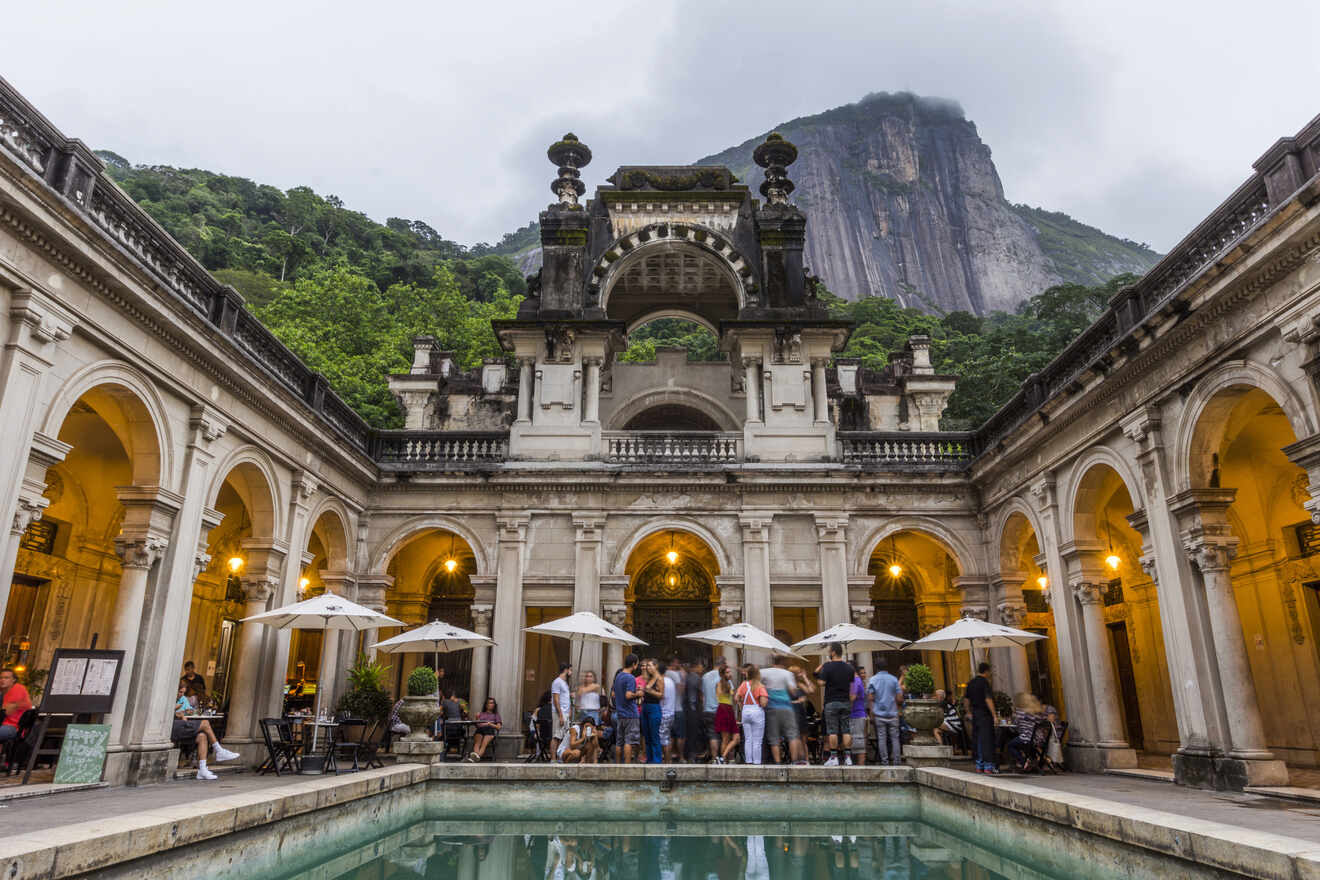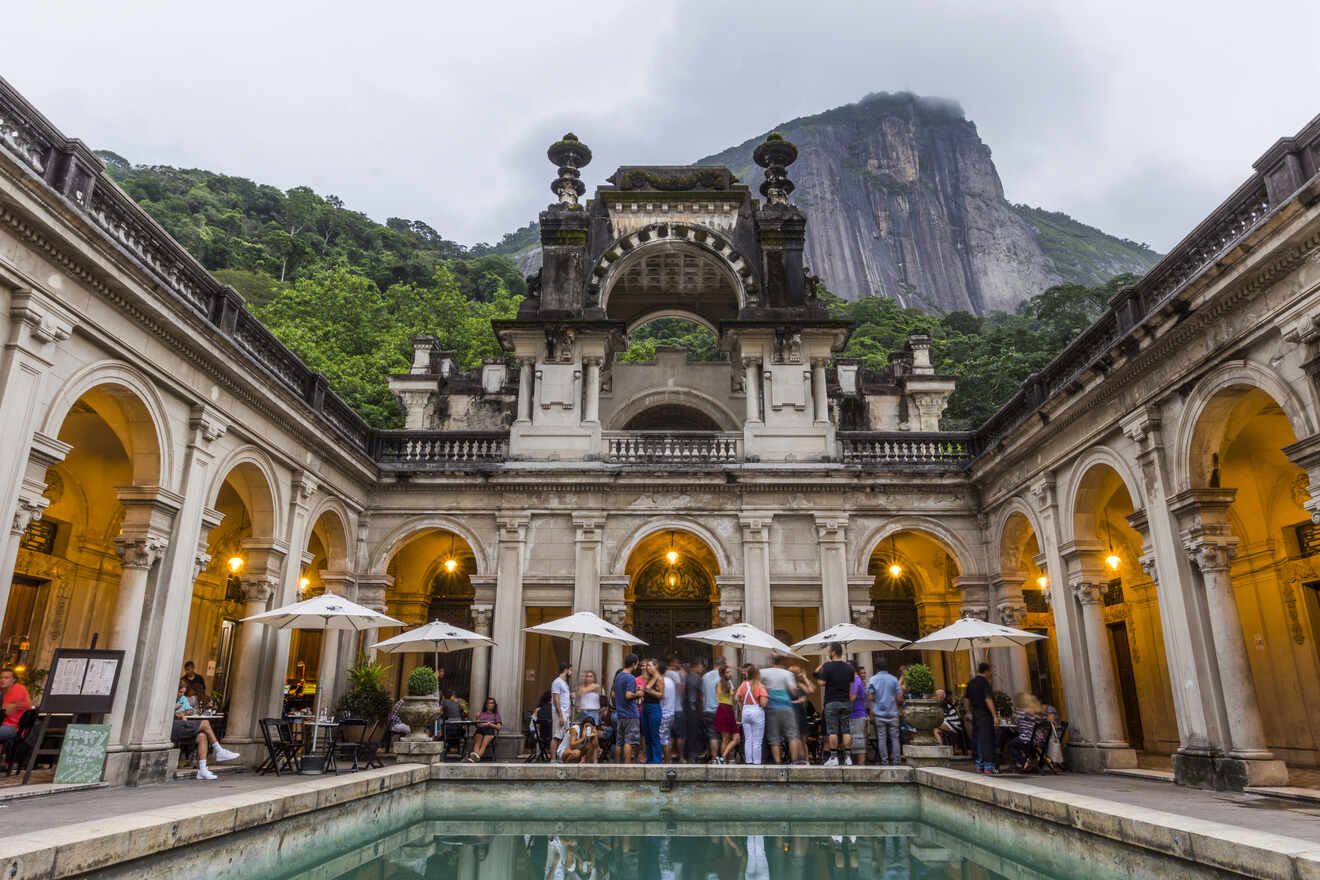 Located between Copacabana and Centro, Botafogo is a very nice neighborhood by the beach that offers amazing views of Sugarloaf Mountain. By staying here you will be able to experience local life, find beautiful Brazilian restaurants, cool cafes, and museums. For shopping lovers, there are also many good shopping malls and boutique shops in this area. It's perfect for everyone!
Start your day in Botafogo by heading to the must-see Sugarloaf mountain. After you are amazed enough by the spectacular views of Rio de Janeiro, head to the beach to chill and watch the sunset. When it gets dark it is time to discover unique cafes and restaurants in the area. Treat yourself to a nice local dish and good Brazilian wine. This area is one of the best for those!
If you stay in Botafogo you will have a chance to have more local experiences and still be close to the main touristy attractions of Rio de Janeiro. For those who want to feel a real local Brazilian vibe, here are the cool places to stay in Botafogo.
Other accommodation options in Botafogo
Things to do in Botafogo
Hike up to Morro Dona Marta and check out the jaw-dropping view
Join a guided tour to see Sugarloaf Mountain by cable car
Head to Corcovado Mountain
Go shopping at Rio Sul, one of the most famous shopping malls in Rio de Janeiro
Check out the stunning view from Mirante do Morro do Pasmado and Morro do Pasmado
See Basílica Imaculada Conceição
Visit Villa Lobos Museum and learn about Brazilian culture
Spend time on Botafogo Beach
Visit Parque Lage in the neighboring Lagoa, to see the amazing pool surrounded by a mansion and the views of Christ the Redeemer Statue
6. Barra da Tijuca – where to stay in Rio for relaxation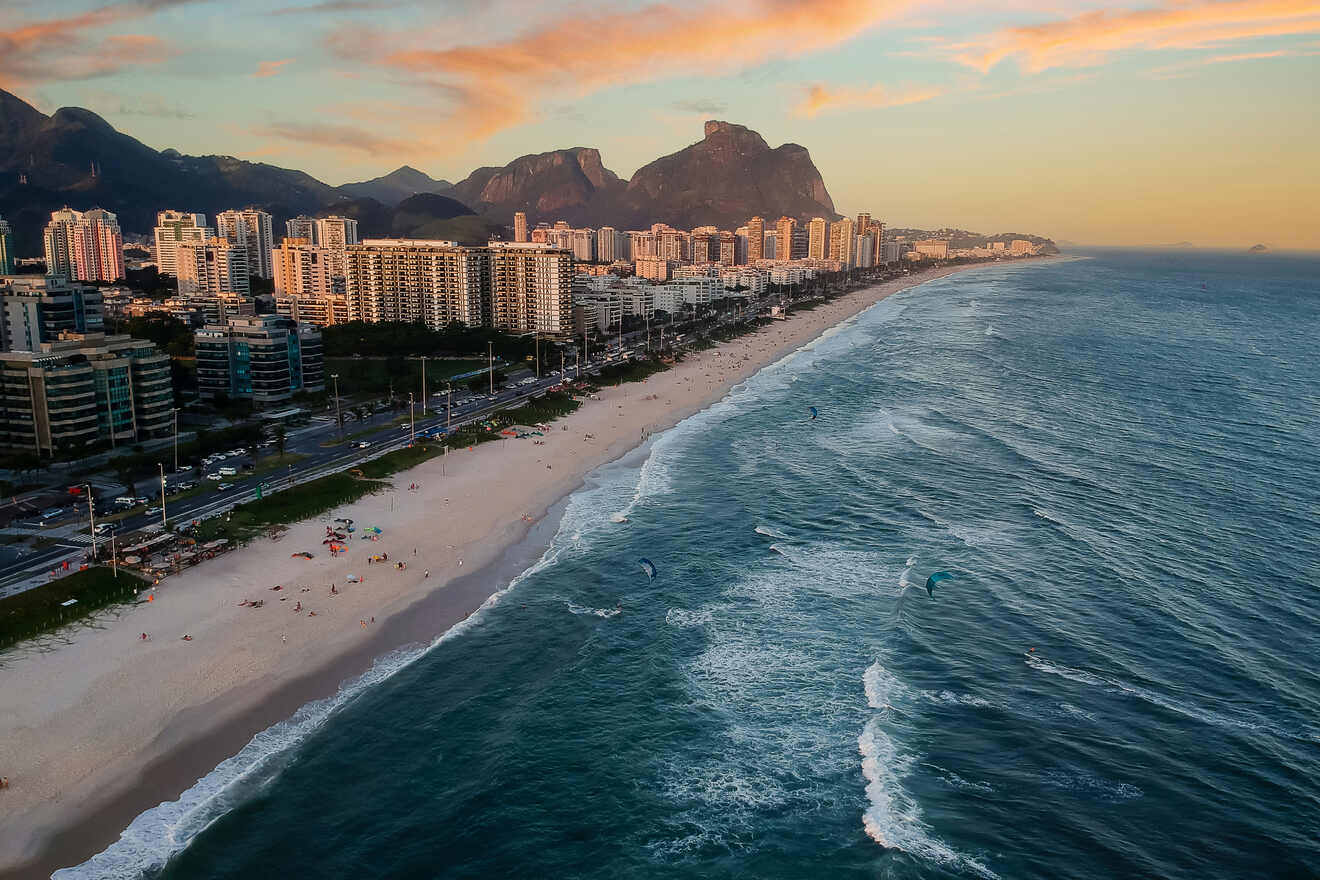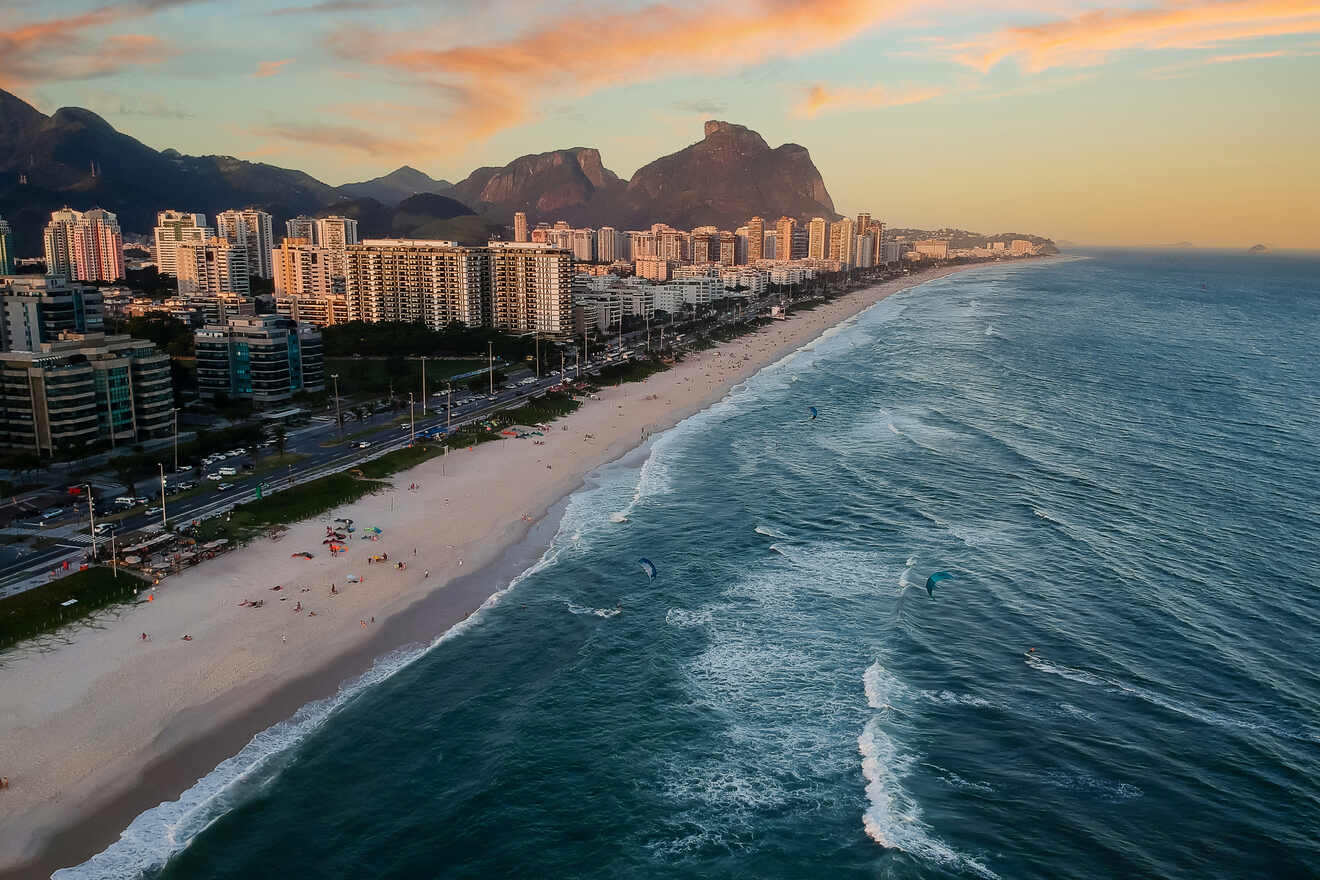 Barra da Tijuca is located in the southwestern part of Rio de Janeiro and half an hour drive from Centro. It is a very safe and chilled neighborhood with beautiful beaches. I also recommend Barra da Tijuca for families because of its safe atmosphere with less crowded beaches.
Famous beaches in Rio de Janeiro like Ipanema Beach and Copacabana Beach always tend to be very crowded. So if you want a more relaxed vibe, Barra da Tijuca Beach is the perfect place to stay in Rio de Janeiro to enjoy charming beaches without the crowds. Here you will also find a great selection of fine dining restaurants and shops to really complete your chilled holiday.
Barra da Tijuca is an affluent area that is preferred by the wealthy people of Rio de Janeiro but on the contrary, you will also be able to find many affordable accommodation options here with easy access to the beach.
Other accommodation options in Barra da Tijuca
Things to do in Barra da Tijuca
Join a helicopter tour and see the whole city from above
Hike up Pedra Da Gávea
Check out luxury shops at Village Mall
Have fun at Tivoli Park
Go hiking at Pedra da Gávea
Spend time at the beautiful beach, Praia da Barra da Tijuca
Visit Ilha da Gigóia
Get a suntan at Reserve Beach
Go for a sunset stroll at Praia do Pepê
BONUS: 3 things to know before choosing a hotel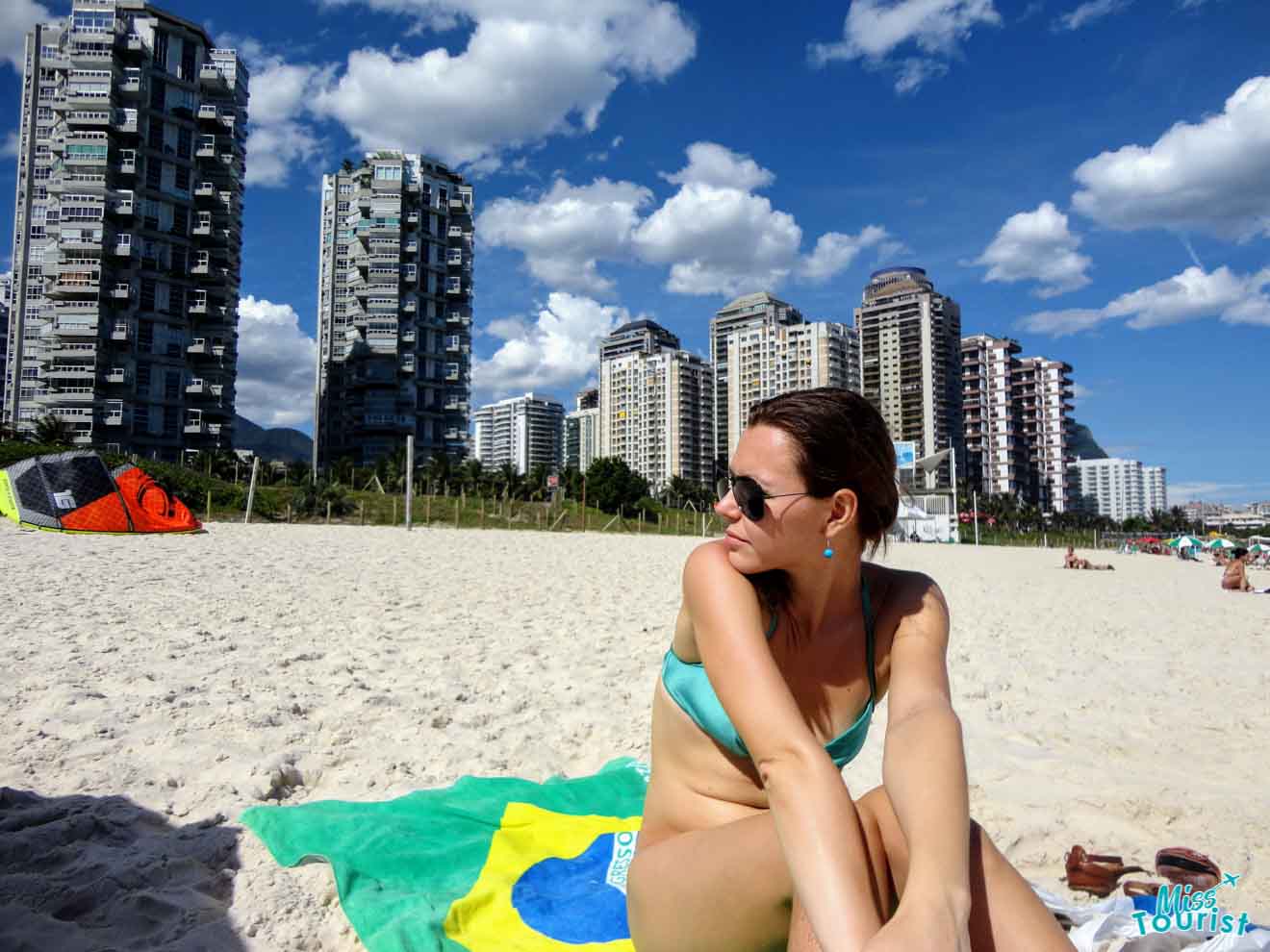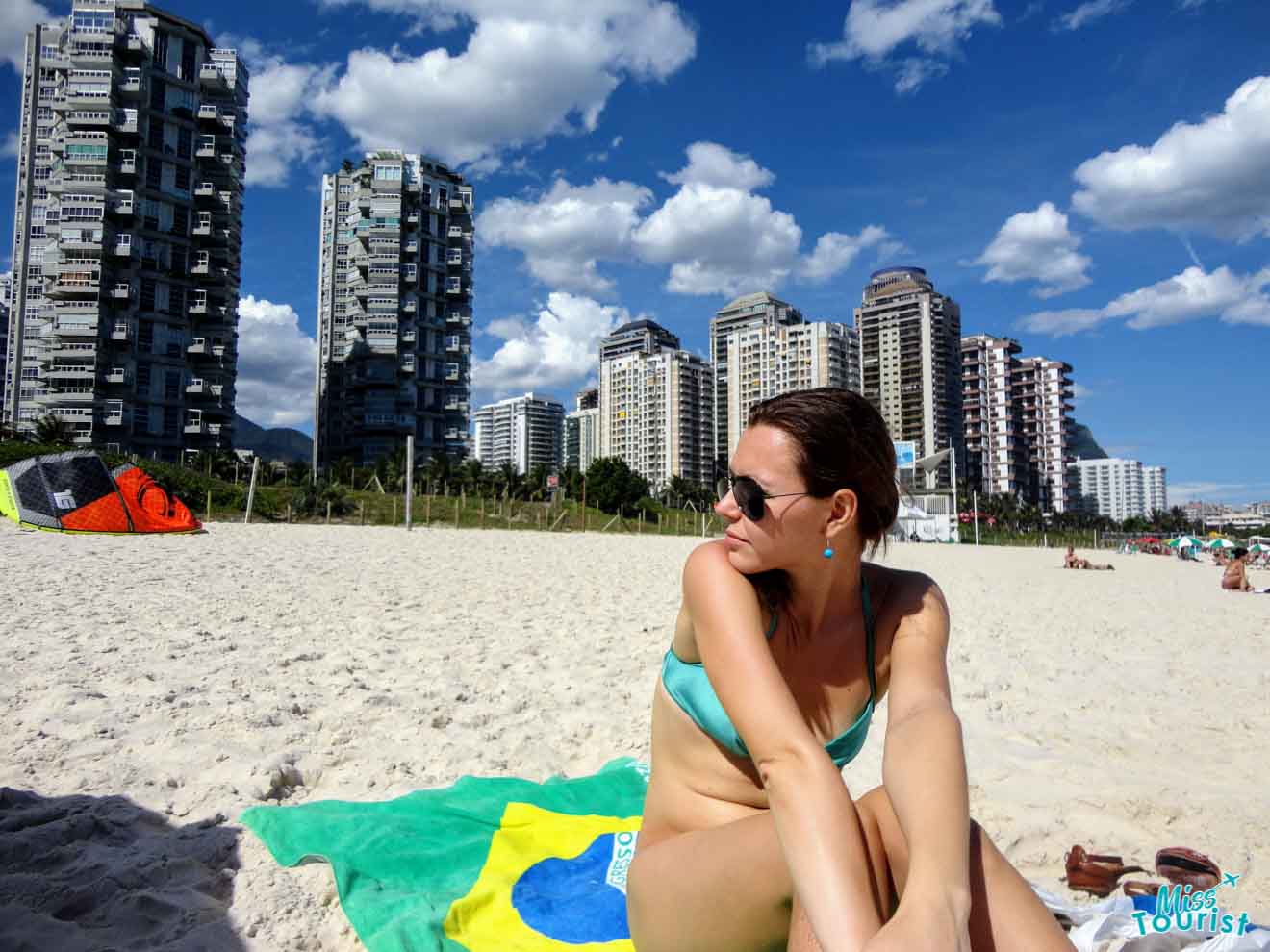 Rio de Janeiro is a very big city and each part of the city has its own unique vibe. Before planning your trip it is very crucial to know about the unsafe areas of Rio de Janeiro and how to get around in the city.
You also have to consider the timing of Rio Carnaval as it dominates the city in every way and makes it very difficult to find accommodation. Luckily for you, I have done all the research for you and am here to provide you with everything you should consider before choosing where to stay in Rio De Janeiro.
1. How to get around in Rio de Janeiro
Since it's a large city and you probably want to experience many different areas. It's always a good idea to check out your options for getting around when picking which area to stay.
Metro
The metro is the most convenient way to get around in Rio de Janeiro. Trains operate from 5 am to midnight Monday through Saturday, and from 7 am to 11 pm on Sunday and holidays.
Single rides cost R$4.30 ($0.80 USD) and you can purchase a cartão pré pago (prepaid card) from the kiosks in any metro station using cash with a minimum of R$5 ($5 USD). Once you have your card you can then recharge the card at any kiosk and free subway maps are available from most ticket booths.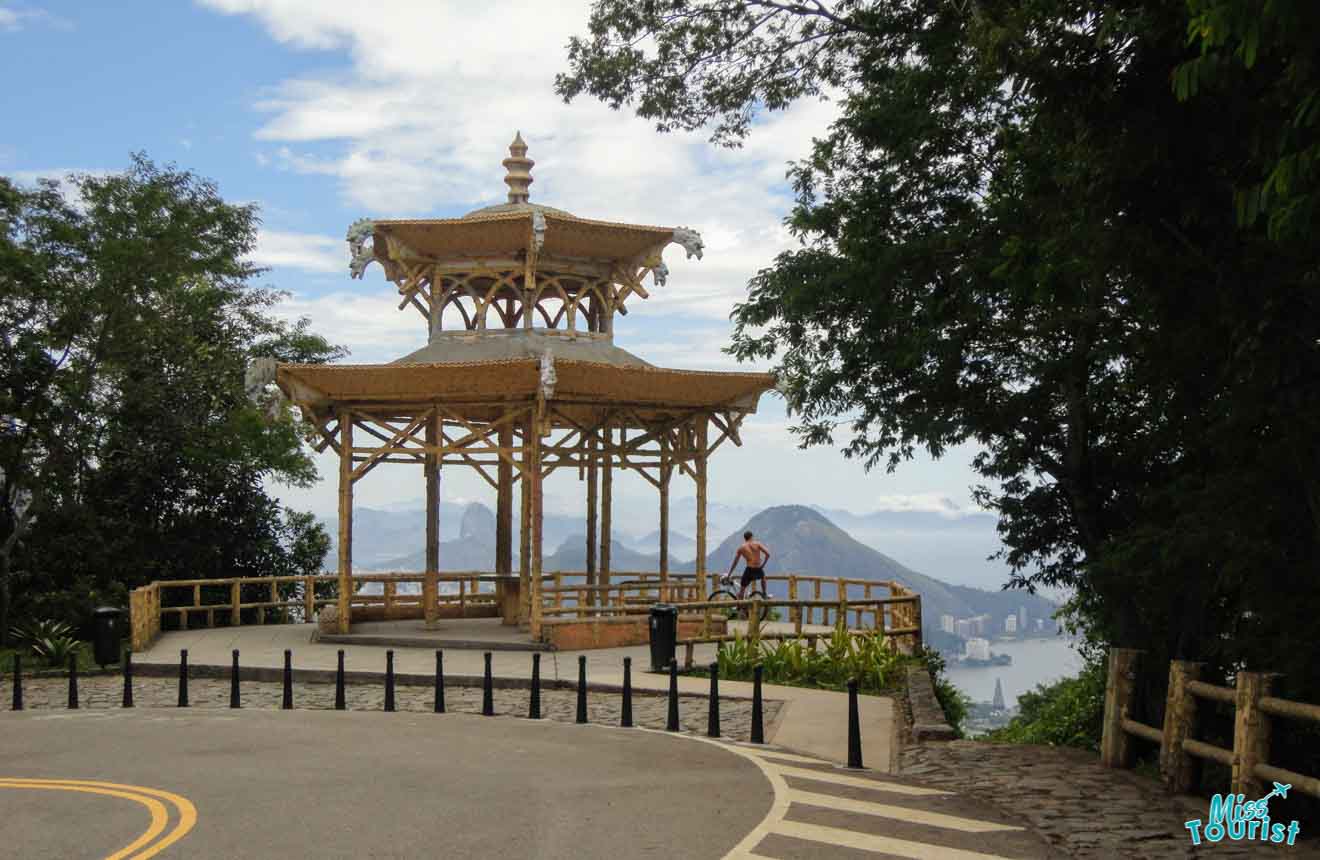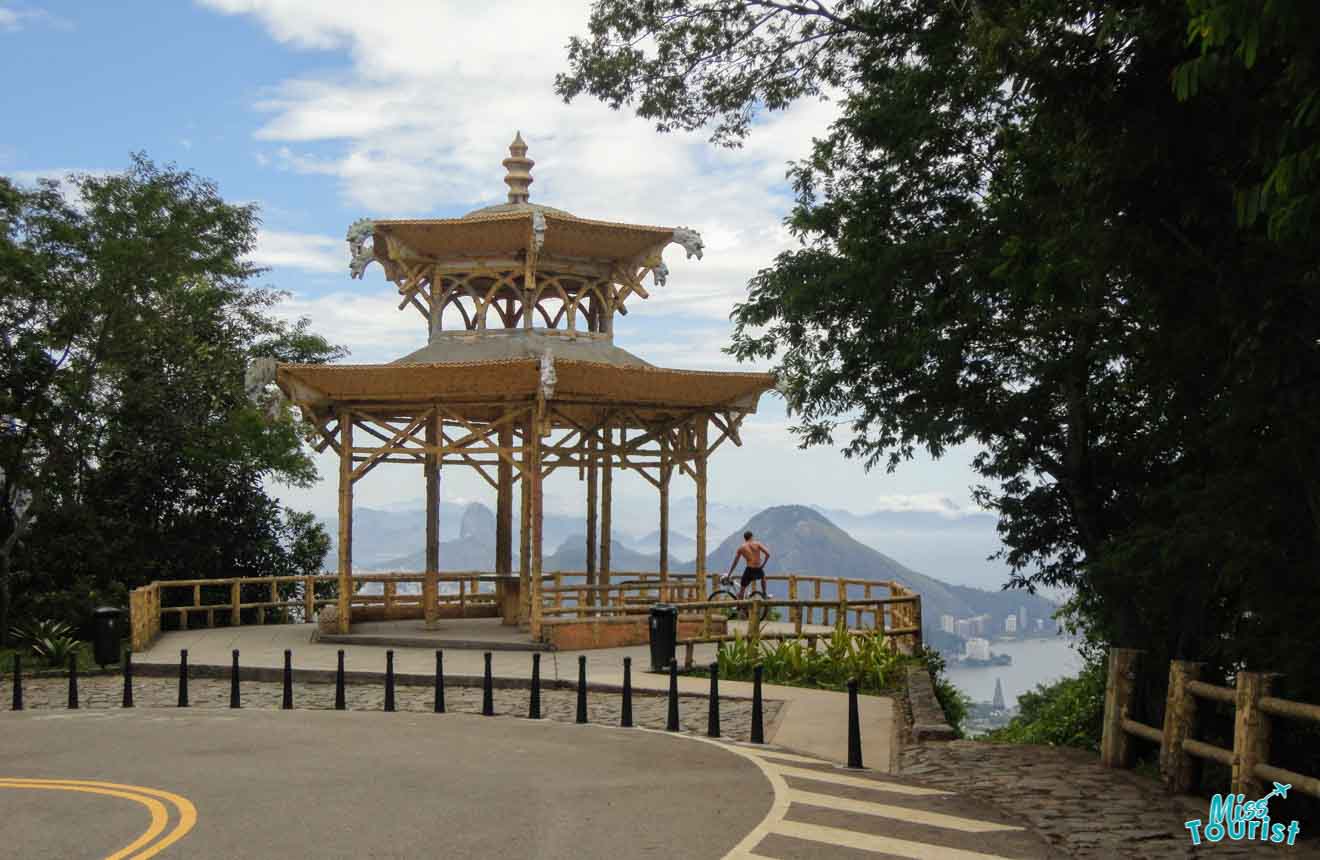 Taxi
It is easy and safe to take a taxi in Rio. You can simply take a yellow taxi on the road or use free apps like 99Taxis and Easy Taxi. The starting rate is around R$5.50 ($1 USD), plus around R$2.50 ($0.50 USD) per kilometer. Tipping the taxi drivers is not common, but usually, people round up the fare.
Ride-Sharing Apps
Uber is available in Rio de Janeiro, and available in all areas. In general, its prices are 30% lower than regular taxis.
Biking
Rio de Janeiro is a great city for biking. There are a lot of bicycle roads and you can easily rent bikes from the stations all around the city. I personally think this is the most fun way to get around the city.
Renting a Car
If you want to make day trips around Rio de Janeiro renting a car could be a good option but inside the city, parking would be an issue and public transportation is more convenient. So if you are planning on road tripping around the country, it is a good idea to try and find some accommodation that provides parking.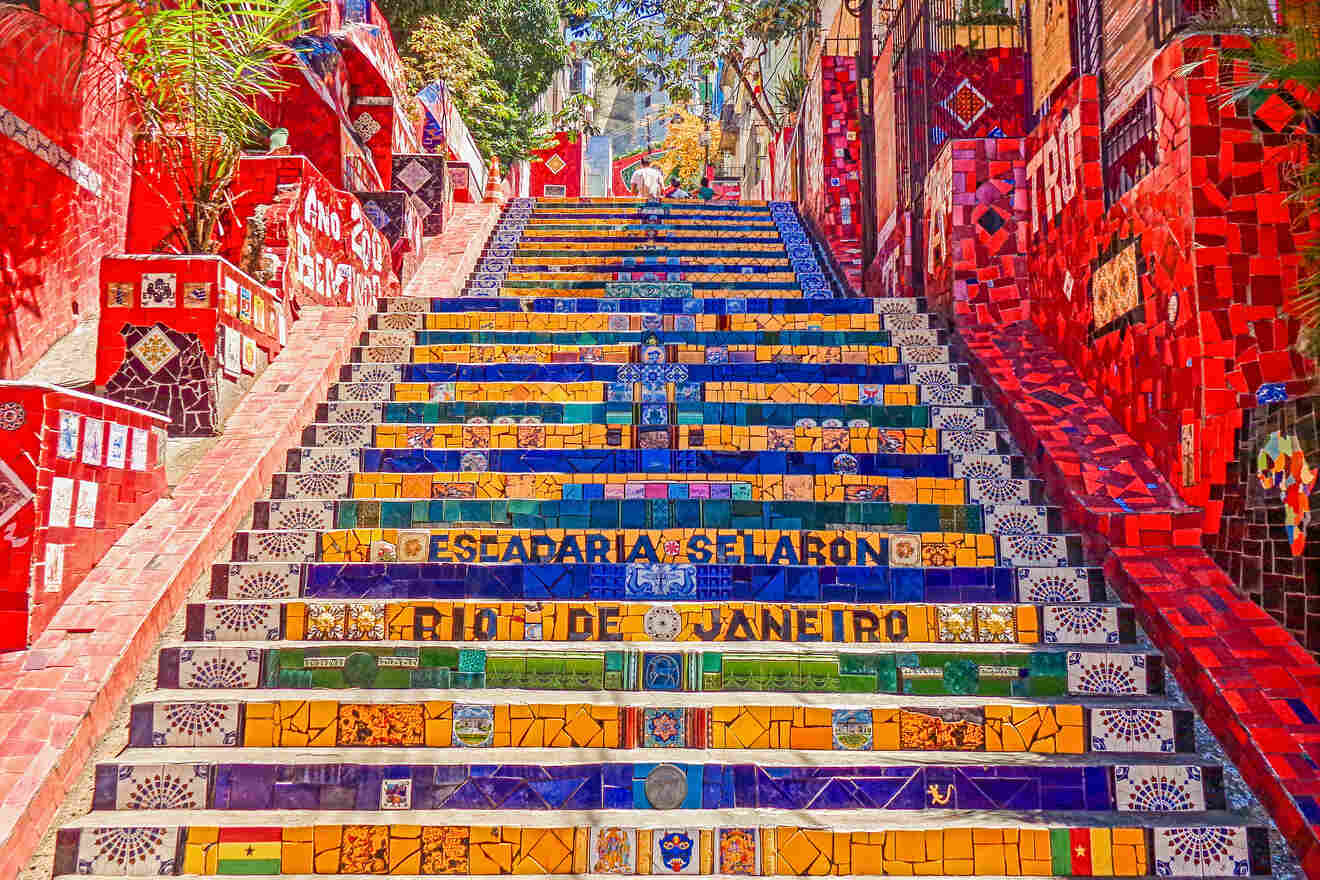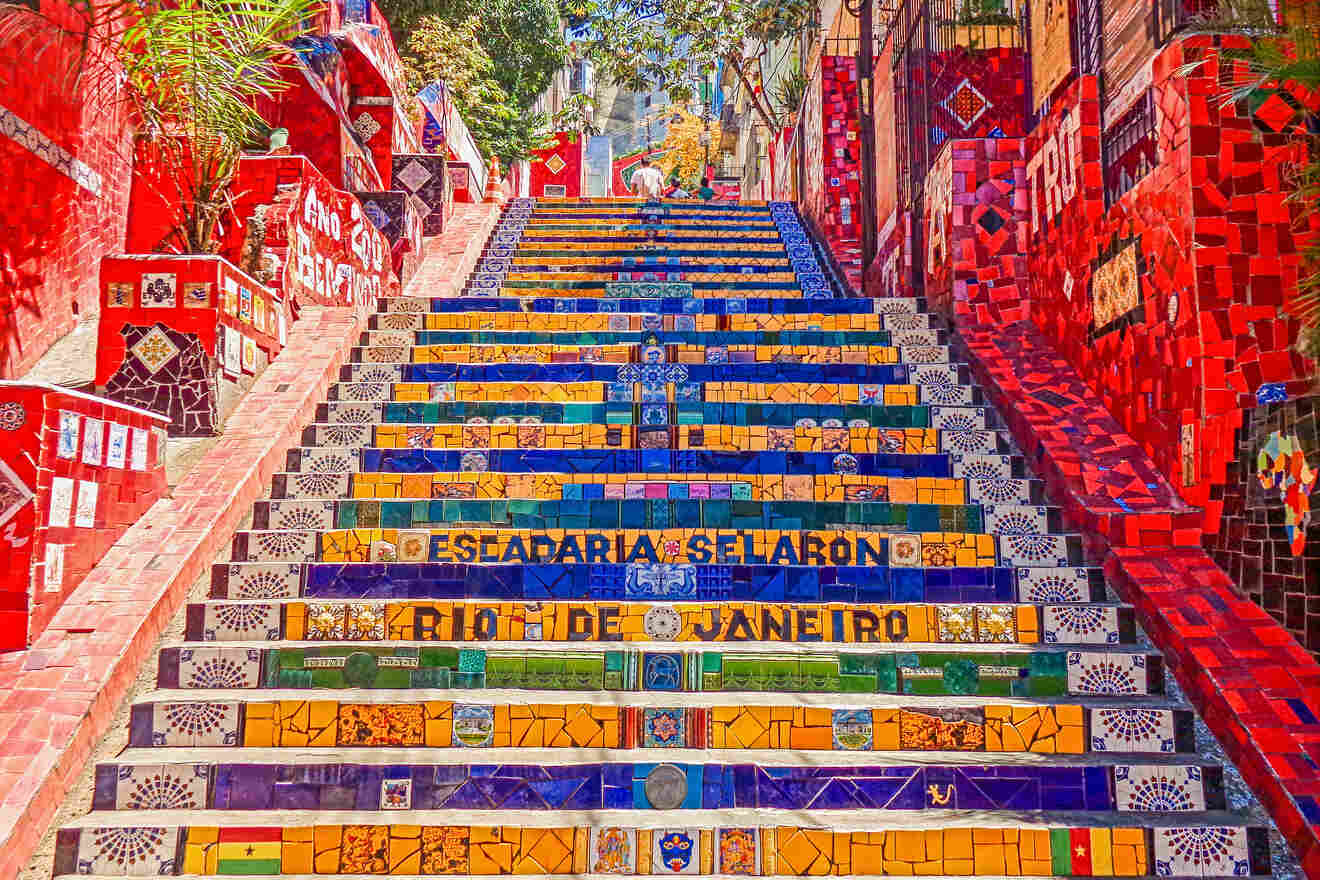 2. Where NOT to stay in Rio de Janeiro
The areas I already mentioned to you are touristy and very safe areas to stay in but it's always best to avoid the streets at night, even in the safe areas.
The northern part of the city called Zona Norte including Rocinha and Vila Mimosa has the highest crime rate in Rio de Janeiro. That's why I highly recommend you avoid staying in Zona Norte. Other areas to avoid are called favelas. Favelas and their surrounding areas are known within the city as being controlled by dangerous gangs and they should be avoided at all costs.
3. The world's biggest carnival Rio
Rio Carnival is the world's biggest street party and every year millions of people visit Rio de Janeiro just for the carnival!
It's no wonder that it holds a place in the Guinness Book of Records!
The carnival takes place in February a week before Ash Wednesday and celebrations officially last about a week but locals start the celebration months in advance with their own street parties. Rio Carnaval is a fun and cultural experience with millions of samba dancers wearing beautiful colorful Brazilian costumes, dancing the whole day with live music in all directions.
If you want to be part of the world's biggest party you have to book your hotel months in advance and make sure to take your dancing shoes with you! Make sure to check out the official website to find out exactly what's going on this year!
Frequently asked questions about Rio de Janeiro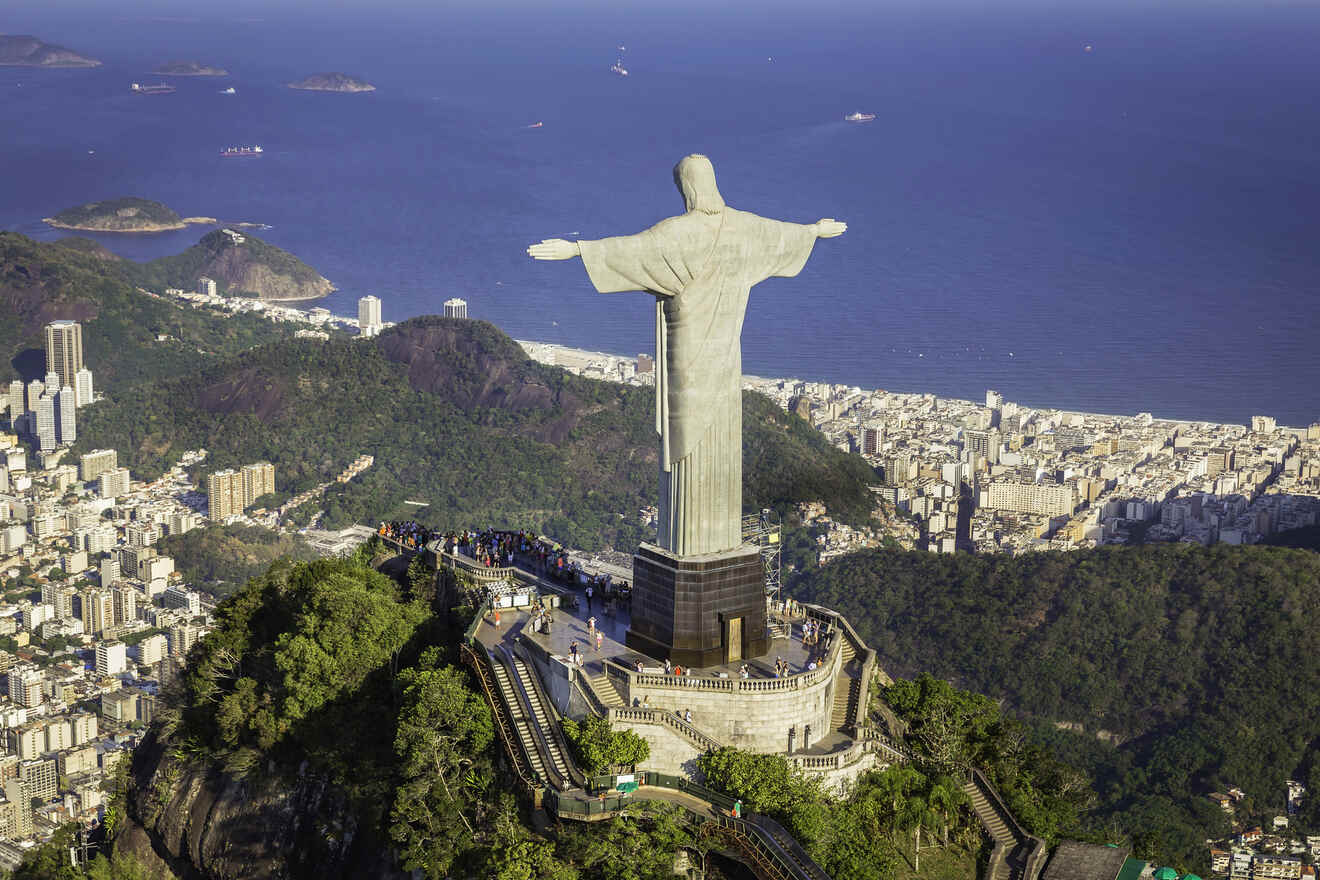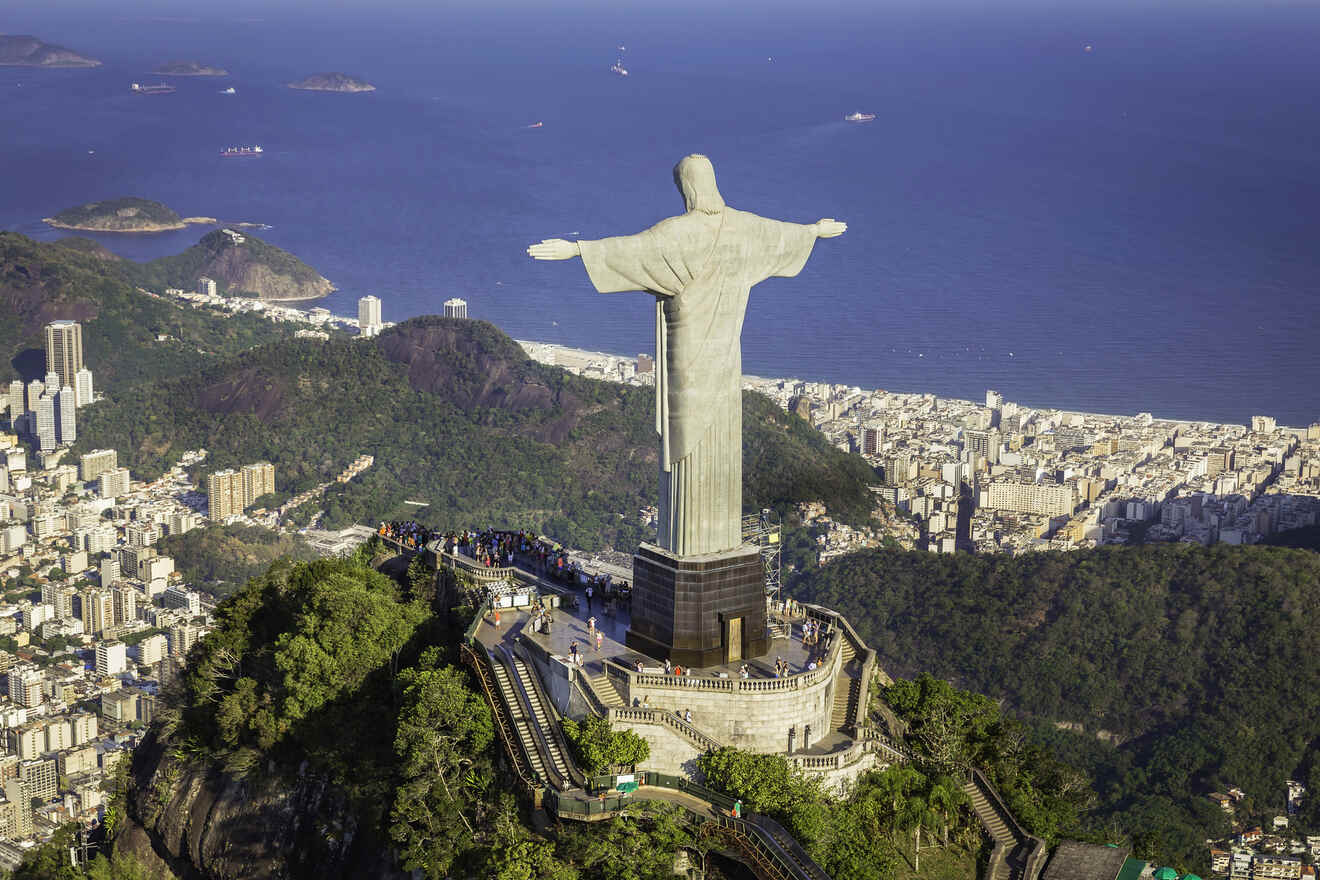 Conclusion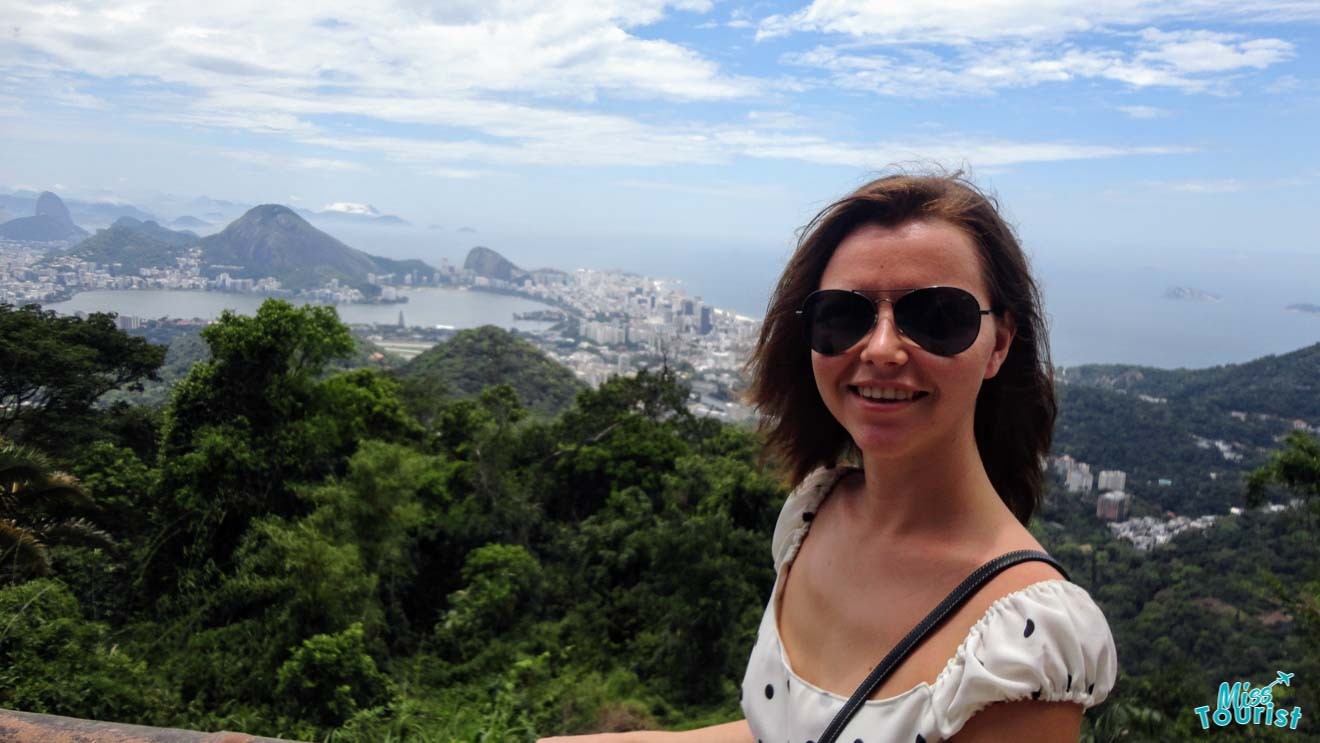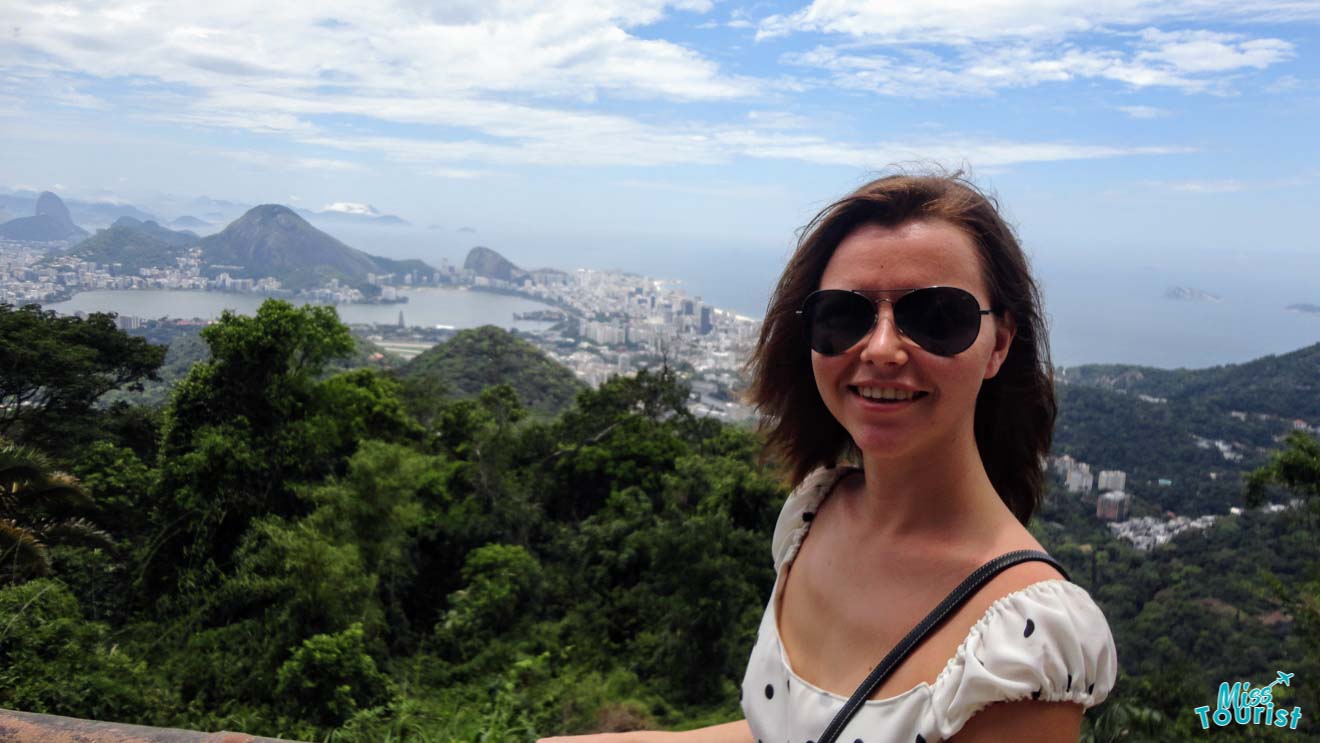 It's been fun to walk along Rio de Janeiro streets, exploring the best neighborhoods with you! It's time for me to say goodbye now traveler friends. I hope this blog post helped you to understand the vibes of each neighborhood and you've already found your dream place where to stay in Rio de Janeiro.

Each neighborhood of Rio de Janeiro has a unique atmosphere. As I mentioned earlier I highly recommend staying in the Copacabana neighborhood for first-timers as it offers tempting attractions for all kinds of travelers but the Lapa neighborhood inside Centro is also another awesome option!
However, if being close to the beach is your priority you can pick Ipenama or Barra da Tijuca for less crowded beaches, and if you are on a budget Centro is the best option. For those who want to stay in an area with a more bohemian and local vibe, Botafogo and Santa Teresa are my suggestions.
If you've already decided on where to stay in Rio de Janeiro, make your reservation now better to be safe rather than sorry!
For those who couldn't choose among many options, I would like to wrap up. Here are
the 2 best hotels that I can highly recommend you to stay in for an epic holiday. Both are ideally located in Rio de Janeiro and have great reviews.
If you have any other suggestions or questions about Rio de Janeiro don't be shy and leave a comment below. I'll be happy to leave a reply to them!
Enjoy your time in Rio de Janeiro,
Eylul