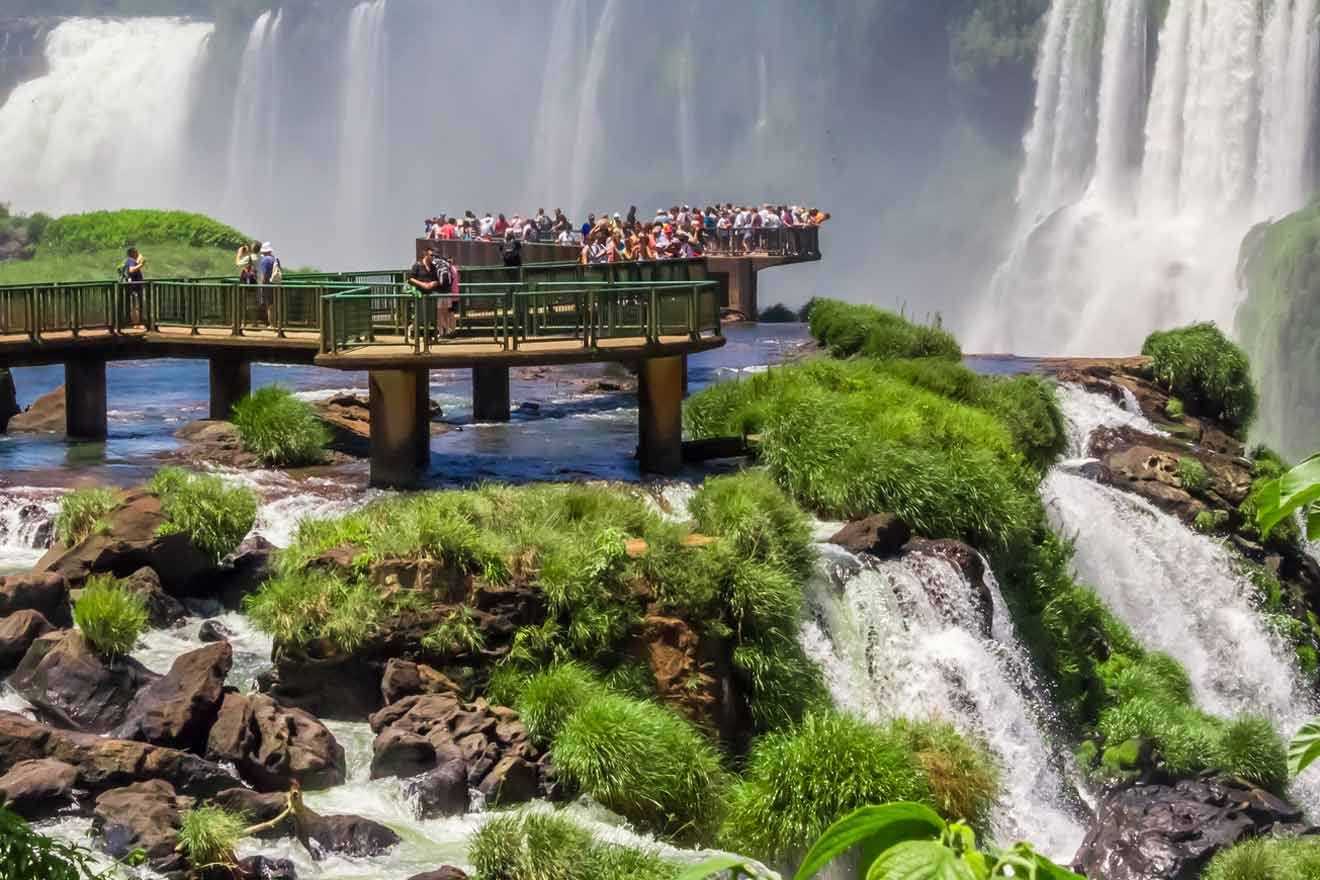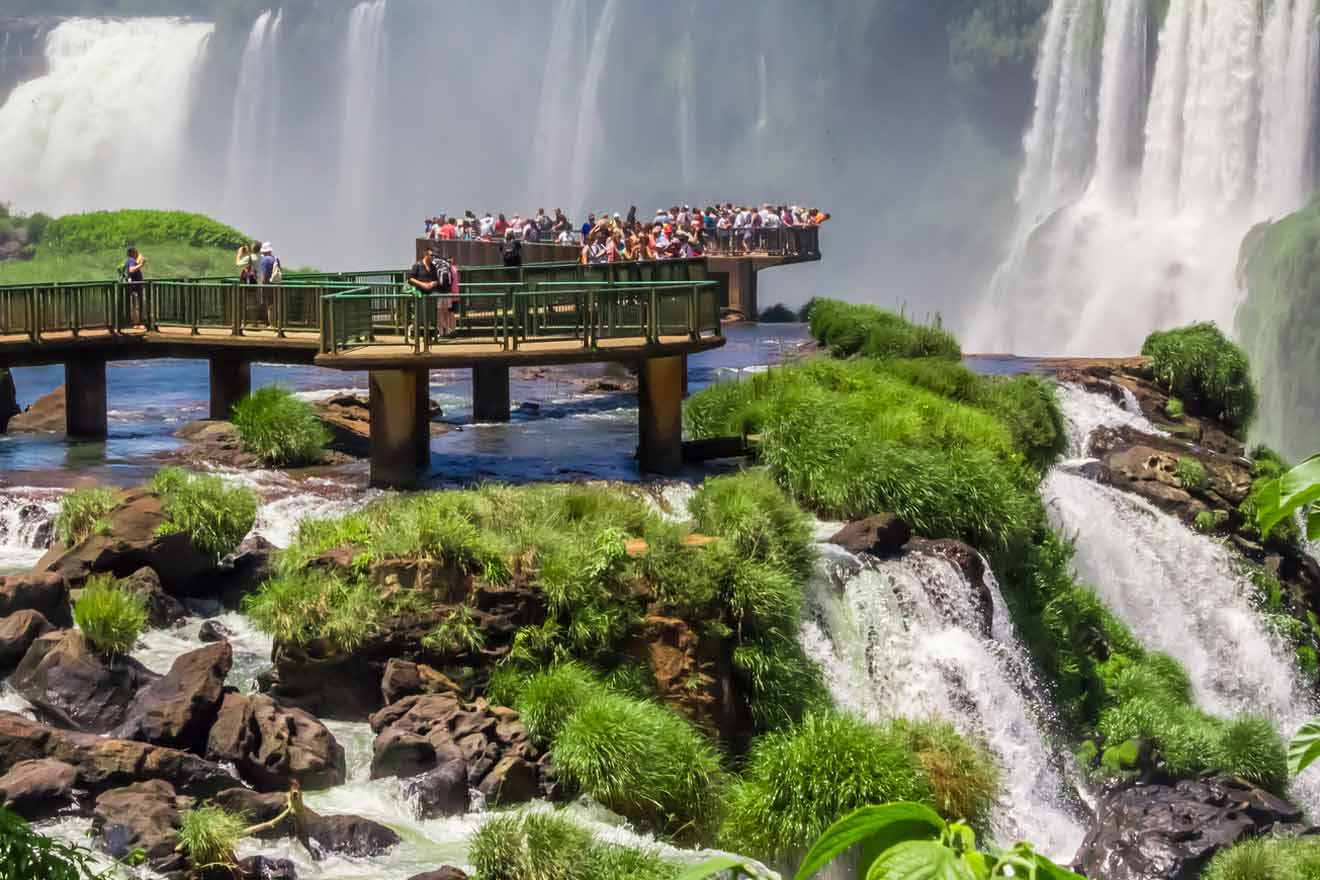 If you crave an unforgettable adventure, get ready to embark on a journey like no other with the Iguazu Falls tours.
Yeah, sure, nearly everyone's heard of Rio de Janeiro and Buenos Aires, but only the bravest explorers set sail on a voyage to marvel at the magnificent Iguazu waterfalls spanning both Argentina and Brazil.
I spent significant time researching to find the best tours to offer to my brave explorers who decided to embark on this amazing journey and get a sight of the stunning Iguazu Falls. I know how packing all necessities for hiking and nature exploring can be tiring and time-consuming, so I decided to help you and spare you from the research process.
You'll find the very best options on this list. There are multi-day options, boat rides, hiking expeditions, and helicopter rides. So no matter what you're looking to do, you'll find a tour that suits your needs.
Before we start, I have to remind you of one important thing: make sure to book your tours well ahead!
Let's dive in!
If you are in a hurry
Here are the best tours of Iguazu Falls that you need to book in advance: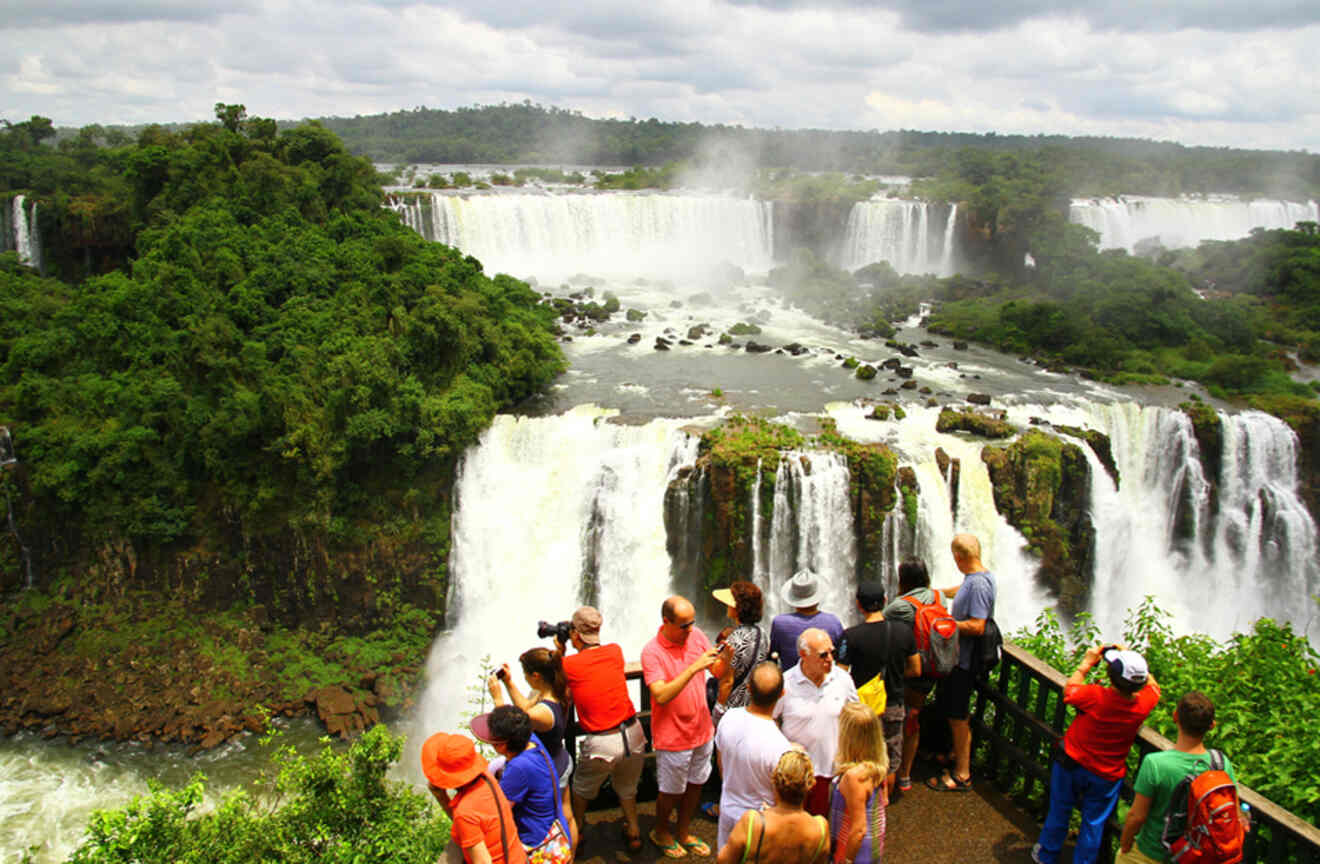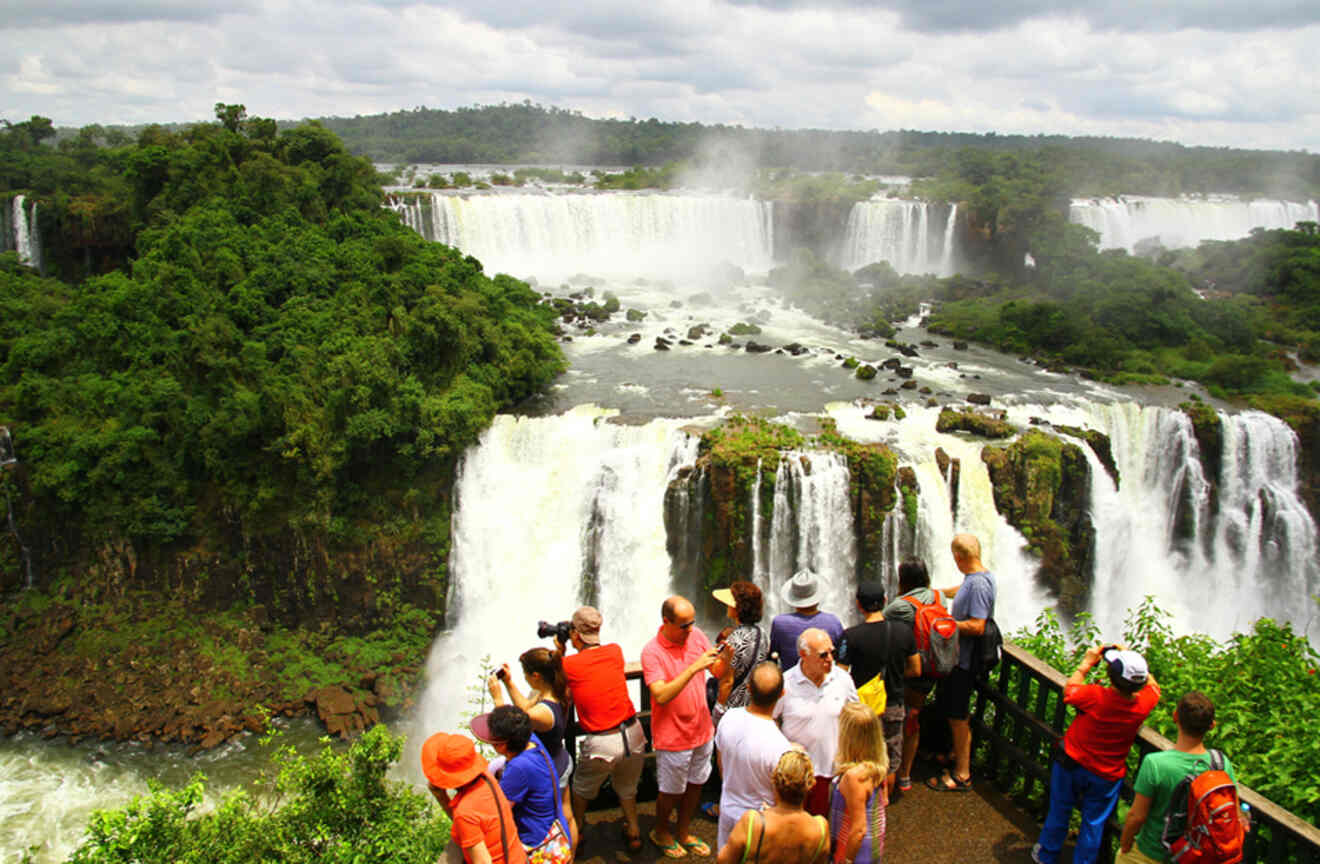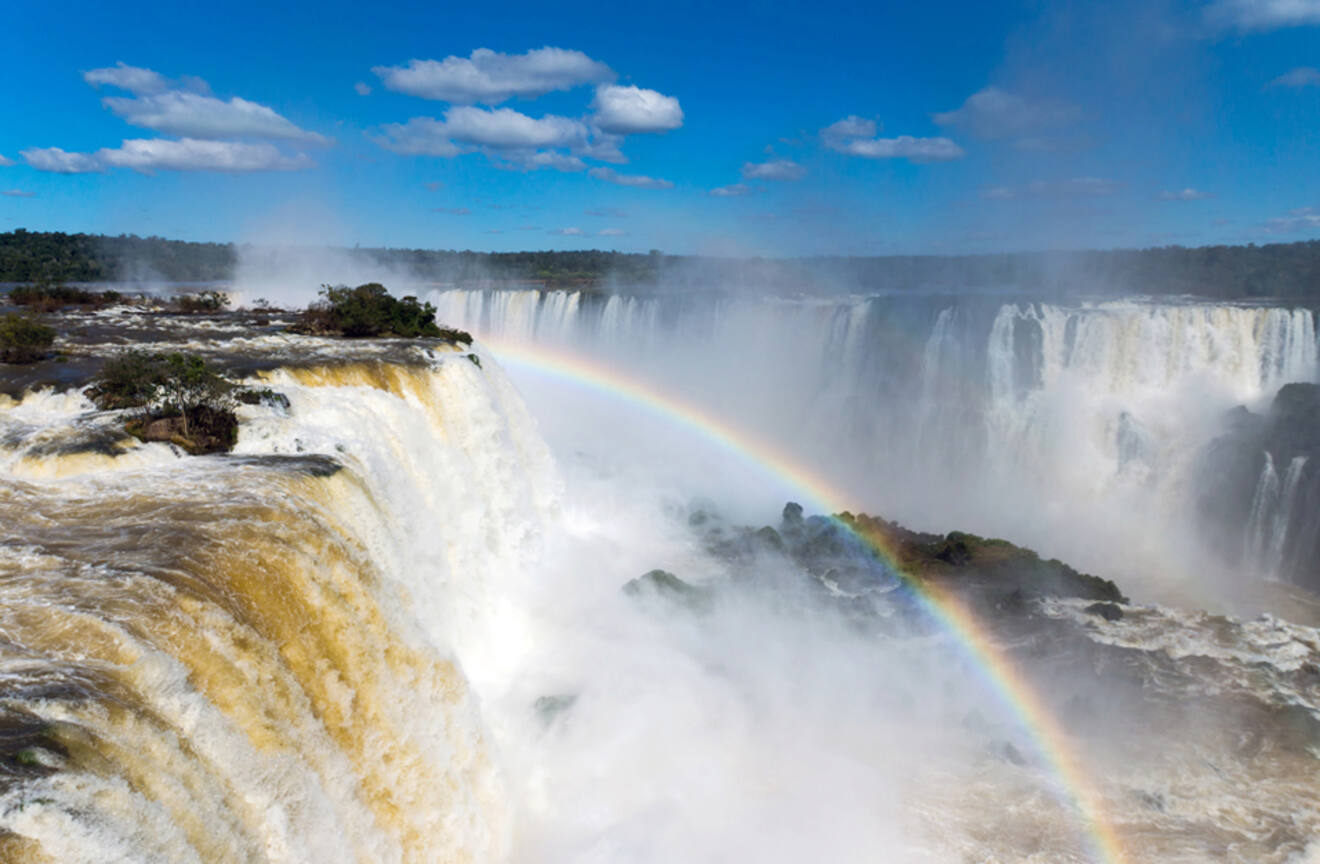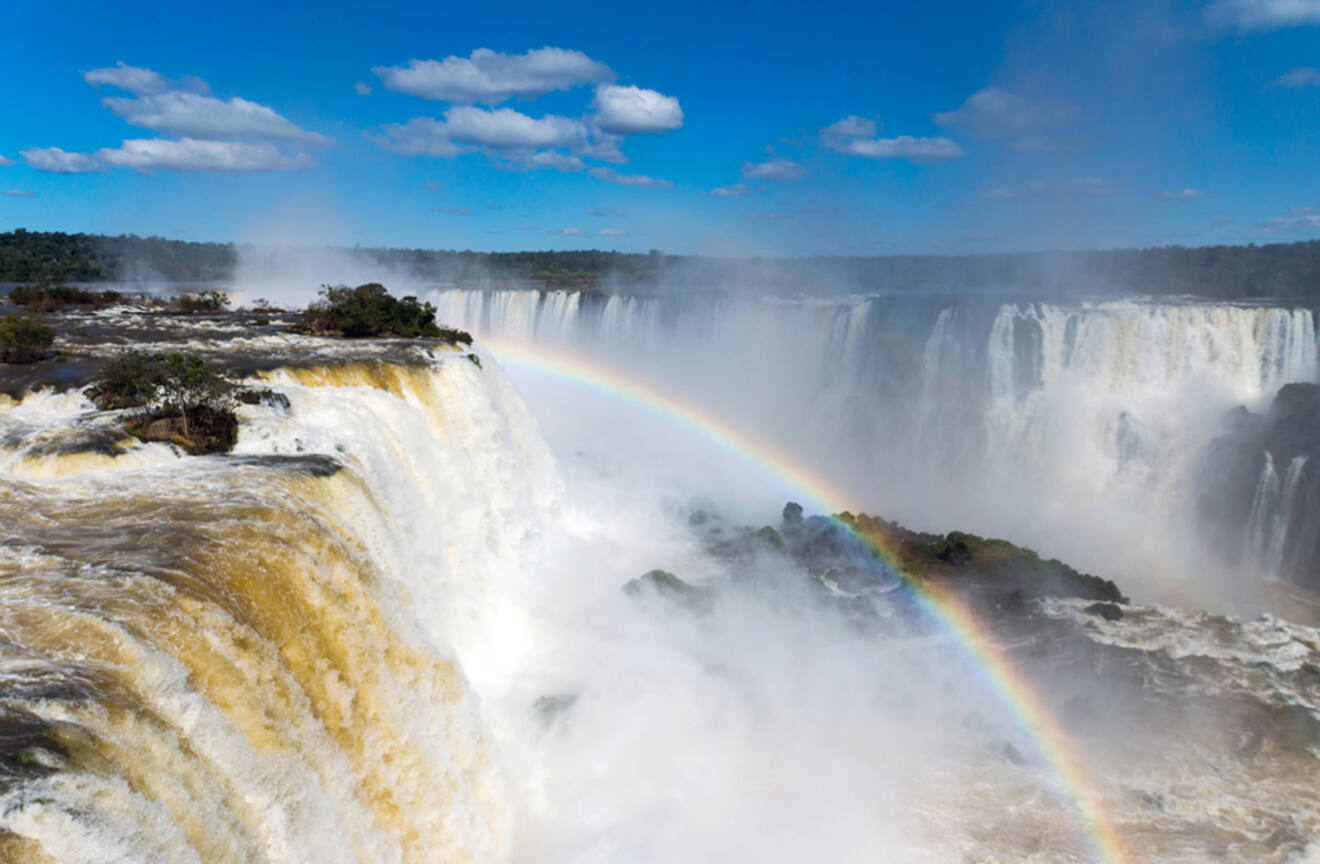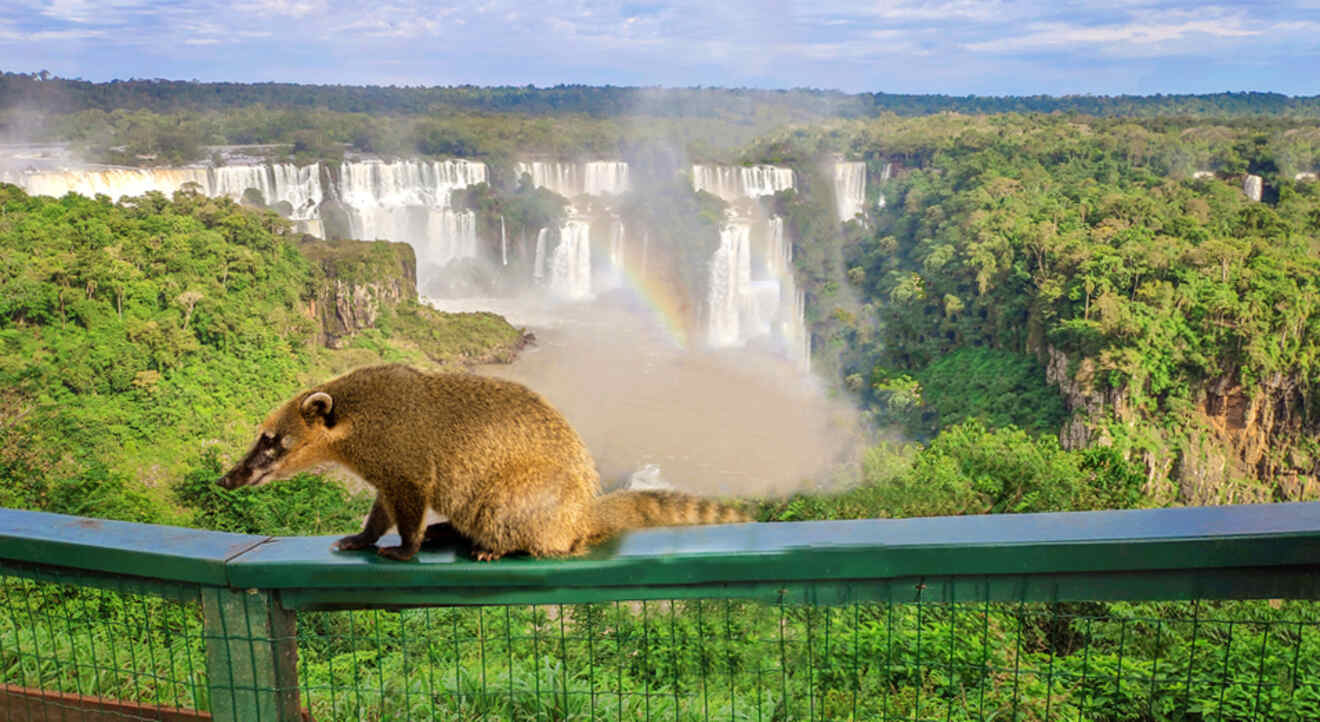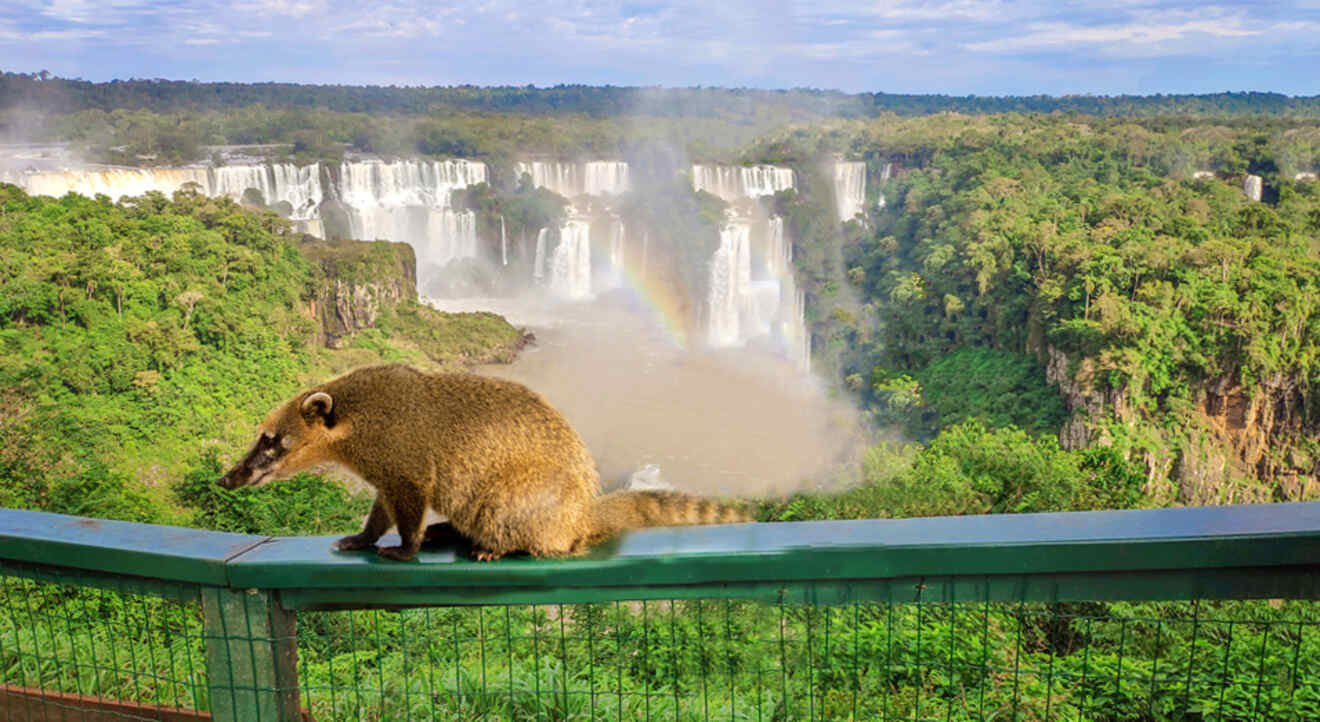 Since there are 2 sides of the Falls that you can explore, and different starting points, I thought that a map would come in handy: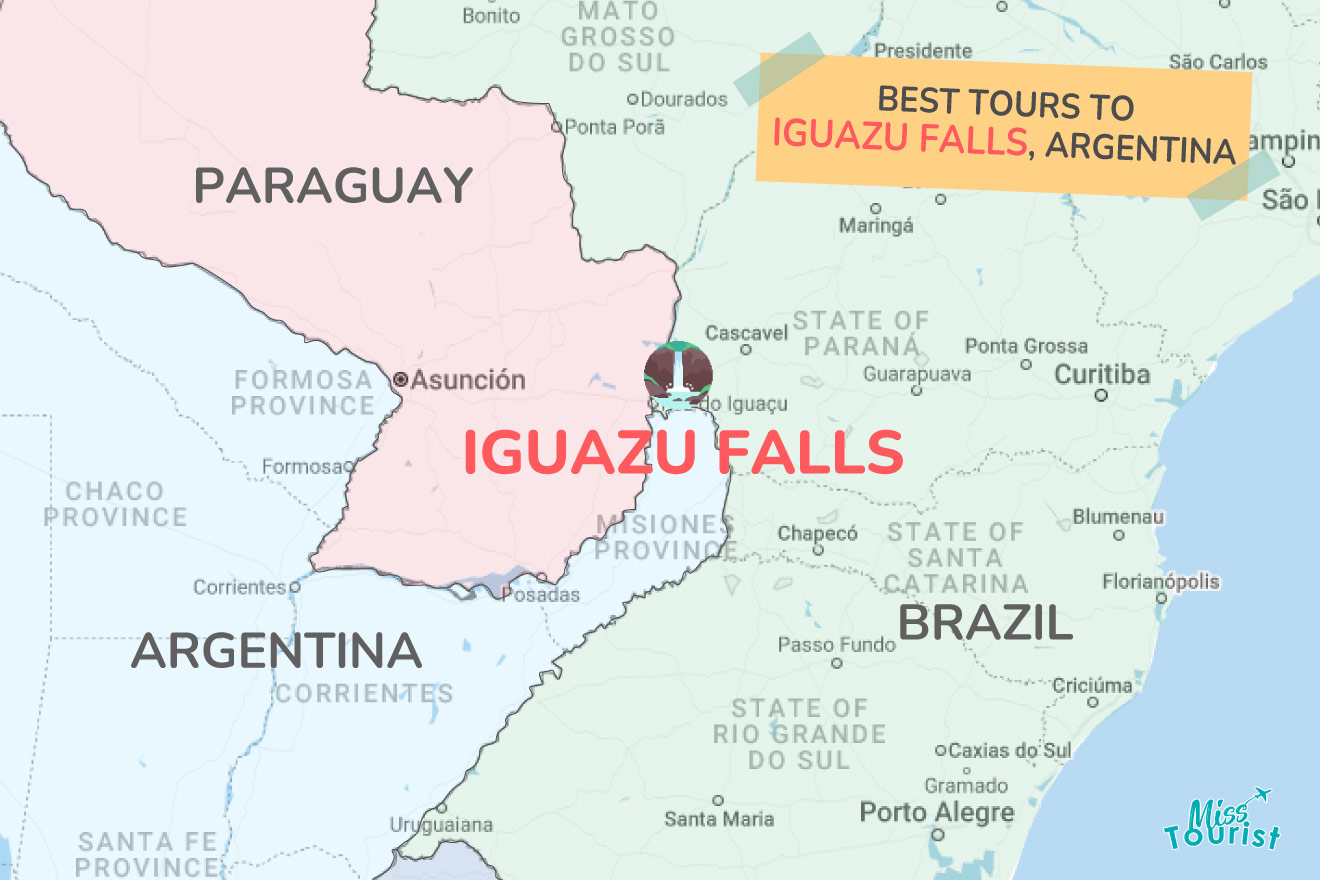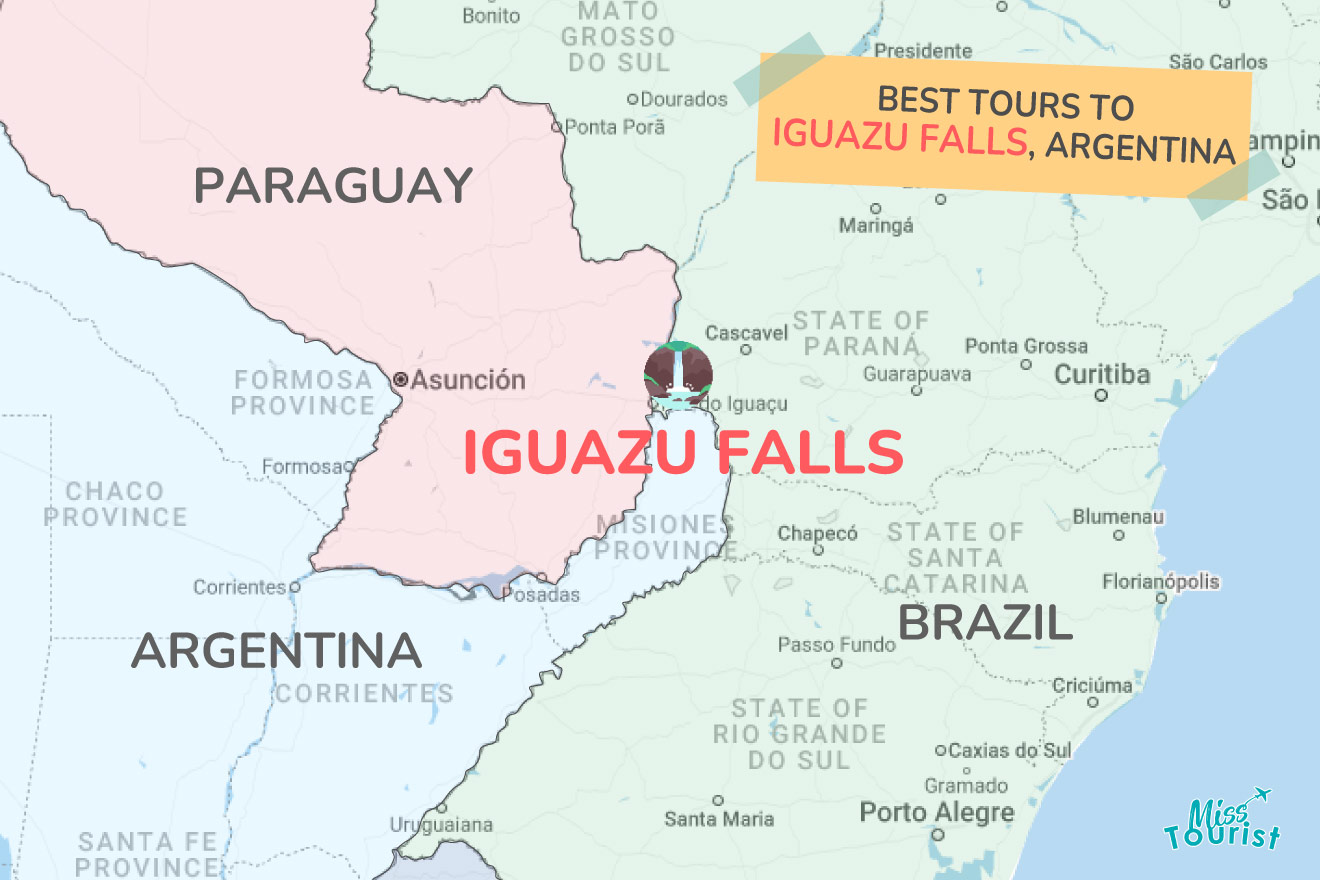 1. Embark on a half-day sightseeing tour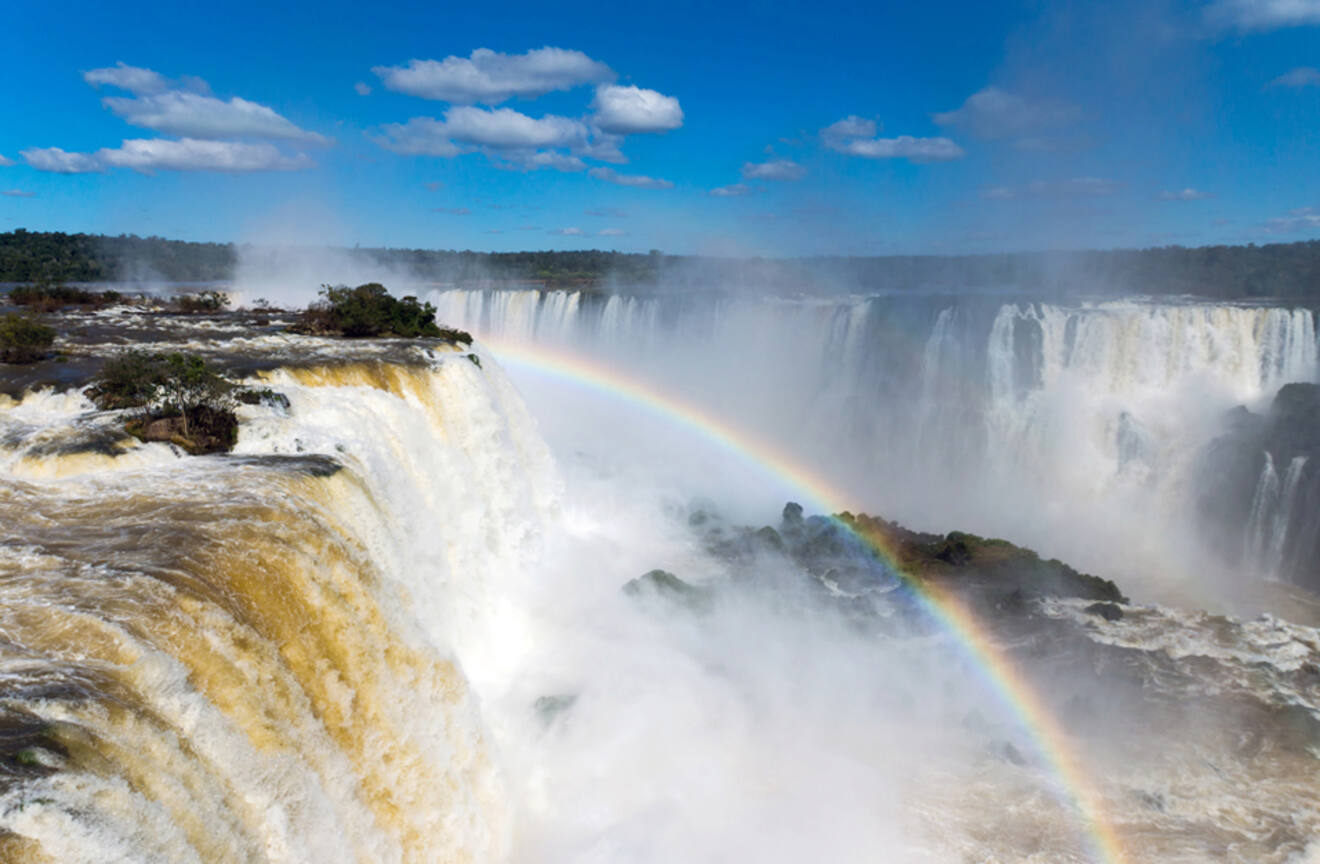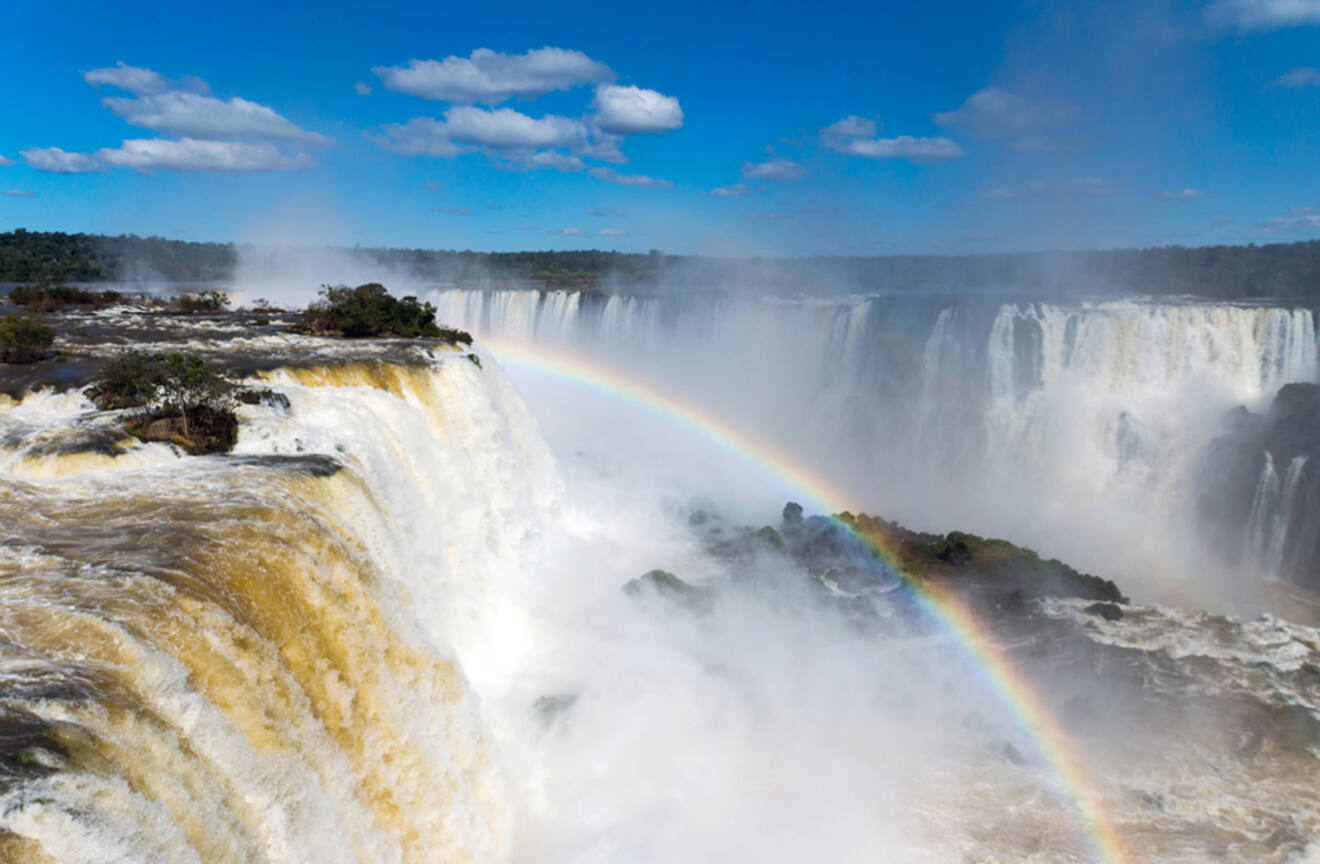 Duration: 4 to 6 hours
Price: from US$50
Why you should take it: shorter tour
This is a great half-day tour for adventurers who are short on time. Explore the mind-blowing beauty of Iguazu Falls on this trip from Foz do Iguaçu.
With an experienced local guide, you'll cross the border at the extraordinary Devil's Throat and marvel at the Upper Circuit and Lower Circuit, with entertaining commentary from your guide accompanying you every step of the way. Round-trip transportation is provided from Foz do Iguaçu hotels, so you won't have to stress about that. The only thing you need is your sense of curiosity and adventure.
If you opt for the Brazil side of the Falls, you're in for a real treat! You'll see Iguazu's impressive collection of waterfalls, all from a unique perspective. Once onsite, your van or bus will take you to the trails and walkways that offer up this view. You'll be greeted with thunderous cascades – plus a vista across to Argentina!
2. Explore the Iguazu Falls with a boat ride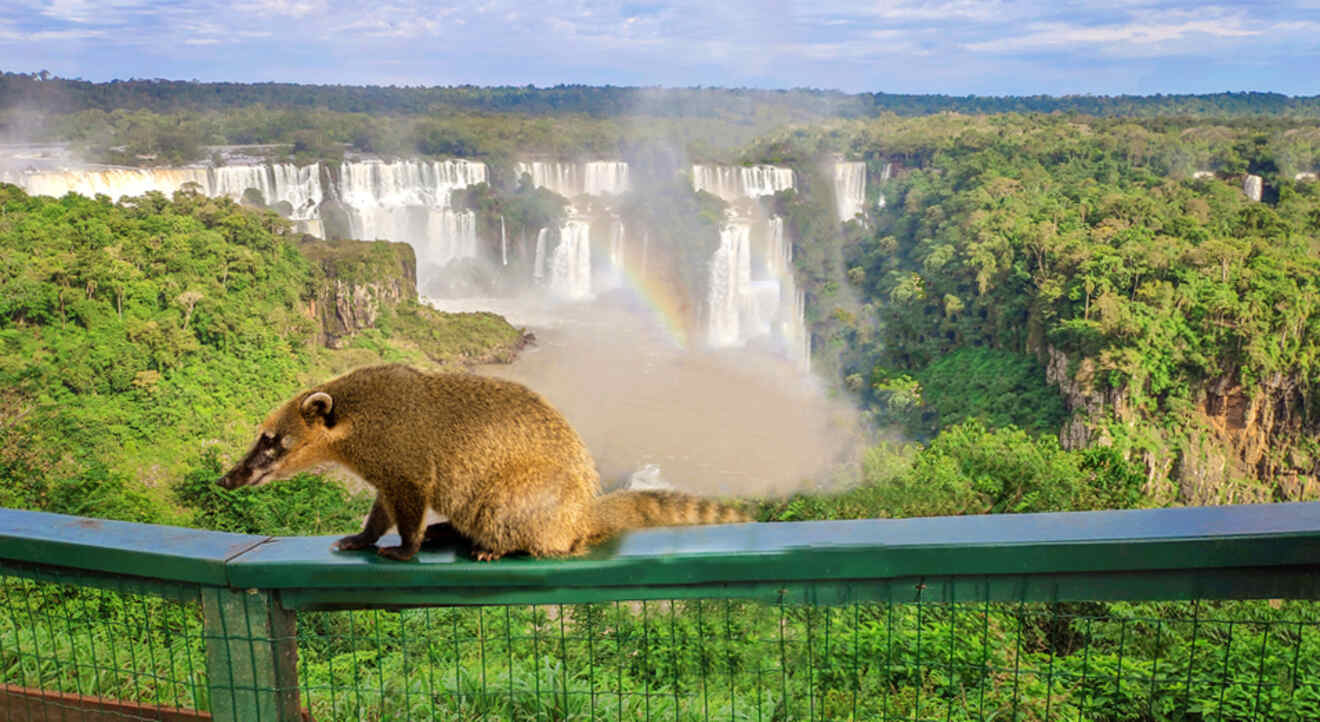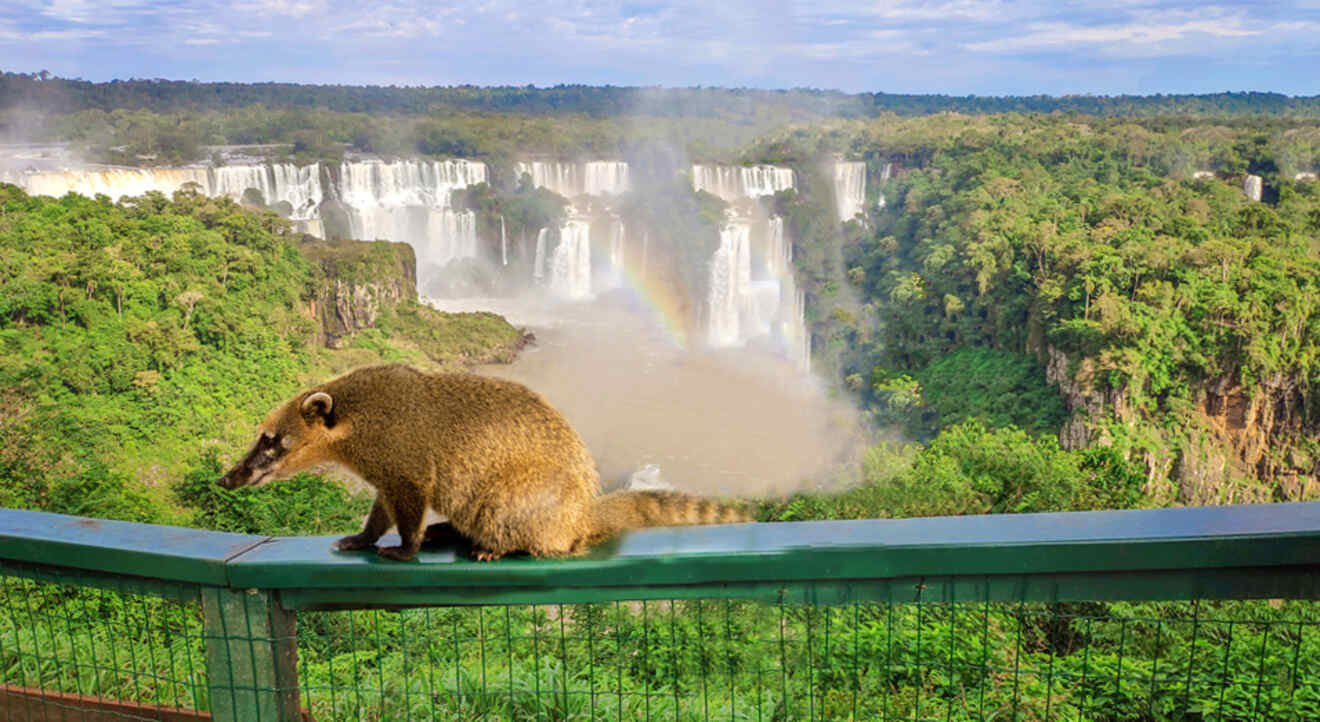 Duration: 10 hours
Price: from US$140
Why you should take it: boat ride and hotel pick up from Puerto Iguazu
Dive into the Argentinian side of Iguazu Falls! This tour will provide you with a boat ride right through waterfalls and then with a truck ride and train journey down to the luxuriant sub-tropical rainforest. There is also a convenient hotel pickup/drop-off from Puerto Iguazu. To guide you along, you'll get an amusing and educational tour narration from your local guide.
When you visit the Iguazu National Park (entrance fees covered), you may be lucky enough to spot some wildlife like toucans, parrots, and coatis! After enjoying your share of gawking, hop on board an ecological train that will transport you all the way to the Devil's Throat.
You'll stride along either the upper or lower hiking trails, experiencing the sights of South America's magnificent waterfalls! This tour will take about 10 hours and has a maximum of 20 travelers.
3. See both sides of the Falls on a full-day trip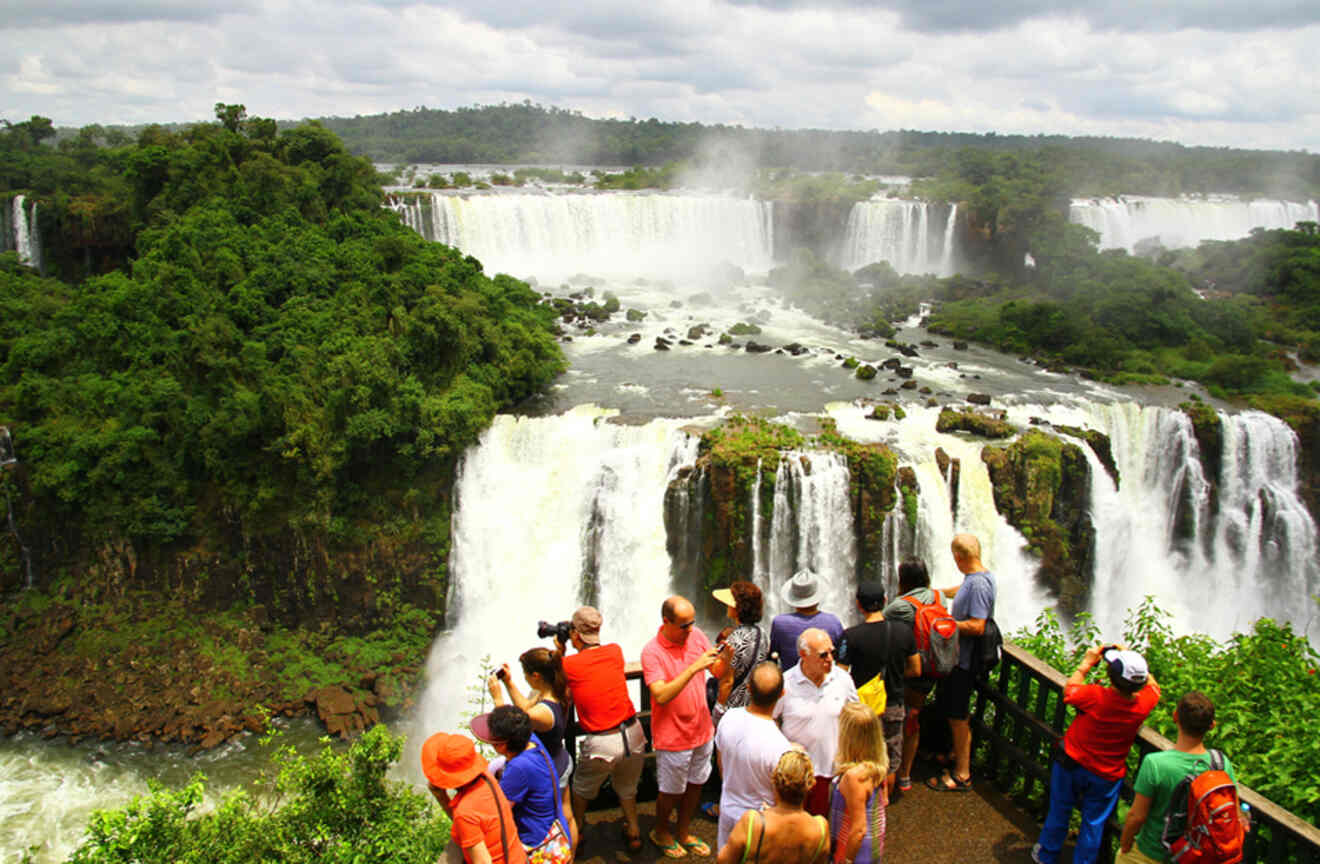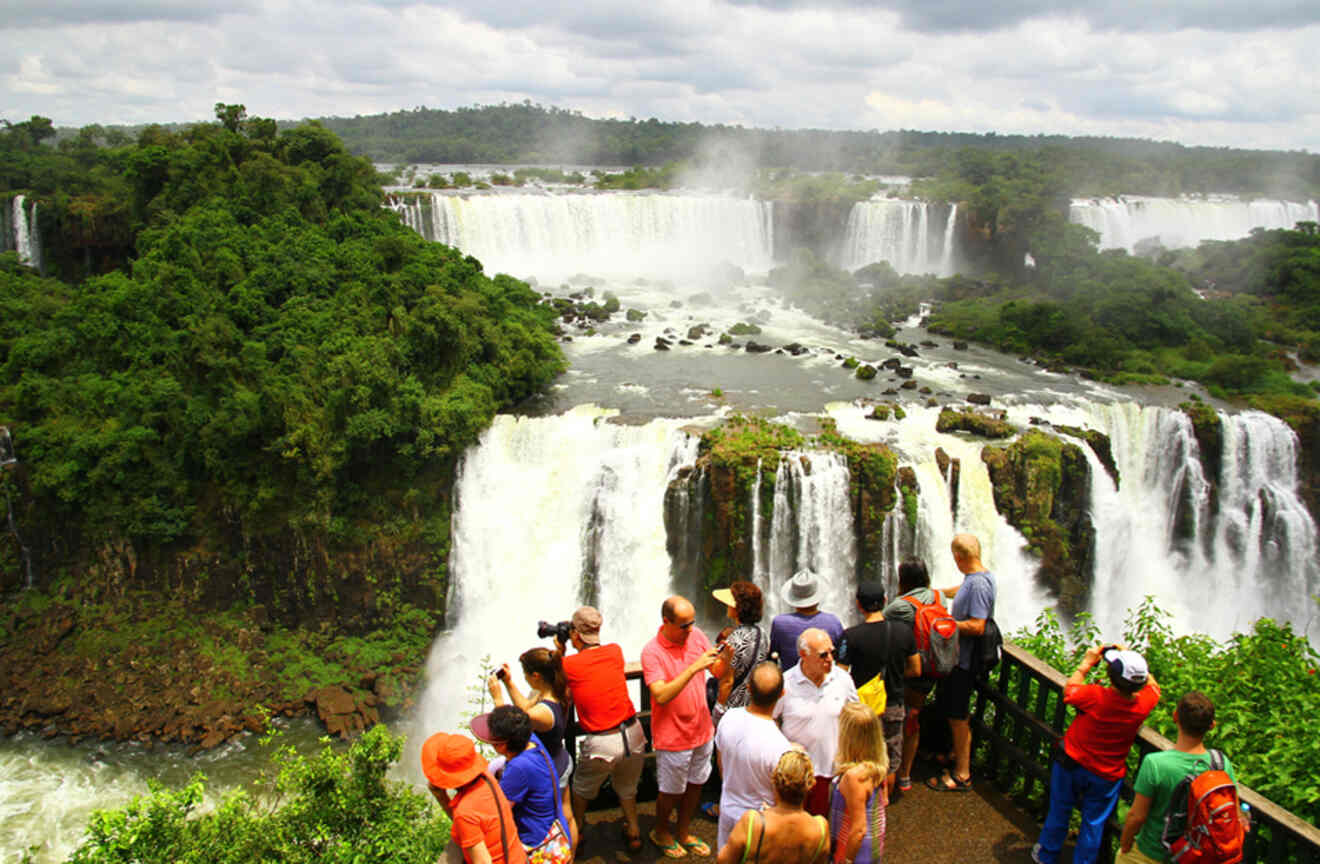 Duration: 8 hours
Price: from US$95
Why you should take it: includes both the Argentinian side and the Brazilian side of the Falls
Experience one of the Wonders of the World for yourself on a full-day tour of Iguazu Falls, with a group size of just 15! It's great to make some new friends but still small enough not to get overwhelmed.
The tour starts from Foz do Iguaçu, Brazil, bound for Argentina's stunning Iguazu National Park. You'll take in the awe-inspiring views of the Upper Circuit, marvel at the majestic waterfalls of the Lower Circuit, and be mesmerized by the iconic Devil's Throat.
Van or bus will take you to some incredible trails and walkways on the Brazilian side of the Falls. You'll witness 40 minutes to an hour of breathtaking splendor, each magnificent from a different perspective. The whole guided tour of Iguazu Falls will take about 8 hours.
This tour doesn't provide entrance fees to the Brazilian side of Iguaçu National Park.
4. Take a private airfare tour of Iguazu Falls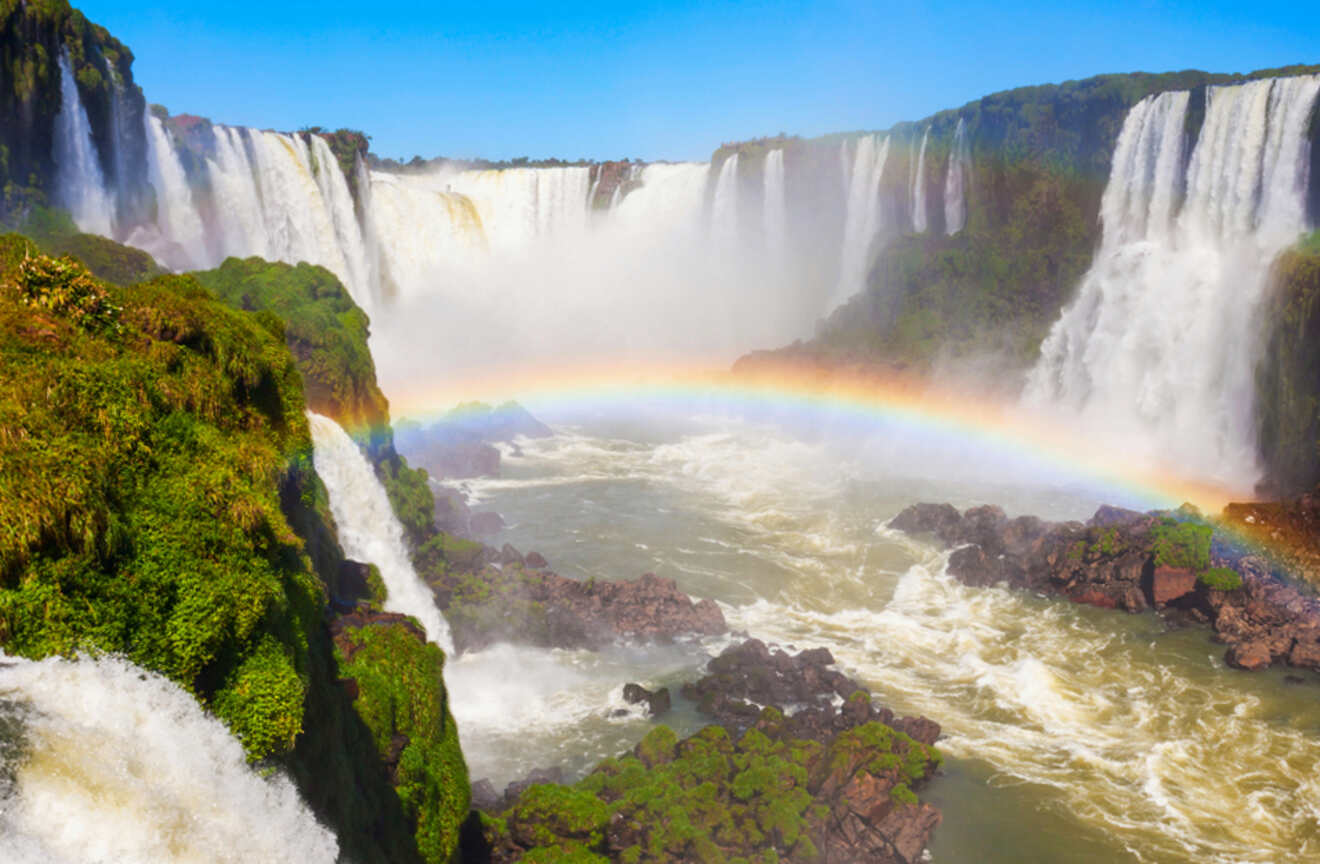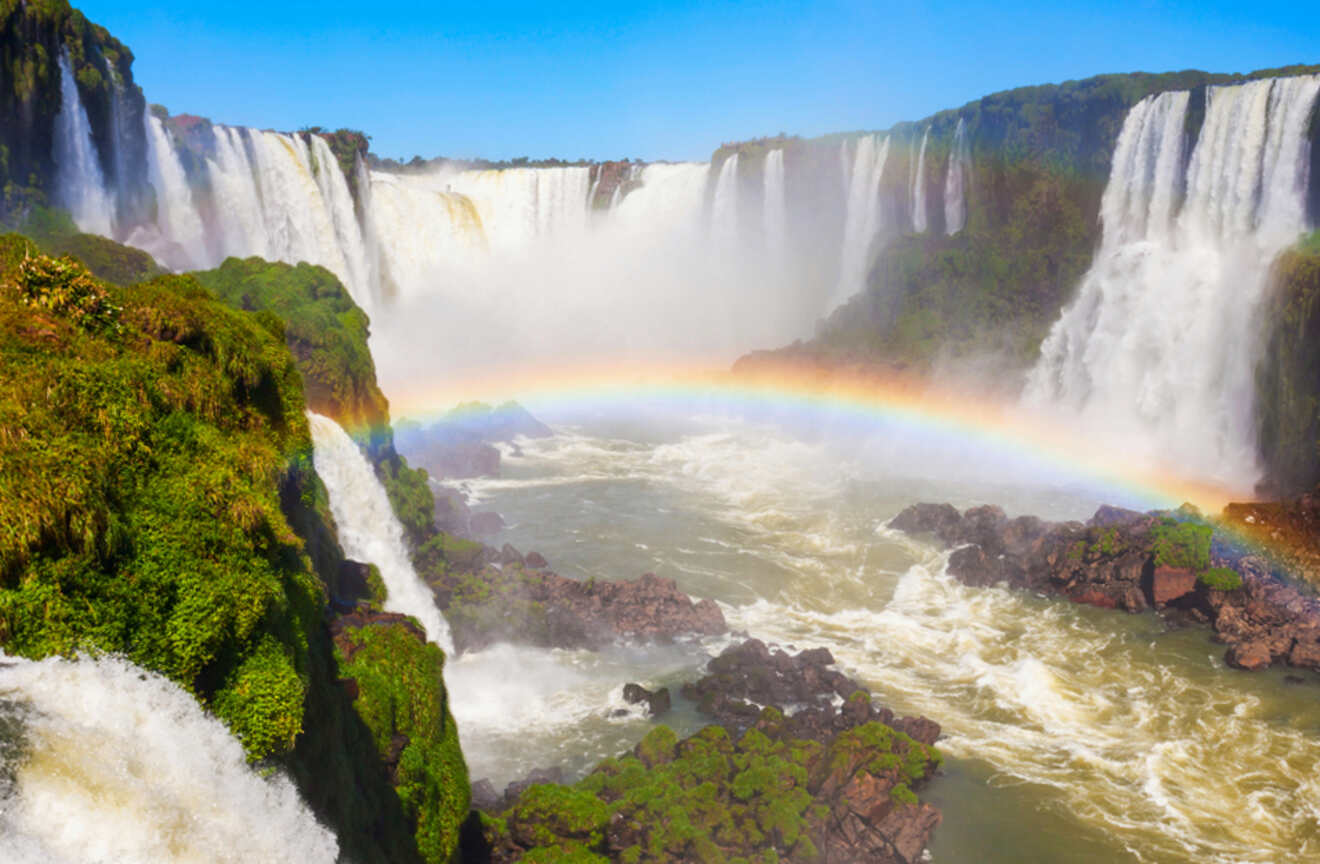 Duration: 1 day
Price: from US$890
Why you should take it: an exclusive tour with great ratings
Experience the fantastic views of Iguazu Falls in all its glory on this incredible full-day tour from Buenos Aires! Truly a sight worth visiting.
As soon as you arrive in Iguazu after a 2-hour flight, your tour guide will take you on a comfortable ride in an air-conditioned car to experience one of nature's greatest wonders: Cataratas Waterfalls. From there, your adventure really revs up. You'll take the park train (or walk along the green path) towards the Upper and Lower Circuits for stunning panoramic views of Iguazu Falls.
You can enjoy lunch and make your way to the Devil's Throat, where huge volumes of water plunge down, forming fog above it! This is a private tour, so you can spend the day exploring at your own pace, soaking up the breathtaking views that are associated with this natural marvel.
The private tour covers the Iguazu National Park entrance fee and offers round-trip transportation.
5. Go on a 3-in-1 adventure and see the waterfall's beauty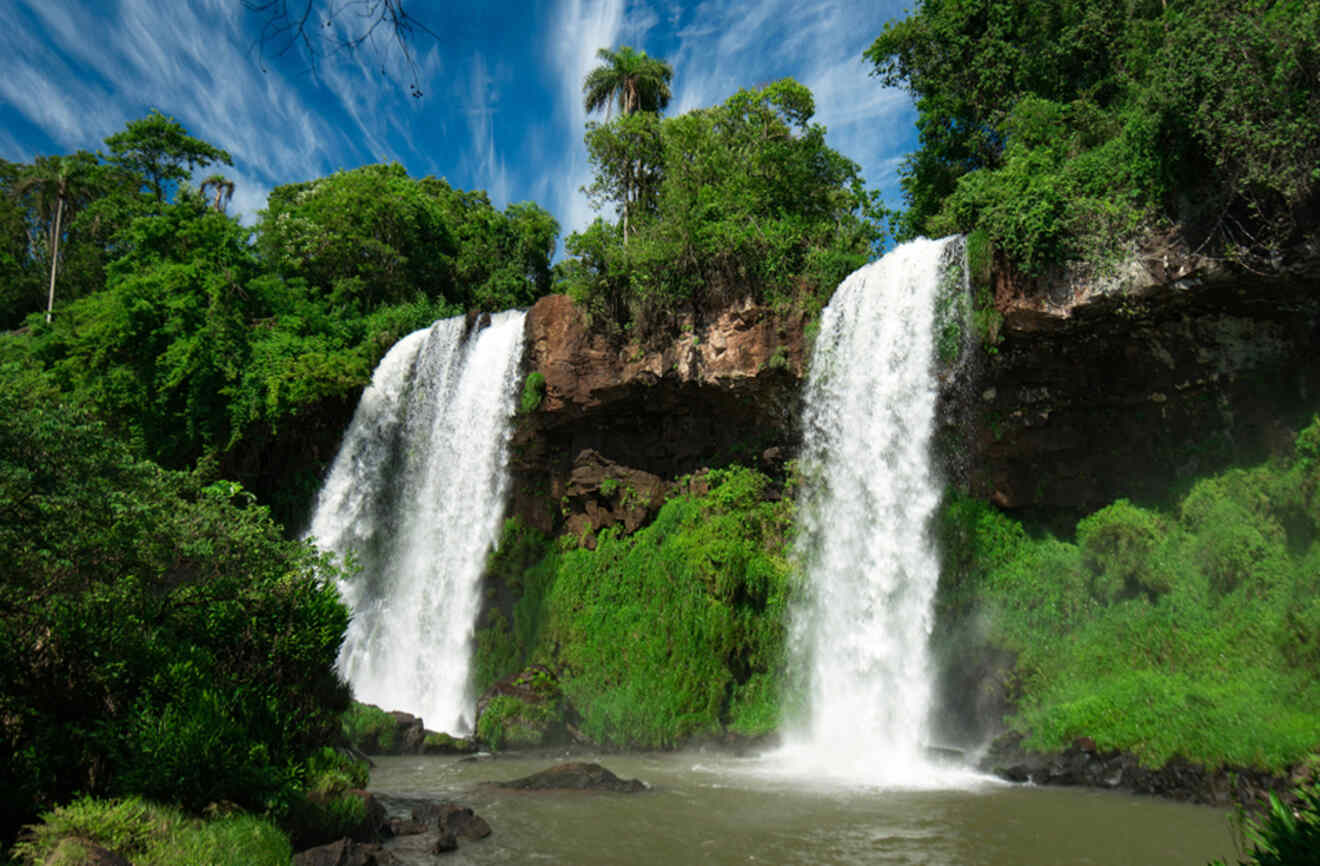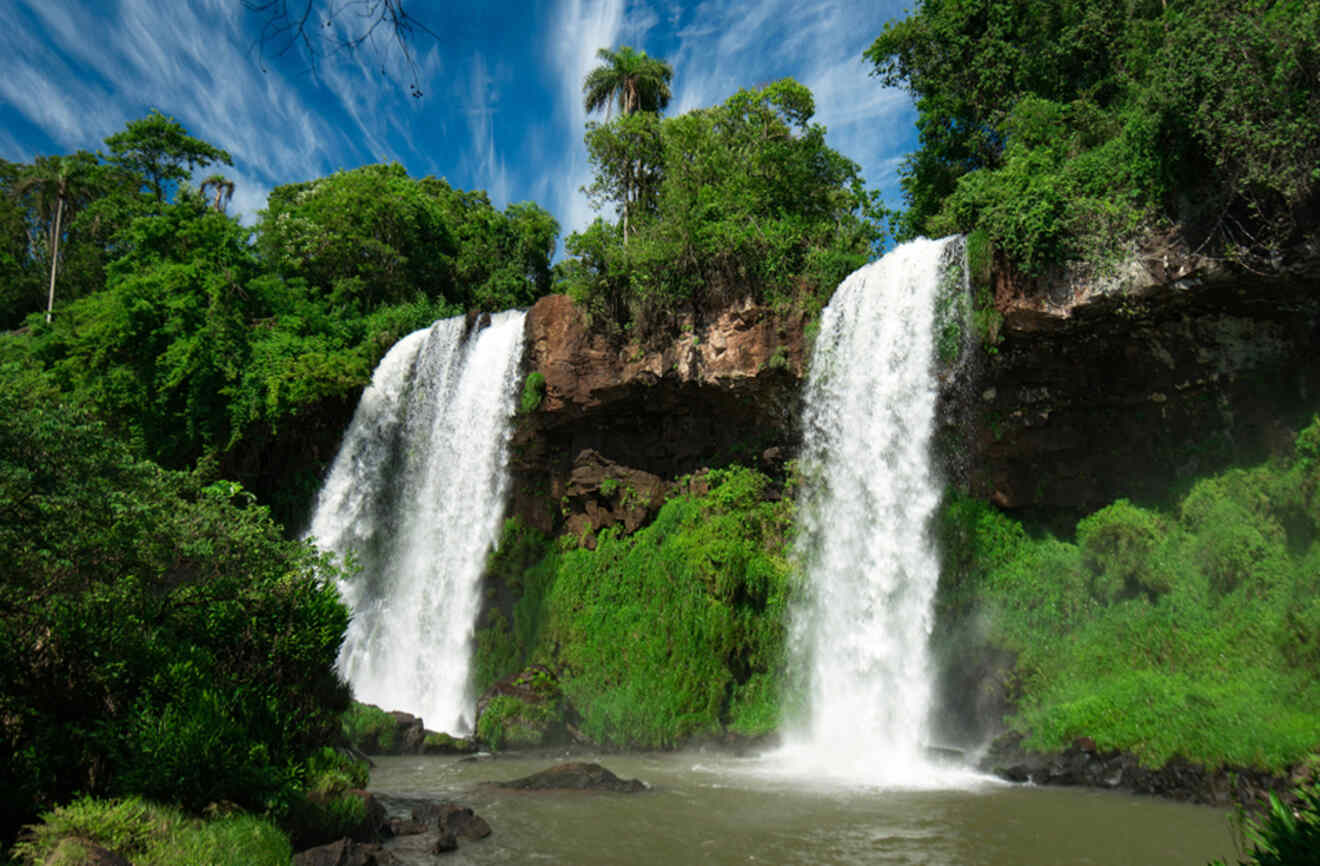 Duration: 8 hours
Price: from US$310
Why you should take it: 8 kilometers tour of the jungle, Argentinean side
If you are a true adventurer at heart, I have an exciting full-day tour to offer you. You'll embark on a sightseeing of the Argentine side of Iguazu Falls with hotel pickup and round-trip transportation from Puerto Iguazu included.
You'll step into the new Visitor Center and then set off on a grand adventure through 3 walking routes where you can take in captivating views of Devil's Throat and stand in awe at Bosetti rock formations and Dos Hermanas. If you choose to upgrade your tour, you can also enjoy a boat ride and a small group.
After the boat ride, you can hop aboard the Jungle-Trucks for an 8 km (5 m) journey of discovery through the jungle. Your professional guide will educate you about the biodiversity and diverse range of natural occurrences within this lush rainforest.
6. Experience a ride under the waterfalls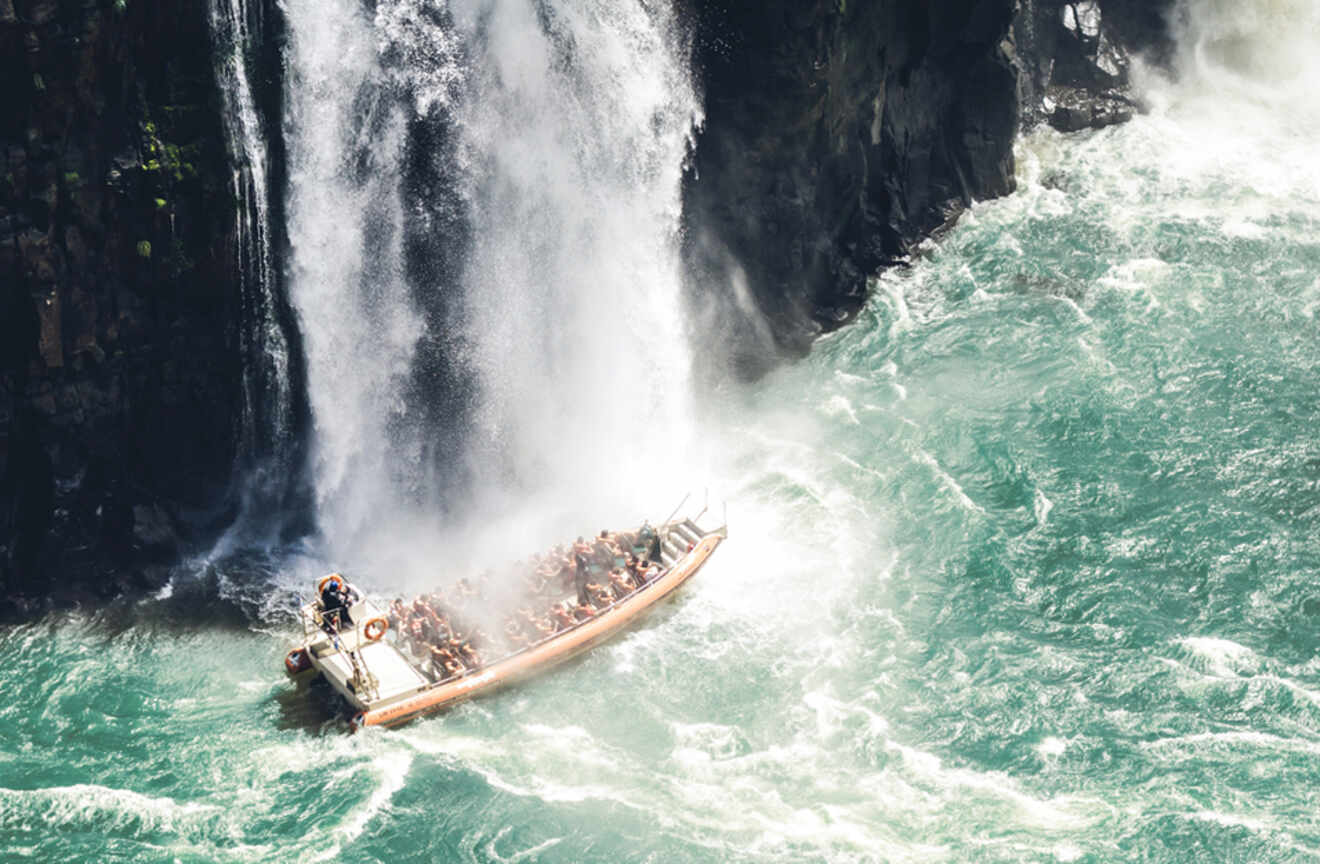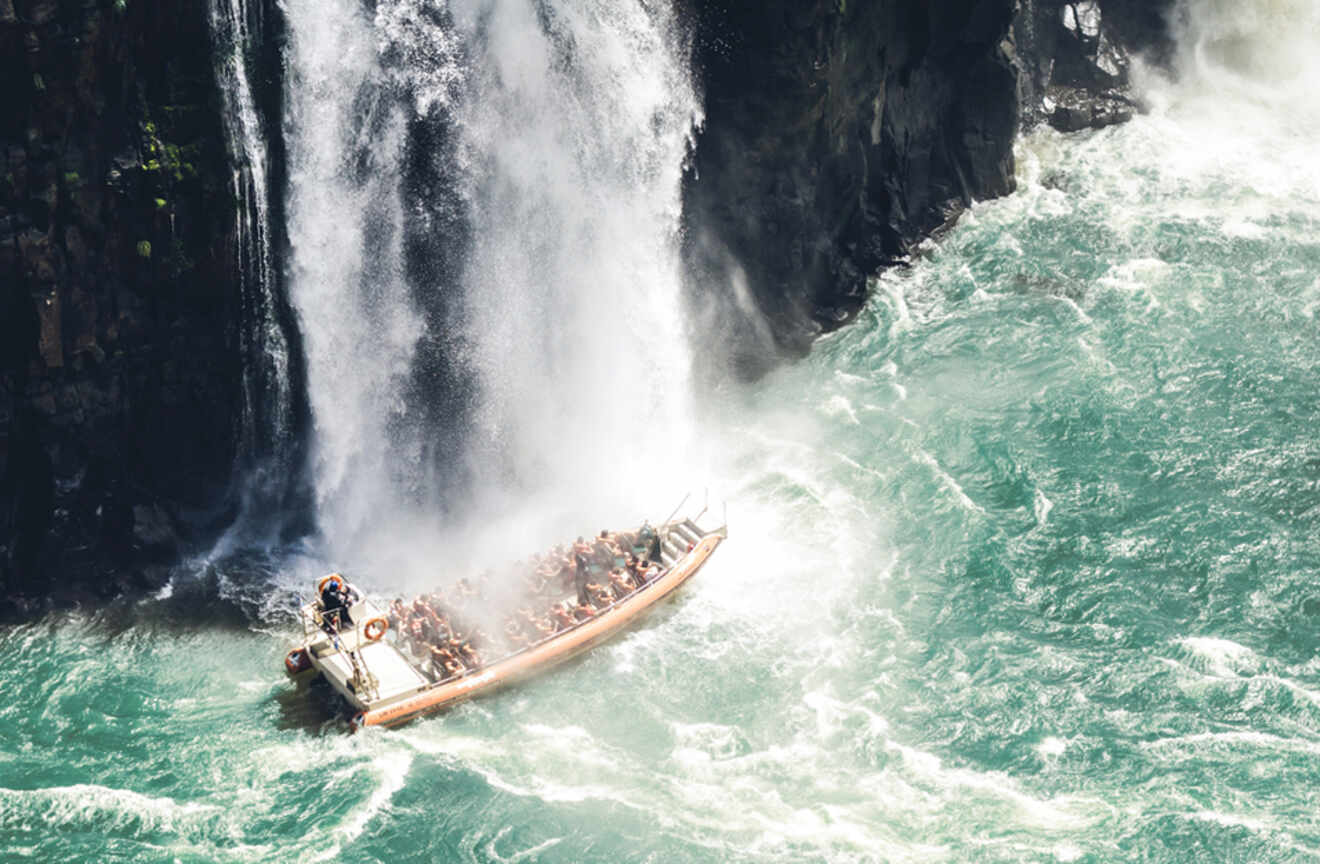 Duration: 2 hours
Price: from US$155
Why you should take it: for adrenaline junkies, family-friendly
Experience a rush of adrenaline on this action-packed tour of Iguazu Falls! Also known as the "Baptism of the Falls," this tour combines adrenaline with a jungle 4×4 truck tour for up to 20 people. A local guide will fill you in with all kinds of info about the park, its waterfalls, flora, and fauna so that nothing passes by unnoticed while strolling through the 7 natural wonders of the world.
Feel the thundering roar of the cascading water as you ride a high-speed boat right up to the splash zone – getting as close to nature's wonder as possible. Then, enjoy an exciting 4×4 ride through the jungle and embark on your own self-guided hike through Iguazu National Park, where you can marvel at breathtaking views from different angles.
This tour starts with a pickup from your hotel in Puerto Iguazu, and is a great choice for families with older kids looking for an adrenaline-fueled bonding time!
7. Spend 2 days exploring Iguazu Falls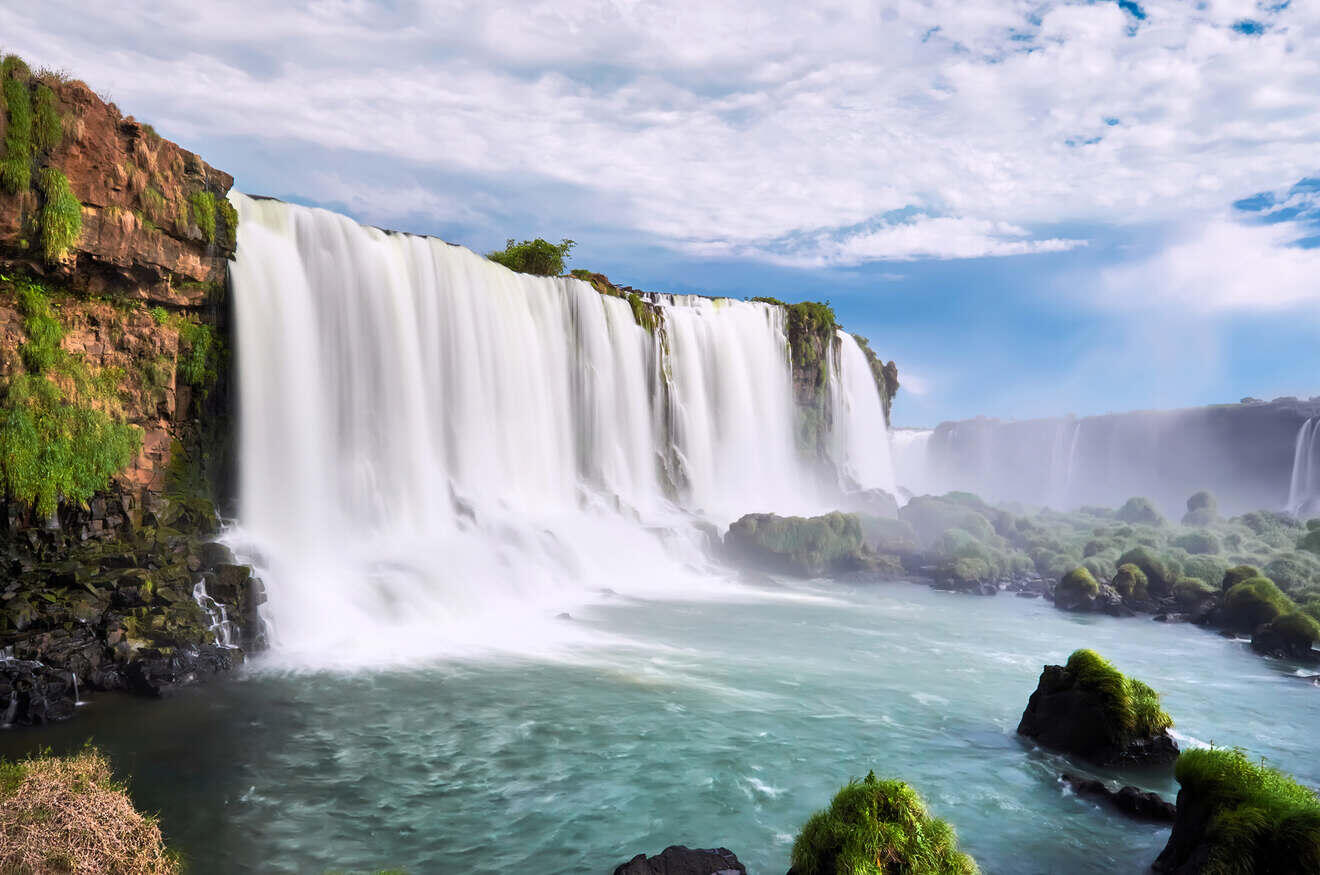 Duration: 2 days
Price: from US$150
Why you should take it: a 2-day tour of both sides of the Falls
Can't decide whether to see the Argentinian or Brazilian side of the stunning UNESCO-listed Iguazu Falls? Look no further – this 2-day tour is your ultimate solution!
You'll have a full day to investigate everything the Argentinian side offers and then another full day to spend on the Brazilian side.
With a small group setting, your guide will lead you to all the best viewpoints on both sides to indulge in both the thunderous roar and peaceful stillness of the surrounding jungle. Not only that but from Puerto Iguazu hotel pickup and drop-off to local culture insights, this adventure offers hassle-free convenience and fun!
Do bear in mind that accommodation and meals are not included in the price, so you'll have to take care of the daily breakfast yourself.
8. Join a 3-day airfare Iguazu Falls trip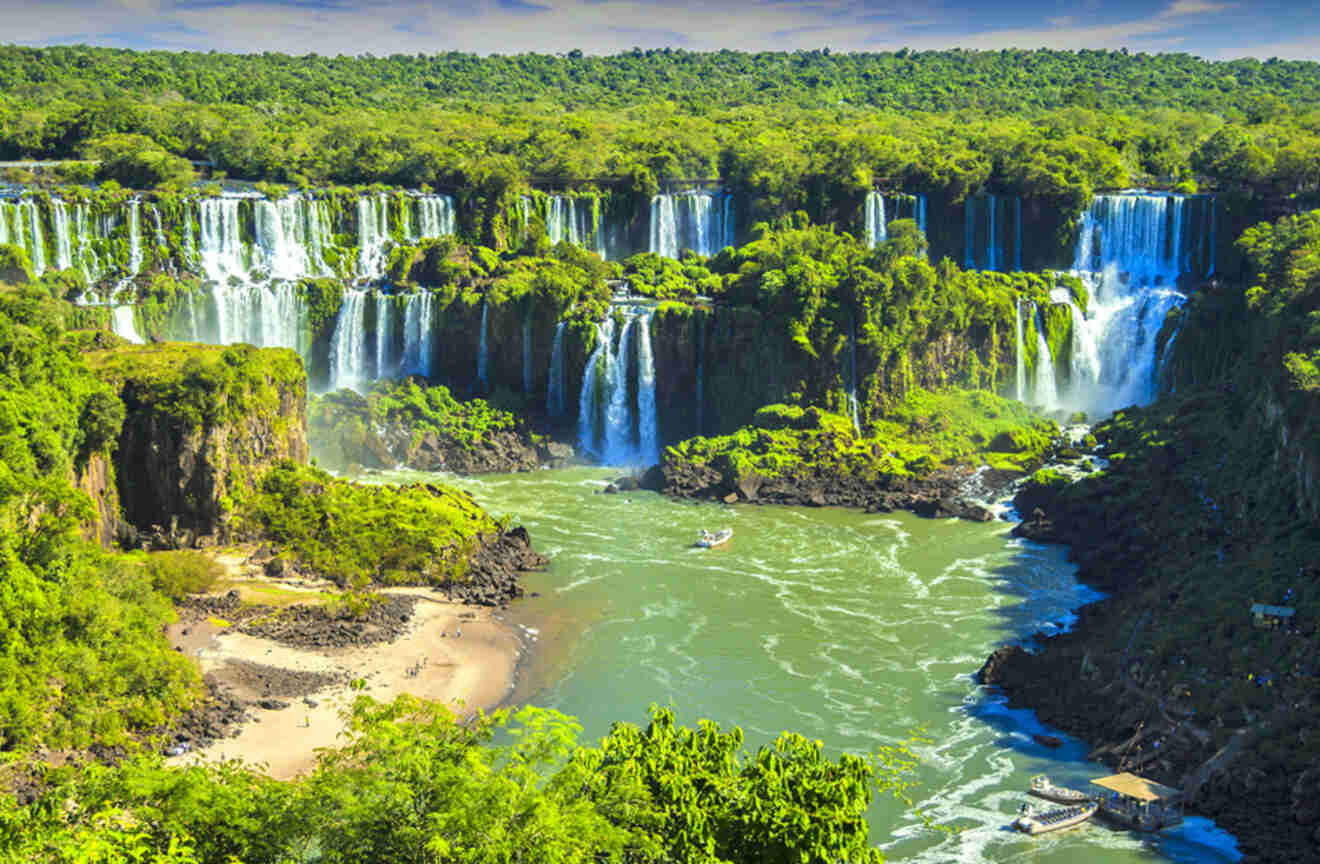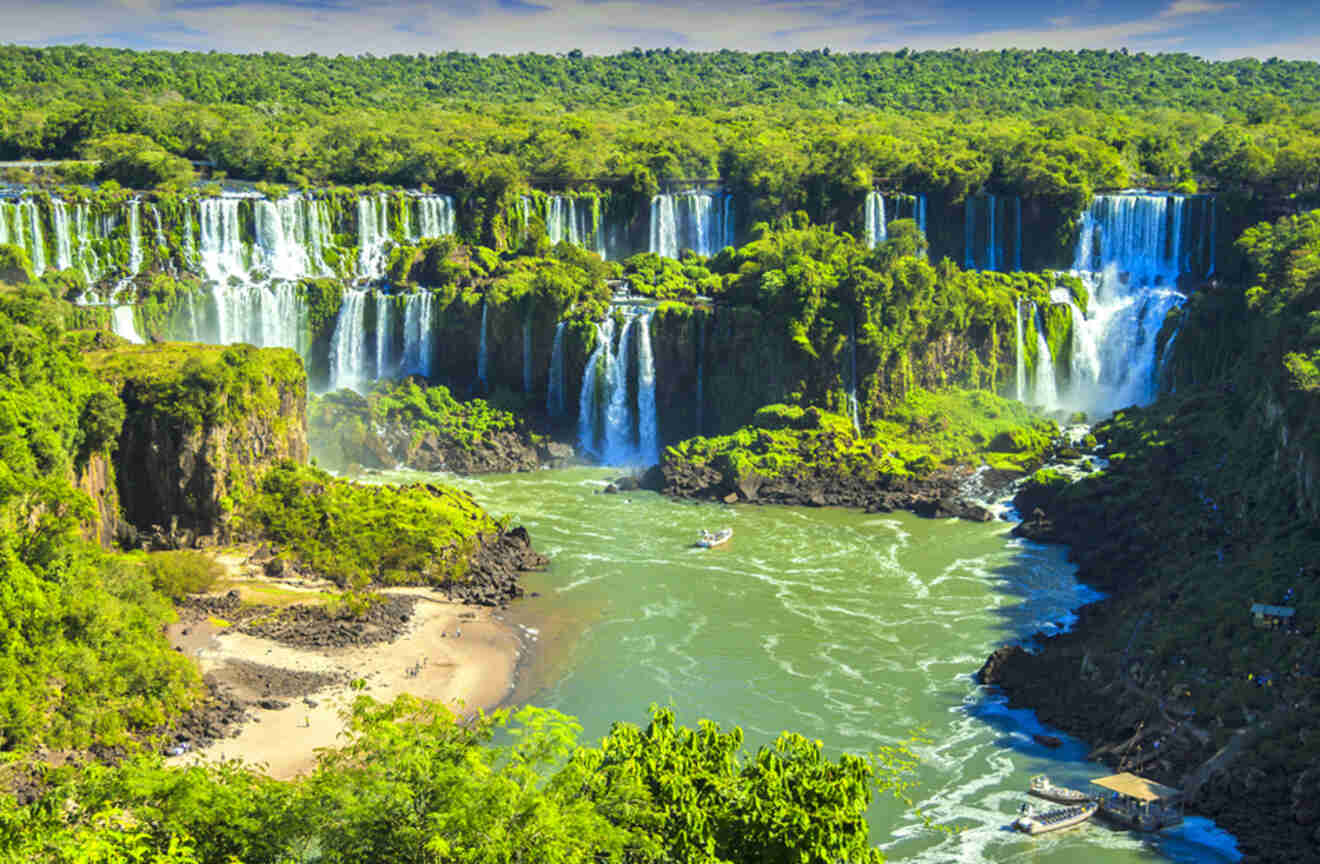 Duration: 3 days
Price: from US$1,290
Why you should take it: round-trip airfare from Buenos Aires
If you happen to be in Buenos Aires and want to spice up your trip, I have a perfect tour for you! Feast your eyes on the beauty of Iguazu Falls with this incredible 3-day tour packed with endless surprises!
This small-group tour option kicks off with airfare from Buenos Aires and includes 2 blissful nights in great accommodations. On day one, you'll be swept away to the Brazilian side of the Falls, and make sure to save some awe for day 2 when you explore the magnificence of the Argentine side before returning to Buenos Aires.
Not only is round-trip airfare between Buenos Aires and Iguazu Falls included in the price, but a 4-star hotel with delicious breakfast, too! Plus, entry fees are taken care of, so all you need to worry about is experiencing it all firsthand. You'll have personalized attention from your knowledgeable guide and a truly unforgettable journey!
9. Tour the Brazilian side of the waterfalls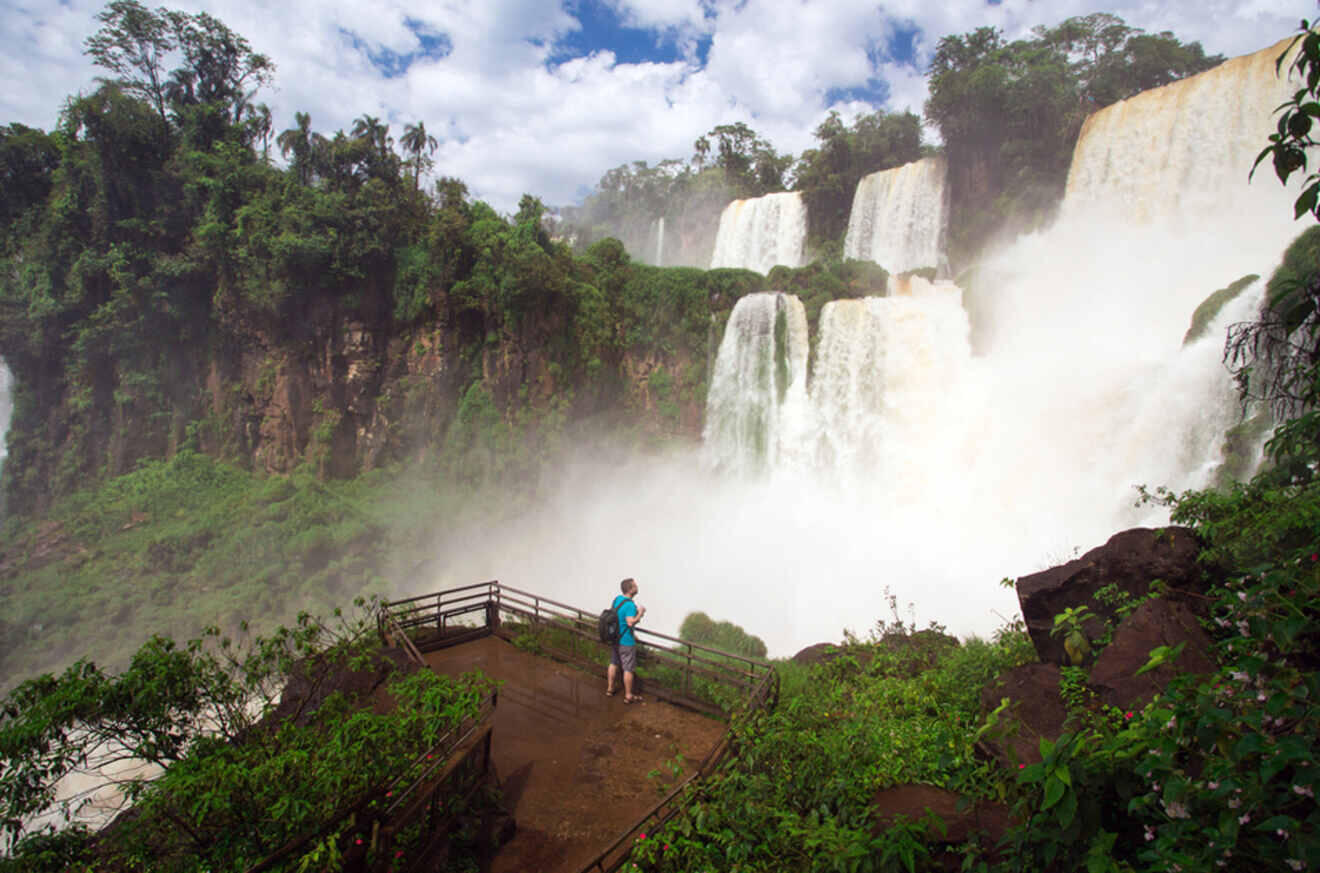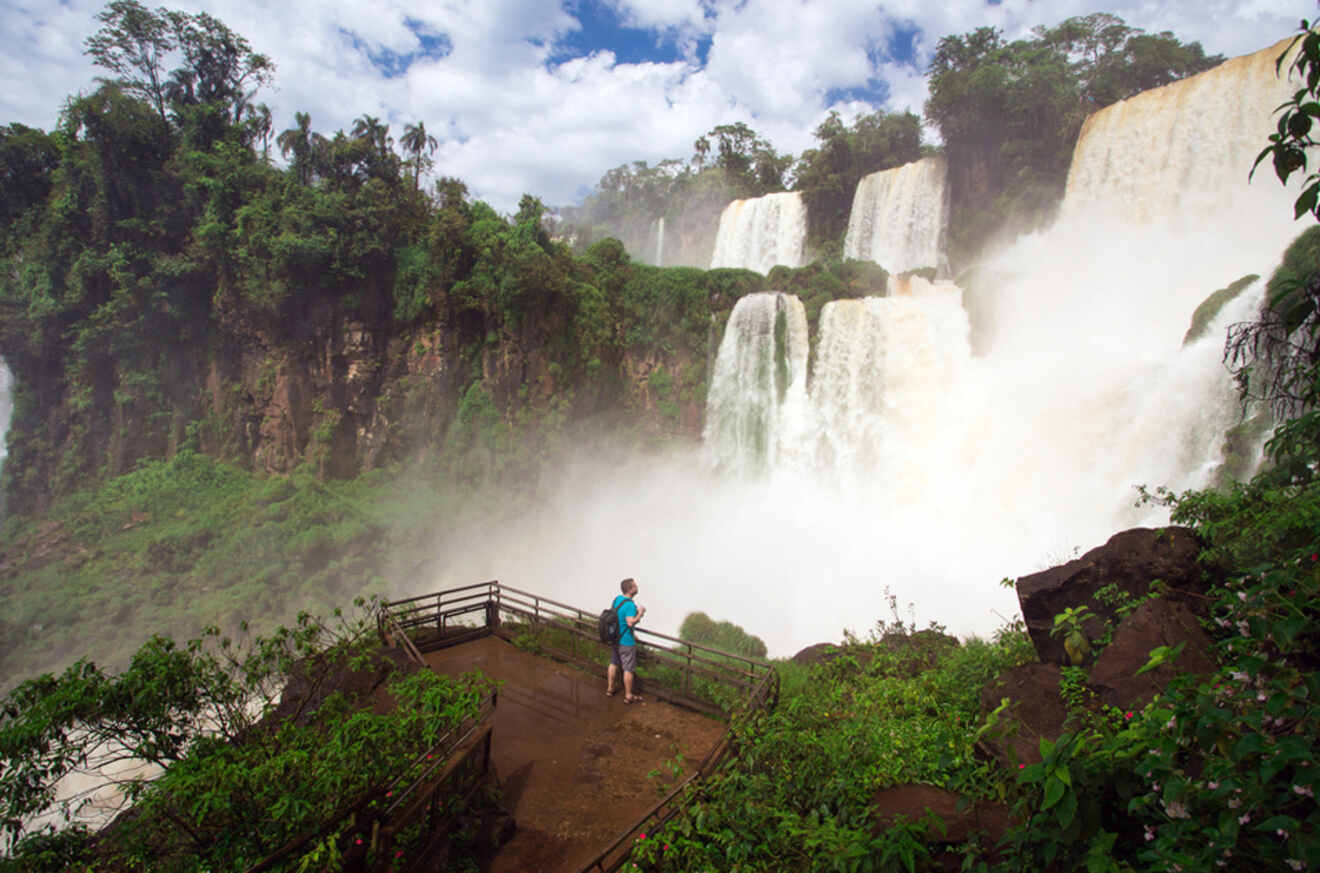 Duration: 4 hours
Price: from US$75
Why you should take it: focused on Brazil's side
Take a tour of the Brazilian side of the awe-inspiring Iguazu Falls, one of the world's largest waterfalls!
Departure is from Puerto Iguazu in Argentina or Foz do Iguaçu in Brazil, and you'll be guided through the national park entrance. Admire spectacular views of both sides and soak up all the magical scenery while learning about indigenous wildlife. Don't miss out on seeing Devil's Throat, where you can witness an incredible display of nature with its colossal water flows!
And don't worry about getting there – round-trip transfers directly from your hotel are included! With a smaller group size, each person receives more personalized attention from their guide.
10. Marvel at Iguazu Falls for 5 whole days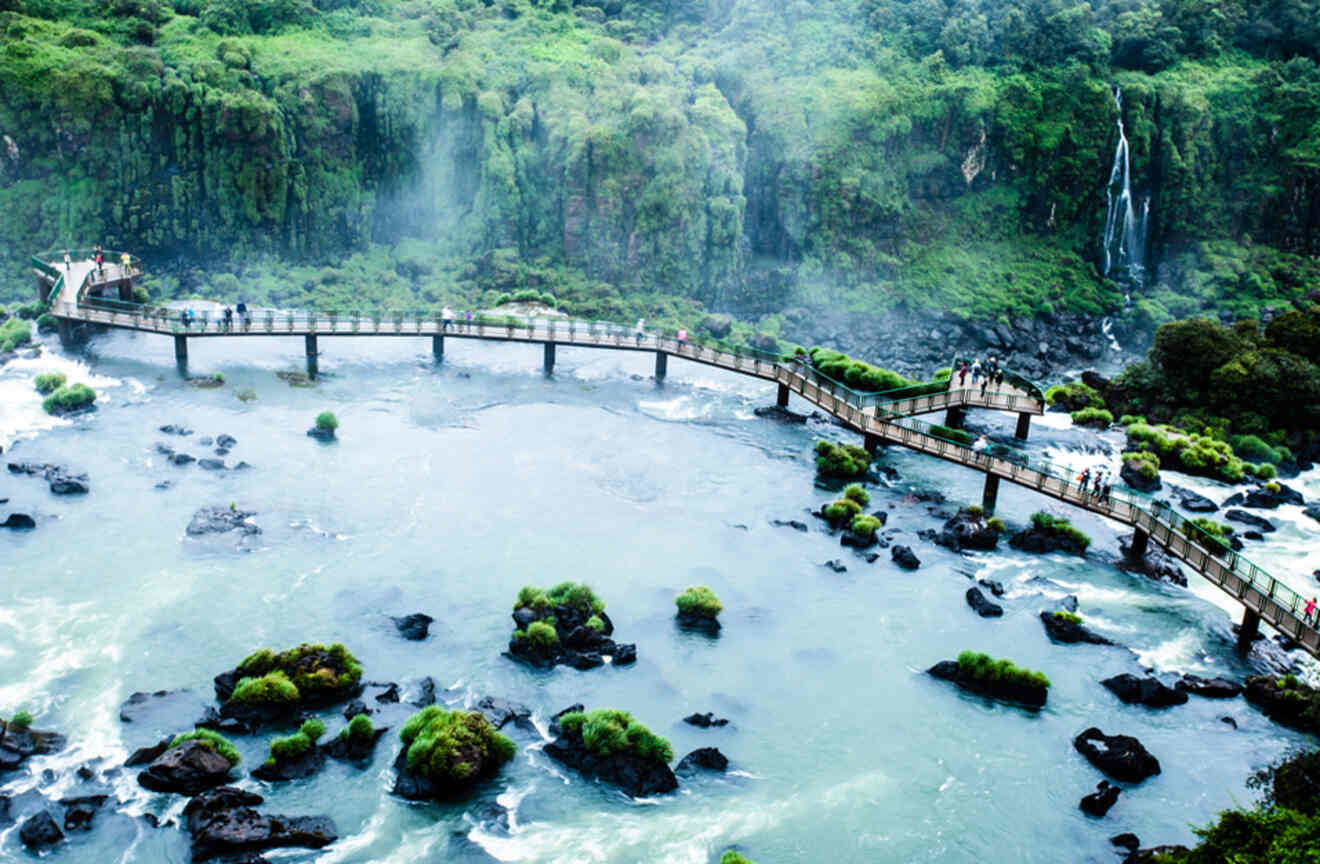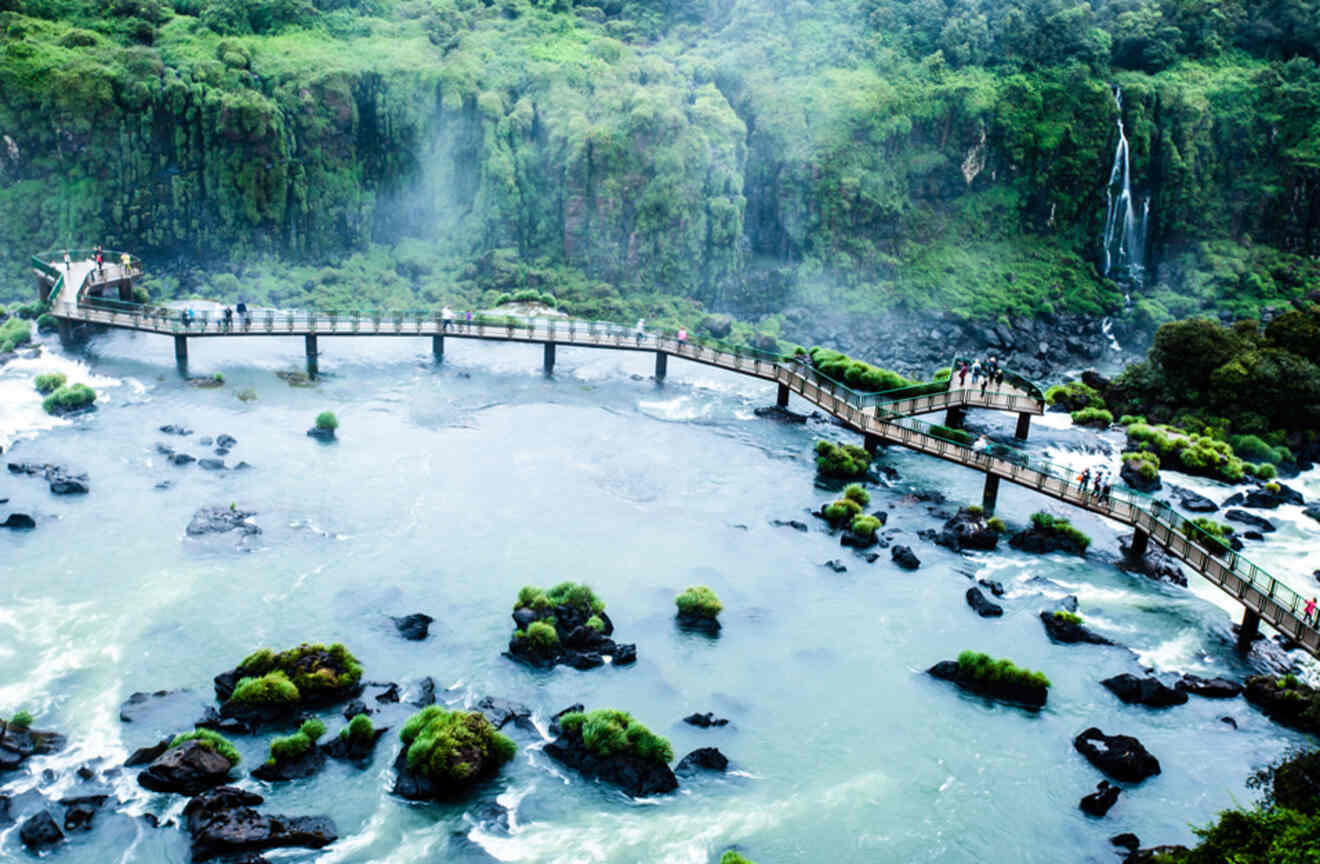 Duration: 5 days
Price: from US$1,390
Why you should take it: 5-day of in-depth nature tour
Take a 5-day guided tour from Buenos Aires to Iguazu Falls for an amazing experience of this natural world heritage!
You'll get to visit both sides of this stunning falls, including its breathtaking Devil's Throat, all while soaking up the view from footbridges and walkways. I recommend you embark on an exploration of Puerto Iguazú as well during your free time and gain insight into the area's extraordinary biodiversity with your professional guide.
You'll get there in comfort on a fully equipped overnight bus, and if that isn't enough, hotel accommodation is also included!
This is a really great in-depth experience that every nature lover should take, you'll get to know every little detail of the area, take some amazing pictures for Instagram and get your dose of education as well.
11. Uncover the Secret Falls' charms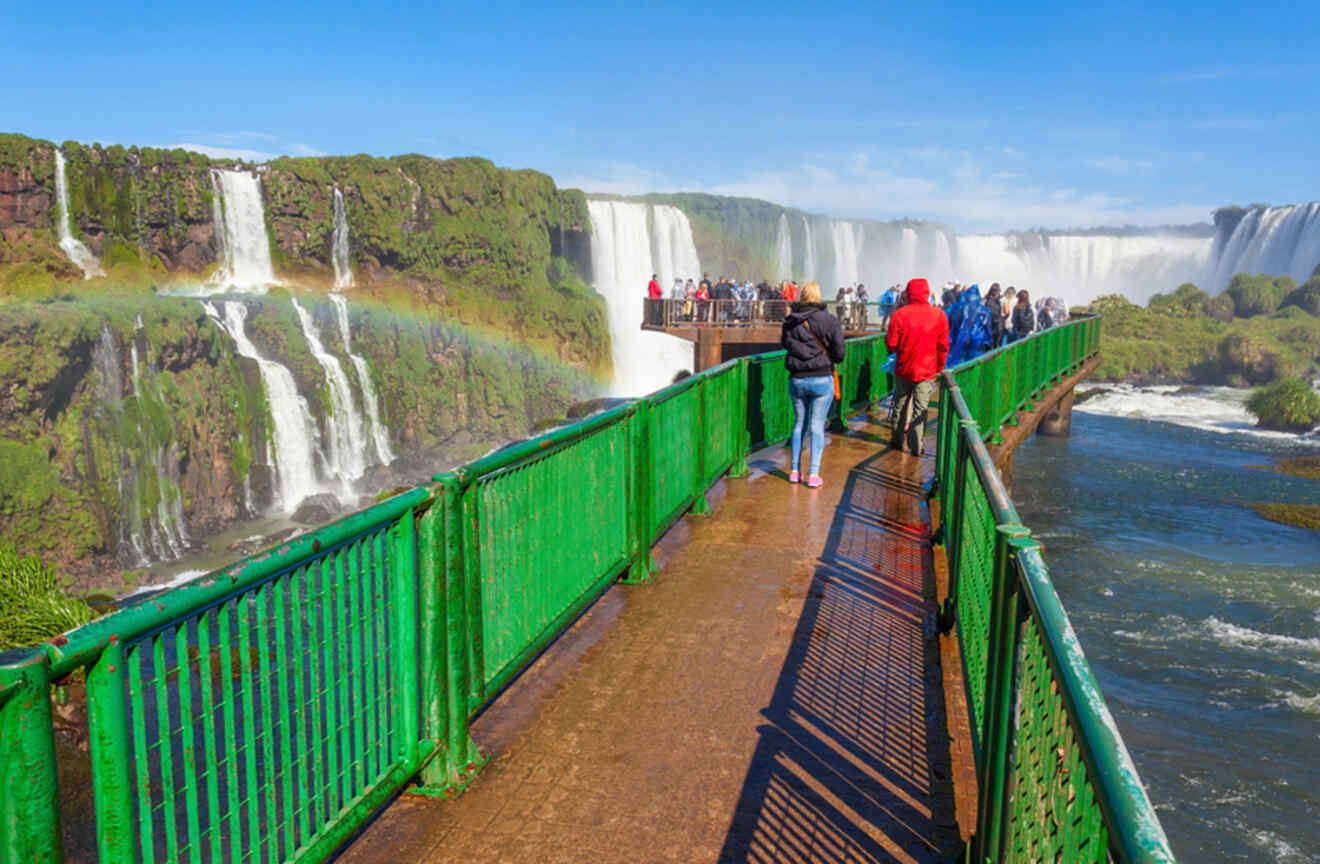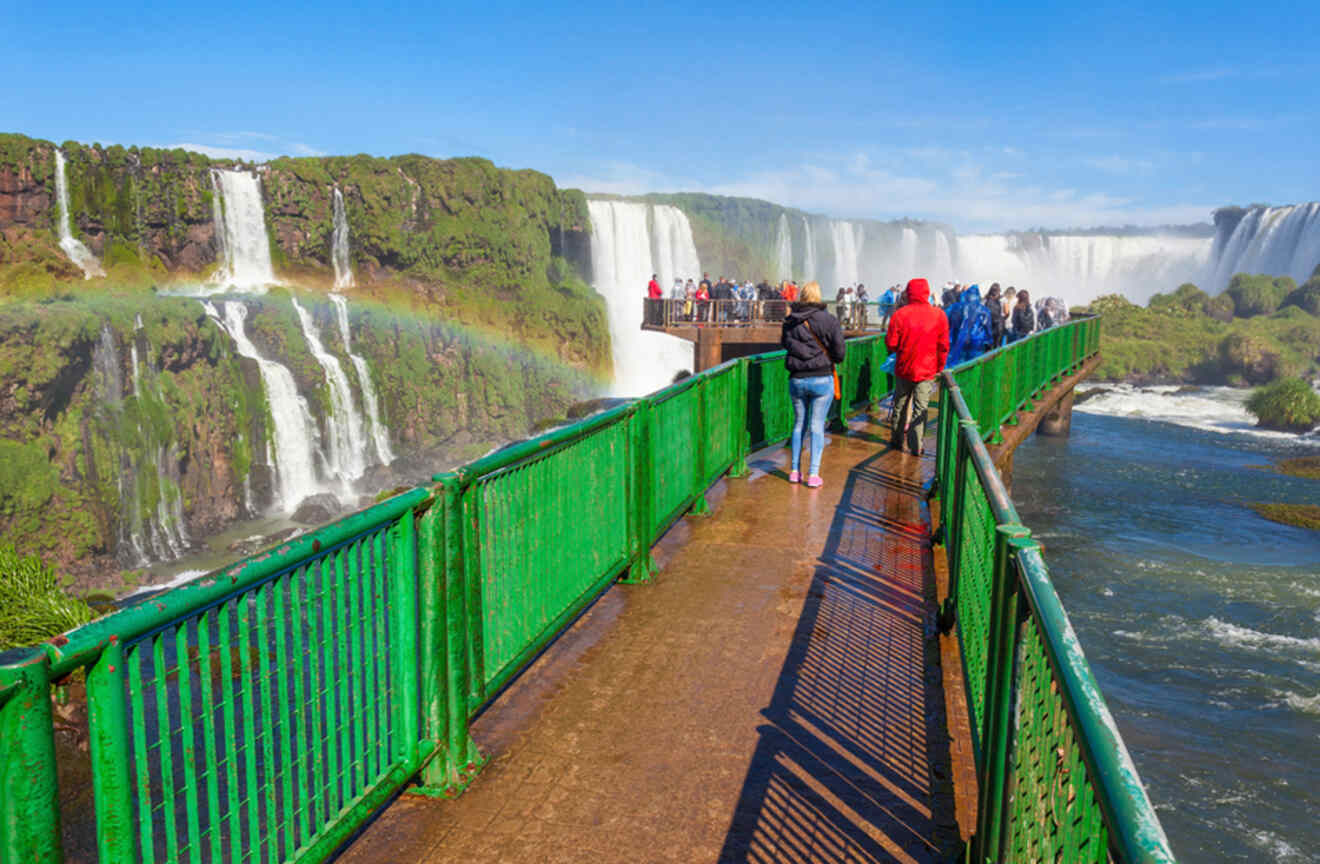 Duration: 5 to 8 hours
Price: from US$146
Why you should take it: swim in natural pools
This tour that starts from Puerto Iguazu is perfect for travelers who like intensive and in-depth experiences. It will give you access to mesmerizing views and hidden swimming spots around the famed Iguazu Falls region.
You'll start out with 5 waterfalls and the chance to splash in a natural jacuzzi. Next in line is a captivating rainforest tour that will surely have you spotting some incredible wild creatures and lush tropical vegetation. If you're not an intensive hiker, fear not! No trekking expertise is required. From gentle to moderate trails, there's sure to be something that suits your ability. Moreover, you'll be safely escorted by a bilingual professional and even accompanied by a car along the way.
Upgrade for a full day of enchantment and explore 10 of Foz do Iguaçu's beautiful hidden gems. You can charge your batteries with a tasty lunch featuring vegetarian-friendly meals.
12. Soar over Iguazu Falls' sky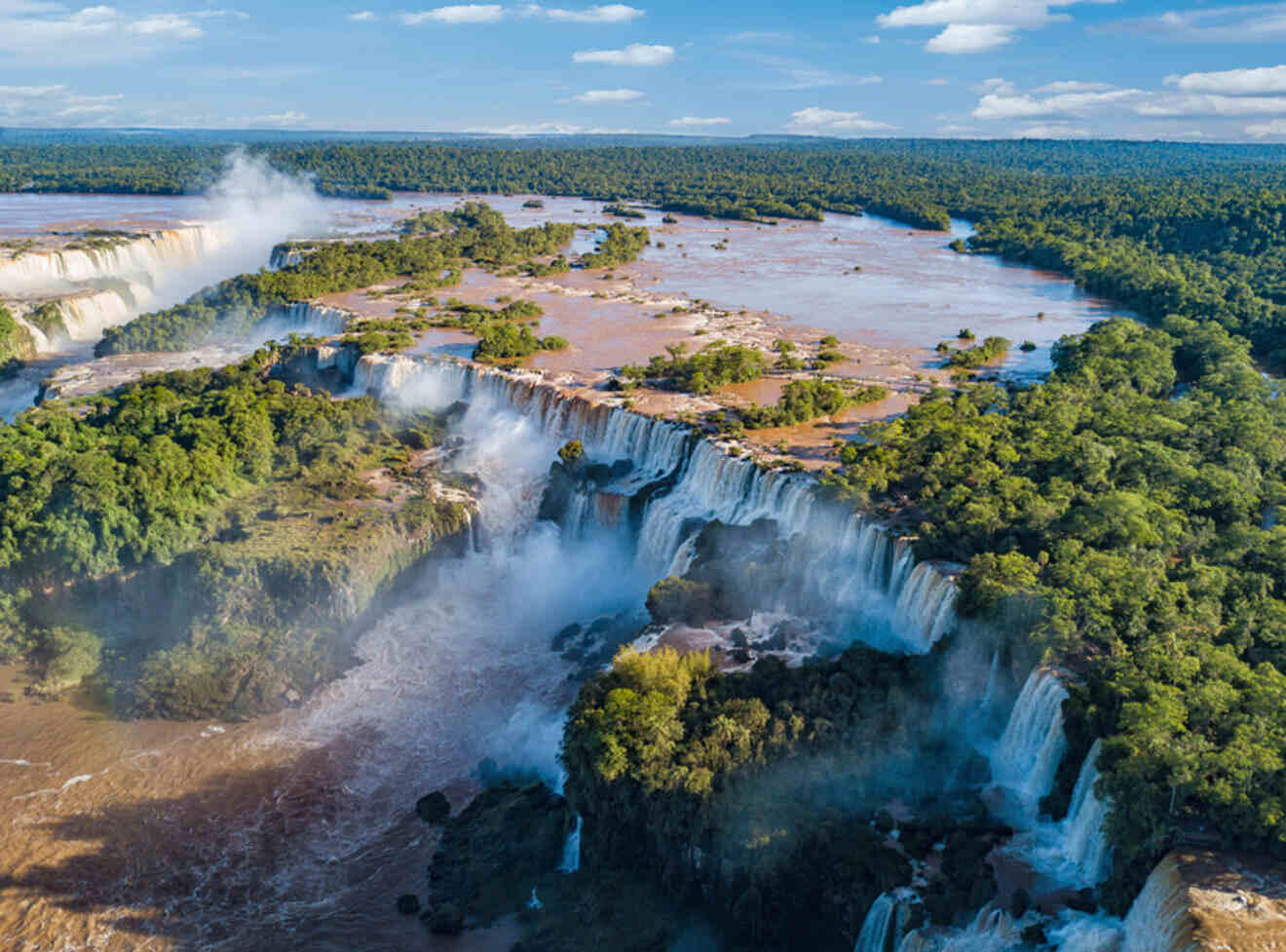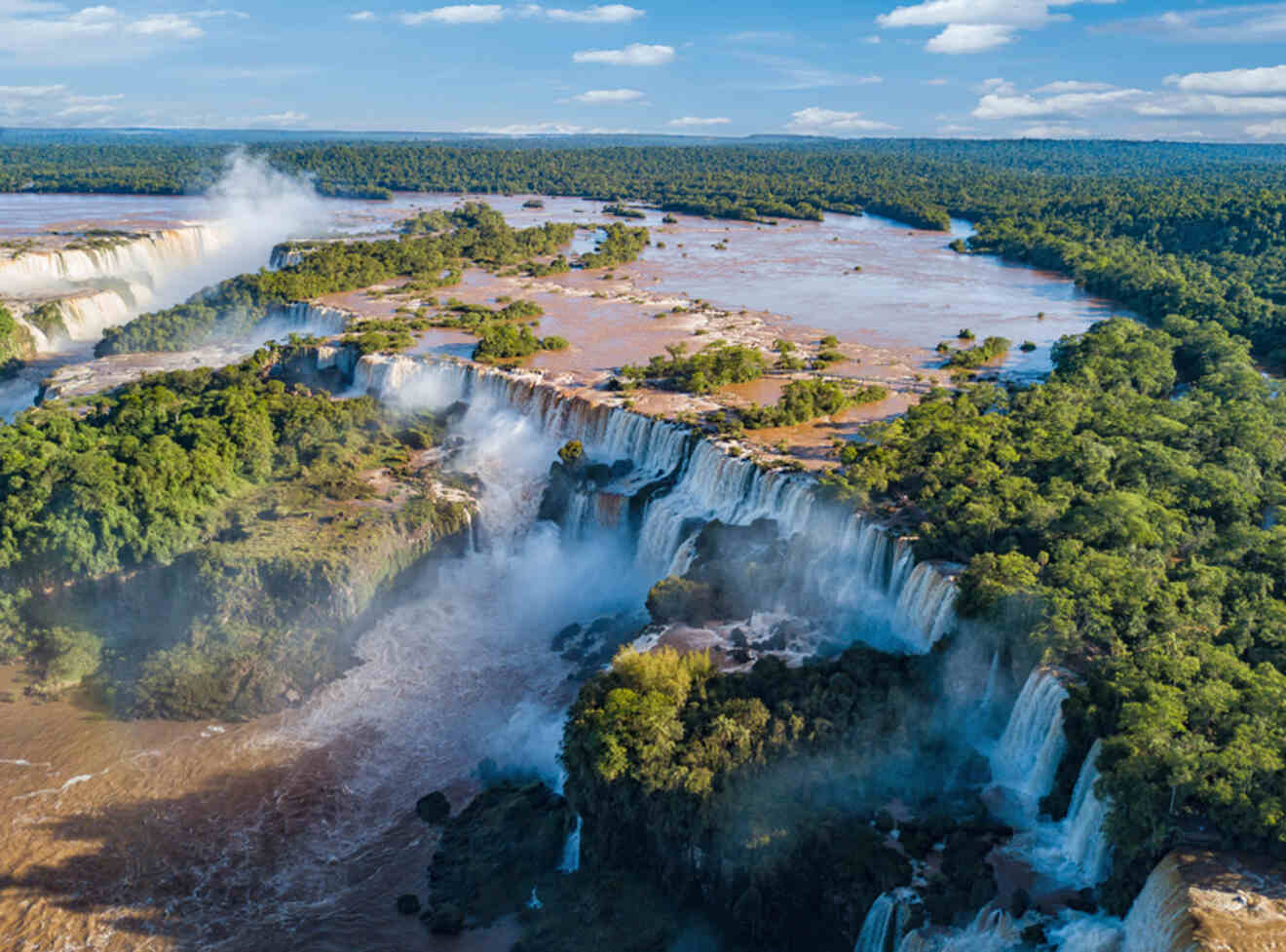 Duration: 10 minutes
Price: from US$140
Why you should take it: unique viewing perspective
Experience the thrill of seeing Iguaçu Falls from a whole new perspective as you take a helicopter ride! You'll feel your adrenaline skyrocket as you marvel at the breathtaking views and immerse yourself in one of South America's greatest natural wonders!
Be sure to capture your memories with the aerial shots before soaring to the Argentina side for even more spectacular vistas. The tour's meeting point is Foz do Iguaçu heliport on Avenida das Cataratas, you'll get to choose the starting time of the expedition.
Savor 10 minutes of sheer beauty and excitement as you soar above the Iguaçu National Park! The vistas are unparalleled, and from this privileged angle, you'll get to see the Devil's Throat up close and in all its majestic glory!
13. Feel like a VIP on a 3-day luxurious trip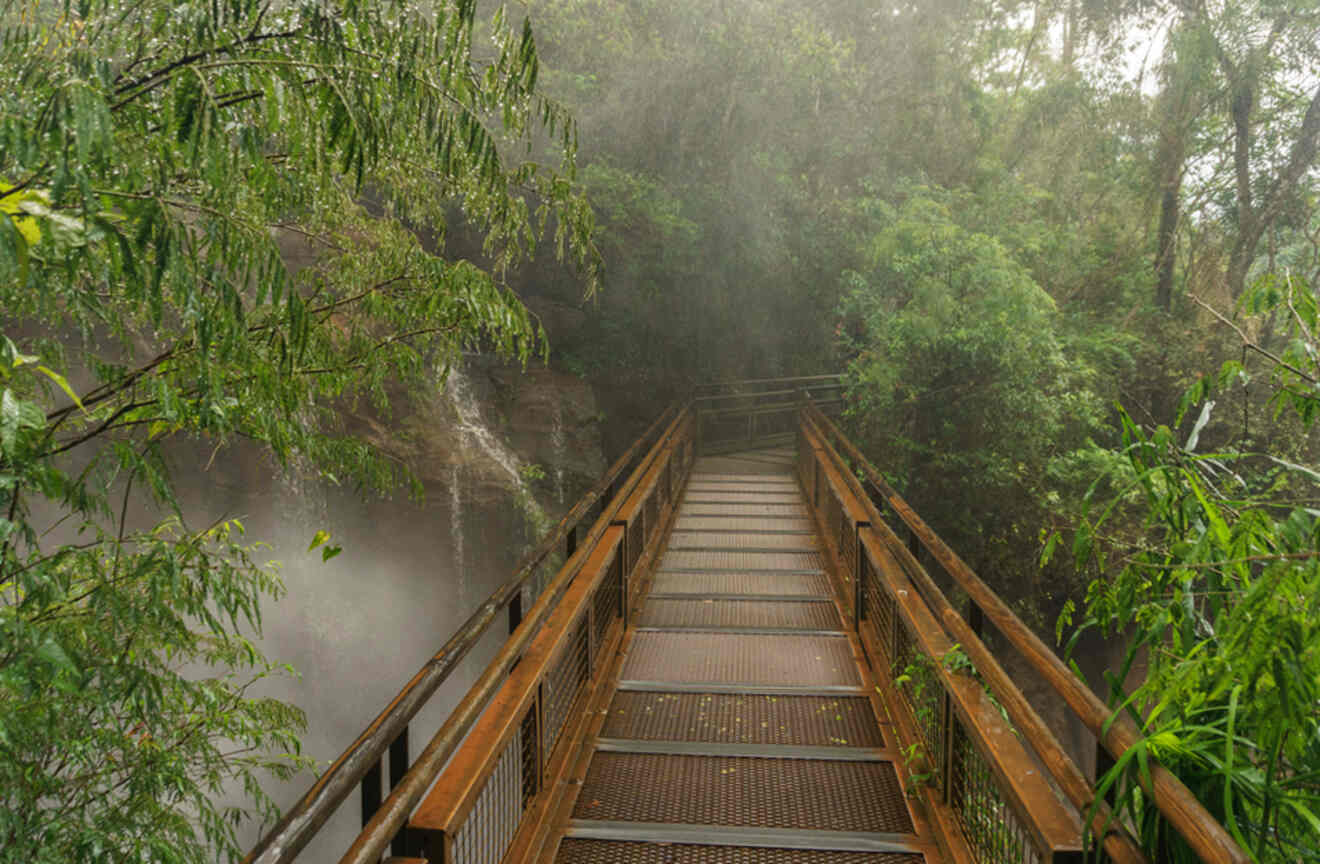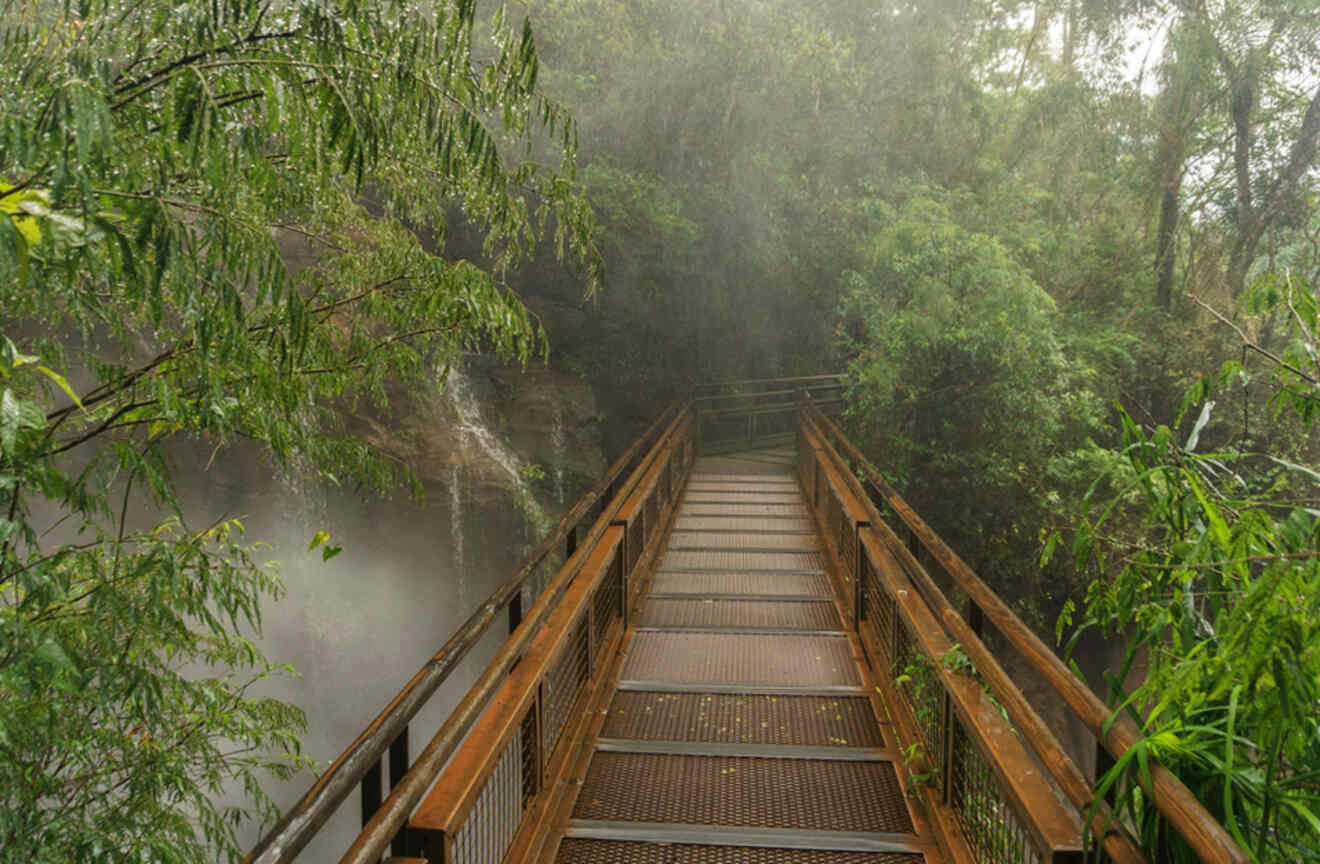 Duration: 3 days
Price: from US$1,980
Why you should take it: royal treatment on multiple-day trip
Treat yourself to an extraordinary experience and discover Iguazu Falls, one of the world's natural wonders, in a royal manner!
On this luxurious multi-day tour that picks you up from Puerto Iguazu Airport, you'll get to take in the views from both Brazilian and Argentinian sides. You'll have the chance to hike through mesmerizing national parks accompanied by elevated platforms of varying heights. Feeling adventurous? Take a private boat trip and experience the force of the powerful waterfall's spray from above! Want to get your heart racing? Then it's off to Puerto Macuco in your off-road chariot for an unforgettable journey.
This exclusive tour will give you and your group tailor-made attention for that truly personalized touch. You'll also get accommodation as well as breakfast included in the package.
14. Get a true experience of Argentina on a 12-day trip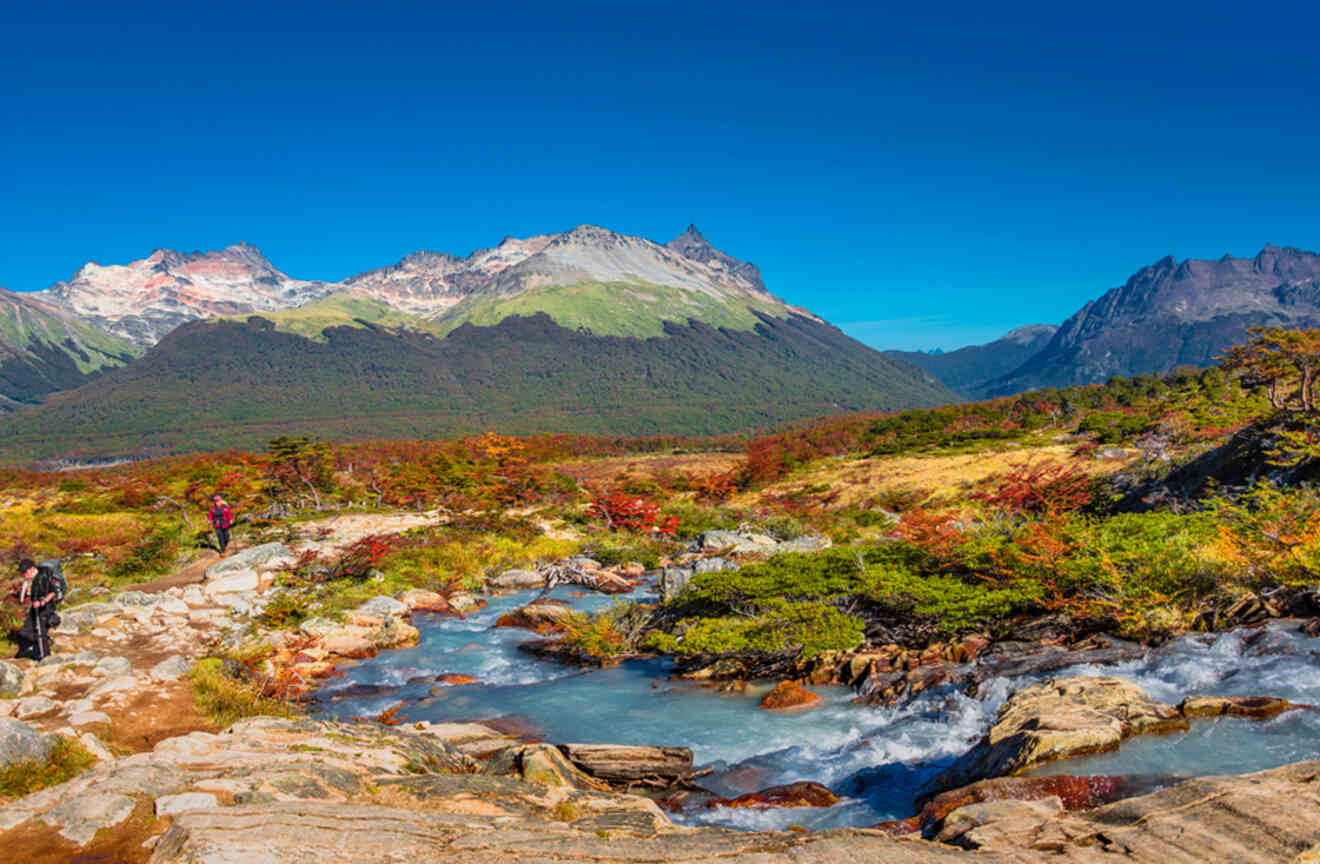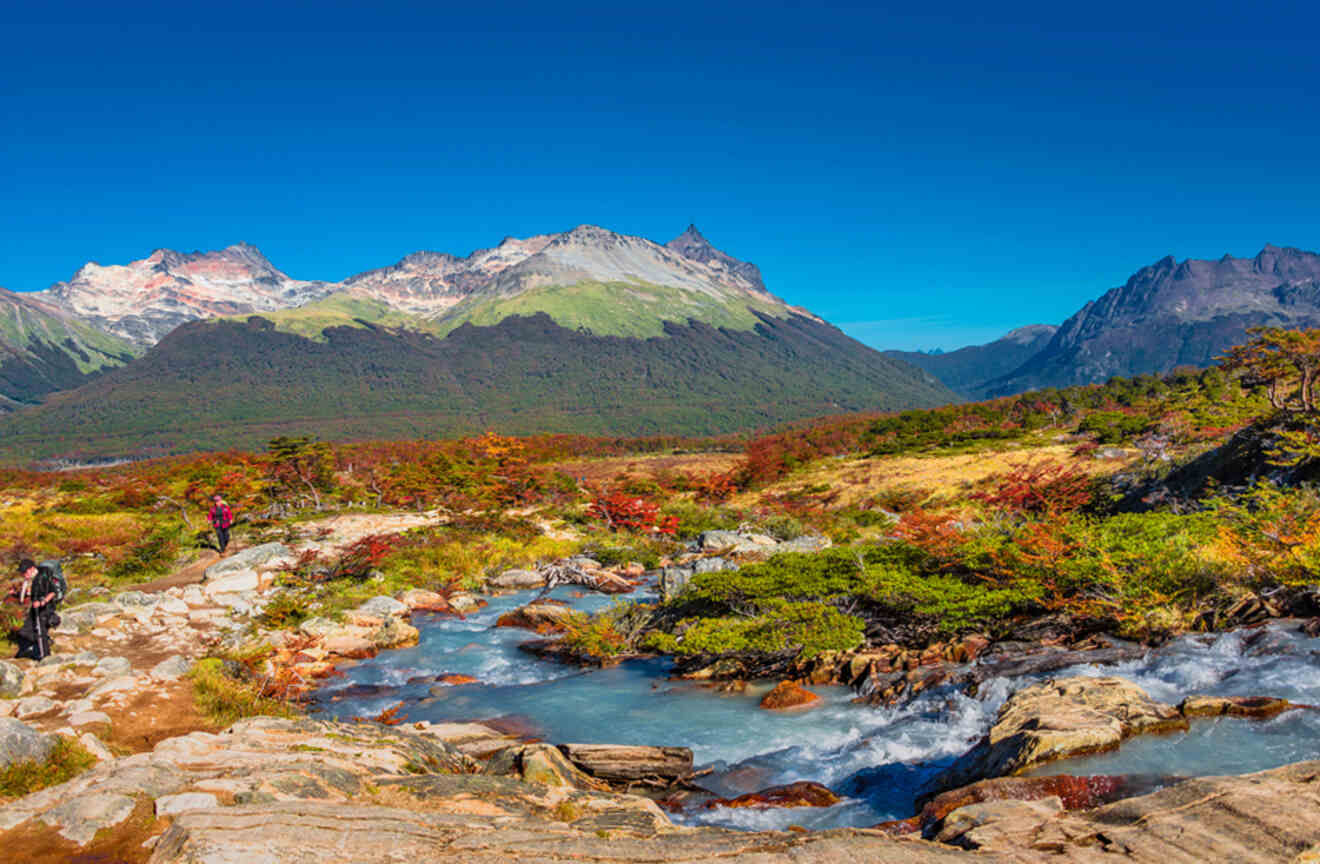 Duration: 12 days
Price: from US$6,510
Why you should take it: ultimate multi-day adventure in Argentina
This tour is a perfect choice for those who want to fully immerse in Argentina's local culture as it will visit all of its famous landmarks!
One of the first stops after Buenos Aires is Iguazu Falls, after which you'll explore the end of the world at Ushuaia. The tour includes a hiking expedition through Tierra del Fuego National Park, so those who prefer outdoor activities will have a blast there. The itinerary includes a visit to Patagonia. You'll also get to soak up Buenos Aires' vibrant atmosphere, so it won't be just nature on this trip. There are city vibes as well.
You're in for an incomparable experience. Your tour operators will make sure you have a comfortable place to rest every night and tasty food full of local delicacies. Plus, they can plan some amazing activities customized just for you.
FAQs about Iguazu Falls tours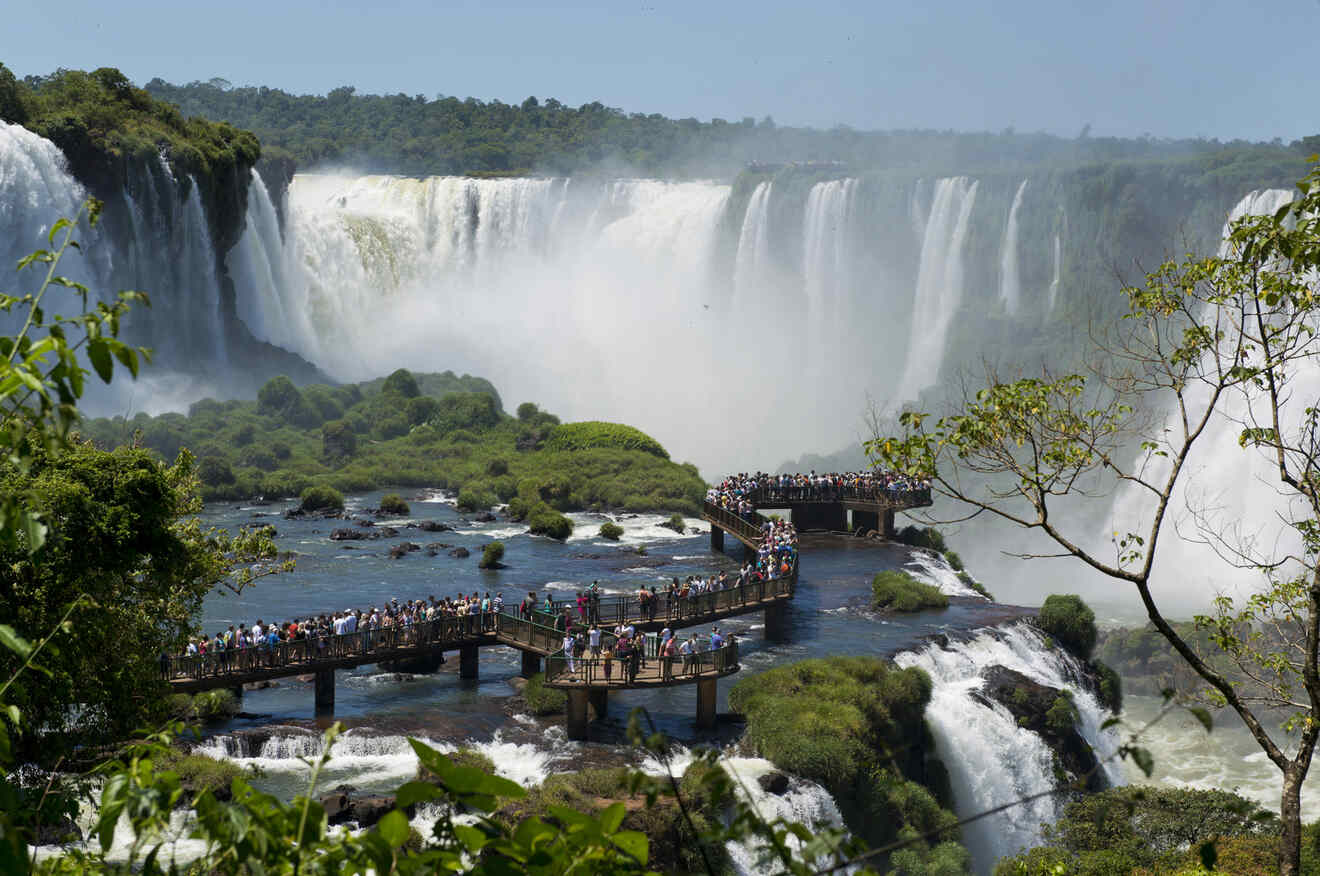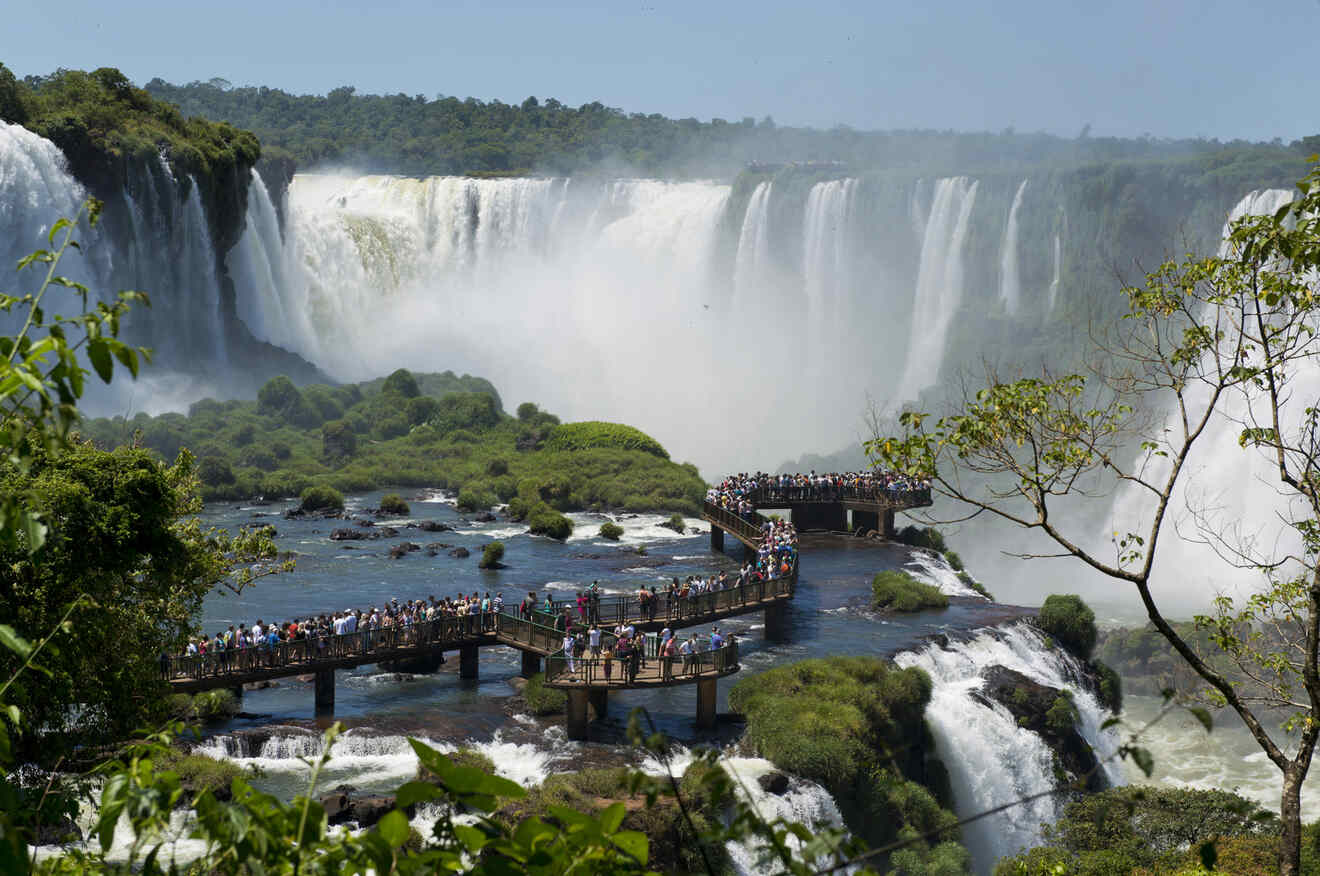 Conclusion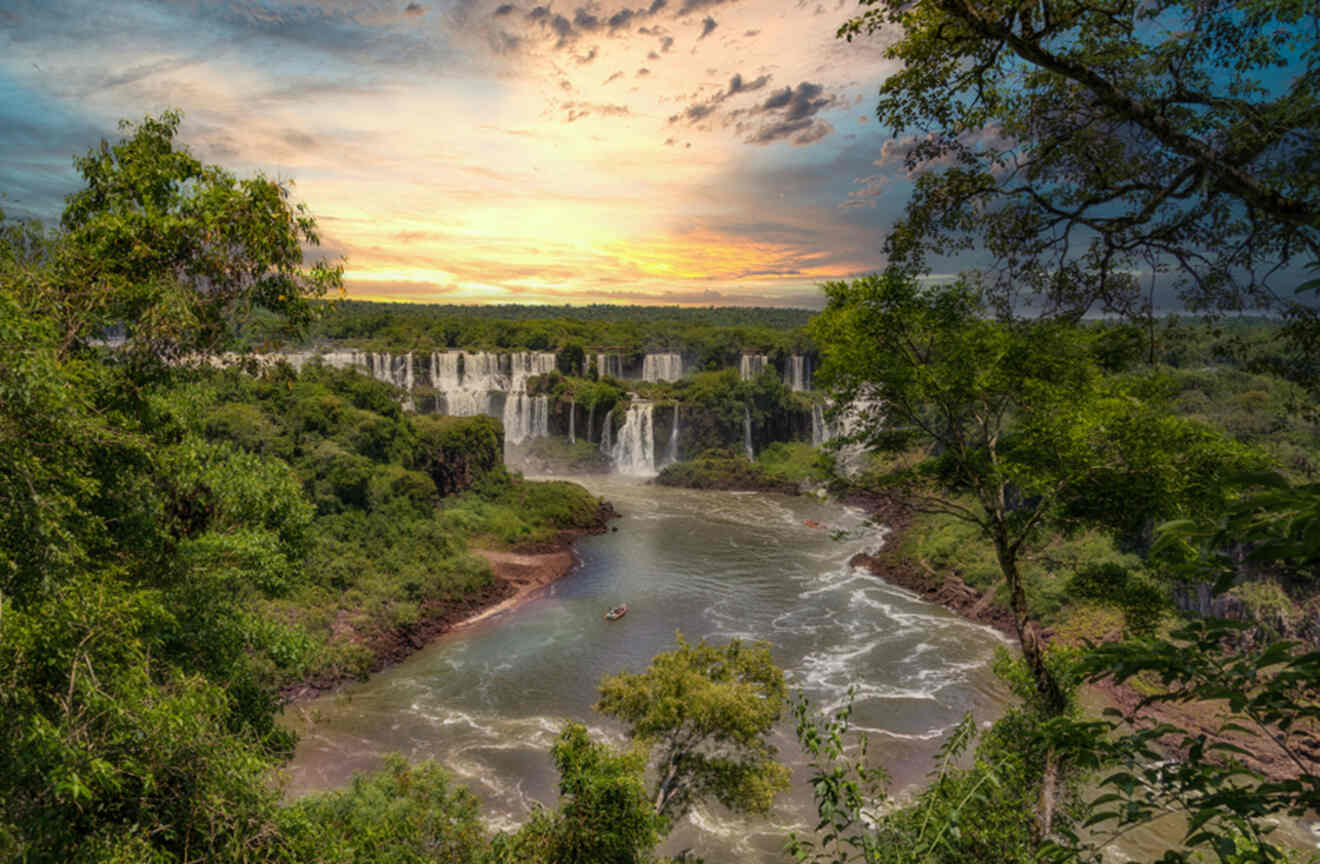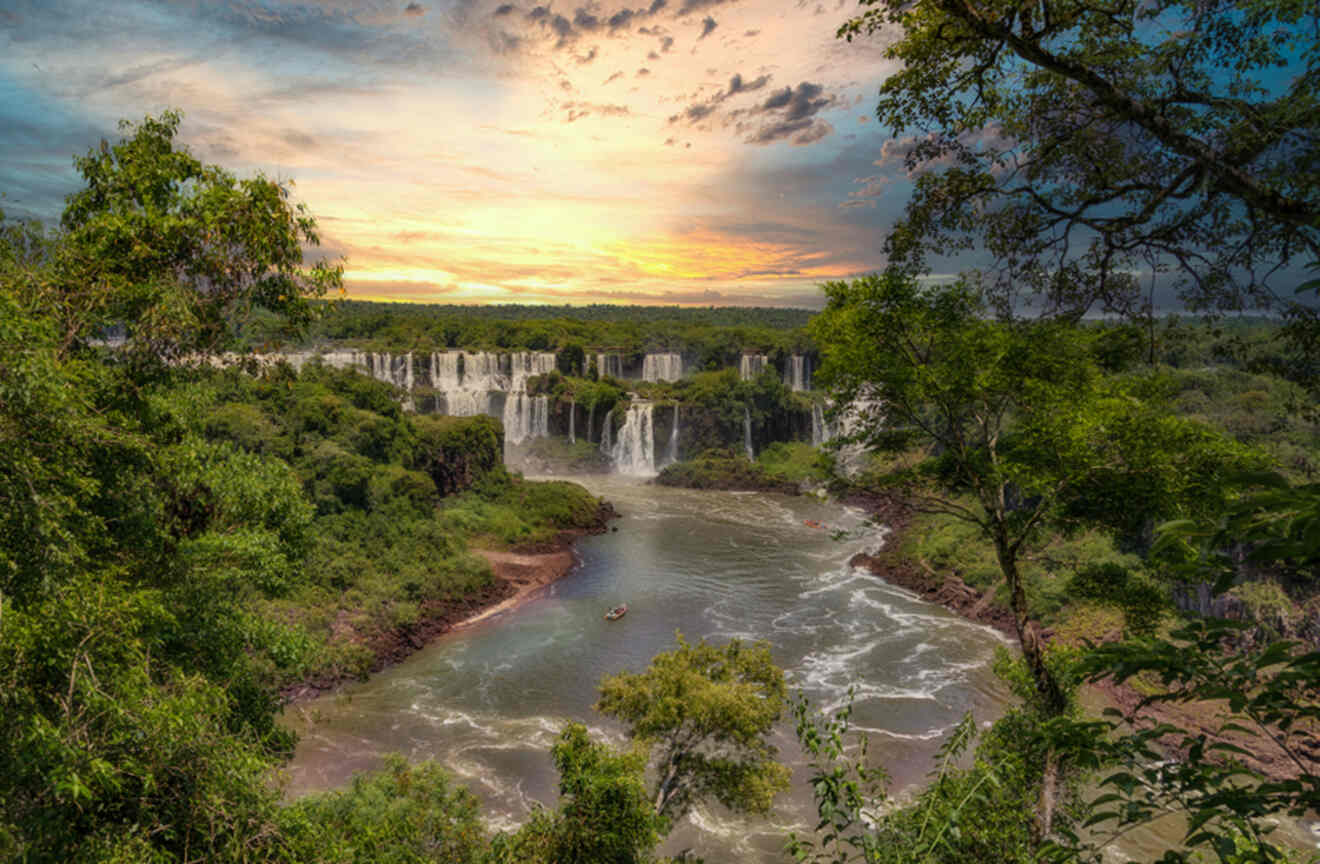 There you have it, my dear explorers – you know everything there is to know about Iguazu Falls tours.
You can decide on an option that will let you see both Argentinian and Brazilian sides of the Iguazu waterfalls, or maybe you want to embark on adrenaline-fueled both rides and expedition hikes. No matter what you choose, let me tell you, you're in for a treat!
To make sure everything goes smoothly, don't forget to book your tours well in advance!
And if you have any questions for me or simply wish to share your travel stories from Iguazu Falls, don't hesitate to do so. Drop me a comment below and let other travelers know about some helpful tips and tricks.
Happy sightseeing,
Angelina
---
Pin it for later!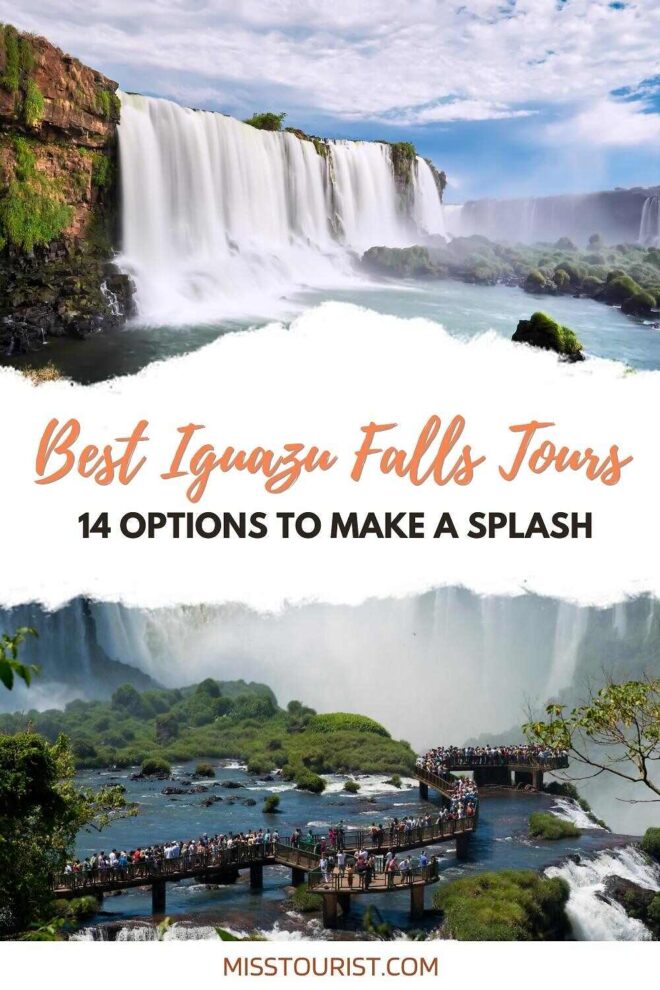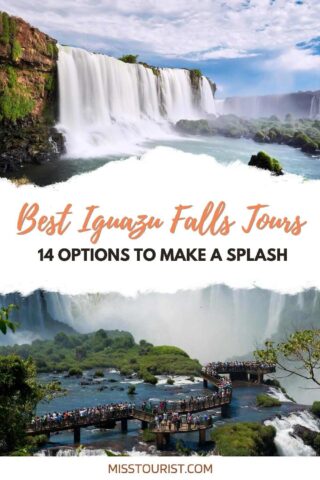 Pin it for later!