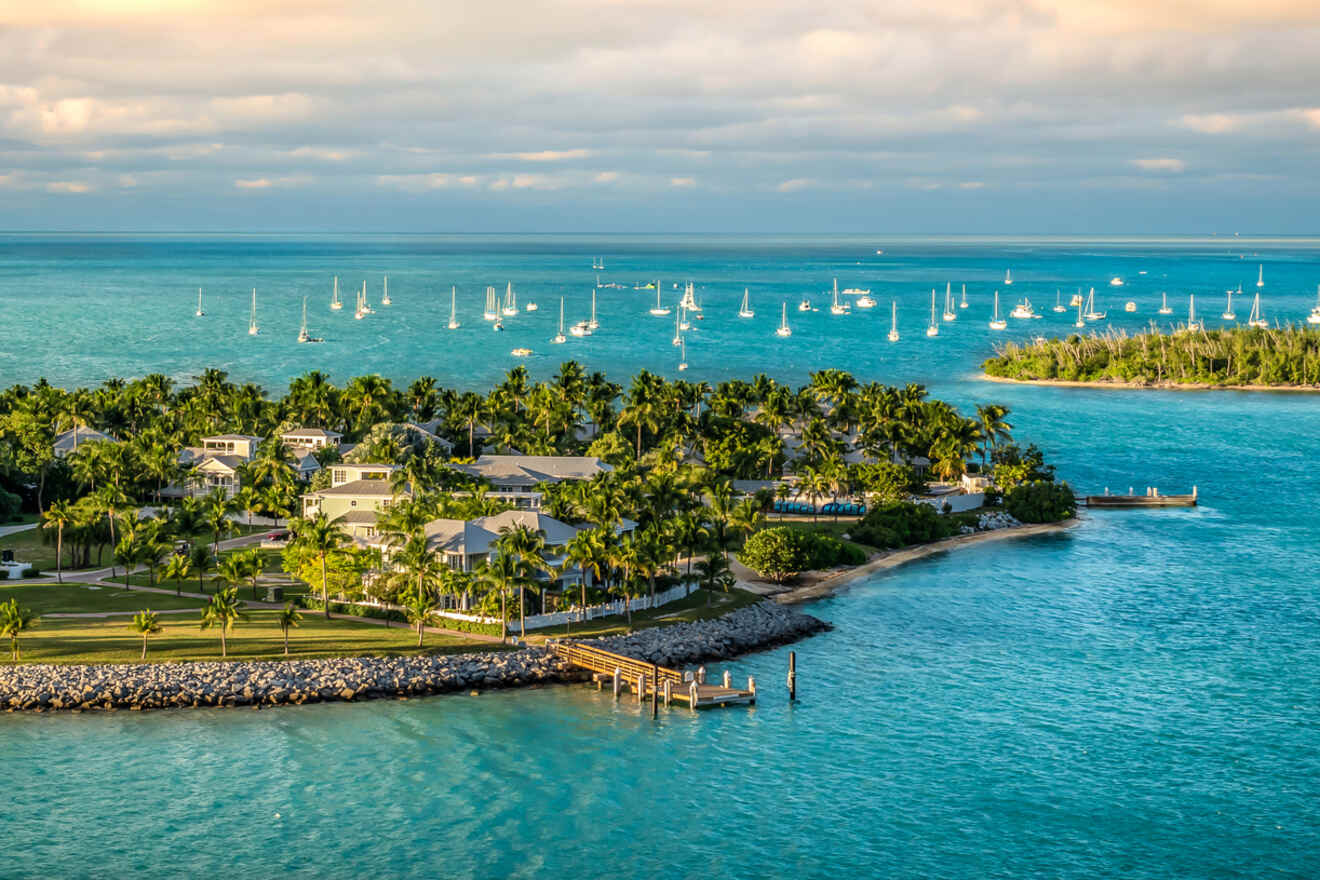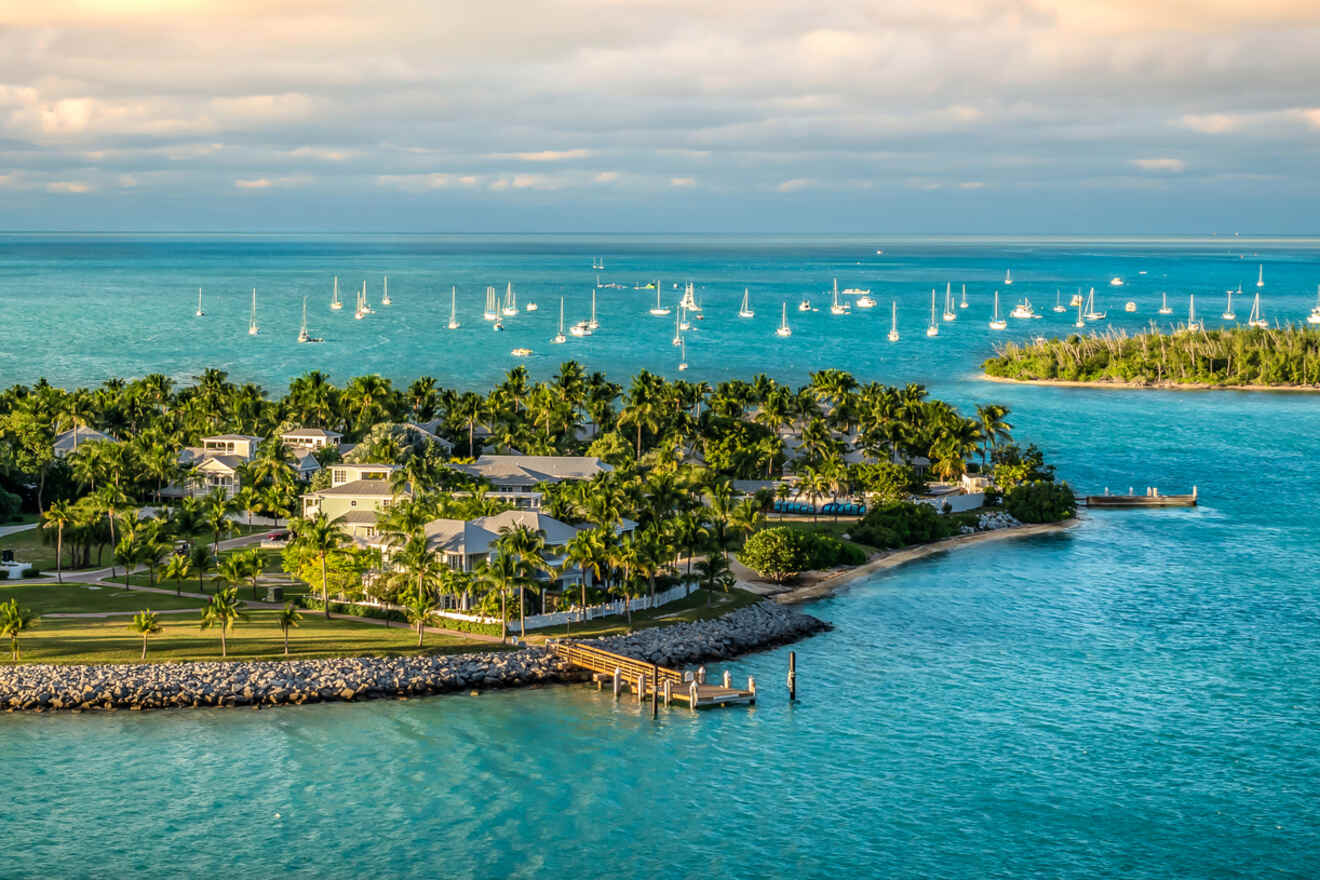 If you're planning a trip to Key West, you're in for a treat. There are so many exceptional Airbnbs in Key West that I had my hands full choosing the best ones. This quirky part of Florida is a great place to find Airbnb accommodation if you're looking for something other than hotels.
Most of these options are located throughout the Old Town, where historical attractions, restaurants, and nightclubs are plentiful. And since Key West is quite small, you're never far from the beach.
Key West is a tourist destination that needs little introduction. Despite its size, this paradise sees up to 5 million visitors each year! It's the most popular of the Keys islands with plenty of holiday deals available.
Step into a world where history, modern culture, and ocean vibes combine in a perfect blend. Whatever vibe you're looking for, you're bound to find it in one of these Airbnb deals.
If You Are In a Hurry: Best Key West Airbnb Choices
I have carefully gone through my list and chosen four options to suit different budgetary constraints. These locations are in the center (Historic District) and are sorted by price from high to low.
Top 11 Airbnbs in Key West
I know a trip to Key West can get quite pricey, so I have included all of the hidden cleaning, service, and tax costs for you! These choices are sorted from the most to least expensive.
1. Key West Hideaway – Best Home for Large Groups
Location: Historic District
Price: from US$1,500 per night
Bedrooms: 4
Guests: 10
This beautifully decorated and clean Airbnb has four bedrooms and a queen-sized sleeper sofa – the perfect spot for large groups or families. Each room is painted in a different light color palette, that creates a cozy living space for your holiday. Open up the shutters and windows, and the lounge opens up to the outdoor area – there's no better way to soak up the Florida sun.
Walk outside through the living room to a private deck where you have access to a large family pool area shared by the estate. You'll probably spend most of your time here, but if you want some time away from the children, you can head across the street to the adults-only, heated pool.
This house is right in the center of town, so be sure to check out Duval Street where there are plenty of famous restaurants, shops, and nighttime hotspots.
2. Mango Margarita Villa – Best Fully-Equipped Family House
Location: Historic District
Price: from US$720 per night
Bedrooms: 2
Guests: 6
This clean villa is big enough for the whole family. It is a two-story unit with beautiful, modern decor throughout and a king-sized bed in the master room. You'll be able to do all your cooking in the full kitchen or outside on the gas grill. Enjoy meals at the six-seater dining table or outside under the deck, next to the heated pool.
When you arrive at the house, the first thing you notice is the section of beautiful bay windows. The two-story building uses a combination of tiles, carpet flooring, and modern furniture to create a wonderful environment.
You are in the center of town, close to many attractions. On your way to The Southernmost Point of the Continental US, you may as well stop at the Butterfly and Nature Conservatory or visit the old lighthouse.
3. Harrison's Hideaway Cottage – Studio with Hot Tub
Location: Historic District
Price: from US$480 per night (min 5 nights)
Bedrooms: Studio
Guests: 4
Harrison's Hideaway is a great Airbnb suite option for couples or a family with young children. It is a cozy one-bedroom studio space, with a full kitchen, sofa, and queen-sized bed quite close to each other. The sofa doubles as a queen-sized sleeper couch for the other two guests.
The decor is very modern with light colors and plenty of lighting to help make the space feel more expansive. Outside, you have access to your own Solana hot tub spa. If you are feeling like a dip in the pool, you can head to one of two large heated pools available within Center Court.
4. Romantic Caribbean Motif Retreat – Great for a Couples' Getaway
Location: Historic District
Price: from US$480 per night (min 5 nights)
Bedrooms: Studio
Guests: 2
Romantic Retreat is a smaller two-bedroom option that is the perfect spot for a trip to the Florida Keys with your significant other. It'll feel like your own private hideaway with an enclosed patio for soaking up the sun, an outdoor shower, and a king-size memory foam bed.
Guests staying at this vacation rental complex get access to the shared gas BBQ and two large heated pools. The interior is decorated in a light, Caribbean style with blue walls and high-pointed ceilings – the perfect setting to come home to after a day out in the sun. Climb into the hot tub, close your eyes, and immerse yourself in this tropical paradise.
There are a few beach options within walking distance as well as the southernmost point of the continent – a popular tourist attraction to check out.
5. Private Room Steps off Duval Street – Great for Solo Travelers
Location: Historic District
Price: from US$450 per night (min 4 nights)
Bedrooms: 1
Guests: 2
Solo travelers will love the private room deals available at this Airbnb. It is in a safe area that offers free parking and great amenities included in the rate. You won't need to worry about breakfast, because it's complimentary – along with bottomless mimosas! What better way to start your day in this tropical paradise?
The bedroom is comfortable and modern, with a queen-size bed, small balcony, and air-conditioning. You won't have access to a kitchen, but you can use the small refrigerator to keep a few things. This private room is one of six suites available in the house. Step outside and descend the wooden stairs to a mini resort setting with a bar, large pool, and loungers.
6. Island-Style Suite
Location: Historic District
Price: from US$450 per night
Bedrooms: 1
Guests: 4
This one-bedroom suite is in the North of the Old Town, a few streets away from the Key West Bight and close to some of the most famous hotels and resort options in Florida.
Up to four guests can stay here, with two beds (one sleeper couch). It is exceptionally clean, and the wooden flooring and light color scheme make for a great living environment. If you need to cool down after a long day in the sun, you can head to the hotel's pool (which you have access to) or sit out on your huge, super-comfy, private deck with a cold drink.
7. Little Palm Cottage
Location: Historic District
Price: from US$440 per night
Bedrooms: 1
Guests: 2
This one-bedroom home is three blocks from Duval Street, inside the Al Hambra vacation rentals estate. It is in a quiet tree-lined area next to The Basilica of St Mary.
The first thing you notice when stepping inside is the wonderful rustic wooden theme found throughout the living room, kitchen, and bedroom.
Outside, there are the added services of a shared pool with deluxe sun loungers in the courtyard, and a spot where you can do your laundry. If you want to head to the ocean, all you need to do is go for a short walk or rent some bikes.
8. Mango Hideaway – Steps from Duval Street
Location: Historic District
Price: from US$440 per night (min 4 nights)
Bedrooms: 1
Guests: 3
Another romantic home for couples, the Mango Hideaway is the perfect property for a couples getaway. Plenty of wood and bamboo furniture is used throughout this one-bedroom Airbnb, creating a lovely tropical vibe. Head outside to enjoy the private patio as well as a jacuzzi to relax in.
The clean bedroom is spacious and has a great view of your patio, with two large doors to help that beach breeze permeate your living space. You're only a short walk from The Ernest Hemingway Home and well within walking distance of plenty of other local attractions.
9. Apartment in the Heart of the Cuban District
Price: US$340 per night
Bedrooms: 1
Guest: 2
If location is your number one priority, then you've found the right place! This cozy and homey studio unit is located in the heart of the Cuban District.
The place may be small, but it's spotlessly clean and has beautiful lighting and a modern design. It also has every couple's needs for a comfortable stay, such as a comfortable queen-sized bed, a private bathroom with a bathtub, a kitchenette, a dining area, and a mini sofa.
Choosing this place means you're near the best Cuban coffee shops. And if you want, you can explore the neighborhood using a bike which the hosts will gladly provide.
10. Walk to the Beach Condominium
Location: Historic District
Price: from US$250 per night (min 7 nights)
Bedrooms: 1
Guests: 2
This second-floor rental is a brilliant choice for anyone looking for a Caribbean-themed setting. You'll be surrounded by beautiful decor, palm trees, and bright yellow walls which lead you out to a pair of ultra-comfy loungers looking out over the ocean. There are also plenty of local attractions thanks to the apartment's central location.
The clean Airbnb is great value for money, with ample space to house a kitchen, living room area, and a wide balcony with deck chairs. The host even has bikes to rent if you want to get around. You can visit the nearby Eco-Discovery Center or Zachary Taylor Park where you can do yoga on the beach, snorkel, or just enjoy your day.
11. Studio Apartment in Friendly Marina – Private Budget Option
Location: Stock Island
Price: from US$200 per night
Bedrooms: Studio
Guests: 2
Even though the Historic District is the most famous part of Key West, it can be a bit much for some people. If you'd prefer to stay a little bit removed from the hustle and bustle of town, why not consider this apartment.
You will still have the benefit of only being a short drive away from the beach, but the privacy is exactly what you might be looking for. It is located in a quiet marina community but is still near the happening locations. If you want to grab a delicious meal, why not visit the Ocean's Edge Resort, which is an oceanfront hotel with sightseeing options nearby.
BONUS 1: Unique Airbnbs in Key West
All of these unique rental property options will have you staying out on the water. What better way to see the oceanfront than by living over it.
NOTE: If you want to look through some more unique Airbnb options in Florida, this guide will be perfect!
1. The Tiki Suite
Location: Man of War Harbor
Price: from US$480 per night
Bedrooms: 1
Guests: 2
This is arguably the most magical Airbnb on our list. It is a unique floating house with a magnificent thatch and wood theme. There is only one room, with an en-suite bathroom. The sliding doors on all three sides of the bed allow for an amazing view in the morning or as you are falling asleep.
The only way to get to your house will be via water taxi. Once here, you will have access to the host's hammock, stand-up paddleboards, and snorkel gear. If you want to check out this stunning option before making a decision, watch this video.
2. Good Memories on a Sailboat
No images found. Add/select some by clicking on the "Add to gallery" button.
Location: Wisteria Island Mooring
Price: from US$240 per night
Bedrooms: 1
Guests: 3
Ditch the regular Airbnb options with this unique sailboat. You will be anchored out in the mooring field (not in a dock), where you will be able to enjoy a truly tropical experience. To get to the boat, you will need to catch a dingy ride. You get two complimentary trips a day.
You will probably spend most of your days back on land or swimming in the ocean, but in the evenings you can relax on the deck or in the cabin where you will find two beds and a small bathroom.
3. Beautiful Yacht in Marina Key West
Price: US$400 per night
Bedrooms: 3
Guest: 6
If you are looking for a unique experience during your stay in Key West, Florida, staying on a yacht is one of them. Think of it as camping on the water instead of a typical hotel room.
The great sea views are all yours, and since this yacht is docked in the Safe Harbor Marina, you are blessed with good food as this is the home to the famous Hogfish grill and bar.
For swimming and snorkeling, the Marina is a five-minute drive but if you're looking for nightlife, it will be a 5-mile ride to Key West proper and Duvall street.
BONUS 2: Frequently Asked Questions about Airbnbs in Key West
Here are some of the most important things you should consider when choosing from Airbnb rentals in Key West.
1. Is Airbnb Legal in Key West?
Of course! Airbnbs are legal throughout the USA, but there is a special rule that applies in Florida. If you want to rent your entire property for less than 30 days at a time, the owner will need a special license.
2. What Should You Avoid in Key West?
Although Key West is a safe place to visit, there are certain shops or deals that you should avoid. T-shirt shops, $5 shops, tourist jewelry shops, cosmetic shops, and shady art galleries are some of the things to look out for. Pushy salespeople can often cause you to spend way more than you should for inferior quality deals.
3. What is the Best Area to Stay in Key West?
The answer to this question will change from person to person, but Old Town is the most popular choice. You will be near to all the main attractions, including Duval Street, hotels, and plenty of beach options. If you want to read more about where to stay in Key West, you can read this article.
4. Where Should I Stay in the Florida Keys Airbnb?
The three most popular islands in the Florida Keys are by far Key West, Islamorada, and Key Largo. These islands are known for their culture, fishing, and diving respectively.
Top 3 Airbnb Experiences
The Florida Keys is known for its great activities. Be sure to check out one of these locally hosted experiences.
Castaway Island Tour – Head off from the beach to learn the local history while riding on water bikes.
Electric Catamaran Trip & Snorkeling – This biologist-guided experience will take you out on the water to enjoy dolphin sightings and some of the top snorkeling around.
Sunset Sail on Historic Schooner Yacht – Head out on a historic wooden schooner, as you get to enjoy complimentary wine and beer onboard.
Conclusion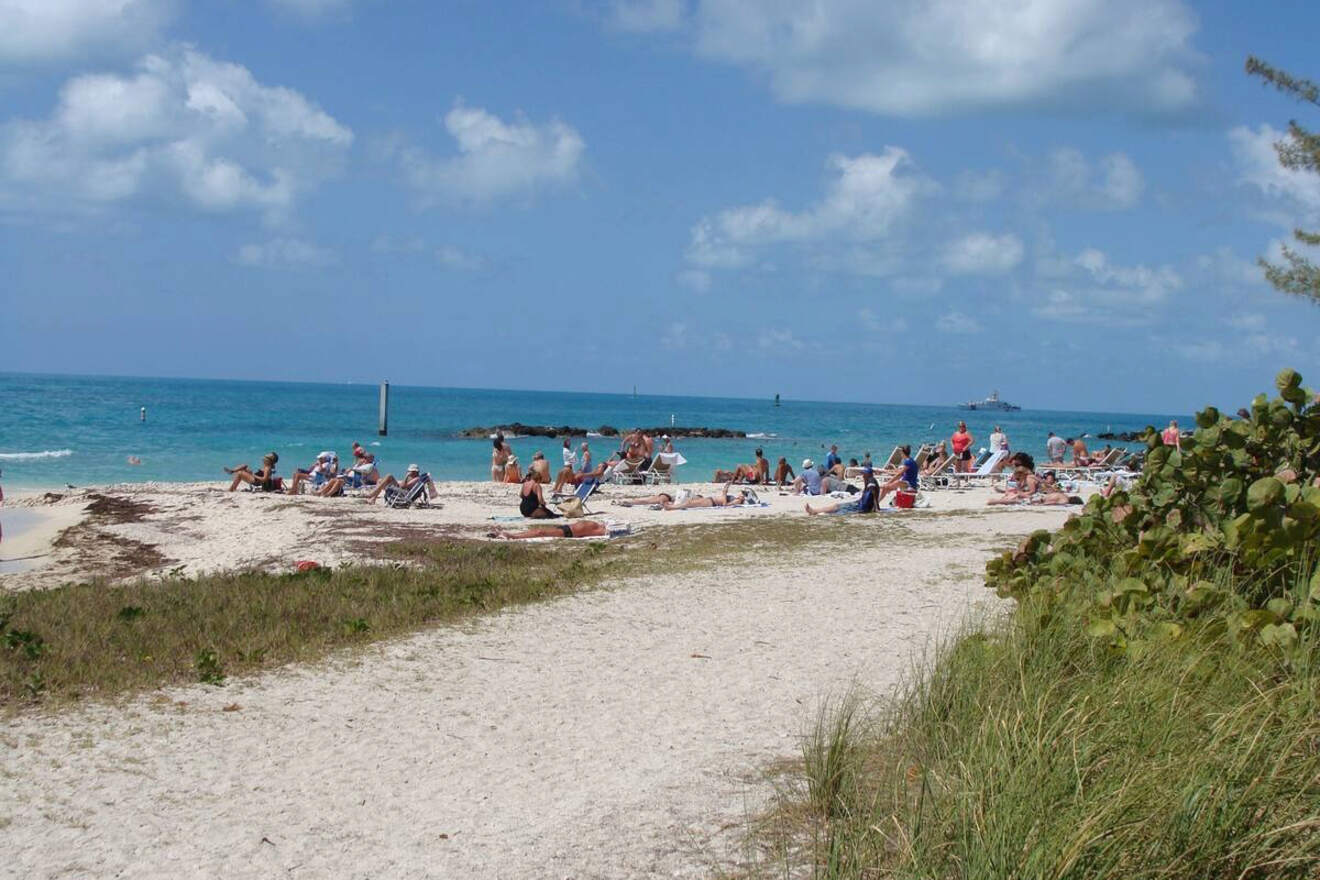 The beach, historical attractions, and great atmosphere are some of the things that make this one of the best vacation destinations in Florida. There are so many great Airbnb deals available that you won't struggle to find the best accommodation.
In this post I've given you the top options for every budget, shown you some unique places to try and even answered your frequently asked questions about renting an Airbnb in Key West.
By the way, if you're stopping in Miami during your holiday and need a place to stay, you can read through this guide.
If you still haven't made up your mind, there are the 2 properties I highly recommend:
Whatever you choose, make sure to book well ahead of schedule. This is one destination that rarely has last-minute accommodation available.
If you feel like there's something I missed, or you just want to share your experiences, I'd love to hear from you in the comments below.
I hope you have a top vacation in Key West and that it brings you much-deserved relaxation and enjoyment.