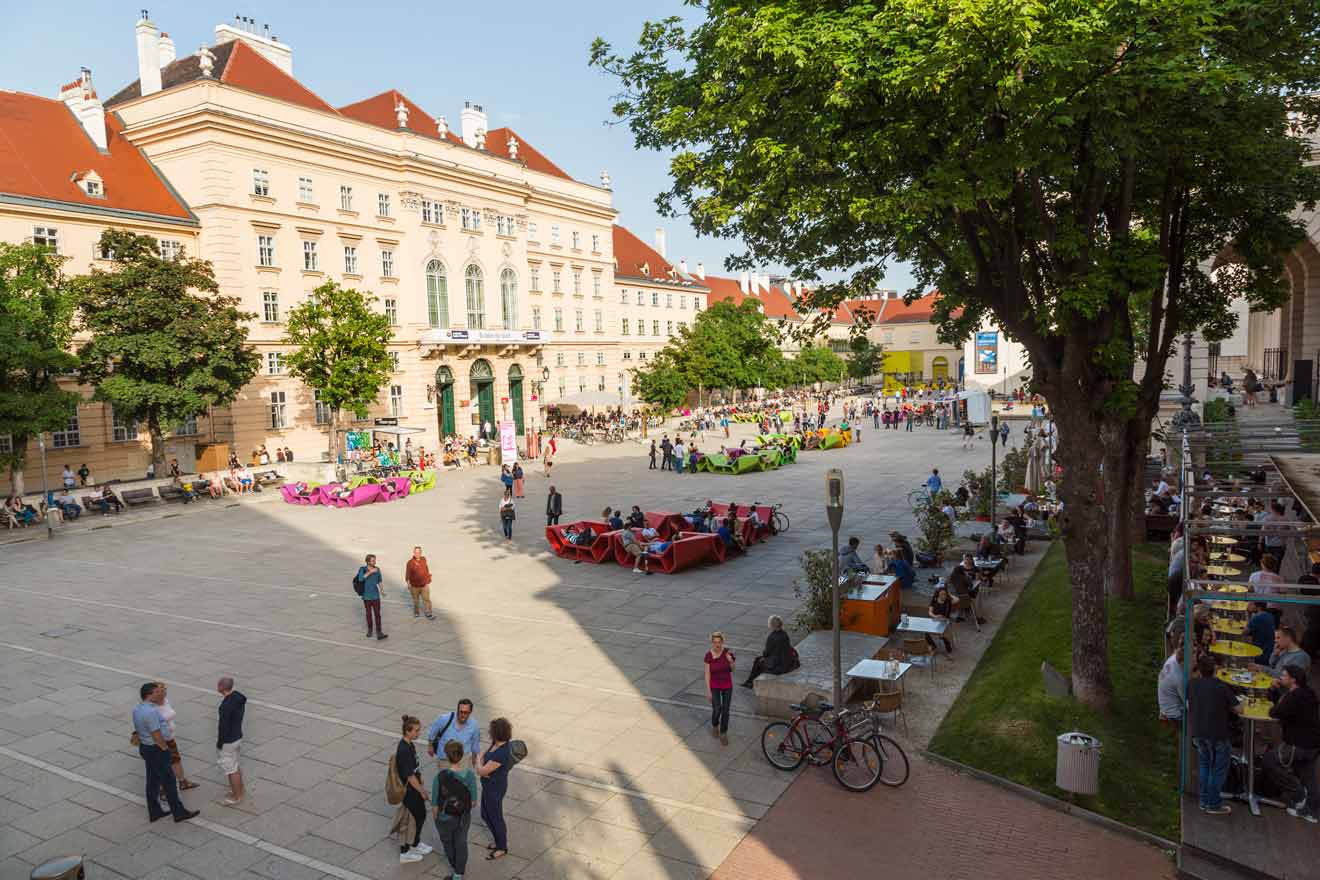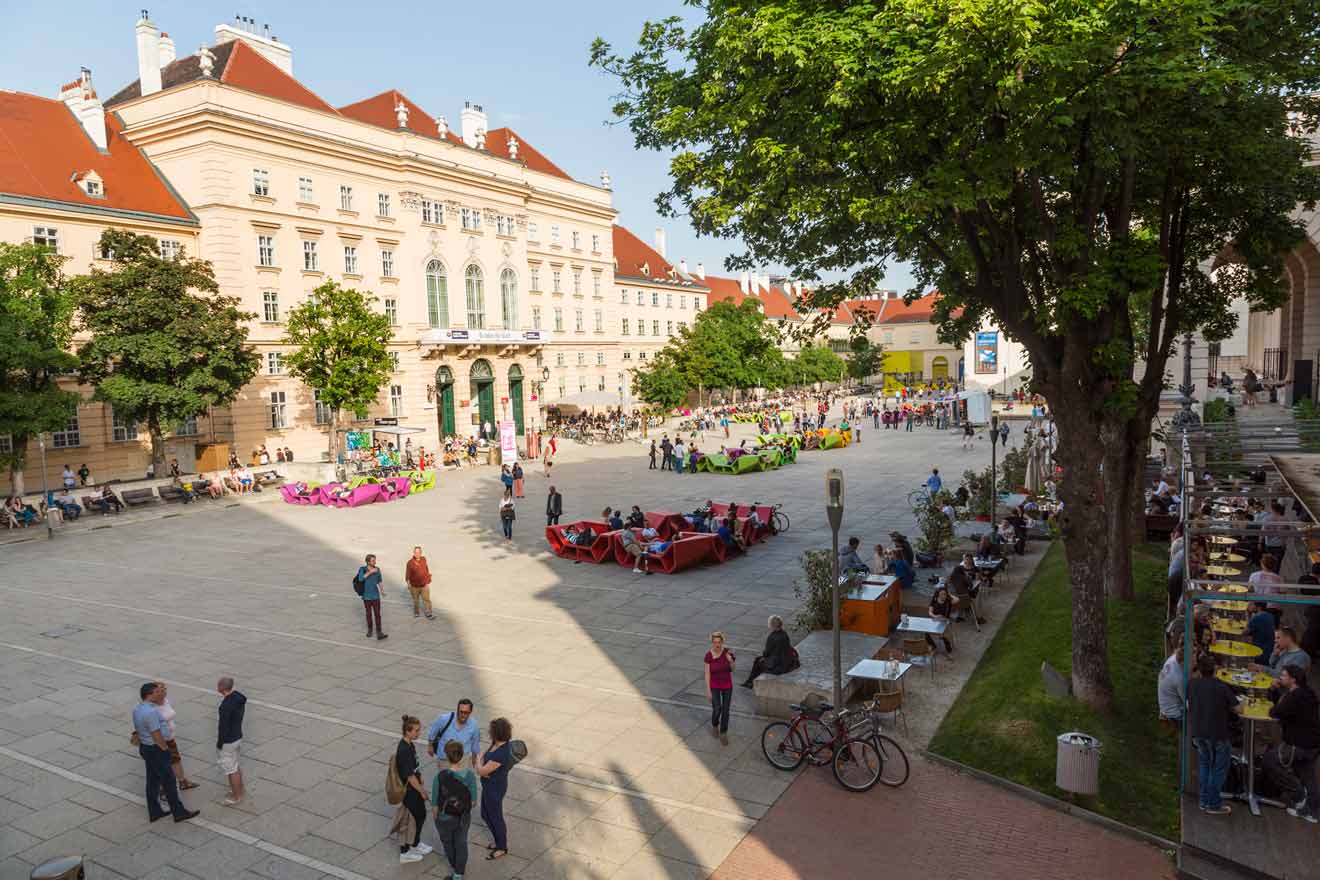 We all know that traditional Austrian cuisine is not super vegetarian or vegan friendly. Still, luckily things have changed in the past few years, and now you can find so many vegan restaurants and vegetarian restaurants in Vienna that serve delicious food (yep, including vegan nuggets)!
In this post, I will point you in the direction of the best vegetarian restaurants in Vienna and some that also serves vegan cuisine. Get ready to eat super delicious plant-based hot dogs, healthy vegan "fast food," and the best vegetarian schnitzel and potato salad you will ever taste!
I've categorized each place, so you'll know where to go depending on your mood or what time you're going. Whether you're looking for the perfect vegetarian restaurant in Vienna for brunch, or maybe for a bakery type of place, you'll find that and more in this post!
When you find something you like, simply click the link to google maps and get walking!
Let's hit the road! I'm starving!
1. The LaLa – the most instagrammable vegetarian food in Vienna
Cold and hot dishes and a stunning design! Fancy an instagrammable vegan meal in Vienna?
The dishes here at The LaLa are freshly prepared every day, and they taste as delicious as they look! Salads, gluten-free desserts, and mac&cheese! Whether you go early in the morning for a cup of coffee and some smoothies or later for lunch, you'll love it so much that you'll come back for more!
Location: Neustiftgasse 23
2. Yamm! – vegetarian-buffet restaurant in Vienna
Organic and locally-sourced food?
Yes, please! The vegetarian buffet at Yamm! is so delicious and you can choose from a wide variety of vegetarian dishes. But you can also order something from their normal menu. They serve salads, breakfast dishes, and smoothies. My favorite one is the veggie burger: pulled smokey mushroom burger! (*picks up phone to orders burgers ASAP)
Location: Universitätsring 10 & LInke Wienzeile/Naschmarkt
3. Tian – a vegetarian fine dining experience restaurant
You don't need a special occasion to have dinner at a Michelin-star restaurant! Once in a while, we all love to reward ourselves. And dinner at Tian, one of the best vegetarian restaurants in Vienna sounds like a nice treat!
I highly recommend booking a table in advance. From the first bite, you'll feel as if you're in food heaven! The colorful vegetables, delicious desserts, and yummy drinks will amaze you, and you'll never want to leave this spot! They also offer vegan options. Eating here really is an experience to remember! Speaking of experiences, make sure to check out our post on the best things to do in Vienna if you're looking for some more fun!
Location: Himmelpfortgasse 23
4. Tian Bistro – an affordable & delicious vegetarian meal
I'm guessing that not all of us can afford to eat at a Michelin-star restaurant every day.
Luckily Tian's owners thought about that and came up with a more affordable concept: Tian Bistro, located just a short walk away from the main restaurant. Their vegetarian food is so delicious that even non-vegetarian people will love it! If you're a first-timer at Tian, I recommend the tasting menu!
P.S. the vegan burgers are so delicious!
Location: Schrankgasse 4
5. Venuss Bistro & Take-away – a traditional Austrian vegan lunch
Finding a restaurant that serves traditional vegetarian and vegan food in Austria sounds like an impossible mission since all the dishes are meat-heavy. Still, luckily this plant-based restaurant in the city offers tasty traditional Austrian food.
At Venuss Bistro & Take-away you can eat everything from porridge bowls (if you're coming around breakfast time) to a delicious goulash with chanterelles and carrots. Pus everything is organic here!
Location: Herrengasse 6/8
6. Hollerei – most cozy terrace at a vegan restaurant
Tasty vegan burgers and delicious soups! Pay a visit to this vegetarian and vegan restaurant in Vienna during a sunny day and enjoy a few drinks and lunch on their cozy terrace!
Hollerei also hosts an art gallery and cooking lessons, so if you have a bit of extra time, eat your vegan brunch and explore the area!
Location: Hollergasse 9
7. Superfood Deli – the best Açai bowl in Vienna
I LOVE Açai bowls!
They are made with the frozen and mashed fruit of the açaí palm tree plus many other toppings like coconut flakes, fruits, cacao nibs, peanut butter, strawberries, honey, and more!
If you haven't tried one, you need to come to Superfood Deli during your visit and taste it! Superfood Deli serves some of the best organic bowls in the city. I discovered Açai bowls during a trip to Barcelona, and I became obsessed with them!
Locations: Mariahilfer Straße, Lerchenfelder Str. 63, Operngasse 34 & Maria-Theresien-Straße 5
8. Bröselei – for a delicious vegan dessert
Although this bistro cafe serves other dishes, you have to try their desserts when you're in Vienna. They're so delicious!
Before you go, check their menu online as they change it quite often. I'm sure you'll like it no matter what specialties they serve that particular week. Try their different salads, but make sure to end your visit here with a piece of cake. You won't regret it!
Location: Strudlhofgasse 1
9. Sattva Vegan – the perfect vegan meal for a cold day
We know how cold Vienna can get at times, and no matter how tasty some cold dishes may look, there's nothing like a soup or some warm food with tofu or mushrooms to make you feel better!
Sattva Vegan's menu changes every day so make sure to check beforehand if you are after something in particular. But if not, you could eat here every day and never be disappointed!
Location: Apostelgasse 29-31
10. Harvest Café Bistrot – the best nourishing food in Vienna
We all know that the best meals are the ones that taste good but also that feel super nourishing!
The ingredients can be the best (organic, plant-based, etc.), but if you don't put your heart and soul into it, the food is just meh!
That's why I included Harvest Café Bistrot in my personal recommendations of restaurants in the city. The food at Harvest Café is delicious, and you can tell that the person who cooked it loves his job! They also have a juice bar and cool some of the best wraps!
Location: Karmeliterpl. 1
11. Swing Kitchen – for the top vegan "fast-food" restaurant
If you're craving some vegan "fast-food" during your visit to Vienna, I recommend coming to Swing Kitchen!
This place offers wraps, burgers, some delicious potatoes, and they play the best swing music in the background! No-meat burgers taste even better than those with meat, and they sure don't feel as heavy. Right?
Locations: Schwedenpl. 3-4, Josefstädter Str. 73, Operngasse 24, Schottenfeldgasse 3, Währinger Str. 47 & Universitätsring 10
12. Veggiezz – for a quick vegan lunch in the city
Veggiez owns several outlets across the city and is totally vegan and perfect for anyone who wants to have a super quick bite before heading to the next attraction!
Delicious vegan dishes served with nutritious ingredients. You should try their bowls and chocolate mousse. Those will definitely convince you to come back for more!
Location: Salzgries 9 & Opernring 6
13. Secret Garden Cafe – for a quiet meal in the city on a rainy day
Rainy days can ruin our plans when we're on holiday, but there's nothing to make your day better than some delicious vegan food to put you in a great mood!
Secret Garden Cafe is one of the best vegan eateries in the city, and they serve a delicious green salad, yummy fried tofu, soups, and other vegetarian options. If you like healthy food and want to eat in a cozy and tranquil place, come here for lunch!
Location: Mariahilfer Str. 45
Frequently asked questions about vegetarian restaurants in Vienna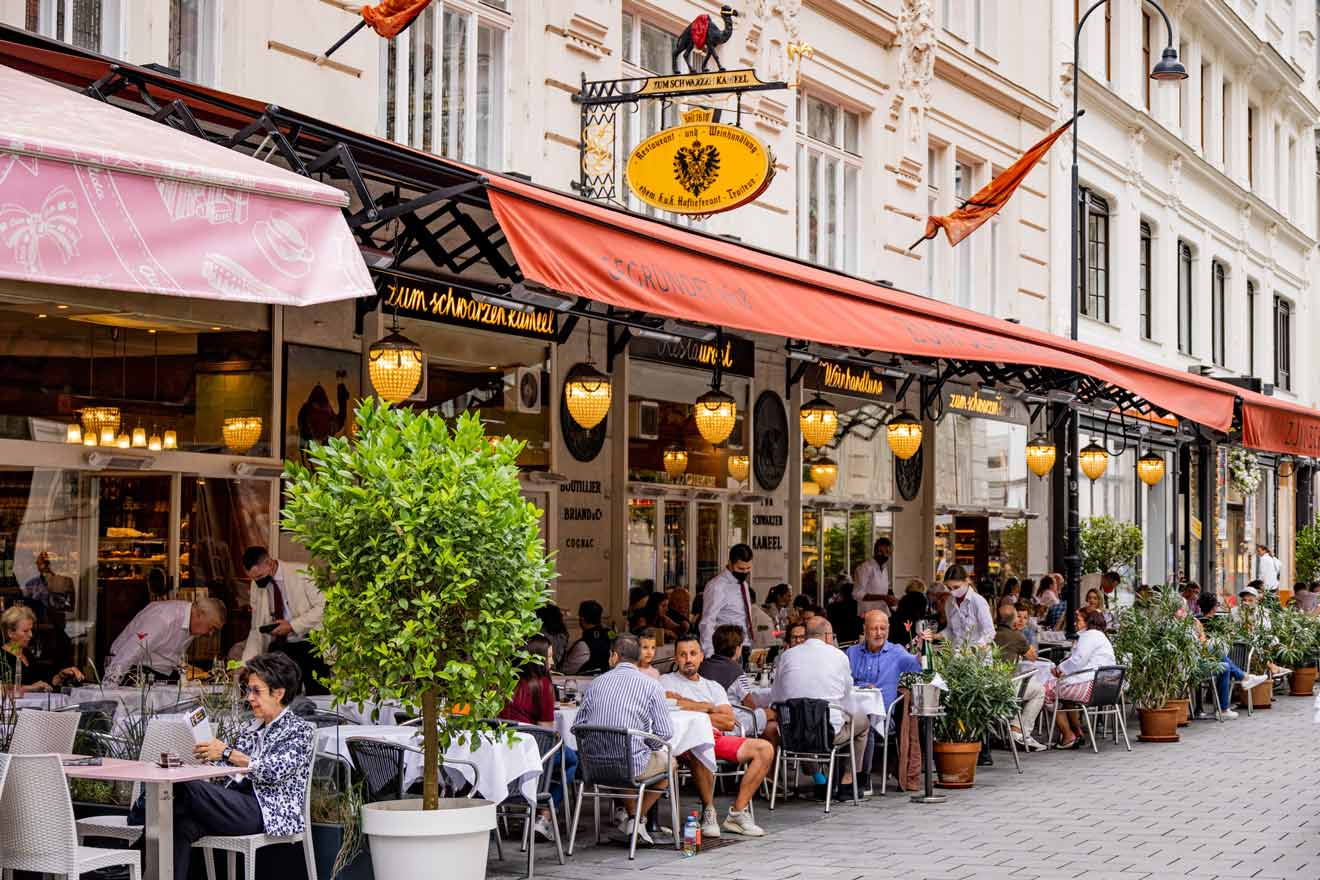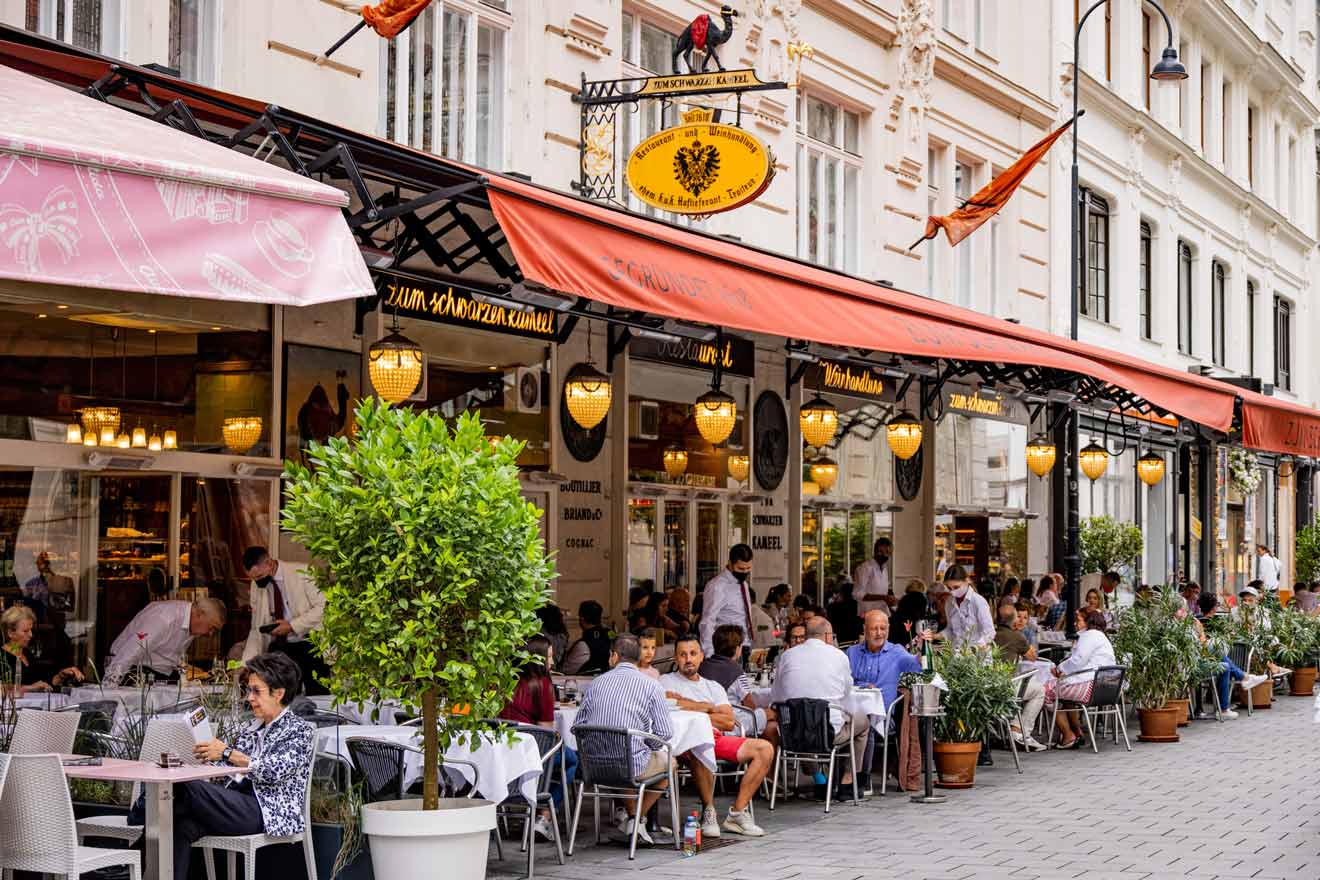 🧆 Where do vegetarians eat in Vienna?
🥒 Is Vienna good for vegetarians?
Yes. Although the Austrian cuisine is meat-heavy, in the last years, people opened many vegan and vegetarian restaurants in the city. 
🤔 Can you be vegan in Austria?
🇦🇹 How many vegetarians are there in Austria?
In Austria, almost 10% of the population is either vegetarian or vegan. 
Conclusion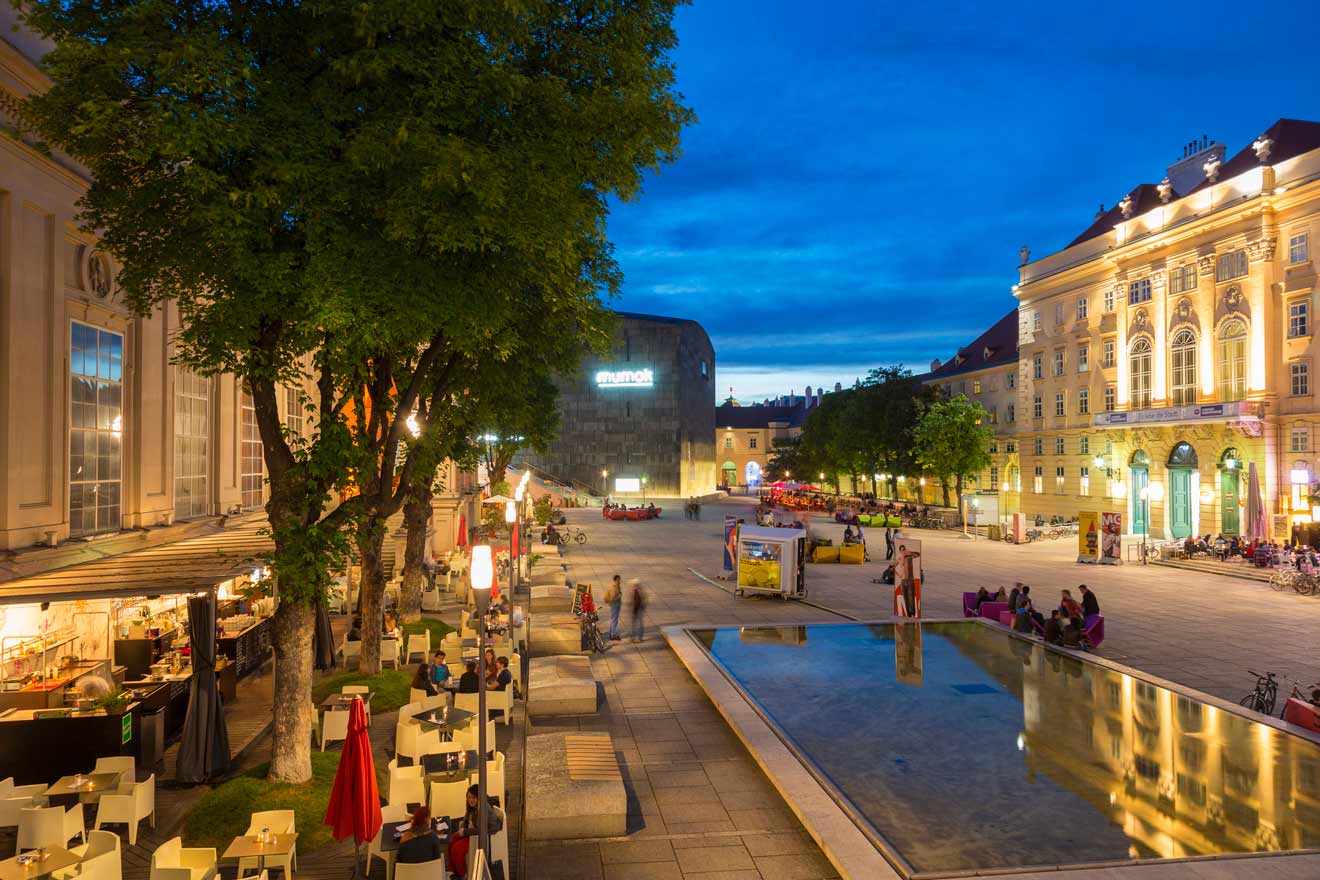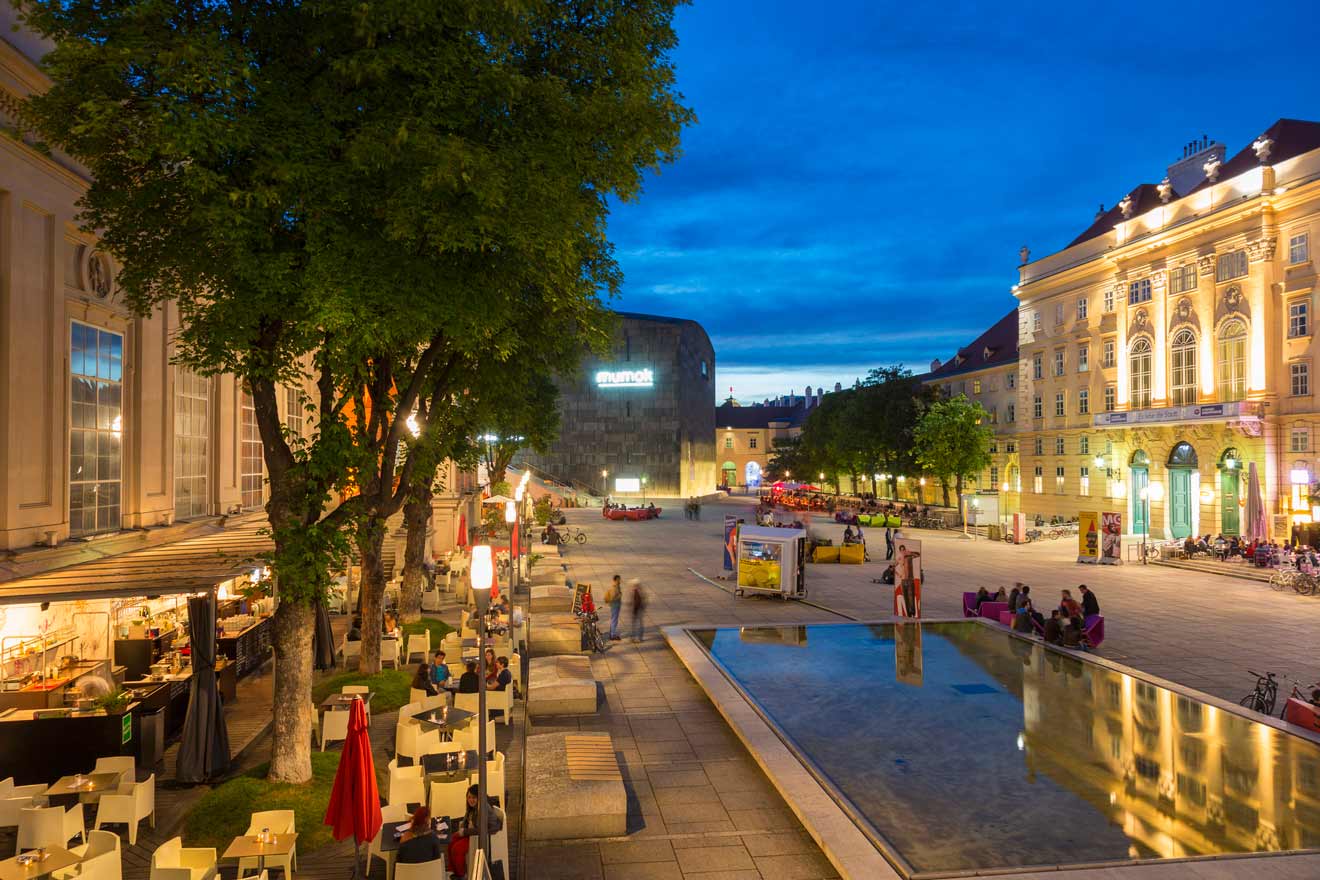 I'm so hungry at the moment that I could eat not 1 but 2 burgers. I hope this post helped you decide which is the top vegetarian restaurant Vienna for you!
In the article, you will find a well-detailed list of the best restaurants in Vienna that offer vegetarian options and vegan ones. Plus, I've categorized them so you know which one to choose, depending on the time of the day or your mood.
We all know that Austrian cuisine tends to be heavy on meat, but that doesn't mean you can't try some of their traditional food, served with lentils or mushrooms!
Have a super fun trip in this stunning city. Check out our posts if you're looking for any places where to stay in Vienna or for some fun things to do in the Austrian capital.
If you have any questions about the vegan and vegetarian restaurants in Vienna or maybe other suggestions for our readers, leave me a comment below, and I'll answer it ASAP!
Guten Appetit,
Victoria
---
Pin it for later!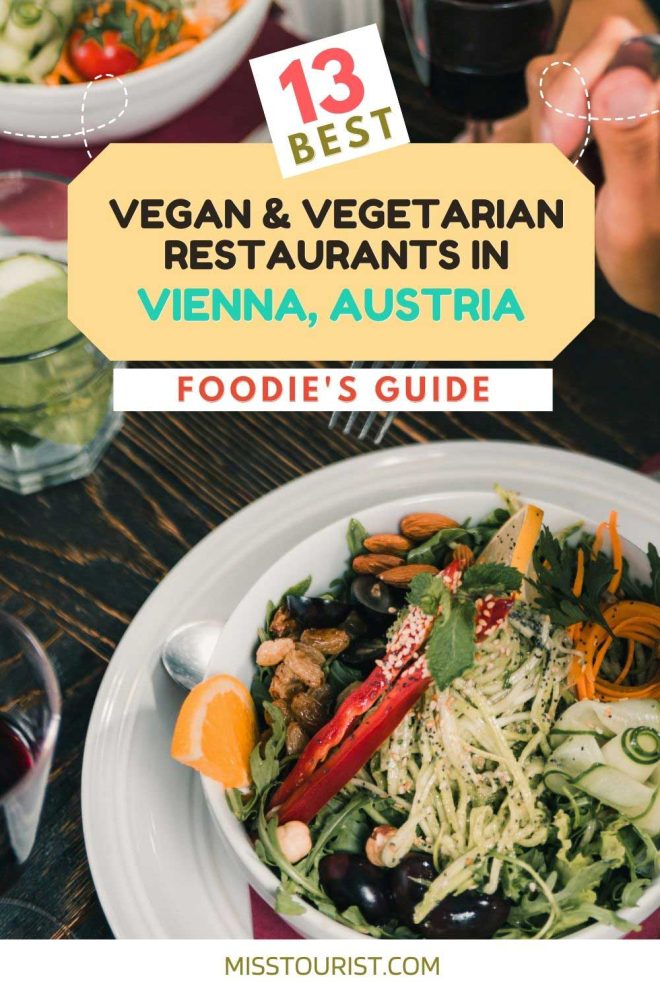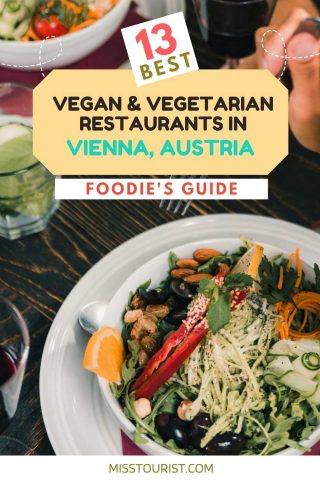 Pin it for later!