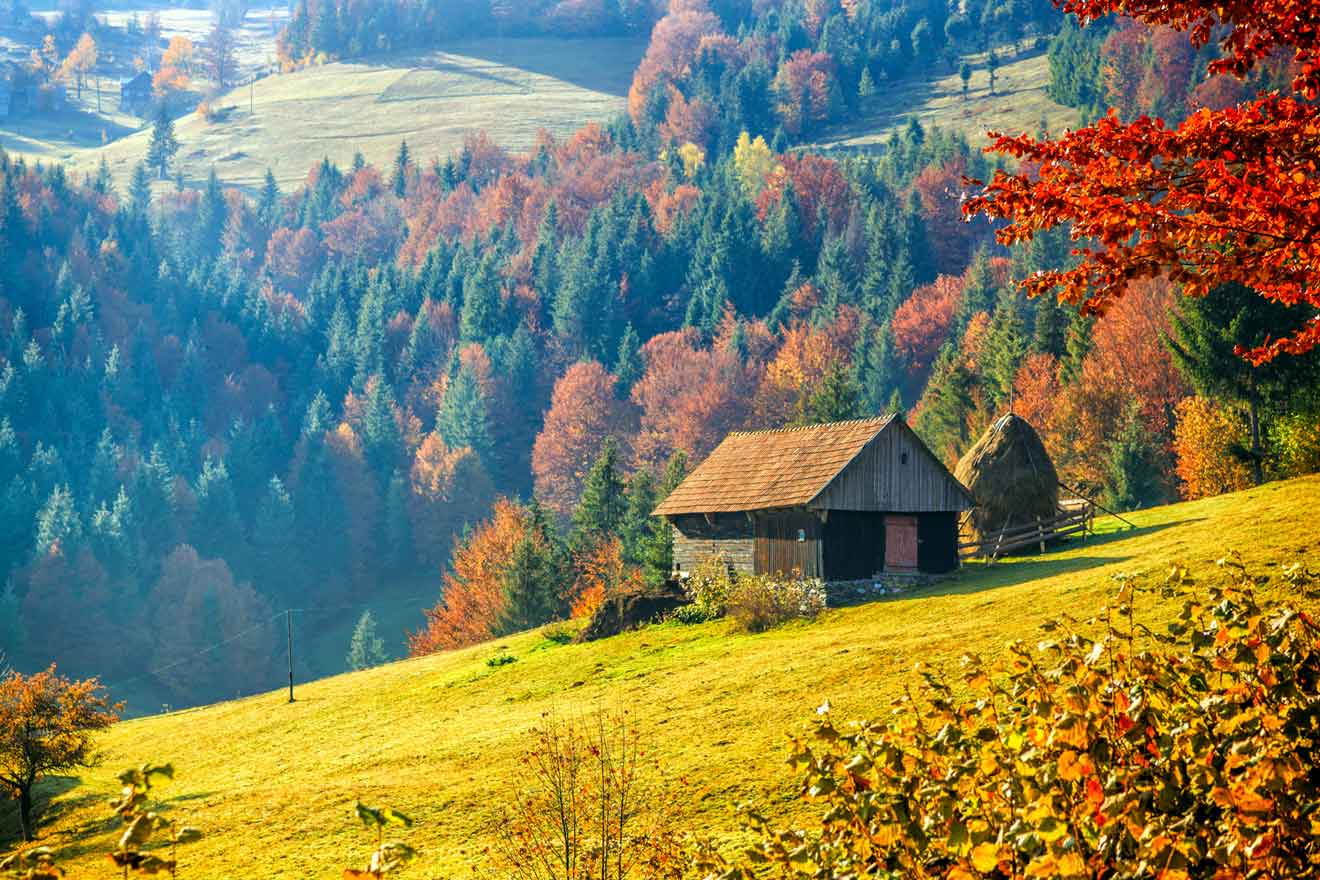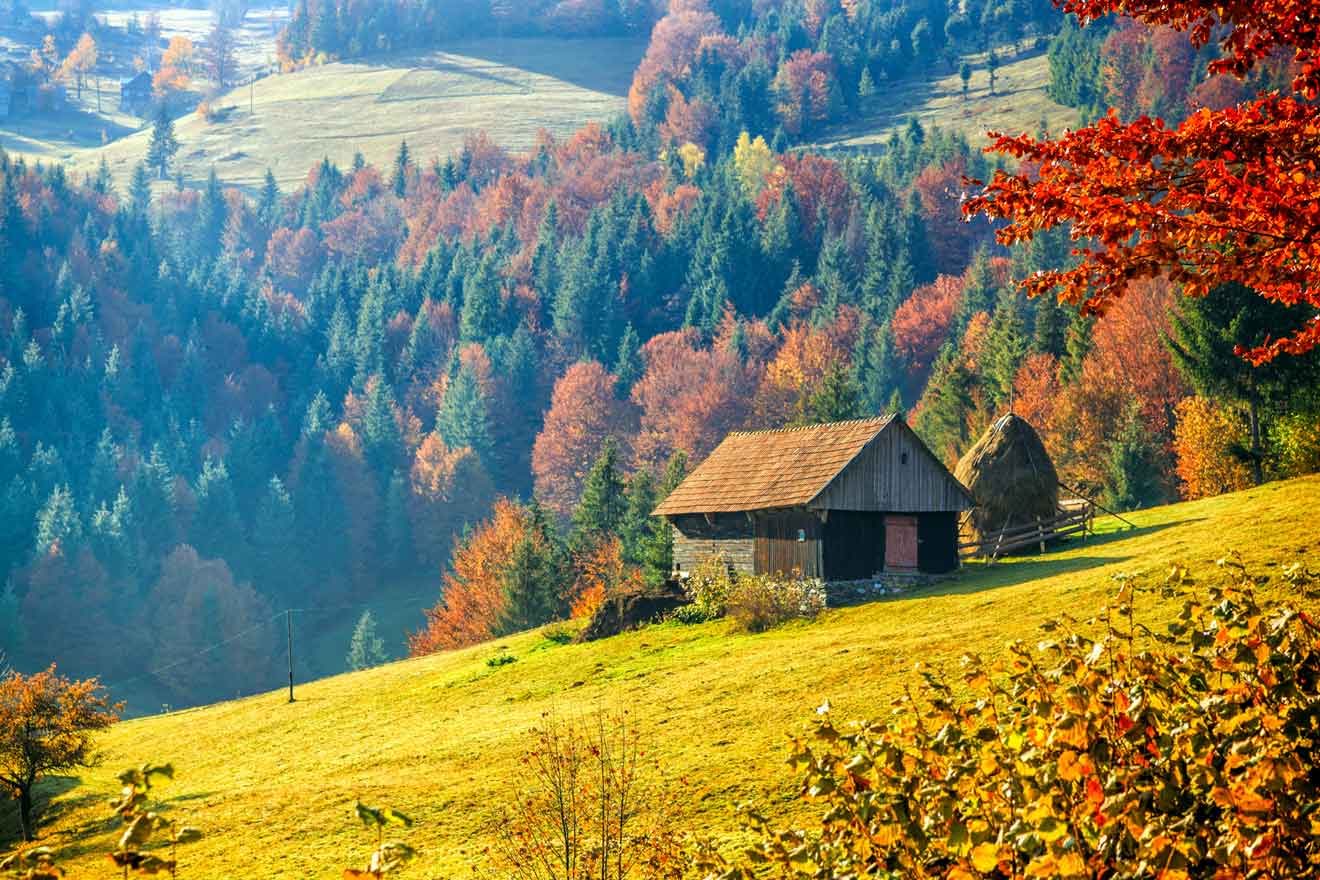 Planning a trip to Romania? You're so lucky, this place is my home country and it has so many unique attractions and places to visit that you won't know where to start!
Luckily I'm here to point you in the direction of the best things to do in Romania! I've made a list of the best attractions in the country so you can easily decide where to start. I've also added a section with the best towns where to stay in Romania and give you some fantastic hotel options for each city.
This country truly is one of Europe's unique gems as it has such a fascinating history, breathtaking castles, and unique wilderness! What I've got to say is that Romania is getting more and more popular amongst tourists so I recommend booking your tickets in advance for the big attractions as you might risk wasting precious time waiting in line!
Ready to drink delicious Romanian wine?
Let's go!
If you are in a hurry
I know some of you don't have the time to read this whole post with things to do in Romania, so here is a quick summary of the main points.
Here are the main things to book in advance:
And here are the best hotels in Bucharest: The Marmorosch (Luxury), Intercontinental Bucharest (Mid Range), Capitol Hotel (Budget)
Here's a map with all the best things to do in Romania, to show you where they're located:
1. Visit all the Castles of Transylvania
If there's one thing everyone thinks of when Transylvania is mentioned it's castles… And for a good reason, Romania's castles are so unique!
I'm not saying this just because I'm Romanian and I've been visiting these places since I was a little girl, but honestly, these places are architectural wonders!
Below you'll find 3 famous castles that you shouldn't miss out on
while visiting Romania:
1.1 Bran Castle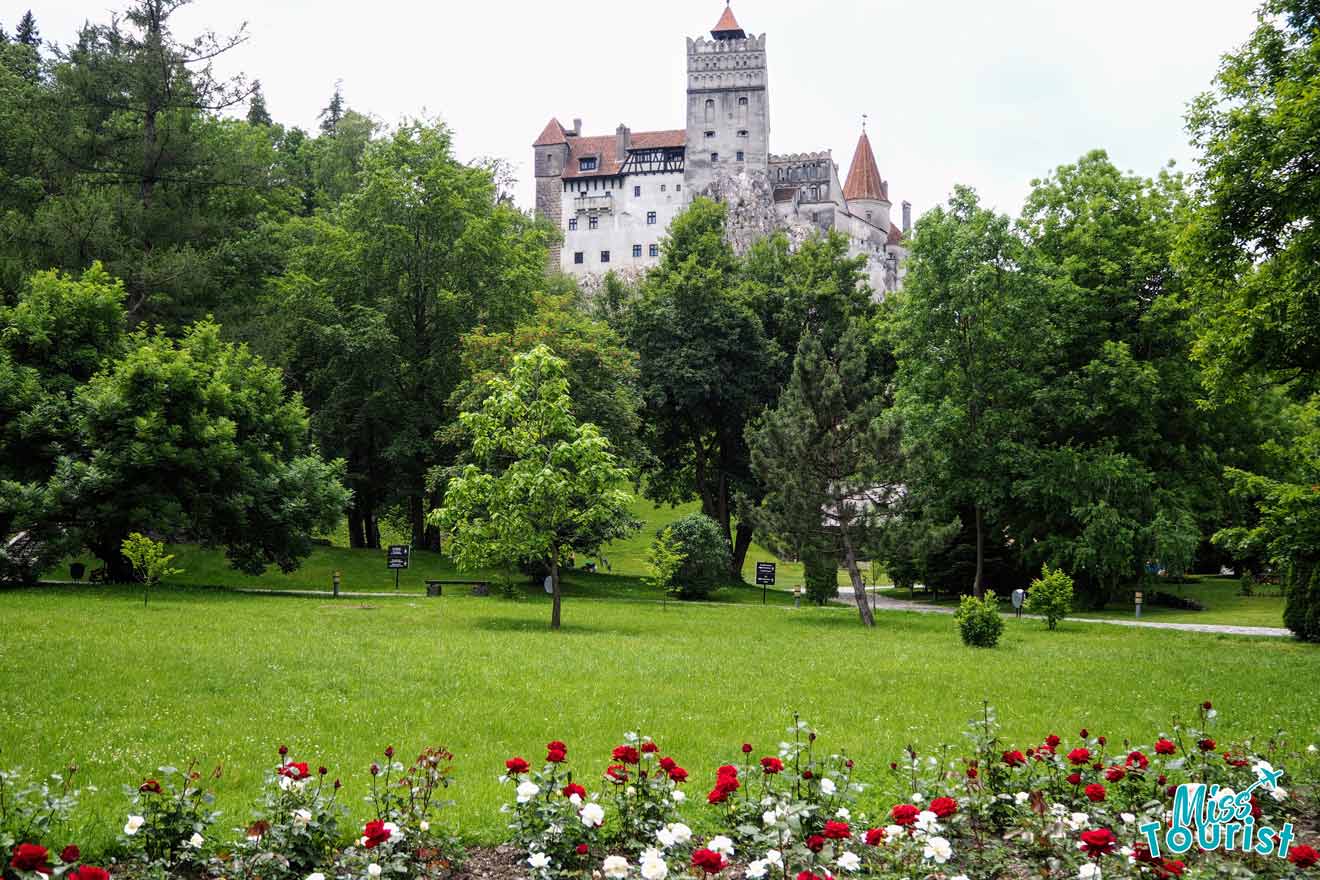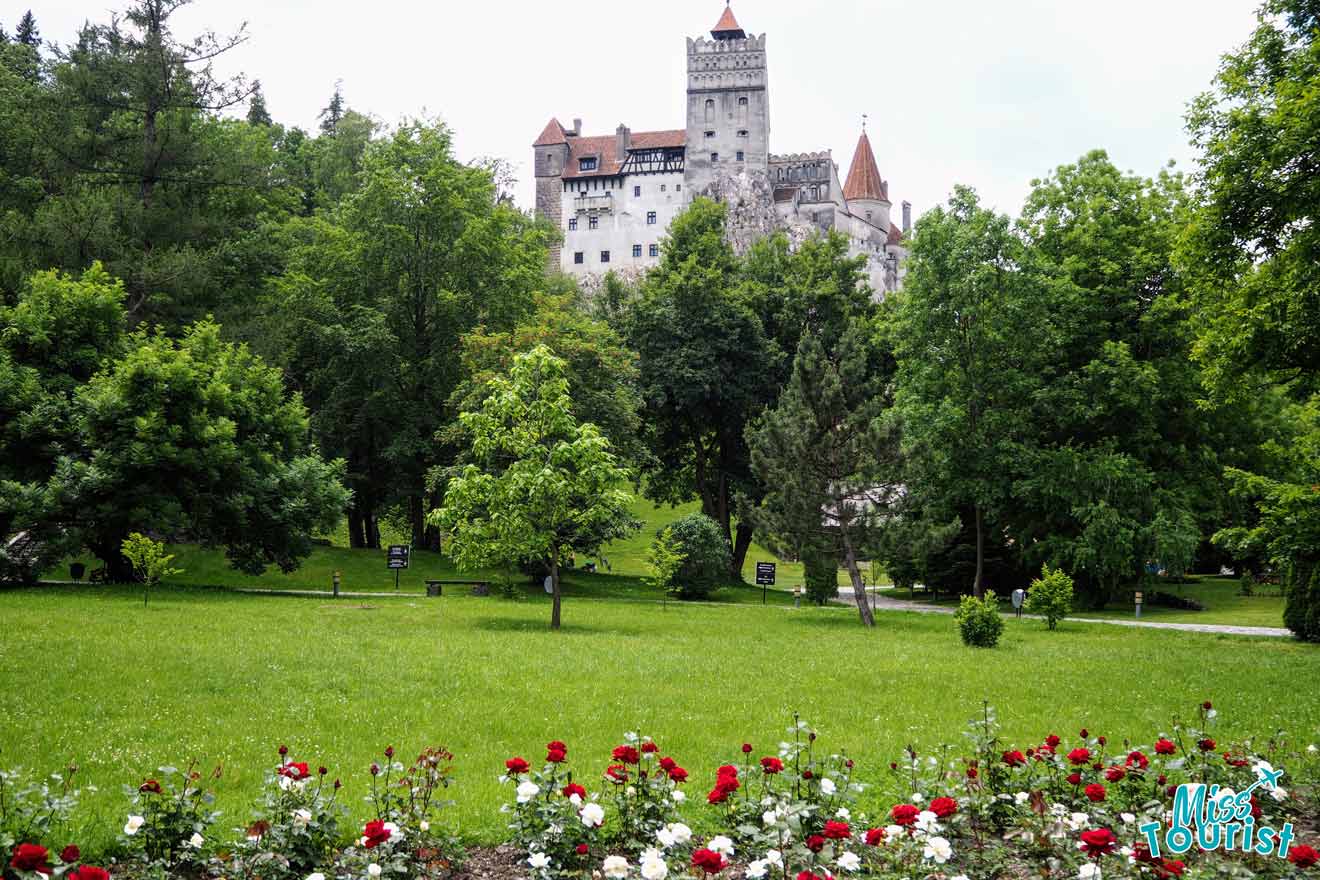 Who hasn't heard of Dracula's Castle and Vlad the Impaler?
I'm sure you have at one point! Located in Bran Commune near Brasov, a beautiful town in Transylvania, this is a popular tourist destination so definitely buy your tickets in advance!
Bran Castle was given to Queen Marie in 1920, who turned it into the residence of Romania's royal family. Now the castle has a museum dedicated to the life and art collection of Queen Marie.
However, this place became one of the most famous castles in Romania because many believed that Count Dracula, a fictional character from Bram Stoker's Gothic horror novel (who is mostly confused with Vlad the Impaler) has a connection to this place.
Although those were just stories, I can vouch that a visit or night tour of Bran Castle will definitely give you the chills! I still remember my last time here vividly (I was pretty scared).
PRICE: 50 Ron (US$10)
1.2 Peles Castle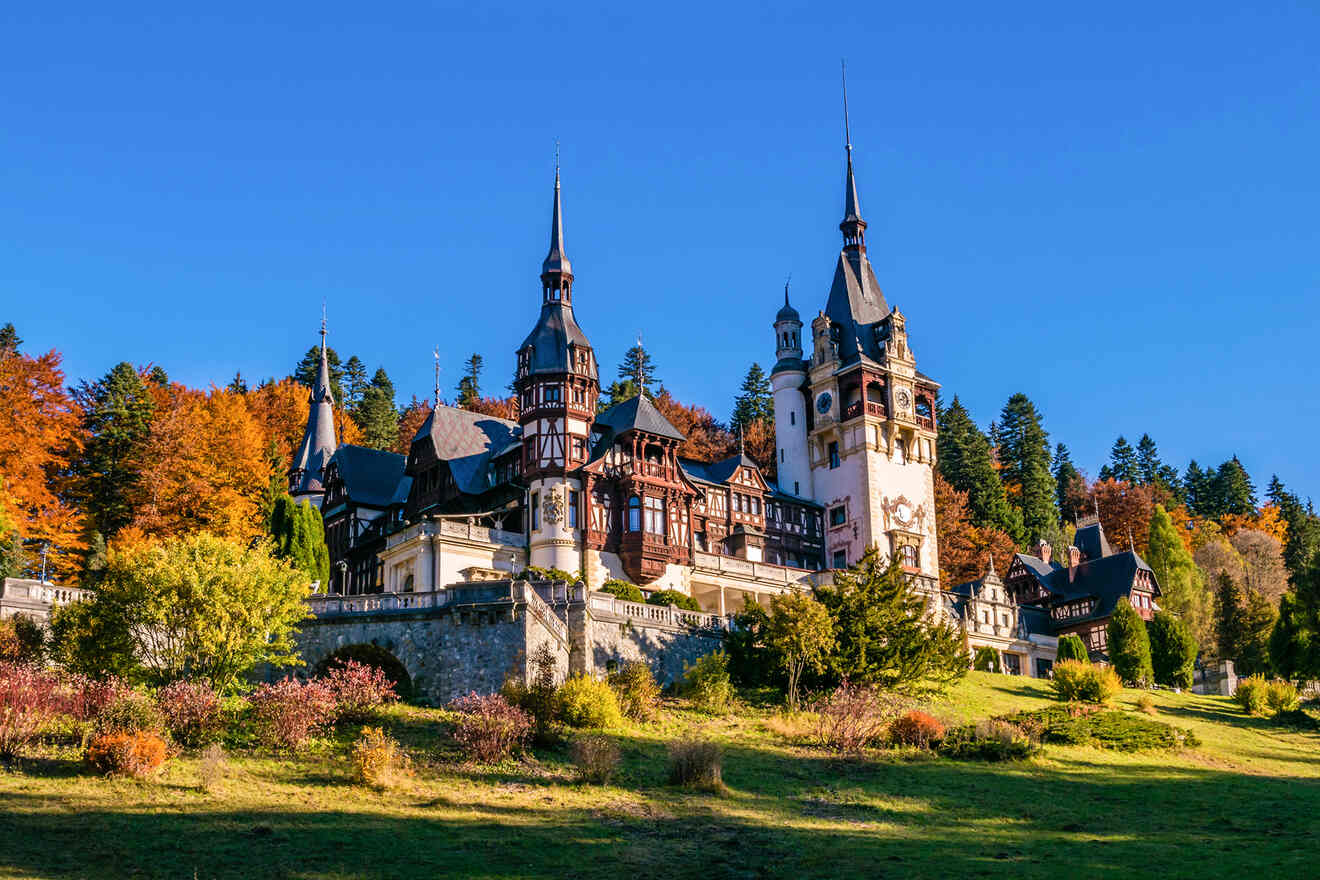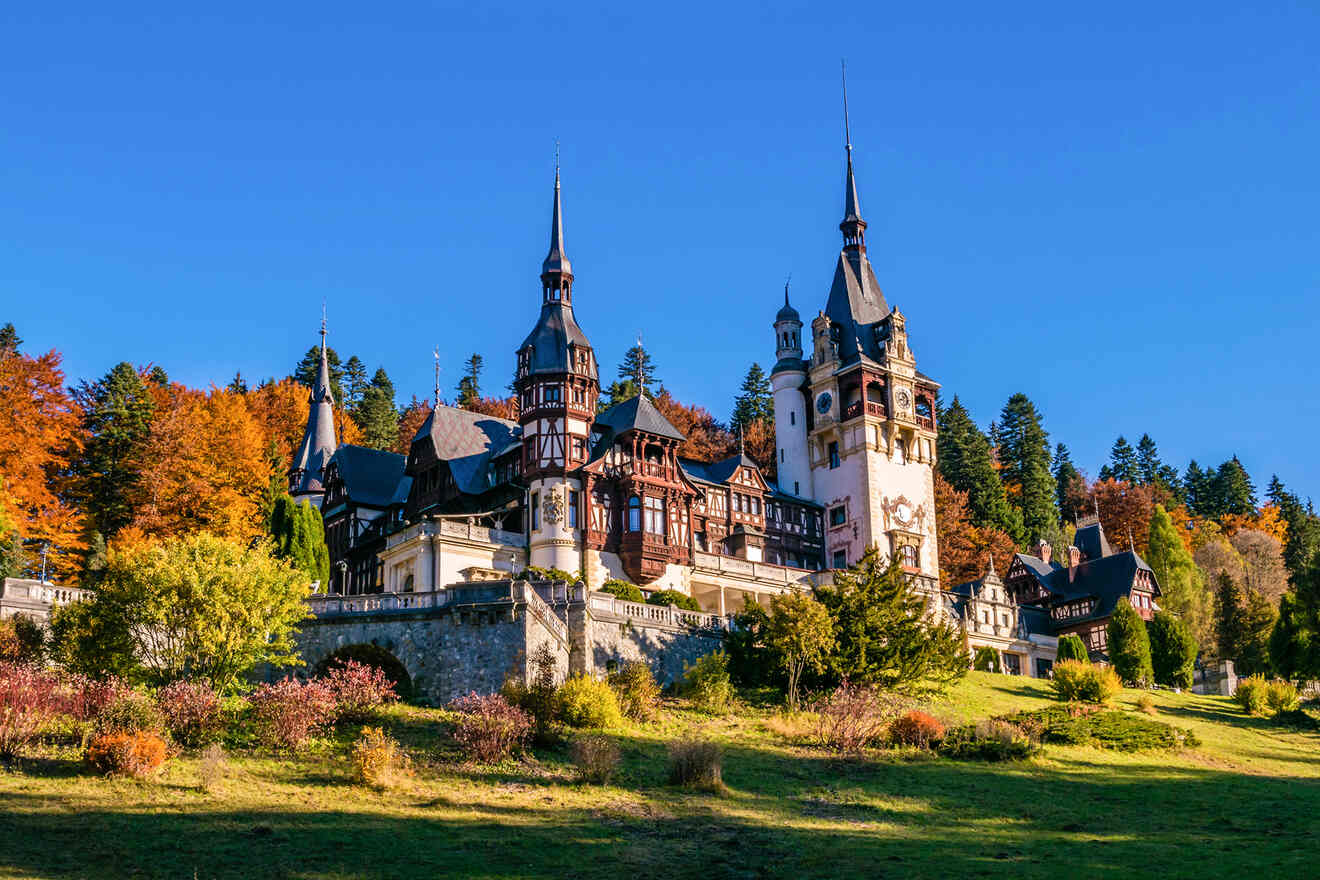 While Bran Castle may have a more exciting story, Peles Castle definitely wins the prize for the most beautiful fortress in Romania!

Once you see it you'll understand why it took 10 years to finish this place! The former royal palace, built as the family's summer residence during the reign of King Carol, is located in Sinaia, near Brasov.

I recently visited here and I was still so taken aback by the German new-Renaissance architecture, the furniture, and the whole atmosphere! If you've never been here before, I think a guided tour will offer you some great insight!
One of my favorite things about Peles is that most rooms have dedicated themes from world cultures!

P.S.: If you are staying in Brasov you can combine the trip with Bran Castle and visit both in one day trip tour!
PRICE: 50 Ron (US$10)
1.3 Corvin Castle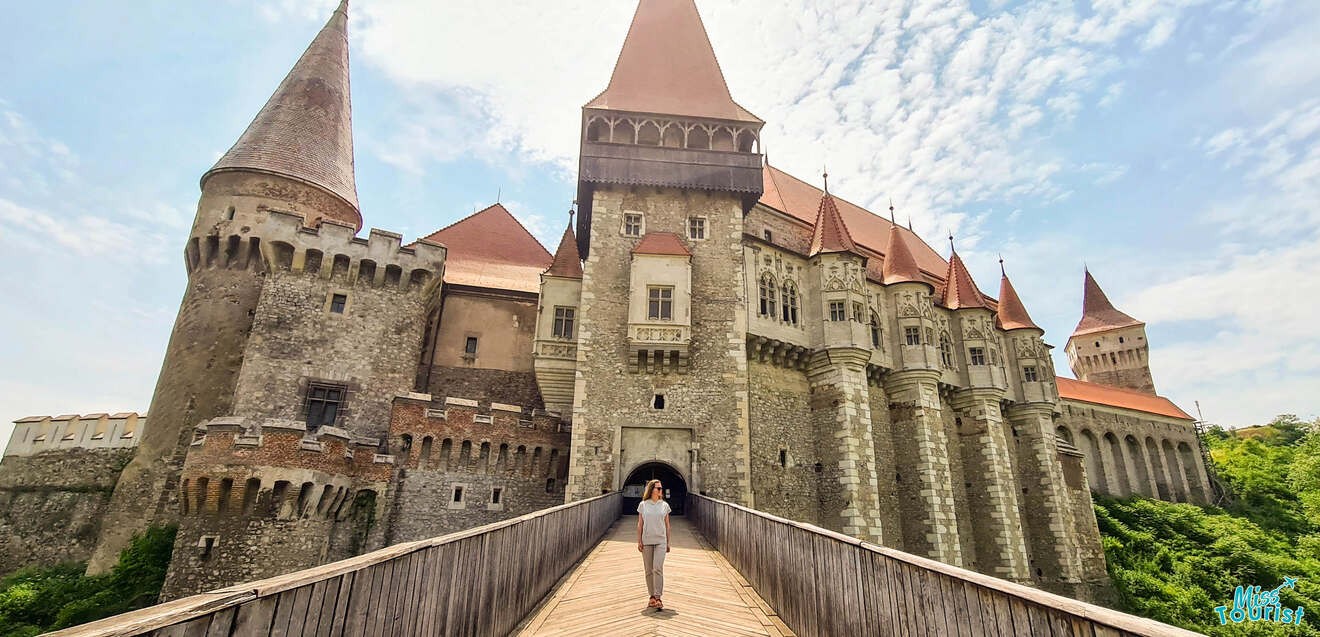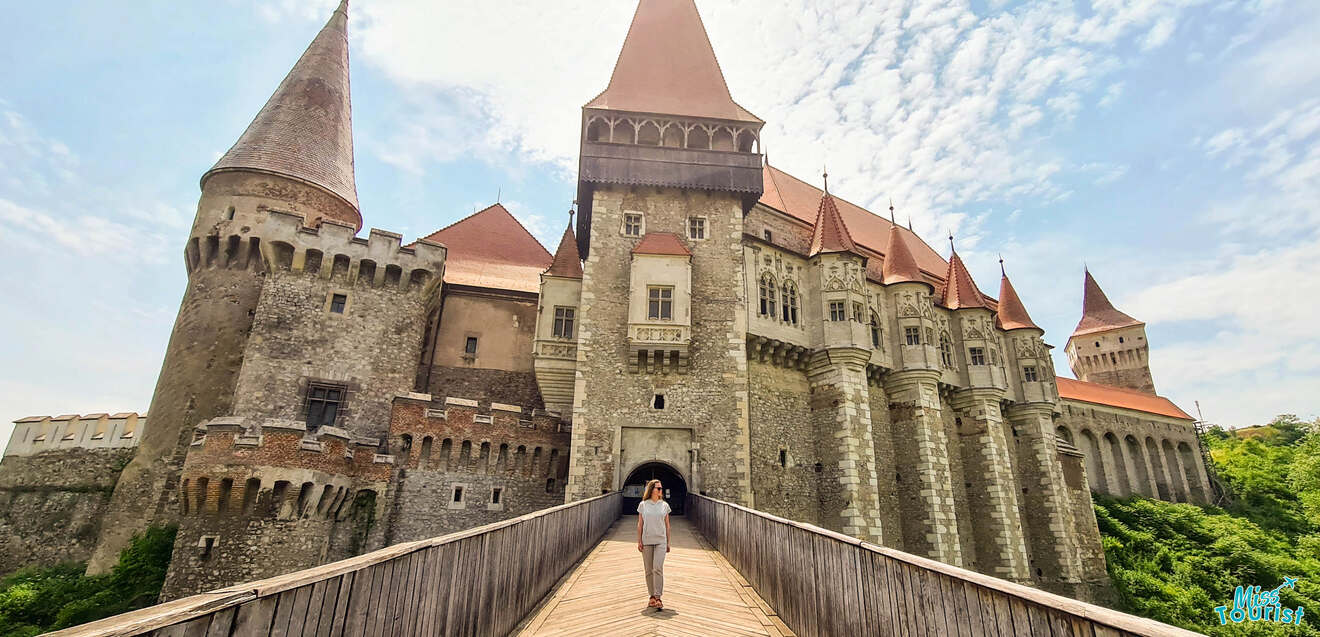 If you've ever wanted to see a castle from the stories you read as a child, then I think a visit to Corvin Castle is the answer!
Built in the 15th century on the top of a rocky cliff overlooking the city of Hunedoara (not too far from Sibiu and Timisoara), this fine example of Transylvanian architecture really is one of the best tourist attractions in the area!
Corvin Castle is also one of Europe's largest castles, so I would allocate more time to exploring all the hidden corners and towers.
While exploring Corvin Castle you can learn all about its fascinating stories and legends like how John Hunyadi kept Vlad the Impaler as a prisoner here!
If you're in Timisoara you can easily visit the castle on it's own guided tour, or combine it with a visit to Turda Salt Mine, another big attraction I'll discuss in section #3 on a full day trip.
PRICE: 35 Ron (US$7)
2. See the funny tombstones at the Merry Cemetery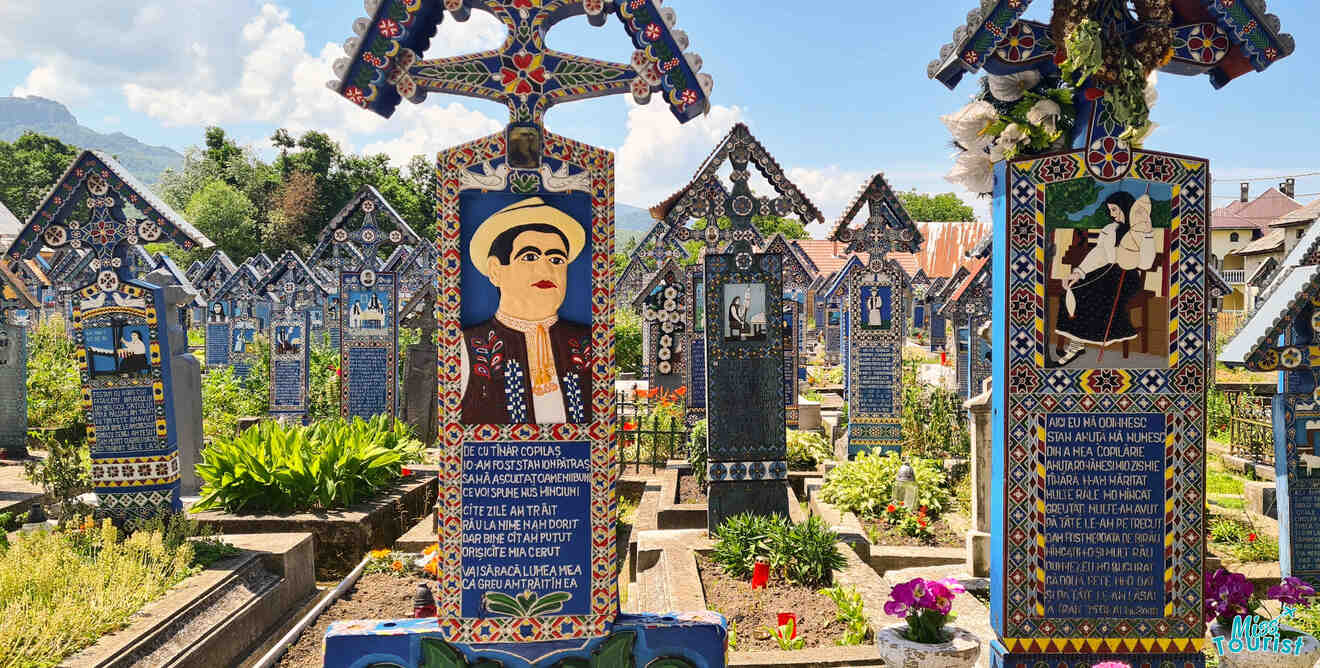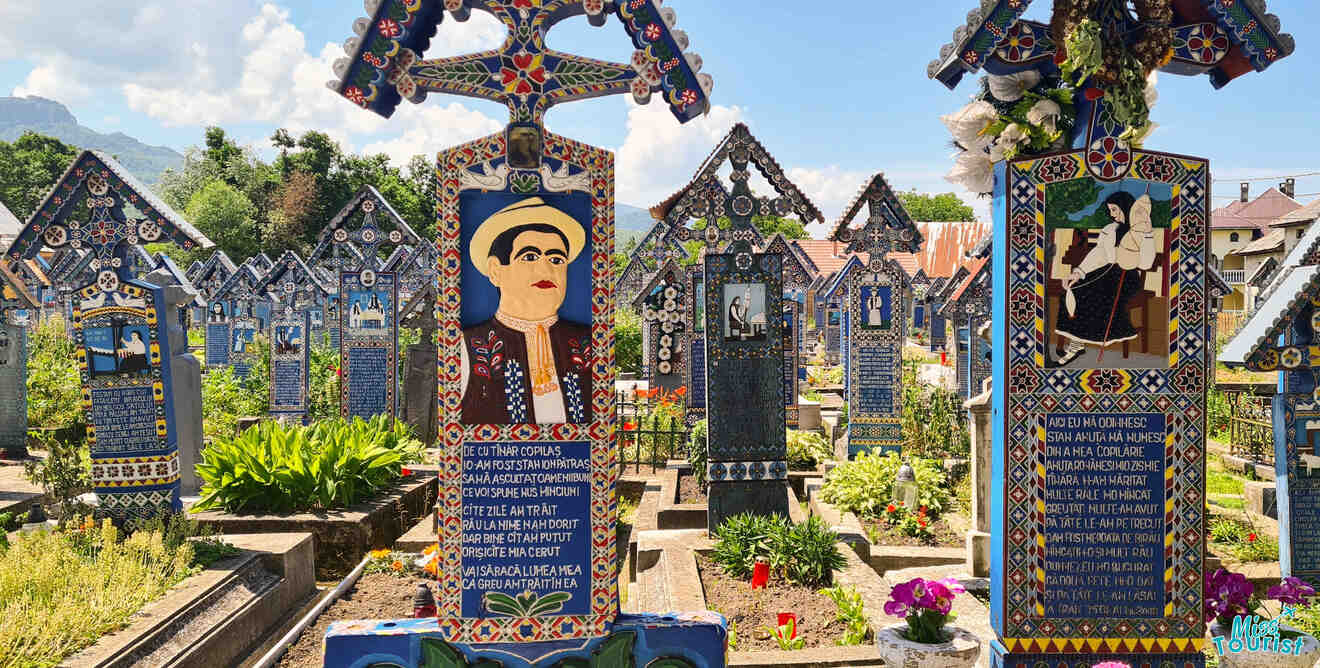 I know you probably think that a cemetery is anything but "merry", but leave it to the Romanians to make fun of something as serious as death!
Located in Sapanta village, Maramures, just 4 hours drive from Cluj Napoca (another fantastic city with lots of things to do), the Merry Cemetery is a national tourist attraction that is now considered an open-air museum and also a UNESCO World Heritage Site!
Each tombstone at the Merry Cemetery is super colorful and it depicts different illustrations that show the life or character of the deceased person.
The illustrations are accompanied by short amusing poems or pieces of text that add to the illustrations and offer the reader a useful life lesson but with a funny touch!
NOTE: As you can imagine the messages on the colorful tombstones are in Romanian so I highly recommend coming on a guided tour here so you can have someone explain each message and what it means!
PRICE: 4 Ron (US$1) entrance, US$39 guided tour
3. Spend a fun day at Turda Salt Mine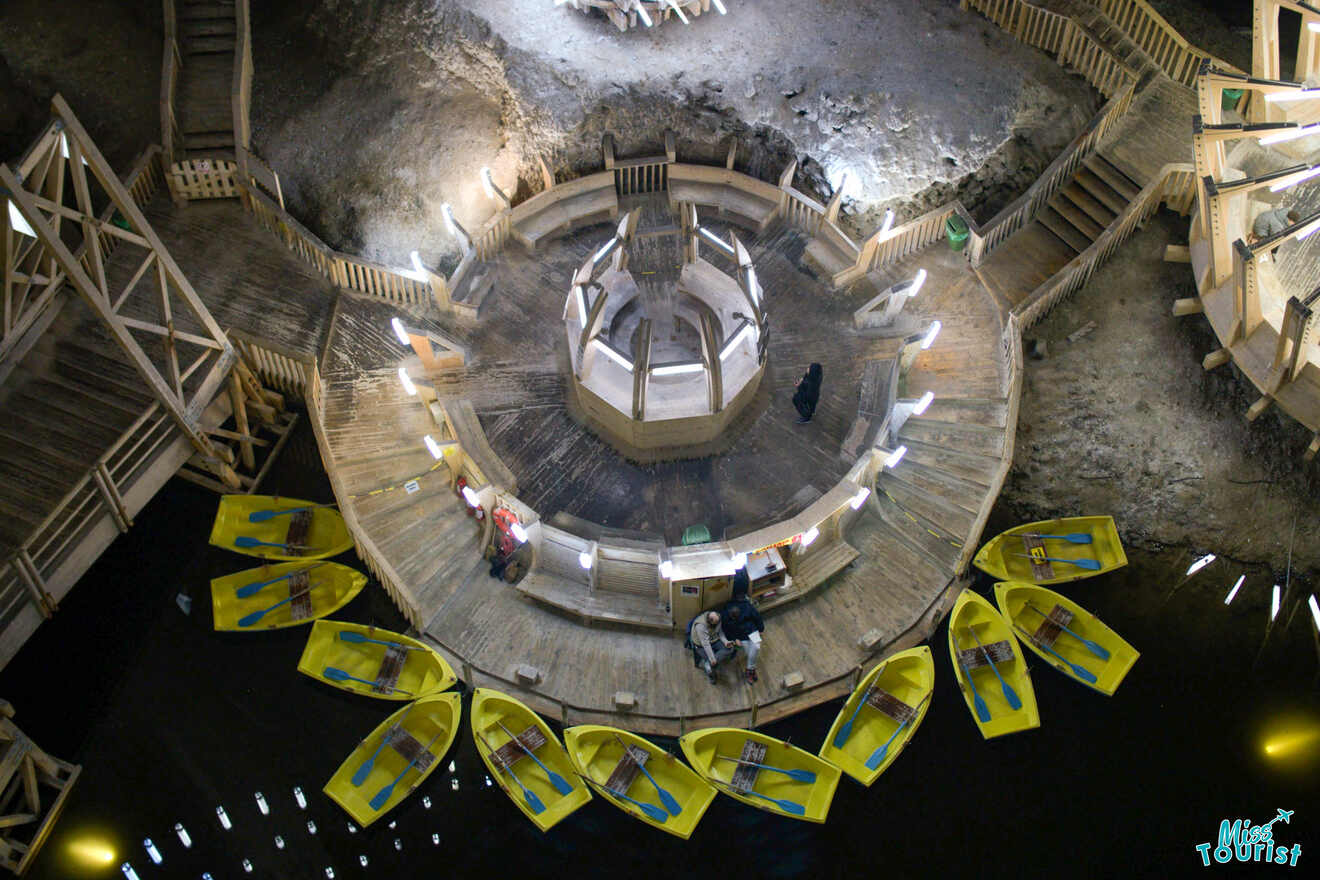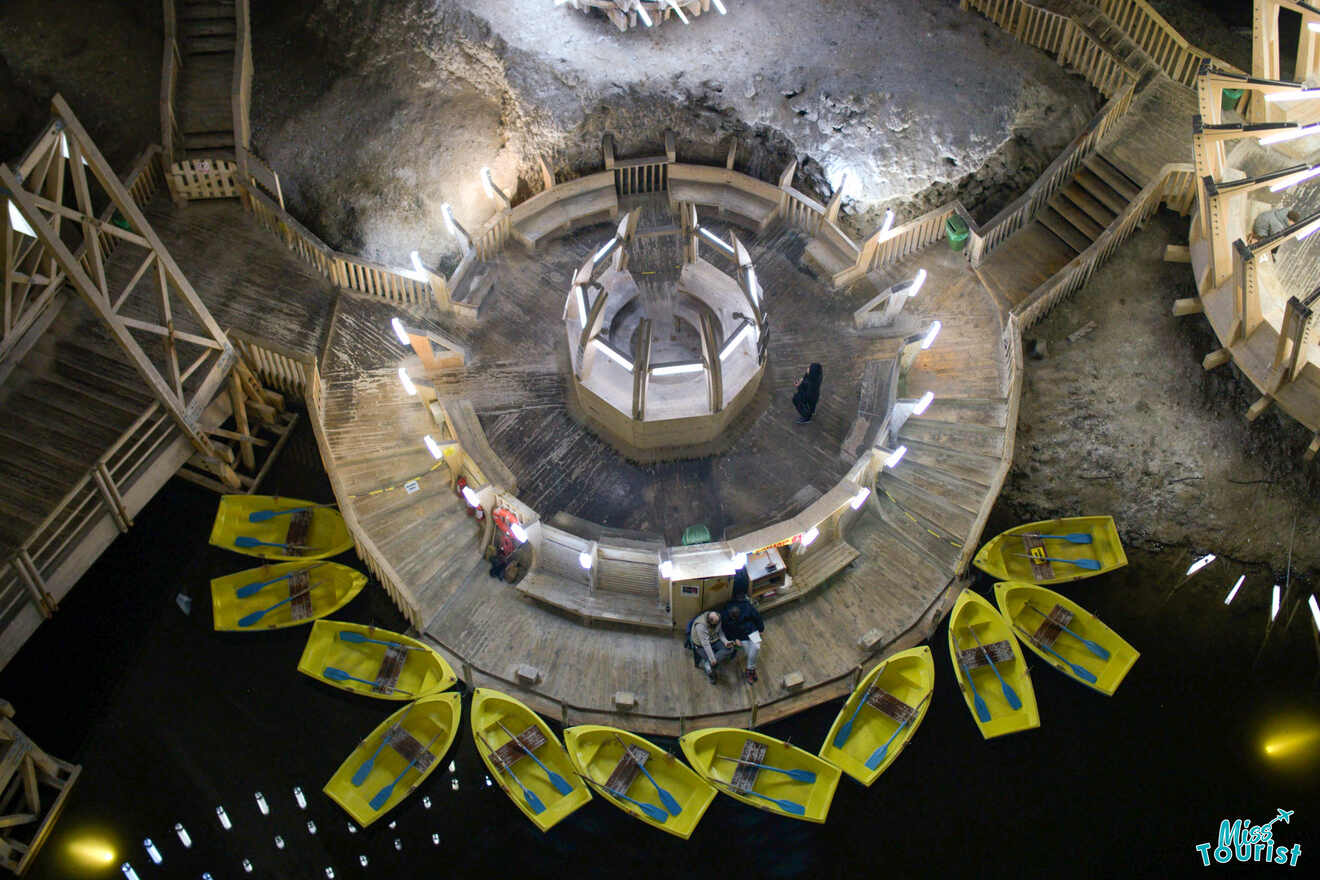 If there was a prize for the most spectacular attraction in Romania, I think Turda could easily come first place!
The Salt Mine is located in Turda City, Transylvania, and it's one of the oldest mines in the world, dating back to the middle ages.
One of the coolest underground places to visit for both adults and kids, Turda Salt Mine will give you the chance to explore an underground salt labyrinth. Admire hanging salt stalactites and have fun in its amusement park (which has a cool ferris wheel and a mini-golf course) or go on boat rides on an underground lake!
Oh yes, this place is super complex, and that's why I even said "fun day," as you'll probably end up spending more than a few hours here if you want to try all the cool perks. And if you're thinking of spending the night, there are many hotels and restaurants in the area, which you can learn about on their website.
Usually, tourists visit the Salt Mine on a day trip from Cluj Napoca, and the easiest way to do that is by taking a day trip tour, which also provides transportation.
P.S.: If you're visiting this area then I would also recommend exploring Turda Gorge which is just 5 miles (8 km) away from Turda town. You'll love this place if you're into hiking or rock climbing. The 3km (2 miles) long canyon has 300m-high walls sculpted in weathered limestone!
PRICE: 50 Ron (Adults US$10), Children 30 Ron (US$7)
4. Learn about Romanian history in Sighisoara Old Town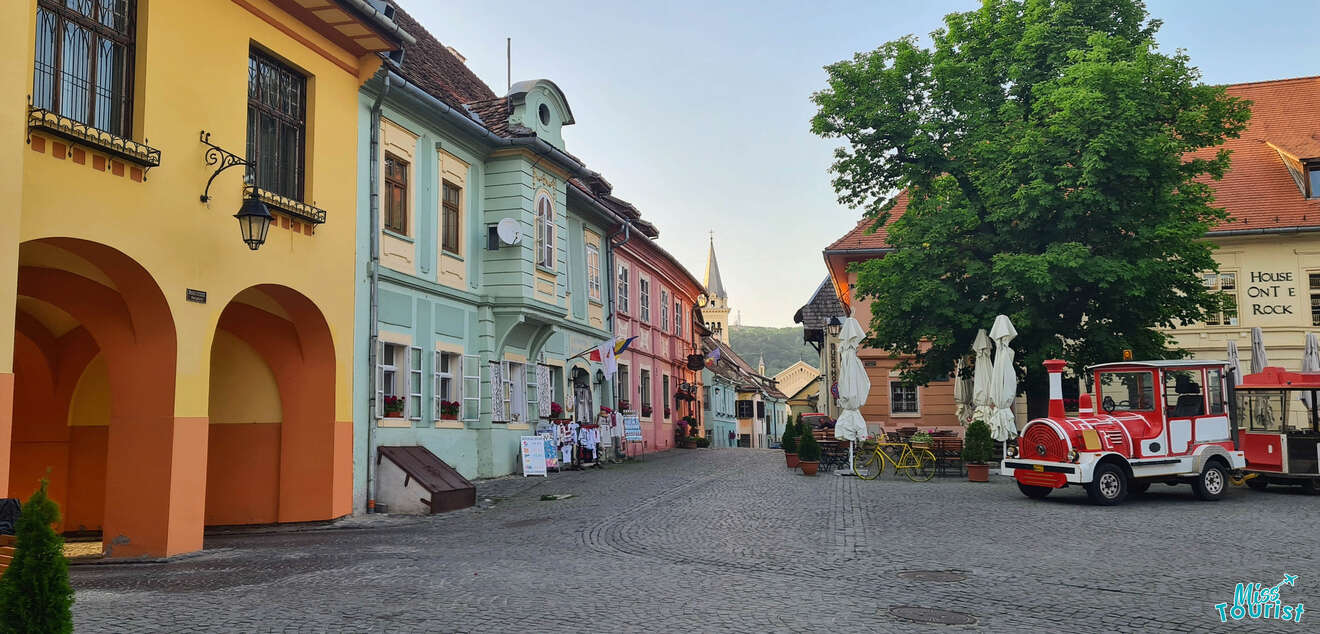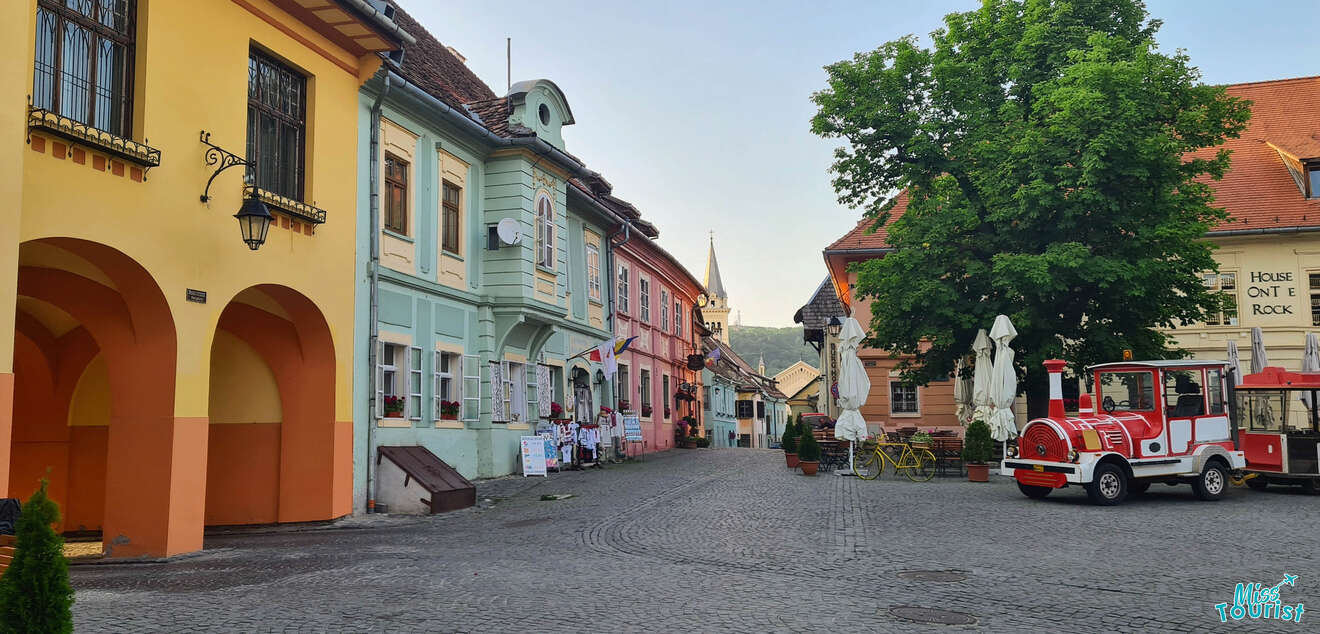 History lovers, if you're looking for a place to visit in Romania where you can dive into the past of this country, then Sighisoara is the place for you!
Dating back to the 12th century, the Sighisoara's historic center is one of the most famous UNESCO World Heritage sites in Romania! And the birthplace of the infamous voivode of Wallachia (Vlad the Impaler), also known as Vlad Dracula!
Just like Sibiu county, and other places to stay in Transylvania, Sighisoara is pretty small but oh my, it's full of cool attractions!
You can start by exploring the cobblestone streets (which are filled with boutique stores) and then making your way to the citadel, the main thing to see in the city, which was built in the 12th century by Saxon settlers! There are lots of interesting things to learn about Sighisoara and there's nothing like a guided walking tour to catch you up to date!
5. Explore the fascinating capital of Sarmizegetusa Regia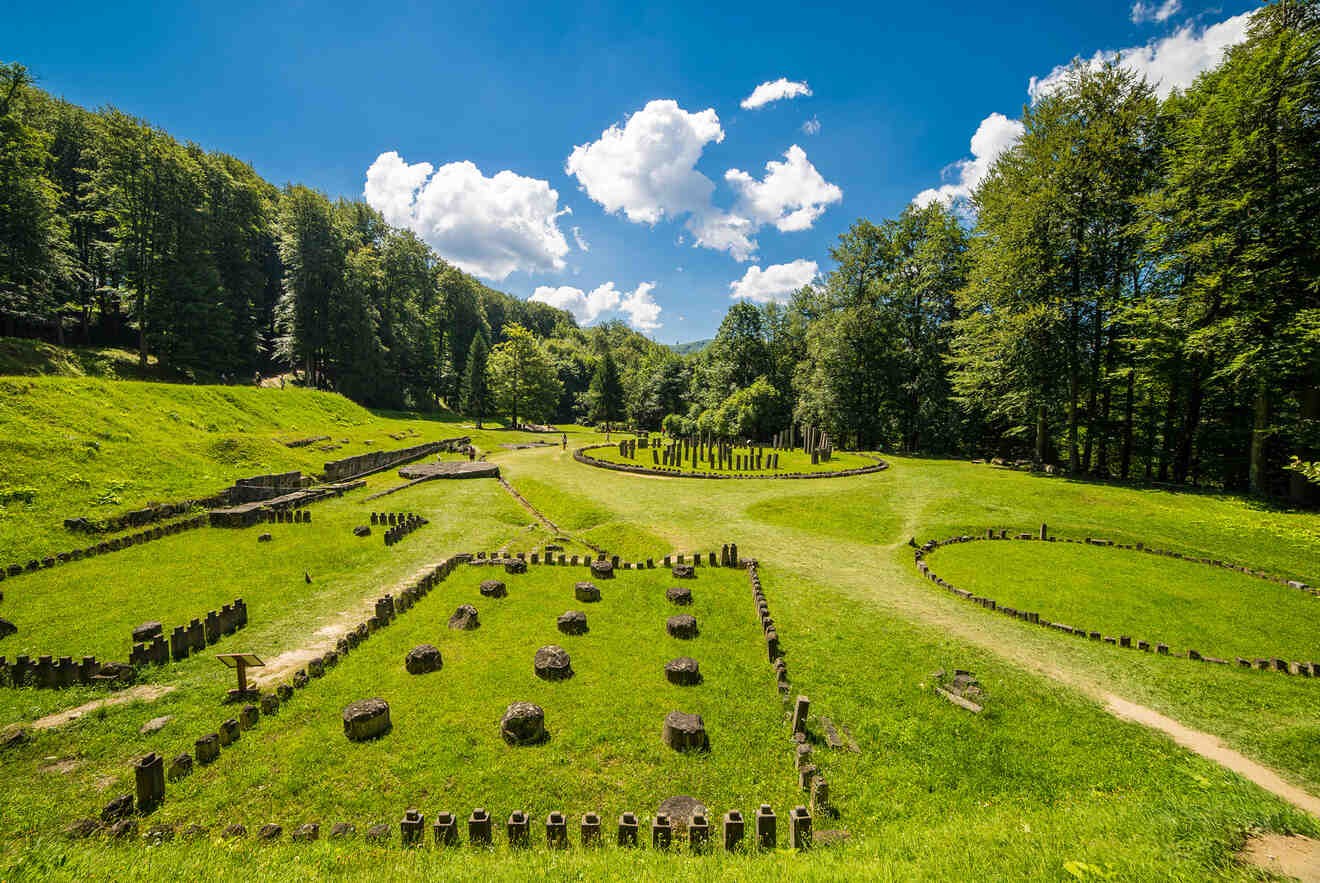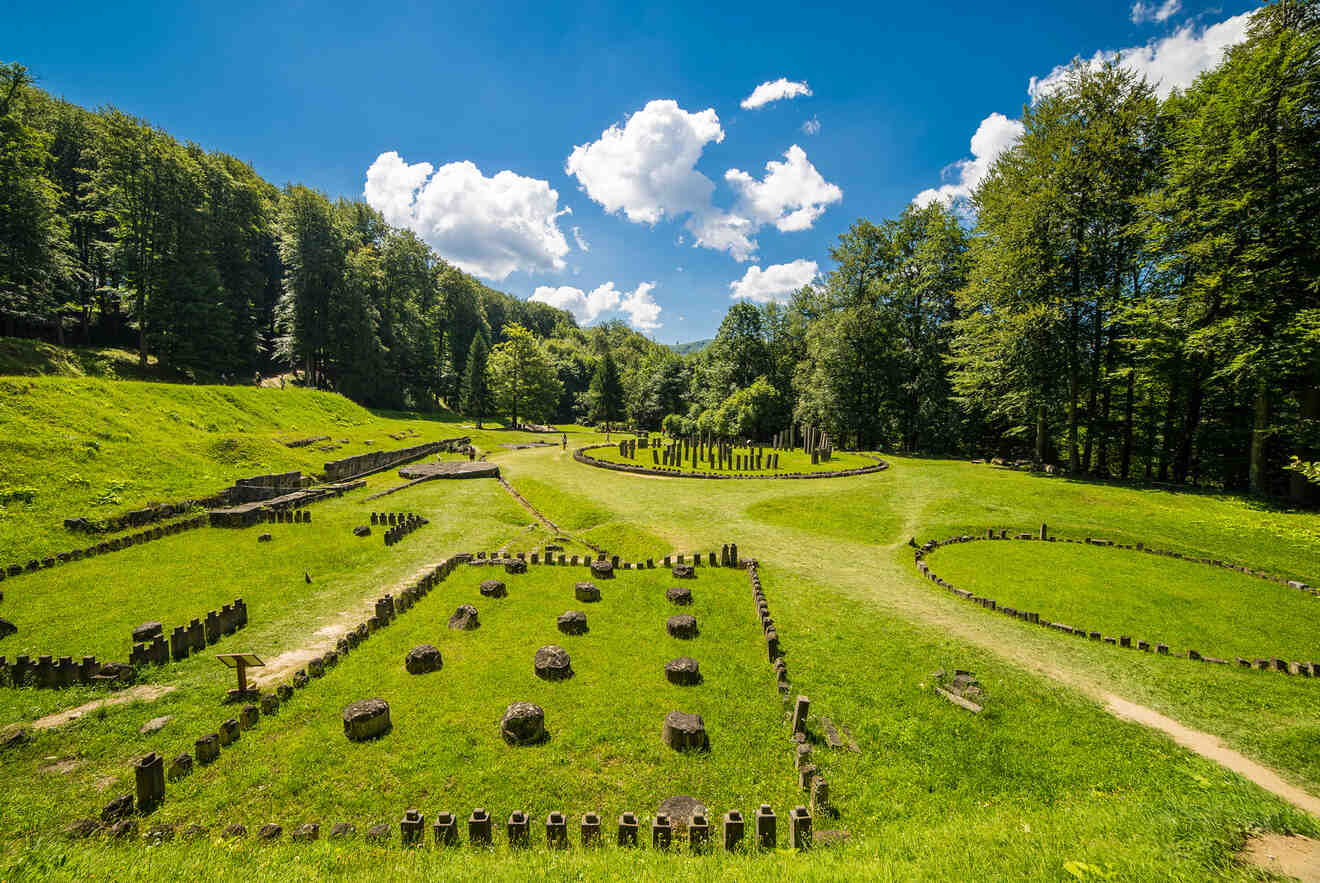 Ready to see one of the most important archeological sites in Romania?
Built 2,000 years ago, Sarmizegetusa Regia used to be the capital of Dacia, a land inhabited by the Dacians who represent the ancient ancestor of the Romanians. They mainly lived on the territory of what we know today as Transilvania.
At Sarmizegetusa Regia, you can see some of their ruins, which are located near Hunedoara, 4 hours away from Cluj Napoca.
This is truly one of the most exciting places to see in Romania if you're a fan of ancient history. While you're here you'll be able to explore the ruins of these crucial Dacian buildings, and also learn more about their way of living!
PRICE: From 15 Ron (US$3)
6. See the Painted Monasteries in Bucovina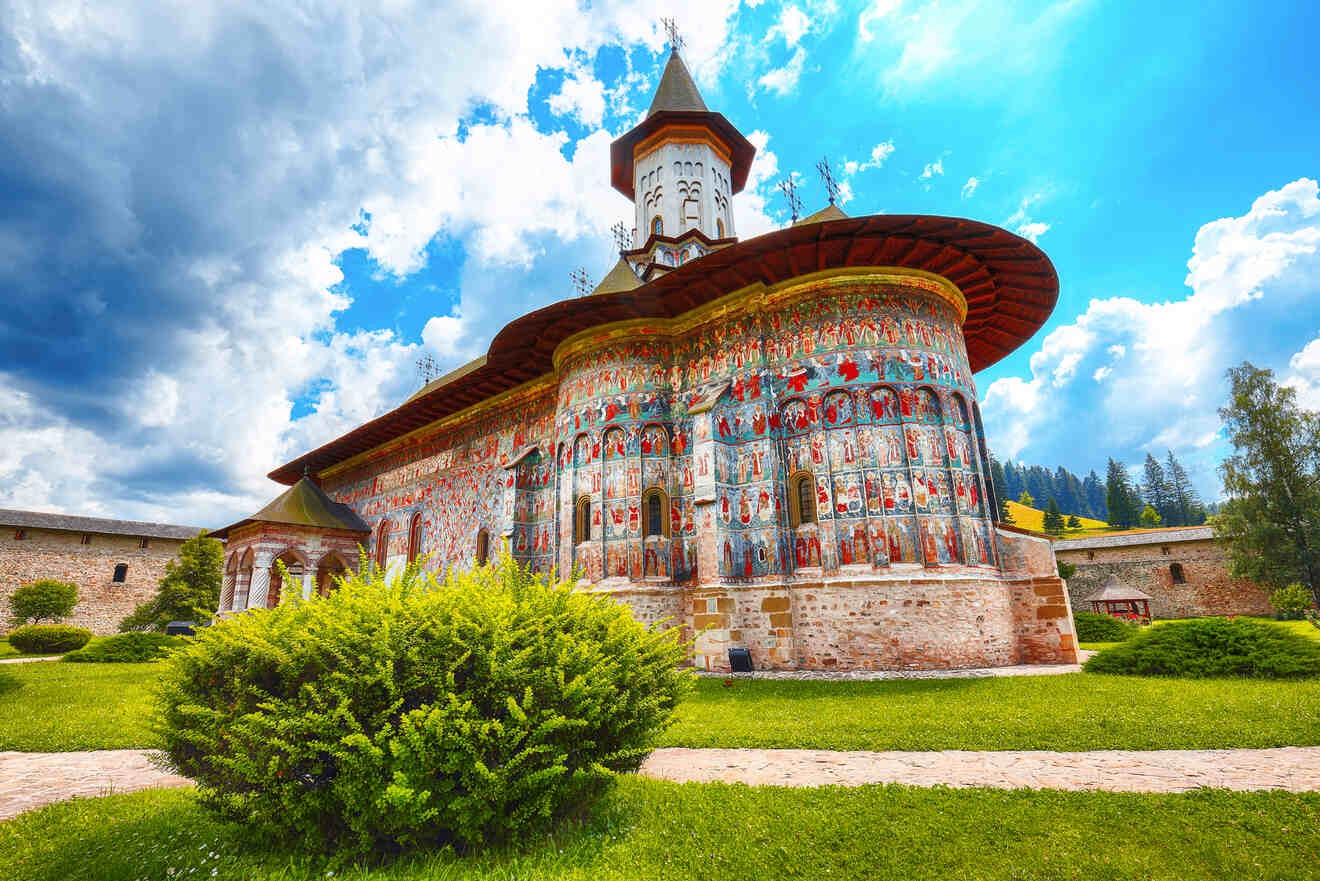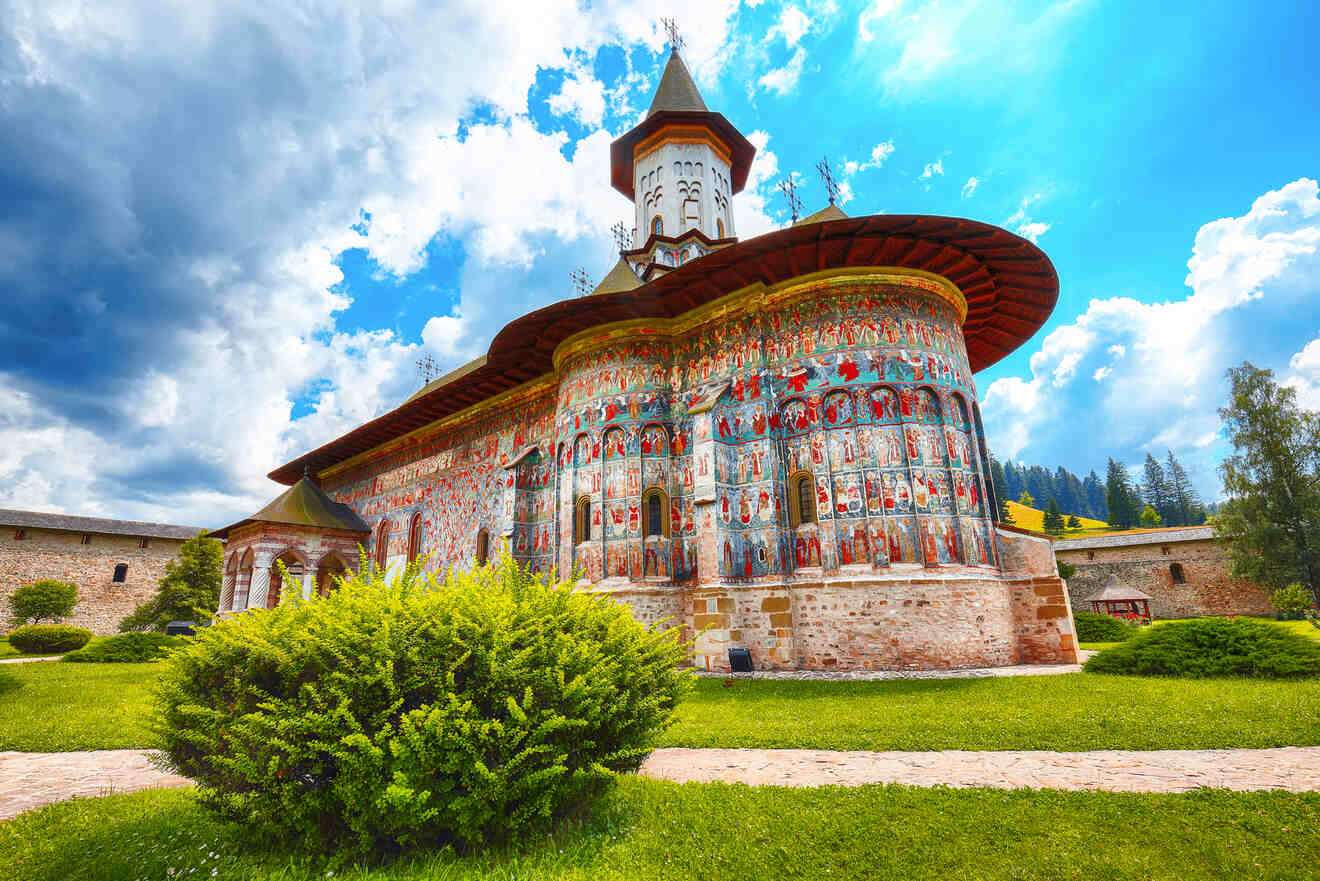 If you know a thing or two about this country, then you might've heard that we've got many historic churches. Despite being built a really long time ago, these churches stood the test of time and became national tourist attractions!
Some of the most famous ones besides the fortified churches (#11 in this list), are the painted monasteries of Bucovina!
Set in the picturesque villages of the North-Eastern region of Bucovina (not too far from where I was born), these 15th and 16th-century monasteries are fine examples of Byzantine art!
Known for their well-preserved, unique exterior frescoes depicting Bible scenes, the monasteries became a cultural symbol for the region and the whole country (and even won a UNESCO World Heritage title).
Some of the most famous ones that you shouldn't miss while you're in Bucovina are Voronet, Humor, Moldovita, Probota, Sucevita.
PRICE: From 10 Ron (US$2)
7. Check out the Palace of Parliament in Bucharest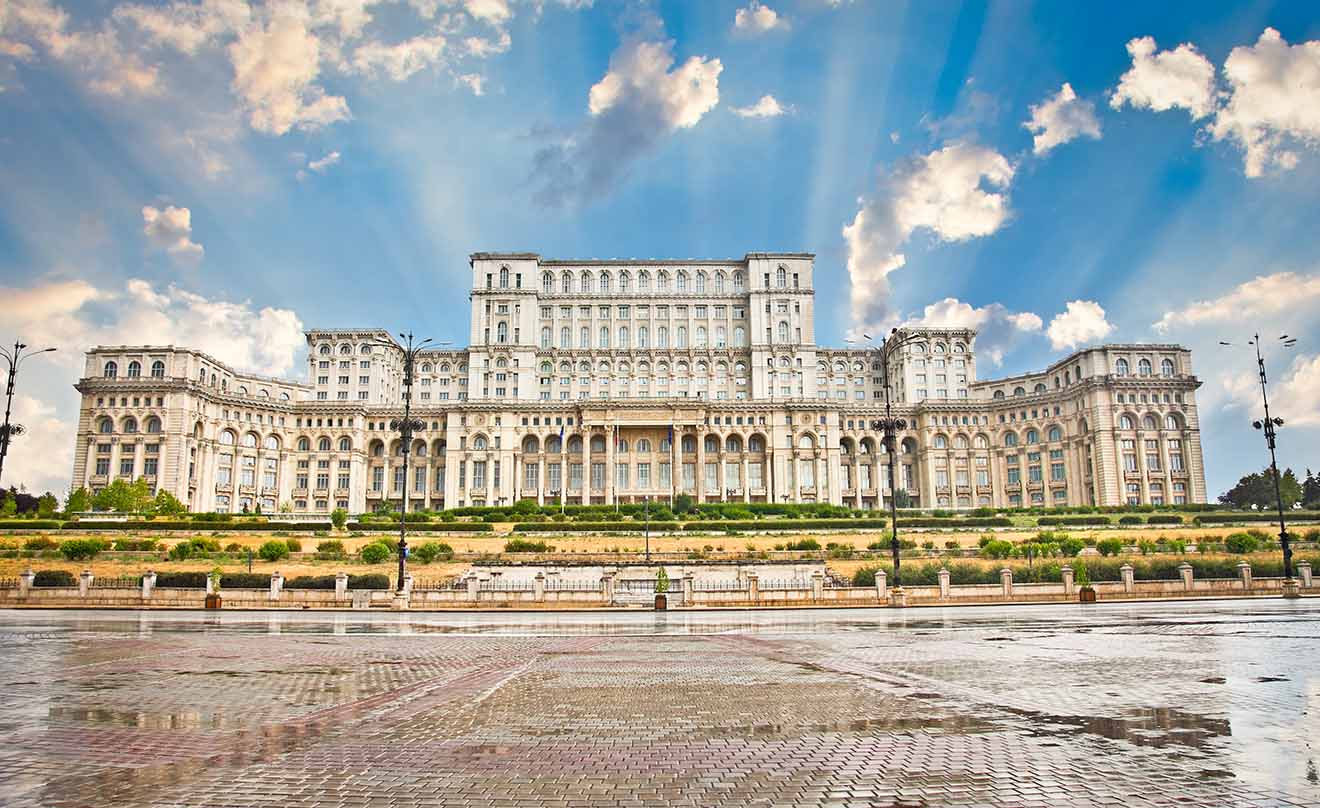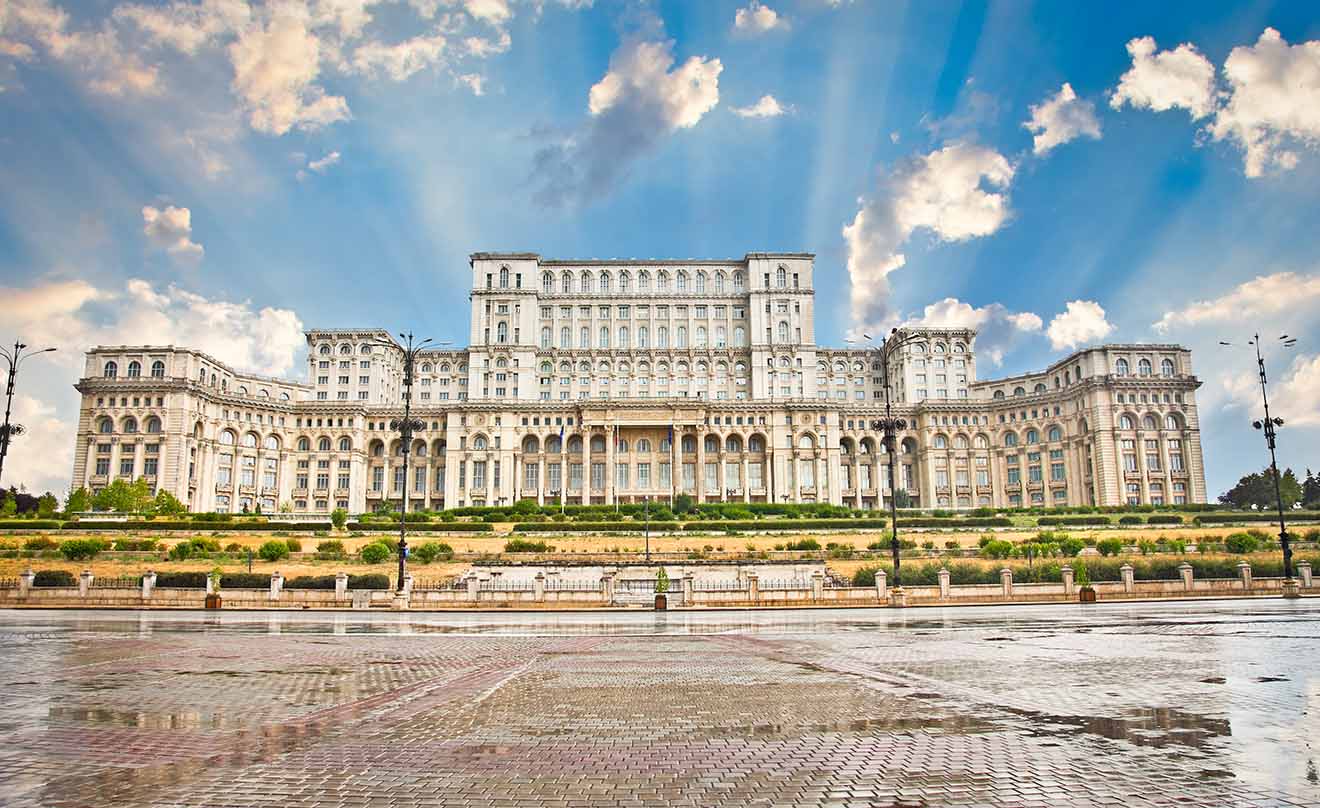 It's fair to say that no trip to Romania is complete without at least one visit to its capital, Bucharest, a bustling city, filled with lots of things to do and awesome places to stay!
This is where I live at the moment so I know pretty much everything international tourists should consider while they're in town (and I've added them all to this post)! There are lots of art galleries, a Village Museum, and an Athenaeum with a fabulous concert hall that you can visit, but la creme de la creme is the Palace of Parliament!
Known as the second-largest administrative building in the world, this monumental palace is a true Romanian landmark!
Built during the time when dictator Nicolae Ceausescu was the president of the country, the "People's House" houses the Chamber of Deputies and the Senate, an international conference center, and 3 museums!
PRICE: 40 Ron (US$8.30)
8. Go skiing in Poiana Brasov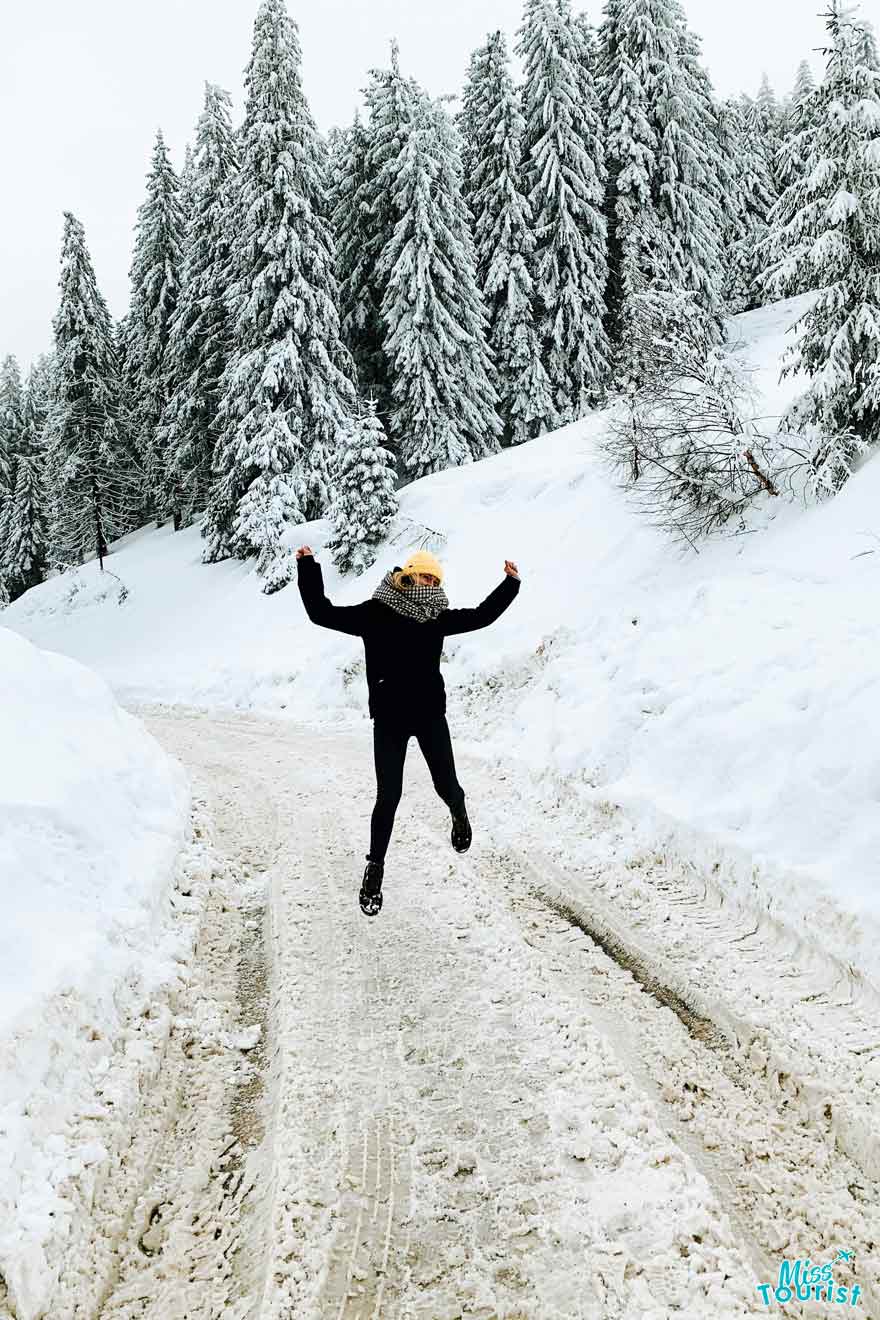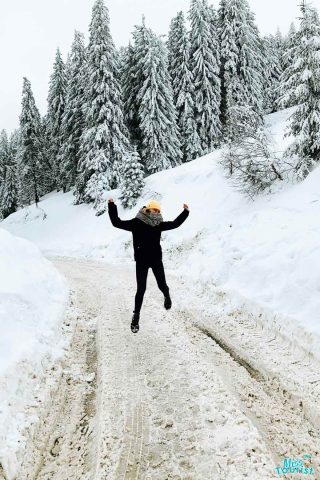 Still thinking about whether or not you should visit Romania during wintertime?

Well, if you're into skiing or any other winter sports, then buy your ticket right away because you'll have the best time!

Poiana Brasov is the ultimate holiday destination for most Romanians and international tourists. Set just a 20-minute drive away from Brasov Old Town, this place has everything you need if you're coming to ski or snowboard from schools, equipment rental, and of course amazing slopes!

Ski season usually opens in December and lasts until late February, but get ready because Poiana Brasov is usually packed with tourists!

For those of you who are not coming during that period but still want to visit this place, then you shouldn't let snow (or the lack of it) stop you! In summer there are lots of hiking trails to enjoy in this area plus other things to check out like the Alpin Magic Land theme park, and the paintball center at Outdoor Adventure Brasov!
9. Take a boat ride on the Danube Delta's river canals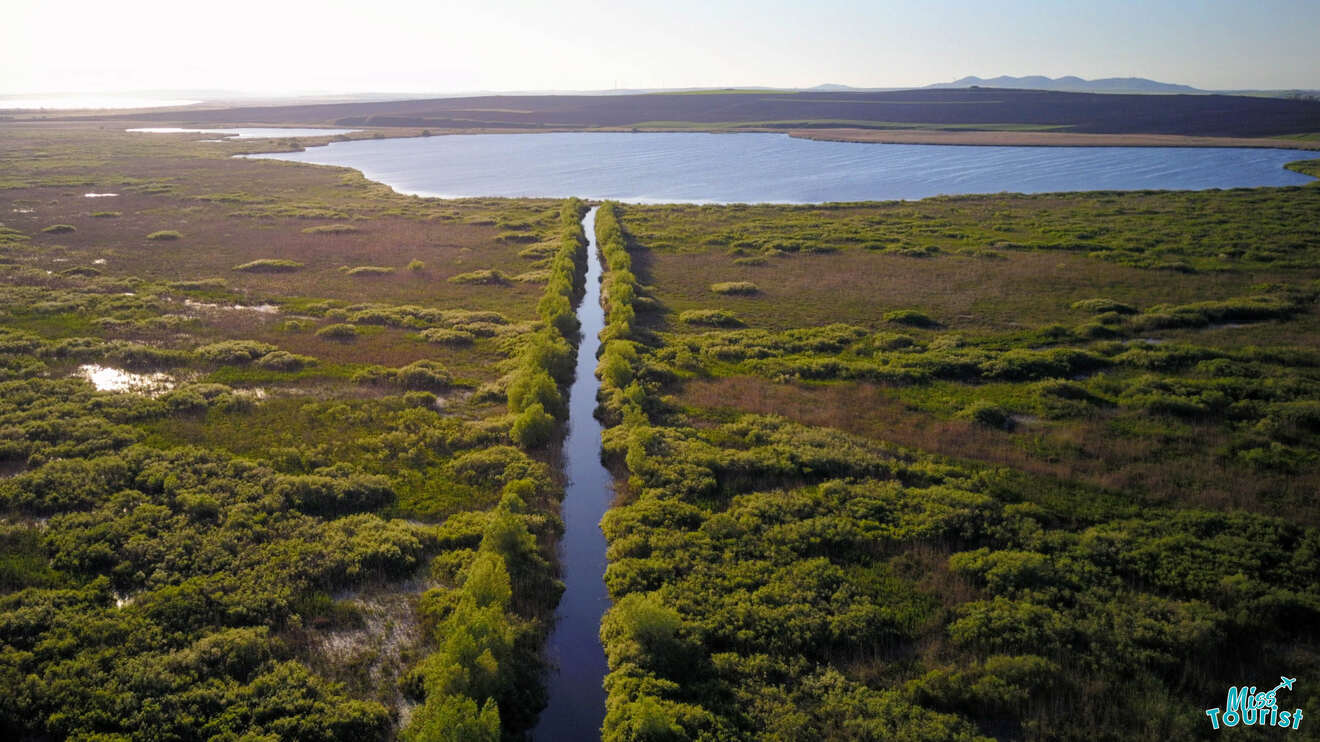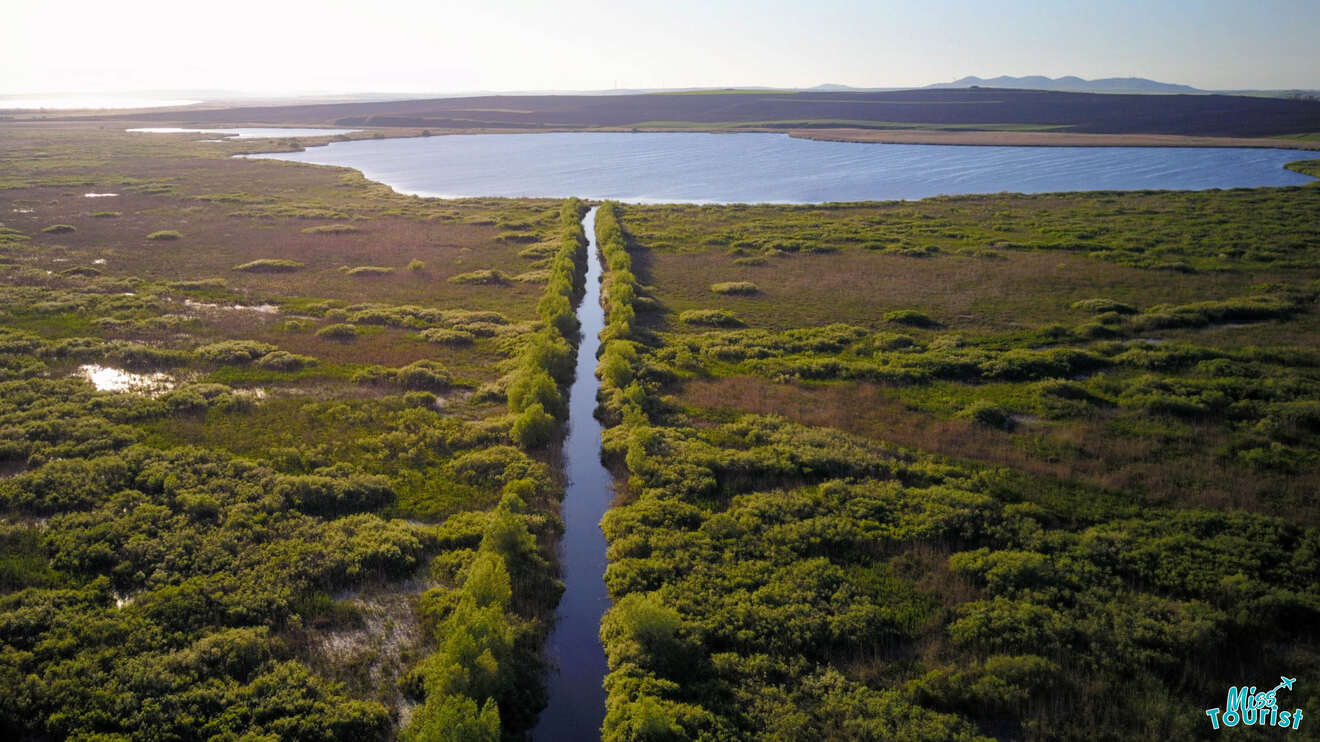 Whether you're a nature lover or not I think a trip to our beautiful Danube Delta will convince you that Romania surely is one of the best places to visit in Eastern Europe!
This UNESCO natural reserve site is so big that you might consider spending a few days here if you want to see most of it.
Known second-largest river delta in all of Europe, the Danube Delta is first and foremost a home to hundreds of animals (including wild horses) and bird species, lush vegetation, and breathtaking river canals which you can explore on boat rides.
NOTE: I recommend visiting the Danube Delta on a tour as the main way to explore it is on a boat, plus if you want to also learn some things about this place, it would be great to have a tour guide.
As you sail the Danube River through the Iron Gates you'll see the gigantic statue of King Decebalus carved into a rock. He was the last king of Dacia who fought wars against the Romans!
10. Hike the Bucegi Mountains to see the Romanian Sphinx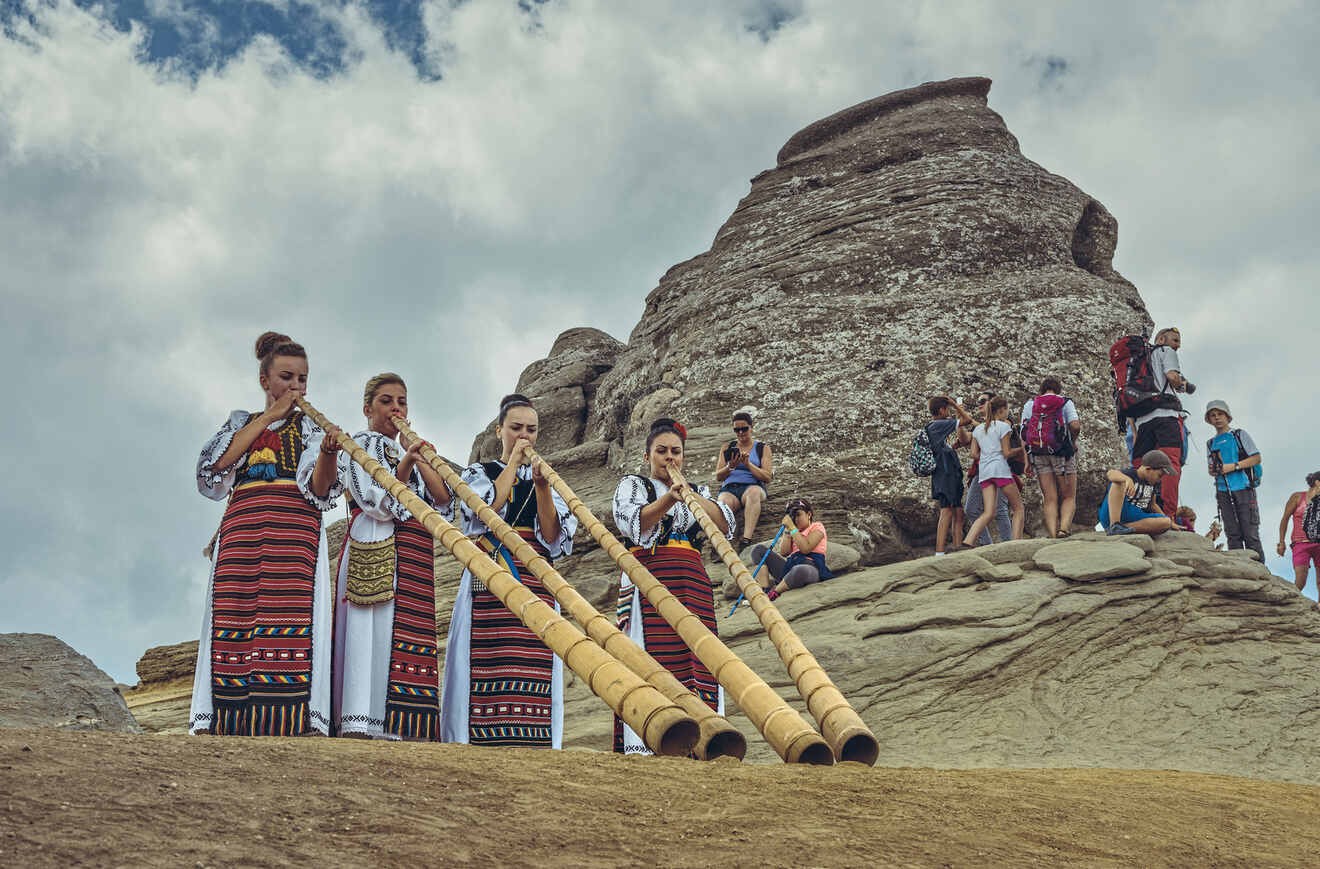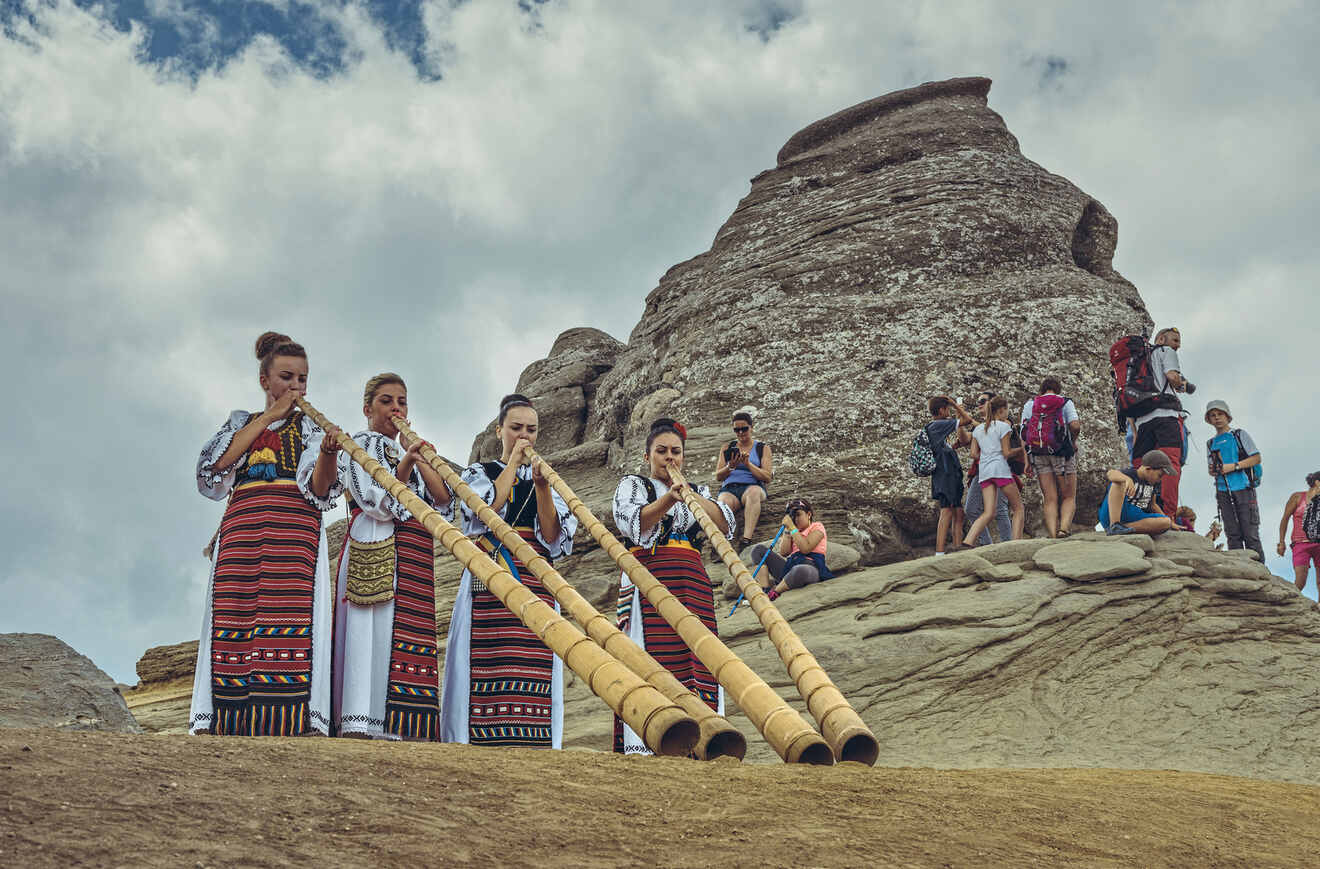 A sphinx in Romania? I'm sure you haven't heard of that!
Set way up high in the Bucegi Mountains, not too far from Brasov, the Romanian Sphinx represents a mystery for us all! You can reach this site either by cable car from Busteni or on different hiking tours that lead up to the Sphinx.
There are many stories and legends about this national monument, many dating back to the Dacian times. Some even think the Sphinx has something to do with aliens! Who's intrigued?
While we may not know for sure about its origins, I can tell you that this is a pretty unique thing to see while you're here. So definitely join a hike or take the cable car if you want to check it out!
11. Admire Romania's fortified Churches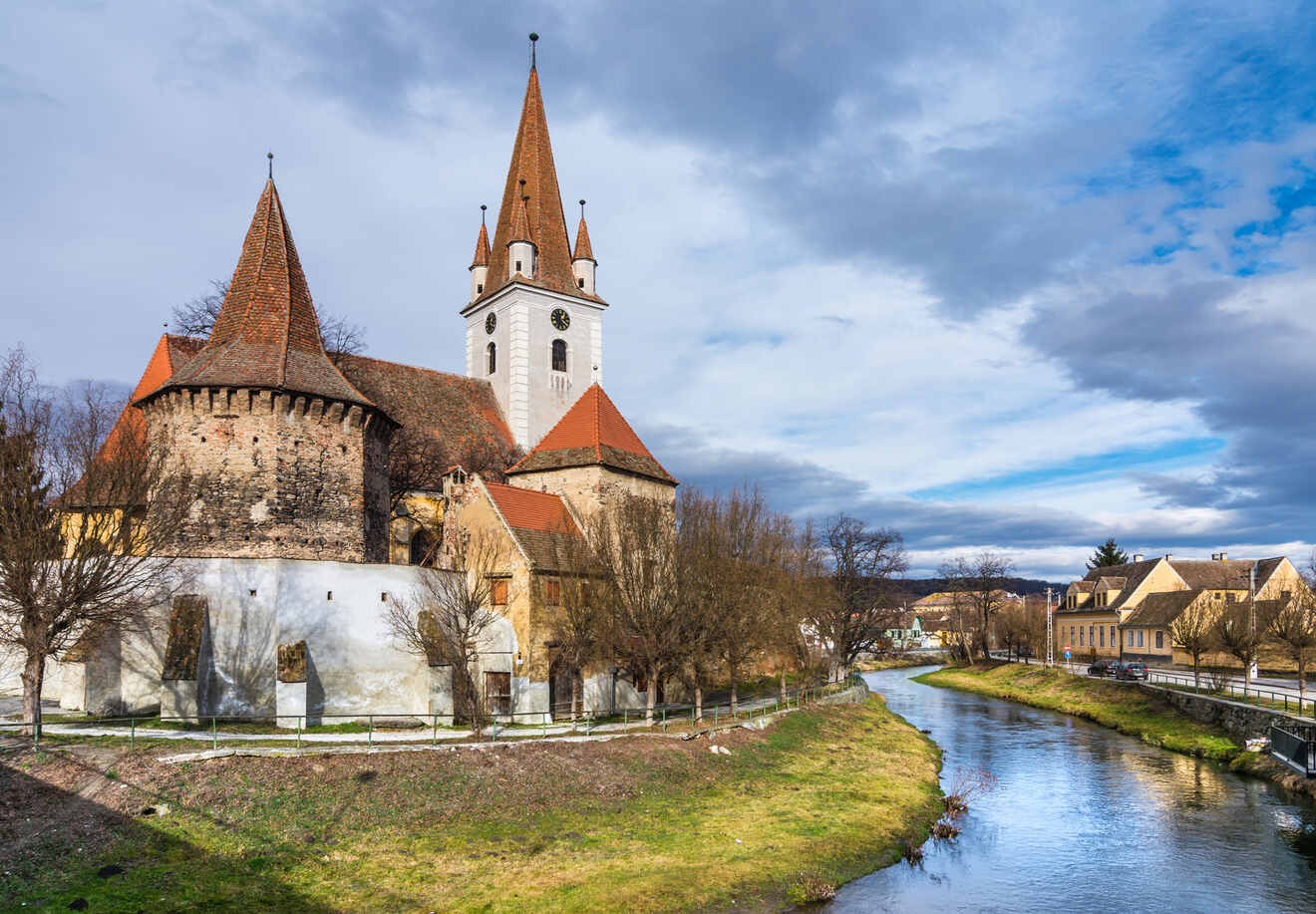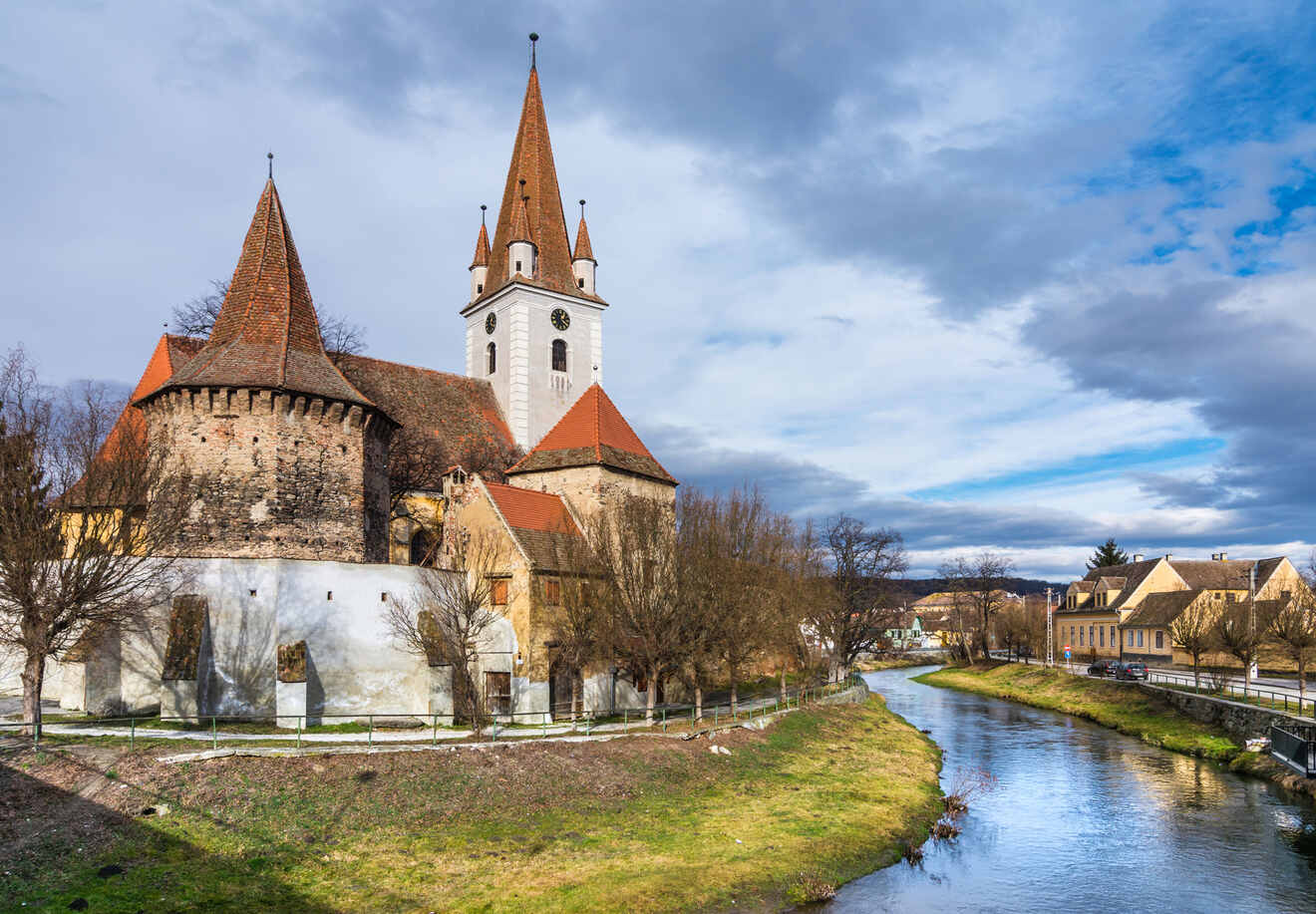 As I mentioned earlier, Romania is filled with unique churches! We've talked about the famous painted monasteries in section #6 but I couldn't let you go without offering some information on these ones too!
Known as some of the most spectacular fortified churches in Europe, these sites were built by the Saxons who came from Germany to Transylvania.
There are around 150 fortified churches in the country and most of them were built between the 13th and 16th centuries!
I'm sure you won't have time to visit all 150 but some major ones that I think you shouldn't miss are Biertan, Harmam, Viscri, and Calnic. Out of all these ones, I think Biertan is one of the most beautiful and it's located just 50 miles (80 km) away from Sibiu.
P.S.: If you're in Sibiu, make sure you stop by Brukenthal National Museum, it's a stunning place!
PRICE: From 15 Ron (US$3)
12. Indulge in all the traditional Romanian food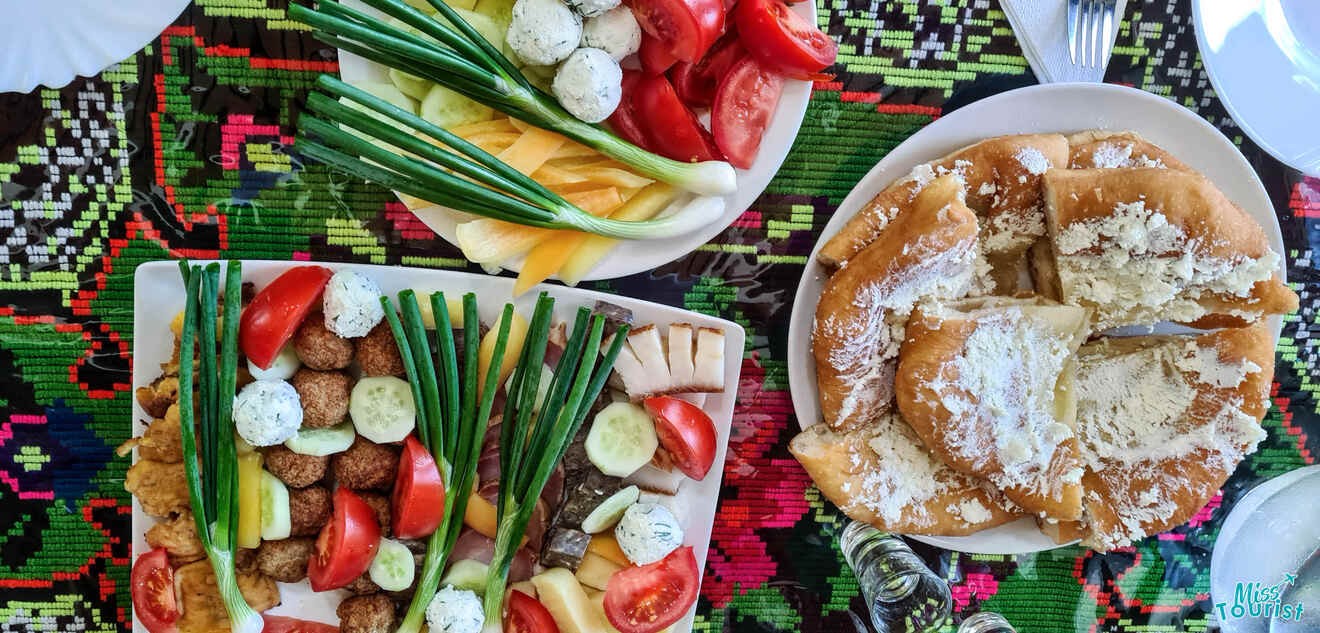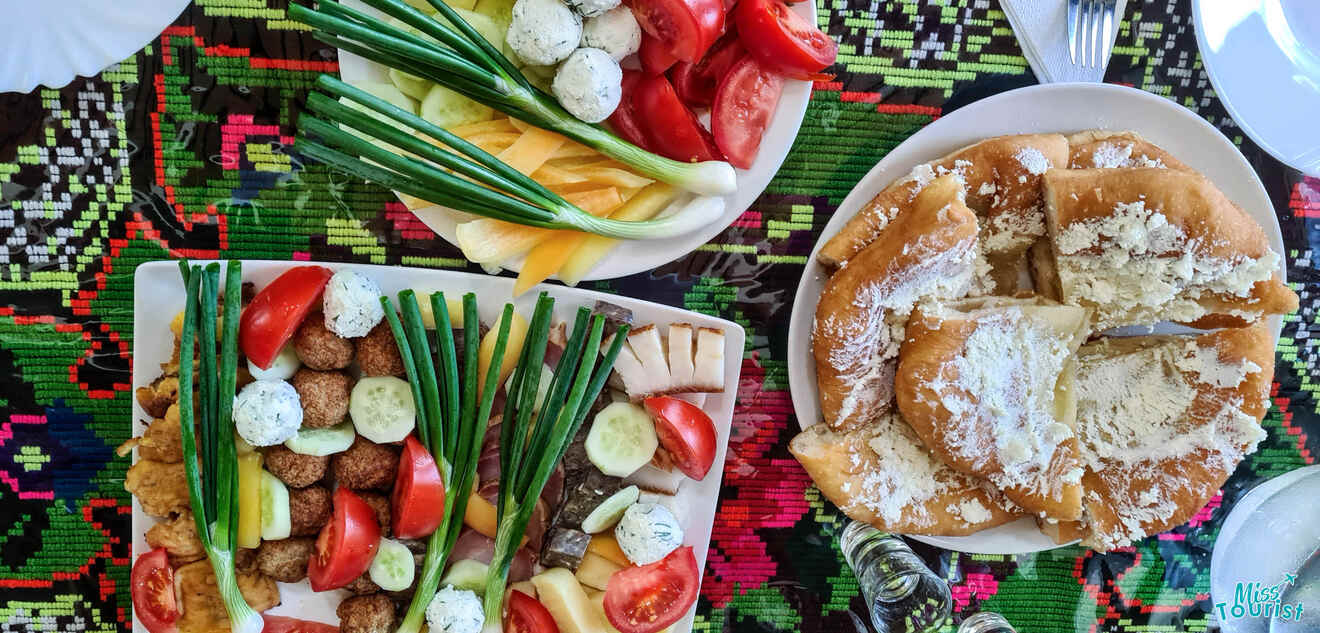 One of the best things to do in Romania (and something that I recommend to all my friends from abroad when they visit) is to try our traditional food!
It's super delicious, and most of it is made with great quality ingredients from people's gardens (especially in the traditional villages). Although Romanian cuisine favors meat lovers, you'll also find some dishes for vegetarians!
To learn all about it you can join a food tour, but if you're just wondering what to try out first, check out my list below. It has some of the best traditional dishes:
Sarmale (Cabbage Rolls) – A dish made with minced meat mixed with rice that is rolled up in fermented cabbage leaves
Zacusca (Vegetable Paste) – This delicious vegetable paste tastes heavenly on warm, fresh bread
Mamaliga (Polenta) – A side dish made of corn flour boiled in water
Jumari (Smoked bacon and greaves) – Perfect for winter, this pork meat is usually made with lots of spices and fried in a pan
13. Drive the Transfagarasan Highway
Whether you're joining a tour or renting a car so you can do this by yourself, you'll end up falling in love with this road trip!
I've recently been here, and I've got to say, get ready to stop every 5 minutes to take pictures!
This 90 miles (150 km) road across Fagaras Mountains is one of the best things to do in Romania and it was even named the best road in the world by BBC's Top Gear show.
If you're into driving then you'll love all the steep turns and S curves on the Transfagarasan Highway, but if you're not a big fan of driving on these types of roads then I recommend joining a guided tour!
Opened only during the summer due to the snow (you can find out more about the opening dates on the official website), the Transfagarasan Highway offers the chance to admire the area's blue lakes, ancient castle ruins, and breathtaking mountain views!
And of course, you can stop by the ruins of Poenari Castle, which was the home of Vlad the Impaler. But bear in mind that Poenari Castle is set high atop a mountain and you have to climb 1,480 stairs to reach it!
14. Sunbathe on the beaches in Constanta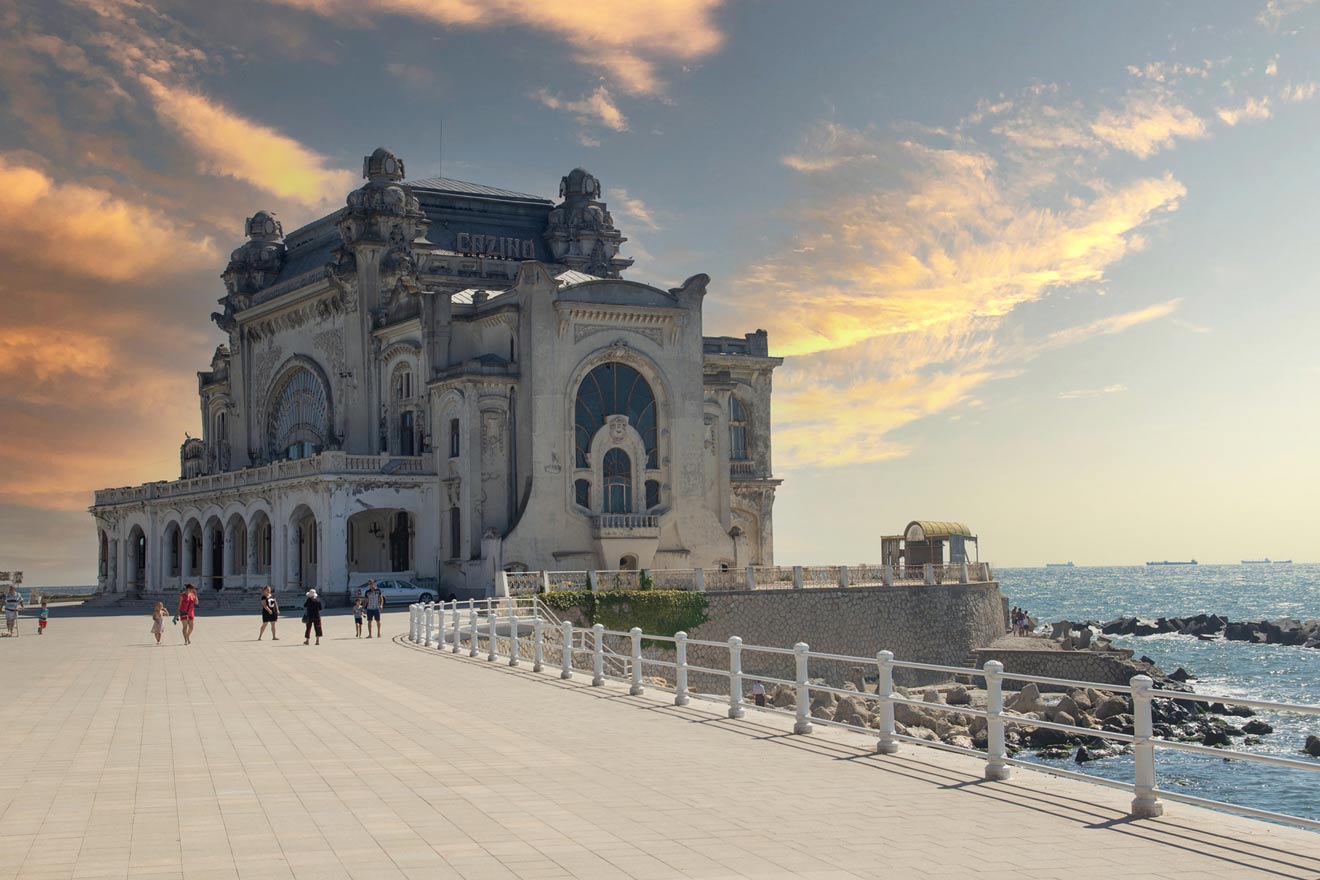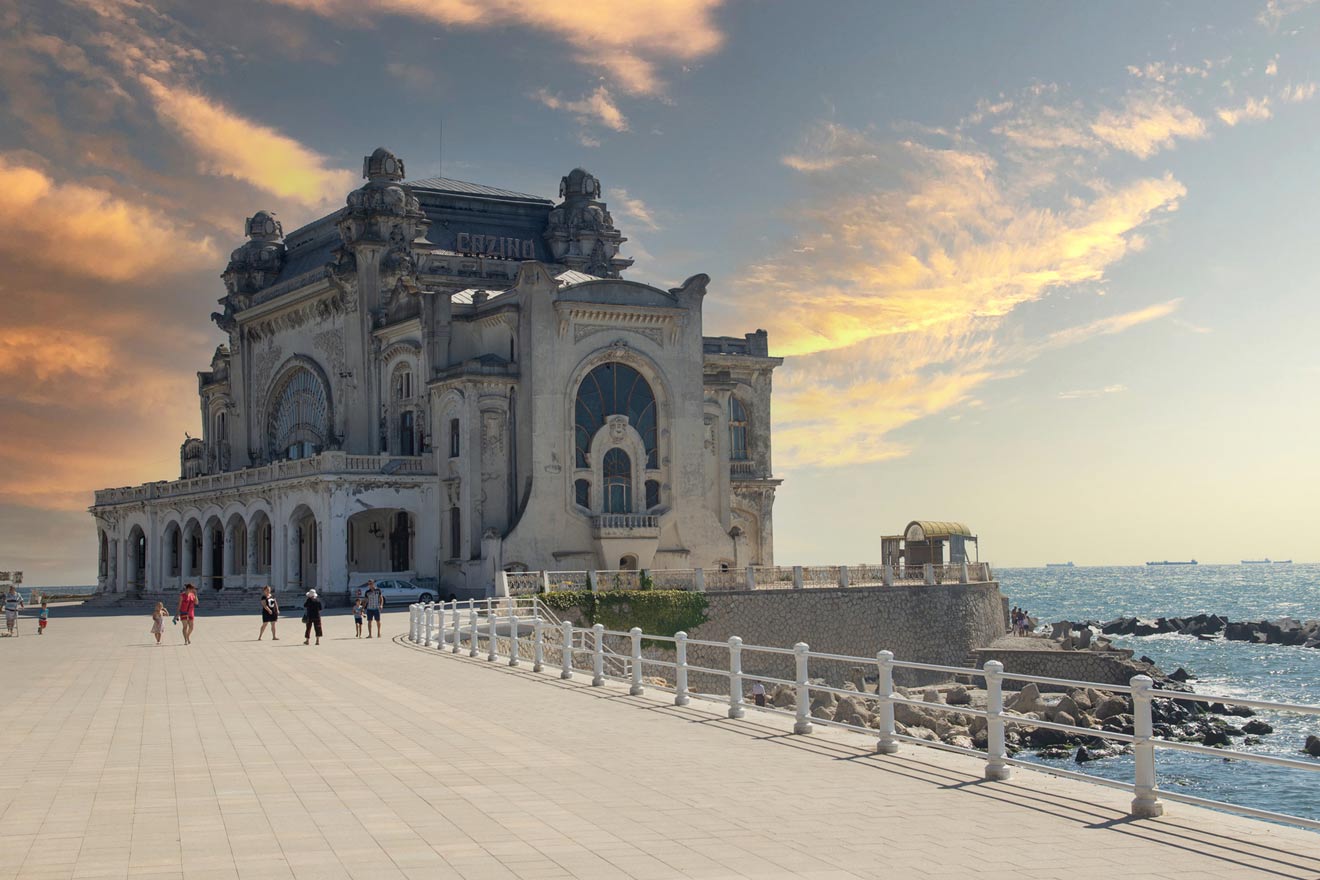 If you're coming during summertime, then a trip to see the beautiful Black Sea is mandatory… Especially if you're traveling from Bucharest, which is just 135 miles (220 km) away from all the beaches in Constanta!
Since I live in Bucharest at the moment, during the hot months I leave the city for either the mountains or the sea!
There are lots of different beaches in Romania for all tastes, but here are some of the best ones:
Tuzla Beach – Perfect for tranquility, this wild beach doesn't have much going on but it's one of my favorites as it's surrounded by wilderness and it's usually empty
Mamaia Beach – If you're looking to party and luxurious hotels, then Mamaia is the place for you
Vama Veche Beach – With a hippie atmosphere going on, Vama Veche is also a good spot to party
15. Go hiking in the Carpathian Mountains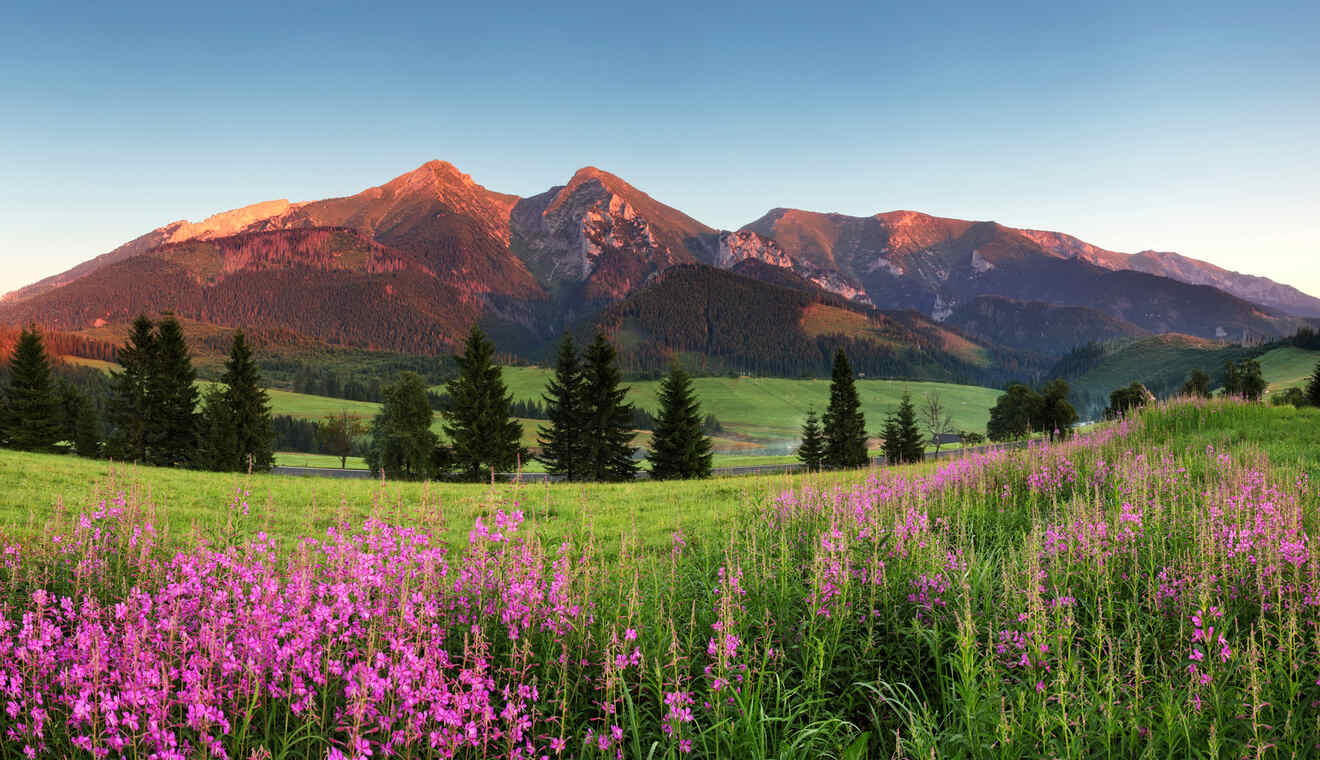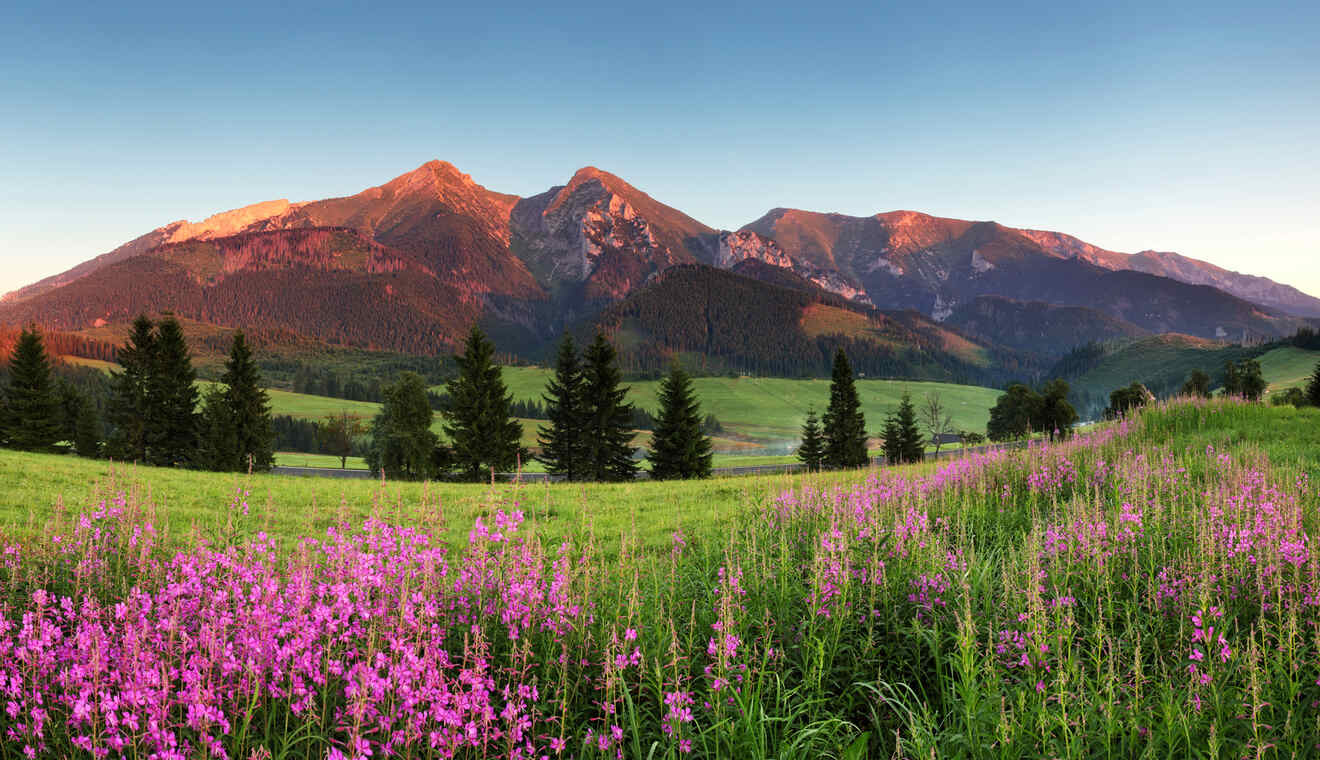 If you're into outdoor activities or you're keen on going on a fun road trip around these mountains that surround Transcarpathia and Transylvania region, then you're in for a treat! There are lots of things to do here from hiking to mountain biking and many others!
The Carpathian Mountains occupy one-third of Romania and their altitudes can reach 2500m!
If this is your first time exploring Romania's mountains and wilderness, I recommend looking for guided tours from Brasov, Cluj, or any other nearby cities in Transylvania that offer outdoor activities in the Carpathian Mountains. Going alone can be too overwhelming, especially if you haven't been here before.
NOTE: Romania is known as Europe's last wilderness reserve, and there are lots of guided tours that take you to see brown bears in their natural habitat. Alternatively, you can visit the Libearty Bear Sanctuary in Zarnesti, a village located in the Piatra Craiului Mountains, which are part of the Southern Carpathians mountains range.
16. Enjoy the wine of Romania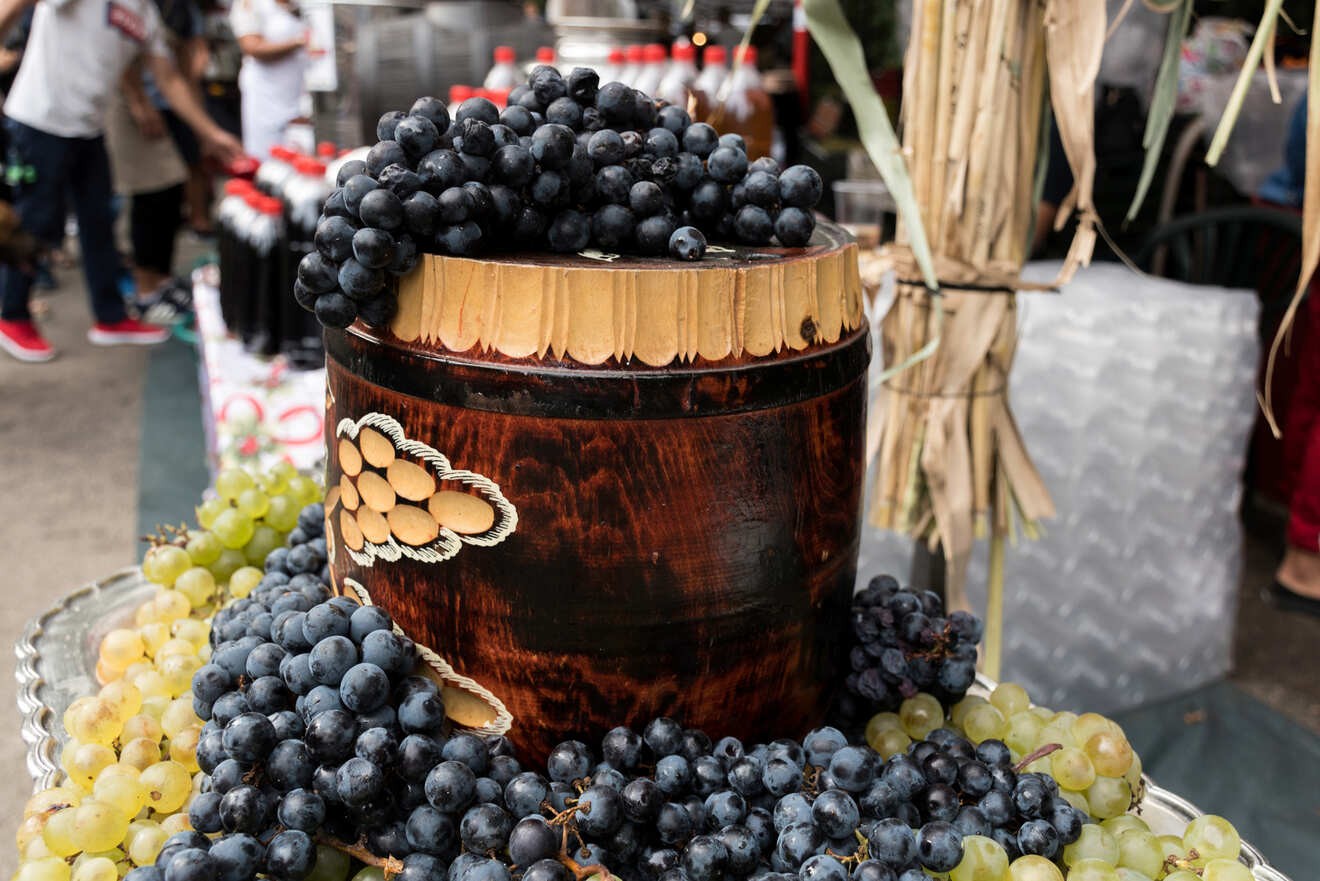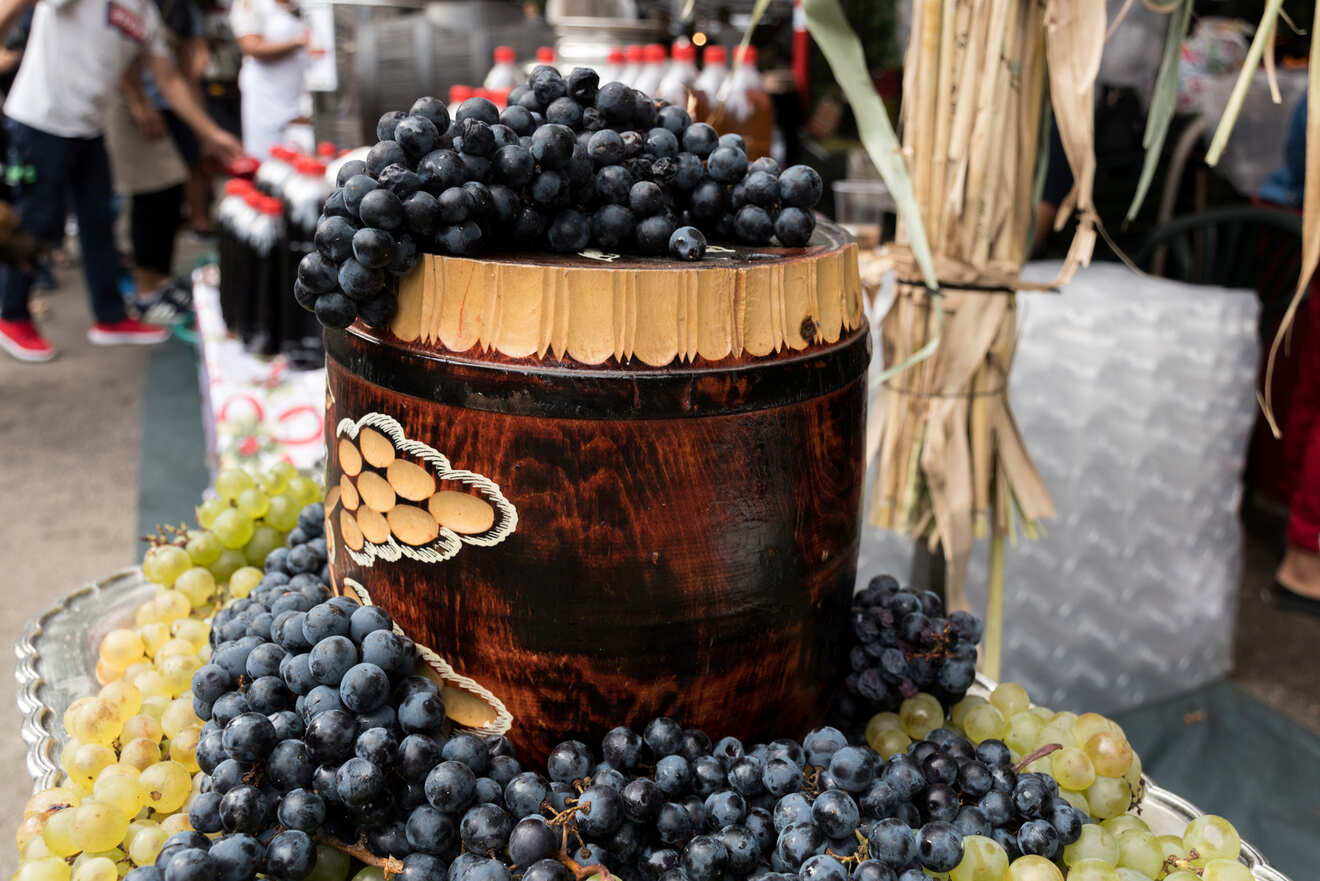 Wine-making goes way back in my home country, to almost 6000 years ago!
Romania is Europe's 5th largest wine producer, and the weather here is perfect for viniculture a glass of our wine can definitely convince you of that!
No visit to Romania can be finished without going on a wine tasting tour or visiting some wineries! During your exploration, you'll find lots of large-scale producers, which offer many types of wine, however, you'll also stumble across small enterprises that focus just on 2-3 types.
17. See the largest Gothic Church in Eastern Europe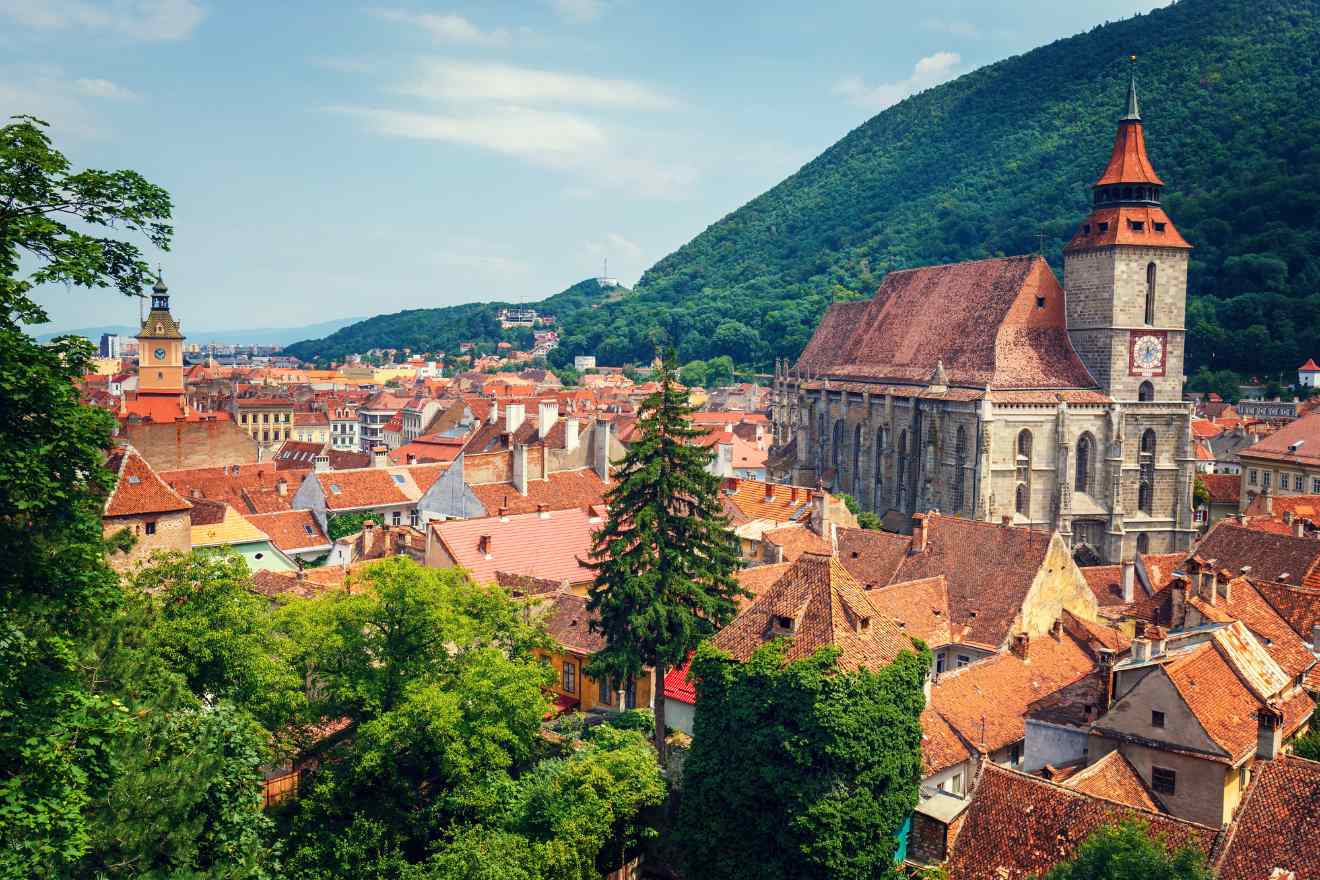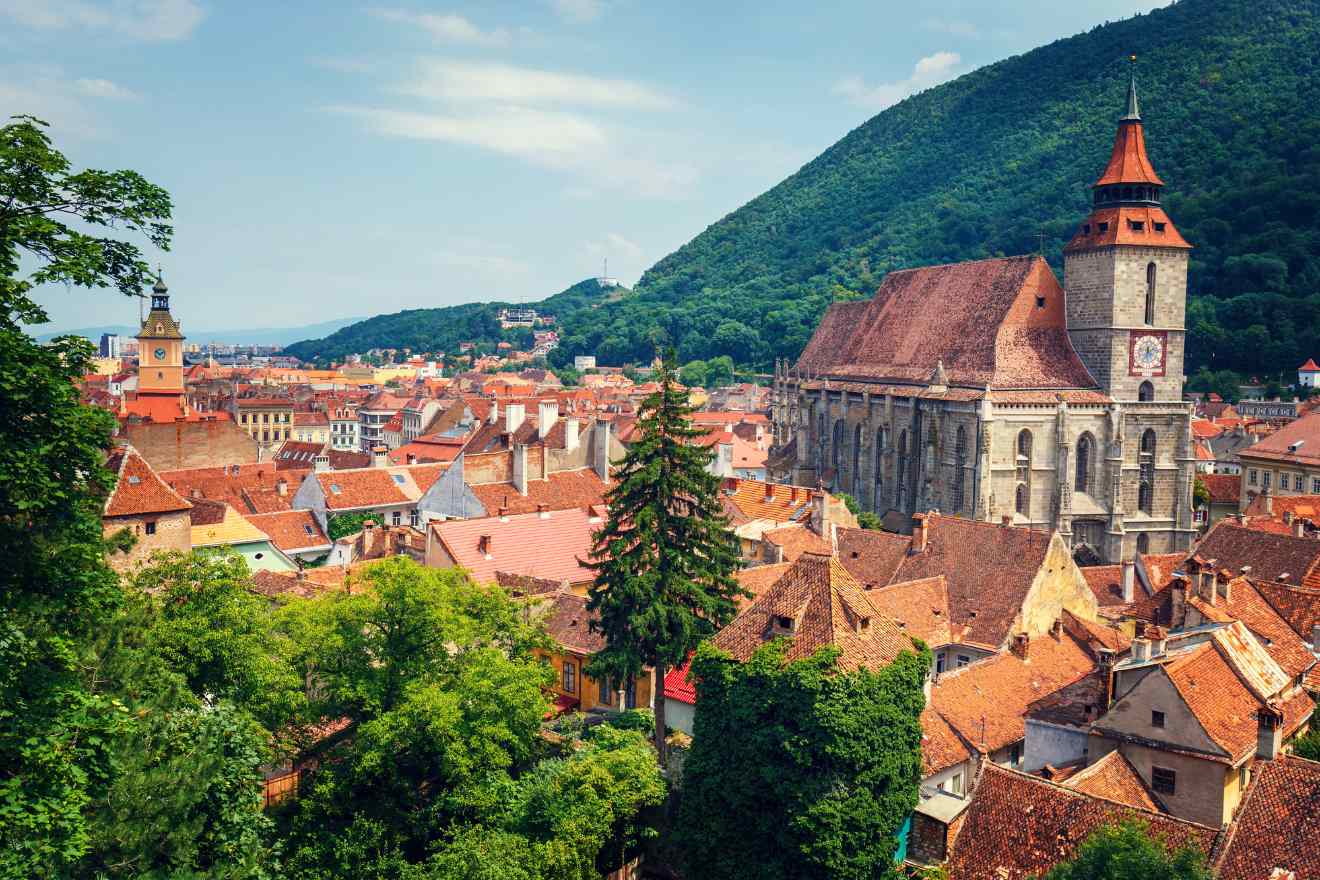 Transylvania is filled with gems, and we've talked about the main ones like Bran and Peles Castles in section #1, but I wanted to mention one more masterpiece (drum rolls, please):

The Black Church in Brasov!

Brasov is one of the main cities to visit in the Transylvania region and its city center is filled with incredible art galleries and attractions, including this Gothic Church.

Built in the 1380s but finished almost 100 years later, the church got its name after a fire almost destroyed it. Luckily it didn't and we can still admire the Black Church in its full glory!
18. Stop by the Palace of Culture in Iasi
If you're in Iasi you can't miss out on this majestic building that was used as an administration building and courthouse!
At the moment, the Palace of Culture hosts 4 different museums, the History Museum, the Ethnographic Museum, the Science Museum, and the Art Museum. Plus many other different rooms and halls.
One that you shouldn't miss out on is the Voivodes Hall, which has lots of important paintings of the royal family and Romanian kings.
PRICE: 16 Ron (US$3)
| | |
| --- | --- |
| 🤪 Unique attraction: | Merry Cemetery |
| 🗝️ Best free attraction: | Sighisoara Old Town |
| 🏰 Top Castle: | Bran Castle |
| 🥘 Must-try food: | Sarmale |
| 🥾 Best outdoor activity: | Hiking the Carpathian Mountains |
| 🧒 Kid-friendly attraction: | Turda Salt Mine |
| 🎿 Winter activity: | Skiing in Poiana Brasov |
Places to stay in Romania
I couldn't wrap up this post without offering a section with the best places to stay in Romania! Since I'm talking about the whole country, I decided to pick 4 of the most important towns where tourists usually stay in Romania.
Let's check them out:
Bucharest
Romania's capital city is also known as "Little Paris" and it's one of the best spots to start your trip. This is where I live at the moment and trust me, there are so many things to see from the National Museum of Art to the open-air museum Dimitrie Gusti Village Museum and the Museum of Natural History, plus many other sites.
Below are my top choices but if you are looking for more options, check out our post on the top hotels in Bucharest.
Luxury: The Marmorosch – A fabulous 5-star hotel near the Old Town and the National Museum of Contemporary Art with a restaurant and a fitness center. The accommodation has a unique design and it offers great views.
Mid Range: Intercontinental Bucharest – You'll love the comfortable rooms with ceiling-to-floor windows at this hotel that has a wellness center and a swimming pool.
Budget: Capitol Hotel – Set in a 1901 building, this hotel is located near many city attractions like the National Museum of Art or the Grigore Antipa Museum of Natural History, and it has a restaurant on-site plus rooms with city views.
Brasov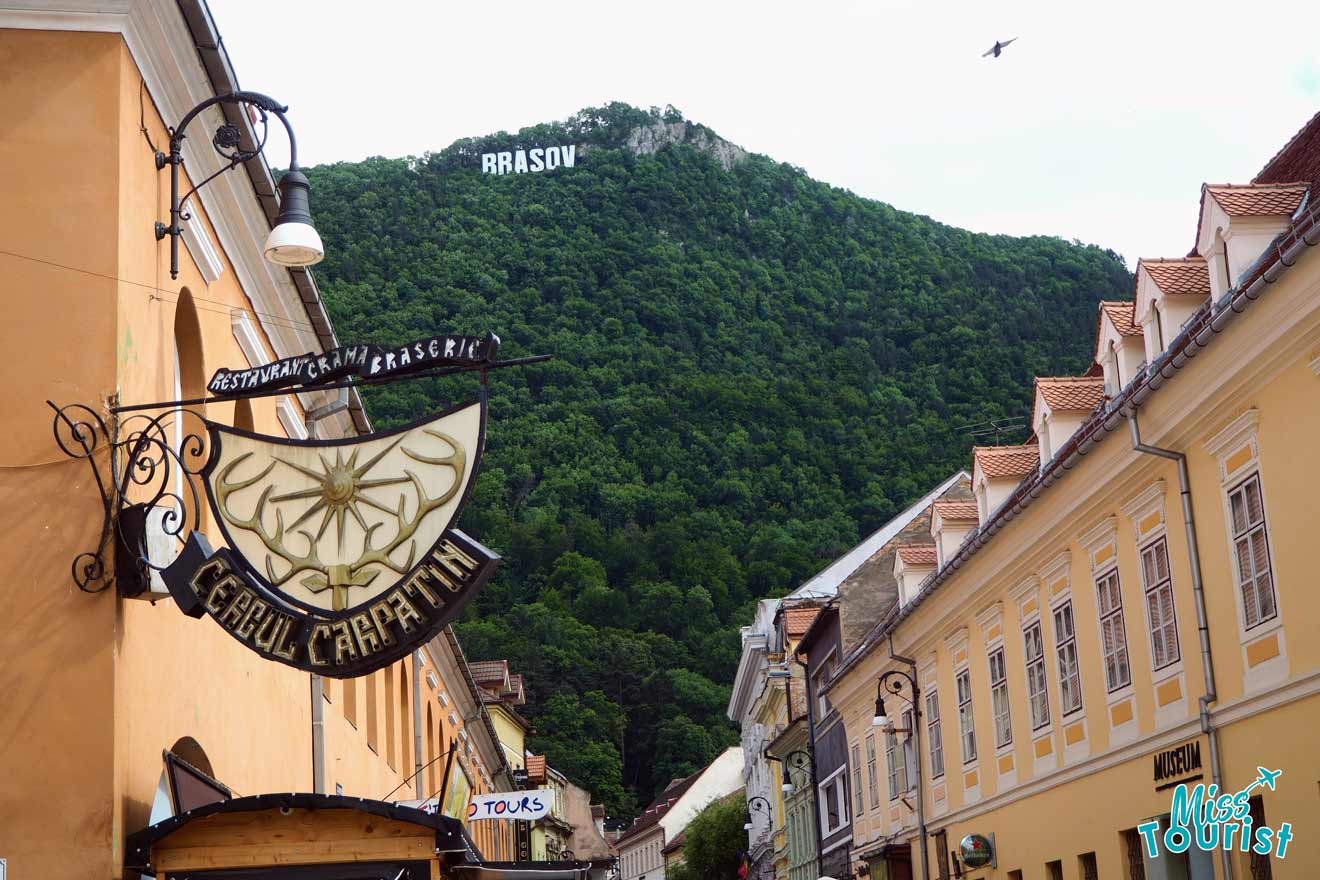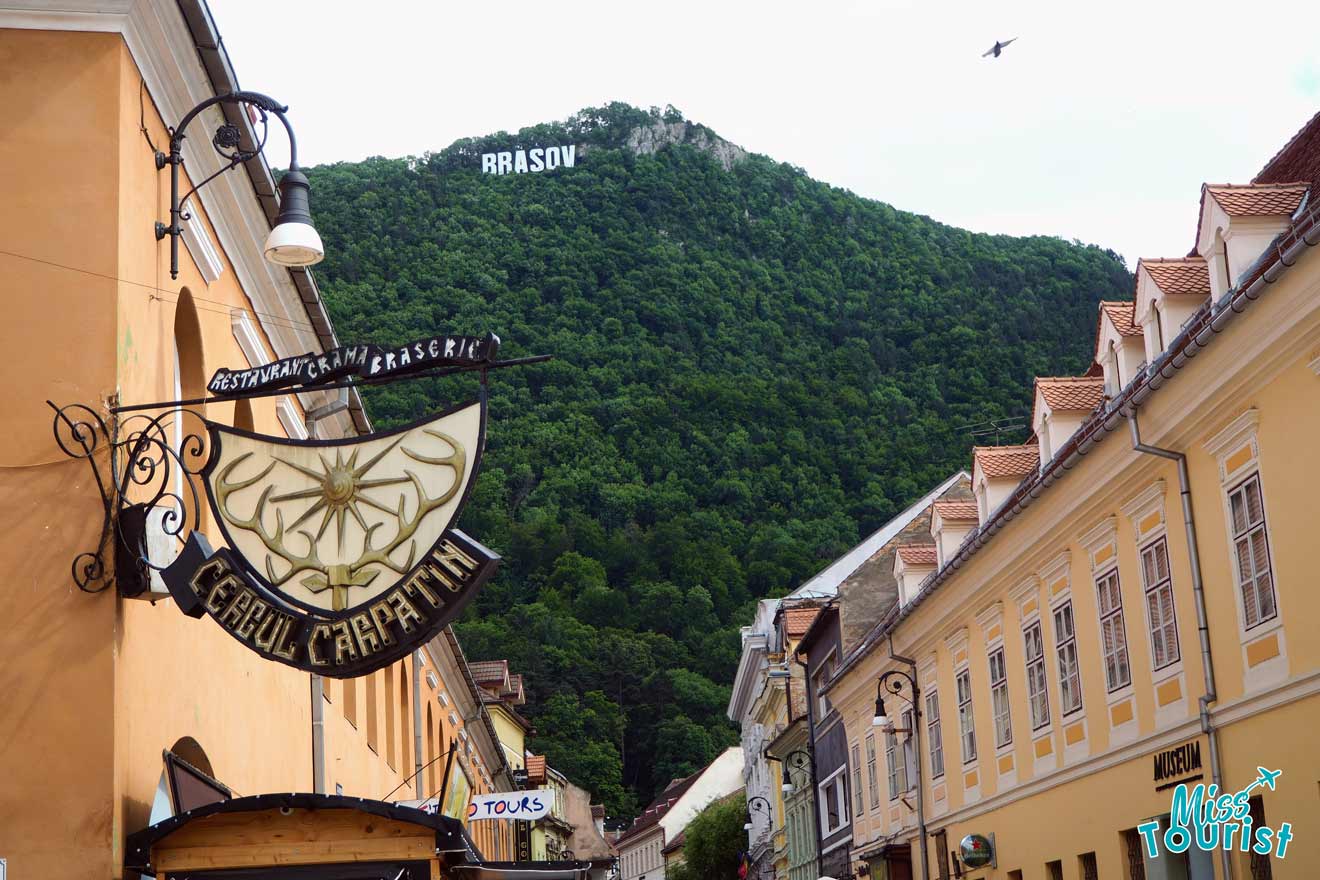 Home to Bran Castle and Peles Castle, Brasov is the largest city and central hub for hotels in Transylvania, making it a great place to dive into the Romanian culture!
Luxury: Kronwell Brasov – Offering deluxe ensuites with a bathtub, this stunning hotel has a restaurant and a swimming pool where you can relax after exploring the city.
Mid Range: Safrano Palace – With elegant decor and unique furniture, this hotel comes with free wifi and a buffet breakfast.
Budget: Casa Chitic – This accommodation has a great location, spacious rooms with wooden elements, and offers an airport shuttle.
Cluj-Napoca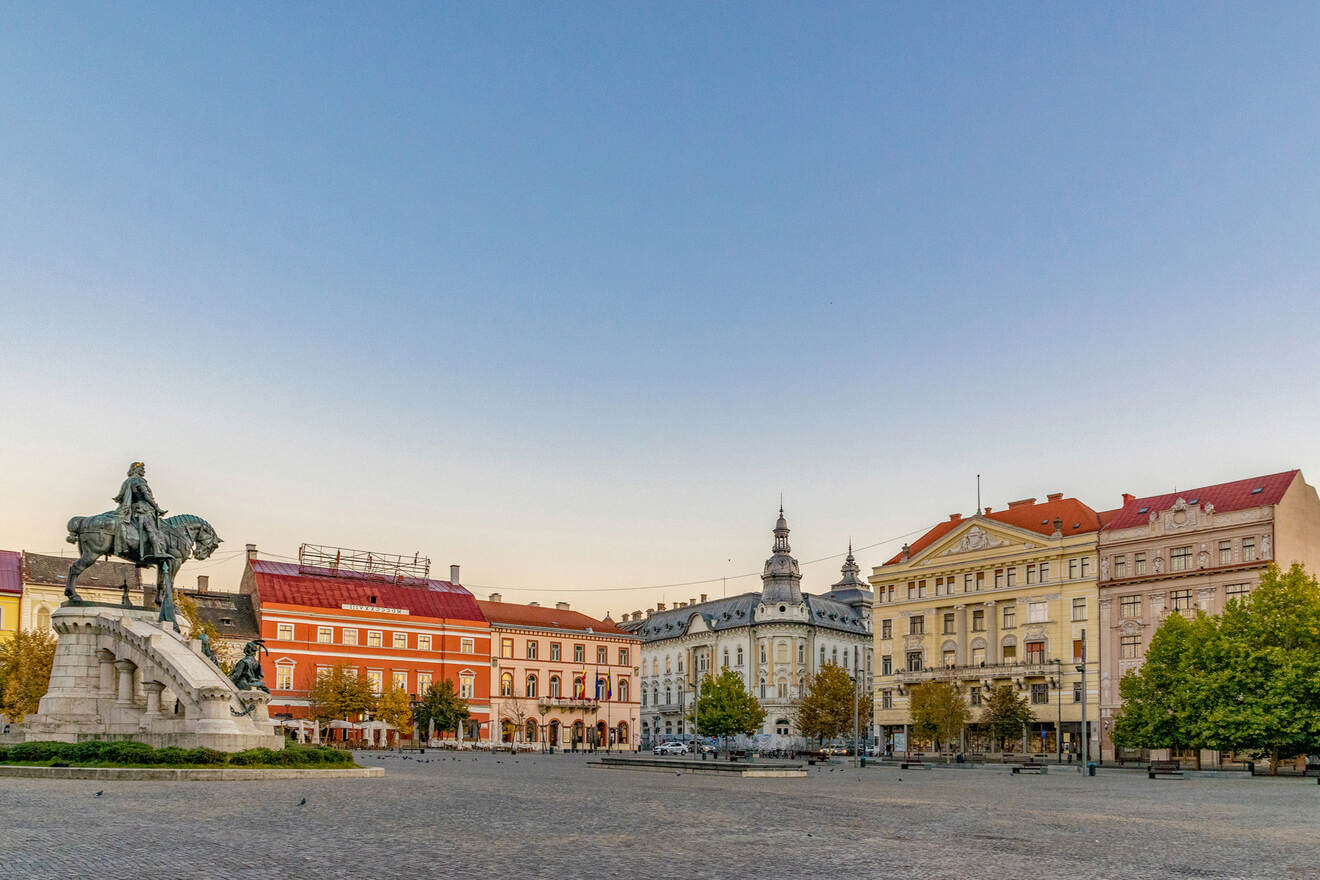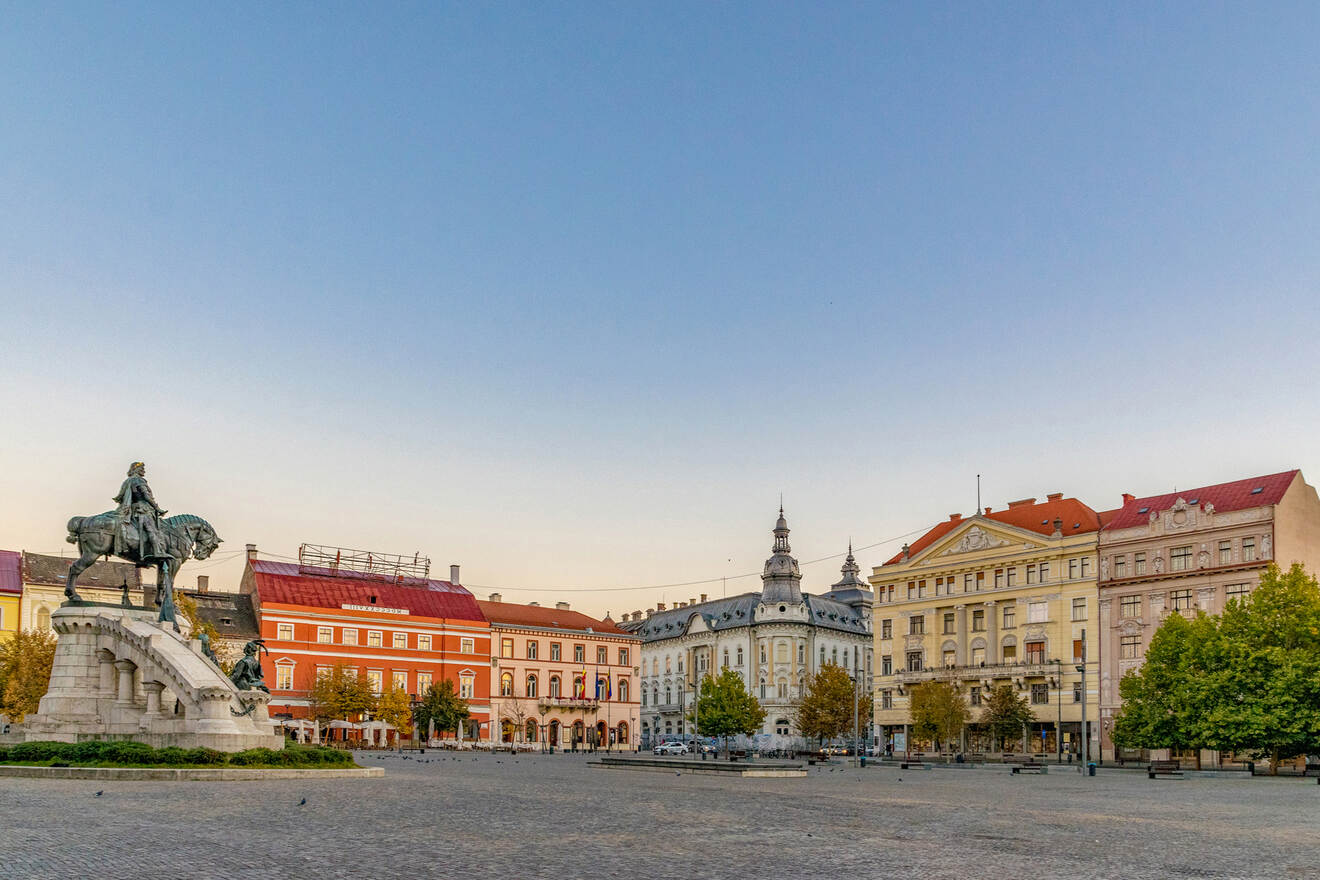 This university city has become more popular with tourists in the last few years. Filled with lots of places to visit and home to some of the biggest music festivals in Romania, Cluj is a place you can't miss out on!
Luxury: Hotel Platinia – This accommodation has comfortable and modern rooms with a flat-screen tv, 2 restaurants, and a garden.
Mid Range: Golden Tulip Ana Dome – Equipped with all the facilities you need including a spa center, a bar, and a restaurant, this hotel is definitely a keeper!
Budget: Brickyard Apartments – An affordable and super practical place to stay in Cluj that has lots of space, a kitchen, and rooms with balconies.
Sighisoara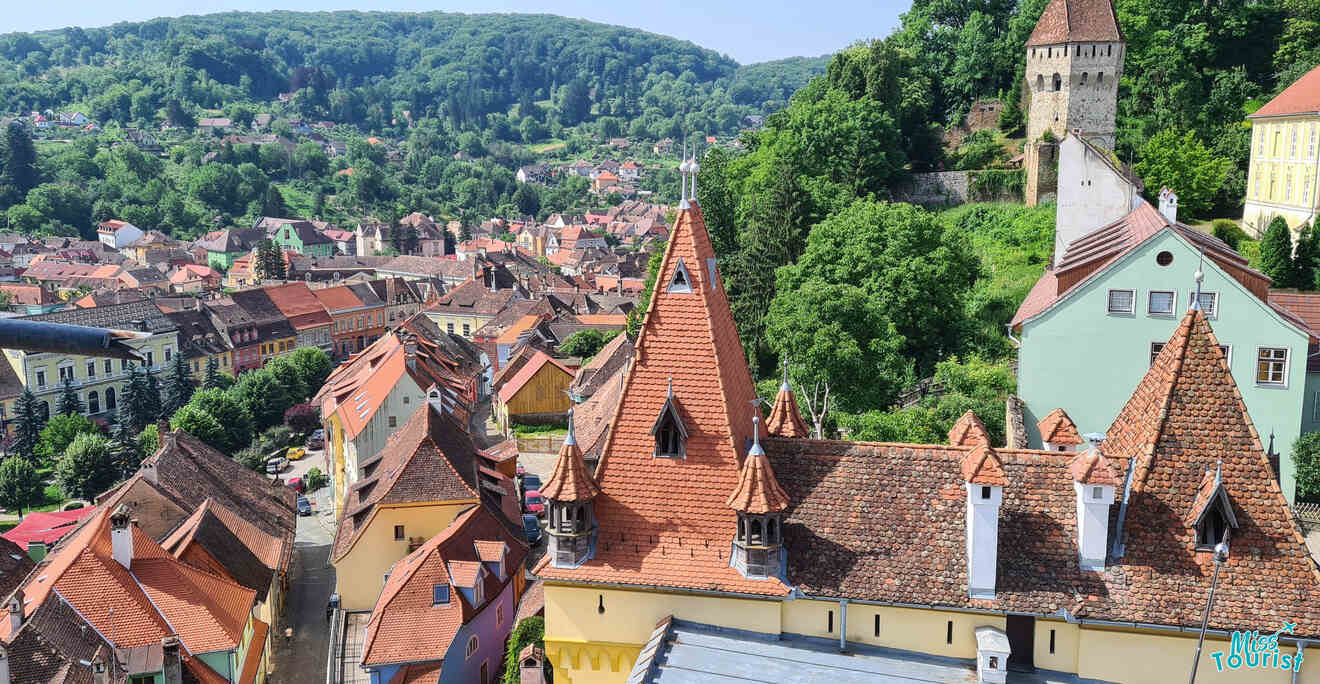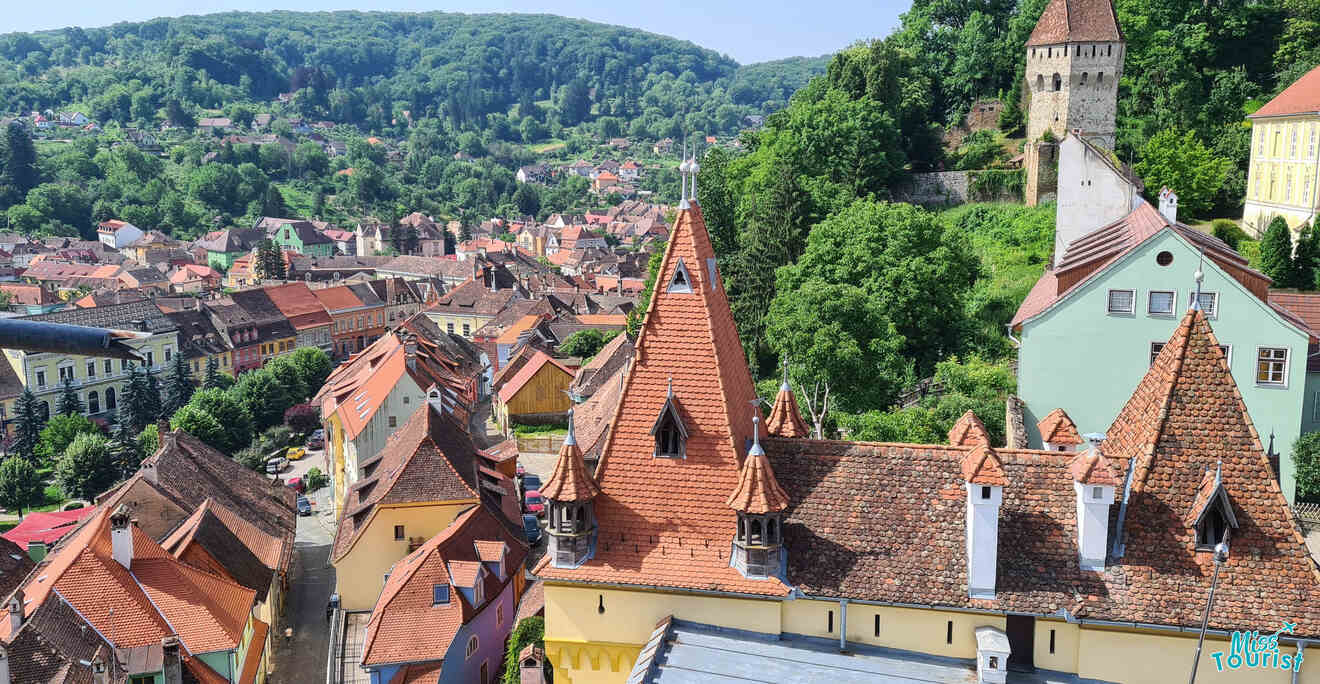 Dating back to the 12th century, this city's historic center was named a UNESCO World Heritage site and once you see it you'll fall in love with it (as we all did)!
Luxury: Casa Georgius Krauss – A boutique hotel set in the former house of chronicler Georgius Krauss which still has its original frescoes! Each room has medieval-style furniture and a private bathroom.
Mid Range: Casa Savri – This beautiful guest house has a stunning design, a sun terrace, and rooms with a private bathroom and a flat-screen tv.
Budget: Casa Lily – Perfect for a tranquil stay in Sighisoara, this guest house comes with comfortable rooms with a balcony, free private parking, and barbecue facilities.
FAQs about Romania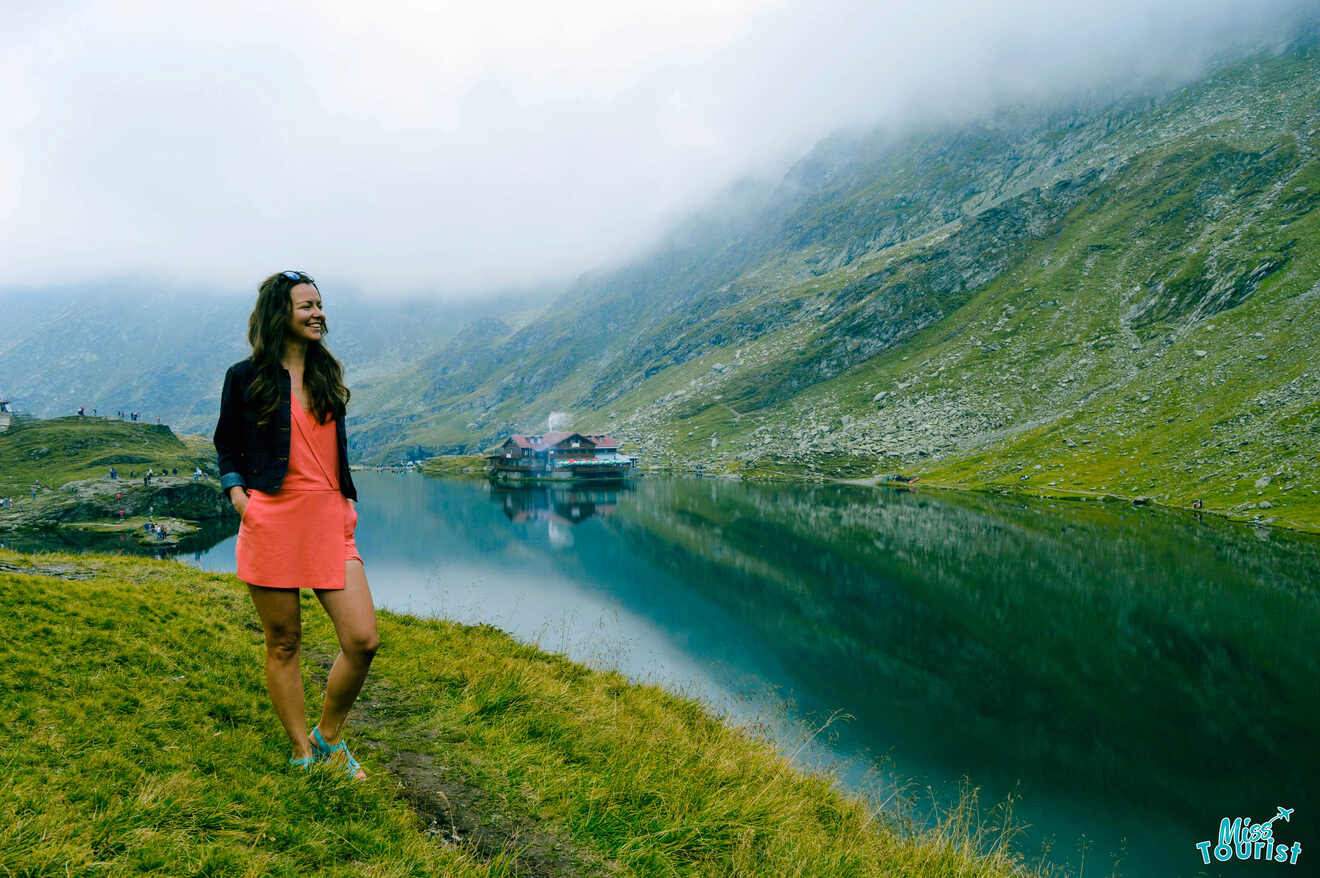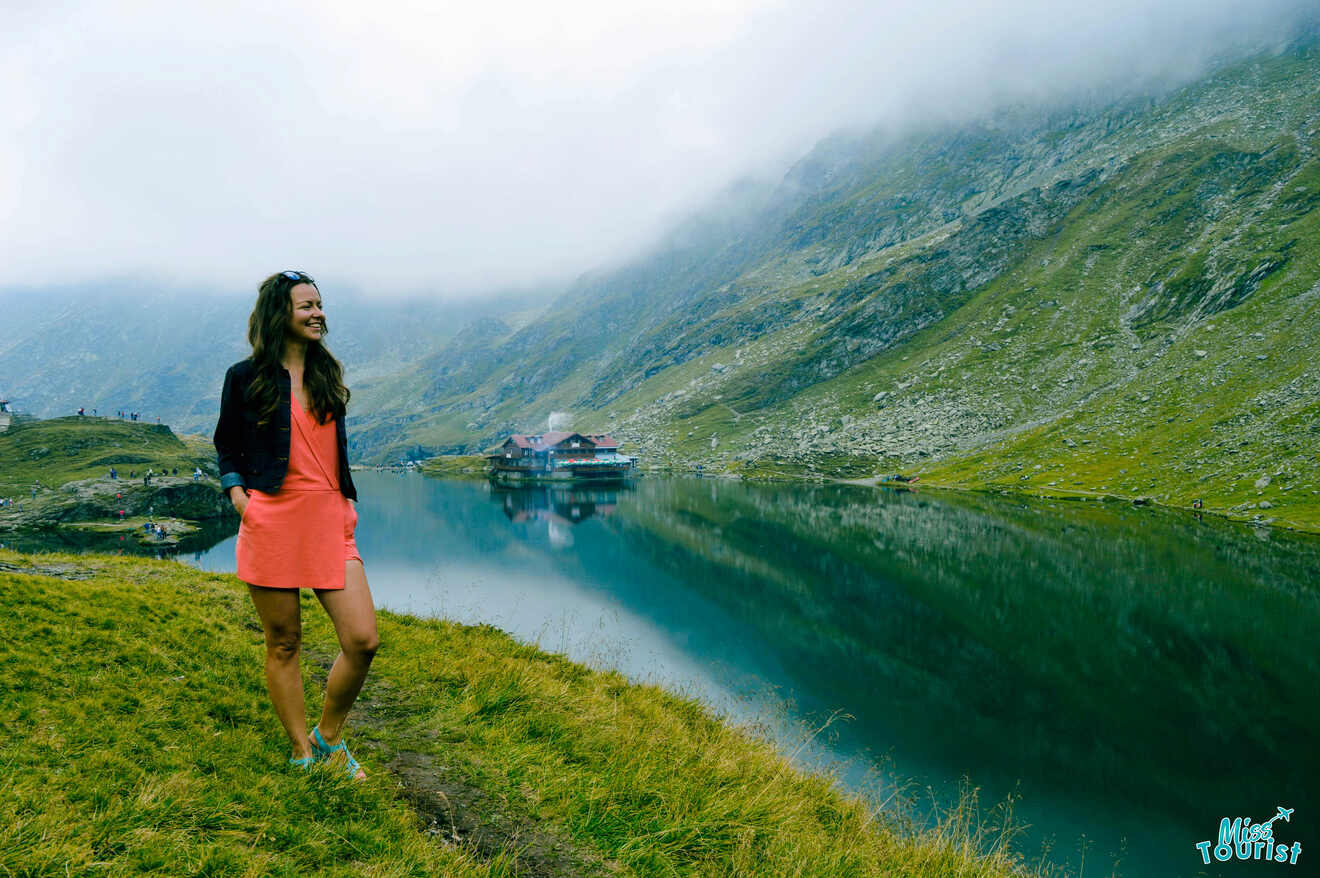 🔝Is Romania good for tourists?
Yes, Romania is a beautiful country in Europe, filled with amazing places to visit like castles, national parks, churches, and the beautiful Danube Delta! 
🧛 What Romania is famous for?
Romania is famous for many things like Dracula's Castle (Bran Castle), the Palace of Parliament, the Turda Salt Mine, and the Transfagarasan Highway. 
🎿 Which are the best things to do in Romania in the winter? 
During wintertime, you can hit the slopes in Poiana Brasov, a super famous ski resort town, drink lots of mulled wine and visit some castles if it's too cold to walk outside! 
🍷 What do Romanian people do for fun?
Romanians know better than anyone how to have a good time! They usually go to parties in clubs and festivals that go on until the morning or the next day. 
Conclusion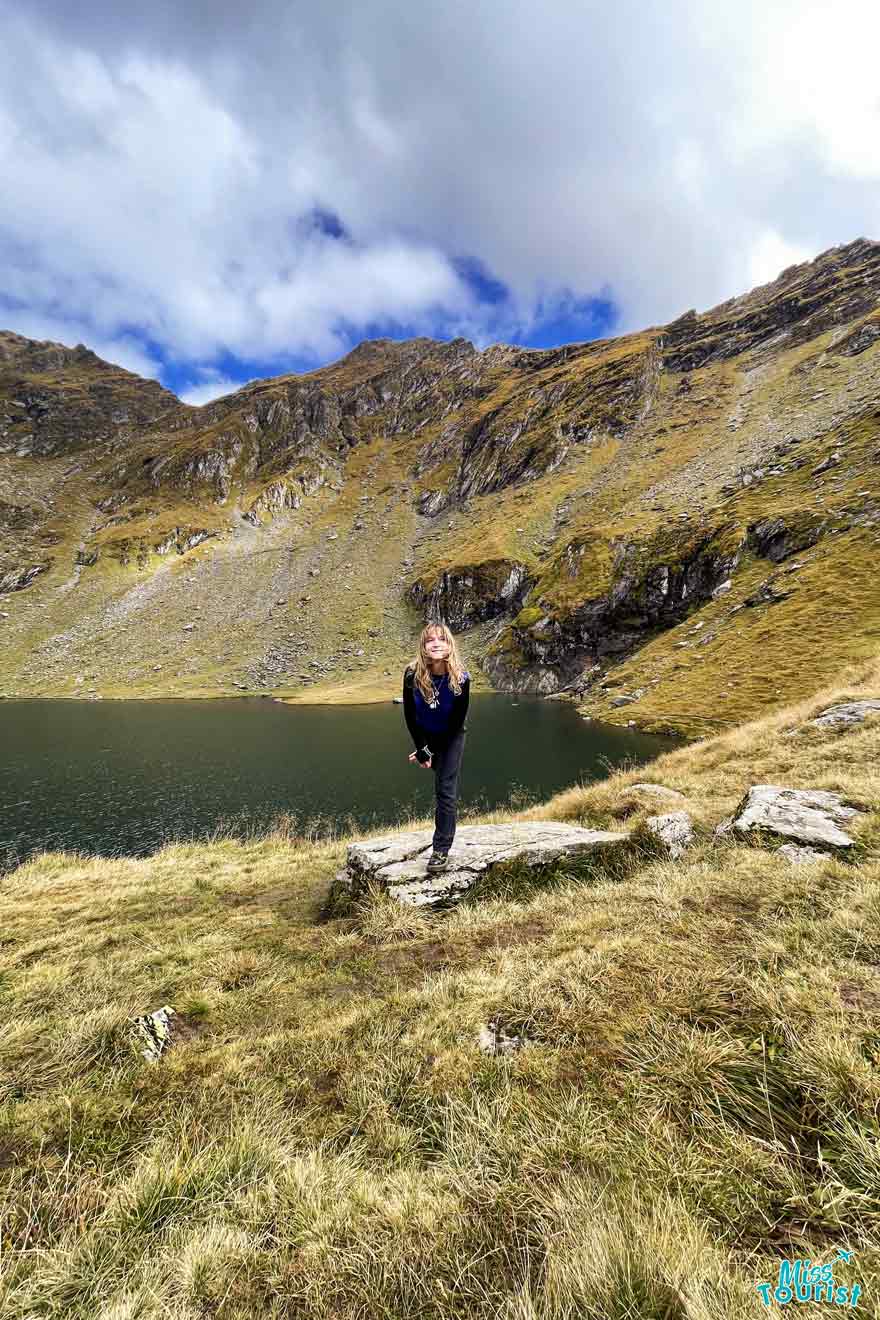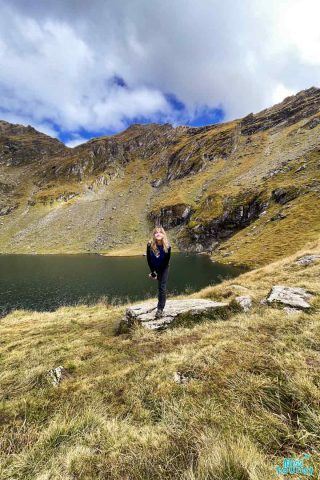 Wow, I guess some of you had no idea that Romania is so stunning!

I hope this post helped you decide which are the best things to do in Romania! I've made a super long list and I've also added a section with the best cities to stay in the country while giving you some hotel options as well.

Don't forget to book your tickets and accommodations in advance, Romania is super popular and when it is filled with tourists, everything tends to sell out so fast!

For now, this is where I leave you, I hope you enjoy your trip and if you've got any more questions, pop them in the comments below and I'll answer all of them!

Have a wonderful trip,
Victoria
---
Pin it for later!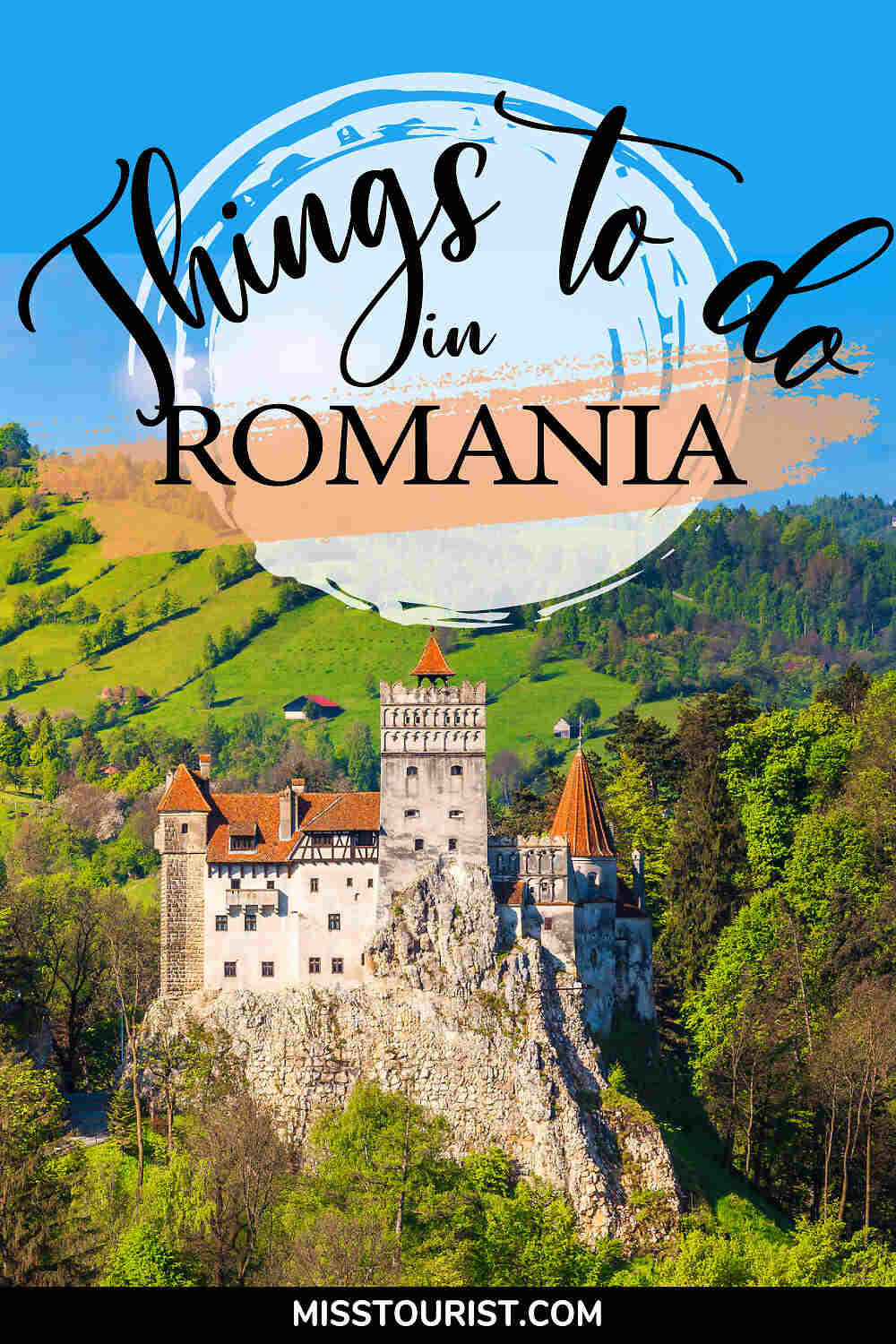 Pin it for later!