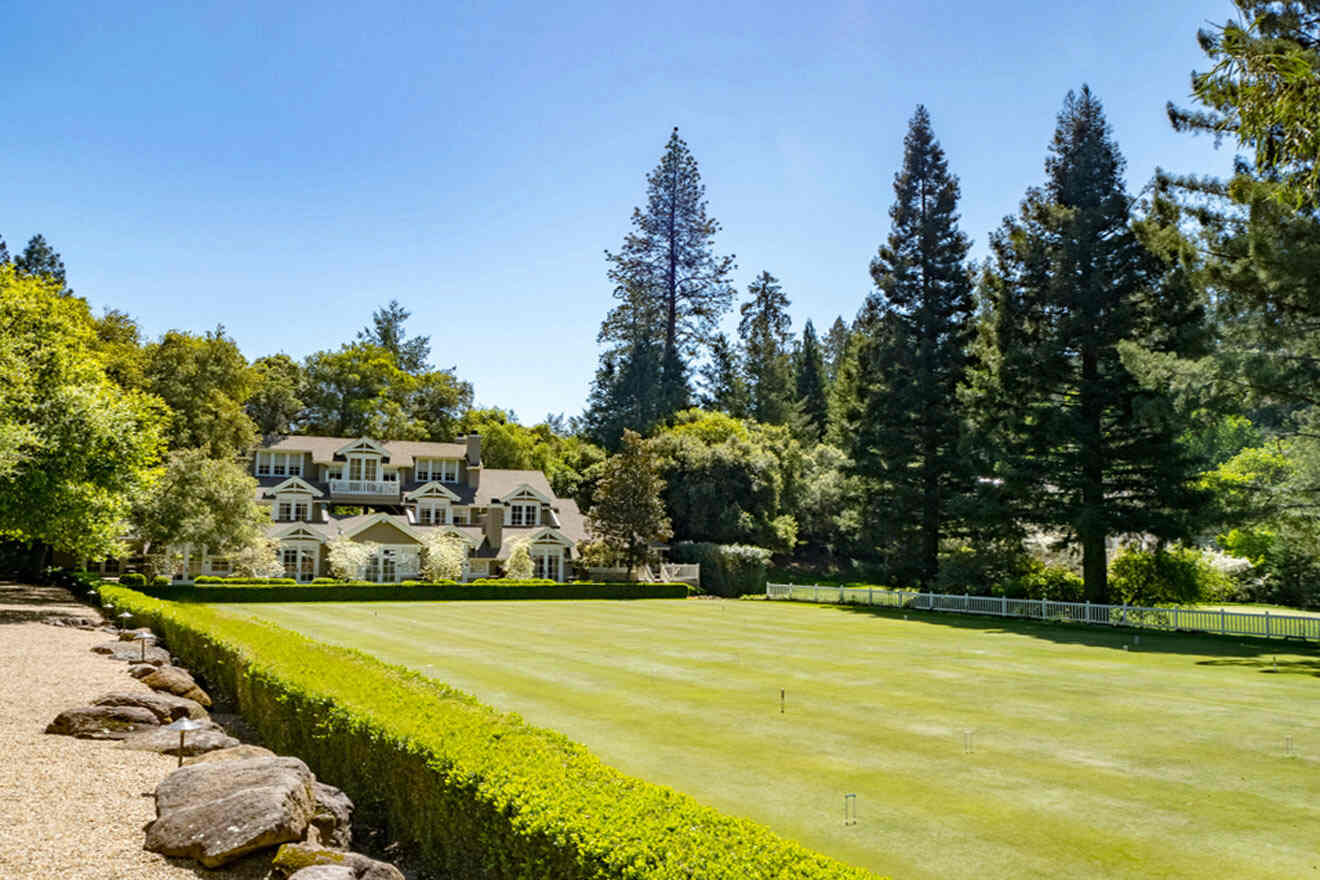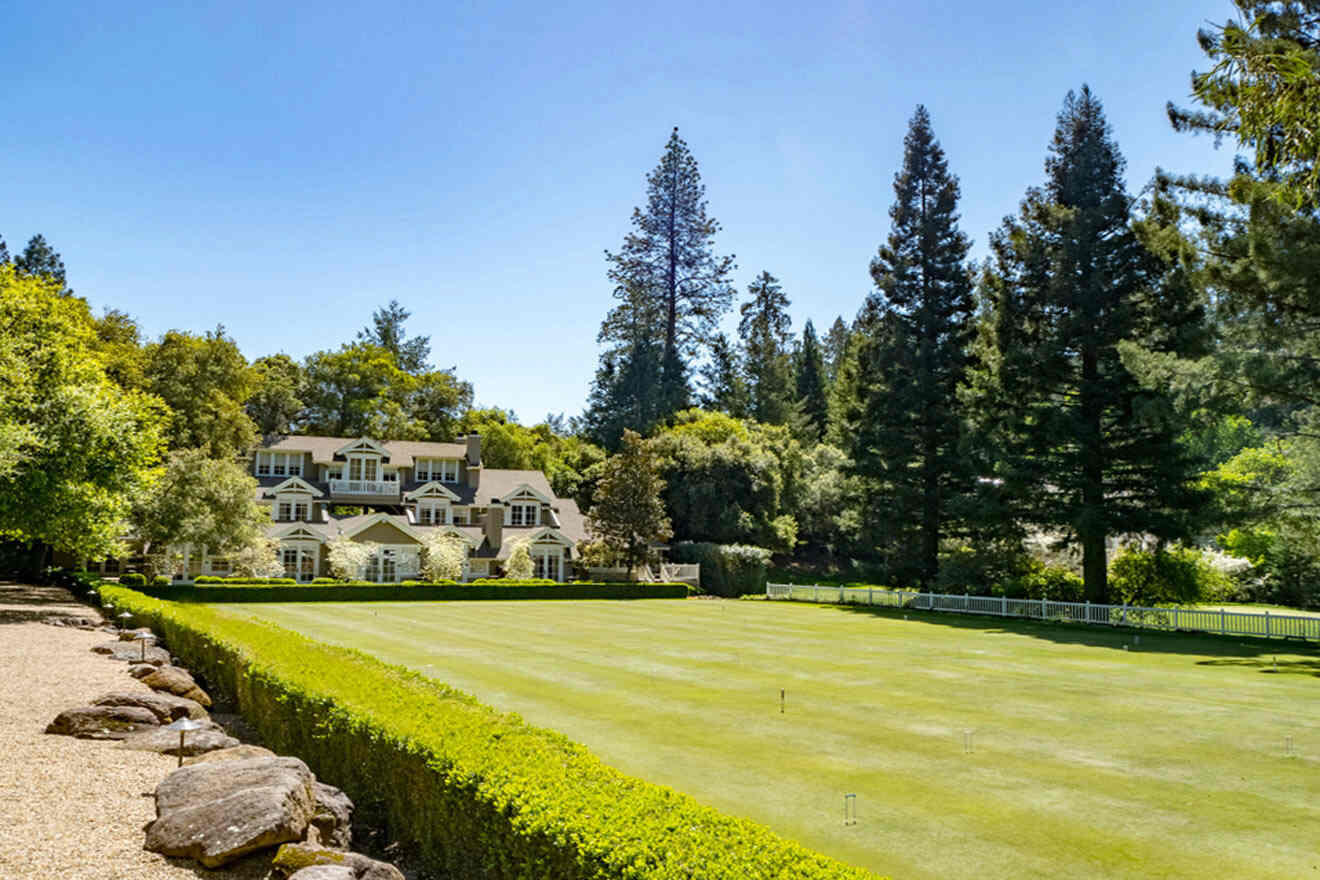 Wine tastings at sunset, balloon rides, scenic driveways, Napa Valley sure has it all! Planning a holiday there can't be easy, especially when there are so many fabulous hotels, but don't worry, this is why I'm here today!
To help you find the best boutique hotels in Napa Valley! That's right, I did all the research necessary to come up with this incredible list of accommodations I ordered from most to least expensive so that you can easily find the right one!
Once you do, I highly recommend booking it in advance! Napa Valley is so popular, and everyone wants to go for a wine tasting and spend the night, which means that the good hotels will definitely sell out super fast!
Having said that, let's pour ourselves a glass of wine and start!
Vamonos!
If you are in a hurry
Rushing to book your hotel? Then check out the list below, which has the best boutique hotels in Napa Valley:
1. Auberge du Soleil – with the best outdoor soaking tubs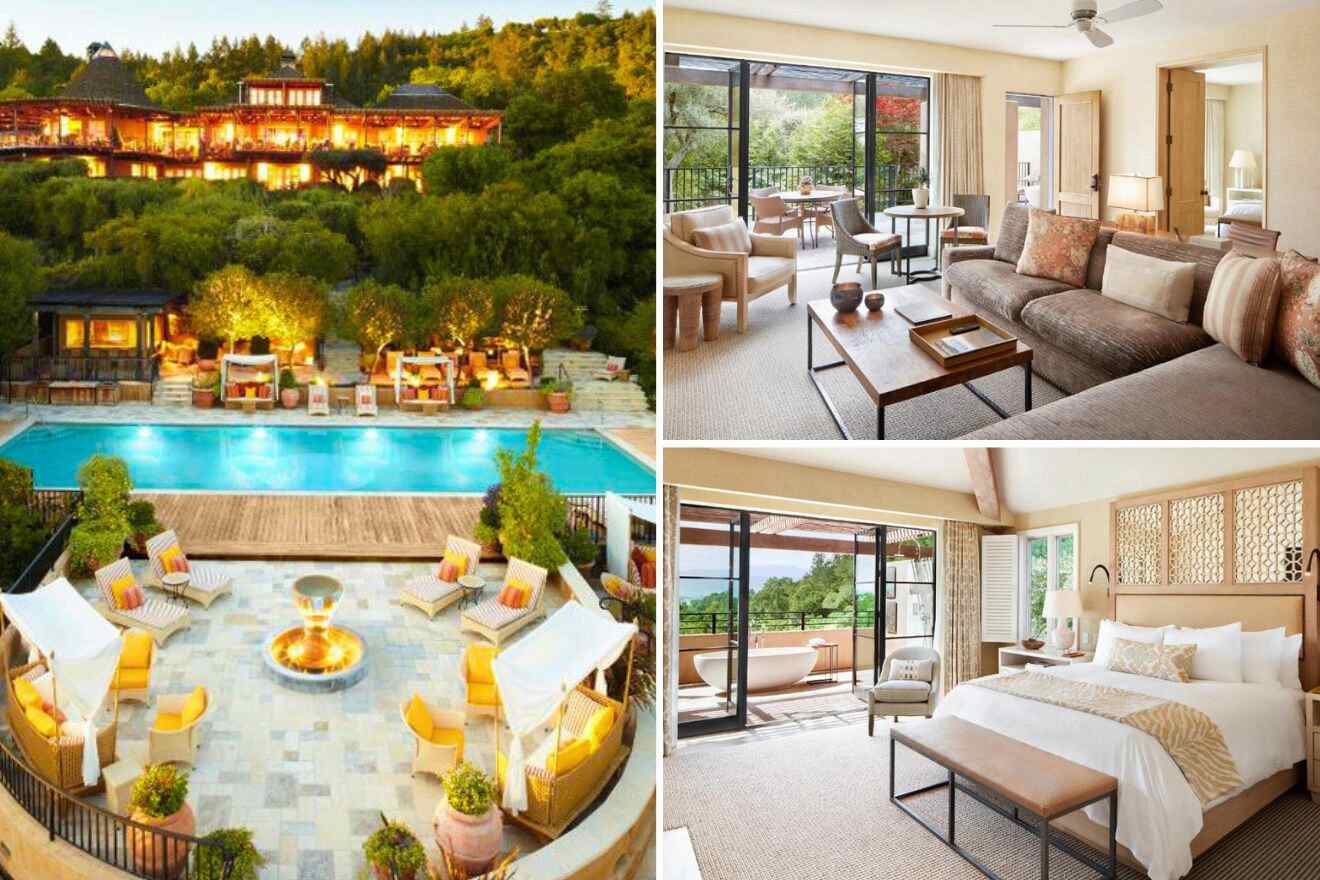 Set among the olives grove in Rutherford, just a 30 min drive from downtown Napa, this luxury hotel is an absolute dream! Wake up in your stunning guest rooms, which have beds with Italian linens, and head to the private balcony with a separate walk-in shower to relax in the deep-soaking tub while admiring the views and sipping your coffee!
Then you can continue your day with a whole sesh at their full-service spa that offers a signature purification ritual among many other incredible services. Guests can also sign up for yoga classes and boxing. End your day with a yummy dinner at the on-site restaurant with one of the most extensive wine cellars in the Napa Valley region!
2. Solage – for a relaxing stay in Napa Valley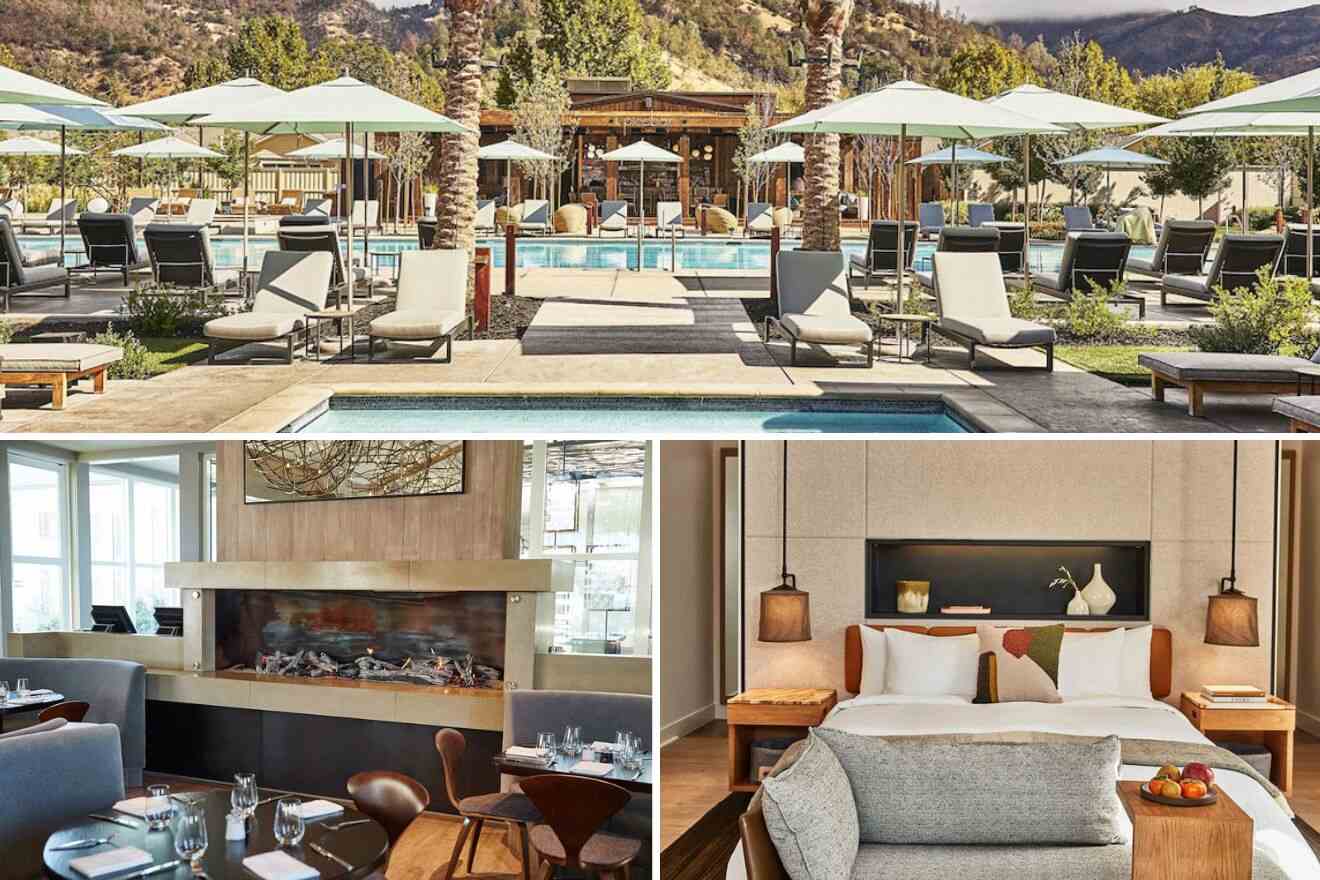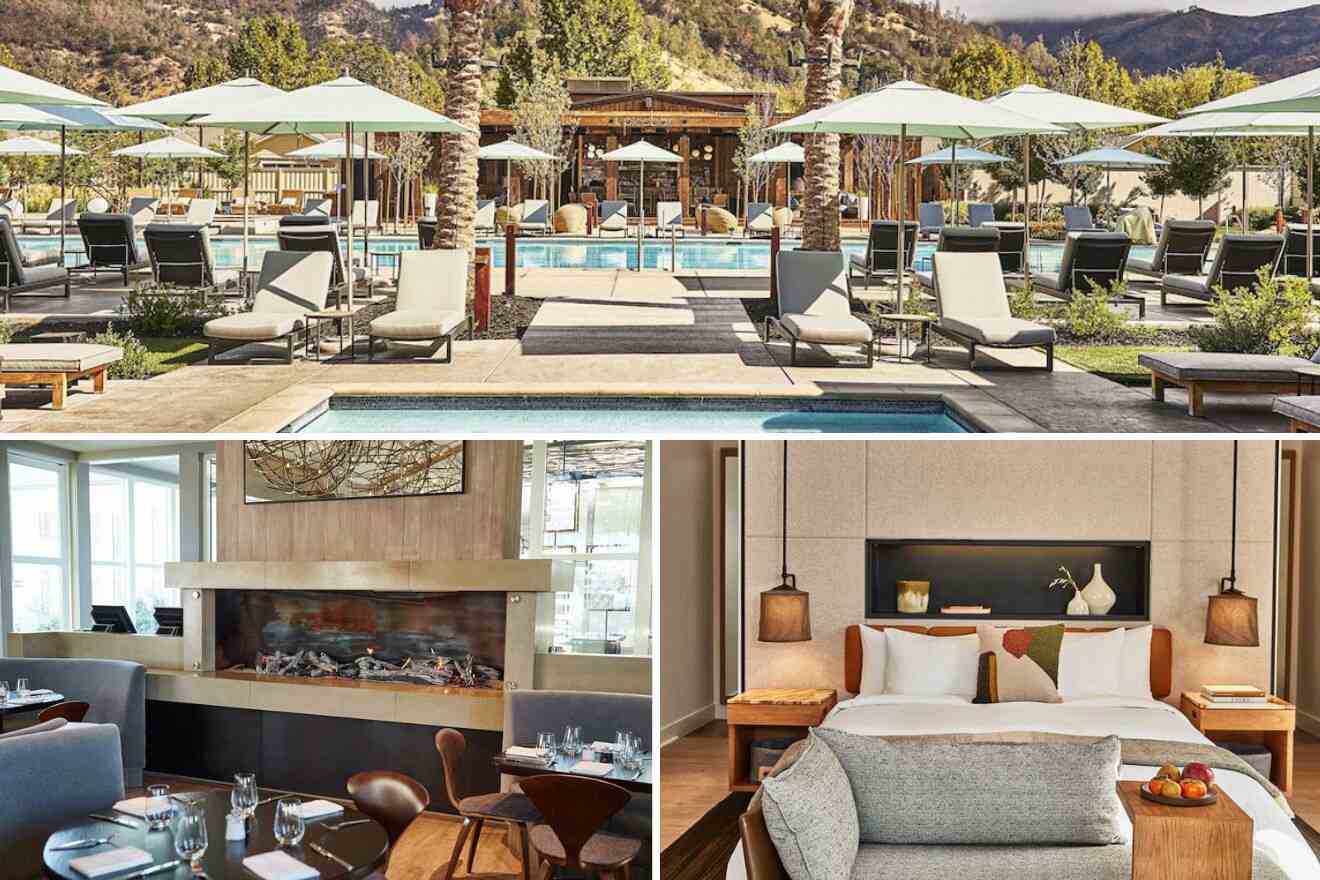 You will absolutely fall in love with this luxury Napa Valley resort! Set in a mesmerizing location near the Calistoga Hot Springs, the hotel is beautifully designed, and it comes with luxurious amenities like 6 outdoor pools, a wellness spa, and a stunning courtyard with fire pits!
The accommodation features guest rooms decorated with soft colors and which have a private patio where you can have your coffee in the morning or a glass of Napa wine in the evening.
When you're not relaxing in the hot tub or enjoying the spa services at Spa Solage, you can borrow some bikes from the boutique hotel and explore Napa Valley's towns!
3. Bardessono Hotel and Spa – has a cool rooftop pool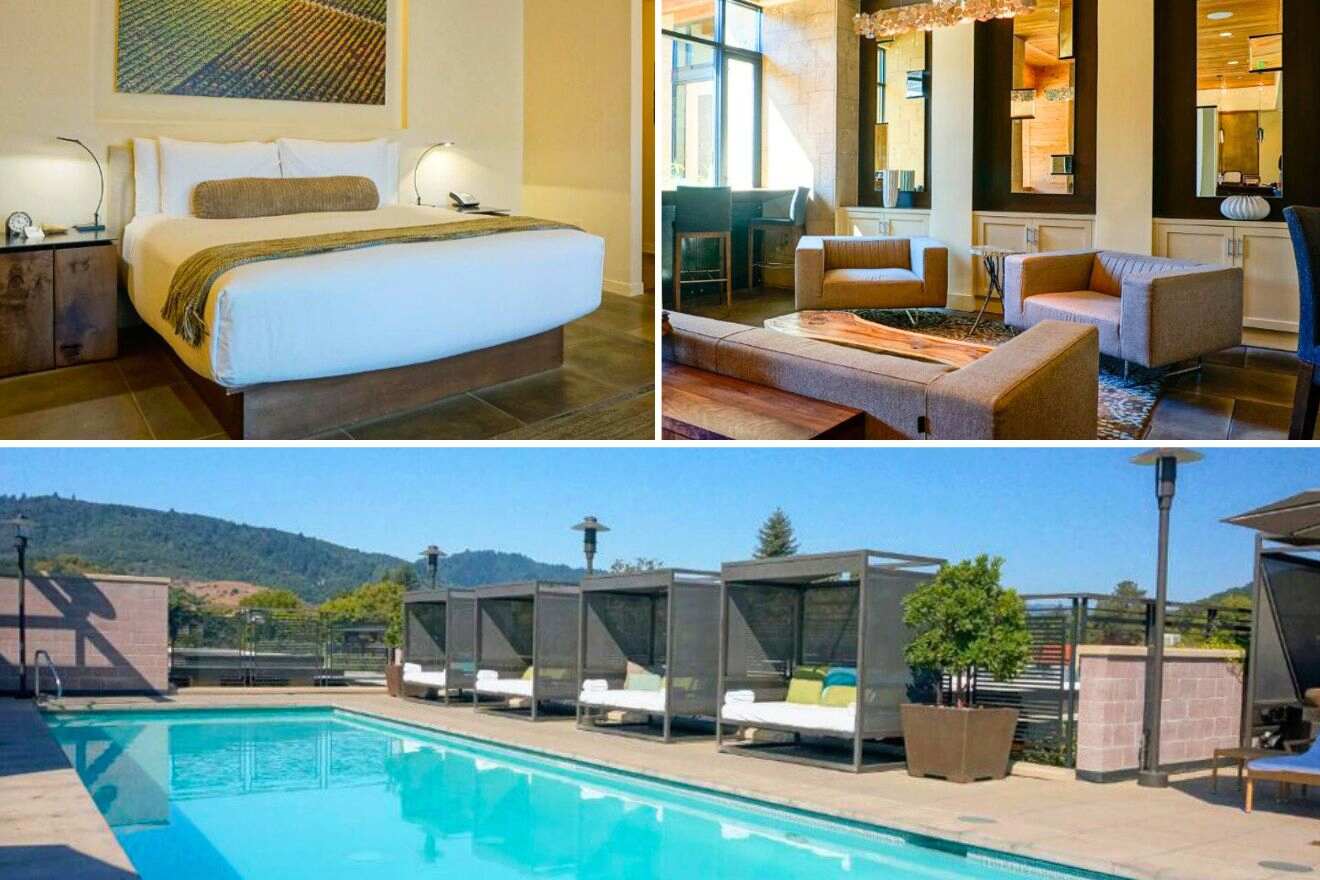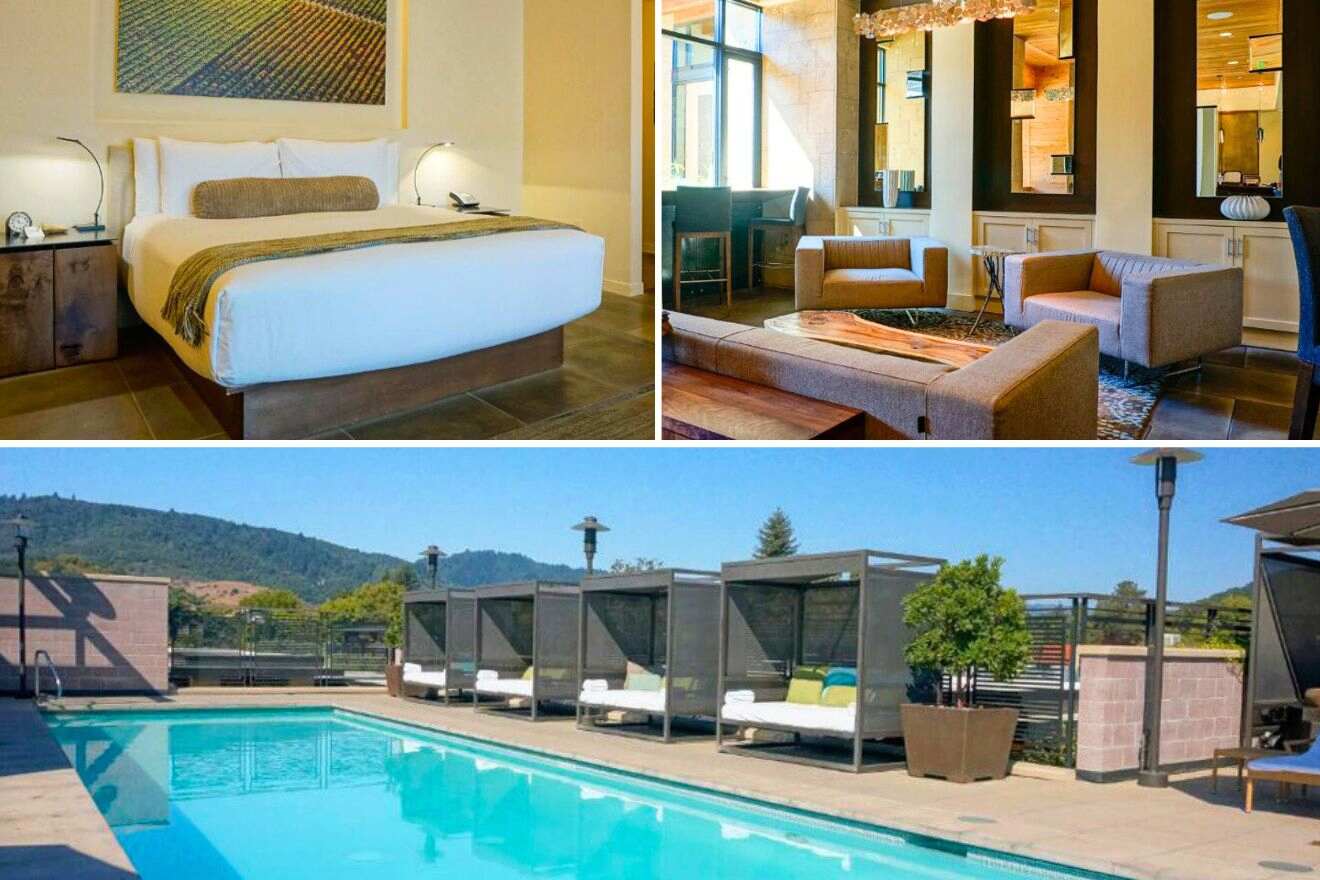 Enjoy the Californian sun by the rooftop pool of this amazing boutique hotel set in Yountville, which has a fabulous dining place called the Lucy restaurant that serves locally grown cuisine with organic ingredients (yum)! Surrounded by colorful trees and rolling hills, the hotel is perfect for a couple's getaway in Napa Valley!
I'm sure you'll love their spacious rooms that have bathrooms that were specially designed as private spas featuring the coolest massage tables. But don't worry, they have a separate wellness center where you can try other treatments. Definitely join their evening wine tastings on Friday if you want to try some famous Napa wine!
4. Carneros Resort and Spa – offers a unique view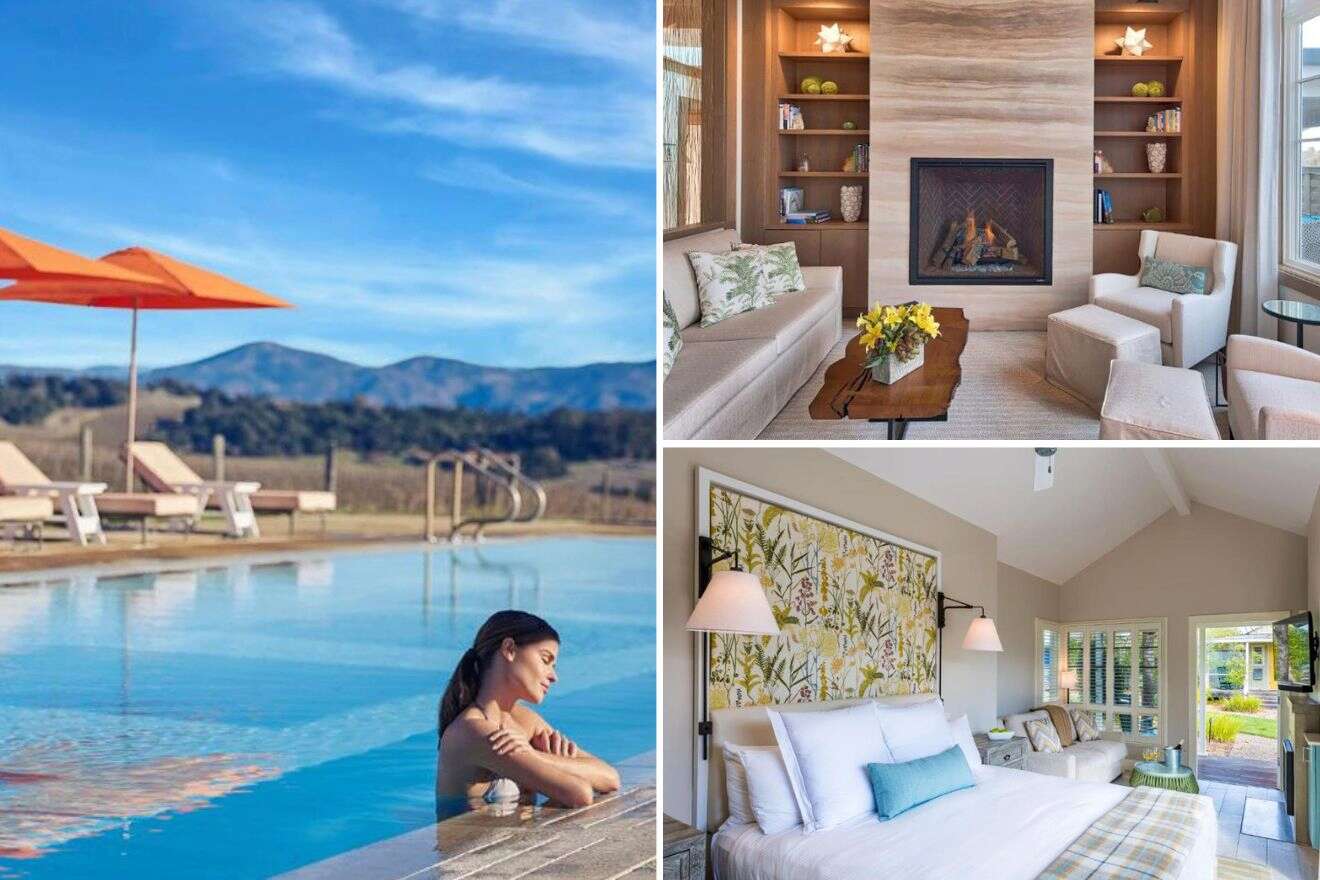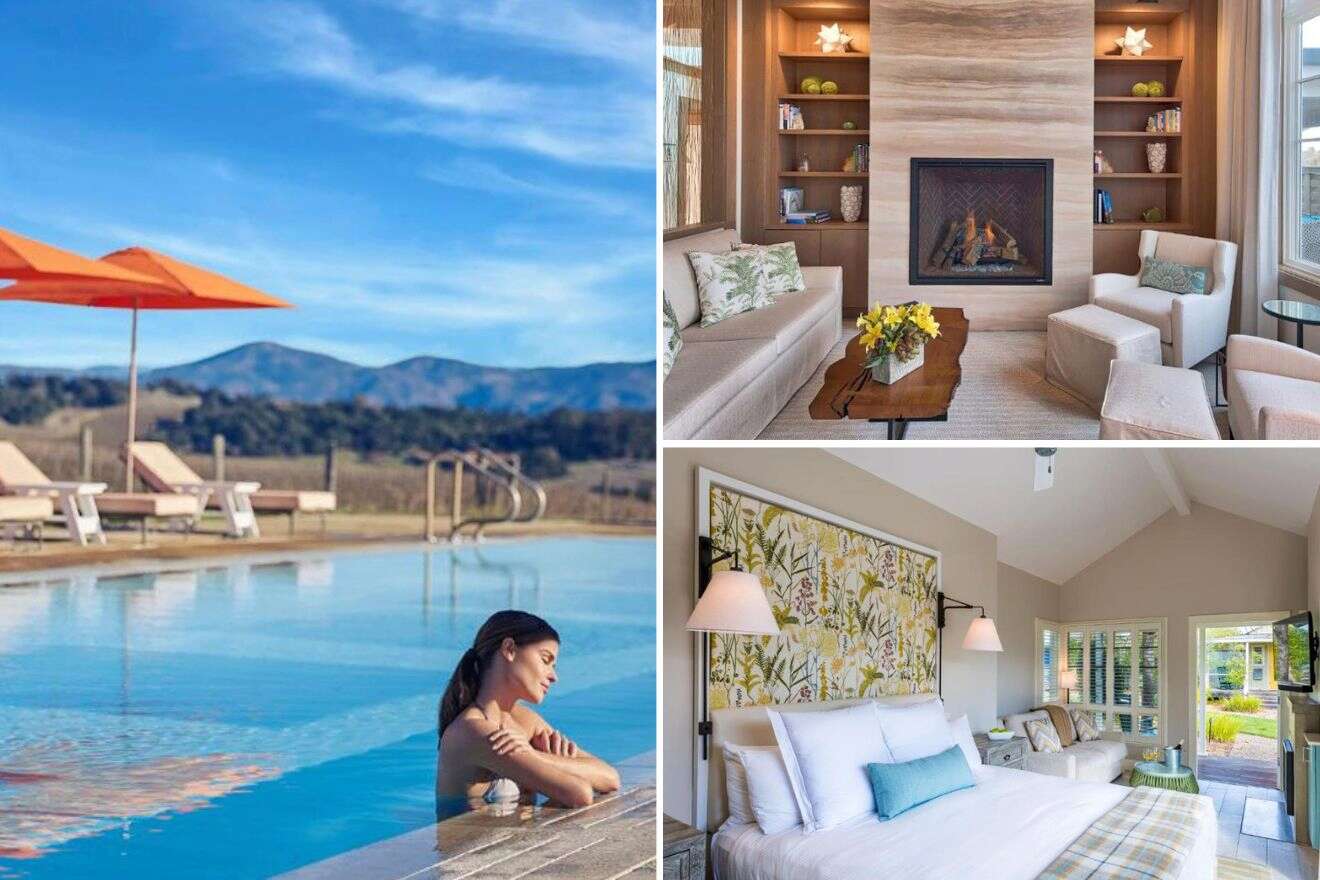 Gotta love a boutique hotel with a great view, and this California hotel offers an incredible sight of the hills and wine groves! Set near Carneros Valley, the accommodation has 2 outdoor pools, 3 full-service gourmet restaurants (including a Michelin-starred restaurant), and an award-winning spa!
The resort has different cottages and suites which have so much space, and some also offer a furnished patio and a fireplace. During your stay, you can enjoy some afternoons in the heated outdoor pool, try a spa treatment or more and sign up for some fun activities like horseback riding and hiking!
5. Meadowood Napa Valley – a stylish place with 3 pools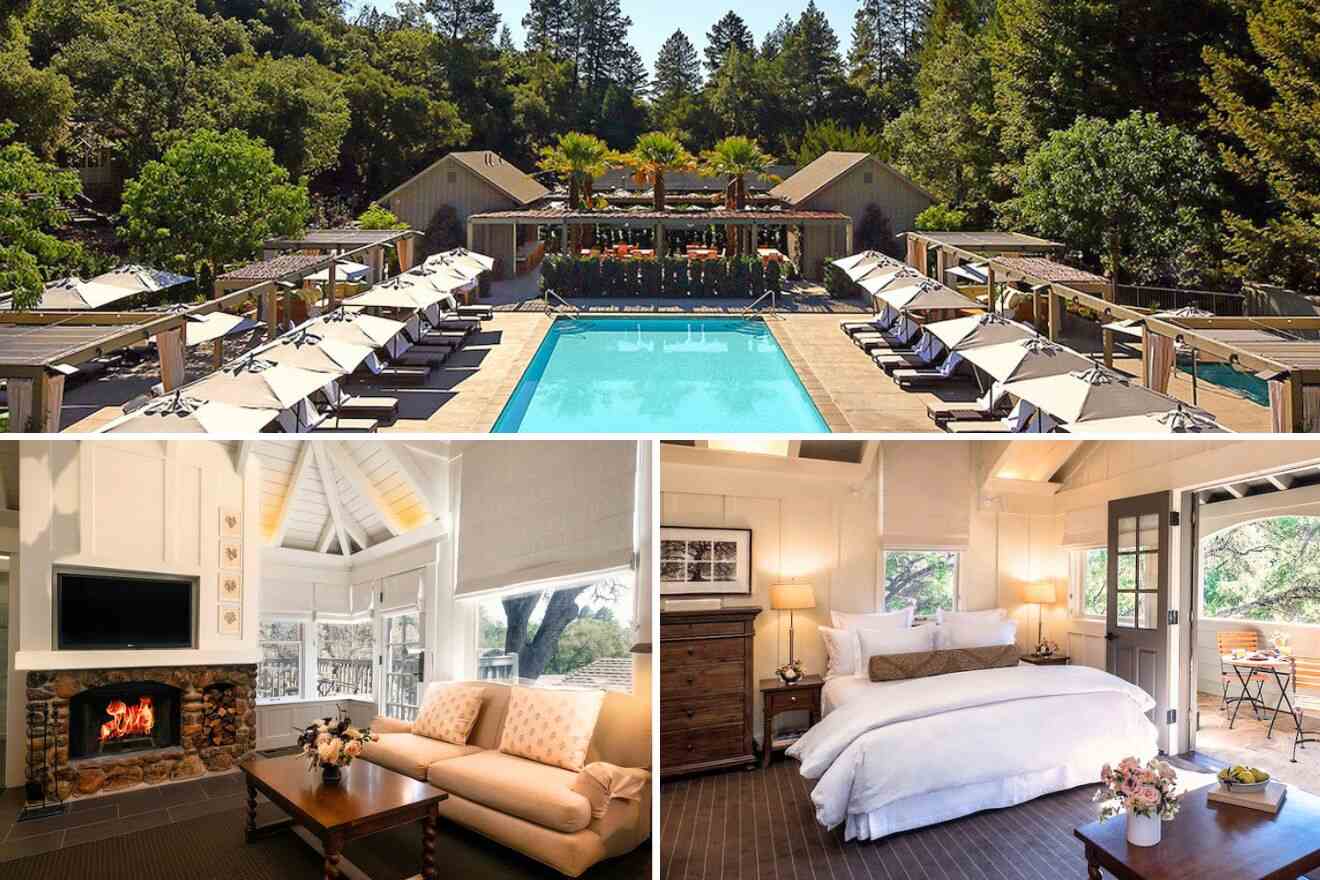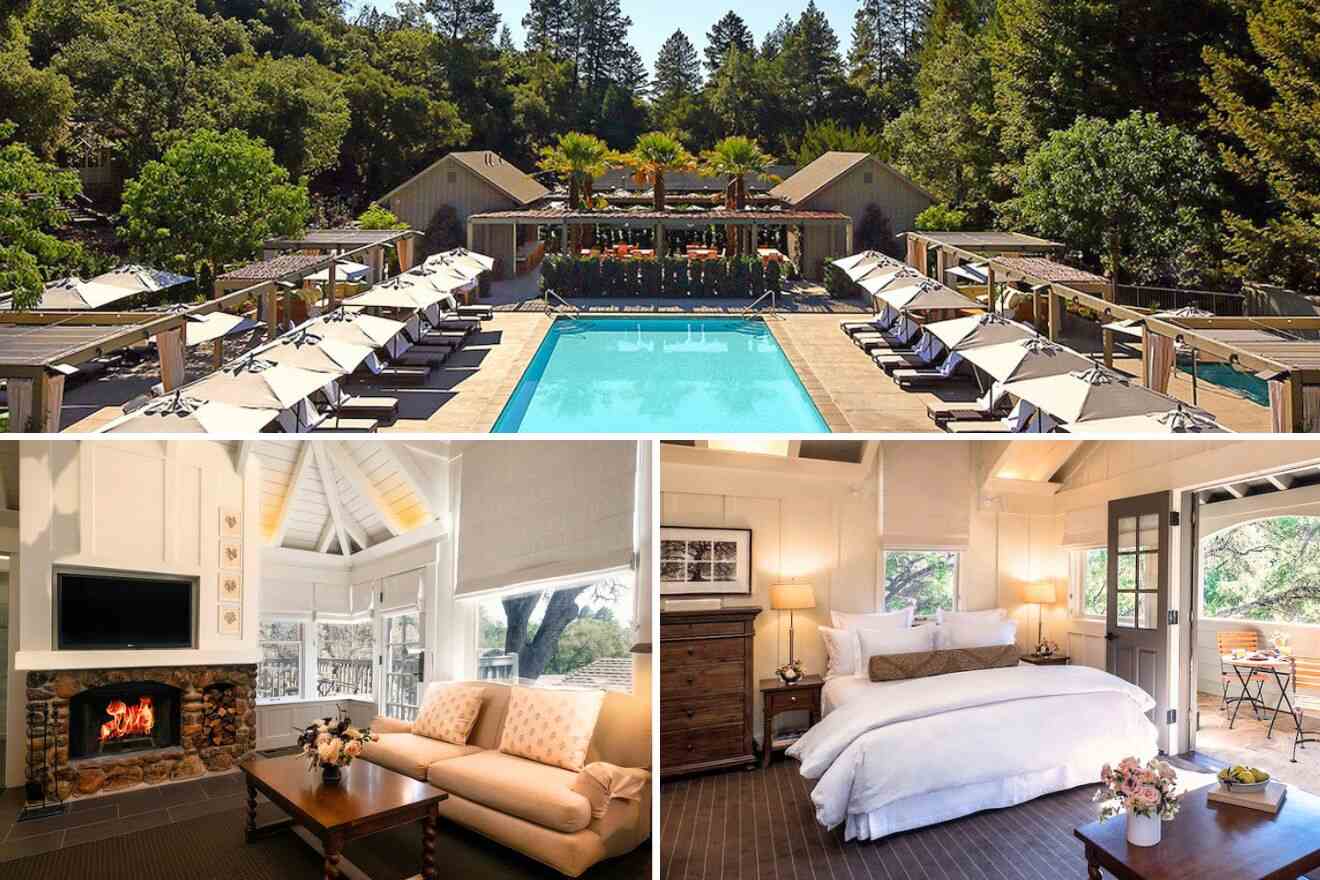 Feel right at home in this gorgeous hotel set just a short walk away from downtown Saint Helena in the Napa Valley! I love a hotel that can create such a cozy atmosphere through its designs! Everything from the color palette to the amazing facilities, like the outdoor pool and spa bath, looks incredible!
Whether you pick one of the spacious cottages or normal guest rooms, you'll feel super comfy, as each space was built with such a strong eye for detail! Before you start your days of exploring the Napa Valley wineries, you can enjoy a yummy breakfast, relax by the outdoor pool, play on the tennis courts, or jump in for a spa treatment!
6. Alila Napa Valley – for a tranquil trip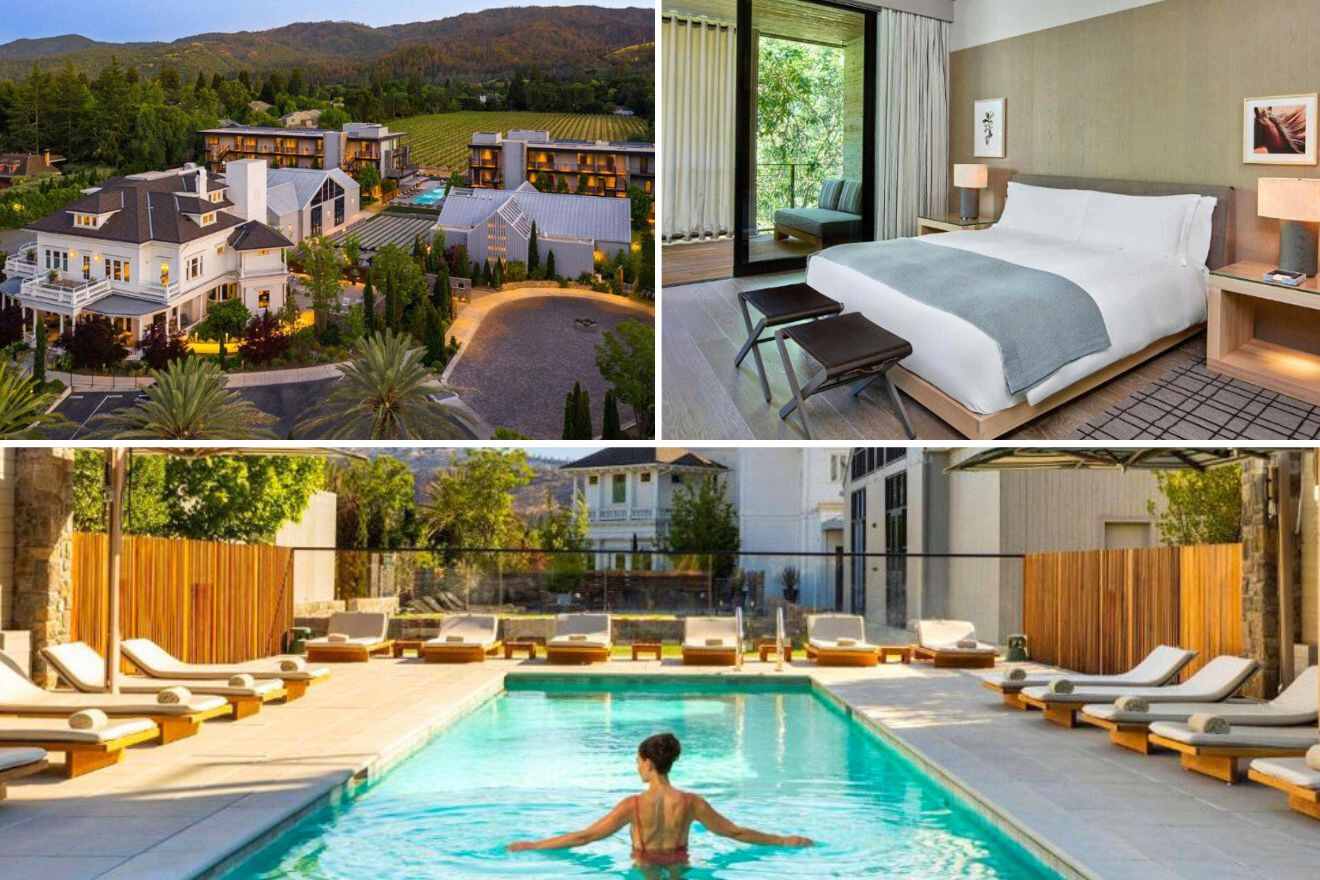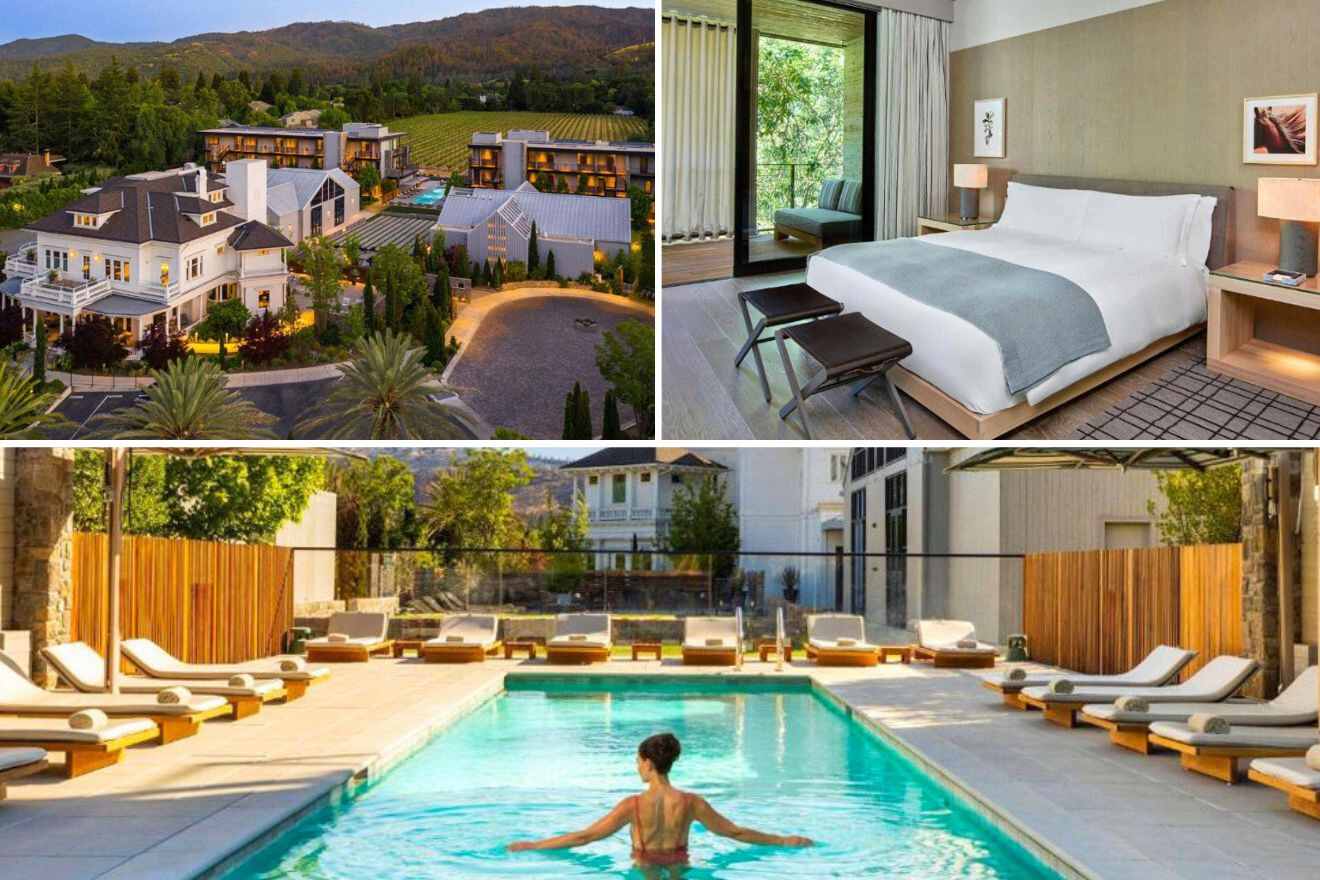 Just imagine waking up in your perfect room in a place surrounded by wine groves and hillside views, in the comfiest bed in a room that looks taken out straight out of a magazine! The suites are super spacious and have private balconies, deep soaking tubs, and offer beautiful views!
The whole hotel, which is set in Saint Helena, has such a modern design and some incredible facilities, like a restaurant that serves delicious food, an outdoor pool, and a fitness center. After a day of visiting attractions, relax by the outdoor fire pits while enjoying a glass of wine!
7. North Block Hotel – for nature lovers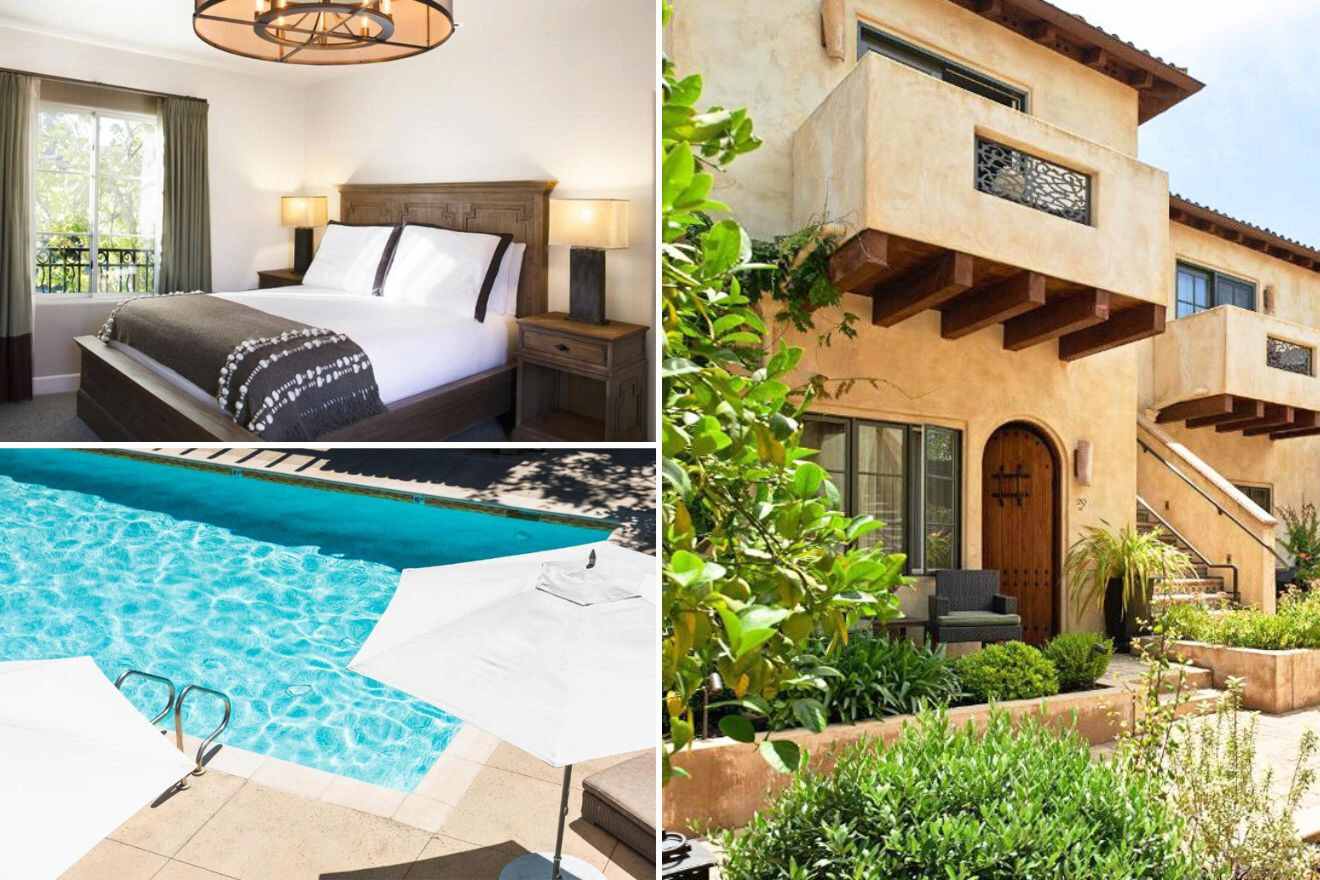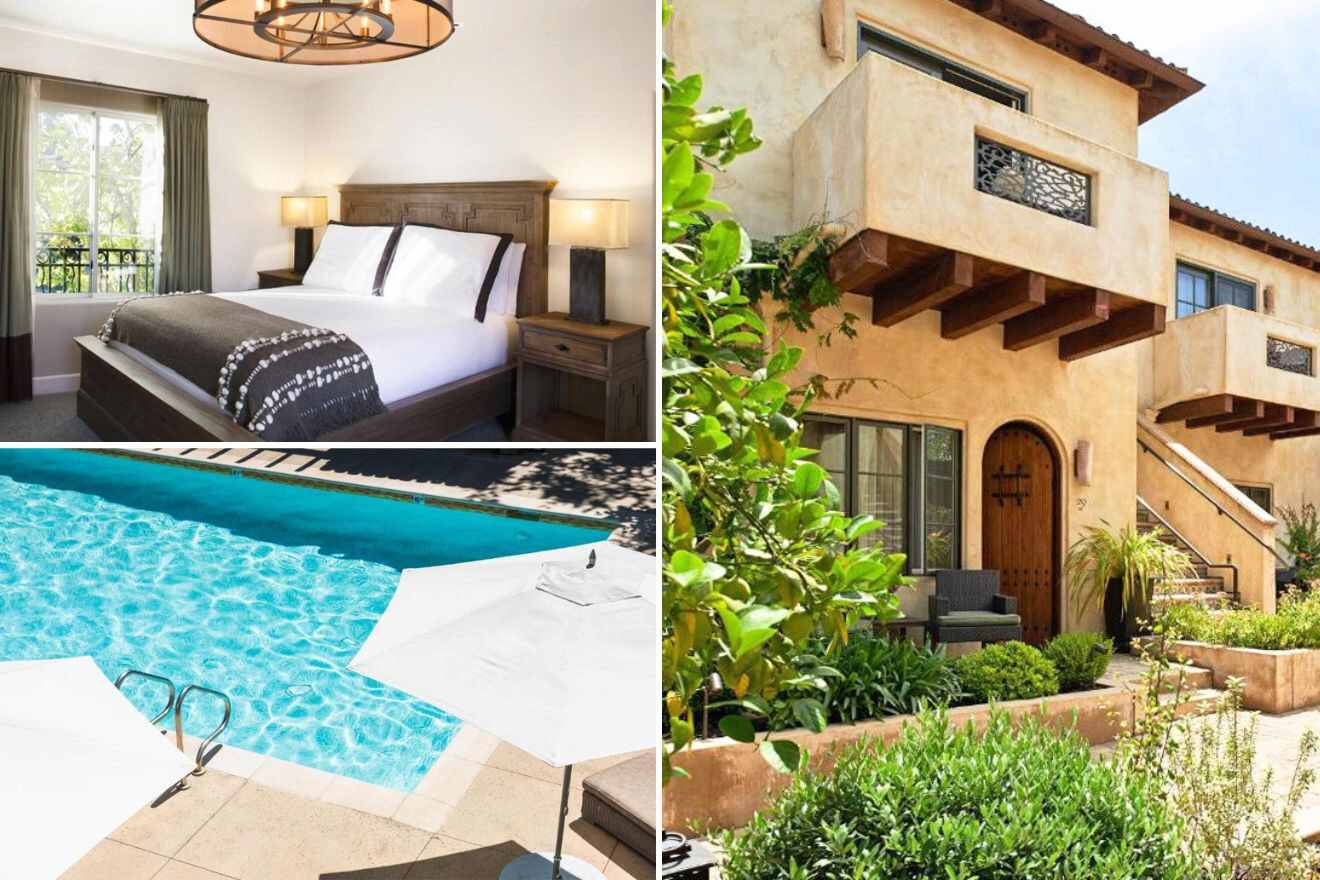 Planning to do nothing but relax, lay out in the sun, and drink wine during this holiday in Napa Valley? Then, I think I found you the perfect place to stay in Yountville! The accommodation is super chic and has a restaurant that uses locally grown, seasonal ingredients.
Spend your holiday swimming in the outdoor pool or hot tub, trying all sorts of spa treatments at their wellness center, and of course, trying all the wine. Since you're surrounded by so many incredible areas, I definitely recommend renting out a bike from the hotel and going on an adventure!
8. Milliken Creek Inn – offers a great location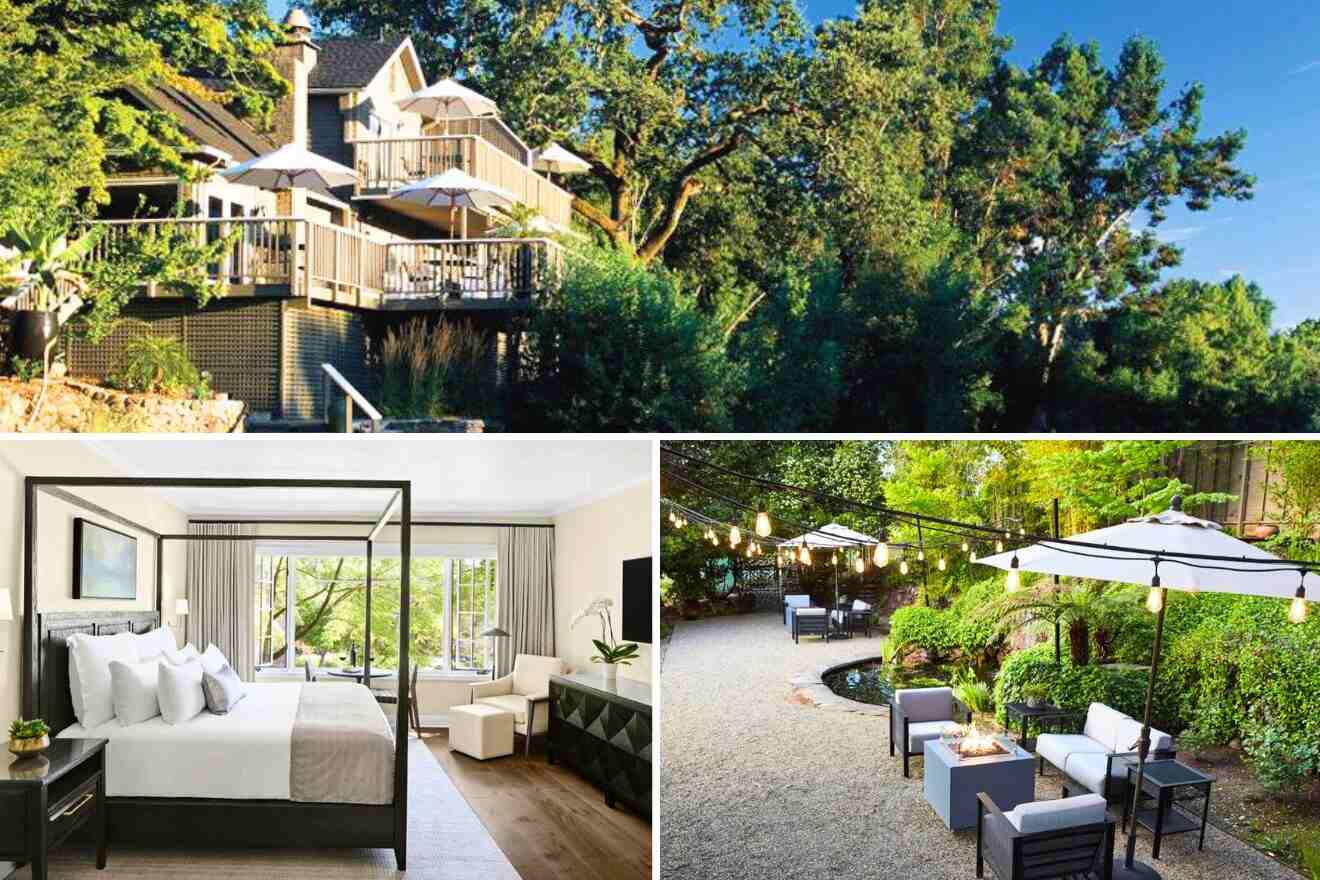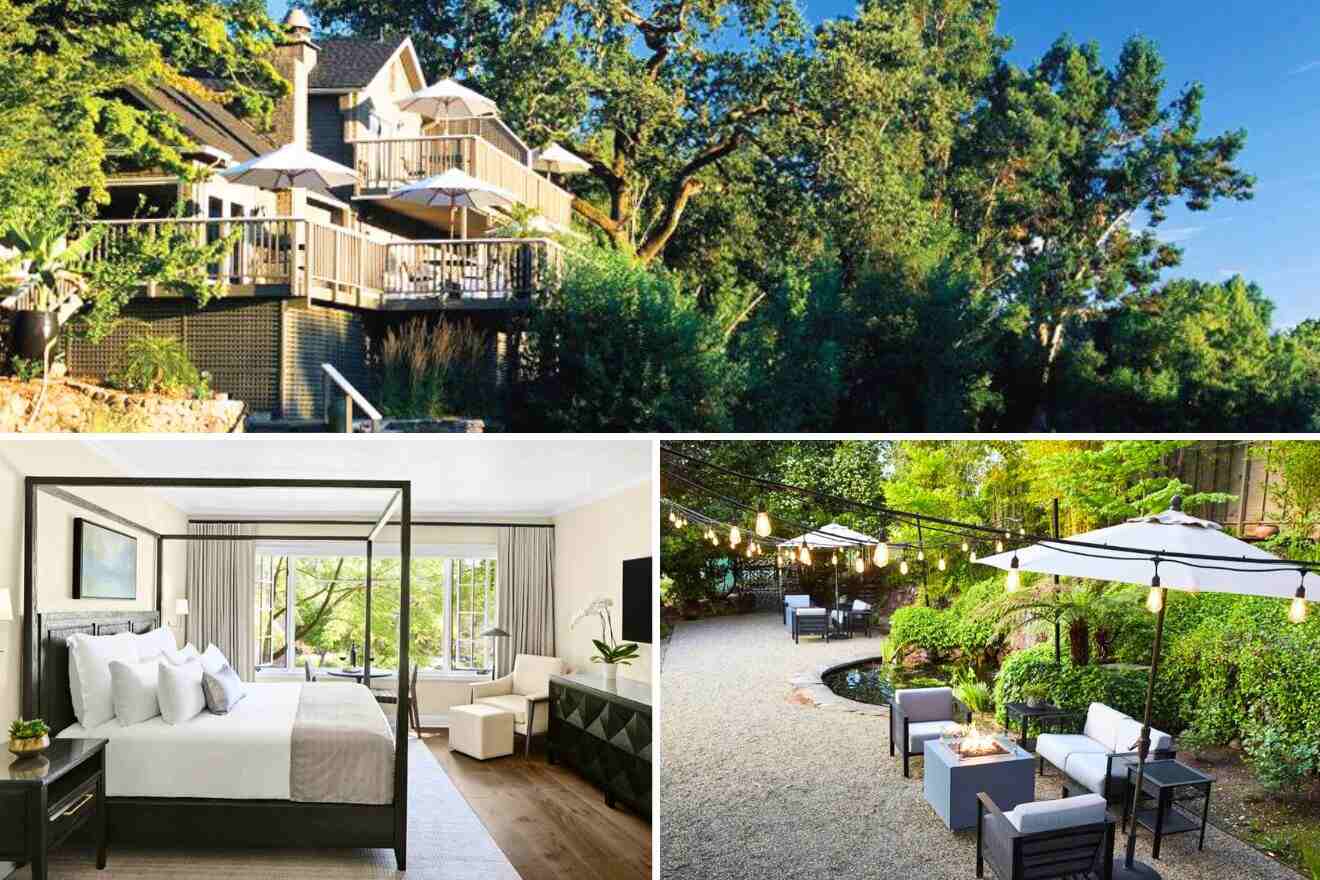 Perfect for those who want to stay near downtown Napa (which is only a 30 min drive away), this boutique hotel is tucked somewhere between the trees, right by a lake, and it offers such a lovely atmosphere!
All the rooms come with a beautiful design and all the amenities you need for your stay, including some amazing luxury linens. Start your mornings with a complimentary breakfast and a long bath in your private soaking tub before heading out and about! The resort offers Napa Valley wine-tasting excursions, and the Napa Valley Wine Train is just a 5 min drive away.
9. Hotel Yountville – organizes free wine tastings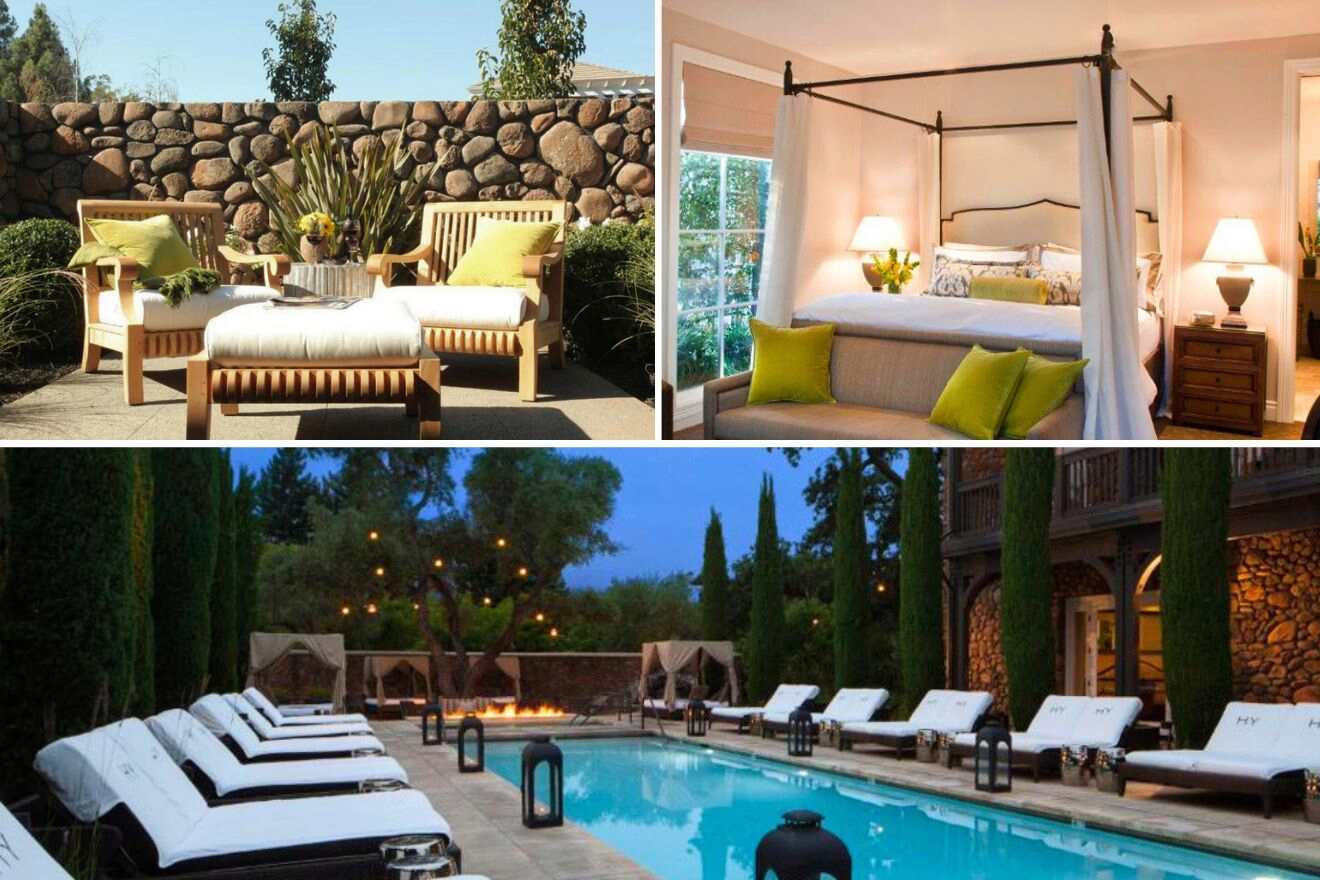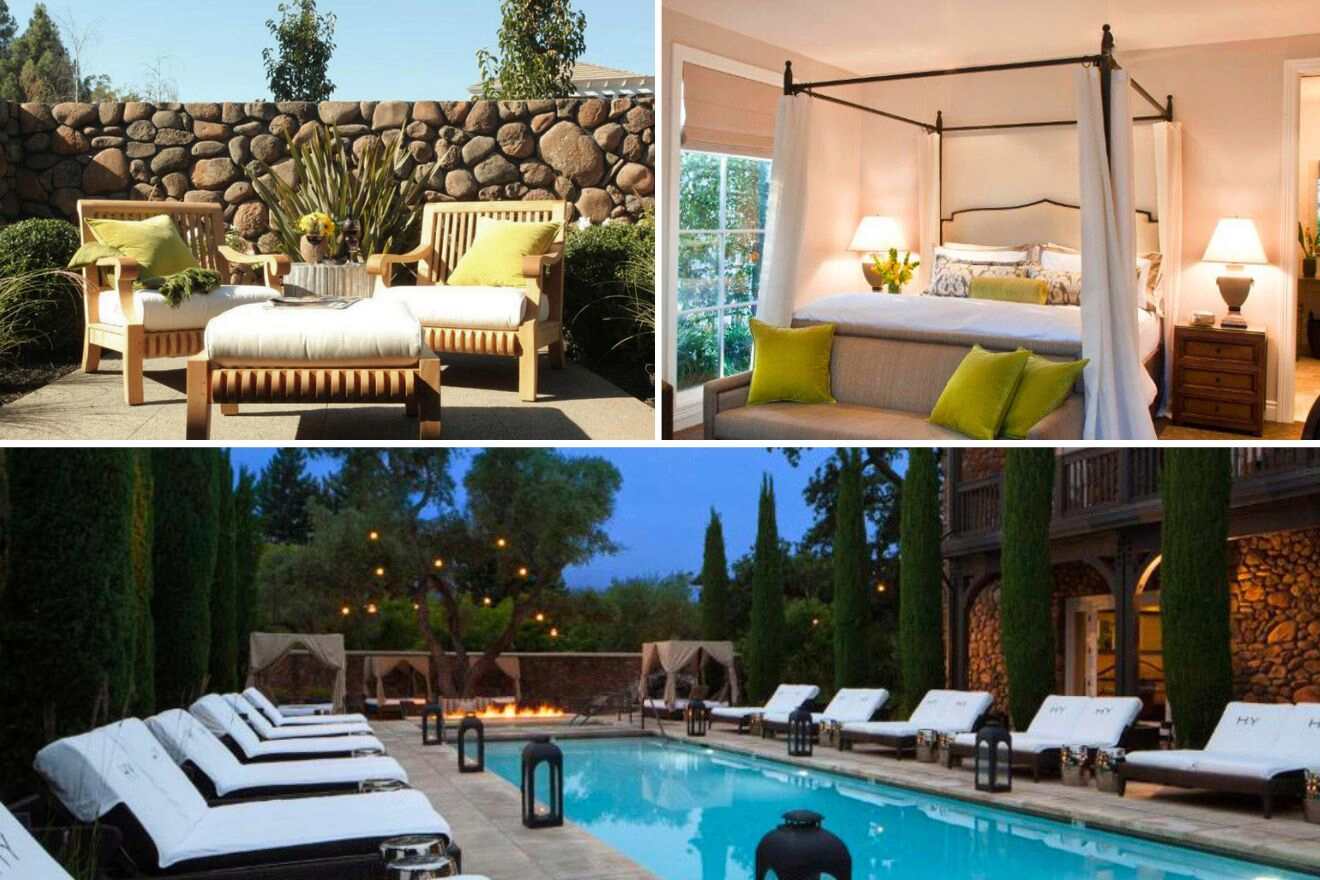 A gorgeous hotel set in Yountville just a 10-minute walk from the Napa Valley Museum and Napa Valley Symphony, where you can spend your holiday just drinking some good old wine and loving life! Hotel Yountville features an outdoor pool, a full-service spa, and a bar.
Their on-site restaurant offers a gourmet breakfast in the morning, and on some nights, you can enjoy free wine tastings! And I didn't even mention their rooms with a lovely fireplace, a furnished balcony, and a private bathroom with a spa bath where you can enjoy some time all to yourself!
10. Bann at Oak Knoll Napa – a stylish hotel with a pool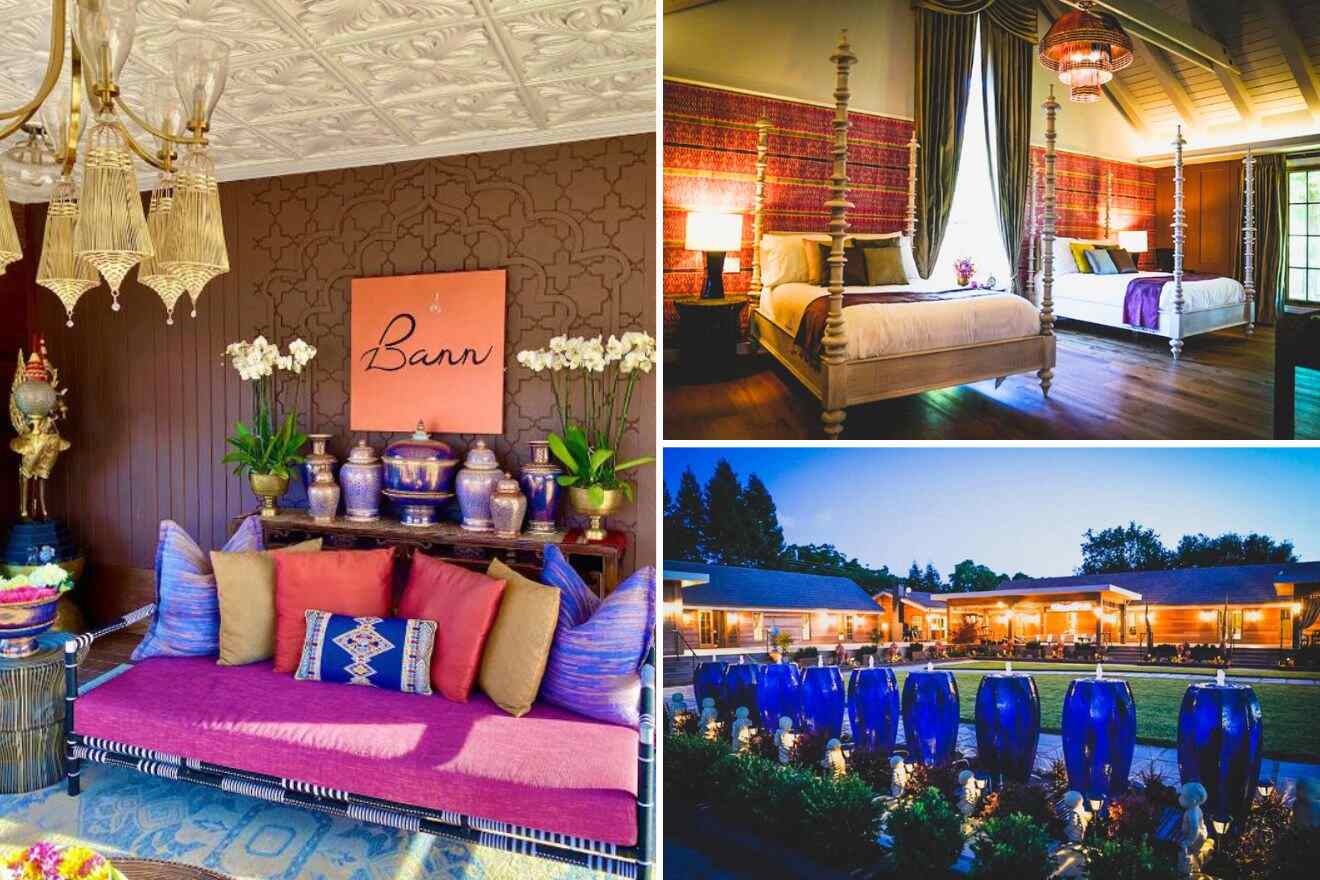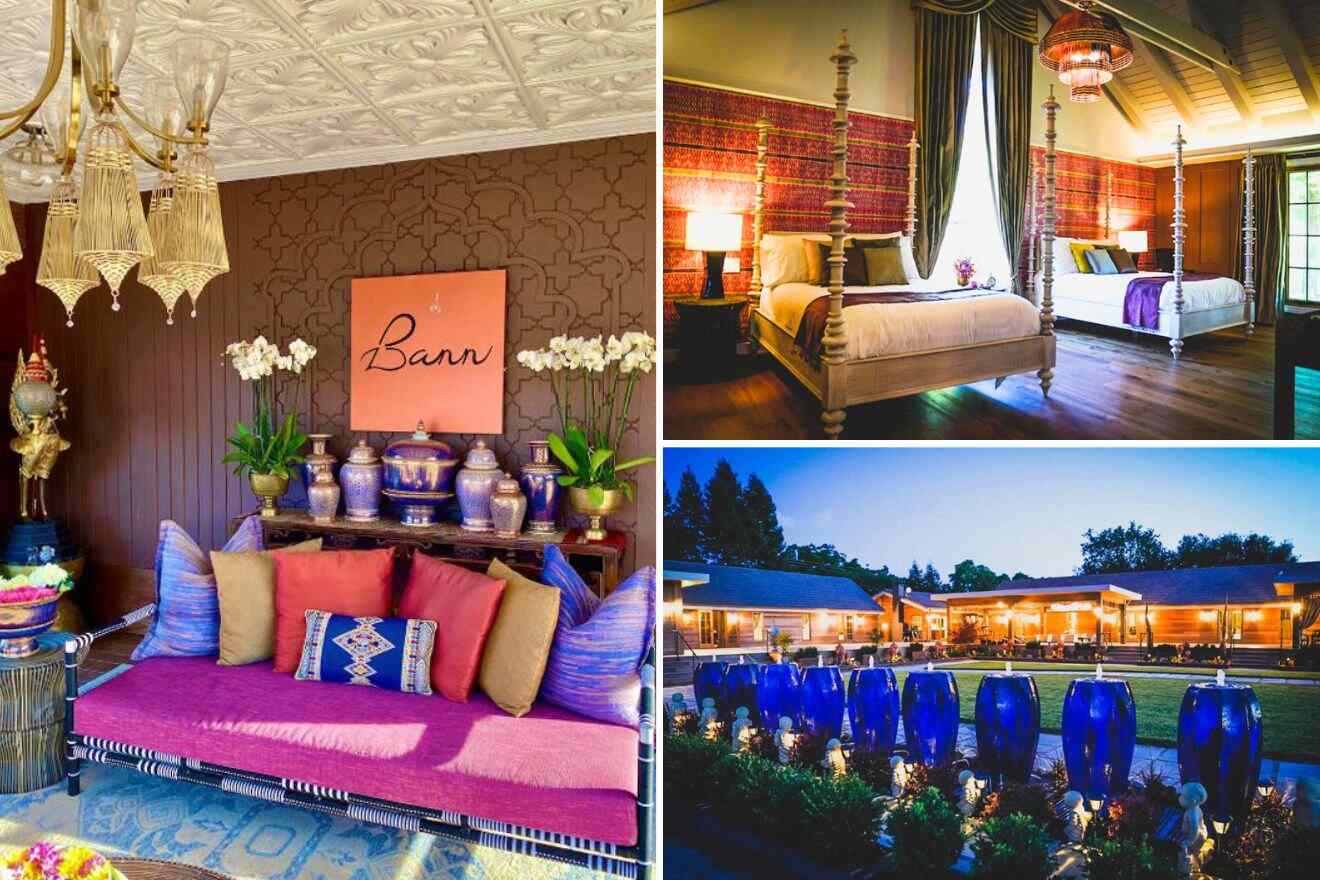 You'll never want to leave this sustainable bed and breakfast set in Oak Knoll! Not only does it have such a great style, but it also offers some amazing views, free private parking, a lush garden, and a swimming pool where you can sunbathe all day long under that Californian sun!
All the rooms are beautifully designed and come with colorful wallpapers, comfy beds, and a patio with an outdoor dining area that overlooks the hills! What a dream! Take a day just for self-care and soak in their hot tub, read some books, practice some yoga, or do your favorite workout, as this space really allows you to drop in and ground!
11. Rancho Caymus Inn – unmissable hotel with a spa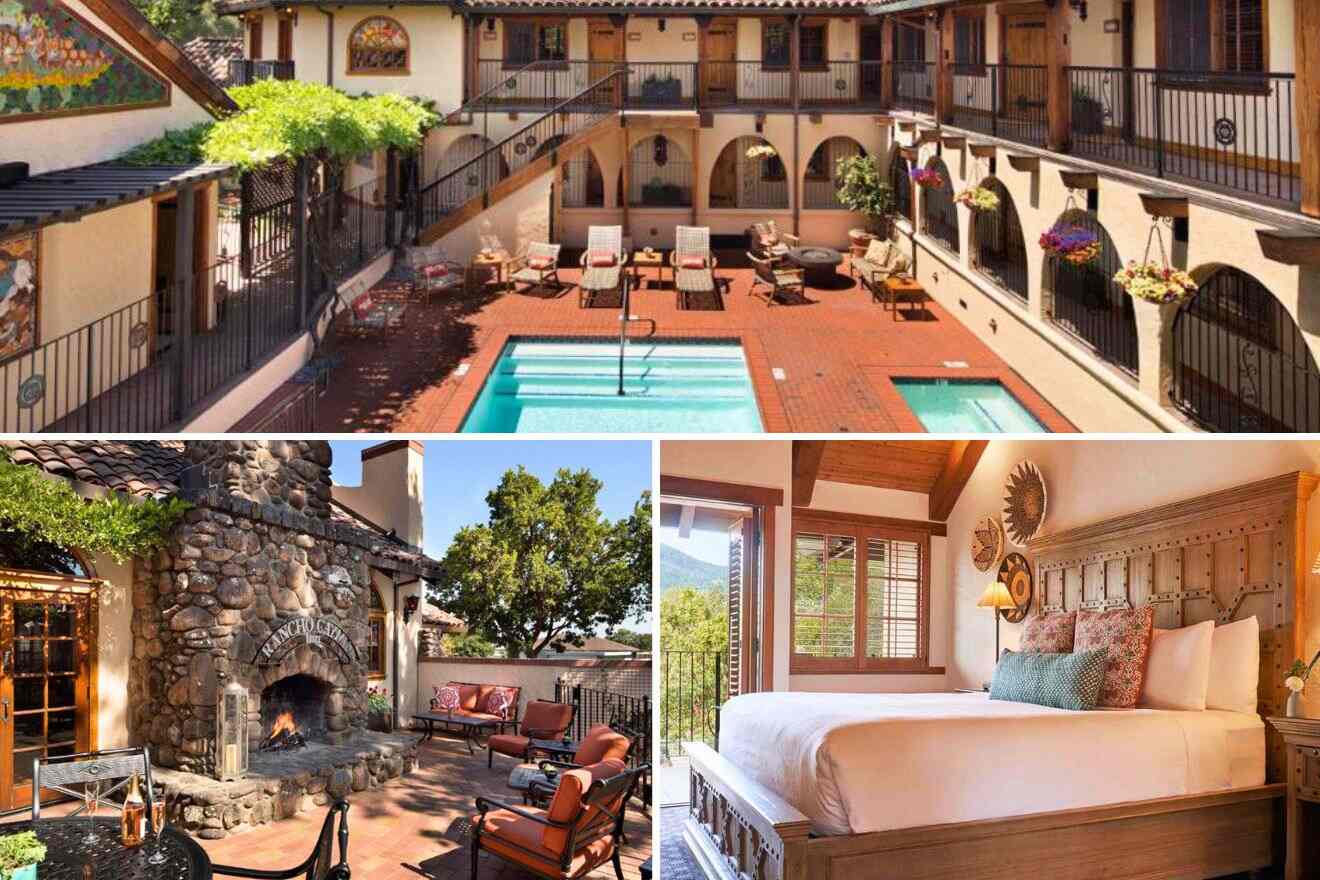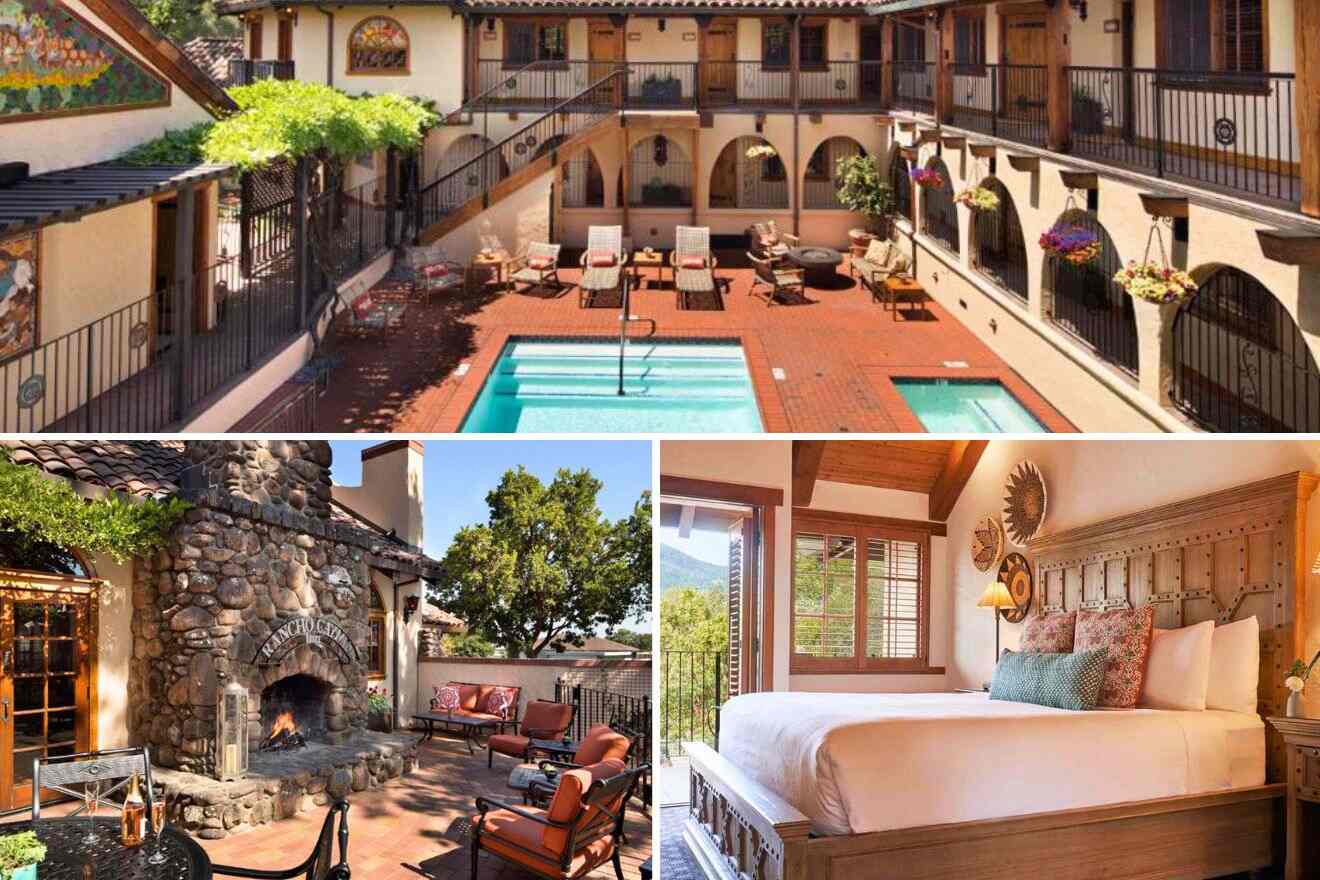 Take my money, because I'm so sold! This beautiful accommodation in Rutherford will make your holiday in Napa Valley unforgettable! Its design is impeccable, and I love how they have this soft, rustic touch, complemented by the gorgeous vintage furniture and some really unique wooden ceilings.
I know you'll want to go every day on a wine tasting but definitely take some time to just spend around the property. It really is so charming, and you can combine that with your spa time. My favorite part has to be the stained glass window which looks so unique and also the little patio where you can relax.
12. Senza Hotel – has original artwork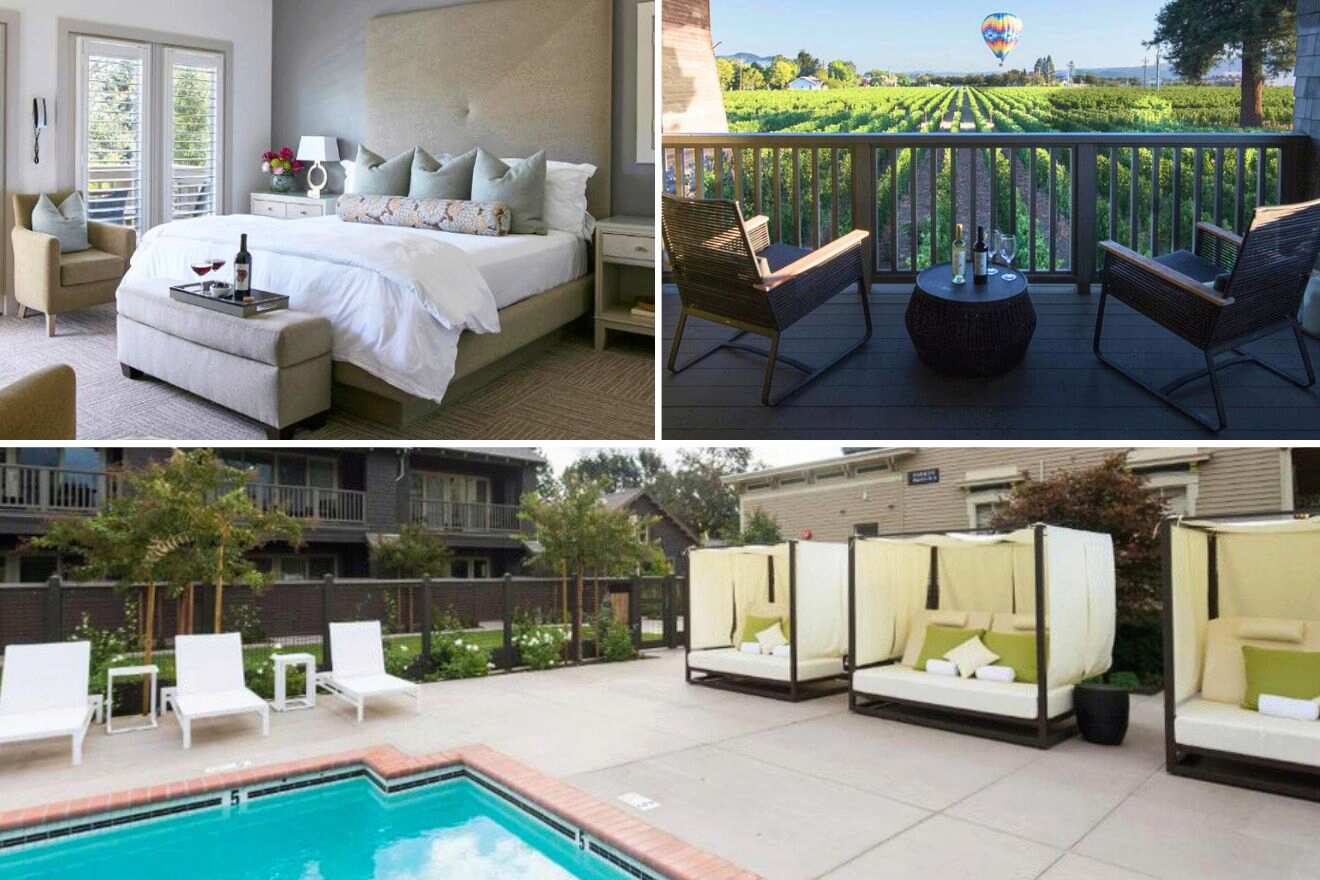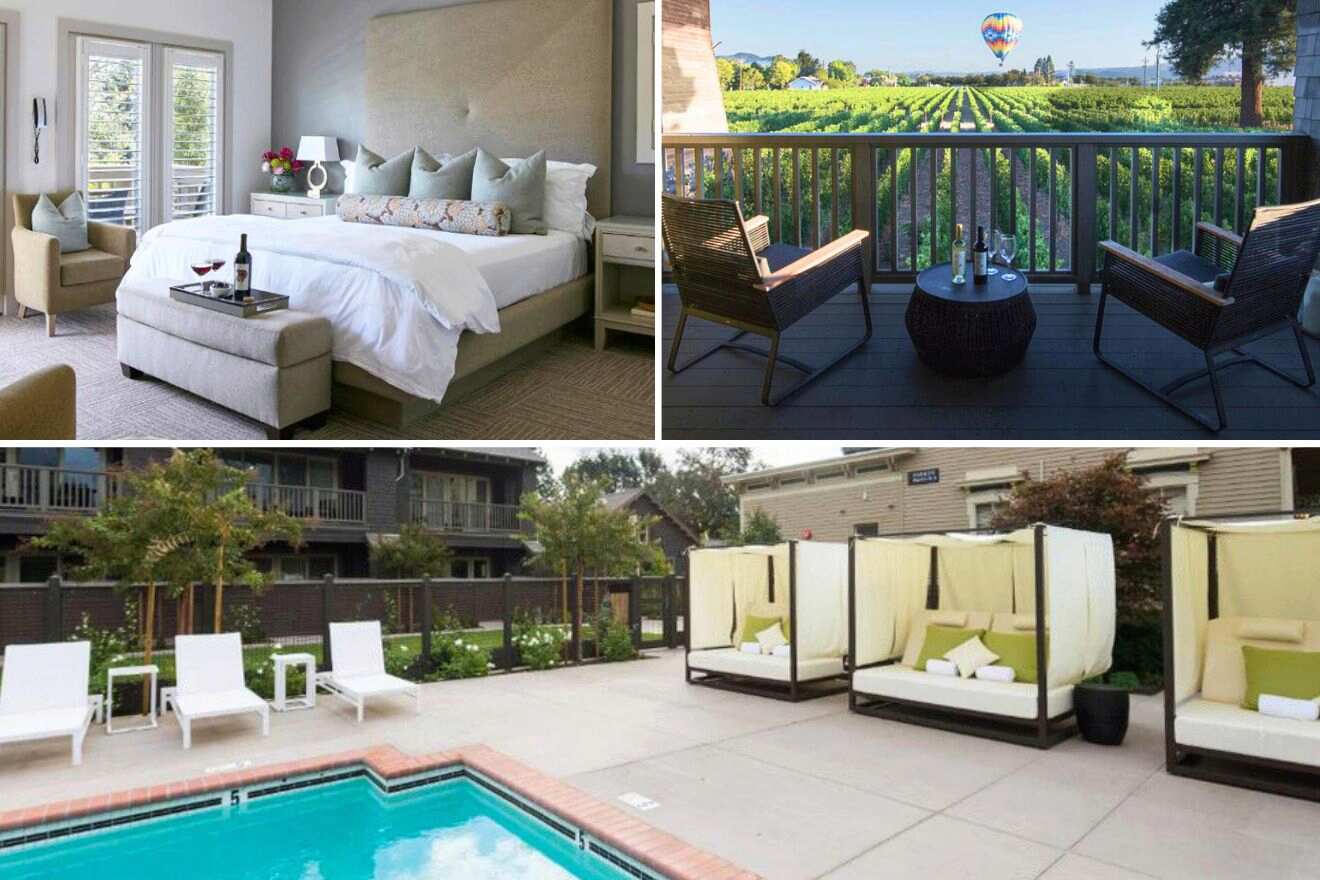 Afternoons spent watching the wine groves and the hot air balloon rides (which you should definitely sign up for) and evenings spent by the pool, looking at the stars while enjoying a glass of wine! Yep, this place in Salvador is surely a keeper!
All the rooms at the luxury hotel are decorated with antique furniture and adorned with original artwork. The suites also have some amazing French doors that open to a private patio where you can take a break from everything and spend some alone time or sit with your partner or family.
13. Napa River Inn – with a free shuttle service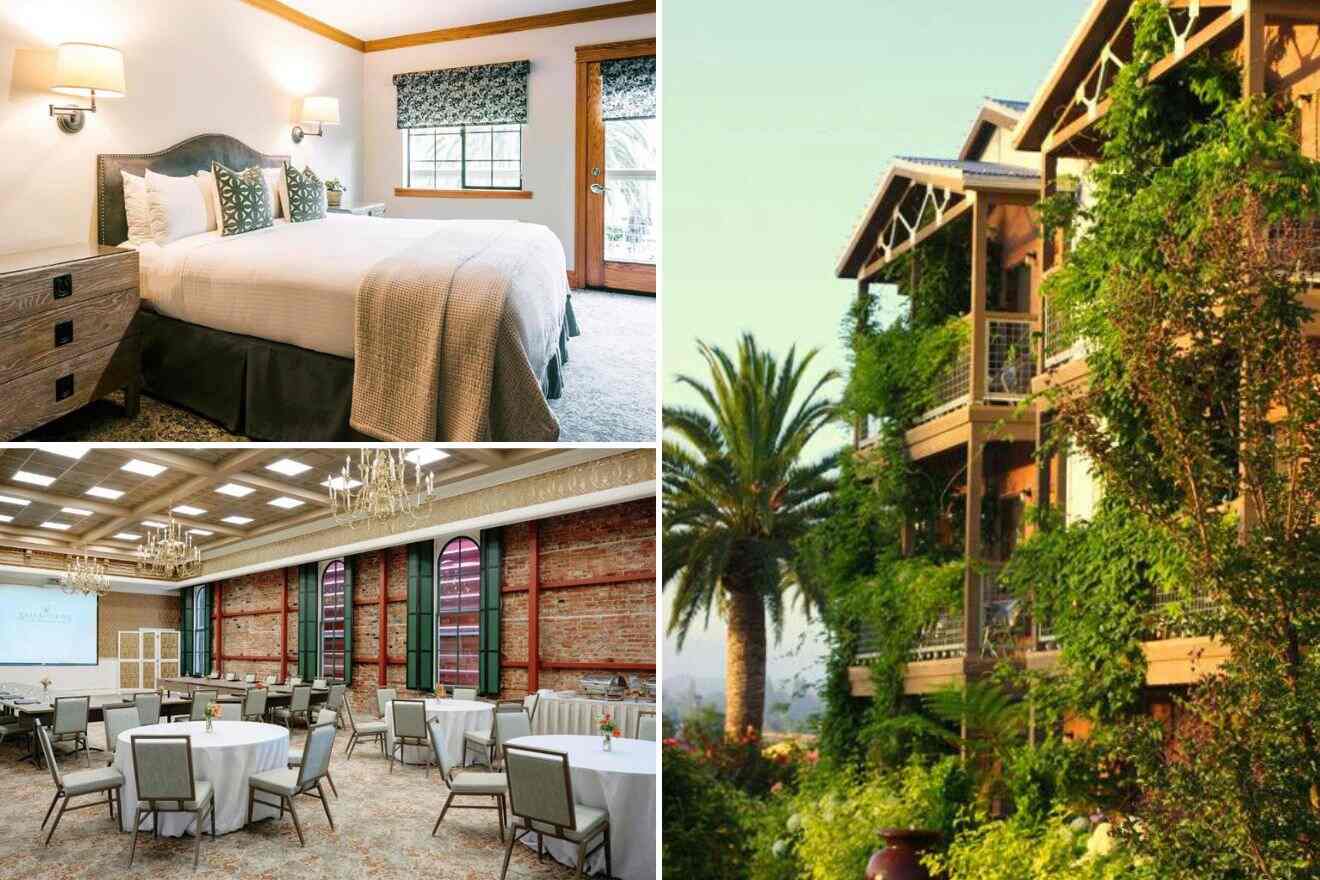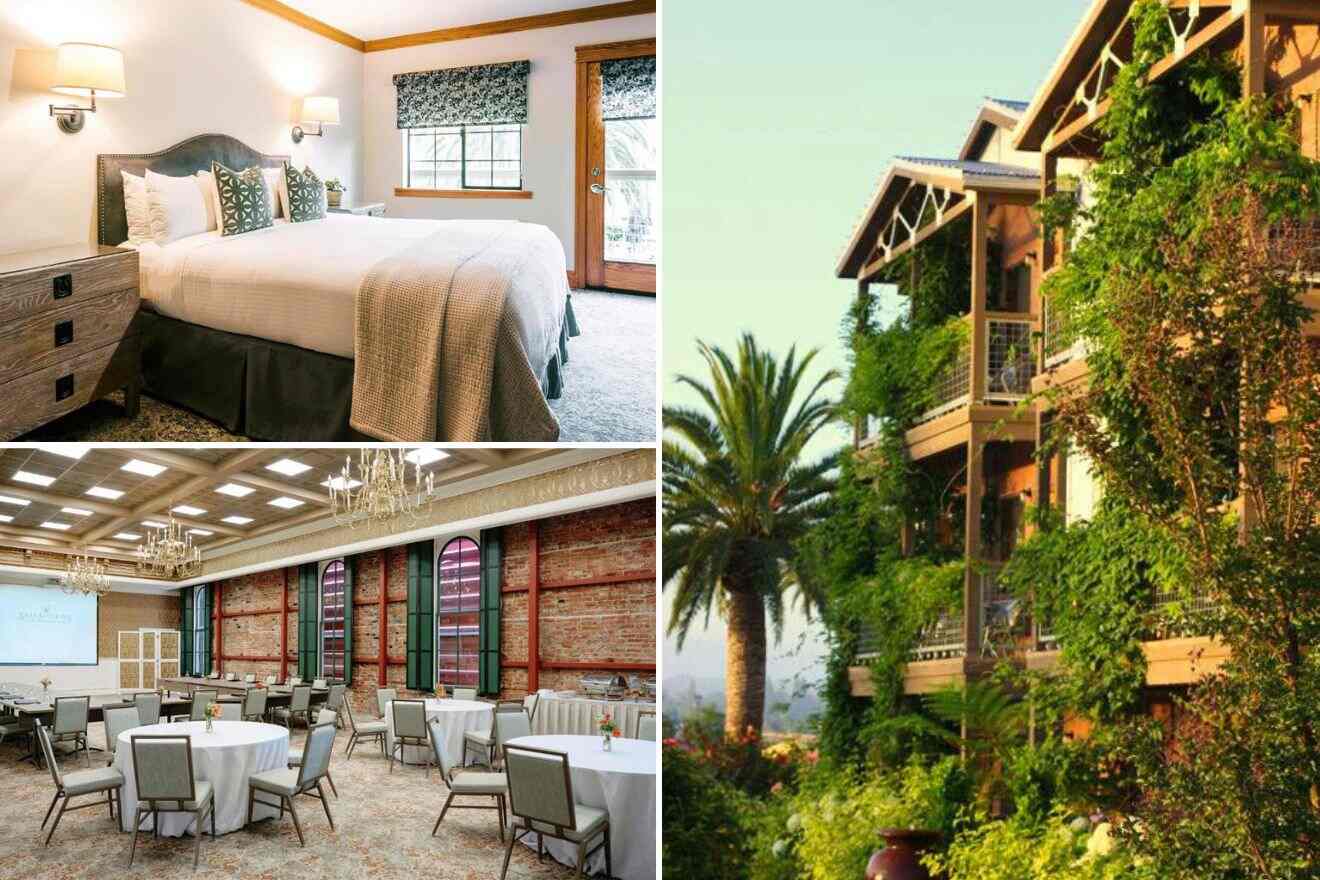 Located in the historic Napa Mill by the Napa River, this boutique hotel is great as it offers free shuttle services in the central area, a wine shop, wine-tasting rooms, and 2 on-site restaurants where you can indulge in some delicious dishes.
I'm sure you'll be tempted to spend a lot of time chilling, relaxing at the spa, and drinking wine (which you should definitely do, don't get me wrong). But I highly recommend renting a bike from the accommodation or even taking the bus and exploring. Napa Valley is so incredible, and there are many things to discover!
14. The George – for history enthusiasts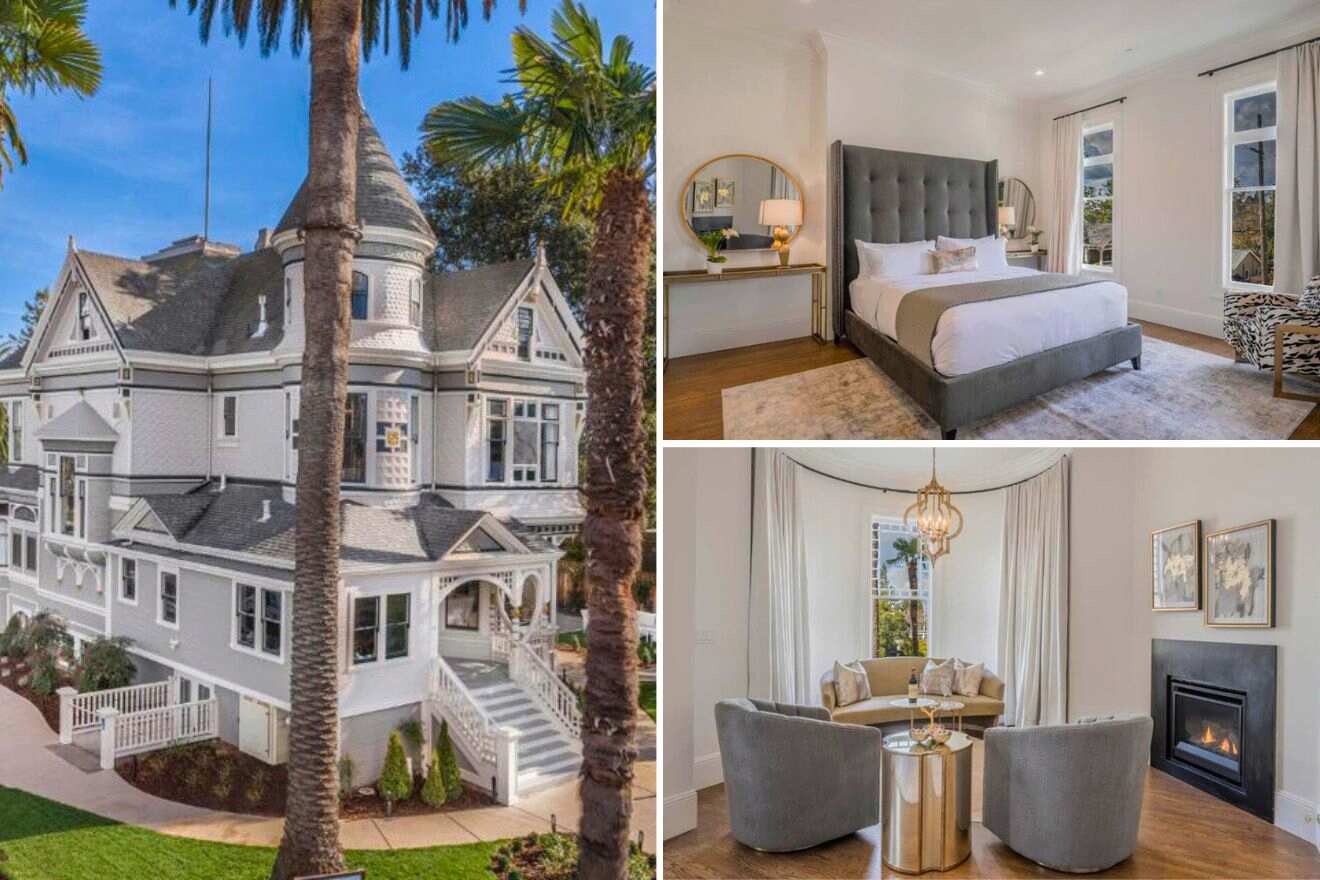 History lovers, I think you'll fall in love with this boutique hotel that's located near downtown Napa! Although from the outside, the historic building has kept its old charm, once you head inside, you'll be transported to the present again, as everything is super modern!
The accommodation offers some amazing rooms equipped with air conditioning, a seating area, and a flat-screen TV! Some suites also have a balcony with garden or street views (don't worry, the streets aren't loud here). When you're not at a wine tasting or eating at a fine dining restaurant in Napa Valley Wine Country, you can spend a tranquil time on the terrace or in the lush garden!
15. Southbridge Napa Valley – for nature lovers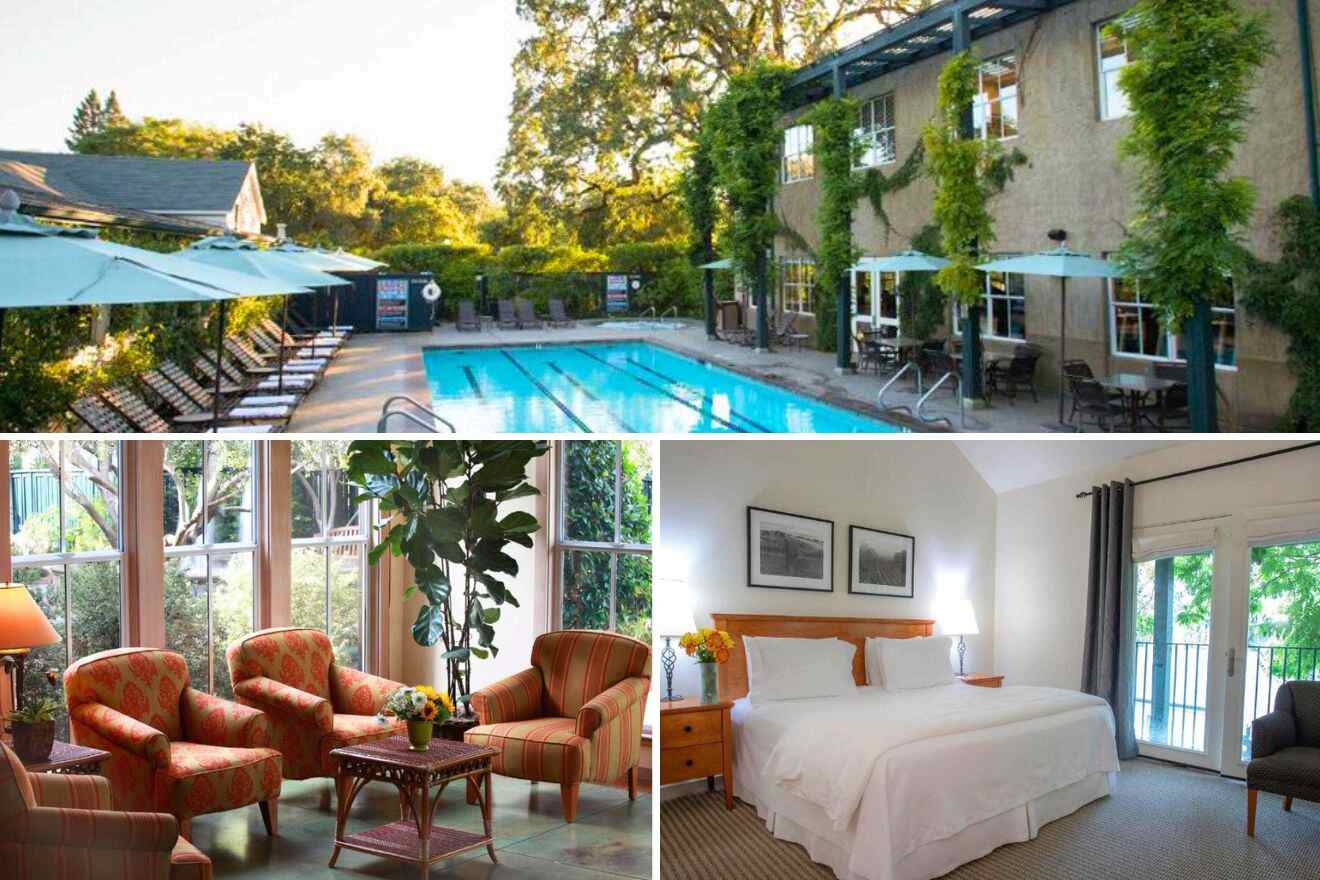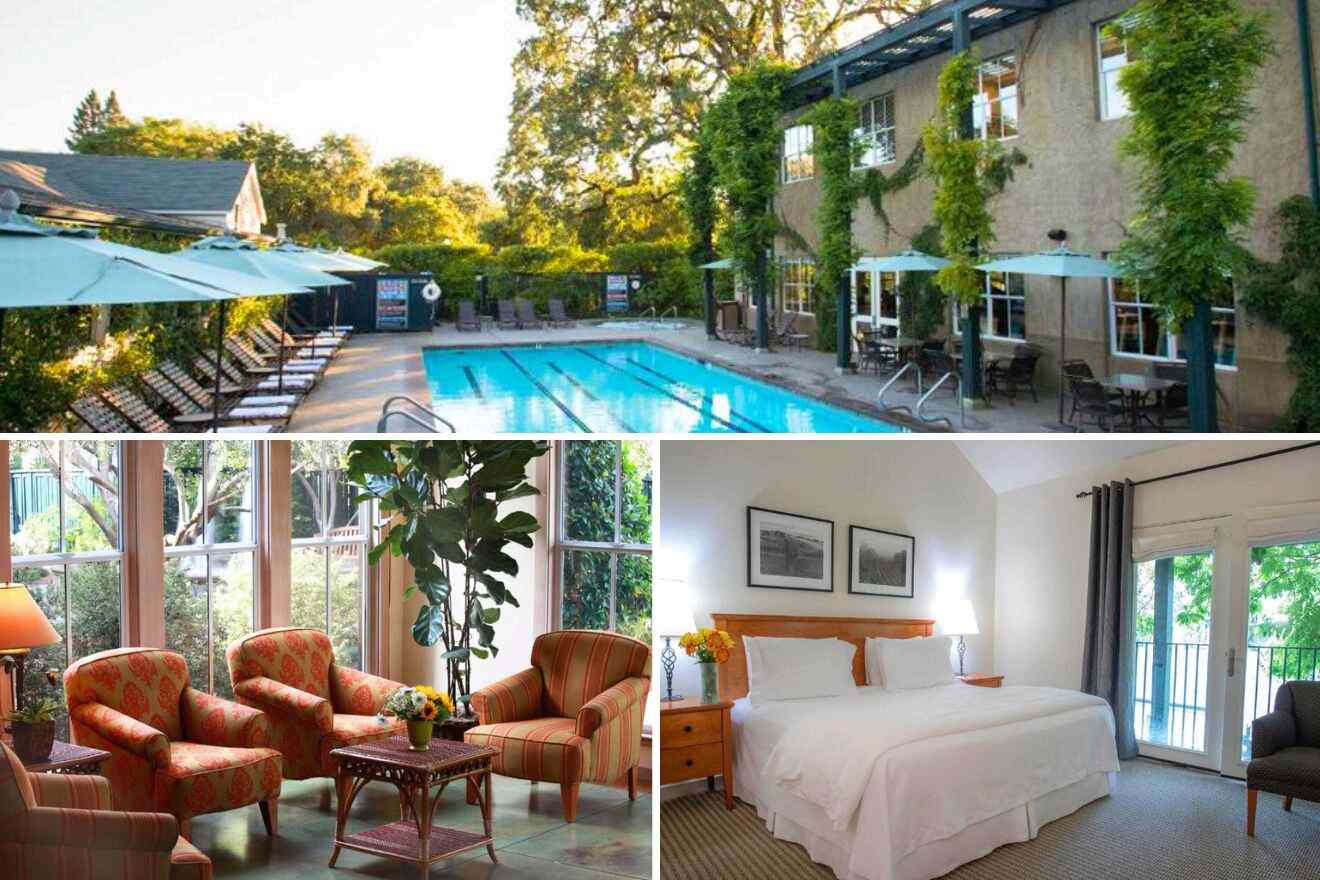 Massage and coffee in the morning, wine and dining in the evening? Yes, please! There's nothing like taking a couple of days to yourself just to relax and pamper. This amazing boutique hotel in Saint Helena is set near the Merryvale Winery, and it features a spa, an outdoor pool, and a restaurant.
Surrounded by greenery and colorful flowers, the resort has some amazing rooms with a fireplace where you can chill with a glass of wine at night and a balcony, which is the perfect spot for your morning coffee to get you all energized to visit several Napa Valley wineries!
16. Archer Hotel Napa – has a cool rooftop bar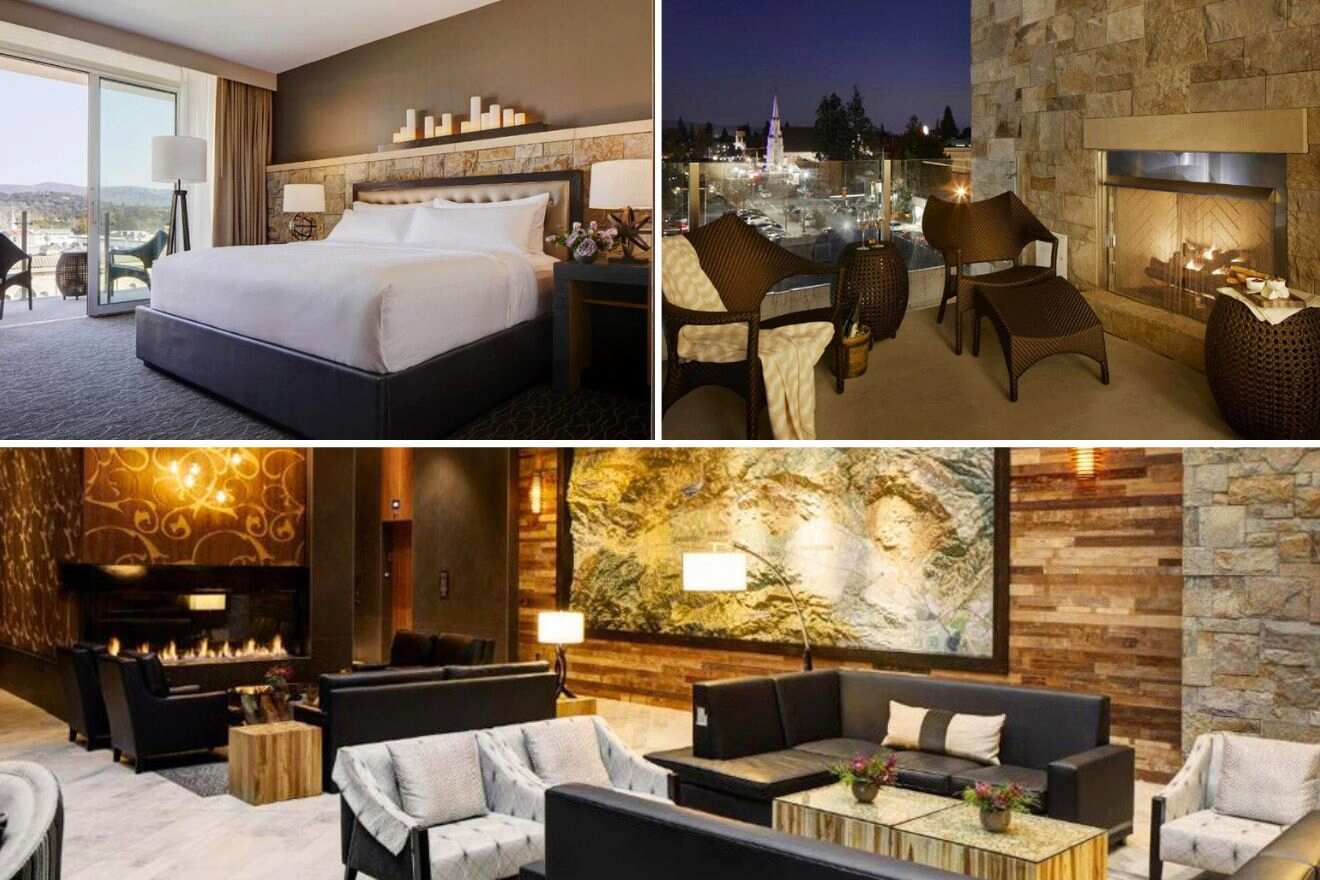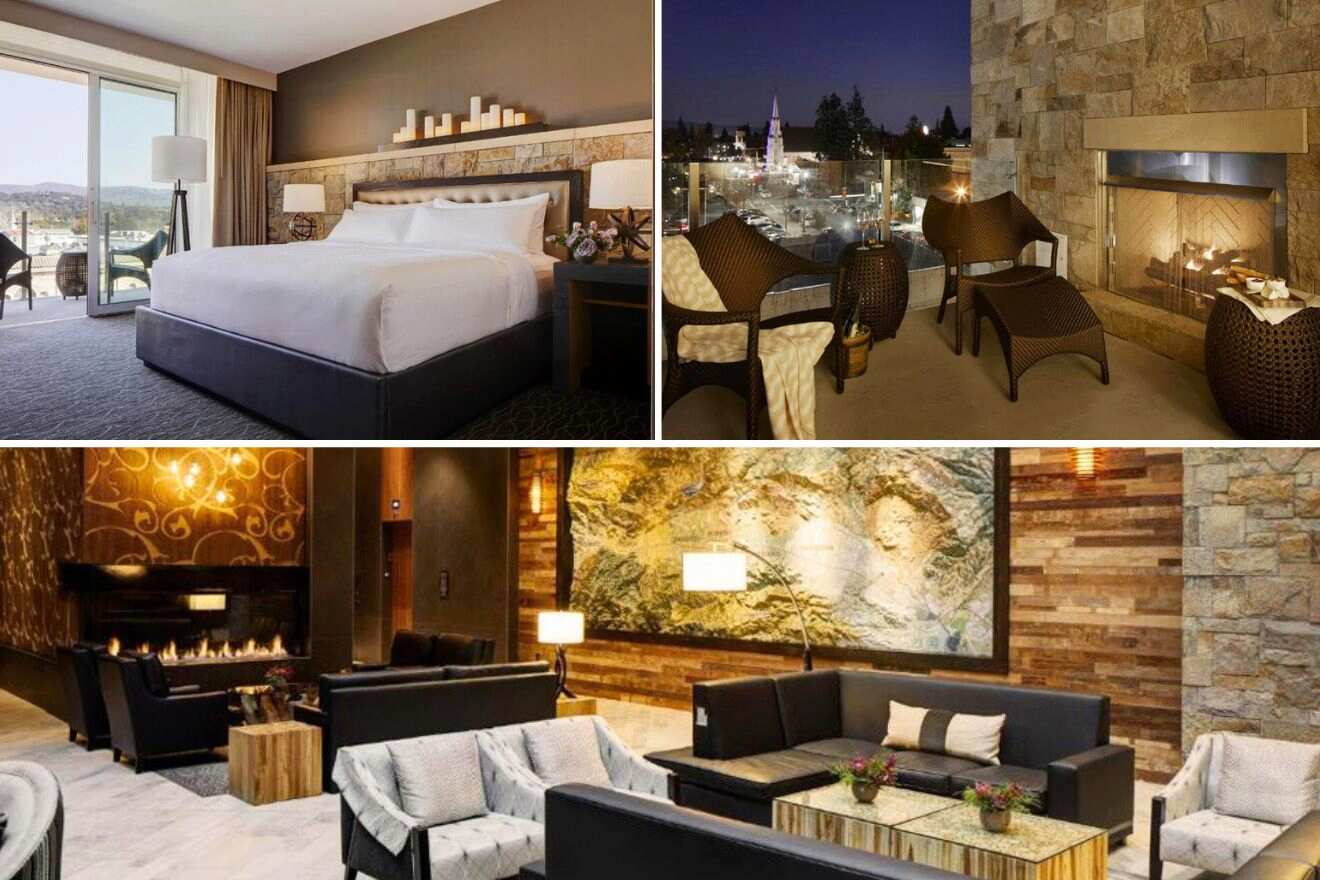 Located just a short walk away from the Napa Valley Opera House, this gorgeous hotel is modern and chic and has everything you need for your holiday! Archer Hotel Napa features a rooftop bar where you can spend your evenings drinking some delicious wine and admiring the views!
The next morning you can eat a yummy breakfast at the on-site restaurant before heading out to jump on the Napa Valley Wine Train and explore the area. Or if you're too tired, book some time at the spa center and spend the whole day relaxing!
17. Elm House Inn – great for couples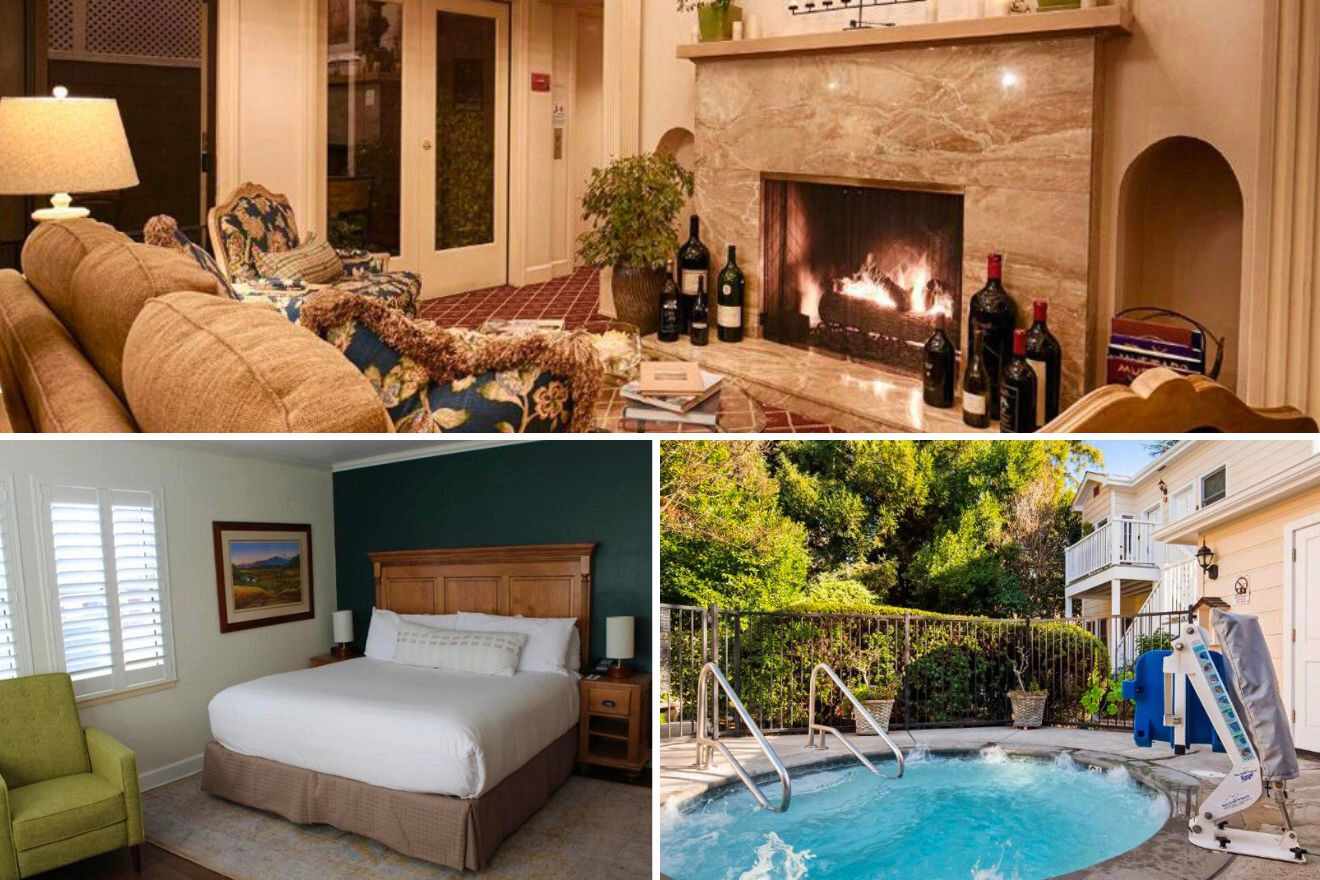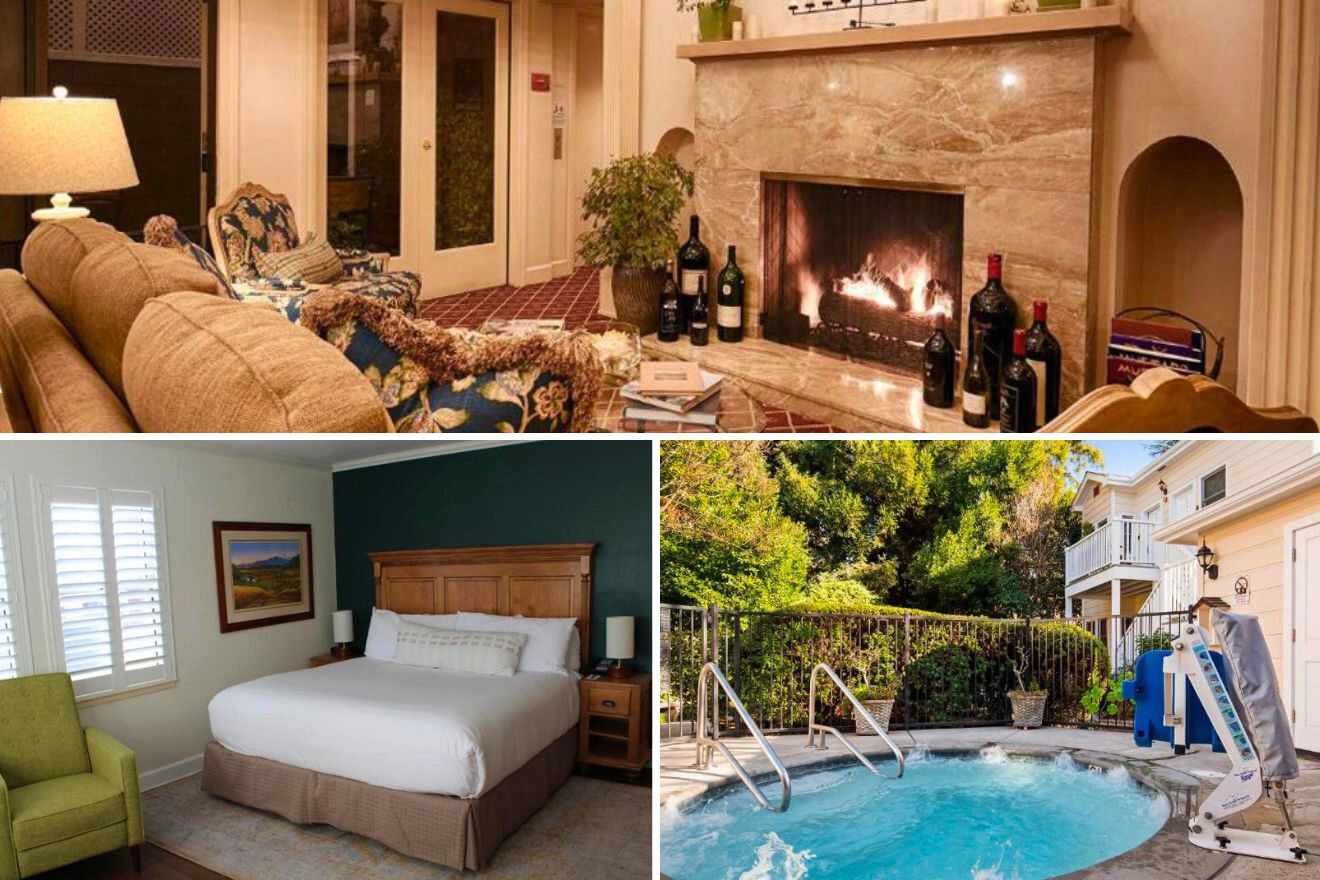 Planning a romantic getaway with your significant other? Then check out this amazing boutique hotel that's set near Napa town centre! The accommodation is super cozy, and it will make you feel right at home in its cozy rooms with a lot of space, a flat-screen TV, and a desk.
Their garden is the perfect place to spend those lazy afternoons when you don't feel like being active but would rather spend some time reading a good book. The hotels also offer a delicious breakfast in the morning and free parking.
18. Wine Country Inn Napa Valley – for fun wine tastings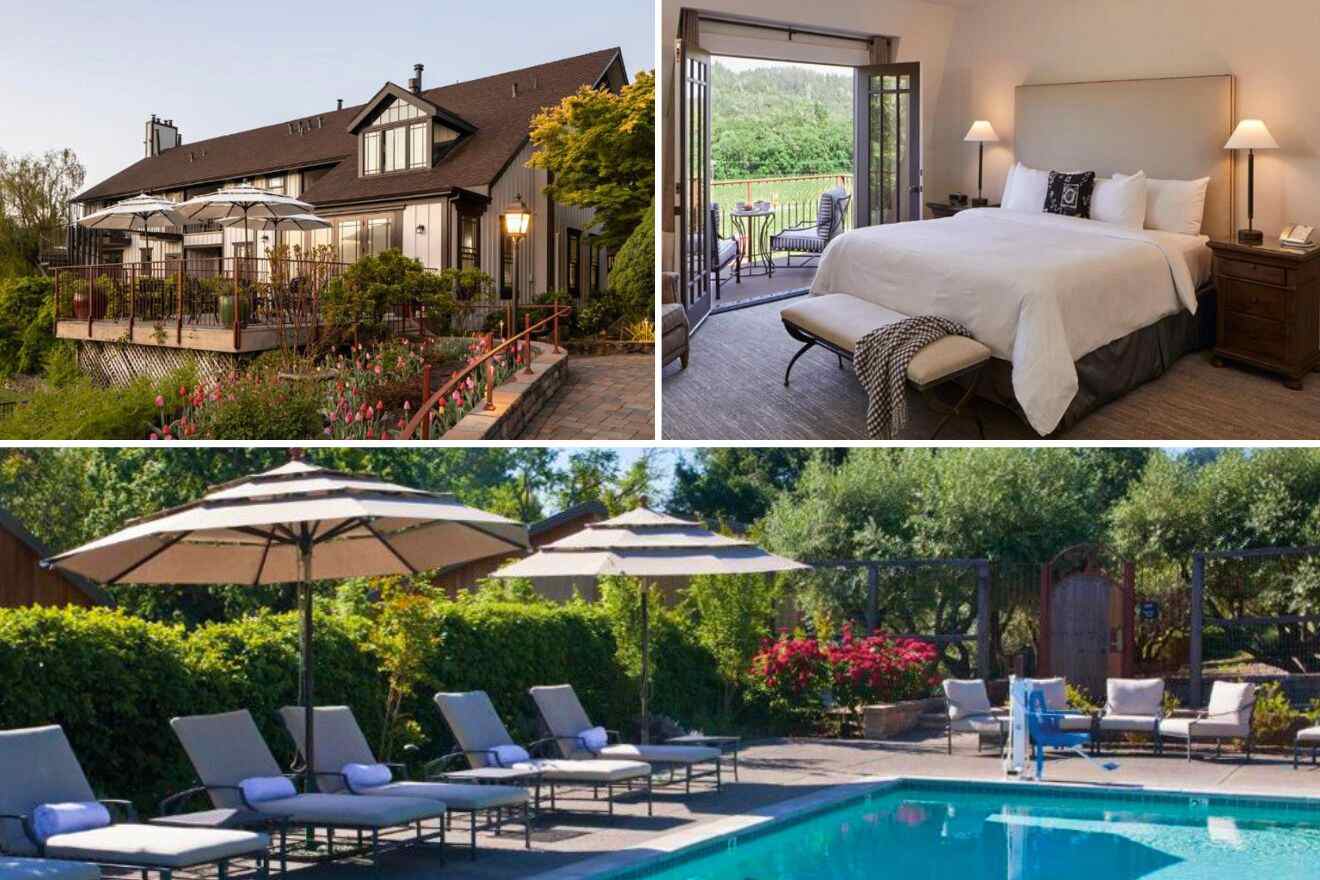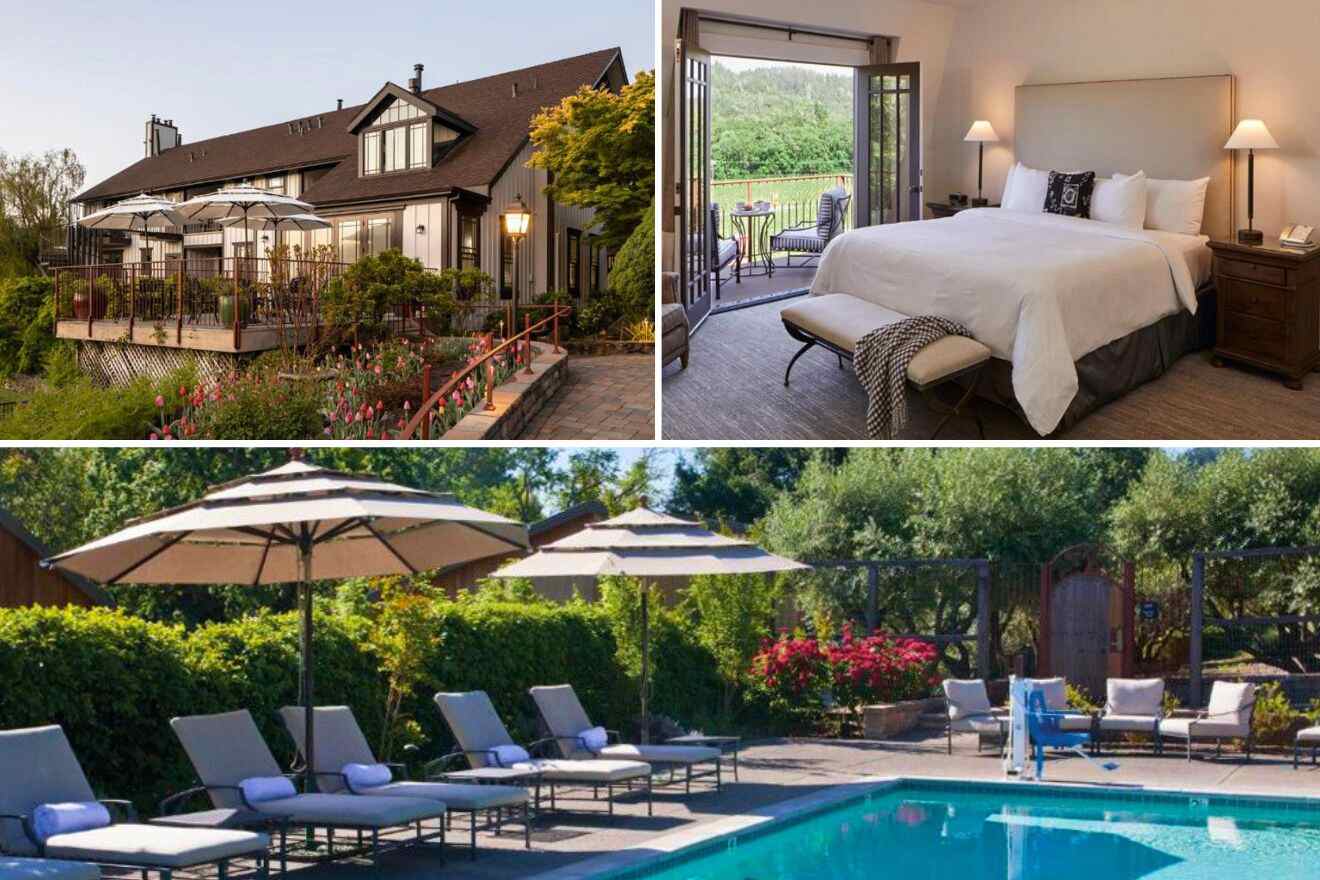 How fabulous is the location of this hotel located in Saint Helena? Surrounded by tall trees and vineyards, the accommodation has great rooms with a furnished balcony overlooking the garden and hills and a private bathroom.
All guests will get a complimentary breakfast and also access to the fun wine tastings that the owners organize every Friday and Saturday evening! Make sure you grab a bite before that! The hotel is equipped with an outdoor pool, a spa center, and a hot tub.
19. Calistoga Motor Lodge and Spa – for a fun getaway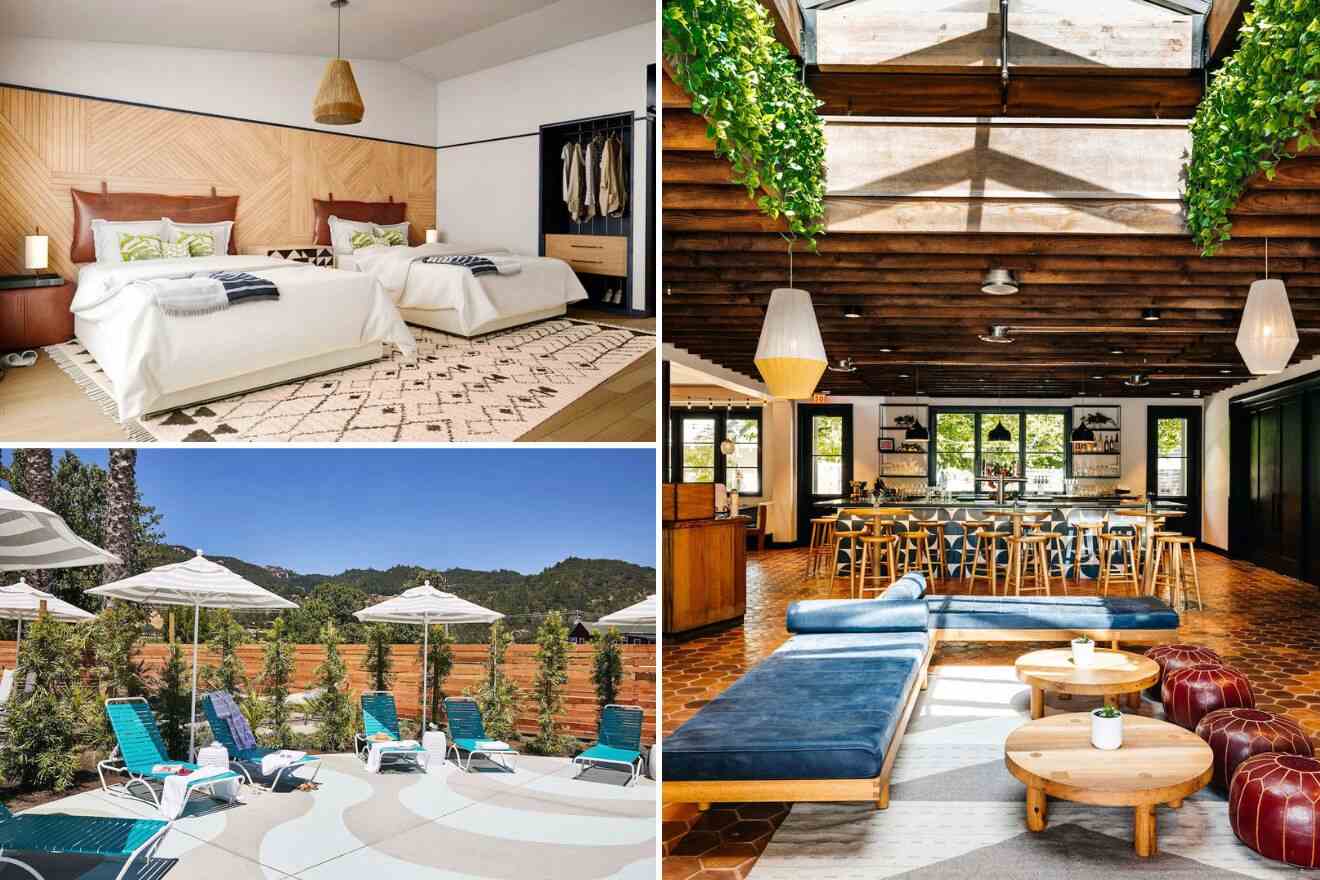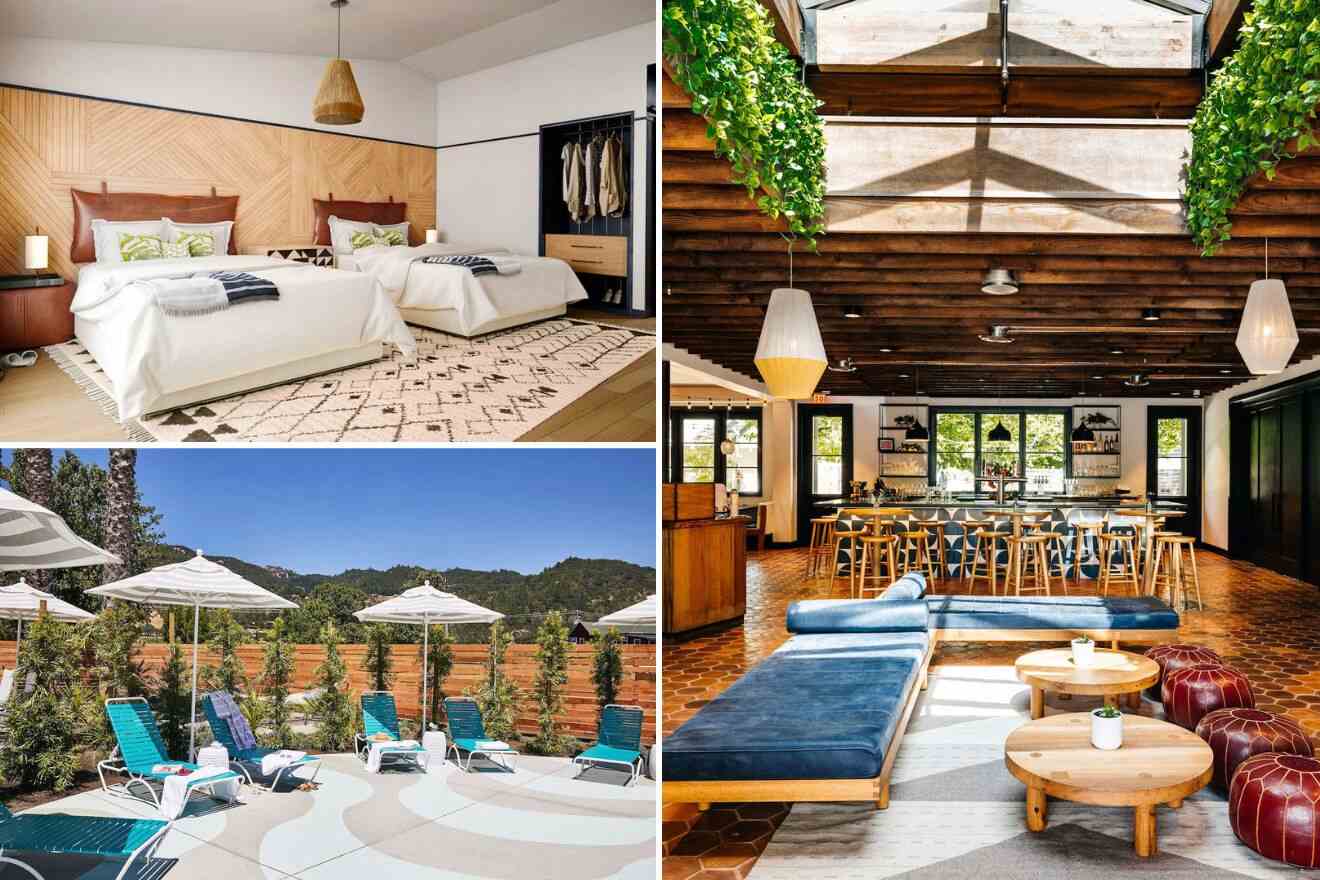 Looking for something a bit more affordable for your stay in Napa Valley? Then check out this hotel near Calistoga Hot Springs! Surrounded by the typical Valley views, the accommodation offers outdoor spa treatments, yoga classes, and bikes to rent out.
Their rooms have beautiful decor and have a comfy bed, a private bathroom, and a breathtaking mountain view. Spend your evenings by the outdoor fire pit alongside a glass of wine or get your swimsuit and enjoy a nice swim at sunset in the outdoor swimming pool.
20. Mount View Hotel & Spa – perfect for relaxation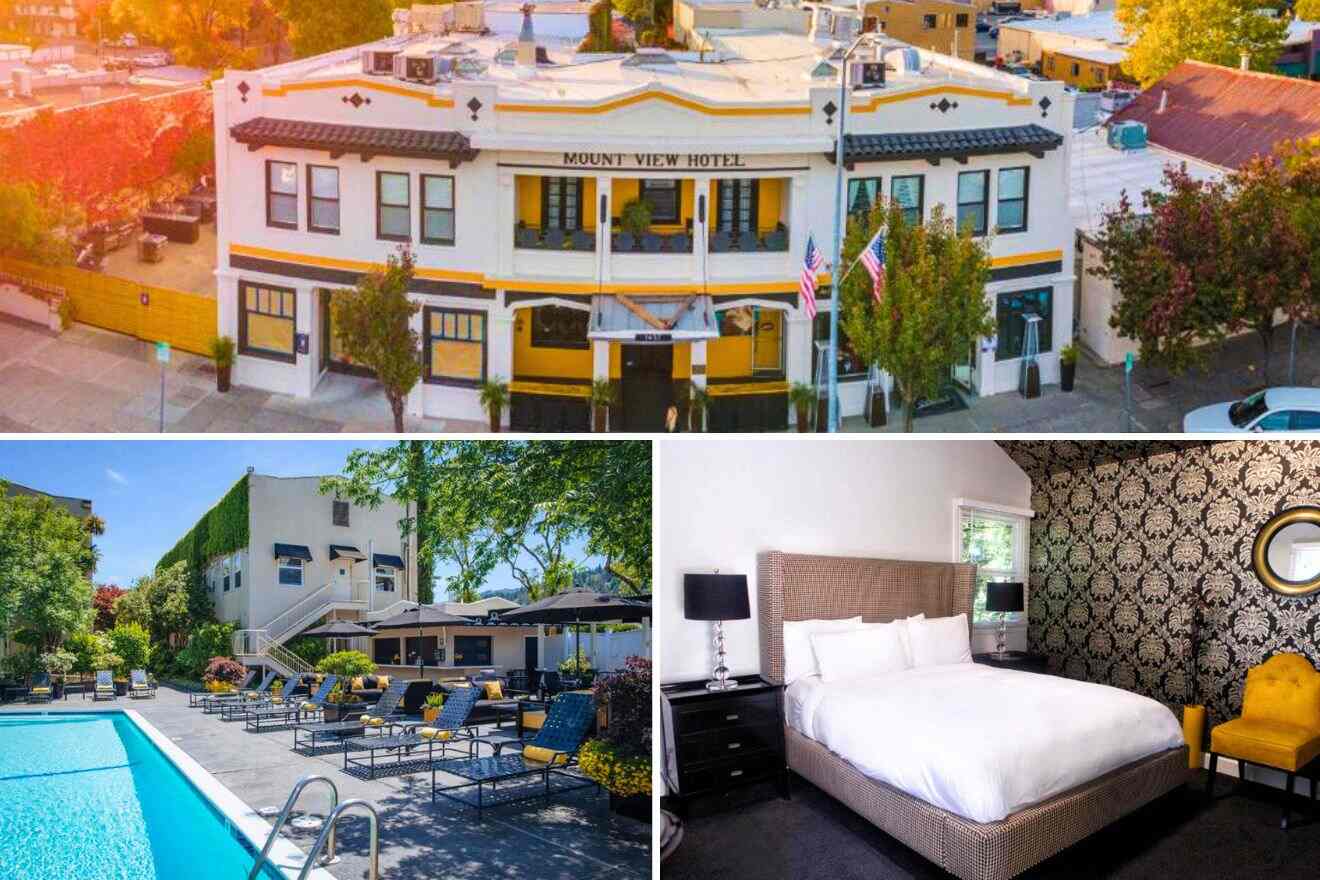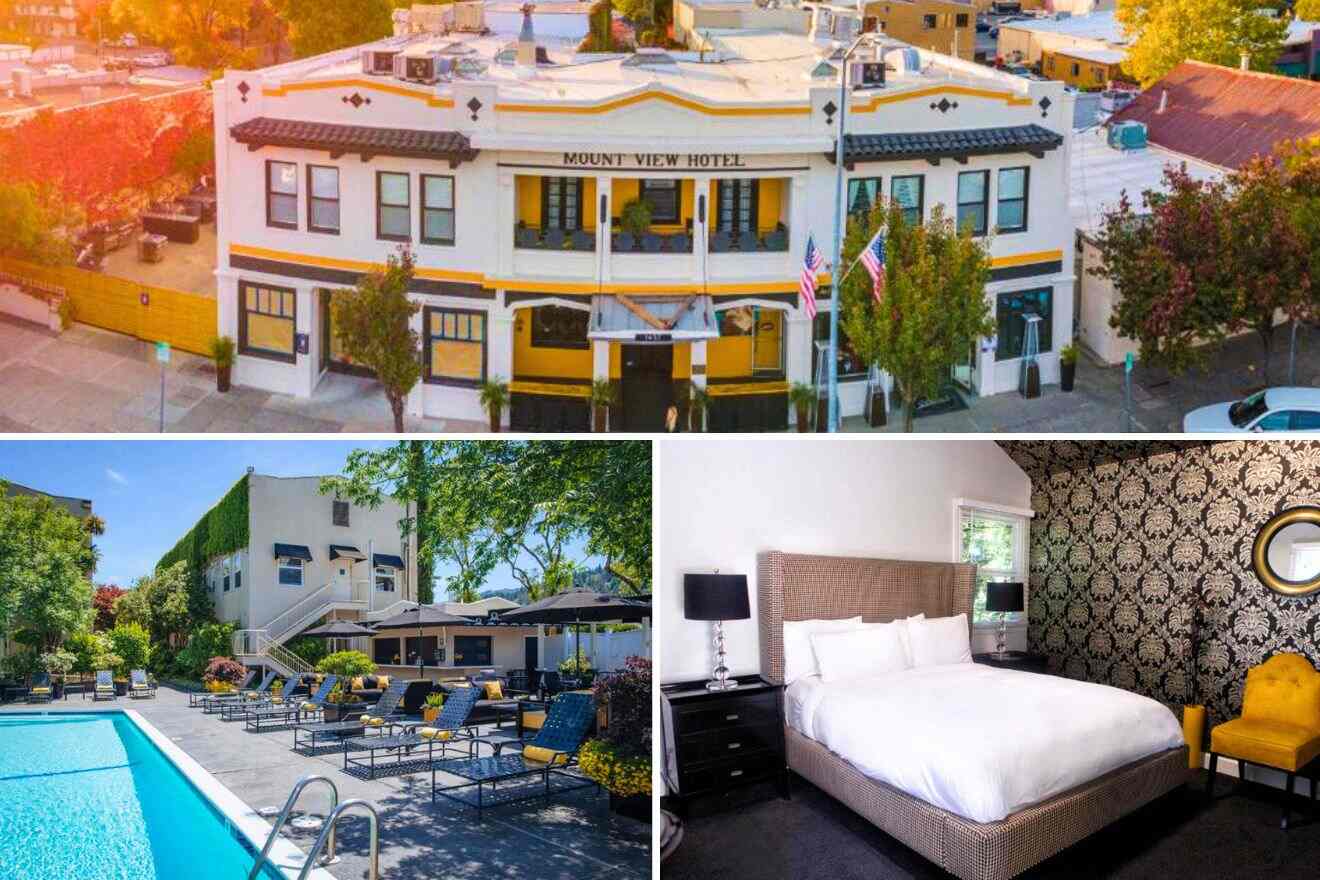 Here's a great boutique hotel in Calistoga where you can spend a couple of days doing nothing but relaxing and getting pampered! Featuring colorful decor, rooms with unique wallpapers, and private bathrooms, this hotel is definitely a keeper!
Their backyard has an outdoor heated pool, a mineral whirlpool, cabanas, and a private garden patio where you can enjoy a tranquil time. End your evenings with a yummy dinner at the restaurant on-site, and then head to the wine lounge, where you can enjoy a glass of red or white before bed!
21. Napa Valley Lodge – with a good location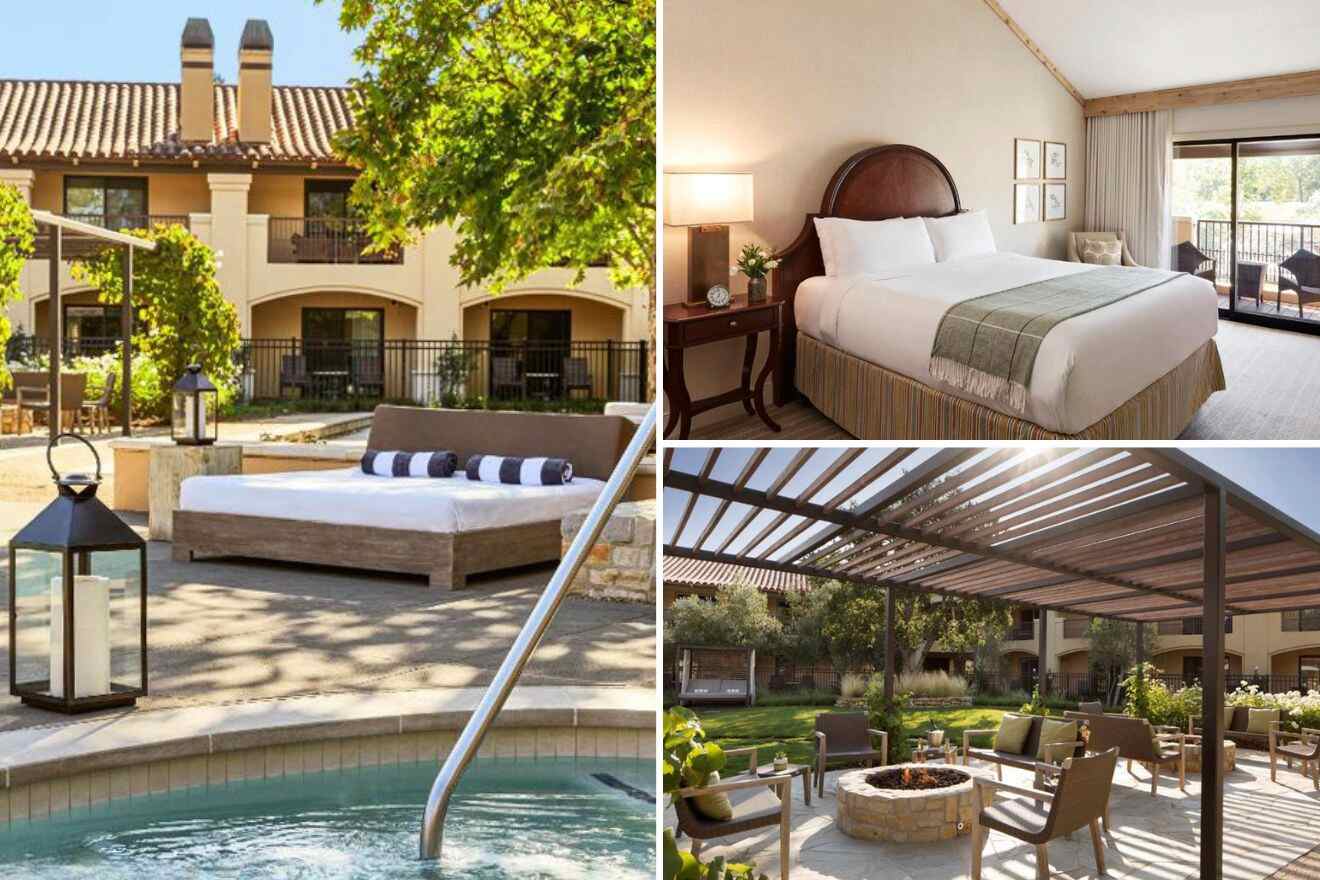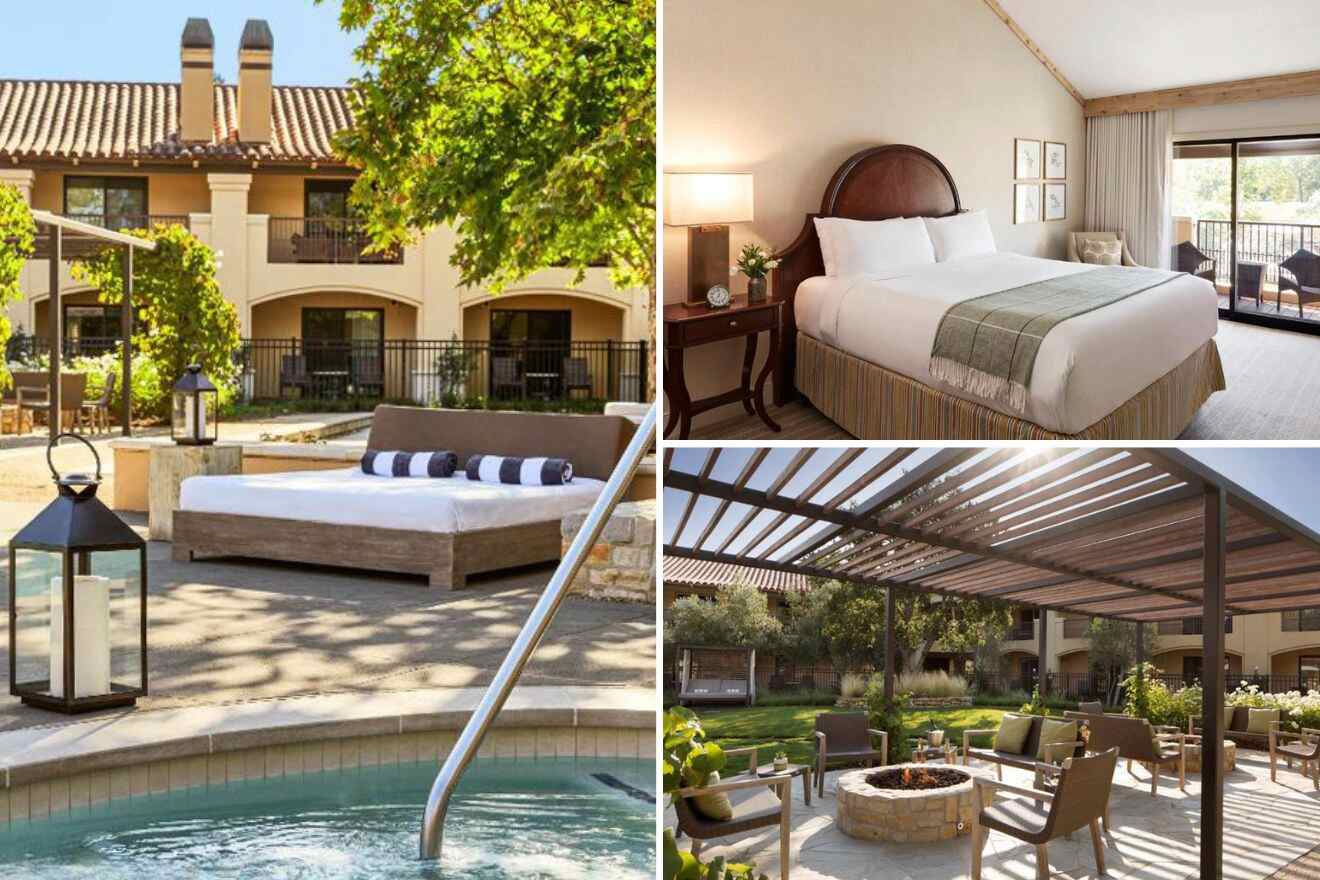 Immerse yourself in the beauty of Napa Valley while staying at this great accommodation! This California hotel boasts rooms with fireplaces, a balcony, and a comfortable bed! Each morning you'll wake up to a continental champagne breakfast!
Then you can head to the spa center to try all those juicy treatments and relax in the hot tub! When you're not out and about exploring all the vineyards in Yountville and olive groves, you can spend your time on the property, sitting in the garden, or on their lovely terrace!
FAQs about boutique hotels in Napa Valley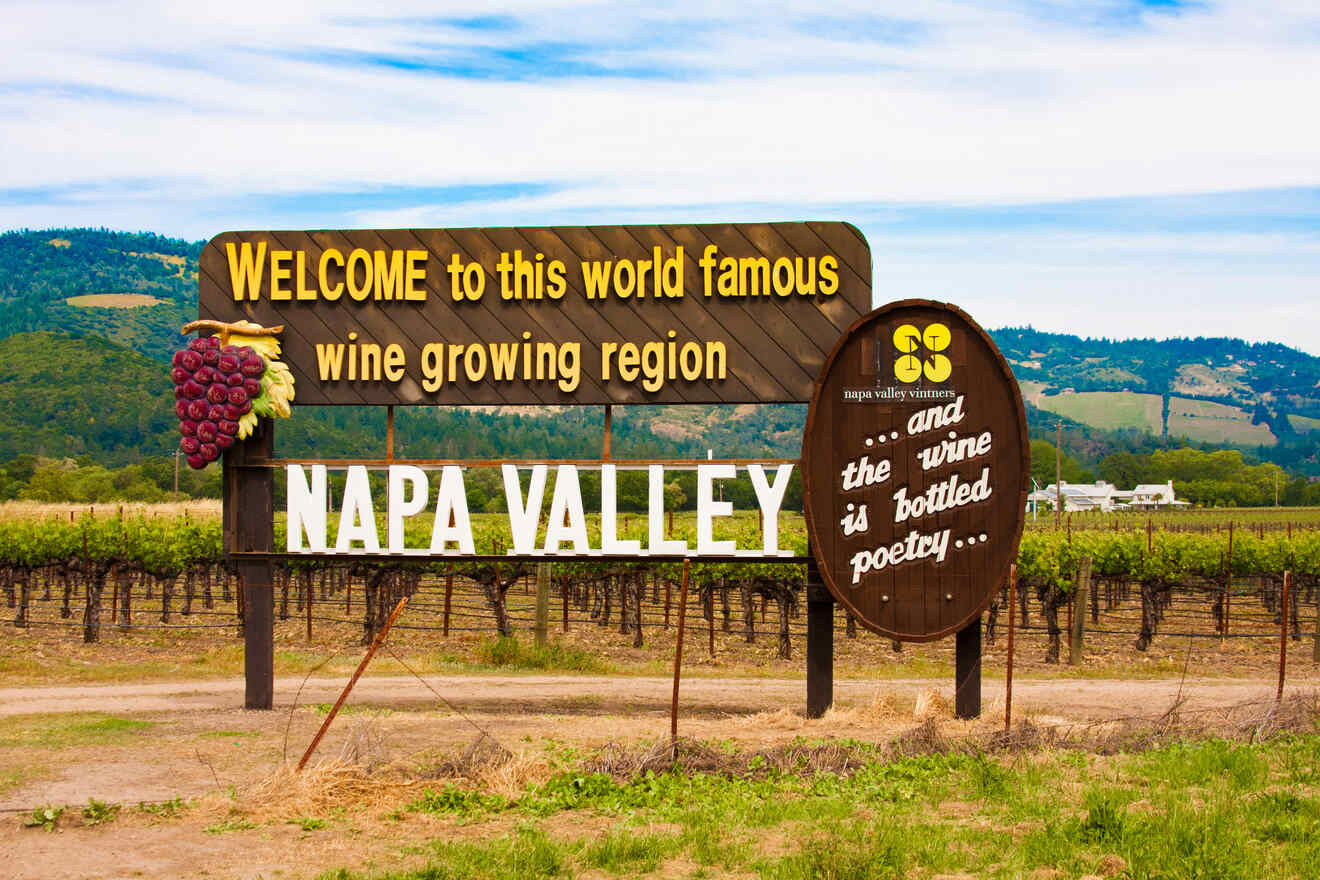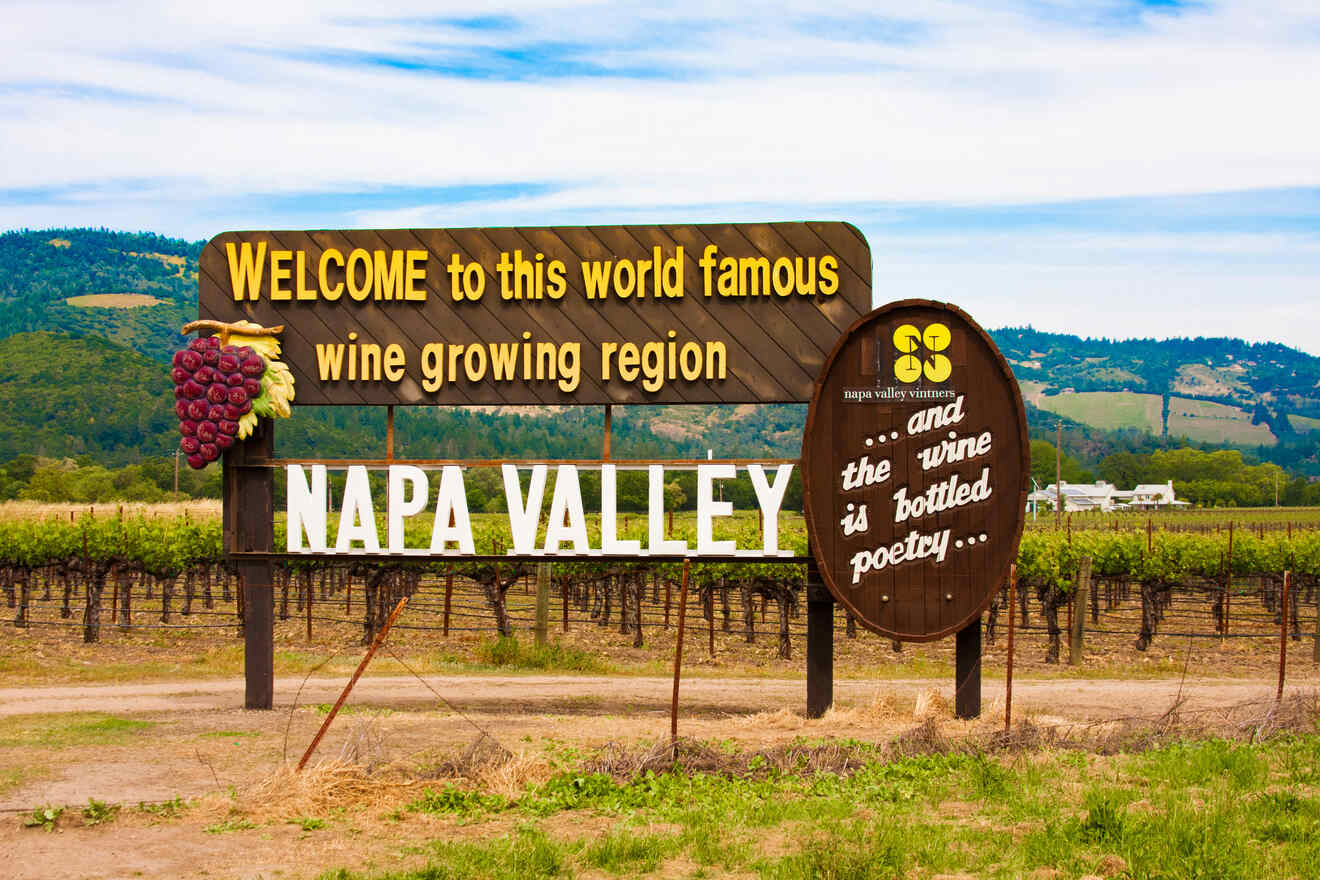 Conclusion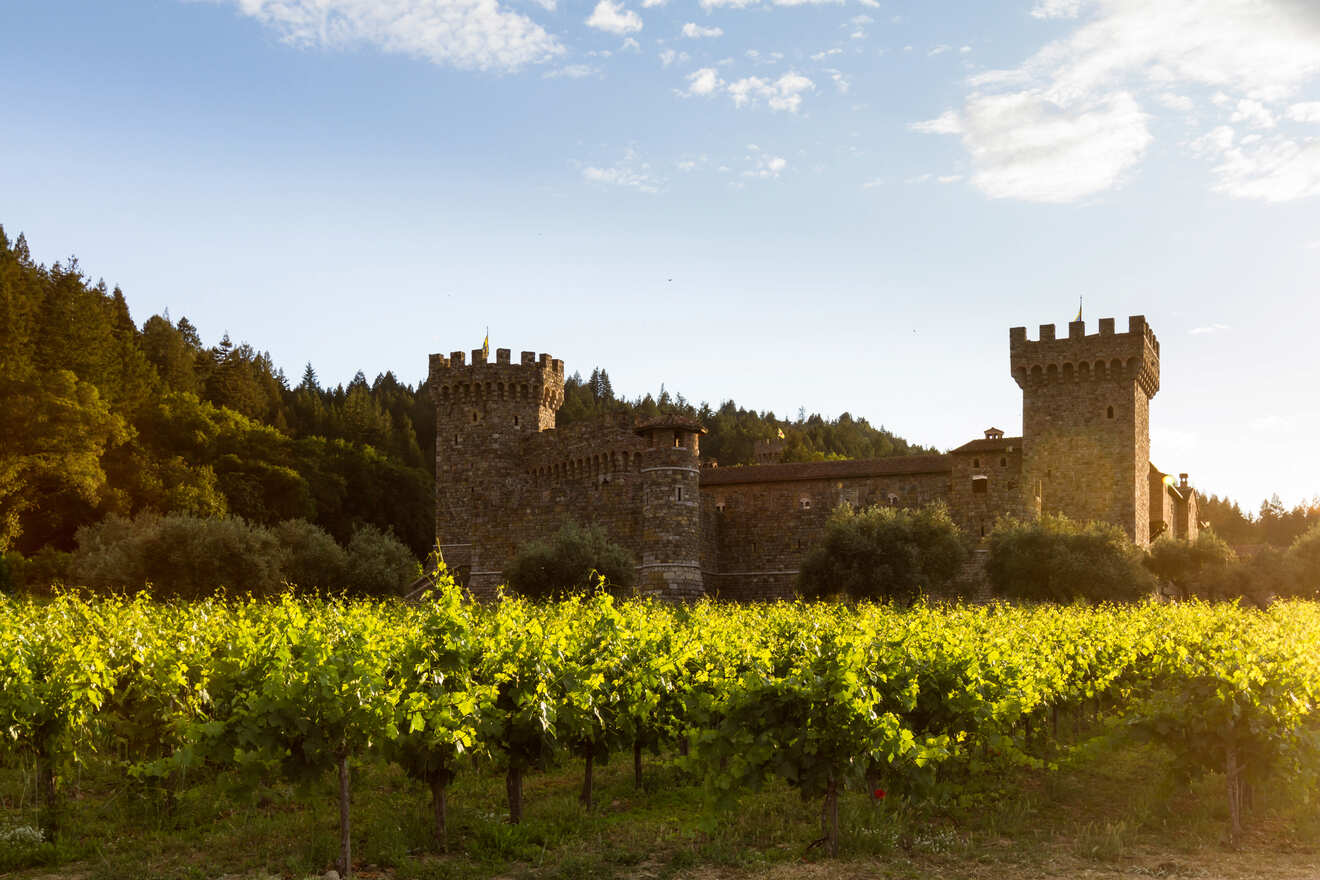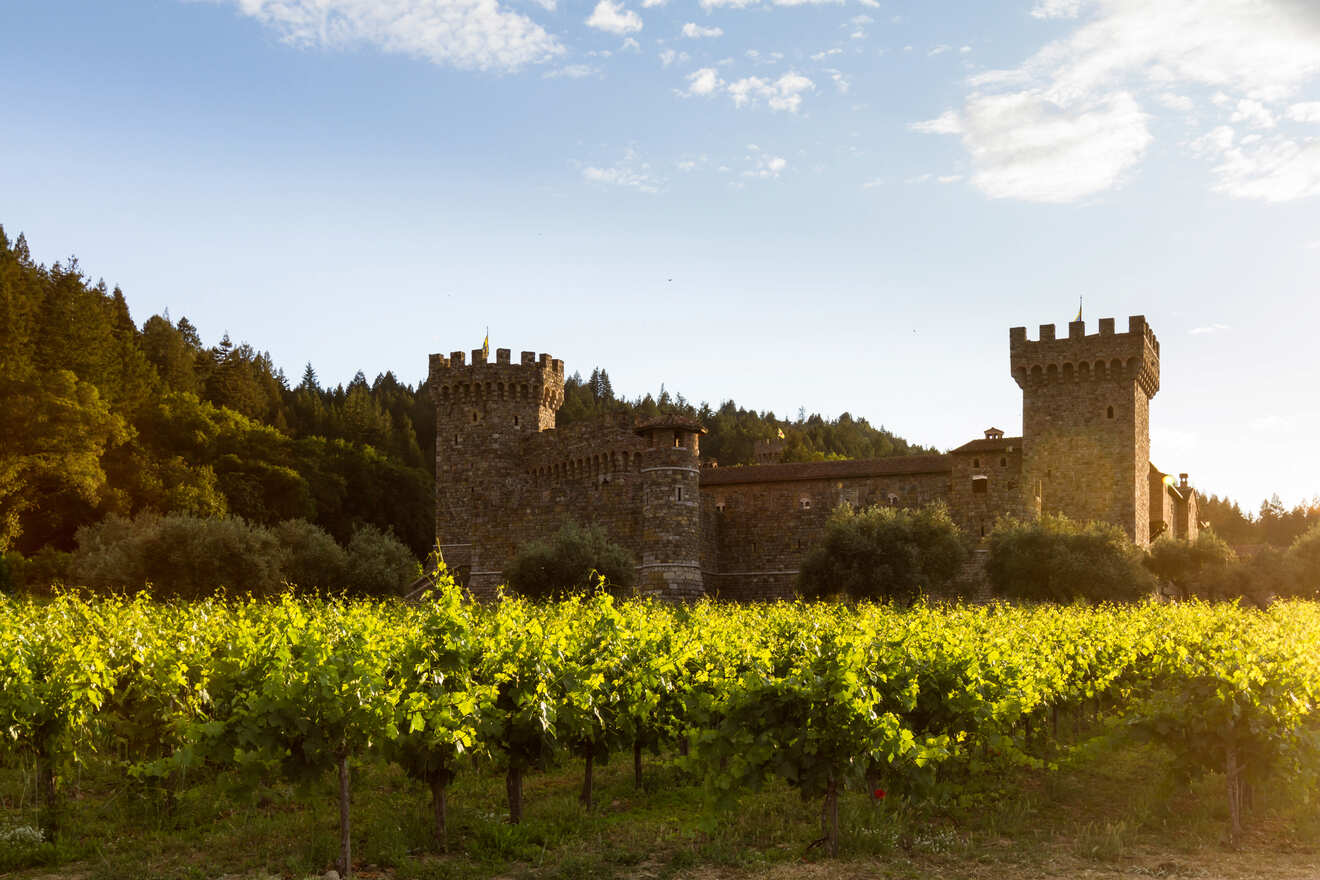 What a dreamy location! I could move there, and I'm sure that after your trip, you'll feel the same!
So today, we've seen some of the best boutique hotels in Napa Valley! I hope that by the end of the post, you've found your favorite, and if you still need a bit of help, don't worry!
Right here below, I added my 2 favorite boutique hotels in Napa Valley. Don't get me wrong, the whole list looks so good, but these 2 really caught my attention:
Don't forget that these are some of the best boutique hotels in Napa Valley! This means that it's super important to book them in advance so you don't miss out on your favorite!
Alright, everyone, I'll leave you to your planning! Enjoy Napa Valley, and as always, I'm still around if you've got any questions. Just drop me a comment in the section below, and I'll answer as soon as I can!
Safe travels,
Victoria
---
Pin it for later!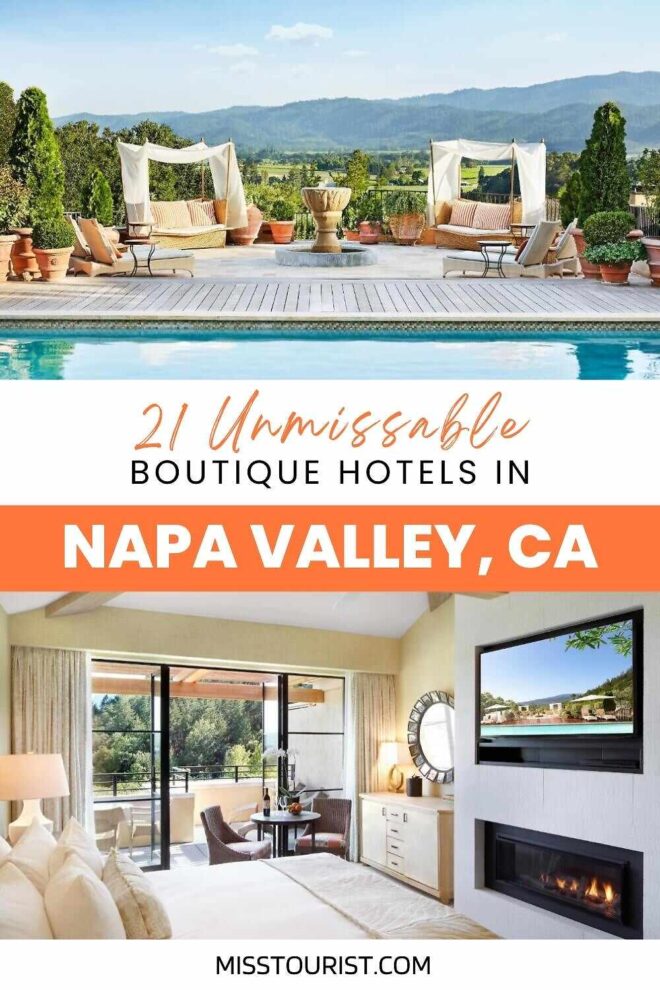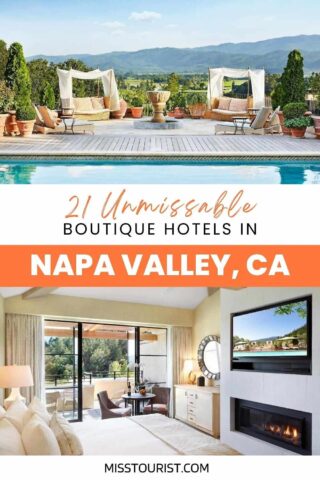 Pin it for later!