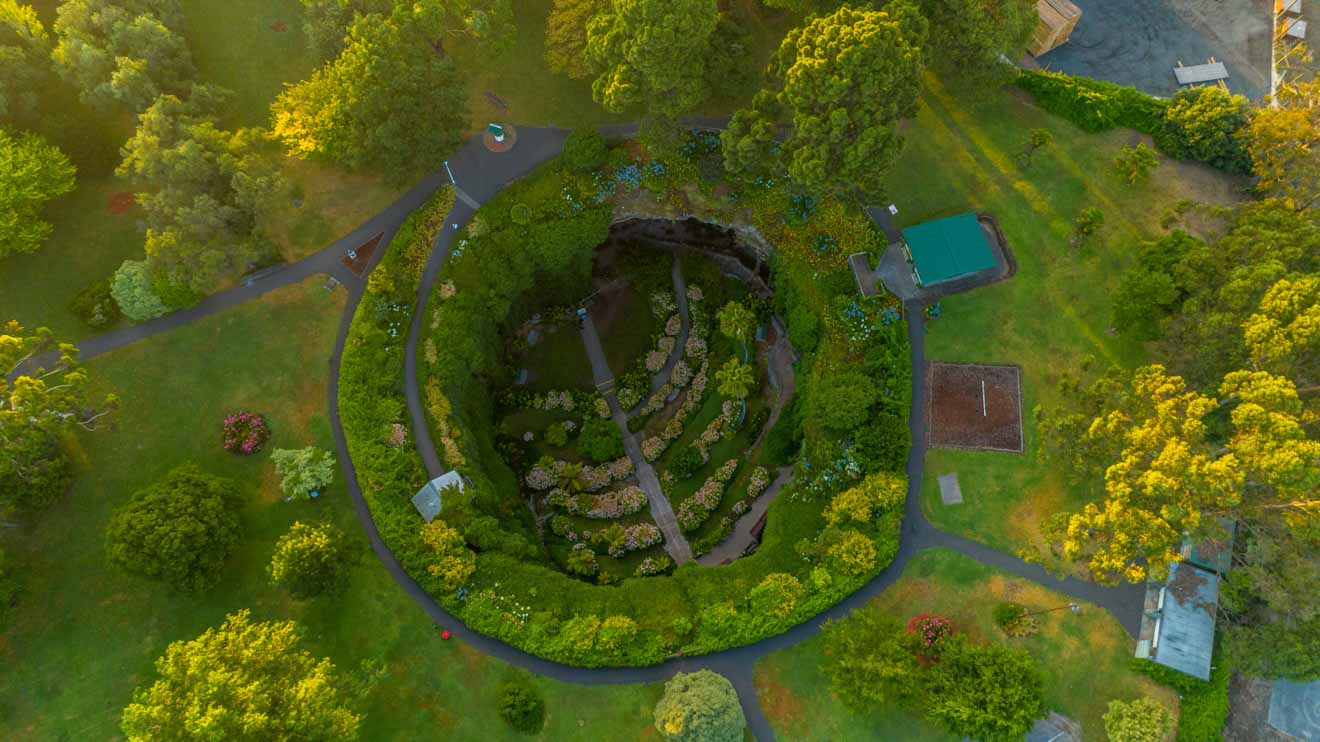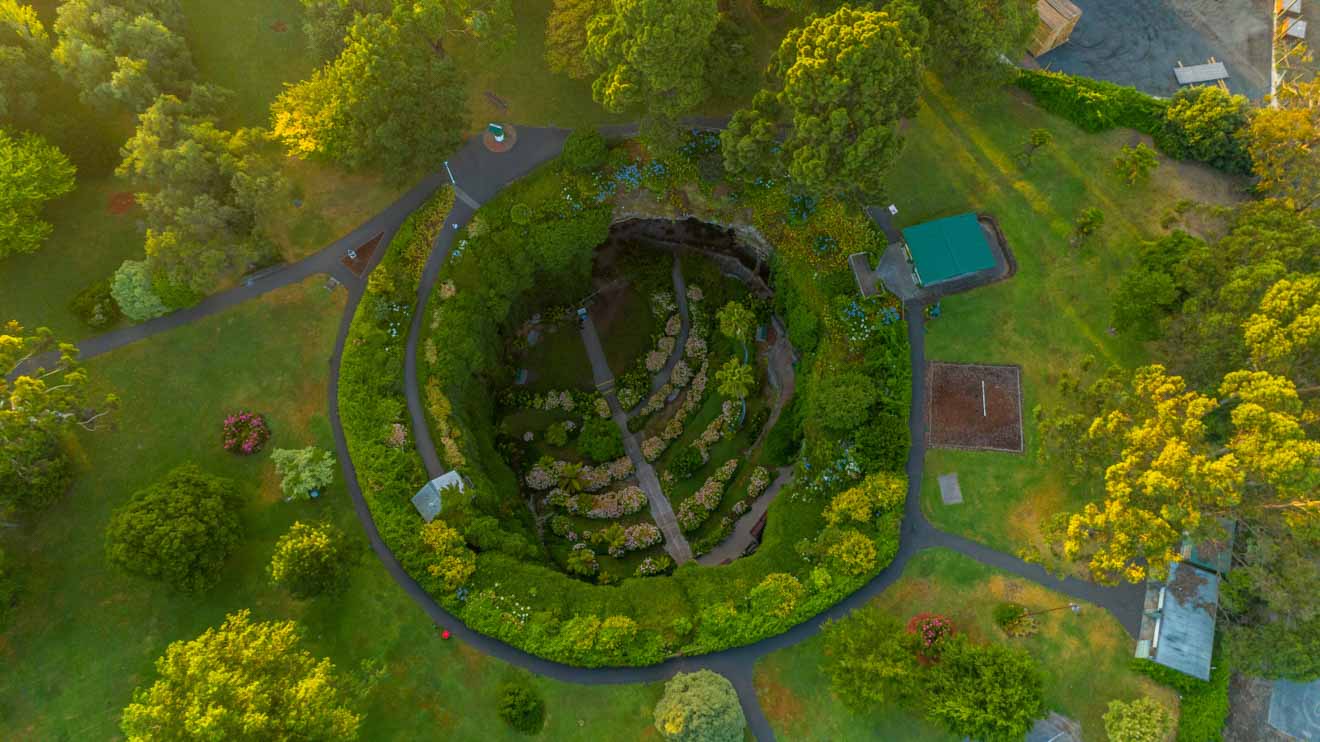 I've travelled to almost every corner of Australia and I still think that Mount Gambier is one of the most underrated towns in the country! To name just a few of its great features… Mount Gambier sits in an inactive volcano, is home to breathtaking sinkhole gardens, a mesmerizing crater lake named Blue Lake, and there's even somewhere where you can feed friendly possums! There's really no end of unique and interesting things to do in Mount Gambier!
Tucked away in a part of South Australia known as the Limestone Coast, Mount Gambier is actually easier to reach than you might think. I stayed one night here on my drive from Adelaide to the Great Ocean Road, but it's easy enough to tag a visit onto the end of a weekend in the Grampians, or as part of your adventures through the Limestone Coast.
So let's get going! Here's a list of the top attractions in Mount Gambier that you really shouldn't miss during your trip to South Australia!
1. Get Friendly with the Possums in Umpherston Sinkhole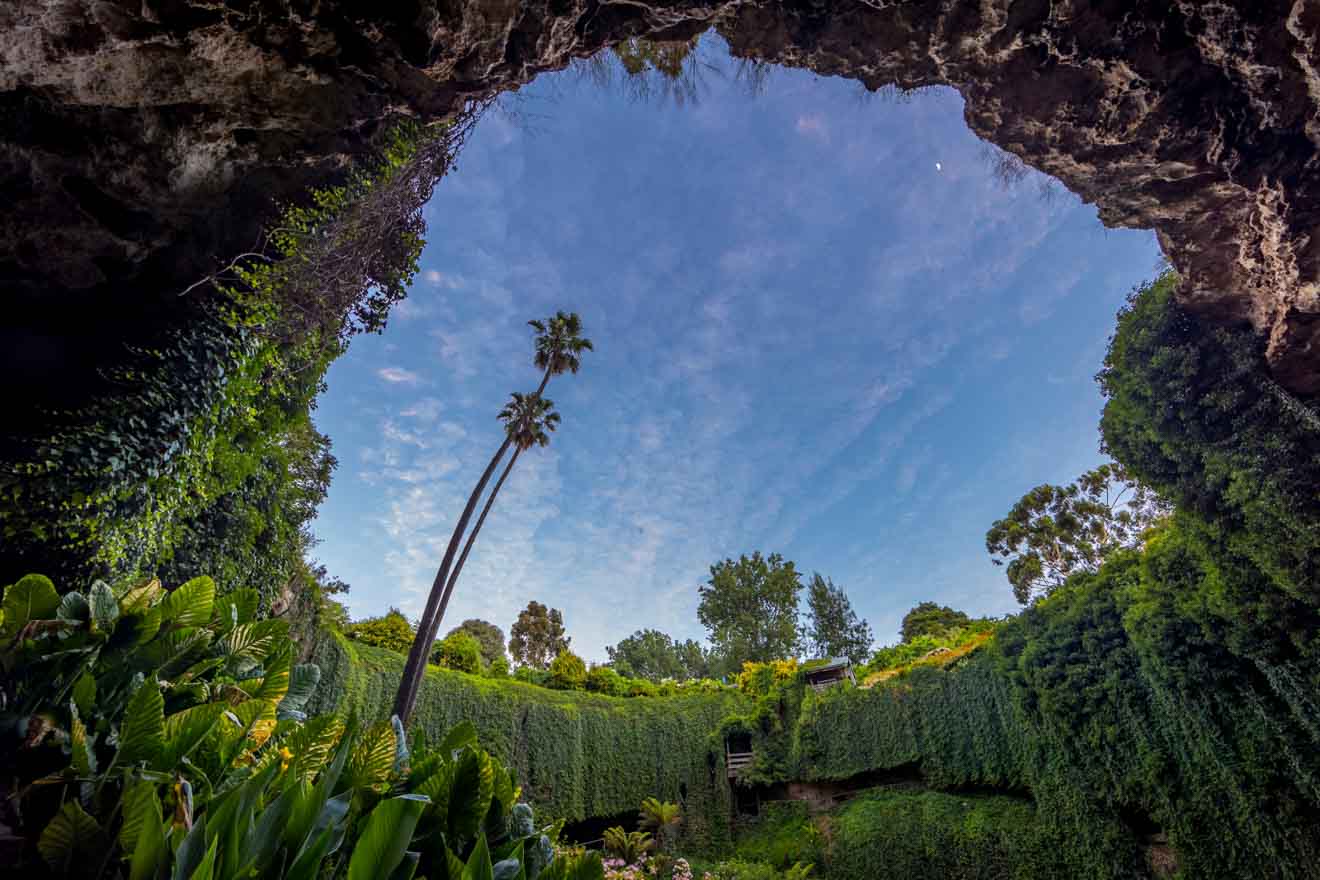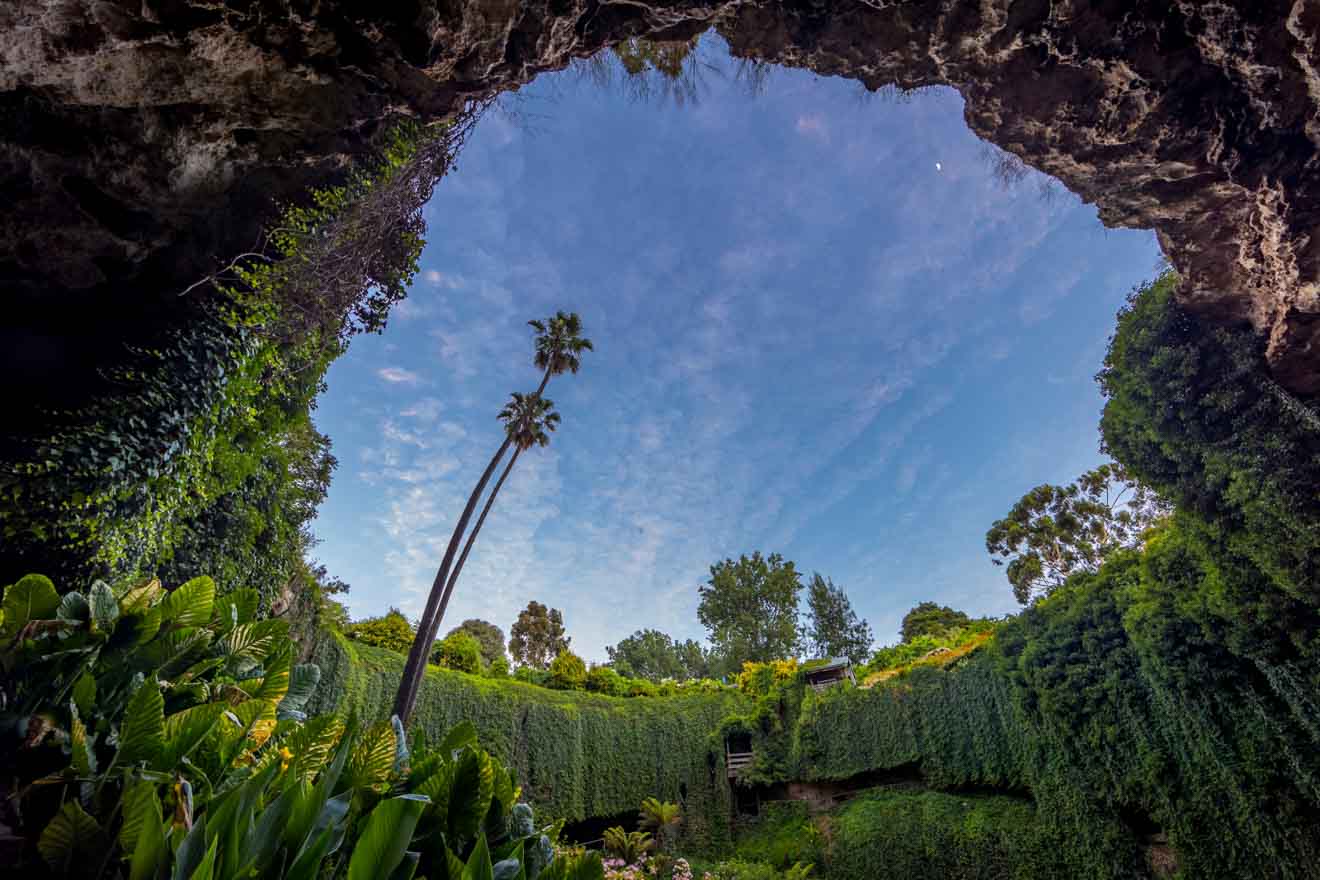 Umpherston Sinkhole truly blew me away! I'd never seen anything like it in my life, and I really wasn't expecting to find such a beautiful place in such a small town!
When I pulled up into the car park, I was a little confused. I couldn't see anything around me that even suggested there was a sinkhole (cenote) to be found. How wrong I was! From the car park, I found a few signs that lead me to the top of the stairs and to a stunning viewpoint that looked deep into the sinkhole hidden underground.
Umpherston Sinkhole was once a huge limestone cave. In 1886, its roof collapsed creating this huge hole in the land, that James Umpherston transformed into a beautiful green space. During the day, it requires less than an hour of your time to walk to the bottom and admire the views. During the night, however, is when the possums arrive!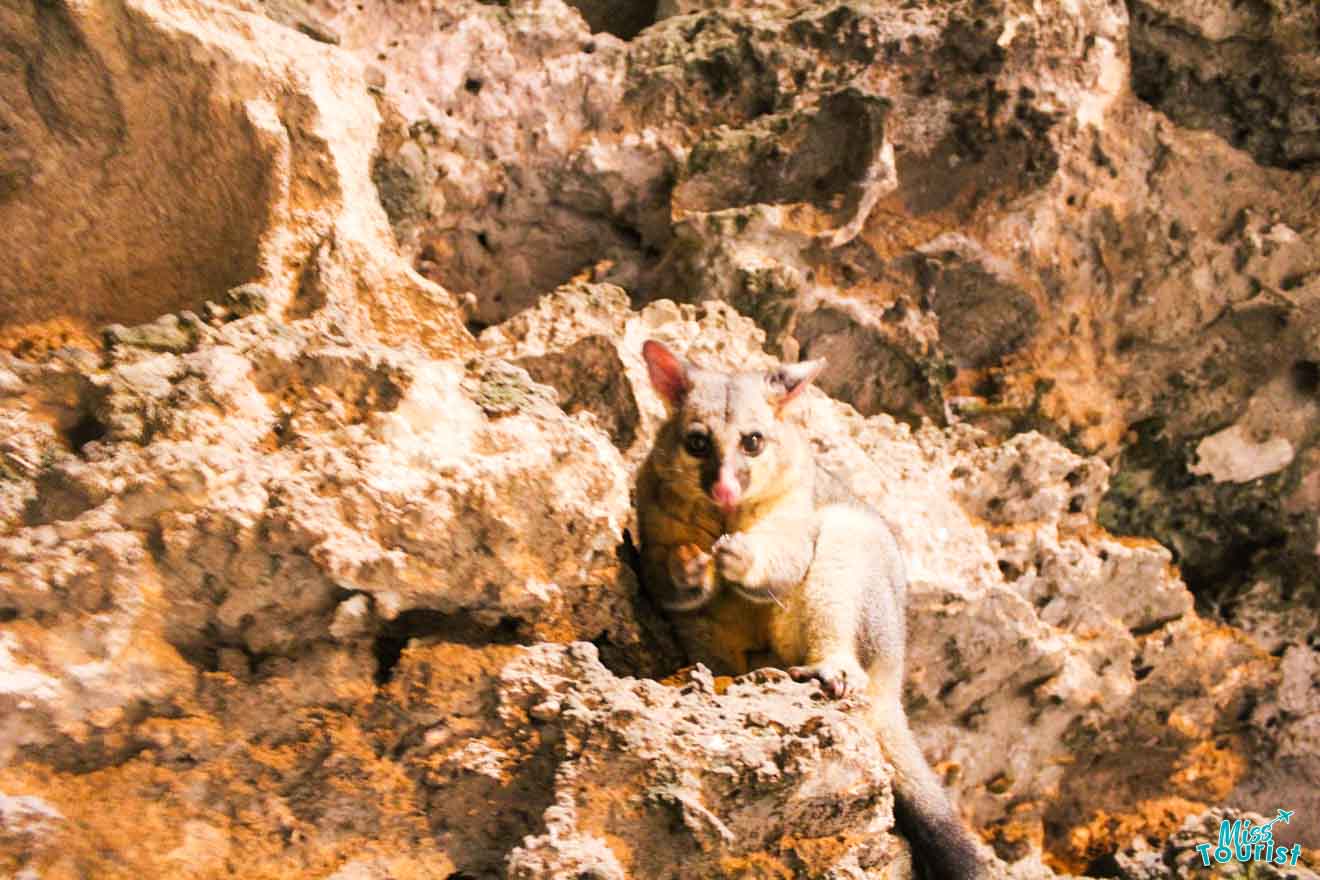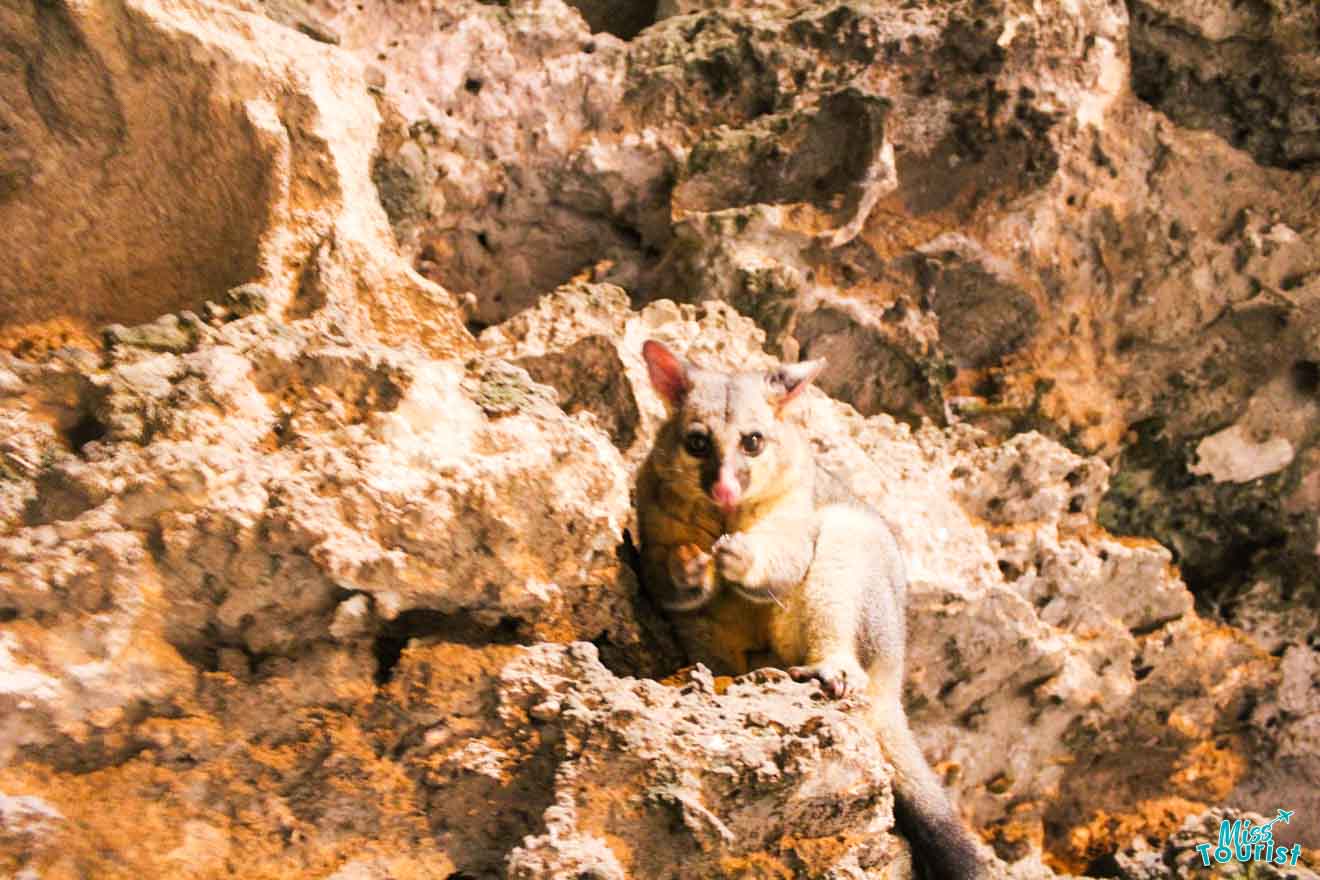 The possums were super friendly, but wouldn't quite stay still enough to catch a clear photo.
I got this tip from the lovely man at the Old Gaol (where we were spending the night). He told me that if you head down to the Umpherston Sinkhole after dark with some bread, possums will quite literally take it from your hand. So that's what I did, and sure enough plenty of possums started to appear!
2. Walk Around the Edge of Blue Lake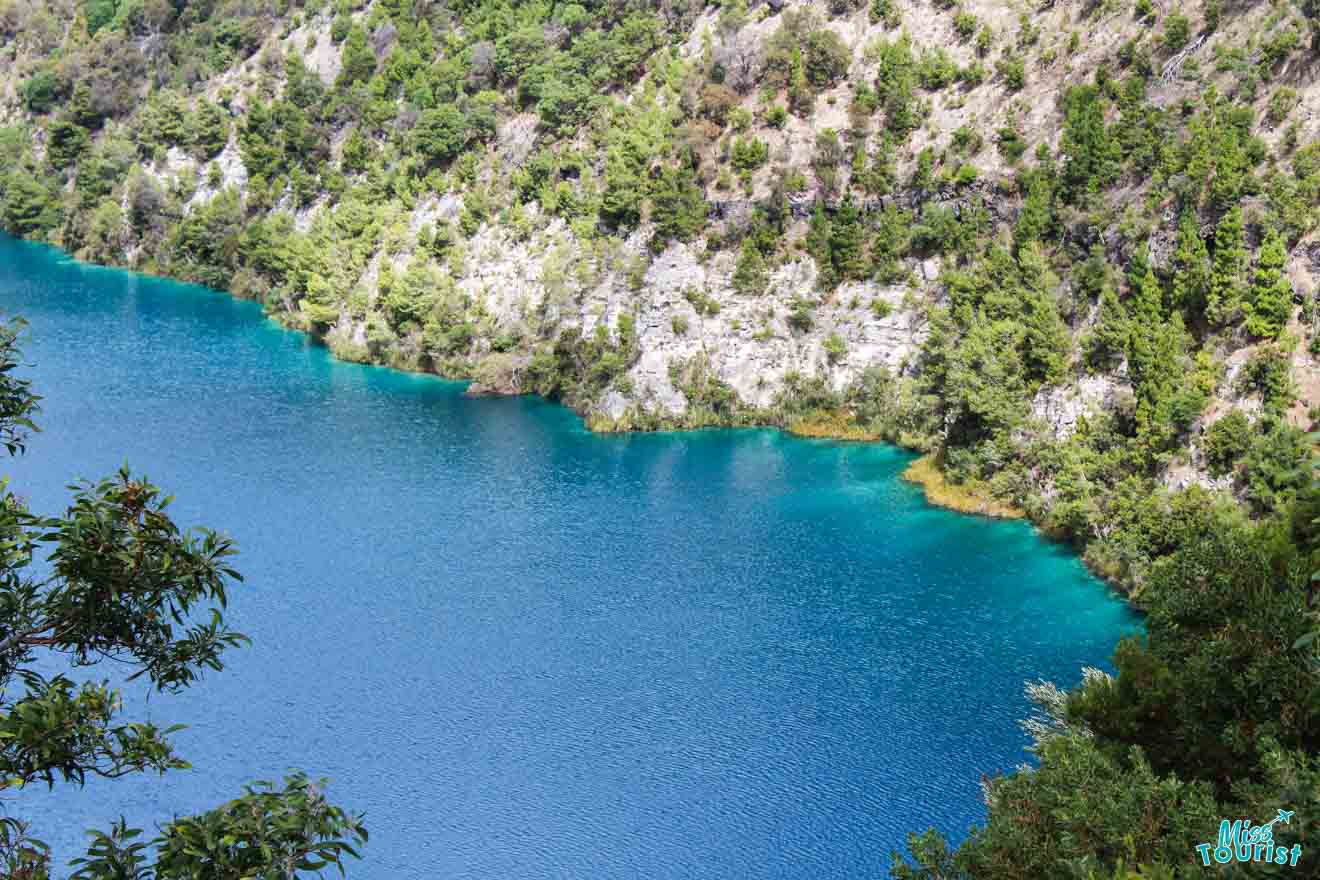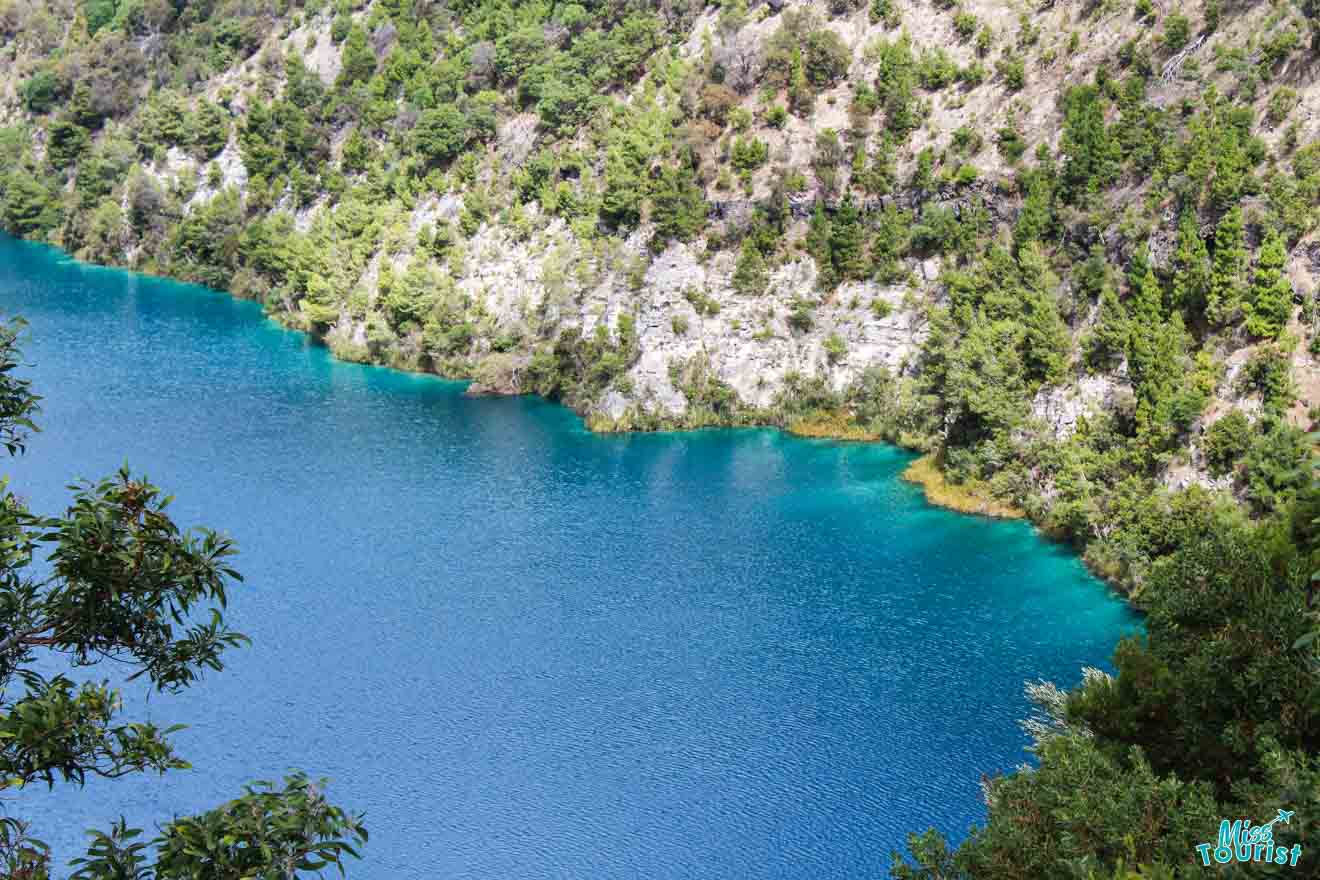 After the sinkhole, Blue Lake is definitely one of the most popular attractions in Mount Gambier and probably the whole of the Limestone Coast. It sits just outside of the city in a deep crater created by a volcano that once erupted here.

Blue Lake is thought to be 75m deep and nearly a kilometre wide making it the biggest crater lake in South Australia.
You're not allowed to swim in the lake, so the best way to see it is by completing the 3.5km trail that runs around the outside of it in a loop. It took me just over an hour to walk the entire thing, stopping at the four viewpoints along the way. It's a pretty easy walk and with little to no incline, it's definitely one of the great attractions to see if you're travelling with little ones or a pram.
TOP TIP: December to March is the best time to discover Mount Gambier. This is when the lake is at its most beautiful as the warm weather transforms the water into an amazing cobalt blue colour. During the cooler months of the year, Blue Lake is a little more grey in colour and isn't quite as beautiful as you'll see in the pictures!
3. Spend the Night in the Historic Gaol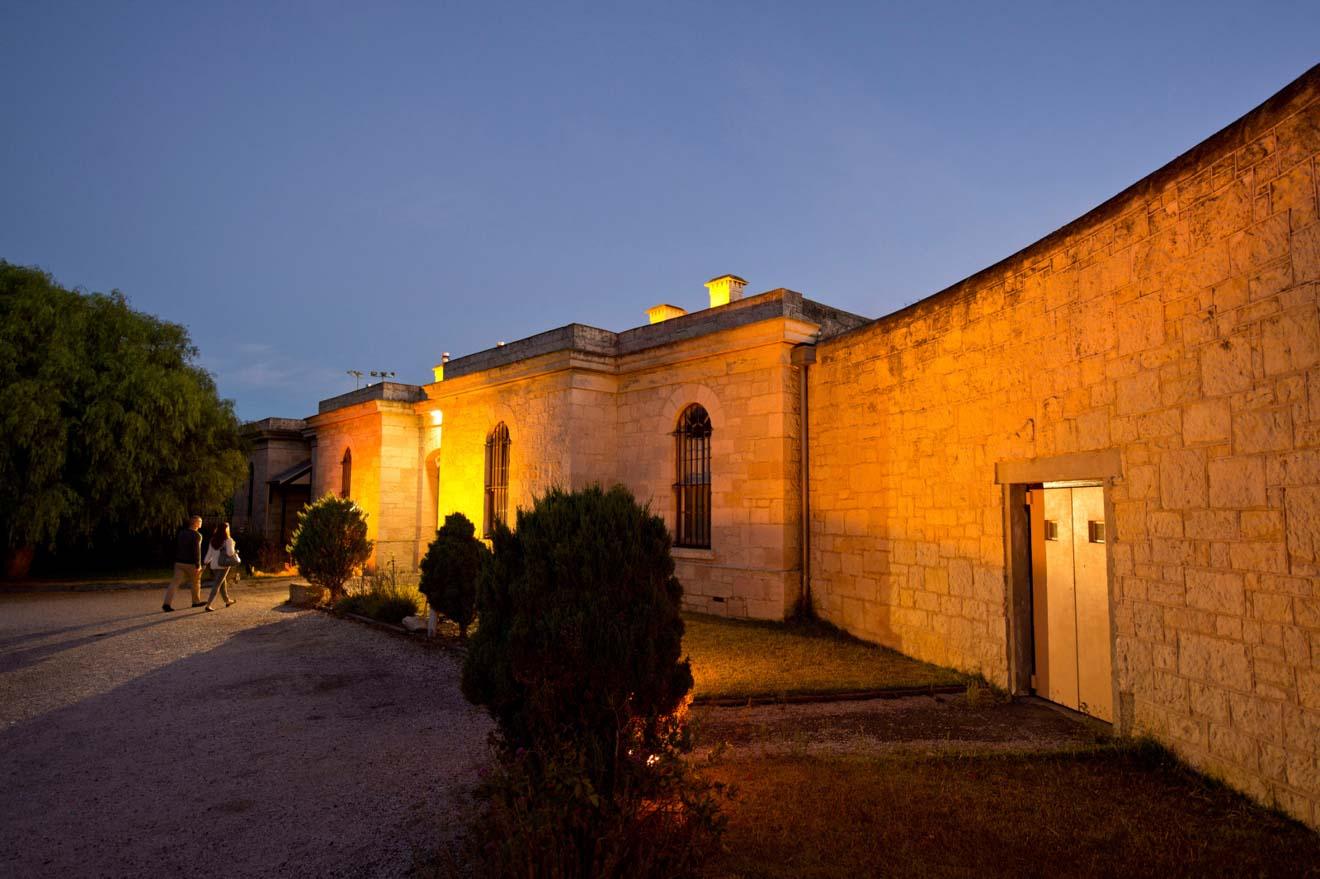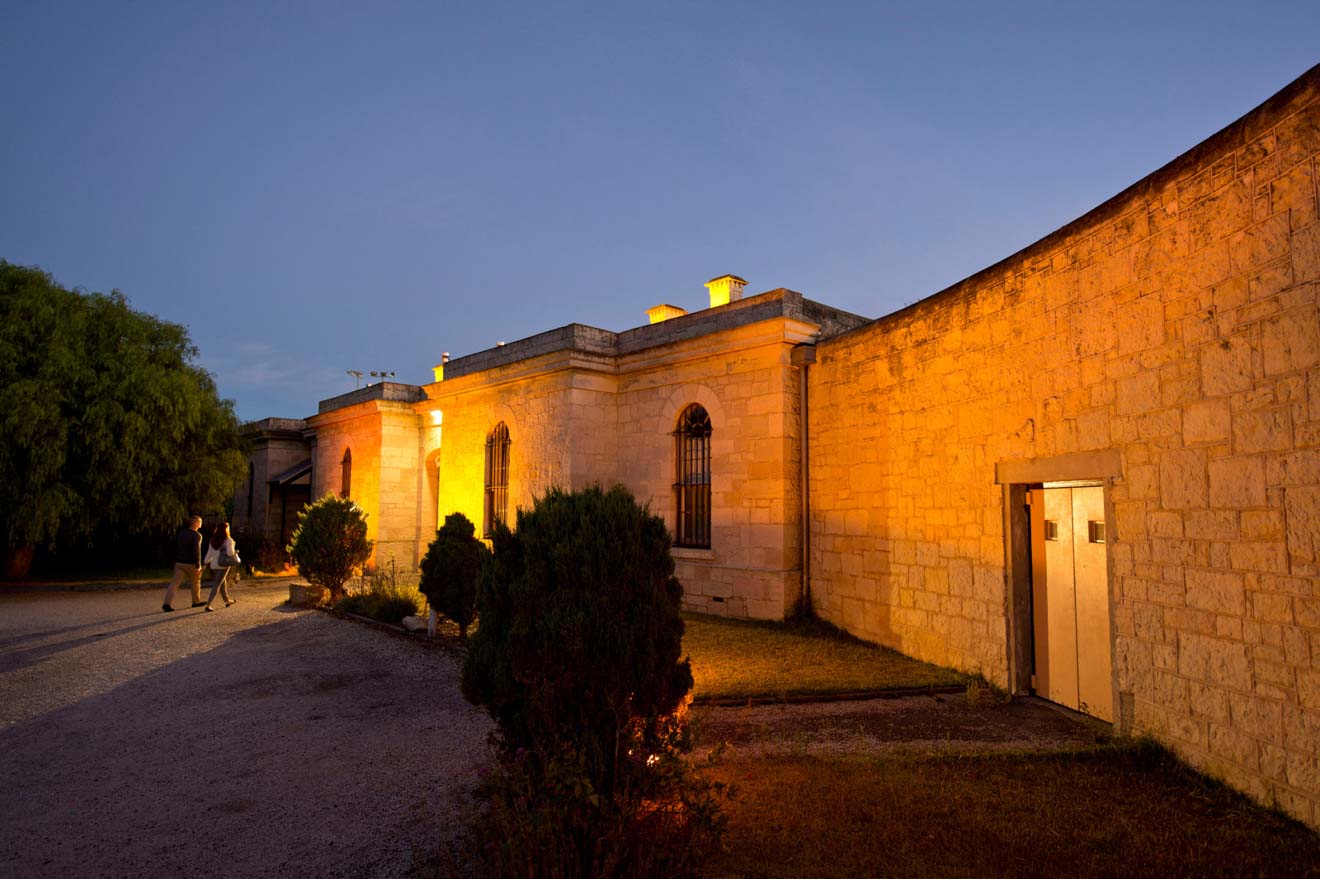 The Old Gaol in Mount Gambier opened in 1866, and only shut its doors as a working prison in 1995!
The Old Mount Gambier Gaol is probably one of the most unique places I have ever stayed. Although it's been fully renovated to provide a comfortable experience for guests, there are loads of original features left in the building to be explored including original wall murals and jail cells.
If you don't want to stay the night in Mount Gambier, you can contact the local family who runs the gaol to request a one-off visit around the museum type sections.
PRICE: Room rates range from $85 for a twin room to $270 for a family room
4. Take a Dip in Little Blue Lake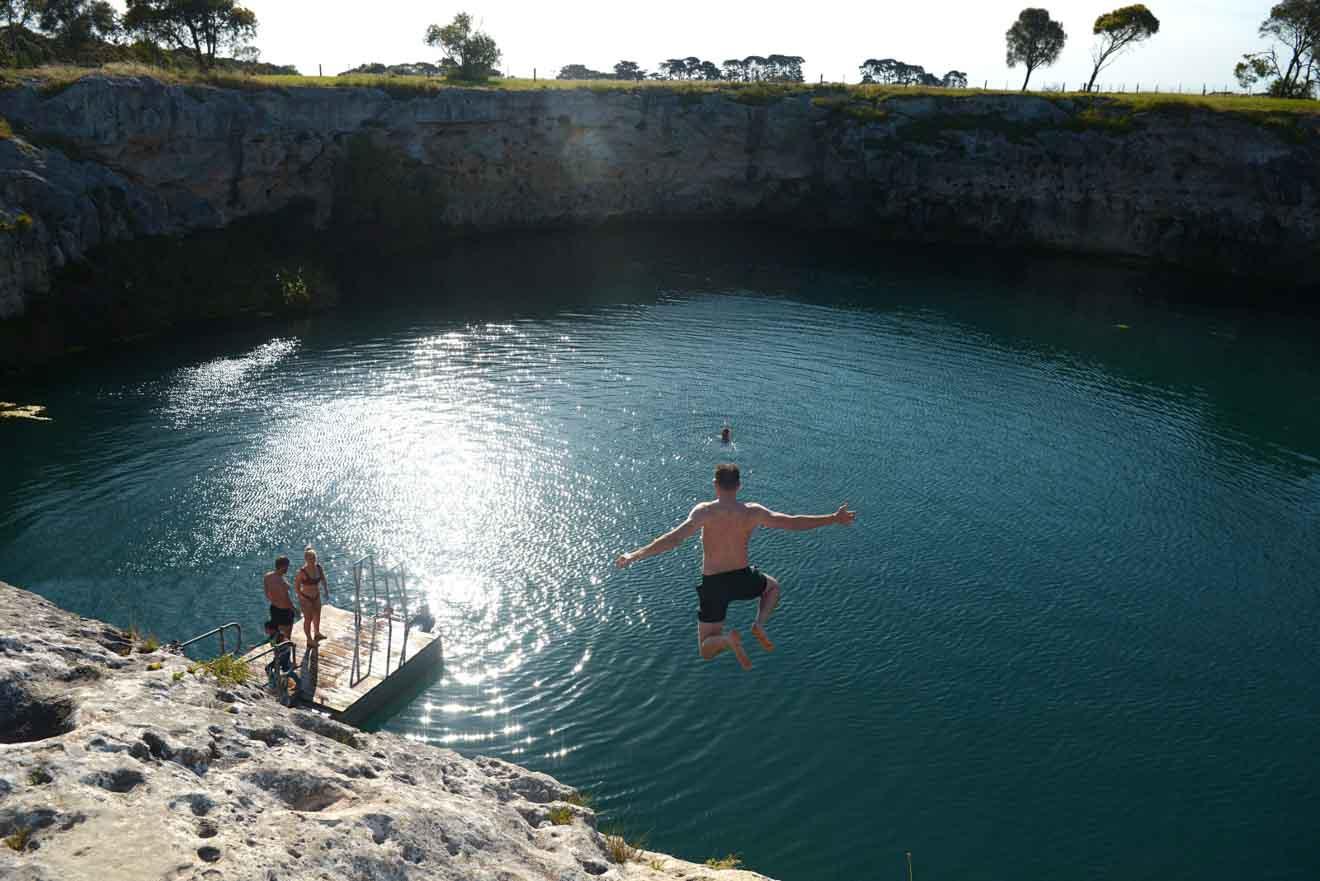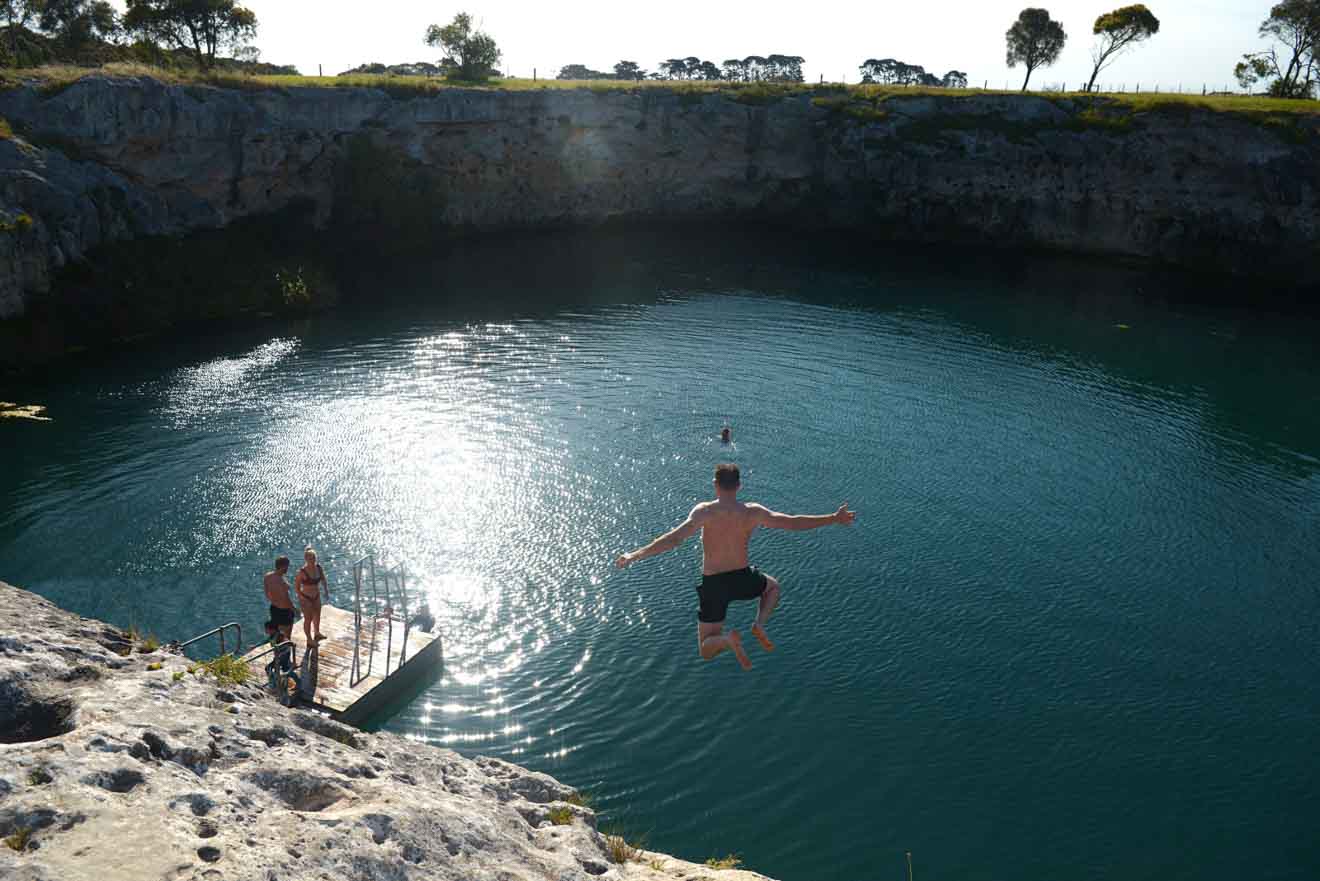 Maybe there are no hot springs in Mount Gambier, but there are crater lakes, and the weather is perfect to take a dip into one!
Swimming isn't allowed in (Big) Blue Lake, which is why you'll need to head just a few kilometres south of town to Little Blue Lake! It's just as blue as its big brother during the summer months and there's a little pontoon too which is perfect for jumping off!
TOP TIP: Little Blue Lake is around 40 meters deep and there aren't any lifeguards patrolling the area, so make sure you're a strong swimmer before jumping in!
5. Climb to the Top of Centenary Tower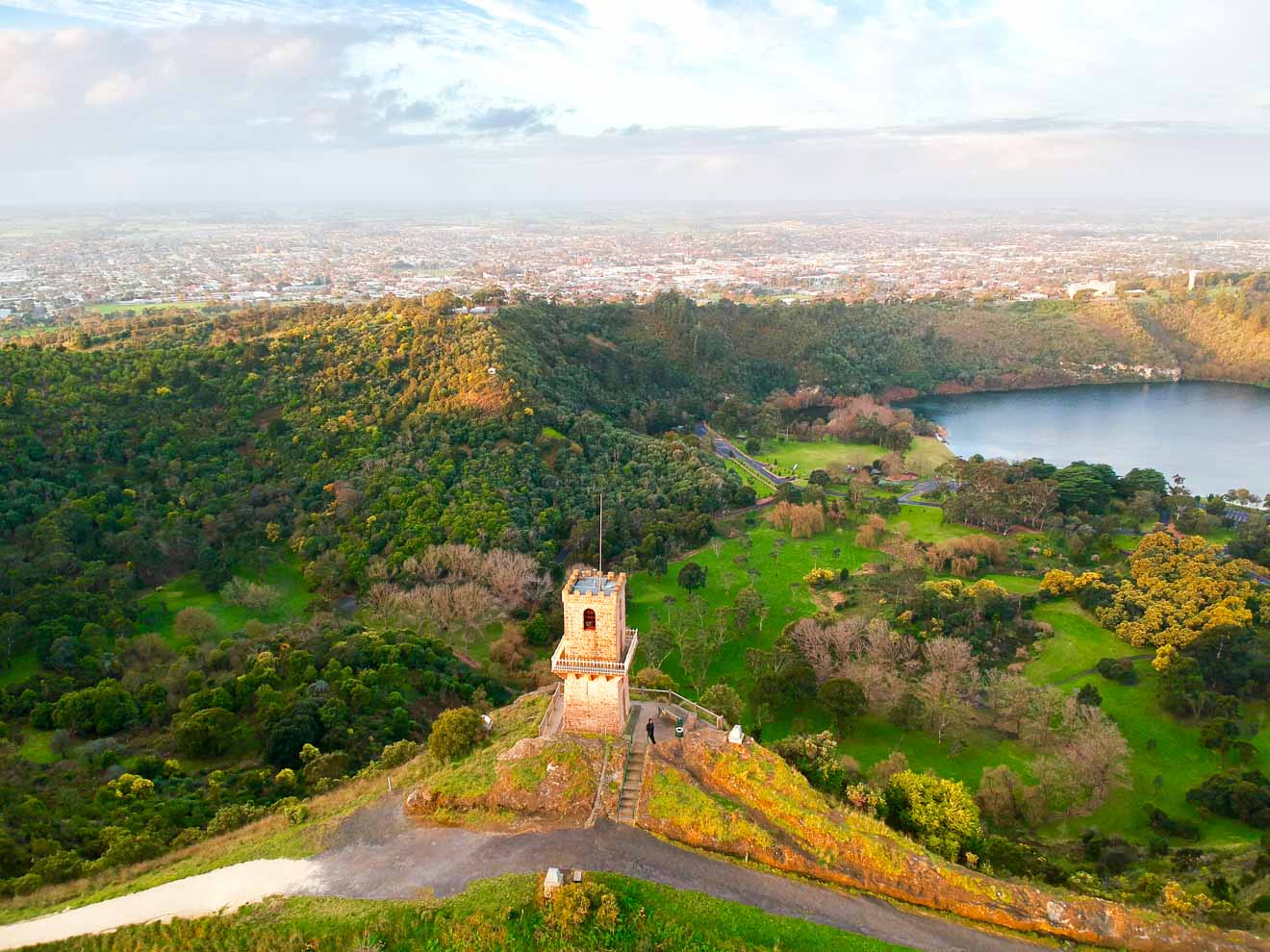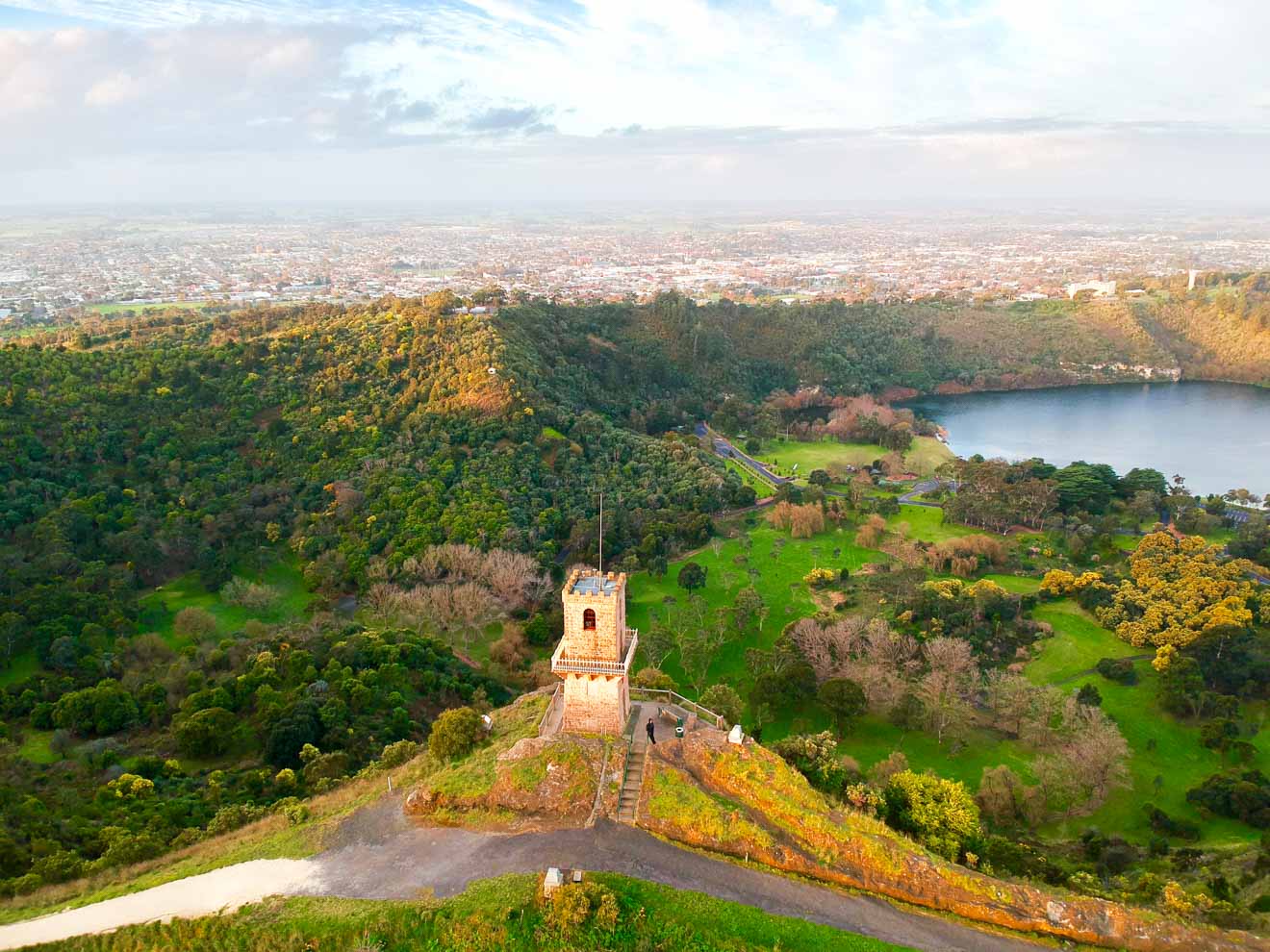 Everybody loves a good viewpoint, and Australia definitely isn't short of them!
For the best views over Mount Gambier, you need to climb to the top of Centenary Tower. It was built in 1904 to celebrate 100 years since the first sighting of Mount Gambier, but it still remains one of the main attractions in town. It's just $2 per person to climb the spiral staircase, which will take you about ten minutes or so.
TOP TIP: There are no strict opening times for the tower, but you'll know if it's open to the public because the flag will be flying!
6. Relax on the Shores of Valley Lake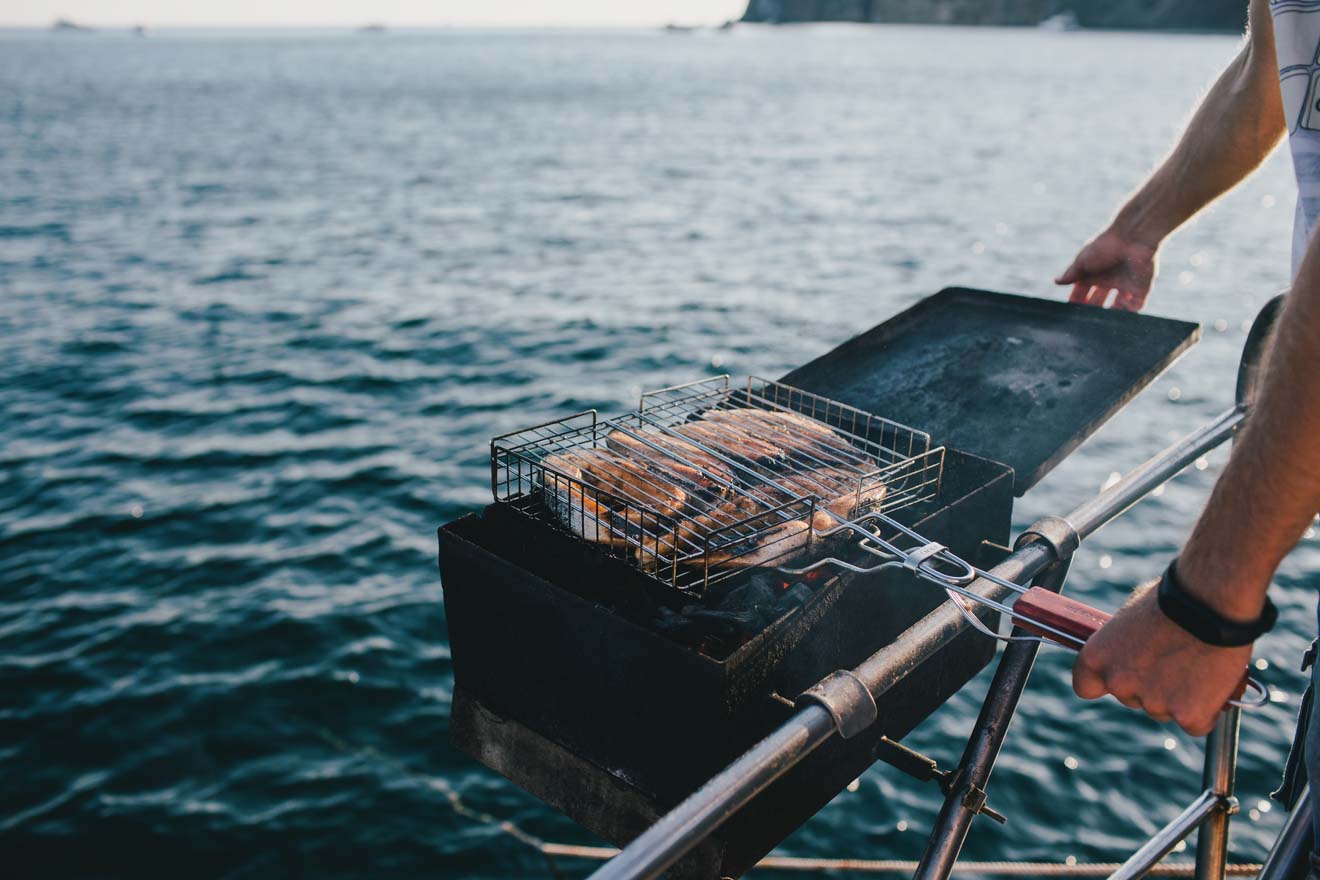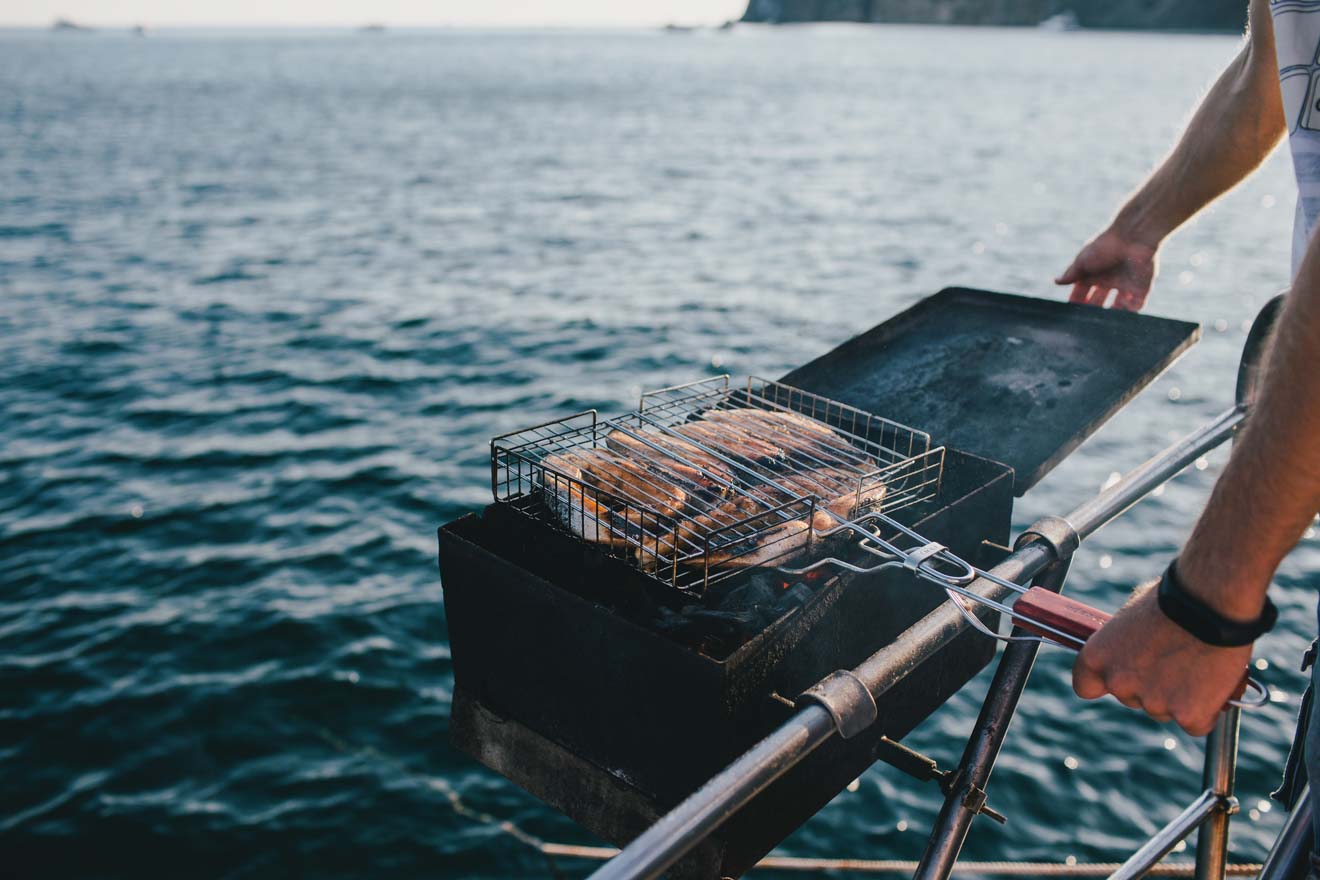 If you're only in Mount Gambier for the day, this is where I'd recommend stopping for lunch or simply spending a couple of hours to relax. It's a wide and open lake, with lots of green space, toilets and a BBQ area which makes it really family-friendly. Water activities are a big thing here too and swimming is much safer for little ones compared to Little Blue Lake!
The area is also a conservation zone, so keep your eyes peeled for any koalas sleeping up in the trees or kangaroos sleeping in the shade!
7. See the Engelbrecht Caves of Mount Gambier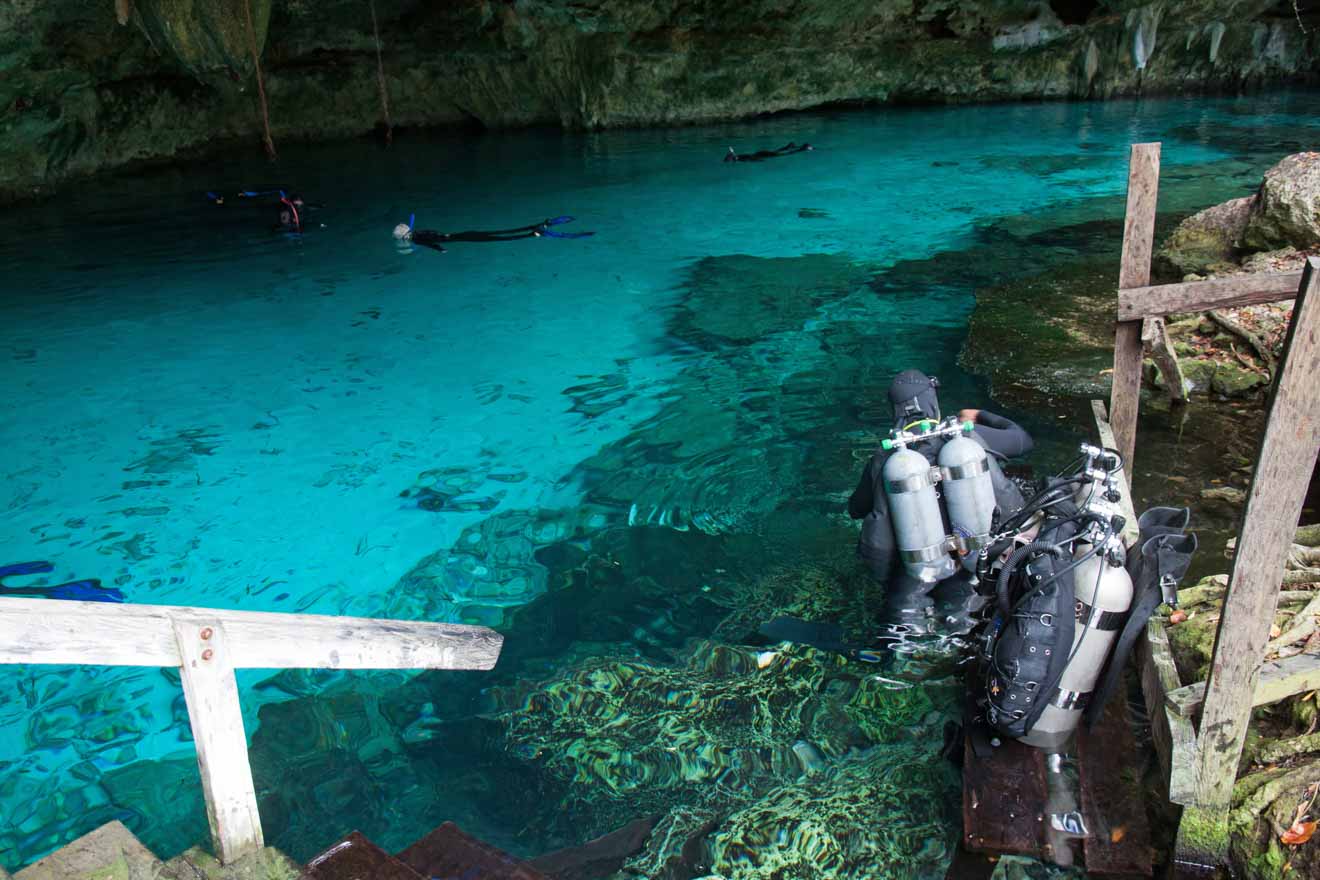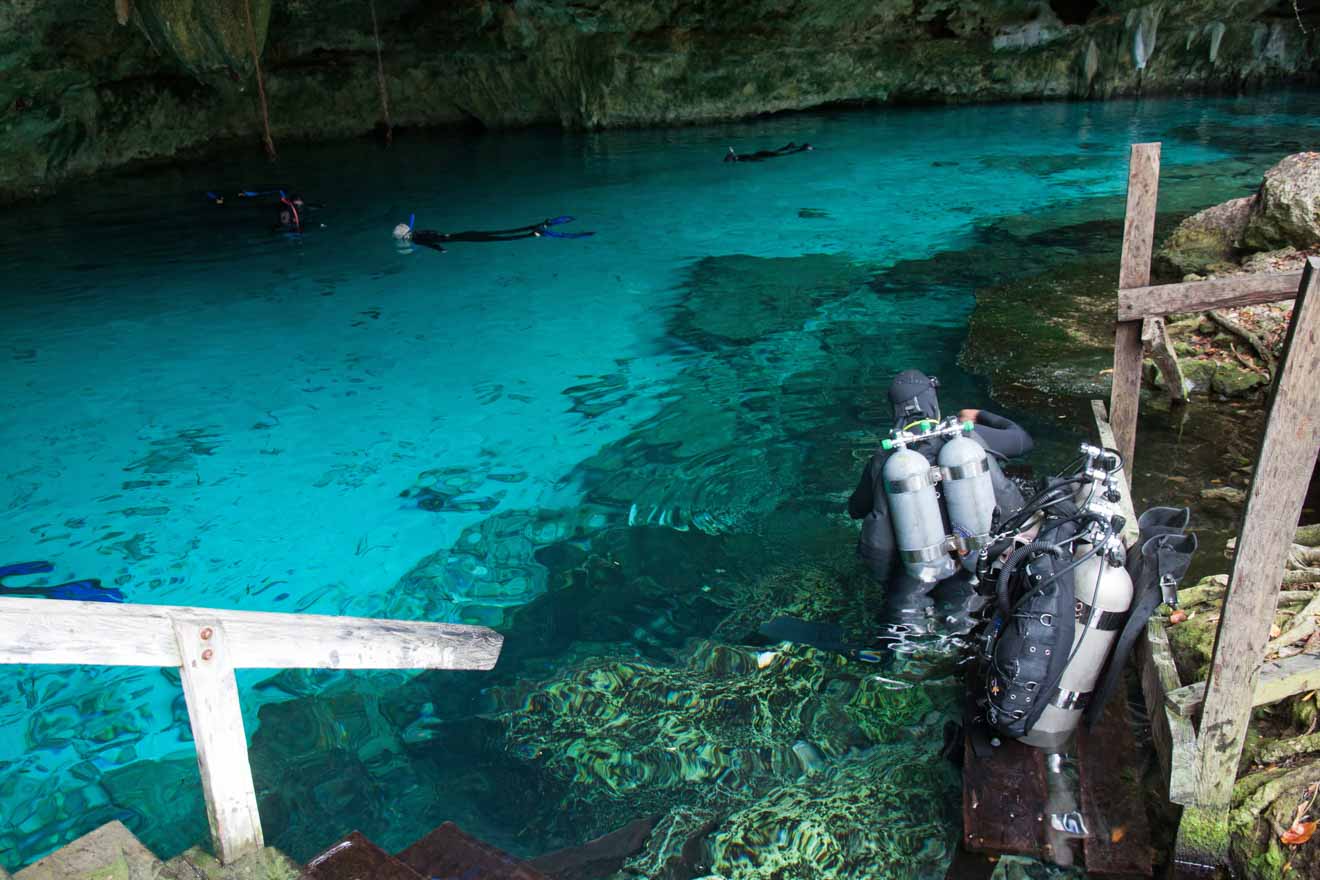 It's quite amazing just how many caves, craters and sinkholes there are in Mount Gambier!
The Engelbrecht Caves sit right in the middle of Mount Gambier town and are considered to be the most spectacular attractions in the Limestone Coast region! To visit the caves, you'll have to join one of the guided tours which last about an hour and cost $14.50 per person. Tours can't be booked in advance, but usually run on the hour from 11 am to 4 pm!
TOP TIP: Qualified divers can even go diving in the cave's sinkhole lake! I'm no diver myself, but for more information, check out the Engelbrecht Cave website or head to a visitor information centre in Mount Gambier.
8. Enjoy the Light Show at the Cave Gardens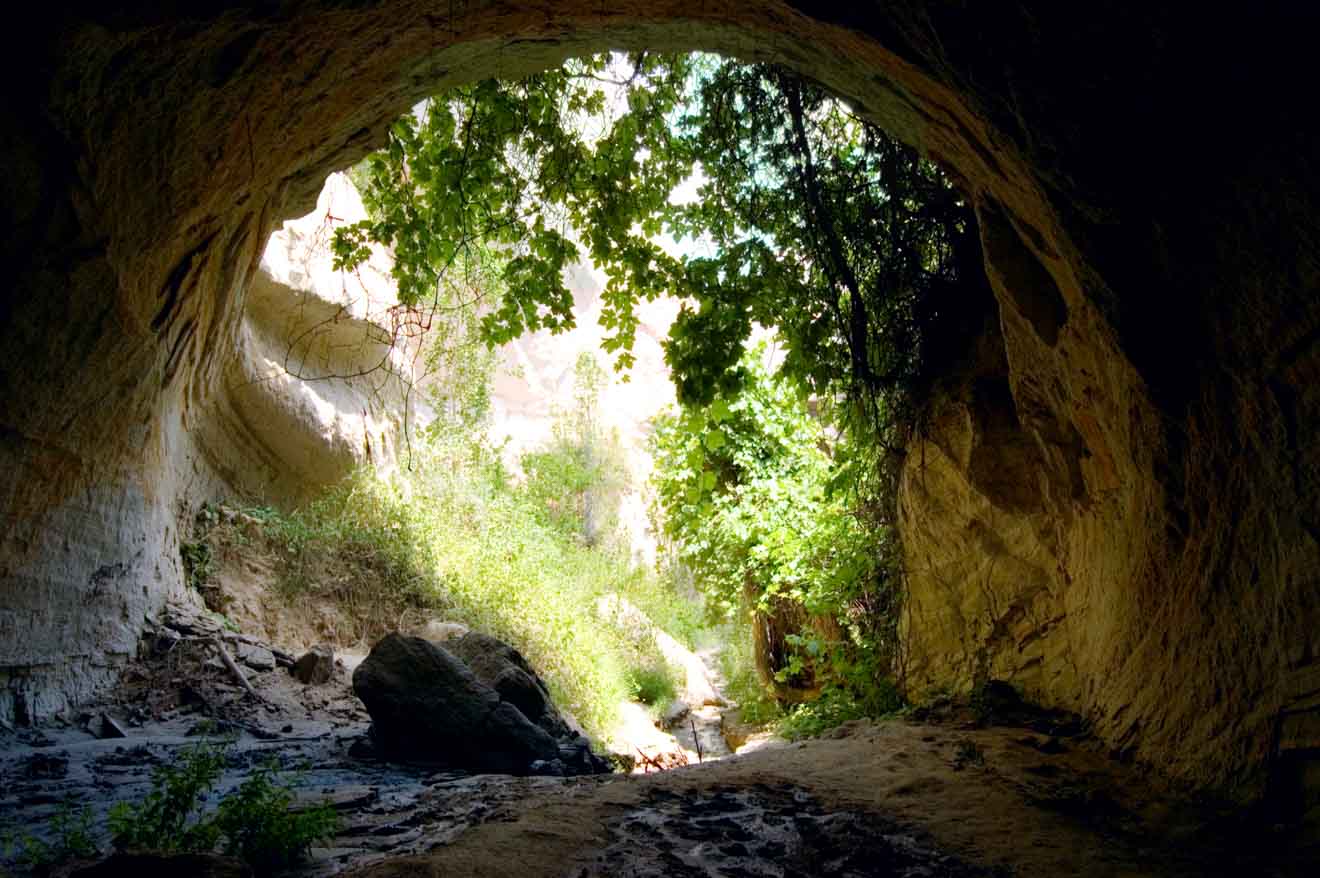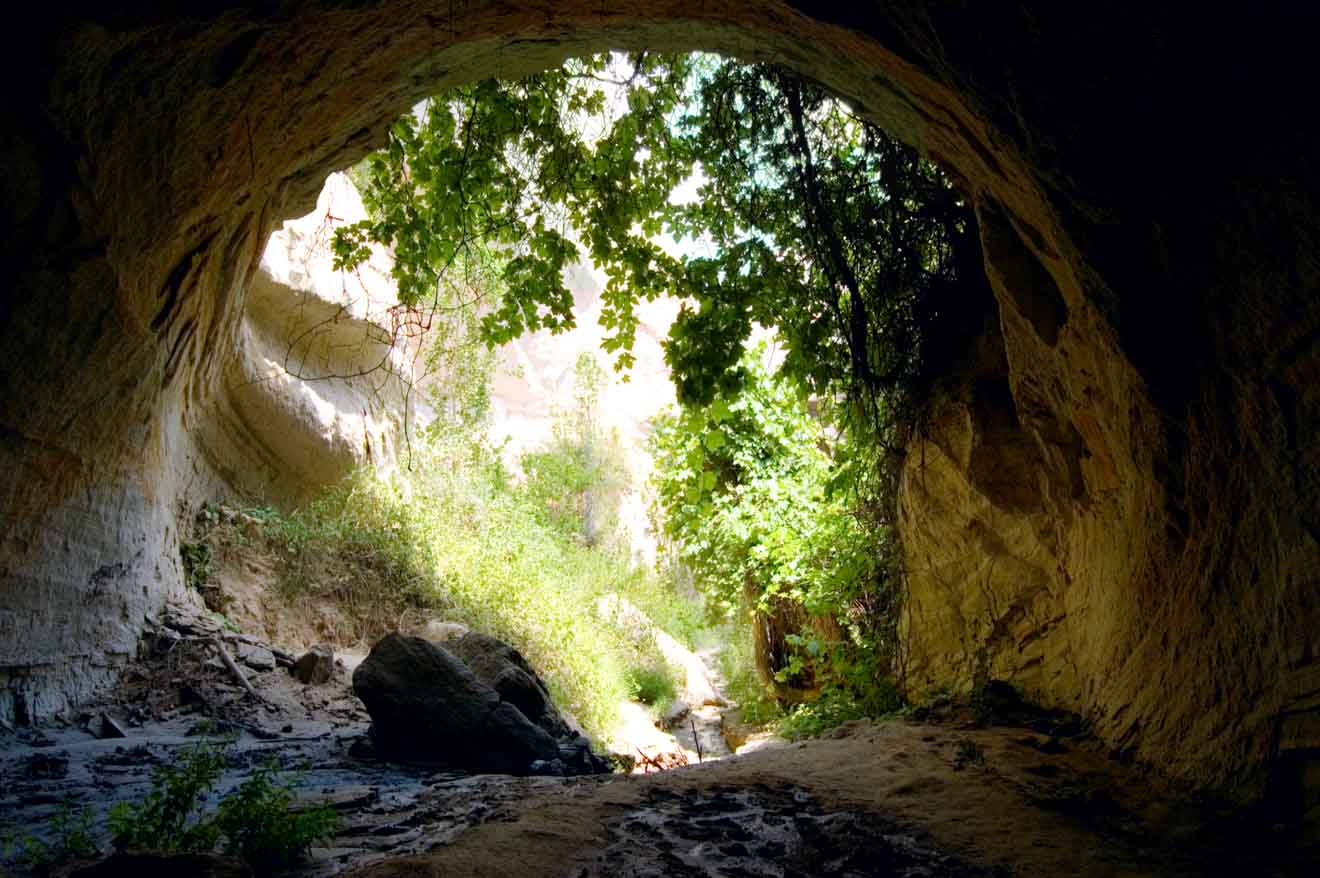 After visiting the Umpherston Sinkhole in Mount Gambier you might find the cave gardens a little underwhelming. But hear me out when I say that they're still worth a visit!
Firstly, the cave gardens are situated right in the middle of town, and secondly, they're lit up in the evening with a sound and light show. The daily light show tells the story of the Aboriginal Dreamtime from the past, is free to watch, and great for families looking to entertain children of any age!
While you can't go down into the cave gardens themselves, you can see the waterfall and sinkhole from a handy viewing platform at the top!
| | |
| --- | --- |
| 💯 Top attraction: | Umpherston Sinkhole |
| 🧒 Kid-friendly attraction: | Cave Gardens |
| 🏖️ Top outdoor activity: | Little Blue Lake |
| 🥽 Unique attraction: | Engelbrecht Caves |
| 🚶🏽‍♂️ Best free activity: | Blue Lake |
| 📅 How many days: | 1-2 |
| ☀️ When to visit: | December to March |
Practical information to plan your visit to Mount Gambier
How to travel to Mount Gambier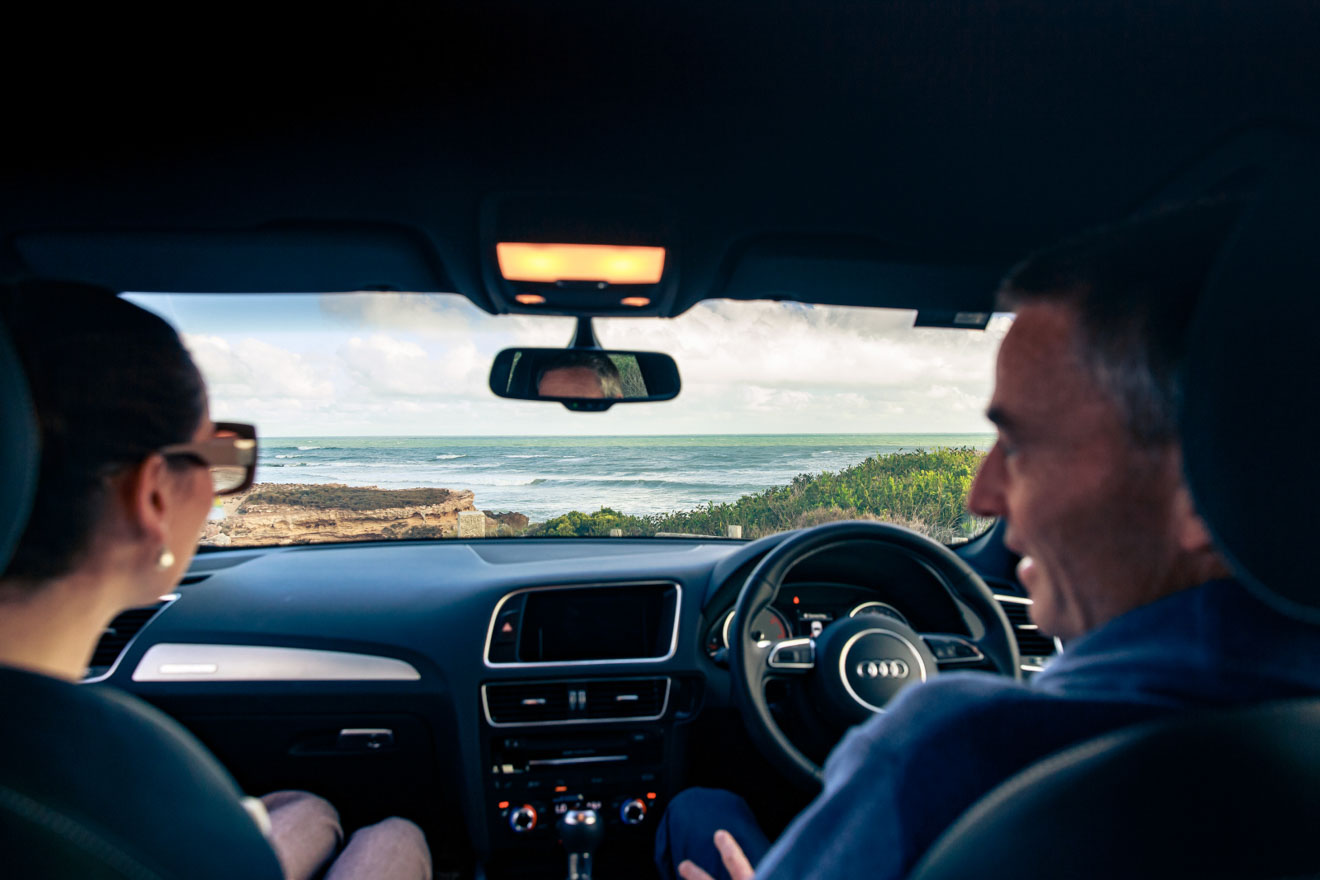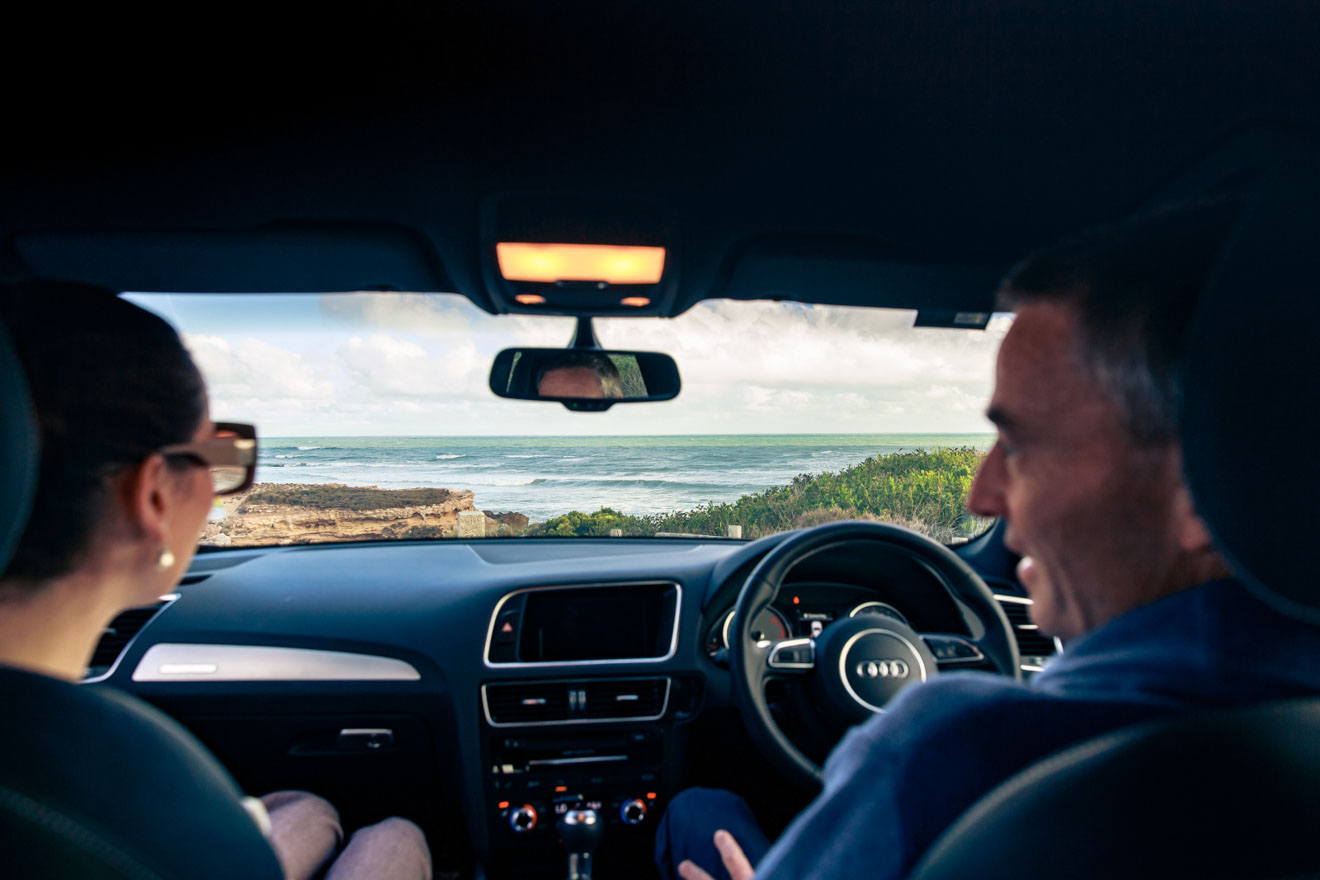 Getting to Mount Gambier is a piece of cake, provided you have a car (public transport isn't great along the Limestone Coast!). Don't worry if you don't have your own set of wheels, as renting a car is easy from most towns in South Australia, and can cost as little as $40 a day.
Although Mount Gambier is in South Australia, it's actually just as close to Melbourne as it is to Adelaide! From either city, it's about a four or five-hour drive along the highway roads. If you want to take the south scenic route from Melbourne, which I'd highly recommend by the way, why not extend your trip with this three-day itinerary along the Great Ocean Road?
Where to Stay in Mount Gambier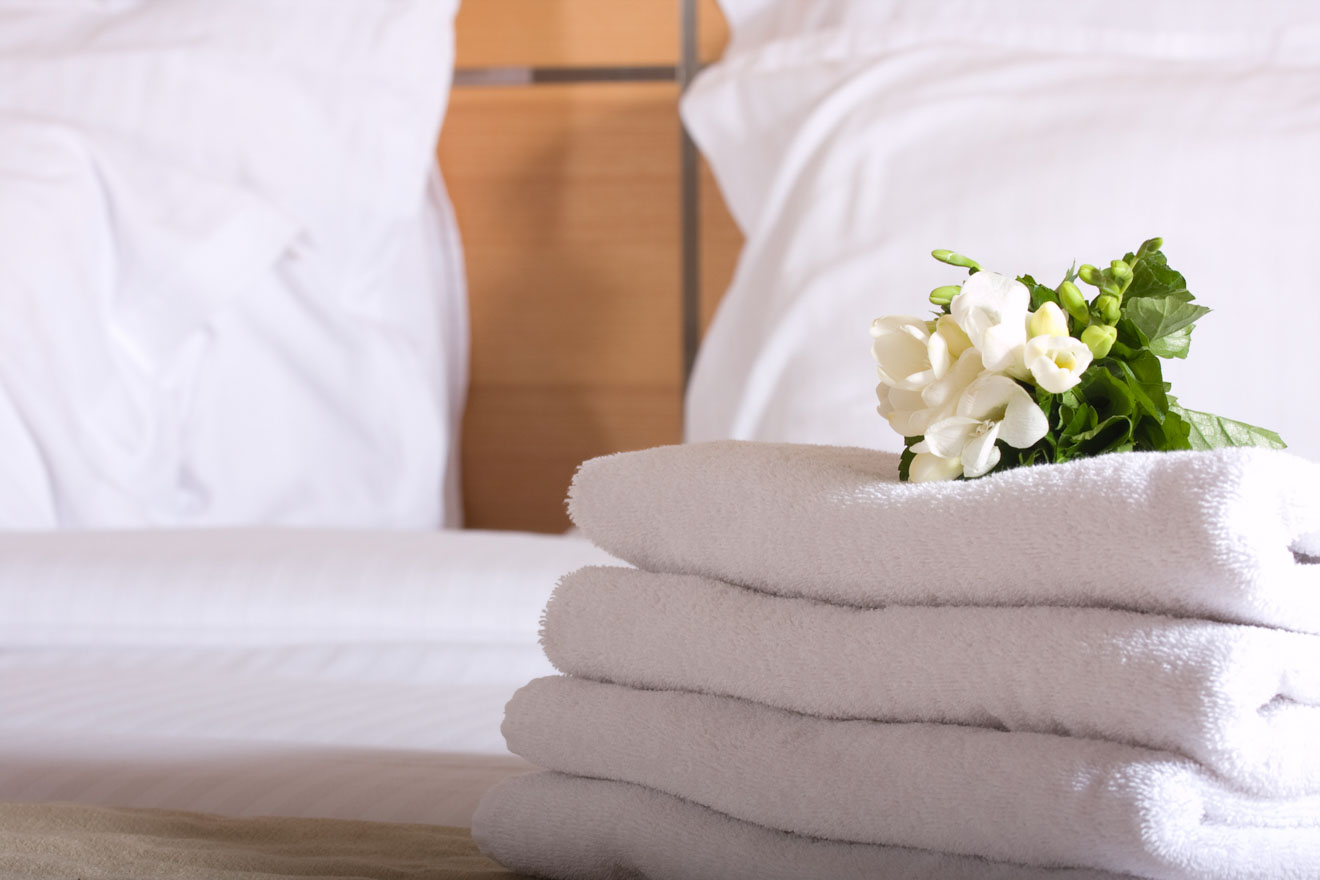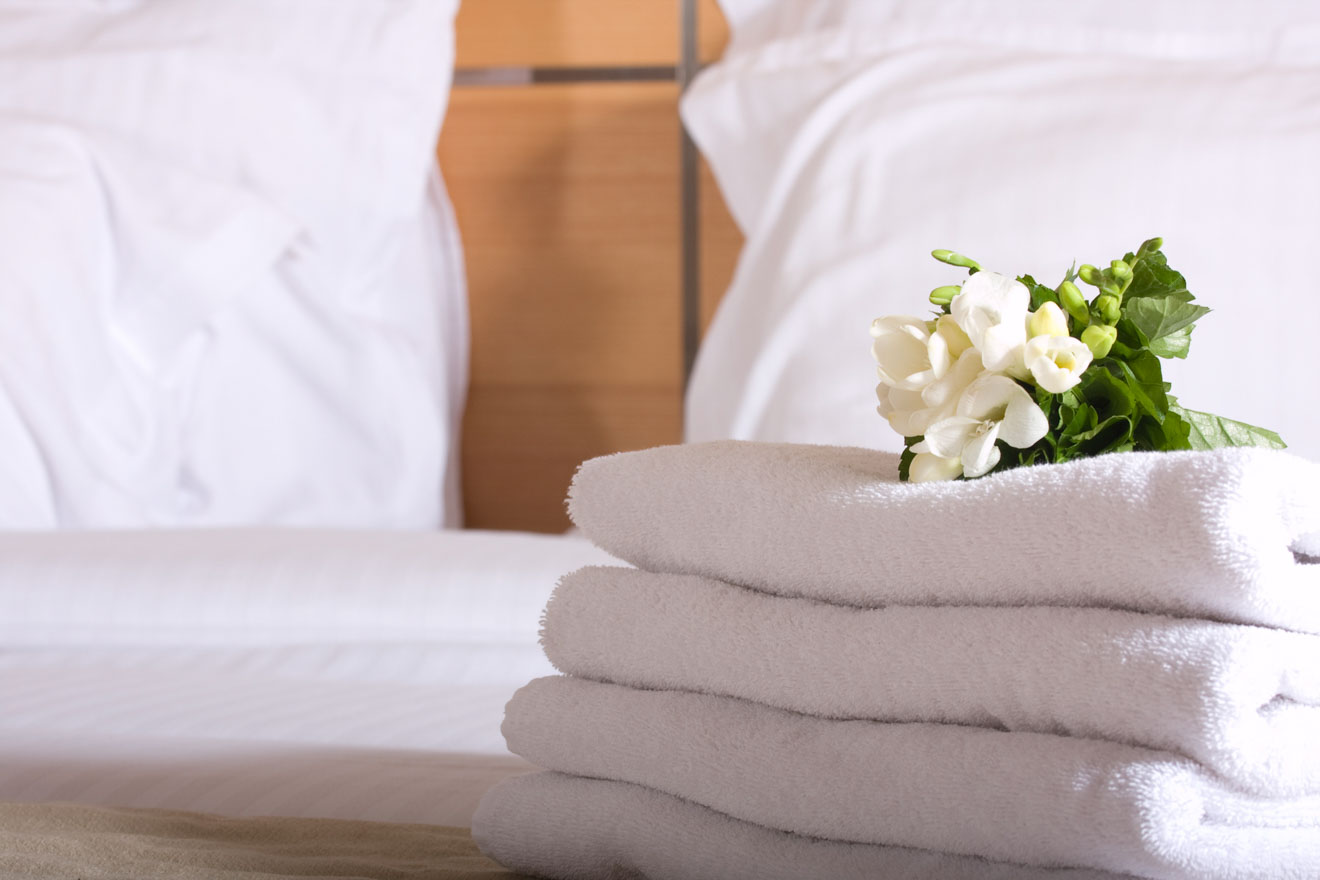 Despite being a little off the beaten track, Mount Gambier has a good choice of accommodation. I stayed in Old Mount Gambier Gaol, which actually caters to all budgets thanks to its huge variety of rooms. If that doesn't take your fancy, here are a few more top picks!
Luxury (240 AUD and up):
Some of the more luxurious properties found in Mt Gambier are actually listed on Airbnb. Most are larger properties that would suit a family or group of travellers. Like A Place To Call Home that sleeps up to six people across a stylish three-bedroom property complete with huge gardens and a patio area. Or, if there are a few more of you, Bengalee Executive Townhouse might suit you better! This stylish and luxurious apartment has three bedrooms and can accommodate eight guests. It is centrally located and has spectacular views from every corner of the house.
Middle (85 to 166 AUD):
A few different hotels around town offer up great value mid-range accommodation. Guests staying at the Arkana Motor Inn in Mount Gambier can choose from hotel-style double rooms or fully-equipped apartments. The whole complex also has access to an indoor heated pool and spa! For a slightly more modern affair, check out Park Hotel that comes highly rated for its comfortable beds and a great location just a walk away from the centre of Mt Gambier.
Budget (up to 85 AUD):
There are no traditional hostels to be found in Mount Gambier. The closest things you'll find are the dorm rooms in the Old Mount Gambier Gaol which costs $30 for a bed in a four-person dorm. If you're not so keen on staying in shared accommodation, Airbnb is your next best option for low-cost stays. I found this entire guest suite which comes with a private bathroom, use of the kitchen and living areas with free breakfast for $60 a night!
FAQs about things to do in Mount Gambier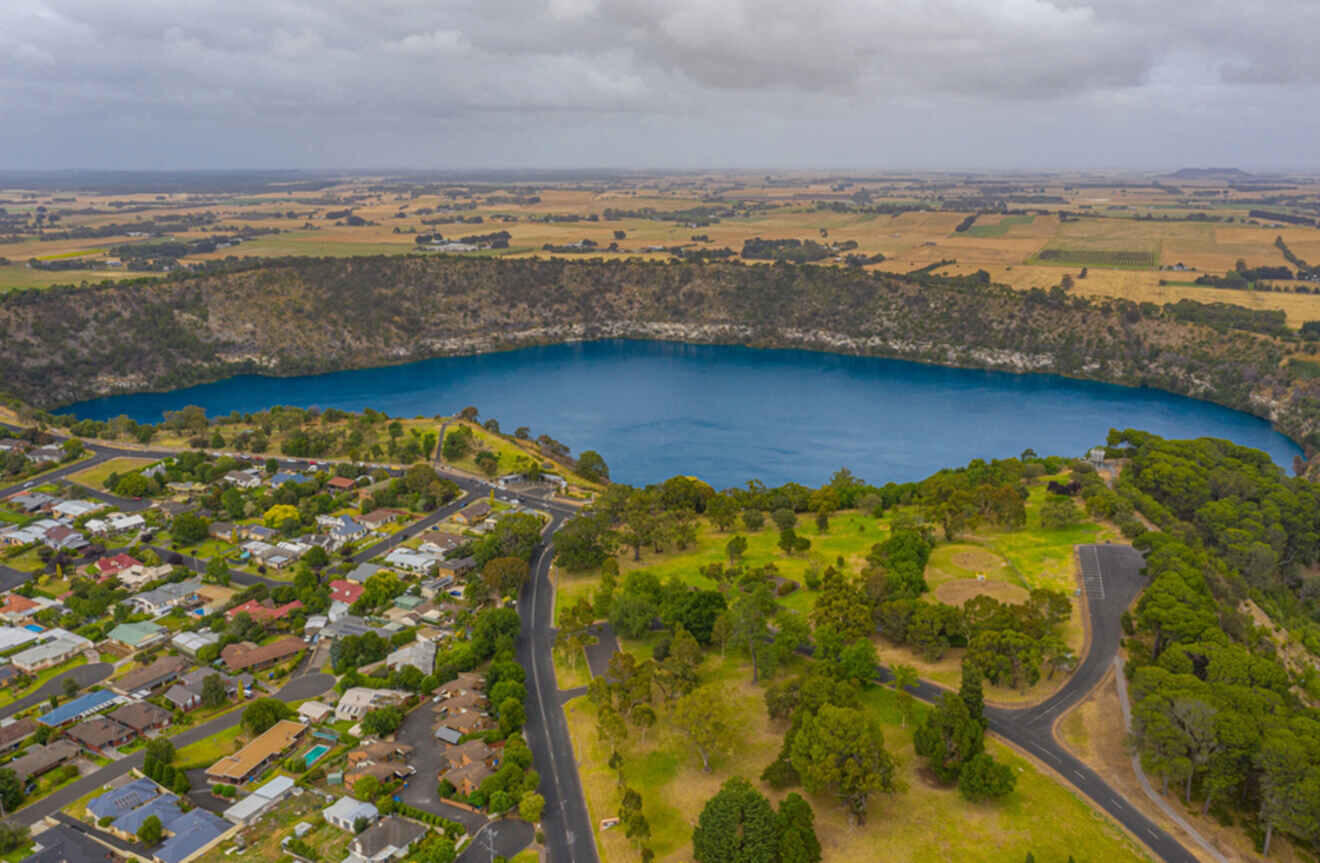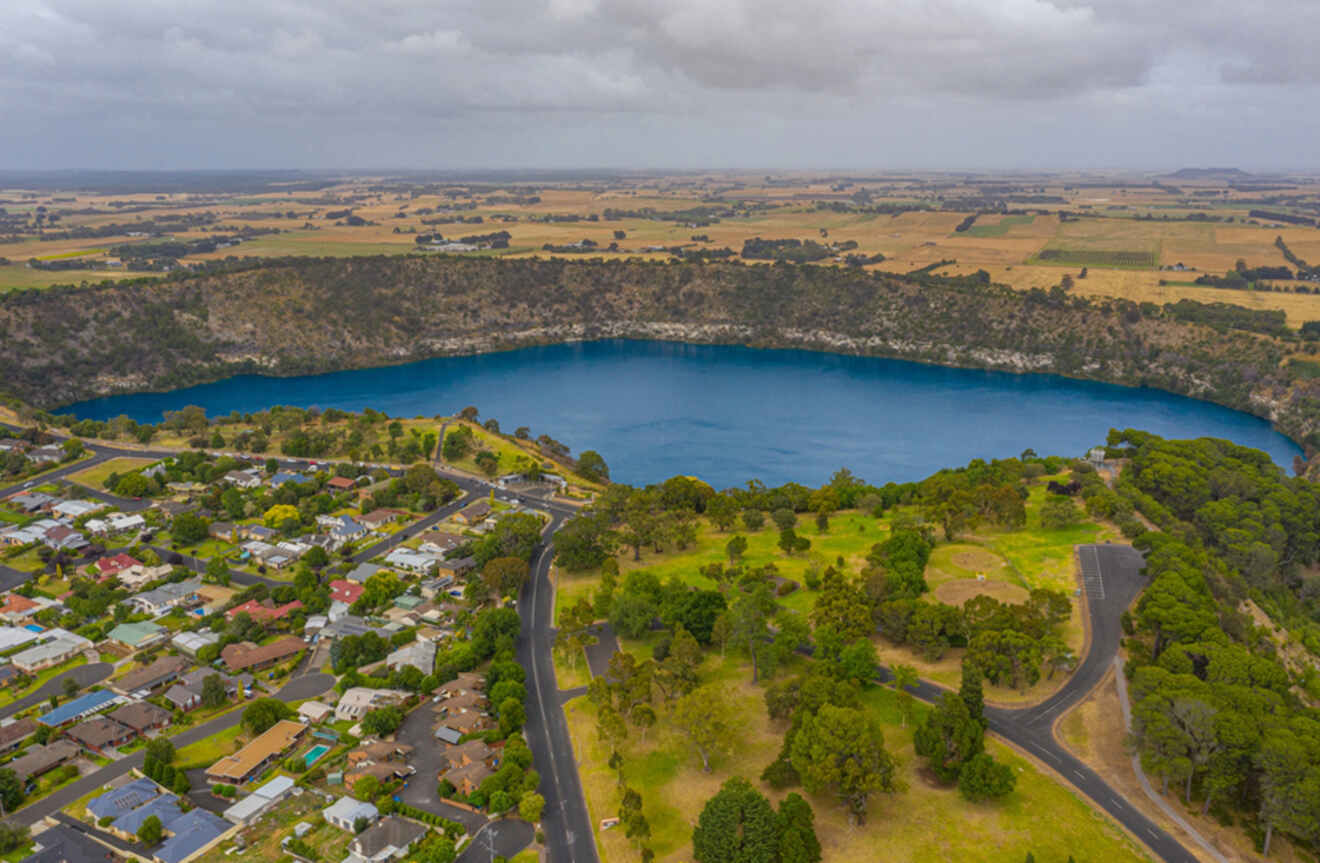 👪 What are some fun things to do in Mount Gambier with kids?
Mount Gambier offers a range of kid-friendly activities, from exploring the Blue Lake to visiting Umpherston Sinkhole's gardens and even enjoying a family hike in the nearby Crater Lakes.
💑 What are some romantic things to do in Mount Gambier?
Explore the enchanting Blue Lake, take a sunset stroll through Umpherston Sinkhole Gardens, and savor a cozy dinner at one of the town's charming restaurants.
👁️ What are some must-visit attractions for Mount Gambier sightseeing?
Mount Gambier sightseeing enthusiasts shouldn't miss the stunning Blue Lake, and the mysterious Tantanoola Caves.
🏆 What is Mt. Gambier famous for?
Mt. Gambier is most famous for its stunning Blue Lake, which changes color dramatically each year.
Conclusion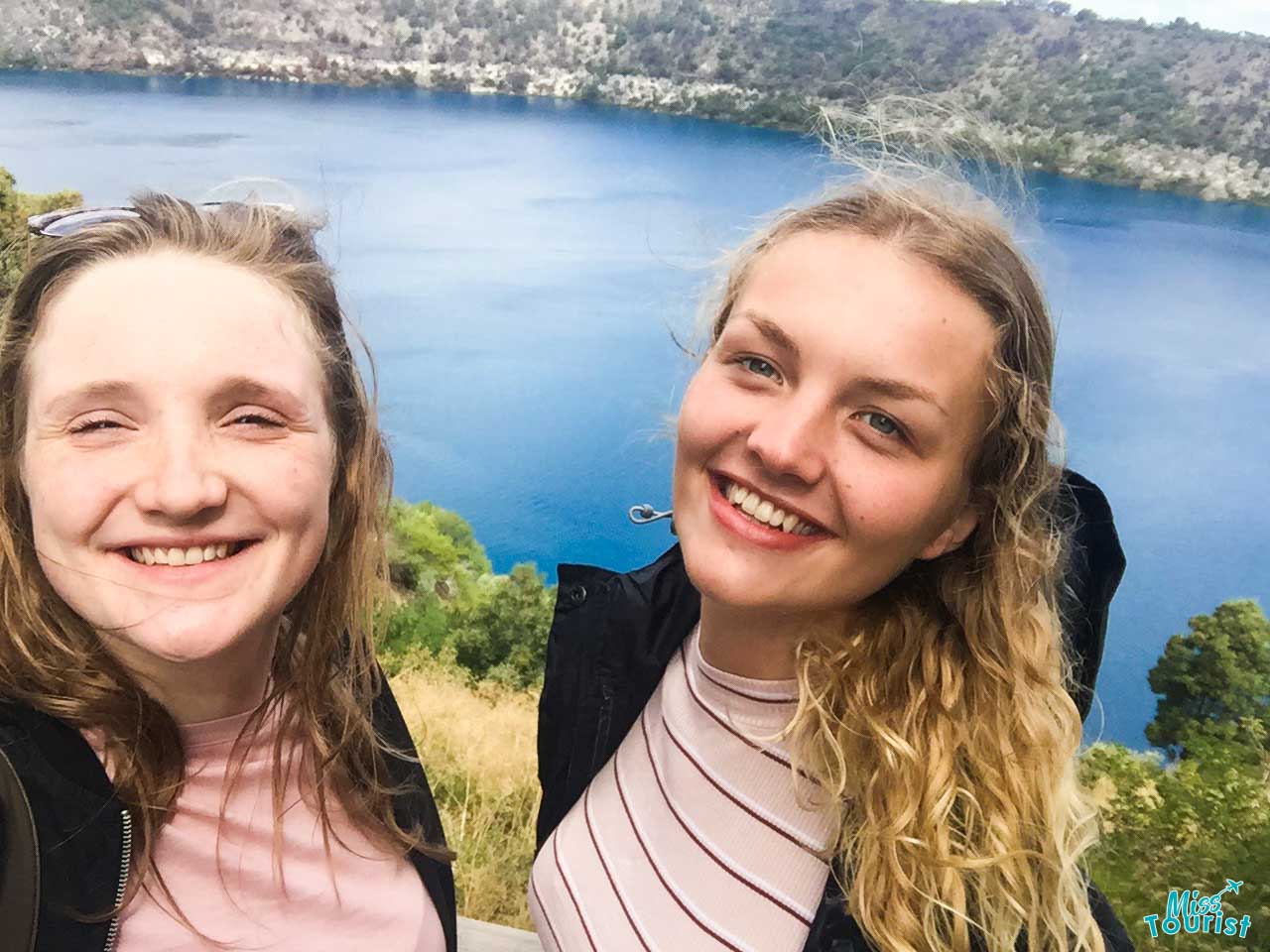 The Limestone Coast in South Australia is full of hidden gems just like the town of Mount Gambier. Although you won't need more than a day or two to see all of the attractions here, I can assure you it will be a few days well spent!
In this article, I've talked about some of my favourite things to do in Mount Gambier including wandering around Blue Lake, watching the light show at the Cave Gardens and feeding the possums at Umpherston Sinkhole.
If you're in this part of South Australia or just looking for another town to add to your Limestone Coast itinerary, make sure that Mount Gambier is definitely at the top of your list! I've tried to explain everything in as much detail as possible here, but if you still have any questions about what to see in Mount Gambier, or perhaps just Australia in general, I'd be happy to answer them below!
I hope you have a great time exploring this part of the world and the beautiful Mount Gambier!
Lily
---
Pin it for later!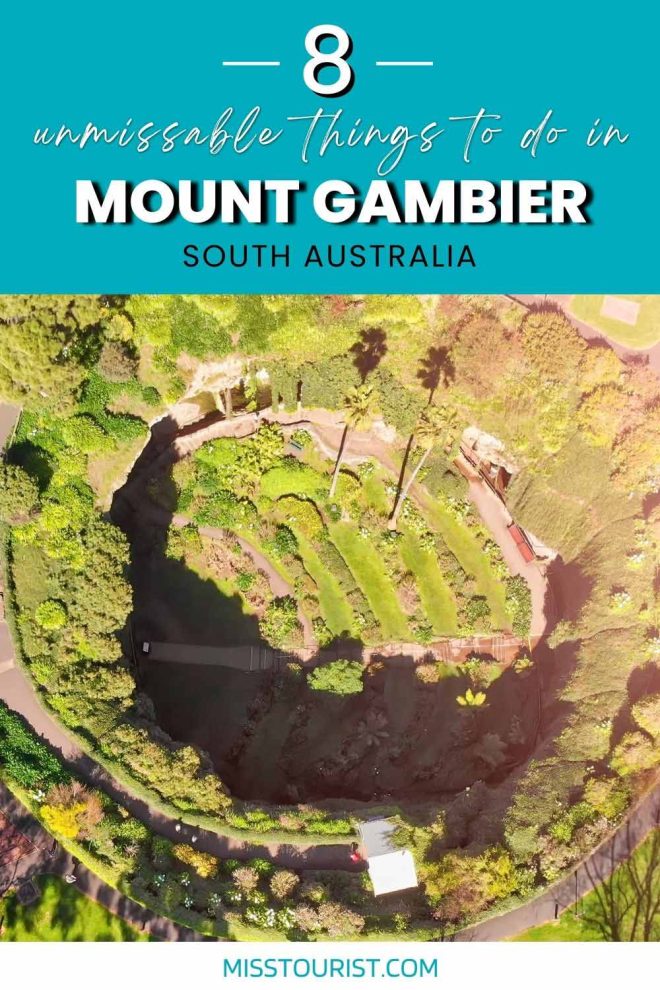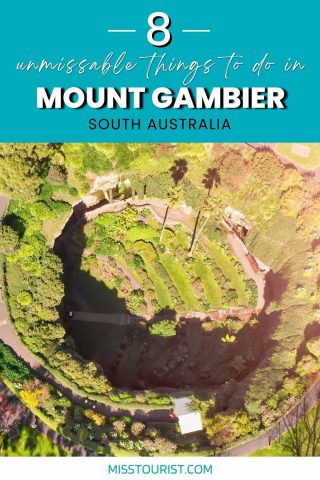 Pin it for later!