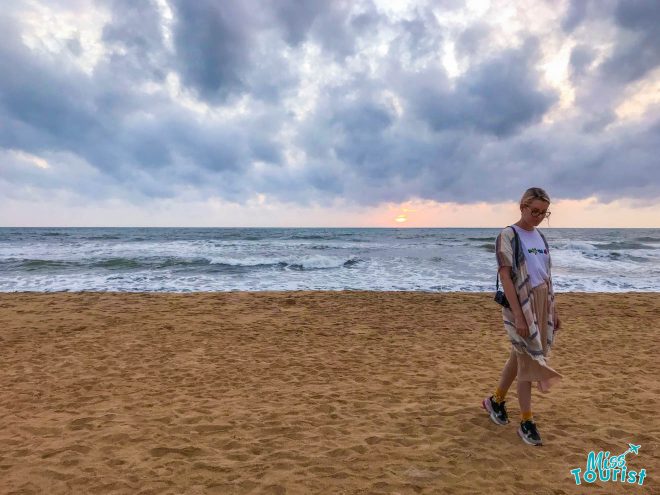 Welcome back, traveler!
I'm sure you already read the first part of my 10-day itinerary in Sri Lanka where I talk about the first 6 days and now you're back to see what's coming next!
Well, you're in for a treat! After conquering Sigiriya and seeing elephants in the wild, in the last 4 days of my itinerary I explored Kandy, I went on a scenic journey with the famous Sri Lankan blue train, I visited a tea factory in the highest city in the country and then I finished off my adventure on the beach in Negombo!
By the way, in this article I am also giving you detailed information about traveling to Sri Lanka such as the price of my complete tour, how to choose the best tour company and TONS of useful info about the weather, currency, food, insurance and more!
Okay, enough talking, let's get back to exploring this beautiful country. But first, here is the map of my itinerary once again, so you can remember it: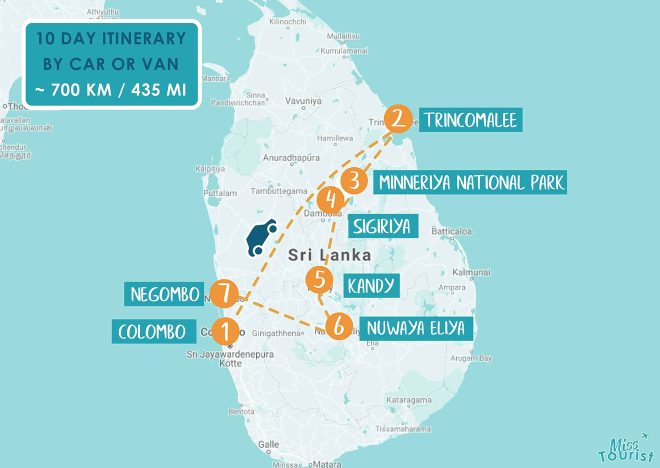 Just to refresh your memory: I did my 10-day adventure around Sri Lanka using Jetwing Travel by car with a driver-guide and I definitely enjoyed their service. If you want to replicate this exact itinerary and stay in the same hotels and visit the same things, it will cost you around US$1,400 per person, everything included. You can easily lower this price if you opt for budget accommodation instead of luxury and it will be as low as US$700 per person.
Let's continue our adventure around the country:
Day 7: Road from Habarana to Kandy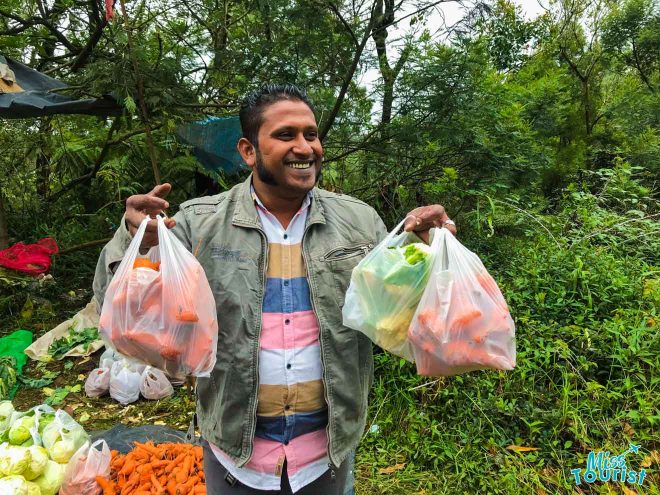 DISTANCE: 95 km / 59 miles; 2 hours and 15 minutes
OVERVIEW: We spent this day mostly on the road again, but this doesn't mean we didn't get to explore some interesting places! We used our car stops to learn more about the local arts and crafts such as batik making, learning how silk is made, seeing a spice plantation and more.
Learning about the local crafts and the way Sri Lankan people produce silk, batiks and other items was another one of the things that made my trip unforgettable. If you ask me, nothing compares to seeing people at work, using simple, 100% handmade methods!
Now, please keep in mind that the stops and the companies you'll visit will depend on your guide – they know the people who own these places and they usually decide where to take you and where to stop on the road. That doesn't mean they are taking you to areas where they scam you! We went to some very nice spots where the prices seemed more than legit, if you ask me. Plus, the owners of these places were super nice and showed us around; at the end we weren't forced to buy anything from them that we didn't want!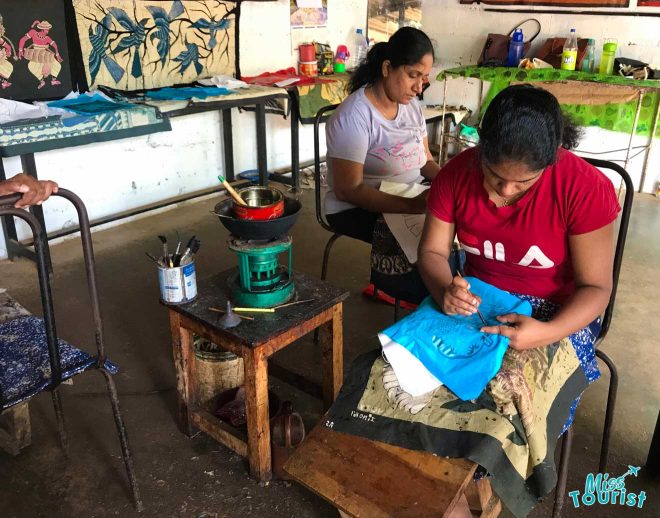 For example, we stopped by a batik factory, where we saw how locals dye the cotton material using only natural ingredients such as leaves and flowers. This way, I learned that making a batik with many colors can take up to one full week of work as they need to apply each color separately, wait for the materials to dry etc. Believe it or not, there are no machines involved! This was also one of the places where I bought a really nice souvenir for my mother that she really loved – a two-color, authentic Sri Lankan batik!
Another one of our stops was at a silk factory, where we learned how silk is made and where we could buy some nice souvenirs again. We were also able to try on some Sri Lankan sarees there (not the same as the Indian one) and take pictures with the dresses for free and with no obligation to buy them! I chose not to do the photos, though, but I thought it was a super nice opportunity nonetheless!
NOTE: As you can probably understand, on this day I bought many souvenirs to bring back home to my family and friends. Of course, you don't need to do this if you don't want to! You can communicate with your guide/driver and tell him what your interests are, if you prefer doing something else instead or if you really want to see one of these places on this day. You can also ask him what your options are so you can choose! For example, one of the girls in my group really wanted to stop at an antique shop, so our driver found a nice one for her and we stopped there as well!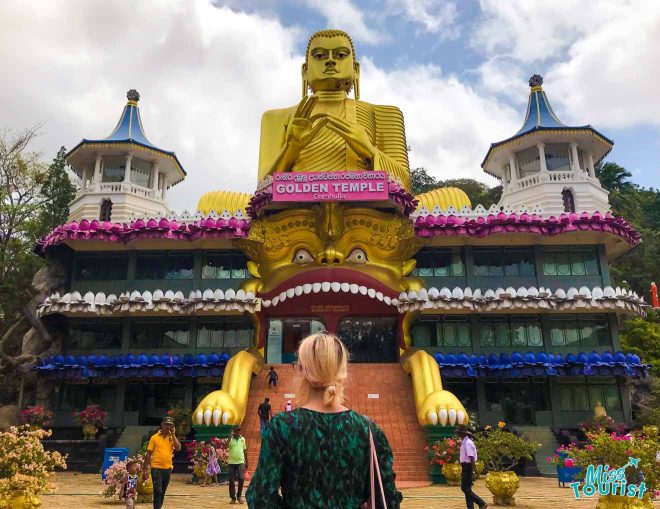 Next, we visited Dambulla Cave Temple (also known as the Golden Temple of Dambulla), a great place to admire ancient Sri Lankan paintings and statues from the 16th and 17th century.
Please note that there are 360 stairs to go up to the temple. This is a World Heritage Site and one of the largest, well-preserved cave temples in the entire country, so I definitely think it's worth the climb! Make sure to also go down and see the golden Buddha statue and the golden stupa, they're really beautiful!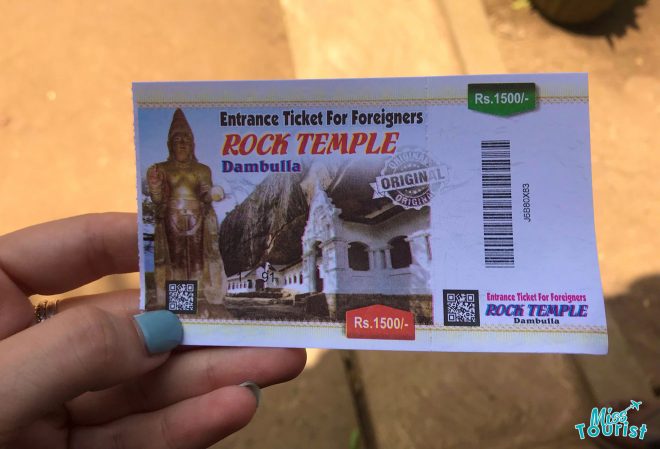 PRICE: The entrance is Rs. 1,500 (US $8.30) per person
NOTE: To be allowed to enter the temple, make sure you dress appropriately. If not, you can borrow a scarf to cover yourself at no additional fee, which I thought was really nice!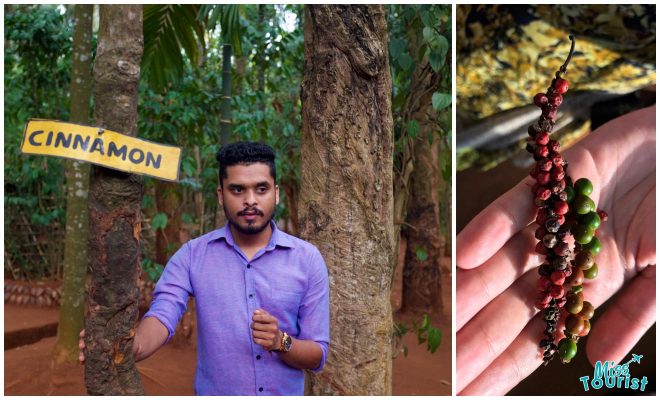 Last but not least, we also made a stop at a spice garden where we took a spice tour led by an Ayurvedic doctor. I found it really interesting to see what kind of spices are grown in Sri Lanka, how they make cold pressed oils using manual machines and more. We were also able to buy some spices, creams and oils to bring home from there.
FUN FACT: This is the place where I found out that green, red, white and black pepper are actually the same plant, but in different stages of ripeness. I didn't know that, but I found it so interesting!
Also, did you know that sandalwood is the second most expensive tree in the world, after ebony?
NOTE: The tour was free, and you only have to buy something from their souvenir shop if you want to, no obligations.
And that's it! After all these interesting stops on the way, we were off to our hotel in Kandy, where we spent the rest of the evening relaxing in the pool – a well-deserved treat, if I do say so myself!
Where to stay in Kandy
MY EXPERIENCE: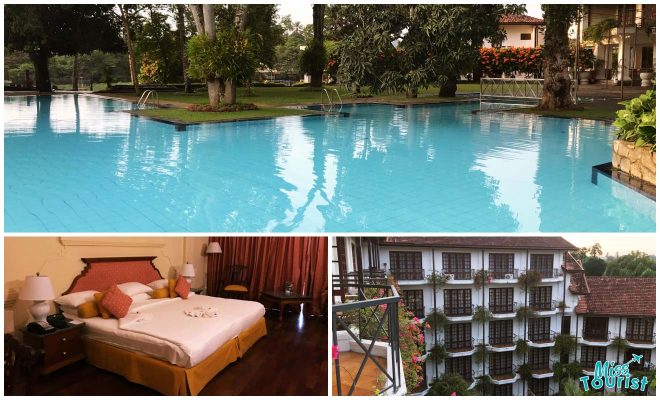 During my two nights in Kandy, I stayed at Mahaweli Reach Hotel.
It's super hard to choose, but I must confess: this was DEFINITELY my favorite hotel out of all the hotels I stayed at in Sri Lanka! I think it's the absolute choice if you are looking to relax, to be spoiled and to simply enjoy the luxury of it all.
I loved everything about this hotel – starting with the view from my cute balcony to the bed, the outdoor pool (it's HUGE!), to the buffet food at the on-site restaurant and more. The room itself was, again, very big! The staff was super friendly and the Wi-Fi was VERY good.
What can I say? I felt super spoiled and I really enjoyed every minute there. Recommended!
Here are my other hand-picked recommendations for Kandy hotels: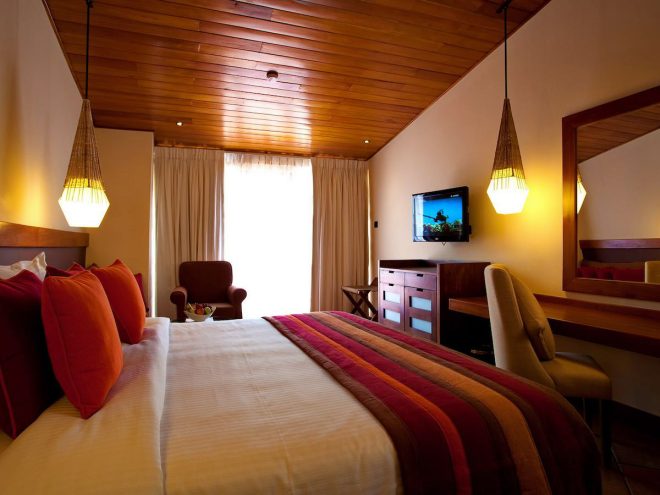 Luxury (US $100 and up):
Cinnamon Citadel Kandy is a gorgeous 4-star hotel with an outdoor pool, great on-site restaurant, nicely decorated rooms and overall luxury services that are in line with the usual quality provided by Cinnamon hotels.
The Radh Hotel is another great 4-star luxury accommodation that greets you with an on-site restaurant, beautiful, sunny rooms, a yummy breakfast each morning and more!
Middle-priced (from US $50 to $100): 
For those looking for great service for a very good price, I can recommend Niketh Villa – a great homestay with stunning rooms! You will definitely enjoy the shared lounge, the restaurant and the amazing service provided by the staff!
Alternatively, you can also book a room at Cafe Aroma Inn – a 4-star hotel that has some amazing prices!
Budget (up to US $50): 
The SkyDeck Kandy is a great option if you are looking for a budget homestay! This accommodation is not located far from the city center and you'll definitely love the beautiful balconies, clean rooms and excellent service!
Another super good budget option is 36 Bed & Breakfast. Free Wi-Fi, air-conditioned rooms, private bathrooms, a beautiful garden – these are just some of the amenities waiting for you there!
Day 8: Explore everything Kandy has to offer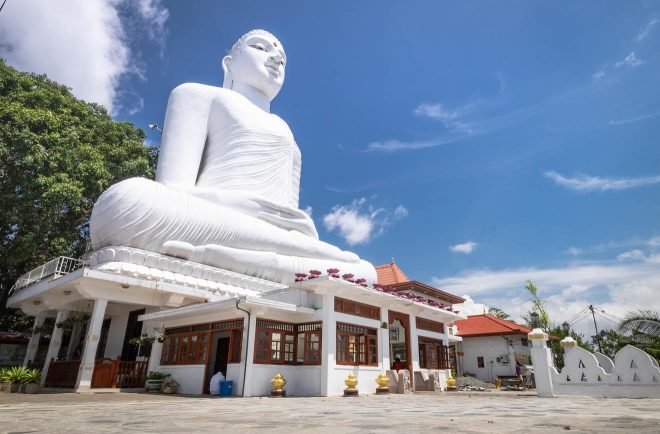 OVERVIEW: For me, this day was a bit messy, very rainy and very full. But no worries, after my experience in the city I have made some changes in our itinerary so I can only recommend the BEST activities in Kandy for you!
NOTE: Please note that, if you decide to follow this exact itinerary, you'll have to wake up EARLY the next day after this (and by early I mean around 6 AM) because you'll experience a scenic ride on the famous blue train in Sri Lanka! So, my advice is to go to bed early and try not to overload this day with activities.
Here are some things that you can do while in Kandy: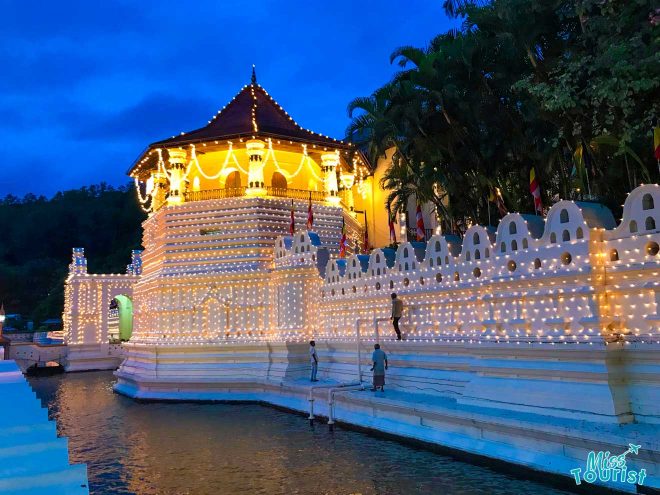 Go to the Royal Botanical Garden (Peradeniya) – We started our day with a visit to these gardens but unfortunately, not long after we got there, the rain started. And boy it was raining! We only got to see a bit of the Botanical Garden before we had to run back to the car, but it was enough so I can understand it really is beautiful and definitely recommended! Entry fee is Rs. 2,000 (US $11). By the way, this is actually the largest botanical garden in Sri Lanka!
Pay a visit to the Temple of the Sacred Tooth Relic (Sri Dalada Maligawa) – This temple hosts the relic of the tooth of the Buddha, so it doesn't have this name for nothing! This tooth relic has great importance and, in the past, whoever had it, also had the governance of the entire country! We visited this temple as well and I say it's worth going there, it's beautiful! Entrance fee is Rs. 1,500 (US $8.30).
Visit a gem museum – We went to Isini Gem Museum, also known as the "Pearl of the Indian Ocean," where we learned how the gems are mined in Sri Lanka (the old way, of course)! We also saw what kind of gems are extracted in the country, such as MANY types of sapphires (blue, pink, orange, yellow, white – I didn't even know all these colors existed!), ruby, alexandrite, aquamarine, amethyst, and more.
We also stopped by a wood carving workshop where we saw some cute wood statues, learned about rainbow wood (a very cool type of wood that, when combined with different natural substances, it creates a colorful water that is used to create dye and paint!).
Walk around Kandy Lake
Go up to the Big Buddha (Bahiravokanda Vihara Buddha Statue) and see the view over the city
Go shopping in the city center – we even found a cute little antique shop that was so beautiful!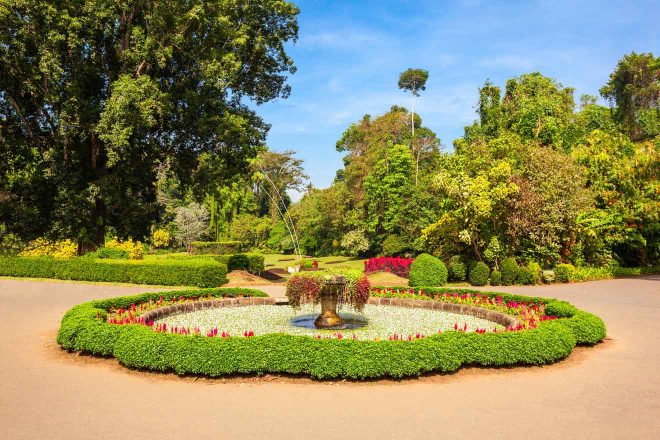 As mentioned, our day was very full and tiring. If you ask me, I'd recommend visiting the Royal Botanical Garden in the morning, a temple and then indulge in some shopping if you want and that's it. You can choose from the activities I am mentioning above, but make sure to go to sleep early because tomorrow's a big day!
You will stay in the same hotel overnight.
PRO TIP: You'll leave early the next morning, most probably before breakfast time. You can ask the hotel staff to pack the breakfast for you if you have it included in the price of the room – they'll happily do so (they did it for our group and we ate it on the train!).
Day 9: Ride the famous blue train and see the tea plantations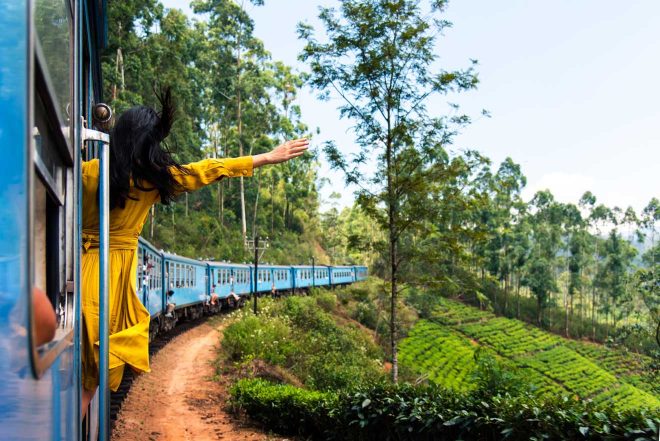 DISTANCE: 75 km / 46 miles; 3 hours and 40 minutes with the train
OVERVIEW: On this day you are going to wake up early and take the famous blue train from Kandy to Nuwara Eliya. On the road you will see the beautiful Sri Lankan tea plantations and probably take TONS of photos. Later on, you'll explore a tea factory and learn how tea is made and processed.
On this day we woke up early, at around 6 in the morning. We packed our bags, took our breakfast to go (packed by the super nice staff at the hotel!) and then we went from the hotel to Peradeniya train station, where we took the famous blue train.
9.1. Admire the scenery from the blue train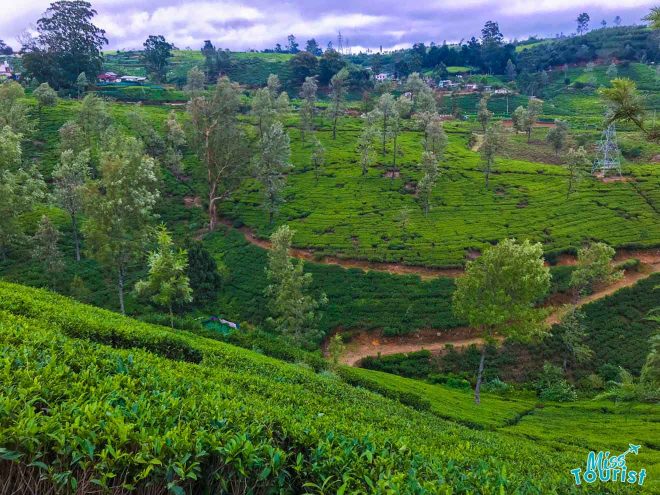 The route we chose was from Peradeniya to Ella (the complete route is Colombo – Ella), but we got off at Nuwara Eliya, where we spent the rest of the day. The entire trip with the train took from 7:40 AM to 11:20 AM.
The route was definitely beautiful and I spent most of my time admiring the tea plantations from my window.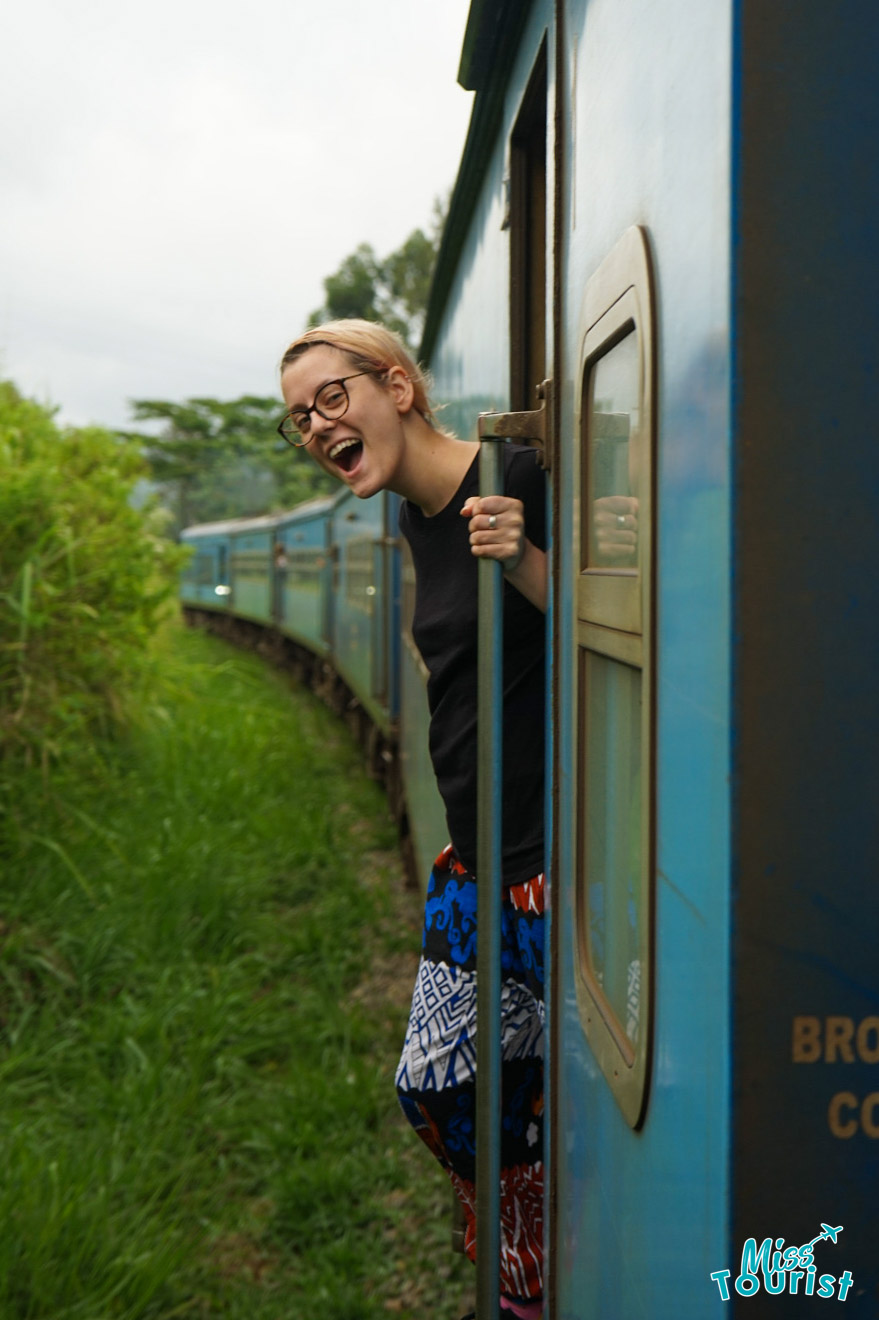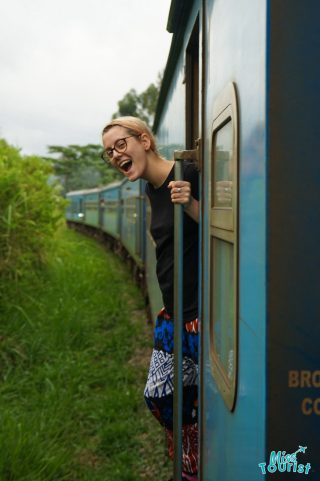 Now, about the famous picture on the train… Of course, everybody around me wanted to take the classic Instagram-worthy picture hanging by the doors of the train. It is your decision if you do it or not, but please, if you decide to do so, BE CAREFUL! The train is not as slow as you might think, it's super shaky and you need to hold on to the handles strongly by yourself (by the way, the handles are on the outside of the train!), otherwise you'll be at risk of falling. Plus, you have to watch out for branches because sometimes the train passes very close to the trees!
I was very hesitant at first because I thought it was too dangerous; after spending some time next to the doors, I still felt it was scary as hell, but I tried it and it was quite nice (for 10 seconds).
I got my picture, but I really don't feel you are missing out on anything if you don't do it. You can just spend your time looking on the window and munching on your breakfast and your experience will be just as beautiful! All in all, this is just a normal train that locals use to go from point A to point B and, honestly, it's not very different from trains in Romania, so I guess that's why I wasn't so impressed. But the views are definitely gorgeous!
So, don't be fooled by the hype, just do what makes you feel good. 🙂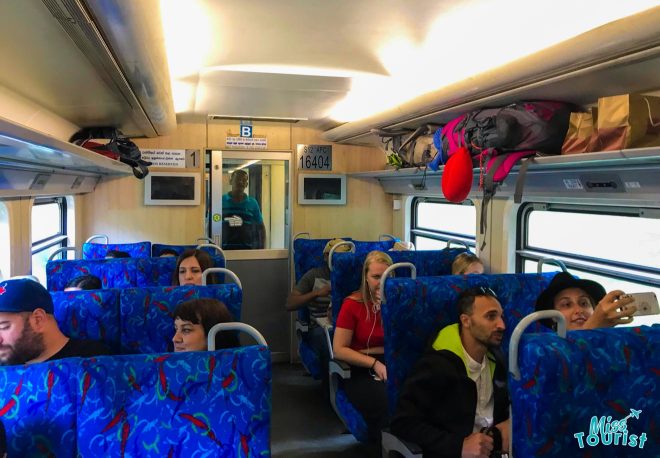 PRICES FOR THIS TRAIN RIDE: The prices will, of course, depend on your chosen route and destination. For Peradeniya -> Nuwara Eliya, it was 2,000 rupees (US $11) for first class (our tickets), 1,000 rupees (US $5.50) for second class and around 200 rupees (US $1.10) for third class.
PRO TIP: I recommend getting the first class ticket so you'll have a reserved seat in the train. I also recommend booking your tickets as soon as possible (even one month in advance if you can), because they sell out FAST! In our case, our guides took care of the tickets – and this is just another reason why I recommend doing this itinerary with a private guide/driver.
9.2. Visit a tea factory in Nuwara Eliya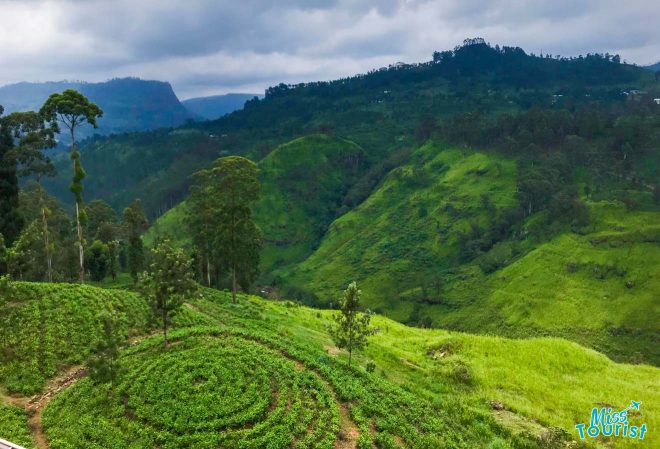 Nuwara Eliya is the highest city in Sri Lanka (1,524 m above sea level) and a very important spot for tea production in the country.
By the way, did you know that Sri Lanka is the fourth largest tea producer in the ENTIRE world?
We visited PedroEstate, saw the tea plantation and then explored the factory where we learned a bit about the history of Ceylon tea and how the tea leaves are picked, checked, dried, processed and then sold to the rest of the world. I learned so many interesting things such as the fact that the biggest tea leaves have the lightest taste!
After the tour we enjoyed a cup of hot Ceylon tea in their lounge, then we went to the tea fields for some cute pictures.
PRICE: The tea factory tour is Rs. 250 (US $1.40) per person
After this black tea experience, we rested until the end of the day at the hotel. Truth is, I was quite tired after all these days of exploring this gorgeous country; taking in all its beauty is still something I enjoy every time I see the pictures I took during my trip! 🙂
Where to stay in Nuwara Eliya
MY EXPERIENCE: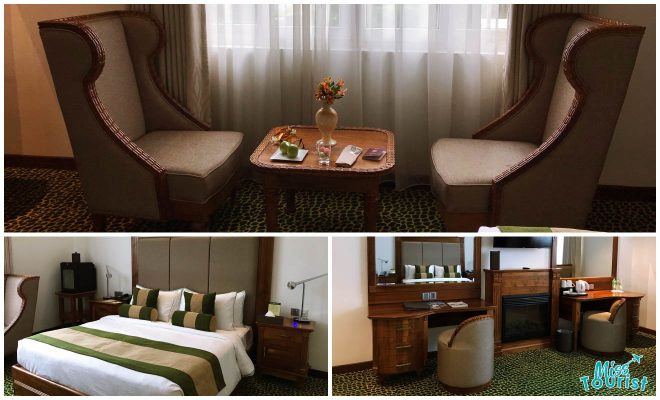 I stayed at Araliya Green City and I really enjoyed it there. The room was sparkling clean and super spacious, with green accent colors everywhere (it isn't called "Green" for nothing!) and it even had a fireplace. I spent my entire evening in front of it after a long bath and it was just what I needed!
The food was delicious, just like I expected and the Wi-Fi was very good.
But wait, – the hotel also has its own supermarket (whaat?!), a small but very good shopping area where you can find all kinds of souvenirs for fair prices, its own currency exchange office and an ATM where you can withdraw money. Basically, we didn't even need to leave the hotel, regardless of what we needed. What more could you wish for?!
Here are some other great places to stay in Nuwara Eliya: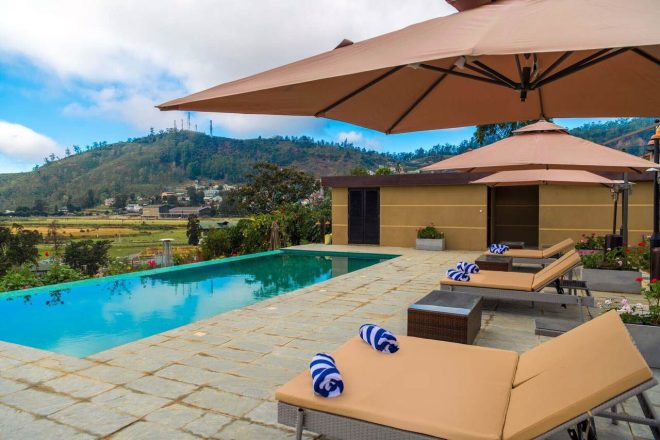 Luxury (US $100 and up): 
The Westbury Palace is a truly stunning choice and one of the best hotels in Nuwara Eliya! It has a gorgeous garden, amazing rooms, a super cool outdoor pool and you'll basically feel like royalty there!
CheRiz Boutique Villa Hotel is another 5-star accommodation that has views of the tea plantations – isn't that cool? They also offer free Wi-Fi, 24-hour front desk service, stunning rooms and more!
Middle-priced (from US $50 to $100): 
Pigeons Nest is a super nice 3-star accommodation with very good prices. The rooms are sparkling clean and nicely decorated and they even have a balcony with a gorgeous view!
Alternatively, you can also book a room at Villa Mount Royal – huge beds, free Wi-Fi, 24-hour front desk service, a cozy lounge – these are just some of the things offered by this accommodation!
Budget (up to US $50):
AGP Home is a simple and cozy budget option that offers free Wi-Fi, bike rental, cozy rooms and more! Plus, they can also arrange an airport transfer for you in case you need it!
Comfort Inn & Hostel is another great option for travelers visiting on a budget! This 3-star accommodation offers a delicious breakfast, a nice terrace where you can chill and the staff is very friendly!
Day 10 – Explore Nuwara Eliya and end the day on the beach in Negombo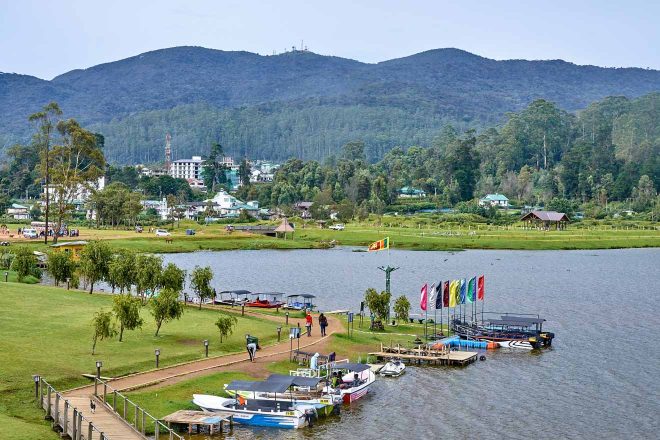 DISTANCE: Nuwara Eliya to Negombo is 160 km / 100 miles; 6 hours
OVERVIEW: This is the last day of the itinerary. In the beginning of the day you'll be exploring Nuwara Eliya, also known as the "Little England of Sri Lanka". Then you'll be making your way to Negombo, where you'll spend the night or go directly to the airport.
This day will start slow, meaning you don't have to wake up super early! It's up to you how much you want to discover the city of Nuwara Eliya.
The city itself is super charming and it's called "Little England" for a reason!
I was honestly surprised when we drove around the city – it was so foggy and moody, it didn't compare at all to the Sri Lankan weather I was used to in that hot month of August! I enjoyed our drive around town and I admired the British-inspired architecture.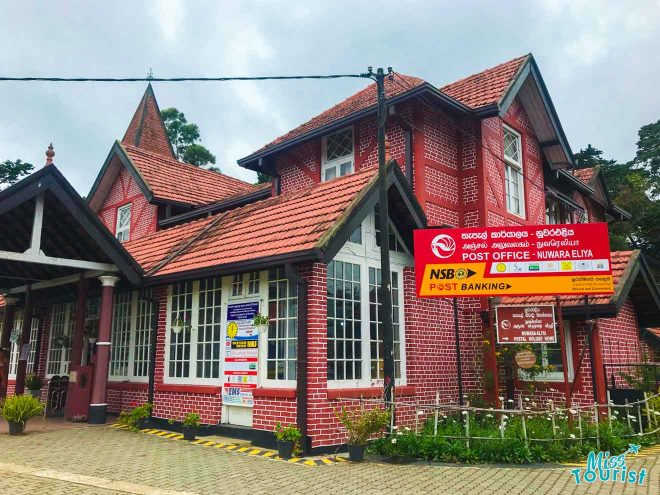 We had a brief stop at the Post Office in Nuwaya Eliya, a charming red building, very pretty. I made the best out of this opportunity and sent a Sri Lankan postcard to one of my friends in Greece. I think it's such a nice thing to do when you're traveling!
NOTE: Whitewater rafting was planned for this day, but unfortunately we couldn't do it because of bad weather and big waves. If you want to try this, you can ask your guide (or the hotel) to organize it for you. I was quite sad we couldn't do it, it is said that the rivers of Nuwara Eliya are great for this!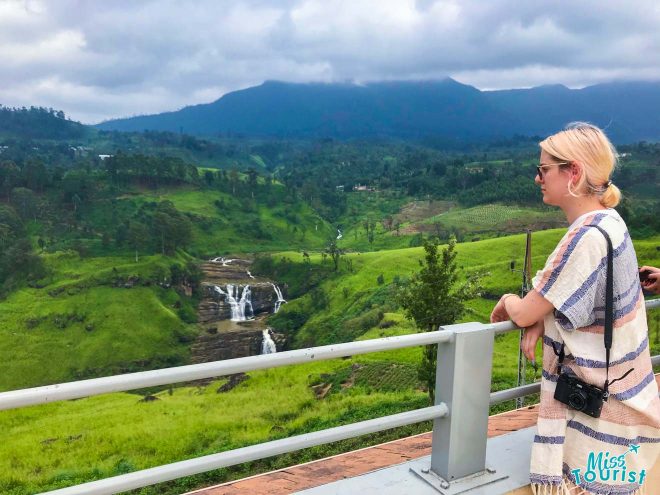 Then we made our way to Negombo, the departing city where the airport is located. On our way we stopped by St. Clair's Waterfall and Devon Waterfall, both of them really beautiful, followed by lunch at The River Kelani.
Once we arrived at our hotel in Negombo, we checked it, then we spent the rest of the day on the beach. It was the perfect ending to this wonderful, wonderful trip!
Where to stay in Negombo
MY EXPERIENCE: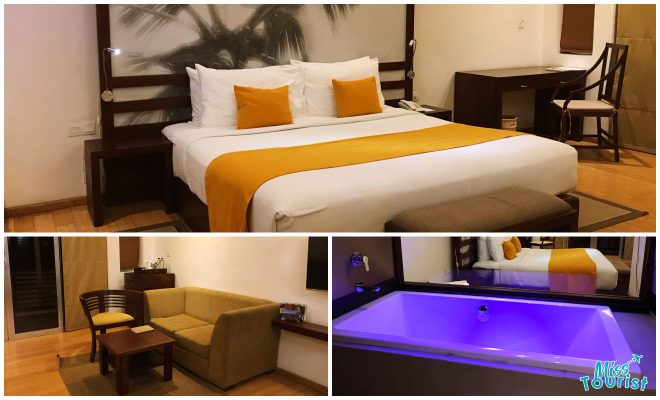 On my last night in Sri Lanka I stayed at Jetwing Sea. My flight was at around 2 AM, so after spending the evening on the beach, I went for their a la carte dinner (this was the first time I ordered from a menu after a loooong time!), packed my bags and relaxed in the room.
This hotel didn't disappoint me at all – it's located right on the beach, it has 2 infinity pools and even a rooftop fitness center and spa! My room was on the first floor, so I had a very beautiful view of the beach.
My guide took me to the airport at around 12 AM. The airport is located only 10 km away from this hotel. I was tired but super happy with my entire experience in this beautiful country!
Alternatively, you can book a private transfer from Negombo to the airport.
Some other great hotels to stay in Negombo: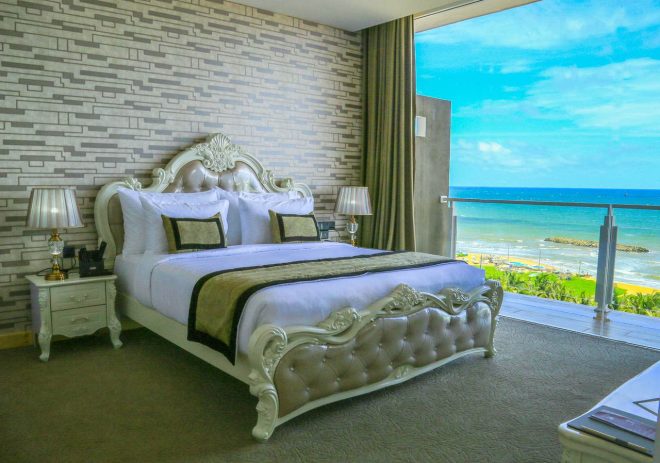 Luxury (US $100 and up):
Pledge Scape is your go-to option for the perfect luxury stay in Negombo! The rooms at this 5-star accommodation have a modern décor, air-conditioning, a flat-screen TV and private bathrooms.
Alternatively, you can book your stay at Ruvisha Beach Hotel, a great 4-star hotel with views of the sea! They have a gorgeous garden, an on-site restaurant, an outdoor pool, a terrace and more!
Middle-priced (from US $50 to $100): 
Villa Araliya is a great accommodation option that offers you amazing value for your money! They have a stunning outdoor pool, free Wi-Fi, air-conditioned rooms and more! Plus, Negombo beach is literally 5 minutes away by foot!
Regal Réseau Hotel & Spa is a 4-star accommodation that also has an infinity pool, an on-site restaurant, a bar and amazing service!
Budget (up to US $50): 
The Suite 262 boasts an outdoor pool, free Wi-Fi, cozy rooms and more! It's a great hotel to choose if you are short on money but still want to be super close to the beach!
Alternatively, you can book a room at Village Inn Resort – a 3-star accommodation that offers great room service, a 24-hour front desk clerk, free Wi-Fi and even an on-site ATM!
| | |
| --- | --- |
| 🤩 Range of activities: | large |
| 📍Capital city: | Colombo |
| 🛕 Must visit attraction: | Dambulla Cave Temple |
| 🍛 Must try food: | Kottu roti |
| 📅 How many days: | 10 |
| ☀️ Best time to go: | December – April |
| ✈️ Cost of traveling: | medium |
How much would it cost you to take this exact itinerary?
I did my trip in Sri Lanka with Jetwing Travels and I can whole-heartedly recommend them! They were professional, our driver Fernando was extremely nice and always happy to take us anywhere we wanted and our guide Pradeep was SO KNOWLEDGEABLE! If you decide to book with Jetwing as well, make sure to ask for Pradeep; he's the best if you want a guide that knows a lot about the country's history and traditions and can answer to all your questions.
PRICE: If you would like to take the same itinerary as me and stay in the same hotels for the same number of days, it would cost you US $2,800 for two people, so US $1,400 per person, tips included, but it can even be US $700 if you go for budget hotels.
Here is the price break-down:
A mini coach (9 seats) will cost you about US $720 for 10 days with a driver/guide and gas included; you can divide this price by the number of travelers in your group. Accommodations will depend on your choice of hotels and your budget (we stayed in 4 and 5-star hotels mostly, but you can even stay places at US $20 per night). Most of the hotels have accommodations for your guides, but if not, you will have to pay an extra 10 euros per day for lodging for them. To all this you have to add the entrance ticket for the safari and all the sites you're going to visit, plus the tips for the driver/guide.
DON'T FORGET ABOUT TIPS: For this 10-days we used 2 vans (meaning we had 2 drivers) and we were 7 people in total. We offered Rs. 5,000 (around US$ 28) per person as tips, which added up to a total of US $200, so US $100 per driver.
Needless to say, all of us were very satisfied with the service and drivers.
NOTE: Alternatively, I also found this interesting website called Sri Lanka Tailor-Made, it's a program by Jetwing Travel as well. You can make an inquiry on their website and tell them what you want to visit in Sri Lanka and they'll create the perfect itinerary for you!
BONUS: Practical info about traveling to Sri Lanka
Now that you have created the most exciting itinerary for Sri Lanka, I couldn't let you go without some practical and very important information about this amazing country. From information about how safe the country really is to tips about money, what to pack, and when to visit, you'll find all these and more below:
Is Sri Lanka safe?
I'll start with this one, as it's a relatively sensitive subject and I'd like to get it our of our way as soon as possible.
As you may already know, Sri Lanka went through a civil war (1983-2009) and, since then, the country has had a rather regular life. But there was one incident on Easter Sunday this year, 2019, that disrupted the calm of the country – some hotels and churches in Colombo, Negombo and Batticaloa were attacked and bombed by Islamist extremists.
Since then, security in the country has been raised and, trust me, they do pay attention to everyone and they do check everything they can! During the two days I spent in Colombo, the security at the hotel checked our van inside-out each time we entered their premises; same for the airport. We also saw armed guards all over the city, so they don't treat this subject lightly.
MY EXPERIENCE: I really felt safe during all the days I spent in Sri Lanka. Sri Lankan people are some of the friendliest I have ever met and they're always ready to help you and show you their native hospitality. They're always happy to talk about their country and they take pride in everything they have. Please also note that tourism plays a big role in the country's economy, so there's no reason for locals to treat you badly!
Just like in any other country around the world, make sure to pay attention to your belongings and surroundings and everything will be okay. There are actually more and more people visiting Sri Lanka each year, so tourists definitely feel safe there!
When is the best time to visit Sri Lanka?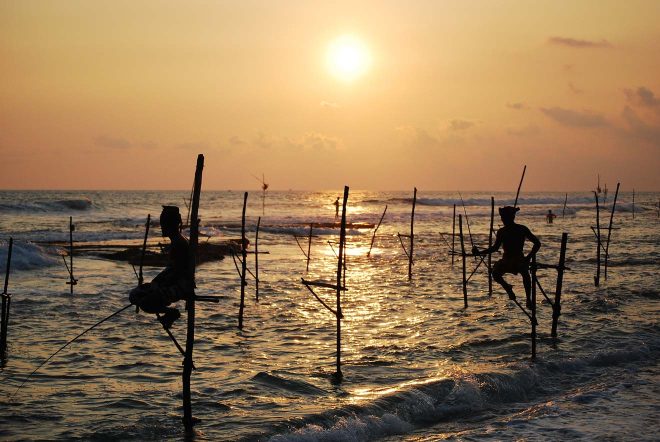 When deciding on your itinerary in Sri Lanka, the first thing you need to take into consideration is the weather. For this, you have to know that this country's weather is affected by monsoons, as it's a tropical country.
What does this mean? When there is a monsoon on one half of the island, you'll encounter rain and strong winds at times, while on the other side the weather will be warm and nice and you'll be able to go on the beach. And the other way around, of course.
Ok, but when should you visit? In short:
April to June – best time to travel on the East & North side
September to April – best time to travel on the West & South side
By the way, the monsoons here are not that bad, so don't get discouraged if you have already planned your trip! It can rain for one day and then you can have sun on the next one and so on, it really depends.
I did this itinerary in August of 2019 and the weather was hot and sunny, perfect for laying on the beach. We had one rainy day in Kandy and I definitely needed a warmer jacket in Nuwara Eliya (which was honestly unexpected considering the general Sri Lankan weather), but other than that it was really hot!
As for the tourist flow, you can expect many crowds if you visit Sri Lanka from June to August or in December.
How many days to spend in Sri Lanka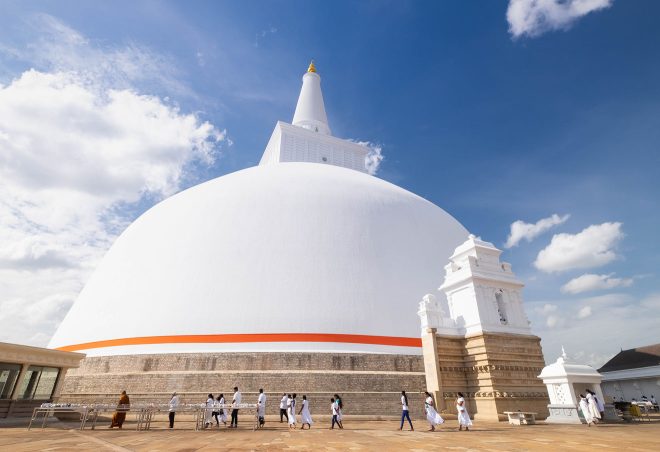 This itinerary is for 10 days but it can be easily extended to 2 weeks if you want to travel at a more relaxed pace or if you want to add some other cities as well.
In my experience, you can easily spend 3 weeks exploring Sri Lanka and you won't get bored even for a second! But I wouldn't recommend you spend less than 10 days (one week AT LEAST) if you want to get a taste of what this country has to offer!
Visa for Sri Lanka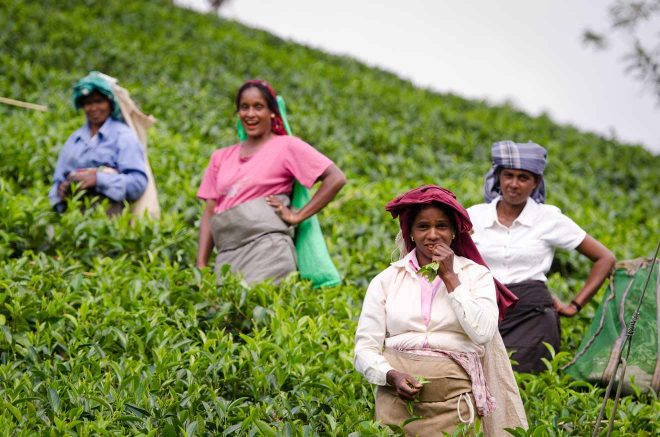 Unless you are from the Maldives, Singapore or Seychelles, you'll have to apply for a visa for Sri Lanka, called an Electronic Travel Authorization (ETA). But no worries, the procedure is extremely simple, fast and free! You just need to apply for it online using this link.
Alternatively, you can also pick up your visa when you arrive at the airport, except for people who are from one of these 21 countries – in which case you'll need to get your visa in advance. The downside in this case is that, if you're traveling during peak season, you might end up waiting for a long time in line at the airport! So it's always better to apply online. By the way, you don't need to print your visa either!
MY RECOMMENDATION: Even though it only takes 1 to 2 days to get your online visa, I'd recommend you apply for it one week before leaving, just in case!
Here's a funny story: I didn't do any research beforehand (big mistake!) and I applied for my Sri Lankan visa on the 31st of July, at 9 PM and paid around US $35 for it (the normal fee at the time). They funny part is that, on the 1st of August starting 12 AM, meaning 3 hours later, the tourist visas for Sri Lanka became free of charge, so I basically paid for nothing!
Is Sri Lanka expensive?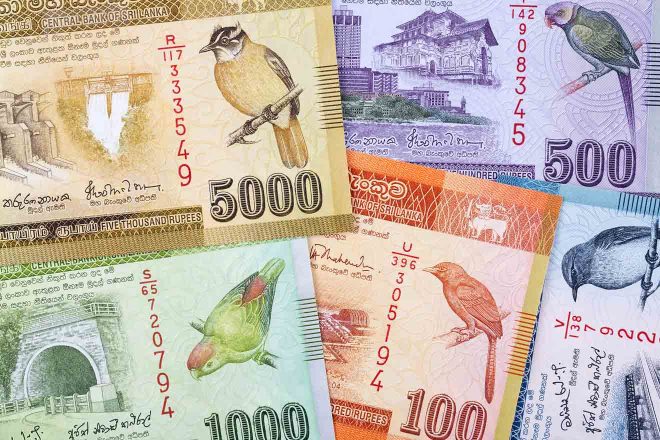 Even though Sri Lanka is not as cheap as some other south Asian countries such as Thailand, India or even Vietnam, I found the prices to be affordable. As always, it all depends on how you want to travel: if you want to splurge and stay in luxury hotels with infinity pools and eat at fancy restaurants, that's definitely doable in Sri Lanka. If you're on a budget instead, you can easily stick to traditional food in small restaurants, wander around with trains and tuk-tuks and choose affordable hotels.
Here are some sample prices, so you'll get a better idea about how expensive Sri Lanka really is:
A night in a hotel – from US $20 (budget) to $300-$400 (luxury), depending on the city and season
Meal in a traditional, budget restaurant – US$2 per person
Meal in a mid-range restaurant – US$6
Local beer – US$1,50
Entrance fee to temples – US$1,50
Entrance to Sigiriya – US$30
Generally speaking, you'll be just fine with budgeting around US $20 per person per day for personal expenses such as food, drinks and temples (in case you're not climbing on Sigiriya or doing an elephant safari on that day), if you are a budget traveler.
PRO TIP: It's best to have most of your money in cash, even though you'll also be able to pay with your credit card in supermarkets and at hotels, for example. But for the temples and other, more traditional attractions and restaurants, you'll definitely need cash.
Must-try food in Sri Lanka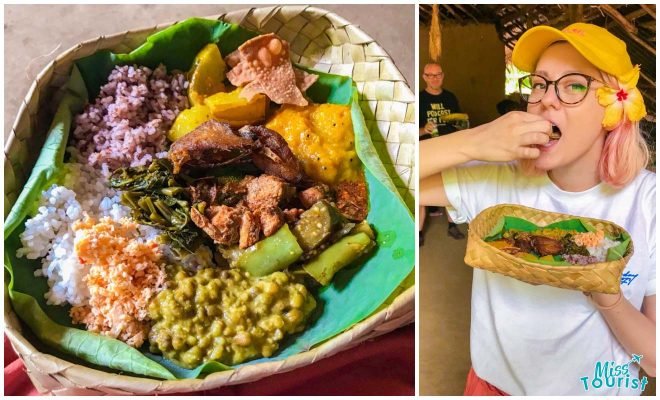 Let me tell you right from the start: food in Sri Lanka is really spicy. And this is coming from a true spicy food lover!
If you're a fan of strong spices, then you'll definitely enjoy your every meal here. You can also find non-spicy food, of course, but the majority of their traditional dishes have a strong flavor, especially curry and chili.
Psst, if you want to read more about the traditional food in this country, I recommend checking out Yuia's article on Sri Lankan Food – Must Eats!
Here are some unmissable things to try while in Sri Lanka: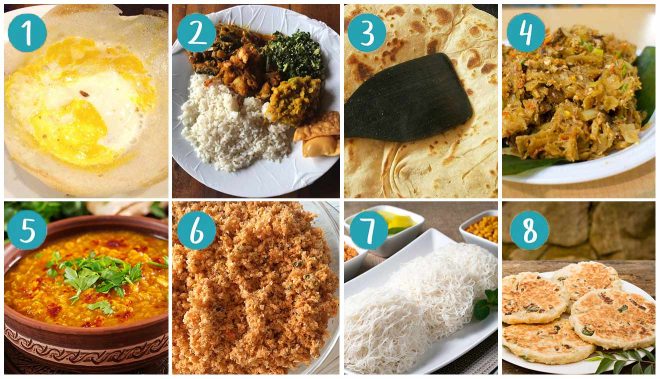 1. Hopper – some kind of bowl-shaped pancake, made in a wok. You can have it simple or with an egg in the middle (called egg hopper, of course) and a spicy sauce
2. Every type of curry on Earth and rice – Fish Ambul Thiyal (sour fish curry), Kukul Mas Curry (chicken curry), pumpkin curry, jackfruit curry, do I need to add more? Seriously, they even serve curry at breakfast!
3. Roti – flatbread
4. Kottu – flatbread with oil, spices, veggies and cheese or egg
5. Parippu / Dhal curry – usually made with red lentils and curry, it's very similar to the Indian version
6. Sambol – a mix of shredded coconut and chili, lime and salt. Yum!
7. String hopper – very thin noodles made of rice flour and shaped in the form of a ball. Usually served as breakfast
8. Pol Roti – savory cakes made of coconut curry, served as snacks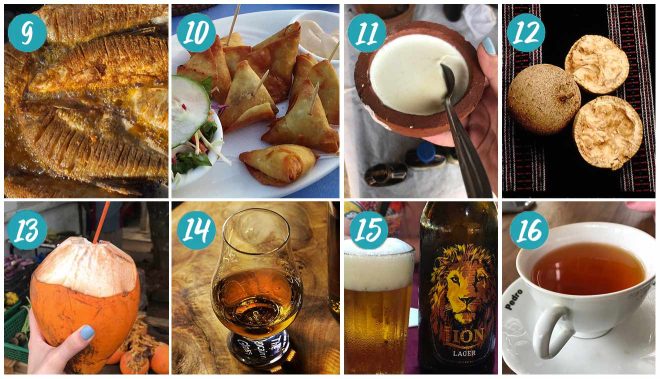 9. Fried salted fish – I guess the name is pretty self-explanatory. Usually served with a side of rice or, of course, curry
10. Samosas – the Sri Lankan version, of course, although very similar to the Indian ones. They're crunchy pastries filled with veggies or meat
11. Buffalo curd – we tried this on the side of the road with coconut honey; it's like a thick yogurt, so delicious!
12. Wood apple – a very weird fruit, I must admit. It has a very hard shell, so you have to open it by smashing 2 wood apples together. When it's ripe, it tastes somewhat like raisins. When it's not ripe, it's SUPER sour. The smell is kind of weird as well, but I definitely recommend trying it for the experience!
13. King coconut – drink it, scoop it, try it as often as you can as it's super delicious!
14. Arrack – local rum made of coconut flowers
15. Lion beer – their local beer
16. Ceylon tea – d'uh! If not here, then where?!
PRO TIP: If you're not a fan of spicy food, make sure to ask the staff at the restaurant/hotel if they can bring you a milder or even a non-spicy version of the dish. Often times, this is possible!
SIM cards in Sri Lanka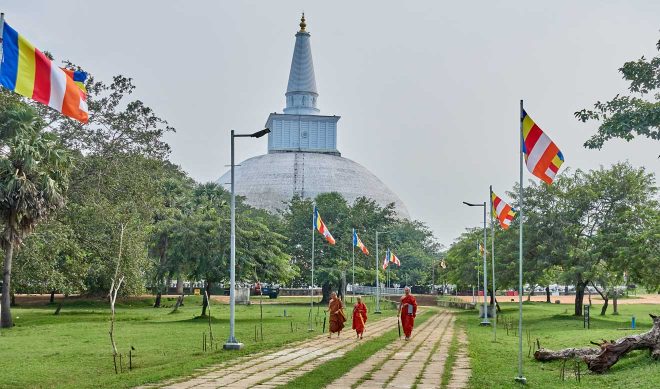 I definitely recommend buying a SIM card in Sri Lanka! I had one provided by my tour company and I'm so glad they did so, as there were many times when I wanted to share a couple of pictures from the top of a hill or from Sigiriya with my friends back home and I didn't have any Wi-Fi. That's when my 3G came in handy!
I used Dialog and I found that the prices are affordable and the 3G signal is really good in most of the places we visited. You can get a free SIM card at the airport when you arrive and top it up with the Tourist Plan for Rs. 1,300 (US $6.70). You'll get 10GB of data, which I think is plenty for this 10-day itinerary. In case you exceed your data, you can always top up your plan at any Dialog counter in the cities.
NOTE: When you purchase your sim card, you will have to provide your passport to register your Sri Lankan number; this is a common practice.
NOTE 2: If you'll have a private driver, you'll most likely have free Wi-Fi in the van, which was such a big plus for us!
Some useful phrases to learn before you go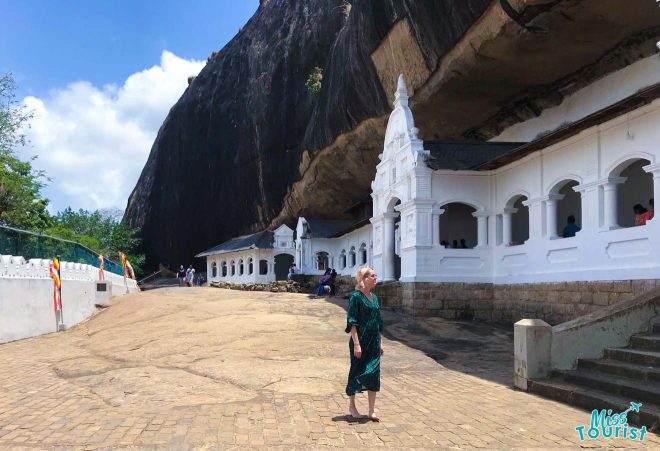 Even though most Sri Lankan people can understand and speak basic conversational English, it doesn't hurt to learn some very simple phrases to use while there, the locals will definitely appreciate it:
Ayubowan = the most common greeting, you'll hear it everywhere. It means "may you have a long life"
Hari (or hari hari) = okay
Ow = yes
Naa = no
Karunakara = please
Istuti = thank you / Bohoma Istuti = thank you very much
Kohomadha = how are you?
Varadak neh = (I'm) fine
Meeka Kiyeda? = how much?
Mata terinneh neh = I don't understand
Singhala Danna Naa = I don't speak Sinhala
Insurance for Sri Lanka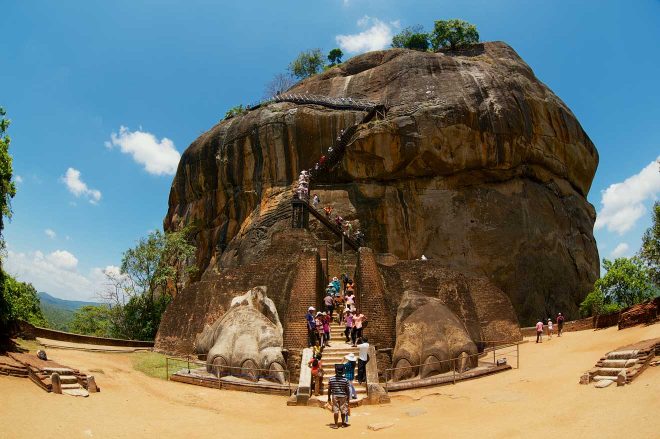 Some years ago, I used to not care about insurance at all when I was traveling, especially when it came to European cities; that's until I heard some unpleasant stories from my friends about minor accidents that required a lot of wasted money in foreign hospitals! Since then, I always add insurance to my travels.
But with Sri Lanka, I instantly thought about insurance, right after I had my flight booked. I didn't want to go all the way to Asia and not be covered in case something happened. After all, you never know, right? And it's always better to be safe than sorry, especially if you plan on doing some hiking in Sri Lanka (not to mention the crazy traffic).
After some research, my choice was SafetyWing – I thought they have the best money-value ratio and they covered everything I wanted for my trip. At the time of my visit (August 2019), it cost me US$15.84 for the insurance for 12 days in Sri Lanka.
---
Disclaimer: I was invited to take this Sri Lankan itinerary by SO Sri Lanka, the country's Tourism Board. I sincerely enjoyed every second I spent in this country and all opinions presented here in this article are, as always, my own. 🙂
---
Conclusion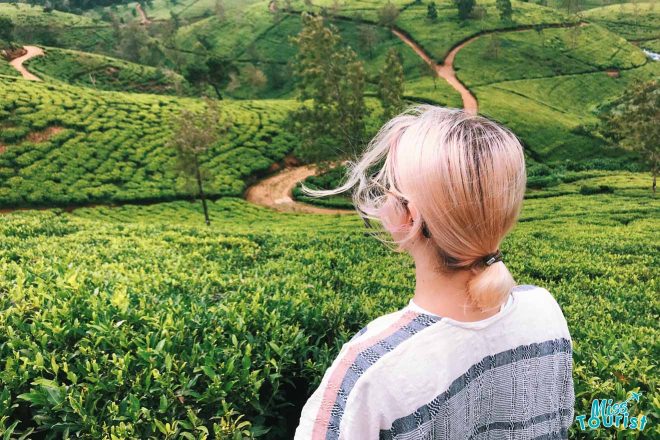 Phew! You have reached the end of this long itinerary, congrats! I hope that you have already made up your mind by now about what you want to put on your Sri Lankan itinerary and feel that traveling to this country is clearer to you now!
In the first part of my adventure and in the article above I told you everything about my 10-day experience in Sri Lanka – from everything I did and all the places I visited, to where I stayed, the food I tried, when to visit and other very useful things you need to know about traveling to this unique country.
If you want to know more, make sure to check all our articles on Sri Lanka!
Have a great time in Sri Lanka! If you have any questions, make sure to drop me a line in the comments below, I'm happy to answer!
Romina
---
Pin it for later!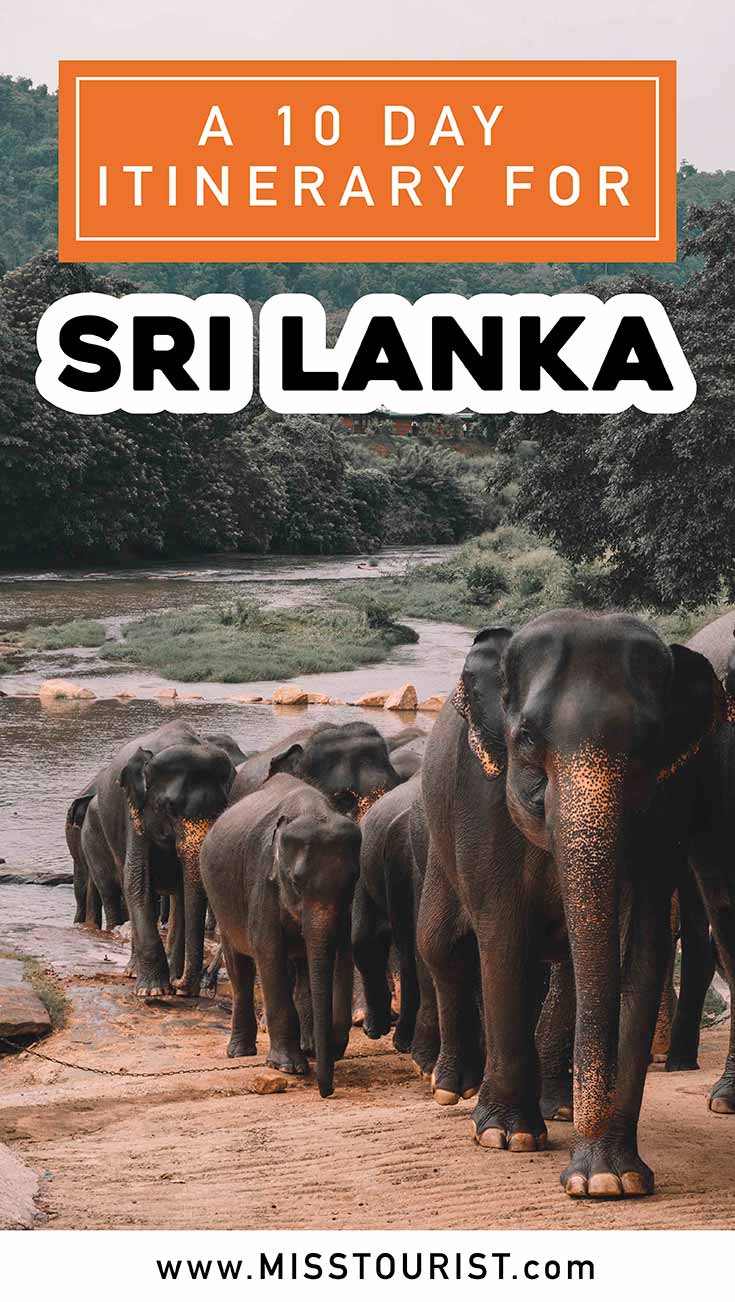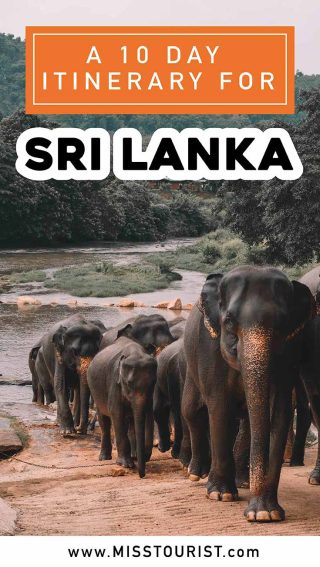 Pin it for later!