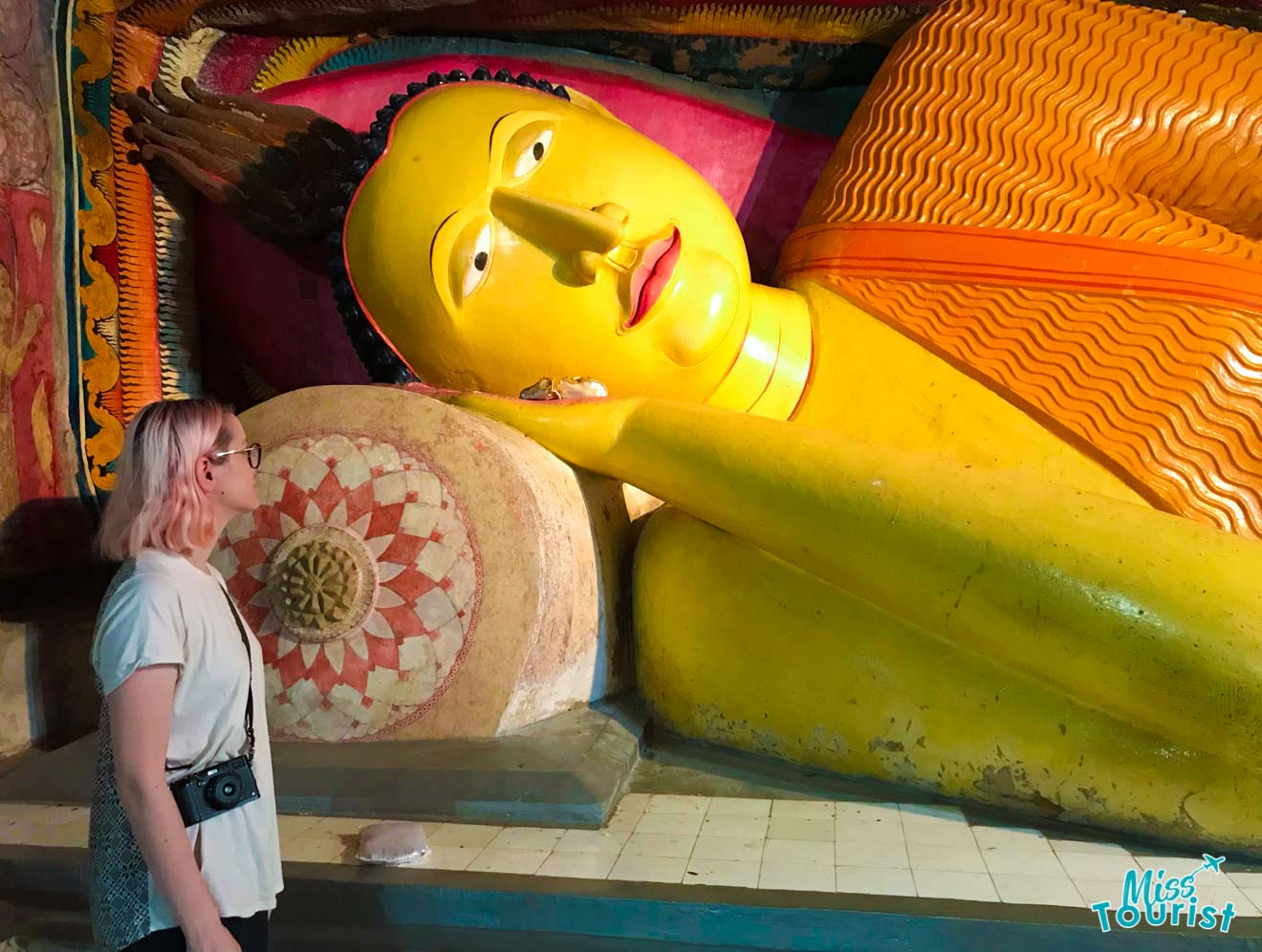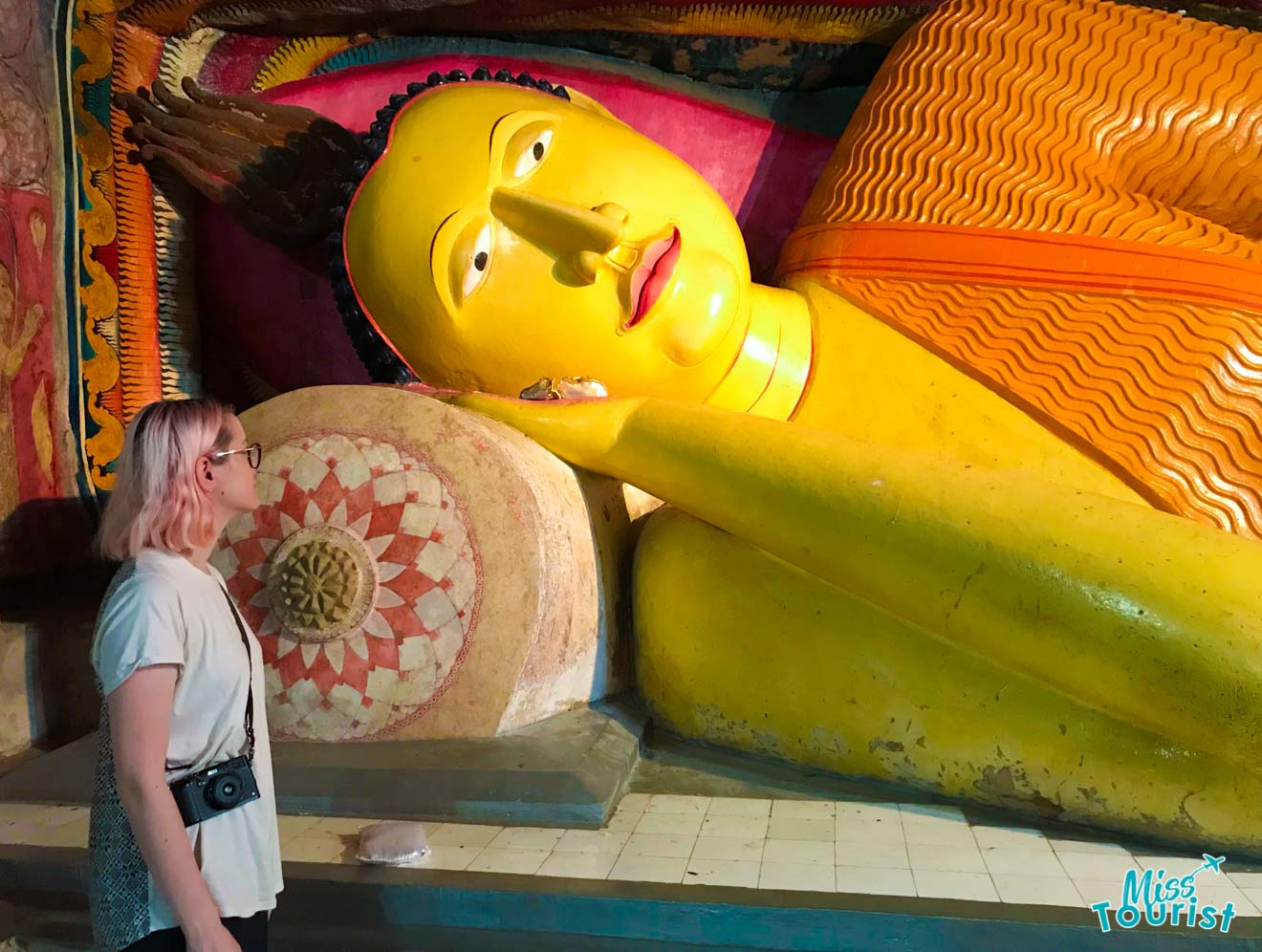 Heading to Sri Lanka? Congrats, that's a great choice! If you decide to go, you'll most probably land and arrive in Colombo first, a vibrant city that is the capital of Sri Lanka.
Colombo is a very busy city, with a historic past and a rich culture. It's a bit chaotic at times and it's full of crowds, tuk-tuks, shops, churches, restaurants, luxury hotels, shopping opportunities and interesting architecture. There are beautiful Sri Lankan colonial buildings everywhere you look, with Portuguese, Dutch and British influences, and modern structures as well.
Wondering what the top things to do in Colombo city are? During my 10-day adventure in Sri Lanka, I explored Colombo for two full days and now I'm able to offer you my personalized recommendations for what is worth visiting inside this exciting city! Are you ready?
First of all, is Colombo worth visiting?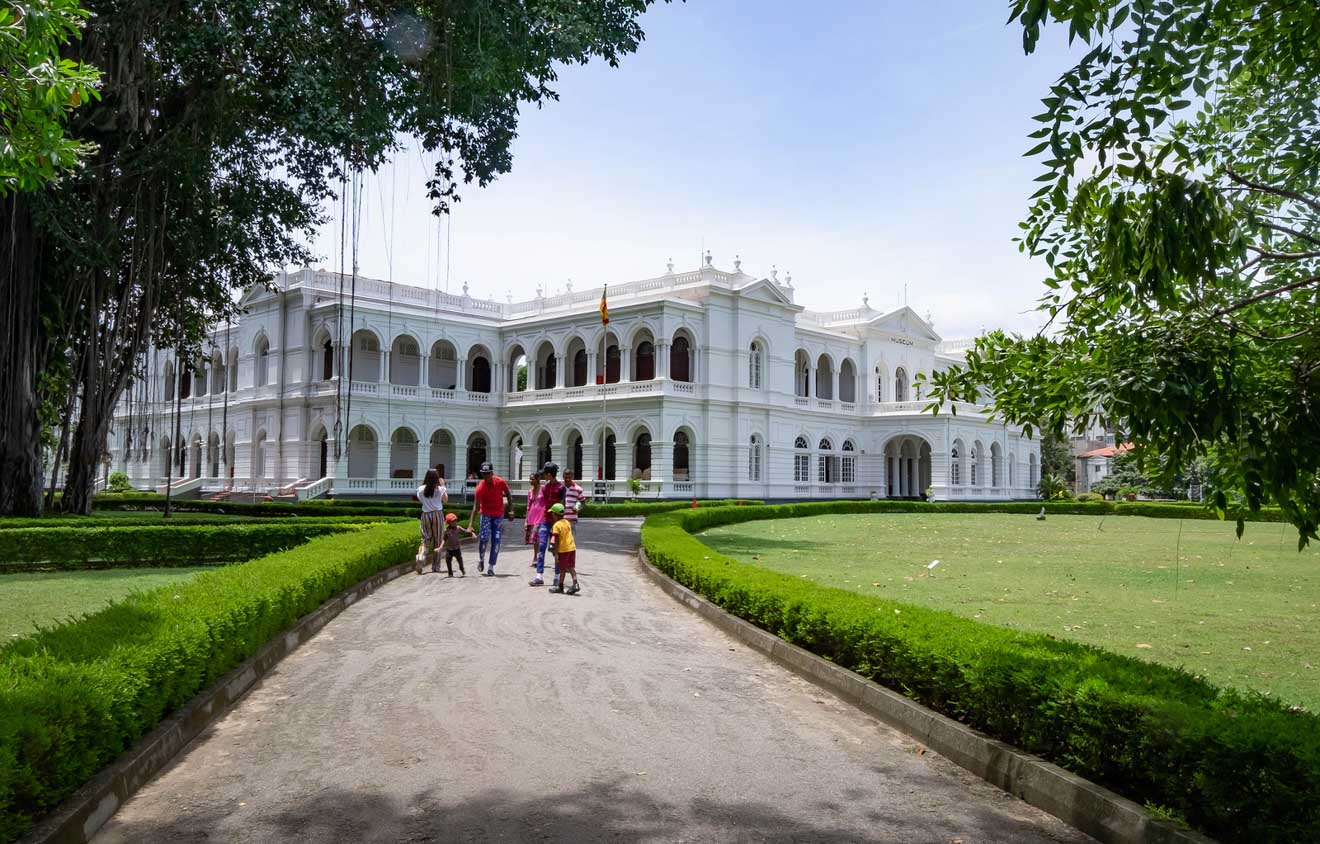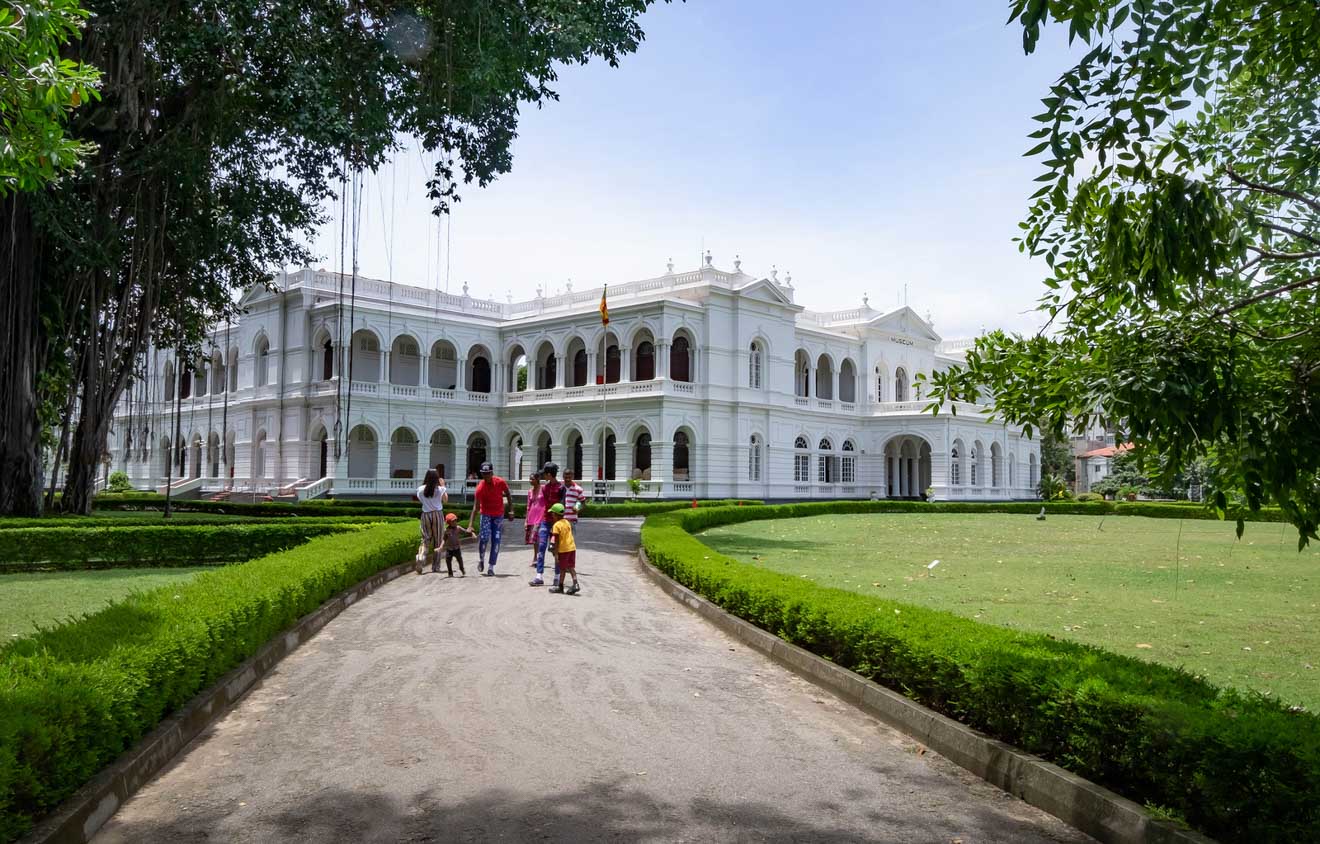 Some people choose to skip Colombo city during their travels around Sri Lanka, but I would personally include it, at least for one day, and especially if you've never been to a similar country before (such as India, for example).
Just walking around the streets of Colombo is a unique experience by itself that will offer you a taste of the hustle and bustle of city life in Sri Lanka. If you are going to visit some other places in Sri Lanka as well (you have to!), you'll be able to compare the "big city life" to the traditional, nature-rich areas, which will enhance your experience even more.
As I mentioned above, there are quite a lot of things to do inside the city of Colombo and, of course, TONS of delicious street food to eat! From walking on Galle Face Green, visiting colorful temples and laying on the beach to shopping, drinking ceylon tea, visiting the local markets, falling in love with the pretty colonial buildings – you'll have plenty of things to do in Colombo city for a couple of days. If you read my list below you'll be able to create the perfect itinerary for your taste. By the way, my list of what to do in Colombo can fit in one day or, if you have a late flight and you know you'll be tired during your first day, you can divide the activities between two days (like we did).
However, if you only have one day in the city and you're looking for an organized tour that will help you see as many of the famous landmarks as possible, I recommend this full-day sightseeing tour!
Okay, let's see what the 14 best things to do in Colombo, Sri Lanka are:
1. Simply walk around the city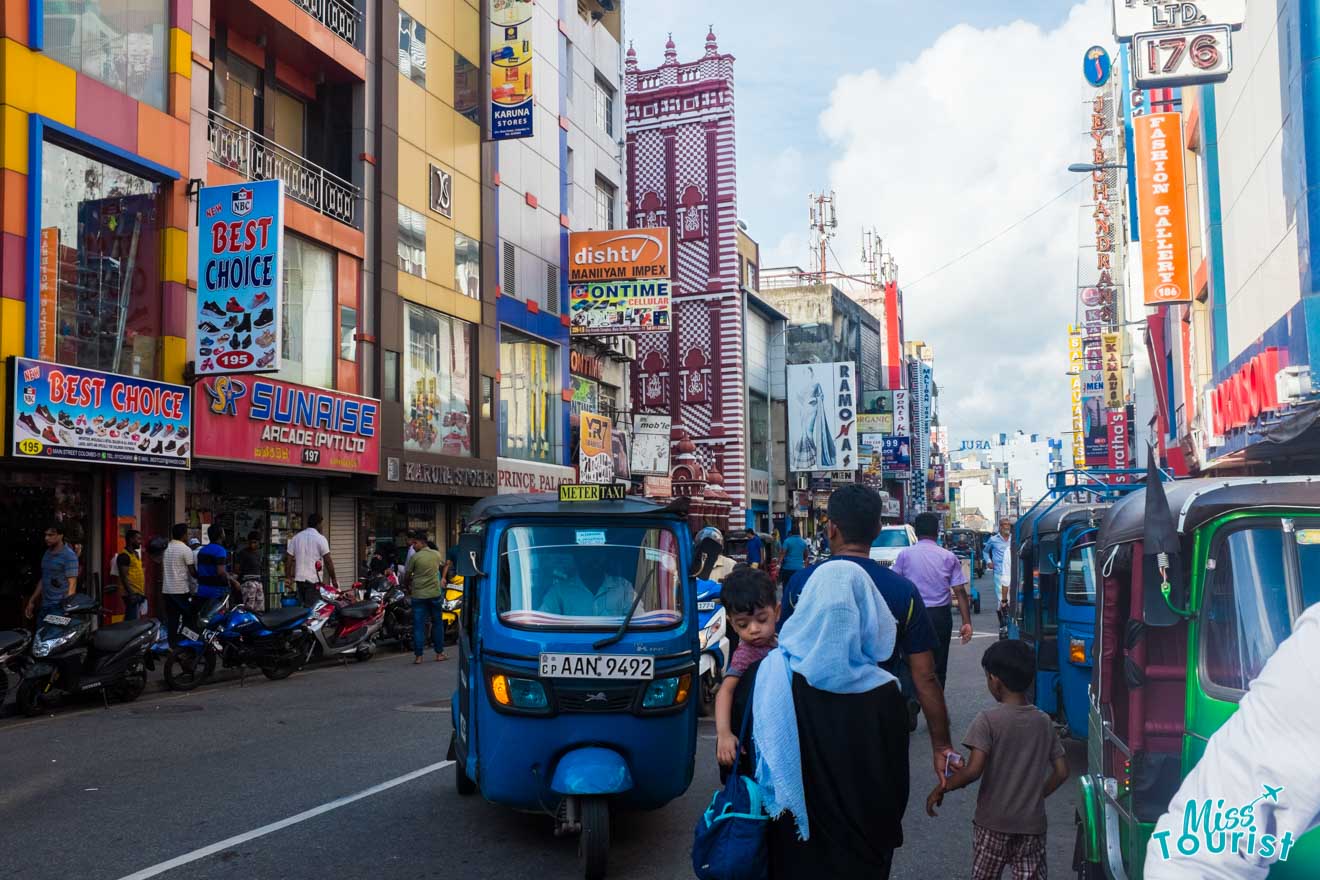 Walking around Colombo is definitely the best way to experience the authentic vibe of the city. For example, I recommend walking on Malwaththa Road. It's filled with life and also shops with bags, clothes, shoes, wood figurines, souvenirs and everything else you might imagine. The Colombo Fort area (around the main train station of the city called "Colombo Fort Railway Station") is another great choice to go to if you want to admire the beautiful colonial architecture. I liked it a lot! Galle Face Green is also a great spot for a walk, but I will talk about that in detail in no. 8 in my list below.
I explored Sri Lanka with a driver-guide for 10 days, but if you do not already have an organized tour planned for your entire vacation, I definitely recommend taking this walking tour in the city. I always prefer going around with a guide that will explain interesting things about the history of the city. This way, I know I can actually understand more about the things I'm seeing and I usually find out some nice, interesting stories and fun facts.
PRICE: Free by yourself, US $50 for the walking tour
2. Take a city tour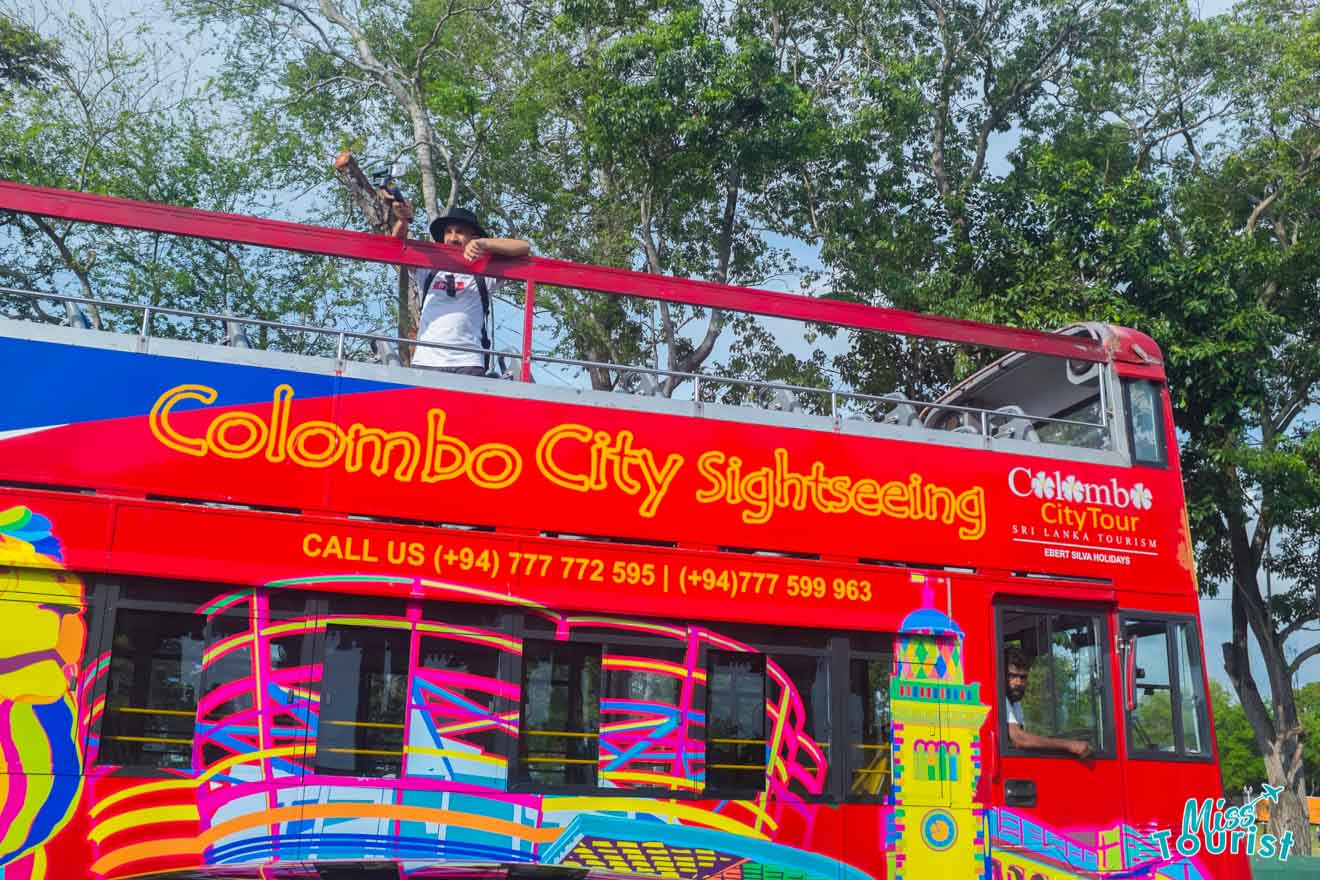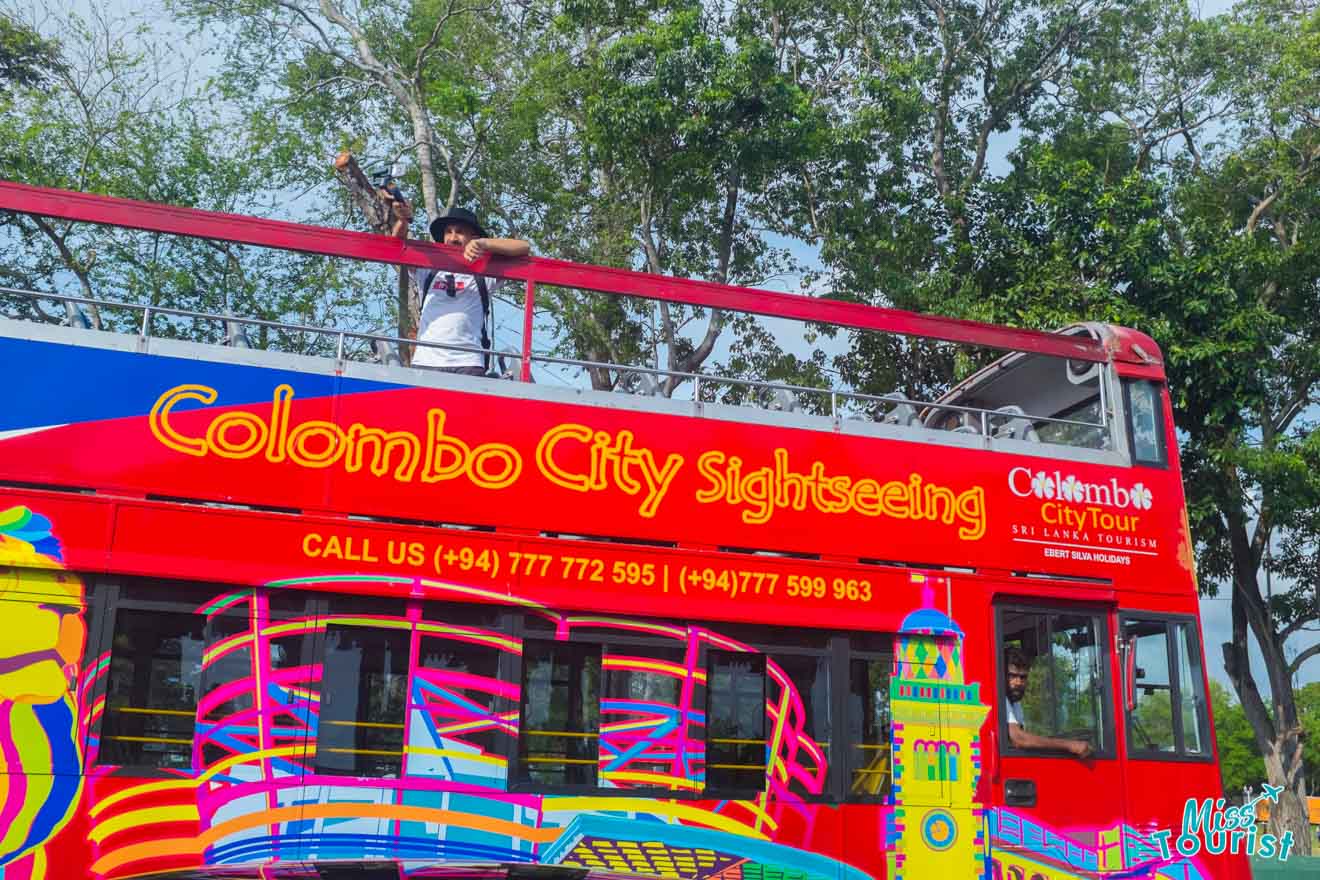 If you don't actually know what to do in Colombo or you're tired of walking around and want something more entertaining instead, I recommend taking either an open deck bus tour or a tuk-tuk tour. These are two of your best choices for Colombo sightseeing!
We took the open double decker tour and, on our way, we saw many interesting sights such as the Second World War Memorial, the Lotus Tower (tallest self-supported building in South Asia), the Old Parliament Building, the Town Hall, the Independence Memorial Hall, the Old Colombo Dutch Hospital, Dawatagaha Jumma Masjid Mosque and more. Basically all the well-known attractions in Colombo!
If you're a foodie just as much as I am, know there is also the possibility of taking a street food walking tour in Colombo! The guide will take you to taste 5-6 authentic Sri Lankan dishes from the street stalls and local restaurants (hopper, kottu, dhal, seafood and more). I would definitely have taken it if I knew about it before because it sounds like so much fun!
PRICE: From US $20 to US $55, depending on the tour you choose
3. Visit Gangaramaya Temple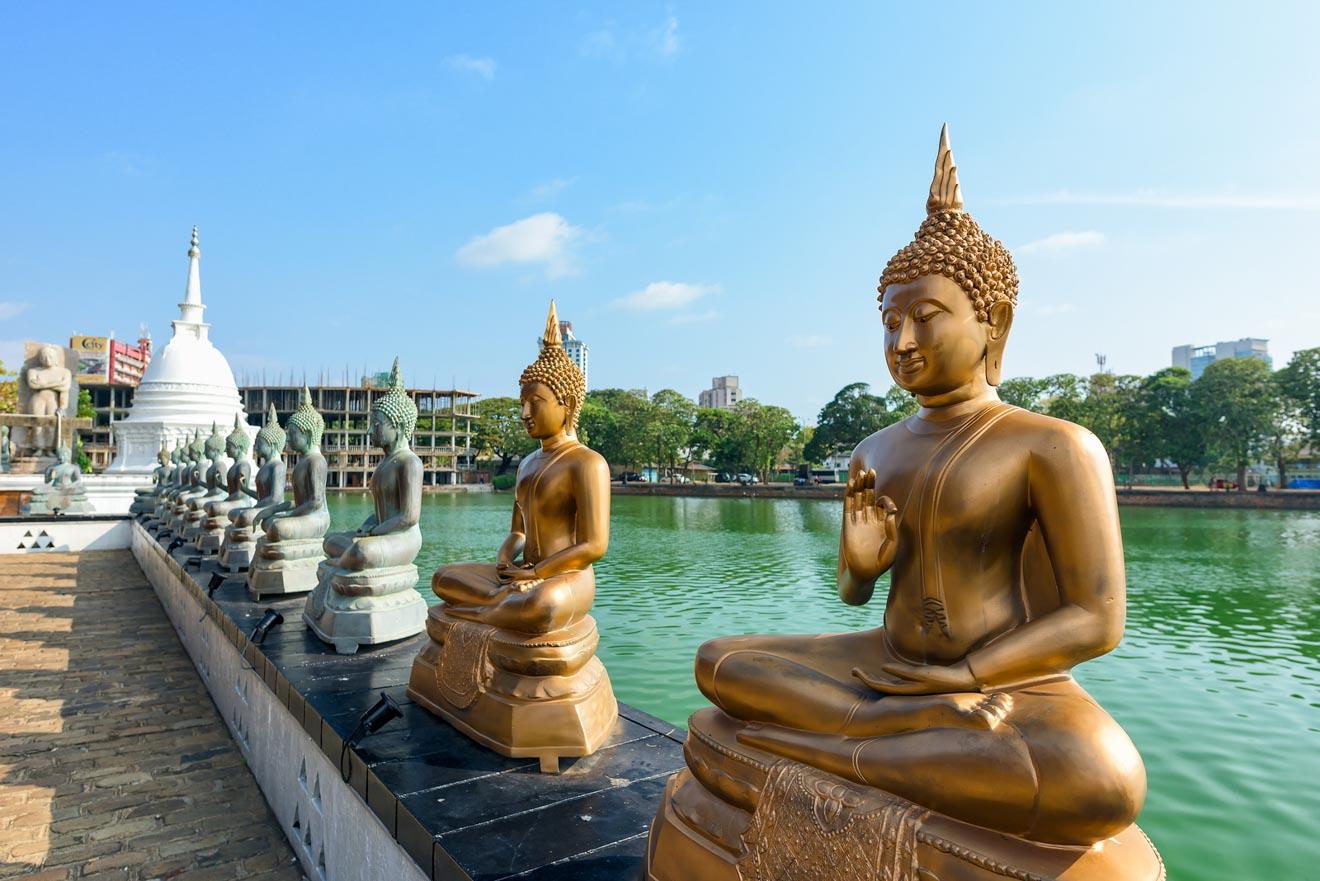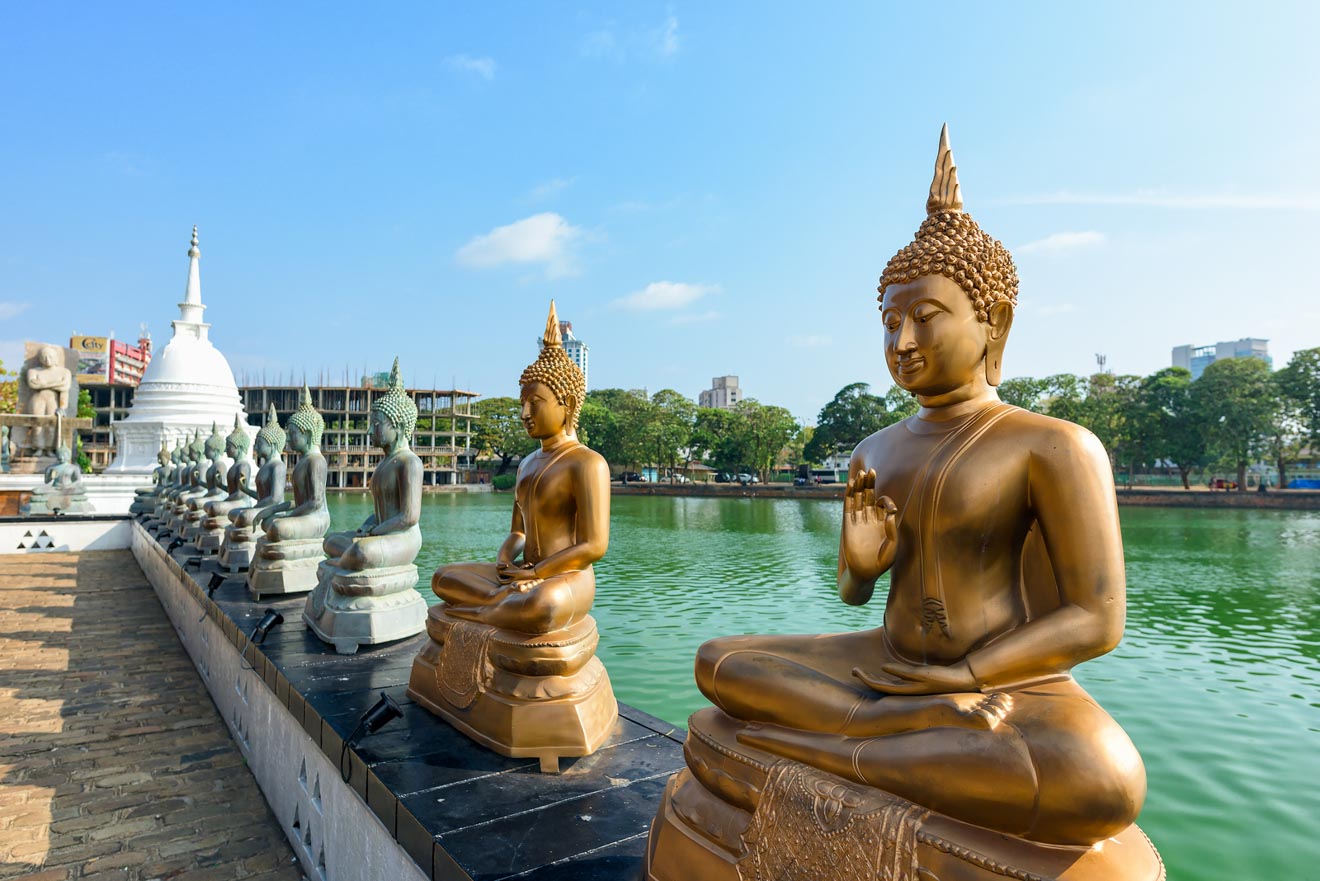 Located next to Beira Lake, Gangaramaya Temple is a Buddhist temple and actually one of the oldest and most important temples of Colombo. And it's very beautiful as well, I must add, so it's no wonder that it's one of the most famous attractions in the city!
Because this Buddhist temple is actually a great learning center for the locals, they also have an on-site museum with a large collection of old artifacts that I recommend you check out. Plus, you definitely can't miss the big, colorful Buddha located inside Gangaramaya temple! On a similar note, be careful not to miss one of the most interesting artifacts: the world's tiniest Buddha statue!
FUN FACT: They even have a vintage Rolls Royce displayed inside Gangaramaya Museum, as well as the first Mercedes that was brought to Sri Lanka, did you know that?
PRICE: Entrance fee to Gangaramaya Temple is 300 Sri Lankan rupees (around US $4) per person
4. Admire the Red Mosque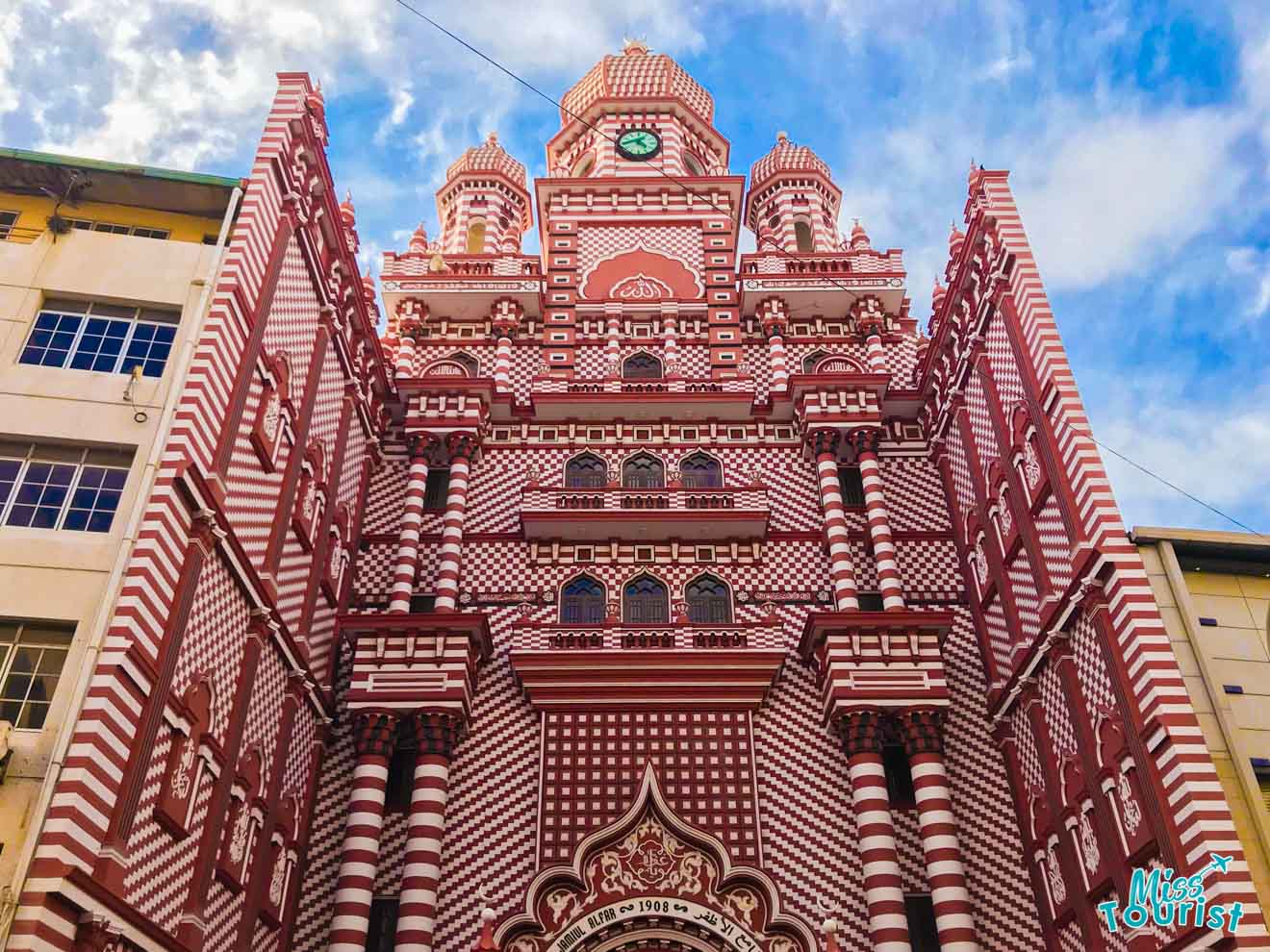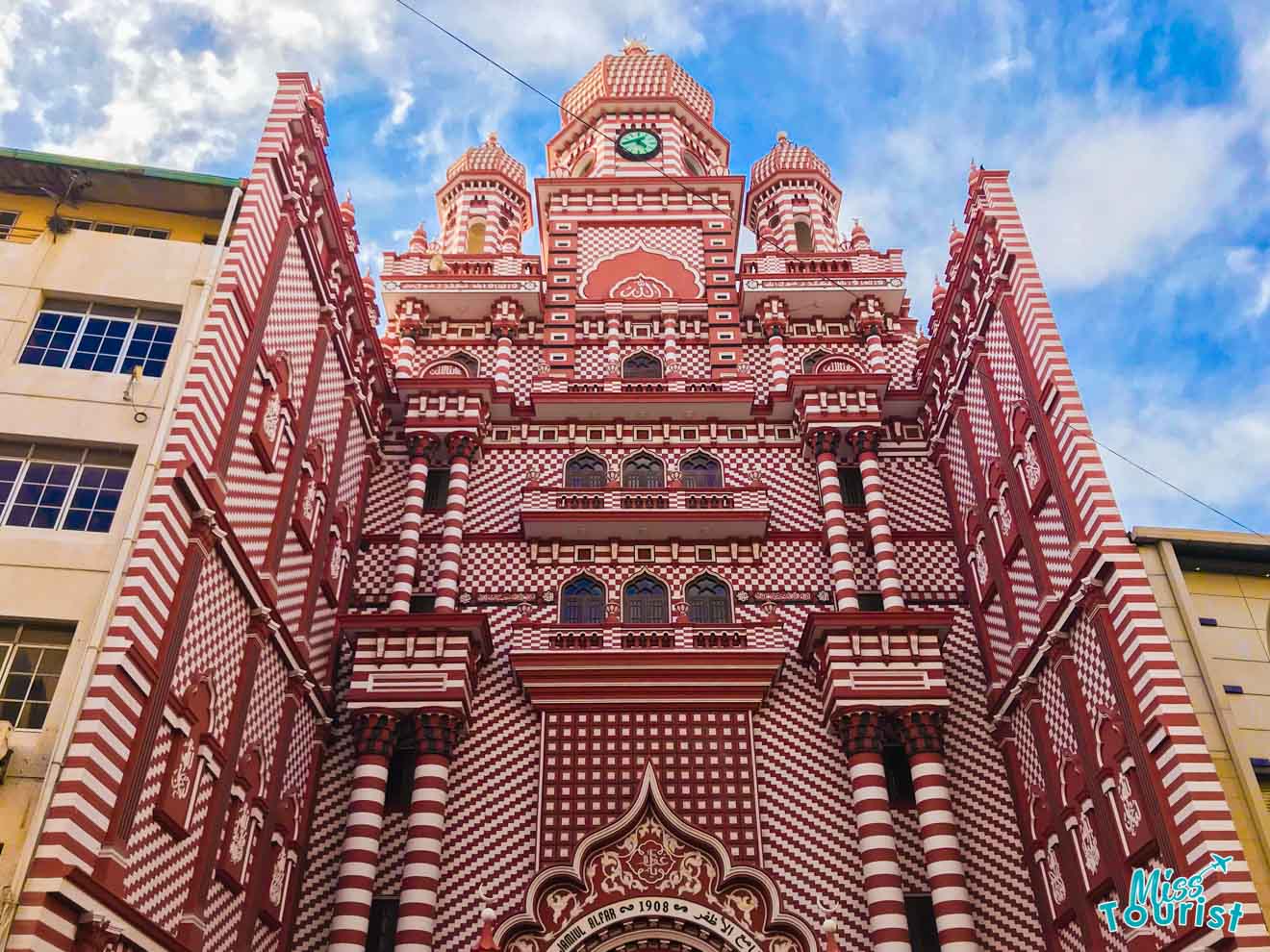 The Red Mosque, also known as (Jami Ul-Alfar Mosque), is a gorgeous building and one of the oldest mosques in Colombo. It actually looks like no other mosque I have ever seen! The building is tall, with red and white patterns that are simply mesmerizing- you just can't miss it when walking around the streets. Trust me, you'll love it once you see it!
Unfortunately, even though it's up high on my list of places to visit in Colombo, Sri Lanka, you can only admire it from the outside, as only Muslim people can go inside.
Oh, by the way, the mosque is located very close to Pettah Market, which I will talk about below!
FUN FACT: Ever since it was constructed at the beginning of the last century (in 1908, to be more precise), the mosque has been an icon for the sailors who came to the port of Colombo. It's that stunning!
PRICE: Free
5. Enjoy a cocktail on a rooftop bar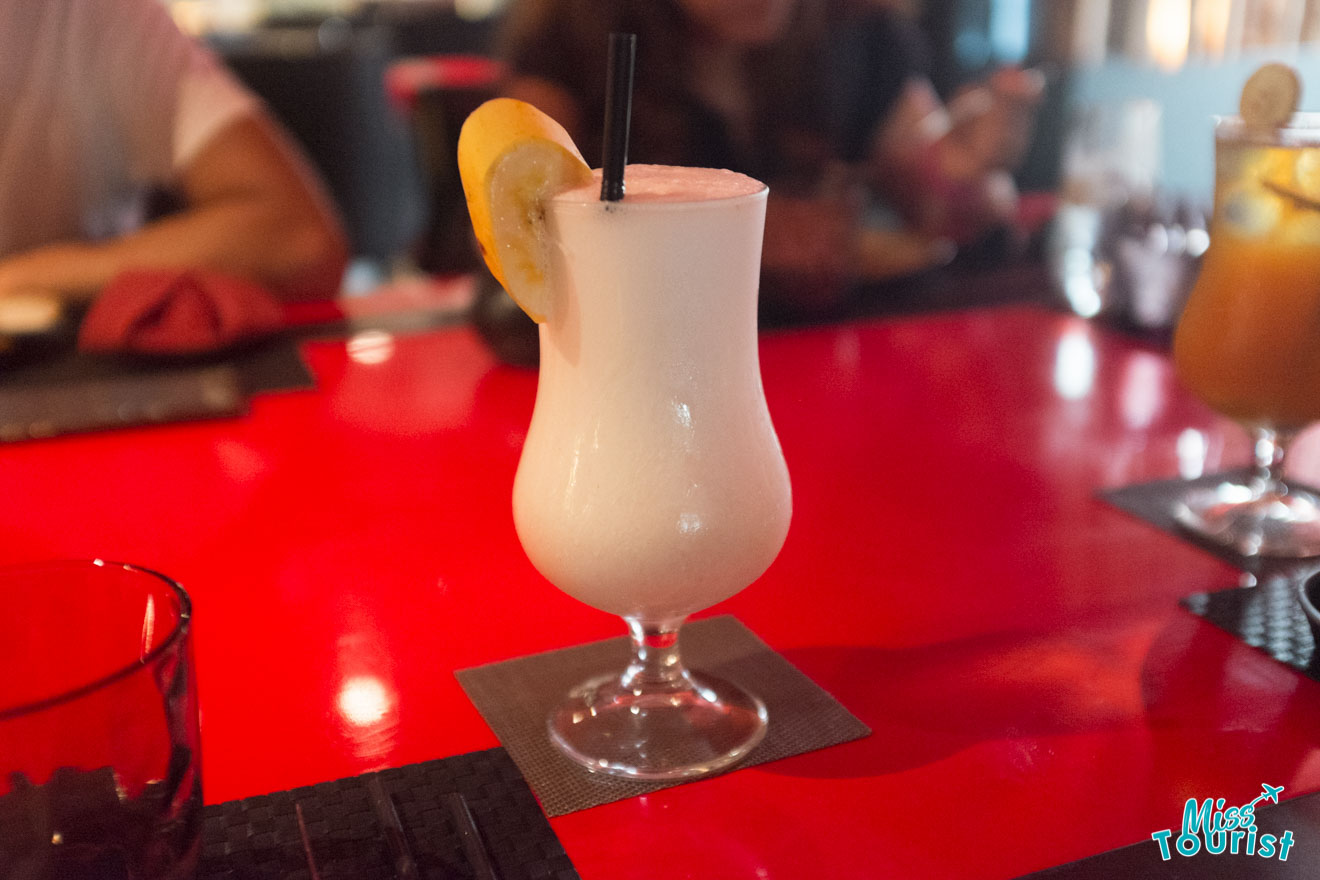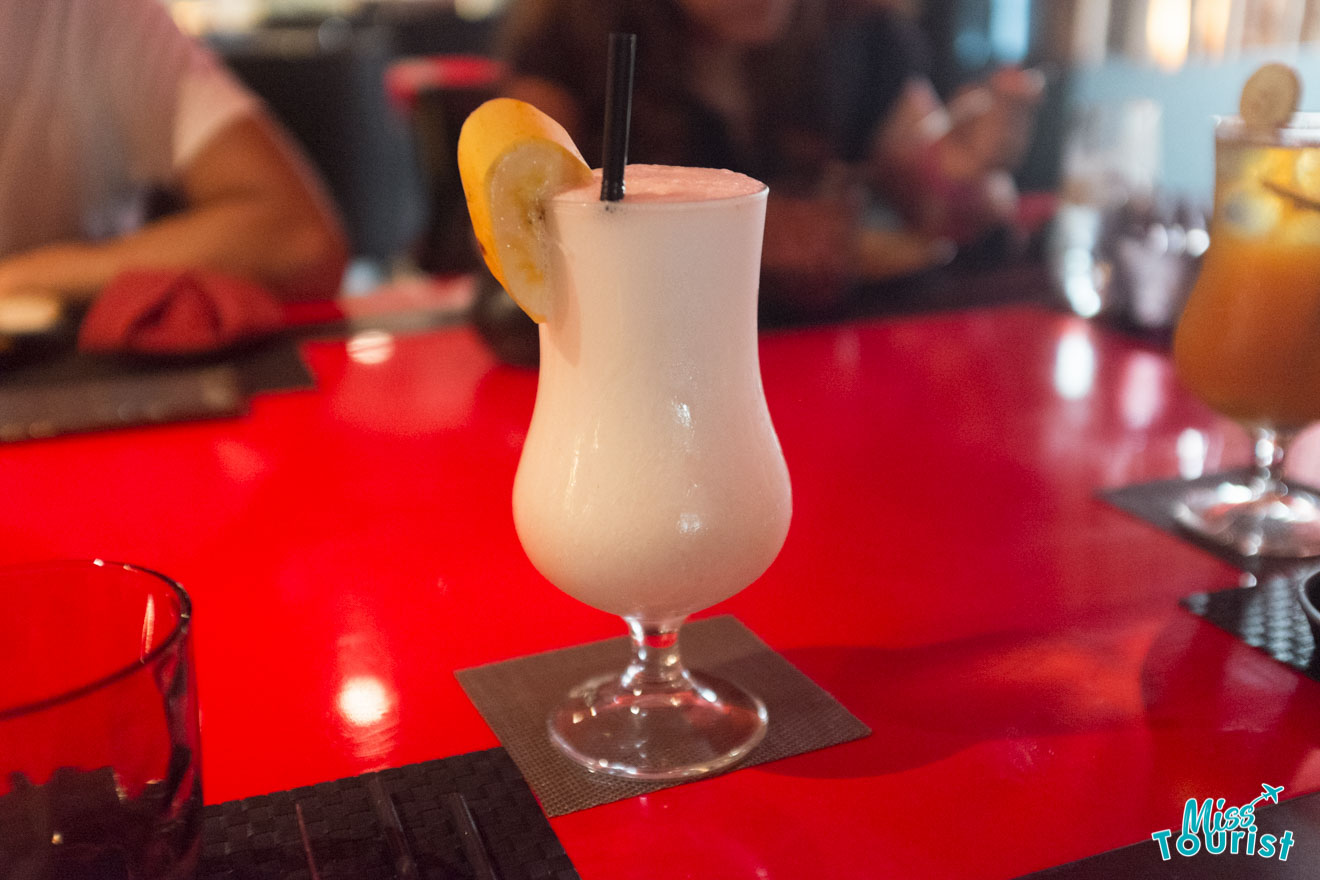 What better way to end a day of exploring Colombo than with a yummy cocktail enjoyed near a rooftop pool? This is definitely one of the best things to do in Colombo at night!
At the end of our first day of exploring Colombo, we went to Vistas Bar on Movenpick Hotel and enjoyed some local Achcharu cocktails, their signature Sri Lanka-inspired cocktail (Rs. 990 / US $14).
Here are some other amazing rooftop bars in Colombo that you can try:
6. Take in the genuine vibe of Pettah Market Colombo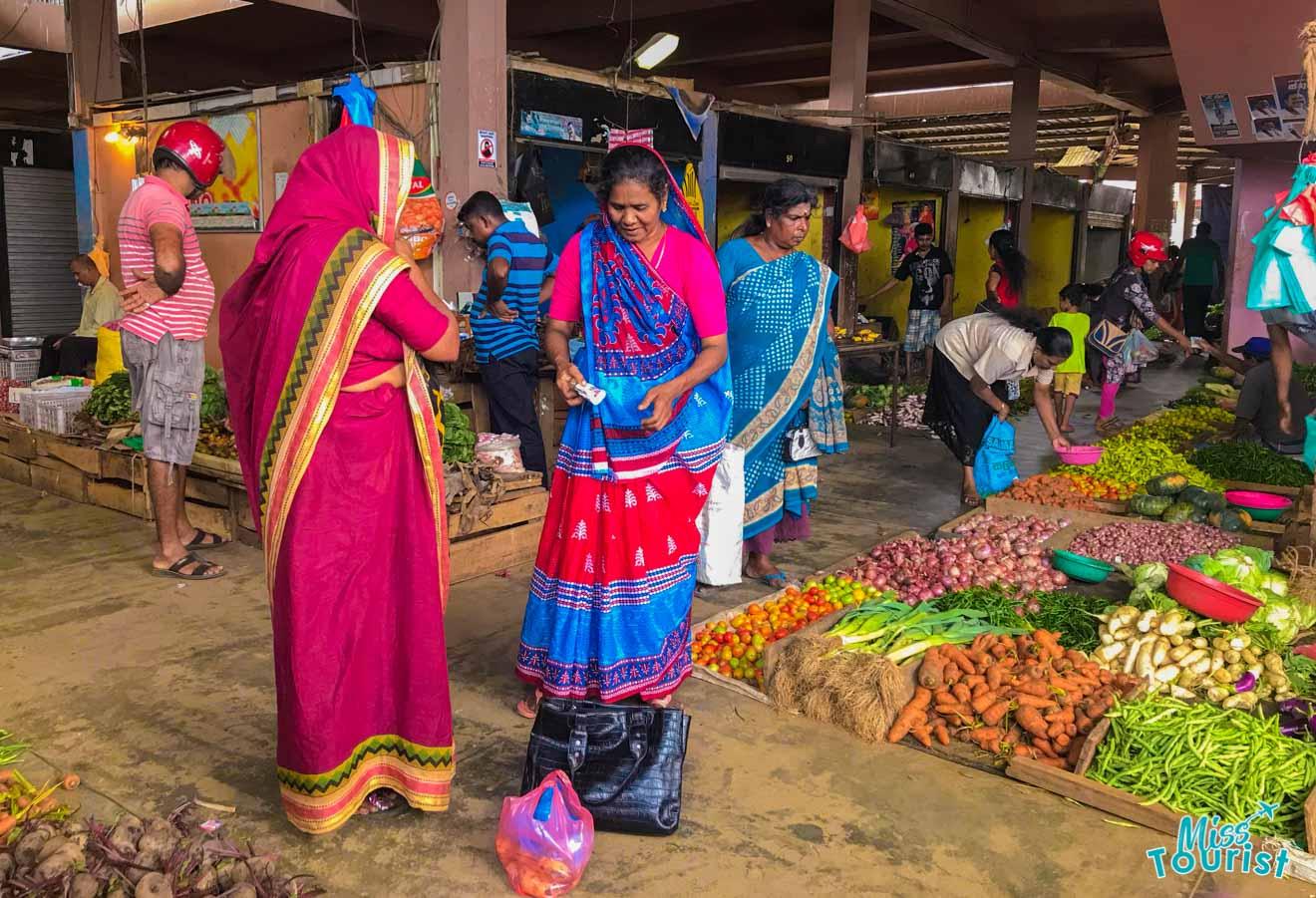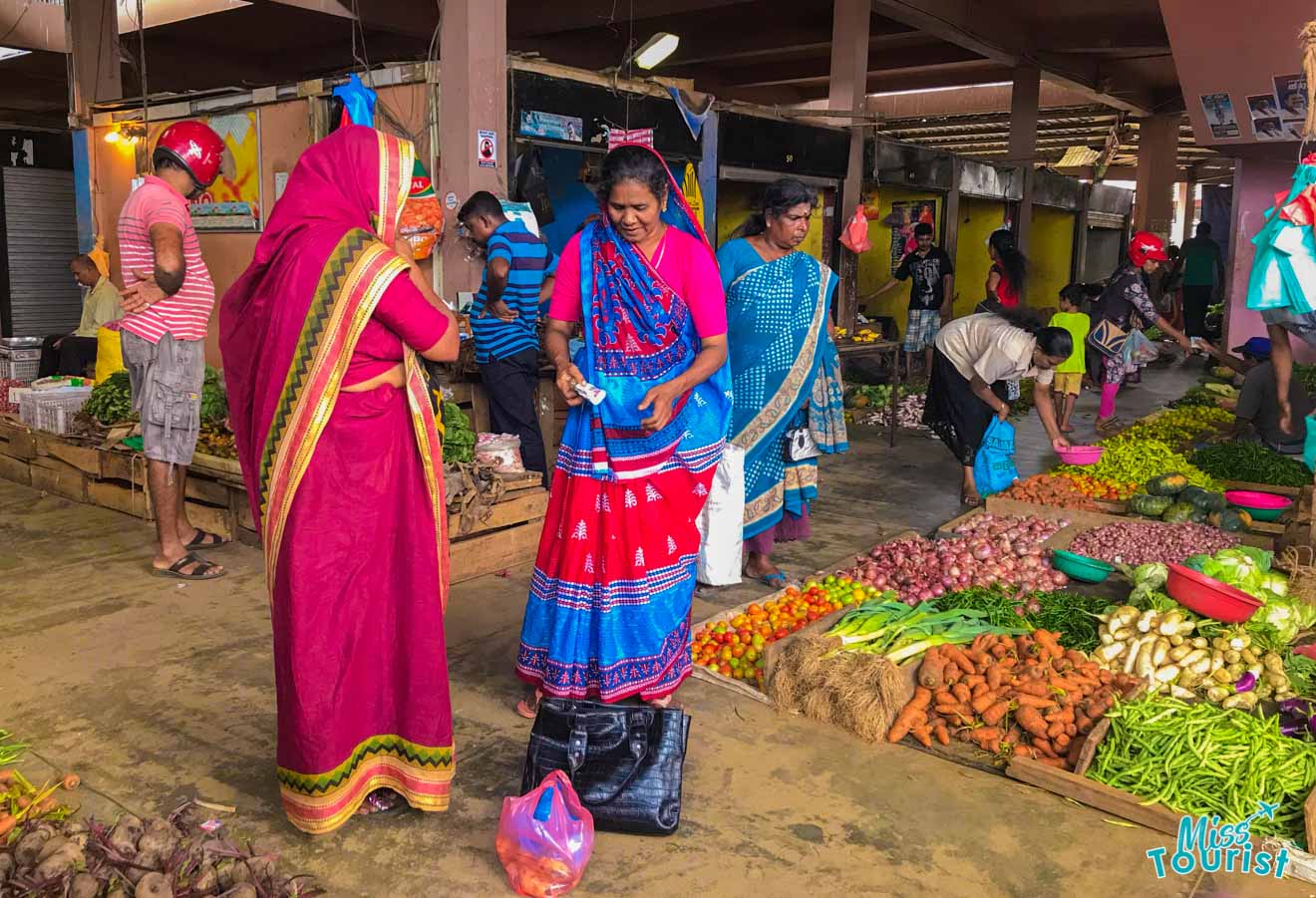 Exploring one of the local Sri Lankan markets is a truly authentic experience in Colombo and Sri Lanka in general, even if you don't buy anything! I really loved this experience while I was there and I recommend it as one of the best places to see in Colombo.
Pettah Market in Colombo is a great place to visit in the city. It's located in the center, in the Pettah district, and I recommend going there to see the locals buy fresh produce, nuts, dried fish and more. It's also a great place to get used to the local ingredients used in Sri Lanka – I saw many interesting-looking fruits and vegetables there! The markets are truly a place full of life and one of the greatest ideas if you want to experience, first-hand, the authentic vibe and blend in with the locals.
Right across the street from Pettah Market you'll find Pettah Floating Markets and you can take a short walk there as well. They're not exactly like the floating markets in Vietnam, for example, but rather some stalls on the street, near the water – still one of the fun things to see in Colombo, though!
PRICE: Free
7. Relax on Mount Lavinia Beach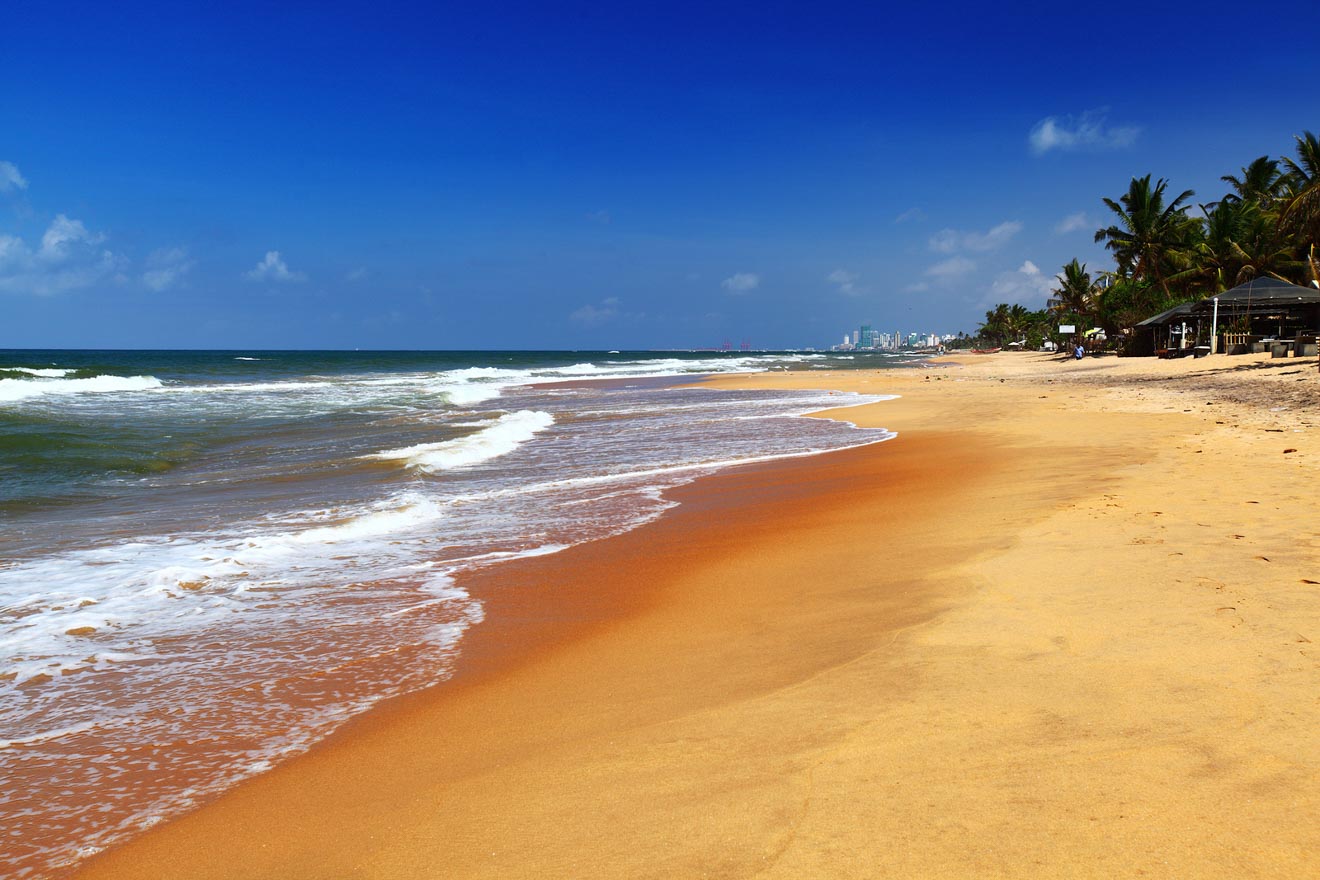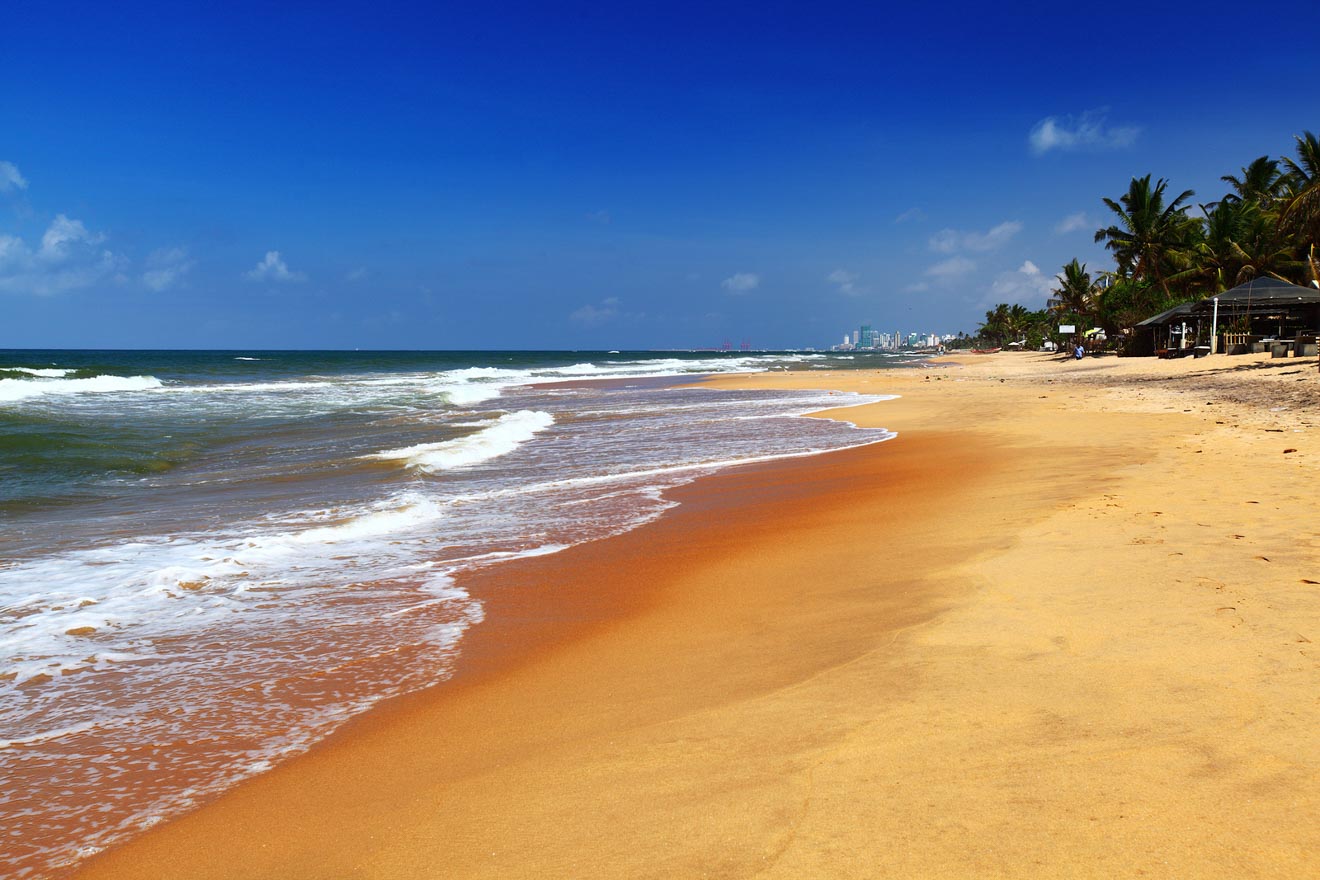 If you had enough of walking on the street and want an afternoon of swimming during your stay in Colombo, do not worry, it's possible!
Mount Lavinia Beach is located a bit outside of Colombo (but still easily reachable by tuk-tuk or taxi) and it's the perfect place to relax and have a meal or a drink in one of the beachfront restaurants or pubs. It's also a great thing to do in the city with kids, for example.
NOTE: You can also enjoy the view and some sunset cocktails at Mount Lavinia Hotel. You can use their pool with a day pass that costs Rs. 1000 (US $5.50). By the way, their weekend lunch buffet is simply delicious!
PRO TIP: I recommend going to the beach during the week, as it can get very crowded on the weekends.
8. Take a walk on Galle Face Green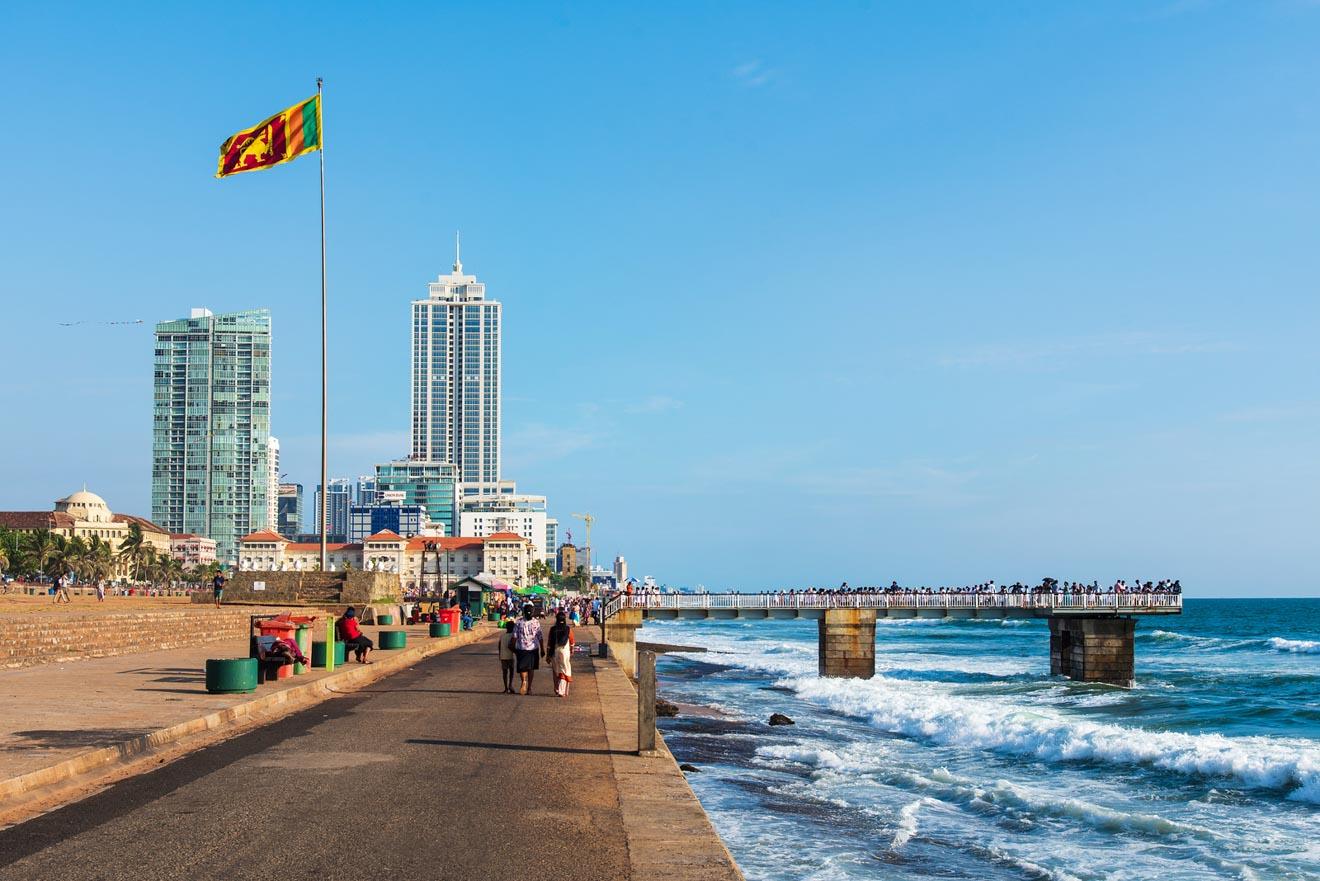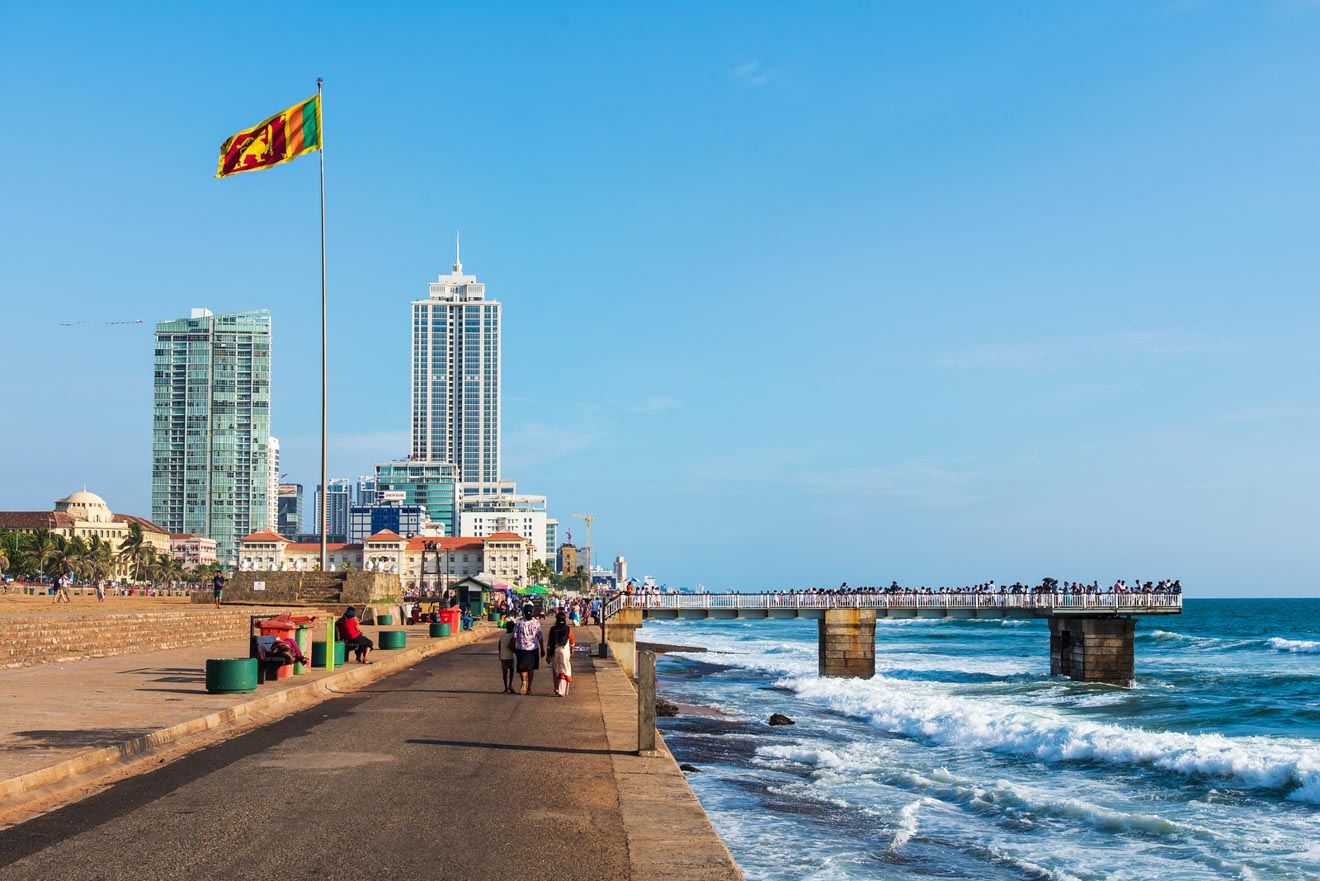 Are you looking for a place to take a stroll and admire the ocean? Galle Face Green is your answer!
Galle Face Green is a big urban park that offers half a kilometer of strolling along the water, more specifically along the coast of the Indian Ocean. It is considered to be "the largest open space in Colombo" and it's definitely one of the must-see things in the city! Oh, and by the way, it's a great choice for people traveling with their family and kids in Colombo as well.
I recommend you go there to take a walk at sunset and indulge in some street food – a great way to finish your day!
PRICE: Free
9. Walk around Viharamahadevi Park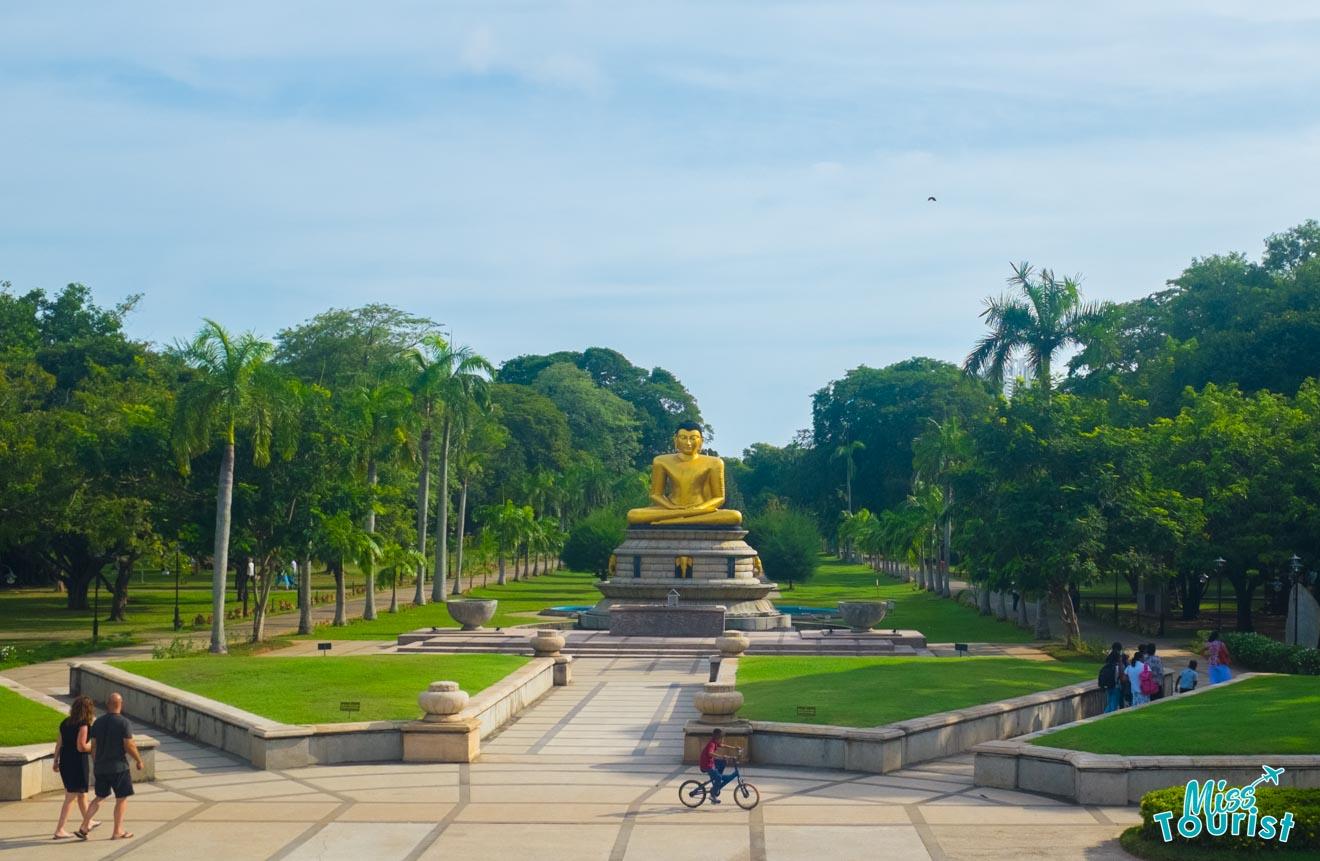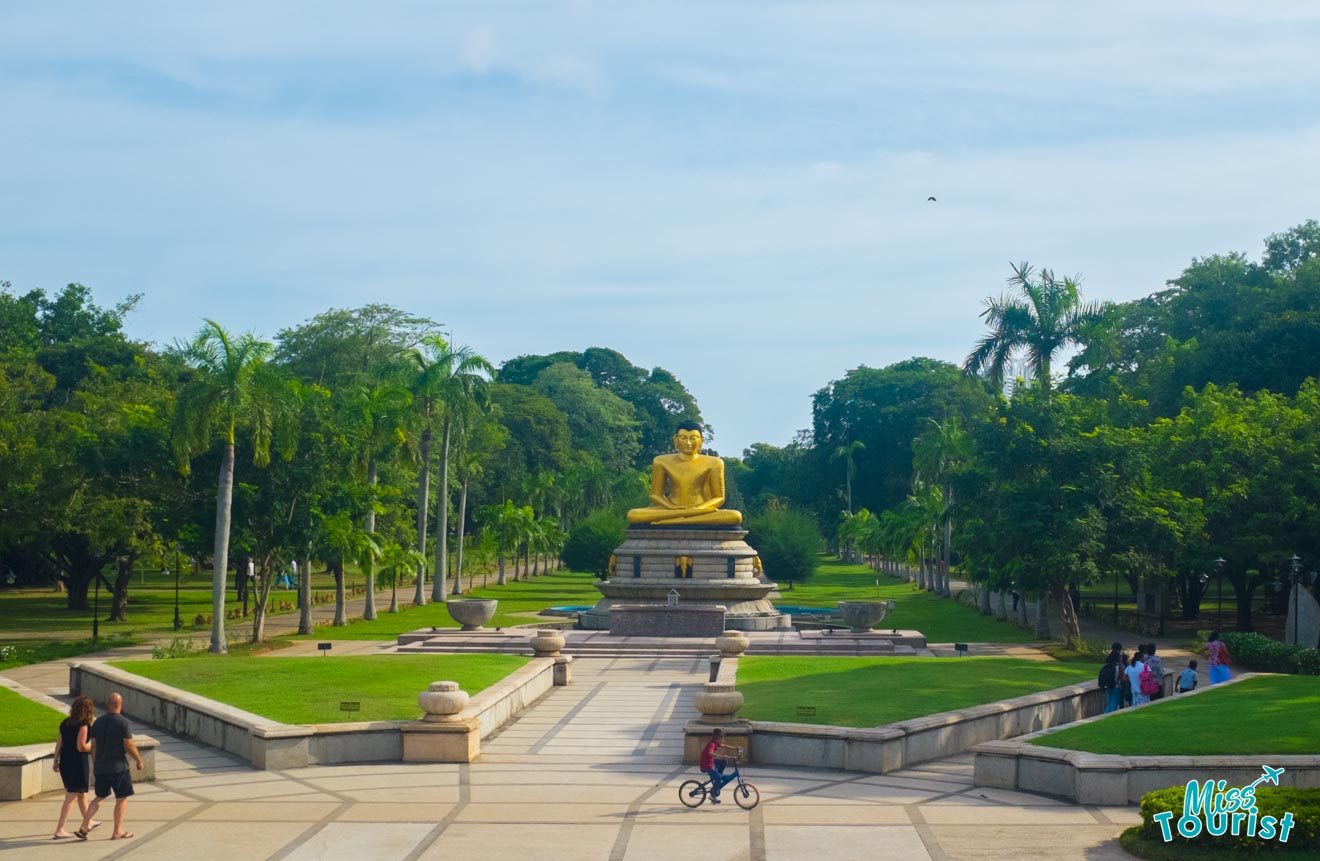 This is the largest and oldest park in Colombo and a great place to relax!
If you're tired of walking around the city and you've already been to Galle Face Green, you can make a brief stop at Viharamahadevi Park – a very nice and calm park (perfect for kids as well) where you'll also find a Golden Buddha, as well as some cute water fountains.
The park was known as "Victoria Park" in the past and it's located right near the National Museum and the Town Hall. If you take the bus tour in the city, you'll surely see it!
PRICE: Free
10. Go for an Ayurveda treatment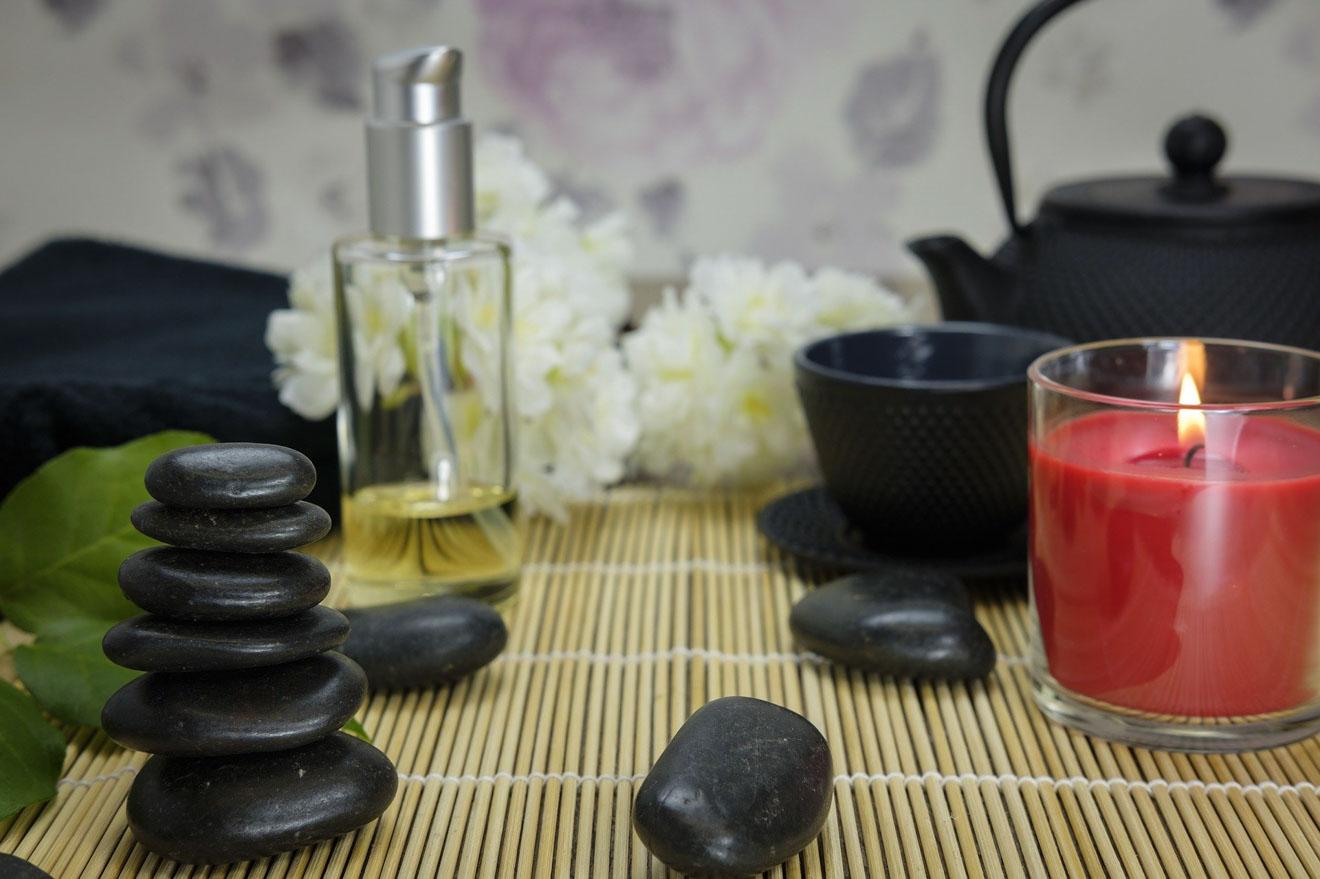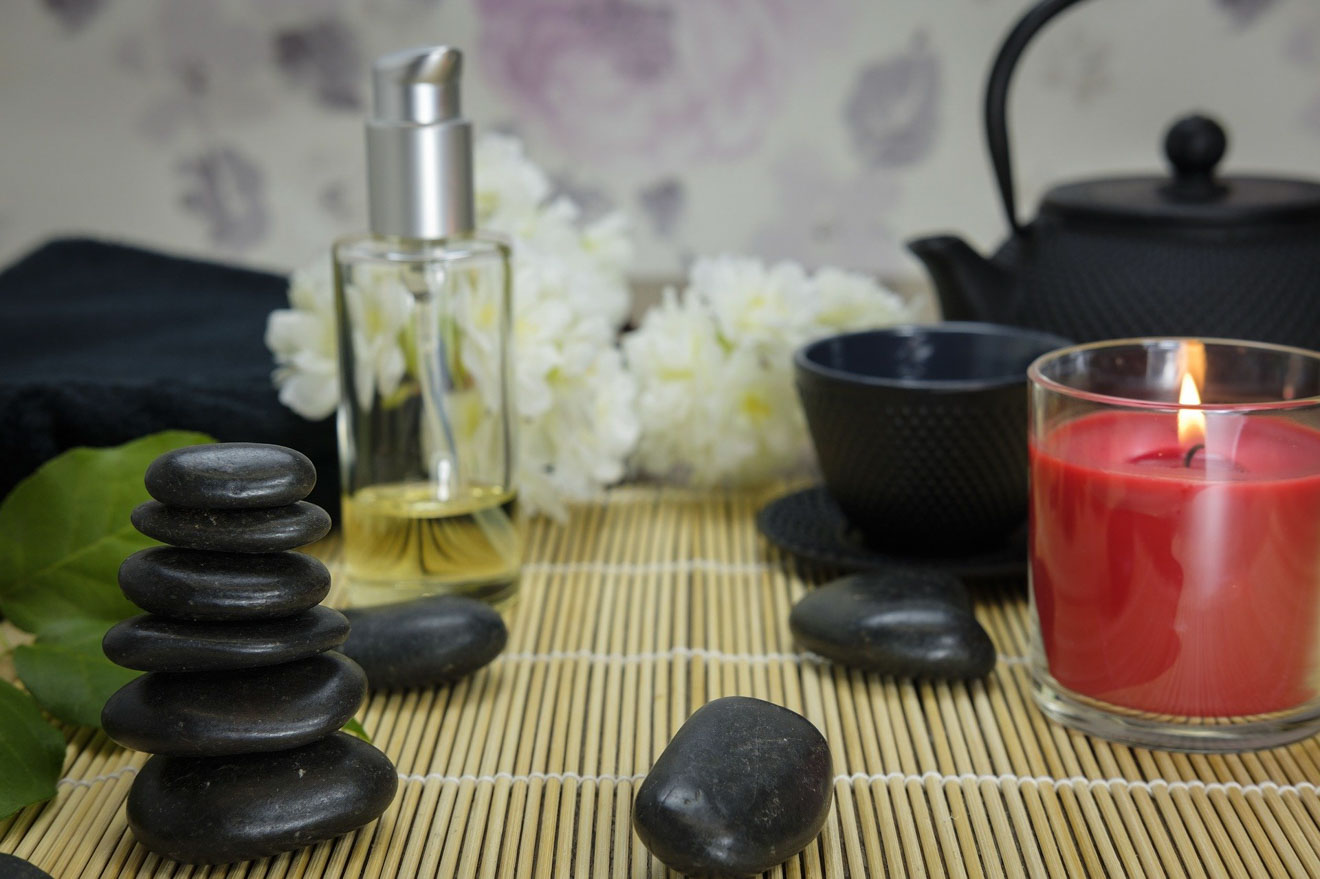 First of all, maybe you are wondering what Ayurveda is, right? Ayurveda is a 3,000 year old holistic, alternative medicine (more like a complete lifestyle) developed in India whose followers believe in the balance between mind, spirit and body. Some ayurvedic practices include massage, yoga, diet, meditation and more.
As I mentioned in Part One of my Sri Lanka Itinerary, our guides organized an Ayurveda spa experience for us at Siddhalepa Ayurveda Spa. This was definitely one of the highlights of my trip and one of the best things to do in Colombo, Sri Lanka!
The first step of the process is to go for a consultation with their on-site Ayurveda doctor. The idea is to tell your physical problems to the doctor (for example if you have back pains, knee pains, neck pains etc.) and they'll recommend personalized treatments for them. The treatment is 45 minutes-long. I received an upper body massage for my back problems, with a focus on my neck and a head massage as well (which I reaaaaaally loved). You can check the complete list of treatments they offer here.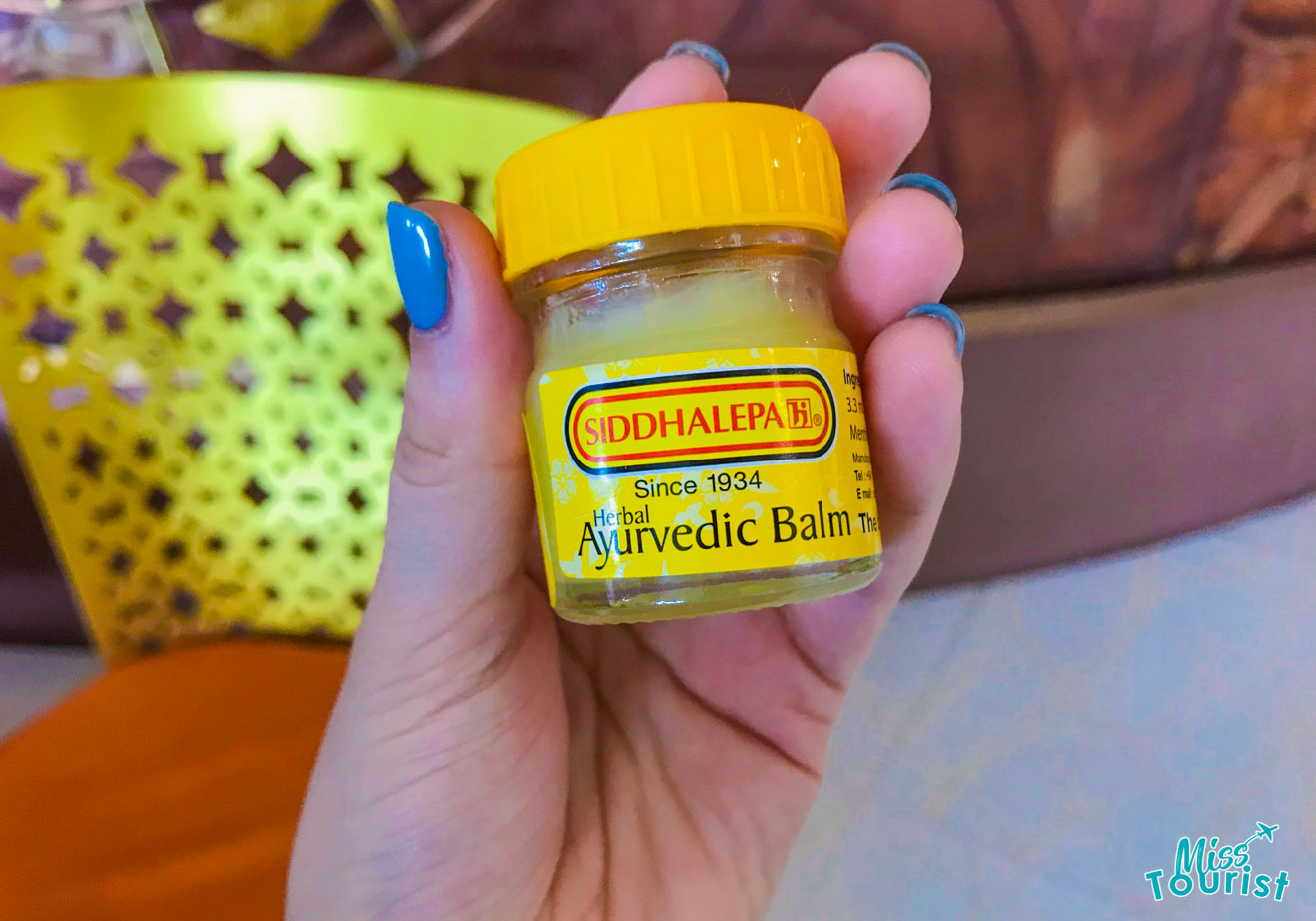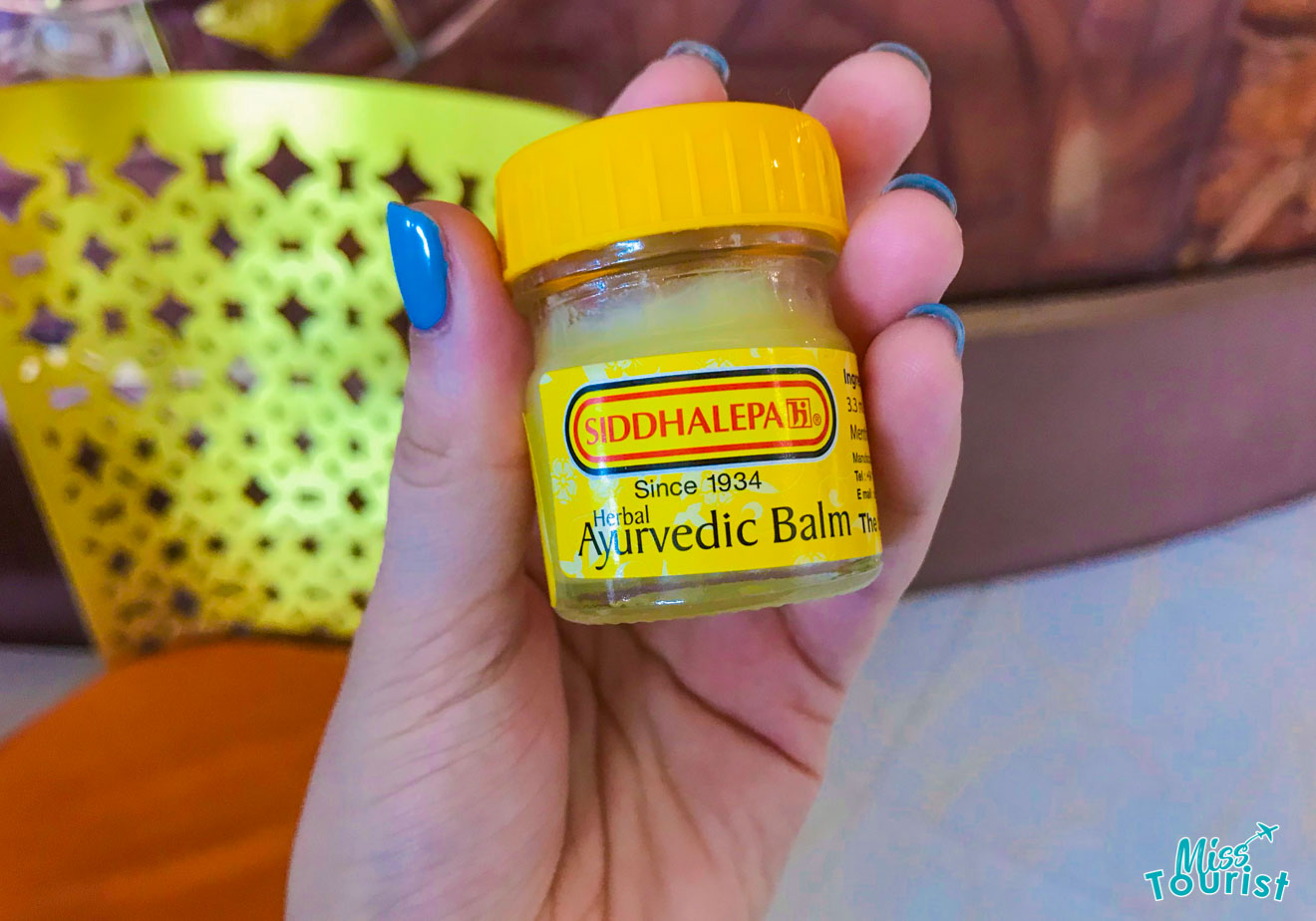 Although I'm not a big believer in alternative medicine or spiritual things, I really enjoyed the hospitality, presentation and, most of all, the massage I received at this authentic Sri Lankan spa, so I definitely recommend doing this at the end of your first day in Colombo – it will give you a great start to this trip and you'll love it!
PRICE: A head massage is Rs. 2,000 (US $28), a full body massage is Rs. 3,200 (US $45) and the full-day package is Rs. 20,000 (US $280) which it includes 6 hours of treatments.
NOTE: This spa is a great place for some souvenir shopping as well, such as scrubbing soaps, essential oils and more. One interesting thing that you can buy is their Siddhalepa Ayurveda balm (similar to Tiger balm). I bought some for my parents and they love it!
PRO TIP: You can also go up on the rooftop to enjoy the view near their rooftop pool – it's gorgeous and the views over Colombo are simply spectacular! Oh, and by the way, during our visit we were also served some traditional Sri Lankan food made with Ayurveda techniques-maybe you can ask to have lunch there as well!
11. Be mesmerized by the colorful Sri Kailawasanathan Temple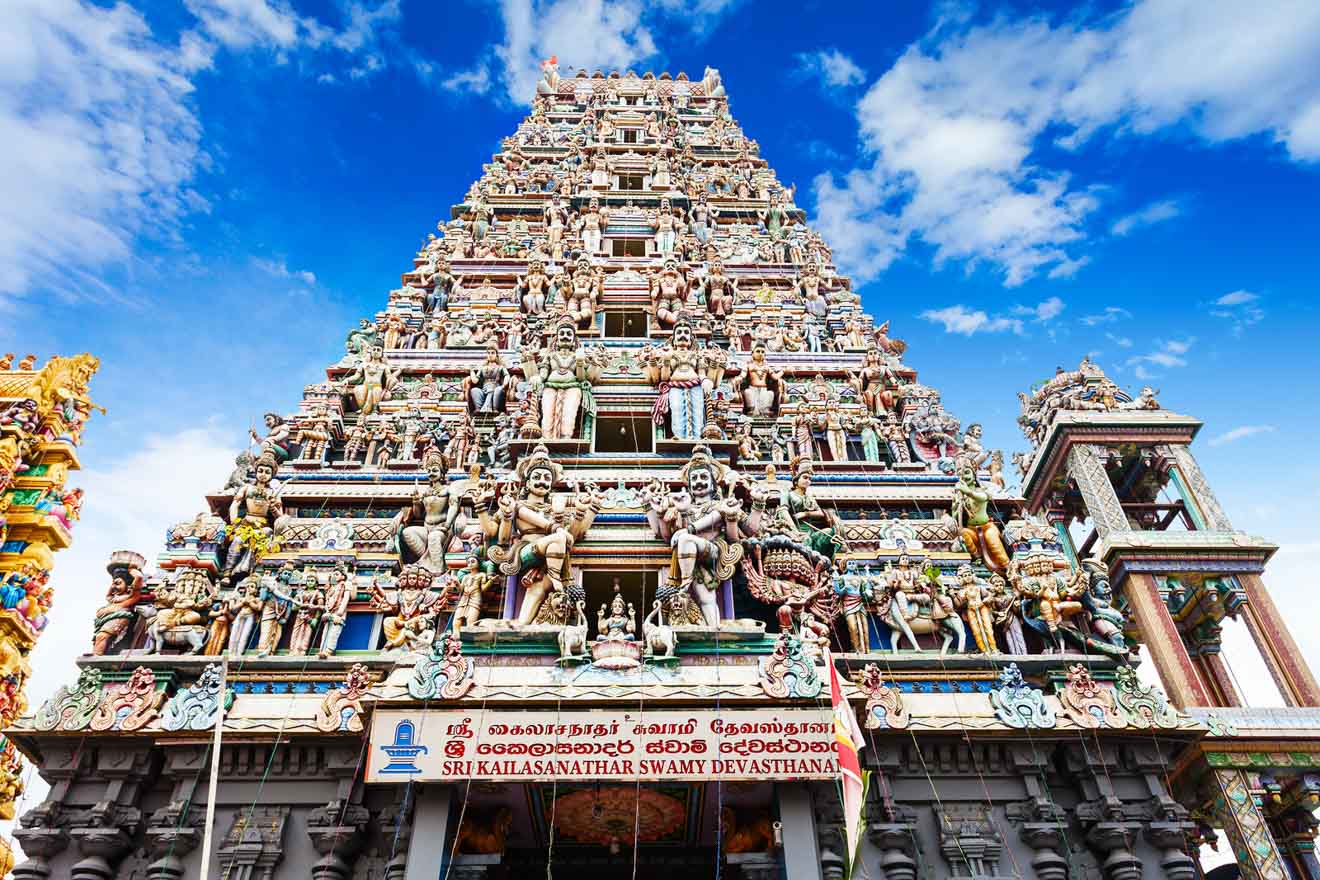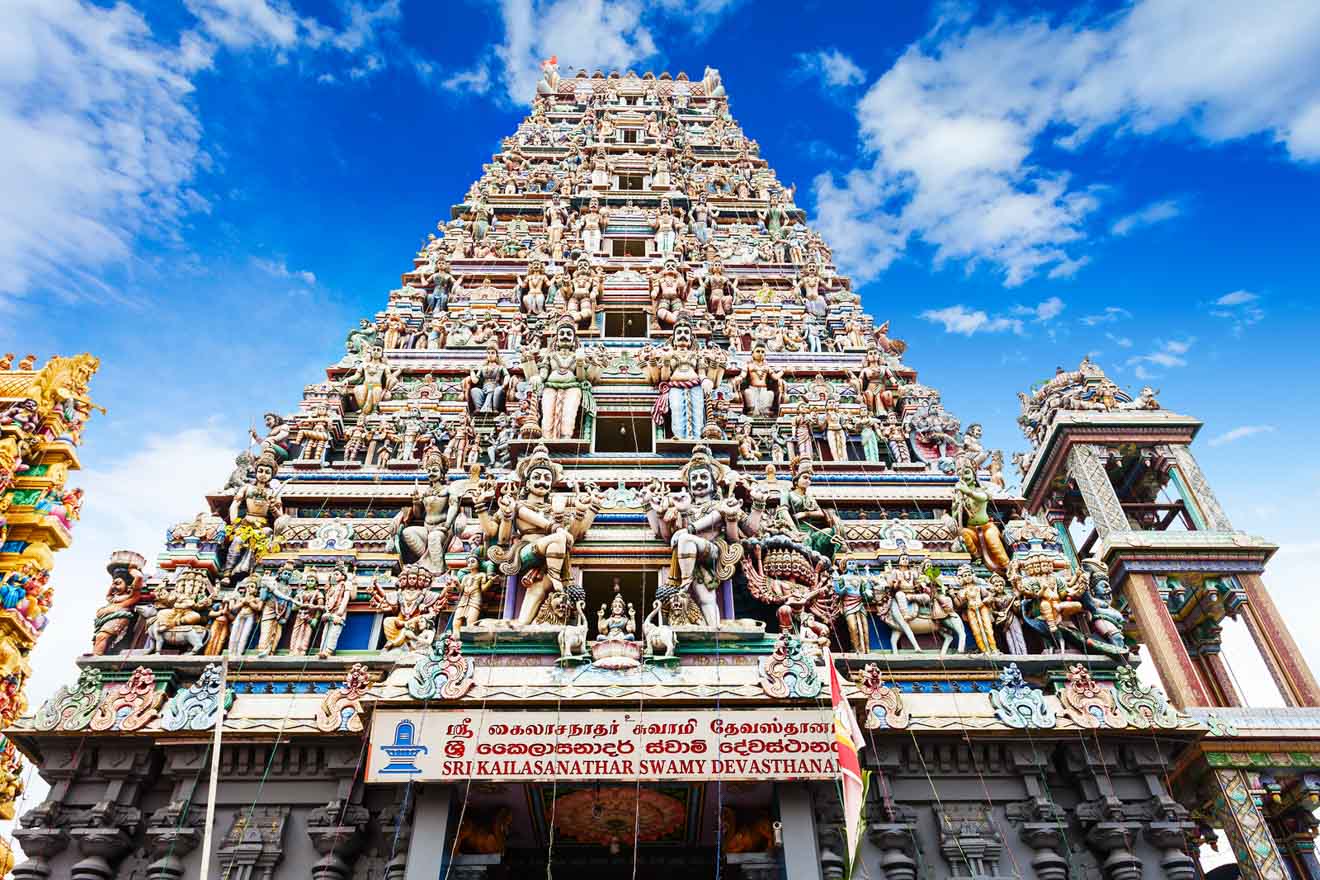 Another beautiful temple in Colombo, the temple of Sri Kailawasanathan Swami Devasthanam Kovil (try to pronounce that, I dare you!) is the oldest Hindu temple in the city. It's very beautiful, full of colorful intricate statues and paintings and it really shows a true Indian style.
This is actually one of the most popular temples inside the city, among both local people and tourists as well. The main shrine at this Hindu temple is dedicated to the god Shiva and the temple is located in the Colombo Fort area, not far away from the train station.
PRICE: Free (you'll need to make a small donation if you want to take pictures, though)
12. Visit the Independence Memorial Hall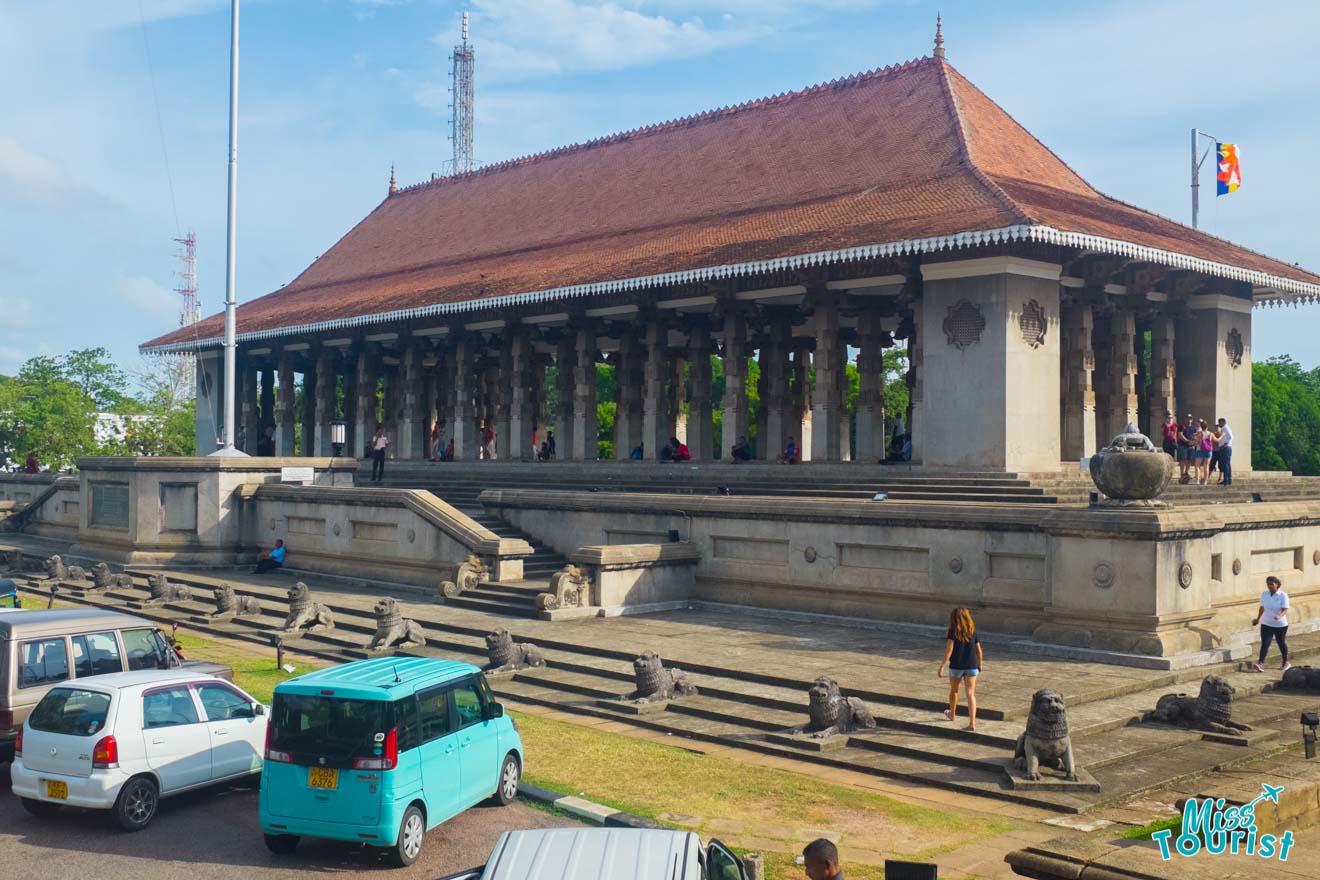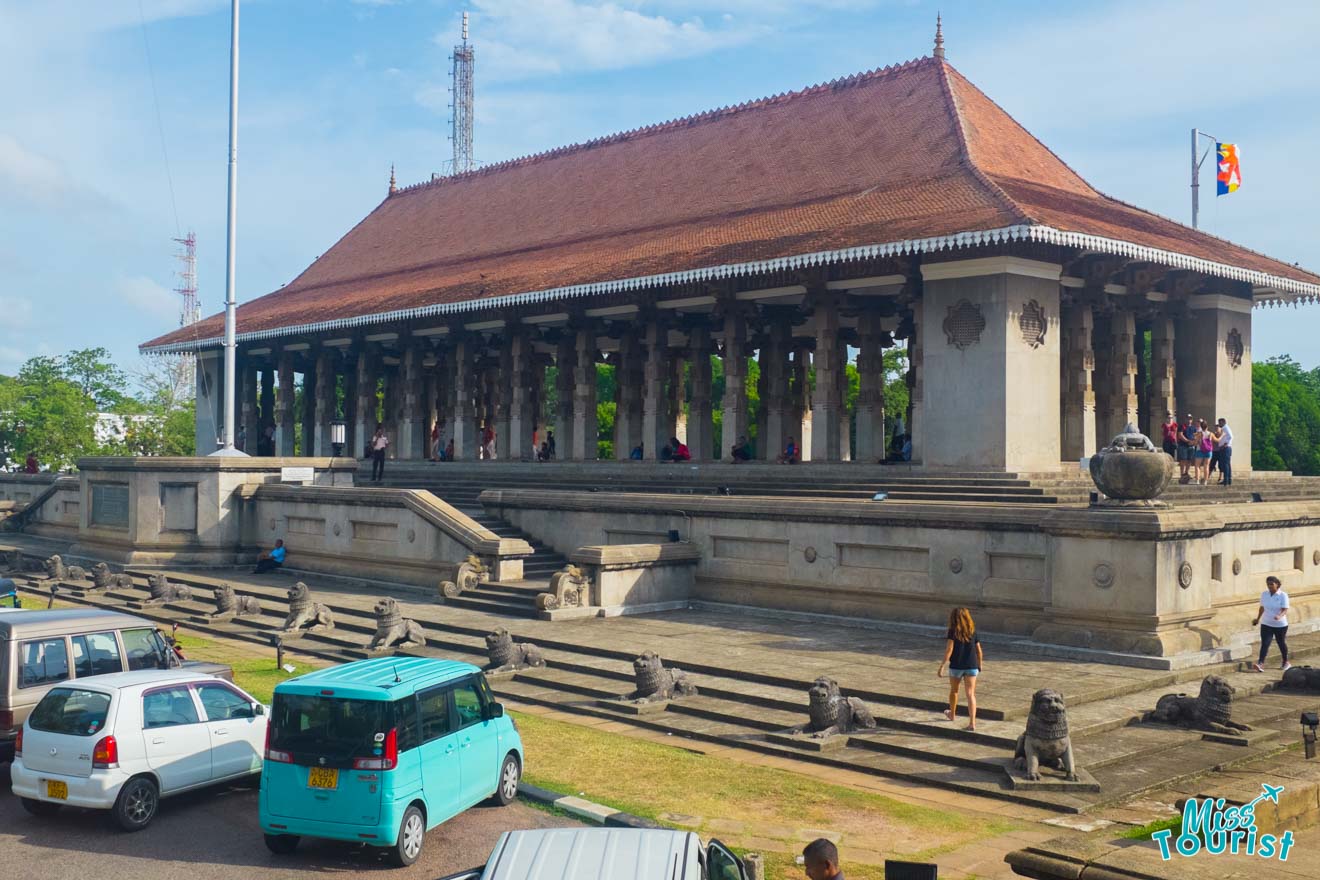 The Independence Memorial Hall (and its Independence Square) in Colombo is another great place to relax after some walking. This national monument was built in 1948 to commemorate Sri Lanka's independence from the British occupation and it has very nice architectural details.
While I was there, I took my time, took some photos, looked around, thought about the past of the city and simply enjoyed where I was! Independence Square is very pretty, but don't expect to spend a lot of time there – a brief stop is enough, so you can save your time to see some other attractions and fun things to do in Colombo.
PRO TIP: The Memorial Hall and Independence Square are best seen in the evening, when the fountains are lit up – it's so nice!
PRICE: Free
13. Go to the Colombo National Museum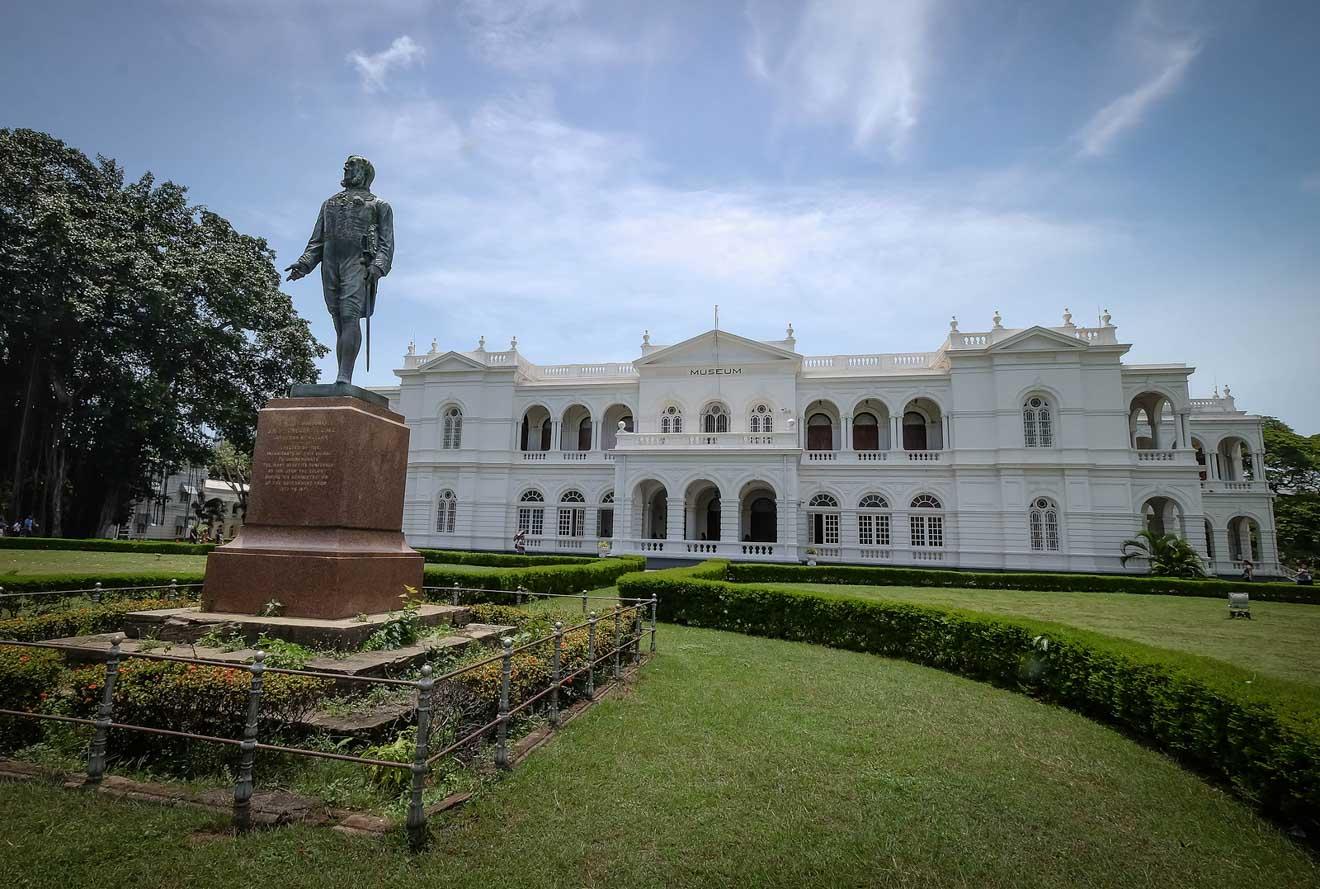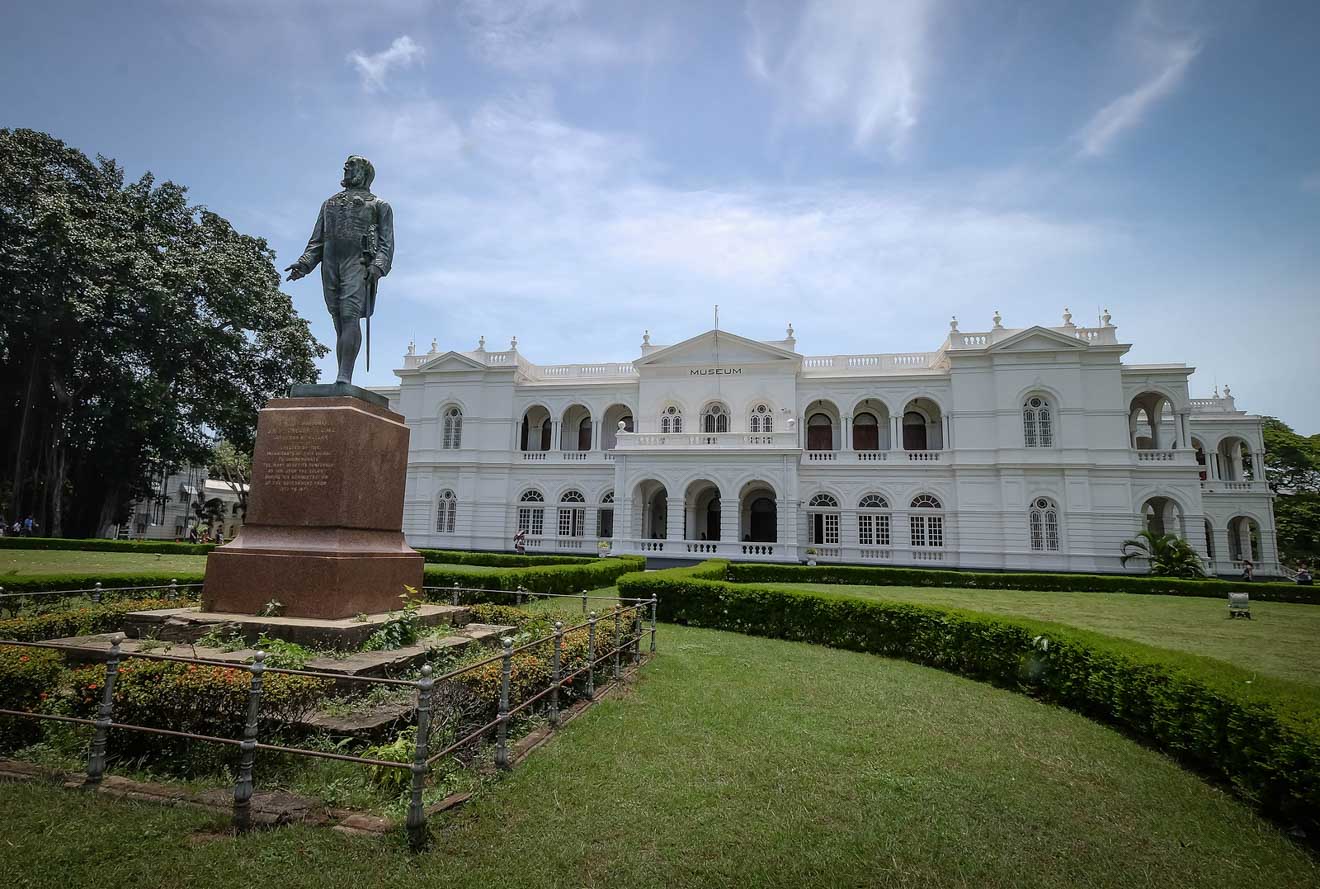 If you're up for a more cultural activity, I got you! Colombo National Museum is the biggest museum of Sri Lanka (and Colombo as well, of course) and it's actually also known as "Sri Lanka National Museum".
If you want to learn about ancient history and Colombo's history, this is the perfect place to go! Inside the museum you'll see valuable national treasures such as a throne and a crown belonging to monarchs when Kandy was the capital of the city, pieces of art and more. They have no less than 11 galleries of national artifacts!
By the way, the white building that houses the museum is stunning as well and it dates from 1877.
PRICE: Entry ticket to Colombo National Museum is Rs. 250 / US $3.50 per person
14. Go up the Lotus Tower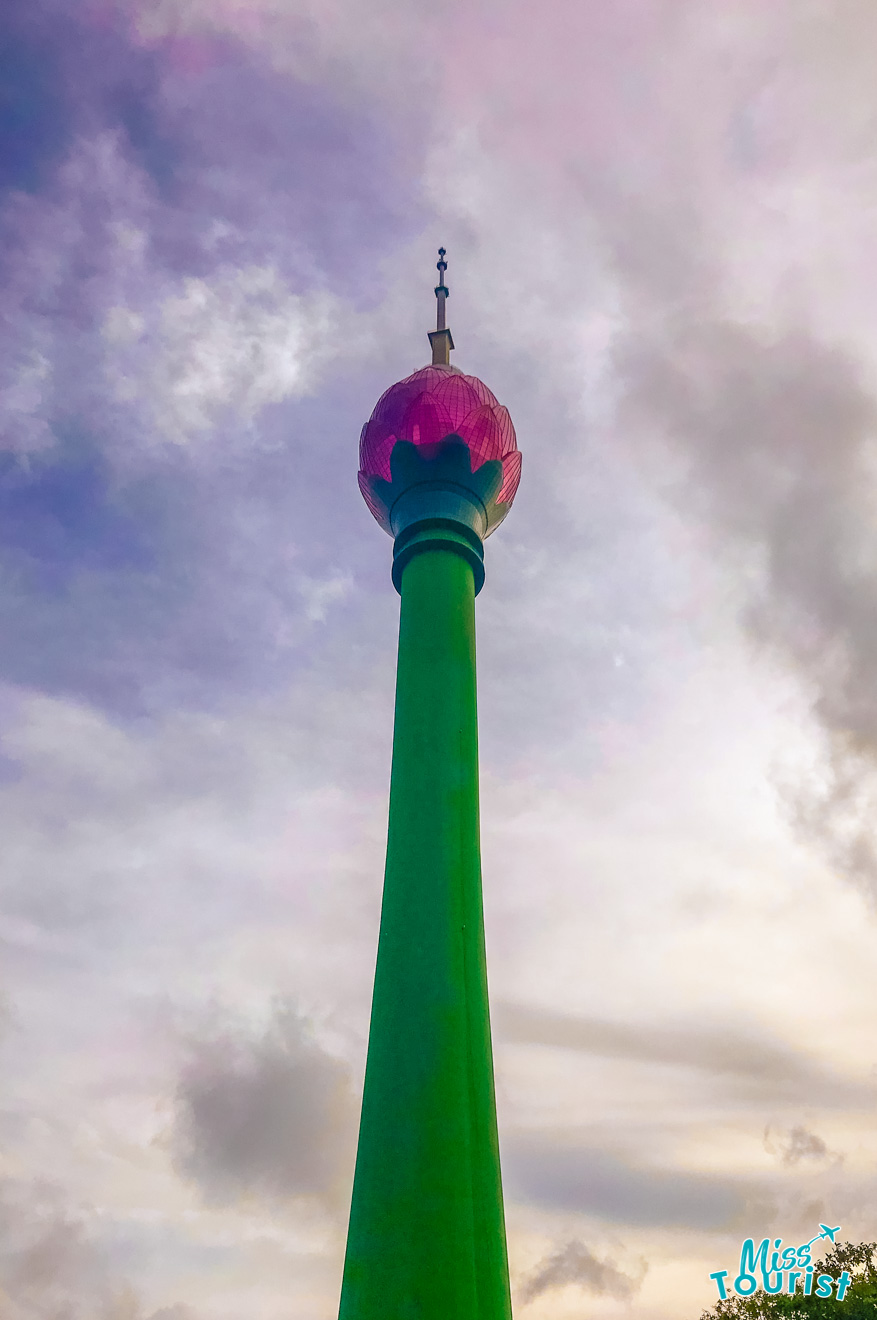 IMPORTANT: The Lotus Tower wasn't open while I was in Colombo in August 2019, but it is scheduled to open to the public in January 2020.
The Lotus Tower in Colombo, Sri Lanka is the tallest man-made building in southern Asia and trust me, you'll definitely see it while traveling around the city by foot or by car! It's tall and colorful and I bet the views from up there are simply amazing!
By the way, if you need some inspiration on what other things you can do in Sri Lanka besides seeing Colombo, I recommend checking out my post where I explain everything you need to know before climbing Sigiriya rock, one of the most famous sightseeing spots in Sri Lanka!
BONUS: Practical information about traveling to Colombo
Now that I have convinced you that Colombo is a great city that you have to add to your Sri Lanka itinerary, I have to tell you some practical things about traveling to this city (and in Sri Lanka in general). Here we go:
How to get from the airport to Colombo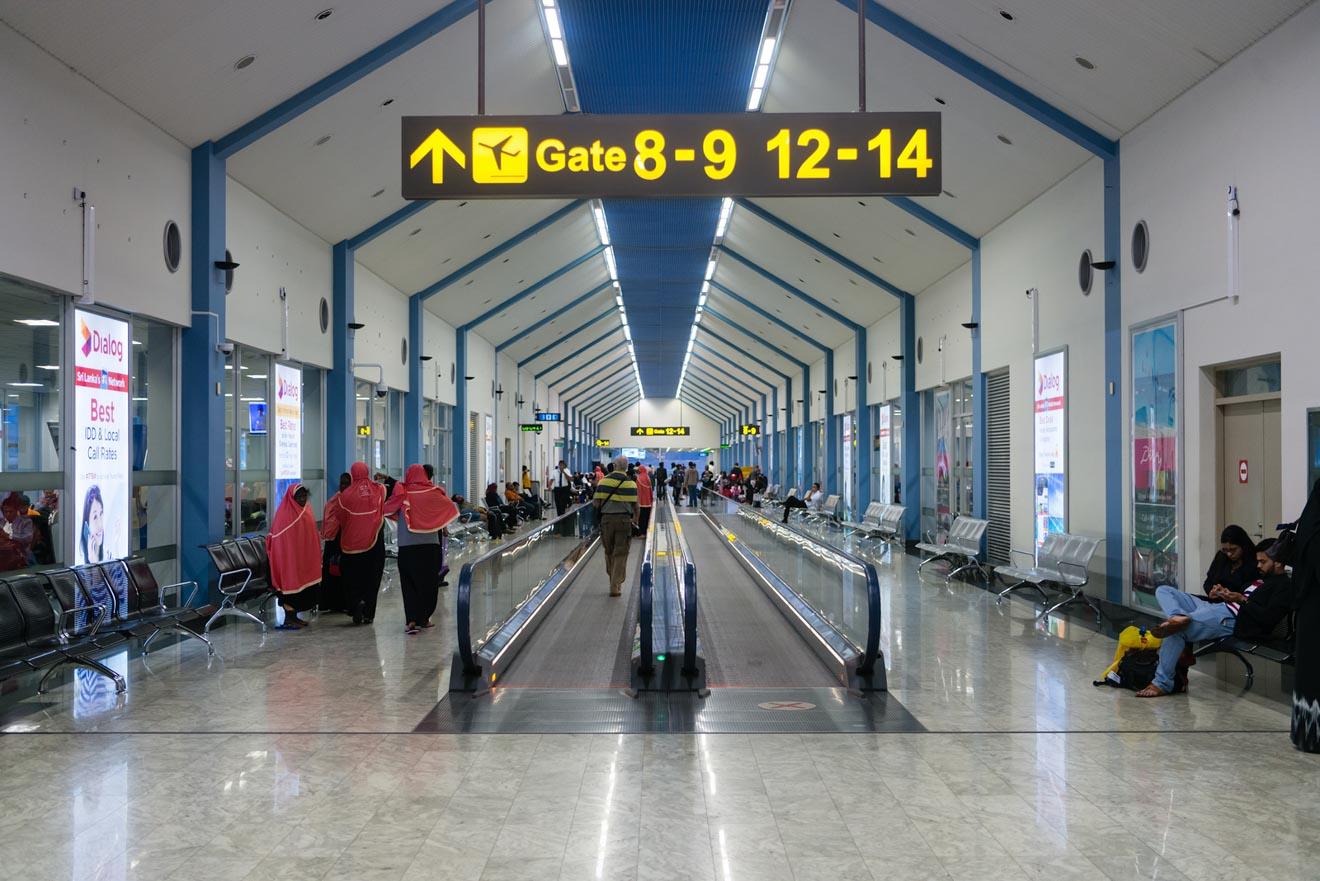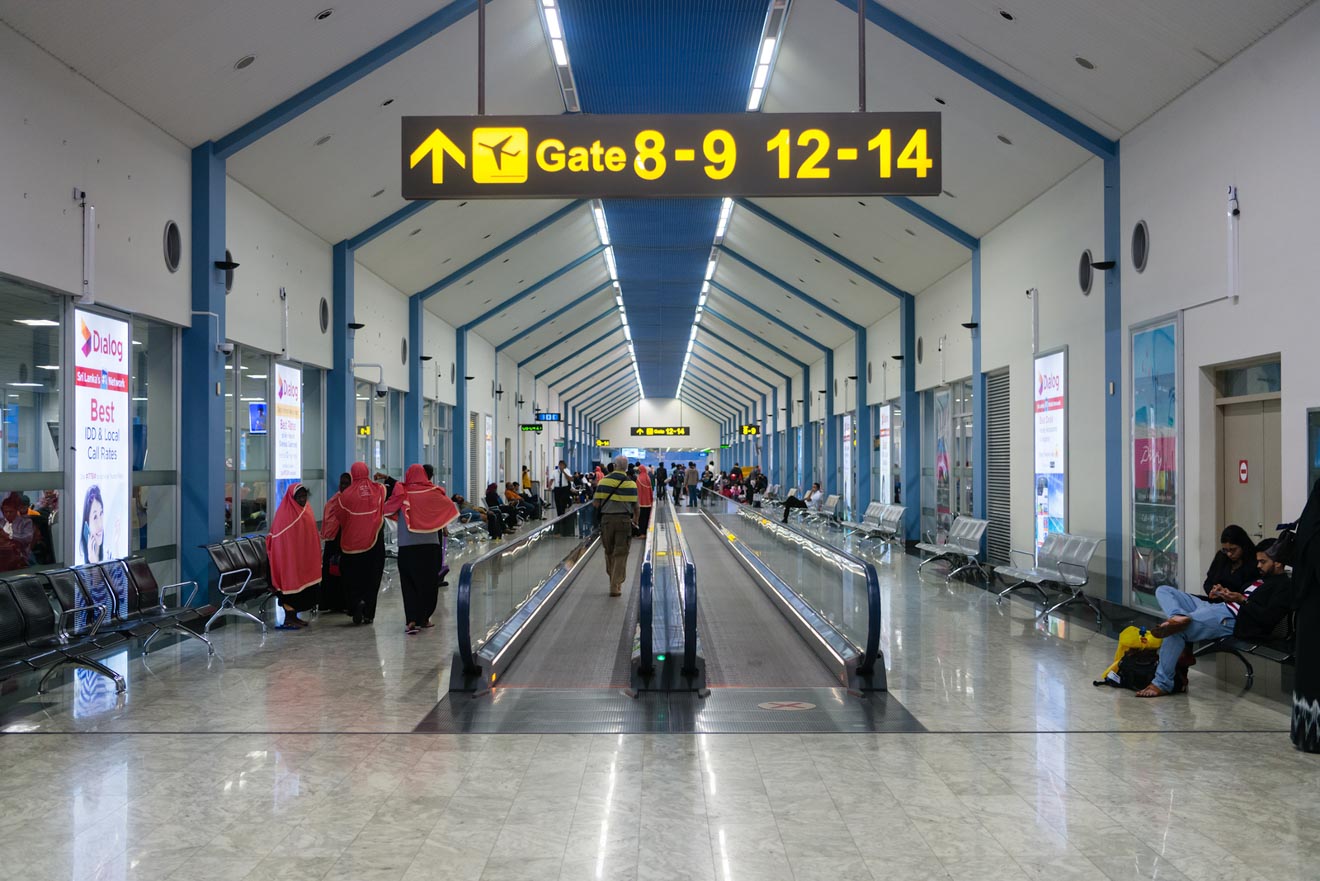 The airport – Bandaranaike International Airport – is actually located in Negombo, 35km away from Colombo. It takes around 45 minutes to get from the airport to the city by car.
In case you are not traveling around Sri Lanka with a tour guide (like we did and they picked us up from the airport when we arrived), here are the best options for tourists to get from the airport to the city:
By taxi
You can use an Uber – it works in Colombo and it is basically your cheapest option, as it will cost you around Rs. 1,800 (US $10) for the entire trip.
There are also "normal" taxis that you can hail from the arrivals terminal. The price would be around Rs. 2,500 (US $14) fixed price, no bargaining.
By private transfer
Alternatively, if you want to have your transfer arranged beforehand, I recommend a private transfer from the airport to your accommodation in Colombo. Although it's not the cheapest option (it's US $34 for two people), it's the easiest for tourists, as the driver will wait for you at the airport and will drop you off at your desired spot in the city. A great idea, especially if you are going to Colombo with kids!
By bus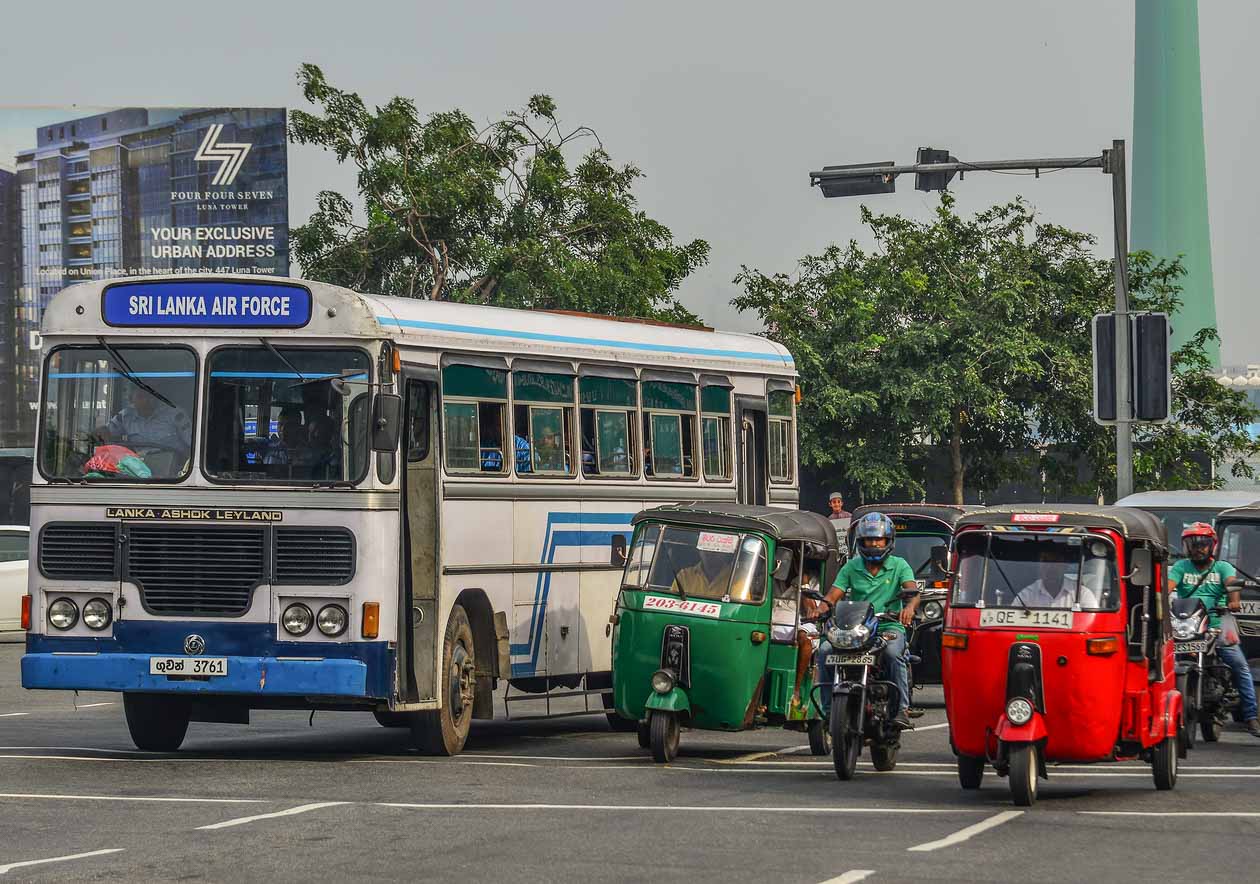 There is a Highway Express bus that connects the airport to Colombo. The journey takes one hour and it costs Rs. 110 (US $0.60) one-way. You can buy a ticket from the driver. These buses run every half hour, from 5:30 AM to 8:30 PM. You can take them from Katunayake Airport Bus Station (get out of the airport, turn left, cross the road and you will see the station).
There is also a minibus (no. 178), but it takes longer – around 1 hour and a half to reach the center of Colombo. The price is Rs. 120 for the ticket (US $0.60) and around Rs. 100-200 (US $0.50 – $1.10) for your luggage; you can also buy a ticket from the driver. These minibuses run 24/7 but you might have to wait for up to one hour for one.
Transportation inside Colombo city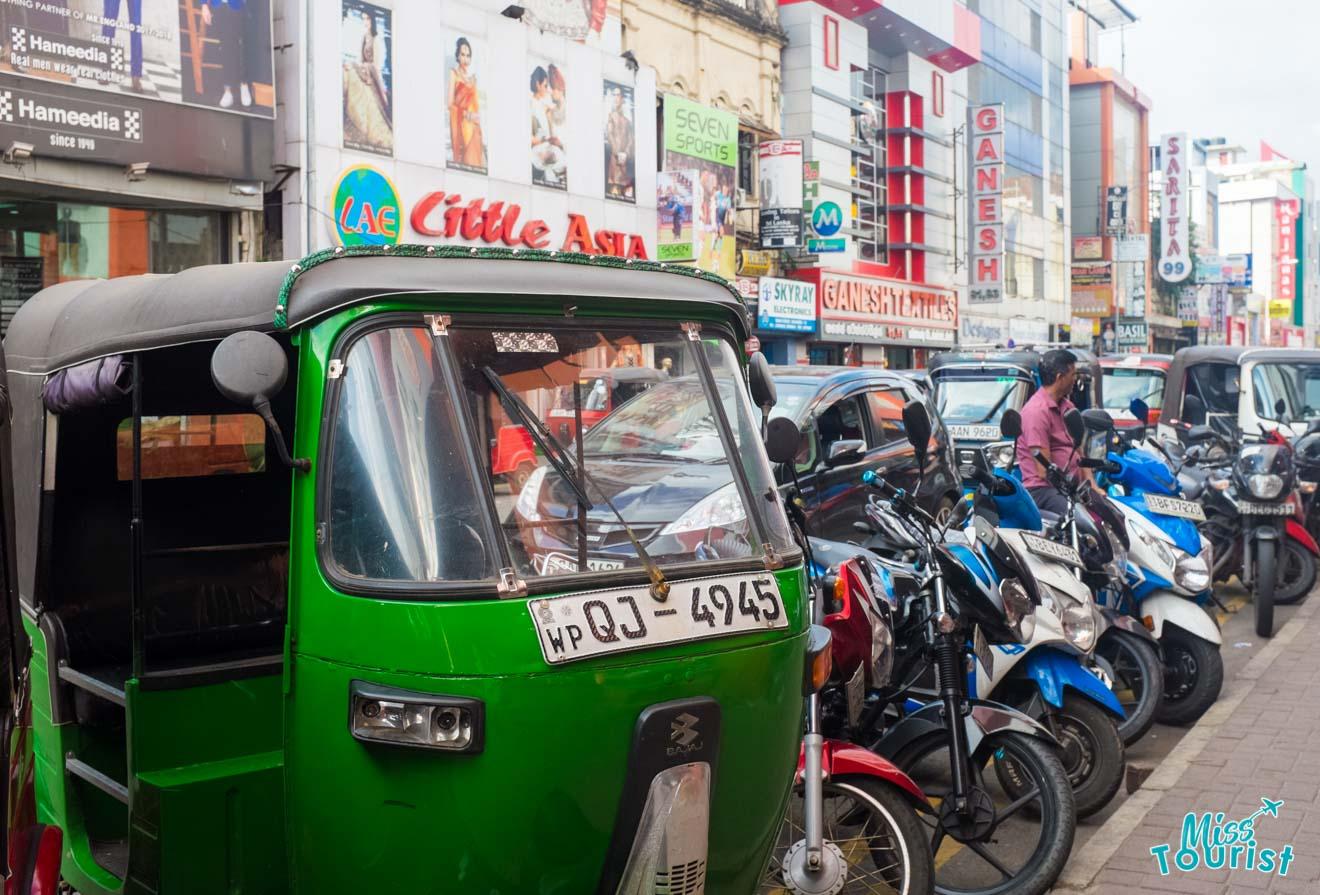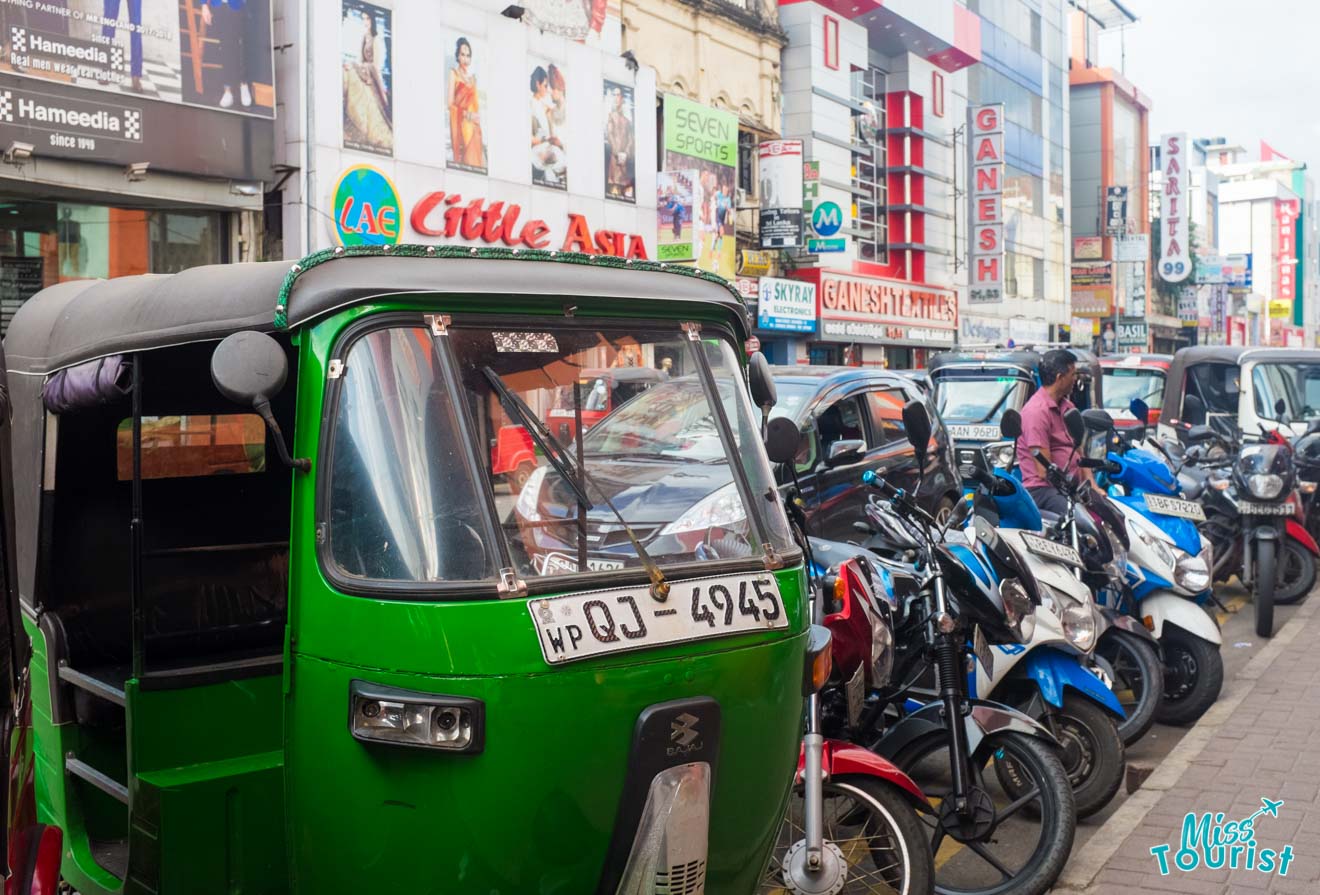 As I mentioned in my two articles about my Sri Lanka Itinerary (Part One and Part Two), the traffic in the country and especially in Colombo can be CRAZY, so expect some unpredictable traffic and many tuk-tuks. Here is how to get around the city:
By bus
The buses are a real experience in Colombo and Sri Lanka. They're usually crowded with locals and they're not very fast at all, so I don't think this is the most efficient way of getting from point A to point B, but it's still an unforgettable experience nonetheless. The buses usually have English writing on front so you can understand its destination, but the timetables are usually in Sinhala.
Ticket prices are very low. They vary from Rs. 10 to 50 (US $0.15 to $0.70) and you pay the driver, in cash, when you board the bus.
NOTE: I definitely don't recommend the buses in Colombo if you have luggage with you!
By tuk-tuk
Actually, I believe that riding a tuk-tuk is one of the must-do things in Colombo and an experience you have to try at least once in the city! 🙂
First things first: tuk-tuks are three-wheelers widely used in Asia because they're simple and efficient. Tuk-tuks are probably the easiest and most efficient way of getting around the city. You can hail one from literally anywhere in the city and it will take you to your desired destination.
You can expect to pay around Rs. 200 (US $2.80) per kilometer or Rs. 300 (US $4.20) for a ten-minute drive.
PRO TIP: Make sure you take a metered tuk-tuk. Some drivers do not have a meter or don't want to use it; if that's the case, I recommend taking a different one instead or agreeing on a fixed price before boarding. Also, it's cheaper to hail a passing tuk-tuk than to take one that's already parked on the side of the street.
By taxi/Uber
Uber is available in Colombo and it's a good way of getting around, even cheaper than taxis. You can also take a regular taxi in Colombo (for example Kangaroo is a reliable company); it will be around Rs. 400 (US $5.60) for a 10-minute ride.
Where to stay in Colombo, Sri Lanka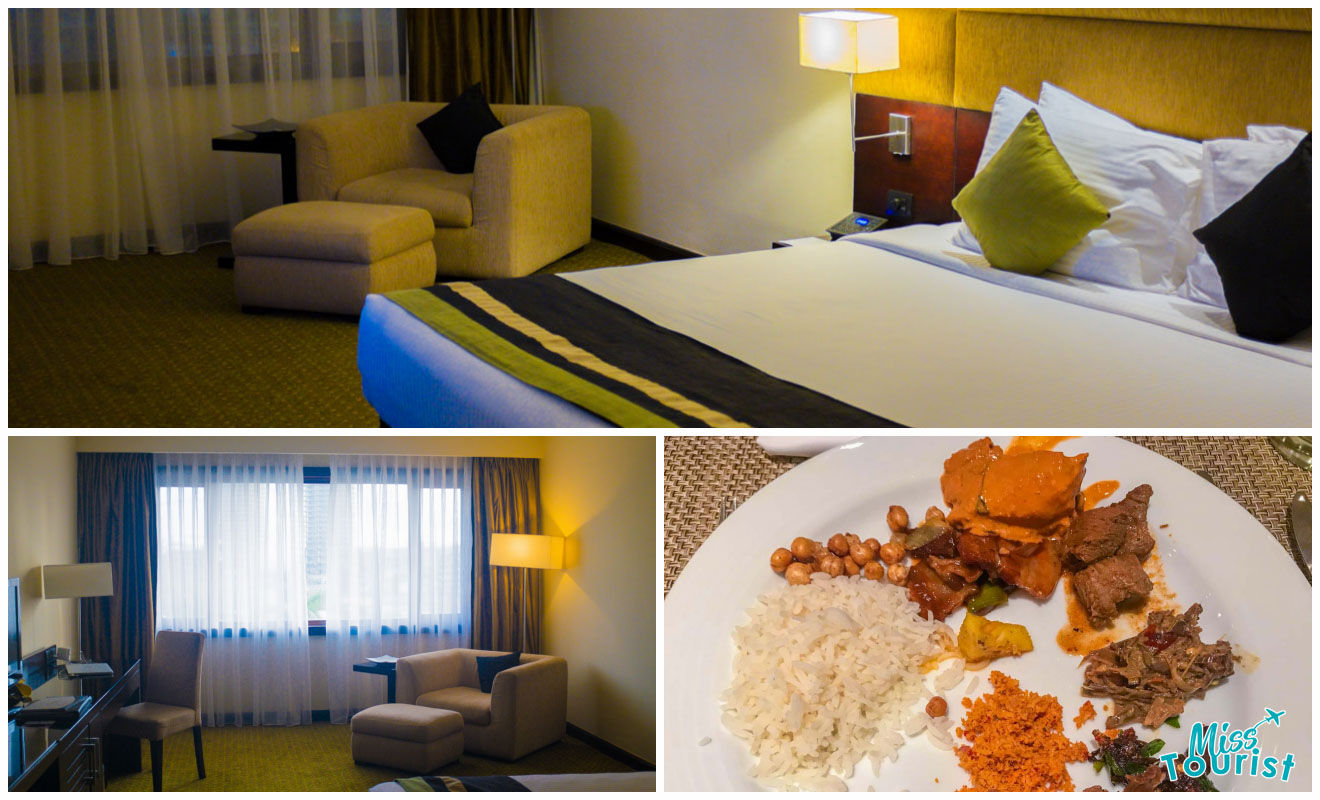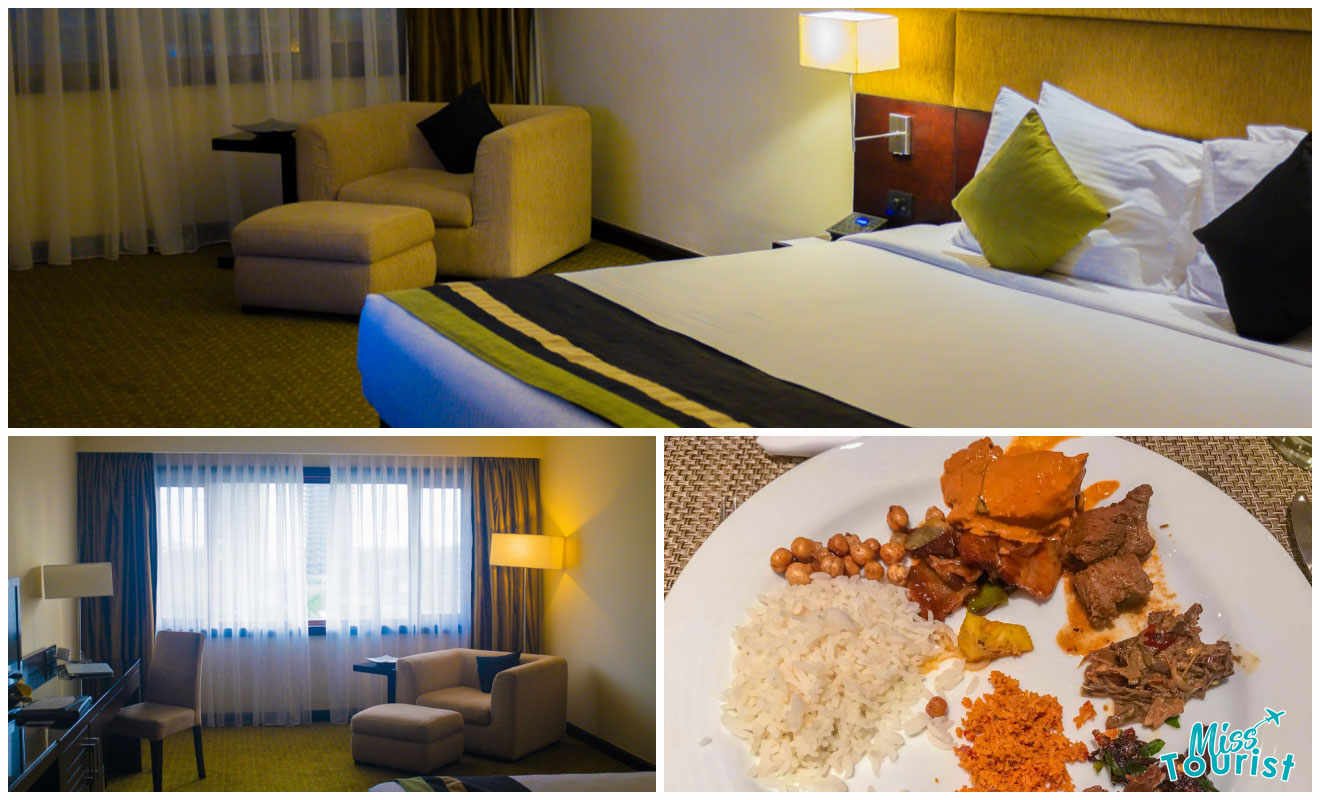 MY EXPERIENCE: During my two nights spent in Colombo, I stayed at Cinnamon Lakeside, a gorgeous 5-star luxury hotel in the city and I absolutely loved it! The accommodation is located on the banks of Lake Beira and has no less than 9 themed restaurants (one Thai, one Japanese, and more!), an on-site spa and a gorgeous outdoor pool where you can chill and unwind after a day of exploring the city! So if you're wondering about the best place to stay in Colombo, this is your answer!
My room at Cinnamon Lakeside was super spacious and pretty. No, really, my room was almost as big as my apartment in Bucharest and I had (more than) all the space I wanted; plus, the staff was extremely friendly and answered all my questions! The location is good as well; you won't be far away from all of the best Colombo attractions.
One of the highlights of my stay was the buffet breakfast and dinner with TONS of options, from traditional Sri Lankan food like kottu, egg hoppers and countless types of curry to sushi, all types of fresh fruit and delicious desserts! I always tried something new during the 2 days I spent there and it was a great way of trying all types of authentic Sri Lankan food right after my arrival in the city.
All in all, I wholeheartedly recommend this hotel if you want to splurge and completely enjoy your stay in the capital of Sri Lanka!
Here are some other great options for staying in Colombo: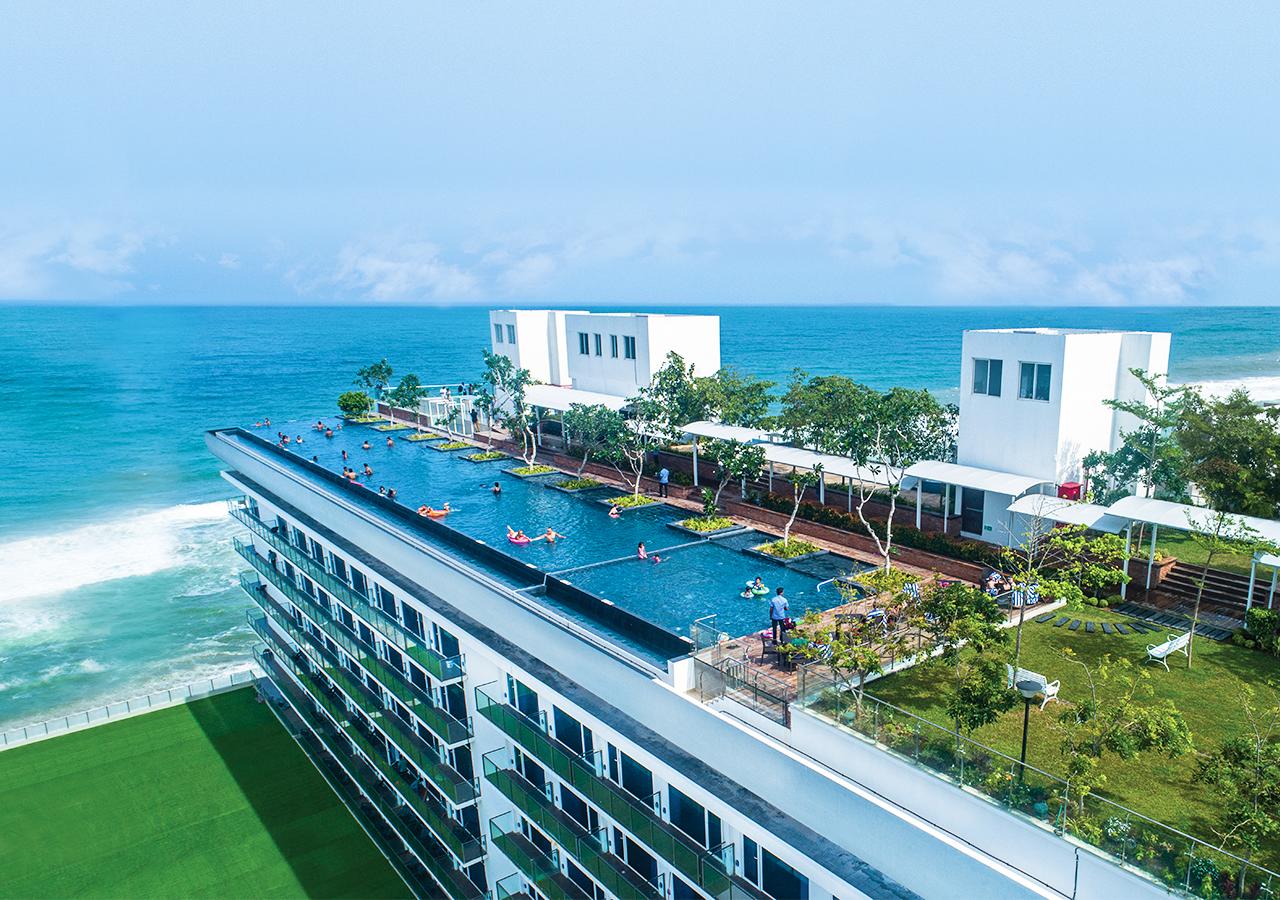 Luxury (US $120 and up): If Cinnamon Lakeside is fully booked for your dates, no worries, I can recommend 2 other amazing luxury hotels in Colombo. Marino Beach Colombo is your go-to option if you want to relax in a gorgeous rooftop pool! Needless to say, all rooms at this hotel are super beautiful and the service is impeccable – it's actually one of the best Colombo beach resorts! Shangri-La Hotel Colombo is another cool 5-star hotel with 4 restaurants, a pool bar and even a co-working space!
Middle-priced (from US $50 to $120): Fair View Hotel Colombo is a great 3-star hotel that boasts an on-site restaurant, free Wi-Fi, clean and stylish rooms and great service provided by the staff! Renuka City Hotel is a 4-star option that also has some rooms at a great price! You will definitely enjoy the 3 restaurants, cafe and bars that you can choose from, the very good room service and the friendly staff!
Budget (up to US $50): City Hotel Colombo 02 is a super budget option if you are looking for something that offers great value for your money! The hotel has free Wi-Fi, private bathrooms, a nice terrace and a super friendly staff! Another economy option would be Groove House Hostels – they have free bikes you can borrow to explore the city, a 24-hour front desk clerk, currency exchange and more!
Is Colombo safe?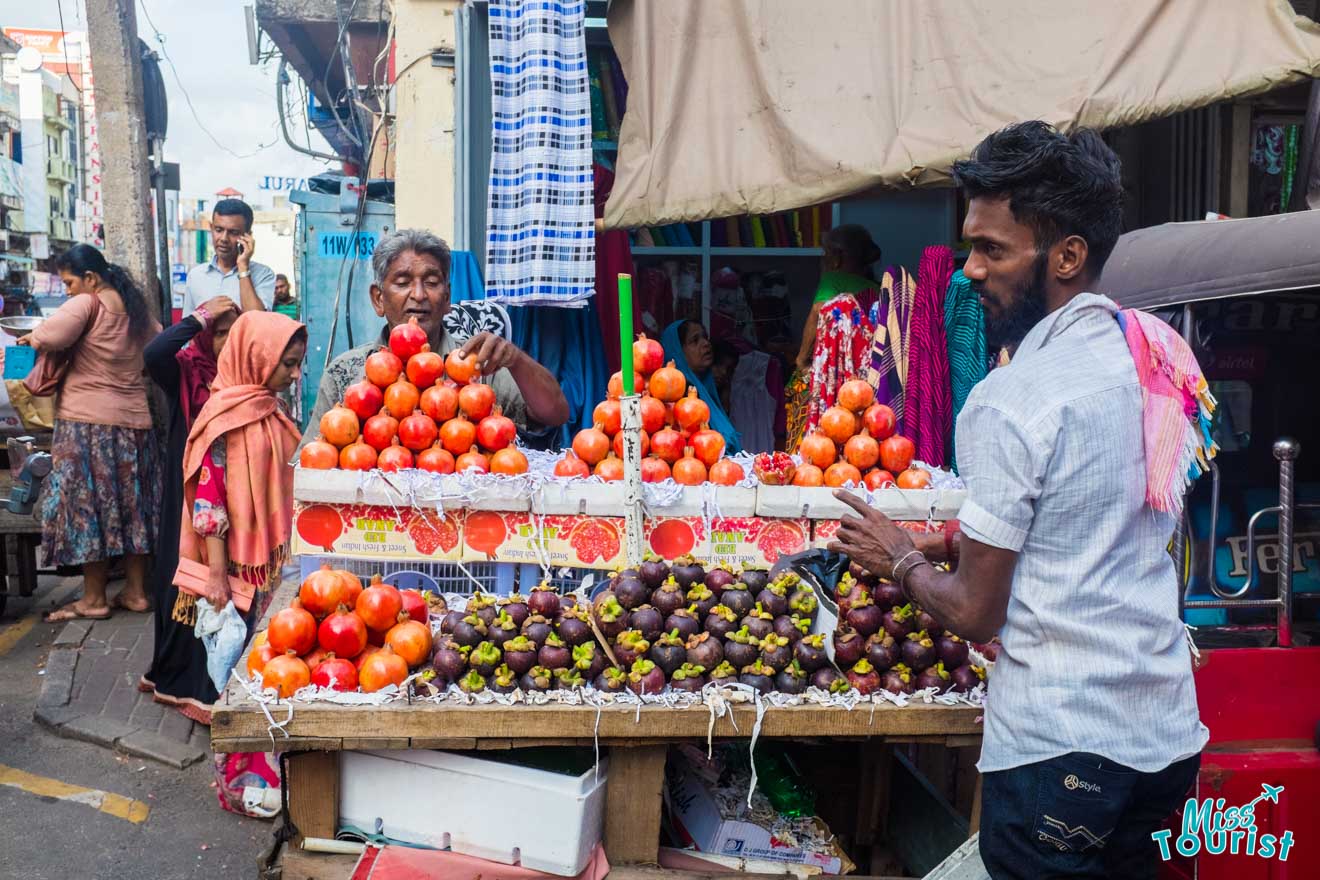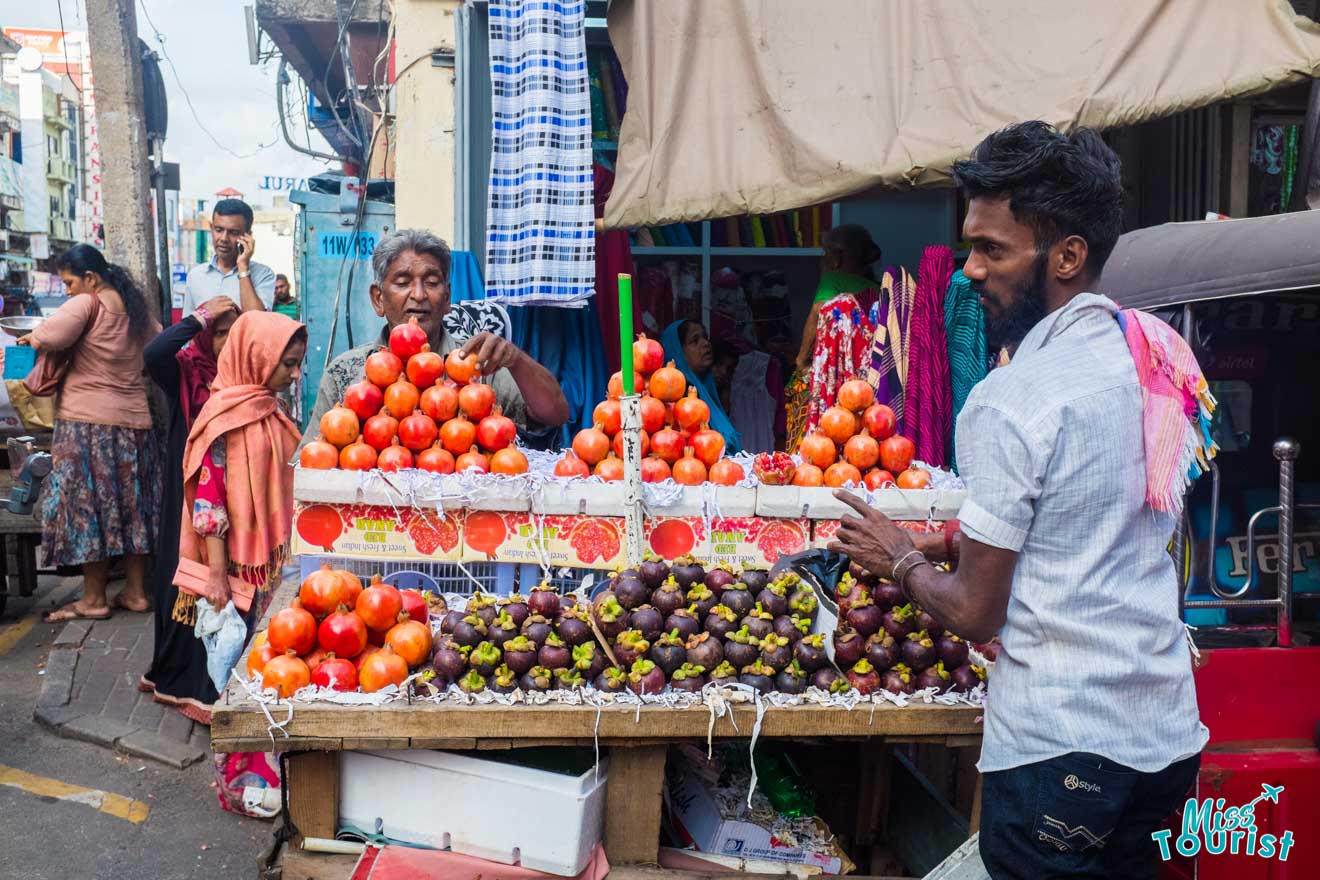 As you may already know, Sri Lanka went through a civil war (1983-2009) and, since then, the country has had a rather uneventful time. But there was one incident on Easter Sunday this year, 2019, that disrupted the calm of the country – some hotels and churches in Colombo, Negombo and Batticaloa were attacked and bombed by Islamist extremists.
Since then, security in the country has been raised and, trust me, they do pay attention to everyone and they do check everything they can! During the two days I spent in Colombo, the security at the hotel checked our van inside and out each time we entered its grounds; same for the airport. We also saw armed guards all over the city, so rest assured, they do not treat this subject lightly.
MY EXPERIENCE: I really felt safe during all the time I spent in Sri Lanka, including Colombo. Sri Lankan people are some of the friendliest I have ever met and they're always ready to help you and show you their native hospitality. They're always happy to talk about their country and they take pride in everything they have. Please also note that tourism plays a big role in the country's economy, so there's no reason for locals to treat you badly!
Just like in any other country and city around the world, make sure to pay attention to your belongings and surroundings and everything will be okay. There are actually more and more people visiting Sri Lanka each year, so tourists definitely feel safe there!
By the way, if you are the adventurous type, I recommend you read more about two other awesome places in Sri Lanka – seeing the World's End and climbing Adam's Peak in Yulia's articles!
How many days should you spend in Colombo?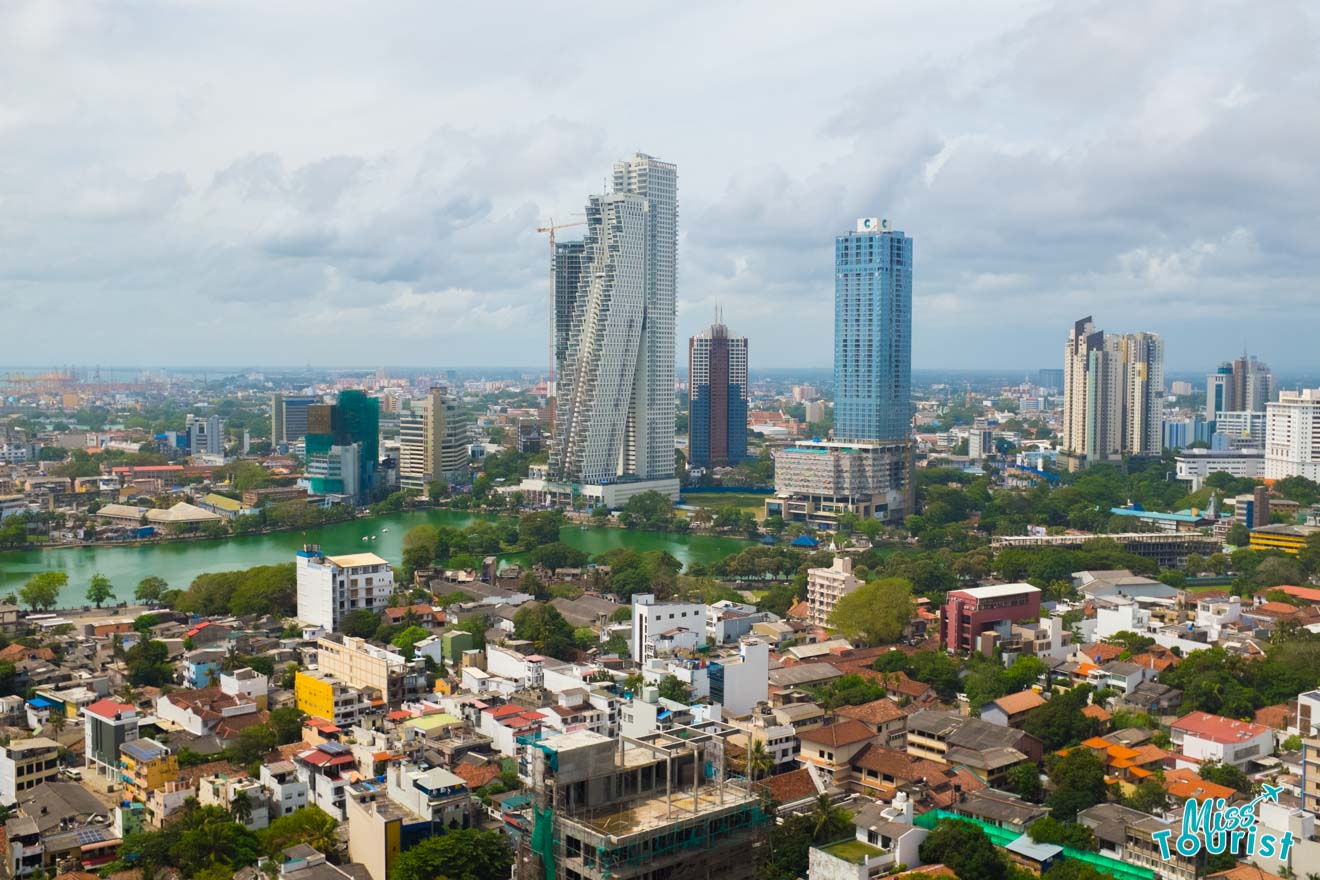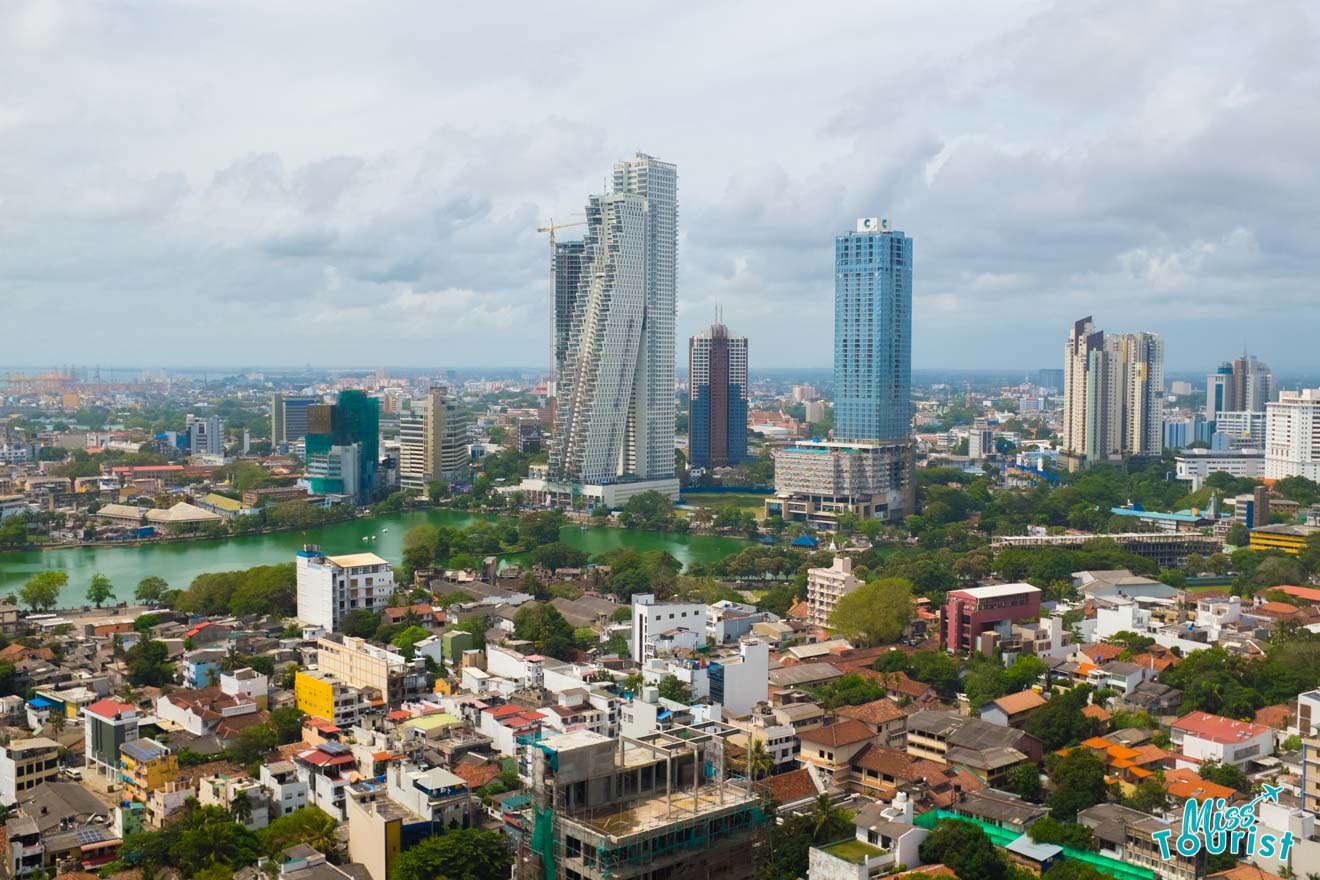 How many days do you need in Colombo? You can easily see the main attractions in the city in one single day, if you start in the morning. You can also expand your time in the city to two days, as there are enough things to do in Colombo to keep you busy, but I'd recommend exploring the country further instead. I spent two days in Colombo and during the first one we took it easy because we were tired after our flight; the second day was for exploring what the city had to offer.
When is the best time to visit Colombo, Sri Lanka?
Colombo is a destination that can be visited year-round, even though Sri Lanka is a country affected by monsoons. If you want to make the best possible choice, you should know that the best time to go to Colombo (which is located a bit to the south of the country) when most tourists go is from January to March when it's the dry season and it will be sunny and nice. On the other hand, from June to September is the monsoon season, so you'll most likely have some rain.
Some useful phrases to learn before you go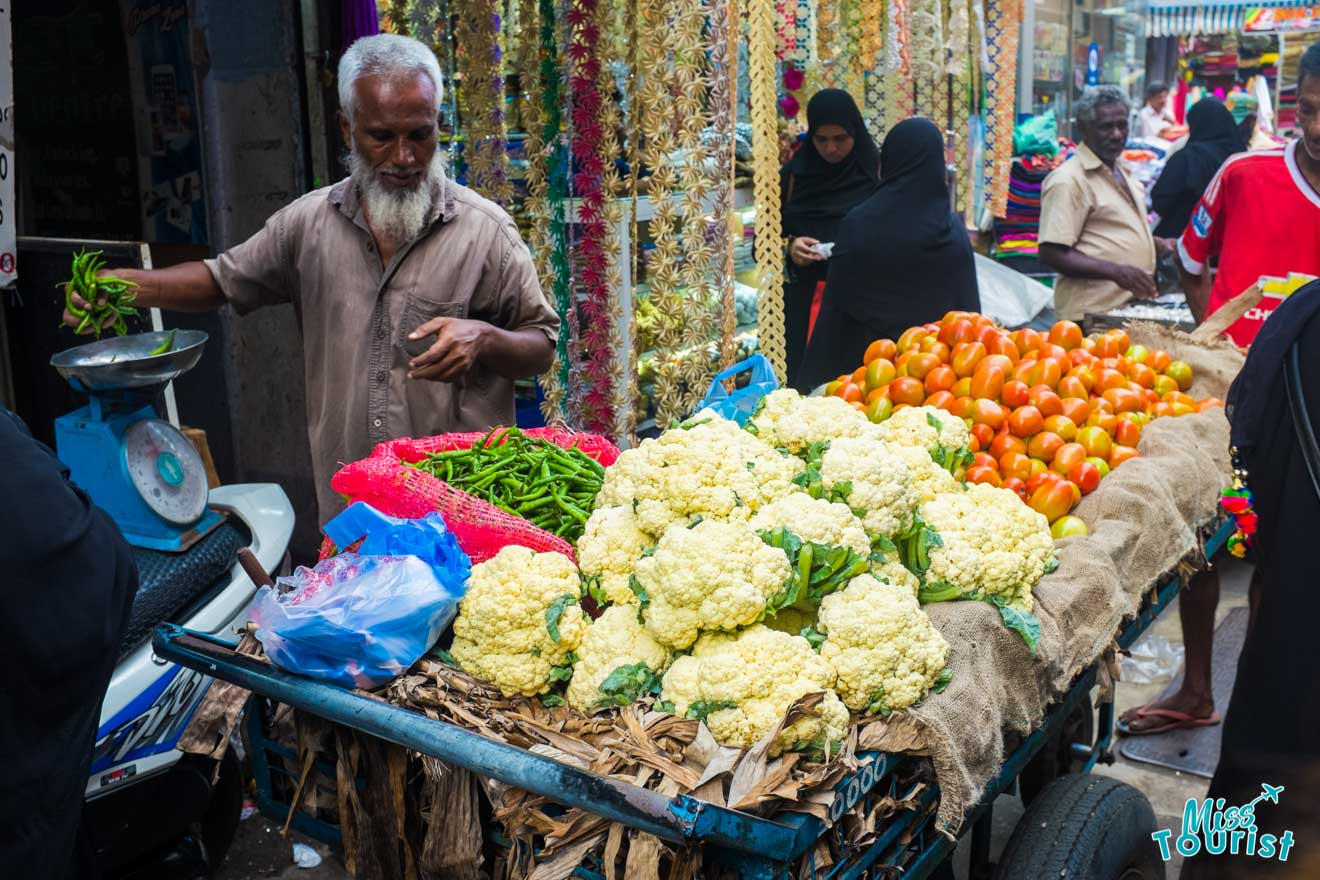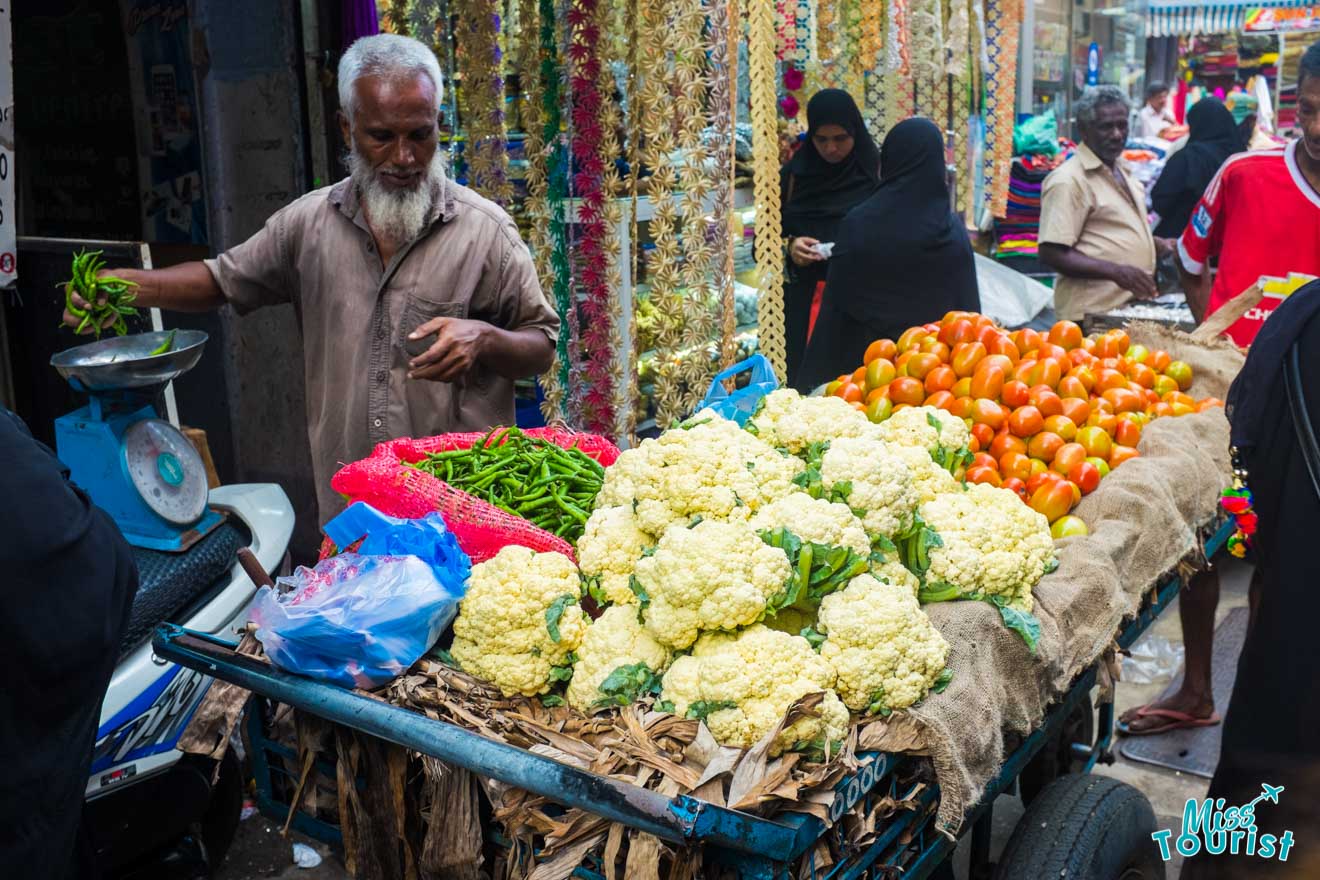 Even though most Sri Lankan people can understand and speak basic conversational English, especially in Colombo, it doesn't hurt to learn some very simple Sinhalan phrases to use while there as the locals will definitely appreciate it:
Ayubowan = the most common greeting, you'll hear it everywhere. It means "may you have a long life"
Hari (or hari hari) = okay
Ow = yes
Naa = no
Karunakara = please
Istuti = thank you / Bohoma Istuti = thank you very much
Kohomadha = how are you?
Varadak neh = (I'm) fine
Meeka Kiyeda? = how much?
Mata terinneh neh = I don't understand
Singhala Danna Naa = I don't speak Sinhala
---
Disclaimer: I was invited to Sri Lanka by SO Sri Lanka, the country's Tourism Board. I sincerely enjoyed every second I spent in this country and all opinions presented here in this article are, as always, my own. 🙂
---
Conclusion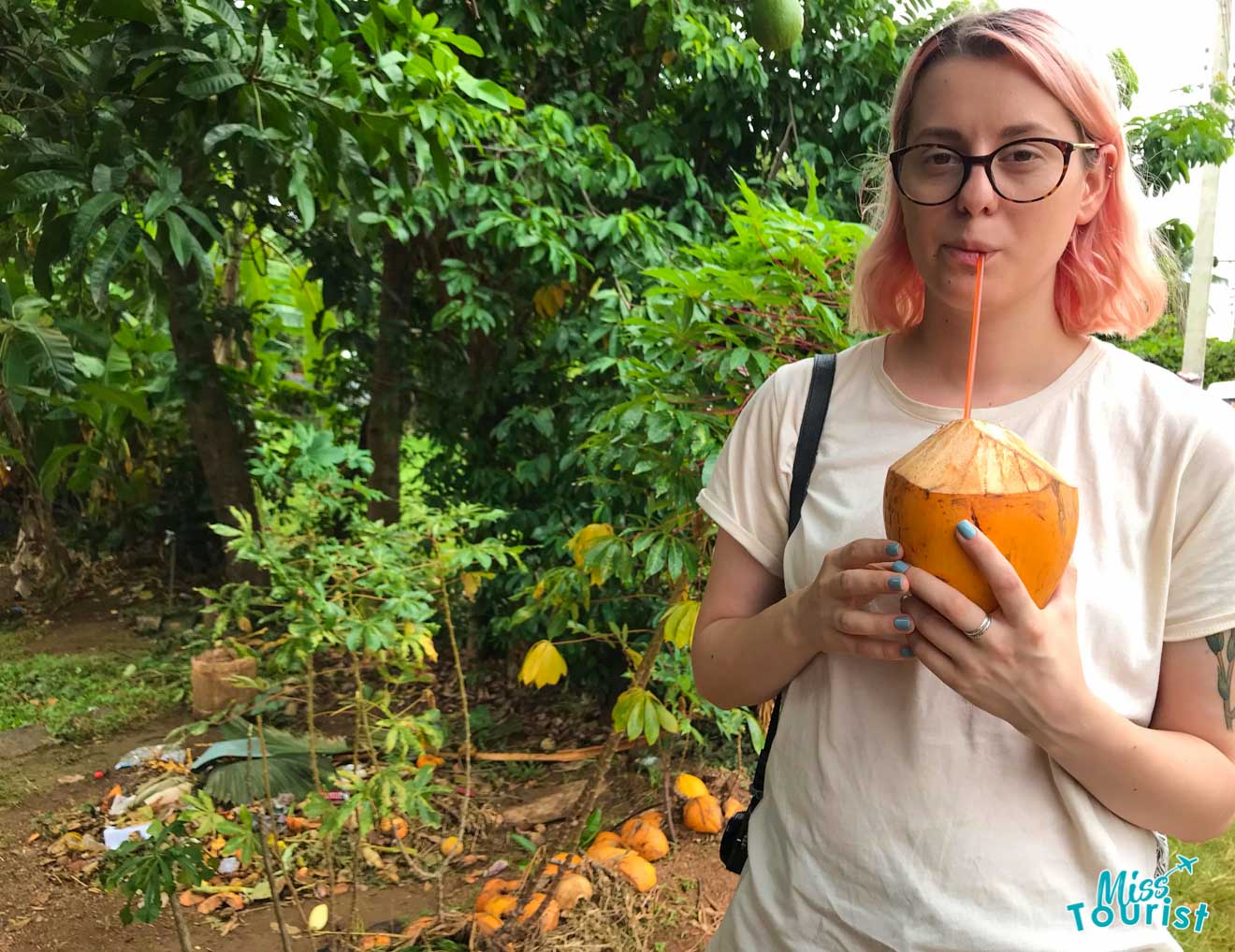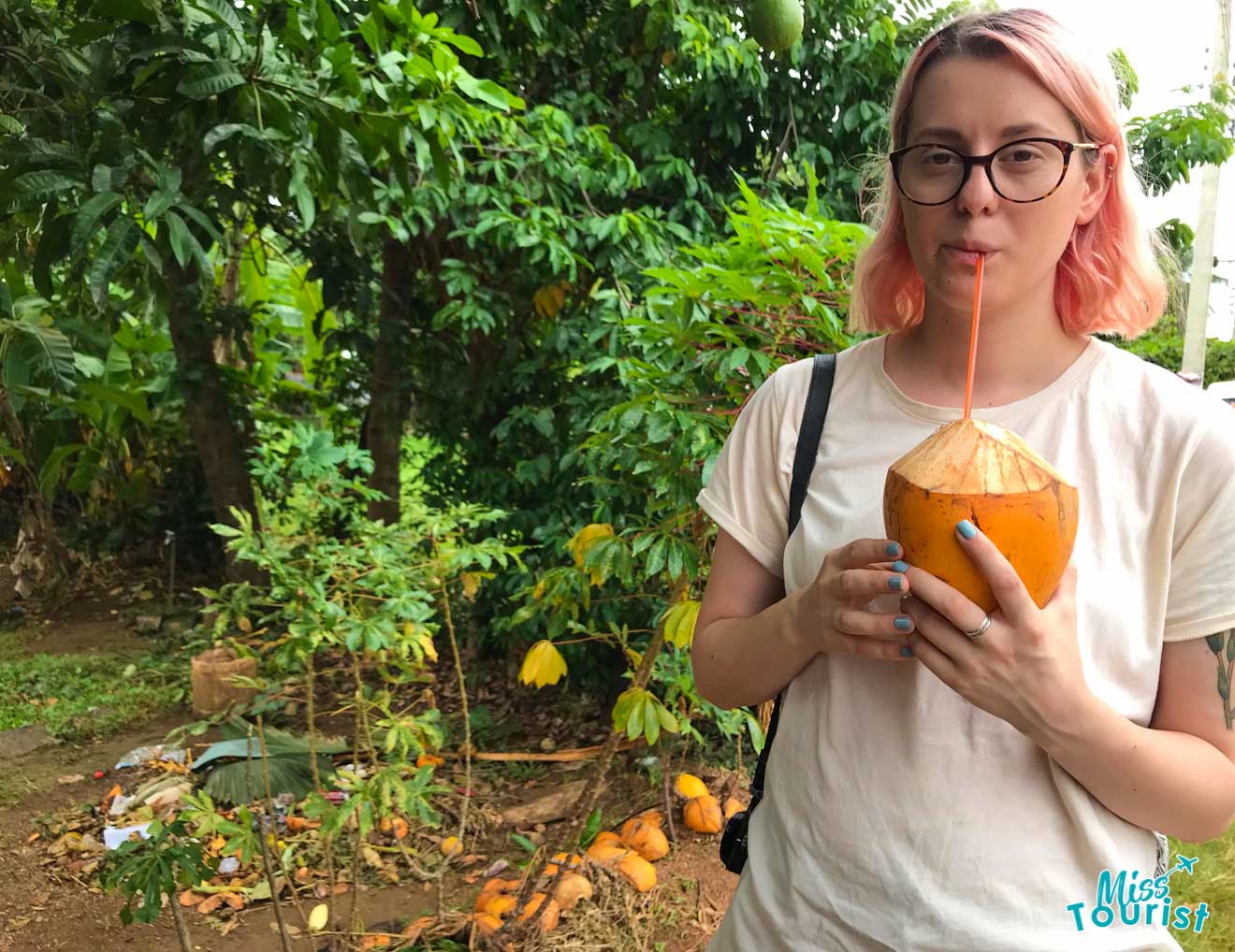 This was my complete list of not-to-be-missed things to do in Sri Lanka, Colombo!
As I mentioned in the beginning of the article, there are many things to do in Colombo – from temples and markets to museums and food or simply walking around the pretty streets. I hope this article has convinced you that you DO need to add this city to your itinerary!
Colombo is a great place to start you Sri Lankan adventure, just like I did, and that's why I think you should add it to your bucket list, at least for one day. I spent two days there and I do not regret it at all!
If you want to read more about my travel adventure around Sri Lanka, I recommend checking out my itinerary – first part and second part. You can also find all of our articles about Sri Lanka right here.
I hope you'll have a great time exploring Colombo, Sri Lanka! If you have any questions or concerns, make sure to let me know in the comments below, I'm happy to help!
Romina
---
Pin it for later!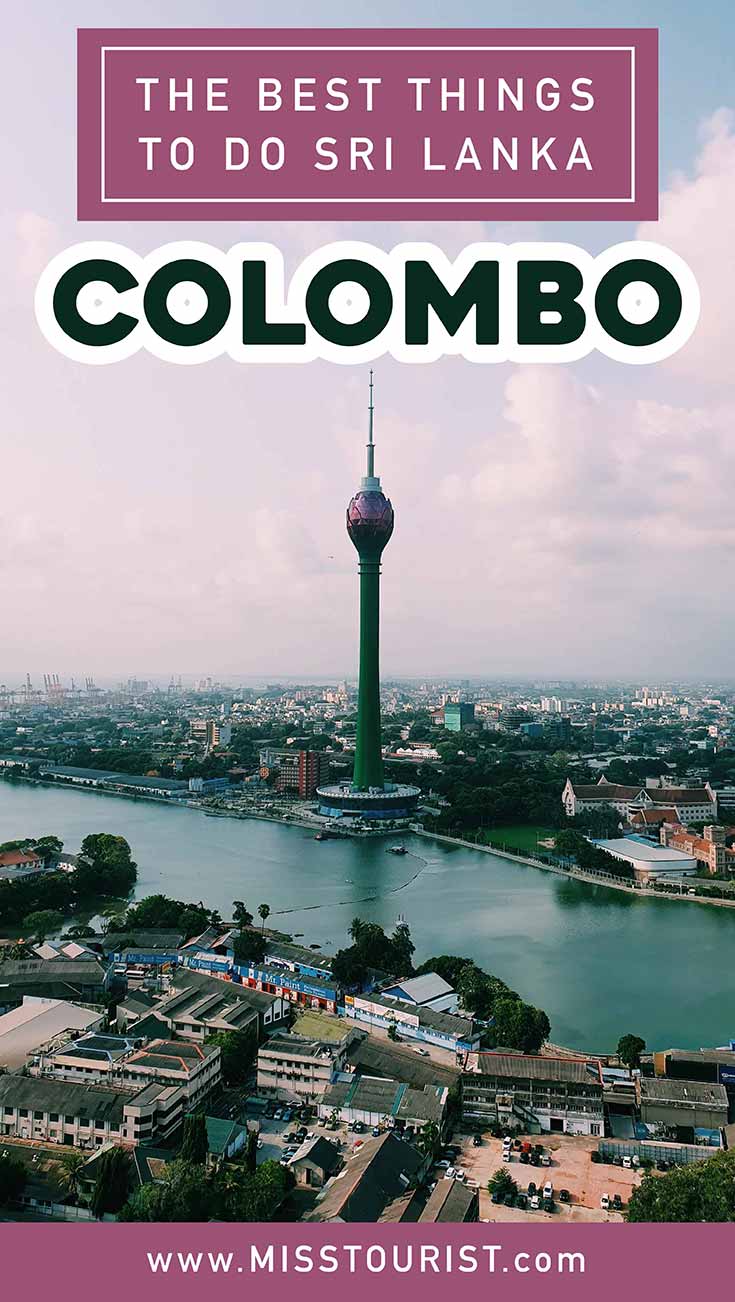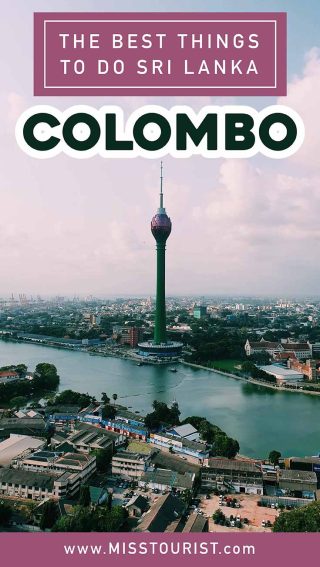 Pin it for later!