If you are, like me, having a transfer in the capital of Sri-Lanka for one day, or going to a trip on the island and visiting the city before (you won't need more than a day in any way), this post is for you!
On my way to Thailand, I had a stopover in Colombo. I made a research and came out with a list of things to do. Surprisingly, I managed to do more or less everything without exhausting myself. 🙂
UPDATE: I came back to Sri Lanka a couple of months later for a full exploration of the country, climbed Adam's peak, went to Sigiriya, hiked to the World's End and many many more cool stuff!
Here is the list:
Colombo Fort;
Gangaramaya Buddhist Temple – very much recommended, I liked it the most from what I saw in Colombo;
Independence Memorial Hall – very nice and chill, go there in the evening when the fountains are lighted up, very beautiful!;
Mount Lavinia – nice beach and very friendly people. Full of life after 5-6 when people stop hiding from the sun;
Galle Face Green Promenade – also a must see! Visit it at a sundown for a spectacular view. Rent/buy a kite there, you won't regret!;
Street food is very popular in the city – you should try Sri Lankan coffee ( I loved it!), real Ceylon tea (of course!), hoppers (some kind of a pancake) and kottu. To see the list of traditional dished that can't be missed, click here.
UPDATE: If you want to see these (and many more things in 1 day with an organized excursion, I really recommend this one. During the full day you will get a sense of Colombo's colonial roots, barter yourself to a bargain at the colorful markets of Pettah, stroll along the promenade at Galle Face Green and many more things! See the full description here.
My friend Mike has a great article about Colombo. As he has been in the city for longer than me, so he can share can share some valuable info, check it out!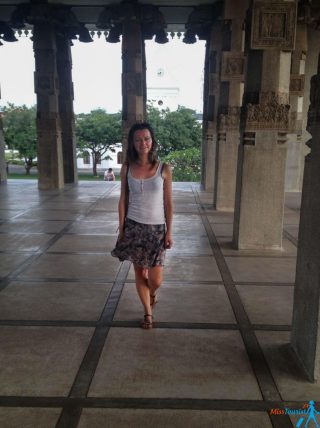 P.S. Things that I missed, but if you have time visit it, you might want to check them out as well.
Viharamadevi Park
Diyatha Uyana park
Pettah Market
How to get from the airport
Taxi – it will cost you around 25-30 USD. To avoid all the hustle, you can also book a taxi in advance (more expensive, but you can be sure that you will be greeted, will have a comfortable car and certified driver).
Bus – when you get out from the airport, just turn on the left, cross the road and you will see a bus that says Express Colombo on it. The price is 130 rupees that you pay directly in the bus. (So change money in advance). It will take you to the central bus station in around 40 mins.
Tuk-tuk – all the tuk-tuks are equipped with taxi meters, insist they switch it on when you go. You should also use this transportation when in the city, I do not recommend to take a bus.
Free Sim cards:
Do take a local sim card in the airport. It has already some credit on it that will surely be enough for one day with local calls and using internet.
Attention! They would want to sell you a package that costs from 6 to 9 dollars. If you are there just for a day like me, you absolutely do not need that!
There are free sim card that have some credit on it already and they are ready to use. Do not believe them if they say it won't work unless you top it with more. They are just trying to make more money, that is it.
Having a local sim card is very useful, as it will help you a lot to navigate in the city using the internet. If you are there for more then a day, just charge it with more when the balance is 0.
I used Dialog, though they are couple of companies offering this free service. You can also ask for your specific type of sim card. If you need it for an Iphone for example, just ask, they have it.
Currency exchange rate
It is easy – around 140 rup – 1 USD
My general impression of the city:
Though I have never been to India, Colombo feels like a nicer (a little less crazy) version of Mumbai to me. You feel it right away when you step your foot in Fort – the central bus station.
All those noises everywhere, cars horning, people screaming and heat and humidity – little India, isn't it?
I used a local bus just out of the curiosity, it was an interesting experience. It costs around 20 rup (so, 20 cents), super noisy, hard to understand where they are going and where the stops are. Moreover, BUSES DO NOT STOP! Its's more like you hop on/hop off when it goes slower a little bit. For this reason the doors are always open.
There are many beggars everywhere, and certainly, they think tourists just have to give them money.
White face = big wallet.
I am okay to give a little tip to a museum keeper who opened some closed doors for me to show me stuff and asked for money. But asking for a "donation" for just pointing where the bus stop is, that is a little too much!
Be prepared for that.
---
Where to stay in Colombo, Sri Lanka
Luxury ($100 and up) – Residence by Uga Escapes – the best location ever, great reviews, this 5* hotel can truly make your experience in Colombo unforgettable!; Paradise Road Tintagel Colombo – a former colonial residence, this hotel with its charming suits can compete for your best memory of Colombo as well
Middle price ($50-$100) – Olu Colombo Villa – super pretty and hospitable, this hotel has simply outstanding reviews and shouldn't be missed when in Colombo!; Ocean Breeze Apartment Colombo – great location in the center of Colombo, 5 minutes walk from the beach, pretty rooms, good price, 9,1/10 score in reviews – I would gladly stay here!
Budget (up to $50 a night) – Colombo City – fantastic location and great reviews, it only has few rooms, so hurry up to book it, The Deane Residence – perfect place to meet other travelers, good vibes and also clean, if you hurry up, a bed can cost you as low as 10$!
---
UPDATE! I have come back to Sri Lanka again afterwards and traveled solo for 3 weeks almost entire island!
It was a great experience during which I:
---
And many more awesome things! You can see all my Sri Lankan articles here!
Have you been to Colombo?
Was your impression of the city different?
Yulia