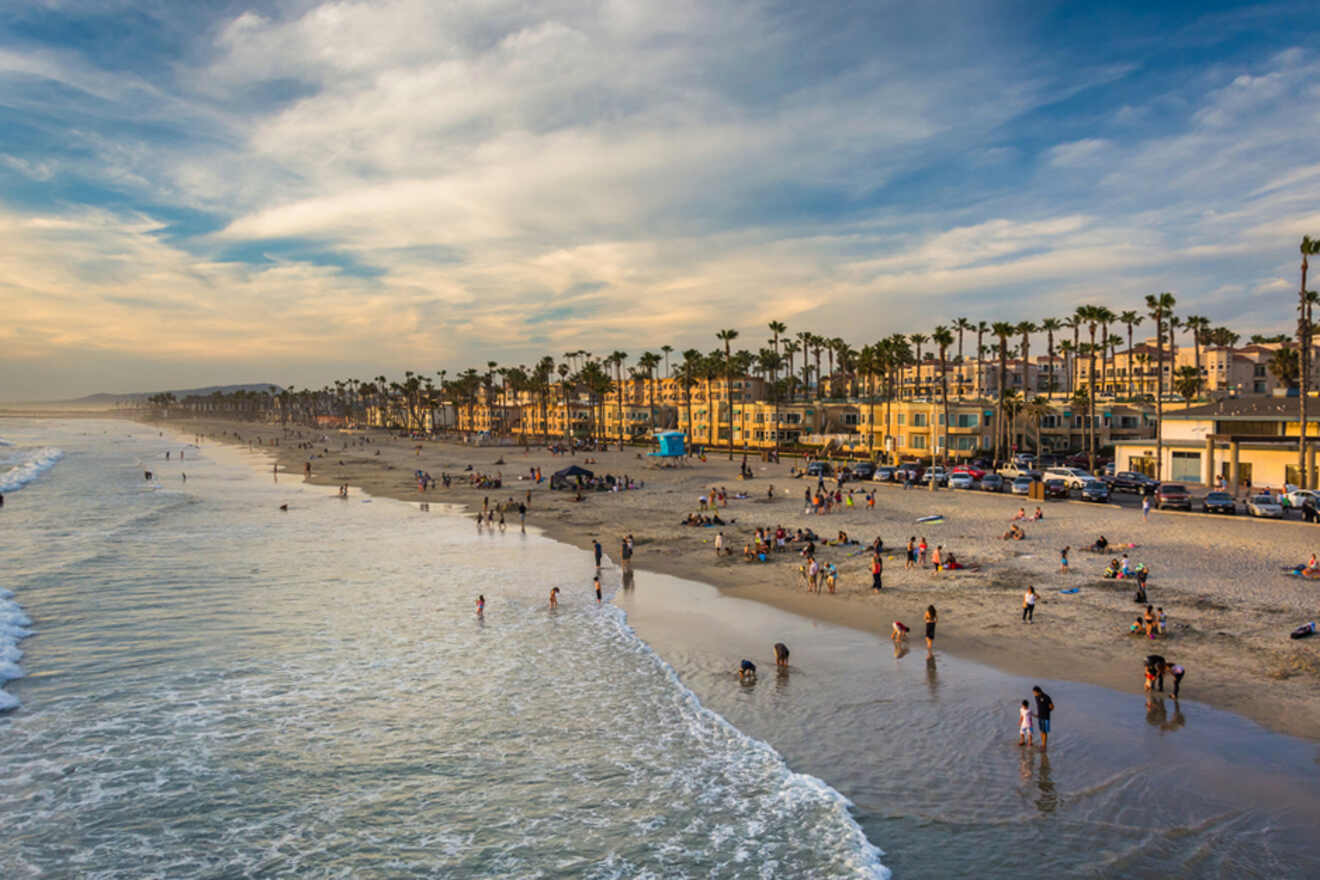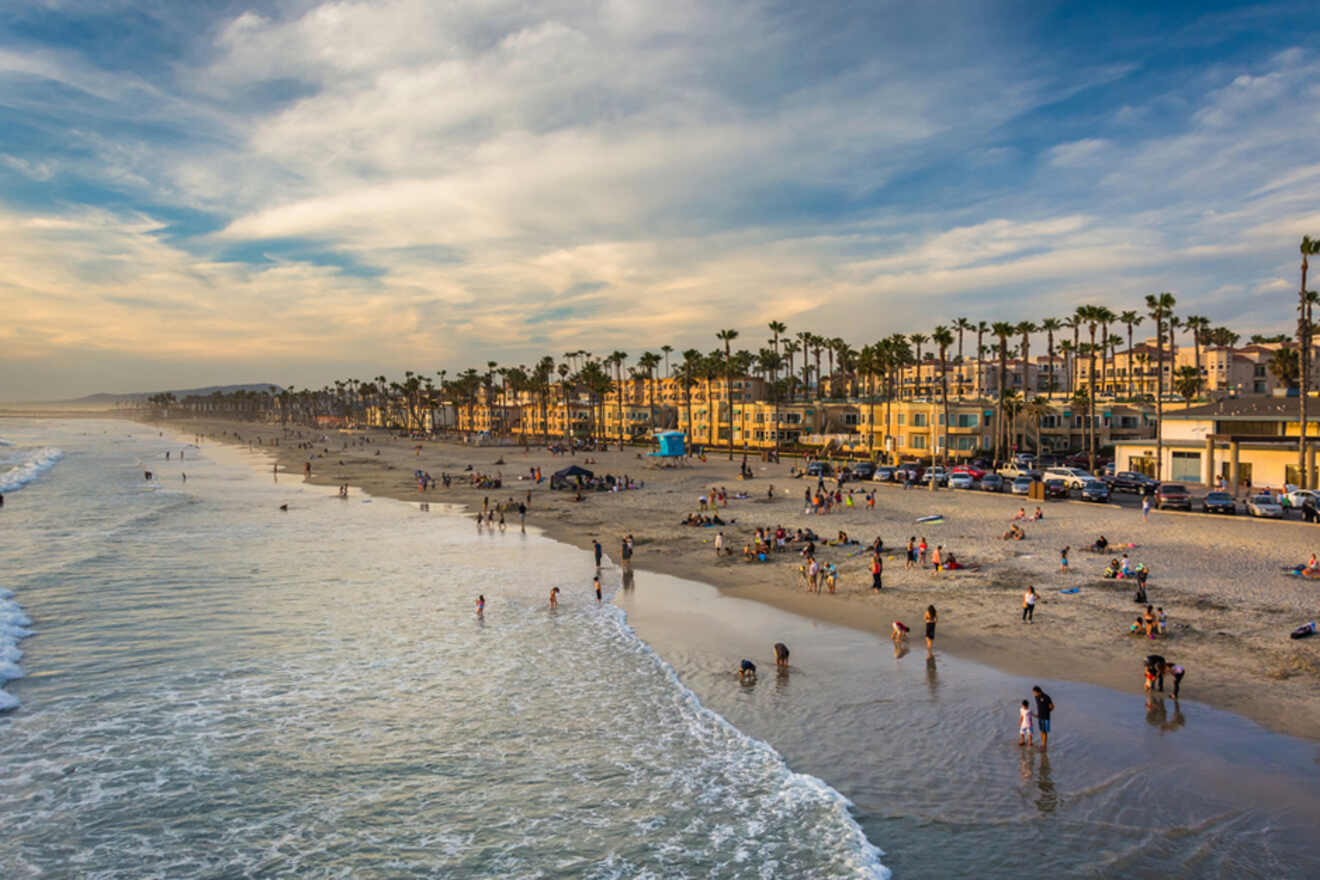 Looking for beachfront hotels in San Diego, California? Yes?! Me too! I have been looking and looking for the best options in the area, so you can spend an amazing time admiring the Pacific Ocean and sunny beaches. Keep reading and you'll find out about the most amazing San Diego beach hotels!
This article is arranged by price, starting with the luxury options, continuing with the mid-range ones, and last but not least, the budget accommodations! So rest assured there is something for everyone on this list!
San Diego is such a popular destination, I highly recommend booking your guest room as soon as you pick the one that fits your preferences before it gets booked by someone else!
Let's ride this wave and get into the best beachfront hotels in San Diego! Shall we?!
If you are in a hurry
If you need to book fast and don't have a lot of time to read the whole article, No worries! Here you have my top 3 recommendations for the best beachfront hotels in San Diego!
Since we are talking about the San Diego County area and it is pretty big, I thought you'd benefit from a map to see where each hotel is located:
1. Del Mar Beach Hotel – del mar dog beach is minutes away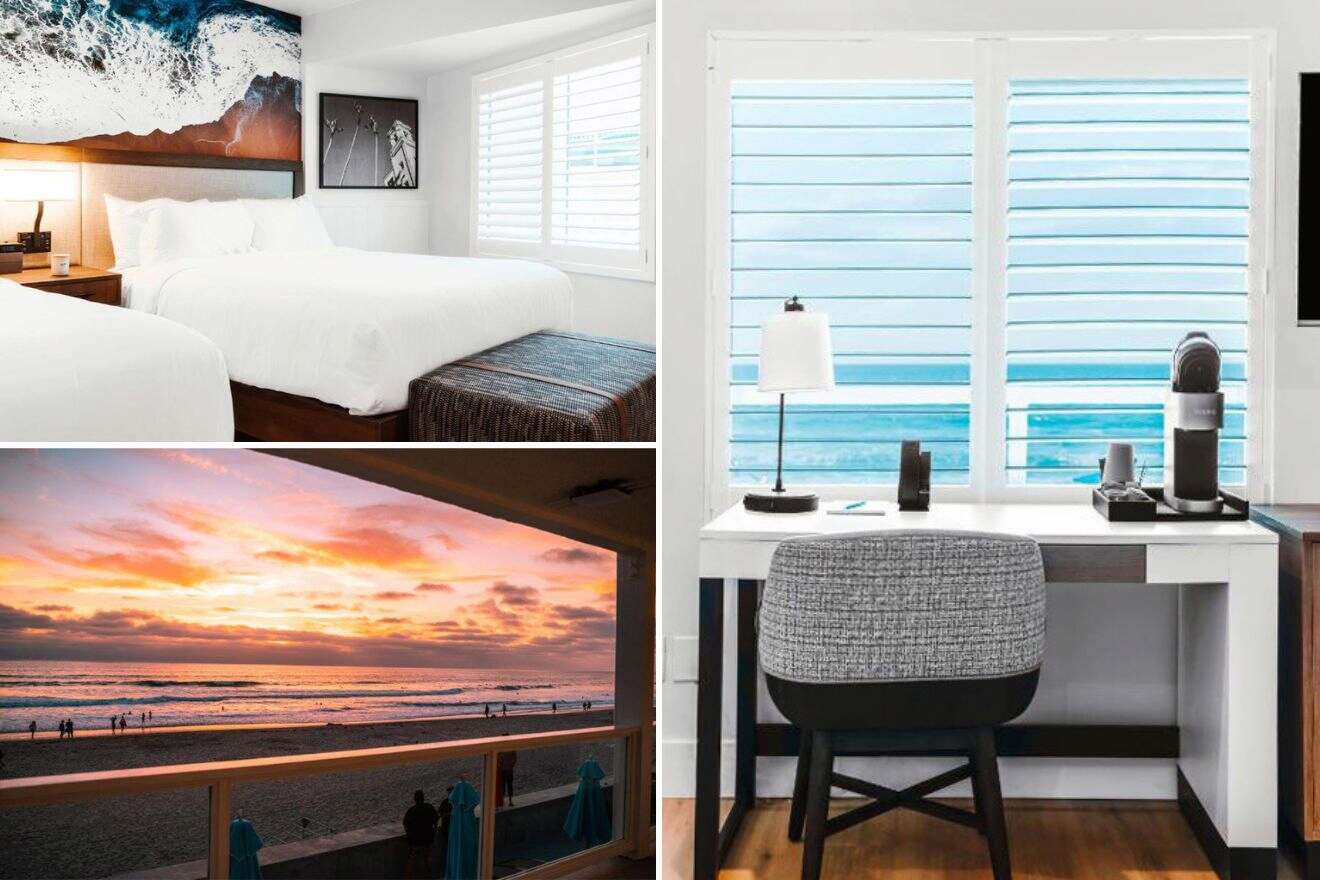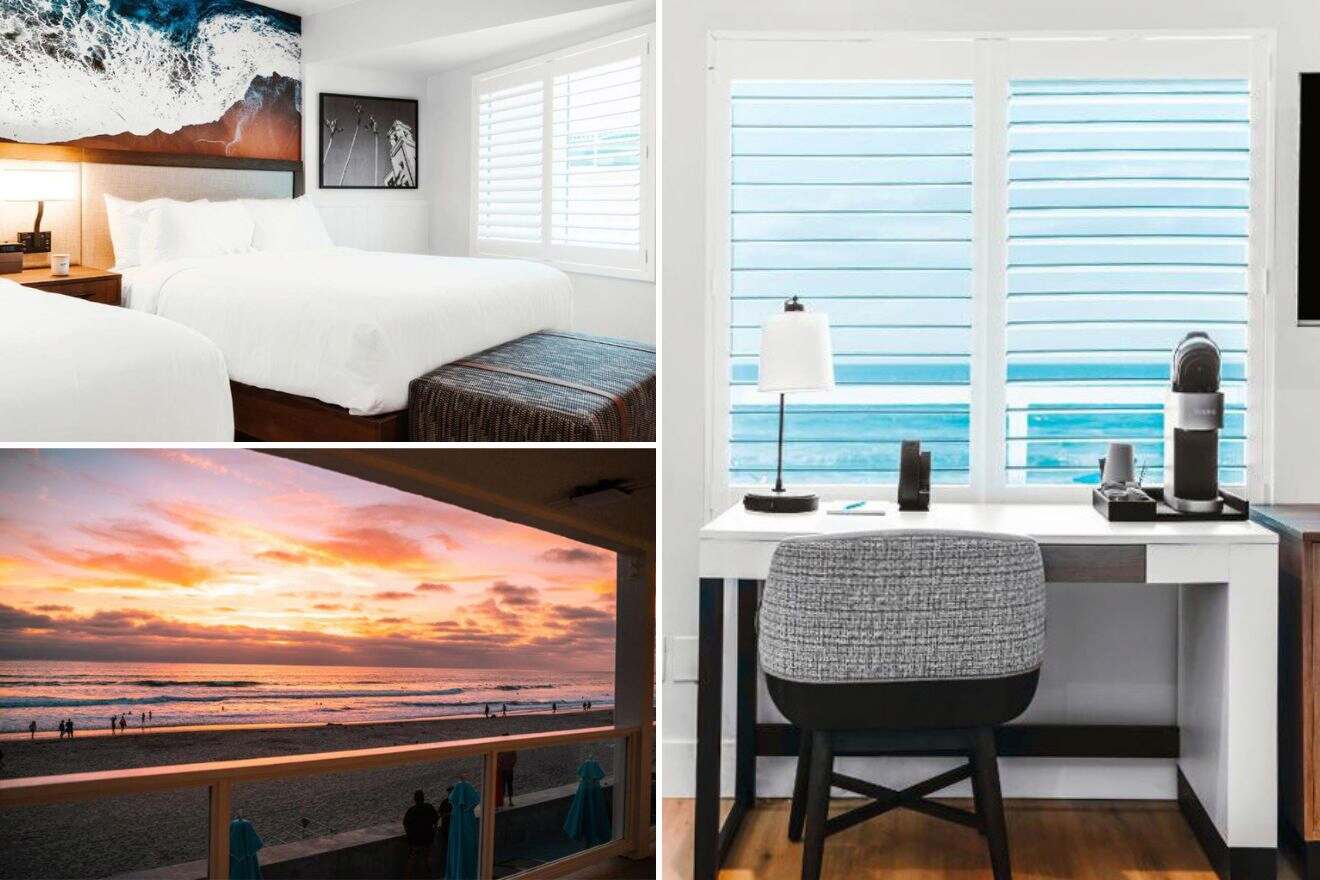 Wow! I just love how neat and modern this hotel looks, but don't be fooled by its looks, this one was actually established in 1968, so quite a gem! Located in Del Mar, San Diego; and with Del Mar City Beach just steps away, don't worry about bringing any beach equipment, the hotel has beach gear, from beach chairs to boogie boards!
Rooms are super spacious and have the same minimalistic decor as the rest of the hotel, and feature a 60-inch cable TV, and a seating area, and some of them have an unbeatable beach view. The biggest rooms can host up to 4 guests!
2. The Wayfarer San Diego – for a casual beach vacation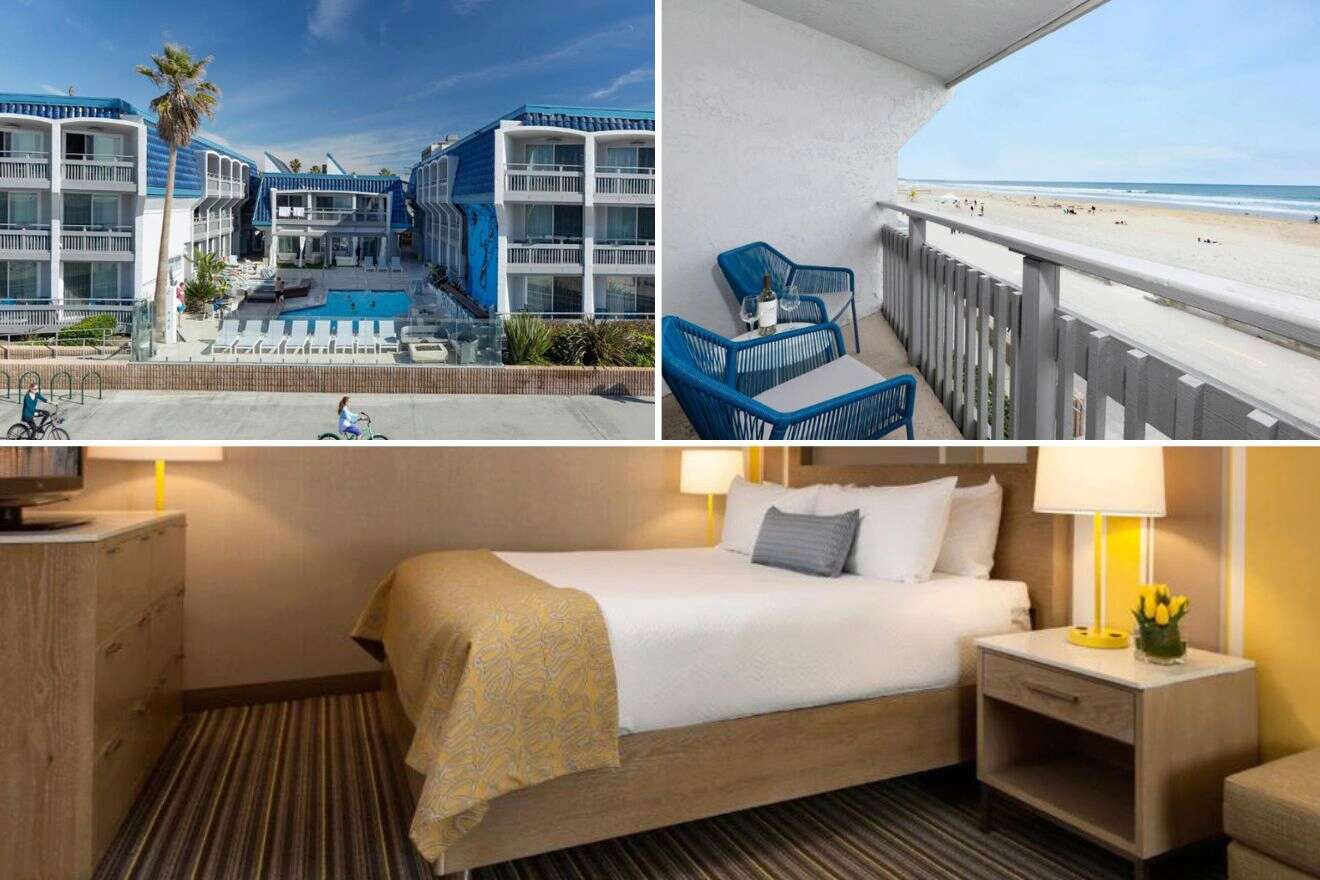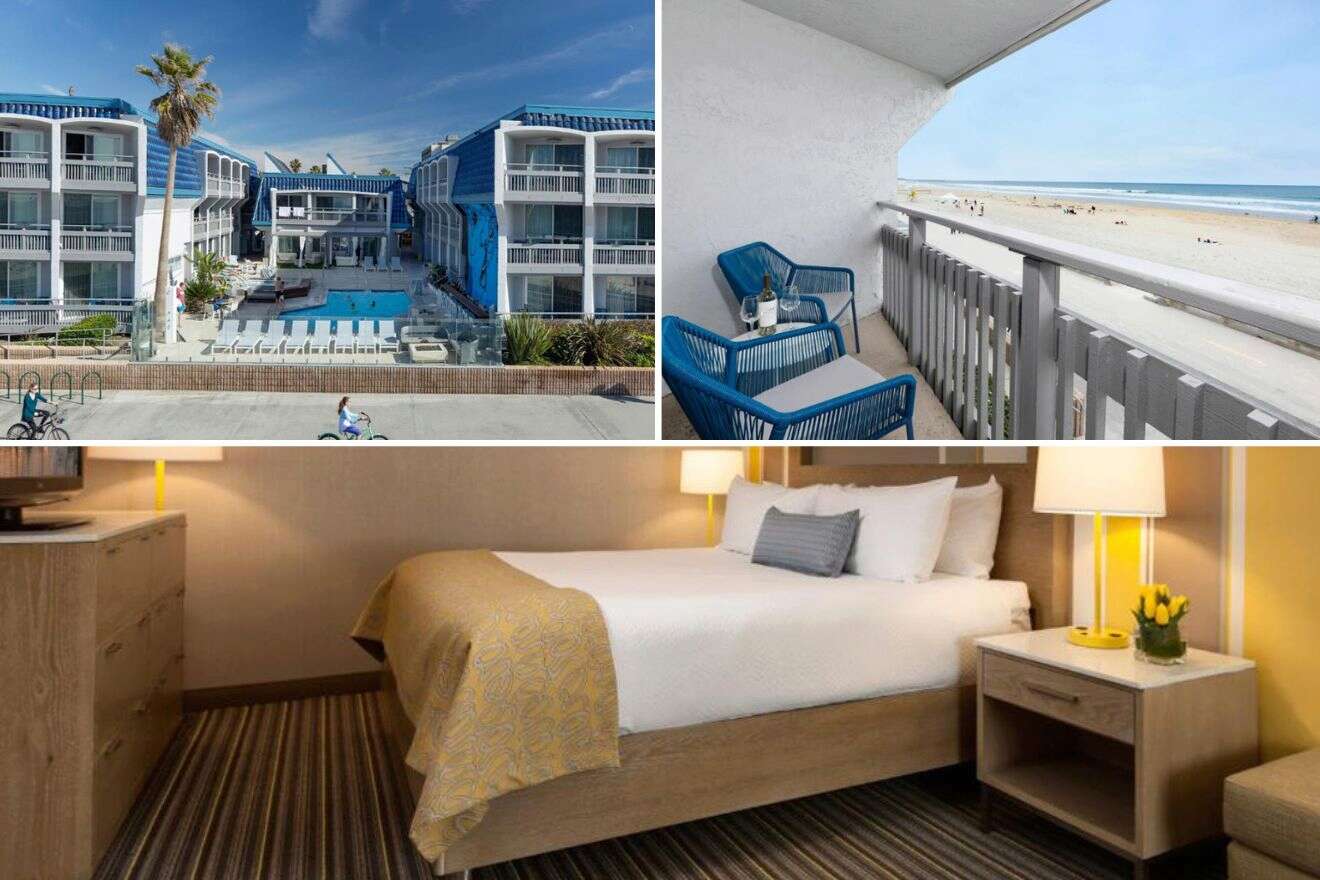 Located in Mission Beach, San Diego, and with Mission Beach Boardwalk less than 1 mile (1.6 km) from Mission Bay Park, this hotel has a beachfront outdoor pool, a hot tub, and a picnic area where you can enjoy a nice lunch break with your family or friends!
All the rooms come with furnished balconies, and some of them come with a wet bar, for example, the Queen Room with Two Queen Beds and Partial Ocean View, which can host up to 4 guests!
3. Pacific Terrace Hotel – luxury boutique hotel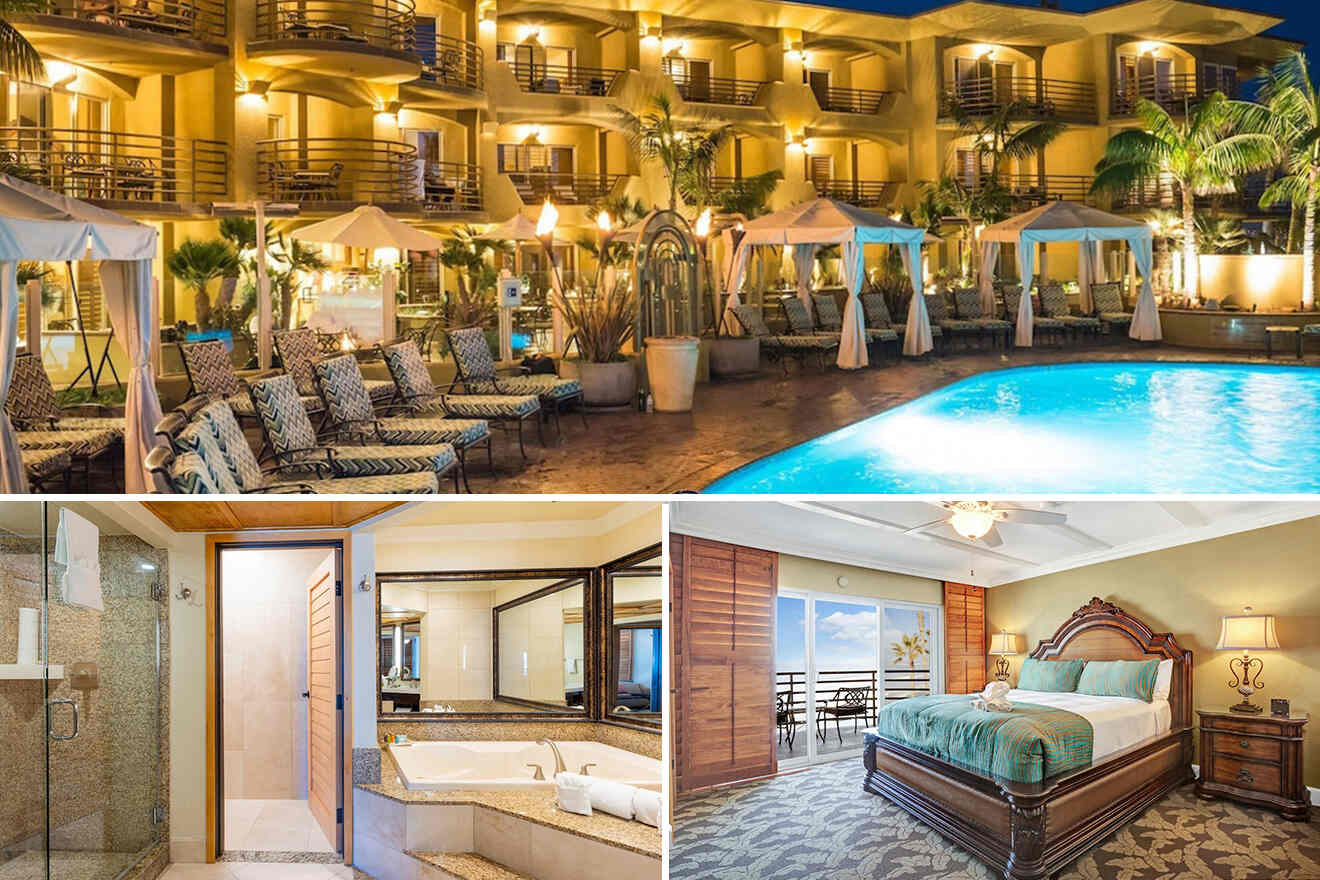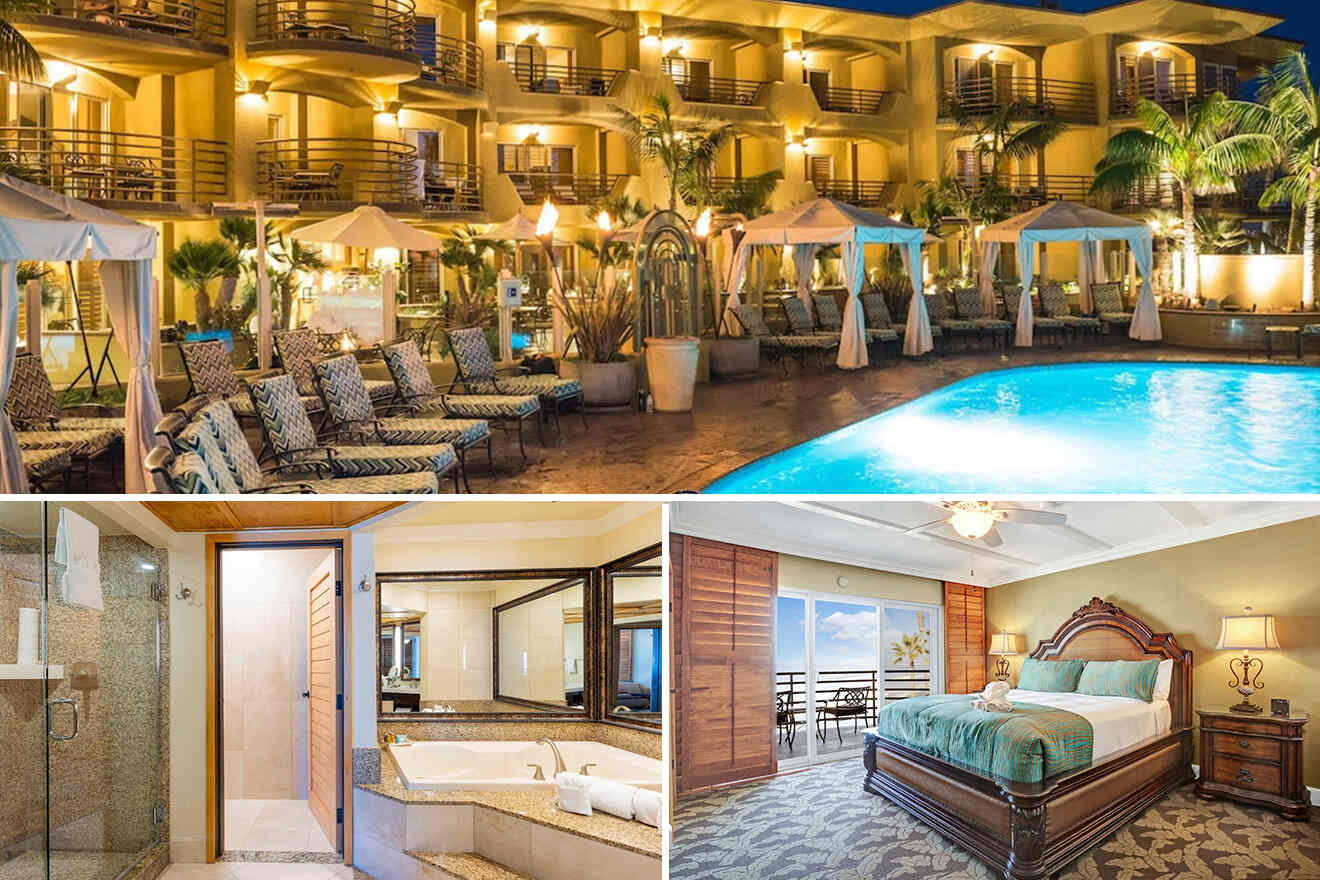 Oh me oh my! What an elegant option! Staying at this Pacific Beach hotel, you'll have access to an outdoor swimming pool located next to the beachfront, upscale onsite restaurants and bars, and a fitness center! Plus, the Pacific Beach Boardwalk is just walking distance away!
At this beachfront hotel, all the guest rooms look lovely and have either a private terrace or a private balcony, but whichever room you choose, you'll feel like a rockstar! I recommend the family suite or the coastal suite if you want in-room spa baths!
4. Kona Kai Resort & Spa – with a private beach area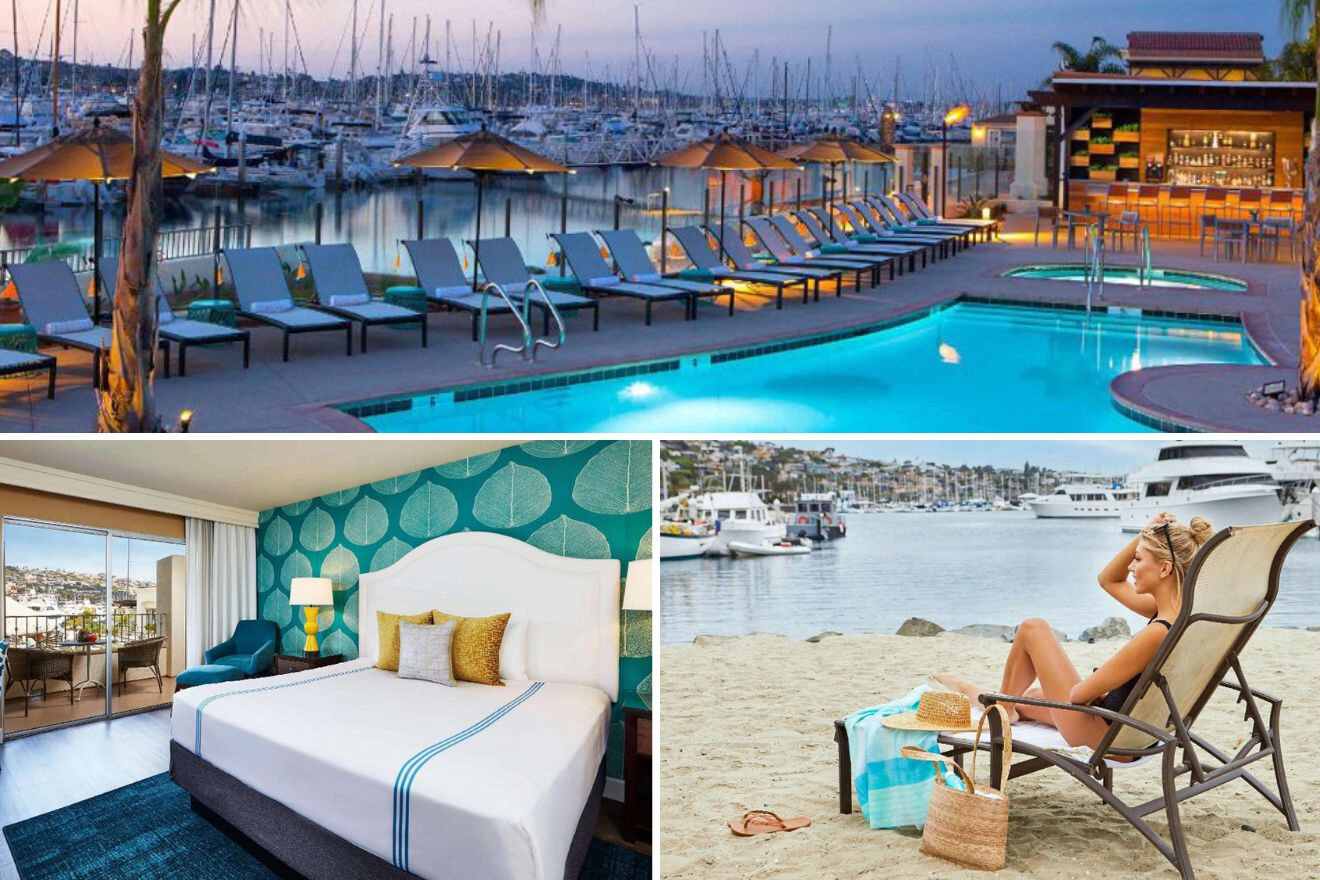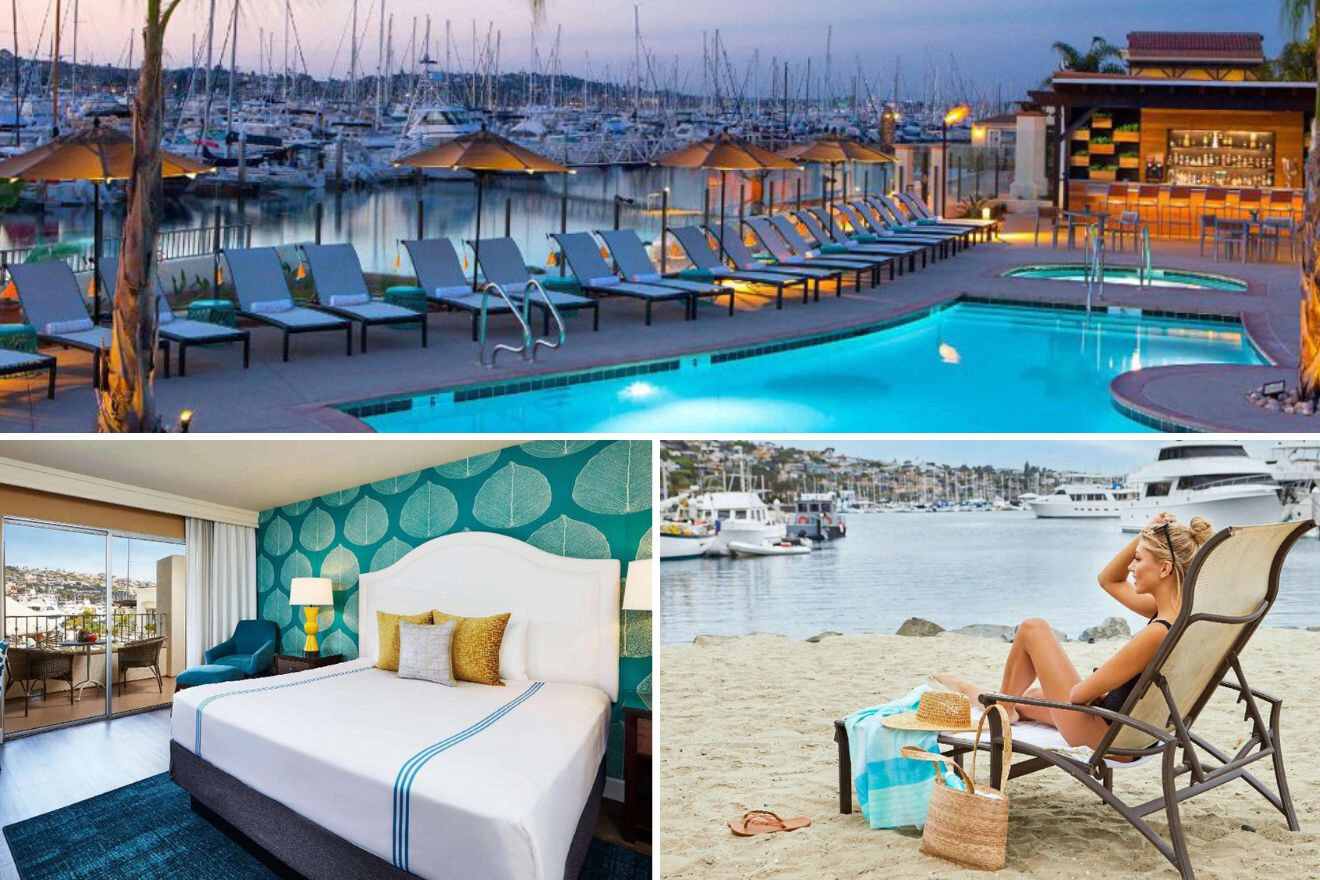 Oh, la la! What an absolute treat is this resort! Located in Point Loma and with San Diego Zoo just a 20-minute drive away. This hotel has elegant decor and features 2 outdoor swimming pools, a full-service spa, and a private beach area!
This hotel comes with pet-friendly rooms, and they look like they were taken out of cool beach movies! I highly recommend any of the rooms with a balcony and ocean view to enhance the whole experience!
5. Tower 23 Hotel – great for families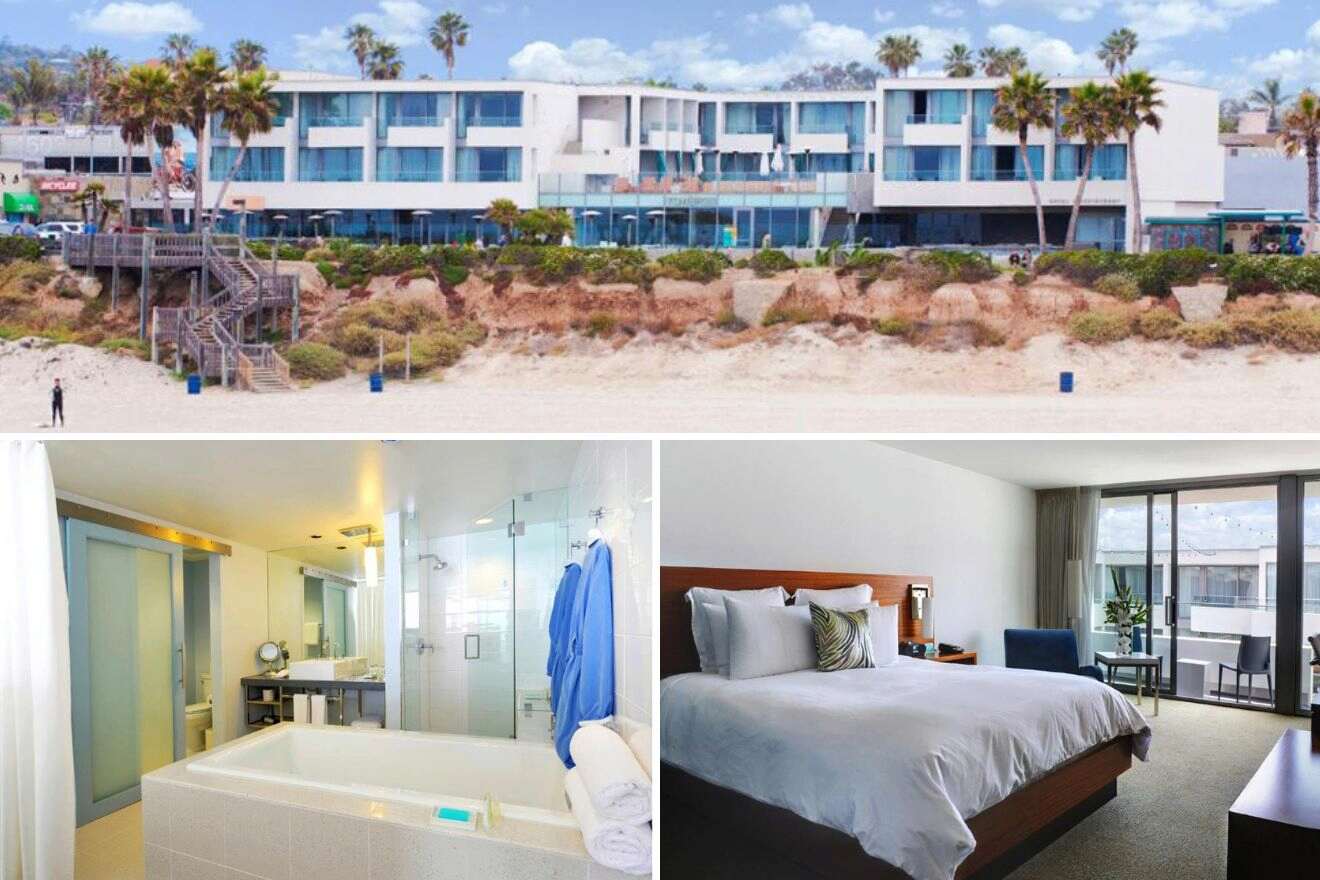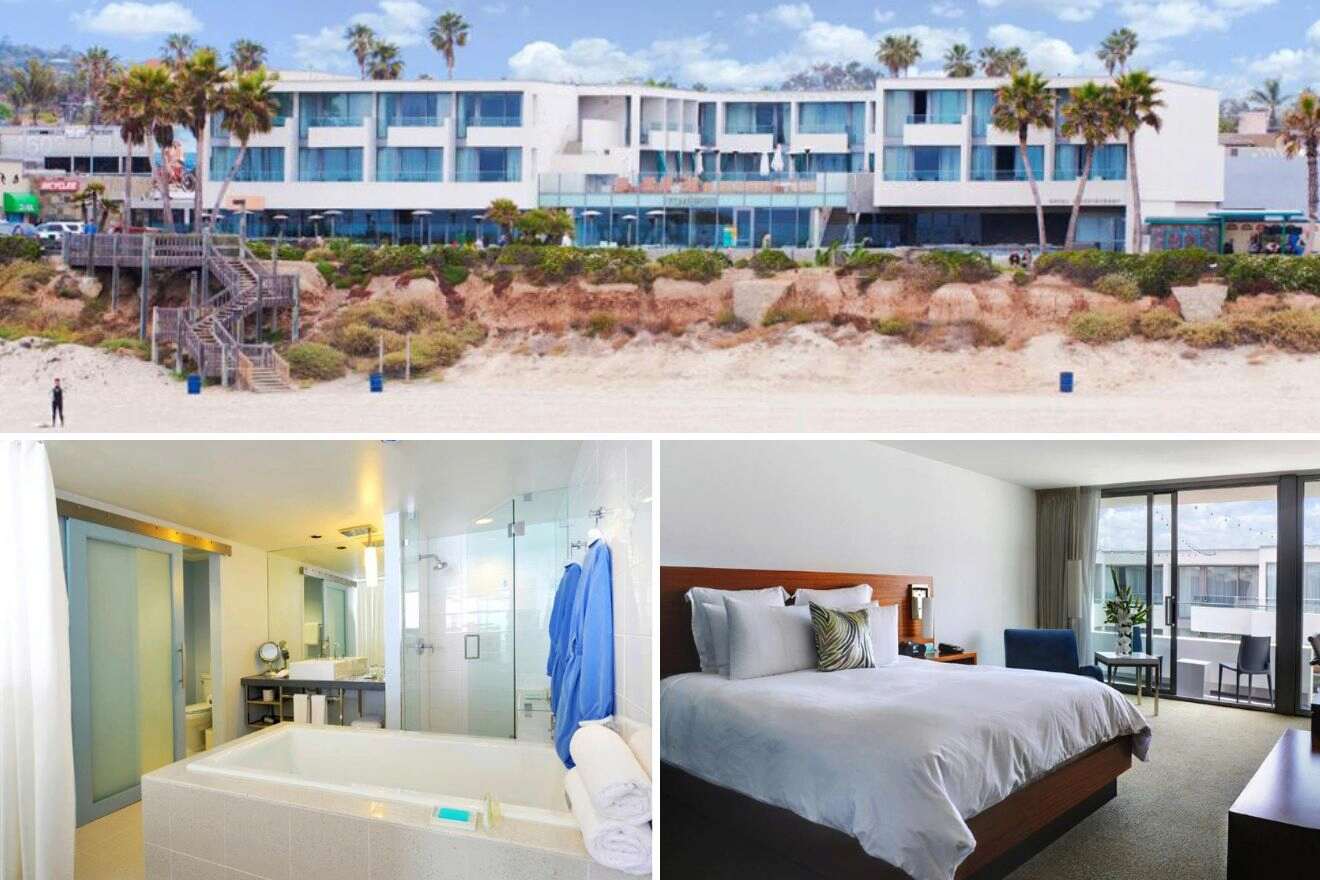 Located in Pacific Beach, this San Diego hotel is amazing for those looking to have an active vacation! They offer a concierge service where you can book surf lessons, golf-related activities, and even whale watching. If you want to discover the area with your family they also offer bike rentals!
Tower 23 has many family rooms that can host up to 4 guests. If you feel like having an in-room type of dinner, you can order room service, and relax on the large double beds, while you watch a fun movie!
6. Scripps Inn – simple and complete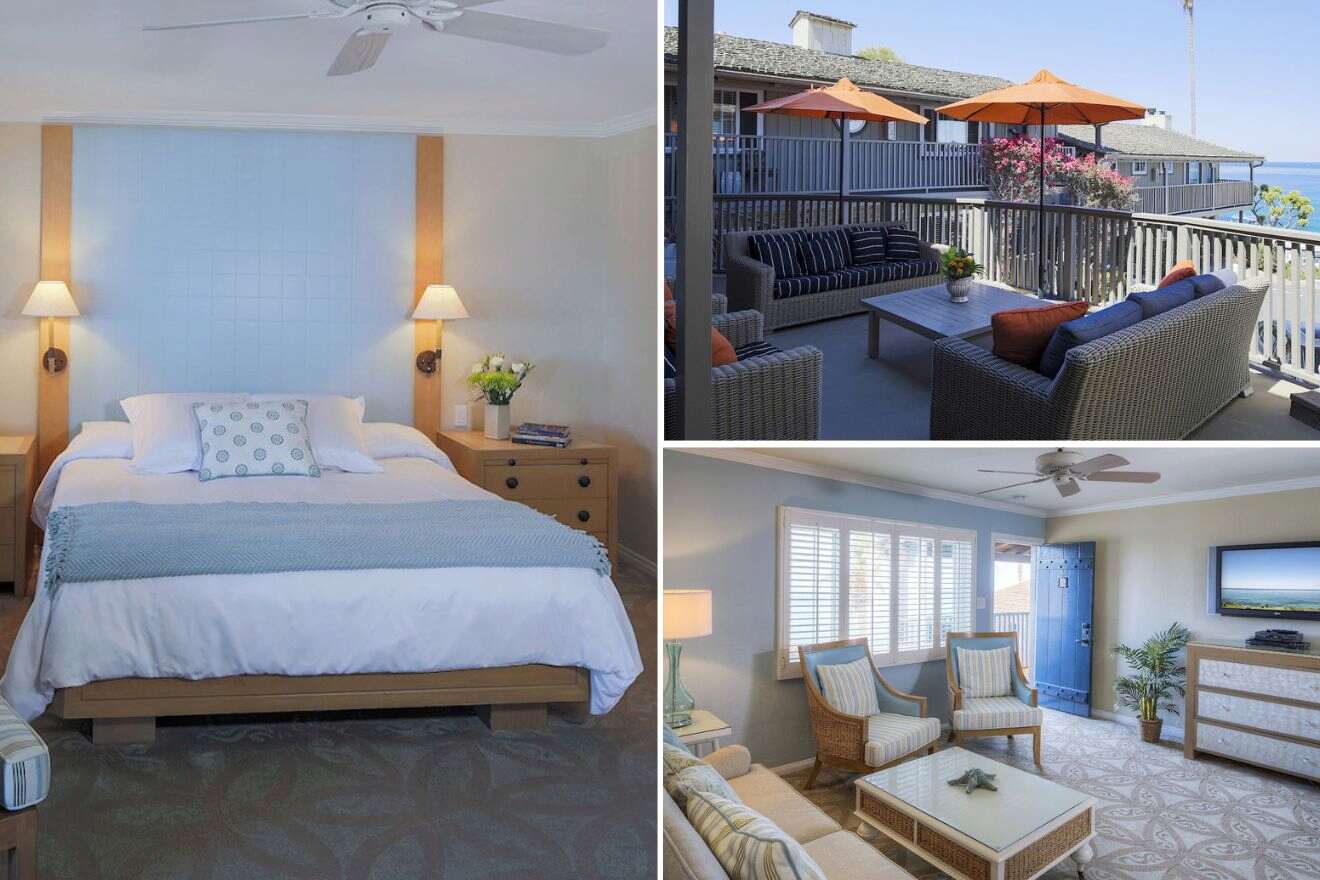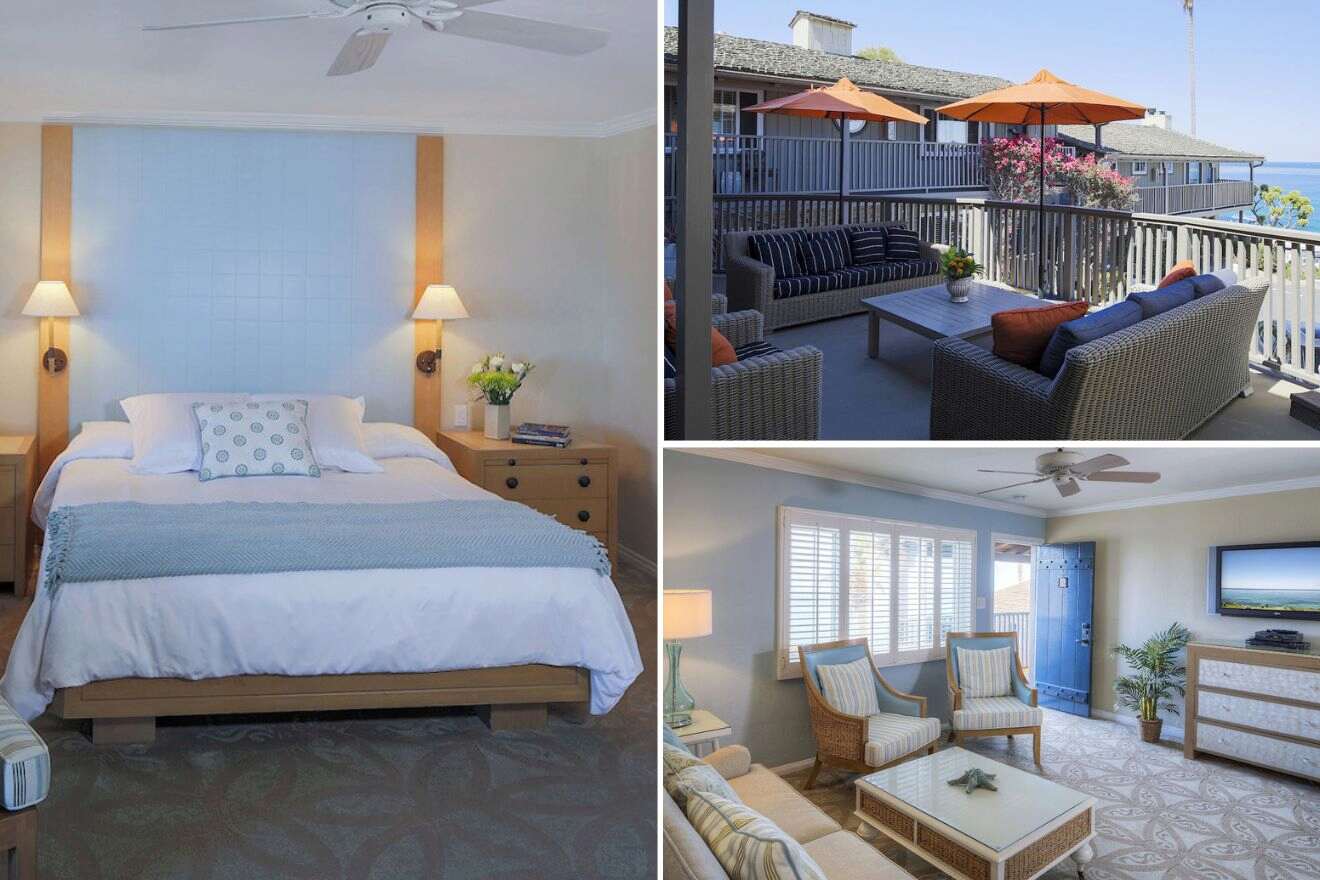 Modest but perfect! Did you know this is one of the best-rated hotels in the area? Located in La Jolla and with Wipeout Beach being the closest beach, this hotel is great for those looking for a quiet getaway!
They offer 2 types of rooms: the deluxe king room with an extra large double bed and a sofa bed, and a 2 bedroom suite, which comes with a large double bed in each room and a sofa bed in the living room!
7. Paradise Point Resort & Spa – out-of-this-world experience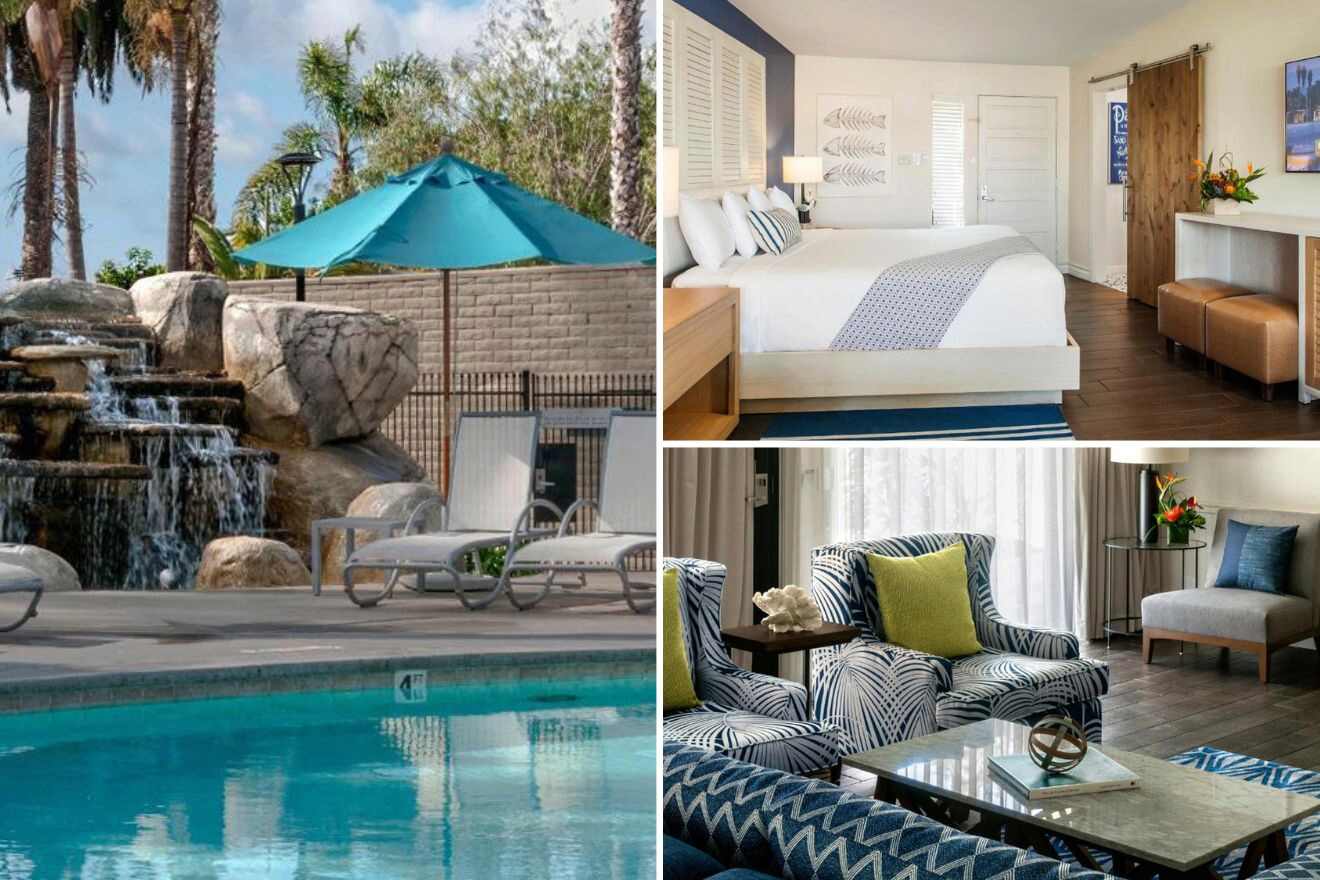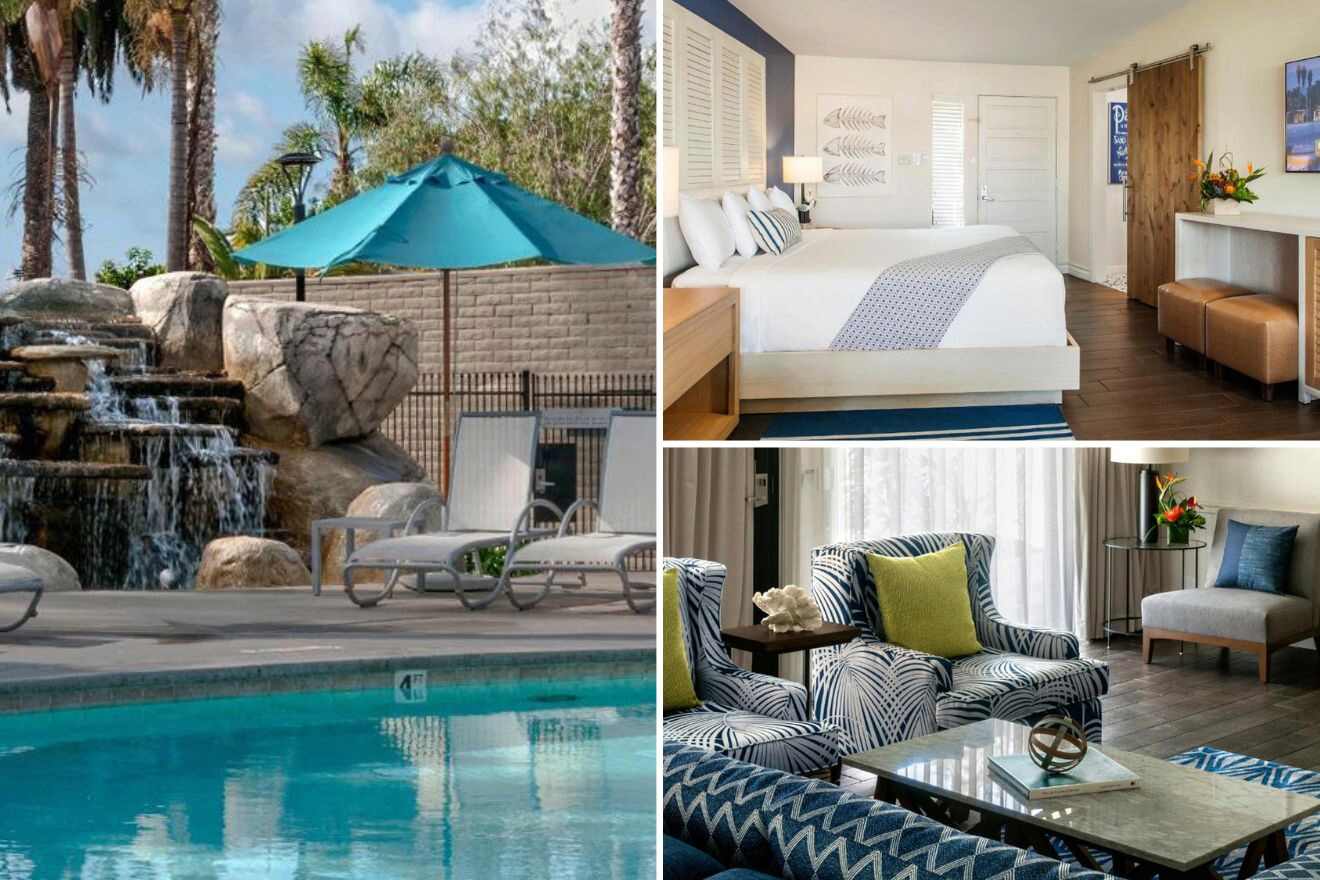 I am obsessed with this hotel! Located in Mission Bay, featuring an incredible outdoor pool with a water cascade, tennis courts, restaurants with a marina view, and a kids' club (for an extra fee), this coastal estate is luxurious and chic!
The rooms are a delight and some are beach cottages, so you can experience your own beachfront private enclave! I highly recommend the Bayside Junior Suite which comes with a furnished balcony overseeing the bay, a dining table, and a wet bar!
8. Ocean Park Inn – relax in Pacific Beach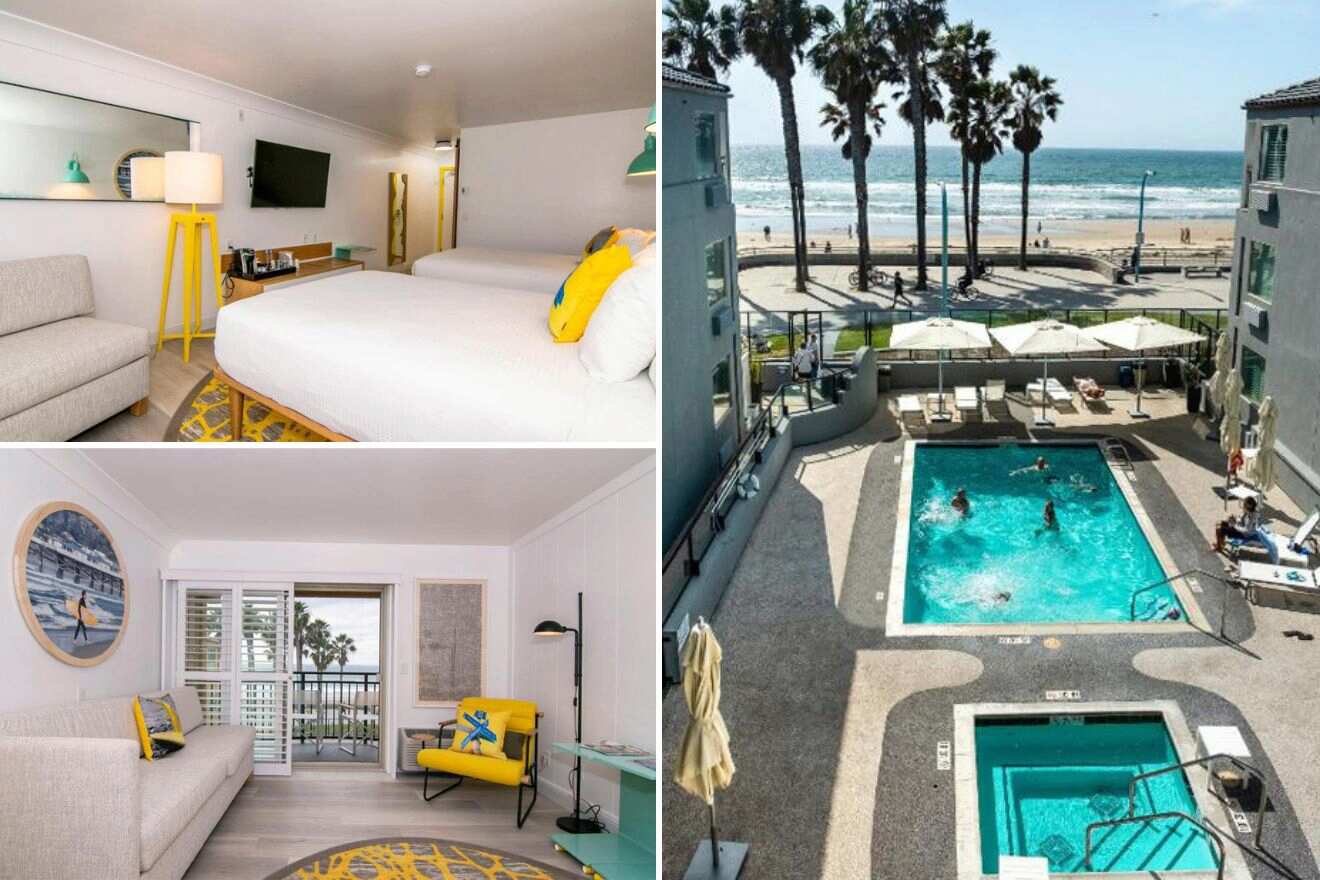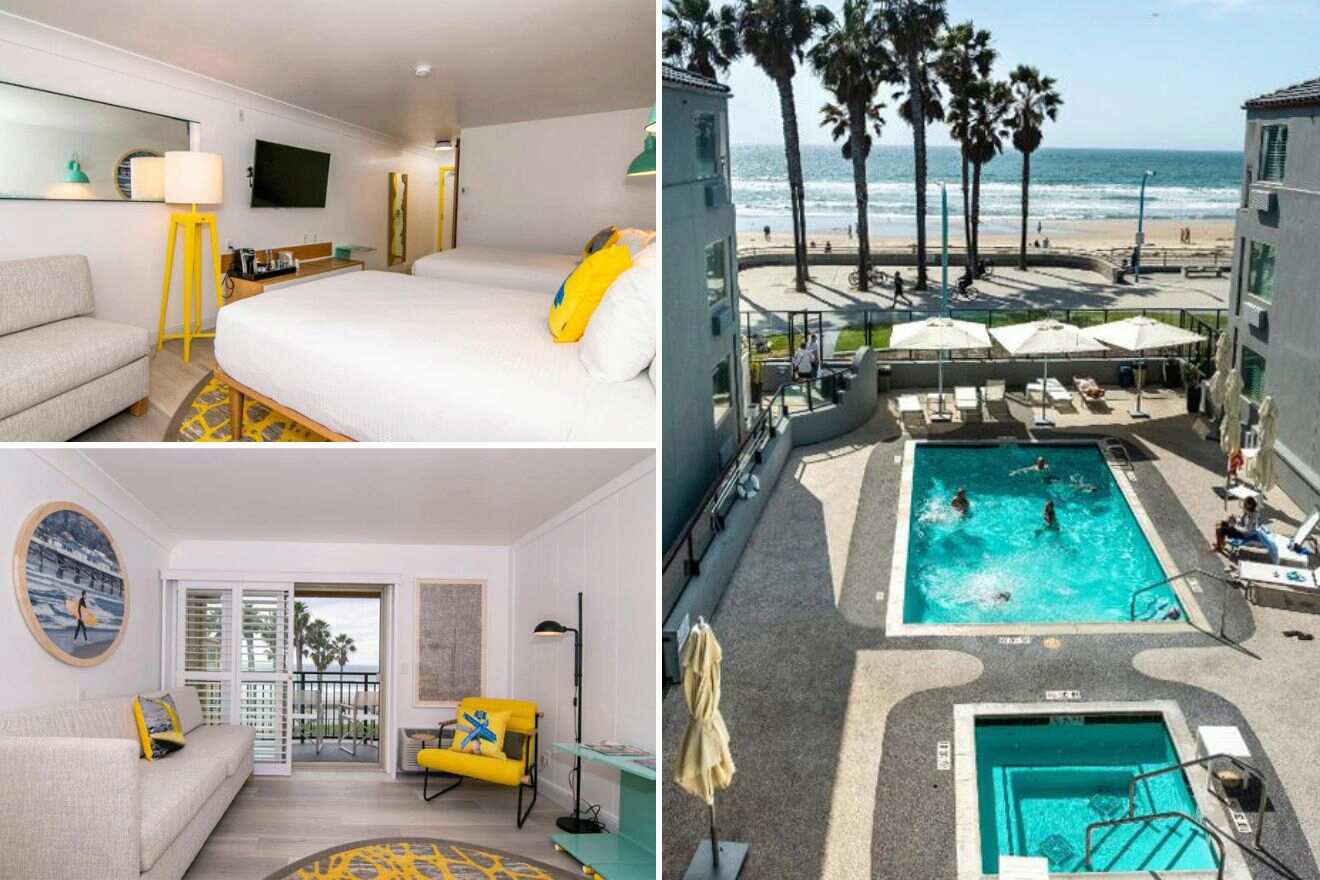 This hotel located in Pacific Beach is captivating! With a trendy and classic vibe, Ocean Park Inn features a terrace with an outdoor swimming pool and outdoor jacuzzi with out-of-this-world ocean views! To get ready for fun days at the beach, enjoy the hotel's free breakfast every morning!
Offering contemporary rooms with a private balcony or terrace, these can have a pool or ocean view, a small fridge, and a coffee maker. They offer 3 types of rooms and the biggest one can host 4 guests! The hotel is just a short drive from downtown San Diego, so you can have city and beach life all in one!
9. Loews Coronado Bay Resort – discover Coronado Beach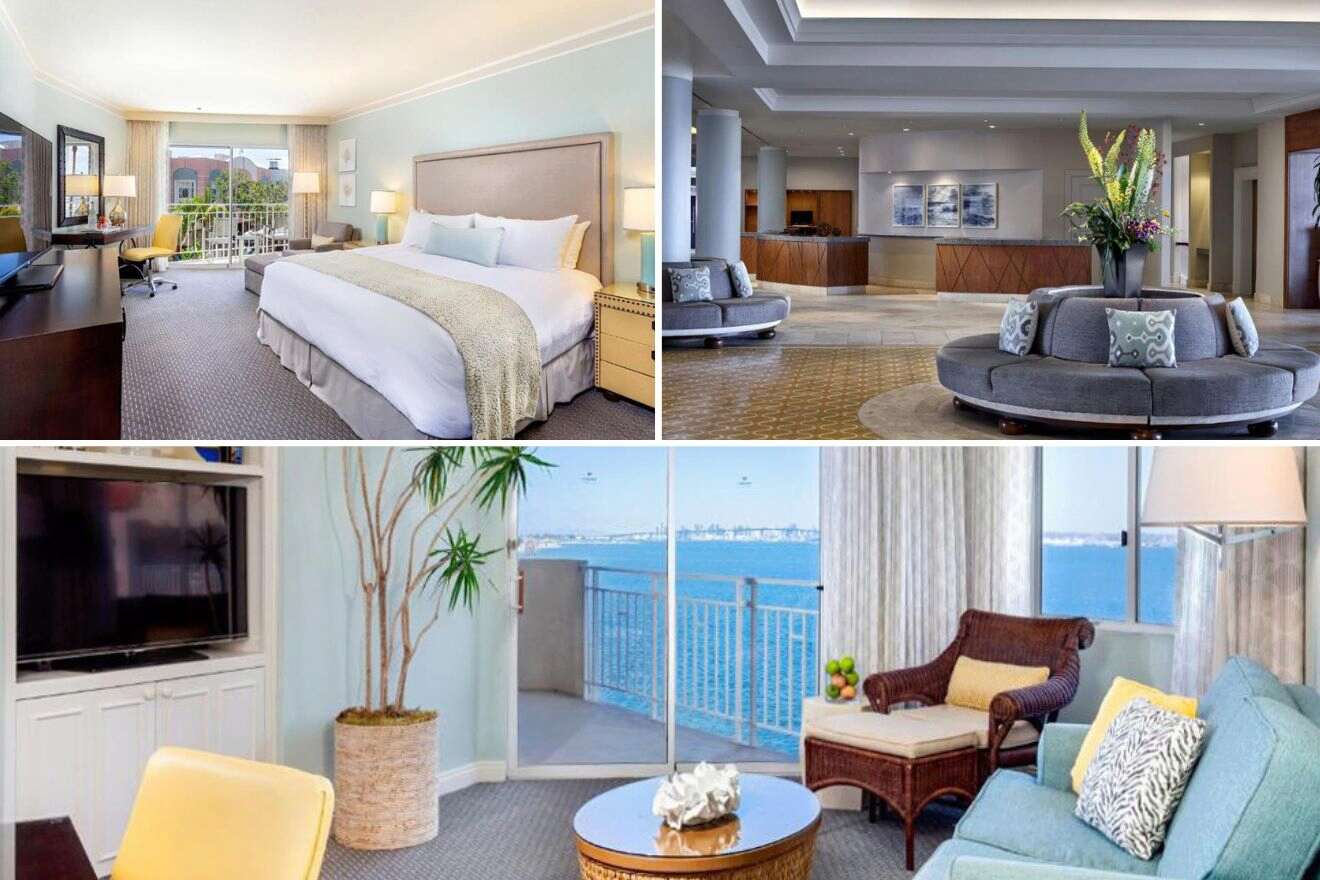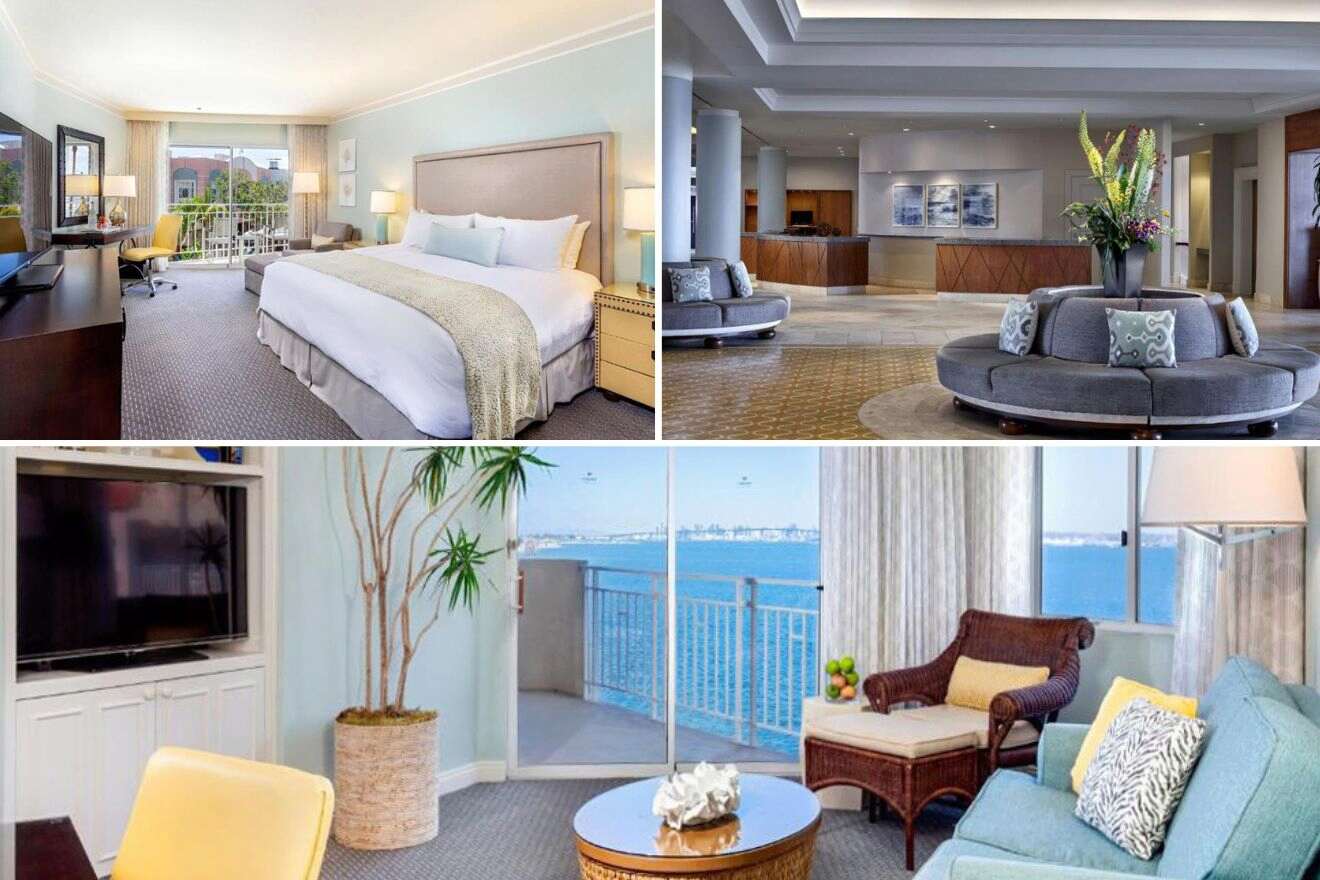 Am I dreaming? This hotel is absolutely stunning! Located on Coronado Island and only a 10-minute drive to downtown Coronado, this hotel class is 4 stars, but it's worth 5! With cozy terraces, an outdoor swimming pool, and a hot tub overseeing the ocean, you will wish you lived here!
All the rooms have tasteful decor and come with a balcony with an ocean view or garden view. Fancy a private bathroom with a spa bath so that you can have a relaxing evening filled with bubbles?! The biggest room can host up to 4 guests, and families are welcome! This gorgeous hotel is just 10 minutes from Silver Strand State Beach.
10. La Jolla Shores Hotel – fun and comfort guaranteed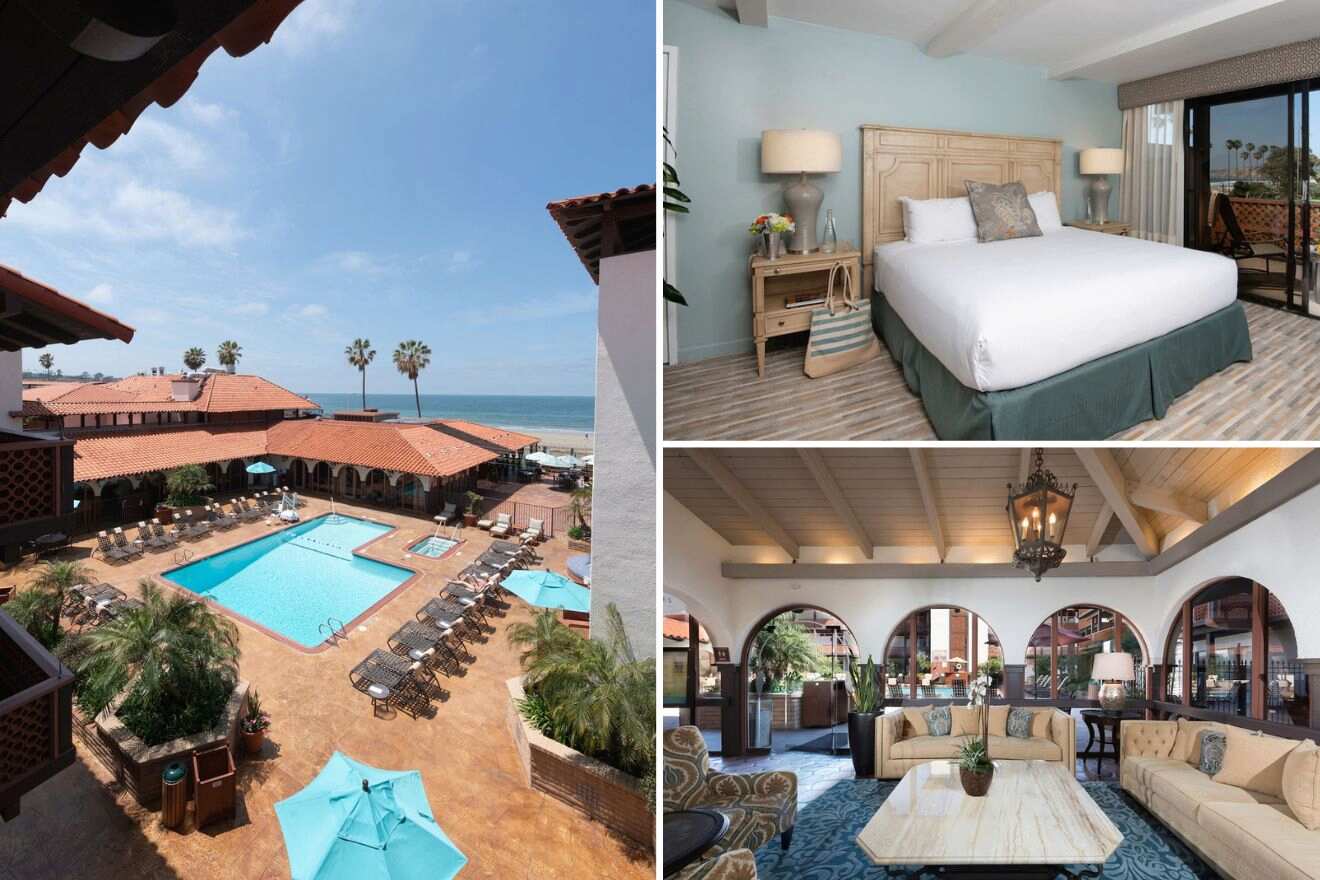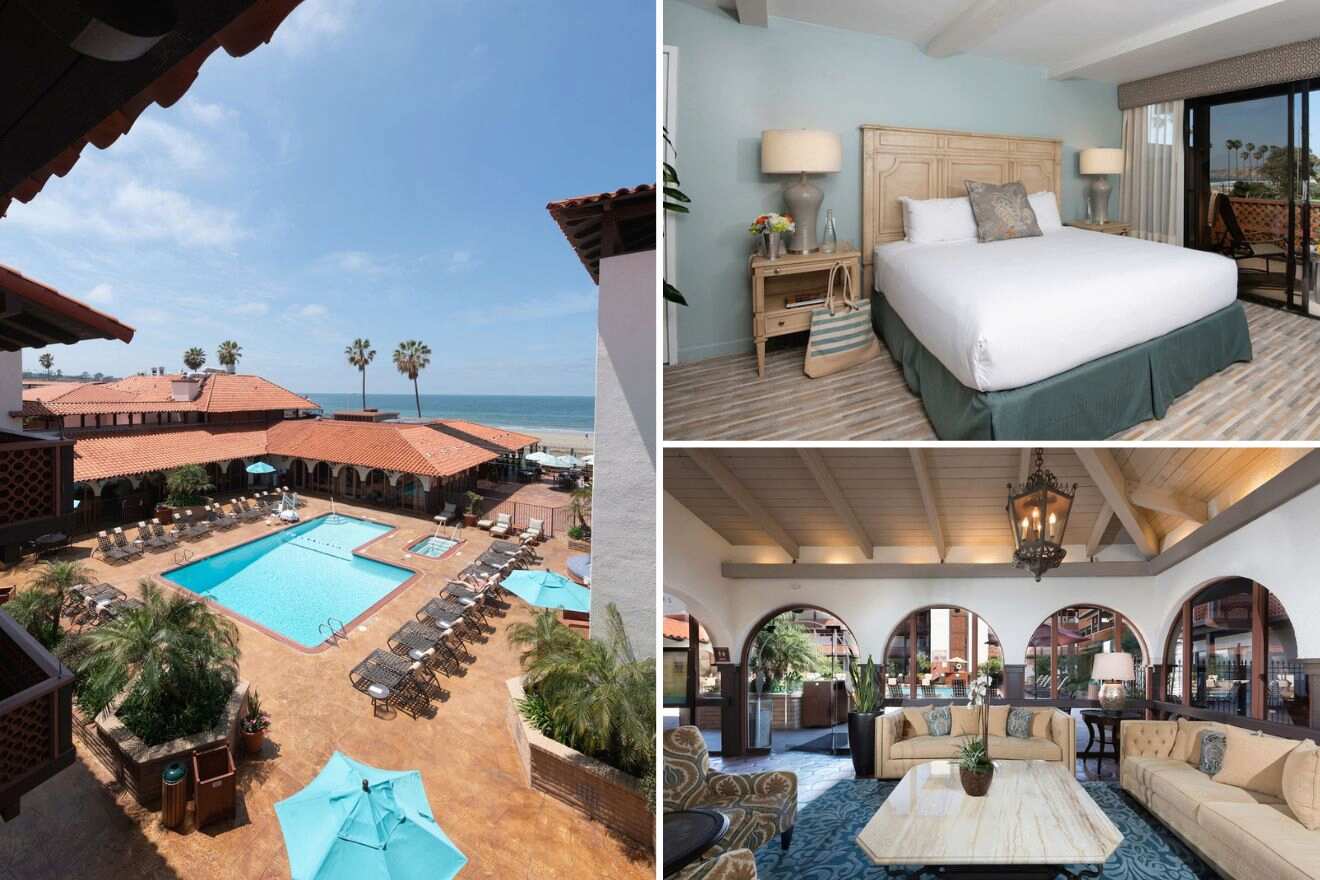 What a delight it would be to stay in this hotel, with La Jolla shores beach just steps away, and the Marine Room just minutes away. This hotel features a shores restaurant (San Diego's best restaurant!), and a tennis club just within walking distance, so you have everything you need!
The rooms at this hotel are super varied and most of them come with a balcony or patio (some overviewing La Jolla beach) If you're traveling with your family check out the rooms that come with a private kitchen!
11. Wave Crest Resort – a cozy stay in Del Mar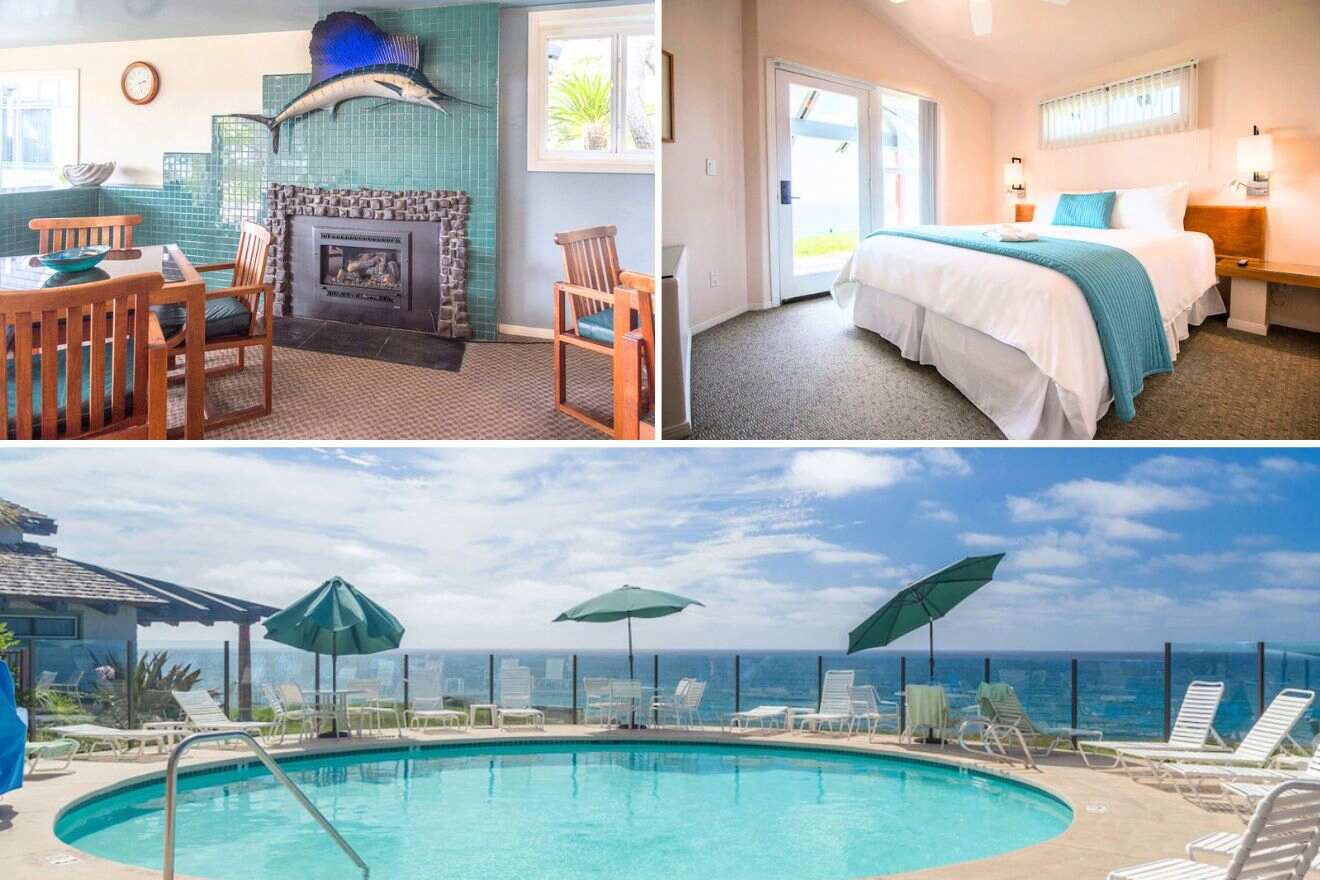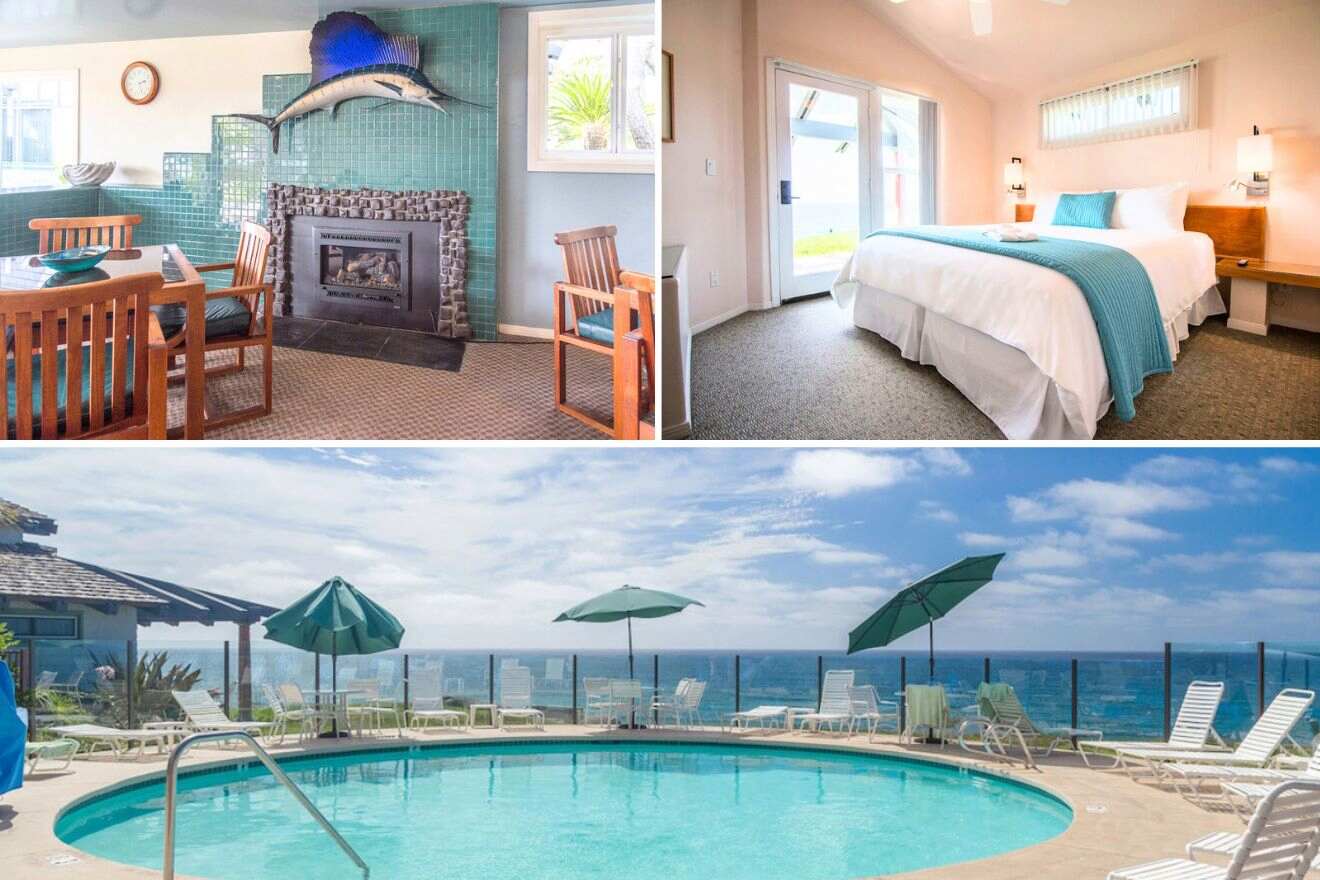 Imagine having your own condo or studio by Del Mar beachfront in North County! All of them come with a kitchenette and amazing views of the area. Plus, if you are traveling by car they offer free parking!
The rest of the hotel is super cozy and welcoming, with a 24-hour reception, an outdoor area with a swimming pool and a jacuzzi; and even BBQ facilities!
12. Ocean Beach Hotel – convenient and classic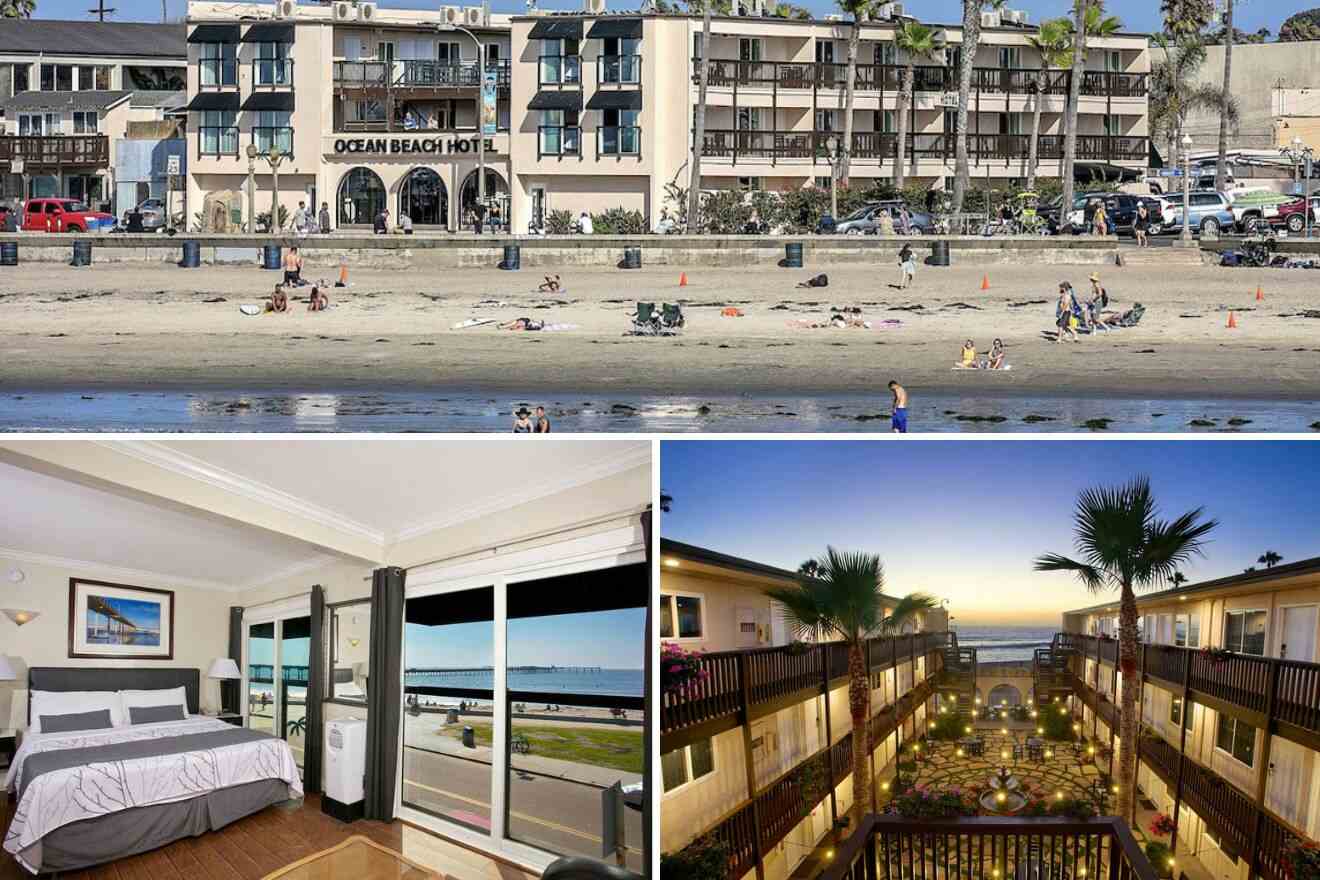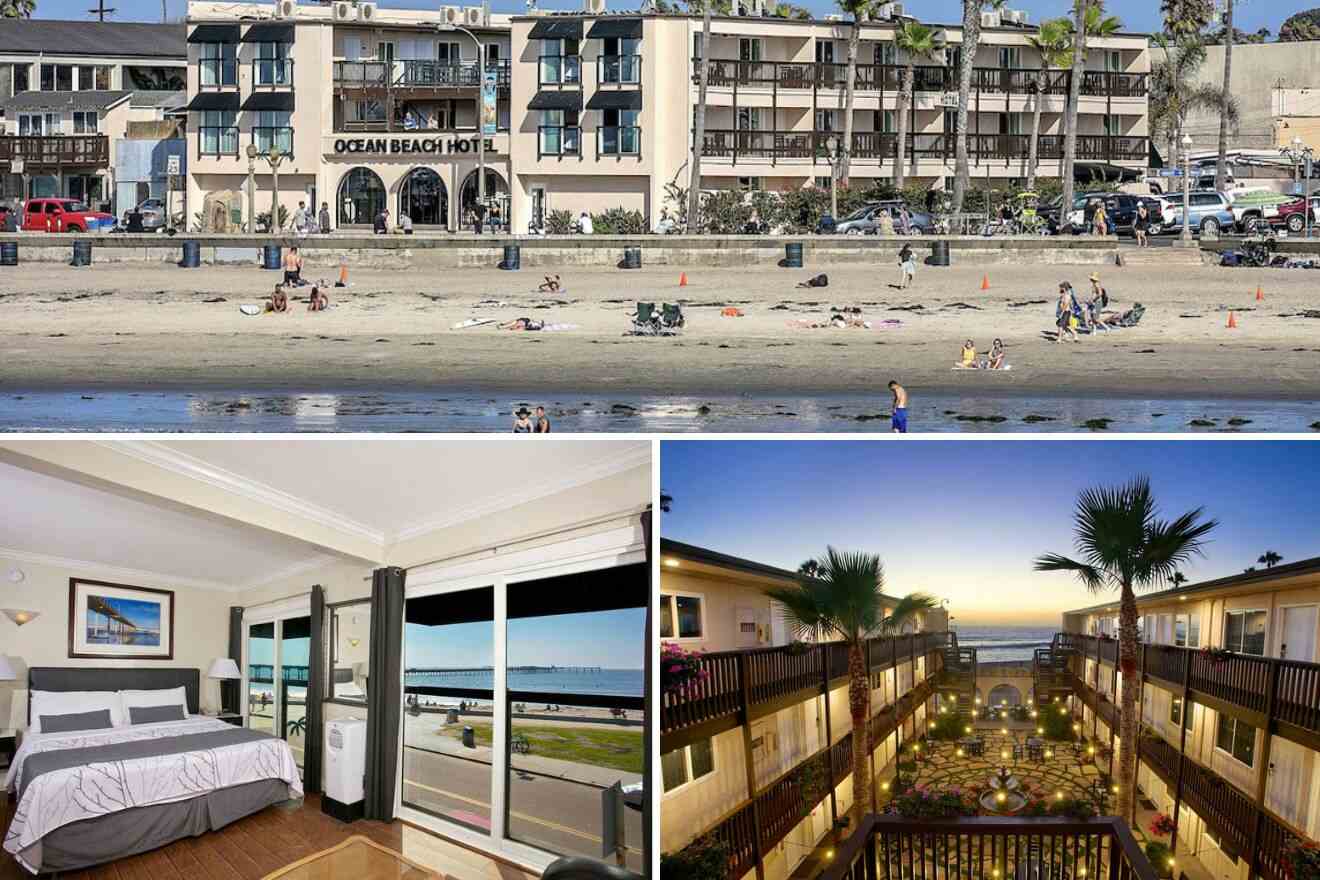 Staying at this Ocean Beach hotel is such a smart move, starting with the amazing location and the facilities it offers! There's a terrace open to all guests, a picturesque courtyard, laundry facilities, a gift shop, and a 24-hour reception.
The rooms are spacious and come with all the amenities you need for a cozy stay: complimentary Wi-Fi, a refrigerator, a full bathroom with toiletries, and a flat-screen TV with cable channels!
FAQs about beachfront hotels in San Diego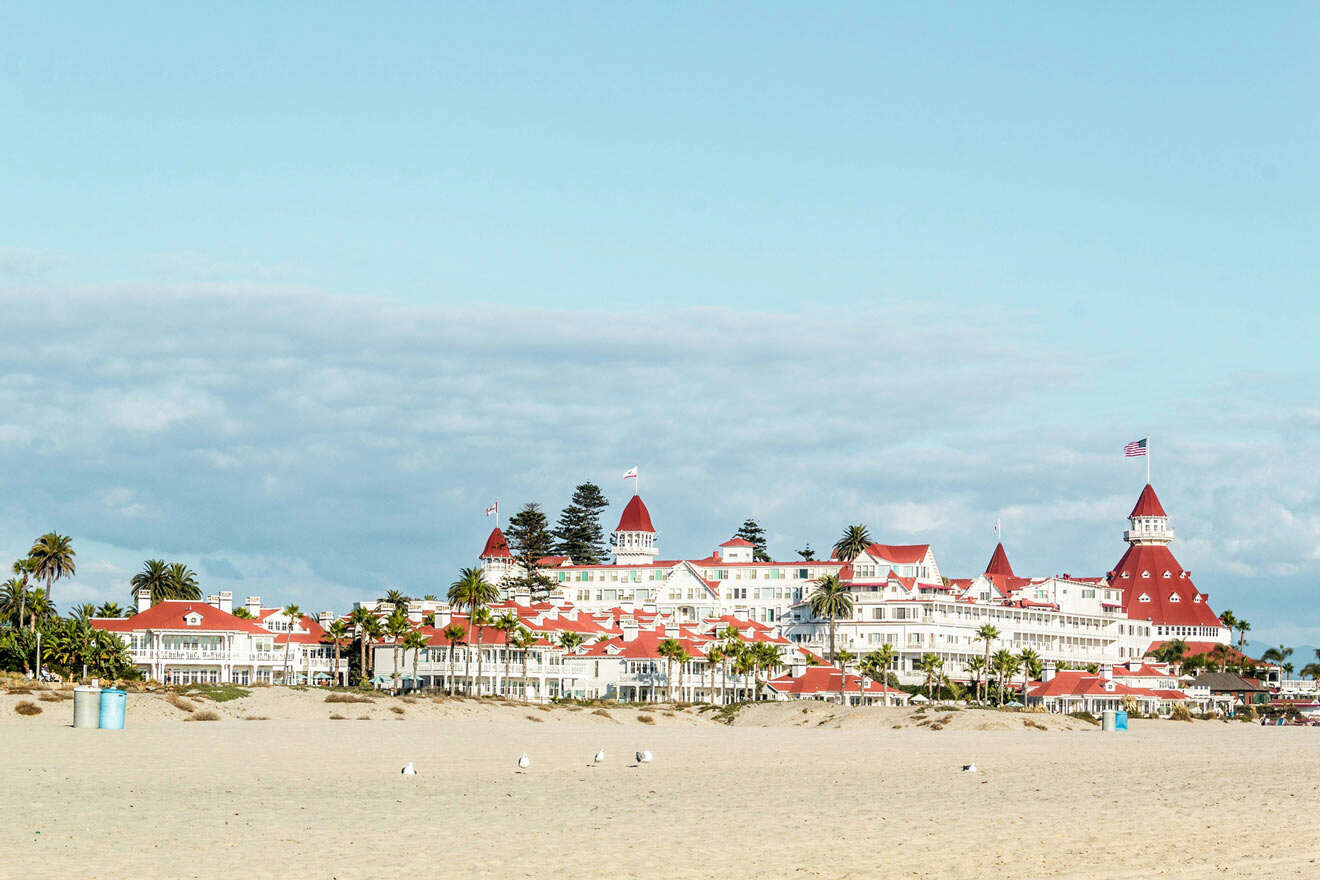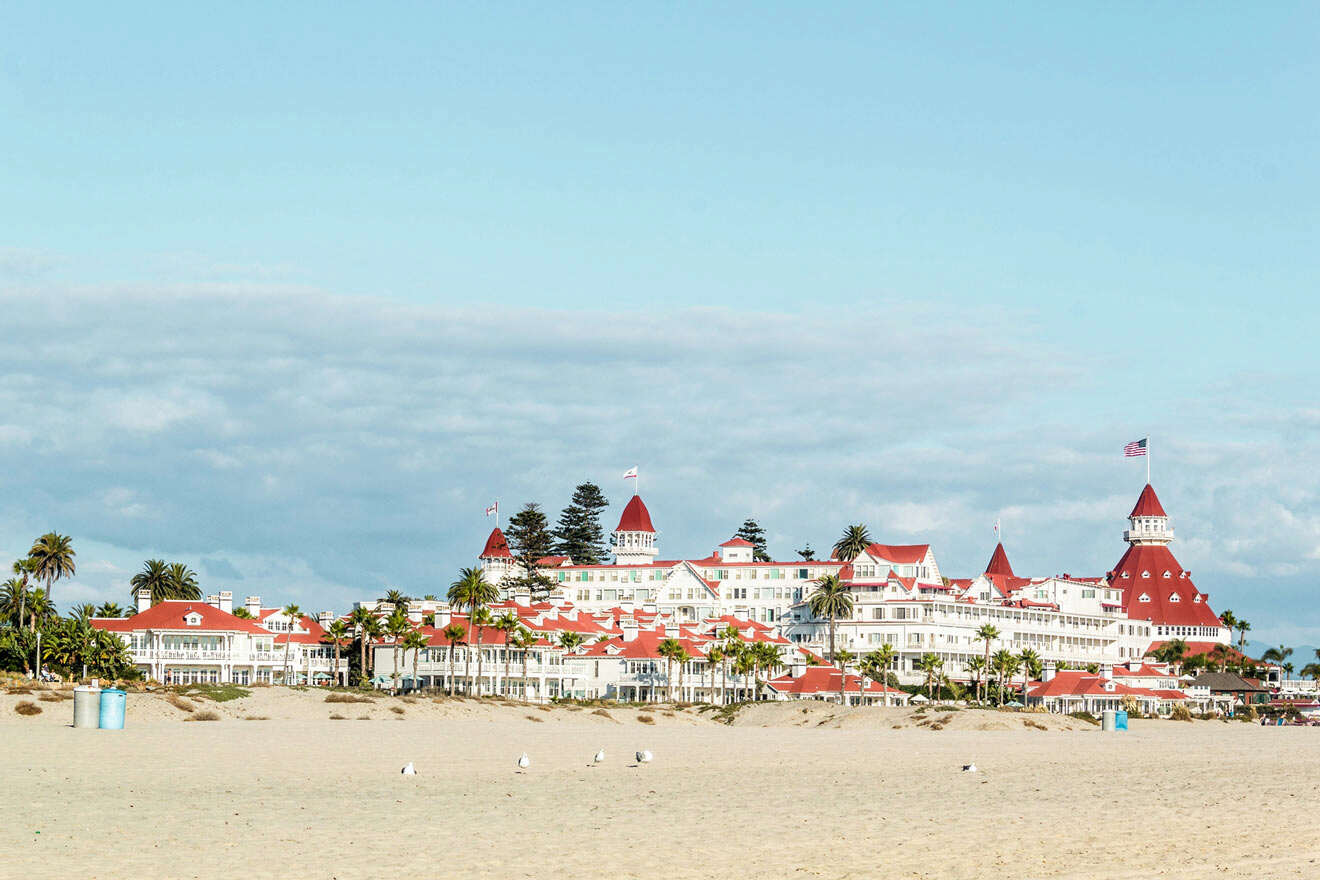 Conclusion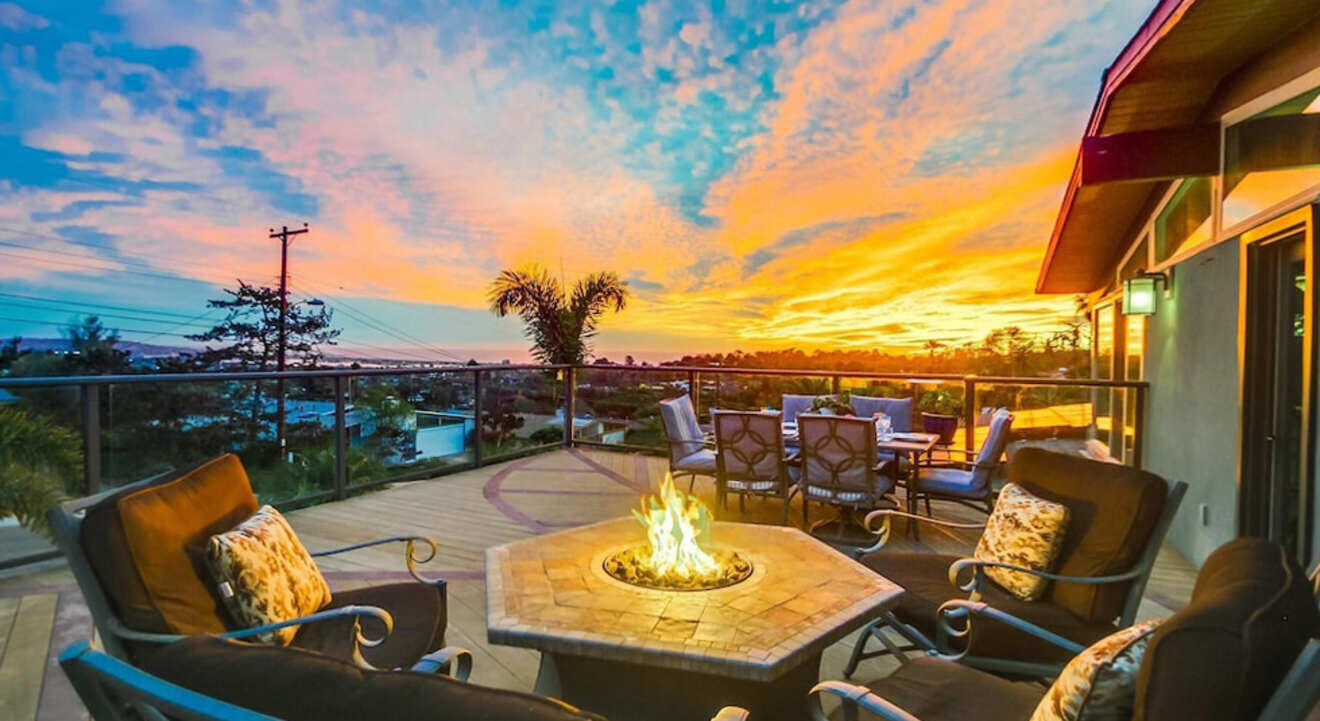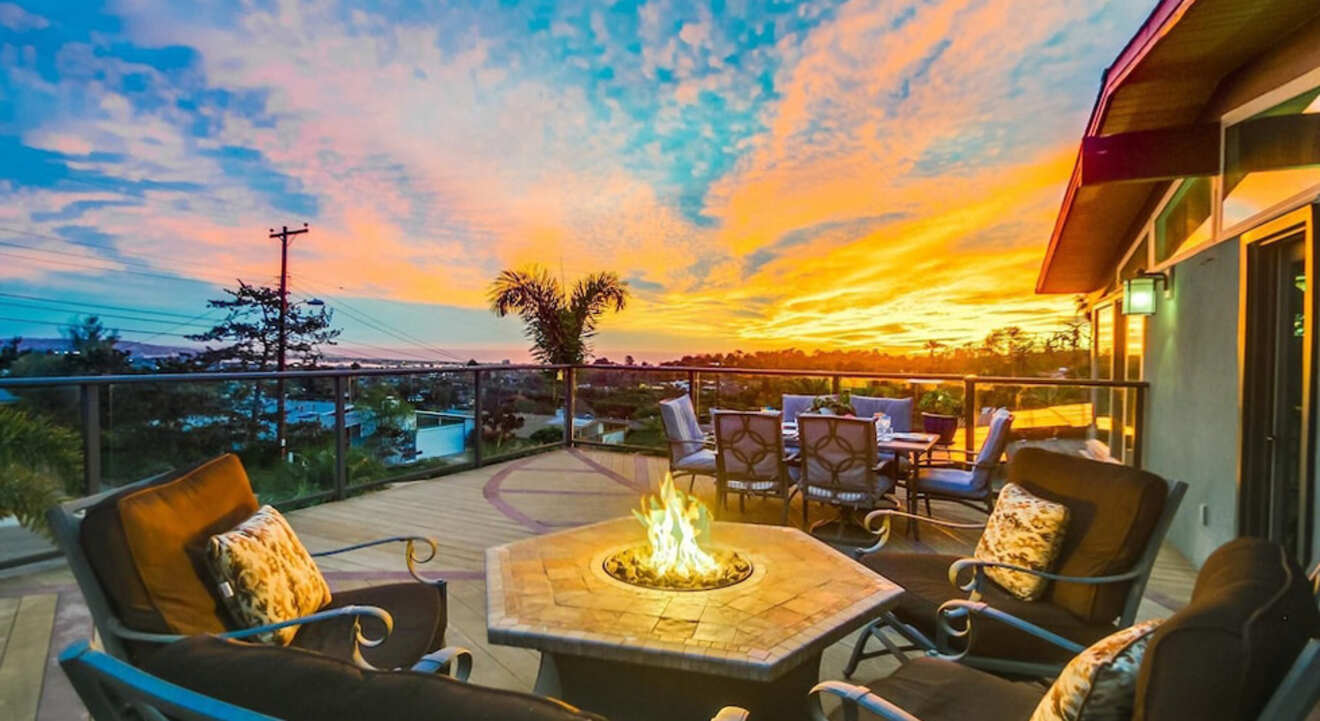 That's all for today's post, my lovely people! I have covered many cool options for beachfront hotels in San Diego, and we have a nice set of options of popular beach hotels, for all budgets and tastes!
Honestly, if you ask me which of these best beach hotels in San Diego is my favorite, I wouldn't know what to say, I would be super happy to stay in any of them! But if you want to know which are my top 2, I would say:
Kona Kai Resort & Spa: Who doesn't love a private beach area, on top of that, this hotel is pet friendly!
Loews Coronado Bay Resort: I just love everything about this hotel, the decor, the location, the amenities. A real 10 out of 10!
Which of these amazing San Diego hotels by the beachfront was your favorite? Let me know in the comments, and if you have any questions, ask away, and I will answer ASAP! Like I always say, book your room in advance, and stay at the hotel of your dreams!
Until the next adventure,
Daniela
---
Pin it for later!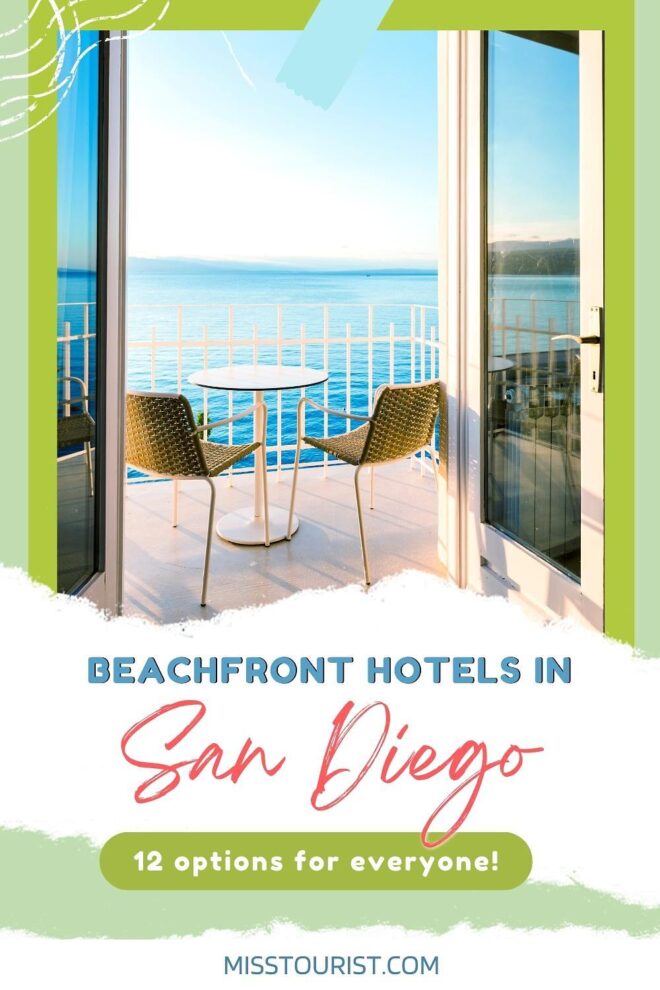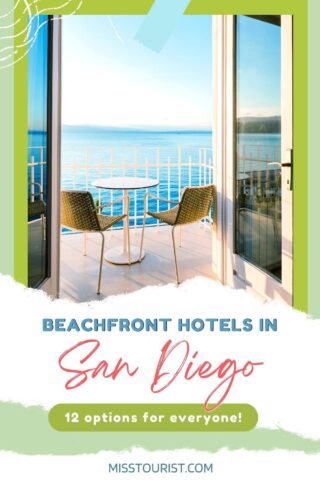 Pin it for later!