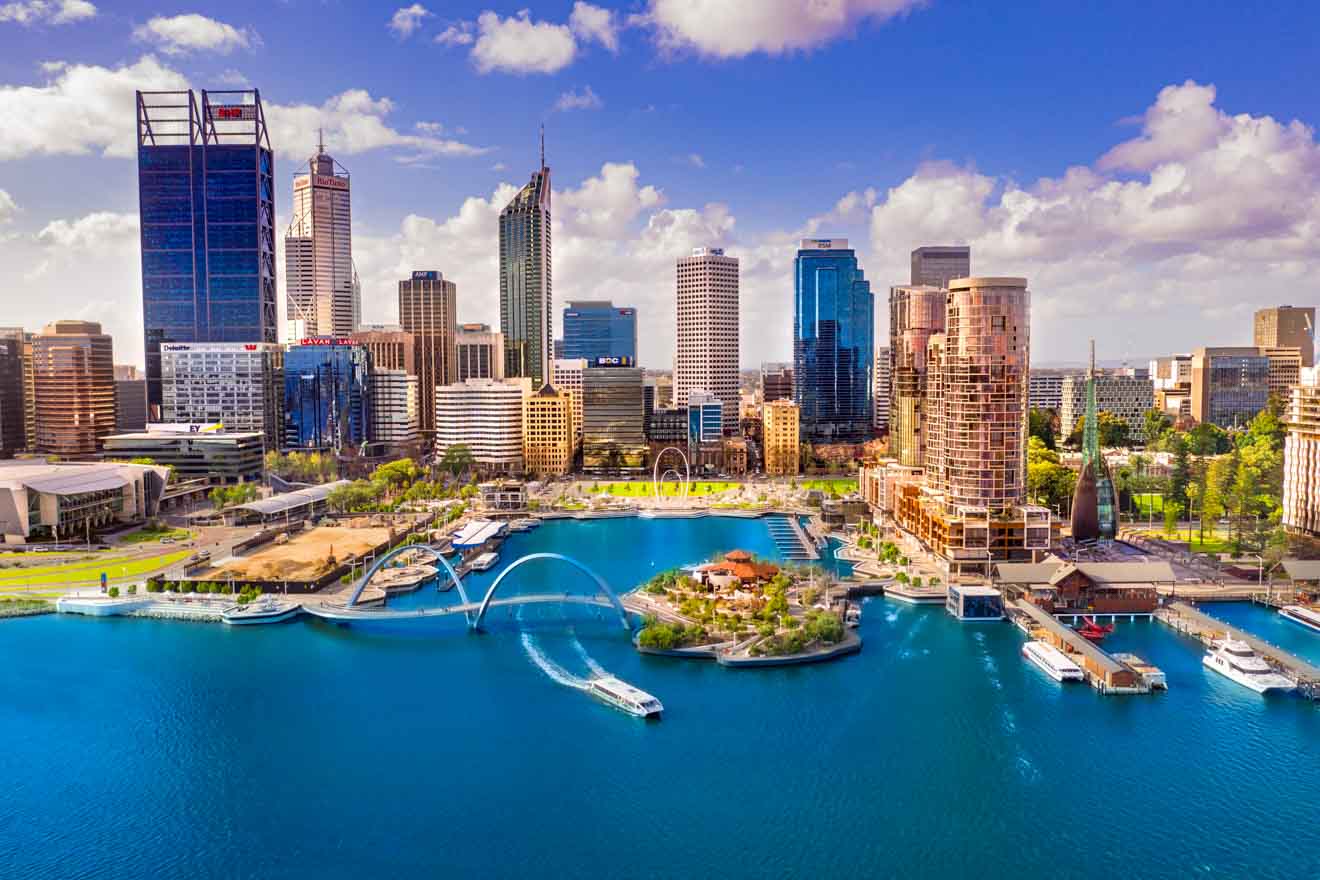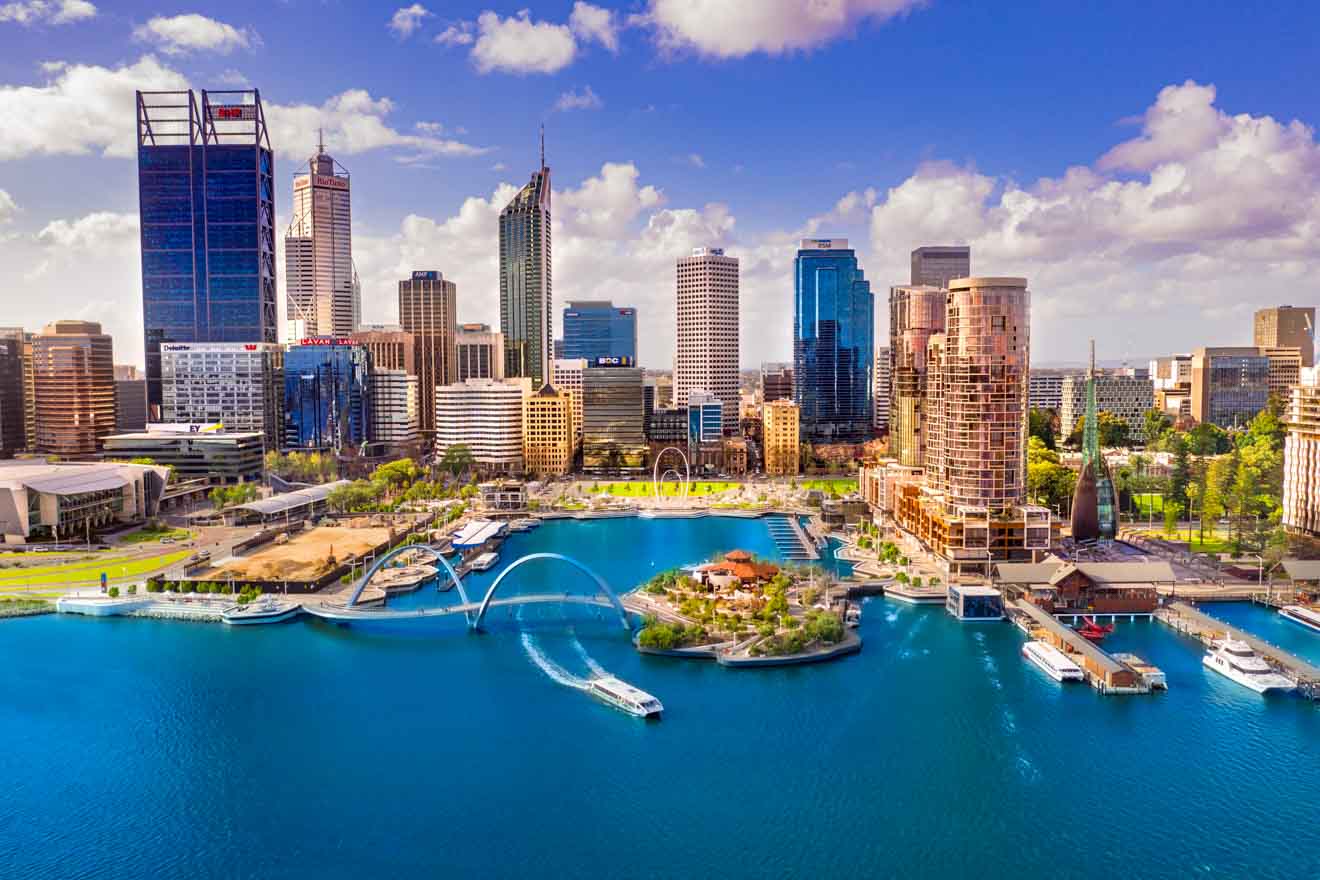 Perth is possibly my favourite city in Australia and surprisingly, it's one that a lot of travellers skip! My family and I moved to Perth, Western Australia when I was around 5 years old and lived there for 5 years before moving back to the east coast. Since then, I have returned a couple of times to visit and am itching to get back again soon!
What I think is totally unique to Perth is it's laid back, small town, beachy vibe, even in the city centre. There aren't a lot of cities where you can walk from one side to the other in just a few hours and not even notice passing through the CBD.
Despite being small, Perth certainly packs a punch. With everything from rivers and beaches, to restaurants and art, Perth is a city worthy of many more visitors! I recommend spending 4-5 days in Perth to fully explore all the things it has to offer.
In this blog, I'm going to share with you my favourite things to do in Perth as well as all the practical information you need to visit Perth!
Let's go!
1. Watch the Sunset at Kings Park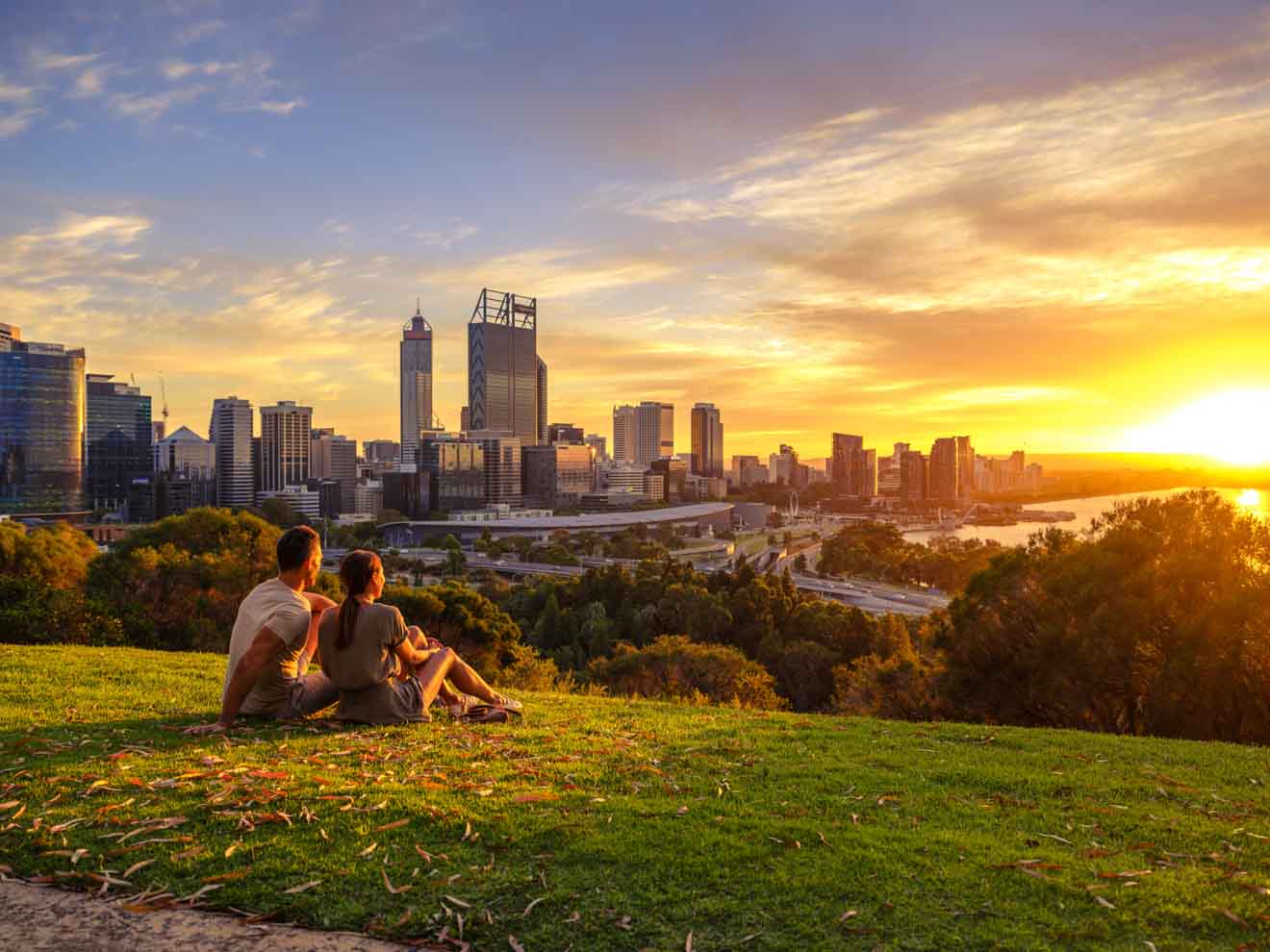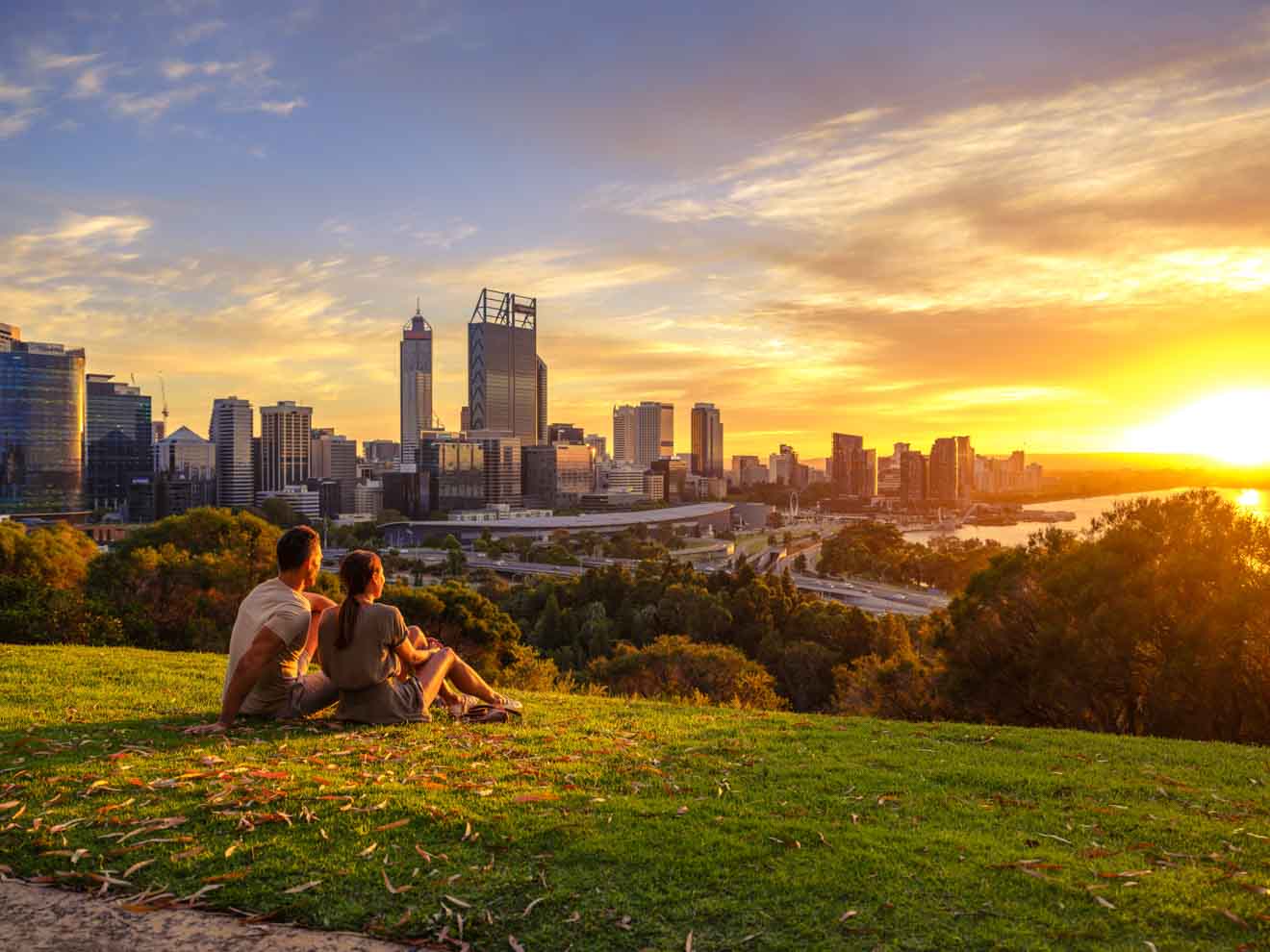 Kings Park is made up of a combination of botanical gardens, open lawns and protected bushland overlooking the city skyline and Swan River, there is a little slice of outdoor paradise to suit everyone at Kings Park which is what makes it one of the best free things to do in Perth, Western Australia.
There are a huge amount of different ways to see the park, however, my favourite (and the most popular way) is a combination of cycling and walking. Hire bikes are available at Whadjuk Carpark and designated bike paths create a great spider web to visit the whole area.
After your ride, wander the more secluded parts on foot by yourself or join a free walking tour of Kings Park which departs daily at 10 am, 12 pm, and 2 pm from Fraser avenue.
TIP: Don't miss walking the Kings Park Lotterywest Federation Walkway and climbing the 101 steps of the DNA Tower for incredible views over the treetops. This is one of the best activities on the list to get your blood pumping in the city.
If you're not going any further north in Western Australia, I also highly recommend visiting the giant boab tree, Gija Jumulu. If you're planning a Western Australia road trip you will see plenty of these magnificent trees, however, if Perth is your only stop, it's worth checking this one out as it is a 750-year-old tree!
Boab trees have super wide trunks which are used to store water in order to survive in dry climates and in the colonial period, they were sometimes opened up and fitted with a door to be used as jail cells!
TIP: For fun with kids, the Rio Tinto Naturescape is one of the best playgrounds in Perth if not Australia!
I recommend arriving at Kings Park in the early afternoon to allow yourself enough time for you to visit, play and discover nature before finishing the evening with a sunset from the Fraser Avenue lookout.
2. Explore Fremantle and its Market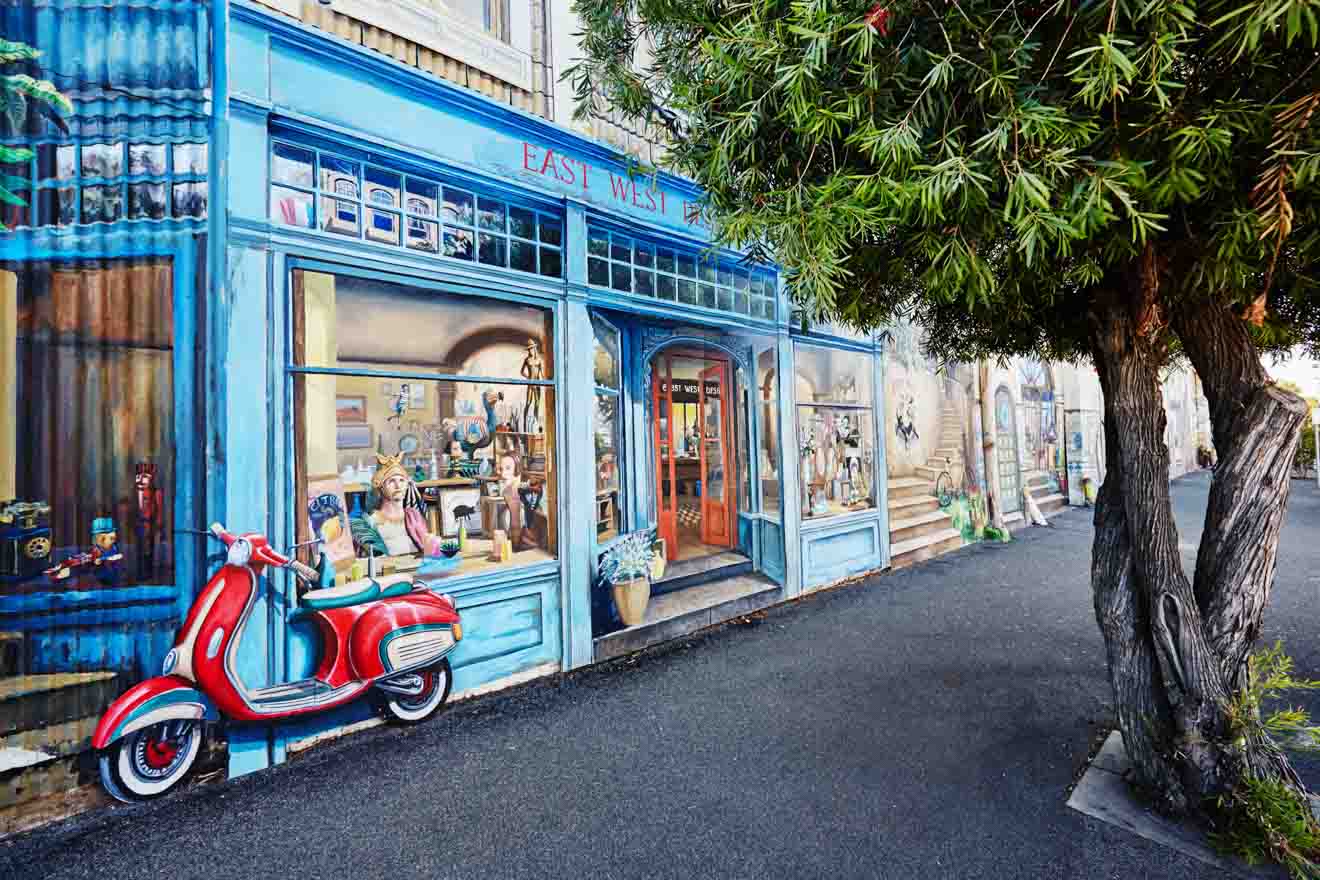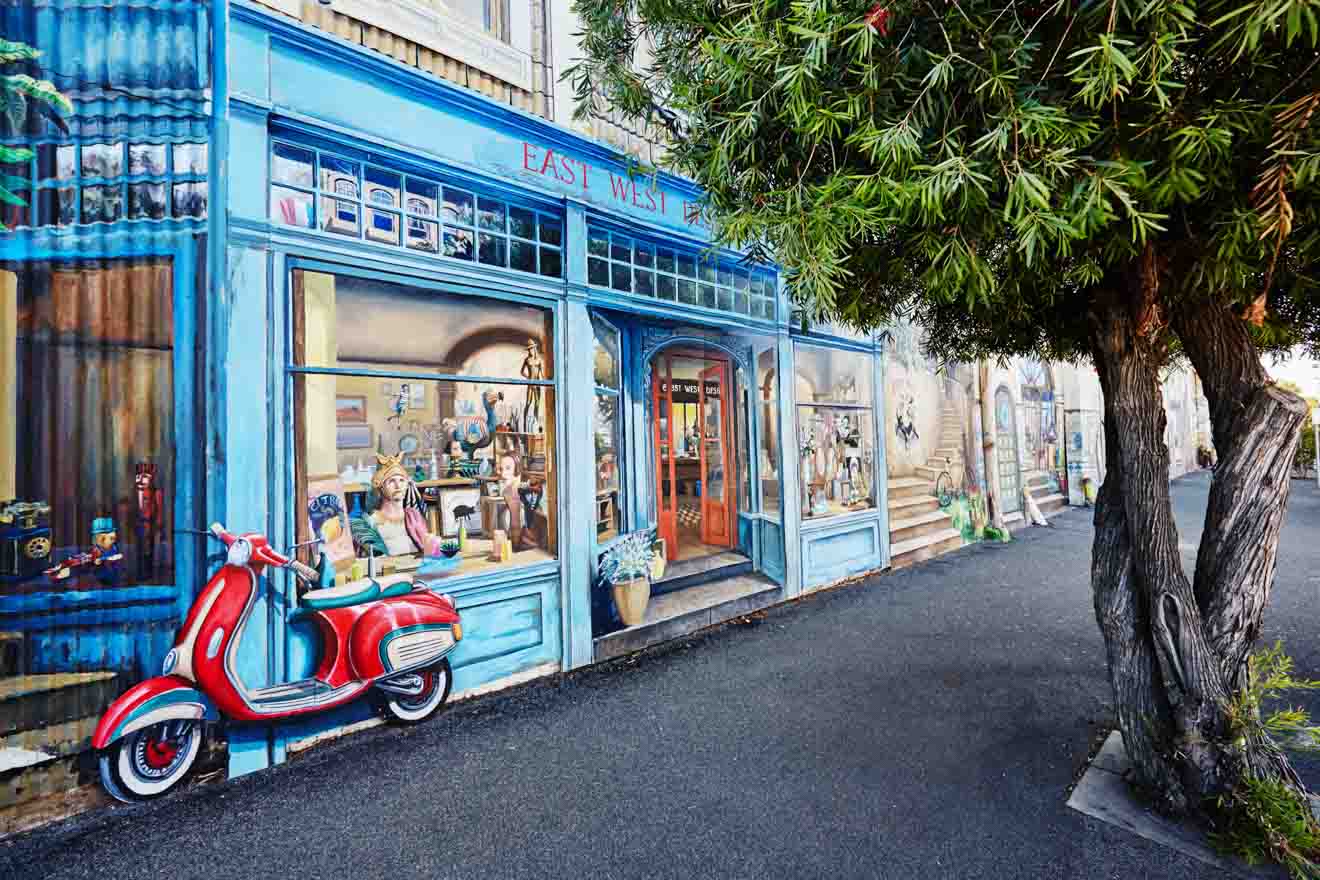 Next on the list of things to do in Perth is the suburb of Fremantle. It is located south-west of the city and is the biggest port in Perth if not the whole of Western Australia. The area is known as Perth's art and culture sector and has a little bit of a hipster/hippy vibe which I love. If this isn't your kind of thing, don't be dismayed, it is a great addition to a historical sector and doesn't take away from the town's charm one bit.
Fremantle really comes alive on market days and is generally busiest when large cruise ships are docked here. Don't worry if you're not around on the weekends, this is my favourite place to hang out in Perth even if the market isn't buzzing.
Starting in 1897, the Fremantle markets became a staple stop on any locals' weekend plans. The beautiful heritage building is worth visiting even if the market isn't on. With over 150 stalls, Fremantle Market has it all with fresh produce, delicious food, homemade crafts, community events and the best buskers on the west coast!
I remember coming here quite often as a family to enjoy hot chocolates and watch the street performers.
TIP: Check out the area between Parry Street and the corner of Bannister Street on South Terrace for an abundance of cute cafes and incredible street performers.
OPEN: Friday, Saturday and Sundays
3. Visit Fremantle Prison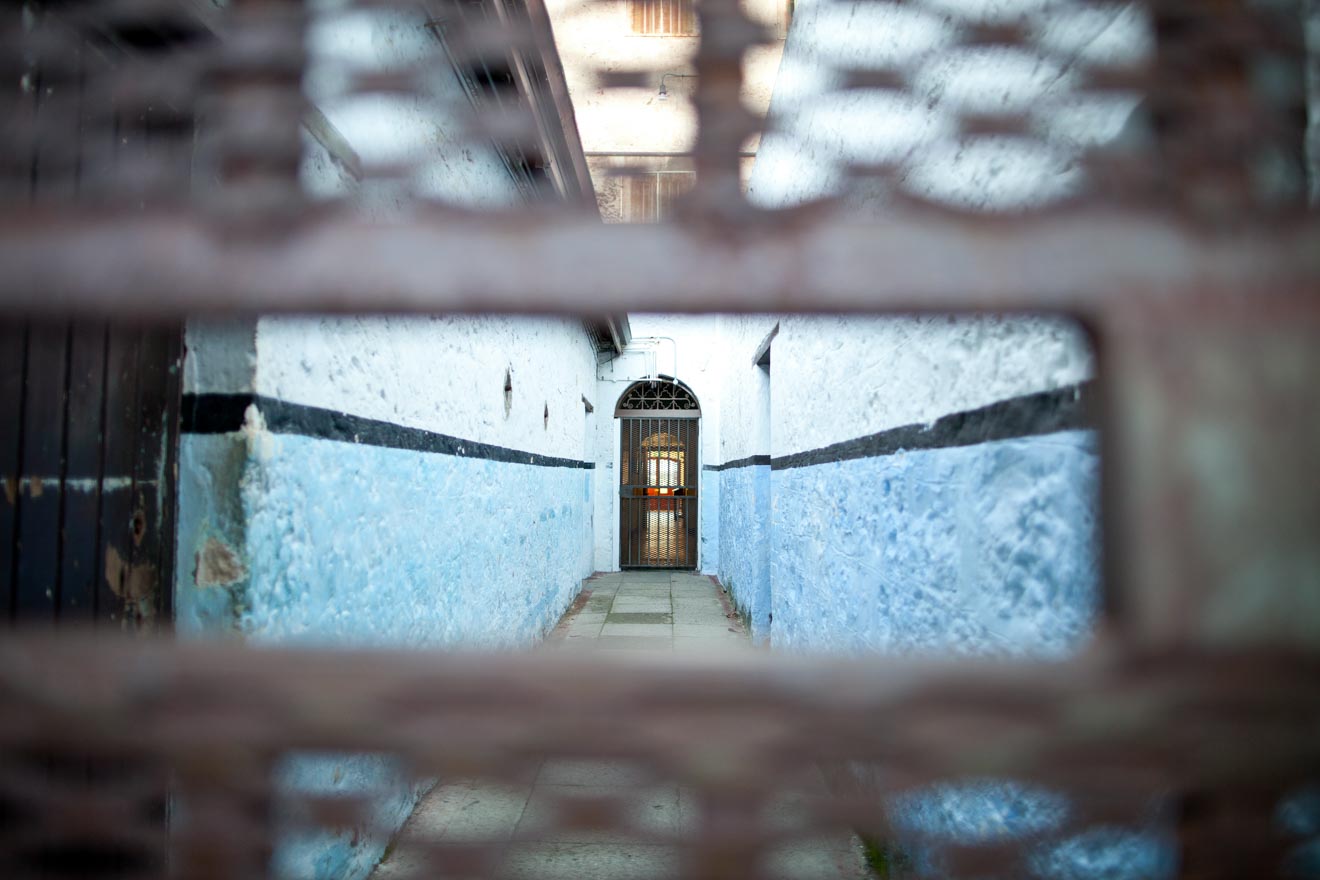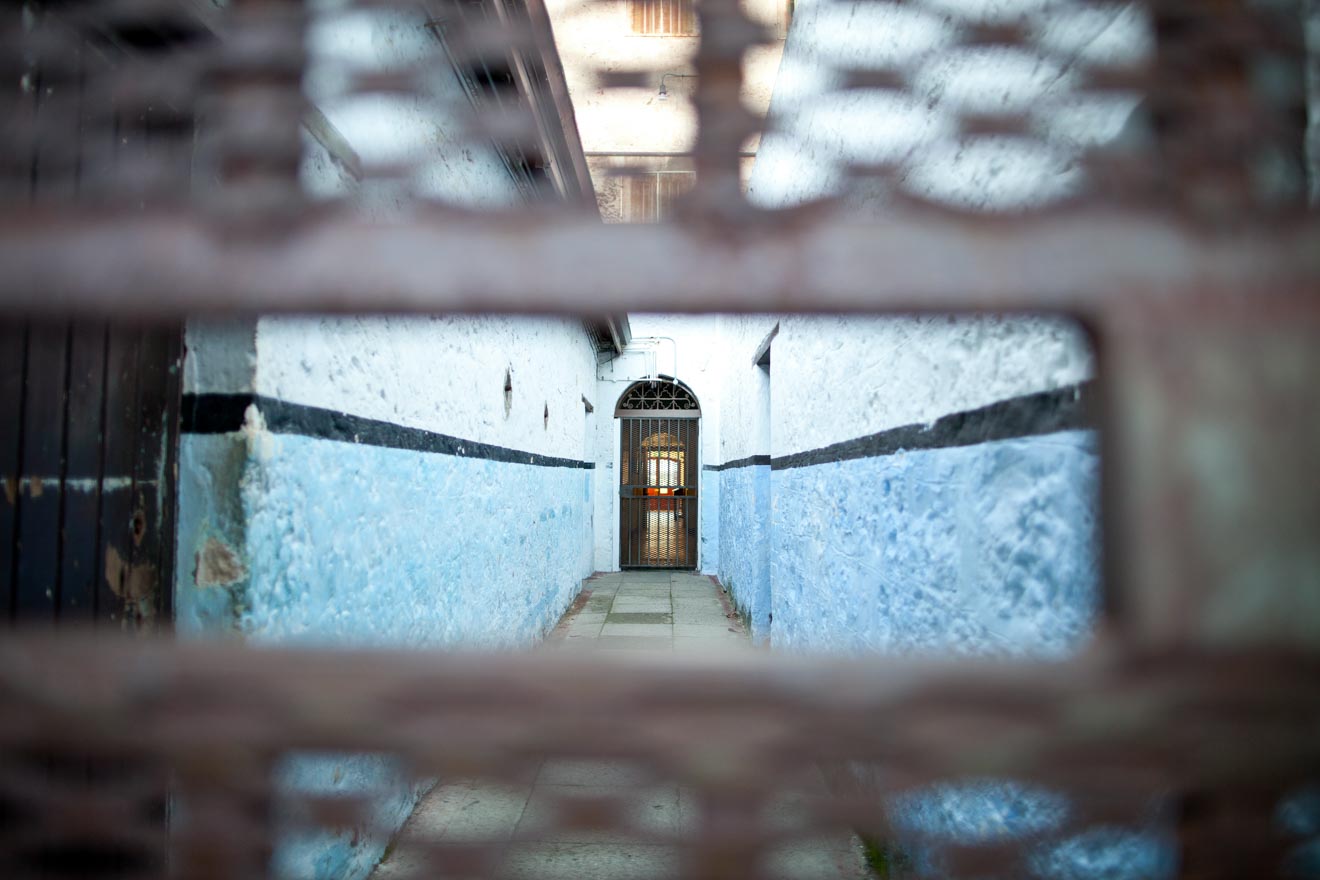 For history buffs amongst you, this is one of the best things to do in Perth for you. Fremantle Prison is the largest structure in Western Australia built entirely by convicts and is also the most intact convict-built building in Australia. Because of this, it actually became Western Australia's first World Heritage-listed building in 2010.
Although entrance to the gatehouse gallery and museum is free, I highly recommend taking a tour of the prison to hear the folk tales and history from an experienced guide whilst walking through exclusive parts of the prison.
You can even take a tunnel tour where you can explore the underground tunnels built by convicts on a small boat or an after-dark torchlight tour at night.
OPEN: 9 am-5 pm Daily
Combine your prison visit with the hop-on-hop-off tram network to visit Fremantle and skip the line for your included prison tour.
4. Take a Food and Wine Tour of Swan Valley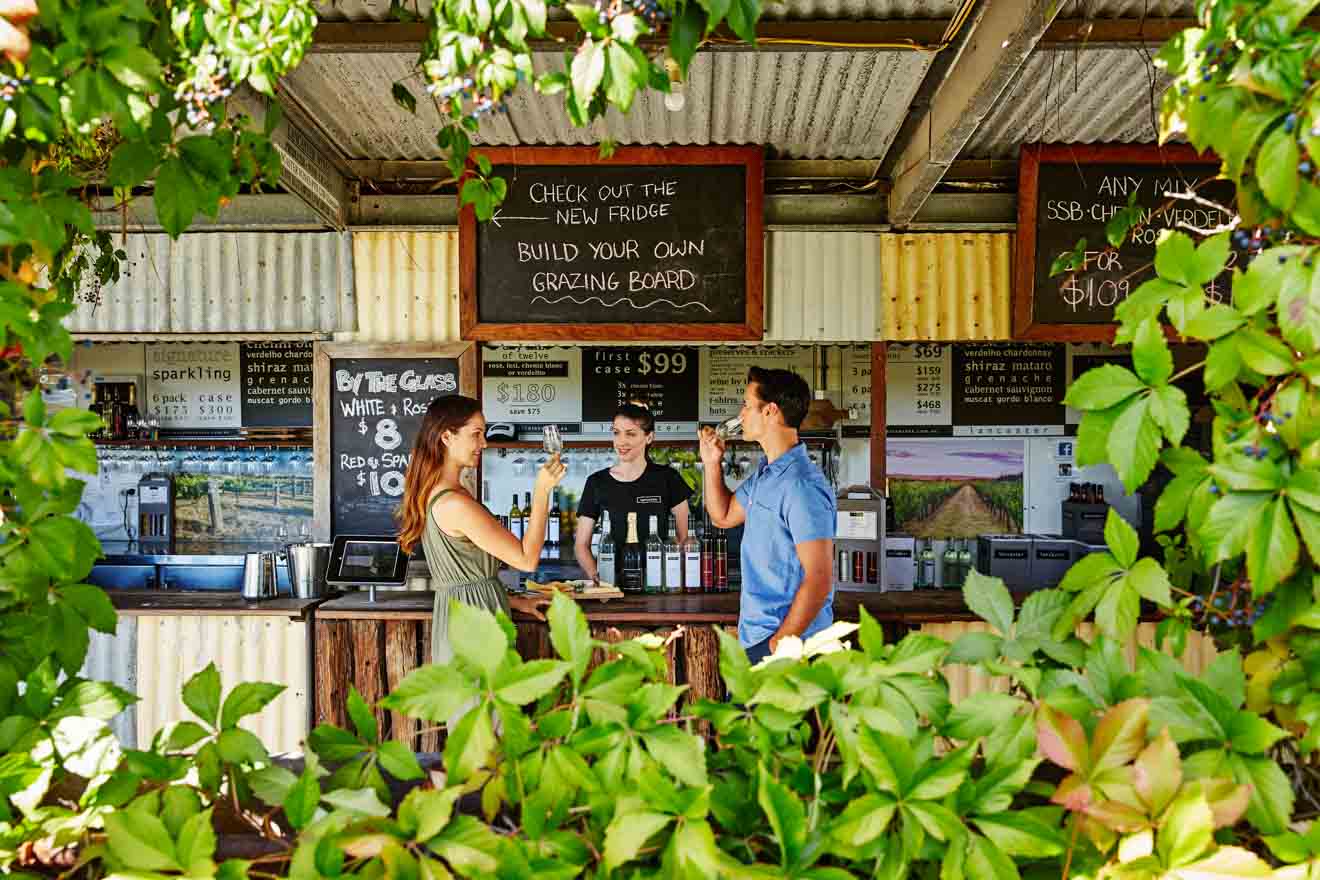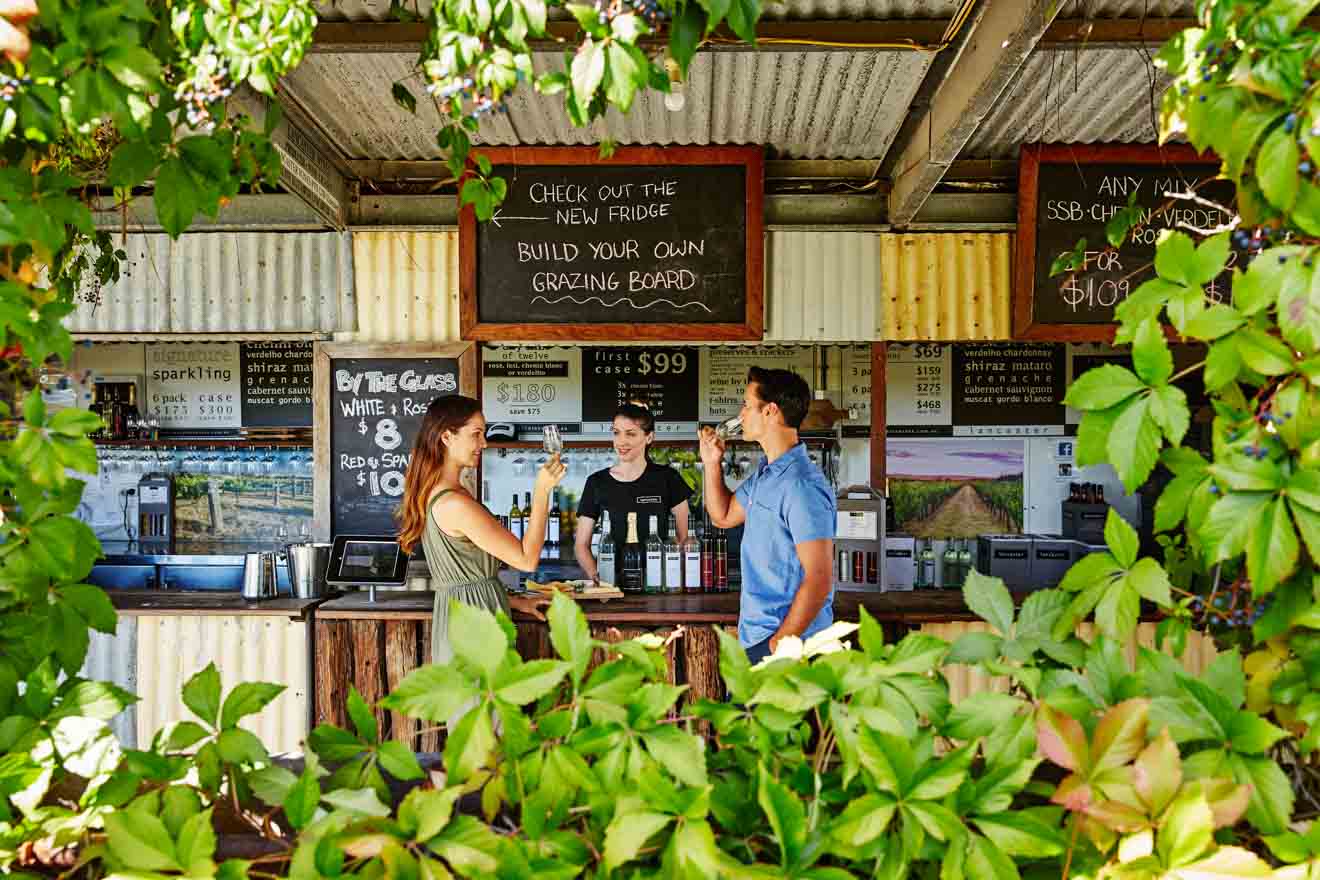 Located just 25 mins northeast of Perth, Swan Valley is Western Australia's oldest wine region and is home to some of the states best wine, fresh produce, artists and eateries. There is a convenient 32km loop which circulates the region and makes it super easy to explore at your own pace, stopping anywhere that takes your fancy which kind of makes this more than one of the best things to do in Perth.
One of our posts is dedicated entirely to Swan Valley Wine Tours so check it out if you're interested in more detail. Here, I'll just give a brief overview.
As you begin to drive through the region one thing you will see is an abundance of roadside stalls selling enough fresh produce to do your weekly shop. You will notice that if a friendly farmer doesn't come out to greet you, many of these stalls are unmanned and money is collected via an honesty box. That should tell you enough about the people of this beautiful region and have you in the spirit to enjoy your day.
I recommend starting your day at Oakover Grounds and borrowing free paddleboards to take to the lake overlooked by their funky bar. Swing by The Nest at Sittella Winery for a delicious fresh lunch and head to Tyler's Vineyard to print your own label for a unique gift before checking out the twilight concerts at Upper Reach winery if visiting in February-March. If you're not done yet, hit up a boutique bar before calling it a day well done.
TIP: Check out this website to help choose the perfect attractions for your trip in the Swan Valley. You can filter options by those open at your time of visit, boutique bars, wineries with restaurants, distilleries, types of wine, or live music, family-friendly etc. for exactly what you're looking for.
To get there, drive 13.5 km, 20 min east on Gilford Road to Swan Valley. Wineries, restaurants, farms and other attractions are well signposted so stop wherever you like. 🙂
Alternatively, there are multiple options for half or full-day food and wine tours departing central Perth via minibus or even boat! Choose the tour to match your preferences. The best bit? No need to worry about a designated driver!
5. Take a Dip in the Indian Ocean at Cottesloe Beach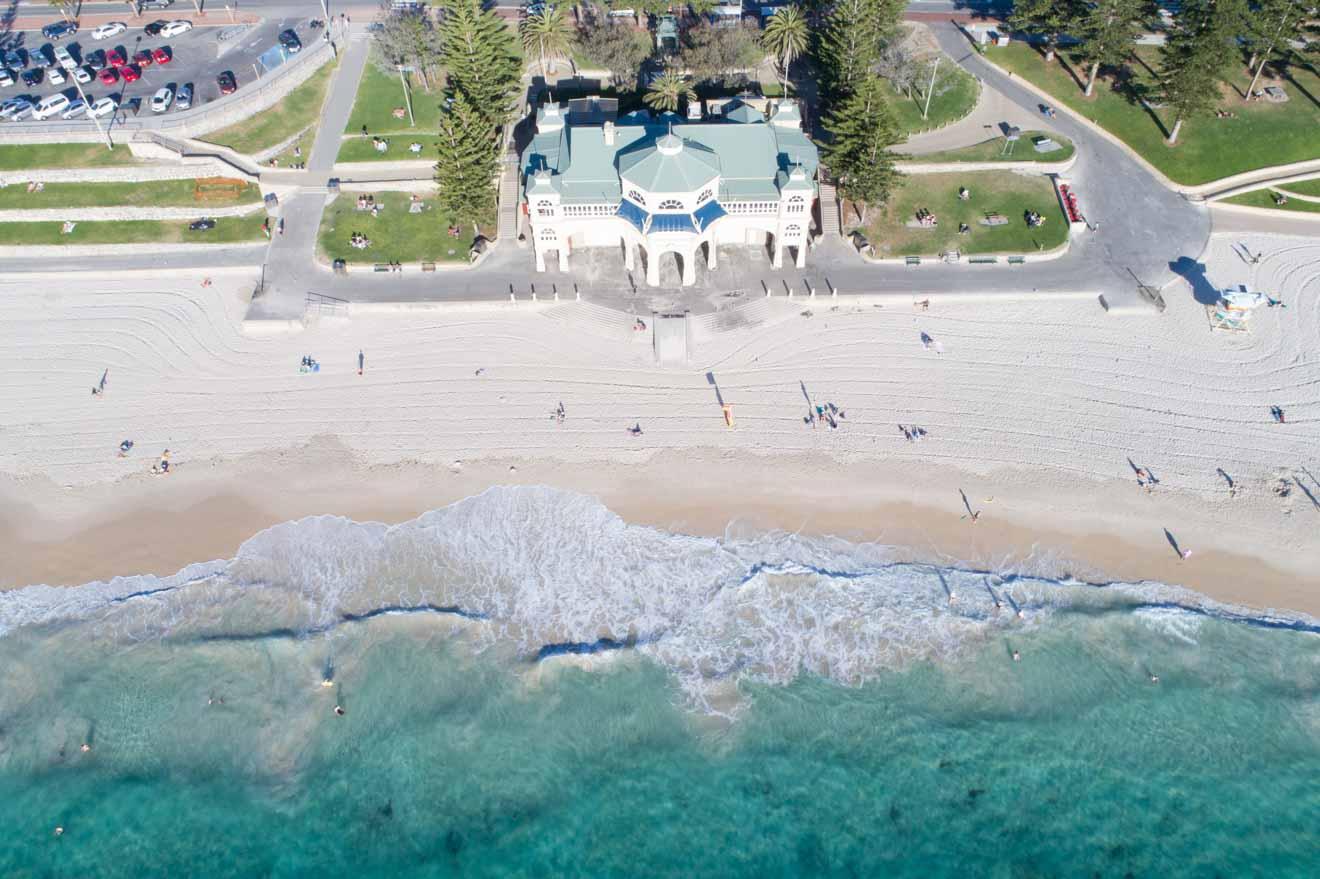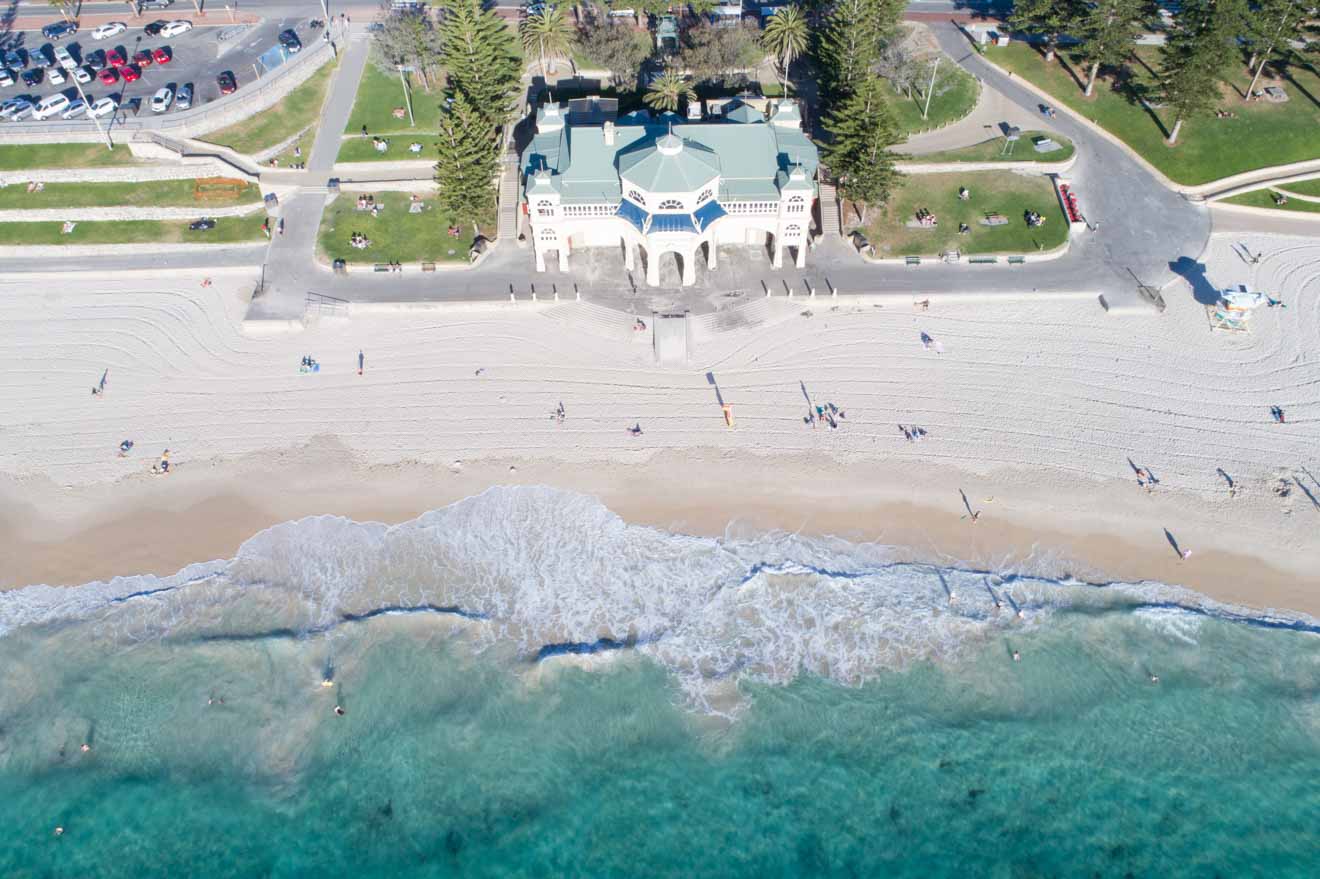 Swimming at Cottesloe Beach is probably one of the best memories I have from my time growing up in Perth and up there with my favourite things to do in Perth as a child. Although there are quite a few great beaches in Perth, Cottesloe is my favourite along with that of many other Perth locals.
It's not often that you find a beautiful big, white-sand, ocean beach with turquoise waters right in a city, even in Australia. The beach is quite protected meaning its great for families and kids love jumping off the big pillar in the middle of the bay! (I was too scared but I know my brothers loved it!)
Behind the beach, you will see a lovely grass area with large trees. It is a great spot to get out of the sun whilst being close to the water on hot days. When you arrive at Cottesloe, you will notice the beautiful grand Tea house building which stands proud in the centre of the beach. Although I think of this as an iconic Perth monument, it has recently been bought and planning is underway for a complete redesign which may see it demolished, so get in quick if you wish to see it!
TIP: Head across the road to Cottesloe Beach Hotel for some delicious typical Australian grub (food).
6. Cycle Along the Swan River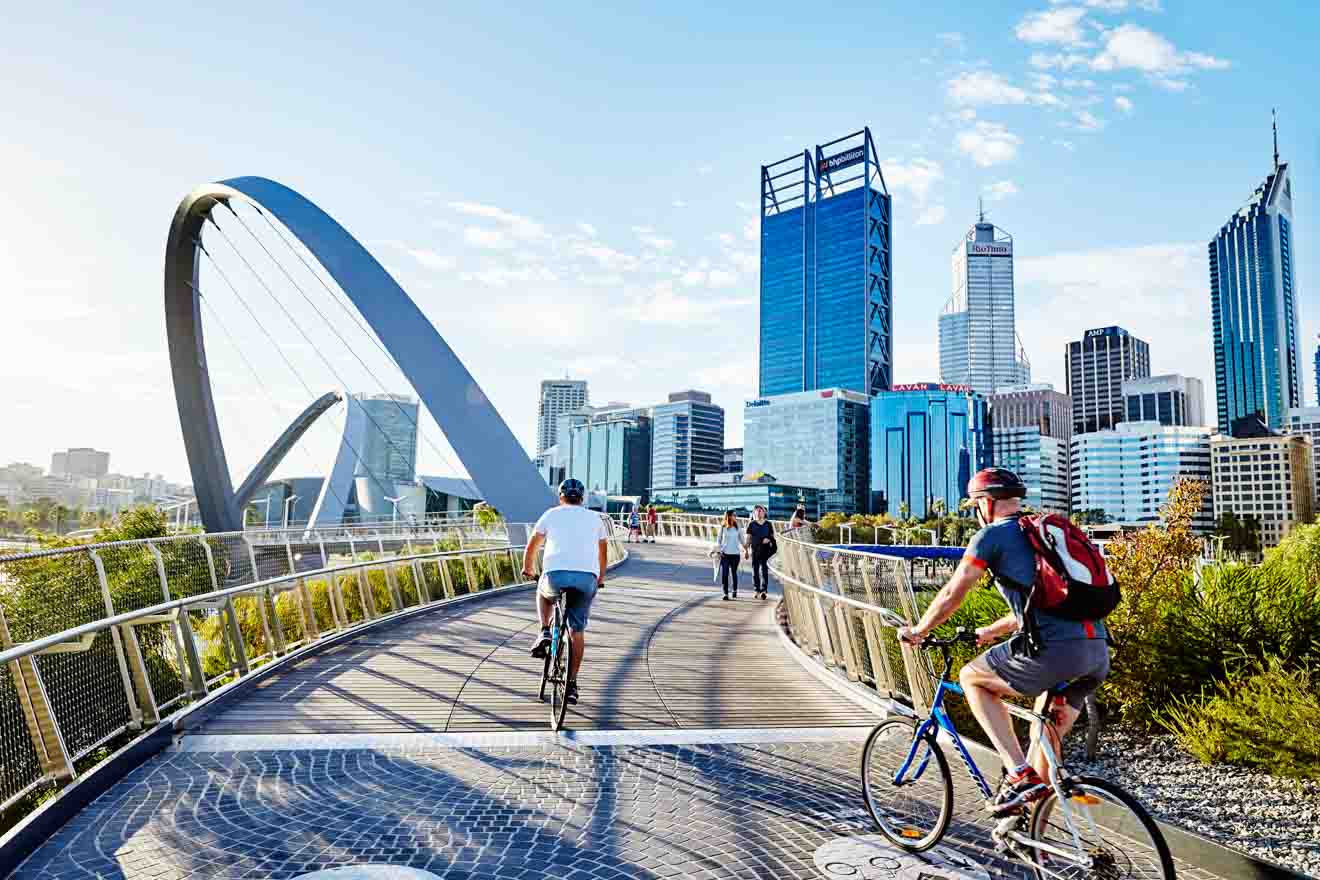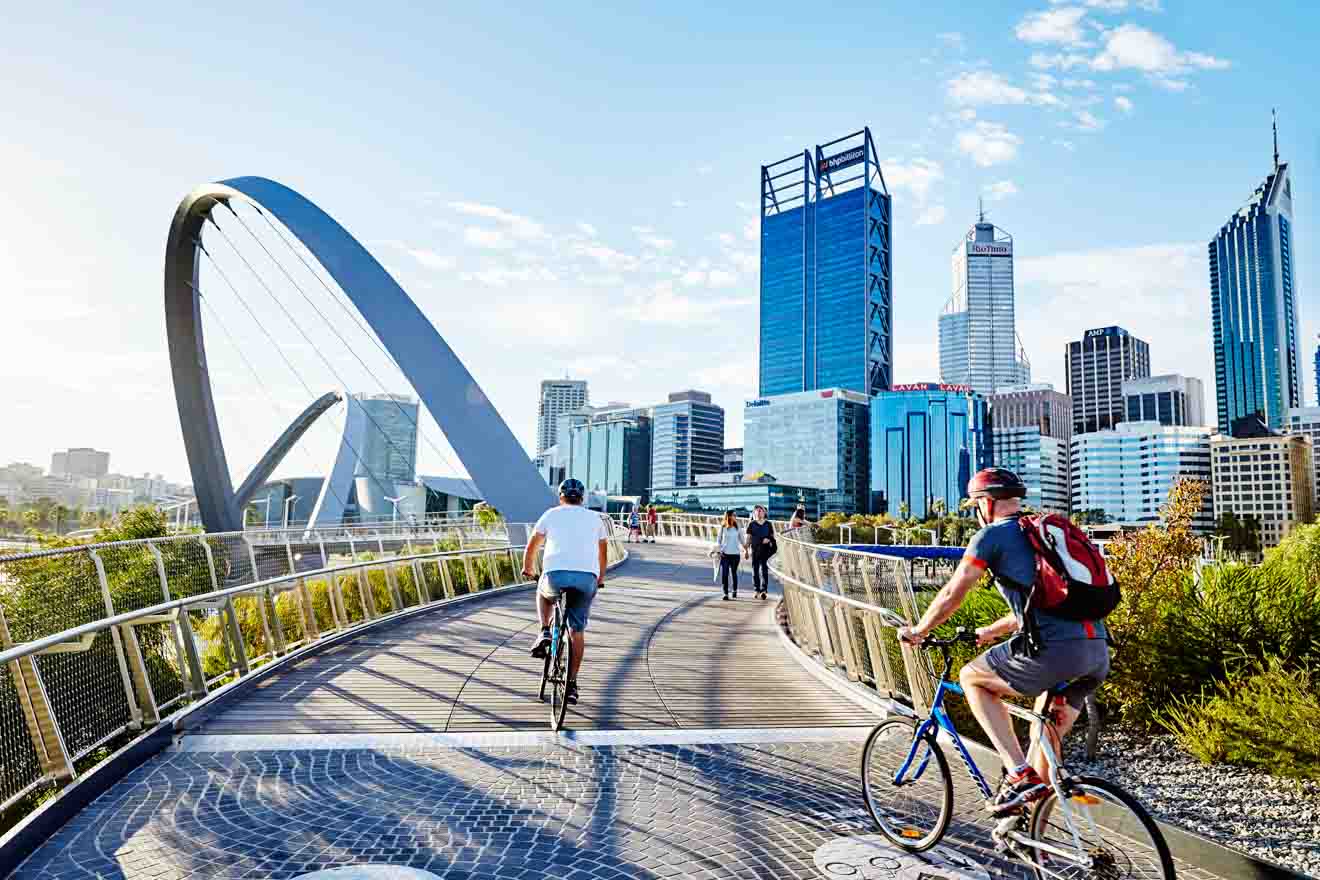 Another one of my most fond memories from living in Perth was our family bike rides along the Swan River. The Swan River divides Perth in two and as it is such a dominating feature, it is often used for Perth navigation (whether it's north or south of the river). Being so prominent, cycling its banks is easily one of the most quintessential Perth things to do.
The full loop is 27 km on a dual-use path for walkers/runners and cyclists and takes approximately 2 hours to complete. Thankfully, you have the choice between a number of different loops for cycling on the river bank so you can easily choose one to suit your preferences. Rent a bike just 100m from the river to make your journey really enjoyable.
7. Visit the Swan Bell Tower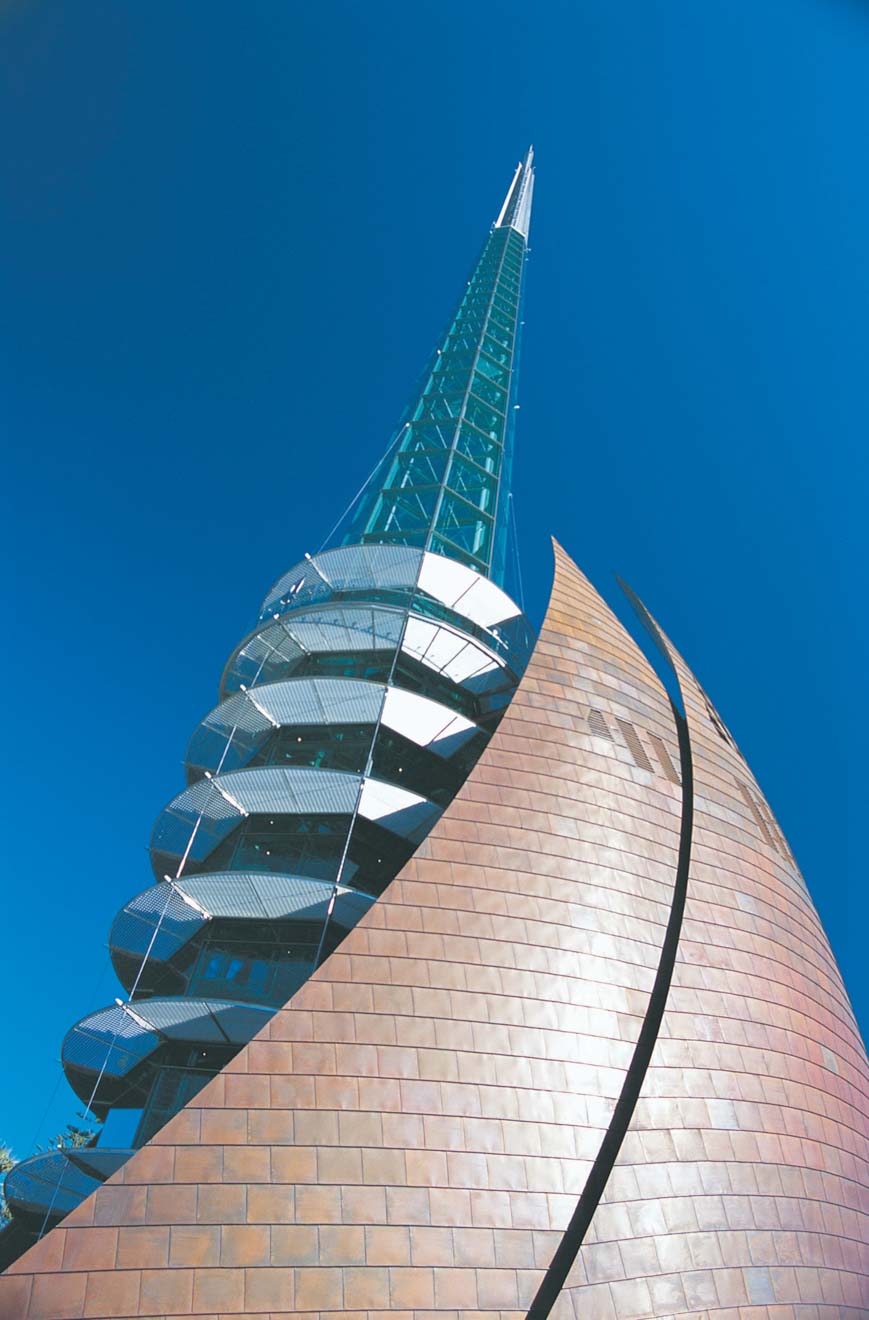 On your cycle, make sure to stop by the Swan Bells in Barrack Square. From looking at its modern exterior, you wouldn't know that this bell tower actually houses bells from the 15th century and is one of the biggest instruments in the world! Observe it from the outside or go in to learn about the history of Bell Ringing and maybe even have a go yourself!
TIP: There is also an amazing 360-degree view of the river from here but buy your ticket in advance to skip the line!
8. Visit the Animals at Perth Zoo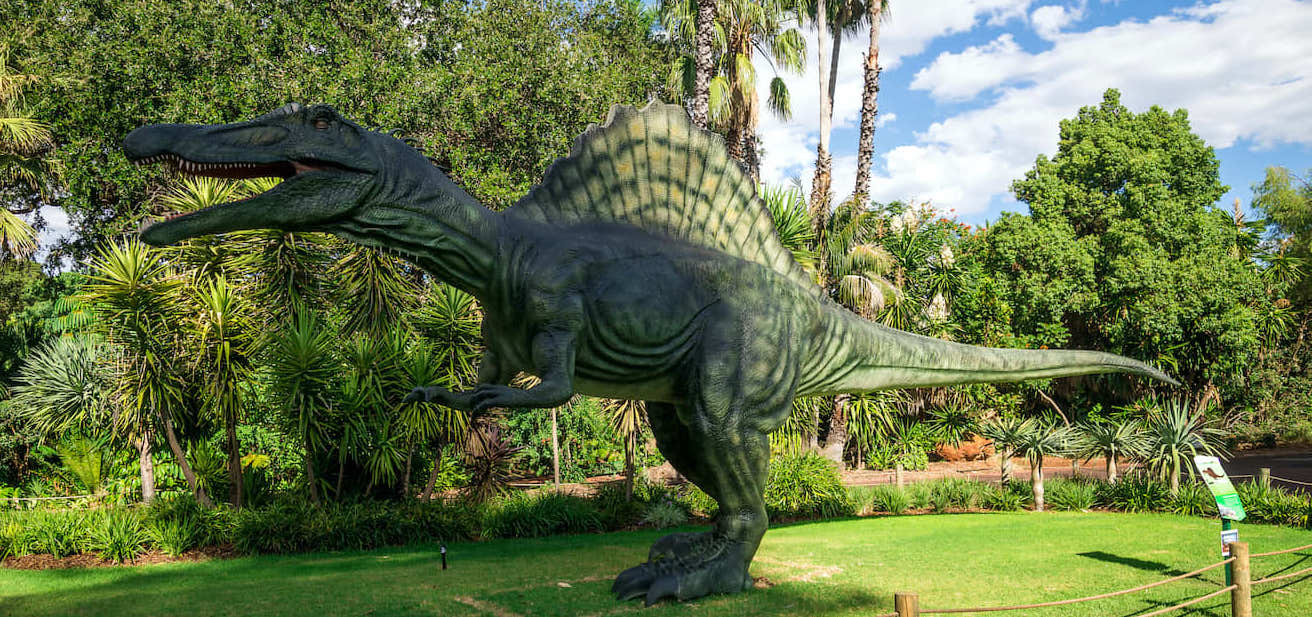 My dad used to work at Perth Zoo as a zoologist so growing up I spent a lot of time here. Sometimes zoos get quite a bad wrap however Perth zoo's motto is 'Saving Wildlife' and this really is a different kind of zoo. It works hard with scientists like my dad from all around the world to conserve and rehabilitate species which could be in trouble to ensure that these animals will survive.
So, you can wander and enjoy close encounters with these incredible animals whilst feeling good that your entry fee is going to help them!

TIP: Check out the world-class orangutan enclosure, I remember being there when it was first opened!
Perth Zoo is actually the only zoo in the world who breads and releases orangutans back into the wild!
9. Get Your Blood Pumping at Adventure World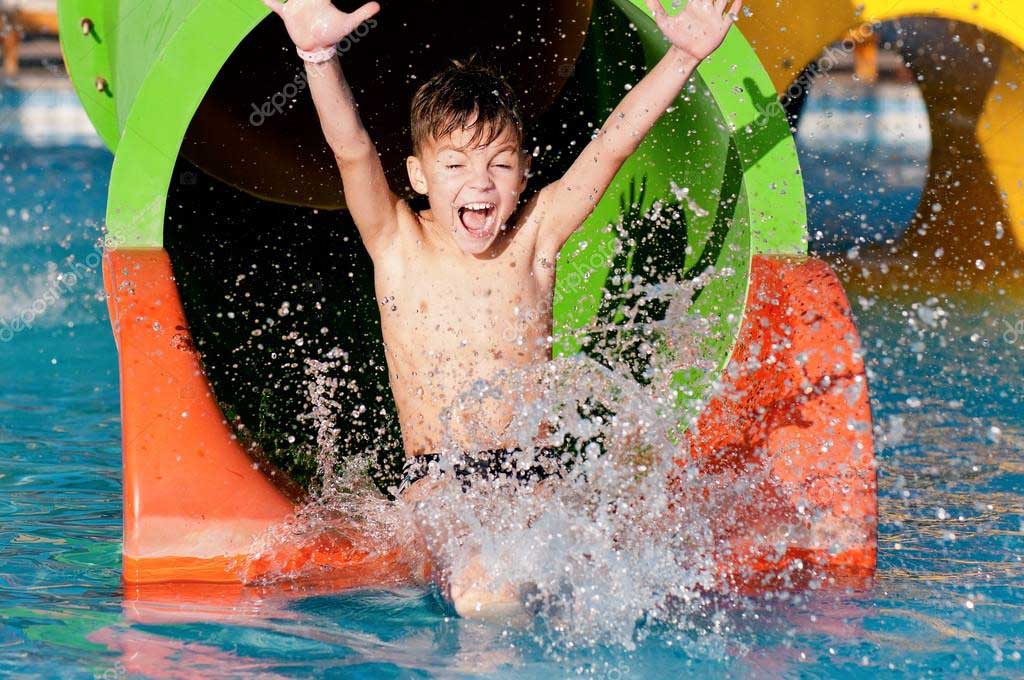 For a fun day out for the whole family head to Adventure World, Perth's theme park. Although it's not as extravagant as the mega parks you'll find on the Gold coast, Adventure World still has plenty to keep everyone entertained for an entire day with rollercoasters, waterslides, giant drop and much more.
TIP: Don't miss the "Tunnel of Terror" water slide, I am still haunted by fear when I think of riding this waterslide as a kid!
10. Enjoy a Coffee at Elizabeth Quay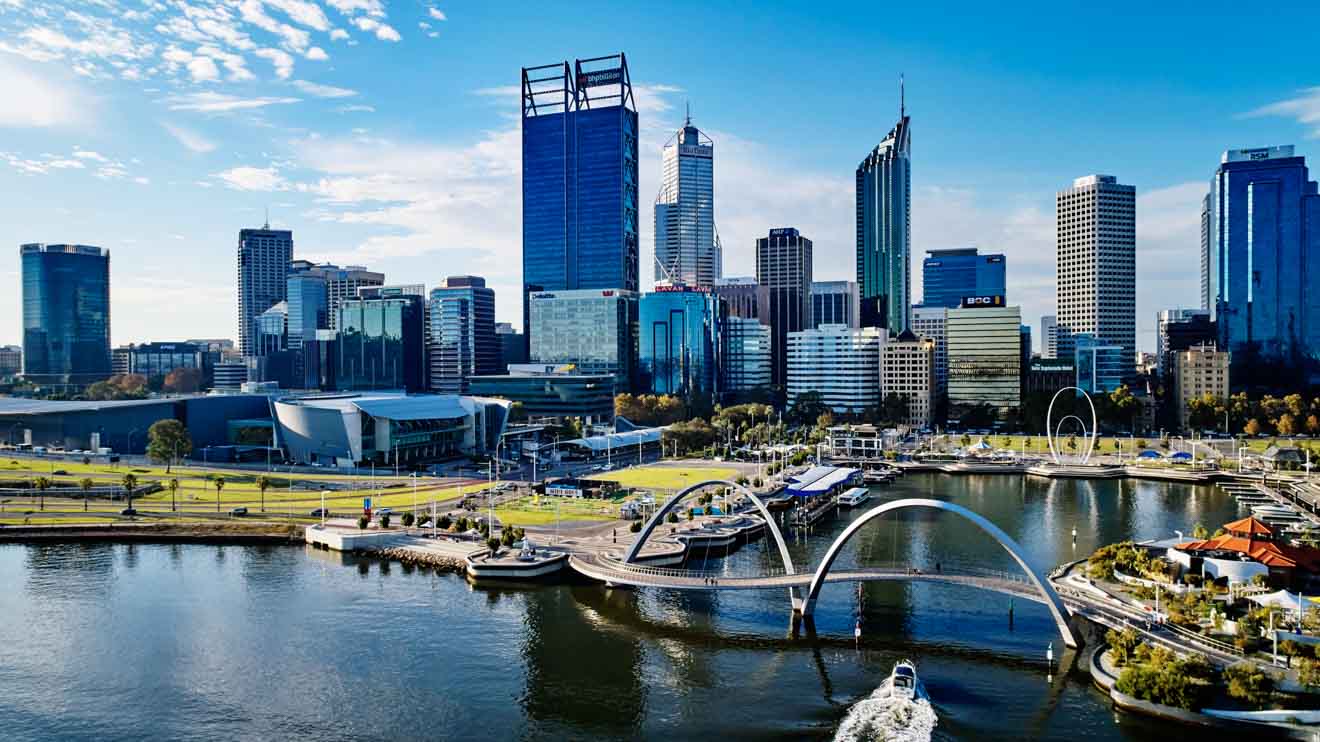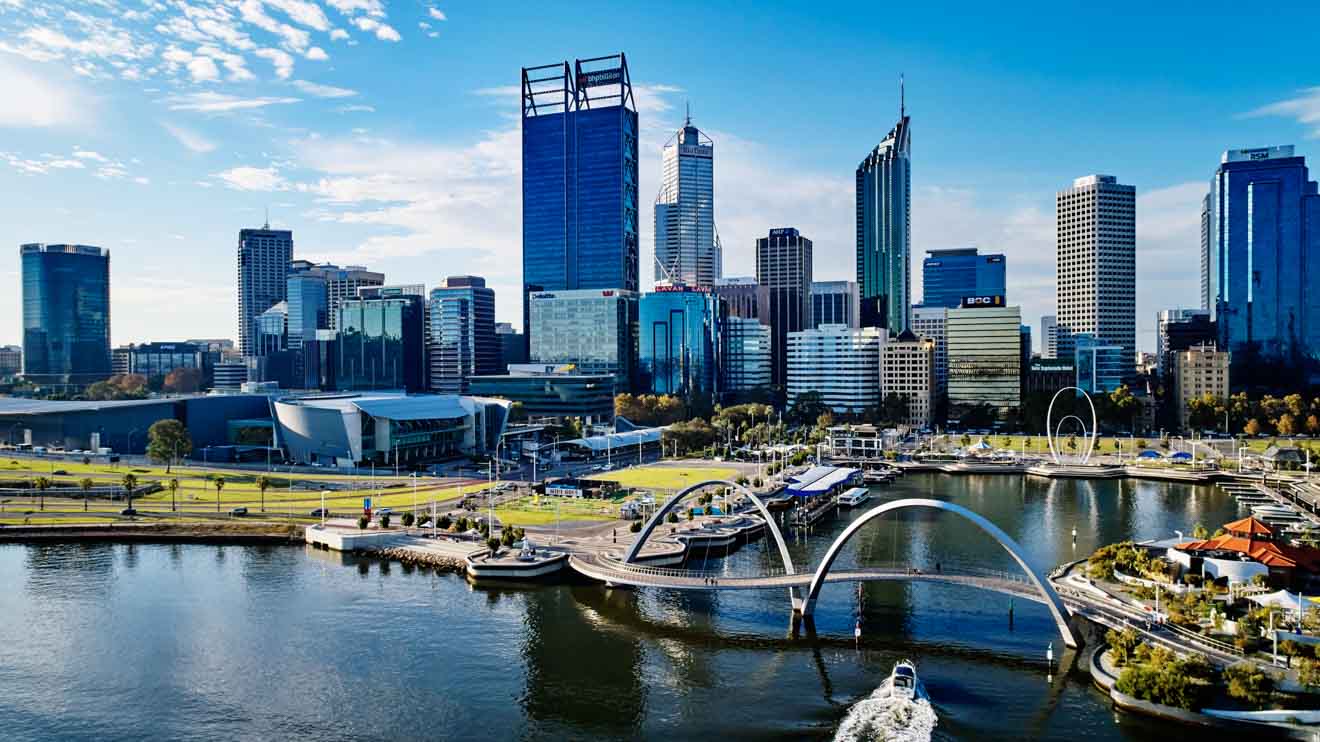 This newly renovated waterfront precinct is the perfect place to take it down a notch and spend an afternoon strolling the promenades, enjoying the sculptures and sipping a coffee in any of the beautiful cafes along the river.
Elizabeth Quay is probably the poshest area in Perth so if you're trying to spot any of the most wealthy people in Australia, this is probably your best bet.
An afternoon here may leave you feeling like you ought to buy a yacht and sail the world.
TIP: Kids love running through the fountains at the waterpark so it's a good idea to bring a towel or change of clothes for the little ones.
11. Have a Picnic with Kangaroos on Heirisson Island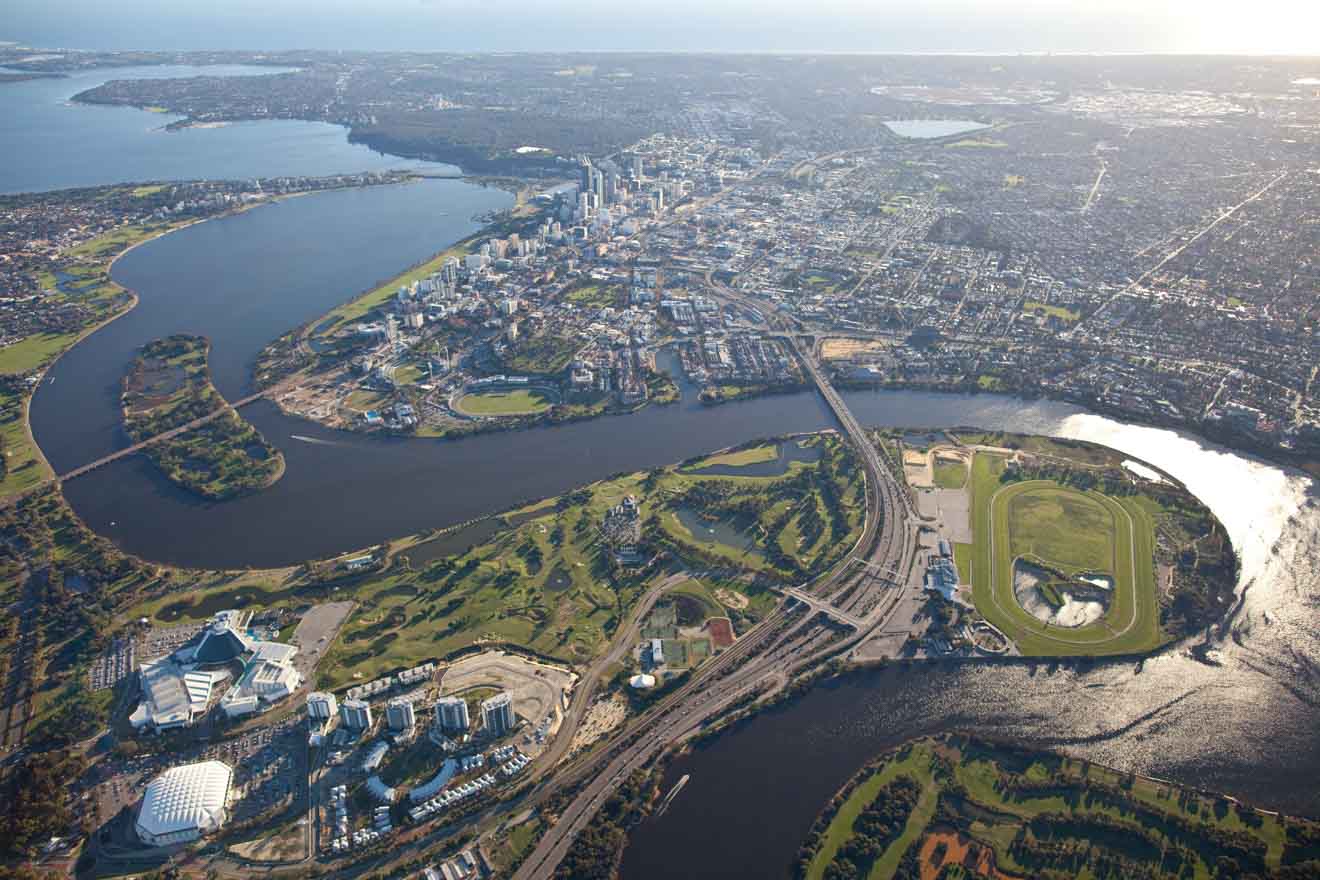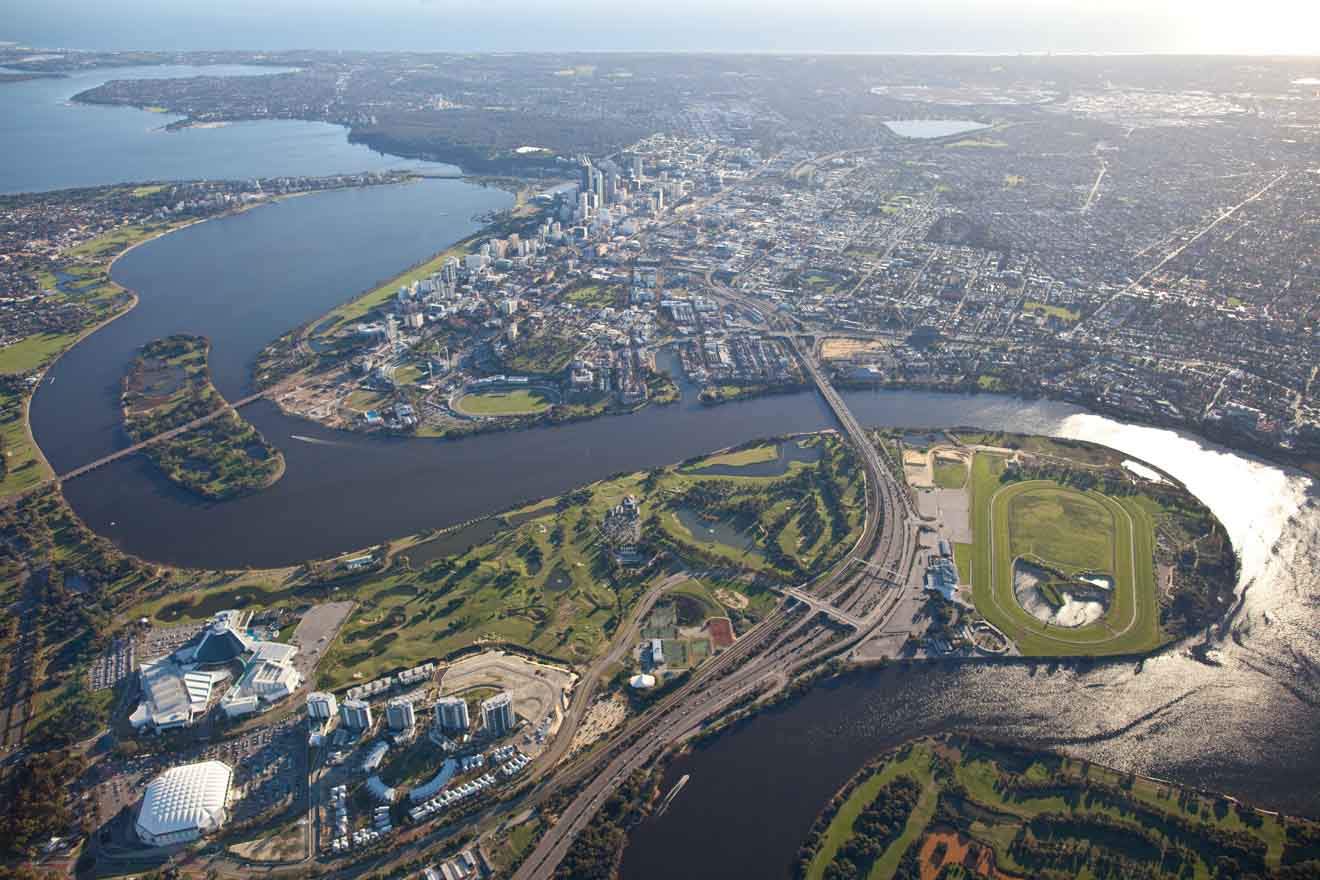 Found right in the middle of the city on Swan river is the natural busy oasis of Heirisson Island. In the southern section, you will see a colony of friendly kangaroos that were introduced here around 20 years ago.
The island is easily accessible by foot on the causeway and within 15mins you will find it hard to believe that you are still in the centre of Perth!
TIP: Take a picnic to enjoy on one of the picnic benches by the water's edge.
12. Go Bush at Perth Hills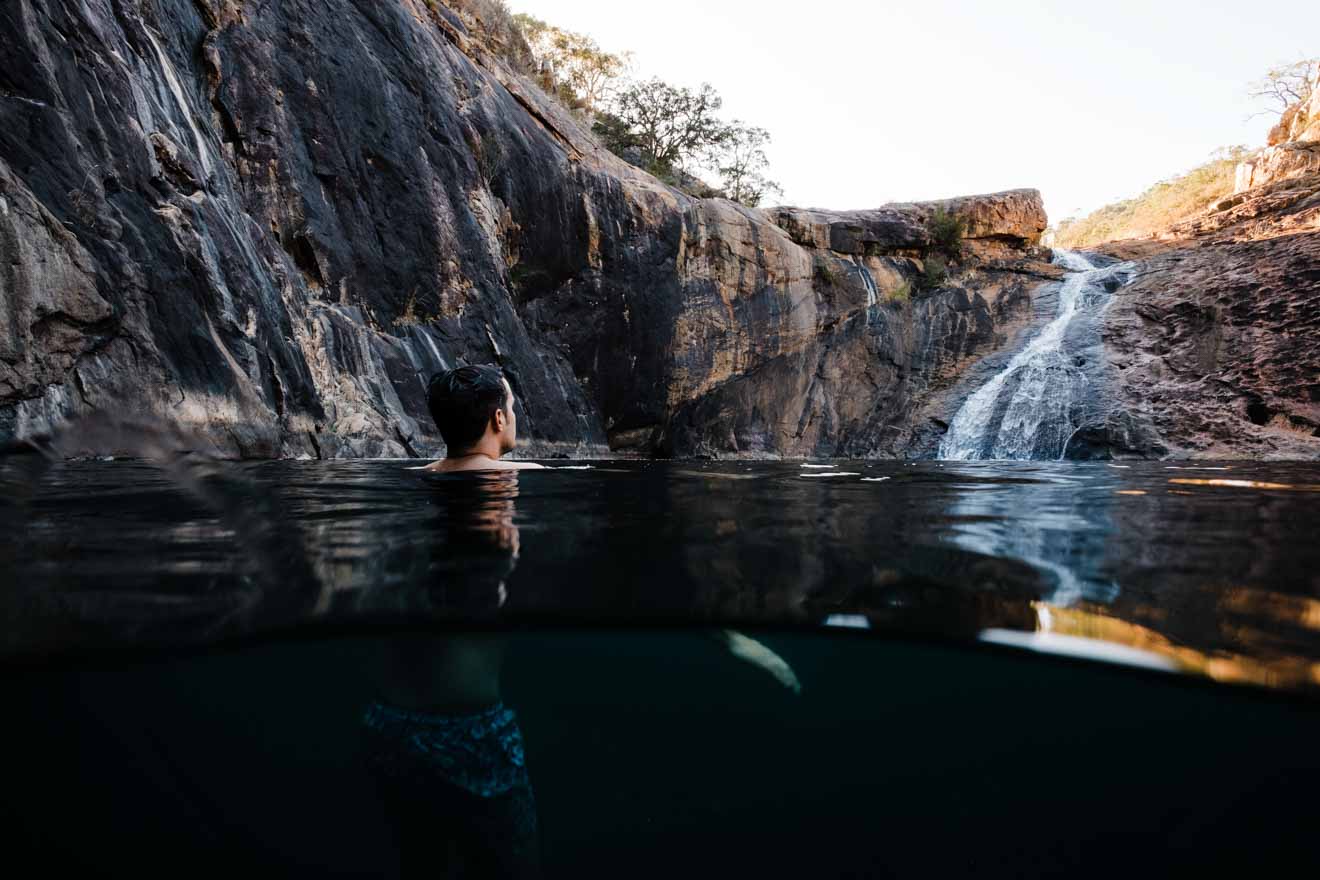 Just 30mins drive south-east of the city centre, Perth Hills offers a range of different things for all visitors including mountain biking, hiking, waterfalls, wildflowers and (more) wineries.
Don't miss the walk to Lions Lookout, Kalamunda Artisan Market, swimming in Serpentine falls and Lake Leschenaultia, and the tulips at Araluen Botanic Park.
13. Bar Hop Between Hipster Hangouts in Northbridge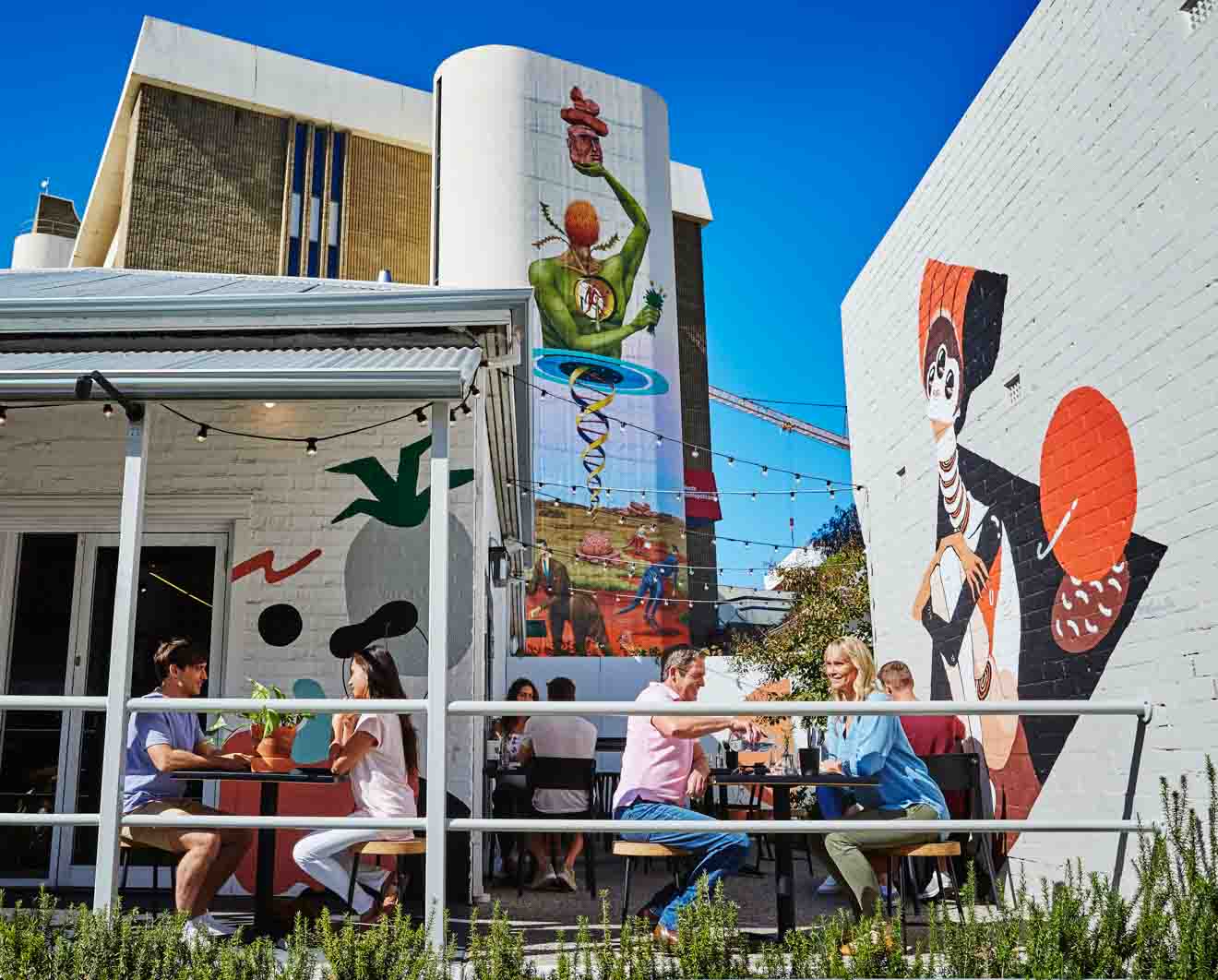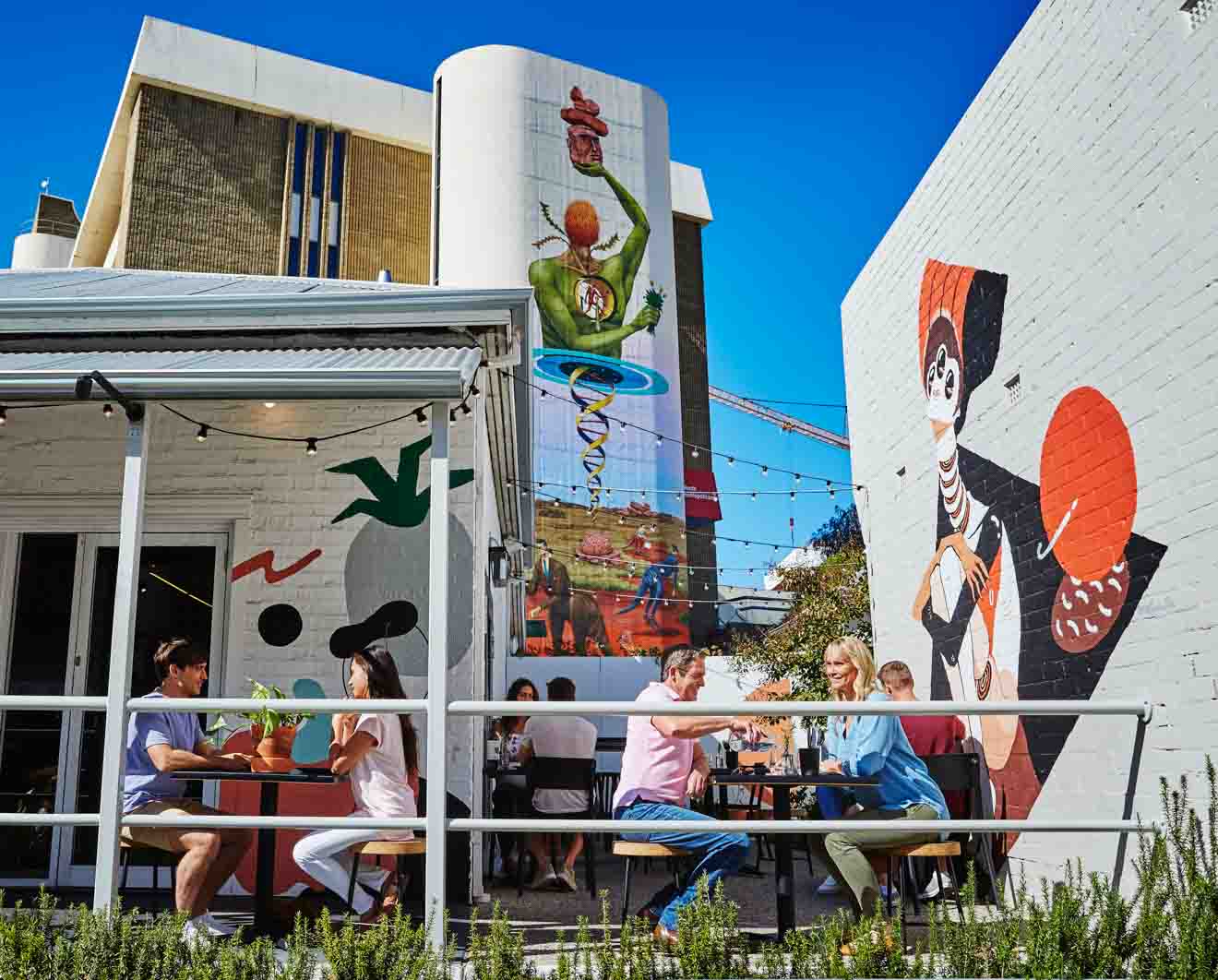 Recently, Perth has really started flourishing when it comes to the food and bar scene with a tonne of super unique bars popping up. Northbridge is the most trendy suburb if you're looking for Perth's best night time activities, nearly every bar and restaurant here has its own flair to add to the atmosphere.
Whilst the list is so long that you can easily wander the streets here and pick anywhere that looks interesting to you, I highly recommend trying PICA bar located inside an art gallery, The Aviary for its rooftop sunsets, Frisk Small Bar for amazing cocktails and lastly Sneaky Tony's for a fun speakeasy (Make sure to figure out the password!).
14. Get Out Of The City On A Day Trip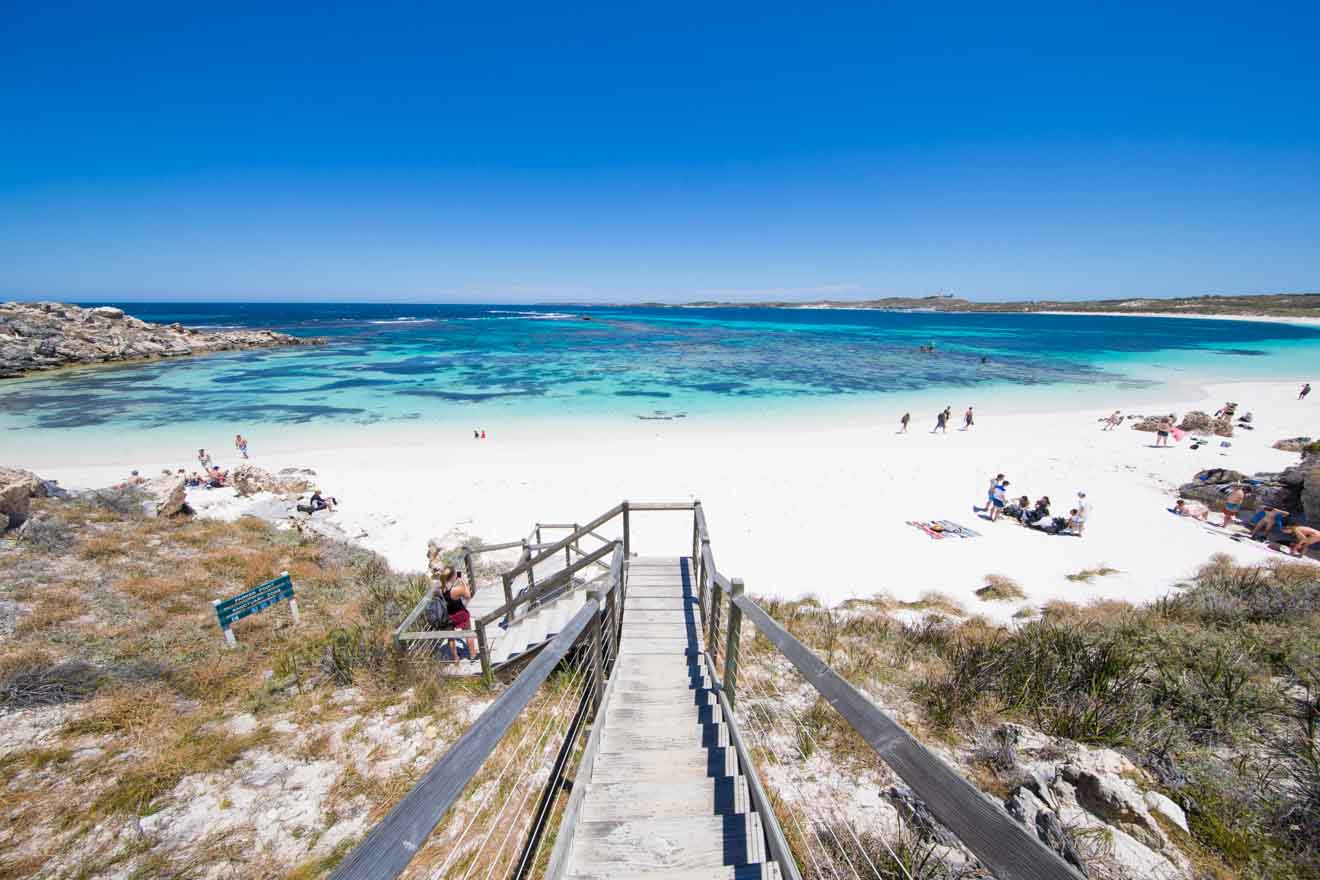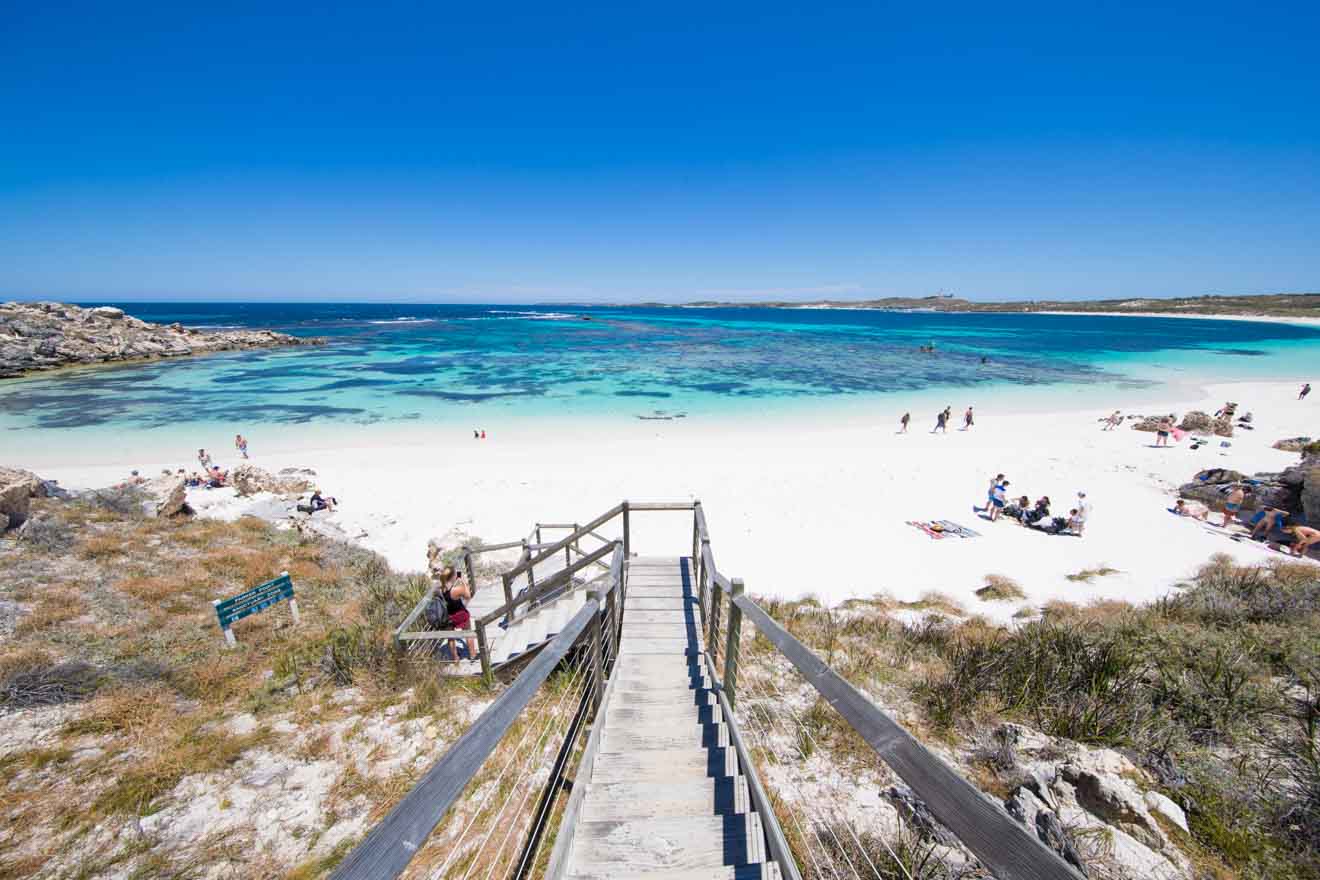 There are so many great places to choose from so make sure to check out my other post dedicated to the best day trips from Perth for all the details however, I thought it was worth mentioning Rottnest Island and Margaret River as they are my absolute must-visits for a day trip from Perth!
If you've been researching Perth, you've most likely come across the adorable smiling faces of Quokkas in visitor's selfies. These gorgeous animals are only found on Rottnest Island and you will also see some of the most incredible landscapes and pristine beaches near Perth here. If you have enough time I recommend staying on the island if you have the chance so we wrote a handy hotel guide for you!
For serious surfers and those who want to get away from the city, Margaret River is home to some of the best beaches on the south-west coast of Western Australia. Not only that, but the area is also filled with boutiques, craft breweries, wine country and many other things.
| | |
| --- | --- |
| 💯 Top attraction: | Kings Park |
| 🧒 Kid-friendly attraction: | Perth Zoo |
| 🗝️ Best free attraction: | Perth Hills |
| 🏖️ Top outdoor activity: | Cottesloe Beach |
| 🚗 Best day-trip | Rottnest Island |
| 📅 How many days: | 4-5 |
| ☀️ When to visit: | September – November |
| 📍 Best area: | CBD |
Practical Information About Perth
Now that we've talked about the best things to do in Perth, I will give you all the information you may need to get to and around Perth City.
How to Get to Perth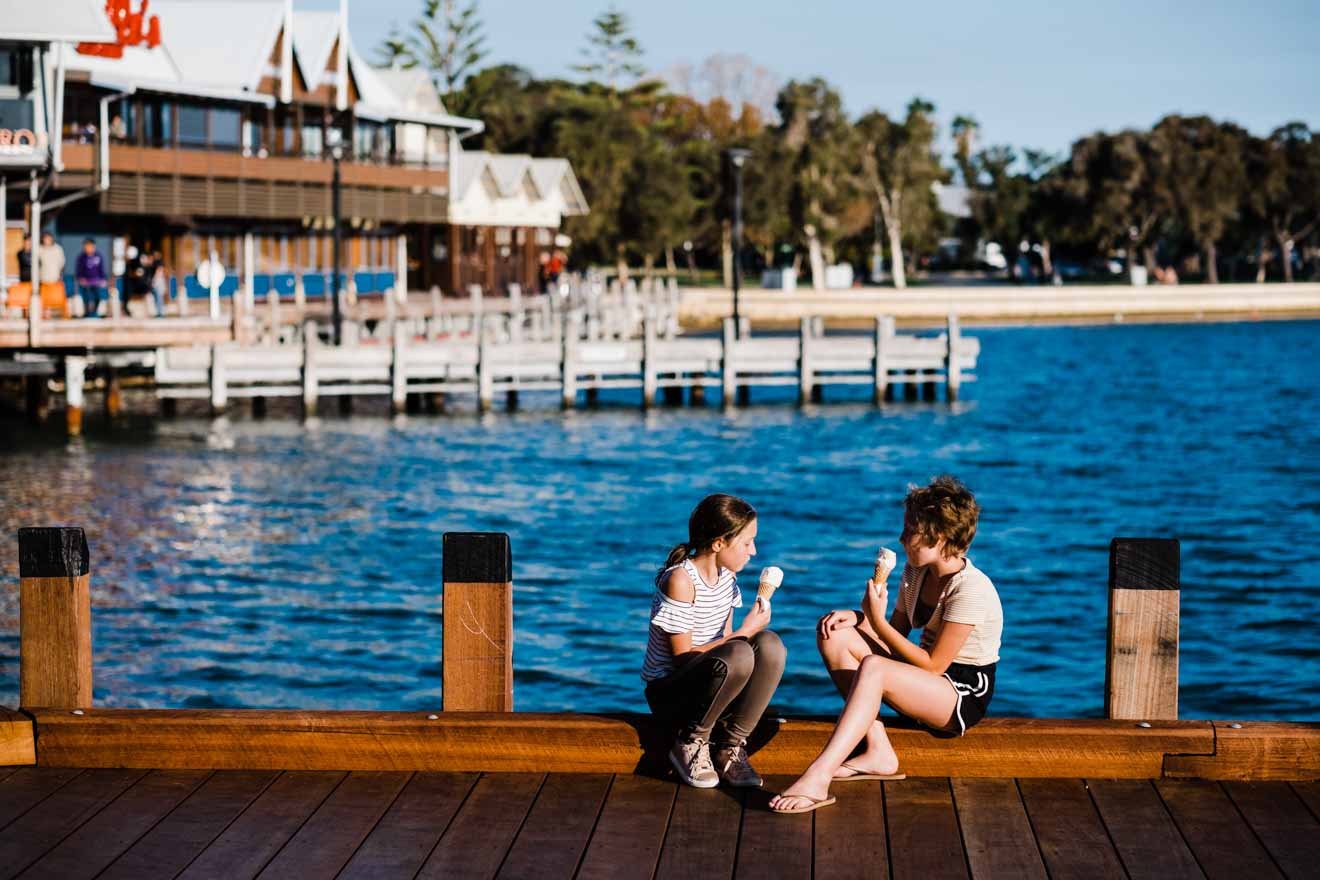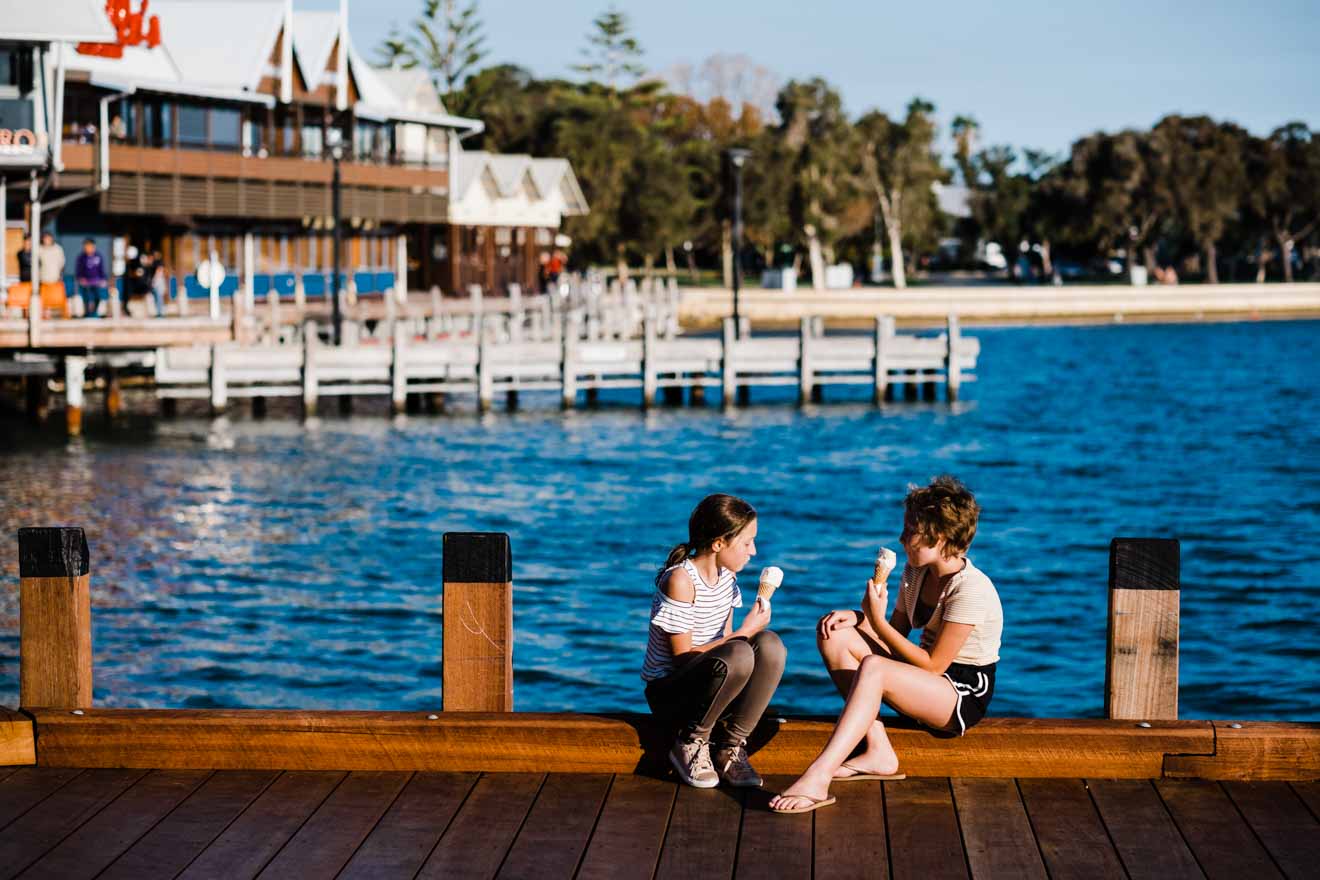 As Perth is quite isolated being the only major city in Western Australia, a lot of people are put off by its remoteness. That being said, Perth is easy to reach in a matter of hours by air or on an exciting cross Australia road trip!
Fly: Flying is the quickest and easiest way to get to Perth. Regular direct flights leave from most of our capital cities. Check Skyscanner to find the best flights to Perth from your location.
Drive: As Perth, WA, is so remote, most people avoid driving to visit the city. For those with a bit of time and a sense of adventure, driving through the outback or across the Nullarbor is an incredibly unique experience. From Adelaide, the Nullarbor plain contains the longest straight road in Australia so, despite the fact it takes 30 solid hours of driving to cross, it's nearly impossible to get lost!
Getting Around Perth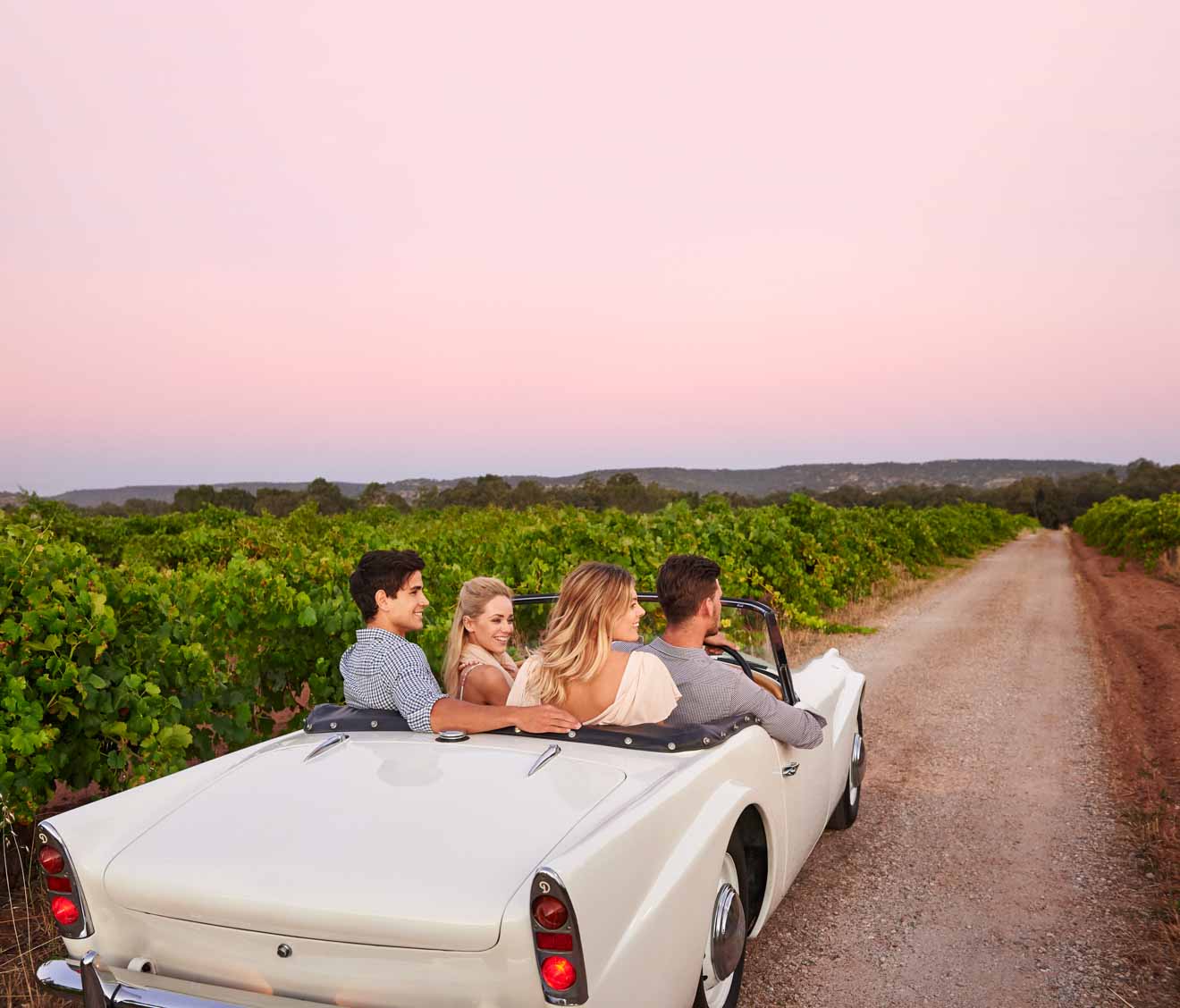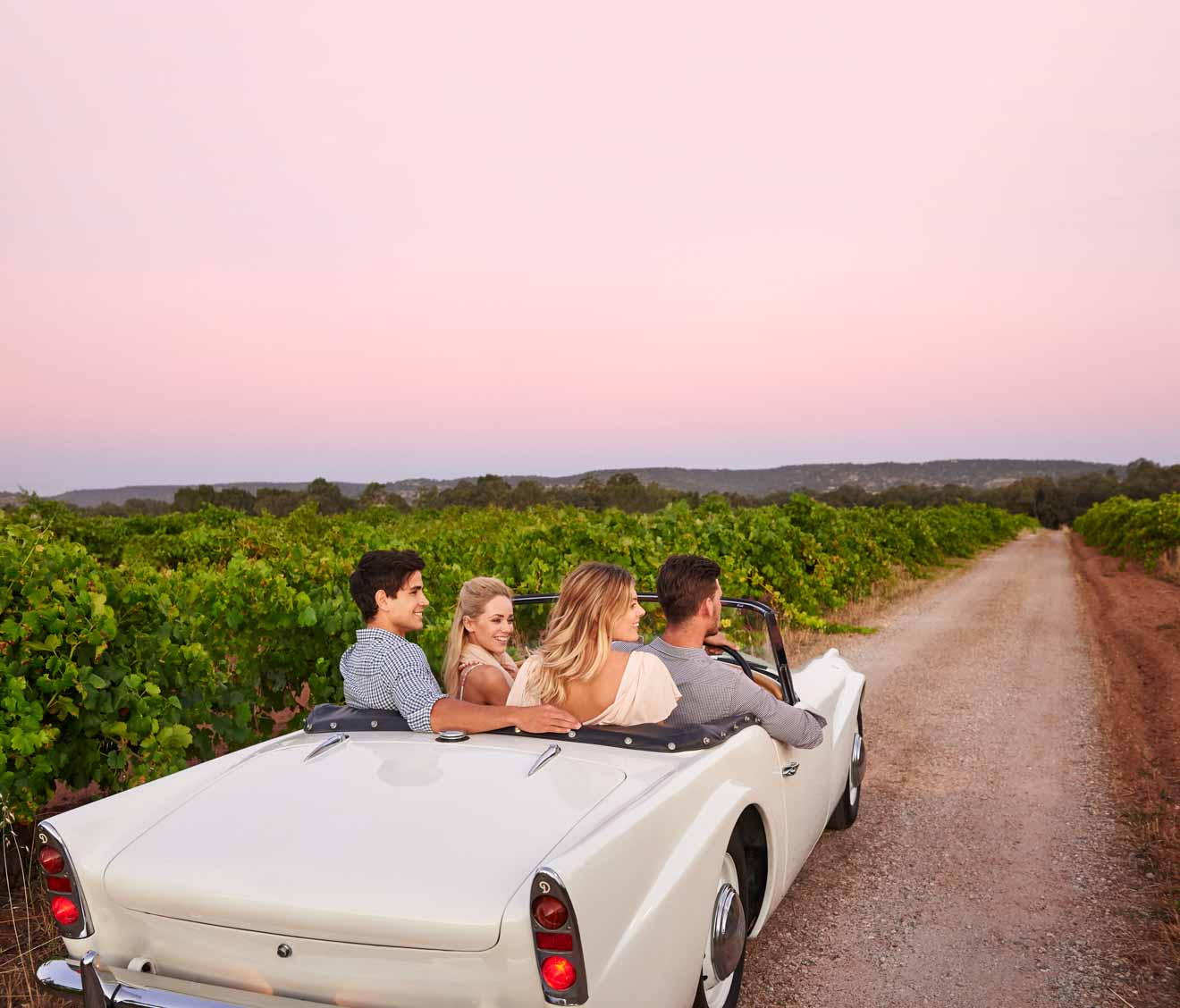 You will have seen that I have given you ways to get to each of the top things by car and public transport. Although there is a basic public train and bus network in place in Perth, it isn't very extensive. I highly recommend renting a car in Perth to get the most out of your time in the city as well as being able to reach those places a little further away.
Another great option for getting around in Perth is the hop-on-hop-off bus which makes stops at all best things and allows you complete flexibility for your time visiting Perth, Australia.
Where to Stay in Perth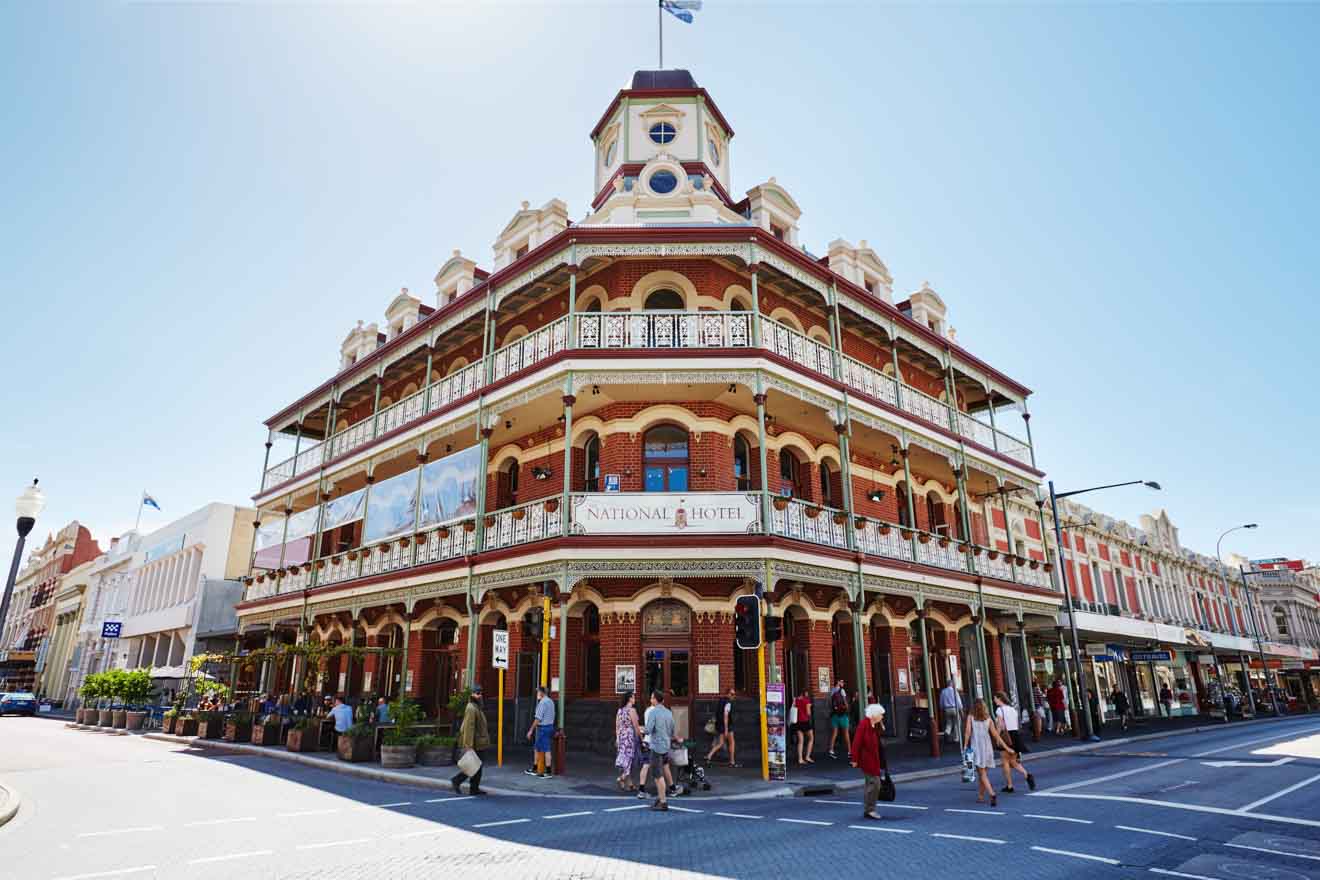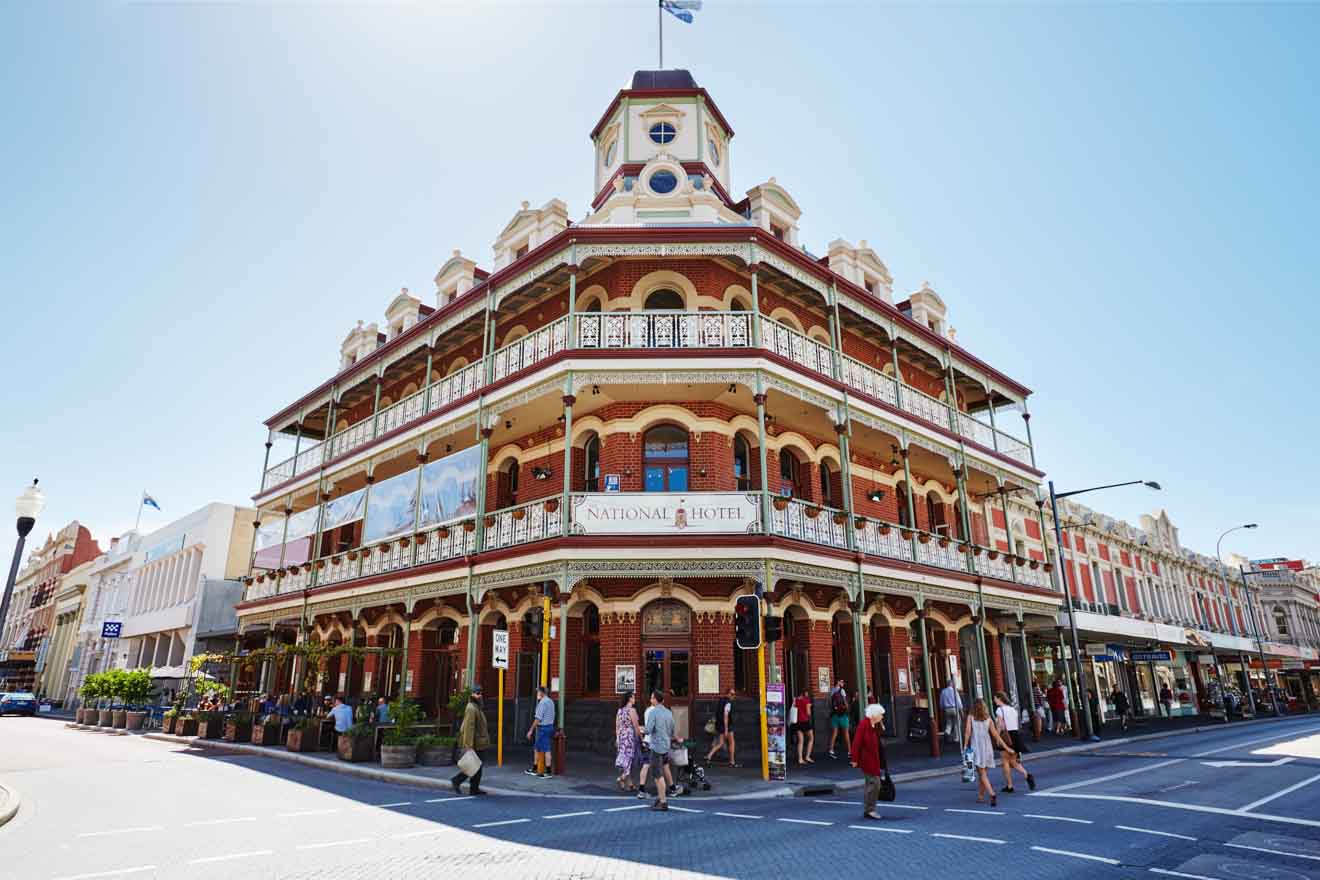 Here, I will suggest my top 2 recommended accommodation options in Perth City for a range of different budgets.
UPDATE: If you are looking for more options and greater detail, we have a great post dedicated to the best Perth Accommodation.
Luxury ($250+ AUD)
For those looking for luxury in Perth, you can't go past Crown Towers with its incredible multi-tiered pool, 32 different restaurants on-site and many other world-class facilities situated right on the banks of the Swan River. For an equally indulgent stay without the enormous facade, head to Aloft for gorgeous views, restaurants, bars, and sky top lounges.
Middle Priced ($150-$250 AUD)
For a beautiful mid-priced, central hotel, try Intercontinental for its high-class rooms, city views and amazing alfresco dining loft. For a self-contained apartment, head to the Sebel West Aire Apartments with its outdoor pool, fitness centre and rooftop pool among other things.
Budget (Under $150 AUD)
If you're looking for luxury on a budget, try Doubletree where you will find a fitness centre, outdoor pool, bar and restaurant. If all you need is a bed, check out the newly refurbished Spinners Hostel located in the trendy restaurant/bar area of Northbridge with a free bus to all the best attractions.
Conclusion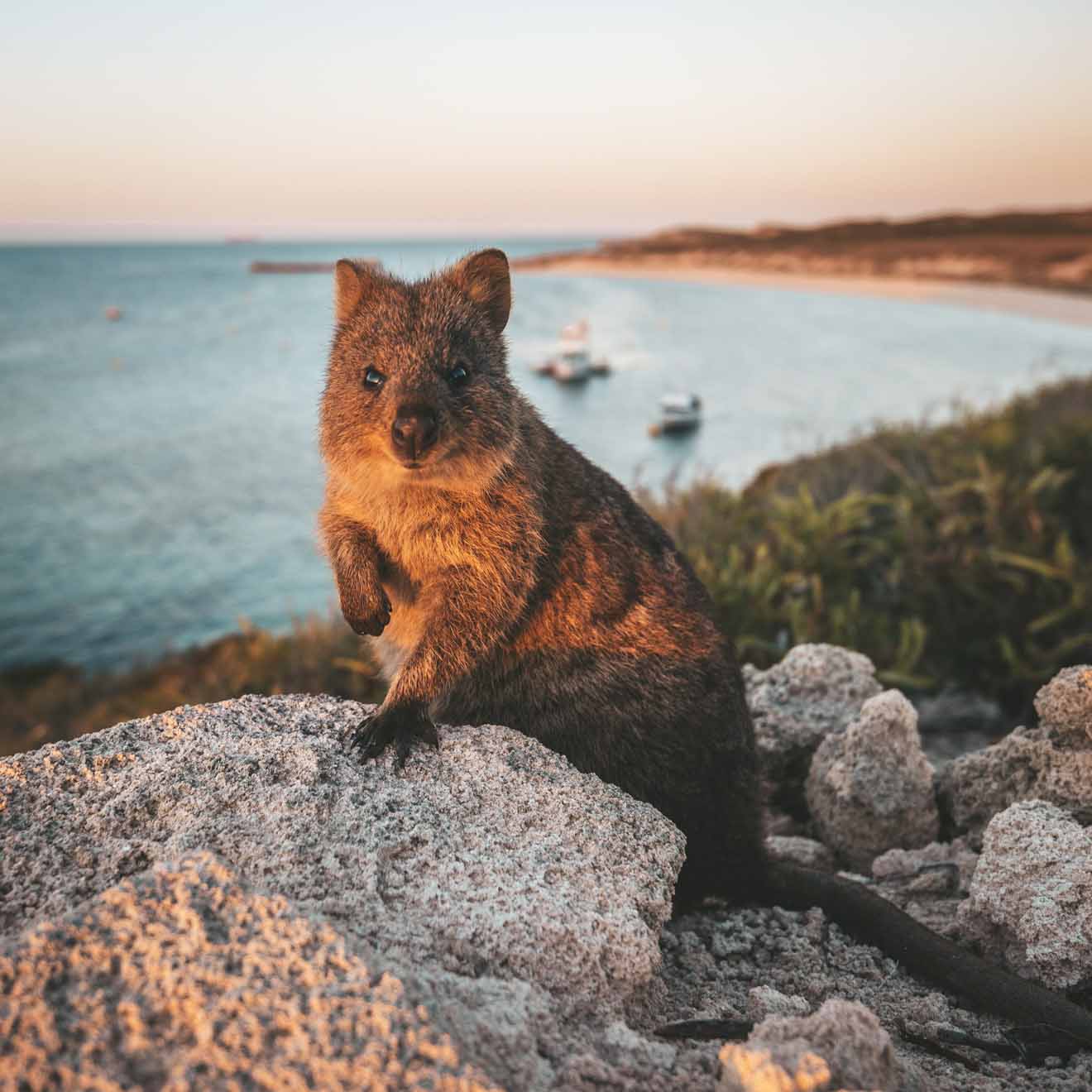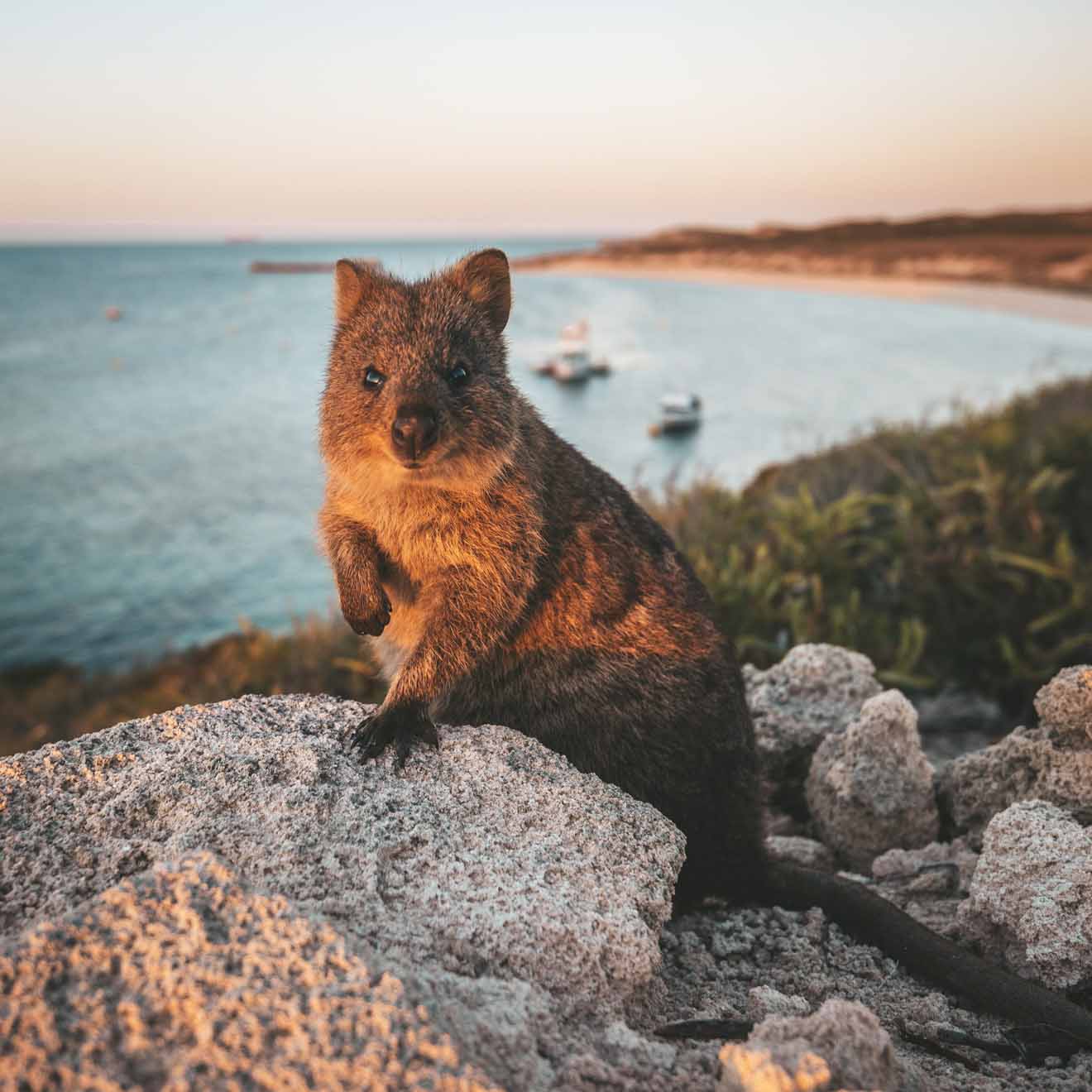 There you have it, the top 14 best things to do in Perth, Western Australia! I'm glad you chose to make the leap over to this incredible city. Whether or not you managed to fit in all the activities on my list, I hope you love it as much as I do!
Leave me a comment if you have any other questions about visiting the city, any of the things to do in Perth or any other way I can help with your plan.
Happy travels!
Kate
---
---
Pin it for later!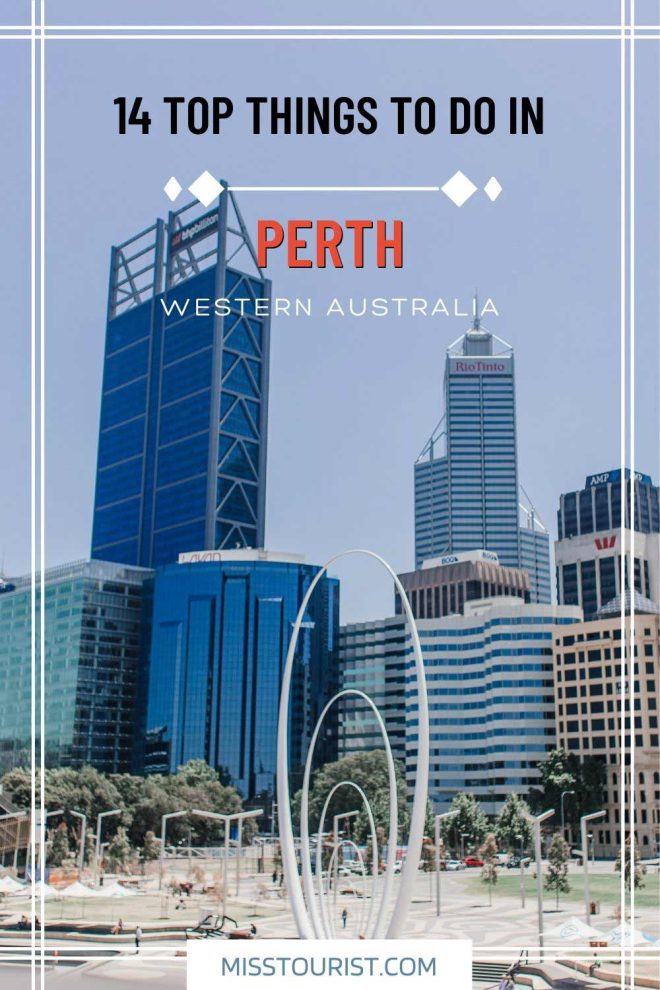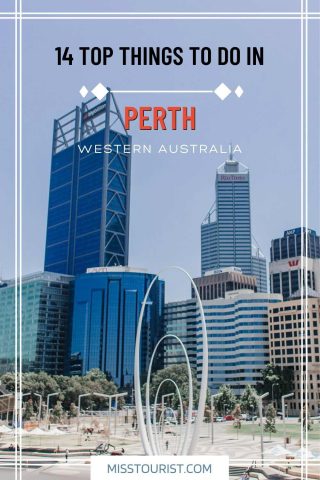 Pin it for later!