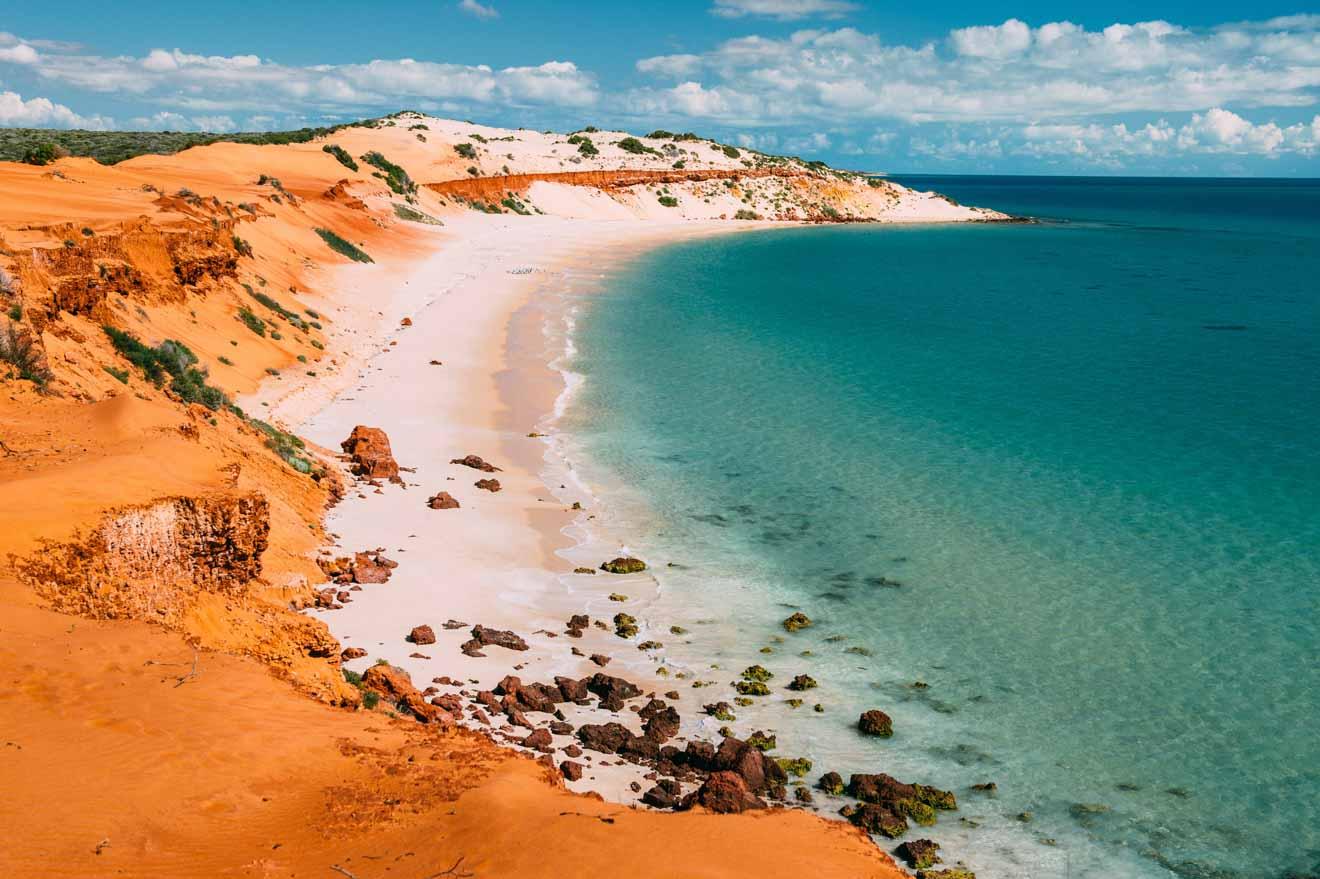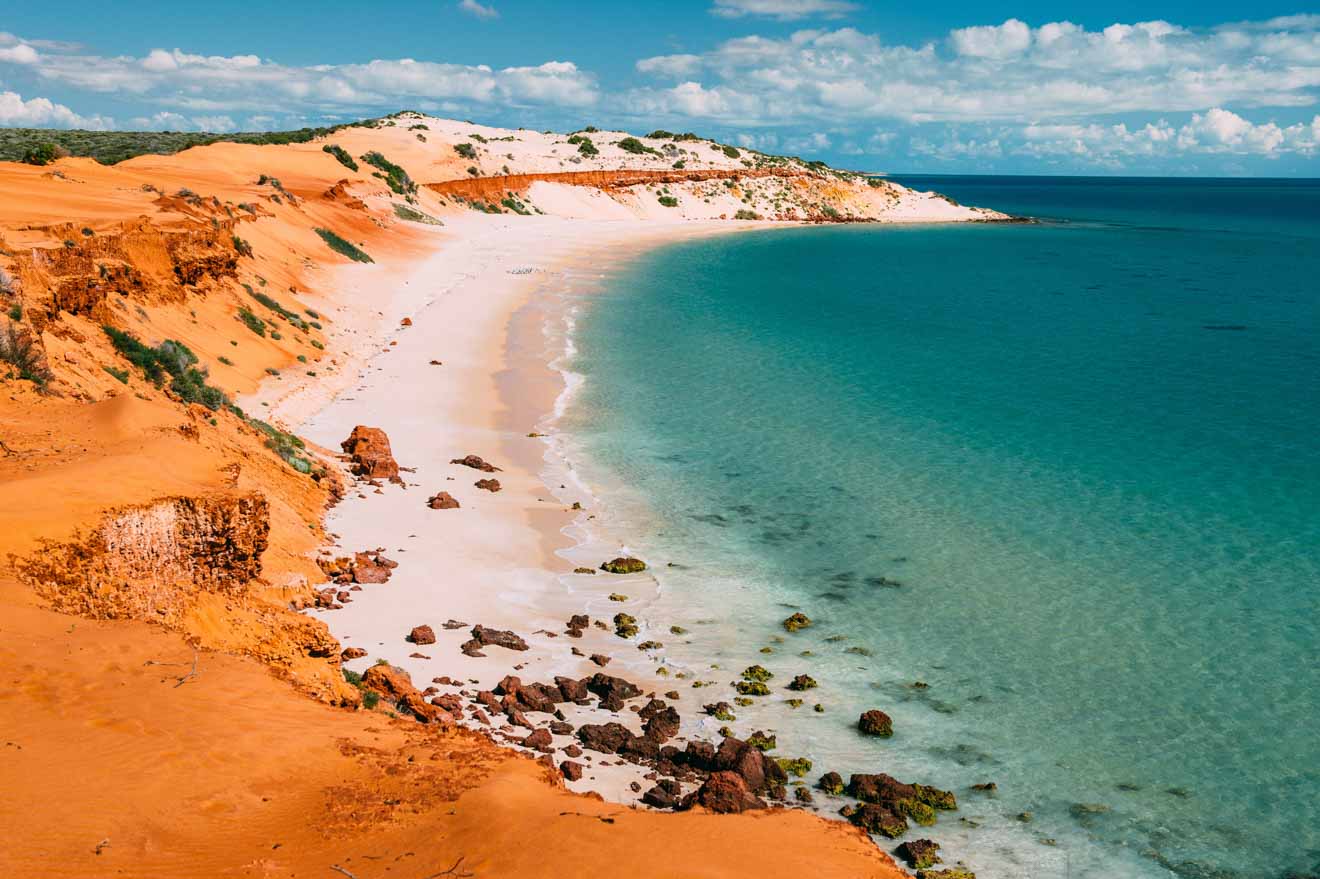 If you're searching for extraordinary wildlife experiences, postcard-perfect coastline and remote national parks, then you've come to the right place – the stunning Shark Bay World Heritage Area!
As one of many UNESCO World Heritage Sites in Australia, Shark Bay does not disappoint. The area covers more than two million hectares of land and sea on one of the most remote peninsulas in Western Australia. It's more than 800km away from Perth and a huge 1,800km away from Broome, but don't let its far-flung location put you off going!
Shark Bay's location is actually what makes this place so special!
Located so far north, the sun is always shining and there's never a bad time to visit; perched on the edge of the Indian Ocean, the marine wildlife is incredible; and covered in the red sand desert and turquoise lagoons means there's plenty to be explored on land too! So much so that you could easily while away a week in this fantastic part of the world!
In fact, there are so many things to do in Shark Bay, that I decided to write a post dedicated to just that. Whether you want to know how to feed the dolphins at Monkey Mia, how to explore Francois Peron National Park or simply where to stay during your trip to Shark Bay, you'll find it all below!
1. Feed the Dolphins at Monkey Mia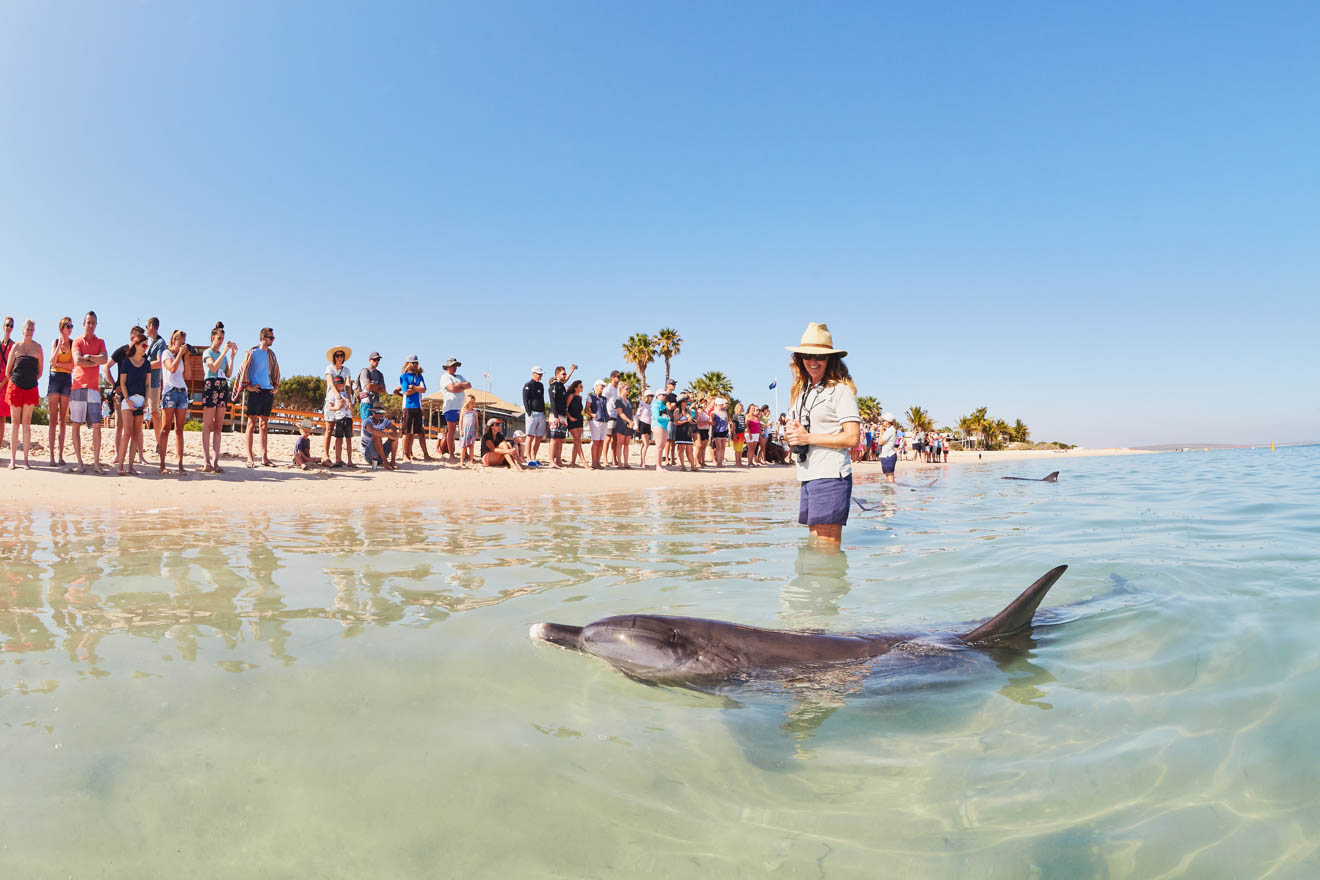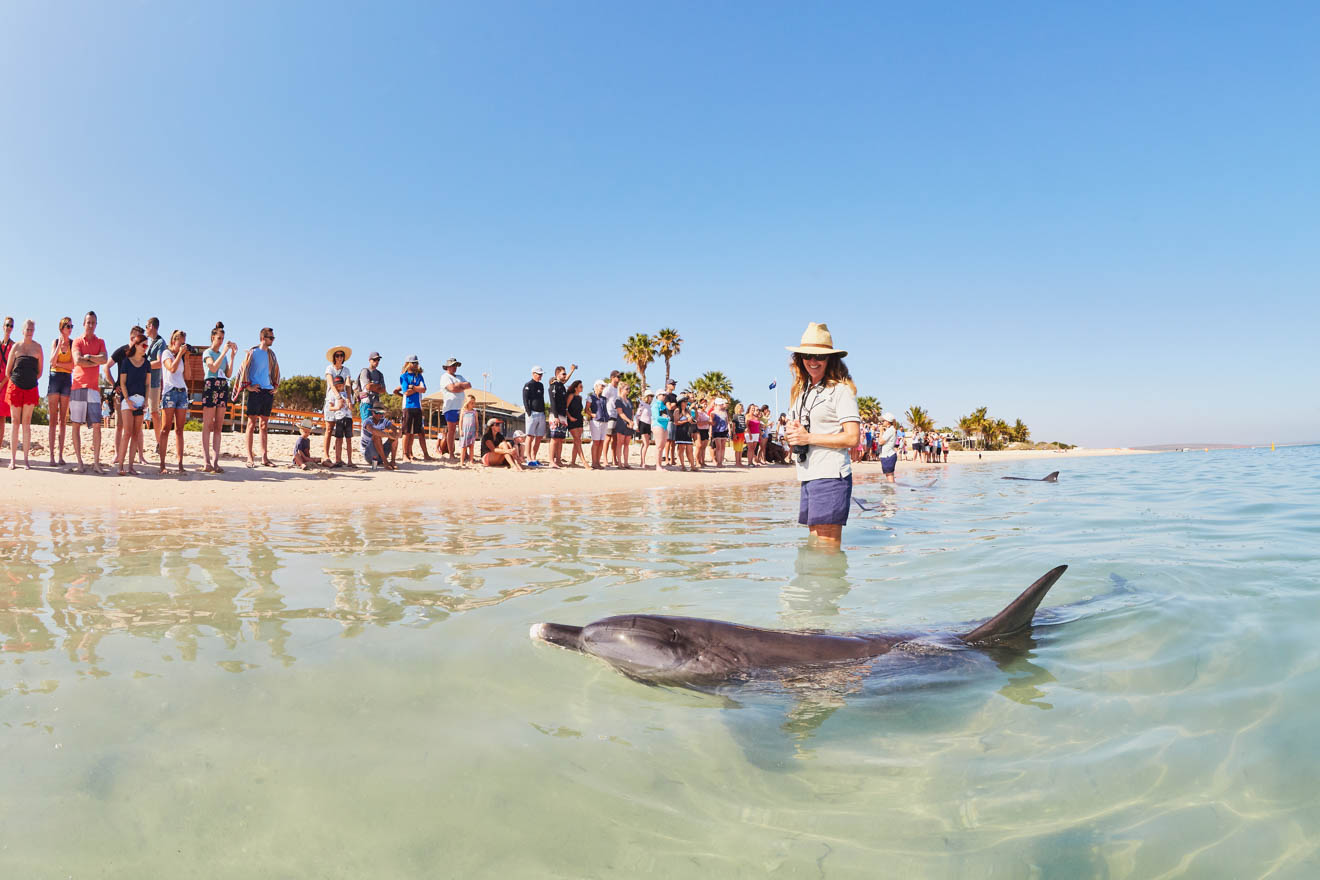 Monkey Mia has to be the most popular experience in Shark Bay. It's famous around Australia and the world for its friendly population of bottlenose dolphins who come close to the shore for a tasty fish most mornings!
Feeding takes place between 7.30 am and 12 pm and is led by a professional wildlife ranger who will tell you all about the conservation efforts in the park, and feed the dolphins right in front of you! During my visit, we were lucky enough to see six different dolphins come for a feed, and they even picked a few people out of the crowd to hand feed them! As nature goes, it's not guaranteed that dolphins will turn up. However, your entry ticket lasts the whole day, so you can hang around for as long as you want until one turns up!
PRICE: Adults $15, Children $5, Family Ticket $35.
TOP TIP: Not everyone thinks it's right to feed a wild animal and there are options to see them in a more natural environment too. The RAC Monkey Mia Resort rents out kayaks and canoes for around $70 for a half-day rental. Other than bottlenose dolphins, keep an eye out for turtles and manta rays too!
2. Hit the Dirt Roads in Francois Peron National Park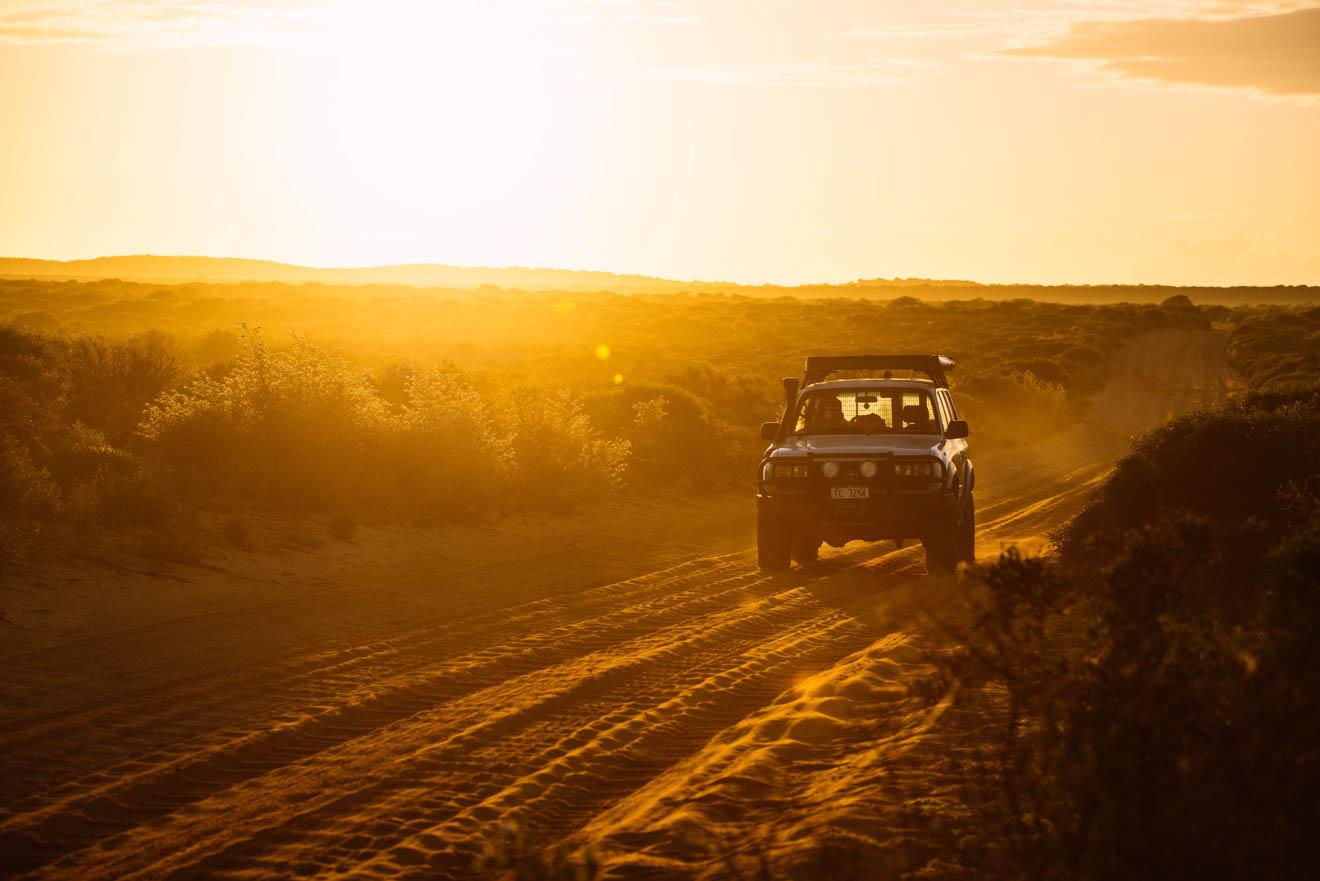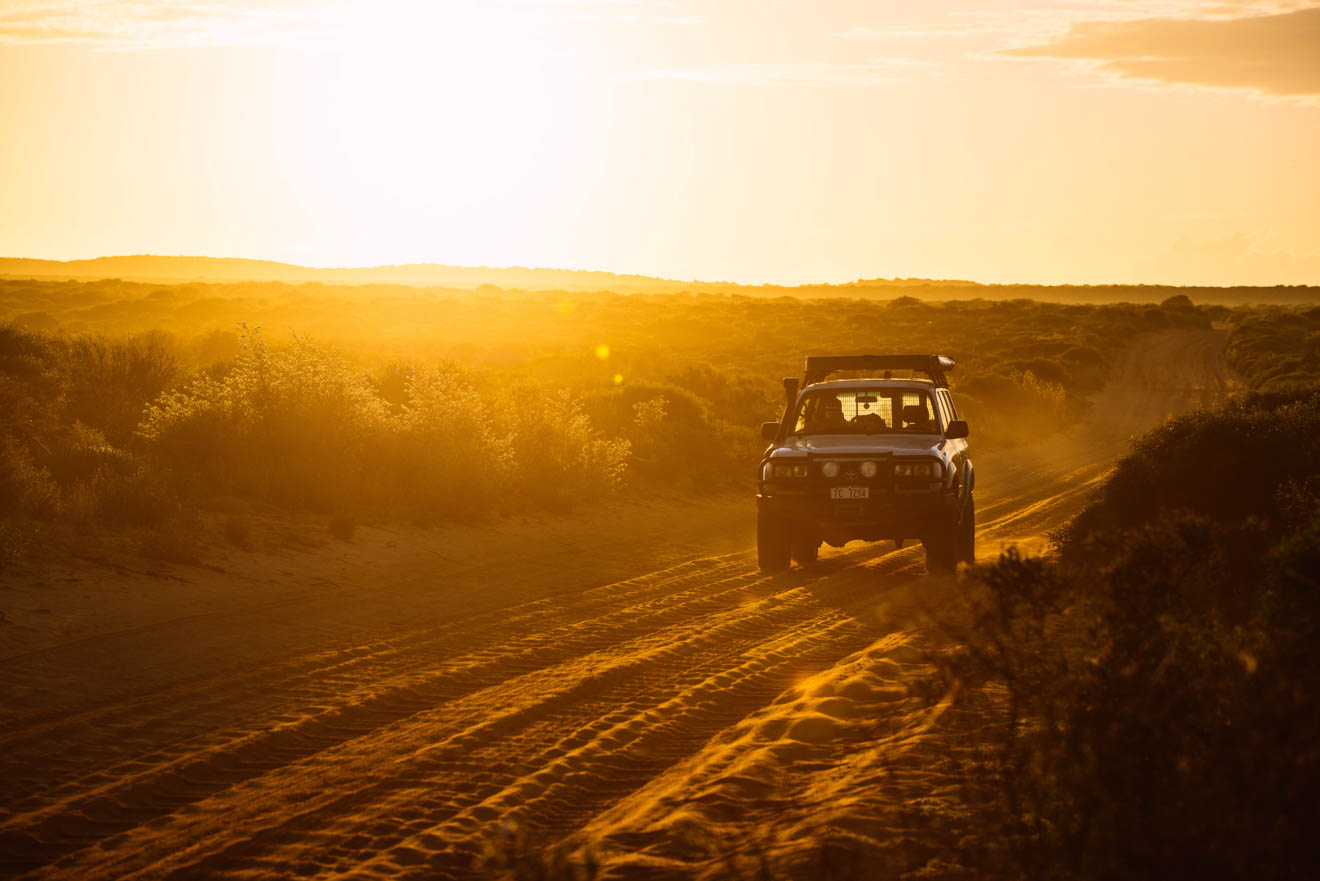 Everybody comes to Shark Bay to see the dolphins, but I was more blown away by the breathtaking Francois Peron National Park!
It's hard to explain just how unique and beautiful this place is. Francois Peron National Park covers the top of the peninsula with vivid red rock cliffs which contrast so perfectly with the bright blue water – seriously, you're going to want to have your cameras ready here!
To really explore this part of Shark Bay, and to reach all of its secluded bays and hidden lagoons, you'll need to rent a 4WD. However, if driving off-road isn't an option then you can still reach Peron Heritage Precinct in a 2WD – even our 1996 Ford Falcon made it! Here you can take a self-guided walk around the area to learn a little about the park's history and catch a glimpse of its stunning landscapes.
3. Feel the Crunch Under Your Feet on Shell Beach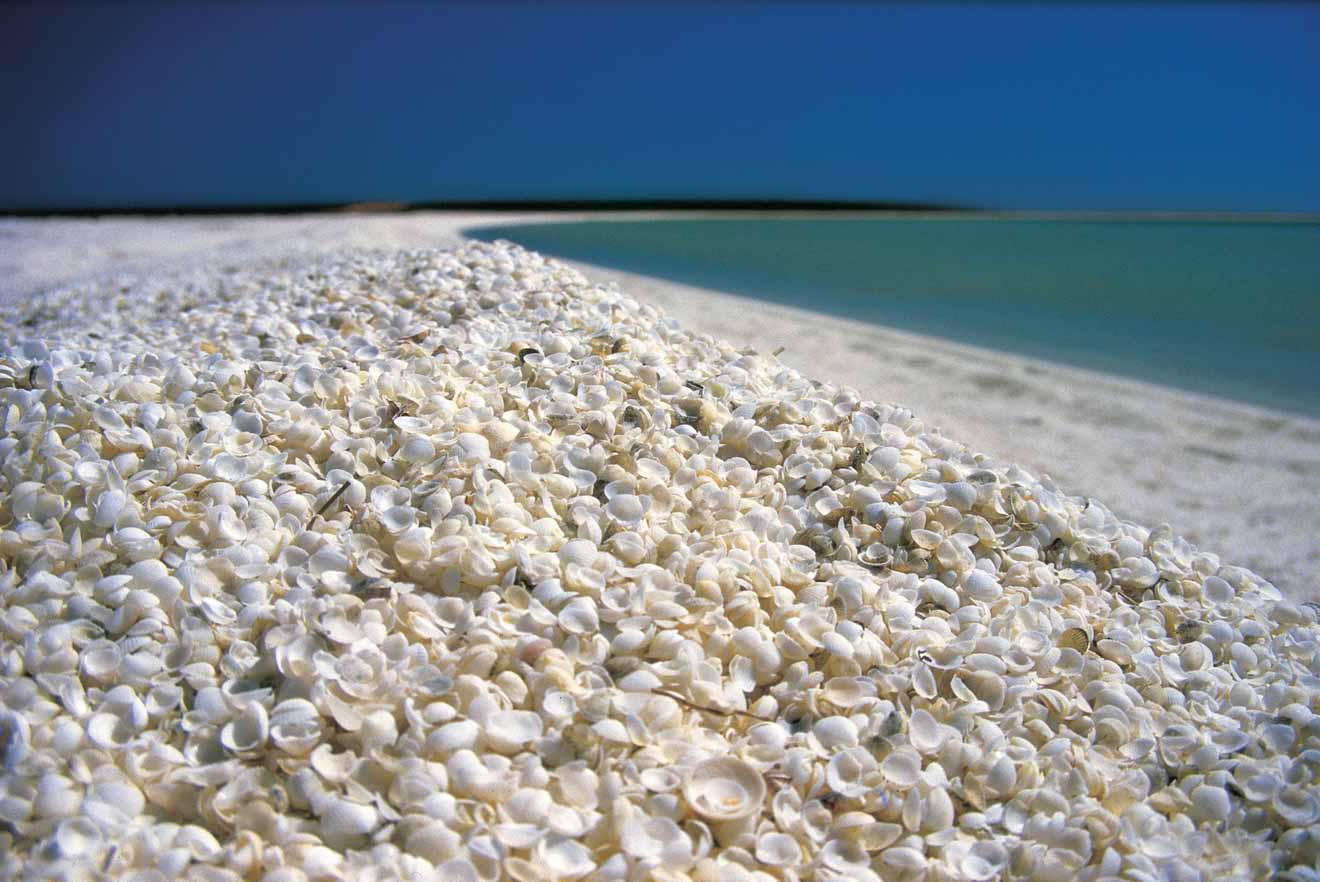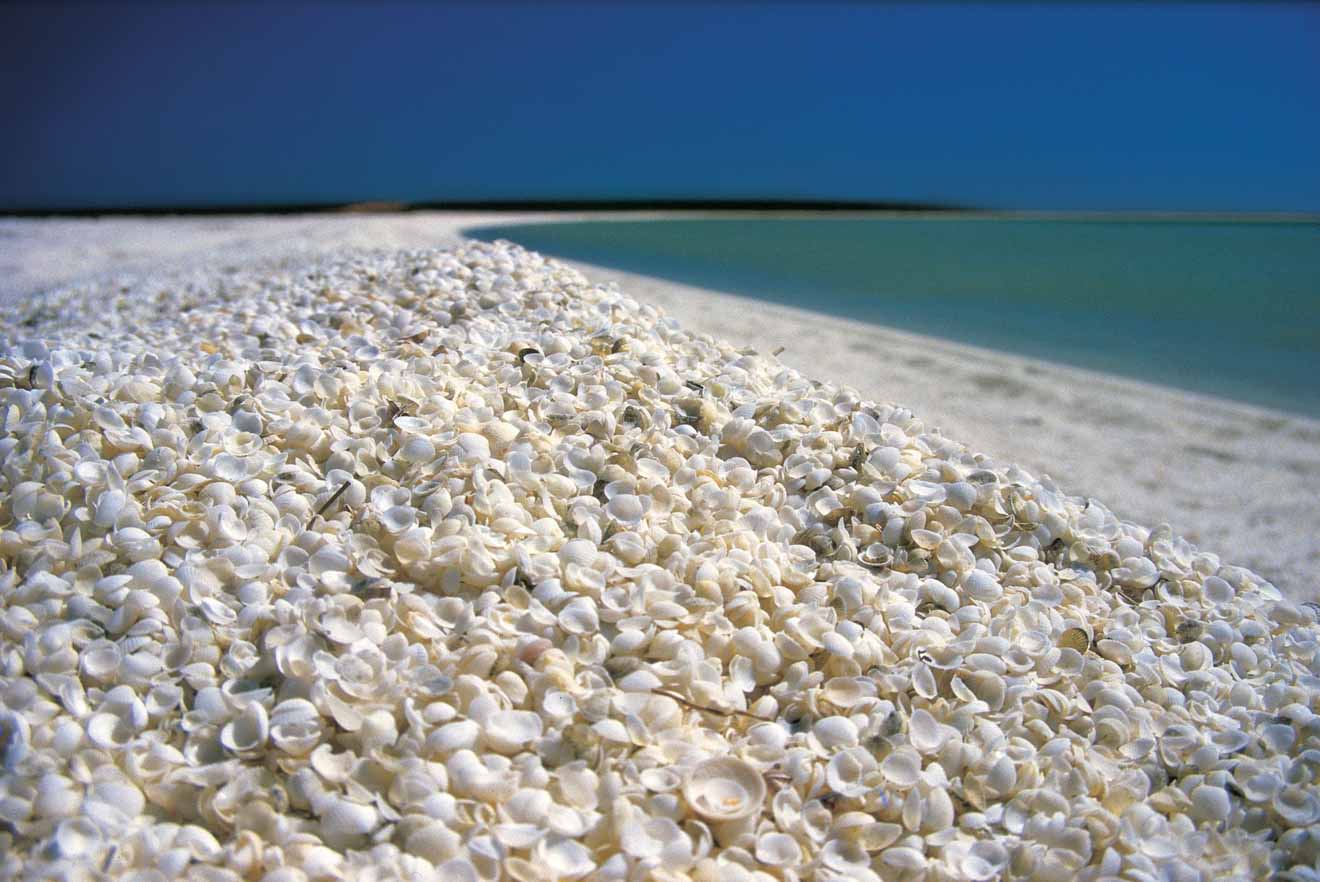 I know it doesn't sound like much, but this is one of the only beaches in the world where shells replace the sand completely!
Shell Beach was actually one of my favourite things to see in Shark Bay. Stretching 120km along the Indian Ocean, this beach is made up of billions of tiny cockle shells that are thought to be about 10 meters deep. There's not much to do here except relax and enjoy the mystery of the natural world!
TOP TIP: The sea here is super salty, so if you do fancy a dip in the sea, check out how easy it is to float!
4. View the Oldest Living Fossils on Earth at Hamelin Pool!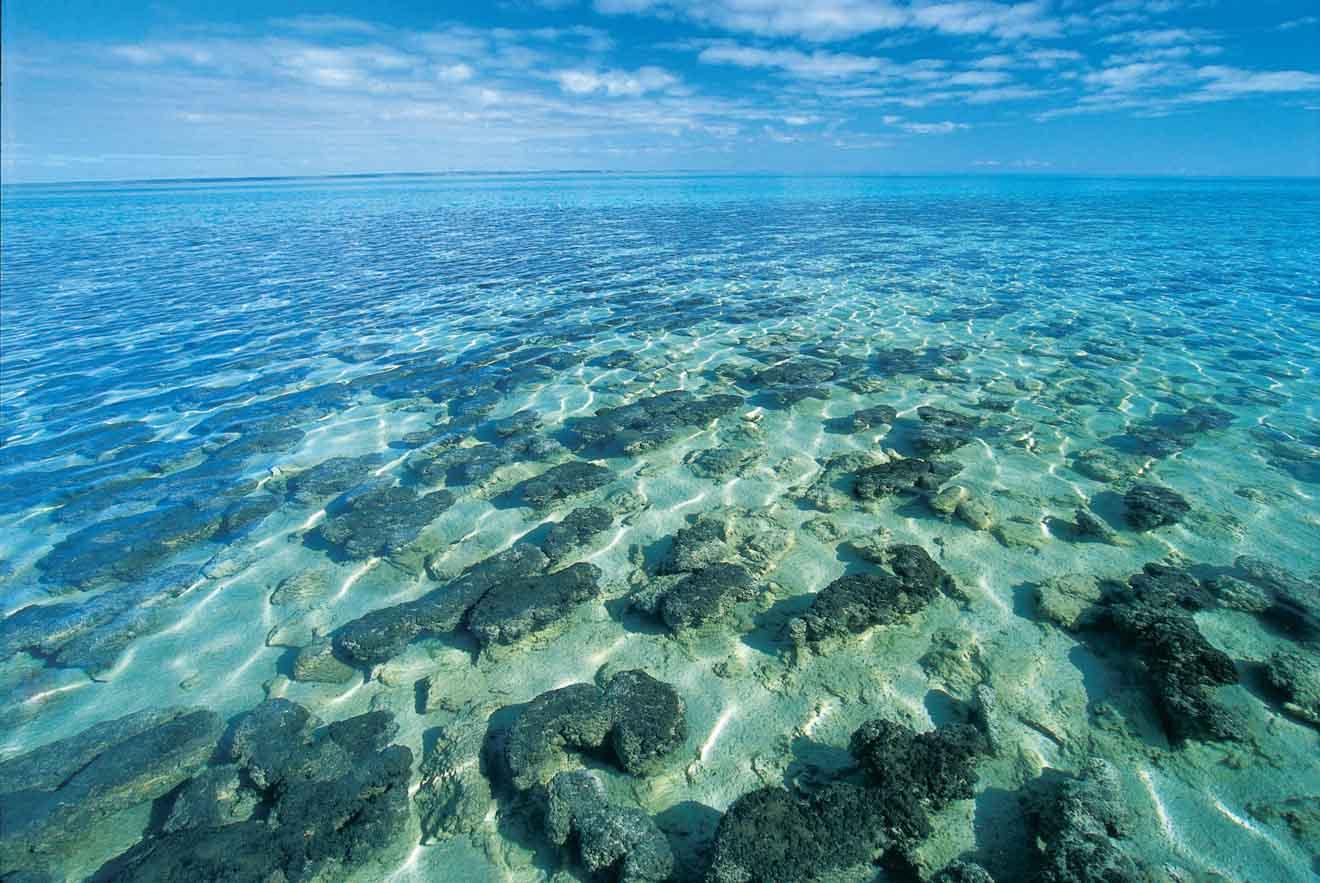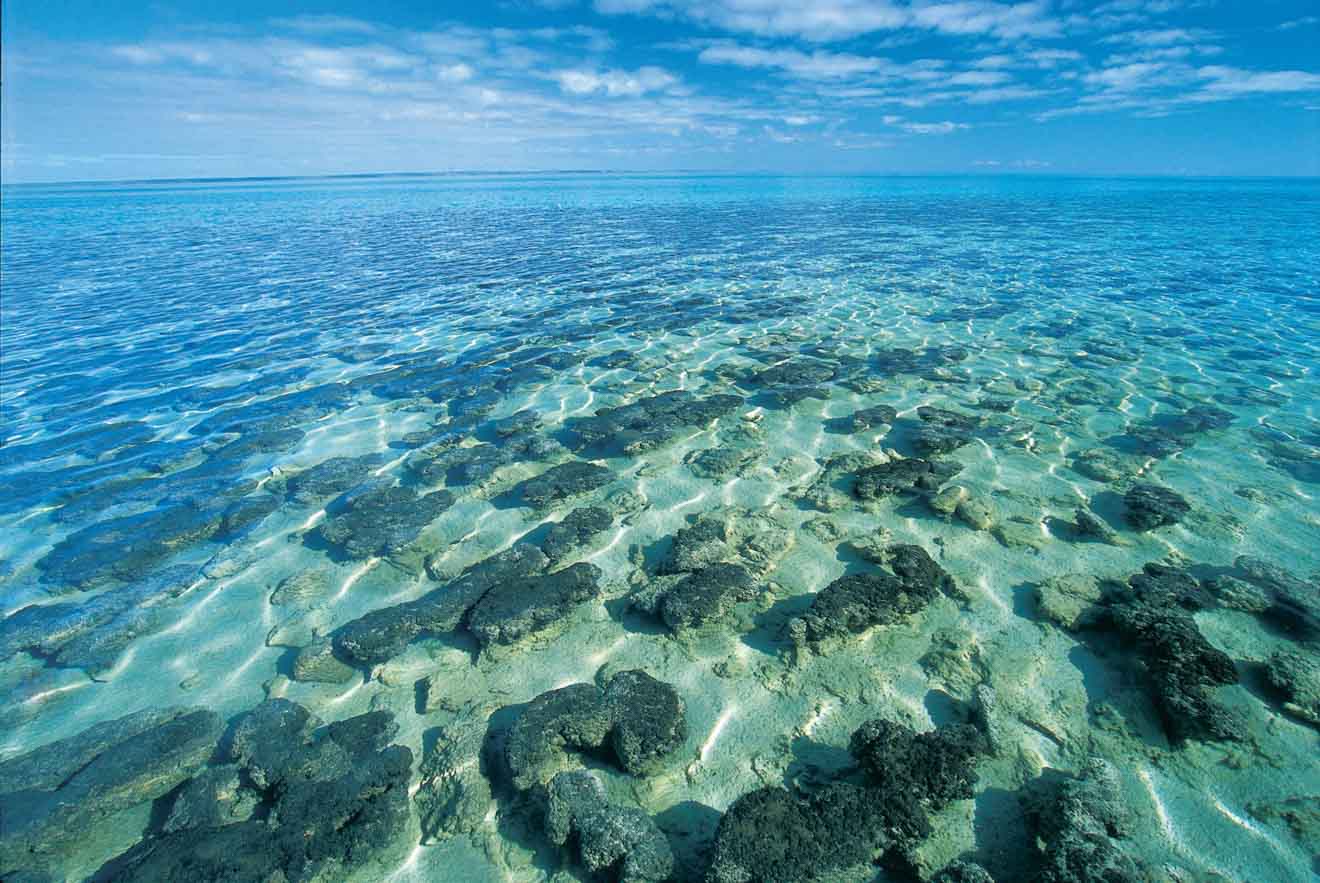 Stromatolites are said to be 3,000 million years old!
Like me, you probably hadn't heard of stromatolites before you read this post, so let me tell you exactly what they are. A stromatolite is one of the oldest (and largest!) living fossils on the planet and can only be found in select places across the globe – one of them being the shallow waters of Hamelin Pool!
It's completely free to go and check out these fossils at Hamelin Pool, and there's even a handy 200m boardwalk so you can get as near as possible. There are some great information boards dotted along the boardwalk too if you're interested in learning a little more!
Hamelin Pool sits at the southern end of the peninsula, about an hour's south of Denham. You'll naturally pass the pool on your drive up the peninsula along the conveniently named Hamelin Pool Road. Just keep a lookout for the signs showing you where to turn right.
5. Search for Manta Rays, Sharks and Dugongs at Eagle Bluff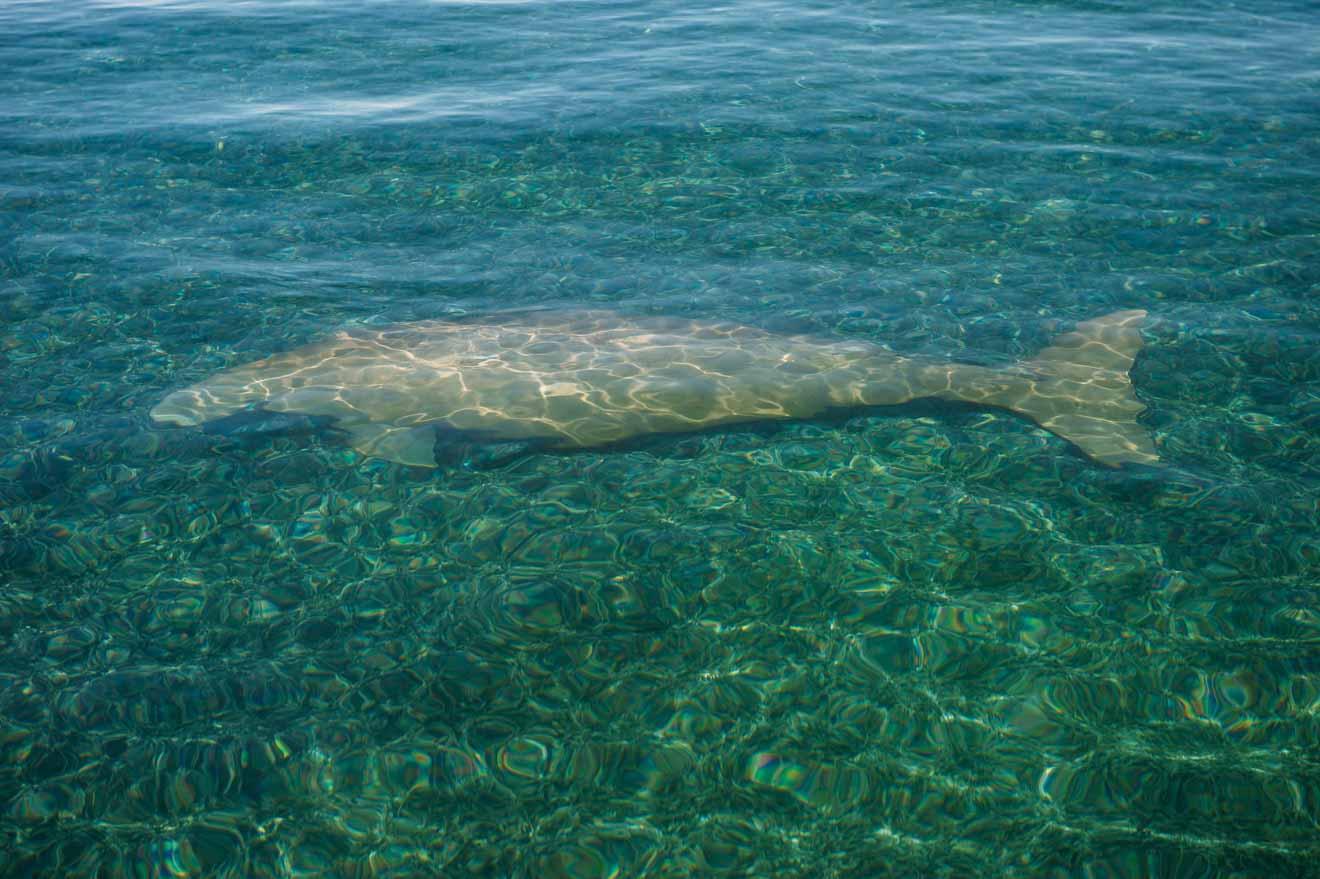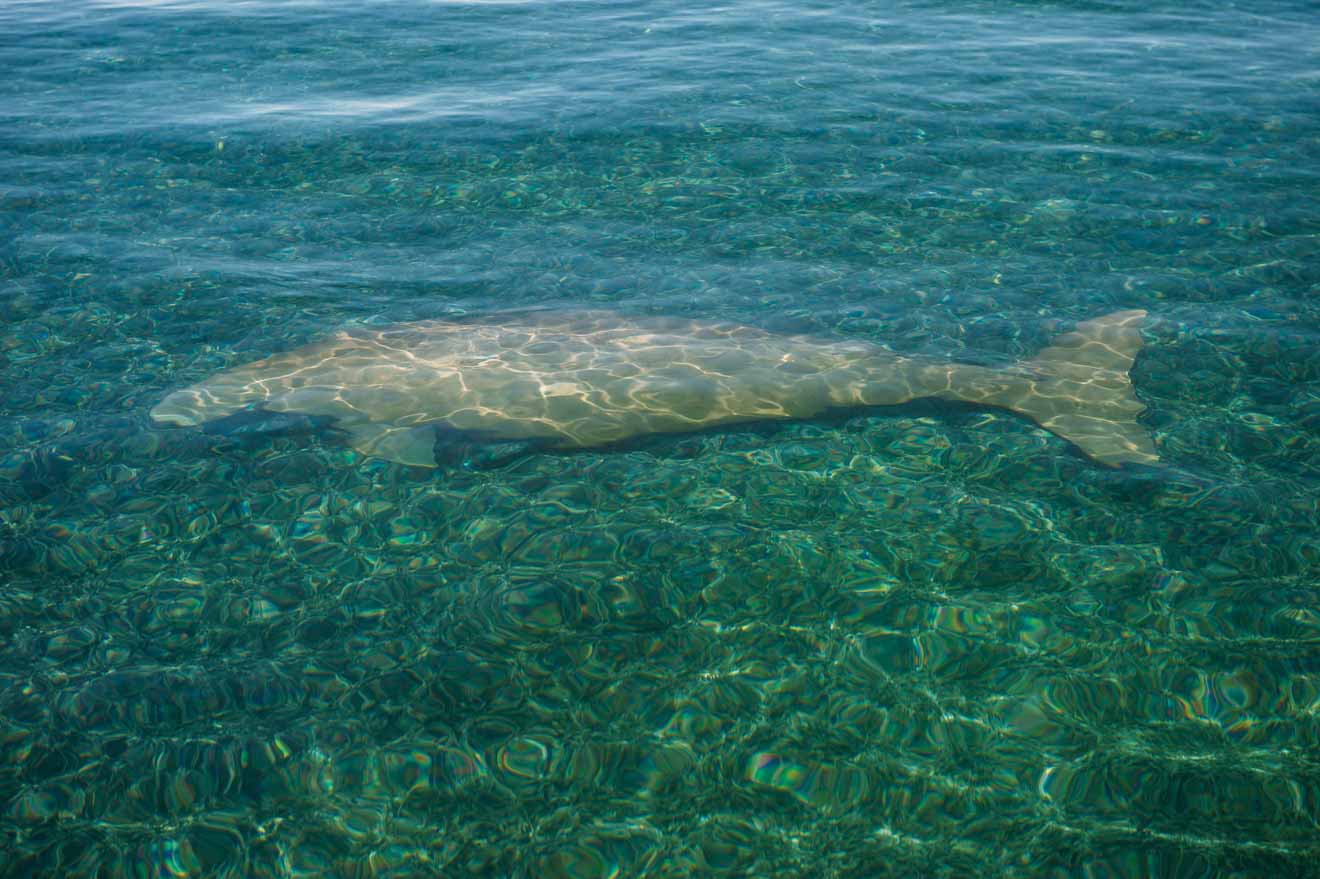 Eagle Bluff sits almost exactly halfway between Denham and Shell Beach and is the perfect vantage point to spot some of the area's big marine species. Sitting high above the water, a boardwalk allows you to look out across the Indian Ocean. This is supposed to be the best spot to see manta rays, sharks and even dugongs during the summer months!
Unfortunately, I wasn't too lucky this time around, and I didn't see anything in the water, except a few fish! I did stick around for sunset though which was incredibly beautiful and made it all worth it!
6. Escape to Dirk Hartog Island National Park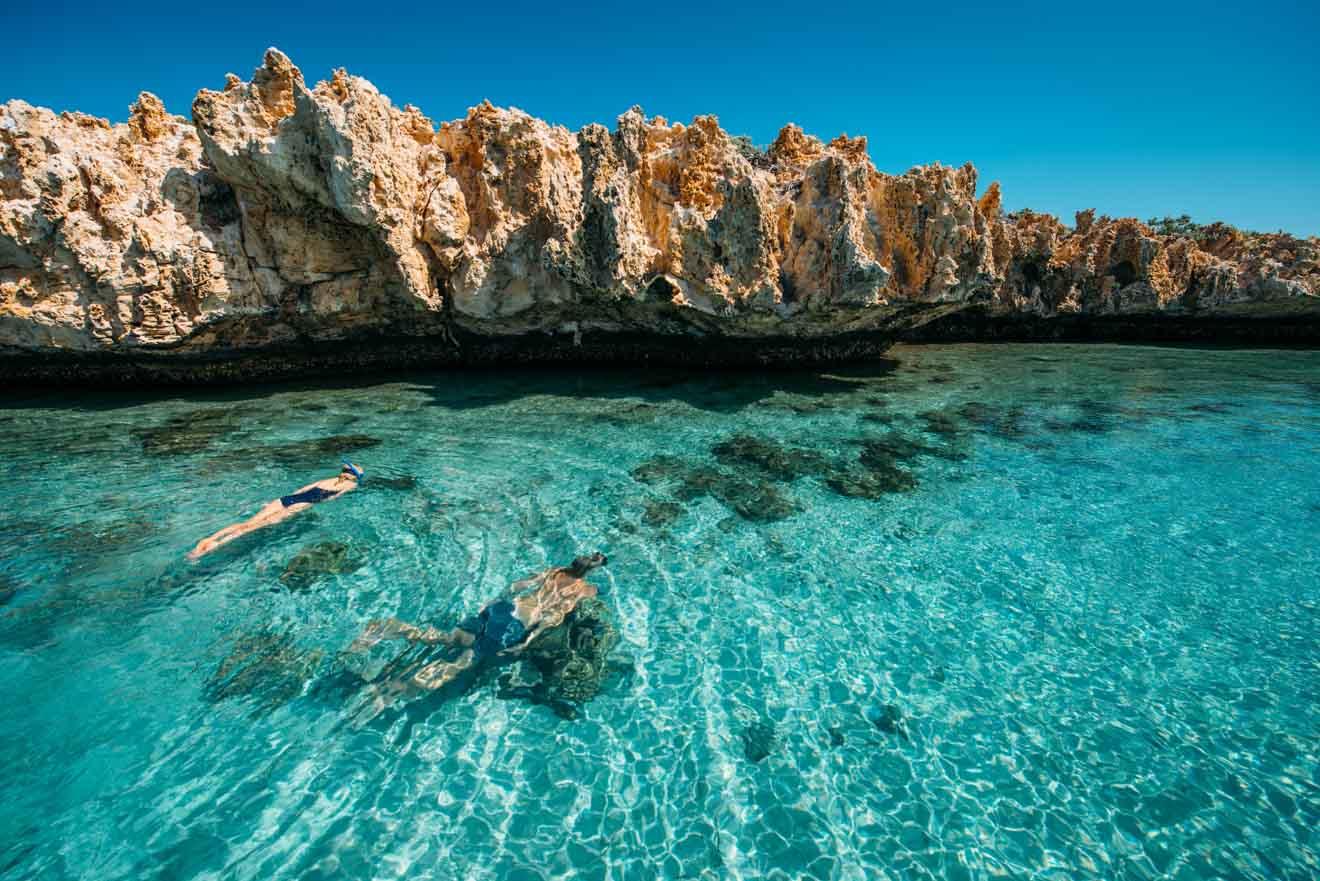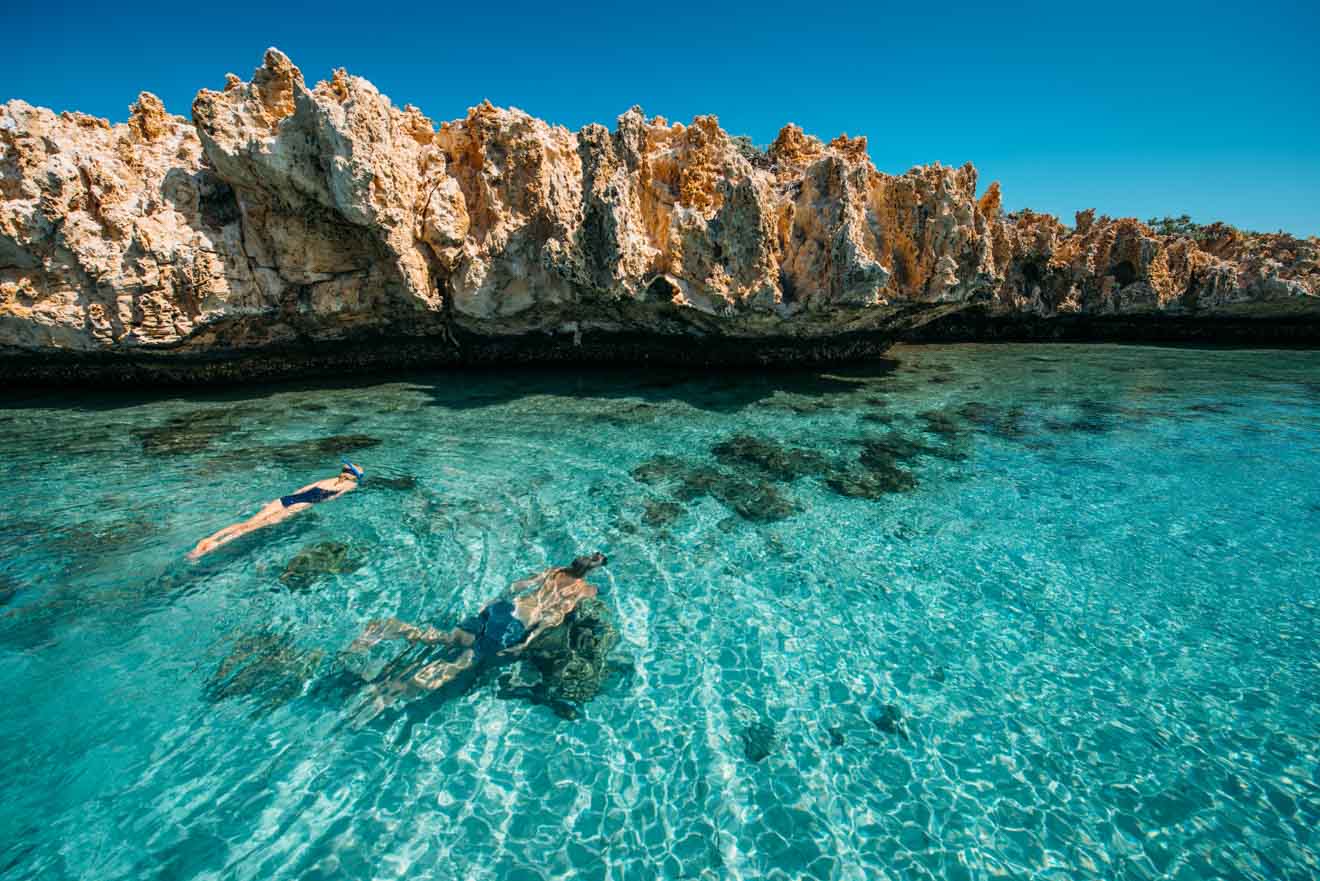 If you thought Shark Bay was remote, it's about to get a whole lot more secluded!
Dirk Hartog Island is probably one of the least visited destinations in the Shark Bay World Heritage Area, despite being the largest island in Western Australia. It's a super untouched island with stunning white beaches, pink lakes, natural turtle hatcheries and private fishing spots.
ATTENTION: I think most people are put-off visiting because it's a little tricky to get to. First of all, you need to get to Steep Point, where a boat will take you over to the island in 15-minutes. Alternatively, you can join a light aircraft from Shark Bay Airport. Transfers to Dirk Hartog Island must be arranged in advance as it is operated on-demand with no regular schedule. You can find out more information on prices and how to arrange your crossing here.
7. Check out the Old Fishing Village of Denham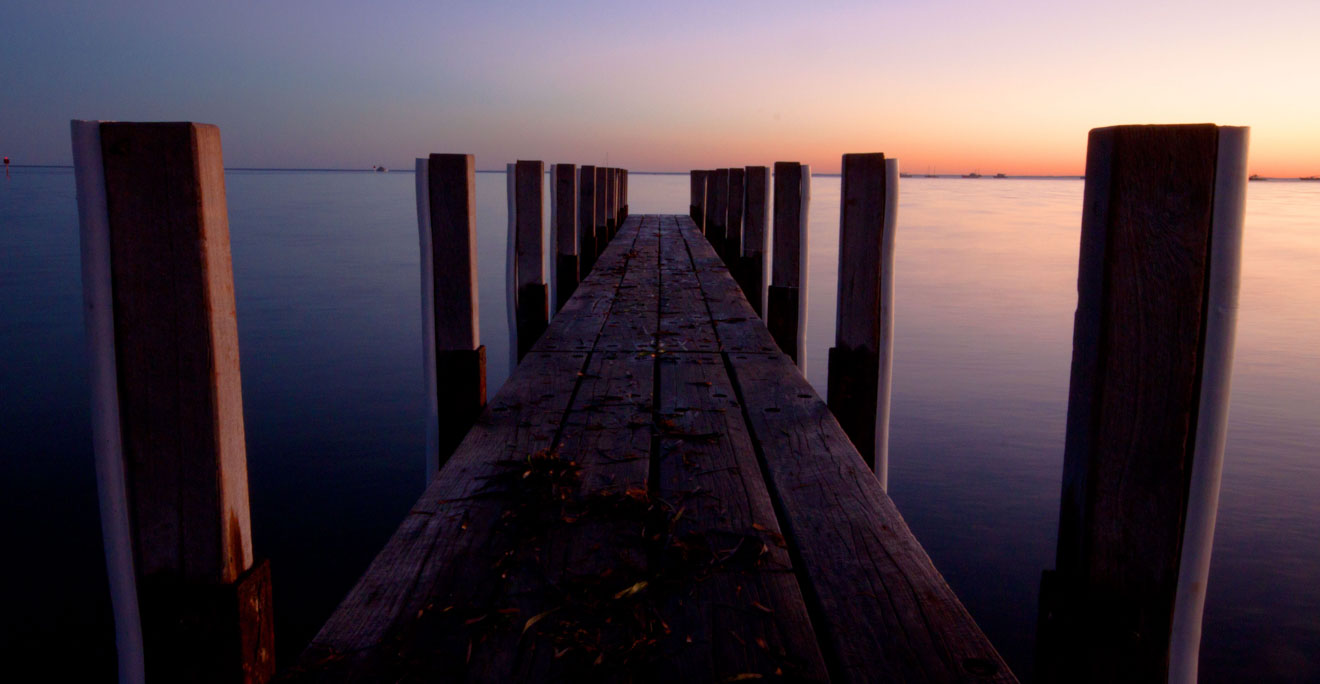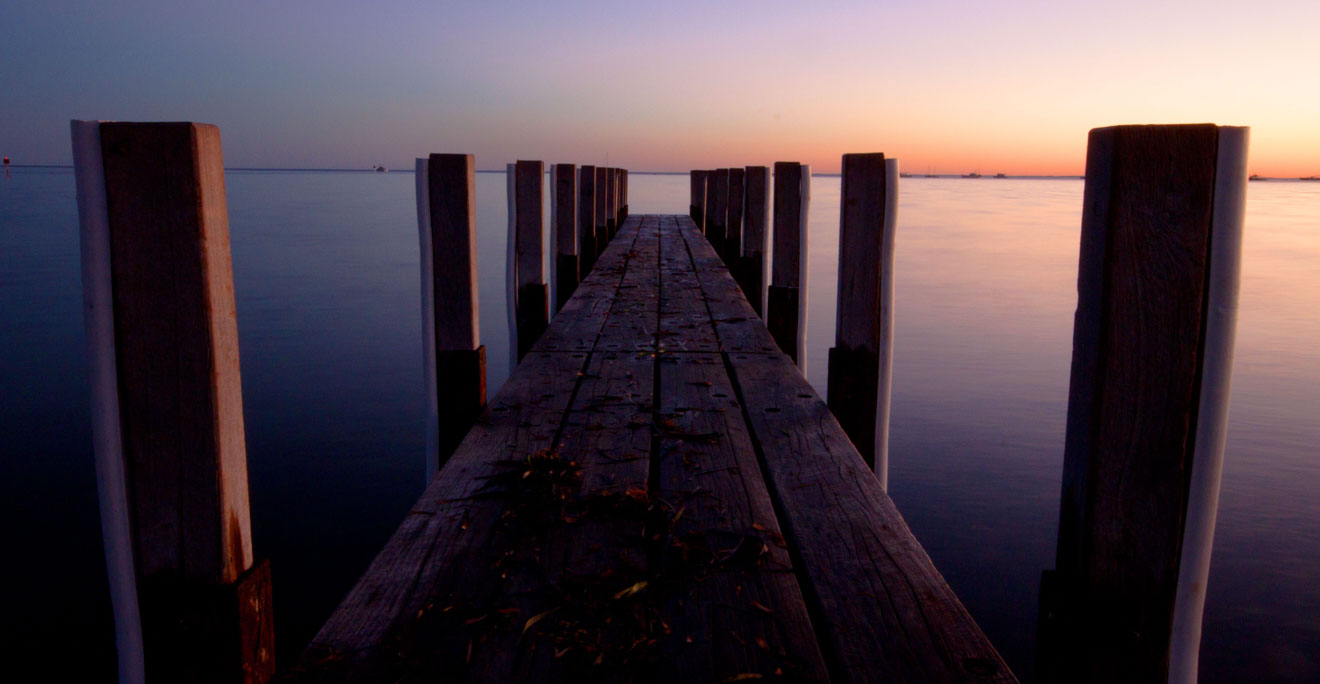 As the gateway town to this World Heritage Area, Denham has a lot more to offer than just somewhere to spend the night! The town itself has a fascinating pearl farming history that dates back a couple of hundred years, and you can learn all about it at Denham Visitor Centre.
Just walking through the main town you'll spot historic buildings that were originally built to support the fishing industry here and even a couple of buildings made from the shells of Shell Beach. Whatever you decide to do in Denham, don't leave without taking a stroll along the beautiful foreshore and grabbing an alfresco seafood dinner!
8. Visit the Award-Winning Ocean Park Aquarium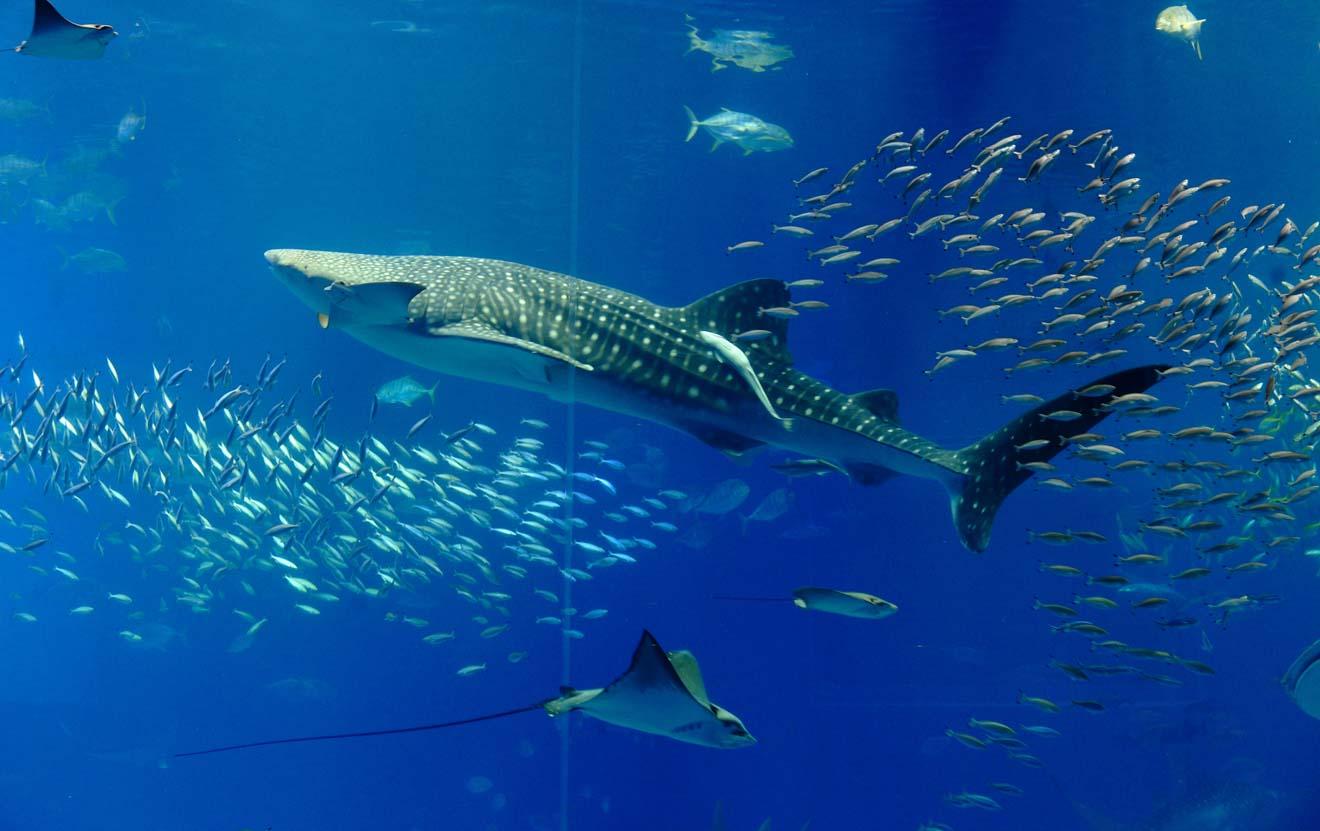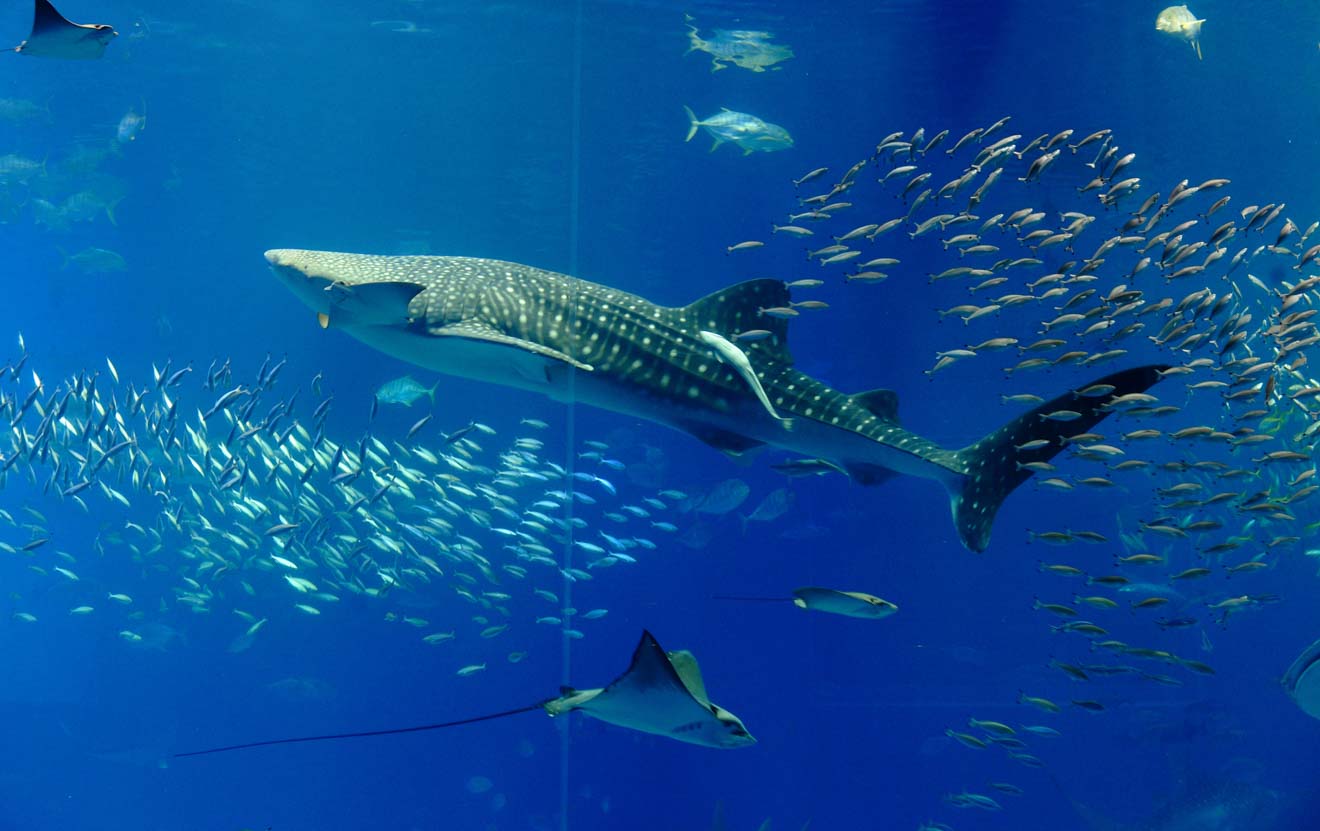 Voted as one of the best natural aquariums in Western Australia, a visit to Ocean Park Aquarium is not to be missed! Home to turtles, stingrays, sharks and other native Australian marine life, this is one of the best things to do in Shark Bay if you're travelling with little ones. Included in your ticket is a 45-minute tour of the aquarium with a knowledgeable marine scientist and a chance to watch the sharks being fed!
PRICE: Adults $27, Children $19
9. Cool Down in Little Lagoon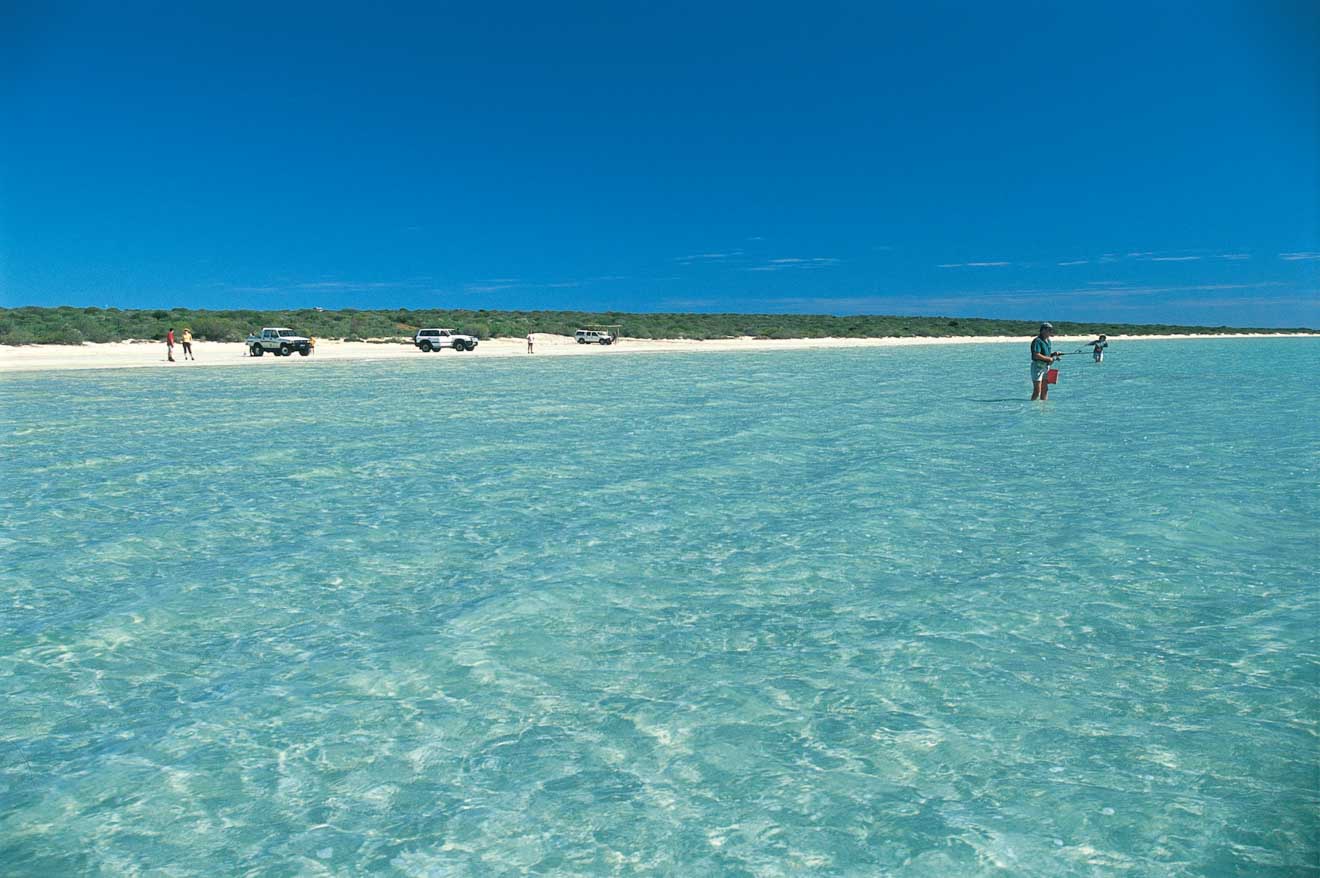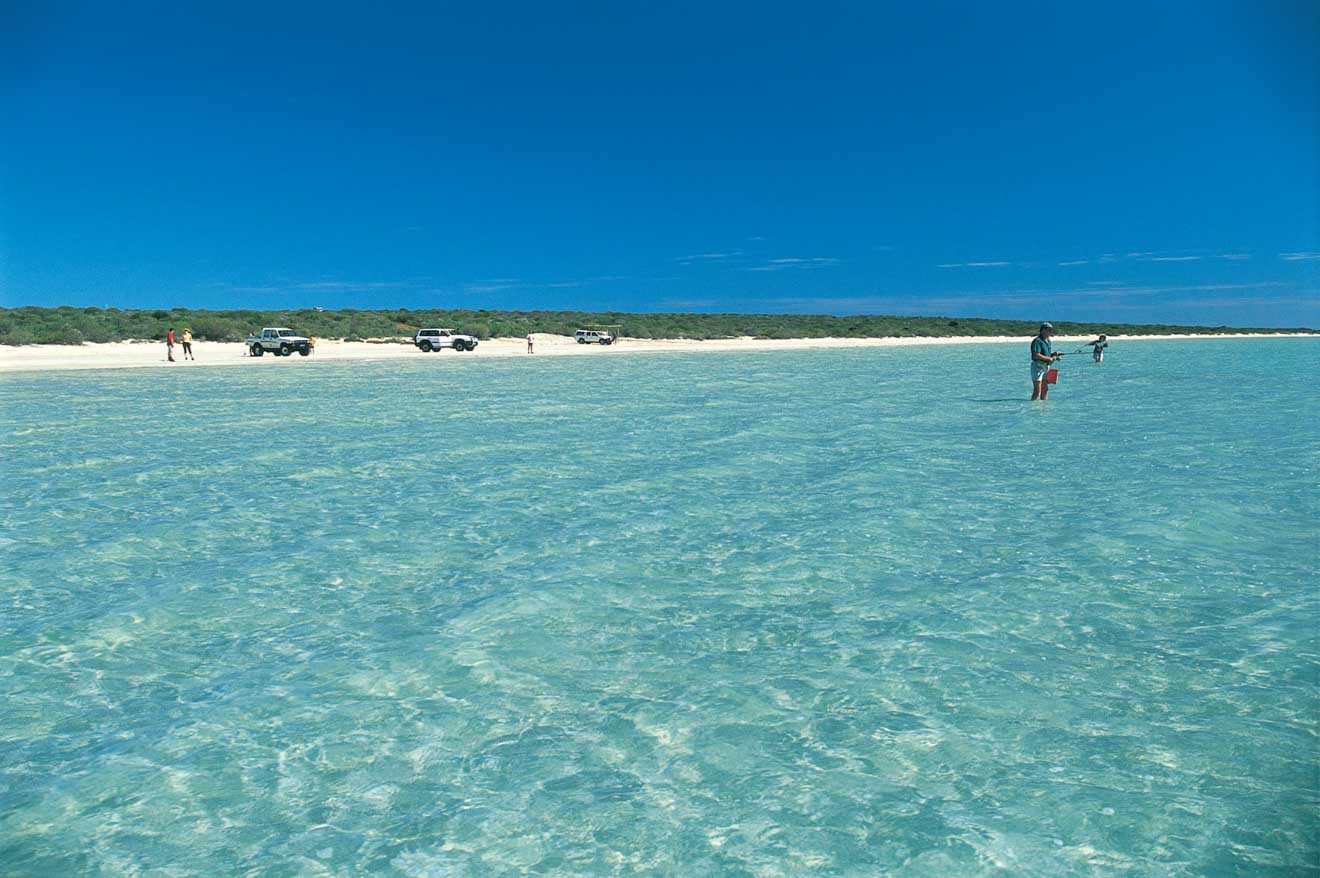 If you're looking for somewhere to just relax, have a swim or grab a bite to eat, then this is the place for you. Unlike other lagoons in Shark Bay, this one is super accessible, with paved roads suitable for two-wheel drives, and it's just outside of Denham!
The super turquoise waters of the lagoon are great whether you want to swim, kayak or fish, and the beautiful beach has plenty of space to spread out with lots of communal barbecues to use as well.
| | |
| --- | --- |
| 💯 Top attraction: | Monkey Mia |
| 🗝️ Best free attraction: | Stromatolites |
| 🧒 Kid-friendly attraction: | Ocean Park Aquarium |
| 🔦 Unusual attraction: | Shell Beach |
| 🥽 Best outdoor activity: | Dirk Hartog Island |
| 📅 How many days: | 4-5 |
Useful Information About Shark Bay
How To Get To Shark Bay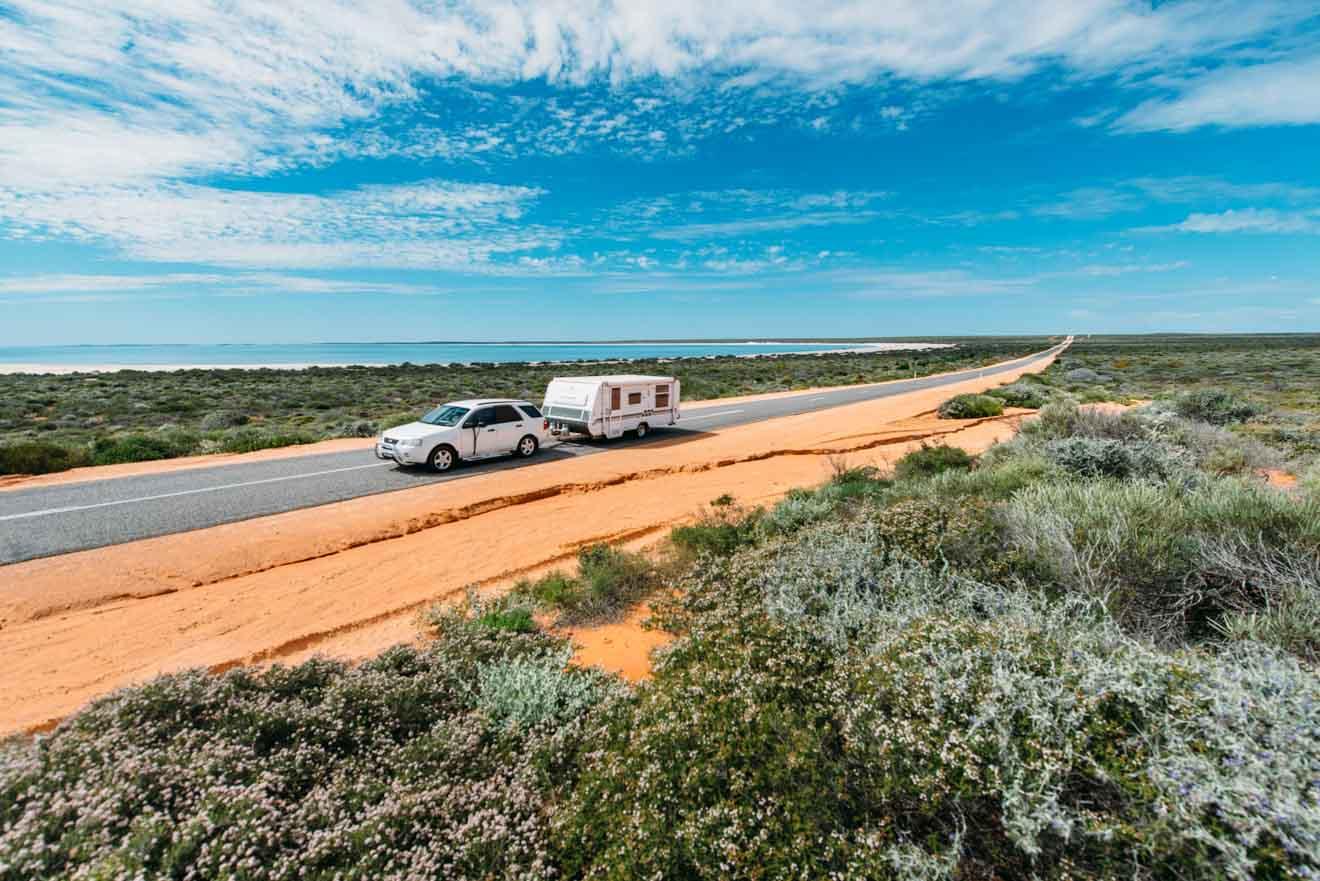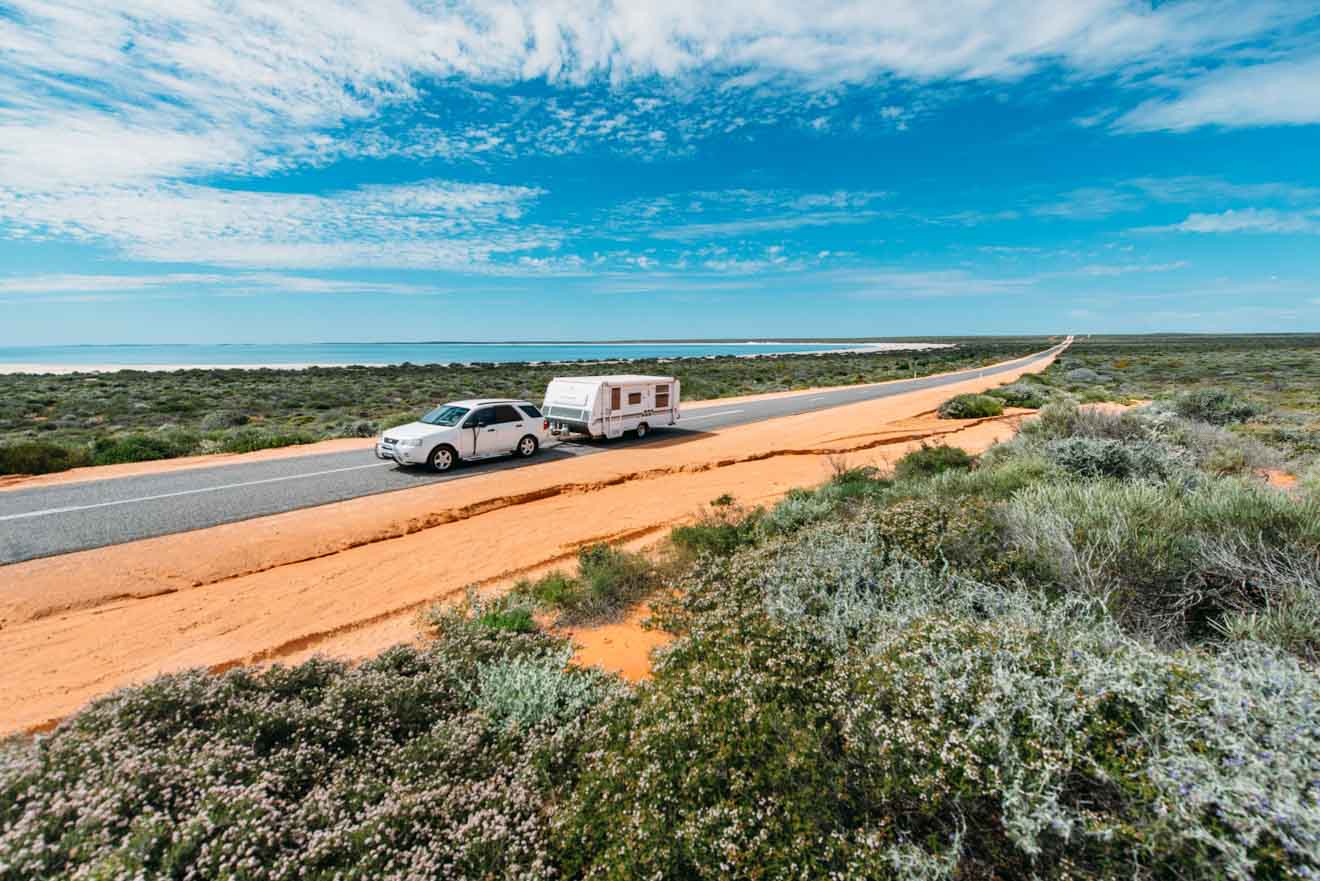 With stunning coastal views and well-maintained roads, Shark Bay is perfect road-tripping territory! Generally, people visit Shark Bay as part of a Western Australia road trip, but it can also be visited by itself too. For this reason, I'd highly recommend having your own method of transport while you're there, whether it be your own car or a rental vehicle. From Perth, the drive to Shark Bay will take around 9 hours along National Route 1, and covers a huge 800 kilometres. While this is doable in a day, I'd recommend booking a hotel in Geraldton for the night to break up the drive.
There's also a handy airport, that sits just outside of Denham, that sees around 10 direct flights from Perth every week. Booking a flight will save you time, but costs around $300 for a return ticket, so can end up being the most expensive option, especially as you'll need to hire a car when you arrive.
There are a handful of tours that will take you up the West Coast to explore some of the top attractions in Shark Bay. This 4-day coastal loop takes you on a guided tour to Shark Bay via Kalbarri National Park. I also came across this super cool helicopter tour of Shark Bay which sees you take to the air before landing in Monkey Mia!
PRICE: $725 includes all transport, accommodation, meals and entrance fees.
Where To Stay in Shark Bay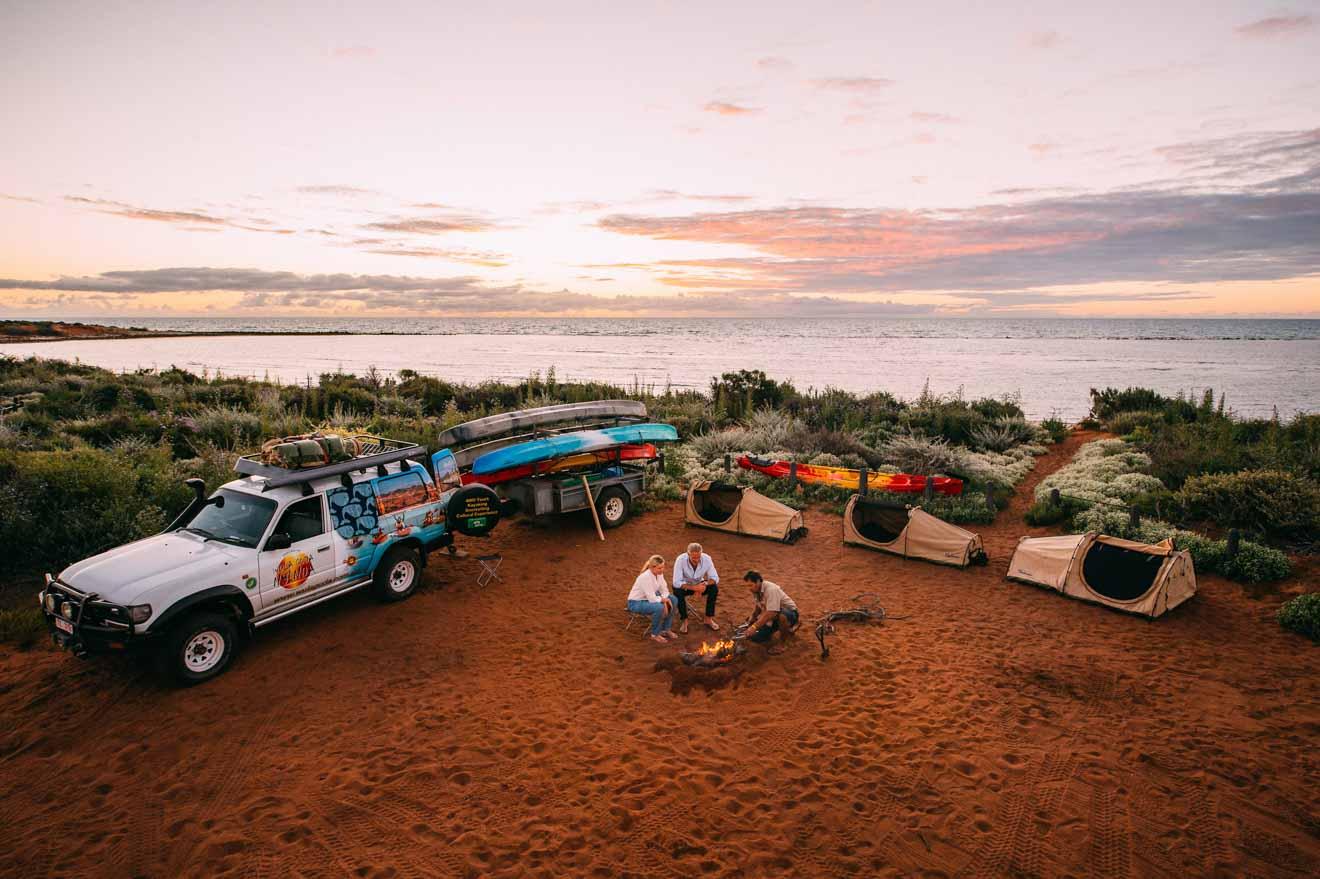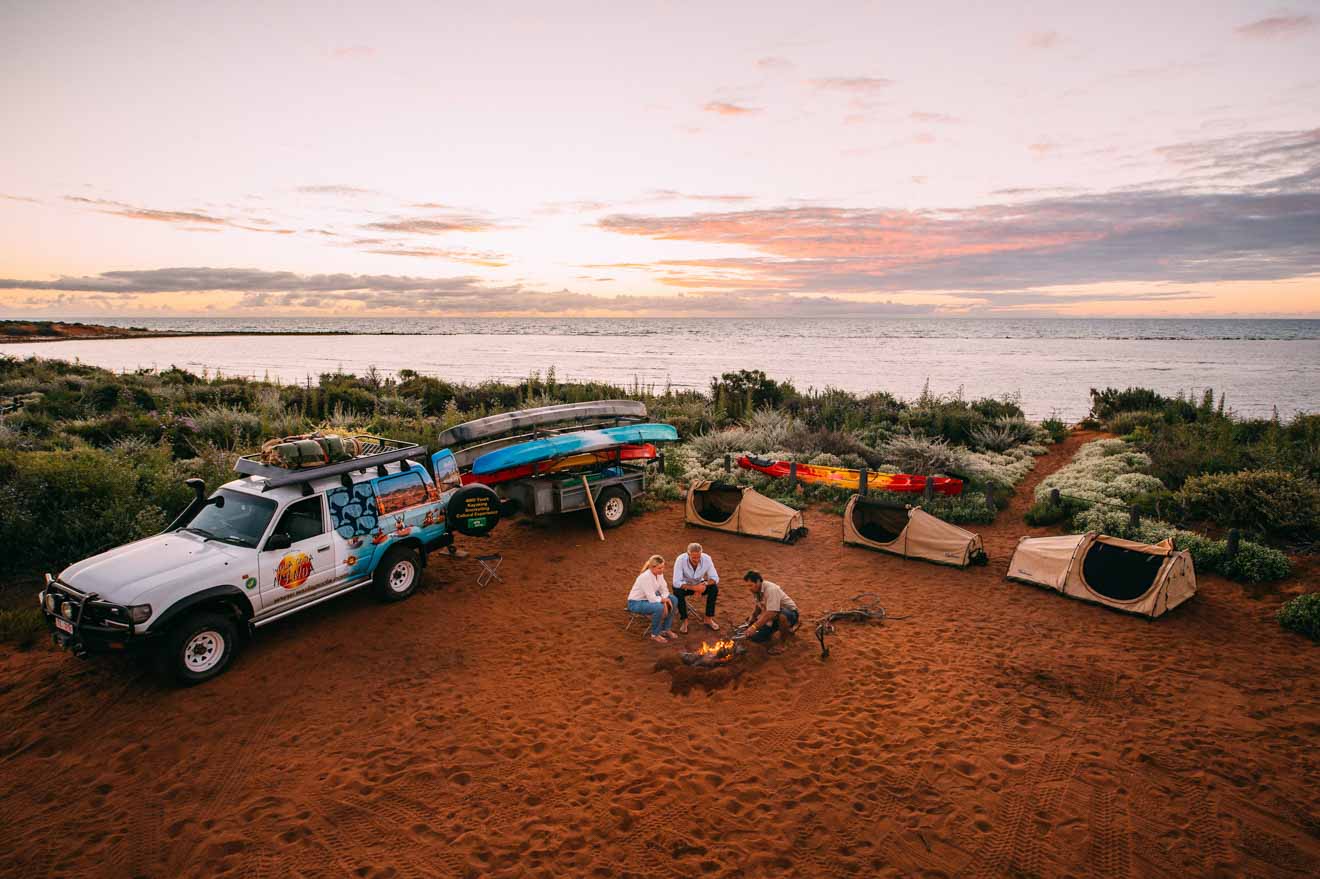 When it comes to accommodation in Shark Bay, the choice is a little limited. There's just one resort found next to Monkey Mia and a couple of Airbnb properties and campsites in Denham. However, what there is a lot of, are stunningly beautiful, and very affordable campsites! I've found the best places to stay in Shark Bay for every type of budget. Take a look!
Luxury (240 AUD and up):
You won't find any 5-star resorts around Shark Bay, but you will find a number of locally-owned villas and self-catered apartments up for grabs. Like Shark Bay Seafront Apartments where guests are treated to sea views and private balconies just moments away from Denham Beach. Another good option if you're looking for true comfort is the Wildsights Villas that can accommodate up to five people, and are just 15-minutes away from Monkey Mia.
Middle (85 to 190 AUD):
For mid-range accommodation, I found the charming Preachers Cottage on Airbnb. Centrally located in Denham, this newly refurbed space, with two private courtyards, is the perfect romantic retreat for couples holidaying in Shark Bay. My second choice for mid-range accommodation is the RAC Monkey Mia Dolphin Resort, the only accommodation located at Monkey Mia itself. Depending on your budget, you can choose from rooms with shared bathrooms for $145 or garden views rooms for a little extra.
Budget (up to 85 AUD):
Personally, I love camping! And it's just a bonus that it's generally the cheapest way of spending the night somewhere. As there are no hostels or low-cost hotels in Shark Bay, camping is your best option here too! Don't worry though, the campsites here are beautiful and all found along the coast! Eagle Bluff, Whalebone Bay, Goulet Bluff and Fowlers Camp are all a 15-minute drive south of Denham, and cost $15 a night to camp at. To book your spot, you'll need to contact Shark Bay Discovery Centre on your day of travel.
Conclusion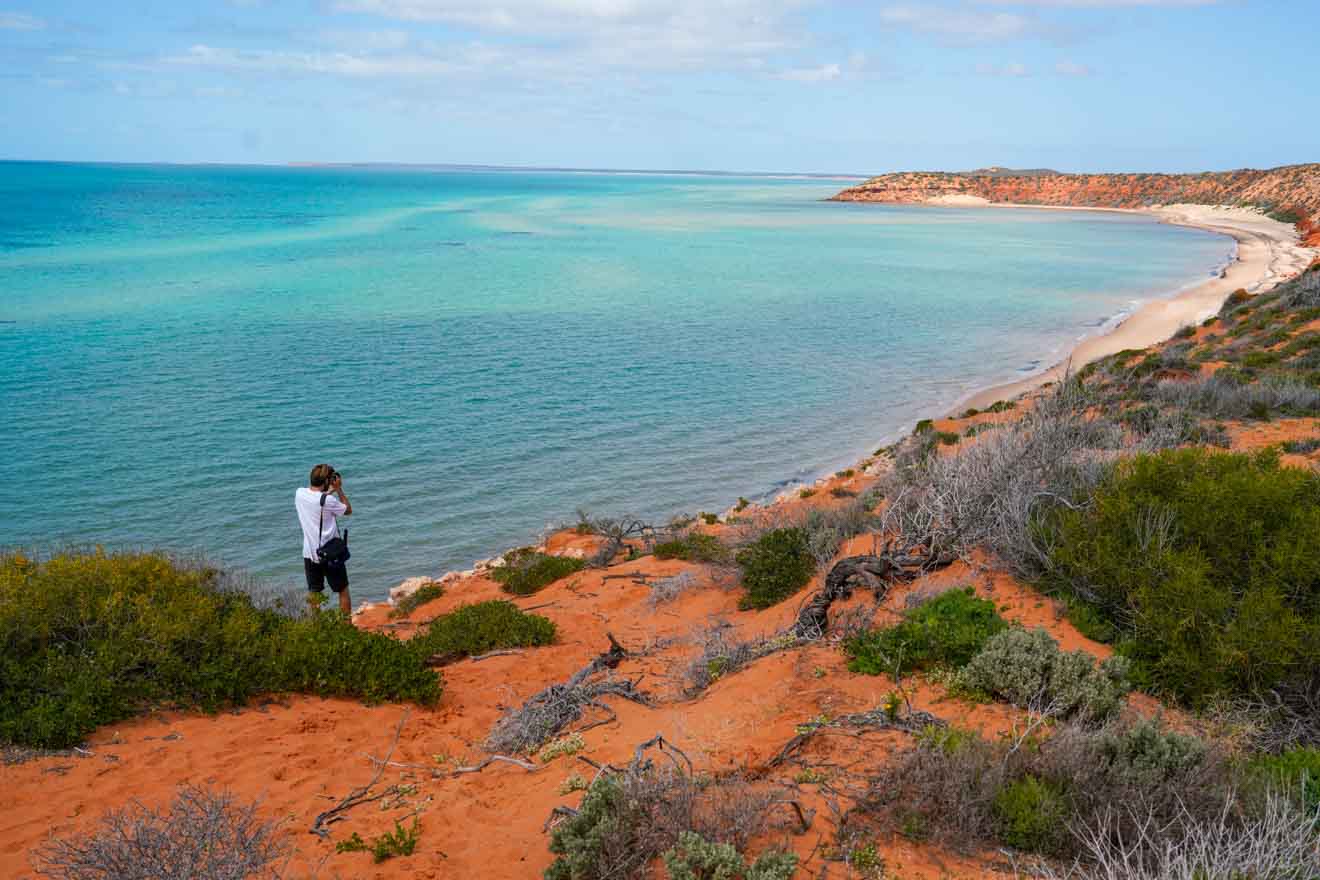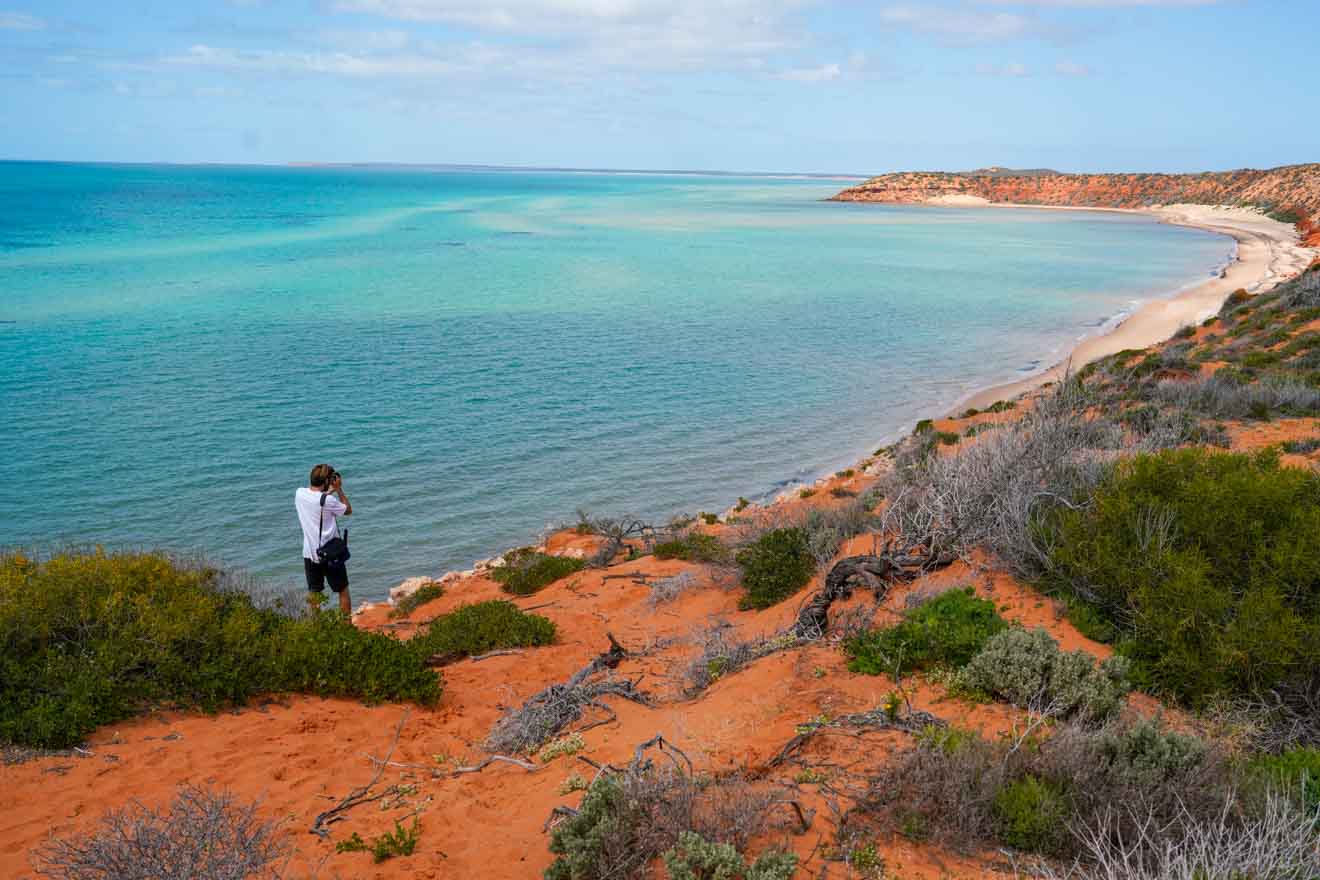 Shark Bay is yet another must-see destination in Australia that should be near the top of your list! I hope this article has inspired you to take a trip to this part of the world, to explore the rugged Francois Peron National Park, to get up close and personal with the dolphins and to visit the stromatolites of Hamelin Pool.
Along with a list of the best things to do in Shark Bay, I've also explained exactly how to get to these remote areas and where the best places are to lay your head for the night. If you would like a bit more information about anything to do with Shark Bay, remember to drop me a message in the comments below. Or, if you want to know about any other fantastic wildlife encounters in Australia, like swimming with whale sharks on the Ningaloo Reef I can help you with any queries too!
Happy adventuring!
Lily
---
---
Pin it for later!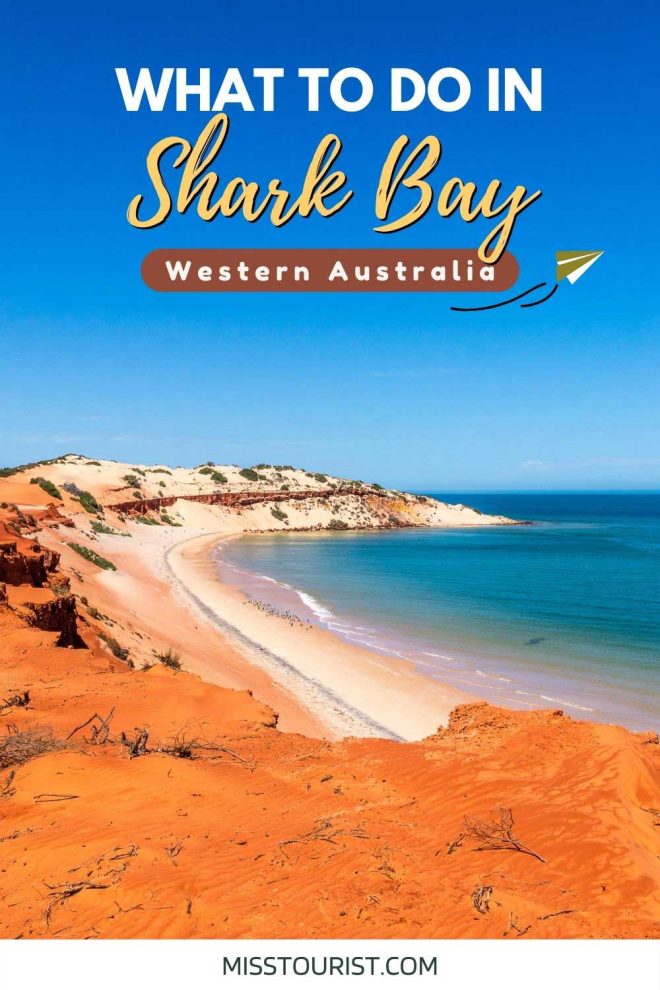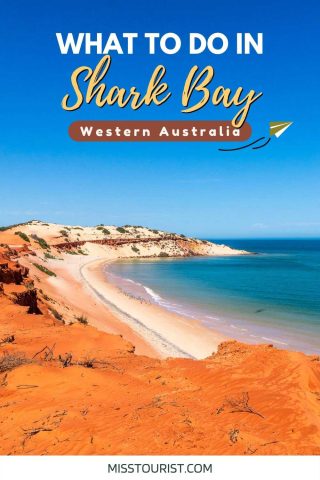 Pin it for later!