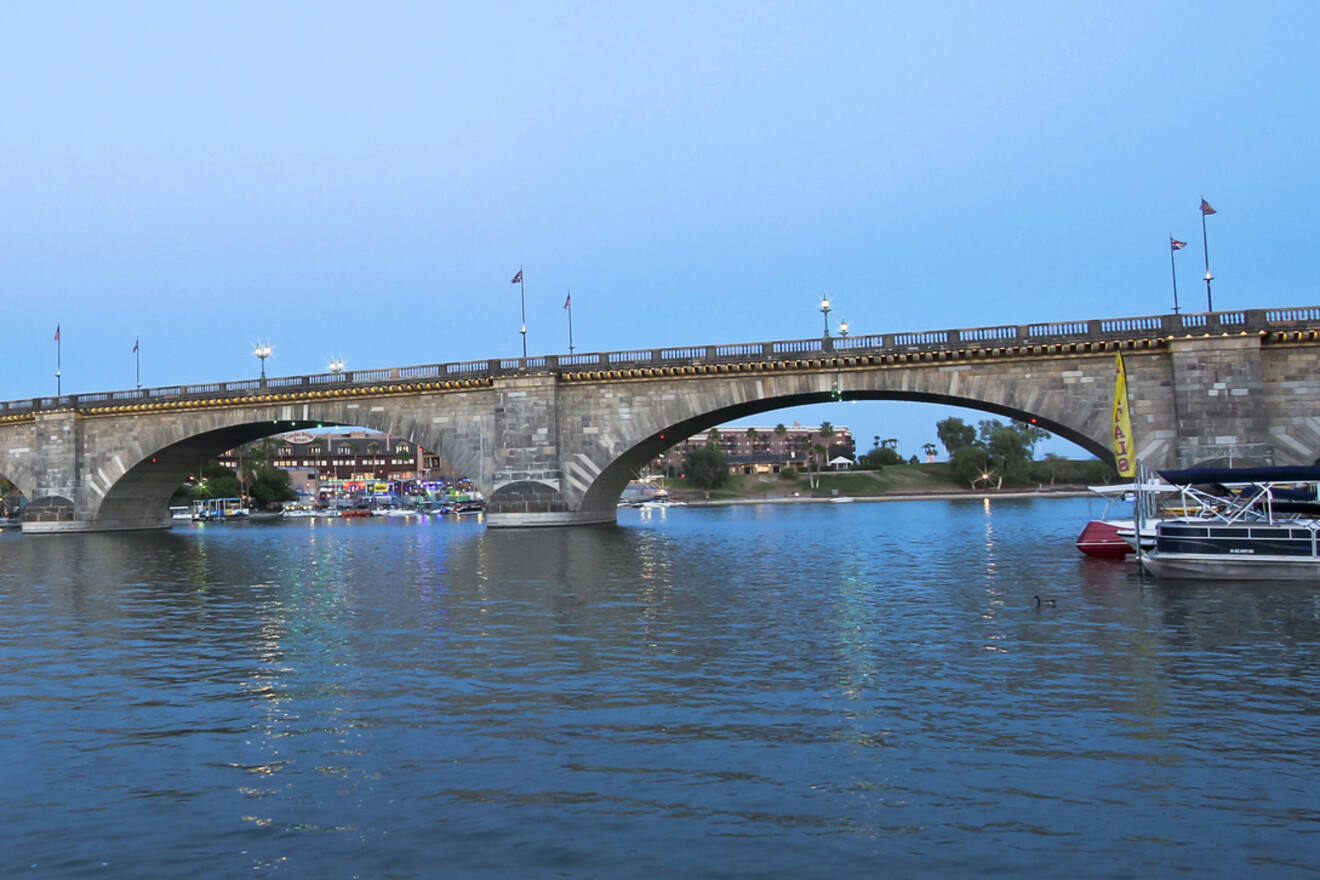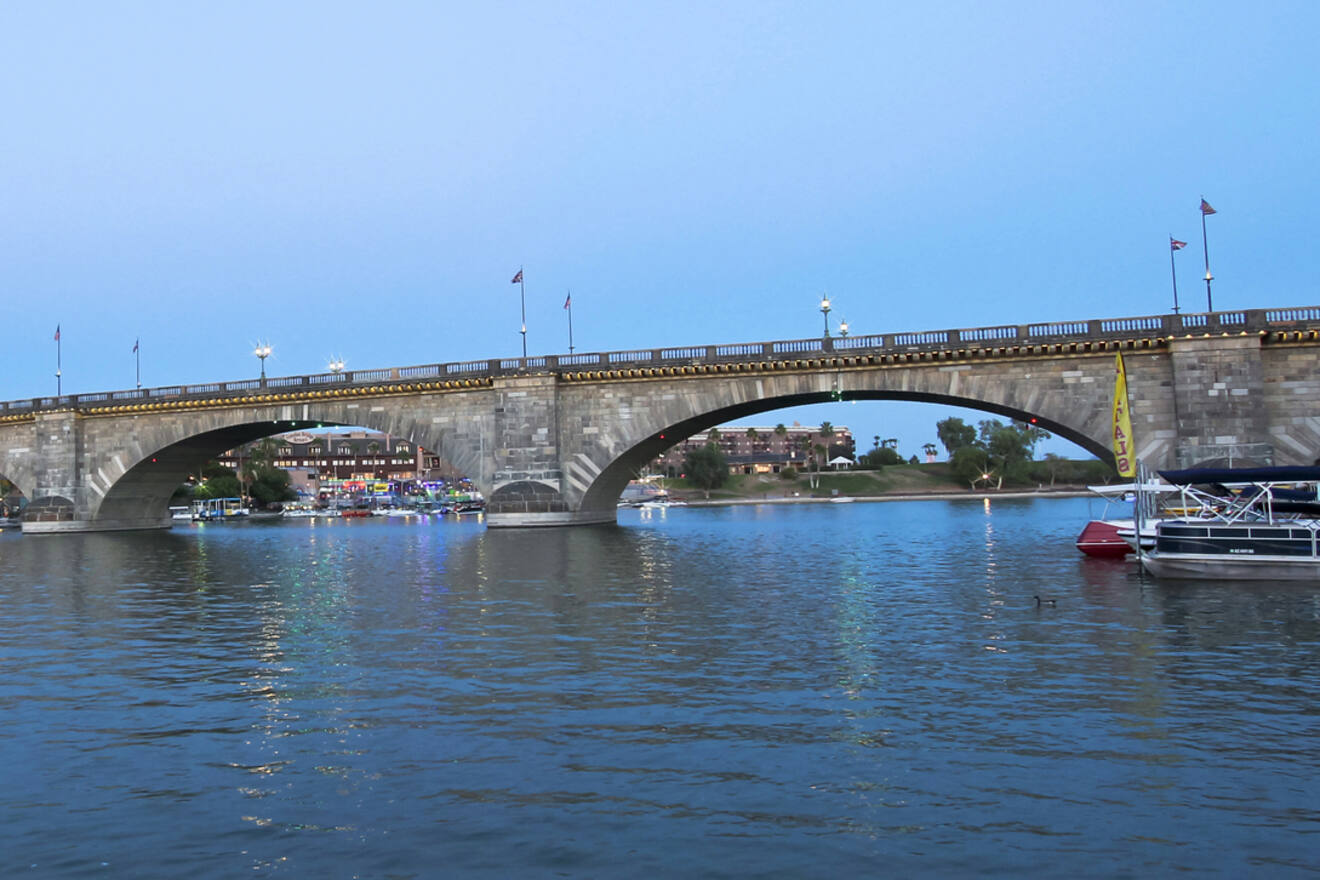 Lake Havasu City is an Arizona tourist hotspot. And, dear traveler, you are in luck – there are plenty of large and affordable Airbnbs to choose from! Instead of taking your time searching through these rentals yourself, I have included all the important information you are going to need on my list.
If you aren't from Arizona or California, you might not have heard of Lake Havasu City before – but it is a happening tourist destination. Every year, up to 1.5 million people visit this small city, where they spend most of their time lounging on the water or enjoying one of the many parties.
The lake and party scene aren't the only things to enjoy in this city. The old London Bridge – that was brought stone-by-stone from London – is the second most visited attraction in Arizona (after the Grand Canyon). During the winter months, the desert surrounding Lake Havasu is also a great place to enjoy hiking, camping, ATV riding, and more.
When staying in Lake Havasu, your best bet will be to choose from one of these amazing vacation rentals I have listed below:
If You Are in a Hurry: Top Airbnbs in Lake Havasu
These Airbnb Lake Havasu options are the best of the best. You can save yourself time by selecting from one of these four fantastic options located in the center of Lake Havasu. I have sorted them according to their cost, for your convenience.
17 Best Airbnbs in Lake Havasu City, AZ
There were plenty of listings to look through, but I checked all of them with a fine-toothed comb. The resulting list has only the best Airbnb options in Lake Havasu so that you have everything you need in one place.
The Airbnbs have been listed according to their average cost per night – from highest to lowest. These prices were calculated by averaging a three-night stay and including all the hidden tax, cleaning, and other costs involved with renting an Airbnb.
1. Gorgeous Home with Lake Views – Best Airbnb for Views
Location: Lake Havasu (North)
Price: from US$680 per night
Bedrooms: 3
Guests: 8
This Airbnb entry is perfect for groups or large families. As a guest, you will be living in the lap of luxury on the northern edge of Lake Havasu. I recommend the master room, with its king bed and private sitting area where you can enjoy magnificent Arizona lake and mountain views.
There is more than enough space to cook up a delicious meal for your family or friends in the fully-equipped kitchen. You can take your meal to the dining room or enjoy it on the covered patio alongside the pool.
And if it gets too hot, just dive in! During winter, when the nights get a bit too chilly, the gas-powered hot tub will keep you nice and toasty while you watch the stars come out!
2. Spacious Pool Home with Private Casita – Great for Big Groups
Location: Lake Havasu (South)
Price: from US$560 per night
Bedrooms: 5
Guests: 10
This Airbnb is a great spot for a guest looking for a group holiday. The main house has 4 bedrooms, with TVs and air-conditioning in each – perfect for eight of the guests. While two children will love the adventure of sleeping in bunk beds in the little cottage by the pool.
This house was recently remodeled by the Superhost and it shows. The inside is exceptional, with beautiful accessories, furniture, and finishings throughout.
The living area and outdoor patio are great places to relax after spending a day in the pool, down by the lake (which is only a few minutes' drive away), or playing a round of golf at the next door Lake Havasu Golf Club.
3. On The Water Home in Havasu – With Private Mooring for Boat
Location: Lake Havasu (On the lake)
Price: from US$550 per night
Bedrooms: 1
Guests: 4
Spend your holiday on the water's edge of Lake Havasu Island, with your boat moored right in front of your house. This Airbnb has spectacular views of the lake and you physically can't get any closer. All you need to do is walk a few steps and you will be in the water.
Your days will be spent in the water or alongside it, with the balcony being a great spot to watch over the waters below. Here, you will also find the gas grill, which will help you cook up some amazing backyard dinners.
When you want a change of scenery, you can head three miles to the bridge or into the city to immerse yourself in the local culture at one of the shops or restaurants.
4. Gorgeous Luxury Pool Home
Location: Lake Havasu (Center)
Price: from US$540 per night
Bedrooms: 3
Guests: 8
Step into the clean modern decor at this beautiful home that was recently completed by the superhost. The inside is flawless, with a beautiful color scheme, wooden flooring, and brand-new appliances.
There is more than enough space to entertain inside, but the main attraction is outside, next to the pool. Cook up meals at your private outdoor kitchen, equipped with an island, gas grill, and a TV – so you won't miss any sporting action while grilling up those steaks.
As a guest, you're only six miles away from Havasu lake in a quiet neighborhood that will help you escape the excitement at the end of your day. If you do need to cool off, you can just hop in your huge pool – which can also be heated during winter.
5. Lake Havasu City Home – For a Luxurious Stay
Price: US$720 per night
Bedrooms: 3
Guest: 6
Dreaming of 360-degree views of the beautiful Lake Havasu from your bedroom or a stunning sunset directly from the pool bar? Then this is the place for you!
Each of the 4 bedrooms in this house has incredible panoramic views of the lake and mountains, plus you can even enjoy a hot tub, pool, patio, and a beautiful outdoor area to eat and relax.
To make your stay extra comfortable regardless of the season, all rooms have dedicated climate control, and the cozy gas fireplace in the living area would be perfect for cuddling up on a cold day. Make sure to check out the photos; you'll certainly fall in love!
6. Hacienda Havasu Resort with Private Beach – Perfect for Parties
Location: Lake Havasu (North)
Price: from US$520 per night
Bedrooms: 3
Guests: 8
A beautifully decorated house and your own private beach await you at this exotic Airbnb in Lake Havasu. Inside there is a large open area comprising the kitchen and living area. But the real adventure is outside.
Step outside to a 'palapa' (thatched-roof, open-sided structure) and large pool. Sit around the propane fire pit with your feet in the beach sand while you enjoy an evening meal. You can even eat in the pool at the unique table with an umbrella! This is a great spot for entertaining friends or hosting a party.
You might have everything you need at your house, but if you do decide to go for a trip to the water in Havasu or into the city center, you will only need to take a short 15-minute drive.
7. VIP Resort Home – Entertainer's Dream
Location: Lake Havasu
Price: from US$350 per night
Bedrooms: 2
Guests: 4
From the outside, this Southwest-style home looks simple, but when you step inside, you will be transported into a world of elegance and comfort. The open-plan living area, dining area, and kitchen help create a very large space. Here you will enjoy meals or relax on the massive sofa while watching TV.
The backyard area has been beautifully designed with amazing rock features, swimming spaces, and even a waterfall. If it gets too hot, just hide under the thatched-roof palapa that extends over the water.
The central location of this listing makes it very easy to check out everything that Lake Havasu has to offer. You are an 8-minute drive from the London Bridge and the lake.
8. Heavenly Lake View House Newly Remodeled
Location: Lake Havasu (Center)
Price: from US$320 per night
Bedrooms: 3
Guests: 8
This clean Lake Havasu home has recently been remodeled with modern furniture, cozy bedding, and new appliances. The fully-equipped kitchen has everything you need to whip up a delicious meal for the whole family. In the same open-plan area, you will find the living room with a TV and fireplace to keep you warm during those cold desert nights.
The house is aptly named because of the magnificent view you get when you step out onto the covered patio. The superhost has equipped this area with a dining table, gas barbeque, a hot tub, and a 2-car garage with space for your boat.
When the days get too hot, you are just a short 5-minute drive to the lake. Or you could check out the nearby Lake Havasu Aquatic Center with its wave pool, and giant slide.
9. Lake House Retreat – Pet-Friendly House for a Family
Price: US$300 per night
Bedrooms: 3
Guest: 6
Bring the whole family (including your pets) to this spacious and beautiful home in Lake Havasu. It has a great location close to grocery stores, the lake, London Bridge, and hiking trails!
With everything, you might need for an enjoyable and relaxing stay – clean and lovely bedrooms, a full kitchen, a washer & dryer, and a jacuzzi tub. Plus, there is ample parking which can accommodate a boat as well.
There will be no problems finding the best places to visit during your stay and other helpful tips as the host are very responsive, helpful, and welcoming. There is no wonder why this is one of the best-reviewed properties in the area.
10. Home with Private Pool and Game Room – Great Family Value for Money
Location: Lake Havasu (Center)
Price: from US$290 per night
Bedrooms: 4
Guests: 10
This Airbnb Lake Havasu is a clean, two-story option with a great view from the second-floor balcony. You will be able to spend your morning or evenings enjoying the scenery of the lake and surrounding mountains – the sunsets are extra special!
You won't be overwhelmed with the excessive decor in this humble Lake Havasu home. Everything is minimal and done with good taste. There is a private outdoor pool in the small backyard that you can use to cool down, but the lake is only a short drive away when you do want to head out.
Nothing says family holiday better than games. Head to the game room where you will find beautiful wooden pool and poker tables. And when the time comes to cook a meal, just walk next door to the fully-equipped kitchen.
11. House with Private Pool, Lake Views & RV Parking
Location: Lake Havasu (North)
Price: from US$260 per night
Bedrooms: 2
Guests: 8
The northern side of Lake Havasu is perfect for those looking for a magnificent view and a quiet neighborhood. This Airbnb has both of those things and much more. Step out onto the balcony to look out over the lake while you enjoy your breakfast at one of the two small coffee tables.
The interior decoration is stunning, with a combination of wood and tiles that work well to create a warm atmosphere. You will love preparing food in the kitchen thanks to the open-plan living area.
The Lake Havasu desert heat can sometimes get a bit much, so just take a swim in your private pool with colored lights (perfect for night swims). Alternatively, use the boat parking at this Airbnb and head down to the lake whenever you want.
12. Vacation Home with Pool – Ideal for Families & Small Groups of Friends
Price: US$255
Bedrooms: 2
Guest: 5
Feel at home at this spacious, spotlessly clean two-bedroom house, filled with everything you might need for a comfortable and enjoyable stay. This house can accommodate up to 6 guests, and you and your family can cook in the fully equipped kitchen or spend a fun afternoon having a delicious BBQ on the shaded patio by the pool.
The kids will never run out of things to do, too, as they can find all possible fun stuff like watching DVDs, 200+ channels, Netflix, surfing the internet, playing board games, ping pong, and more. And yes, you can also bring your furry friends with you!
Are you planning on extending your holiday to California after this? San Diego is a great place to stay and you can find a whole list of great Airbnbs here.
13. The Beachside Bungalow – Resort-Style Condo for Couples
Location: Lake Havasu
Price: from US$190 per night
Bedrooms: 1
Guests: 4
The Beachside Bungalow is an Airbnb condominium located in a trendy complex close to everything Lake Havasu has to offer. Whether you want to head to the water, the bridge, or the various local shops, you can just hop onto the boardwalk that takes you straight into town.
You'll feel like you're staying in a resort at this complex. With access to some great shared amenities like the clubhouse, tennis court, picnic area, heated pool, and two jacuzzis.
Your Airbnb also has its own covered patio where you can grill up some food on the barbeque or just sit outside while enjoying the cool desert evenings.
14. Fox's Lake Havasu Vacation Home Rental – Budget Airbnb for Families
Location: Lake Havasu (Center)
Price: from US$140 per night
Bedrooms: 2
Guests: 6
This is the most cost-effective Airbnb per person on my list. If you're a family looking for a cozy stay in Lake Havasu, you are in luck. The quiet neighborhood is safe and is the best spot to escape to after an exciting day down by the lake or in the town.
You'll have everything you need inside, with a spacious kitchen and dining room featuring chic, barn-style doors and fairy lights to set the mood. The best place to relax is in the living area on one of the sofas or outside on the covered patio with a drink in hand. The host has also left an array of board games to keep you entertained – another reason why this is a great family vacation home.
The backyard has plenty of space for lounging in the sun during the day and the superhost has also thrown in a gas BBQ.
15. The View Private Room – Perfect Budget Suite for Couples
Location: Lake Havasu (North)
Price: from US$110 per night
Bedrooms: 1
Guests: 4
This Lake Havasu Airbnb private room is on the bottom floor of the house. You will have a private entrance and covered patio to enjoy while staying here. The interior is stylish and modern, with a cozy king-size bed, sleeper couch, and kitchenette.
The superhost provides everything you'll need when relaxing by the pool, including plastic glasses, solar shades, pool towels, and deck chairs. This is also the best private room to end the day and take in the breathtaking Arizona sunsets.
Your stay here will put you just north of the center of Lake Havasu. This will provide you some respite from the everyday excitement, while still being close enough to the lake, hiking trails, and over 100 nearby restaurants.
16. Luxury Casita – Centrally Located Airbnb for Solo Traveler
Location: Lake Havasu (Central)
Price: from US$100 per night
Bedrooms: 1
Guests: 2
The only two-guest option on my list, Luxury Casita is not only budget-friendly, but it offers a modern luxurious interior with ample space to enjoy your holiday in Lake Havasu City. If you want to cook up a meal, the kitchen is fully-equipped with a large fridge, stove, oven, and beautiful granite countertops.
The superhost has also provided an outdoor BBQ – great if you prefer to do some of your cooking outside. The dinner table on the outdoor patio is a great spot to chow down.
After a long day, swimming in the lake, or participating in one of the many local events, you can head indoors to your small living area – luckily you have the whole guesthouse to yourself. There are comfortable couches and a large TV where you can relax before cuddling in your queen bed.
FAQs About Renting an Airbnb in Lake Havasu
✈️ Can You Fly into Lake Havasu City?
No, unfortunately, you will not be able to fly directly into Lake Havasu. The closest commercial airport is McCarran International Airport in Las Vegas – which is a 2.5-hour drive away.
🚣‍♀️ Is Lake Havasu Worth Visiting?
Lake Havasu is one of the most popular tourist destinations in Arizona. Every year people flock to the town during the peak holiday season to party at the Lake or to visit the London Bridge. If you are a fan of desert nature hikes, watersports, boating, fishing, and just having a good time, then Lake Havasu City is well worth a visit.
☀️ What is the Best Time to Go to Lake Havasu? 
The best time to visit Lake Havasu City is in the cooler months between November and April. If you plan on spending time out in the desert, then winter is a perfect time to visit. But if you prefer spending time at the lake, then spring and fall are preferred.
Conclusion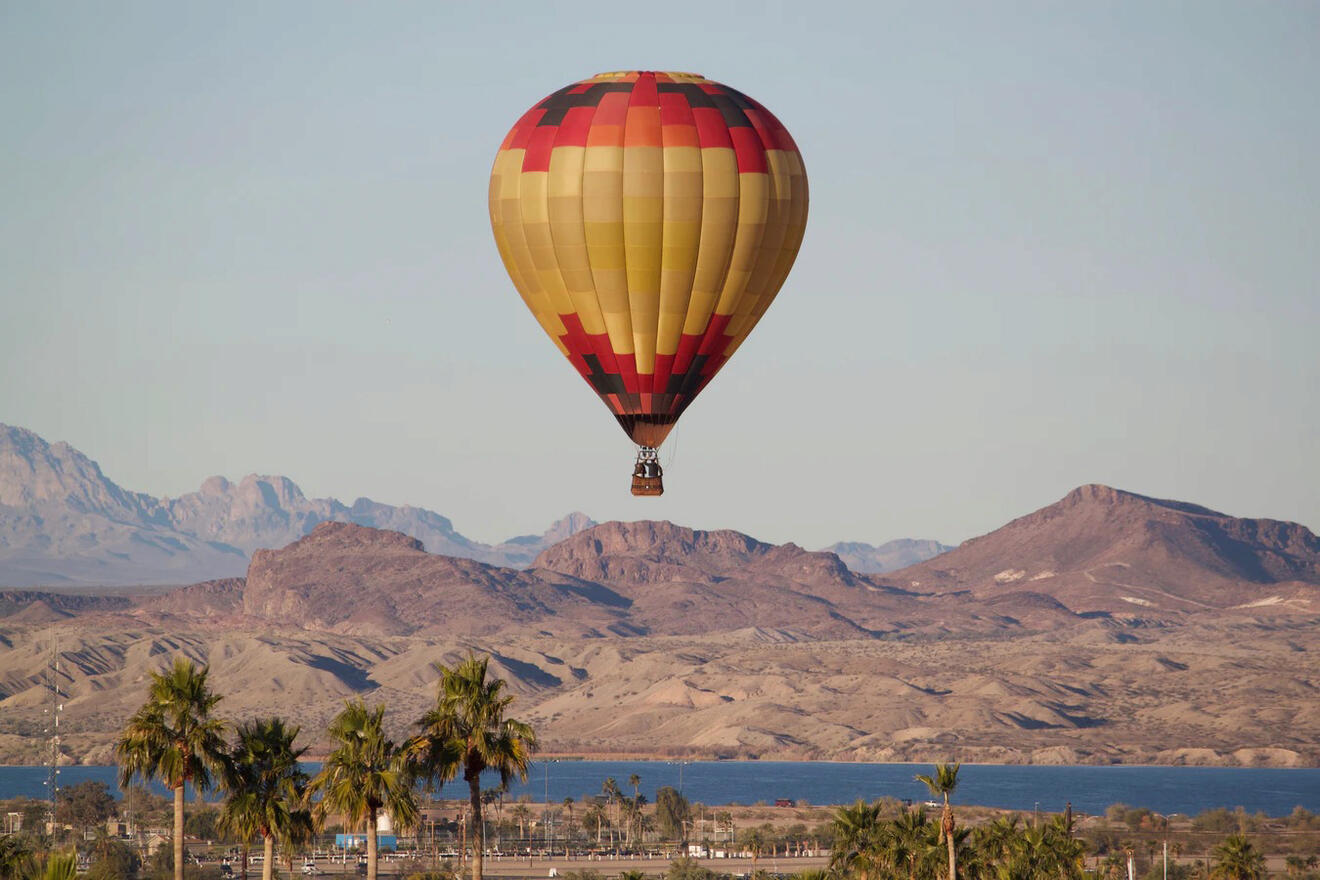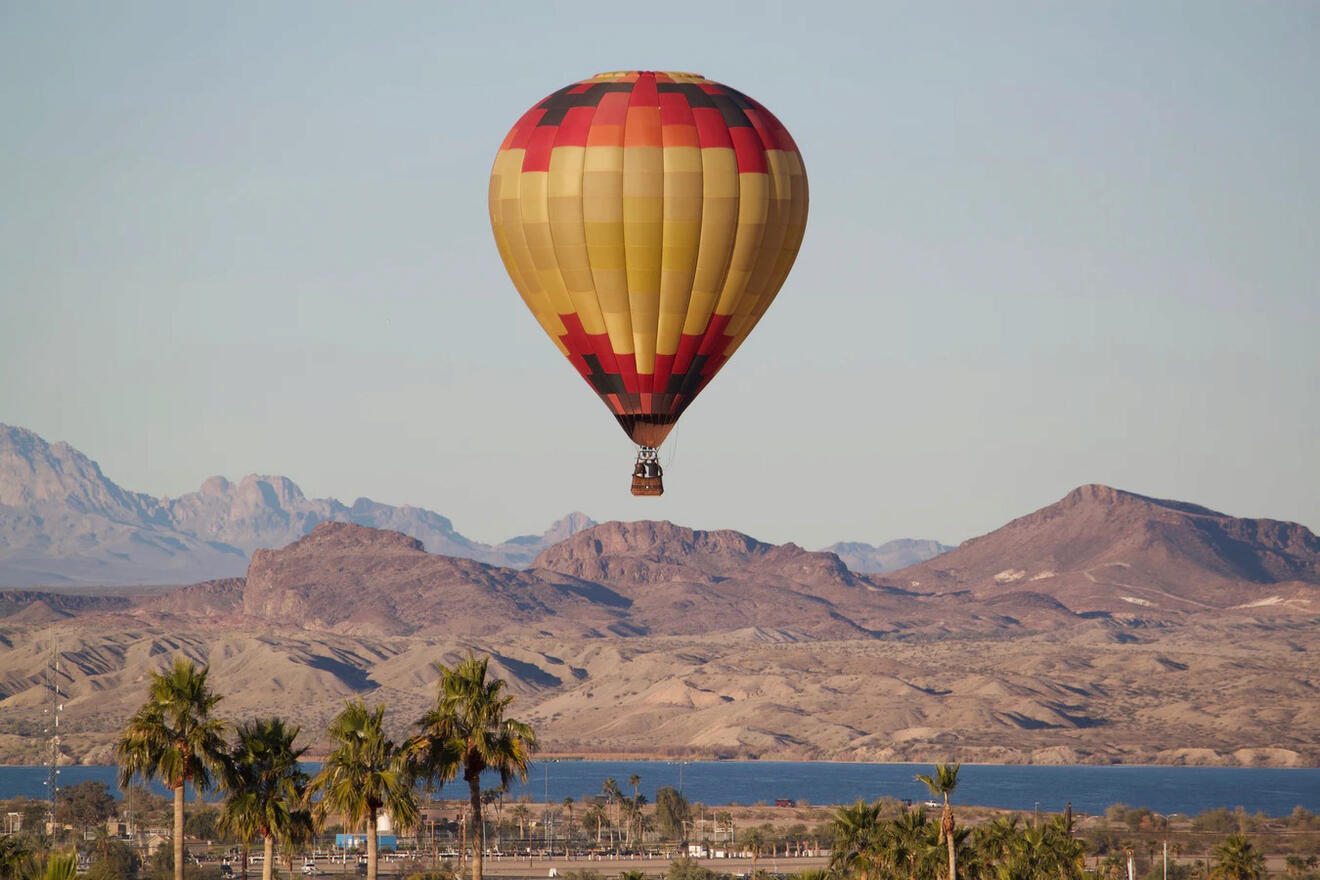 Lake Havasu City, Arizona is a tourist destination made for water lovers and outdoor enthusiasts. Maybe you're only staying here on your way to Los Angeles. If you are, be sure to check out this article on the best places to stay in LA.
Whatever your plans are, make sure to book an Airbnb in advance – this holiday hotspot gets flooded with tourists every year.
If you're a guest with a family looking for an authentic lake holiday experience, then On The Water in Havasu is without a doubt the best choice.
Couples might not find that many small spots available, but Luxury Casita is a perfect budget-friendly Airbnb with great interior design and modern furniture.
Once you've spent your time in this great location, I'd love to hear from you. Drop a message of your favorite spots or holiday experiences in the comments below.
I wish you all the best for your Arizona holiday!
Yulia