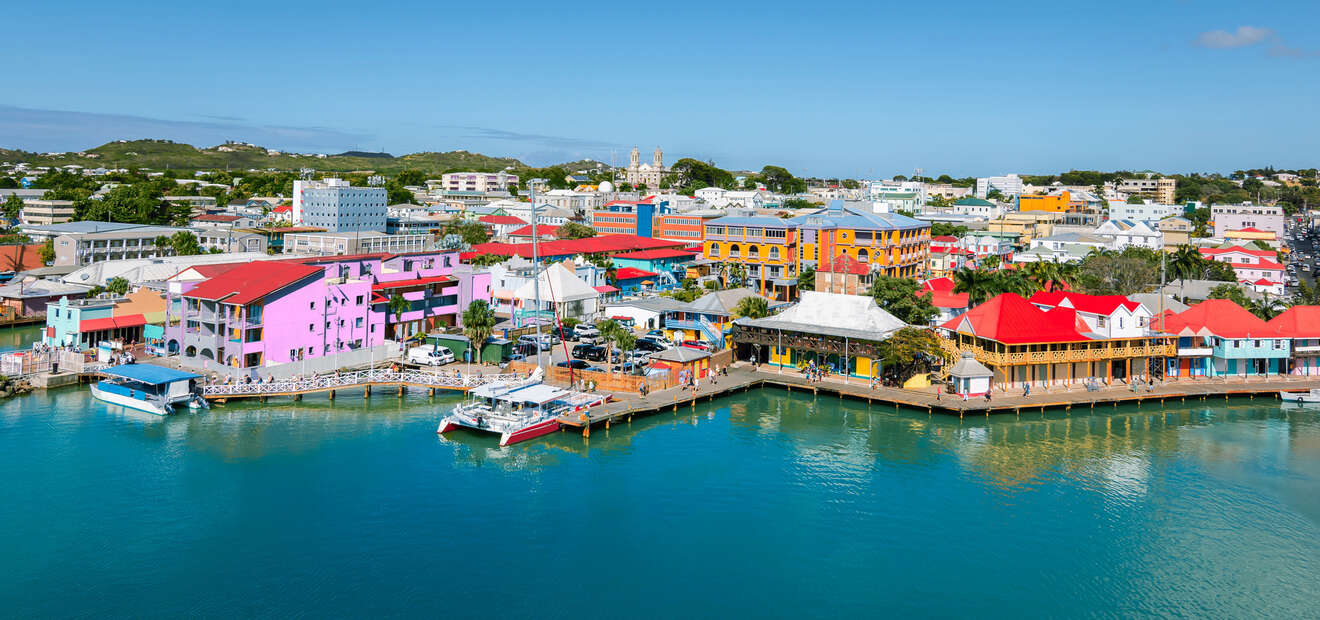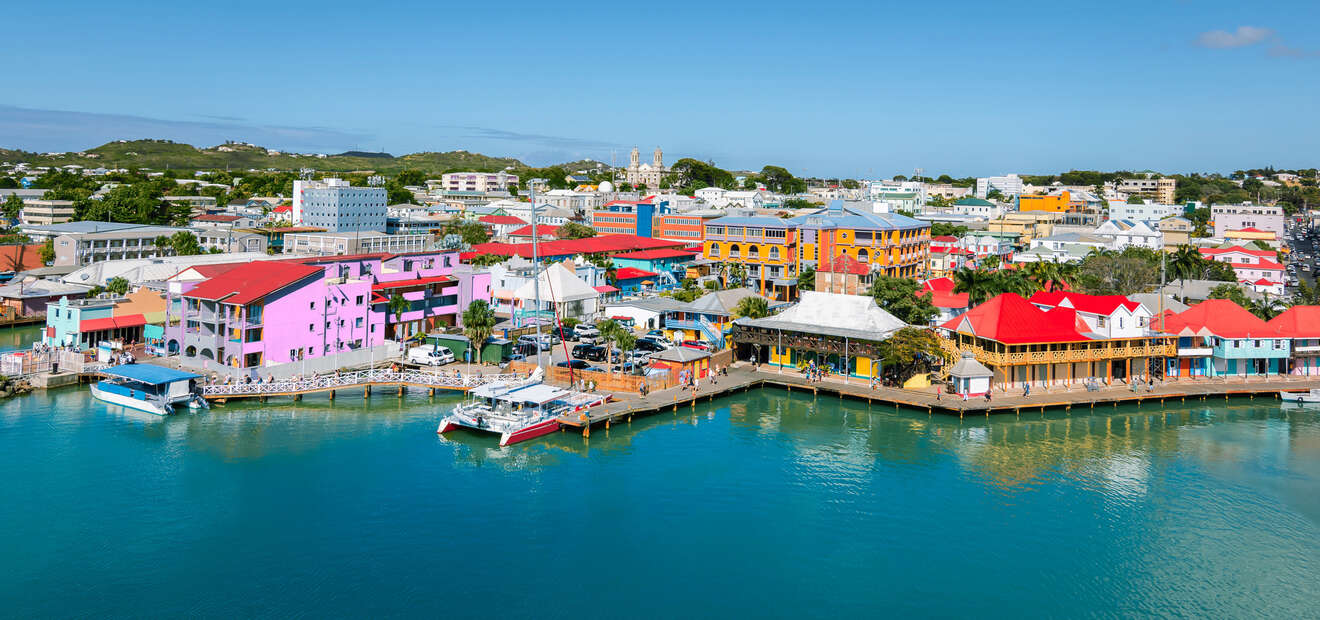 We know that the Caribbean islands are some of the most beautiful ones in the world, but every time I see its stunning white sand beach, crystalline waters, and tropical gardens, I fall in love a little bit more with these places! Welcome to Antigua, one of the 2 major islands that make up the Caribbean nation of Antigua and Barbuda.
In this post, I will tell you all about the best all-inclusive resorts in Antigua. Choosing an all-inclusive accommodation in a place like this one can be a great choice as you won't have to worry about meals and entertainment during your trip. Plus you'll have all the facilities you need at the hotel!
From 5-star luxury all-inclusive resorts to more affordable ones, this list will help you find the perfect place for you, whether you're planning a romantic getaway or a fun family vacation! Keep in mind though that you will have to book your accommodation in advance. Holidays in places like Antigua are planned months in advance, and you will definitely run the risk of not finding a resort if you book late.
Ready to sunbathe on the beach? Let's go!
If you are in a hurry
If you want to book now, quickly browse this list with the best all-inclusive resorts in Antigua:
Here's a map that will help you visualize all the hotels that I will be talking about in this post:
1. Luxury (US$1000 and up)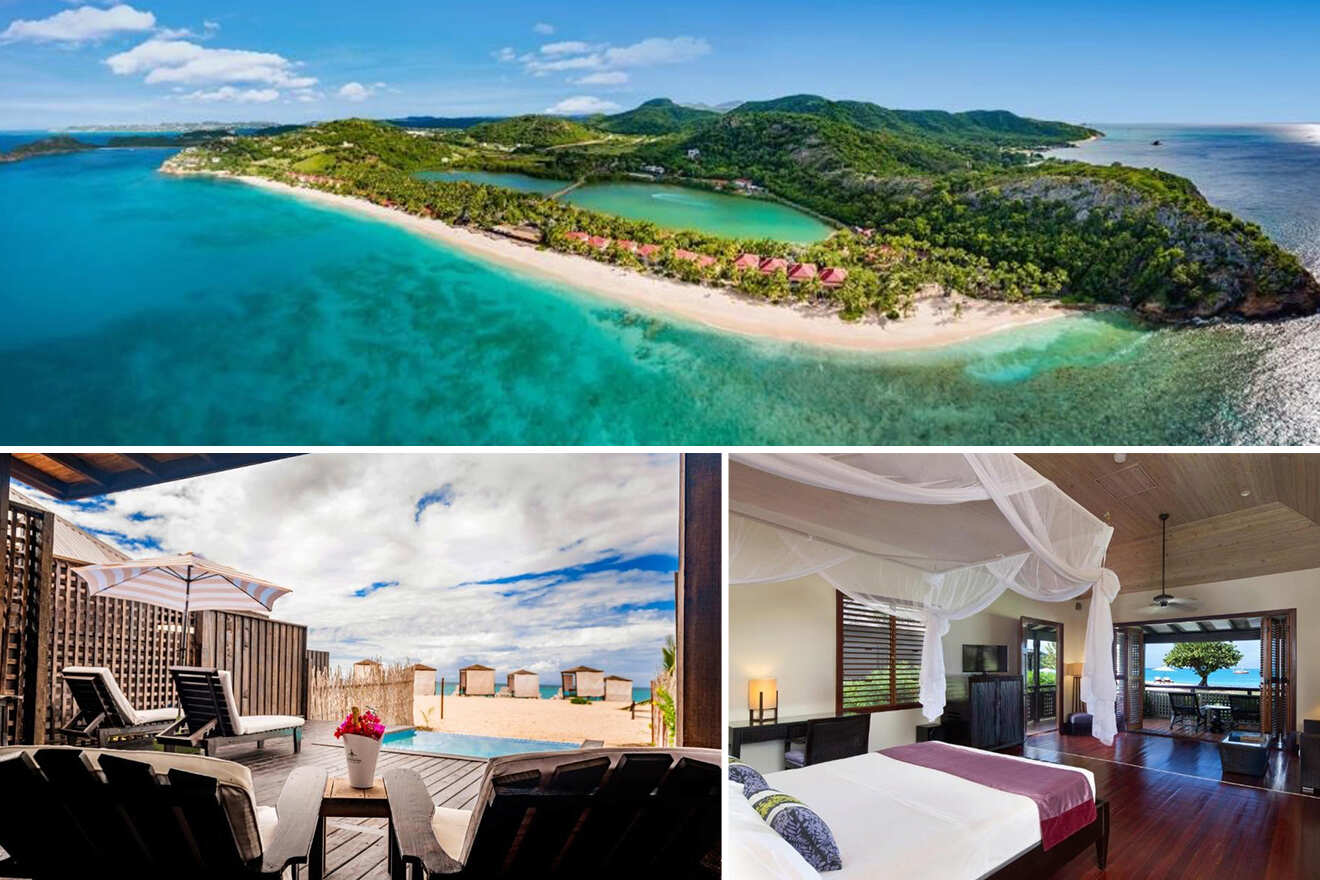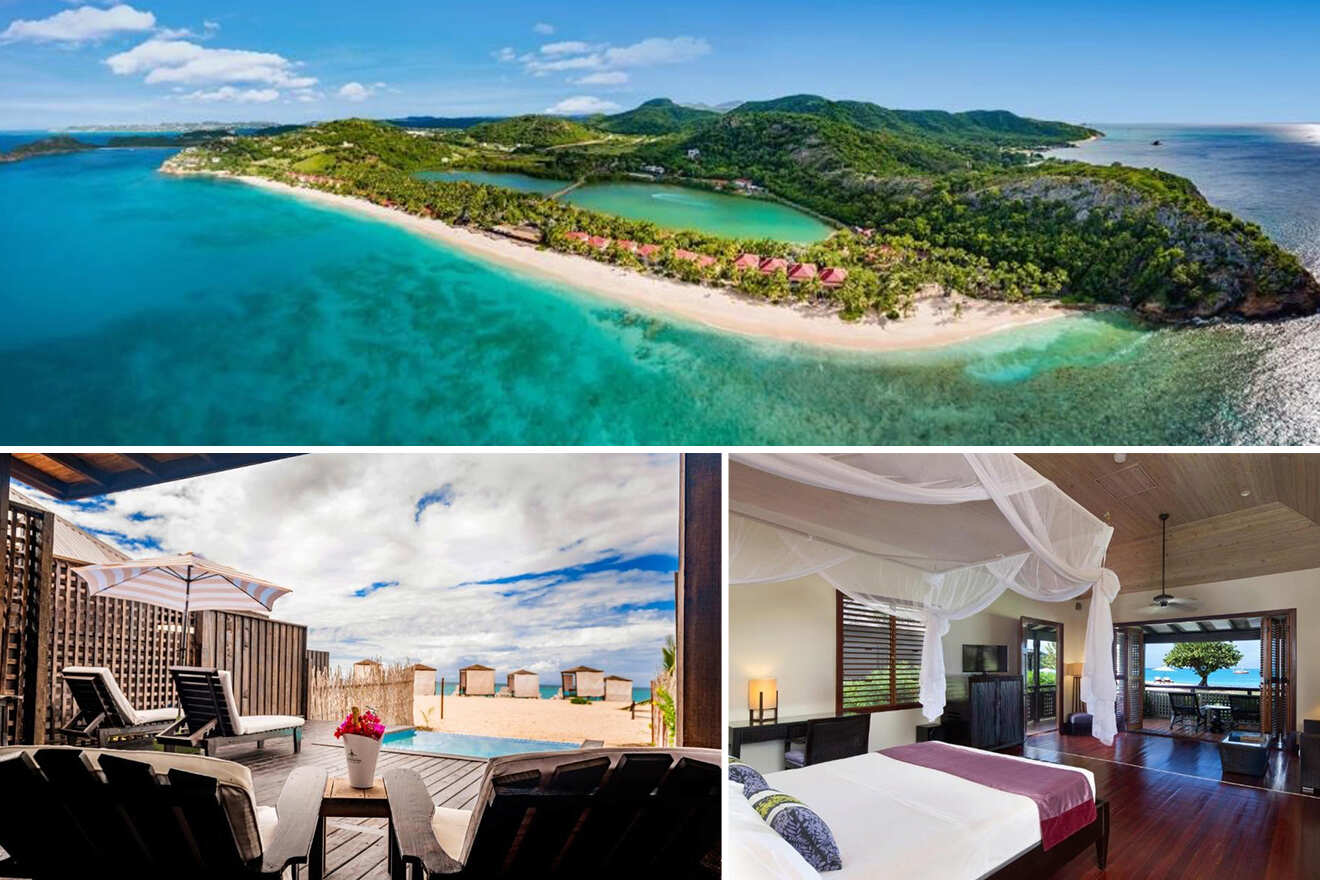 1.1 Hermitage Bay
All I want to do is chill in the tropical gardens of this all-inclusive resort in Antigua! I love the design of this place located in Hermitage Bay! The spacious rooms have balconies that offer spectacular views of the sea, and some suites include private plunge pools. Honeymooners, this could be the perfect option for your Antigua all-inclusive vacation!
Guests have access to a private beach area and the resort offers activities like snorkeling and diving! Start your day with a delicious breakfast and then head to the spa. I would also make sure to explore more beaches and other parts of Antigua like Long Island during your stay.
1.2 Galley Bay Resort Spa
Fancy a romantic dinner on the beach at sunset? Galley Bay Resort Spa resort has 3 restaurants on-site, a fitness center, and a bar! Ask the staff about all the activities because they offer snorkeling, hiking, and diving. Chill on the white sand beaches and drink cocktails all day or head to the spa for a massage and some body treatments.
Galley Bay Resort also offers board games and puzzles for kids. If you want to explore around, Galley Bay Beach and Deep Bay beach are both located less than a mile away. Remember, wherever you choose, I highly recommend booking your all-inclusive resort in advance, all the good ones sell out really fast in holidays places like this one!
1.3 Keyonna Beach Resort
Planning a romantic getaway to Antigua? Look no further than this all-inclusive resort that offers access to a beach. I'm sure honeymooners will love the romantic candlelight dinners on the beach! Enjoy your morning coffee and the views of the Caribbean sea from your room's balcony before heading out to explore Antigua!
Guests can opt for different activities, like yoga classes and snorkeling, and of course, after that, you should drop by the spa, which provides a full range of massages and body treatments. If you're looking for more vacation destinations in the Caribbean, check out St. Maarten, another stunning island.
2. Mid Range (US$450 – US$600)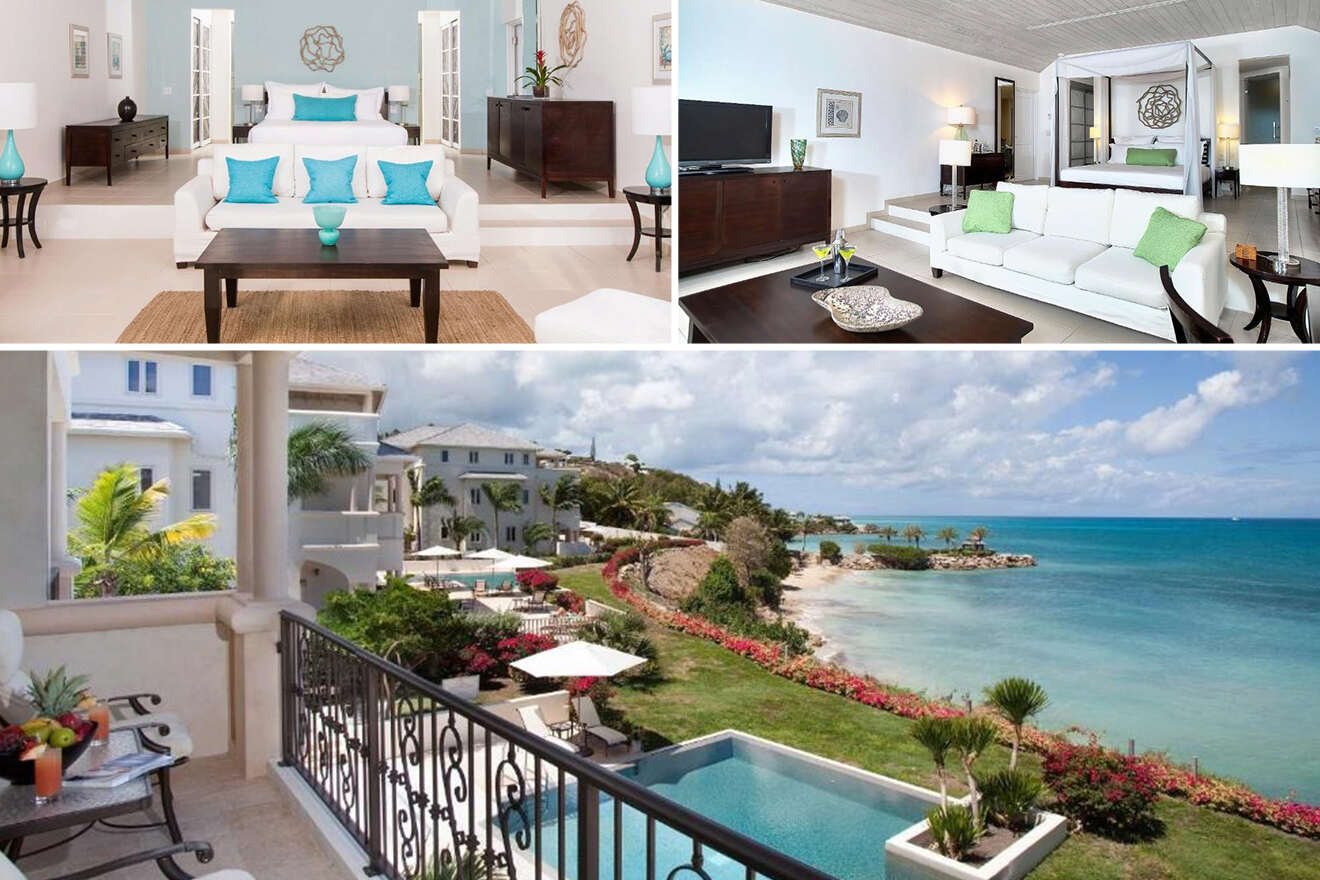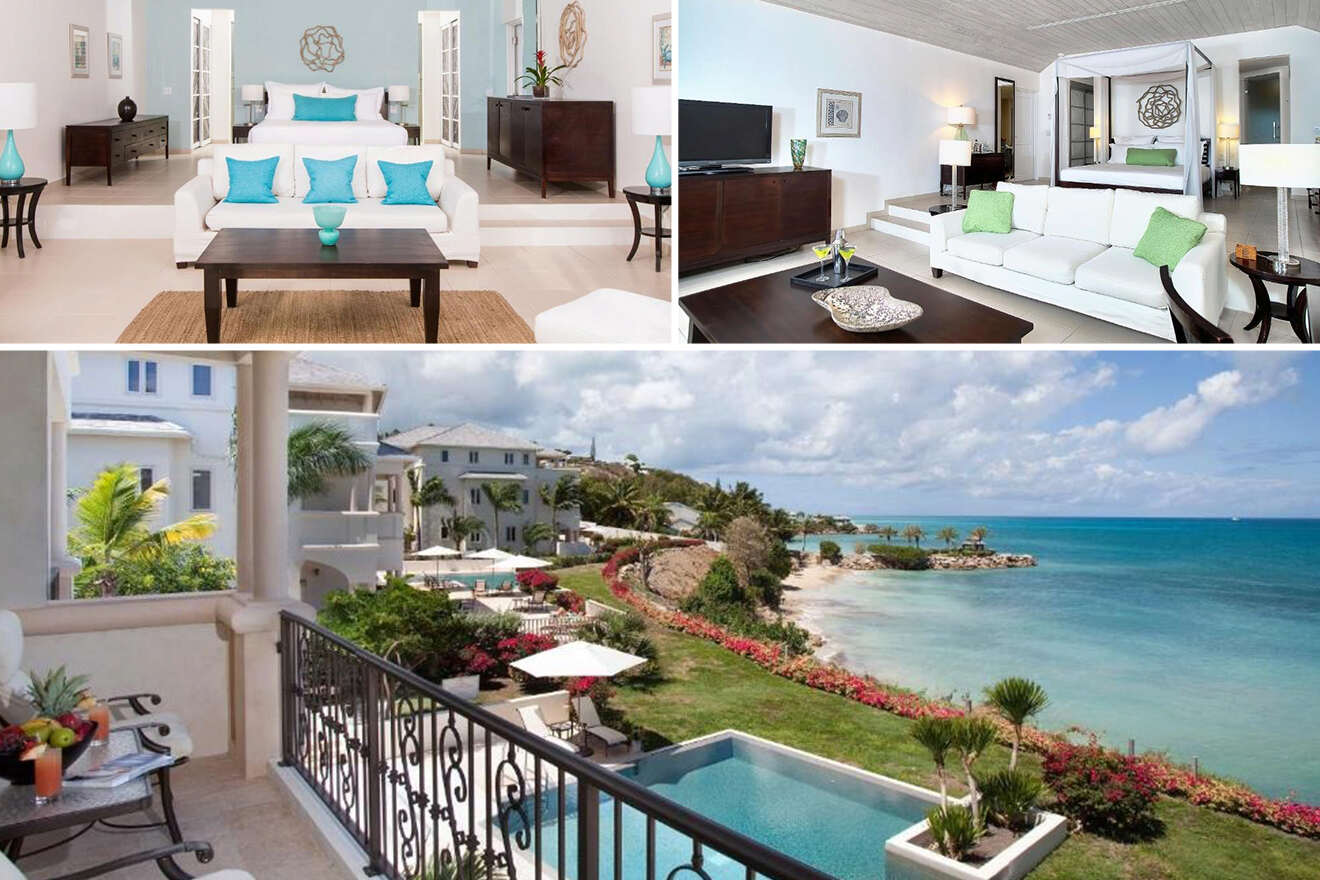 2.1 Blue Waters Resort Spa
Spend your days chilling by the pool and admiring the views of the Caribbean Sea at this hotel that has 4 restaurants on-site and a spa center. The resort rooms are super spacious and even have balconies!
At Blue Waters Resort guests can enjoy evening entertainment, water sports, and fishing. Although the resort will offer you all the facilities you need don't forget to also explore other parts of the island as well. Dickenson Bay is located nearby Blue Waters resort and has a great beach! If you're looking for more island fun, check out the city of San Juan in Puerto Rico, it's such a beautiful place!
2.2 Carlisle Bay
This is a great resort for your Antigua all-inclusive family vacation. You will find tons of facilities on-site for both adults and children. Located in Carlisle Bay, the hotel has a private beach area, 4 restaurants, an outdoor swimming pool, and a spa center. Pack your sunscreen because you'll be spending a lot of time under the sun here!
The tropical garden is the perfect place to hide from the sun when it's too hot! There's an outdoor playground for the little ones and a kids club. Movie nights, water sports, horse riding, and other incredible activities will be waiting for you at Carlisle Bay resort!
3. Budget (up to US$450)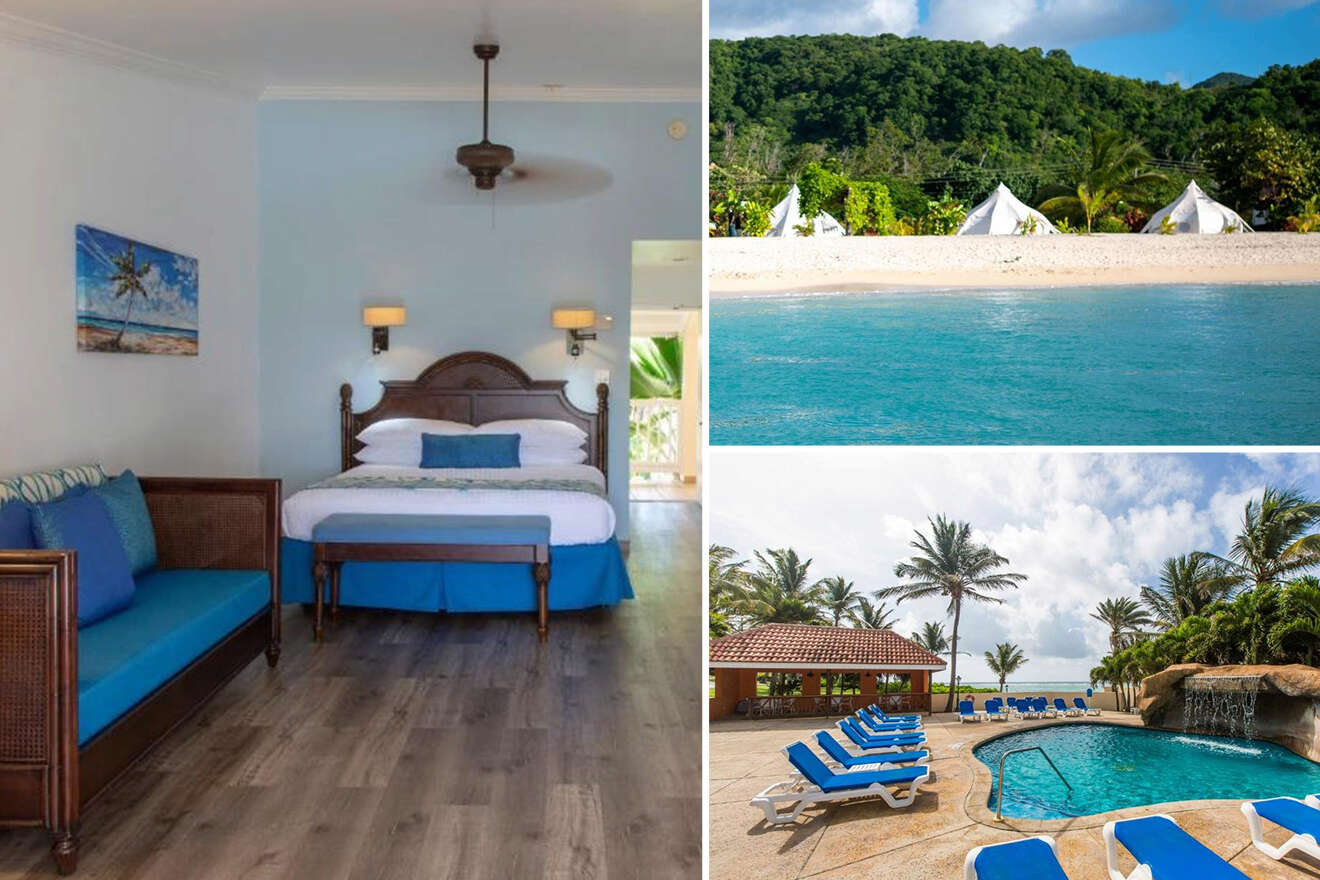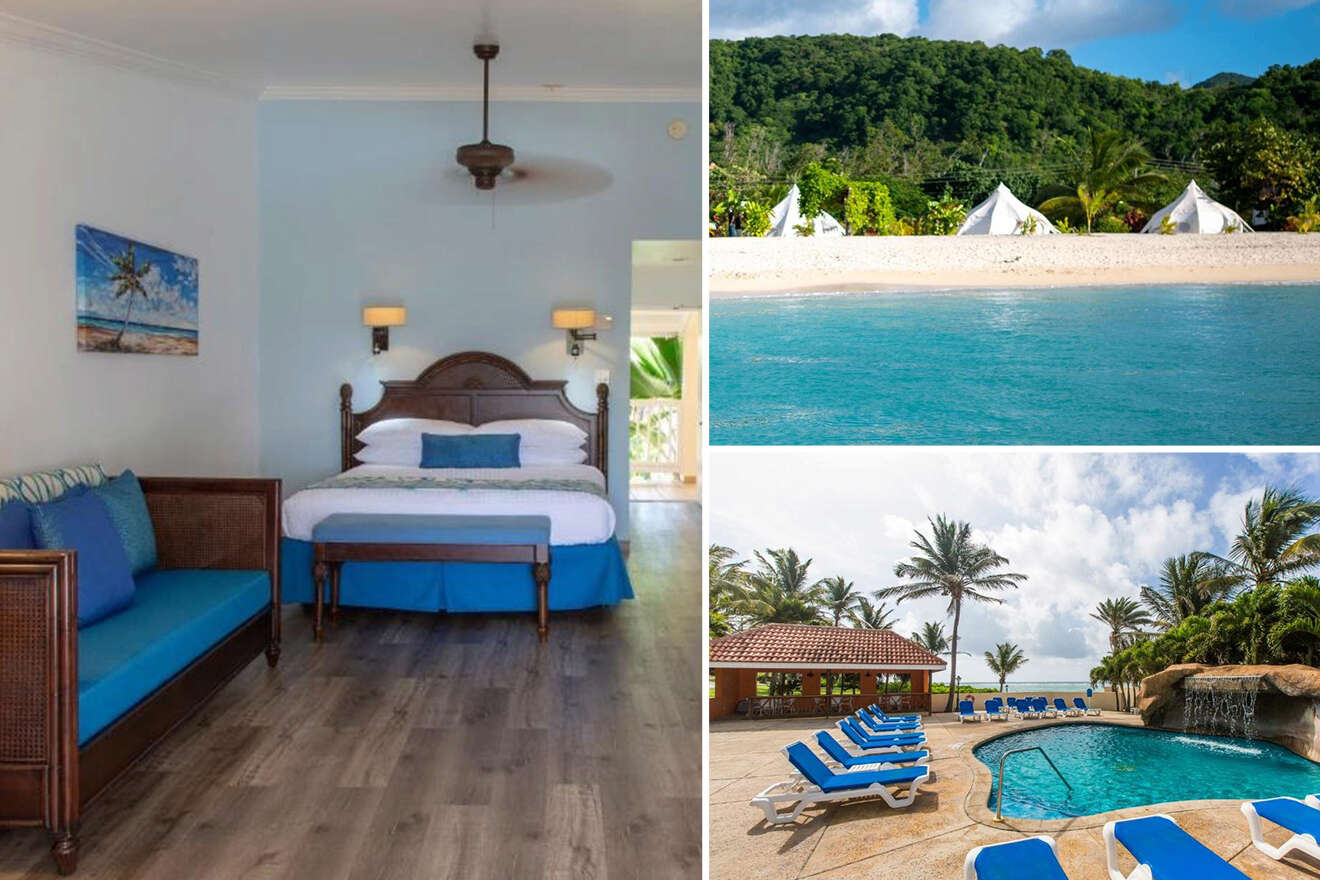 3.1 St James Hotel & Club Antigua
After a full day of exploring the best beaches on the island of Antigua, enjoy a few drinks at this beach bar of this all-inclusive resort spa that has 4 restaurants. St James Hotel is a member of the Elite Island Resorts, and it offers all the comfort you need for your stay plus a conference room for people who need to work.
There are playgrounds on-site if you're coming with the kids, plus you guys can engage in other fun family activities like volleyball and snorkeling! By the end of the day, you'll feel so tired that a spa session will come in handy.
3.2 Wild Lotus Antigua
Question: where can I buy one of these tents? They kind of remind me of those Harry Potter tents that looked small on the outside, but then you would enter and have so much space and maybe even a kitchen! Although it isn't technically all-inclusive, these places are so magical I had to include them! There's breakfast included and bbq facilities on-site near your tent equipped with a comfortable bed and a seating area!
Located near Joly Harbor and right on the beach, it's a great spot to treat yourself to a great holiday while keeping it lower budget by cooking dinner for yourself. Alternatively, there are many restaurants nearby the resort and they also offer different amenities like yoga classes and massages for an additional cost.
BONUS 1: The best adults-only all-inclusive resorts in Antigua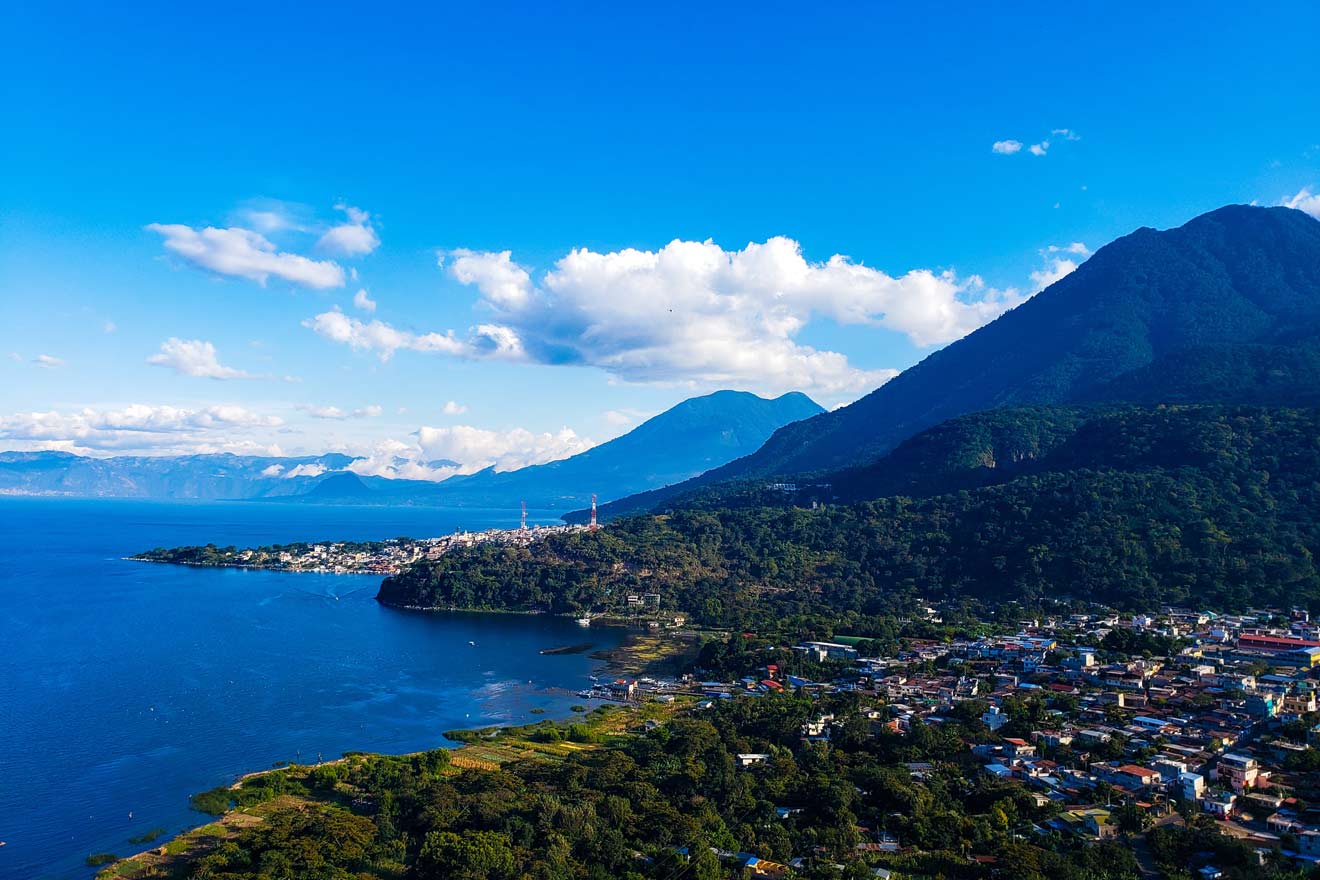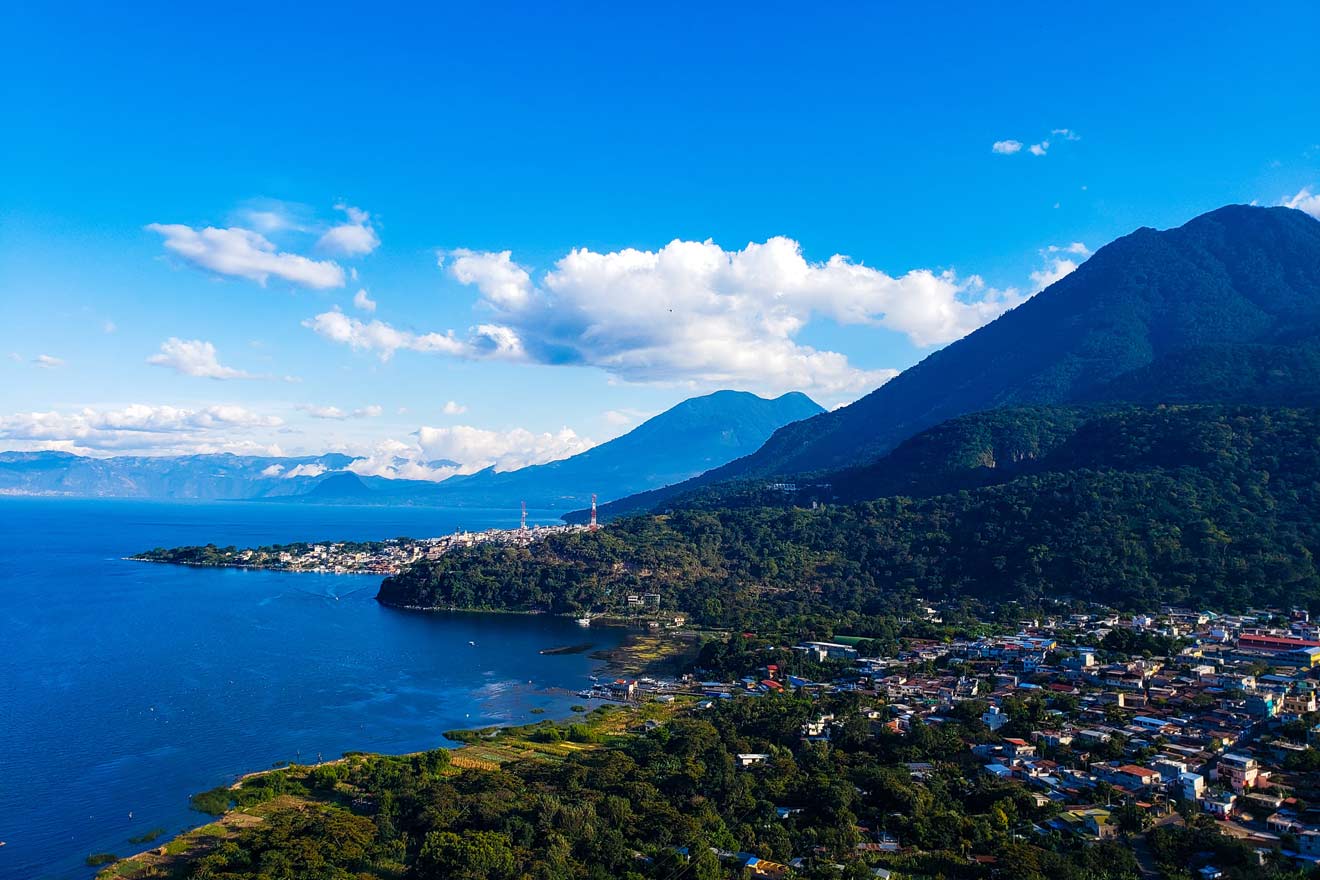 If you're planning a super romantic vacation in Antigua in the Caribbean, then you might want to consider an adults-only all-inclusive resort. That way, you will be able to enjoy a chilled-out atmosphere, where guests can hang out with the grown-up company and enjoy different entertainment options.
Also, all-inclusive resorts for adults can be great for a romantic getaway and honeymooners! So let's check out the best ones:
Luxury (US$1000 and up)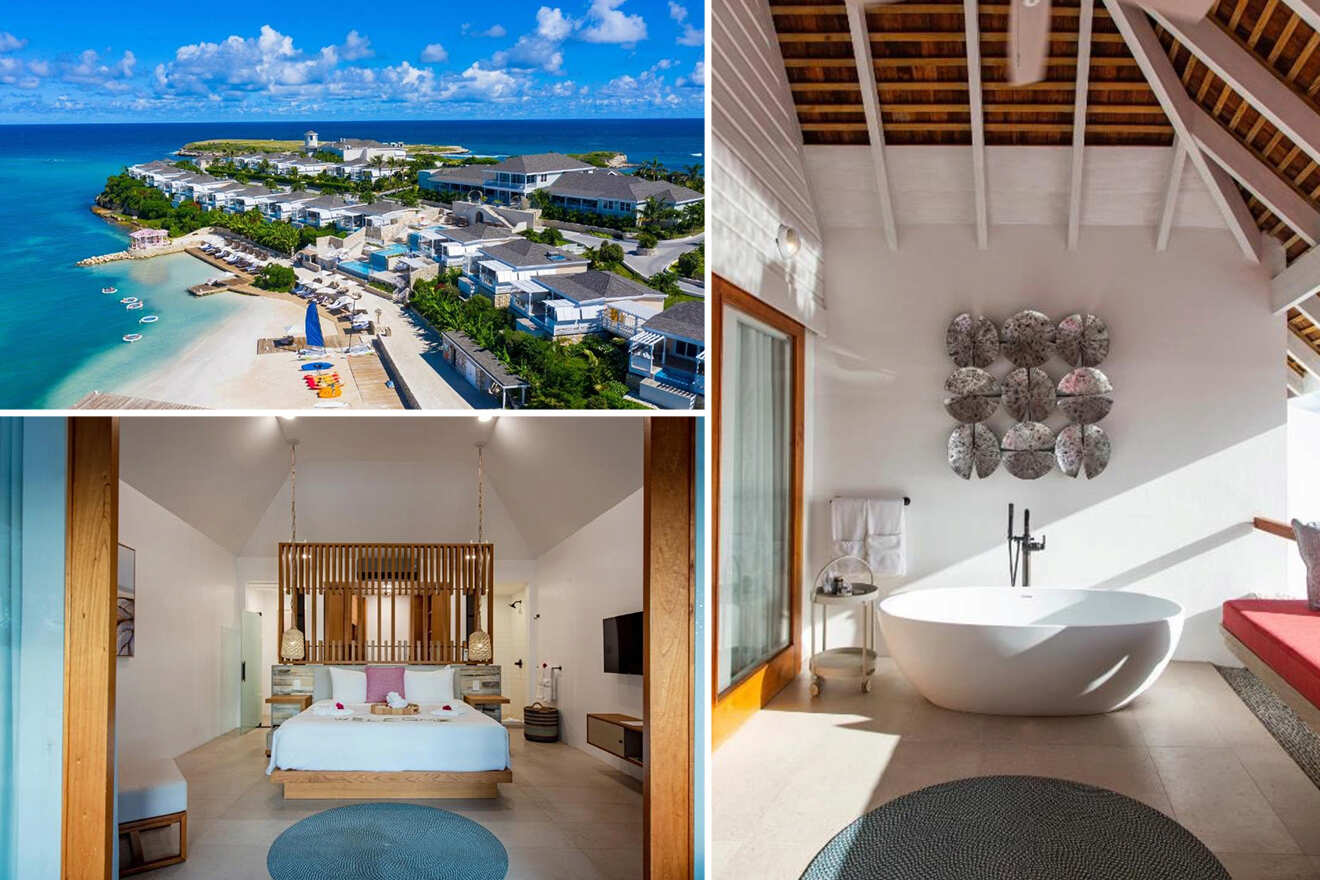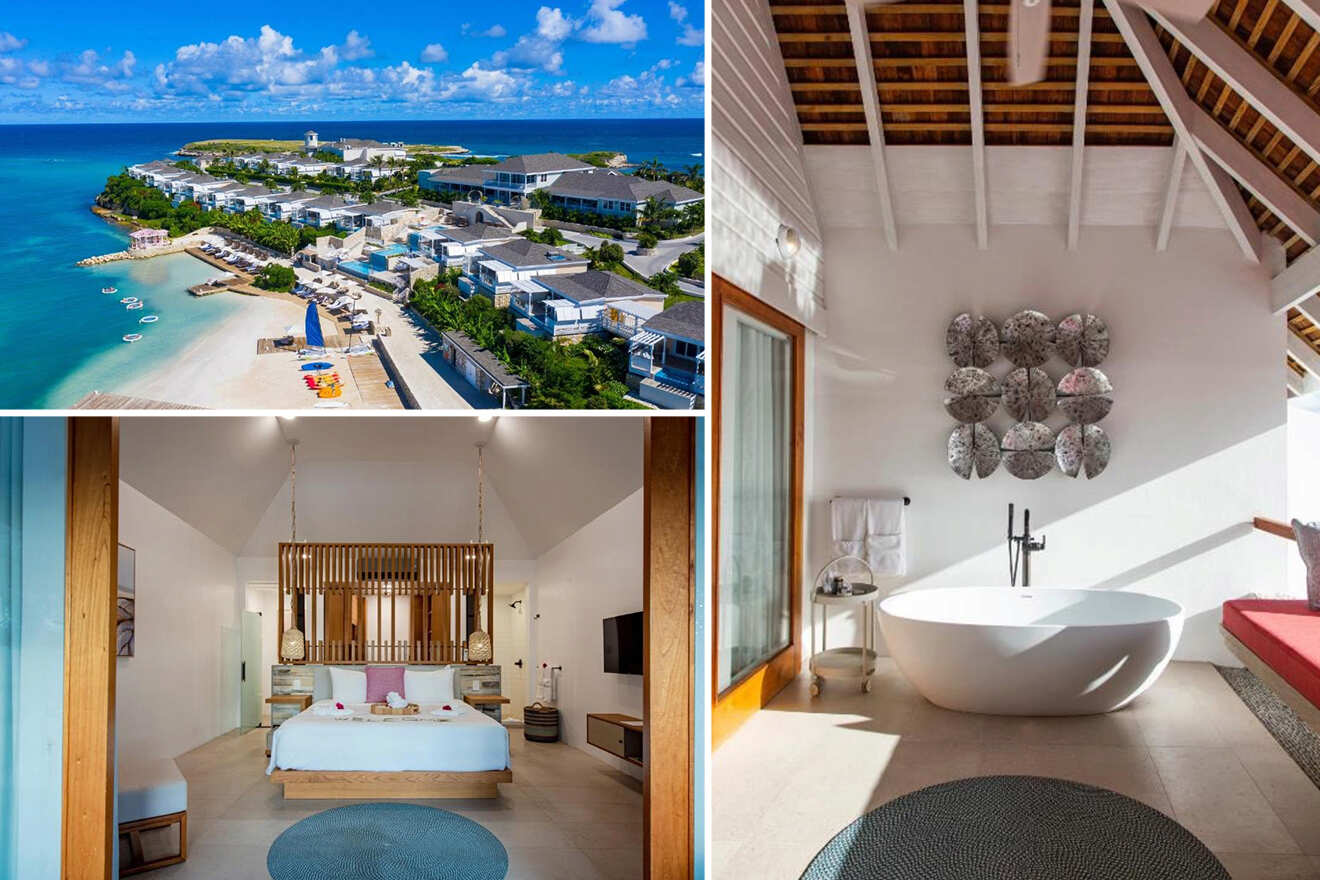 Mid Range (US$450 – US$600)
Budget (up to US$450)
BONUS 2: The best 5 stars hotels in Antigua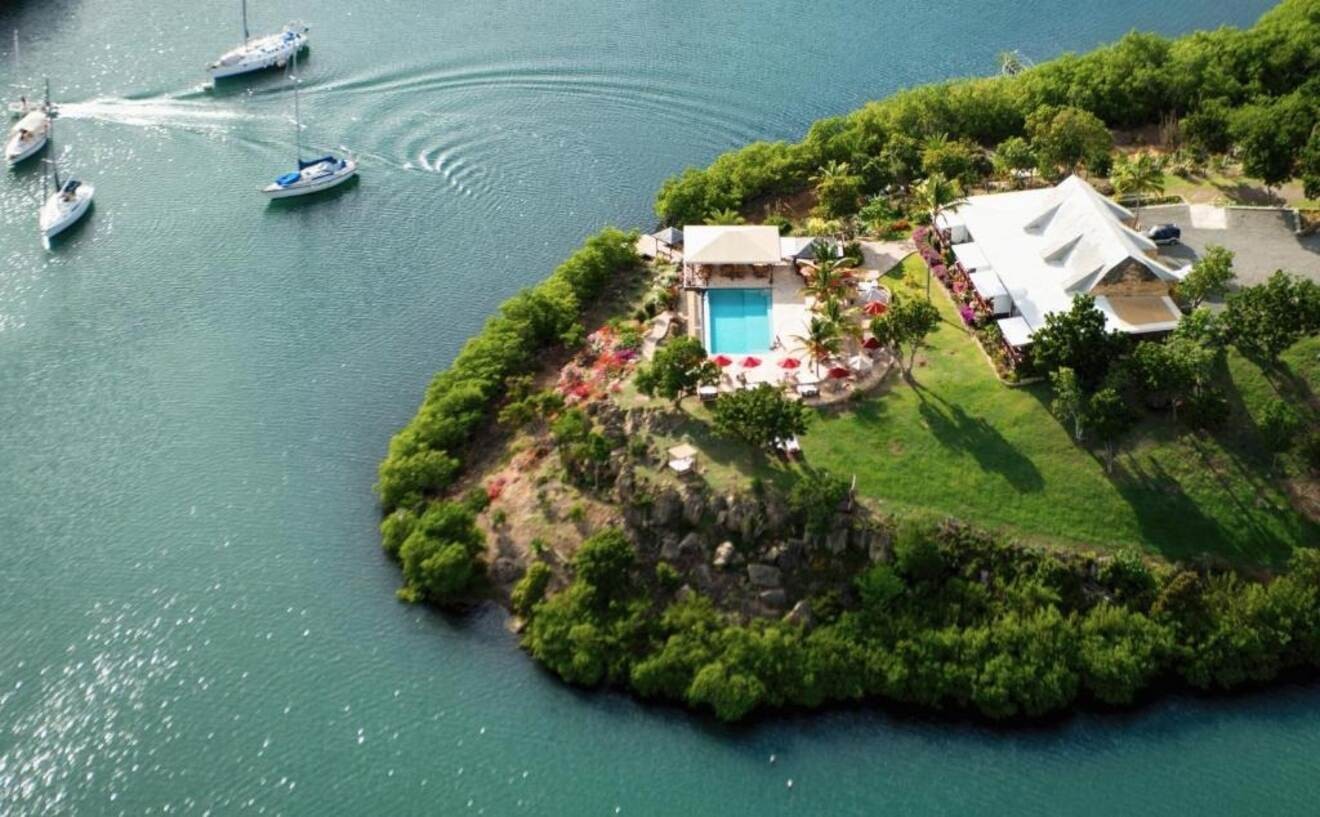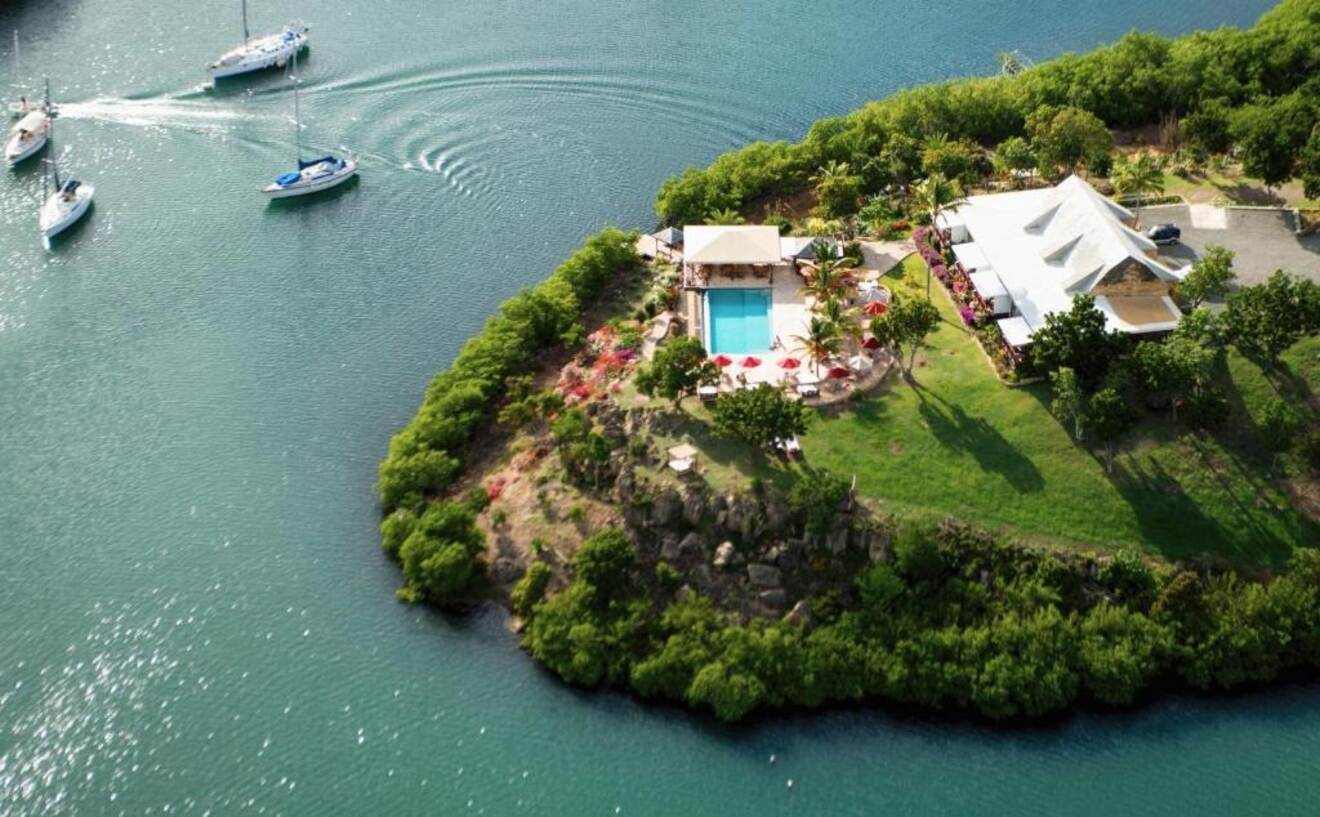 For those of you who are traveling to the island but necessarily have your heart set on staying in an all-inclusive resort but still want the ultimate luxury experience, I thought I could help you out with the planning and give you a list of the best 5-star hotels on the island.
Most of them have restaurants spa centers and offer different activities that you would expect from all-inclusive resorts, but in these cases, you pay for them separately meaning you only have to pay for what you use! All the hotels are luxurious with prices between US$350 and US$700:
1. Jumby Bay
This place is one of the most expensive hotels in Antigua. Prices at Jumby Bay can reach up to US$3000 a night! Definitely more than the other prices in this list, however, I always want to make sure that I offer options that suit all types of travelers and this incredible hotel is just about as luxurious as it can get!
Jumpy Bay has 4 restaurants on-site, an outdoor swimming pool, and spacious rooms! If you're coming with your family, then Jumby Bay could be a great option as it offers a kids club, an indoor play area, and different activities like tours and themed dinner nights. The hotel also offers a full-service spa so that the parents can relax for a few moments!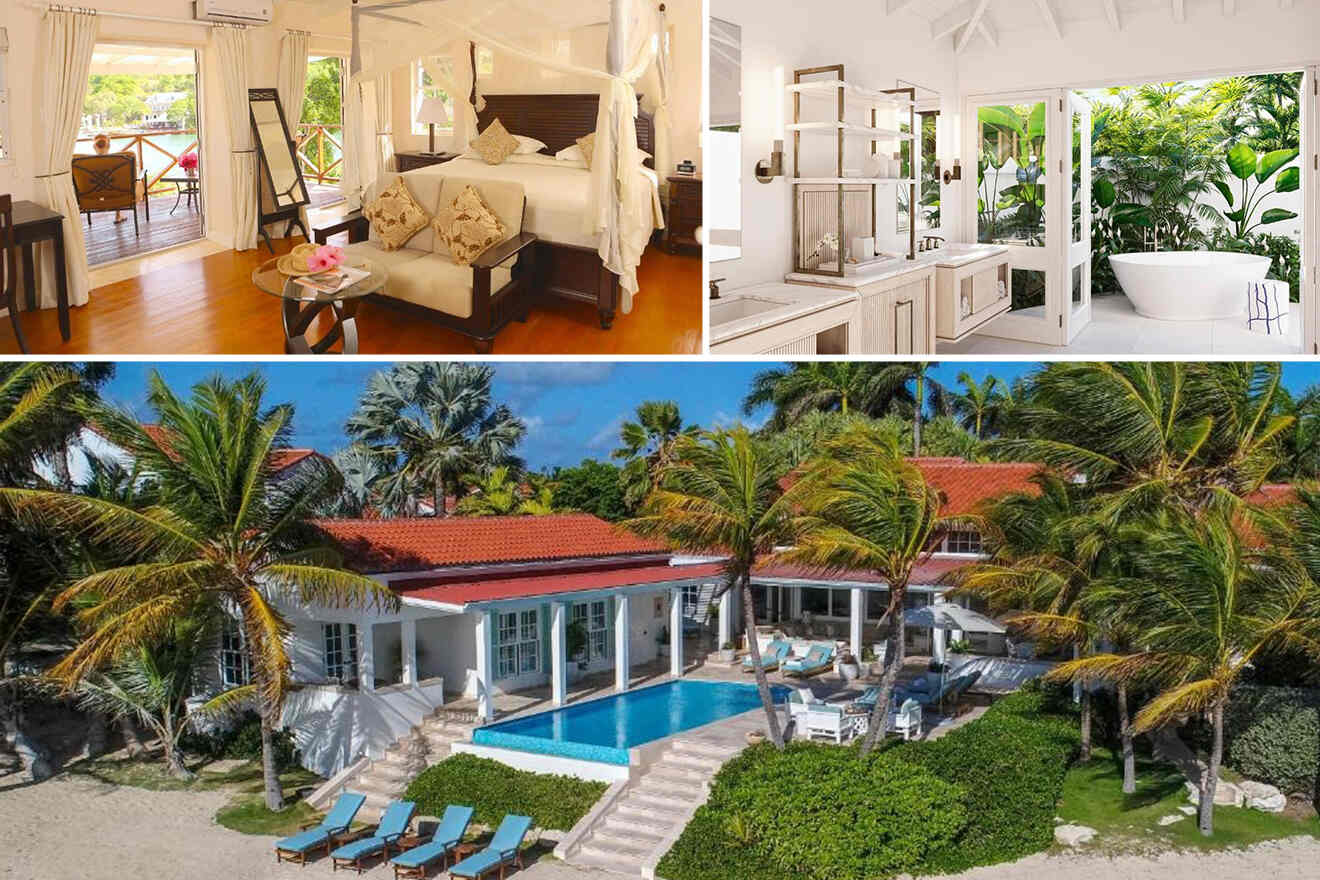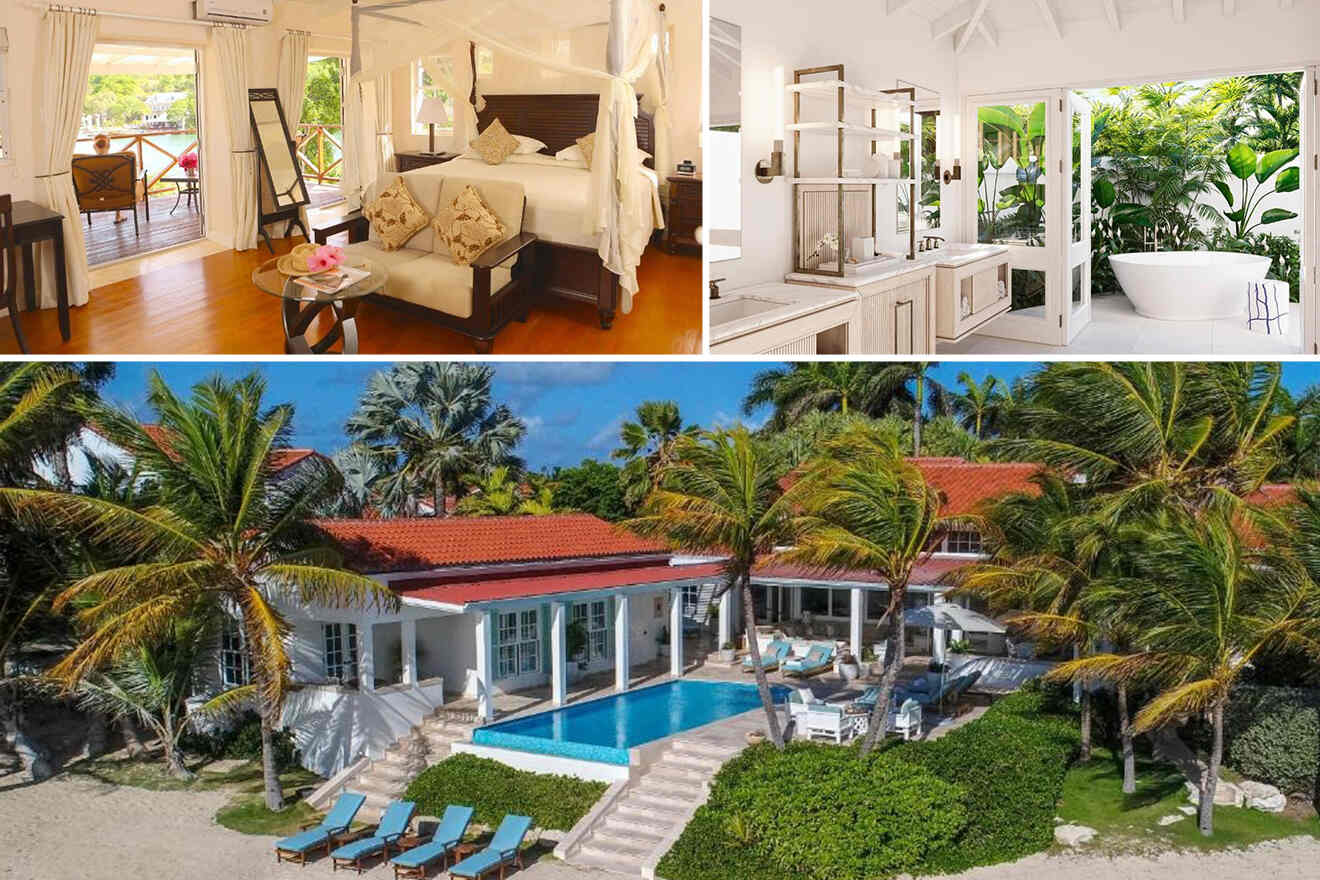 2. The Inn At English Harbour
How cool is this luxury boutique hotel in Antigua? It has such unique decor, and the rooms are super spacious and have balconies overlooking the Caribbean Sea! There are 2 restaurants on-site as well as 2 outdoor tennis courts. Located in the English Harbor, this hotel is perfect for exploring places like Nelson's Dockyard.
Of course, you can enjoy some pampering time at the spa center. There's nothing better than a massage to get you ready for sleep after a long day spent snorkeling, swimming, or golfing.
3. South Point
Are you ready to relax as you've never relaxed before? If so, book a room in this stunning hotel located in English Harbour Town, which has a private beach area and a restaurant. The rooms are super spacious and have a seating area from where you can enjoy the views of the Caribbean sea!
I'm sure you know this by now, but definitely pack a lot of swimsuits because when you're not at the beach, you'll probably sunbathe by the pool on the sun loungers! Oh.. the sweet taste of island holidays, there's nothing like it!
4. Gunpowder House & Suites
I love the design of this luxury hotel. It inspires so much peacefulness! And I'm sure we all want some peace, especially during these times. So leave all your worries behind and enjoy a few days of long walks on the beach, late-night cocktails, and plenty of massages at the spa center of this hotel that's located in English Harbour Town.
Guests of the hotel will have access to a private beach area. Plus, you can engage in different activities like horseback riding, walking tours, and hiking! If you're coming with the kids, you will be pleased to know that the hotel has babysitting/child services.
Frequently asked questions about hotels in Antigua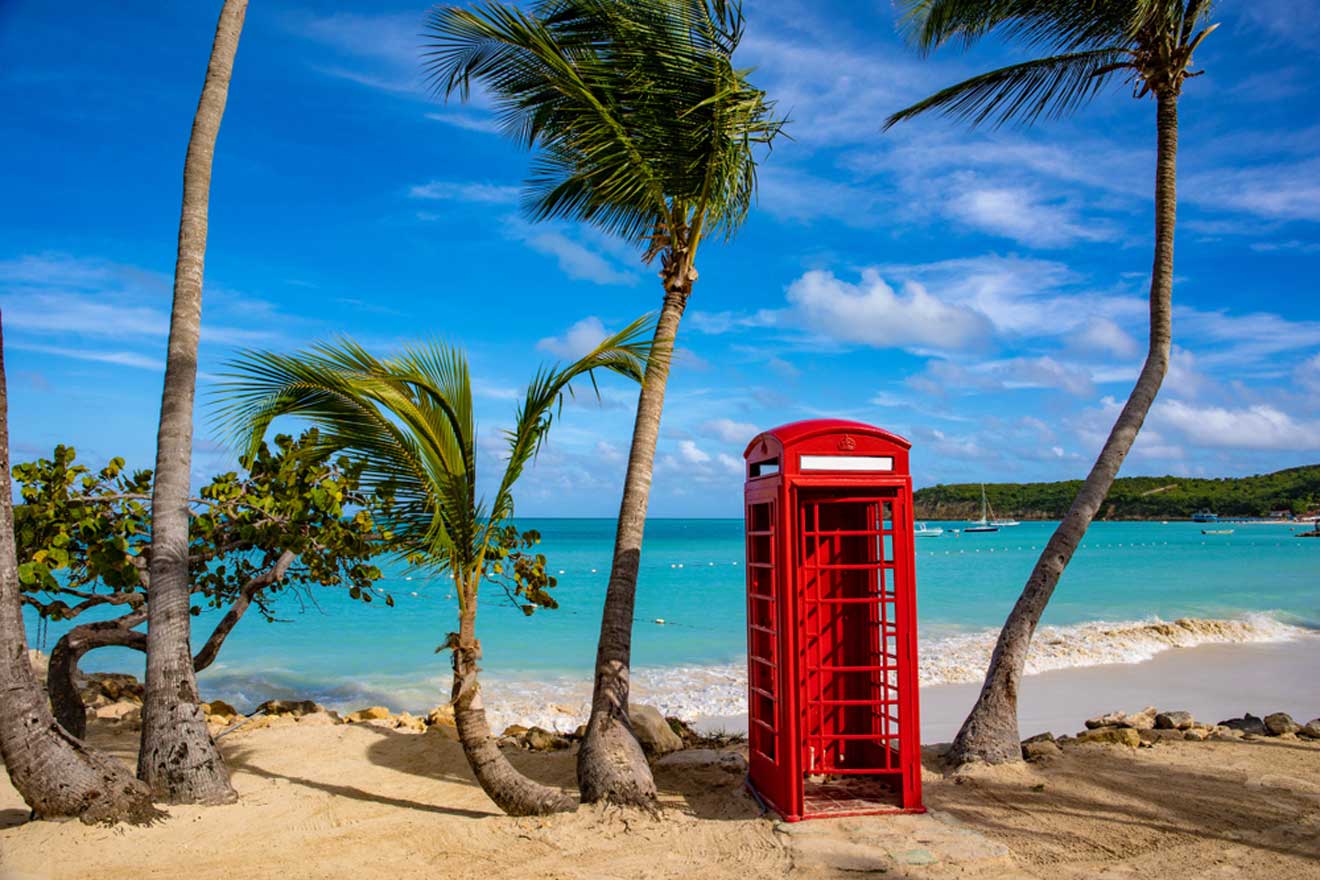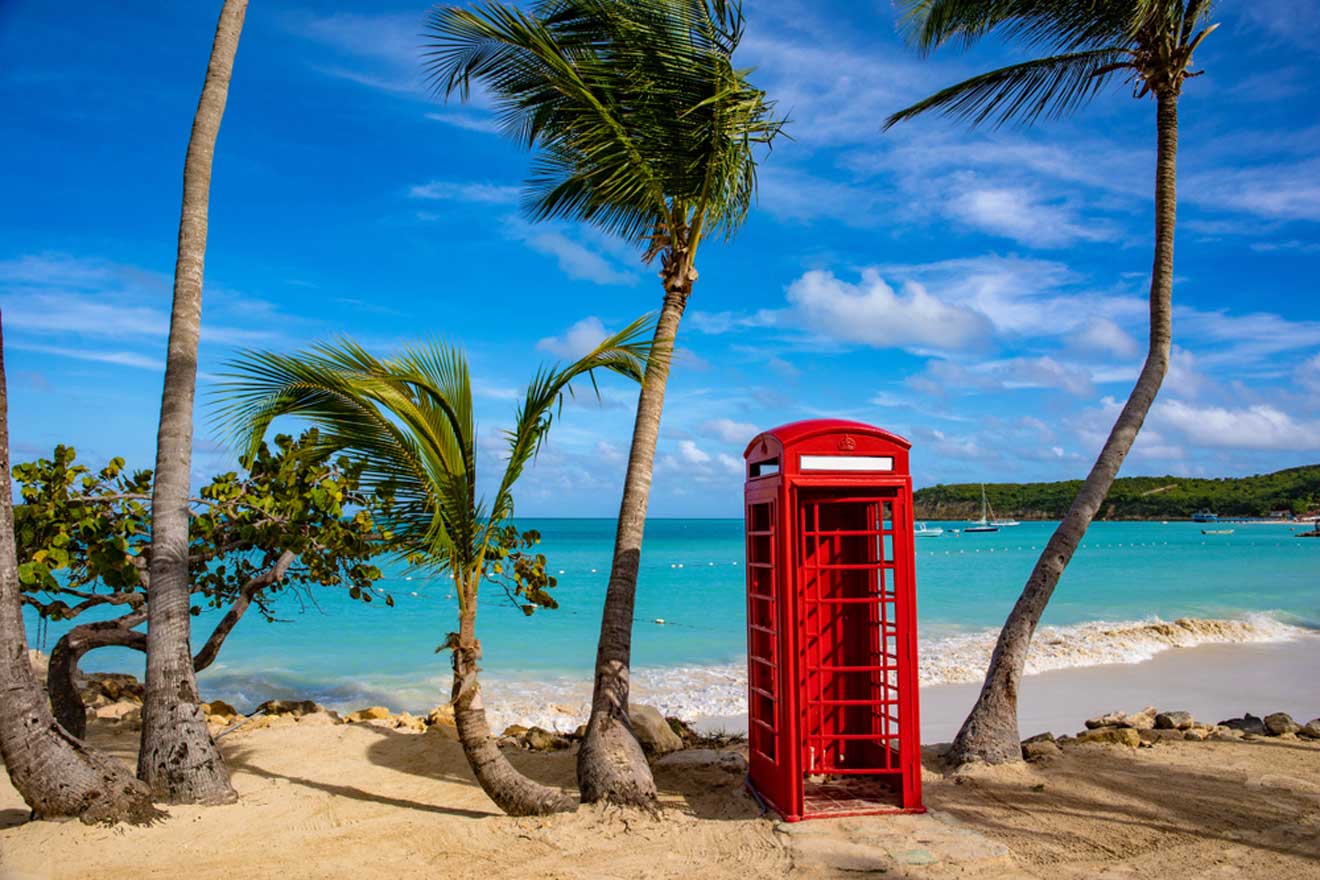 💑 Which is the best all-inclusive resort in Antigua for couples? 
Hammock Cove is one of the best all-inclusive resorts in Antigua for couples. As an adults-only type of resort, the accommodation in Long Bay will offer you all the privacy you need plus different amenities like couples massages.
👶 Is Antigua a good family vacation?
Yes, Antigua is an excellent destination for couples, and there are many all-inclusive resorts that offer many facilities for you and the kids. Some of the best resorts are Carlisle Bay and St James Hotel & Club Antigua. 
🏖️ Does Antigua have private beaches?
Yes, many all-inclusive resorts and hotels offer a private beach area for their guests. Hermitage Bay and Cocobay Resort are some of the best accommodations that have this perk. 
🌞 What's the best time to go to Antigua?
If you want to find the lowest prices, visit between May – November However, you might encounter some rainy days, and there's a slight threat of hurricanes. Peak season is usually in December – April when the weather is perfect, but it's super crowded.
Conclusion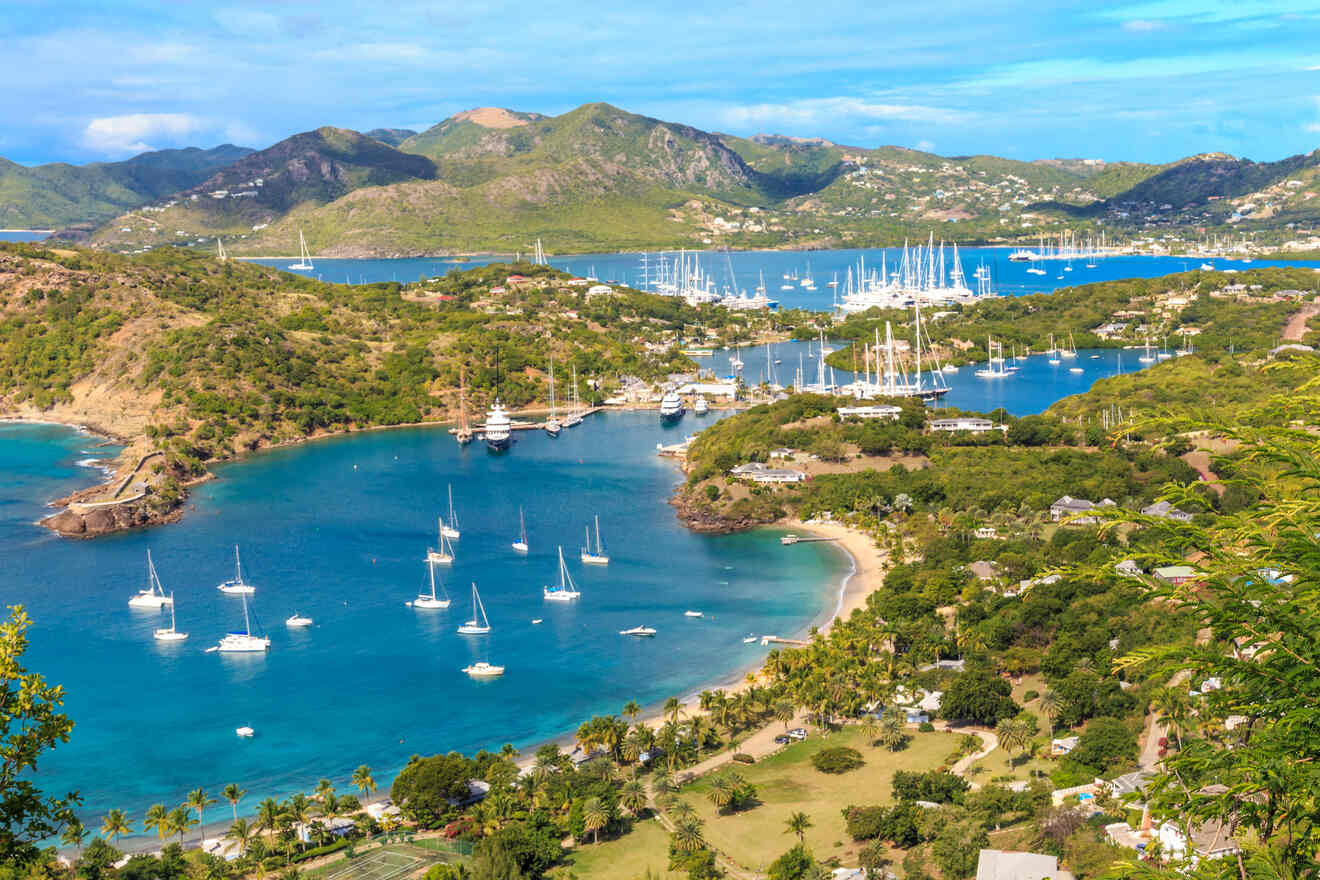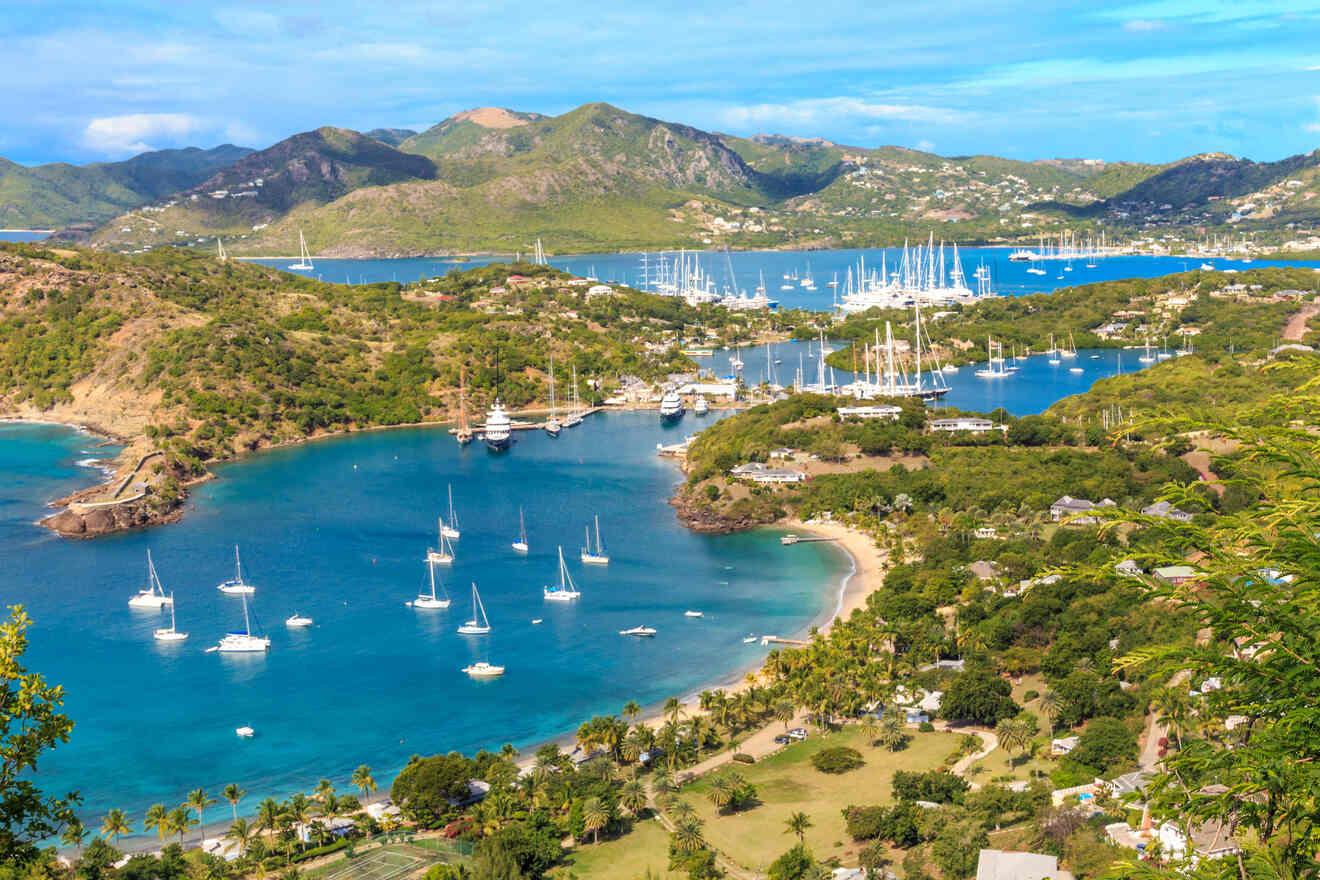 This island in the eastern Caribbean is so beautiful! I hope this post helped you decide which all-inclusive resorts Antigua and Barbuda are the best. I know the list is long but trust me, this will only help you decide!
In case it's taking you ages to decide which all-inclusive resort to book, I'll give you my 2 favorite options:
Just keep in mind that tourists from all around the world come to stay at these resorts, so I highly recommend planning your trip months before so you can book your resort in advance.
Enjoy your exotic holiday in Antigua! Explore the most beautiful beaches in the world, swim in the sea all day long, and visit Long Island! I'm sure you'll love every minute of it. If you guys have any questions about the resorts or anything else, you can leave me a comment below, and I'll make sure to answer it ASAP!
Safe travels,
Victoria
---
Pin it for later!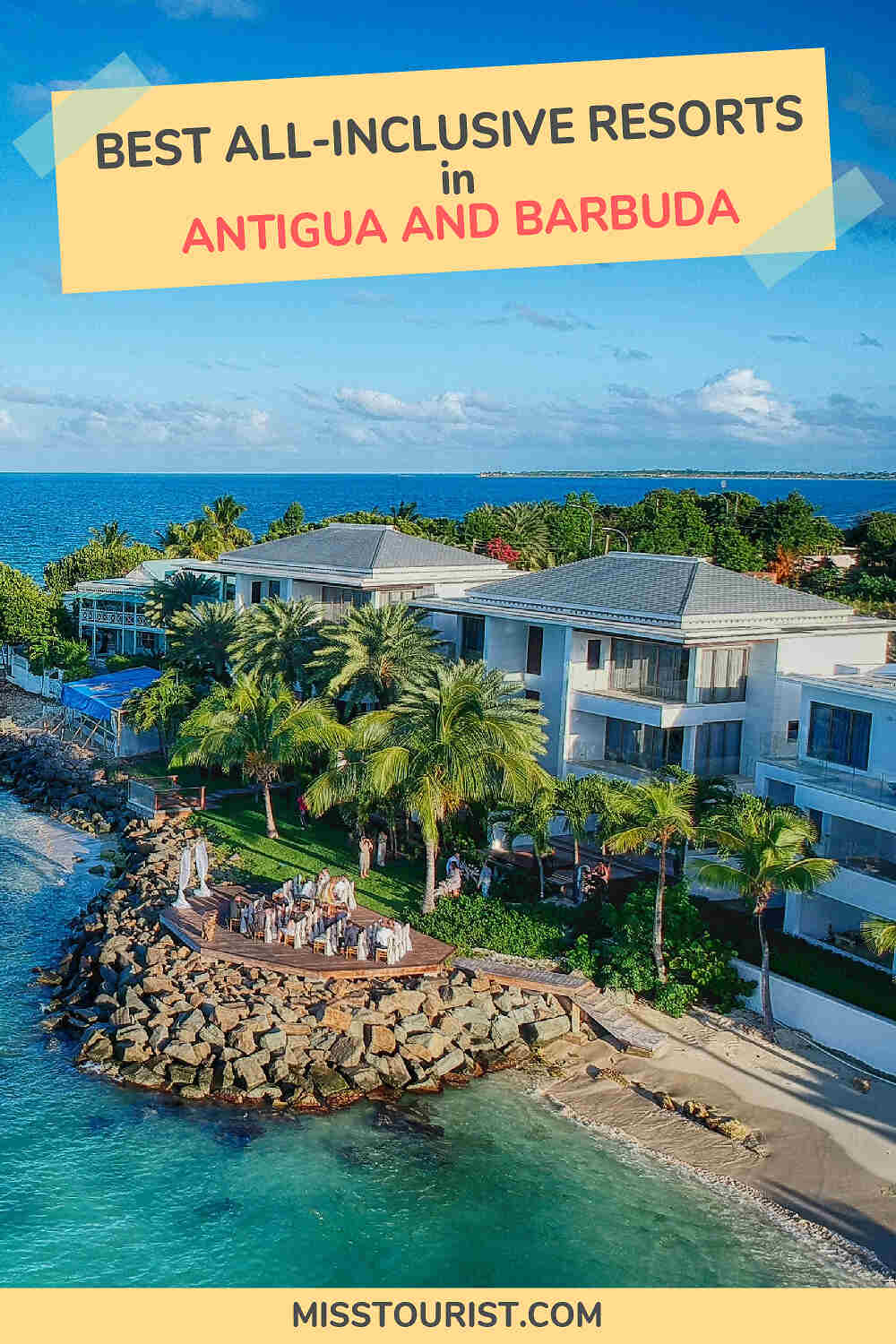 Pin it for later!