UPD: October 2017
Looking for what to do on Koh Phangan island? You are in the right place! 🙂
Except the fact that I was living on the North of Thailand, I did not know much about its most touristic part – the islands. The first one I have visited was Koh Phangan. It was a right choice as it appeared to be my favorite Thai Island!
I have stayed enough days to make a compilation of the best things to do in Koh Phangan. I also selected a list of places to stay in Koh Phangan for all budgets, starting with the fantastic sum of 3$/night!!
If you are thinking to go to Thailand soon or just curious how is it there on the paradise Island, read on, this article is for you!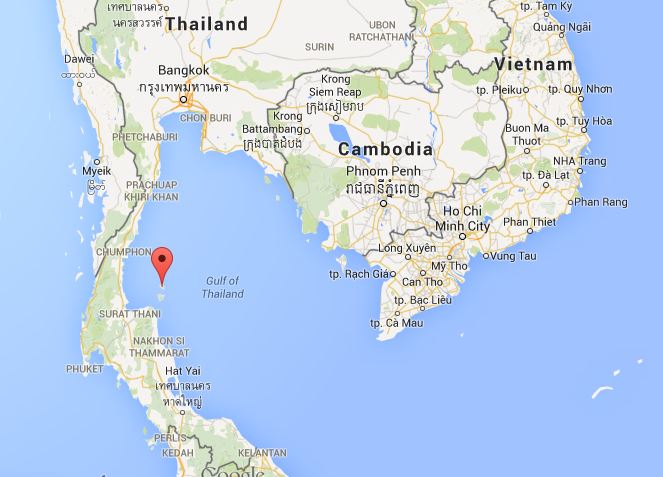 A couple of things you will need for sure on the island:
Here are my Top 9 Things to do in Koh Phangan:
– Thong Sala night market –
When I asked my followers on Instagram, what would they recommend to visit on Ko Phangan, almost all of them mentioned Thong Sala night market.
Of course, I decided to go check this place out. Here is what I tell you – night markets in Thailand is something special, you should go see by yourself! Thai people simply love night markets, you can by pretty much everything there.
Thong Sala night market is a food market mostly. When you are there, don't forget to try seafood, it is mouthwatering!!
Otherwise, if you are searching for something bigger, go to Chatuchak market in Bangkok etc., I remember I bought all the presents there. it is huge and you buy some things that are not on sale in Europe or America.
RELATED READ: Going to Bangkok as well? In this article you can find out about the 5 best areas to stay in the city (with hotels and prices)!
– Herbal Sauna Baan Tai –
Let's say you are already in Koh Phangan and you are searching for unusual things to do. One interesting place that I have also found through recommendation was a Herbal Sauna Baan Tai.
It is located here, right near the biggest tree of the island. And I don't mean just a big tree. This thing has been there for centuries, and it's more than 14 meters (42 feet) in diameter. If that doesn't mean anything to you, just imagine it's wider than an average car!
The place was founded by monks from Wat Pho temple and operates for free (donation based).
TIP – as it is open only from 2 p.m. to 7 p.m., try to get there after 6 p.m., it is too hot to enjoy the sauna in the middle of the day.
– The sunset in Amsterdam bar –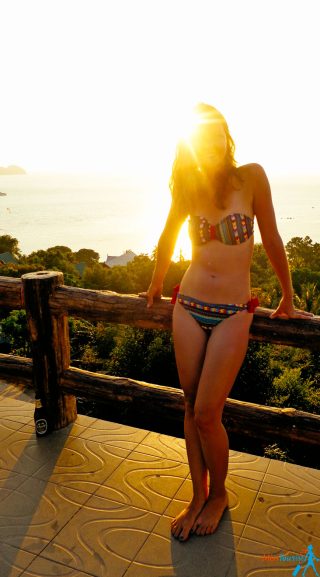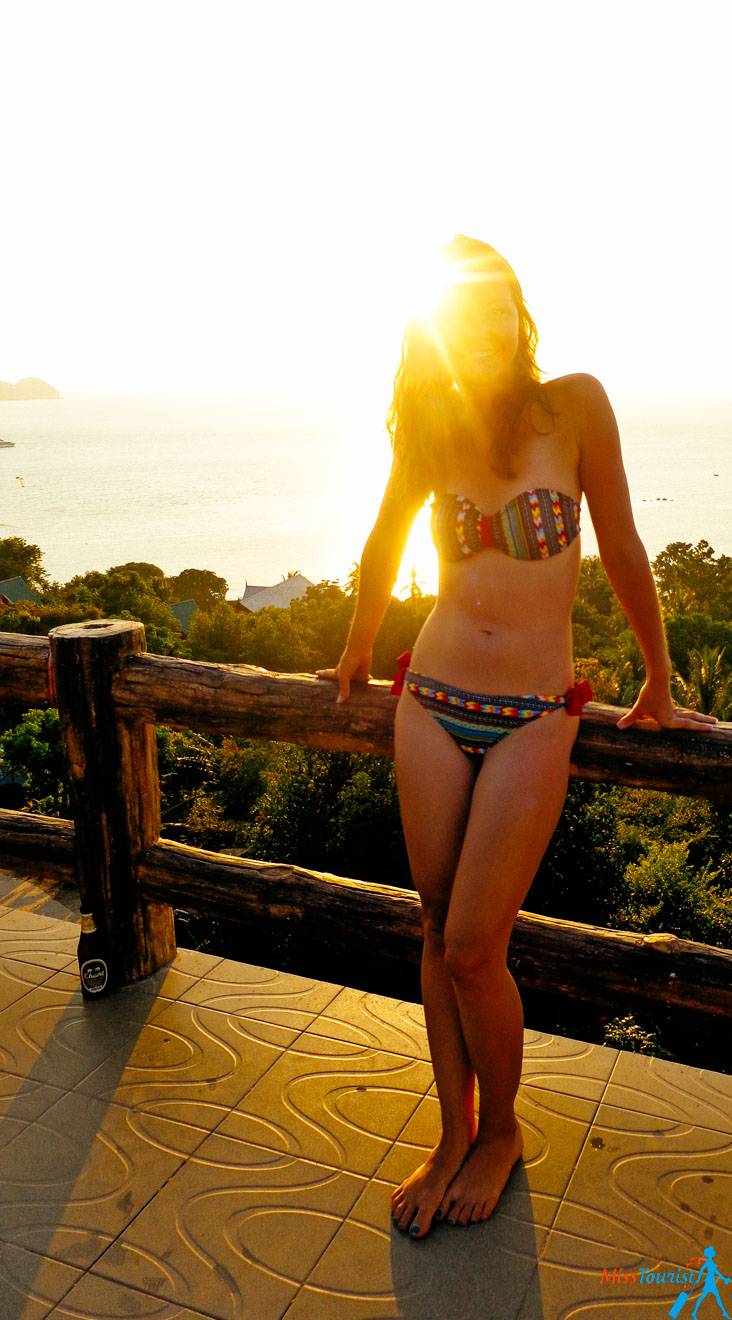 There are so many great spots to enjoy sunsets on Ko Phangan.
The best one I found was in Amsterdam bar.
You can enjoy a breathtaking sunset while sipping your drink in the swimming pool. A DJ is playing on the background, and there is always a good mix of interesting people around.
Isn't it just perfect?
– Half-moon party –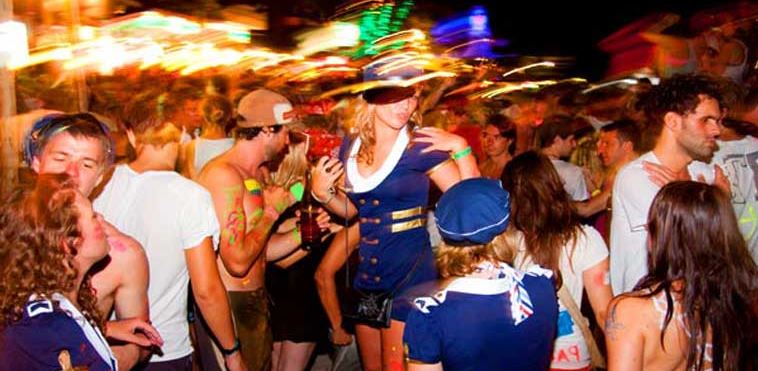 For all party animals out there:
Koh Phangan is mostly known for its crazy full-moon party. The dates are here. It's a crazy glow in the dark rave where people can get all kind of freaky.
If you happen to have your holiday off this dates, no worries! You still can attend a half-moon party. The entrance fee was 1000 baht, drink included when I was there and, it's basically the same thing!
– Mae Haat beach –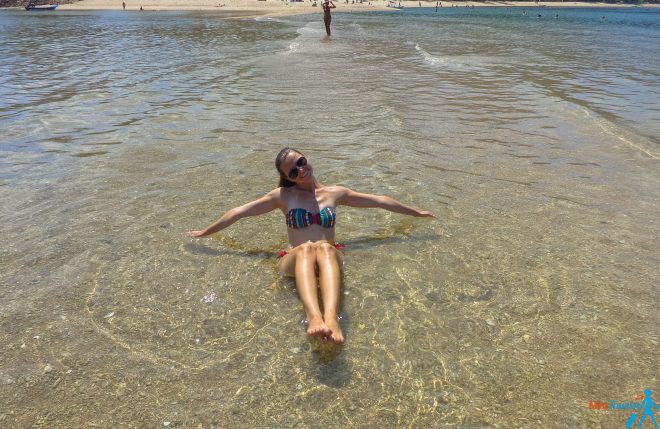 This superb beach happend to be just at the foot of my resort. It is probably the most special beach on the island.
Why? Because Mae Haat is the place where 2 currents meet. It makes quite the eye candy to see two different shades of water separated by a small strip of land, on which at high tide turns into a natural bridge. At low tide, the place feels even more unique as you can literally walk on water.
Mae Haat is located on the North of the island, and I think you will love it as much as I did!
– ChaLokLum beach –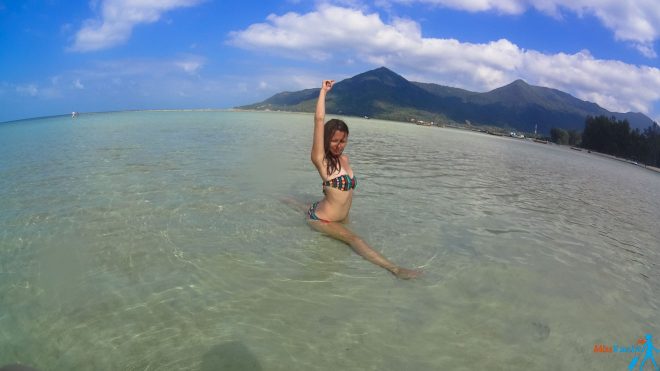 This one is by far my favorite beach. It is quite hidden and not touristic (that was probably what I liked the most about it!). It is quiet and serene, the water is really warm and the sand is really soft.
Chaloklum bay is a nice little fishing village, no drunk tourists or banging music – you have that emerald water for yourself only!
– Cooking class –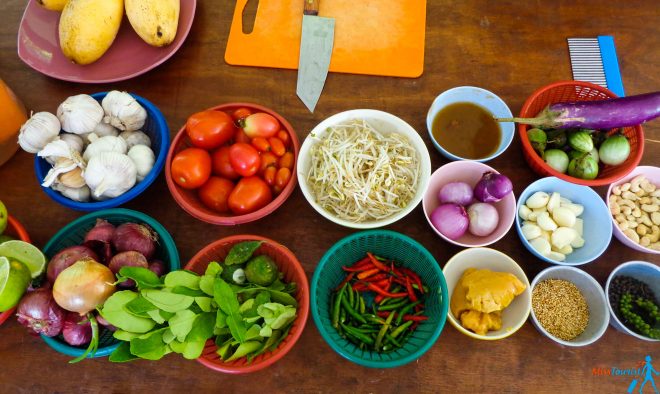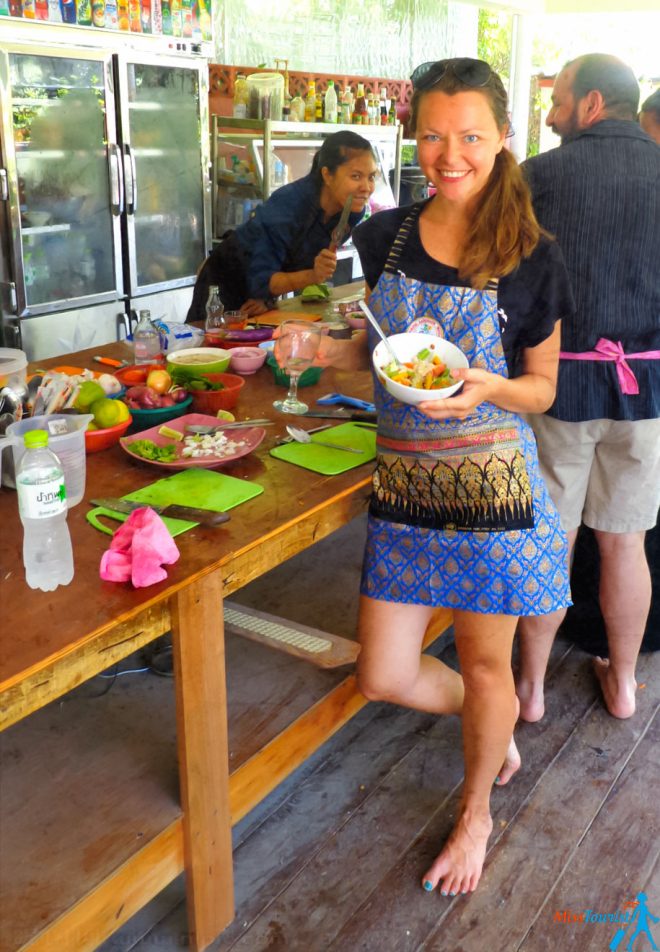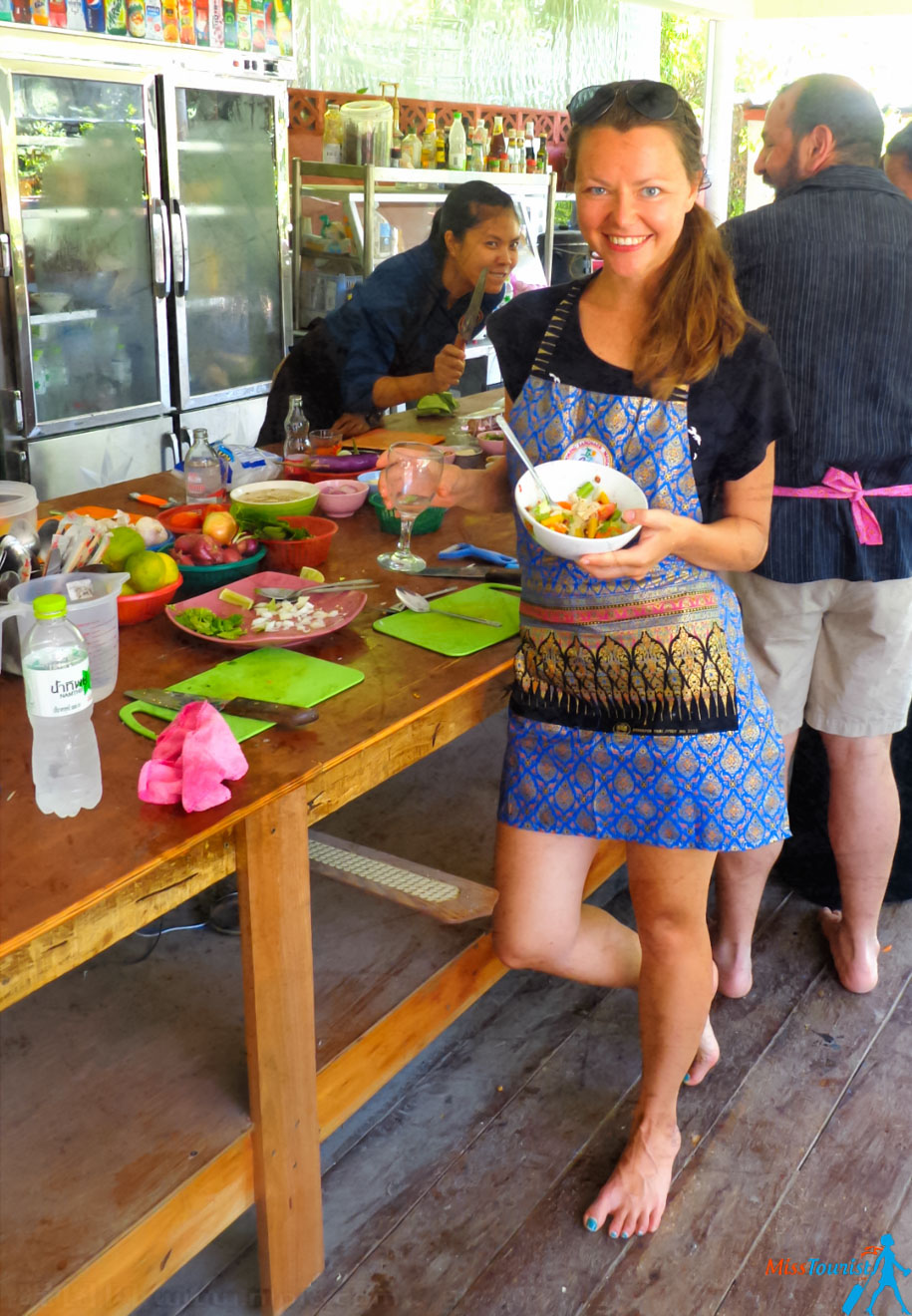 I ate traditional Thai food for 3 months in a row, and I was always eager to learn how do they cook the famous Pad-Thai and such.
My dream finally came true when I took part in a cooking class with C&M Study Center. An absolute must do even if you are there just for a couple of days!
The girls made me feel like at home, we cooked 5 delicious dishes of our choice, it was so much fun! Two sisters are the owners and together with their expert staff they made me feel great at their lesson.
The kitchen is in the open area, is fully equipped and located in a picturesque corner near a lake. At the end I also receive hand-outs of what I cooked, which is very convenient as I can't wait to try cooking some of the dishes for my friends, yum!
– Boat trip adventure –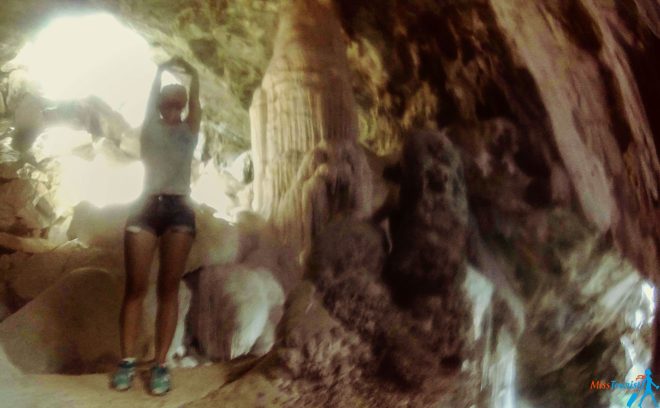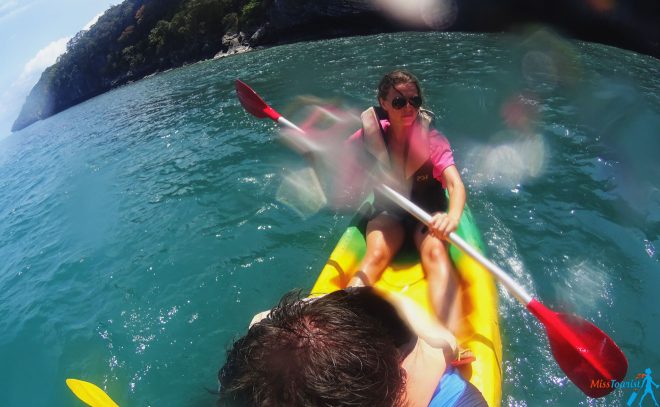 What else is there to do in Koh Phangan?
Last but not least, I went to a boat trip organized by Orion boat trips.
The day began at 8 am when I was picked from my hotel.
After a nice breakfast on the boat a charismatic captain told as the itinerary – a full day of adventure awaited for us!
We did hiking on an island which hosts a large and beautiful national park. During our other stops we swimed, jumped from the boat and snorkeled in a few spots. I tried kayaking and got a bit of muscle pain in the morning, but nevertheless i loved every bit of it!!
The day was really full of fun and I was glad the boat was spacious, so I could relax/nap on the way.
When I dropped off at my bungalow, just before the sunset, I was tired but really satisfied.
TIP: Don't forget your sunblock! Actually, if you are going to snorkel, you might want to get your own snorkel mask. The ones on the tours are not that great and they are always used by someone else, I don't feel like it's very hygienic to reuse the snorkel tubes every day for a different person.
P.S. If you want to go further and snorkel the coral reefs of Koh Tao, I recommend taking this tour!
Where to stay on Koh Phangan
Depending on your budget, I recommend staying in these hotels
For a luxury stay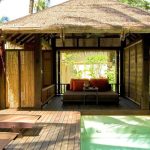 Pamper yourself with any of the poolside, garden or seaside suite options.
Starting from US$ 349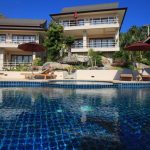 A dreamy retreat hidden among tropical greenery, luxurious furnishing.
Starting at US$ 180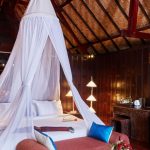 A luxurious oasis featuring a spa, a private beach and an infinity pool.
Starting at US$ 236
Great value for money hotels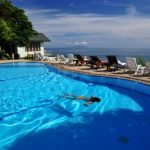 I stayed in this resort and loved it, it's one of the reasons Koh Phangan is my favorite island! Secluded, great views and sick sunsets!
Starting at US$ 30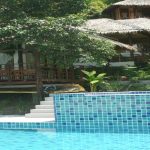 Dreamland Resort features an outdoor pool and views of the garden. Guests can enjoy the on-site restaurant, great location!
Starting at US$ 22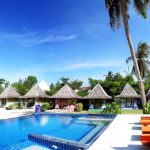 Close to the Full Moon party beach, outdoors swimming pool, private balconies and wooden furnishing – all that can make it a perfect stay!
Starting at US$ 60
---
Summary:
I told you about the best things to do in Thailand, Koh Phangan. Even though the island is famous for its full moon party, there are numerous activities there. Writing about beach hopping, cooking classes and the boat trip made me want to go back to Koh Phangan so much! 😉
P.S. And, as everywhere in Thailand, I do recommend renting a scooter. The island is quite big and the places are remote. The price of the taxi (if you bargain) will be around 200 baht per person one way. Whilst, I paid for my bike 150 baht a day. So, why all the hassle, if you can pay less and be more free?
Going to the North of Thailand as well? I lived there, so I have some good articles for you, as well as about Bangkok!
Have you been to Koh Phangan? Would you like to know more about it?
Add your comment in the section below, I LOVE hearing from my readers!
Don't forget to press any social network icon if you liked the article!
Yulia
---
Pin it for later:
Pin it for later:

What will you need to pack for a trip to Koh Phangan?