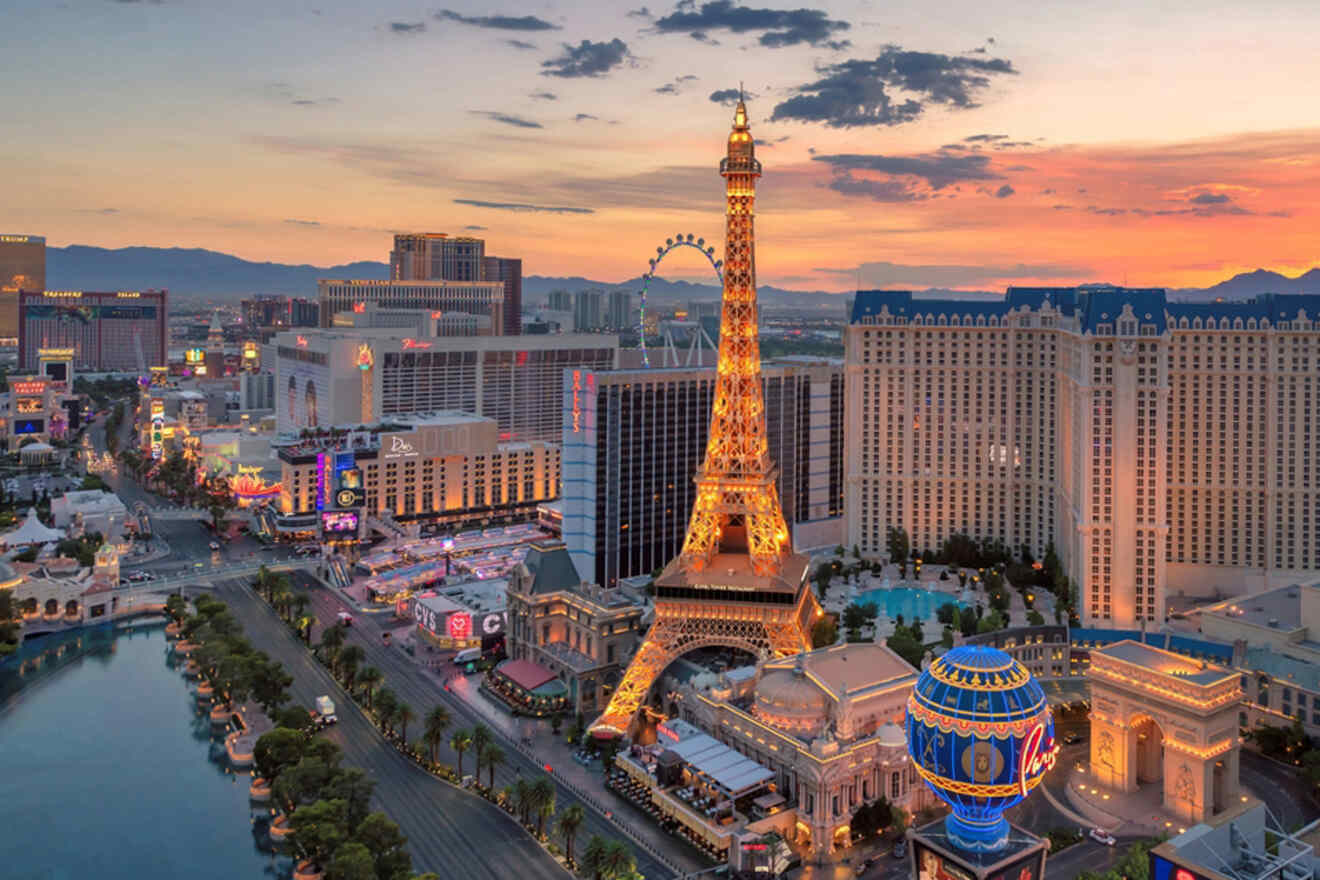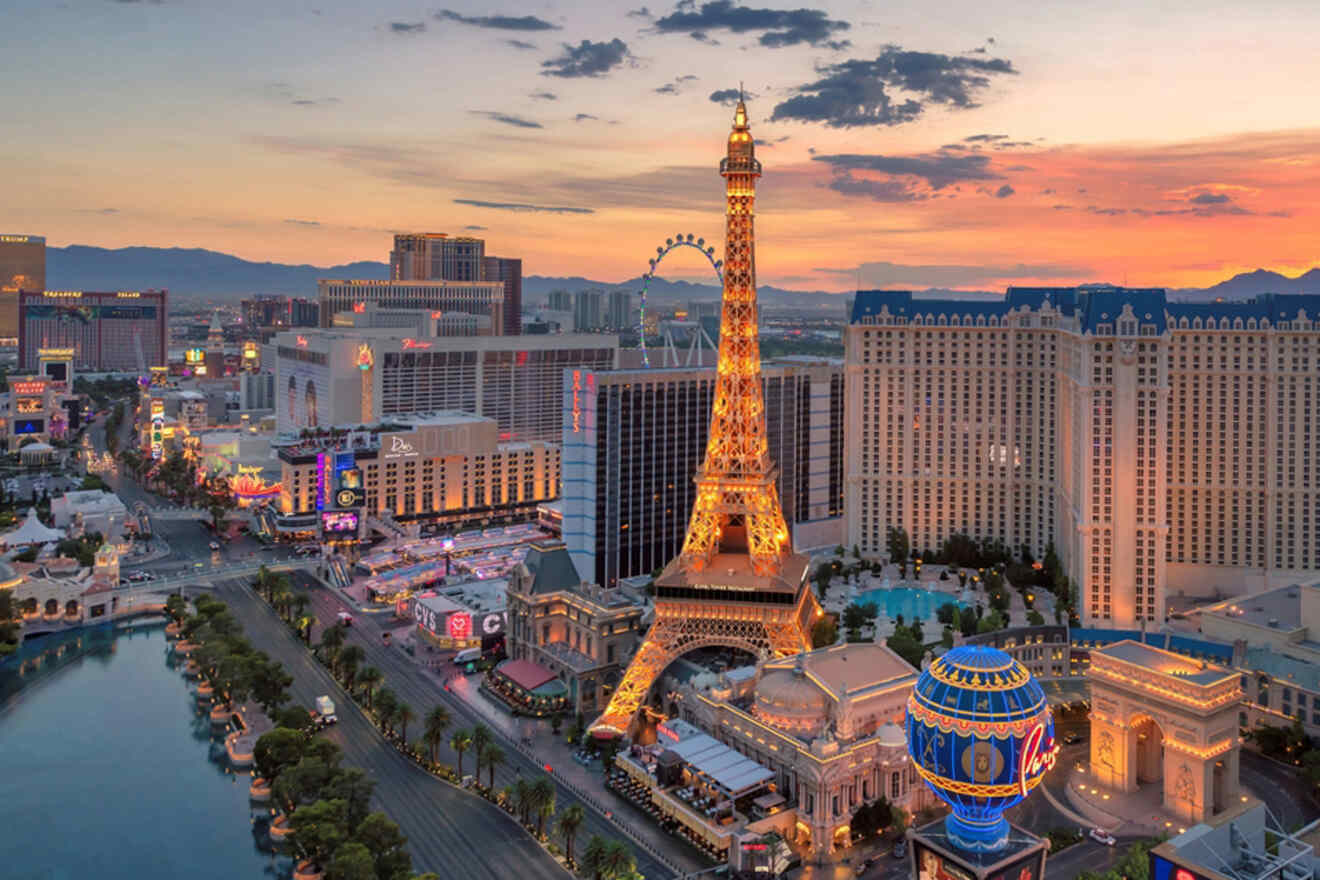 Planning your visit to Sin City? Want to find the best Las Vegas-themed hotels? Then stay with me because I've found the most amazing hotels! I have researched and compared every single hotel in the city to come up with the perfect list for your dream vacation!
Now, this list is organized by price, starting with the most expensive ones. We always list hotels rated 8 and up. However, this time, I had to include some themed hotels rated 7.5 and up since there weren't that many options following our standard. But rest assured, all the hotels listed here are amazing, and you will love your stay in any of them!
Las Vegas is so popular and attracts millions of travelers every year, so the smart move is to book your hotel room ASAP so you get to stay in the hotel of your dreams!
Without further ado, let's check out the best-themed hotels in Las Vegas, baby!😎
If you are in a hurry
I know we don't always have enough time to read the whole article, so if you are in a hurry and want to book one of the best-themed hotels in Las Vegas ASAP, I've got you!
1. The Venetian® Resort Las Vegas – stylish and classic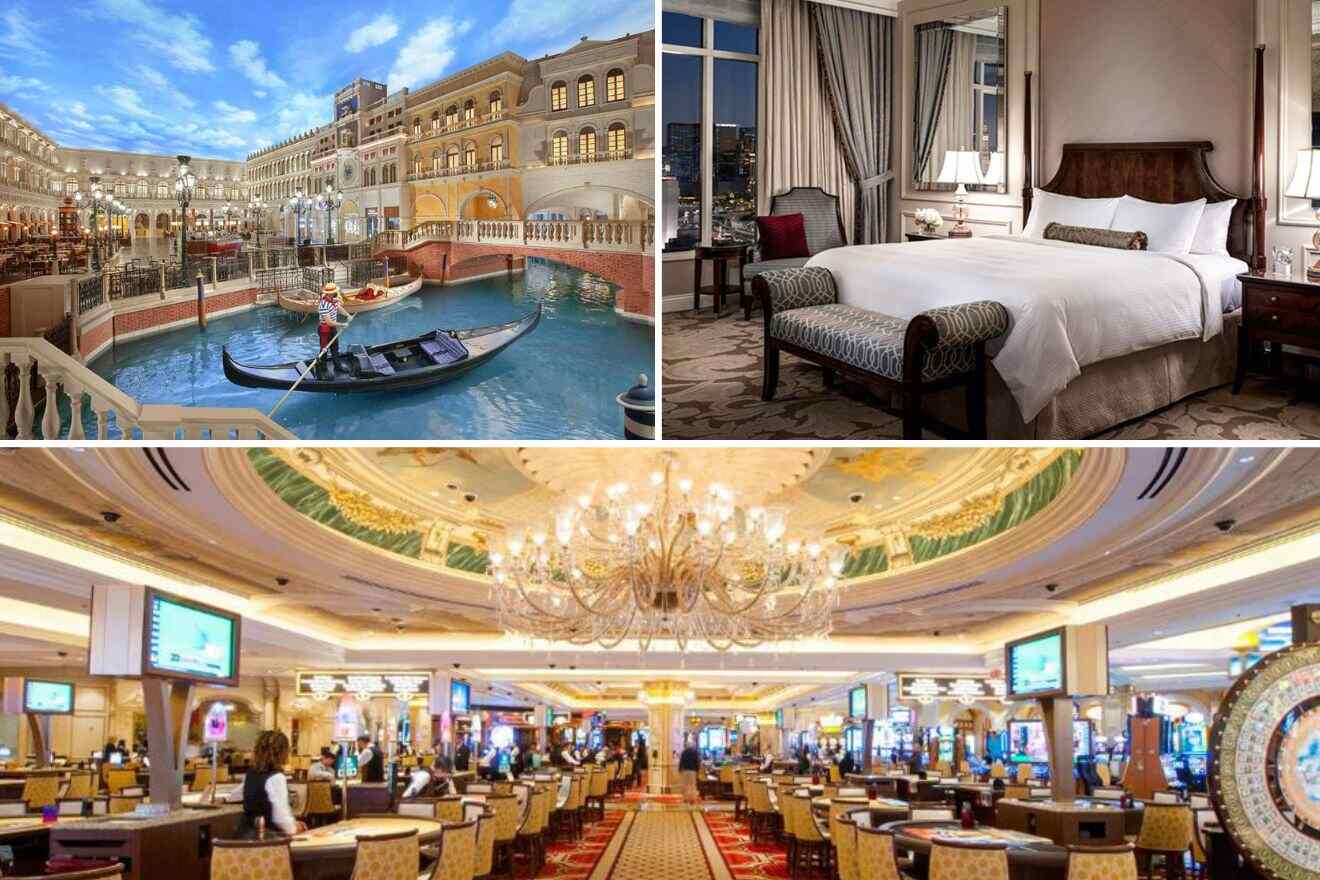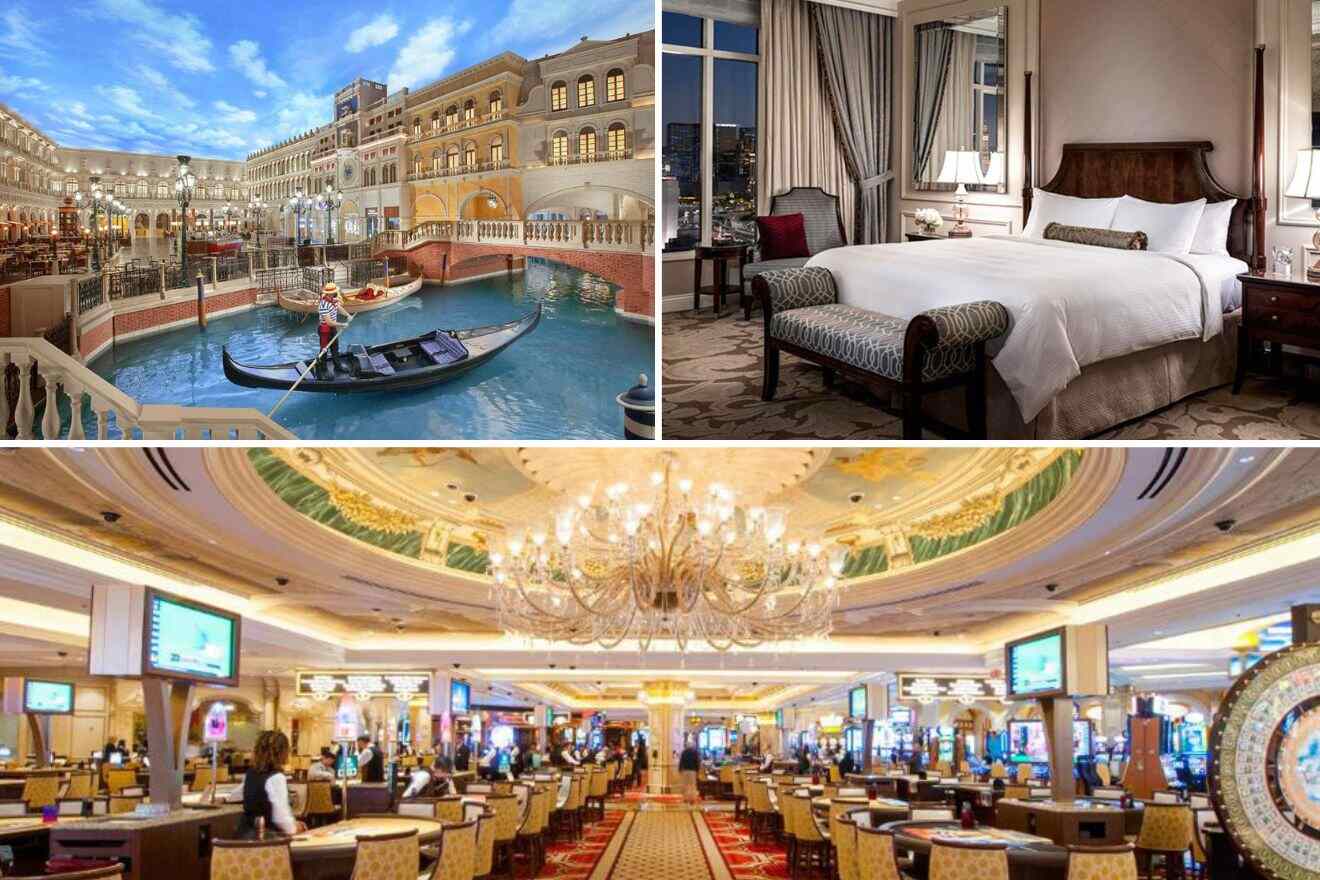 Oh me, oh my! Located on the Las Vegas Strip and with all the Italian opulence, this hotel will surely make you feel like a celebrity! This Venice-themed hotel features a resemblance to Piazza San Marco, a canal for Venice gondola rides for a romantic atmosphere, an on-site shopping mall with quality boutique stores, and 14 deluxe on-site restaurants!
Spend time in the hotel's casino, or simply relax in your suite! Every suite comes with a living room with a seating area, a flat-screen TV, and a minibar. The bathrooms are spacious, have marble floors and sinks, and come with a bathtub to relax after a long day! P.S. This hotel is super close to the wax museum Madame Tussauds!
2. The Cosmopolitan of Las Vegas – vibrant and modern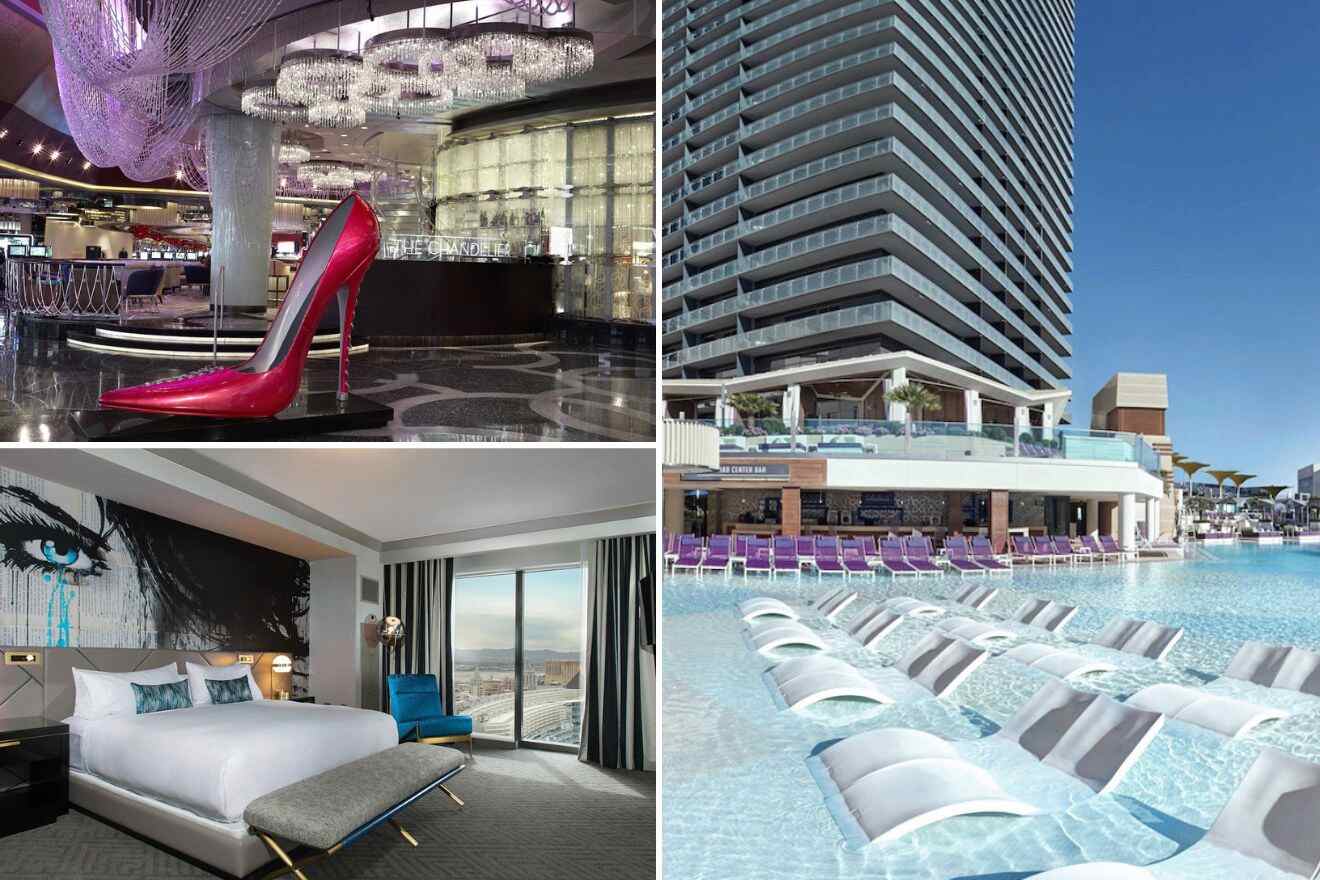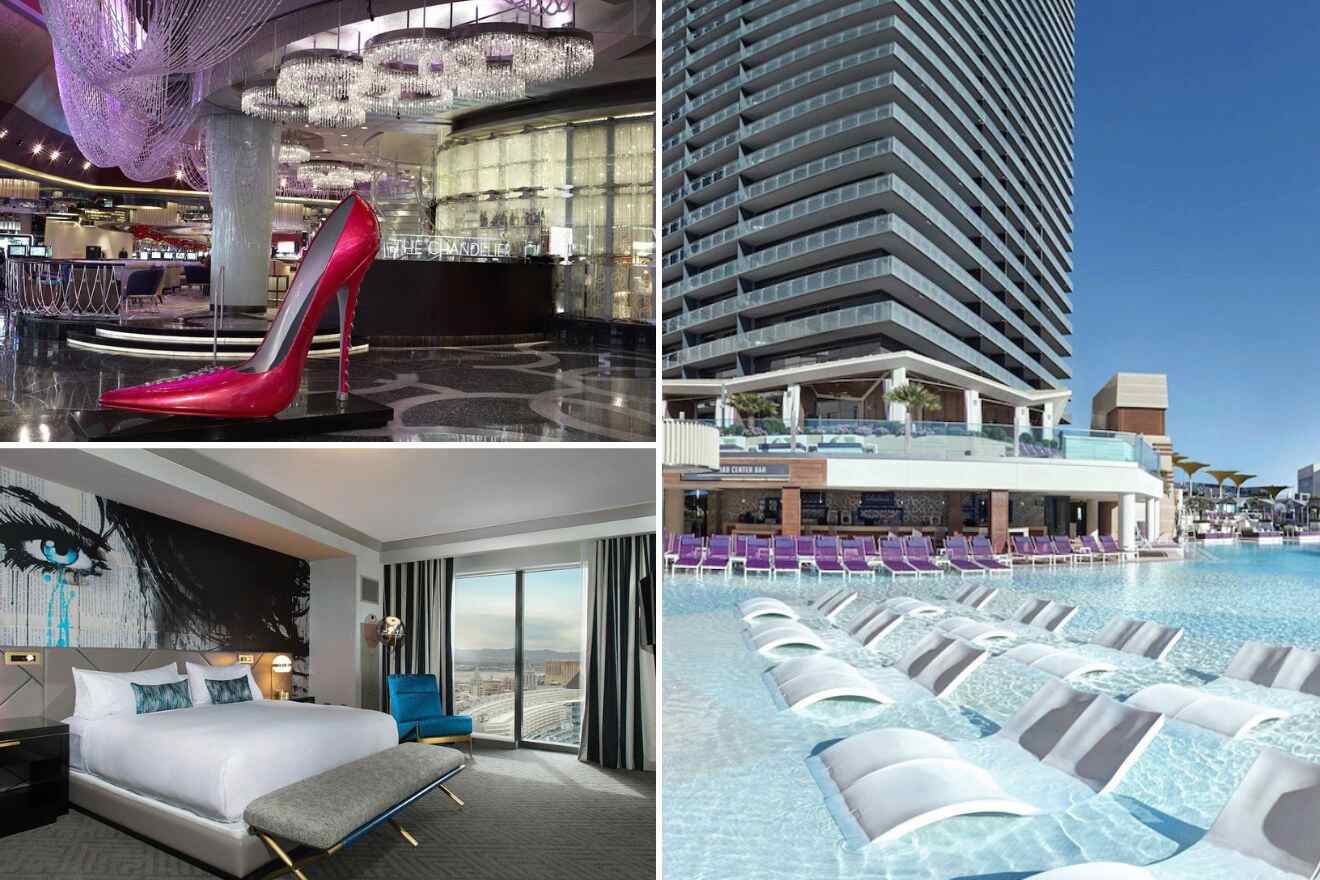 The Cosmopolitan has all the glamor and style worthy of "Sex and The City", located on Las Vegas Blvd. With views of the Eiffel Tower, 20 onsite restaurants for your dining options, an onsite casino with slot machines, and an ice skating rink, this hotel has fun guaranteed! If you are looking to relax, their spa and wellness center or outdoor pool with poolside bars might be what you need!
The hotel offers luxurious and spacious rooms and suites with a romantic ambiance, all featuring floor-to-ceiling windows, top-class furniture, a flat-screen TV with Netflix, Hulu, and other streaming services, and room service to unwind in all the privacy of your room! Oh, did you know this hotel is pet-friendly?! You can bring your furry friends with you!
3. Bellagio, Las Vegas – elegant and timeless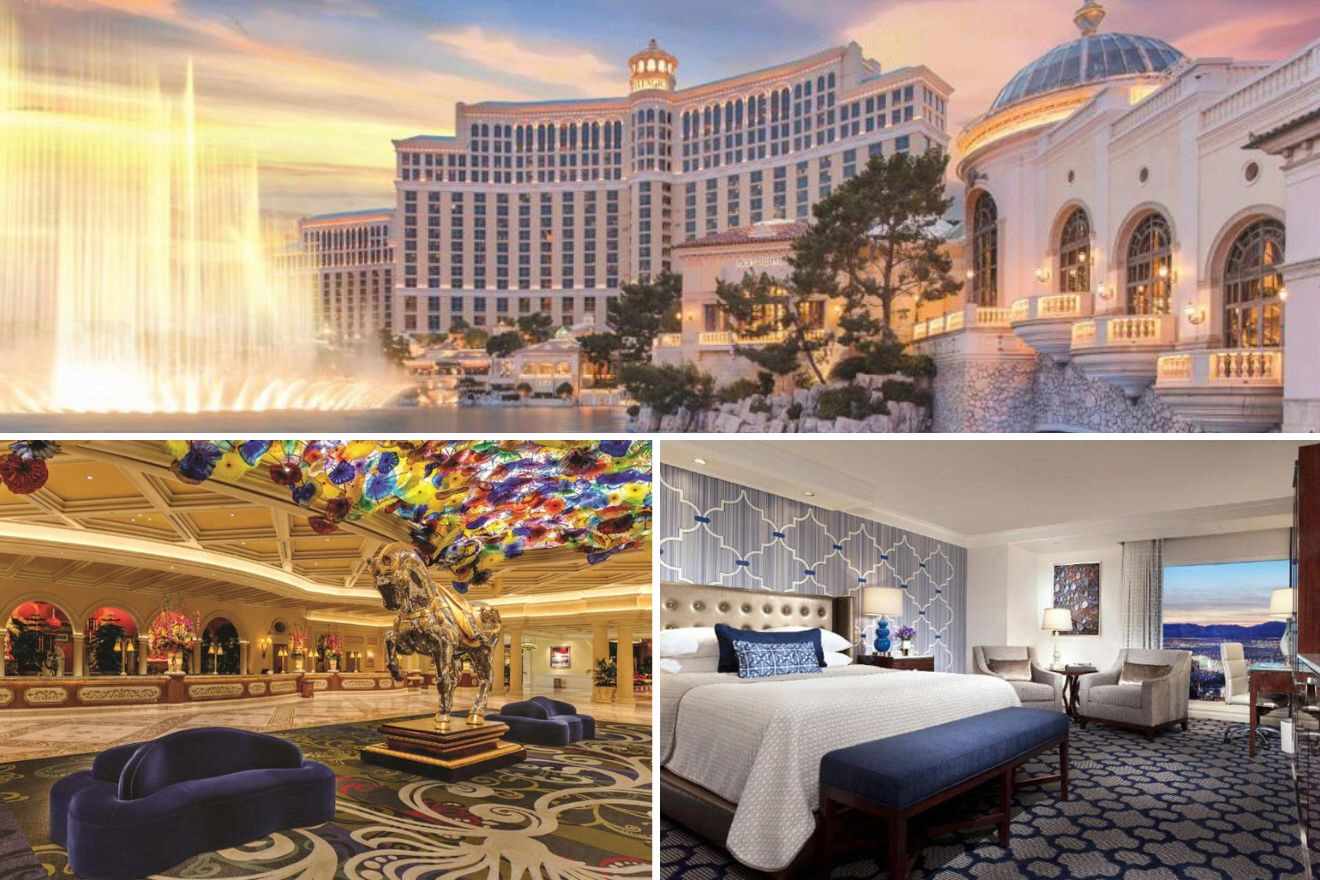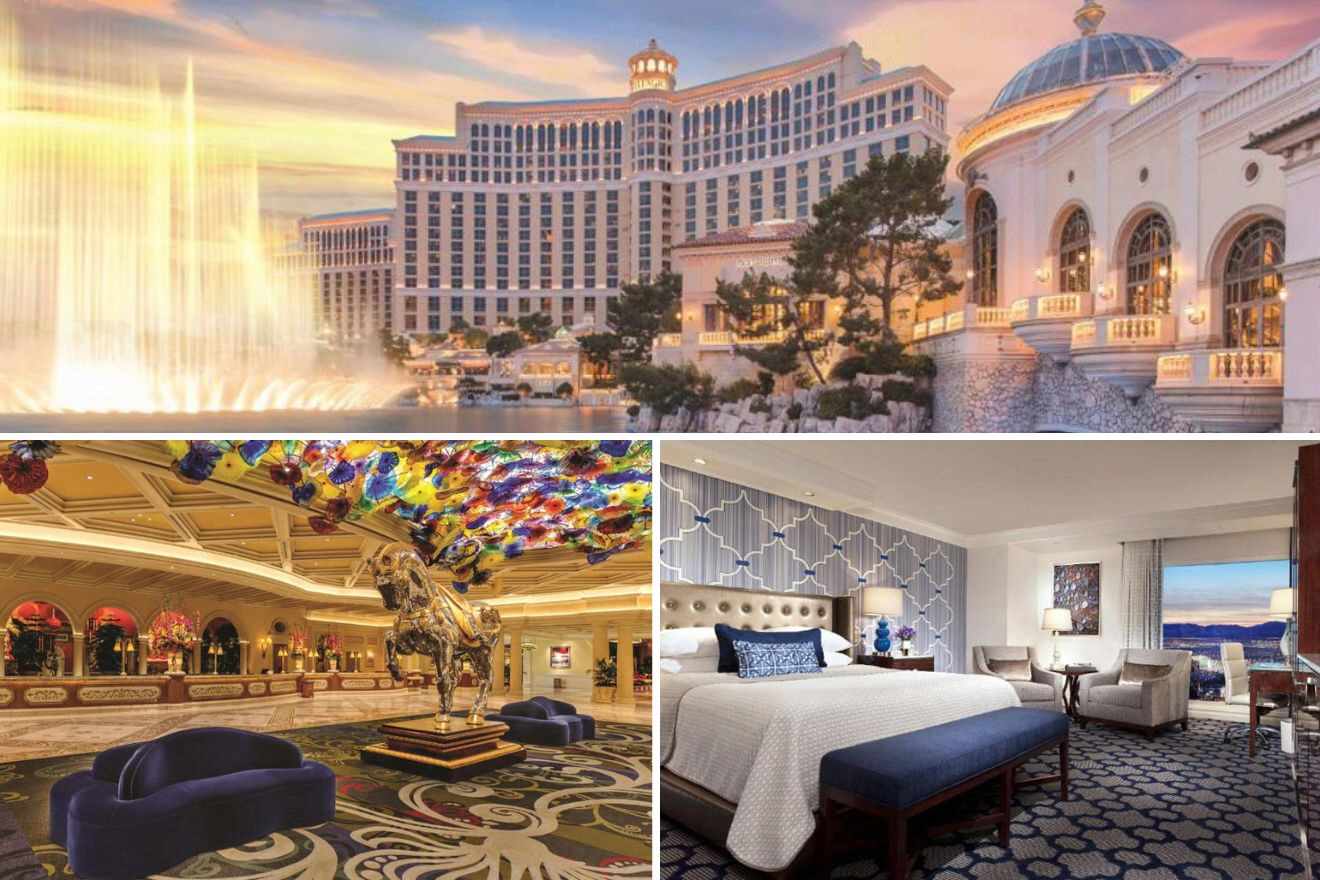 Oh, la la! Truly fantastic and one of the most iconic hotels in Las Vegas, you can enjoy 5 outdoor swimming pools and the fountains of Bellagio Fountains, where you can see a light show! There's an art gallery featuring fine art, a botanical garden, a spa and wellness center offering a wide range of treatments, and 18 on-site restaurants!
All the rooms and suites have the most delightful decor, with high-end furniture and amazing views! Their biggest room is the 2 Bedroom Penthouse Suite, which can host up to 6 guests and comes with a classy and fashionable living room and dining room with 2 bathrooms and a whirlpool tub.
4. Mandalay Bay – a Southeast Asia experience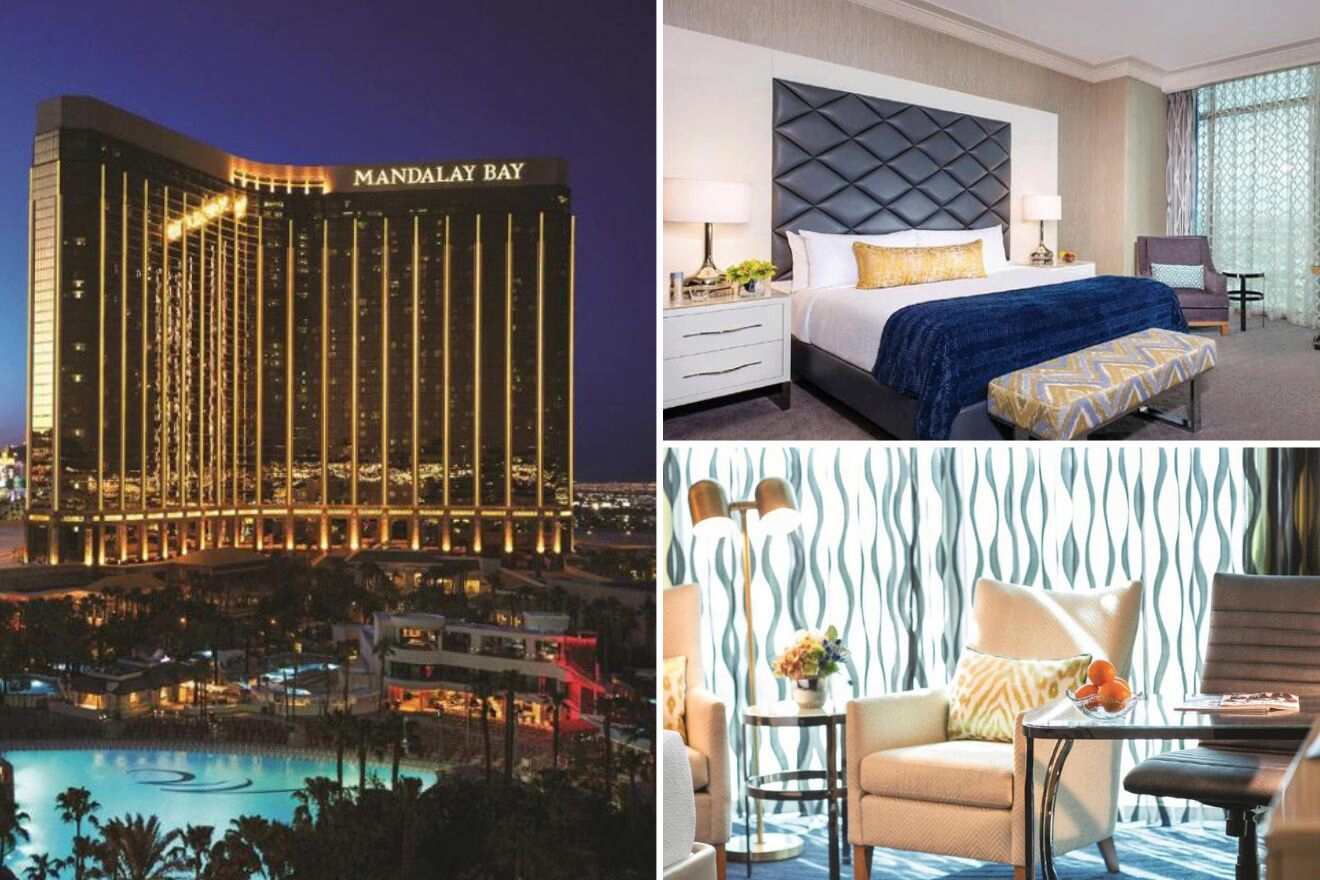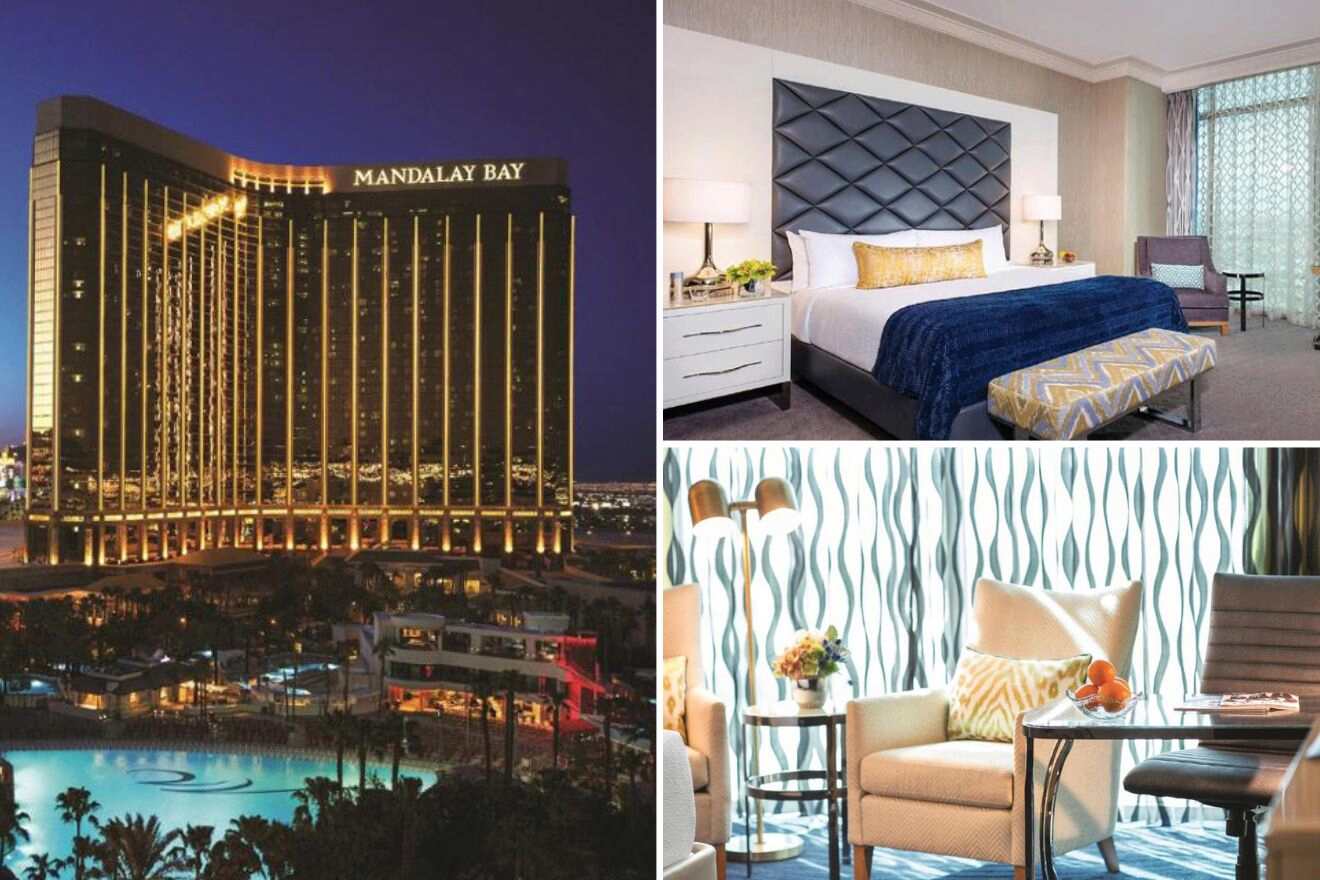 Wouldn't you love to stay in a family hotel with a private beach area? Well, imagine that being possible in Las Vegas! There are palm trees, a sandy terrace overlooking one of the 3 outdoor heated swimming pools, a lazy river, 22 upscale on-site restaurants, a full-service spa, and a shark reef aquarium! Plus, there's a shuttle service to take you around Vegas – the Mandalay Bay Tram!
Rooms are spacious and elegant, all of them come with a seating area, air conditioning, floor-to-ceiling windows, and a flat-screen TV. Some rooms, like the penthouse, come with wet bars, and other rooms come with a bathtub, so check it out at the time of booking your hotel room!
5. The Mirage – a tropical vibe in the Nevada desert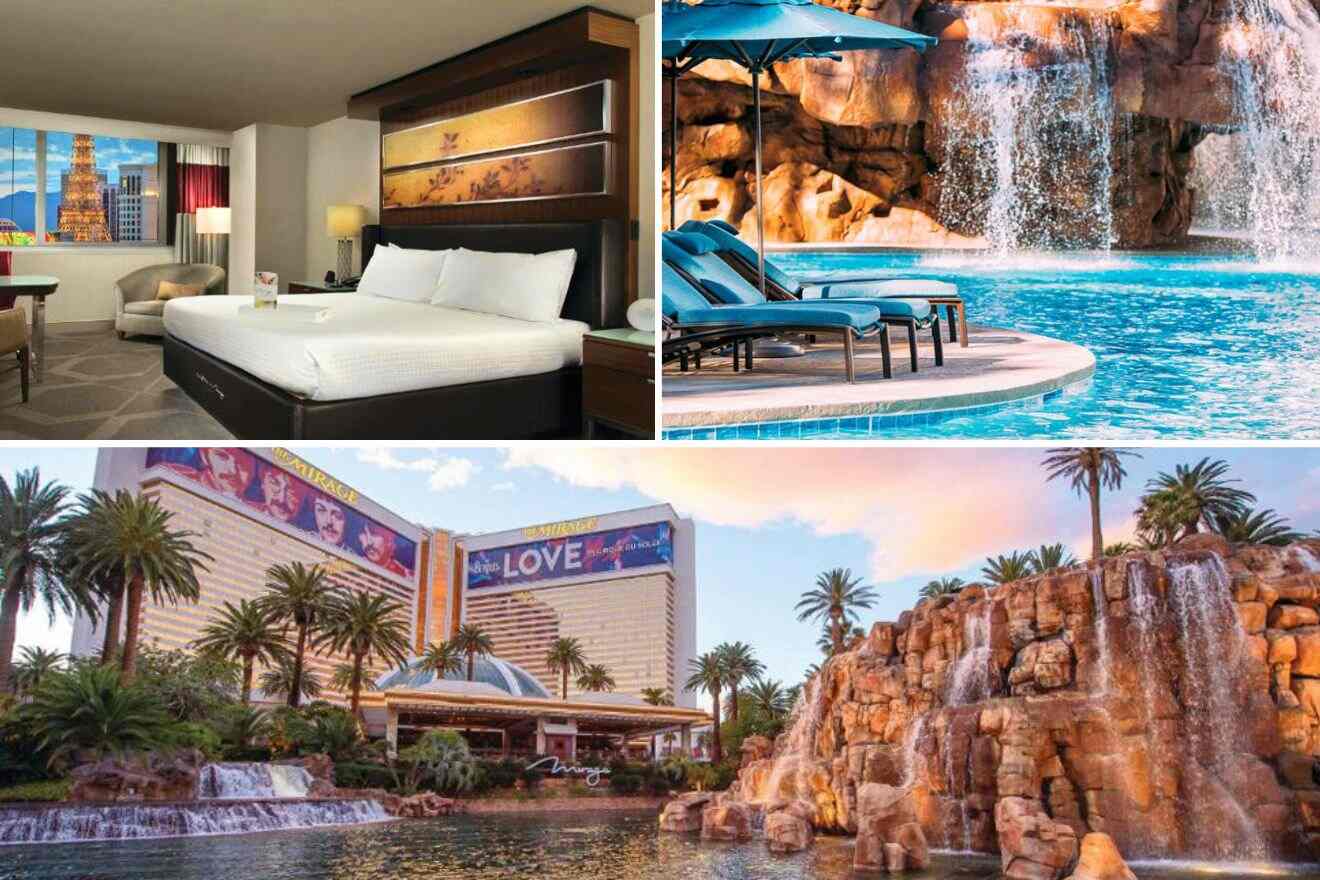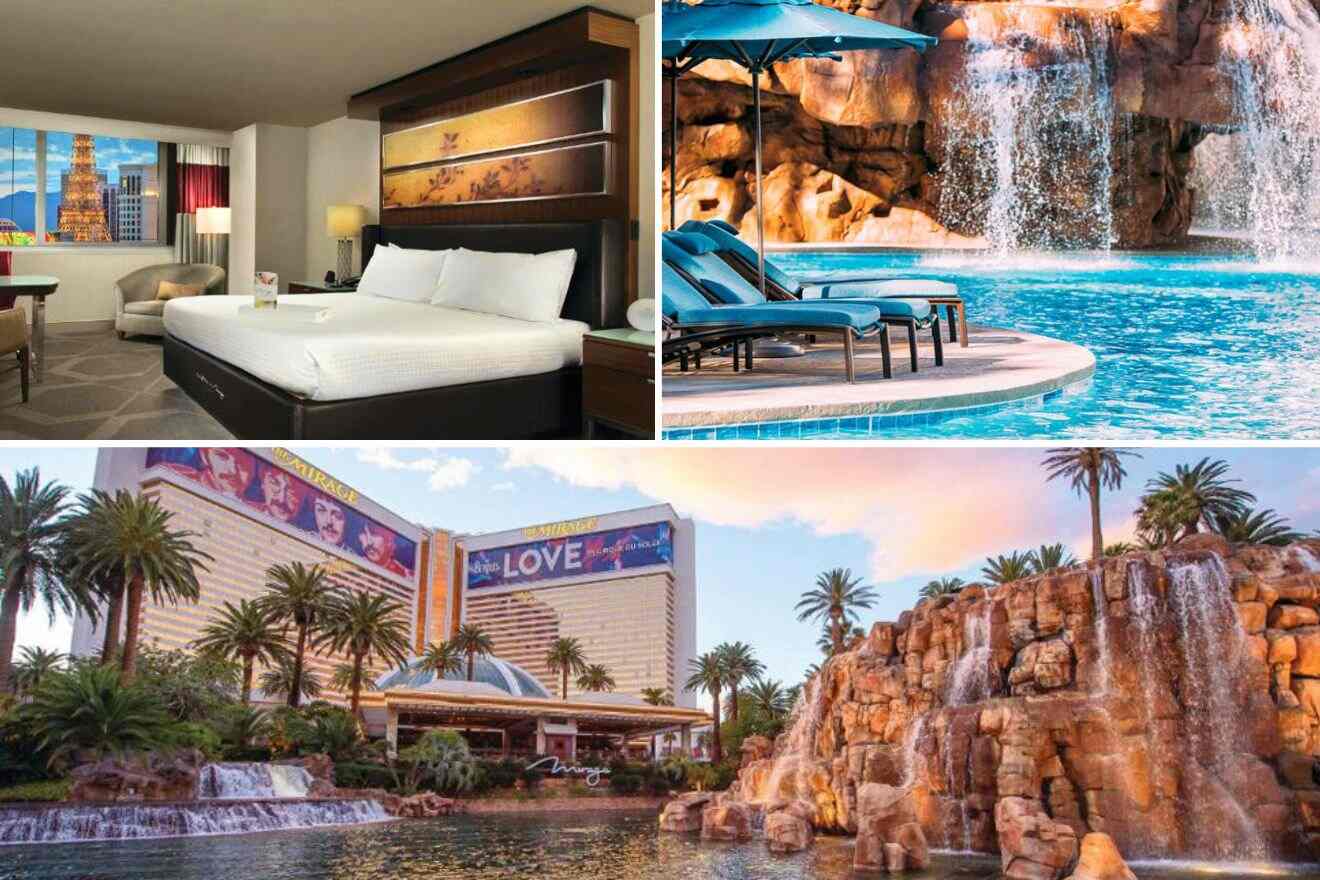 Travel to a tropical island with this Polynesian-themed hotel! It features 2 swimming pools and a free volcano light show with lava and music that displays multiple times in the nighttime! There's an on-site casino, a The Beatles tribute circus show called "Love," and an amazing tropical garden with a lush forest!
All the rooms at The Mirage come with modern decor and high-quality furniture, you can get an amazing view from most of the rooms. I highly recommend the One-Bedroom Penthouse Suite to couples looking for a romantic stay. This room comes with views of the mountains, a living room, and a spa bath!
6. Caesars Palace Las Vegas – ancient Rome style!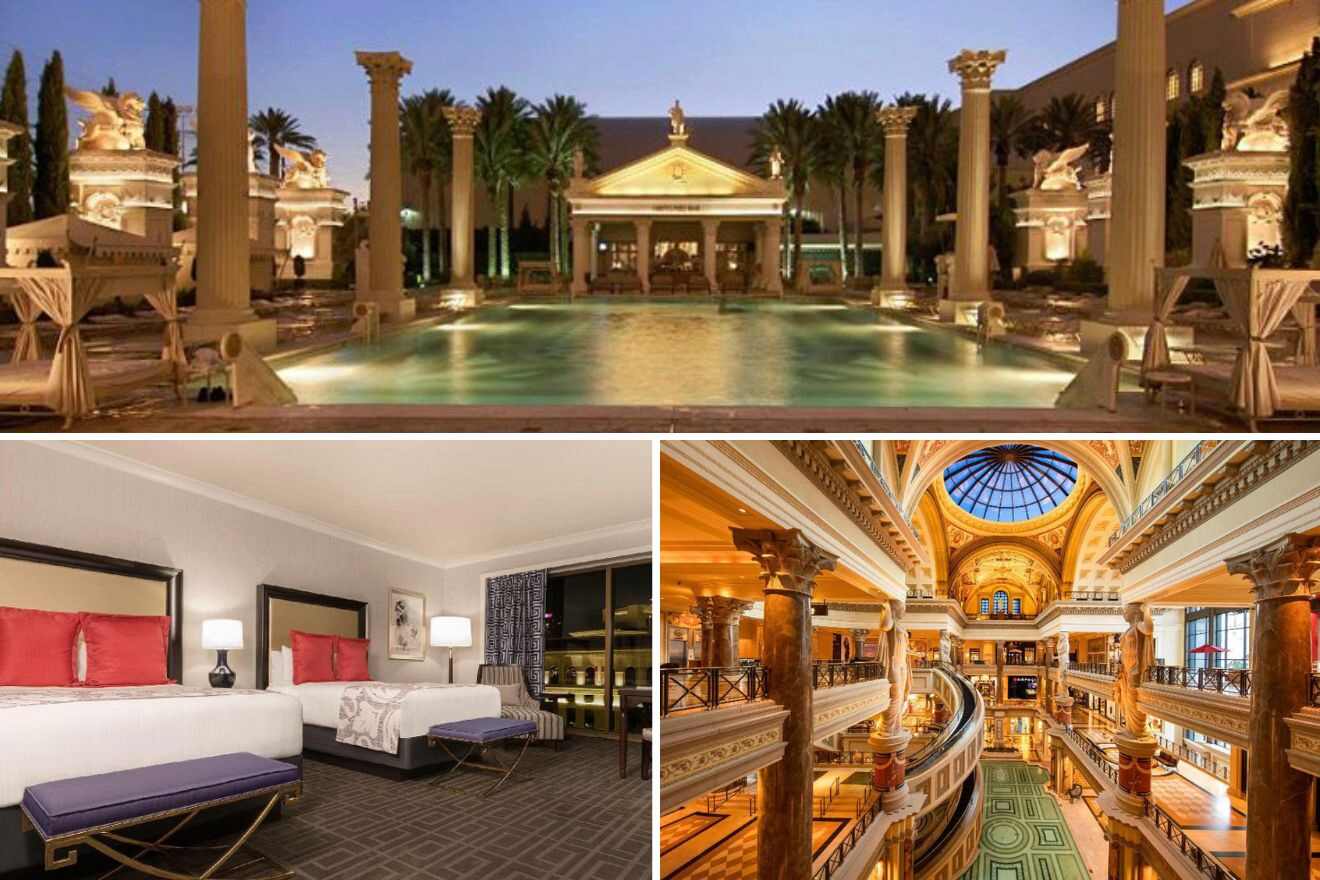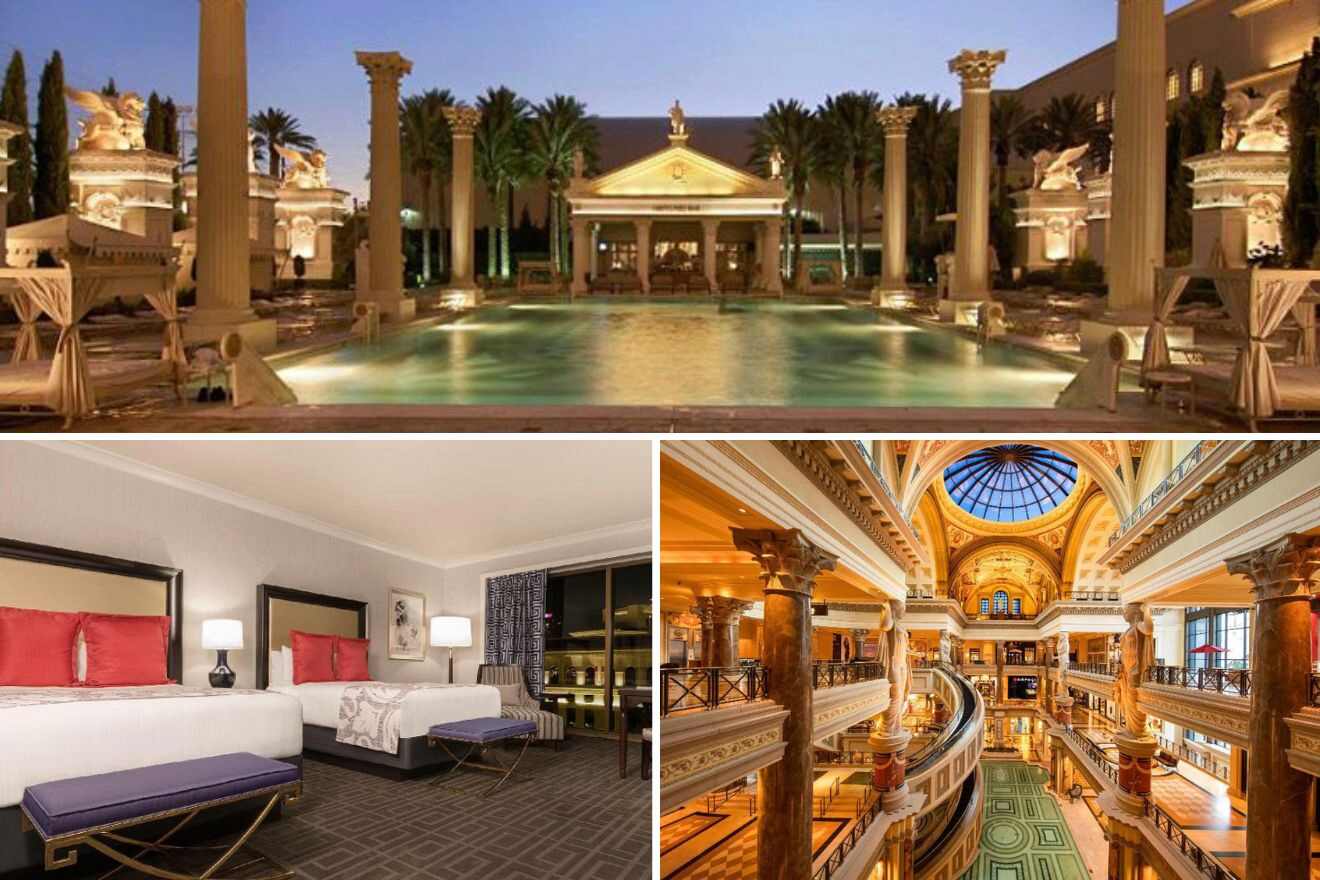 Travel back in time and experience luxury like they would in Ancient Rome with this Roman Empire-themed hotel! There's an on-site casino with an adult arcade area, 7 swimming pools all with different styles, on-site gift shops, a fitness center, and an amazing à la carte complimentary breakfast!
This hotel features fantastic spacious and comfy rooms, with air conditioning, flat-screen TVs, with an on-demand movie service! I recommend their premium rooms to everyone looking for an out-of-this-world experience, these rooms come with a bathtub for extra relaxation after a long day in Sin City!
7. Treasure Island – with an on-site chapel!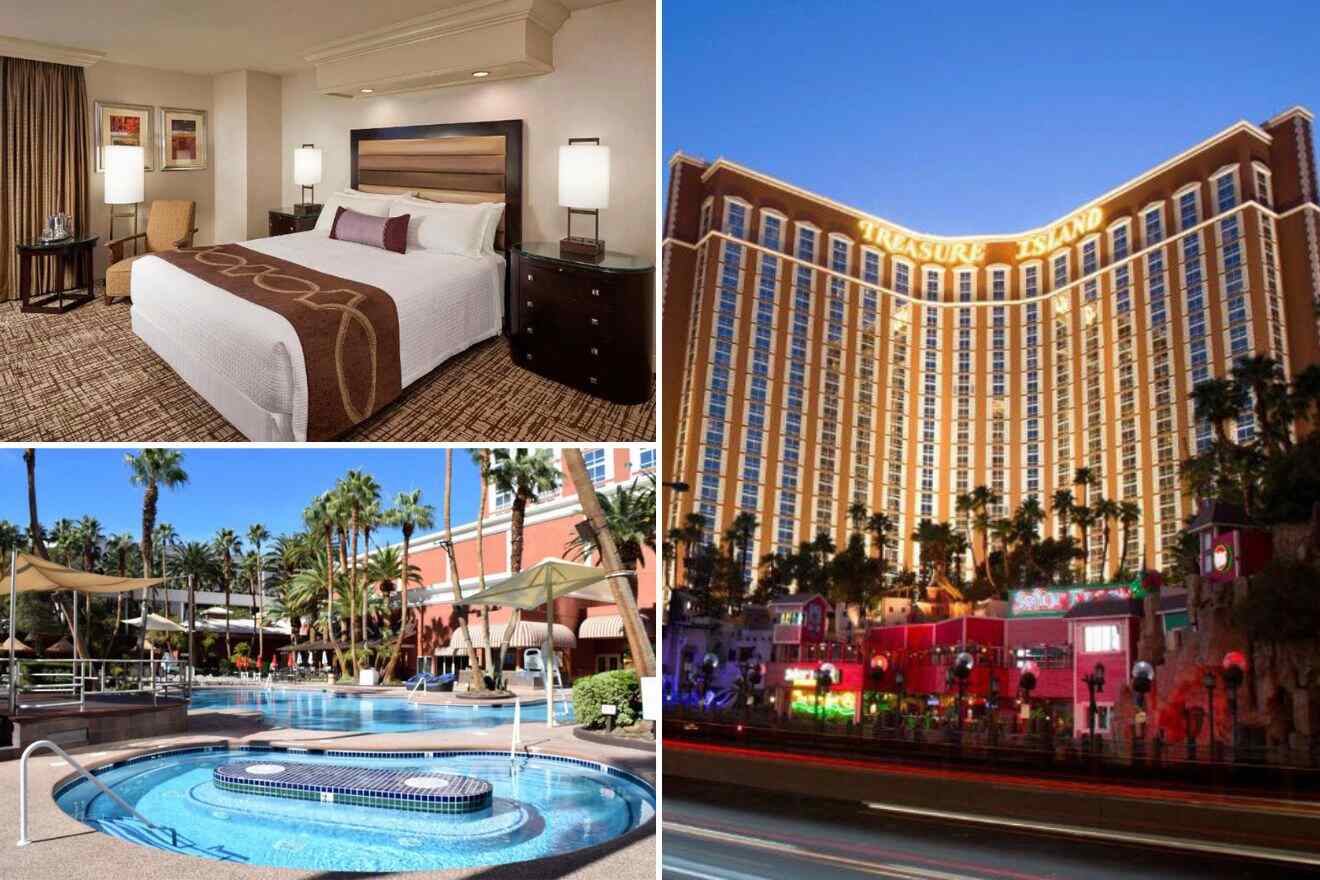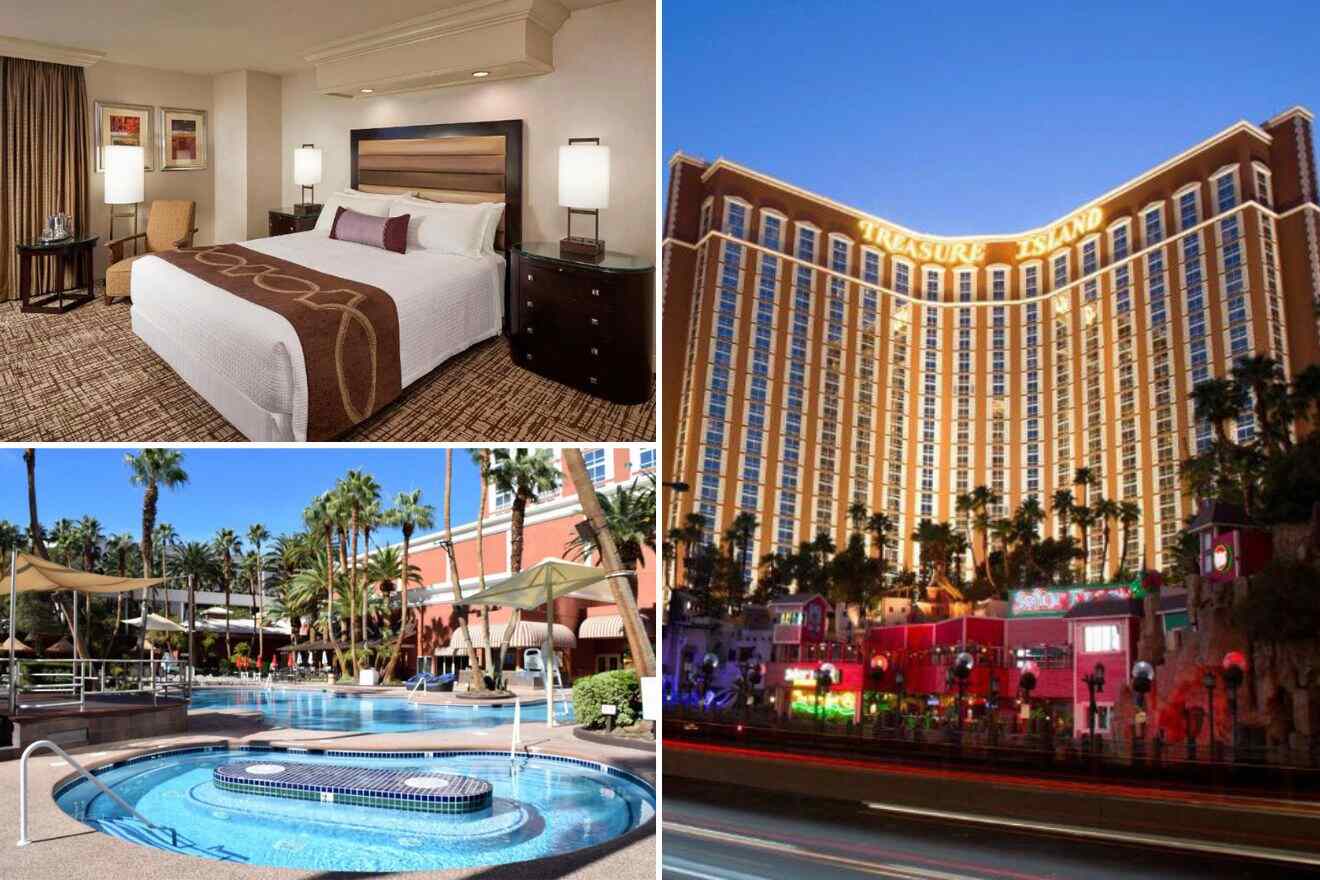 Ahoy! Who wouldn't love to stay in this fun pirate-themed hotel?! Located in the amazing Las Vegas Strip, this hotel has a luxurious main lobby, an outdoor and seasonal swimming pool, and many bars and restaurants. There's Marvel's Avengers S.T.A.T.I.O.N. for all the fans of the Marvel Universe, and even a chapel if you decide to marry Las Vegas Style!
All rooms have amazing views of the city or the mountains, and select rooms, like the Petite Suite or Tower Suite, have a spa bath. Room service is available to all guests as well, so after a day of partying, you can relax in your suite with dinner from any of the on-site restaurants!
8. New York, New York – enjoy the Big Apple Coaster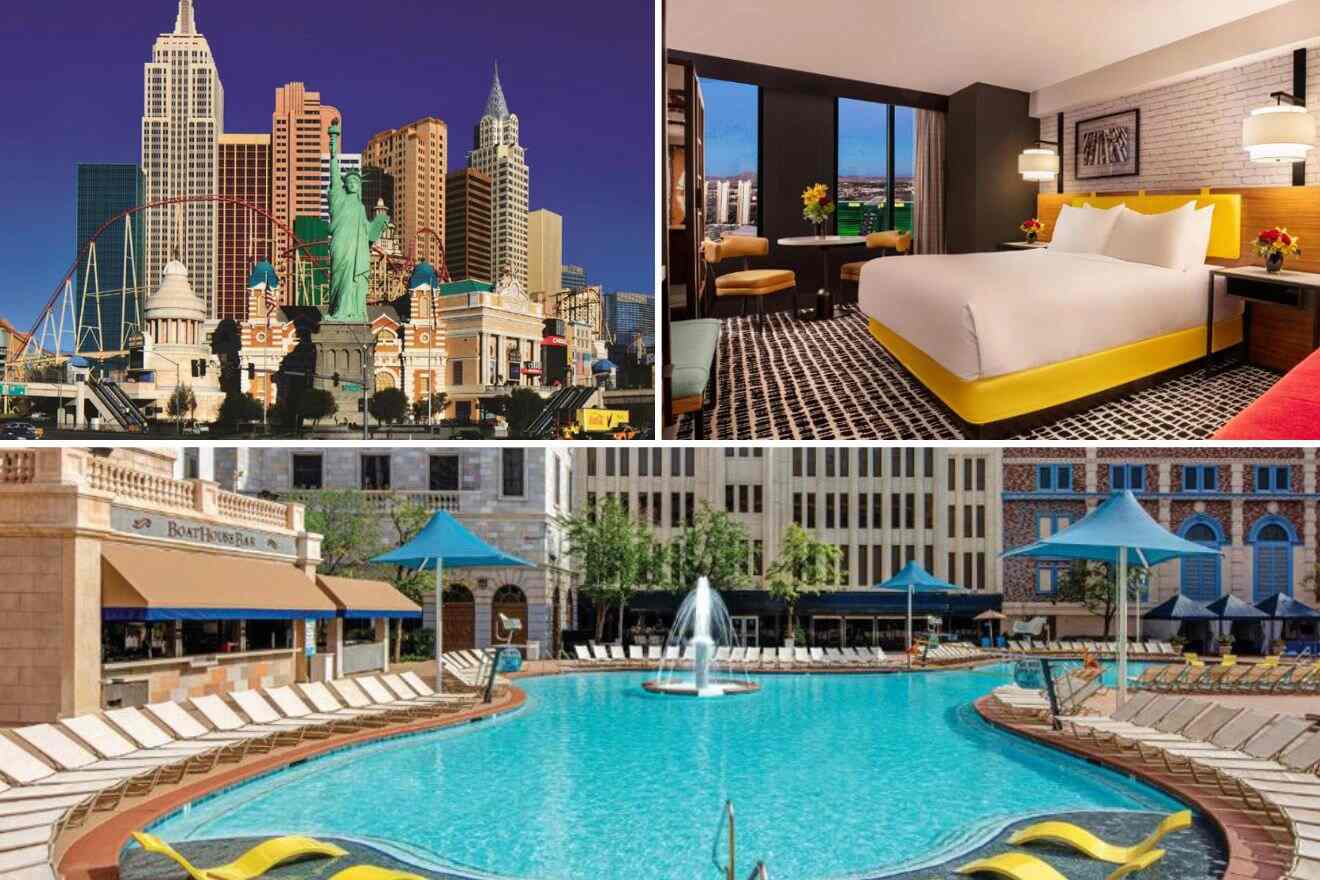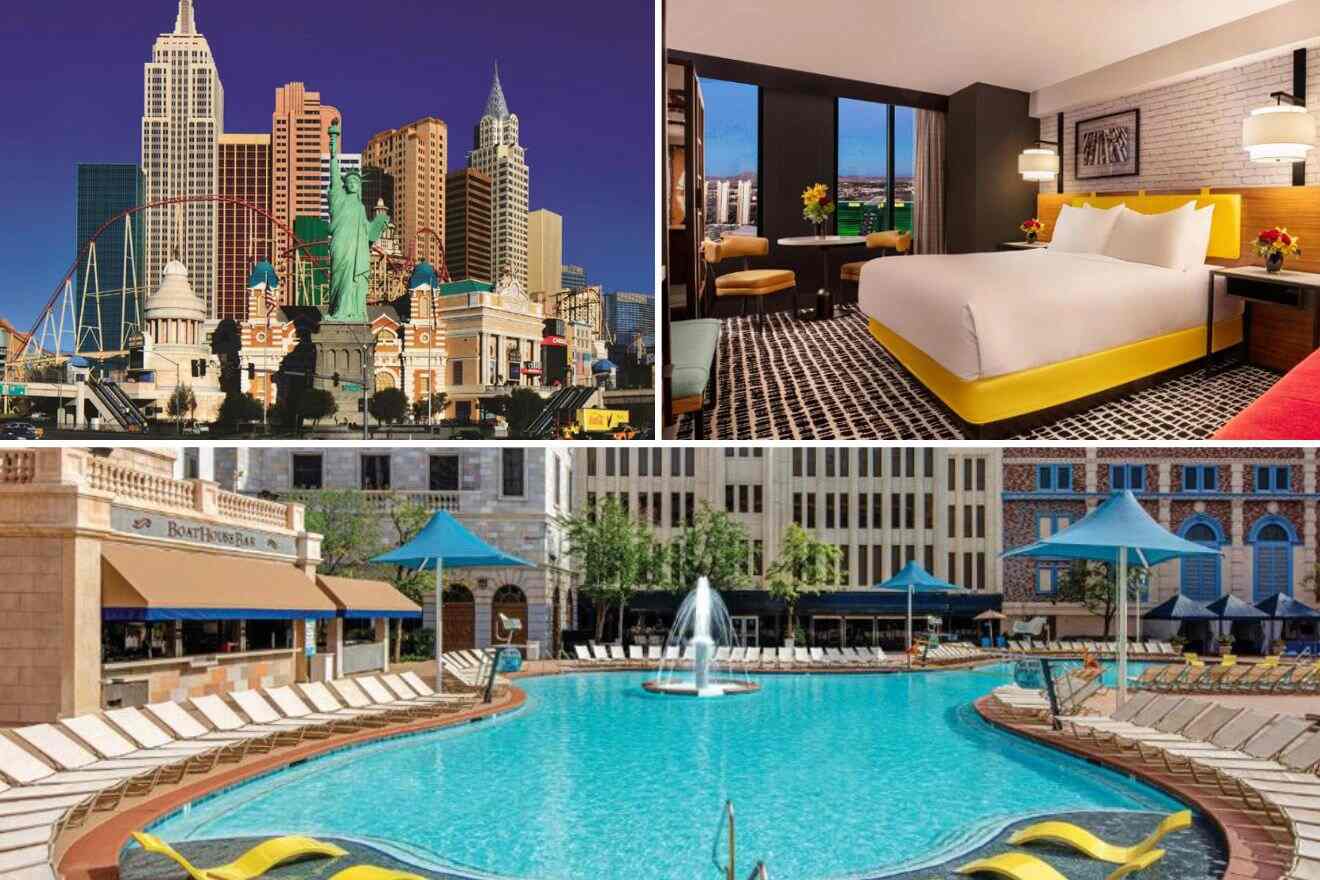 For all the city lovers out there, this hotel is for you! This hotel features exact replicas of the Manhattan skyline, such as the Empire State Building, the Statue of Liberty, and the Brooklyn Bridge. It also offers an on-site roller coaster, the Big Apple Coaster, an outdoor swimming pool, and several restaurants with different types of cuisine, such as Chinese, Italian, Mexican, and more!
The rooms come with excellent decor, resembling New York's bold street style with an elegant and upscale twist! The biggest room can host up to 4 guests, and select rooms like the spa suite that can host up to 3 guests come with a spa bath to enhance the Las Vegas experience! P.S. This hotel has its own Hershey's chocolate world on-site!
9. Paris Las Vegas Hotel & Casino – for a lovely stay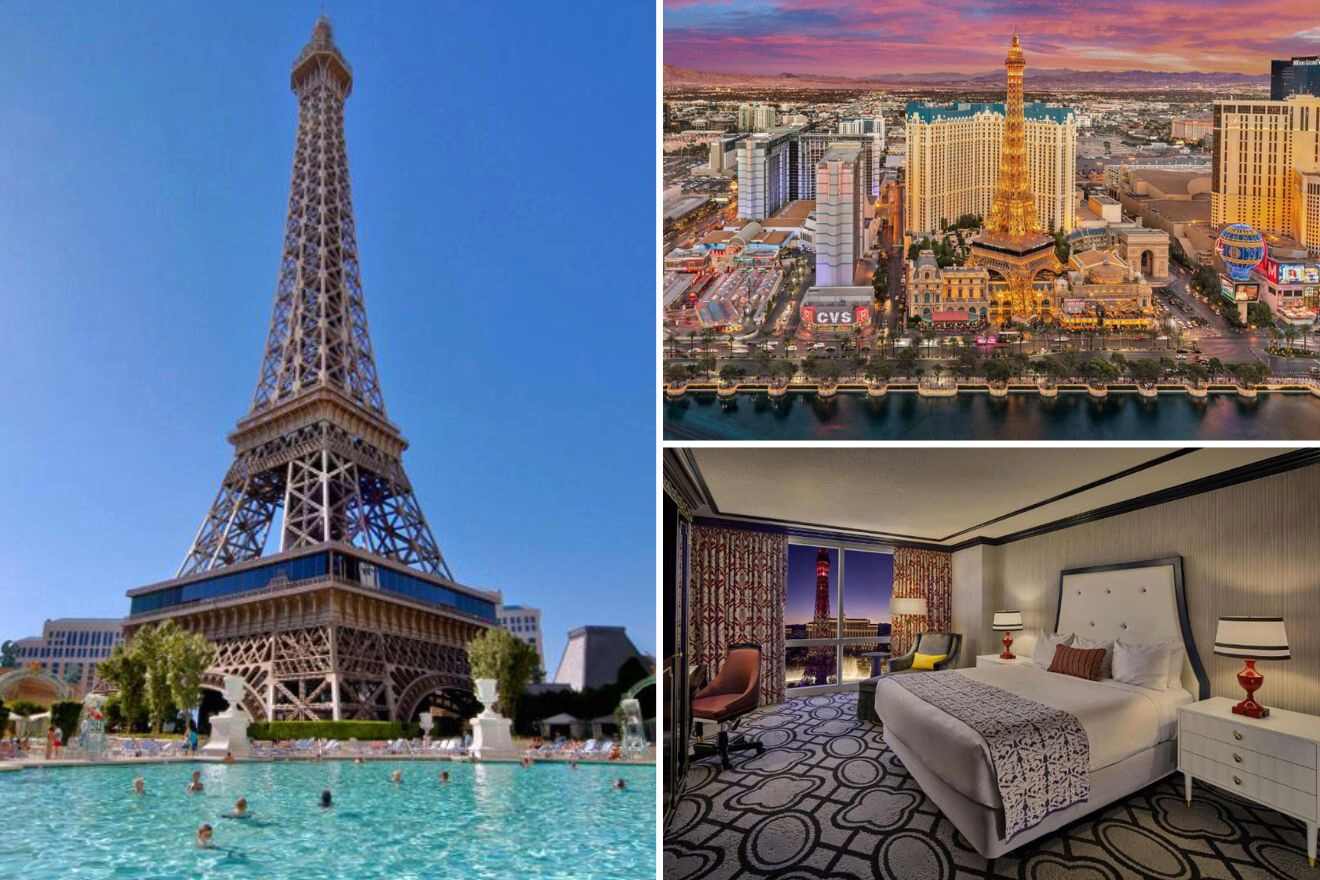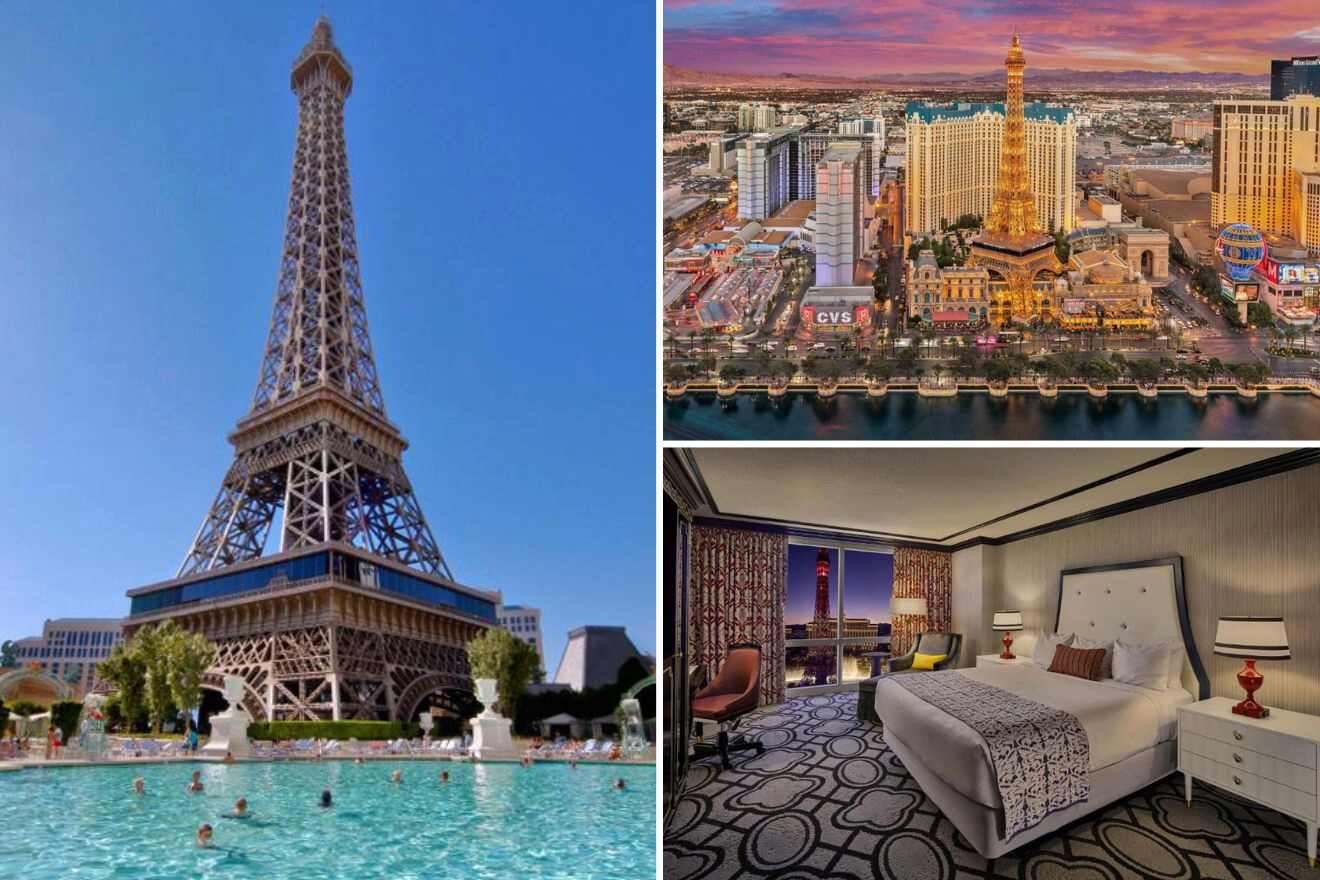 Oh la la, don't we love a French-themed hotel? I know I do! This Paris hotel will make you feel like you're in the city of love, with a replica of the Arc de Triomphe, little shops in a Parisian countryside style, and a Parisian garden with many types of flowers and luscious vegetation! And there is more! This hotel offers a full-service spa and a full-service bar with live piano duels!
The Burgundy Premium Suite, with 1 king bed, is perfect for 2 travelers, and it comes with a spacious seating area, a dining table, and a separate bedroom. The bathrooms are spacious and have a marble sink and a spa bath!
10. MGM Grand – one of the biggest hotels in the world!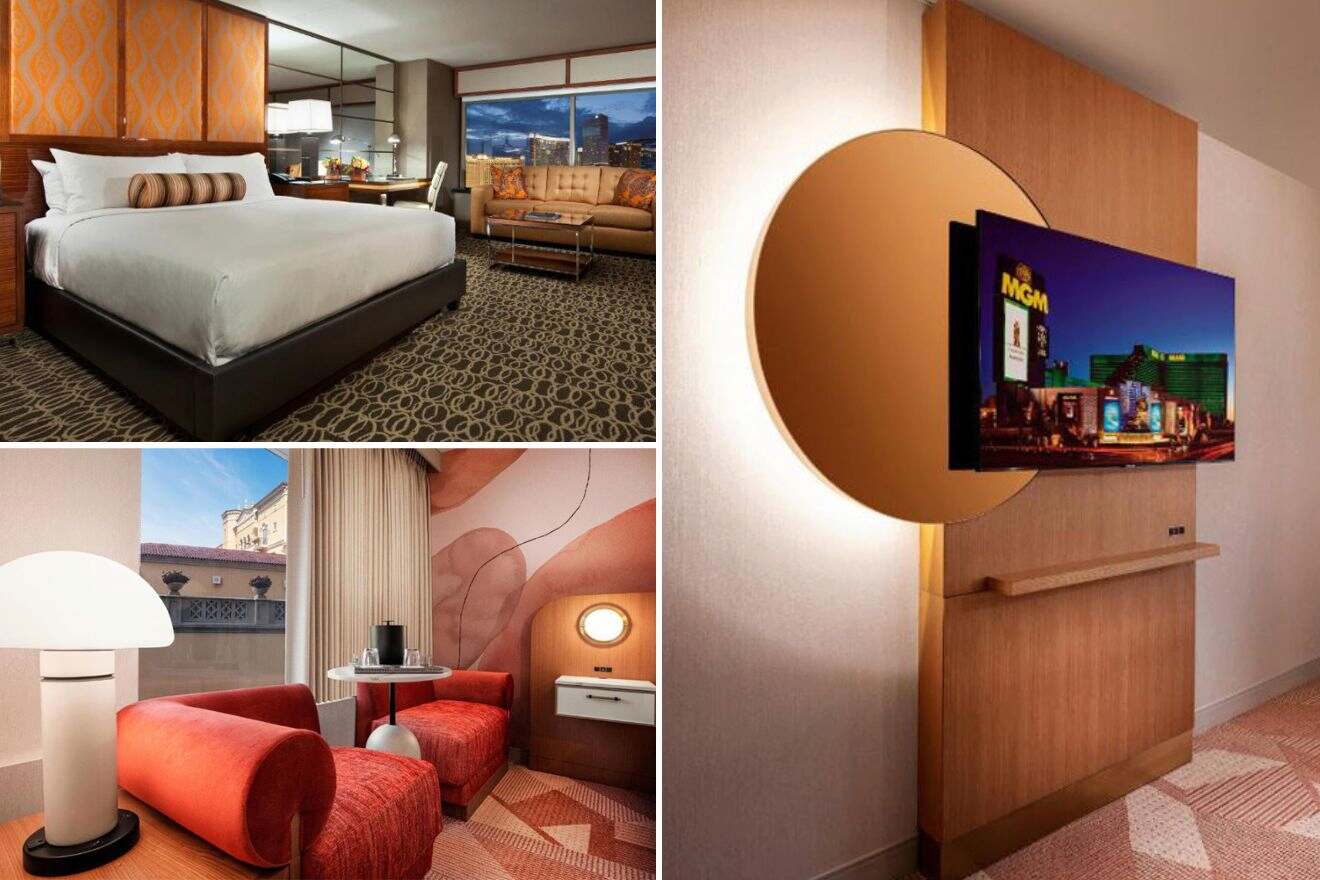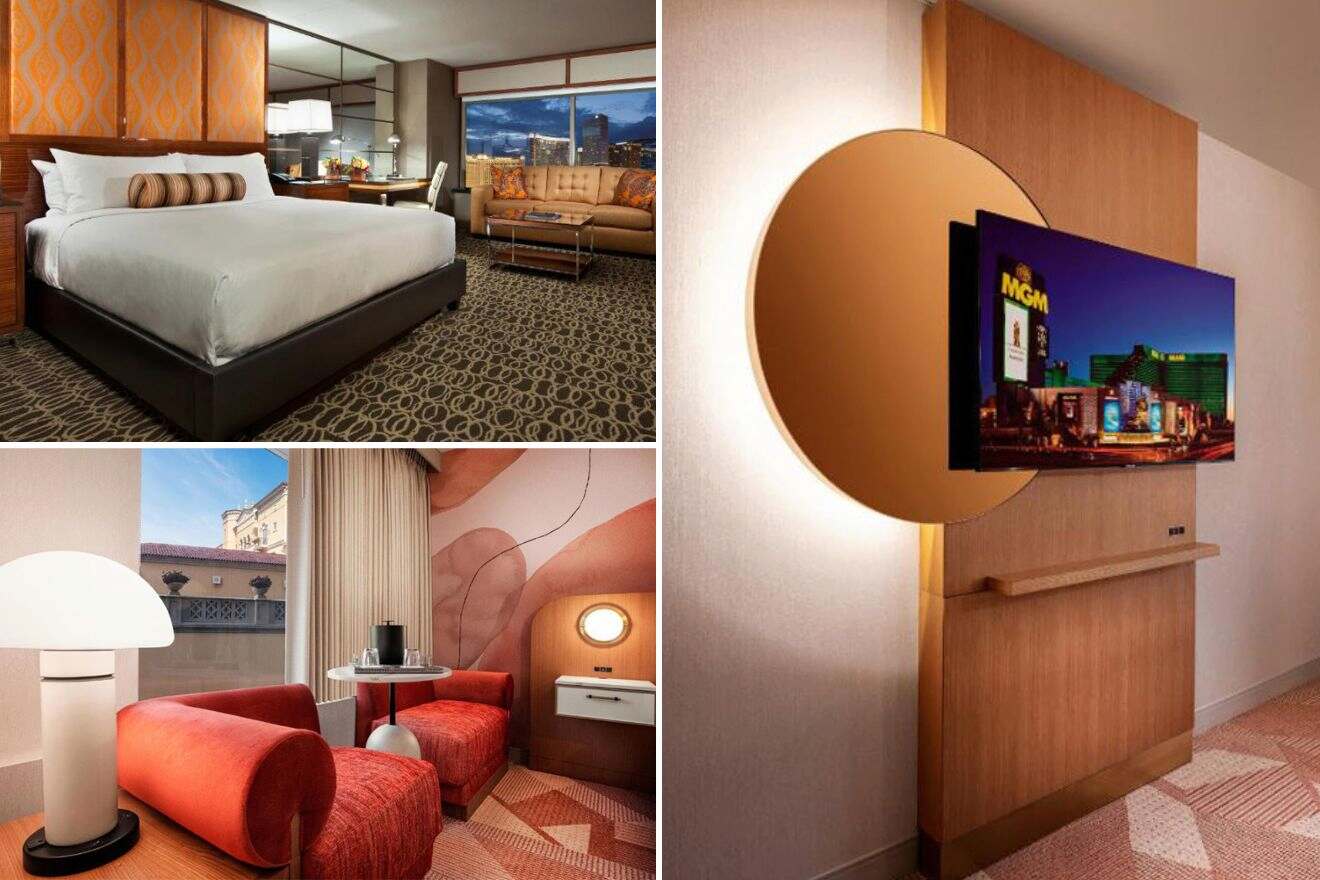 Fancy feeling like a Hollywood star during your stay in Las Vegas? This hotel is home to many of the entertainment venues in the city, for example, the MGM Grand Garden Arena, which hosts sports events, concerts, and even awards ceremonies!
On top of all of this, the hotel has 4 swimming pools, a full-service spa, and 18 restaurants covering everything from Japanese cuisine to the good old classic: pizza! The hotel's suites and bedrooms have an elegant and chic style, all of them come with a minibar, air conditioning, and a flat-screen TV. The Executive Two-Queen Suite is their biggest room and can host up to 5 guests.
11. Planet Hollywood Resort & Casino – a glamorous option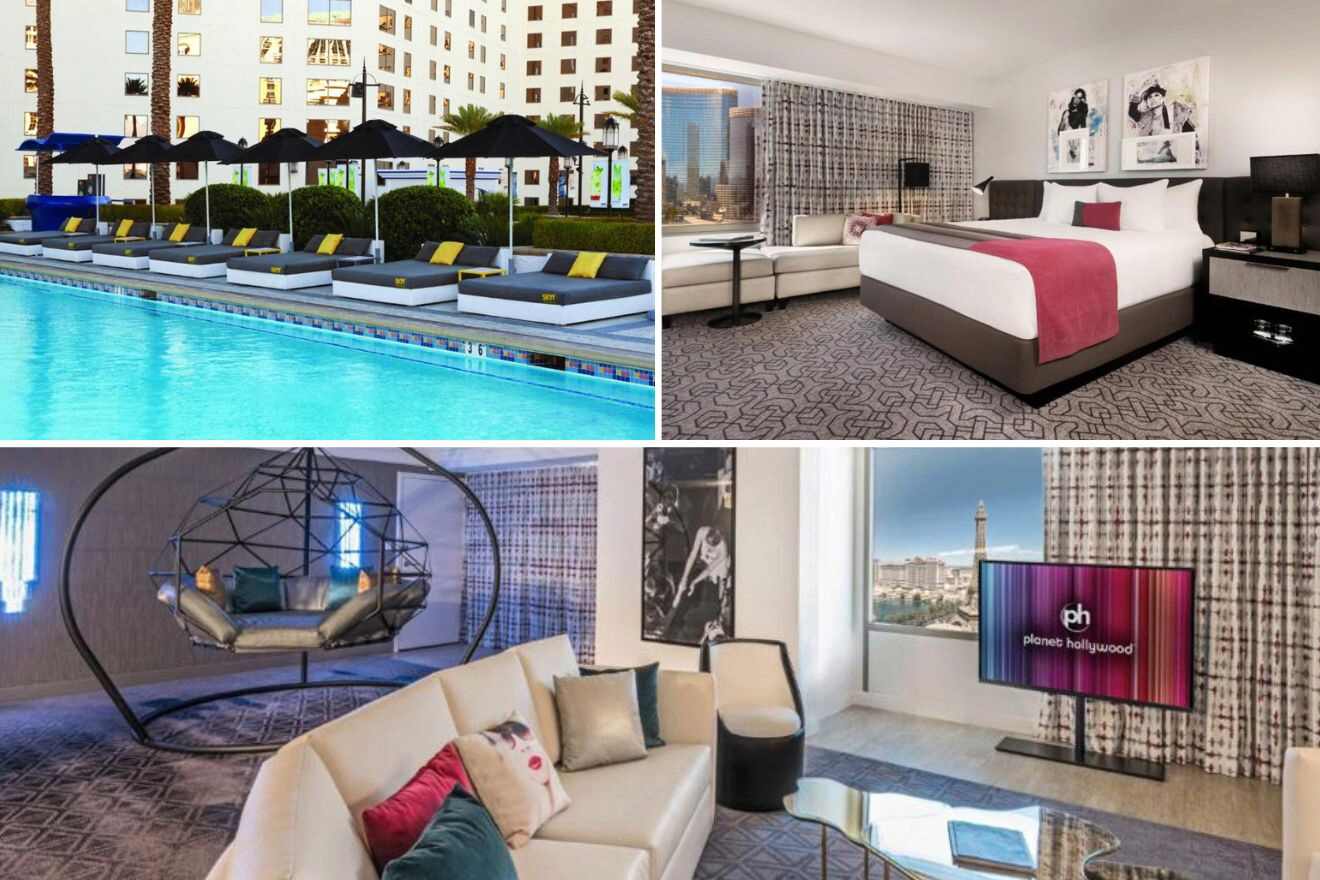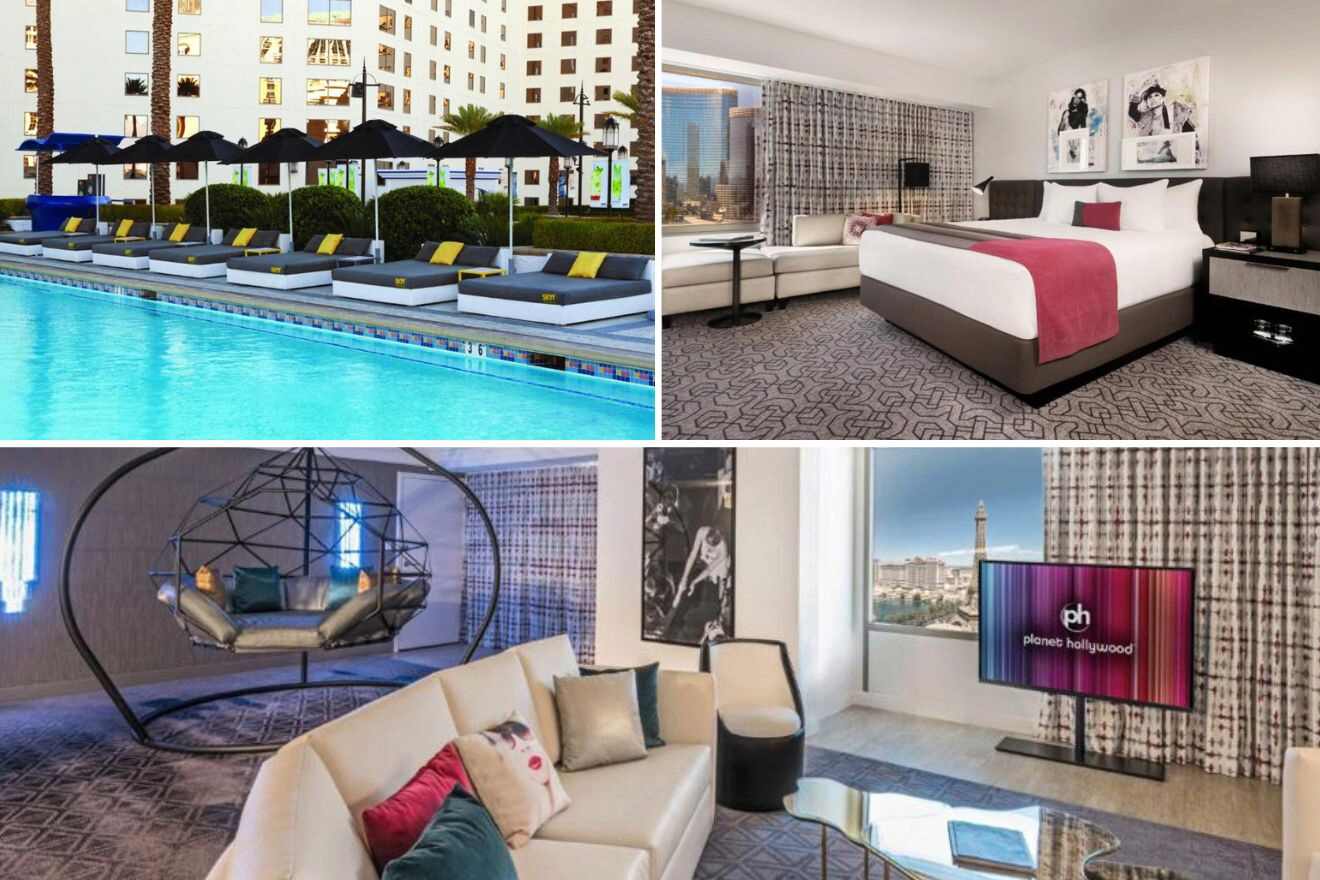 So many things make this amazing resort special! To start, this hotel has an amazing Art Deco style inspired by Hollywood's Golden Age stars! Located on the Las Vegas Strip, with Miracle Mile shops just steps away, an on-site casino, and many amazing dining options, this resort will keep you happy and busy!
All the rooms have a seating area, top-quality furniture, and bedding, private bathrooms with bathtubs, 42-inch plasma-screen TVs, and cool movie memorabilia! If you are traveling in big groups or with your family, they offer suites that can host up to 4 guests, for example, the deluxe family room!
12. Luxor – Egyptian-themed hotel in Las Vegas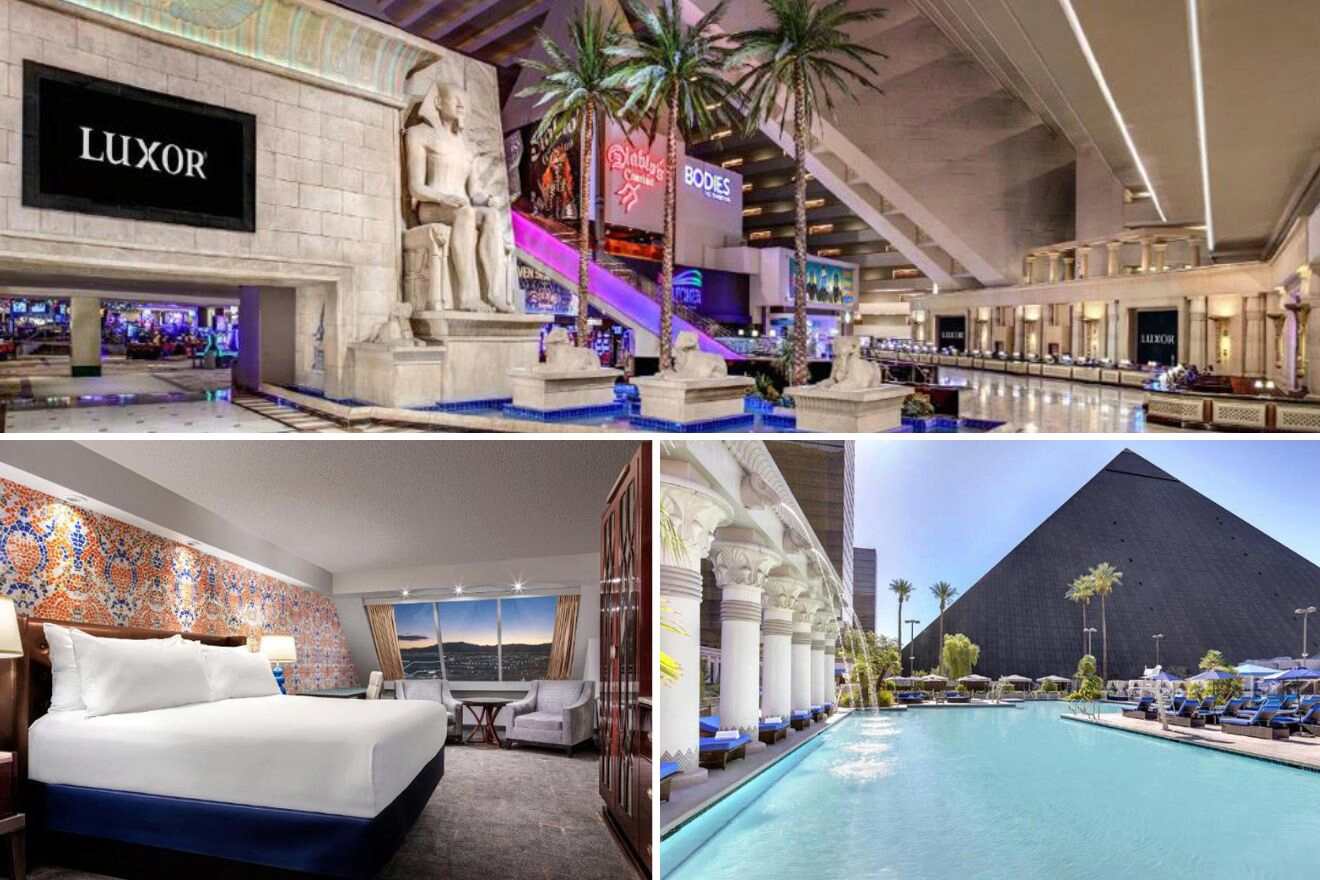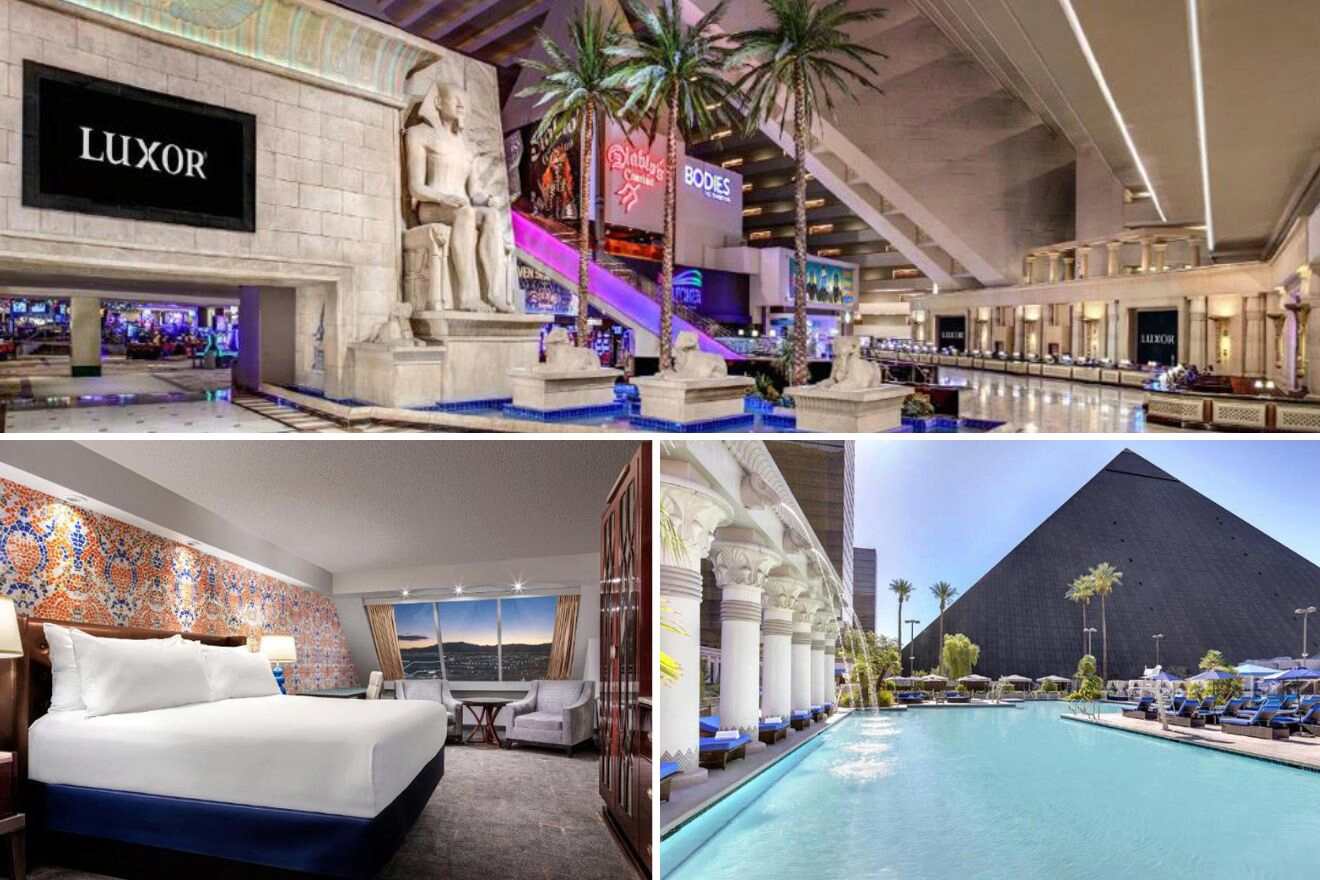 Wow! This Egyptian city-styled hotel has unique pyramid rooms! All the rooms come with the necessary amenities to make your stay a pleasant breeze! And rooms like the 1-bedroom suite come with a wet bar, a dining table, a seating area, and a bathroom with a bathtub!
As for the rest of the hotel, it comes with one of the largest pool decks called "The Oasis Pool Complex," where sometimes they host parties with DJs or live music! If you want to relax, get a beauty glow-up at the hotel's spa, and after, have a lovely dinner in any of the 11 on-site restaurants.
13. Excalibur – medieval times themed
Stay in one of the most fun-themed hotels in Las Vegas! Did you know this hotel has a restaurant called "The Round Table Buffet," which is decorated to resemble the Knights of the Round Table and King Arthur tales? Apart from this, the hotel has other amenities like 4 swimming pools, a fitness center, and a 24-hour reception desk!
You can see Excalibur Castle from some rooms, and all of the room types come with a comfy and practical seating area, a flat-screen TV, and blackout curtains!
P.S. This hotel features a game zone called a fun dungeon, with arcade games, and a carnival midway with fun carnival games!
FAQs about themed hotels in Las Vegas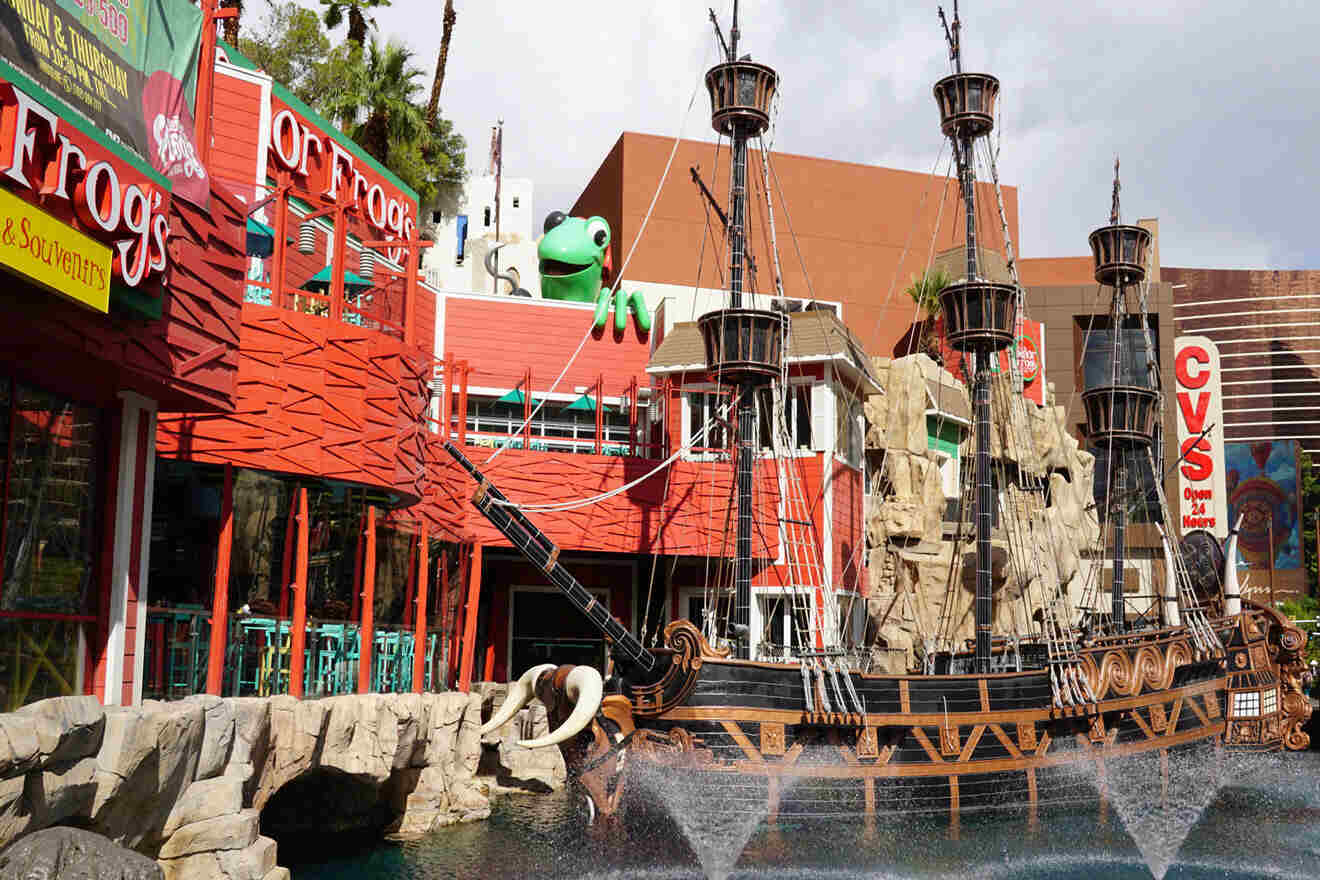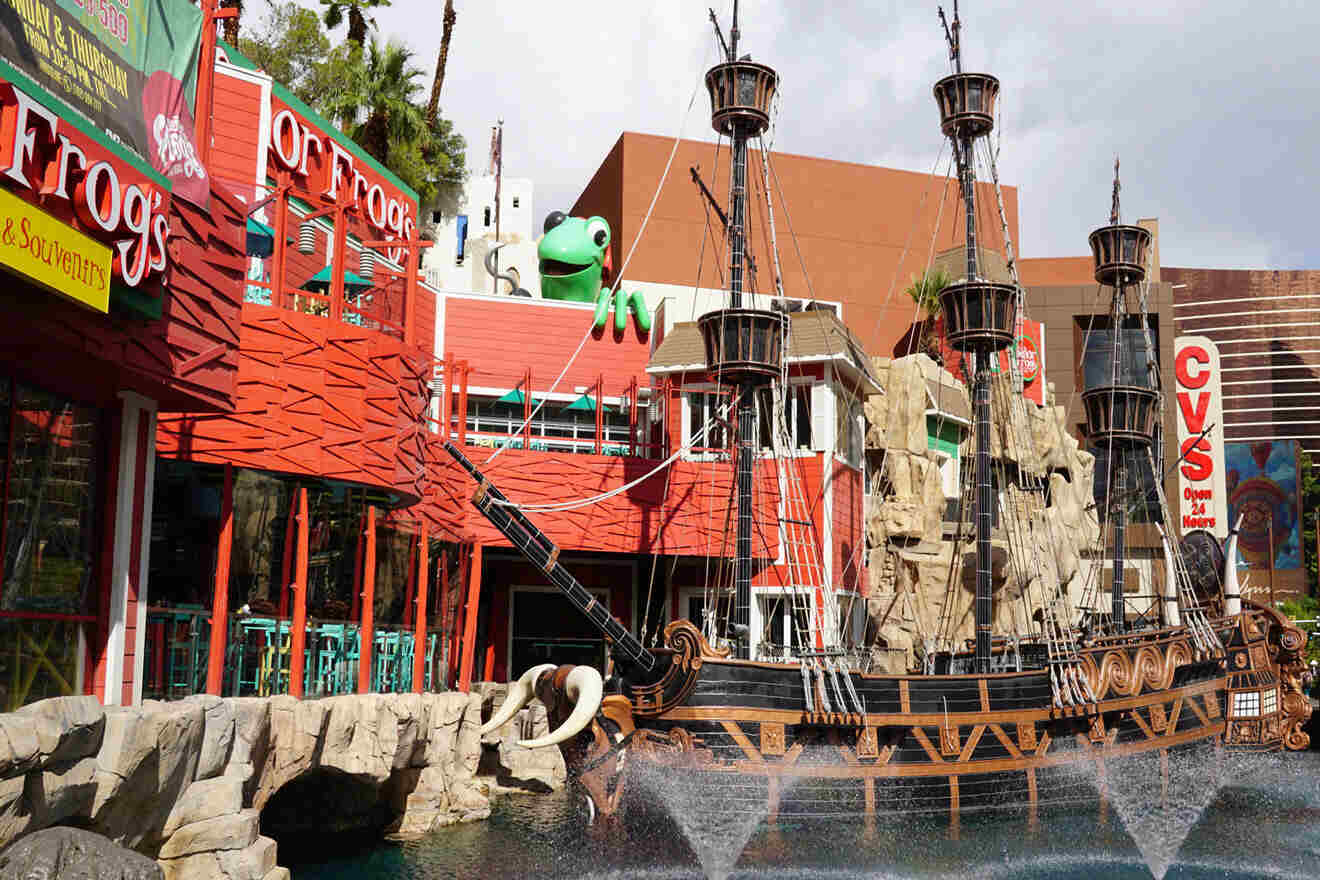 Conclusion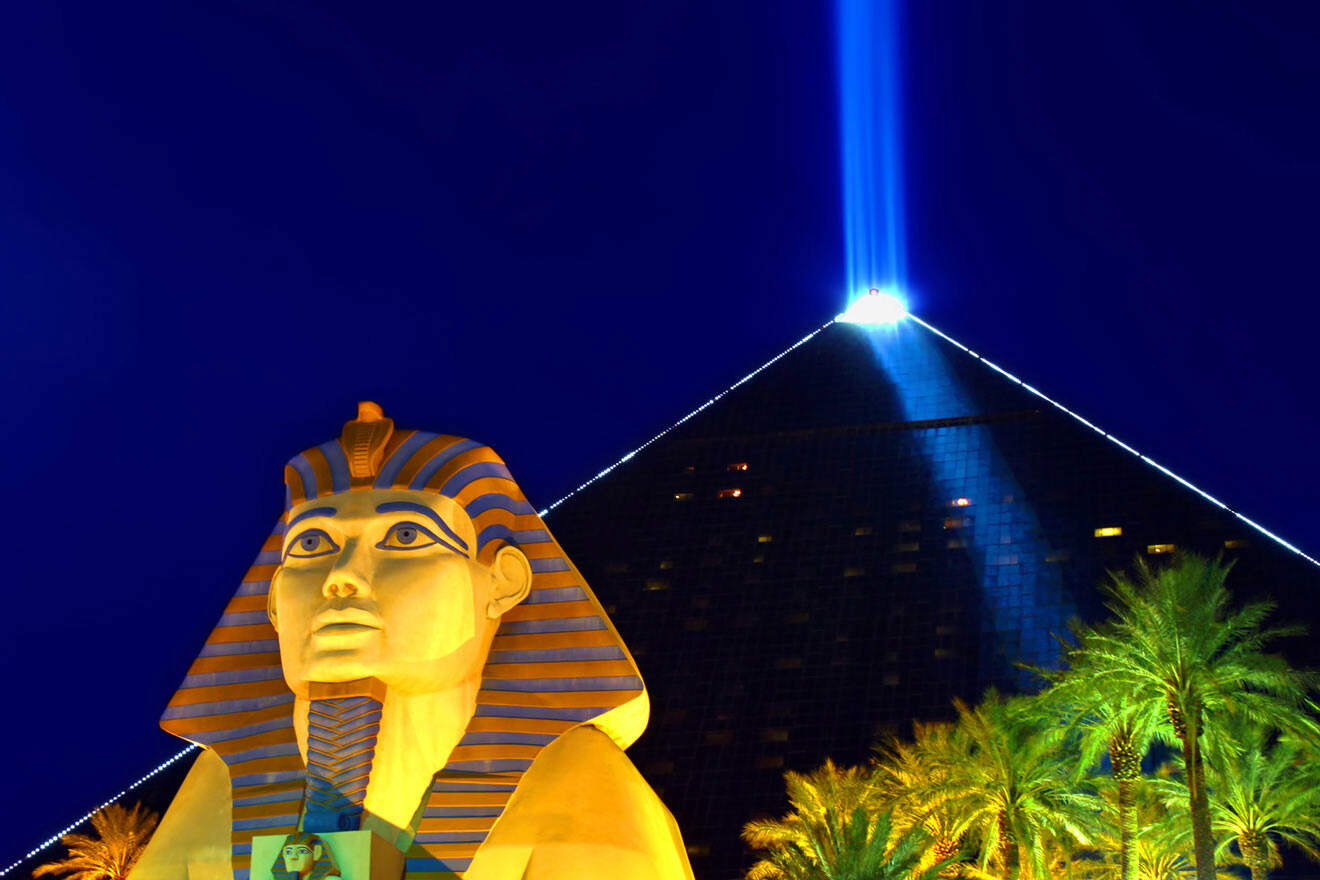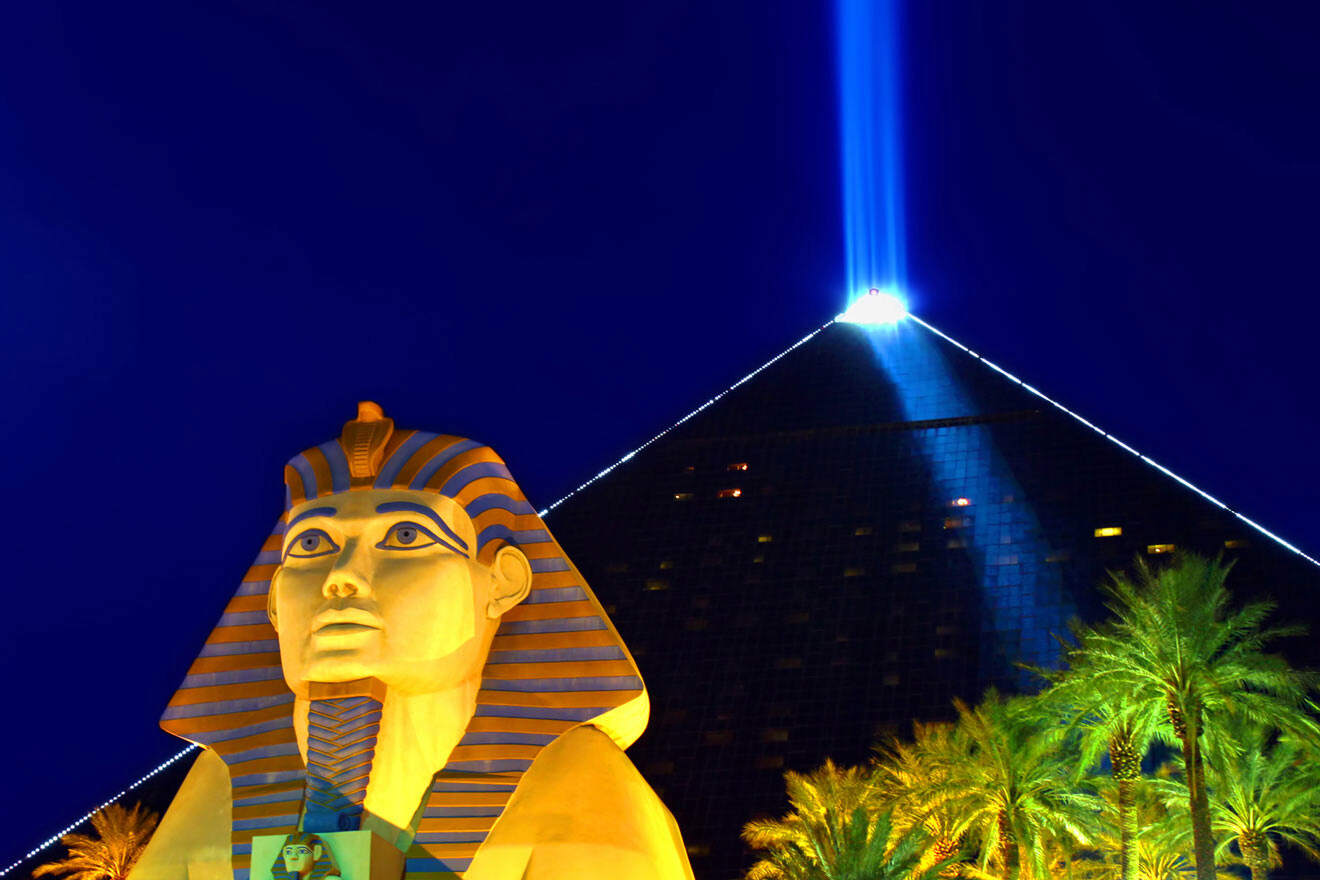 That is all for today, lovely humans! Those were the top-themed hotels in Las Vegas! As you can see, I've covered a wide range of options for all tastes, so I am sure you'll find something for you here!
I absolutely loved all of the themed hotels and resorts I've listed, but if you want me to name my top 2 favorites, I will go with:
The Venetian – I want to stay here and romanticize life while admiring Las Vegas in a Venetian gondola!
Bellagio – Feels so luxurious and classy, with a fine art gallery and a botanical garden. And it has Bellagio's fountain, one of Las Vegas's most famous attractions!
Which of these hotels is the best-themed hotel, in your opinion? Have you stayed in any of these hotels? Let me know in the comments, and if you have any questions, ask away, I am here to help! Now go and book your hotel room before someone else does!
Until your next trip,
Daniela
---
Pin it for later!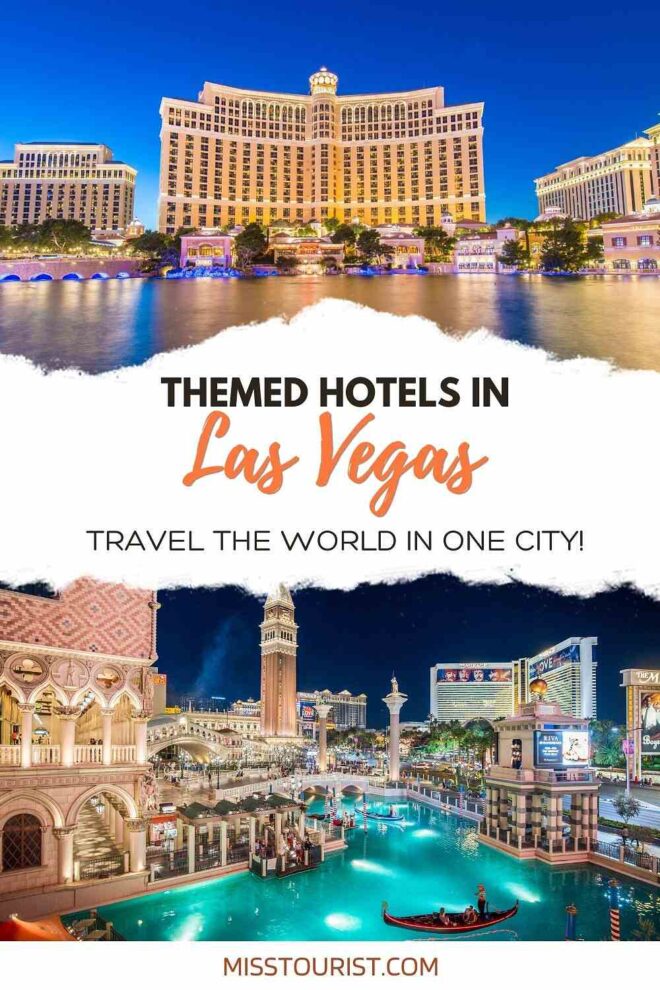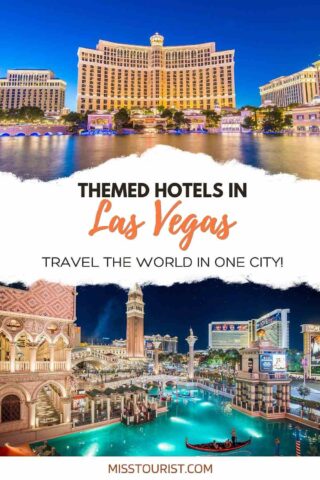 Pin it for later!