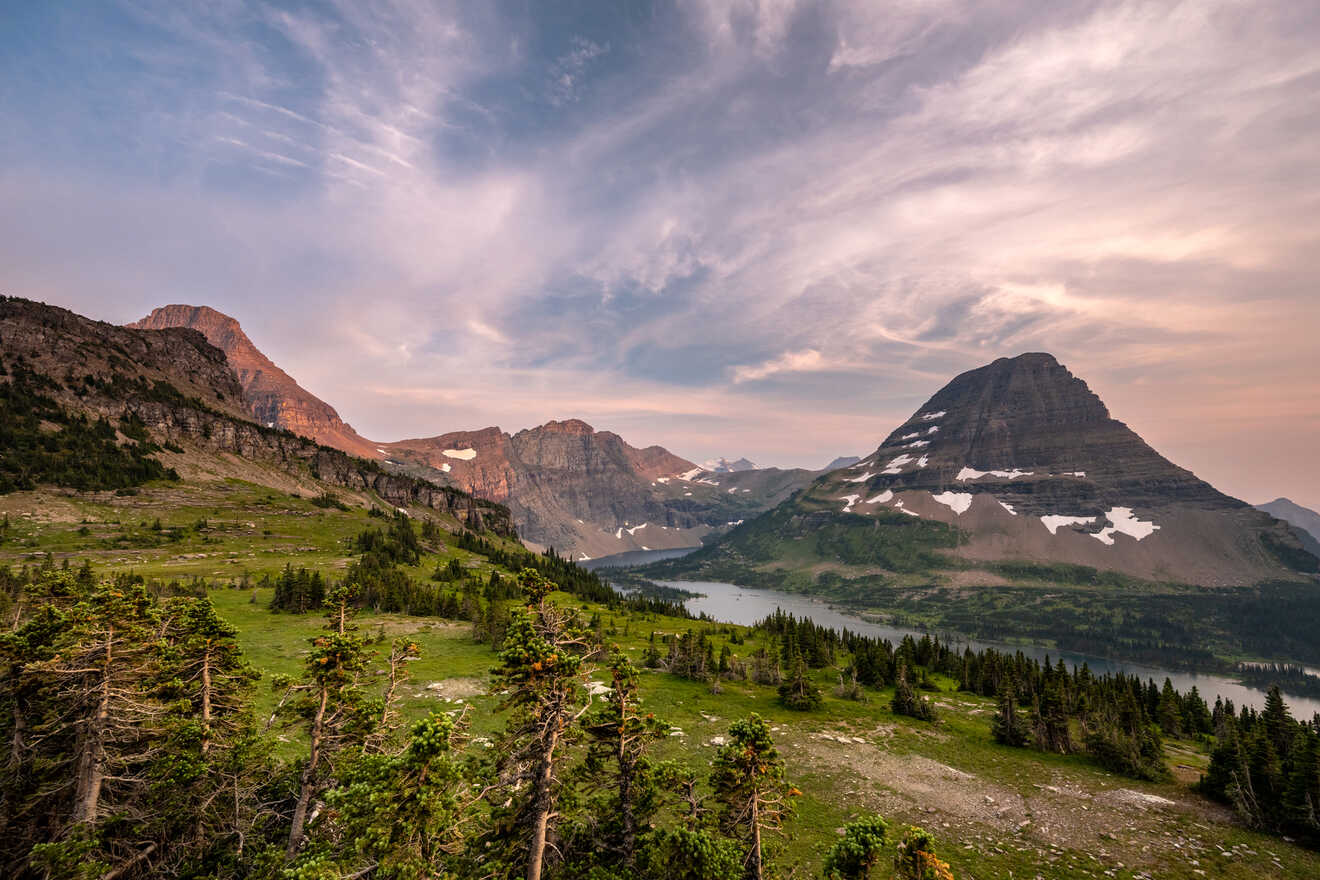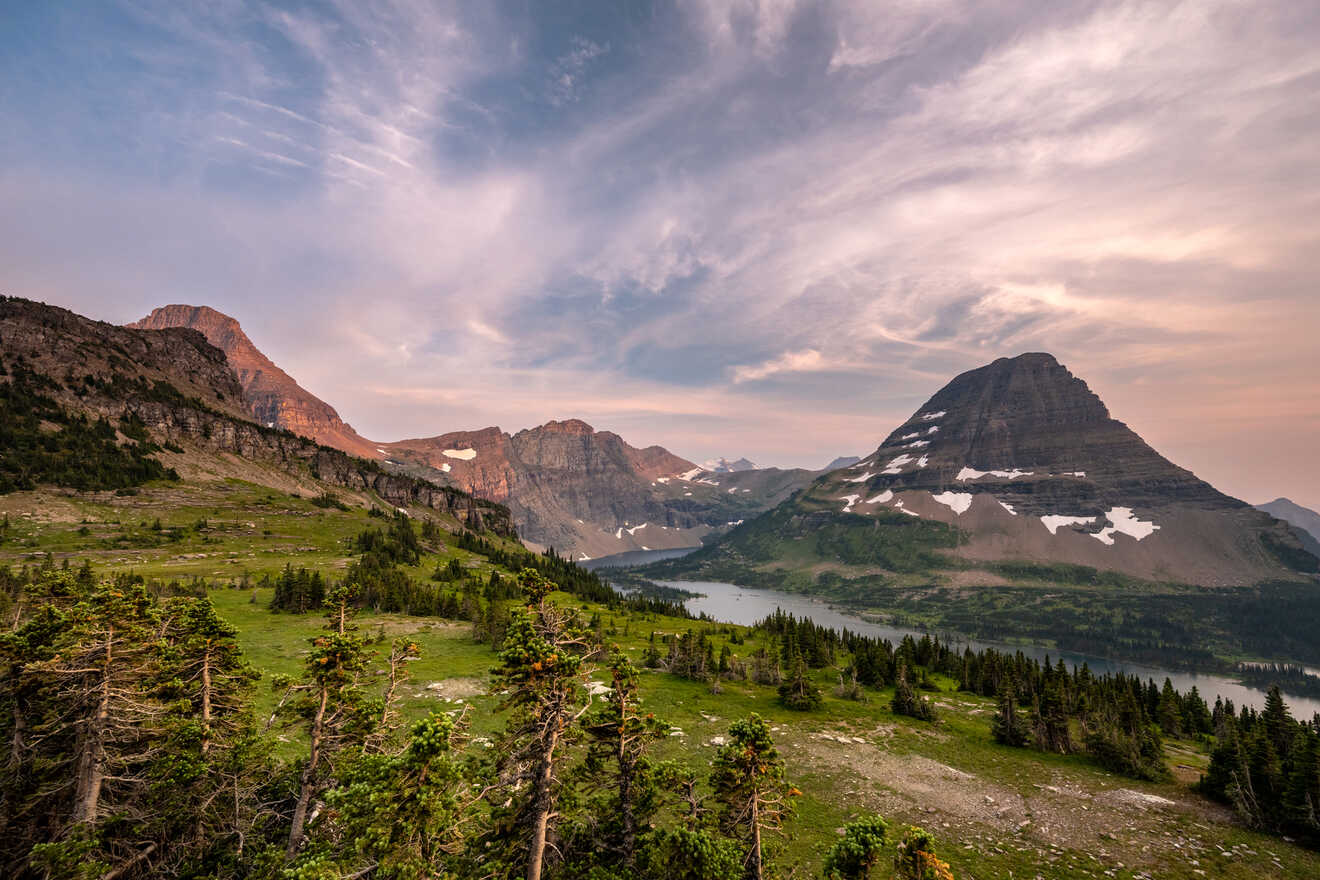 Can you already smell the fresh air? Oh.. what I wouldn't give to be on a plane trip to Montana, the 4th largest state by area in the US! Also known as the Big Sky Country and The Treasure State, this unique place will have you say "wow" at every little thing you see!
If you like adventures, running into cute animals, and engaging in different activities like fly fishing, skiing, and hiking, you'll want to move here! So come with me, and let's discover the best places to stay in Montana!
It's hard to decide which town to choose when all of them are simply stunning, but I've made a list that will help you think of each place's pros and cons. In this post, you will also find a carefully curated list of hotels that includes luxury accommodations with hot tubs, a full-service spa, and some of the best resorts in Montana!
I highly recommend booking your hotels and lodge rooms in advance. Montana is super popular among tourists, plus it's home to Glacier and Yellowstone National Parks, 2 of the best parks ones in the country!
Let's go. The Big Sky Country is waiting for us!
If you are in a hurry
For anyone who wants to book their hotel right now I've made a list of the best ones, all located in Missoula:
Here's a map that will help you visualize all the places to stay in Montana that I will be talking about in this post:
1. Missoula – where to stay in Montana for the first time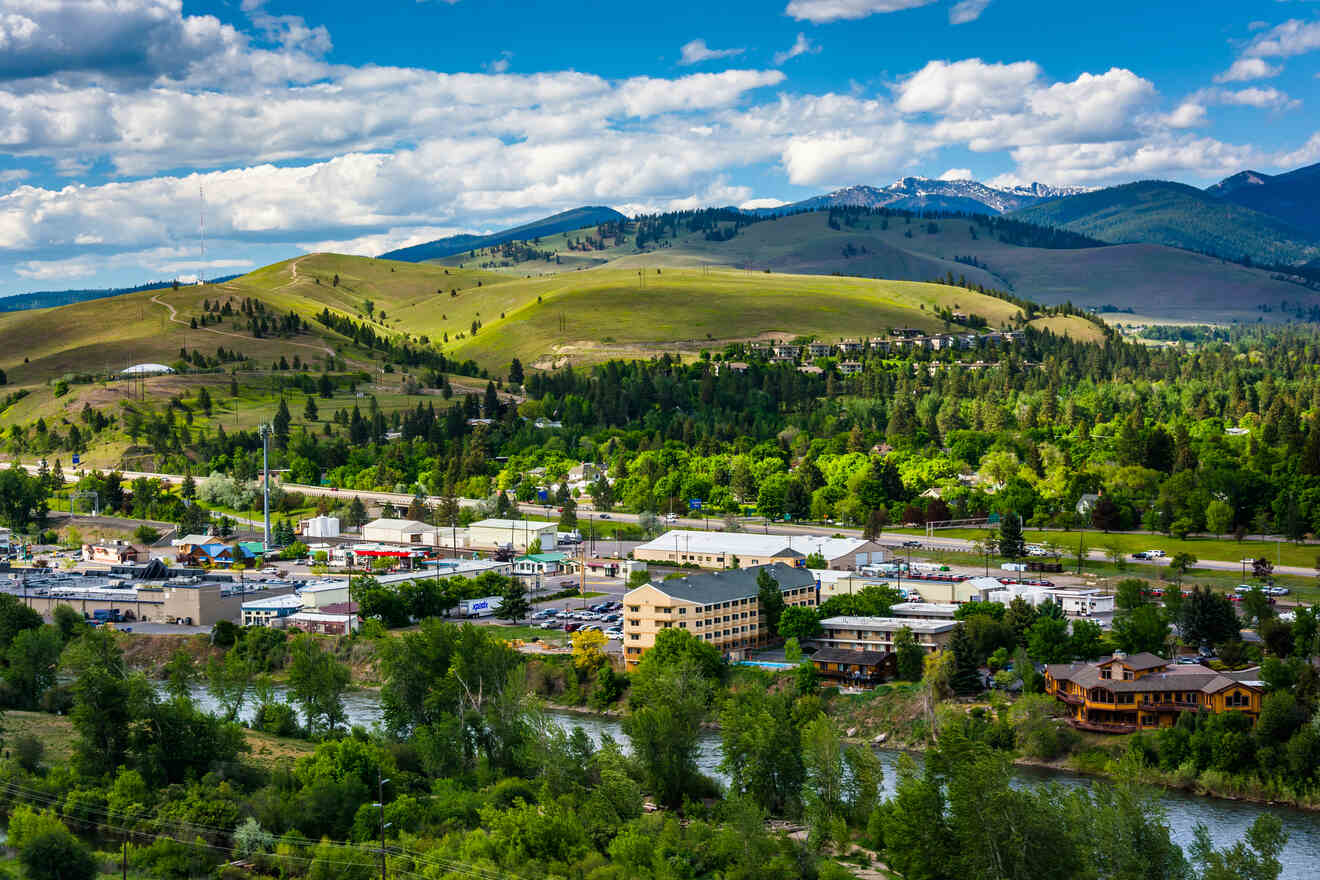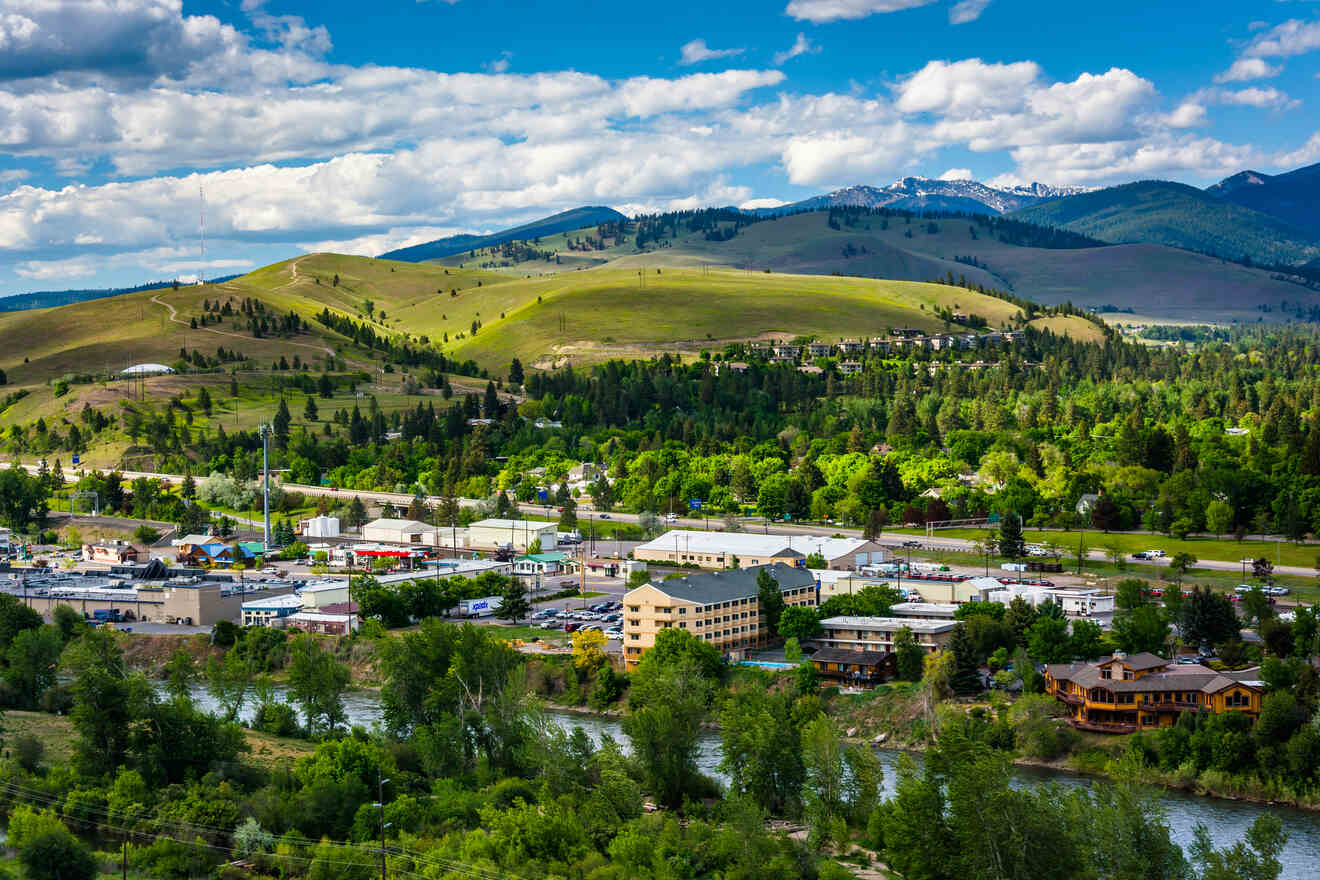 I hope you're ready to experience the adventure of a lifetime! Are you traveling to Montana for the first time? Then there's no better place to look for hotels than Missoula, also known as the "Garden City" for its lush green landscape!
Located in the northern part of the Rocky Mountains, Missoula is the second-largest city in the state, and a cultural hub, where you can visit historical places, dine in the best restaurants in Montana, and of course, enjoy all sorts of outdoor adventures.
The city's location is perfect. If you stay here, you'll be close enough to Glacier National Park and Yellowstone National Park! So you can take day trips anytime you want, although I would make sure I explore around this university city before hitting the road.
Missoula is set at the base of Mount Sentinel, which means you'll have access to many hiking trails and scenic views. Back in the town center, you can also visit some museums or go kayaking. The list of activities is super diverse!
As for the hotels in Missoula, there's a wide range of accommodations from luxury to budget! I've made a list of the best ones, but I highly recommend booking them in advance. This city in the Big Sky Country gets so many tourists no matter the season!
Other accommodation options in Missoula
Things to do in Missoula
Visit the Missoula Art Museum
Take the kids to the Missoula Carousel
Explore the hiking trails near Mount Sentinel
Learn new things at the Montana Natural History Center
Spend a fun day at Splash Montana Waterpark
Relax near the creek in Greenough Park
Try kayaking at Brennan's Wave
Go on a trip to visit Clark Fork River
2. Bozeman – the best place to stay in Montana on a budget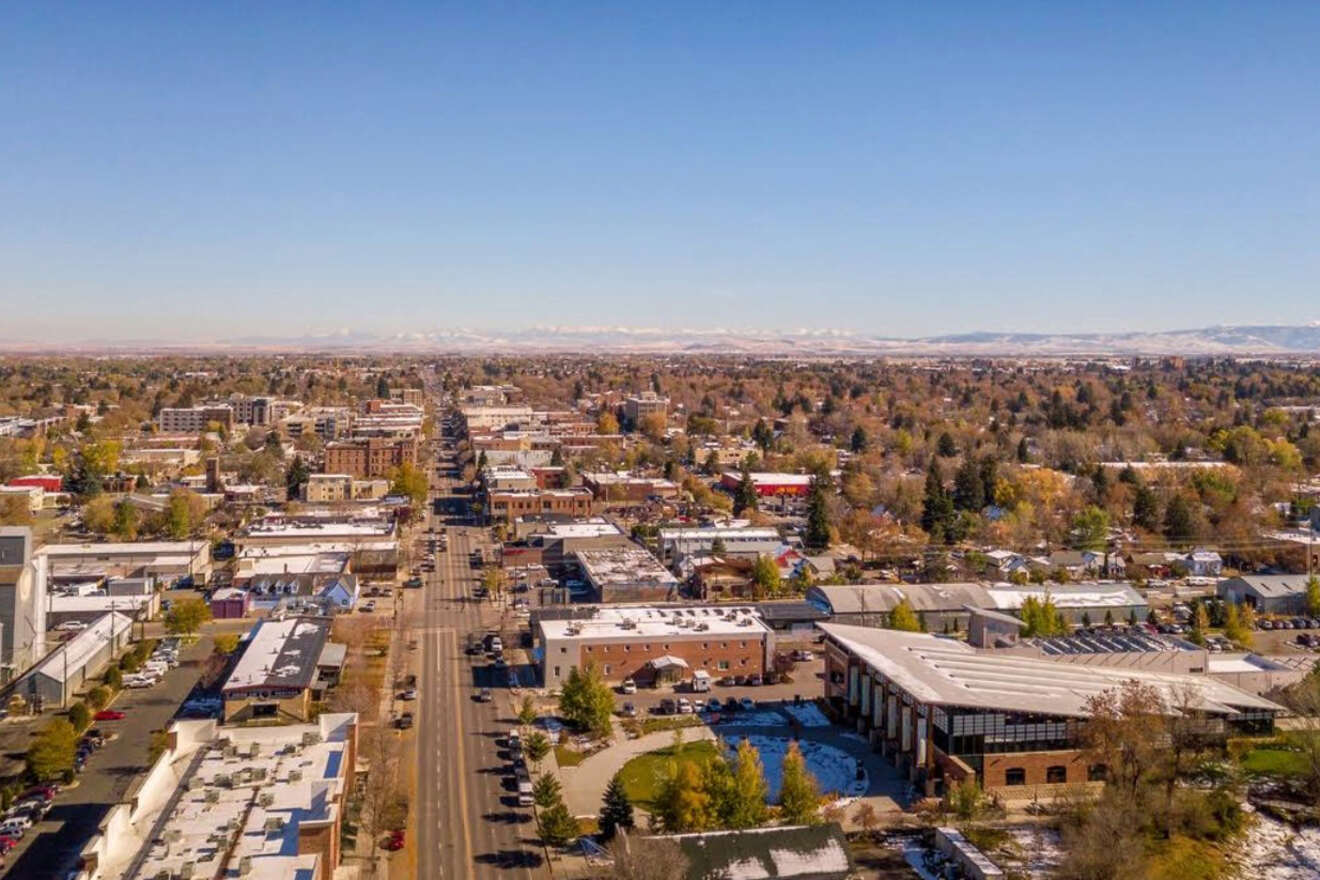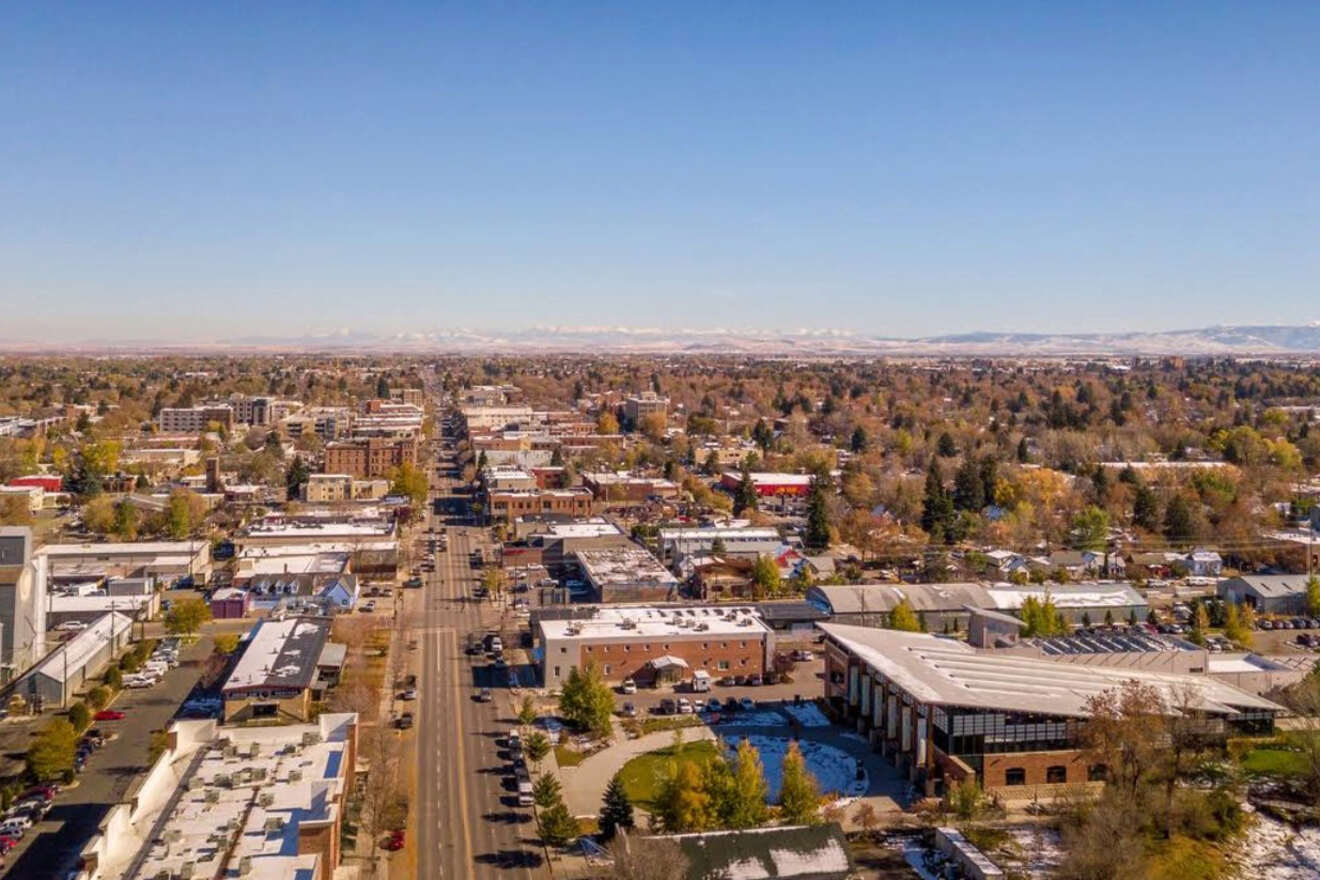 Located a 3-hour drive away from Missoula, this city in Western Montana wears the name of the person who helped found the town. John M. Bozeman also established the Bozeman Trail, a historic overland route that ends in Virginia City, Montana.
A long time has passed since then. Now, the city is a popular travel destination, especially for people who want to visit Yellowstone National Park, situated only a 2-hour drive away.
Bozeman is one of the top college towns in the USA, so most of the area is filled with students. That's why I recommend finding accommodations in Bozeman if you're traveling on budget or backpacking. Most hotels and restaurants will be cheaper than in other parts of the Big Sky Country.
You'll find many museums around, but the Bozeman Hot Springs is the star of the show! Many travelers from all over the county come here to relax in one of the 12 indoor and outdoor pools. Or, if you're feeling adventurous, you can try fly-fishing along the Gallatin River located right outside Bozeman.
I think history enthusiasts will also like the city. The historic downtown area is pretty exciting for anyone interested in this subject. Who doesn't enjoy admiring unique and old architecture? I'm up for it anytime!
Other accommodation options in Bozeman
Things to do in Bozeman
Visit the Museum of the Rockies
Shop until your drop in the downtown area
Try fishing or rowing at the Gallatin River
Learn new things at the Gallatin Museum
Go for a hike in Burke Park
Catch an exhibition at the Emerson Center for the Arts & Culture
3. Glacier National Park – best places to stay near nature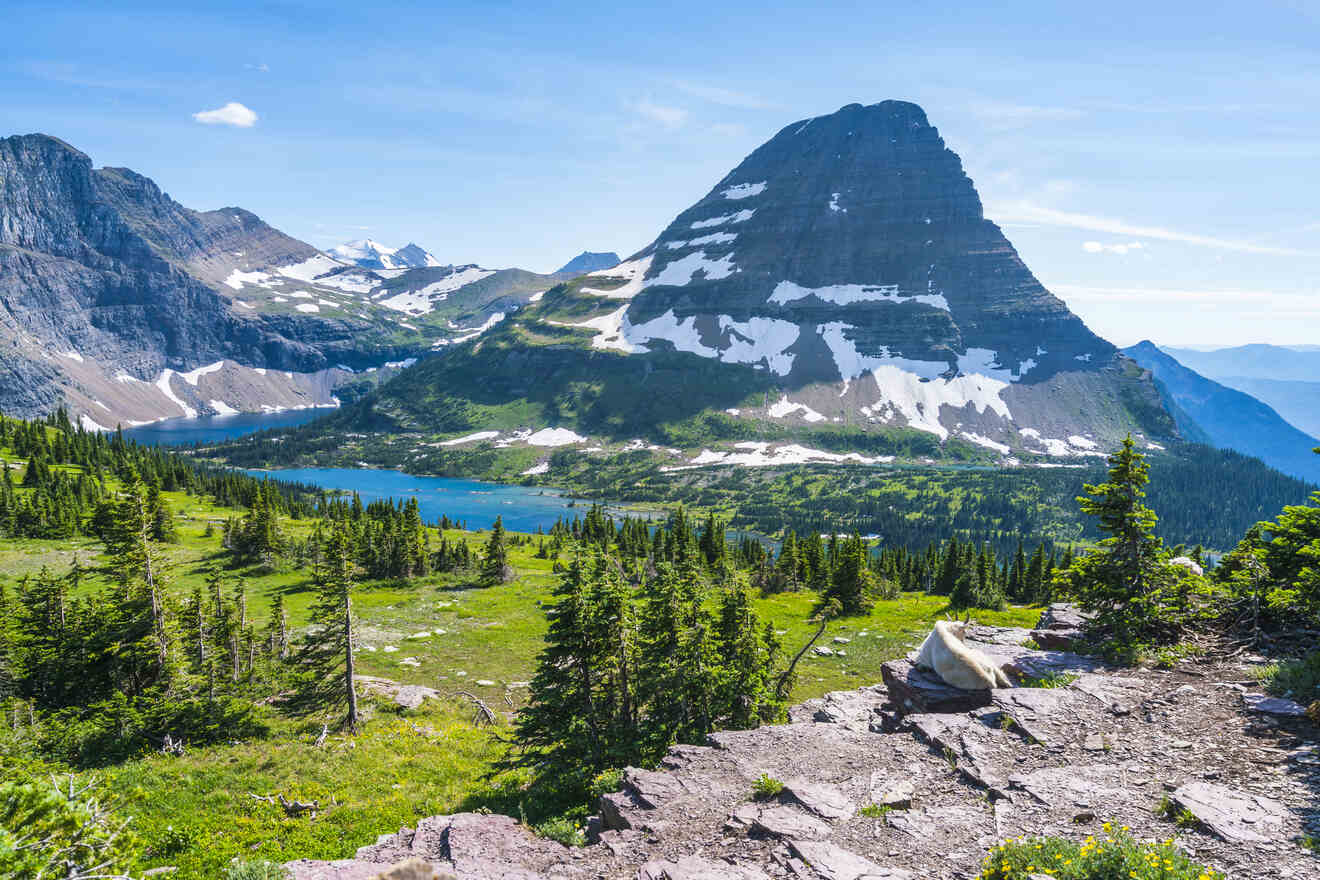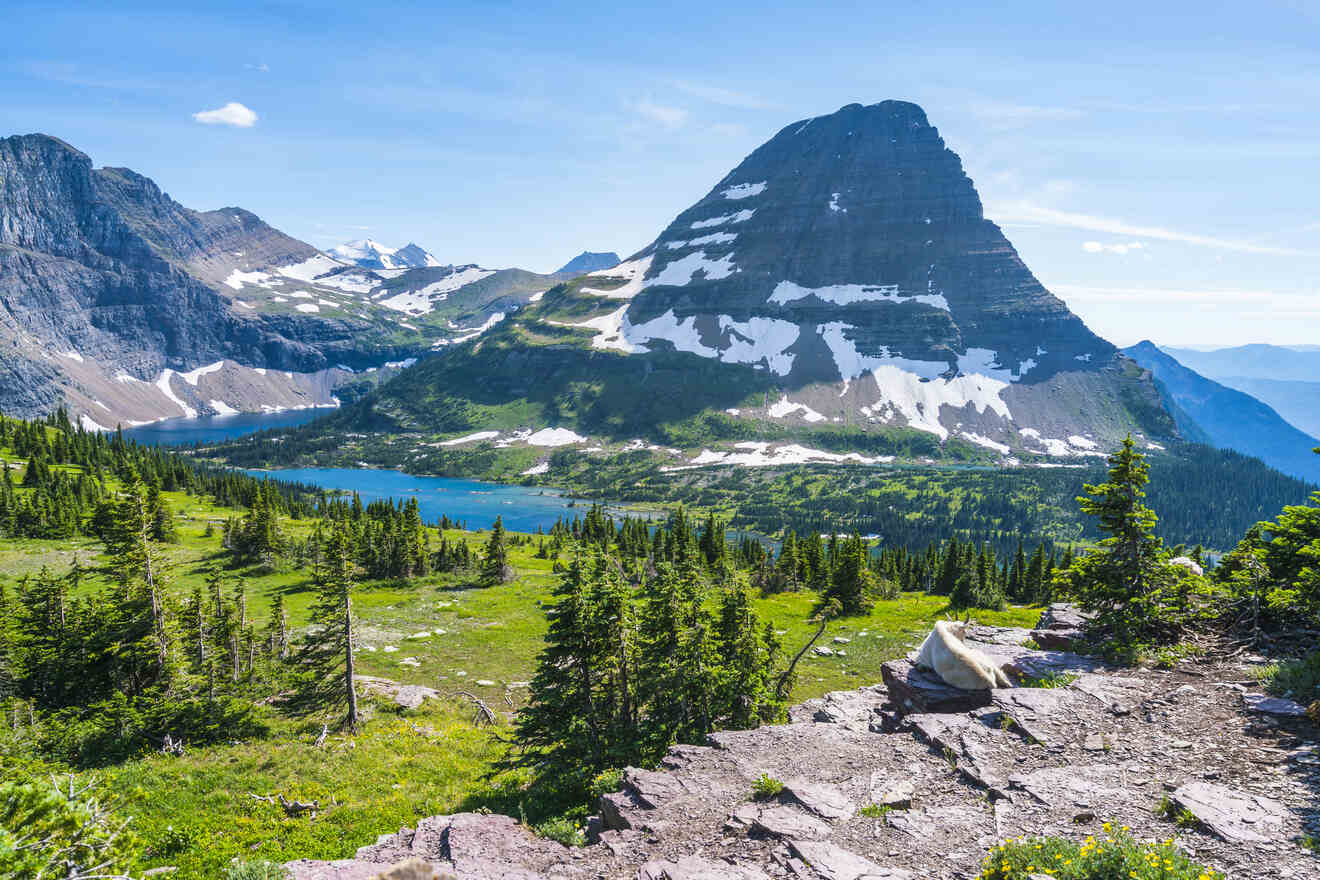 If you're a fan of outdoor adventures, like mountain biking, hiking, and other fun activities, then you have to visit the beautiful Glacier National Park!
Listed as a UNESCO World Heritage Park, this place has gathered adventure junkies from all over the world! It's hard to say no to a trip to this place. Just look at some pictures of the mountains and crystalline lakes, and you'll book your ticket ASAP!
Whether you're planning a family vacation or maybe a fun trip with your friends, the list of things to see and do here is endless! I mean, you can even chill at the beach if you want, right near Lake McDonald.
But I guess the 1 activity you can't miss here is driving the Going-To-The-Sun Road. This scenic drive is the best way to admire the mountain views and check as many attractions on your to-do list!
Below you will find a list of hotels located near Whitefish Lake and Columbia Falls. I always recommend staying in towns near the national parks. You'll find a broader range of places to stay that can accommodate more people and many more facilities than at the lodges inside the park!
If you have your mindset on staying inside the park, check our latest post on where to stay in Glacier National Park. Otherwise, here are your best option in the towns nearby:
Other accommodation in Glacier National Park
Things to do in Glacier National Park
Admire the views while driving Going-to-the-Sun Road
Chill on the beach near Lake McDonald
Try cross country skiing in Glacier National Park
Explore Glacier National Park and its hiking trails
Visit the Grinnell Glacier
Go mountain biking in Glacier National Park
4. Billings – where to stay in Montana for families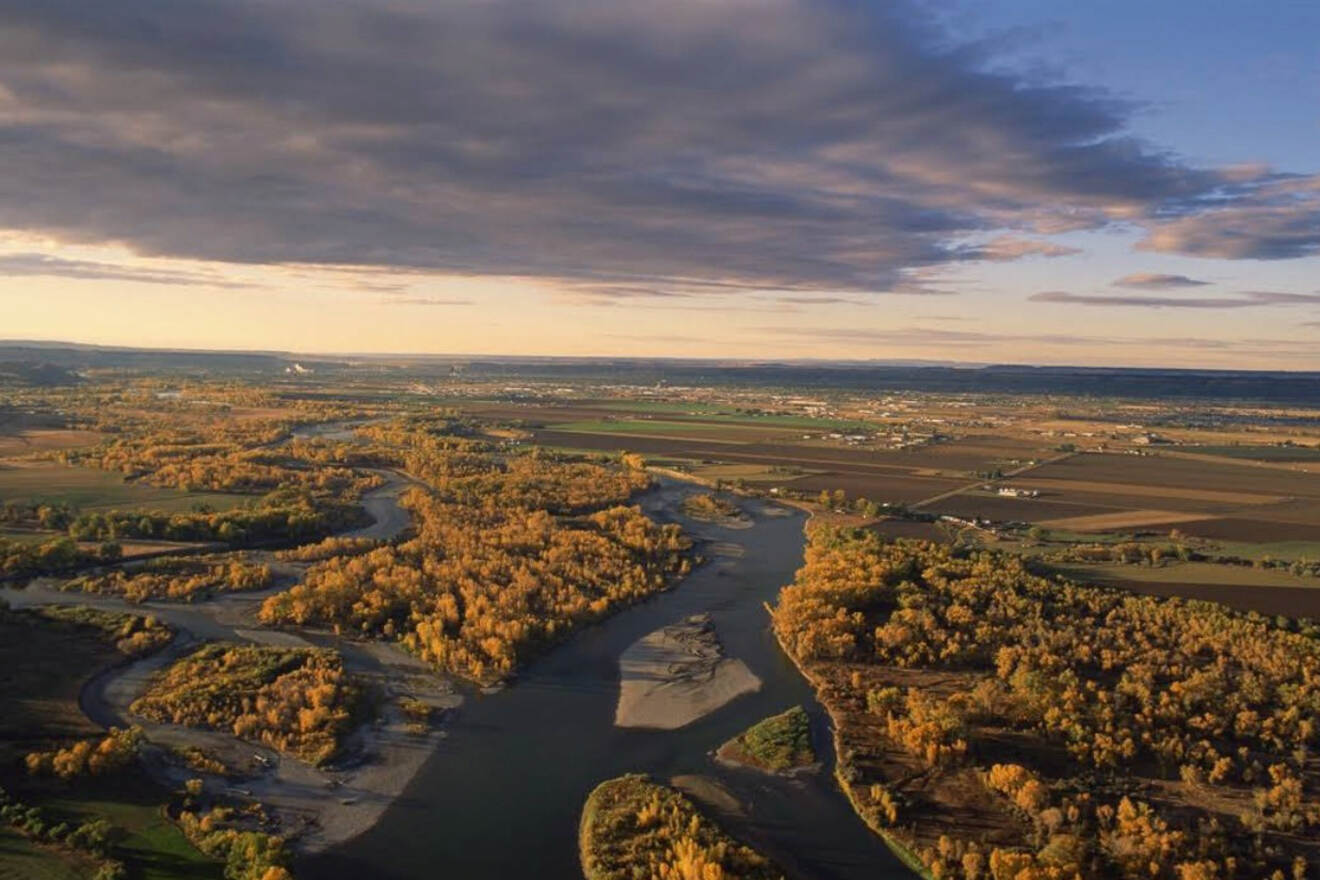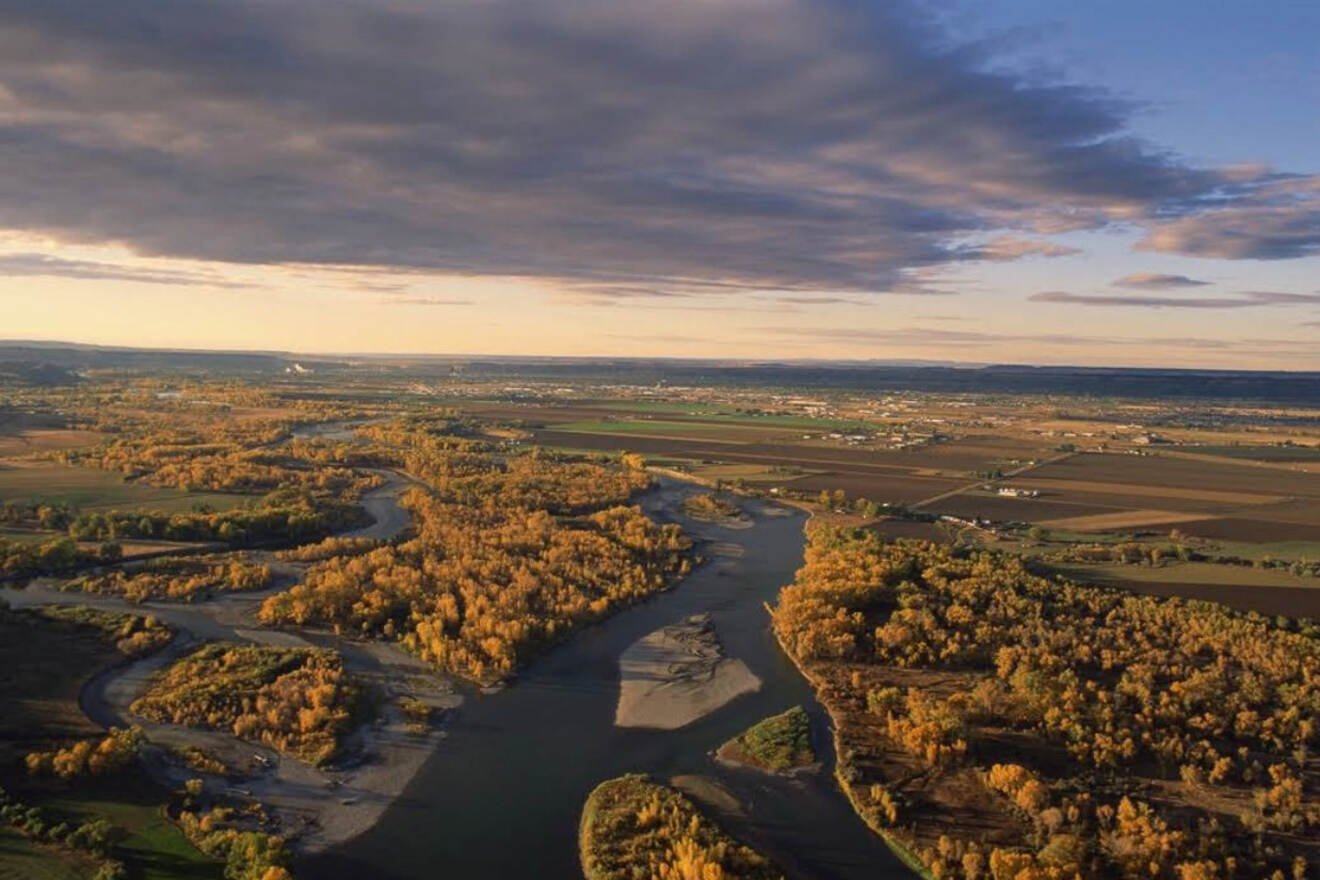 Planning a fun road trip with your family around the Big Sky country? Then stop scrolling for a minute and look at all the cool things you can try out in Billings, the largest city in Montana, and my top option where to stay in Montana with the kids.
What's great about Billings is that it offers all the modern facilities that you may need during your trip while at the same time providing access to natural wonders and historic places. Which is the best of both worlds if you ask me!
You can go to the city center area and visit tons of museums, learn about the city's past and take the kids to the zoo or a wildlife park. Check out the restaurants and the shops around as well if you're in the mood. If you're looking for more places to visit where you can experience the great outdoors, I recommend heading to Boise. It's such a lovely place!
For families who can't wait to try all the outdoor activities, you can head straight to visit Pictograph Cave State Park, a stunning area filled with caves and historic sites. But I would also make sure not to miss the chance to kayak or paddle on Yellowstone River. The views are so beautiful!
Other accommodation options in Billings
Things to do in Billings
Spend a fun day with the kids at Zoo Montana
Visit the Yellowstone Art Museum
Go on scenic boat cruises at Lake Elmo State Park
Learn new things at Moss Mansion Museum
Take the kids and explore the Riverfront Park
See the unique caves at Pictograph Cave State Park
Have fun while mountain biking at Zimmerman Park
5. Kalispell – the best place to stay in Montana for relaxation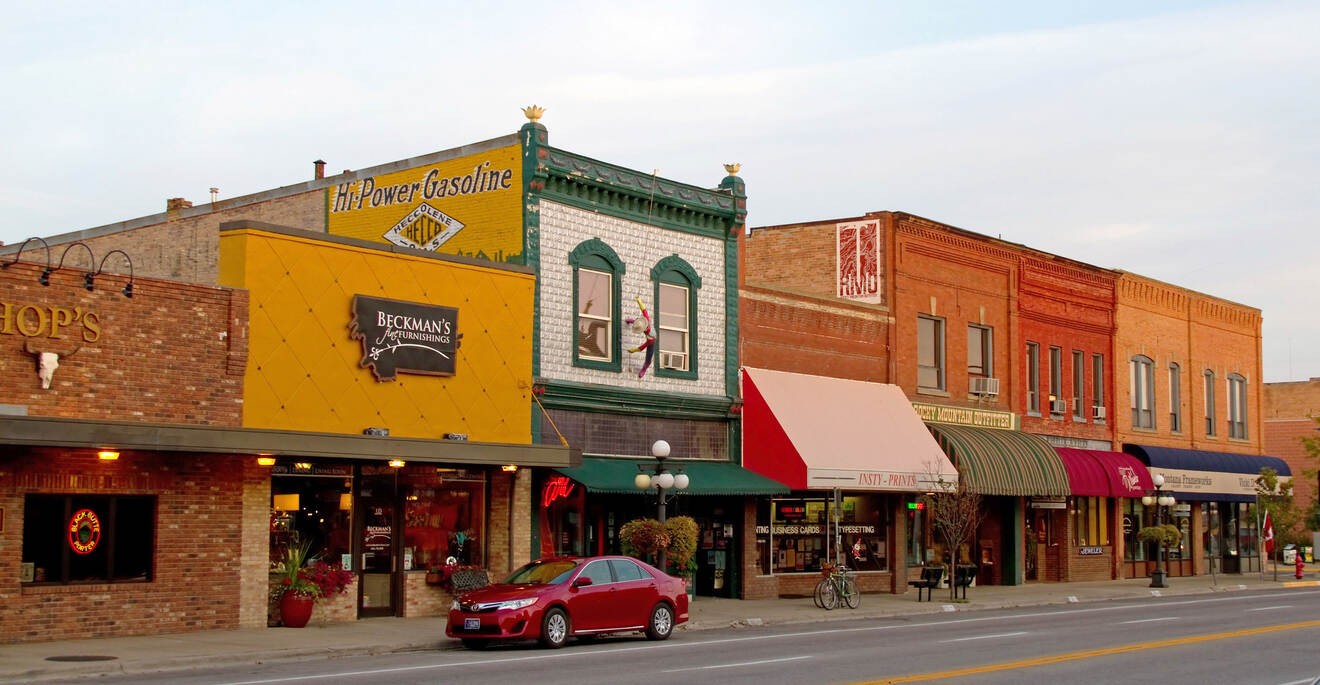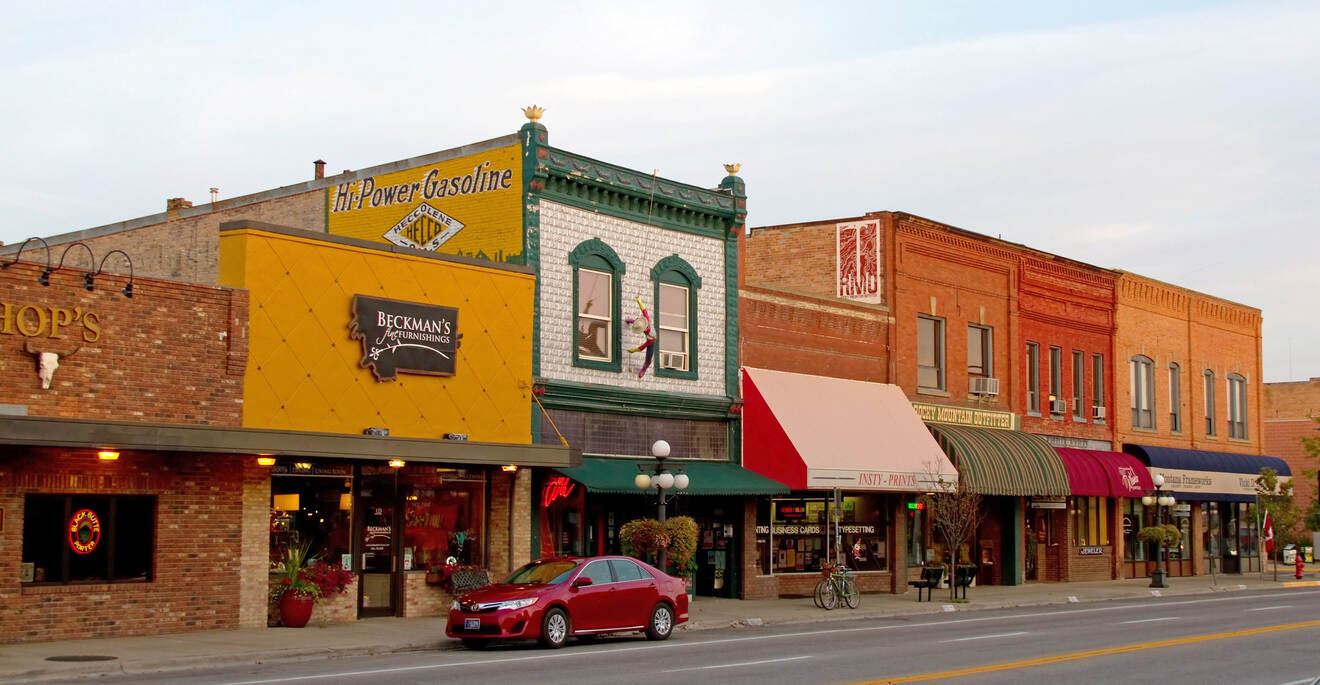 If you want to spend most of your holiday in Montana, relaxing and taking some time for yourself, then I think Kalispell may be the best place! Here you can enjoy Western hospitality, learn all about Montana's history in the museums and spend your afternoons golfing!
Yep, that sounds like a successful holiday to me! The Rocky Mountains surround the town so you'll also be able to explore some forests and maybe even spot a wild animal!
The city is located only 30 miles (50 km) from Glacier National Park, so in case you're in the mood for some adventure, you can go there. If not, I recommend leaving your hotel in the morning and exploring around Kalispell.
Featuring Victorian houses, which were turned into museums and a few parks, the city center offers visitors many activities and restaurants. I would also go a bit further away and check out the Lone Pine State Park located right outside Kalispell, which offers trails for mountain biking, hiking, and horseback riding!
Other accommodation options in Kalispell
Things to do in Kalispell
Visit the Hockaday Museum of Art
Go for a walk in Lone Pine State Park
Play all day at Buffalo Hill Golf Club
Catch a sunset in Woodland Park
Take the kids to the Woodland Water Park
Learn new things at the Northwest Montana History Museum
Go on a trip to Flathead Lake and explore around Seeley Swan Valley
6. West Yellowstone – near Yellowstone National Park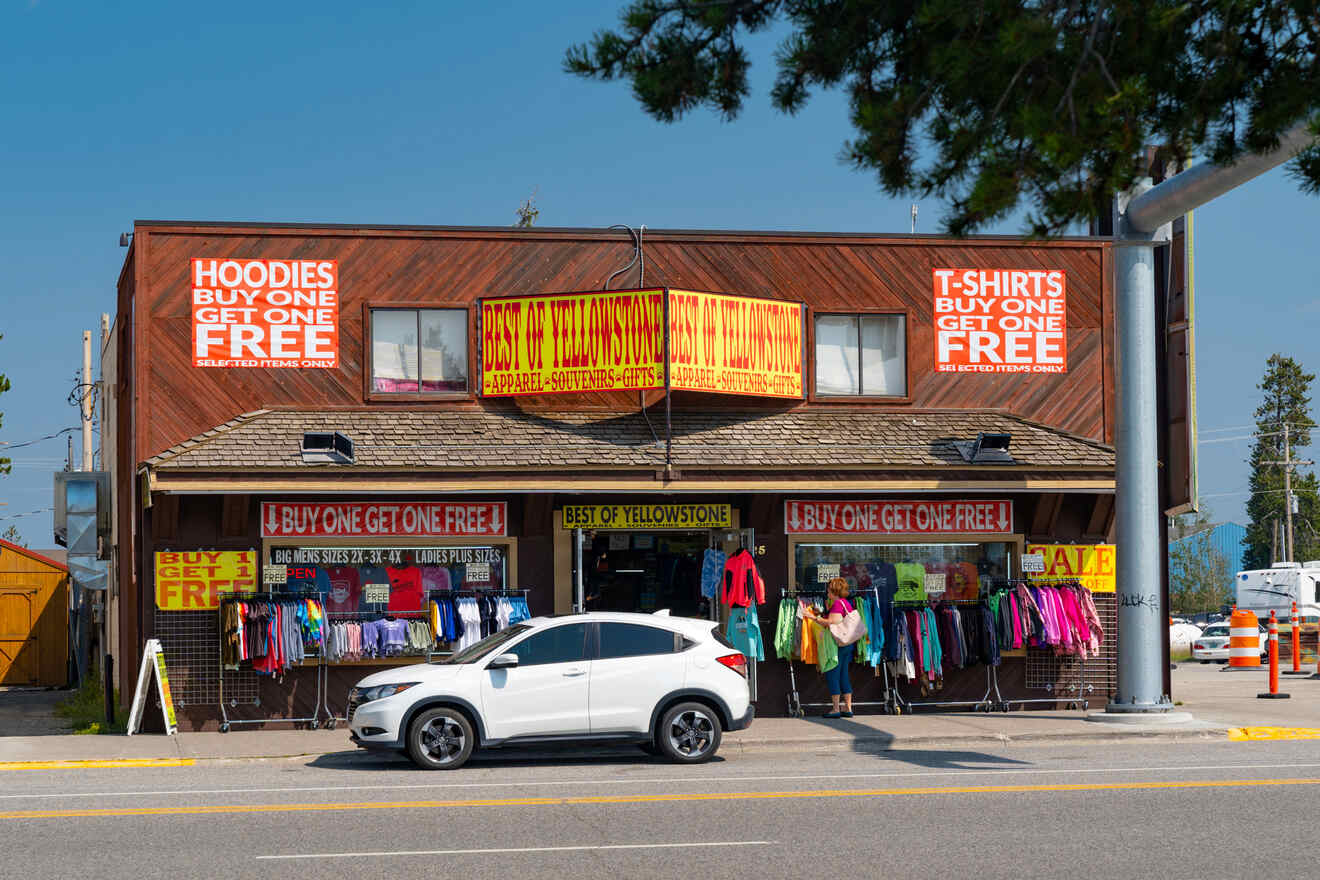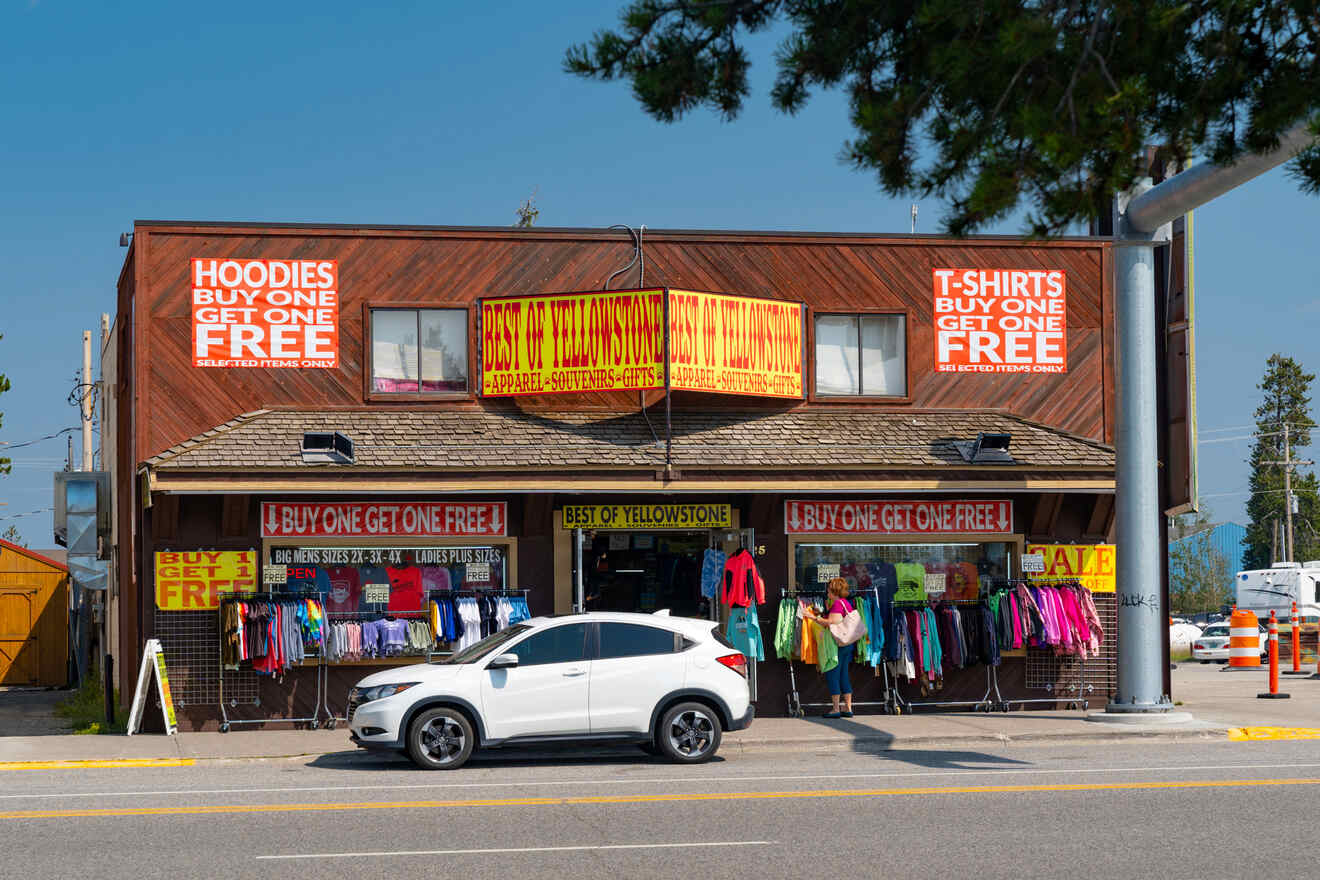 This is a great town for people who want to spend as much time in Yellowstone National Park as possible! Located only a mile away from the park's West Entrance, this mountain town offers an excellent base for your trip. It even has an airport, in case you're not coming by car.
I highly recommend booking your hotels here in advance, as the West Entrance is one of the busiest ones, and most tourists choose to stay in this town. Luckily there's a wide range of accommodations, from private cabins to luxury resorts.
Before you start your adventure in one of the most popular parks in the country, make sure you try all the activities in West Yellowstone. Trust me, there are so many, including fly-fishing, whitewater rafting, horseback riding, skiing, and snowmobiling during wintertime.
The town has a great atmosphere, and I highly recommend exploring the central area and visiting small business shops, restaurants, and museums. There is a cool one called the Museum of Yellowstone which you should check out as the staff can help you with information on the park's history and give you tips on how to make the best out of your time there!
Other accommodation options in West Yellowstone
Things to do in West Yellostone
Spot some cute animals at Grizzly & Wolf Discovery Center
Hit the ski slopes at Rendezvous Ski Trails
Spend a fun day in Yellowstone National Park
Learn new things at the Museum of the Yellowstone
Check out the Yellowstone Giant Screen Theatre
Go horseback riding and whitewater rafting at Yellowstone Aerial Adventures
BONUS: The best lodges to stay in Montana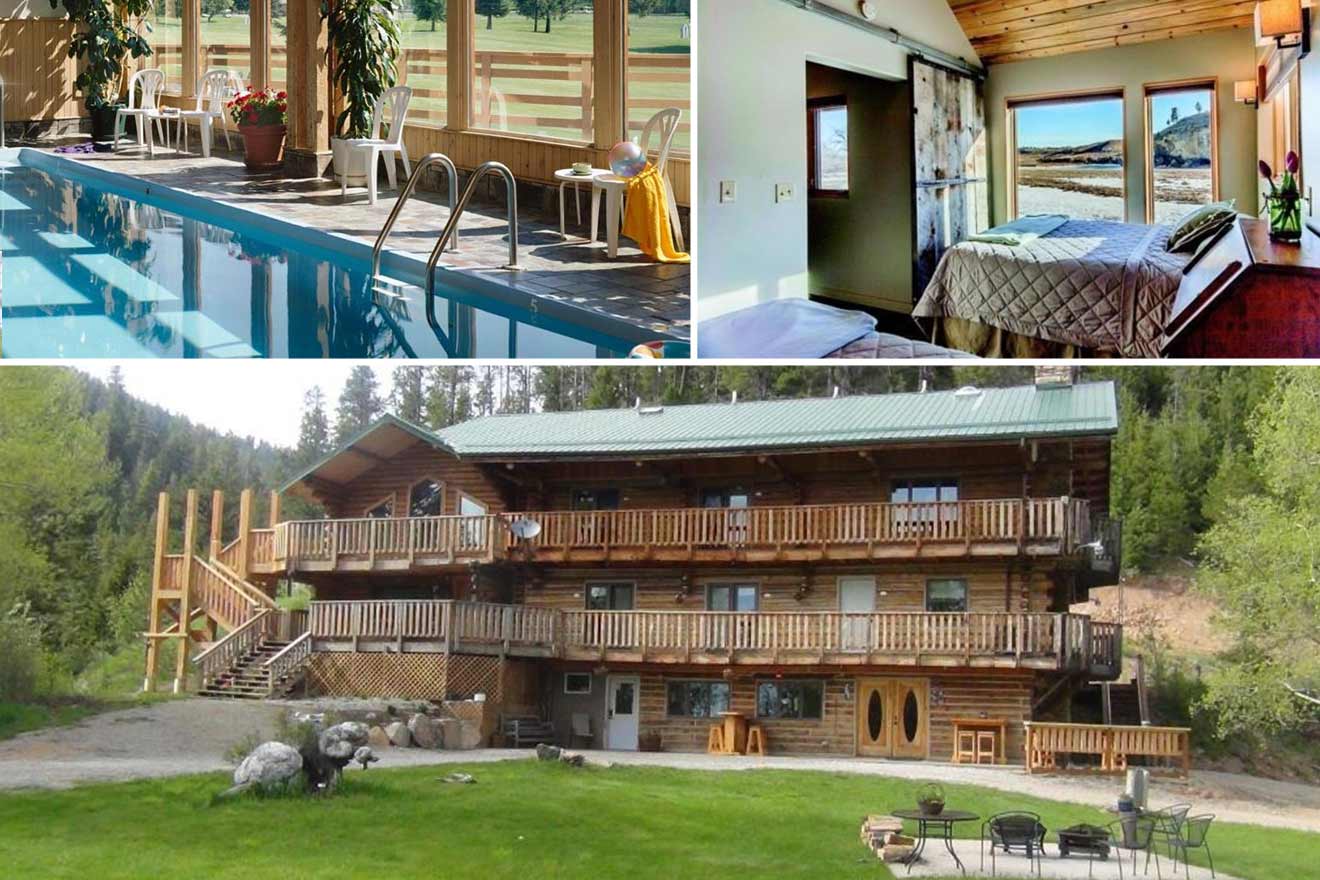 I have to admit, as much as I love fancy hotels that have a fine dining restaurant or super elegant decor, I would switch that anytime for a rustic lodge or cabin! But hey, that's just me! However, I thought that since Montana is filled with so many natural spots, some of you might share my thinking and want to stay in a lodge somewhere near a forest!
So come along, and let's discover the best ones in Montana:
Luxury: Grouse Mountain Lodge – Just look at the views of the mountain ranges! The Grouse Mountain Lodge has located nearby the Whitefish Lake State Park and it offers a free shuttle service to downtown Whitefish! Spend late summer night outside near the firepit and the cold winter days in front of the indoor fireplace.
Mid Range: Yellowstone River Lodge – Located in Columbus, near Yellowstone River, this lodge offers cozy and comfortable rooms for your stay in Montana. The accommodation has all the facilities you need including a kitchen, heating, and air-conditioning. Guests will also have access to a picnic area and barbecue facilities.
Budget: Judith Mountain Lodge – Tucked away between the trees, this great lodge has a rustic design and room with a balcony! The accommodation has a restaurant on-site, a fire pit outside, and guests can go horseback riding nearby the lodge.
Frequently asked questions about Hotels in Montana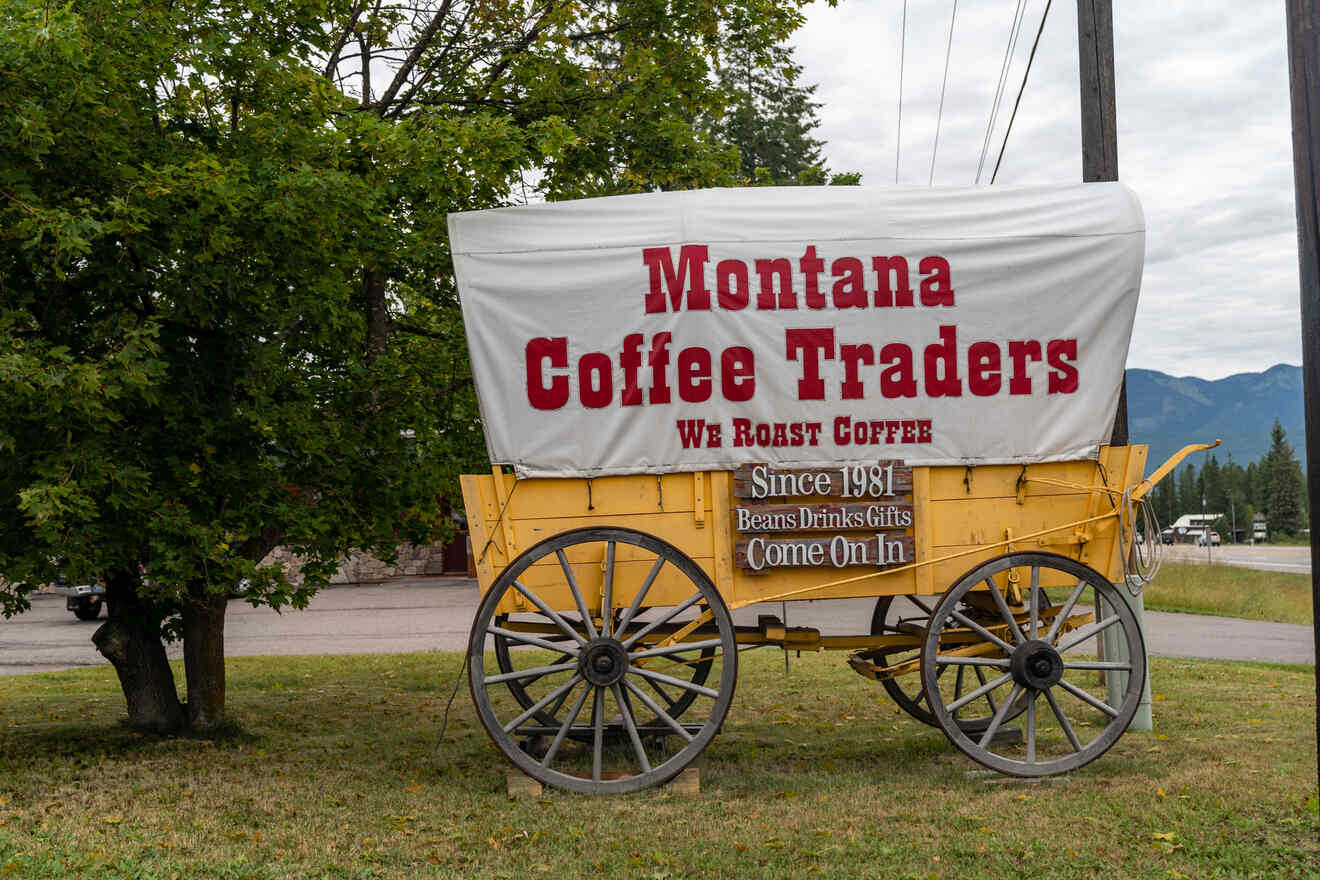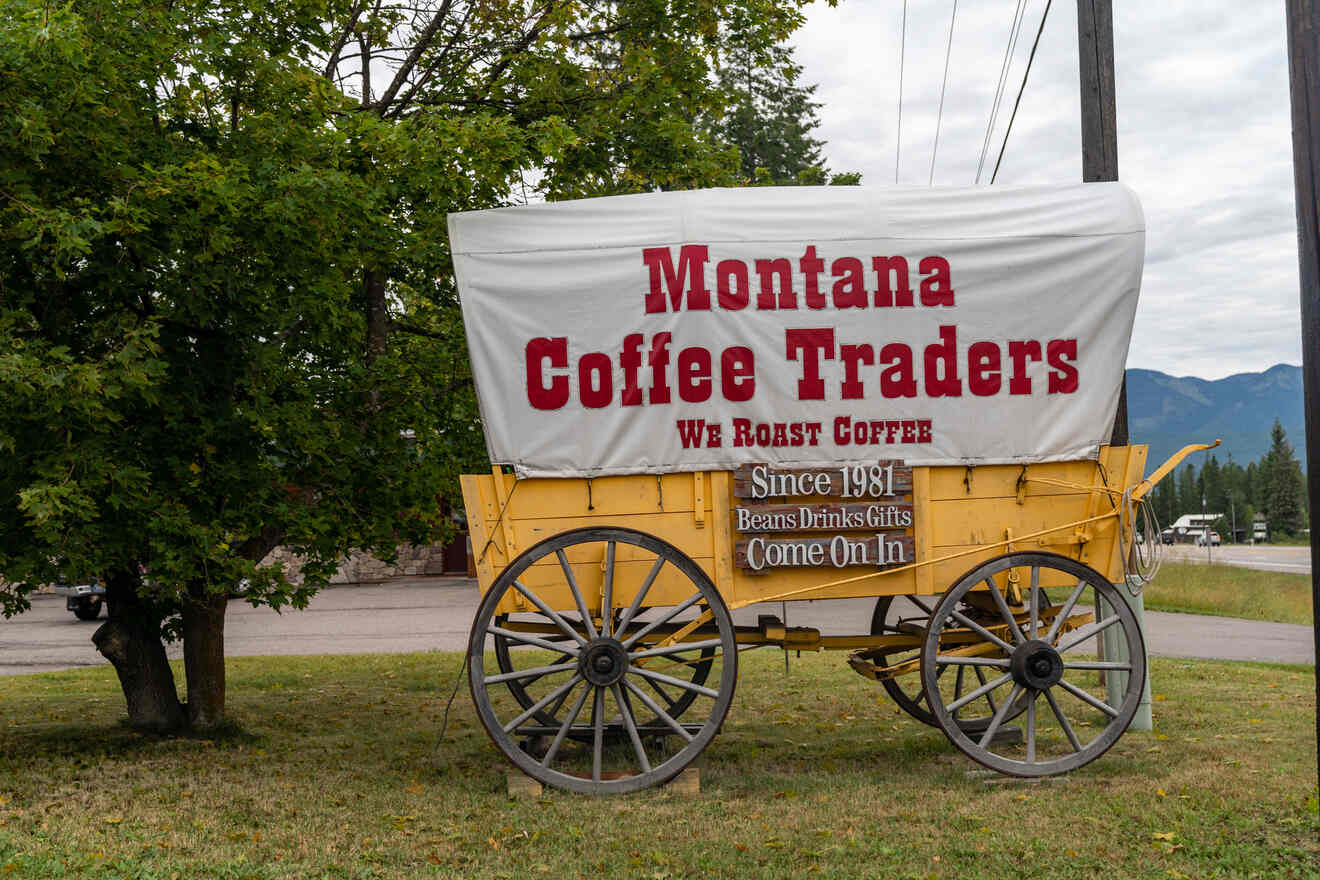 Conclusion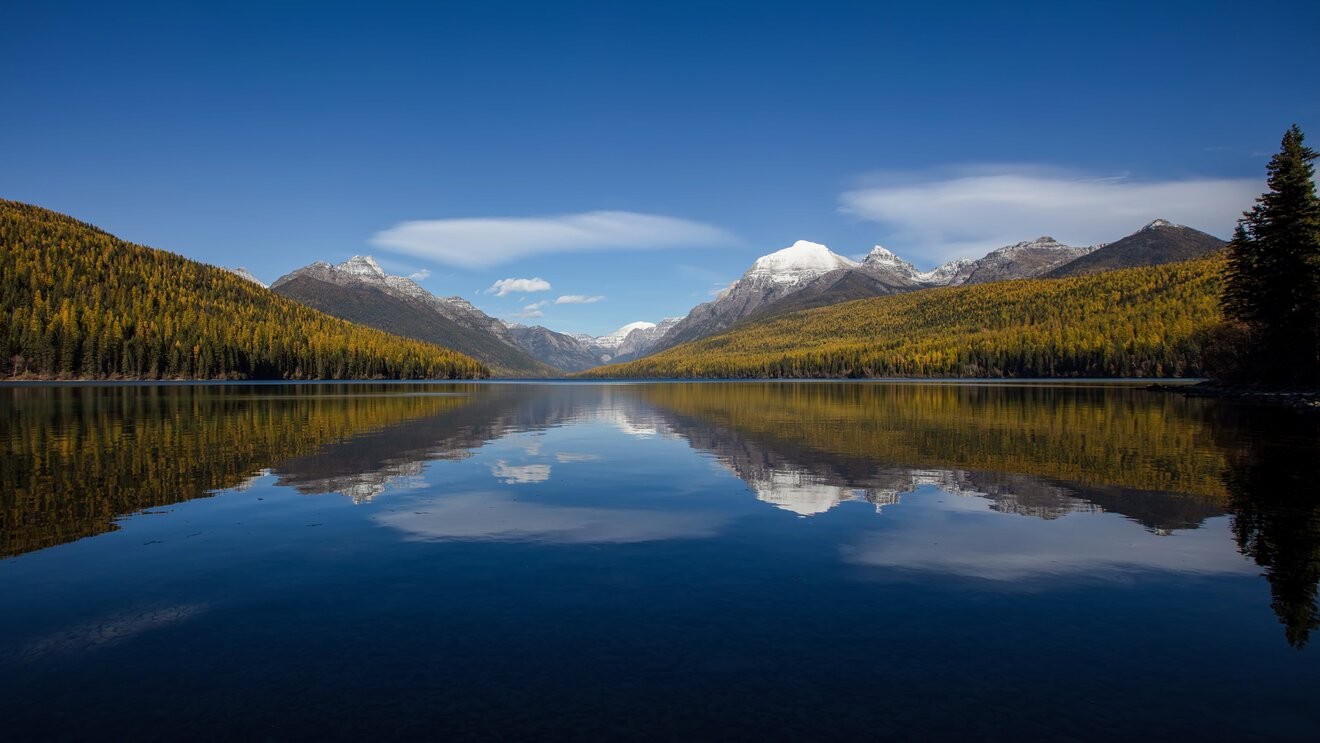 Now you get my fascination with Montana? How can you not love a place that's filled with so much nature! I hope that this post helped you decide which are the best places to stay in Montana.
If you're having a hard time deciding which hotel to pick because let's face it, there are so many options in this post, I'll offer you my top 2 favorite ones both located in Missoula:
Although it's a whole state, you'd be surprised how fast the hotels sell out in most of these towns. I highly recommend booking yours in advance so you can get the best deals and prices!
Have the best time in this beautiful place! Hike, swim, go skiing, take advantage of the boat rentals near Whitefish Lake and Flathead Lake, and explore these stunning sites! I'm sure you'll love it! Let me know in the comments if you have any questions about Montana or any of the hotels, I'll make sure I'll answer them ASAP!
Safe travels,
Victoria