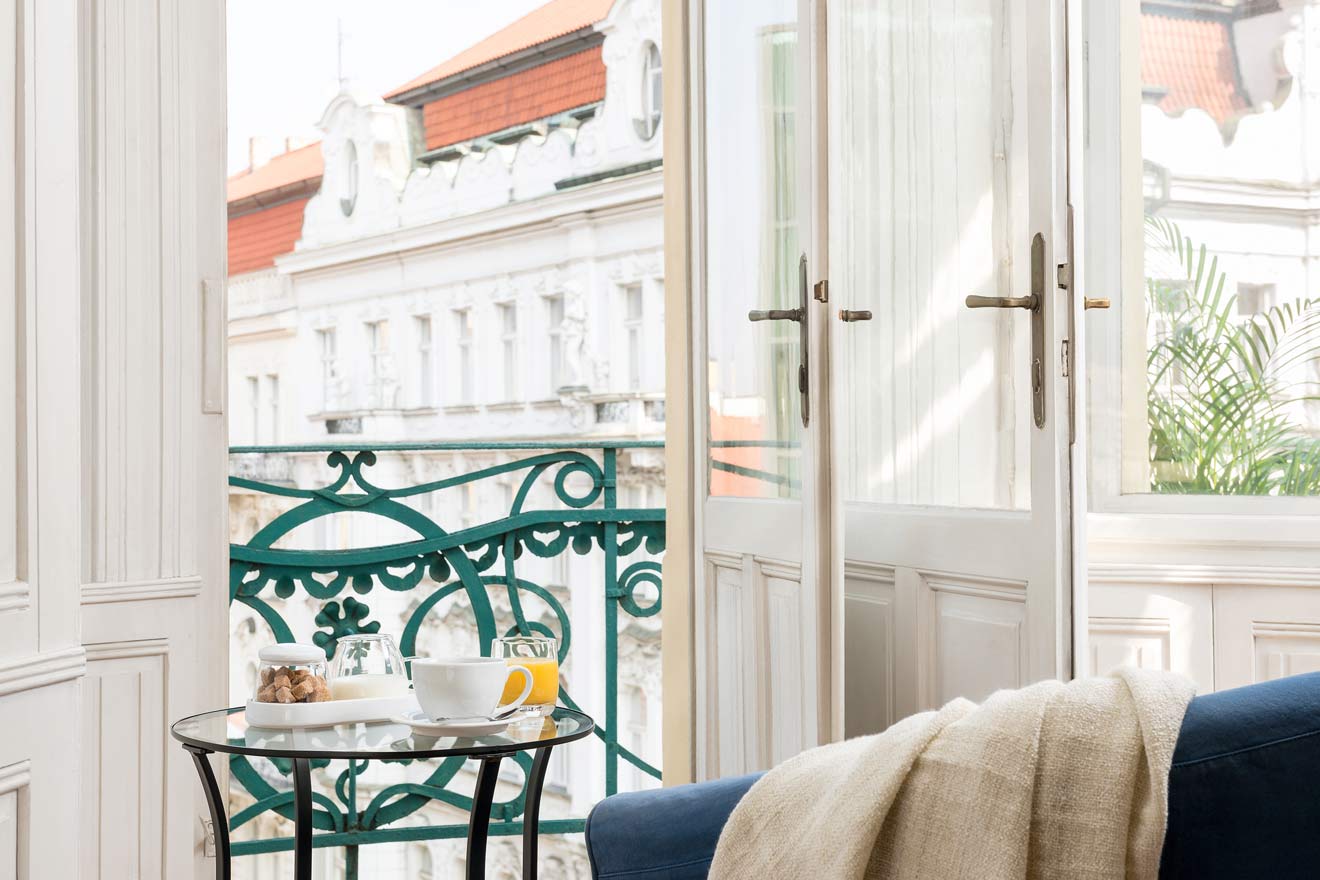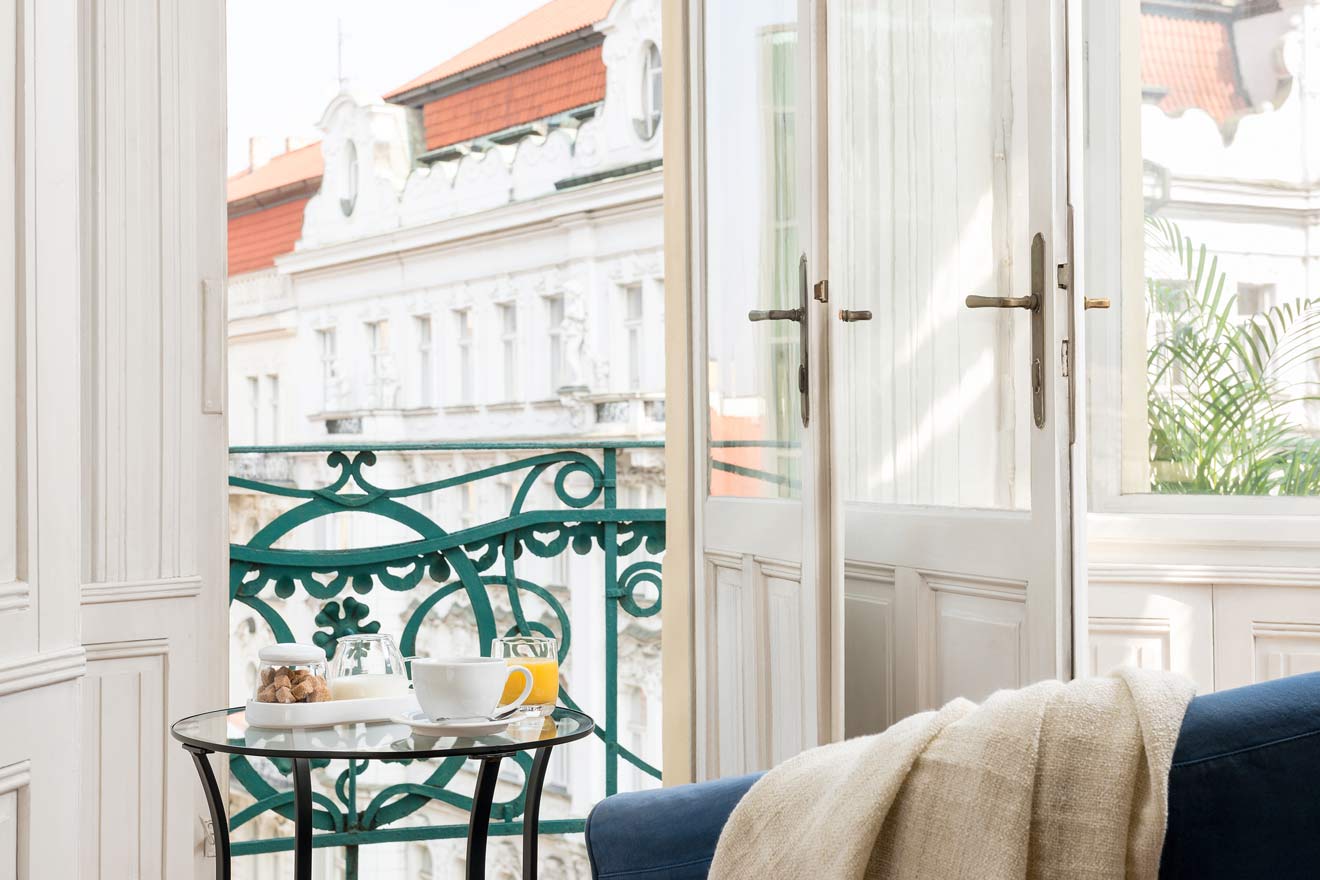 Welcome to Houston! One of the most fun cities in Texas that's filled with incredible attractions! If you're looking for some fabulous places to stay that offer incredible city views then yes, you're on the right page!
Follow me as we'll discover together the best Houston hotels with a balcony! After spending hours looking on the web, I've become a bit of a pro when it comes to Houston accommodations. That's why I also added 2 bonus sections with the top boutique hotels in town and the best hotels for families. And listed them all from most to least expensive so you can quickly pick your favorite.
And once you do, I suggest booking it right away! Houston may be a big city but it gets many tourists, and everyone is on the hunt for the perfect hotel. Definitely keep this in mind while planning your trip.
We've got many things to see today!
So buckle up, and let's hit the road!
If you are in a hurry
Looking for a short summary of the post? Then check out this list which has the best Houston hotels with balconies:
Luxury (US$500 and up)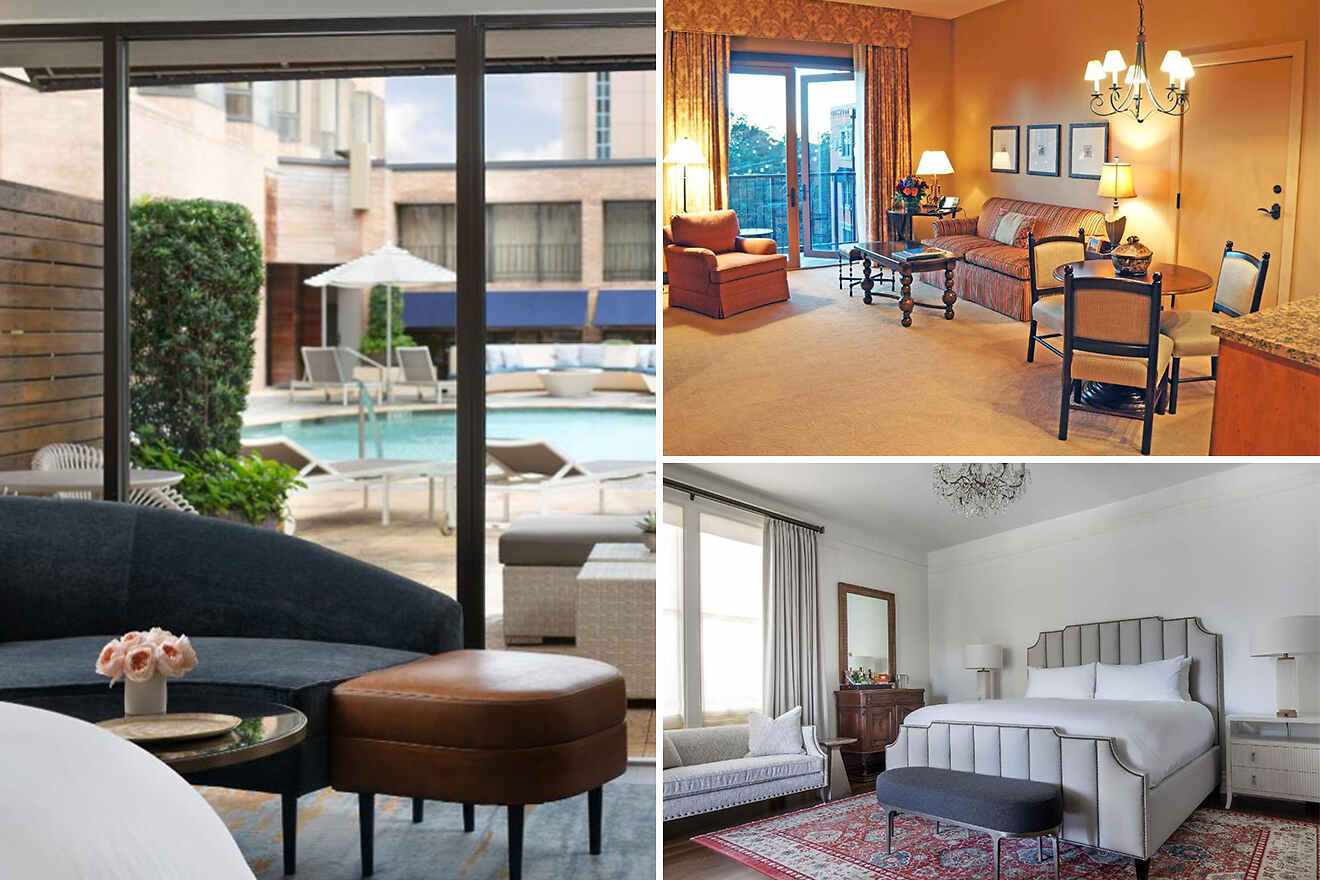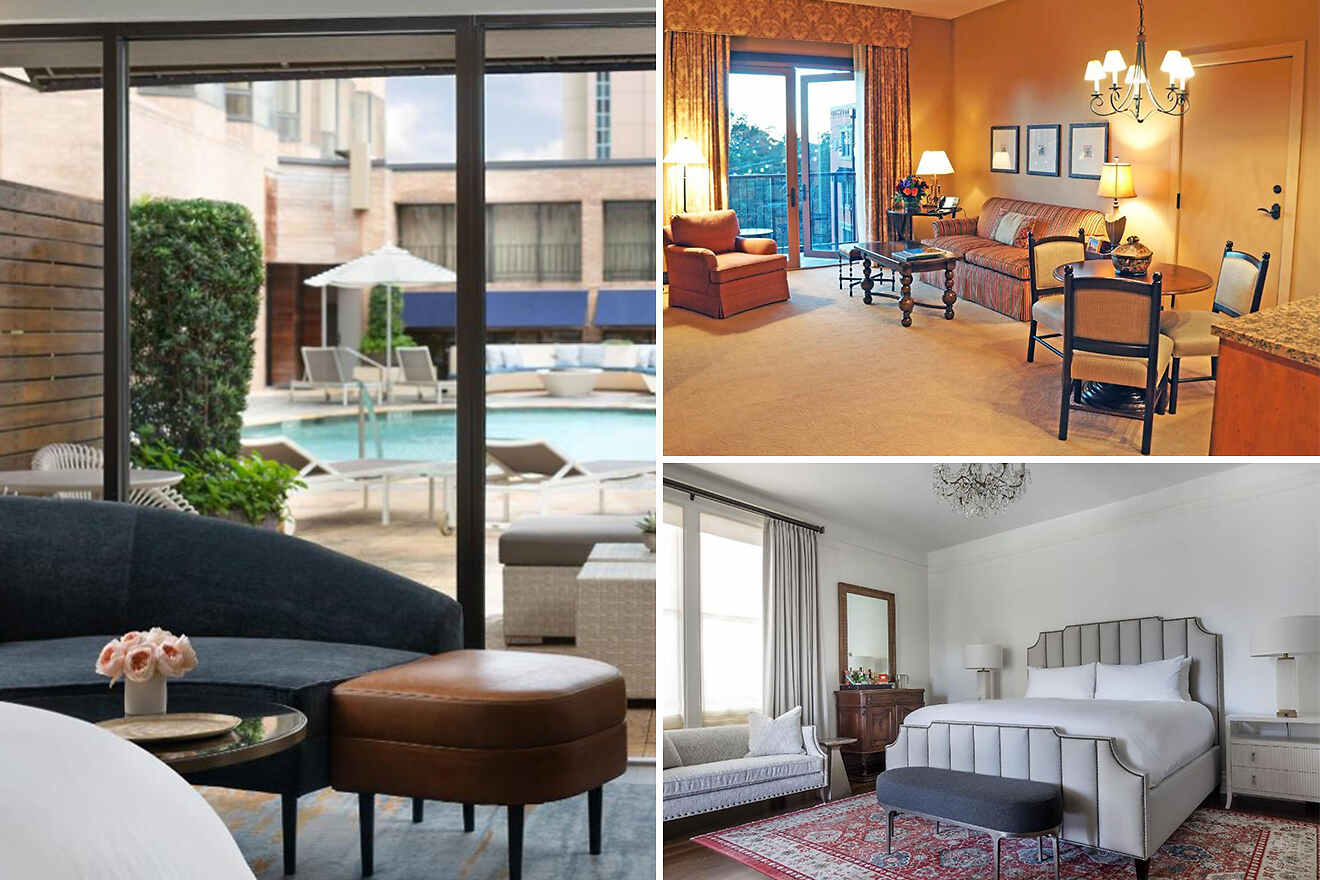 Four Seasons Hotel – Elegance and class! Leave it to the Four Season hotel to show you how to travel in style! Set in Downtown Houston, this accommodation has spacious rooms with a semi-private patio overlooking the outdoor pool. Once you arrive, go straight into the full-service spa center to relax, enjoy some food at their restaurant, and get ready to explore all the attractions like the Memorial Park and Uptown Houston.
La Colombe d'Or Hotel – What a place! The hotel rooms feature a beautiful design with modern furniture, a private balcony, and a private bathroom. Start your day with some room service and head to the outdoor swimming pool for a quick dip in the water! The Midtown hotel also has a modern fitness center, a games room, and an outdoor fireplace where you can relax at the end of the day with a glass of wine.
Hotel Granduca – Enjoy your coffee in the morning while taking in the views of Uptown Houston from your private balcony! This luxurious hotel has such elegant decor and it comes with an outdoor swimming pool, a lush garden terrace where you can relax when you're not out exploring the Houston Museum District! Don't forget to book your hotels early, these ones will sell out super fast!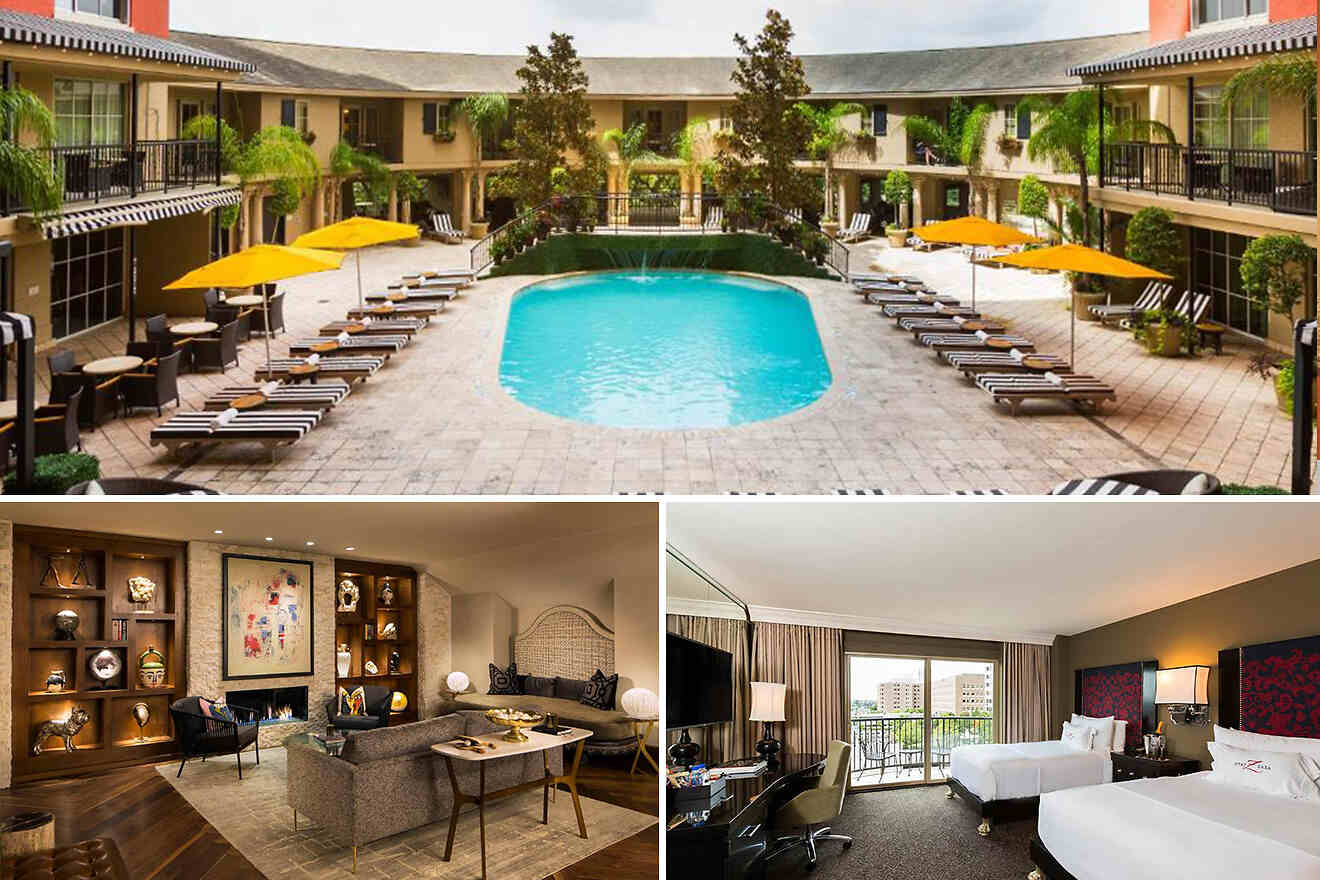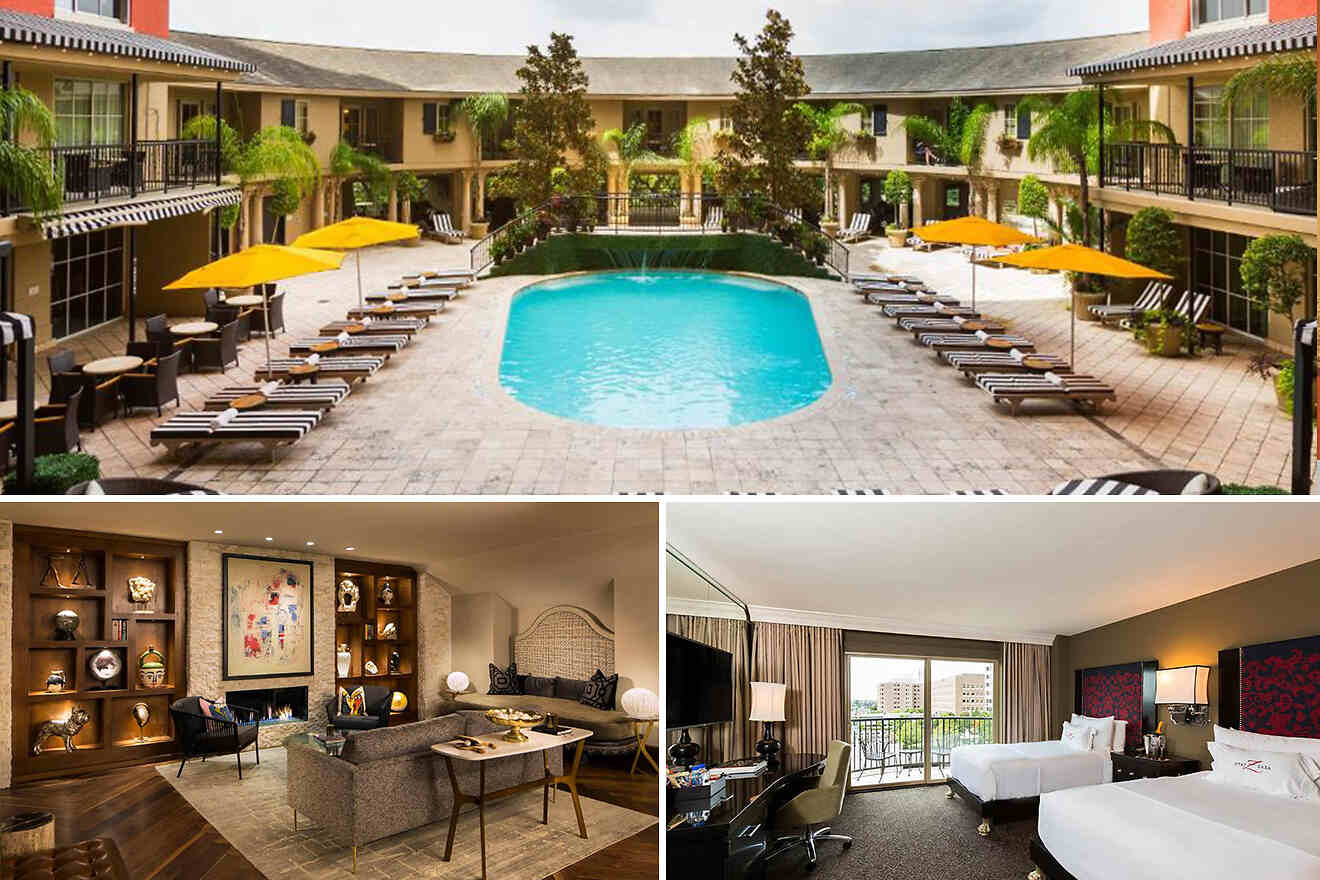 Hotel Zaza – Set in Houston Museum District, almost 2 hours away from Hobby airport, this place has some amazing hotel rooms with a private balcony that overlooks the city, a flat-screen TV, and a private bathroom with a rainforest steam shower! During your stay you're invited to use the amazing spa facilities offered at the wellness center and, of course, dine at their fabulous on-site restaurant which serves delicious dishes and drinks!
Hotel ZaZa Houston Memorial City – With a much different design than its sister hotel, this accommodation, that's set 2 hours drive away from the Houston Medical Center offers different suites with a private balcony and a flat-screen TV. You can enjoy some room service up in your fancy room, or head down to the on-site restaurant. But afterward, I'd recommend a serious tanning session by the outdoor pool or maybe a massage at the spa.
Mid Range (from US$200 – US$300)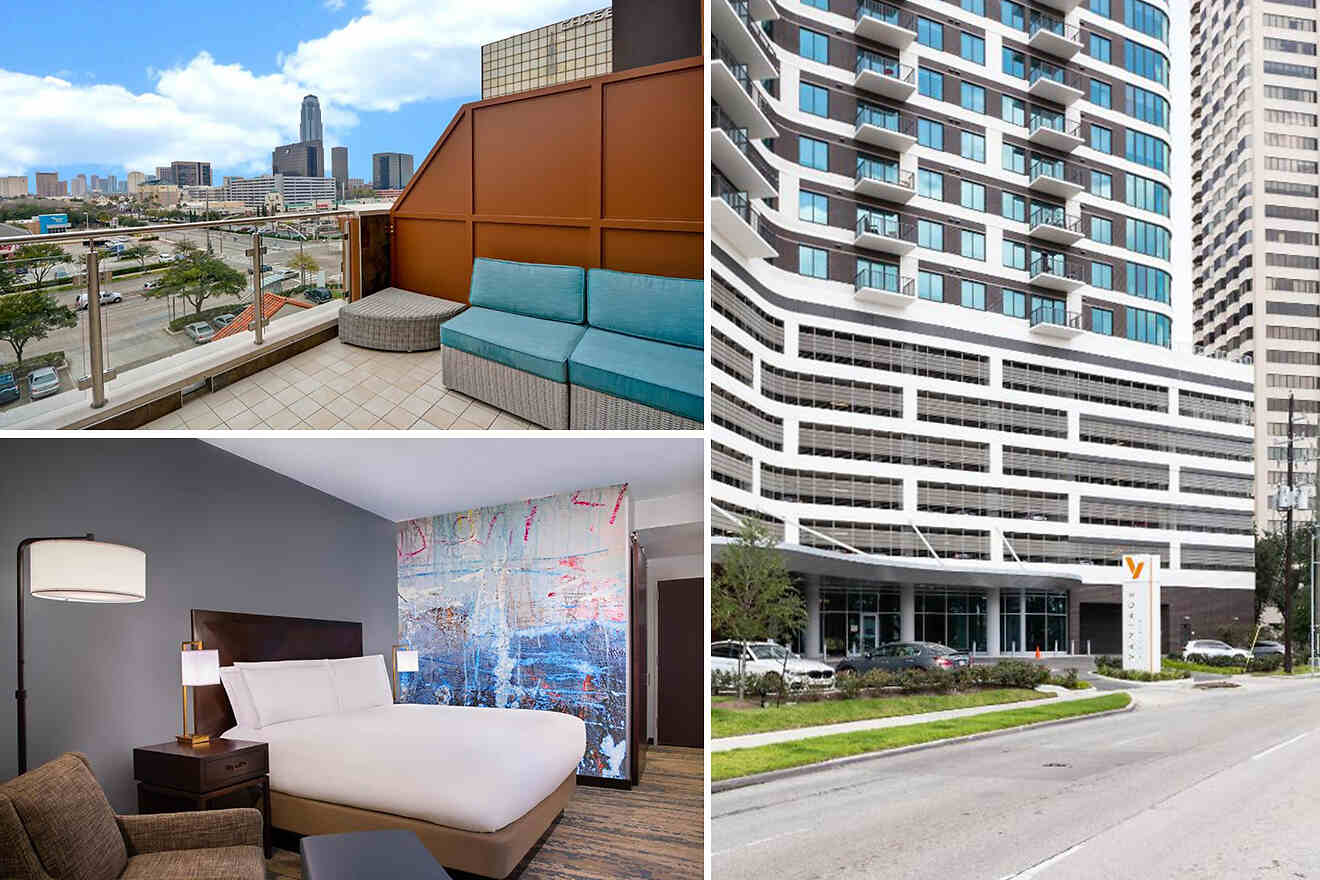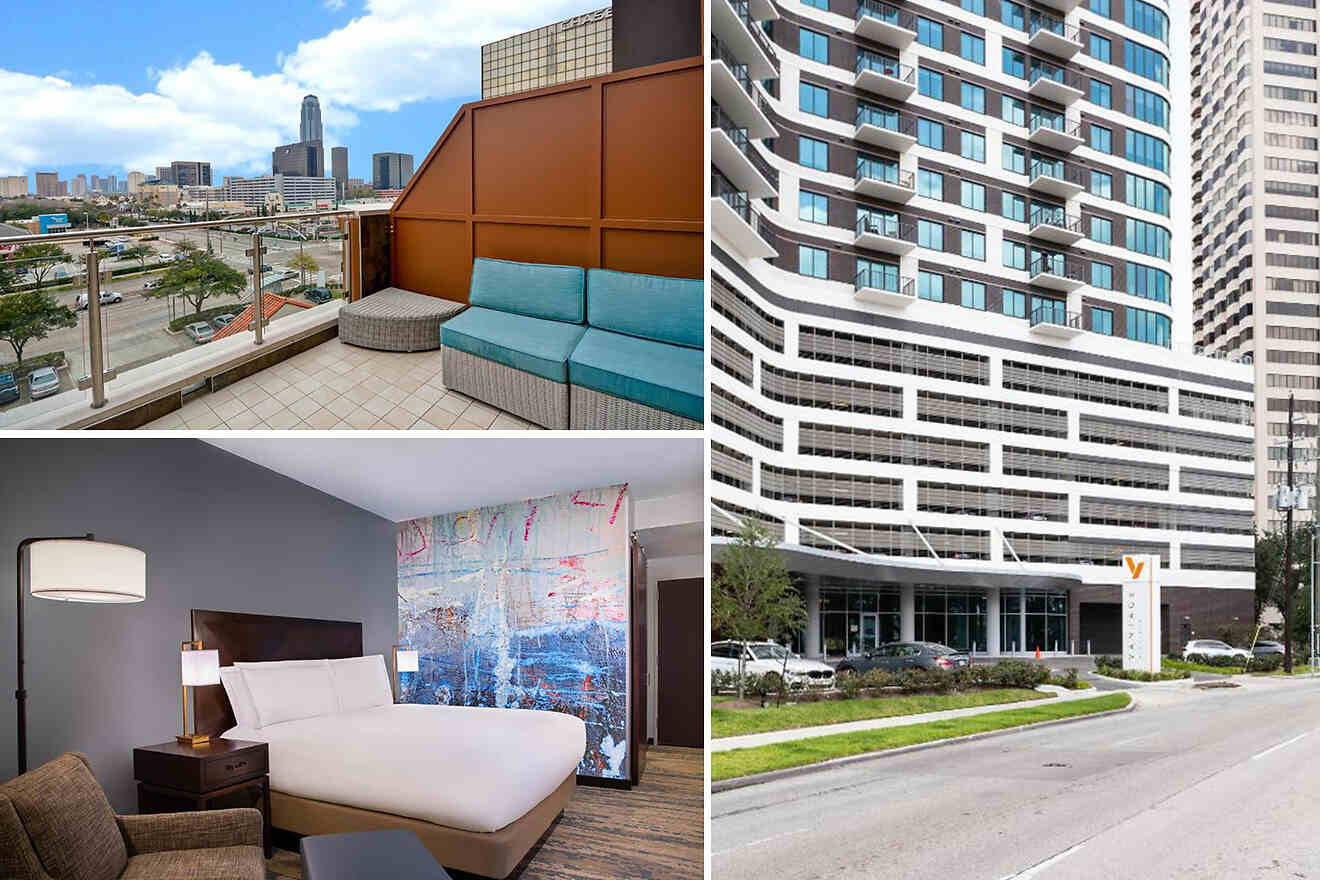 Budget (up to US$150)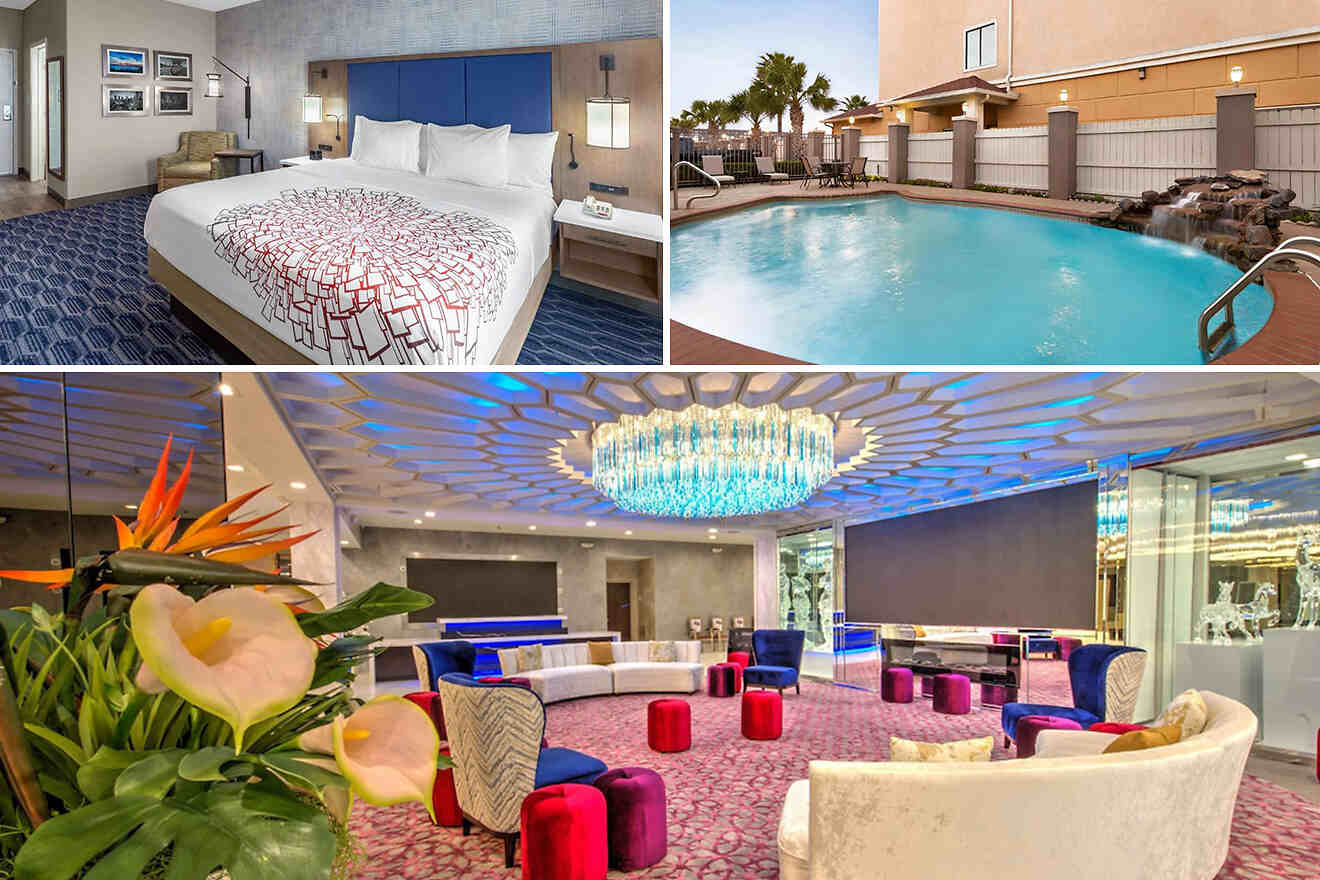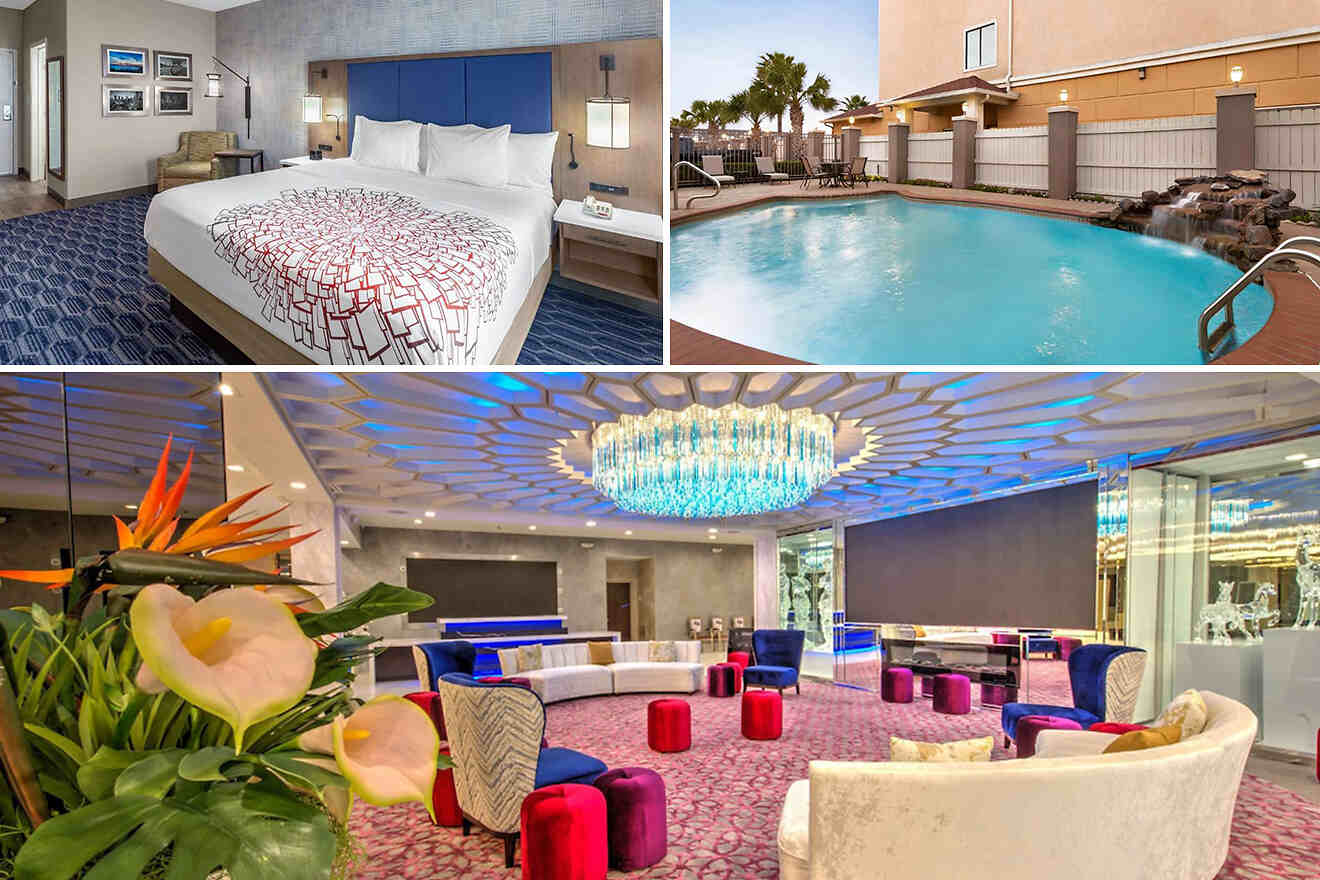 The Grand Tuscany Hotel – This hotel features the whole package! Great facilities, selected rooms with a private balcony, and a seasonal outdoor pool with a water park, where you can relax, play and enjoy your free time! Set at a 30-minute drive from the George Bush Intercontinental Airport in Houston, TX, the accommodation also has a business center and a fitness center so you don't skip gym day!
La Quinta by Wyndham – If you're looking for a hotel that's close to Hobby Airport, then check out this one, which is only 25 minutes away. The accommodation has rooms with a private balcony, air conditioning, and a coffee maker so you can start the day right! Enjoy your days of swimming in the indoor pool, sweating in the fitness center, and maybe catching up with your work at the business center.
Days Inn & Suites by Wyndham – I like the soft brown colors used in the decor of this cool hotel that is located less than 1 mile away from Hobby Airport. The accommodation has a contemporary look which you can notice throughout the hotel in spots like the fitness center, and a lovely outdoor pool with sun loungers! Some suites have a private balcony, and a private bathroom and they come with free Wi-Fi.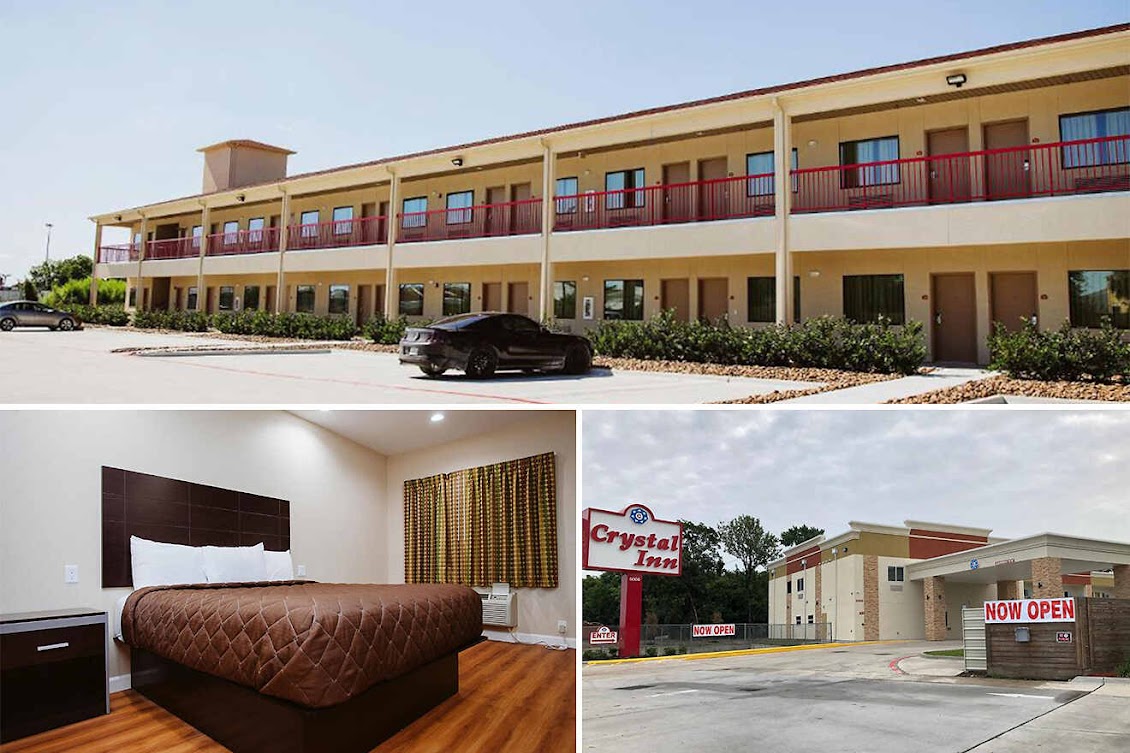 Palace Inn Houston Northwest 290 – Looking for something a bit more affordable? Although this hotel is not really close to the city center, it offers some great rooms that have a balcony and a private bathroom. All the guests can order room service, and you'll also find a few restaurants nearby the hotel, in case you're craving something different.
Crystal Inn – Here's another hotel that's set just an hour away from the George Bush Intercontinental Airport and from the Houston Arboretum. Perfect for anyone who's coming with a car, as it offers free parking, the accommodation has rooms with a balcony, and all the facilities you'll need like air conditioning and a flat-screen TV.
Check the Rates for Your Dates
BONUS 1: Most popular boutique hotels in Houston
Now that we've seen so many amazing hotels with balconies in Houston I'd thought to spice things up a little! Since the city has lots of accommodation options I decided to offer you a few more options that are super stylish and unique.
Below you'll find some fabulous boutique hotels in Houston which I listed from most to least expensive. The hotels are mid-range with prices from US$200 to US$300: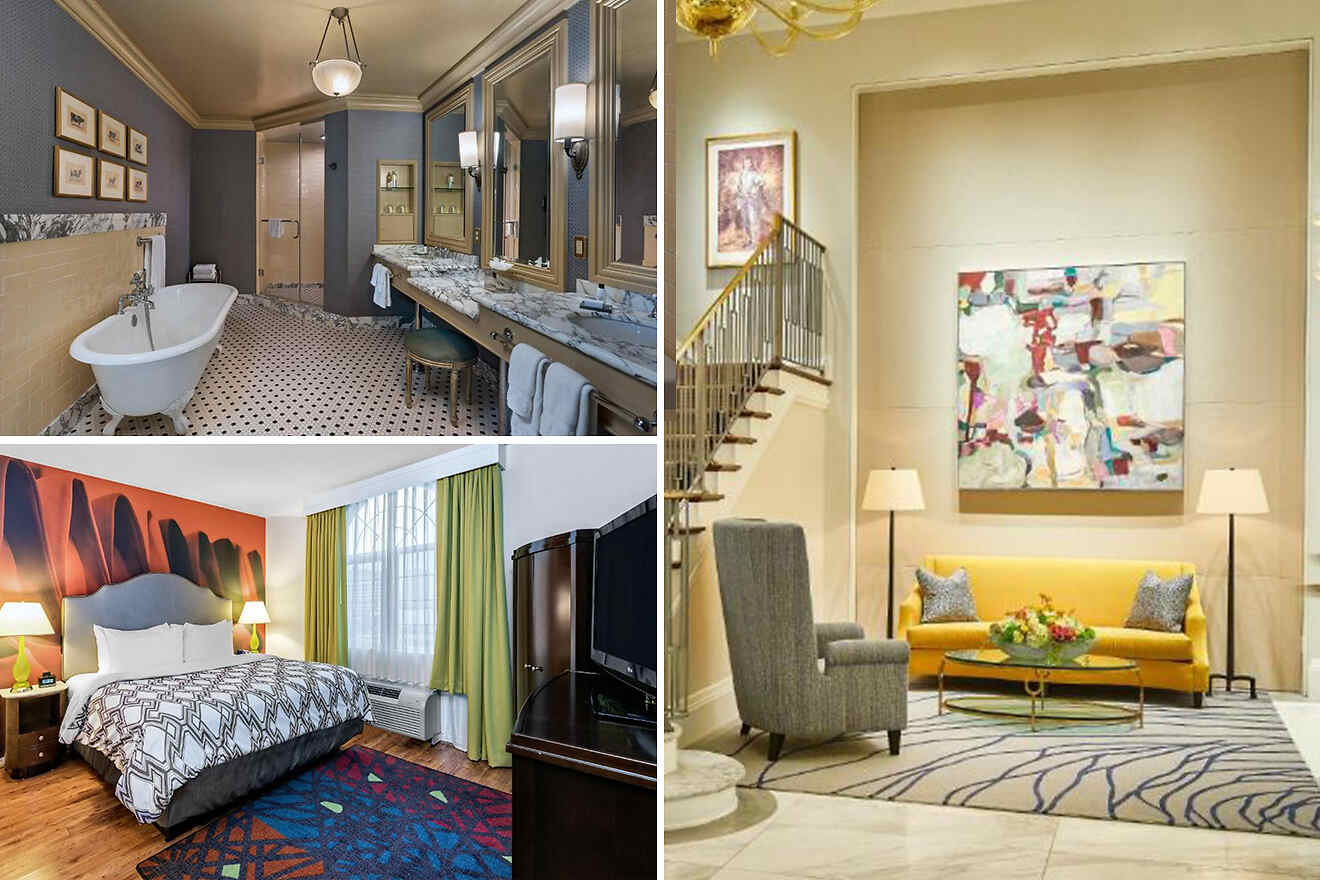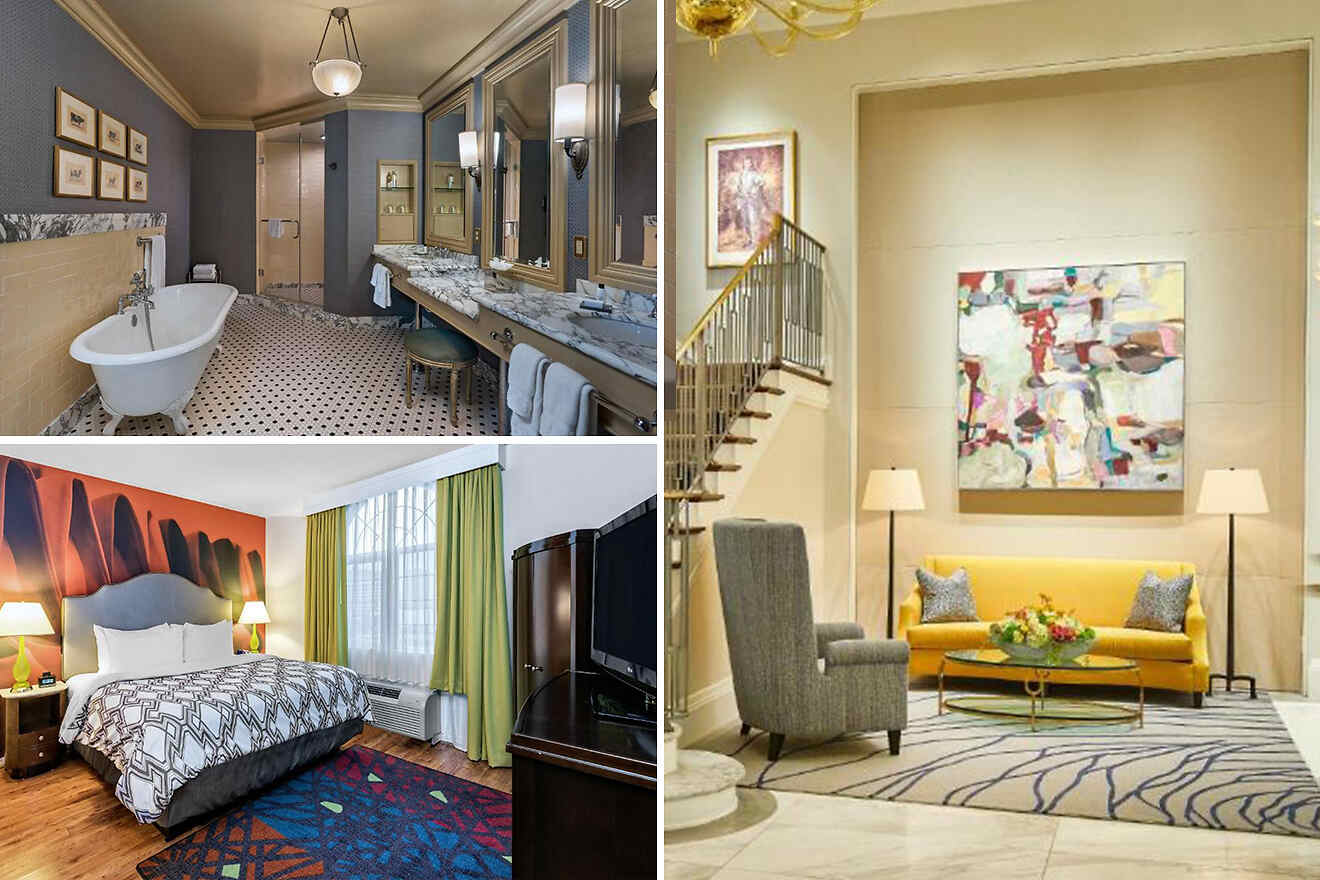 BONUS 2: Top-rated hotels for families in Houston
Planning a family holiday to Houston, TX? Well, there are lots of fun attractions that your kids will love like the Houston Zoo or the Downtown Aquarium. This means that you'll also need a fabulous place to stay in town, and today I'll help you with that!
Below you'll find the best Houston hotels for families which I listed from most to least expensive. The accommodations are mid-range and luxury, with prices from US$300 to US$600: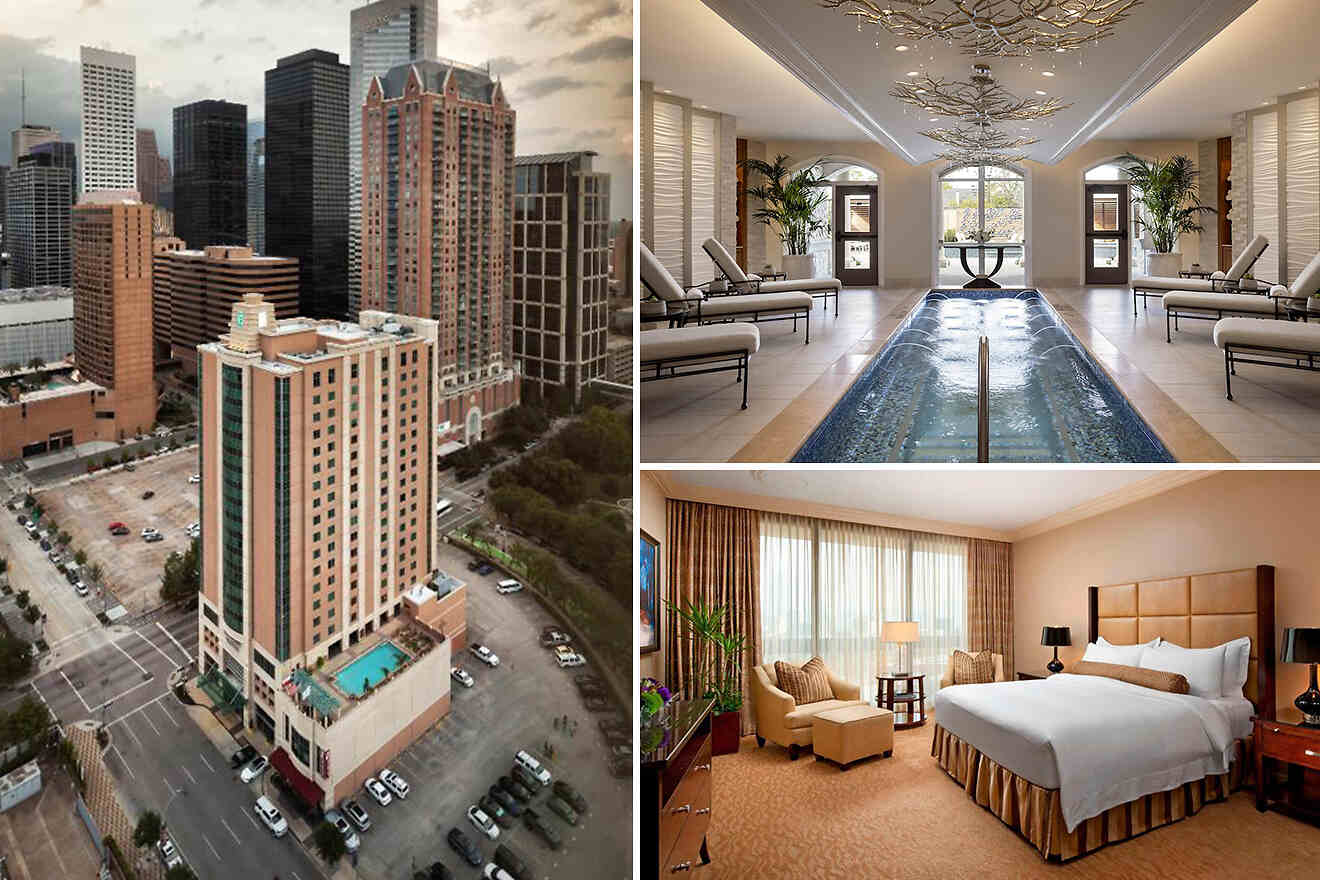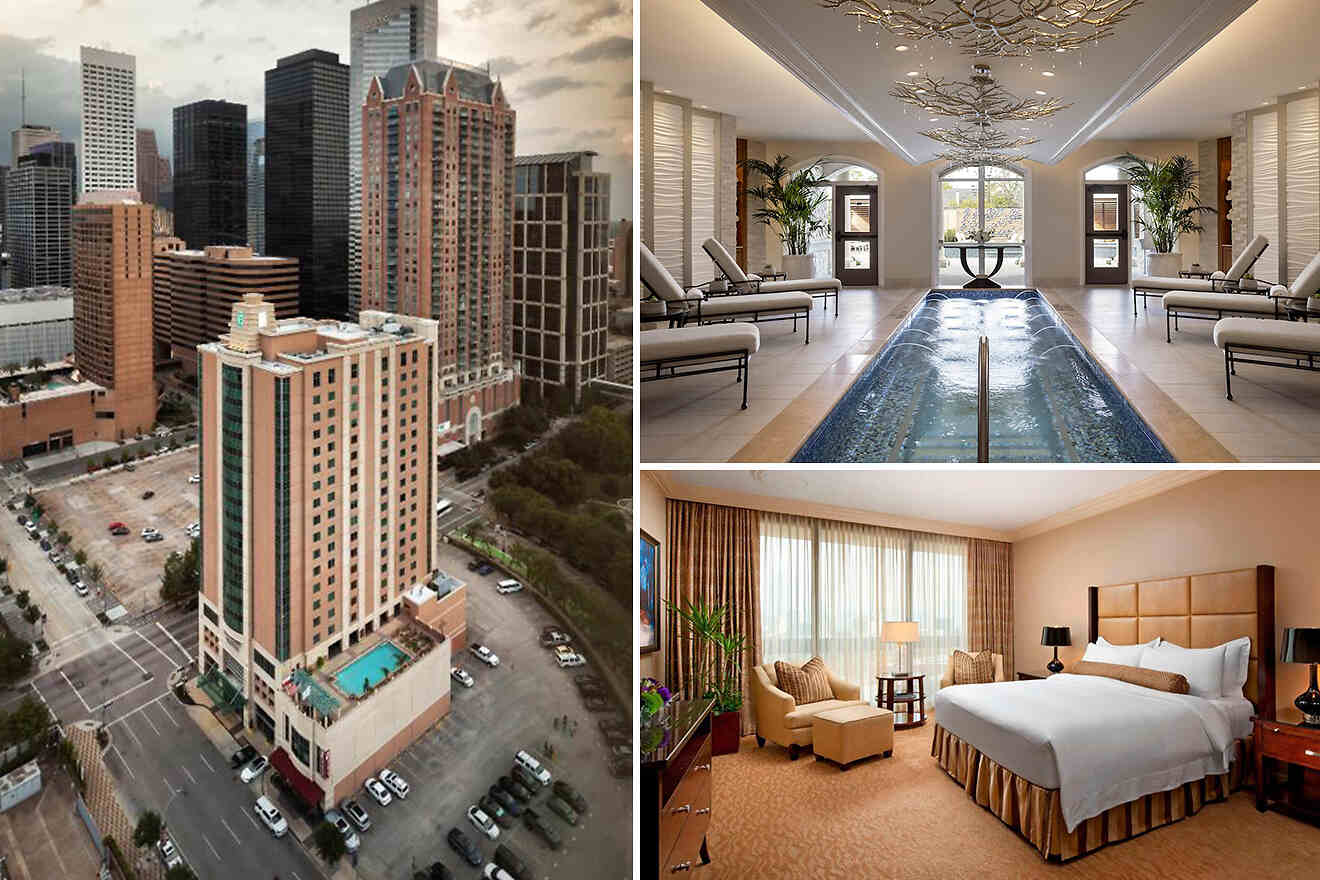 FAQs about hotels in Houston with balcony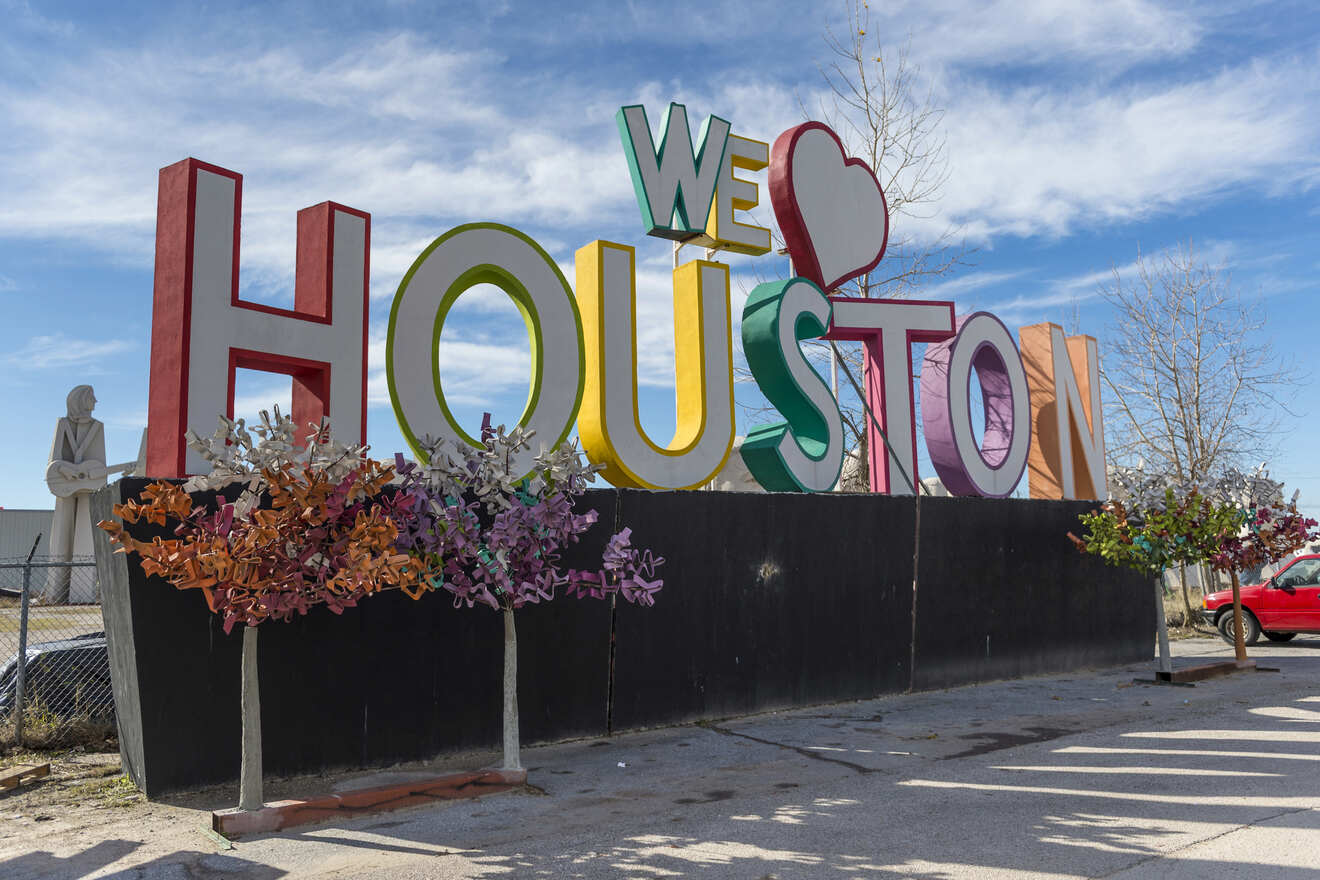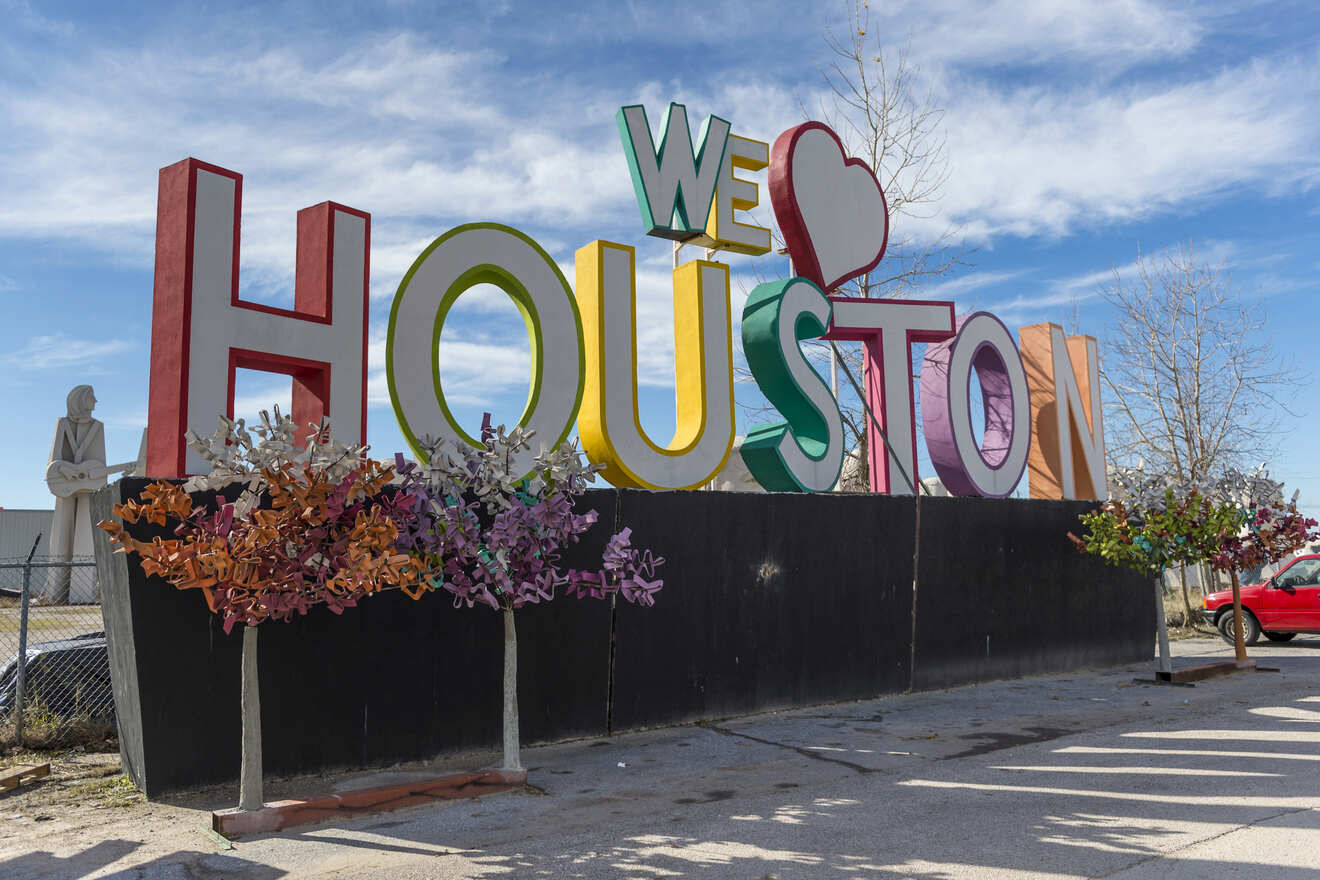 Conclusion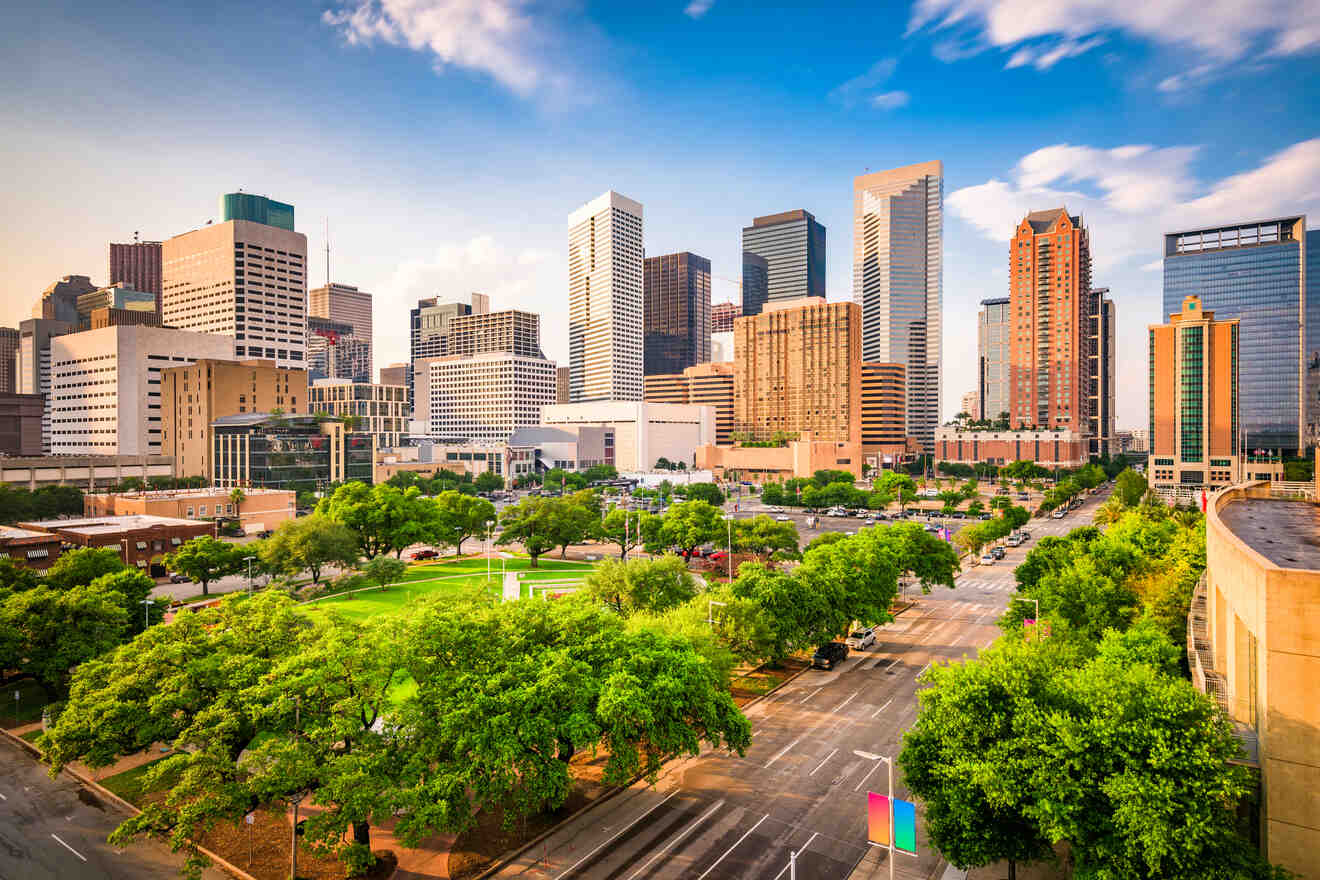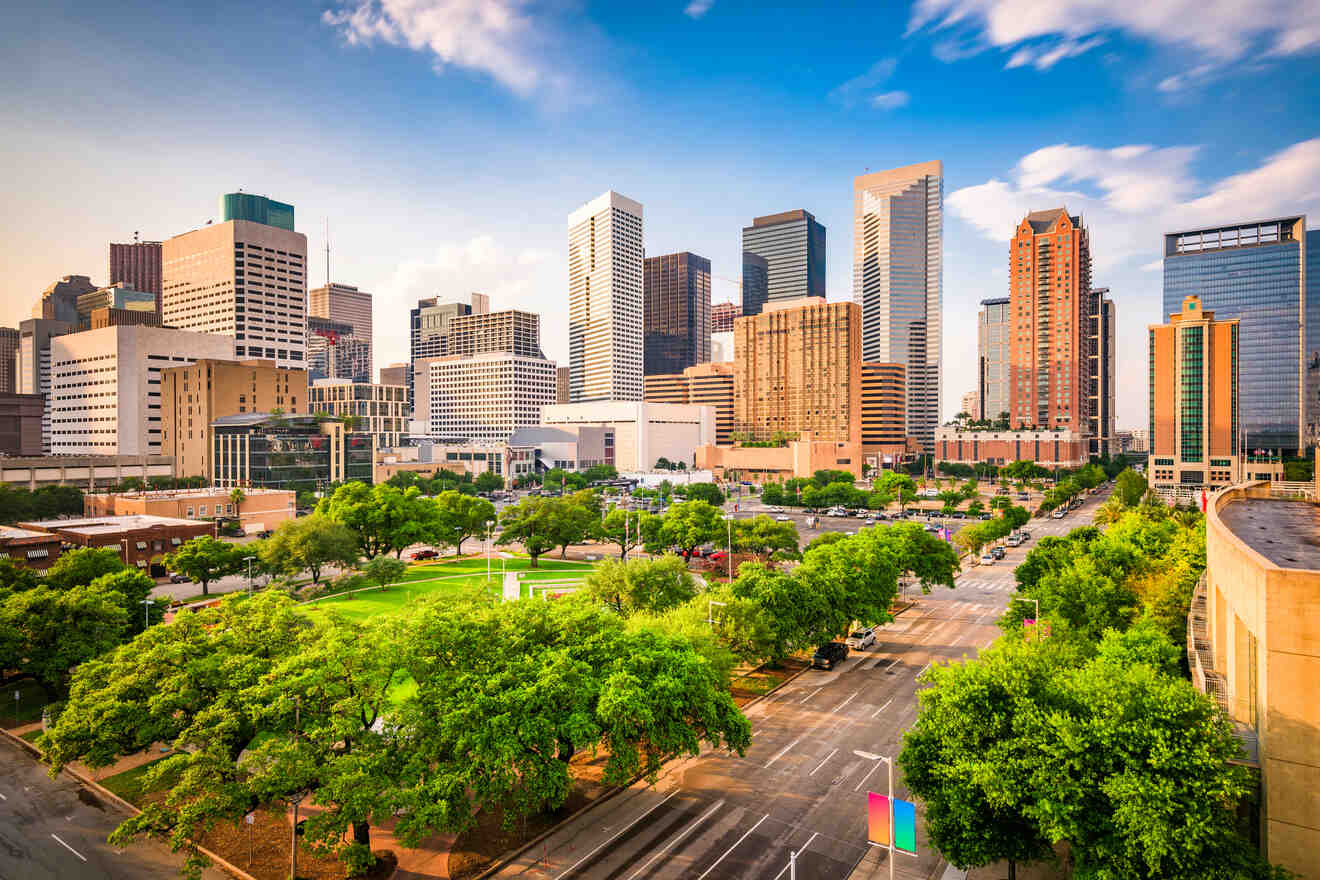 We've done it again! We've virtually traveled to another fantastic destination!
Now that we've seen all the best Houston hotels with a balcony, the top boutique hotels, and also some great hotels for families, we can wrap it up!
It's been such a thrill to explore this city and all its hotels with you. However, if you're still unsure about which hotel to pick, then check out my 2 favorite options below:
La Colombe d'Or Hotel – Enjoy that famous Texas sun by the swimming pool of this hotel that has an outdoor fireplace and rooms with great city views
Locale Medical Center – This modern hotel set near the Houston Medical Center offers an outdoor swimming pool, a garden, and a balcony
As I mentioned, these hotels are some of the best ones, which means that all tourists will run to book them first, so make sure you secure your spot early! Otherwise, you may be left with only the super-expensive and not-so-good-looking rooms.
Alright everyone, have an unforgettable holiday, and don't forget I'm always around for questions! All you have to do is drop a comment below and I'll answer ASAP!
Safe travels,
Victoria
---
Pin it for later!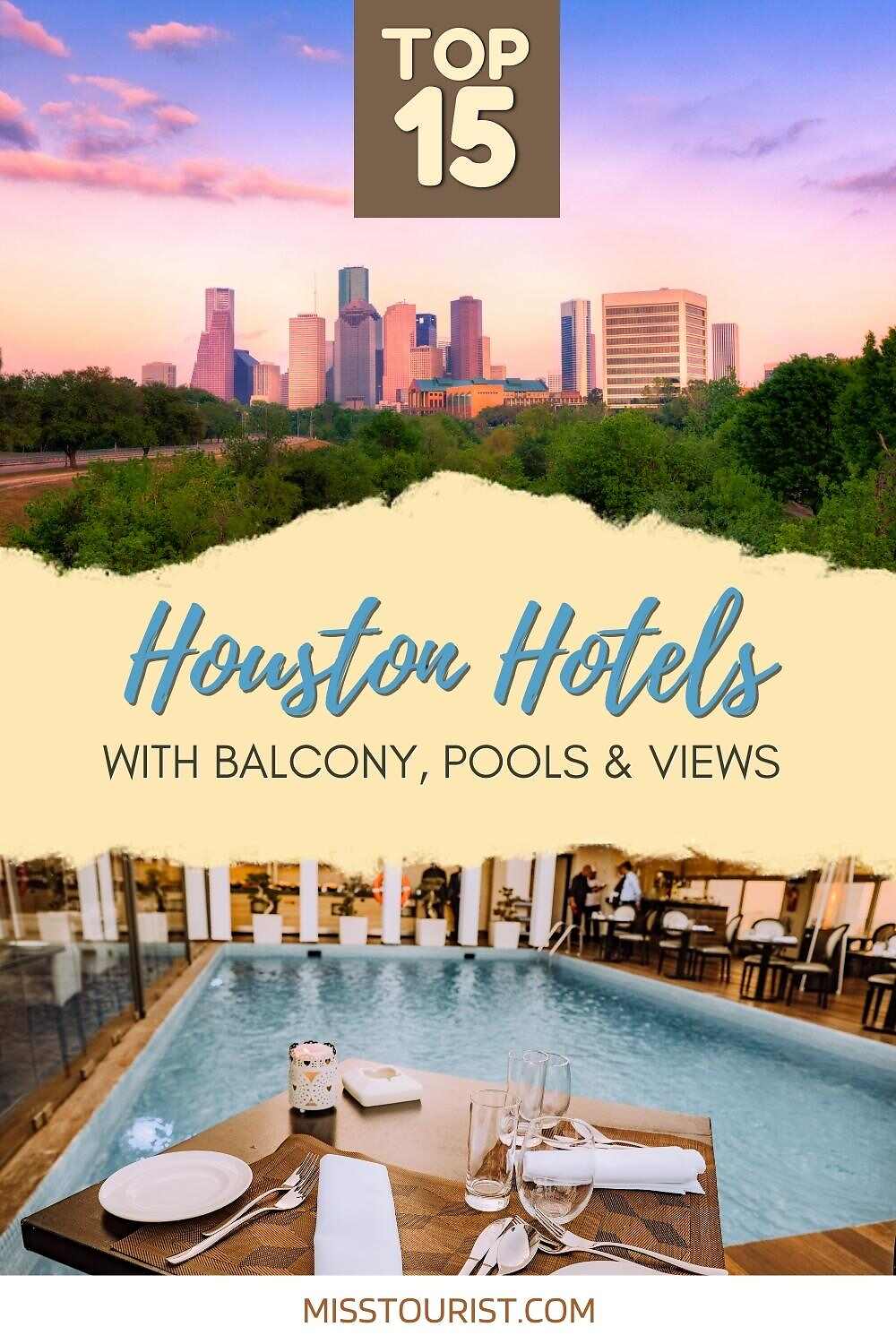 Pin it for later!