Tourism in Hanoi is on the rise! That is clear for every Hanoian and tourist that travelled there a few years ago and now. There is no South East Asian trip that skips Hanoi nowadays, and it's because this city's charm and uniqueness doesn't go unnoticed!
If you have read my Things to do in Hanoi article, you're probably already an expert on the city but, have you decided on where to stay in Hanoi? As an ever-growing city, Hanoi accommodation scene is starting to get very competitive! Such good news for us!
PRO TIP: beware, this doesn't mean that there's always plenty of availability as hotels and apartments do sell out! So be sure to be quick and book your accommodation as soon as possible!
I have researched the best accommodation for all budgets, from hotels to apartments so you don't have to worry about searching yourself, and all of them have amazing reviews, how about that?!
Before we start, here are the best areas in Hanoi to stay:
Moreover, it can be quite daunting, when travelling to such big cities, to choose the right area to stay. So, what is the best area to stay at in Hanoi? Even though the city is quite large, the tourist areas are usually close to one another. The areas worth to stay at and where most of the accommodation providers are located are the following:
The Old Quarter or Hoan Kiem, perfect for those that like to be located in the middle of the action at the heart of the city! Lots of budget accommodation available and a great range of restaurants and street food to choose from.
The French Quarter, right next to the Old Quarter, so close that they almost blend in! A bit quieter and with more fancy accommodation options available, the location is great as this neighborhood is a landmark by itself, it's my favorite area to stay at!
West Lake or Tay Ho, the place where expats in Hanoi hang out! You can enjoy a wide range of upscale accommodation and fine dining restaurants. You guessed right; many luxurious hotels are located here!
Ba Dinh, if you'd like to stay next to the biggest landmarks such as the Temple of Literature or Thang Long Imperial Citadel, this is your area! Outside of the hustle and bustle of the city center, however, be wary as there are not many food options around!
Best Hotels in Hanoi, Vietnam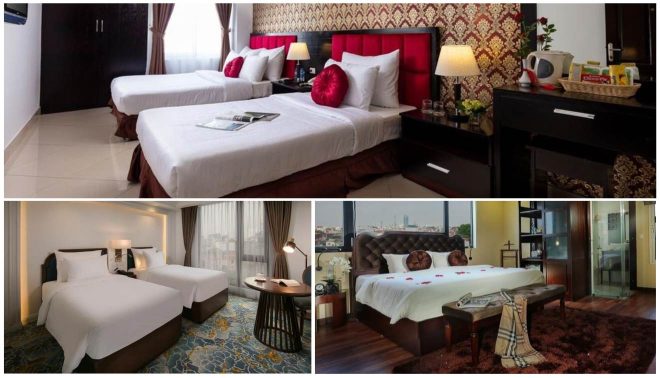 The most popular type of accommodation in Hanoi, Vietnam is definitely hotels. You can find everything from 5-star luxury hotels to the humblest homestays. The good news? Usually travelers can up their game when travelling to Vietnam as it tends to be quite an affordable country!
Check out below my list of best hotels in Hanoi City, ranging from luxury to budget:
Luxury ($160 USD and up)
With its wide street food scene, Hanoi is well known as a casual, backpacker destination. However, did you know that you can also find the most gorgeous Hanoi luxury hotels at quite a reasonable price? That's why this is your chance to treat yourself, in very few places in the world you will find such high-quality standards for that price!
Oriental Jade Hotel  – If 5-star hotels are your thing, you've got to try the Oriental Jade Hotel. One of the best Hanoi hotels with a pool, it is tastefully decorated in a minimalist but sophisticated style, right in the middle of the French quartier, you'll be able to get away from the hustle of the city whilst being in the middle of it all! Make sure you check out their infinity pool and rooftop bar!
O'Gallery Classy Hotel and Spa – Considered one of the best hotels in Hanoi's Old Quarter, and another great luxury choice; the location is fantastic as it is right next to Hoan Kiem Lake and it has a wide selection of restaurants and bars nearby! Have a drink at their rooftop bar and enjoy the views before heading to your stunning classic decorated room and have a great night's sleep!
Sofitel Legend Metropole Hanoi – Would you like to enjoy an elegant French Hotel in the midst of Hanoi's madness? One of the top hotels in Hanoi, the Sofitel Legend Hotel, built in 1901, has maintained its original grandness and luxurious style. It is probably the most sophisticated 5-star hotel in Hanoi! Once there, why not enjoy a meal at their onsite French restaurant Le Beaulieu? After all, French influence in Hanoi is also part of its history!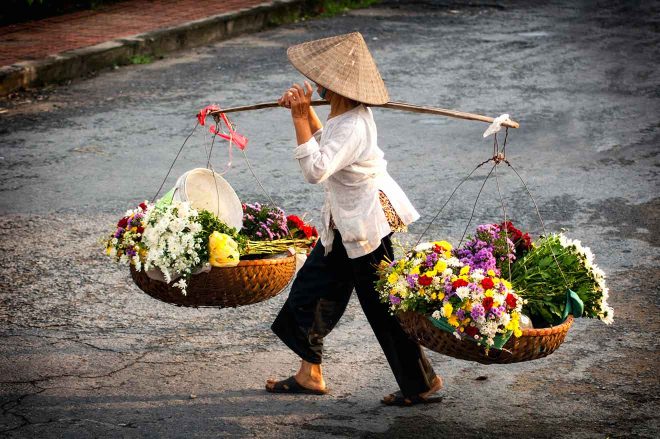 Middle-priced (From $55 USD to $160 USD)
Due to the hard competition in Hanoi's hotel scene, middle-priced hotels are often as good as luxury hotels in Vietnam! So, have a look at the hotels below, you will find really high-quality accommodation for an unbelievable price and crazy good reviews.
Hanoi Marvellous Hotel Spa – For a great Hanoi Boutique Hotel option you can head to Hanoi Marvellous Hotel Spa! It has amazing reviews and it is not a coincidence as its personnel goes way beyond their reach to cater for the guests' needs! You can enjoy panoramic city views from their top floor and get some delicious room service from their Vietnamese and European cuisine onsite restaurant!
Melia Hanoi – When you go in the Melia Hanoi Hotel, you won't believe the price you are paying for it! A Hanoi 5-star hotel for the price of a 3-star hotel, just the reception area and stairs will make you fall in love with it! What would you say if I told you that it has an onsite casino and sauna? You will feel like you are right out of an Ocean's movie!
Hanoi Pearl Hotel – Very tastefully decorated, the Hanoi pearl hotel is the most affordable out of this middle-price list! With wonderful wooden floors and French style walls, it is the coziest hotel ever! Just walking distance from Hanoi's most famous landmarks, its location is one of its highlights. Also, why not check out their night views from The Lounge & Café Terrace?
Budget (Up to $55 USD)
Do you think that price means quality? It might be true somewhere else, but in Hanoi, not necessarily! I have set myself a goal, to find the best hotels in Hanoi possible for the littlest money possible. To be honest, I've done quite well! Check my budget hotel options below.
Hanoi Amore Hotel – One of the most typical places to stay in Hanoi, where Vietnamese people choose to stay, the Hanoi Amore Hotel is your place! With a romantic vibe, it stands out because of his cleanliness and amazing staff, they help you out with everything, even booking tours for you! It is unfortunately, not so centrally located, however that can give you a chance to get to know the real Hanoi!
Golden Sun Villa Hotel  – One of the best 3-star hotels is this family Hanoi hotel! Their rooms are spacious and perfectly clean, and their location is just perfect right in the middle of Hanoi's Old quarter! Enjoy their welcome drink at check in and make sure you get a chance to try their fabulous breakfast, perfect for getting you ready for a hard day of sightseeing!
Bonsella Prestige Hotel & Spa – I have recommended this Hotel in my "

Top things to do in Hanoi

" post and it's because it is one of the greatest cheap hotels to stay in Hanoi! Right in the heart of the old quarter, its value is one of the greatest in Hanoi! For a very low price you'll be able to enjoy a modern and cozy room, great service and a fantastic location!
Best Apartments in Hanoi
It might not be your first instinct when travelling to South East Asia, to look for an apartment. In my opinion, most travelers don't usually make this connection, meaning that they don't think it's possible to book a whole apartment or studio when travelling to Vietnam.
However, it is definitely a fantastic choice if you're craving some independence or some home-made meals, it is definitely one of my favorite ways to travel! That's why I have elaborated the list below with the most gorgeous apartments, from luxurious to the most affordable ones, all of them with awesome reviews!
Luxury ($160 USD and up)
It is definitely possible to stay in an apartment in Hanoi and enjoy a 5-star experience! Vietnamese know a thing or two when it comes to providing luxurious accommodation. However, there is not a wide variety of upscale apartments, but the ones there are, are amazing! Another reason for you to book your accommodation as soon as possible!
Fraser Suits Hanoi – Located in the stunning West Lake area of Hanoi, the Fraser Suits is your best bet at staying at a 5-star apartment in Hanoi! With a pool area that looks like you've stepped in the jungle, make sure you take a day off of sightseeing and get in shape in their very well-equipped gym and grab a meal in their onsite restaurant! Guests consider it the best place to stay in Hanoi!
Somerset West Point Hanoi – If you want the convenience of an apartment but don't want to give up on the ultimate hotel experience, you should check out the Somerset West Point Hanoi. Located in the West Lake District, it offers all the conveniences from having your own place, but at the same time it makes you feel like you are as looked after as in a Hotel!
Truc Bach Sweethome – This colonial style apartment is a beautiful option if you're looking for a cozy stay during your trip to Hanoi. Just 1.5km from Dong Xuan Market, you will be able to go out for a great meal at one of the several fine dining restaurants around. Make sure you enjoy a cup of coffee from its romantic balcony, as you watch Hanoi go by from your little romantic oasis.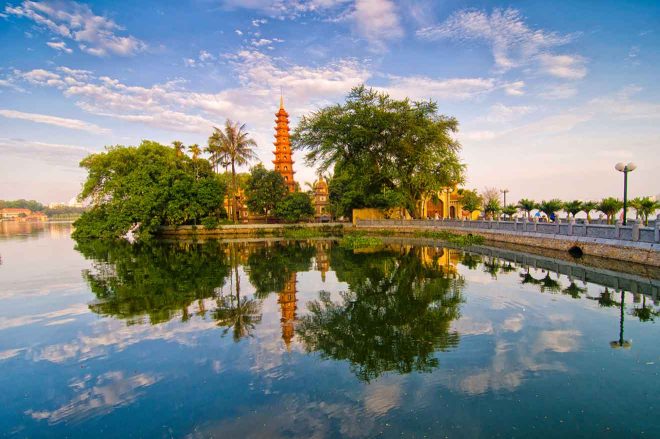 Middle-priced (From $55 USD to $160 USD)
Traveling can be a bit overwhelming at times, it might feel like you are constantly packing and unpacking, like you just need a place to call home for at least a couple of nights. That's why choosing an apartment can be the perfect pick-me-up for when you are feeling homesick!
You don't have to pay a fortune for it, as there is a wide variety of middle-priced options!
Diamond Westlake Suites – These luxury apartments are a beautiful option if you're looking for a cozy yet decadent stay during your trip to Hanoi. Located in the upmarket West Lake area of Hanoi, you will be able to go out for a great meal at one of the several fine dining restaurants around. Finally, do not forget to take advantage of their free shuttles to the city center, really convenient!
Christina's Hanoi – A great option if you're travelling with you partner, the Christina's Hanoi apartments offer spacious and bright apartments in the Old Quarter for a very affordable price! If you really want to feel like home, why not have a bath in their bathtub and enjoy a drink in your own couch? The accommodating staff will make sure you've got everything you need and more!
Hanoi Central Hotel & Residences – Located very close to Hoan Kiem Lake, the Centraltique apartments will make for your best home away from home! With its parquet floors and classic furniture, it provides with a very cozy feeling, perfect for those rainy afternoons! The welcoming staff, laundry facilities in your own apartment and location convenience is what makes every guest love this place! Make sure you try their breakfast in bed service!
Budget (Up to $55 USD)
Yes! It is possible to travel on a budget and still not have to share a dorm with 9 other people! On top of that, you will find that most Hanoi hostels don't have kitchens, and even though it's not that necessary over there, I would've loved to have one during my time there!
Hanoi Sweet House – A modern yet simple budget option, a Hanoi Sweet Home Studio will give you the biggest hipster vibes! Set right in the heart of the city, you can head out exploring, and get back home at lunchtime to prepare a quick meal in your private kitchen and take a nap, and then head back out into the action! You won't even miss a thing!
Zody House – Set in a beautiful white building just a kilometer away from Dong Xuan Market, the Hanoi Sweet House is a great choice if you're looking for an apartment at an affordable price! Each studio has a private fully equipped kitchen and a patio, guests especially love the location! Also, it offers a washing machine which comes quite handy on long trips!
Hung Viet Studio Ngo tram – Don't get cold feet because of the name of this apartment complex! It is good practice for your Vietnam trip! Right next to Hoan Kiem Lake, you'll be able to enjoy a large and clean room with all the amenities that you will need. No need to head out for every single meal as they count with private kitchenettes just at your disposal!
Best Hanoi Airport Hotels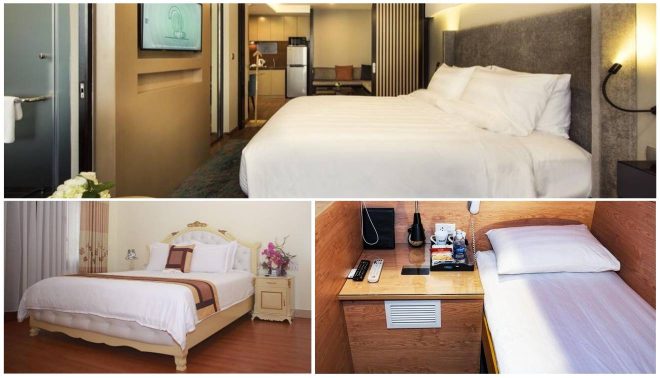 For those of you who have a transfer flight in Hanoi, or simply have a very late/early arrival or departure to the city, I can definitely recommend staying in one of the Hanoi Airport hotels, I think that would be the most convenient option for you!
Below I have chosen 3 options for each price group starting from the Luxury and finishing with the Budget one:
Luxury ($160 USD and up) – if you'd like to stay at the closest luxury hotel to the airport, that would be Novotel Suites Hanoi! A sophisticated new hotel with spacious rooms and an impeccable décor, feel free to stretch your legs at their onsite gym before or after your flight! To make things even better, they provide airport shuttle so you don't have to worry about getting in or out of the airport!
Middle-priced (From $55 USD to $160 USD) – Viet Airport Hotel is a great choice when looking for a middle range option. Its cleanliness, helpful staff and convenient location is what guests love the most about their stay at this hotel! Moreover, it is located just 5km away from the airport and it offers an airport shuttle for your convenience!
Budget (Up to $55 USD) – If you'd like to stay right at the airport for a very affordable price you should check out VATC Sleep Pod Terminal 2. Located on the second floor of Terminal 2, you'll get to experience what is like to sleep in futuristic sleeping pods and you won't even have to get out of the airport! Such a cool and unforgettable experience!
---
Conclusion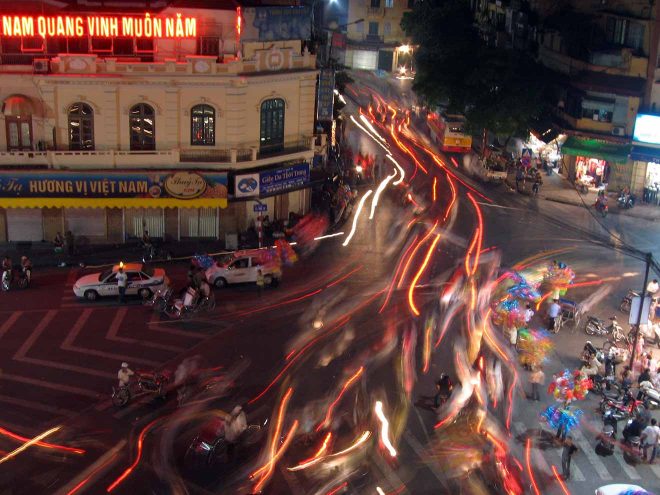 By now, hopefully you have already chosen a place to stay in Hanoi! I hope I haven't made it too difficult for you to choose, as all the options are great!
I have listed above from the best budget and cheap accommodation to the most luxurious one, from apartments in Hanoi to hotels! Do not hesitate on booking Hanoi accommodation as soon as possible, so you make sure you stay at the one you prefer!
I hope you have such a unique experience in Hanoi that you will never forget it!
If you have any doubt at all or just would like to say hi, drop me a comment below and I'll be happy to help you!
Happy travels!
Arantxa
Pin it for later!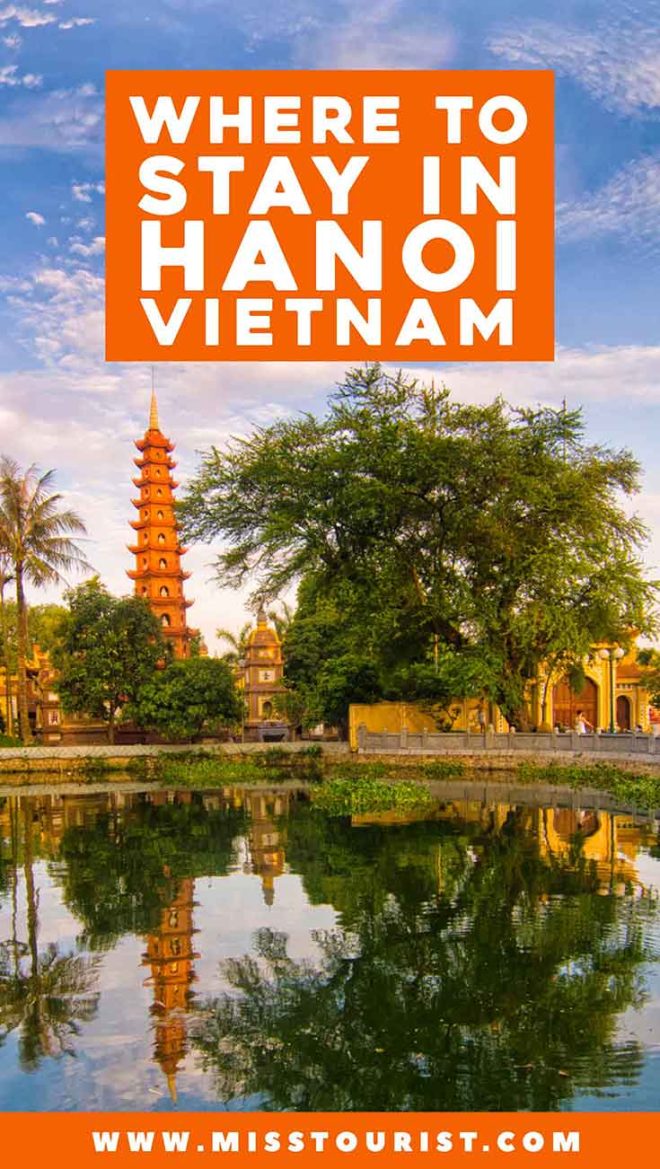 Pin it for later!