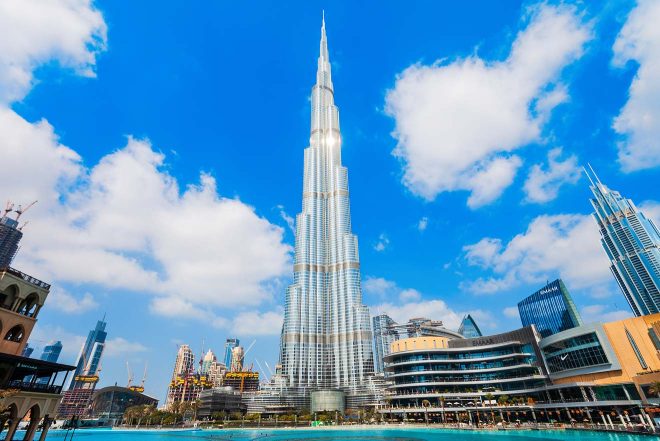 The Burj Al Khalifa is (drum roll please) the tallest building in the world! And, honestly, it really is as impressive as they say! At an astonishing 828 meters tall and with 163 floors and 57 elevators, there's no wonder it has become such a major attraction in Dubai!
There are normal skyscrapers, and then there is the Burj Khalifa Tower!
The price of Burj Khalifa general admission ticket is currently from 149 AED (~40.5 USD) for the lower lever (floors 124& 125) and from 379 AED (103 USD) for the upper level.
In this guide, I will explain why I consider the Burj Khalifa Observation Deck a must visit during your Dubai trip, how to get the best tickets at the best price and how to make the most of your visit. Keep reading to find out!
1. A little history about Burj Khalifa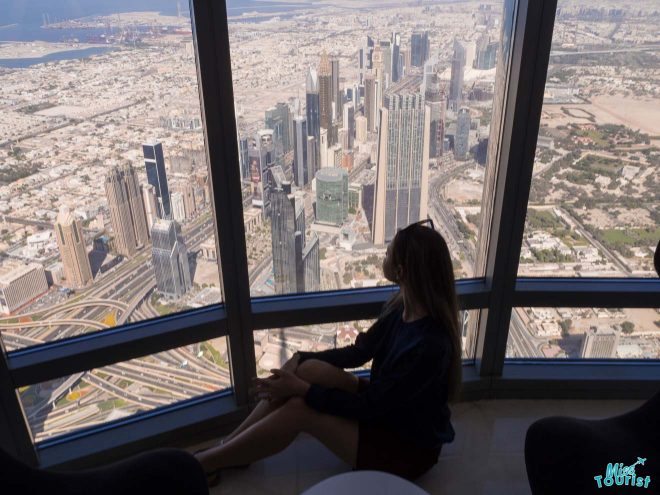 Originally named Burj Dubai, it was changed to Burj Khalifa in honor of Abu Dhabi's ruler that helped pay off a recent astronomical Dubai debt.
The famous Burj Khalifa architect Adrian Smith designed it. Its construction started in 2004 and it was completed by 2010, just 6 years to complete the tallest building in the world!
It was built to try to transform Dubai from its oil-based economy to a world class reference as a unique tourist destination. It definitely has become that because now visiting Burj Khalifa has become a must-do for all travellers that go to Dubai.
Also, the Burj Khalifa has offices, private residence apartments that go as high as level 108 and even a hotel called the Armani Hotel Dubai, with the interior designed by the very own Giorgio Armani!
NOTE: If you are curious about what an apartment in Burj Khalifa looks like, have a look on this real estate website, where some of them are for sale 😉
2. Choosing the right type of ticket for Burj Khalifa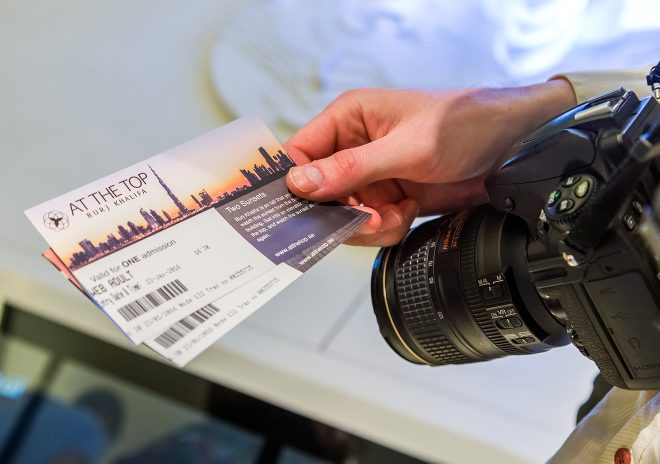 If you have decided to visit Burj Khalifa Dubai, then you are in the right place for tips! Navigating their website and choosing the type of experience that you would like can be quite overwhelming if you don't have a little bit of background information so here you go:
First of all, you will get quoted a different price depending on the time of your visit and on the levels of the building you want to visit, so make sure this is decided ahead of time as you don't want to make this decision on a whim!
TICKETS BY LEVELS
There are two general types of tickets:
One of them includes a visit to levels 124 and 125
The other one allows you to visit the previous levels plus level 148, which is the highest observation deck!
IMPORTANT: The most popular tickets are the ones that allow you to visit Levels 124 and 125 because they're more affordable (I will explain the prices below), but this also means that these levels are much more crowded and they even tend to run out of tickets for certain times! So please, make sure you buy your tickets ahead of time!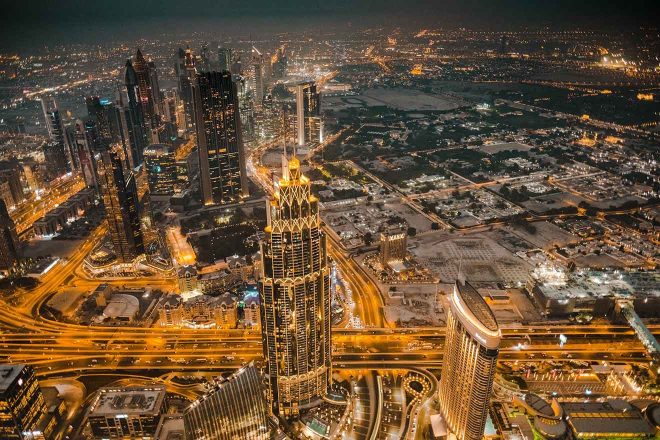 TICKETS BY TIME OF VISIT
The quality of your experience will also depend on the time of your visit. For example, the timing will affect the price of your tickets, how crowded the place will be, and whether or not you'll be able to experience views such as the sunset or sunrise! So the time of your visit is a key factor regarding your Burj Khalifa ticket!
There are two types of tickets based on the time of your visit:
Prime time – Usually the busiest time and also the most expensive one. If you buy tickets for levels 124 and 125, prime time is between 4 and 6pm. If you buy tickets for level 148, prime time is from 9:30 am to 6pm.
Non-Prime time – All other times. Non-prime time tickets have cheaper prices and the visit will not be as crowded as during prime time.
Here you can find a table where I present the standard rates for tickets for general entry. There are more options such as a skip-the-line ticket, but I will tell you everything about those below in the article:
Prime time entry charge
Non-prime time entry fee
"At the top" – floors 124 and 125
AED 224 (US $61)
(from 4pm to 6:30pm)

AED 149 (US $40.50)
(from 8 am to 3:30 pm and 7 pm until closing)
"At the top SKY" – floors 124 and 125 +

148th floor

AED 533 (US $145) (from 12:00 to 6 pm)
AED 379 (US $103) (from 7 pm until closing)
Keep reading where I will explain some differences between these types of tickets and I will also recommend some great options where you can buy them online:
3. Buying tickets for Burj Khalifa
So now that you know all the basics, are ready to learn more about the experience itself and finally choose from all the different ticket options available:
a) Level 124 & 125 – "At the top" Burj Khalifa tickets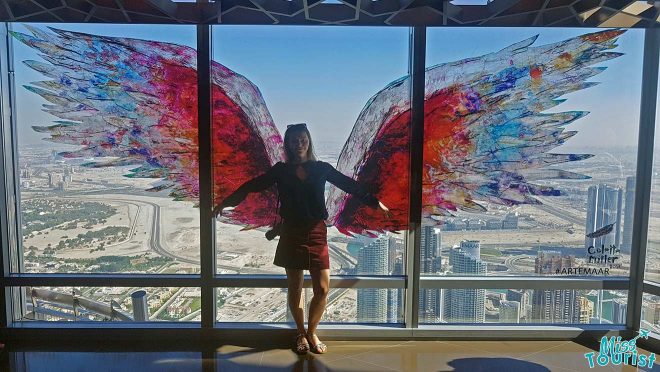 If you choose this option, you'll get to visit levels 124 and 125. Even though they are not the highest floors, they're quite close and they provide a stunning view from their 452-meter height!
On level 124 you will be able to check out the view through high powered telescopes and enjoy the observation terrace! Meanwhile, on level 125 you can enjoy the 360 degree view deck, a falcon's eye view, take a green screen photo and enjoy a virtual reality game where the glass cracks underneath you!
PRIME TIME FOR THIS LEVEL: from 4pm to 6pm
NOTE: If you have a GoDubai Card (more info about it in my 5-Day itinerary in Dubai post), your Burj Khalifa "At the Top" tickets will be included!
Here are all the available types of tickets for this level. I have found 5 of them that deserve your attention so find my recommendations below (with prices included).
NOTE: The only type of tickets "affected" by the prime time and non-prime time categorization are the general entry tickets. For all the other ones I am recommending below, it does not matter if you decide to visit during prime or non-prime time hours.
I found 5 different ticket variations that I think would be interesting for you (all in the first level):
1. General entry
tickets.atthetop.ae/atthetop/en-us/booktickets/index/4(opens in a new tab)
This is the general pass for Levels 124 and 125, tickets on the official site for non-prime time cost AED 149 (US $40.50) but I have found you a cheaper ticket for the lowest price of 38 US dollars! If there are no tickets for the dates you prefer, you can try your luck here for a similar price. These are the cheapest Burj Khalifa tickets you will find!
I recommend this ticket if you are visiting during non-prime time hours. HOWEVER, if you are visiting Burj Khalifa during prime time hours, I recommend you check out the skip-the-line ticket below; I think it's a life-saver!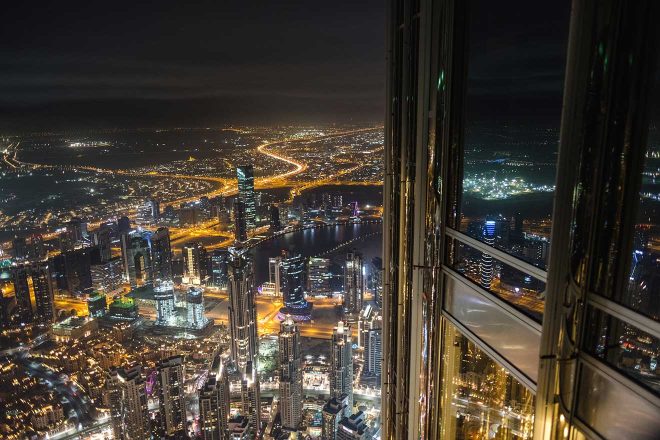 2.
Skip-the-line
If you didn't realize this yet, let me tell you right from the start – the lines at Burj Khalifa are no joke and if you hate queues, I recommend you purchase this skip-the-line ticket for AED 323 (US $84) on the official website, which has the same price for prime time and non prime time!
PRO TIP: If they have run out of tickets, you can purchase them here for a similar price.
If you fancy a hotel pick-up and drop-off and a private local guide explaining to you all the gems that you'll see on the way, you can purchase this private Burj Khalifa tour with all that included!
3.
Sunrise and Breakfast
If you'd like to take the best pictures, you can enjoy the Burj Khalifa top view at sunrise with this AED 129 (US $35) ticket from the official website! Moreover, you get breakfast included and there's not as many people as there are the rest of the day – win-win!
Again, you can also purchase them here if the official website is sold out for your dates!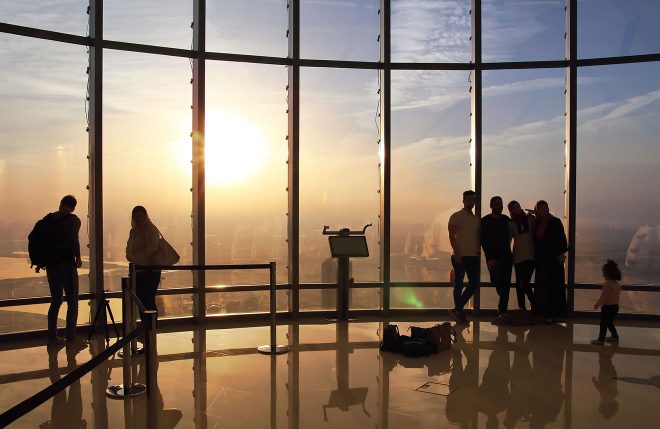 4.
3-Course rooftop lunch package
If you're not ready to leave the premises after your visit, then why not stay for lunch or dinner at the Rooftop Burj Club? You can get a discounted US $80 package (that costs US $84 USD on the official website) where you enjoy a visit to Levels 124 and 125 included (you can choose times between 12 to 2pm) and a delicious 3-course lunch at this great restaurant on the 5th floor of the Burj Khalifa!
5.
Virtual reality package
If you are a thrill seeker and would like to know what it feels like to parachute yourself from the Burj Khalifa, you can purchase this ticket with the virtual reality "Mission 828" experience included! You can buy your Burj Khalifa tickets online for AED 174 (US $43) from the official website for non-prime time, or AED 236 (US $64) for prime time.
WHICH TICKET SHOULD YOU CHOOSE?
If you choose to visit during prime time hours I definitely would recommend the skip-the-line ticket as it can get pretty hectic and you don't want to miss out on your chance to go up because the lines are crazy!
However, with a bit of will power I strongly recommend the sunrise experience, where you can enjoy an outstanding view with very few people and munch on some yummy breakfast!
b) Level 148 – "At the top SKY" option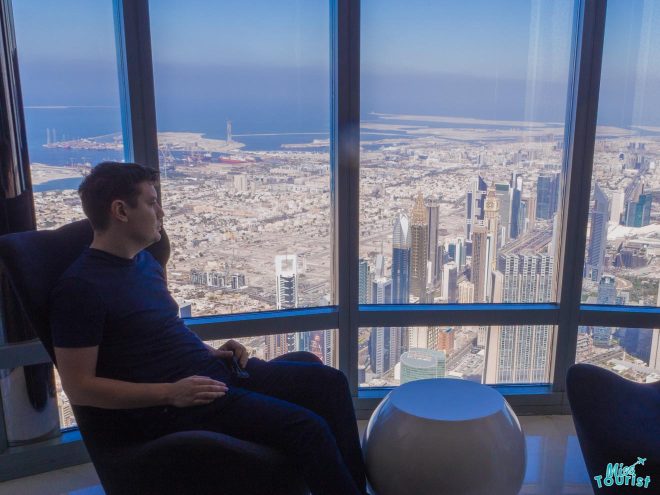 At first, I was a bit hesitant about which ticket to choose as the price difference is quite high, but we ended up getting the SKY version and I have no regrets! The views are slightly different from the 125th floor option, but there are significantly fewer people above, and it was so much more enjoyable in my opinion!
Keep in mind that when you purchase tickets for level 148, you will also be able to visit levels 124 and 125 as they are included in the price!
Level 148 is located at 555 meters above the ground, so you will be left just speechless after you check out the view from the outdoor terrace. You will also get a whole different experience with a personalized tour and a welcome drink to help you soak in all that your eyes are seeing! This floor also offers amazing photo stops so that you can take the best picture!
PRIME TIME FOR THIS LEVEL: from 12noon to 8pm
NOTE: "At the top sky" is not included with your GoDubai Card. I spoke to them and asked if you can upgrade your city card to include the "At the top sky" option as well, and they said the best solution is to go for the All-inclusive Pass here.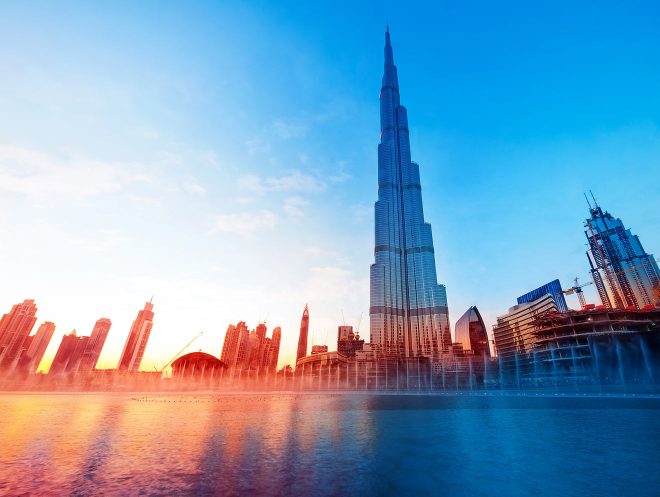 Here are all the 3 types of tickets available for this level:
1.
Prime time tickets
As mentioned before, the prime time tickets are available for visits from 12:00noon to 8pm. The cool thing about prime time is that you'll catch the golden hour (my favorite hour) and you will see the color changing in the sky and the sunset! Nevertheless, get ready to share that sunset with a lot of people as it can get hectic and very busy!
PRO TIP: If you're really keen on watching the sunset, I recommend getting your tickets during the week; weekends are always doubly full!
You can purchase tickets from the official website for AED 533 (US $145). Alternatively, you can purchase your Burj Khalifa entry ticket on this authorized ticket seller site if the official website has run out.
2.
Non-Prime tickets
This is entry for all three levels after 7pm (last entry 9pm), which, at the moment will provide you with a romantic view of Dubai at night! Purchase them here for AED 379 (US $103). If they are sold out, you can purchase them here.
3.
BONUS – The Lounge visit
The Burj Khalifa Lounge is the world's highest lounge! Located on levels 152, 153 and 154, it's a great place to unwind and relax with tea in hand or with a romantic cocktail under the stars! You can book your Burj Khalifa tickets with a discount for the Lounge experience here! For instance, you can book a tea or cocktail experience for US $145, instead of the AED 698 (US $179) from the official website.
---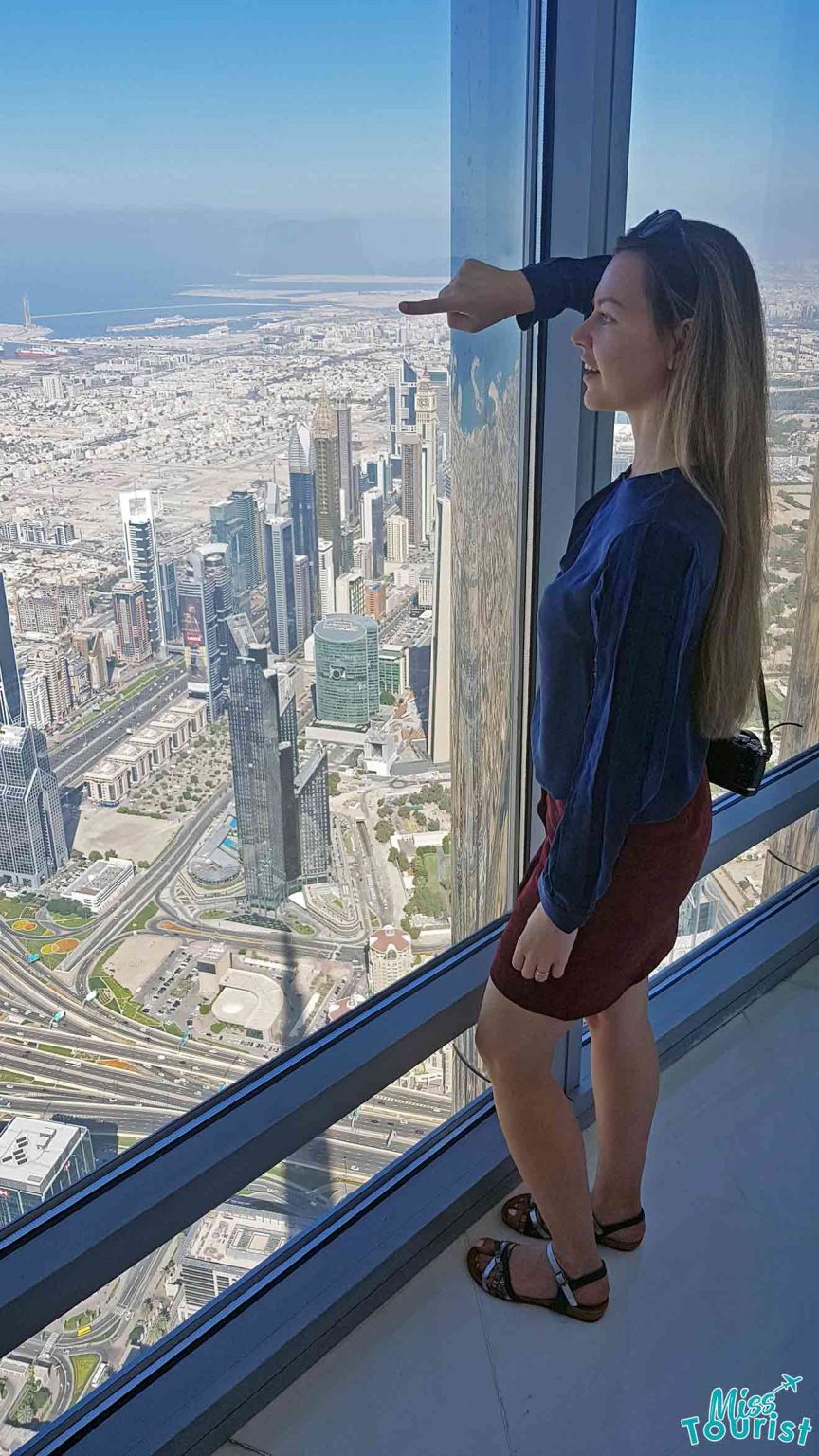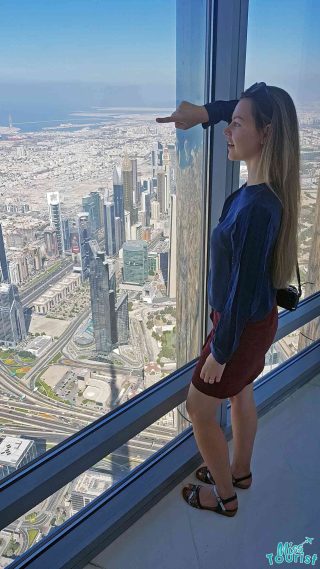 To sum up, even though it's far from being cheap, going up the Burj Khalifa is definitely worth the price! Seeing the views of Dubai, the Persian Gulf and the Emirates desert from the tallest building in the world is a once in a lifetime experience and I truly believe that a visit to Burj Khalifa is a MUST DO during your Dubai visit!
PRO TIP: When I visited Burj Khalifa, I had to wait for about 10 minutes at the front desk to figure out a payment problem (something went wrong and they didn't see that my transaction had gone through). As I waited, I saw a lot of people coming to buy tickets at the counter, but they could only get the more expensive ticket for level 148, as the other ones for level 125 were sold-out long before. That's why it's important to pre-book your entry ticket as early as you can (especially for levels 124 and 125); they really run out super fast!
---
3. Is the view different from the upper level?

You must be wondering – being more than double the price, is it really worth it to go to Level 148? I'd say yes, definitely yes!
Level 148 is way less crowded and it provides a whole different experience. Moreover, you can compare the experiences between all three levels because you will be able to visit them all if you buy the ticket for 148!
So, if you have the budget, do not hesitate, and get the tickets for level 148. After all, it's only once that you visit the tallest building in the world!
4. What will your visit to Burj Khalifa look like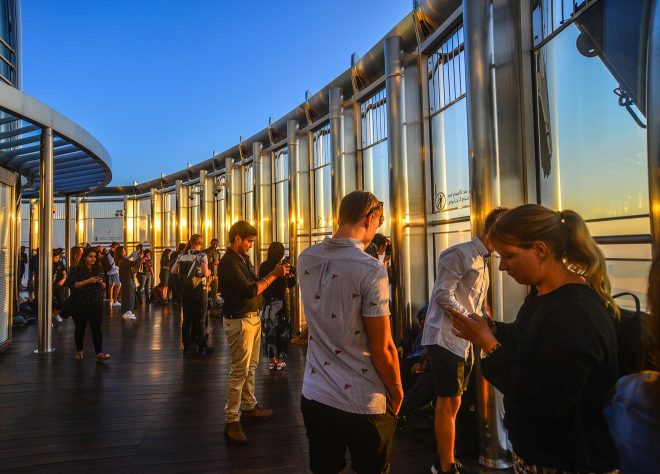 It is important to plan your visit as you can easily get lost at the Burj Khalifa inside and outside areas! If you have ever been in a skyscraper, you might know that they're like little cities inside, literally so hard to navigate!
So, here is what your visit to Burj Khalifa will look like. There are two queues once you arrive (read more on How to get to Burj Khalifa just below) – one line is to buy tickets and the other line to enter once you already have your tickets. Make sure to read the signs and hop in the right one!
Once you have your tickets and have gotten in the right line, you will be directed to your corresponding elevator. The Burj Khalifa elevator (or Travellator) is a 65-meter flat lift going at a speed of 10m/s. While you are on your way up, you'll be able to enjoy a multimedia display where you will learn all the fascinating details about this beautiful wonder!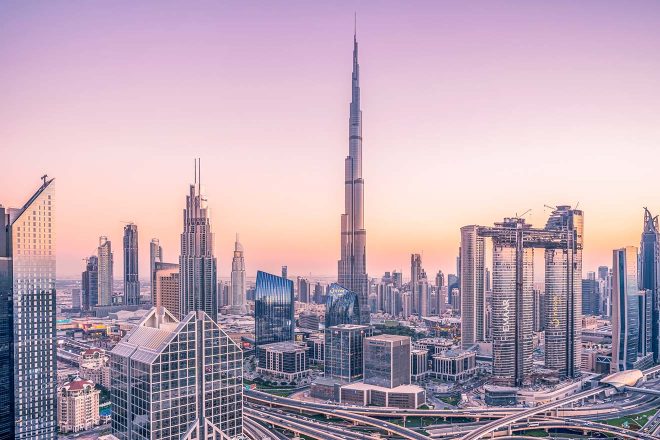 AT THE SKY OPTION: If you have the Sky option, you will be taken to floor 148 first, where people usually stay for an average of 30 minutes (which is definitely enough) and then move on to levels 125 and 124.
IMPORTANT: Make sure you go as early as possible. Getting around Burj Khalifa is not that easy and it might take some time to get through the entrance!
PRO TIP: If you have chosen the SKY option to Level 148, you will be given a complimentary drink and some traditional dates, but if you haven't – make sure you carry a bottle of water since there are no drinks being served on the upper floors!
PRO TIP 2: You can download the official app of the Burj Khalifa "At the Top" experience here, where you can find out all the info needed for your visit and more facts about this amazing landmark! And don't worry, there's high-speed free Wi-Fi in the building!
5. When to visit Burj Khalifa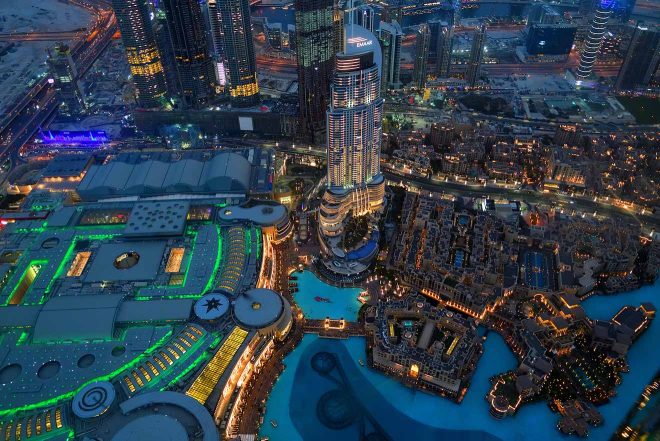 If you think the Burj Khalifa is great, so do other travelers! That's why it's so important to take many things into consideration before your visit.
There are three things that you have to keep in mind when deciding which part of the day you'll be visiting the Burj Khalifa:
Weather
Checking the weather is probably the most important thing when visiting Burj Khalifa! You can check it out on this website. Bear in mind that the further into the day that you get, the hazier it will become, so, early morning would be my best recommendation and your best bet! On a clear day, you can see as far as Abu Dhabi!
Fret not, even though this beautiful desert can get a bit hazy, you can usually still see the whole city and the artificial islands.
PRO TIP: Foggy days are not so bad either! Many times, you get a great view above the clouds and the opportunity for amazing photos!
Crowds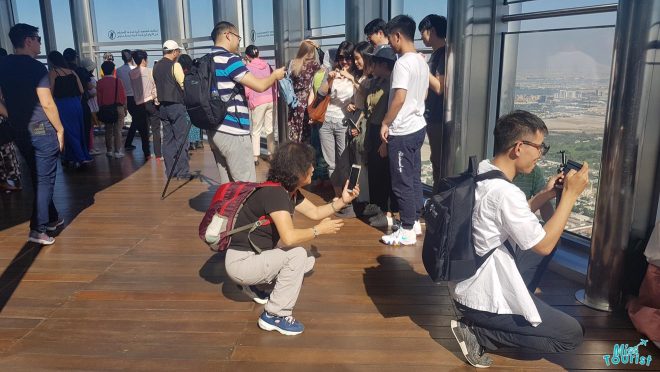 You might have heard of crazy lines and long waiting times at the Burj Khalifa, and unfortunately, most of the time that's the truth! However, there are some ways to work around it.
If you head there on a weekday and you wake up a little earlier, not only will you avoid haziness and overall have a better view, but there is also the chance that you won't meet as many crowds as in the middle of the day or weekends!
Timing
Usually, the best views are during the golden hour, which is right before sunset. This way you can have a view of the city before, during and after sunset! You can check what time the sunset will be for your date here.
However, as explained before, there are quite long lines during this time, so if you do choose to visit during sunset, make sure you head there with plenty of time in advance (I recommend 1 to 2 hours ahead).
6. How long does it take to visit Burj Khalifa?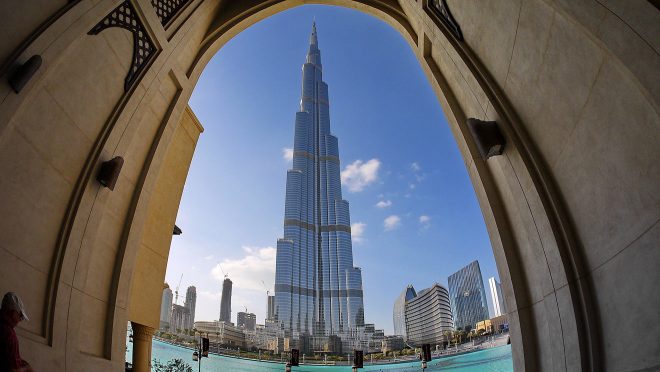 There is really not much to do up there apart from checking out the view and taking plenty of photos, so it usually depends on how much of a photography freak you are and how many levels are you visiting. Excluding how long it takes for you to get there, people tend to spend 30 to 45 minutes per level.
To give you a better understanding of this – if you have a ticket for Level 148, even though you can stay for as long as you like, people end up spending 1 hour and a half on Levels 148, 124 and 125 altogether.
NOTE: Level 148 also has an outdoor terrace where you can go and admire the view without windows getting in your way. I guess you can picture how windy it gets, but it is definitely worth checking out!
7. How to get to Burj Khalifa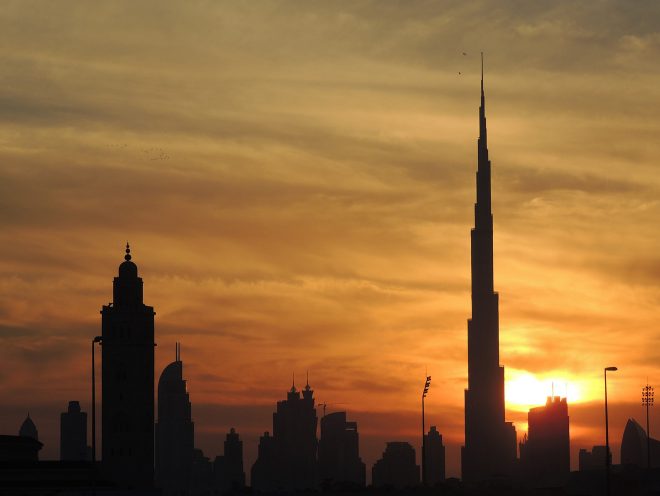 Navigating the Burj Khalifa is quite tricky, so this section is a must read! Even though I consider myself good at navigating cities, there is something about skyscrapers and malls that is just impossible for me to comprehend. Why are they SO easy to get lost in?!
Remember, the entrance to the Burj Khalifa is through the Dubai Mall, so make sure you don't try to go around the building (like we did, and it was hot!) as it can take more than 30 minutes more.
If you're staying in downtown Dubai, you probably will be able to walk to the Dubai Mall. However, if not, there are several ways to get there:
By metro
You can stop directly at the Burj Khalifa stop on the red line (which actually drops you off at the Dubai Mall) and walk to the Burj Khalifa. But please bear in mind that, with this option, you will not have to walk outside. The walk is quite long (there are walkalators though!) and there are also security checks, so make sure you add 15 minutes extra for all of this.
PRO TIP: For more tips about how to navigate the metro in Dubai, you can check out the practical section of my Things to Do in Dubai article!
By taxi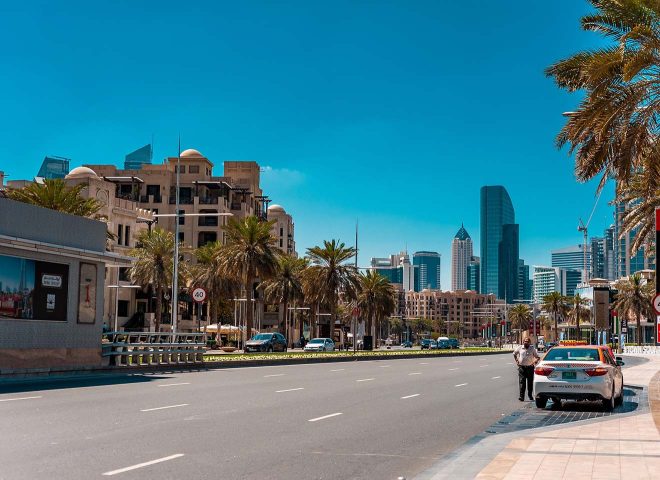 You can also take a taxi to get to the Burj Khalifa. These are easy to hail from the street or you can get your accommodation receptionist to call you one. Burj Khalifa is a top attraction so there are plenty of taxis around it, and taxi drivers are used to driving tourists to this destination.
Keep in mind that, if it's a weekend or a local holiday, these taxis might take longer, however that is usually not a problem.
If you're wondering about fare estimates, I can give you an example – usually taxis from Deira to the Burj Khalifa are around AED 40 (US $11) and they take around 25 minutes.
PRO TIP: The closest Dubai Mall exit that leads to Burj Khalifa is the one near the fountain and this is the one that could save you some time! Remember there's no entrance to Burj Khalifa from the outside, only from the mall, so make sure you don't walk around the building!
8. Fountain Show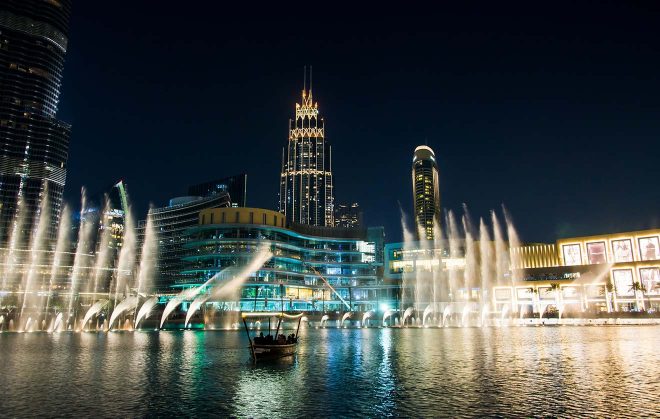 One of my favorite things to do in Dubai is to check out the Night Fountain Show at the Dubai Mall. Currently, the shows take place in the afternoons and evenings starting at 1pm from Saturday to Thursday. However, to find a time that would be more suitable for you, you can check the schedule here.
But did you know that you can see this amazing show from the Burj Khalifa as well?
A great way to see this show is from a crazy perspective of 452 meters high! If you check out these times you can schedule your visit to be at the same time as the Fountain show. This is not a must, as you can also enjoy this free show from the ground, but if you've already seen it like that, I think it's worth it to see it from above as well! ;).
We have only seen a rehearsal (it was very quick, maybe 30 seconds, but I could already see how it would be spectacular to see the fountain show from up there!).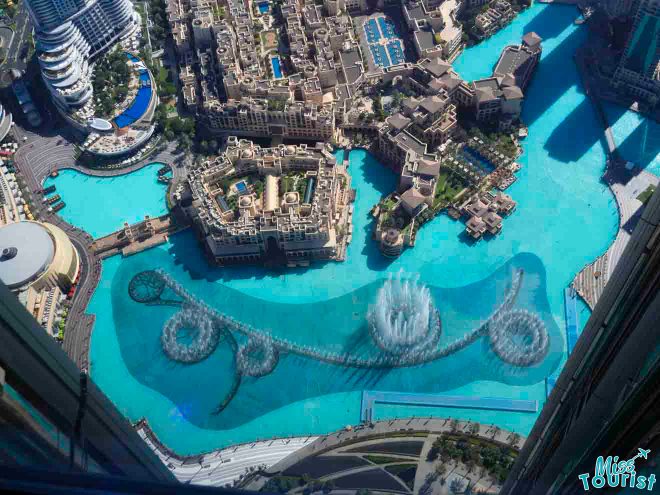 If you want to see the fountain show from up close, you can book this ticket that gives you access to the fountain boardwalk, which is a newly built, 272m platform just 9 meters away from the fountain! The ticket also includes entry to the highest floors of Burj Khalifa, so you get to do both things on the same day!
9. Burj Khalifa Hotel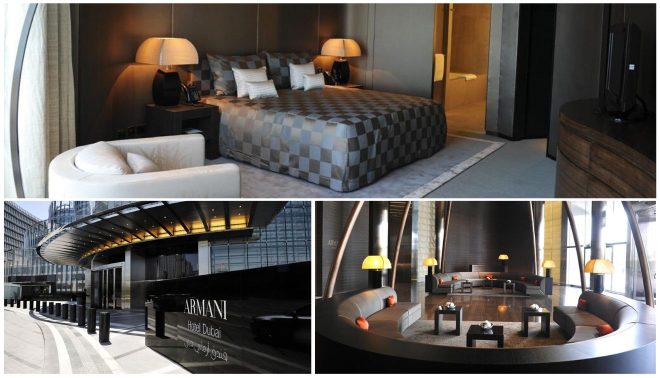 In case you want to STAY in the Burj Khalifa overnight, you actually can! Their on-site Armani Hotel Dubai is an upscale hotel that provides a world-class accommodation. Its location says everything but its fine décor doesn't go unnoticed either!
The hotel features a total of 160 exquisitely decorated rooms and suites, some of which were created by Giorgio Armani himself and many of which have breathtaking views of the city.
Check out this video, where you can experience what is like to spend a night in the tallest building on earth!
You can also enjoy a meal at their on-site Armani Restaurant, a spa treatment or a relaxing massage at the on-site spa (best thing after a day of playing tourist)!
If you want to visit Burj Khalifa and enjoy the hotel as well, you can check out this 3-Course Meal Lunch package, where, apart from visiting Levels 124 and 125 and enjoying the views from these crazy heights, you can savor an Italian meal from the Armani Restaurant in this iconic landmark!
PRICE: Approximately US $700 to spend the night in a double room.
10. Fun facts you probably didn't know about Burj Khalifa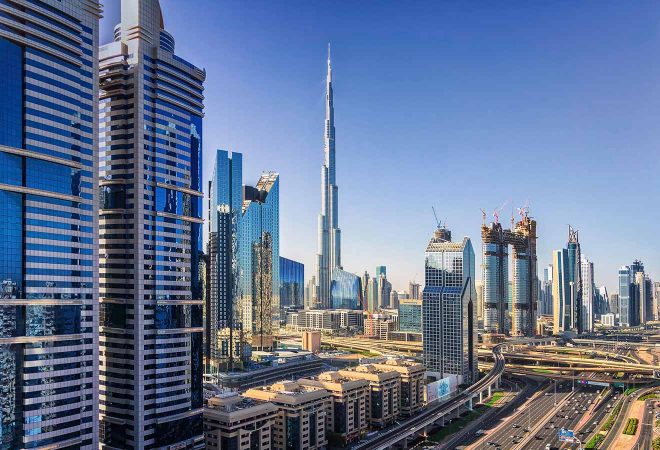 I couldn't finish off this article without sharing some Burj Khalifa facts that will leave you speechless!
It takes 1 minute to travel by elevator to the 124th floor at a speed of 10m per second.
If each piece of the building was laid on the ground forming a line, it would reach around a quarter of the world!
Burj Khalifa appears in "Mission Impossible: Ghost Protocol" with Tom Cruise actually hanging from the tip of the building at 828m high!
A Guinness World Record was earned by Fred Fugen and Vince Reffet for the highest base jump in the world by bungee jumping from Burj Khalifa.
The Burj Khalifa is twice the height of the Empire State Building and three times the height of the Eiffel Tower!
The amount of concrete that was used in its construction is similar to the weight of 100,000 elephants!
To complete Burj Khalifa, 22 million man-hours were needed from 12,000 workers per day!
If you are 95km away from the Burj Khalifa, you can still see the tip of the sphere of the building!
Burj Khalifa has 58 different elevators, and it holds the record for the elevator that travels the longest distance in the world.
It is SO tall that you can see the sun set twice, first from its lower levels and then from the highest levels! So, if you're Muslim and you live on one of the highest floors you will have to fast for a longer period of time than Muslims living on the lower floors!
250,000 gallons of water are used at the Burj Khalifa every single day!
It was completed after 6 years of hard work and it was originally named Burj Dubai.
The temperature at the top is 6 degrees cooler than at ground level!
| | |
| --- | --- |
| 👩‍ Adult price: | $42 |
| 👧 Kids price: | $33 |
| 💲 Cheapest tickets: | Official website |
| 🎤 Private tour: | from $305 |
| 🍽️ Special tour: | Dinner at Rooftop |
| 🕖 Best time to visit: | before sunset |
| 📍 Location: | Downtown Dubai |
Conclusion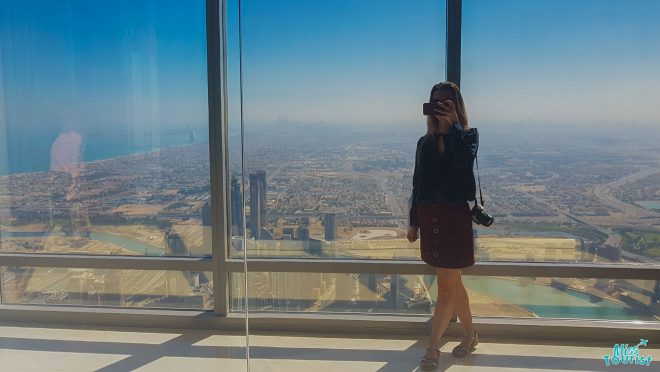 If there is one paid attraction you need to visit in Dubai, THIS IS THE ONE! If your budget is a bit tighter, try to cut on other activities by choosing free or inexpensive things to do from my Top things to do in Dubai article! But please, please, make sure you visit this man-made wonder!
Take advantage of it right before it becomes the second tallest building in the world, as the Dubai Creek Tower is stepping up. At more than 1 km tall, it is estimated to be opening by 2020, so stay tuned!
I hope you enjoyed this article, but most of all, I hope you found it useful and you make the most of your Burj Khalifa experience!
Happy travels!
Yulia
---
Pin it for later!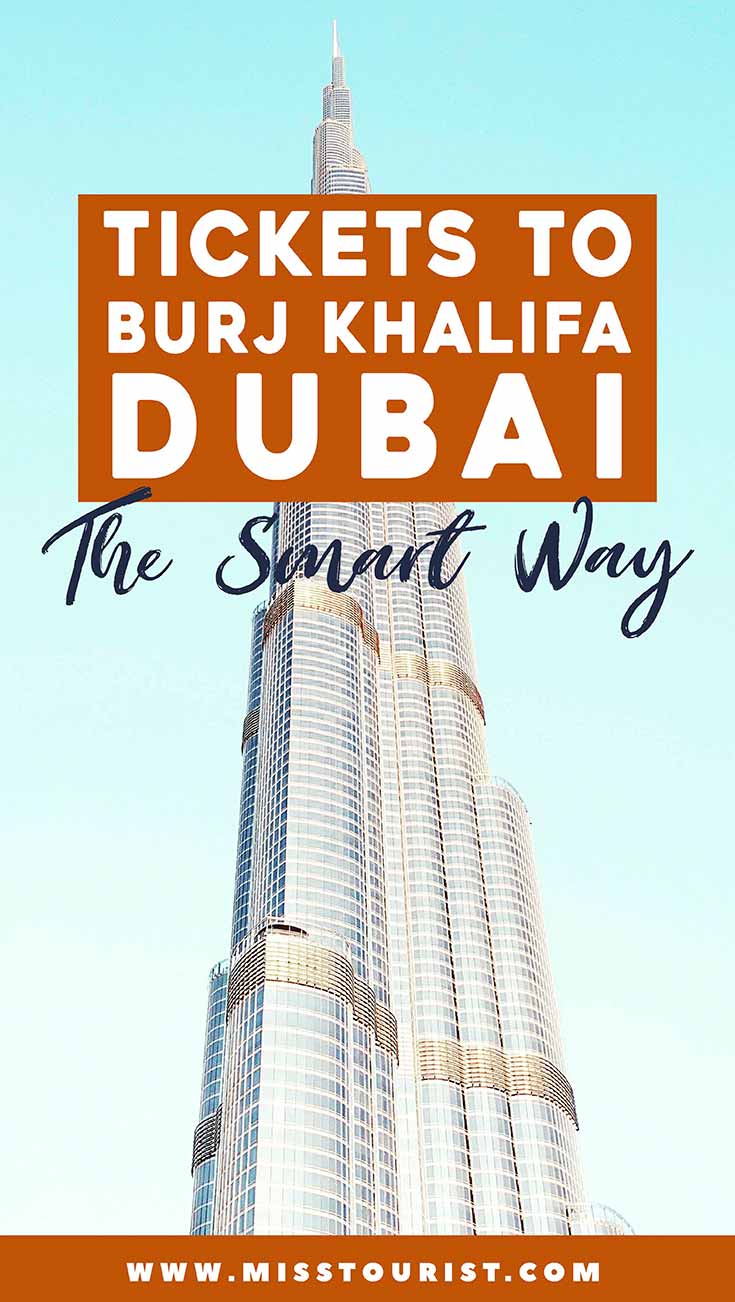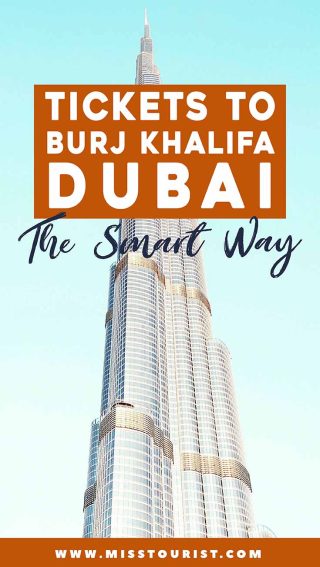 Pin it for later!