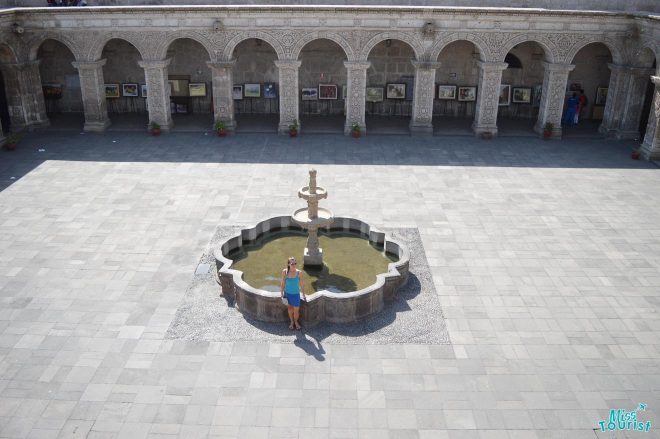 Arequipa is the second biggest city in Peru (after Lima, the capital city) and, although all of its attractions are in the historical center, it still has so much more to offer any kind of traveler! In this article I'll share with you my list of the best things to do in Arequipa, Peru. Are you ready?
Arequipa is also known as the "White City" (or "la ciudad blanca", as locals use to call it). There are two theories as to why this is, one is that the name comes from the fact that a great number of its buildings were built using a white volcanic rock called "sillar" and the other is that the name "White City" is due to the fact that, in colonial times, more than 70% of the population was white.
You might believe the city is only worth visiting for its volcanoes (it's surrounded by no less than 3 volcanoes – Misti, Chachani and Pichupichu) and alpaca wool clothes but be prepared for some amazing gastronomy, rooftop views, and much more on the outskirts!
FUN FACT: Even though it's not the capital city, Arequipa is so developed that they call themselves an "independent country". So when you go shopping for handmade souvenirs in Arequipa, you'll find a "local passport" as well (it's only symbolic, but still fun to find).
My last visit to the city left me quite enthusiastic, so I have put together this ultimate Arequipa travel guide with some of the best places to visit and some other practical information I know will help you organize your trip!
NOTE: Before starting, I'd like to let you know that Arequipa is located at 2,335 m altitude, which means you'll need some time (around one day) to get used to it and altitude sickness is not uncommon when traveling to this city.
Now, let's get back to the important stuff – here are my recommendations for what to do in Arequipa:
1. Discover the main square (Plaza de Armas)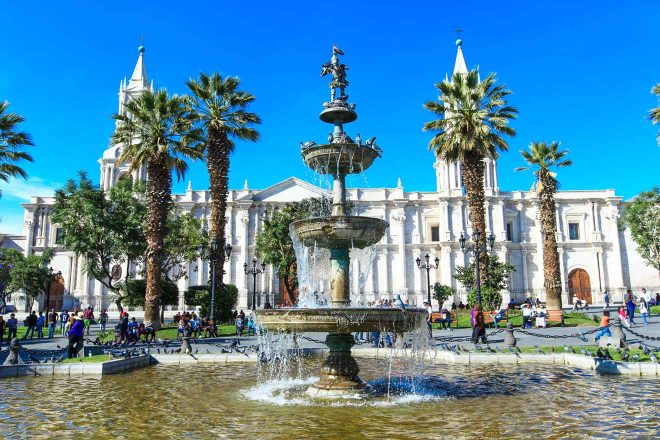 The beautiful Plaza de Armas de Arequipa is the main plaza of the city and it's surrounded by impressive colonial buildings that are simply beautiful! You will also find a cathedral there (Basilica Cathedral of Arequipa) with impressive towers.
And the best thing? Here, in the city center of Arequipa you can see an amazing view of the Misti and Chanchani volcanoes. Once in the main square, you can simply walk around and enjoy the view or you can join a walking tour around the city center to find the most iconic Arequipa attractions.
As an alternative, you might prefer a 3-hour private tour where the local guide will tell you all about the "White City" and its architecture and you'll also pay a visit to the Santa Catalina Monastery.
PRICE: Walking around the main square is free. It's US $36 for the walking tour (a minimum of two people needed to book)
2. Learn about Arequipa with a free walking tour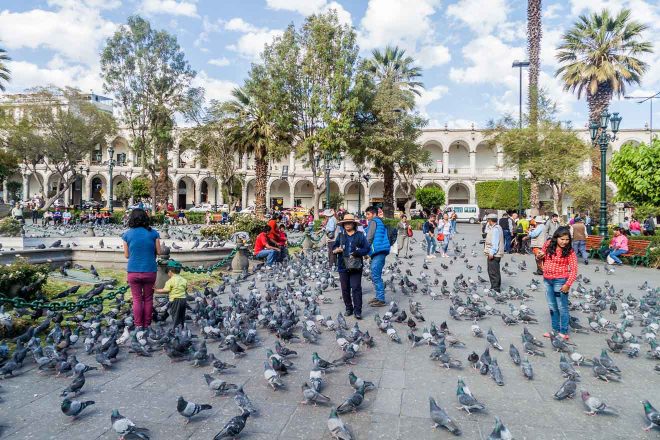 Taking an Arequipa city tour is one of the most popular things to do when visiting. Actually, it's so common that you will find many people at the main plaza offering a tour and your hotel will most probably do the same.
But, if you ask me, the safest option is to pre-book your spot online. I just love free walking tours because I feel the perspective of the guide is much more personal and they do their best to entertain the visitors!
During the Arequipa walking tour you can expect to walk by the Plaza de Armas and Alpaca Museum, admire the best views of the volcanoes, and enjoy some pisco tasting in some great locations. The tours depart daily at 10 AM and 3 PM from the Tourist Office at Plaza des Armas.
Now, I know this is a free walking tour in Arequipa, which technically means you don't have to pay anything for it, but the idea is that, in the end, you offer a tip to the guide, depending on how much you loved the tour!
Another alternative I have found for you is this online tour, where you reserve your spot for the walking tour and you pay US $5 online which is basically the tip you would leave on the spot. How does that sound? I think it's a very good solution if you want to be hassle-free during the tour!
PRICE: Free, but a tip is recommended at the end
3. Learn some history at Santa Catalina Monastery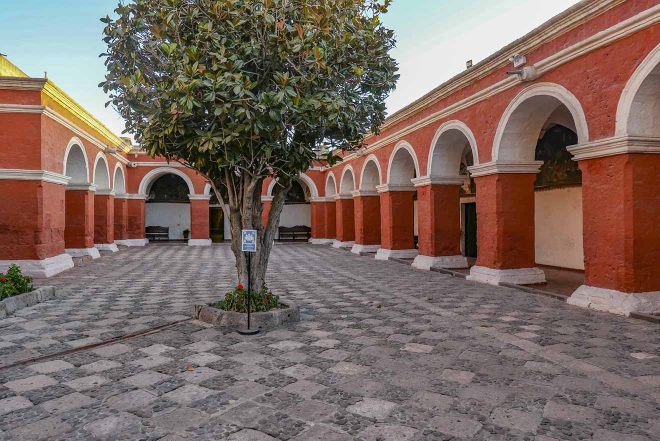 The Monastery of Santa Catalina in Arequipa is one of the most famous religious buildings in the country! It's a citadel-style complex where you can wander around as much as you please and discover each corner at your own pace. It's almost a city inside a city!
This monastery for nuns who worked from the 16th to the 18th century has beautiful red walls. It's located right in the city center and it hosts a small religious community even today.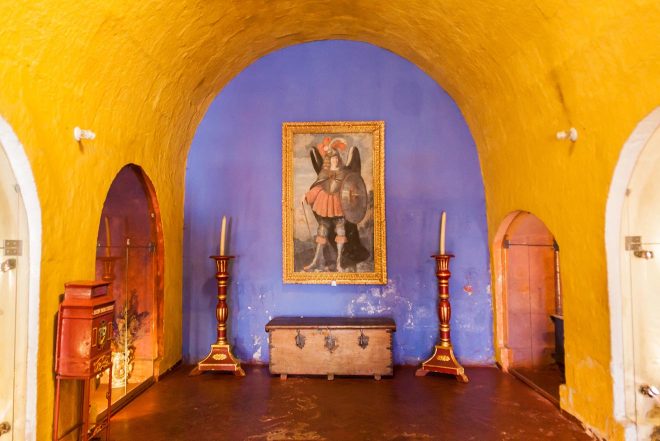 I remember that, when I was there, I was following the map of the monastery and I got to see some rooms and kitchens where the nuns used to live long ago. It was all so beautiful- I definitely recommend you visit this place!
PRO TIP: The ideal way to visit the Monastery is by hiring a local guide on the spot for PEN 20 (US $6). You can pay for this at the entrance.
PRICE: Entrance is PEN 40 (US $12.30). You can book it online here or purchase your ticket at the entrance
4. Hike Colca Canyon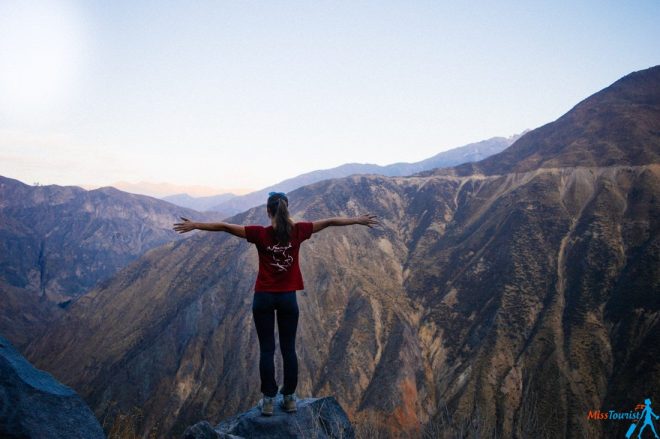 Although it's located on the outskirts of the city, doing a Colca Canyon trek is actually one of the most requested tours in Arequipa!
Arequipa Canyon is visited by both tourists and locals alike. One of the reasons is because the trek is very beautiful, but the main reason is to see the great condor, the biggest flying bird in the world! Even though the condor is currently on the endangered species list, the vulture-like birds can still be seen hunting in the canyon area.
By the way, if you want to read more about the most famous hikes in Peru, I recommend checking out my article about 2 Amazing Hikes in Peru (Except Macchu Picchu); I talk about Colca Canyon there!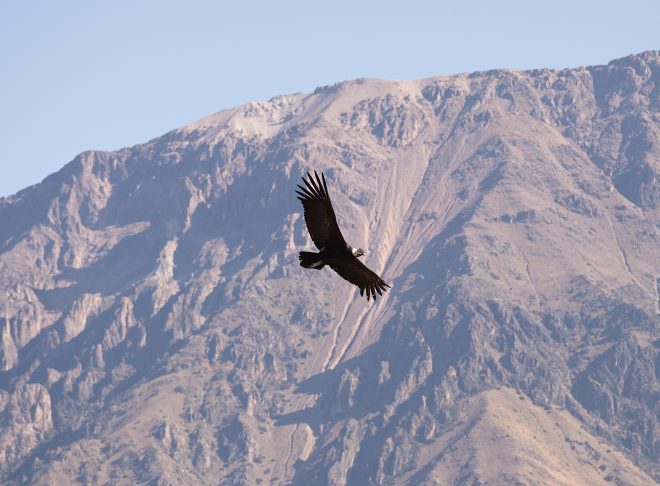 To get here, you have to first make your way to Chivay, a small town located 160 km away where visitors usually stay for a bit to get their bodies in sync with the altitude difference, and then proceed to the canyon afterwards.
The best way to visit the Colca Canyon is by taking a tour, and you can make your decision about which tour based on how many days you have available. I recommend spending a night in Chivay before finishing the tour because the road trip and the altitude difference can leave you really tired!
ATTENTION: I've seen enough news reports to not recommend going hiking by yourself.
PRO TIP: On the road you will most likely make a small stop for breakfast or bathrooms. If they offer you hot cups of coca leaves called "mate de coca", don't refuse it! It will help with any signs of altitude sickness!
NOTE: If you don't want to join a tour but would rather visit Colca Canyon on your own, know that there is a Colca Tourist Ticket that costs PEN 70 (US $21) for foreigners and can only be bought with cash at Chivay.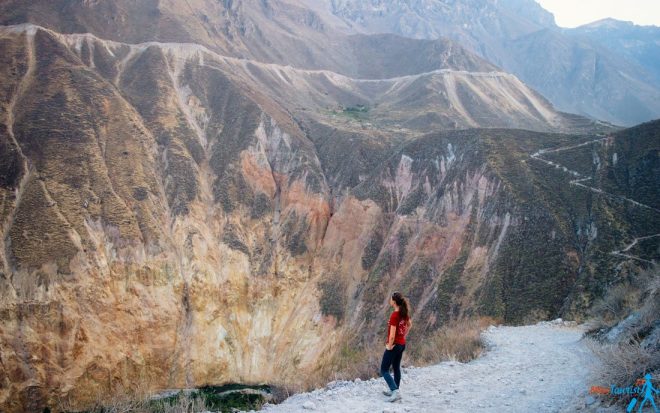 Here are some of the best Colca Canyon tours I could find for you:
This US $36 Colca Canyon day trip starts at 2:30AM and takes about 14 hours from start to finish. The first stop is a good breakfast at Chivay and then you'll go to the condor viewpoint. You'll also have some free time around Chivay to visit the church, marketplace, and therapeutic pools.
Alternatively, you can opt for this US $56 2-day Colca Canyon tour. It leaves at 7:30AM and you will get to see some llamas and alpacas in their natural habitat. This tour is much calmer and it will allow you to acclimate in Chivay. Although not included, you can request visiting the therapeutic pools during your free time!
PRICE: Organized tours start at US $36
5. Admire the beautiful Basilica Cathedral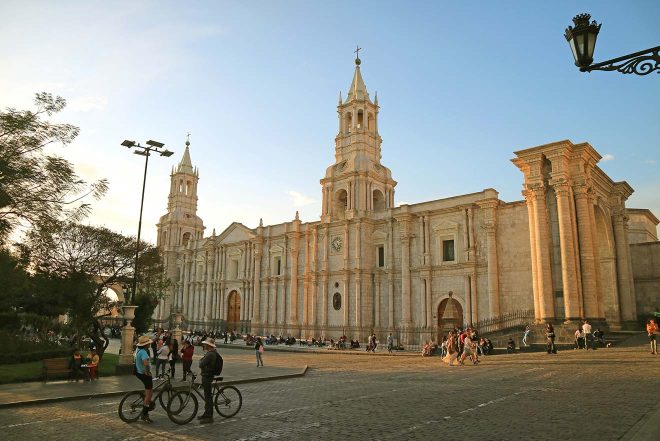 Basilica Cathedral of Arequipa, made out of the famous white volcanic rock called "sillar", is located in the Plaza de Armas! It's the most important Catholic building in the city, with more than 400 years of history behind it.
Basilica Cathedral is so big, it stretches the entire length of the main plaza!
You can also find a "museum" in Arequipa Cathedral where you can learn about the history of the church, its symbols and paintings and the 1,000 years old pipe organ inside it!
You can visit the museum with a 45-minute bilingual tour – it's the best way to enjoy the interior art and understand the story behind and history of the cathedral!
NOTE: The entrance is from the Calle Santa Catalina corner of the Plaza de Armas.
PRICE: PEN 10 (US $3). The price covers the admission fee and the tour and can be purchased at the entrance
6. Get some fresh food at San Camilo Market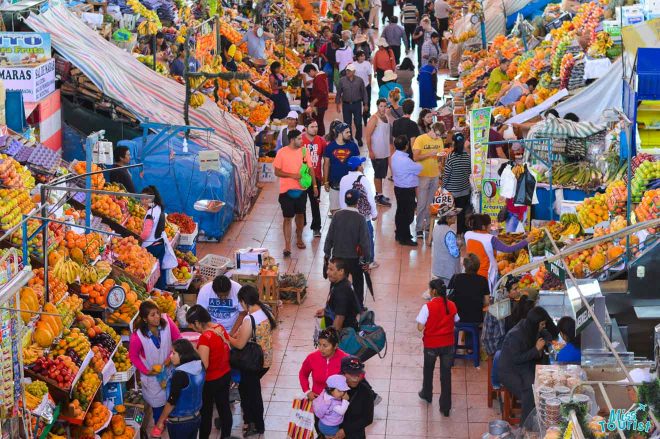 If you want to mingle among locals and feel their daily vibe and energy, then Mercado San Camilo is one of the best places to visit in Arequipa! It's the ideal spot to buy and try fresh ingredients such as local fruit and veggies.
San Camilo is the main farmer's market in town and covers a few blocks with stalls. It also has some small cafeterias where you can find delicious jams, bread, and meat cuts.
PRO TIP: You can also go to the upper floor for a fresh and cheap breakfast (no more than US $5)
PRICE: Free
7. Enjoy the sunset view at Yanahuara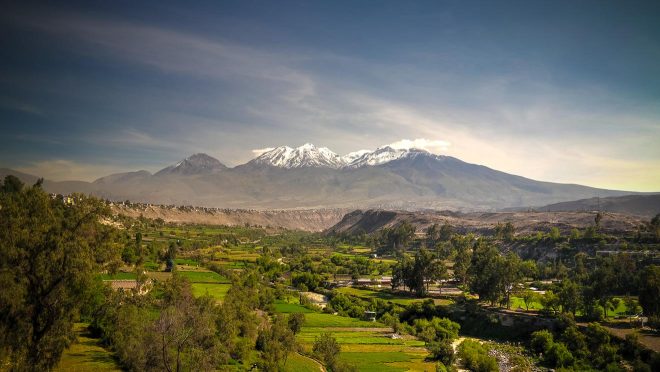 If you want to find another great place for Arequipa sightseeing, I definitely recommend you climb up to the mirador (lookout) in Yanahuara! By the way, the Yanahuara neighborhood is one of the most tranquil ones in the city and it's a great place to get a view of the city center and the El Misti volcano.
Trust me, the climb up and the views of the city and El Misti are just breathtaking from up there!
Almost every city tour in Arequipa includes the Yanahuara lookout as part of its stops, but because the city is so small and walkable you can get there by yourself, too (and you should!).
PRICE: Free
8. Find out who Juanita is at the Museo Santuarios Andinos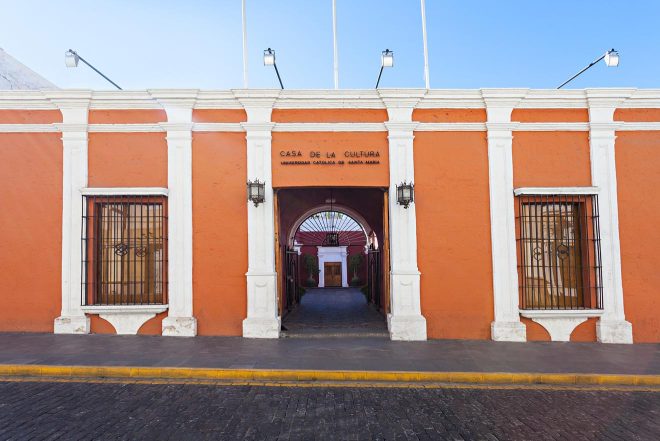 Museo Santuarios Andinos (MUSA) is the place where you'll discover some of the best anthropological findings in this area.
The main attraction at the museum is the mummy of Juanita, a 12-year-old Inca girl who was sacrificed back in the 1450s. That fact might be a bit shocking, but it is impressive how well-kept and preserved her body still is! It's actually one of the main things to see in the city!
There is a tour included with your purchased ticket that lasts about an hour; your guide will be a university student and you can choose to take it in Spanish, English, or French. The tour around the museum also includes a 20-minute film about how they found Juanita's body.
PRICE: PEN 24 (US $7). You can book your ticket online here or you can buy it at the museum on arrival
9. Join a chocolate workshop at Chaqchao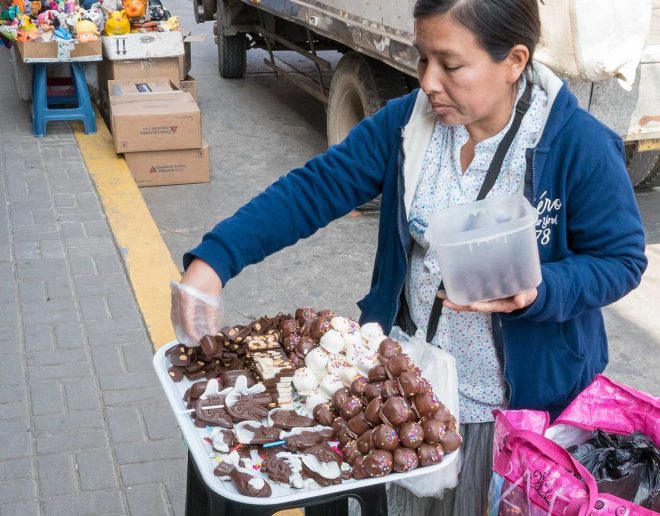 If I could only recommend one good thing to eat in Arequipa, it would probably be their delicious chocolate. The quality of their cocoa beans is incredible!
The most famous places where you can find great quality chocolate are:
Chaqchao Chocolate Factory – a bean-to-bar chocolate shop that also offers a hands-on experience to make chocolate yourself.
La Iberica – the first chocolate making company in Arequipa, up and running since 1909. You can find chocolate bars there, as well as other desserts.
Here's my best advice: If you love chocolate, don't go around the chocolate stores with much cash or you'll be tempted to buy every single variety of chocolate they have, like I almost did – I only skipped the ones with coconut! 🙂
I recommend going for this 2-hour organic chocolate cooking class at Chaqchao where they teach you how the chocolate is made, from the roasting process to the creation of the chocolate bars. You will truly feel you're in a Willy Wonka factory because you can make your own chocolate creations as well!
PRICE: US $40. You can book a chocolate workshop here.
10. Enjoy a drink on a rooftop bar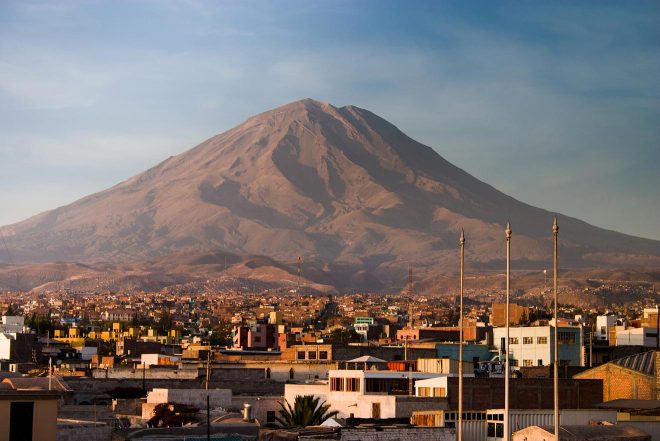 The best way to admire the 3 volcanoes that surround Arequipa is by going up on one of the hidden rooftop bars to see the view with a cocktail in your hand!
Some of the best rooftop bars in Arequipa are:
Sunset Rooftop Bar – located on the highest level of Le Foyer Hostel, it offers a great view of Plaza de Armas and the volcanoes.
Waya Lookout Rooftop Bar – right on the main square area with front line views of the Cathedral as well as the volcanoes.
Katari Hotel bar – perfect to enjoy a local meal or have a traditional drink while relaxing in front of the mountain views.
PRO TIP: The volcanoes are seen throughout the year from any rooftop or top floor of any building, but are much more visible during the winter months (May to November).
11. Discover the colonial houses at Casa Goyeneche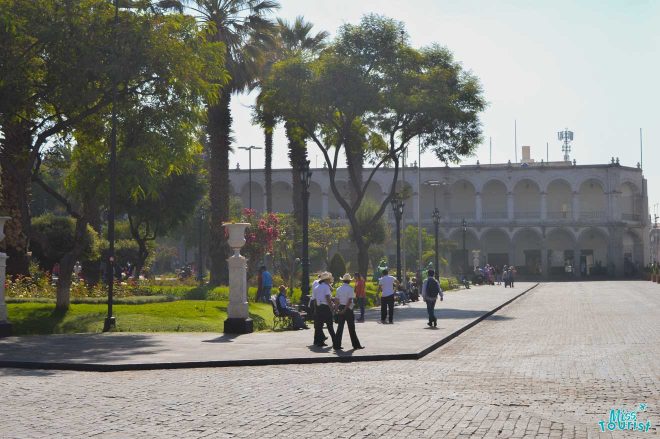 Casa Goyeneche is also known as Goyeneche Palace and has been standing since 1558! Over time, the house gained recognition for its prestigious and detailed architecture and history.
The house belonged to Don José Sebastián de Goyeneche y Barreda (try to pronounce that, I dare you!), Arequipa's bishop, and he invested in it to keep the colonial style intact. The building was made with "sillar", the volcanic stone I was telling you about before, and the windows still have their traditional steel grids intact!
This is a great place to visit if you want a taste of a bit of Arequipa's past and want to admire this classical house filled with refined furniture, the first local private library, and some of Goya's paintings as well!
PRICE: Free
12. Learn more about alpaca wool at Mundo Alpaca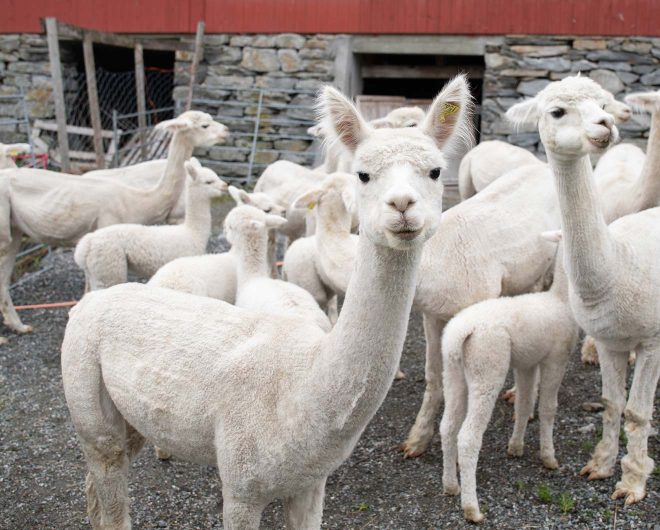 I guess you already understood what this is all about from the name of this place!
Mundo Alpaca (World-Alpaca) is an interesting place where you can learn all about alpaca wool. While you're there, you can discover the selection and sorting process of the wool, then see how the workers twist it and dye it.
The most impressive part of this place is not only that modern machines do part of the weaving, but you can still see local women on the patio doing it manually!
Last but not least, you can also see and approach the lovely llamas and alpacas there!
PRO TIP: Be cautious with the alpacas, llamas, and even vicuñas (a kind of South American camel) because they all tend to spit! Yep, you read that correctly, spit! But this only happens if they feel the need to protect themselves. They are not aggressive, they just have a fun way of making you step back. 🙂
PRICE: Free
13. Go white water rafting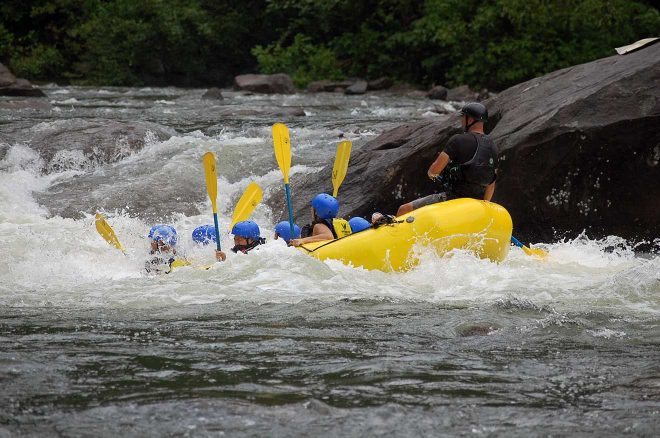 If you want to get your adrenaline pumping, an amazing idea is to go rafting in Arequipa! I recommend you head over to Chili River and go for a 3-hour rafting ride.
The river is only a 20-minute drive from the city center, but if you join the recommended tour you don't have to worry about transportation or rafting equipment! Oh, and by the way, during the tour you will also get to see some amazing views of the canyon and volcanic formations along the way.
PRO TIP: Because of the few rainy seasons in Arequipa, I suggest you do this activity between April and November, when the rapids are manageable and fun!
PRICE: US $43 per person. You can book it here.
| | |
| --- | --- |
| 🤩 Range of activities: | large |
| 🎢 Top paid attraction: | 3-hour rafting ride |
| 🚶🏽‍♂️ Best free activity: | Plaza de Armas |
| 🌋 Top outdoor activity: | Chachani Volcano |
| 👶 Top attraction for kids: | Mundo Alpaca |
| 🚗 Best day-trip | Colca Canyon |
| 🥟 Must try food: | Adobo Arequipeño |
BONUS 1: Hike one of the volcanoes near Arequipa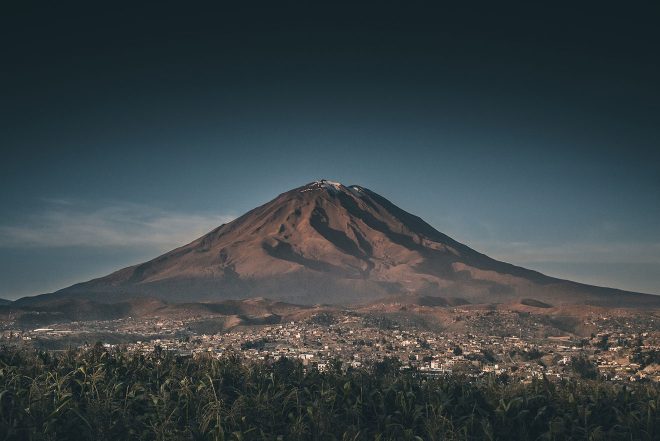 After so many cultural activities, maybe you want to try something a bit more adventurous, right? This suggestion is only for the most adventurous people out there: Why not try and climb up to the top of the volcanoes that surround Arequipa? Would you be up for it?
The Volcano Valley is 350 km away from Arequipa center (a 6-hour drive) and you can find about 80 volcanic cones there. The closest and most popular volcanoes are El Misti and Chachani, which are the ones I recommend you visit as well.
NOTE: Please note that these hikes are not recommended for beginners.
Option 1: Climb Misti Volcano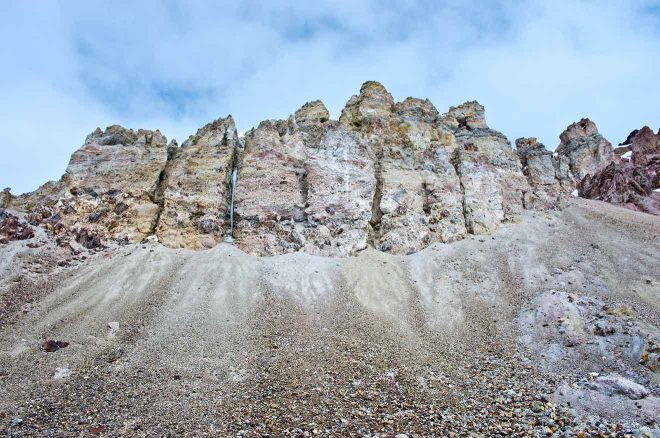 Misti volcano has three craters and active volcanic gas vents that can be seen in the inner crater.
Can you believe there were Inca mummies found here near the inner crater back in 1998?
The volcano has two designated routes (Pastores and Aguada Blanca) that you can climb, but for both of them you'll need to spend at least one night on the hill:
Pastores starts at 3,300 meters and requires a camp at Nido de Aguilas;
Aguada Blanca starts at 4,000 meters and camps at Mont Blanc.
PRO TIP: These climbs are NOT that easy, so they're not recommended for beginners or for people with an average fitness level, nor for travelers that have not managed to acclimatize in Arequipa.
IMPORTANT: Because of the difficulty of the routes, going up the volcano by yourself is not even an option.
To really enjoy the trek and the landscapes, I recommend this 2-day, 1-night adventure that includes tents, insurance and equipment (but not the trekking shoes or sleeping bags). The final trek to the summit is done at around 6 a.m. on the second day before heading back to relax in the city.
PRICE: US $180. You can book it here. Note: A minimum of 3 people is required to book it.
Option 2: Hike Chachani Volcano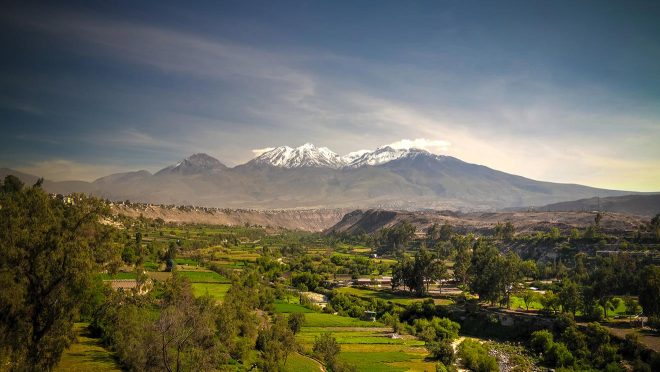 The main difference between Chachani and Misti is that Chachani is less visited by tourists, so you might even enjoy this hike more! Please note the Chachani trek is much more difficult than the one on Misti because this volcano is much higher and it gets colder closer to the top.
PRO TIP: If you are a non-technical climber that wants to climb the volcano, you need to be fully acclimatized to the altitude.
Because you can't climb the volcano on your own, you need to book an organized tour. I think the best solution is to take this 2-day 1-night tour so you can take it easy and make it to the top!
NOTE: To avoid light rains, the best time to climb Chanchani is during fall and early winter (May to July).
NOTE 2: There is no water during the climb until you reach the snowline, so please make sure you take enough water with you for your journey.
PRICE: US $200. You can book it here. A minimum of 3 people is required to book.
BONUS 2: Top Arequipa Shore excursions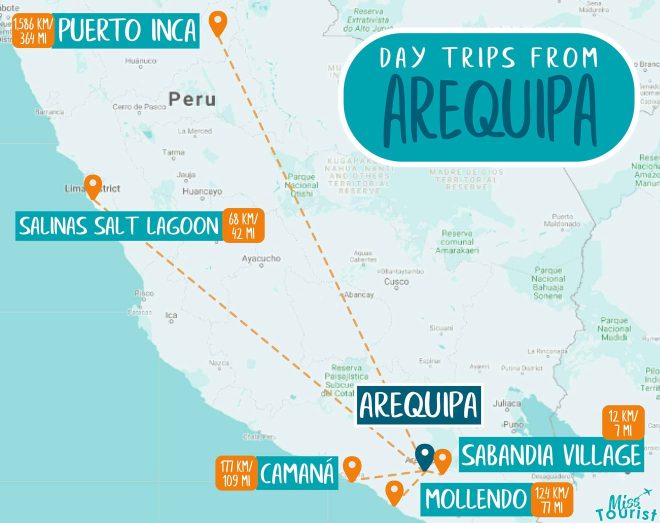 If you have some more time in the city but you already did all the best things out there, why not go for some day trips outside of the city? You'll discover there are still many beautiful places to see!
Here are some of the best day trips you can take:
1. Salinas Salt Lagoon and Aguada Blanca National Reserve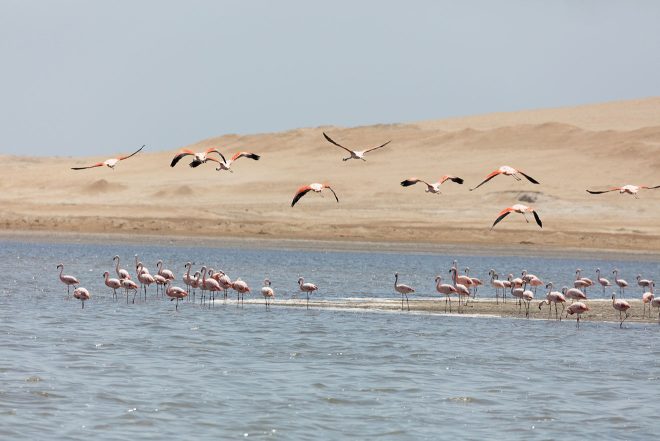 Salinas Salt Lake or Lagoon is part of the National Reserve of Salinas and Aguada Blanca. It is a great idea to do a day trip there, especially if you can't make it to Salar de Uyuni in Bolivia!
While you're there, you can spot birds, llamas, vicunas, Andean foxes and more! You can visit the National Reserve all year long because you will see different species in each season.
This is still a low-key attraction that many travelers don't know about, so the public transportation options are almost non-existent. If you want to go by yourself, you'll need to rent a car.
Alternatively (and what I recommend you do as well), you can also take an organized tour that takes about 8-hours. They'll take care of the transportation- you just need to sign up and enjoy! The tour includes a visit to the pre-Inca terraces, the agronomic farms and then on to the Reserve to have fun on the lake and spot some animals!
NOTE: If you visit the National Reserve during the rainy season (December to March) you will see flocks of flamingos!
PRICE: an organized tour costs US $95. You can book it here.
2. Arequipa beaches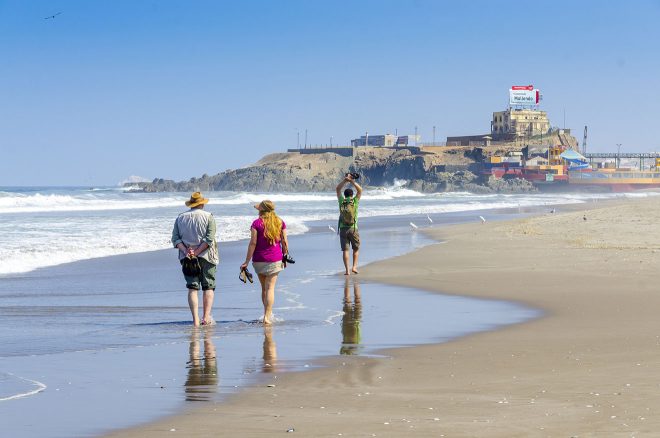 How about spending a day at the beach after a lot of hiking and seeing the main attractions in the city?
These beaches are slightly far away from Arequipa but are still on the Peruvian coast.
HOW TO GET THERE: I recommend either renting a car or taking a bus (around US $8/person per route).
PRO TIP: I recommend you go to the beach mid-week if you can because chances are you'll be almost the only one there!
Here are some of the best beaches I can recommend:
Puerto Inca – on the North of Arequipa. It used to be an important beach for the Incas because it was the shortest trail between Cuzco and the coast. You can rent kayaks or take hikes around the beaches and the rocks there!
Camaná – The beaches here are flat, long, and clean with fine sand. The shore is filled with nightclubs and restaurants.
Mollendo – It is the metropolis outside of Arequipa with lovely avenues and grey sand beaches. The most popular beaches here are Primera Playa and Segunda Playa.
3. Sabandia Village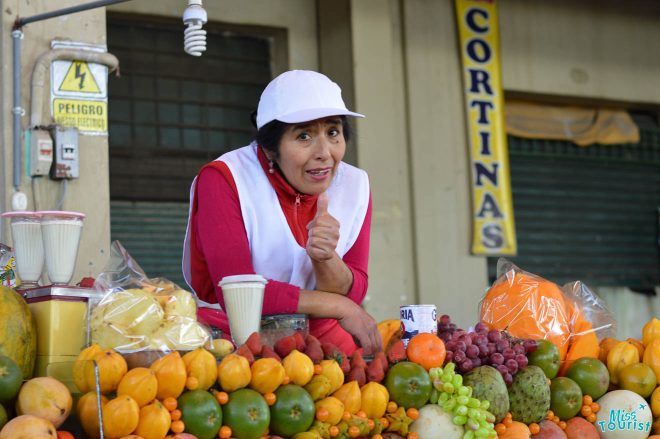 Sabandia Village is located only 8 km from Arequipa city center (about a 20-minute drive). The main attraction is their Sabandia Mill. This mill has been working since 1621 and it's full of charm! It is an authentic example of Peruvian rural architecture and the local use of "sillar", the volcanic rock.
In the village you can find many republican houses dating from the 18th century, and broad terraces with views of the three main volcanoes.
If Sabandia Mill is part of your list of what to see in Arequipa, know that you can visit it on your own by taking a bus or taxi.
Alternatively, you can also book a day tour from Arequipa. The organizers will be in charge of the transportation and you'll also see the Iron Bridge (designed by Gustav Eiffel), all for US $15 per person.
If you want a private tour instead, here is a great option! It might be more expensive (US $40 per person) but you will have flexibility and freedom to ask as many questions and to take as many pictures as you want!
PRICE: tours start at US $15.
Practical information for your visit to Arequipa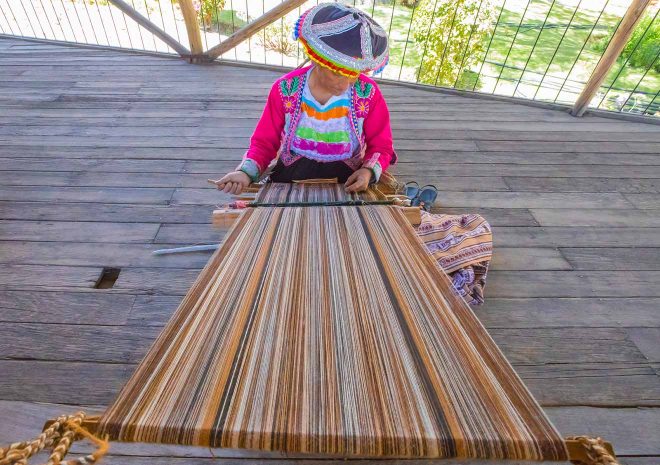 Now that I have shared with you some great ideas about the best activities to do in Arequipa, I couldn't leave you without sharing some practical info as well!
Here are all the details you need about how to move around the city, where to stay, and what to eat during your vacation (and more):
How to get to Arequipa city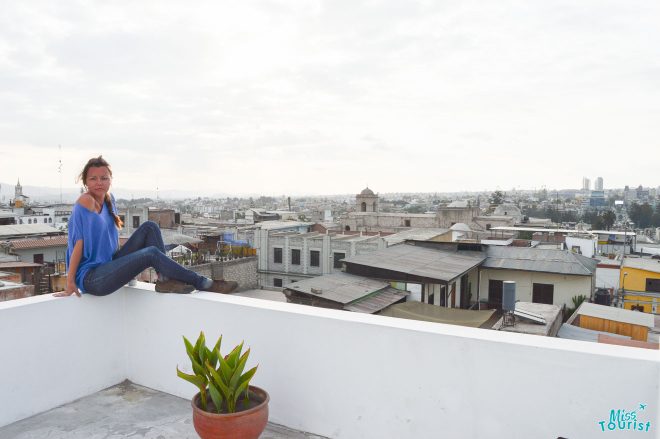 By bus
If you are already in Peru, in one of the cities close to Arequipa, you can take a bus. Here are the most popular routes:
Lima – Arequipa – 1 020 km distance; 16 hours by bus. The bus ride costs between PEN 80 and PEN 240 (US $24–$72) per person, one-way.
Cuzco – Arequipa – 625 km distance; 10 hours by bus. Bus tickets range between PEN 70 and PEN 200 (US $21–$60) per person, one-way.
Puno – Arequipa – 281 km distance; 6 hours by bus. The cost is between PEN 25 and PEN 125 (US $8-$38) per person, one-way.
The best bus companies to use for regional travel are Cruz del Sur, Tepsa, and Oltursa, so I recommend you check the up-to-date prices for your desired dates on each of their websites.
How to get from Arequipa airport to the city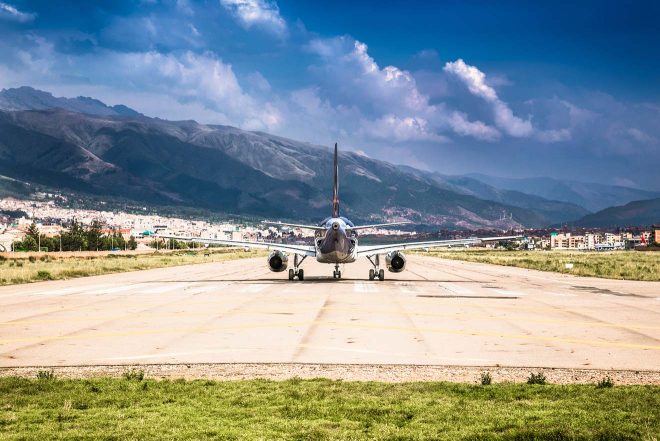 Arequipa Rodriguez Ballon International Airport is open from 6 a.m. to 10 p.m. The journey from the airport to the city can take around 20 minutes or less, but you have to be cautious and know that traffic can be chaotic and make your ride longer!
Here are the best ways of getting from the airport to the city:
By taxi
I always recommend getting an authorized taxi beforehand at the airport instead of being "lured" by the ones waiting outside. A ride to the city center will cost you about PEN 40 (US $12) per ride, depending on your exact destination and how much luggage you have.
You can also take an Uber from the airport to the city center and it will cost you around PEN 20 (US $6).
By transfer bus
Transportation inside Arequipa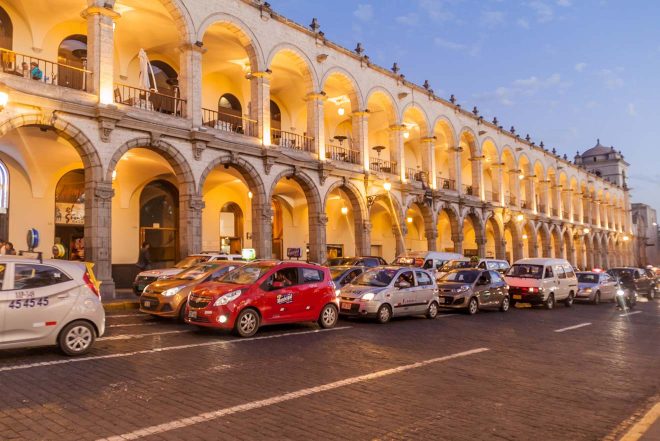 The main beauty of Arequipa is that you can walk almost everywhere. Okay, maybe not directly to Colca Canyon, of course, but to the most important attractions in the city center!
PRO TIP: When you ask a local for directions and they say "Aquisito no mas" which should translate to "very close by", truth is… this can mean a couple of blocks or maaany blocks away! 🙂
By bus
Although most of the buses travel outside the city center and around the entire Arequipa department, you can ride these for a cheap fee of US $0.70 per ride.
By taxi
Most of the taxis are independent drivers with cheap rates, but using them requires some bargaining!
You can take any taxi on the street, or request one at your hotel. They charge about US $1.50 per kilometer, while Uber charges about US $0.21 per kilometer and their minimum rate is US $1.20. So yes, I recommend taking an Uber!
Where to stay in Arequipa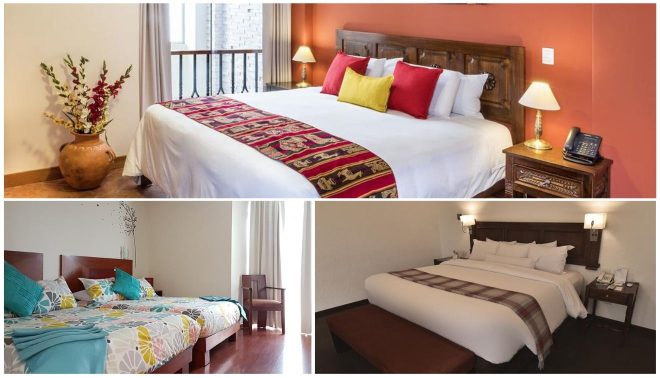 The White City has many hotel options for all budgets! Below you will find only a glimpse of the best hotels with great reviews and prices you will find there.
By the way, if you want a complete guide to accommodations in Arequipa, I recommend checking out my article about Where To Stay In Arequipa, Peru!
Luxury (US $160 and up)
Casa Andina Premium Arequipa – It is a great choice of hotel if you want to be pampered with the best quality service in an 18th-century colonial mansion. All the traditionally decorated rooms come with LCD TV, free Wi-Fi, a private bathroom, and beautiful views of the Cathedral and Misti Volcano.
QP Hoteles Arequipa – This is an interesting hotel built with the traditional white volcanic rock! It has iPod docking stations and air-conditioning in every room. Some of the hotel suites come with hot tubs, kitchenettes, and even complimentary champagne and mineral water.
Middle priced (from US $55 to US $160)
Katari Hotel at Plaza de Armas – This lovely and modern hotel is ideally located to give spectacular views of the city and volcanoes from their hotel terrace and from some rooms. Each room has a colonial-style décor with brick floors and alpaca textiles.
Hotel Las Torres de Ugarte – It is a beautiful and cozy hotel on the inside of a classical old-town house with spacious and warm-colored rooms. The property, only 300 m from the main square, offers free Wi-Fi, private bathrooms with 24/7 hot water, and a widescreen cable TV.
Budget (up to US $55)
Beausejour Boutique Hotel – This unique hotel has quiet surroundings while still being in the city and every room has volcano views as well as a private bathroom and a flat-screen TV. The hotel facilities include a garden and a terrace to admire the volcano views from.
Bubamara San Lazaro Inn – It is a small and quaint accommodation with rooms that have a private bathroom with 24/7 hot water. The amenities also include a shared lounge, a solarium, and some rooms were even built with sillar, a volcanic rock that can be used when building.
What to eat in Arequipa and where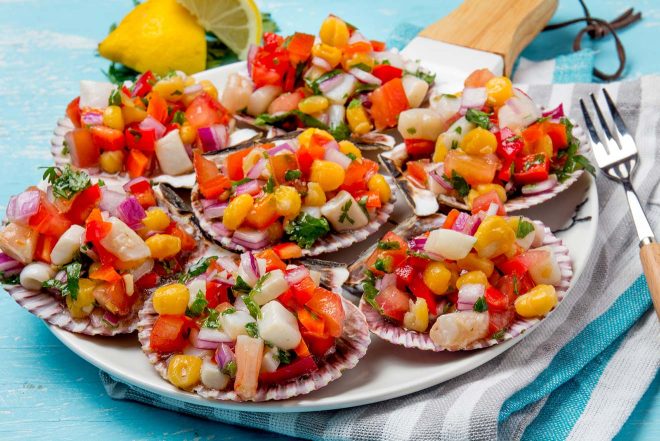 When it comes to Peru, sampling the local cuisine is part of the top attractions! Because Arequipa is located on the inner side of the country among the highlands, its diversity in foods is somewhat different from the ingredients you can find in Lima, for example.
I will share with you some of the best dishes you should try while you are in Arequipa city below: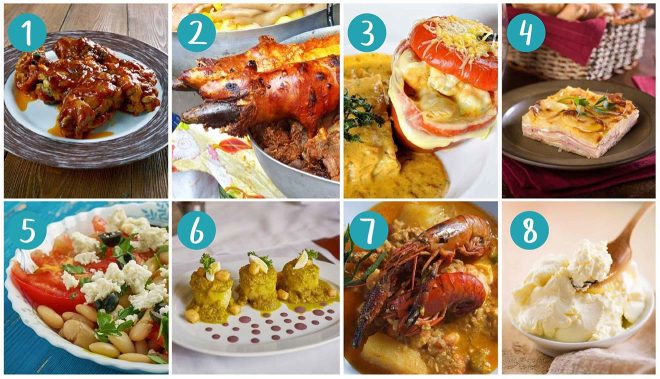 Adobo Arequipeño – is traditionally made on Sundays and works as a hangover cure. It is a marinated pork soup simmered with onions, rocoto, cumin, garlic, and other spices. If I remember correctly, you can have this dish about 2 blocks from the Yanahuara mirador, at El Super Adobo Arequipeño.
Cuy chactado – it is guinea pig meat (yep!) dipped in hot sauce and then fried.
Rocoto relleno – it looks like a bell pepper but is as spicy as hot pepper, stuffed with a combination of ground beef, onions, and some vegetables. Some restaurants even add cheese over it and put it in an oven…if you love cheese, you should go for this mix!
Pastel de papa – it is a side dish to the rocoto relleno, and is a layered dish of cheese, eggs, and potatoes served with a hot sauce.
Soltero de queso – also called "solterito" is a simple and different salad of boiled potatoes, vegetables and some cheese and olive oil.
Ocopa – it is an appetizer like "papa a la huacaína" and the dish features slices of potato topped with a spicy ocopa sauce. The sauce blend has chili peppers, garlic, peanuts, milk, cheese, and crackers.
Chupe de camarones – the area of Arequipa reaches the Pacific Ocean so fresh fish is brought to the city daily. "Chupe" means soup and this is a hearty broth of shrimp with hot pepper, milk, potatoes, corn, and eggs.
Queso Helado – this is a typical dessert, like ice cream but made out of cheese. You can find it pretty much everywhere and it is an artisanal dessert. The regular flavors are vanilla and cinnamon.
What to drink: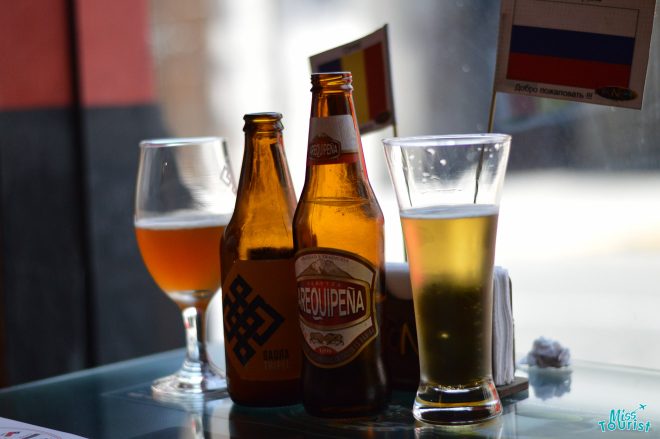 Chicha de Guiñapo – a local drink that uses a special kind of maize (corn) only grown in Arequipa which is fermented for a couple of days. Due to its light and sweet flavor, locals recommend it be consumed with spicy food!
Kola Escocesa – a red-colored soda made in Arequipa since the 1950s with a fruity flavor. It clearly competes with the nation-wide favorite Inca Kola which some say is a bit too sweet.
Anis Najar – an anise-flavored liqueur made in Arequipa with a dry flavor and high alcohol content. It is ideally drunk as a digestive aid (an after-meal drink) but you can also find it at bars or nightclubs.
Best restaurants:
TIPPING CULTURE: The tipping custom is 10% of the total bill.
PRO TIP: Eating a "menu del dia" is one of the best food-related things to do in the city! "Menu del dia" means "menu of the day" and it's a set menu that changes every day at each restaurant. It's a great way to taste the local food for a very good price!
If you want a unique culinary experience, I recommend joining this 3-hour foodie dinner tour covering the best local restaurants. Or, if you want a more cultural approach, you can go to Casona 7 for dinner and a typical dance show!
Nightlife in Arequipa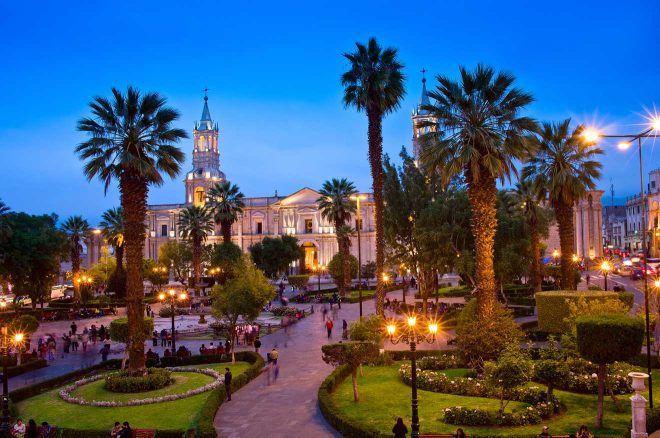 Everyone in Arequipa has so much energy, so there have to be some great locations to keep the party going!
Here are the best places where you can go to dance the night away and enjoy the signature cocktails (including the all-time favorite, Peruvian pisco):
Is Arequipa expensive?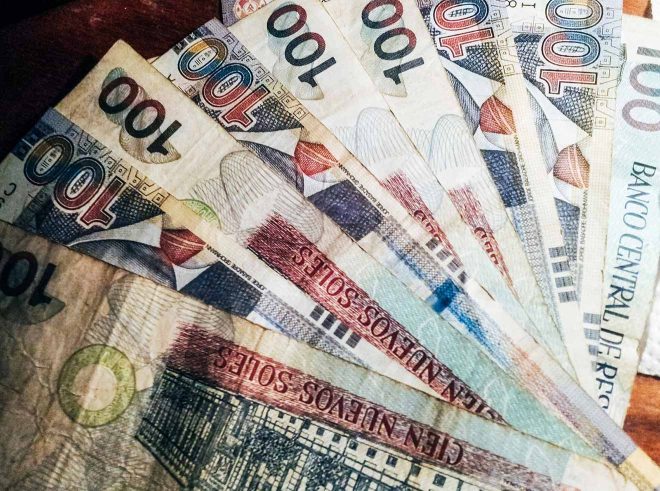 Personally, I do not feel like things in Arequipa are expensive, but here are some sample prices so you can get a better idea of the costs:
A regular single-ride public transport system ticket – US $1
Accommodation for two – about US $50 per night
Museum entrance fee – around US $11
A well-served breakfast – US $6
Traditional meal (rocoto relleno with beer) – US $10
As always, if you plan your itinerary beforehand and make sure to book accommodations and flight tickets ahead of time, you'll save some money (and time) for sure!
How to exchange currency
Fortunately, because of the high volume of tourists in the city, you can pay with US dollars for a product even if the price is in Peruvian currency! The only downside is that the store will give you your change in soles (PEN) and they'll use their own exchange rate which is usually lower than elsewhere.
If you want to change currency as soon as you arrive in the city, you can head over to the BCP Bank agency or make use of the GlobalNet ATMs.
Unlike Lima, there aren't many money changer houses in Arequipa and it is not recommended to exchange cash on the streets. Instead, I suggest you try out these banks:
BCP – has a Visa ATM and also exchanges dollars
Interbank – has a GlobalNet ATM which accepts a great diversity of international cards.
Jet Peru is a recommended money exchange house near the city center.
Getting a SIM card in Arequipa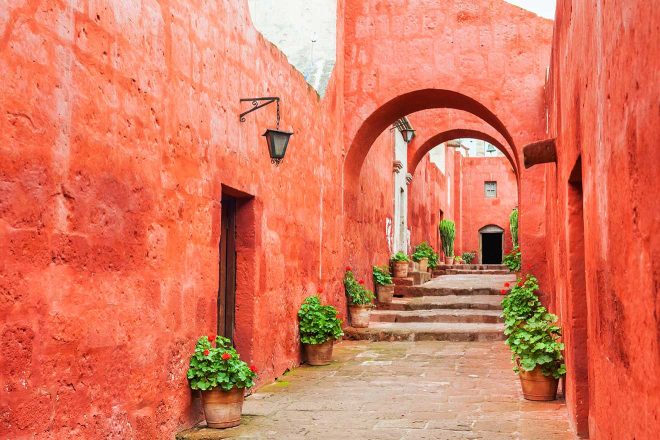 Lately, there has been an increase in companies that offer SIM cards and phone credit to tourists in Arequipa (and Peru in general), but when it comes to leaving the city, some of these lose their coverage.
If you want to go to the outskirts as well (such as Colca Canyon), the best options I can recommend are Bitel or Claro. Bitel is US $9 for 4.5GB (for one month) and Claro is US $9 for 3 GB (for one month).
When to visit Arequipa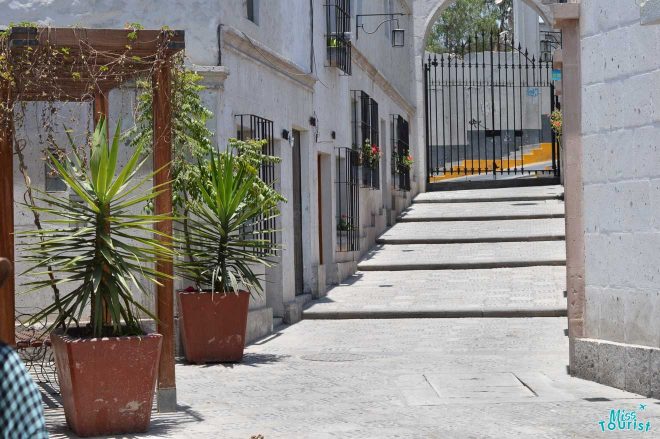 Arequipa has dry, mild weather year-round. The sun is up almost every day (wow!) and the sky is clear at least 300 days a year! The temperatures rarely go below 10°C or above 25°C, which means this place is almost perfect: it has constant weather!
The only downside is that on a slightly chilly day (let's say 15°C), you might feel a breeze, especially if you stand under a tree or walk in the shade.
NOTE: Because of the dry weather, you will rarely feel the cold as intensely as in Lima.
I don't really recommend visiting from December to March, as there will be clouds and a little rainfall in the afternoons, or during the winter season (June – July), as the temperatures are lower, but not lower than 10°C.
But hey, I know there's nothing a light jacket can't fix, so I would advise you go to Arequipa whenever you want to!
---
Conclusion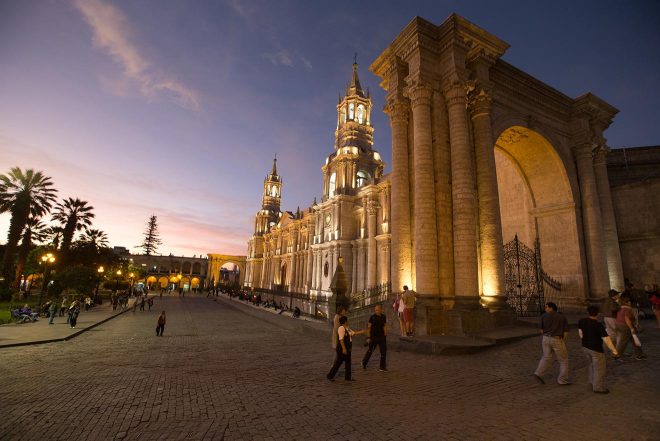 In this article I have listed THE BEST things to do in Arequipa that are worth adding to your travel itinerary! I included some day trip inspiration as well and tons of practical information about traveling to the city (transportation tips, weather, prices and more.)
When I first got to Arequipa I had no idea what to expect, but their gastronomy and my adventurous Colca Canyon hike are two out of the many things I won't forget! 🙂
If you feel you haven't found your ideal accommodation in the city yet, I recommend you read my article about the Best hotels in Arequipa, in which I included my favorite hotels and apartments with great prices!
I hope you enjoyed my Arequipa travel guide and that you will have an amazing time in the White City!
If you have any further questions about visiting Arequipa or if you find a new, amazing activity to do there that I should try as well, let me know in the comments below.
Happy travels!
Mariana
---
Pin it for later!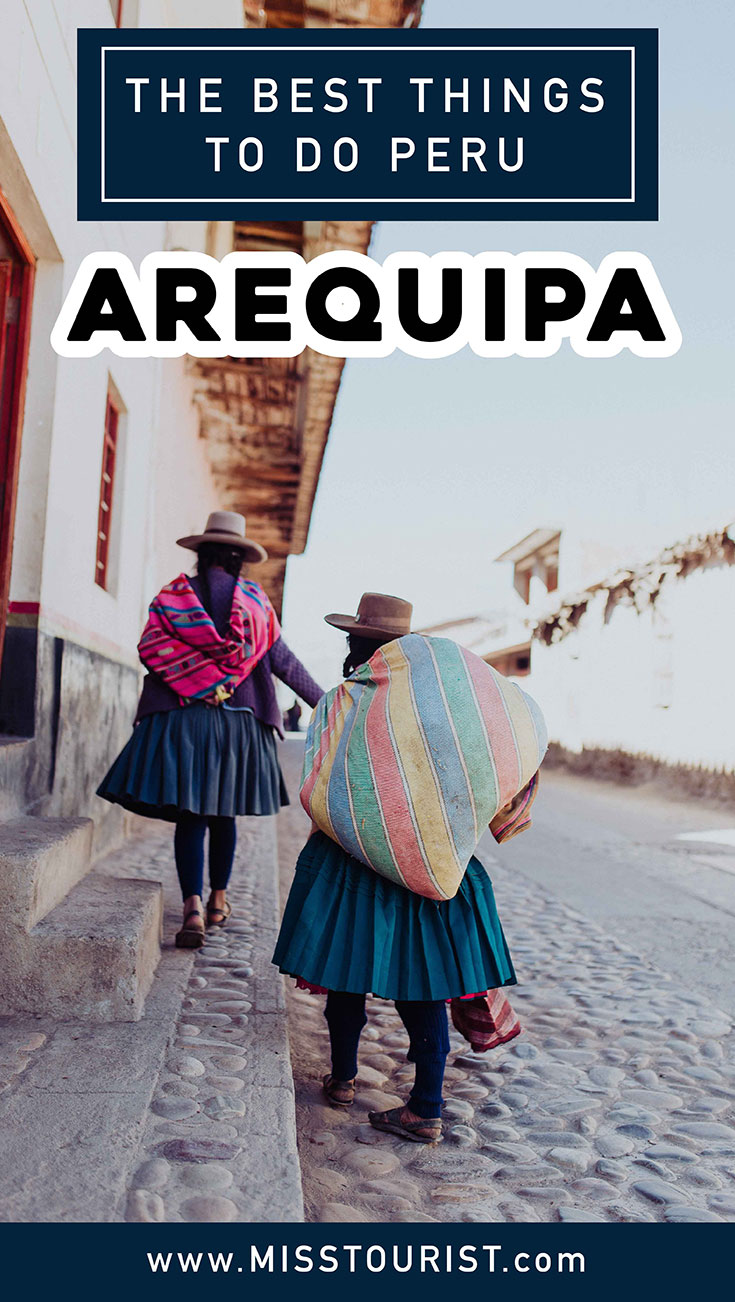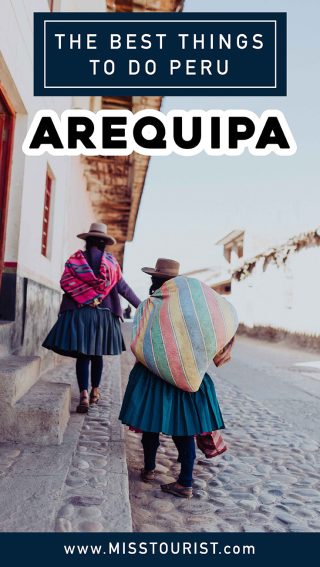 Pin it for later!