Rostov, located on the banks of the Don River, 56 km. from the Sea of Azov and 1,000 km. from Moscow, is the most industrialized city in southern Russia.
A settlement of commercial importance over time is where the Greeks founded the Tanais colony, the Genoese raised the Tana fortress, and the Ottoman Empire turned it into the Azov fortress. The year of establishment of the city, a historic attestation, is 1749, when Don was built as a customs point.
Rostov was also the city of guarded stone arcade bazaars, crammed with stalls that featured the most diverse merchandise. Russians, Ukrainians, Armenians, Jews, merchants of all sorts were the characters of the old bazaars.
The city of the very hot summers and the harsh winters, in which cold wind blows from the north, Rostov is located at the intersection of commercial roads, it is the place where Turkish or Caucasian tobacco arrived to be rolled out in cigarettes in the four factories of the city, among the largest in Russia.
Hopefully, the weather during your travel dates will be hot enough so that you could also enjoy one of the beaches there!
Here you can take a stroll along Pushkin Street loaded with cafes and shops, a bit expensive, but in any case much cheaper than in Moscow.
Gorkovo Park is also a pleasant place in any season, especially near the New Year, when it is decorated with a huge Christmas tree. The Regional Art Museum is also a landmark.
Visitors who will come to Rostov-on-Don will be able to familiarize themselves with Cossack culture and traditions. Not far from Rostov-on-Don is the cossack capital of Don – Starocerkasskaia. The inhabitants carefully guard the way of life of the Cossacks from the past centuries.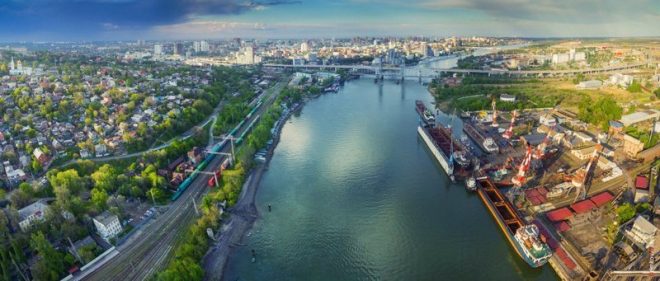 Quite naturally, the Rostov's traditional cuisine consists of fish soup, which is delicious!
Rostov-on-Don can be reached by plane, by train or by boat. The city is located near the Azov Sea and is often called a port at five seas, so getting there will be no problem. But now that you have figured out how to get there and decided that this city is 100% worth visiting, you will have to find accommodation.
Here are some of the best accommodations in Rostov-on-Don:
(we use Booking.com in Russia, and I recommend you searching on that web site because you will see all the options there)
Luxury hotels in Rostov-on-Don ($150 – $200)
Suvorov Hotel


The Suvorov hotel is situated 2.1 km from the city centre. This means that if you will book a room as soon as possible, you will be in the middle of the action and all the beautiful attractions that are worth visiting in the city.
This hotel offers rooms that are equipped with a kitchenette, comfortable showers and bathrooms for each room and a balcony from which you will have a wonderful view of the city.
The past guests have reviewed the staff as being very polite and helpful!
Click here to book this hotel/Check the rates for your dates
Guest House Ochakovskiy


This establishment offers free Wi-Fi, free parking, the price includes breakfast which is delicious and the staff is great and happy to respond to all your questions.
If you plan on visiting Rostov-on-Don, you should book a room as soon as possible!
Click here to book this hotel/Check the rates for your dates
---
If there are absolutely no hotels left, you can try Airbnb.com, but make sure to ask your hosts in advance if they can register you.
What is registration? It is a Russian (very outdated if you ask me) law, that requires every foreigner to register in the immigration office in the first (!) day when he/she arrives. If you are staying in a hotel, they do the whole procedure for you. But in case you stay in a flat, you will probably need to take care of this by yourself.
If you are staying by Airbnb, here is my 22 EUR coupon discount for your first booking:


---
Conclusion:
I hope you found this article useful and you were able to find something good and fitting your budget.
Even this is not Moscow, I really recommend visiting this city if you have time to add it to your Russia itinerary.
Have a great time in the city and do not hesitate to let me know if you have any questions!
Yulia