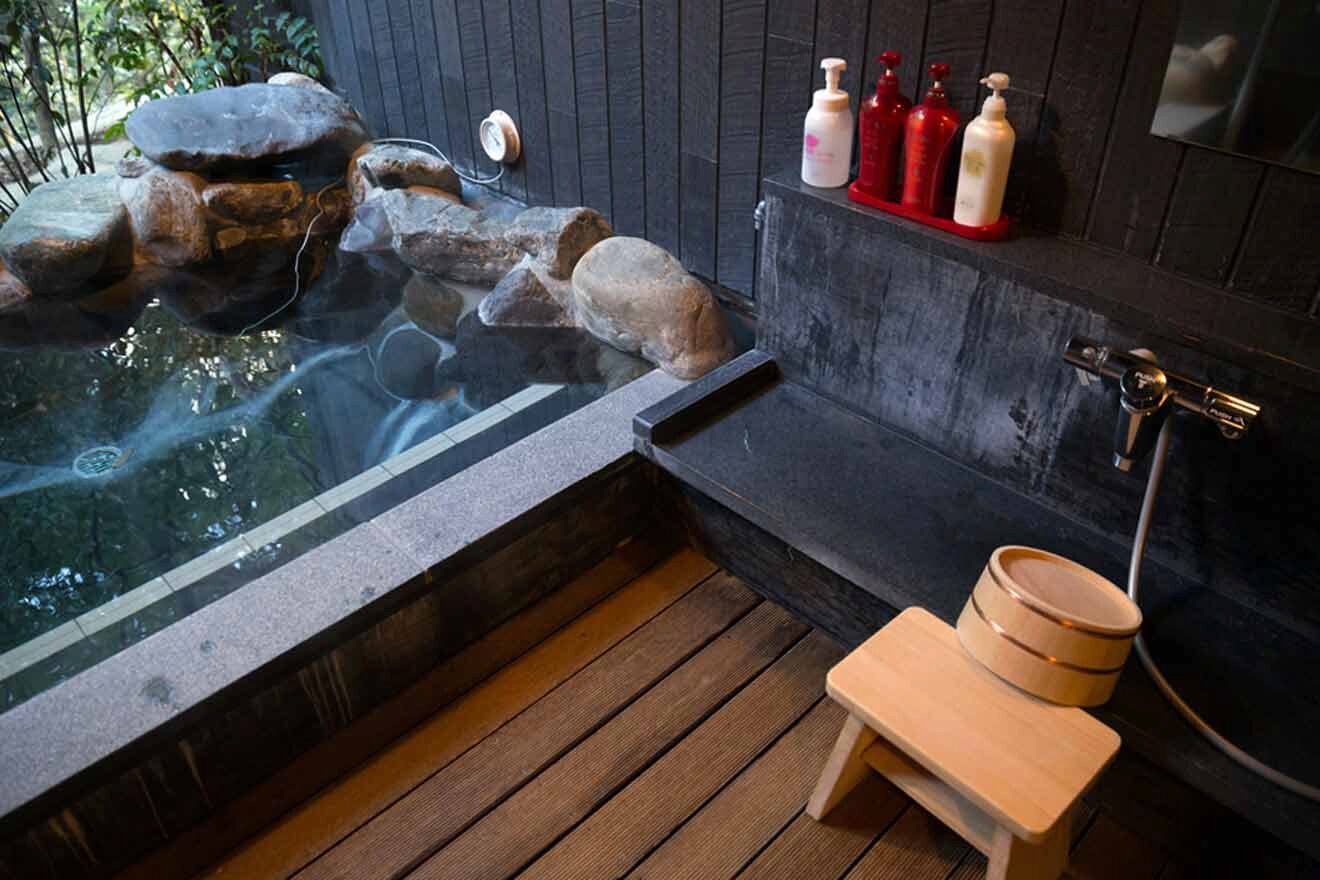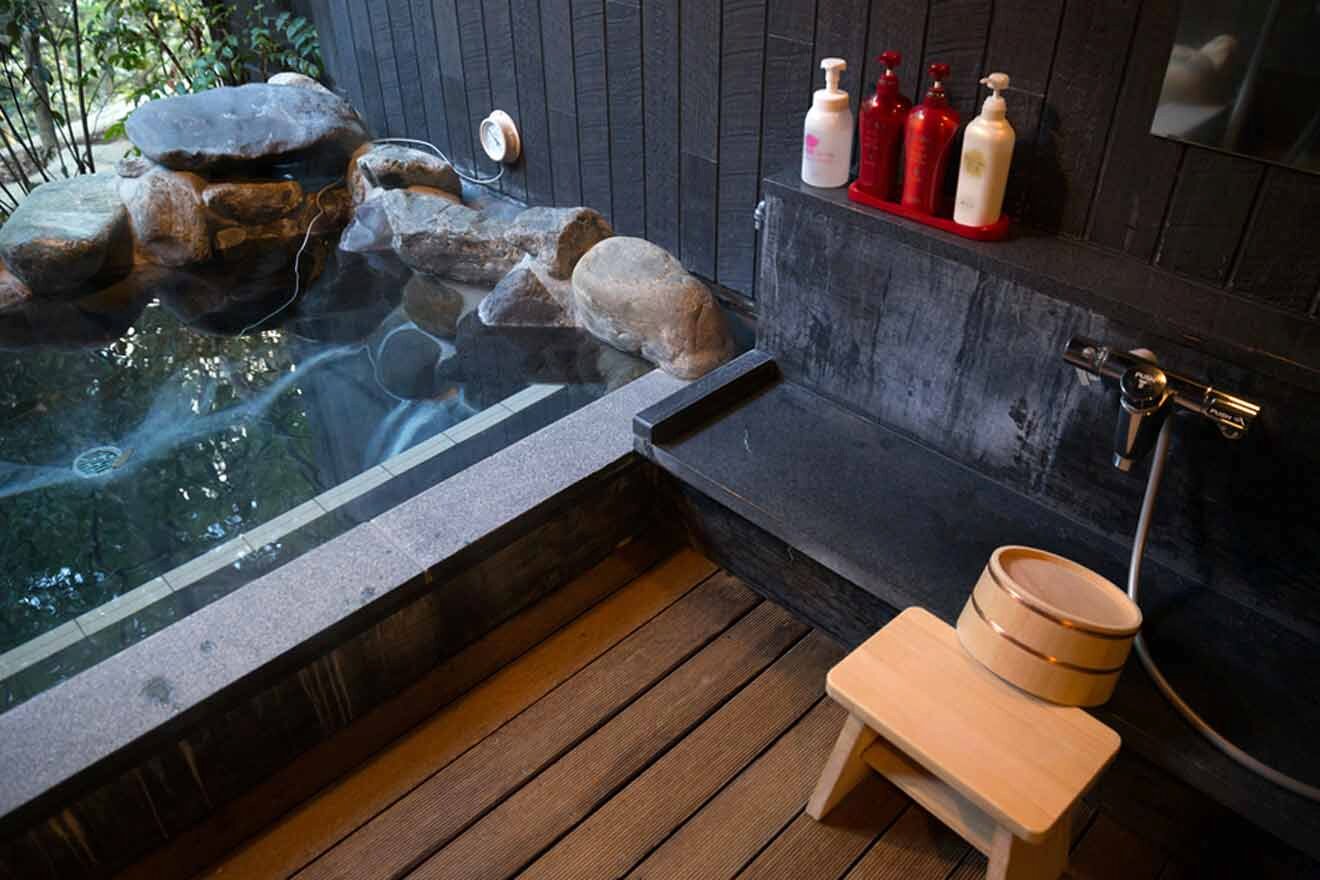 Exploring Japan's culture and natural beauty is such a blessing, and if you're headed to one of its most incredible cities, Hakone, then you're in for a treat!
In this post, I'll help you find the best Hakone ryokan with a private onsen, which I ordered from most to least expensive so that you can easily find the right one for you!
Natural hot spring baths are everywhere in this town, and luckily many of these traditional inns have found a way to incorporate them in your rooms so that you can enjoy a nice relaxing time whenever you want!
As part of the old Japanese culture, these onsens are treated with much respect, and sometimes the inns will offer you the whole experience, which includes a traditional meal after you sit in the hot springs, dressed up in one of their special robes!
Intrigued?
Thought so! But before you find out all the details, I should tell you that you must book your Japanese ryokan in Hakone in advance. These places with private onsens are super popular with tourists, and they'll sell out fast!
Let's go!
If you are in a hurry
If you're in a rush and can't read the whole post, then check out the list below, which has the best ryokans in Hakone with private onsen:
1. Gora Kadan – for a relaxing stay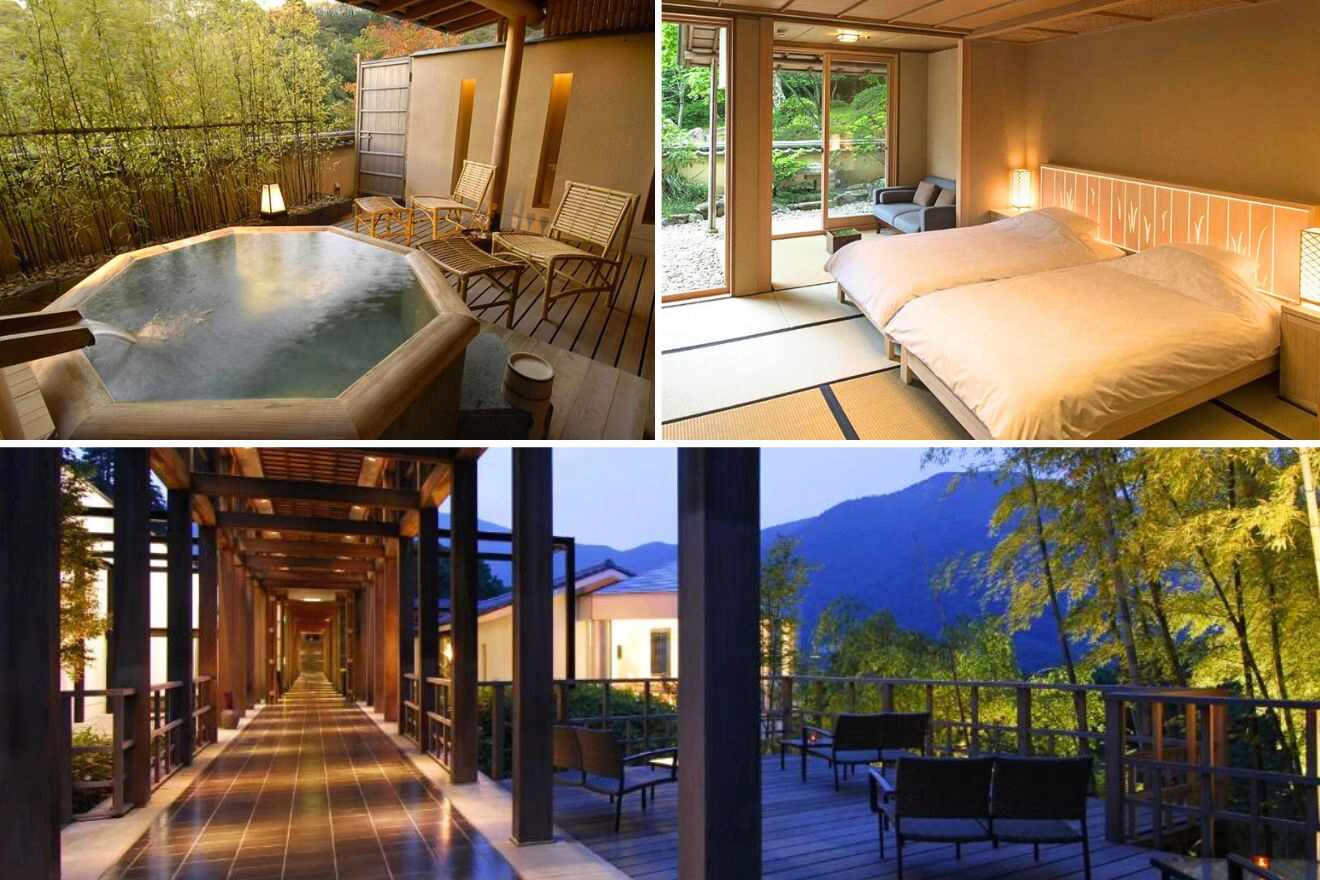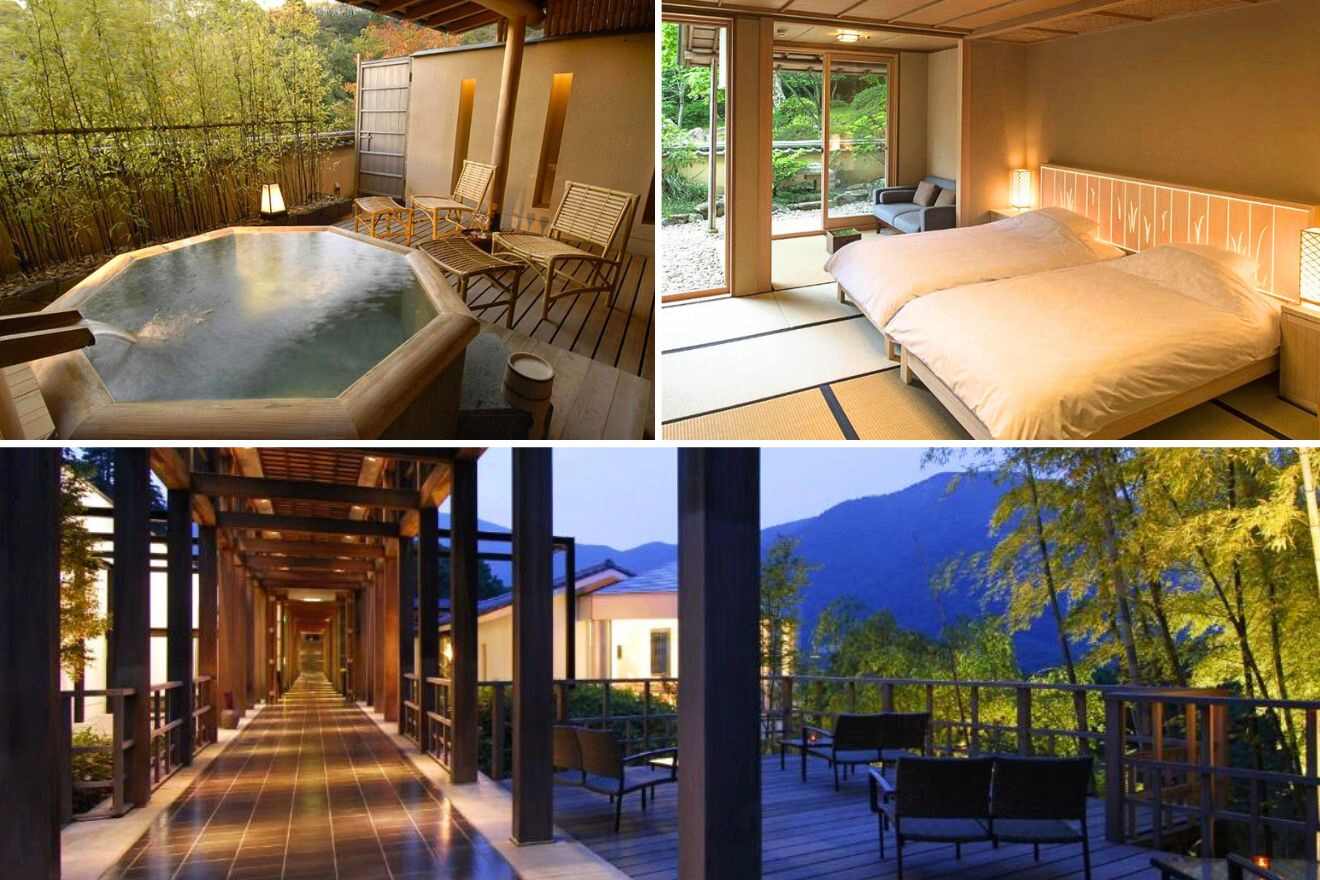 Set in a beautiful and peaceful location, just a 5 min walk from Gora Station, this traditional ryokan will offer you an incredible stay! Their spacious guest rooms offer incredible views of the surrounding mountains, a lot of space, and your own private onsen bath!
Start your morning with a yummy breakfast which you can enjoy inside your luxury guest rooms or head down to the restaurant. Guests will also have access to a spa center and an indoor pool. After a day of admiring the traditional Japanese architecture and visiting attractions in the town, you can relax in your private hot spring bath!
2. Hakone Suishoen – cool hotel with a library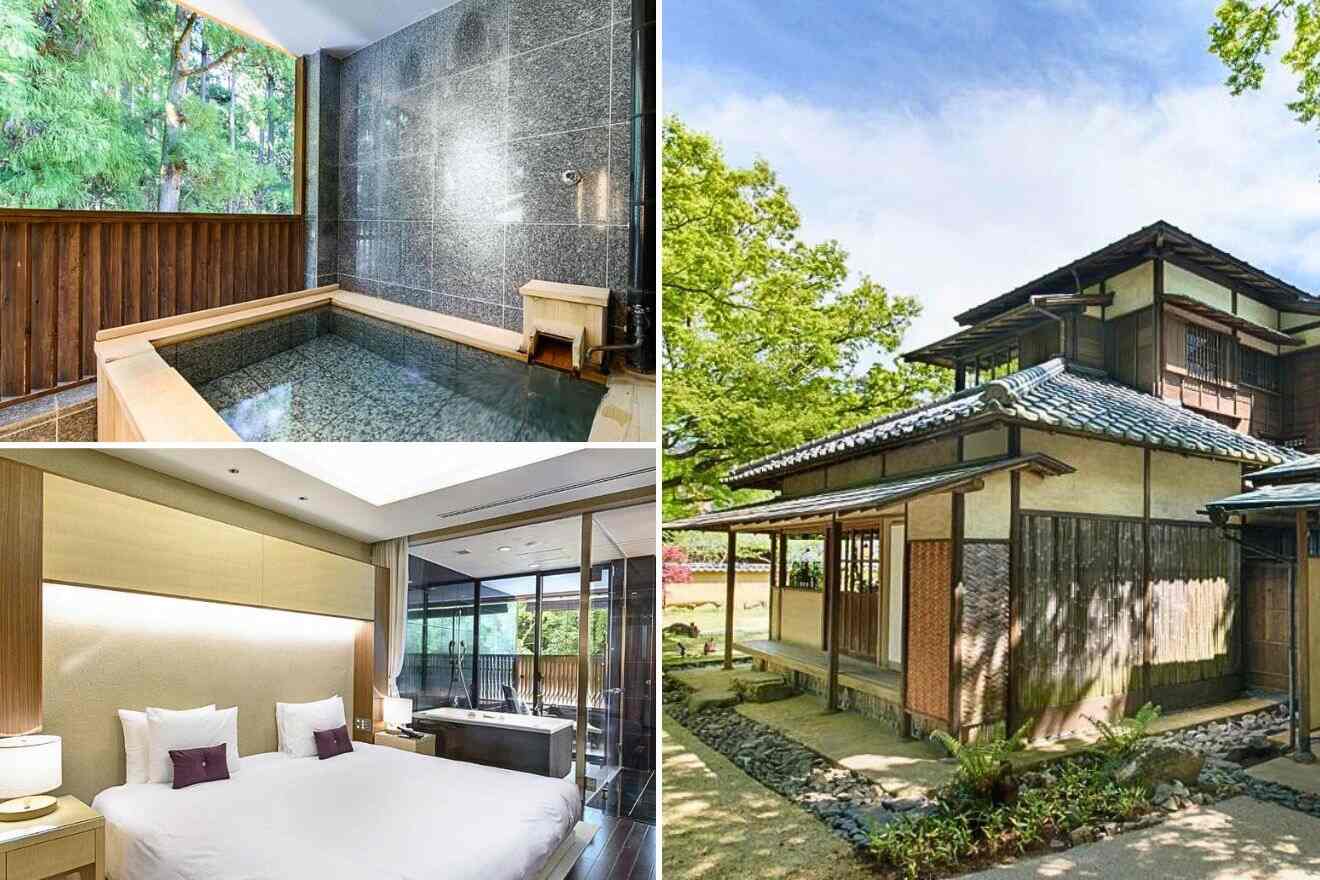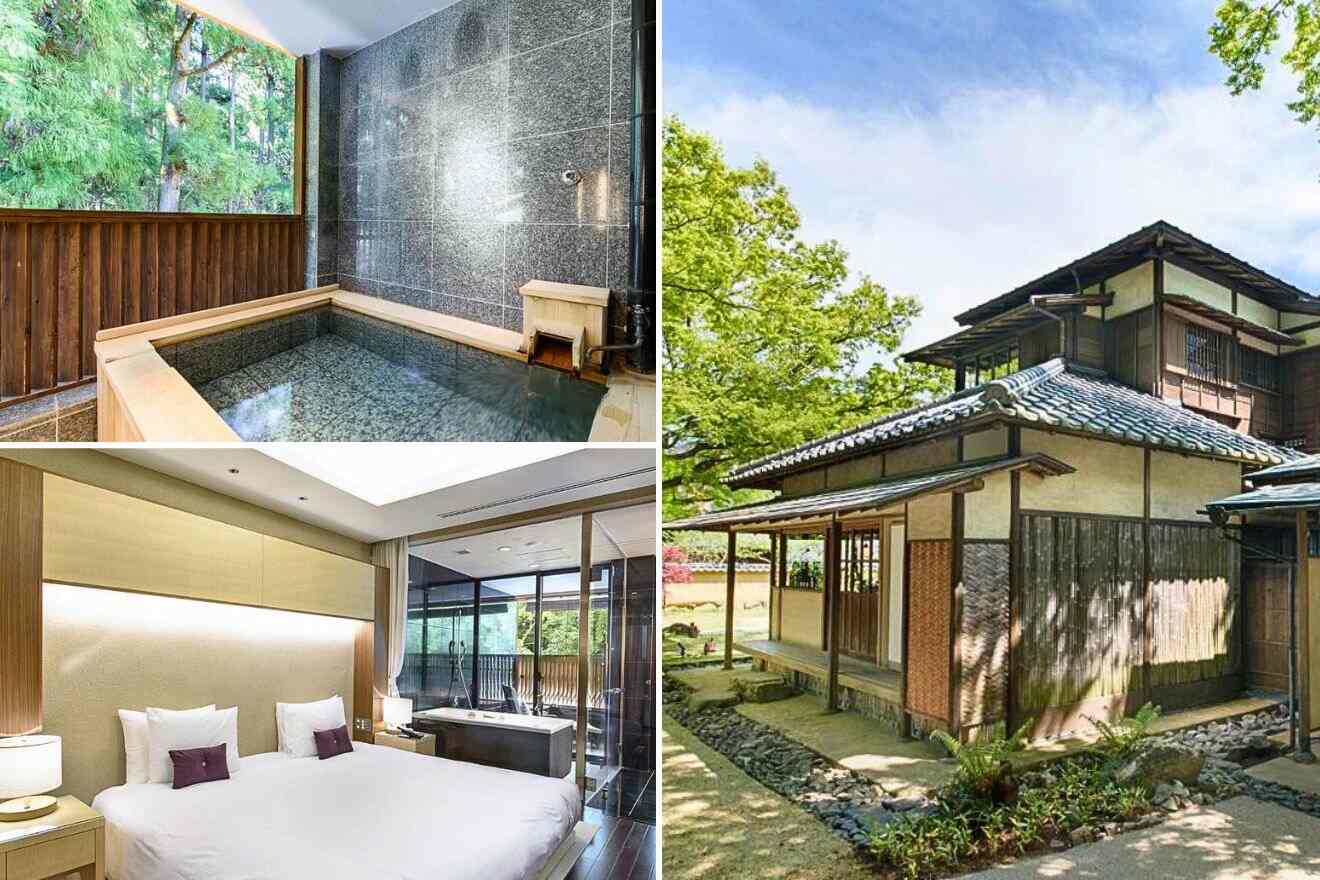 Here's an incredible place to stay near the Hakone Open-Air Museum that offers Japanese-style rooms with your own private onsens! Get ready for a relaxing holiday where you'll learn the traditional Japanese culture, eat yummy food, and visit all the cool places in Hakone.
Sounds like the dream holiday, right? And you didn't even see everything in this luxurious ryokan that also comes with a spa center with natural hot springs for all guests and a sauna which you absolutely have to try after that long flight! You'll also find a library and a bar.
3. Hakone Retreat Villa by Onko Chishin – for nature lovers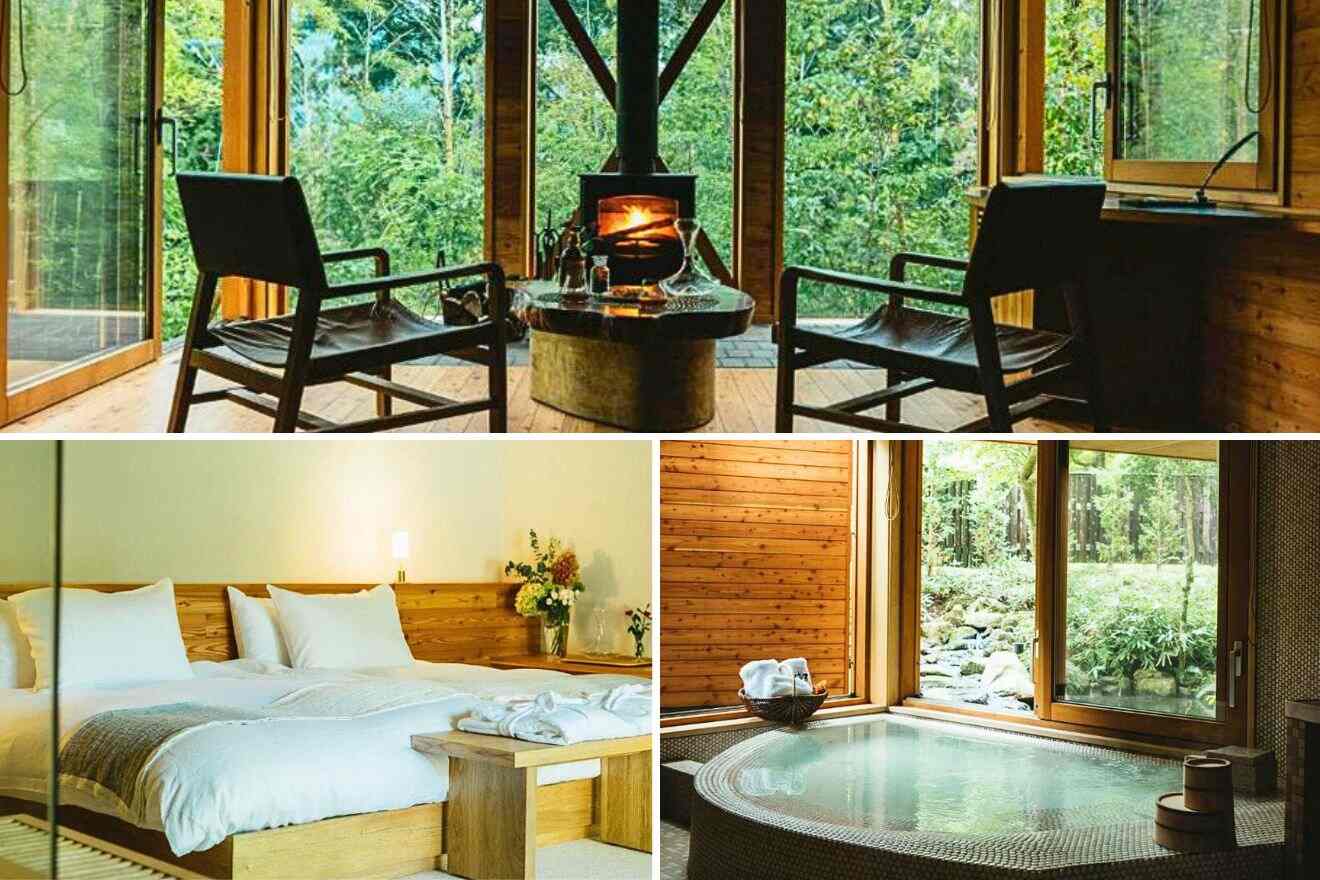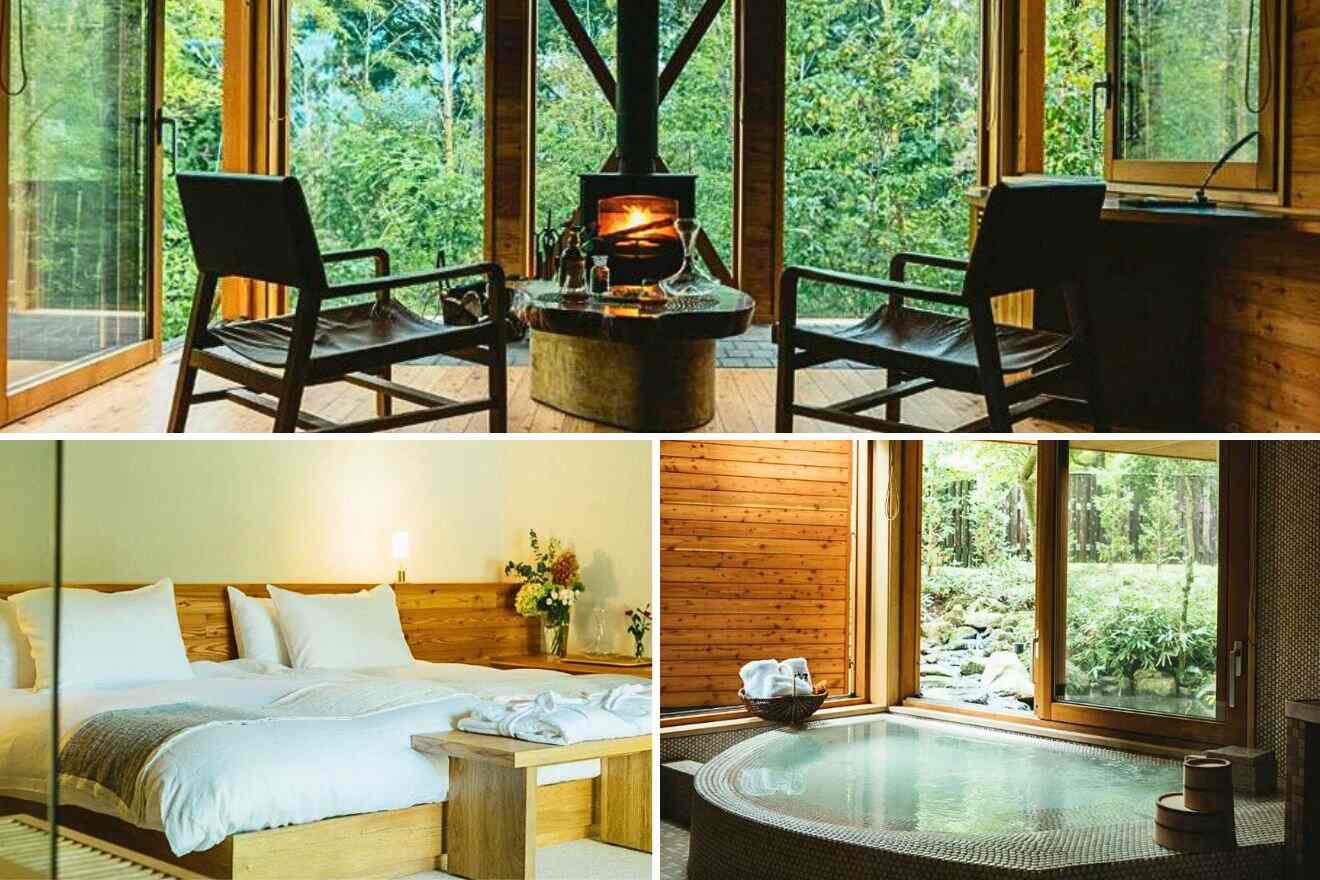 You'll fall in love with this amazing hotel that has a traditional Japanese style and is set in an incredible location in Hakone, surrounded by trees and greenery! Built mostly out of wood, the accommodation comes with spacious rooms that have a semi-open-air bath, a gas fireplace, and a terrace.
During your stay, you can head to the spa center to enjoy all their incredible treatments! There's nothing like a long massage after a day of exploring the town. Talking about exploring, the accommodation is located in Kanagawa, an area where you can go hiking and cycling!
4. Hakone Kyuan – offers a great view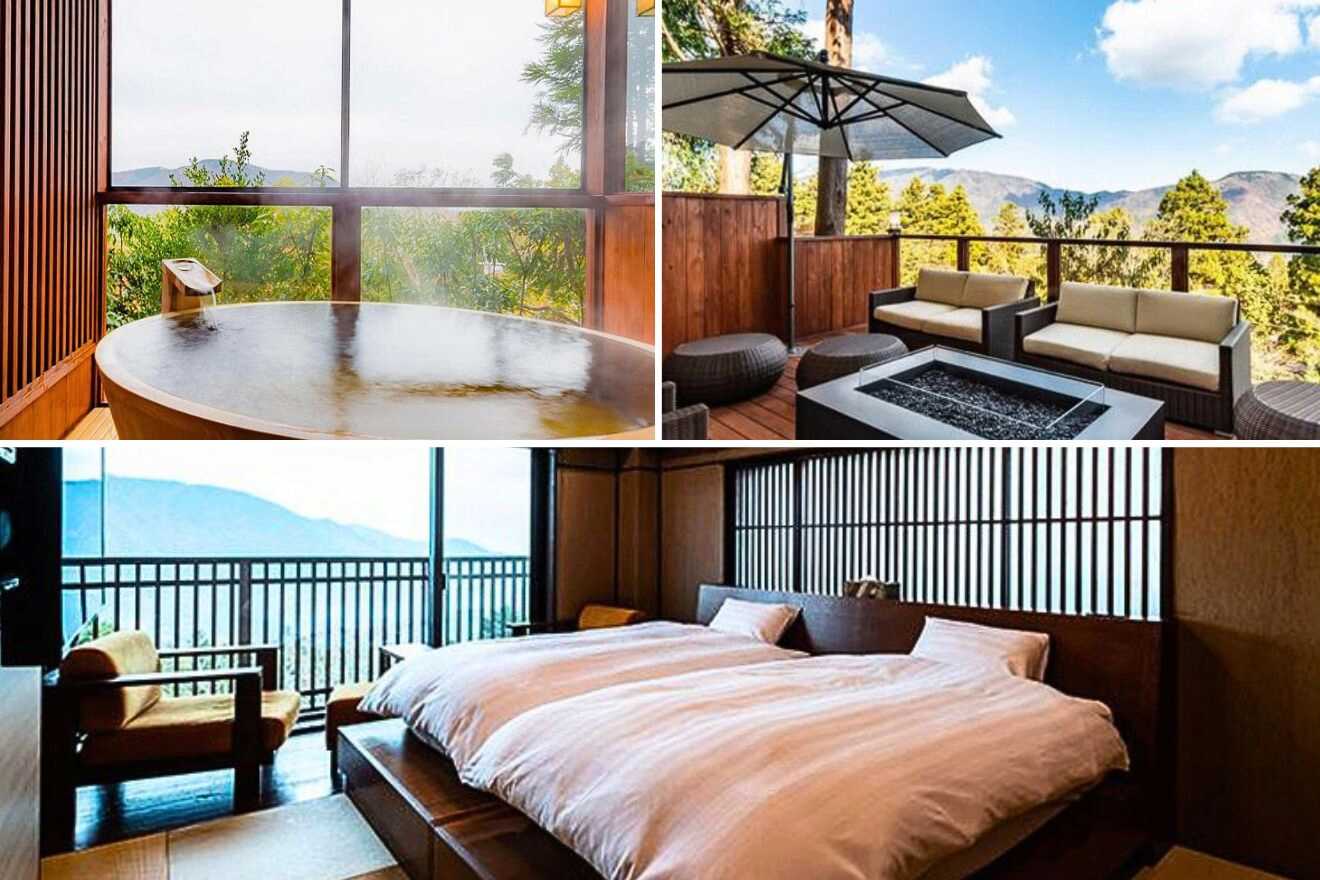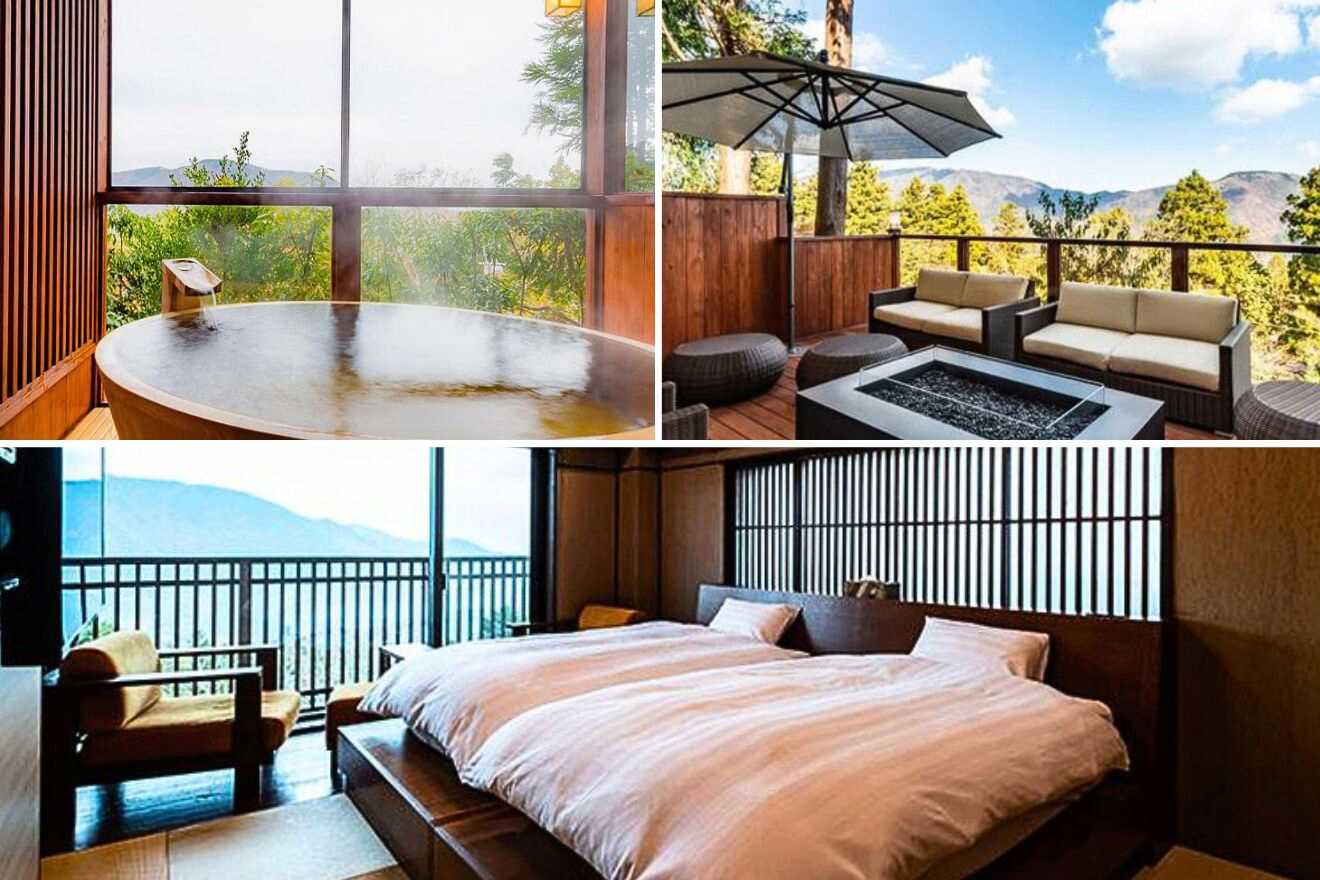 Ever wanted to enjoy traditional Japanese hospitality and sleep in a room that has a classic Japanese style and a private onsen? Then check out this amazing hotel in Kanagawa which offers all that and more!
This traditional Japanese inn has the cutest design, which includes the famous tatami floors, futon beds, and of course, select rooms with private onsen baths where you can chill while admiring the stunning views! Here, breakfast and dinner are included in the price, and all guests can access the spa facilities on-site!
5. Hakone Kowakien Tenyu – a great place for foodies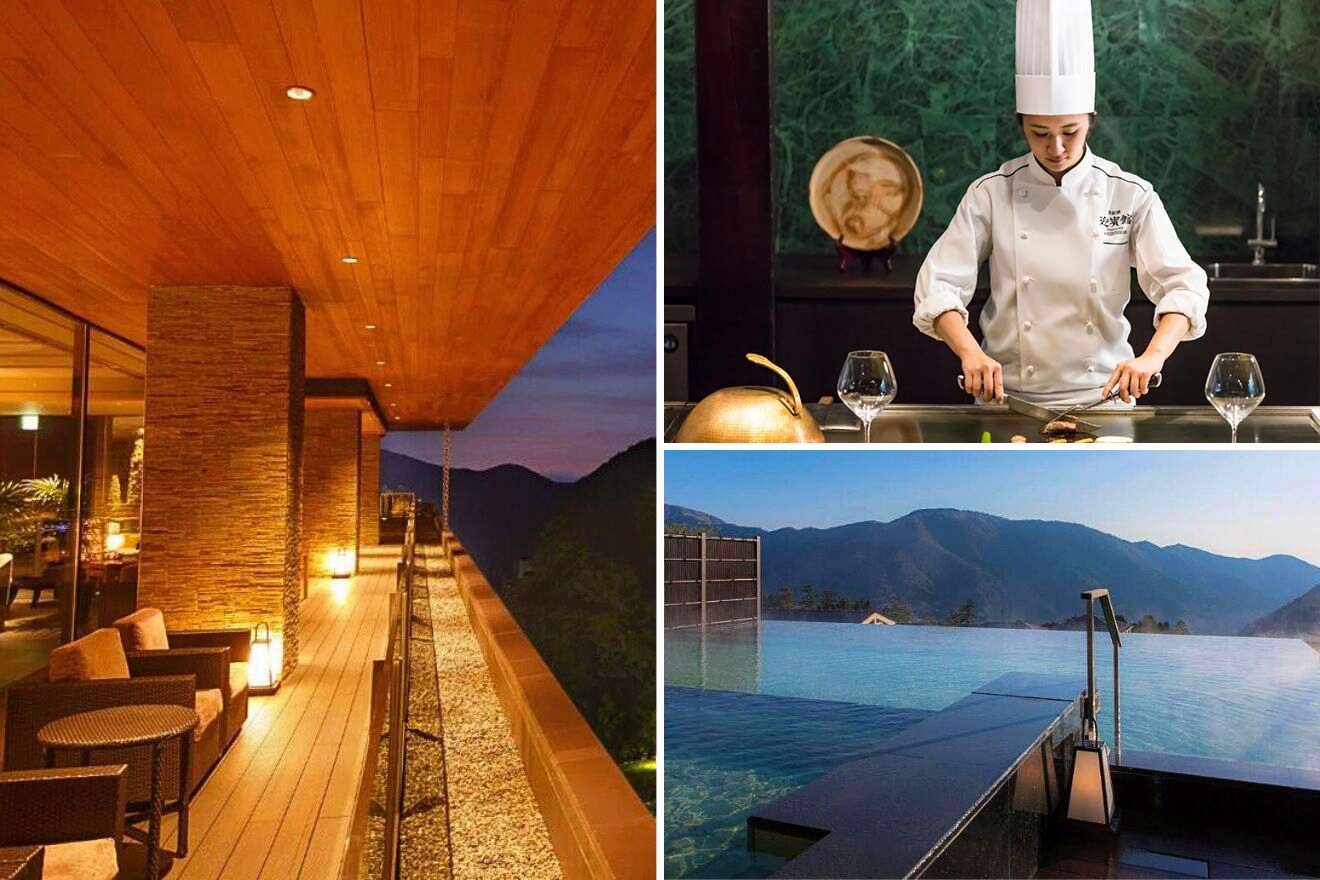 Gorgeous views, incredible Japanese food, and hot baths! What more could you wish for? This incredible hotel in Ninotaira offers Japanese-style rooms with tatami flooring, an open-air bath, or a ceramic open-air hot springs bath made with Shigaraki pottery!
All the rooms come with air conditioning and a flat-screen TV, some have a seating area where you can relax. Their spa center offers a wide range of services, from body treatments to massages and beauty facilities. If you're up for some adventures, you can go hiking or cycling in the area!
6. Hananoyado Fukuya – for an unforgettable trip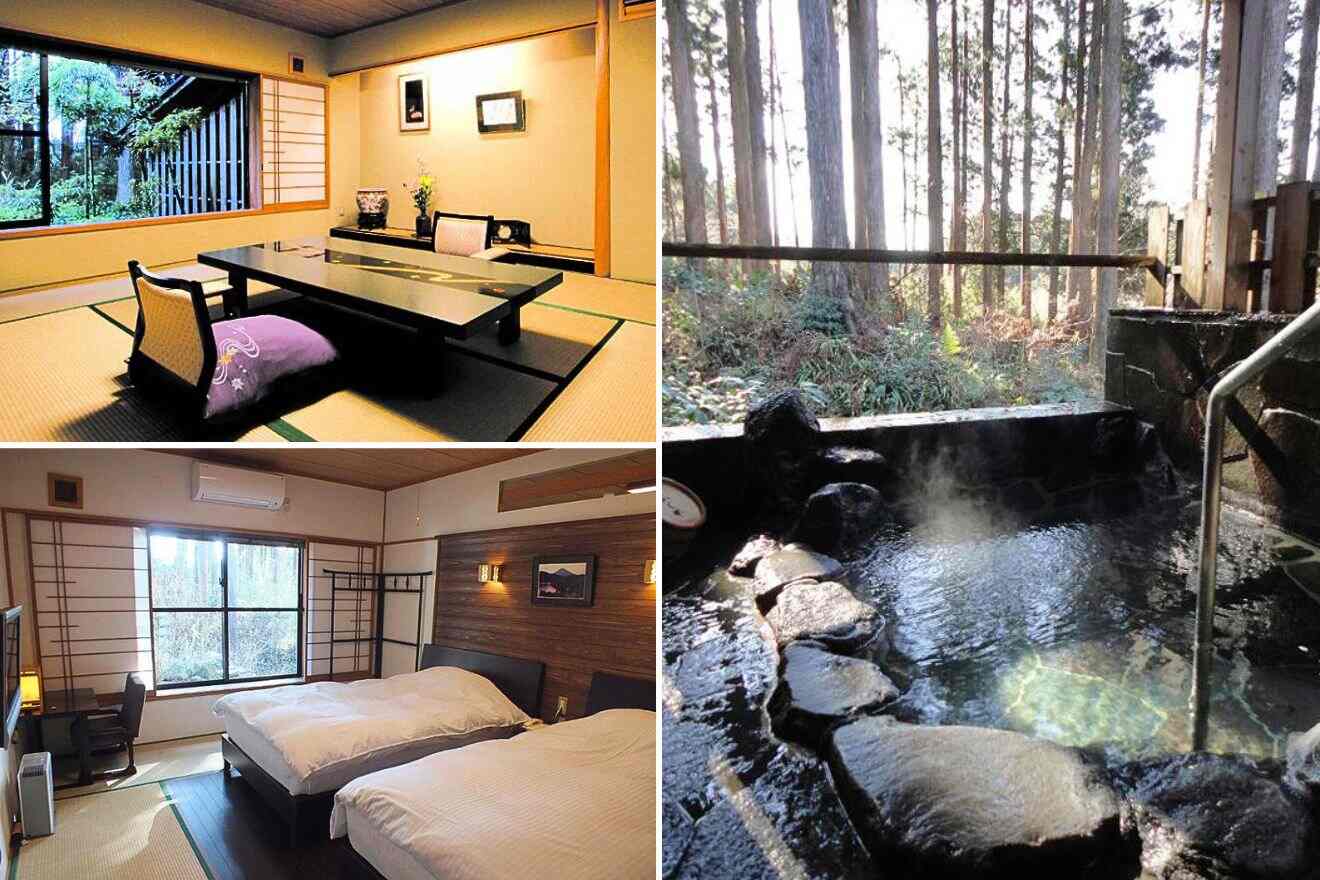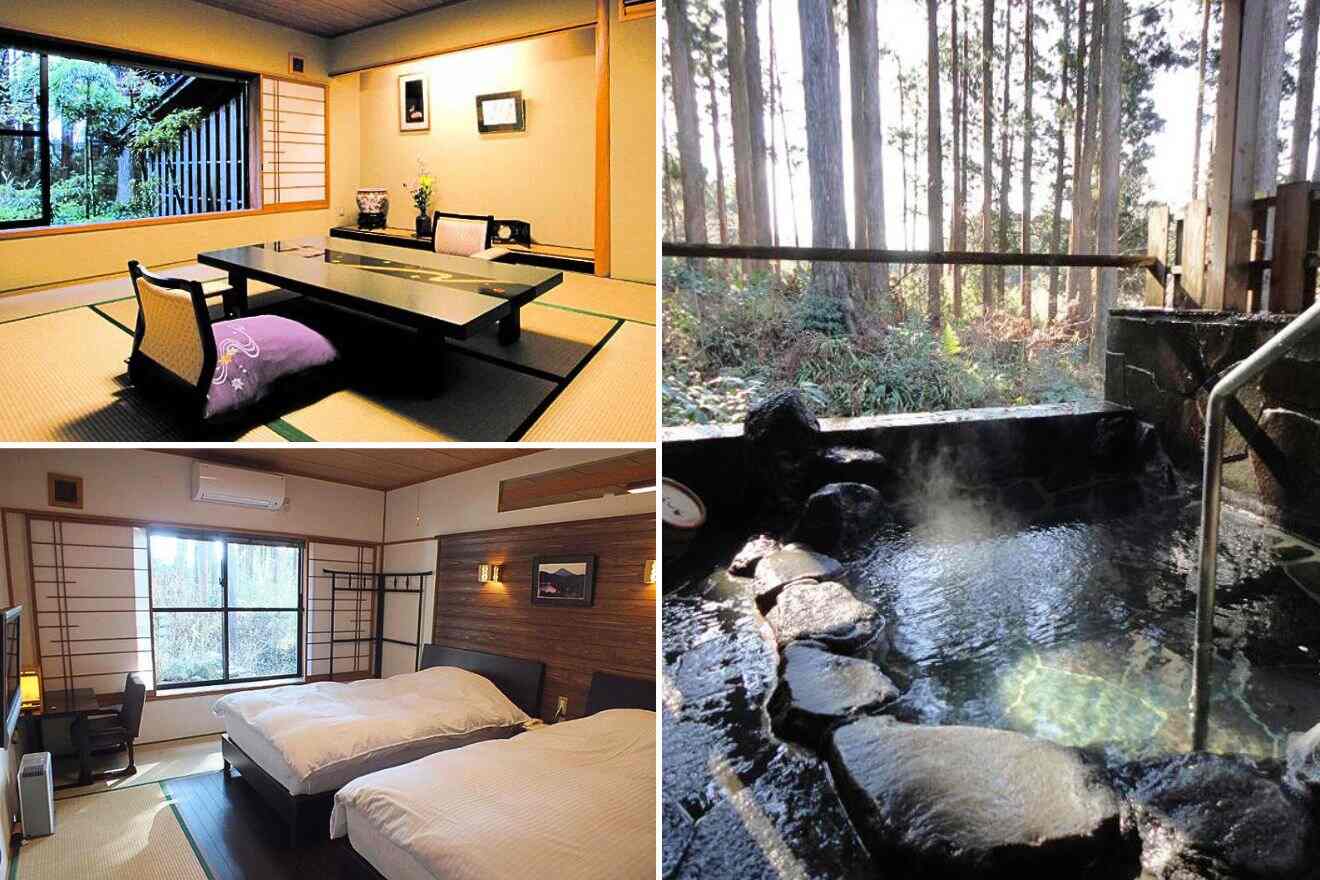 Want to stay as close as possible to the Hakone Shrine? Then check out this traditional Japanese inn, which is set just a short walk away and has private open-air baths, rooms with tatami flooring, and a bunch of more incredible things!
Wake up early in the morning, have a cup of traditional Japanese tea, and then jump straight into your own private onsen! I'm telling you, after a morning like this, you'll want to incorporate this into your daily routine! The accommodation also comes with a lovely garden and free parking.
7. Yoshimatsu – with a view of the Hakone mountains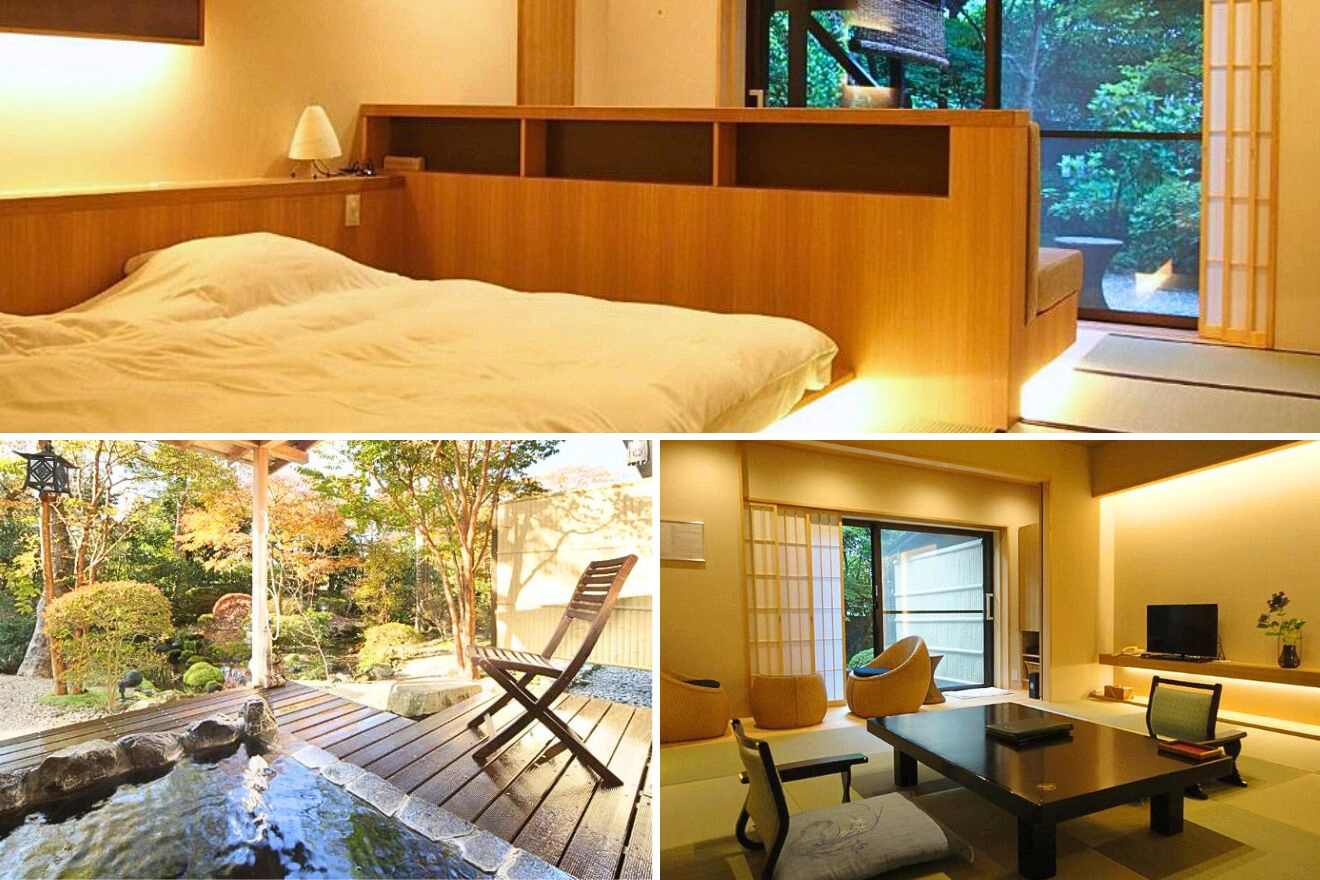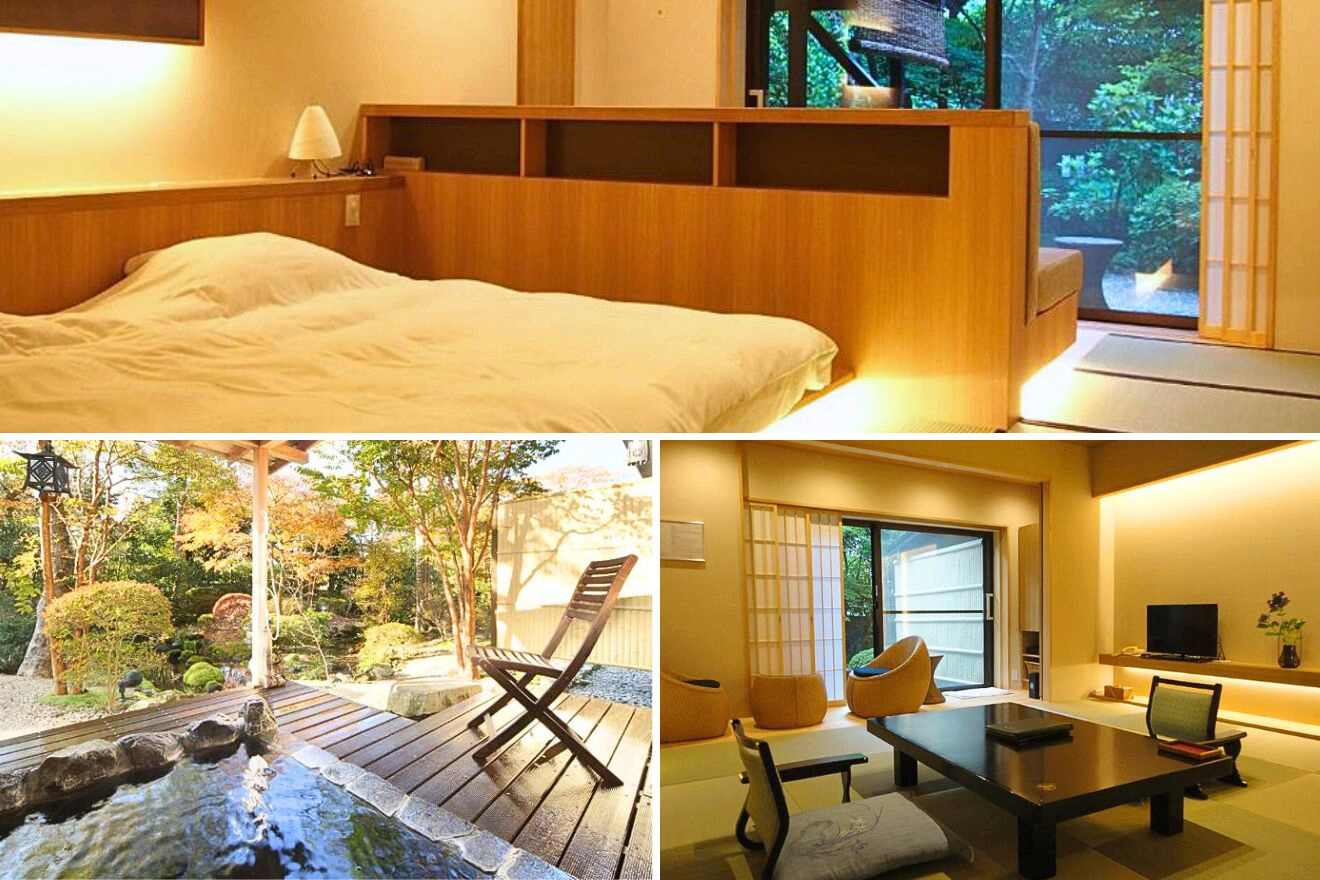 Hakone is the kind of place that will remain in your heart! This town offers such a tranquil atmosphere and a natural beauty that you can hardly forget! And if you're looking for a place to stay, then have a look at this traditional Japanese ryokan that has rooms with private onsens!
Surrounded by bamboo trees, the Hakone ryokan with private onsen overlooks Mount Fuji and Lake Ashi as well, which only adds to the magical ambient that you'll find here. Located a 20 min drive from the Hakone Yumoto Station, the accommodation offers breakfast and dinner in your rooms or the dining hall. After your meal, you can take a stroll in the beautiful Japanese garden!
8. Gora Kansuiro – has a great location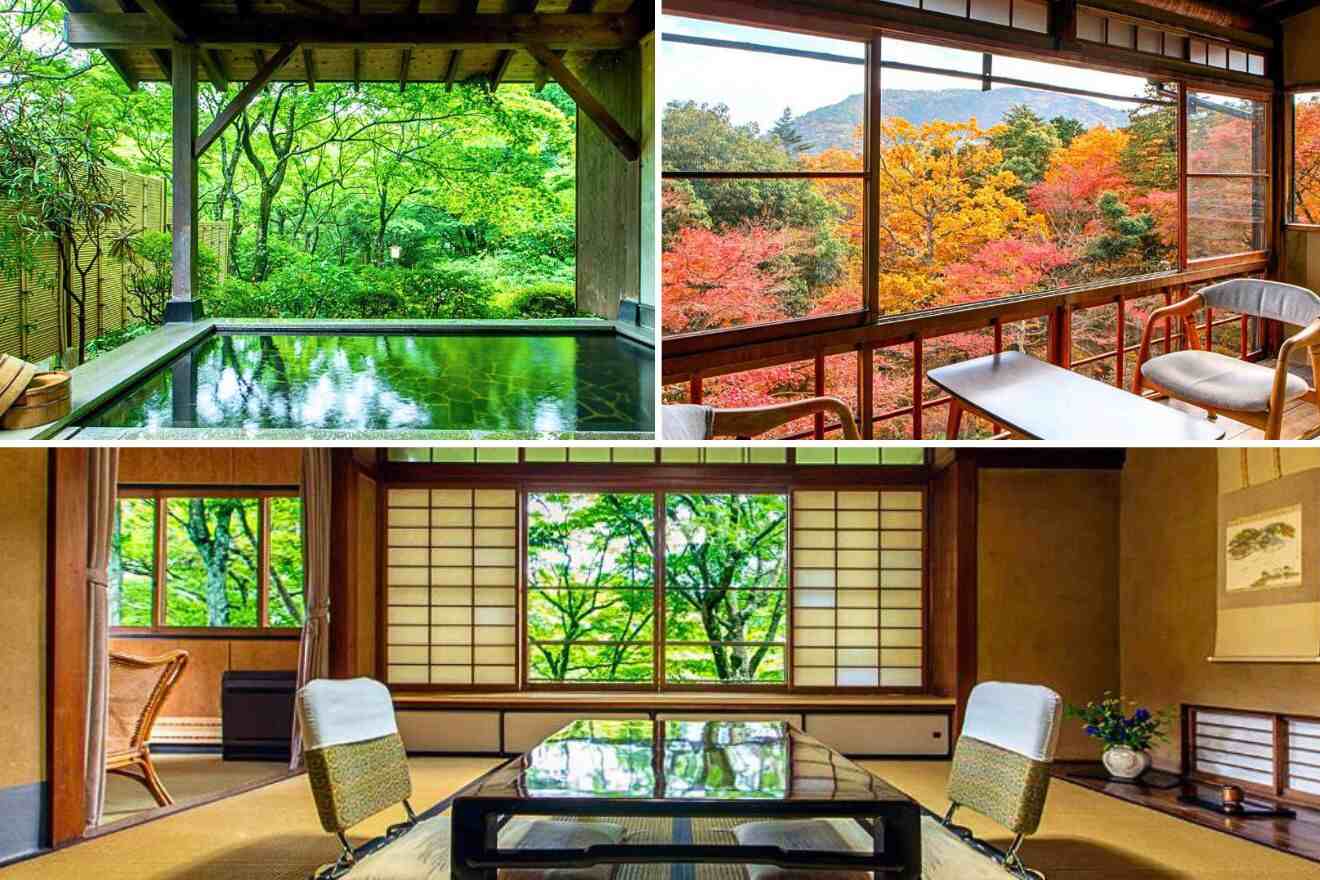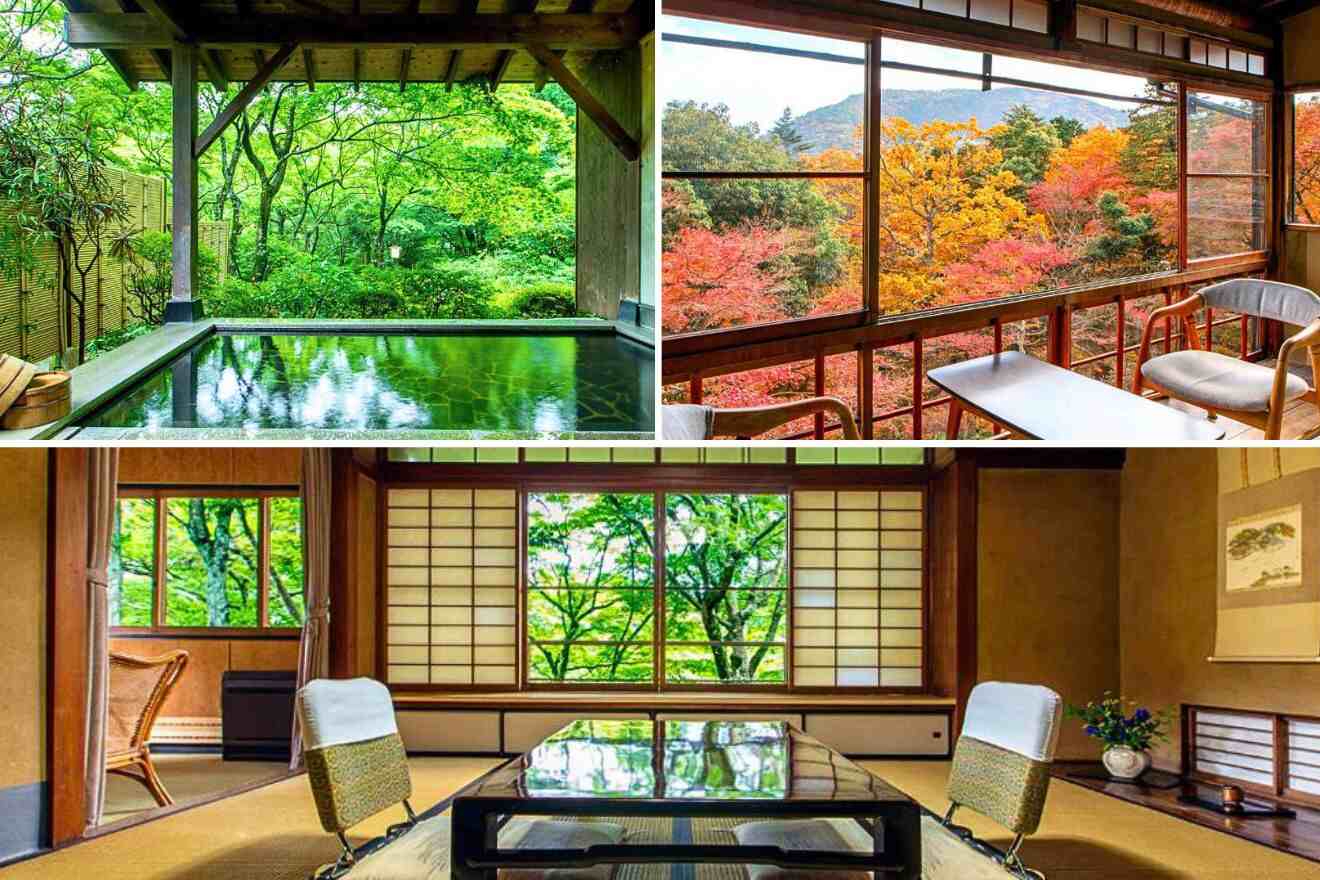 Ready to immerse yourself in Japanese culture? To drink tea, eat traditional food, and relax in the famous natural hot spring bath? Well, I hope you are, as this traditional Japanese ryokan is definitely prepared to welcome you with open arms! Their private onsen room offers incredible views of the garden and everything you need for your stay!
Set near the Open-Air Museum, the Hakone onsen offers a traditional Japanese style which I'm sure you'll all love, a public onsen (besides the private one in the rooms), and a restaurant where you can enjoy a kaiseki dinner. Make sure you book your Hakone ryokan early; these places are super popular with tourists and will sell out fast!
9. Hakone Tokinoshizuku – for the tranquility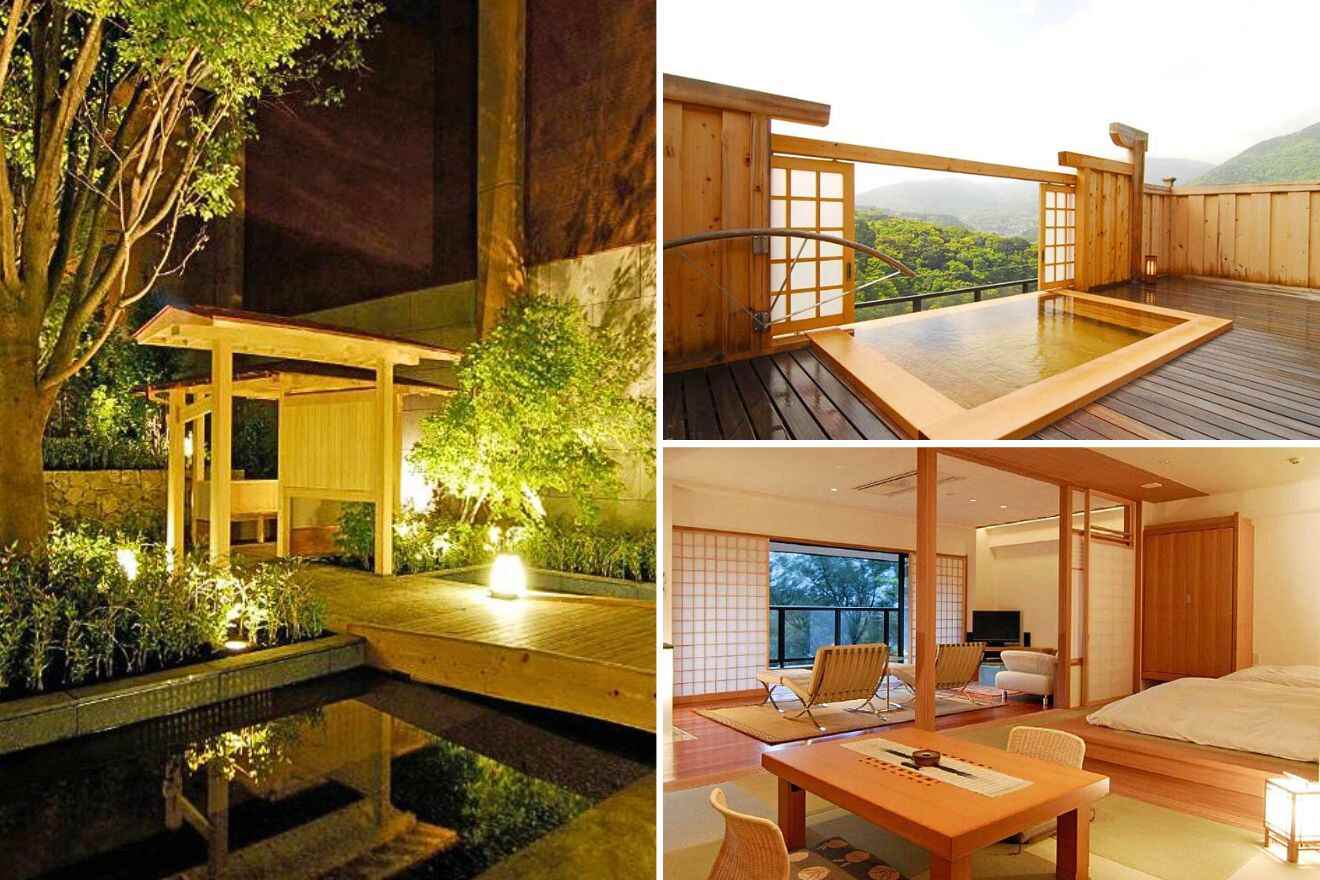 Exhausted after a day of exploring Hakone and visiting all the attractions? No worries! All you need is a long sesh in your own private outdoor onsen, and you'll feel so much better after! I'm sure we all want to do a million things while on holiday, but sometimes a moment of pausing is what we need!
And that's what you're invited to do at this Japanese-style inn that's set in Miyanoshita! Some of their rooms feature views of the Hakone mountain range, and some have, as I mentioned, an open-air onsen, along with a terrace, a flat-screen TV, and a mini-bar.
10. Hakone Kowakien Mikawaya Ryokan – with a lush garden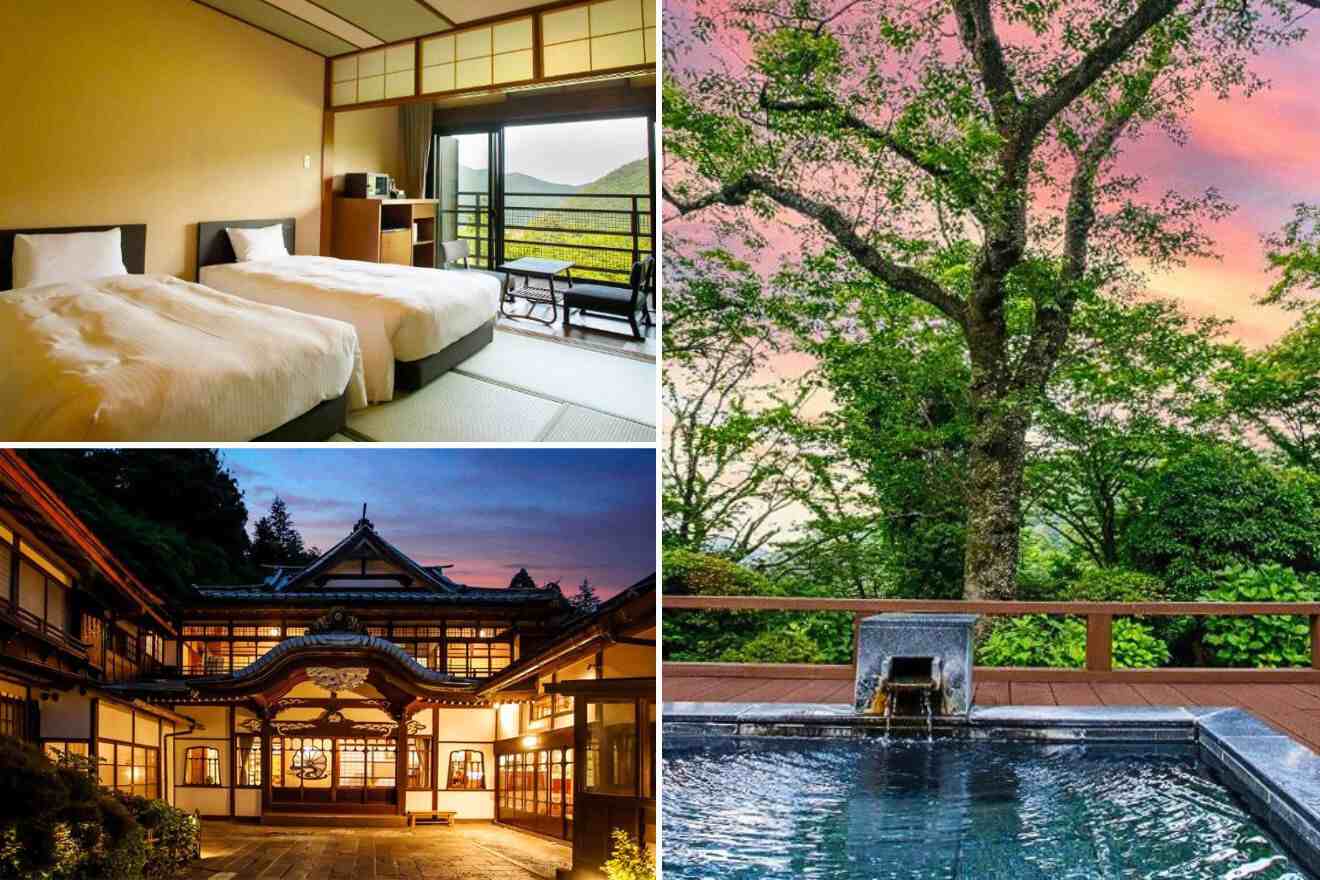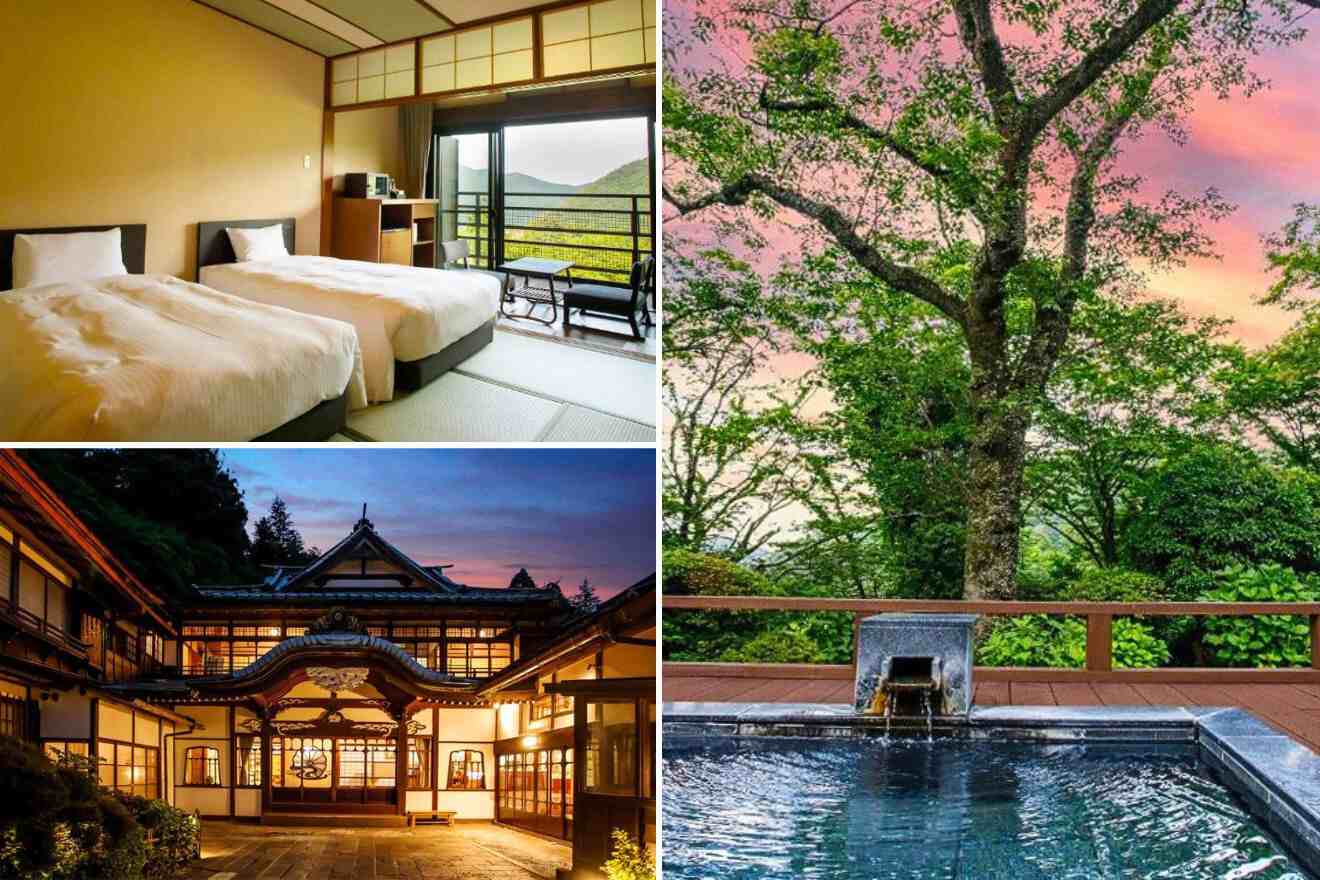 Here's to a holiday filled with little moments of exploring a new place like Hakone, relaxing in an open-air onsen, sleeping in ryokan rooms, and admiring the stunning views of Mount Fuji! And I found you a great hotel set in Yumotochaya, where you can spend your incredible holiday!
Definitely get their room with an outdoor onsen with a balcony, tatami flooring, and air conditioning. The accommodation offers an in-house restaurant where you can try all sorts of Japanese goodies, a garden, and free parking.
11. Balinese Onsen Ryokan Hakone Airu – offers a spa center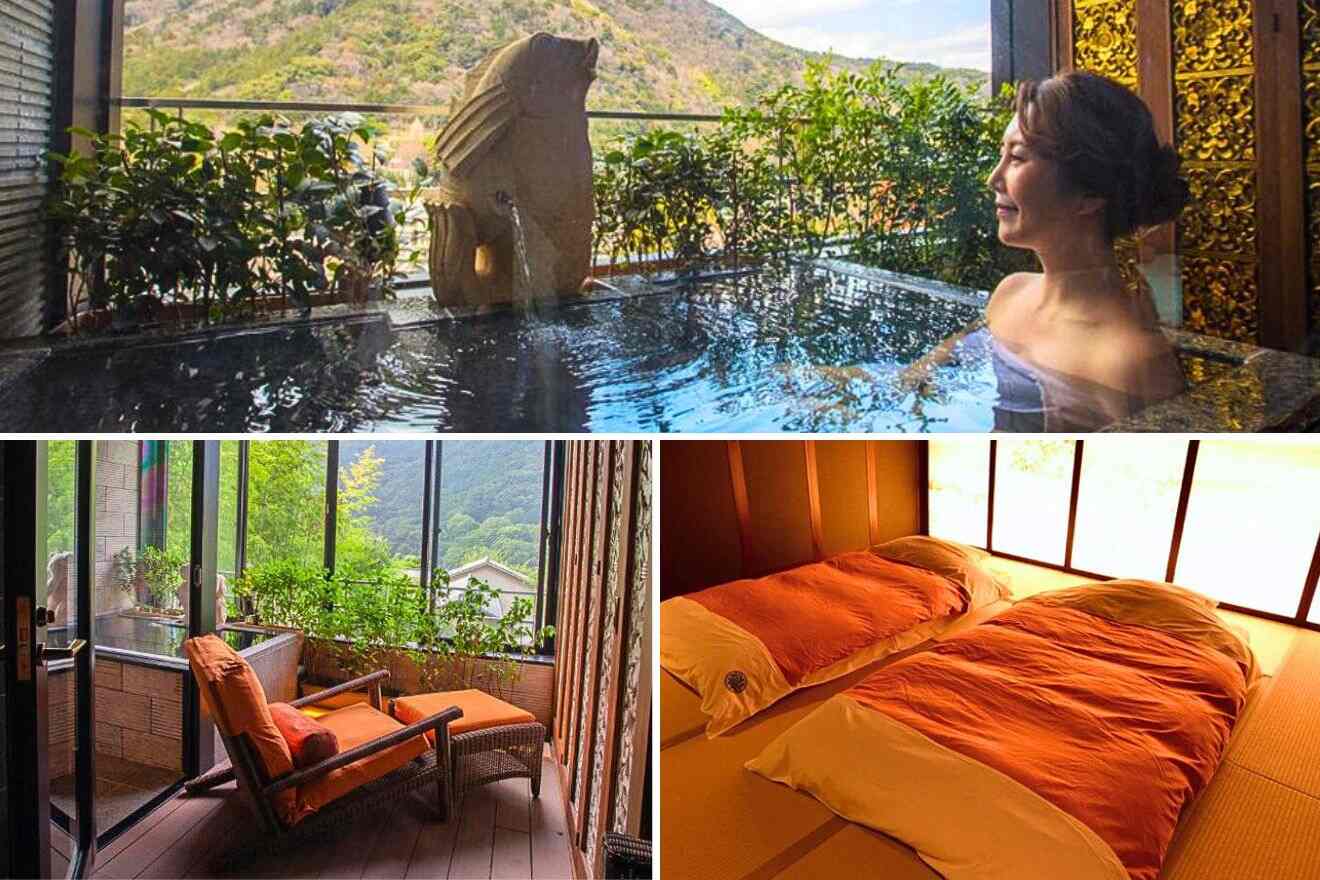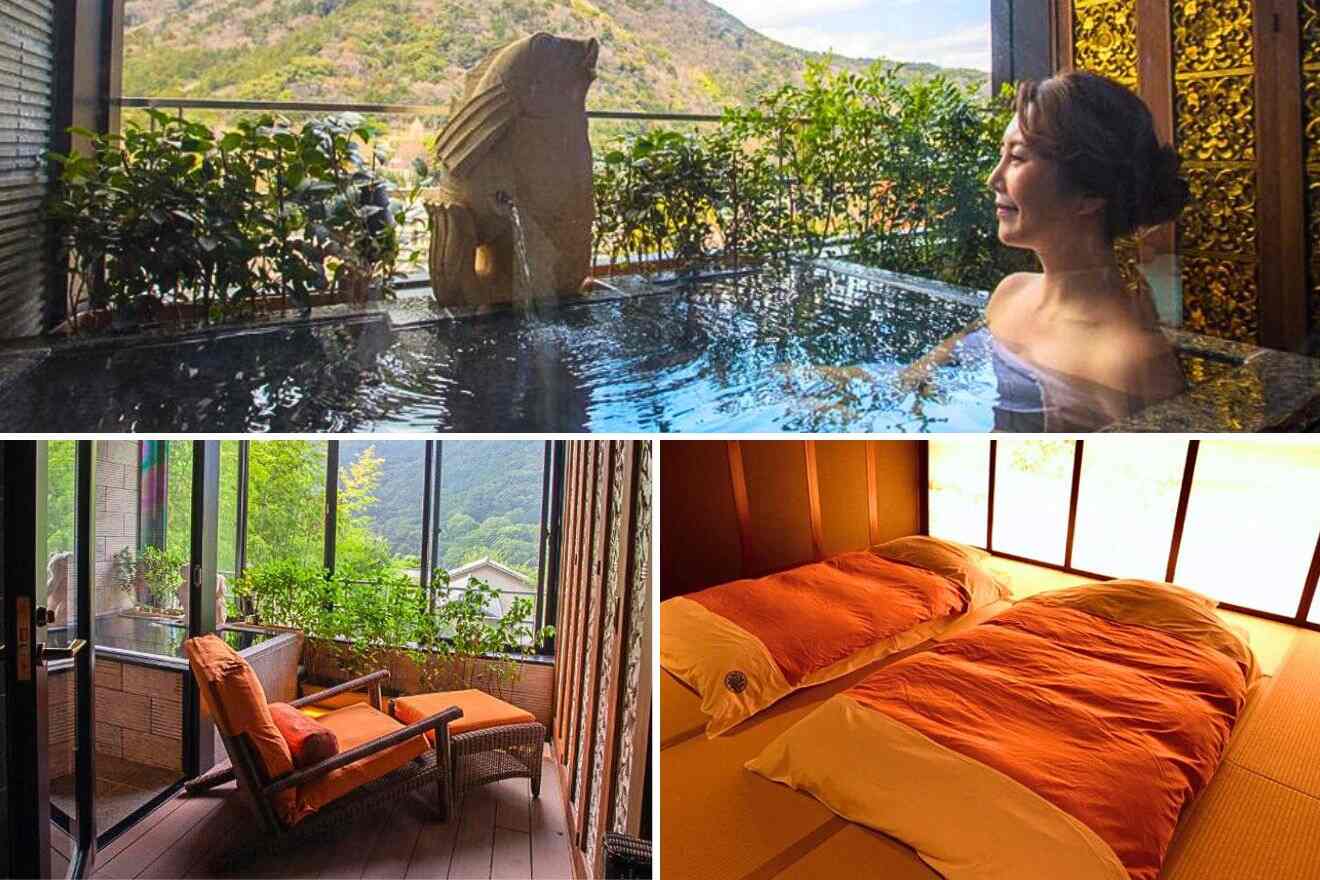 Located in the Hakone Yumoto Onsen, this amazing hotel offers rooms with private baths and mountain views! What can be better than lying in your outdoor hot springs while admiring the mountains? After that, you can relax more in your spacious room with futon beds and a terrace.
Continue your day with a yummy breakfast at the restaurant or up in your suite, and head to the spa center for a nice massage. I'm sure after all that, you'll be more than ready to explore the town and check out the unique Lake Ashi!
12. Hakone Ashinoko Hanaori – with a unique design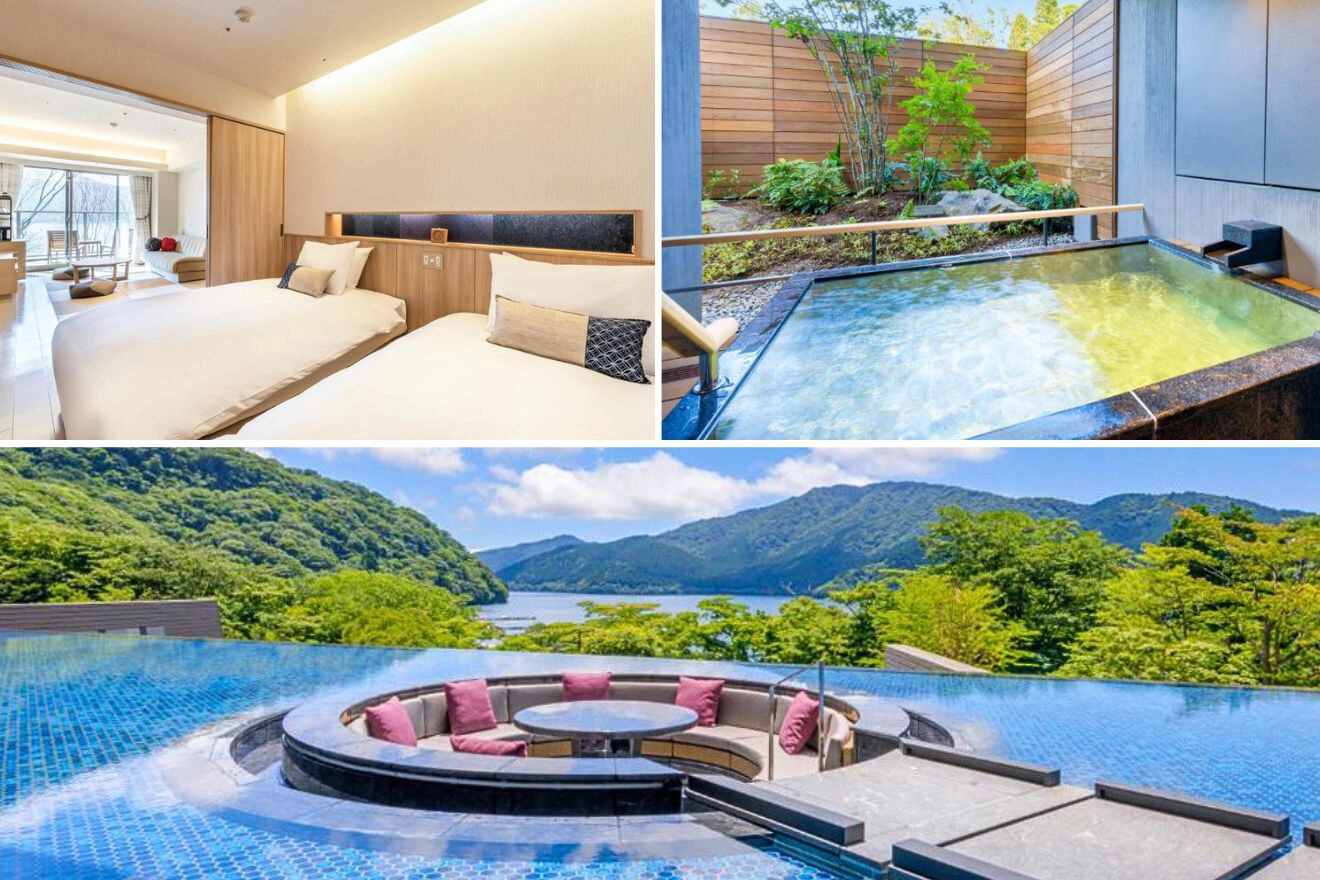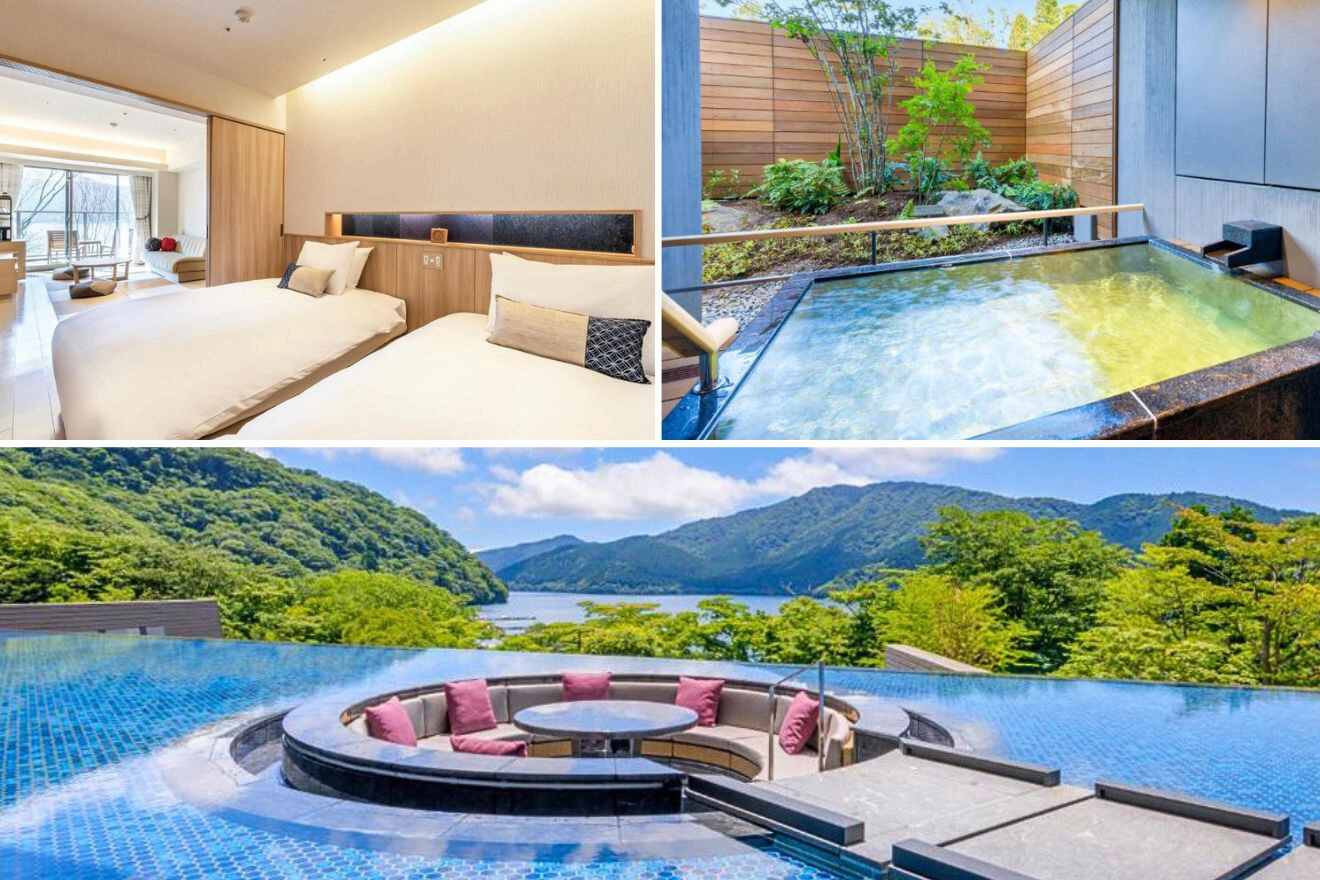 You're going to love this hotel's infinity swimming pool which casually has in the middle a circular seating area where you can enjoy drinks and the views! Set not too far from the Hakone Ropeway Owakudani Station, the accommodation offers rooms with Western-style beds and a private outdoor onsen!
The hotel has a great design, a fusion of modern Western elements and Japanese ones. During your holiday here, you can enjoy some quiet afternoons in the garden or on the terrace, book some time for a massage, and of course, enjoy the hot springs to the fullest!
13. Hakone Shiunso – with river views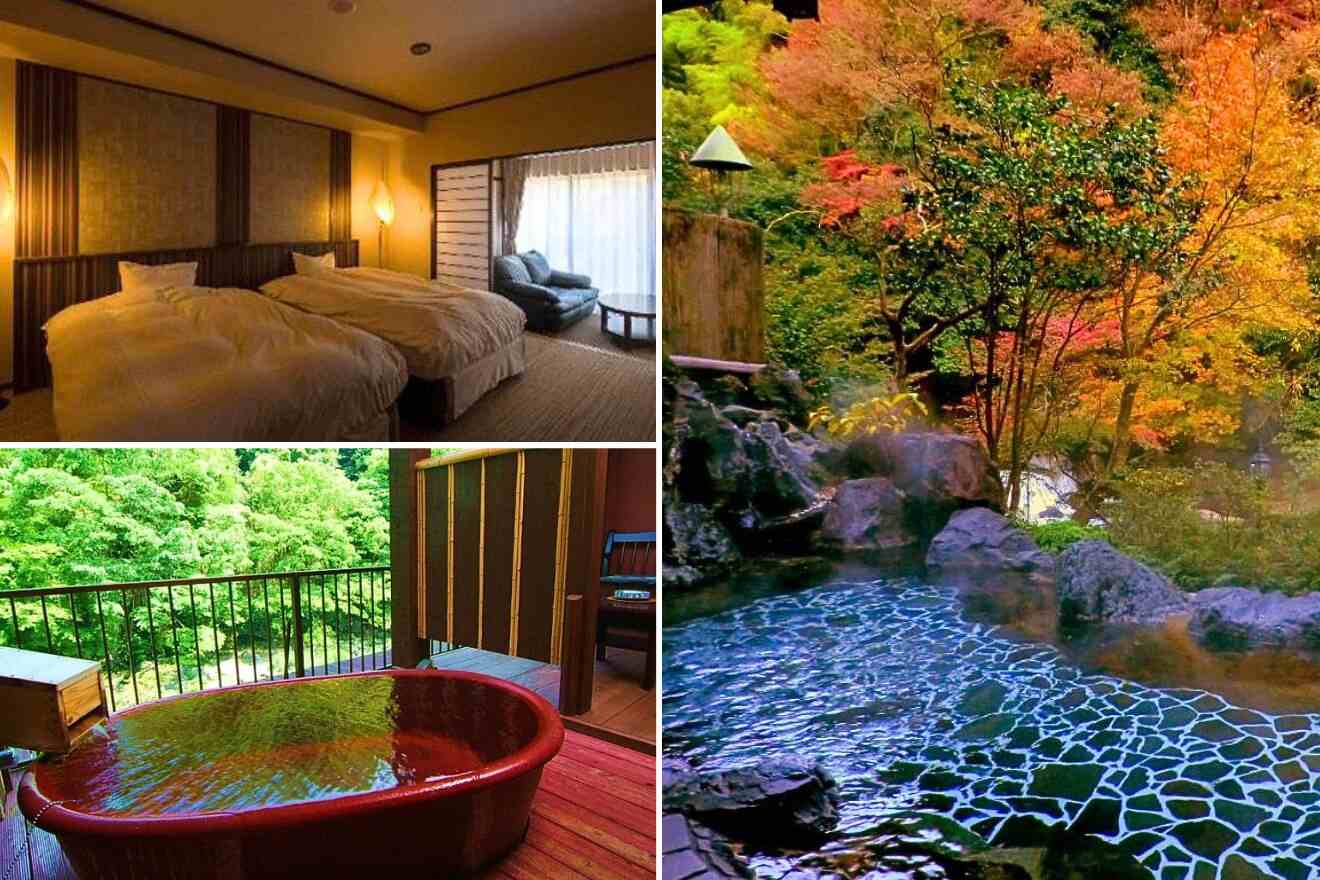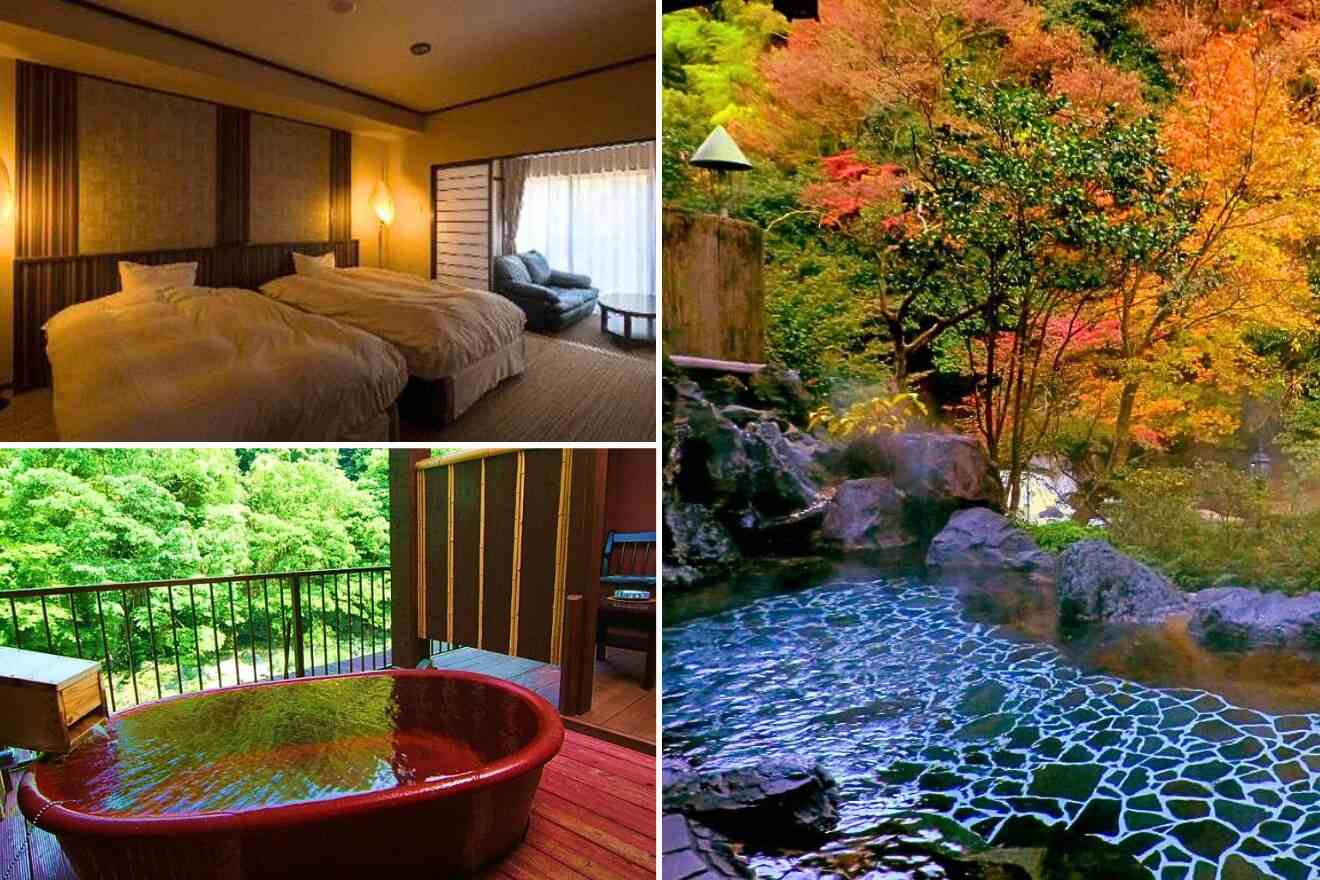 Hakone is filled with outdoor hot spring baths, but if you want one just for yourself that you can use whenever you want without having to wait, then book a room at this amazing hotel that offers rooms with a private onsen!
Set on the banks of the Haya River, the accommodation comes with some incredible facilities, mountain views, and a garden. Start your day with breakfast, and then head to the spa center on-site for a nice massage!
14. Laforet Club Hakone – for outdoor adventures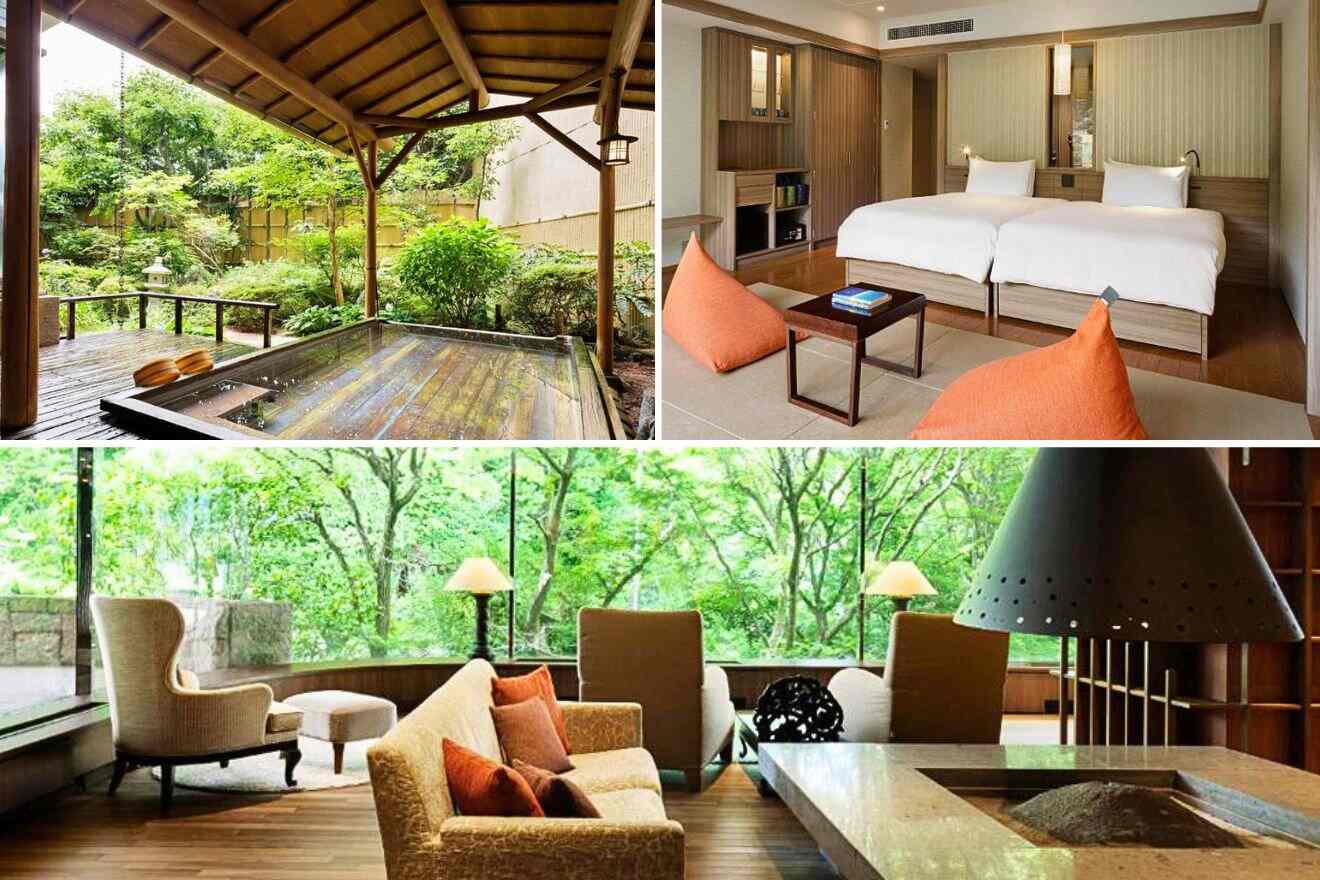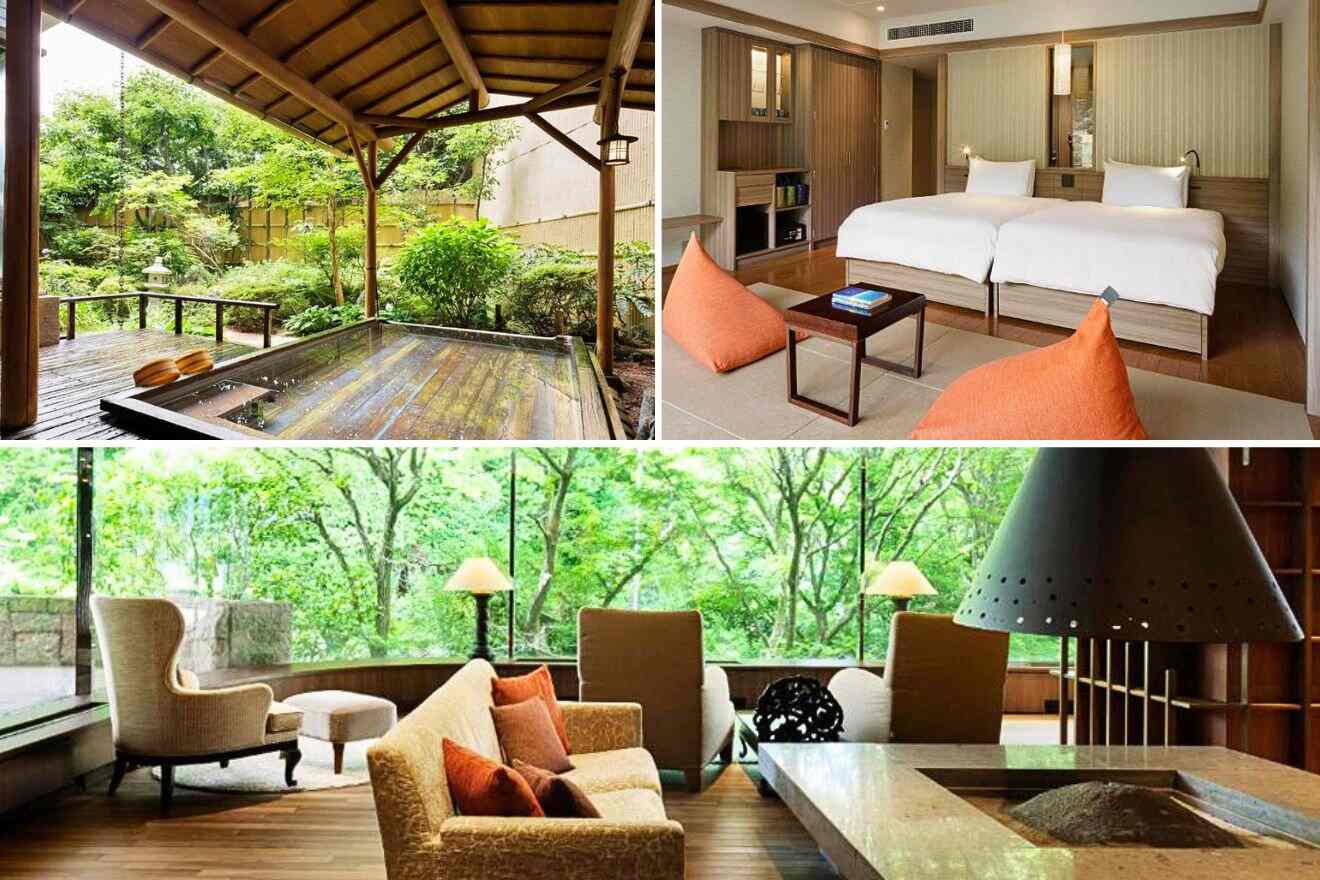 A beautiful ryokan that combines Japanese and Western designs that create such an amazing space! This accommodation that's set in Gora features rooms with a private open-air onsen, a restaurant, and free parking.
Surrounded by green trees and nature, the accommodation comes with such a lovely ambiance! Not too far from the hotel, you'll find lots of hiking areas, and you can also do other activities like canoeing and fishing. After that, you can enjoy a delicious traditional meal at the on-site restaurant and hop in your onsen with hot spring water!
15. Hakone Hoshi no Akari – with breathtaking mountain views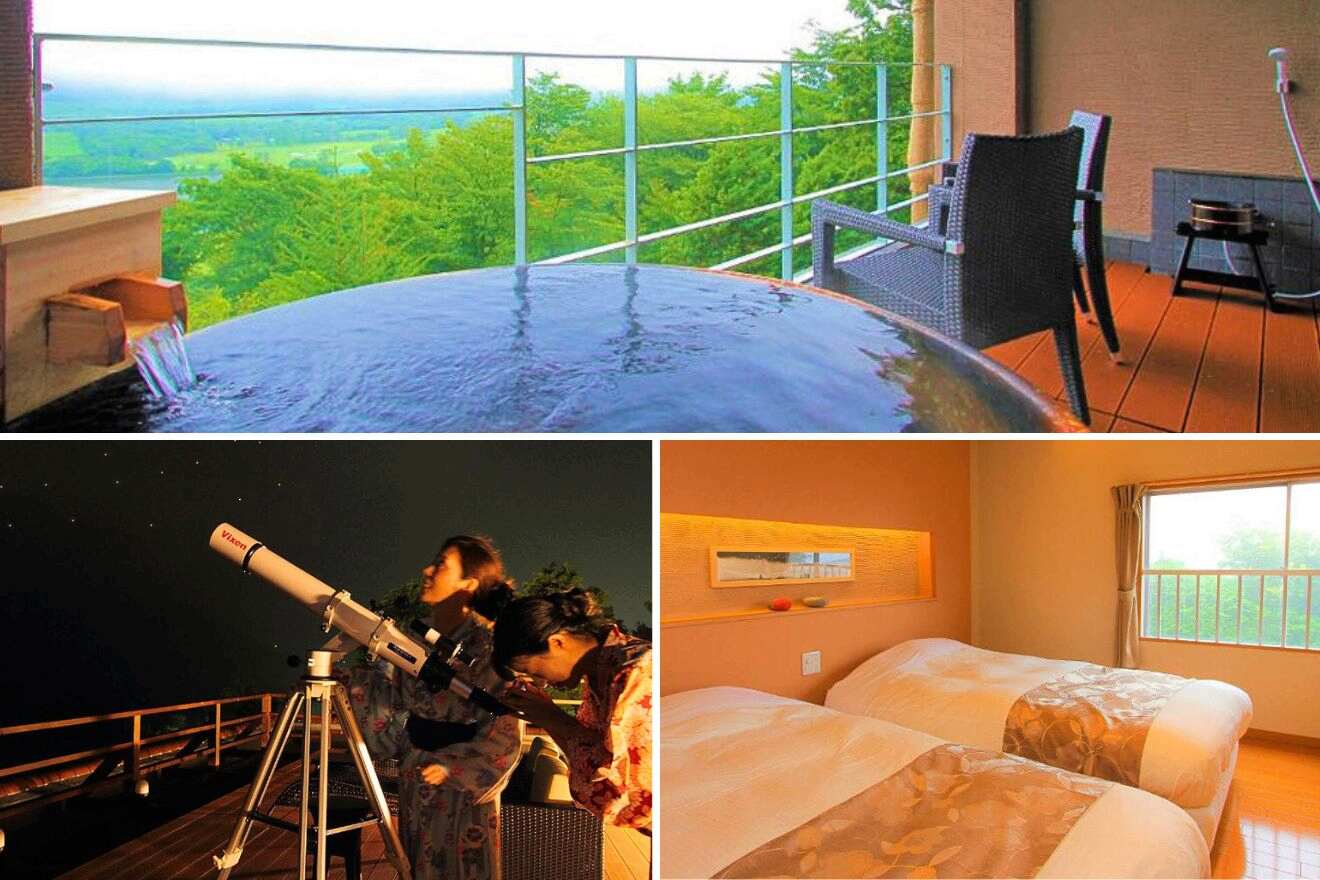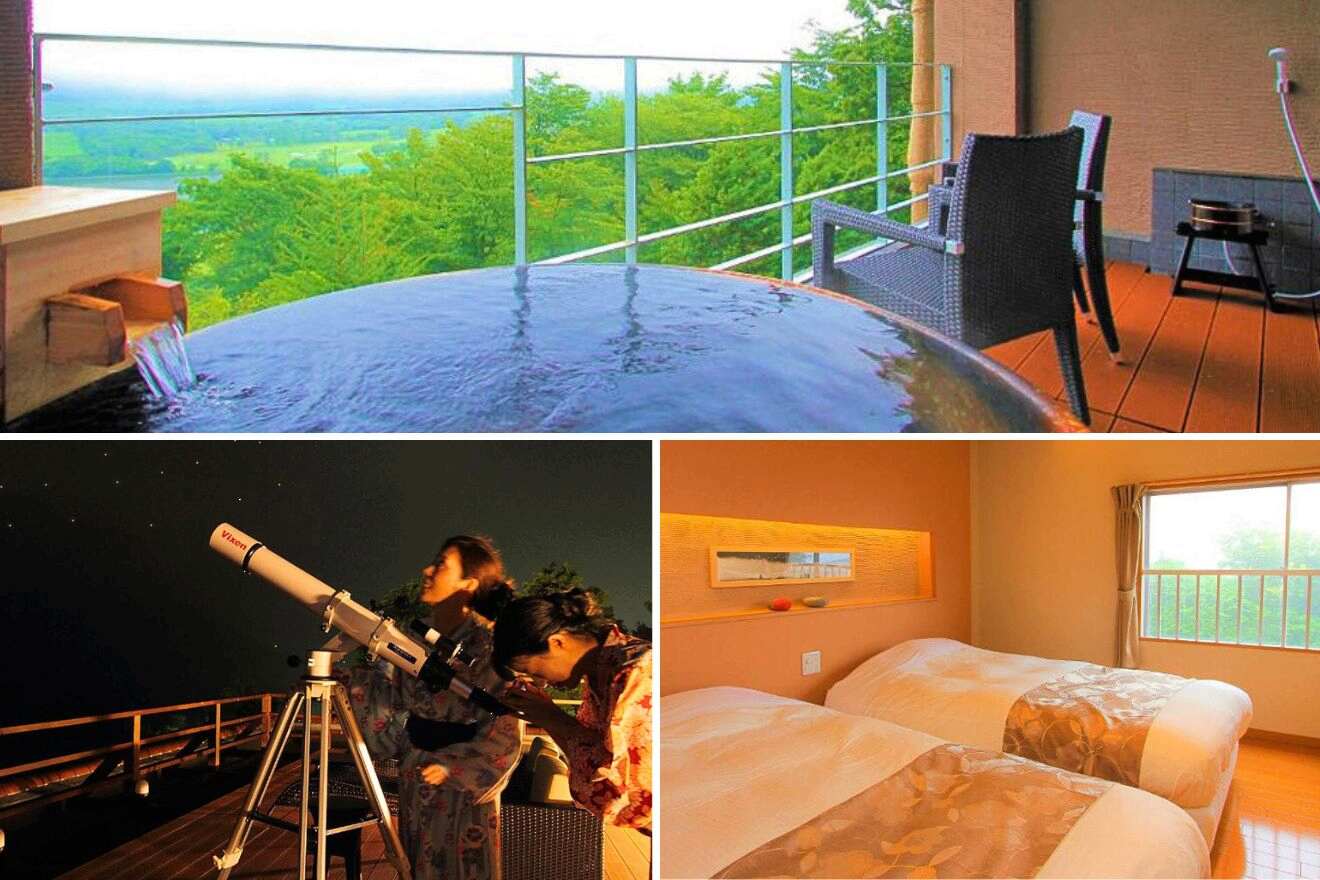 Secure the luxury suite at this accommodation and enjoy having access whenever you want to a private onsen Hakone bath! Set in the Sengokuhara area, this hotel offers incredible views of the surrounding mountains and tatami floors.
When you're not out and about exploring the town, you can play table tennis, relax on the terrace and arrange for a massage with the staff members. You should also explore the area around the hotel as it's so pretty!
16. Masutomi Ryokan – for culture lovers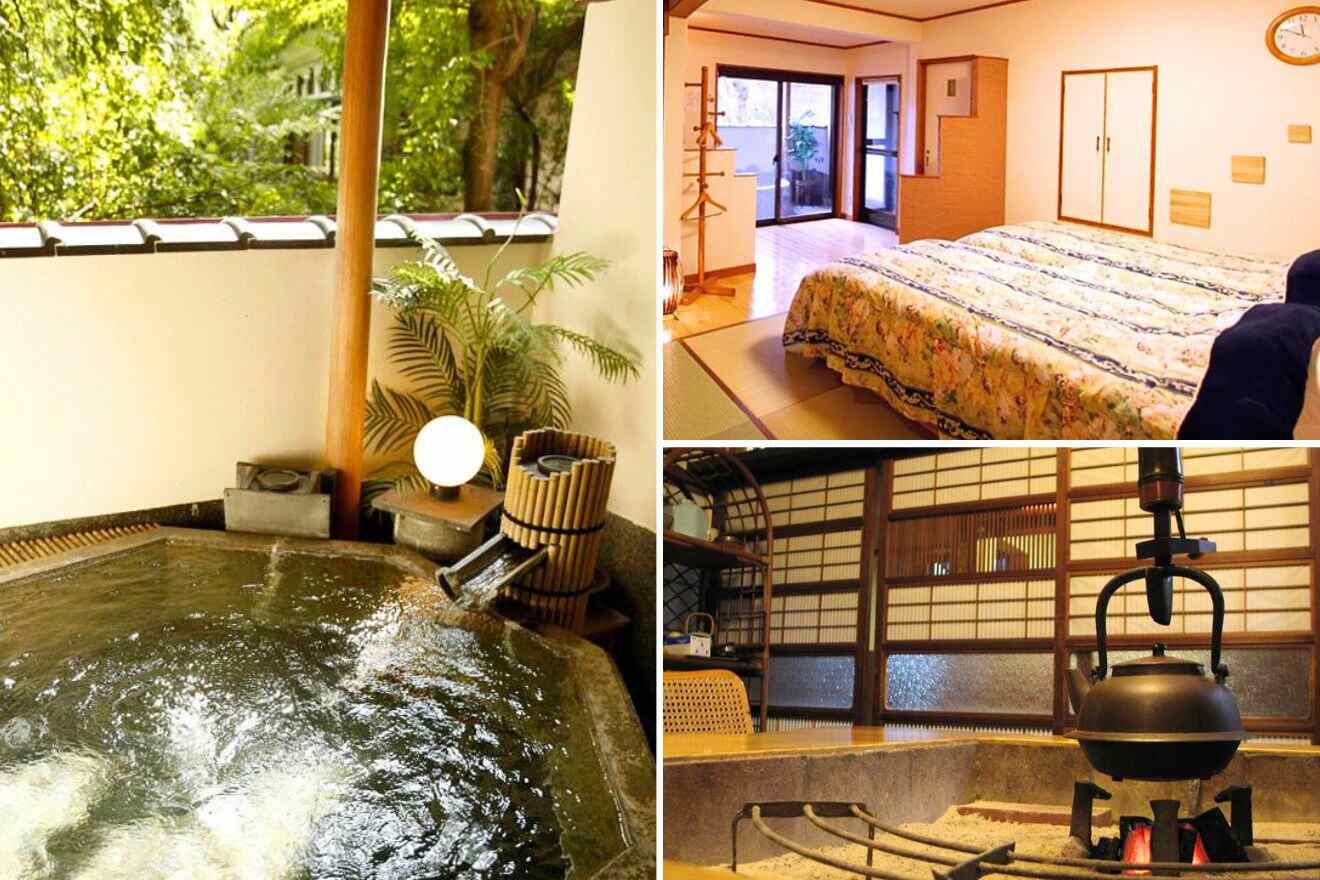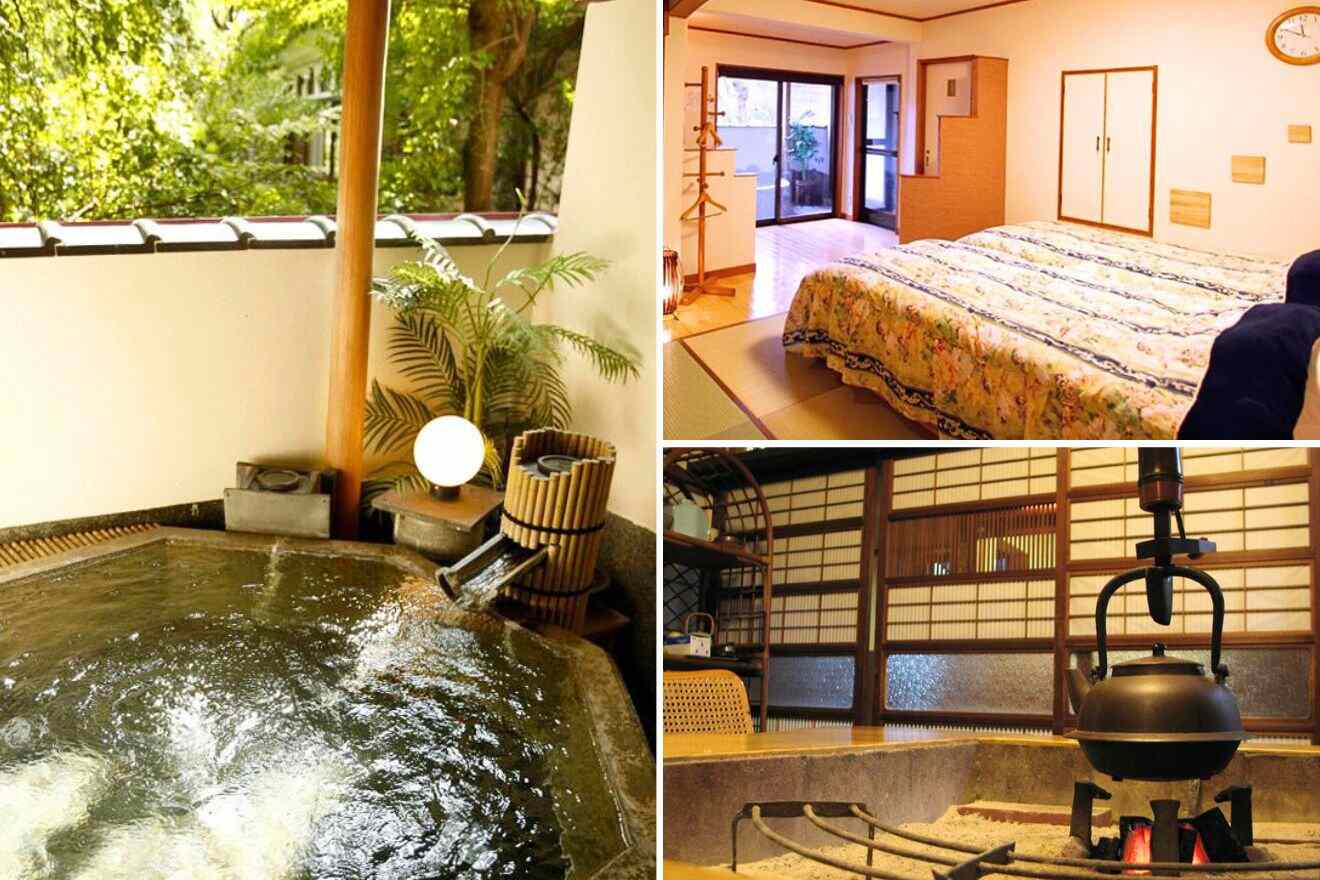 Want to experience Japanese culture to the fullest? Then book a room at this Ryokan with a private onsen with everything you need for your stay! Set just a 5-minute walk from Hakone Yumoto Train Station, the accommodation features a rooftop bath, family rooms, and free Wi-Fi.
All the rooms at the Ryokan have a Japanese-style design and have futon bedding and Western beds. Their on-site restaurant serves traditional Japanese meals (including kaiseki meals) made with organic vegetables and fresh seafood. Yum!
17. Senkyoro – for karaoke enthusiasts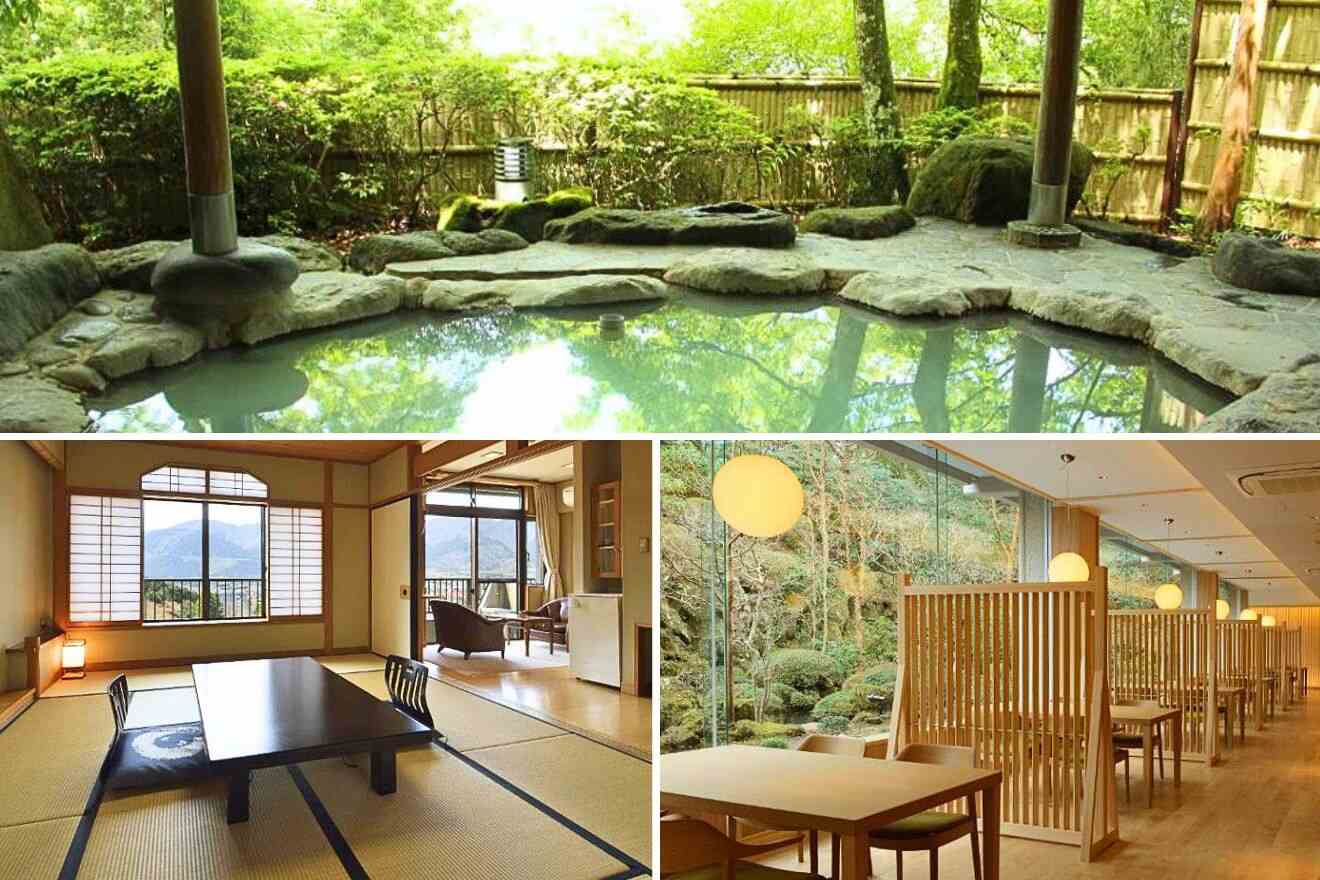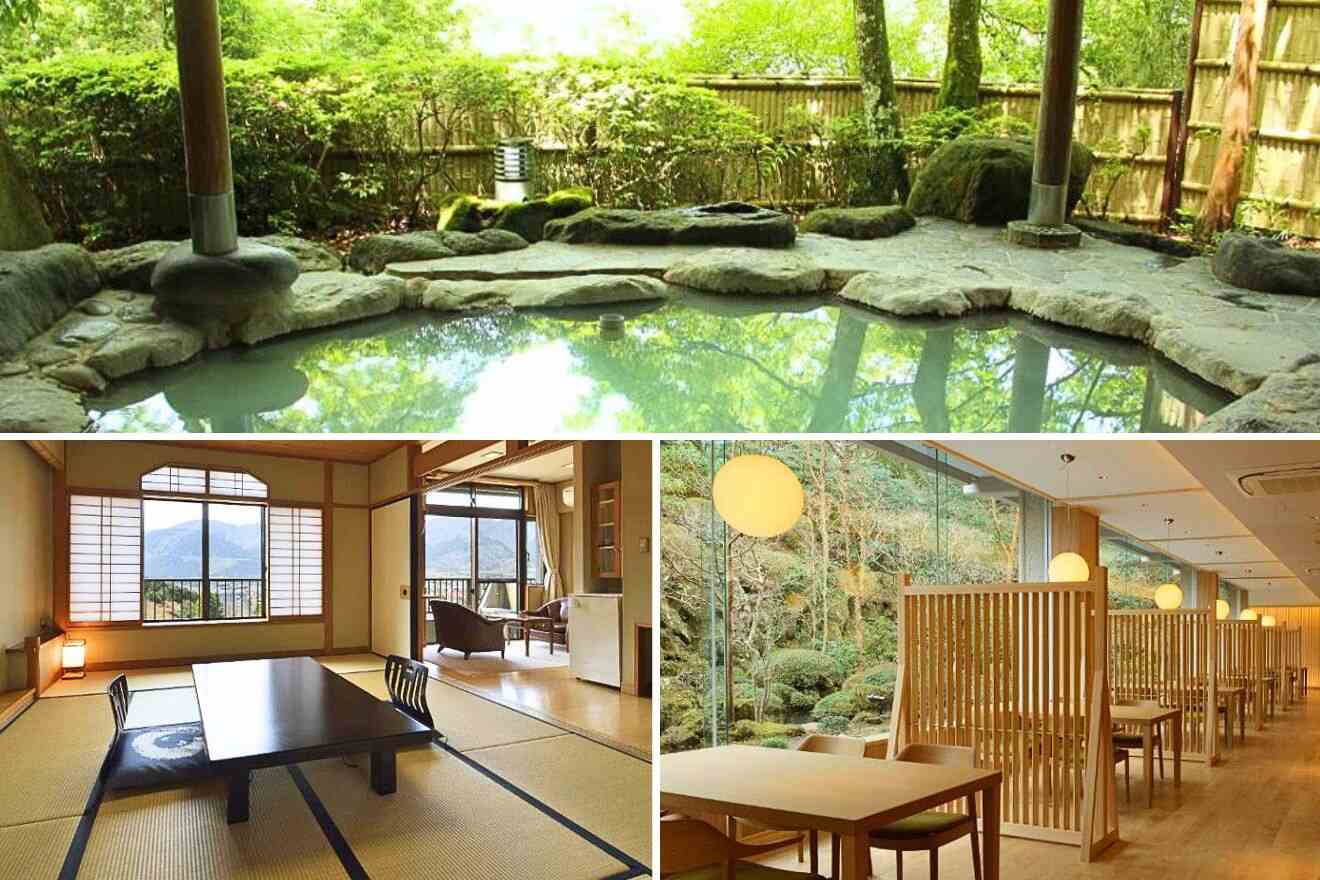 You can't beat the mountain views in Hakone! This town is an absolute gem! If you're still looking for a Hakone ryokan with private onsen then have a look at this one, which is set a 10 min walk away from the Hakone Garasunomori Museum, and that offers karaoke activities!
Their rooms are so incredible, and most feature tatami flooring and Japanese futon bedding some also have a private onsen on the balcony that overlooks the mountains. Meaning you can spend your afternoon here, enjoying a nice bath and that stunning sight!
18. Tensui Saryo – for your family getaway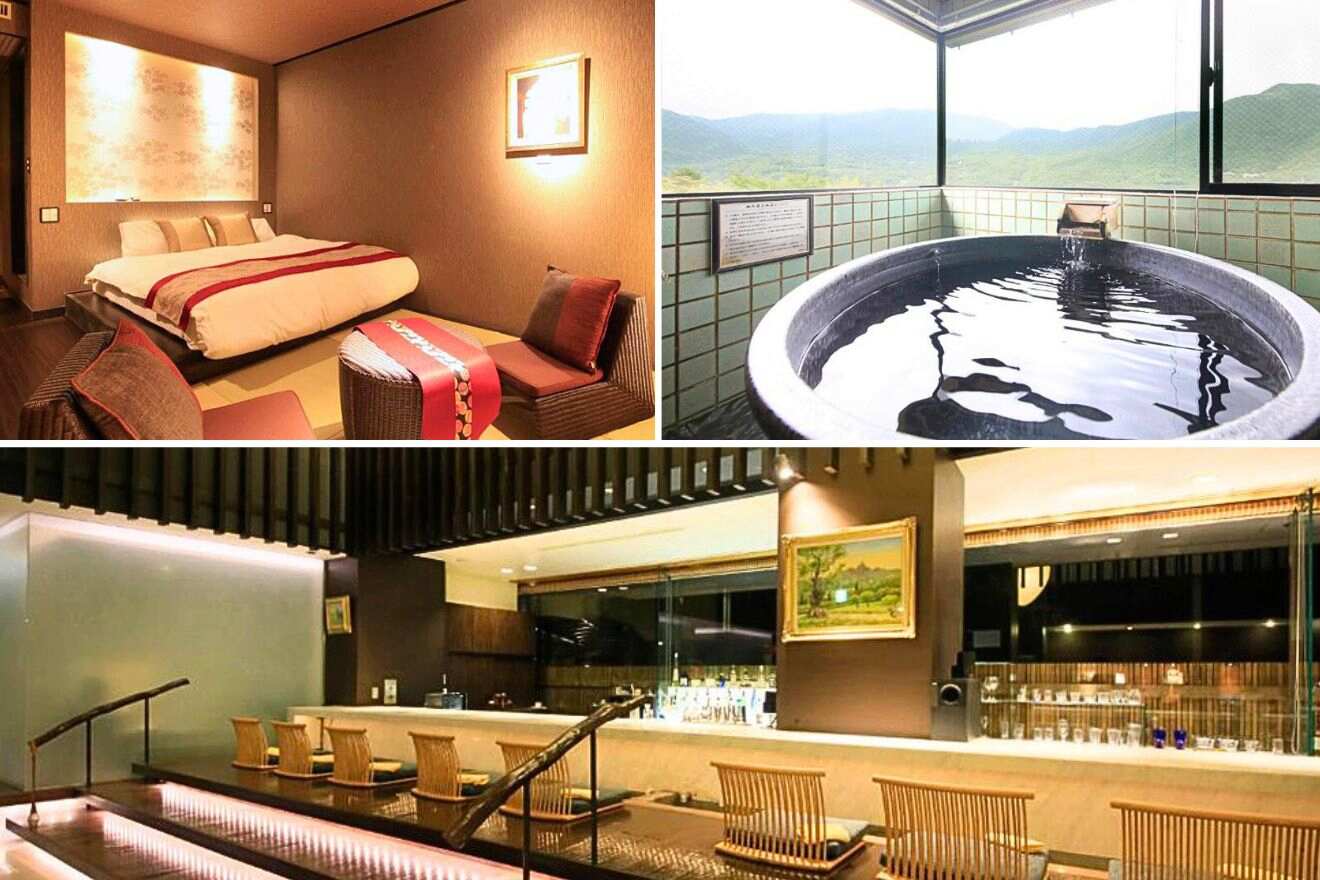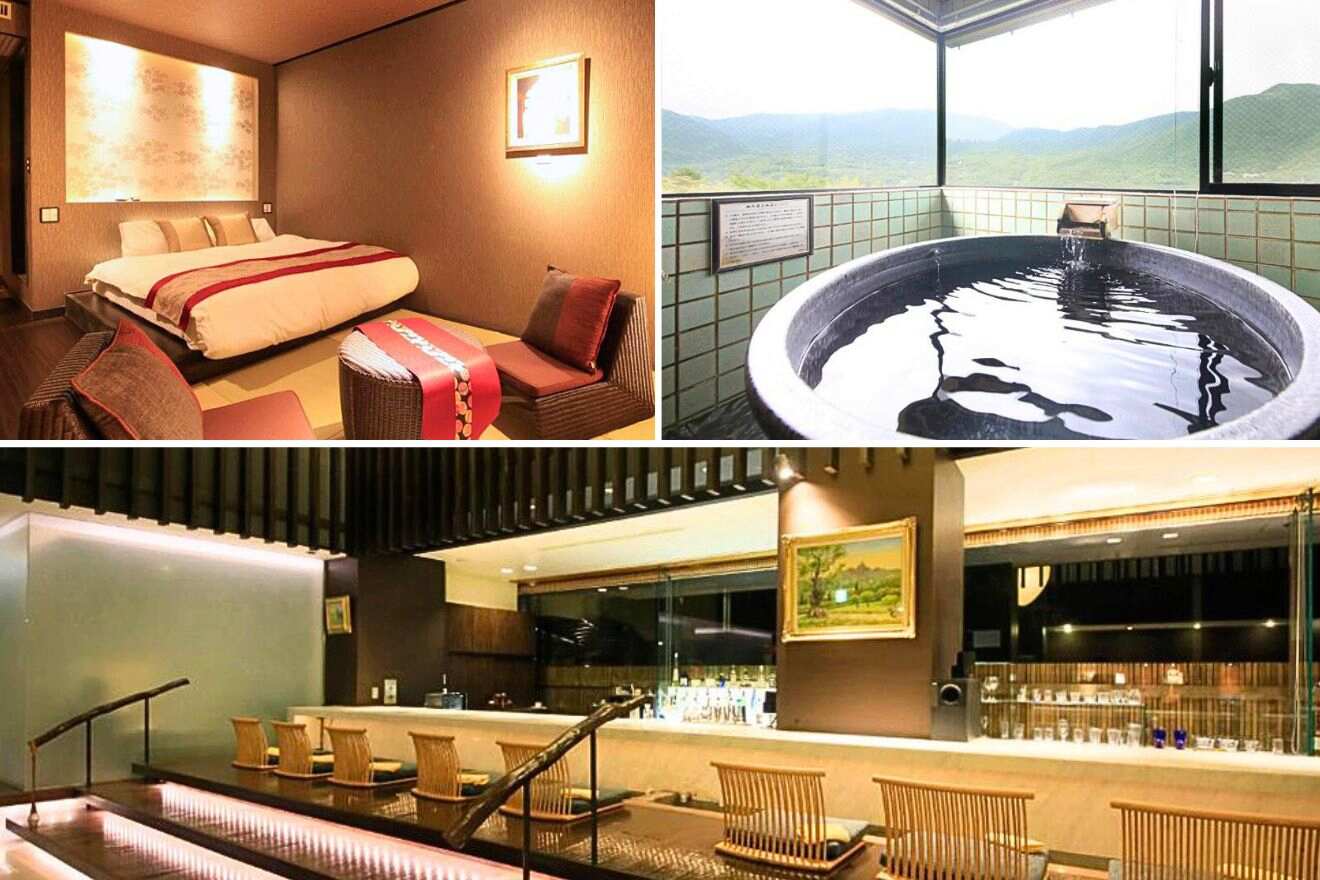 Located in the Gora area, this ryokan is perfect for your family getaway to Hakone! The accommodation features spacious rooms with an open-air bath that can fit the whole family! Most also come with a great view of the town's mountain range.
While staying here, you'll be close to many attractions like the Hakone Gora Park and the Hakone Open-Air Museum. The hotel offers various spa facilities like body massages and facial treatments, and the restaurant on-site serves specially-made meals for kids!
19. Hakone Suimeisou – with a minimalistic design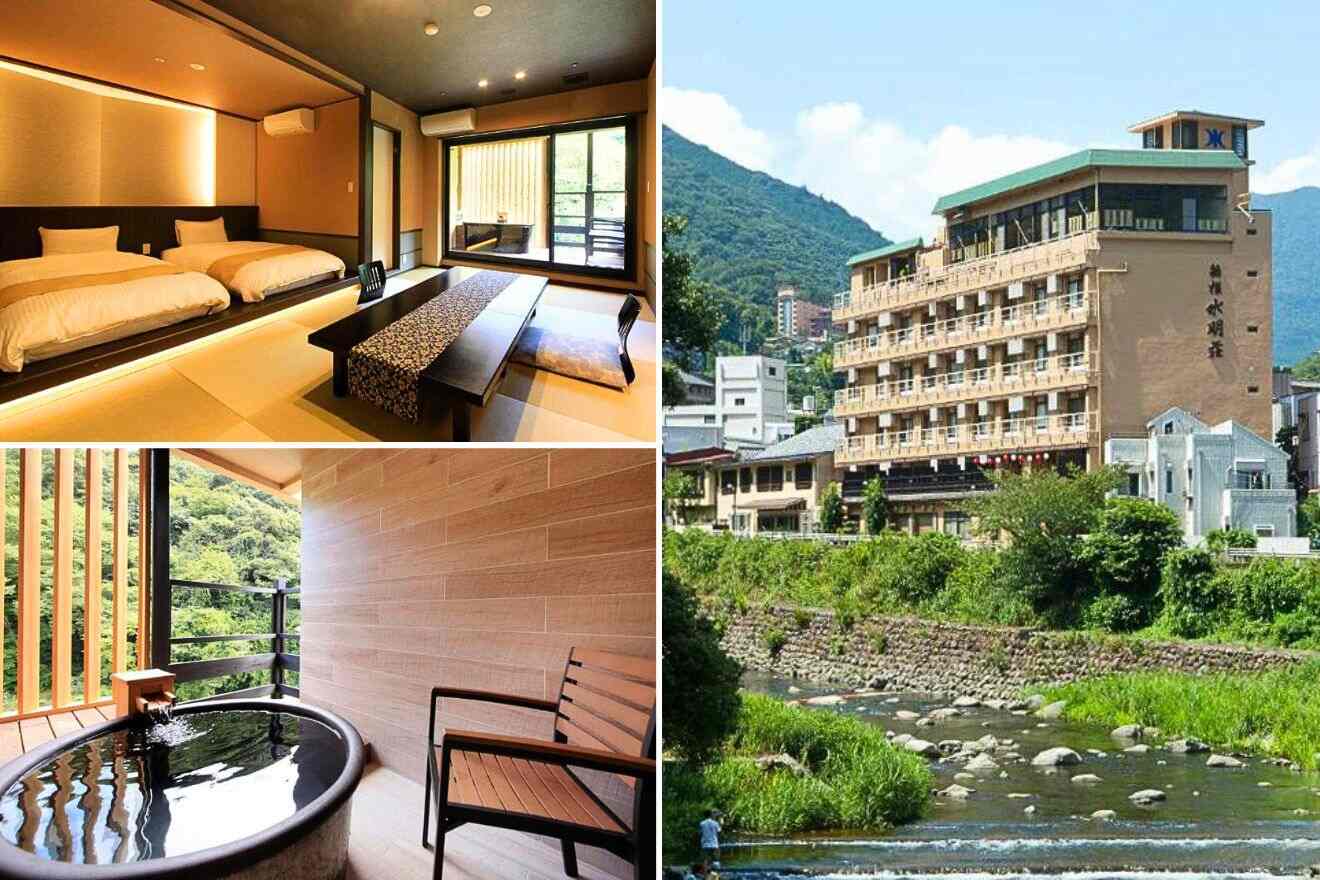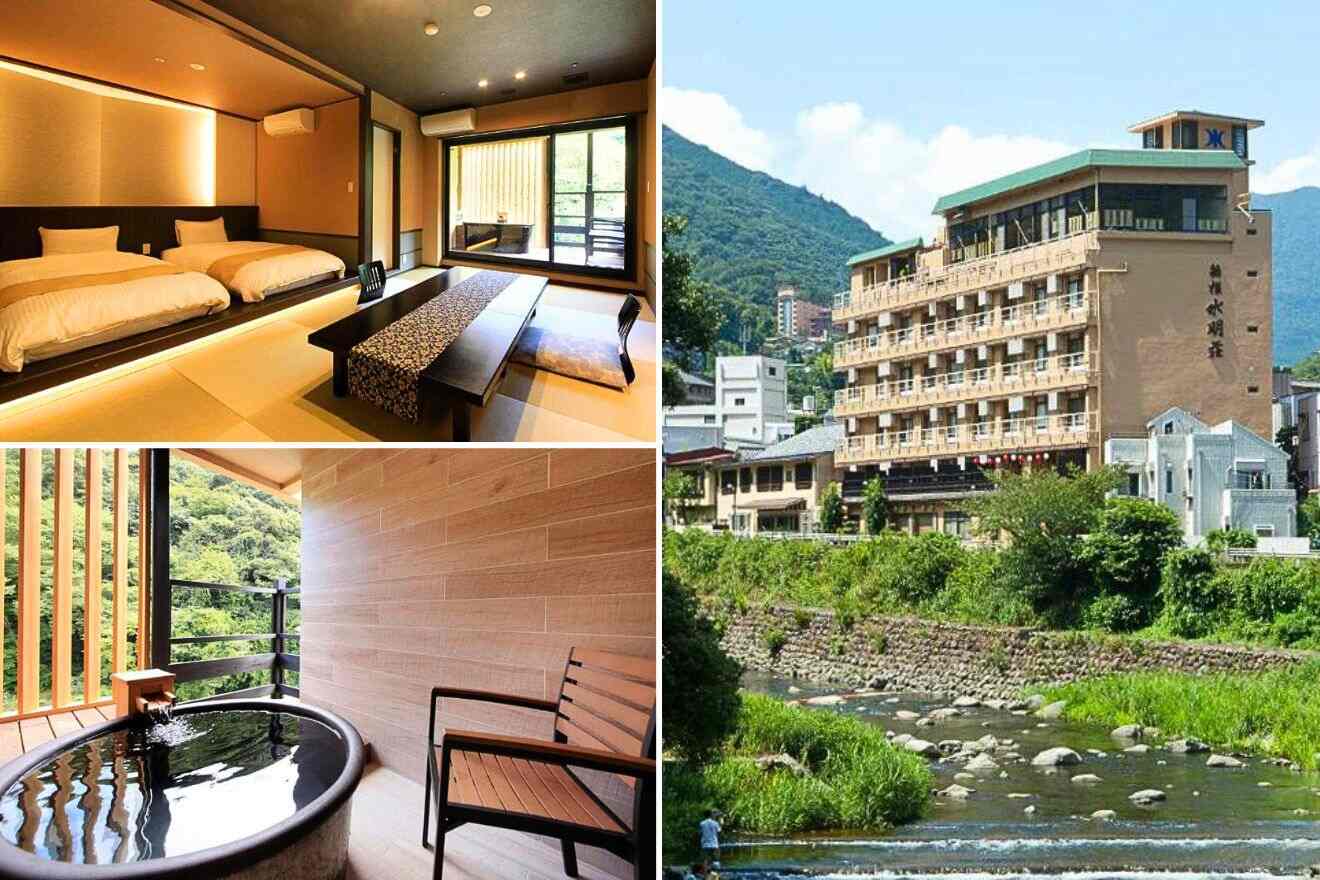 I like how simple and minimalistic the traditional Japanese design is! I feel like it instantly makes you feel much more relaxed and happy! And I know we all love to get that feeling while on holiday, so definitely check out this place which offers all that, rooms with a private onsen and a great location near the Hakone Yumoto Station.
Enjoy your morning tea on the terrace while admiring the views, and then continue your day at the spa center with some massages before returning to your suite to relax in the hot spring bath!
20. Hakone Fuga – great for couples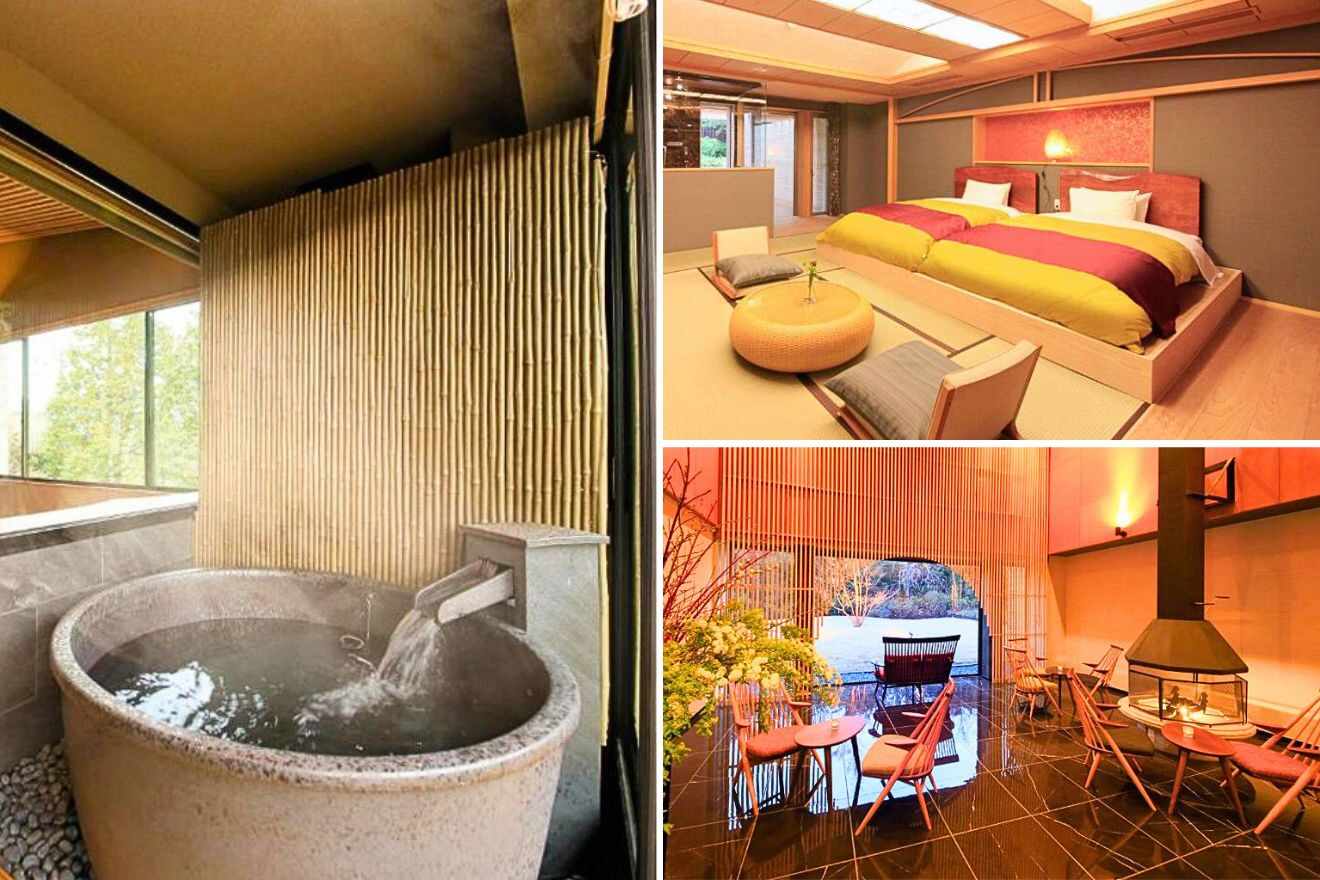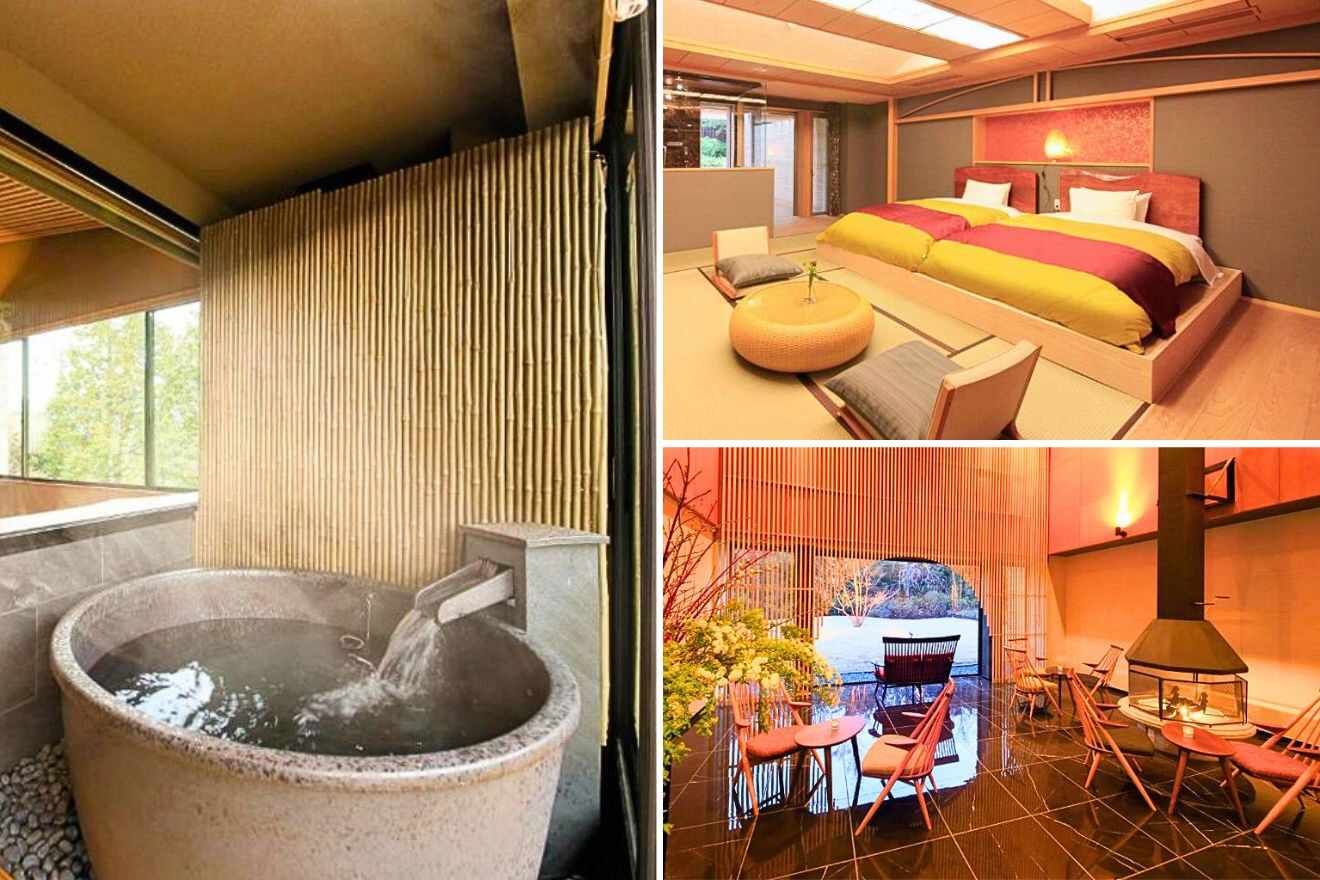 Located in the Sengokuhara Onsen district of Hakone, this adult-only accommodation is perfect for a romantic getaway! Here, you and your partner can enjoy all the privacy you need and relax whenever you want in your outdoor bath.
The hotel features rooms with garden views, free Wi-Fi, and a bar where you can enjoy a few drinks after a day of exploring the city. There's also a golf center just 3 km (2 miles) away from the Ryokan!
FAQs about your Hakone ryokan with a private onsen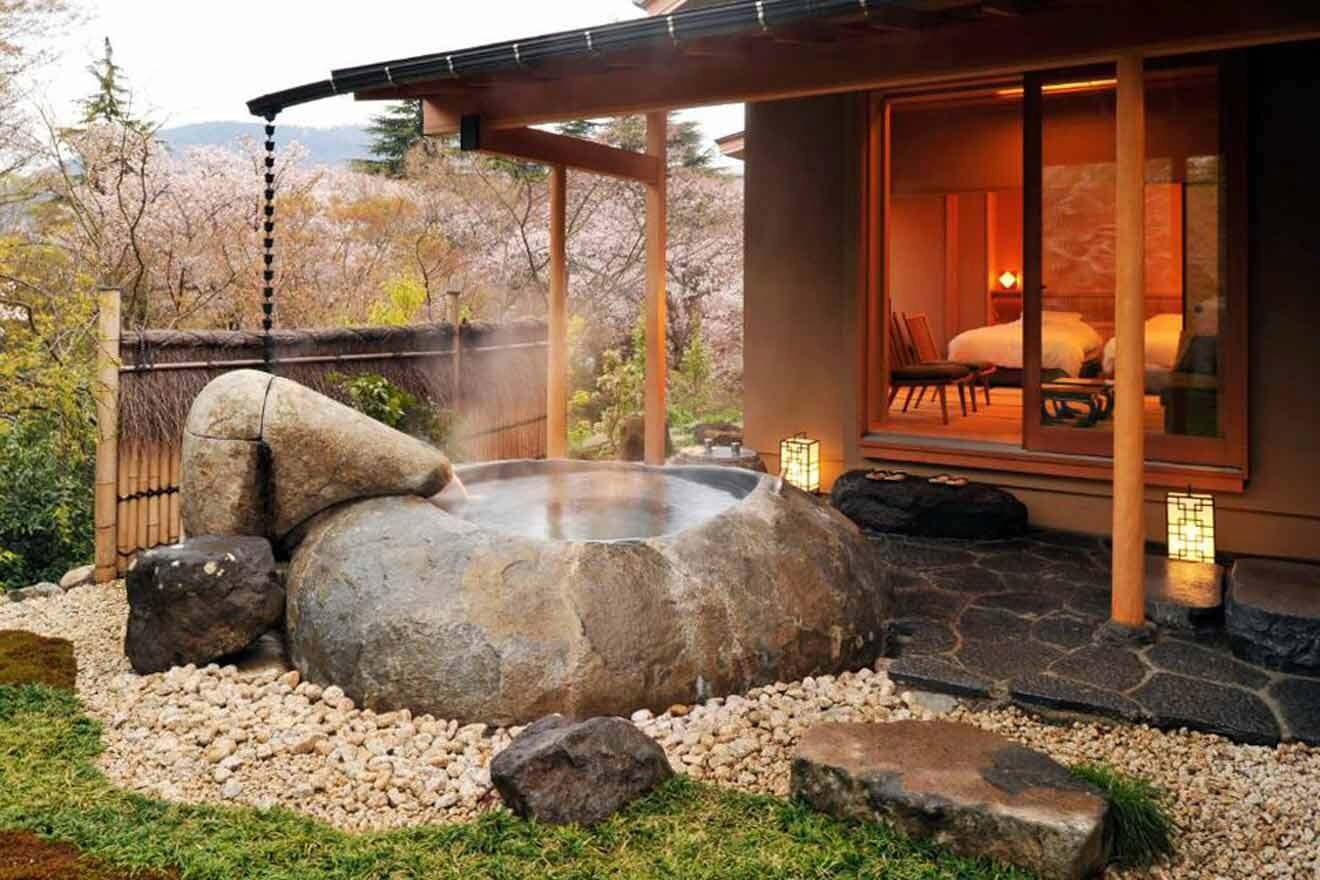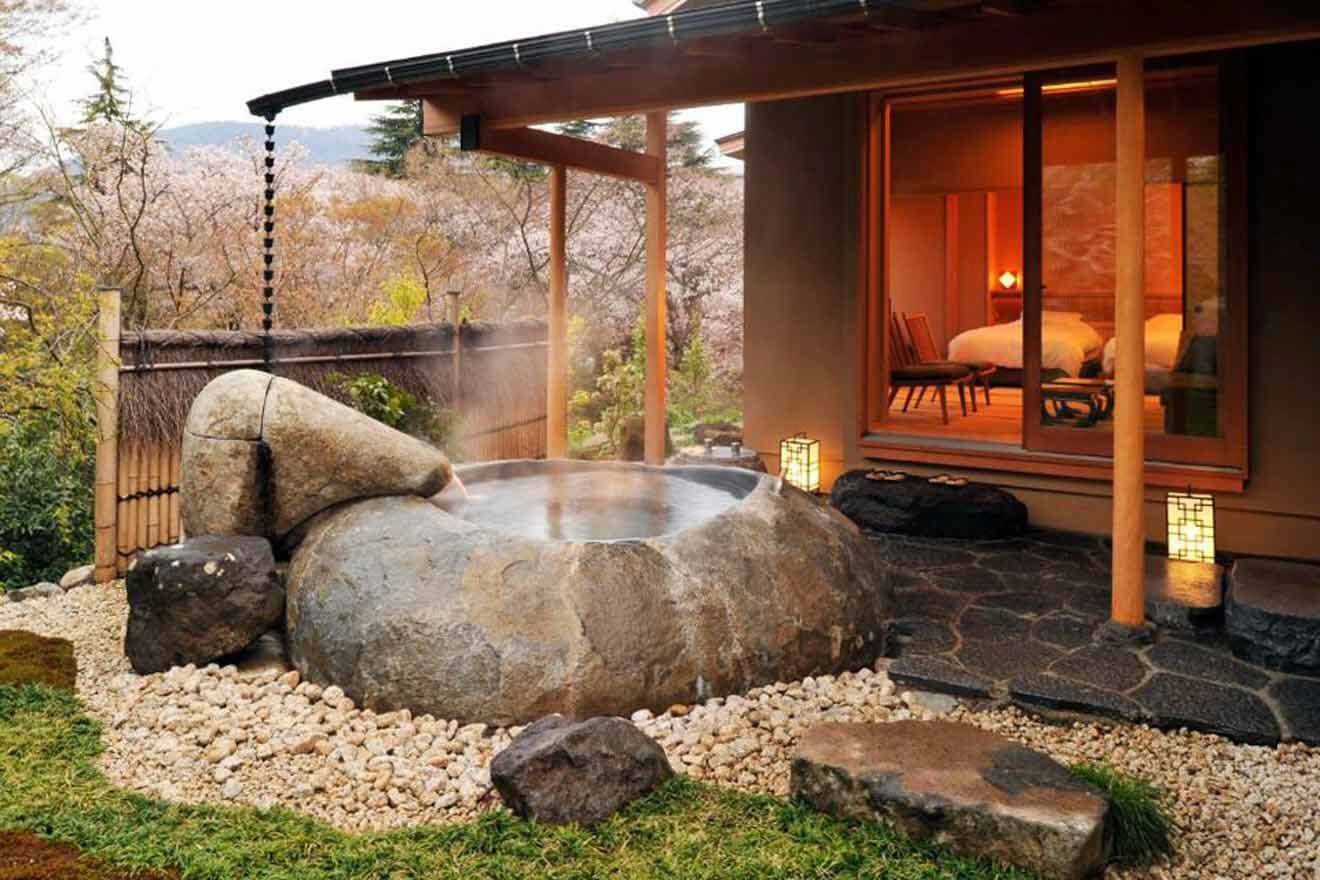 💰 Are ryokans with a private onsen expensive?
Yes, Hakone Ryokans that have a private onsen in the room can be pretty expensive. The prices can start at US$250 and go up to US$950.
🤔 Do ryokans have onsens?
Yes, but it's not a rule. There are many Ryokans that don't have an onsen bath.
♨️ What is a ryokan private onsen?
A private ryokan onsen is a hot spring inn that keeps the traditions of the old Japanese culture alive. Usually, after sitting in the onsen, you change into a special robe and enjoy a delicious Japanese meal.
🔝 Which are the best Hakone ryokans with a private onsen?
Gora Kadan and Hakone Suishoen are some of the best Hakone ryokans with private onsen. Both offer incredible views and facilities!
Conclusion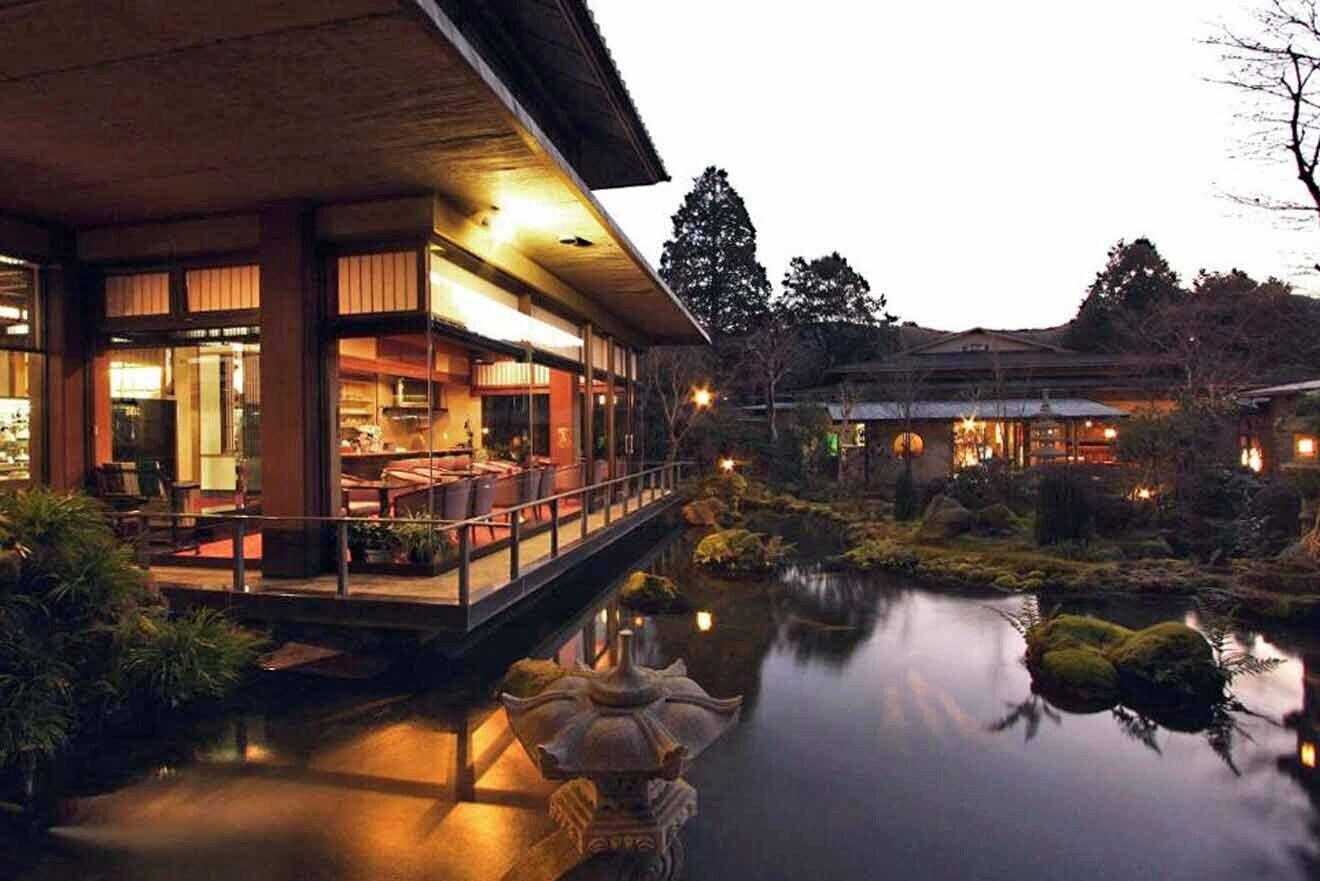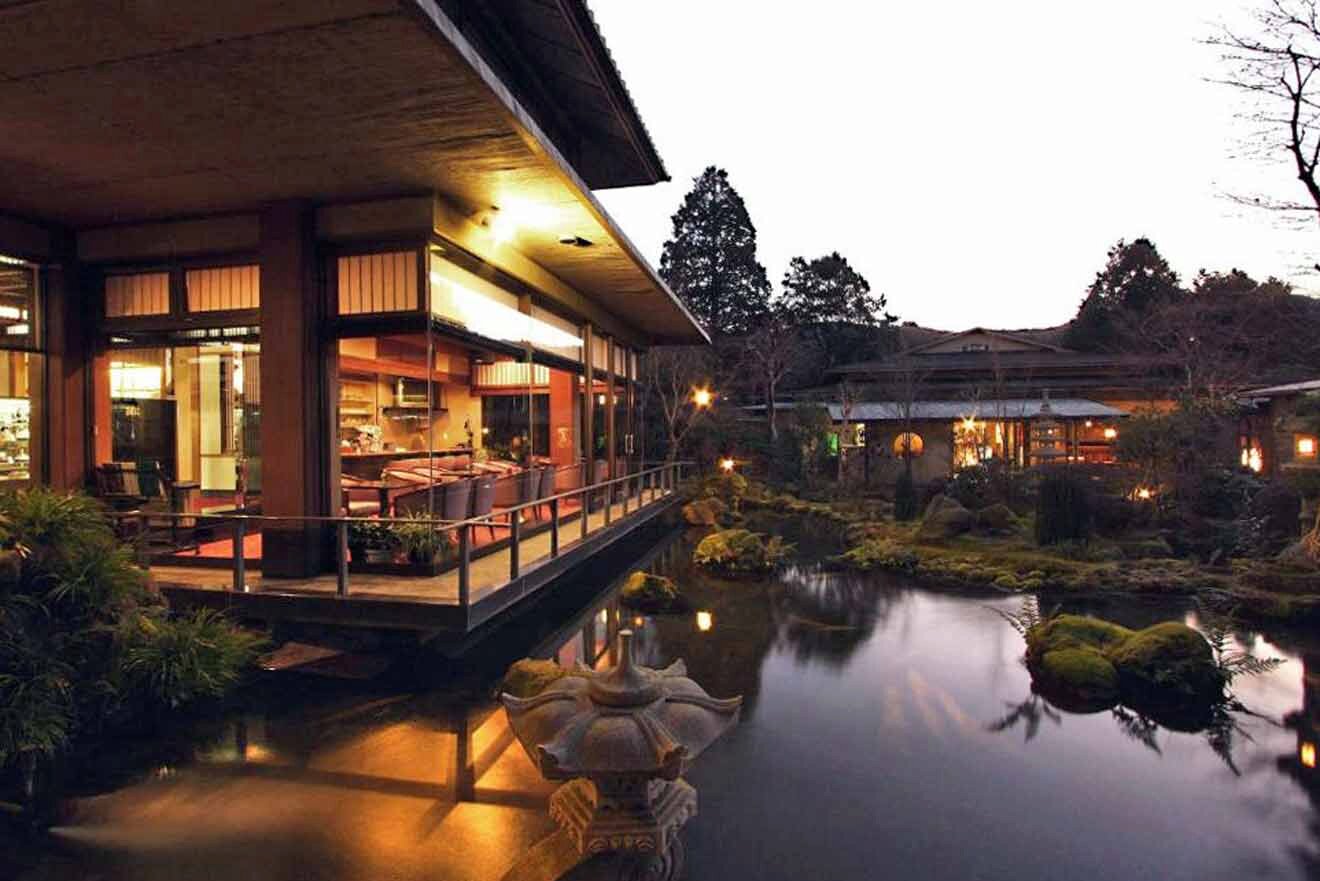 How mesmerizing is this town in Japan? I'm sure you'll leave this place feeling so rejuvenated!
Especially after staying at your favorite Hakone ryokan with a private onsen that I hope you found in this carefully-curated guide!
I know I gave you many options but trust me, it's better to have a wider range of places to stay than nothing!
Still, if you need some help picking out your favorites, then check out these 2 amazing ryokans in Hakone with private onsen below that I found to be the most charming:
Gora Kadan – Relax in your Japanese-style room at this ryokan with a spa center and an indoor swimming pool.
Hakone Suishoen – A stunning Japanese inn with such a cool style, rooms with forest views, and a spa.
Don't forget to book your favorite ryokan in advance. These are some of the best hotels in the area, and I'm sure they will sell out fast!
I hope you have an amazing time, and I definitely want to hear all about your trip! So, if you want to share with us, just drop me a comment below, and I'll answer ASAP!
Safe travels,
Victoria
---
Pin it for later!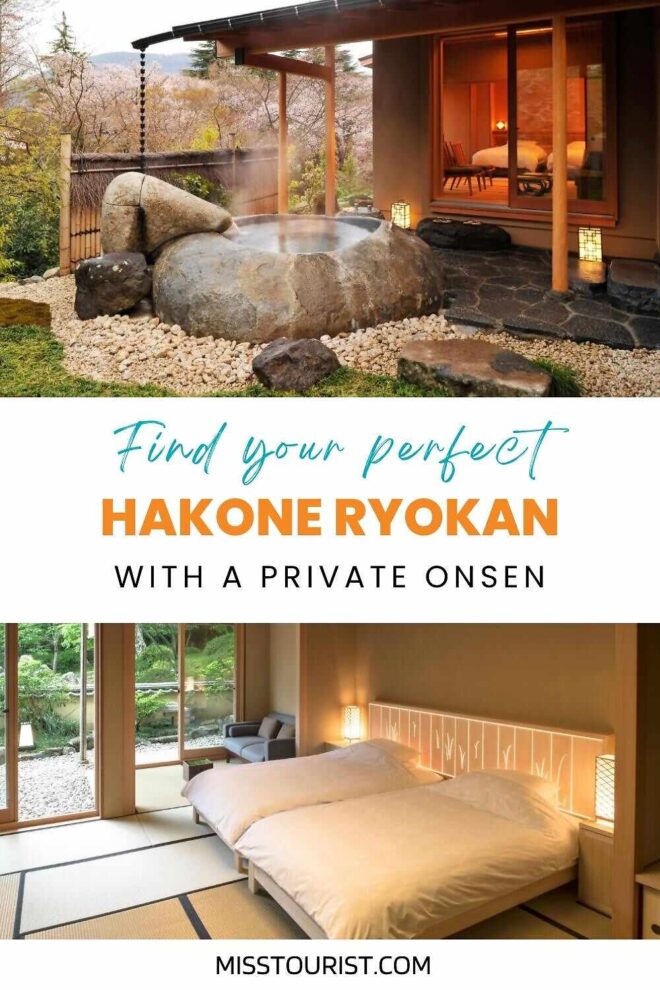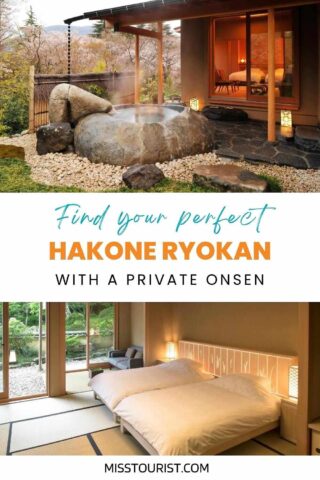 Pin it for later!