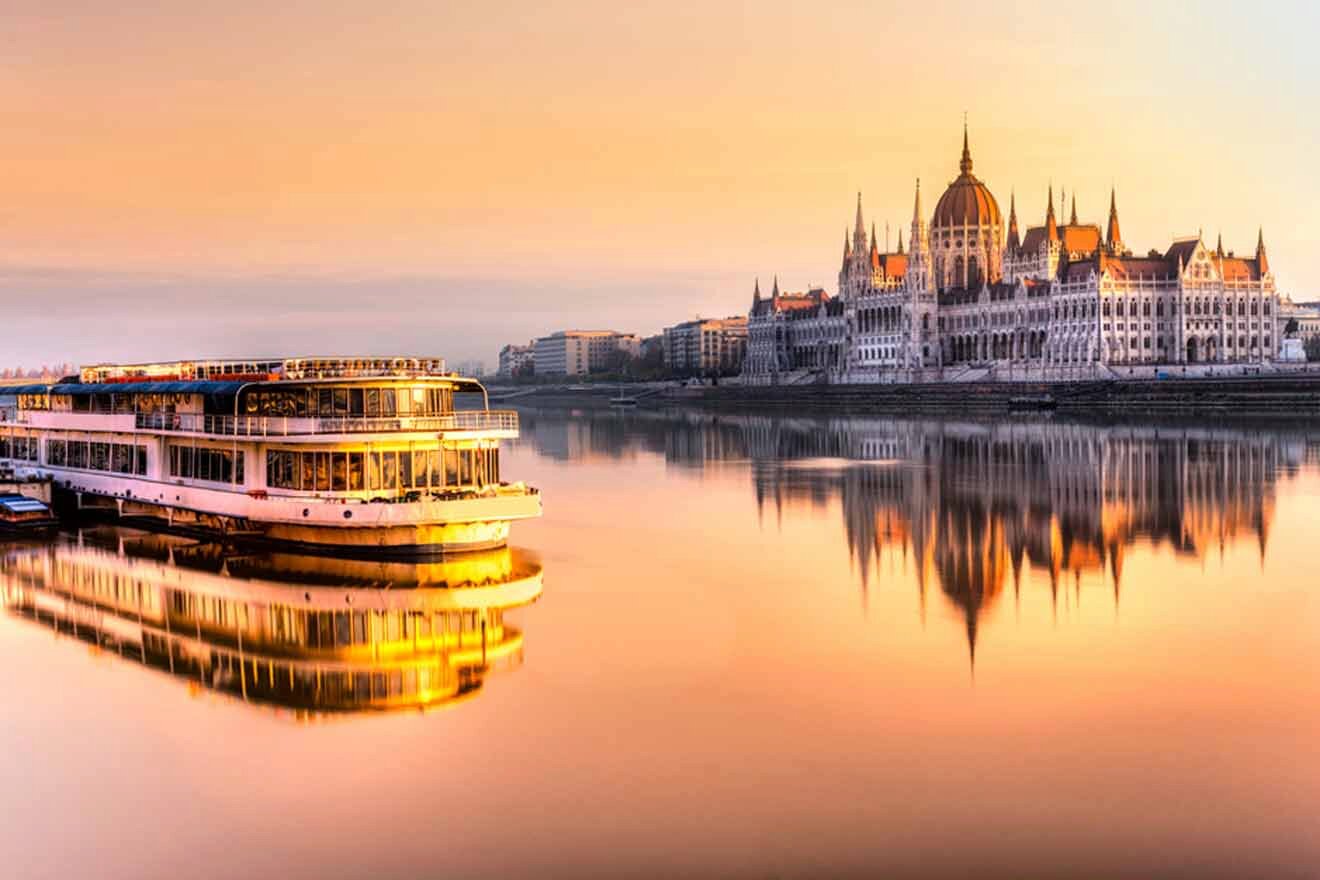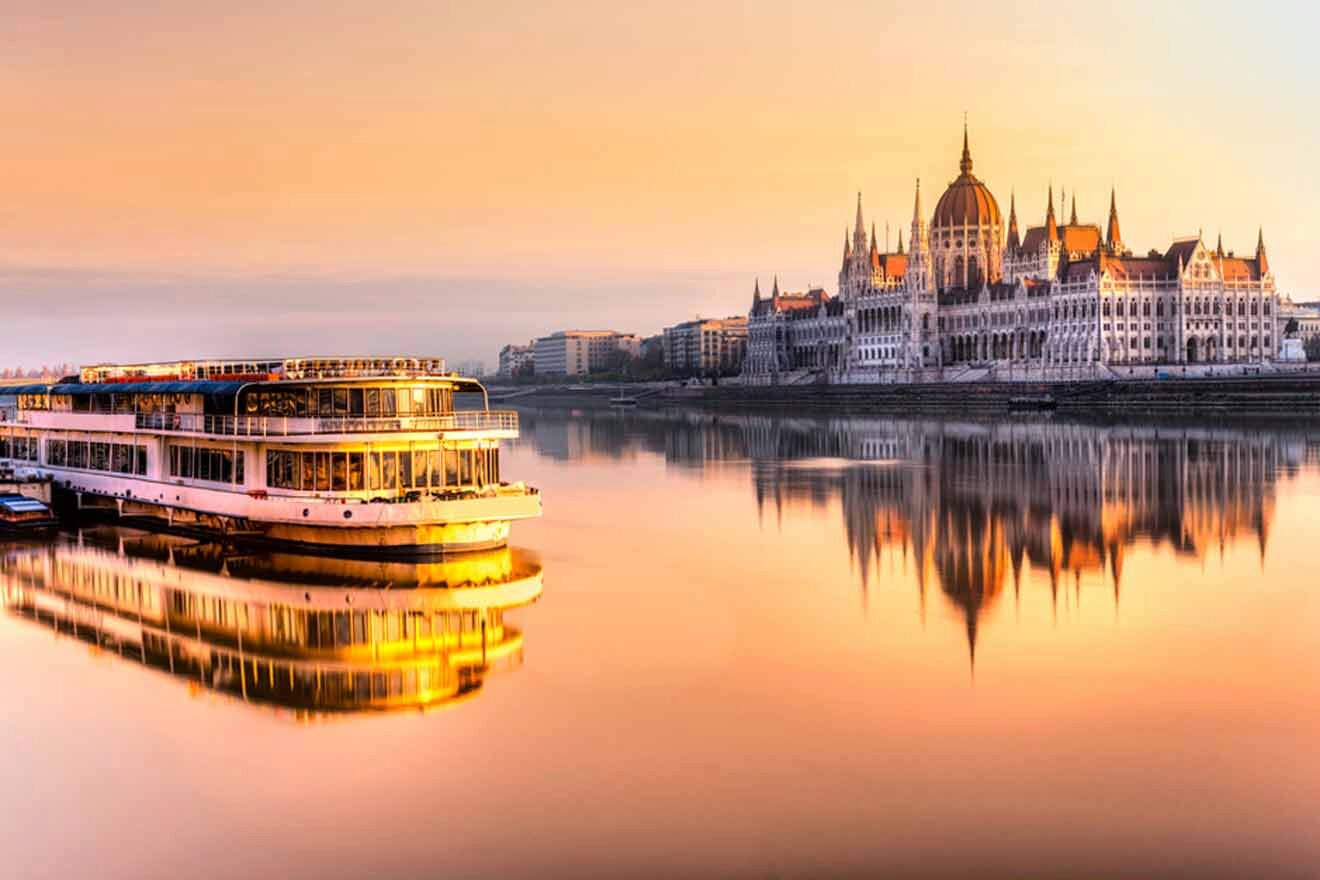 Searching for the perfect Budapest river cruise? I've got you covered! Budapest is a once-in-a-lifetime vacation destination, and taking one of the amazing river cruises is probably THE best way to experience the city with stunning views and plenty of onboard entertainment.
I've been looking for all the most incredible boat tours in Budapest to give you the real lowdown! These boat tours will have you giddy – and there's one for every budget and interest, so you'll definitely find a boat ride for you!
Taking a day trip on the water in Budapest is a pretty popular experience, so I recommend you book fast to avoid disappointment! You wouldn't want to miss out on your favorite tour!
Let's get into all the best city cruises to make your stay in Budapest unforgettable!
If you are in a hurry
Here are the best river cruise options in Budapest if you're here only for the scoop:
1. Take a quick river cruise with a welcome drink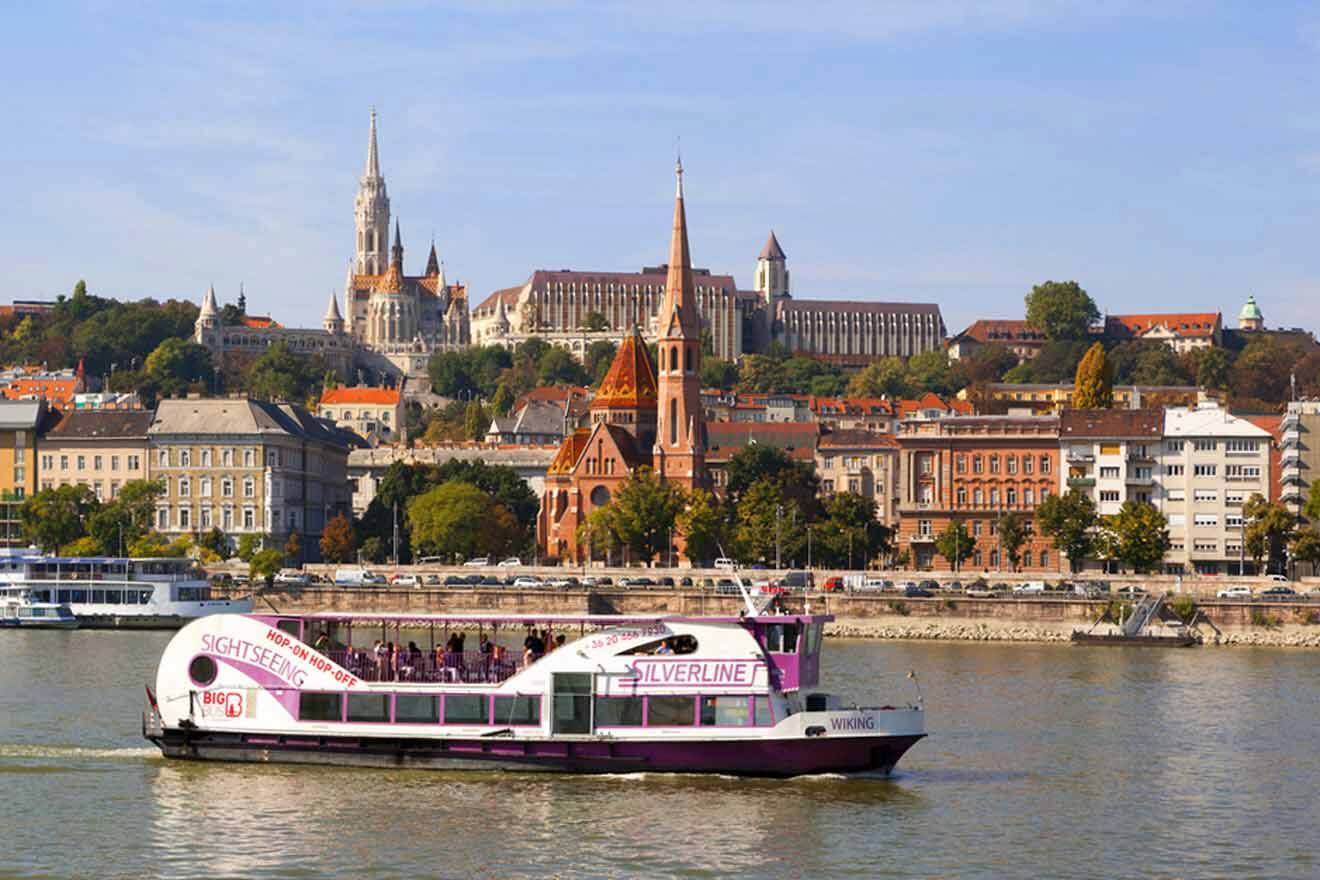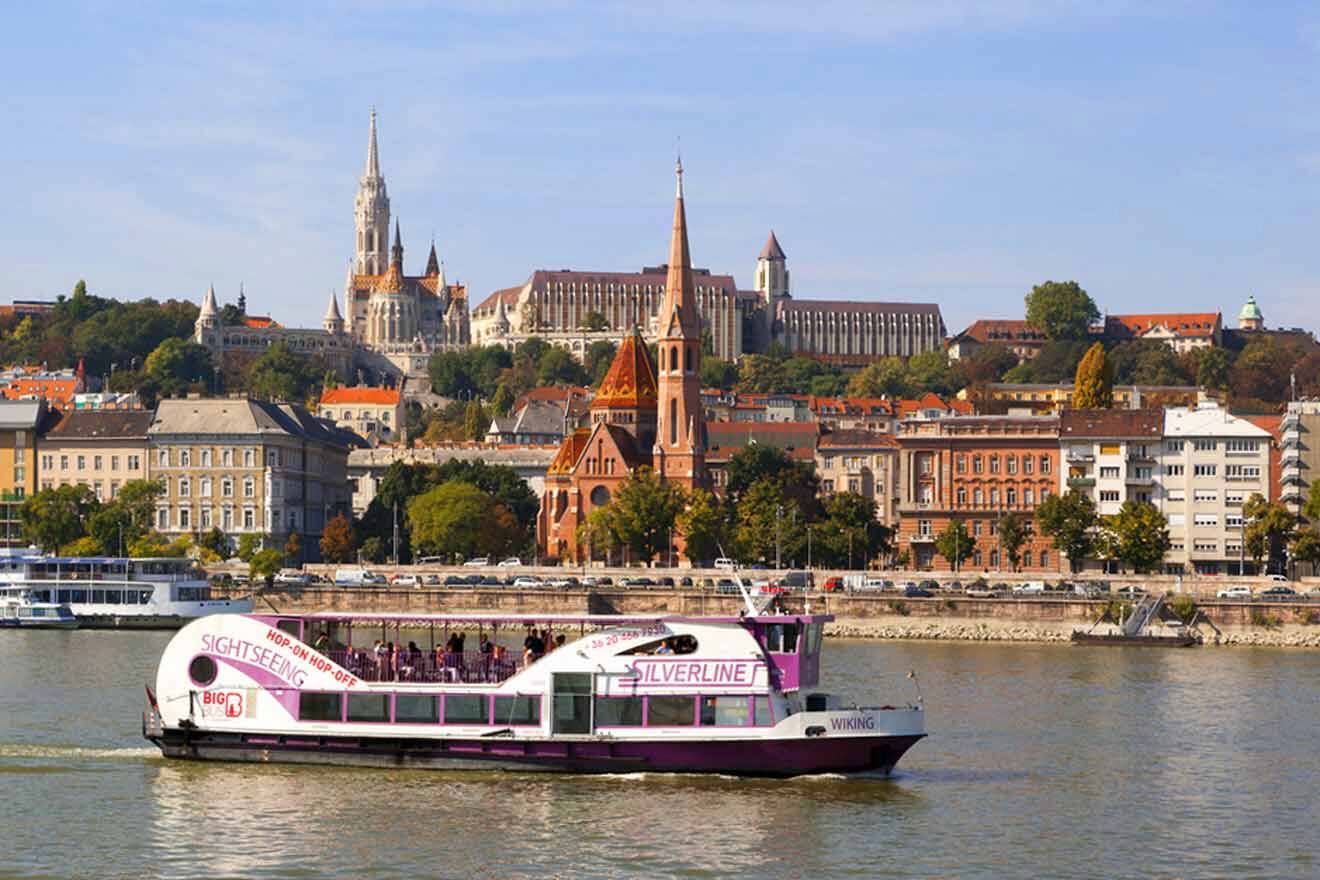 Duration: 1 hour
Price: from €10
Why you should take it: an excellent option to squeeze into a tight itinerary
We all know what it's like; you're only in Budapest for a couple of days, so you want to squeeze in as much as possible! I get you! This tour is a fab choice for those tight on time (and money, it's a super cheap option for those small wallets), and you'll sail your troubles away past the Hungarian parliament and other amazing landmarks that are a MUST-see, even if you're only there for a couple of days!
If you don't know your plans yet, that's totally fine! You can book this tour today and get a full refund if you cancel up to 24 hours before the cruise.
2. Sip unlimited prosecco on an evening river cruise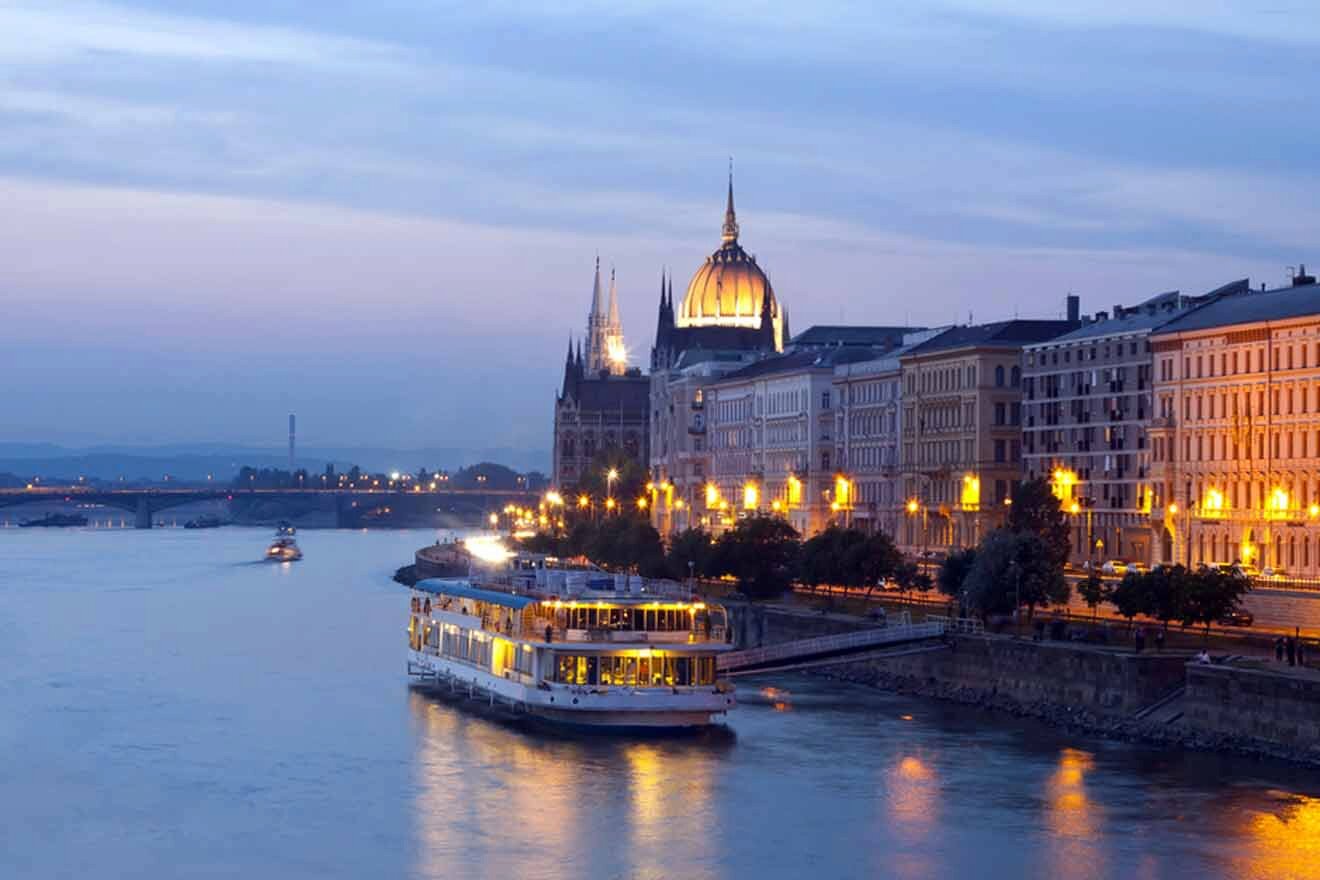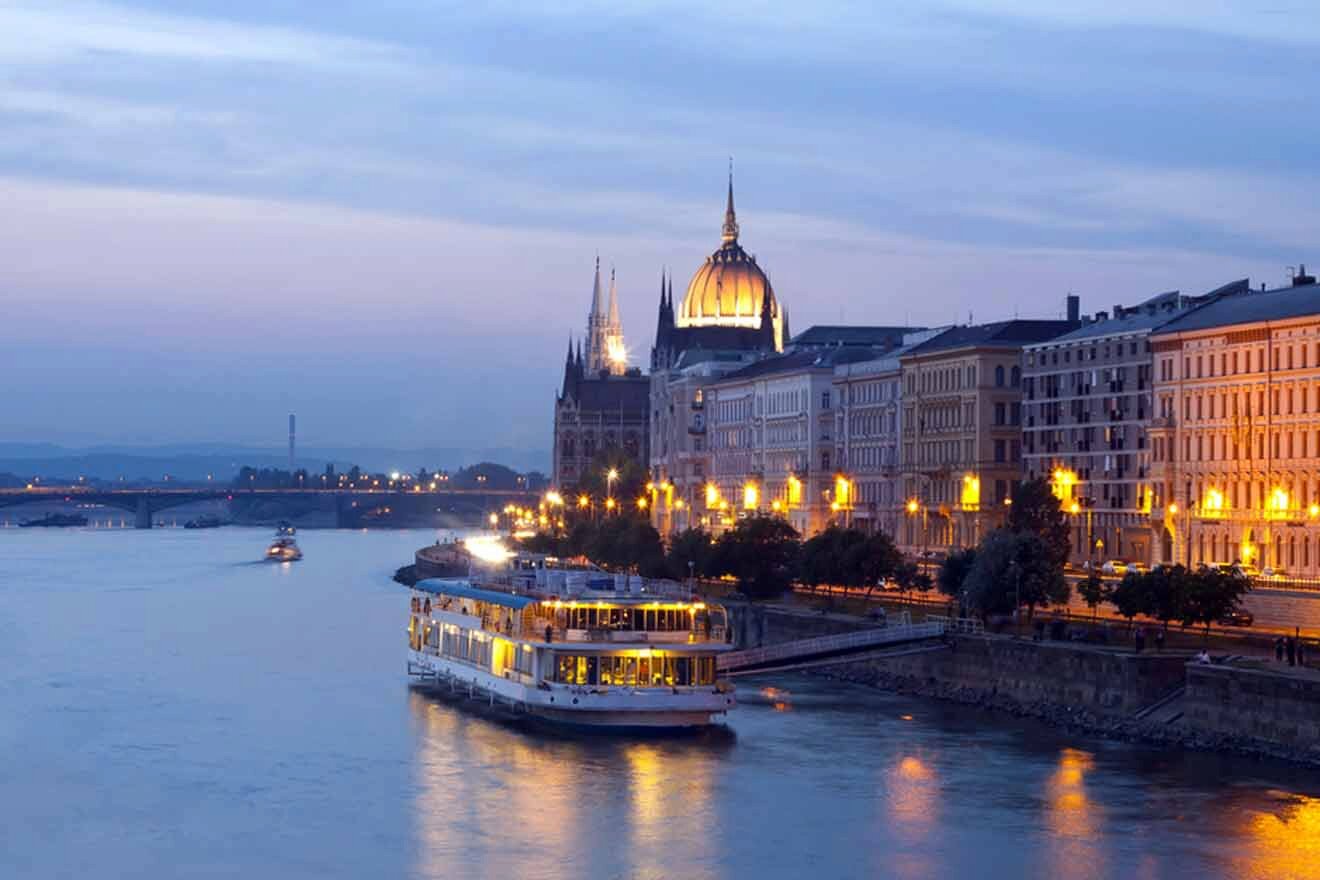 Duration: 75 minutes
Price: from €30
Why you should take it: see Budapest from a different perspective with unlimited bubbles
I think the unlimited prosecco did it for me! This is one of the BEST ways to experience the Hungarian capital, and you'll see all the most incredible sights right from the water. Your guide will let you know everything you're looking at so you're fully informed about the entire journey.
You'll also get some fancy snacks on this river cruise – something 100% necessary while you're chugging all that prosecco 🥂– and all the reviewers talk about how it's incredible value for money! What a bargain!
3. Go on a Budapest river cruise…on a bus!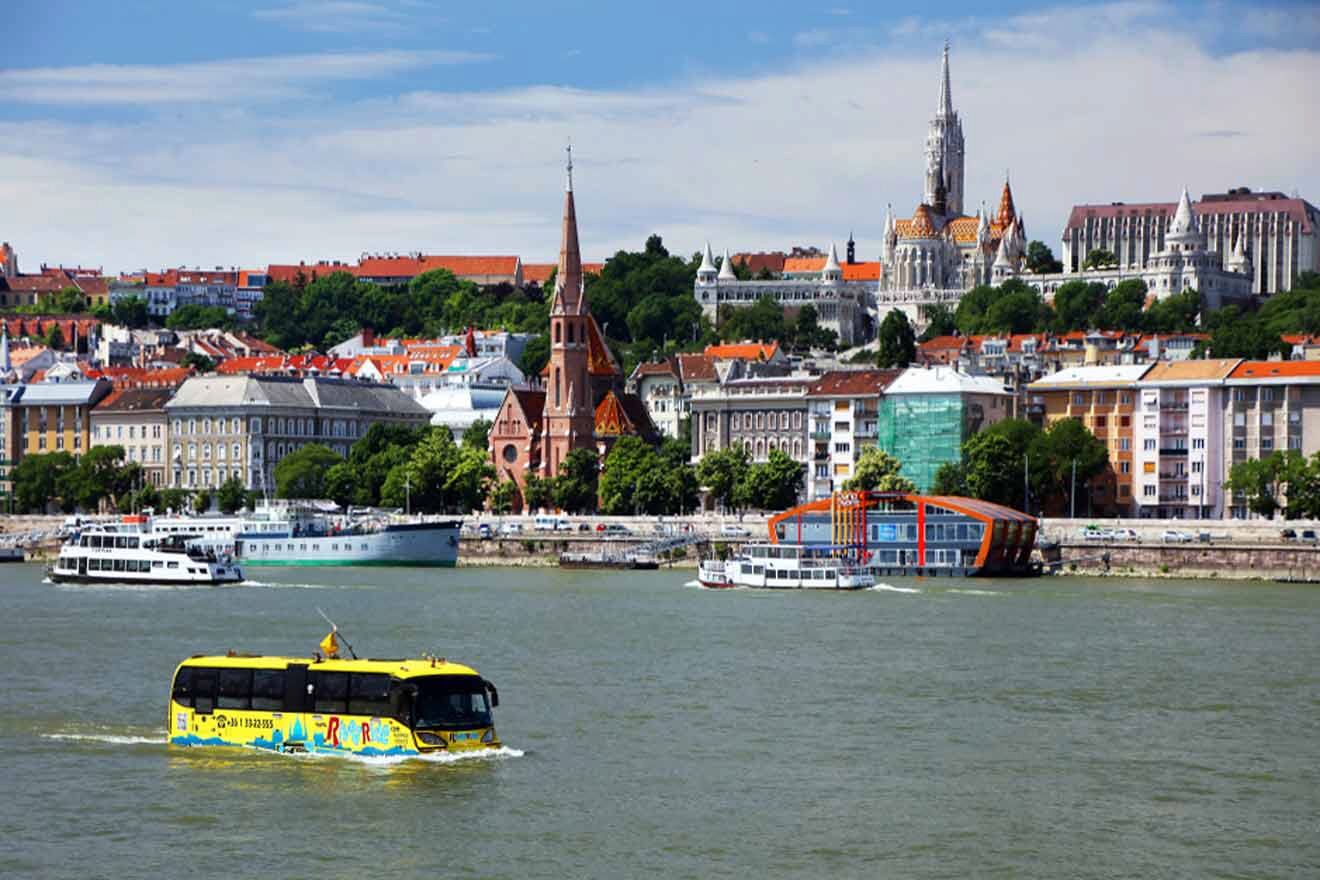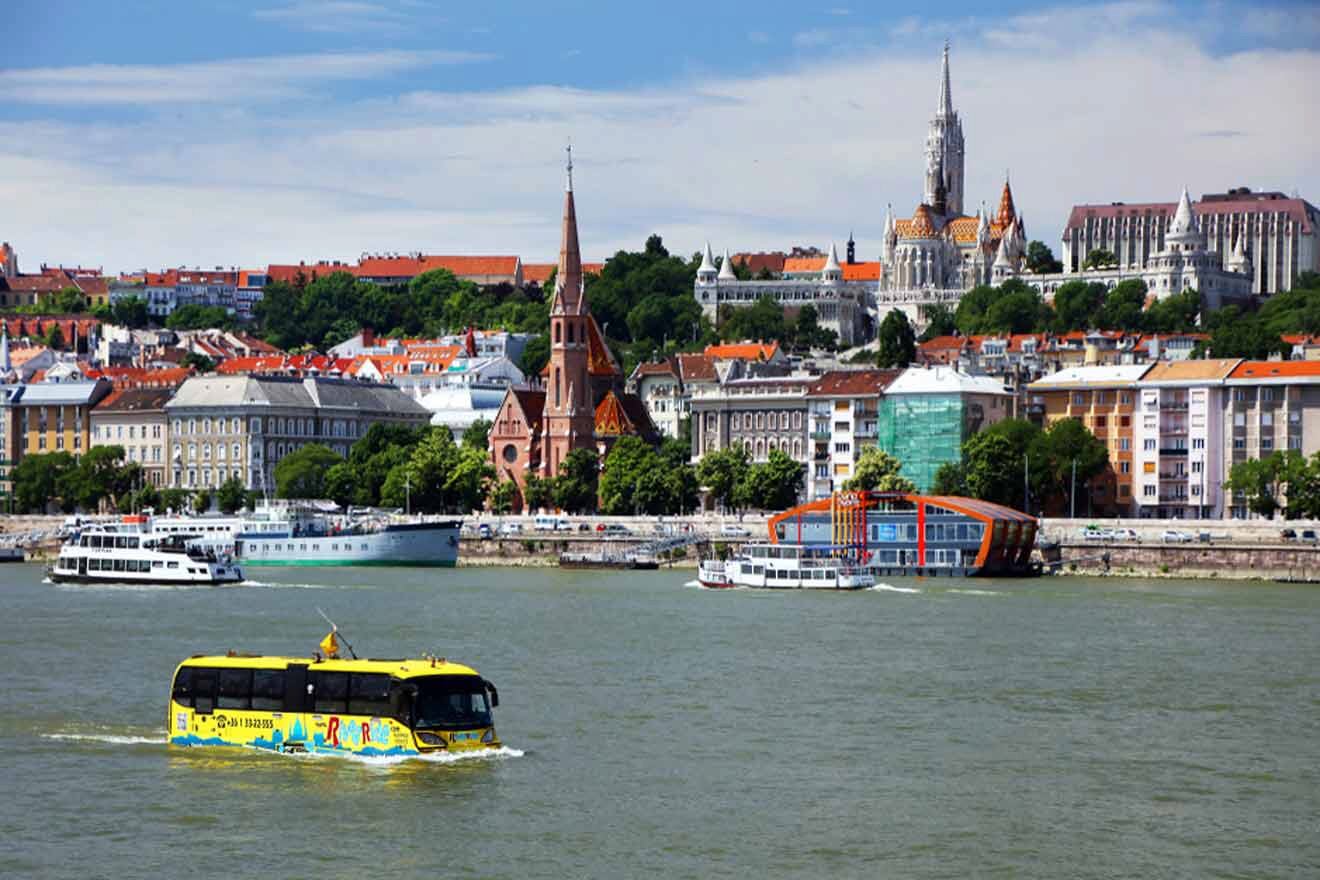 Duration: 1 – 1.5 hours
Price: from €30
Why you should take it: coolest family-friendly combo tour
Who knew you could plunge a bus into the river and still live to tell the tale? On this Budapest river cruise, you'll get to experience this for yourself, the ULTIMATE twist in all boat cruises! Your bus will begin its journey by throwing itself into the river – and don't worry, it's totally safe!
Once you've had your little cruise on the Danube, your bus/boat (boat/bus?) will hop back onto dry land, and you'll continue your journey in style through the winding streets of the capital. This is also a great option for kids!
4. Travel in style on a daytime cruise with free Wi-Fi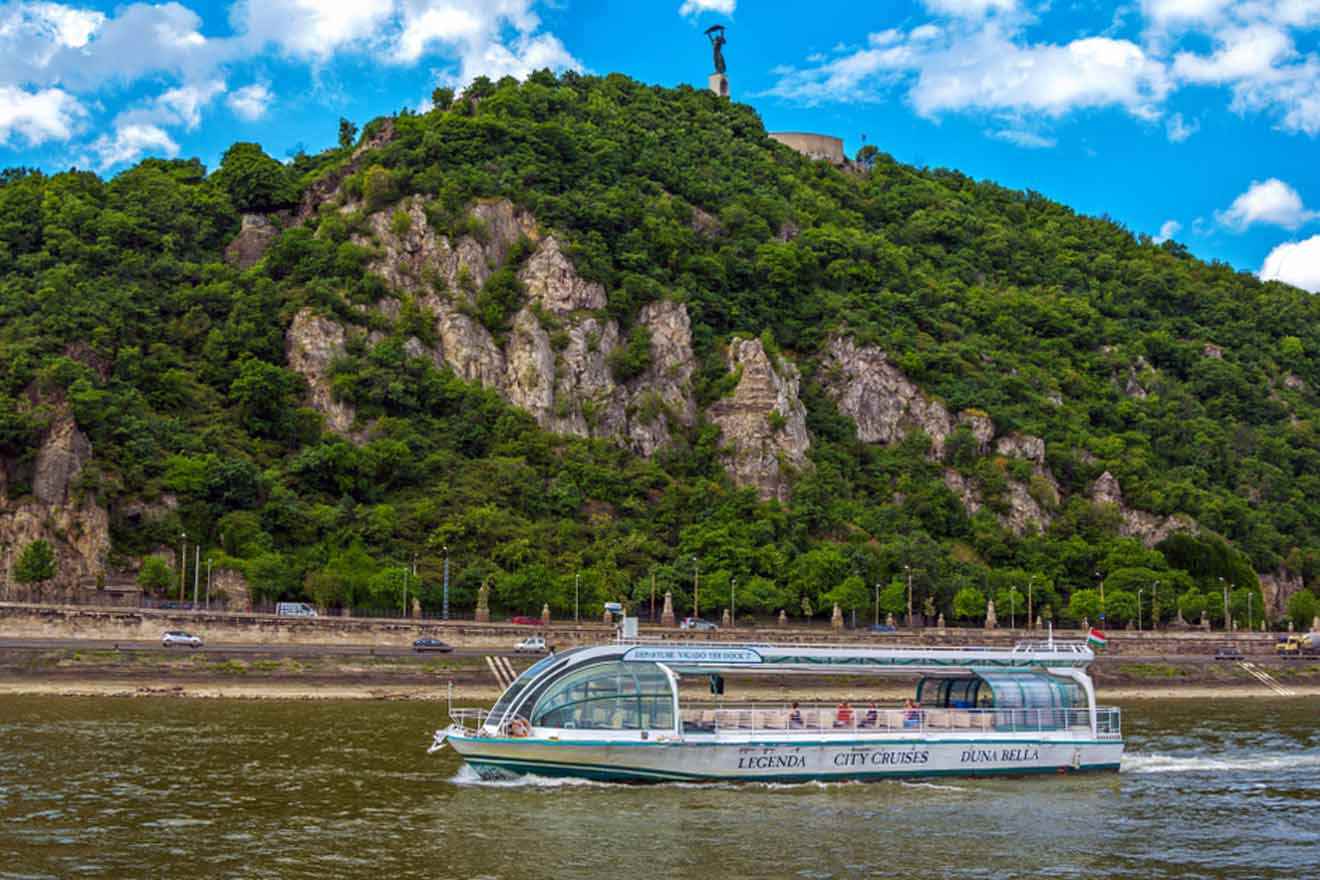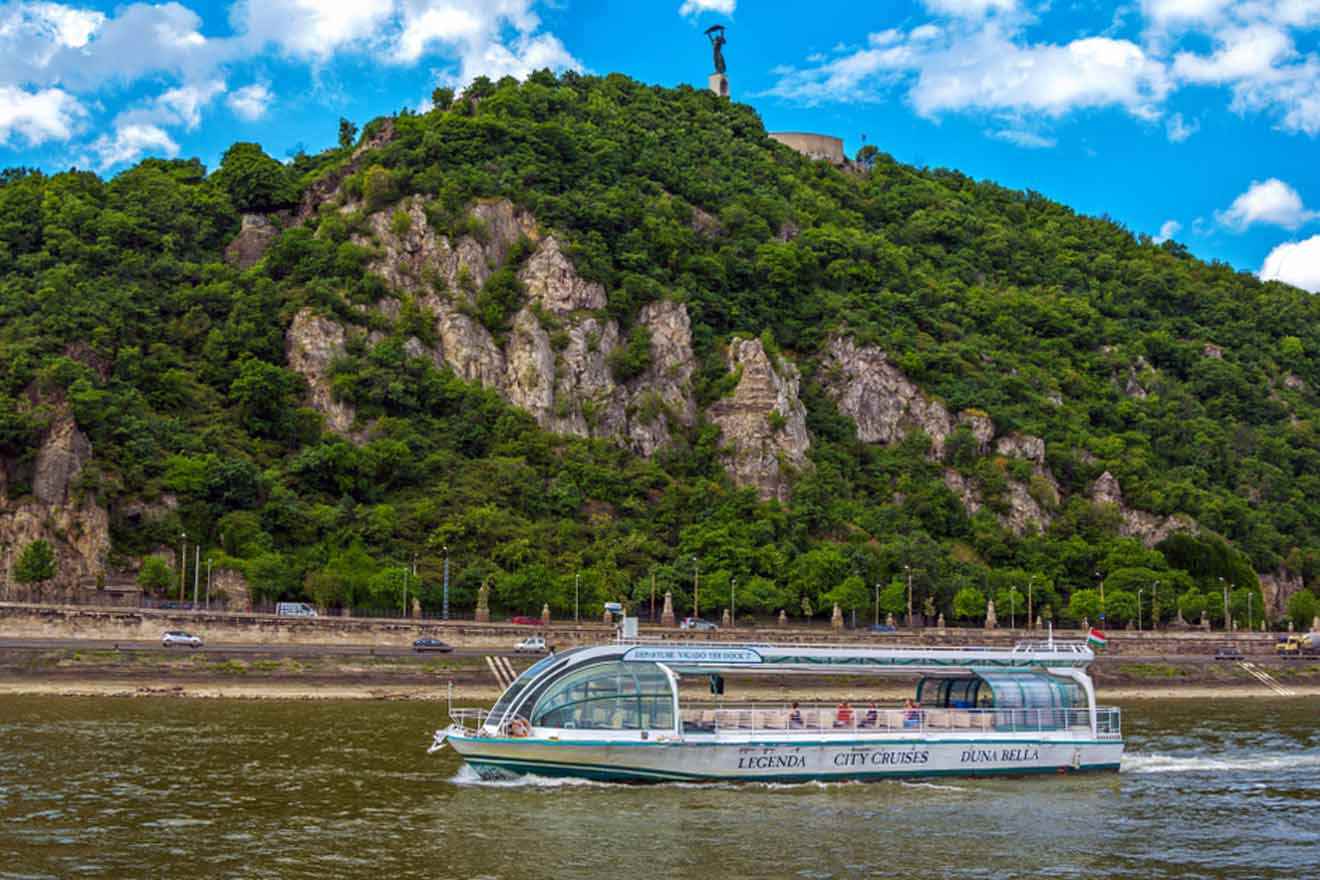 Duration: 70 minutes
Price: from €20
Why you should take it: Get all the perks of a daytime cruise without giving up your phone!
Ok, this is a bit niche – but it's still fun! Grab a drink on this lovely boat ride and set sail on the Danube River with your audio guide as you see all the stunning waterfront sights! If you've been draining your data on TikToks while you're abroad, you can use their Wi-Fi as you go.
This cruise in Budapest is also flexible since there's an option to disembark at Margaret Island and grab the next boat back if you're short on time!
5. Get your budget pants on and take a Danube cruise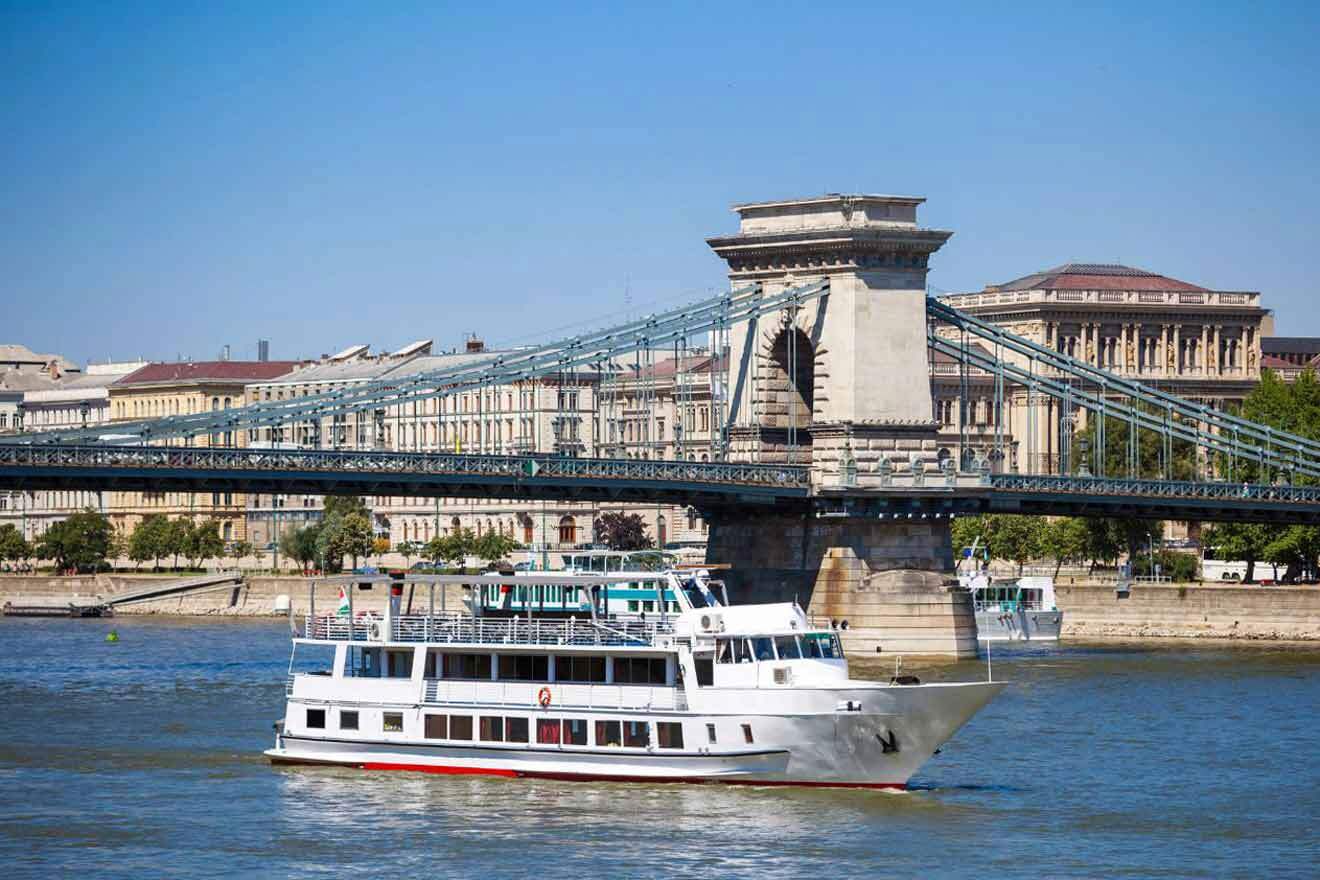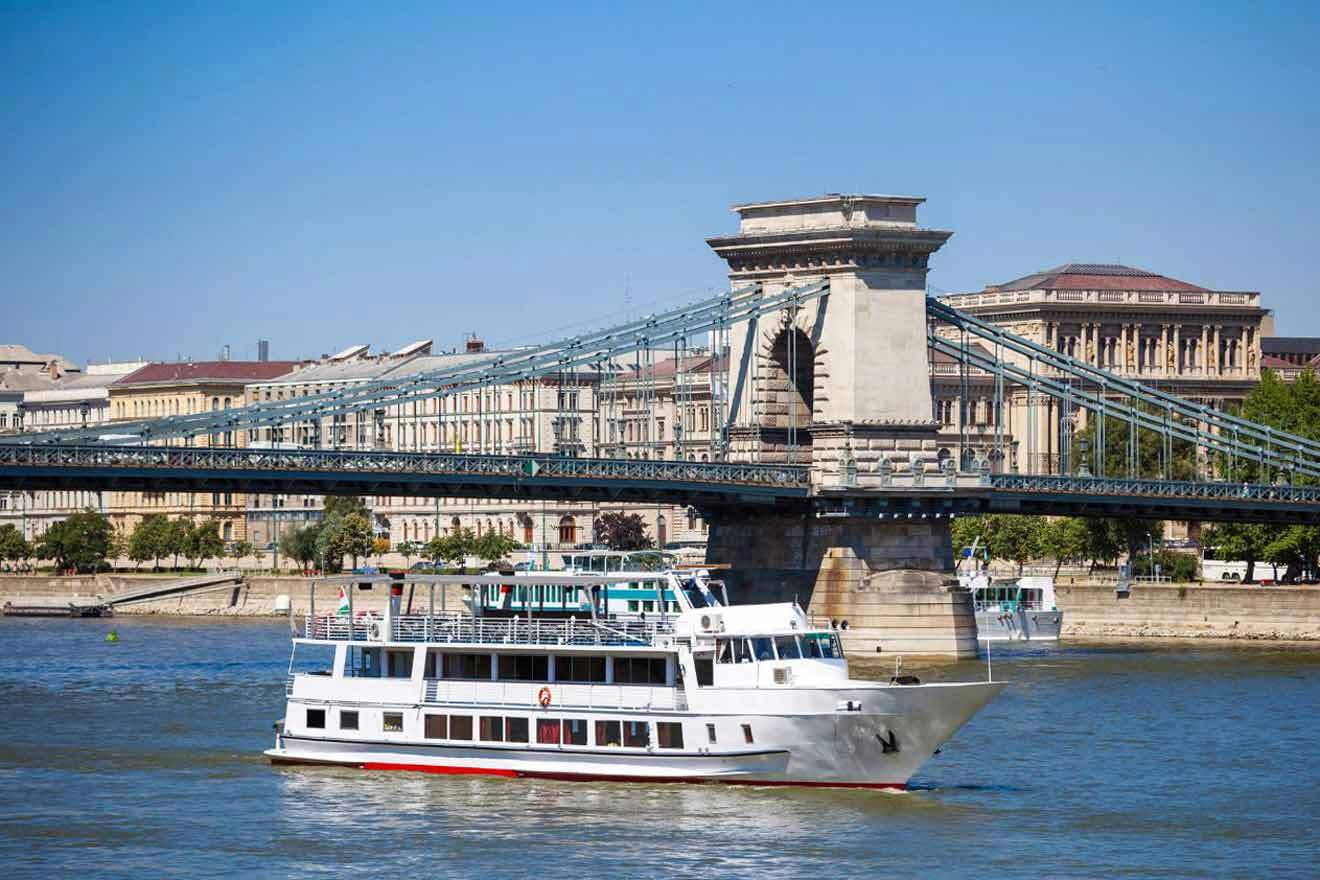 Duration: 70 minutes
Price: from €10
Why you should take it: great cruise option for those with a tight budget
Who says you have to break the bank to go on a Budapest river cruise? Not me! Take this awesome budget-friendly option instead, which gives you all the perks of a basic, fun cruise on the Danube River without the frills (and the financial stress)!
Speaking of budgets, do you need somewhere to stay in Budapest? Have no fear! Check out our post on where to stay in Budapest for all budgets!
You'll be able to soak in all the main sights of the Hungarian capital, including the Great Market Hall, the Elizabeth Bridge, Matthias Church, and the Chain Bridge. You'll also get music on this boat, which is awesome! Just bear in mind that it's probably not the best option for families looking for peace and quiet 🤪
6. Combination station: take a bus, boat, and walk the city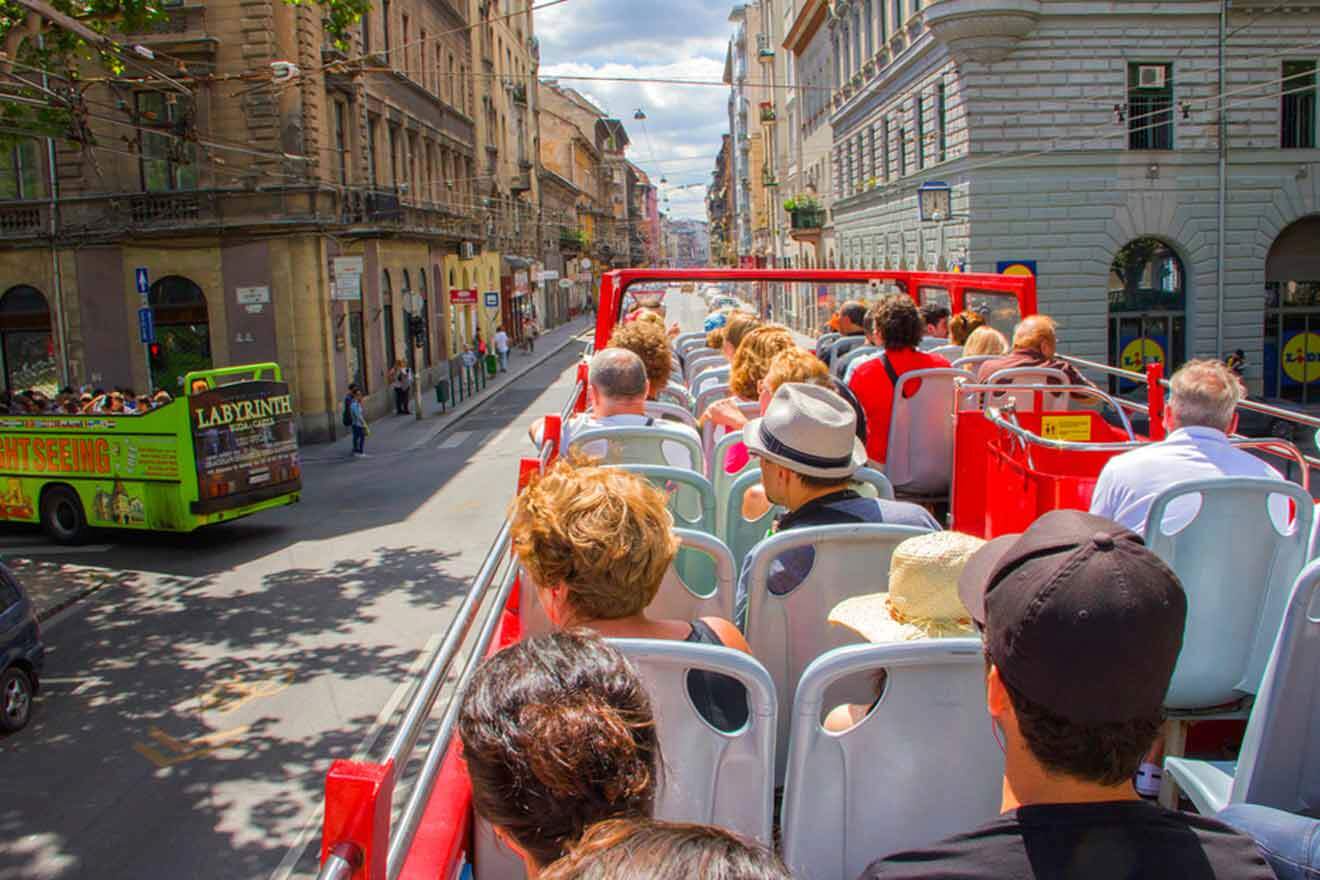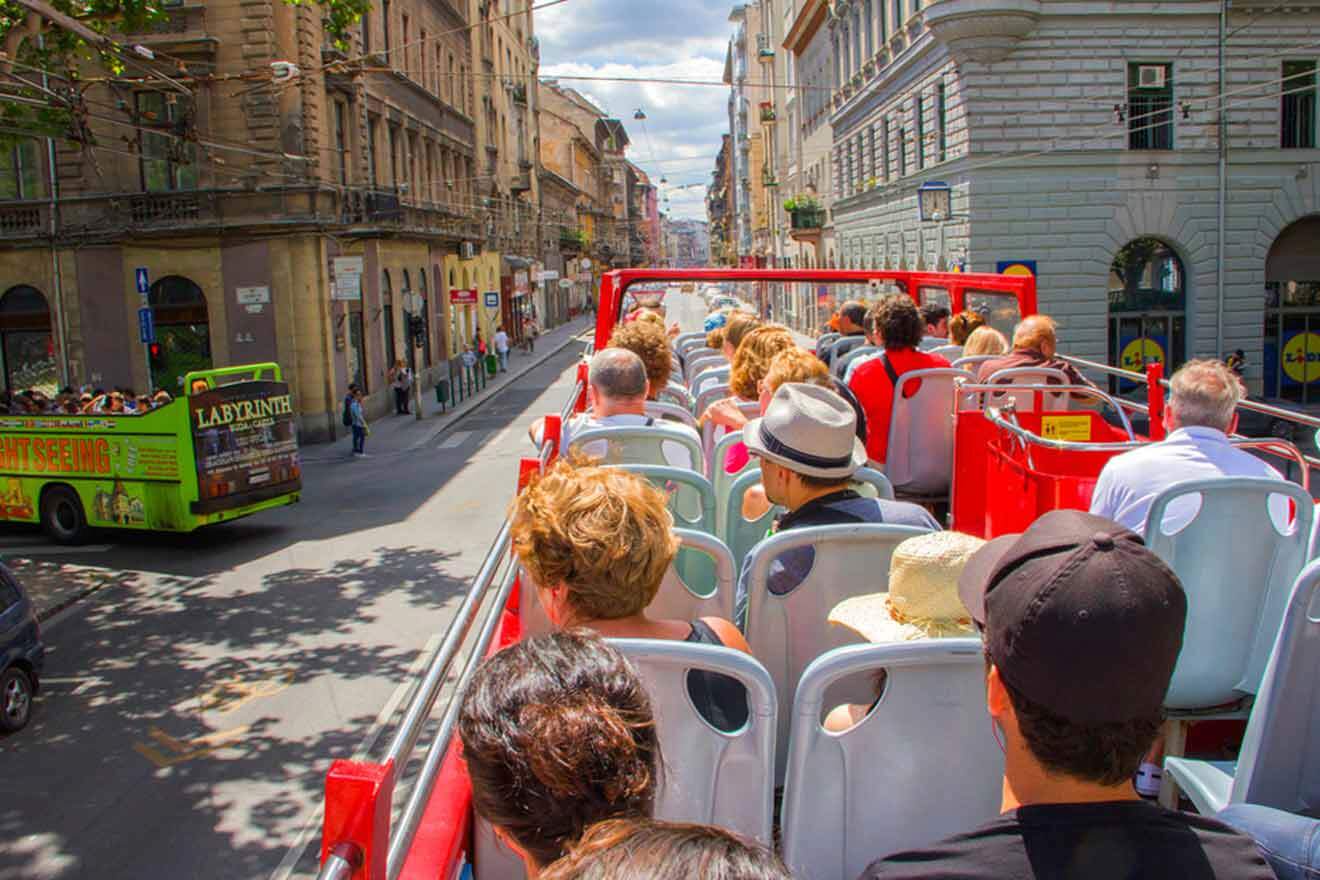 Duration: 1 – 3 days
Price: from €40
Why you should take it: get the best of all worlds and see the city in 3 fun ways
If you're in Budapest for just a few days, you can fill up all your time with just this tour alone! Get to grips with Hungarian culture at your own pace with the hop-on/hop-off bus that will save you lots of money on cabs! With your ticket, you'll get a 1-hour Budapest river cruise, as well as a guided walking tour.
The great thing about this tour is that you can choose between 24, 48, or 72-hour passes, so it's flexible for whatever you fancy! If you're short on time, you can easily just do it for a day, and if you want all your days chock-full of fun activities, you can pick the longer one. Up to you!
7. Enjoy a fabulous evening cocktail cruise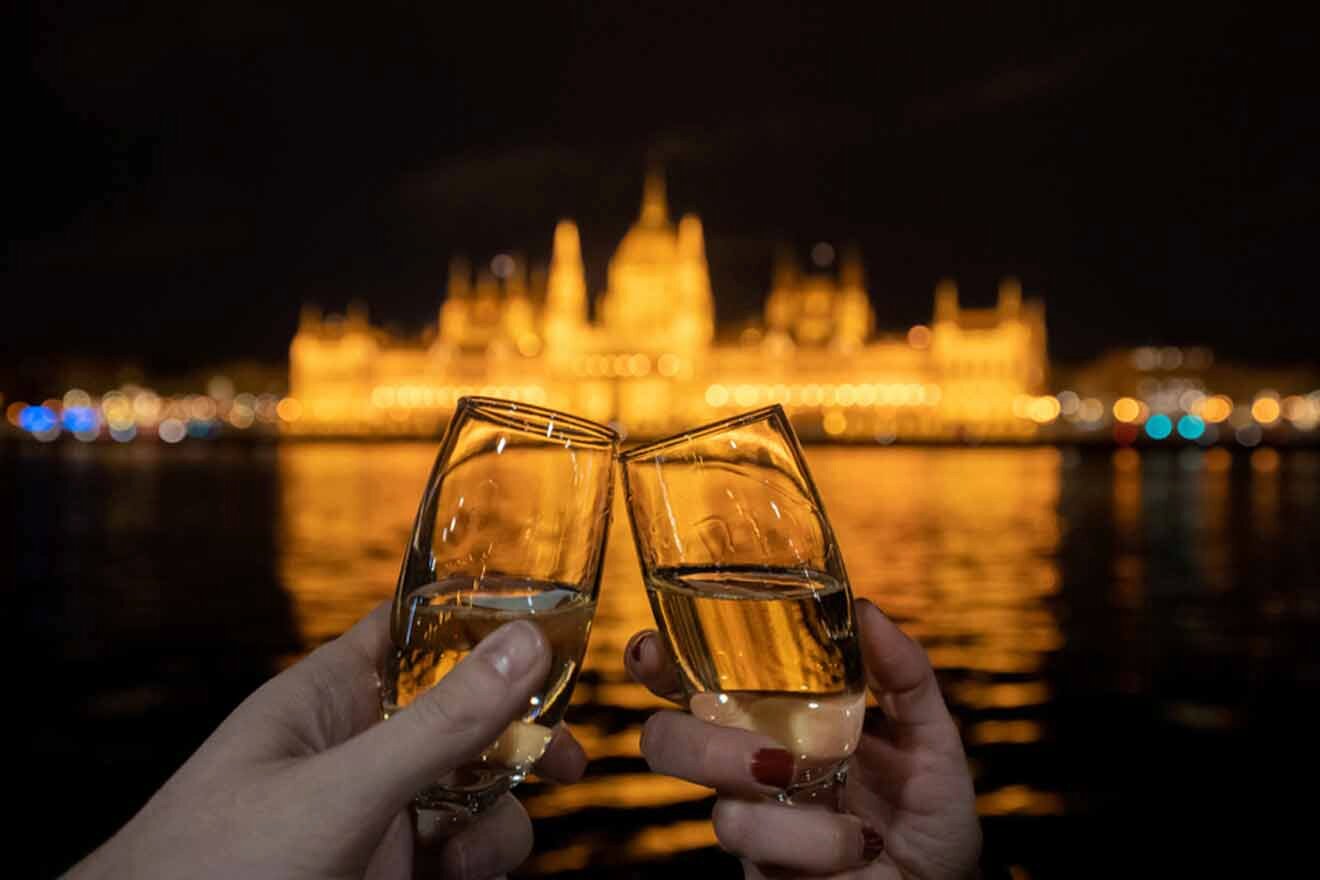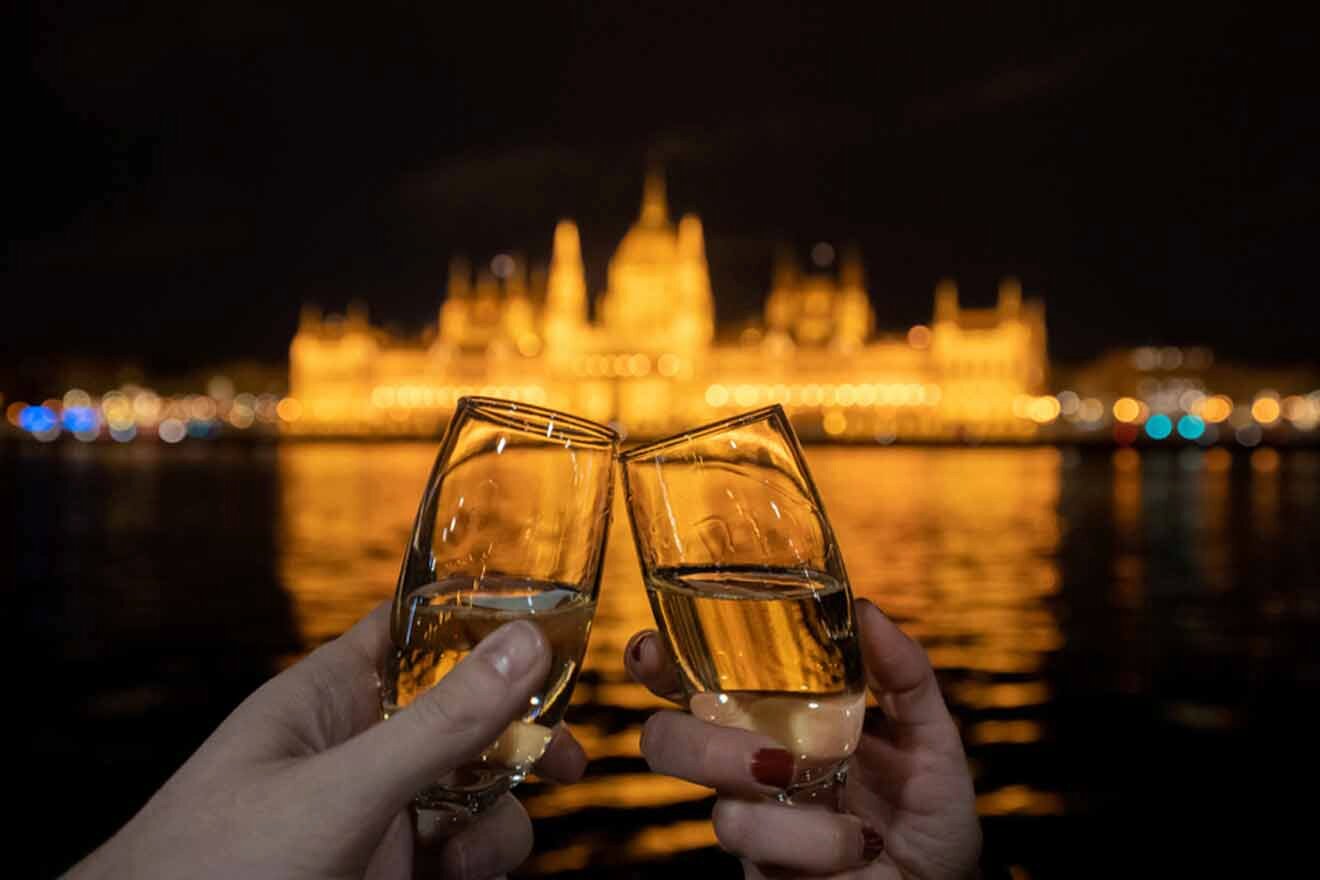 Duration: 85 minutes
Price: from €30
Why you should take it: the ultimate pleasure boat experience
Wooo! This is the one for me, I'll be seeing you on this awesome cruise soon enough! Get down with the sunset as you cruise around Budapest in style, cocktail in hand 🍸 This is one of the best boat tours for groups of friends! Get your camera ready to take Instagrammable pics!
3 cocktails are included in the price of your ticket, which, if you ask me, is amazing value for money. There's no running commentary on this most fabulous of cruises, but that's probably a good thing since you can just use the time to gab with your mates and stare out at the stunning landscape of Budapest. *sigh*
8. Get cultural with a dinner cruise and folk show
Duration: 3 hours
Price: from €70
Why you should take it: experience premium Hungarian entertainment with a 3-course meal
This is a great opportunity to experience the incredible culture of Budapest! You'll listen to gypsy music and enjoy an incredible performance by professional Hungarian dancers! The evening will fly by as you sail over the River Danube in a whirlwind of delicious food and good vibes. Sounds pretty damn good to me!
The great thing about this cruise is that it fills up an entire evening, so you don't have to worry about food and live music entertainment before bed! If you're a vegetarian, don't fret – they have options for you! Just let them know when you book the tour.
9. Have some romance with a cruise & piano show
Duration: 3 hours
Price: from €70
Why you should take it: perfect river cruise in Budapest for couples
Traveling with your loved one? Celebrating an anniversary? Planning to propose? I've got you covered! This is one of the best Budapest river cruises! It's super romantic and offers either a 3 or 6-course candlelit dinner with the earthy vibes of a live piano in the background – nothing ever sounded so perfect!
This is an unforgettable experience, and it's the perfect way to round off an exciting day of sightseeing! PRO TIP: Make sure you select the window table when you're booking this tour so you can gaze out over Budapest's evening skyline.
10. Experience a more casual cruise with pizza & beer
Duration: 85 minutes
Price: from €30
Why you should take it: a more laid-back, family-friendly dinner cruise
Who needs a candlelit dinner when you can munch on pizza and beer? Budapest river cruises never looked so good! You know the vibe is right when there's music on board, and it makes sightseeing even more fun when you can have a pint with your mates!
Best of all – soft drinks and beer are unlimited! You can pick out your favorite pizza, which is great for picky eaters, and choose between German or Hungarian beer.
FAQs about your Budapest river cruise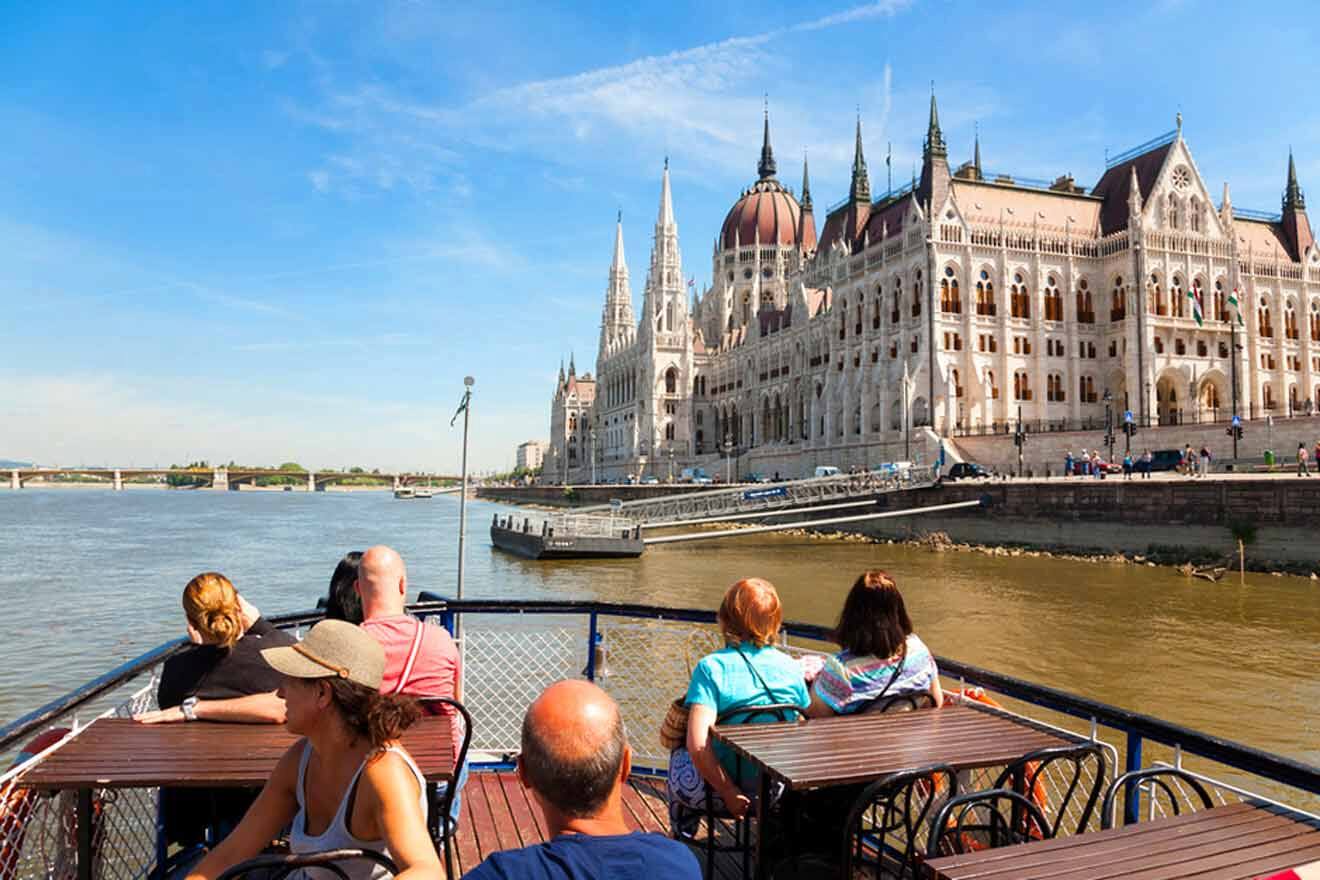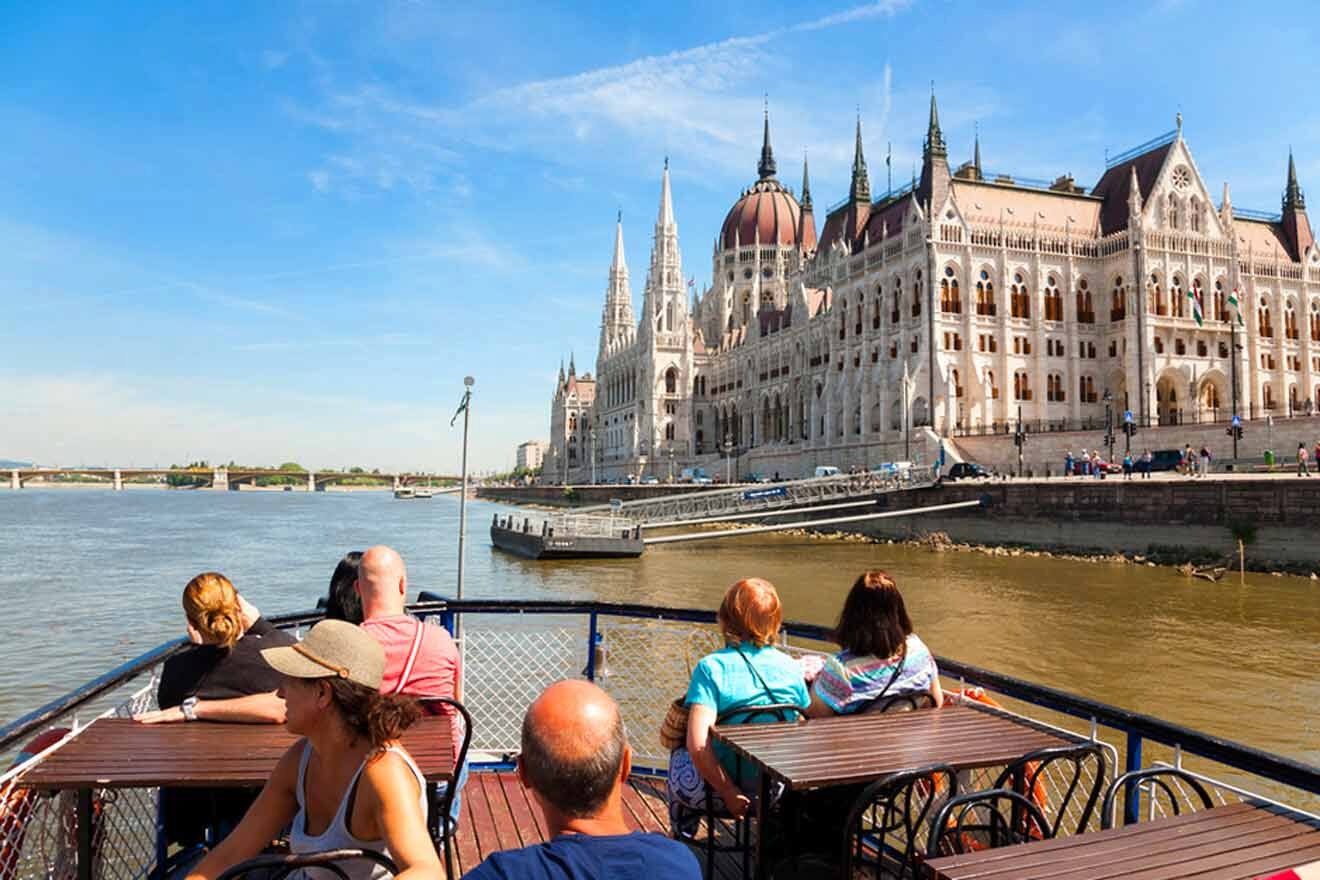 ⛵ How long are Budapest river cruises?
🌹 Which is the most romantic dinner cruise?
The most romantic dinner cruise in Budapest is definitely this 3-course dinner & piano show! You'll love the ambiance, live music, romantic vibes, and beautiful views. Don't miss it!
🏛️ What iconic landmarks can you see from the Danube River?
While you're on your boat ride, you'll be able to see the Szechenyi Chain Bridge (near the famous spa), Parliament, Margaret Island, and Matthias Church, among other stunning landmarks from your journey down the Danube River.
🛎️ Where is the best area to stay in Budapest?
If it's your first time in Budapest, the best area to stay in is District V! If you're looking for more details or want to know more about all the best neighborhoods, check out our post on all the best places to stay!
Conclusion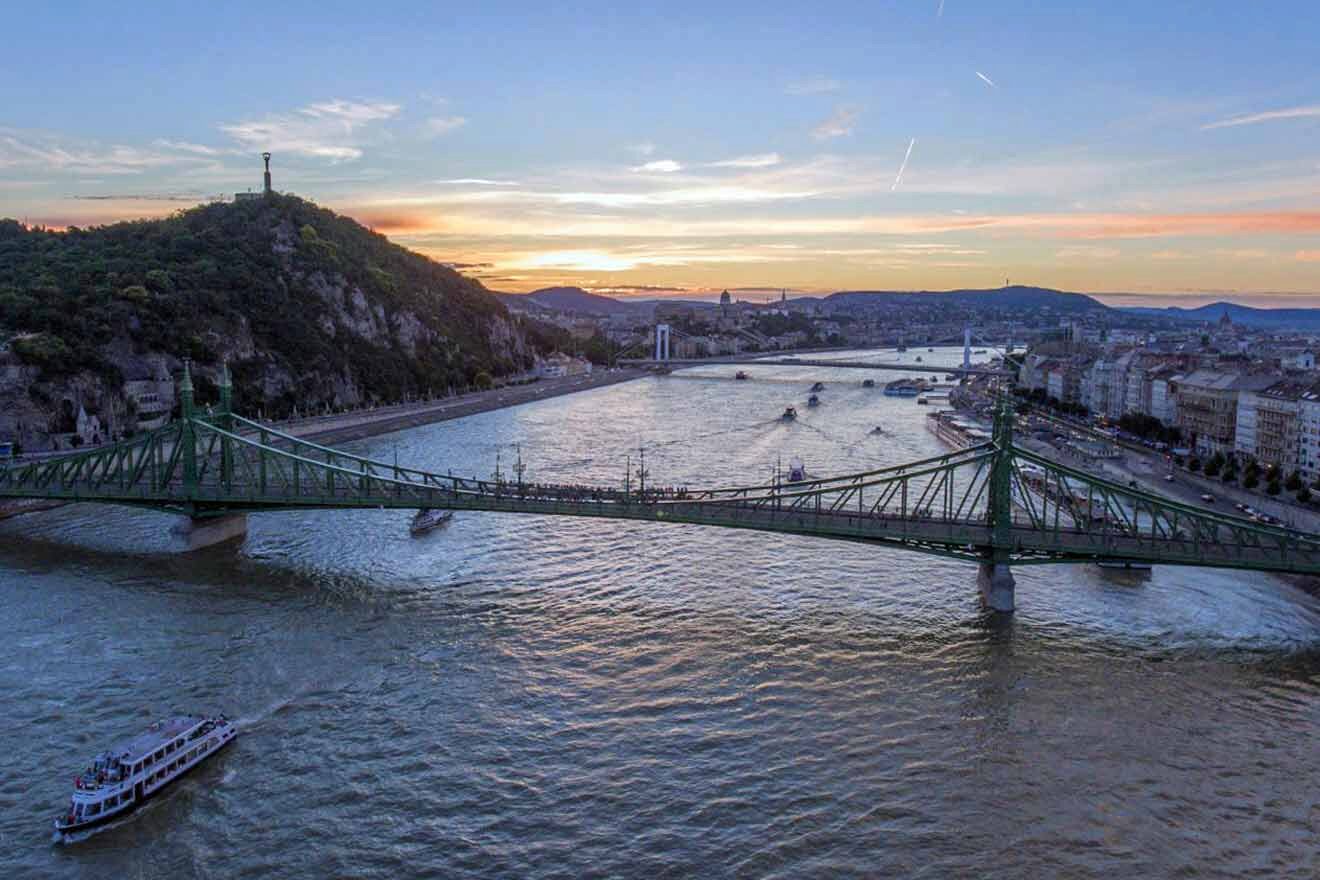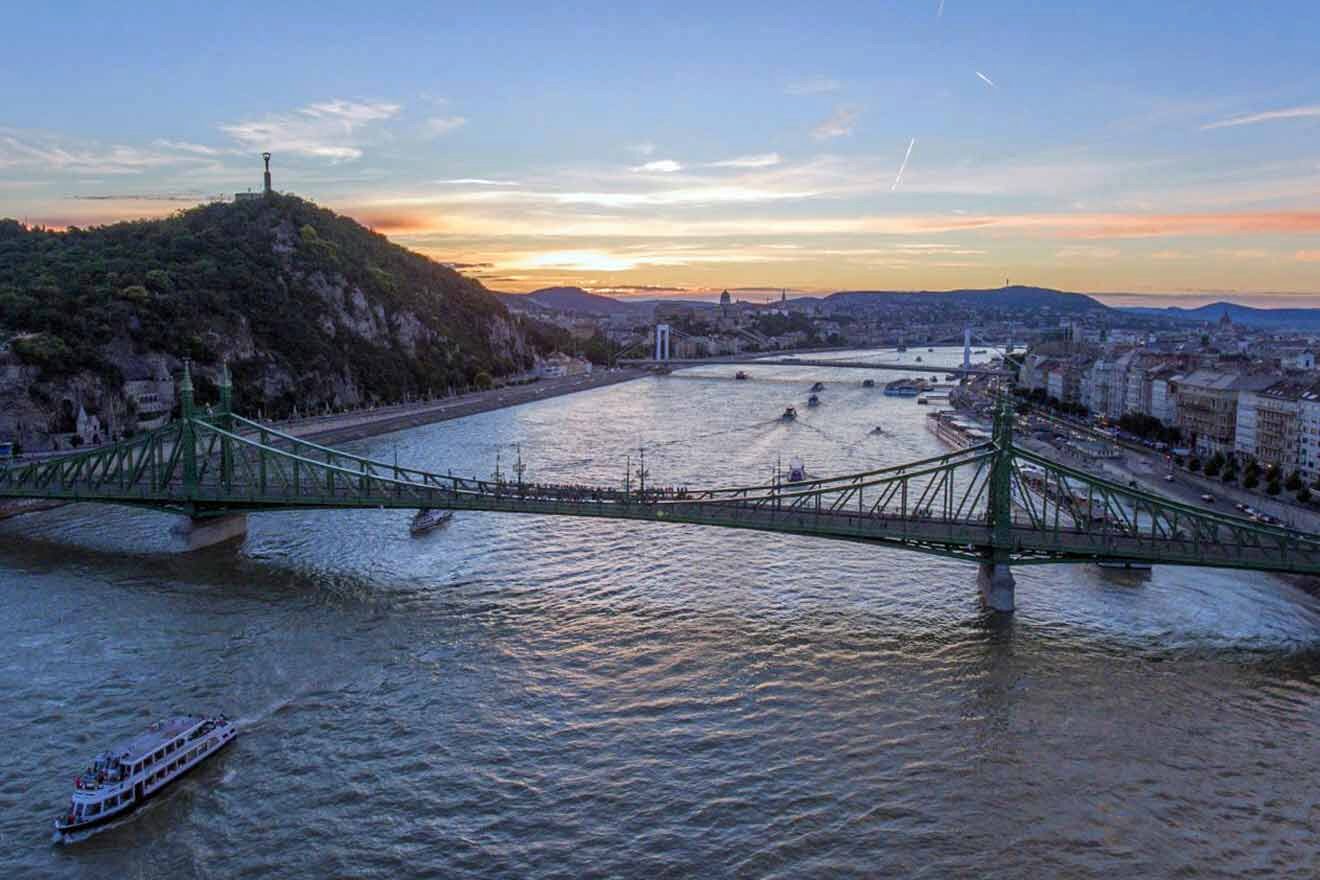 Well, my friends, we're at the end of another post! I hope you managed to find your favorite Budapest river cruise – I know I did!
Don't forget that Budapest is a popular tourist destination, and things tend to get booked out super quickly! Book as soon as you have your preferred option and plan everything in advance to ensure you have the smoothest trip possible.
As always, leave me a comment if you have any questions, I'm here to help! Have a fantastic trip to Budapest!!
Bon voyage!
Lizzie
---
Pin it for later!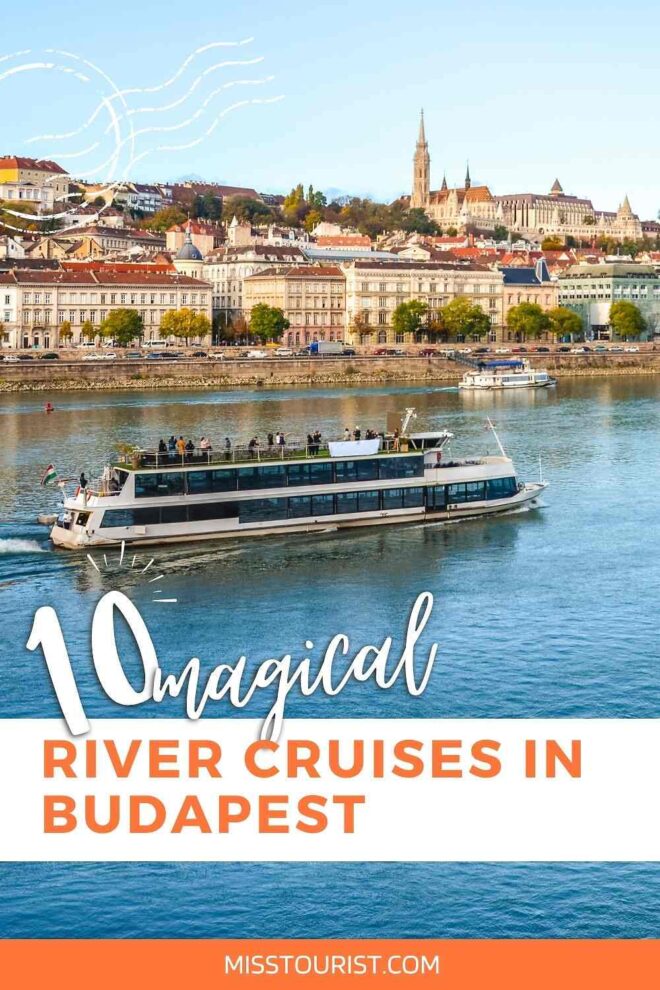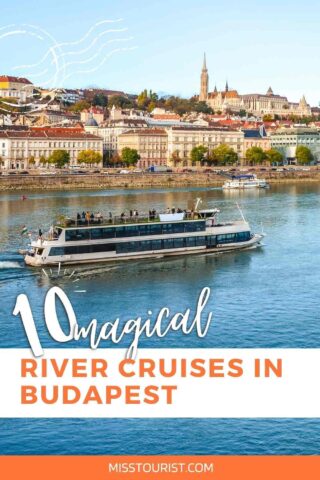 Pin it for later!