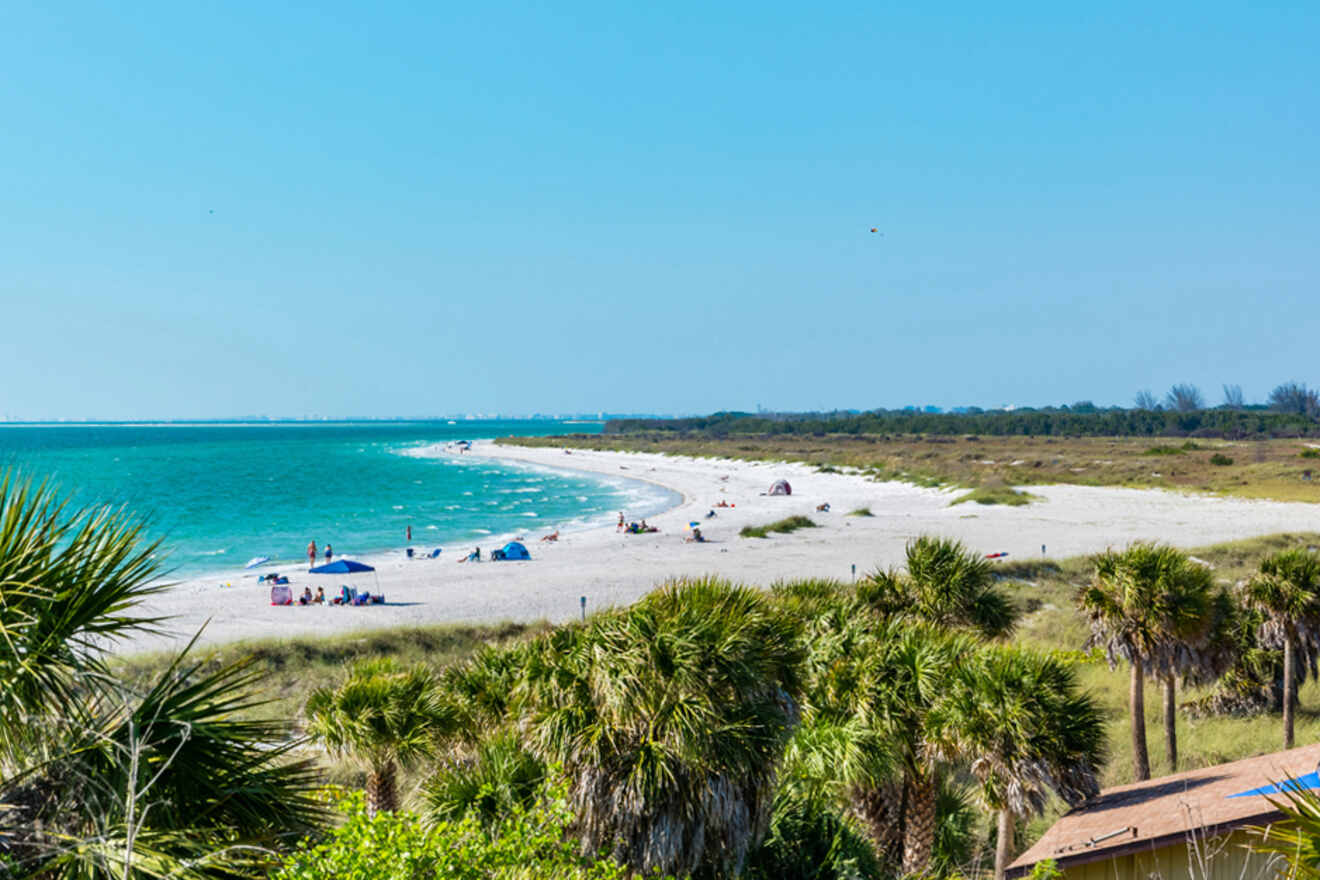 There's so much to love about Tampa, Florida! One of the best things about this city on Florida's west coast is its proximity to some of the best beaches, not only in the Sunshine State but in the entire country! Even though I was raised on the east coast of Florida, there's no denying that the beaches on this side are second to none.
The city of Tampa is situated on Tampa Bay, so while you won't find many idyllic beaches within the city limits, you don't have to go far to find paradise. The Tampa Bay area includes Tampa, Clearwater, and St. Petersburg, so the options for breathtaking beaches are seemingly endless.
Not to worry, though! In this article, I've narrowed down the best of the best beaches in Tampa, from award-winning Clearwater Beach and St. Pete Beach to the pristine, secluded beaches of remote islands in the Gulf.
Ready for some sunshine?
Before we officially set out on our journey through the Tampa beaches, here's a map so that you can see how far each one is from Tampa:
1. Ben T. Davis Beach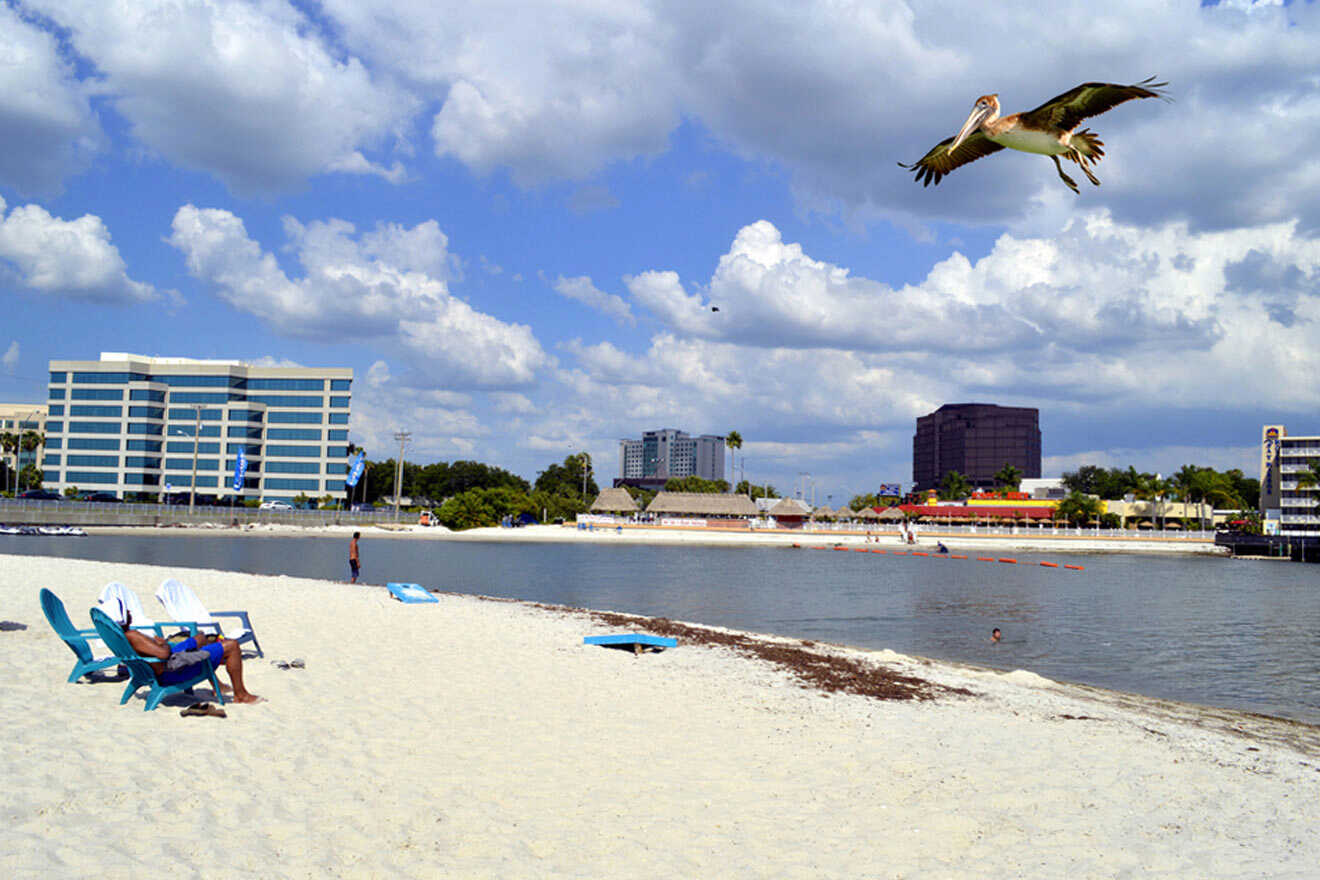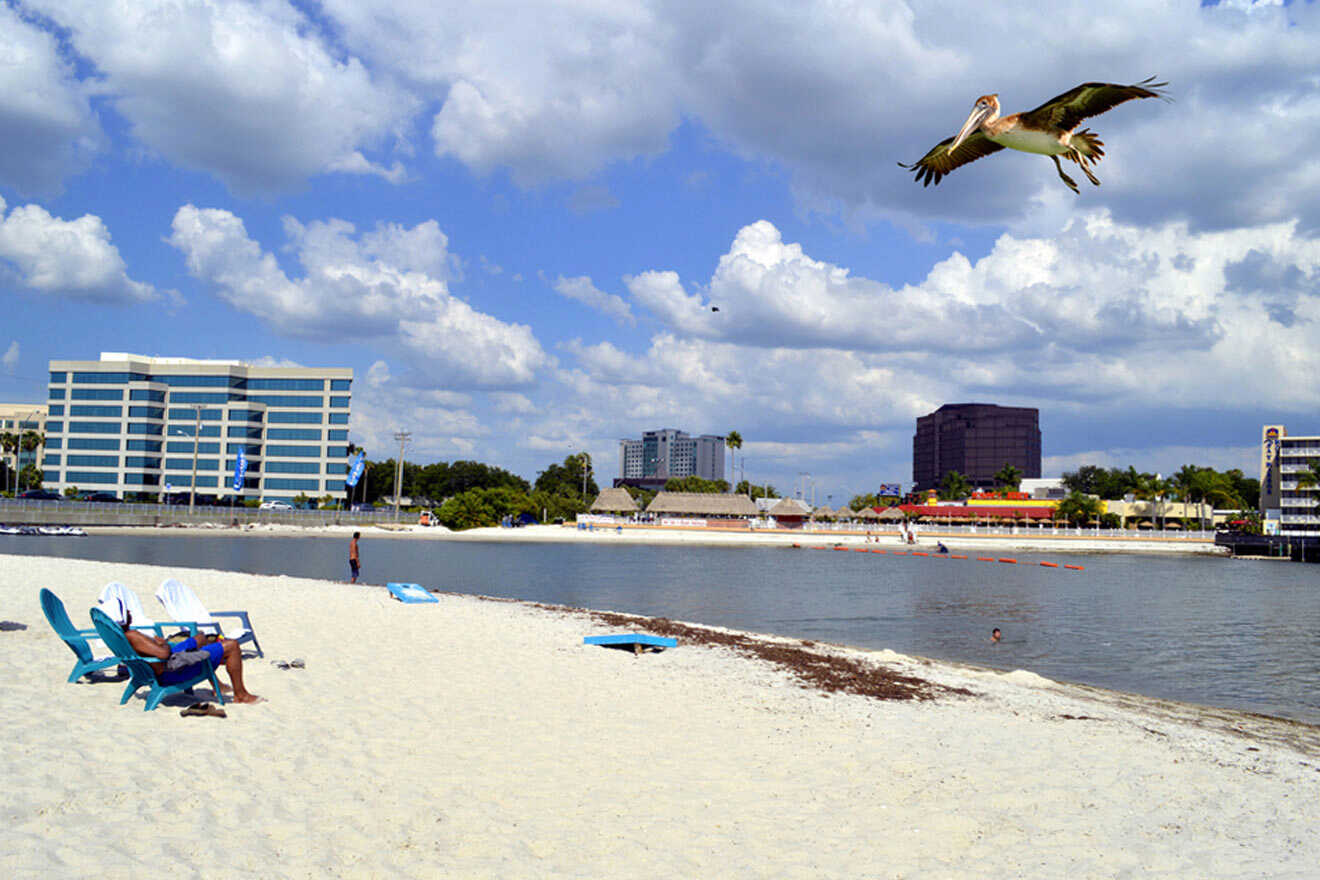 While T. Davis Beach is quite different from the other beaches on our list, that's what makes it special!
You won't find any expansive white sand beaches in the actual city of Tampa, as it's situated on Tampa Bay, but T. Davis Beach offers a unique beach experience just a 10-minute drive from downtown Tampa.
If you're arriving at the Tampa International Airport, this is the first sandy beach you'll see. This narrow strip of shoreline is along the beautiful Courtney Campbell Causeway and adjacent to Courtney Campbell Trail.
T. Davis Beach has picnic shelters and grills, as well as restaurants and beach bars nearby. The best part is its convenient location if you're staying within Tampa city limits.
2. Indian Rocks Beach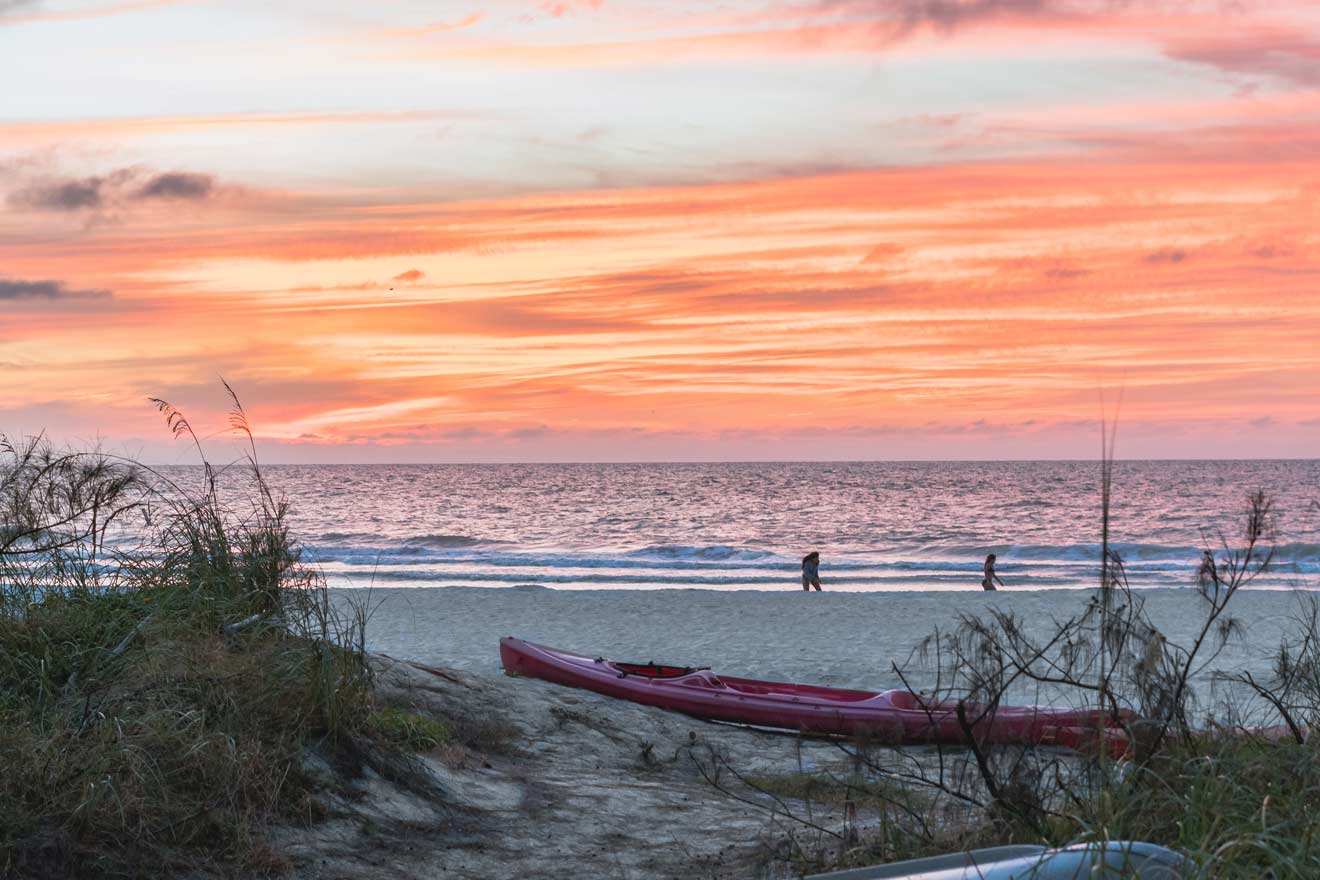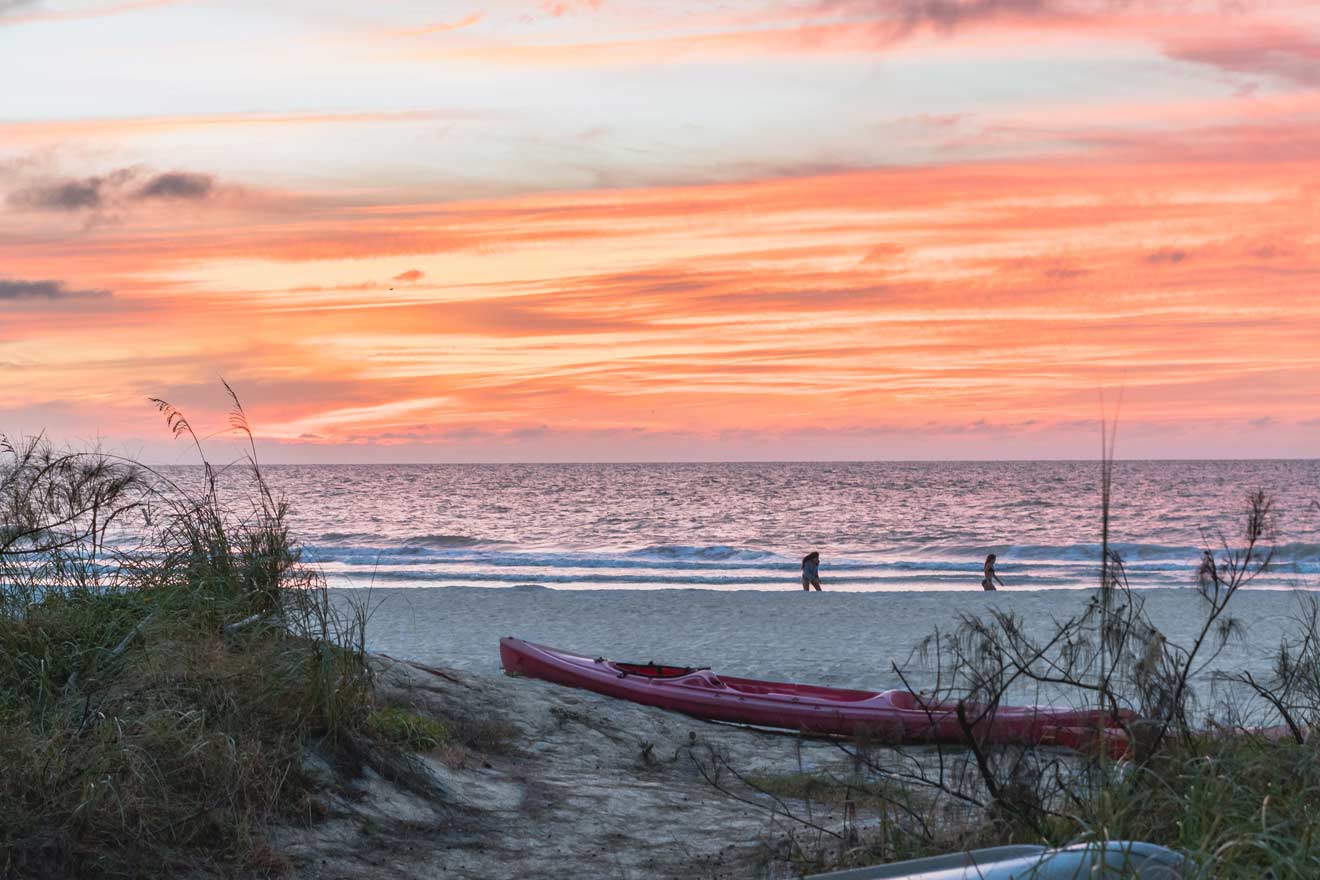 If you're traveling with kids, you'll love Indian Rocks Beach. It is called IRB by locals and is a cozy, relaxing beach town situated on a barrier island. It boasts 27 beach access points on Gulf Boulevard along a stunning 3-mile (5 km) stretch of white sand shoreline!
Little ones love Splash Harbour Water Park in Indian Rocks Beach, where you can have some fun in the sun on their many water slides, 600 ft (183 m) long lazy river, splash zone, zero-entry swimming lagoon, miniature golf course, and so much more.
As a very family-friendly beach, it boasts super soft sand, perfect for kiddos to play in, and the water is warm, welcoming, and shallow, so visitors of all ages can swim safely and comfortably.
3. Caladesi Island State Park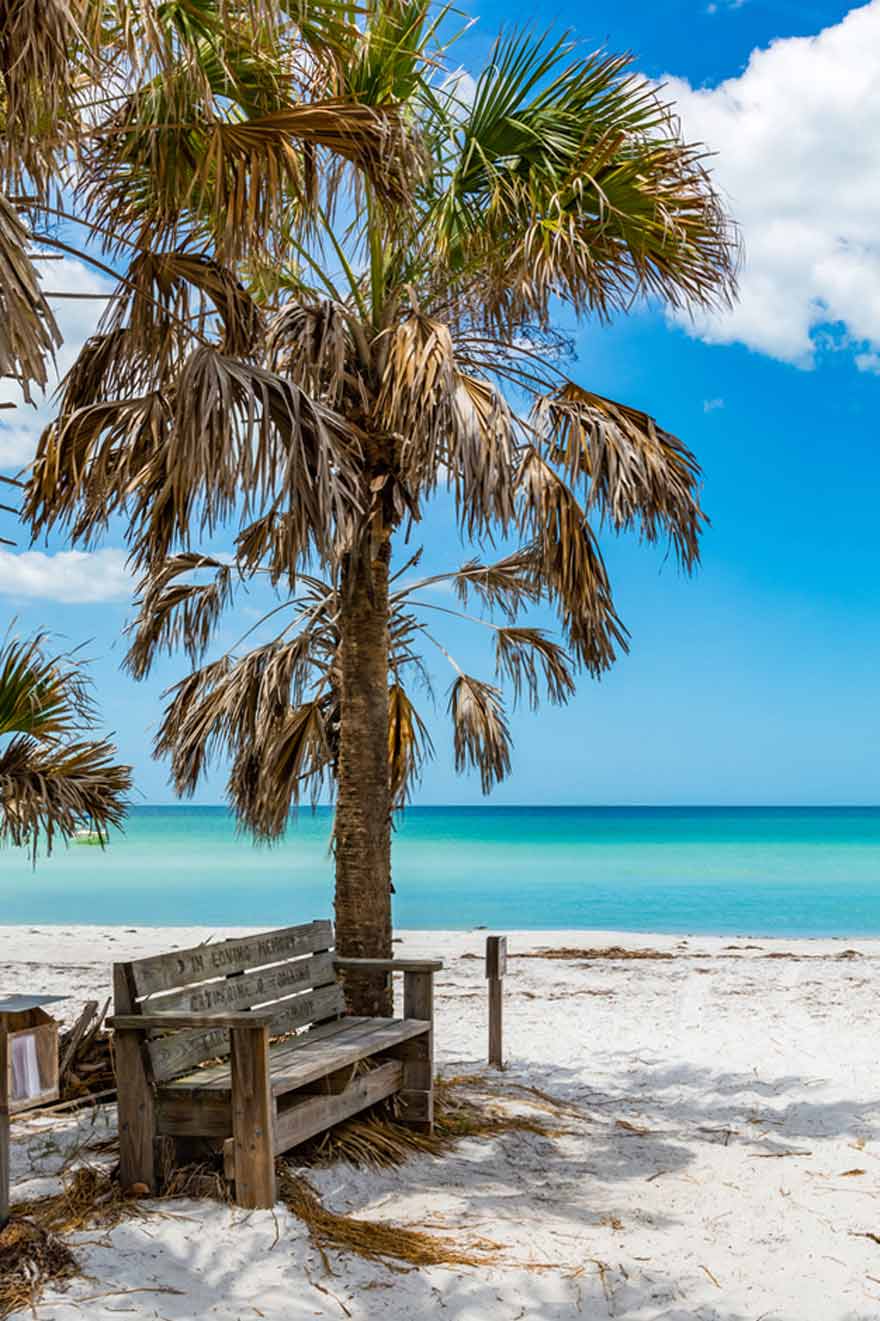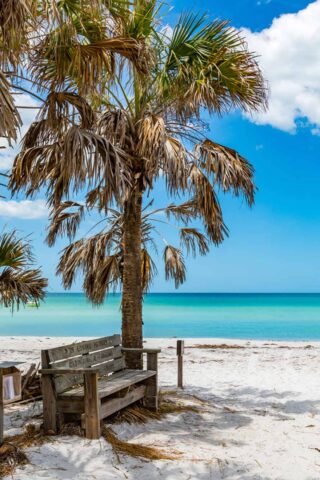 Of all the beaches in the Tampa Bay area, a visit to Caladesi Island State Park takes the most amount of planning, but this pristine paradise is worth every last bit of effort.
One of the few undisturbed islands off Florida's Gulf Coast, Caladesi Island is only accessible by boat, but in my eyes, that only adds to its appeal. When you arrive, you truly feel as though you're on an exotic, remote island somewhere far away. The beach here is heaven on Earth – it's straight out of a postcard or bucket list Pinterest board!
Swimming, snorkeling, and shelling are the most popular activities here, and for a good reason: Caladesi Island State Park boasts one of the most beautiful beaches I've ever seen in real life! You can also kayak through mangrove forests, stroll along the breathtaking nature trails, or sit back and relax in a beach chair under a big umbrella – they're available to rent through visitor services.
If you're not planning to bring your own boat, you can get to the park via the Caladesi Island Ferry, which departs daily from Honeymoon Island State Park, which we'll be chatting about in #10 on our list.
FERRY PRICE: Round-trip tickets are just US$18 for adults
4. St. Pete Beach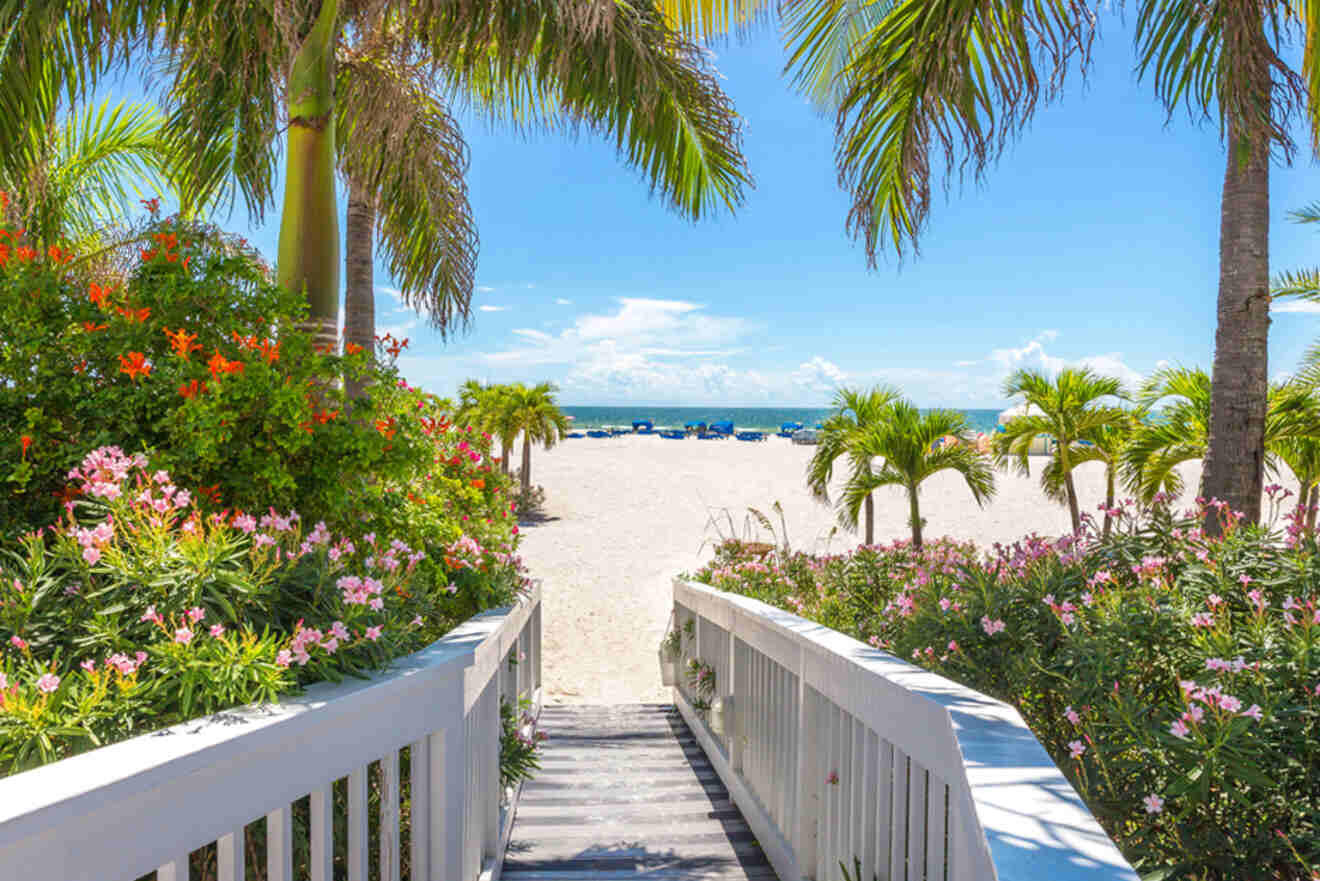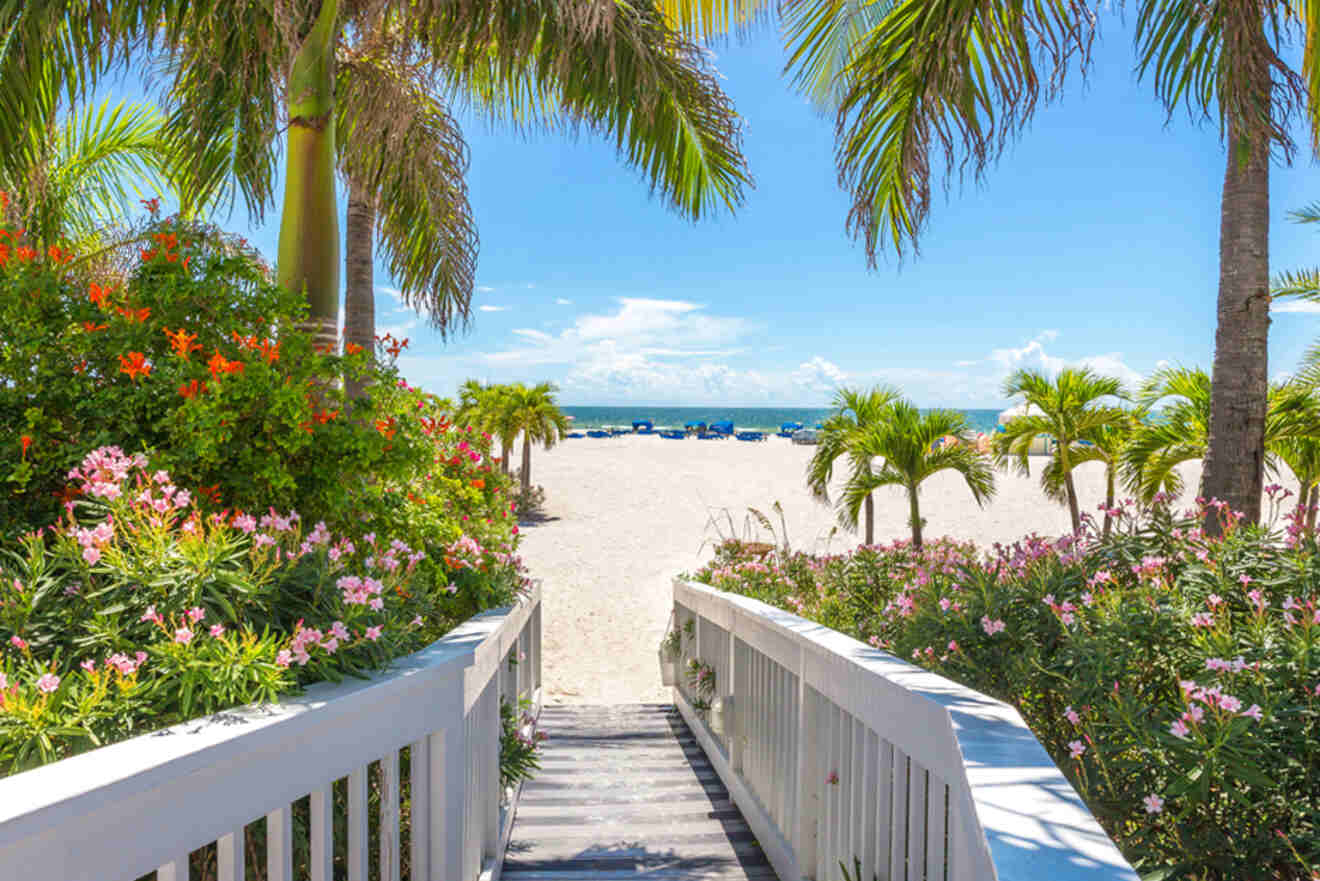 Let's wrap up this article with yet another beach that's made a name for itself as one of the most beautiful beaches in the country: St. Pete Beach. Upon arriving, you can't miss the iconic pink hotel, The Don CeSar, which has been operating in St. Pete Beach for over 90 years!
The beach here is everything you'd expect from somewhere considered one of the best beaches in the entire USA: soft white sand, blue-green water, and lots of Florida sunshine. St. Pete Beach is just west of its sister city, St. Petersburg, a hub for upscale shopping, dining, arts, and entertainment. I highly recommend heading to St. Petersburg if you have the time – it's a real treat.
For food and drinks in St. Pete Beach, check out Jimmy B's Beach Bar. The patio has stellar views of the Gulf of Mexico, and you can almost always catch some live music here.
5. Fort de Soto Park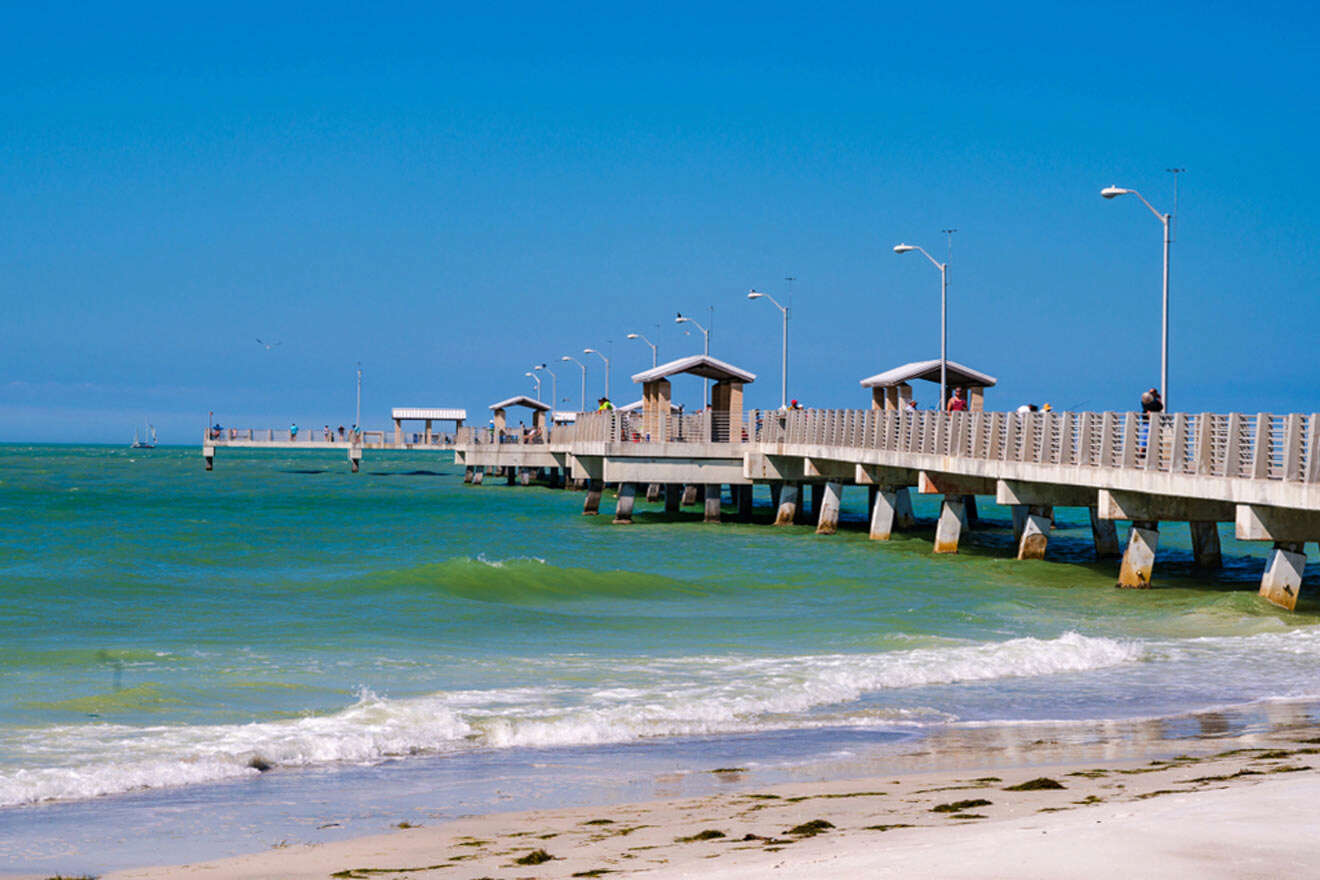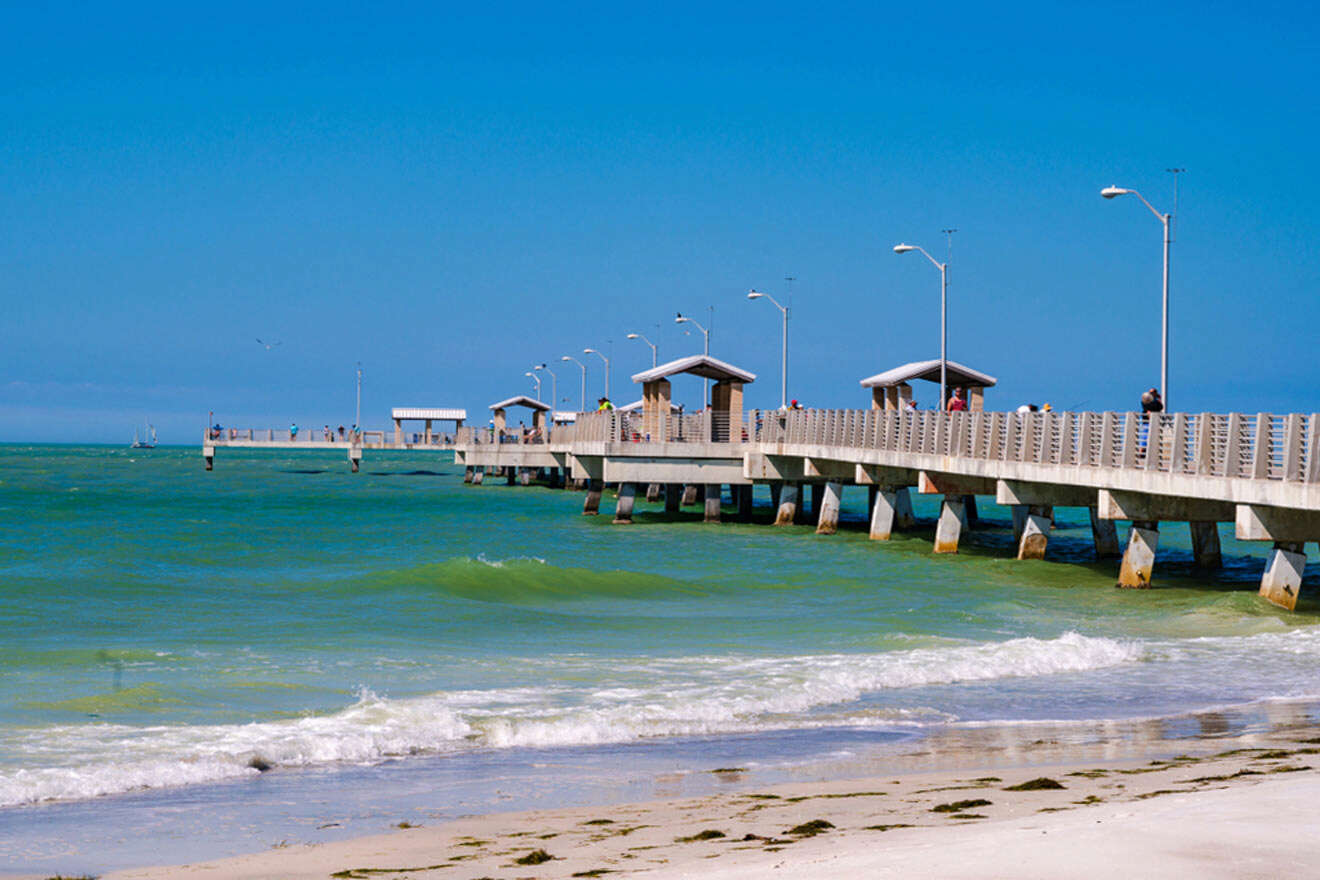 Fort de Soto Park is yet another award-winning beach on our list – it's been recognized as the #1 beach in America multiple times, and you'll understand why shortly!
Fort de Soto Park covers 5 interconnected islands called Keys and attracts 2.7 million visitors a year to its postcard-worthy white sand beaches. That's even more visitors a year than the famous Everglades National Park!
Fort de Soto Park's main beach, called North Beach, is its most popular spot among beachgoers. North Beach is among the top family-friendly beaches, as its pirate-themed playground, gentle water, and convenient amenities make it perfect for kids and their parents. There are picnic shelters, restrooms, concessions, ample parking spots, and a gift shop at North Beach, so you don't have to go far in case you forget to bring something.
If you want to ditch the crowds, head to Gulf Pier Beach or East Beach at Fort de Soto Park. Both beautiful beaches tend to be less crowded since they're a bit further away. Those traveling with a furry friend will want to check out Dog Beach!
In addition to gorgeous beaches, Fort de Soto Park is home to a historic Spanish-American War-era fort that you can explore, as well as the Quartermaster Museum, where visitors can step back in time and learn about the park's fascinating history.
6. John's Pass, Madeira Beach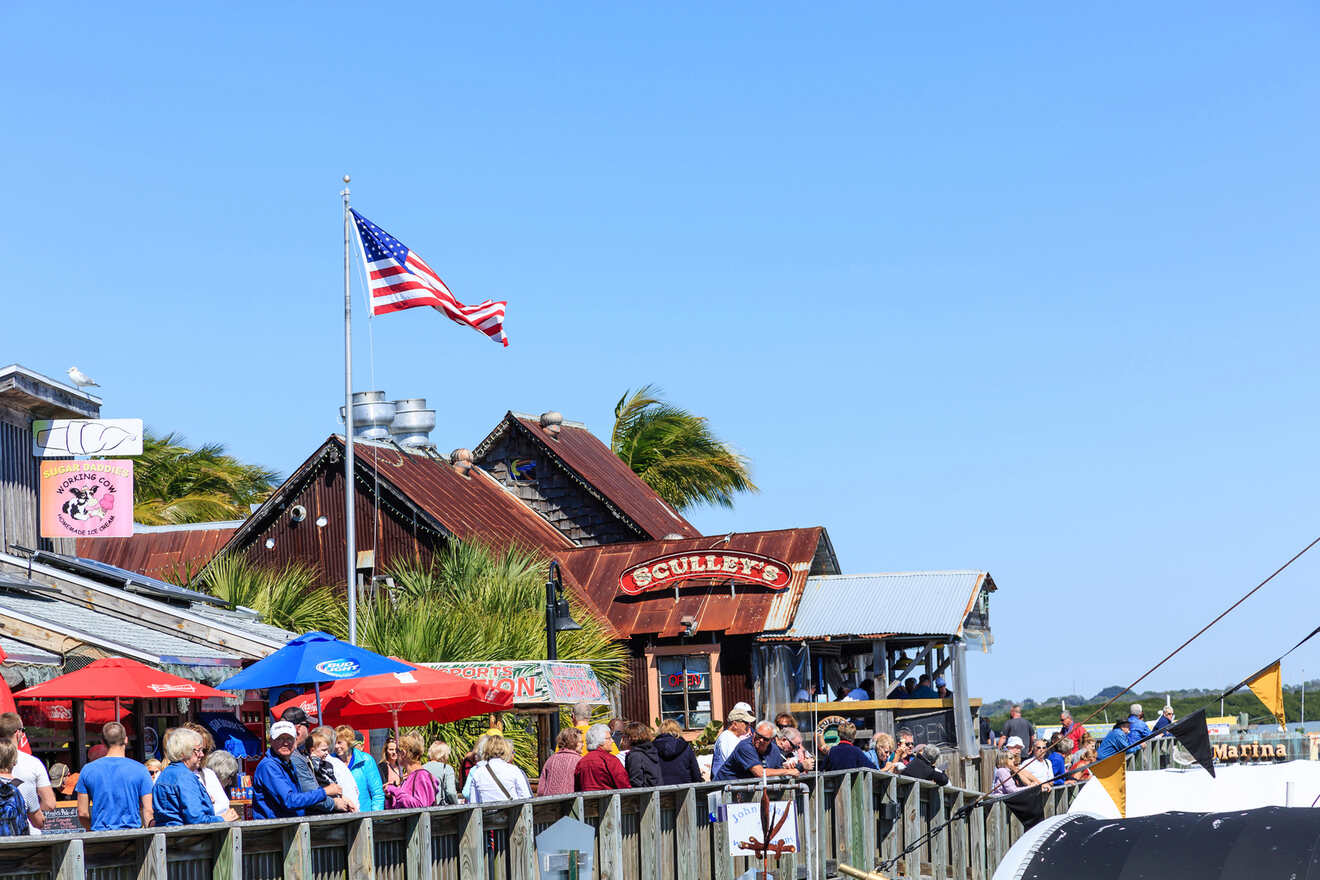 Next up on our list of best beaches in Tampa is John's Pass Park, one of the beach access points along Madeira Beach, known as Mad Beach by locals. But before we jump into what makes this particular beach spot so great, I've got to briefly fill you in on Madeira Beach's fascinating history.
Way back in 1848, a major hurricane carved out a passageway on the barrier island present-day Madeira Beach is situated on, creating an ocean channel called John's Pass. This channel was named for John LeVique, the first settler in the area to make passage through. And according to local legend, John LeVique was not your average Joe – he was a pirate!
Nestled right along John's Pass, John's Pass Park makes for a very unique beach experience! Immediate amenities here include public restrooms, a covered picnic area, and outdoor showers, but the best part is that it's just steps away from the #1 attraction in Pinellas County, John's Pass Village & Boardwalk.
John's Pass Village & Boardwalk is a hub for shopping, dining, and adventures on the water, housed within a replica of a cozy turn-of-the-century fishing village. It's the perfect stop for dinner and drinks after hours on the beach!
Dolphin watching is very popular in Madeira Beach, and you can take the dolphin quest sightseeing eco-cruise to explore Boca Ciega Bay and spot bottlenose dolphins. The tour departs right from John's Pass Village.
TOUR PRICE: From US$30 per person
7. Archibald Memorial Beach Park, Madeira Beach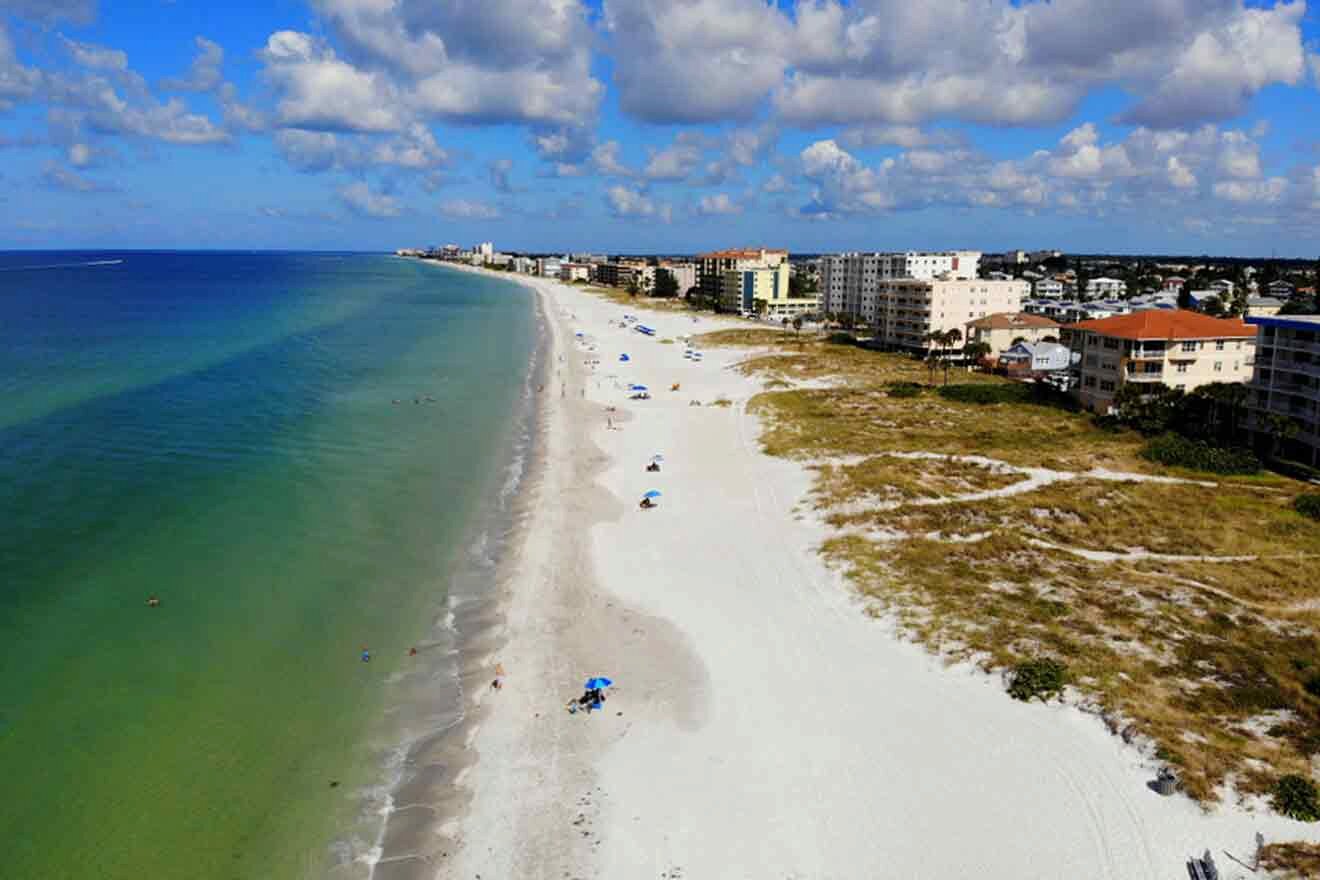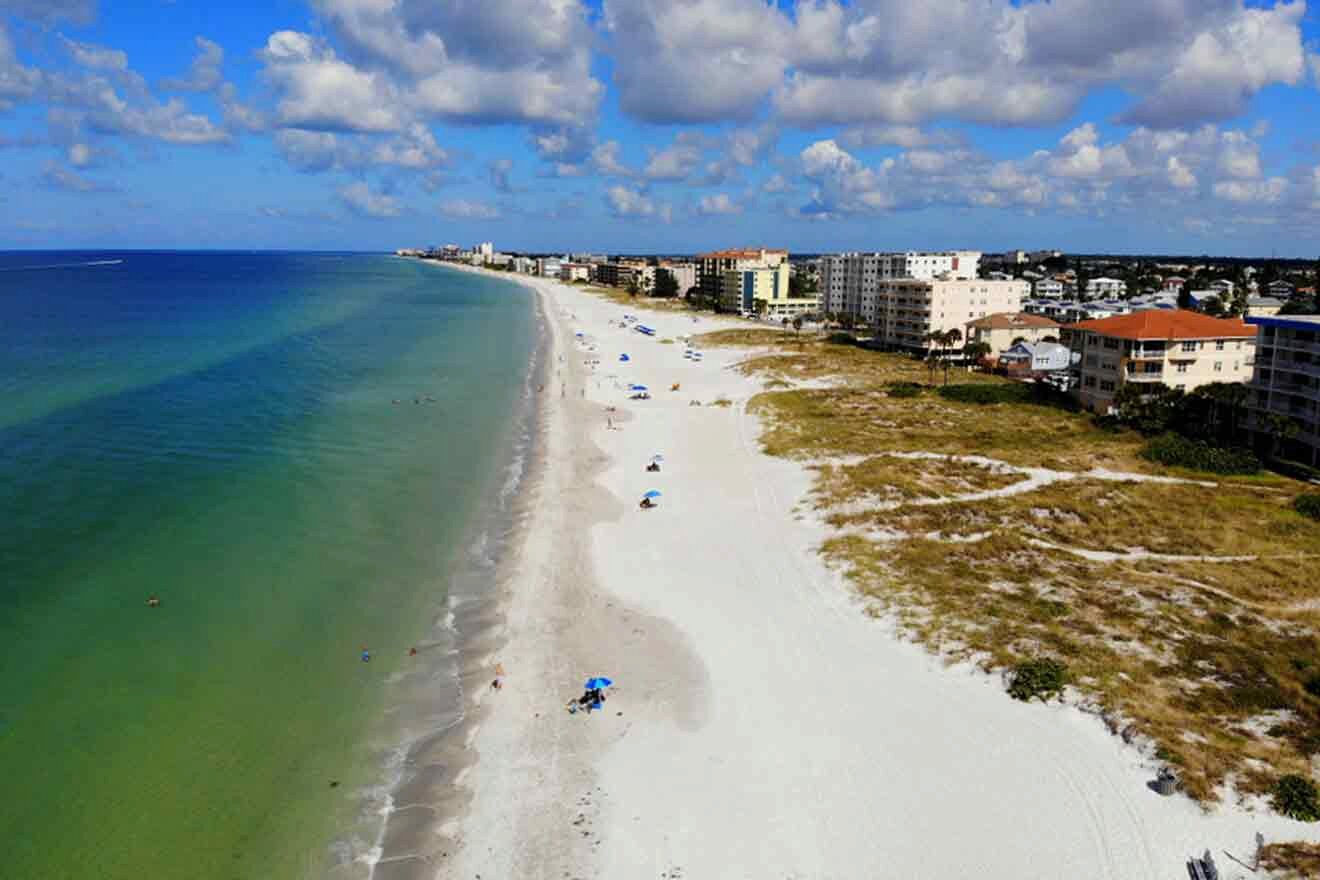 Also located on Madeira Beach, Archibald Beach Park, like #2 on our list, is one of the best beaches in Tampa for families!
In addition to the signature sugary soft sand and crystal-clear water Florida Gulf Coast beaches are famous for, you'll find all the amenities you need for a stress-free beach outing here: restrooms, outdoor showers, a covered picnic area, and even 2 sand beach volleyball courts for those looking for some friendly competition!
Compared to the popular beaches in the area, Archibald Beach Park offers beachgoers a more relaxing experience, although it does tend to get crowded on weekends, so I recommend arriving early.
If you need to refuel for more fun, head to the Mad Beach Snack Shack – it's been around since 1934 and is the cutest little place! To enhance your beach day, stop by Saltwater Destination to rent umbrellas, lounge chairs, Adirondack chairs, and paddle boards for very affordable prices.
8. Clearwater Beach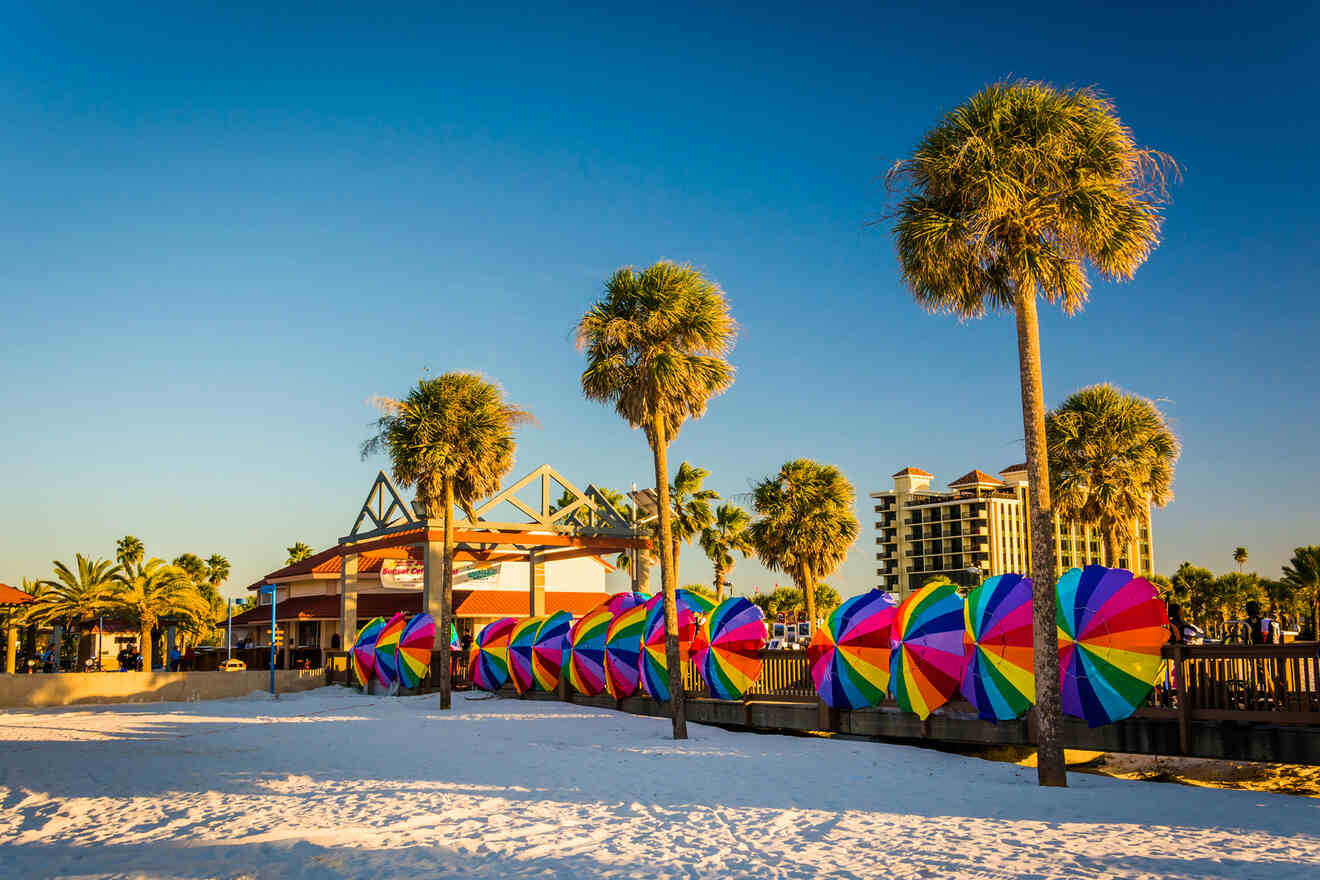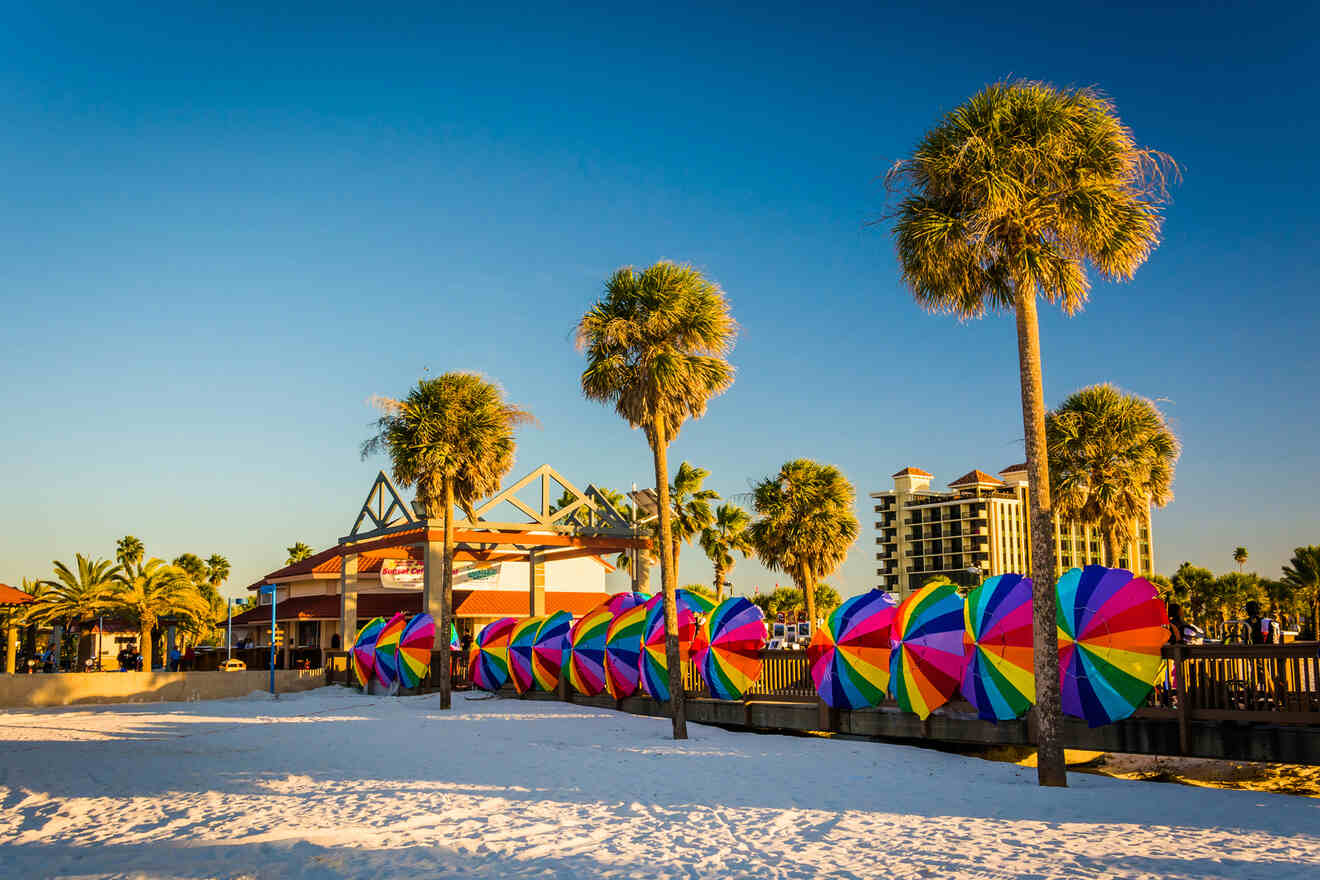 Repeatedly named the "Best Beach in Florida" and "#1 Beach in America" by multiple sources, Clearwater Beach is, of course, a must-do for beach lovers visiting the Tampa Bay area!
There's a whole lot to love about Clearwater Beach. It's located on a barrier island off the coast of Tampa Bay, so it's a literal slice of paradise, famous for its powdery white sand and welcoming azure water. There are also lifeguards on duty here all year long, so you can swim safely and confidently!
Clearwater Beach is the perfect choice if you're looking to be right in the middle of the action – there are so many exciting things to do here, from waterfront dining to dolphin-watching cruises. At sunset, head over to Pier 60 for unmatched views. A huge plus is the various parking available nearby, including public lots, private lots, and street parking.
I highly recommend the Little Toot Dolphin Adventure at Clearwater Beach if you want to see playful wild dolphins up close in the Gulf of Mexico. It's an unforgettable experience that only adds to this beautiful, award-winning Clearwater beach and is fun for the entire family.
TOUR PRICE: US$35 for adults, US$25 for children
9. Sunset Beach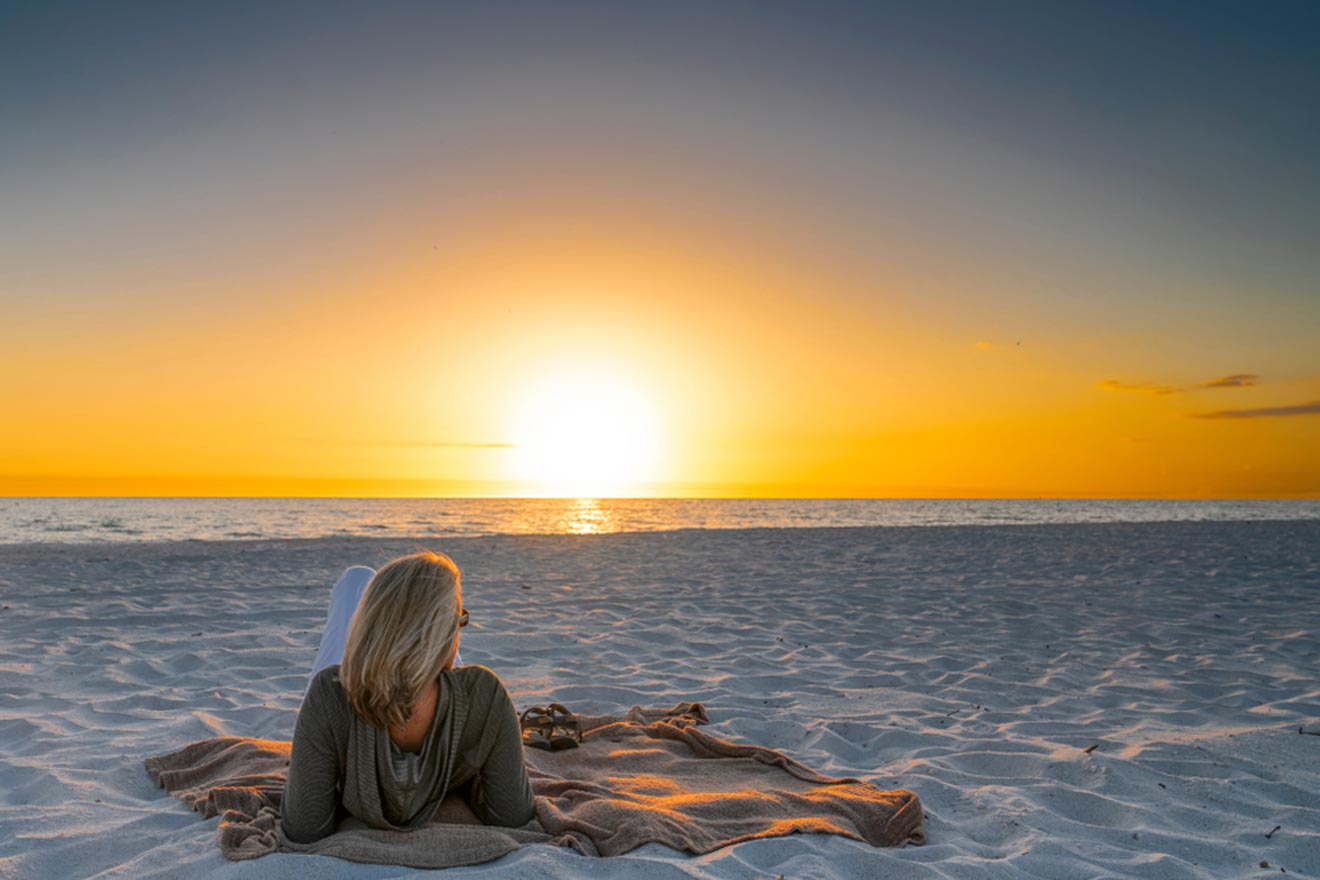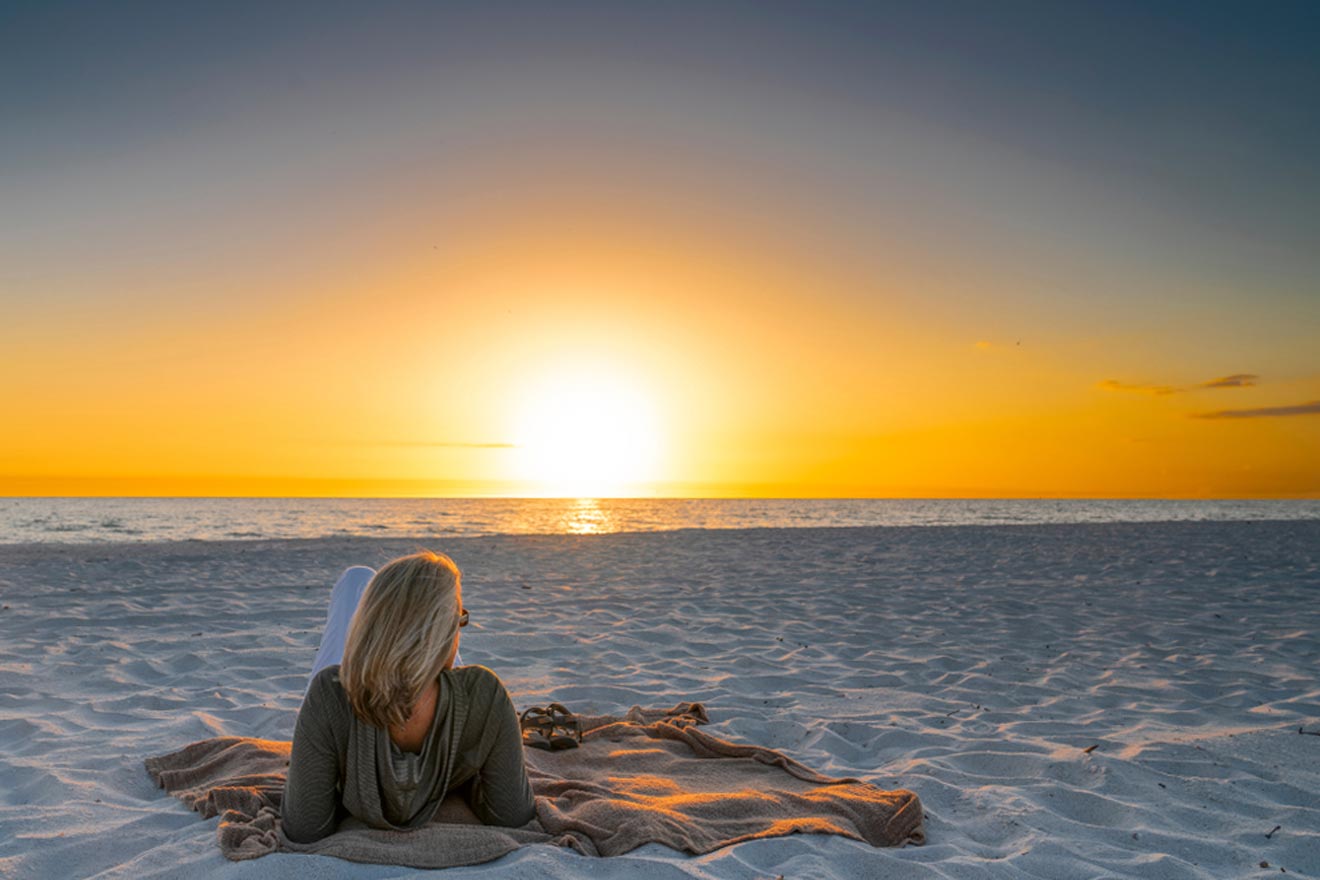 Rumor has it that Sunset Beach is one of the beaches that inspired the Jimmy Buffett song, Margaritaville. With a description like that, you already know Sunset Beach is one of the best beaches near Tampa!
As the name implies, Sunset Beach is the beach for unparalleled views of the famous Gulf Coast sunset. I've noticed before that the water here is somehow even clearer than other beaches nearby, and I actually found out in my research that I wasn't imagining things – this phenomenon is due to Sunset Beach's geographic placement.
Located on the southern end of Treasure Island, the community of Sunset Beach is known for its laid-back and inclusive atmosphere. If you're looking for something fun to do while visiting Sunset Beach, you can reserve a beach-front cabana at Caddy's Treasure Island right on the sand.
10. Honeymoon Island State Park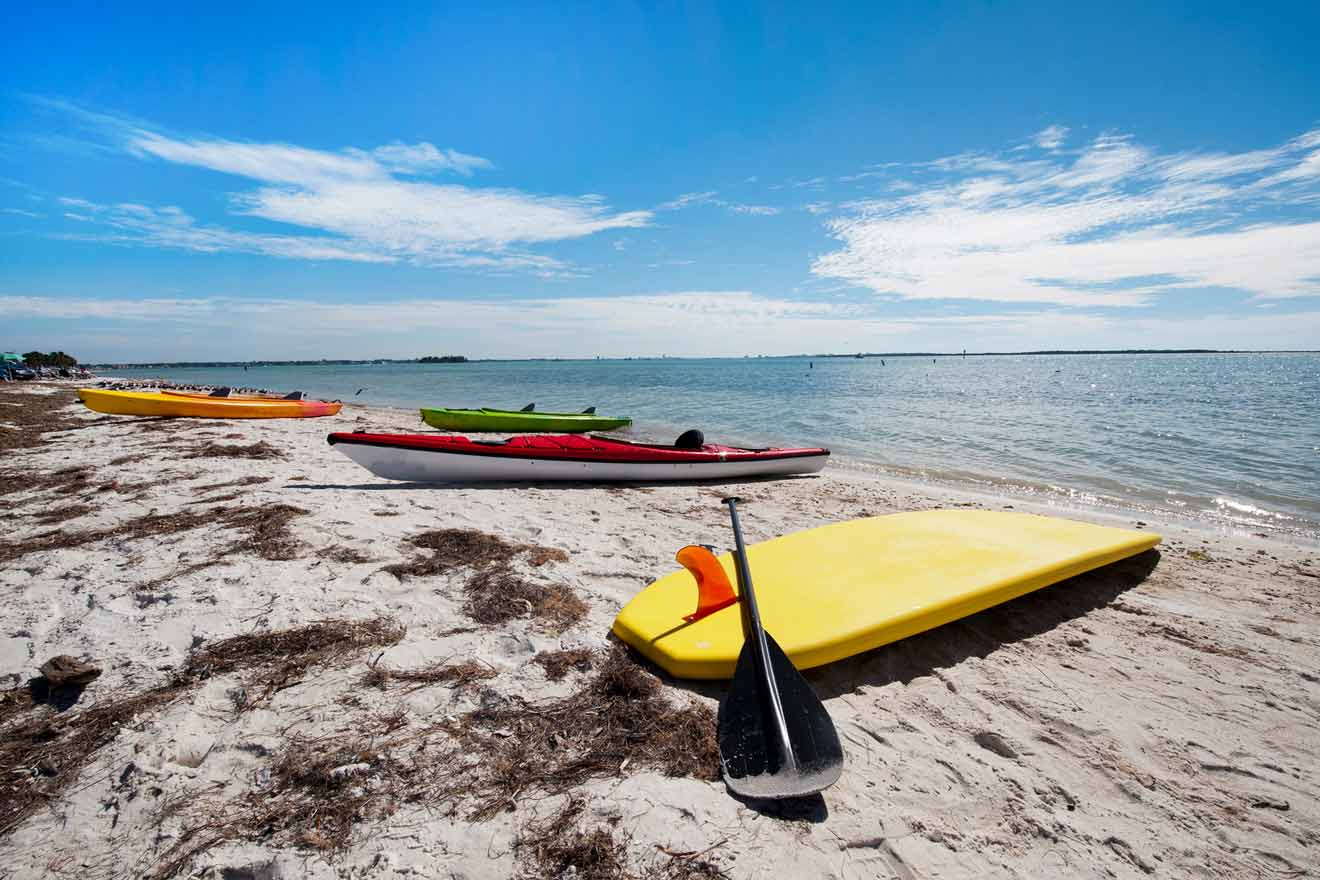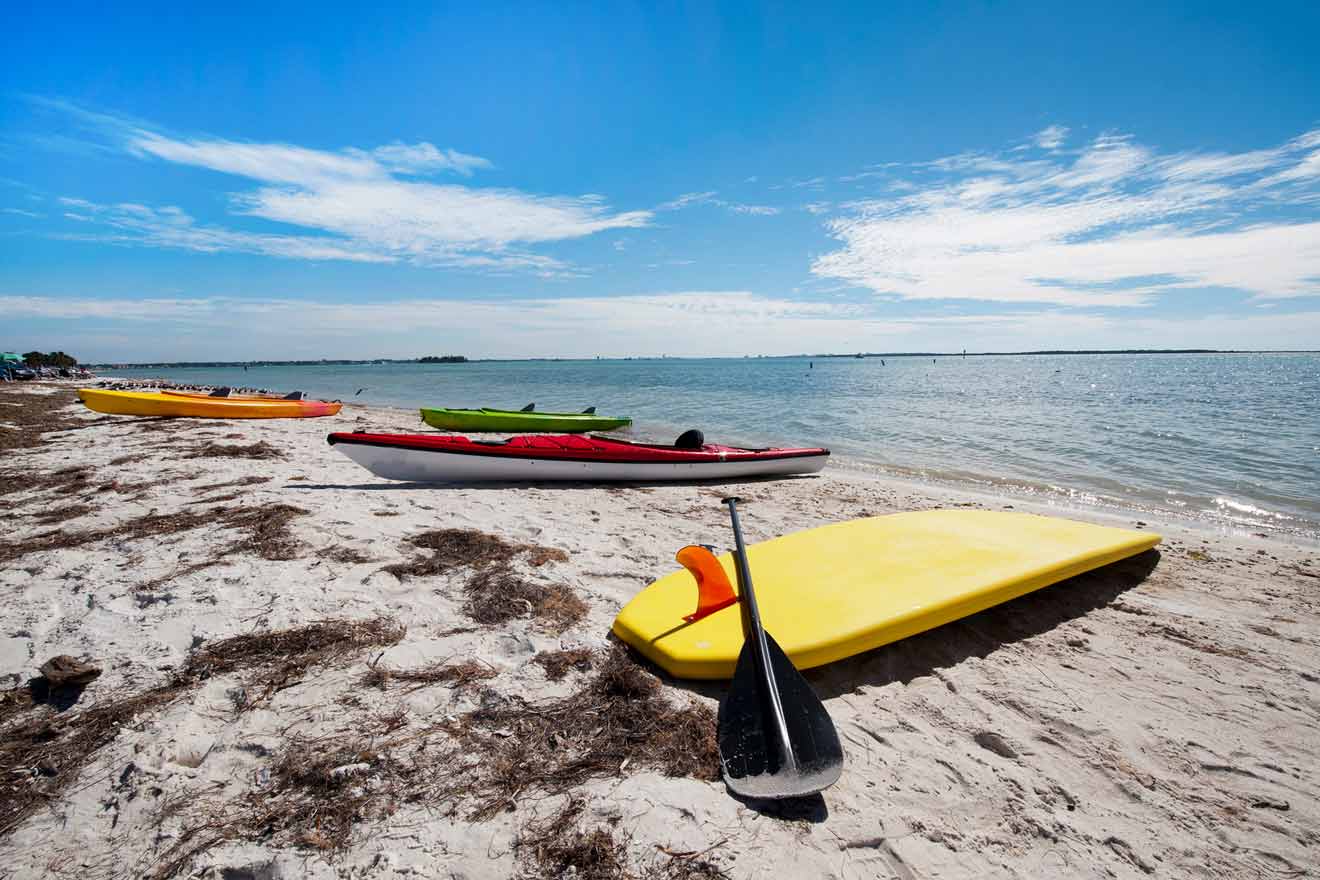 Honeymoon Island State Park is a paradise for beach lovers and nature enthusiasts! Honeymoon Island and Caladesi Island (#3 on our list) were once part of the same barrier island until a 1921 hurricane split them in 2 and created what is now called Hurricane Pass.
Like Caladesi Island State Park, Honeymoon Island State Park is known for its pristine beaches, including a main beach for swimming and a pet beach for our furry friends. It boasts over 4 miles (6 km) of unspoiled shoreline, perfect for sunbathing, swimming, and shelling. Fishing is popular too, and you can catch some of my favorite dinner fish here, like grouper, snapper, and snook.
There are 3 miles (5 km) of nature trails that will take you through one of the last remaining virgin slash pine forests. Birdwatchers especially will fall in love with this gorgeous Florida state park, as it offers countless opportunities to observe the island's many nesting birds.
The best part about Honeymoon Island is that you can get there by car! But if you'd like to continue your adventure, you can take the Caladesi Island Ferry from here to Caladesi Island State Park.
11. Sand Key Beach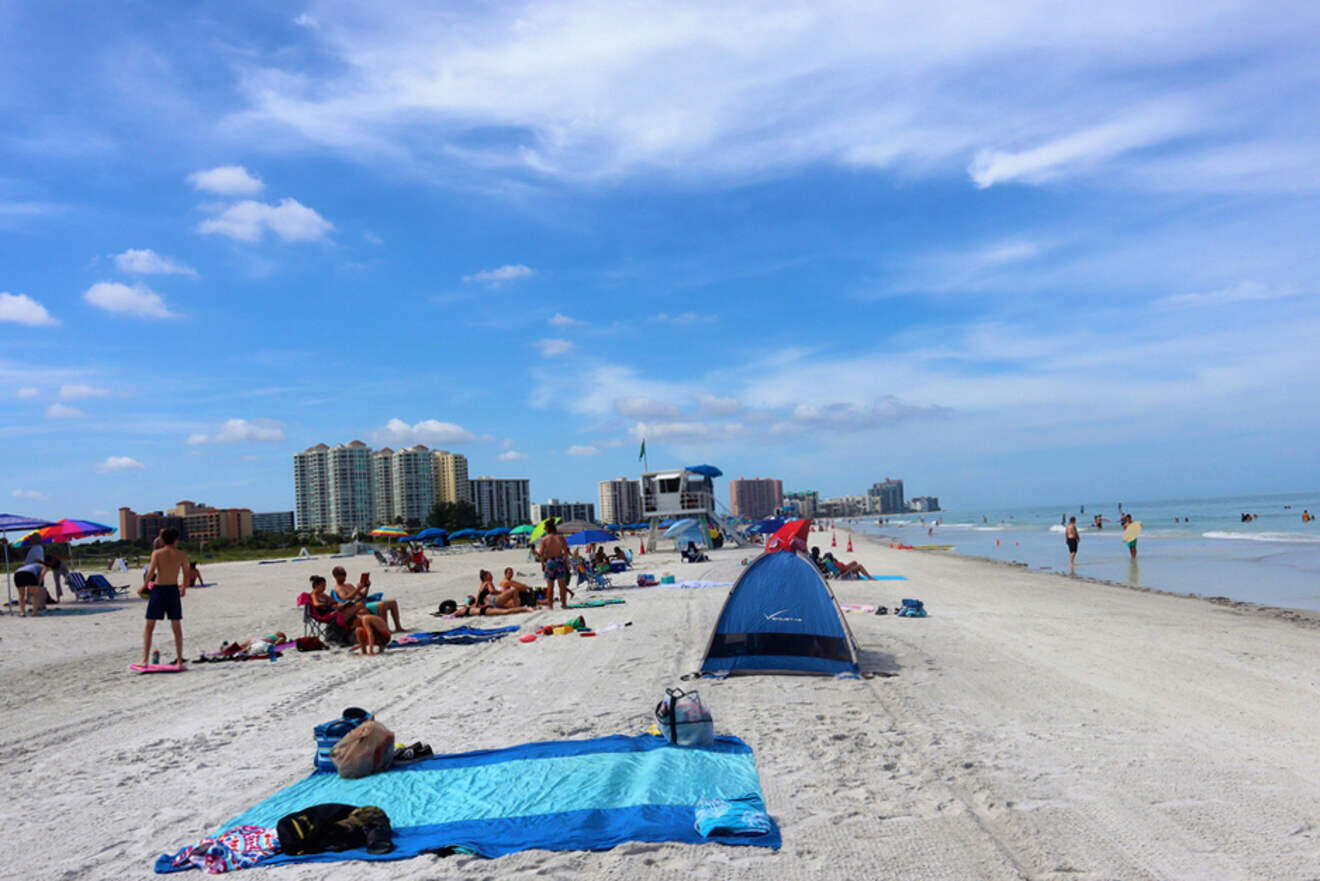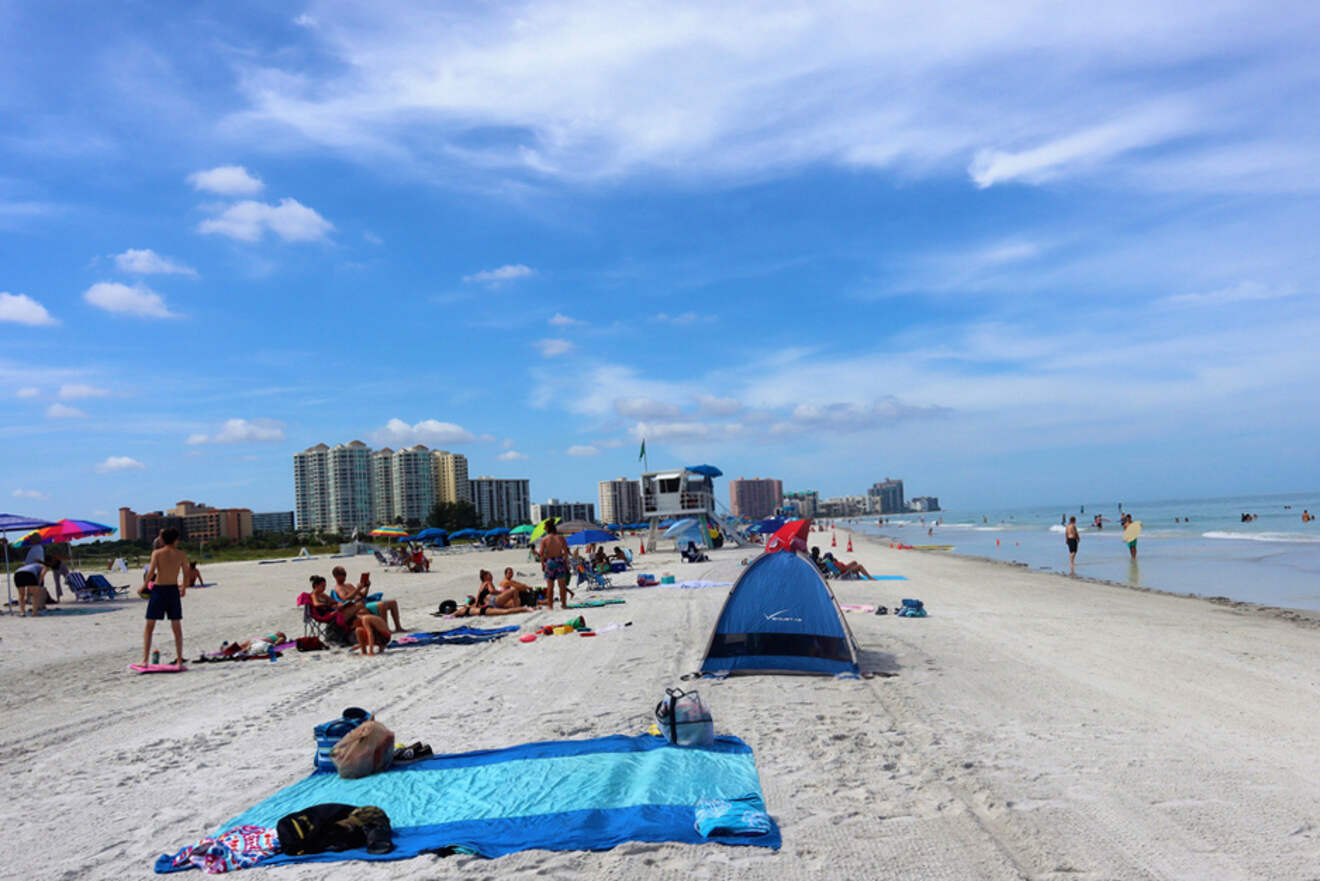 Just south of exciting Clearwater Beach is Sand Key Beach, the ideal beach spot if you're looking for a relaxing day on the white sand beach or in the blue-green water, away from the hustle and bustle of nearby touristy locales.
On the north end of Sand Key, you'll find Sand Key Park, a stunning and tranquil beach park. You don't have to sacrifice amenities for relaxation here, as the park offers all the necessities for your beach trip: restrooms, showers, picnic tables, a playground, a dog park, a boardwalk, and nature trails where you can explore the salt marsh and local wildlife!
From May 1 through Oct. 31, loggerhead sea turtles come up to Sand Key Beach to lay their eggs! It's such an amazing sight.
12. Egmont Key State Park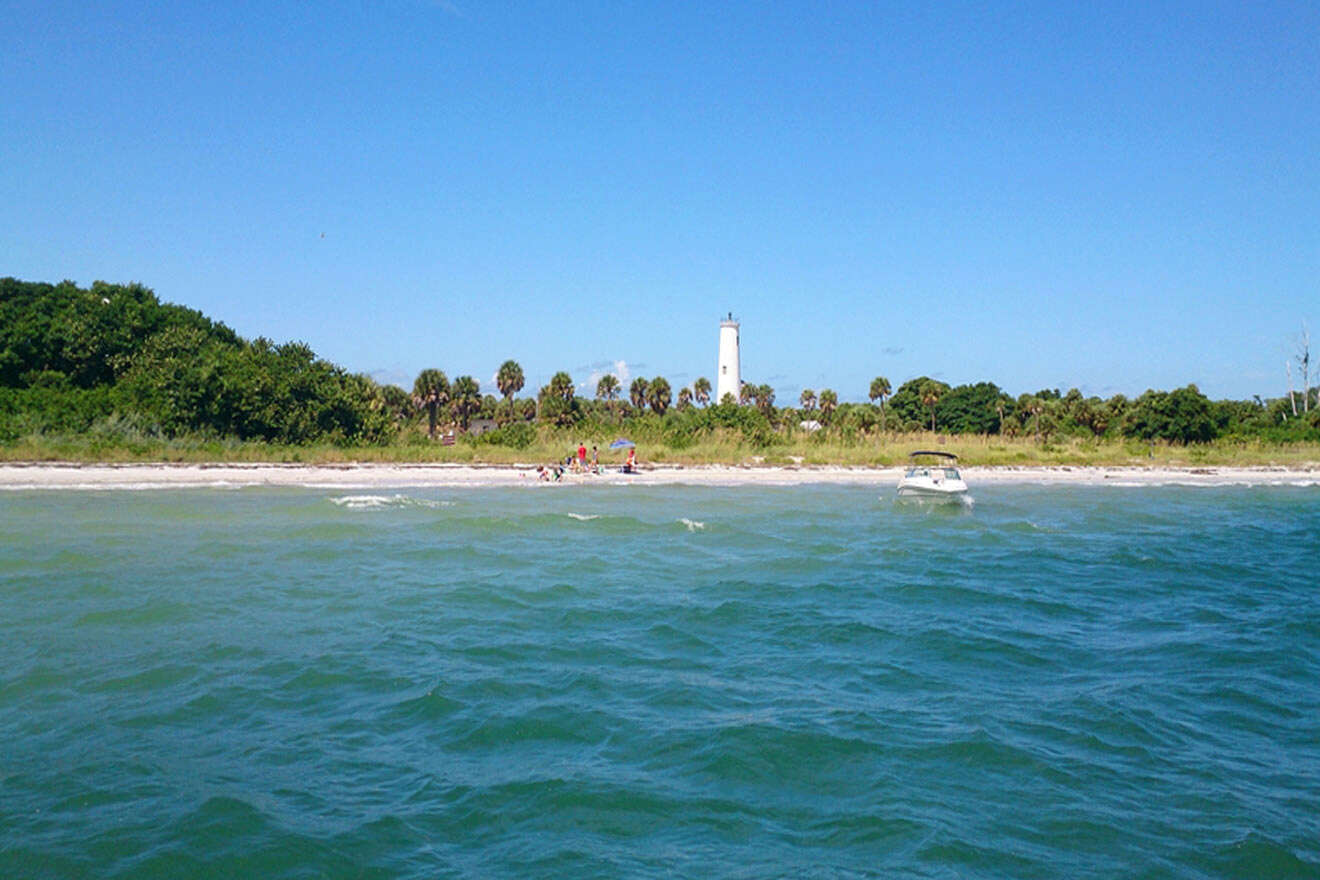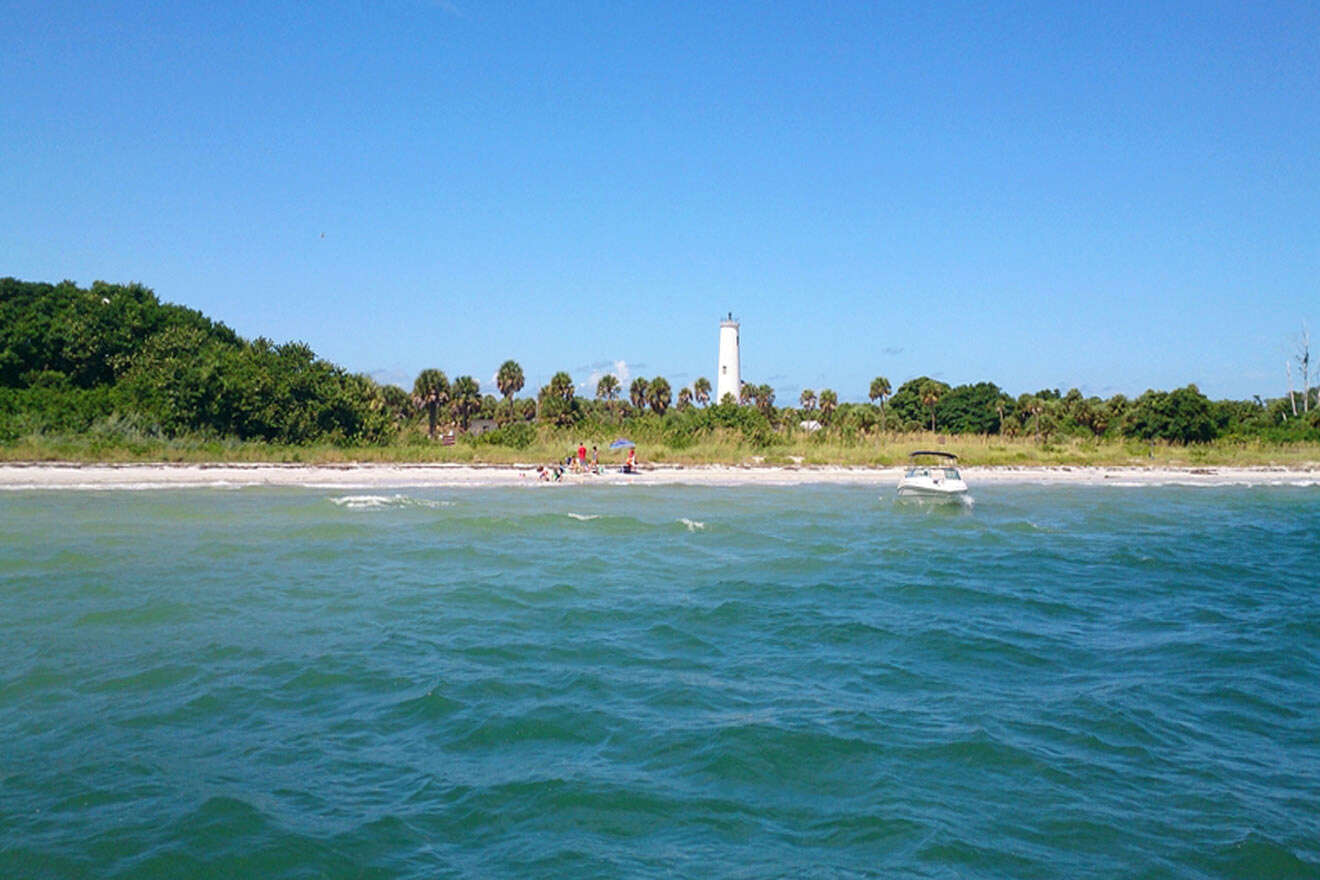 If spending the day on a secluded beach of a remote island in the Gulf is your idea of a good time, this one's for you! Located at the mouth of Tampa Bay, Egmont Key is only accessible by boat, but it's easy to get there thanks to the ferry that offers round trips from Fort de Soto Park.
Egmont Key State Park is a jaw-droppingly gorgeous paradise with striking white sand and serene turquoise water. Spend the day searching for seashells, soaking up the sun on the shore, or swimming to your heart's content in the crystalline ocean. I do have to warn you, though: there are no restrooms or any other facilities on-site.
There's thrilling history to uncover here as well. Egmont Key is home to a historic lighthouse that's been standing since 1858, and you can explore the ruins of Fort Dade. Since the majority of Egmont Key is a wildlife refuge, you may be treated to the sight of some of the resident creatures, like hummingbirds and seabirds.
13. Picnic Island Beach Dog Park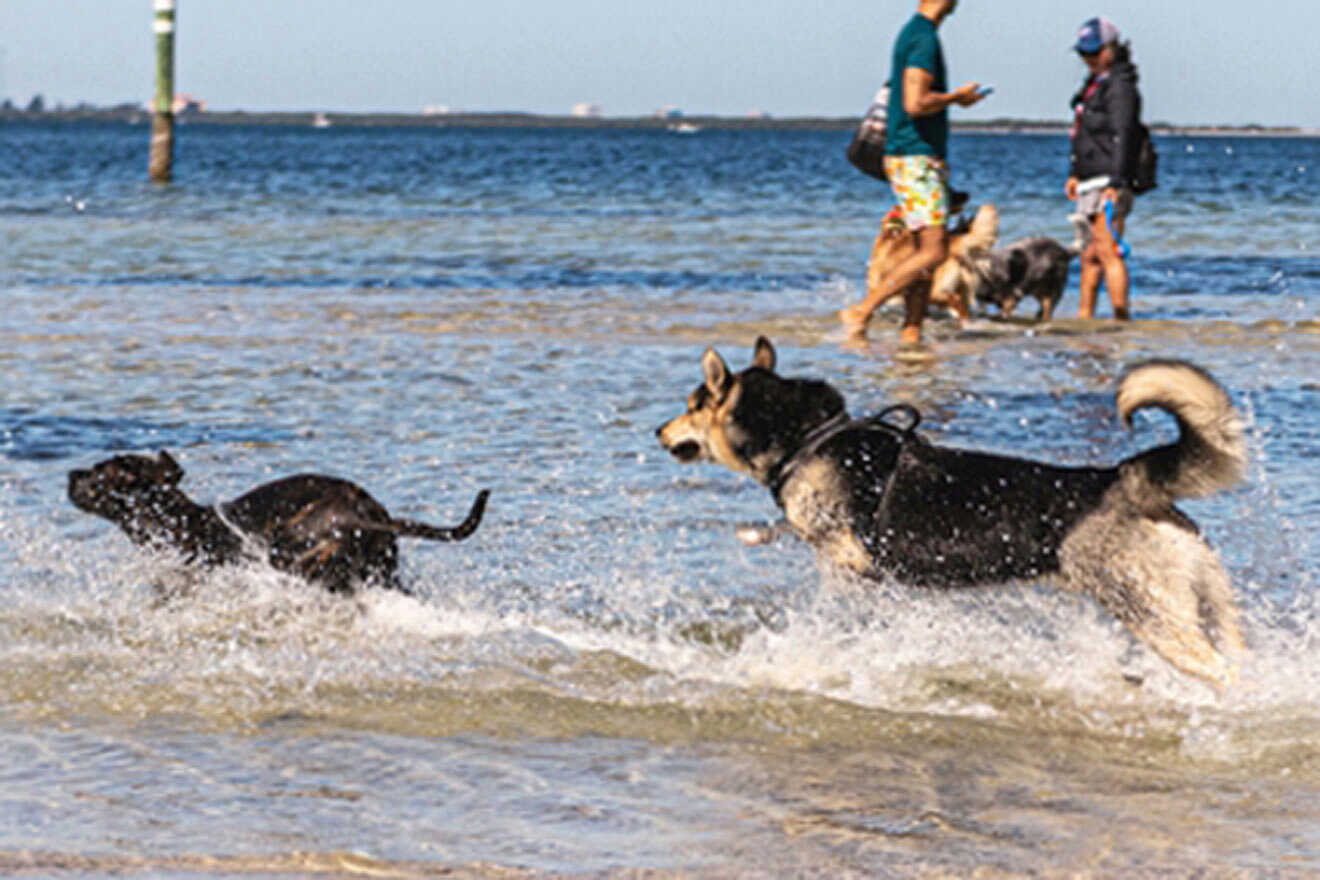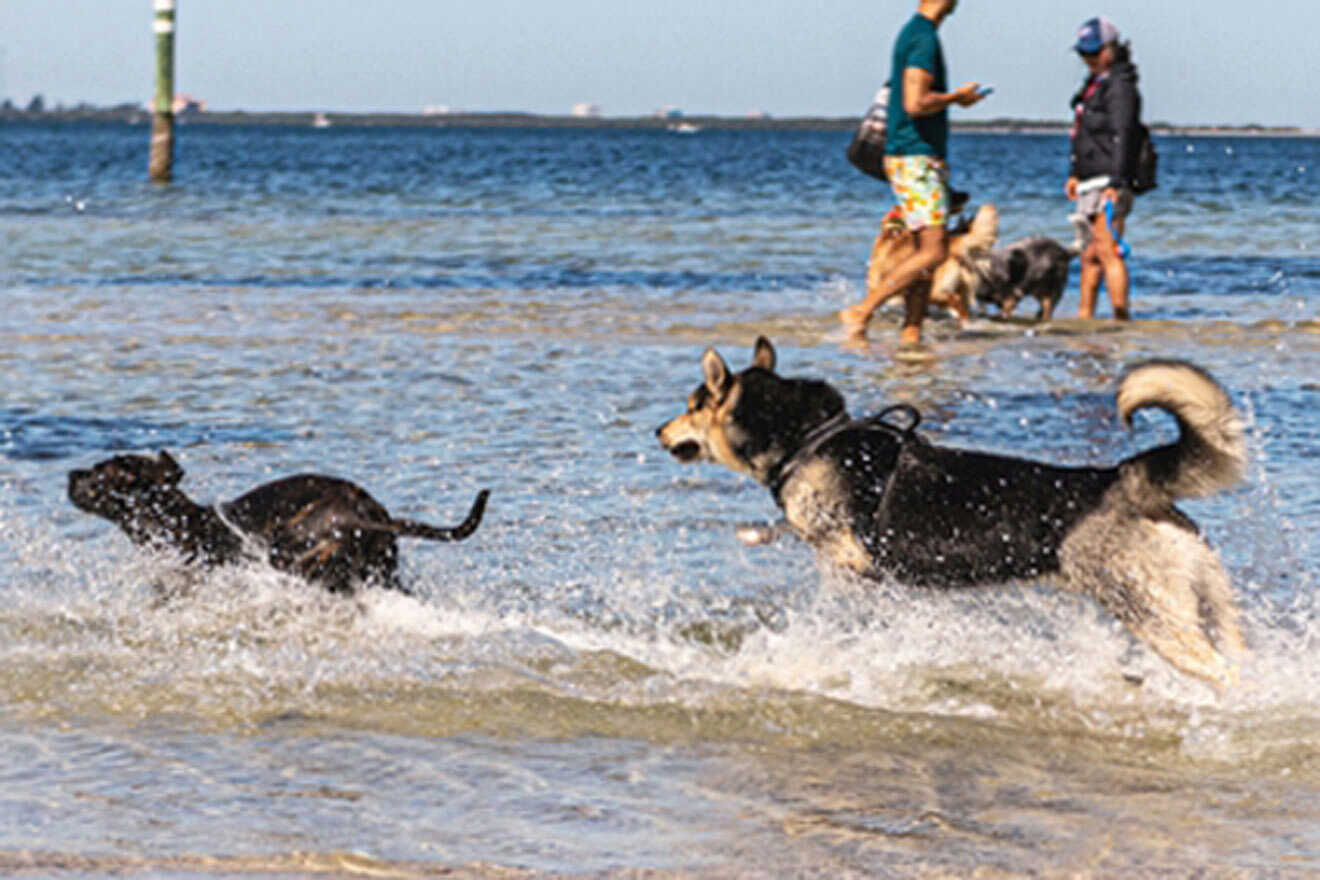 Picnic Island Dog Park in South Tampa is the perfect beach for dog parents looking for a place for Fido to let loose and run around! Dogs are able to enjoy the beach off-leash, so they're allowed to play freely in the sand and swim in the ocean. For the humans, there are picnic tables to relax at while the pups explore.
The dog park is within Picnic Island Park, so you'll find plenty of amenities nearby, like a playground, picnic shelters, restrooms, showers, etc. There's also a disc golf course, sand volleyball court, kayak, and canoe launch.
While there is a sandy beach for humans at Picnic Island Park, I recommend skipping it for the other beaches on our list.
14. Apollo Beach Nature Preserve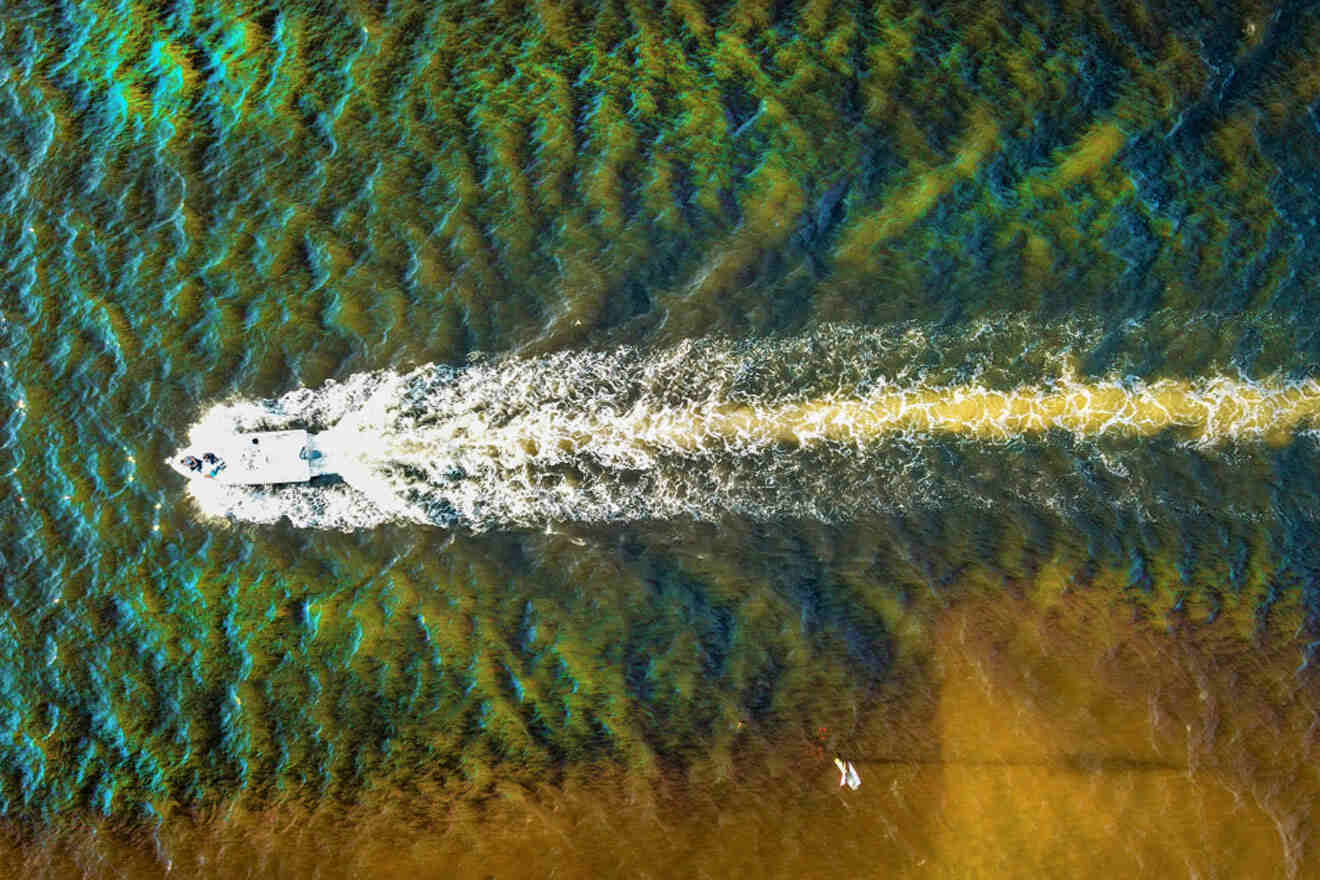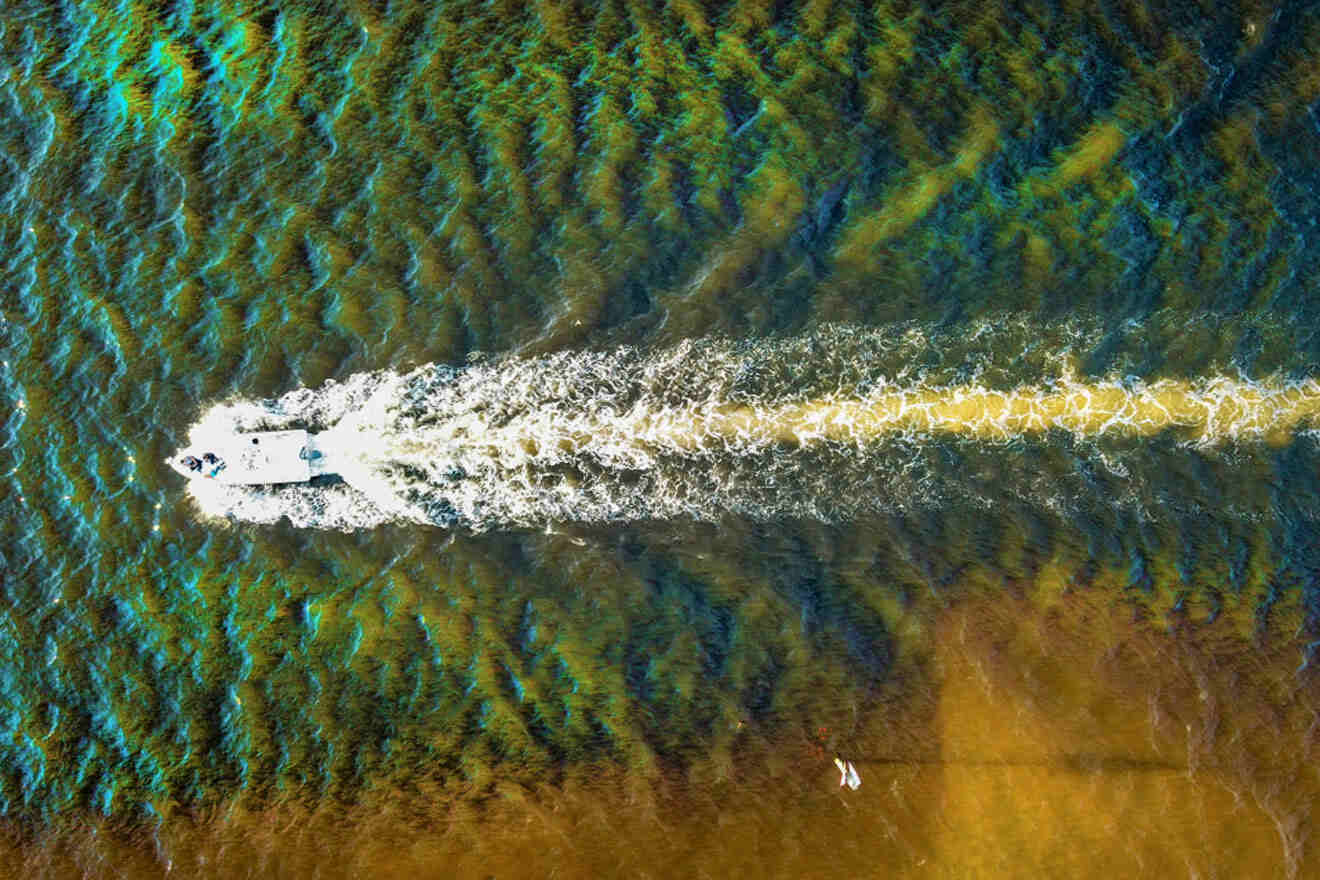 We've discussed a bunch of amazing beaches for swimming, but this next one is a bit different. While swimming isn't allowed at the Apollo Beach Nature Preserve, this beach is a must-do for nature lovers and wildlife enthusiasts.
Apollo Beach Nature Preserve sits on Tampa Bay, offering a rare experience right on the shoreline. Its protected habitat is the home of many aquatic species, but 7 acres (3 hectares) of the nature preserve are dedicated to recreation.
Here, you can explore the nature trail, relax on the sandy beaches, or head up to the 37-foot (11 m) observation tower for sweeping views of Tampa Bay. It's incredible at sunset!
15. Pass-a-Grille Beach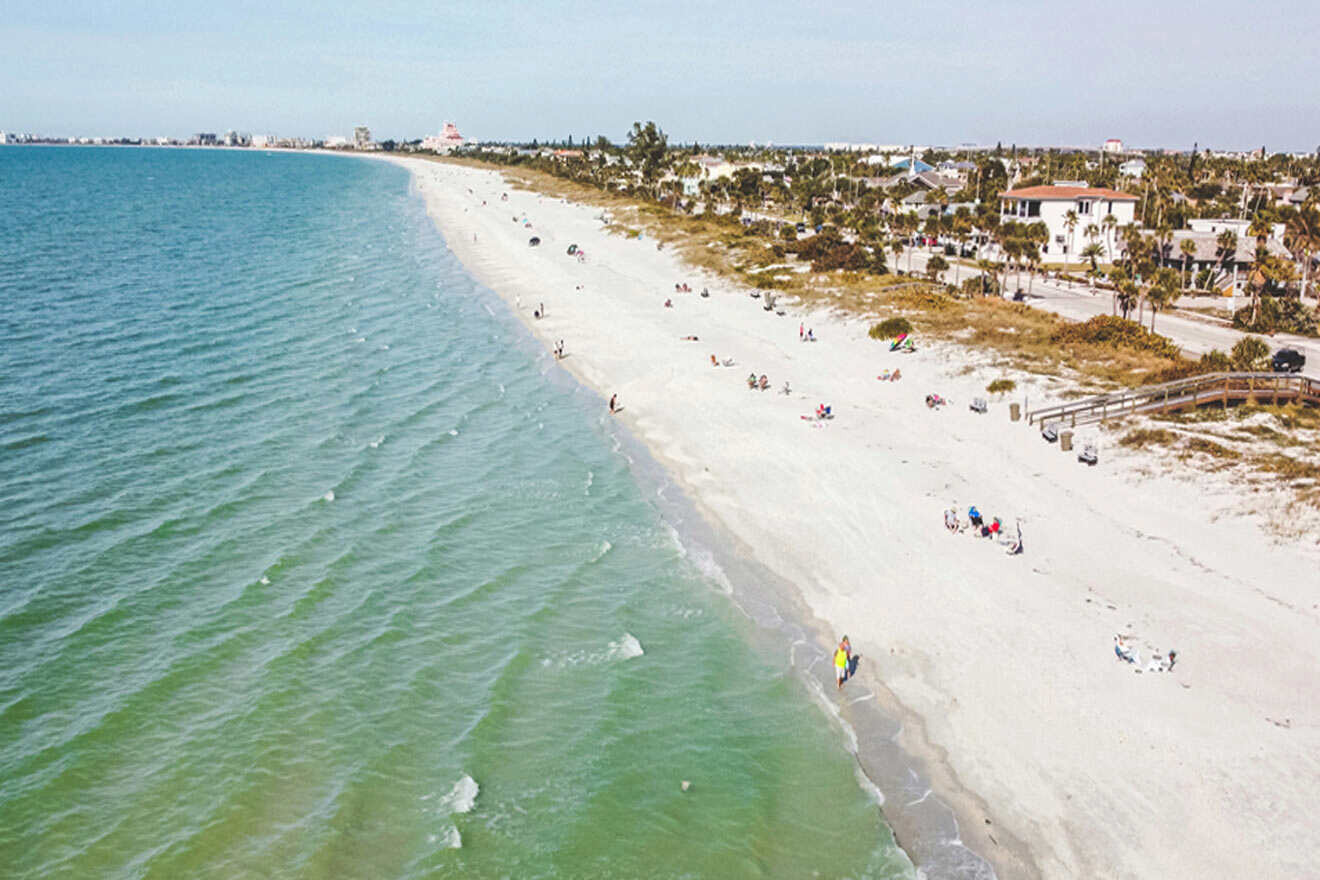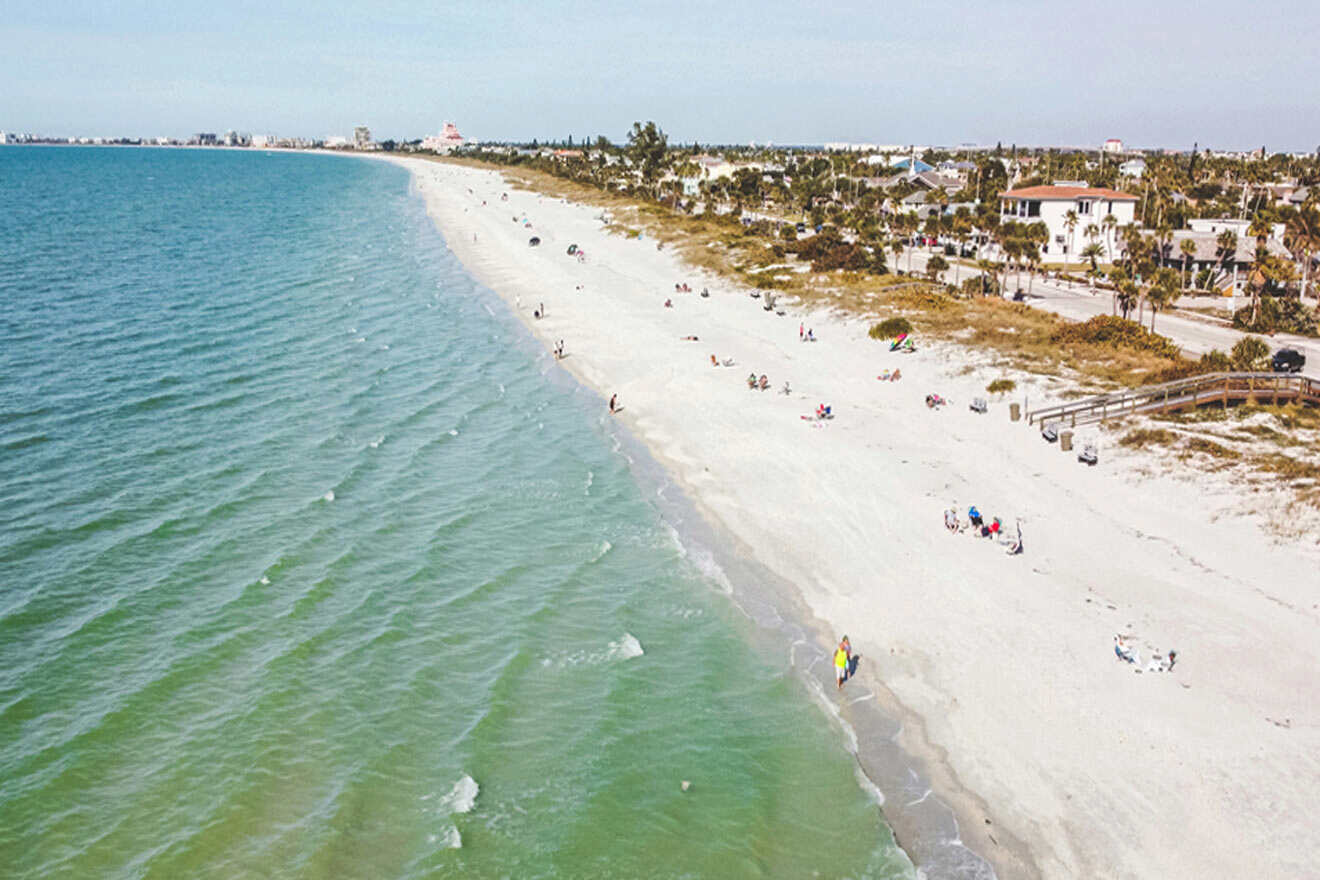 Pass-a-Grille Beach is a best-kept secret Florida beach town on the Gulf of Mexico. This charming town is known for its laid-back, Old Florida vibes, and its historic district boasts 97 historic buildings and is listed on the National Register of Historic Places.
Pass-a-Grille is surrounded by water on 3 sides, so the views are absolutely spectacular, pretty much any way you look! Its sand is powdery soft, and the water here is stunningly clear.
When you work up an appetite, head over to Paradise Grille, an awesome local beach bar that has a nightly tradition of ringing a bell at sunset. You'll want to leave time to stroll about historic downtown Pass-a-Grille, where you'll find tons of cute shops, restaurants, art markets, and more.
16. North Redington Beach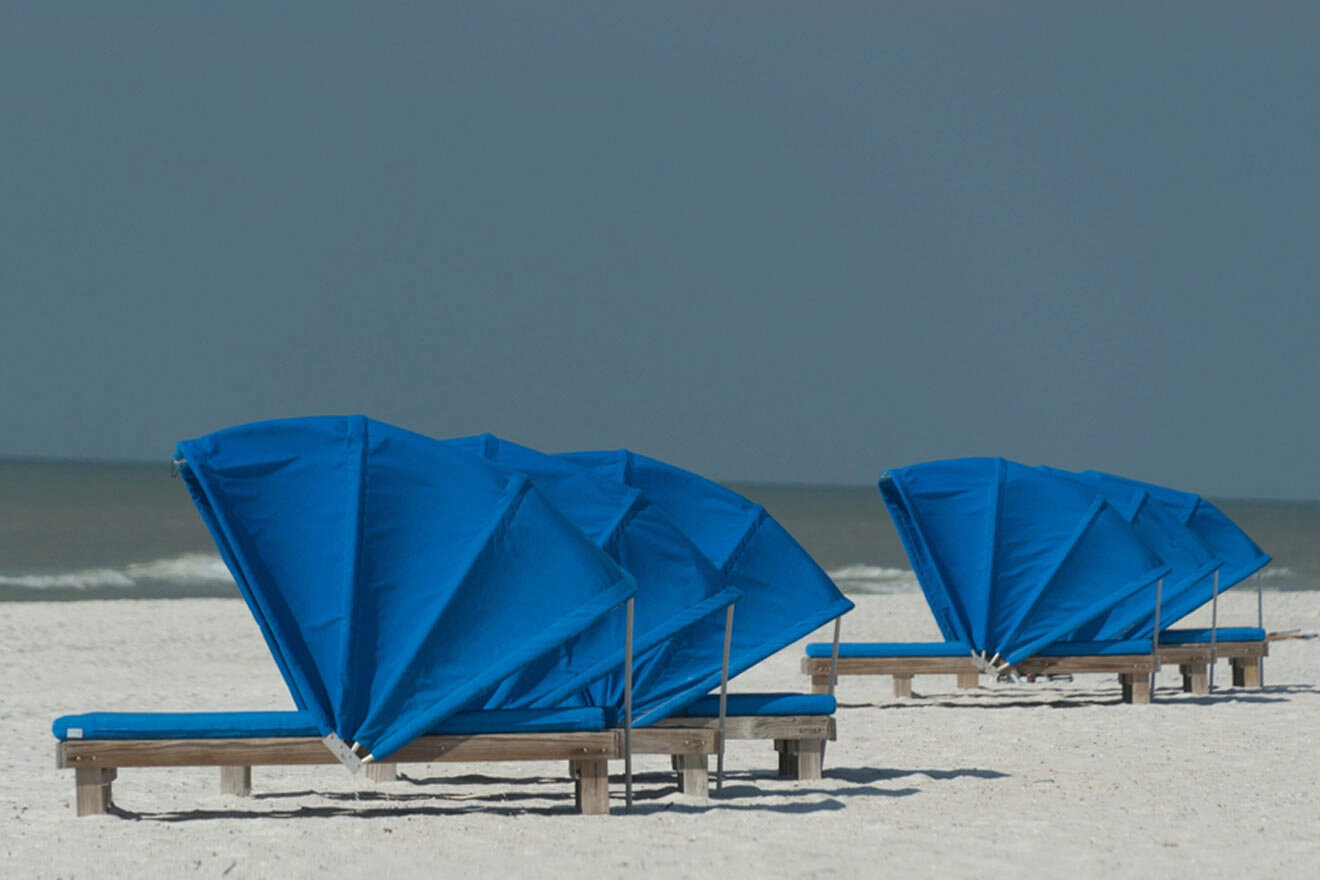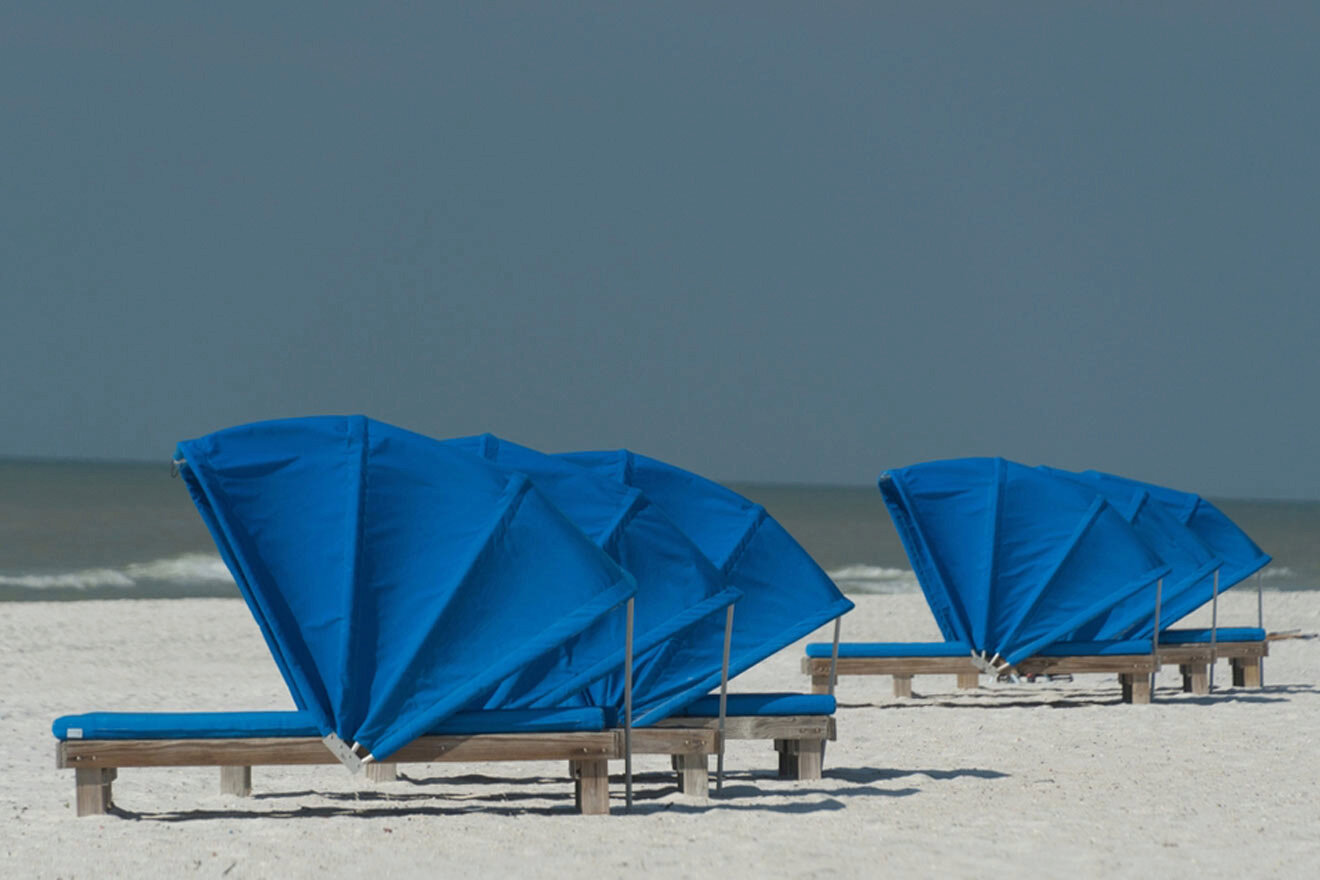 One of the least crowded public beaches in the area, North Redington Beach is a hidden gem frequented primarily by locals. You won't find many tourists or any rowdy spring breakers here at all.
North Redington Beach is beautiful and very peaceful – it's a great choice if your favorite thing to do at the beach is nothing but relax. There aren't any visitor-geared attractions within walking distance, but for those seeking tranquility on the Gulf of Mexico shores, that's a good thing.
Since the area is residential, parking is a little challenging, so plan to arrive early.
17. Fred Howard Park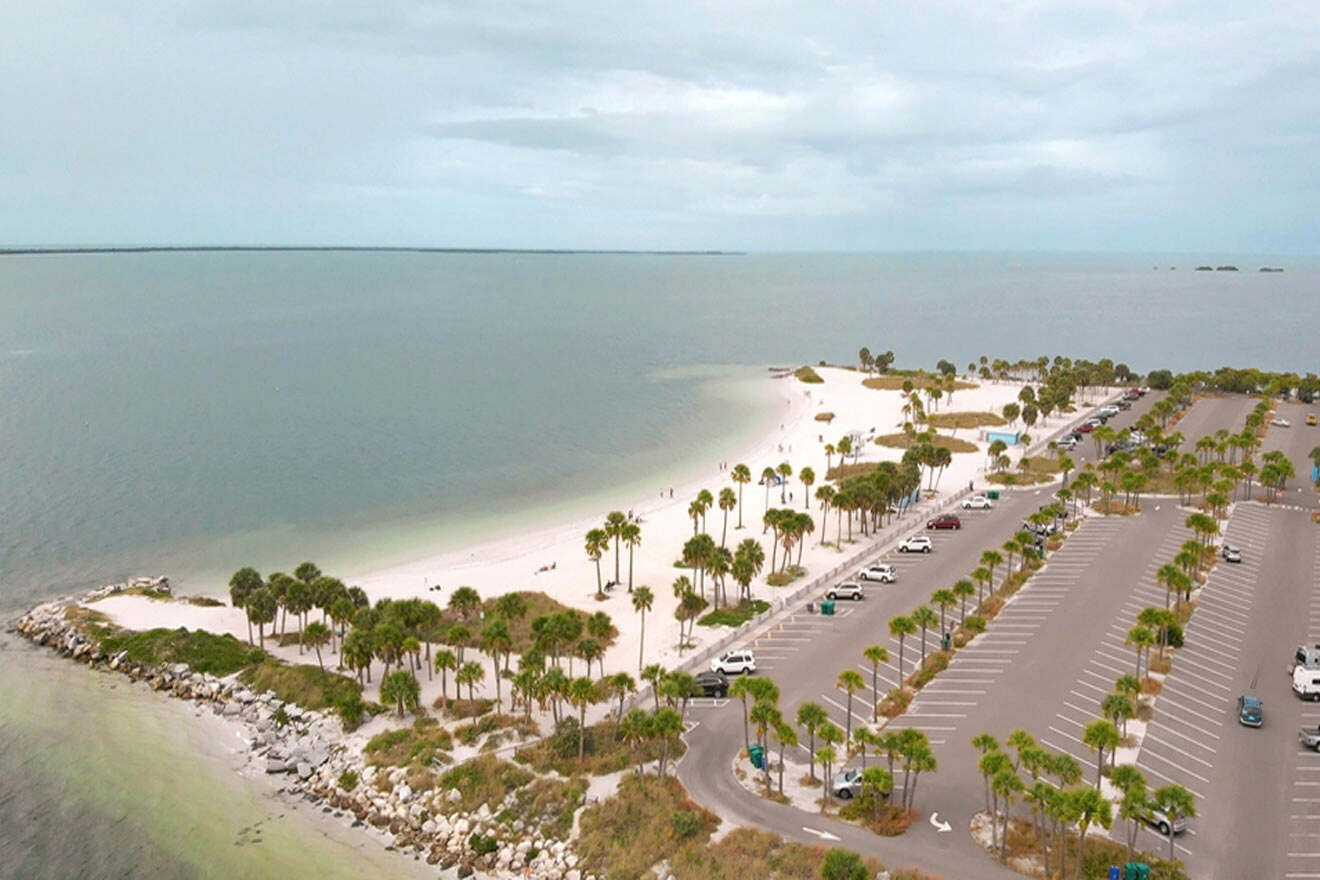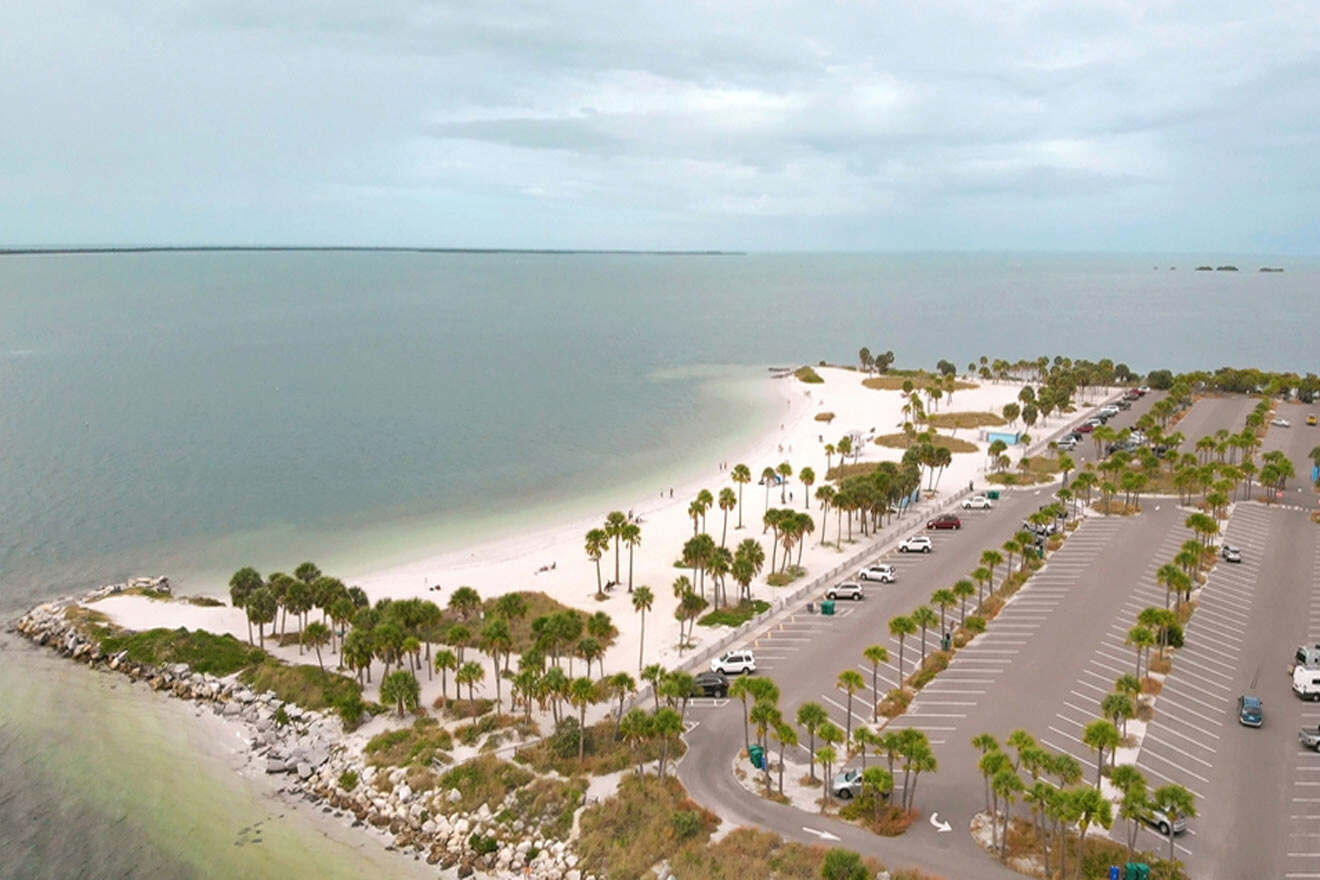 In the charming town of Tarpon Springs, located on the north end of the Tampa Bay area barrier islands, you'll find Fred Howard Park. This white sandy oasis is a beloved beach and nature preserve which protects the local wildlife.
Here, you may spot dolphins, manatees, eagles, and other animals that call the park home. There are areas designated for swimming and windsurfing and a canoe and kayak launch. However you choose to explore, you'll love Fred Howard Park.
FAQs about the best beaches in Tampa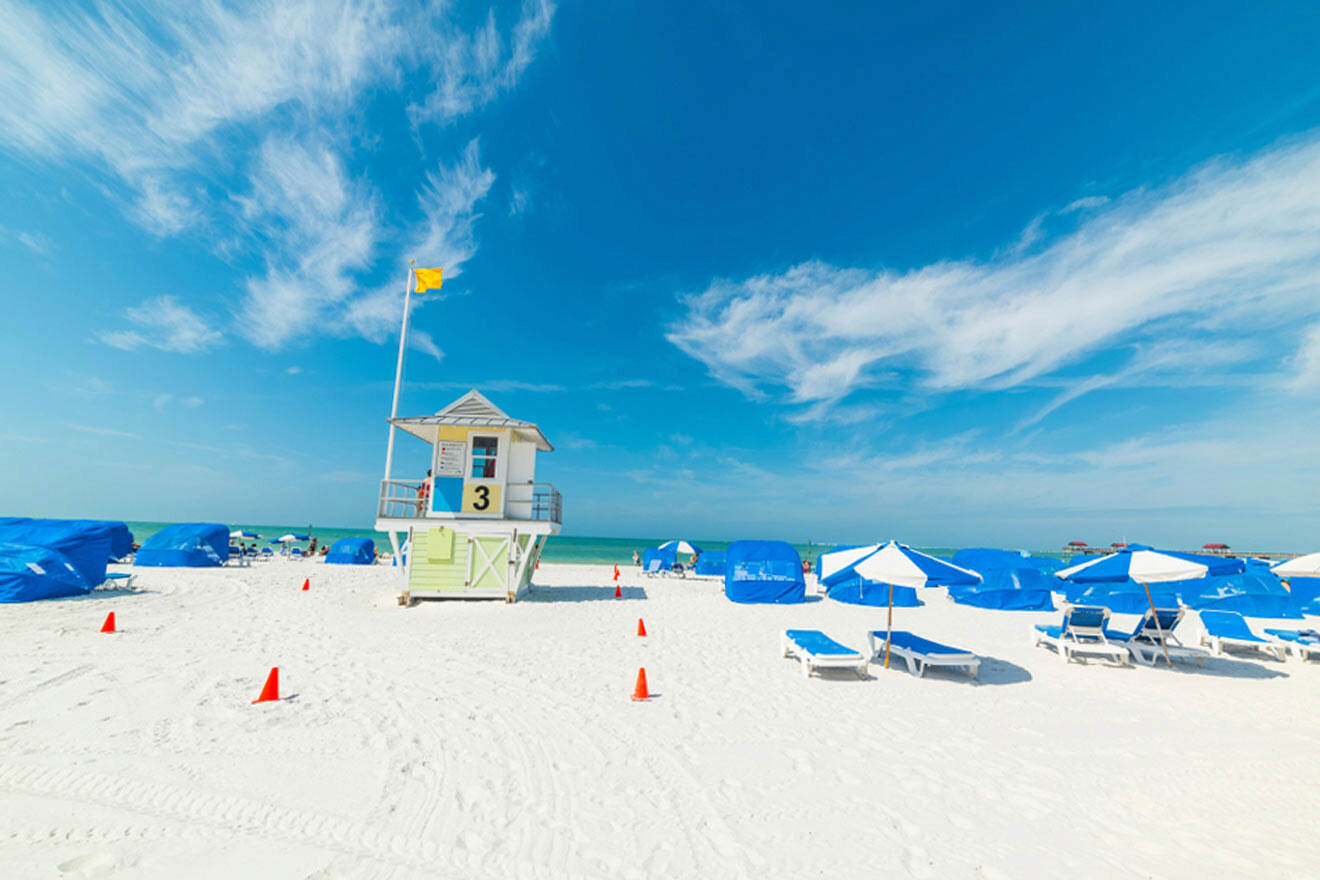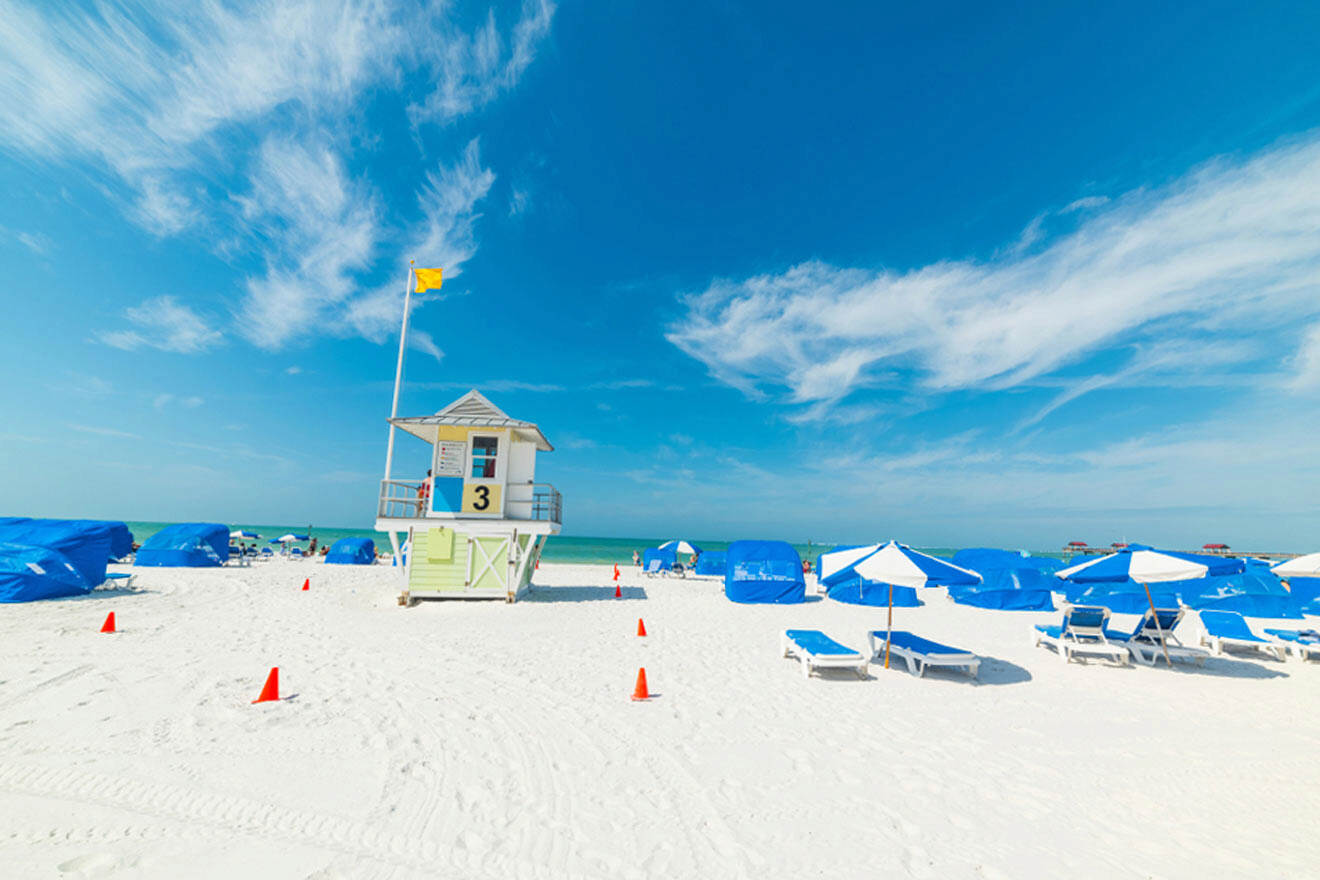 🌊 What beach has the clearest water in Tampa Florida?
Egmont Key, a remote island accessible by boat or ferry from Fort de Soto Park, boasts some of the clearest water in all of Florida.
🏝️ What is the closest ocean beach to Tampa, Florida?
Clearwater Beach is the closest ocean beach to Tampa, Florida, and is known for its soft white sand, blue-green water, and the plethora of things to do and see there.
🐬 Is the ocean water clear in Tampa, Florida?
Yes! The beaches near Tampa, Florida, on the Gulf Coast, are known for their stunningly clear water.
👨‍👩‍👧‍👦Which are the best beaches in Tampa for families?
The best beaches in Tampa for families are Indian Rocks Beach and North Beach at Fort de Soto Park.
Conclusion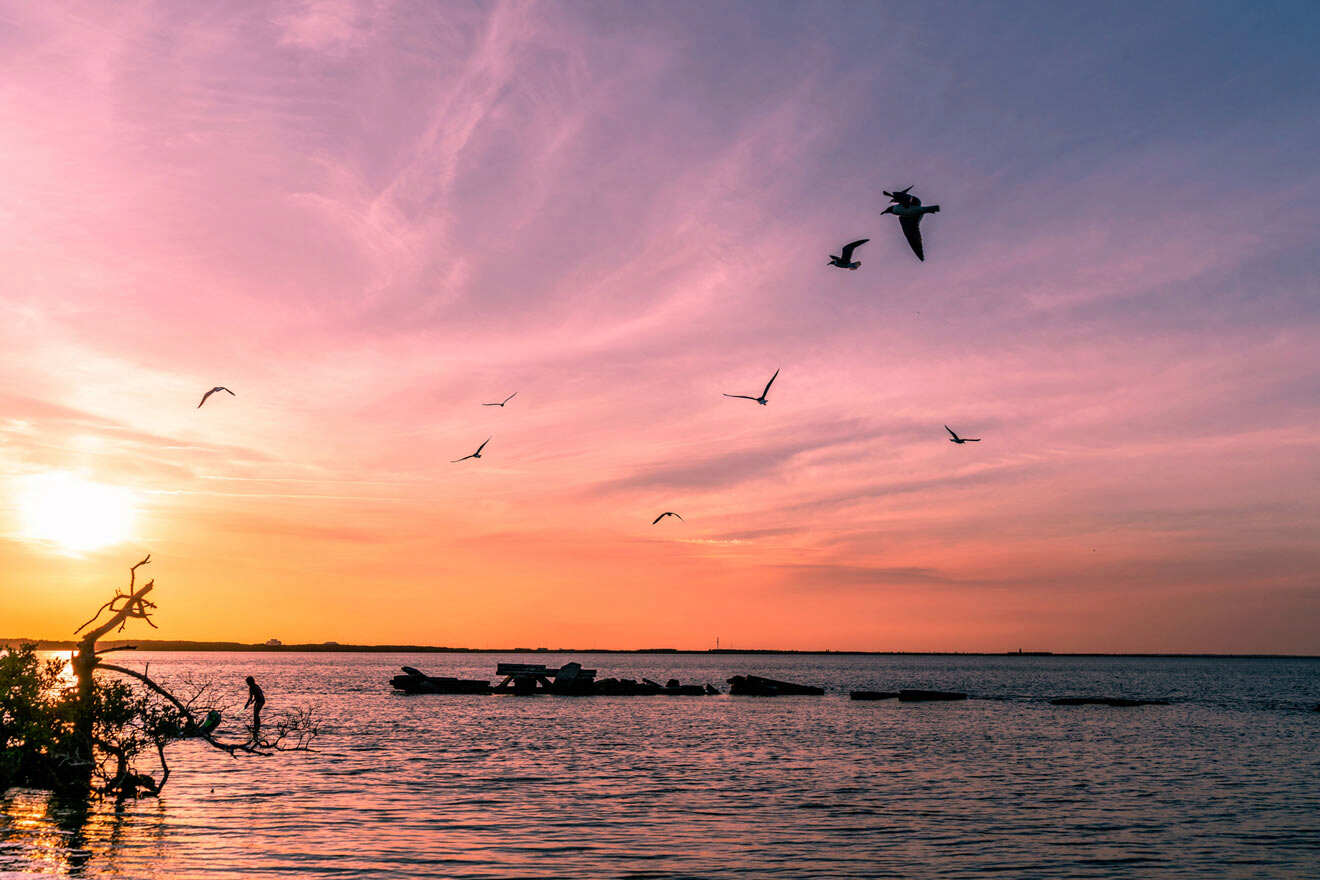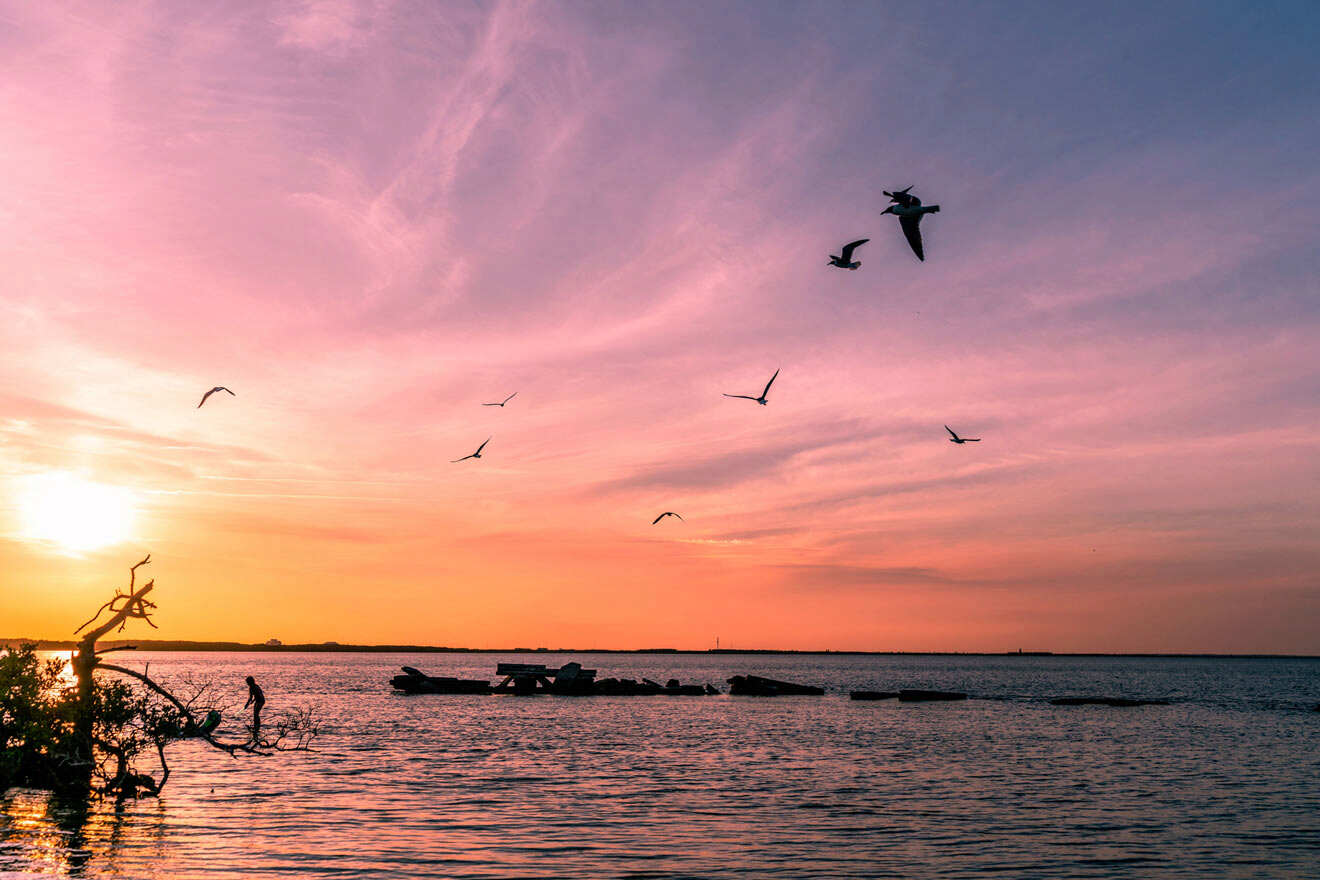 Thanks so much for reading all the way to the end! As you can see, there's no shortage of postcard-worthy beaches in the Tampa Bay area – the hard part is just deciding between all the incredible options. Hopefully, this article helped you with that!
I mentioned a couple of amazing dolphin tours you might be interested in doing while you're visiting these gorgeous beaches, so here's a quick reminder of what they are:
Let me know if you have any questions about what we chatted about today. I'm here to help in your planning however I can!
Happy exploring,
Montana
---
Pin it for later!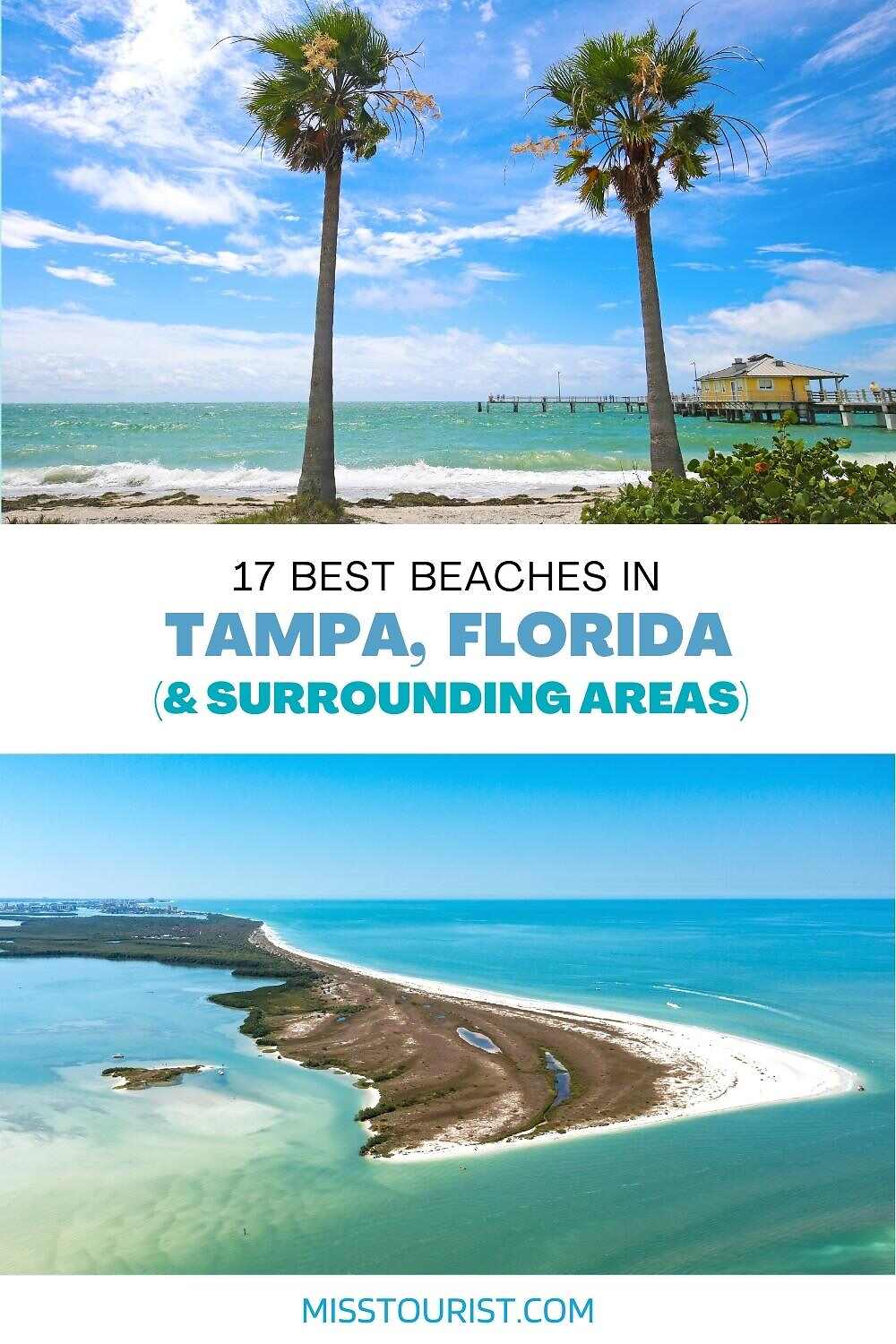 Pin it for later!