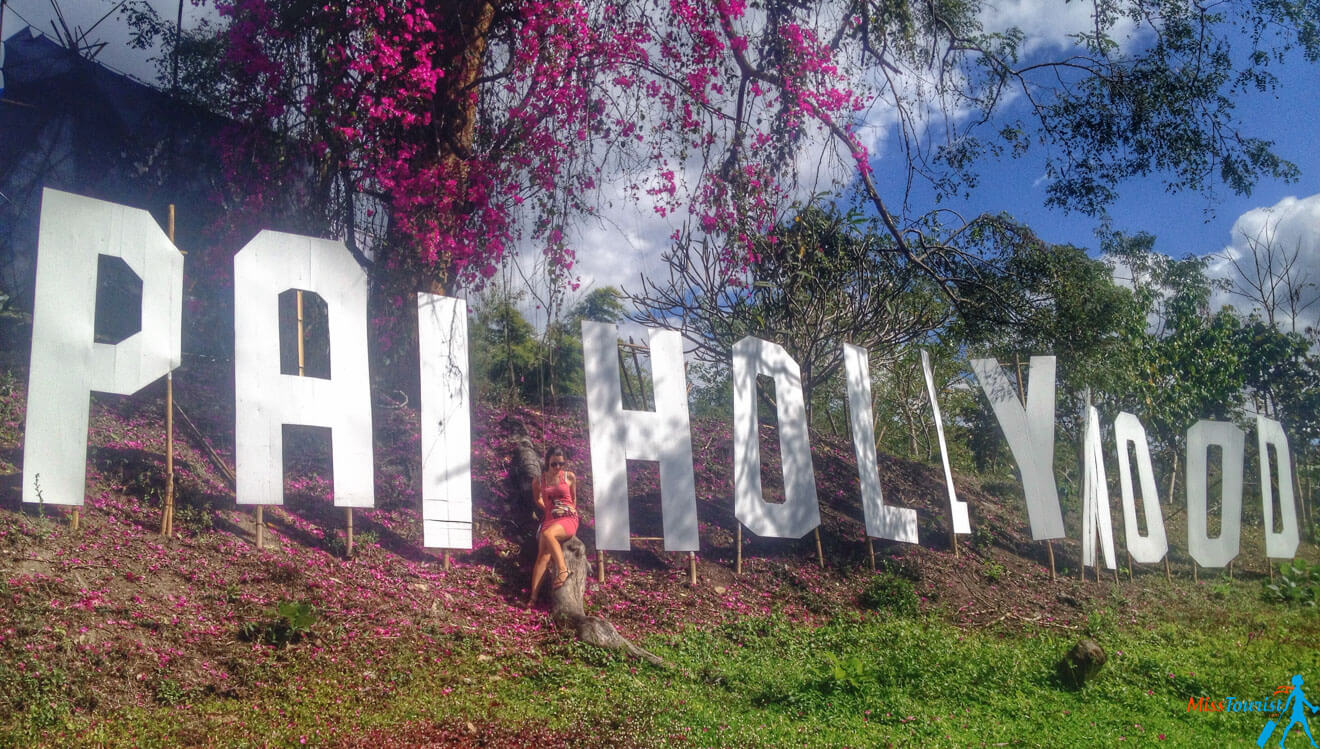 A couple of months ago I went for 2 days trip to Pai, Thailand.
The city of Pai is located on the north of Thailand and is a very relaxed, kind of a hippie destination. I loved its serene atmosphere, hot springs and beautiful views over there! In this post I am going to share my advice of what to see, what to do if you are in the town for a couple of days.
Here are my things to do in Pai, Thailand: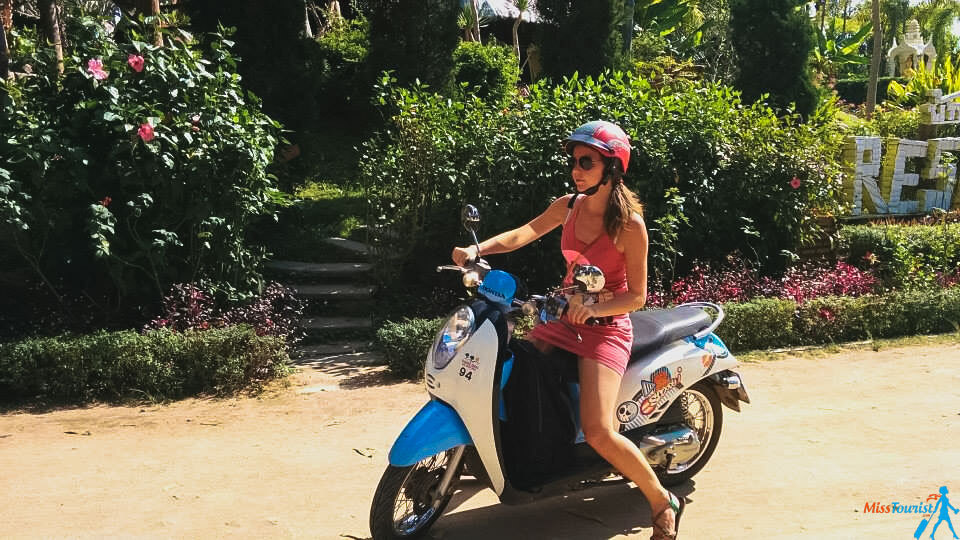 The first thing I did I walked into a moto rental desk and was shown this lovely scooter which I renter right away (200 THB per day). Motorbike is by far the best way to see everything around Pai and there is no traffic.
1. Hot Springs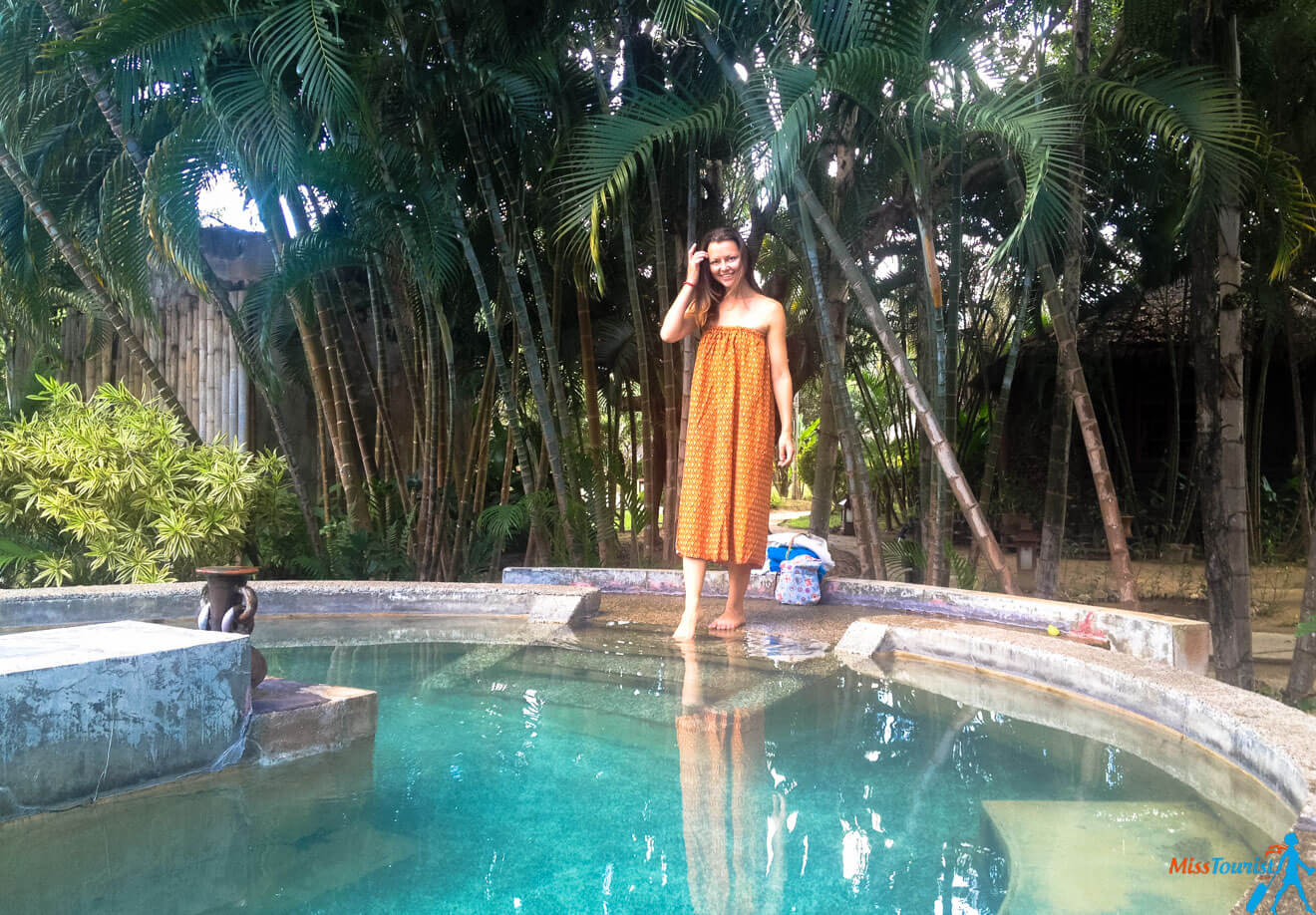 Off I headed 8 kilometers to the south of the town. Pai Hot Springs resort, I was told the view was excellent in the morning when the mellow sun was shining the steam, but still was amazed by the hot boiling rocks which heated a cold spring running over them. I soaked myself in a warm pool for a while and got out feeling like a heroic, I had been healed, my skin felt absolutely fantastic! The price was 100 THB which is a great deal – there is almost no one around and you can enjoy for as long as you want!
Tip: do not go to the hot springs in the hottest season. I doubt it is very enjoyable to experience hot springs when it is +30 C outside.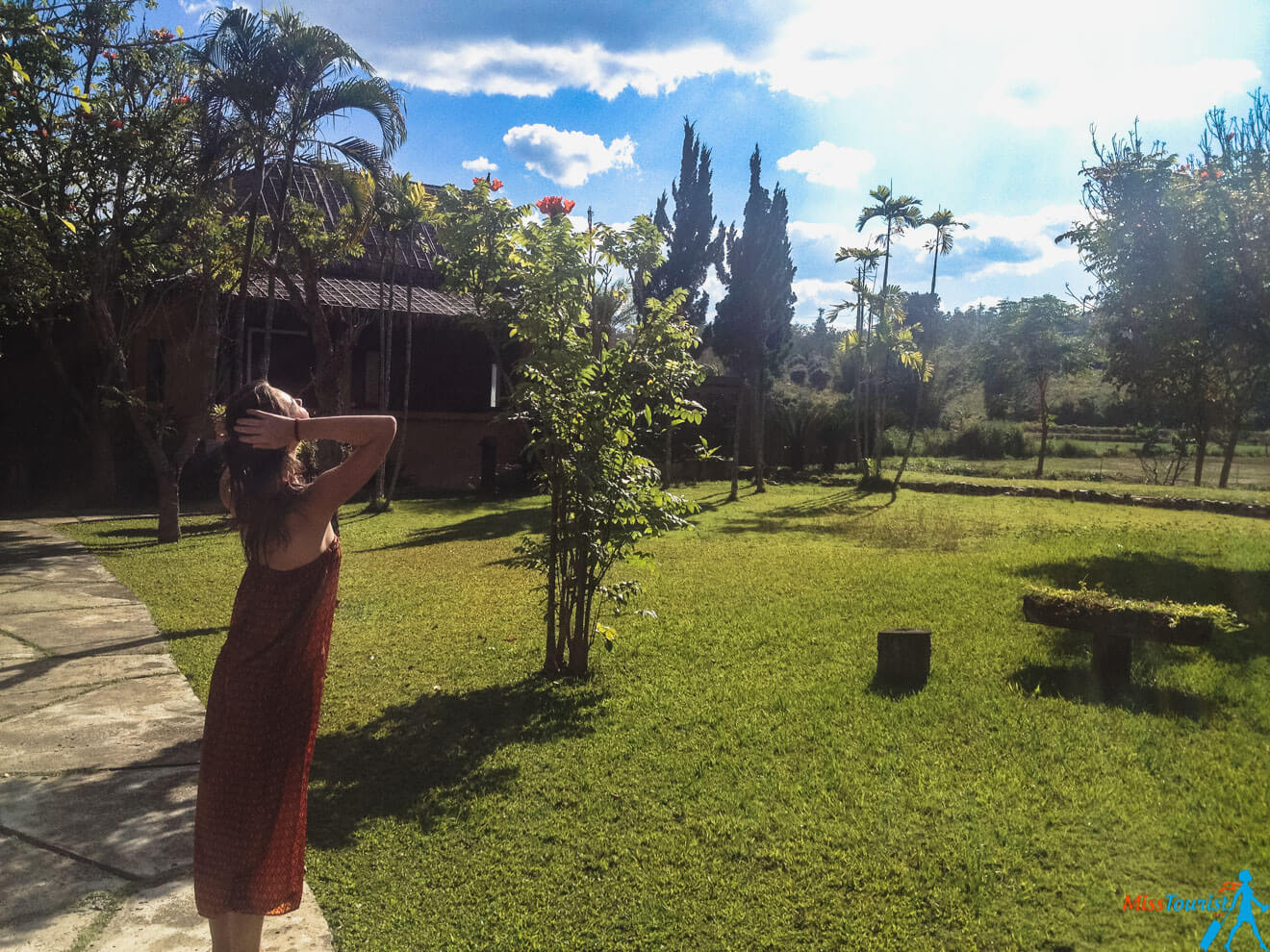 Ladies, if you forget your swimming suit (like I did) – do not worry! You can rent a Thai style swimming suite (a piece of material, see pictures) for just 20 THB. That brought the bathing experience to the whole new level for me – swimming naked in a dress was both weird and enjoyable!
If you want to know more details about Hot Springs in Pai, read this post from my friends on karolinapatryk.com
RELATED READ: Going to Bangkok as well? In this article you can find out about the 5 best areas to stay in the city (with hotels and prices)!
2. Chinese village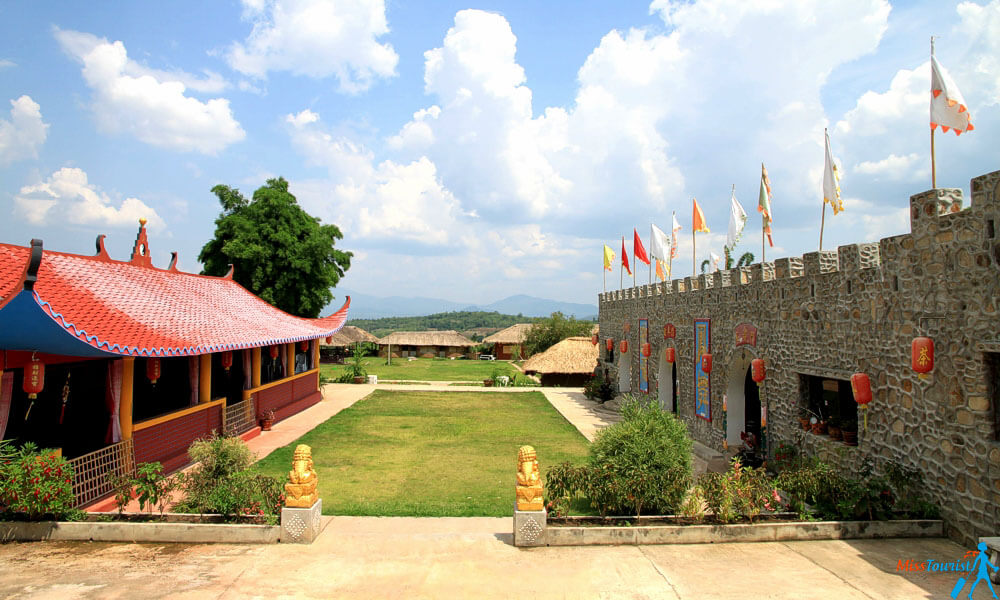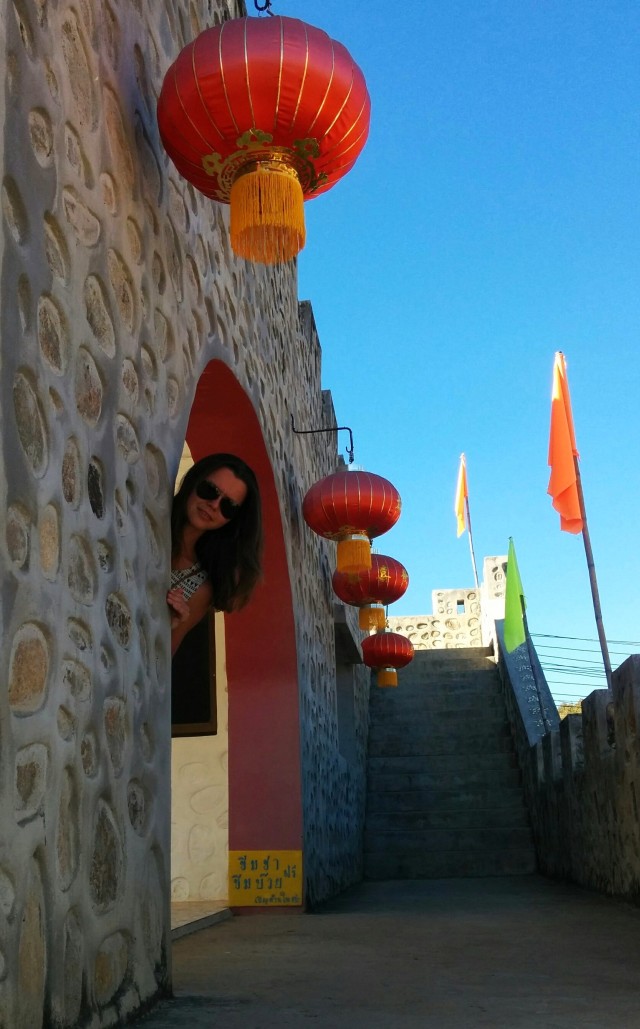 Pai looked great to me, so I decided to pay visit to its Chinese Village. It's called Shandicun village and located in the outskirts of the town. I met some gracefully aged people, all dressed in customary gowns. They were seated peacefully waiting for visitors like me to say hello. Their wrinkled faces glowed with welcoming smiles as they stretched out their hands to great me one after the other. May be it was their job to welcome visitors?
You can take part in some leisure activities such as horse riding, shooting games, wellness and tea testing sessions that are set out for visitors. I just walked around, it was really nice!
3. Coffee shops in Pai and its sunsets
I also managed to sample my favorite coffees in one of the numerous coffee shops around Pai. That made me feel like Pai was the loveliest place I had visited for a while. Cafes are truly unique there, it made me feel there is some kind of competition in Pai for the most interesting coffee shop in the city or something of that sort!
"Coffee in Love" was that particular coffee shop where I tasted the first coffee in Pai. It was clean, the attendees were friendly and I almost spent half a day in there reading some nice pieces of trendy magazines. Meeting the sunset from there is also just breathtaking! Also, try any of those cafes around the area, you will not regret it, I promise!
4. Pai Land Split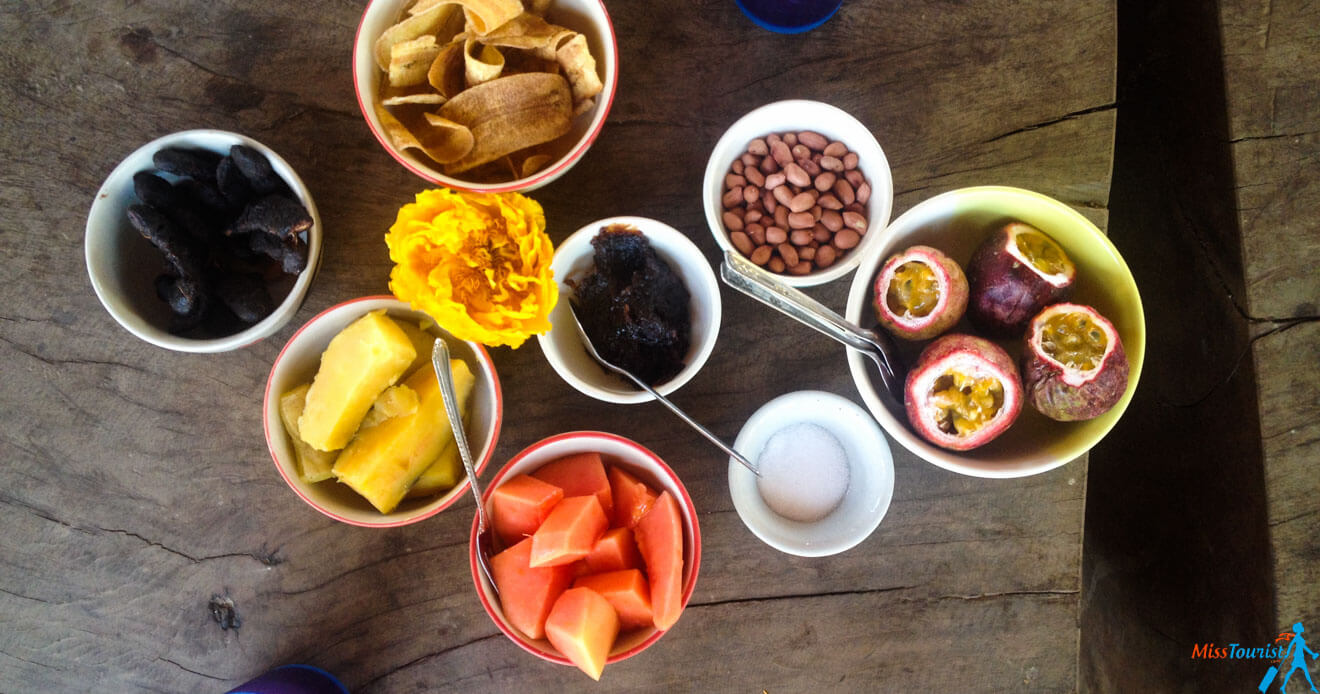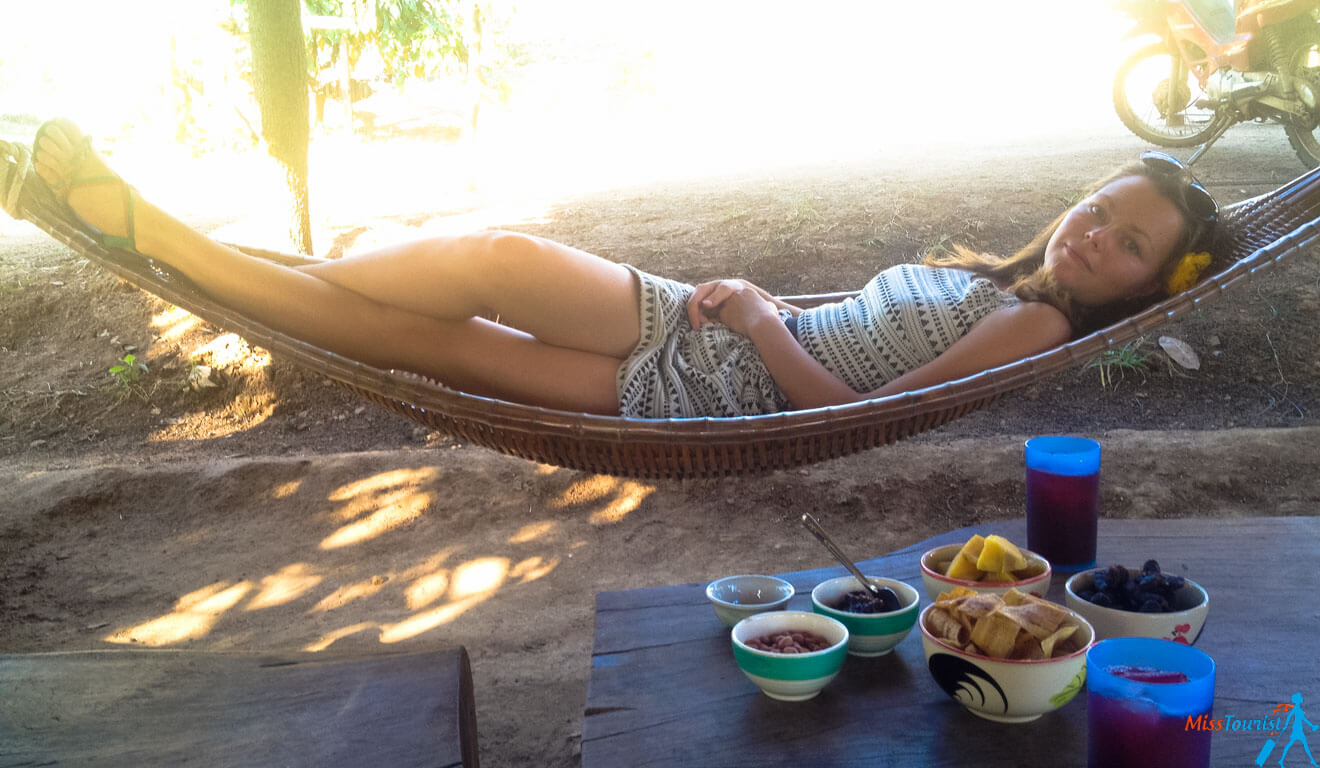 My stay there was concluded by a visit to the Pai Land Crack, one of the best tourist attractions there. Peacefully set, swaying hammocks, that place is excellent for lounging. I took a short walk up to the split and I found out how this place came to be given such a name. A giant crack in the land which they called an attraction wasn't an attraction for me though.
The main thing about the place is the incredible hospitality of its owners!
The variety of foodstuff offered by them (absolutely for free) was impressive! Fresh dragonfruits, dried banana chips, there were bringing more and more to the table and refill glasses of our roselle juice. When hommade wine came to the table I forgot to take pictures. So here you see just some part of it. 🙂
At the end, you can leave this nice family a tip if you want. The experience was worth it, so we did.
5. Visit the walking street
As I said, Pai is not a huge city, it is more like a chill-out place to relax from the noise of Bangkok (for example). But every day in the evening, there is a street (the only one I suppose) that is full of life – Pai night market.
The busy walking street is a shopper's paradise offering markets with souvenirs, lacquer-ware, unique handicrafts, and hand-made clothes. Go take a walk there starting from around 6 p.m. it is very entertaining!
How to get to Pai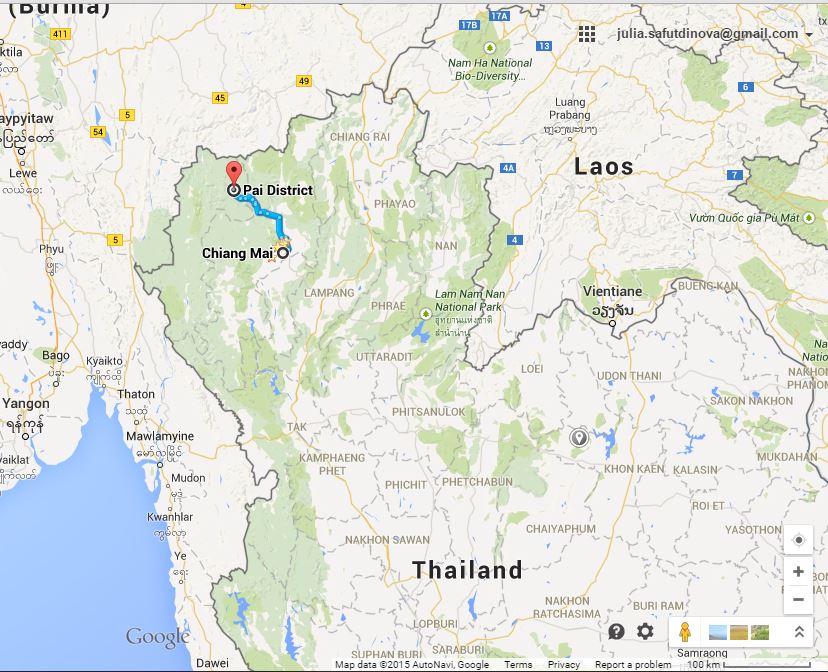 There is an airport in the town, thought the flights are rare and can be quite expensive.
The biggest city located nearby is Chiang Mai (147 km (or 91 miles) away). You can go by motorbike or by minivan from there. Either way, it will take you approximately 4 hours to get there. Just keep in mind that the road is very hilly (762 curves). Thus, take a motorbike if you are an experienced driver and take anti motion sickness pills if you don't feel good on a croaky road (like I am).
Here is the bus schedule from Chiang Mai. Buses leave back from Pai more or less every hour and I suggest book your ticket back right after you arrive. Better to do it a bit in advance because it might happen that the tickets for your time will be sold out, or available seat will be far away from each other.
Note: it is quite cold in Pai, I was freezing at night, had to ask for a second blanket in my hotel. Bring something warm!
| | |
| --- | --- |
| 👨‍👩‍👦 Family-friendly score: | Medium |
| 🚶🏽‍♂️Top free activity: | Walking street |
| 🧖‍♀️ Best for relax: | Pai Hot Springs resort |
| ☀️ Best time to go: | November – February |
| 📅 How many days: | 2-3 |
| 💵 Avg hotel price: | $30 |
Where to stay in Pai
As I have already mentioned, Pai is a great budget destination. You will find many hotels that are great quality but is quite economical! Click the links below to see the rates for your dates:
Luxury stay – pamper yourself in Pai Island Resort, bright and airy, this spectacular boutique hotel offers gorgeous suites in a dreamy setting! The price is more than affordable for a 5* hotel. Book it now as it gets sold out quickly!
Middle range – the name Your Resort says it all, cozy accommodation with fan or air conditioning with free WiFi – simple and enjoyable! I would probably choose The Oia Pai Resort & Spa – this serene eco-friendly place is also surrounded by man-made saltwater lake!
Budget stay – as I said, the choices are plenty! For instance, Kirina Retro House – bright decor room and great reviews for a very affordable price! Or, Suan Pin Houses – simple, but very well located. Because of its wonderful hospitality, it has amazing reviews!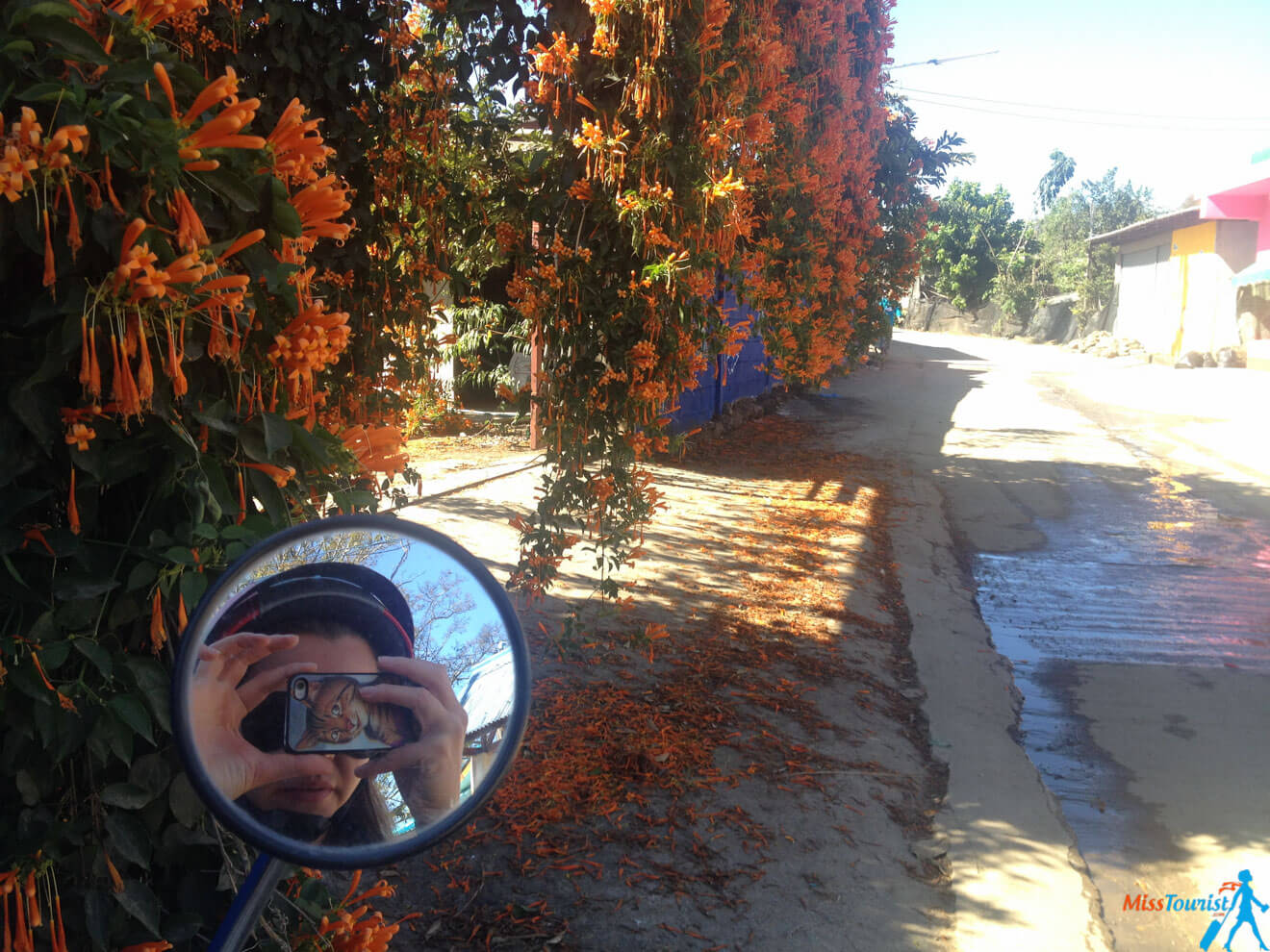 Summary:
Pai is a place to go and relax from a noisy big city. Pamper yourself in hot springs, enjoy breathtaking sunsets, drive around in your motorbike – there are plenty of things to do for a period od stay of 2-4 days!
If you are into nature, check this blog post from my friends thinkingnomads on Thailand's TOP 5 National Parks.
If you are exploring more of the North of Thailand, you might be interested to read about Chiang Rai and its amazing white temple!
Chiang Mai, my favorite city in Thailand (and the city where I lived for a while) has so much to offer too!
If you liked the post, please do not forget to press "Like" button and Share it!
Do you want to ask me something? Just leave a comment below this post, I love hearing from my readers!
Yulia
---
---
Pin it for later


Pin it for later