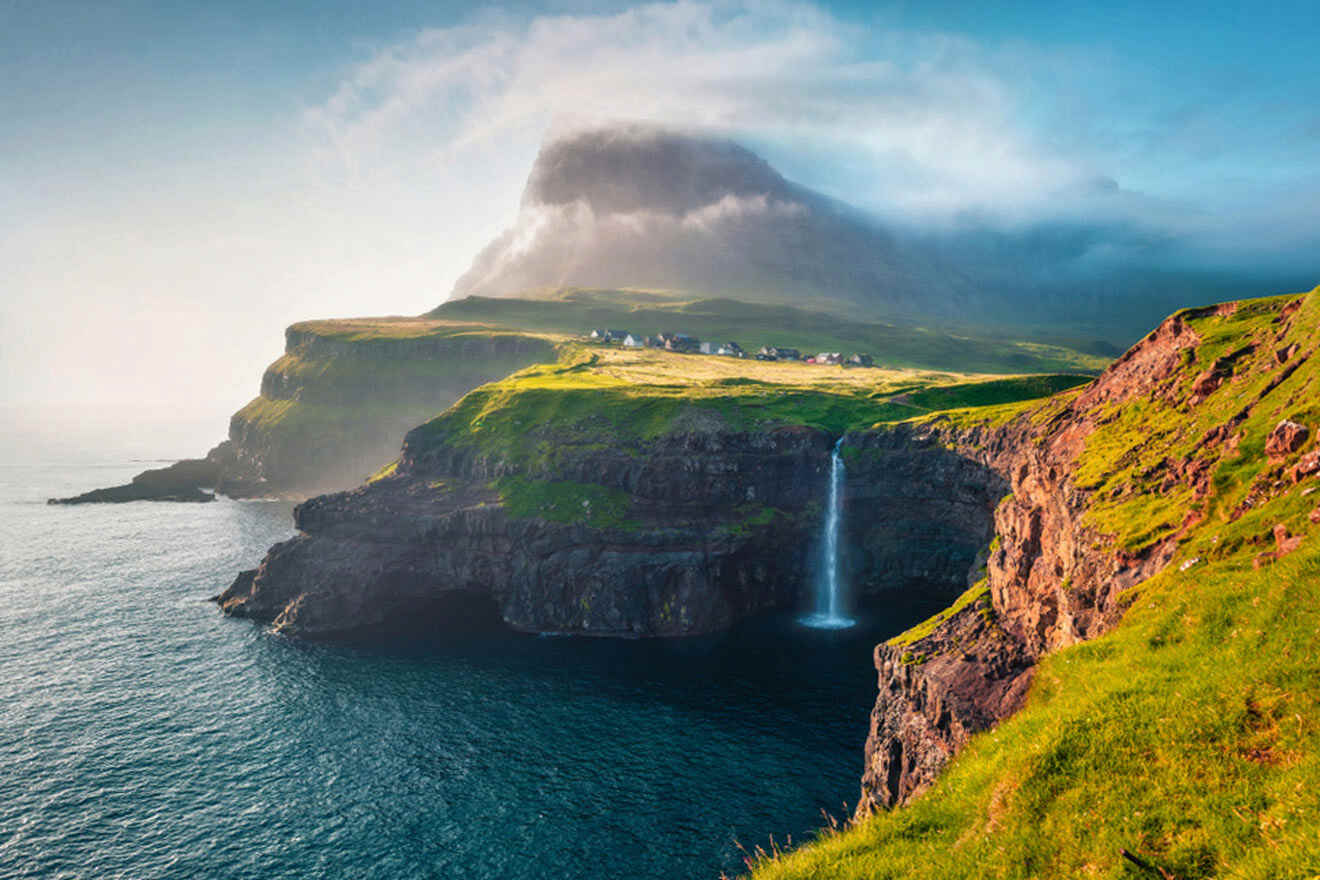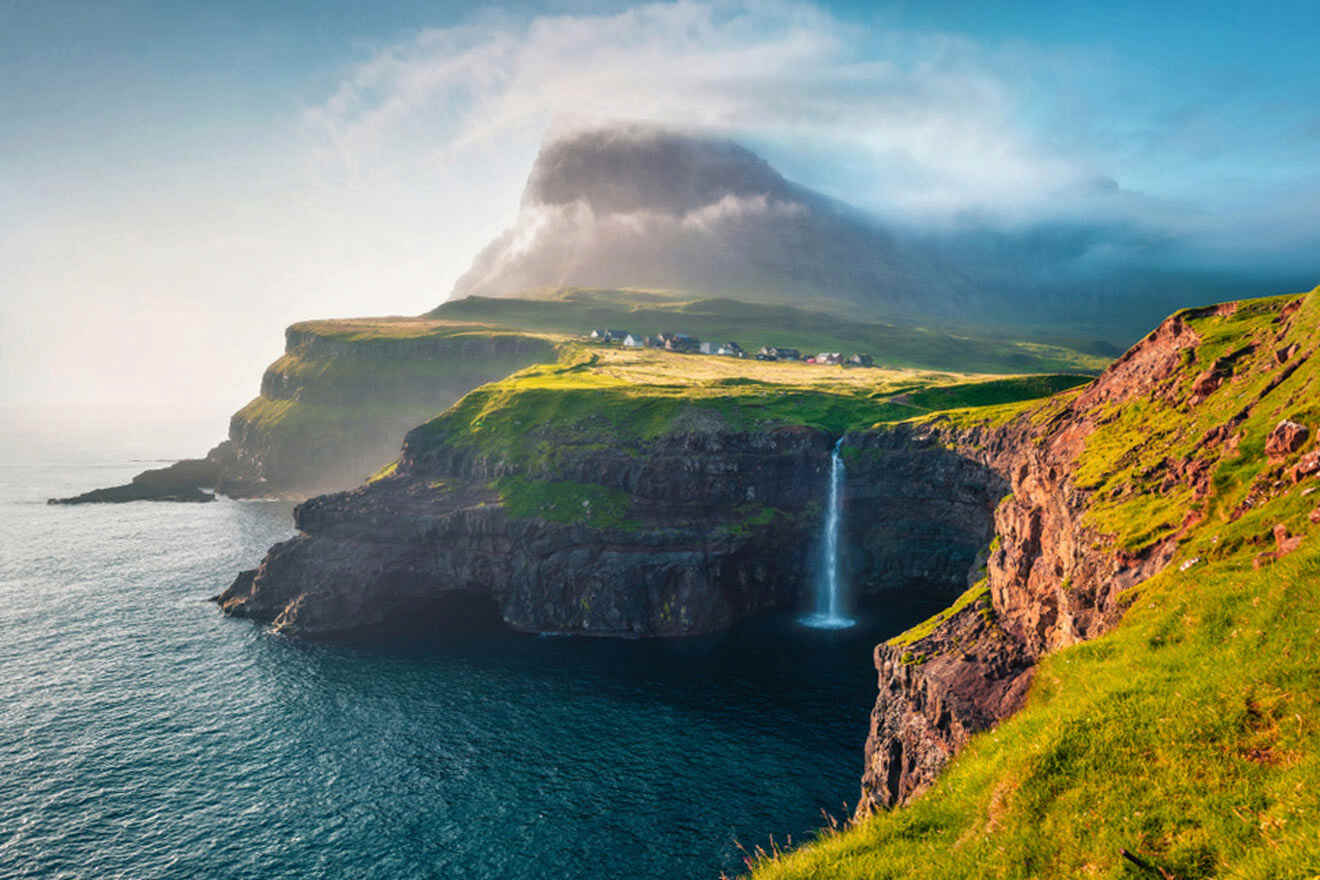 If you happen to look into Faroe Islands tours and perhaps feel discouraged by the lack of options, don't give up just yet!
Although it may not seem like that at the start, this place has a lot to offer to its visitors, and it's one of the must-sees for adventurers at heart. So, I decided to take a deep dive and give you a list of some of the very best trips you could embark on while in the Faroe Islands.
You'll find an abundance of water activities, as well as some chances to hike and spot some local wildlife. Each of these tours brings something different to the table, but no matter which one you opt for, I'm sure you'll have a blast.
As with every article, I must warn you that this limited number of tours tends to sell out quickly and that it would be smart of you to book your tours in advance!
Let's begin!
If you are in a hurry
Here are the best tours in the Faroe Islands that you need to book in advance to save your spot:
1. Take a Faroe Islands tour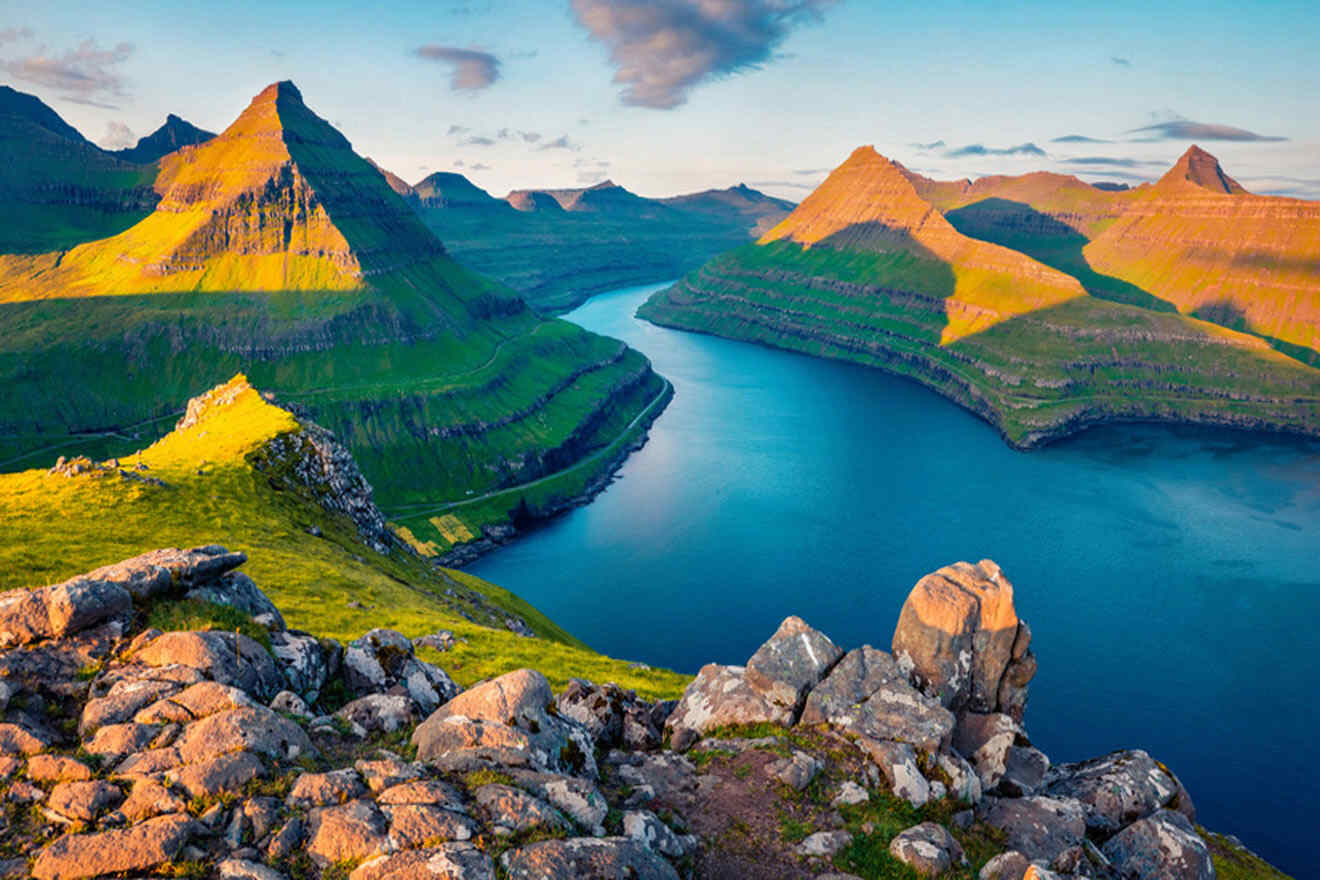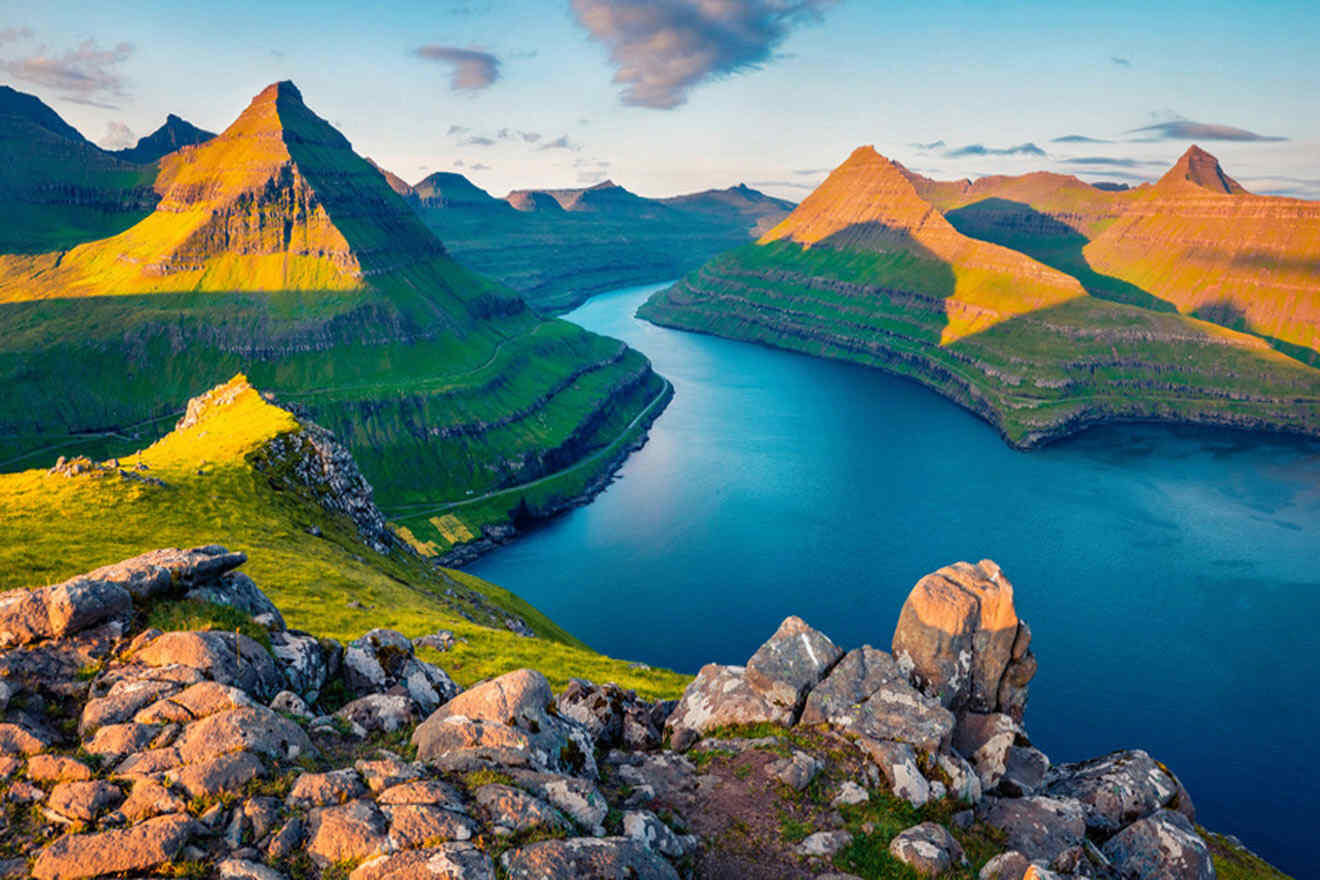 Duration: 6 hours
Price: from €227
Why you should take it: the most popular Islands tour
This tour is the perfect way for tourists and first-timers to witness the main sights of the Faroe Islands together with their tour guide. You'll get unparalleled access to your guide so you can ask any questions, allowing you to gain insight into hidden gems large crowds might miss.
From exploring Kirkjubour's charming village and Tjornuvik's Viking burial grounds to marveling at Gjogv's breathtaking views and Saksun's natural archipelago – there won't be a dull moment when joining this adventure. It's perfect for travelers who are short on time but don't want to miss out on discovering the islands' major attractions.
This sightseeing trip will take approximately 6 hours, and it's smaller in group size, so you can count on the full attention of your tour guide. Lunch is included as well.
2. Go on a waterfall tour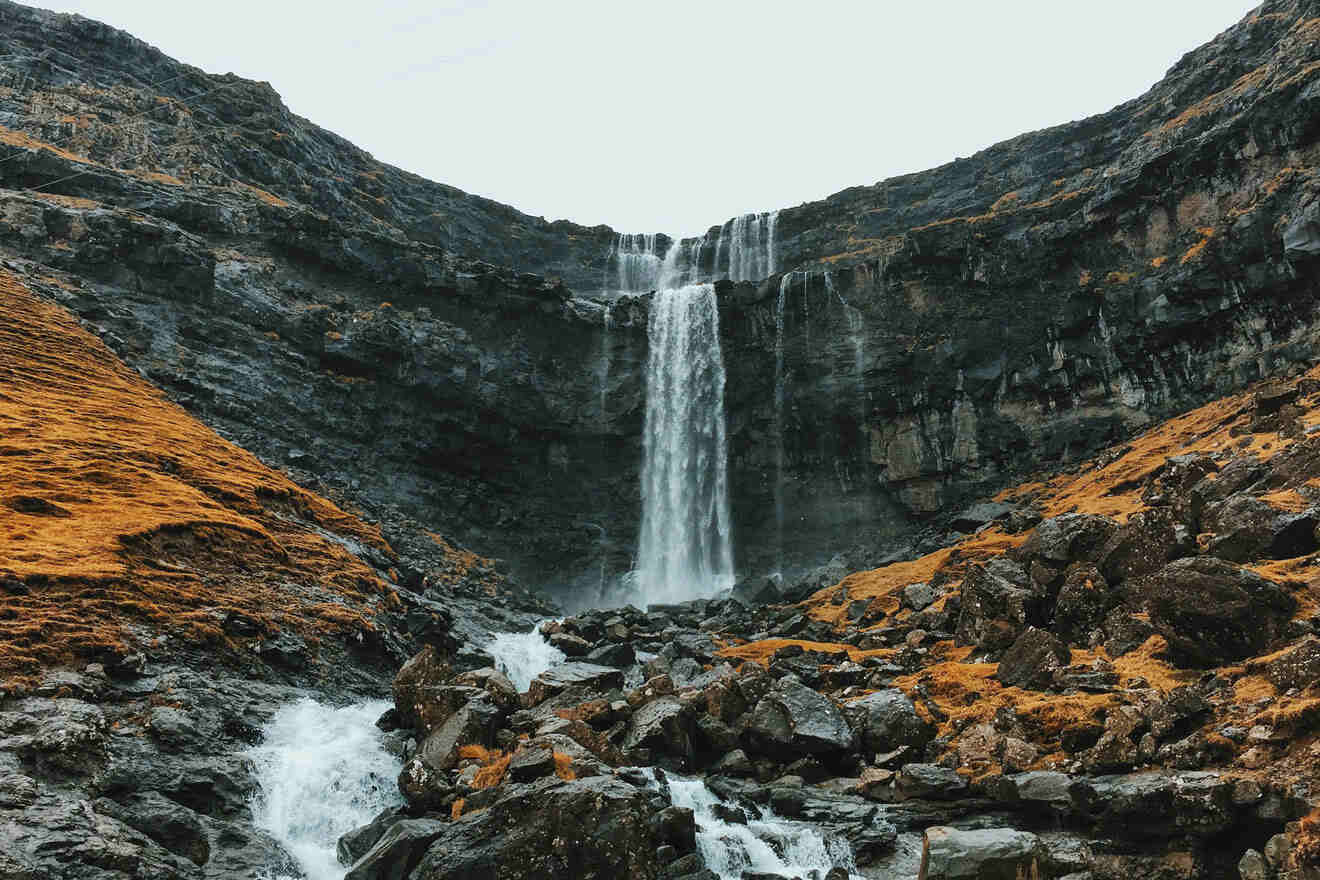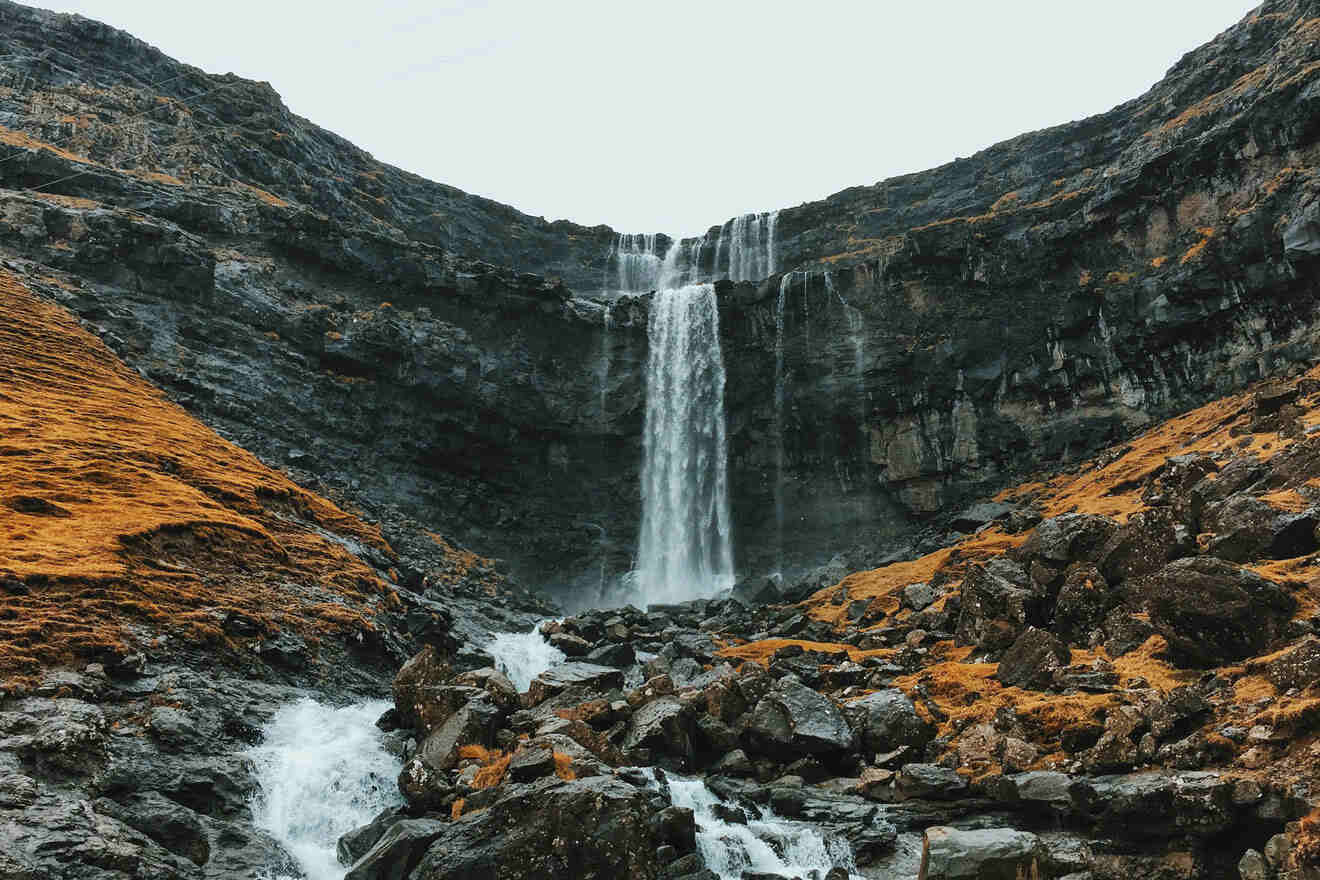 Duration: 7 hours
Price: from €562
Why you should take it: amazing private tour
You might think that Iceland is the best country to explore if you want to see some majestic waterfalls, but you're wrong. The Faroe Islands have quite a natural beauty to boast with.
Fall in love with picture-perfect cascades that pour over sheer cliffs and right into the sea. Stand close enough at Múlafossur Waterfall on Vágar Island and Fossá Waterfall on Streymoy Island to feel their mist boastfully sprinkle your skin. Wind through Saksun village and discover majestic falls tumbling effortlessly down hillsides as far as the eye can see.
Make sure you bring along some good hiking shoes because this is a bit of a challenging nature expedition where you'll be walking a lot. The tour takes about 7 hours, and it is categorized as a private experience, so it will only be you or your chosen group of people.
3. See puffins in Nólsoy Paradise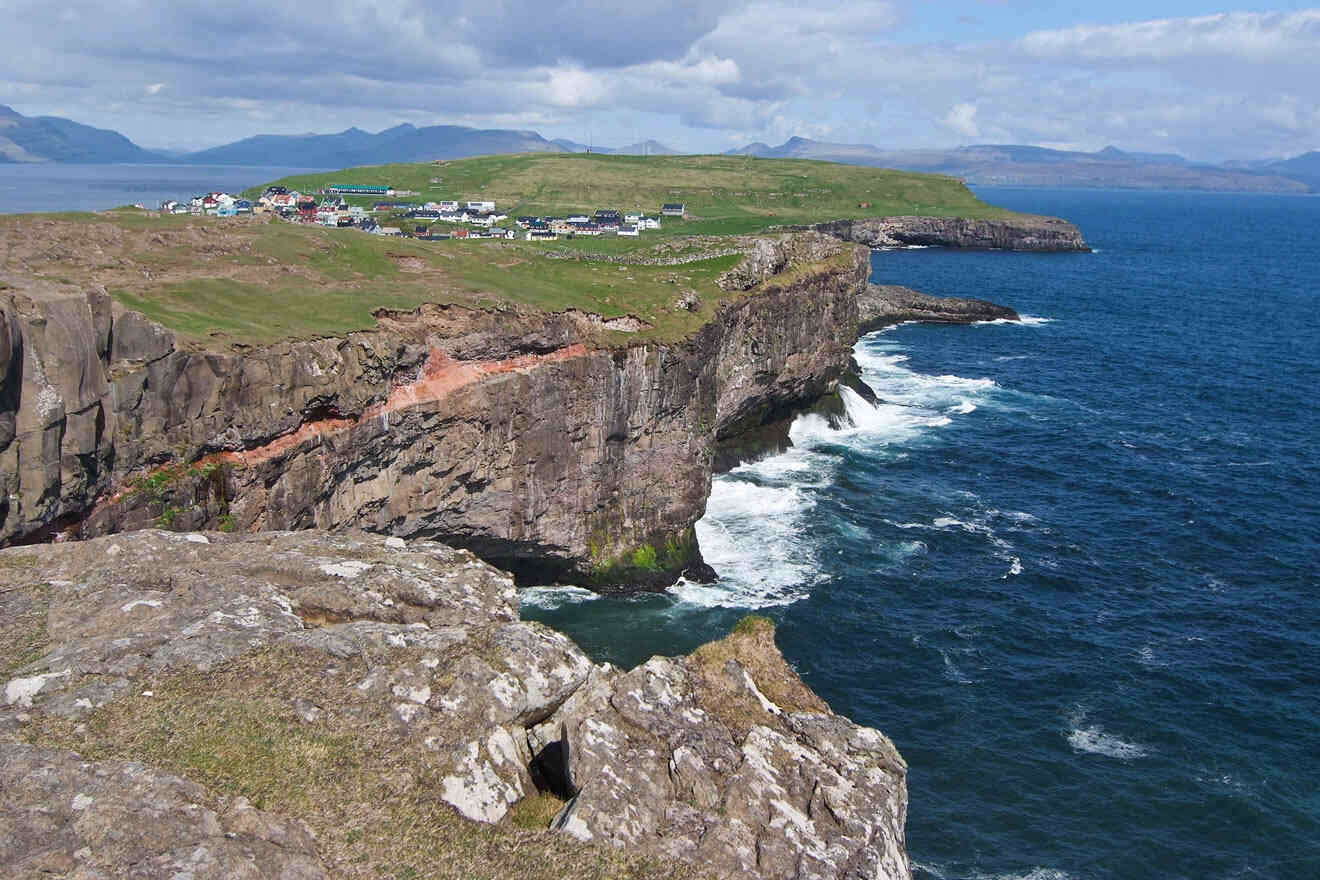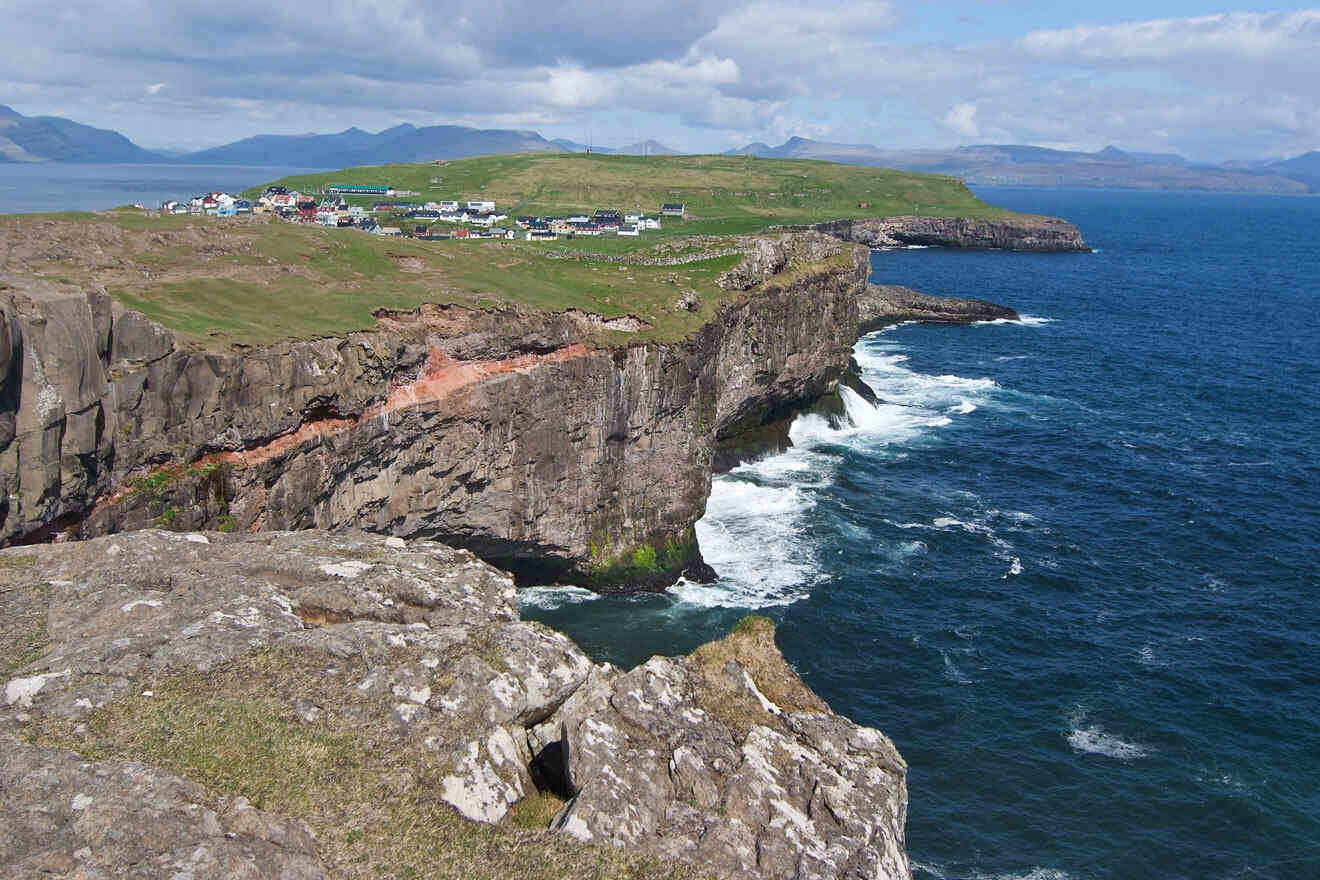 Duration: 2 hours
Price: from €124
Why you should take it: puffin sightseeing
Those amazing things reside in the North Atlantic Ocean, and this tour will enable you to witness their cuteness.
Kick back and treat yourself to the perfect 2-hour escape! From towering lighthouses to delicate birds, your boat tour around the idyllic Island of Nólsoy will give you a much-needed break from everyday life.
The soul-enriching sights provide an unparalleled view of nature at its purest – majestic and mysterious in equal measures. Whether it's witnessing puffins up close or simply letting the breeze rock you into relaxation, this is an adventure that would make any stress evaporate.
Every tour provides you with flotation suits and coffee or tea to warm your app before your expeditions. It's a short tour of only 2 hours with a group size of up to 10 travelers.
4. Join a boat tour of the Faroe Islands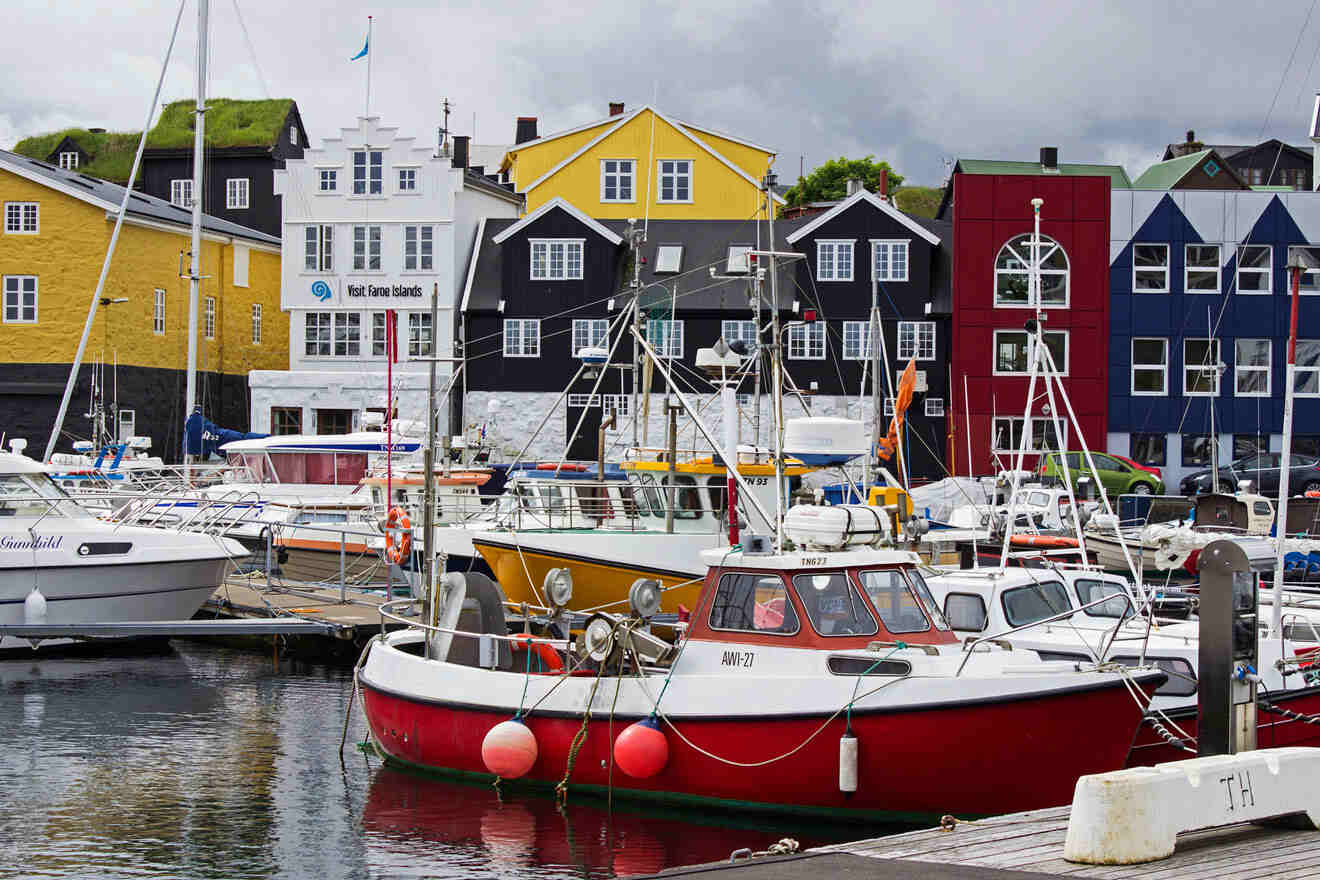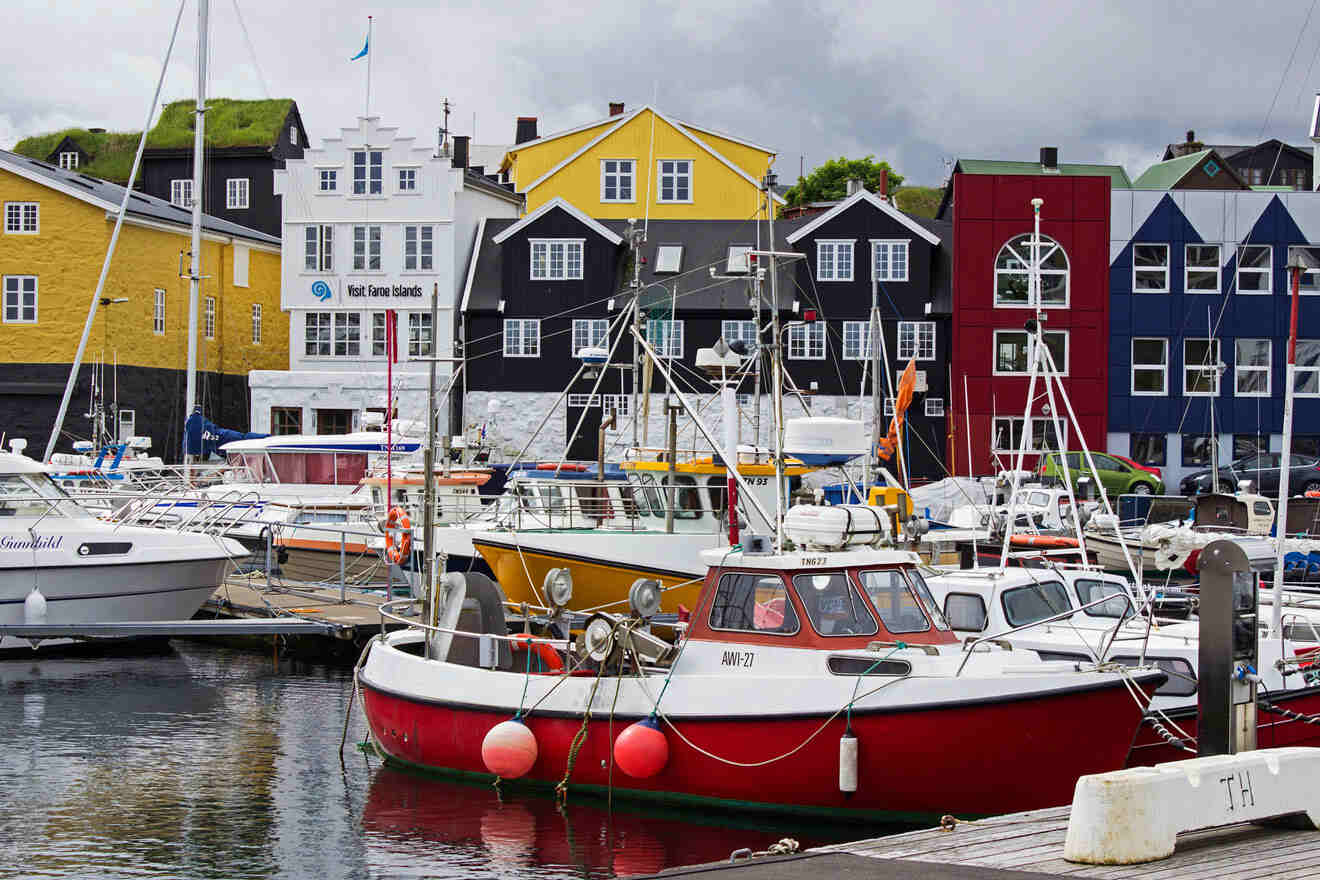 Duration: 2 hours
Price: from €124
Why you should take it: see the island's highlights by the sea
Make treasured memories with this exclusive skippered 2-hour boat ride! The top-notch tour guide will take you to the most jaw-dropping coasts around the Faroe Islands.
From distant isles, dreamy bays, or quaint seaside villages – nothing's off limits! With the diverse vessel, any destination within reach of the sea is a surefire hit. See majestic mountains from different perspectives as the ferry takes you through the waters.
If you're lucky and the weather is suitable, you might even spot some local wildlife. Truly one of the must-take excursions for those who've already seen all the important sights by the land.
And if you're craving some more VIP tours, this family-friendly boat trip will be led by a local who can tell you all the important details about Denmark, Northern Islands, the local language, the town, and its history.
5. Explore the Súðuroy Island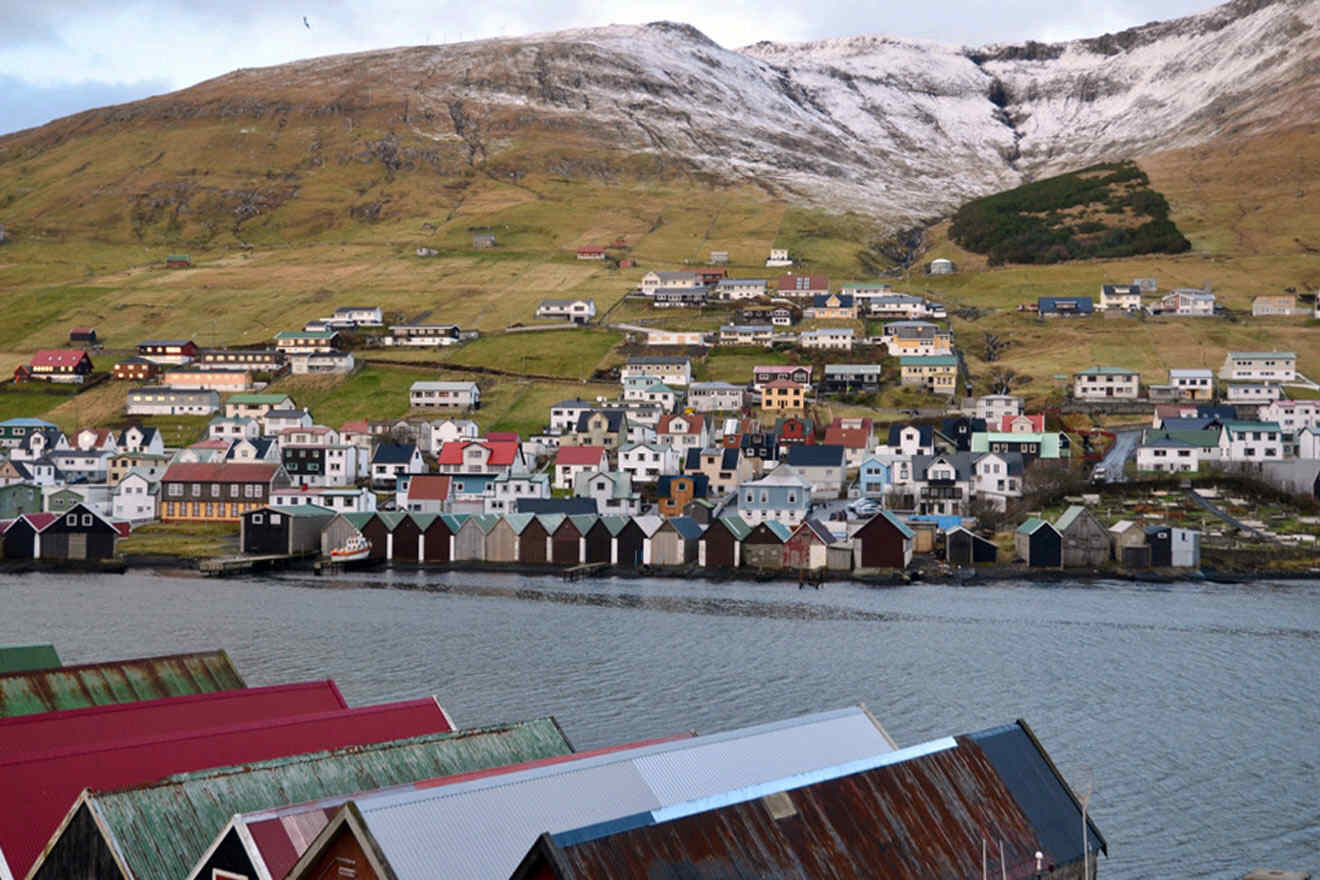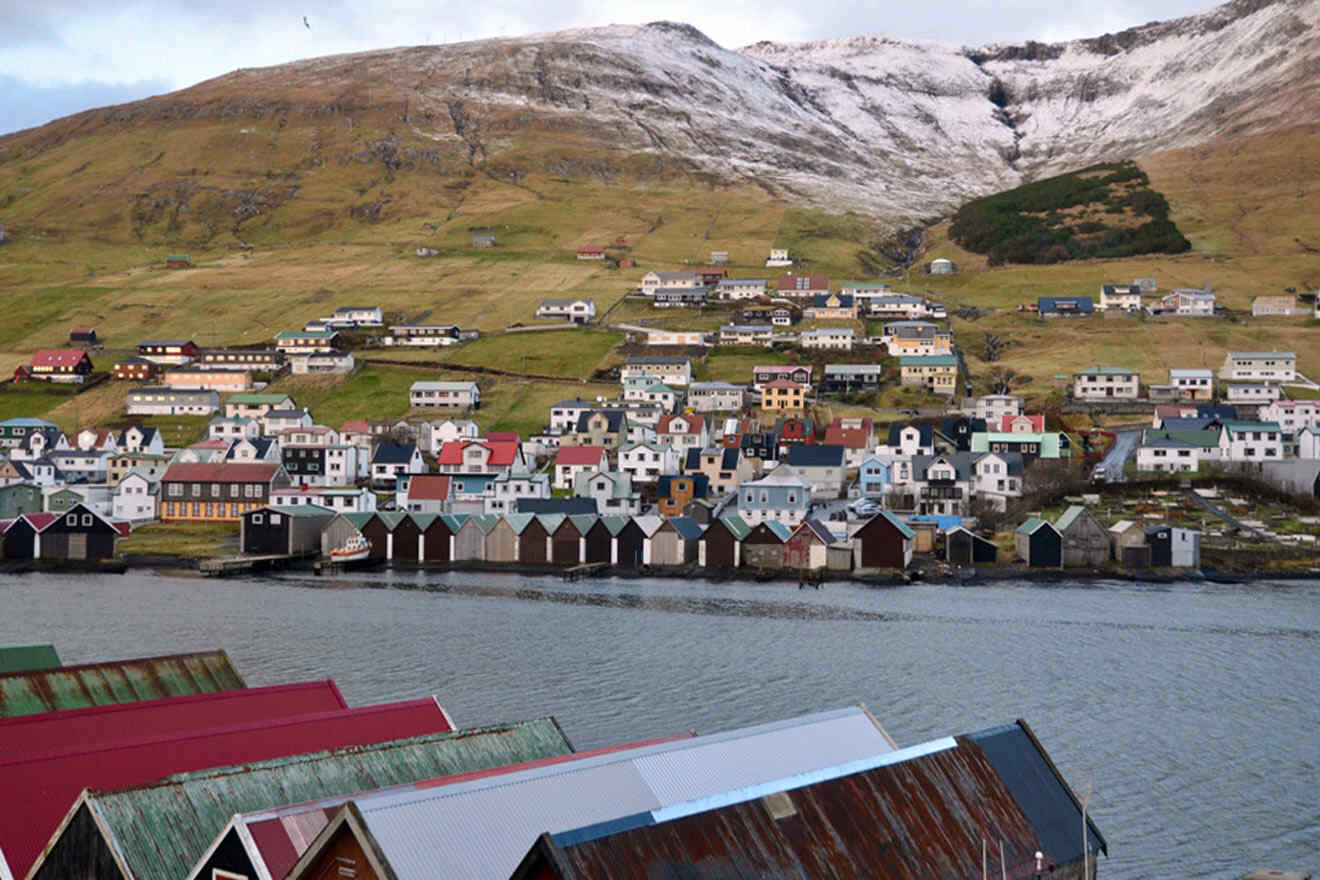 Duration: 10 hours
Price: from €380
Why you should take it: island-specific tour
If you want to dedicate yourself to an island for one day, then this is the perfect option for you. You'll get to experience the beauty of one of the Faroe Islands on a guided tour to Suduroy Island. Beginning with a 2-hour ferry ride from Torshavn, you'll take pleasure in admiring several attractive islands as you drift into serene waters.
When you arrive at Suduroy, there is a visit to some quaint hamlets and picturesque outlooks; you'll also get to appreciate famous stories from Faroese Norse history delivered by your well-informed guide! Don't forget to make some quick photo stops so you can share your newly made memories with your Insta followers.
Later, you can enjoy lunch at Tvoroyri, Suduroy's largest village. You'll also get personalized attention as this group is strictly limited to 7 people maximum!
6. Hike & witness Kallur Lighthouse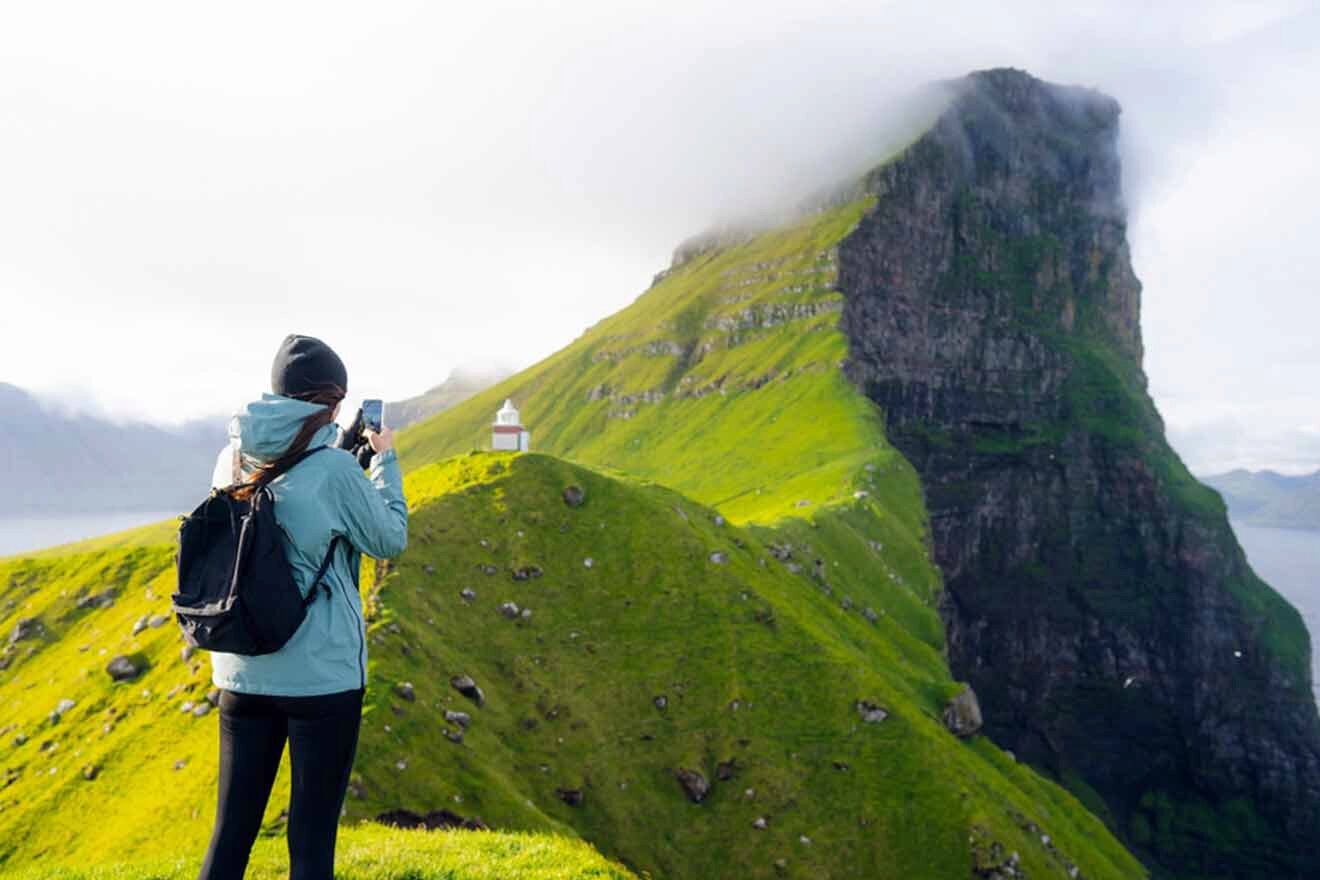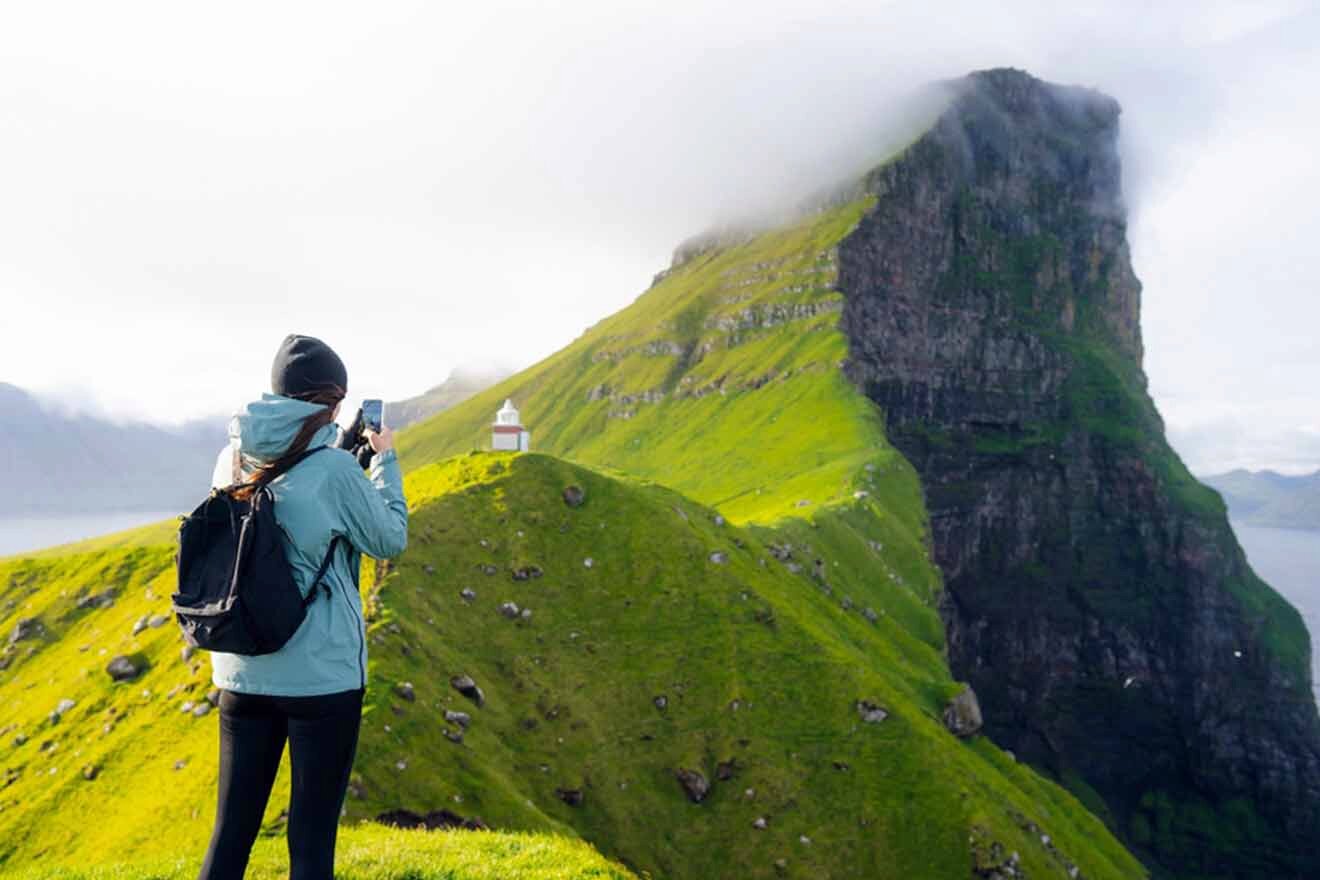 Duration: 8 hours
Price: from €756
Why you should take it: see a famous movie location
This tour is about to take you all the way to mysterious Kalsoy, aka the Faroe Islands' James Bond Island! For centuries people didn't know that the Kallur Lighthouse or its majestic Seal Woman statue actually existed, but thanks to No Time To Die's screening in 2020, they got proper recognition and shot straight into global fame!
This tour is perfect if you really want to feel special, as it ignores the large and messy crowds. It will take about 8 hours, so you're sure to get an in-depth expedition. This 1-day excursion is also a fantastic opportunity for small groups who want to enjoy maximum personalization from their guide.
The local guide knows everything about the place, so they will gladly share juicy trivia or hijack any conversation. Plus, they are always eager to answer your questions and customize the route to be just right for you!
7. Embark on a fishing trip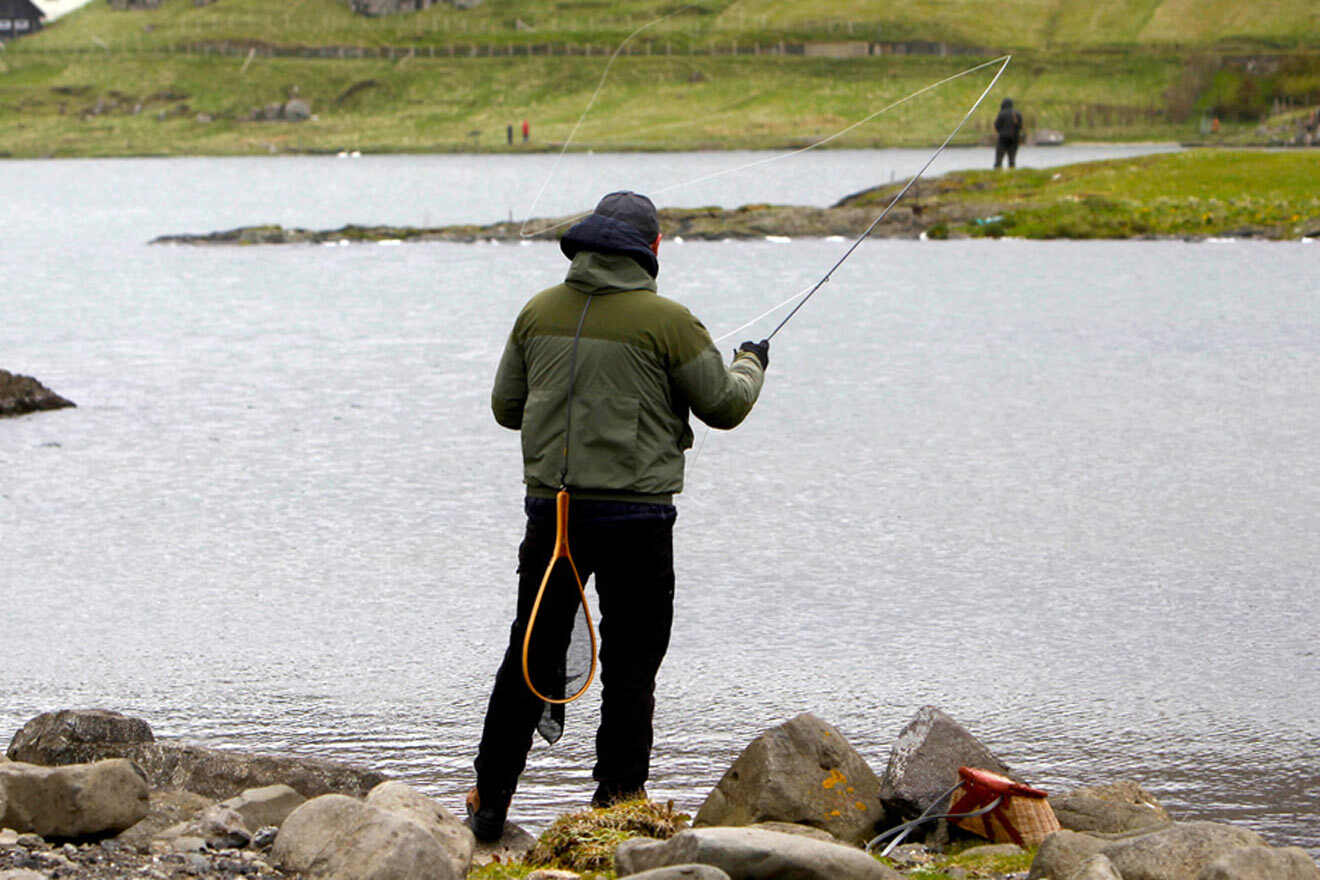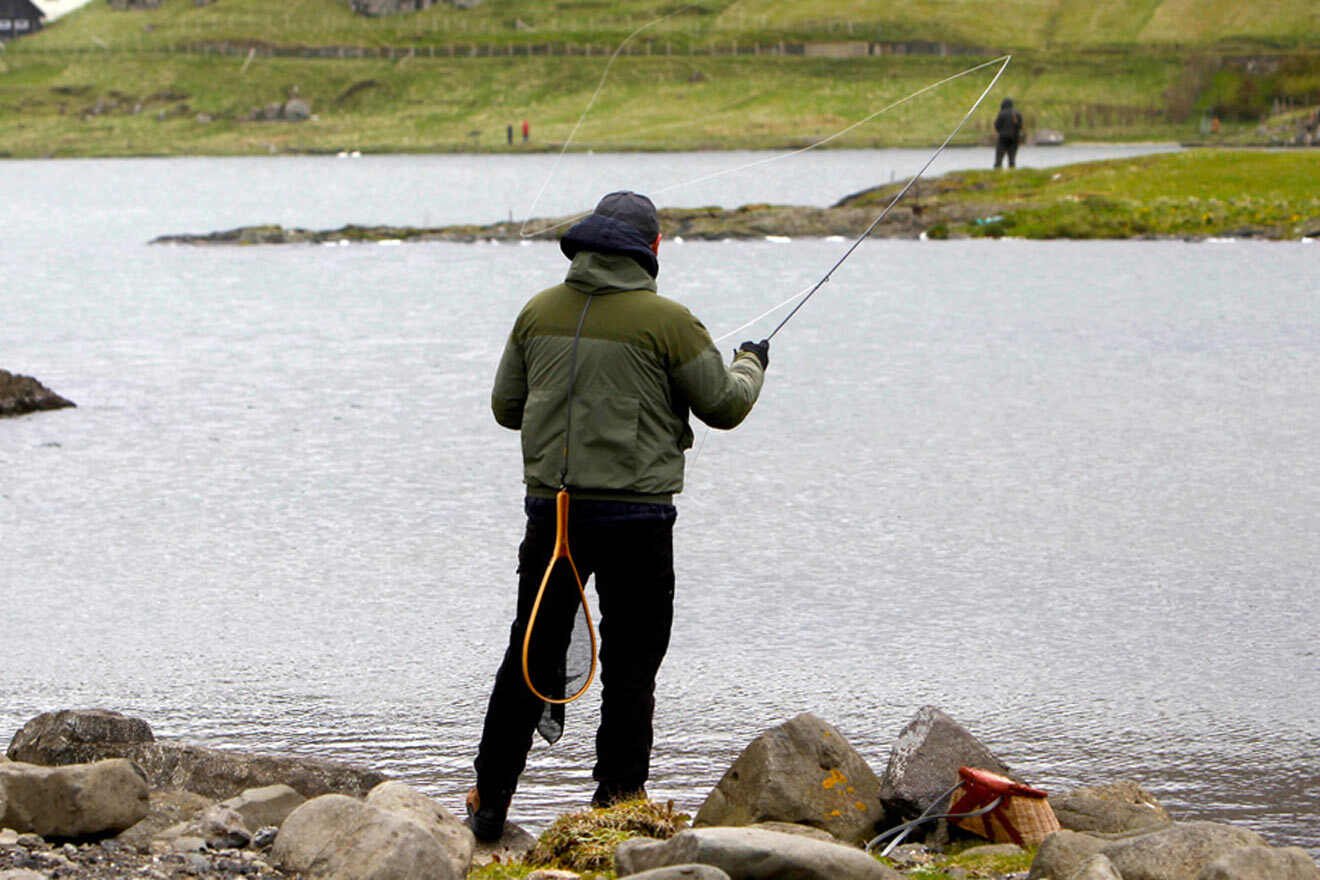 Duration: 4 hours
Price: from €250
Why you should take it: fun activity in nature
Are you searching for the ideal day trips to take you out in nature? This fishing tour provides you with the chance to go fishing either from Tórshavn or farther out in open waters. Experience nature's beauty with the salty scent of the ocean and gentle breeze playing with your hair – a relaxing day eating lunch on board, far away from any thunderous cities!
The expert guides have all the skills and experience needed so that you won't miss out on any fish! Plus, tour operators will supply everything required (fishing equipment and coffee or tea) — just show up and let them take care of it all. You'll have a chance to catch the island's fish for approximately 4 hours, and I'm sure you'll manage to succeed in it.
8. Visit Vestmanna Sea Cliffs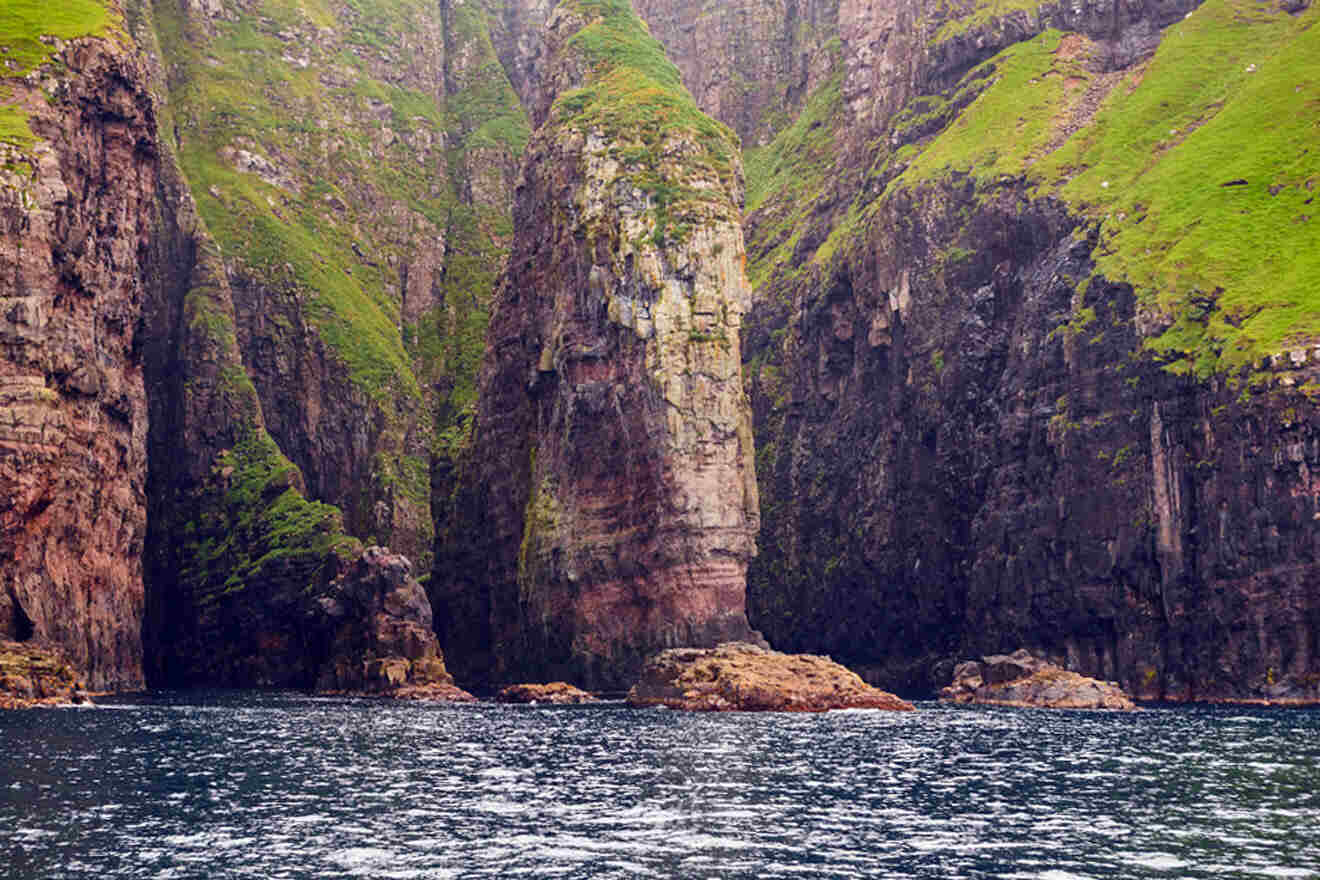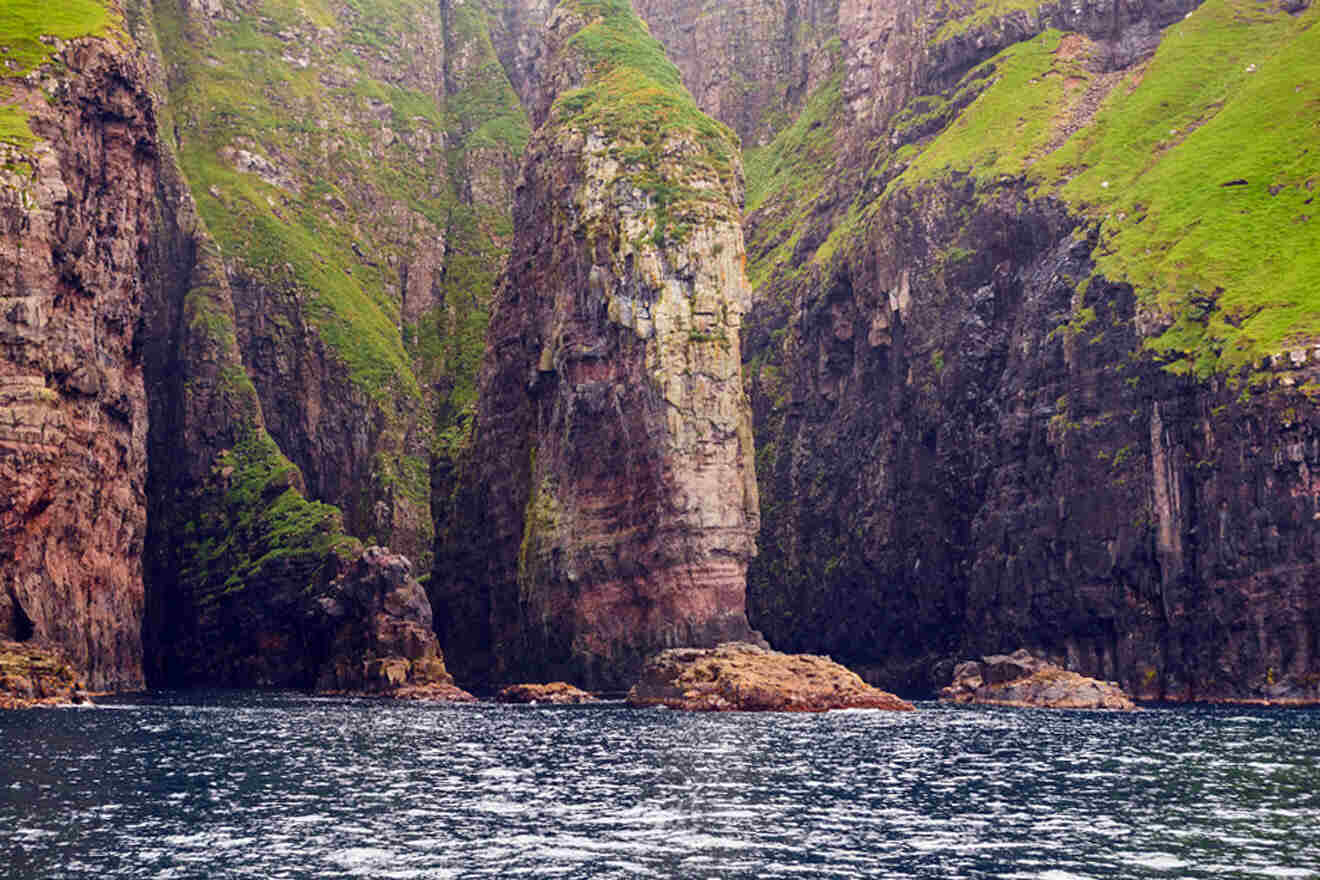 Duration: 1.5 hours
Price: from €52
Why you should take it: bird watching & boat trip
Set sail on a journey of pure memories into the remarkable vestiges of beauty that is Vestmanna Sea Cliffs. Venture away from the quaint harbor in Vestmanna for a true Faroe Islands experience, one you will never forget!
Streymoy Island dazzles and mesmerizes with its high peaks. The coast beckons you to explore its numerous caves, but the real highlight is passing past Heygadrangur! Rising above the North Atlantic Ocean – it's a must-see sight!
Stare up at vertical mountains, marvel at towering stacks protruding from the sea, and witness rich birdlife, all from a 1.5-hour boat tour that won't disappoint. If you're planning a trip, this natural wonder definitely needs to be on your list.
9. Enjoy puffins in Mykines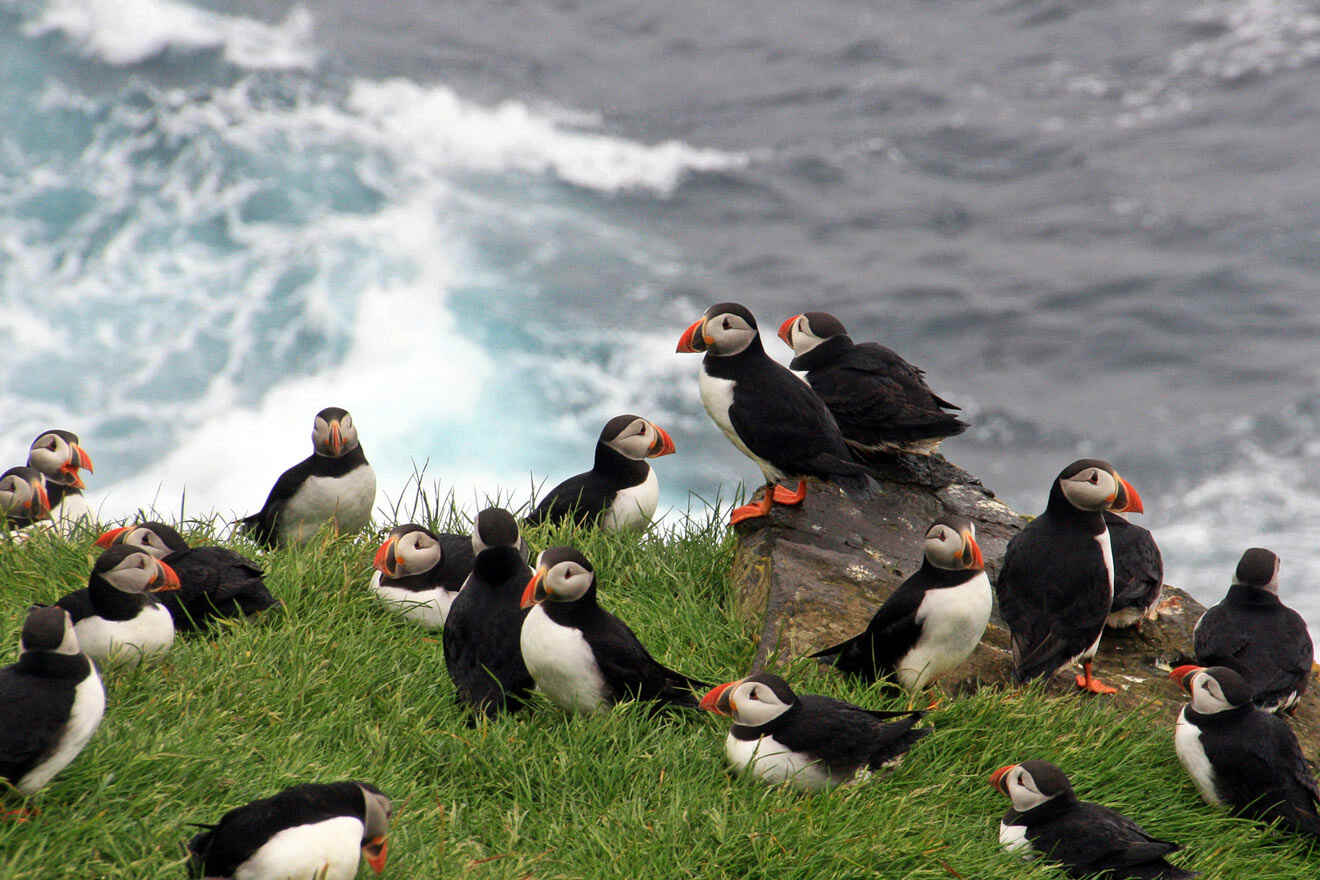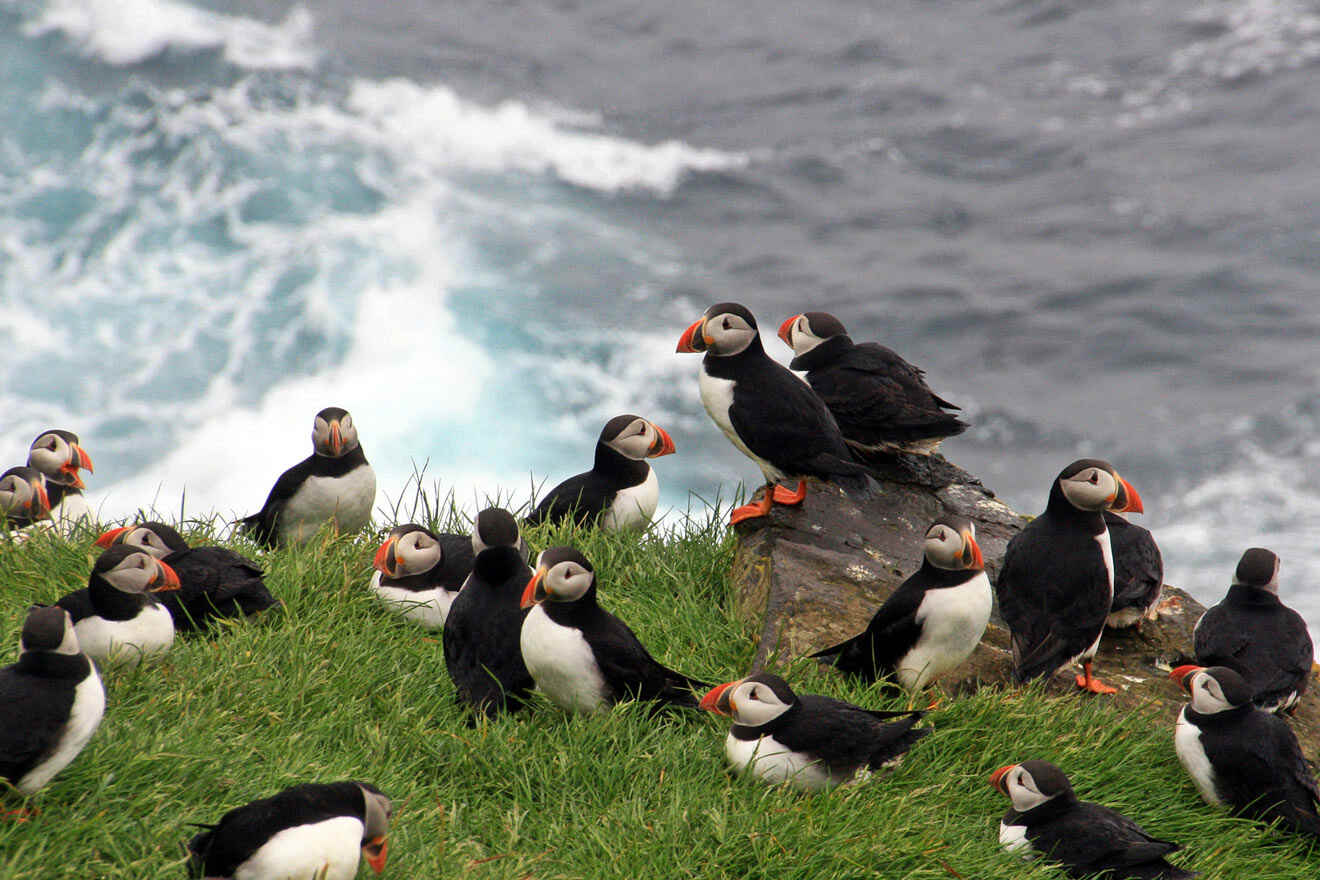 Duration: 7.5 hours
Price: from €324
Why you should take it: puffin sightseeing & hike combo
Mykines is a real paradise for all bird-watchers out there. The vividly-stunning nature, coupled with guaranteed puffin sightings, makes it an unforgettable experience that's impossible not to fall in love with!
On your guided tour, you'll get up close and personal with some amazing puffins (which I find one of the cutest animals in the world). Take a break from life's hustle and bustle of the city – this remote haven is pure tranquility!
The journey begins near the bustling harbor of Sørvágur on Vágar Island. Greeted by a trusty guide, you'll soon board the ferry to Mykines. The ferry tickets are included in the price. The tour is perfect for nature enthusiasts as it includes a hike through the lush green fields, combined with that dramatic landscape sightseeing.
FAQs about Faroe Islands tours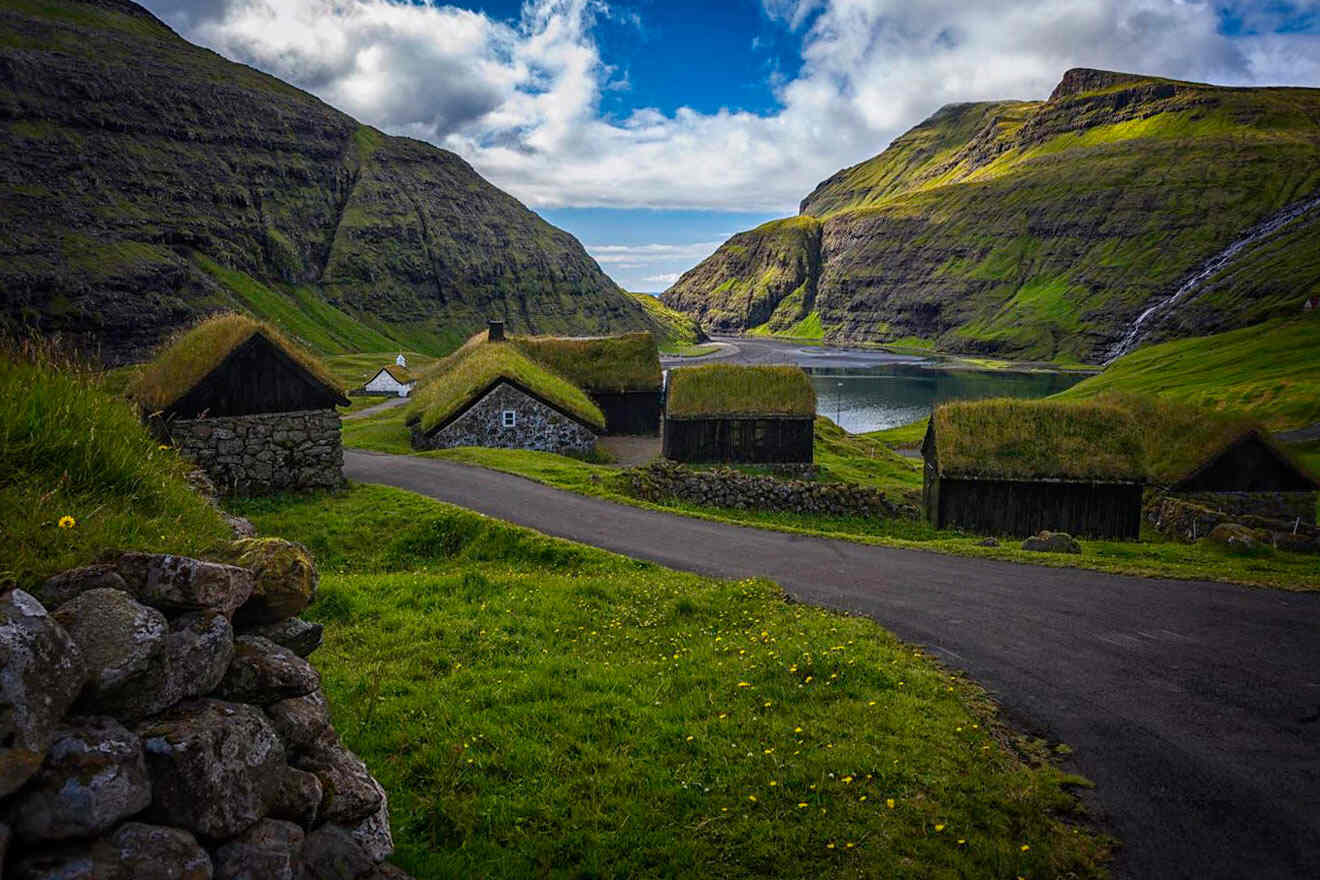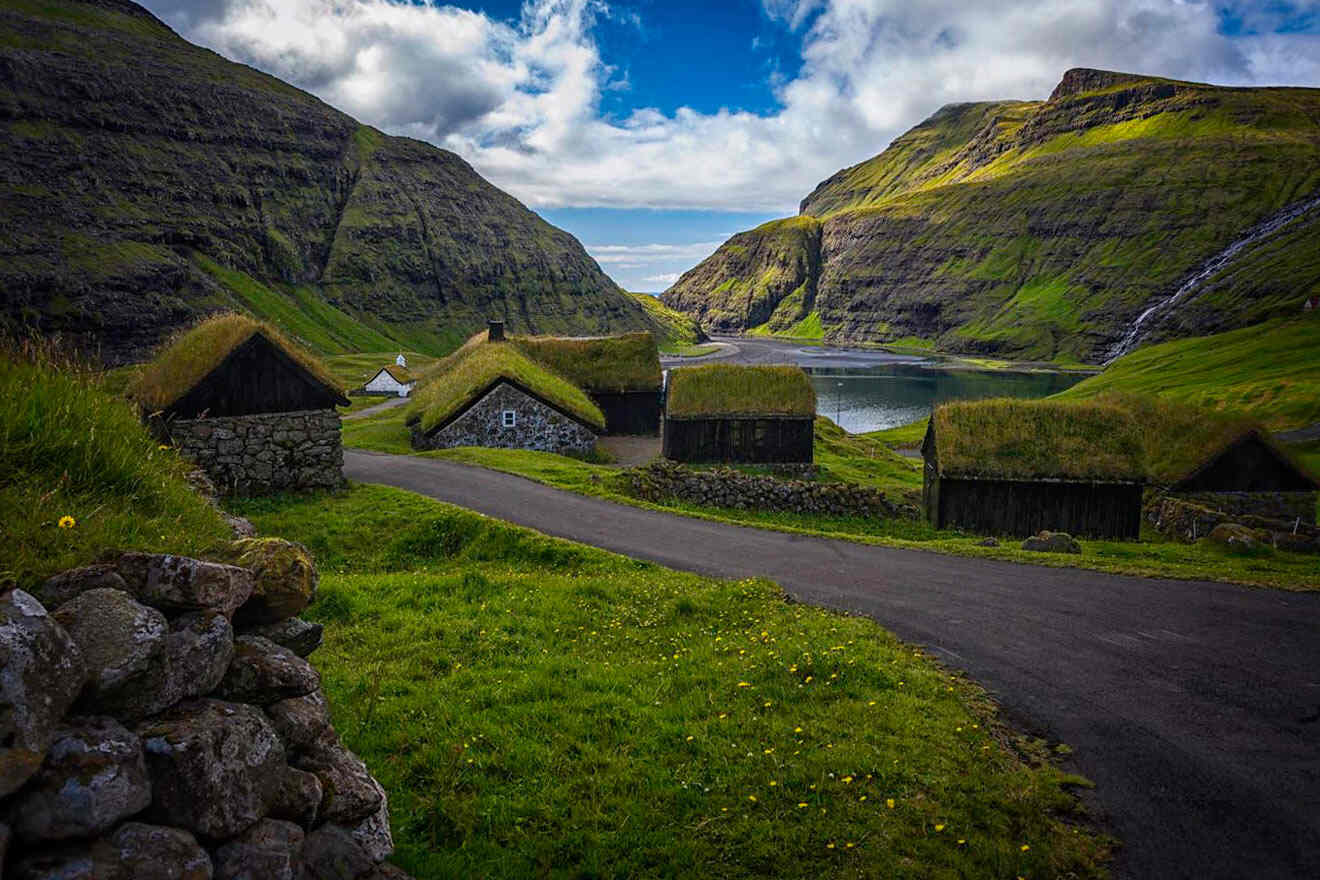 📍 Are there tours of the Faroe Islands?
Absolutely, the number of tours might not be huge, but it's still one of the very popular choices for tourists. To get a full experience of the place, I recommend the Faroe Islands highlights tour.
⌛ How many days do you need in the Faroe Islands?
📅 What is the best month to visit the Faroe Islands?
The summer months of June, July, and August are considered the best time to visit. During that time most of the tours take place so you won't miss any important sights.
💰 Is it expensive to visit the Faroe Islands?
It can be. The Faroe Islands have quite a remote location, which can result in higher costs for transportation, accommodations, and dining compared to many other destinations.
Conclusion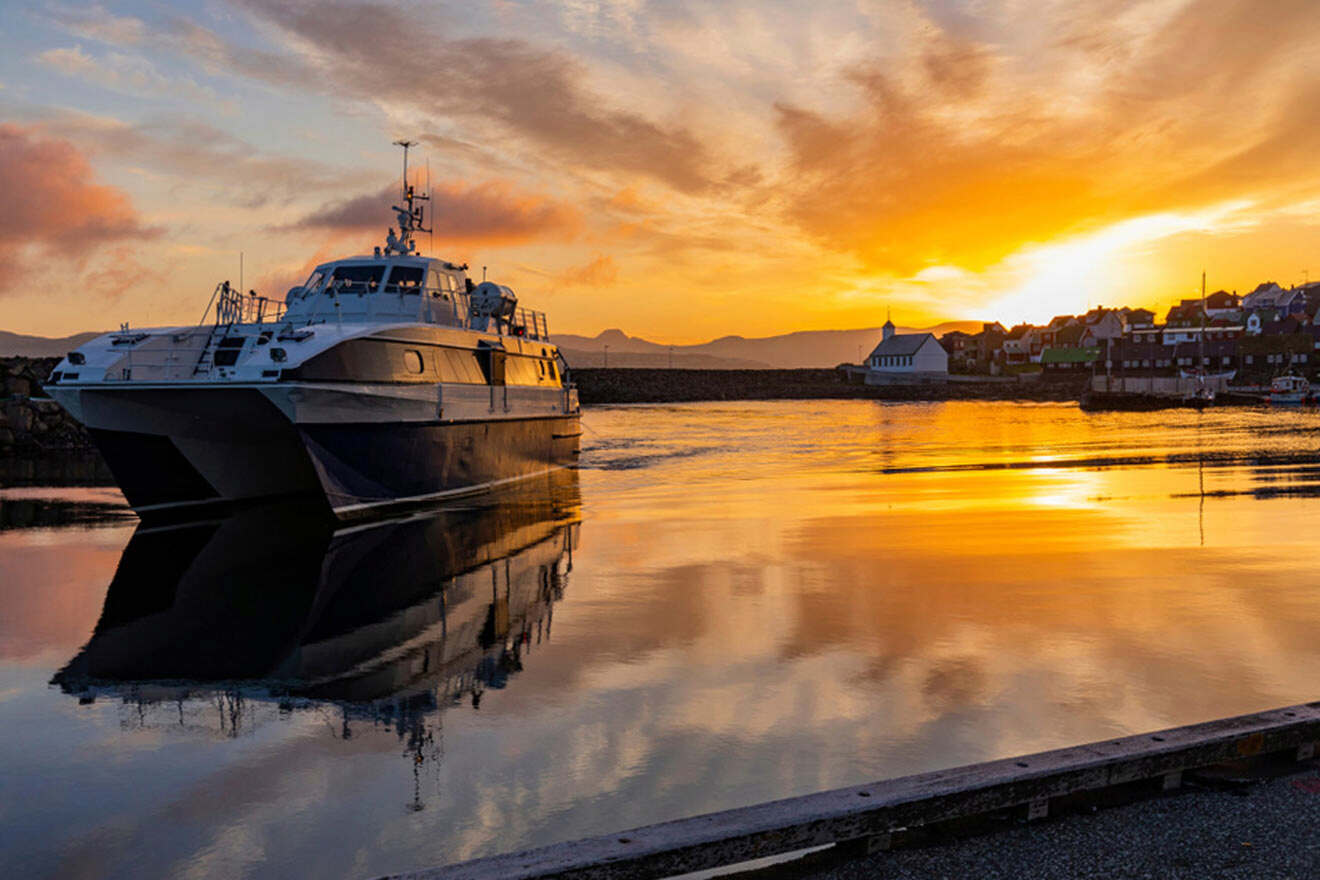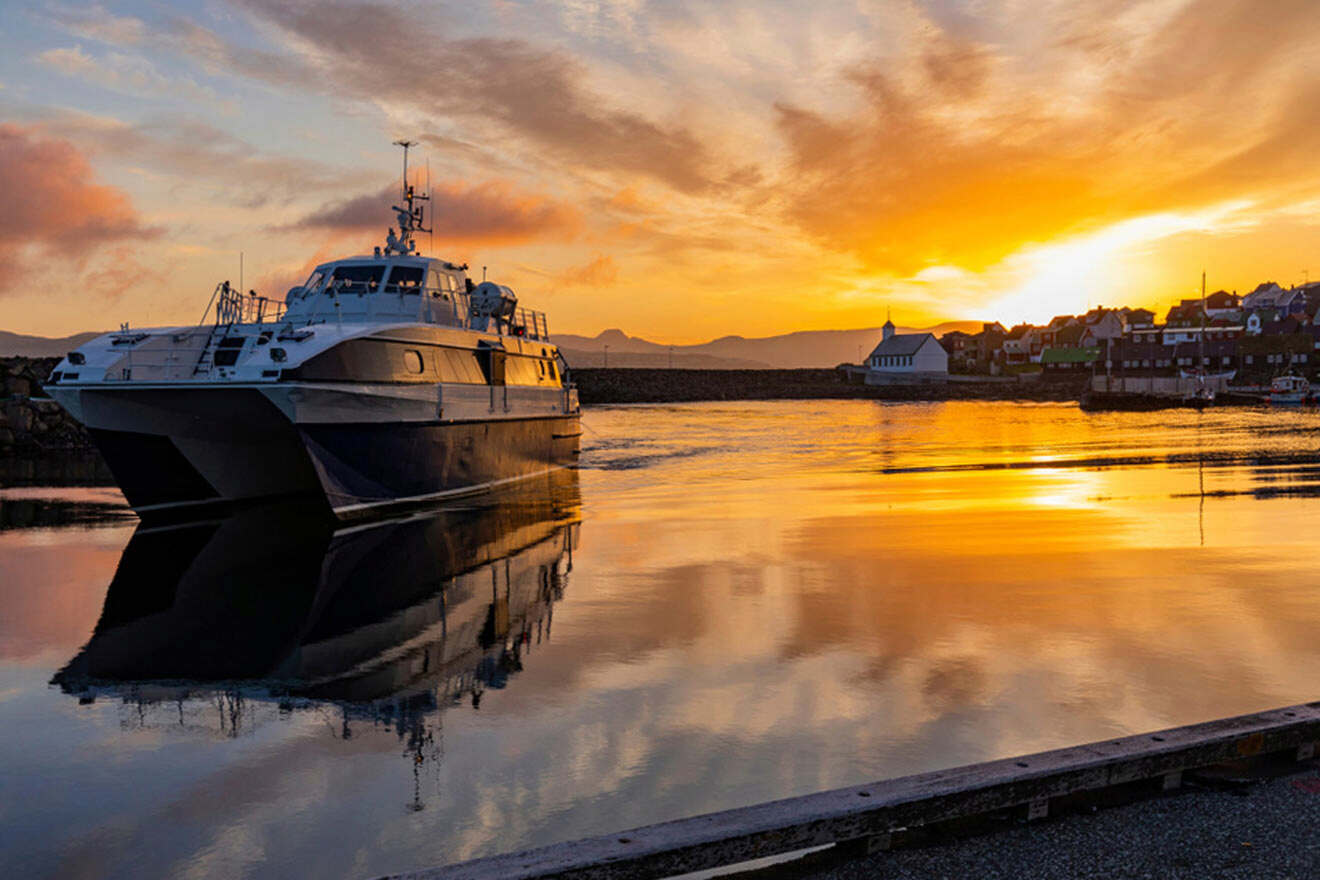 You've come to the end of the Faroe Islands tours, I hope you managed to find the perfect option for your next trip!
There are a lot of natural wonders, local wildlife, day tours, and boat trips that are just waiting to be discovered, so make sure to plan well so you don't miss any important landmarks.
It's not only James Bond fans that are insanely interested in those islands, but nature enthusiasts also find them irresistible, and it's really easy for those tours to fill up pretty quickly. So don't waste time, and make sure to book your tours in advance!
In case you have already had the chance to visit the Faroe Islands, I'd love to hear about your experiences, tips, and tricks. And if you have anything to add or ask some questions, please leave me a comment below!
Happy sightseeing,
Angelina
---
Pin it for later!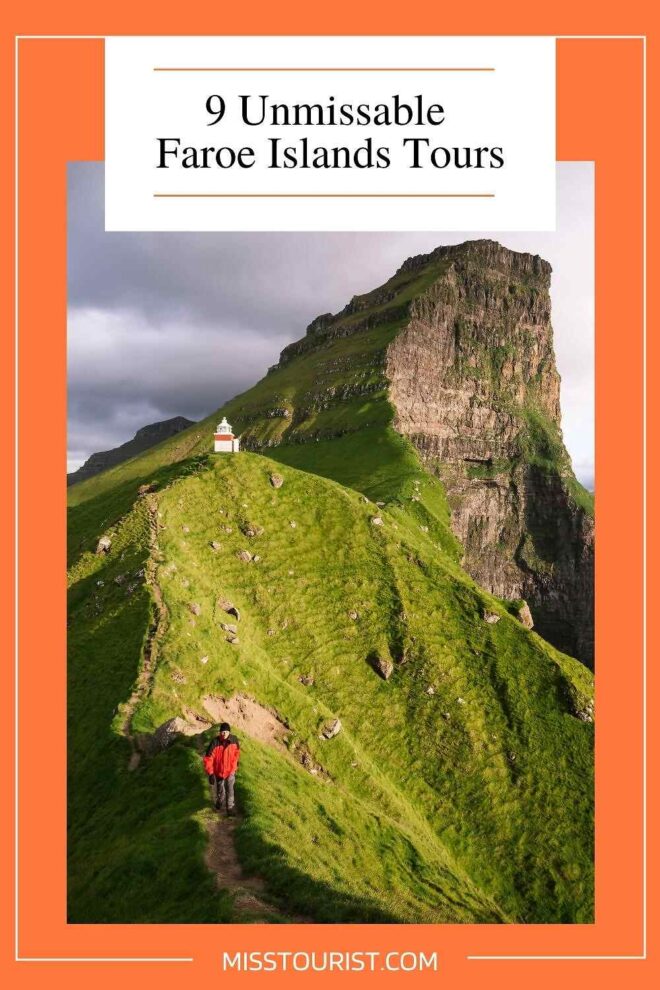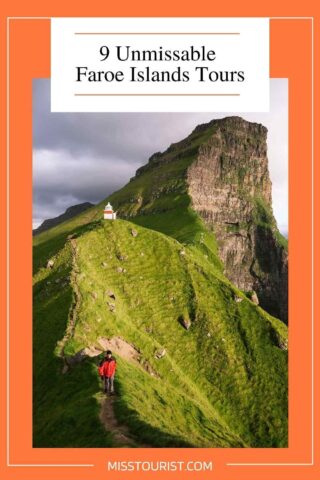 Pin it for later!