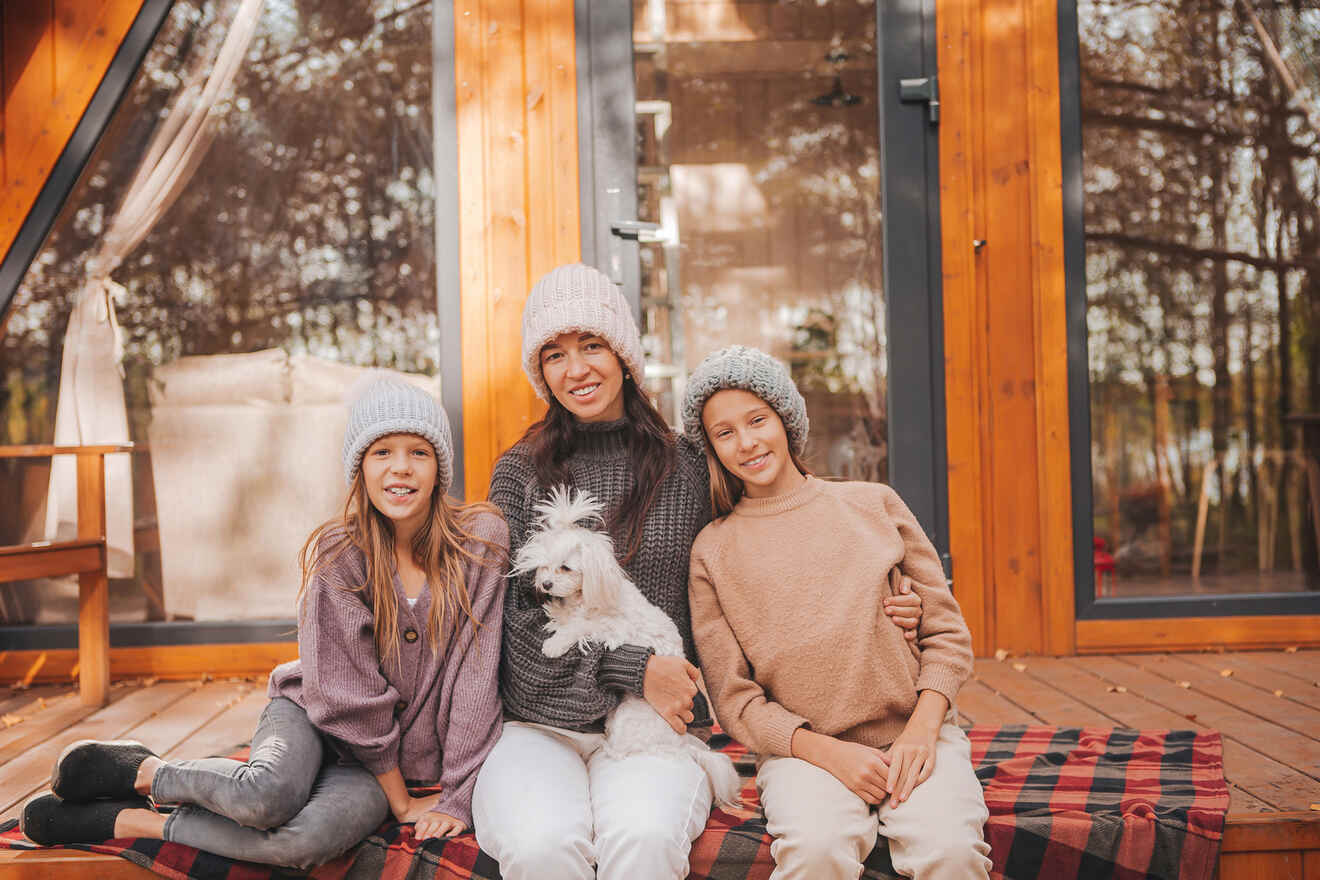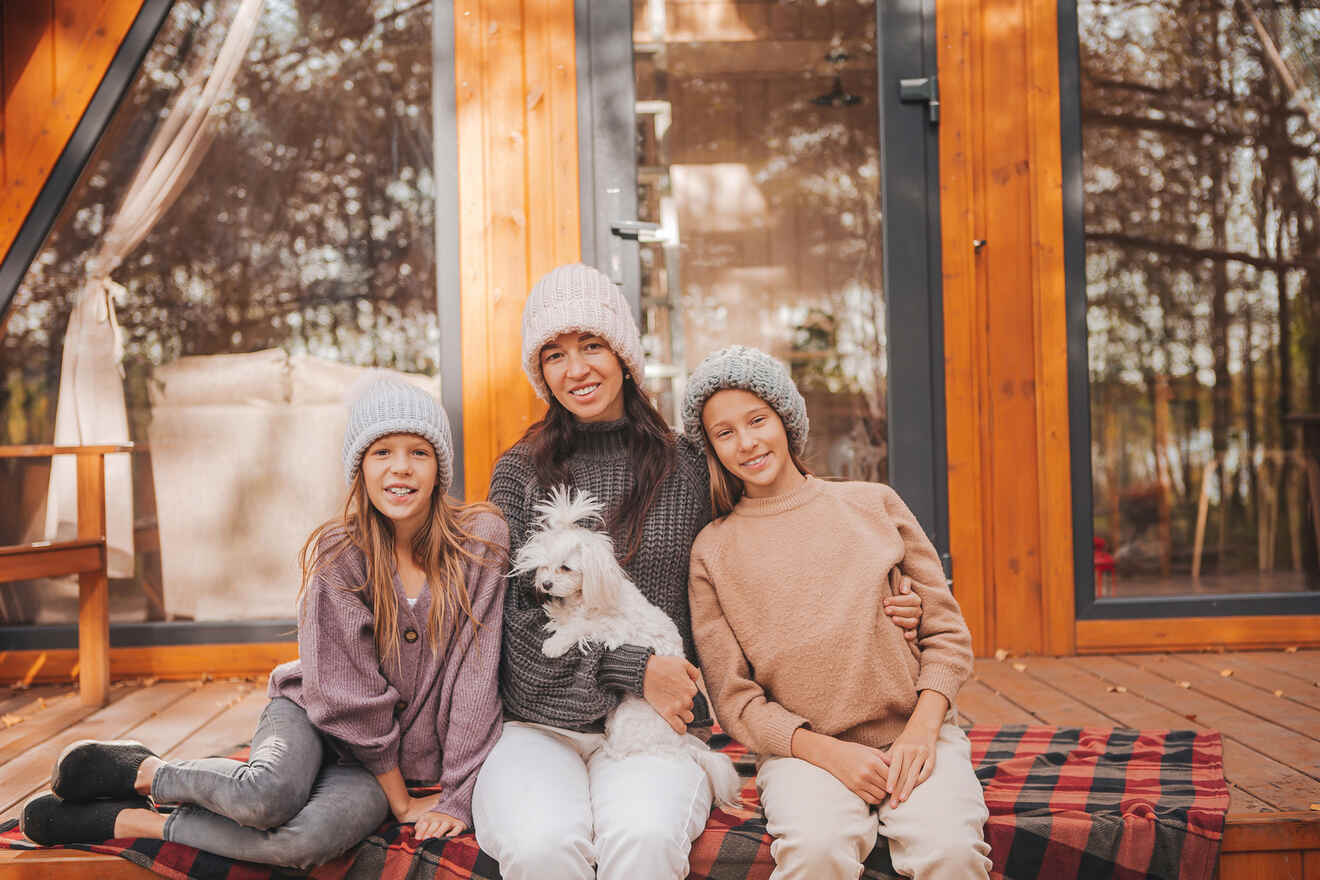 Planning a trip to the Granite State? Do you want to take your pets on your lovely holiday? Good! Because I have been researching for hours the best pet-friendly cabins in New Hampshire so your dogs can run free while you all take in some fresh air or swim in a river! So whether you are going on vacation alone, with your family, friends, or partner, there is a cabin for you here where you can take your furry best friend!
I have arranged these pet-friendly cabin rentals by price, starting with the most expensive ones. There are many options in many different areas of New Hampshire, so I am sure you will find something of your liking here!
New Hampshire attracts visitors in every season, so if you want to book a cabin for the winter or summertime, make sure you book it as soon as you make a decision! These options book super quickly!
Let's jump into the best pet-friendly rentals in New Hampshire!
Shall we?
If you are in a hurry
If you need to book your pet-friendly cabin quickly and you don't have the time to read the whole post, I have gathered 3 top options for pet-friendly cabins in New Hampshire:
Since we are talking about New Hampshire and it is a big state, here you have a map to help you navigate the different accommodations' locations:
1. Luxury New Log Cabin – family fun by the lake!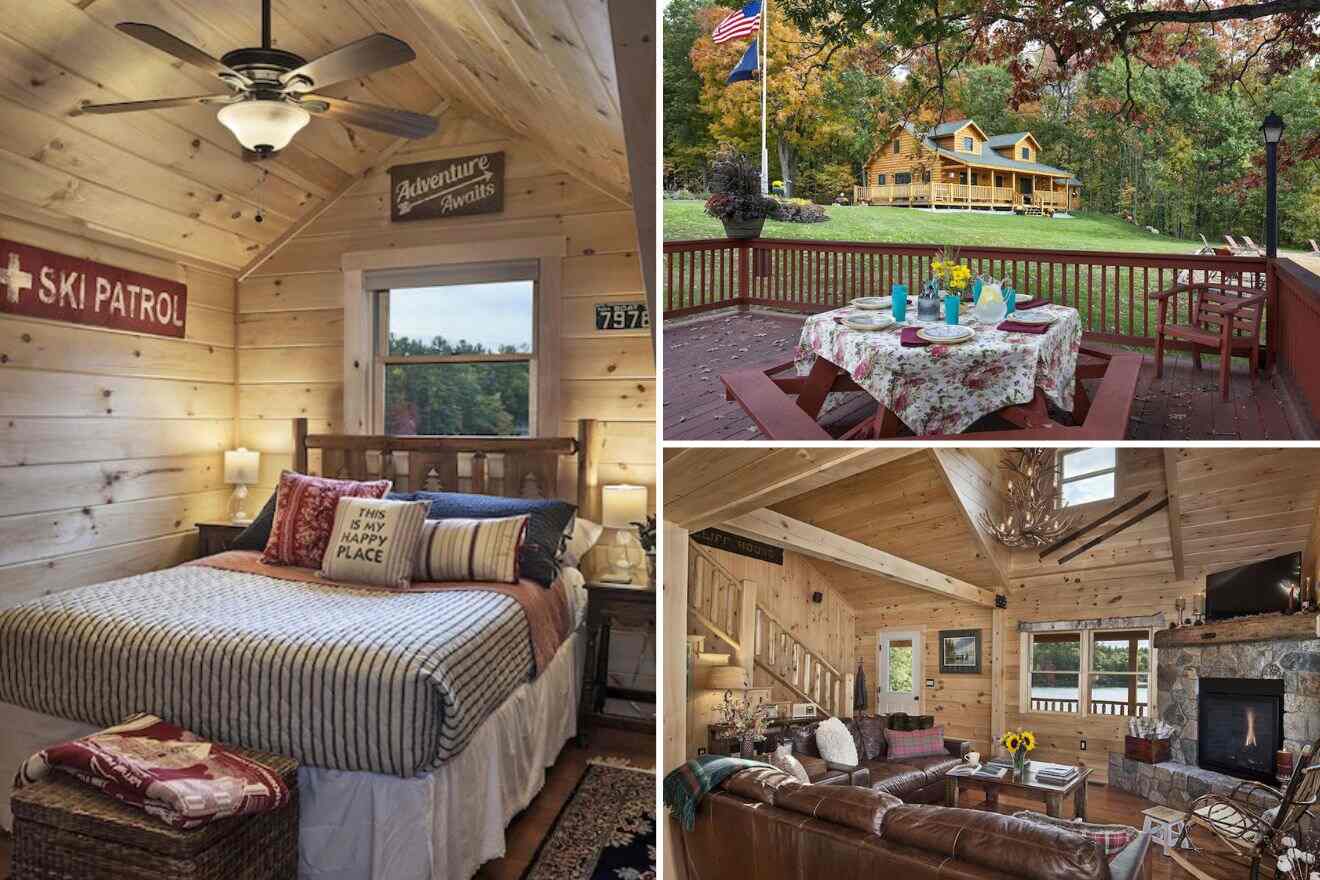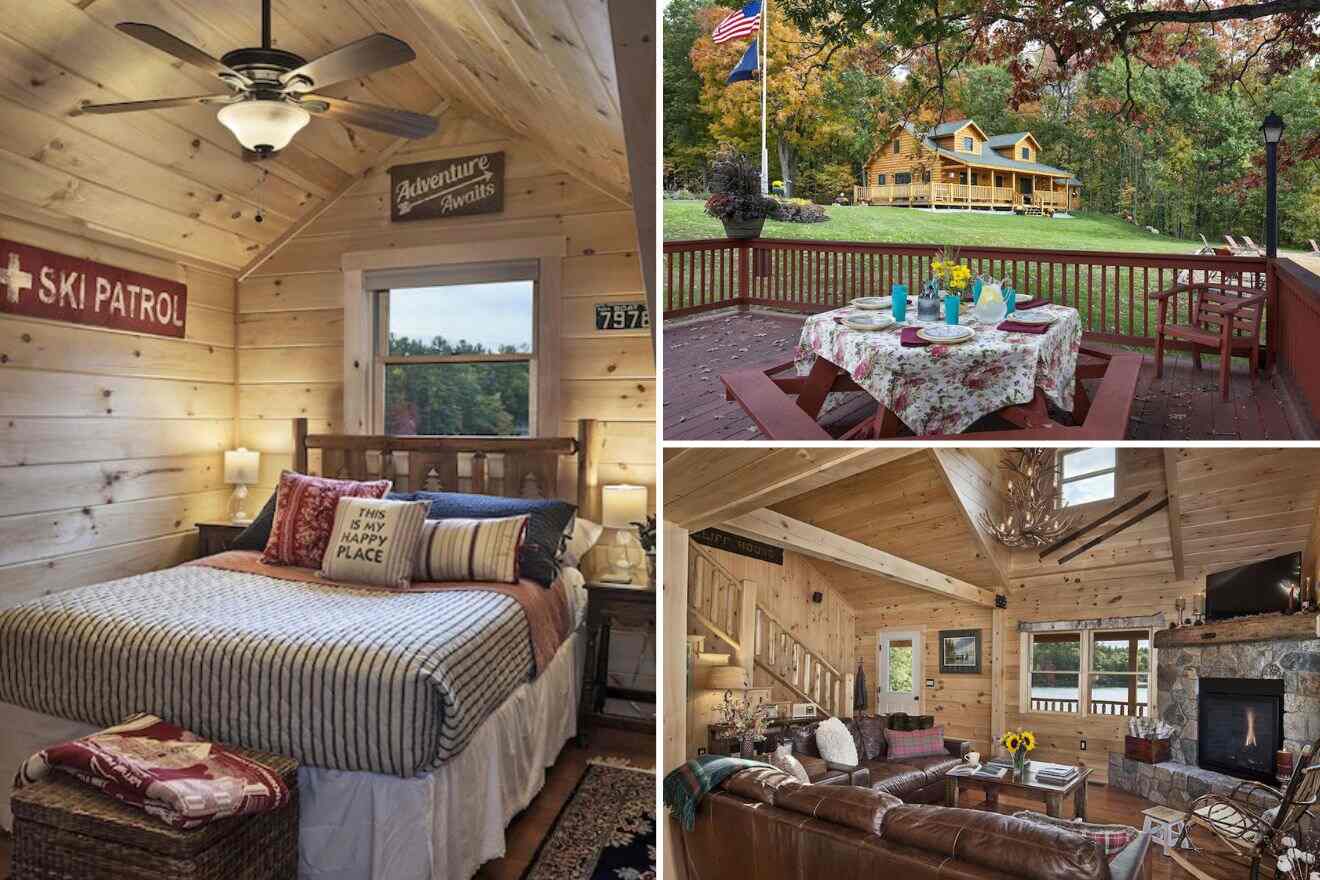 Wouldn't it be lovely to stay in this Tilton log cabin with your family? It is located only a 20-minute drive from Lake Winnipesaukee and in front of a sandy beach by Lake Winnisquam, which gives you and your family a chance to swim and play in the water during the day or sit by the fire pit at night while you roast some marshmallows and enjoy time together!
The cabin interior is just delightful! A spacious, fully equipped kitchen, a living room with a big couch located in front of the fireplace, and a flat-screen TV to snuggle and watch a movie! The cabin has 3 bedrooms, 4 beds, and can host up to eight guests. One dog is allowed in this property, the pet fee is US$250.
2. Campton Cabin – discover the White Mountains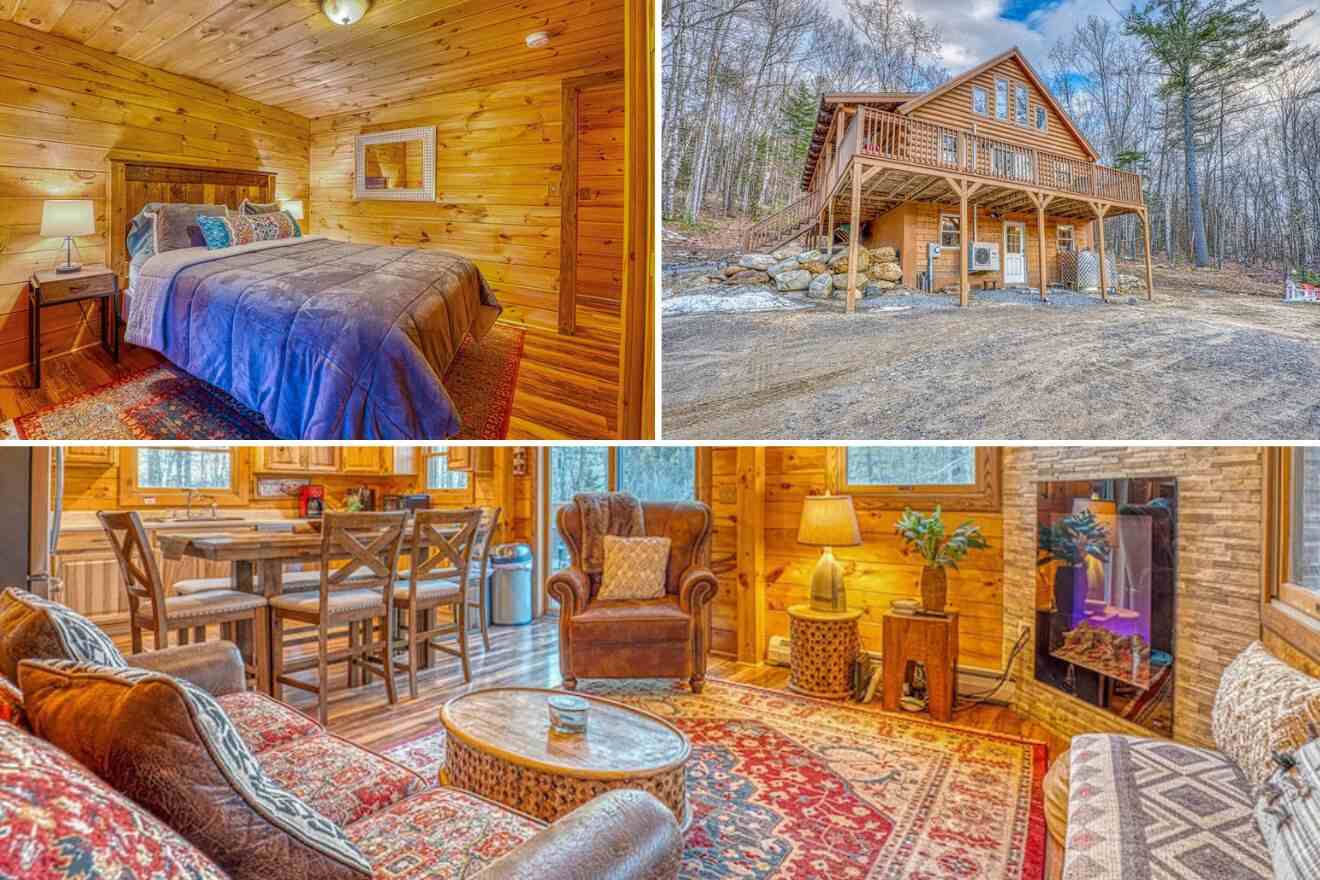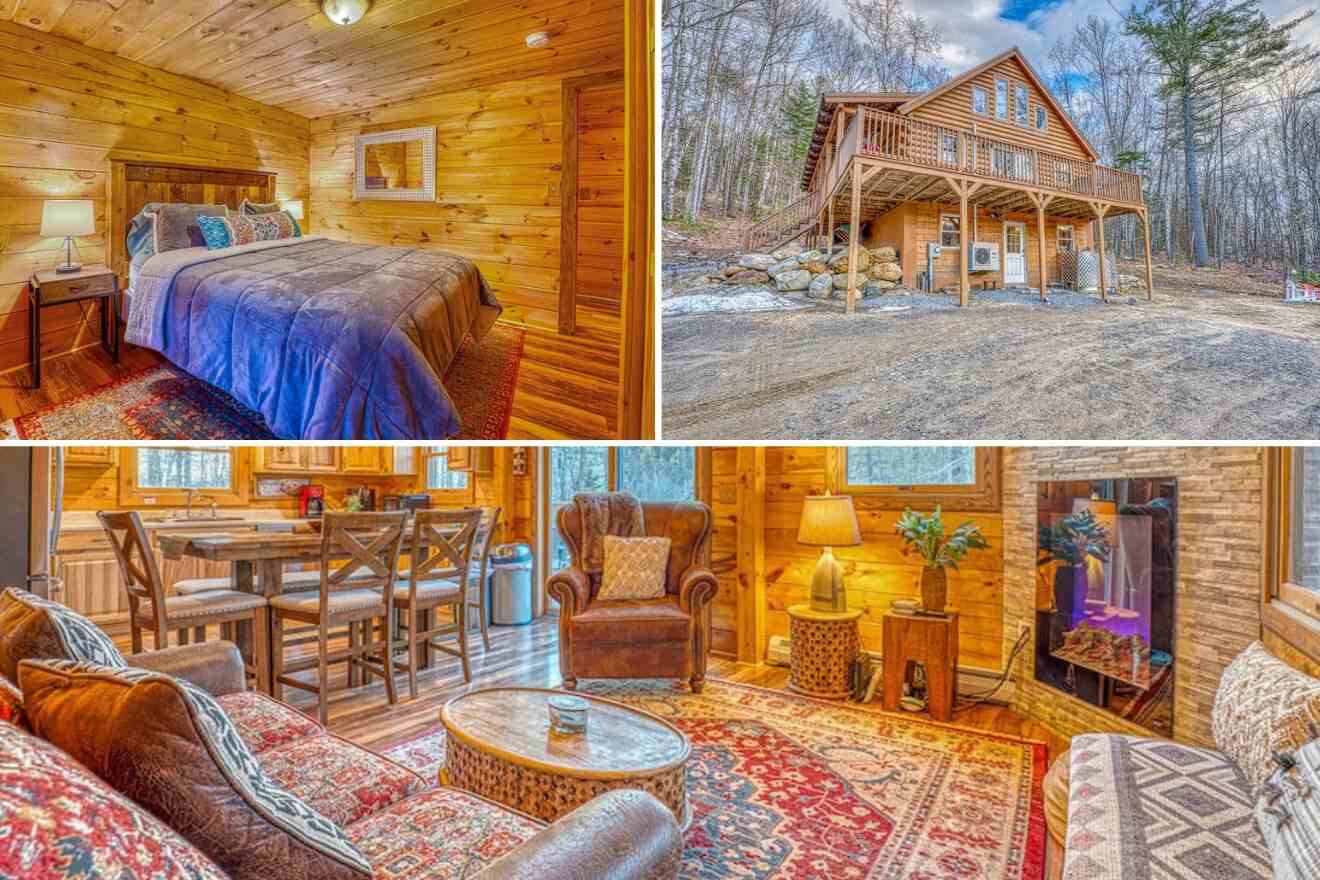 This amazing cabin would be perfect for families or friends looking to completely disconnect from everyday life and connect with nature and each other! Located in the middle of the forest, making it perfect for outdoor adventure lovers!
The cabin comes with a garden and a fire pit in it, a deck and yard overviewing the woods, and 3 bedrooms, 9 beds, and 2 bathrooms making it perfect for 14 guests. There is a game room and a lovely sitting area by the fireplace! A dog is allowed in this accommodation, the pet needs to weigh less than 20 pounds (10 kg)! P.S.: If you like skiing, Campton Mountain Ski Area is just minutes away!
3. Conway's Log Cabin – explore the many nearby attractions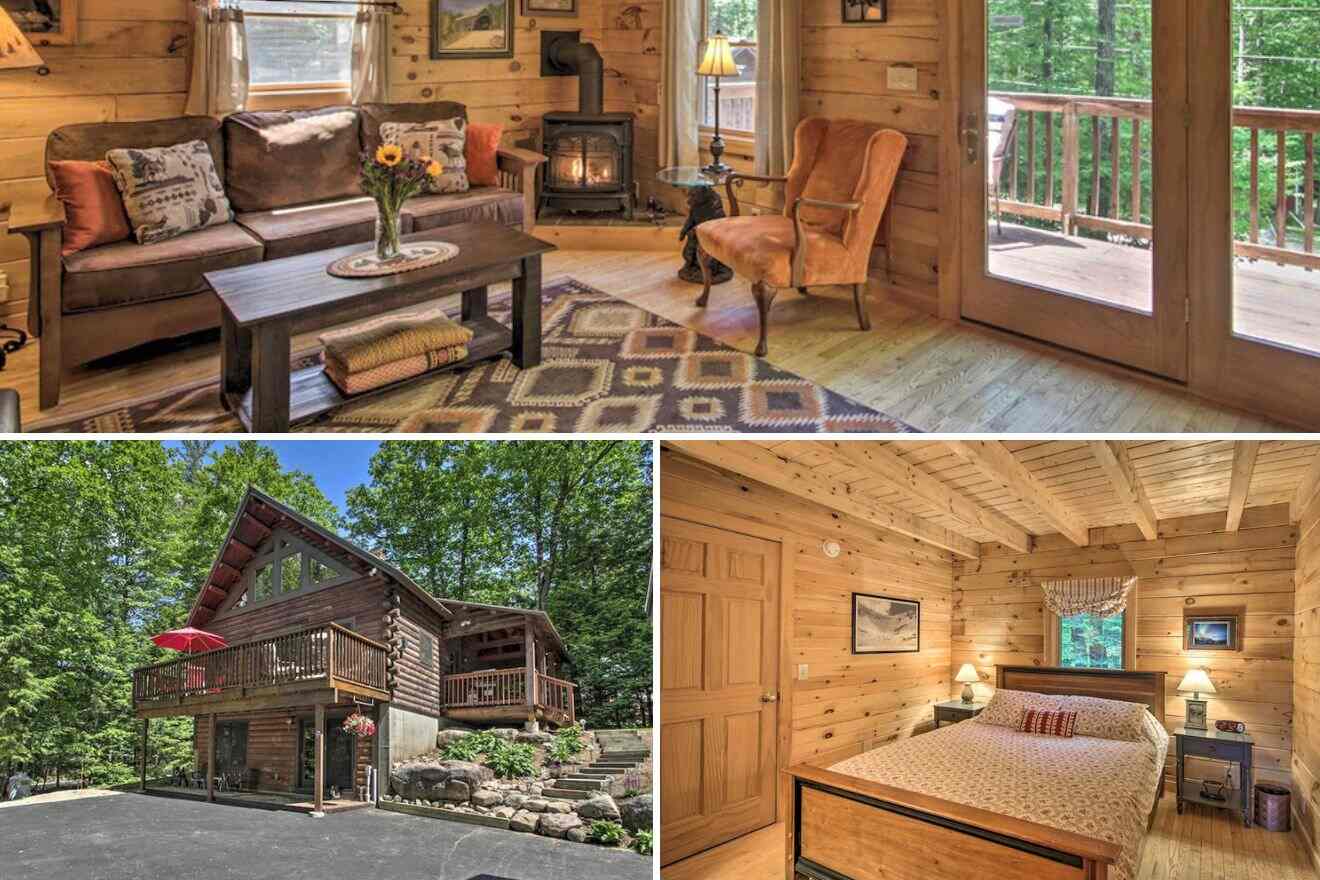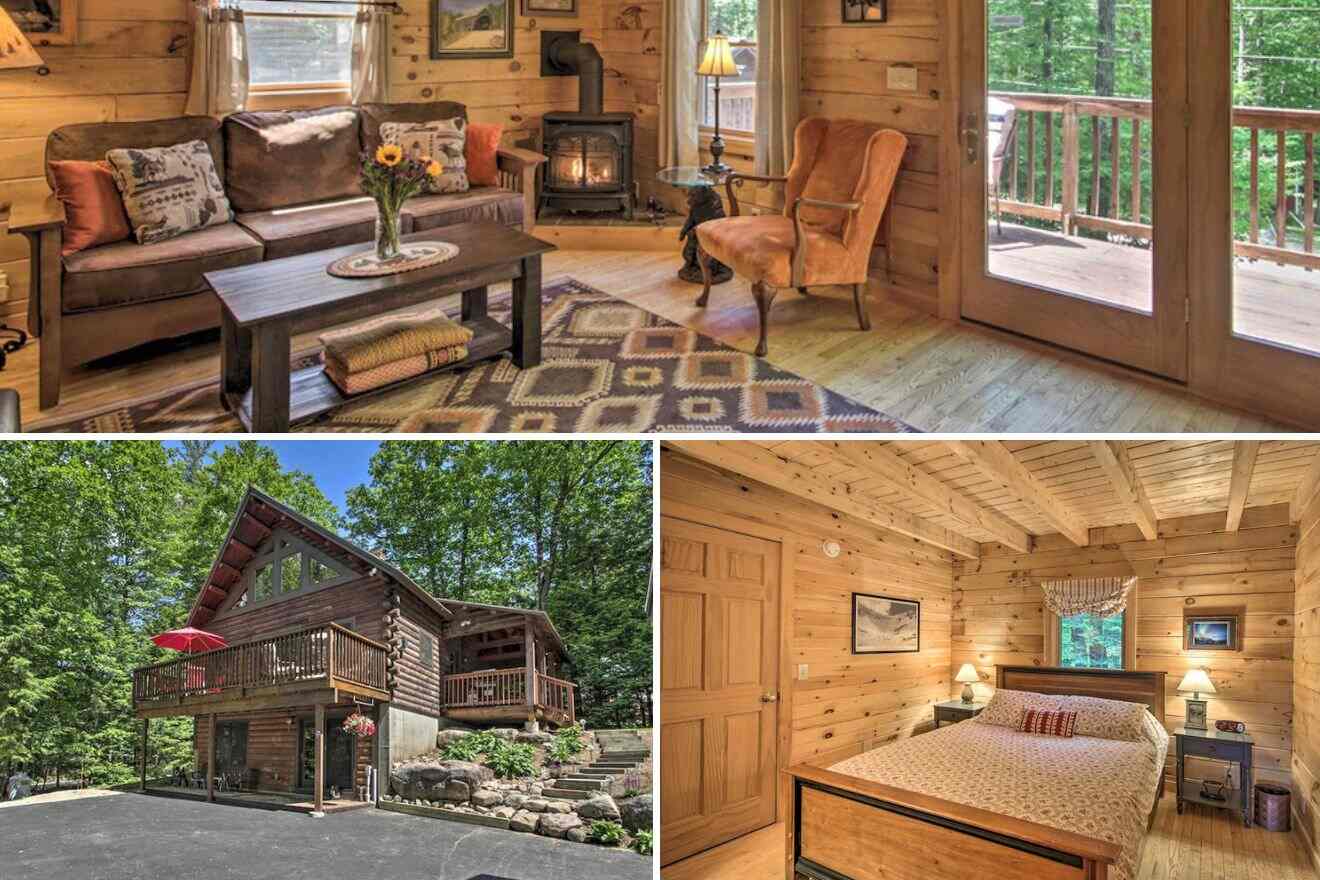 This is the ideal place for families who want to spend time in the great outdoors and have the chance to explore different attractions! Diana's Bath, located in White Mountain National Forest, is only 20 minutes away, which is perfect for hiking, and Story Land is only 30 minutes away, the perfect attraction for kids!
This is a pet-friendly cabin, but there is a US$50 pet fee. Inside the cabin, you can find everything you need for an easy and comfortable stay, to start it has 4 bedrooms, 5 beds, and two baths, and can host 11 guests; there is a kit for games in the living room, such as foosball and ping pong table!
4. Custom Log Cabin – relax while admiring mountain views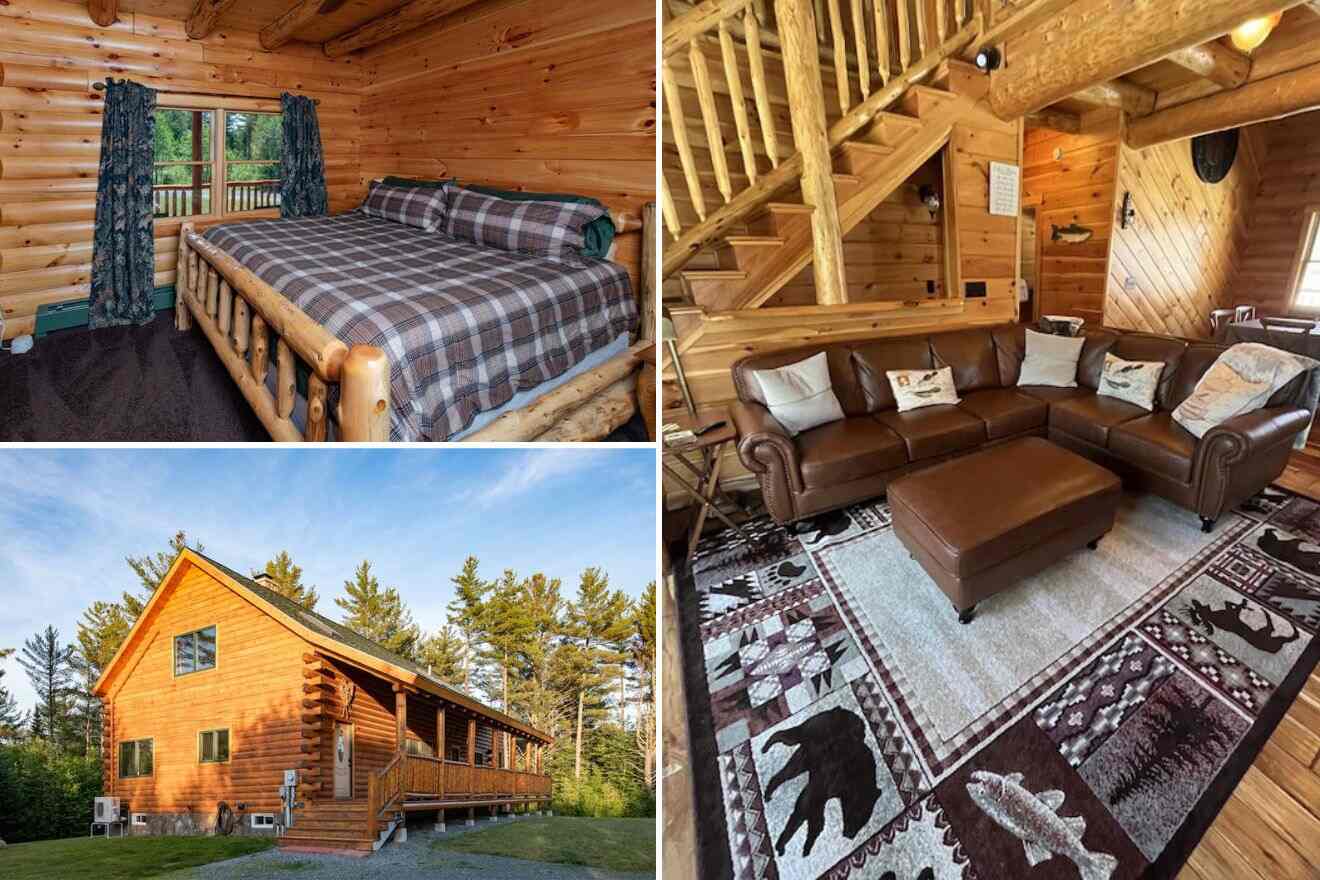 This lovely property is located 20 minutes away from Franconia Notch State Park, so be ready for outdoor adventures! This accommodation has a nice deck and balcony with stunning mountain views and a fire pit in the garden. It is perfect for large groups since it comes with 4 bedrooms and 8 beds, and 14 people can stay in, and don't worry, it comes with 3 bathrooms, so no long waits!
This property is dog friendly, dogs need to be approved beforehand and can not weigh more than 50 pounds (22 kilos), and the fee for a dog is US$125.
5. Bretton Woods Yurt – the perfect place in every season
I am obsessed with this property! Located in Bretton Woods, it comes with two bedrooms and 1 bathroom on each floor, and it can host 8 guests. In the summer, you can enjoy a nice BBQ on the cabin's furnished deck, enjoy a meal by the fire pit, or relax in the hot tub!
During the wintertime, light the fireplace and stay warm with your family or friends while playing board games. Alternatively, you can skate in the ice rink located in the garden! Dogs are welcome in this property, and up to 4 dogs are admitted. There is a US$100 fee for each dog staying at the cabin.
6. White Mountains Log House – for the perfect getaway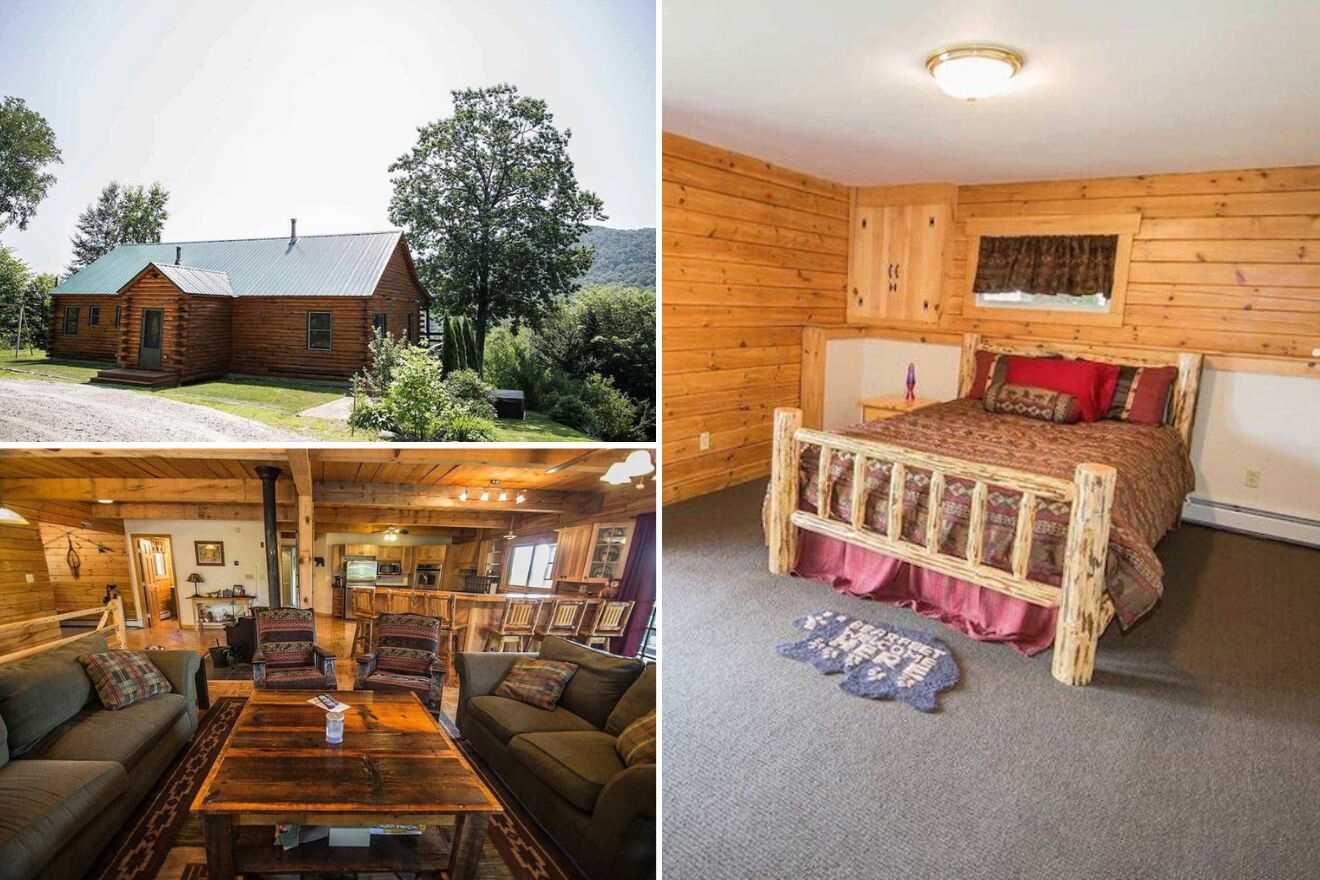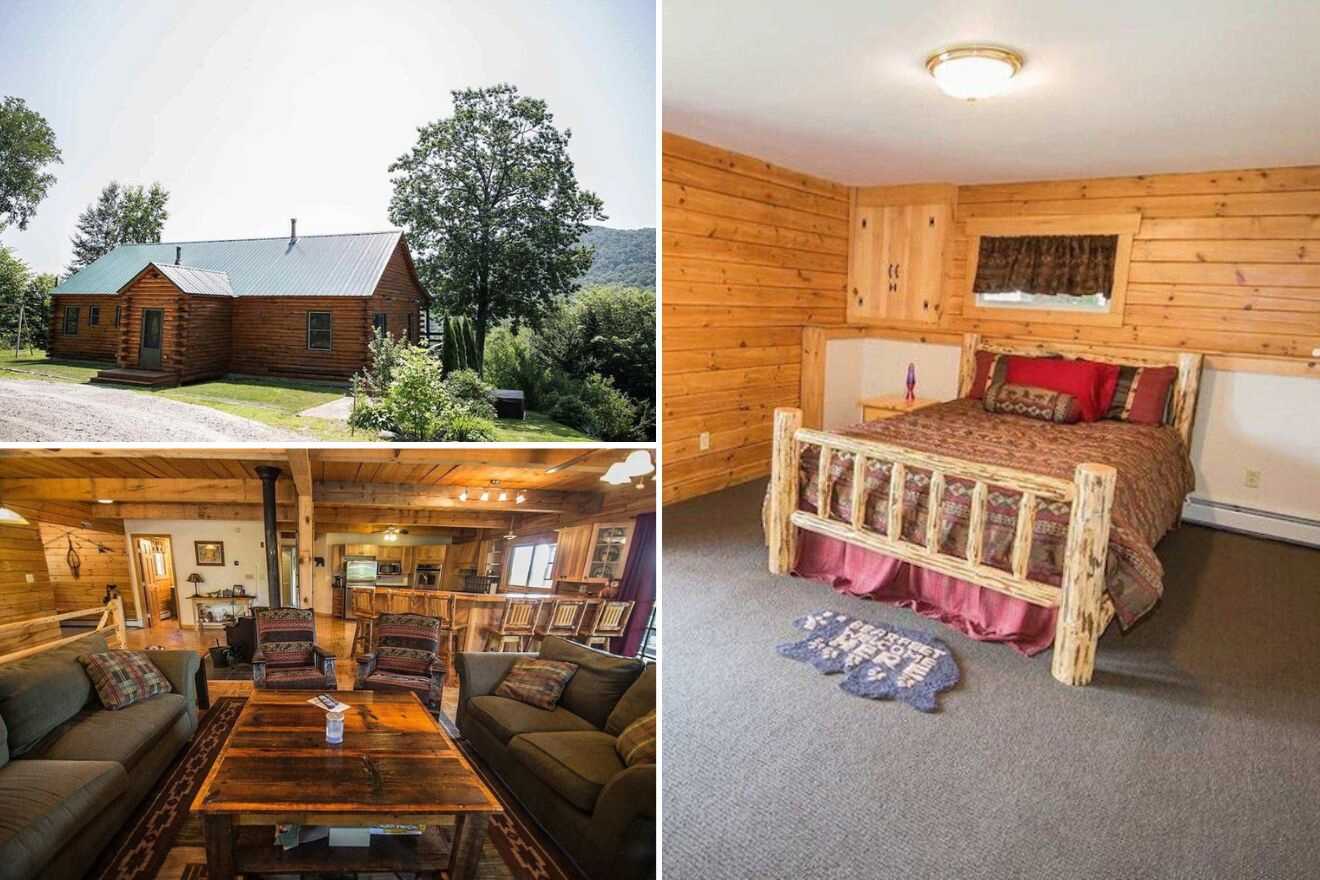 The location of this house is right in the White Mountains, which means 2 things: fantastic views from the property and amazing nature just steps from your doorstep! Whether you are looking to go skiing, snowshoeing in the winter, or hiking and swimming in the lake, this house has something for you.
The accommodation comes with not 1 but 2 hot tubs, one indoors and another one on the deck. With a total of 3 bedrooms and 7 beds, this house hosts a total of 8 guests, but it would be perfect for couples looking to spend a romantic weekend surrounded by astonishing nature! 2 dogs of any size are allowed in this property, puppies are not allowed.
7. New Cabin on the River – explore Carroll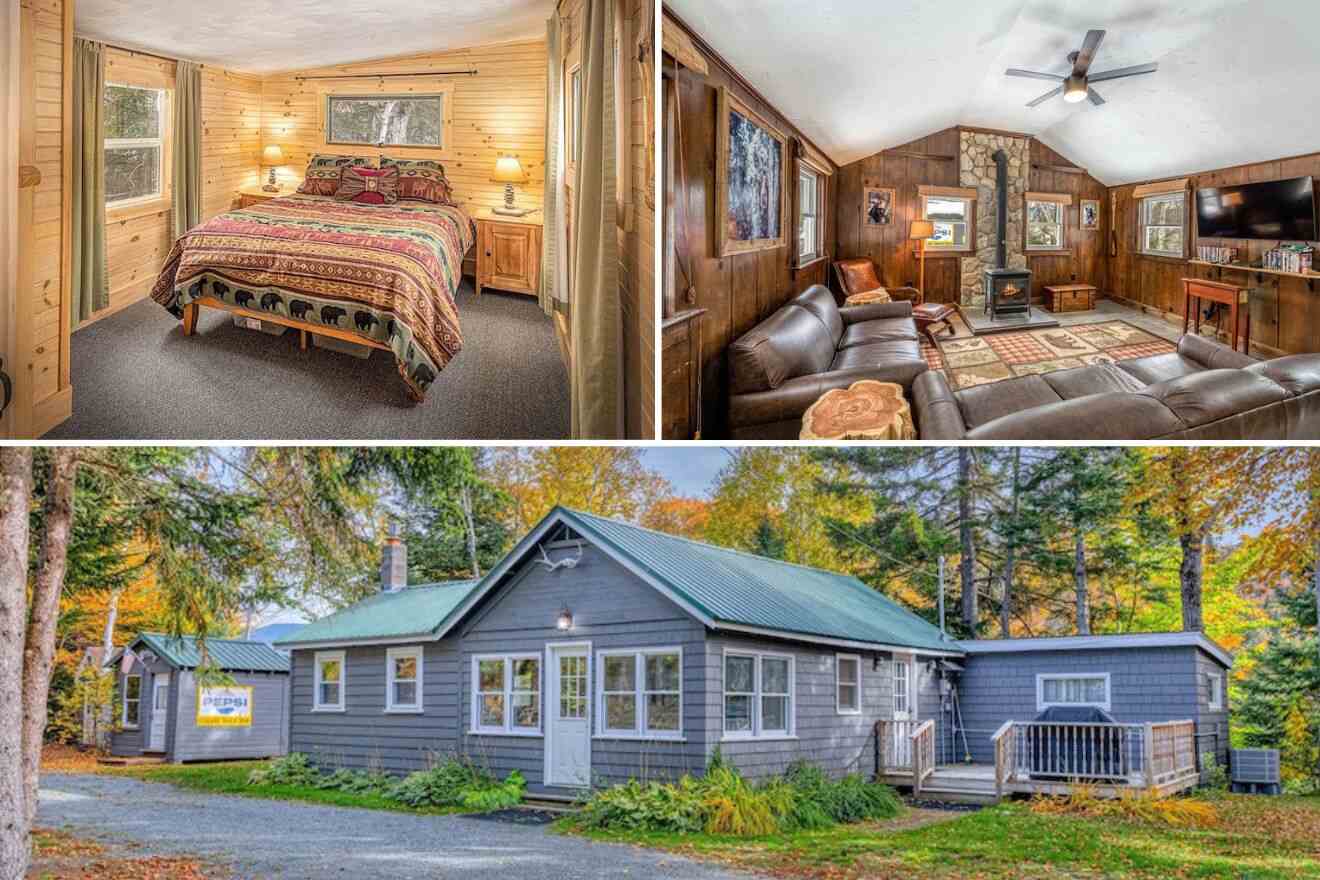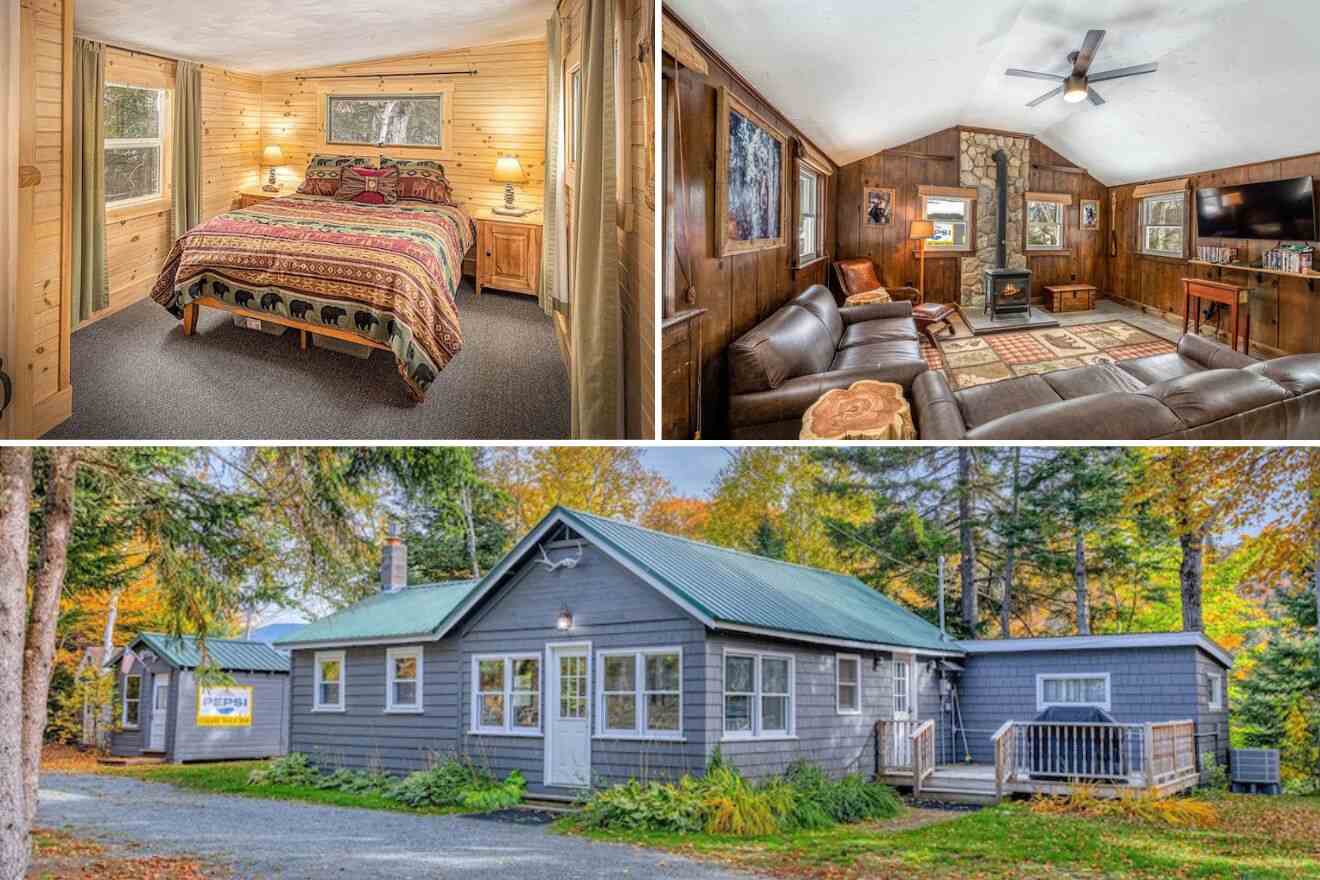 WOW! This property is amazingly located by a river, and listen to this, you have access to the river from the back porch! If you like hiking, you'll be happy knowing you have trails just steps away. Its location also represents a great chance to see wildlife!
This accommodation features an upscale, fully equipped kitchen, 2 bedrooms, and 3 beds, which can accommodate 6 guests perfectly! There is 1 bathroom with a shower and a fire pit in the lawn where you can relax after a day full of wholesome activities! Dogs are welcome on this property!
8. Modern Log Cabin – swim in Lake Winnisquam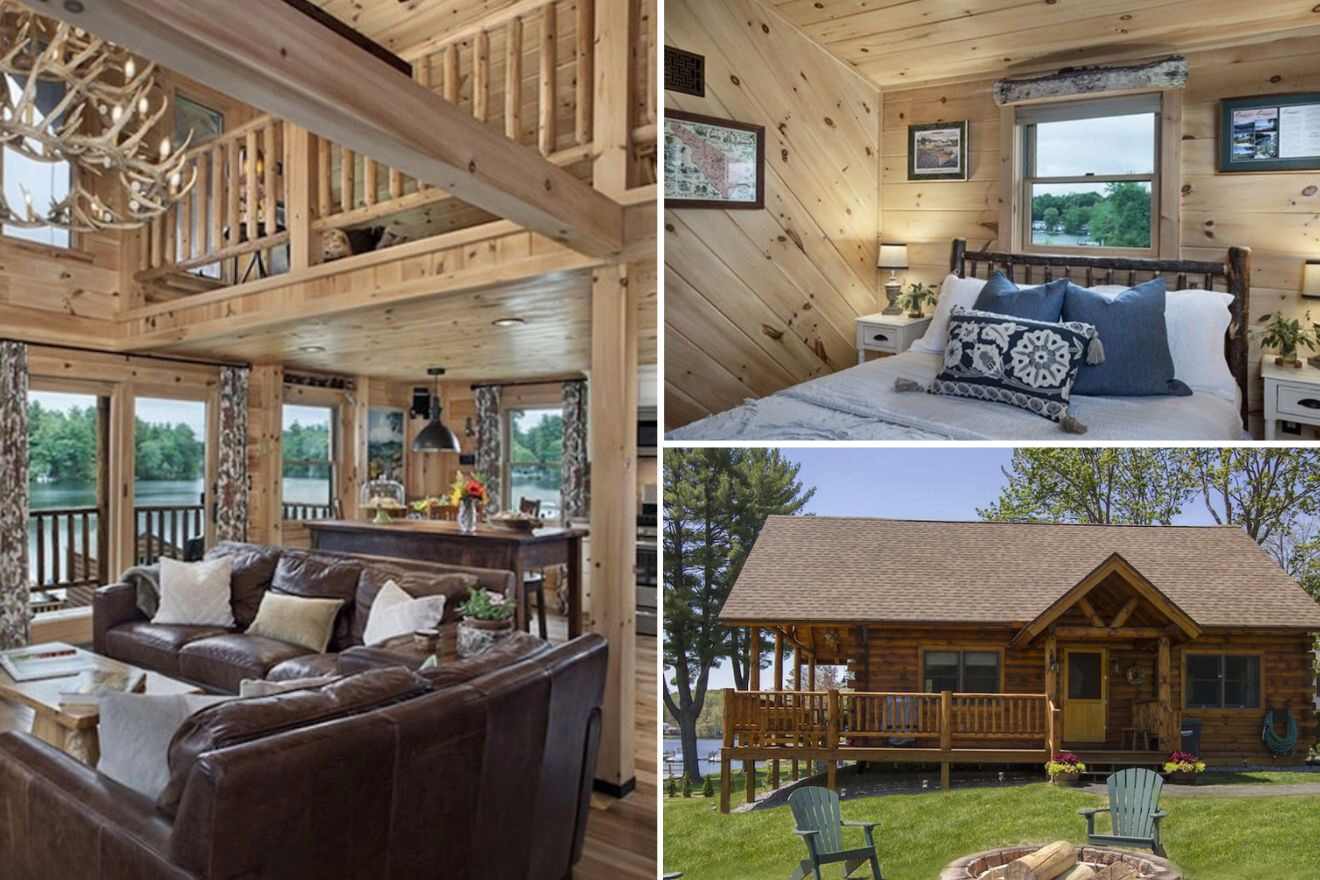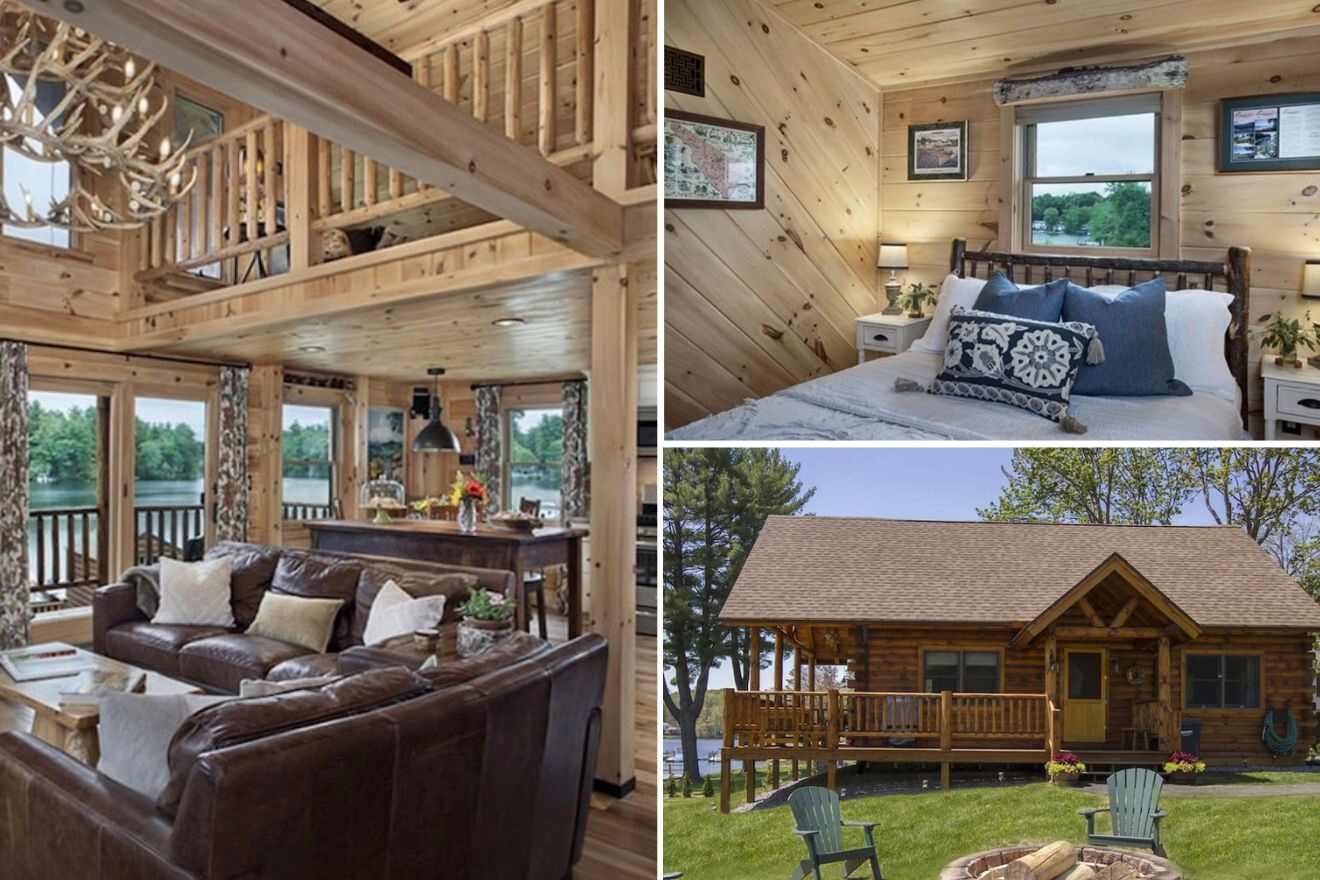 What a delight it would be to stay at this elegant cabin! With an amazing style, this cabin comes with its own private lake beach and amazing watersports equipment so you and your family can enjoy the summertime in style! There is a fire pit in the garden, so what is better by the end of the day than looking at the sunset after a long swim?
This log cabin comes with 2 bathrooms and 3 bedrooms. 2 of the bedrooms come with a queen bed, and 1 bedroom comes with 2 bunk beds, there is a futon in the living room for more sleep, which makes it perfect for 7 guests! One dog is allowed in the property for a US$250 fee, and the dog needs to be pre-approved by the property owners by the time of booking.
9. Hemlock Chalet – discover North Conway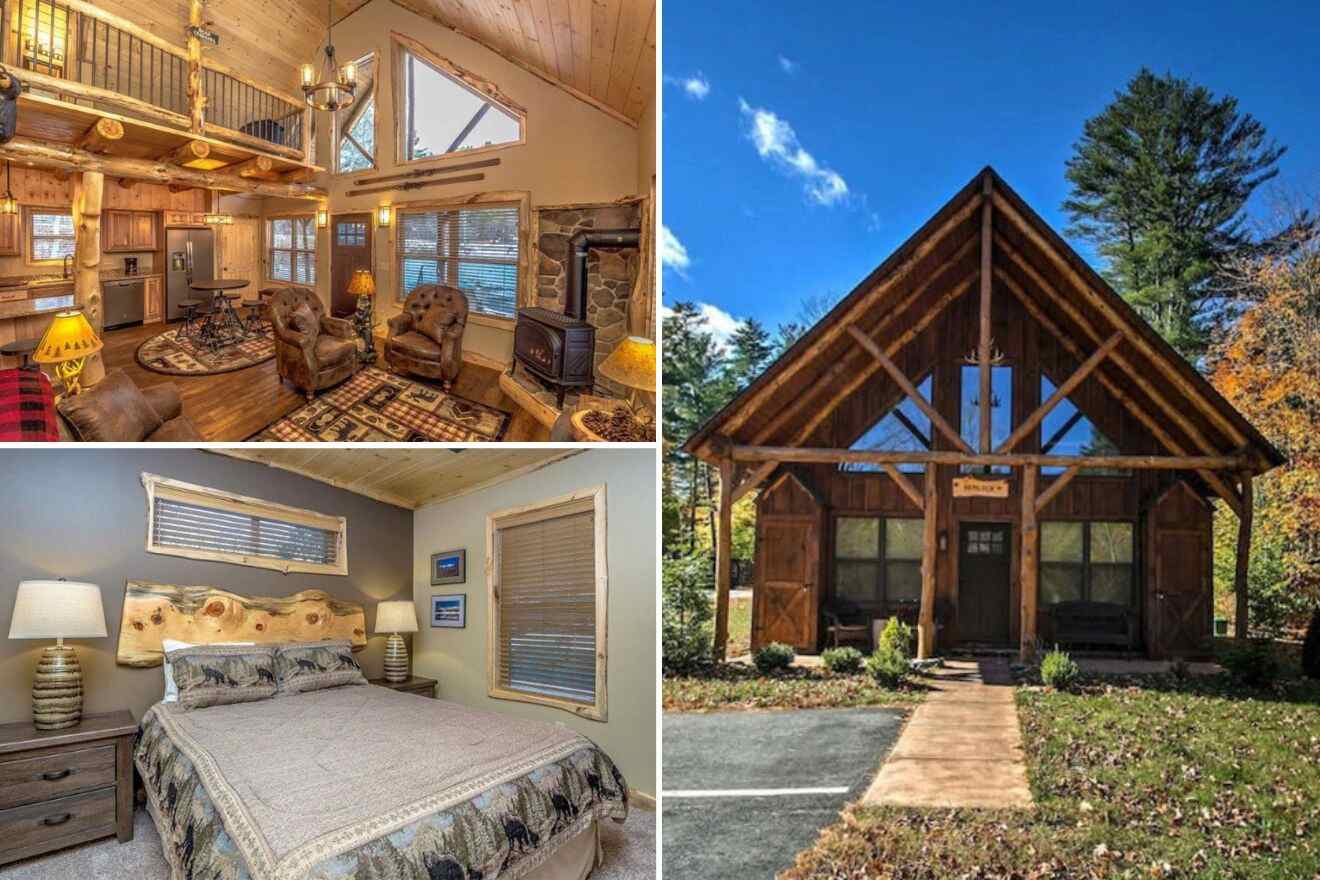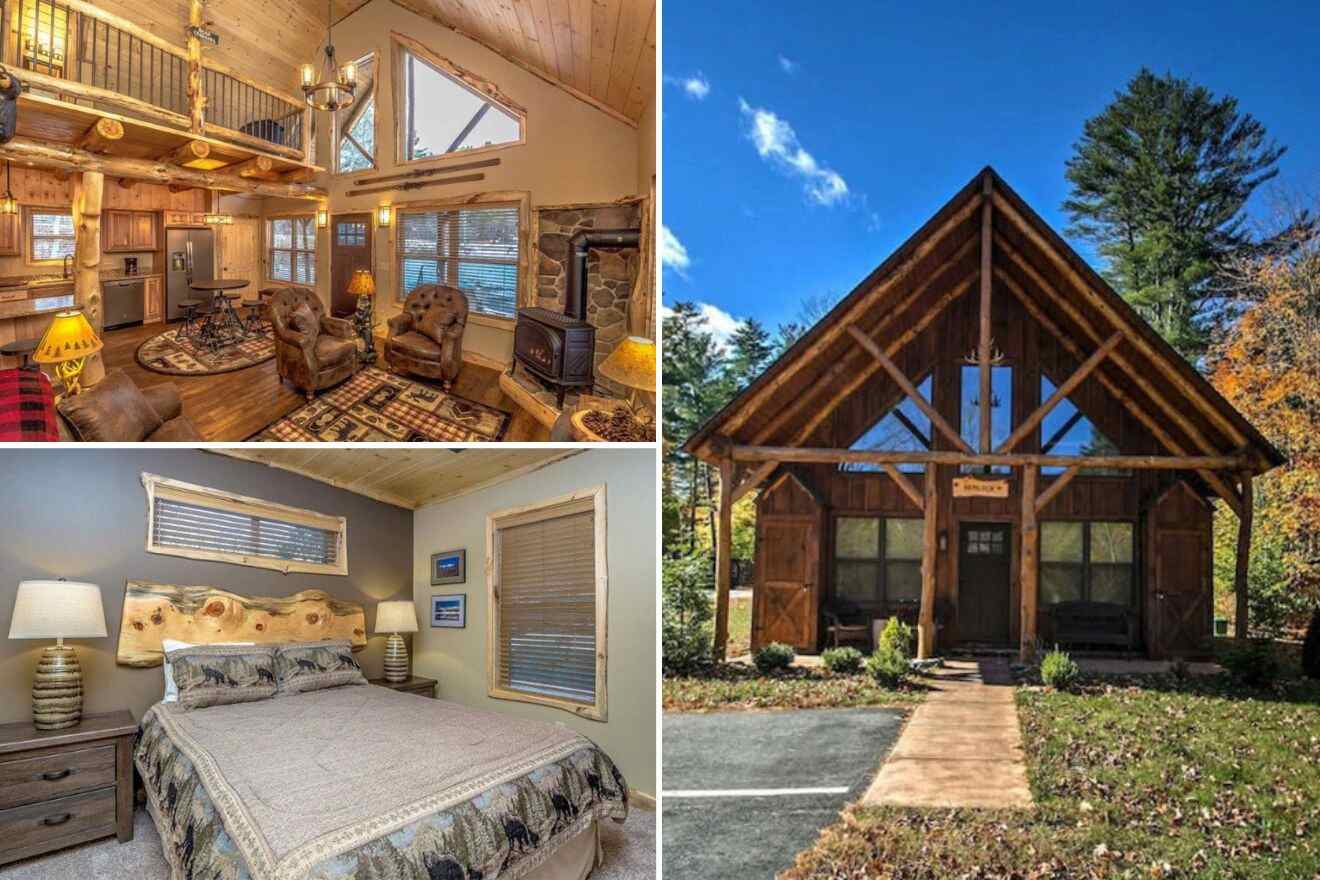 Are you looking for the perfect chalet for a winter vacation? This property is perfect for families who are looking to spend some time skiing in a winter wonderland, and with Cranmore Mountain just minutes away, you are in for a real treat! The accommodation surroundings are just perfect, so much natural woodland!
This luxury chalet comes with 3 bedrooms and 6 beds, which makes it perfect for 6 guests! There are 2 sets of bunk beds in one of the rooms, ideal for kids, and 2 full baths, so no one has to wait to get ready! Pets are welcome in this chalet, but there is a pet fee of US$50, so check with the host at the time of booking!
10. Coventry Log Home – for a modern and stylish stay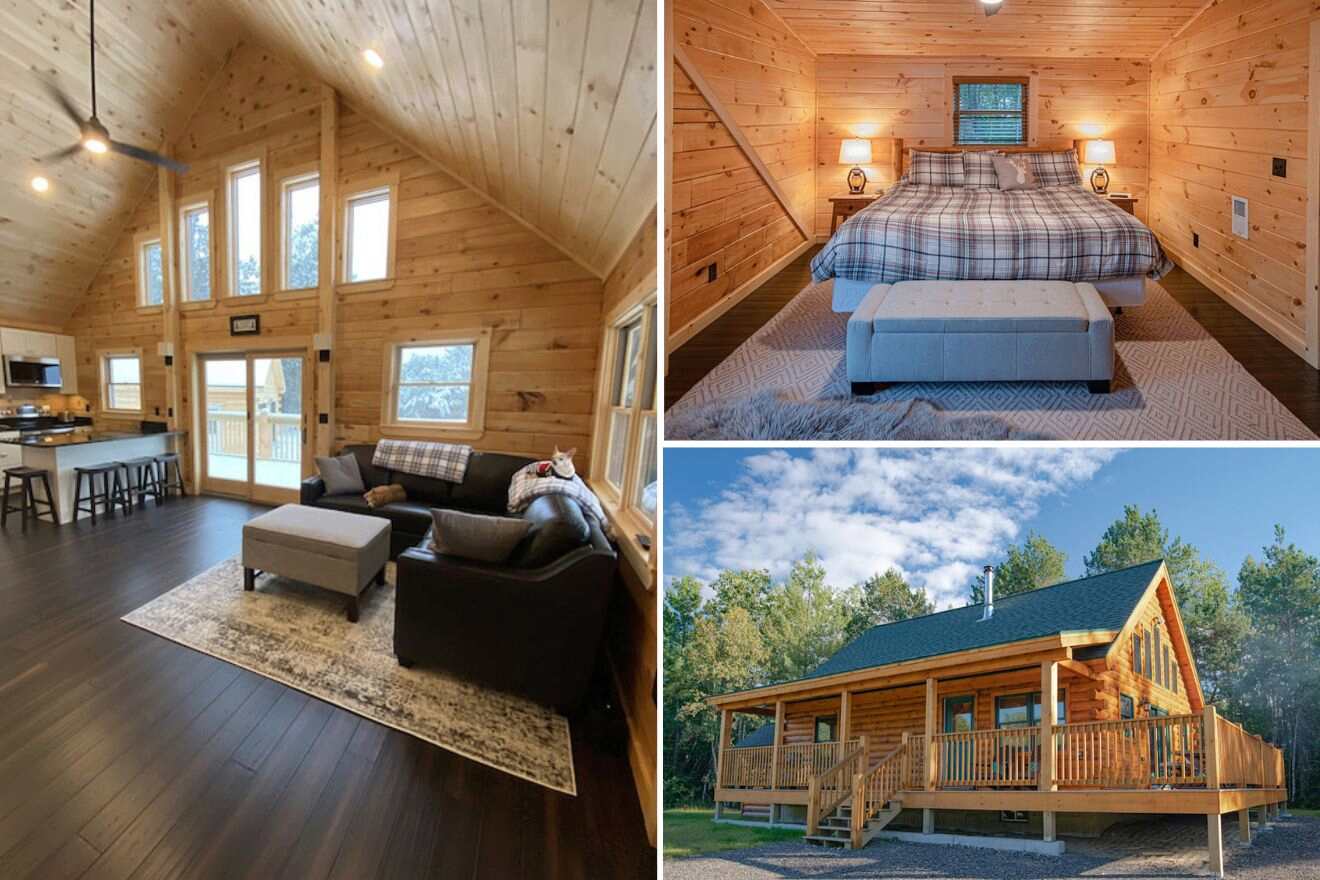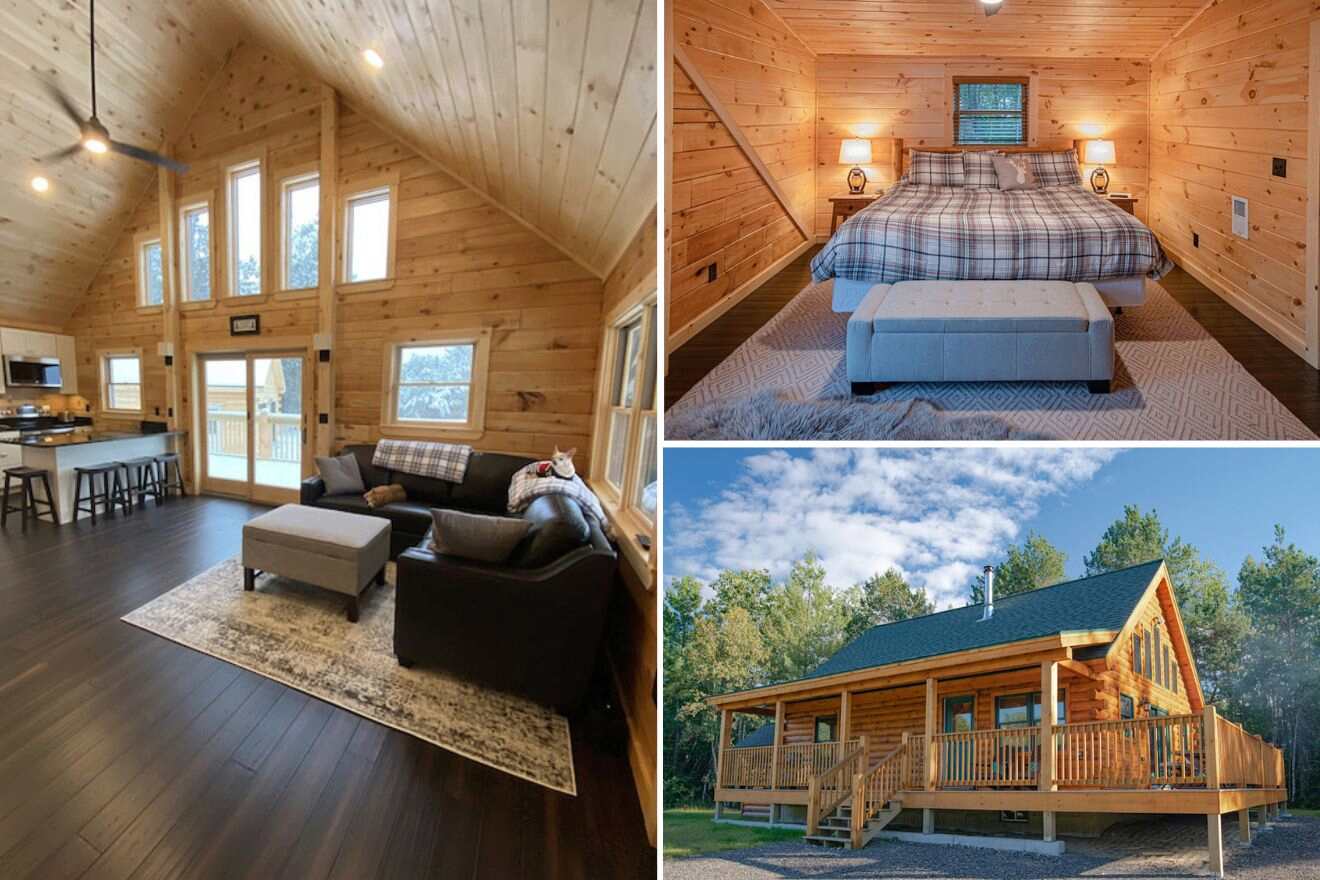 This cabin was built in 2020, so it's not your typical cabin, it is super modern and has all the amenities you need for an elegant stay! The kitchen is super well equipped and comes with 2 coffee makers, and there are 3 bedrooms in the cabin and 4 beds for a total of 6 sleeps.
The property comes with a deck that has a beer garden-style table, outdoor armchairs to relax, and 2 BBQs! Pets are allowed in this property, but only 1 dog per stay, and the dog needs to weigh less than 50 pounds (22 kg). The pet fee is US$125, and the dog has to be pre-approved by the owner of the log cabin.
11. Mountain Cabin – stylish western decor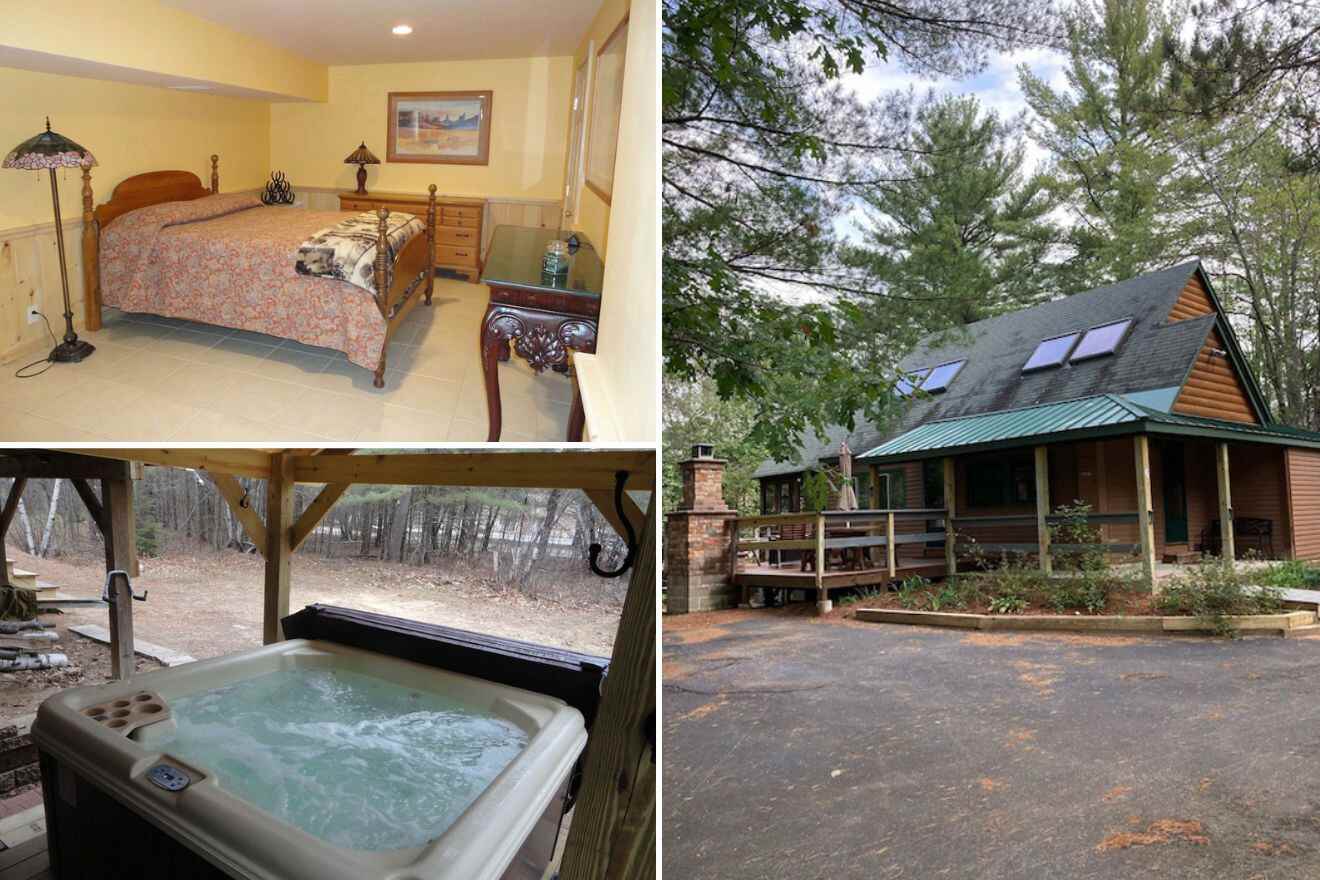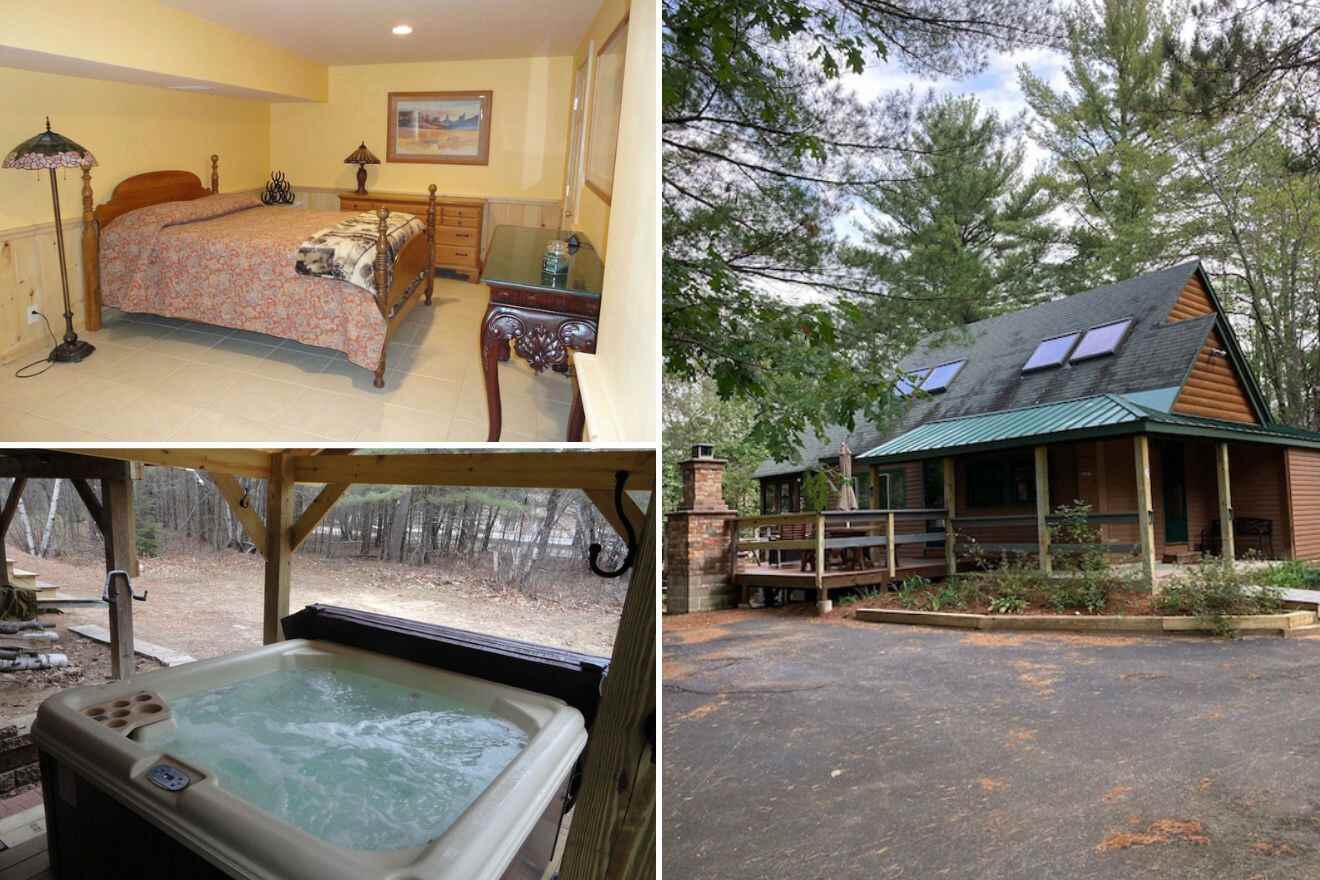 The property is secluded by the forest, so you can enjoy the very spacious porch with tables, chairs, and a fireplace on an evening full of stars, cook a bbq on the deck after a morning hike, or relax on the other porch with a covered seating area! There's even a jacuzzi big enough for 4 people! There is a foosball table indoors, 4 bedrooms, and 4 beds, ideal for 8 guests!
Located in North Conway's mountains, this cabin is perfect for anyone looking for a private retreat, with Eko Lake for swimming only 5 minutes walk away. Saco River is also minutes away, and great for kayaking and canoeing, so you'll have plenty of things to do! 2 dogs of any size are allowed in the property!
12. Little Bear Lodge – perfect for couples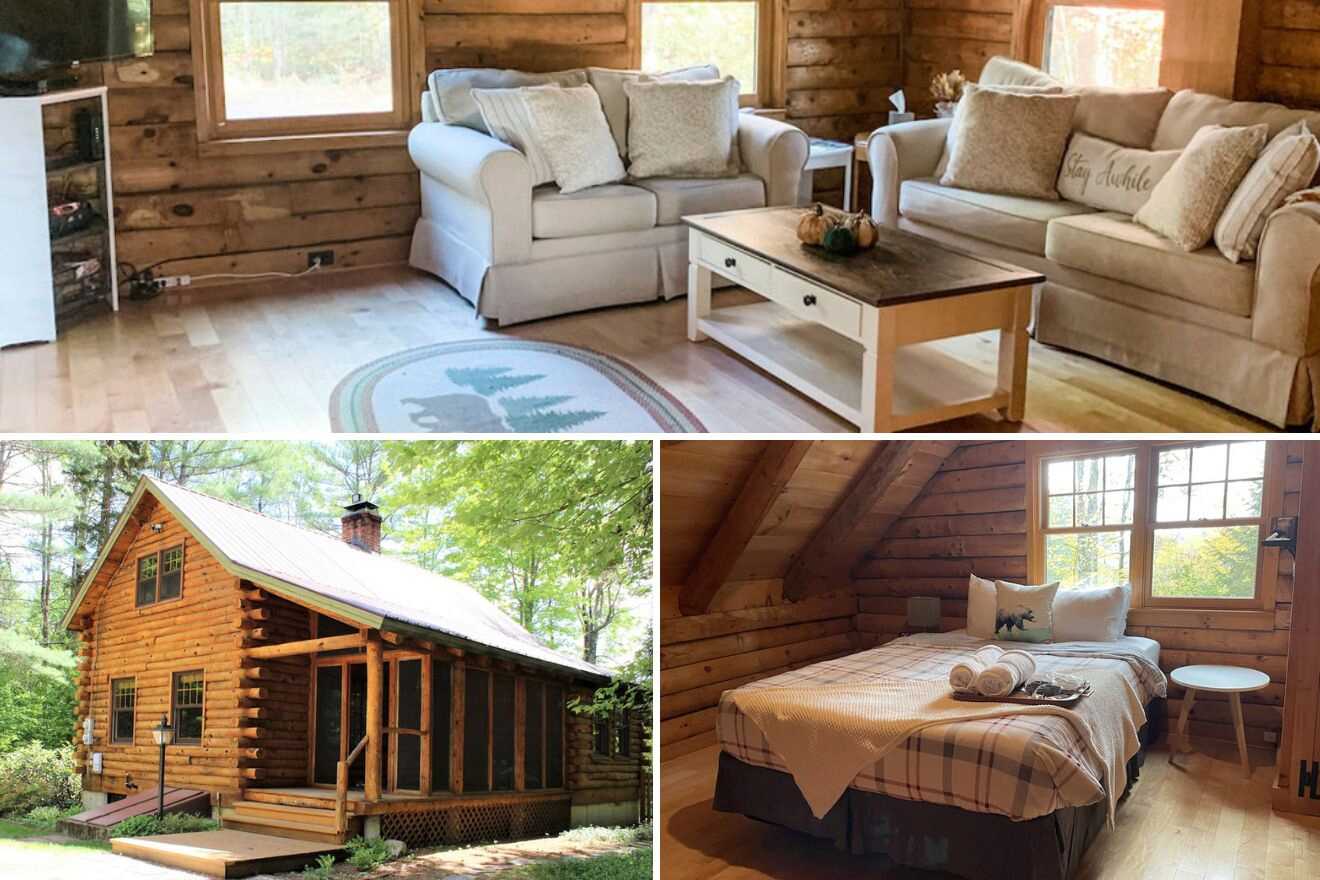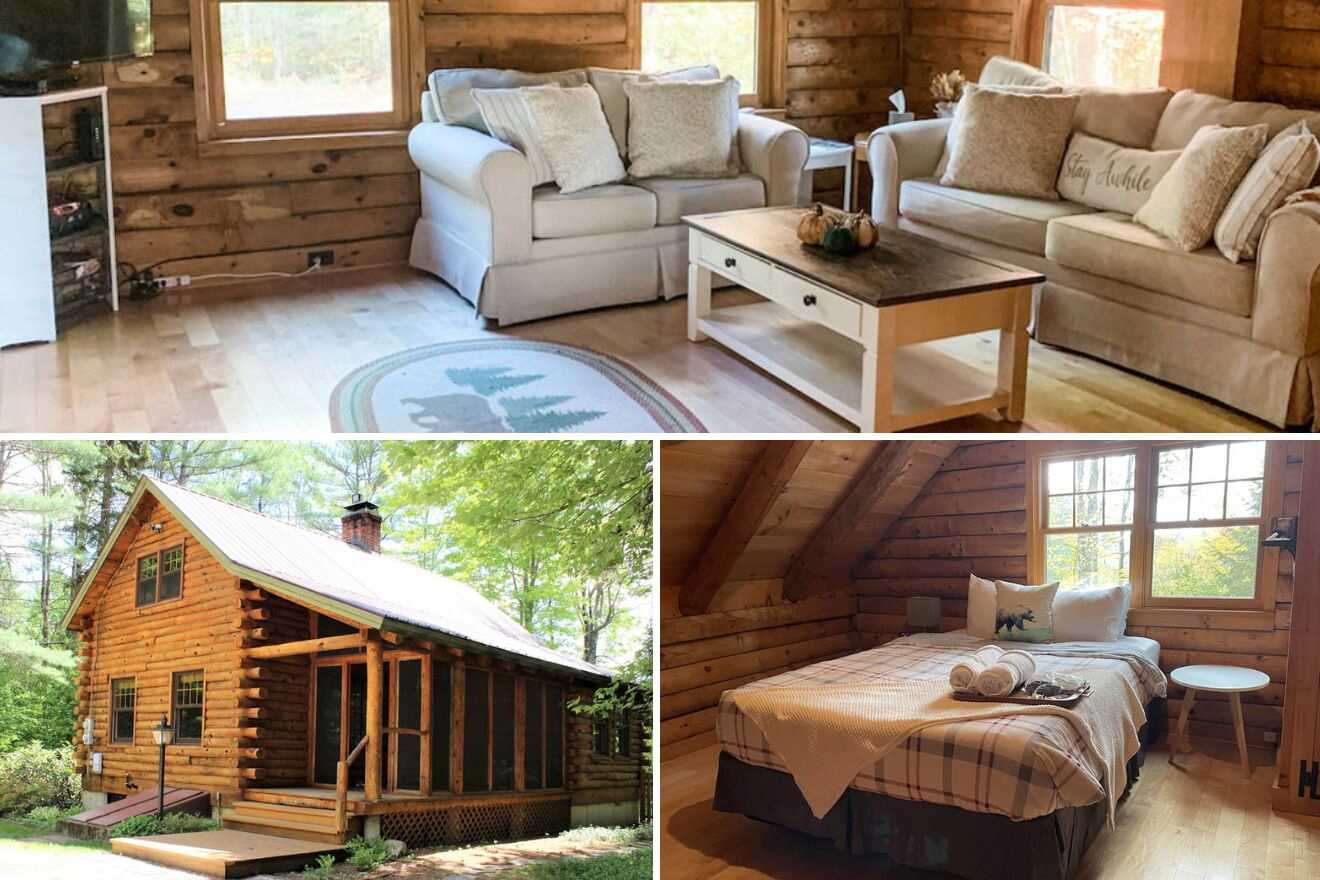 Oh my god! I love this cabin located in Madison! It looks so cozy and super cute, it comes with 2 bathrooms, one of them with a bathtub, 2 bedrooms, and 3 beds. It can fit 6 guests, but if you ask me, this cabin is ideal for couples! There is a furnished and covered porch and a telescope to see the stars shine bright! The garden has a grill and a lovely koi pond!
With Silver Lake just minutes away and with Cooks Pond Forest Loop trail nearby, the location is perfect for hiking and swimming. If you are traveling in the winter, there are skiing areas 4 miles (6 km) away. Regardless of the season, there is a convenience store only 2 min away! A maximum of 3 dogs are allowed (extra fees).
13. White Mountain House – feel right at home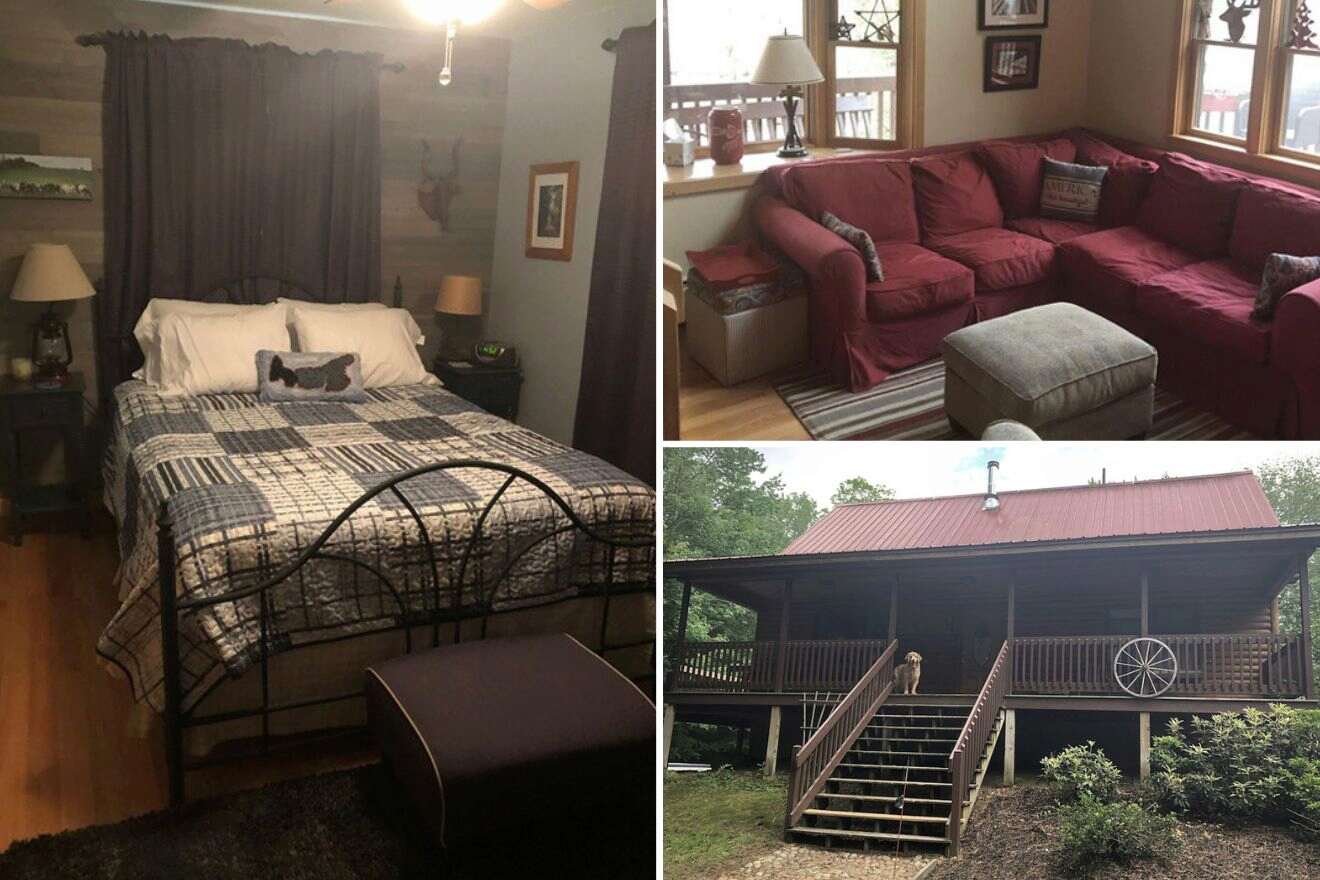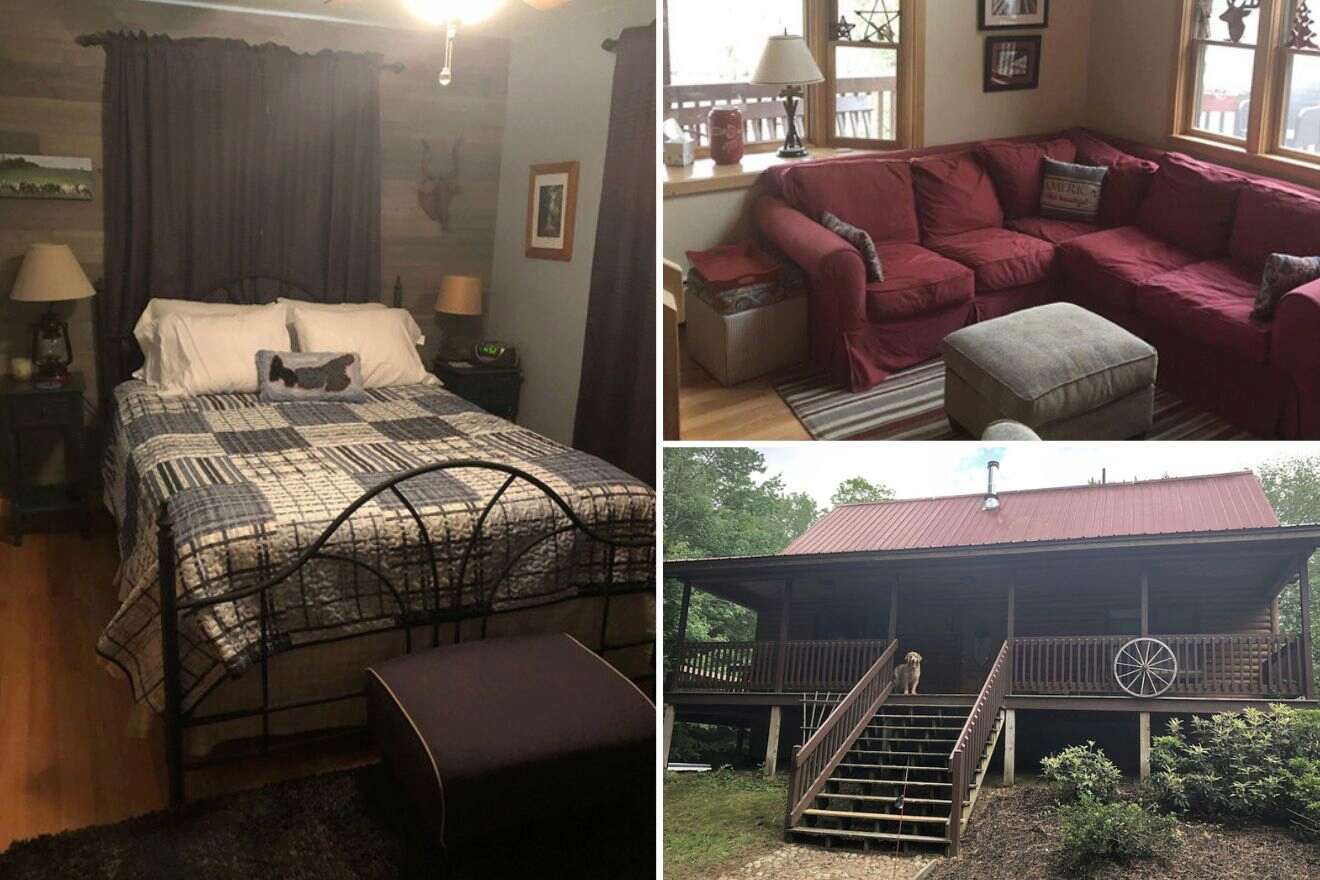 Located in Conway, this house is charming and homey! The property is surrounded by trees and has access to a pond! The garden is very spacious and has a fire pit and chairs to share time with your friends or family; the deck is furnished as well, so perfect for having breakfast in the morning while admiring the view!
The house comes with enough rooms for 6 guests, it has 3 bedrooms and 4 beds, a game room with couches and a TV, and 2 full bathrooms. This house welcomes dogs for a fee, check with the owner of the place before booking!
14. Cozy Chalet – fun indoors and outdoors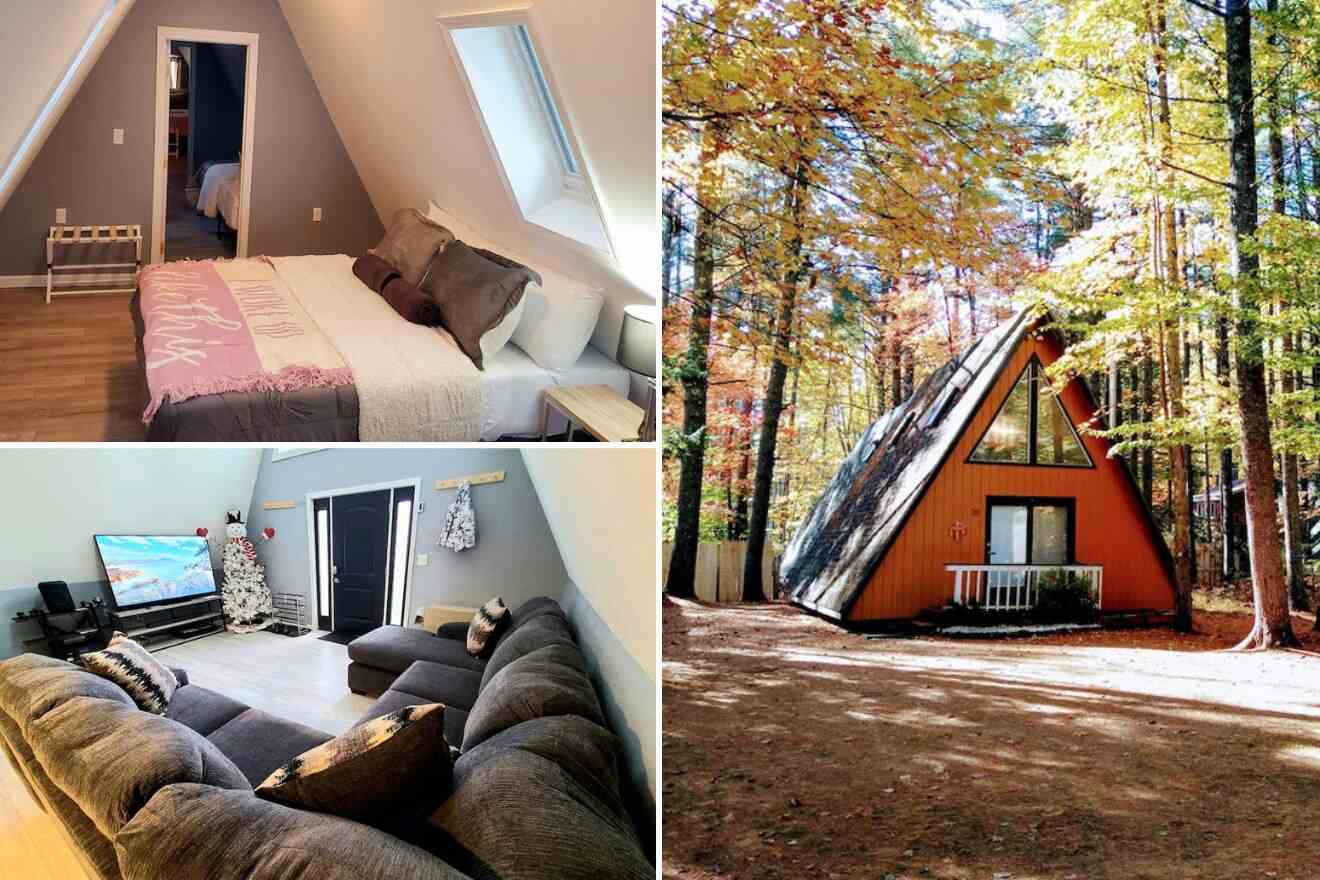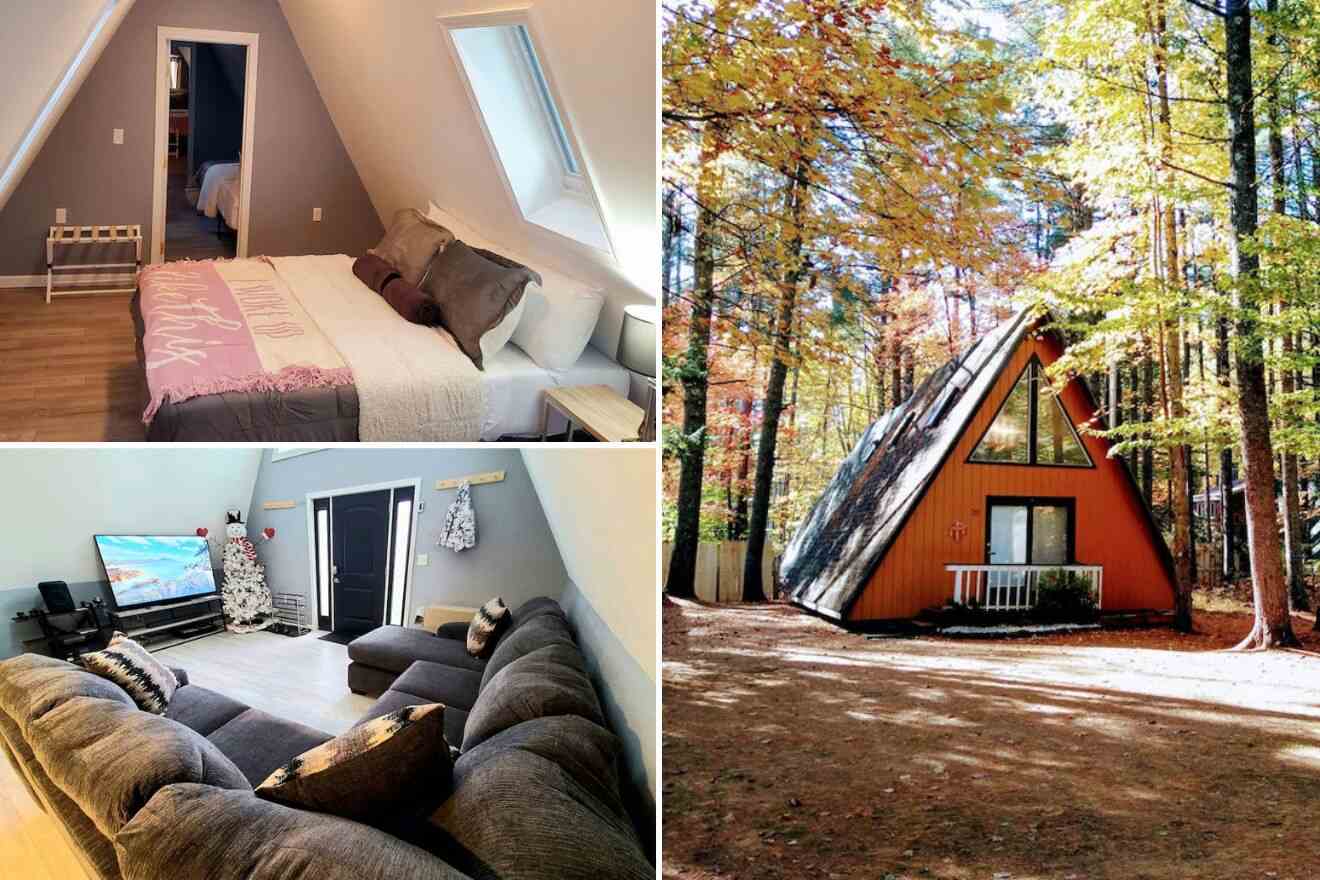 Oh me, oh my! Don't miss out on the opportunity of renting this chalet! In the property's garden, there is a trampoline, a mini playground, a fire pit with furniture, plenty of armchairs and a lit patio, and a grill! So either if you want to spend time in the garden or explore Conway, you and your family will have the time of your life!
Inside there is a keyboard, a playing area for kids, a projector to watch movies in the living room, a pool table, and more! This property can host 10 guests with its 3 bedrooms and 6 beds. 5 dogs of any size are welcome, and they even have dog beds!
15. Lost in the River Cabin – relax and enjoy nature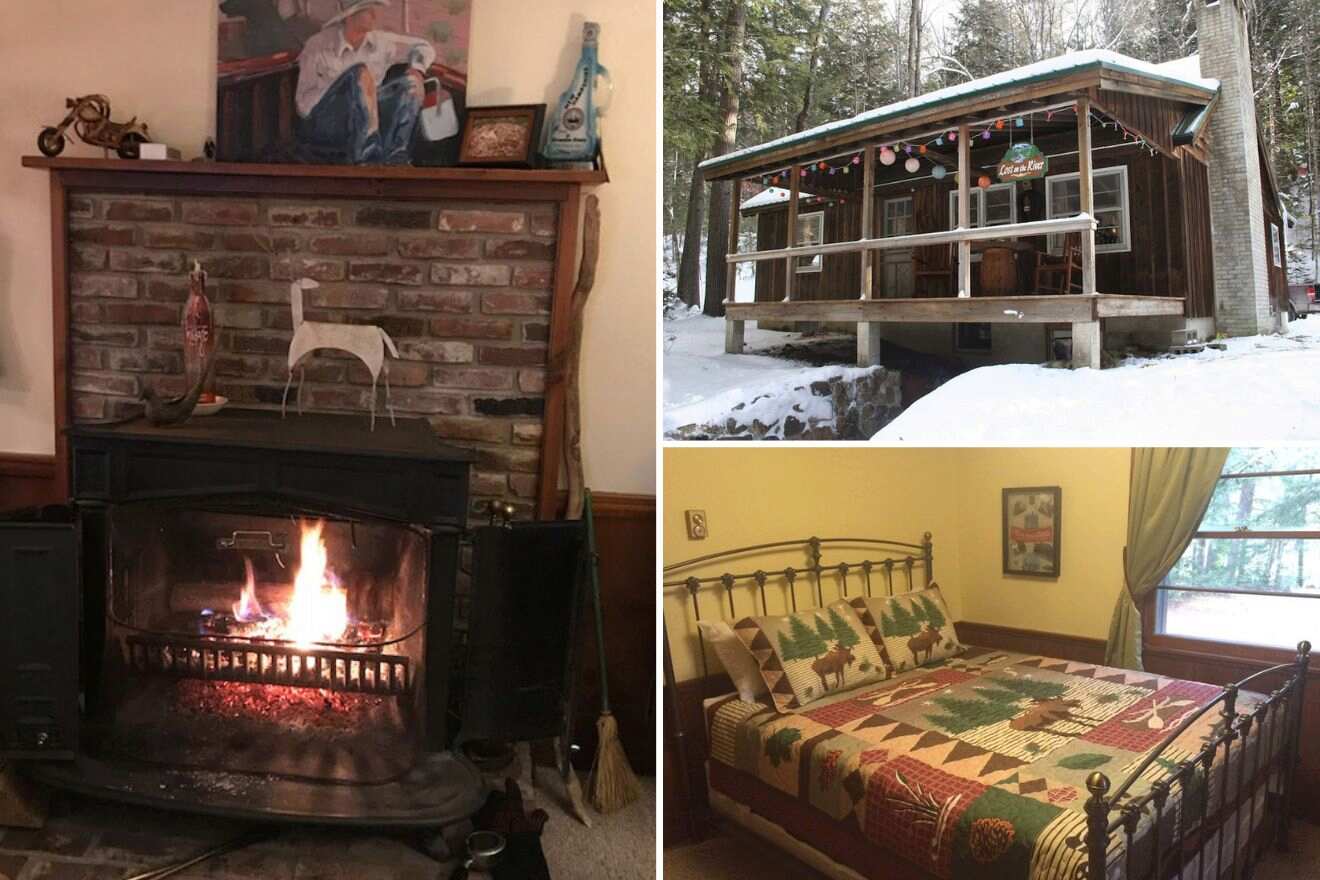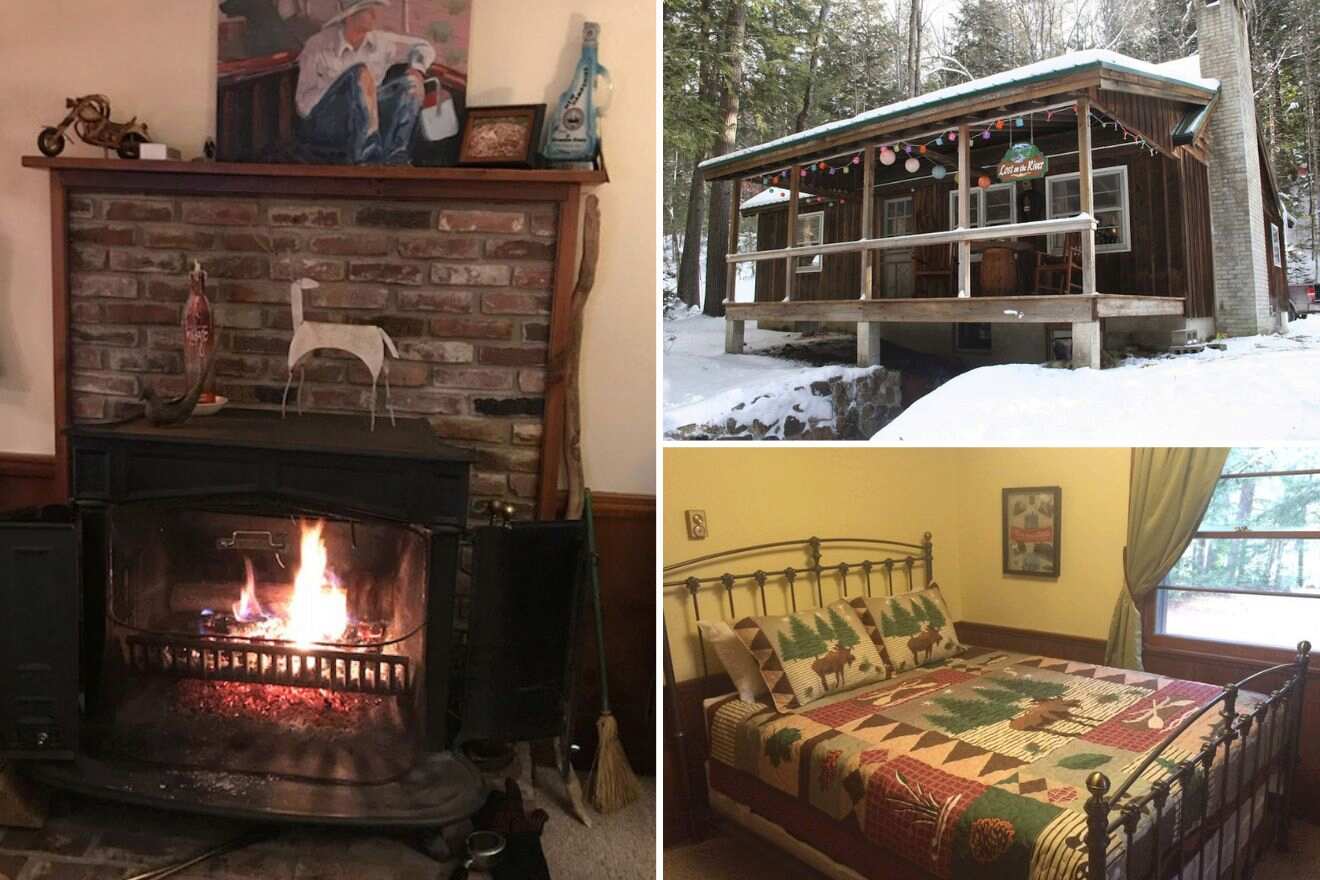 This cute cabin is located in the middle of Mount Washington Valley, you will have your little private paradise with a river in front of the property and many recreational activities just minutes away, from hiking to shopping! If you want to stay in the cabin, you can swim in the river or relax by the firepit.
The property comes with 2 bedrooms and 3 beds and can accommodate 6 people, the inside of the cabin is super cozy, and it even has an old-school stove (not functional), but what a treat to see one in real life! Dogs are welcomed for a US$15 fee, and the dog needs to be pre-approved by the landowner.
16. Rustic Retreat – check-in in Pittsburgh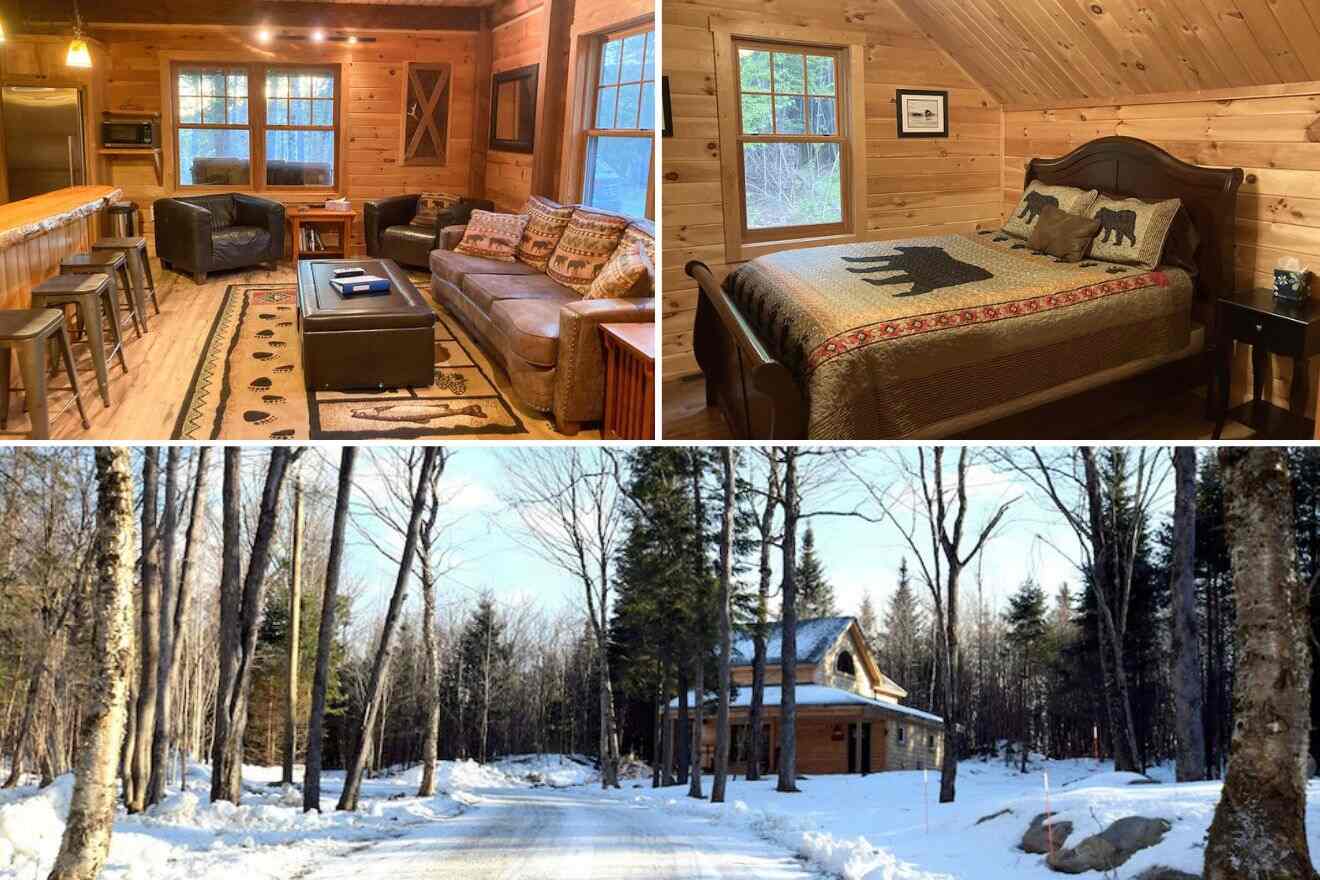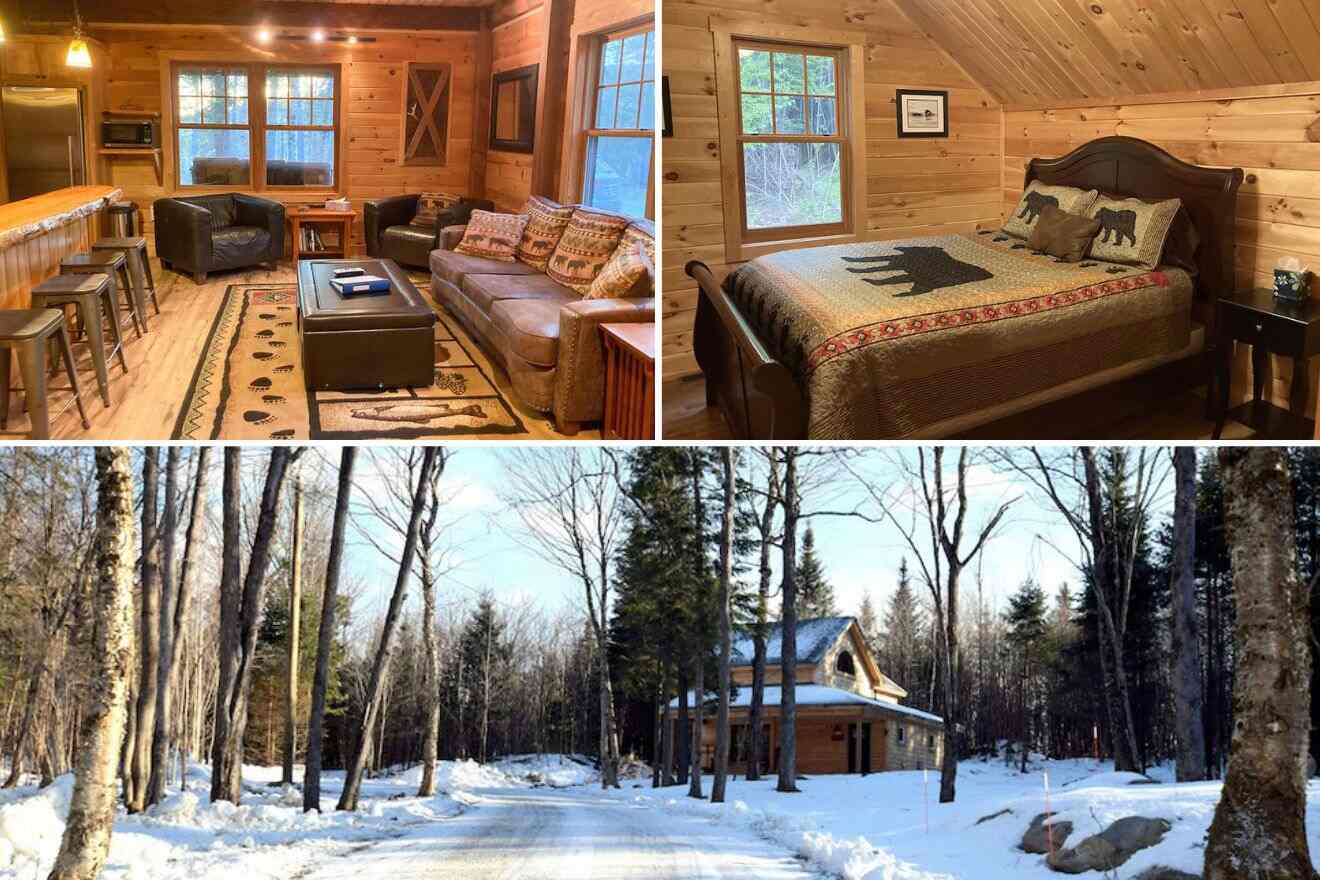 What a great log cabin located in Pittsburgh, with Lake Francis just minutes away! The cabin is super simple, but it has everything you need, from the internet, and TV with cable channels, to an outdoor fire pit! This home can host up to 8 guests since it comes with 4 queen beds!
Enjoy a swim at the lake, go hiking around the trails located nearby, or bike around and discover all the amazing wildlife this area has! If you like golf, there is a course a 25-minute drive away! This property welcomes 2 dogs of any size for US$25.
17. Small Log Cabin – enjoy the Great North!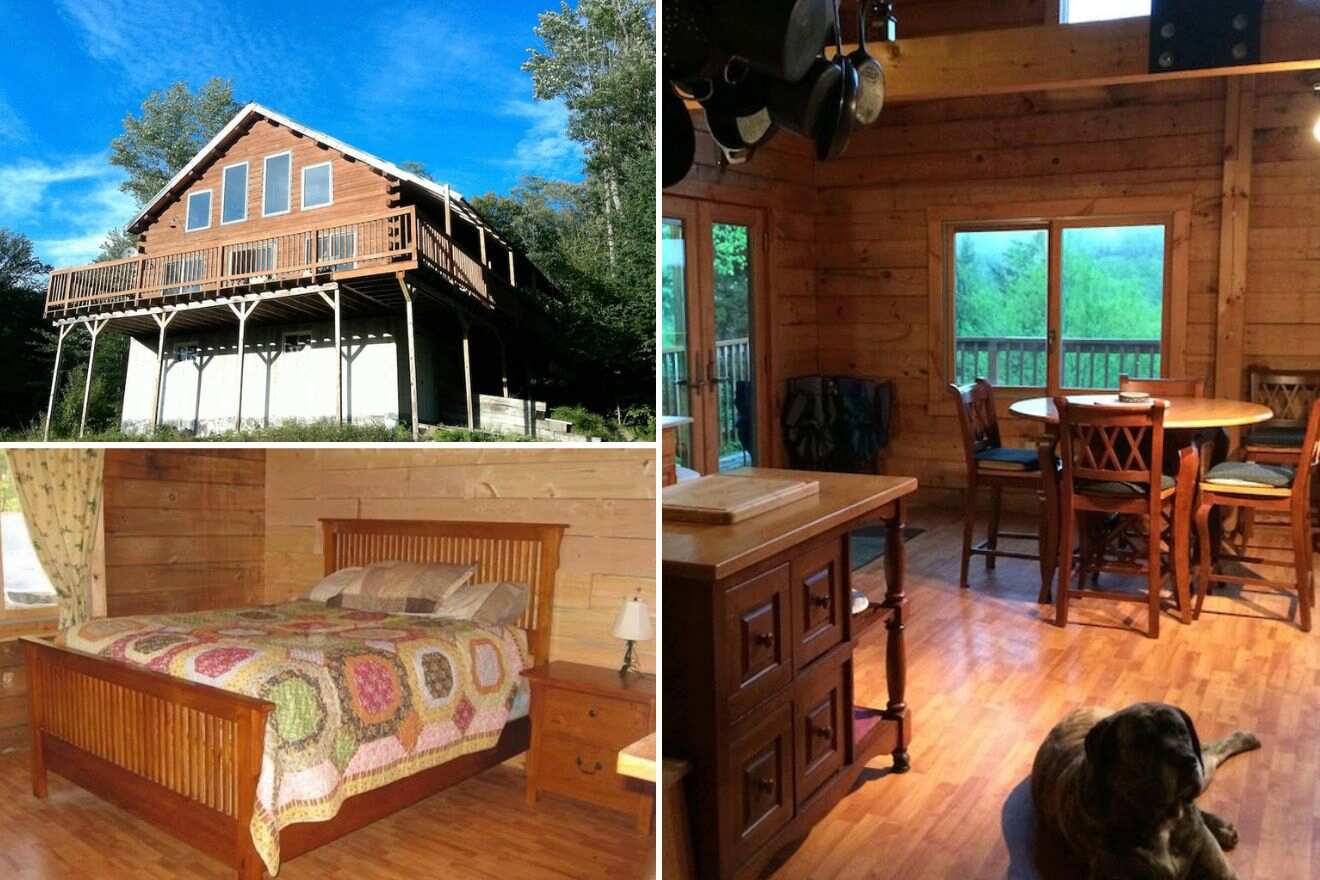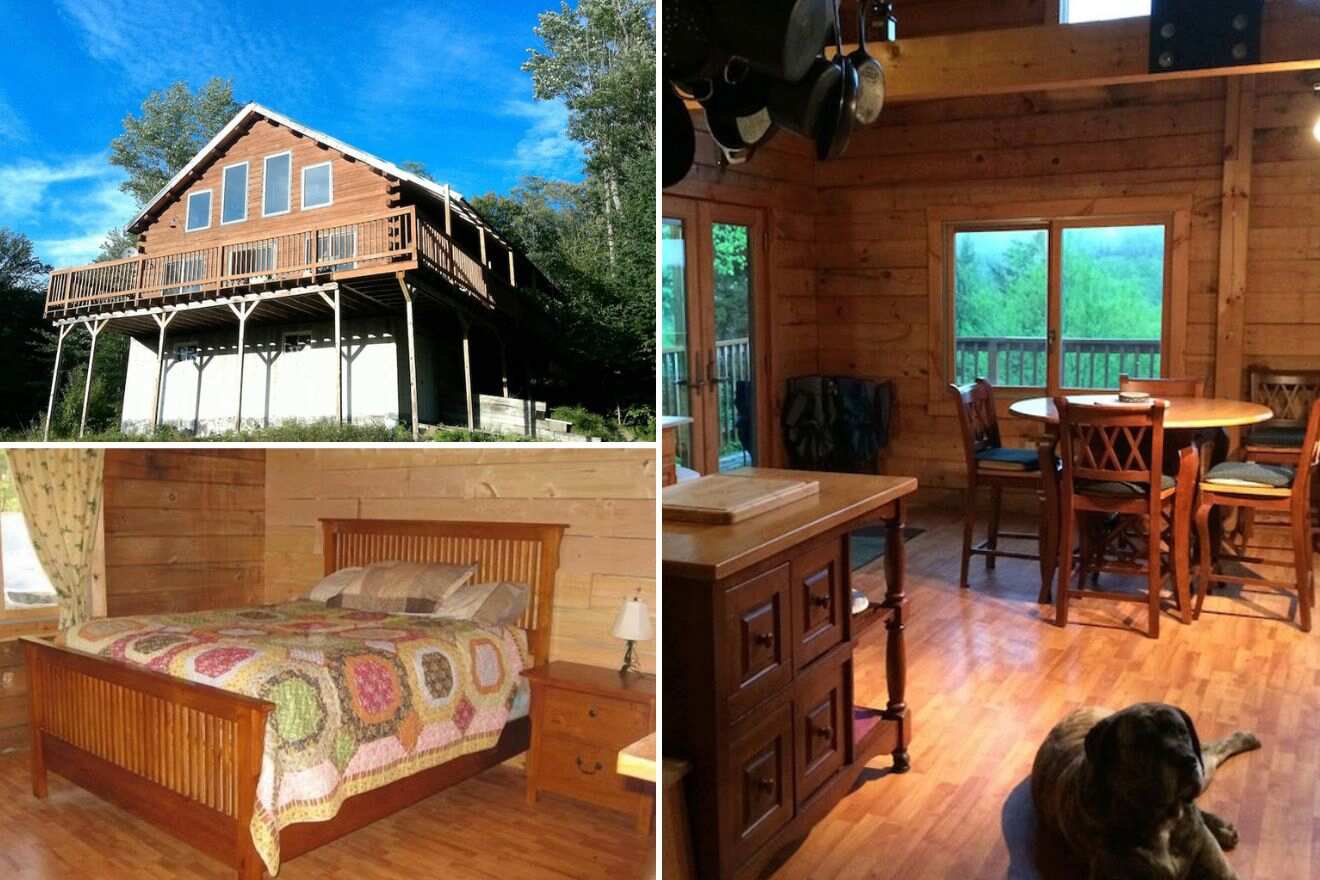 This cabin is located on top of a hill, so imagine how amazing the views of White Mountain National Forest are! There are lakes and rivers where you can swim or play water sports, and the forest to go for hikes, so you can relax and connect with nature and wildlife like in no other place!
This Property is perfect for groups of 6 guests, it has 1 room and 4 beds, and 1 bathroom. There is a smart TV in the living room, and Wi-Fi is available! This property allows dogs of any size, and there is a pet fee of US$35.
FAQs about pet-friendly cabins in New Hampshire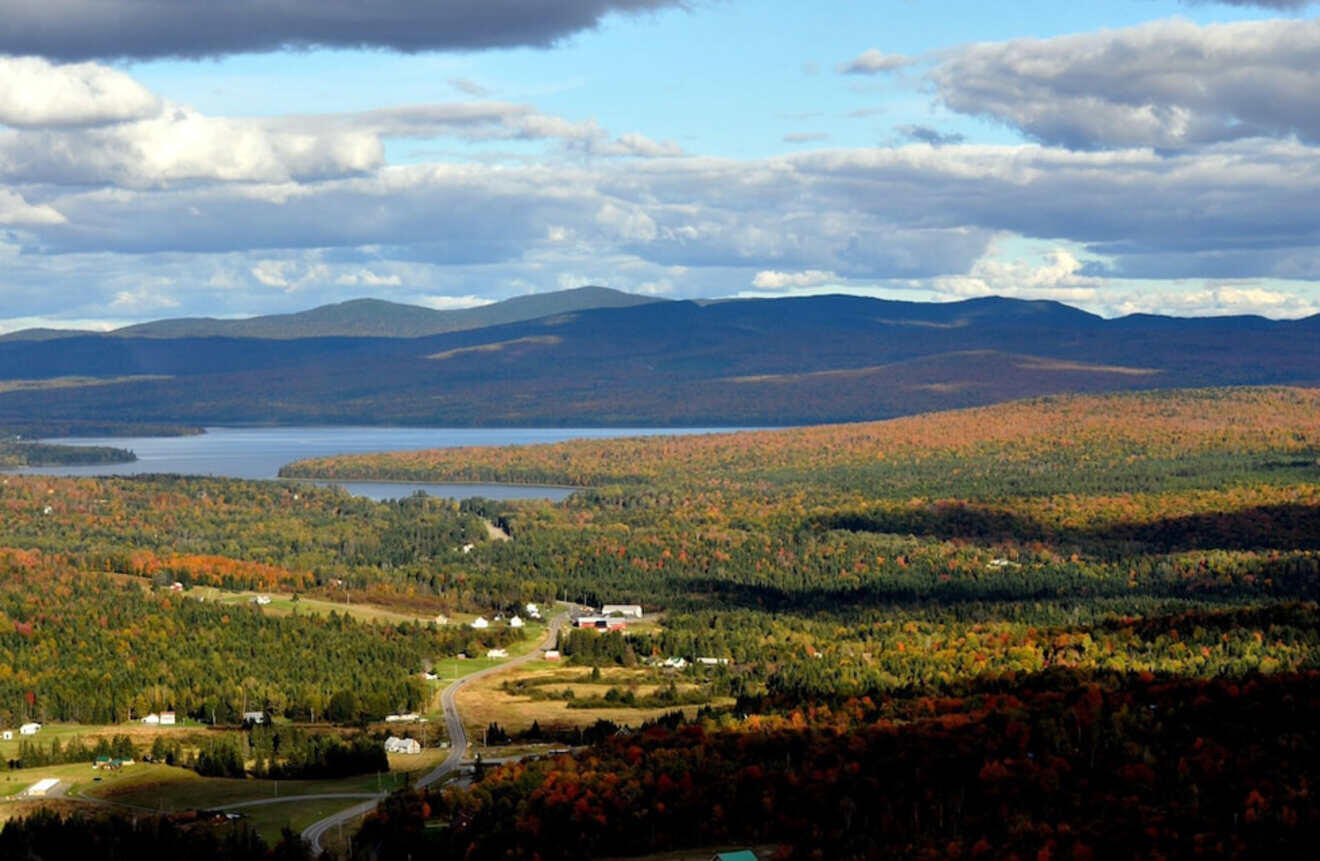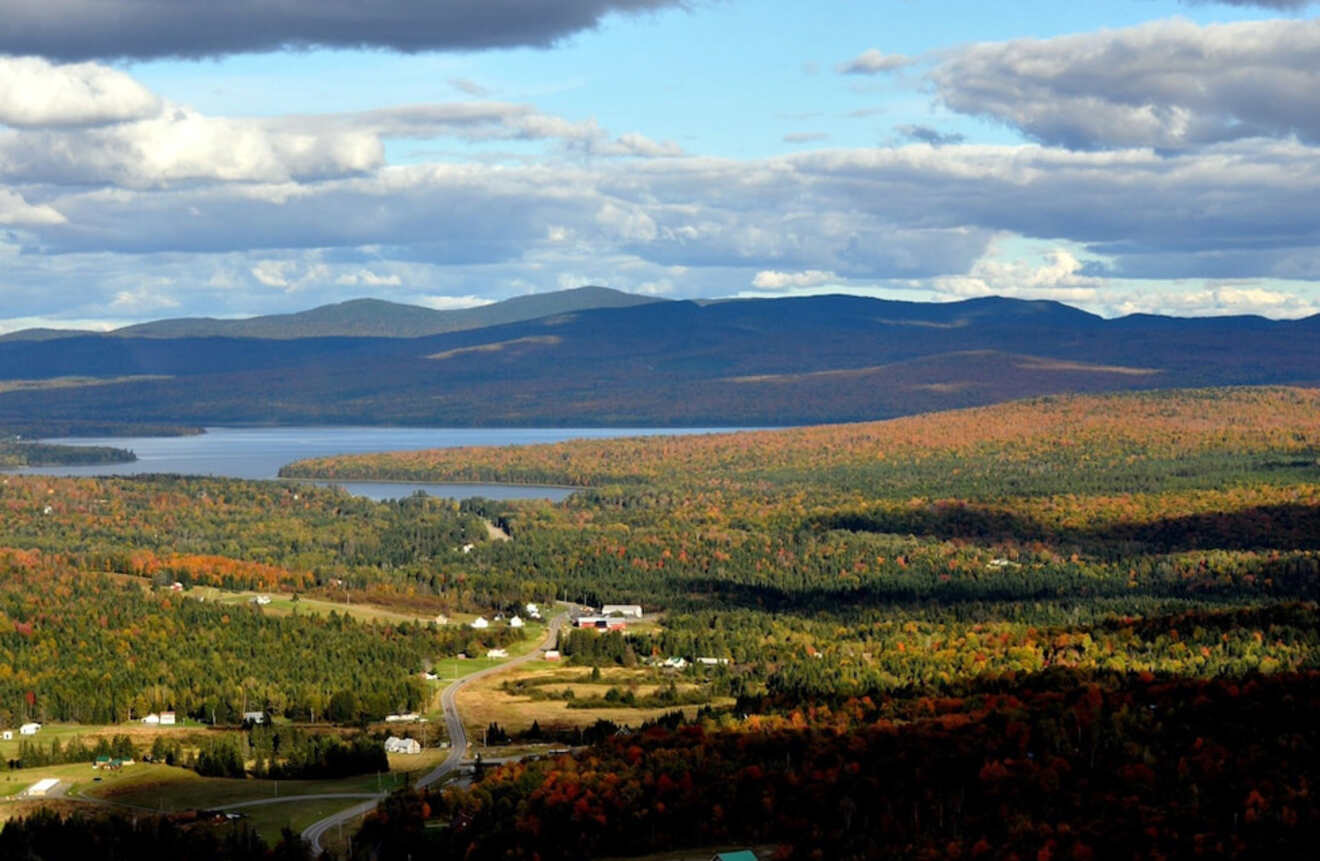 Conclusion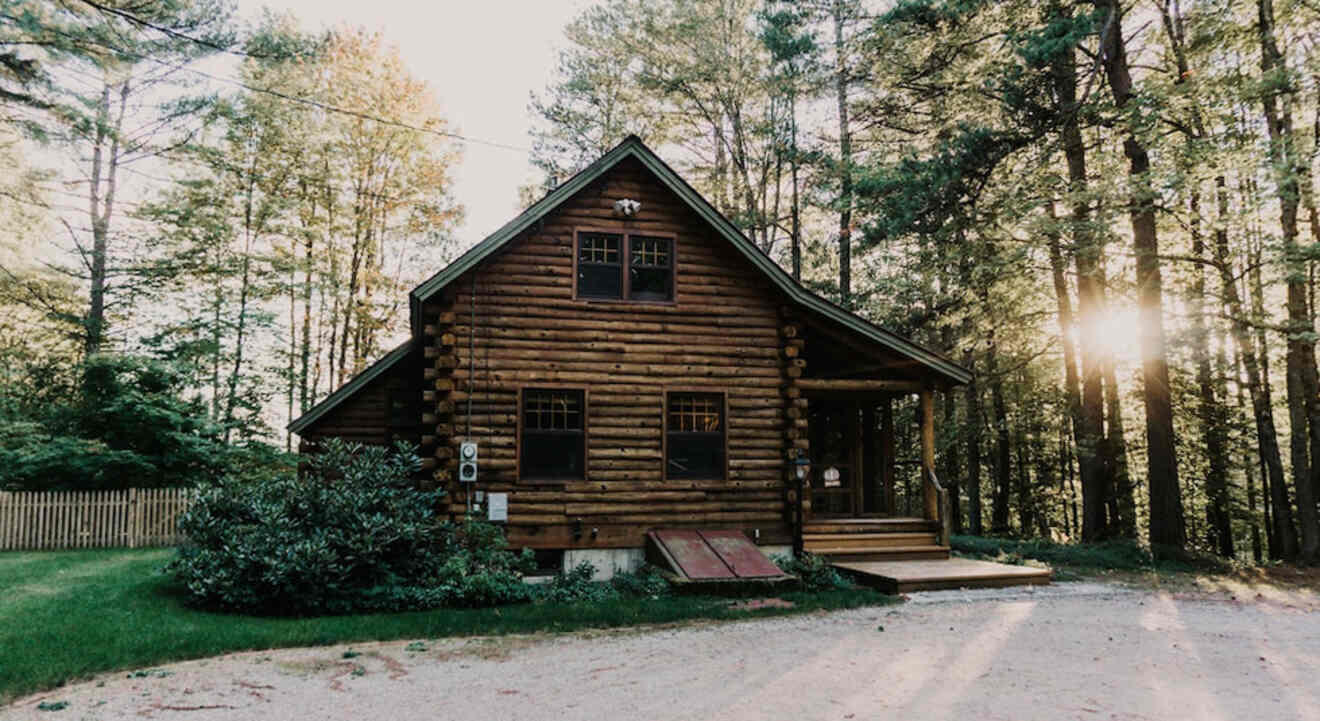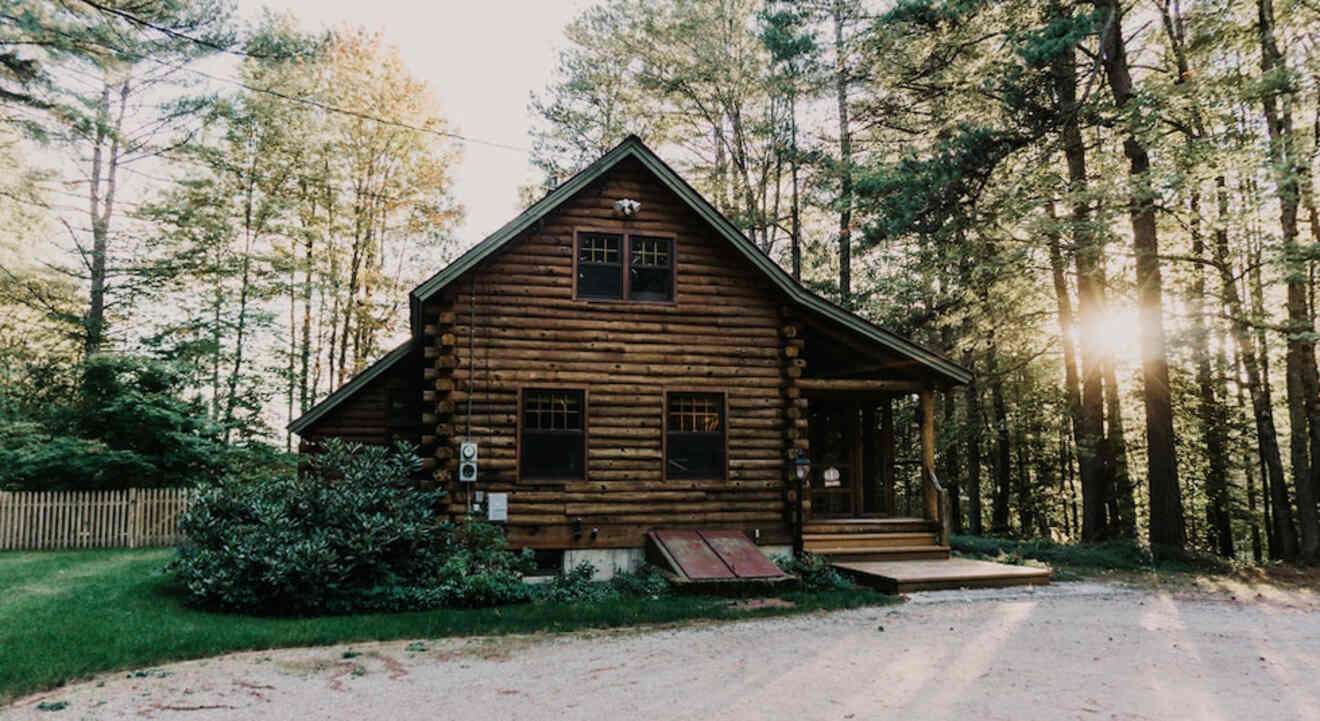 It's a wrap, my sweet angels! Those were the best pet-friendly cabins in New Hampshire! I've covered a wide range of options, sizes, and locations so you can find your perfect New Hampshire cabin rental!
All the cabins are just fantastic, and I would be more than happy to stay in such amazing locations, but if I have to give you a top 2 of my favorite, those would be:
Little Bear Lodge – It just looks so cute, and the location cannot be better, ideal for hiking, swimming, and skiing!
Luxury New Log Cabin – I love that it is located right by the lake! What better than starting the day with a refreshing swimming session?
Which of these pet-friendly cabins in New Hampshire is your favorite? Let me know in the comments! And let me know if you have any suggestions or questions, I am here to help!
Be fast and book your pet-friendly cabin as soon as you make a decision, these cabins in the New England area are super popular, so if you want to stay in any of these, you have to book quickly! And don't forget dog bones to treat your dog!
Until the next vacation,
Daniela
---
Pin it for later!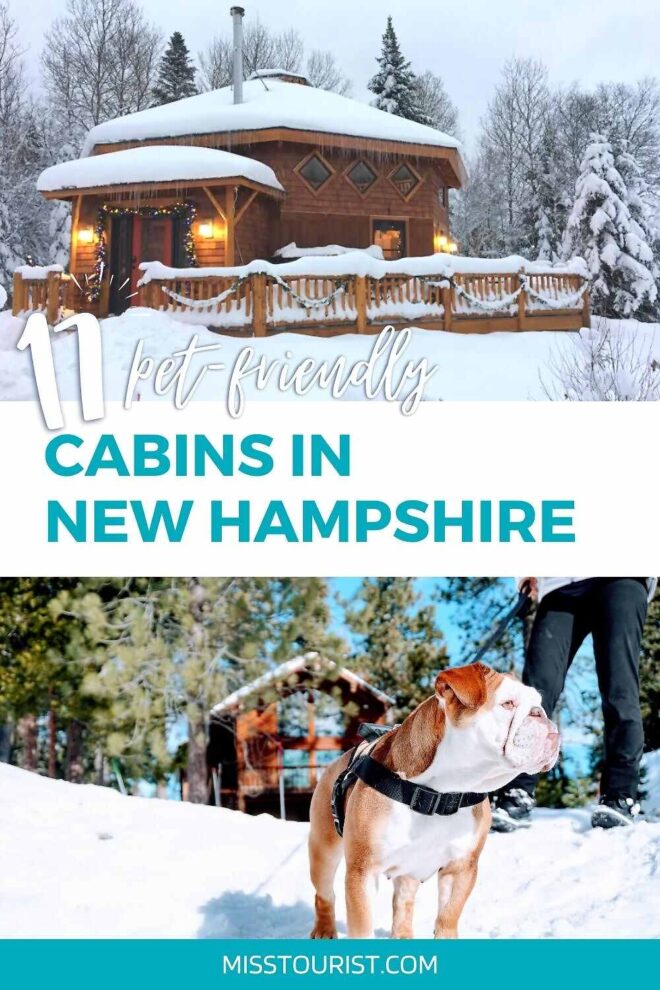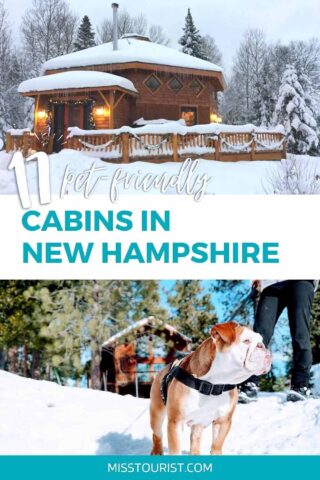 Pin it for later!