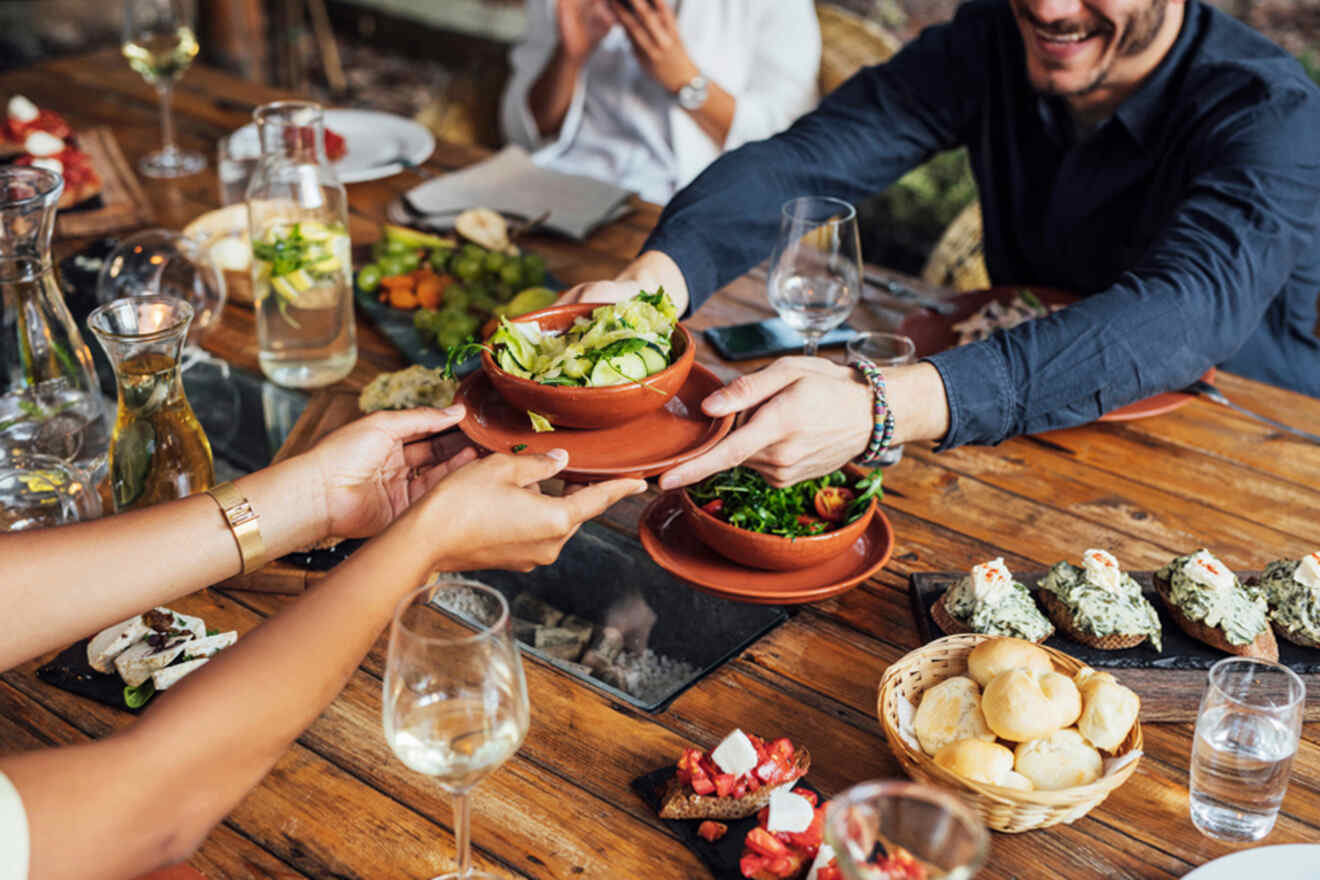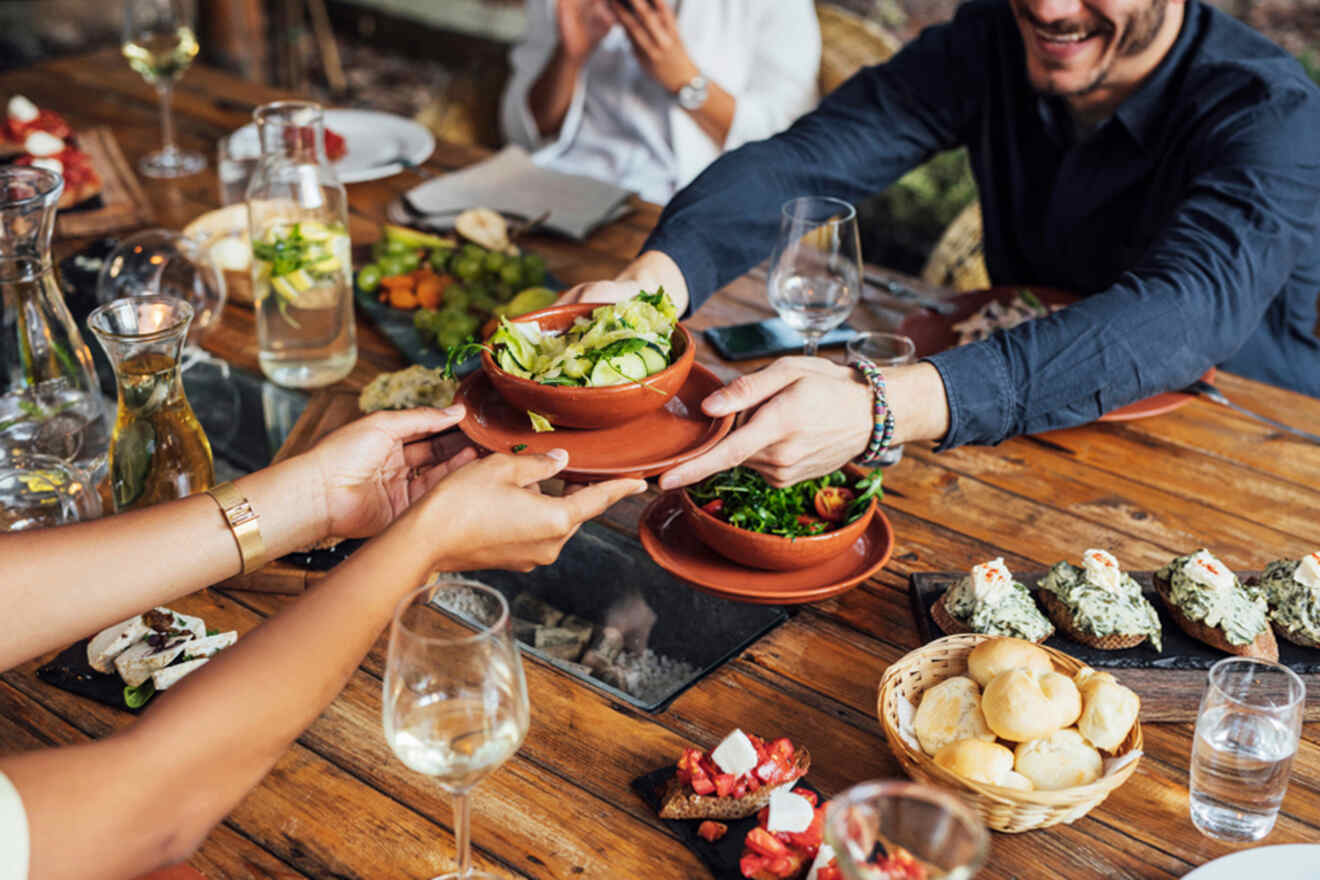 Are you a plant-based foodie traveling to Helsinki, Finland? Then stop your search because I am here to tell you as a fellow vegan that there are plenty of vegan restaurants in Helsinki that will make you feel in a vegan paradise! How do I know this? I happen to live in Helsinki, so I've been to most of the ones I am recommending!
I prepare 10 fabulous vegan restaurant options for you, from fast food, delicious salads, and pizzas, to donuts! All of them are 100% plant-based, so if you are looking for a solo treat, a fun city lunch break, or an amazing dinner with friends, there is a restaurant here that will make your belly feel happy!
Let's check them out! Shall we?!
If you are in a hurry
If you want to find a vegan restaurant fast because you need some vegan yum ASAP, here are the top 3 vegan restaurants in Helsinki:
Here you have a map with all the vegan restaurants' exact locations if you want to quick jump to the one that's closest to you!
1. Junky Vegan
Junky Vegan is one of my favorite vegan restaurants in Helsinki, and let me tell you – as a vegan, there is nothing nicer than knowing that all the food that is being prepared in the kitchen is 100% meat-free! The vegan burgers are amazing, especially the Smash Vegan, which is my absolute favorite, and the Chili Vegan Cheese Nuggets are another delicious hit!
If you want, you can have the gyozas or any of the nice finger-licking selections they offer, which are super varied! The flatbreads have so many flavors, but they also have salad bowls, which I haven't tried yet but look amazing, and you can pick the ingredients. There's beer and a dessert menu as well if you want to end the meal with a sweet treat!
2. Just Vege
Located in Kallio, to be more precise, in Vaasankatu, where you can find a lot of cool bars if you feel like going out after having a nice filling meal! The people working here are super helpful, and the atmosphere is super nice! This restaurant is not 100% vegan, but it is a vegetarian restaurant, and half of the menu is vegan! They offer falafel pitas and platters, the crispiest fries you have had, and a wide range of vegetarian and vegan burgers!
There is also a vege section on the menu with vegan kebabs and vegan schnitzels. If you want, you can ask for a dip of vegan mayonnaise or vegan aioli garlic mayonnaise! This place is perfect for a quick lunch or a bite before going out!
By the way, if you want to learn about the best areas of this vibrant and fun city, check out our guide on the best areas and hotels in Helsinki!
3. Zucchini Vegetarian Cafe
This vegan-friendly café is so lovely! I love it, and the people working here are super charming! The cozy establishment is perfect for a lunchtime visit with a lunch menu that changes daily. Some days are mainly vegetarian with vegan options, and some other days are fully plant-based food! All the meals have simple ingredients and are so tasty, they offer world salads, soups, and bread!
When I visit this café, I always make sure I have the latte with oat milk, which comes with a "Marianne" (mint candy filled with chocolate) and a piece of their amazing vegan pecan pie! On another note, the area of this café is amazing, just a few steps away from Esplanade!
4. Magu
I personally have never visited this restaurant, but it has great reviews, and the food looks fantastic! It is an upscale type of restaurant and 100% vegan! They cook with locally grown produce, and their menu changes depending on the season, which means that they work with fresh produce and the best quality
The ambiance of the restaurant is super romantic and looks very stylish. If you are looking to eat here, I highly suggest you book a table to save your spot at the restaurant. If you are planning a date, this restaurant will definitely make your partner feel like a royal!
5. Sen Chay
This restaurant is located in Hakaniemi. It is small and super cozy and has the most delicious Vietnamese dishes, all of them 100% vegan! This restaurant is perfect for those looking for an amazing lunch or early dinner meal! They have amazing noodles, curries, spring rolls, and more!
My all-time favorite is their fried udon noodles, curries, tofu, cashews, and vegetables in chili sauce! Literally, amazing flavors dancing in your mouth, a complete must try, either if you are looking for a quick solo lunch or a fulfilling lunch city break with friends, this restaurant will keep you happy!
6. Round
Everybody loves this fully vegan café, it doesn't matter if you are vegan or not. Their donuts are to die for and taste like a vegan heaven! This is another of my favorite cafés in Helsinki, and the best is that there are a few locations around the city, one in the main train station, one in Kallio, and another in Iso Roobertinkatu, Punavuori, so you can always quickly stop by.
Every month they change their donut flavors, and every time, they hit the Jackpot! There's nothing better than sharing a few with friends served with warm tea or coffee! They also have bagel sandwiches which are filling and so tasty! In their Punavuori location, they usually have oatly ice cream, which is completely vegan! Round is the perfect place for sweet or savory treats!
7. Café Encanto
This little café is a little bit hidden. I have to say, the first time I saw it, I didn't even know it was vegan, but I checked it out online since it looked so comfy, and it was a great surprise. What's more, it hosts art workshops and sometimes has bands playing or art exhibitions! So, basically, this café provides vegan yummy food and amazing cultural activities!
Note that this café closes quite early, making it perfect for breakfast when you can choose from combos with 3 or 4 products. For lunch meals, think salads, soups, and sandwiches! The ambiance is super laid back and artsy, the perfect place to romanticize life!!
8. Ravintola Onda
This, in my opinion, is one of the best vegan-friendly restaurants in Helsinki. They have a daily lunch menu with a wide range of vegan dishes and salads, and they also have a dinner menu and a dessert menu with amazing vegan food! During summer, the terrace is the perfect place to eat good food while soaking in the sun with a glass of wine or cocktails!
The best thing about this restaurant is that it becomes a cool bar with DJs and a dance floor every weekend, and they even have local bands playing every Tuesday with free entrance! So, apart from being a great restaurant, it is the perfect spot for drinks!
9. Daddy's Green
This amazing pizzeria is not 100% vegan but has the most amazing vegan pizzas with vegan cheese made from cashew ricotta that tastes so good! There are a total of 5 different types of vegan pizzas, with fake meats and vegan pesto. Trust me, there's nothing better than going out with friends and having pizza with cold beer over amazing conversations! They even have craft beer on tap, I highly recommend their Daddy's Green IPA!
This pizzeria is super popular and has 3 different locations in town, one in trendy Kallio, another in Töölö, and another one in the fancy area of Punavuori in Iso Roobertinkatu! Whether you want to have a nice dinner or a relaxed Sunday lunch with friends, amazing vegan pizzas will be served!
10. Fazer Café
If you are traveling to Helsinki, Fazer Café is a must-stop! This café is not totally plant-based or vegetarian but comes with amazing vegan options. The reason why you should visit one of the many Fazer Cafés around the city is that Fazer is one of the oldest cafés in Finnish history and among the chocolate and sweet producers!
Honestly, you can buy their products even in a supermarket, but there is something so cozy about going to a Fazer Café and ordering a hot chocolate with vegan whipped cream and a fresh vegan pastry, sitting by the window and looking at the snowfall on a cold winter day!
What to try: any vegan cake or pastry accompanied by hot chocolate with vegan whipped cream!
Prices: €6 to €18
Open in Google Maps, Official site, +358-0505972221
FAQs about vegan restaurants in Helsinki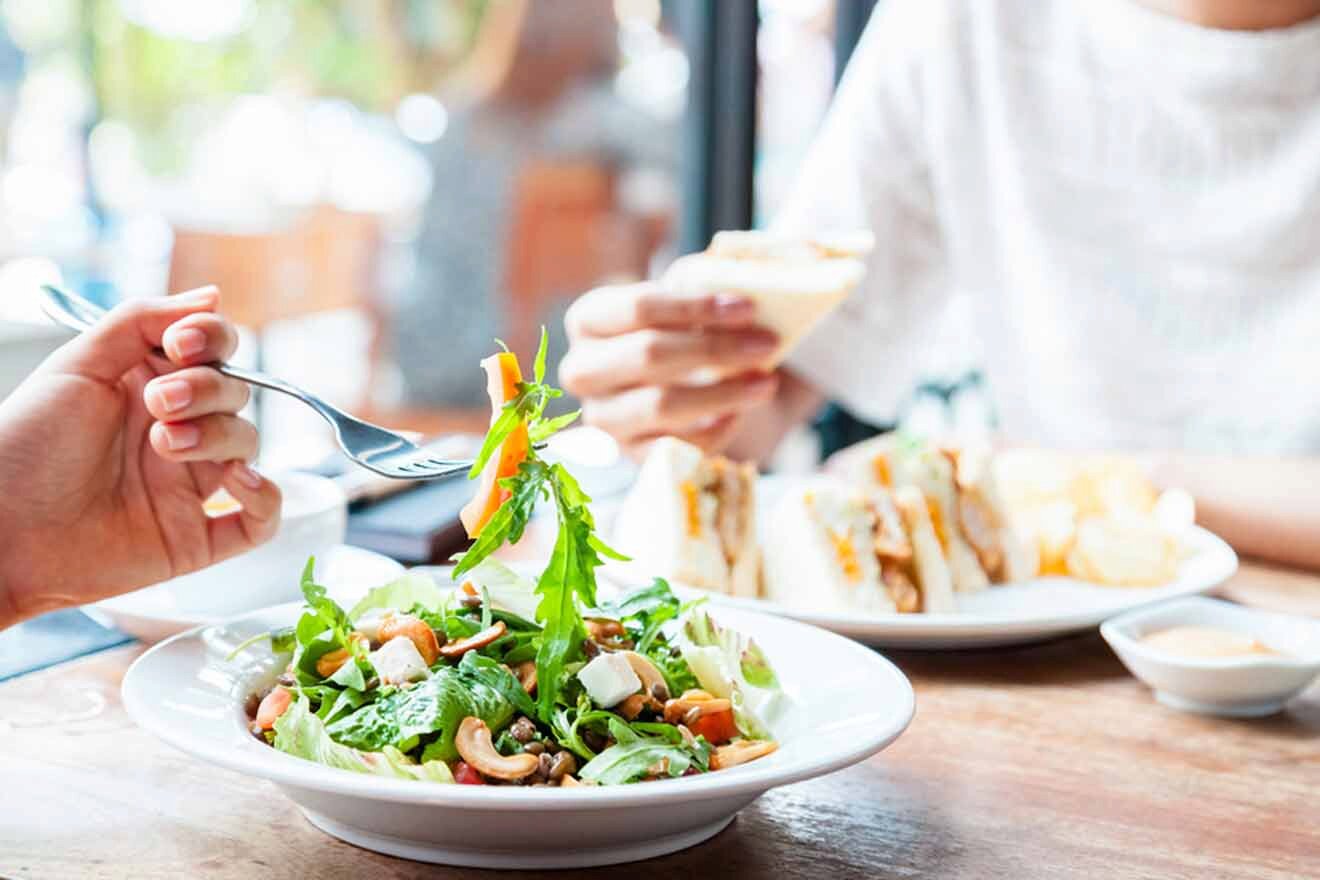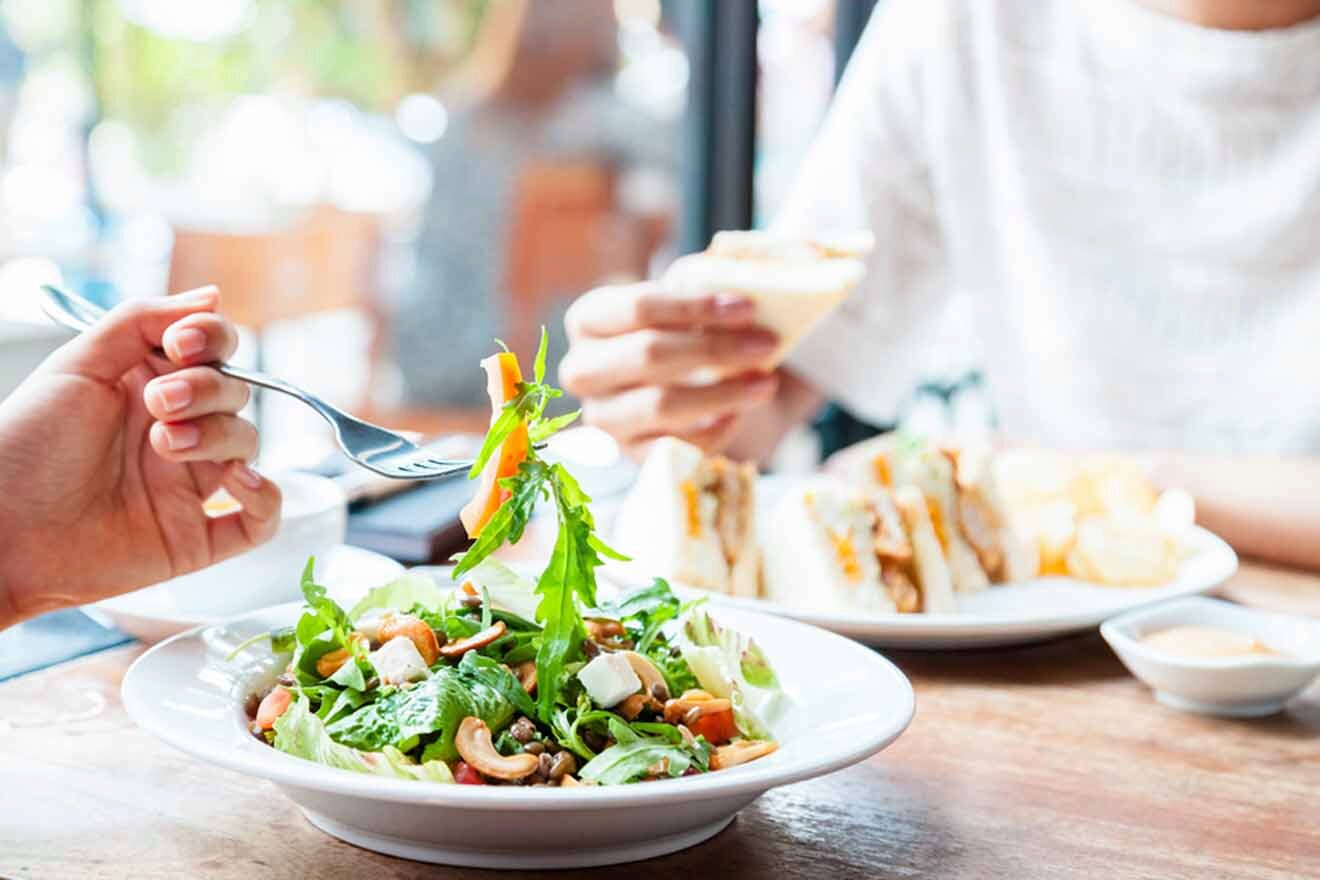 Conclusion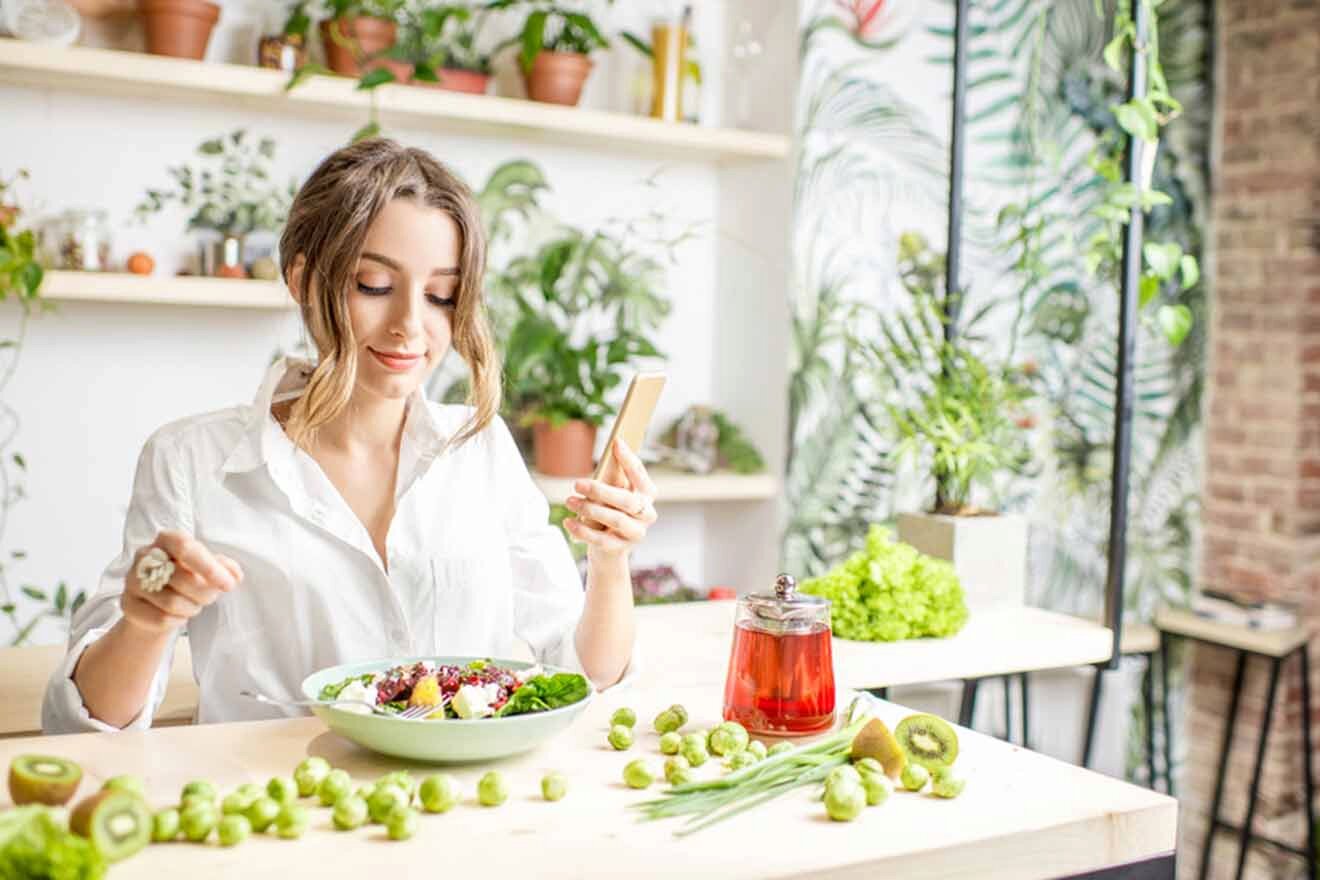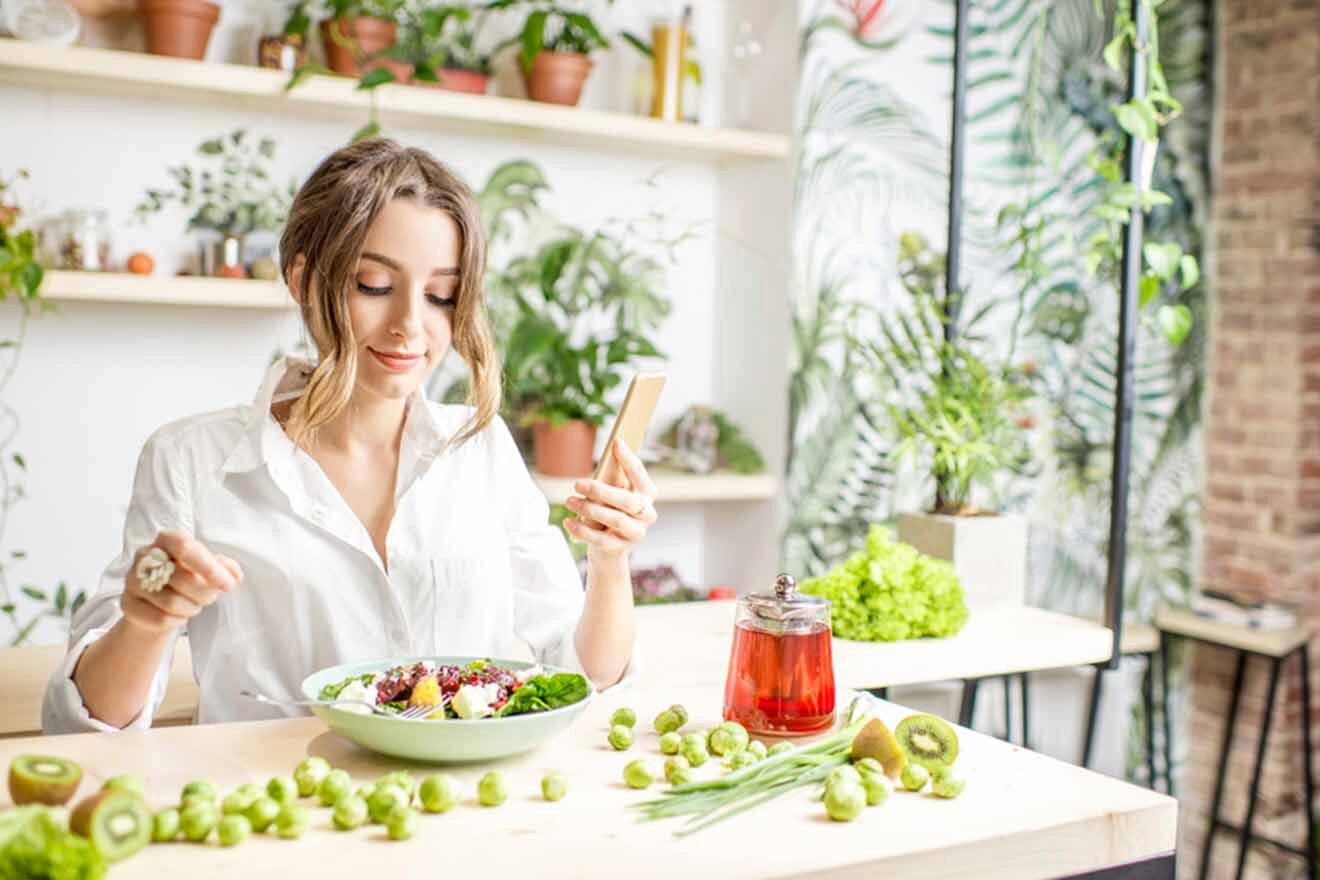 That is all for today, my lovely fellow vegans! Those were the top vegan restaurants in Helsinki, so while you visit the beautiful city I can call home, you have a full belly and a happy heart! Whether you want a sweet treat, a yummy burger, or a delicious salad, there is something on this list for you!
Honestly, all of these restaurants are amazing, but if you are coming to Helsinki and can't try them, these 2 are a must!
Junky Vegan – Those burgers and flatbreads are the tastiest thing, the beer selection is amazing, and the atmosphere is fun and welcoming!
Round – Super cozy decor, especially in the Kallio and Punavuori locations. The donuts are simply delicious!
Which of these vegan restaurants and cafés are you planning to go to? If you have a favorite vegan restaurant I haven't mentioned, let me know in the comments. I love trying new yummy vegan food!
Cin-cin vegan friends,
Daniela
---
Pin it for later!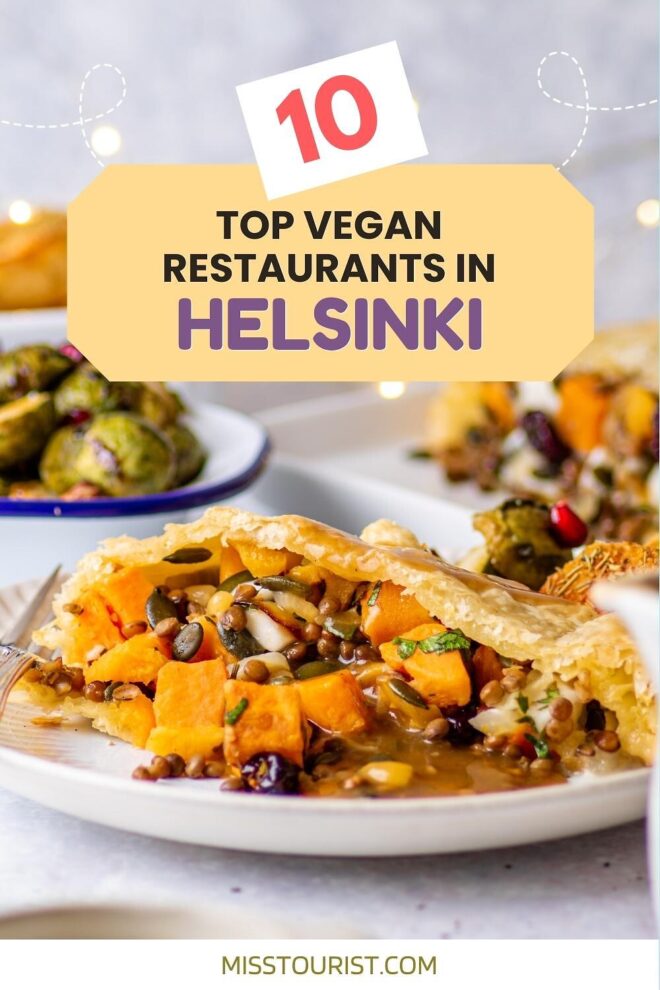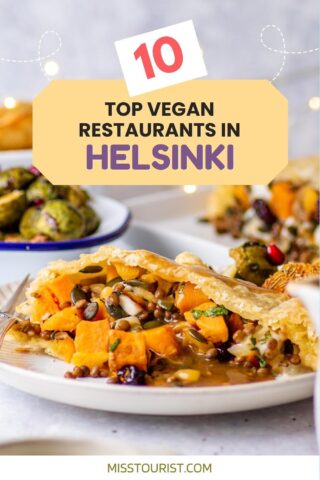 Pin it for later!