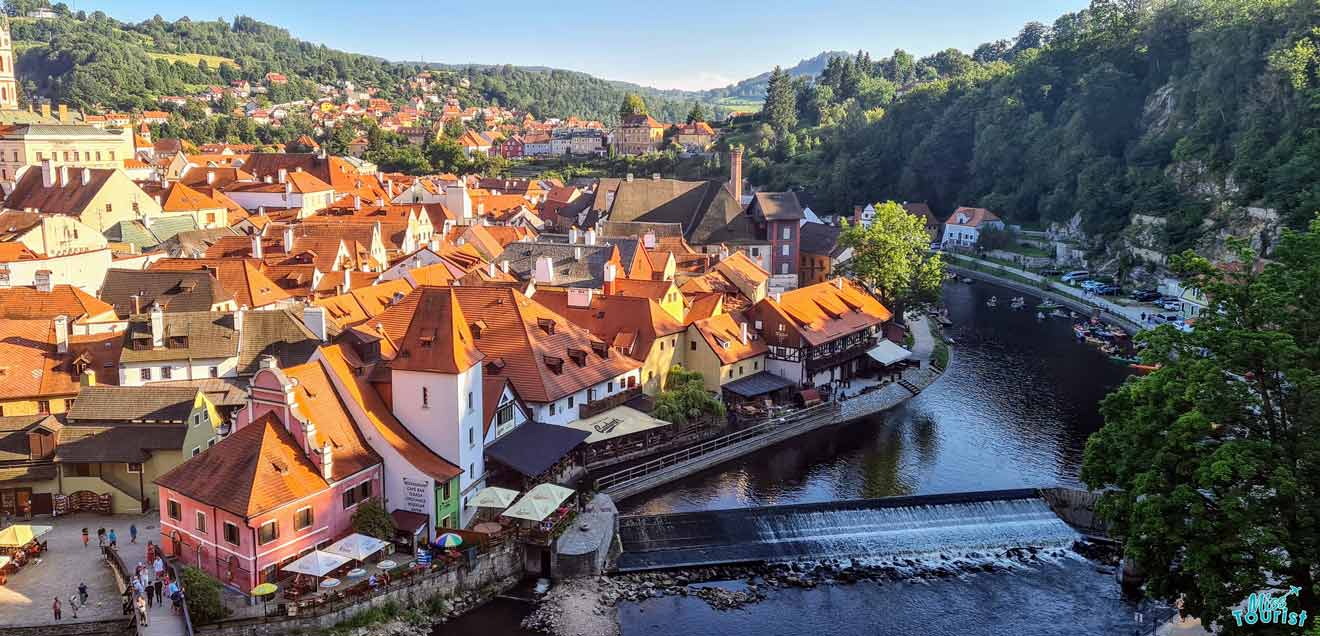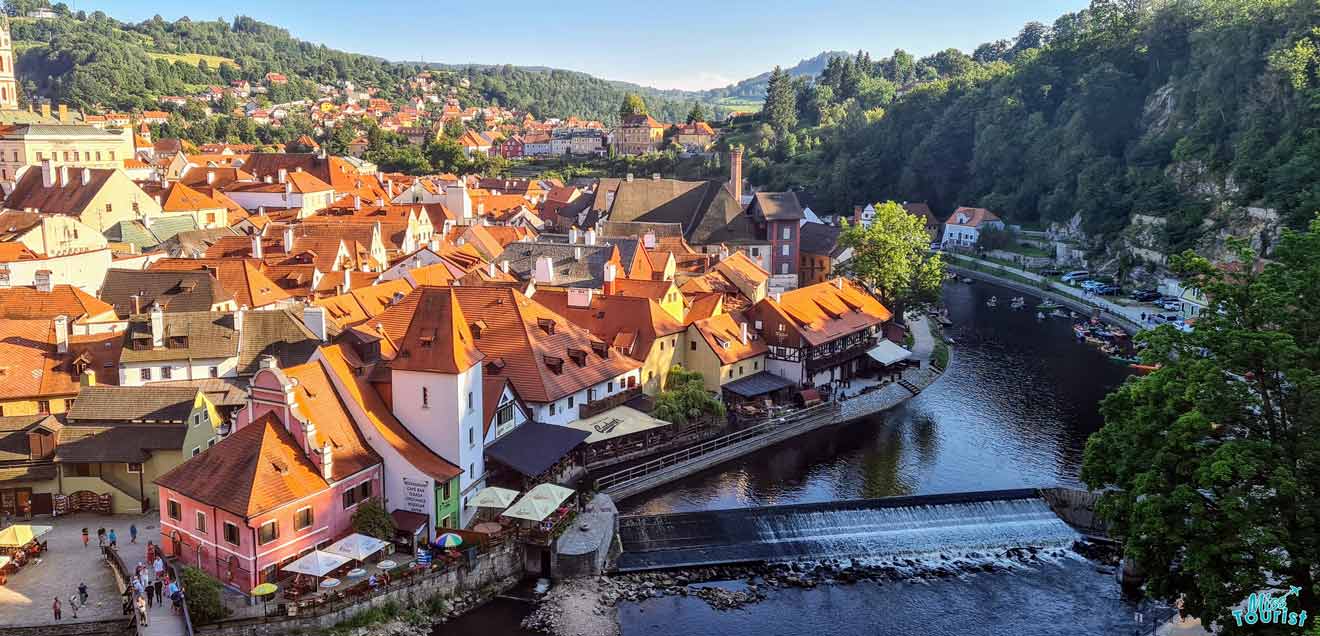 If you're planning on visiting Cesky Krumlov, Czech Republic, congrats! I'm sure you will fall in love with this charming medieval town, featuring a picturesque old town center with narrow cobbled streets and an amazing river!
Even if it's a pretty small city, it offers so many amazing places to visit, from the historic Cesky Krumlov Castle to interesting museums, beautiful gardens, the tranquil waters of the Vltava river, etc… that's why I decided to write this guide with the best things to do in Cesky Krumlov, to make sure you don't miss anything!
And that's not all, I also included some useful information about how to get there, where to stay, and the best restaurants where to eat in Cesky Krumlov, so you have everything you need for a fun holiday!
This historic old town receives 2 million (!) people per year and there has to be a reason for that, right? Actually, there are many reasons, to find them out, start reading this post right now!
Let's go!
If you are in a hurry
Don't have time to read the whole post? No worries, check out this quick list with the best tours and places to stay in Cesky Krumlov, Czech Republic:
Here are the main things to book in advance:
And here are the best hotels: Hotel Mlyn (Luxury), Residence Muzeum Vltavínů (Mid-range), Hostel Merlin (Budget)
1. Visit the Cesky Krumlov Castle Complex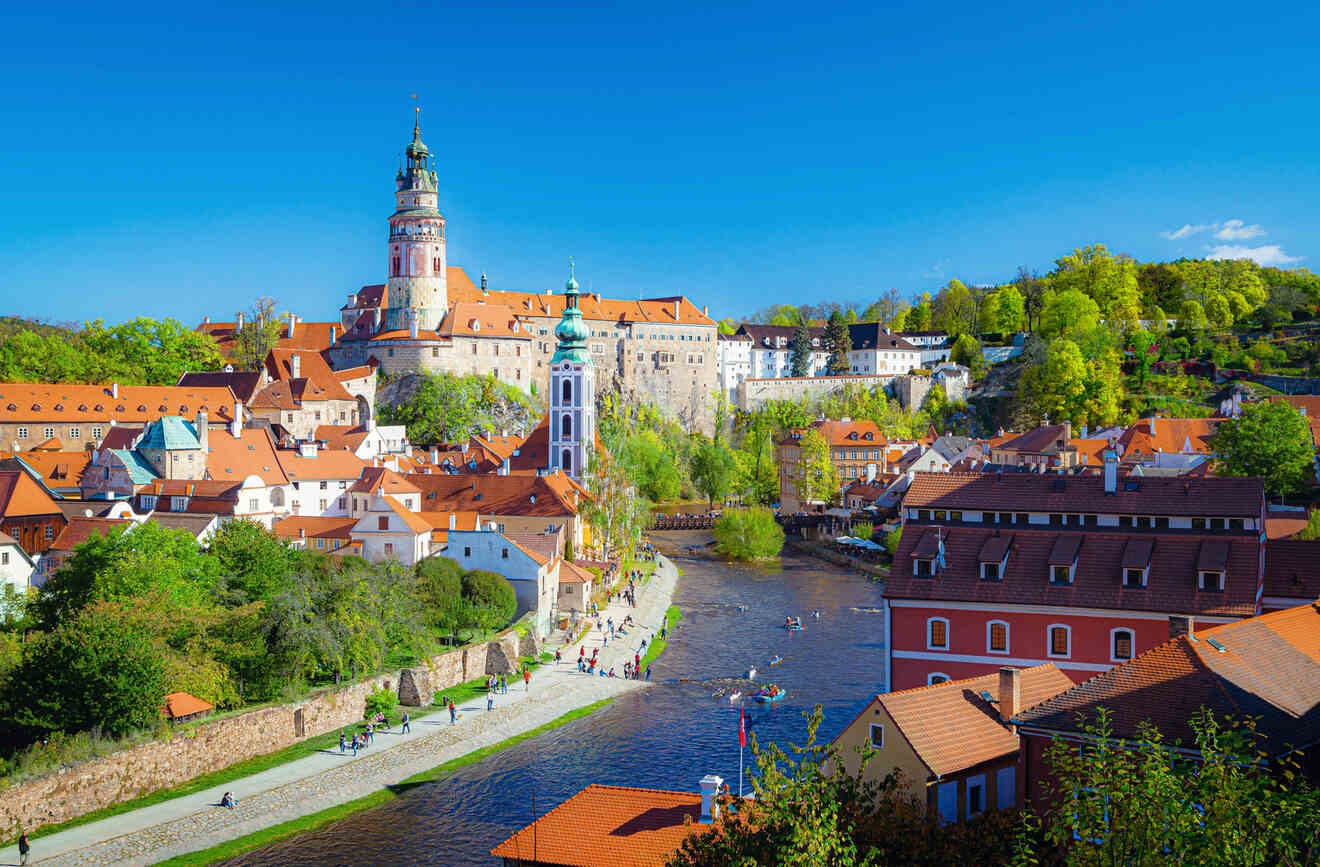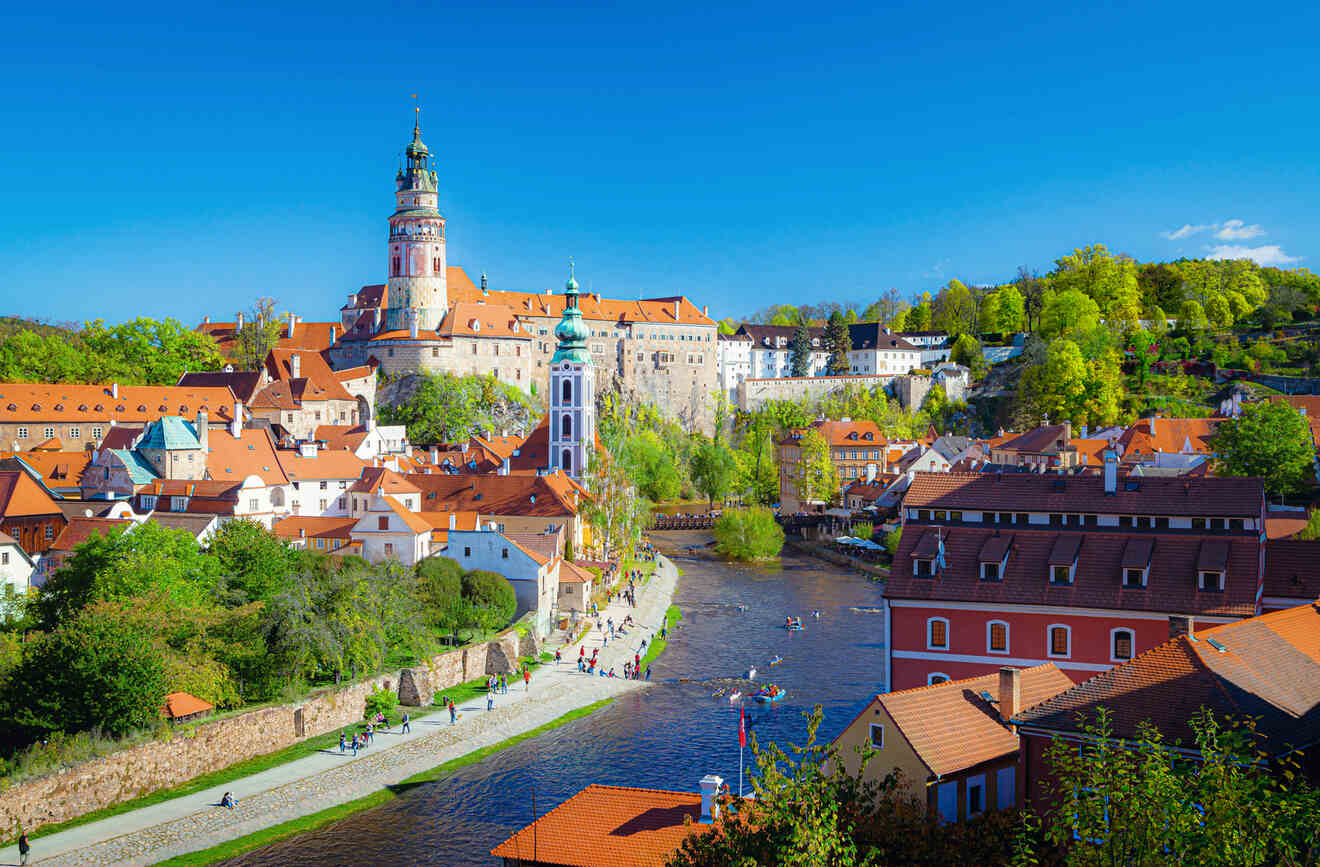 The main attraction in Cesky Krumlov is for sure its huge and stunning castle, a UNESCO World Heritage Site located in the old town. This is the second largest castle in the country after the Prague castle (one of the best things to do in Prague), dating back to 1240.
The building is just stunning, offering an interesting look into the lives of the aristocratic rulers of the region through the centuries, and there's even a quiet castle cafe inside with a nice view, where you can sit and have a break.
"FUN" FACT: There are 2 big bears who live in the castle moat. They were rescued from a poacher who tried to take them through the border and they have lived at the castle ever since.
Some parts of the castle you can walk around free of charge and you can visit by yourself or with a free walking tour like I did.
In fact, the Cesky Krumlov castle is actually part of a larger complex that includes a Baroque theater, a museum and castle tower, and even some immense gardens (that we'll see in section 2).
Some parts of the castle are free to wander and some are paid, let's check them out in more details:
1.1 Check out the Castle Museum and Castle Tower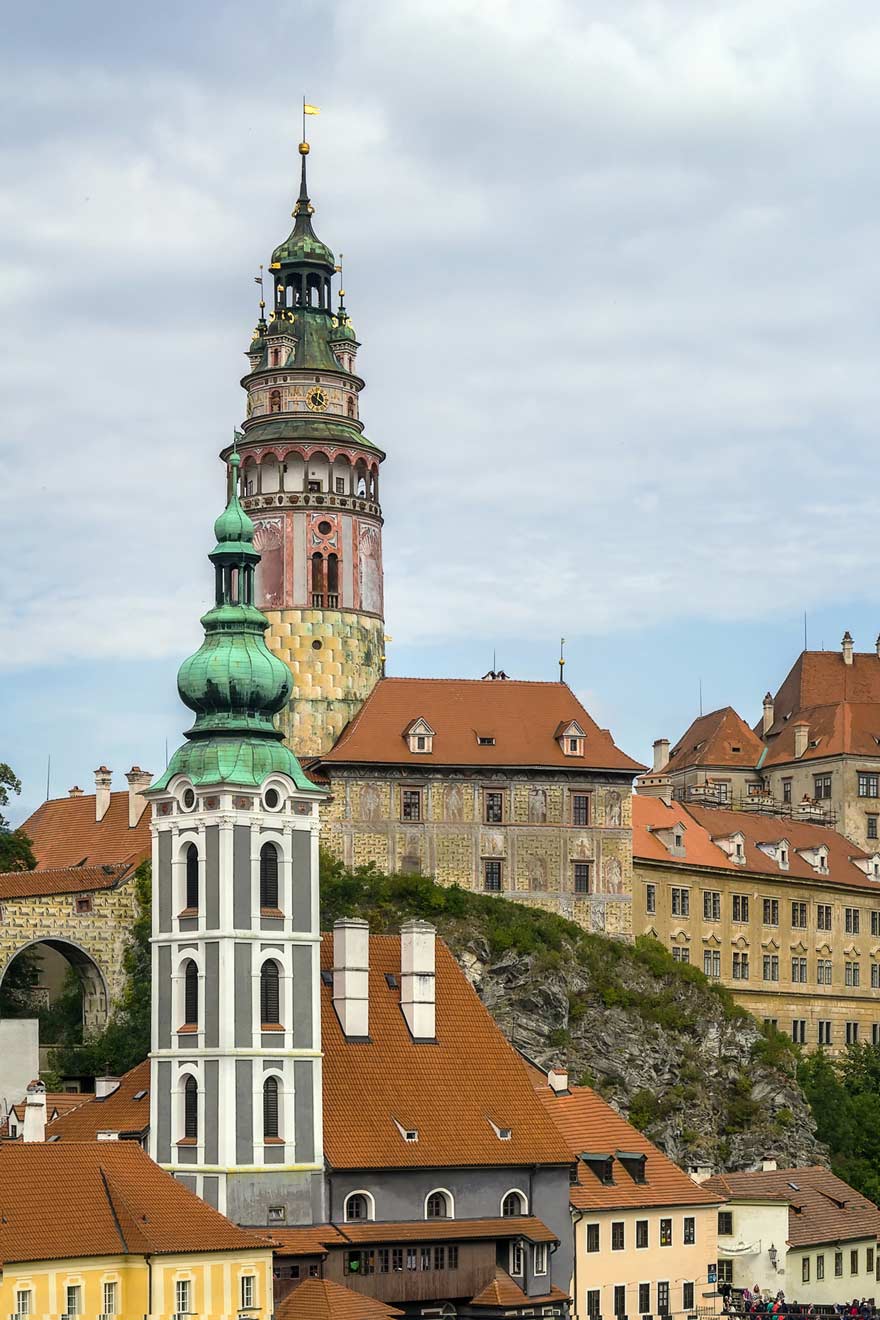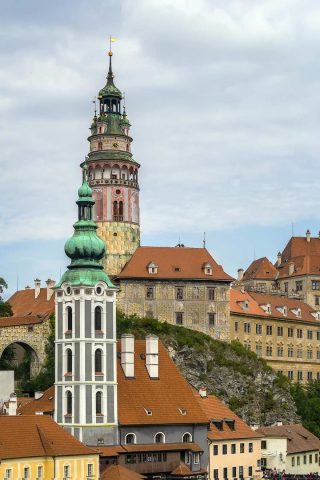 On the Castle grounds you will find a very interesting museum with a viewing gallery showcasing paintings, tapestries, beautiful furnishings, and even a skeleton of a Saint which was brought from Roman catacombs and dressed up, people used to go to pray to it in the past!
The castle walls are almost 10 meters thick – so thick that cannon balls would get stuck in the walls… How crazy is that?
The ticket to the castle museum will also give you access to the Cesky Krumlov Castle Tower, offering the most stunning view of Cesky Krumlov's old town.

NOTE: To reach the viewpoint you'll have to climb 162 steps and there's no lift!
PRO TIP: If you're planning on visiting many museums in Cesky Krumlov, I suggest you buy the Cesky Krumlov Card, which will give you access to 5 different museums, including the Castle Museum and Castle Tower, for €13.
PRICE: 180 CZK (€7)
1.2 Take a tour of the Baroque theater
One of the most interesting things about the Castle is definitely the Castle theater, one of the greatest Baroque theaters in the whole world.
When the Cesky Krumlov Castle was inhabited by royals, it hosted some amazing performances which lasted 6 hours and were only open to the people personally invited by the royals.
The shows were in the Italian language (you'll get to know why during your visit) and they even used wind and thunderstorm machines to imitate weather conditions!
FUN FACT: Among all the theaters in South Bohemia, this is one of the oldest to survive since most of them burnt down because they were illuminated by candles inside.
The castle's baroque theater can be visited with an official tour: English tours run once a day at 10 am (the perfect time to visit it without crowds, since many of the tour buses do not arrive until 11) and can be booked on arrival to the castle.
PRICE: 280 CZK (€11)
2. Wander the beautiful Castle Gardens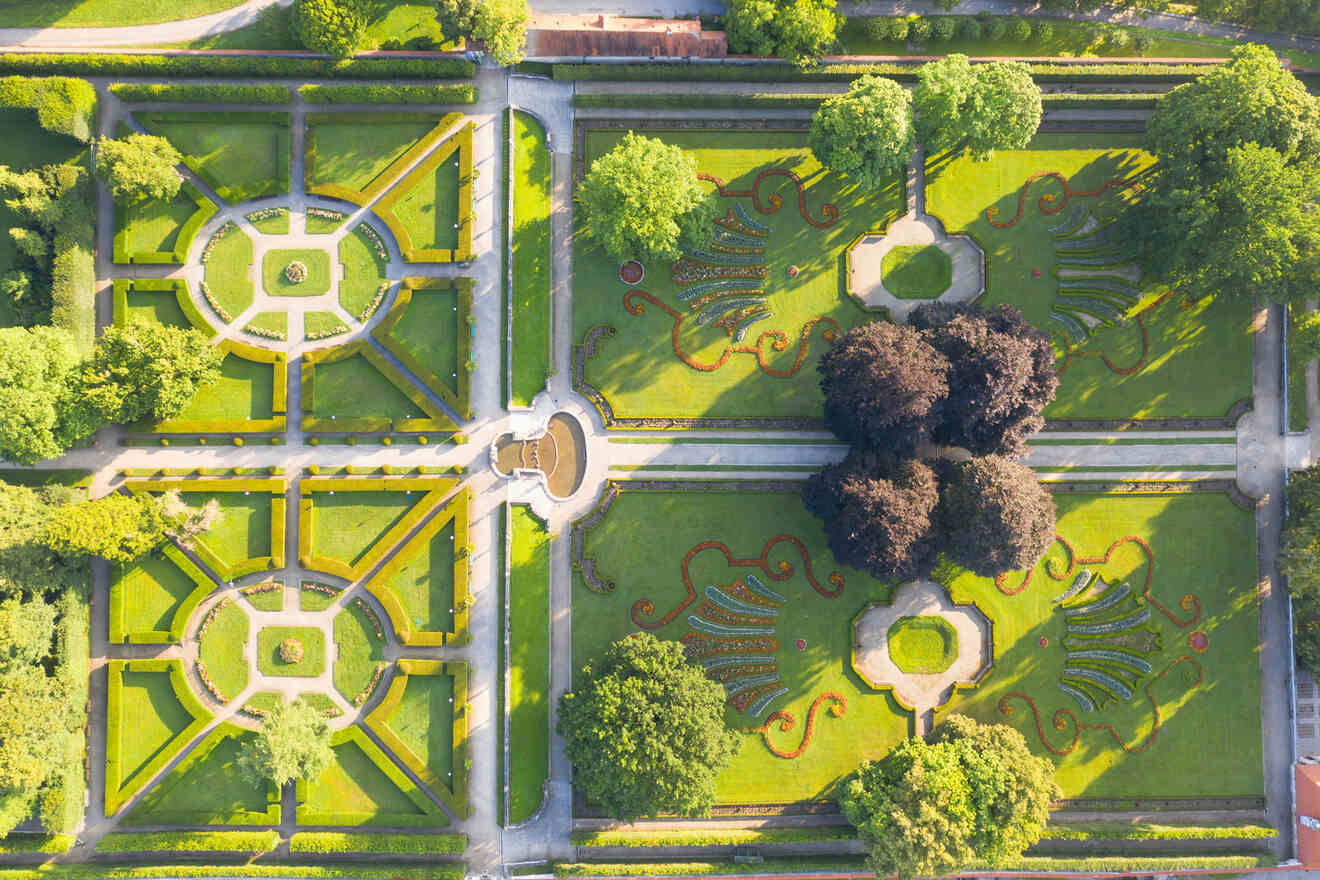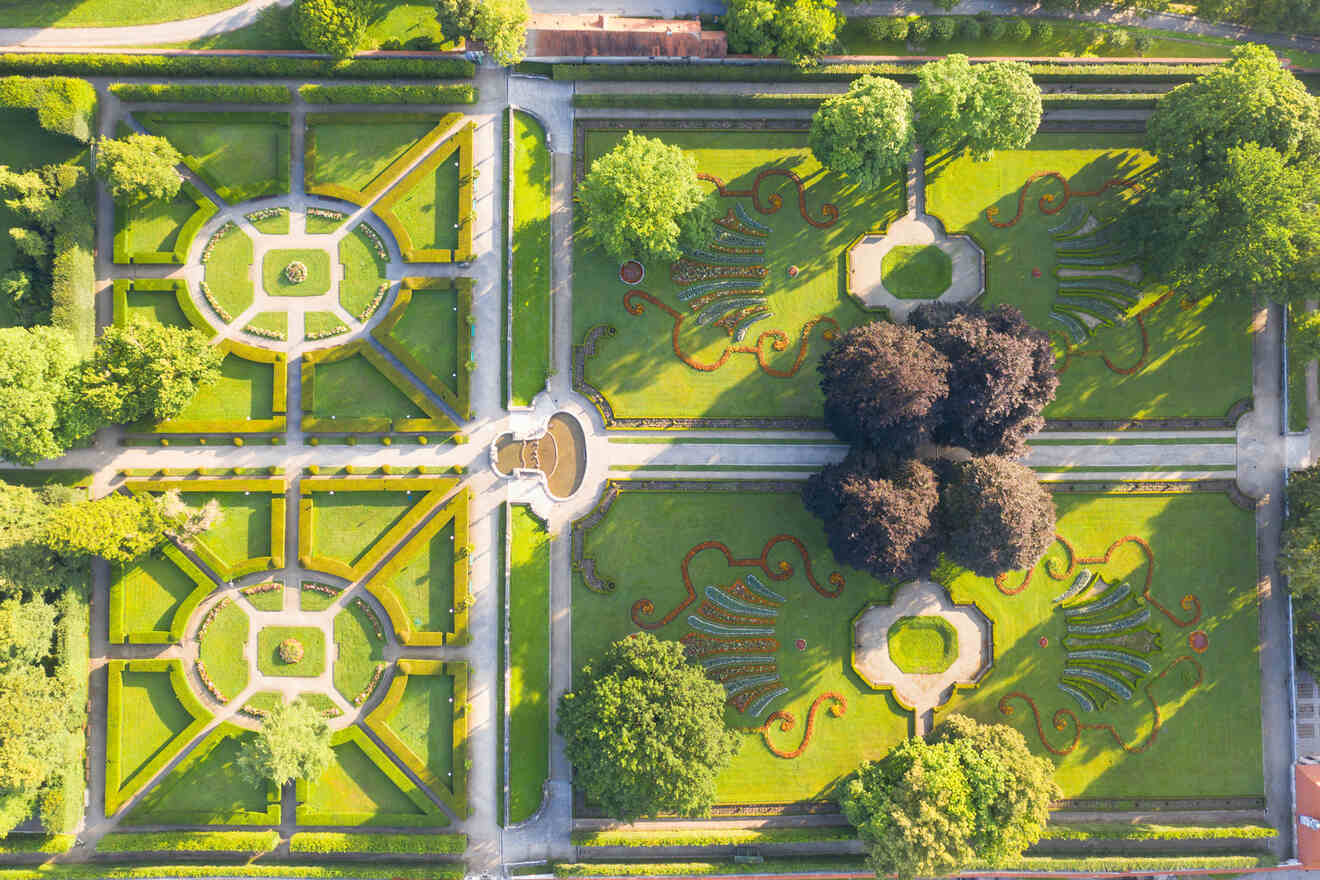 A highlight of the Cesky Krumlov castle is for sure its beautifully manicured gardens, located towards the back of the building, which can be accessed for free.
I decided to consider them as a separate activity from the castle because they are HUGE (they reminded me of the Gardens of Versailles), so you can come here to spend a relaxing evening, wandering around and even bringing a picnic to share with family or friends!
Here you also find a revolving auditorium (instead of scene changes, the seating area within the theatre is mechanically rotated to show you new stage sets) hosting many outdoor shows, especially for kids. Usually, tickets are sold out so you need to buy 5-6 months in advance if you want to attend.
FUN FACT: UNESCO actually wants to remove the auditorium because it is something from a new era, and doesn't fit with the history of the place. That is why UNESCO asks for it to be removed, threatening the city to take away funding if they refuse to do so.
This causes problems with the locals who love it so they now have 4 years to decide if it will be removed or not, (so you have until 2026 to see it before it may be removed)!
3. Take a walking tour of Cesky Krumlov's historic city center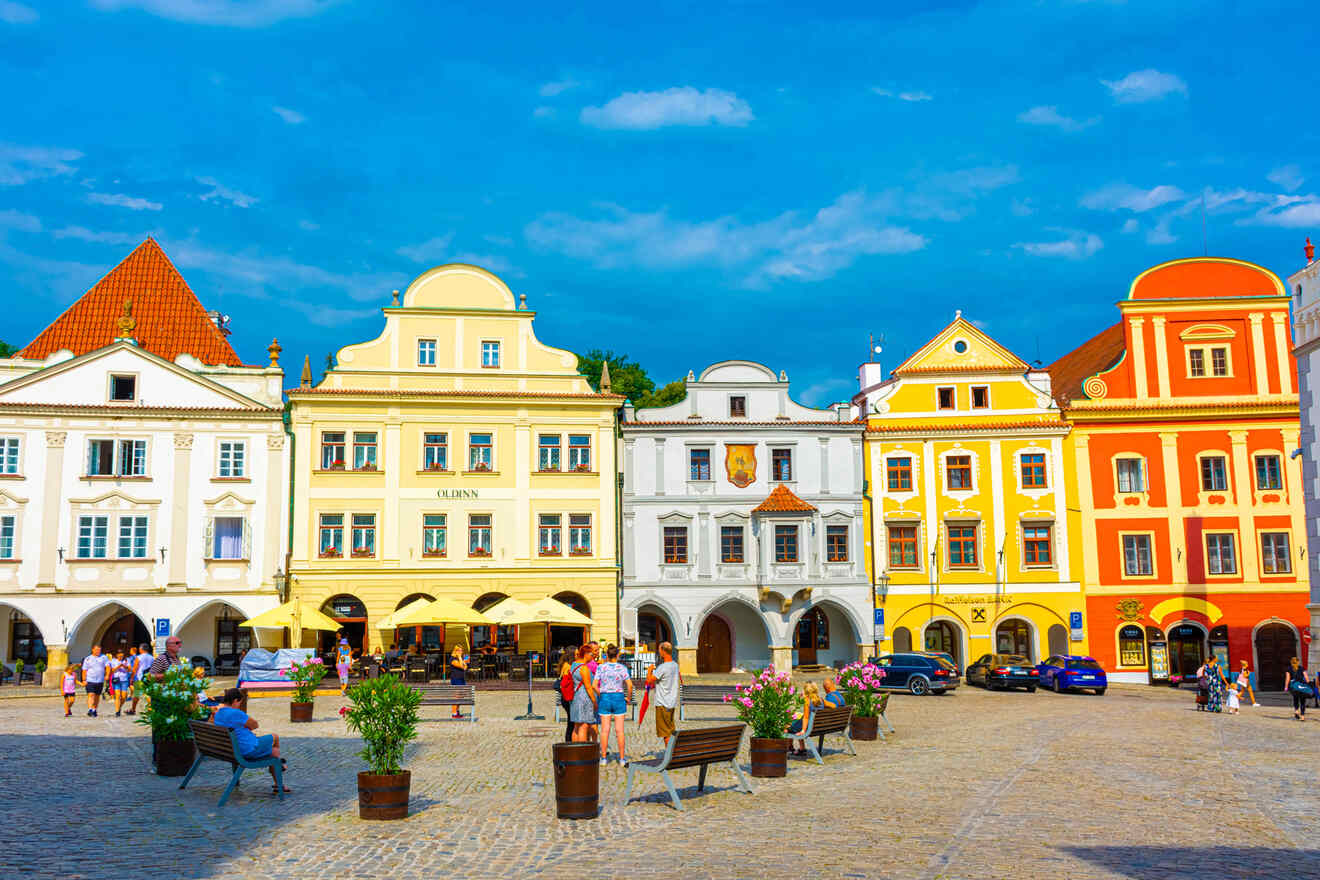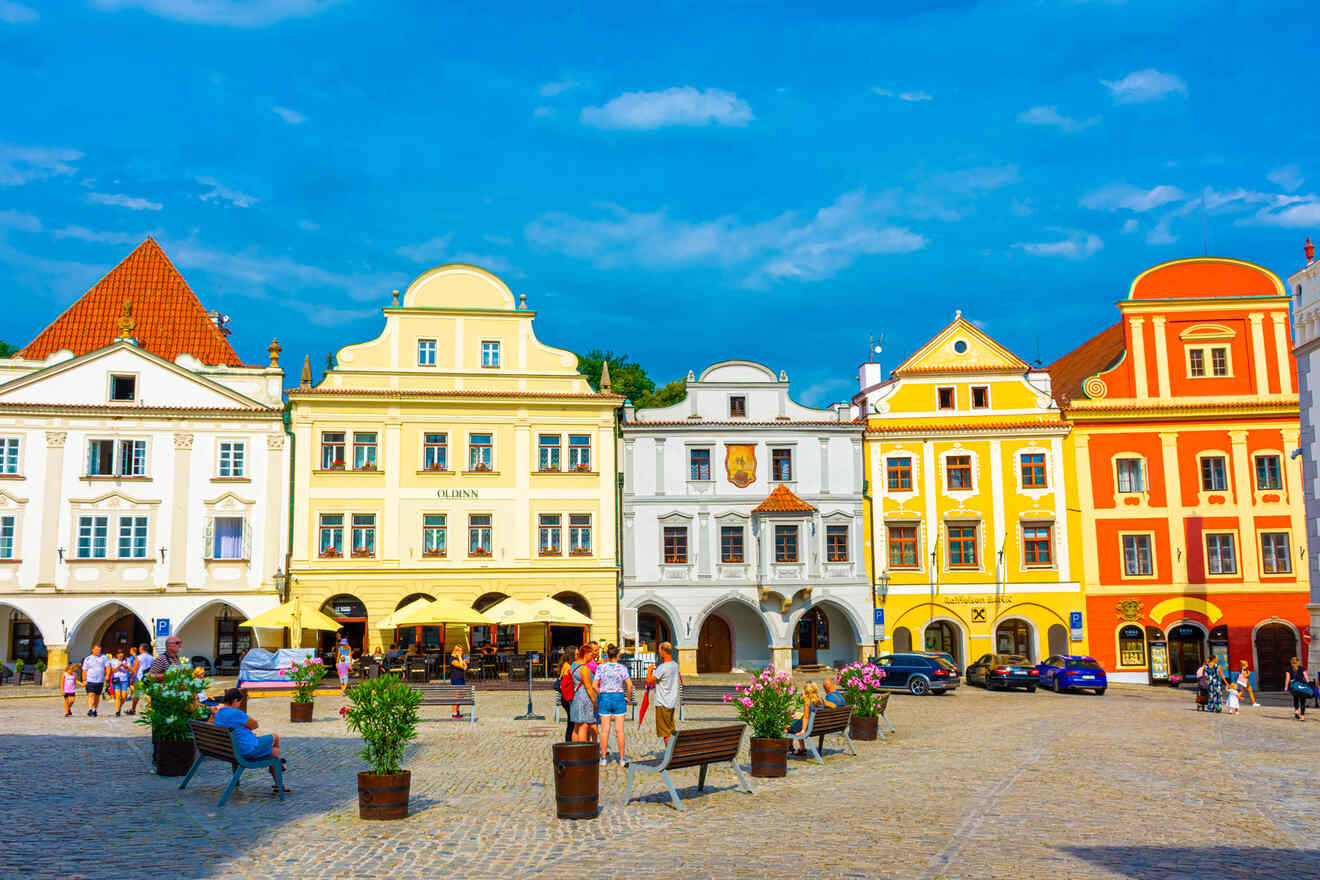 One of the MUST things to do in Cesky Krumlov, is definitely to explore the cobbled streets, colorful houses, and the Svornosti main square of the charming town center proclaimed a UNESCO area.
You can visit Cesky Krumlov city center with this 2-hour private walking tour, to learn about Cesky Krumlov's history, life under communism, and life in the present day from an experienced, English-speaking guide.
Otherwise, you can be like me and join a free walking tour through the city center and main attractions. It was super interesting and I found out many things about Cesky Krumlov.
FUN FACT: Cesky Krumlov is where they filmed the famous "Hostel" horror movies. If you have seen them you can easily recognize the streets, buildings, and even actors from the movie in real life as they used locals as the extras!
Tour PRICE: €85
4. Get the best city views from the Cloak bridge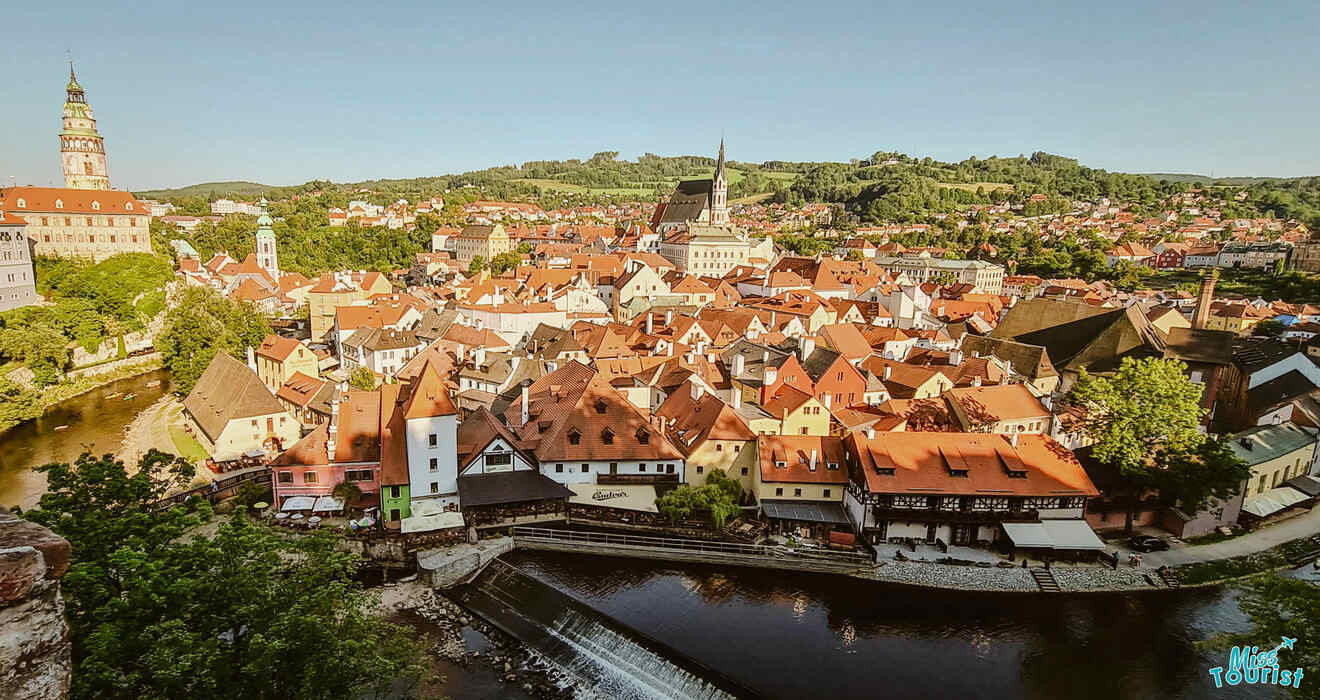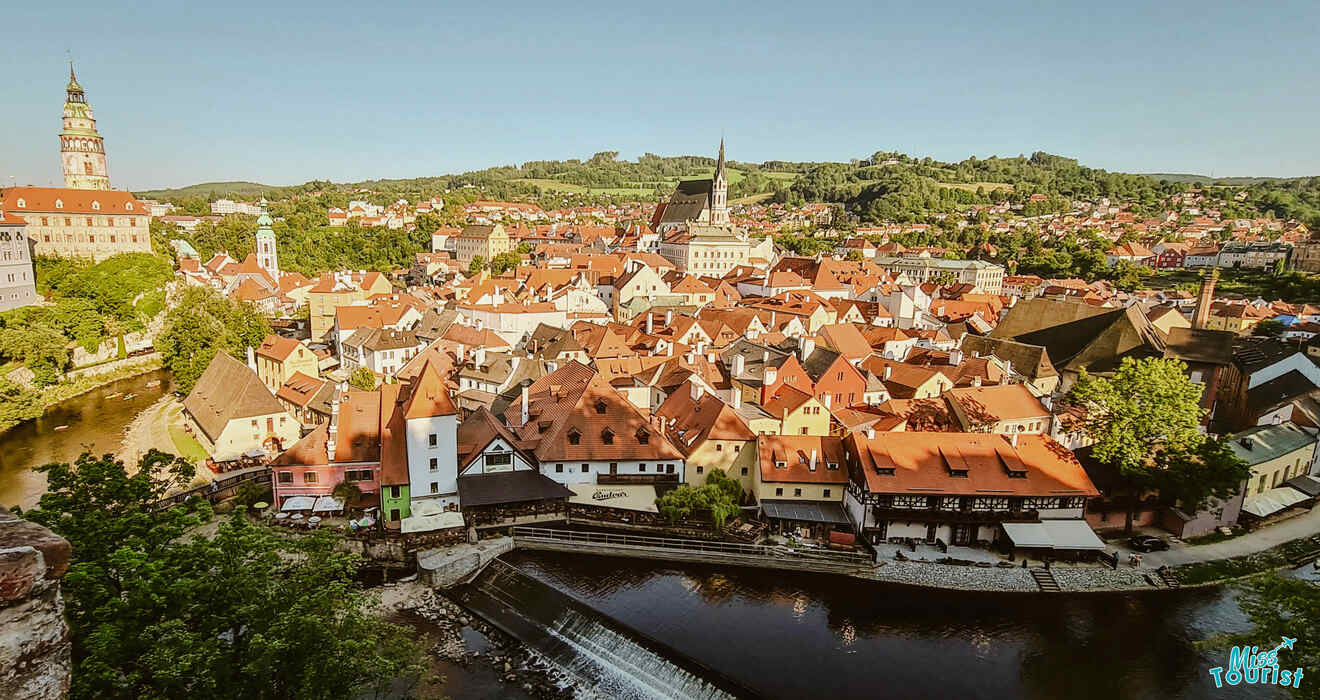 One of the most picturesque things to do in Cesky Krumlov is crossing the uniquely designed Cloak Bridge, connecting the old town with the castle, and passing over the Vltava River.
This 3-story stone bridge with its beautiful arches and statues took almost 100 years to complete. It was finally finished in the late 1700s and was used to protect the western side of the castle. Today, it offers the best views over Cesky Krumlov city!
PRO TIP: I suggest you go either in the early morning, before the day tours arrive, or late in the day for sunset: the most magical times of the day!
The bridge is open to the public, so you won't have to pay any ticket fee!
5. Gaze at the Church of St. Vitus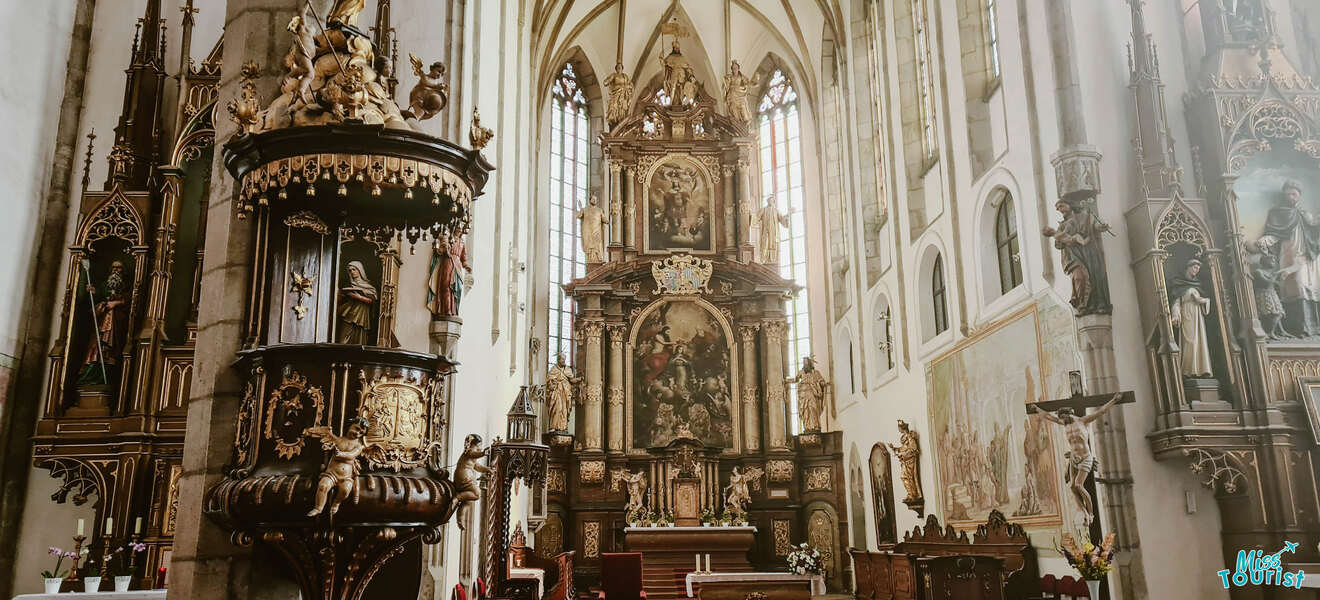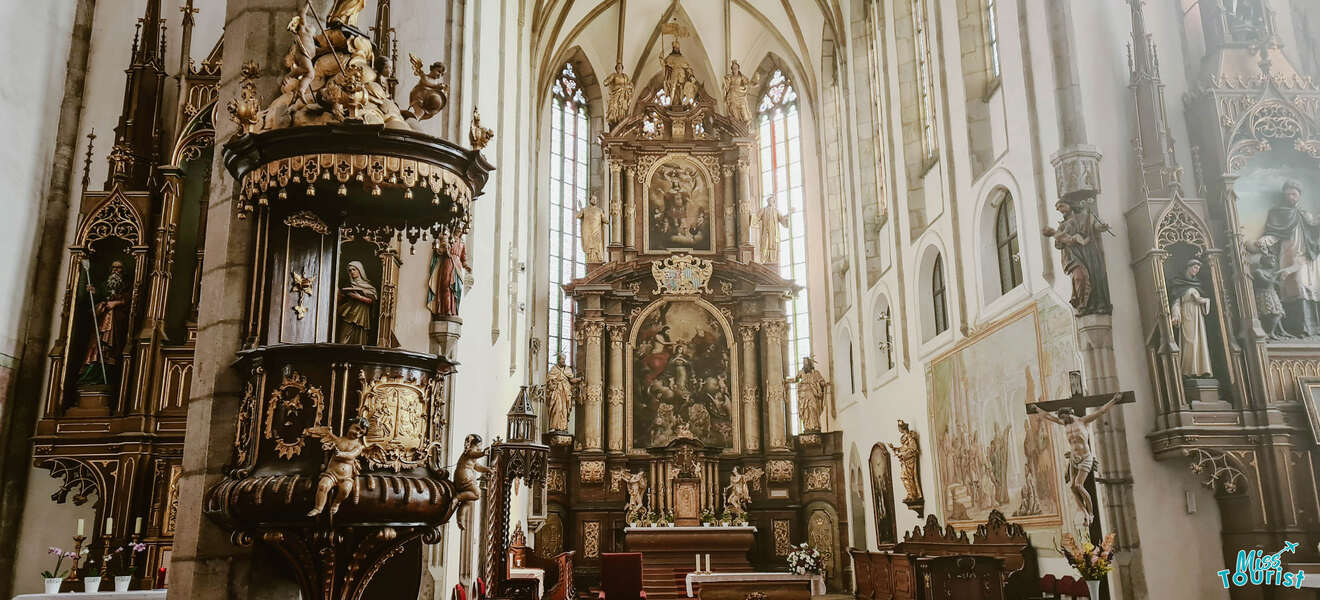 The Roman Catholic Church of St Vitus, once a burial place of important Bohemian families, is one of the top attractions in Cesky Krumlov. Located in the historical center, a 1-minute walk from the main square, the church faces the beautiful Vltava river waters.
The St Vitus Church is pretty tall and stands prominently above the town. During the day you can gaze at its impressive Neo-Gothic architecture and at night see it lit up.
Its interiors are just as beautiful, with soaring arches and stained glass windows… try to spot the spire with the pink painted details!
P.S.: If you want to learn more about the St Vitus Church and the history and culture of Cesky Krumlov without the day crowds, join this guided tour, including a visit to the castle courtyards and gardens.
6. Take a boat ride down the Vltava River waters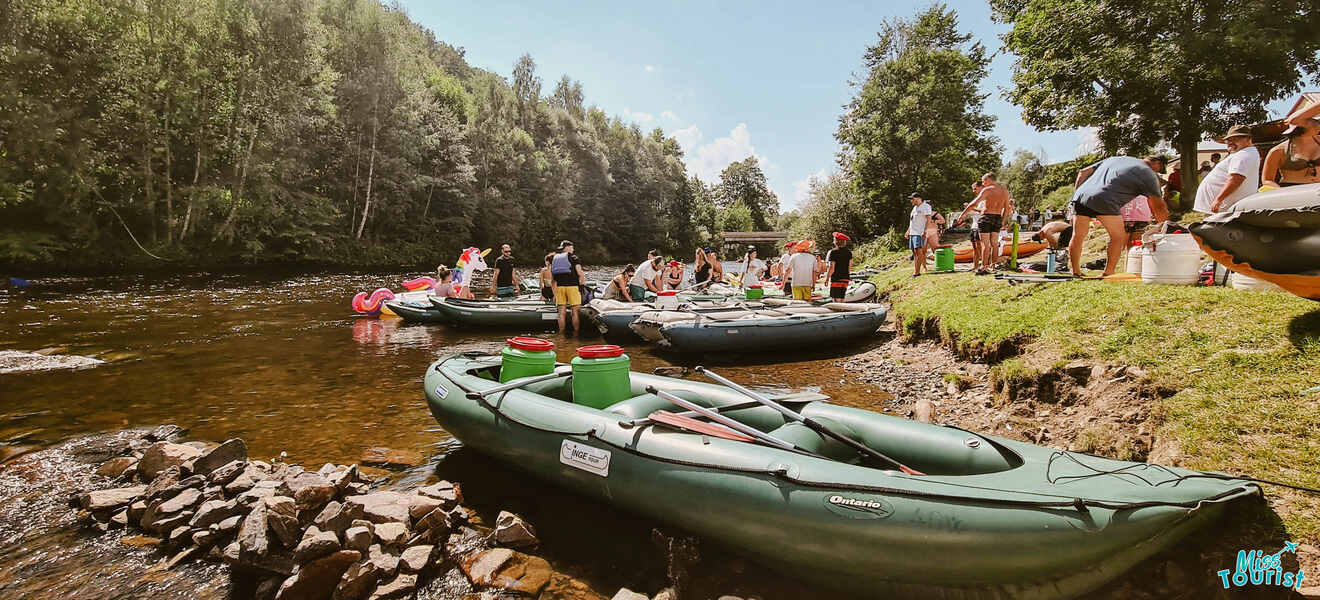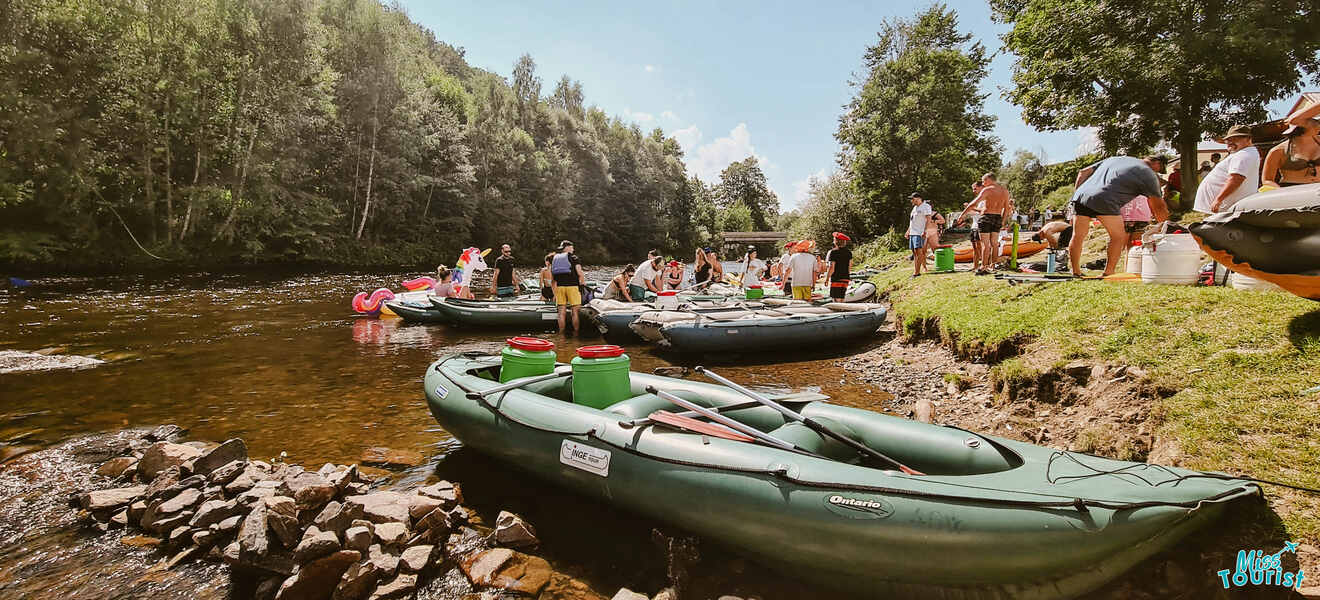 You simply cannot leave Cesky Krumlov without exploring the Vltava River waters by boat. Not only is it super fun but you can gaze at the picturesque old town from a different perspective!
You can either hire a boat, canoe or kayak in one of the countless shops and navigate the river by yourself (that's what I did, it's super nice and not hard at all).
If you decide to rent a boat yourself, you will start in the north of the river and float downstream. At the end there is a specific place where you can dock, leave the boat and they will drive you back to the city! They will explain everything to you and renting a canoe for 2 people will cost you around €11.
If it is a hot day, buy some beer/water in advance (they sell it right there at the rental stations) and take it with you. I loved floating through the old town sipping on my cold beer! 🙂
Alternatively, if you don't want to have to put in any effort you can join a wooden raft tour. During the 50-minute tour on the Vltava River, you will explore some of Český Krumlov's most famous landmarks with live commentary of two skippers, and stop at the port of the Krumlovské Benátky, to enjoy a complimentary drink of your choice!
This is one of the best things to do in Cesky Krumlov, especially in the warmer summer months and you will see so many boats with both tourists and locals doing this to beat the heat!

PRO TIP: Locals set up little bars along the river in the summer months so you can stop along the way and turn your boat trip into a fun pub/river crawl if you wish!
PRICE: Canoe rental €11, guided tour: €20
7. Admire art at the Egon Schiele Art Centrum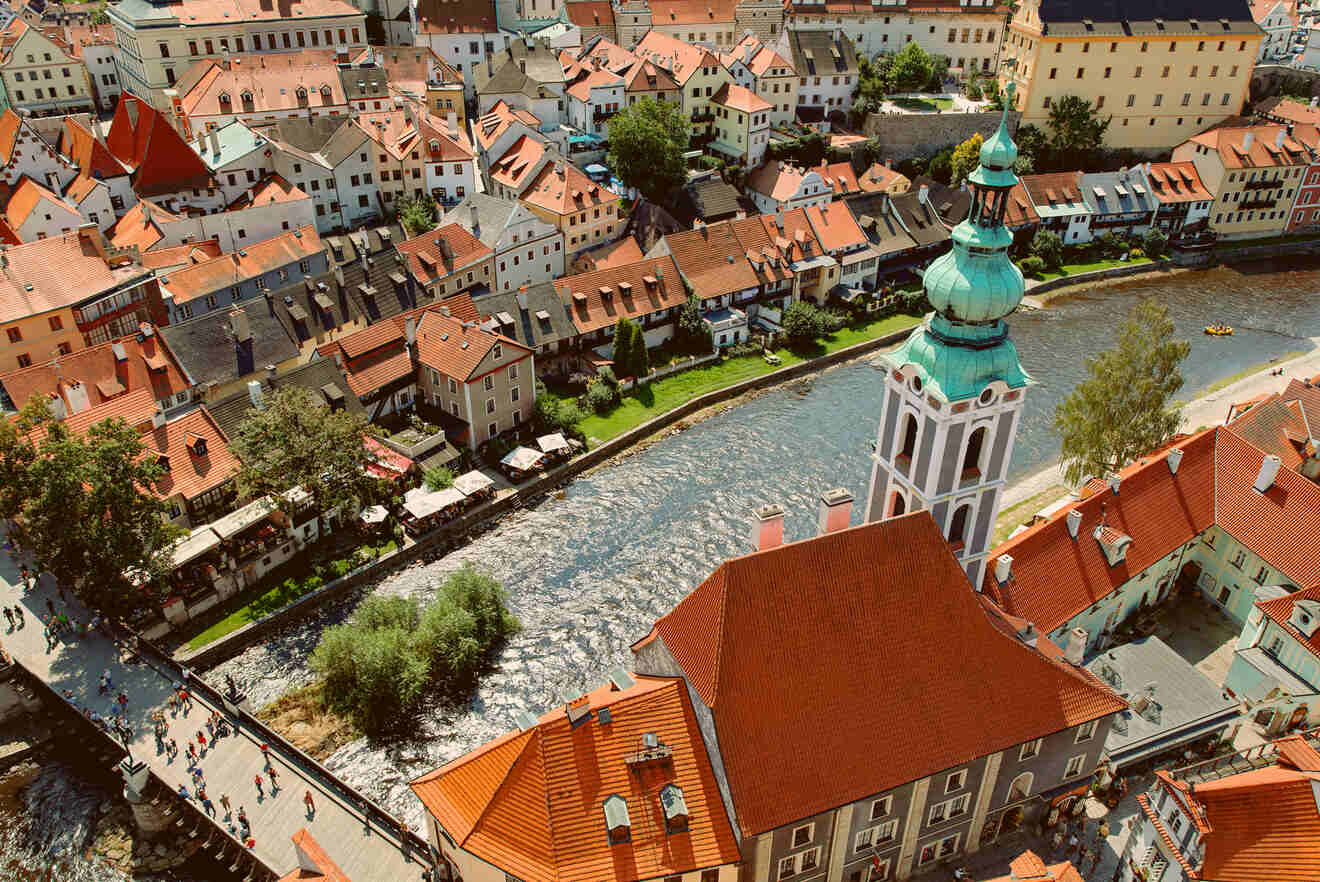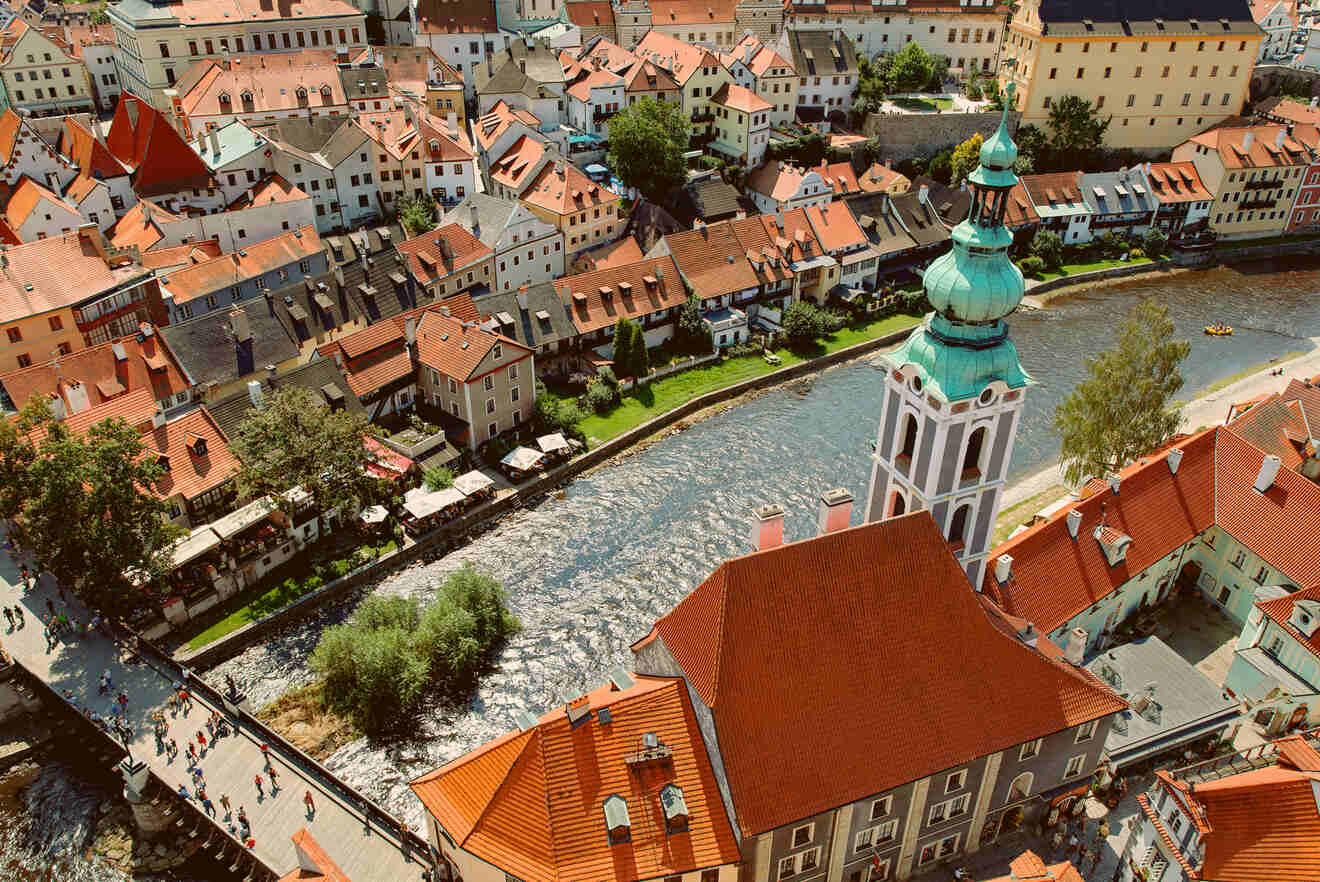 Art fans will be very happy to know that the Cesky Krumlov center hosts the amazing Egon Schiele Art Centrum, a huge art gallery with classical and contemporary 20th-century artwork.
Apart from the works of Egon Schiele, an Austrian painter famous for his distorted forms and provocative nudes, here you'll see the creation of numerous contemporary Czech/international artists, like Gustav Klimt, Salvador Dalí, Pablo Picasso, and more.
There is also a super nice cafe inside the Egon Schiele Art Centrum, with cozy sofas and armchairs (feels like a living room), the perfect place to have a tranquil coffee and recharge your batteries!
The Egon Schiele Art Centrum is a part of the Cesky Krumlov Card, which will give you access to 5 different museums for €13 so it's worth it if you are visiting at least 2.
PRICE: €8
8. Check out the Museum Fotoatelier Seidel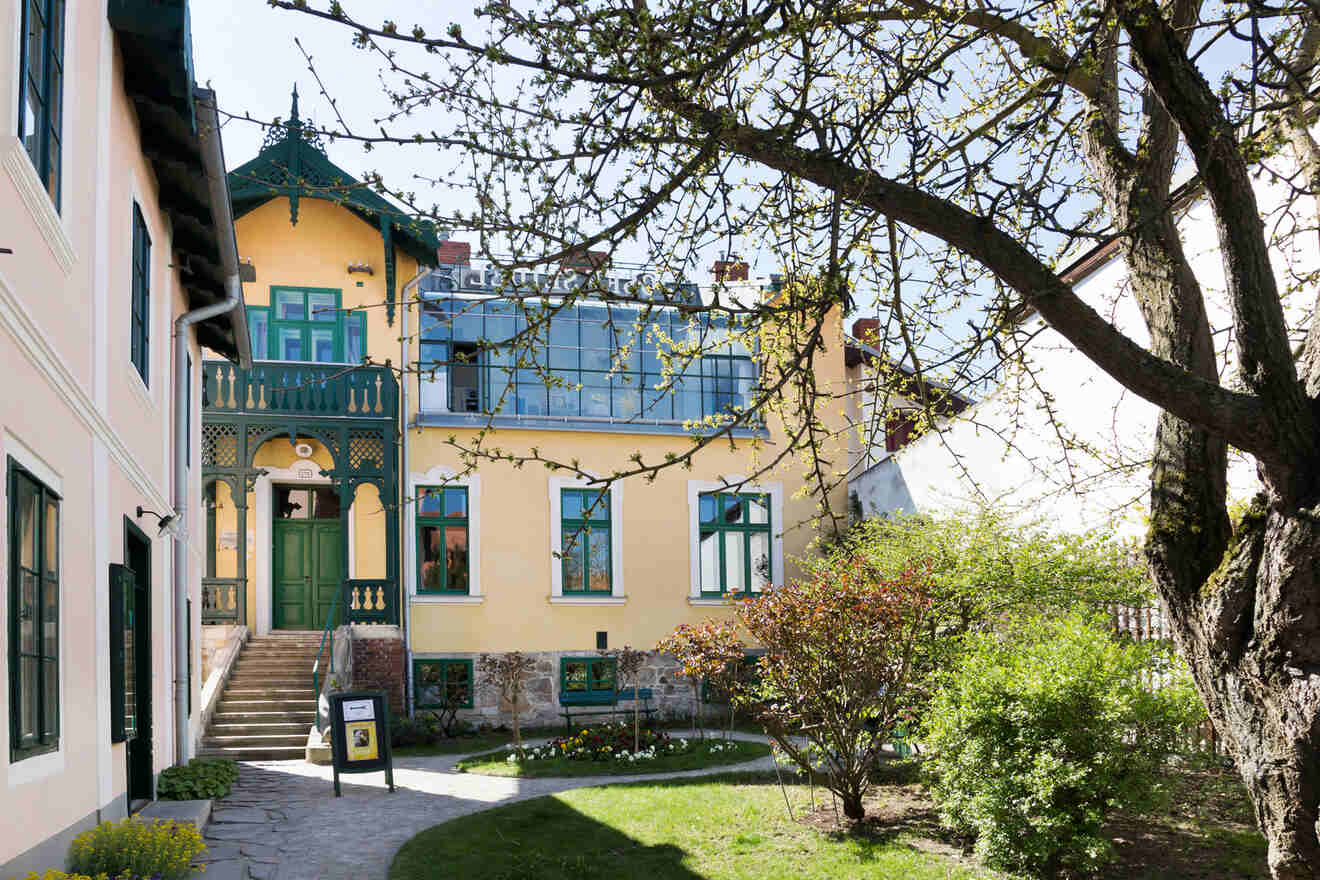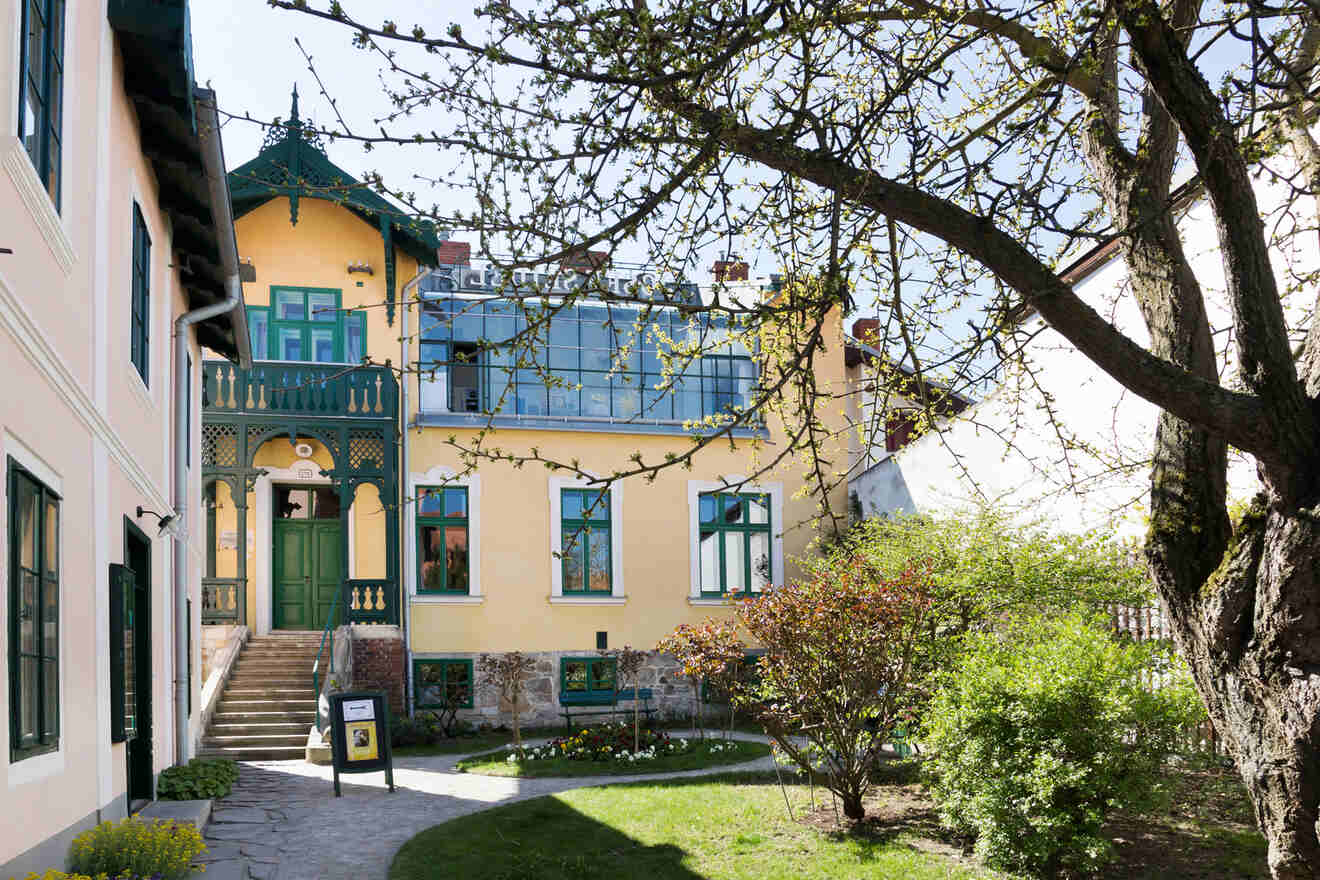 The Museum Fotoatelier Seidel is THE place to visit for photography enthusiasts, tracing the history of the art from the 19th century (the early years of European photography) until modern times.
The museum is located in a 19th-century home & studio of the Seidel photographer family, so you'll be able to see historic photos, postcards, glass plate negatives, old cameras, and darkroom equipment, as well as personal belongings and original furnishings.
Here you can even take fun photos dressed up with costumes of the time, a cool activity to do with the kids (or just if you want to get those likes for the 'gram!)
PRICE: €6
9. Travel back in time at the Cesky Krumlov Monasteries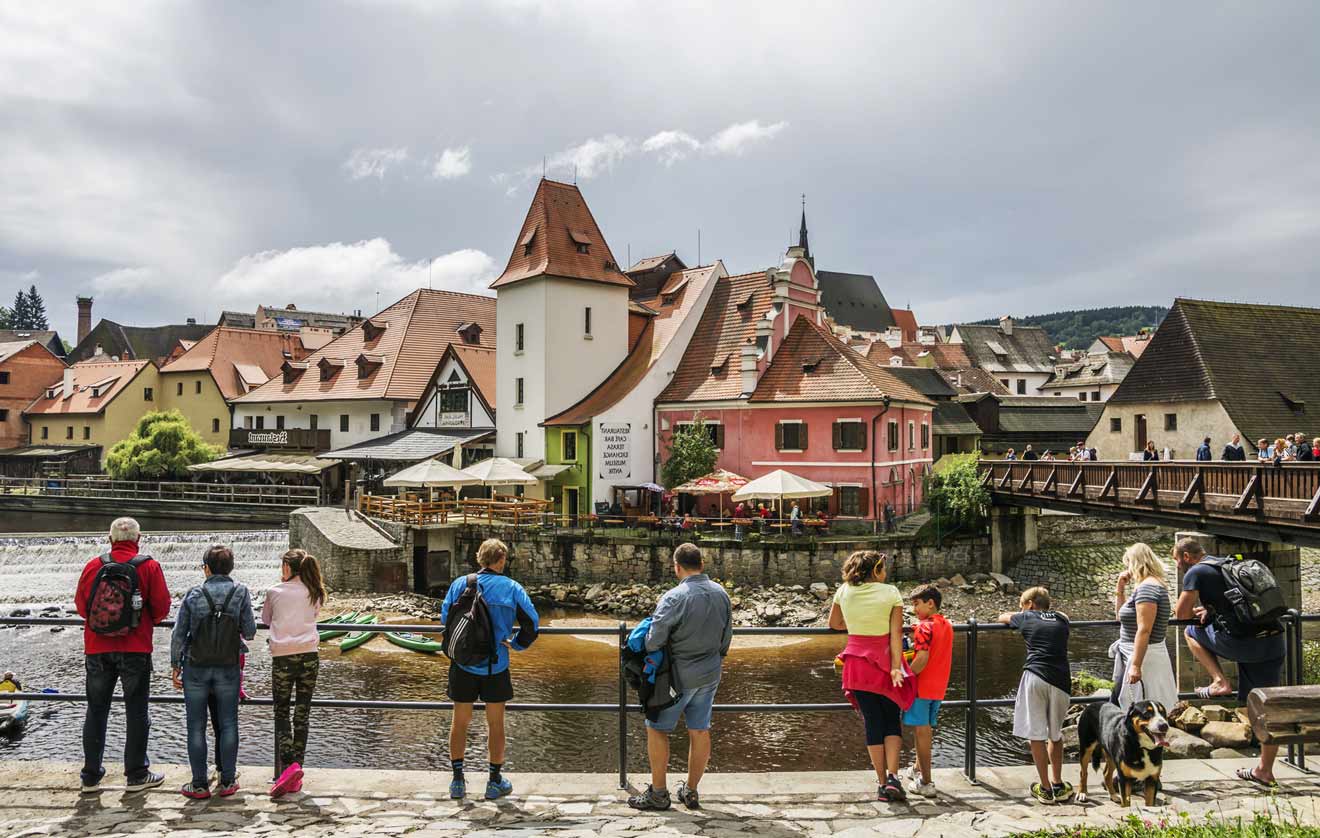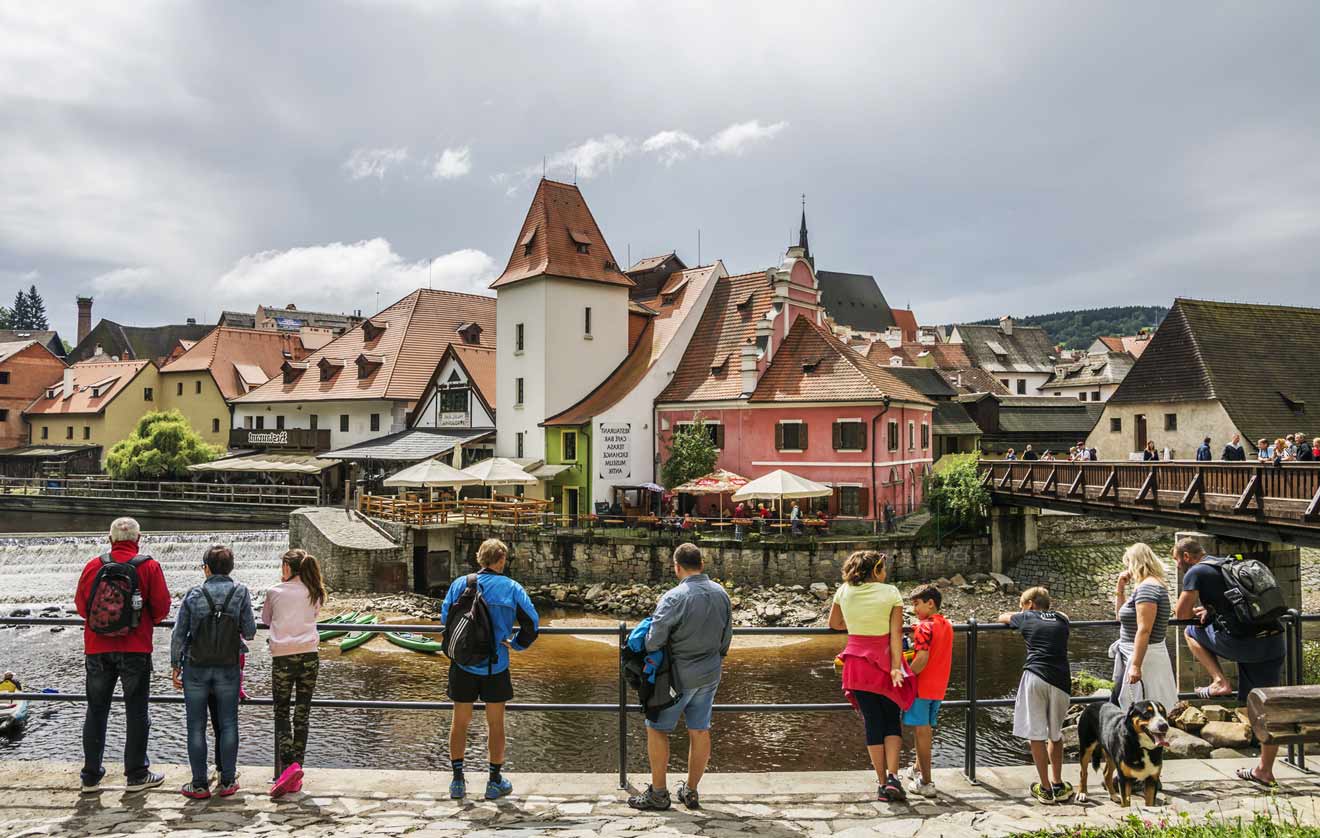 If you want to see one of Ceský Krumlov's oldest surviving buildings, you should pass by the Cesky Krumlov Monasteries, located right in the heart of the city.
Building started in the mid-14th century and continued until the end of the Baroque era, and today the Minorite Monastery is still in use and open to the public. Here you can visit museum expositions, community halls, and gardens.
Some of the highlights of this amazing complex are the Beguine Convent (with Gothic, Renaissance, and Baroque architecture), the beautiful statues of saints, and the Baroque altar.
You can even join a cool workshop to test your traditional skills like glassmaking, blacksmithing, shoemaking, as well as tailoring and traditional-style clothing… a real way to travel back in time!
PRICE: €7 or free access with the Cesky Krumlov Card
10. Live a fairy tale in the State Chateau of Hluboká castle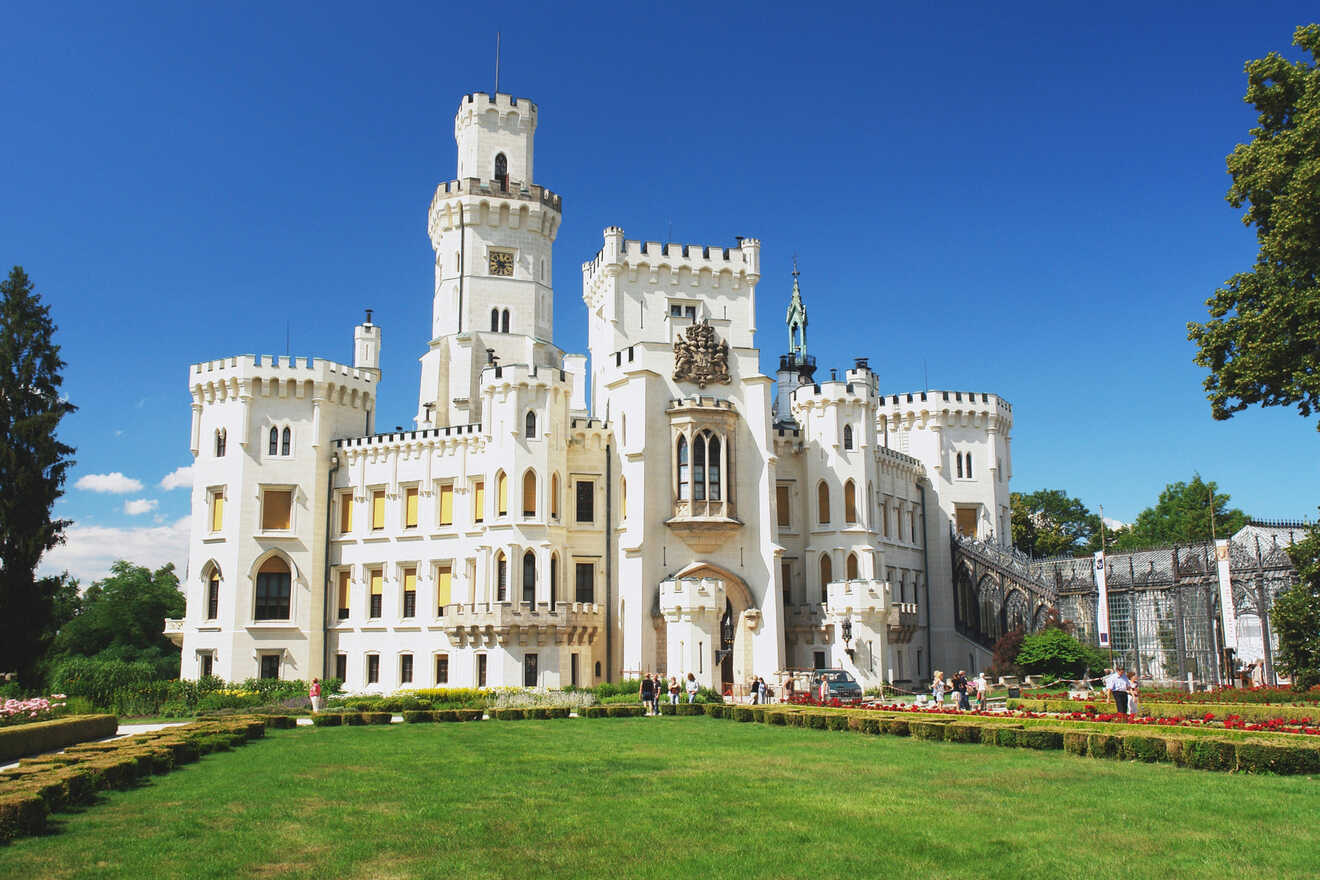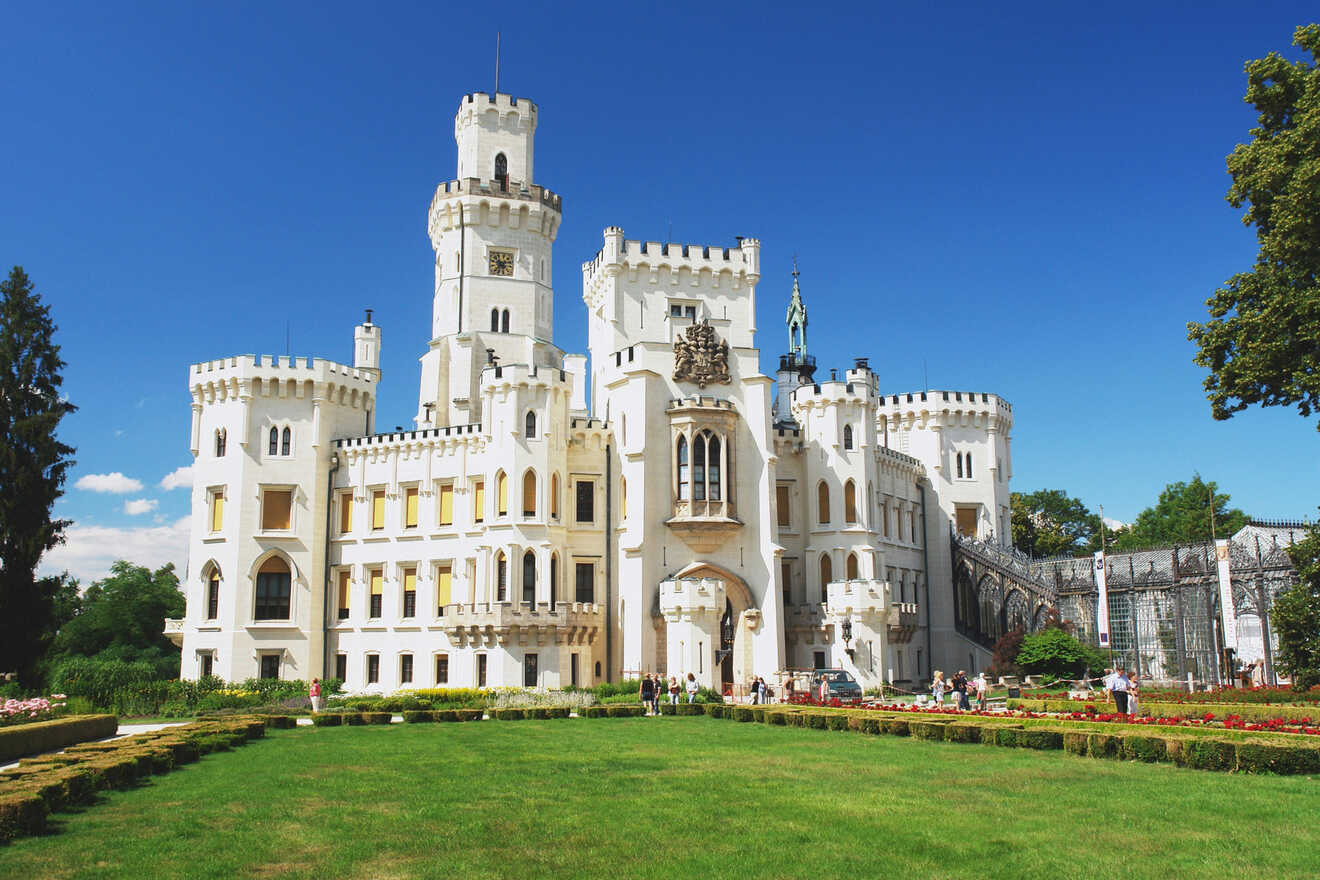 The State Chateau of Hluboká is a Disneyland-like castle located only half an hour's drive from Cesky Krumlov. It was the former house of the Cesky Krumlov royal family who since moved to the castle in the city.
With its snow-white facade, 11 towers, beautiful design details, and immaculate gardens, it is considered one of the most beautiful castles in the Czech Republic (they even host weddings here!)… so why not check it out?
Here you can wander around the castle grounds and the beautiful courtyard, check out the chapel, visit the art gallery, and chill in the tea room… the perfect spot for a Cesky Krumlov day trip!
There are tours organized on-site to visit different parts of the castle, each one has its own price and hours of availability so check out the website for more info!
FUN FACT: You won't believe it, but the castle and the whole of Cesky Krumlov city were actually ugly and gray during the communist era. But when it became a UNESCO World Heritage site, a lot of work was put in for 30 years to help the town become what it is now!
The easiest way to get here is by rental car or taxi as no public transport reaches the castle. A taxi will cost around €30 and take 30 mins drive. You can also join this day trip exploring the South Bohemia region including castles, abbeys, and the Budweiser Brewery in Ceske Budejovice!
| | |
| --- | --- |
| 🤩 Range of activities: | Average |
| 👪 Family-friendly score: | Medium |
| 🏛️ Best museum: | Castle Museum |
| 🎢 Top paid attraction: | Boat trip |
| 🚶🏽‍♂️ Best free activity: | Cloak Bridge |
| 👧 Best attraction for kids: | Museum Fotoatelier |
| 📍 Best area | Cesky Krumlov Old Town |
| 📅 How many days: | 2-3 |
Where to stay in Cesky Krumlov, Czech Republic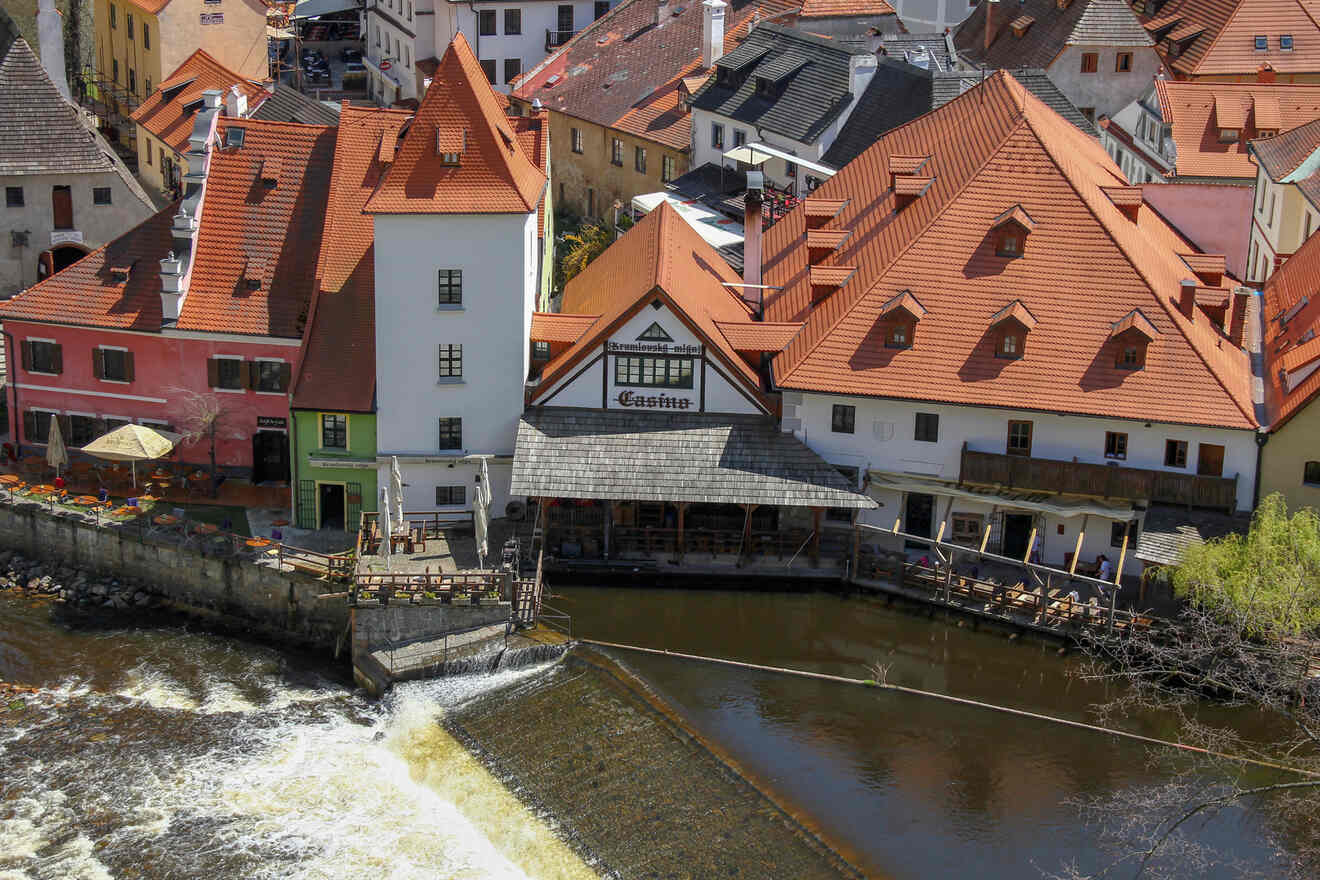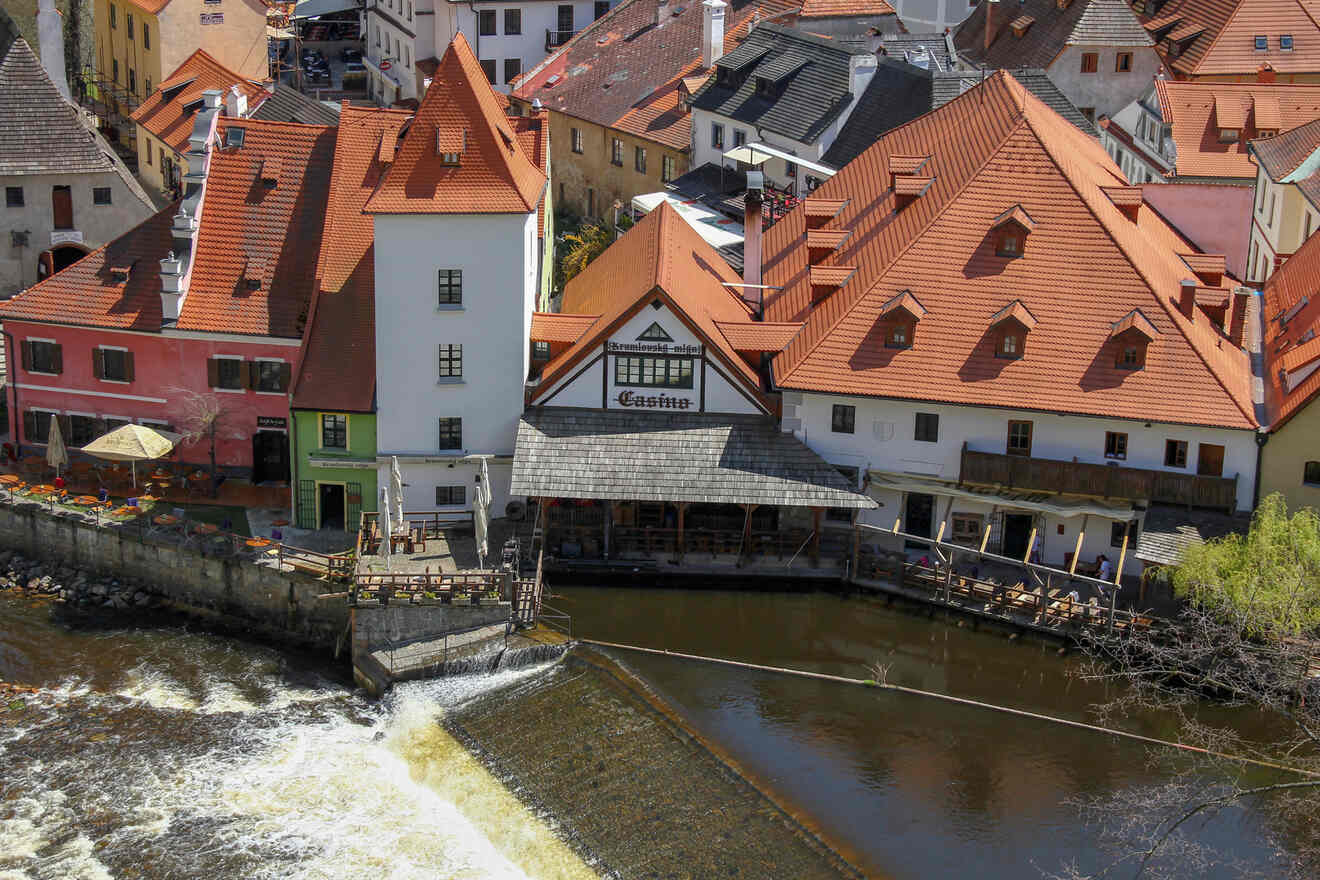 If you want to explore Cesky Krumlov's best attractions, it is good to stay in an area that gives you easy access to them, and this is the historic city center. I gathered here below the best accommodation options divided by price range, check them out!
NOTE: You cannot park inside the old town unless you have private parking with your hotel (which usually costs extra), so it is good to have an accommodation that provides that (otherwise you can park outside of the old town, it is not a long walk).
Luxury (US€100 and up)
Hotel Mlyn – This is one of the best luxury hotels in Cesky Krumlov, set in a historical building right in the city center. I stayed here and it was super nice with a view directly to the Vltava River and parking provided at an extra cost!
Mid Range (US€40 – US€80)
Residence Muzeum Vltavínů – This amazing hotel has a great location in Cesky Krumlov's old town, within walking distance of the Vltava River and the regional museum. It also provides free wifi and private parking.
Budget (up to US€30)
Hostel Merlin – If you want to stay on a budget in Cesky Krumlov, this hostel is for you, featuring a shared lounge, private parking, a garden, and a terrace. The property also has a convenient location close to the town square and the Minorite Monastery!
Practical Information
Now I will give some more practical information that will save you some time and money!
How to get to Cesky Krumlov from Prague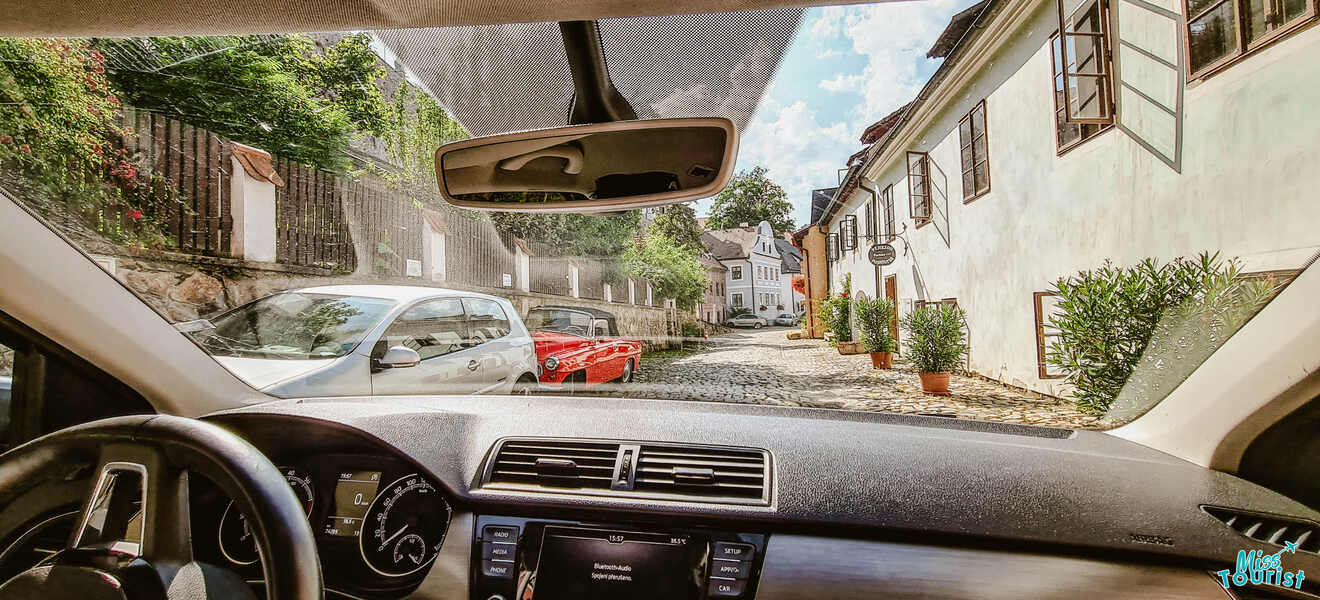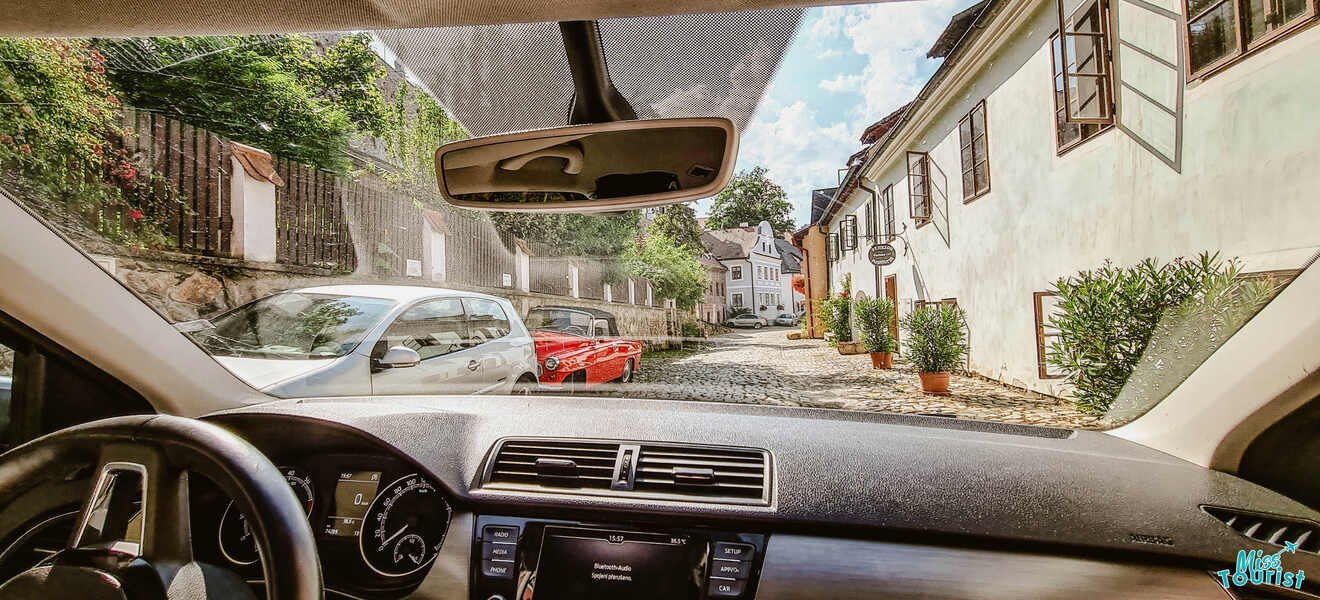 The easiest way to get to Cesky Krumlov is definitely from Prague, where all the international flights land, also offering many places to stay and things to visit! Let's check out the different transportation options from Prague to Cesky Krumlov:
Where to eat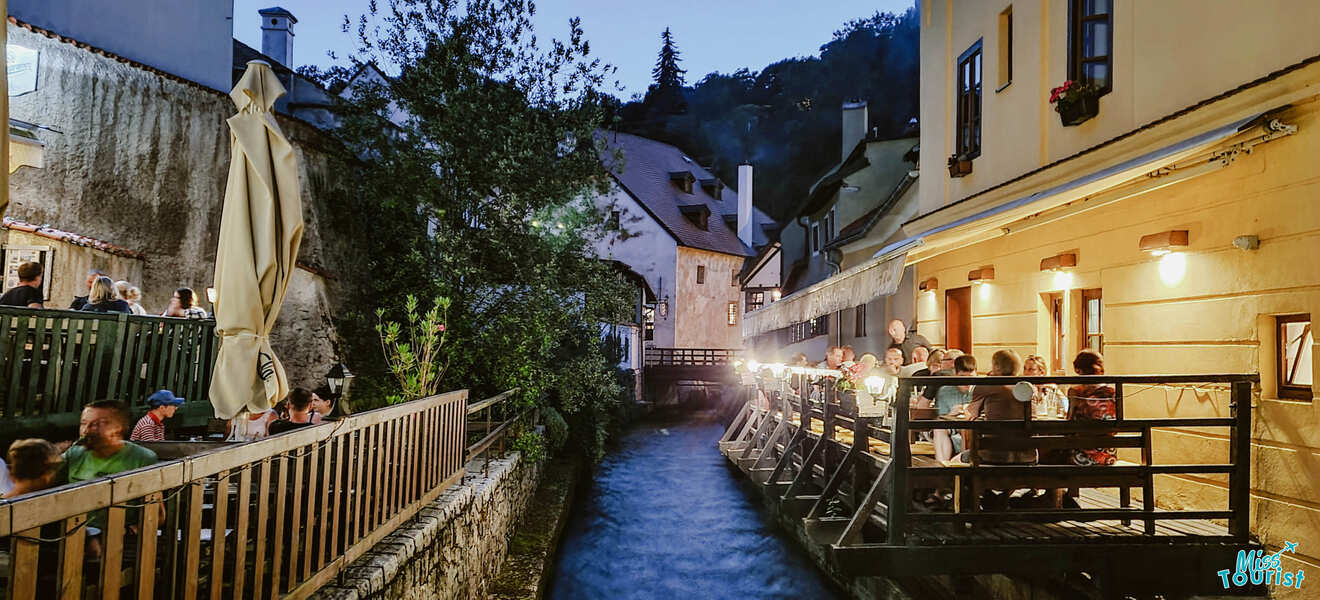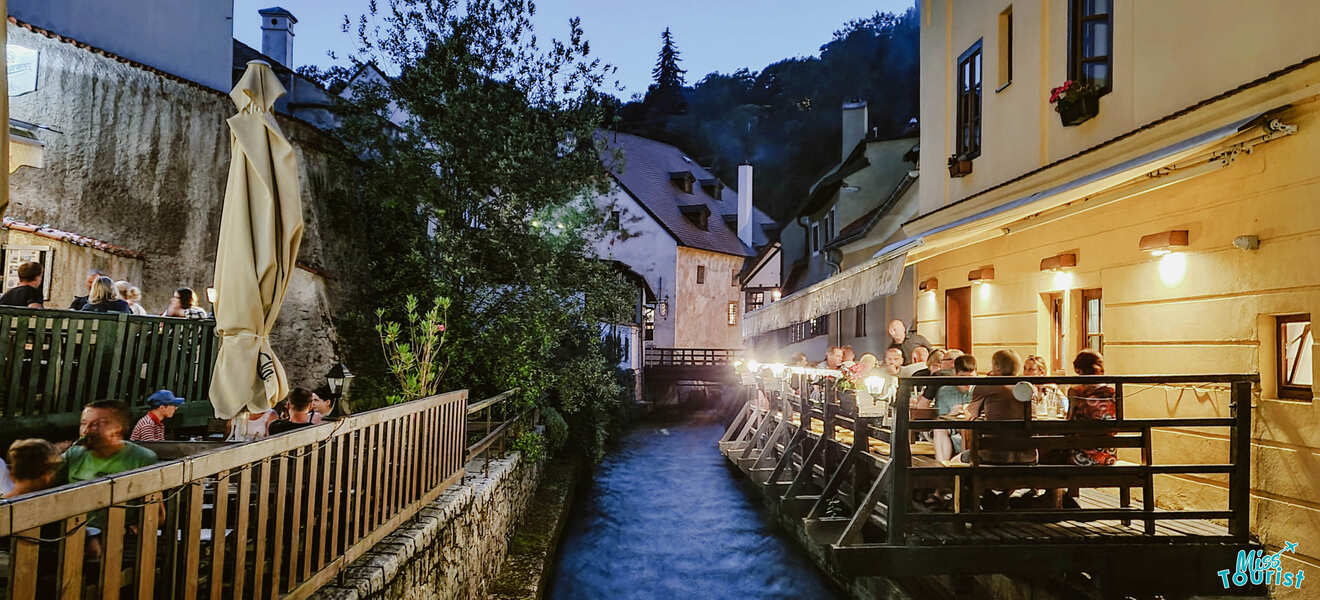 A trip to Cesky Krumlov is not complete without trying its incredible local Czech cuisine (goulash, garlic soup, dumplings, and meat prepared in the most various ways) and drinking its famous local beer.
It's actually very hard to find a place for dinner, especially near the water, so in general, I suggest you book in advance or have your hotel booked for you!
There is this very nice website suggesting you some nice cafes and dining places, but I decided to give you my personal favorites in Cesky Krumlov, so you have some more options:
FAQs about Cesky Krumlov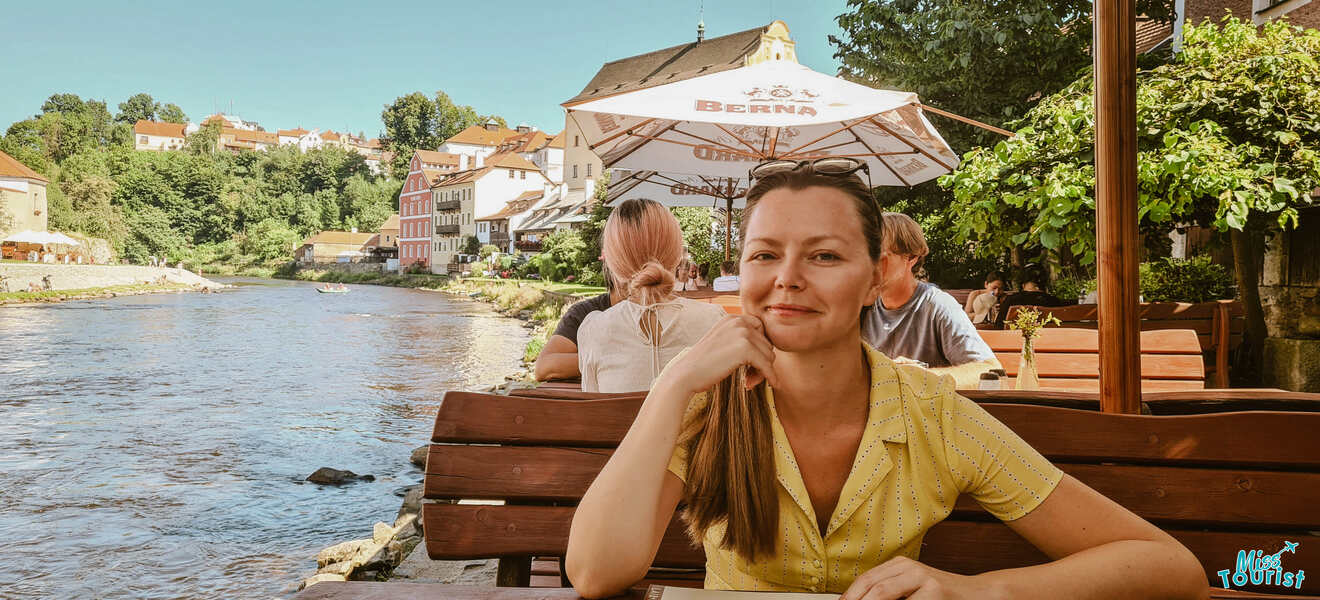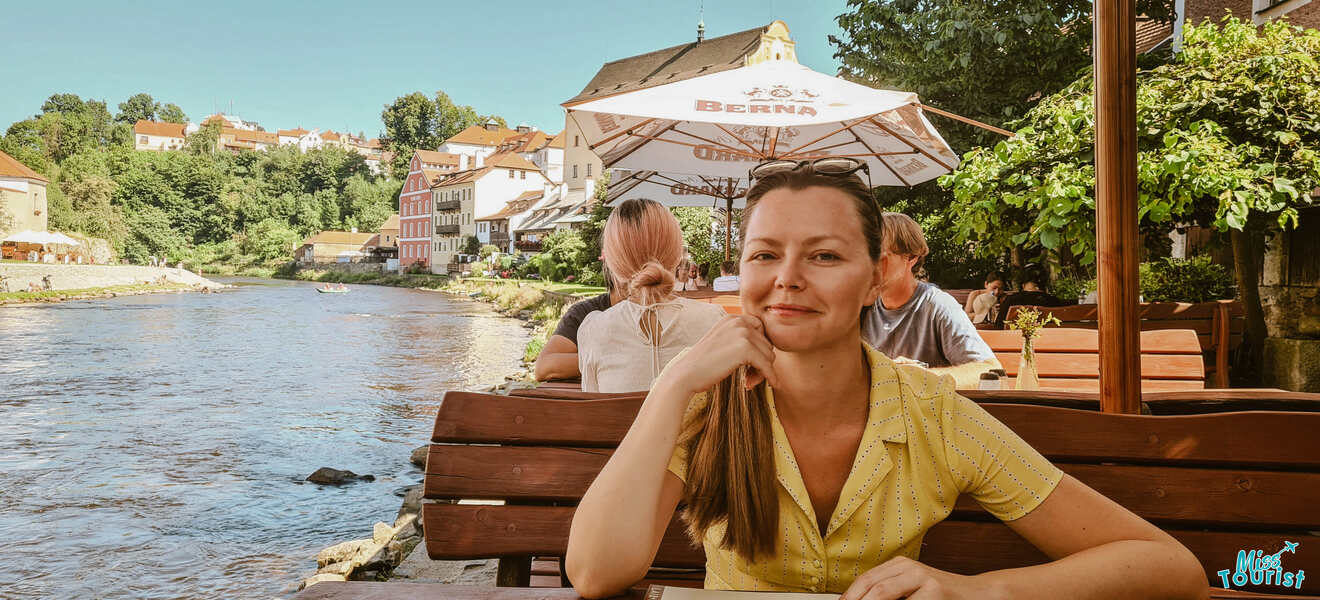 🤩 What are the best things to do in Cesky Krumlov, Czech Republic?
The best things to do in Cesky Krumlov, in South Bohemia, are visiting the Cesky Krumlov Castle, the largest in Eastern Europe, floating down the river, checking out the Regional museum, or simply walking in the Cesky Krumlov old center!
👪 What are the best things to do in Cesky Krumlov for families?
The best things to do in Cesky Krumlov, Czech Republic for families are visiting the Puppet museum, featuring performances with lots of Czech puppets on display, joining a boat tour, and crossing the Cloak Bridge.
⚖️ Is Cesky Krumlov or Karlovy Vary better to visit?
If you have enough time, Cesky Krumlov is definitely much nicer to visit. However, there is too much to enjoy on a day trip so if you don't have much time, go to Karlovy Vary which offers soviet architecture and outdoor adventures. 
📅 How many days should I spend in Cesky Krumlov, Czech Republic?
You should spend at least 2-3 days if you want to enjoy all the best Cesky Krumlov things to do, like visiting the Church of St Vitus. I totally don't suggest visiting the city on a day trip from Prague (it's not enough)!
🗣️ How do you pronounce Český Krumlov?
Conclusion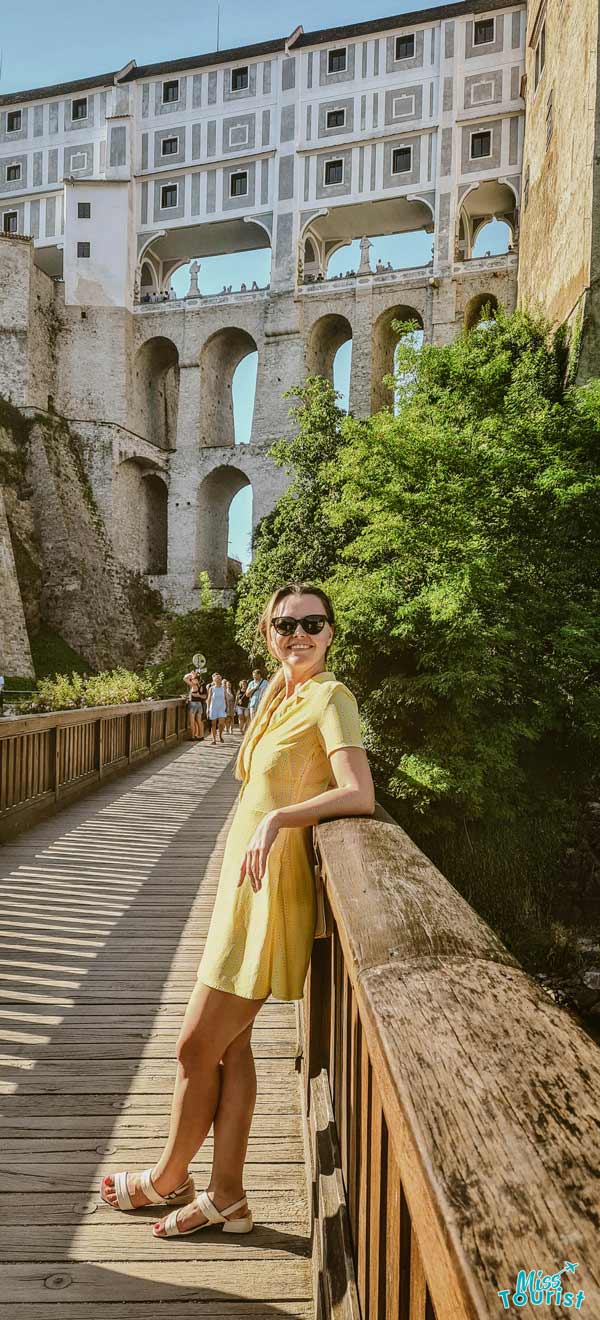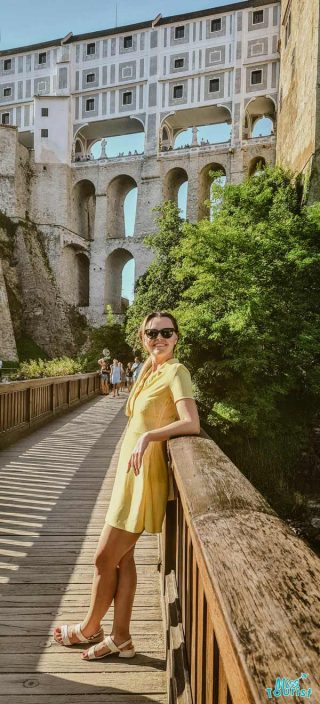 Congrats! You are at the end of this detailed travel guide about the best things to do in Český Krumlov, a magical city located in the South Bohemian Region of the Czech Republic.

We saw activities and attractions for any taste from ancient castles to picturesque churches, boat tours, interesting museums, and fine arts galleries… there's no chance you won't fall in love with this town!

I hope you enjoyed reading this post as much as I did writing it for you, and that it will help you fill your Cesky Krumlov bucket list!

If you have any questions for me or you want to suggest other things to do in the city, please share them in the comments below… I am looking forward to reading them all.

Have an incredible holiday,

Yulia
---
Pin it for later!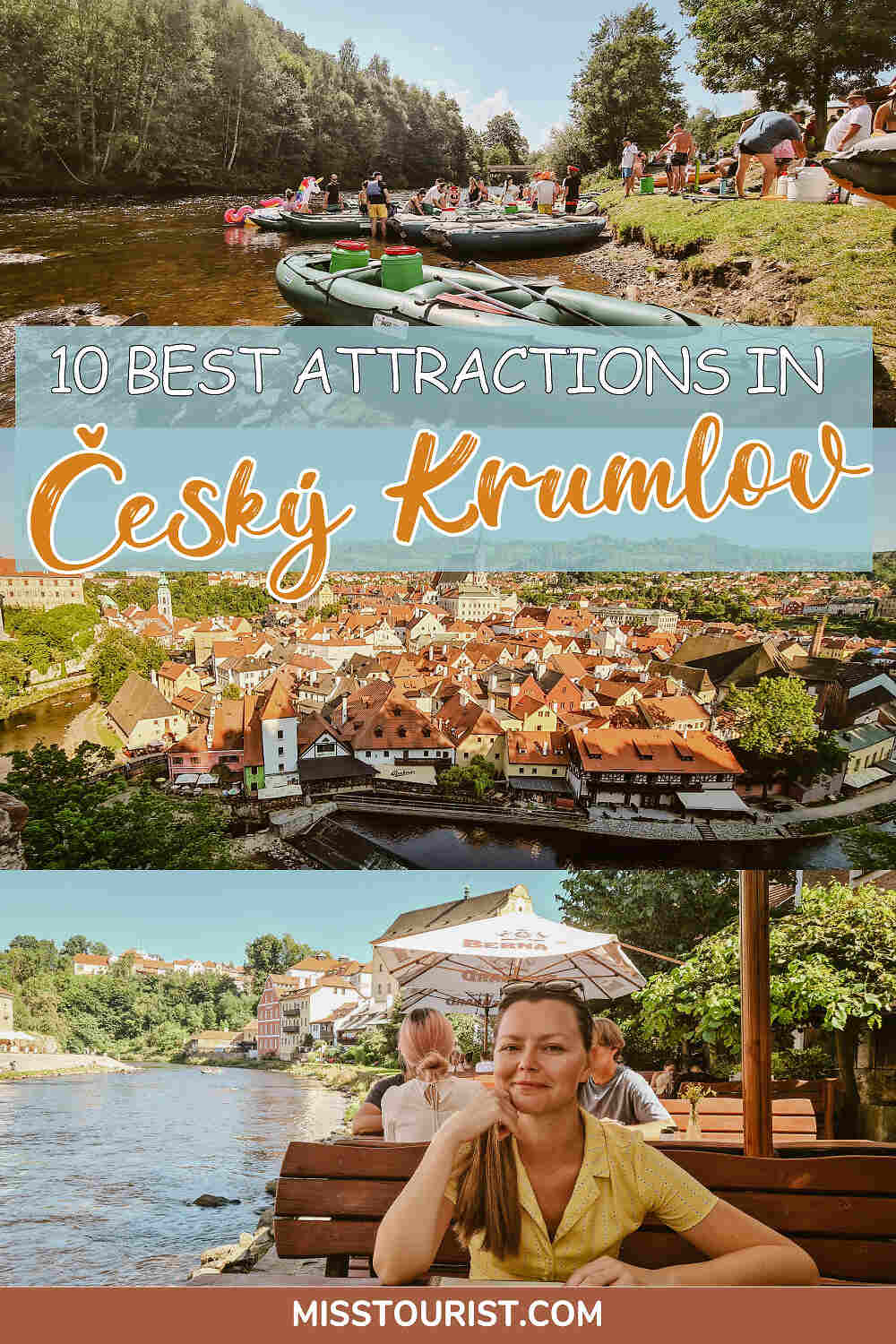 Pin it for later!