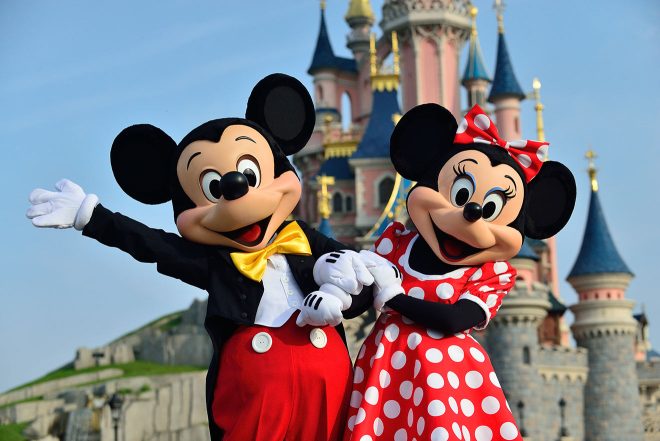 Are you planning a fun family trip for next year? Do you wonder where the best place is to go with your kids in Europe? I might have a great suggestion for you, so keep reading!
Disneyland Paris is every kid's dream come true! It's a wonderful place for adults as well, especially if you love Disney characters, exciting attractions and parades. Disneyland Paris always has seasonal events full of fun and surprises. Many of these seasons are inspired by iconic Disney animations and live-action films such as Frozen, The Lion King and Marvel (Please check on the official website to see which events are taking place during your proposed holiday period before booking to avoid disappointment).
Long story short: Disneyland Paris is always a great idea, especially if you're looking to go in the first half of next year because they have a great offer waiting for you! Want to find out more?
Keep reading, as I will explain everything about the new offer for spring-summer 2020 (hint: it includes some cool discounts and free meals, yay!)
Let's find out what's it all about:
First of all – why plan a vacation at Disneyland Paris?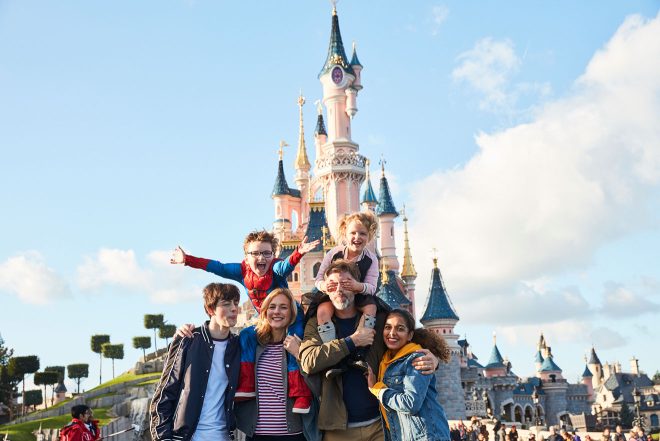 Not quite convinced yet? See below for the many reasons why Disneyland has become such a popular and beloved holiday destination:
First of all, Disneyland Paris provides TONS of fun for every member of the family, from kids to adults. It's guaranteed your children in particular will be ecstatic with your decision to take a trip to Disneyland Paris.
You can meet much-loved Disney Characters throughout the park from Mickey Mouse to Buzz Lightyear.
There are over 62 restaurants, cafes and eateries to dine in at or grab on-the-go food from.
There are actually two different parks that make up Disneyland Paris – Disneyland Park and Walt Disney Studios Park, which are located in close proximity to one another. The latter is smaller and designed more for younger kids, but a must-visit nonetheless.  I always recommend choosing the 1 day 2 parks ticket or the 2 days 2 parks ticket so you can visit both of them.
It's so close to Paris, you can easily visit the city for a break from the excitement at the parks.
There are 50 different attractions to choose from (Space Mountain 2, It's a Small World and Big Thunder Mountain are just some of the most popular ones).
Disneyland Paris offers Fastpasses, allowing you to skip a number of the attractions queues, giving you more time to enjoy the parks.
For a complete Disney experience, you can choose to stay in one of the official Disney hotels. From the iconic Disneyland Hotel to Santa Fe to Sequoia Lodge, Cheyenne and many more, there is a wide variety of hotels to suit all budgets. And trust me, the amount of detail and care in each of these hotels is simply incredible.
There are always cool events, daily parades and shows for further entertainment.
Last but not least – Disneyland Paris offer many package offers that can help you save some money, such as the offer below for the ultimate spring/ summer stay!
Spring/Summer Promo: up to 20% off Disney Hotels & Tickets + Free dine + 100€ gift card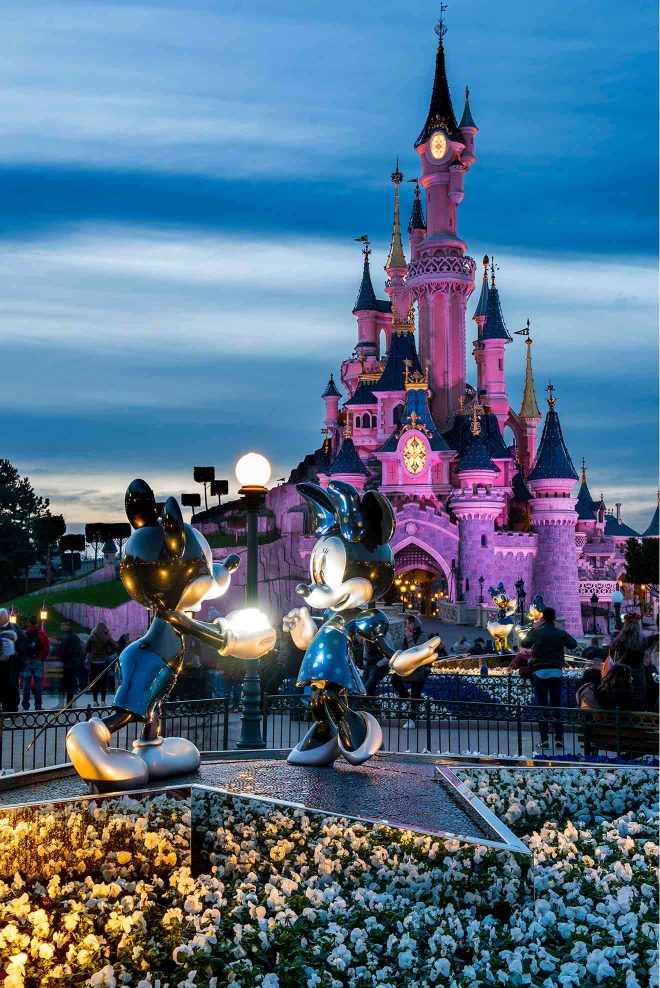 I've told you about the fantastic Disneyland Paris offers before, and the one prepared for spring-summer 2020 will not disappoint.
You may have already understood from the title above, but let me tell you again: if you buy your hotel and park tickets before the 12th of February 2020, for spring and summer arrivals (from 2nd April – 1st November 2020), you can benefit from 20% off your package price and Free Disney Dining, plus a 100€ gift card to use inside the parks.
The main advantage of this offer is free dining during your stay. Think about it this way: you'll need to eat during your stay at Disneyland Paris, right? So why spend a lot of money on restaurants or pack your own food in your backpack, when you can have your meals included in the package, right? I think it's a great idea, honestly!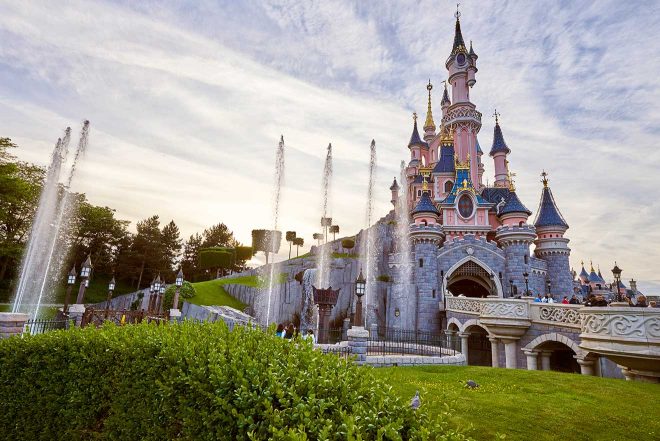 Depending on your chosen hotel, there are 4 different dining plans that you can benefit from. Here's a round-up of the available plans and their corresponding hotels, so that you can better understand them: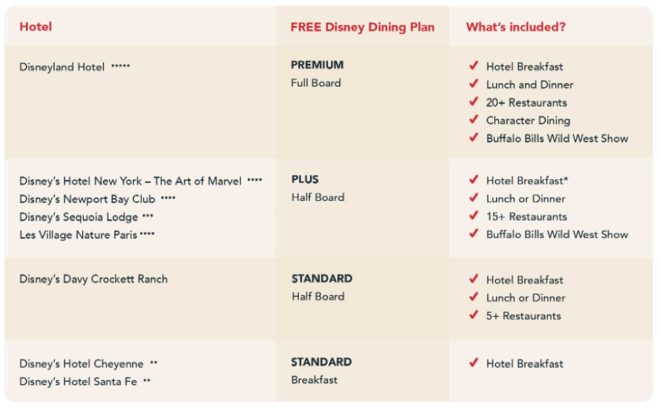 Besides free dining, you'll also get 20% off your package (park tickets + hotel) and a 100€ gift card to spend in the parks on whatever you want; gifts, snacks, drinks etc.)
Feeling confused? Here's a round-up of what you'll get:
20% off park tickets and hotel
100€ gift card (per room) – which you will receive on check-in of your hotel
Free dine – you can choose from up to 20 different restaurants (including themed dining) to eat at, depending on your Meal Plan (see the table above for these options)
Extra Magic Hours in the park
Meet 'n' Greet with Disney Characters at your hotel
Free Fast Pass for every member of the party
Book by: 12th of February, for a minimum of 2 nights
Arrivals from: 2nd April – 1st November 2020
Here's the offer in more detail: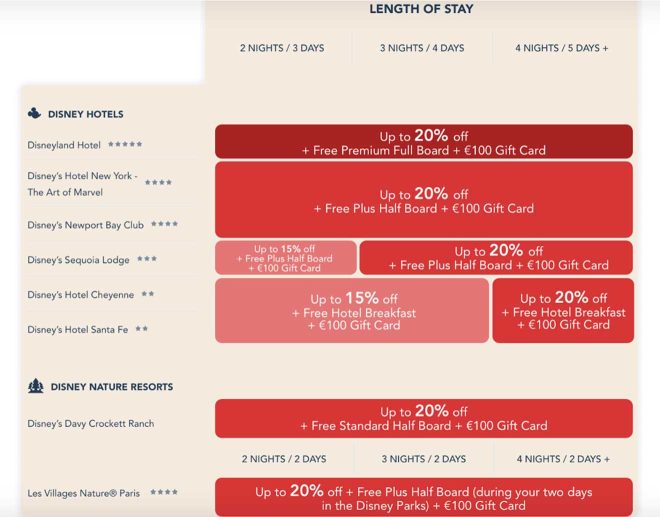 Sounds good, right? Now let's look at some pricing examples that were trialled on the official Disneyland Paris website, to show us if the offer is really worth it:
Without the offer:
If you book your stay at Disneyland Hotel for 2 adults only between 17th to 19th of February 2020 (that's 2 nights, 3 days) outside the promotion days, you will pay 1.868€ (£1.595) in total.
If you book your stay at the same Disneyland Hotel for 2 adults and 2 children (3-17 years old) between the same dates of 17th to 19th of February (2 nights, 3 days), you will pay 2.266€ (£1.935).
This doesn't even include the lunch and evening meals you'll need to pay for when there!
With the offer:
If you book your stay at Disneyland Hotel for 2 adults only between the 15th to 17th of June 2020 you will benefit from the promo and you will pay 1.709€ (£1.459) in total.
If you book your stay at the same hotel and for the same dates, but for 2 adults and 2 children (3-17 years old), you will pay 2.051€ (£1.751) in total.
With the offer, you will also enjoy all the perks I mentioned above, with all your meals catered for.
As you can see from my calculations above, this offer is worth it, not only for the free dine advantage but also because of the discount for your hotel and tickets and the 100€ gift card.
NOTE: These are only pricing examples which can change on a daily basis due to availability (used exchange rate: 1€ = 0.85£). 
This promotion runs until 12th of February 2020, so make sure to buy your trip to Disneyland Paris before this date to benefit from the promotion and get all these advantages!
---
Conclusion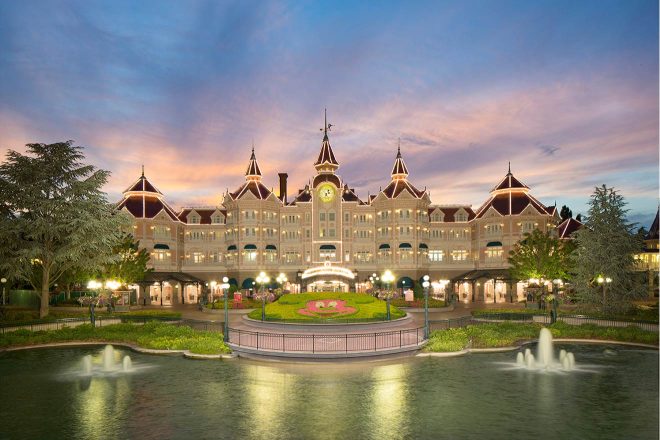 Need I say more? I think this new Disneyland Paris offer is just great for people who want to spend at least two nights at the parks in one of the official Disney hotels. There are so many perks for the whole family!
As previously mentioned, Disneyland is always a great idea for a family holiday – it's so much fun!
I hope this article is useful for planning your next trip. If you have any questions, make sure to leave them in the comments below, I'm pleased to help.
Happy holidaying!
Romina
---